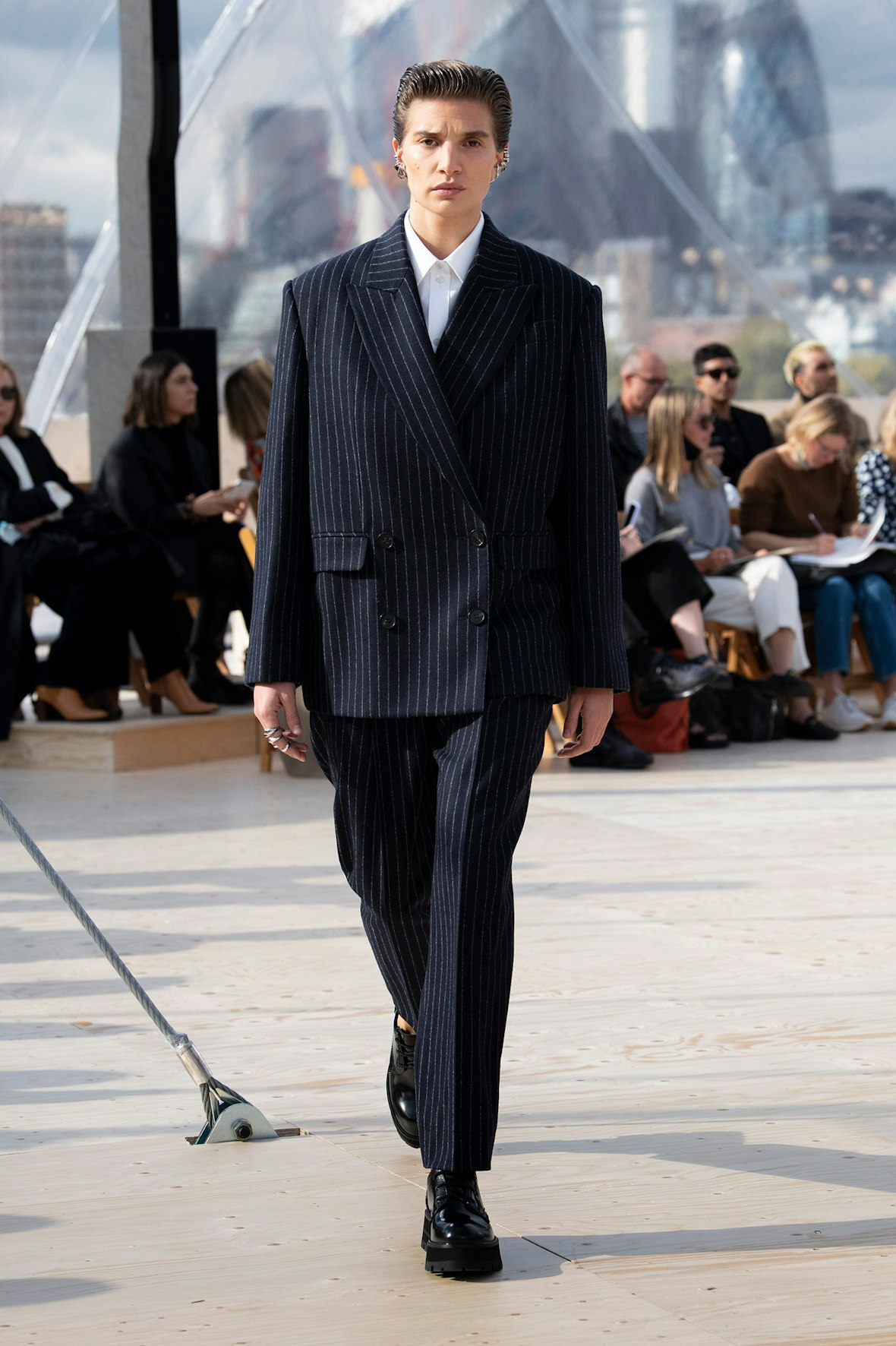 Alexander McQueen SS22 finds control in the chaos of London
Never mind that British house Alexander McQueen has been absent from presenting on home turf for five years. The brand has has always, always felt intrinsically London.
On Tuesday, the house returned with great force, presenting at a venue that, quite literally, soaked up the heady environments found near the Thames. Set in a sort of greenhouse, views of the city surrounded the show, such as Tower Bridge, The Shard and The City, Gherkin and all. But what creative director Sarah Burton was most enamoured by this season was the ascent from the muddy banks of the river that informed the house's last collection. This time, she was drawn to the sky right above our heads and its ever-changing complexity. Rain, sun, storm, snow, pigs. Only in Blighty, eh?
Burton's Londonisms came thick and fast in the collection, but not in the most obvious ways. There was a strong sense of balance, just how the city operates – hectic, slow traffic, warm weather, rainy downpour, polite OAPs, screaming babies. Here, there was a hard and soft approach, like a tough leather trench coat worn over a graceful dress printed with clouds, which were photographed from the rooftops of McQueen HQ and superimposed onto the fabric.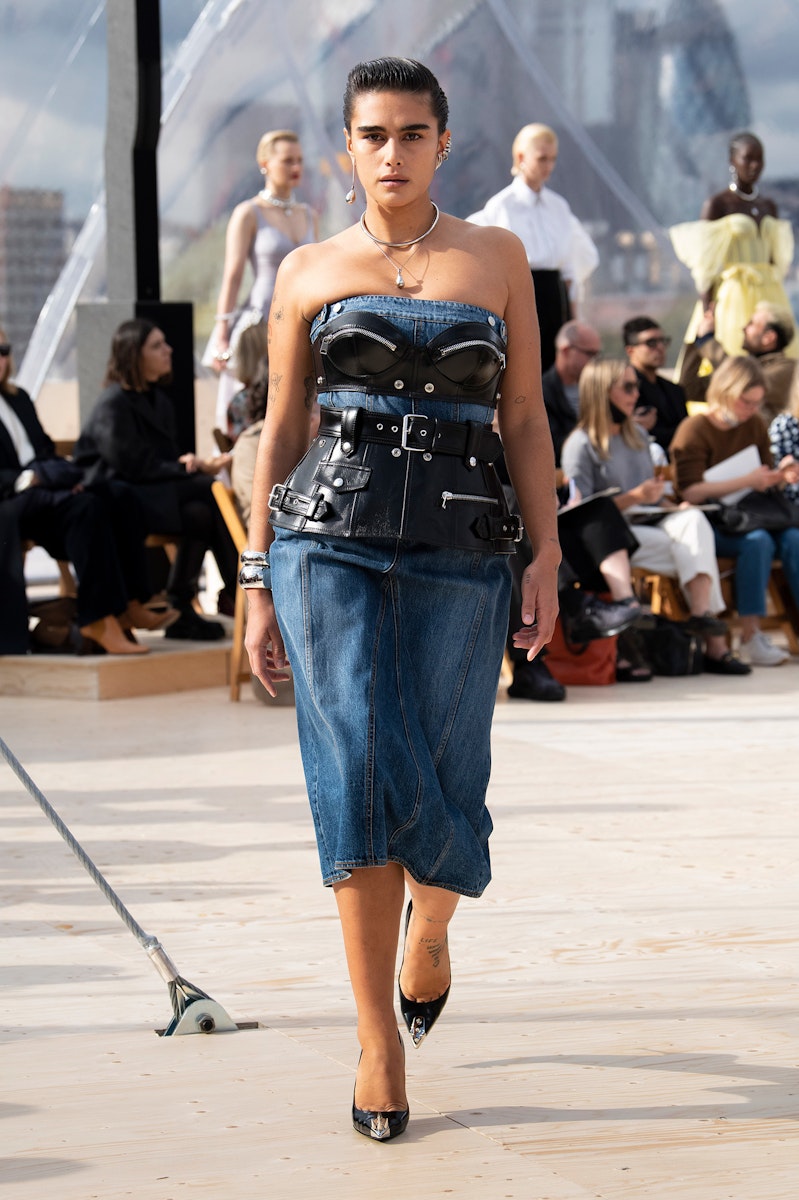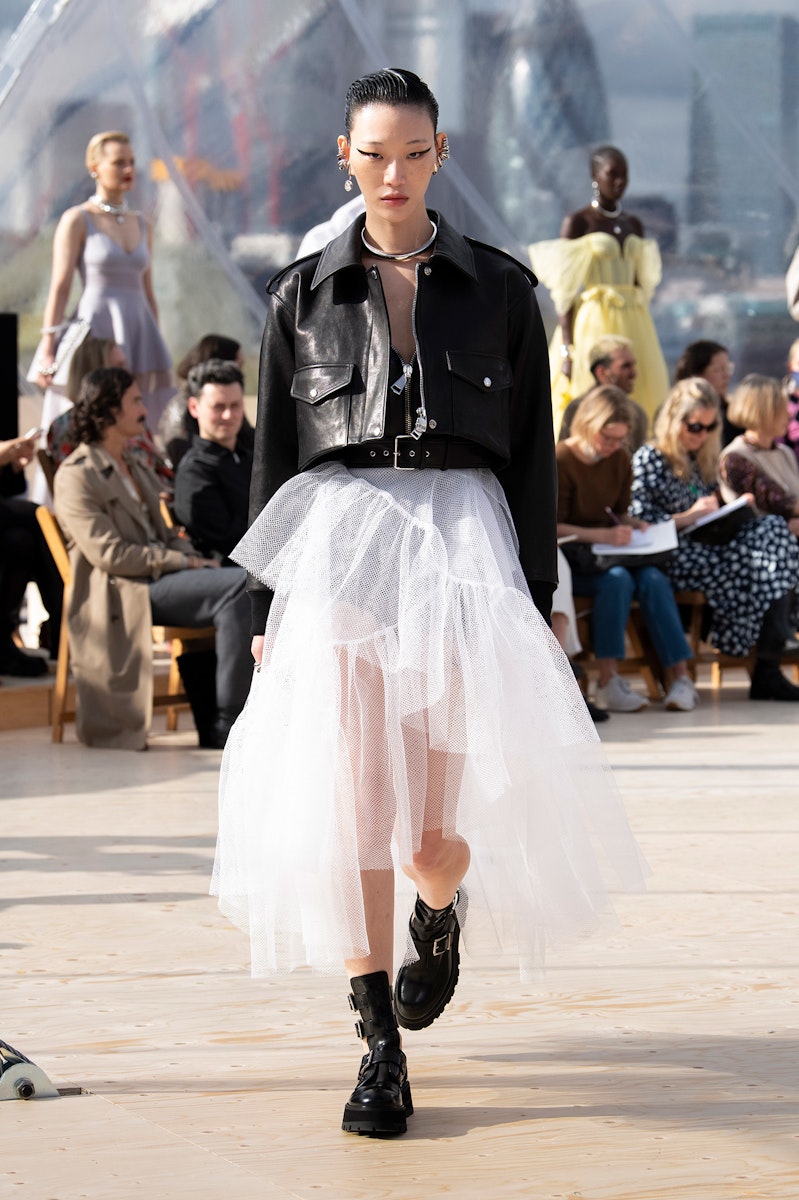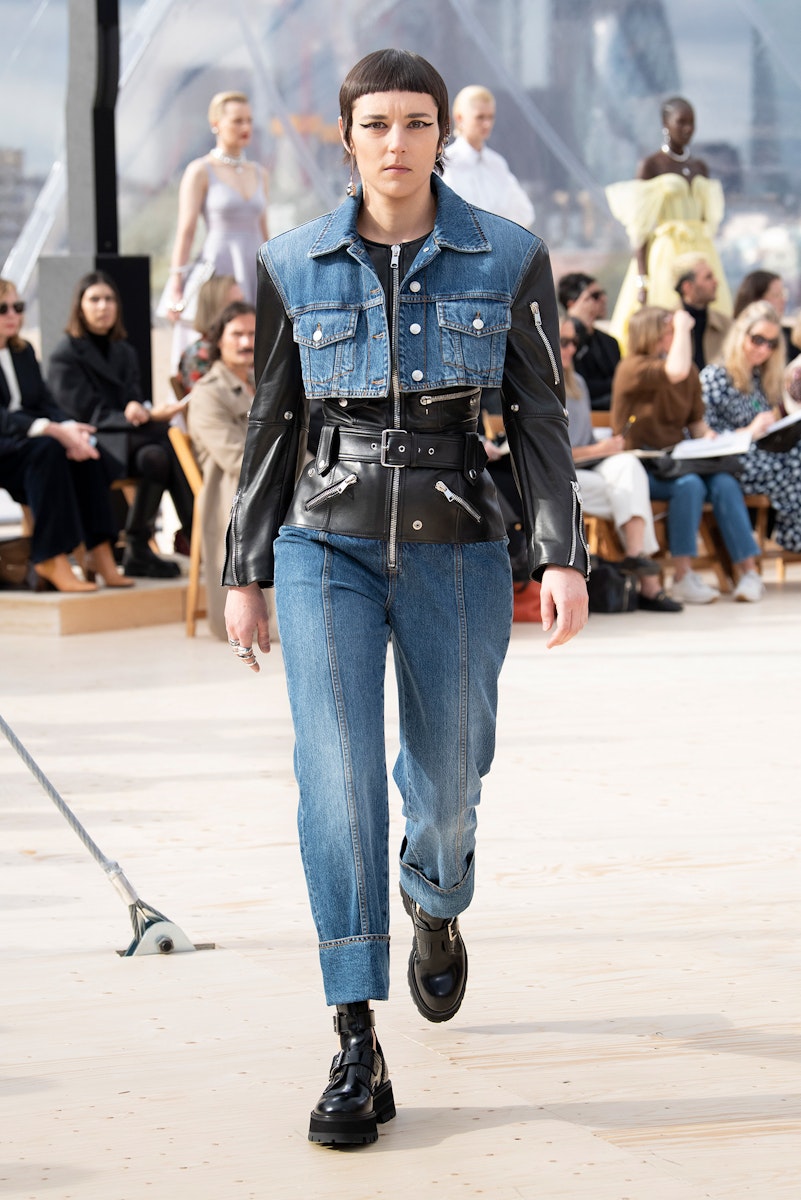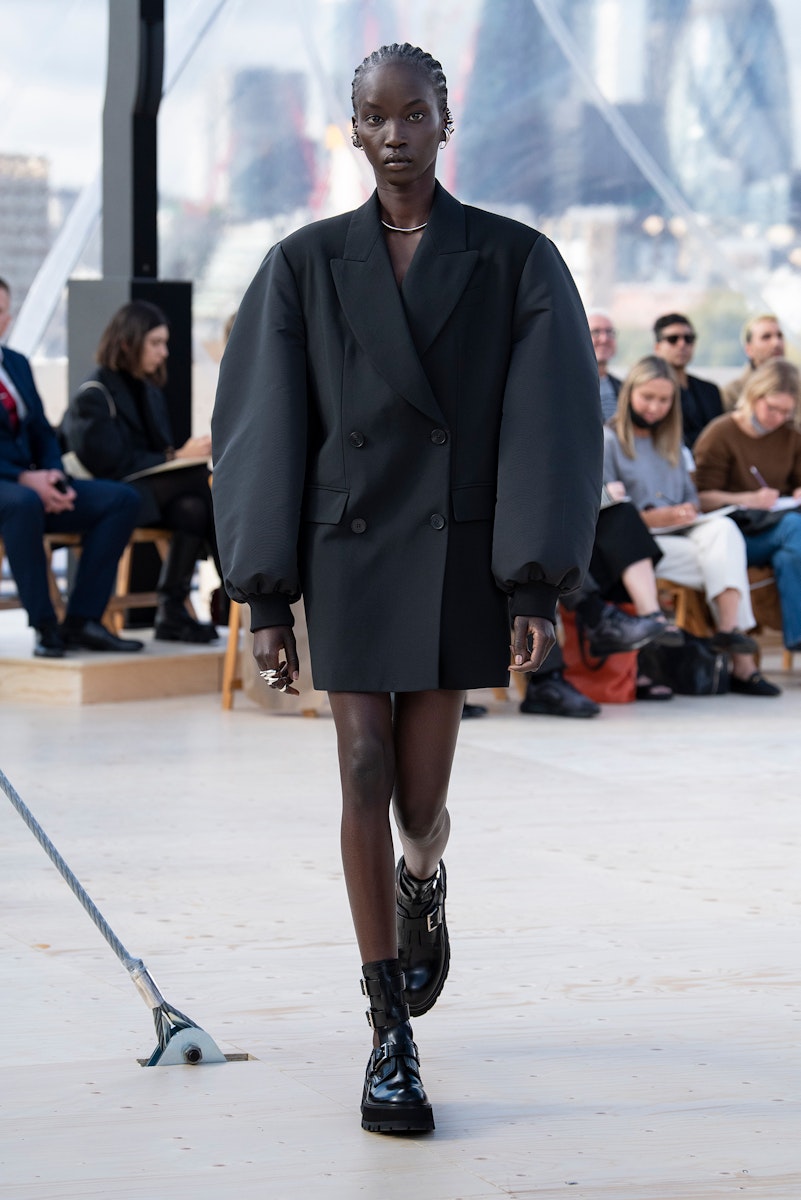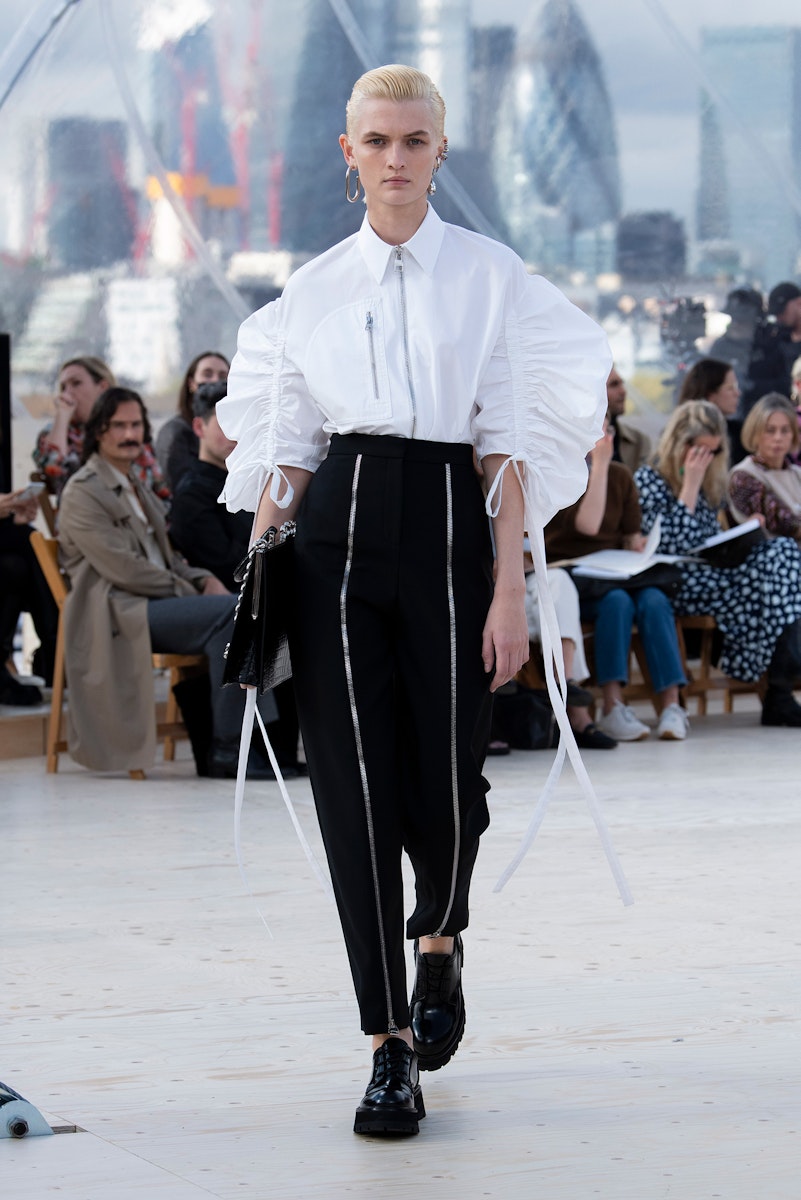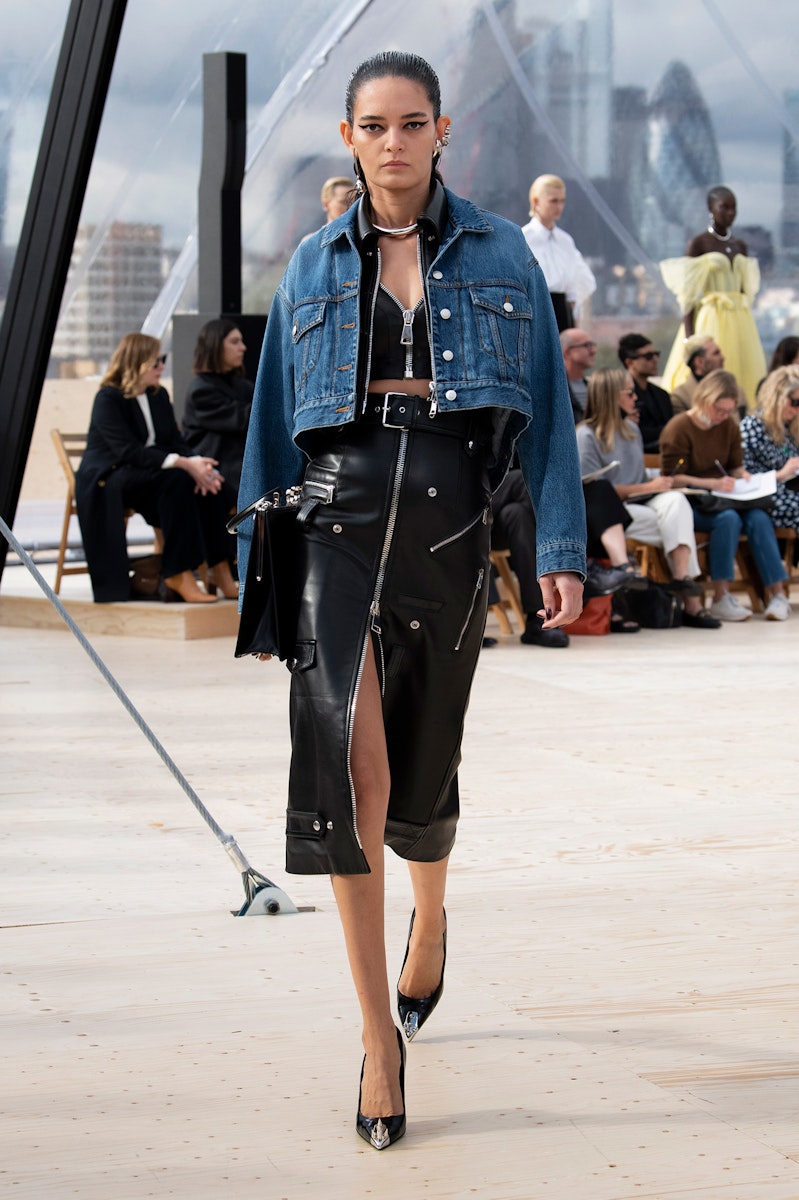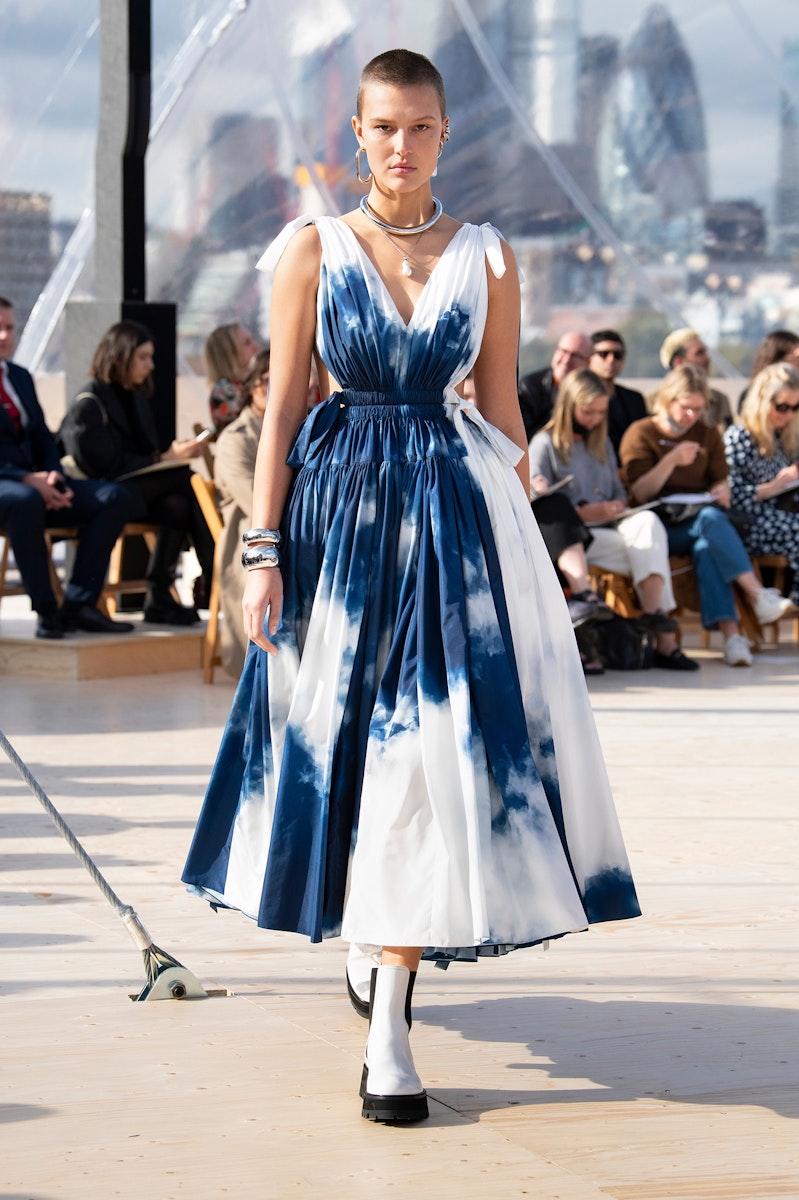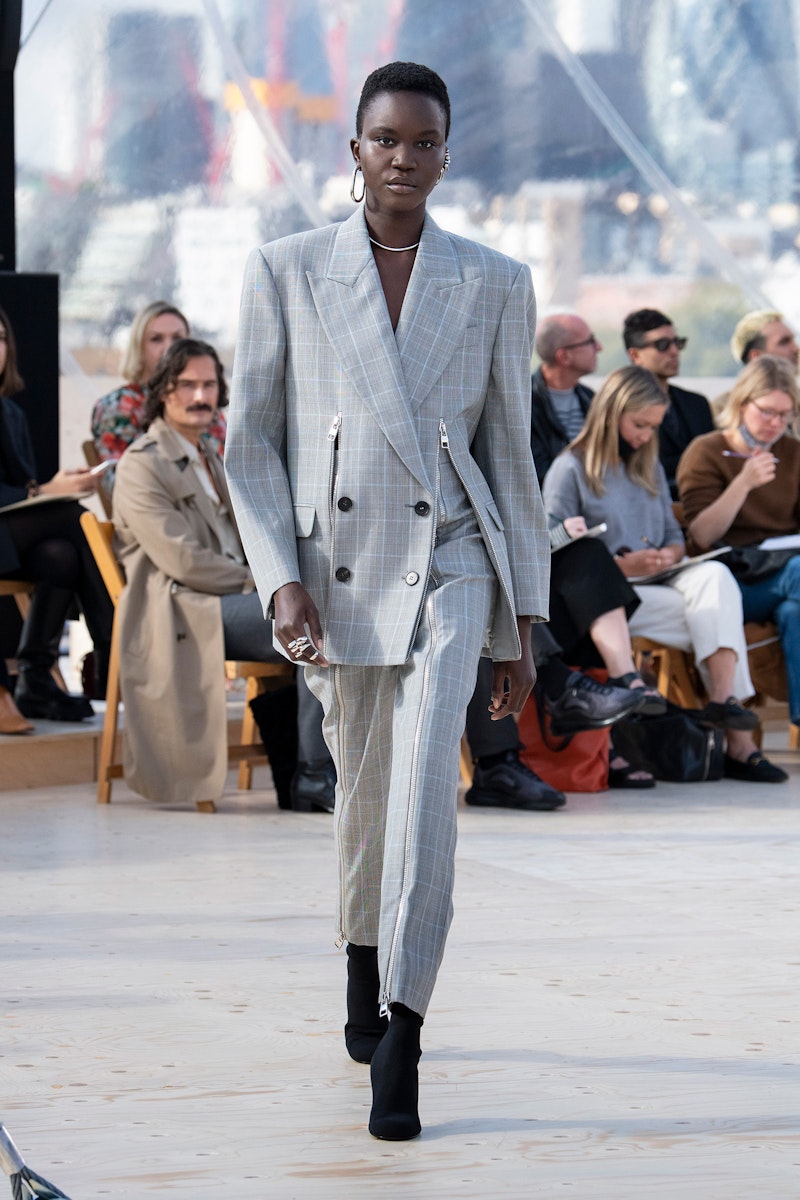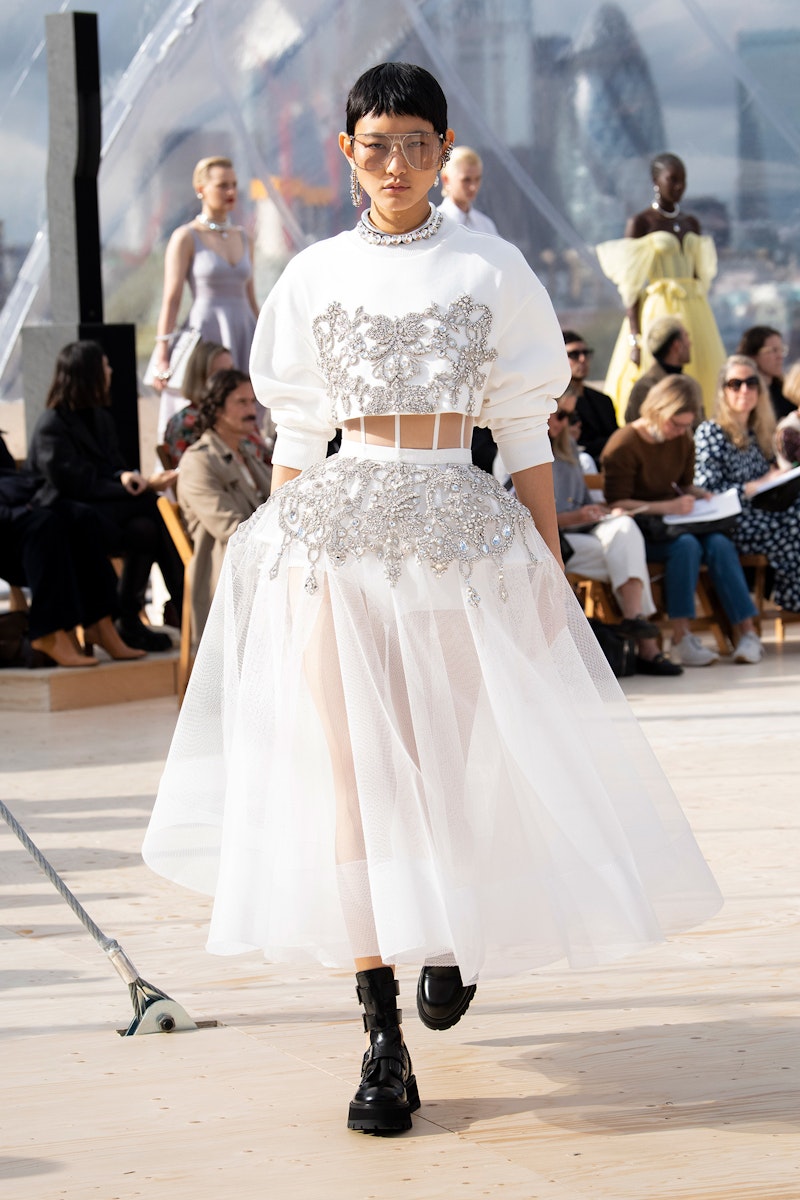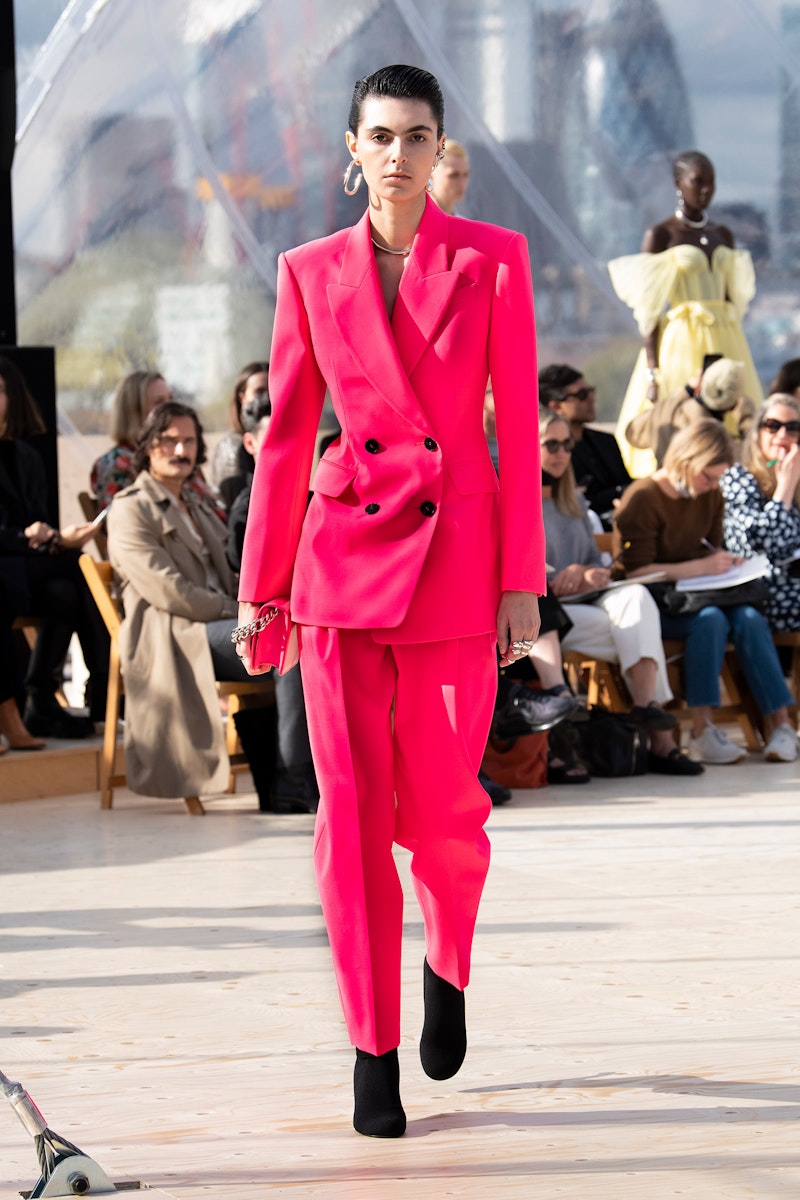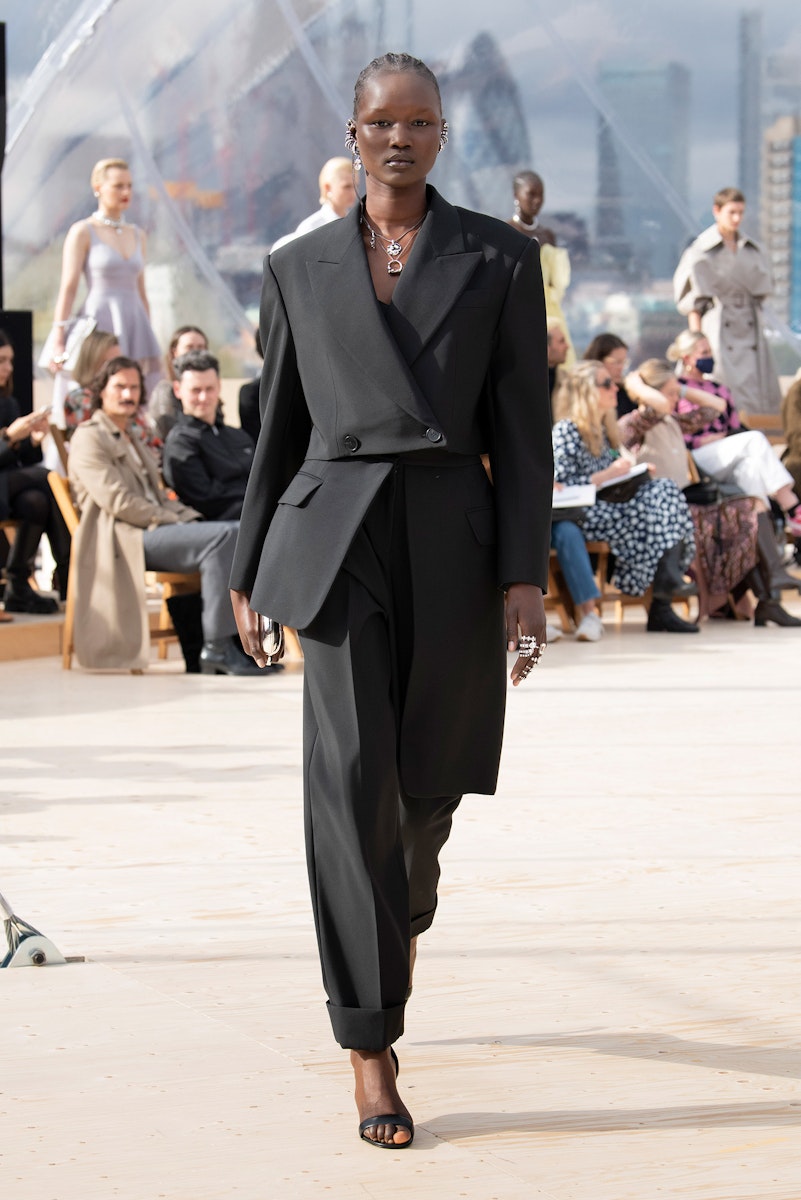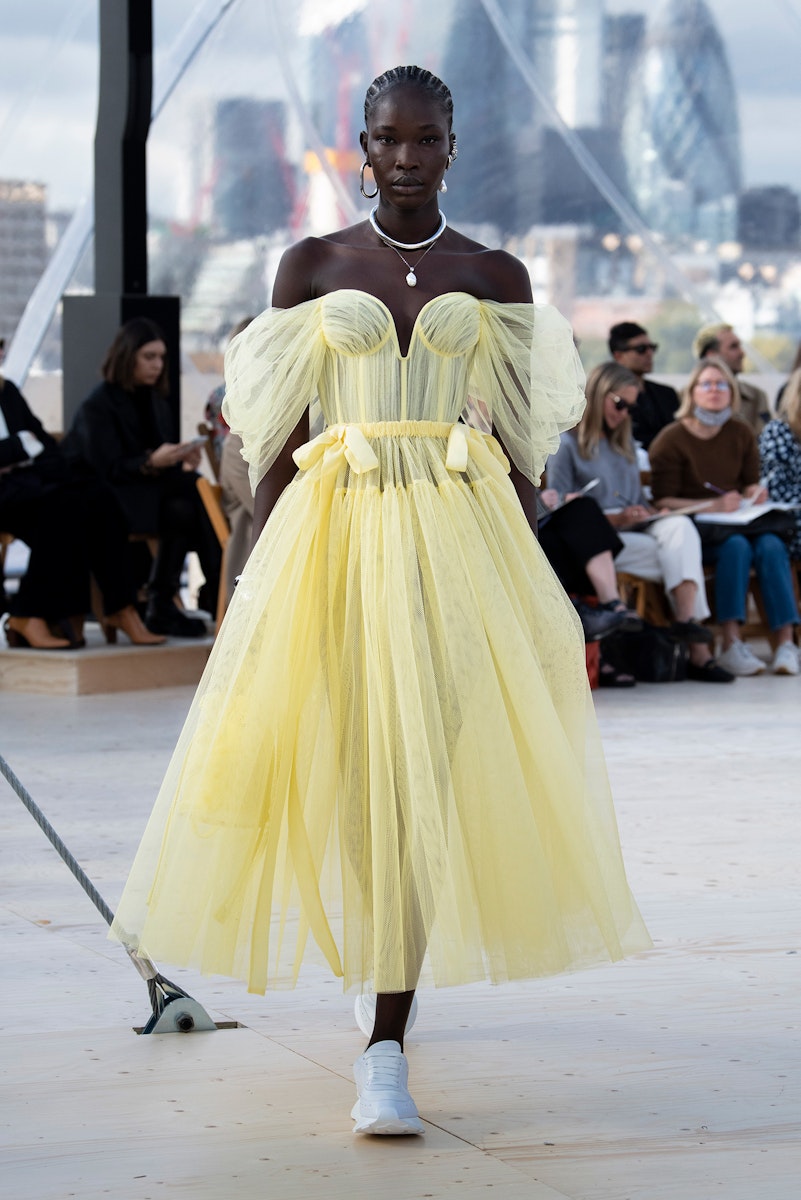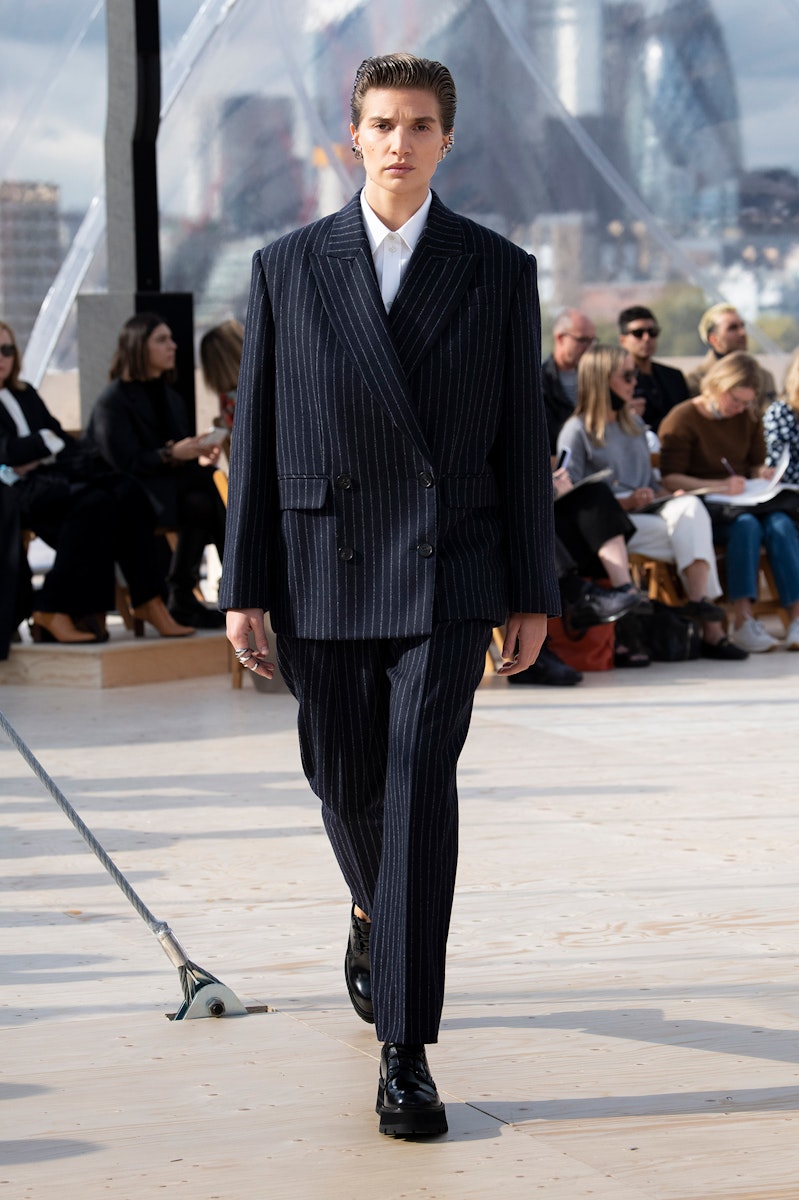 The balancing act went further: buttery tailored jackets with heavy black boots, pretty skirted dresses worn with cold, armour-like accessories and frilly, ruched dresses tightly belted at the waist with a harsh zip placed down the centre. And there was leather – lots of it – paired with frothy tulle or denim, and corseted tops with ballooned skirts flowing out of them.
Finding the tiniest detail and making it magnificent has always been Burton's knack. This collection felt like the house's coolest in a while. Perhaps – just perhaps – it was influenced the environment it was surrounded by, the hotbed of creativity, the return to great parties, the intermingling subcultures that co-exist on the very streets the show was presenting in front of.
In the accompanying press notes, Burton referred to how she loves the idea of the McQueen woman being a ​"storm chaser". Their qualities? ​"Uniting the passionately individual community of characters wearing the clothes," she wrote. ​"They inhabit the same universe and the clothes are inspired by and made for them." Burton has always been inspired by the women she dresses, armouring them in clothes resembling spiky thorns, or opening them up in dresses that resemble the structure of a flower.
There was a mystery and genuine excitement surrounding McQueen's return to London. Wholly welcome, it was a subtle take on what makes the city so intoxicating. We Londoners may never be in total control, but perhaps that's when the fun would end. It's all a balancing act, after all – the good (buses turning up on time), the bad (buses terminating out of the blue) and the ugly (sky-high rent).
As Burton puts it, ​"to give up control and be directly in touch with the unpredictable is to be part of nature, to see and feel it at its most intense – to be at one with a world that is bigger and more powerful than we are."
---