All the hits from Milan Fashion Week SS24
We've got the goods from Fendi, Diesel, Moncler, MM6 Margiela, Prada, Moschino, Blumarine, Tom Ford, Gucci, MSGM, Sunnei, Versace, BOSS, Ferragamo and Karoline Vitto supported by Dolce & Gabbana.
What?
The Fashion East alumna takes her sexy, slinky, curve-accentuating cut-outs to Milan in a show supported by Dolce & Gabbana.
Why should I care?
It's news to no one that runway fashion is taking a step backwards when it comes to size inclusivity. At the AW23 shows, only 0.6% of models were plus-size. And this season, most shows have only featured one or two curvy models, if they featured any at all.
Since launching her namesake label in 2020, Karoline Vitto has railed against this, instead championing garments that accentuate, rather than cover up, the curves. Having shown as part of London-based talent incubator Fashion East for the past two seasons, her first solo show expanded her design vocabulary, introducing laid back denim and shredded pieces alongside her signature metal-embellished cut-outs.
What was the show like?
Ashley Graham took the lead, opening the show in a body skimming spliced maxi dress. The first few looks came in black or white and were artfully slashed to reveal hints of flesh beneath. This marked a progression from the metal linked cut-outs of previous collections, although the show eventually gave way to these spread out across hips and waistlines on summer dresses and swimsuits. Denim appeared for the first time, too – now the Karoline Vitto girl has something to wear the morning after the party.
The power of the show went beyond the clothes themselves. ​"I'm really hoping this helps the industry maybe reconsider how they've been working," Vitto said. ​"We have this amazing cast of curve models. For me, this is major, and I just really hope that other brands can also start considering some of these girls as well."
In a few words:
Cool and confident.

What?
Maximilian Davis' third Ferragamo show as creative director. While the designer has been informed by the flashy lights of Hollywood since his debut, this time was a much more personal love letter to Davis' Caribbean roots.
Who was there?
Kelala, Shygirl and Dixie D'Amelio were all dripped out in Ferragamo red – a shade that was, for the most part, noticeably missing from this collection. Next season, expect to see the FROW in the new sage green that Davis debuted in smooth leather coats and coated linen suits.
What was the show like?
Taking the helm at a heritage Italian house while still in your twenties is no small feat, but Davis has taken it in his stride since September 2022, when he symbolically dropped the ​"Salvatore" and introduced a signature shade of red echoing the colour of the Trinidad and Tobago flag. The label has since become a mainstay among minimalists in search of luxurious sex-appeal – in spades.
Ferragamo's SS24 collection struck a balance between Caribbean joie de vivre and Italian glamour. This season felt more vibrant than the last as Davis switched his 1950s Hollywood influences for the paintings of Agostino Brunias, the Italian-born painter who depicted Black people in the Caribbean in the 18th century. This inspiration was subtly translated as white dresses with apron-like details and pristine cotton shirt dresses.
Cape-sleeved black suits and dresses soon gave way to lightweight sage green leather coats and suits crafted from an innovative, non-crease coated linen that punctuated the collection with uplifting ease. Then, the show closed with a leather bodice dress that could easily double-up as armour.
In a word:
Resplendent.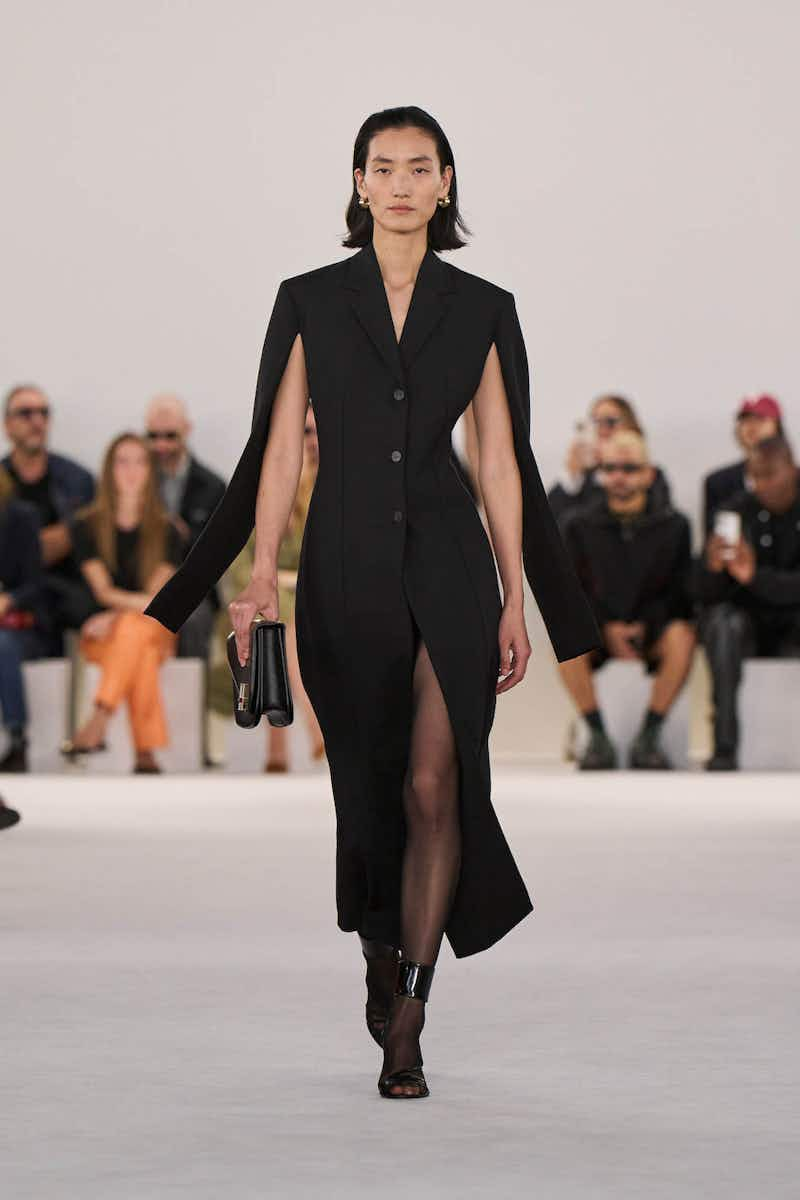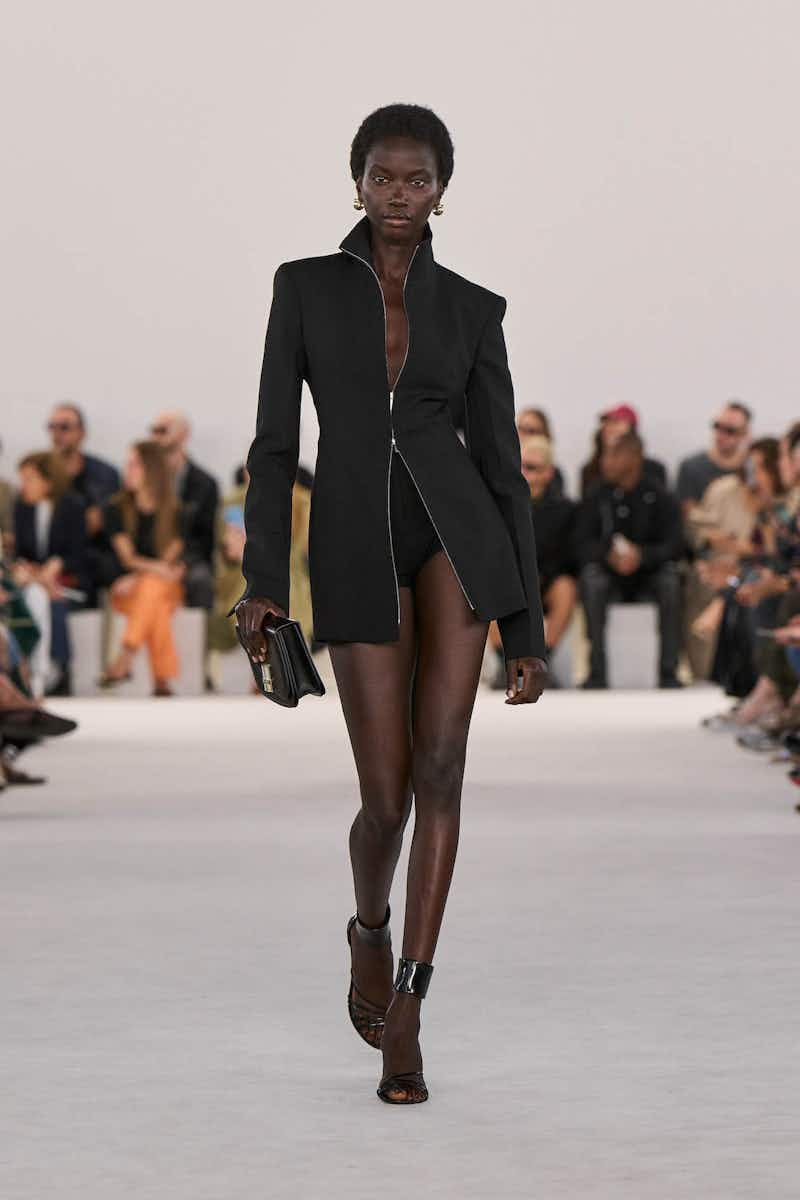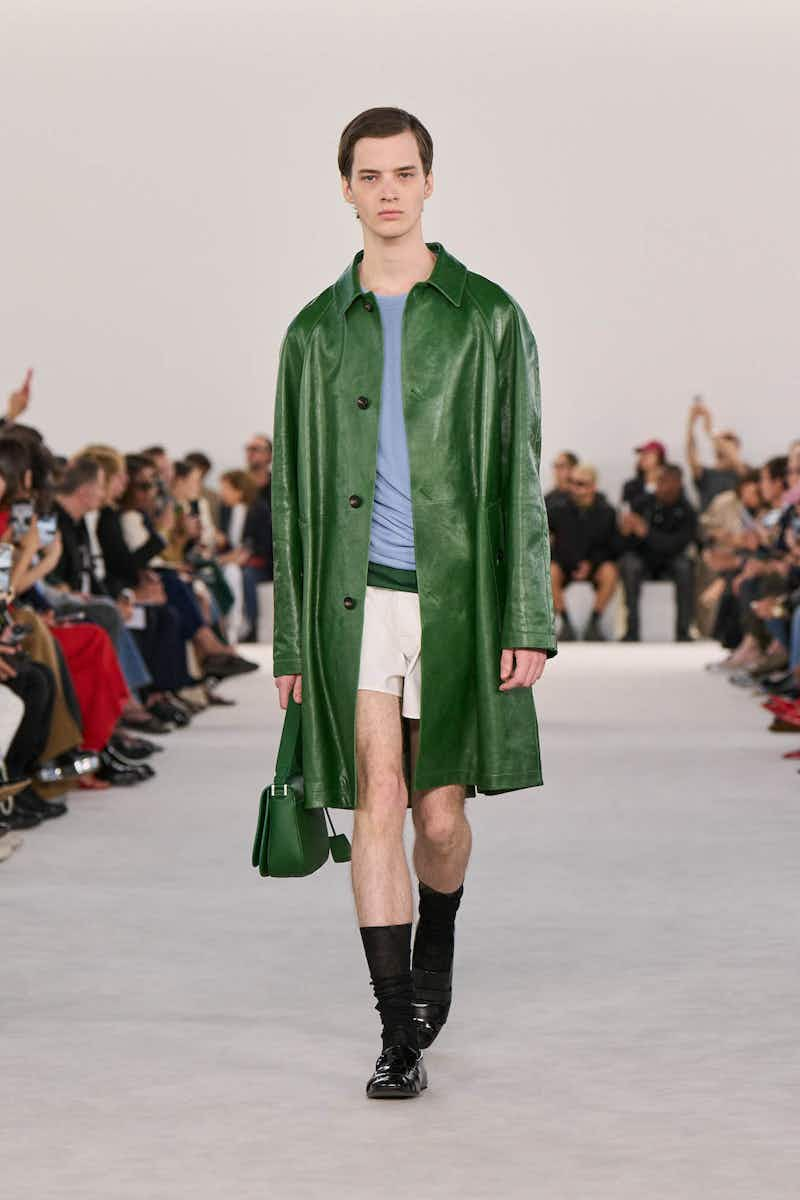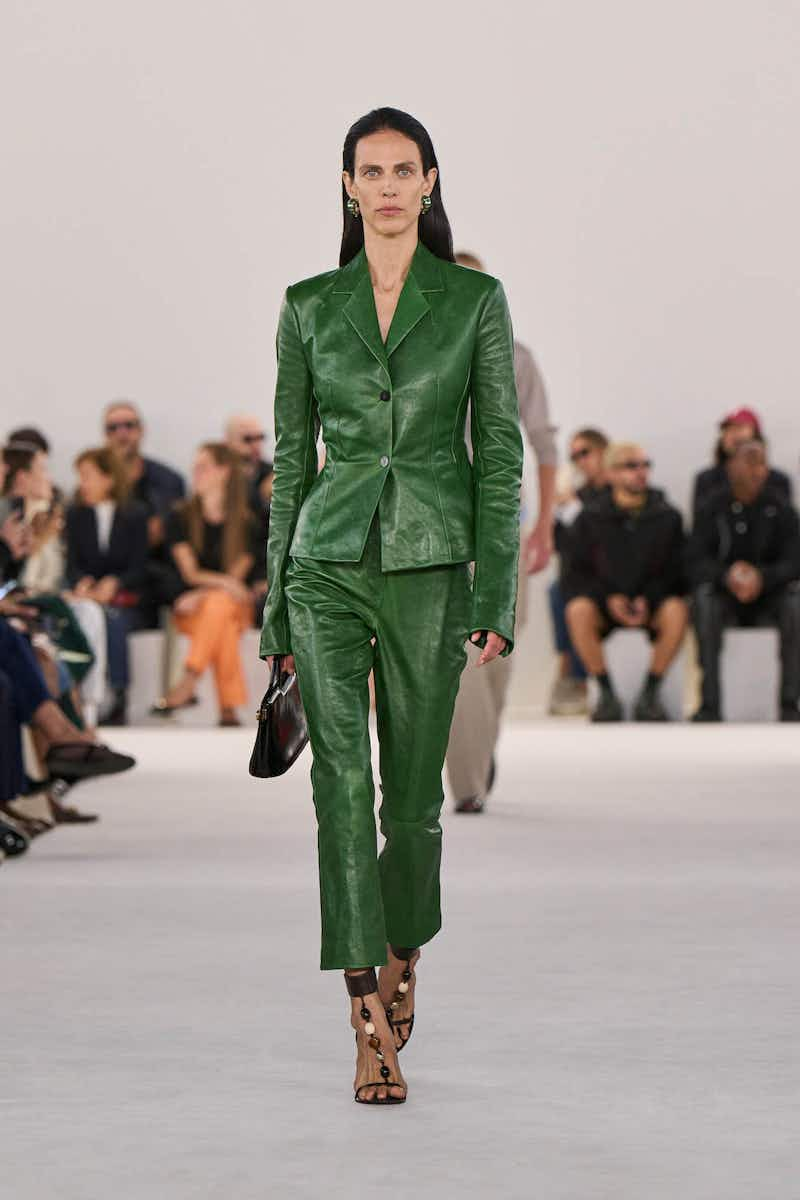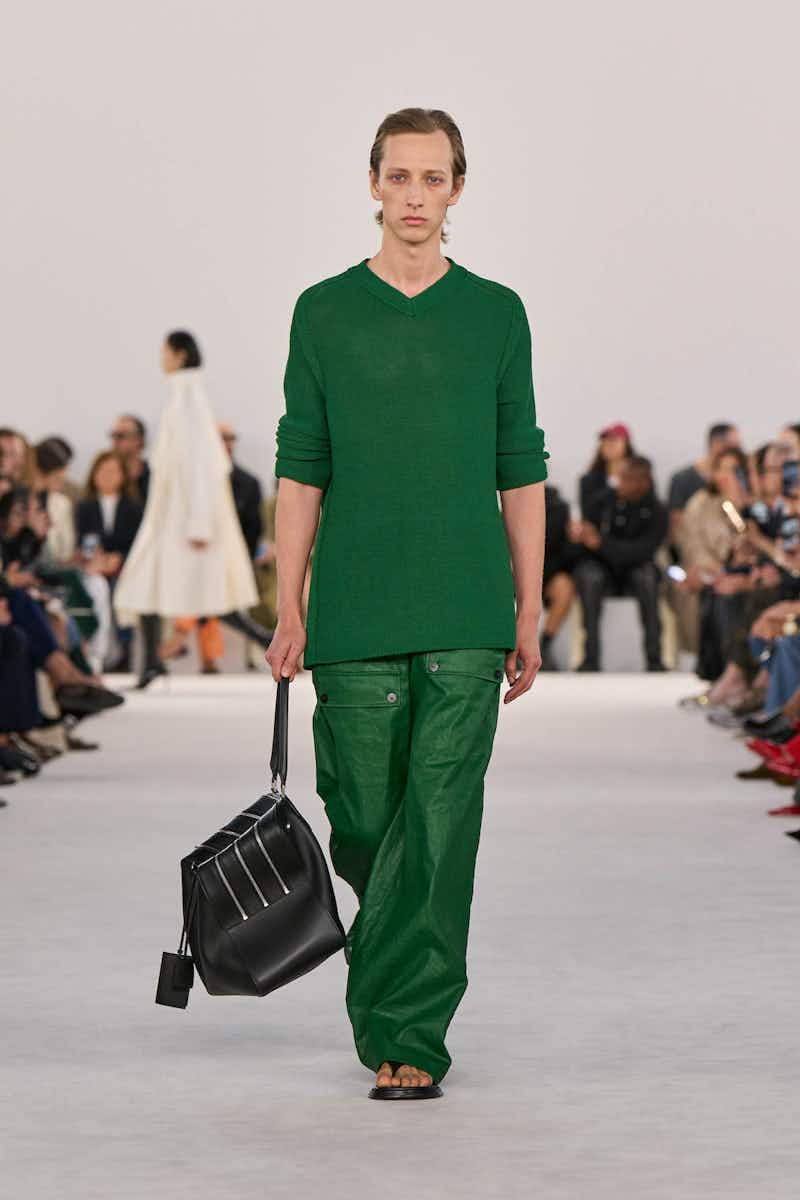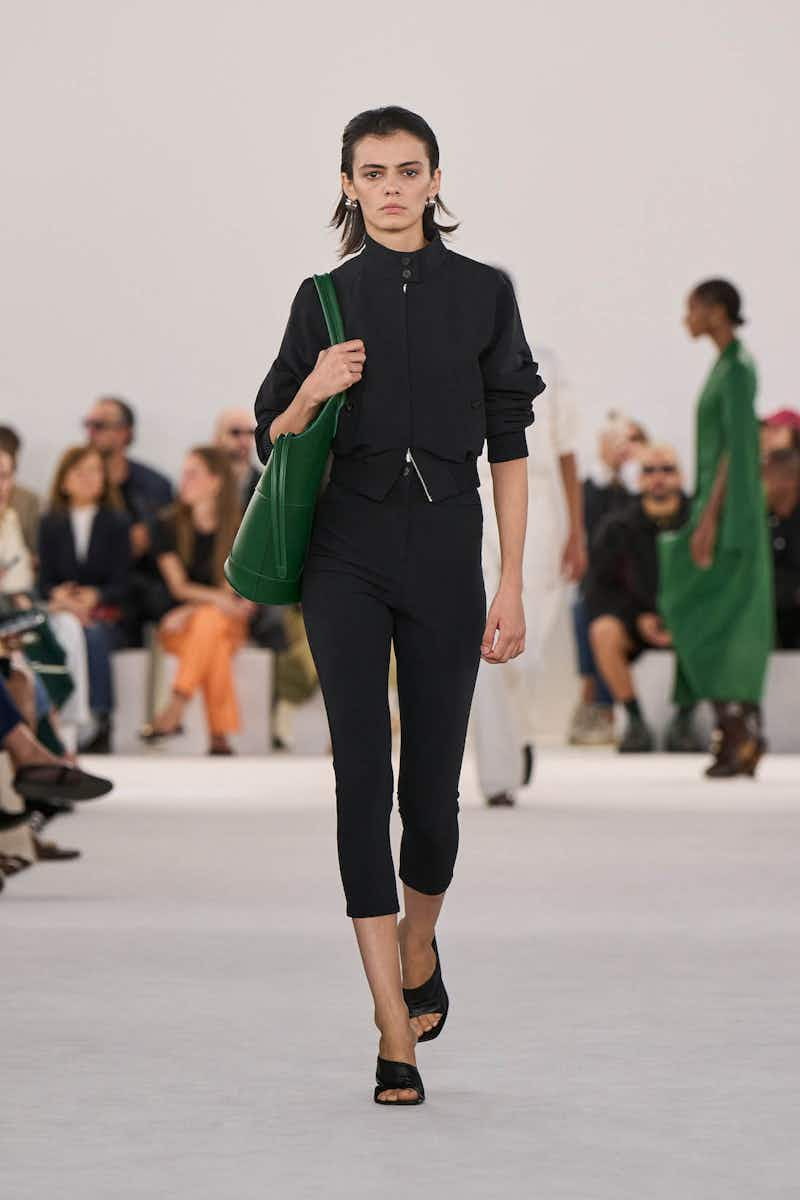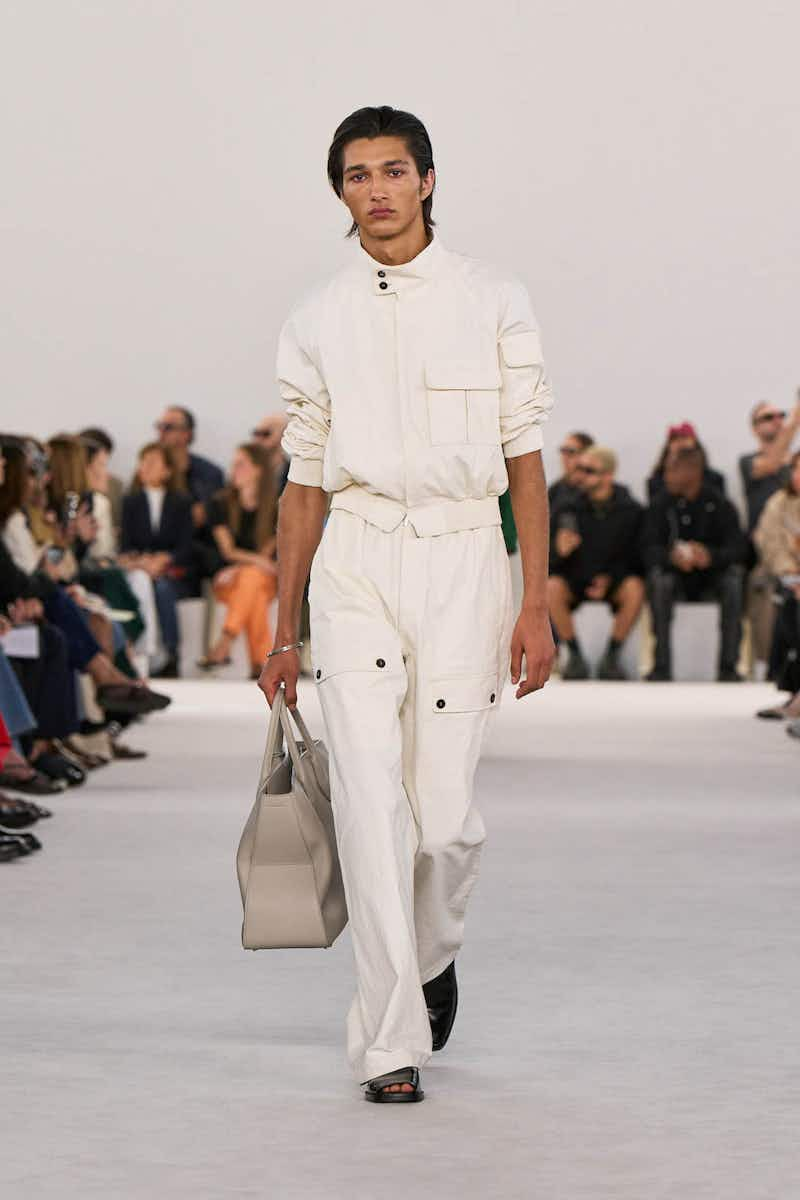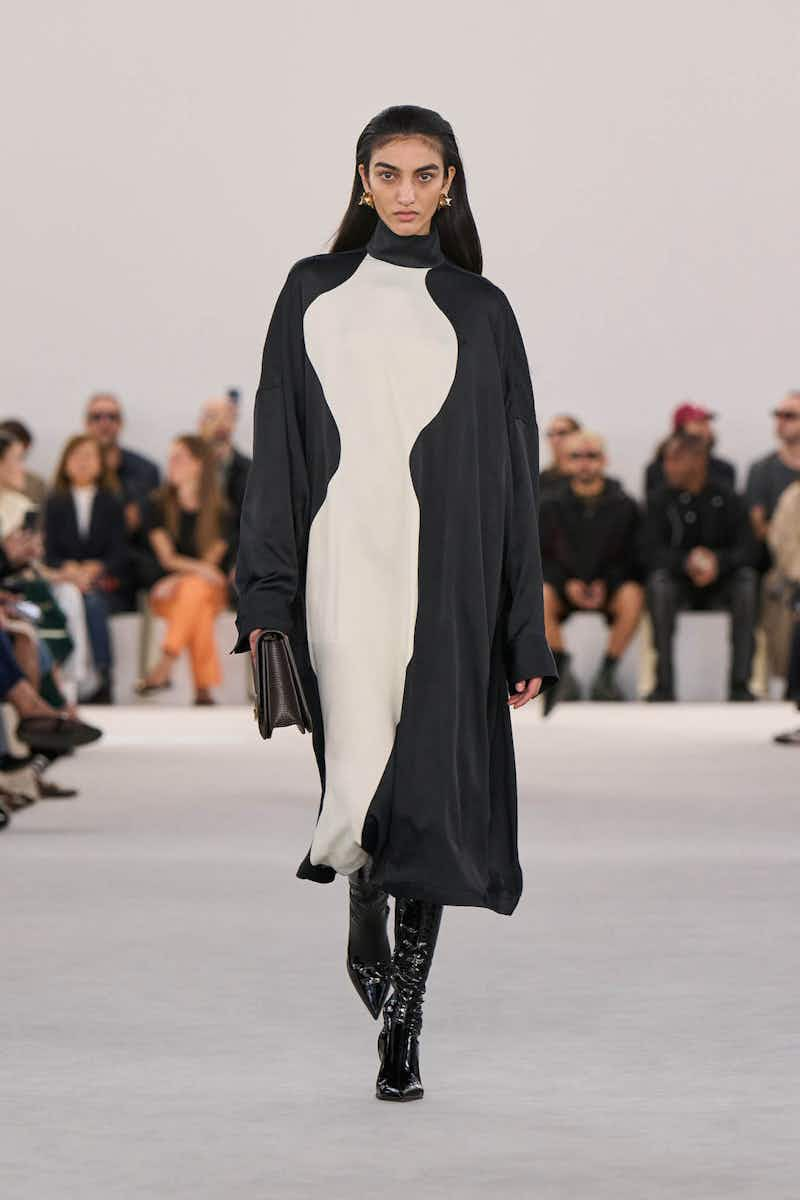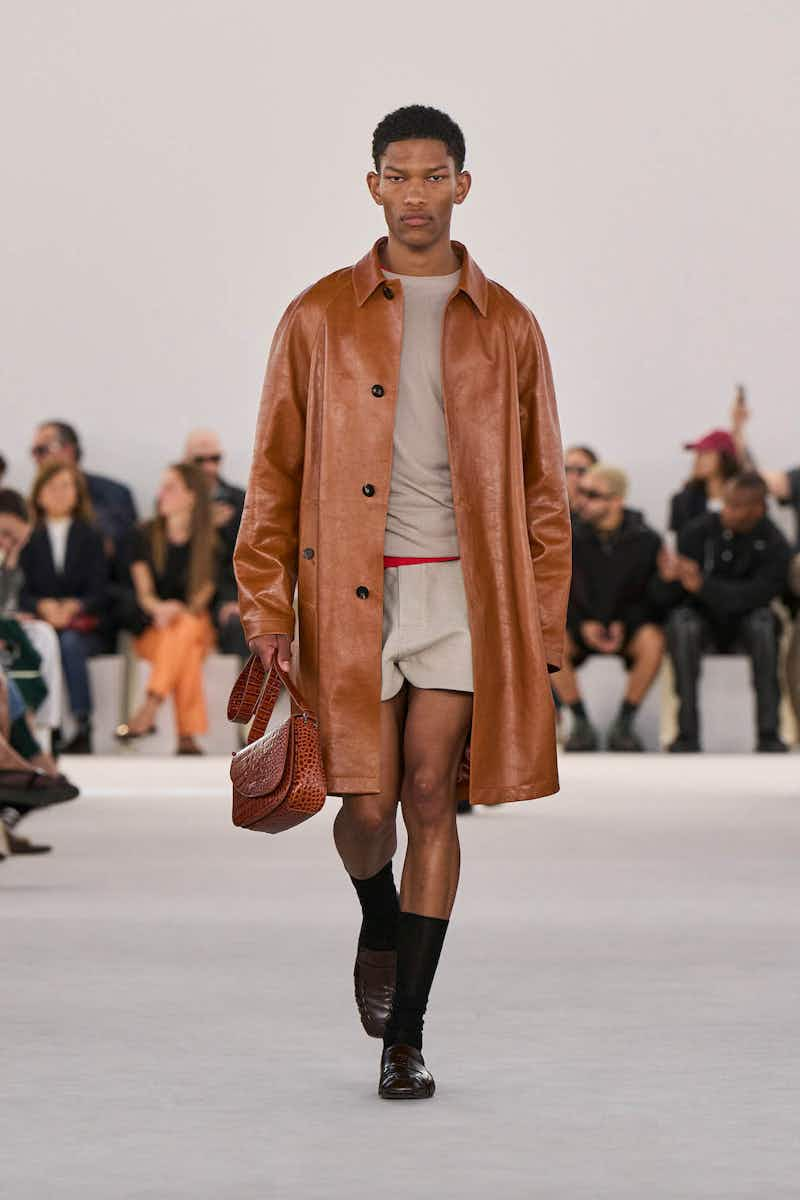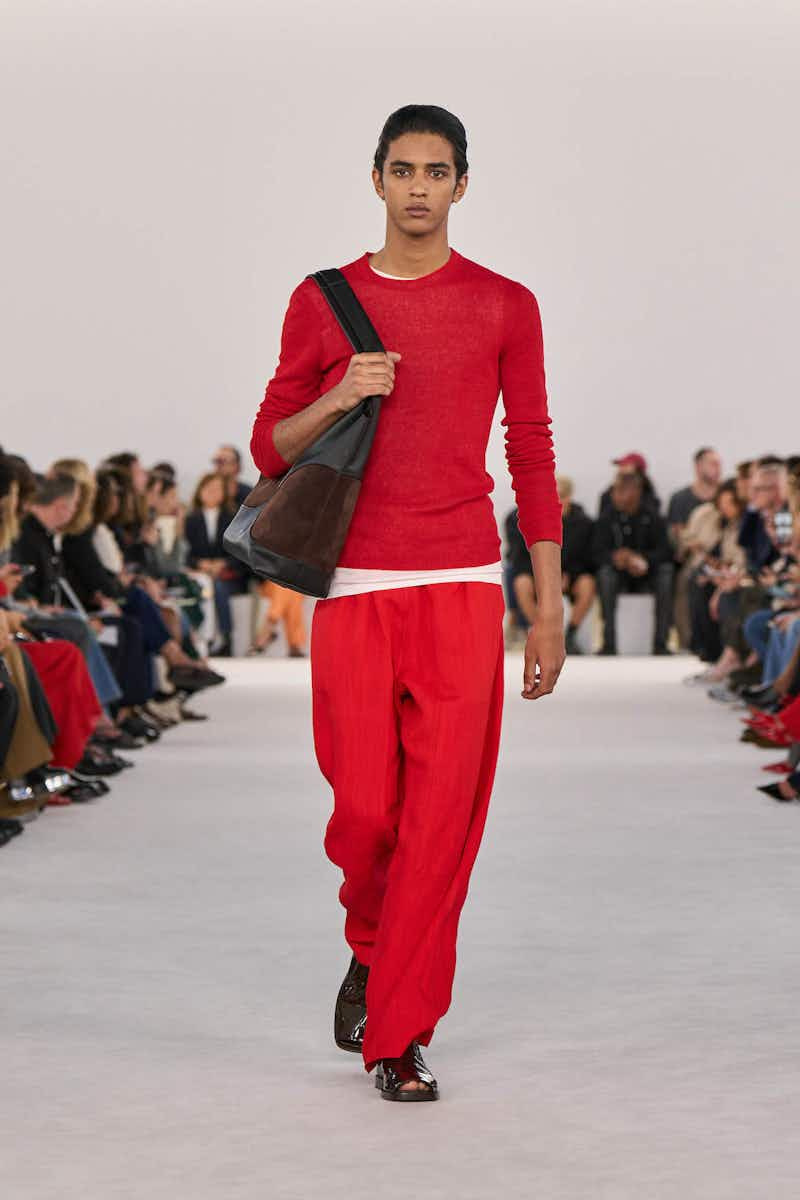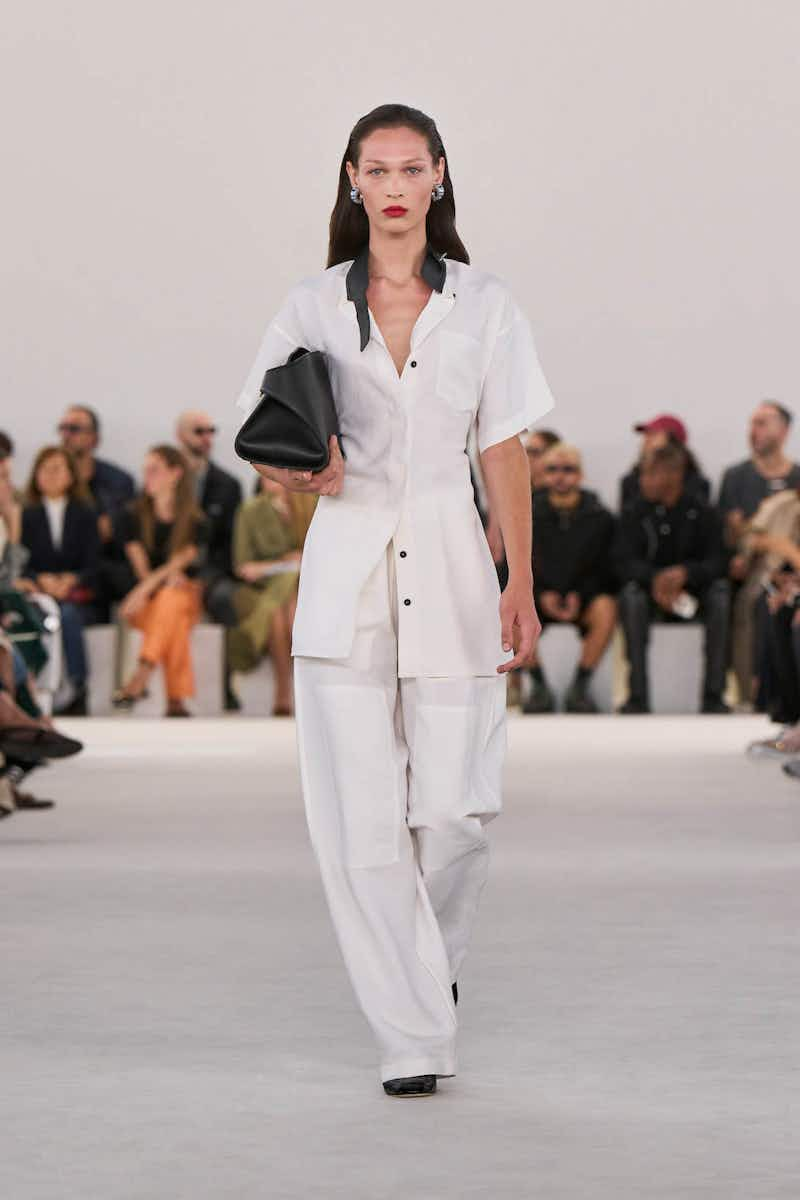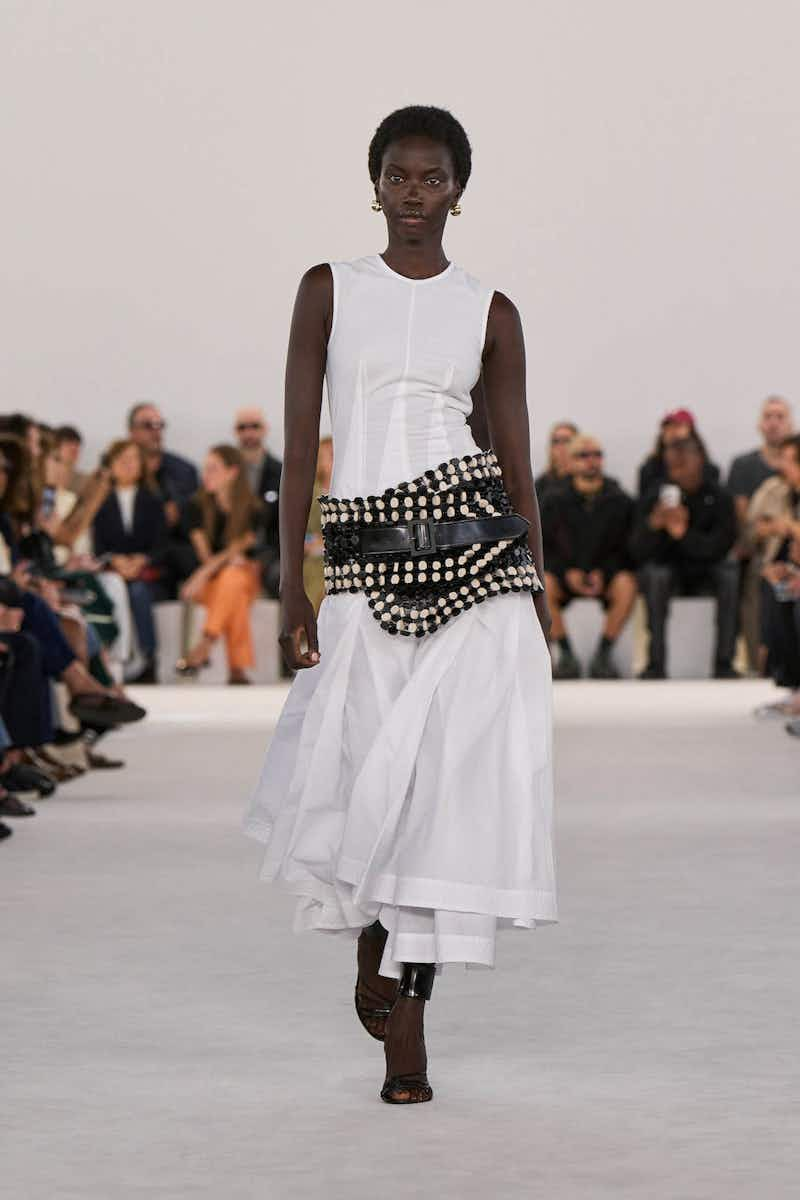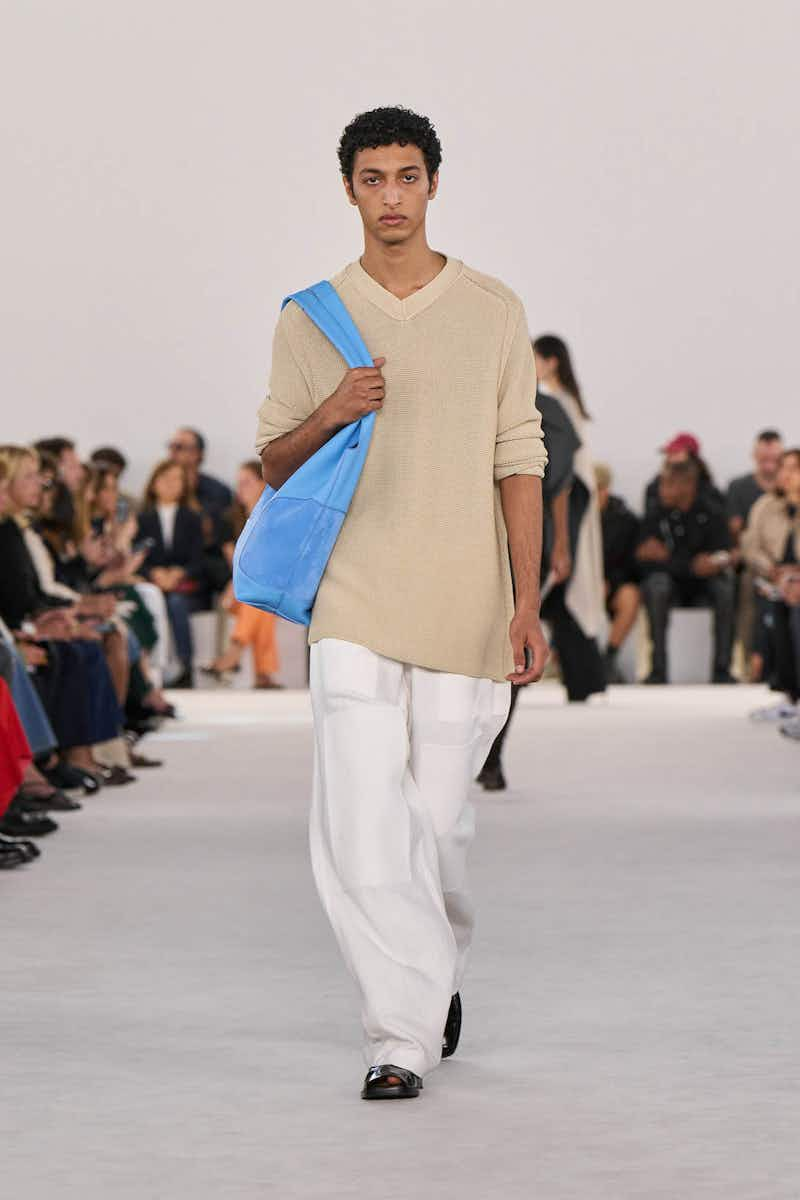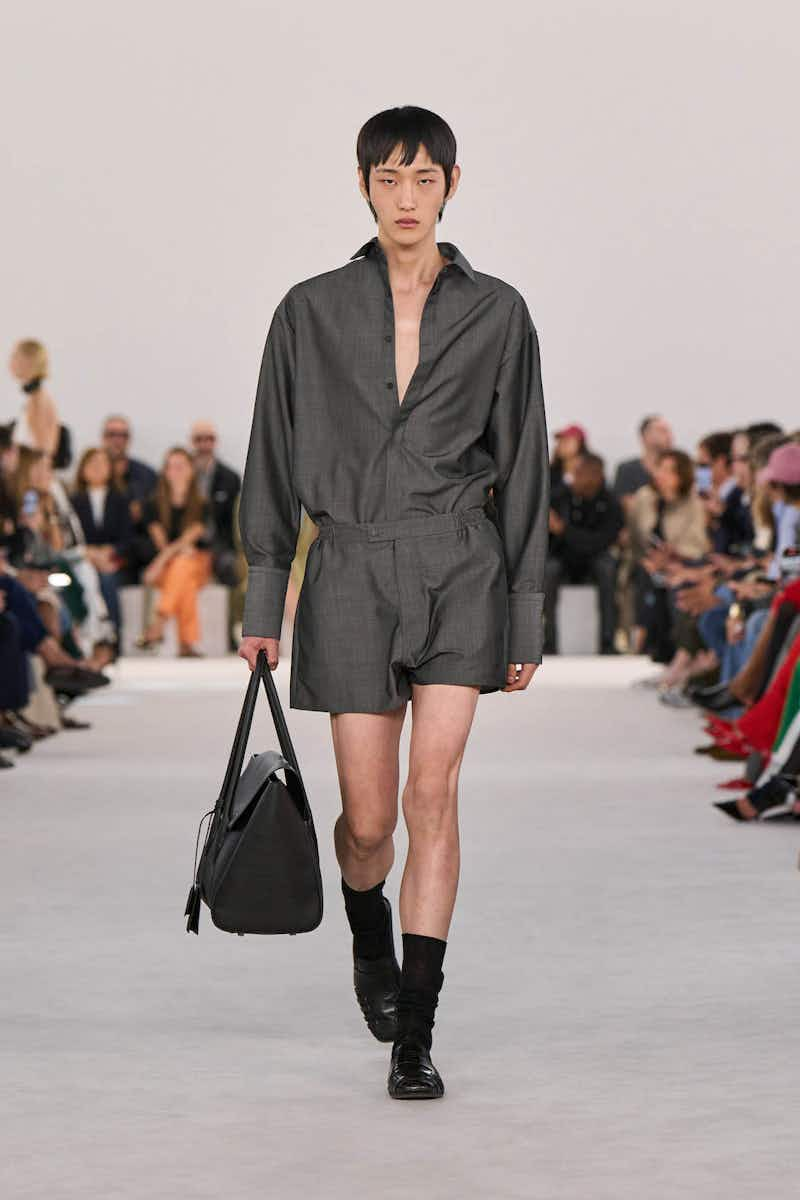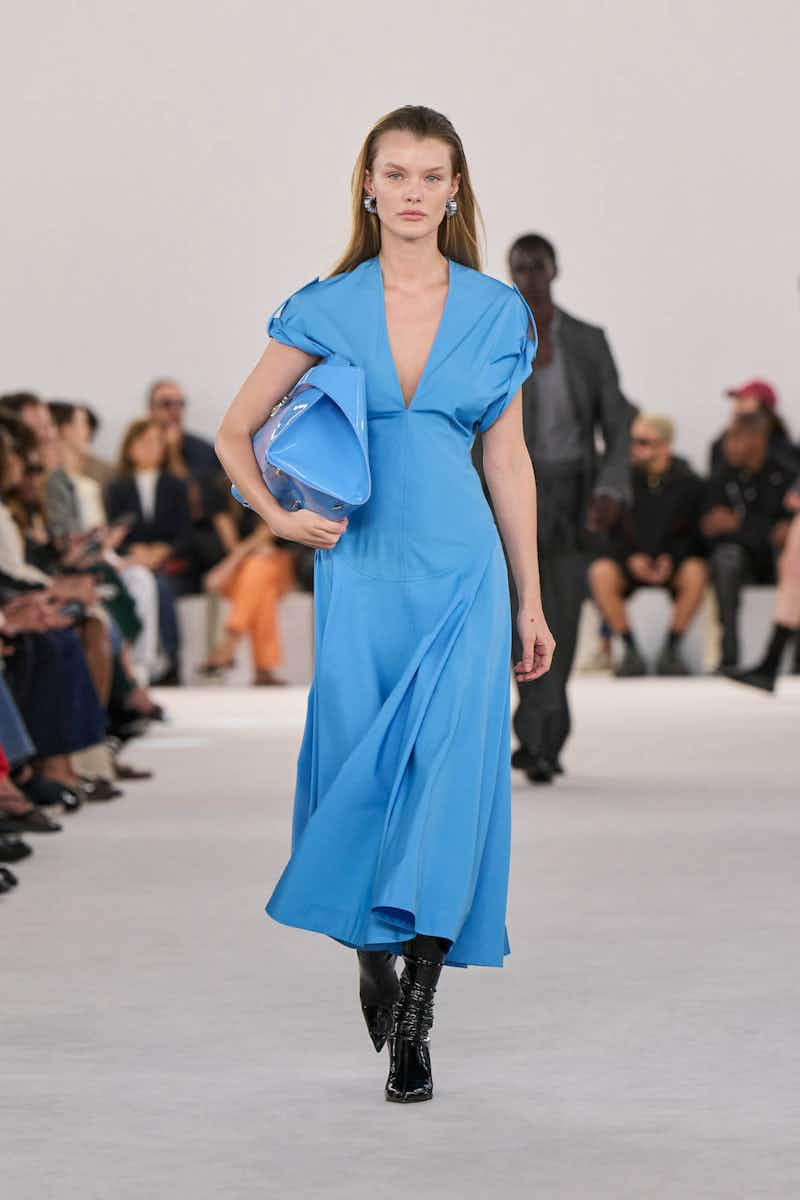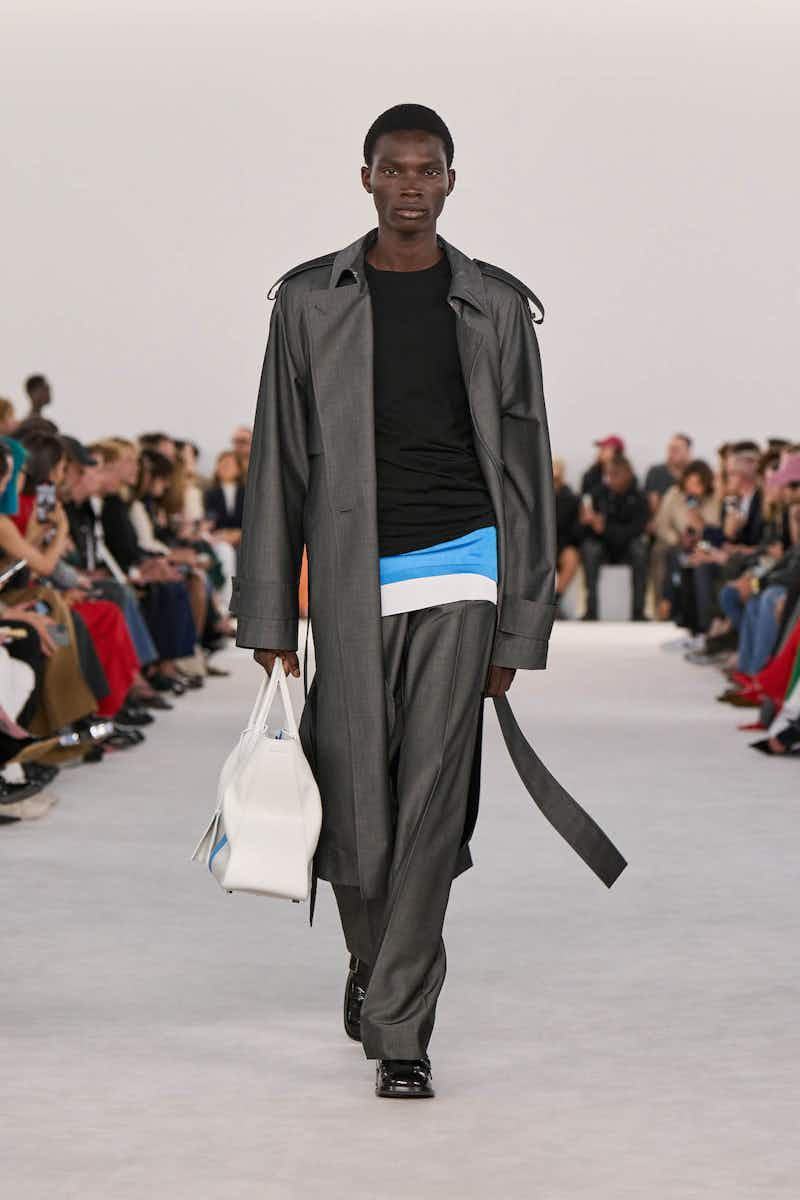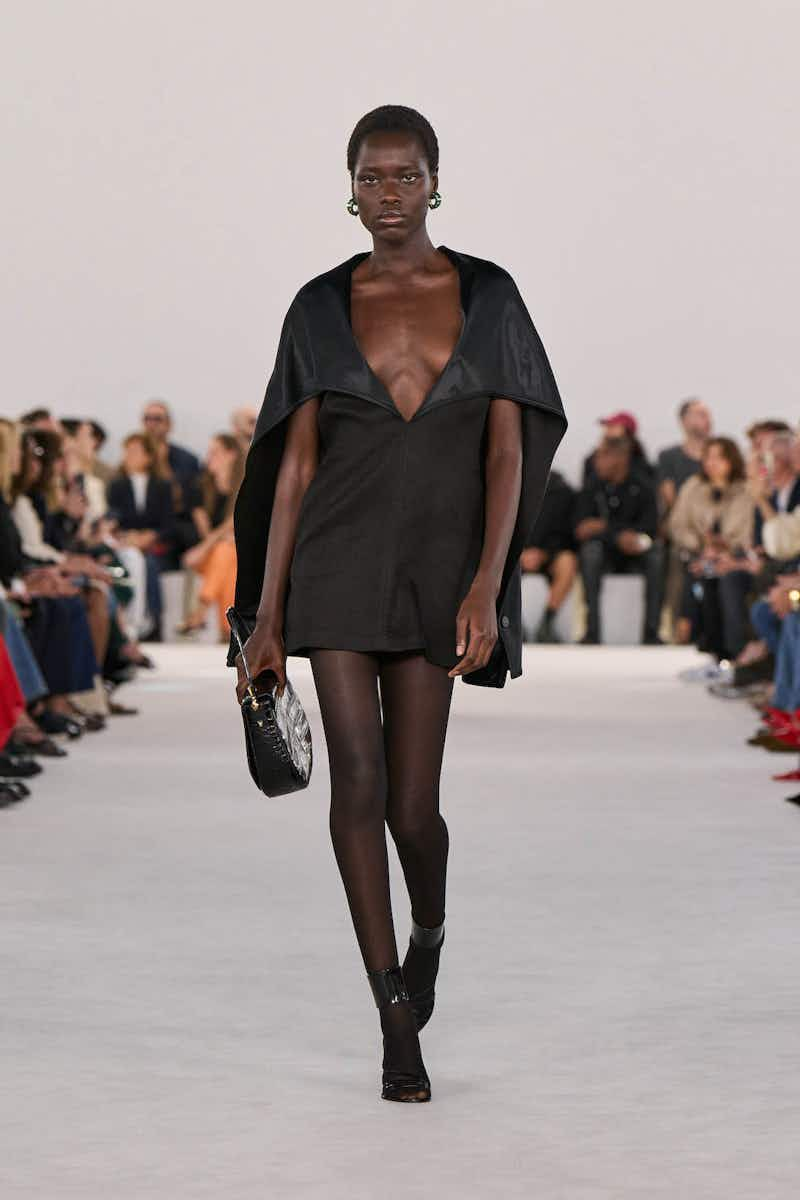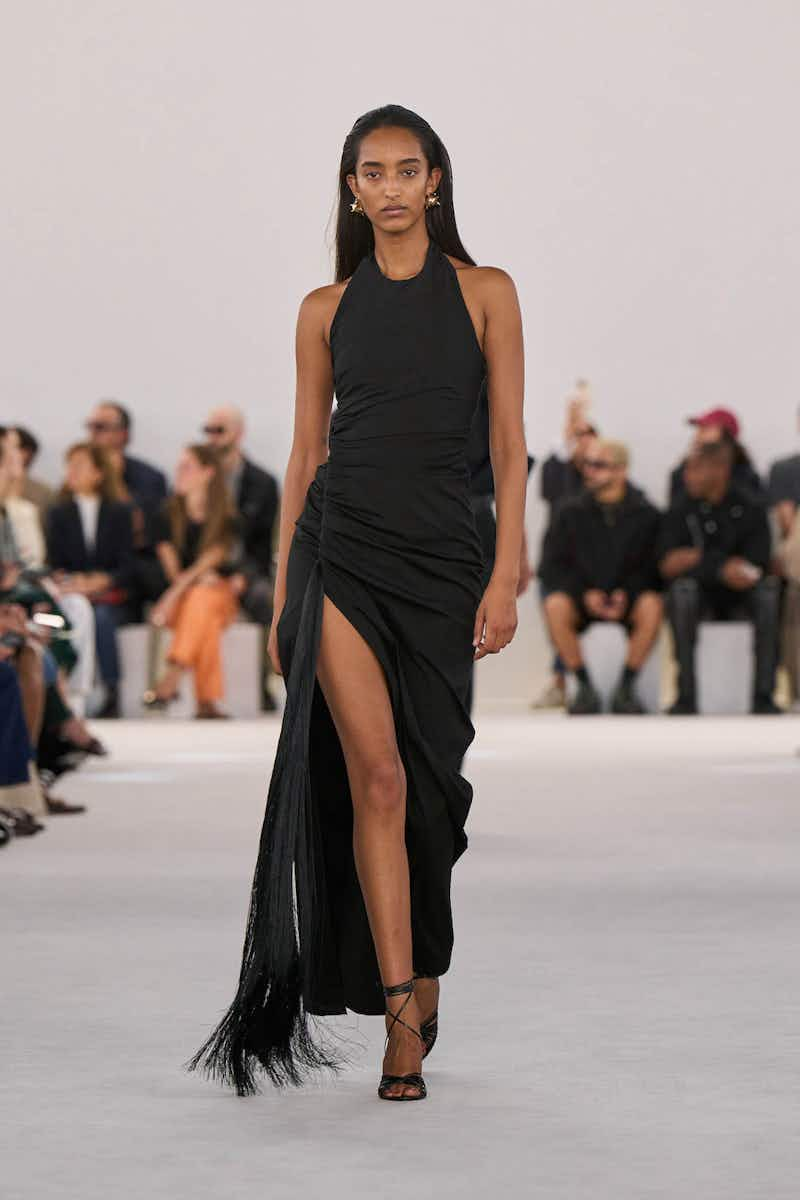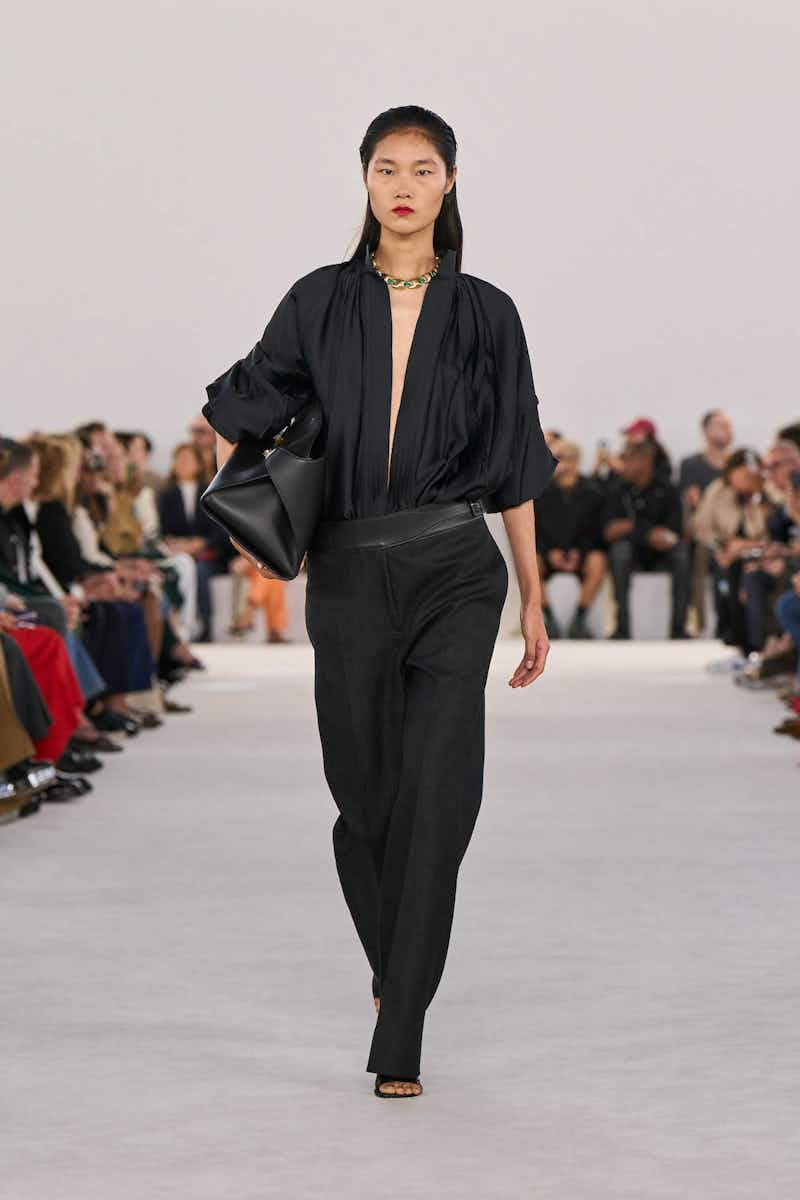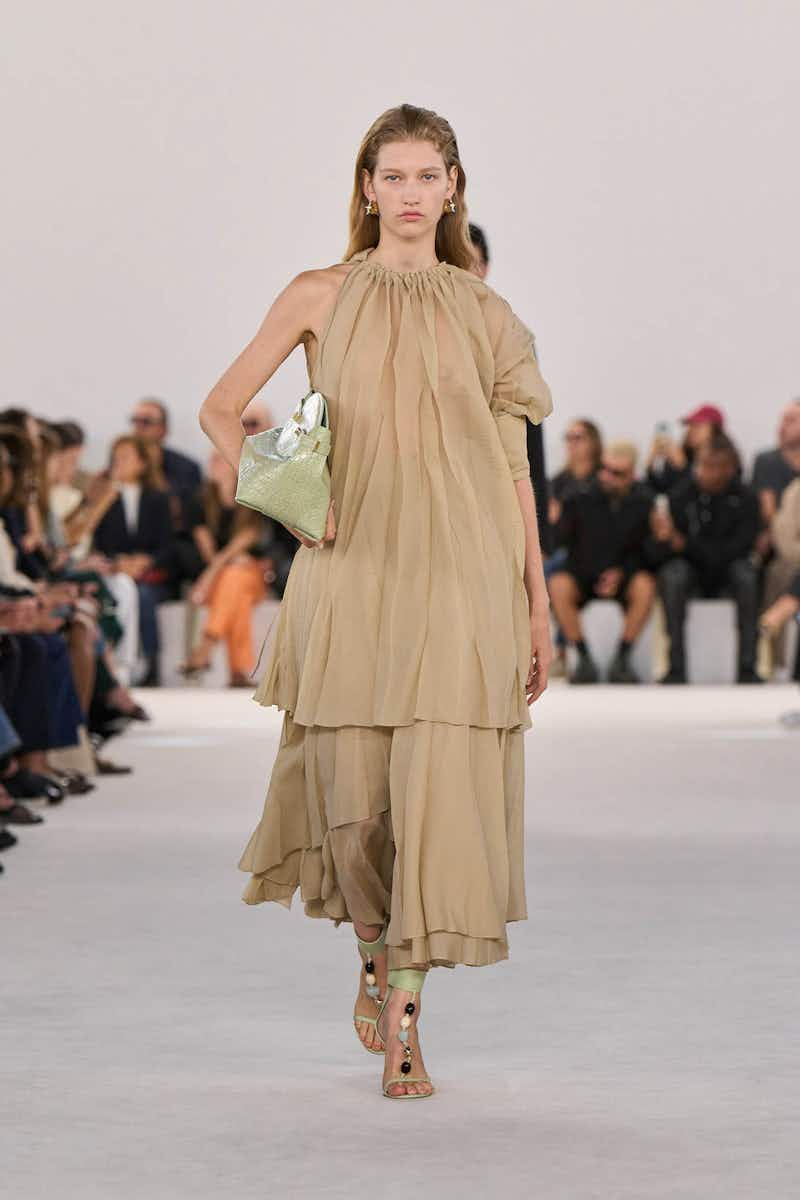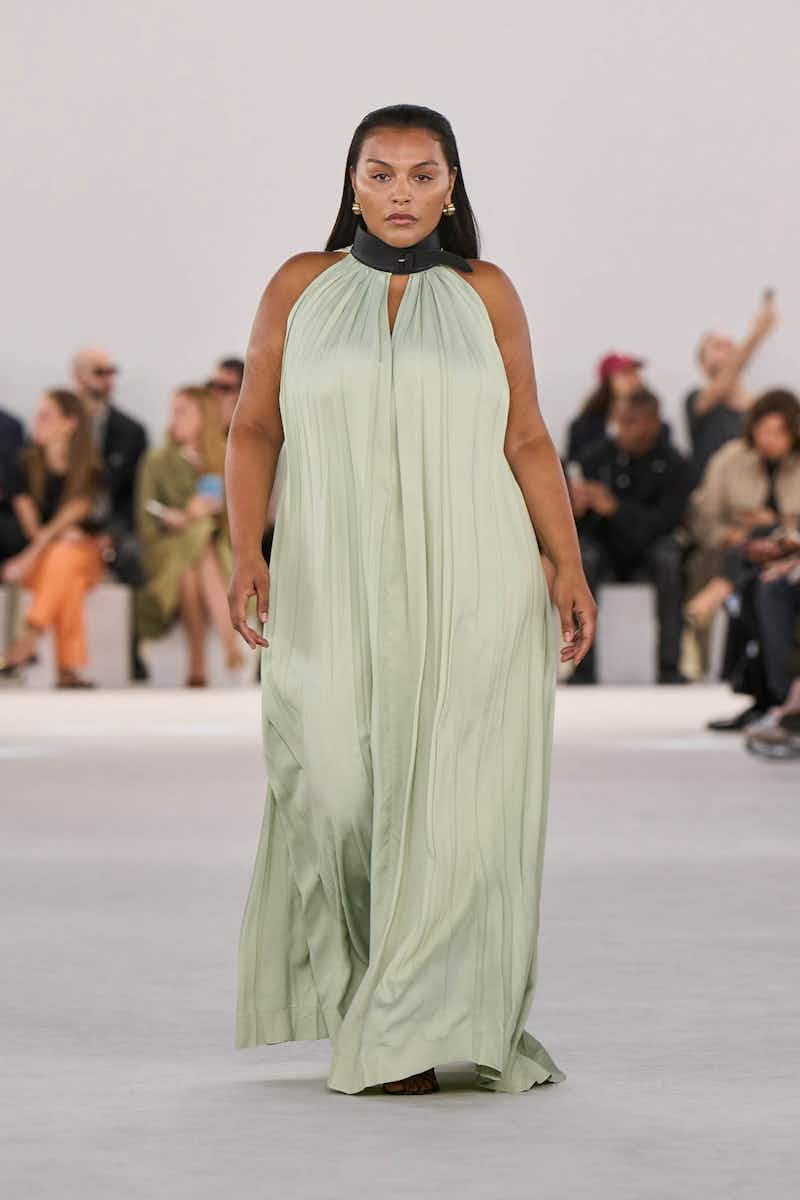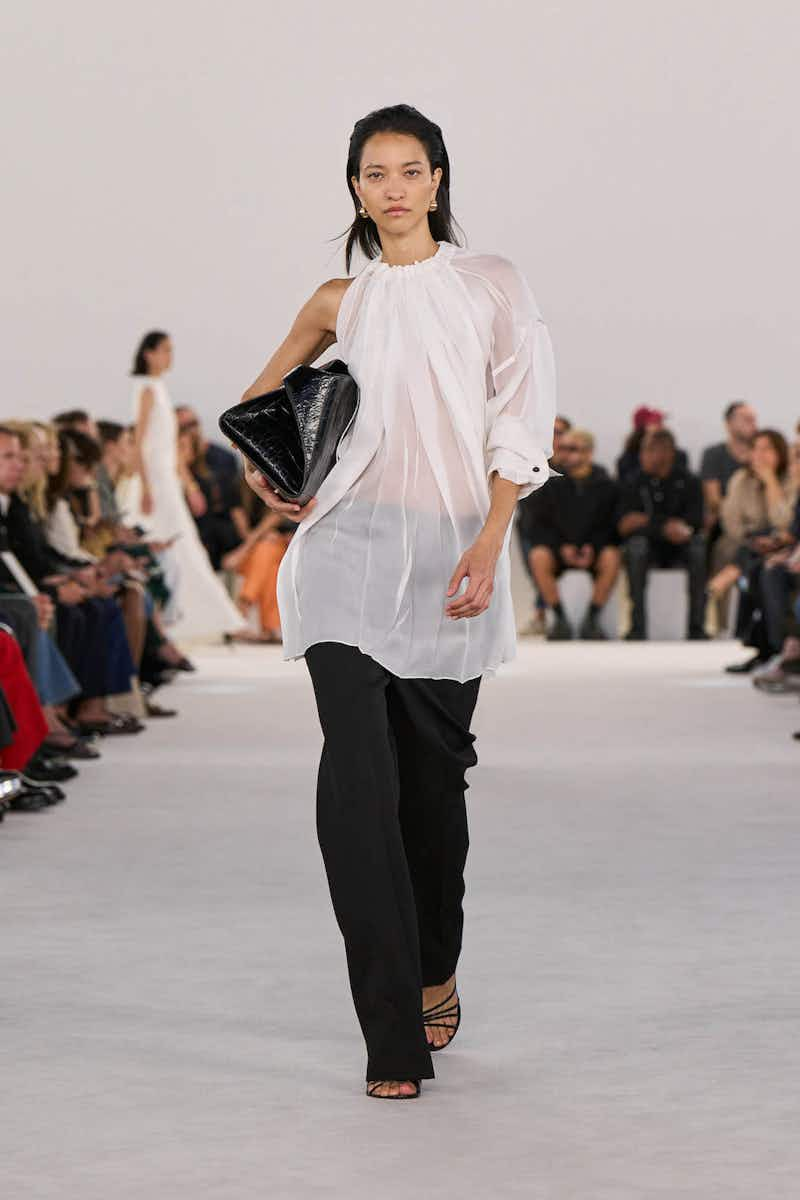 What?
Watching inflight entertainment is hardly how most directors wish their films to be consumed, but inspiration can come from those liminal moments nonetheless. This was the case for creative director Marco Falcioni, whose SS24 Boss collection was inspired by watching Being John Malkovich for the first time while flying back from Miami last season. It occurred to him that everyone in that film could have been dressed by Boss. The result was a ​"techtopian" rendition of office dressing, delivered in a staid palette of grey, brown, beige, cream and black.
Who was there?
Gigi Hadid opened the show in a full grey pinstripe skirt suit with a revealing tied brown silk shirt peeking out from beneath. Plus, Natasha Poly, Amelia Gray, Ashley Graham and Paloma Elsesser each walked the runway cosplaying a chic morning commute.
Where?
A sterile office space from the future called ​"techtopia", featuring an on-screen AI robot named Sophia.
What went down?
Unless you work in law or finance, office wear is largely a remnant of the past. This season, though, Falcioni used these traditional sartorial codes to envision a future of uniformity sped up by the advancement of AI. That said, it was a uniform we'd happily slip into with no qualms. Angular pinstripe suits were worn slightly oversized or hidden beneath big boss energy coats rendered in wool, leather, mock croc or brushed faux fur.
Meanwhile, pens clipped into chignons and ties extended this caricature of office attire. Each model clasped an old school power briefcase as if caught mid-commute. Later, cowl neck silk shirts were tucked into belted knee-length skirts in looks that were equal parts smart and sexy. It was true to Boss' office wear reputation that has maintained its place in every shopping centre department store, but with added high fashion appeal. On their own, these garments felt versatile and wearable, their use extending beyond your average 9 to 5. Even if your office doesn't have a strict dress code, there'd be nothing stopping you wearing them out to a fancy lunch date to show them who's boss.
In a Tiktok trend:
Falcioni called it ​"corpcore".
In a song:
Doja Cat's Boss Bitch.

What?
Donatella Versace delved into the archives for inspiration, reinventing the check print pastel tailoring that first appeared in the Italian house's SS95 collection when Gianni Versace was at the helm.
Where?
The show took place on a luxe chequered mirrored runway, soundtracked by VTSS' Make You Scream and Incredibly Annoying.
Who was there?
Kendall Jenner opened the show in a white, embellished shift dress, and Amelia Gray and Precious Lee also walked. Closing the show were blonde bombshell duo Gigi Hadid and Claudia Schiffer, who returned to the runway for the first time in years, having walked in the SS95 show from which this collection sought inspo.
What went down?
With The Super Models dropping on Apple TV earlier this week, Donatella's latest collection, which was inspired by a time when the OG supers ruled the Versace runway, felt particularly zeitgeisty. Of course, any show that's inspired by that period better be glam. Thankfully, Donatella delivered. Presenting pastel coloured tailoring that meant business, the collection reimagined ​'90s Versace tropes with a fuss-free approach to contemporary elegance. Sculpted tailored jackets in pastel pinks, baby blues and pale greens came with matching suit skirts or loose silk short-shorts that flared out from the waist. Thrown in with shiny silver shoes, coquettish hair bows and knee high boots in leather or satin, it harked back to the sensual glamour of ​'90s Versace while making it smart and preppy enough for modern everyday wear.
Any highlights?
Toeless knee high boots for when it's cold outside, but you still want to show off your French pedi. Pastel coloured over the knee satin boots with bow details at the back are also sure to make it onto many a ​'90s fashion revival Pinterest board.

What went down?
Crowd surfing, identical twins and models sprinting down the runway – with Sunnei, you never quite know what you're gonna get. This season, audience members were handed numbered paddles and asked to rate each look in the show as it came down the runway. While they waited for the show to start, a Northern accented voice shouted out slightly dystopian yet encouraging phrases like, ​"Expressing your opinions is great, do it now!" or ​"Having an opinion is natural, just release it! Follow your gut! Don't overthink, just judge!"

According to co-creative director Loris Messina, the format was based around the idea that today, ​"Everyone has an opinion, everyone is a judge, an advocate, a writer, a reviewer, and there's a widespread blah blah, [and the idea that] all opinions are legit regardless of whether they're grounded in knowledge." Silhouettes played with proportions as skin tight scuba-style tops were styled with ultra-wide leg trousers. Leather jackets, trainers and silk dresses were concise and wearable while colourful stripes covered shirts, trousers and exaggerated apron-like dresses.
Where?
Guests trekked to a stark television studio on the outskirts of Milan.
Must-cop pieces?
The oversized cross body leather handbags that were slung over shoulders like satchels or held by hand. Other accessories of note included bags with giant woven tassels as well as chunky wedges (a Sunnei mainstay) and sporty heels made from scuba fabric.
In a quote:
​"Se-VEN!!" shouted like Len Goodman on Strictly.
What?
Massimo Giorgetti explores the ​"collisions, accidents, clashes and crashes" between all of his passions with a collection that reads as a rebellious twist on school uniforms.
Where?
Like Sabato de Sarno's debut Gucci collection, the MSGM show was supposed to take place outside, but more bad weather scuppered those plans. Instead of taking place in the open-air modernist place as scheduled, the show occurred in a stripped back indoor venue where models walked a grey carpeted runway.
So, what did it give?
Unruly, fashion-forward schoolgirls who customise their uniforms by knotting shirts, scrunching up skirts and adding coquettish kneesocks. Other looks combined sweatshirts with plaid skirts in a mishmash that evoked after-school dashes out to the shops when you're dressed half in your school uniform and half in pyjamas. PE kits appeared, too, through rugby shirts embroidered with crochet roses and preppy knit polo shirts paired with supersized cargo pants.
The soundtrack?
Chicks On Speed's riotous electroclash.

What?
Only one of the most anticipated shows of the season: Sabato de Sarno's debut collection for Gucci. Loyalists to Alessandro Michele's maximalism will have been left sorely disappointed, but it didn't quite embody the erotic energy of Tom Ford's Gucci era, either. Instead, de Sarno presented a highly wearable collection made up of versatile wardrobe basics – grey hoodies, double breasted blazers and denim held up with classic double‑G logo belts. This is what Gucci looks like off the red carpet and out and about in the real world.
Who was there?
Well, it was a big ​'do – so it was only right Gucci pulled in the punters for the occasion: Kendall Jenner, Bad Bunny, Halle Bailey and Paul Mescal joined Emma Chamberlain and Devon Lee Carson on the front row. Veteran model Daria Werbowy, who starred in de Sarno's first teaser campaign, was there, too. As was Ryan Gosling, Jodie Comer, Dixie D'Amelio and Amelia Dimoldenberg, who also hosted interviews on the red carpet.
Alessandro Michele established his aesthetic in the mainstream by dressing celebrities like Harry Styles and Jared Leto, so it will be interesting to see who de Sarno's celebrity muses will be going forward. If we had to hazard a guess. we'd expect to see Kendall, Hailey Bieber and Emma Chamberlain in these off-duty looks by next summer.
What were the clothes like?
Much like Daniel Lee introducing ​"Burberry blue" to establish the brand's new identity, de Sarno introduced a new shade: Rosso Ancora red; a deep claret that appeared across glossy jackets, skirts and shorts. Sleek tailoring, suit shorts and boxy leather jackets opened the show, but the collection really found its stride in the accessories. Super chunky platform loafers and silver chain mesh handbags established a more solid sense of de Sarno's brand direction. Elsewhere, tasselled dresses and coats added a sense of dynamism and lace trim slip dresses evoked a soft bedtime sensuality.
And the music?
With a soundtrack directed by Mark Ronson, it included remixes of Romy's Love her, Lykke Li's Late Night Feelings and Mina's Ancora, Ancora, Ancora.
In a word:
Understated.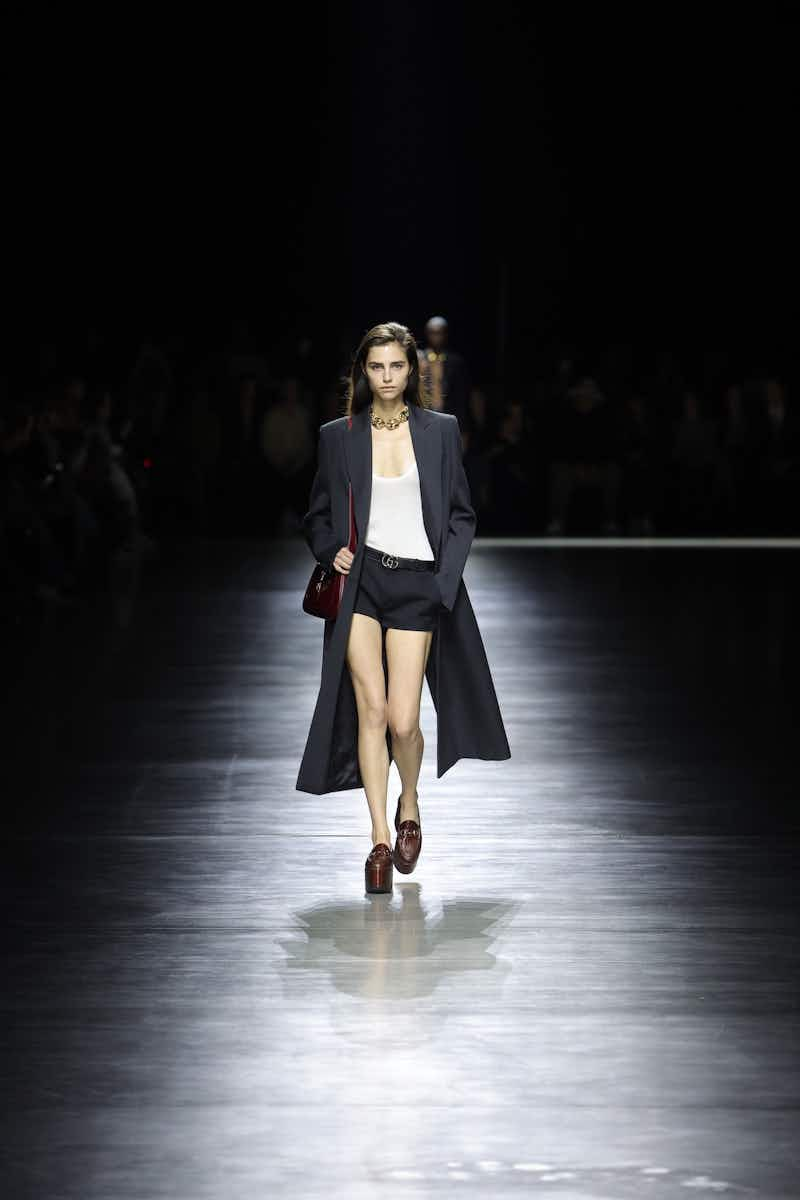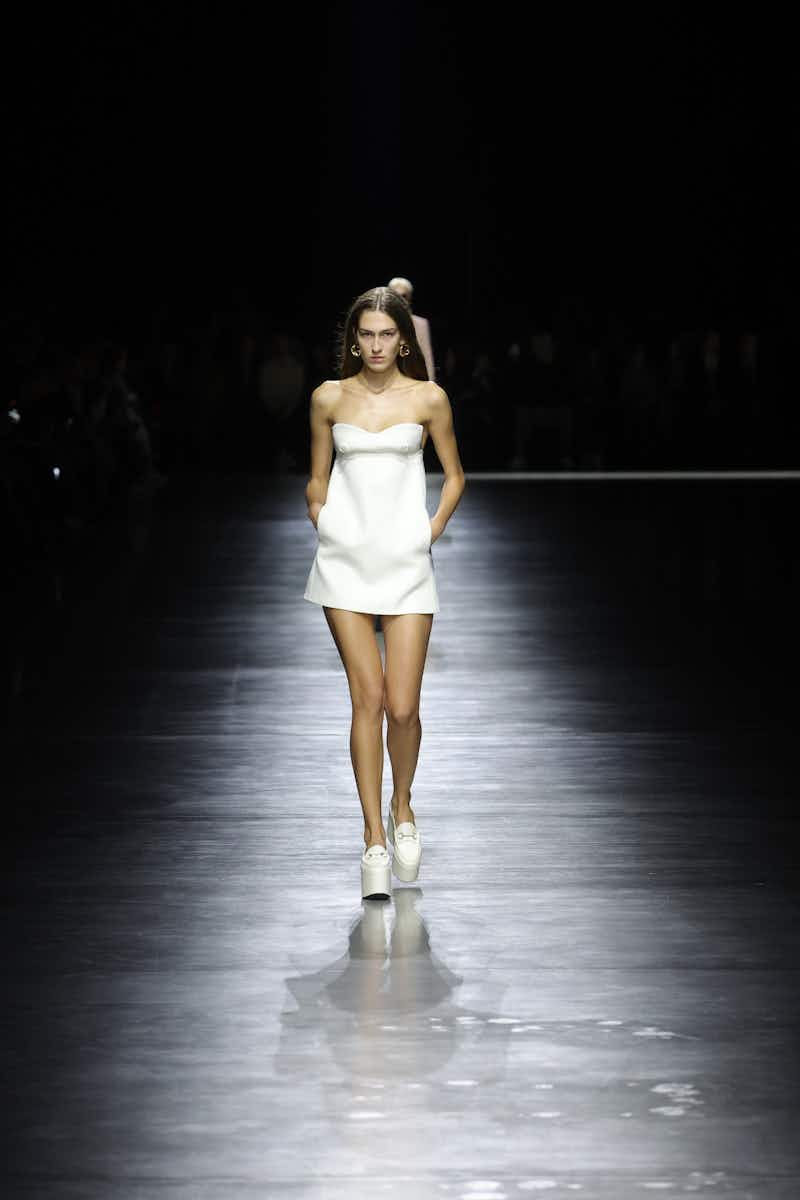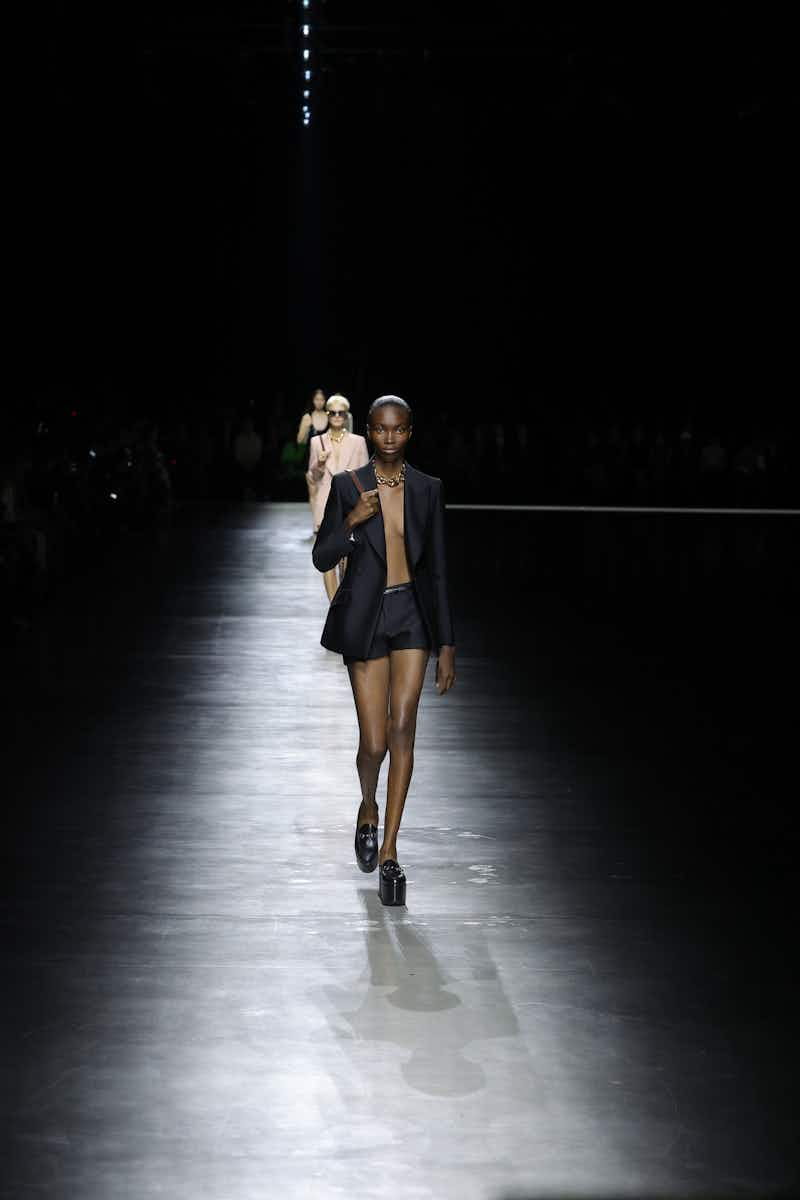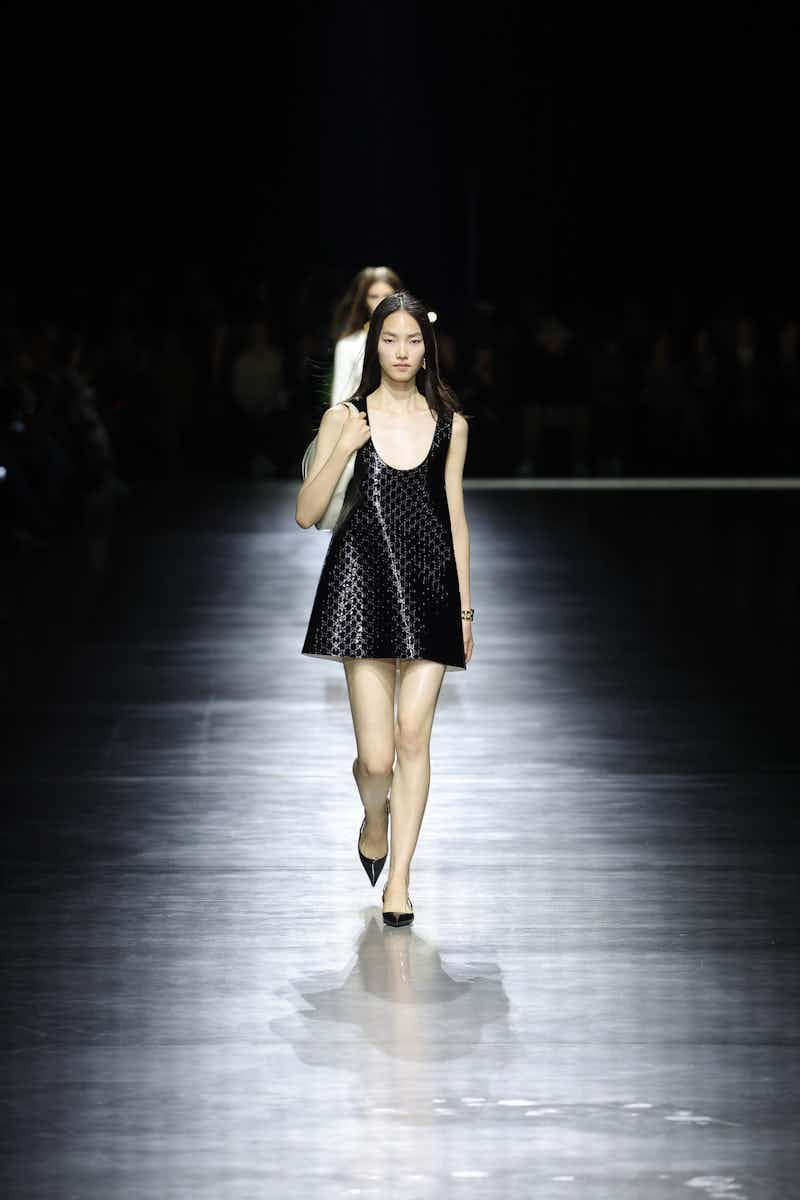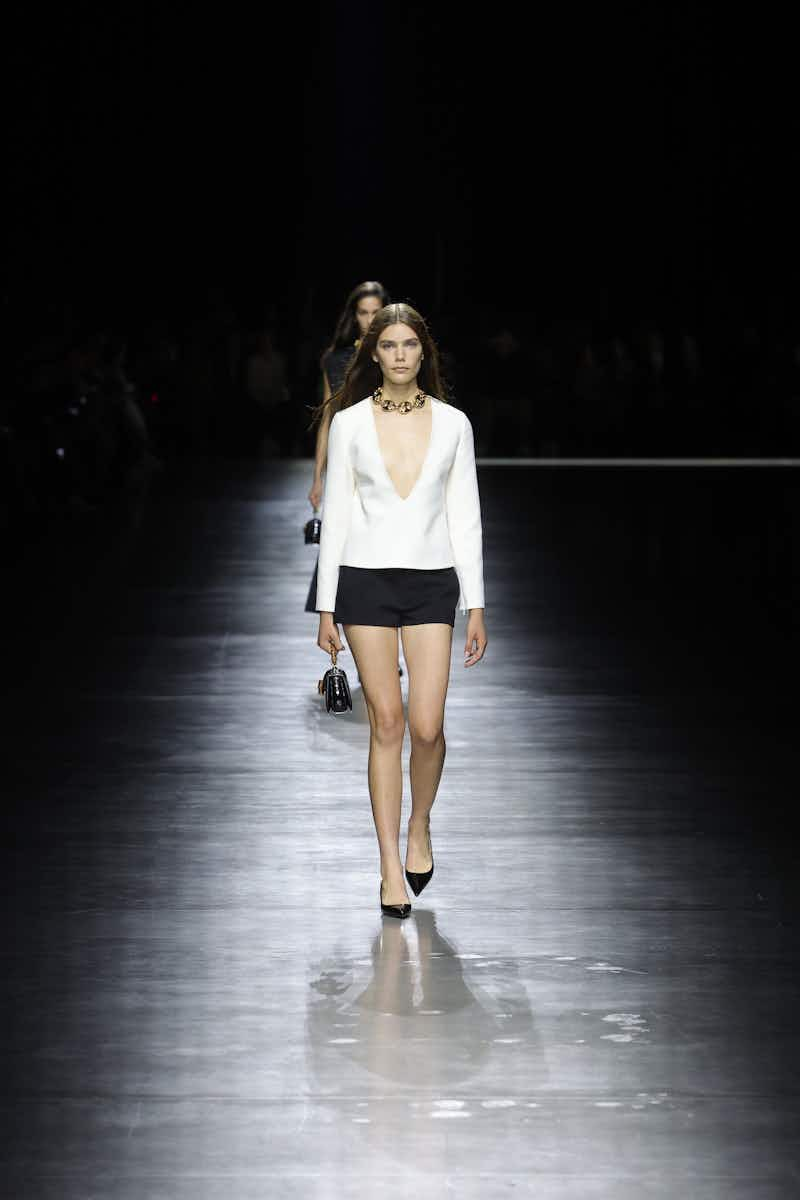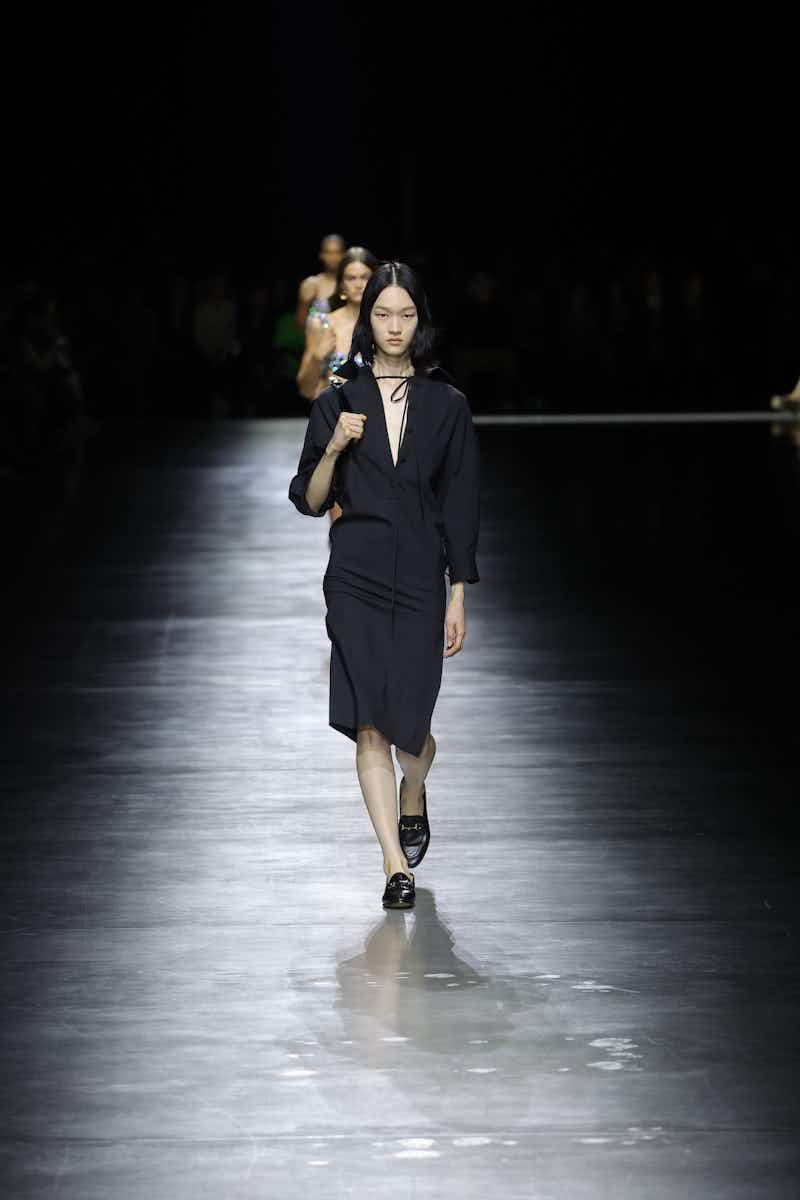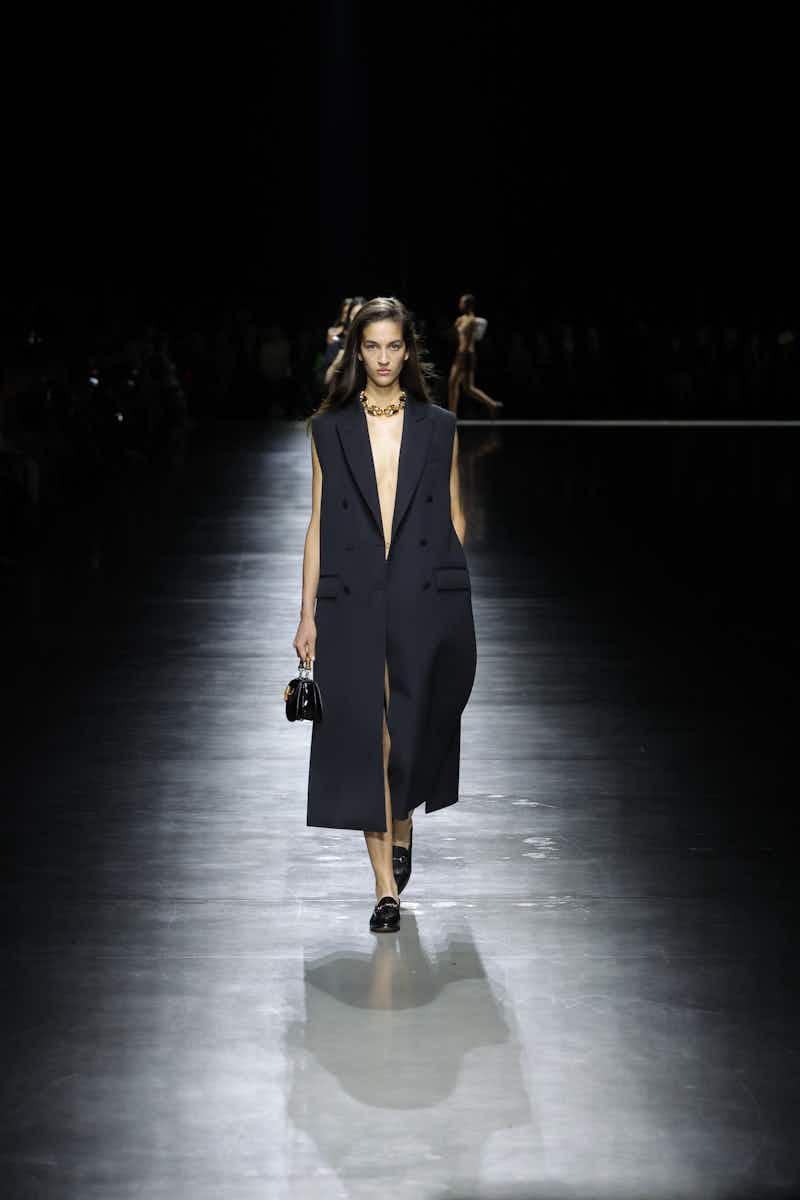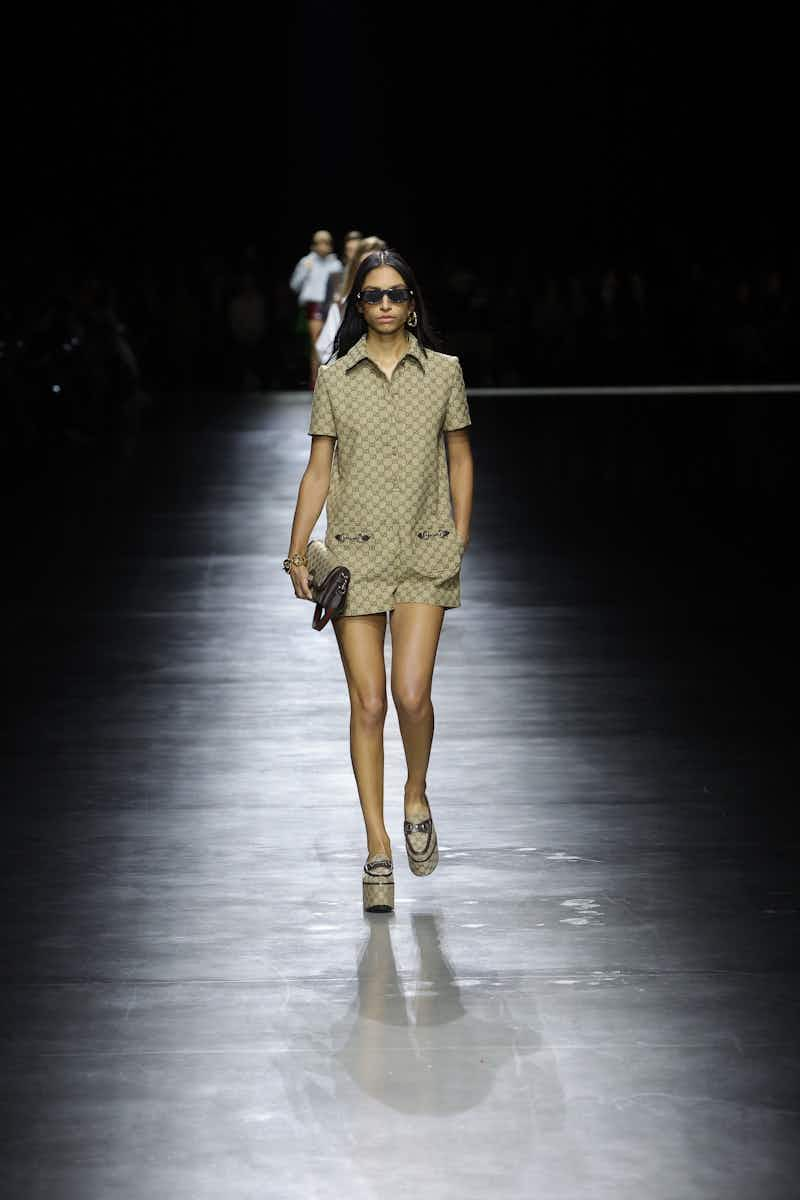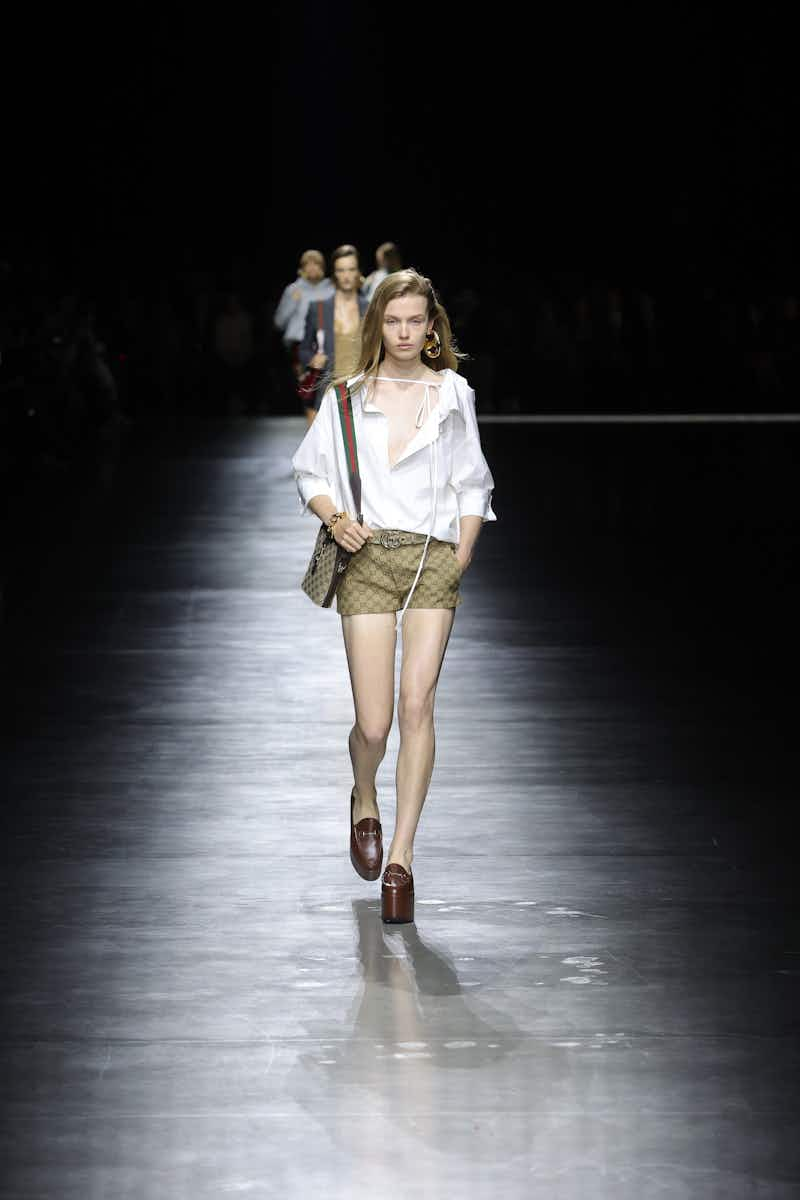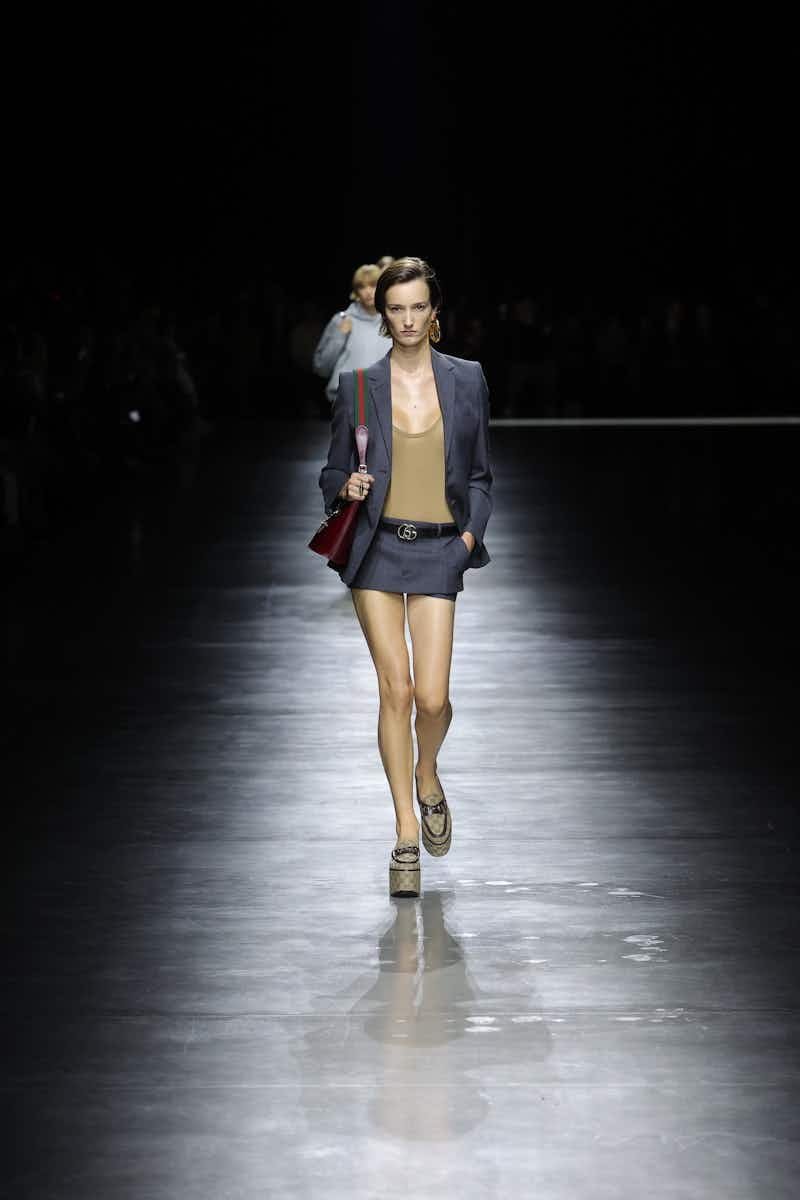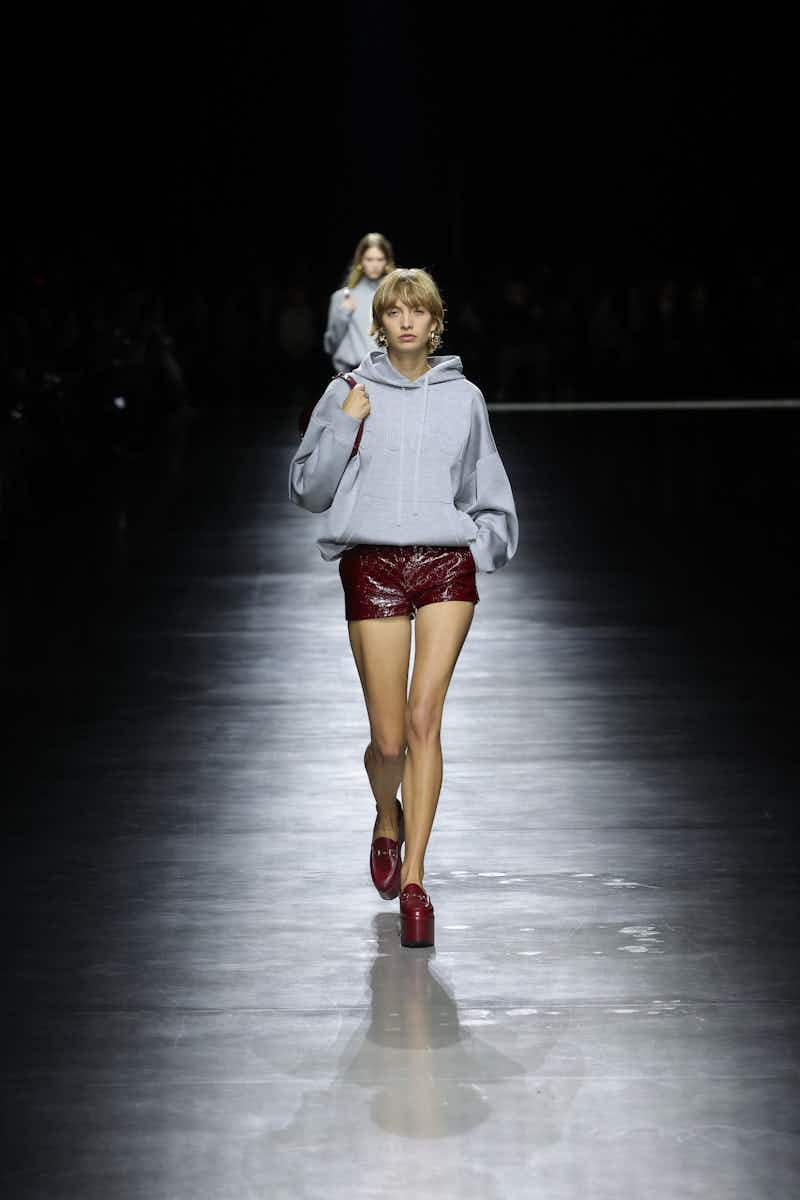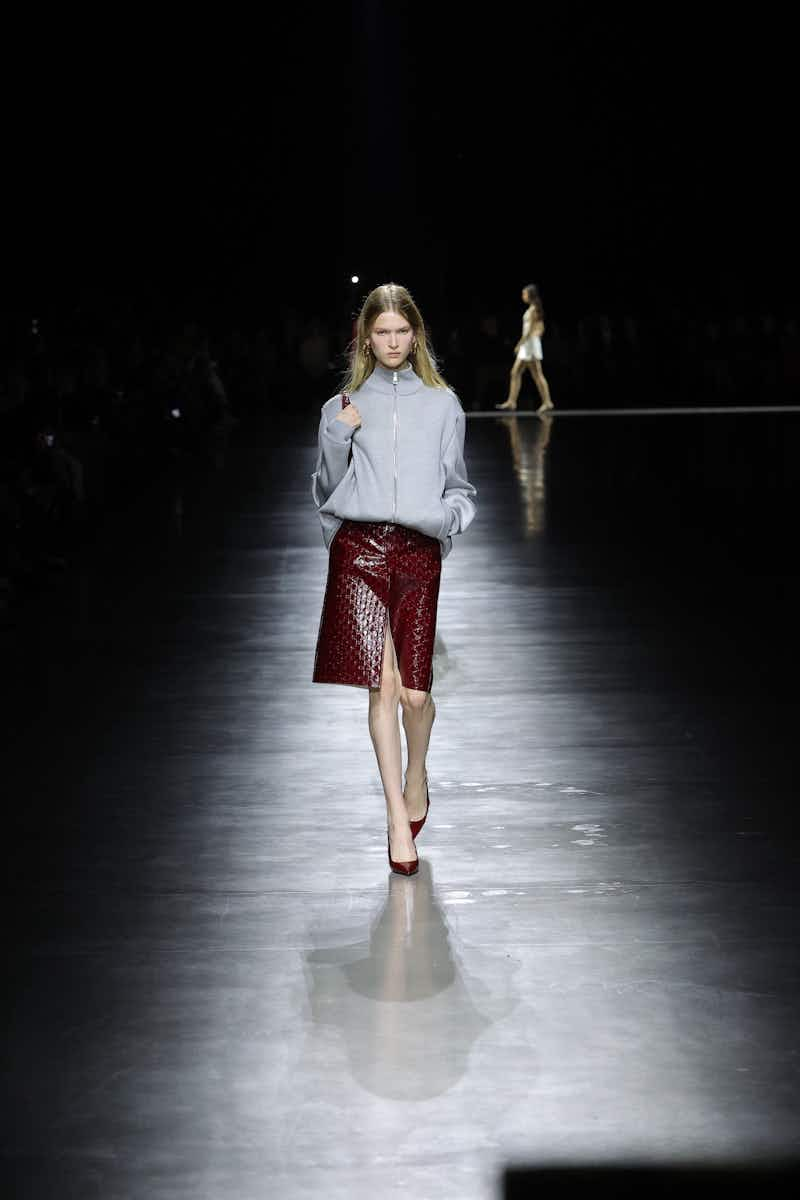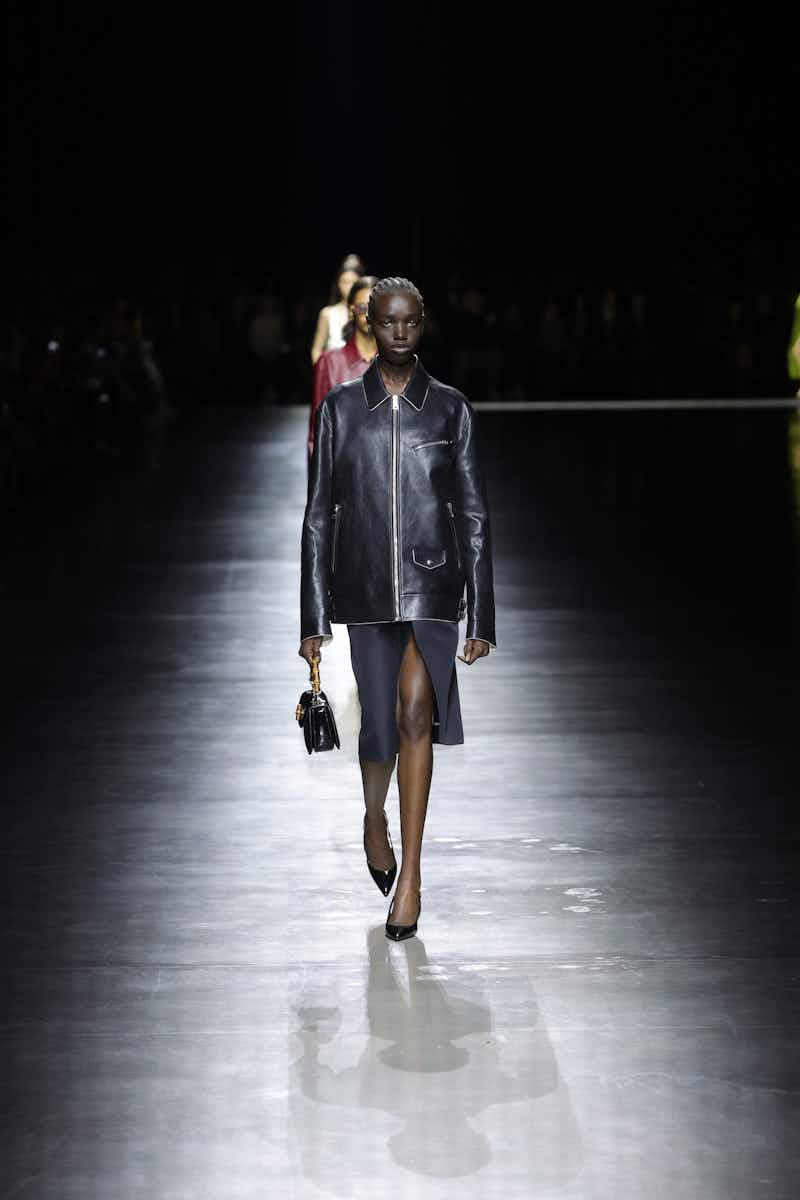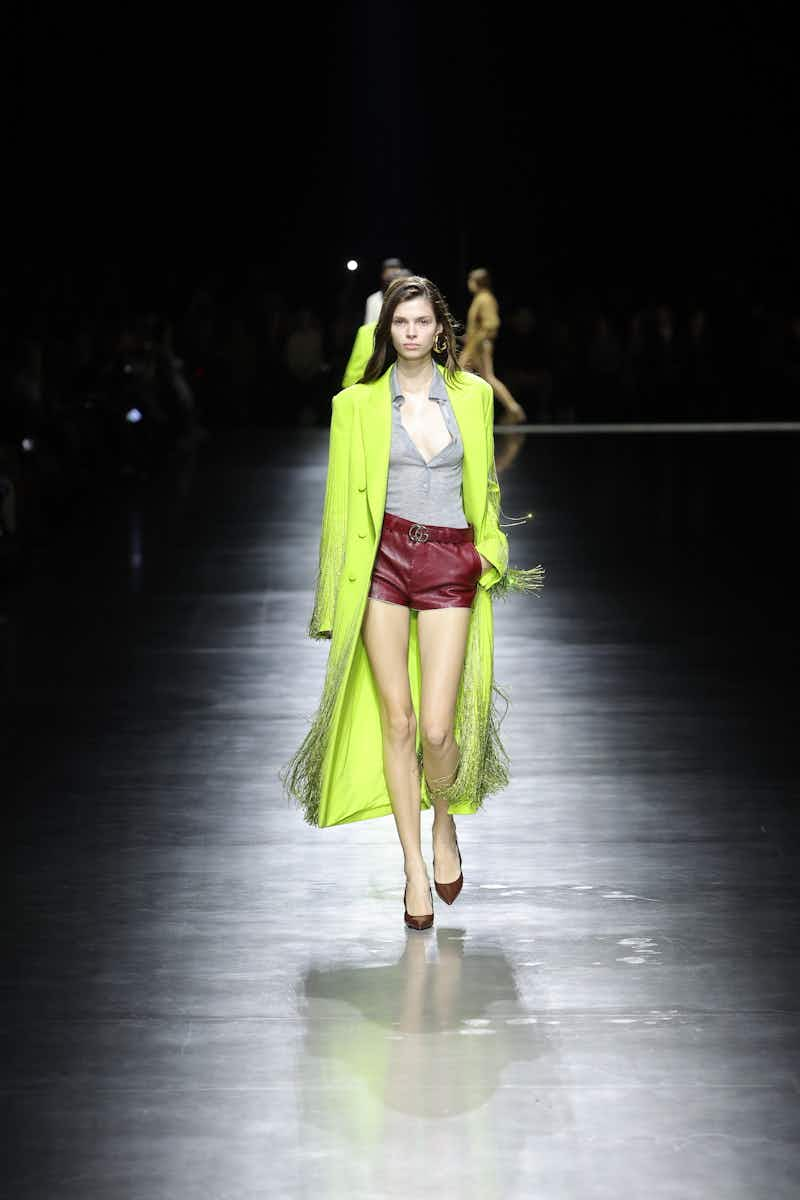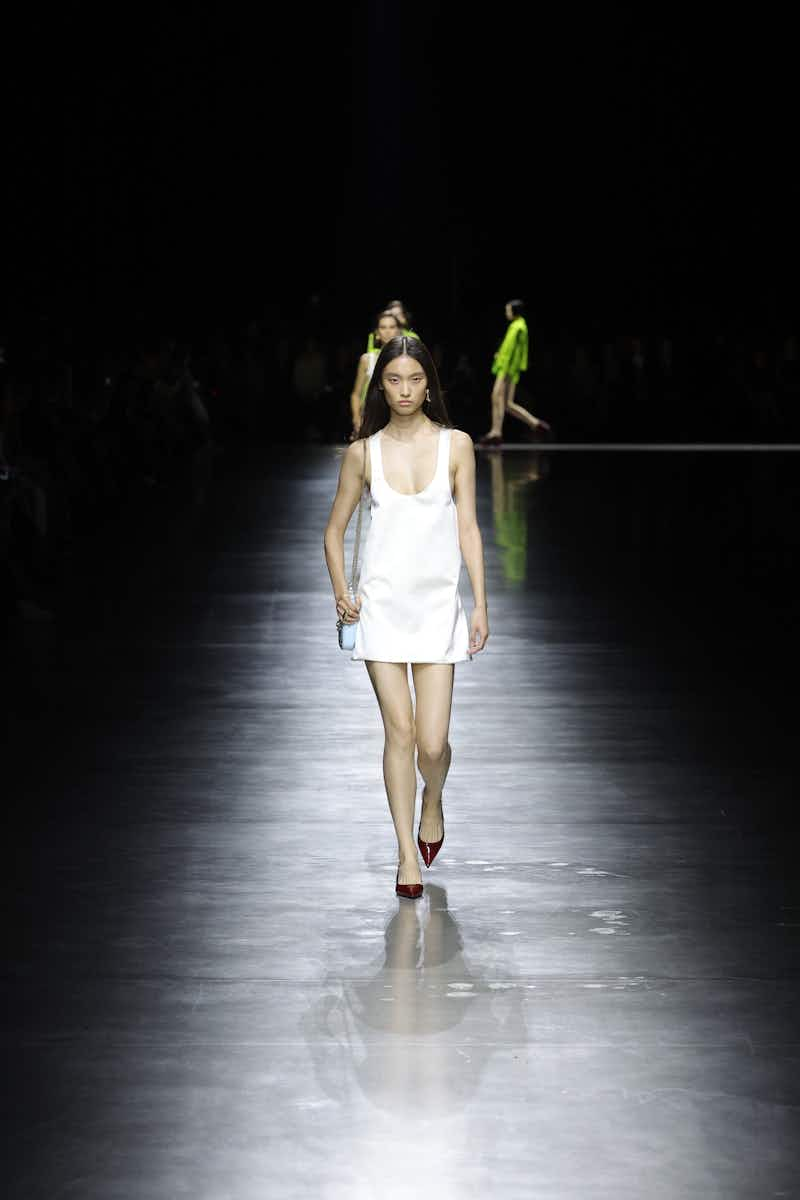 What?
Peter Hawkings' debut show at Tom Ford, since the real TF announced he was leaving his namesake label in April.
Where?
In the Palazzo del Ghiaccio venue, transformed for the high-glam affair with a plush gold carpet covering the runway. And, sat ringside, were Tom Ford's new-era of fans keeping it cool behind oversized shades, bums perched on matching carpeted benches watching the action unfold.
What went down?
The sexed-up glamour of ​'90s Tom Ford is back, baby. Hawkings, who has worked with Ford since his Gucci days, presented a debut collection that was more of a continuation than a new beginning. After all, if it ain't broke, why fix it?
The collection, big on the art of seduction, was inspired by Donyale Luna, the Detroit-born Black supermodel who gained fame in the ​'60s and ​'70s as a muse to both Andy Warhol and Richard Avedon. Pristine suits in plush velvet and satin channelled pure smoky ​'70s sleaze, while glossy mock-croc jackets were worn over louche silk shirts unbuttoned all the way down past the navel. Reinterpreting classic house codes with svelte, sensual ease, Hawkings delivered a collection for the woman who knows that ​"getting dressed is as much about getting undressed as it is about having fun with clothes".
In two words:
Hardore glamour.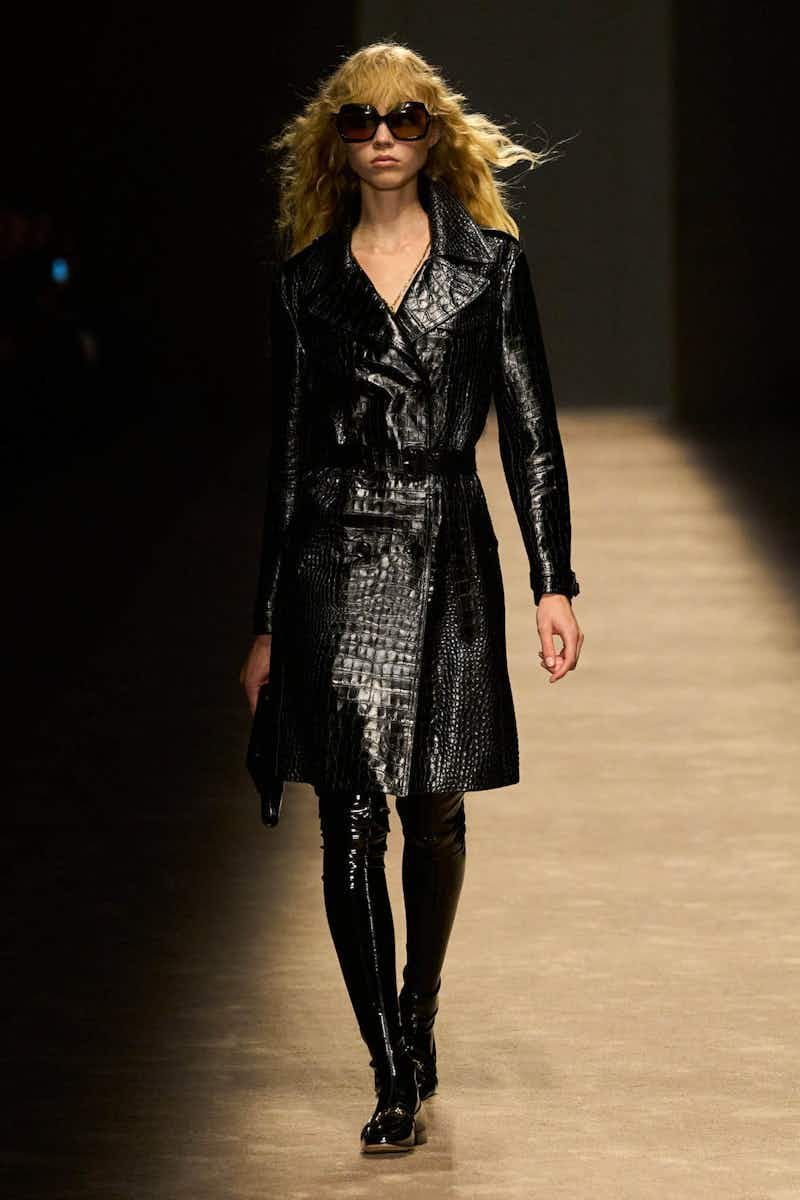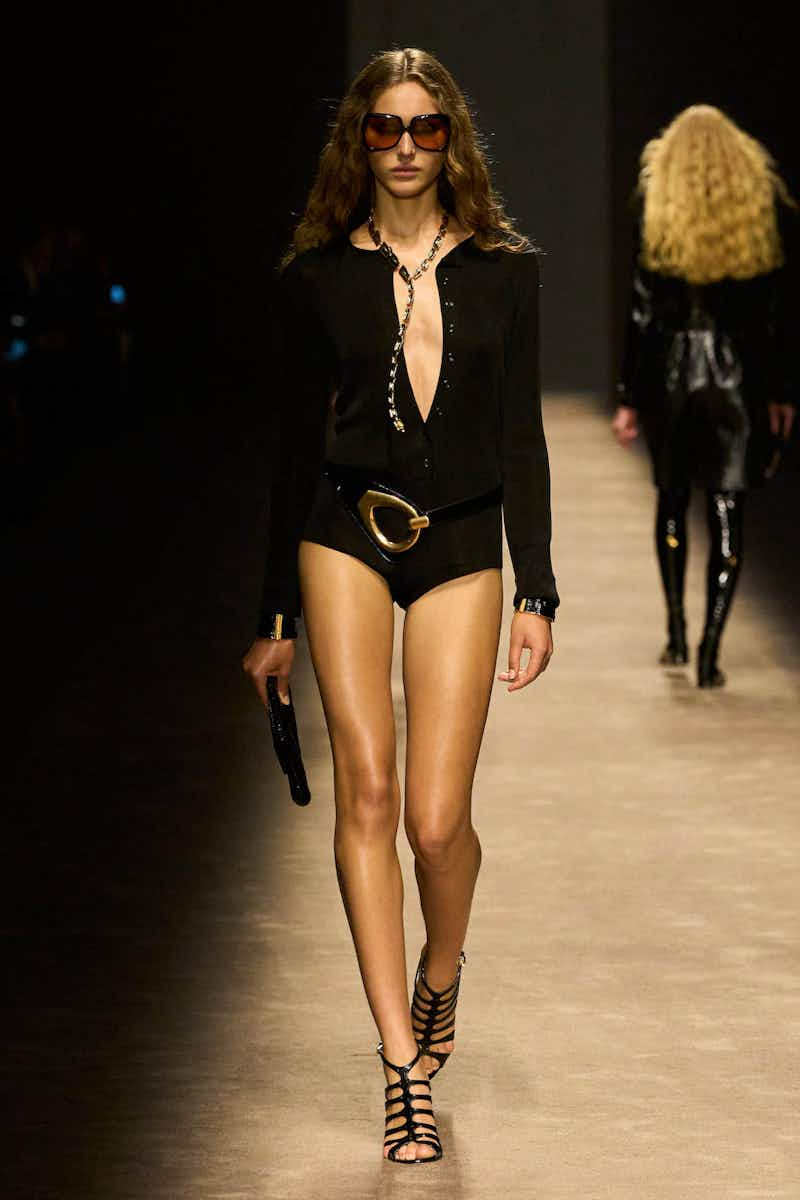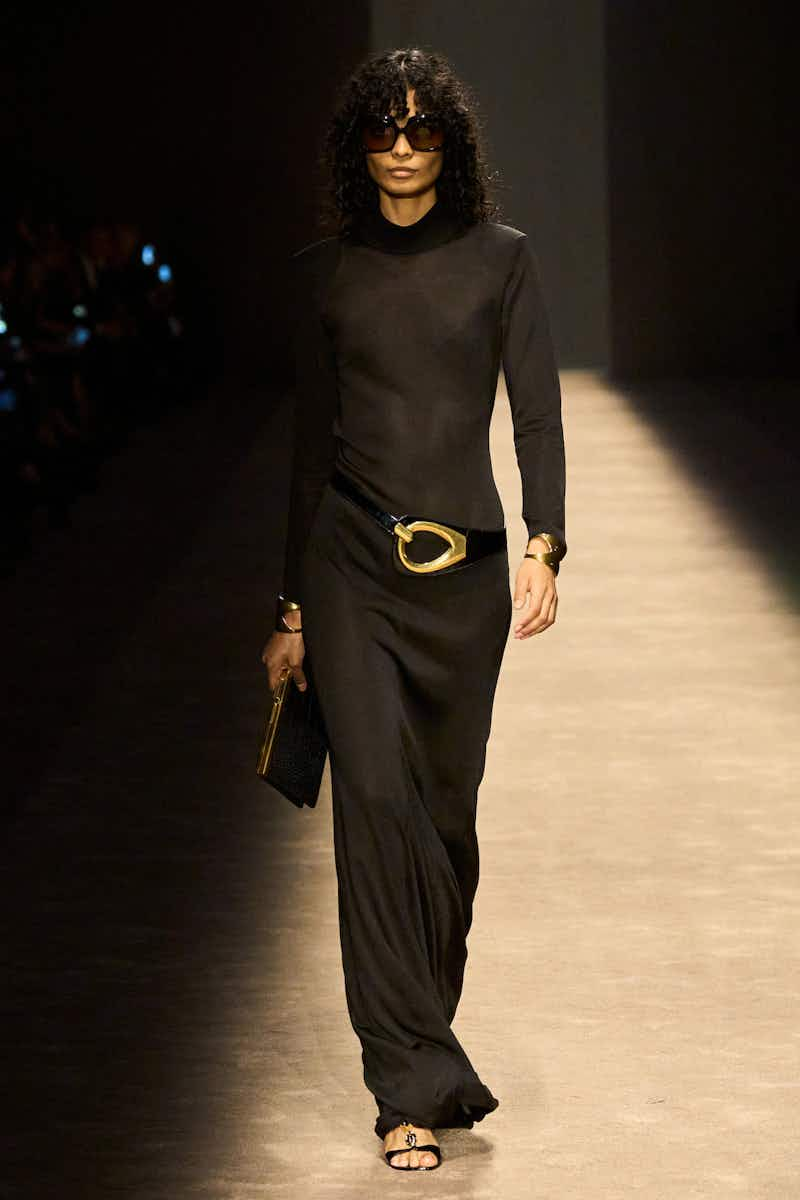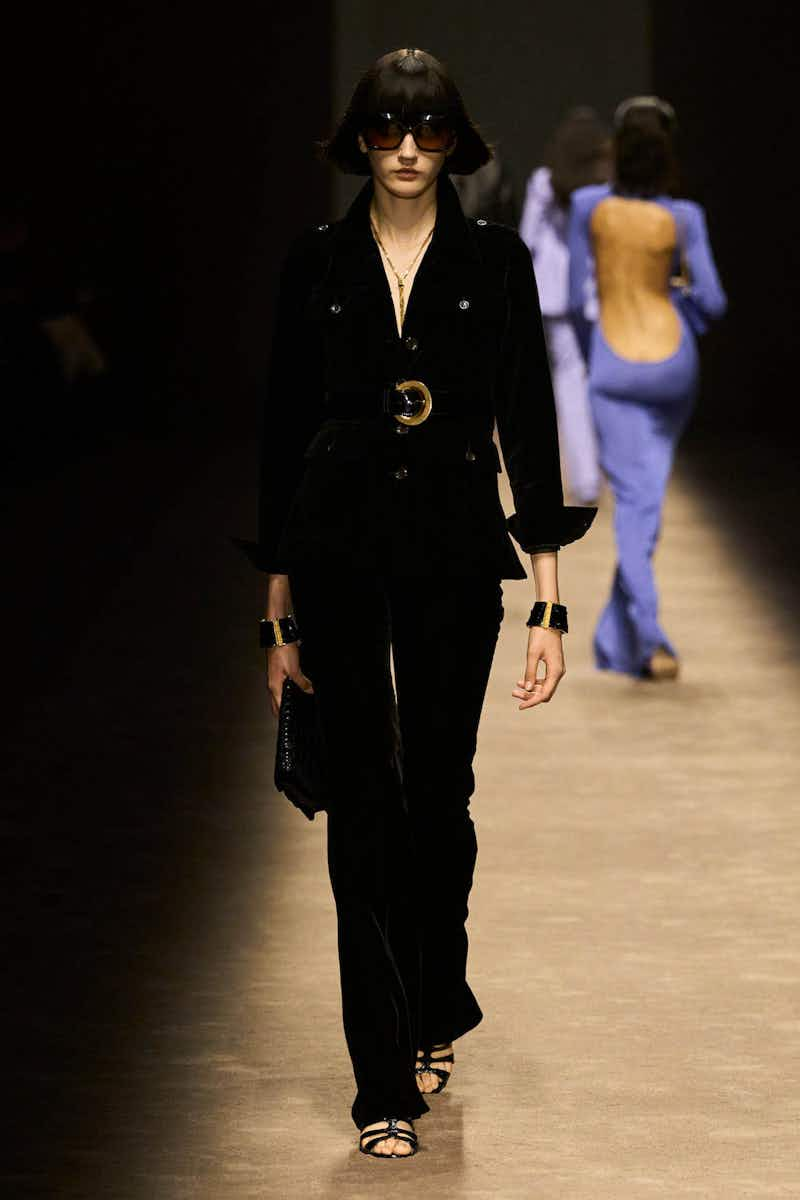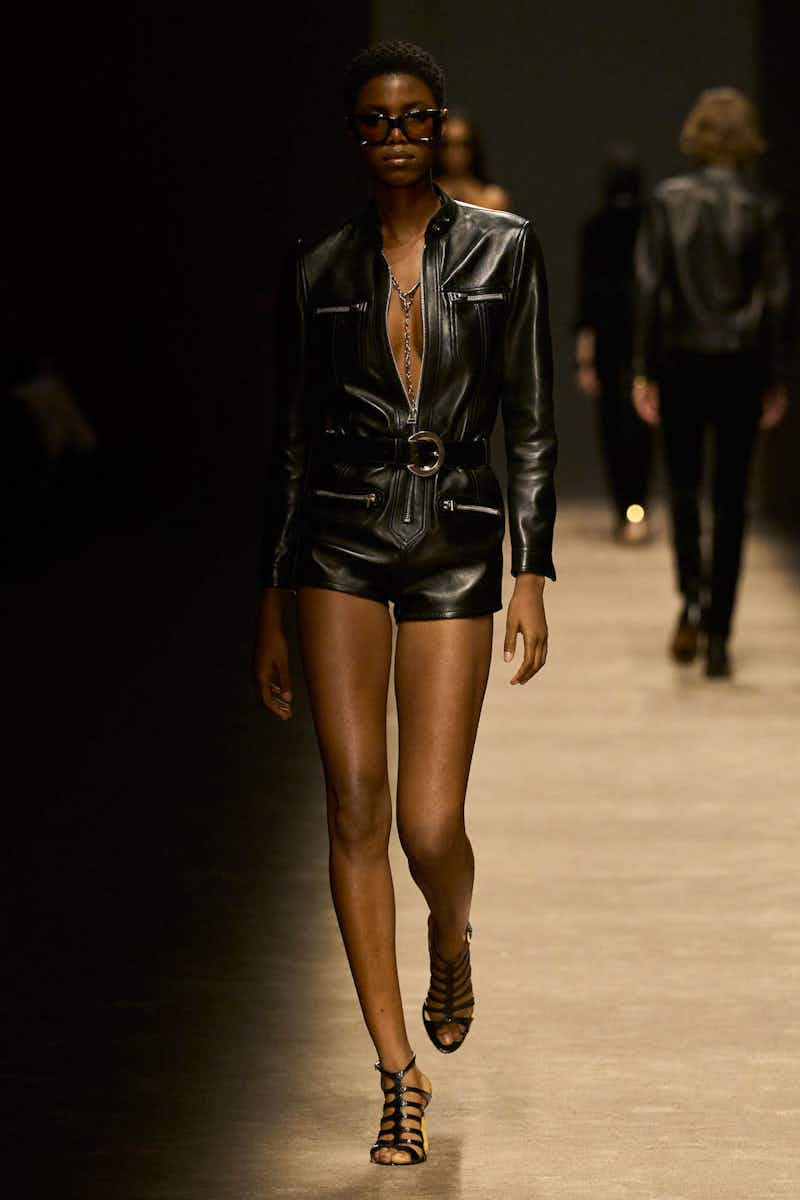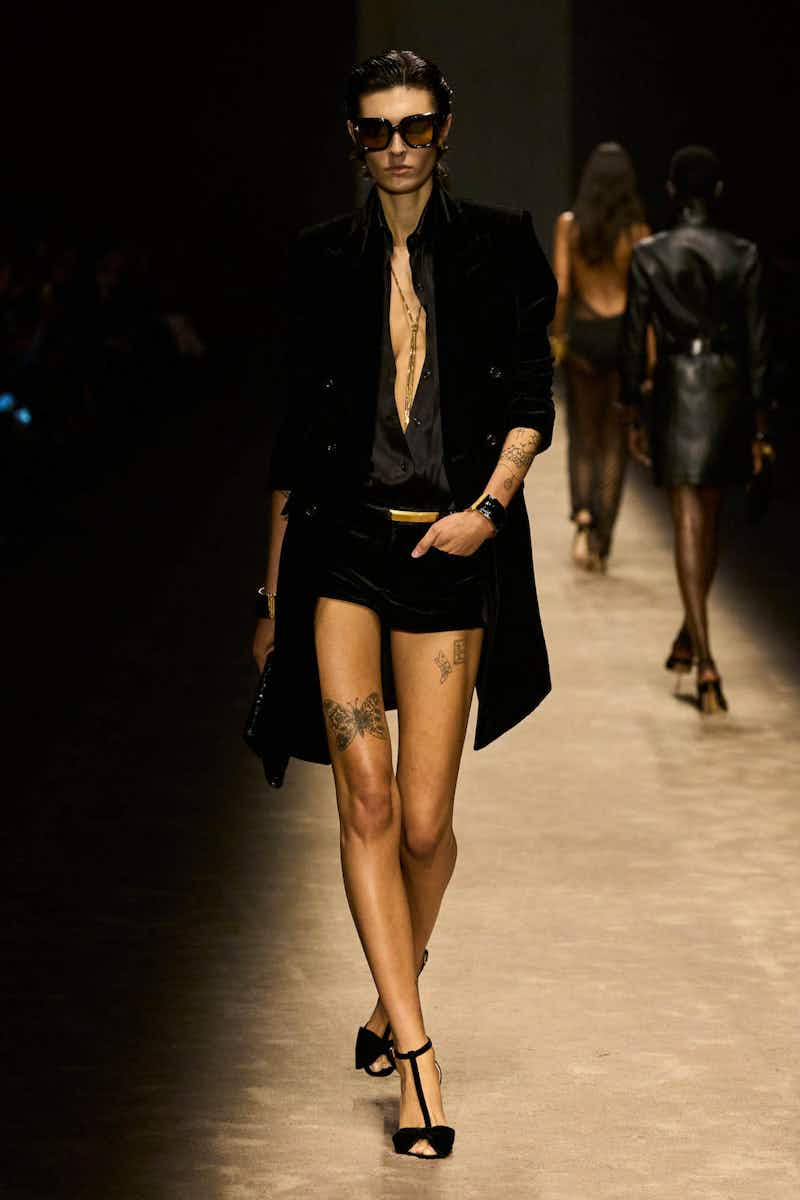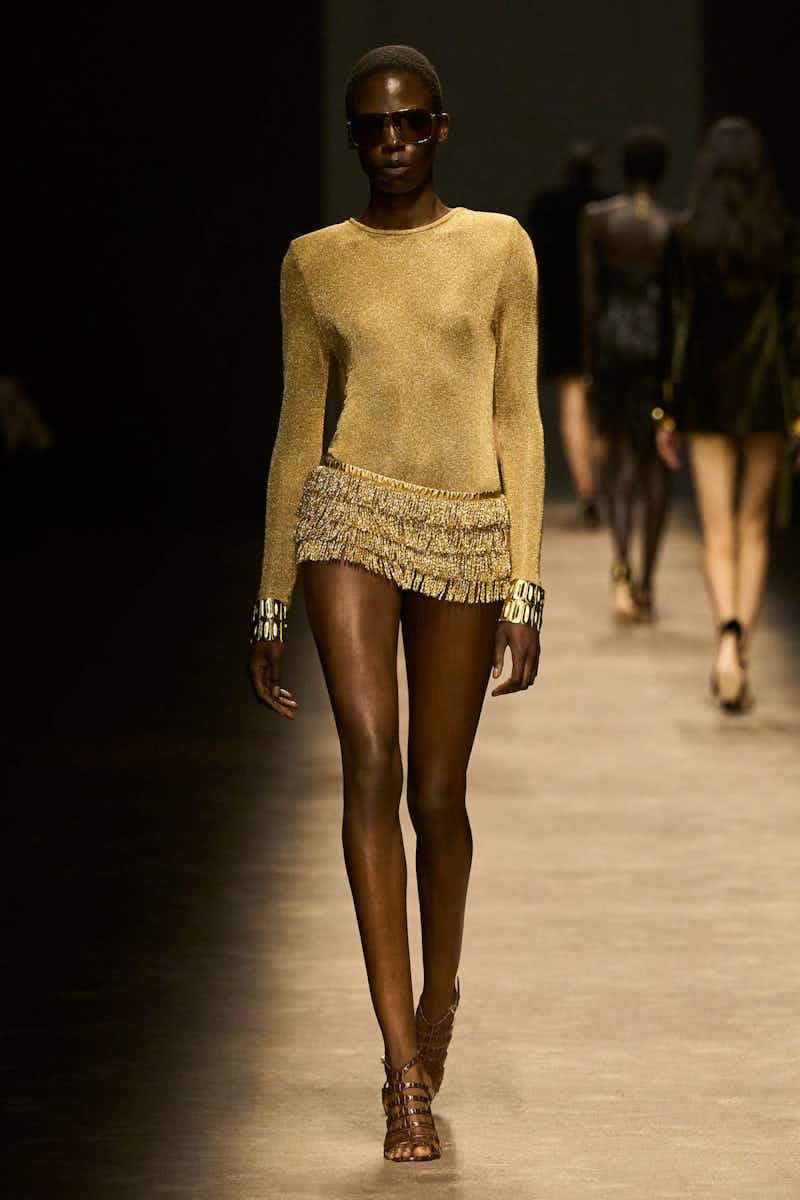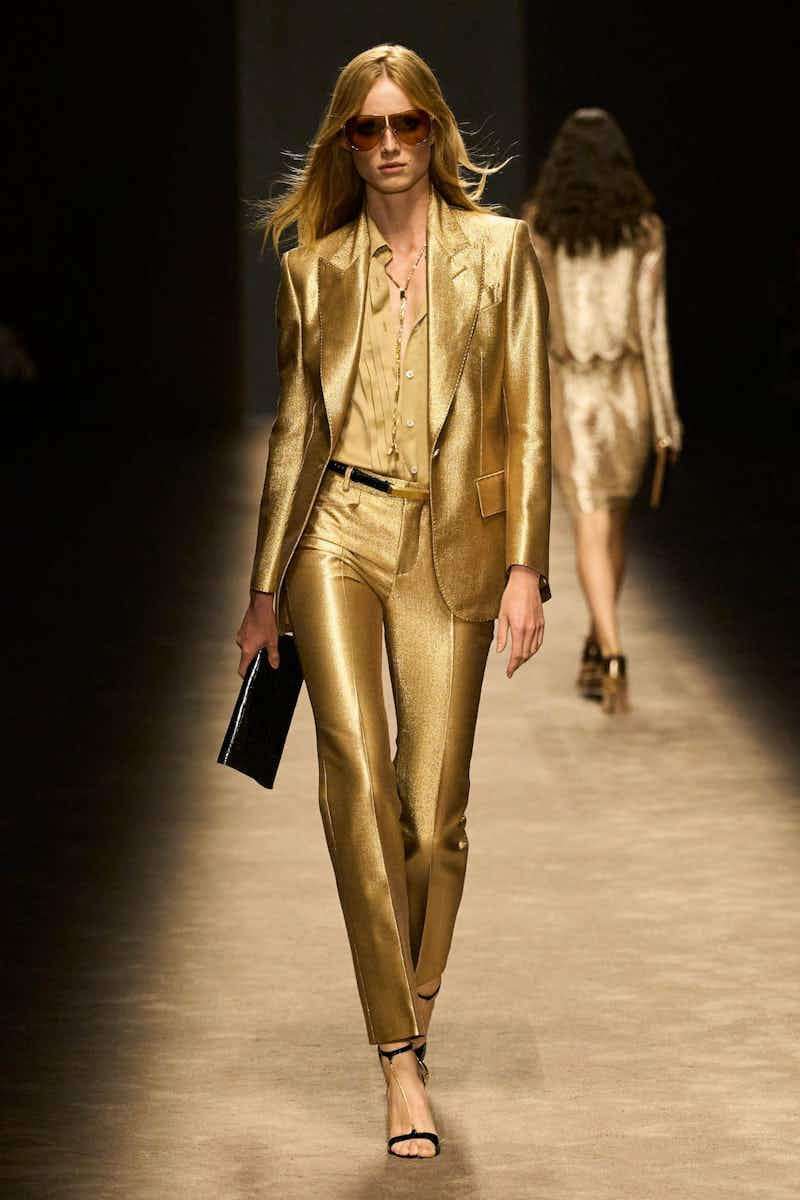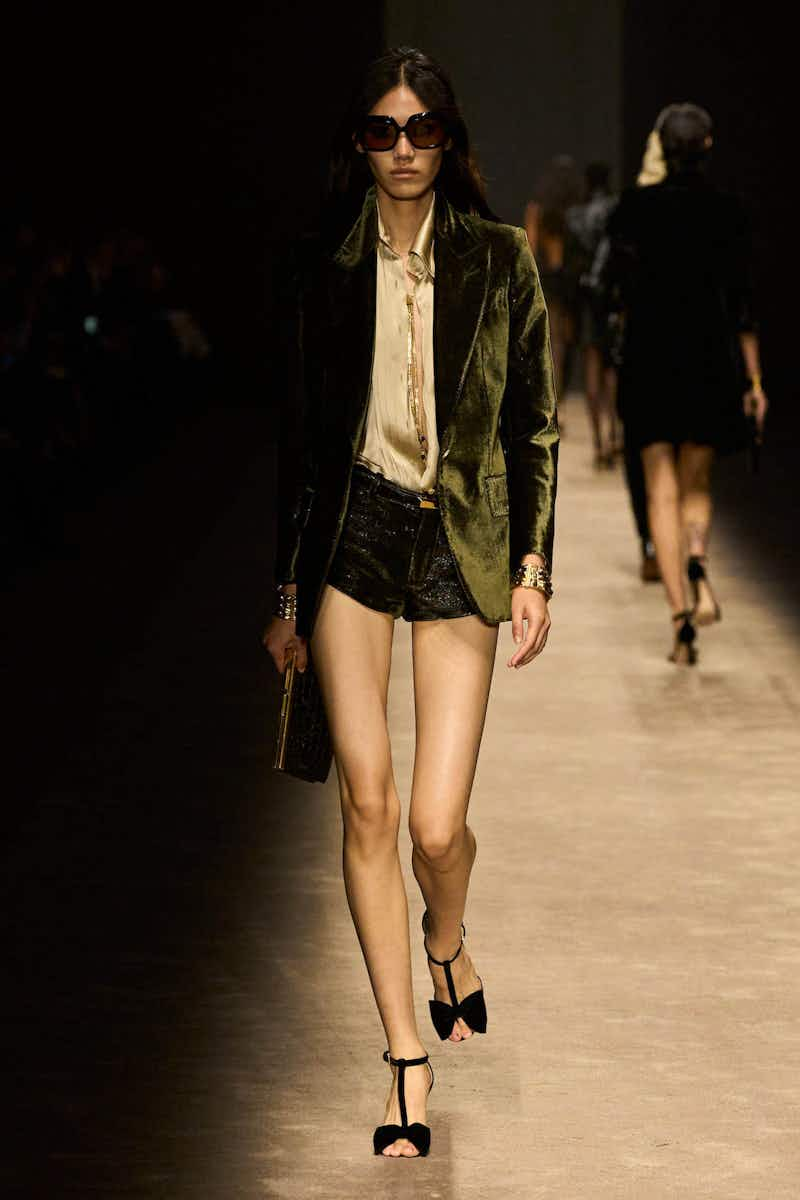 What?
You can take the boy out of Naples, but you can't take Naples out of the boy. Love your hometown, or hate it, you probably feel wistfully nostalgic about it from time to time. For SS24 GCDS creative director, Giuliano Calza cast his eye back to his Naples roots for a collection that merged high school jock aesthetics with loud sparkles and monograms.
Where?
At the GCDS headquarters, where the brand will welcome 100 students to see the collection the day after the show.
What was the vibe?
It was a veritable mishmash of high school jocks, balletcore girls and low slung monogrammed denim for all. Printed leather recalled Canza's grandmother's wooden furniture. Denim ties added preppiness to Canadian tuxedo looks. Canza seemed to draw, too, from his high school years spent in Naples, with varsity jackets and quarterback shoulder pads. Teeny tiny hot pants, silver tinsel-like lurex knits and sheer crop tops for men made a daring splash while chain and hook details referenced the bolts of Naples' dockyards.
In short:
Futuristic nostalgia.
What?
Creative director Nicola Brognano's cast of fallen angels flaunted their feathered wings in a heavenly collection that gives Victoria's Secret's angels a run for their money.
What were the clothes like?
Blumarine is still on its butterfly beat. This time around they even appeared on barely-there sequined thongs – ​"They're pussy butterflies!" joked Brognano. Sheer PVC dresses continued the friskiness while shiny gold leather bustiers and clinging jersey gowns referenced Greek mythology. In pale tones and delicate chiffon details, this season's Blumarine girl was dressed up for heaven. Whether the doorman lets her in or not is another matter…
Accessories of note?
Even more butterflies! You name it – butterfly-shaped bags, giant butterfly earrings, diamanté butterfly bangles, butterfly embellished belts. Emerge from your chrysalis, spread your wings and fly – this trend is still flying high.
What was on the soundtrack?
Lily-Rose Depp's World Class Sinner/I'm A Freak from The Idol.

What's on the agenda, then?
​"The vibe is cunty cowboy," was how stylist and fashion editor Gabriella Karefa-Johnson described her guest collection for Moschino. This season, to celebrate the brand's 40th anniversary, four hotshot stylists from around the world were enlisted to interpret the first decade of the Italian house's archives – amongst Karefa-Johnson was Carlyne Cerf de Dudzeele, who worked alongside Jeremy Scott during his decade at the label; Beijing-based stylist Lucia Liu; and Perfect magazine founder, Katie Grand. The result? Clean elegance, coquettish chiffon, loud luxury and those cunty cowboys we were just telling you about. The show closed with dancers kitted out in Katie Grand's ​"Loud Luxury" monochrome athleisure performing what felt like a protest against the very idea of quiet luxury.
Sounds like a party. What about the clothes?
The collection was a wild mash-up of different aesthetics, from classic wardrobe staples presented by Cerf de Dudzeele to patchwork yeehaw looks from Karefa-Johnson. The show opened with a double-breasted white suit, eschewing the camp maximalism Moschino is known for in favour of refinement. Turtlenecks, blue denim and grey hoodies were accentuated with bold jewellery that caught the light as models walked the runway.
Karefa-Johnson focused on subversion by reinterpreting the cowboy, ​"the most white, masculine symbol on planet Earth." Beaded fringe, patchwork denim and 19th century barn dance ruffles took centre stage. With cowboy hats a staple festival fashion fixture this summer, here they appeared in black or checkerboard print – sans lukewarm Red Stripe. Yeehaw!
Then it was Lucia Liu's turn, who presented a collection the TikTok coquette girlies will be all over. Chiffon ruffles, bows and cut-out hearts adorned corsets and gowns while the opening look featured a slogan tee slapped with ​"Protect me from the fashion system" across it. Big mood.
The energetic finale came with Grand's ​"Loud Luxury" dance troupe. Models got undressed on the runway or emerged in monochrome ballerina skirts, with dancewear and athleisure looks printed with punctuation marks and the repeated ​"Loud Luxury" slogan. Admittedly, the all black and white collection didn't feel particularly loud compared to Moschino's past maximalist excesses, but it still felt like a rallying cry to turn our backs on quiet luxury's dull homogeneity.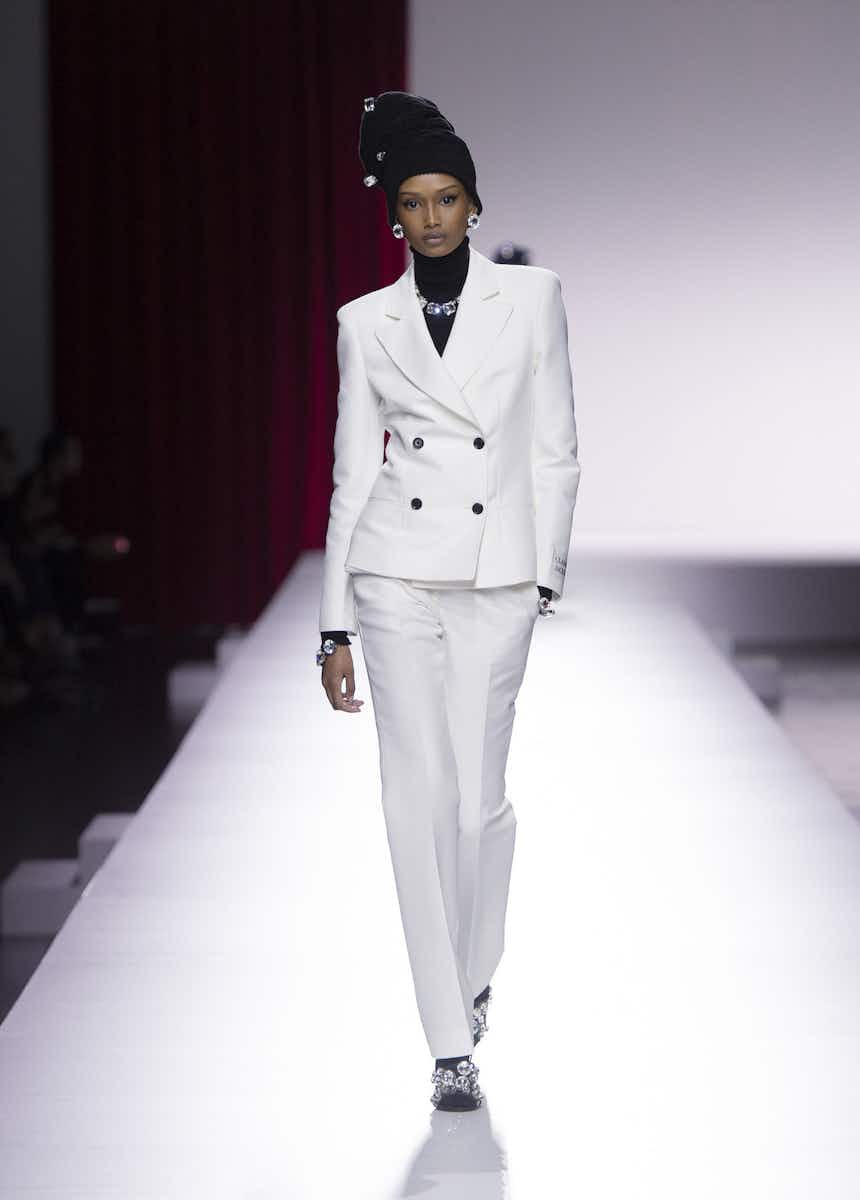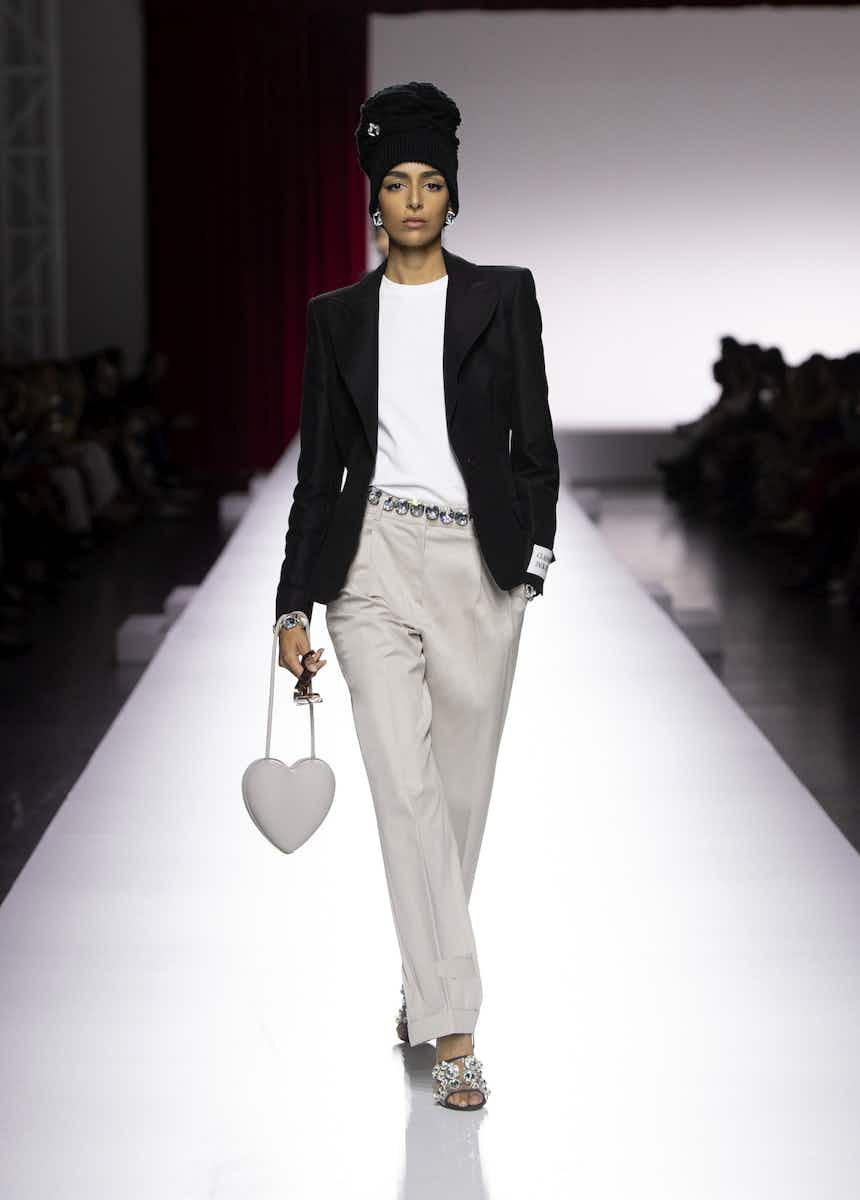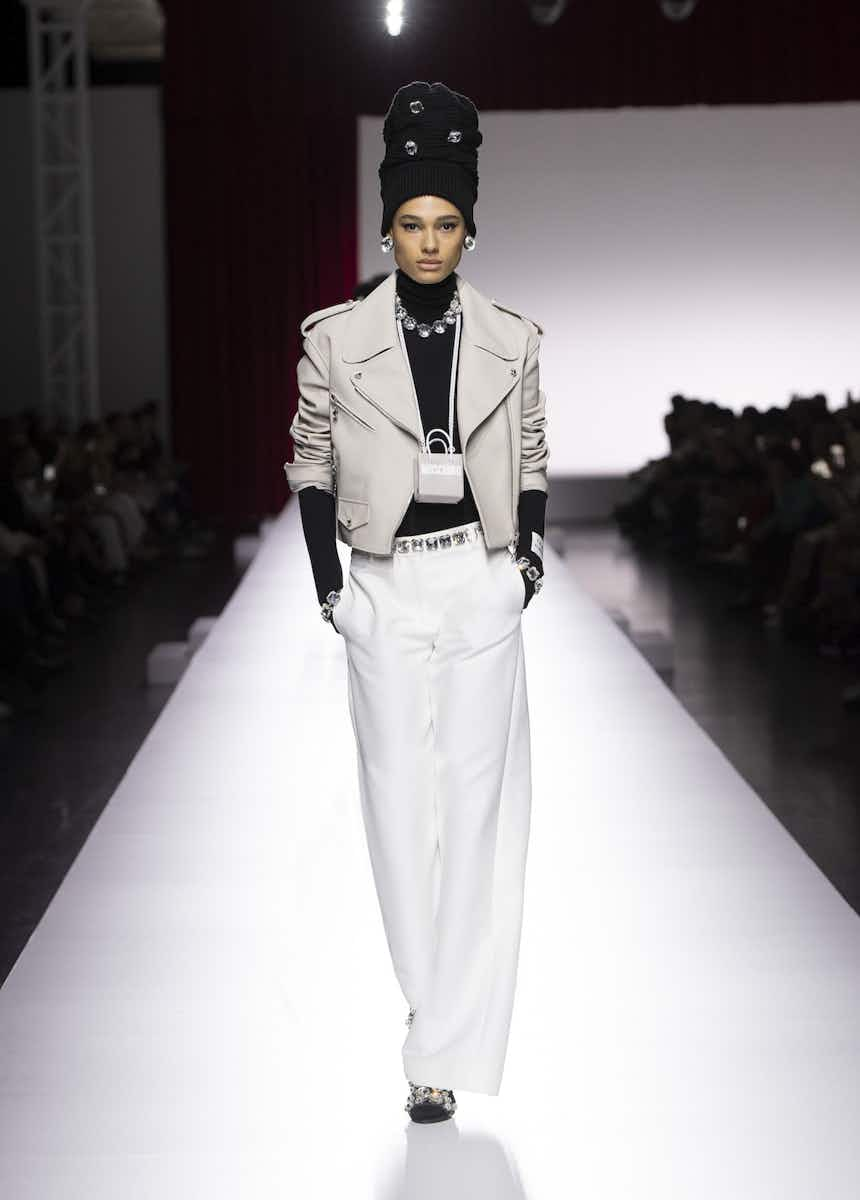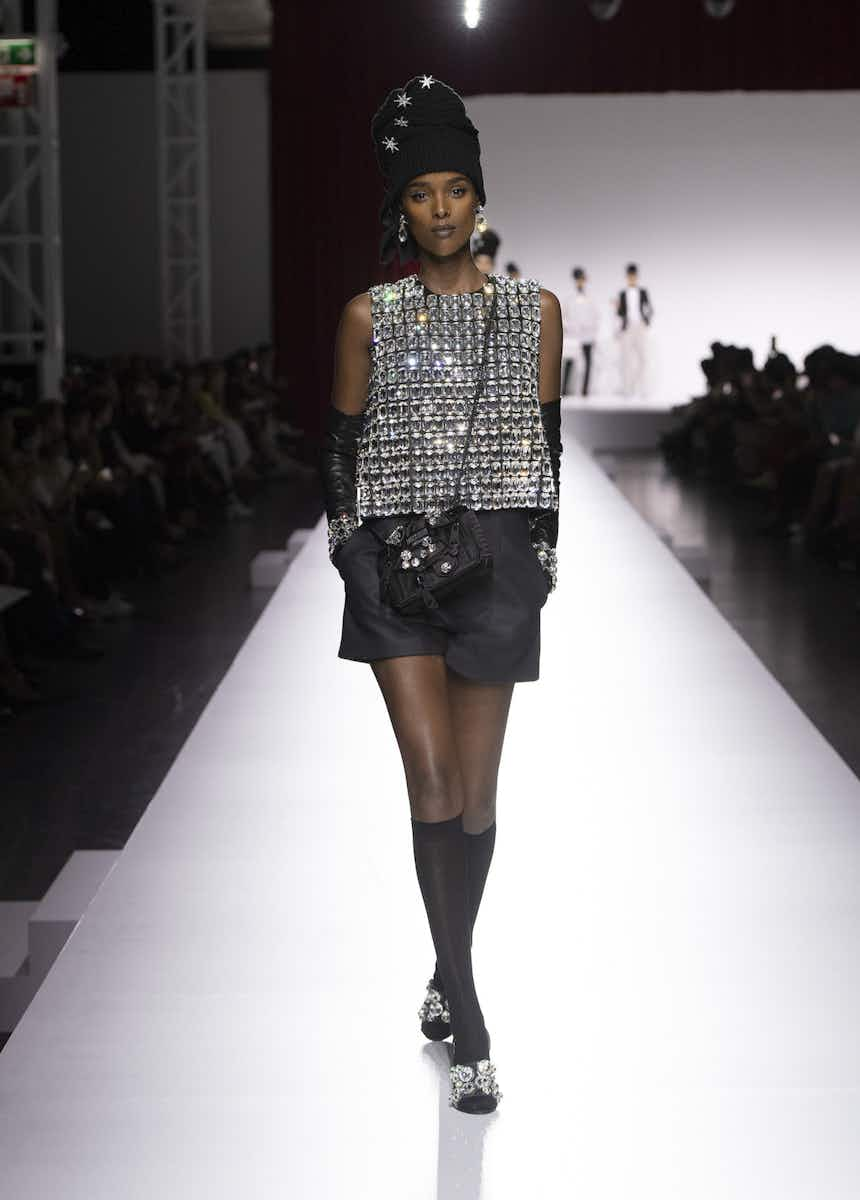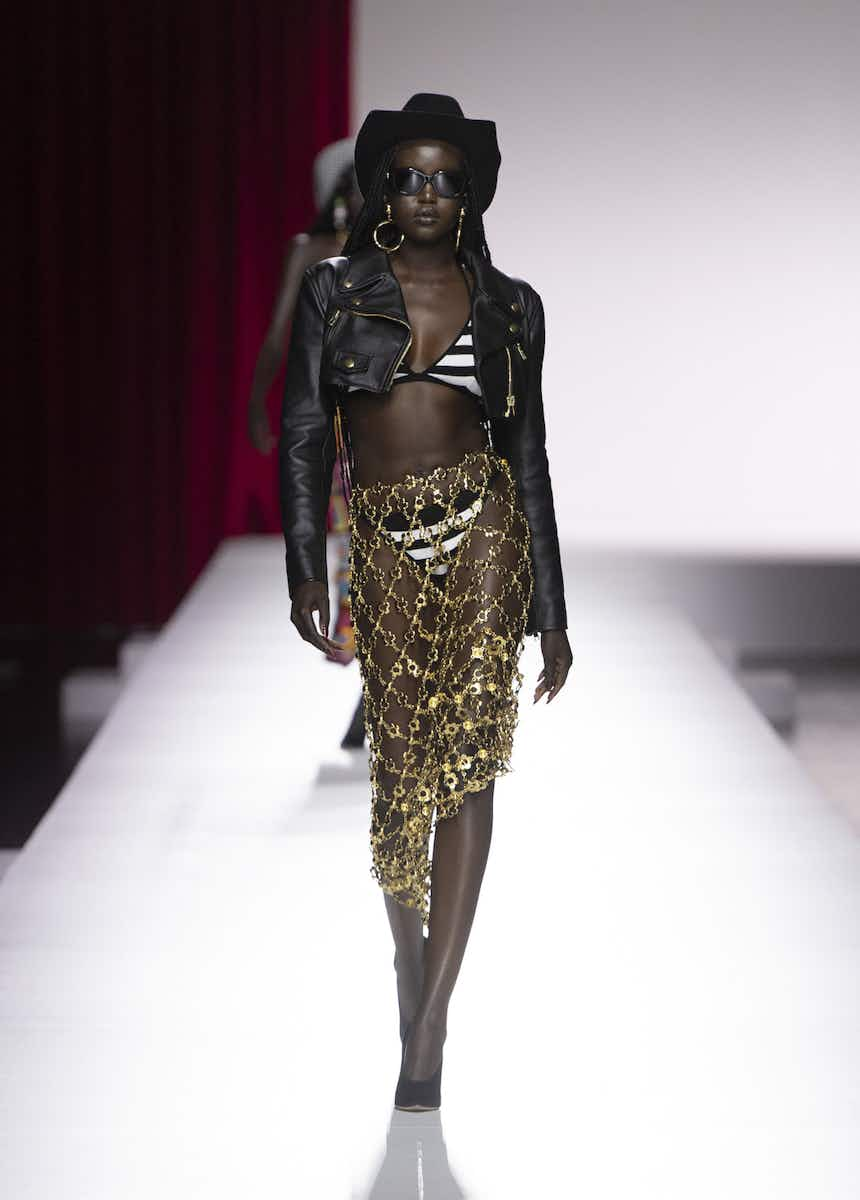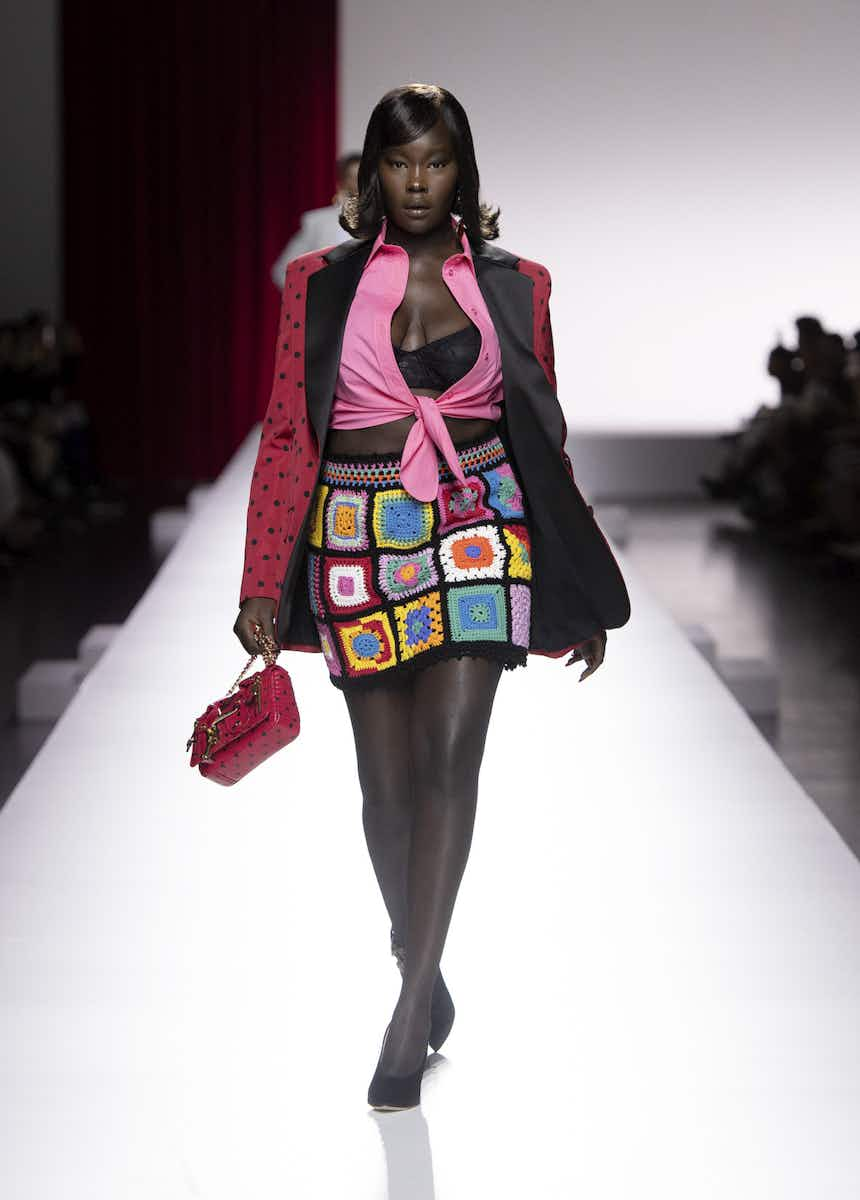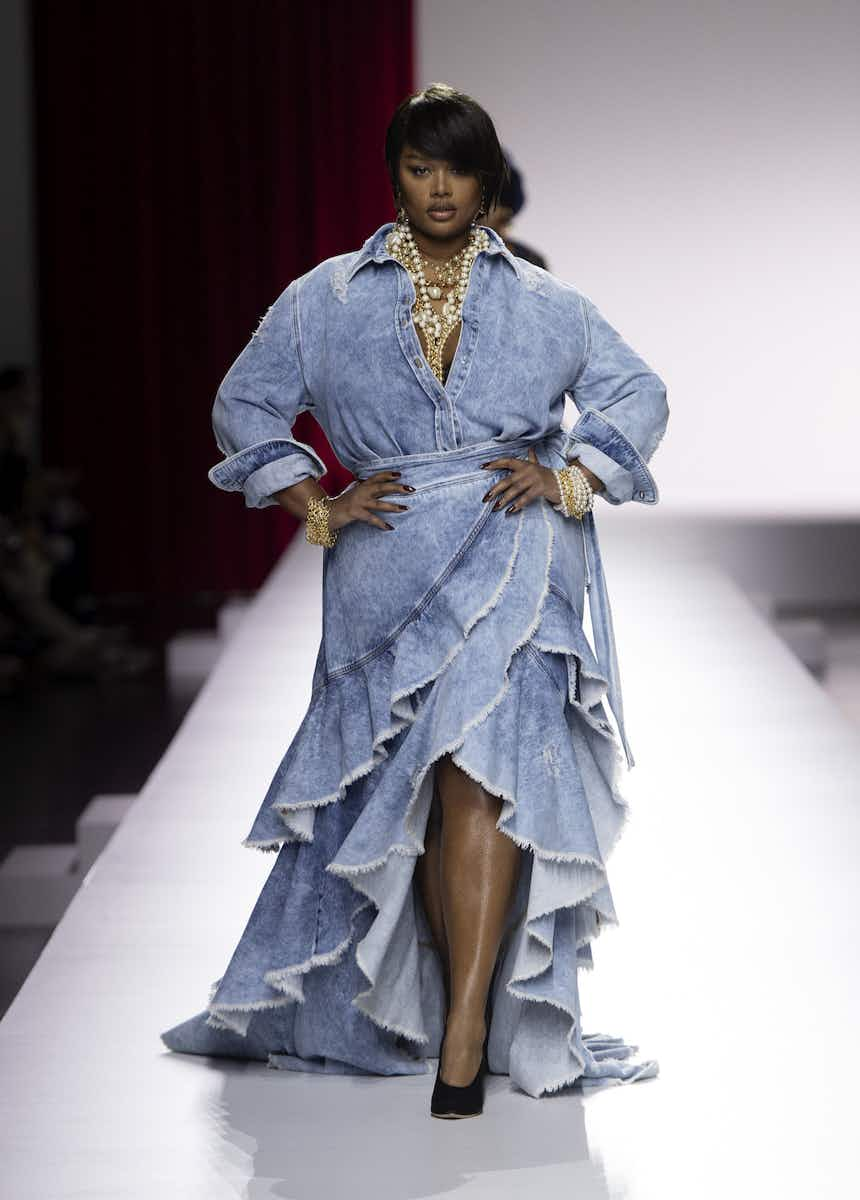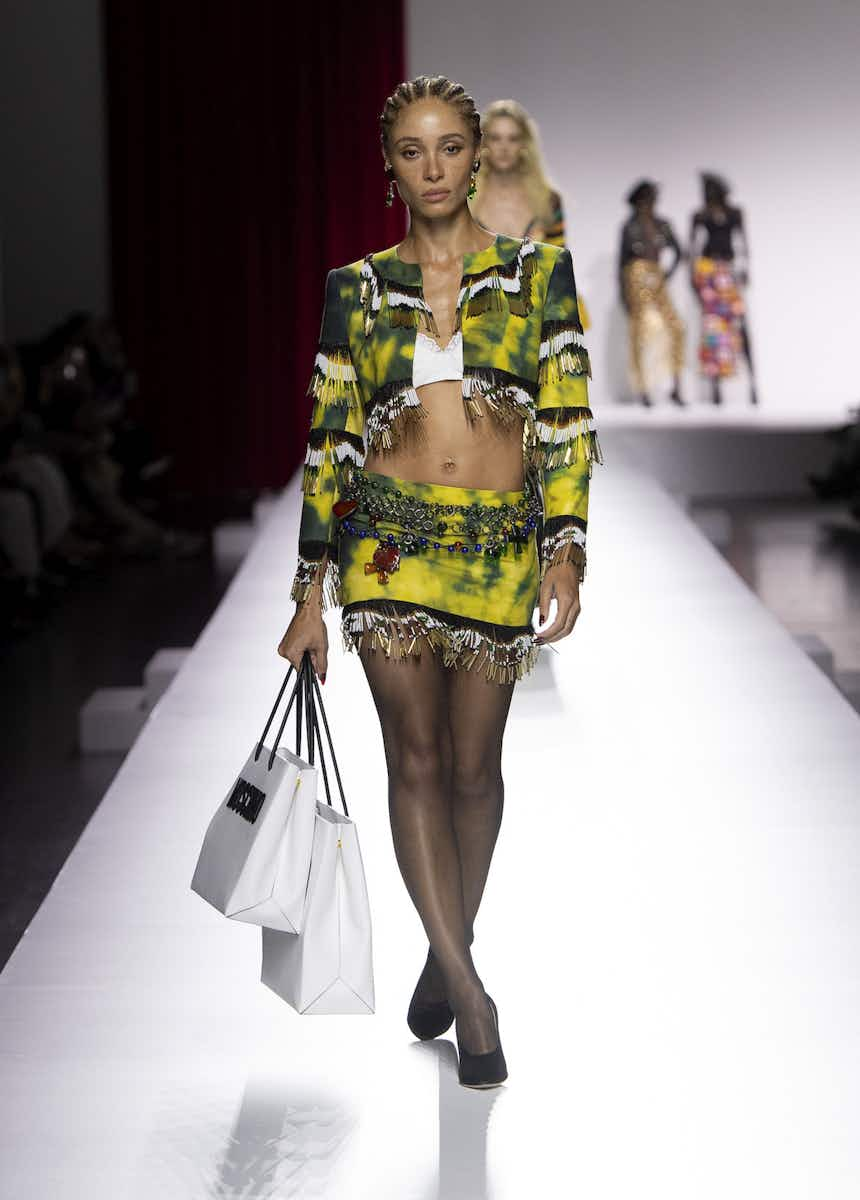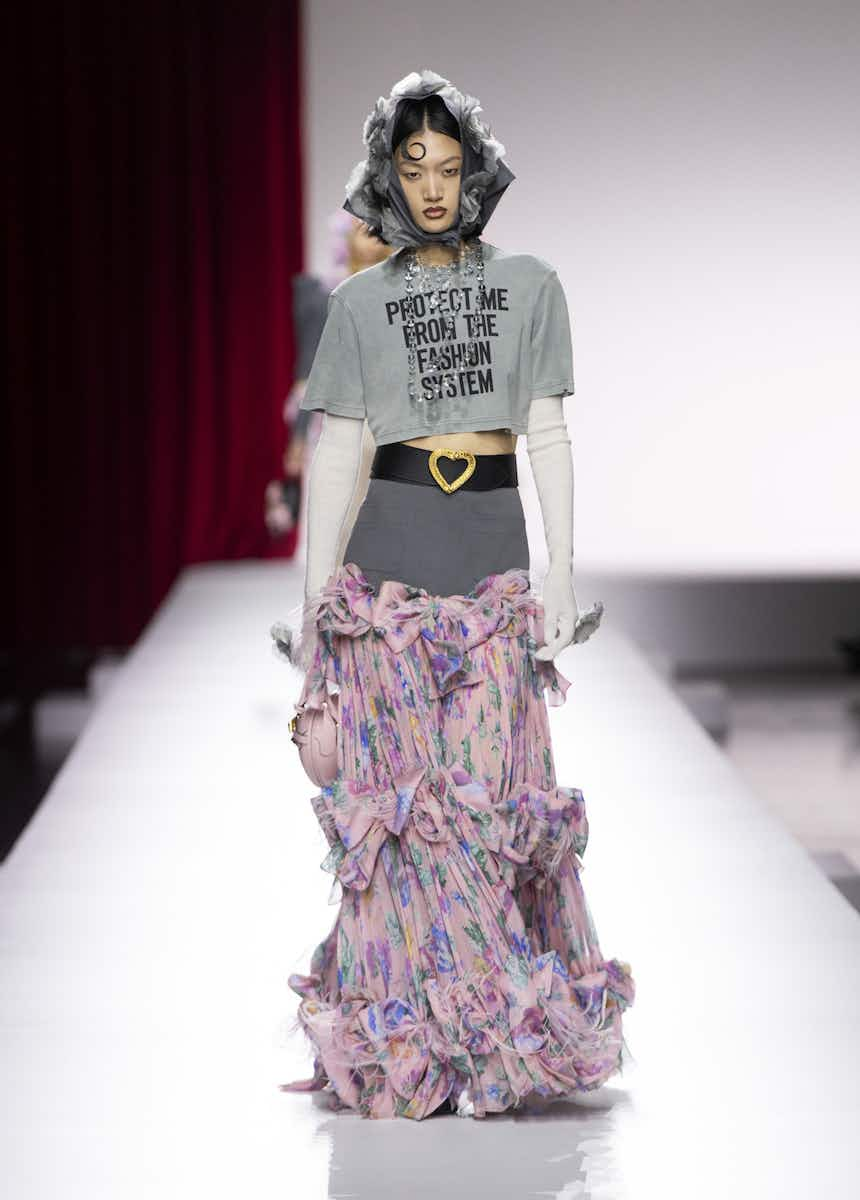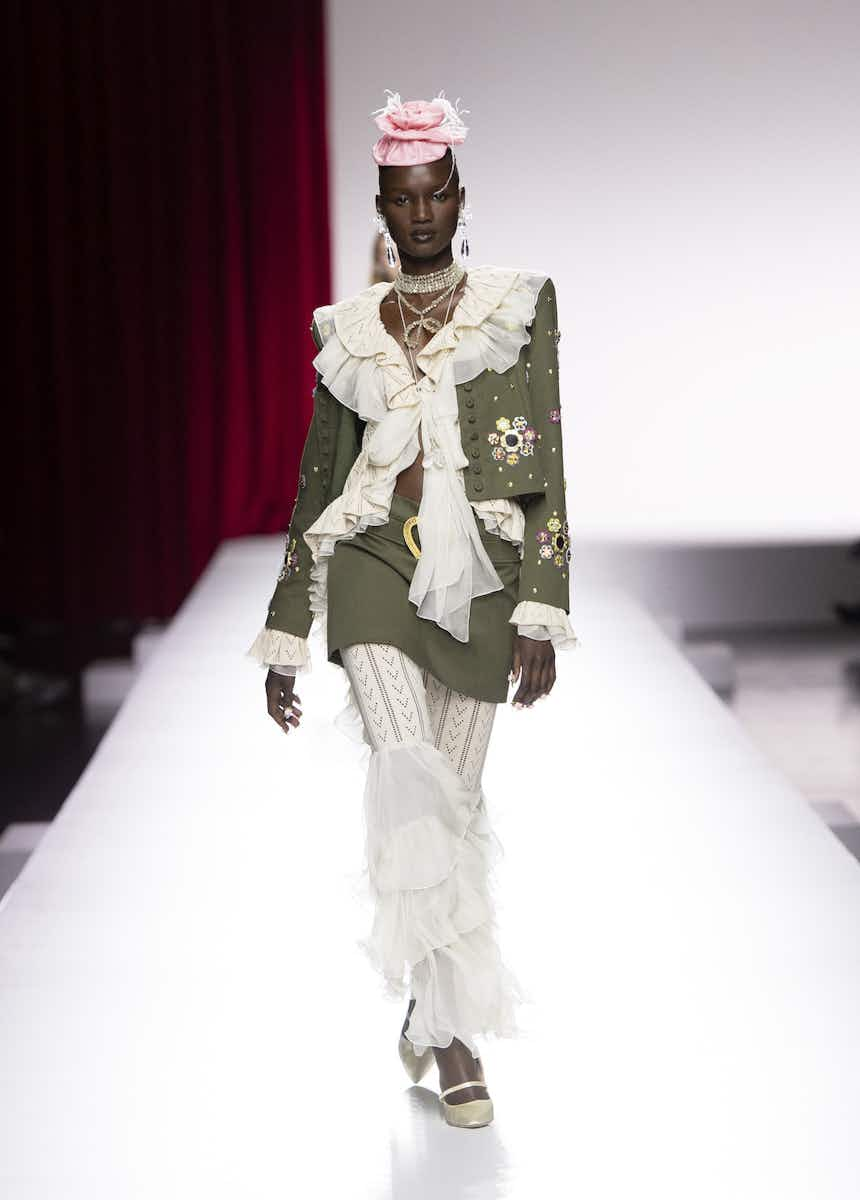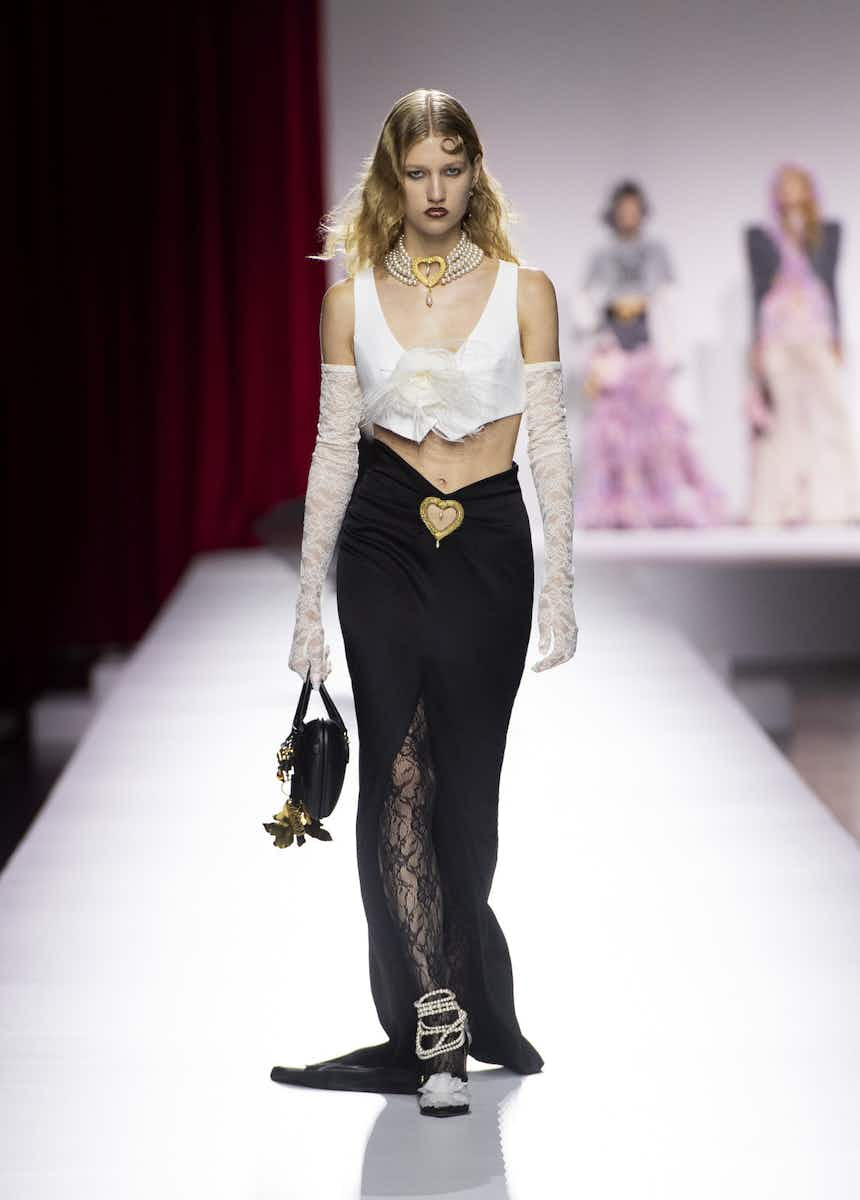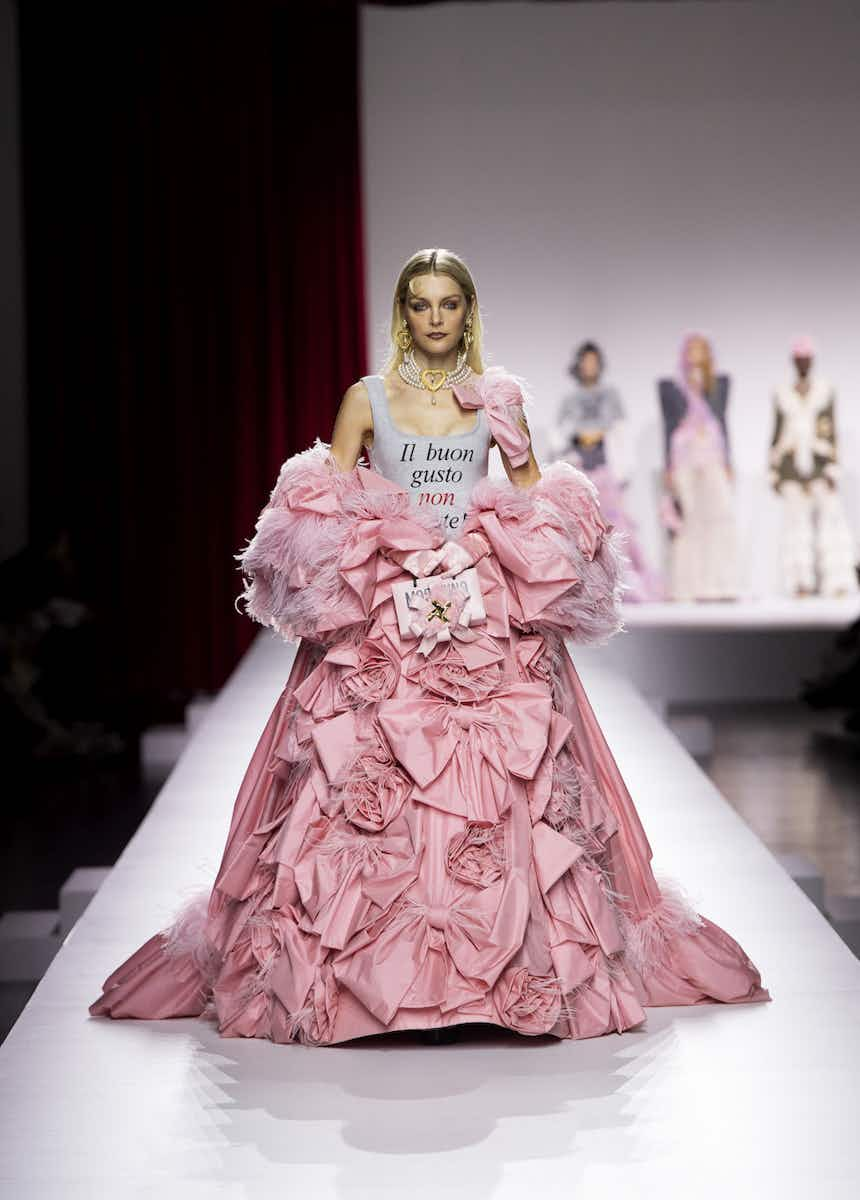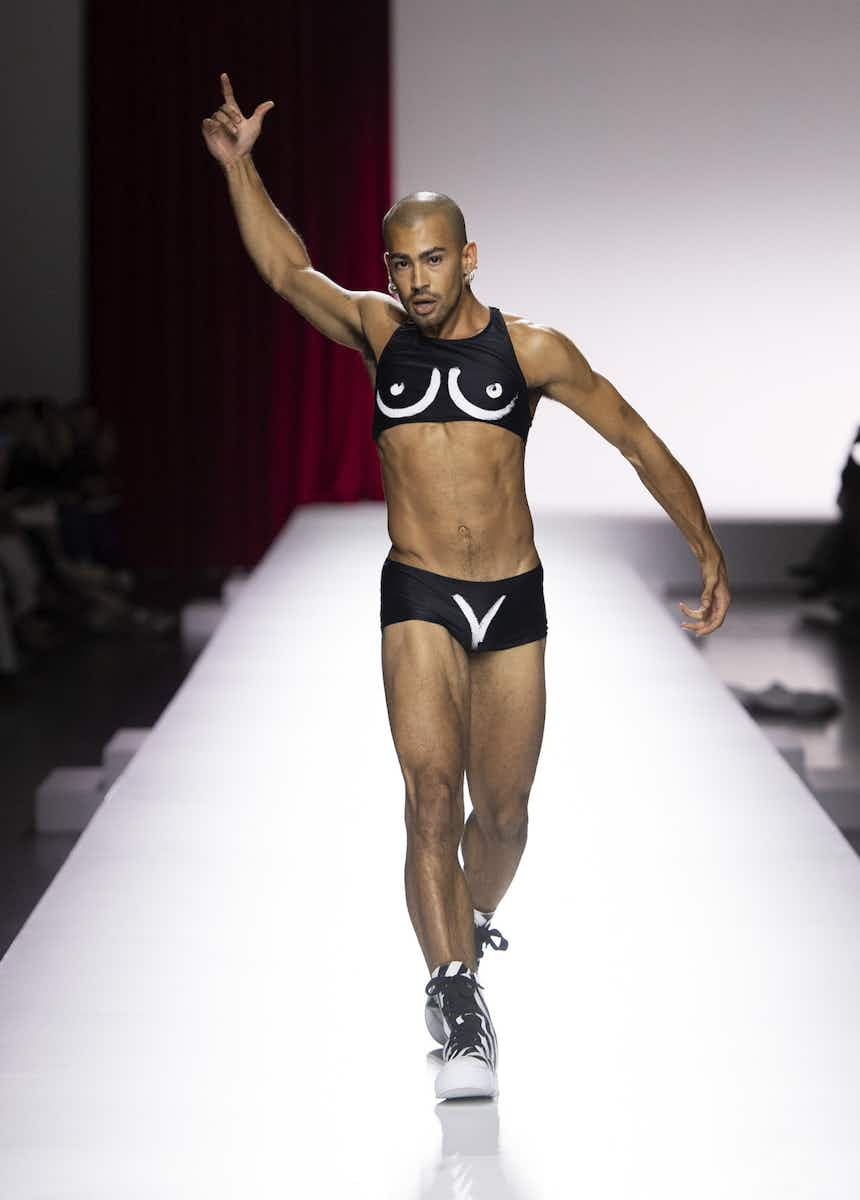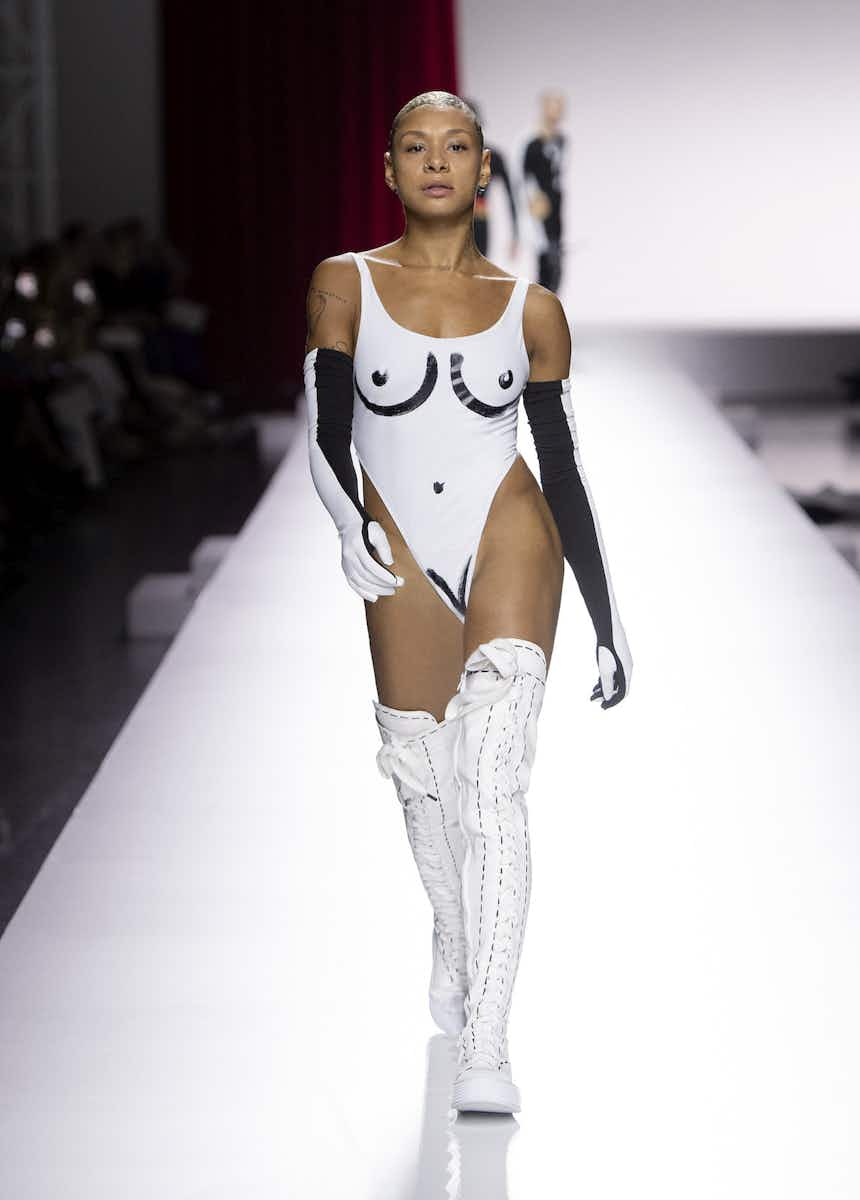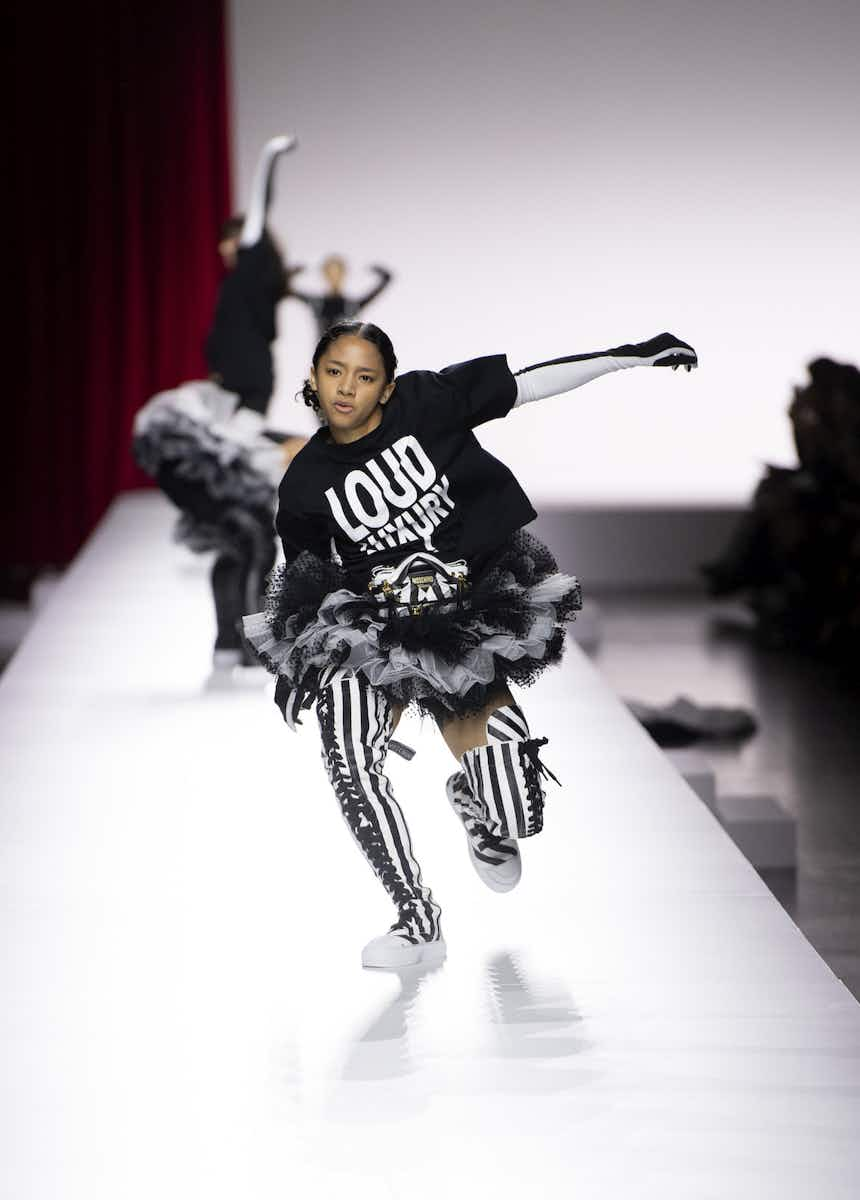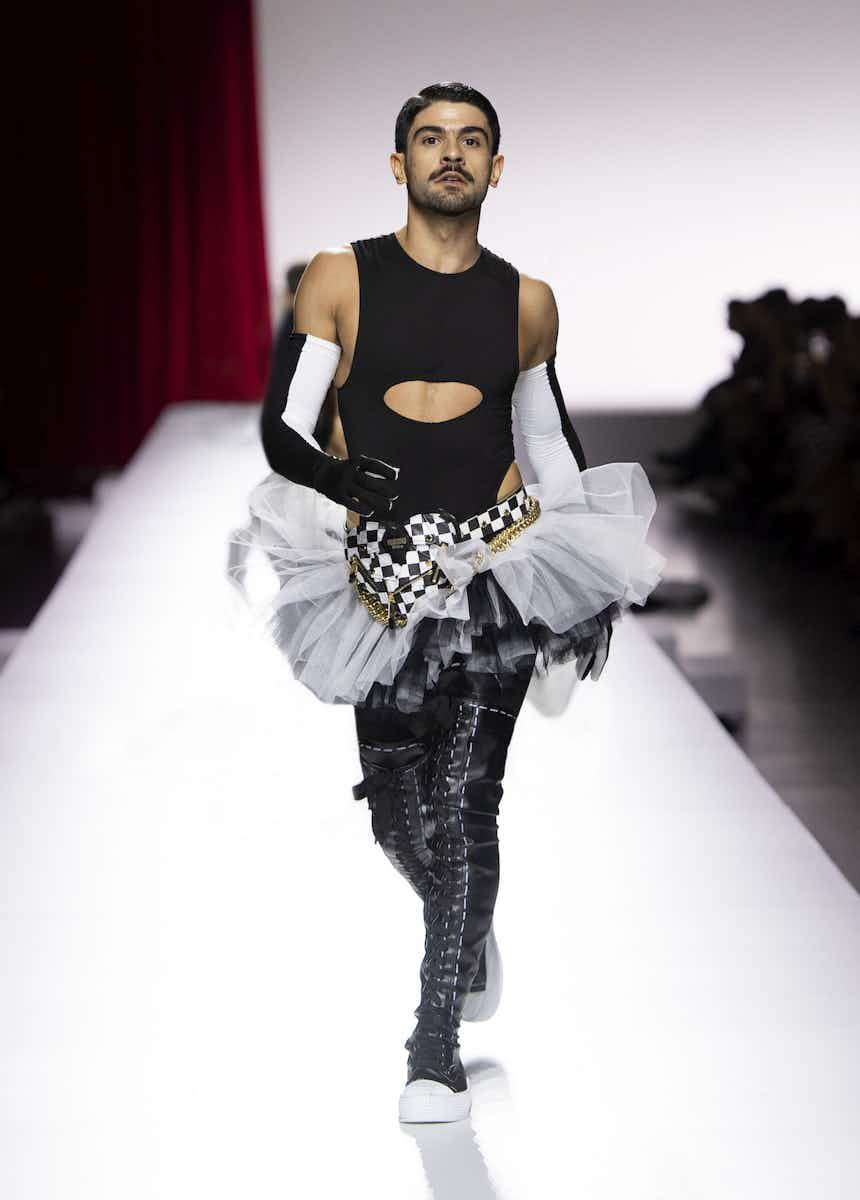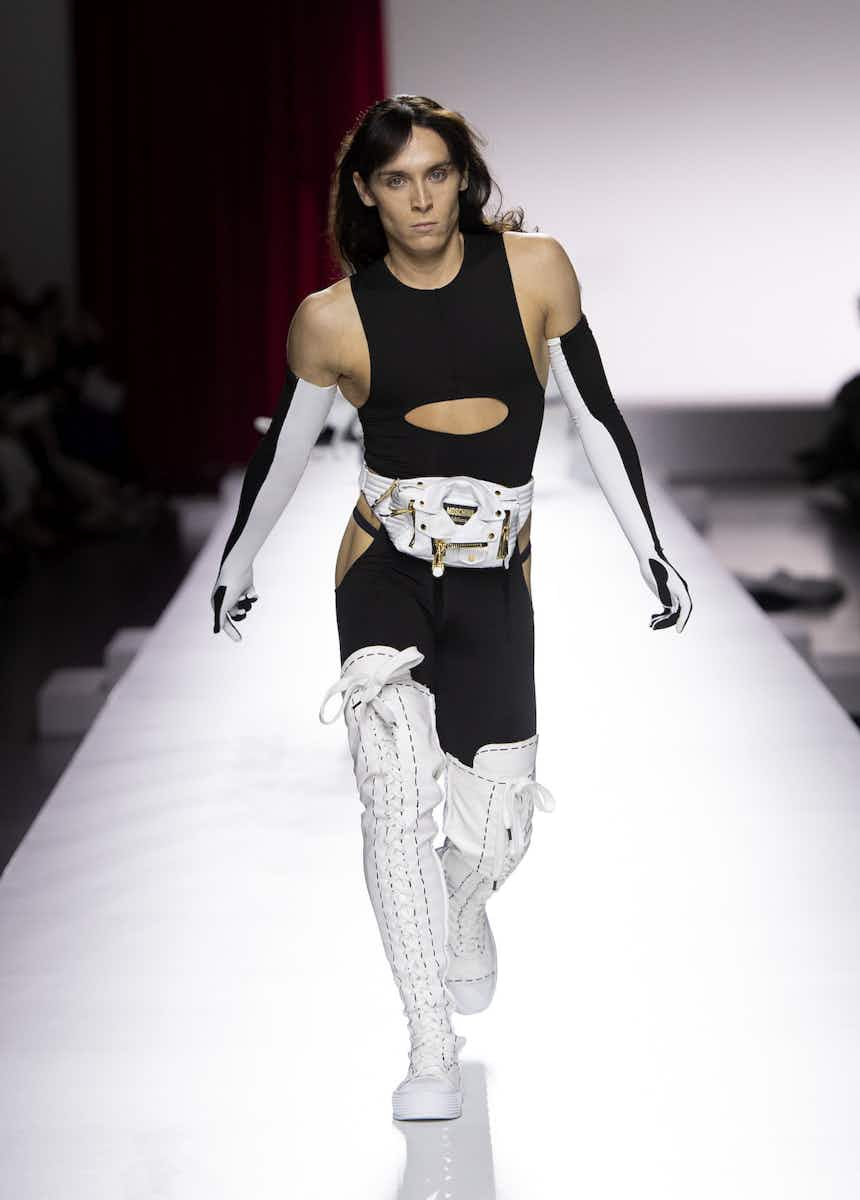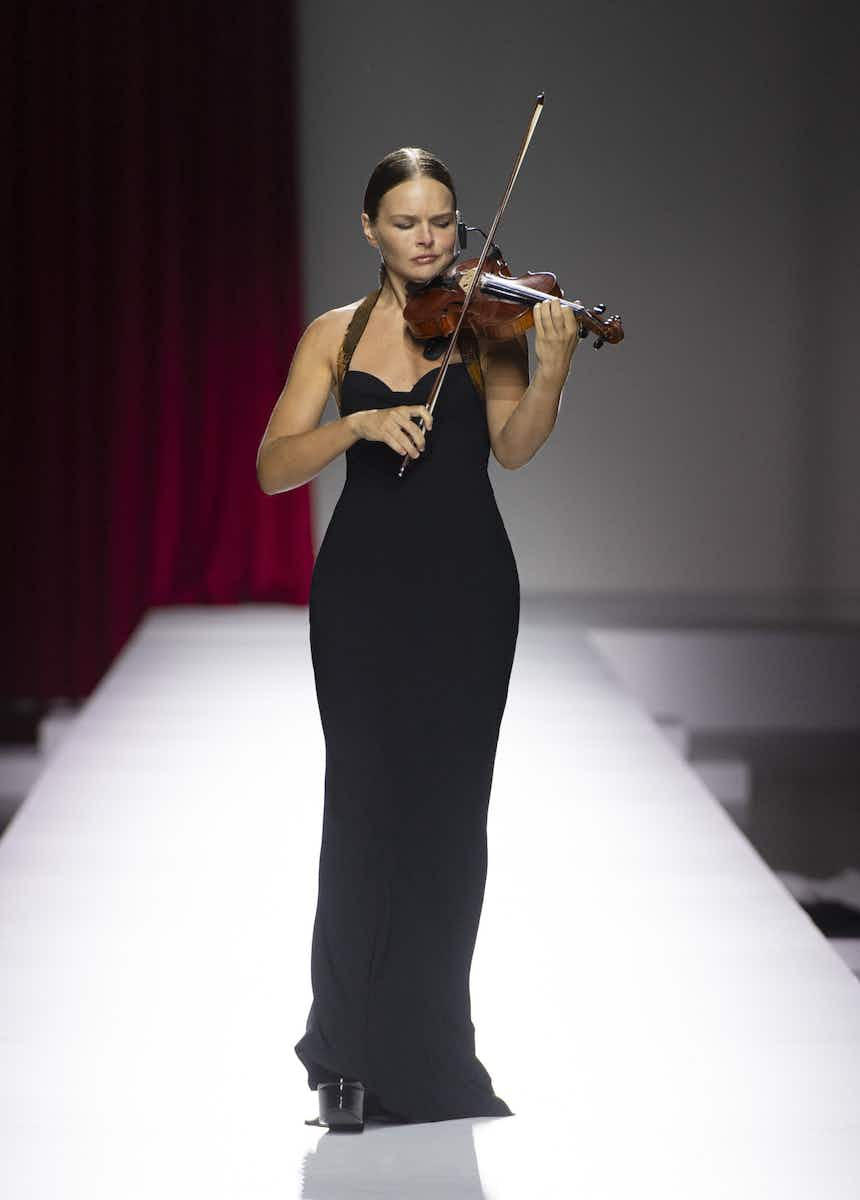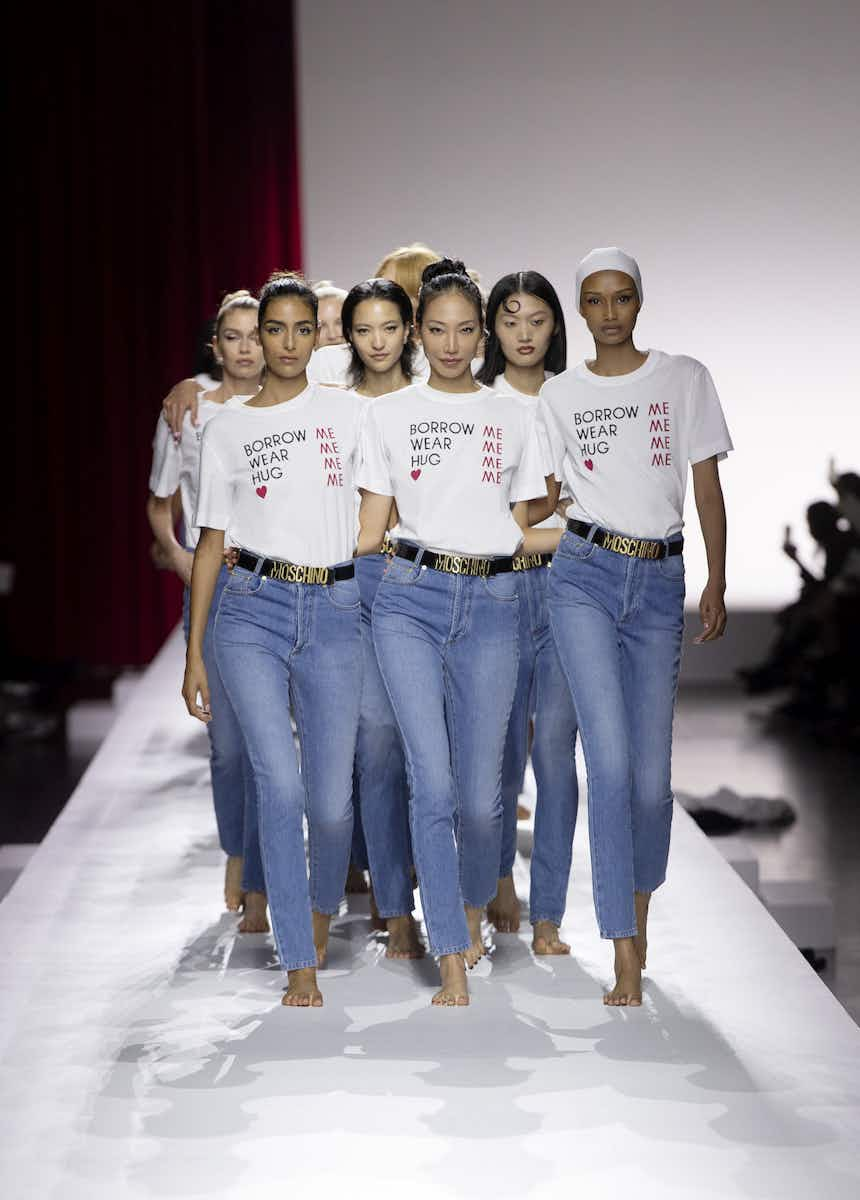 What went down?
Miuccia Prada and Raf Simons' SS24 collection returned to the cinched waist menswear silhouette they first presented in June. Broad shouldered jackets were tucked into tiny high belted waistbands, channelling the 1940s tailoring worn by Cillian Murphy in Oppenheimer. Gossamer thin organza dresses provided a lighter counterpoint, floating down the runway like gentle spectres. The collection was inspired by Miucca's grandfather and brand co-founder, Mario Prada, who loved to travel around the world sourcing precious and unique items. The frame clasp evening bag he designed in 1913 is reproduced and reinterpreted for SS24. Prada's design director, Fabio Zambernardi, who resigned this year after three decades at the company, joined Miuccia and Raf for their end of show bow to say his final goodbye.
Where?
It took place inside Milan's grey brutalist art museum, Fondazione Prada, where slime poured down from the ceiling (a recreation of the same effect from the house's men's show in June), creating a mesmerising waterfall illusion in the centre of the peachy pink mesh steel runway.
Who was there?
Prada favourite Hunter Schafer sat front row, as did Rosalía, Kylie Jenner, Ayo Edebiri, Scarlett Johannson, Wes Anderson and Emma Watson.
What about the clothes?
From the crispness of outsized belted tailoring to the dreamlike diaphanous dresses that floated down the runway like jellyfish, the collection explored the meeting point between hard and soft. Skirts featuring long skeins of metal fringing were paired with equally fringed floral shirts that created an optical illusion as they moved. Leather biker looks toughened up the softness, while stealth wealth black headbands cinched each look. It was a collection grounded in both reality and fantasy, expanding beyond Miuccia and Raf's usual study of the uniform to spotlight the skill in the craftsmanship and the beauty in the details.
In a word?
Dreamy.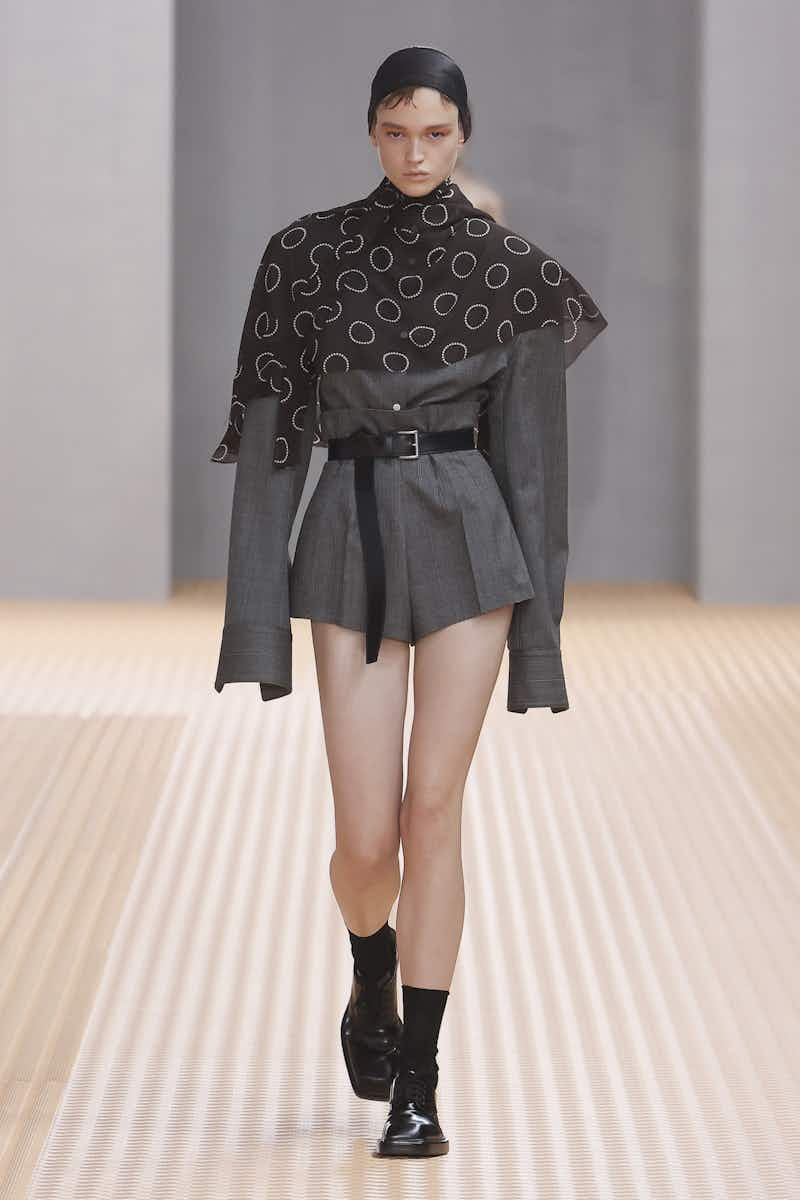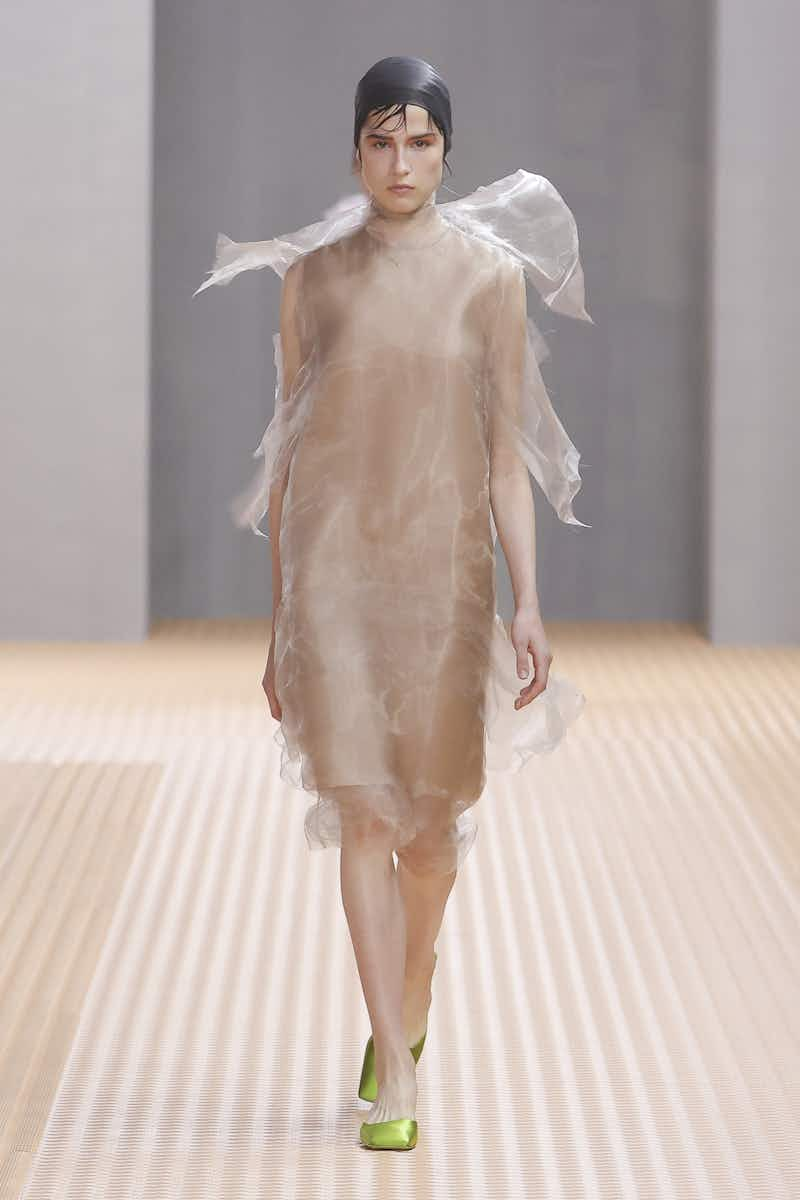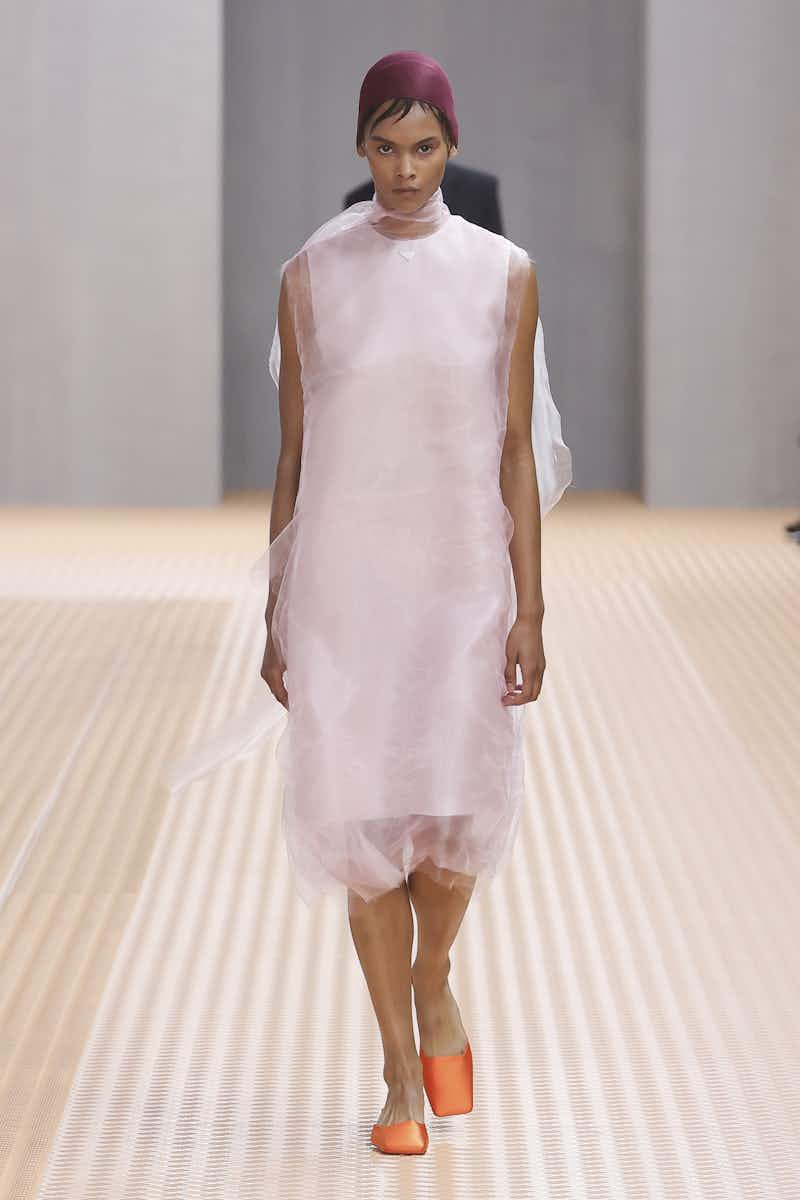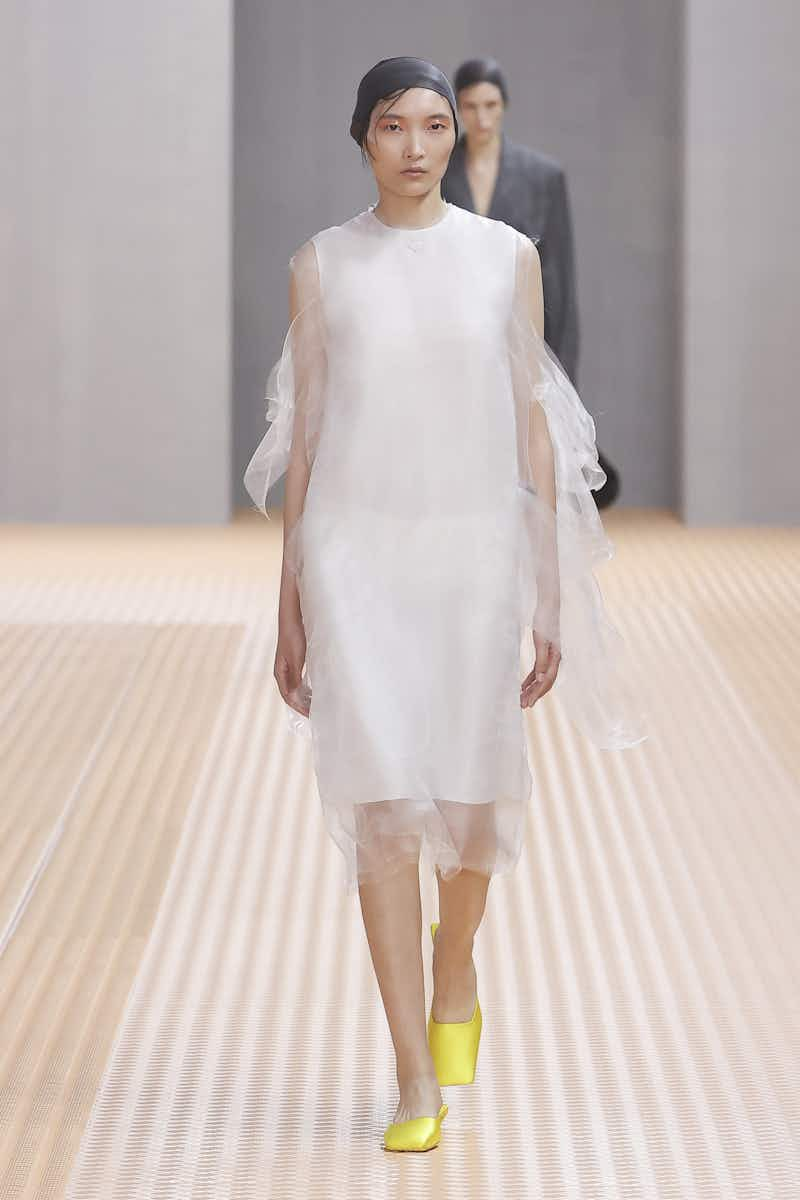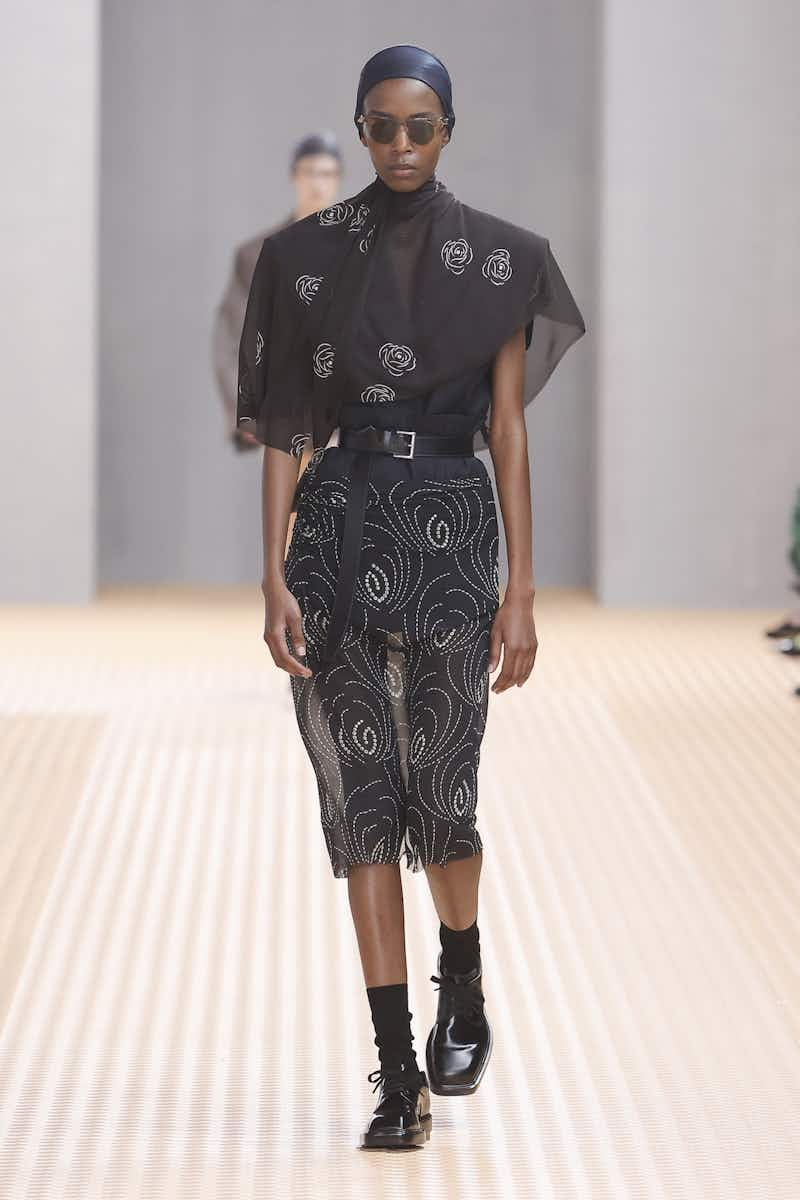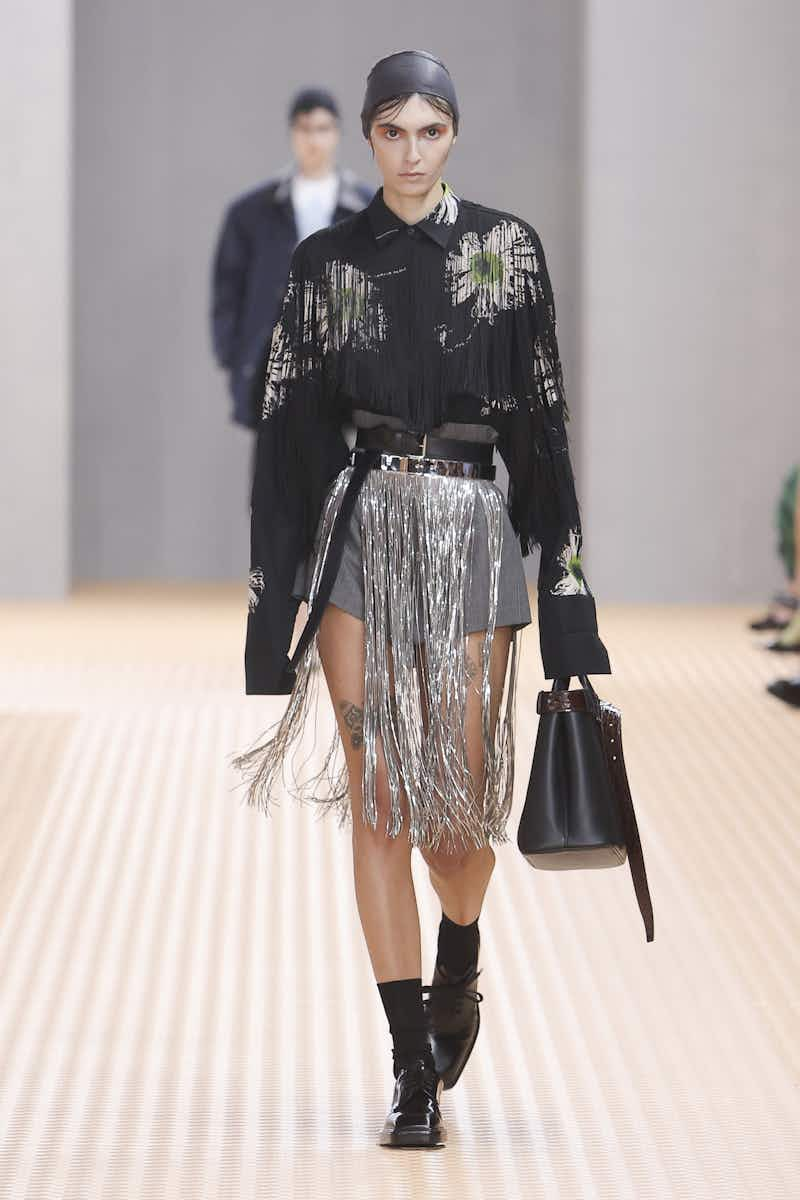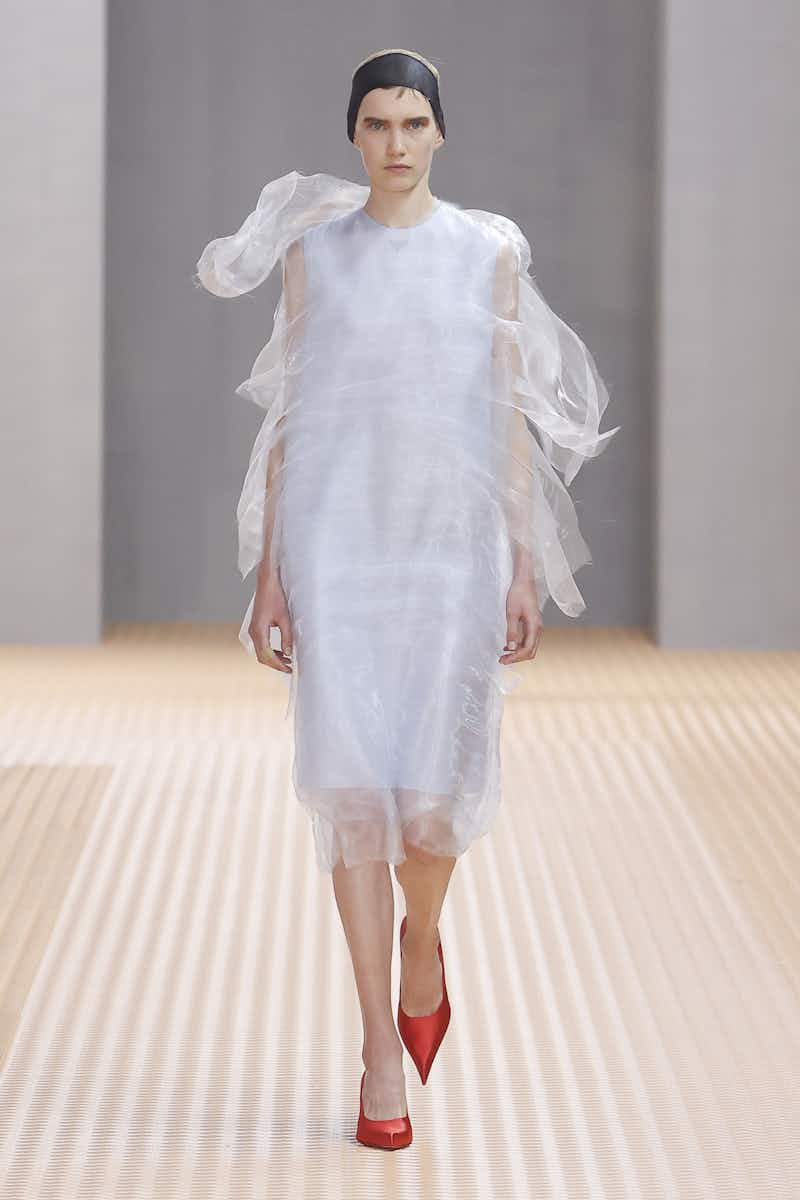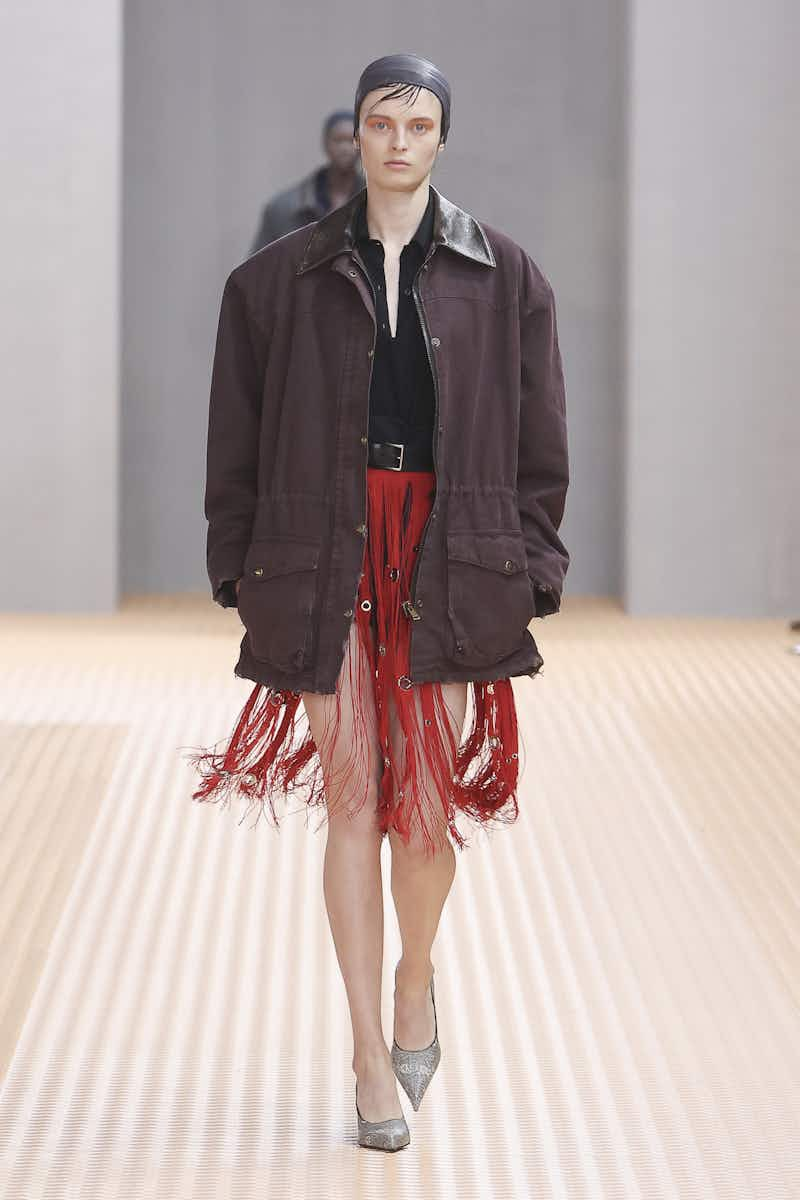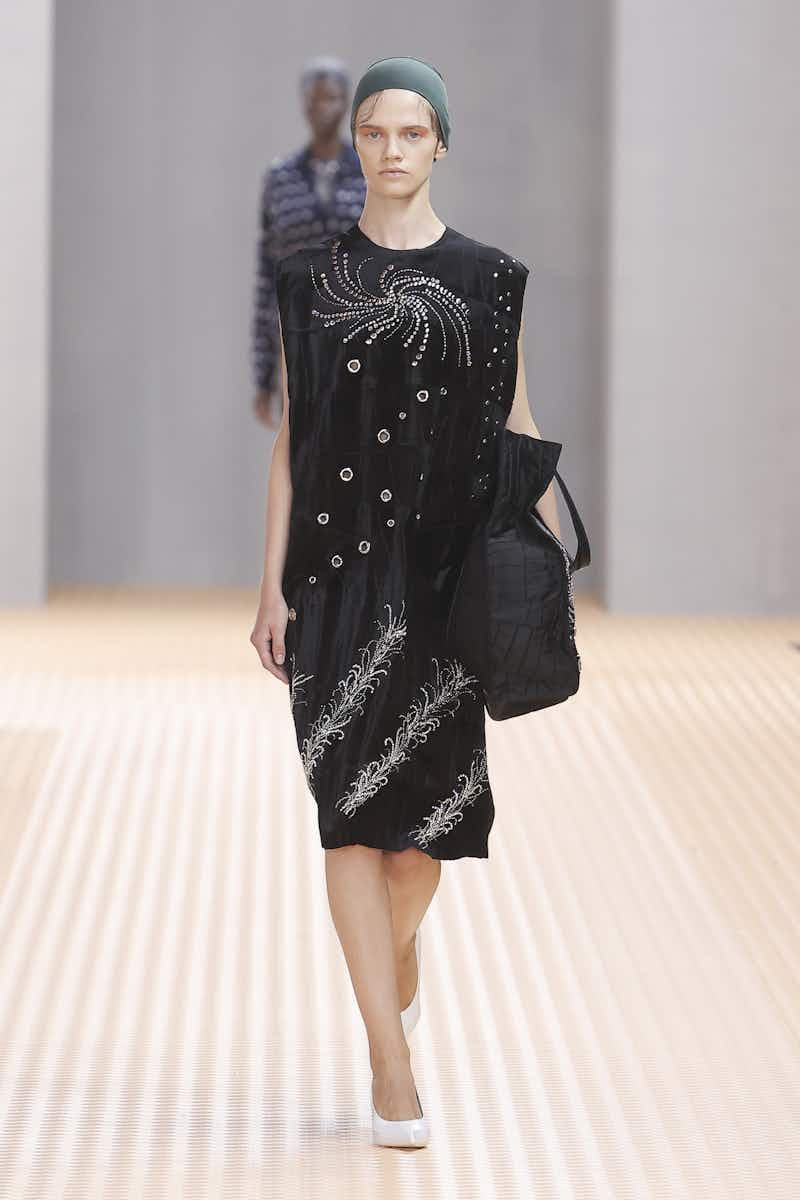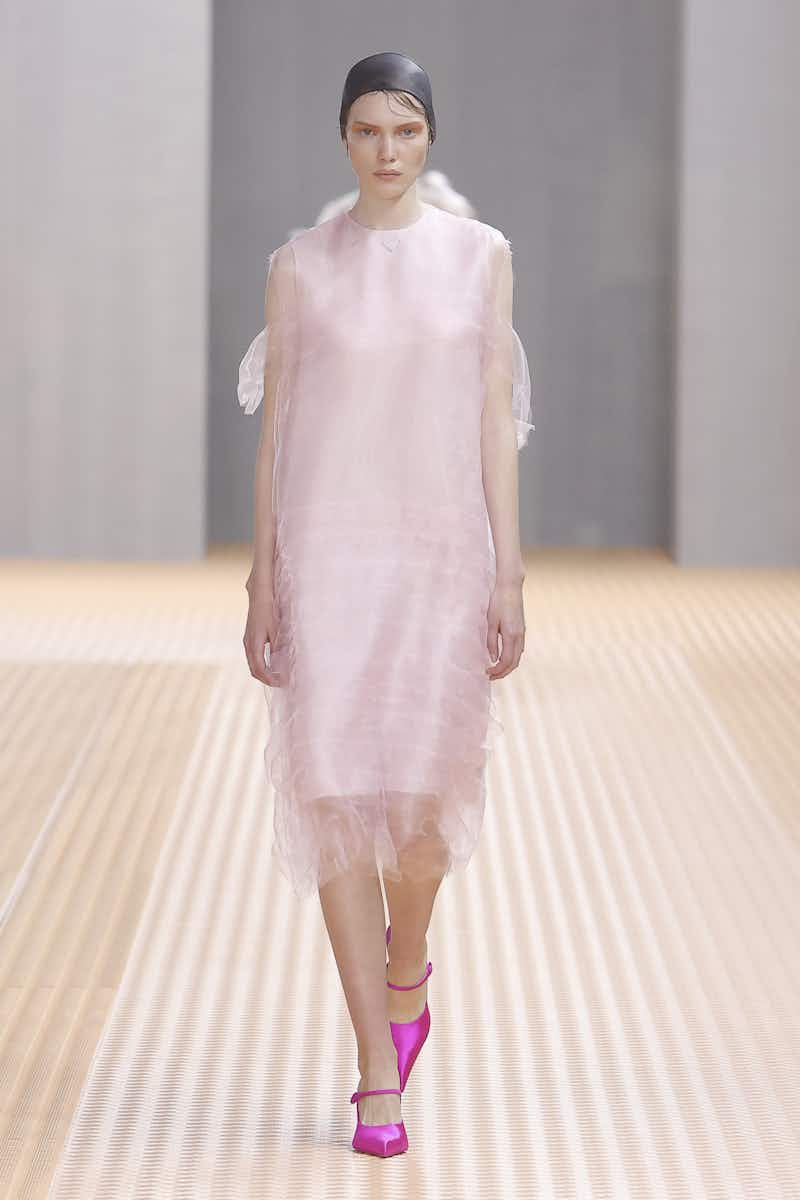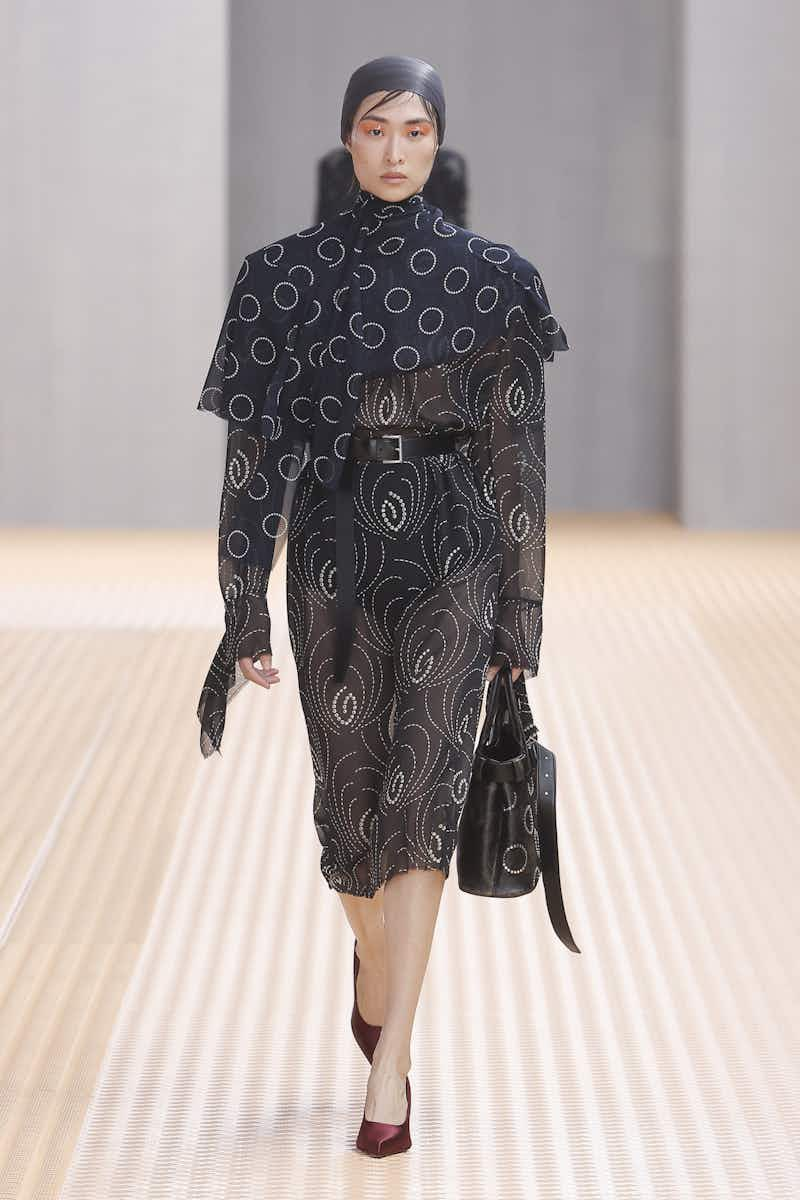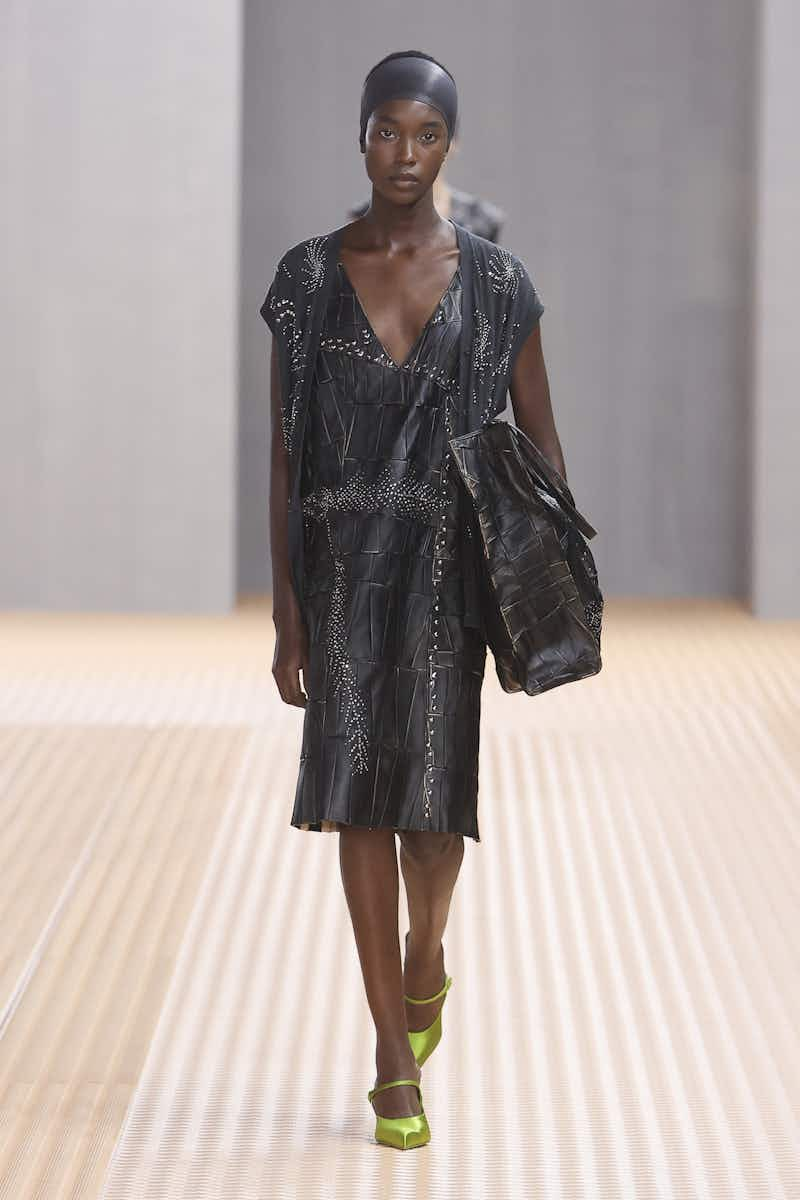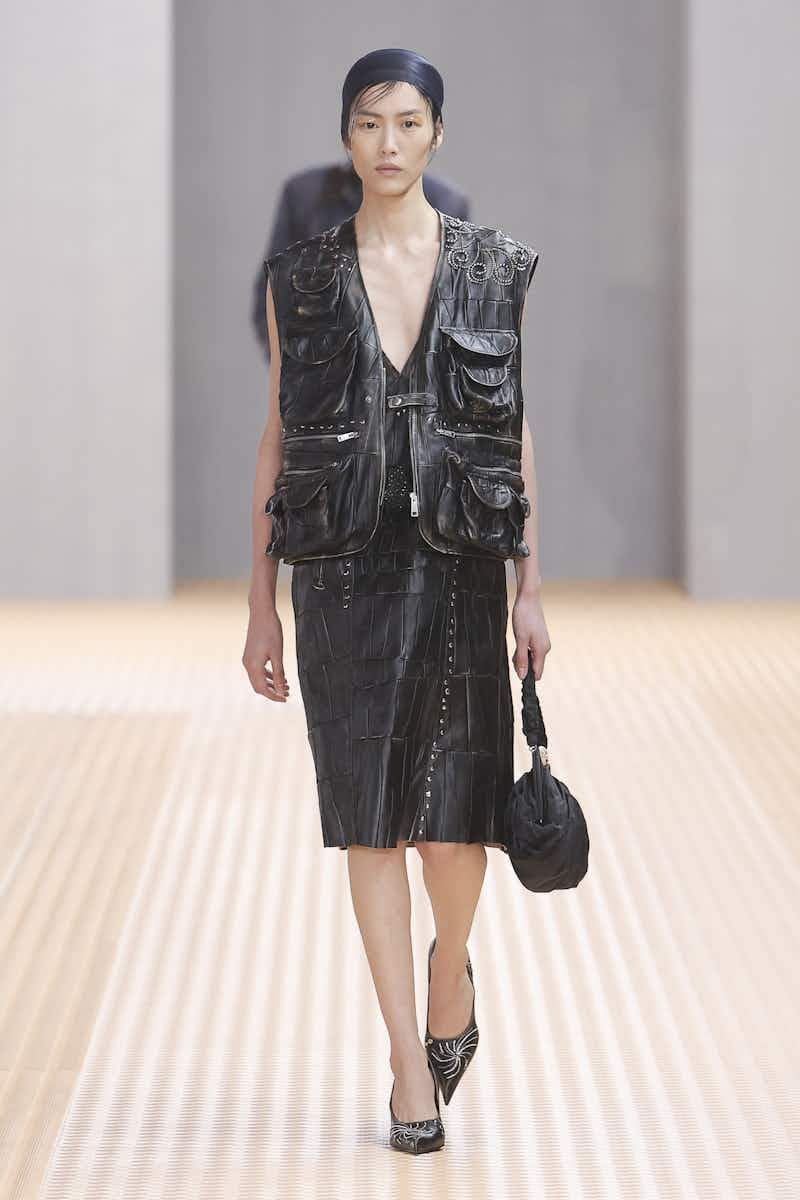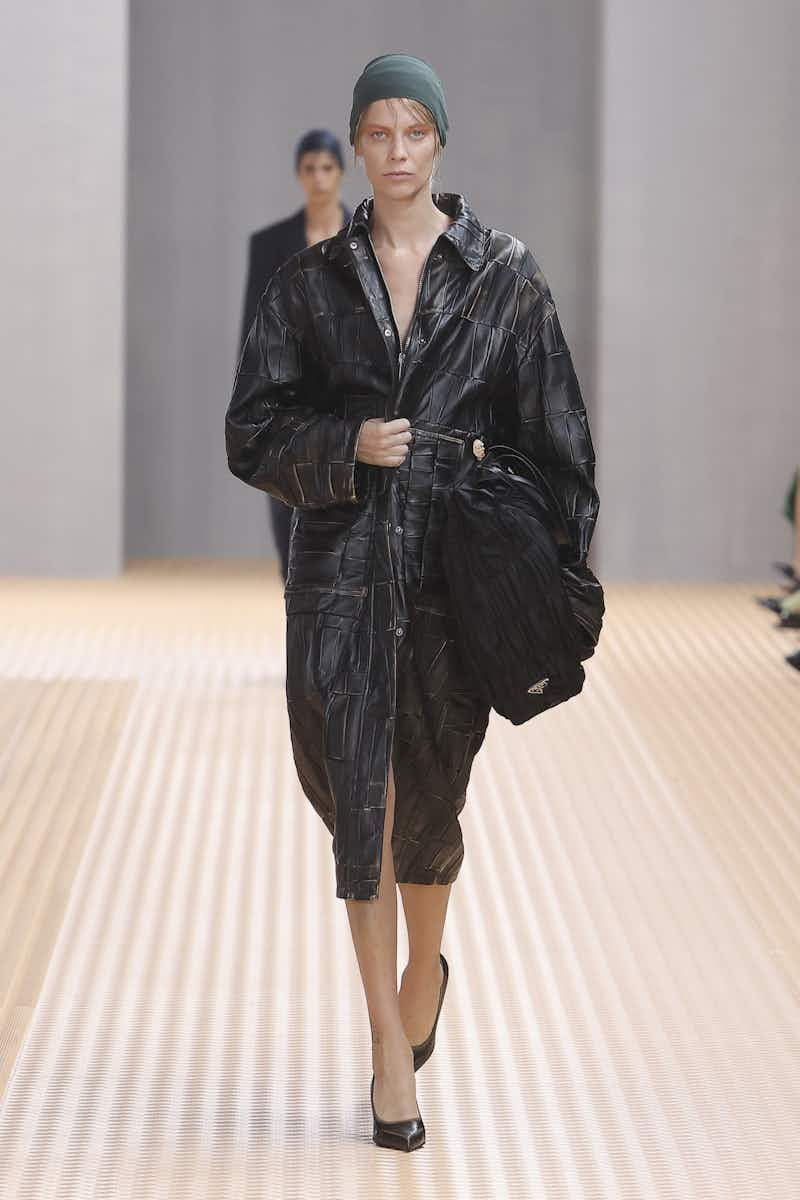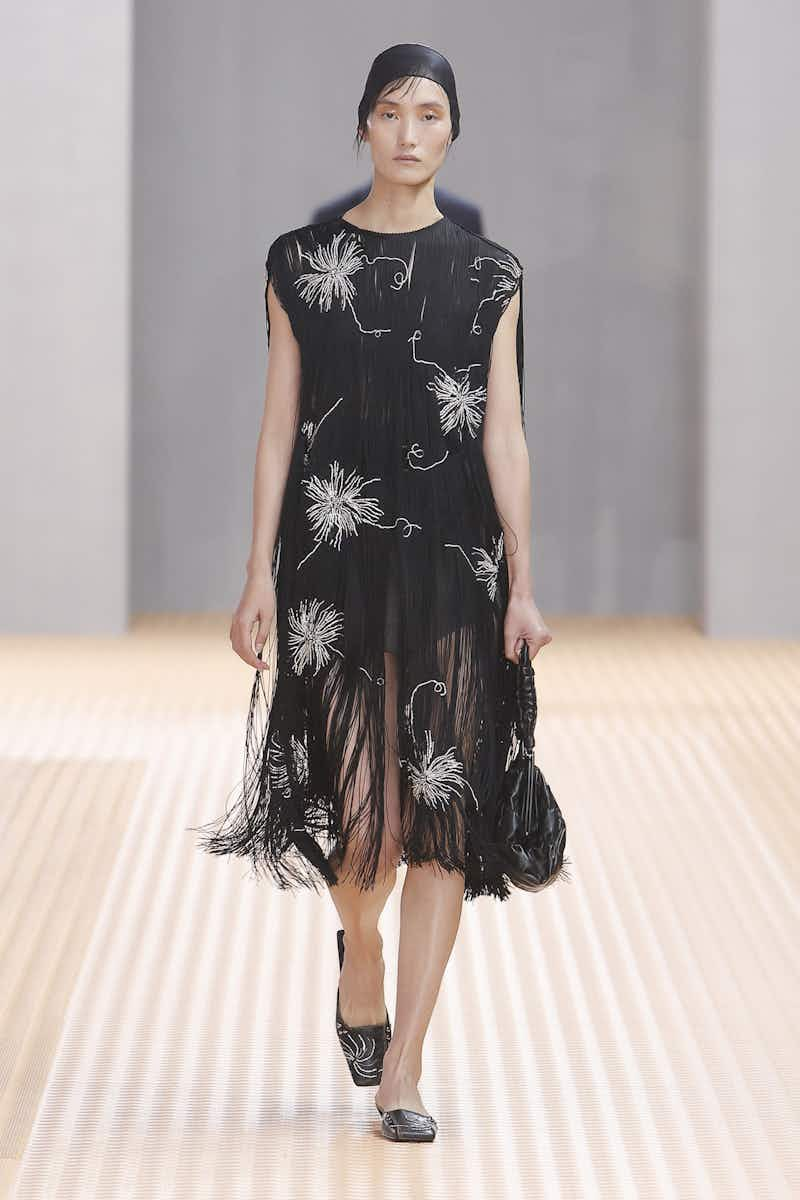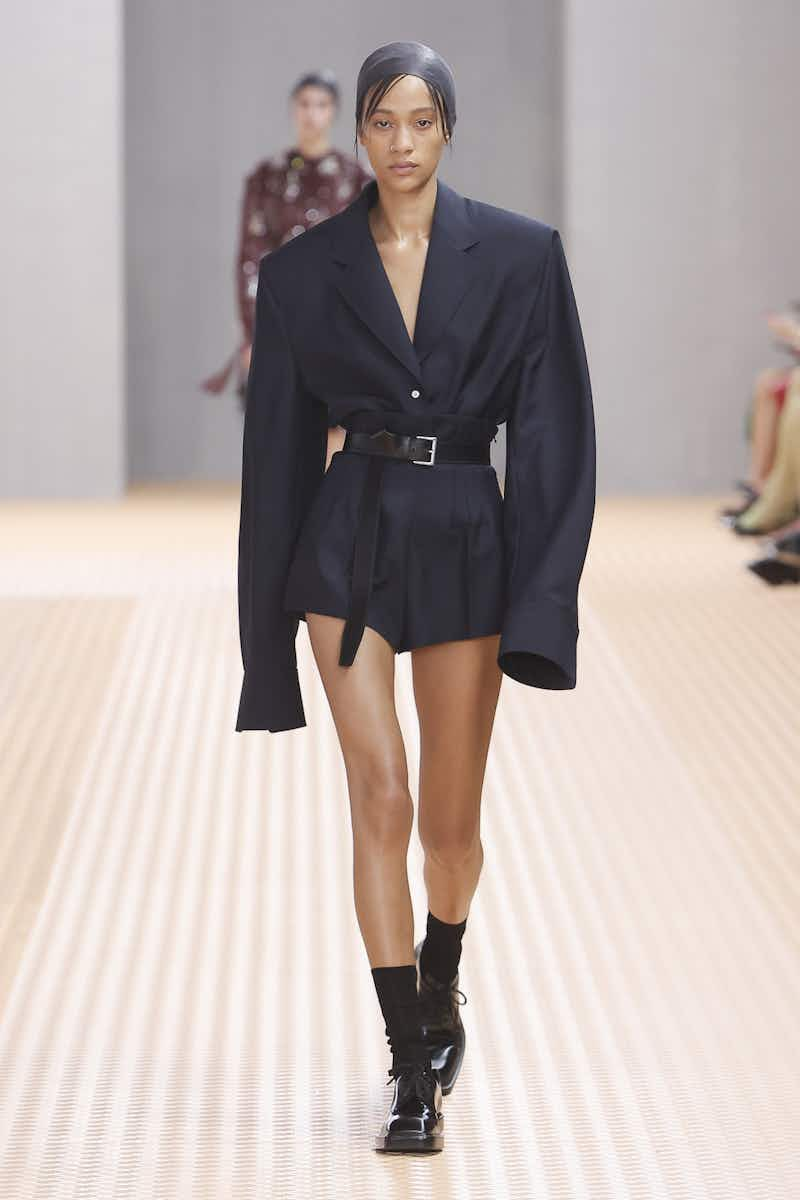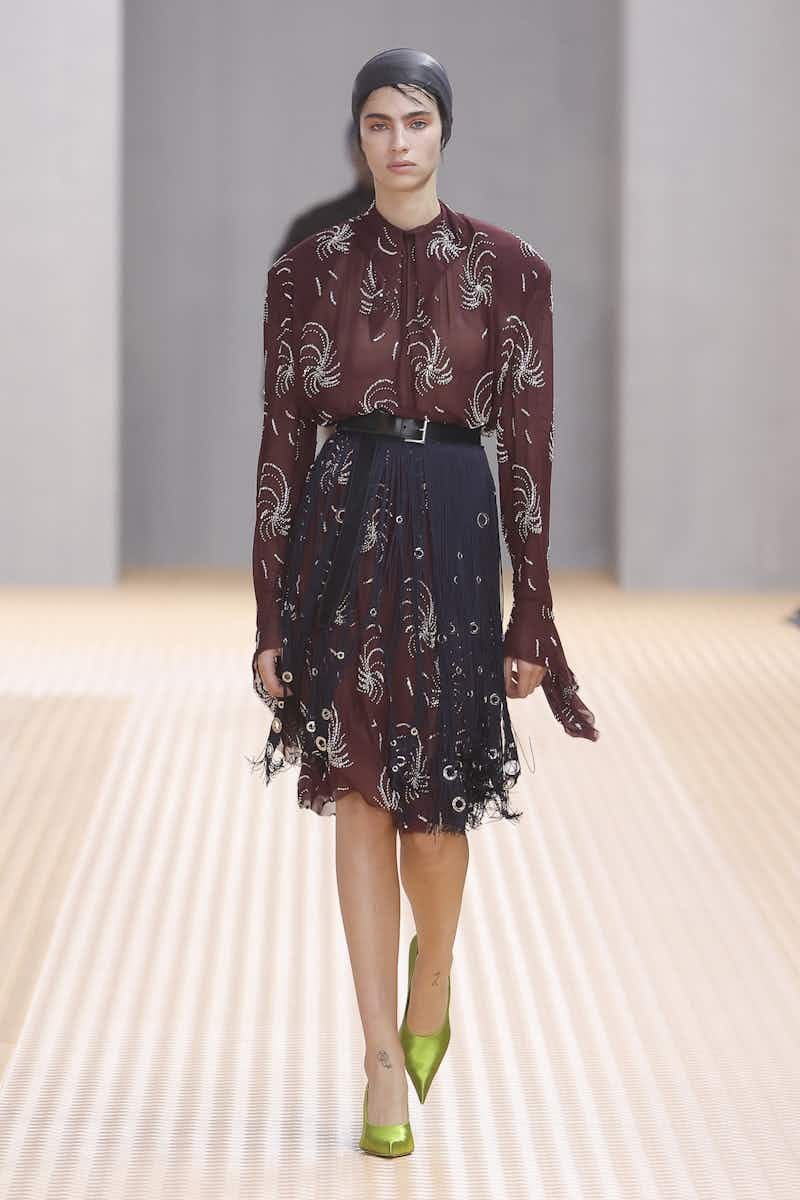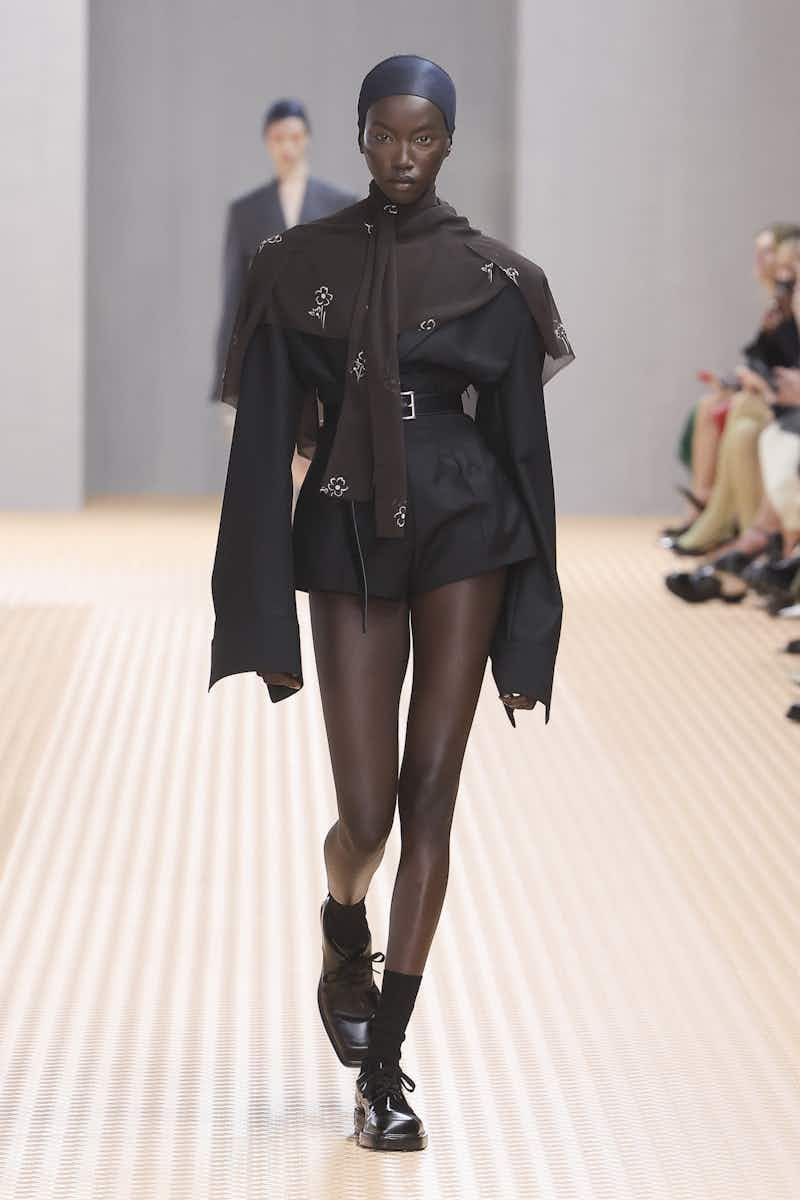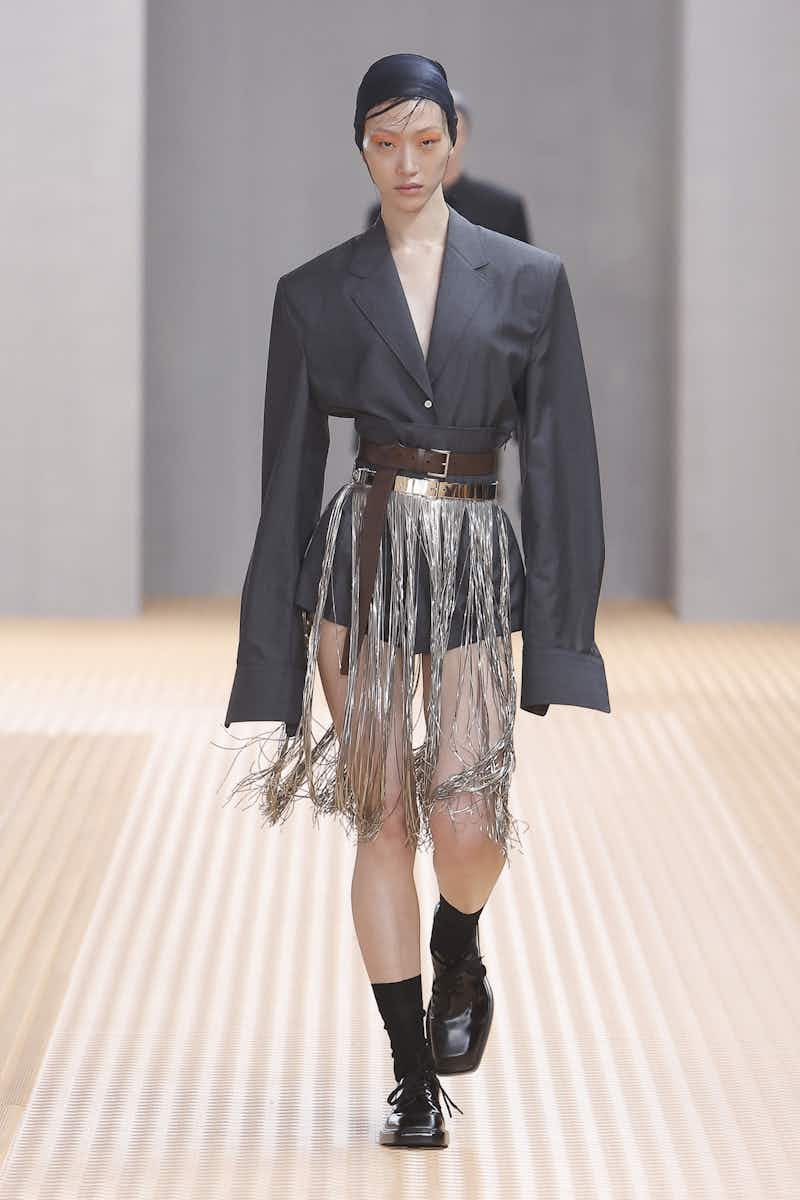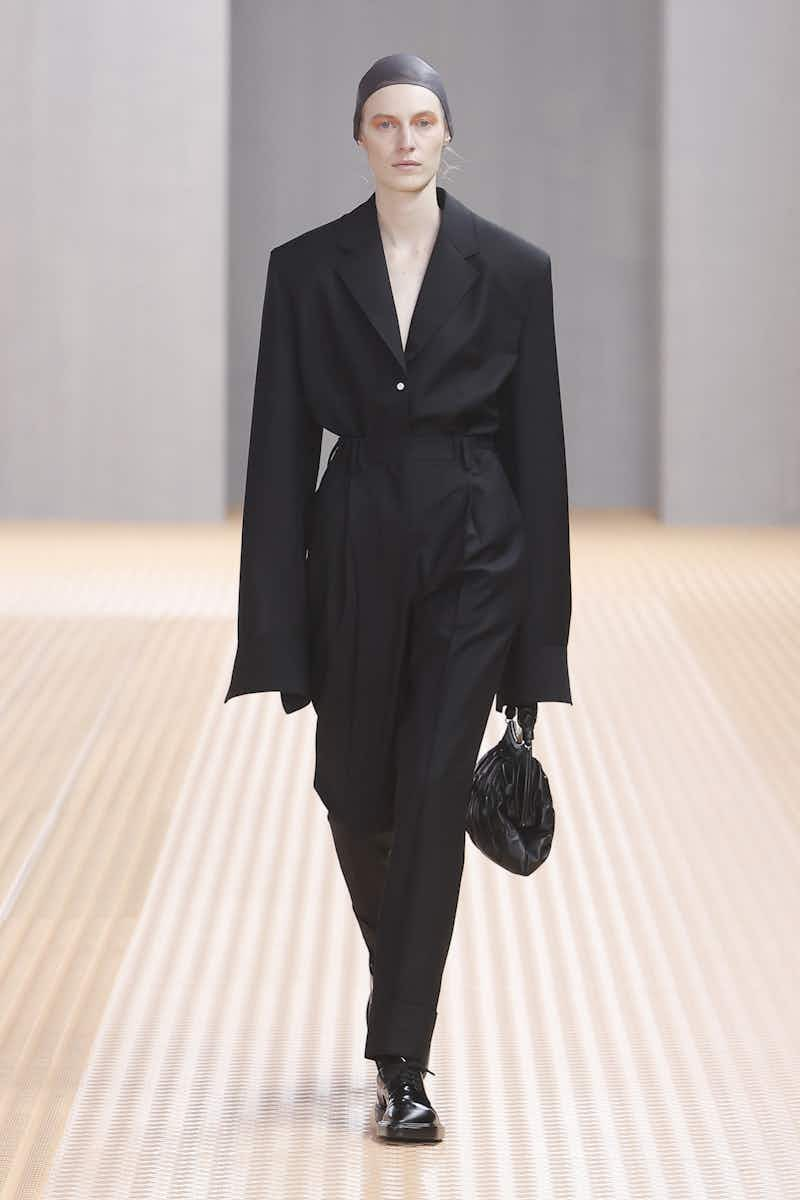 Give us the run-down, then…
Europe spent a long, hot summer melting in the heat. So this season, MM6 Margiela referenced these ever-increasing heat waves with melted candle wax dripping from earrings and necklaces. A sculpted tank top was also crafted from melting wax, which created an effect reminiscent of Martin Margiela's melting ice cube collection from SS06. The SS24 collection was an ode to the hand and all its practical, romantic and communicative abilities. This resulted in a thoughtful meditation on work uniforms, through utilitarian, business-like attire and sexy chef-inspired silhouettes.
And what about the clothes?
Well, sexy chefs were the order of the day as long vests and slip dresses were cut like aprons, while round toe boots were reinterpreted as high fashion versions of kitchen safe footwear. Silhouettes were elongated by tall sleeveless coats with plunging V‑necks and high waisted trousers peeking from beneath. It's the kind of wardrobe you could slip into with ease, but would still stand out for being oh-so impeccably chic. It's timeless, straightforward, and enticing. The deep, low pockets reference the collection's love letter to our hands – models tucked theirs into pockets with a louche sense of cool.
In a gesture?
An ostentatious flick of the wrist. Dinner is served.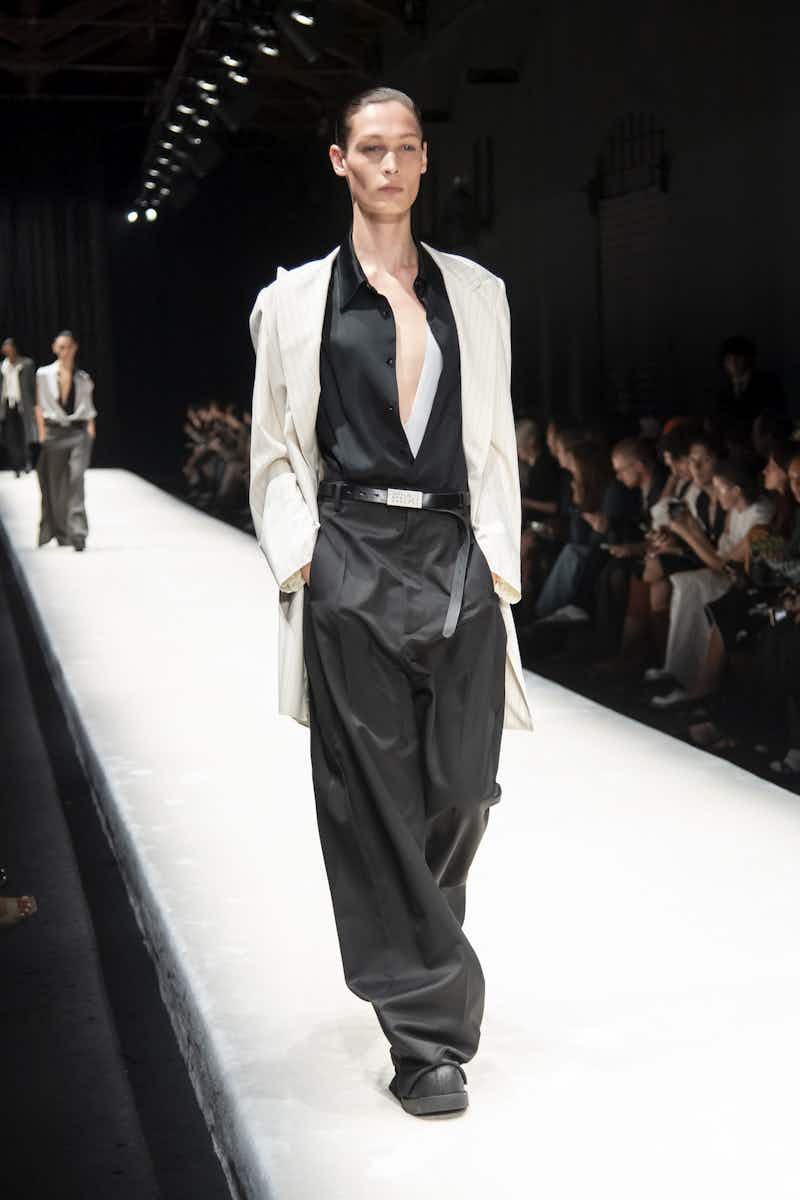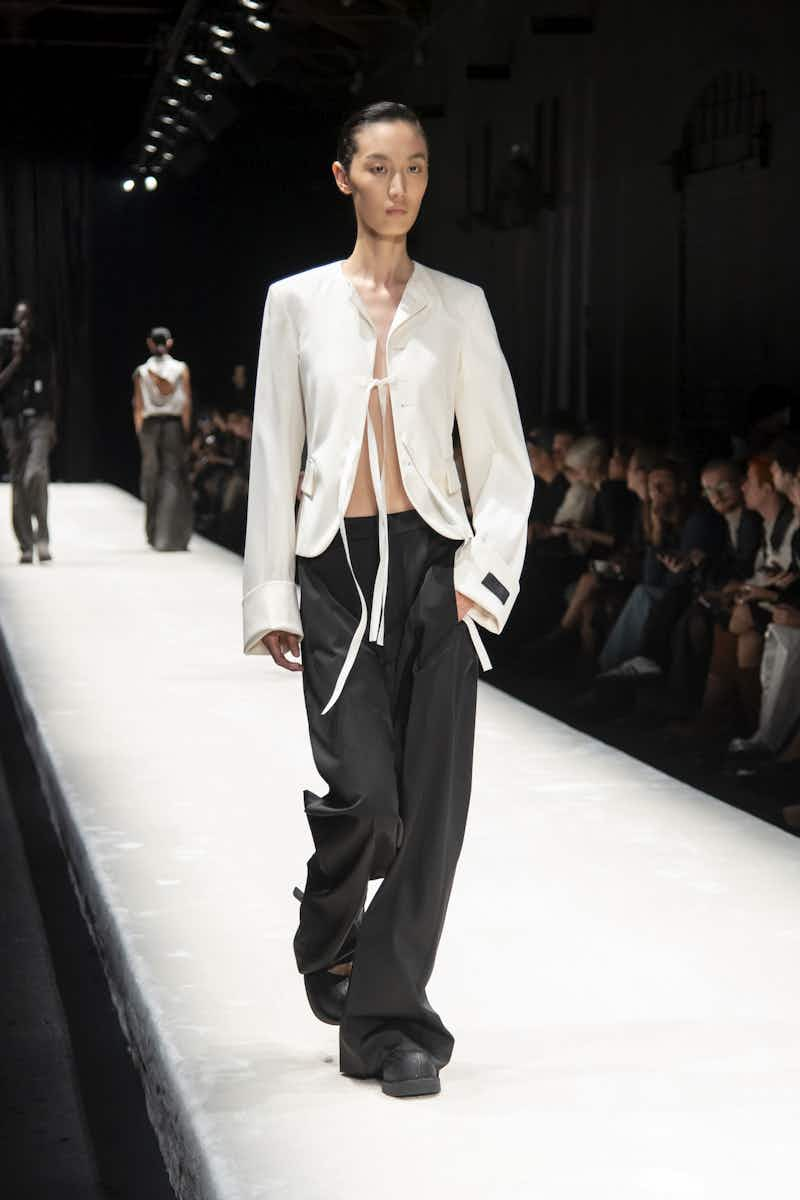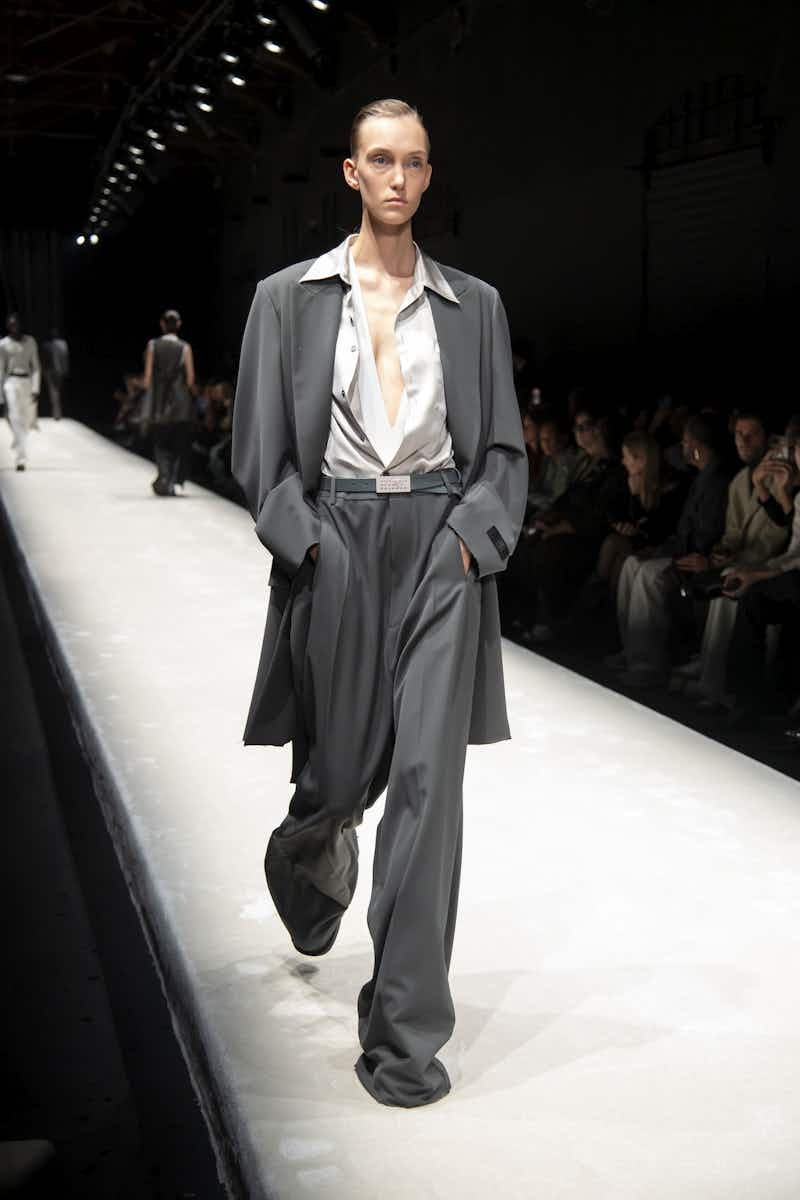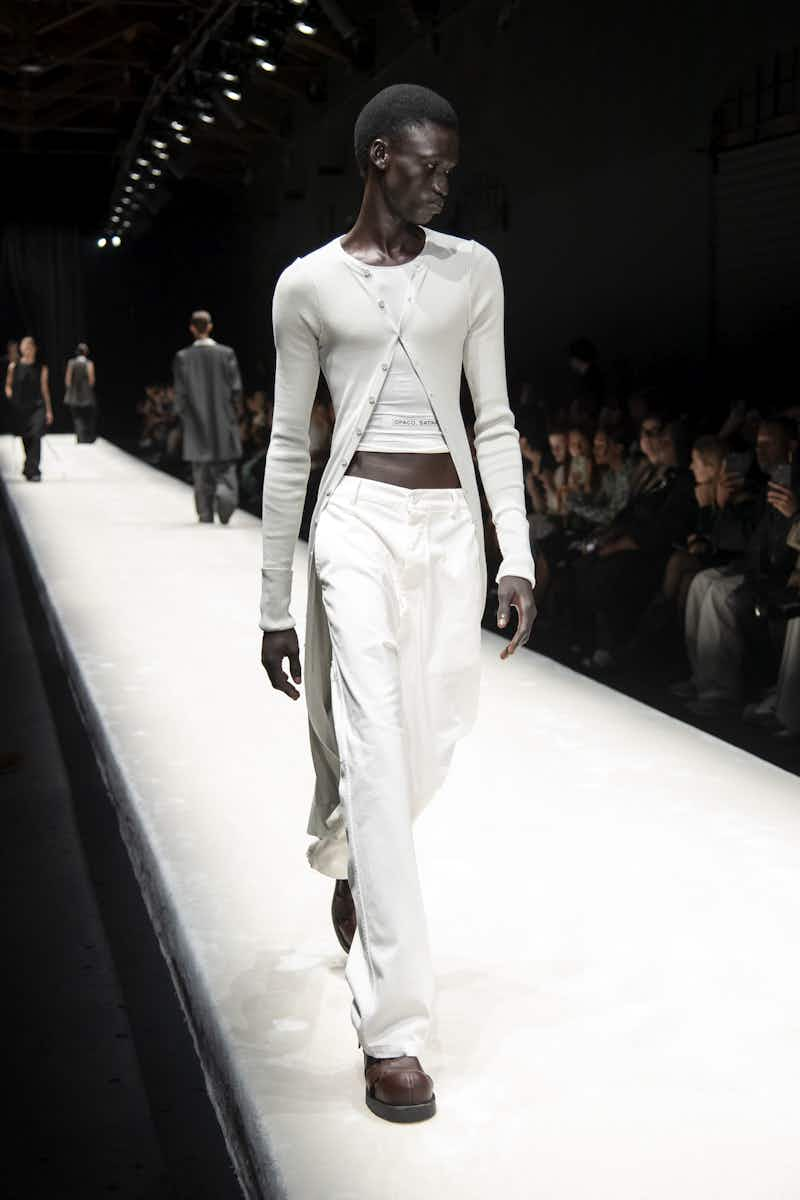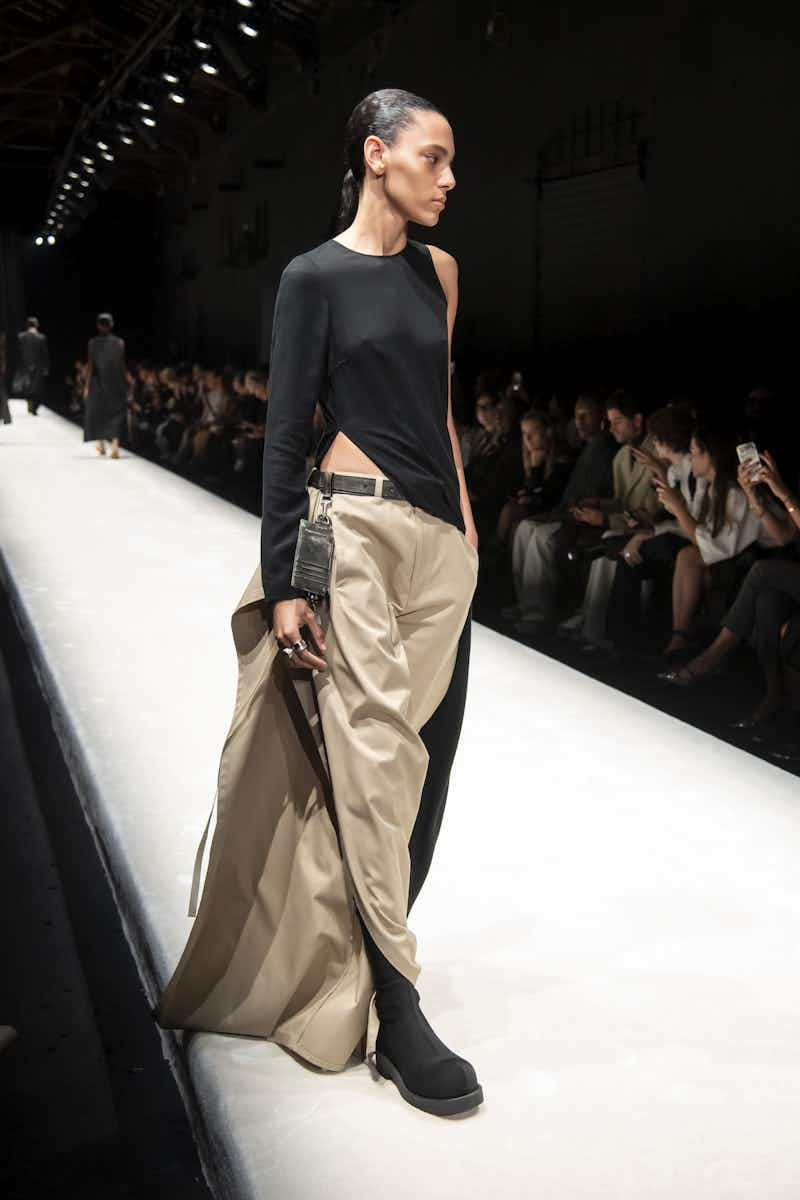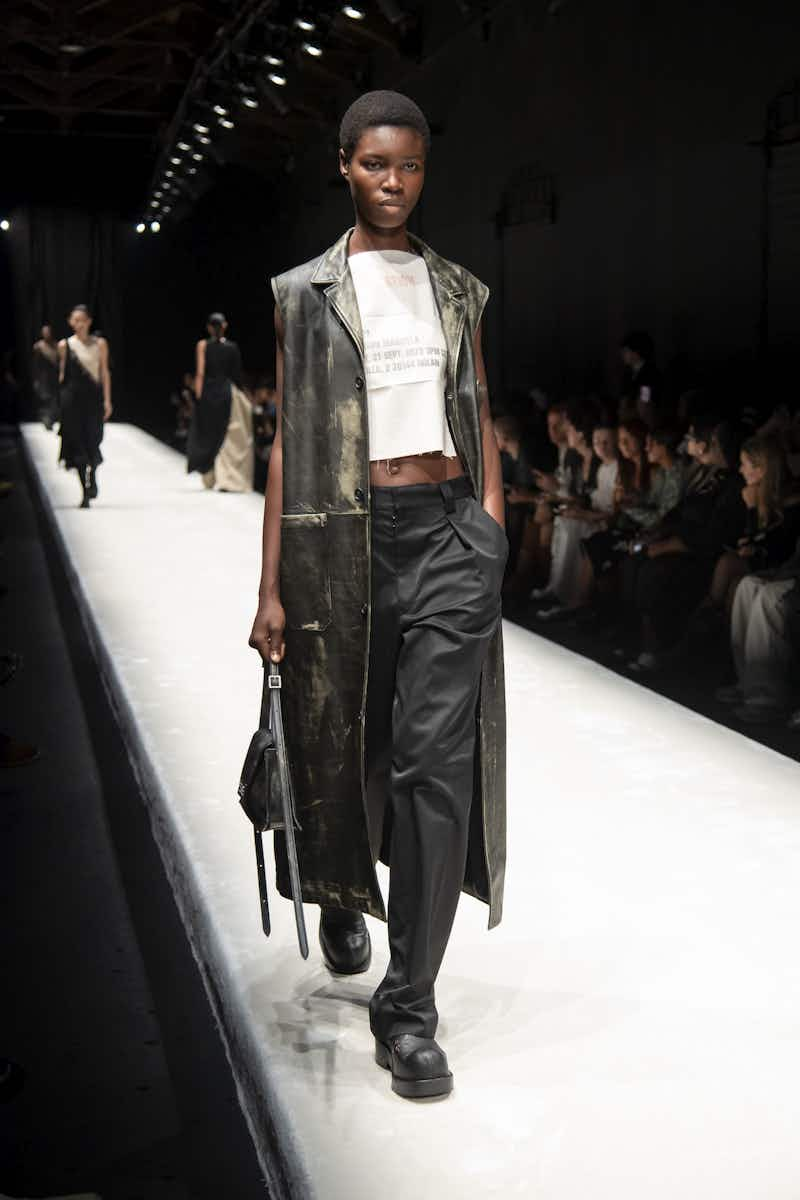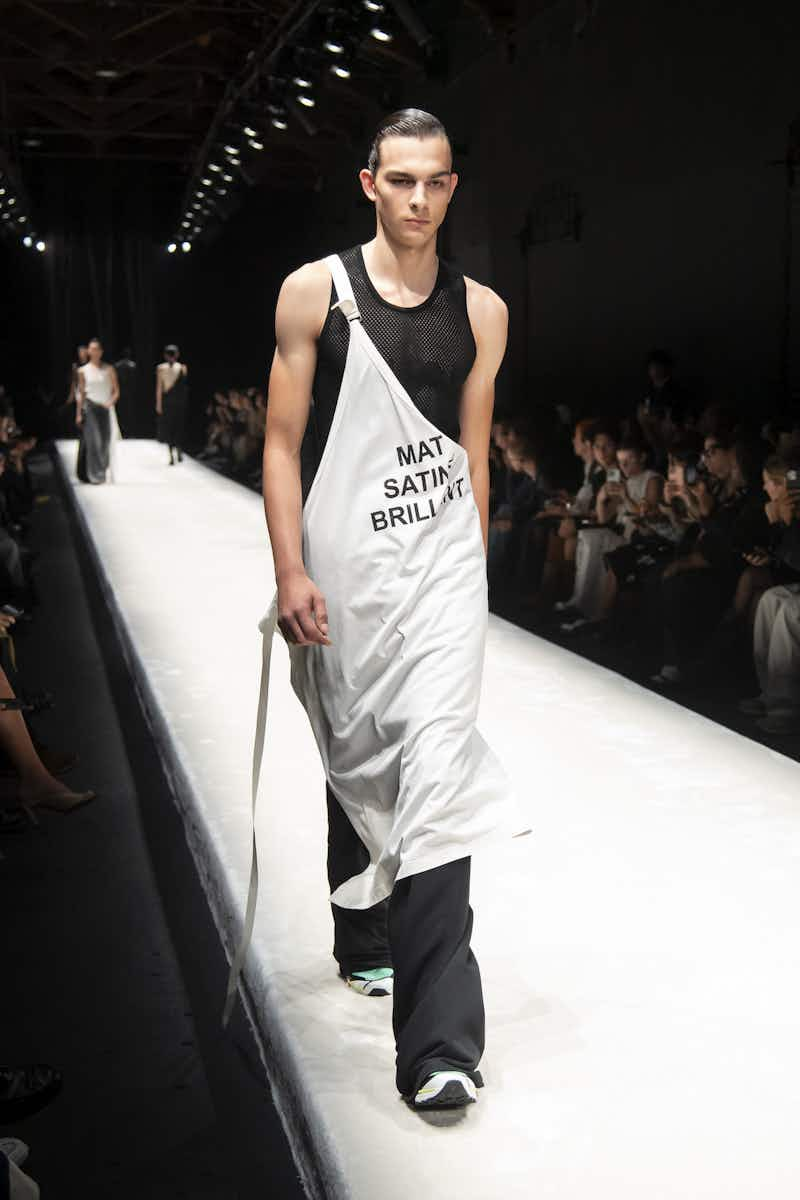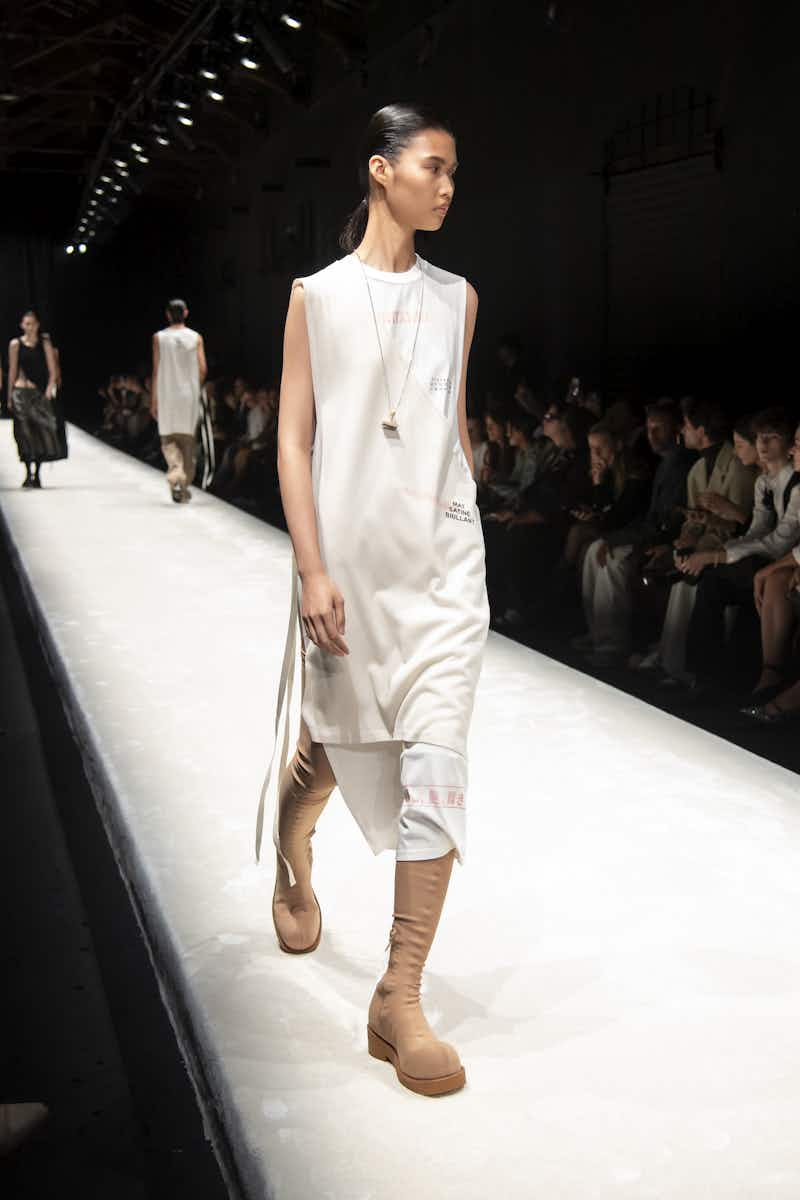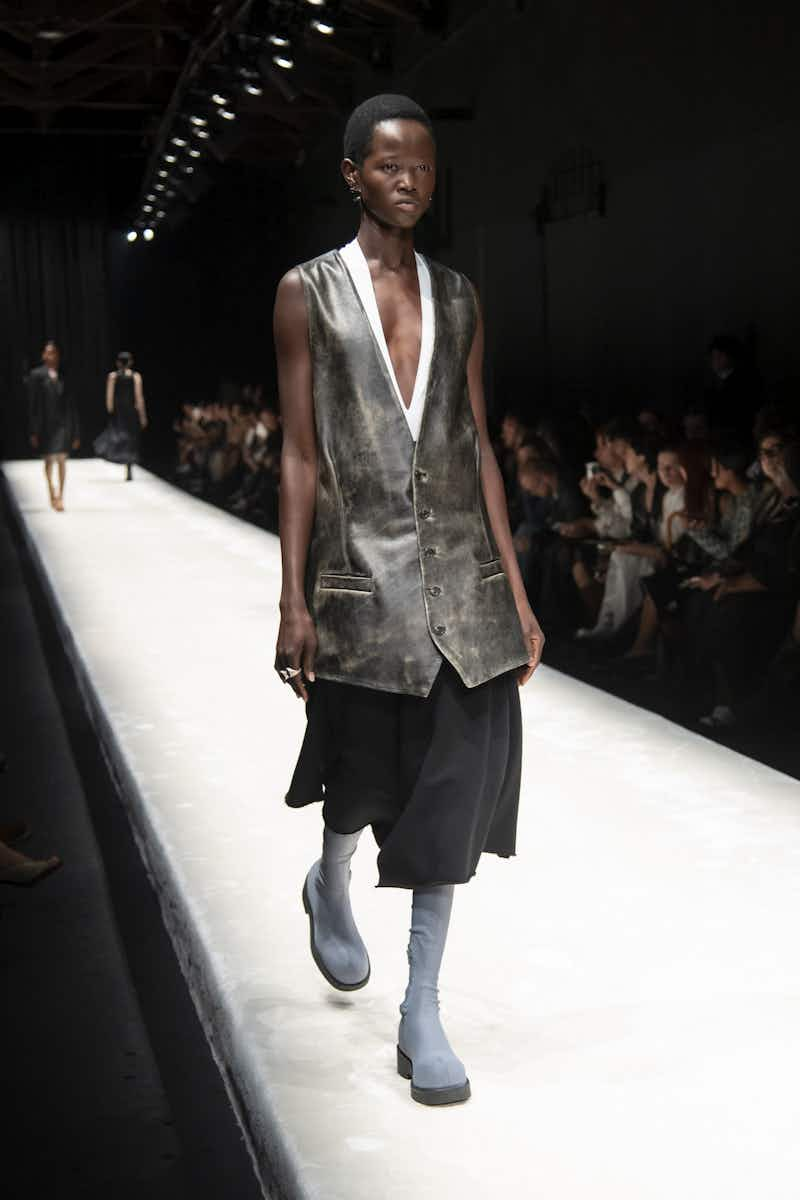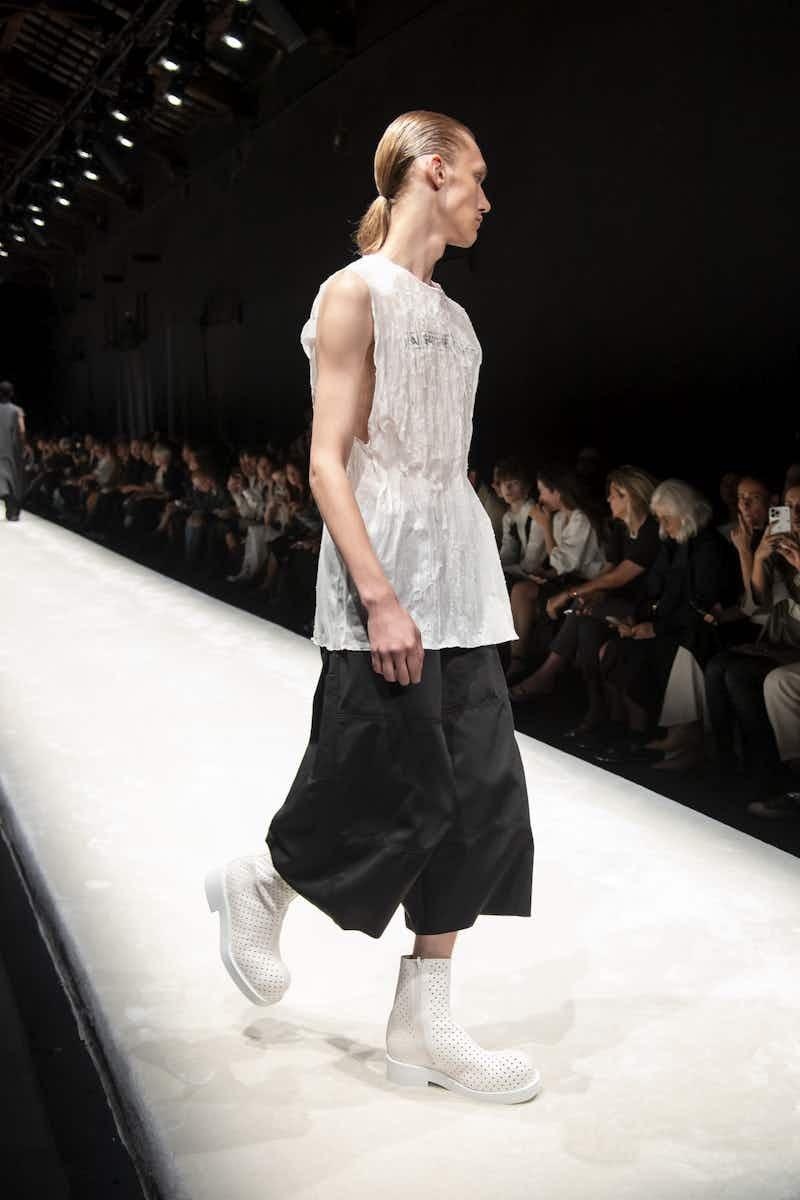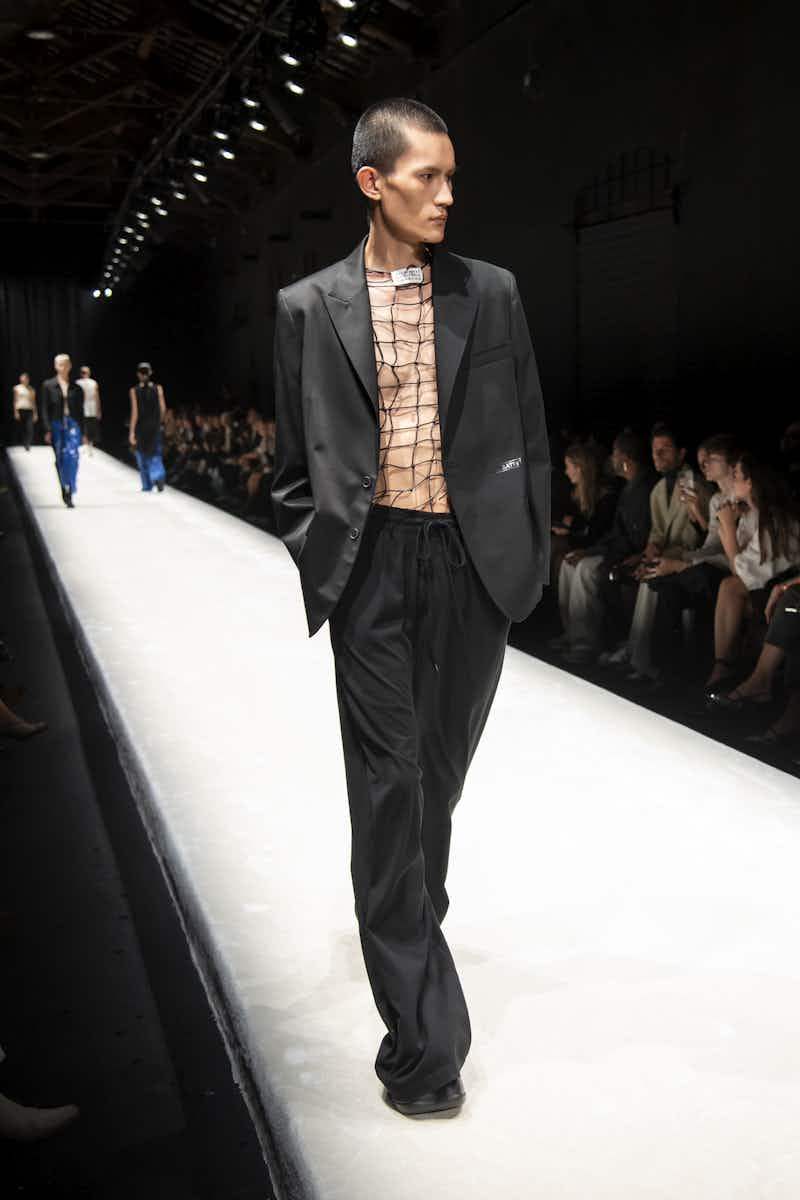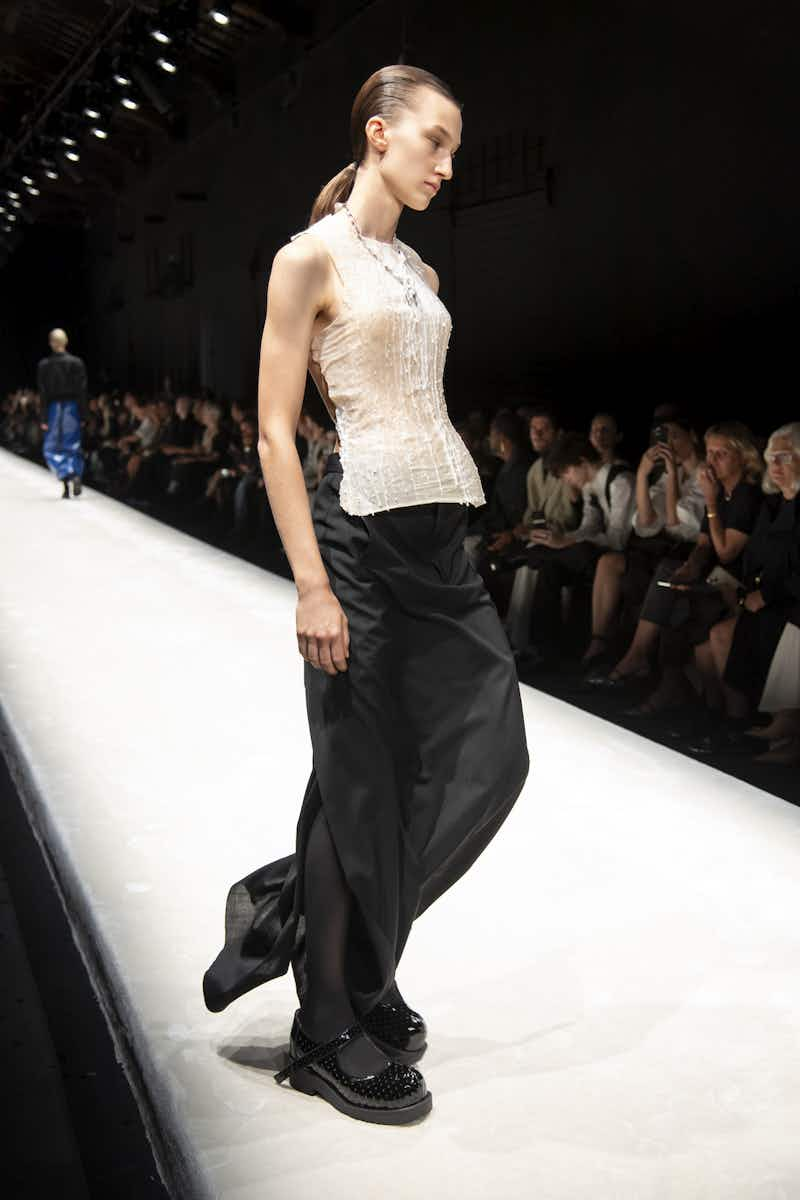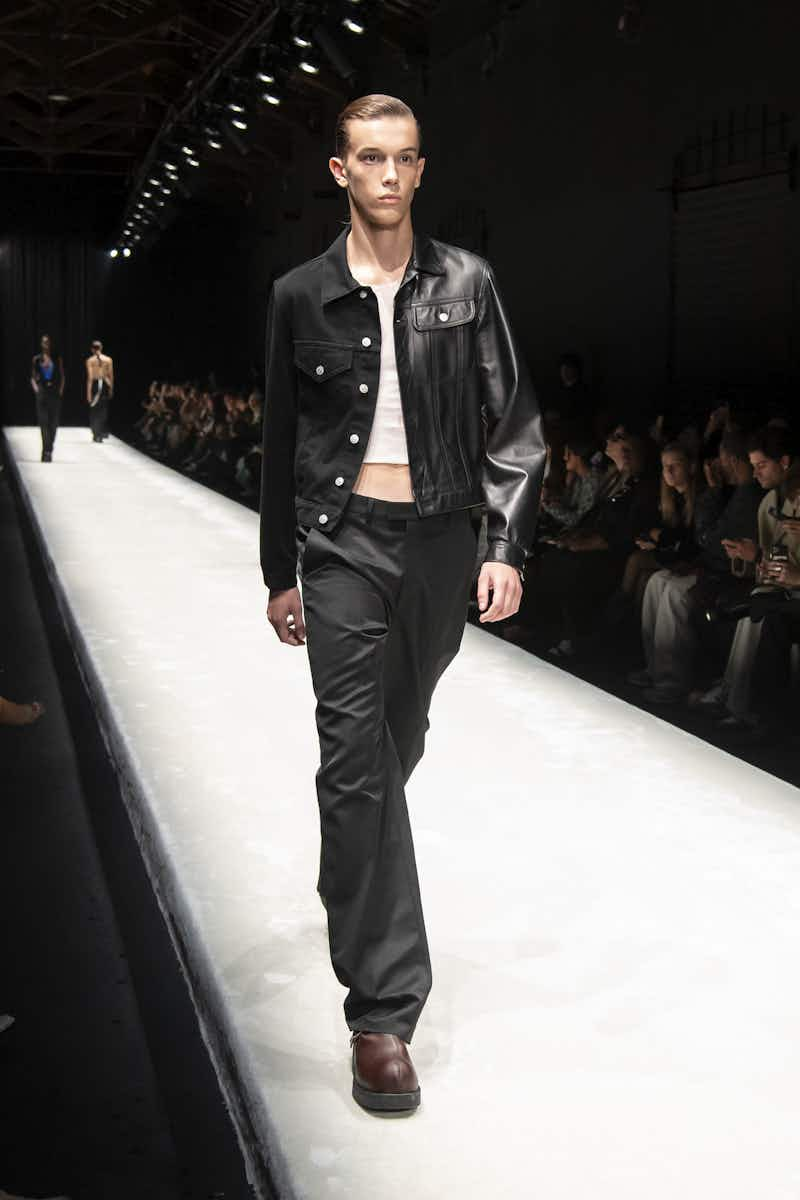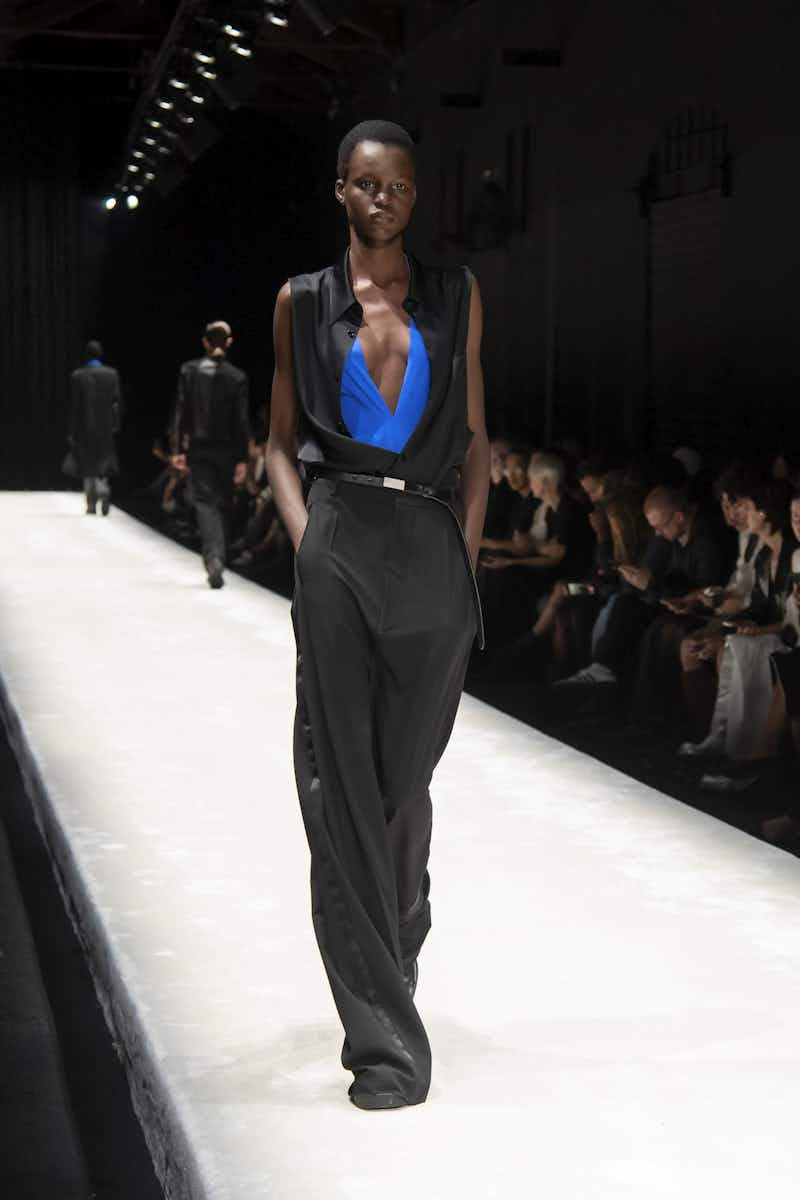 What went down?
Pharrell has been a busy boy. He might have recently taken the helm at Louis Vuitton, but his long-term collaboration with Moncler shows no signs of slowing down. True to form, the celebration of the new collection was a riotous affair, featuring performers singing, shaking and moving across an astroturf stage in front of a 5,000-strong crowd, as part of a presentation curated by rapper Tobe Nwigwe. The collection centred around the idea of glamping – think functional gorpcore essentials that work just as well in the city as they do out and about in the great outdoors. Pharrell quickly took the mic to say, ​"It's an honour to be back in this country", and thanked Moncler chairman and CEO Remo Ruffini: ​"Make some noise for Remo. We wear his clothes, we wear his ideas." The show installation will remain open to the public as The Art of Terrain exhibition space until 24th September.

Where was it?
Dancers, singers and musicians took over the regal courtyard of Portrait Milano Hotel, all wearing the latest glamp-inspired Moncler Genius collection. The presentation itself took place on a raised astroturf stage with trees dotted around it, while dancers appeared from the hotel balconies that overlooked the inner garden.
Who was there?
Pharrell was joined by friends Willow and Jaden Smith as well as Dixie D'Amelio, Ashley Graham, designer Salehe Bembury and many more from across the music and fashion worlds.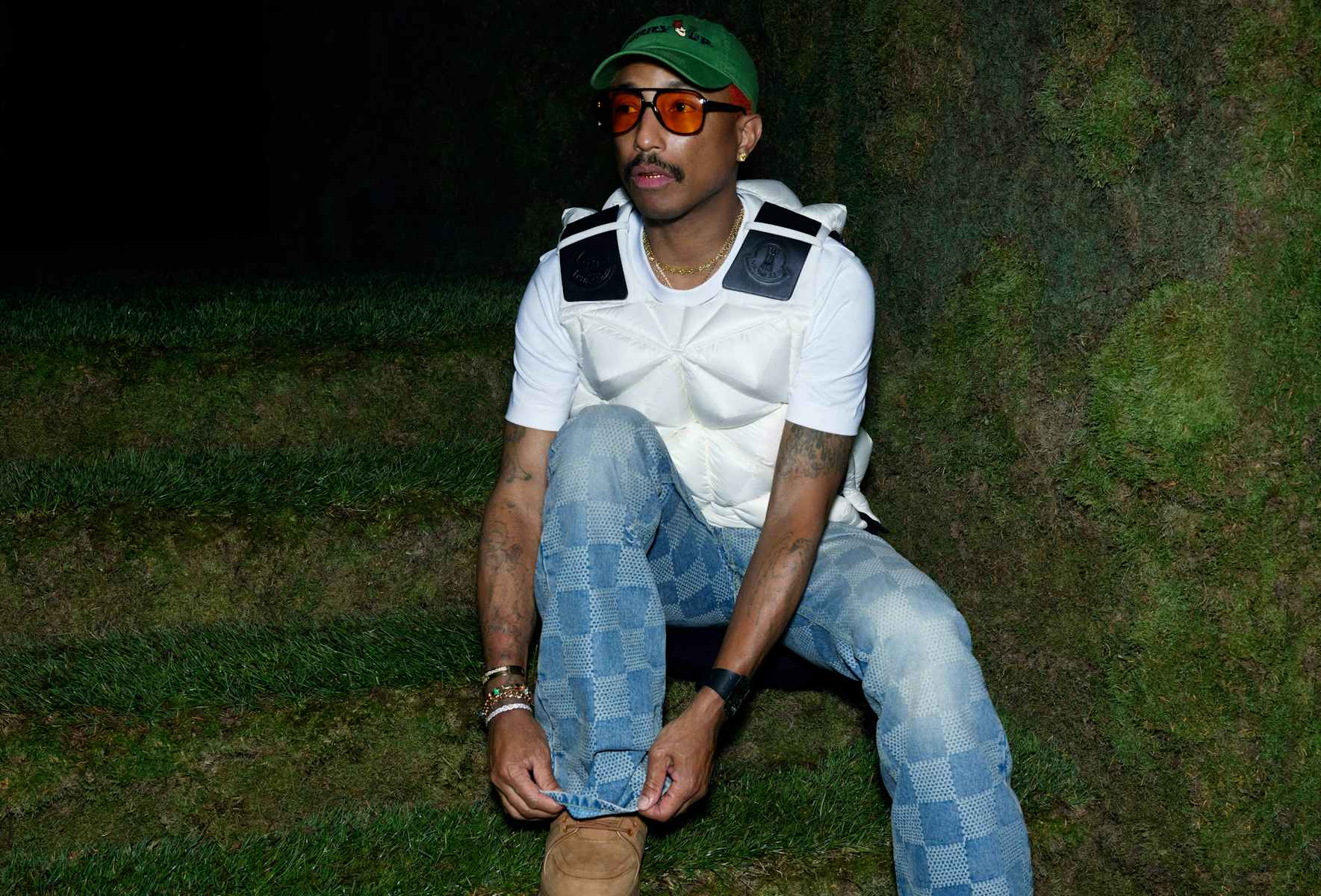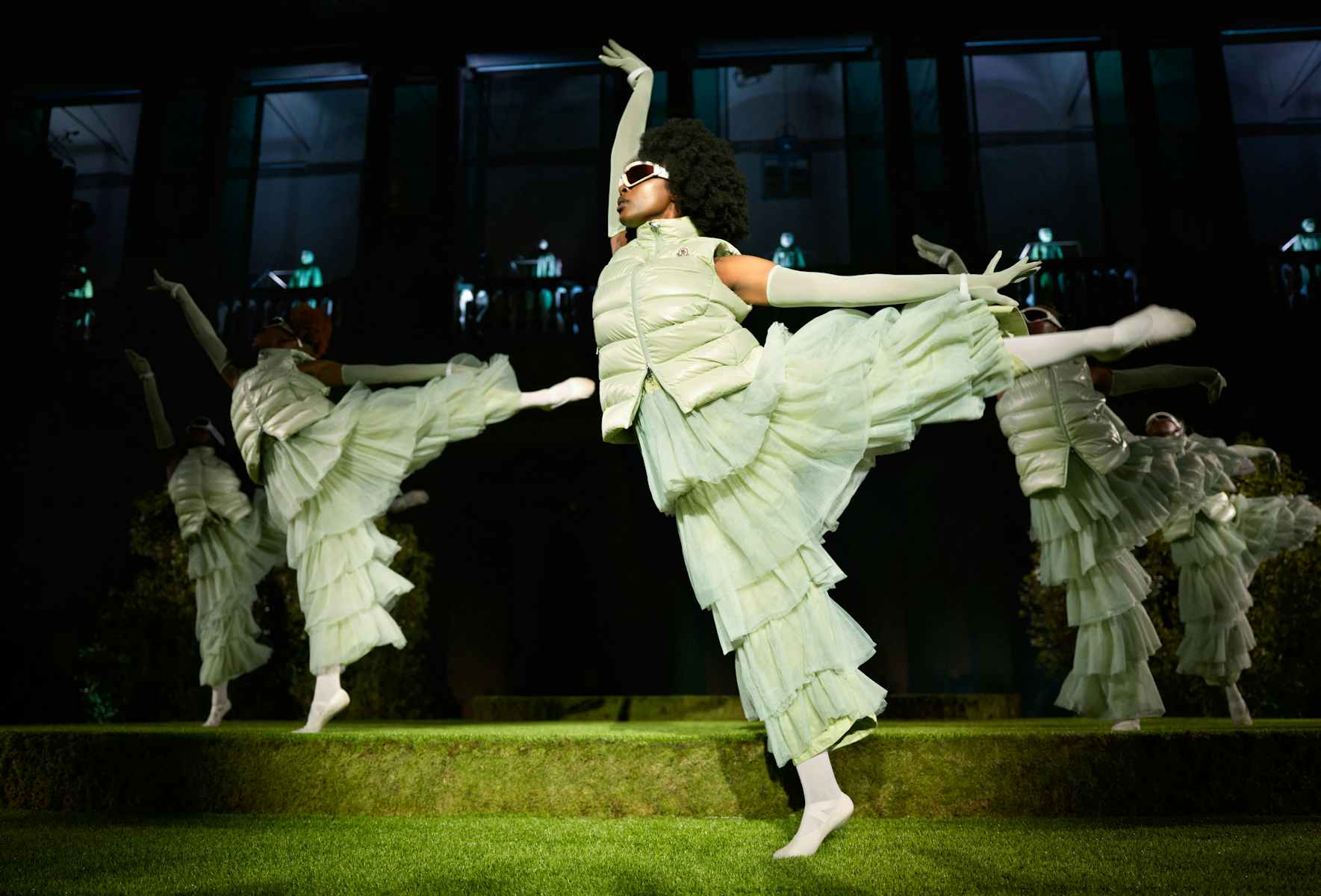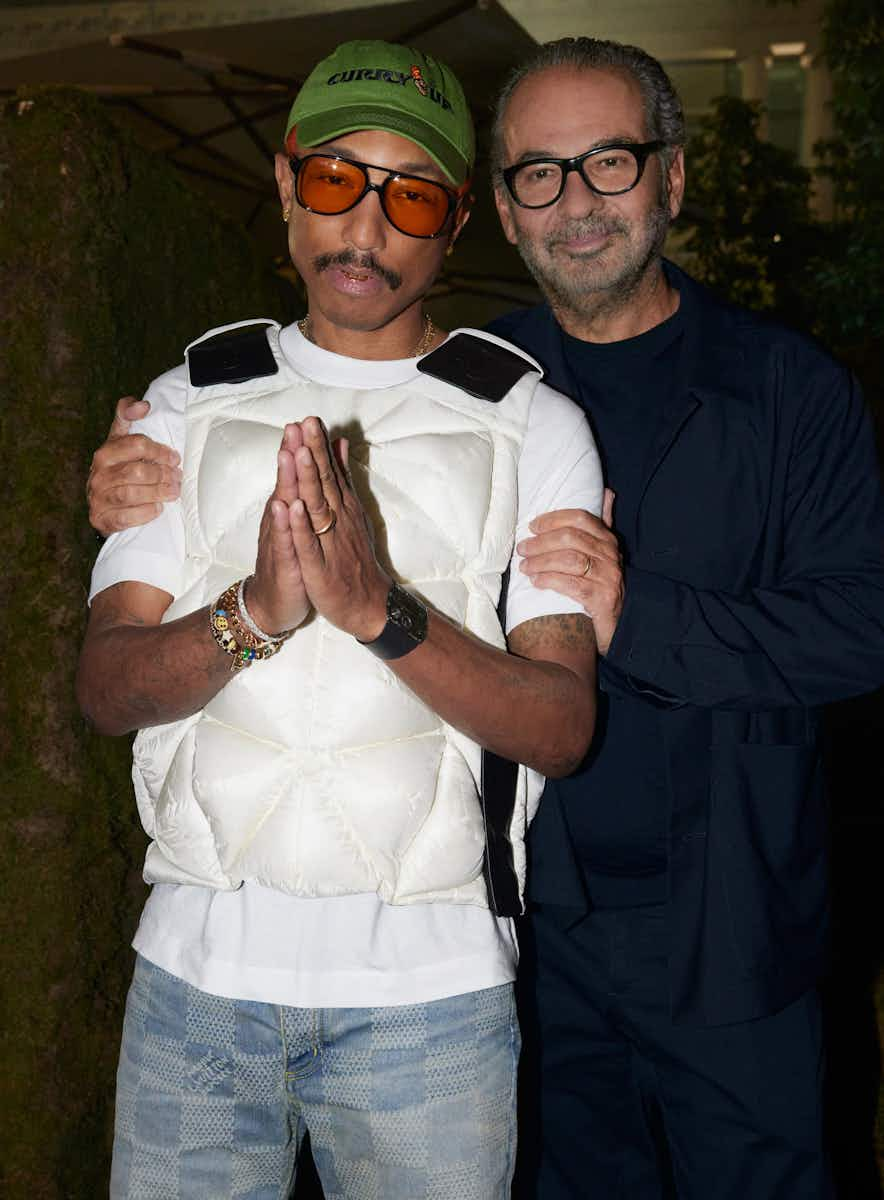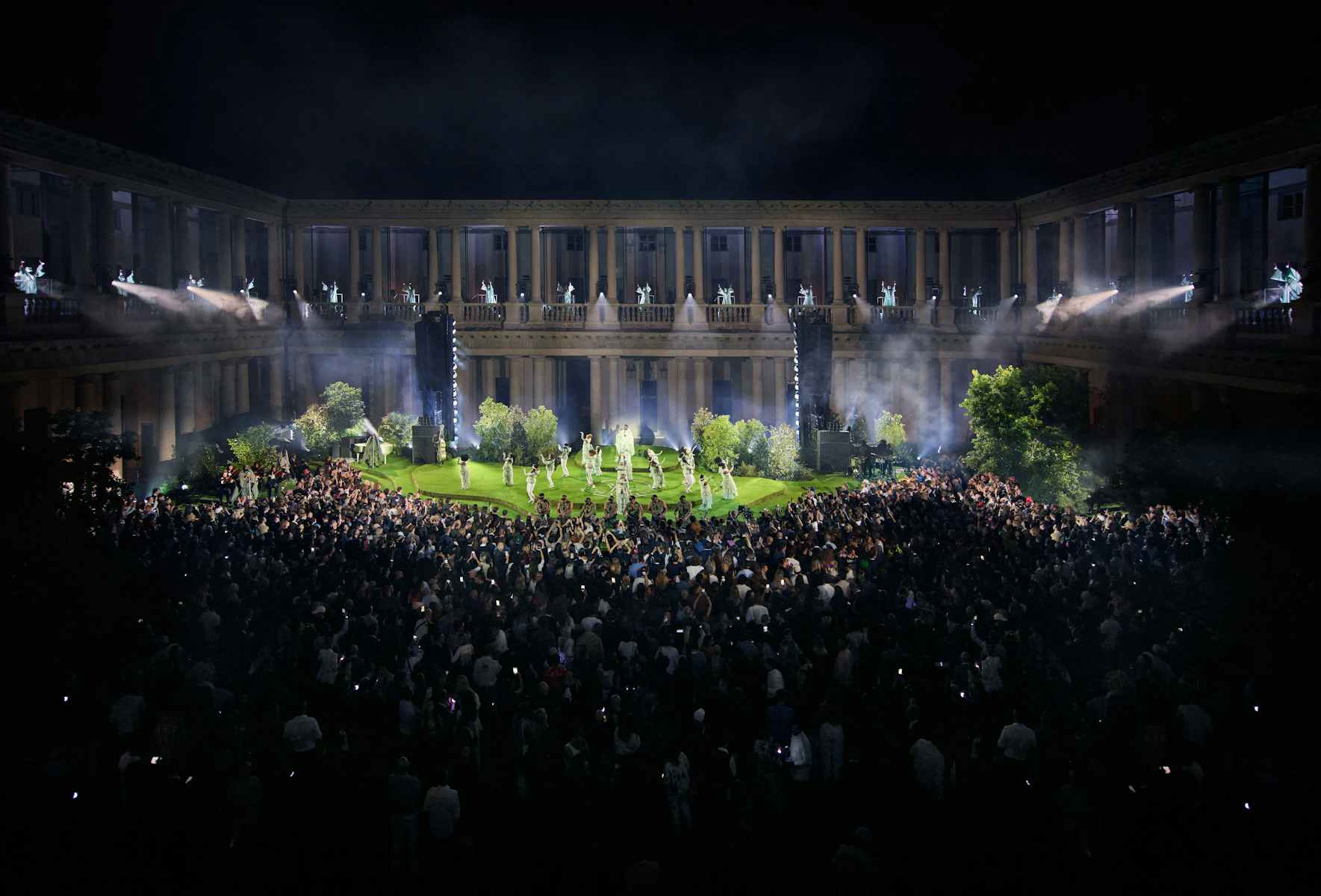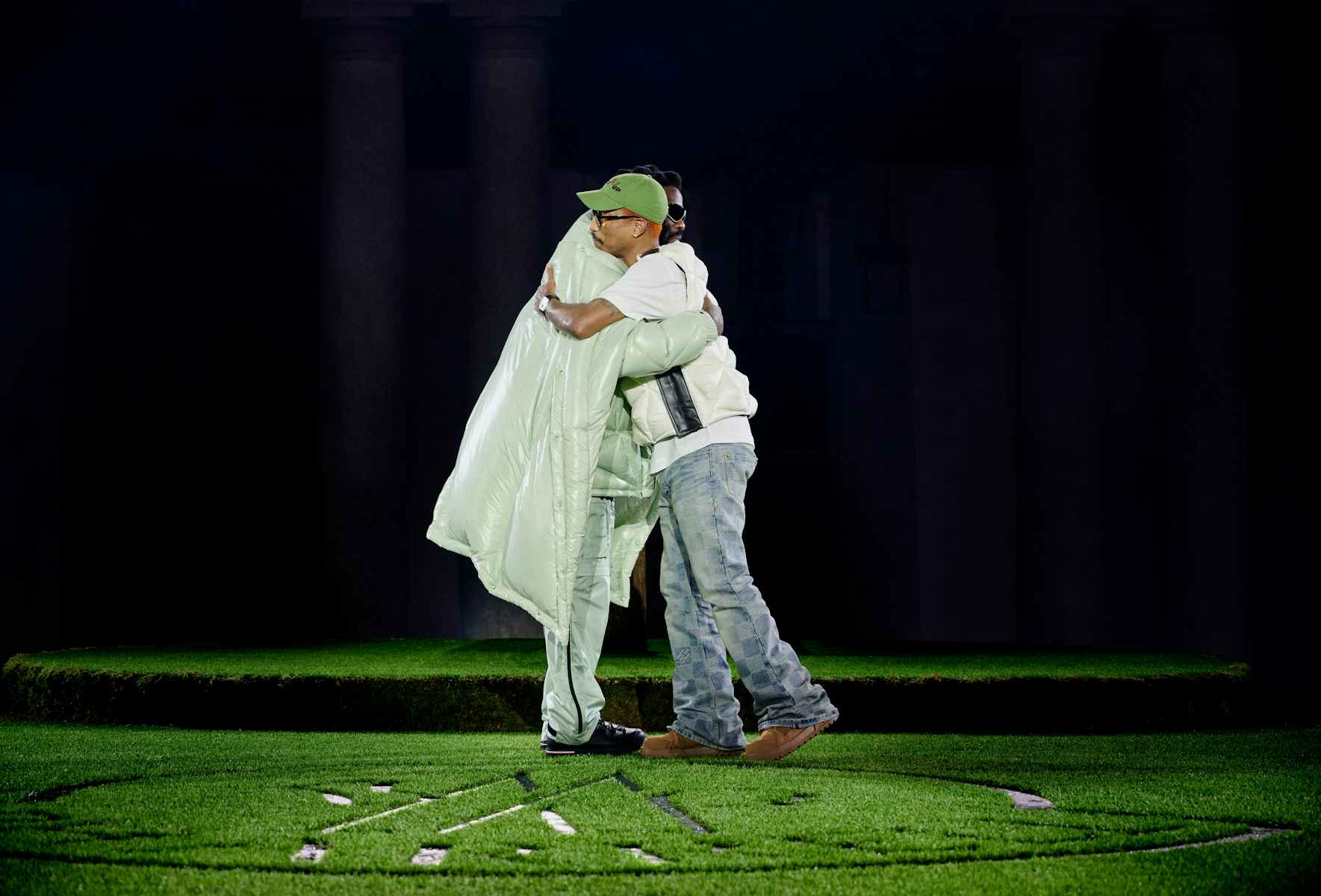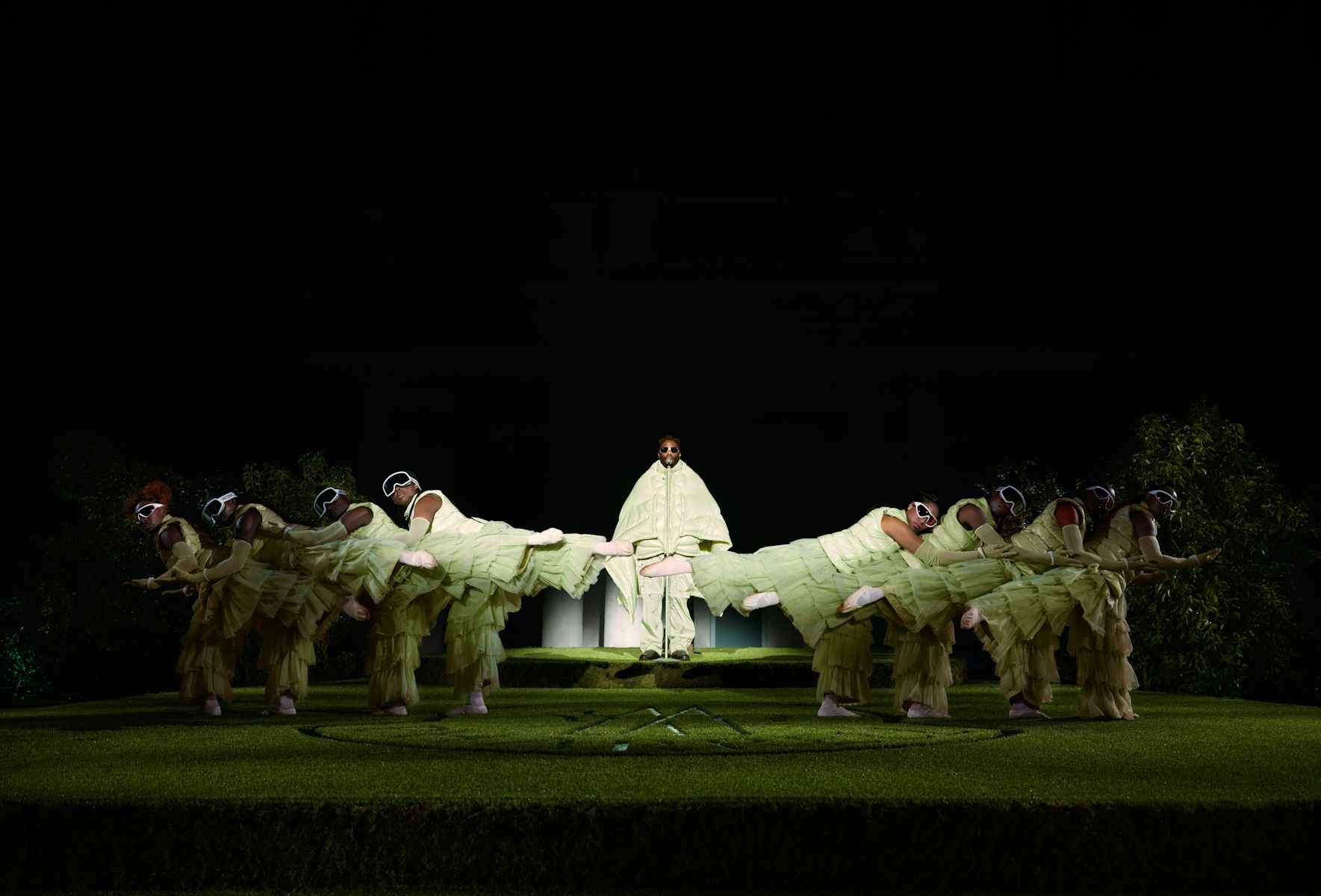 What?
If there's one thing students love, it's a good old-fashioned free rave. So when tickets went live for Diesel's SS24 show, bookended by two four-hour sets from NTS-programmed DJs, they were snatched up in mere minutes. But as 7,000 guests waited for the runway show to kick off, it started pissing it down. Thankfully, there's something euphoric about a rainstorm at a rave, not to mention the free gin supplied by Bulldog that helped make it all the more bearable. Glenn Martens said the collection was about ​"bringing people together for an analogue moment", and there's nothing quite like getting caught in a downpour to bring you back to the now. By the end of the show the rain had stopped and guests were left to dance themselves dry in the four hours of partying that followed.
Where?
On a temporary stage at the old Scalo Farini rail yard. The space will stay open for several days for a free film festival curated by Martens, with a programme including Mulholland Drive, Fight Club, Spirited Away and, to really banish the comedown, guaranteed tear-jerker Wall‑E.

What were the clothes like?
Distressed, destroyed and ripped to shreds, baby. Martens opened the show with a barely-there grey jersey mini that had been torn into pieces. Extremely acid washed denim was falling apart while ruched jersey naked dresses came with bikini details for a cheeky wink to the camera. And models were covered in gold body paint or caked in mud as if survivors of an alien apocalypse emerging in clothes that are barely holding themselves together.
In a song lyric?
​"Feel the rain on your skin /​No one else can feel it for you /​Only you can let it in." You know the one, right?
Ever take a stroll through the city, AirPods in, feeling like you're in a film when that song comes up on shuffle? You're not alone: Kim Jones does, too. And this season for Fendi's SS24 collection, he looked to Rome's resplendent cast of characters as its inspiration. There was Italian elegance aplenty, from sumptuous silk slip dresses made for majestic evenings to tailored trousers for refined daytime strolls through the city's ancient cobbled streets.
Where?
Despite its Roman influences, the show kicked off fashion week at Fendi's HQ in Milan. But as a nod to the Eternal City, the space was filled with giant white Fendi bags mirroring the enormous historical monuments one might pass on their commute in Rome.
What were the clothes like?
Mohair tailoring, ribbed knits and washed silk dresses epitomised daytime elegance found only in the streets of an Italian city, while gloves and delicate leather handbags pointed to the collection's cinematic influences. There were turtleneck dresses, soft leather coats and relaxed tailoring as well as jumpers tied casually over shoulders or around waists.
Think of this as Jones' response to this year's biggest trend, quiet luxury. But instead of parroting the dull, monochromatic version that has bulldozed the mainstream, he's crafting a timeless, high-quality wardrobe for the idiosyncratic sciura who treat the streets like their very own runway.
Who was there?
Models of all generations! Two of the OG supers, Linda and Naomi, faces of the ​'90s Kate Moss and Amber Valletta, plus 2010s catwalk stalwart Cara Delevingne. Actresses Demi Moore and Gwendoline Christie joined the FROW party, too.
Anything for the playlist?
The moving tunes of Dinah Washington and Max Richter's The Bitter Earth /​On the Nature of Daylight soundtracked the show for a cinematic experience proper.
In a word?
Bellissima.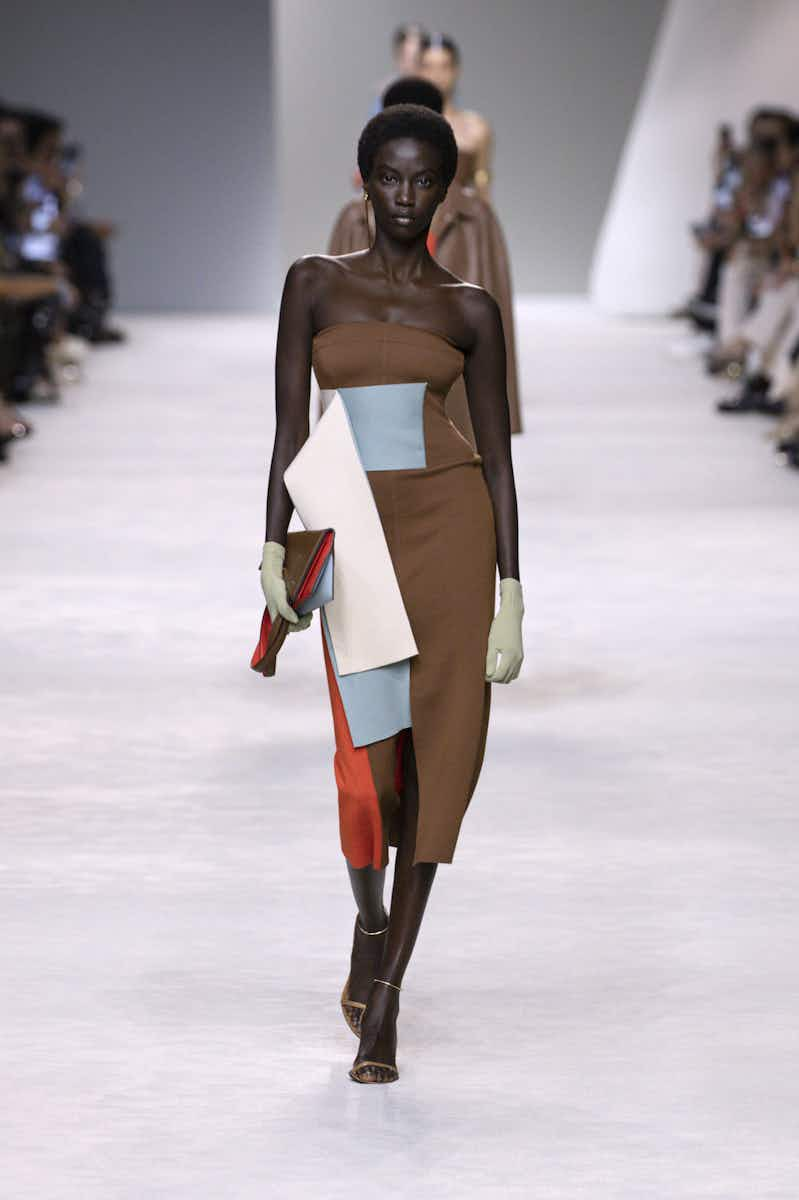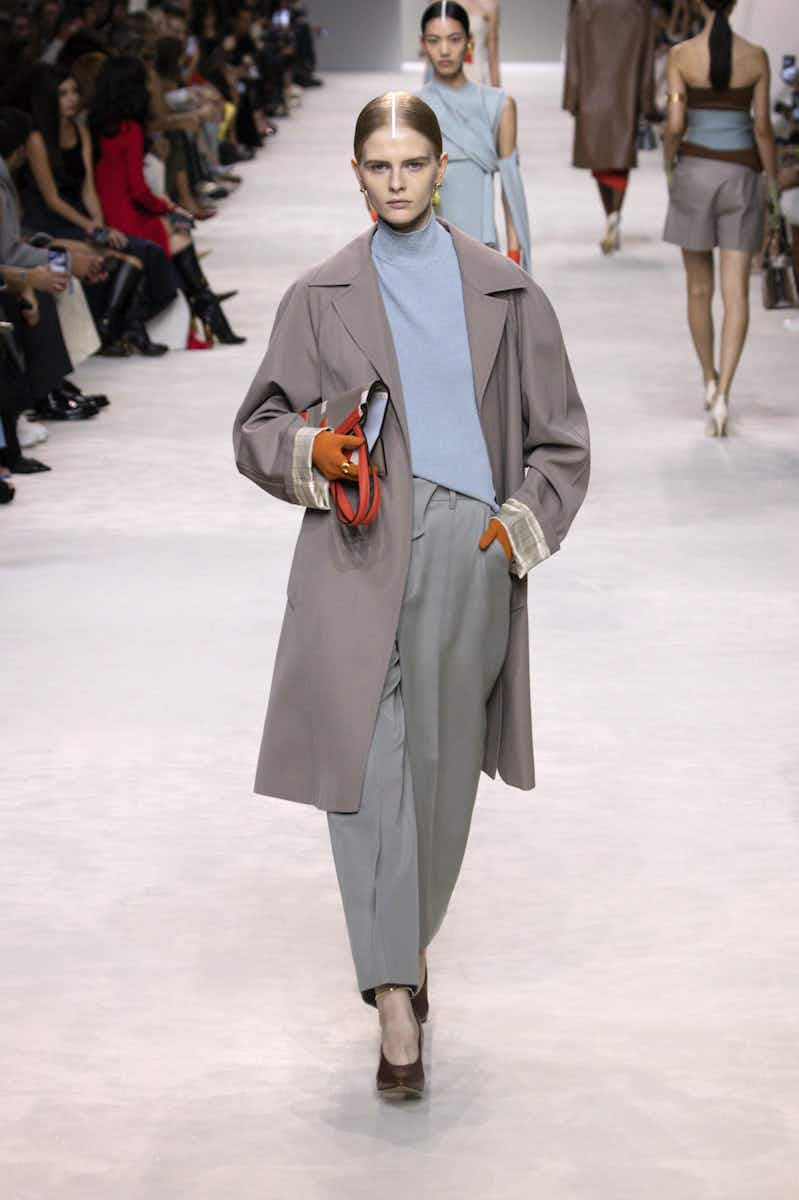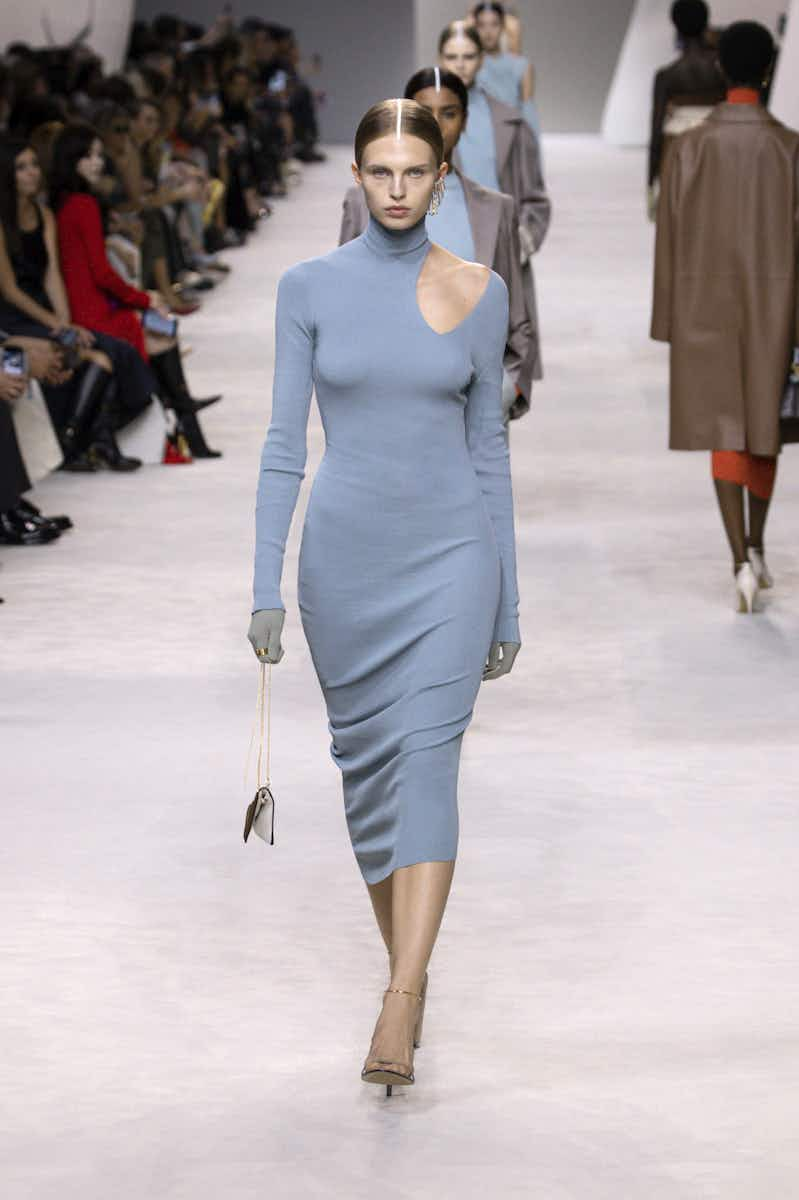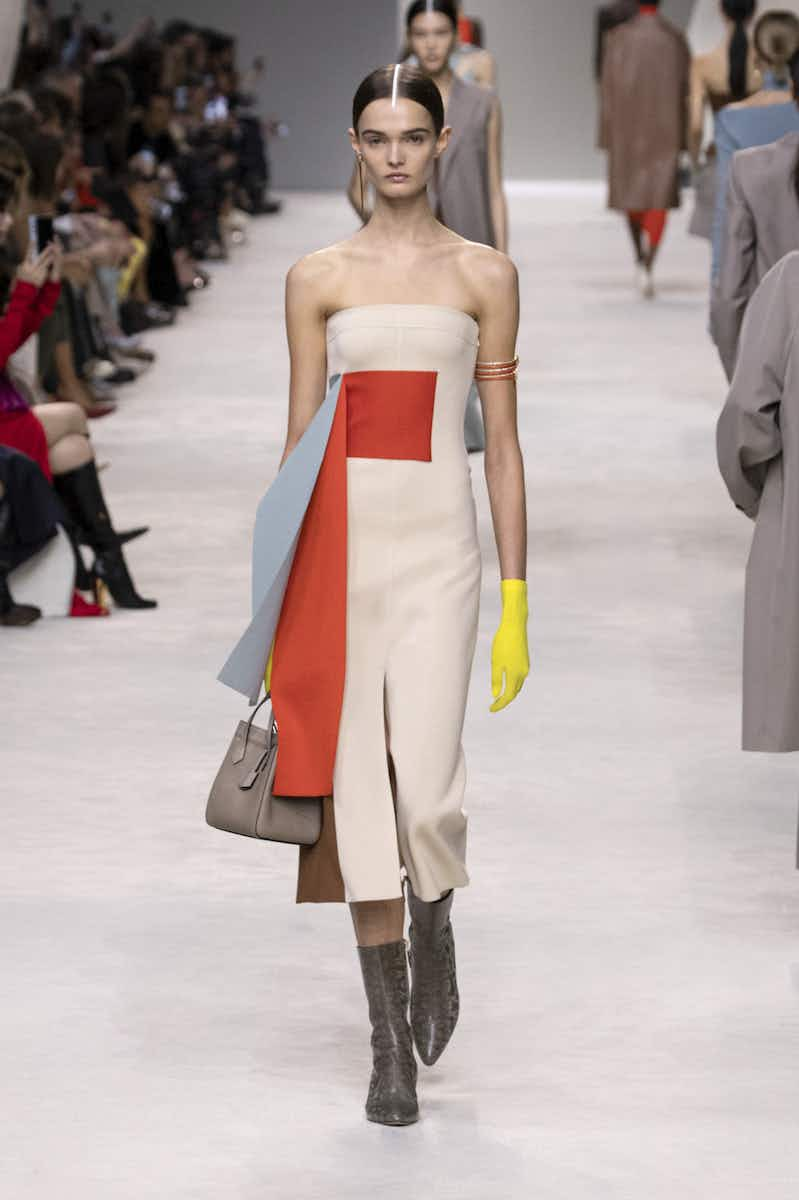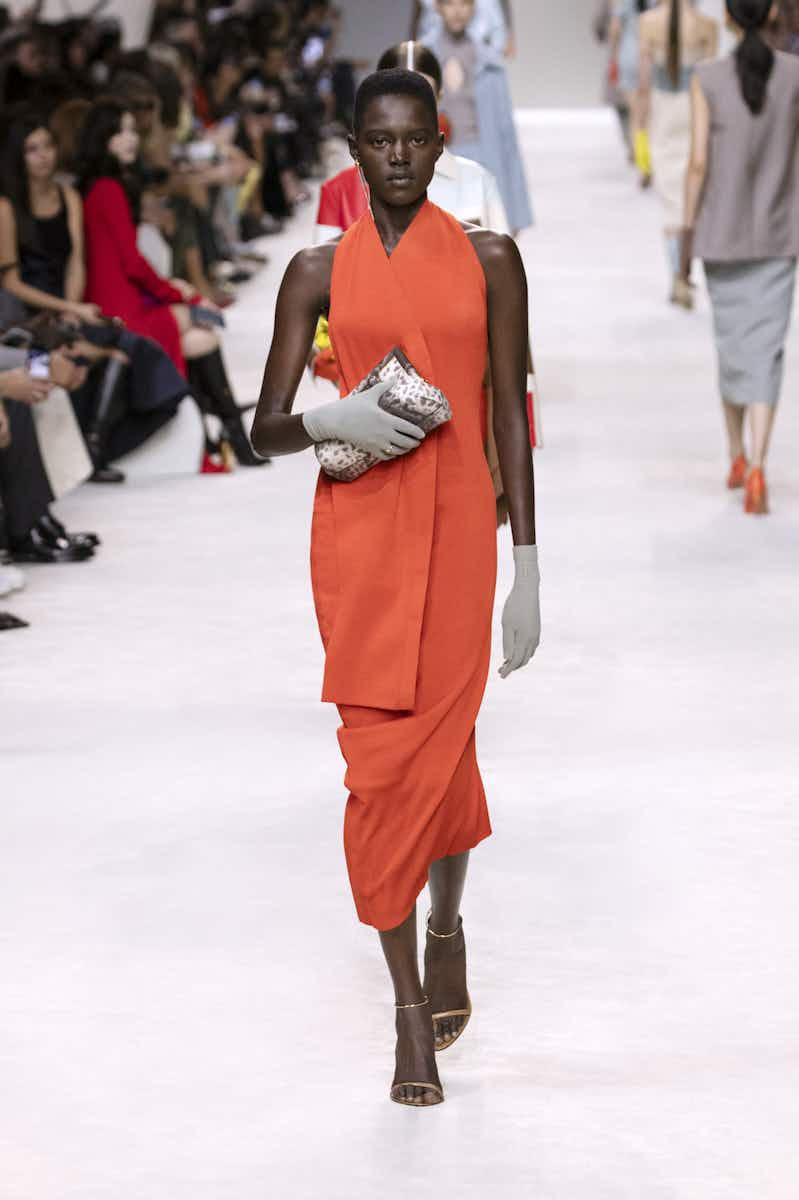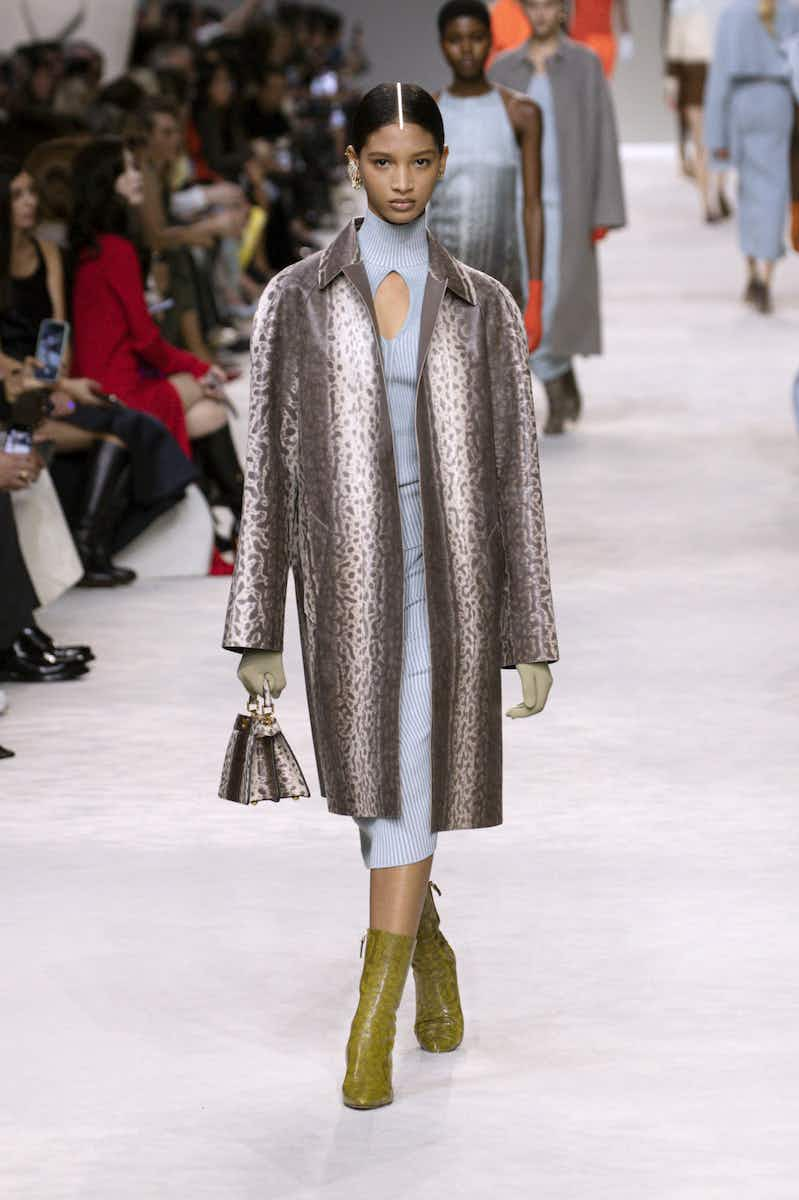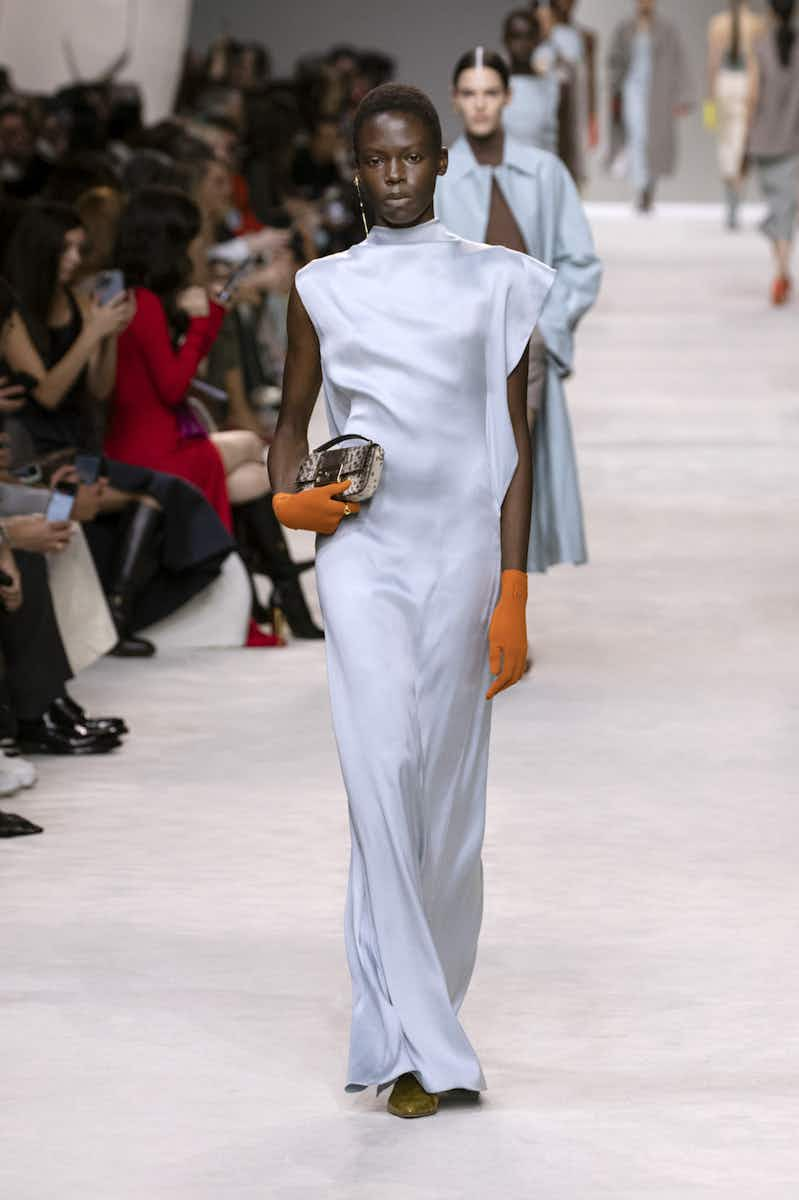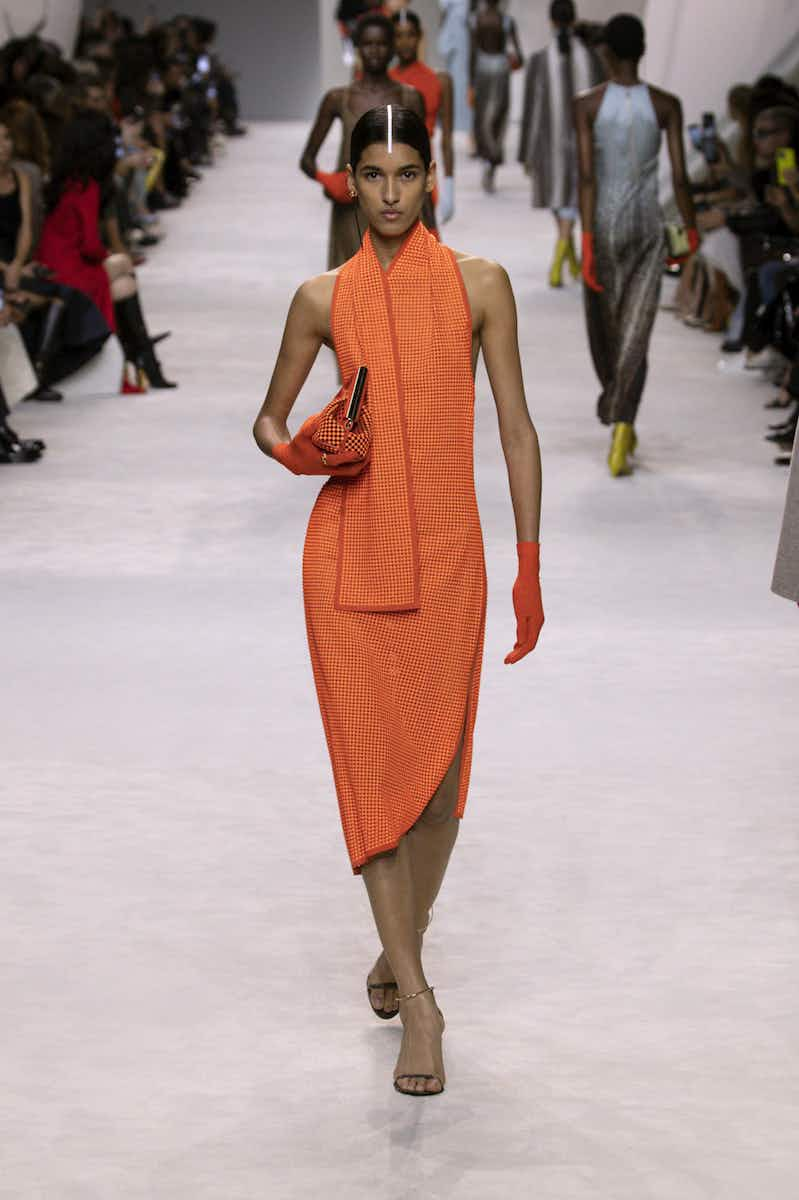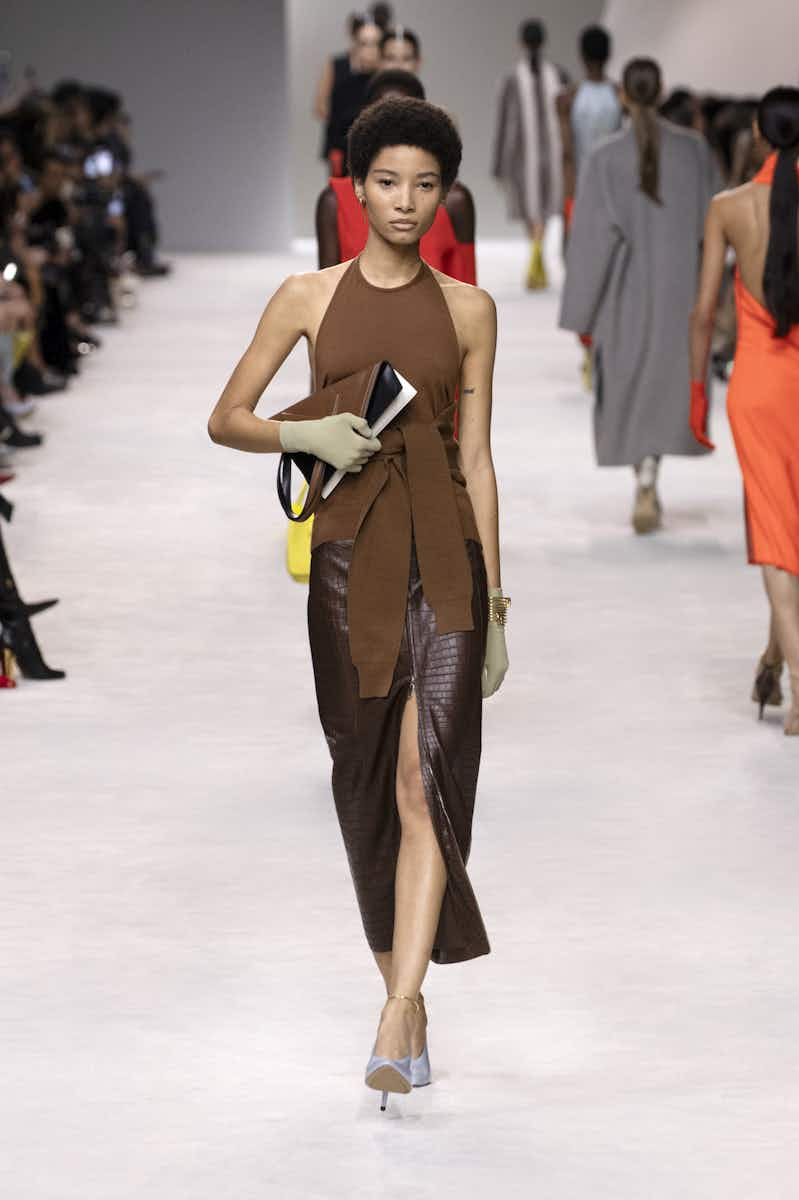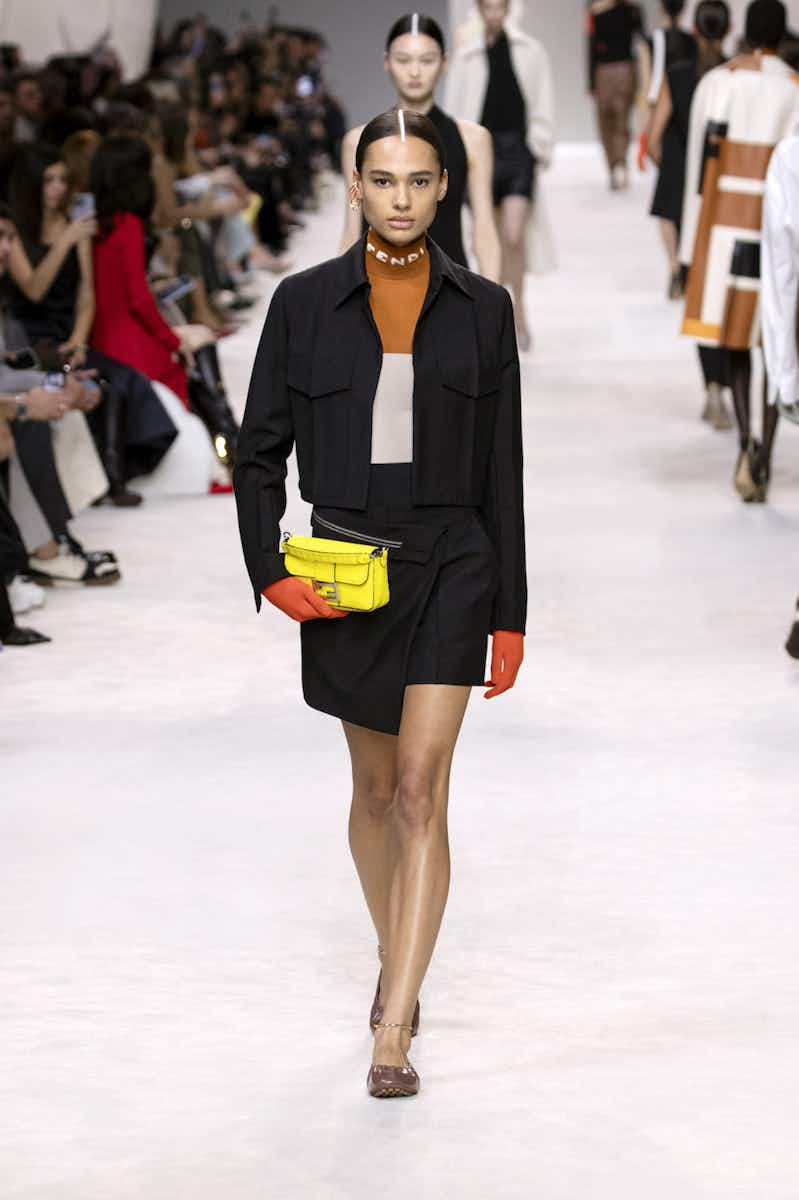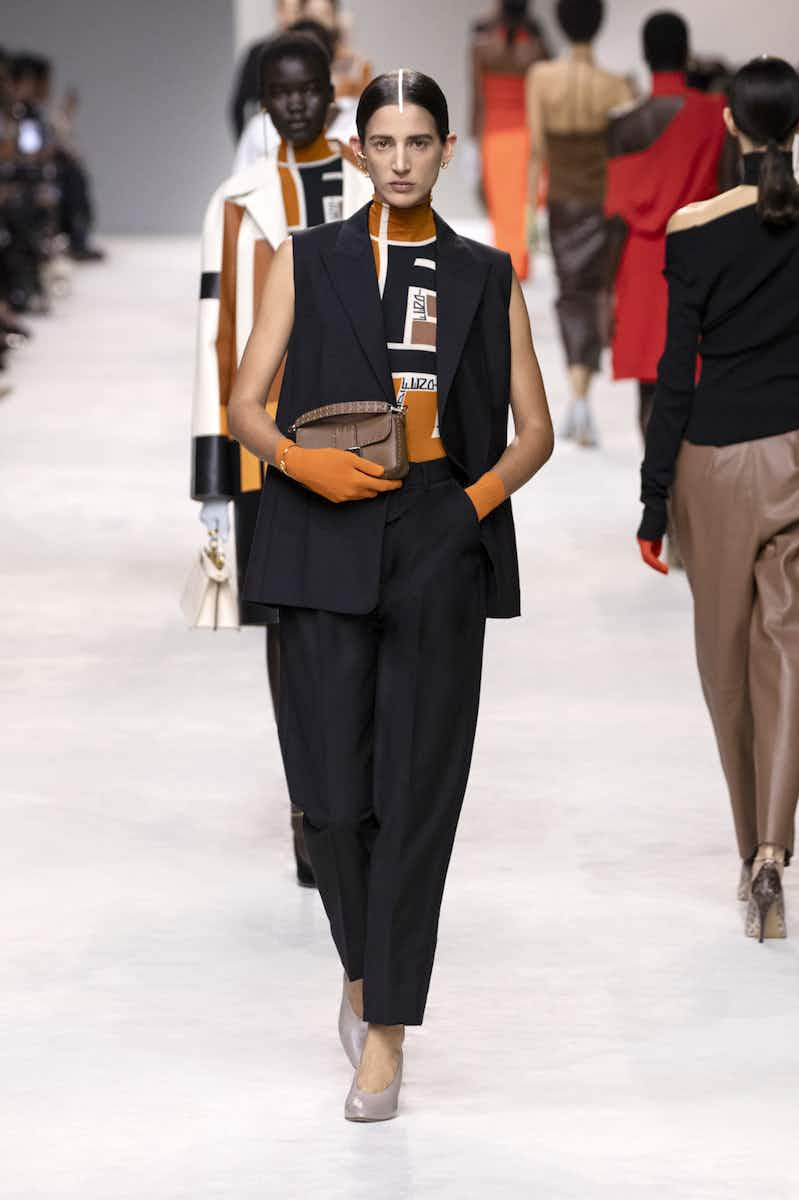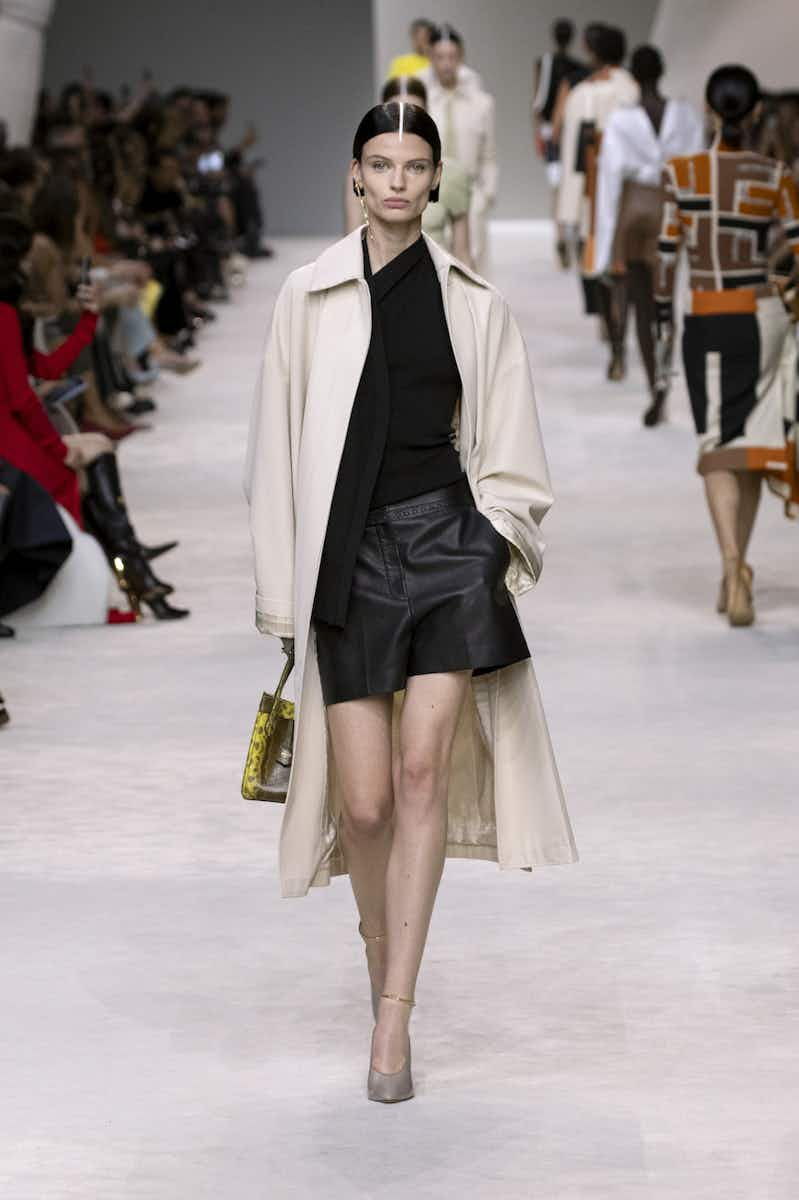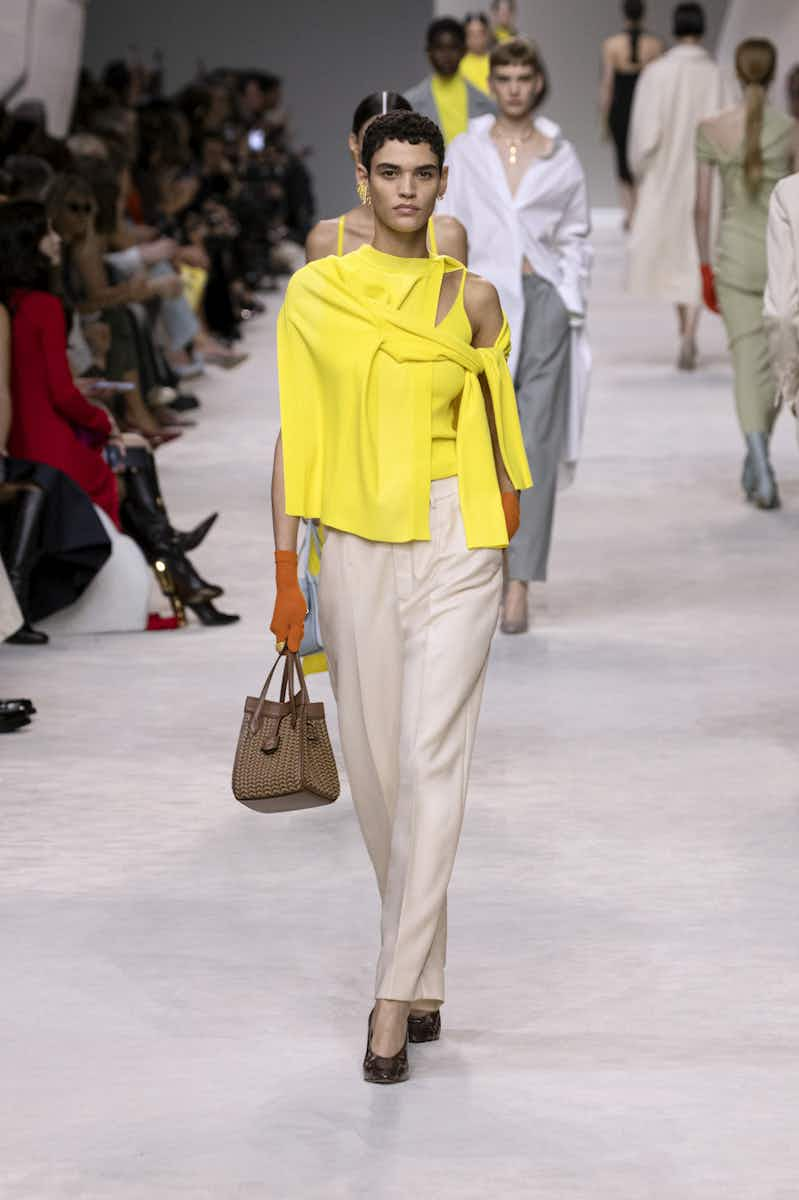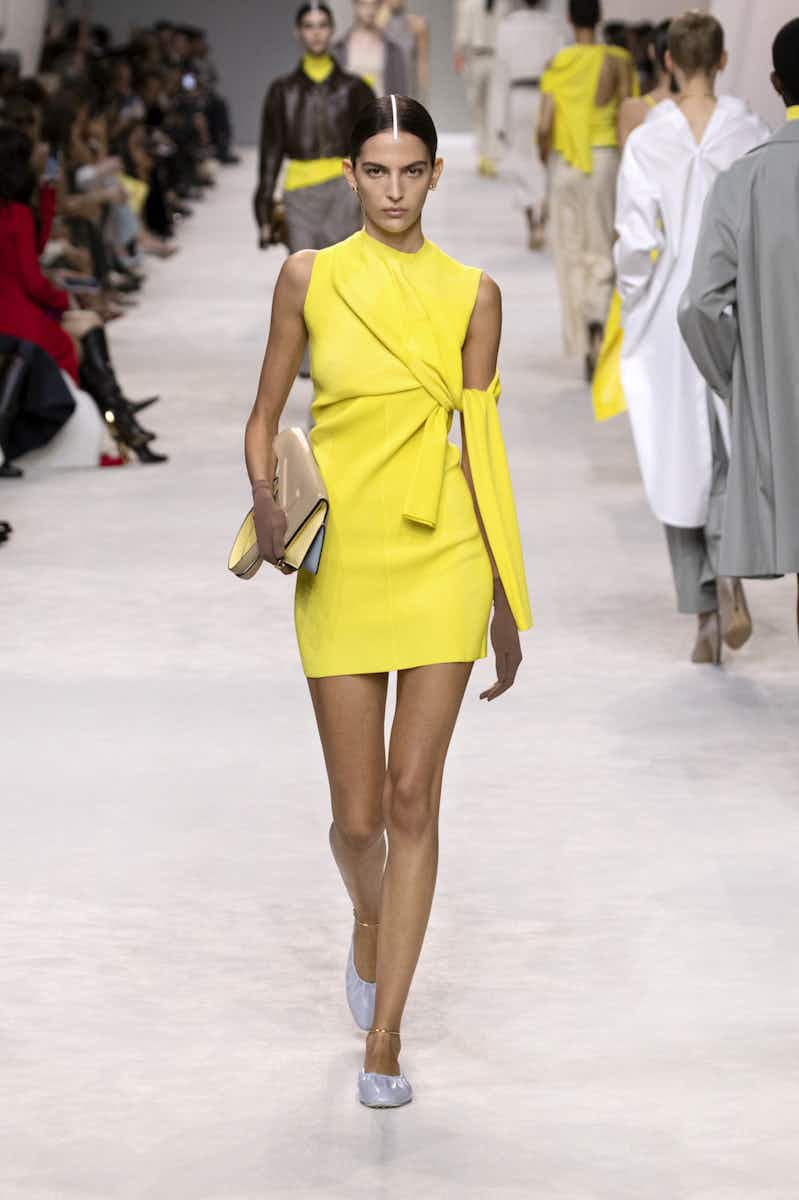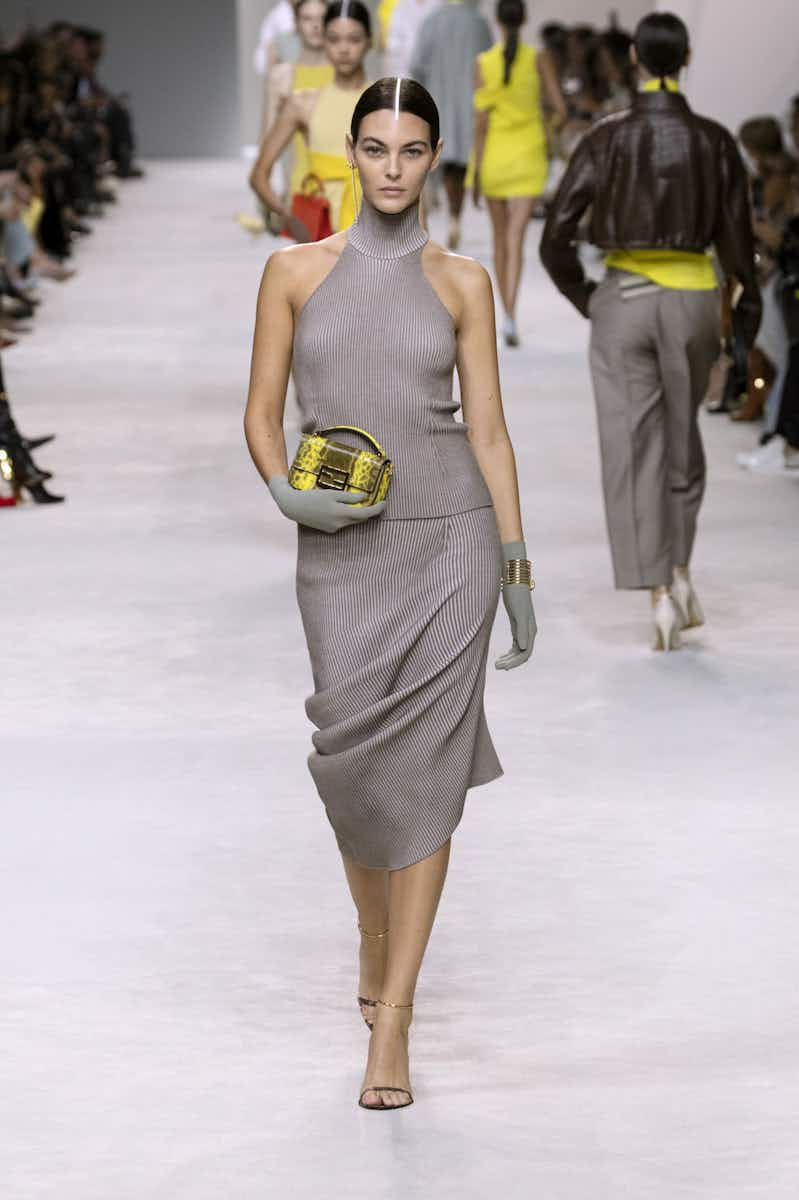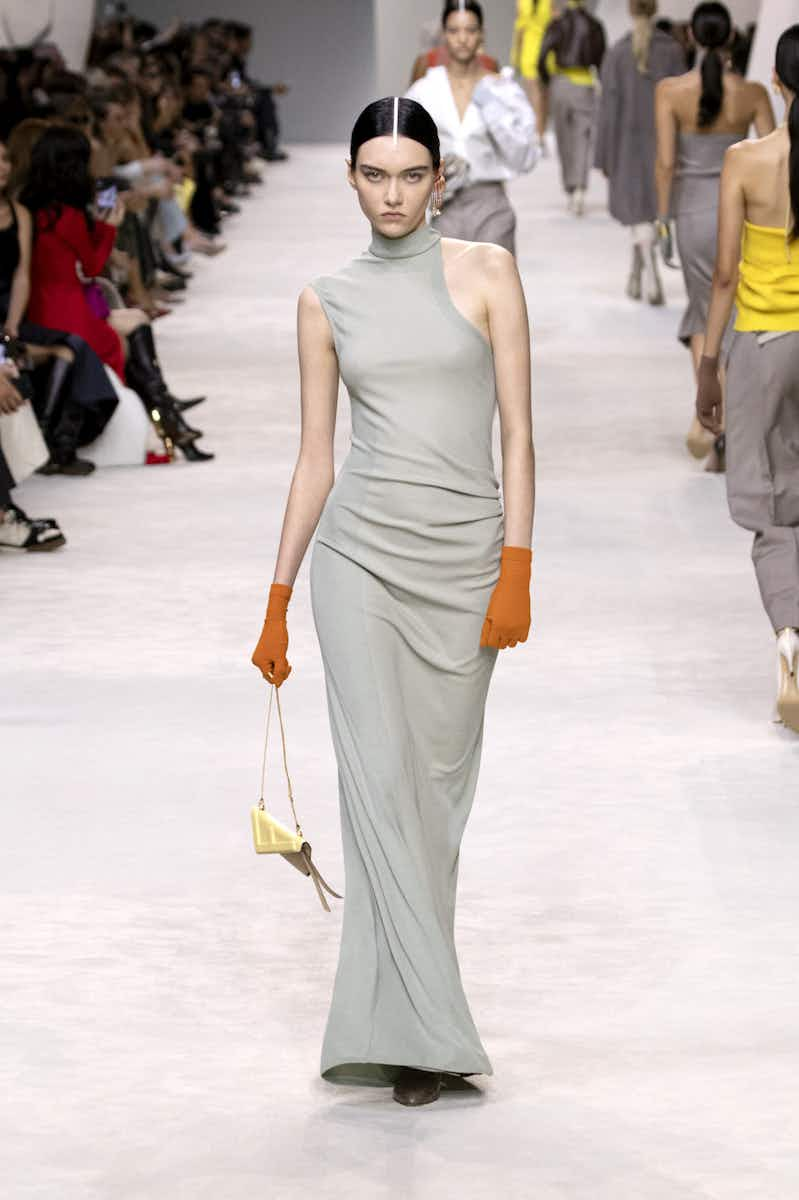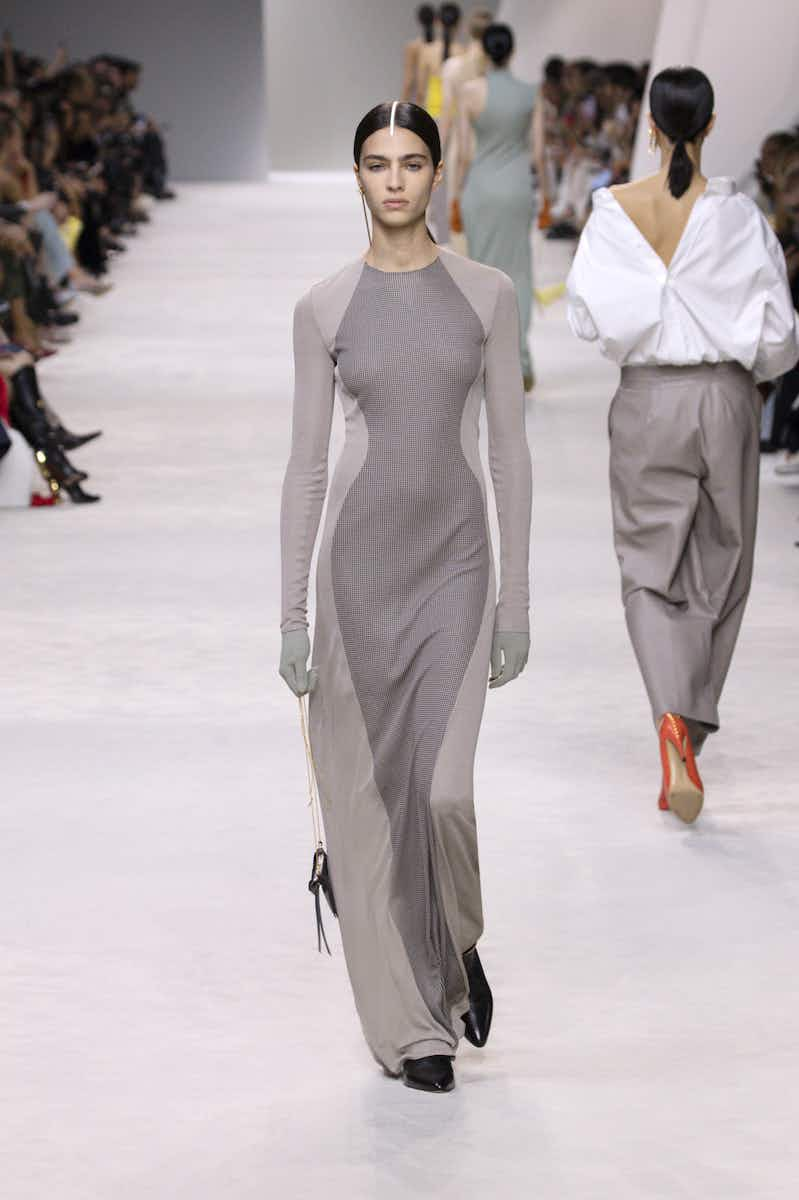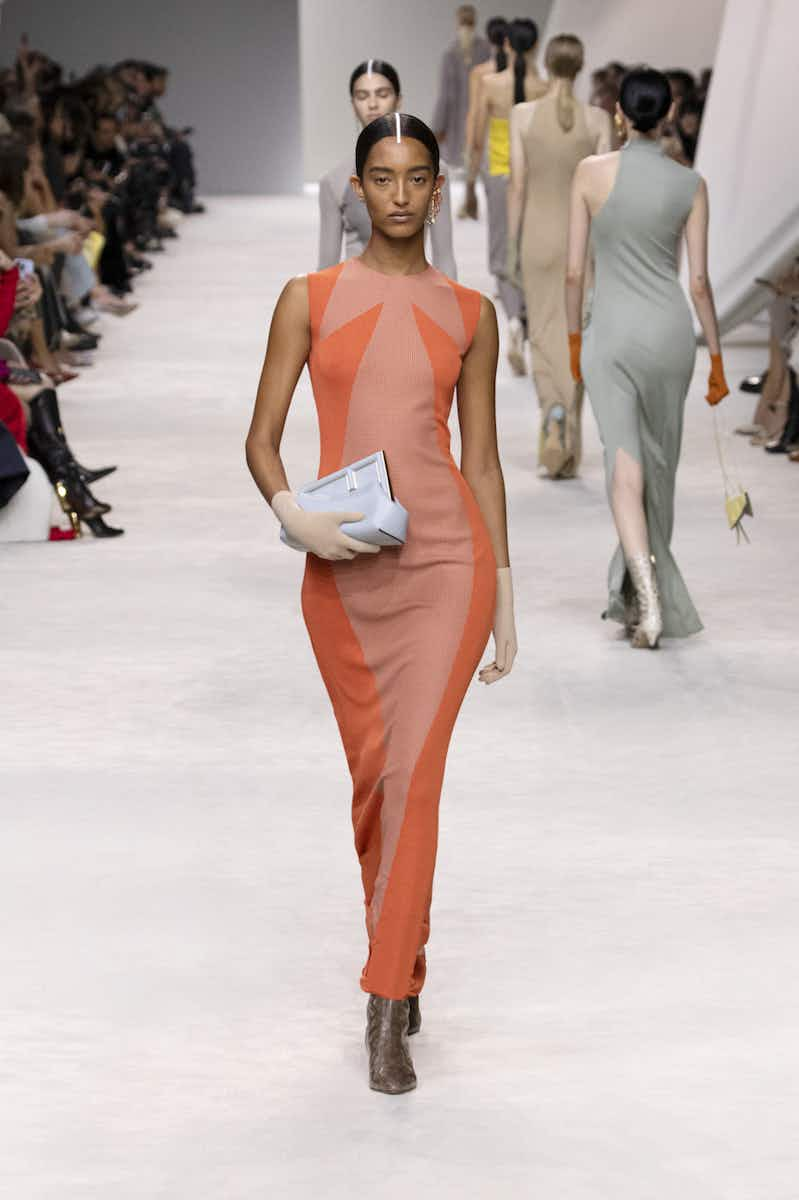 More like this