Amber Smith's subversive designs take cues from the running track

Born and raised in Michigan, the Central Saint Martins graduate designer uses sustainable techniques to create future-facing pieces inspired by a thwarted competitive running career.

Amber Smith is the latest designer to join the next-gen cohort of Central Saint Martins graduates in the design class of 2020. Her garments are singular, powerful and meticulously hand-woven. Hand-strung halter tops are coupled with upcycled leather trousers, blood-red tailored suits and fractured tops, with references to breast bands that women once wore in Ancient Rome to practice athletics, striking a balance between the bold and soft.
Smith has trodden a different path to most designers, though. She grew up in a rural mining town in Michigan's Upper Peninsula, which is ​"about as far removed from fashion as possible," she tells THE FACE. ​"I think coming from a humble background keeps my work grounded in reality."
For all its peaceful, sprawling landscapes, Upper Peninsula winters are gruelling and ​"generally makes for pretty tough people," she adds. Still, that didn't stop Smith from becoming a nationally competitive long-distance runner – a sport she was dedicated to since the age of eight.
Unfortunately, as health issues, low bone density and years of injury forced Smith off the athletics track, she was catapulted into professionally performing as a touring musician with Portland art-pop group, Parenthetical Girls.
"I never thought of myself as a proper musician, more as a keyboard-playing tool for someone else's vision," she shrugs. ​"That being said, I'm thankful for that chapter in my life. It was a great transitional phase after my running career was taken from me, and it gave me the courage to believe I could do something else."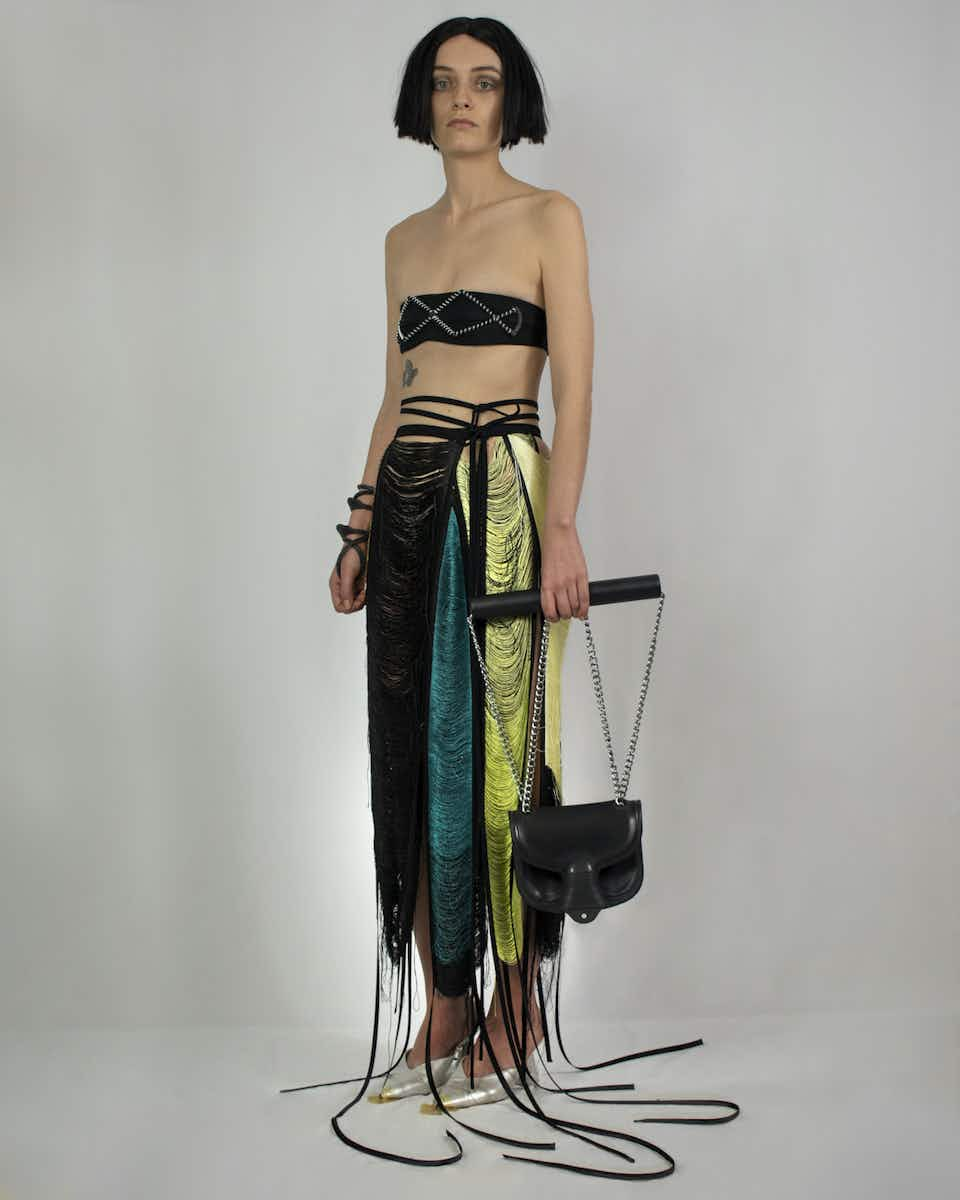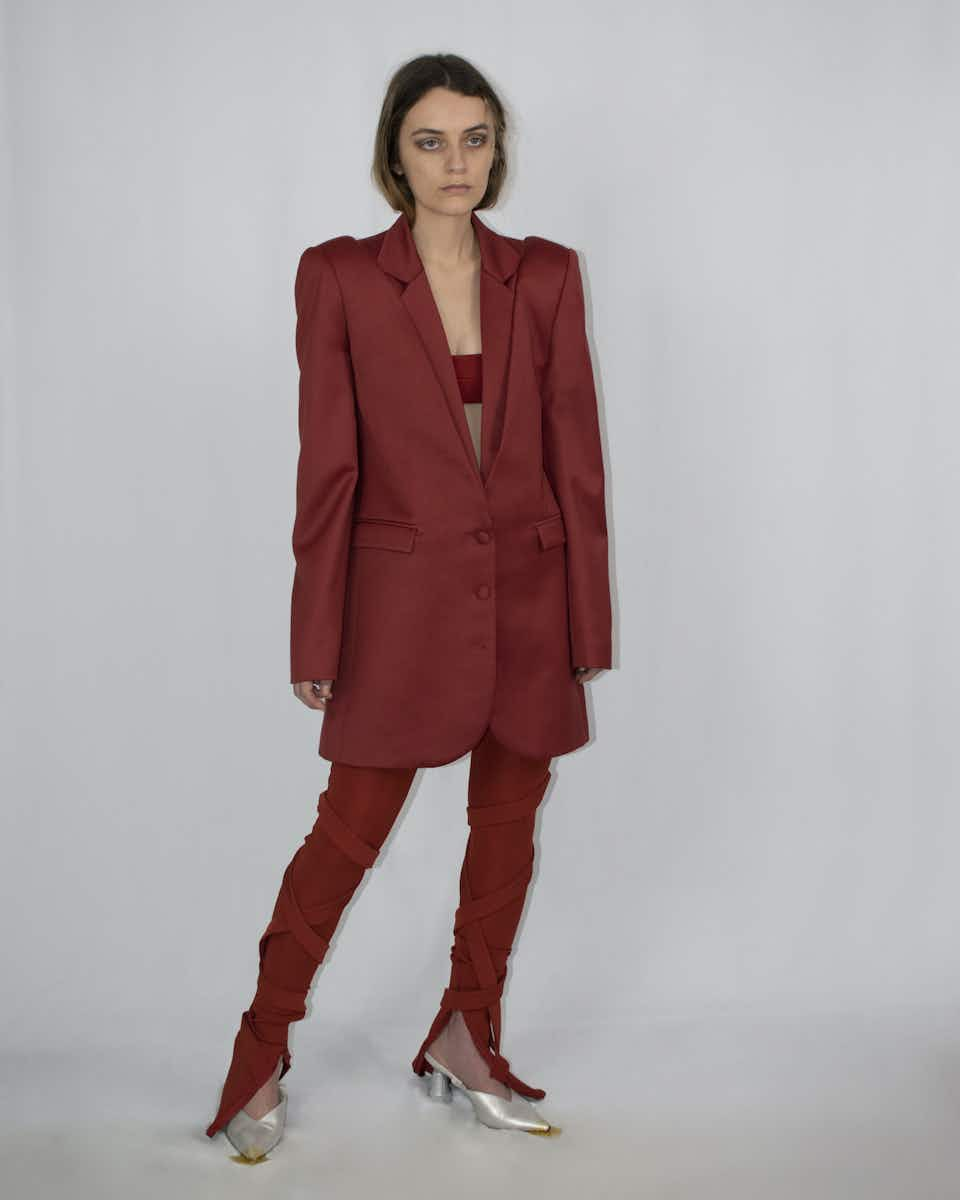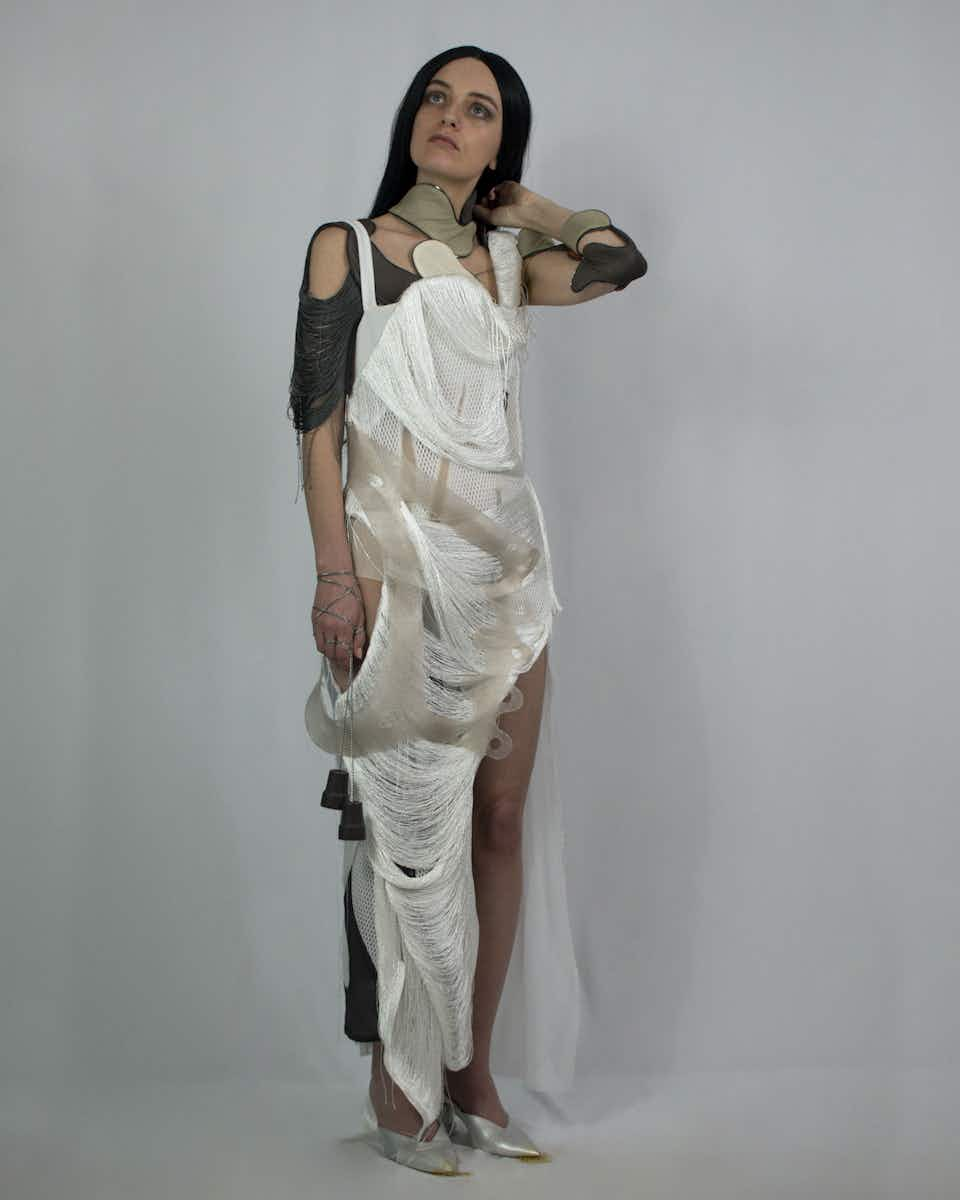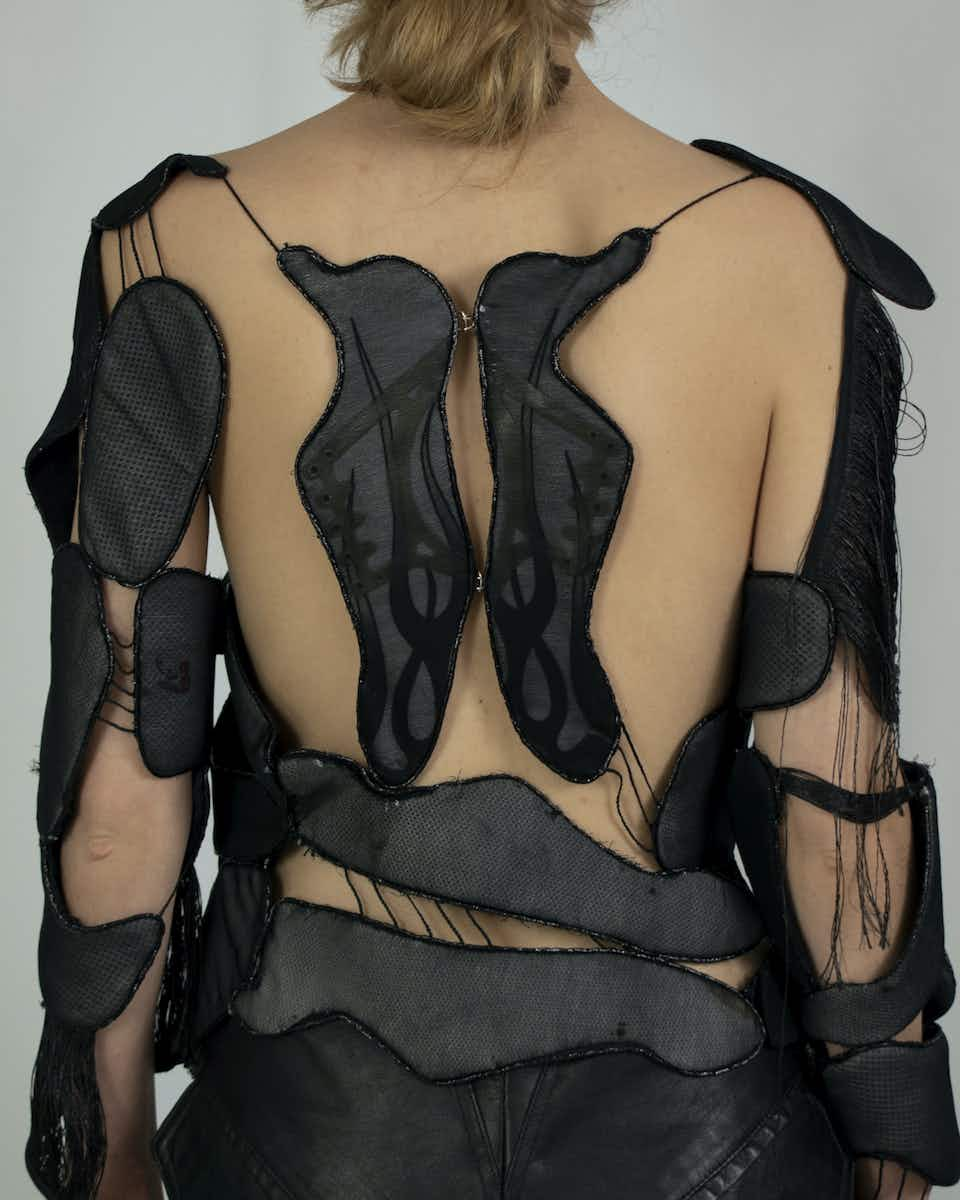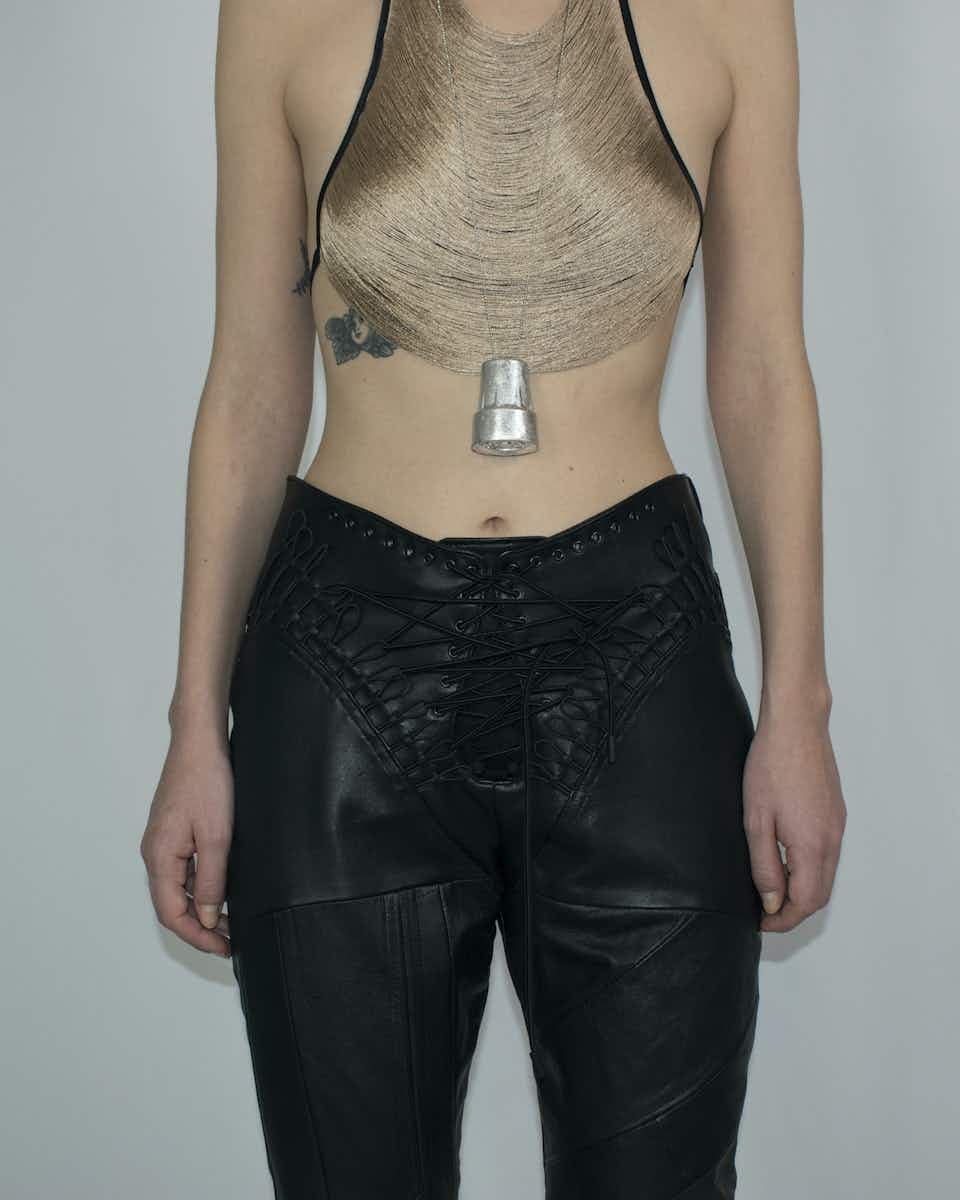 Though Smith was keen on studying fashion design as a teenager, she admits it seemed a distant dream reserved for the rich or well-connected where she grew up, so headed to university on an athletic scholarship instead. While there, Smith used her free time to sew or alter vintage clothes, which led her onto an intensive summer course at Parsons School of Design in New York.
Smith was determined not to let another passion slip through her fingers, so enrolled at Central Saint Martins. ​"This time, it was the best place for my mind, rather than my body," she says. There's no doubt, though, that athletics has had an indelible impact on Smith's design practice.
In her graduate collection, the designer used rubber and metal from ice grips that she used to wear on runs during the harsh winters in Michigan, details that evoke ​"the ghost, or an echo of athleticism," Smith explains. Further on, she used various laces and elastics, referencing sports wrap and medical equipment used to treat a variety of injuries.
One of her stand-out pieces is a mesh dress made from hand-strung textiles and embellished with hand-poured rubber pieces. Every garment boasts multiple ties and innovative bindings forming sensual silhouettes, treading carefully between the delicate and industrial. They're deconstructed and experimental, as Smith imposes curves on garments ​"where they don't usually belong" to genius effect, accessorised, naturally, with hot water bottle clutch bags.
When it comes to her inspirations and influences, Smith is careful to separate the two. ​"Those words feel very different," she stresses. ​"For example, I wouldn't say that the fact I had osteoporosis at 17 was inspiring, but aspects of my work are steeped in that feeling of fragility and loss, the hand-strung pieces especially."

Instead, what truly stimulates her is dissecting fashion history, how garments have transformed over the decades and in turn, how they can be subverted. Smith appreciates the contradictions that exist within her references, and takes visual cues from Russian filmmaker Andrei Tarkovsky, Giallo-style horror and ​"cult, trashy stuff" alike.
An aspect that is fundamental to Smith's design ethos is sustainability. More than that, it's an integral part of her life. ​"I've thought critically about my own consumer decisions for a long time," she says. ​"I've been vegan for 15 years – initially I was motivated by animal rights, but now I take a more holistic approach towards it."
For example, Smith used vintage leather in her graduate collection, pieces that she carefully cleaned and polished in order to resurrect. ​"Leather gets more beautiful with time and lasts for years," she notes. ​"Anytime I upcycle, I don't want it to look upcycled. I prefer a secret sort of sustainability.
"Ultimately the most sustainable thing would be to not make anything, but I'm not a purist – that's not what life is about. I just try to make better decisions where I can."
For now, Smith is designing with a certain energy in mind rather than a person. ​"I'm drawn to people that defy categorisation, people that perhaps seem intimidating – strength, depth, sensitivity, quiet power." These are perfect descriptors of her own work, which is cerebral, unconventional and a masterclass in future-facing fashion.


More like this