Storytelling with Arlo Parks

Dr. Martens have teamed up with the confessional singer-songwriter for an immersive exhibition at Camden's Boot Room.
It's sort of remarkable, the way that Arlo Parks sees the world. The singer, songwriter and poet has a way of expressing herself that aches of wisdom far beyond her years. Her words, always softly-spoken, are tender, introspective and confessional; she is a thinker and an observer, with a gift for painting flowery, textural landscapes with her language.
This year, Arlo Parks played her debut live show, back in May at The Great Escape in Brighton. She then went on to play festivals like Latitude and Glastonbury, and has recently returned from supporting Jordan Rakei and Loyle Carner on tour. It's wild to think then, that her first ever experience of music in a live setting was Loyle Carner's show in Shepherd's Bush in February 2017. Her debut single Cola, which was released barely a year ago, has racked up over three million streams on Spotify. Parks is barely out of school, yet her breed of hazy, heartfelt R&B feels mature and self-assured in its sincerity. Now she's presenting her prose as part of Dr. Marten's Tough As You campaign in an immersive exhibition.

Born and raised in west London, 19-year-old Arlo Parks grew up in a household soundtracked by ​"softer jazz" like John Coltrane, Prince, and French artists like Édith Piaf (her mother is French, and you'll find mentions of Paris in much of her work). After a brief romance with bands like Arctic Monkeys and Kaiser Chiefs alongside her friends at school, it was the gritty sound of King Krule that sparked a love for raw, soul-bearing songwriting. Though musically she finds inspiration in the likes of Erykah Badu and Mary J Blige, lyrics are at the heart of Arlo's music, and so the masters of sensitive lyricism – Nick Drake, Vashti Bunyan, Elliott Smith and Leonard Cohen – are central influences to her storytelling.
And storytelling is how Arlo's knack for words began. At school, her stories focused so much on the shape and aesthetic of her writing to the point that they would lose their meaning. So, a secondary school teacher suggested that she turn her hand to poetry. ​"My poems and my songs are intertwined," Arlo explains, ​"I wrote my first songs when I was about 14, as I picked up the acoustic guitar."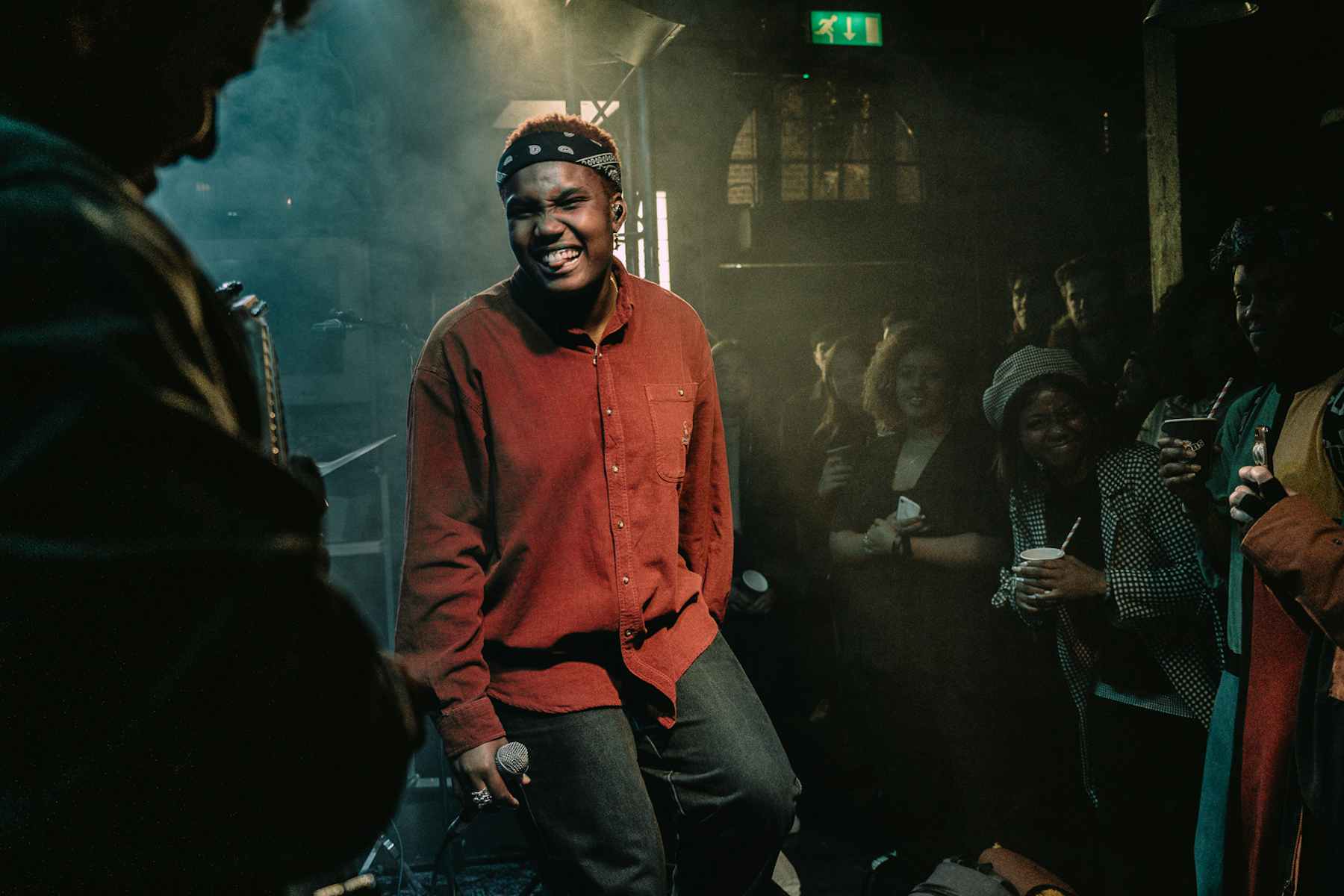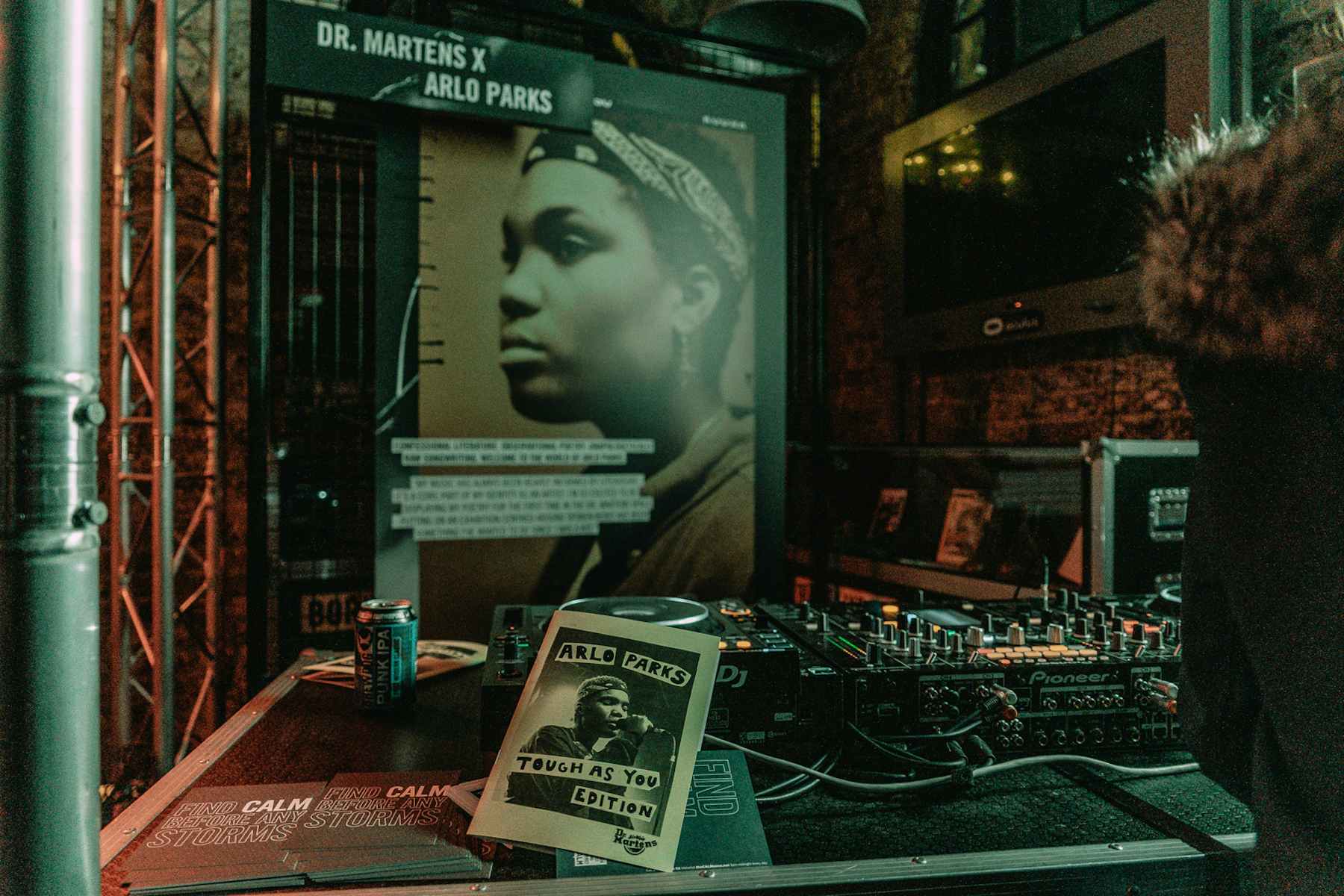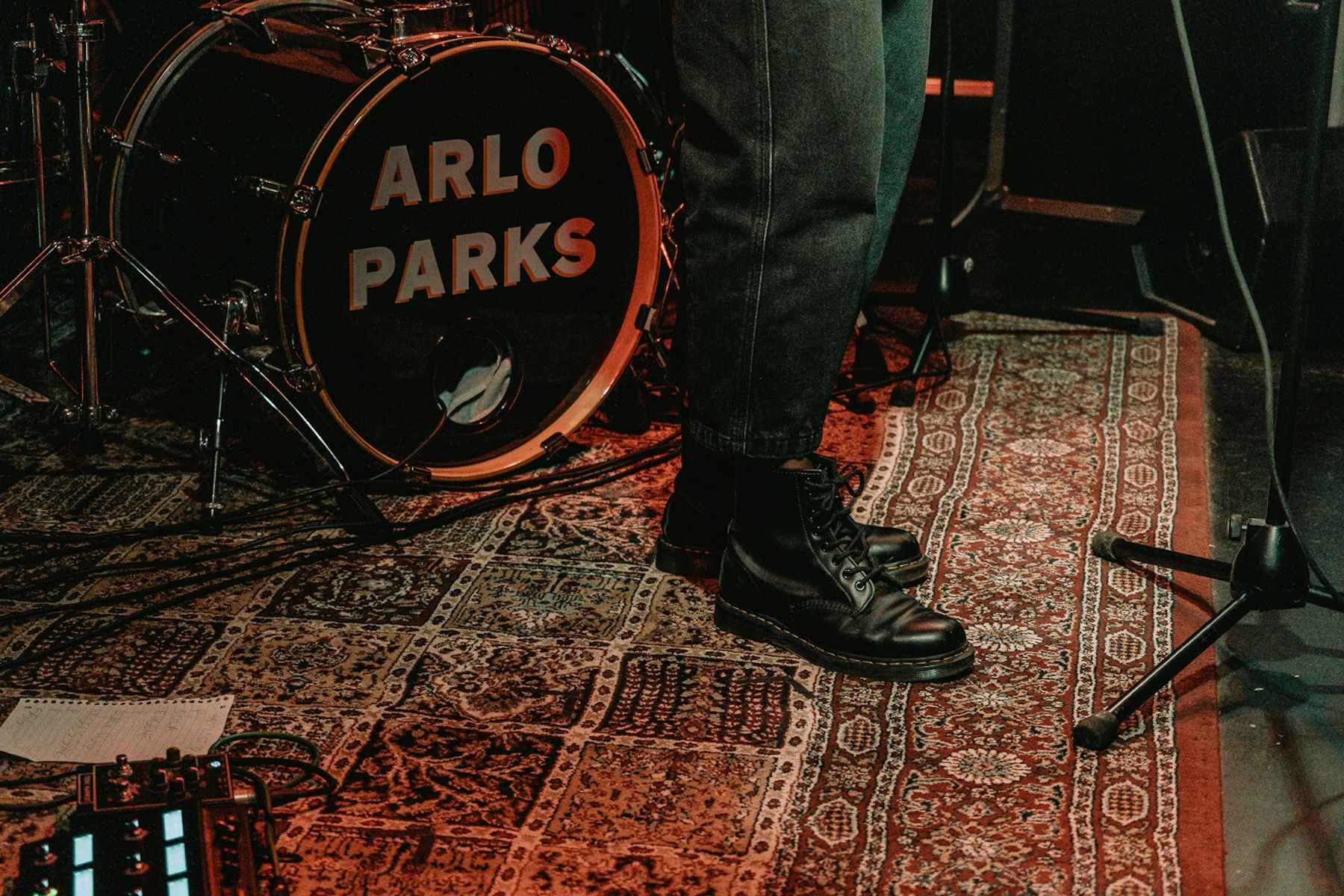 On a chilly December evening in Camden, Arlo Parks presents her poetry in exhibition form for the first time, taking to the stage at Dr. Martens' Boot Room to perform. She's dressed in a cosy burgundy cord shirt, grey jeans and Dr. Martens 1460s, accessorised with a headscarf and a single gold cross dangling from one ear. She describes her aesthetic as androgynous street style – comfort is key.
Arlo's poems and photos from the last year line the walls, the poems written in a round, curling hand that display none of the fatigue of a handwriting style that's had years to grow lazy since leaving school. A photo of Arlo and Loyle Carner sticks out, her delighted grin stretching from ear to ear. Interspersed between live renditions of familiar (Cola, Angel Song, Super Sad Generation) and unreleased material (Eugene, Black Dog), Arlo's candid and open spoken word performance tackles love, lust, friendship, mental health, and ​"the kind of guy that would break your heart by accident"; For Water is a poem about a boy, and it's a poem everyone in the crowd relates to. With a knowing grin, she looks up at her chuckling audience as she says, ​"everyone knows a water, an asshole."

Tough As You is about resilience, rebellion and self-expression, and Arlo feels her work aligns with the ethos of the campaign by embracing vulnerability, and showing toughness in the power of being soft, unfiltered and emotional. Her poem, Soft Steel was written in collaboration with DMs, and is an ode to people in Arlo's life, honouring the people she loves and the struggles they've faced; the toughness that surrounds her. ​"I wanted it to be quite nuanced," she says, ​"I talk about gender, body image, being resilient against bullying, I adapted it to represent the strong people around me."
Besides the catharsis of songwriting, Arlo Parks finds respite in surprising places; namely Aphex Twin's 1995 album … I Care Because You Do and the thrashing meditation of Pixies and IDLES. Before every show, Parks and her band stomp around listening to Never Fight A Man With A Perm.
But where Arlo may decompress via experimental soundscapes and loud guitar to drown out the noise, there's no doubt that fans of Arlo Parks will find respite in her lyrics; relatable, contemplative and timely as they are. ​"It helps me find a sense of clarity and purpose," she says of songwriting, ​"if people can connect to what I'm writing, it makes me feel more secure in the knowledge that I'm doing something honest, something that's worth it."