Bethany Williams uses fashion to pedal positive social change

Upcycling 004: The master innovator produces hand-crafted garms made from repurposed materials.
Bethany Williams is sat on the floor in her Hackney-based studio, surrounded by fabric offcuts and bag patterns, mid-preparation for a collaborative workshop with Adidas.
"So basically, I've got old army tents that we rescued from a farm in Bath. I got them all industrially cleaned and I'm making them into backpacks," says Williams. ​"People can customise them … We're making the straps from upcycled shoe laces."
This is just a typical day in the life of the sustainably-minded fashion designer who's on a mission to pedal positive change and to spread the word about social responsibility. Working within the community that surrounds her, the 29-year-old has built partnerships with a selection of charities to tackle homelessness, domestic abuse and has continued to work with pioneering programme ​"Making for Change" that's in place to empower the women at HMP Downview prison by giving them the opportunity to learn a trade in craft.
Since graduating with an MA in Menswear at London College of Fashion in 2016, Williams has founded an inspiring business with charitable values at its core. Think reworked denim, signature knitwear (made from ocean waste plastic) and playful tailoring. Though each ready-to-wear piece comes with a higher-than-your-average price tag, a percentage of her profits always goes to good causes.
With a slew of collaborations in the pipeline, we chat to Williams about social projects, sustainable practises and the importance of mindfulness.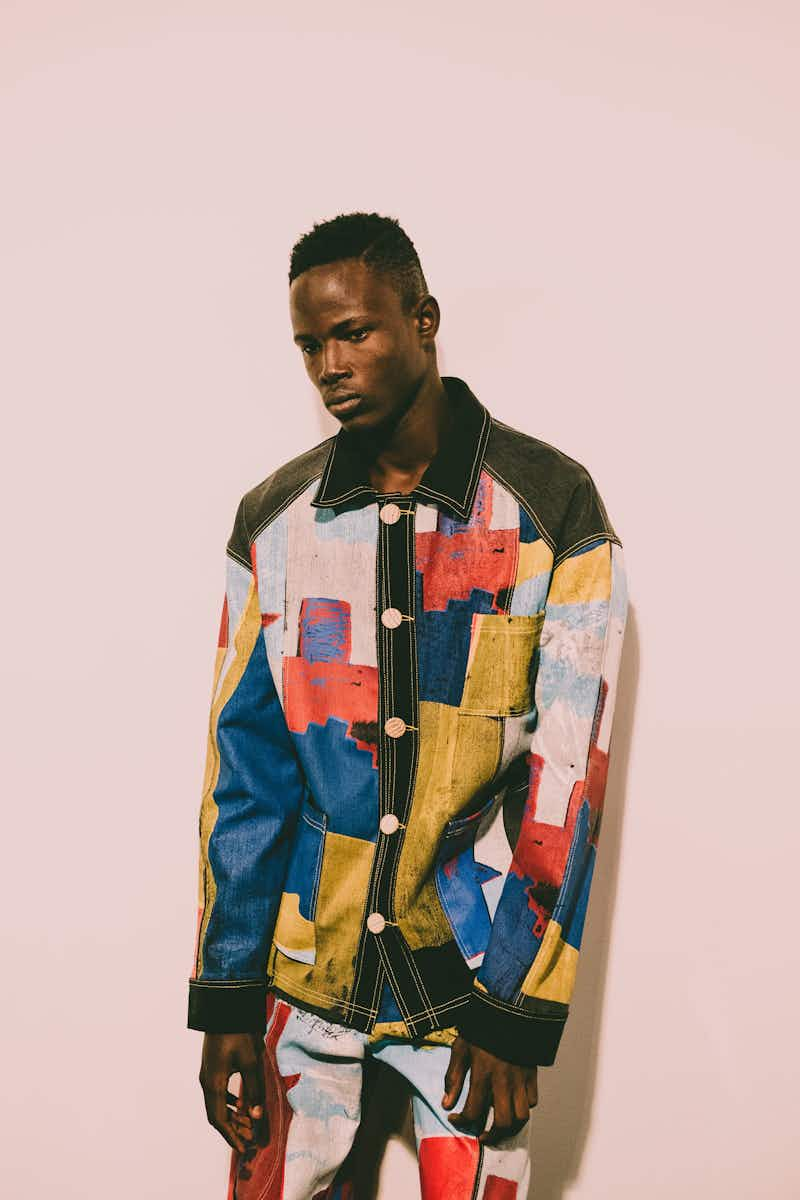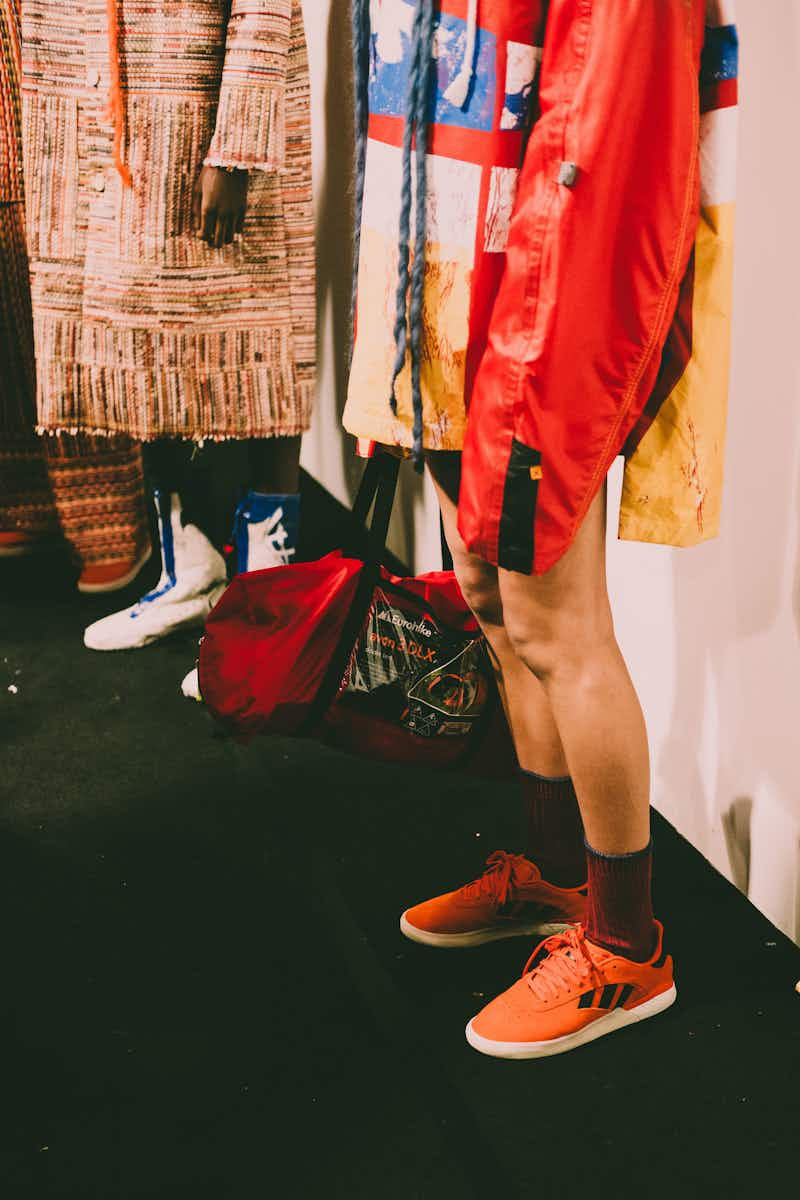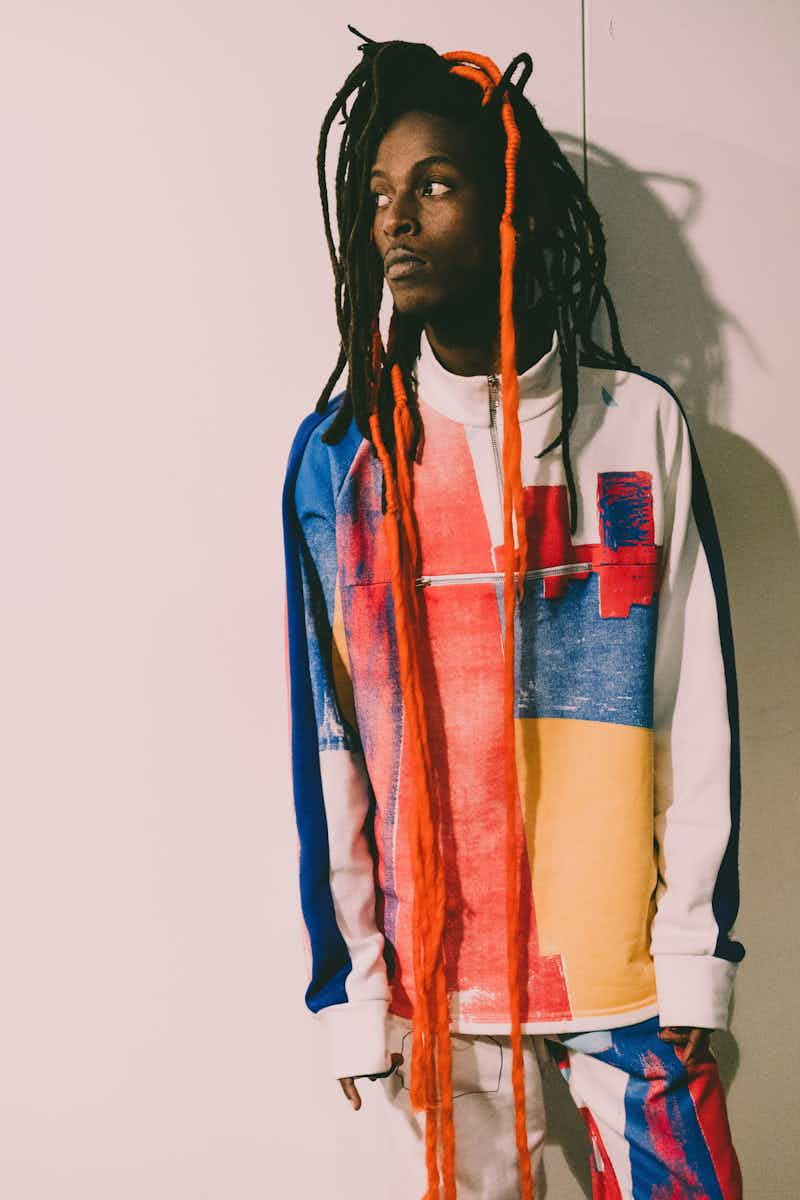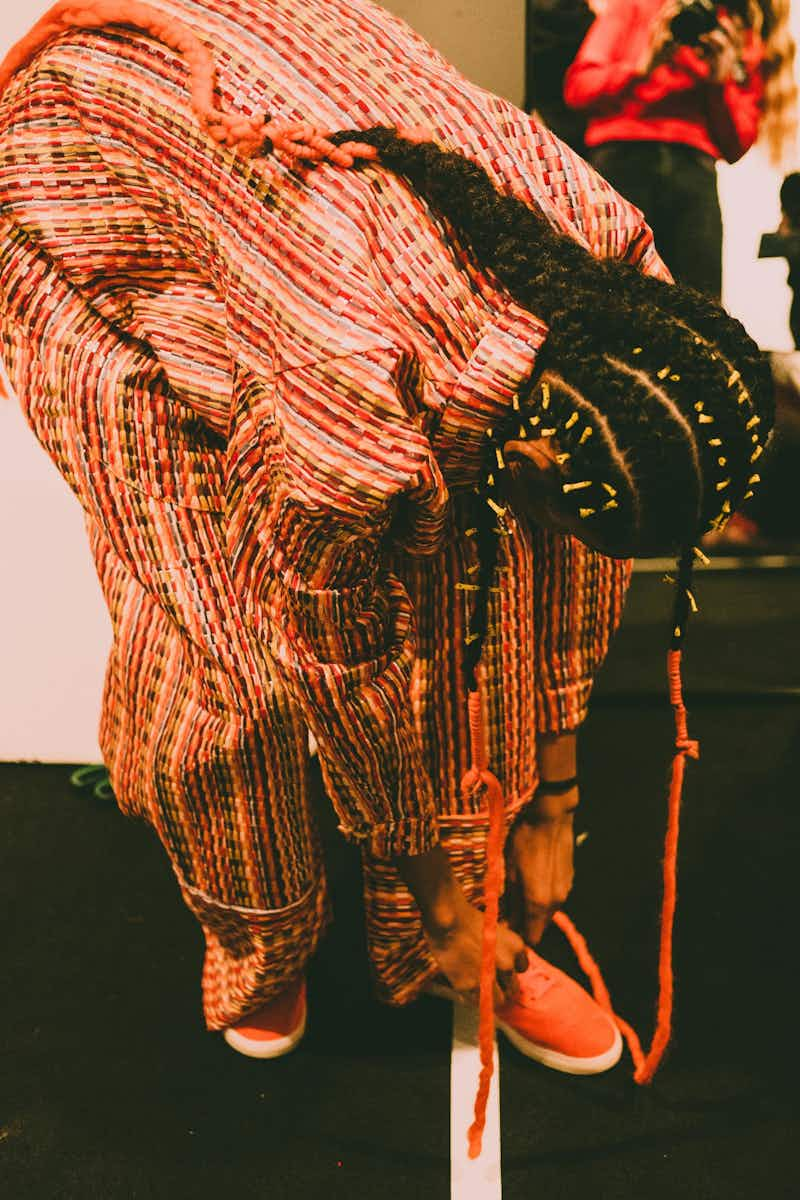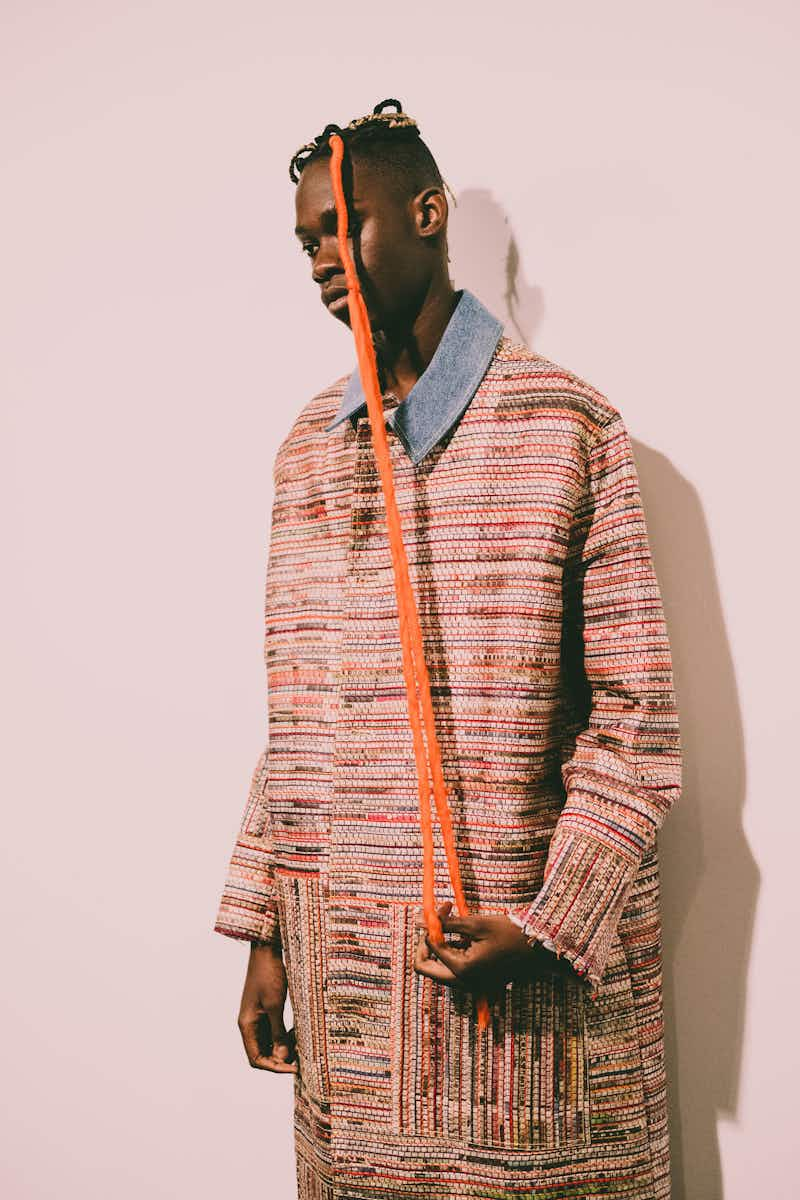 What was it that initially sparked your interest in fashion and sustainability?

I was really interested in taking waste and giving fabrics time to make them desirable again. The process of hand work, in a material sense. I've always been interested in social projects and the power of making so it's bringing those two interests together for me.
There's been a wave in popularity with brands being more sustainable. How have you used fashion as route to channel that?

I think it was because I didn't do my BA in fashion, it was in fine art. But I had skills from my mum, because she was a pattern cutter. So we've always had a making room in the house because she would work from home. I would always help her with her work and stuff, I was really interested in textiles. I studied fine art — I didn't really like the idea of being a fashion designer.
How come?

I just think the waste and exclusivity, smokes and mirrors, things like that, but obviously I love making textiles. When I studied fine art my whole dissertation was looking at how art has the ability to create critical effect or change things outside of itself. I kind of looked at a lot of art practices that created change, that worked with multi-national companies or government bodies and infiltrating them to help community projects. I thought that was so cool, and maybe it could be applied in a fashion sense.
What was your first entry into fashion?

I worked in industry for three years before I did my masters. I had a job at Garage [Magazine] when it first started [and] I worked on the first two/​three issues. That kind of got me into fashion. It was about collaboration between artists and designers, so I feel like that kind of changed my mindset, if you put two people together to collaborate, things can be so unexpected.
On my masters, I was selected for the press show for London Fashion Week: Men's. I did that, and I felt like it was successful but I didn't feel people really understood what I was trying to do. I think in the last two years … especially this last year, there's been this energy for people trying to move forward, like with XR. It's been a really uneasy unstable year, but also change isn't easy.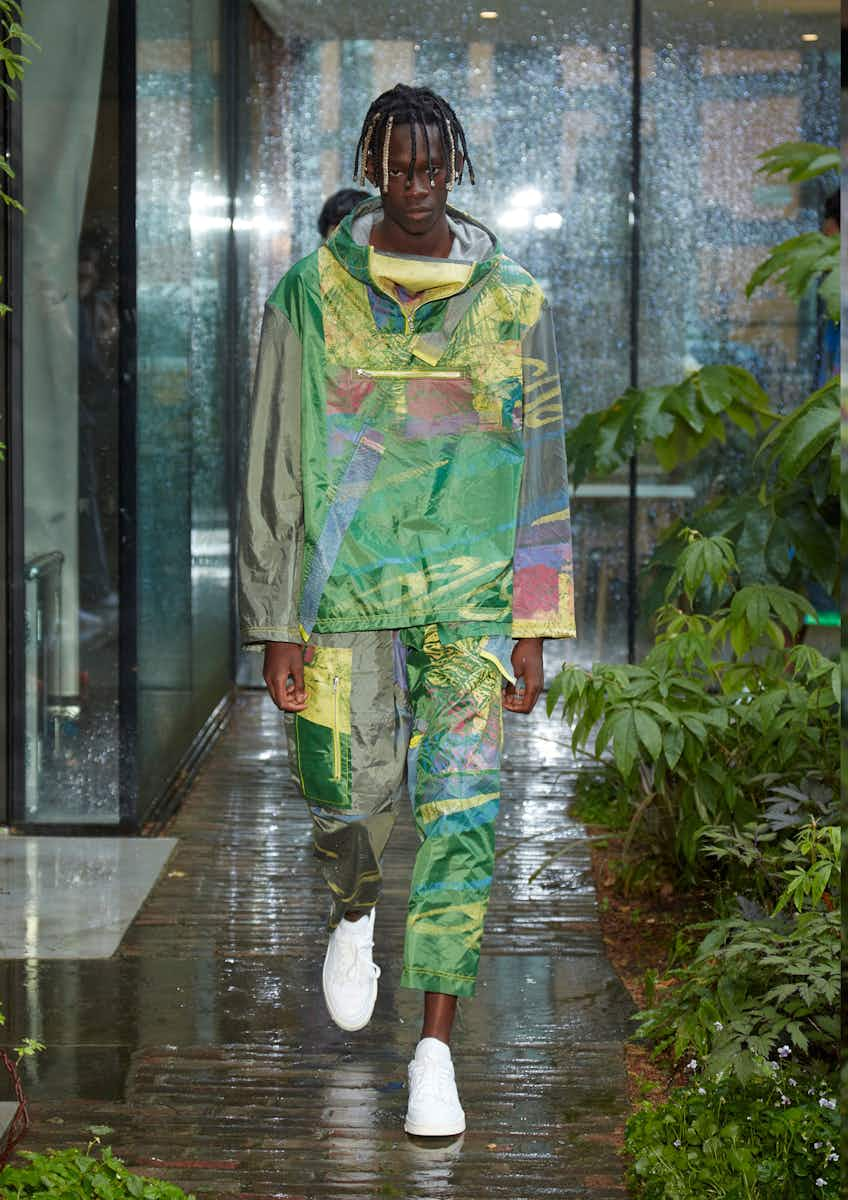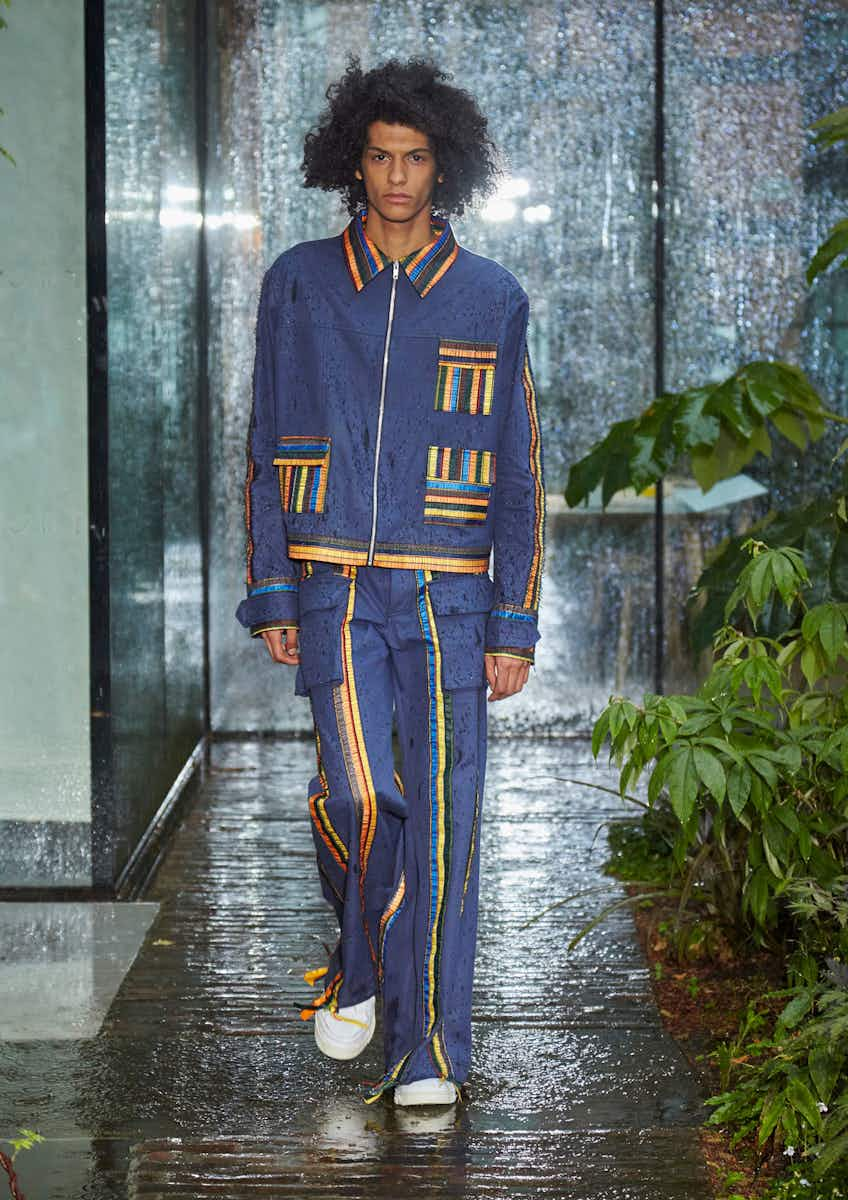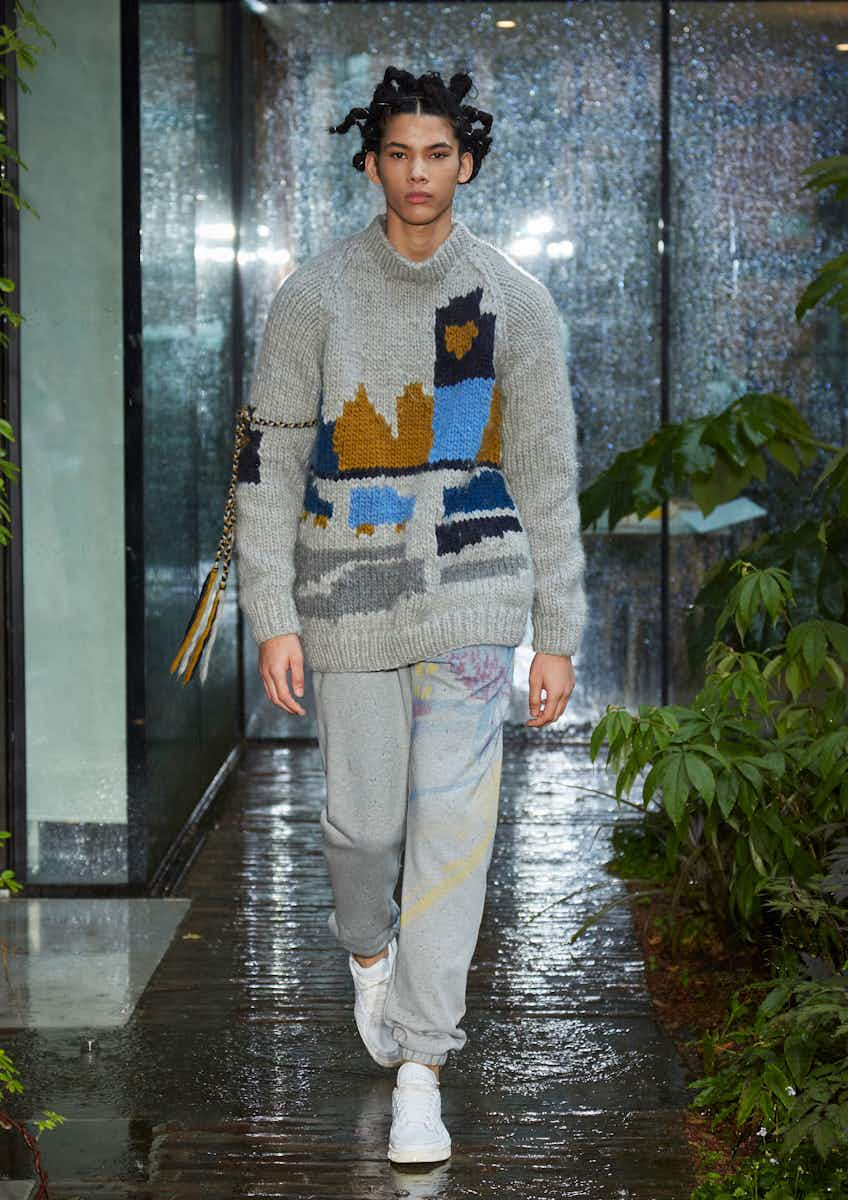 Where is your production at the moment?

Everything's UK apart from the fact we work with a community in Italy called San Patrignano. It's a rehabilitation centre, so they weave all the fabrics. It's a big community of like 1200 people. And then we work with ​"Making for Change" which is an LCF project. That's based in Downview prison, so it's the first training programme for women in prison in the UK, set up by Frances Corner who's the dean of LCF. They're setting up a second unit in Poplar.
How do you go about researching and targeting the people that you're going to work with?
Usually I'll research an issue I want to talk about that's happening in the UK, and then I research into charities that are trying to make a change. The most recent collaboration I'm doing, they actually got in touch with me. It's with The Magpie Project. They're a charity based in Newham. It's for women and children in temporary accommodation, usually without citizenship. Newham has the highest percentage of women and children in temporary accommodation in the whole of London. Actually, it's bigger than the whole of the north of the UK.
They're working with a researcher from UCL and she's trying to record the data so they can present facts about what's going on. Originally, the charity was set up by other mothers in Newham who were worried about temporary accommodation. And now it's been set up as a support network for these other mothers, it's like a safe space for the children to play and then it's also access to legal aide and things like that through the charity.
How does your work come into play with that?
I'm trying to help connect them to as many organisations that I know and work with. We're doing workshops in the space and with the collection. I've asked what they would like to say.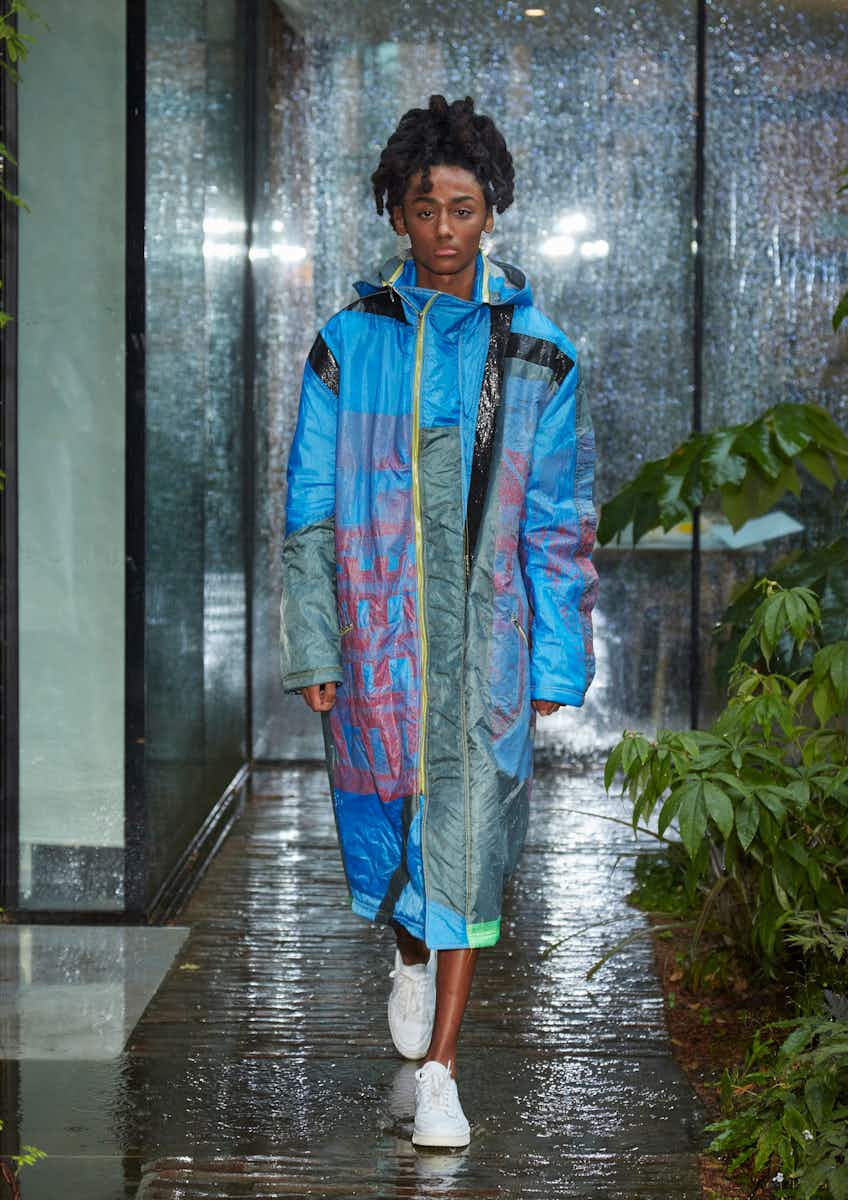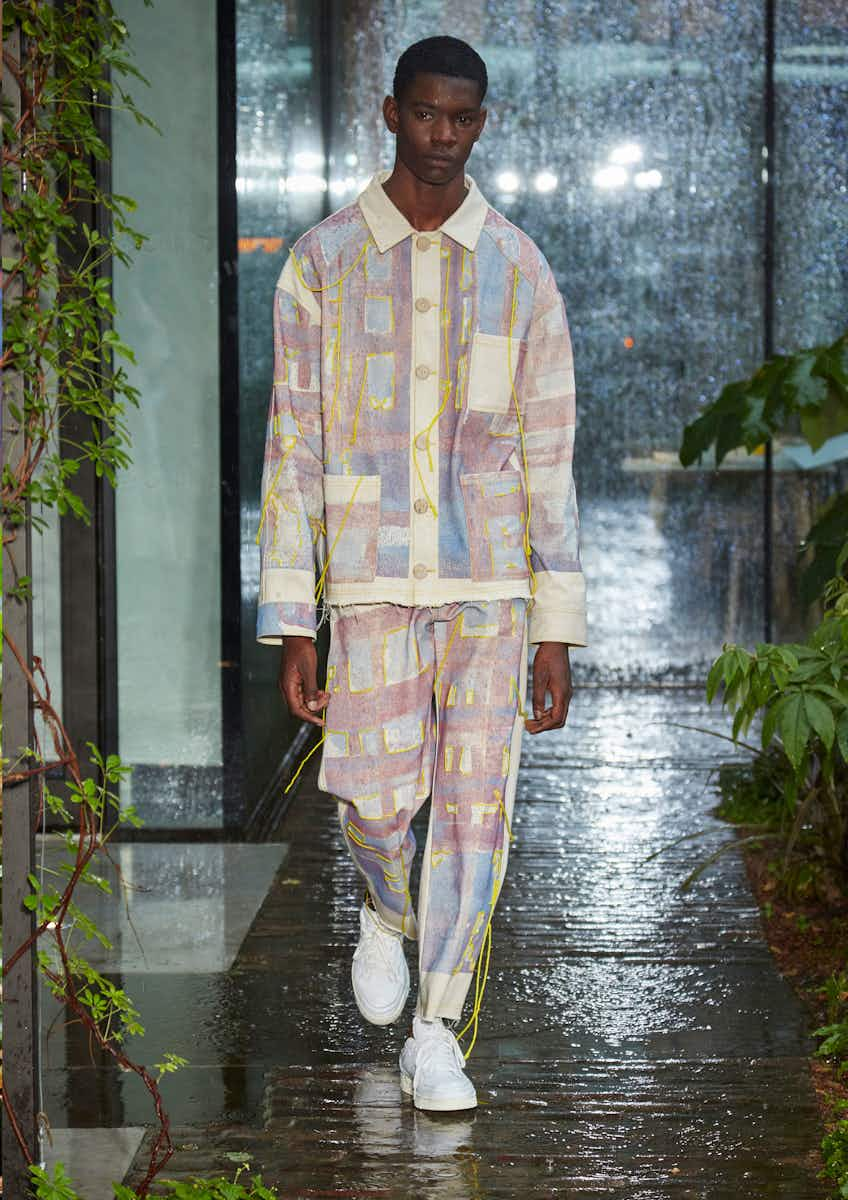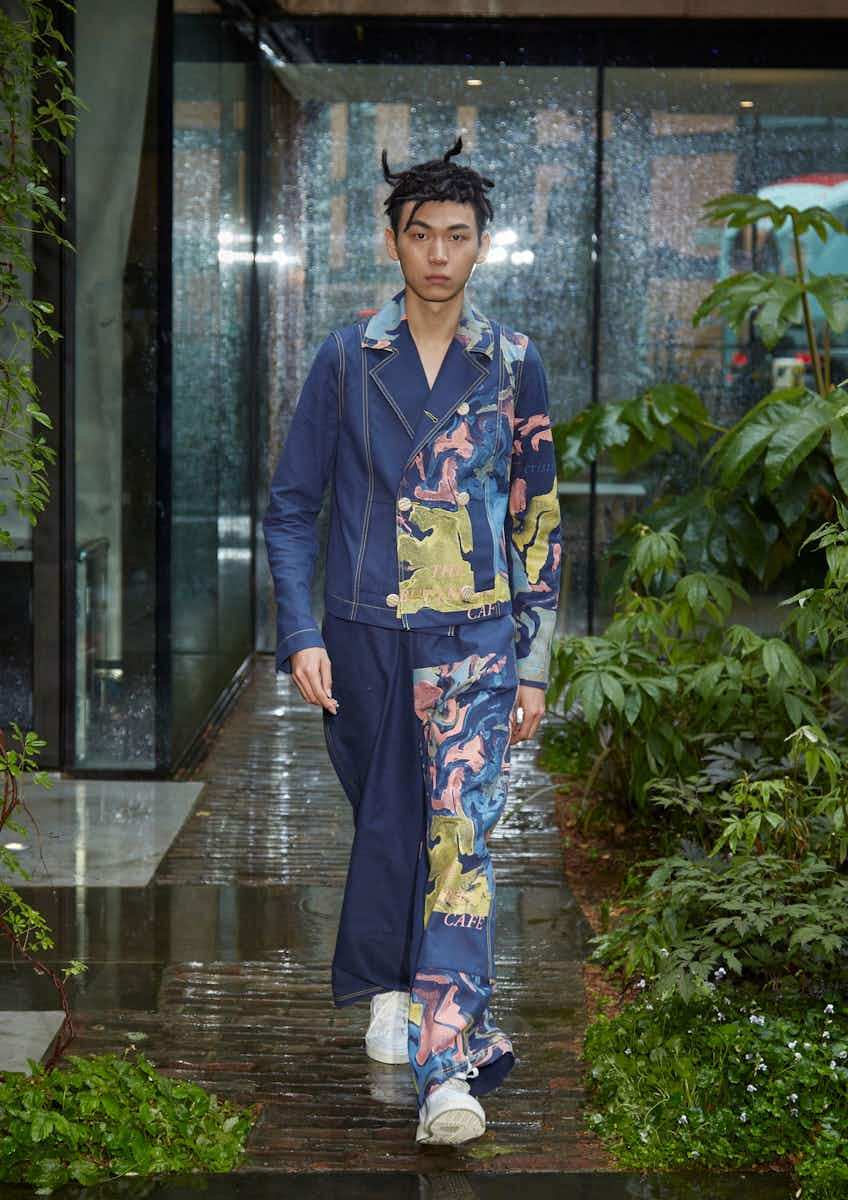 Do you have any opinions on what sustainable methods other fashion houses could be implementing?
I think it's quite tricky. Obviously with couture fashion houses, they've already got that sense of craft and supporting places in Italy and Italian craft, European craft. I think it's so difficult when they're so large, they just don't understand where things are actually being manufactured or how to create a stream for the waste. It would just take time to create new systems to make sure that what waste they have and where it could go instead of going into landfill or being incinerated. I'm much smaller so to implement these things, I'm a lot more agile. For someone that's a lot larger it's difficult. You've got a lot of work to do.
What sustainable practices could people bring into their daily schedules?
I think none of us are perfect. I'm not perfect. I just have to try my best, there's still aspects of what I'm doing — some of the top stitch we get can't be organic and I think you have to do your research and think what personally is best for you to move forward.
Shopping mindfully as well?
Yeah. But then I also think it's quite difficult because everyone is saying how fast fashion is so terrible for the planet and it is, but there's no viable option right now for people with lower income. So I feel like it's yet another way to stigmatise people with a lower income, saying you should be purchasing fast fashion. I think that's a conversation that needs to be had as well.

More like this