Bianca Saunders is making menswear for the New Radical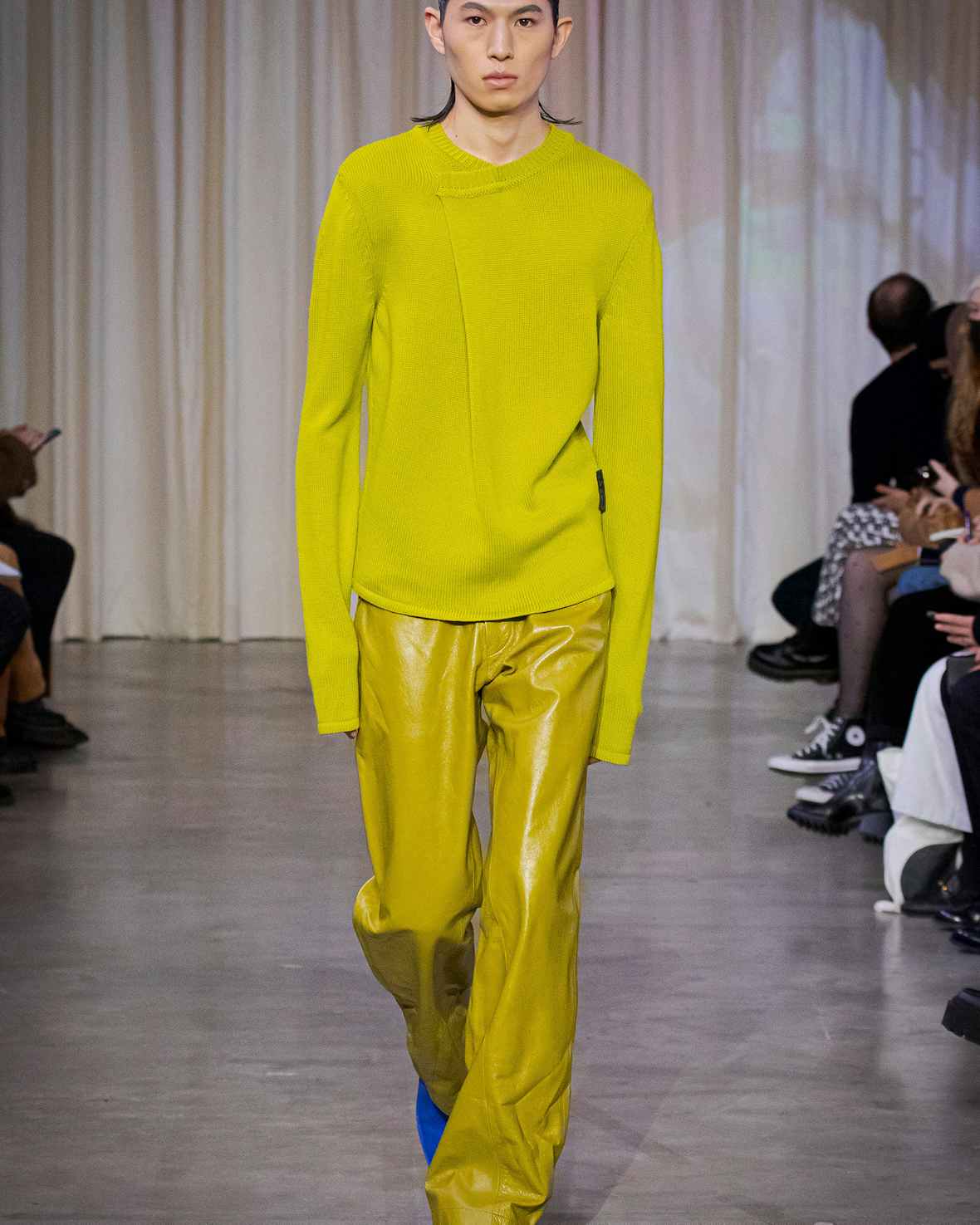 AW22: A new man is emerging and he's drilling fashion's underground for something bigger, bolder, brighter. Luckily, that's exactly where Bianca Saunders' skills lie.

Until this morning, menswear designer Bianca Saunders had never put on a runway show. That's not to say she's been subject to Covid-safe digital presentations (remember those?) since she emerged with her first collection in 2017. But before the pandemic, the Londoner had occupied boxy presentation rooms with the help of the British Fashion Council, her Bianca boys dancing and trying their best not to make eye contact with the many revellers passing by throughout the few hours she had to make an impact.
The presentation format suited Saunders at the time. The intricacy of her designs – the way a purposefully crinkled shirt gathered on forearms in brilliantly dishevelled style for AW19, or the buttery soft tailoring of AW20's trench coat – was best observed as close up as possible. But now presenting her 10th official collection for AW22, Stretch, the designer's moved to Paris and stepped up to the runway, in a move that feels monumental in her emergence as one of London's most electrifying menswear designers.
"It was very overwhelming, especially with it being my first time showing in Paris and being on different schedules," the designer says of the brand's move from home city to the more luxury-focussed Paris. ​"A friend of mine actually reminded me that I've been saying I wanted to do a runway show for a long time! It's part of my long-term goals, so it's quite wild that it has manifested into what it is."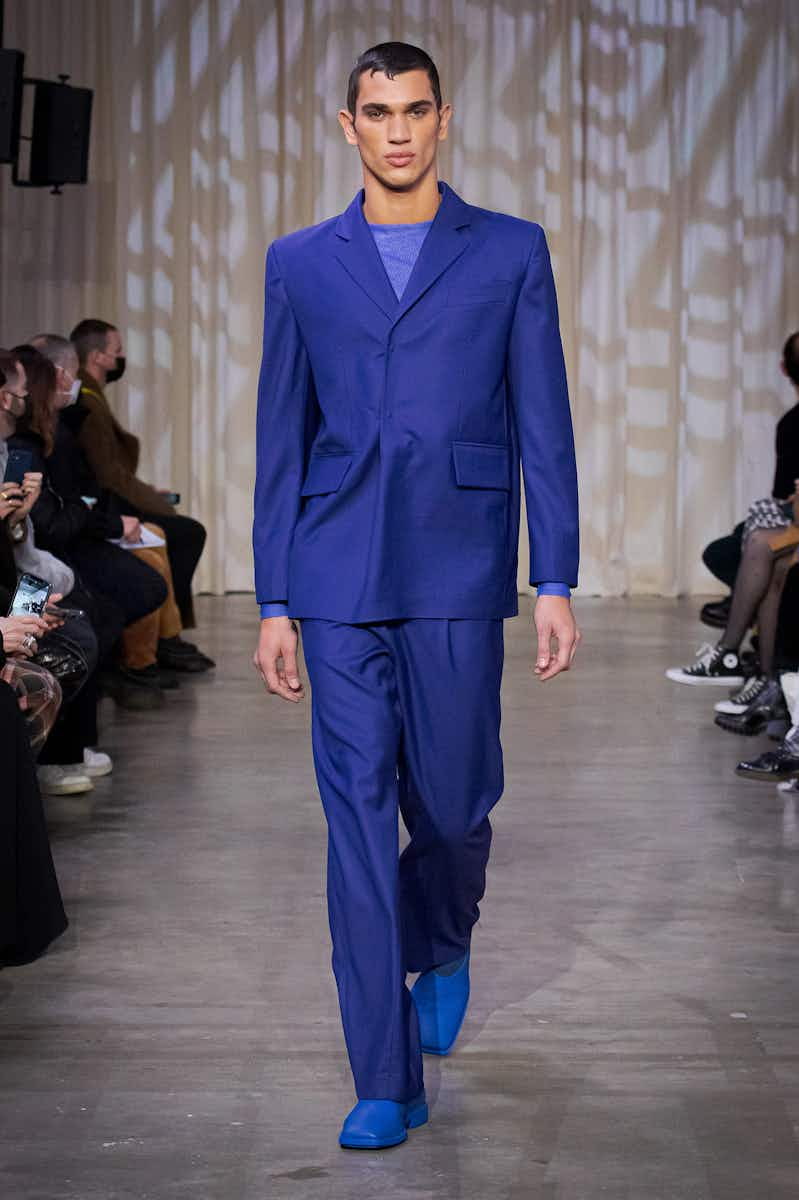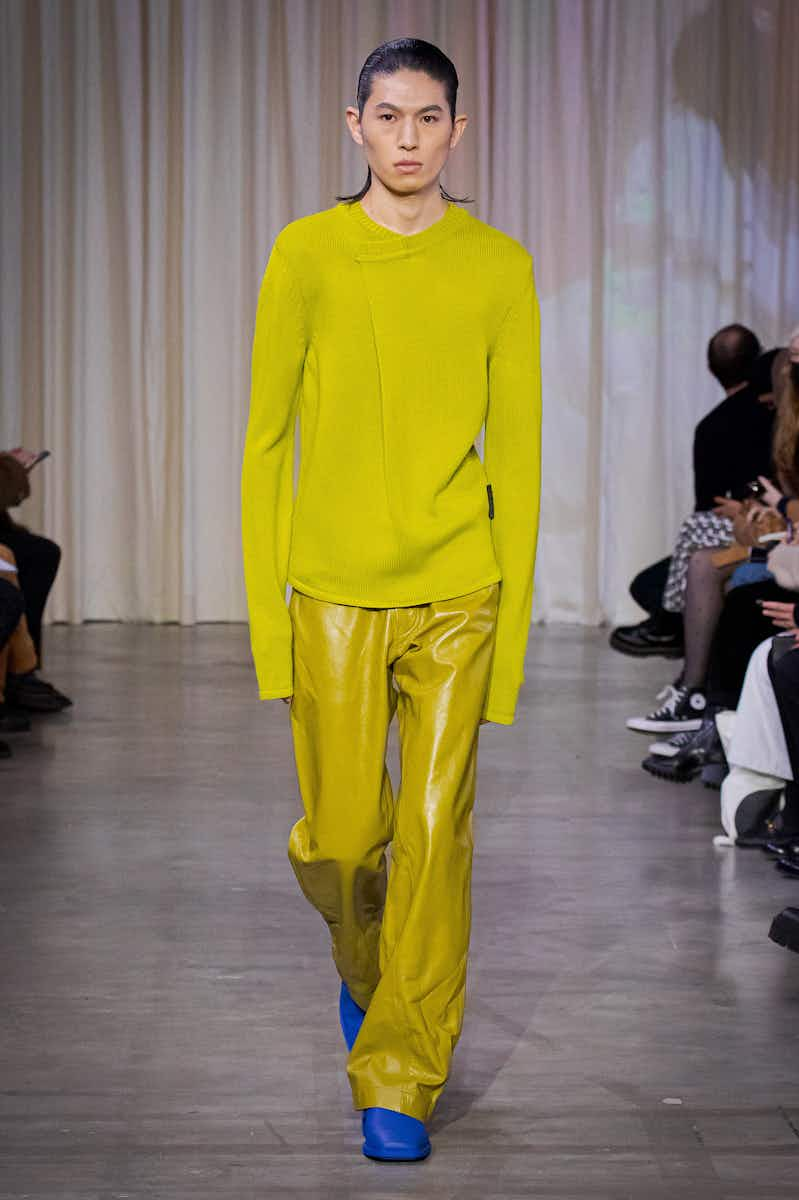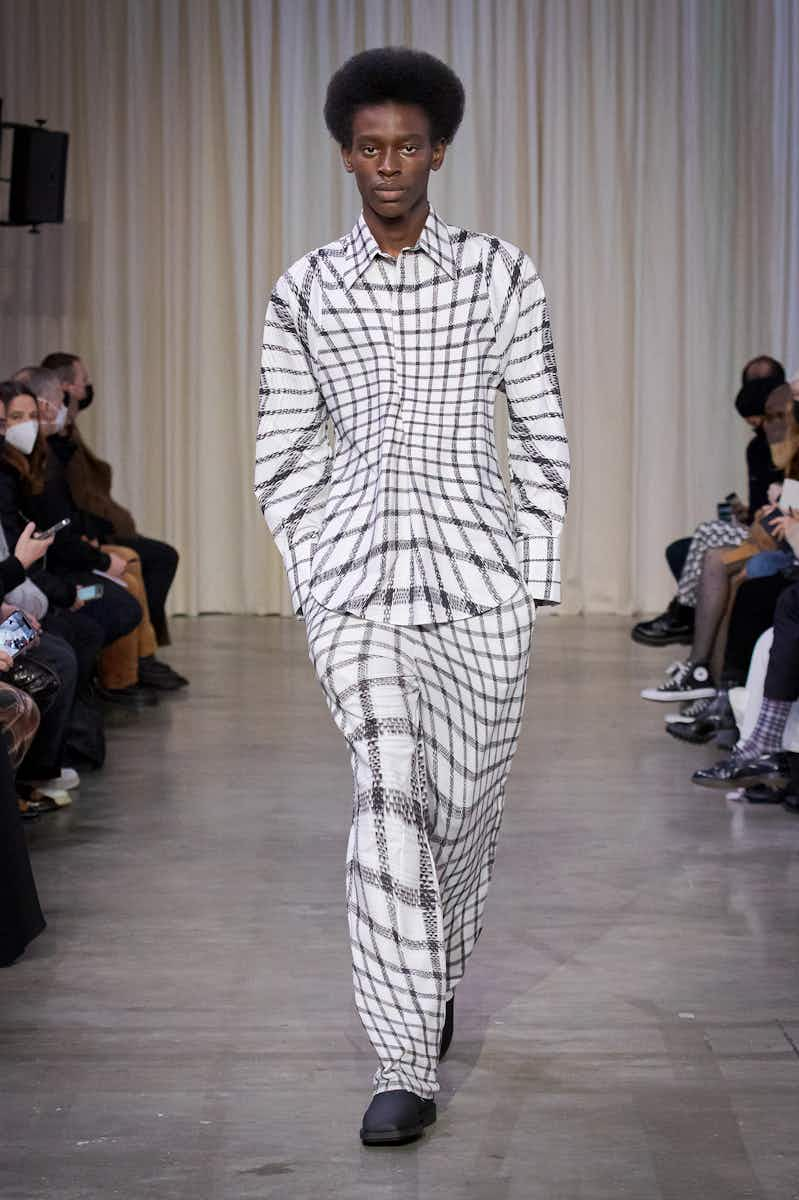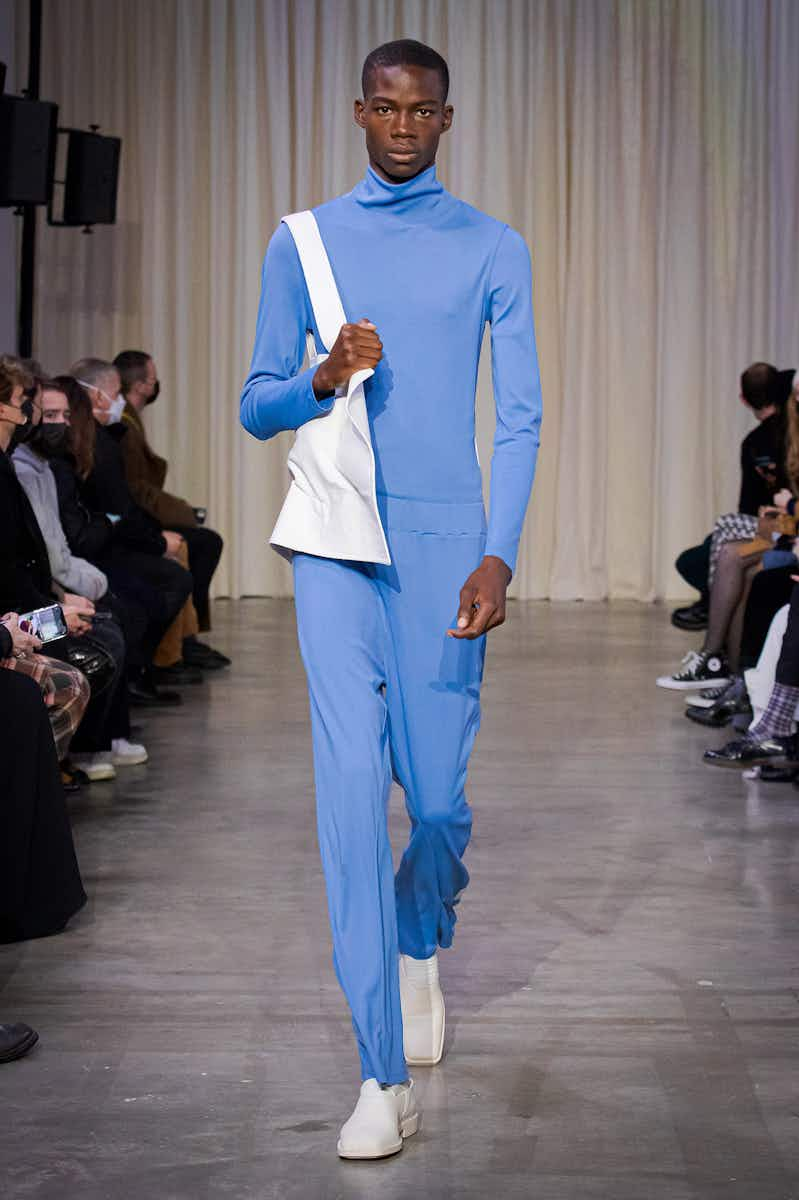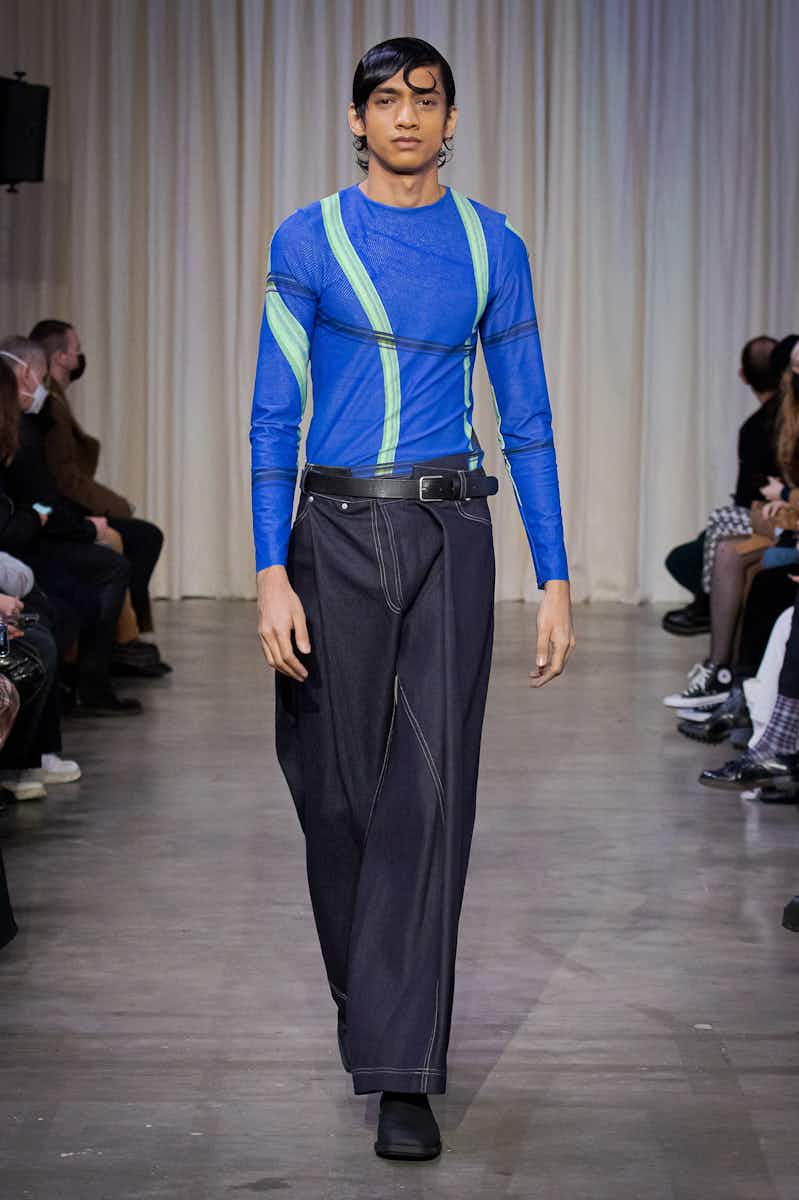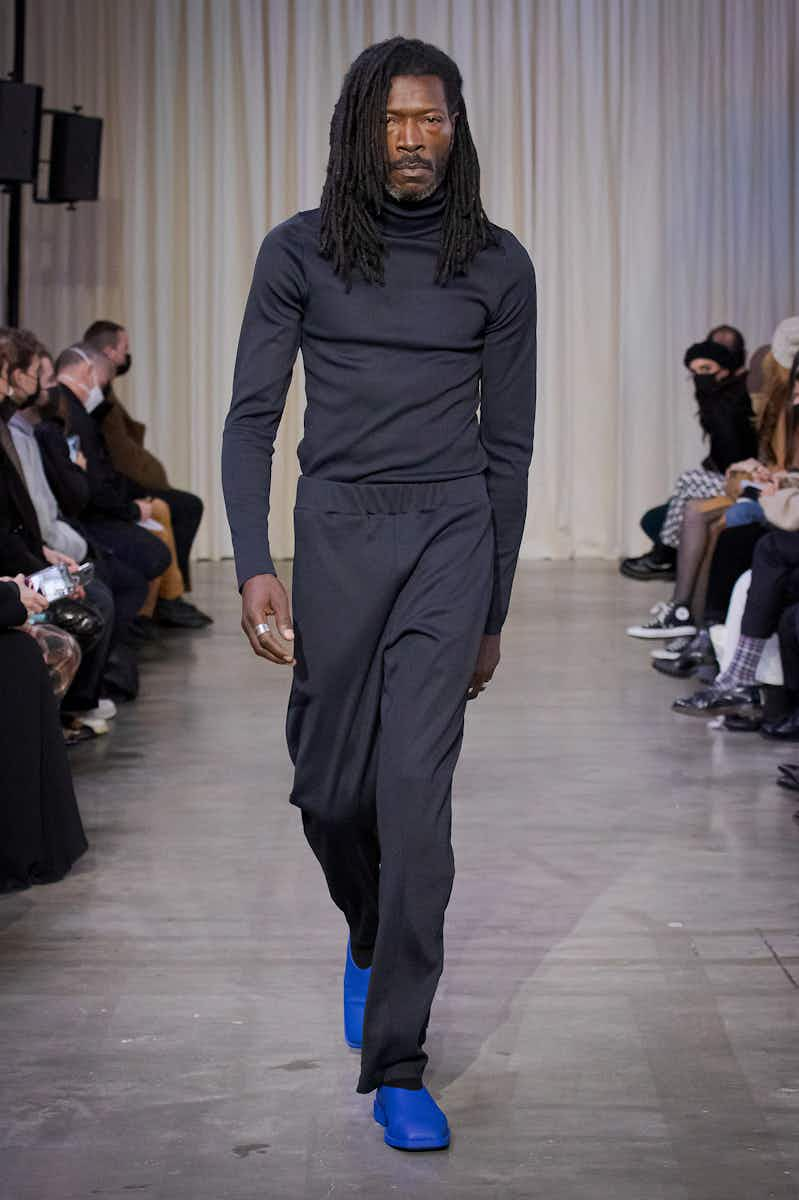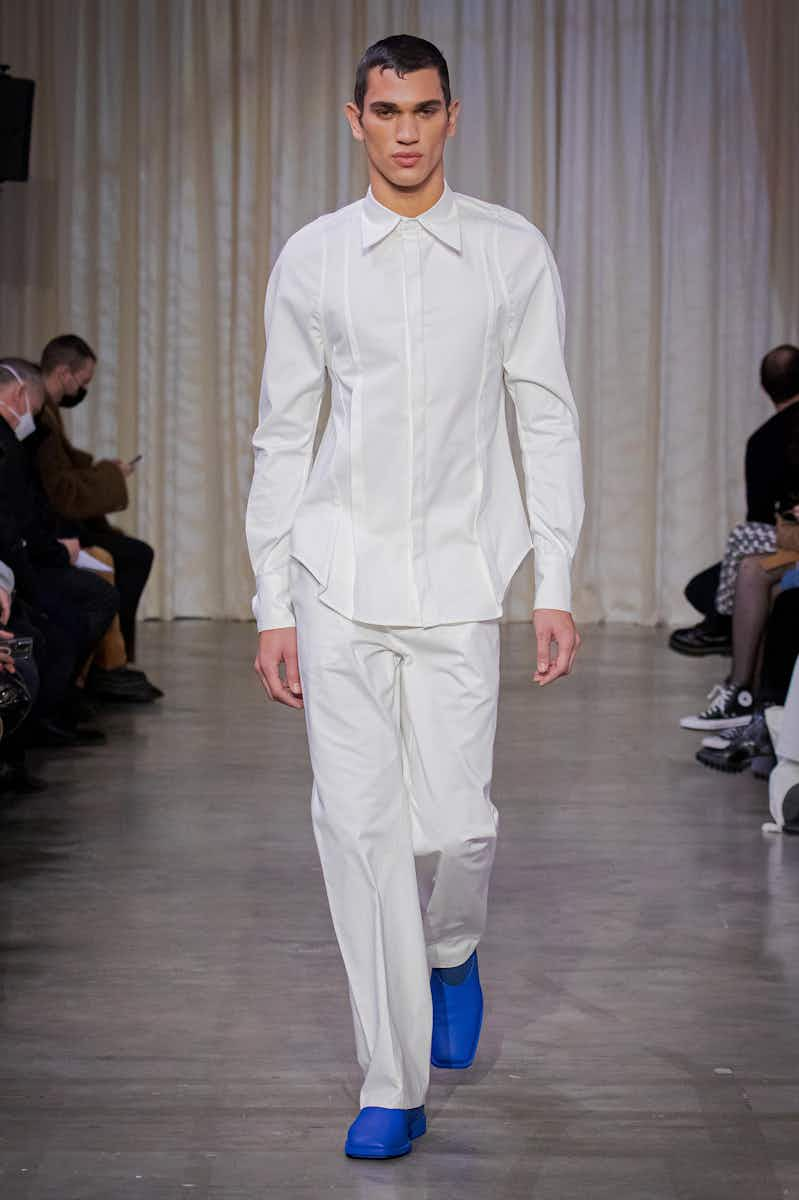 With Saunders' designs heavily built on movement, there's no denying the runway format is the perfect matrimony. Embodied by the upbeat club soundtracks that have accompanied her collections the past, and inspired by her Carribean background and lively get-togethers associated with island life, her clothes are often rooted in loose tailoring, sensual shirts and illusions, mimicking motion with the way a shirt folds over or sticks to the body, as though hit by passing wind.
In Stretch, movement is remixed all over again. Saunders channels it through warped prints, slinky tops and bottoms, and less fluid, rigid leather suits – namely in acid yellow – that impeccably line the male form with relaxed cuts reminiscent of Helmut Lang's late-90s silhouettes.
Menswear is becoming more experimental by the day – and not just on runways. Look around and you'll notice boys are polishing their nails, swaying in skirts and wearing smart suits for a casual day's shopping on the high street, with hair dyed lime green. Radical style, to an extent, is no longer exclusive to those in the know. Young men are mining the underground for style inspiration as much as they can.
It works for Saunders and The New Radical. This season's black leather trousers, acidic knits, bright red two-pieces and warped, multi-pocketed jackets wickedly balance concept with wearability, like Erwin Wurm's humorous depictions of mundanity by way of twisted sculptures and people in compromising positions.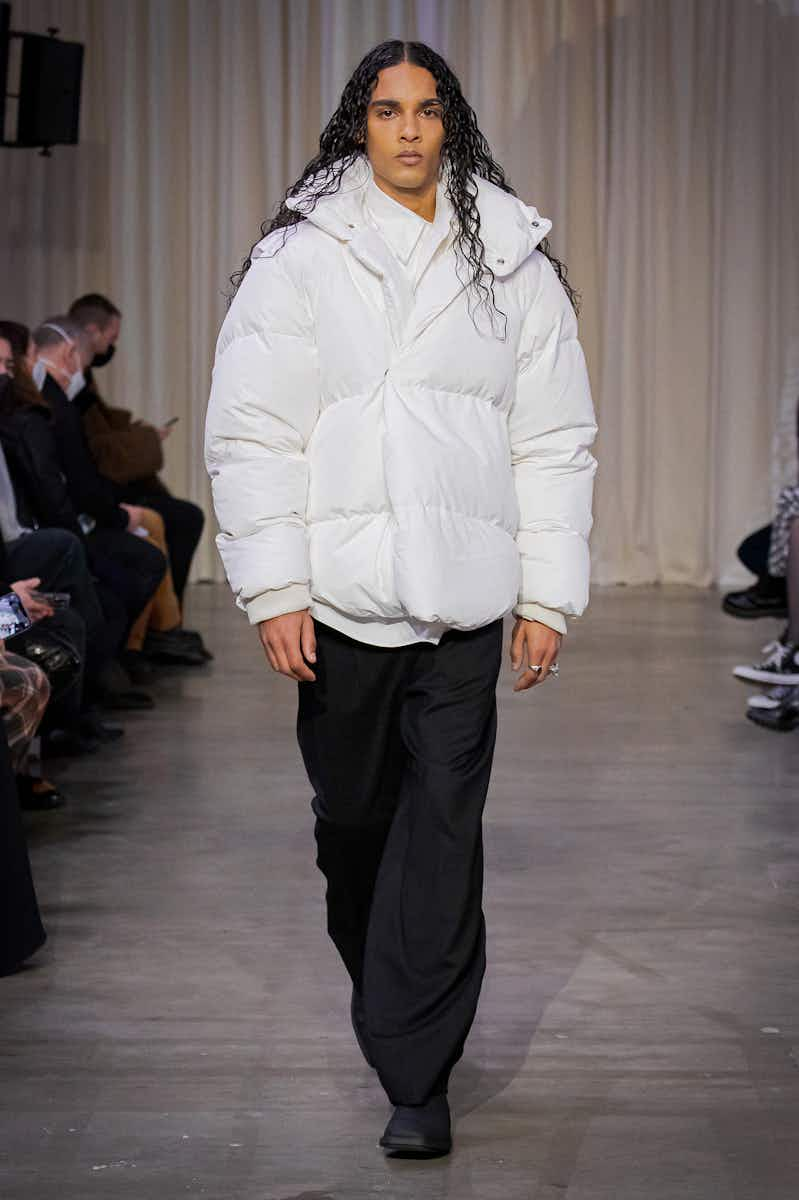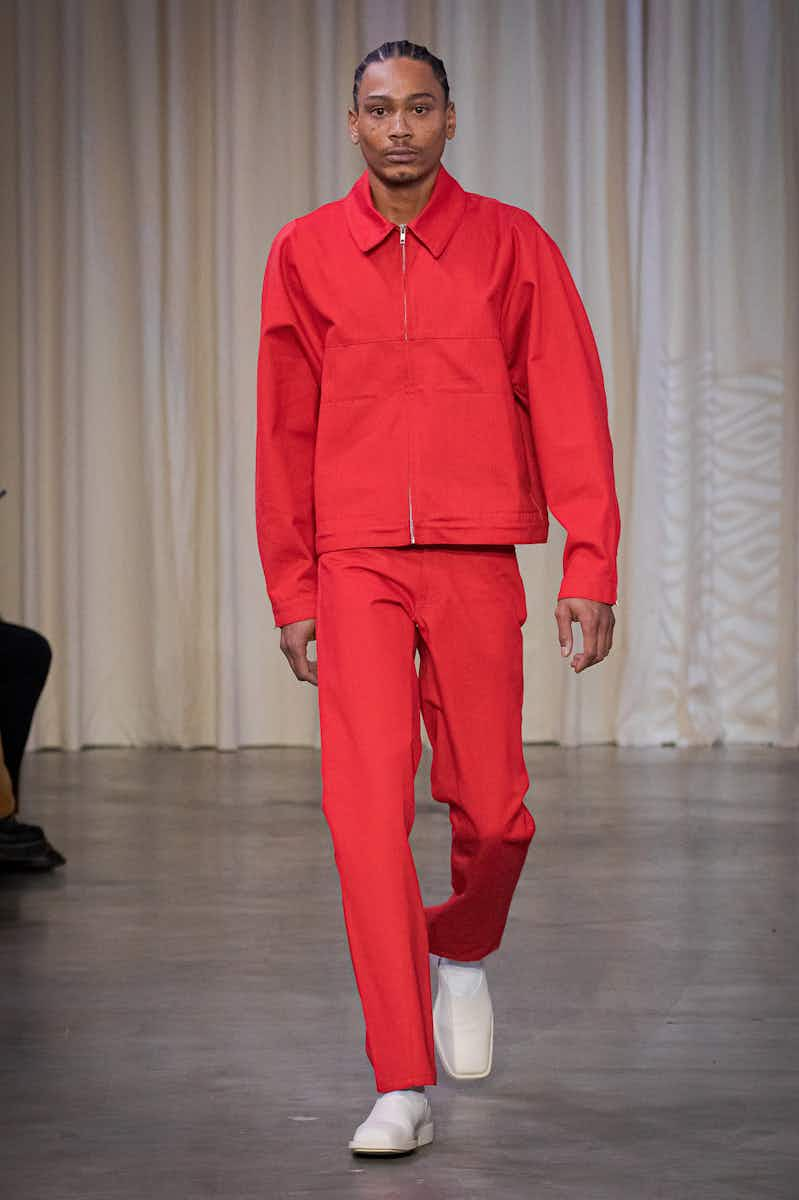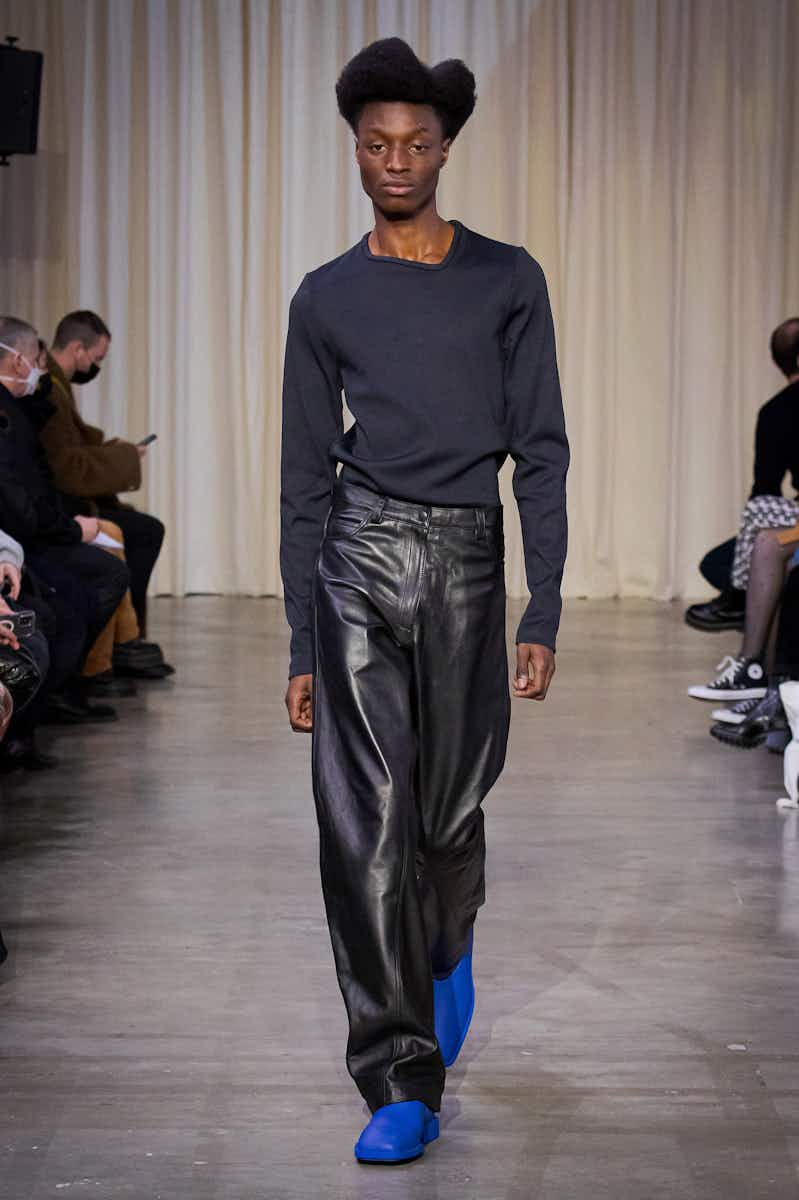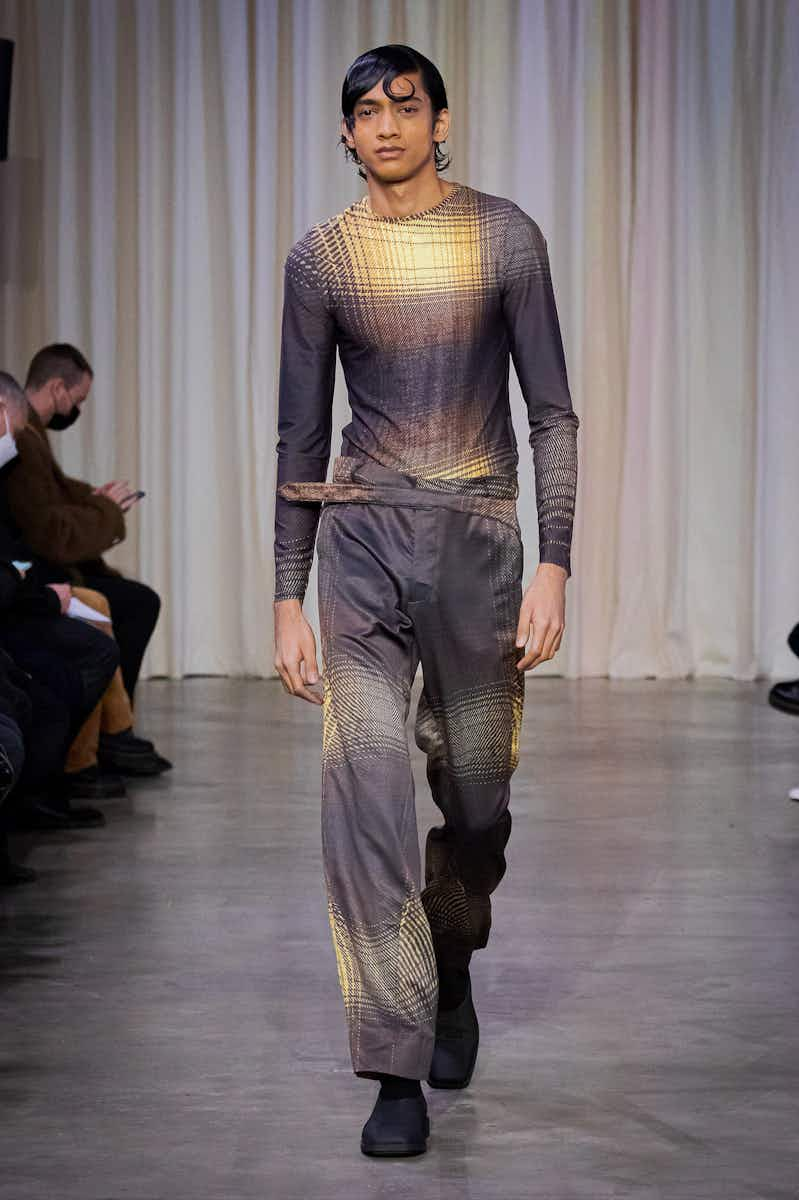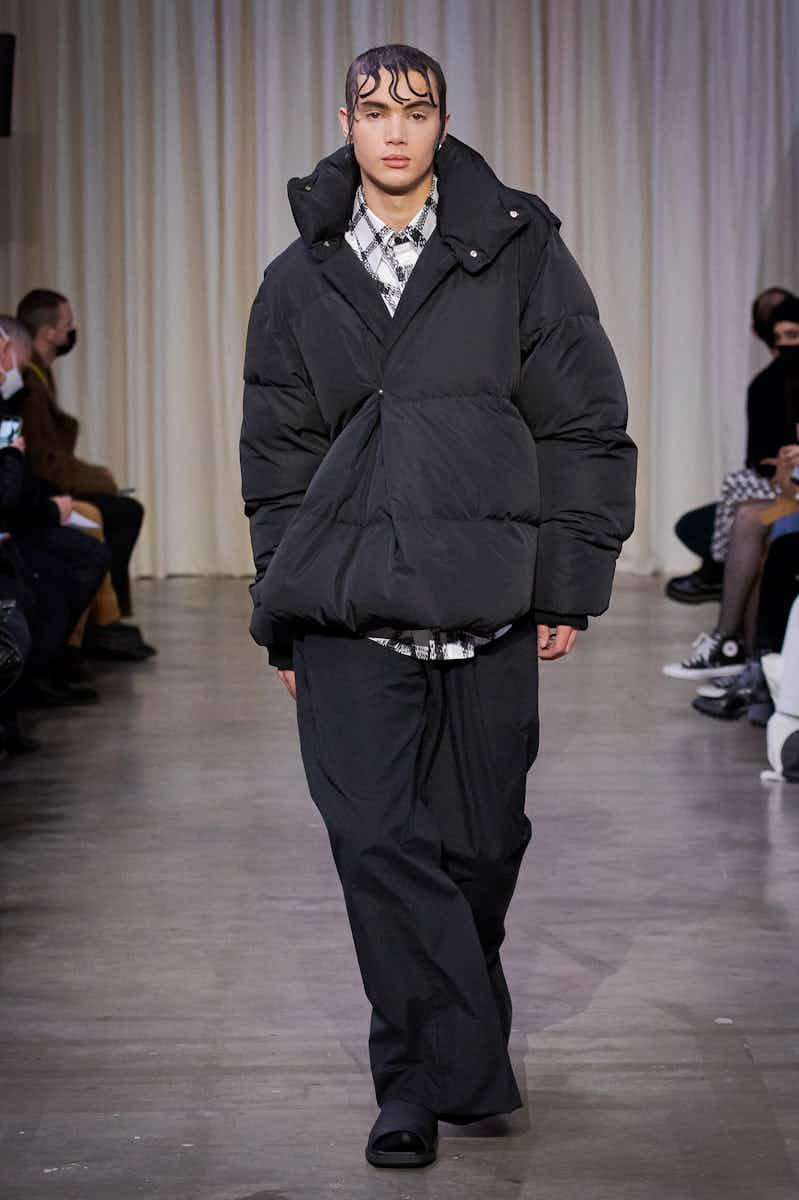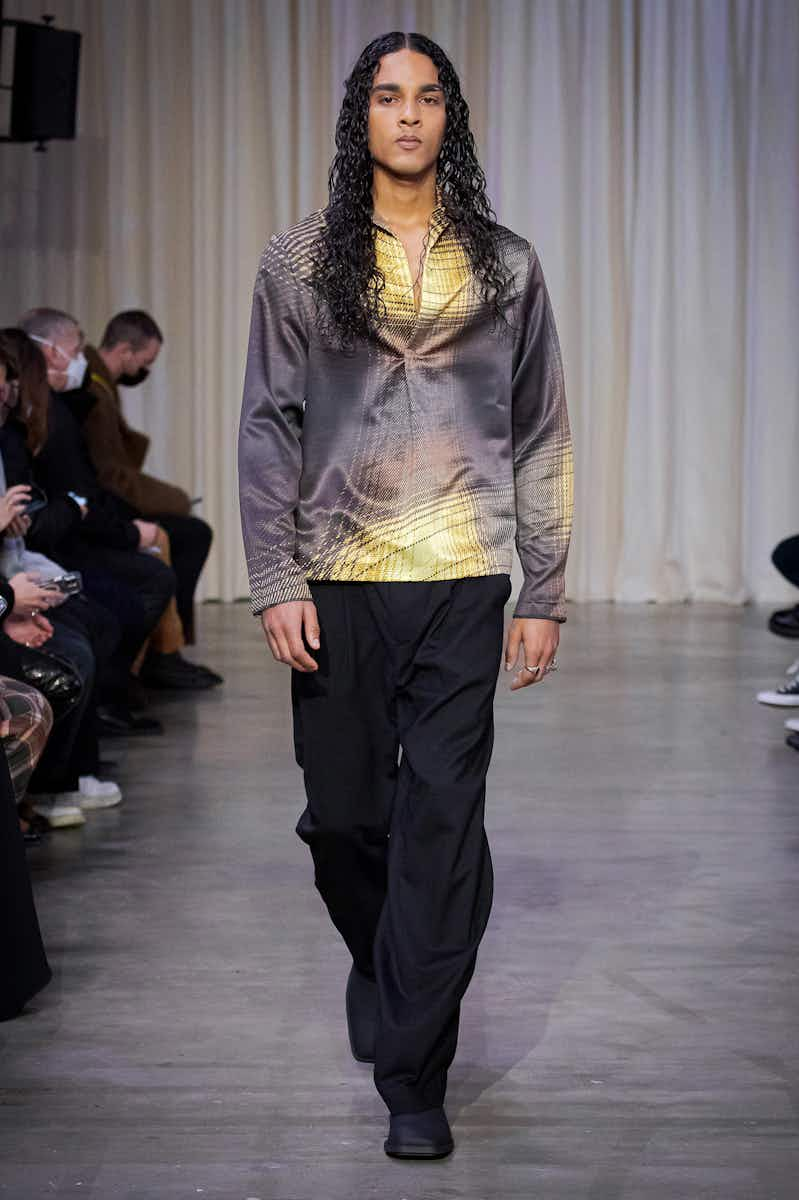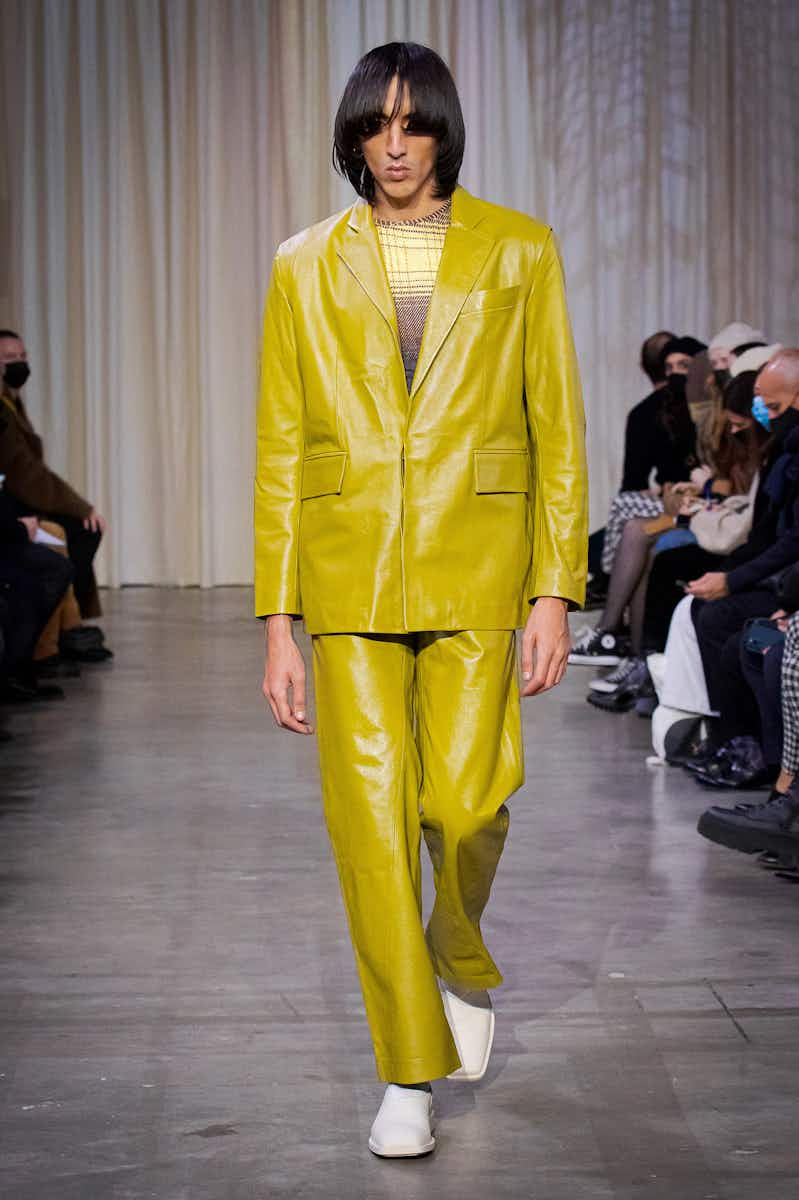 But for the designer, it's about appealing to the masses. This is not an exclusive brand, however painfully cool it may feel. ​"I want the collection to be timeless – it could be now, it could be the past, it could be the future. It's not just about one person. I want everyone to see a part of themselves in it," she said in the show's accompanying press release.
For a brand that has lived and breathed London since its conception, with Saunders growing up in South London and graduating from the Royal College of Art in 2017, the move to Paris feels like a bold evolution. She's leaving behind her support network in the city, the electricity of its streets and all that comes with it.
"But Paris screams luxury to me. It's fashion, excitement…" she says. One thing she's sure to keep in the brand, though, is London's knack for throwing the best kind of parties. ​"Parties are an important part of my brand and who I am as a person."
You can take the girl out of London…


More like this