Big Brother's big style: the best exit looks
Big Brother House, this is Davina. You are live on… ITV2. Following news that the reality show is returning next year, we looked back at some of the contestants' best eviction night looks.

Big Brother is the show that won't seem to die. It endured 10 years on Channel 4 – arguably its golden era – before upping sticks to Channel 5. It turned everyday people into celebrities, shaped reality TV as we now know it and provided some of the best and most controversial moments of British telly in the past 20 years. Now, it's been announced that the reality show will return next year on ITV2 for Big Brother 20. Do we want it? Do we need it? Will it ever be the same again? Well, there's no harm in trying.

Since 2000, when it all began, Big Brother has also been a looking glass into how Brits' style has evolved: the mad haircuts, high street styles and various questionable takes on glamour. And nowhere was this more present than when booted contestants exited the house. That's why we've dug up some of the most noteworthy exit looks from past Big Brother contestants, for old time's sake.

Charley Uchea's micro shorts
"Where's the cheers, man?" said mouthy Big Brother 8 contestant Charley Uchea to a dead silent crowd during her fake eviction (the audience was told to keep hush, before she was let back in the house). The self-described South East London It Girl's BB legacy involved a heated rivalry with fellow housemate Chanelle Hayes, arguments with pretty much everyone else, and a pair of micro shorts and knee-high leather boots for her first eviction. The ultimate look for a mid-'00s party girl with a penchant for footballers and the VIP section of a small-town club.

Pete Burns in Vivienne Westwood
Pete Burns was, by a long shot, one of the most memorable Celebrity Big Brother housemates, causing the kind of drama that made the show great. One-liners like ​"the only difference between you and a KitKat is that a KitKat has four fingers" put the fear of God into fellow housemates – mostly rival Jodie Marsh, who Burns called an ​"imbecile". Ouch. Burns was also one of the most stylish housemates, wearing Vivienne Westwood Pirate Boots, high-glam fur stoles (faux, we hope) and a fag that was permanently attached to his hand when he was evicted. After 23 days in the house, Burns finished in fifth place. During his interview with Davina McCall, he said, ​"I was gutted to be in there. I only packed enough make-up and clothes for five days."

Chantelle Houghton doing Y2K party girl
Chantelle Houghton was an Essex girl working at a high street bank when she entered the Celebrity Big Brother house in 2006, alongside that year's roster of D‑list celebs. If she could fool the contestants that she was part of a fictional girl group called Kandy Floss, she could remain in the house. She fooled them and went on to win that series. Like her then-idol Paris Hilton, Houghton did the mid-'00s party girl aesthetic brilliantly, exiting the BB house with a silver frilly mini dress, a celeb boyfriend (Ordinary Boys' Preston) and new-found fame on the horizon. A star is born and so was a great tune: I Want It All by, er, Kandy Floss.

Maggot in an adidas tracksuit
Geezers need excitement, and Maggot epitomised the pint-guzzling, FHM-reading lad. Wearing parkas, polo tops, ill-fitting jeans and scruffy shirts during his time in the Big Brother house, the Goldie Lookin Chain member wasn't exactly a memorable housemate, but still came in a very respectable third place during his series. Upon entrance (sorry, we know it's not an exit), the Welsh comedian (now a suited financial advisor who looks a bit like Jeremy Corbyn) wore a full adidas tracksuit and carried an old mini suitcase. Slick.

Nasty Nick's "it's only a gameshow" T-shirt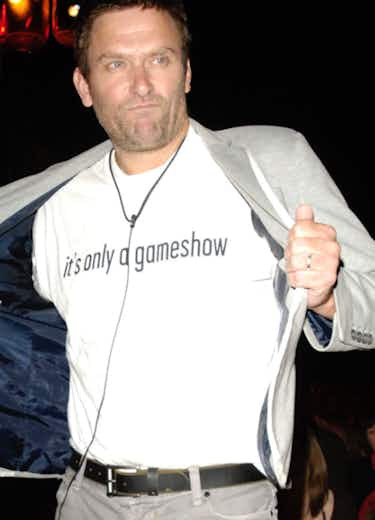 Taking it back to where it all began, Nick Bateman from Big Brother 1 was the first-ever housemate to be ejected from the house by the show's producers, after he turned housemates against each other, made up various lies about his wife dying in a car crash, and attempted to manipulate the nominations process. Naughty, naughty. He was given the boot through the fire exit door on Day 35 and was dubbed ​"Nasty Nick" by the British press. But then, he returned to take part in Ultimate Big Brother in 2010 – where the show's lasting legends like Nikki Grahame, Nadia Almada and Vanessa Feltz all returned for a final send-off – wearing a T‑shirt with ​"it's only a gameshow" written across it. Nice touch.

Alison Hammond's denim skirt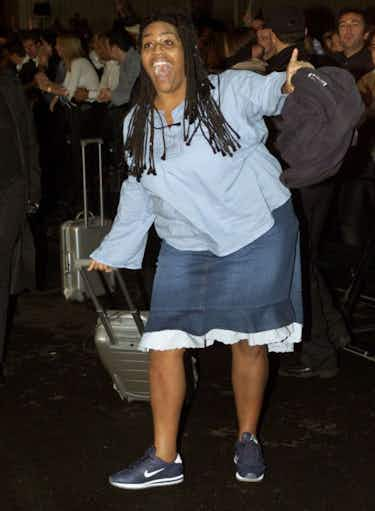 A tell-tale sign of the early-'00s was Alison Hammond's mid-length denim skirt – a closet mainstay for groovy chicks like Hammond herself. Now better known as a presenter on This Morning and for being a top hun, Hammond – who was part of Big Brother 3 – promised viewers with ​"excitement", but the chatty Brummy fell flat and was the second housemate to be evicted. All eyes are apparently on her to host the upcoming series, though.


More like this