Power accessories with BY FAR
Since its launch in 2016, the playful Bulgarian brand has garnered a devout following for its fresh take on vintage-style accessories, and dedication to sustainable, well-crafted design.
In 2016, twin sisters Valentina Ignatova and Sabina Gyosheva and their best friend-slash-sister-in-law Denitsa Bumbarova decided to start their own accessories brand, driven by the simple fact that their perfect shoes didn't exist. ​"We've always been obsessed with shoes, but we couldn't find what we thought the modern woman needed – so we decided to create them ourselves," Ignatova tells THE FACE.
With the idea in motion, the trio stumbled across a small, family-run leather factory in their native Bulgaria, a country with a long history of shoe craftsmanship. ​"It really felt like destiny!" Ignatova enthuses. And, in no time at all, BY FAR was born, fuelled by the friends' mission to ​"make cool shoes that are comfortable and elevate your whole look; that are empowering, yet not overpowering, without sacrificing quality".

The brand has tapped a playful vintage aesthetic from the start, from its trademark barely-there sandals and square-toed ankle boots to its textured baguette bags, preempting the wave of nostalgia that has since taken hold, galvanised by Fendi's relaunch of the OG Baguette in 2019. ​"Our generation was raised between the fall of Communism and the rise of the Internet… [so] the golden era of ​'90s elegance [was when] we first felt the freedom of more choice and expression of style," the co-founders said in an early interview with Forbes, explaining their ongoing preoccupation with the decade and its style icons (think: Carolyn Kennedy, Winona Ryder and Sofia Coppola).
This prescient embrace of ​'90s chic, paired with BY FAR's dedication to sustainability – they've used deadstock Italian leathers from the start, and are working hard towards ​"sourcing 100 per cent of [their] leather from tanneries with environmental, traceability and social compliance certifications" – and its expertly curated Instagram feed, saw the brand grow exponentially in a remarkably short space of time. Soon, BY FAR's bags, boots and block-heel sandals were being sported by everyone from Kaia Gerber and Kendall Jenner to Beyoncé and Michelle Obama, while its Instagram follower count skyrocketed into the hundred thousands.
Key to its success, Ignatova believes, is an ​"emotional and intimate approach". This can be felt across all elements of the BY FAR branding, from the discreet ​"we miss you!" message that pops up on the website tab as soon as you leave the page to the brand's uplifting Instagram aesthetic, mainly centred on showcasing its tropical fruit-hued pieces in a selection of dreamy settings. ​"We stay true to our vibe and approach Instagram from a very personal point of view," she says. ​"We share the things we love to see."

Then of course, there's the fact that BY FAR continues to hit the nail on the head when it comes to designing accessories that people want to wear. ​"Denitsa, our creative director, has great taste and it's amazing to watch her ideas develop, sifted through iconic pop-culture references from beloved decades and, of course, our personal style," Ignatova enthuses. ​"It's always a bit nostalgic but feels modern."
The brand's latest collection for Pre-Fall 2021 is no exception. Designed as a ​"kiss-off to the comfort of your home" as post-lockdown life begins, the new designs (and signature favourites, like the Mini and the Rachel, released in new colourways) tread the line between comfort and a much-needed return to glamour. This extends from an array of soft, slouchy bags to eye-catching, ​"supermodel worthy" clutches, quilted slides to low-maintenance platforms.
In line with the team's dedication to ​"seducing all the senses", BY FAR PF21 boasts a fresh palette of textures and rich earthy tones, like ​"wood", ​"mud", ​"flax" and ​"cornsilk", for those in search of refined daytime elegance, while Euphoria-inspired, disco print leathers and brightly coloured faux snakeskin herald the long-awaited return to nightlife.

The collection also sees the brand introduce knitwear for the first time – plush, oversized scarves made from an ethically sourced alpaca fibre with recycled polyamide – as well as a range of sleek, gold-buckled belts in a typically broad spectrum of colours. ​"Belts seemed like an obvious choice [because they're] the ultimate finishing touch to any outfit," Ignatova says. ​"We've made five styles, from super thin to extra-wide, so you can mix and play endlessly."
And that's not all they've got up their sleeve. ​"We're launching a new line of sneakers this summer as well!" she adds. ​"And we've made these using post-consumer elements where possible, while keeping the focus on quality and craftsmanship."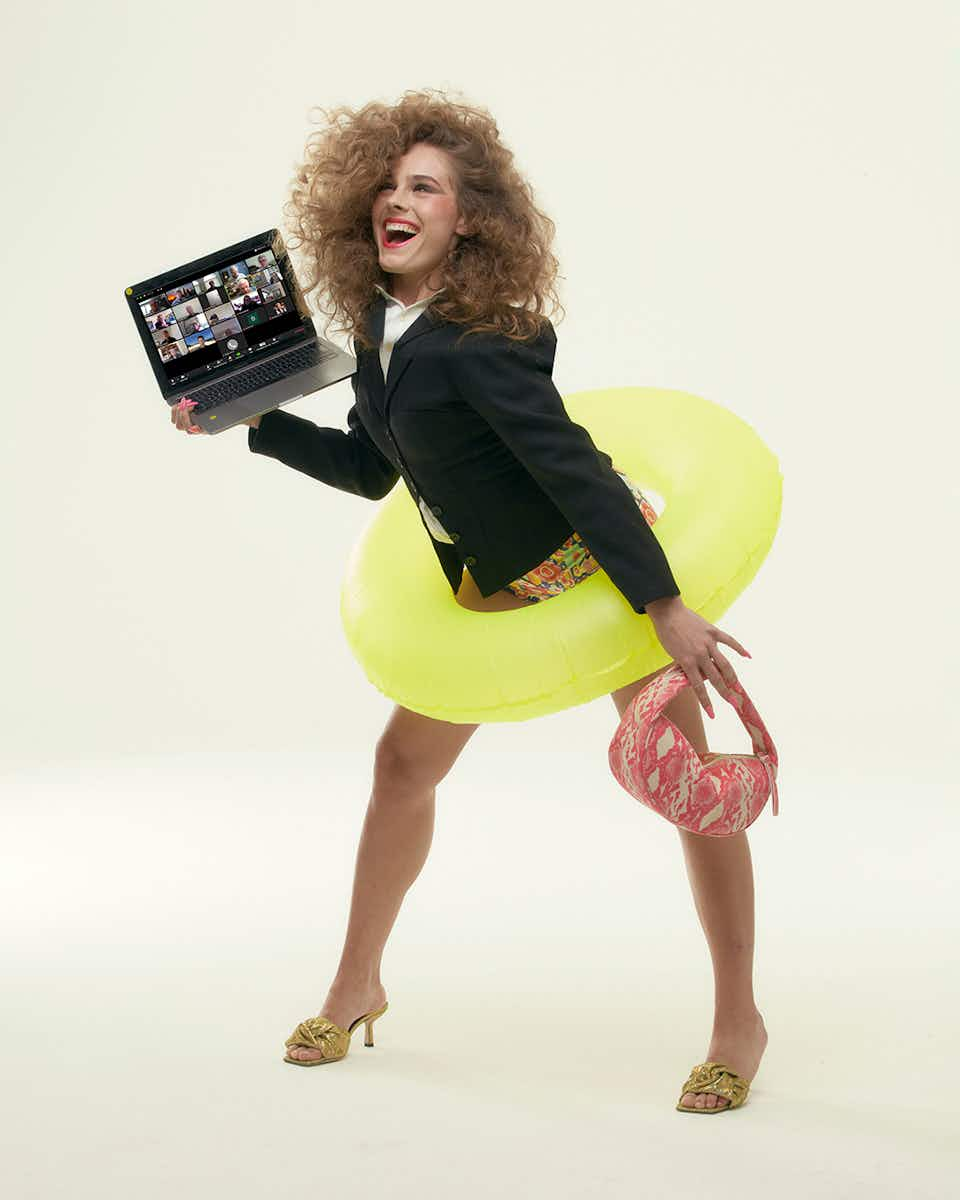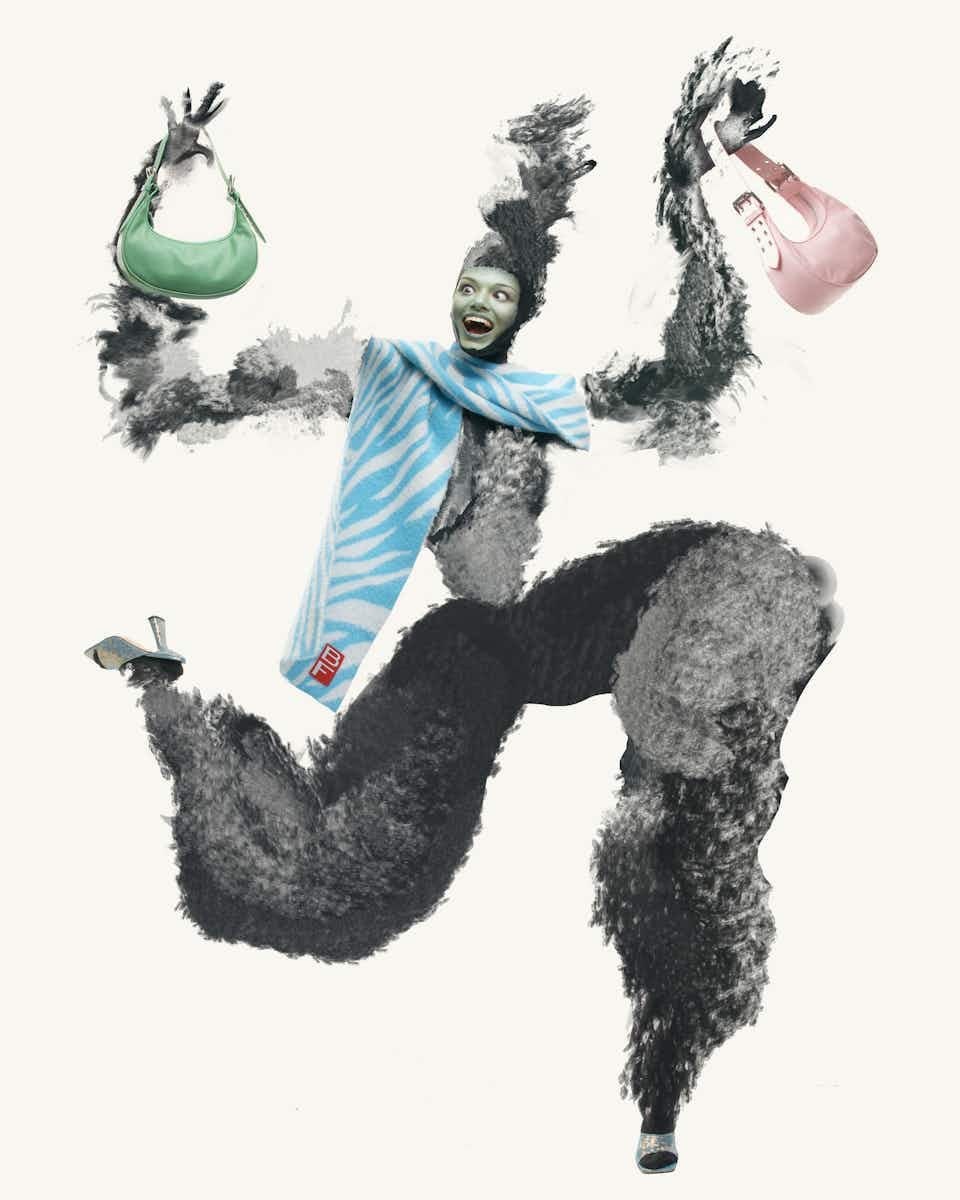 Indeed, while the founders are excited to keep growing BY FAR and its offerings, they remain as dedicated as ever to well-made design, and sustainable, ethical practices. ​"Though we've expanded a lot, we are still partnering with our first Bulgarian factory because of their outstanding skills and innovation," says Ignatova. They're also about to partner with repair experts at various BY FAR hotspots around the world, to encourage buyers to invest in the upkeep of their pieces and ensure their long lifespan.
"We aim to create objects that are not just aesthetically pleasing and comfortable but connect on a much deeper level with the future owner," she reflects on BY FAR's enduring quest to make accessories you'll want to keep. ​"All our pieces are designed with longevity in mind."
In all senses, it seems, BY FAR stands as a testament to the power of a great idea, and the success that's sure to follow if you stay true to your founding principles.
Hair Kota Suizu at Caren Agency using Bumble and Bumble. Make-up Rebecca Davenport. Nails Lauren Michelle Pires at Future Rep using The Gel Bottle. Talent Jasmine at Anti Agency and Martine at Contact Agency. Set designer Phoebe Shakespeare. Photographer's assistant Arthur Williams. Stylist's assistant Alessandro Raimondo. Set designer's assistants Jocasta Cullen, Georgia Currell and Tilly Riisager. Digital operator Samuel Hearn