C.P. Company's Cinquante celebrations are well under way
Meet Hugo, a futuristic humanoid who has travelled across the universe to play dress up in some of the Italian innovator's greatest hits from the last 50 years.
Fifty years ago, Massimo Osti founded a clothing brand that would bring utilitarian workwear and military staples into the wardrobes of mainstream consumers. Through creative innovations with practical pieces such as the parka and the padded down jacket, C.P. Company quickly started laying the foundations for contemporary workwear and sportswear as we know them today.


Osti was a native of Bologna, the storied Northern Italian university town whose piazzas and porticoes still thrum with a radical pulse. His early work as a graphic designer in the late Sixties quickly gave way to fashion design by way of a limited run of T‑shirts, upon which he printed using pioneering methods. The success of this endeavour allowed Osti to fund his first full menswear collection in 1971 under the name ​"Chester Perry" (taken from his favourite English comic strip). Osti's Bolognese attitude – refined yet daring – certainly inflected his creative output, with studied meticulousness and curiosity quickly becoming pillars of C.P. Company's identity.
As the brand grew, taking on its current, more mature name, Osti's unconventional working methods and penchant for experimentation quickly led to a slew of wildly imaginative designs. In 1973, he pioneered a process of dyeing which involved colouring pieces of clothing in their entirety, after they'd been cut and sewn. Garment dyeing inverted the traditional manufacturing approach, presenting designers with an alchemical alternative to working with pre-dyed fabric. Osti and his collaborators were the first to perfect this process with garments made from multiple fabric types. True to the values of its founder, C.P. Company continues to experiment with the synthesis of new, ever more durable fabrics (and new ways of colouring them) to this day. Just last year the design team debuted P.Ri.S.M., a hardy new two-tone ripstop fabric optimised to respond to dye. In 2018 they introduced the world's first ever bespoke service, allowing clients to colour pieces in line with their own individual style.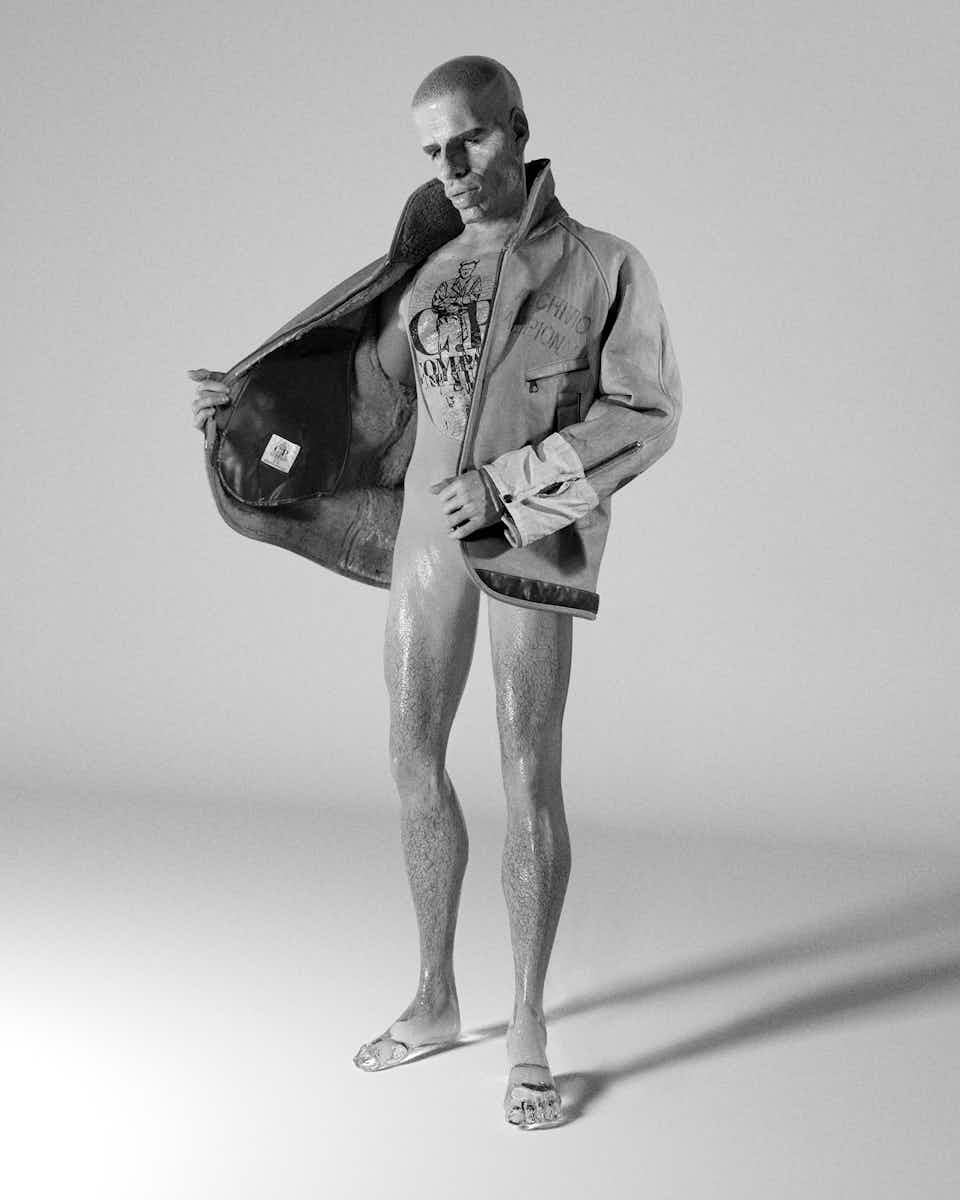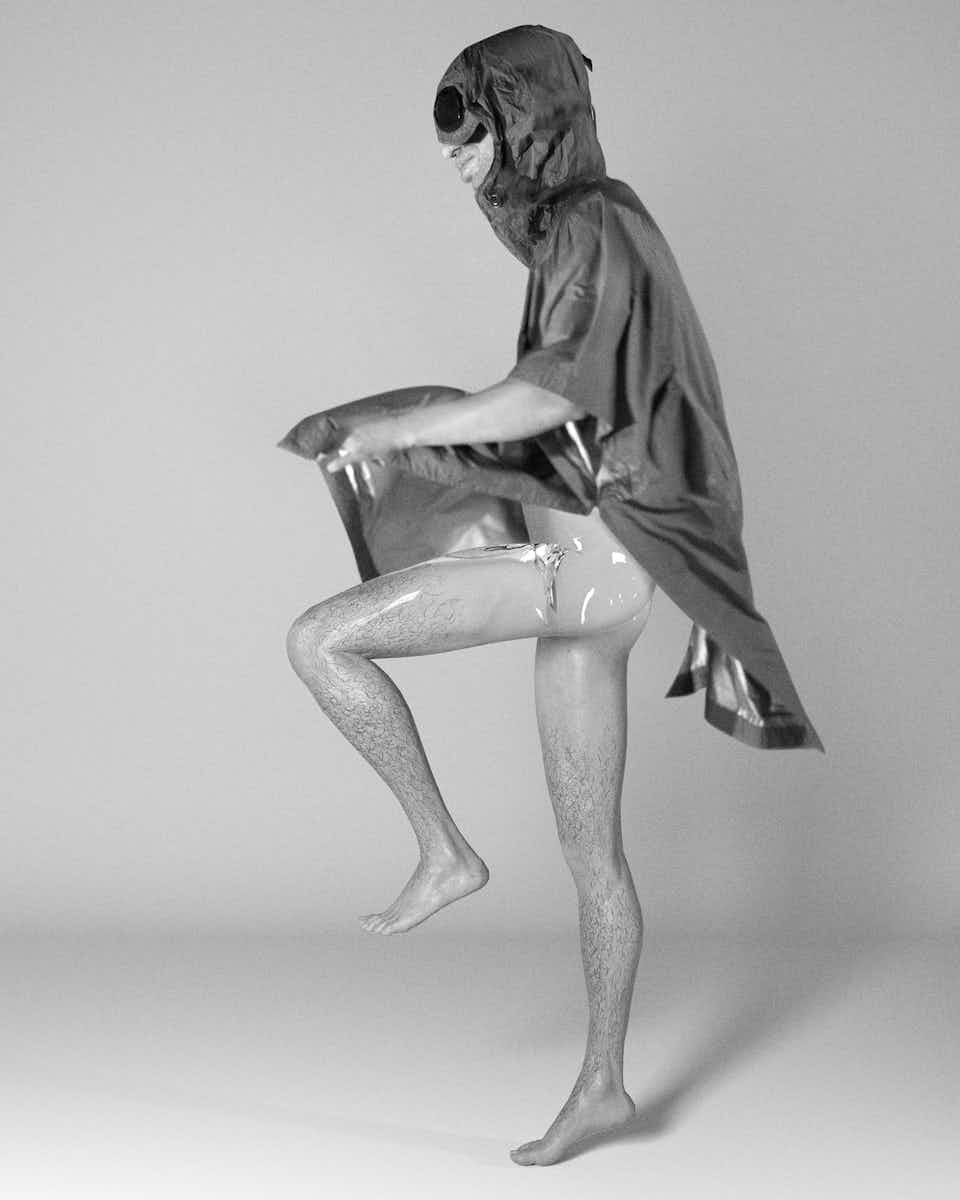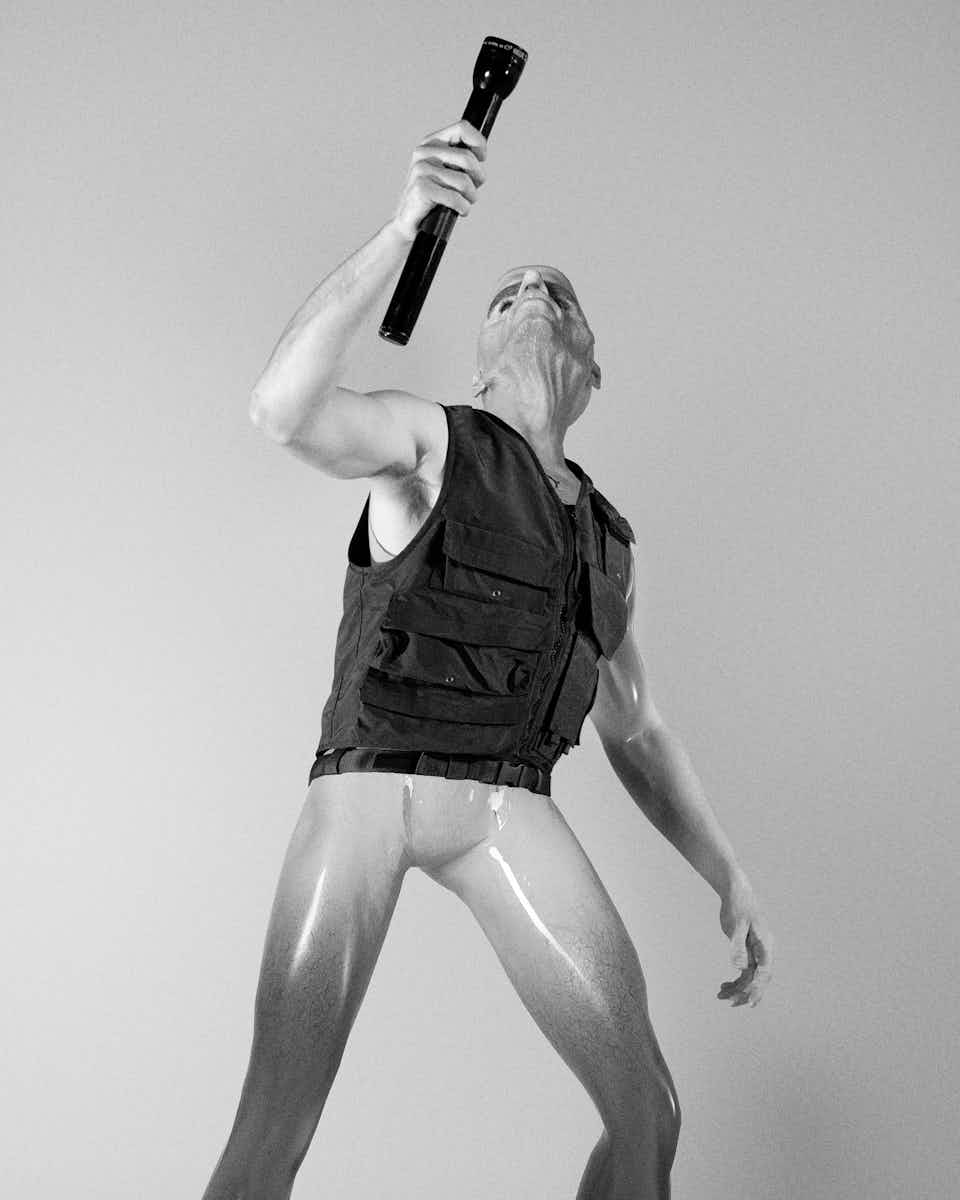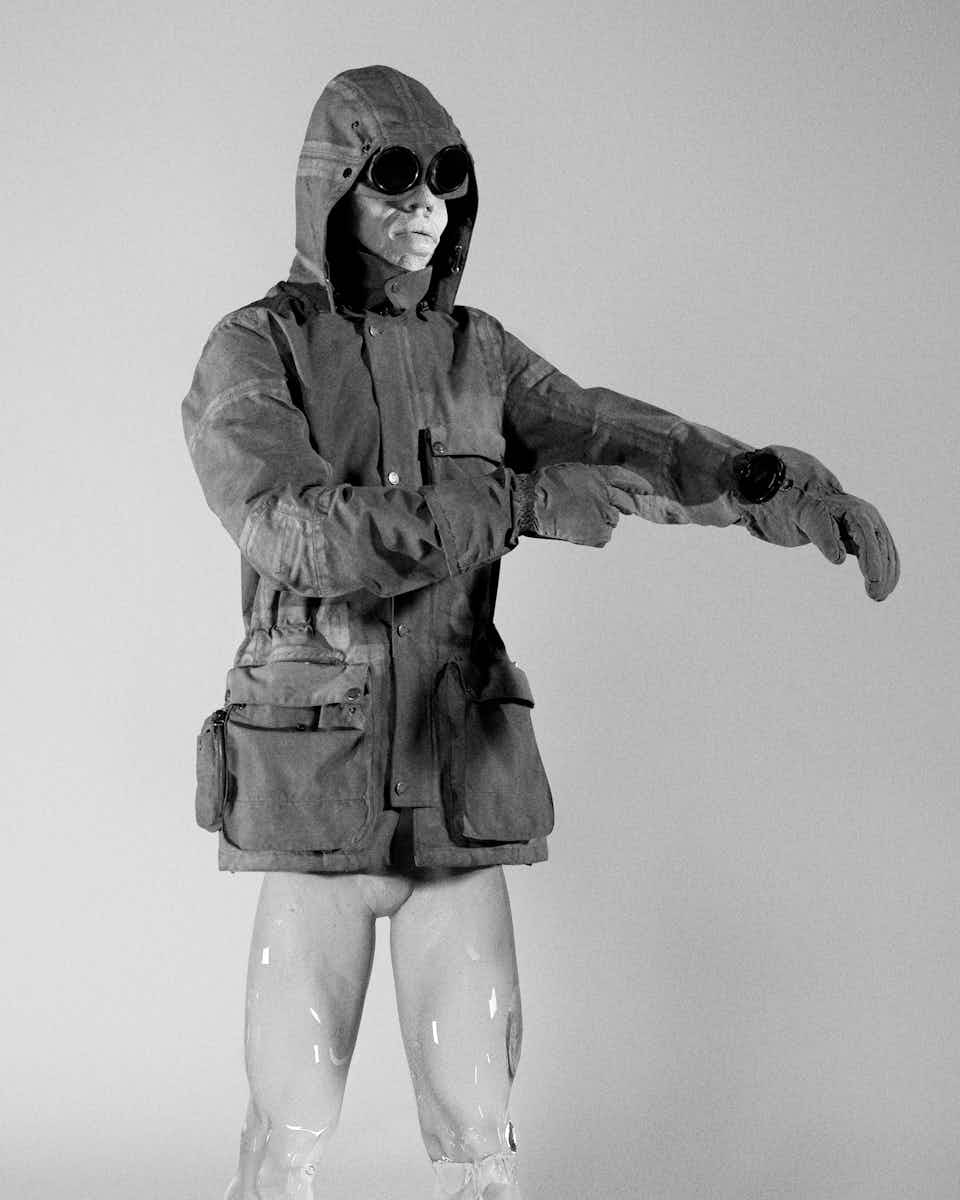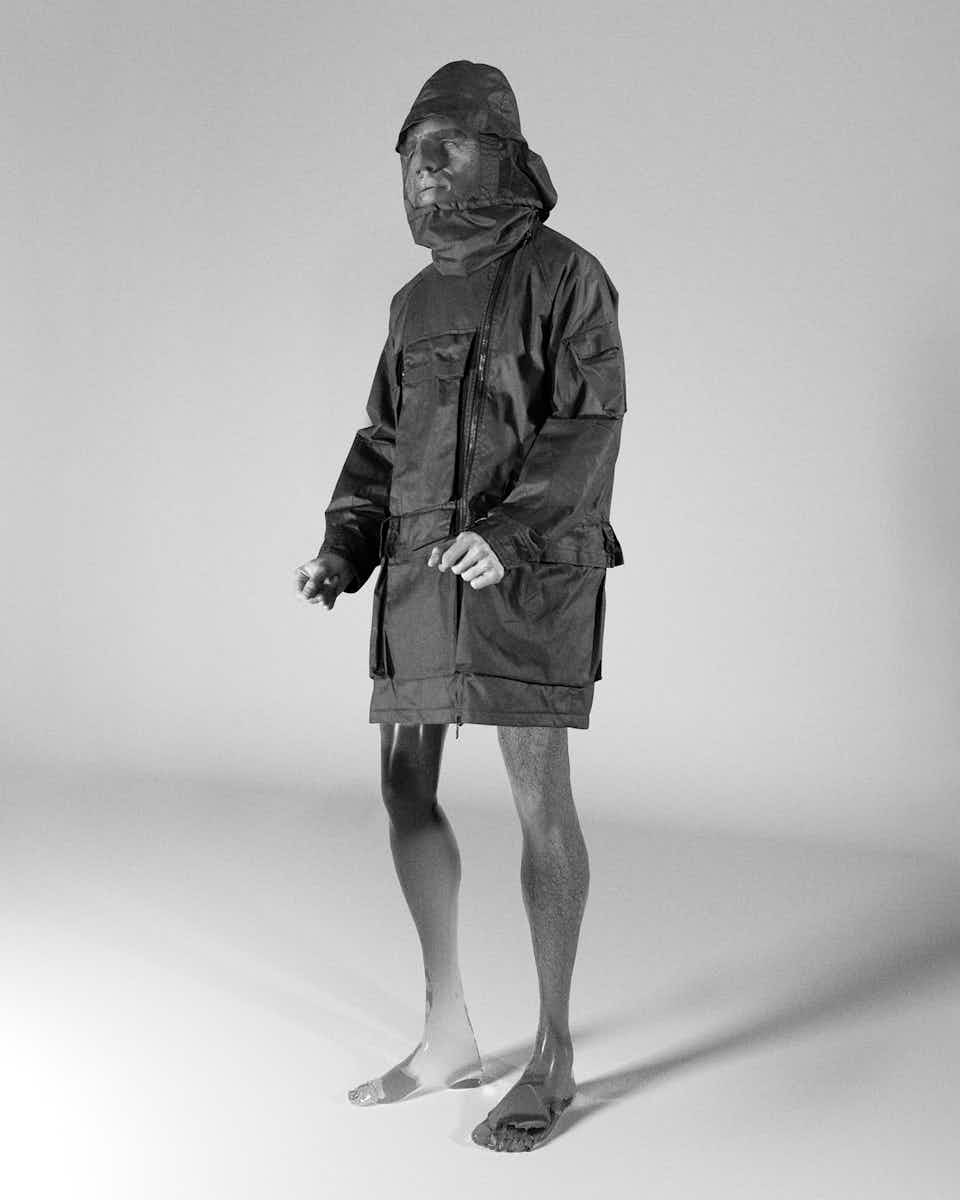 To celebrate C.P. Company's 50th anniversary, THE FACE called upon tech-savvy photographer Till Janz and stylist Julian Ganio to explore and interpret the brand's extensive archive. The resulting images, published in our summer issue, take inspiration from the brand's pioneering development of second-skin garments that are as durable as they are wearable. The story's protagonist is a futuristic humanoid named Hugo, who has travelled across the universe to play dress up in some of C.P. Company's greatest hits. There's the Goggle Jacket, originally released in 1988, which includes protective lenses sewn into the hood inspired by anti-gas outfits used in combat. Another, later version includes built-in gloves and is designed to fit the body perfectly when seated in a driving position. Hugo appears to be preparing for some form of dystopian, decades-away battle; the C.P. Company items he sports play the role of intuitive armour.
The brand's own Cinquante celebrations are already well under way, with capsule collections, special collaborations and memorabilia being released via their web store over the course of the year. Think: a coffee table book, toys, posters and more, all telling the story of C.P. Company's rise in vivid detail. With cutting-edge product development still taking place behind the brand's studio walls, we can't wait to see what the next 50 years have in store.

Stylist's assistant John Handford. Talent Hugo. Production Kit Pak-Poy @ ART. Retouching Hand of God. CGI assets Studio Dosage