Central Saint Martins BA Fashion: funny, fearless and original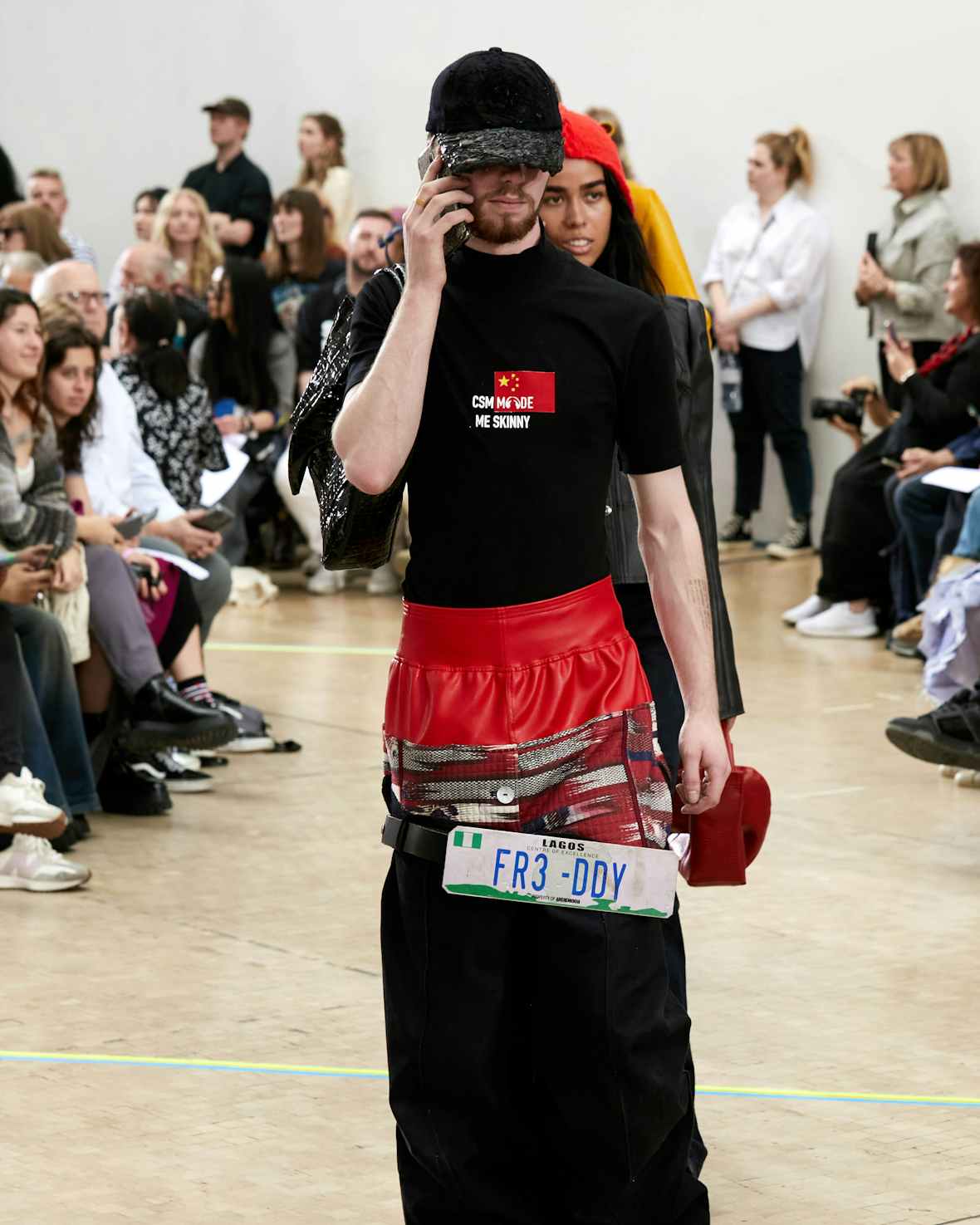 Last night, students in their final year at London's famed fashion school commented on politics, sex and nightlife in one of its most subversive graduate shows.

Perhaps it was the last minute appearance of the sun on an atypically gloomy May day, or the killer soundtrack of Happy Mondays, Azealia Banks and Shygirl on full whack. Or maybe it was the hoards of Central Saint Martins students who watched on the stairs overlooking the catwalk, supporting the BA Fashion graduates as they presented their final collections.
Whatever it was, last night's show was a giddy reminder of London's young creative brilliance, a mash-up of politics and sexuality that was, above all, fun.
The CSM show always presents something unexpected. It's a show for discovery, an opportunity to check out new talent and gauge how young people are feeling through clothes. When these emotions – anger, rage, optimism, hope – are told through design, it results in a powerful concoction of emotive style. Fashion people rarely smile on the front row, even when a collection is genuinely good. But at the Central Saint Martins BA Fashion show, even the most hardened critics couldn't help but show their teeth. The spirit of youth is contagious.
One of the first looks of the show was by Joel Lines from the BA Print pathway, whose final collection was fantastically theatrical, with a giant puppet painted in carnival colours swaying down the runway, spinning and dancing in pure jubilation. It was an appropriate representation of CSM's ethos, which has placed DIY and experimentation at its core since the first wave of mega-designers came out of its original Charing Cross building in the 1980s, against the youthquake of the New Romantics and raucous nightlife.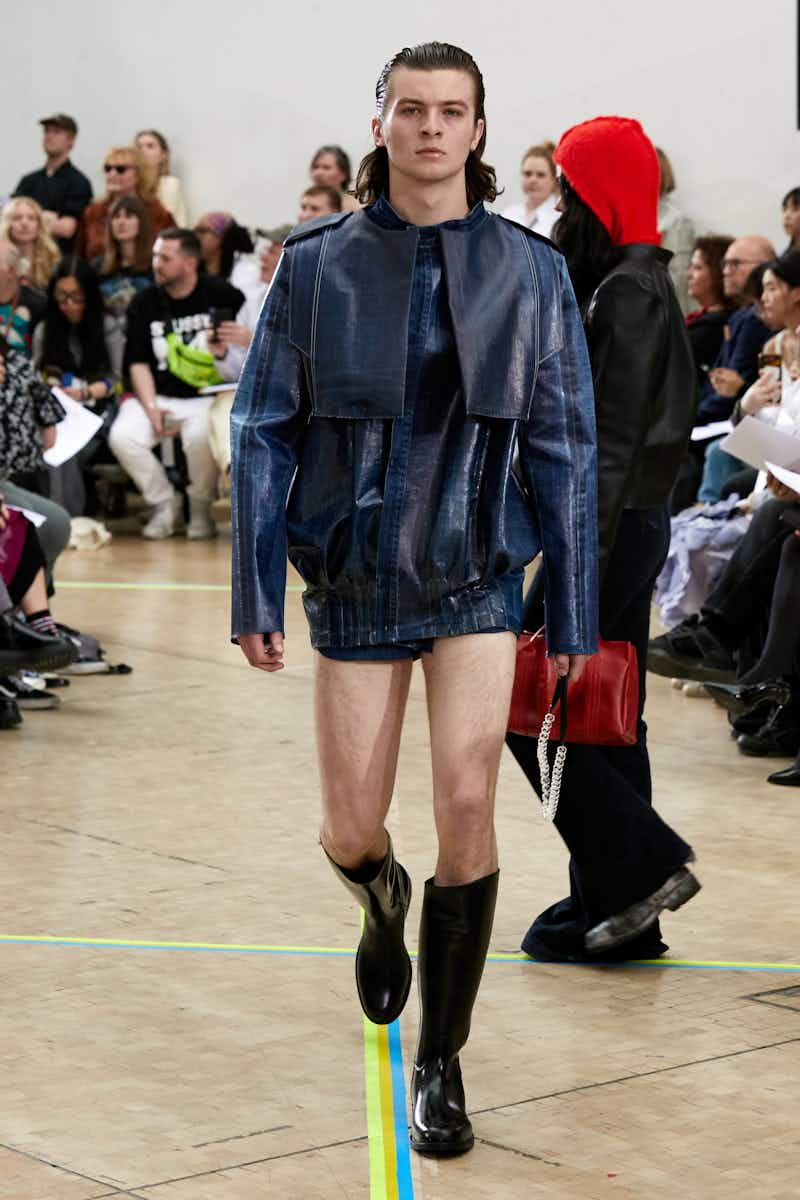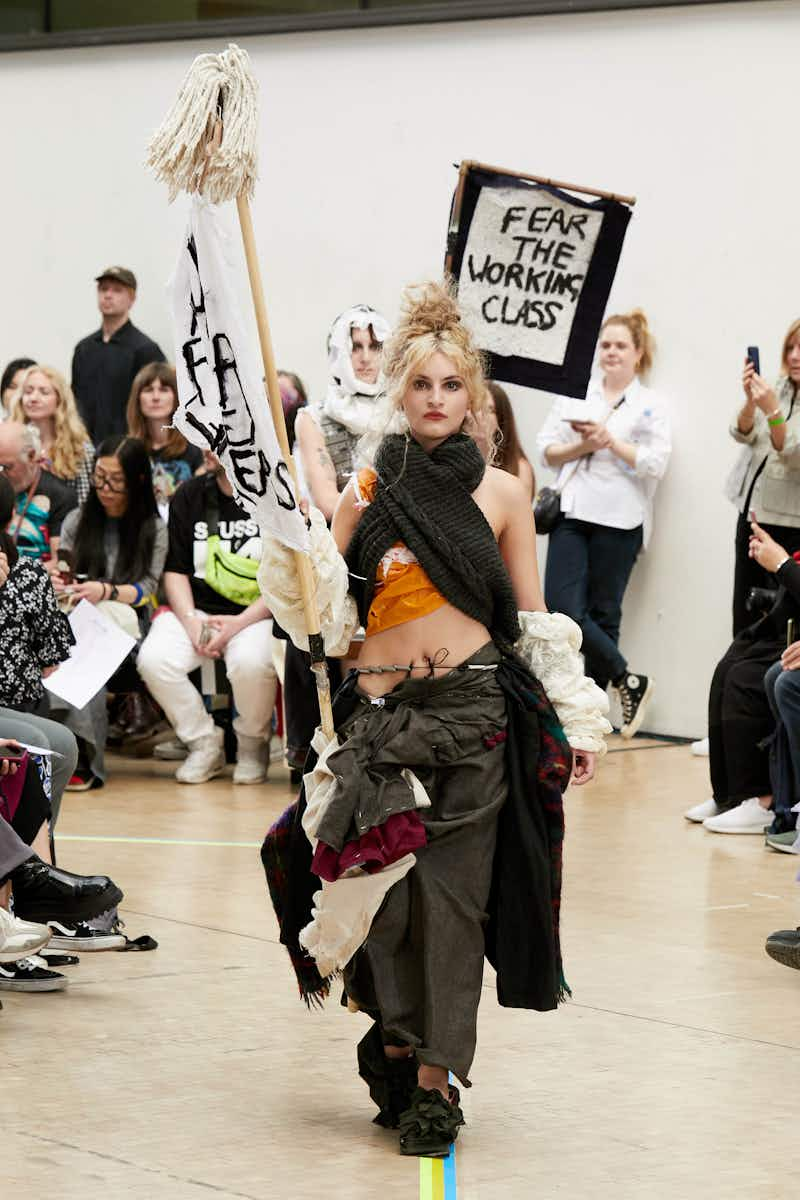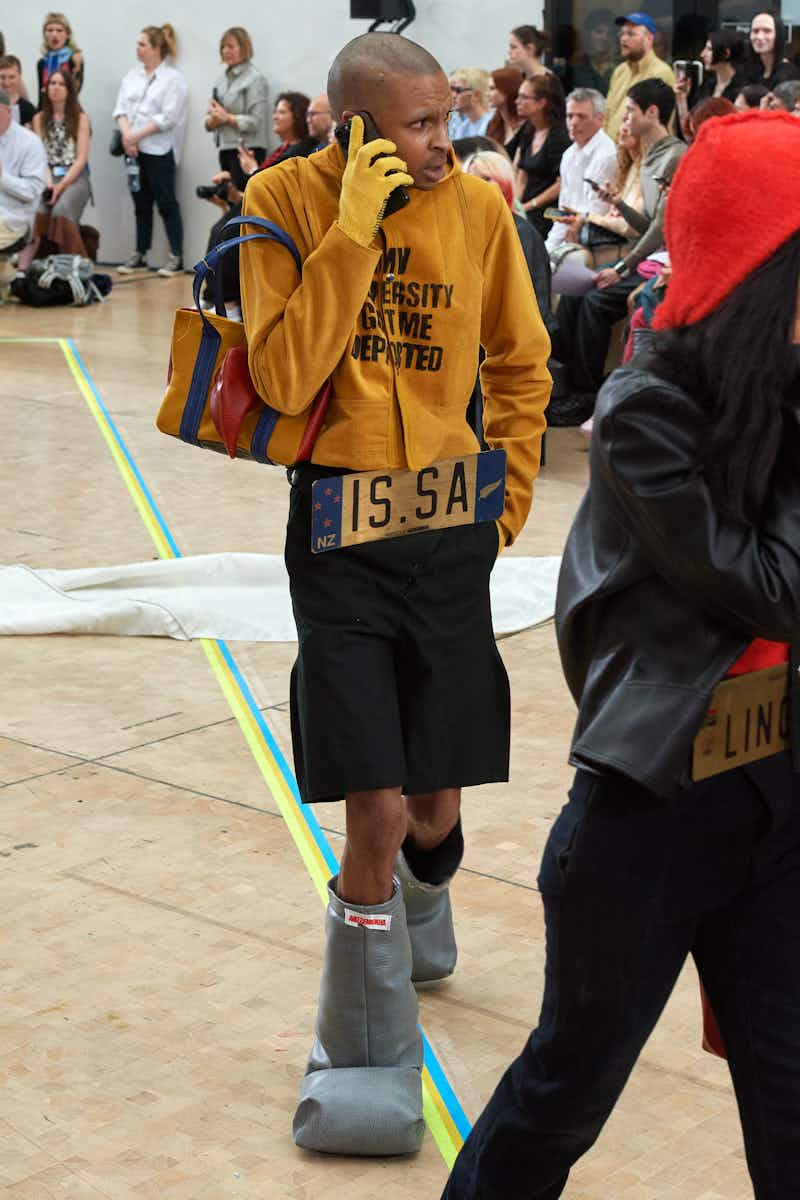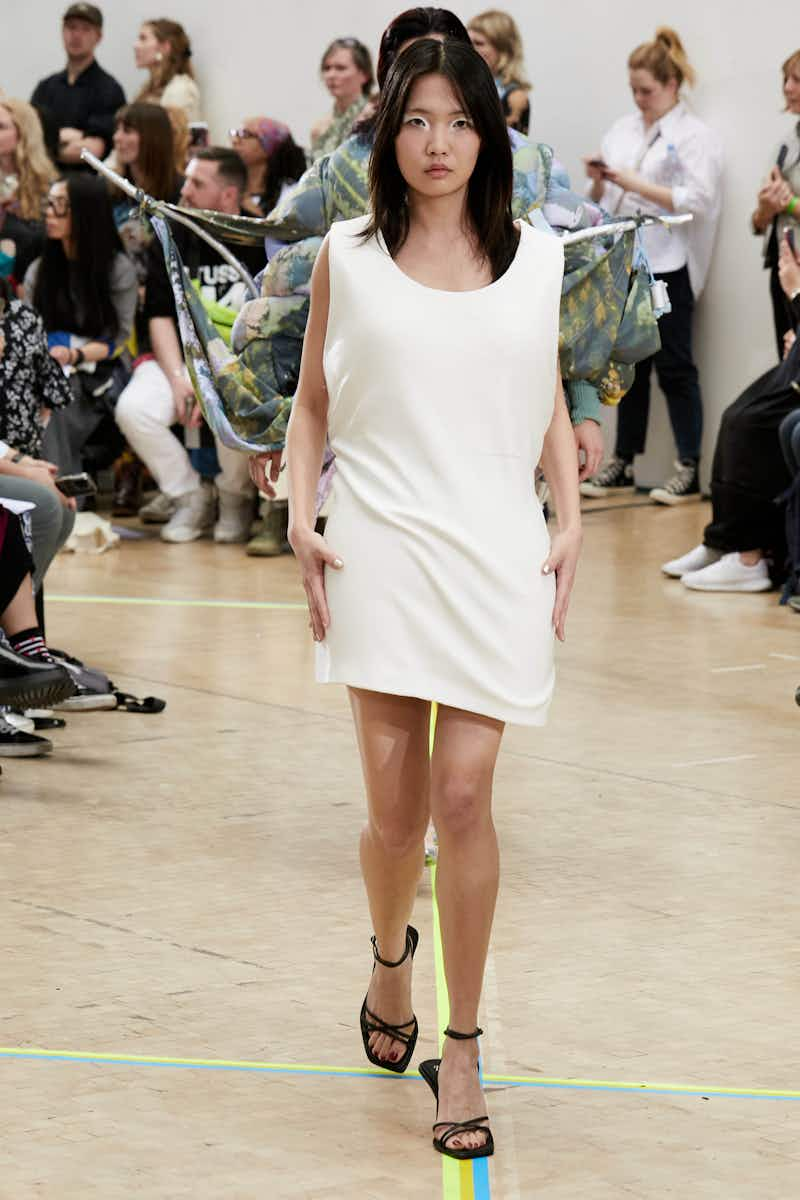 Next up, a brilliantly blazing commentary on class in the UK. Hannah Garner's (BA Womenswear) layered, torn knits were accompanied by flags held by models that had ​"all power to the workers" and ​"fear the working-class" painted on them. A particularly pertinent message given the UK's extreme wealth divide, crippling cost of living crisis and widespread industrial action that has seen NHS workers, teachers and train drivers strike for a decent living wage and worker's rights.
The government's draconian stance on immigration was touched on, too, with ​"my university got me deported" written across a mustard yellow hoodie by Joshua Aikeremiokha (BA Menswear). It wasn't all about politics, though. A dose of irony came via a T‑shirt with ​"CSM made me skinny" on it as models held phones up to their ears.
Bold ideas came by way of Mirai Suziki's (BA Womenswear) minimal white minidress that, from the front, looked like well-fitted evening wear. From the back, though, a sharp needle-like horn protruded from the spine. Not to be messed with, then.
And, of course, Saint Martins' long-standing allegiance to nightlife presented a tour de force of club-ready looks on the runway. Alison Keogh's (BA FDM) leather-clad boys looked wicked in short-shorts and oversized biker jackets with greasy slicked-back hair, while Catherine Jennings (BA Womenswear) literally held a mirror up to the audience, with a saucy ​"you can't afford it" slogan printed across it.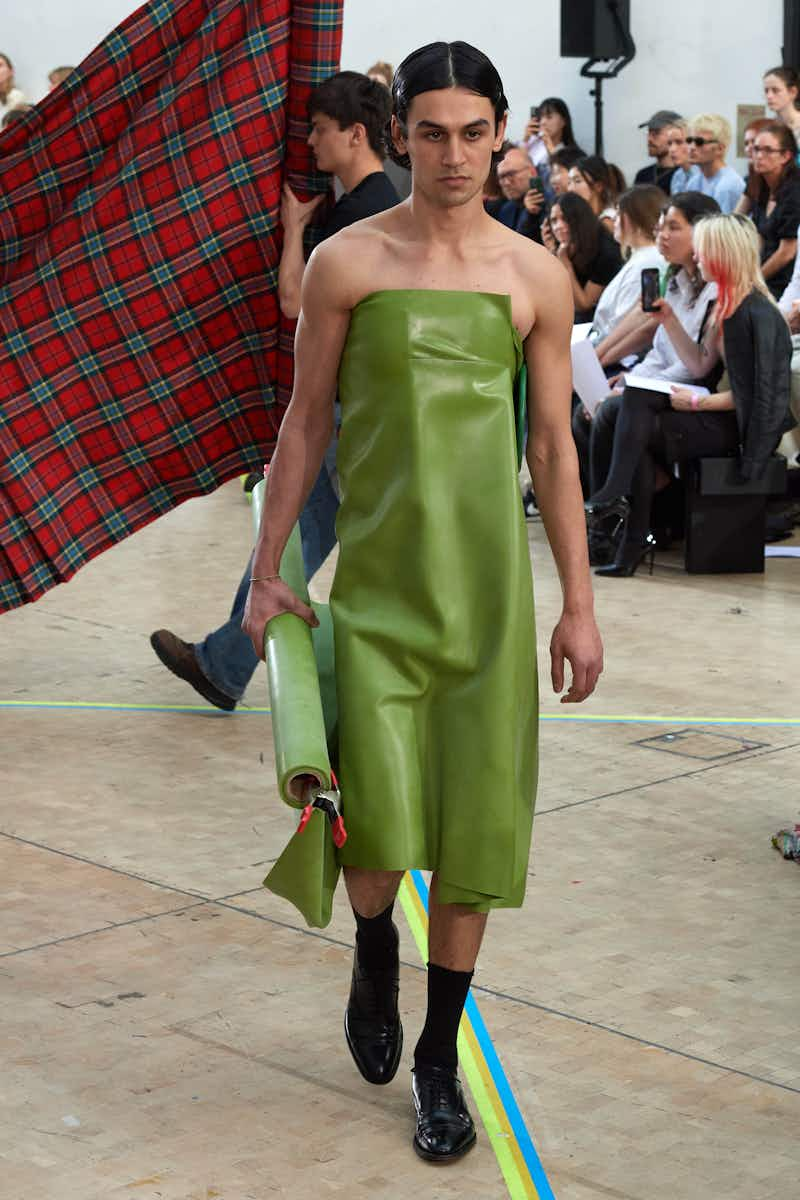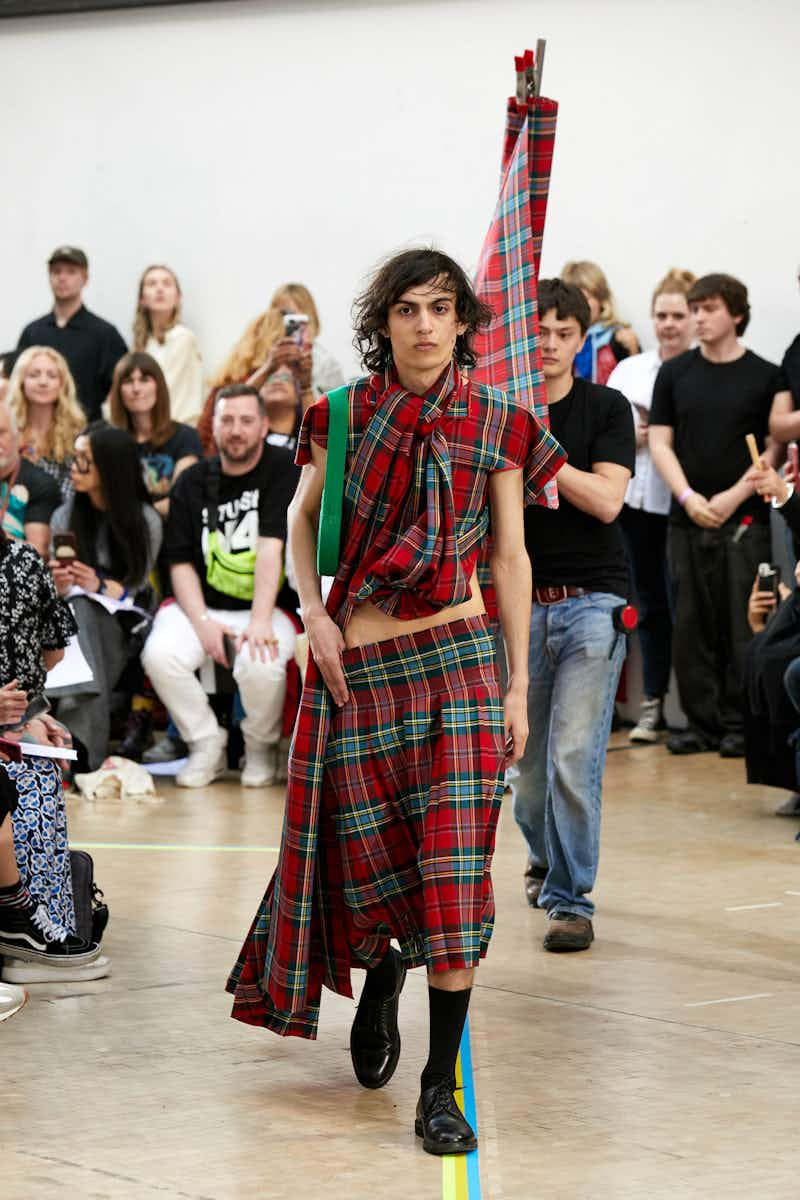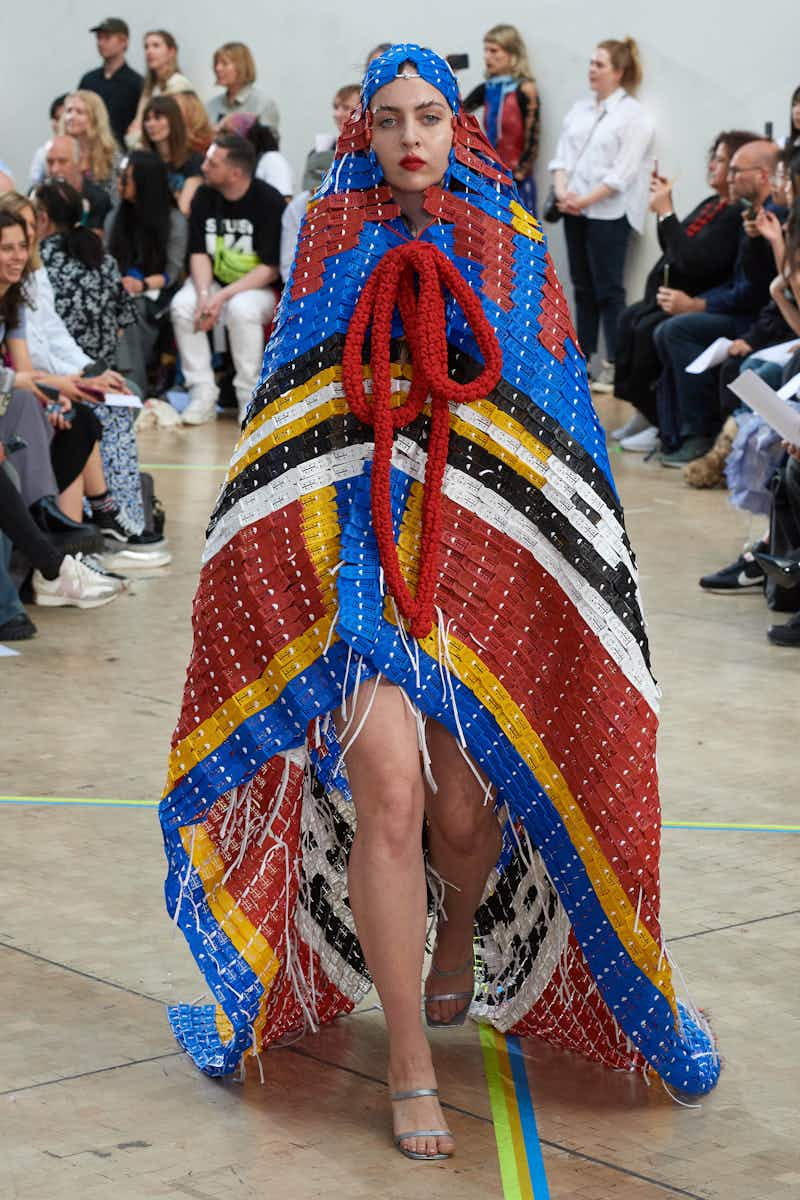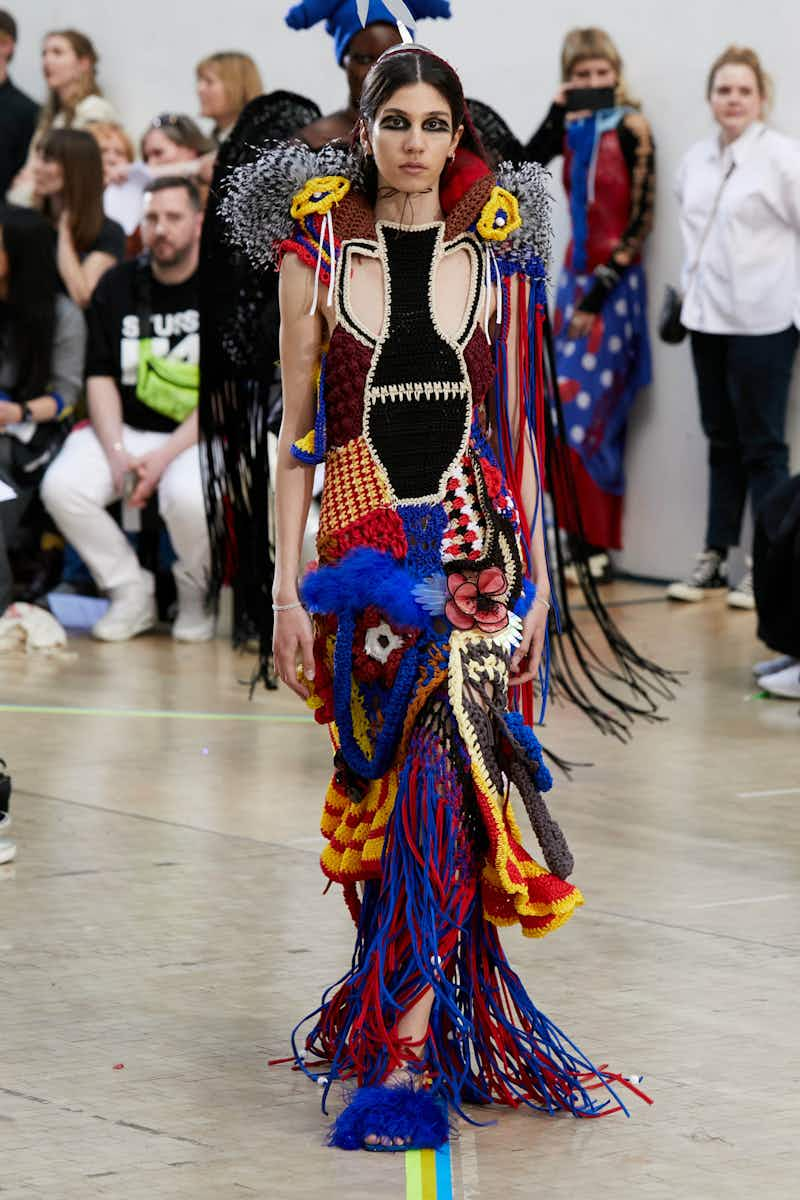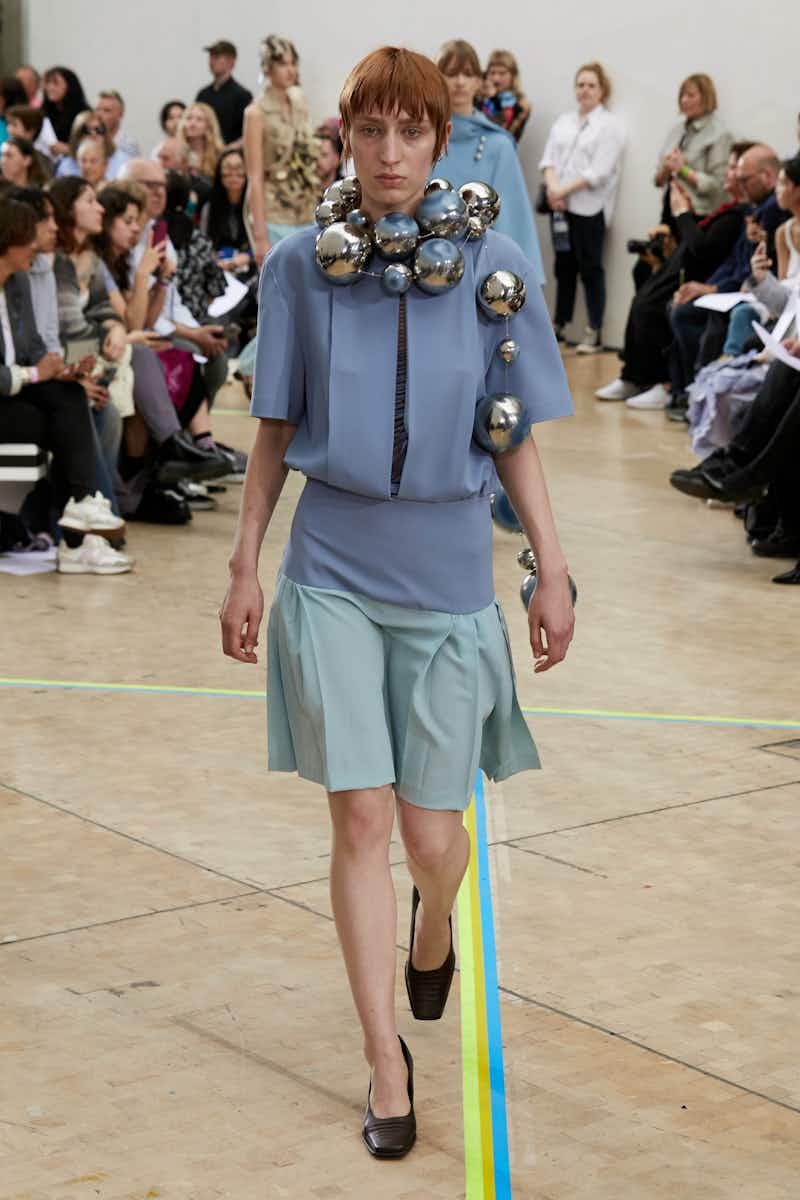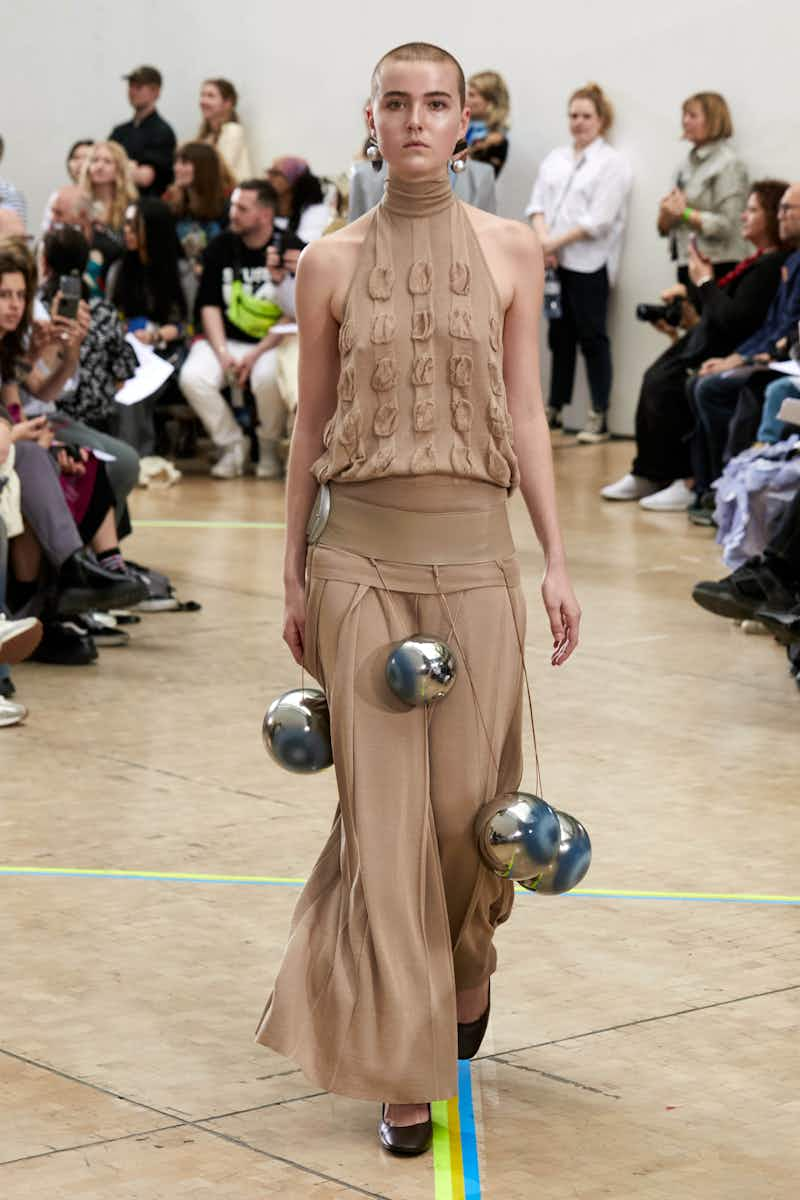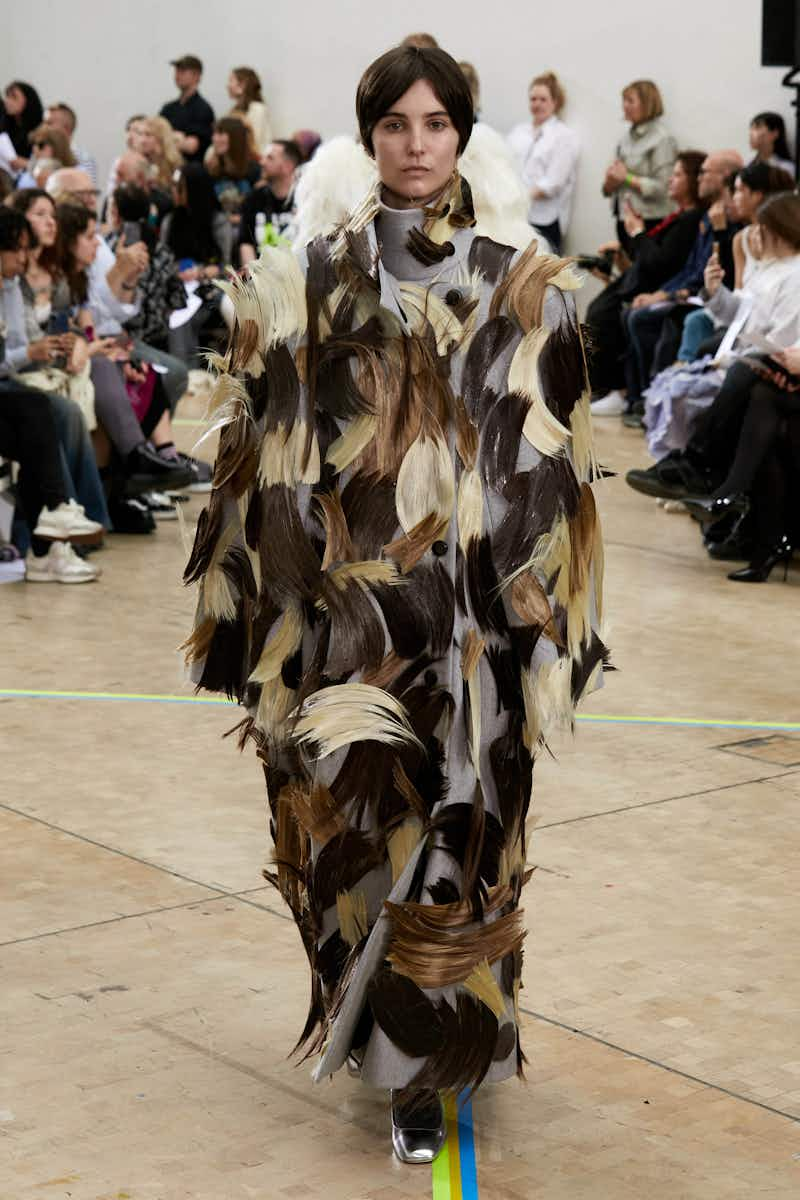 The first and second runners up of L'Oréal Young Talent Award prizes were handed to Ivan Delogu and Alba Mas Amoros, respectively, both from the BA Womenswear pathway. A testament to the breadth of ideas at this year's show, both designers had entirely different perspectives. Where Delogu's designs were highly experimental, with patchwork gowns painstakingly put together using a mix of knit, plastic clips and sculpture in pop colours, Mas Amoros' grey-blue tailoring came quietly, using feathers and silver metallic balls for pieces that felt as artful as they did sensitive.
A subtly ceremonial ending came courtesy of this year's L'Oréal Young Talent Award winner, menswear designer Eden Brader-Tan, who closed the show with garments that utilised vast swathes of fabric, carefully rolled out onto the runway before the audience. A skirt made from metres and metres of denim; a modern take on a tartan kilt that extended far beyond its wearer that, amongst the brilliant madness, felt like a suitably dramatic, emotive closing.
Don't underestimate these lot. If last night's show tells us anything, it's that originality is alive and well at Central Saint Martins.


More like this