Chanel remixes ​

'

90s nostalgia for a Gen Z audience

Virginie Viard's SS22 collection paid playful tribute to Chanel classics and the glitzy runway shows of hedonistic eras – and the rose-tinted joy was contagious.

On Tuesday, Chanel creative director Virginie Viard presented her SS22 collection for the French fashion house at the Grand Palais Éphémère – a short distance from Chanel's usual venue, the Grand Palais, which is currently under construction.
The show's production set the tone: an elevated catwalk flanked by photographers with long-lens cameras awaiting the models who would later spin and smile – a deliberate nod to the glamour and fun of 1980s and ​'90s fashion shows. ​"I used to love the sound of flashbulbs going off at the shows in the ​'80s when the models were on a raised runway, I wanted to recapture that emotion," Viard explained in her show notes.
The collection was similarly nostalgic; oversized tailored jackets worn with bare legs, wide-shouldered power dresses (so far, so ​'80s), 1960s-style shift dresses and sporty swimwear, harking back to the house's early ​'90s shows, in monochrome and gold, worn with fishnet sarongs.

Naturally, tweed was present in abundance, taking the form of pale pink and mauve mini dresses. And so were the classic Chanel two-pieces, modernised by way of jacket and cycling short combos, and a knitted micro short and crop top ensemble in apricot. As with Viard's previous collections, there was plenty of sparkle: sequin and pearl embellishment, and gold and silver chains worn around necks and midriffs alike.
Prints ranged from colourful butterfly wings on black chiffon for a series of floaty dresses that closed the show to oh-so-French blue and white stripes. This hint at the nautical was augmented by the collection's footwear – flare-heeled sandals and silver-buckled Mary-Janes, which Viard said: ​"remind us of pirate shoes". Meanwhile, bags spanned statement shoppers through the house's signature quilted handbags, replete with big chains.
The collection was dripping in Chanel-isms in all its iterations across the decades; Viard clearly enjoyed delving back into the archives and reimagining the classics for a contemporary audience and, here, that sense of fun is contagious.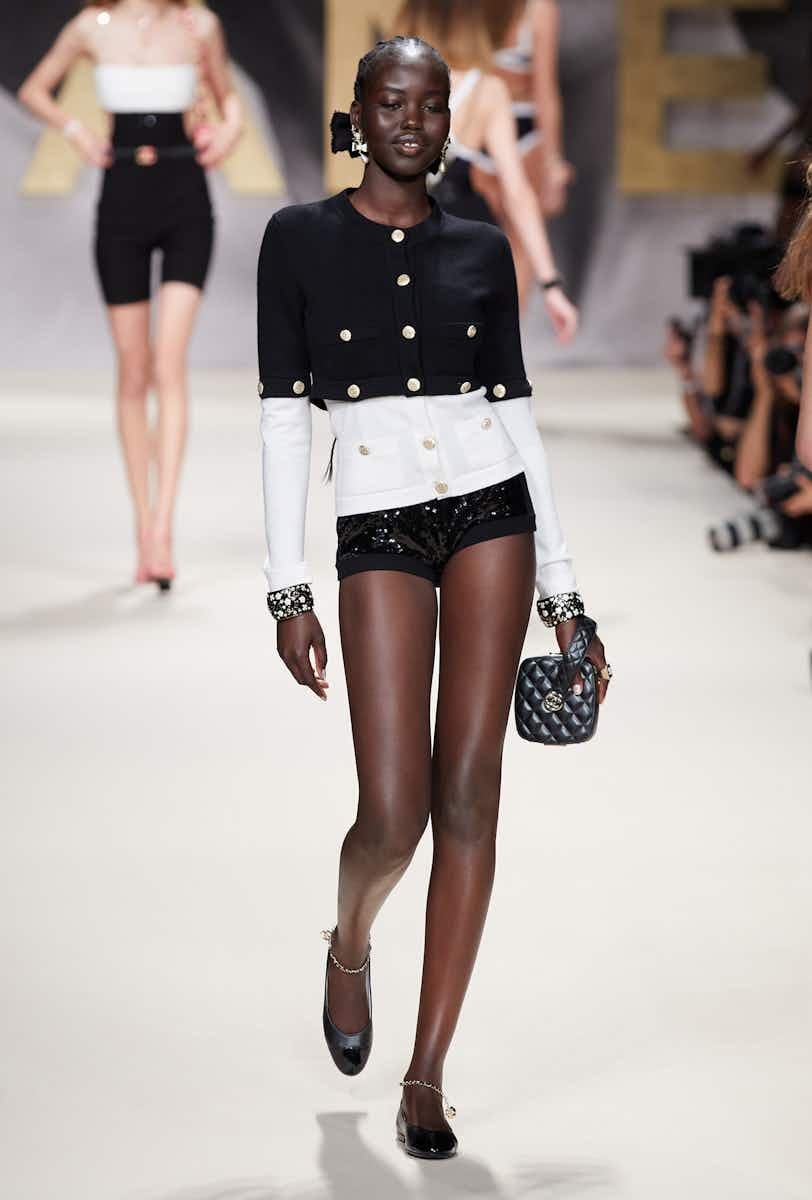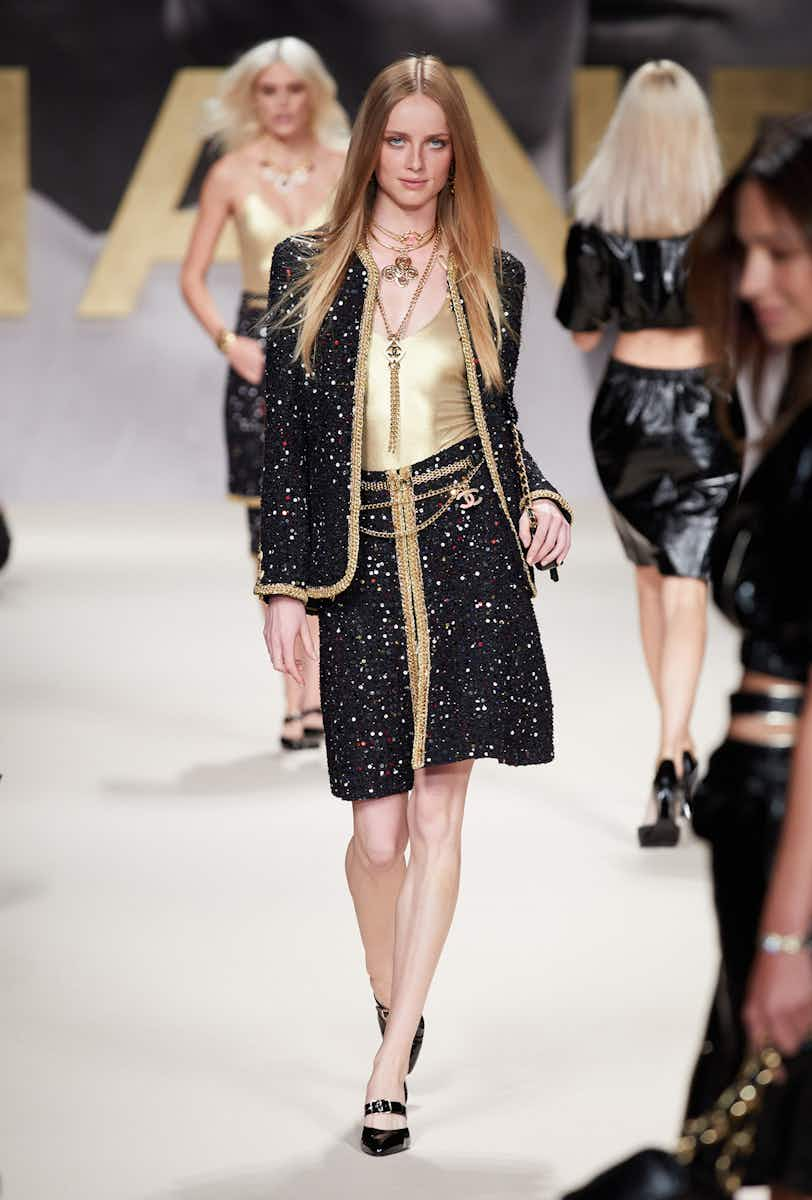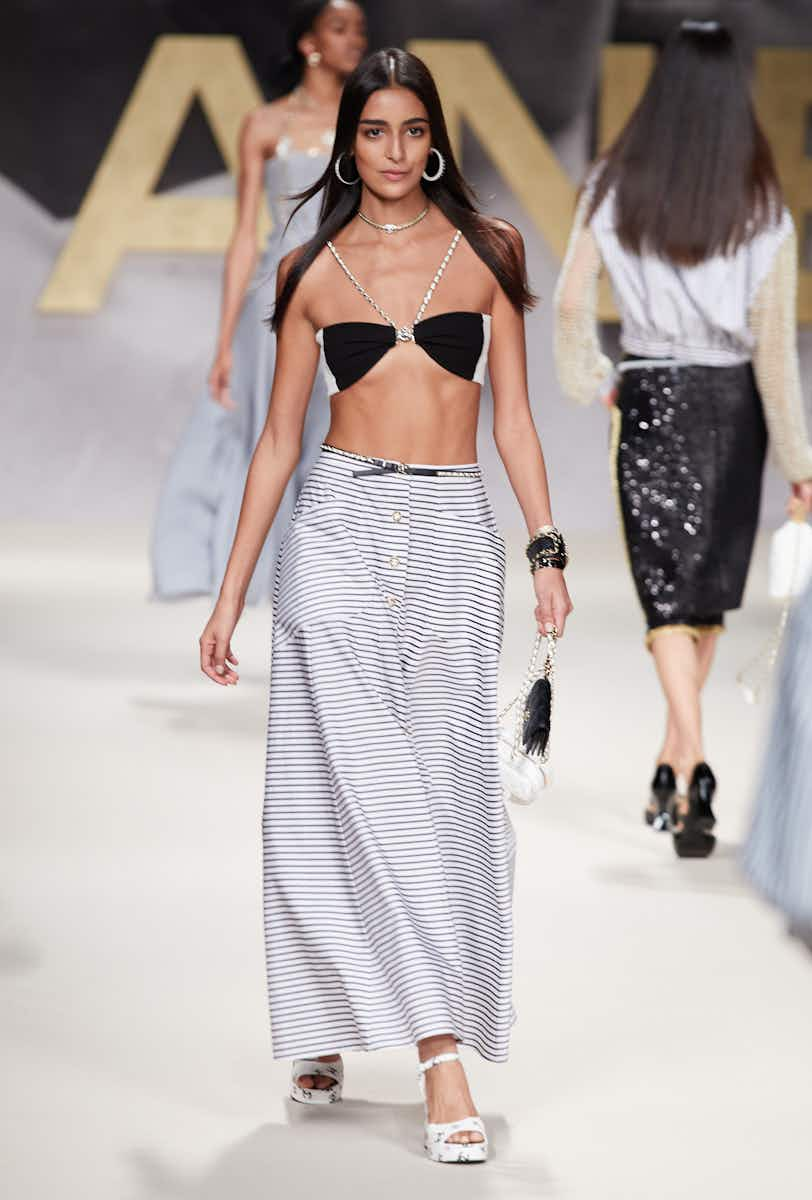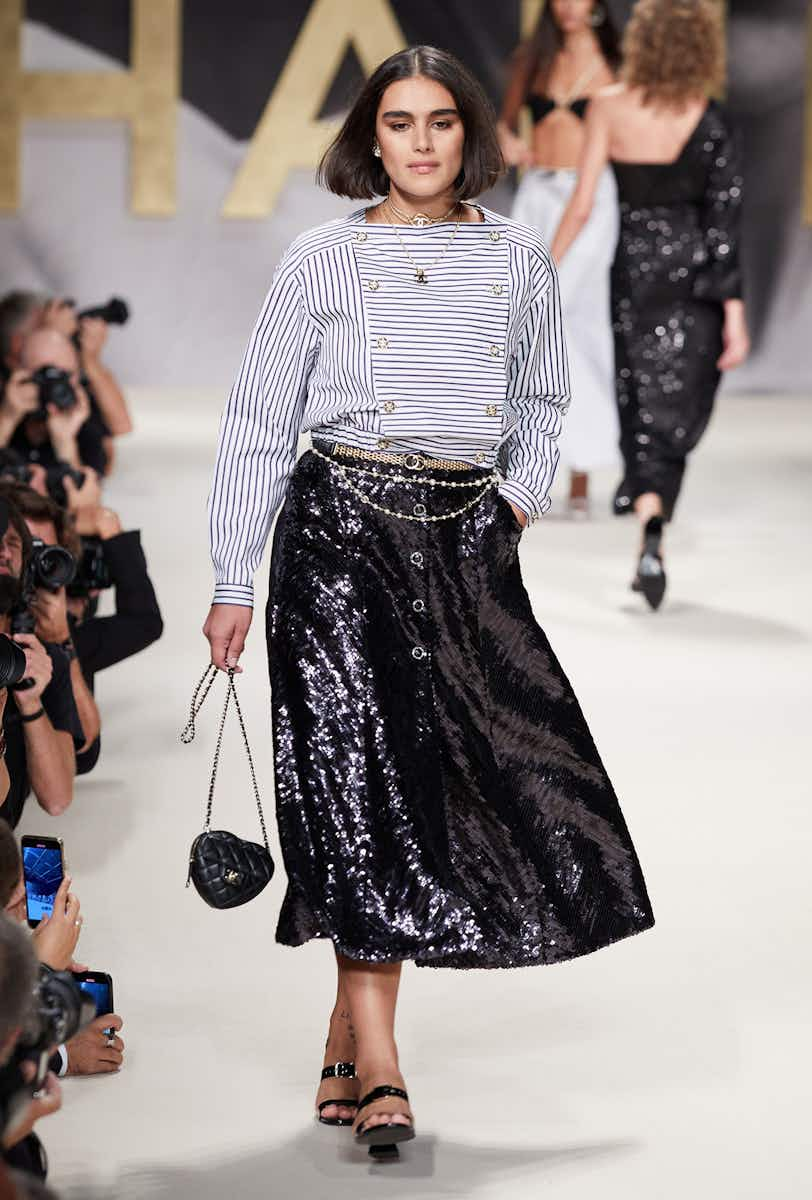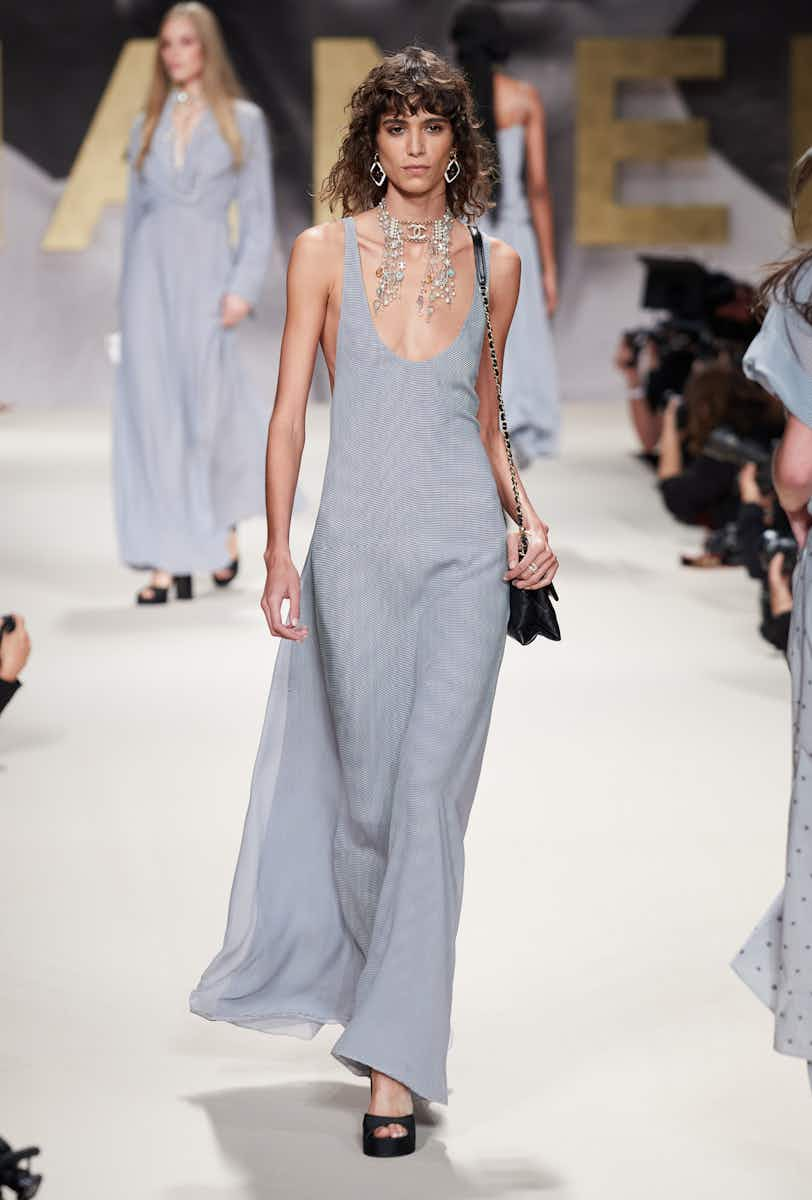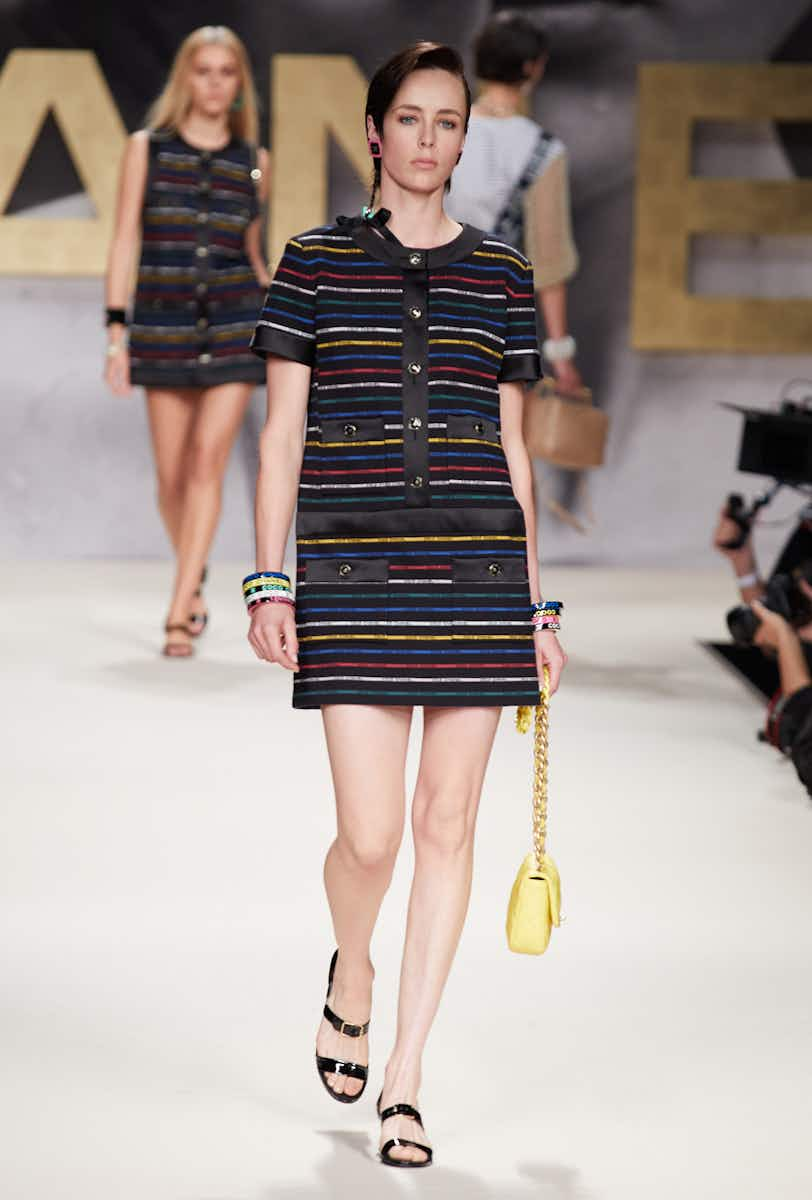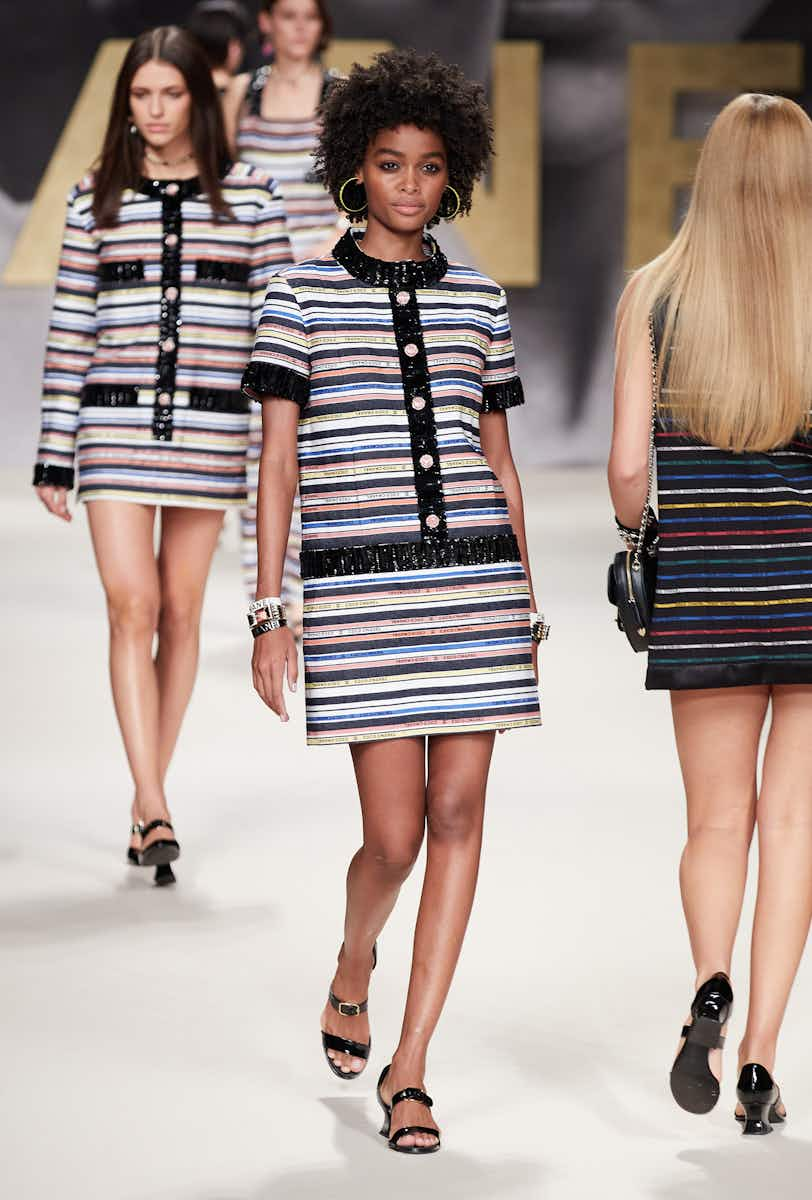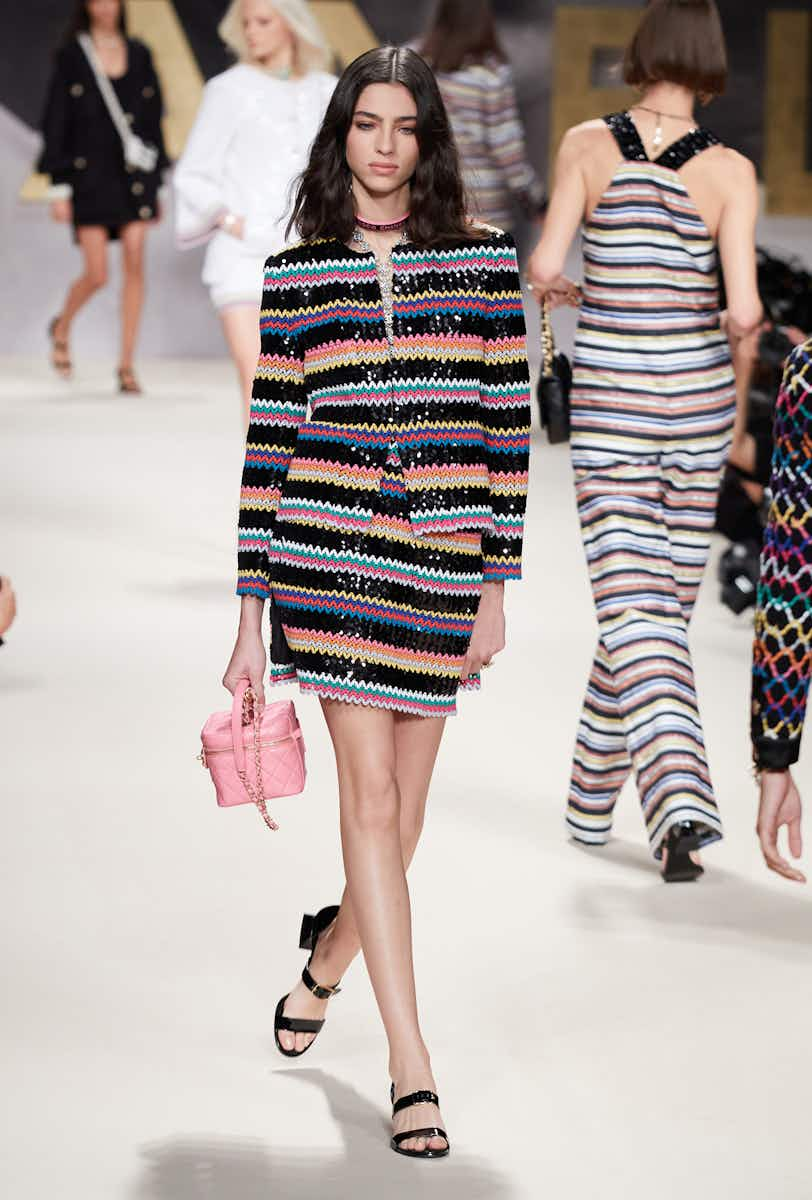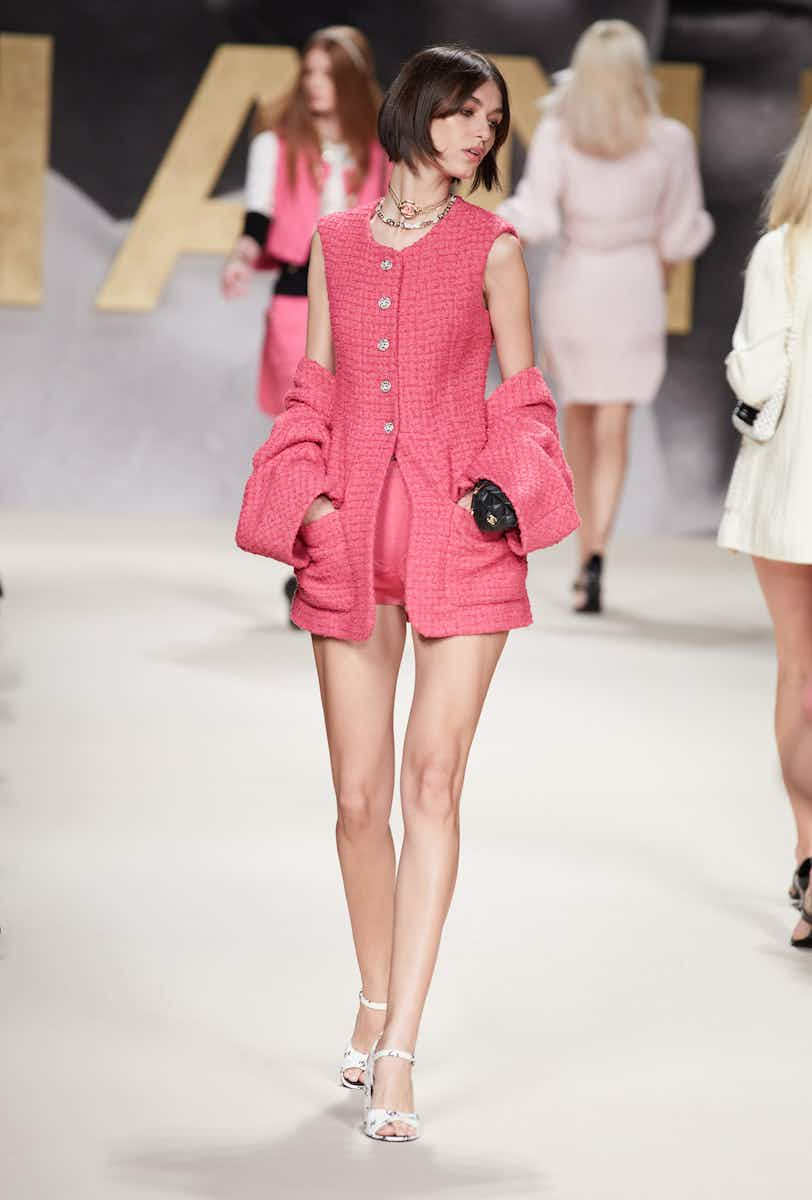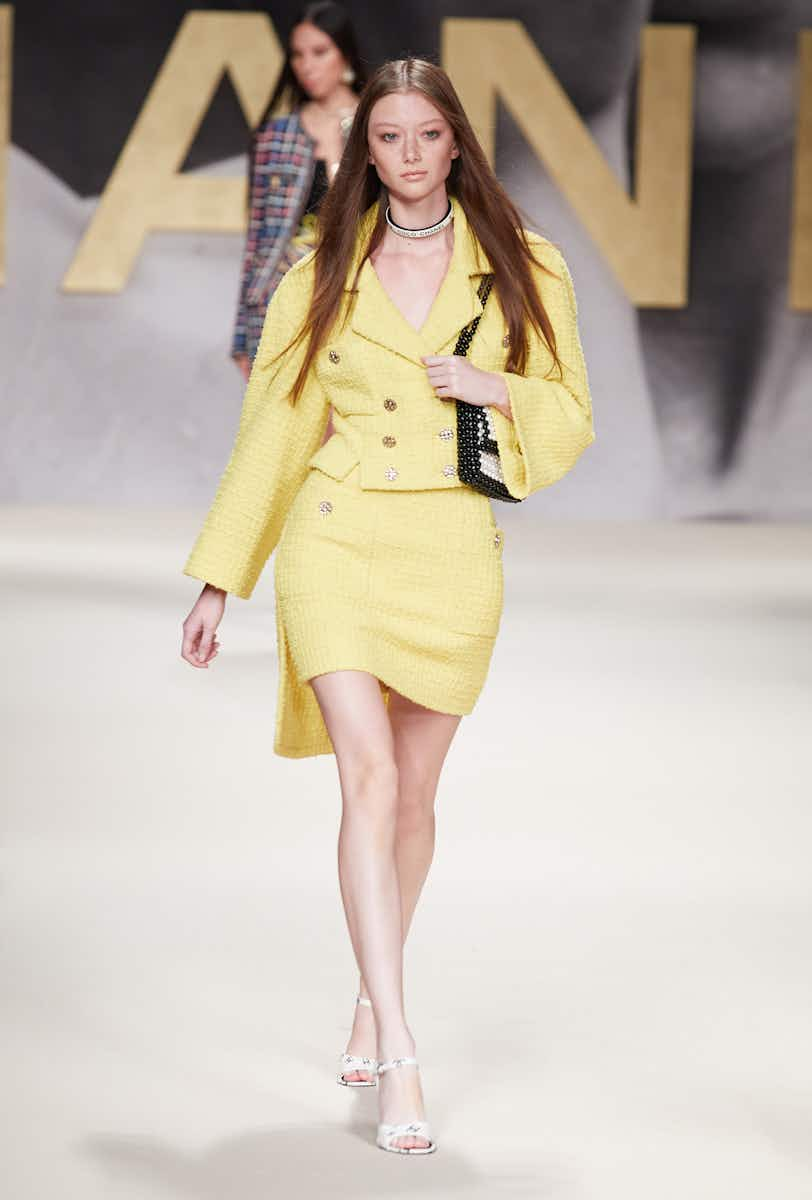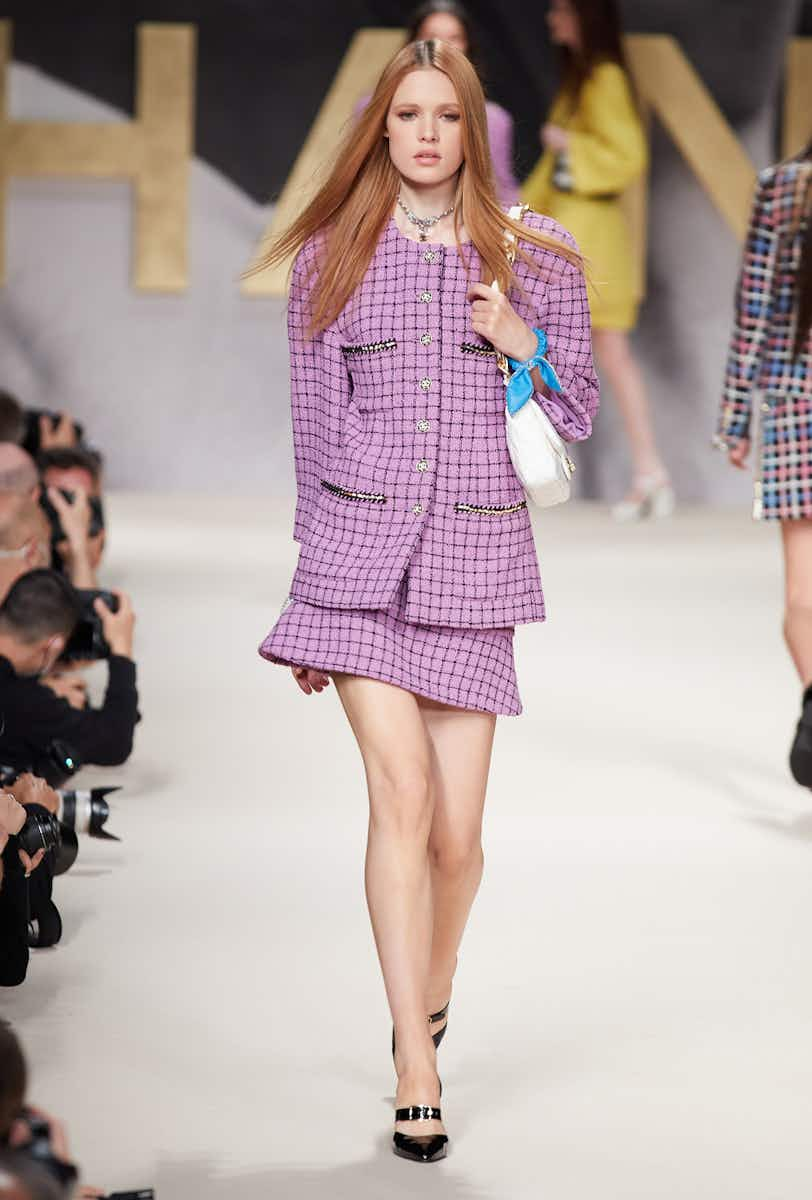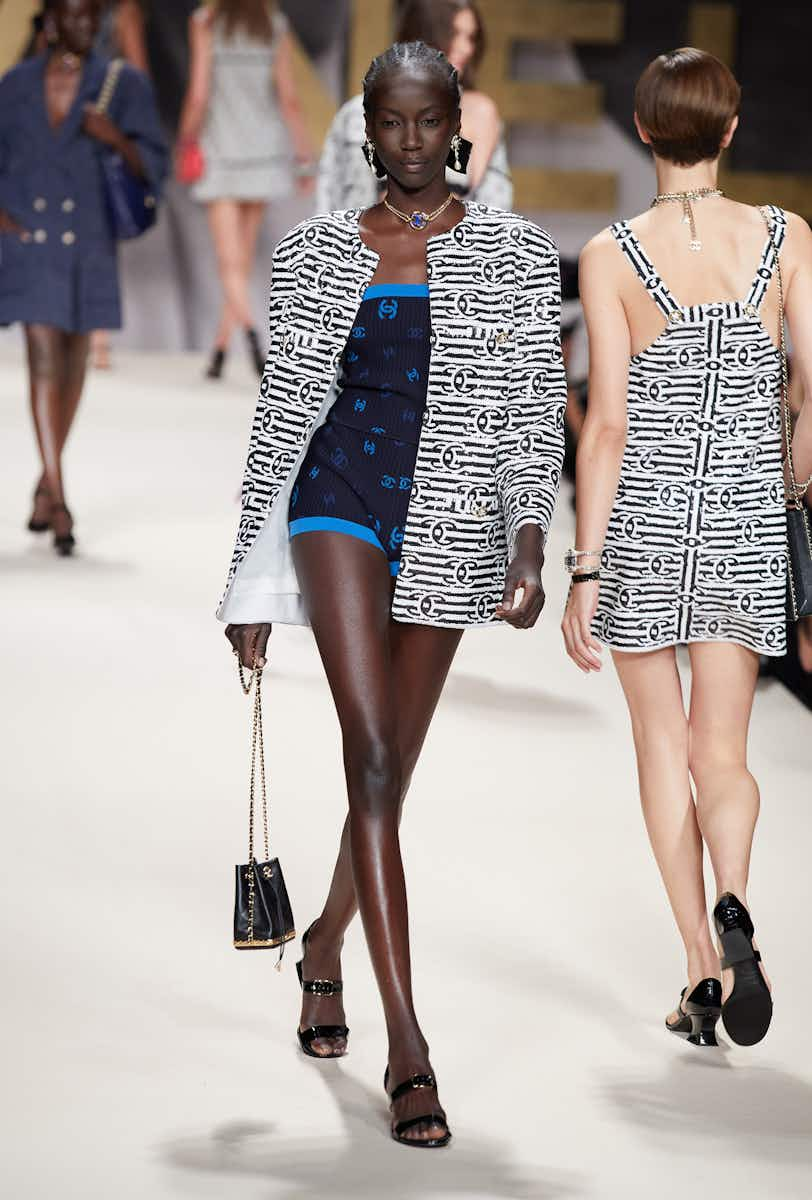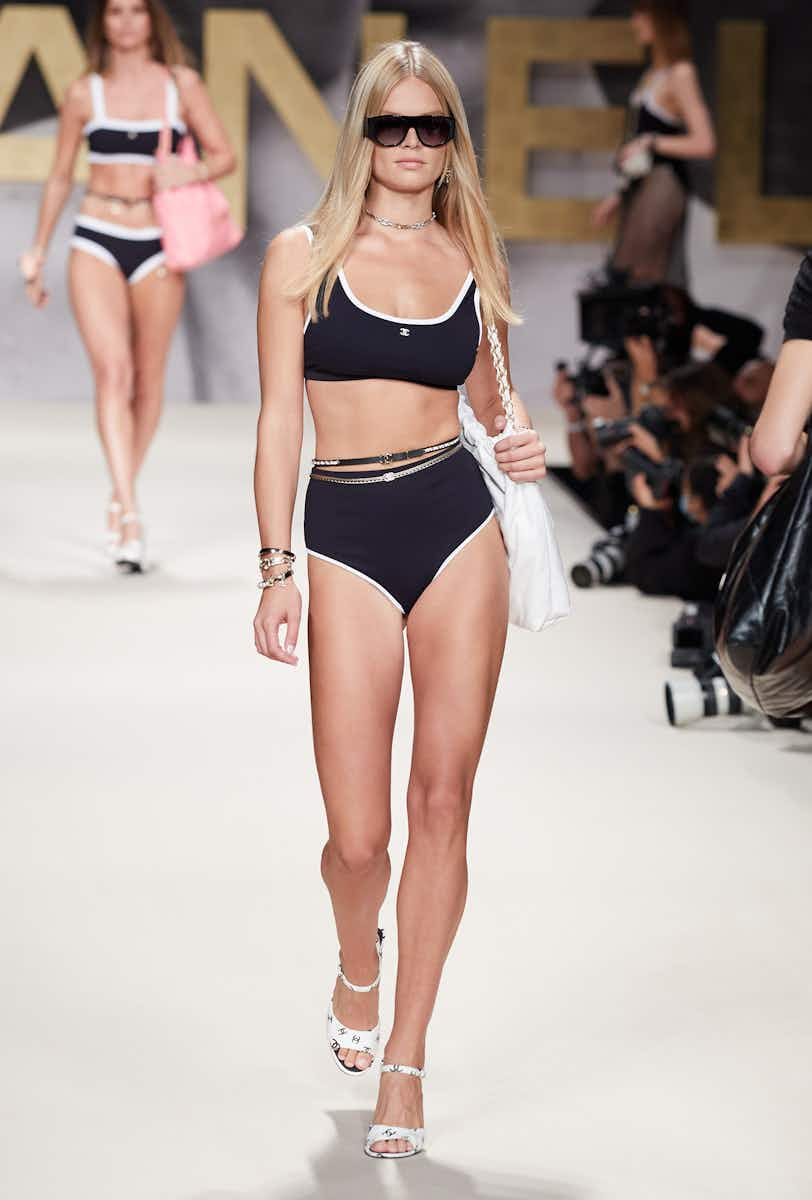 More like this