KNWLS AW21: Charlotte Knowles' escape from domesticity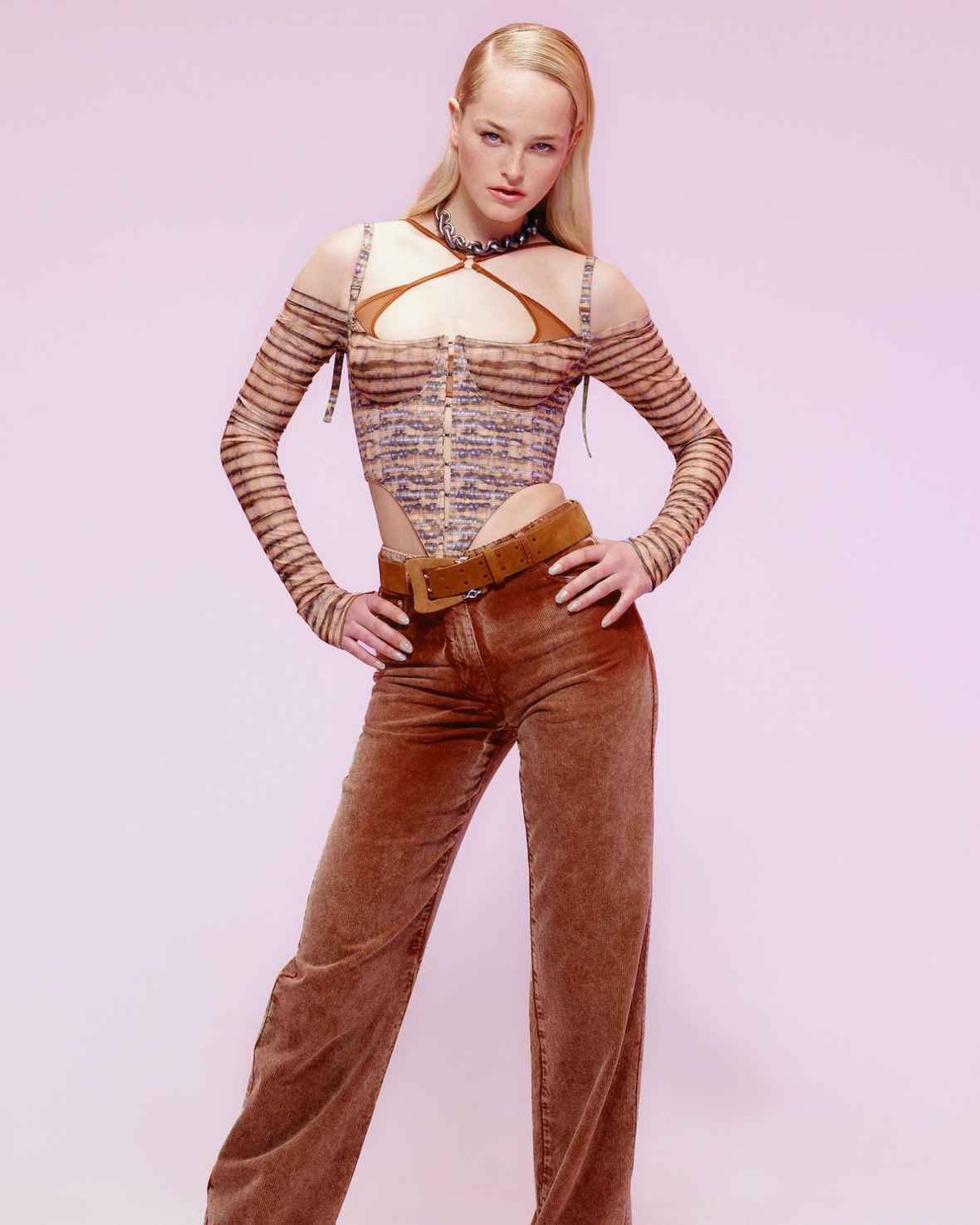 This year spells a new chapter for the London label, as Knowles and Alexandre Arsenault embrace a dark and sensual feline energy.

Charlotte Knowles has come a long way since graduating from Central Saint Martins' MA Fashion course in 2017. Over the last four years, Knowles and her co-creative director Alexandre Arsenault have taken the brand from a discreet South London-based label to a coveted wardrobe staple, praised for its disruptive take on femininity and sensual, figure-hugging pieces taking a defiant stance that underwear can, and should, be worn as outerwear.
With that in mind, Knowles and Arsenault felt it was time to hit refresh, re-branding the label as KNWLS (that's Knowles without the vowels), a shift which presents a new era for the brand, and a vessel for her and Arsenault's vision of the future.

Over lockdown, the duo had the opportunity to rethink their entire strategy. Instead of remaining eponymous, it made sense to choose a name that represented the studio practice as a whole, and everyone involved in it. ​"We got thrown into this whole brand thing straight out of university, since [Charlotte's] graduate collection," Arsenault explains. ​"We never planned very far ahead. Now, we want this to become bigger and to reflect what we believe the world is."
"We wanted the new name to be shorter and slightly cryptic," Knowles adds. ​"It's much more concise – it felt good to choose something that still nods to the original name and logo, but feels more elevated and futuristic." And as the UK tentatively emerges from the pandemic's grip, these forward-facing ideas have translated to KNWLS' AW21 collection, too.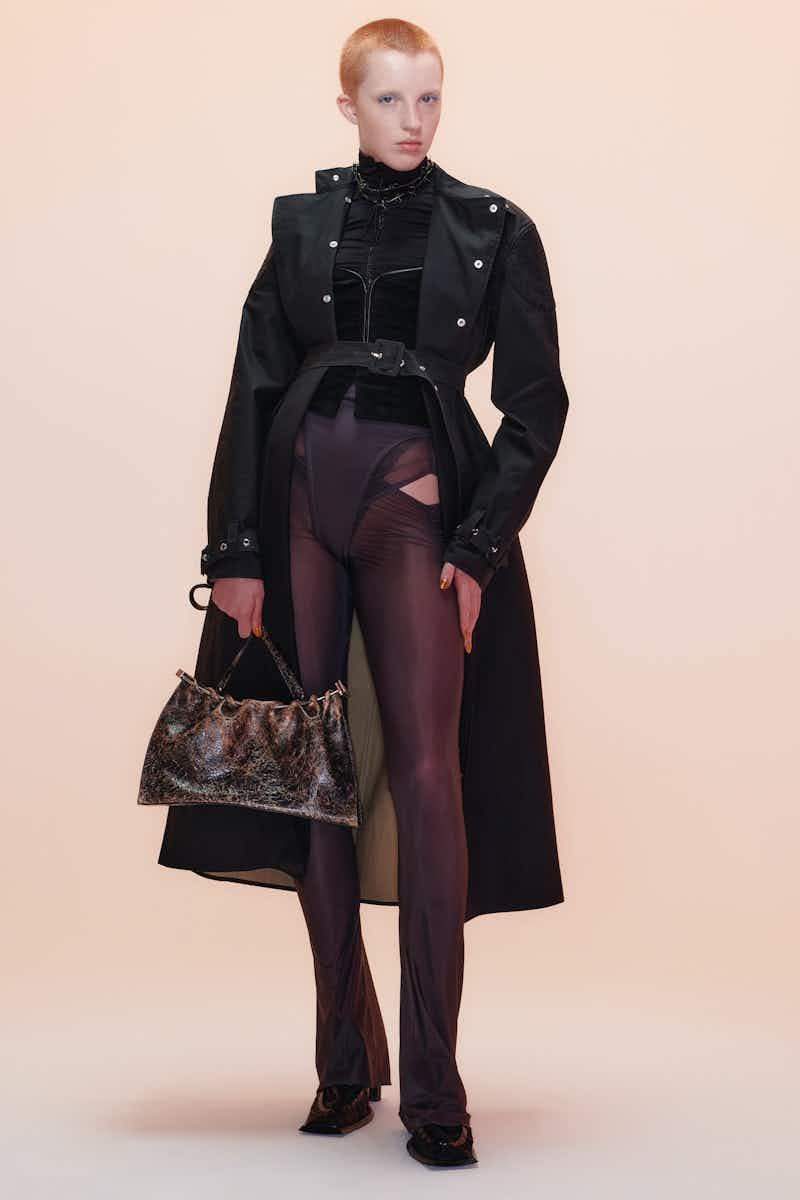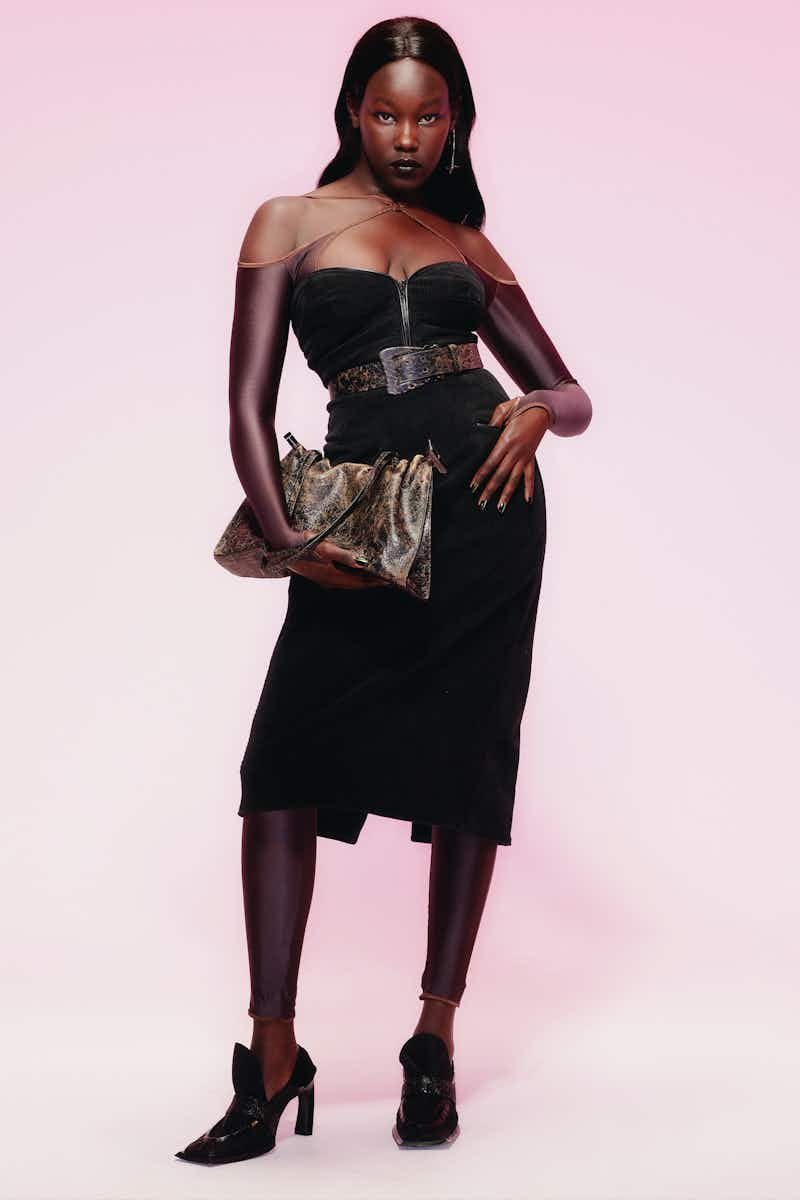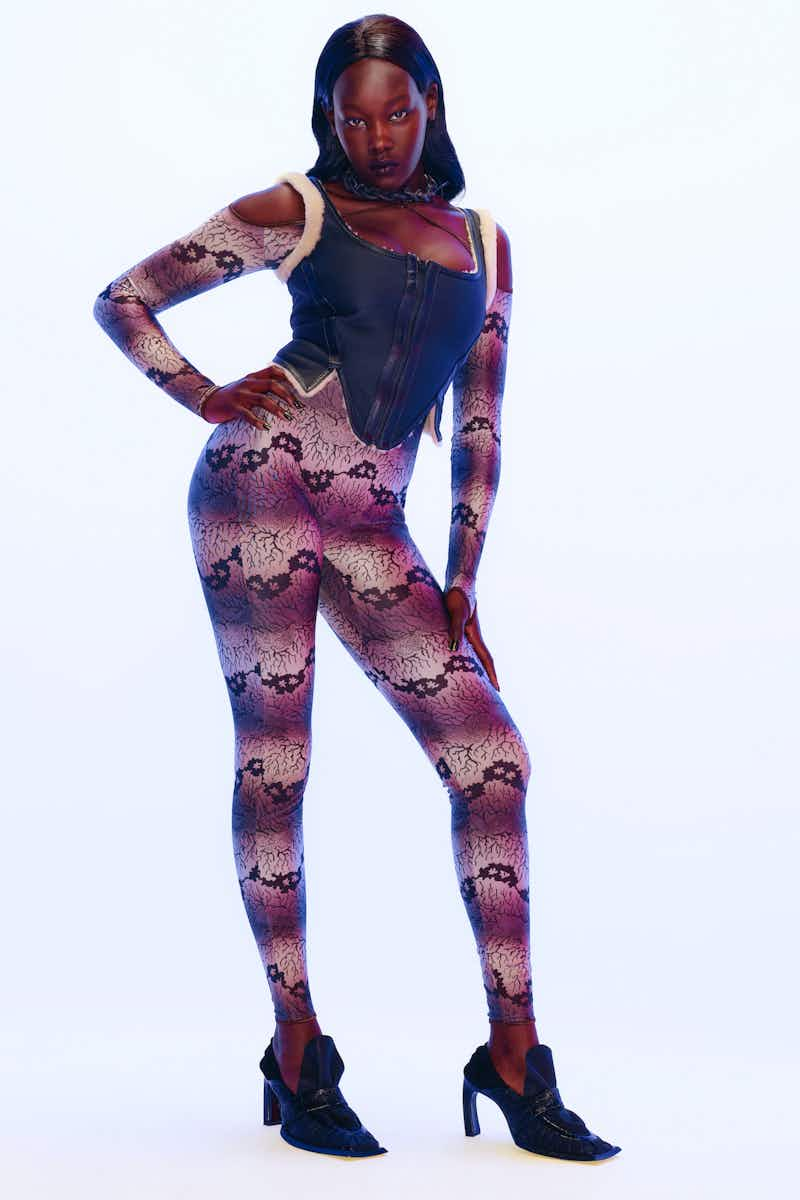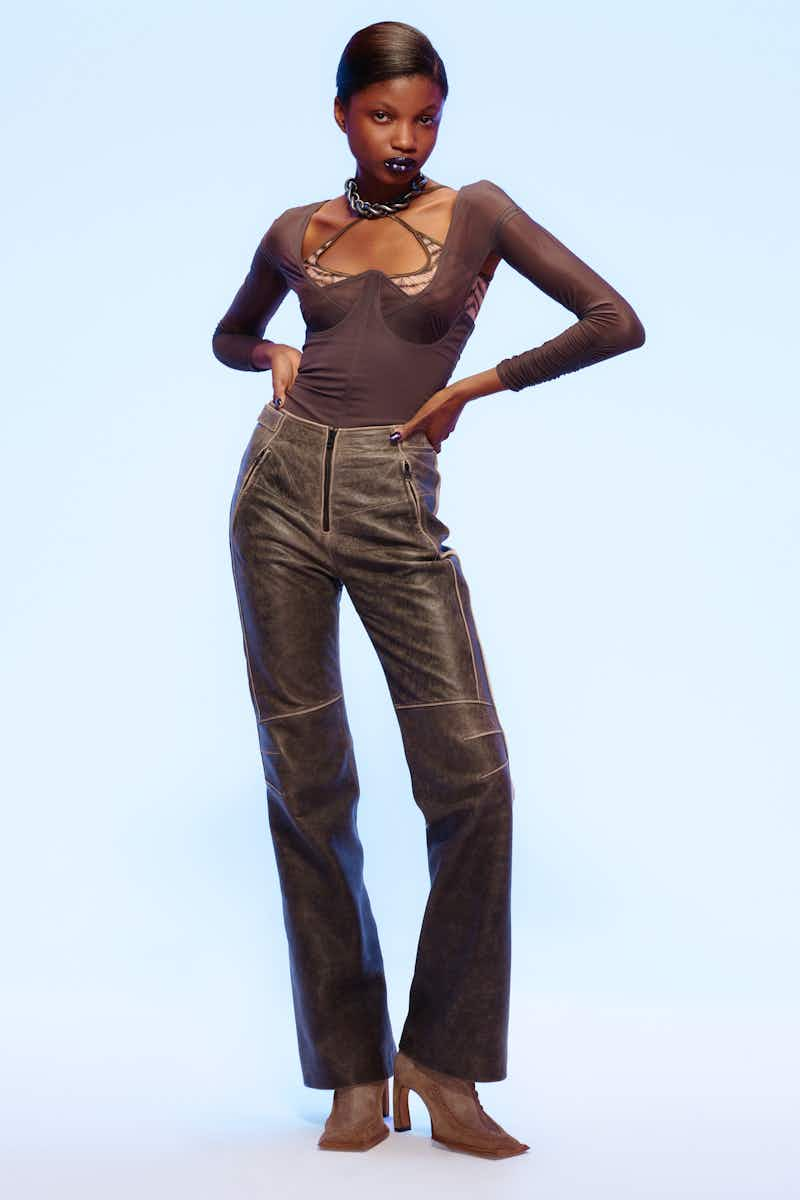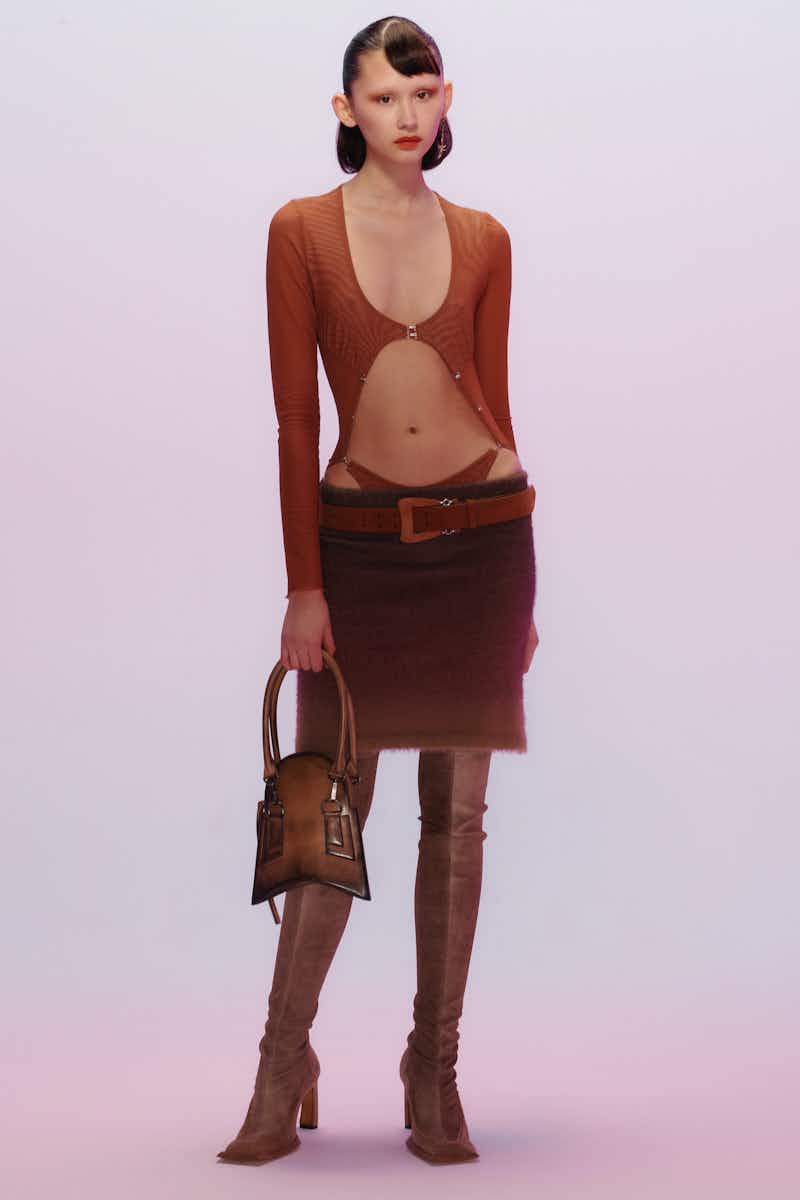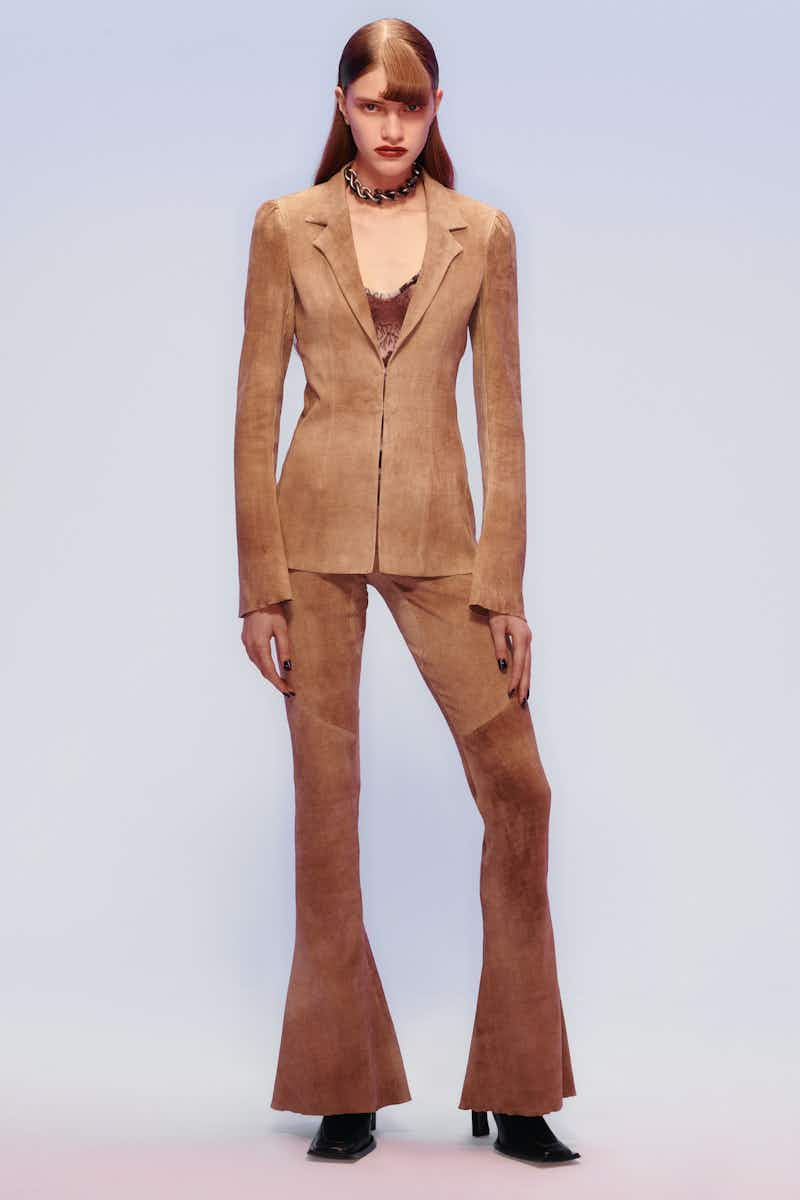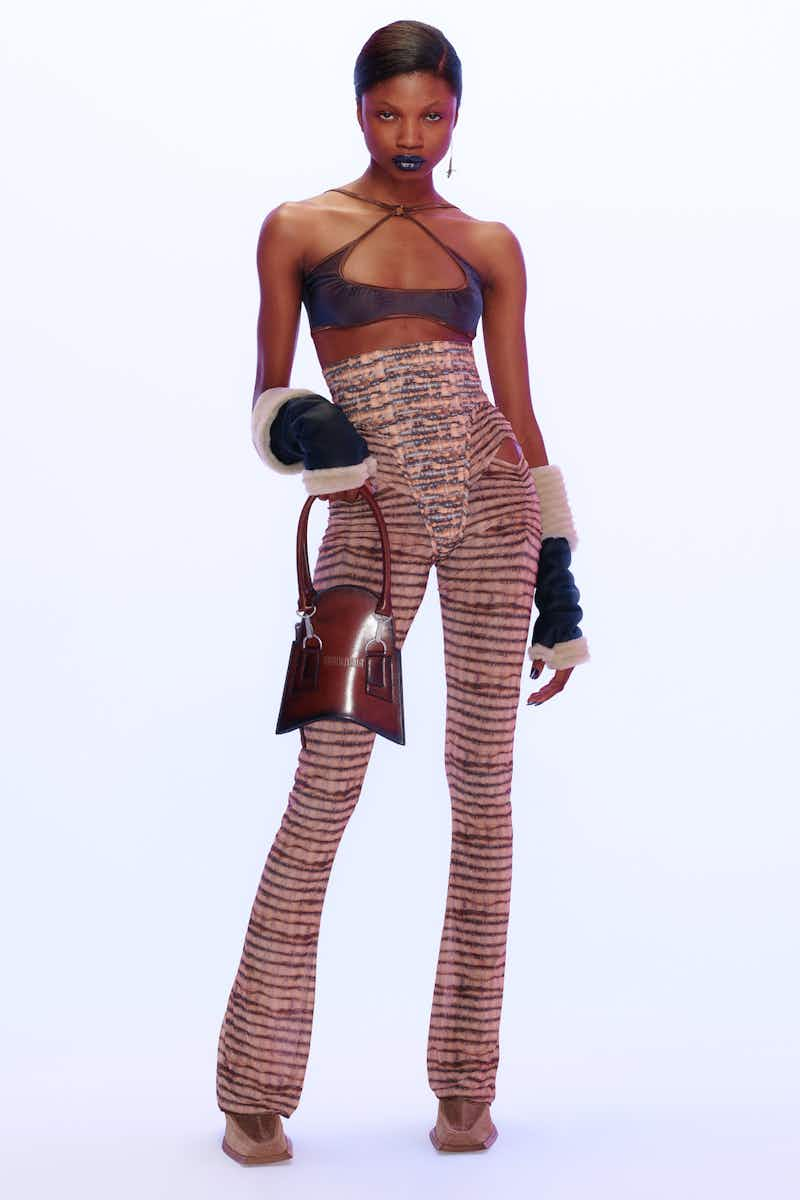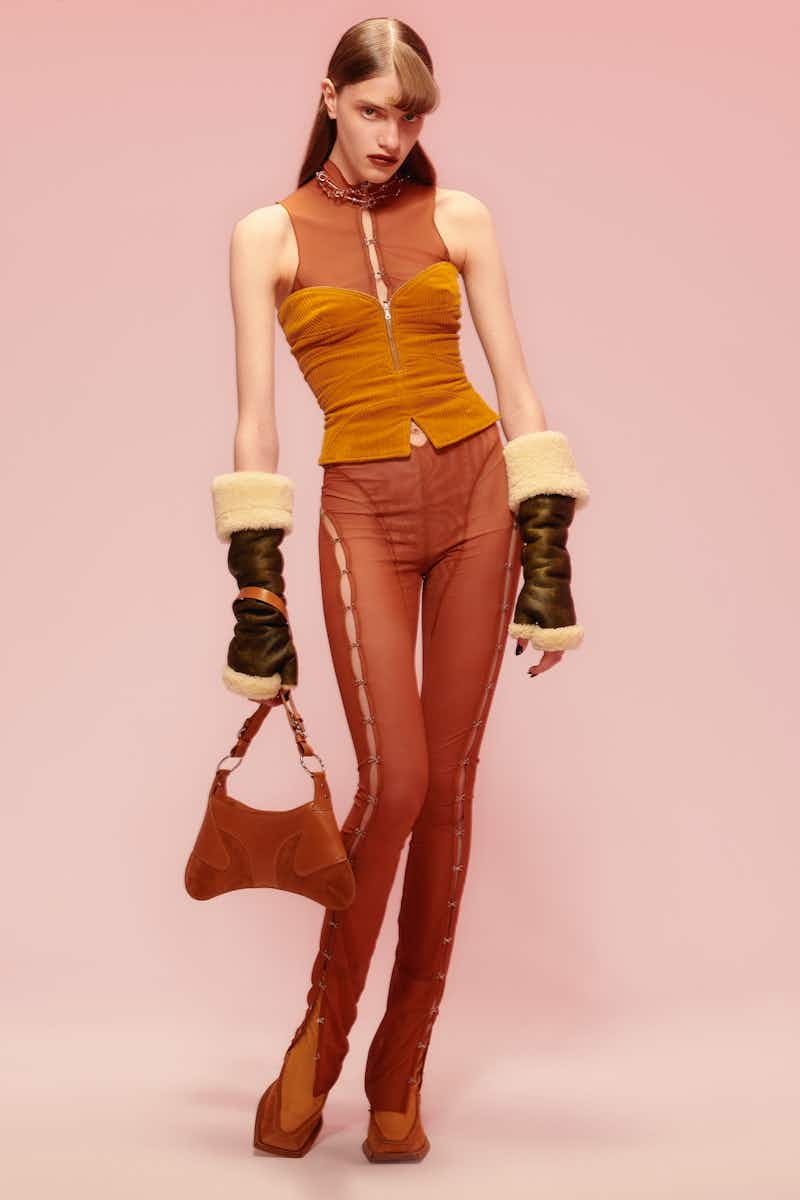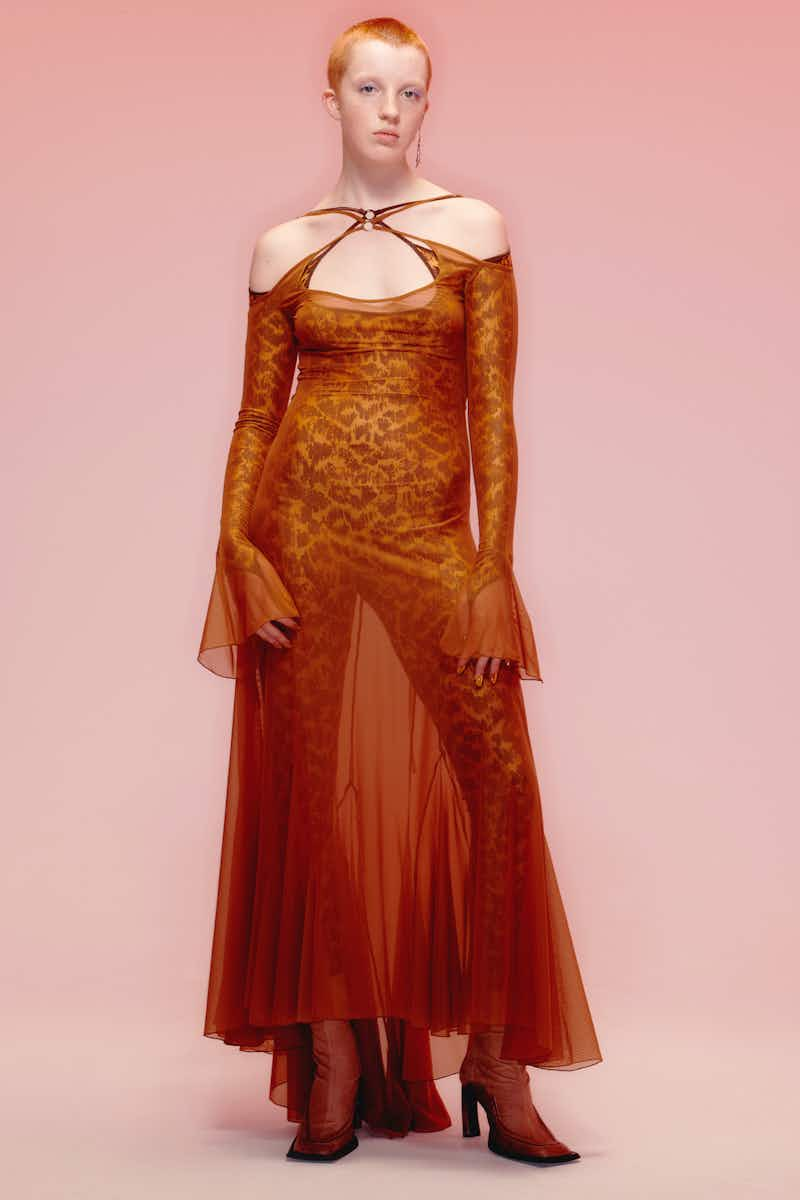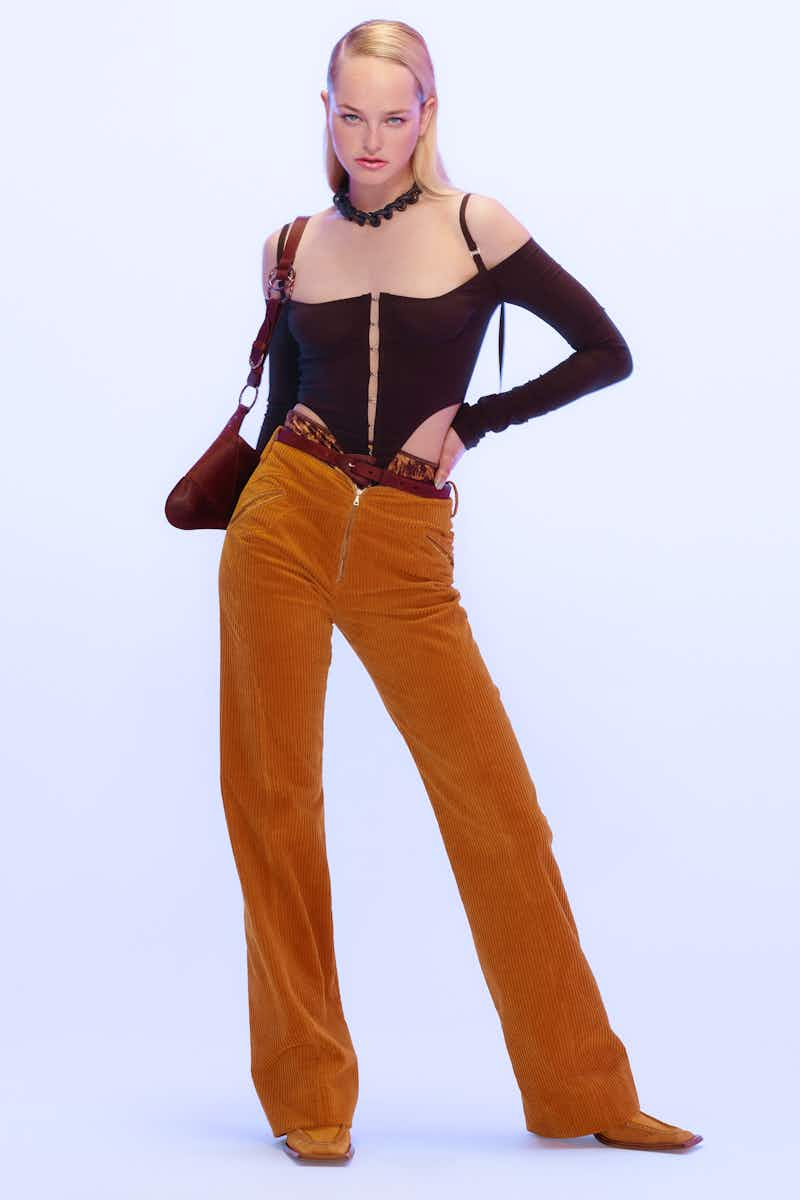 In many ways, last season was an exercise in restraint, as Knowles and Arsenault went ​"a bit smaller" and tried ​"not to overdo it" given the uncertain climate. Still, the pair expanded their range through denim and accessories. This season, we've got glamorous evening-wear in an elevated collection, entitled Feral.
Orange-hued, flowing floor-length dresses with billowing sleeves are relaxed, yet intricately detailed with straps woven around the collarbone in a combination of halter-neck and keyhole necklines. Luxurious sunset-coloured mesh is draped over a figure-hugging bodysuit to create a lean, elongated silhouette, evoking a woman that feels ​"elegant, a bit untouchable, but also tough and dangerous," as Knowles puts it.
These elements are compounded by Knowles and Arsenault's use of black – a first since the former's graduate show. Shearling fingerless gloves, coats and vests with corset points at the bottom give way to sleek, acid-wash trench coats with cinched in waists worn over sheer, skin-tight flares. And leather biker jackets with sharp shoulder pads are amped up to look decidedly Knowles-esque – fitted and sexy, from ​"biker" to ​"bourgeois".

Each garment seamlessly morphs into the next, which speaks to the feline energy that Knowles and Arsenault wanted to instill throughout the collection. It felt crucial to convey this without being too literal about it, though: ​"It's very aloof and sexy" Arsenault says, ​"like a cat slinking into the night."
For all the collection's quiet luxury and sophistication, it was also important for Knowles and Arsenault that the garments feel accessible. Fluffy knits, tan suede suits, and terracotta cord corsetry pointing to the ​'00s put a casual, streetwise spin on signature pieces. Ultimately, KNWLS is operating in the same universe, but with a sharper, more daring perspective, broadening its horizons with every passing season.


More like this