Chet Lo: a designer set on switching up the knitwear narrative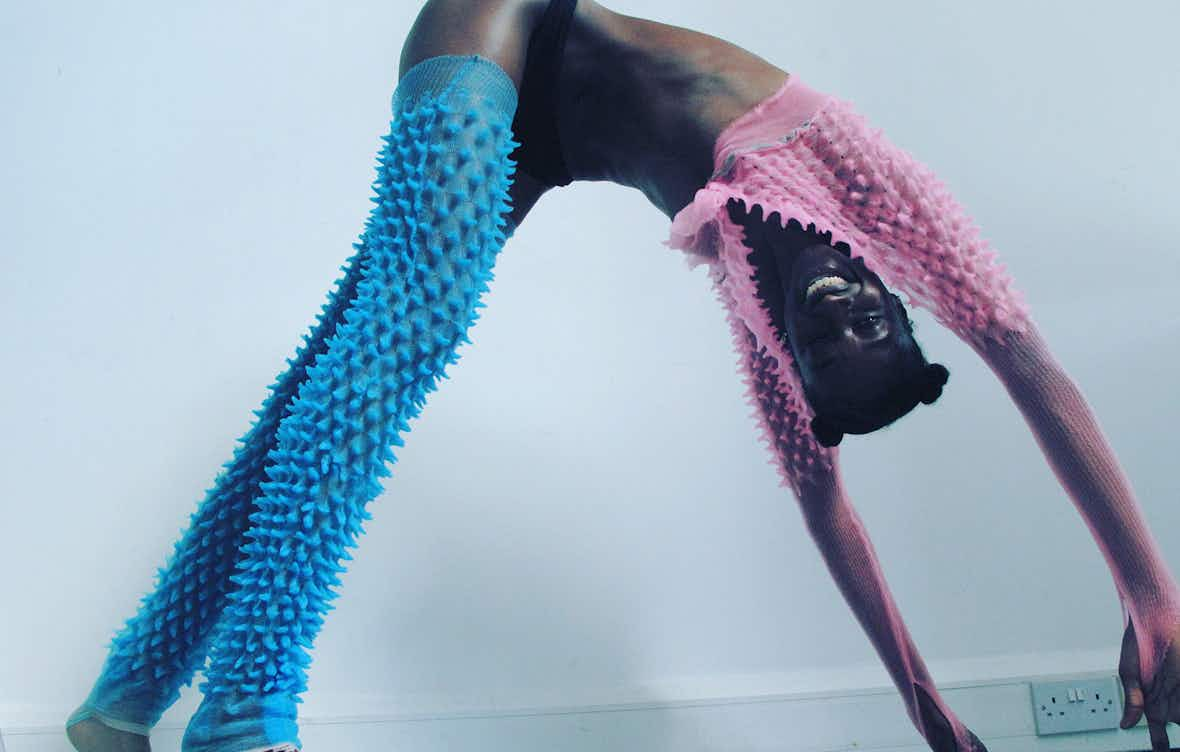 His eponymous brand is fruity, sexy, daring and above all, fun. This is how the 23-year-old designer plans to take over the world.
Over the past year, London-based designer Chet Lo has built a reputation for pushing the boundaries of knitwear beyond traditional conventions. His pieces are irreverent, provocative and sensual, blending future-facing design with retro references.
Lo studied knitwear at Central Saint Martins. Since graduating last year, he's been hard at work forging a signature style of figure hugging, spiky knitted corsets, dresses, legwarmers, high-neck sleeveless tops and boleros inspired by the curious durian fruit, and made from monofilament yarn.
"It's basically like a really thin fishing wire," the 23-year-old designer explains. ​"It's very difficult to knit with because it's so unpredictable, but I somehow managed to force it to go up in spikes and take on a 3D effect." Pushing himself to tackle the more technical side of design is all part of the fun for Lo, though. It defines his design DNA: playful, experimental, and boundary-breaking, so much so that CGI influencer Lil Miquela had to bag herself a piece or two.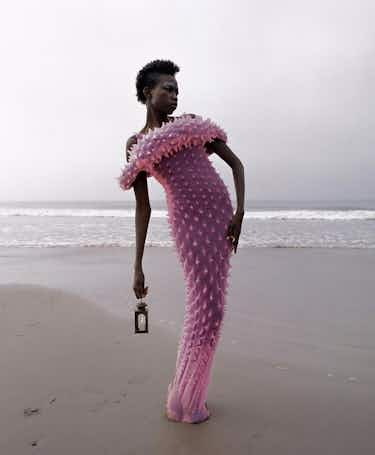 "Everything I do is knitted. It's a bitch, but I enjoy the challenge of figuring out how to make fabric do things it wouldn't normally do," he continues. Lo was born and raised in New York, though his family hails from Hong Kong – a huge part of his practice involves embracing his identity and seeing how that can translate to fabrics, shapes and textiles.
"That's how I've worked since the beginning, and since then I've never tried to force any of my designs into a specific direction. The initial idea always comes from this foundation of East-West heritage," Lo says.
These days, he's designing full time ("living the dream, as they say"), working hard on projects sworn to NDA's and trying to process the whirlwind that this year has been. So what does this young, bright designer tell himself when it all gets too much?
"That's a hard one, because everyday is too much," he says, wryly. ​"This is only the beginning, but no matter what happens, I've learned that everything works out in the end. If it doesn't work out, there's a reason for it, and you'll thank God down the line."
THE FACE caught up with Lo about virtual influencers, fruit and veg and why trusting your gut is always best.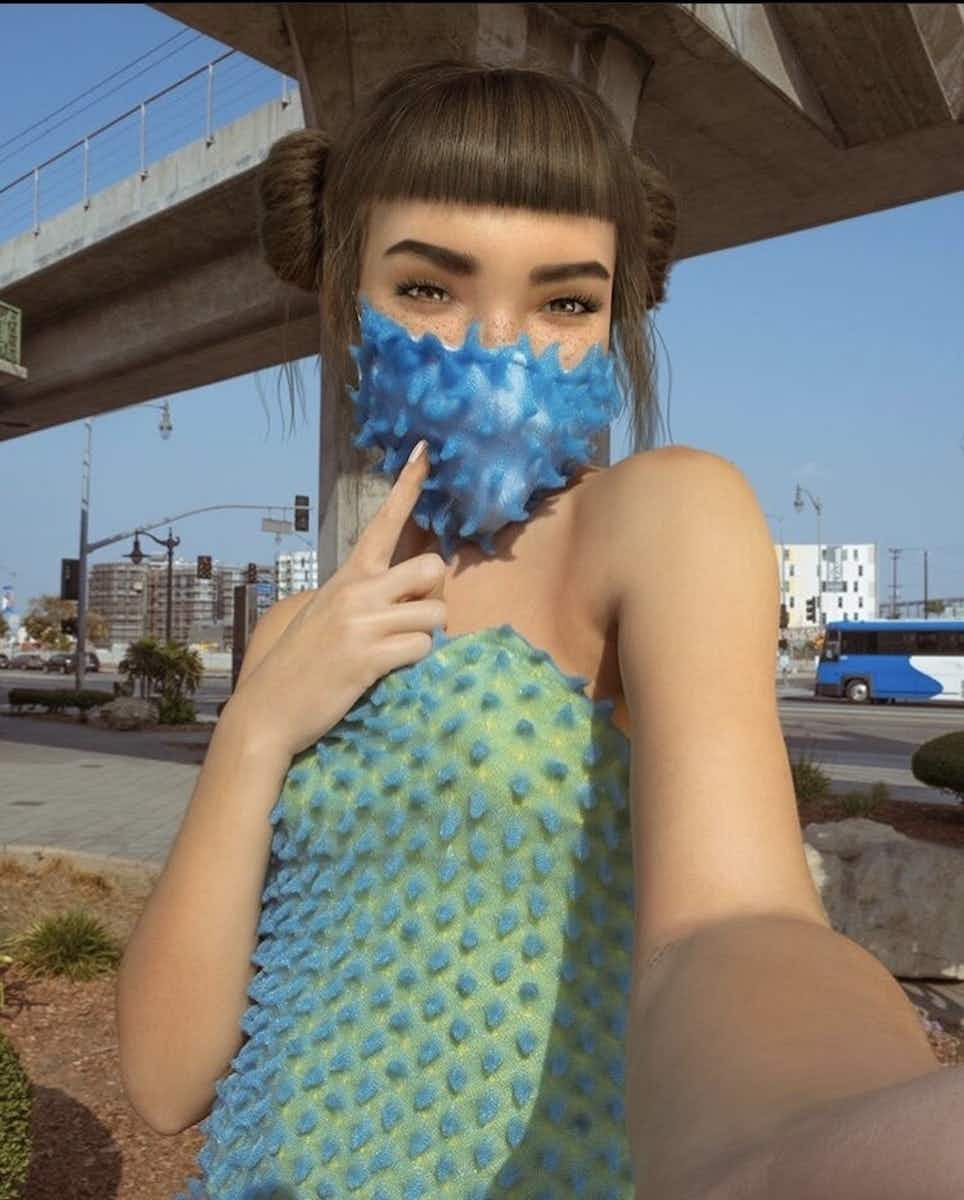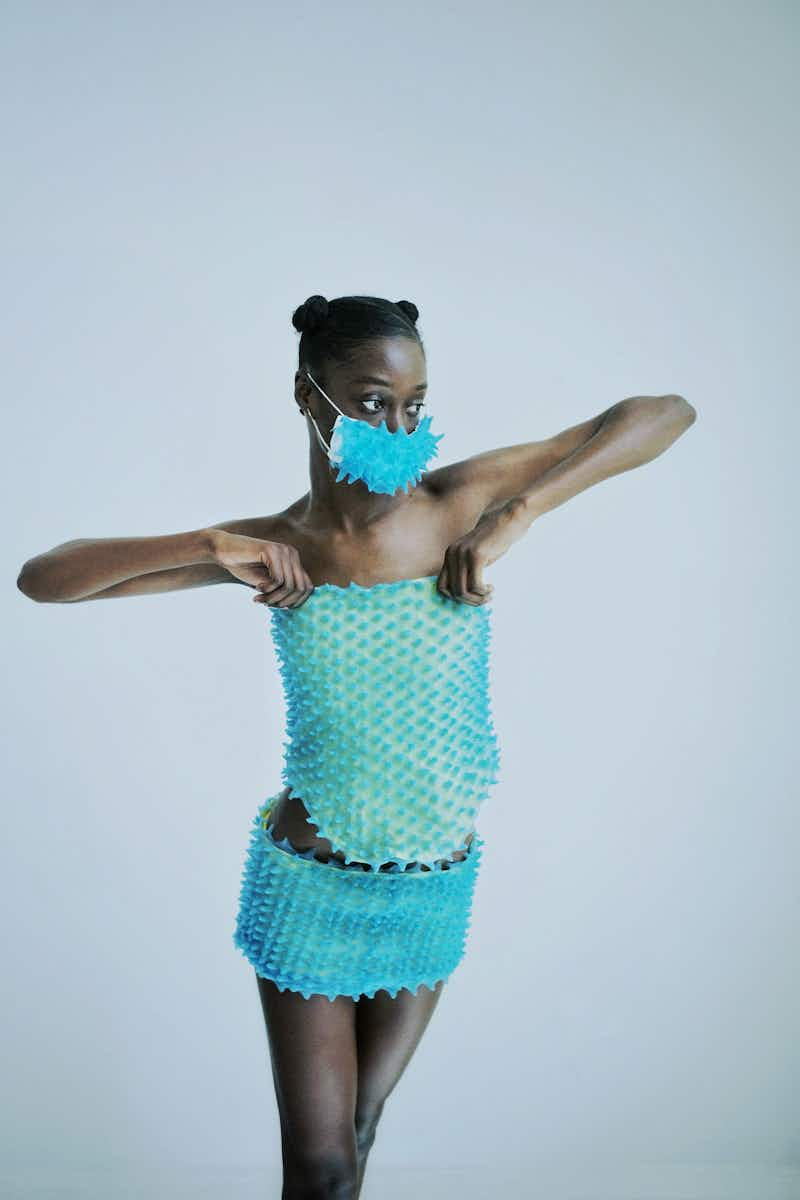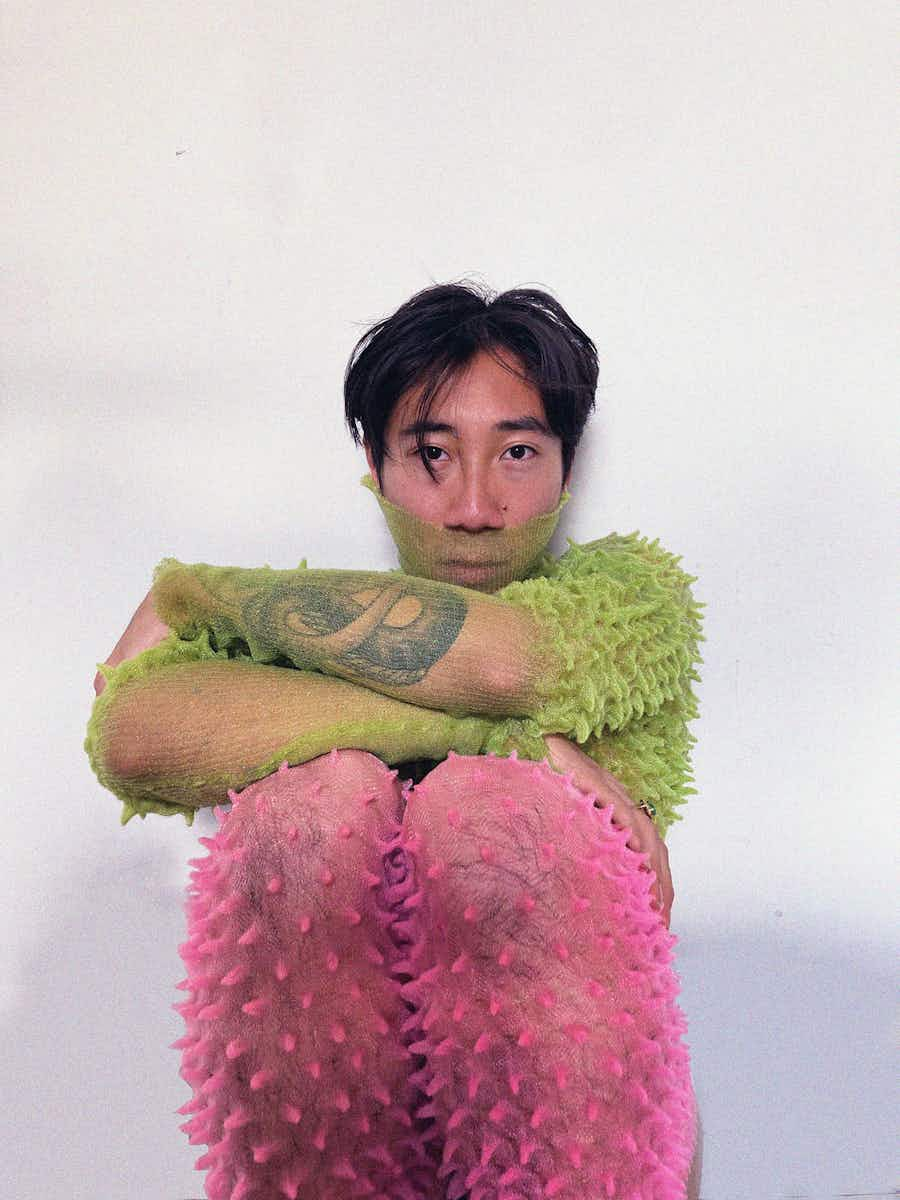 When did your fashion dreams start becoming reality?
I guess when I was in high school. There was a point when I was 17 where I was flitting between wanting to do music, art, fashion and also be a vet. I loved maths, and I realised that fashion is such a beautiful mix of realism, fantasy, maths and science. All those components work together behind the scenes. I found that really fascinating and decided to delve in.
That's very poetic, Chet. Tell us about the durian fruit. It's become something of a signature!
The hilarious thing is that everything I've done so far has been a beautiful accident. It's all been a joke. When I was working on my graduation collection, I pushed myself so hard, forcing all these ideas out. When I thought about it afterwards, I realised I didn't want to wear any of the pieces I'd made. Afterwards, I decided to knit myself a jumper because I wanted something I could actually wear. That's how it started. Then I knitted another, and another before realising: hang on a second, I could sell this! After that, I made a dress and it has since turned into this beast. I'm done trying to force things now.
What other food takes your fancy?
There's this strain of broccoli called Romanesco and I am obsessed with it. I saw it and I was like, yes. Then I cooked it and realised it tastes just as good as it looks. Plus, Romanesco is a good name.
Lil Miquela wore your clothes. How did that happen?
When her people reached out to me I was like, who the hell is Lil Miquela? But I lent them my clothes anyway, and it turned out to be perfect because she embodies this idea of futurism with an old school, cartoony vibe. She's so realistic, and very much what my brand is all about. It was such a happy marriage.
Where do you find your materials?
I get them from a local London-based knitwear store called Knit Works. Tim, the owner, has always been very sweet and involved with the students at Central Saint Martins. He lets me use the machines there to knit and we've built a really nice relationship – I can come in everyday and he'll always be there, smiling and letting me do whatever I want. I get a lot of my yarns from him and he always gives me tips on where to source things.
What's your favourite piece you've made to date?
It would have to be the Rambutan evening gown. I love that dress, it's so fun and elegant at the same time. I didn't mean for it to be so juxtaposed, but it ended up looking really fun and punky.
Who would you love to see wearing Chet Lo?
I'd love to see FKA twigs, Michelle Yeoh or Lucy Liu wearing something.
Finally, do you have any words to live by?
Let it be. There is no reason to ever force anything in your life. Things happen naturally and you'll know in your heart of hearts when you have to push for something. Always trust your gut.

More like this