Dive into Di Petsa's at-home water workshop

The designer's new film, directed by Zoe Que, celebrates femininity, water, ritual and self-love to mark the launch of Di Petsa and Ugo Paulon for LN-CC.
Grecian designer and Central Saint Martins alum Dimitra Petsa – who operates under her eponymous brand Di Petsa – has collaborated with female-owned shoe brand Ugo Paulon and retailer LN-CC to celebrate International Women's day, with a short film to honour womanhood and water, with a capsule collection to match.
Having created garments for the likes of FACE cover star FKA twigs, Gigi Hadid, Kylie Jenner and Paloma Elsesser, Petsa is continuing to spread a message of self-love – immutably honouring the female silhouette in all its iterations. Her super-soaked see-through garments have garnered cult-status for their unashamed celebration of the female form.
Since the world went into lockdown this time last year, the designer and performance artist – who has a fascination with how and why we deny and denigrate women's natural body fluids, from urine to breast milk to saliva – has been hosting monthly virtual movement and wetness workshops (a natural extension of her Wetness Project) and today she's bringing that energy to her collaboration with Ugo Paulon for LN-CC. Both Petsa and Paulon's instinctive ability to celebrate the primality of the female form makes for an aesthetically exciting result: soft, warped, turgid and textured – it's a tactile delight.

Petsa recalls growing up a ​"chubby" child. ​"I just loved my grandma's cooking and I was made fun of at school, or [during] the awkward teenage years, when my body was changing and I suddenly got my mother's Mediterranean bum and hips – that really wasn't very fashionable at a time," she recalls. Body shame is something she'd like to challenge, but accepts it's an ​"ongoing journey to go towards self-acceptance" for most women but that creating ​"a new narrative, accepting your body has its own language and beauty" is empowering. ​"In our Wetness workshops which we do every full Moon, we have this part where we focus exactly on that – creating new narratives for our body parts through poetry, performance and creative visualisation," explained the designer. ​"I have felt like my body is not my own at times," she added, an idea most women will relate with.
For the video piece, created to celebrate the collaboration, Petsa was inspired by a very large body of water. ​"I love tears, they are very soothing and taste like the sea," she muses. Ami Hughes, art director at LN-CC was inspired by The Lady of The Lake from the ​'90s Merlin franchise relating heavily to ​"the female magic energy and water that I see so clearly in Dimitra's wonderful brand". Expanding on this idea, Petsa explains that they ​"were imagining nymphs and priestesses dancing, connecting to a higher self, creating water manifestations and we worked with models that I personally find inspiring including performers of past shows we have done". It's a decision that's evident in the diverse casting of the project. The women, mostly barefoot, adorned in anklets and naive jewellery from the Di Petsa archives wear garments emblazoned with statements like ​"cries in public" or ​"shame is self-inflicting punishment", as well as the brand's famous goddess dresses.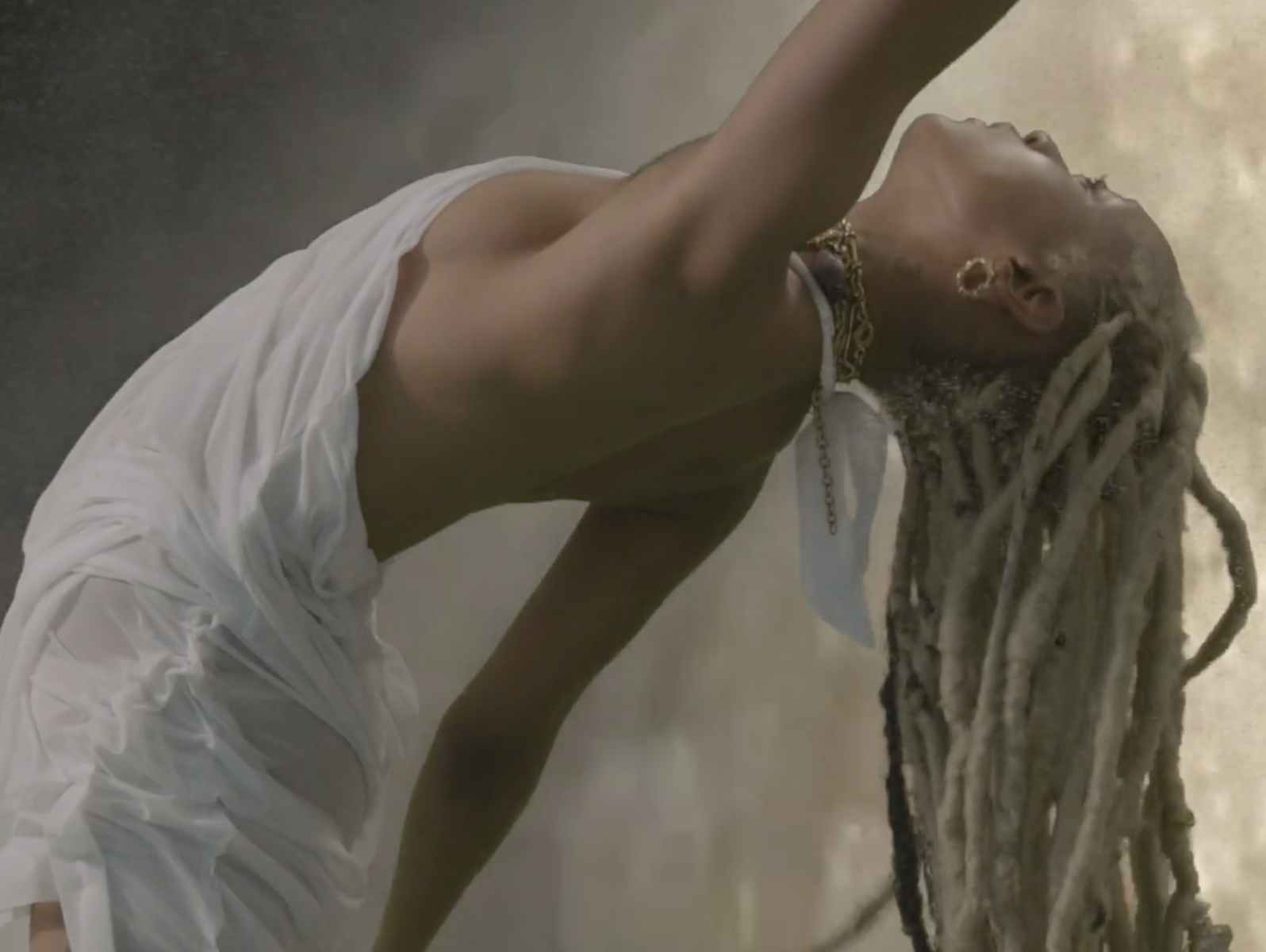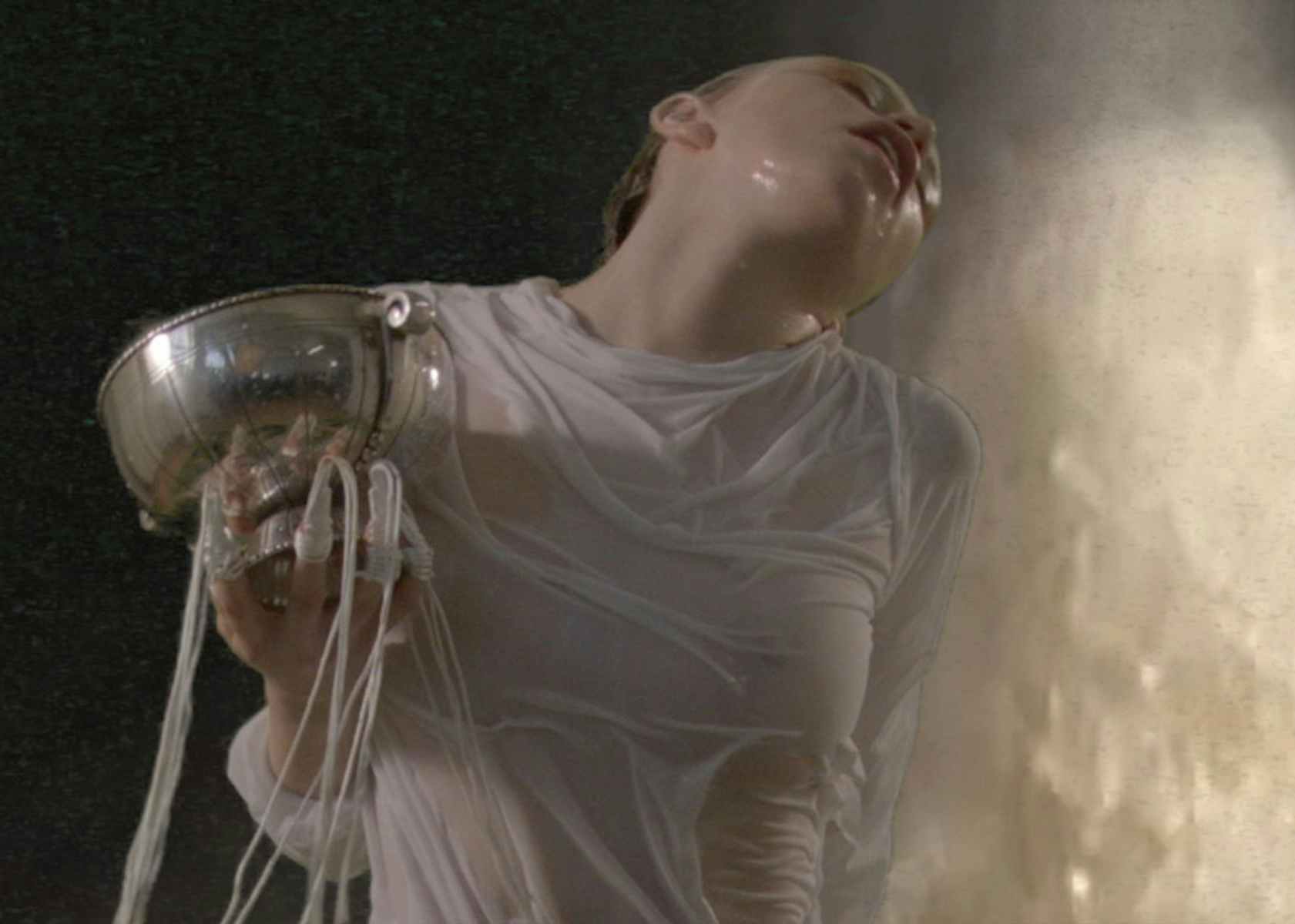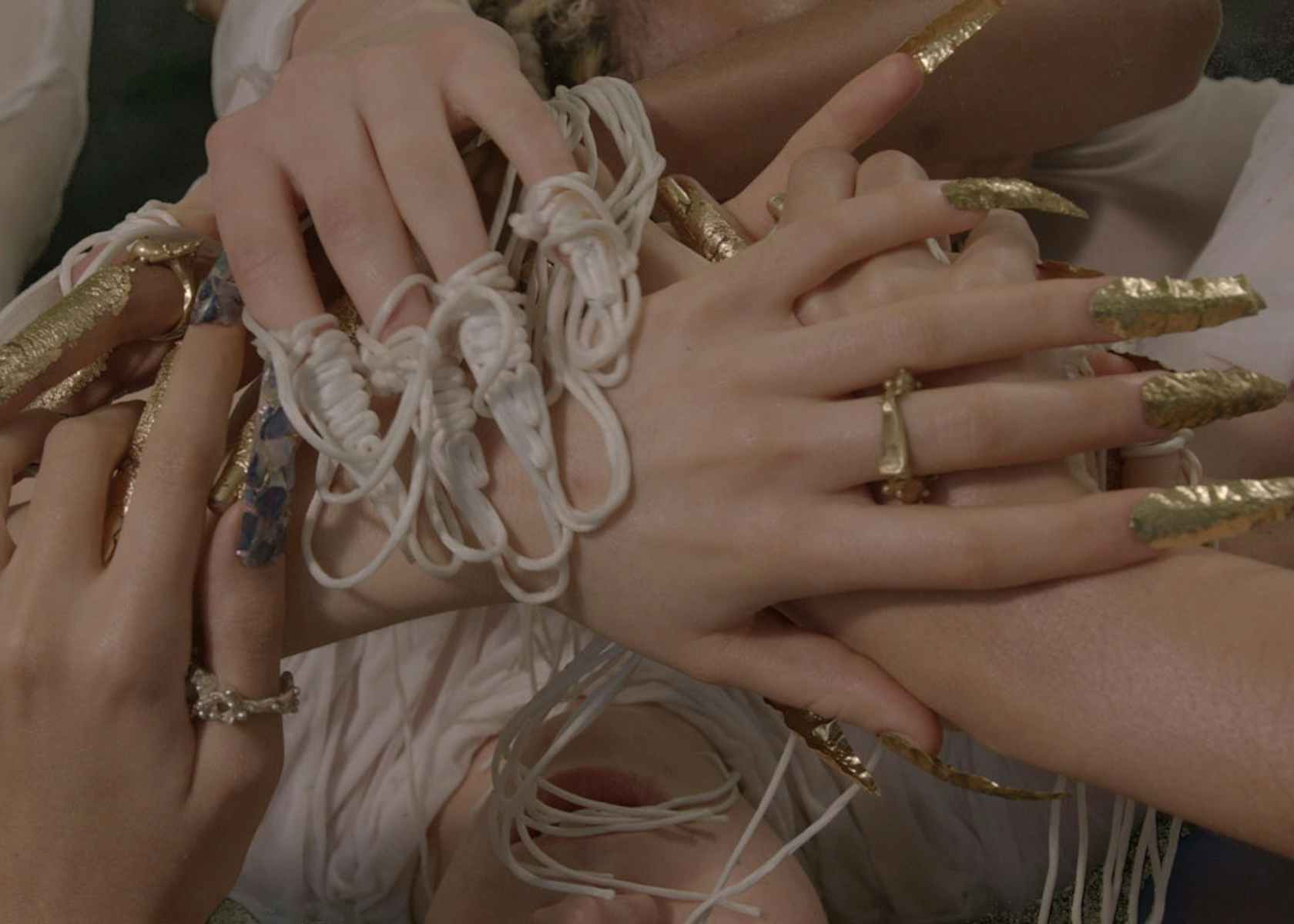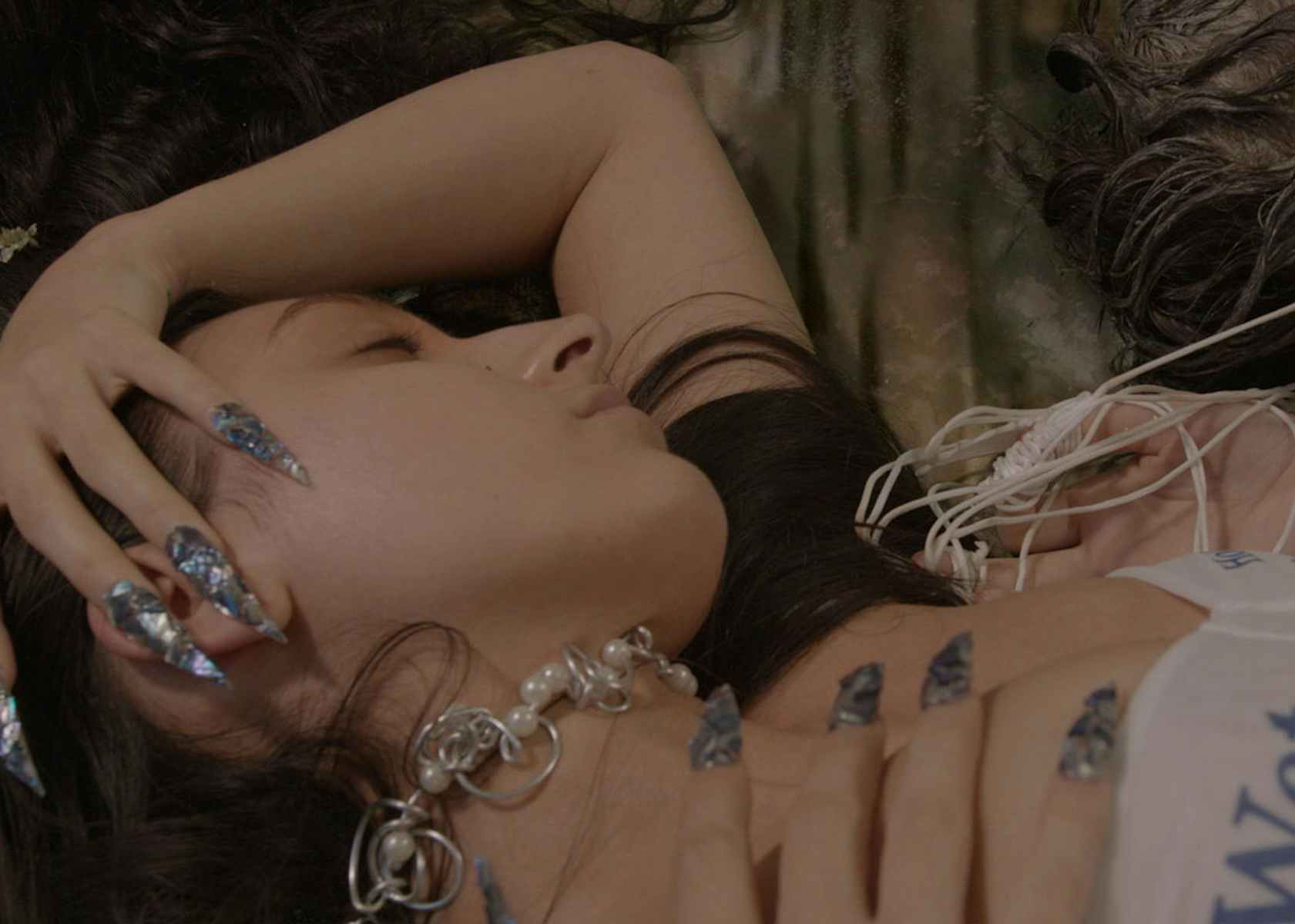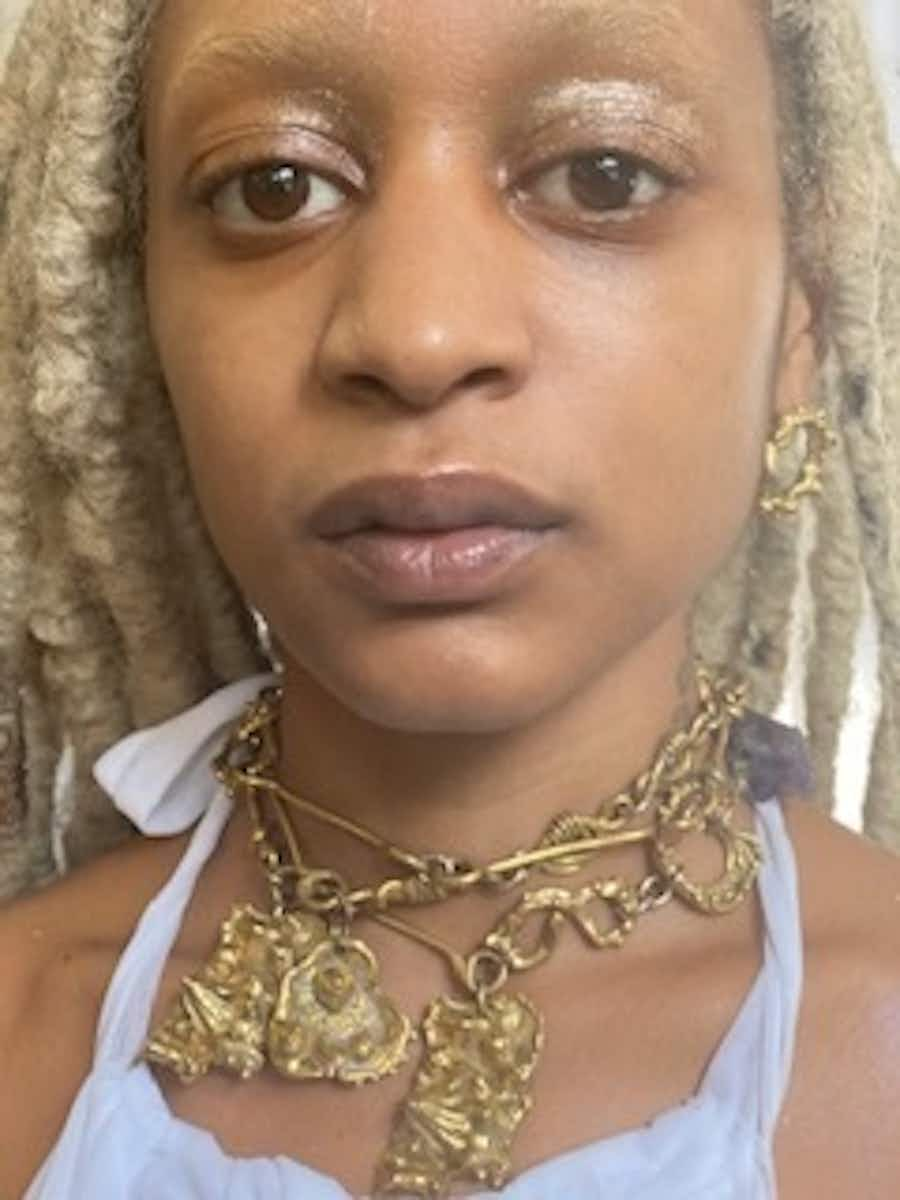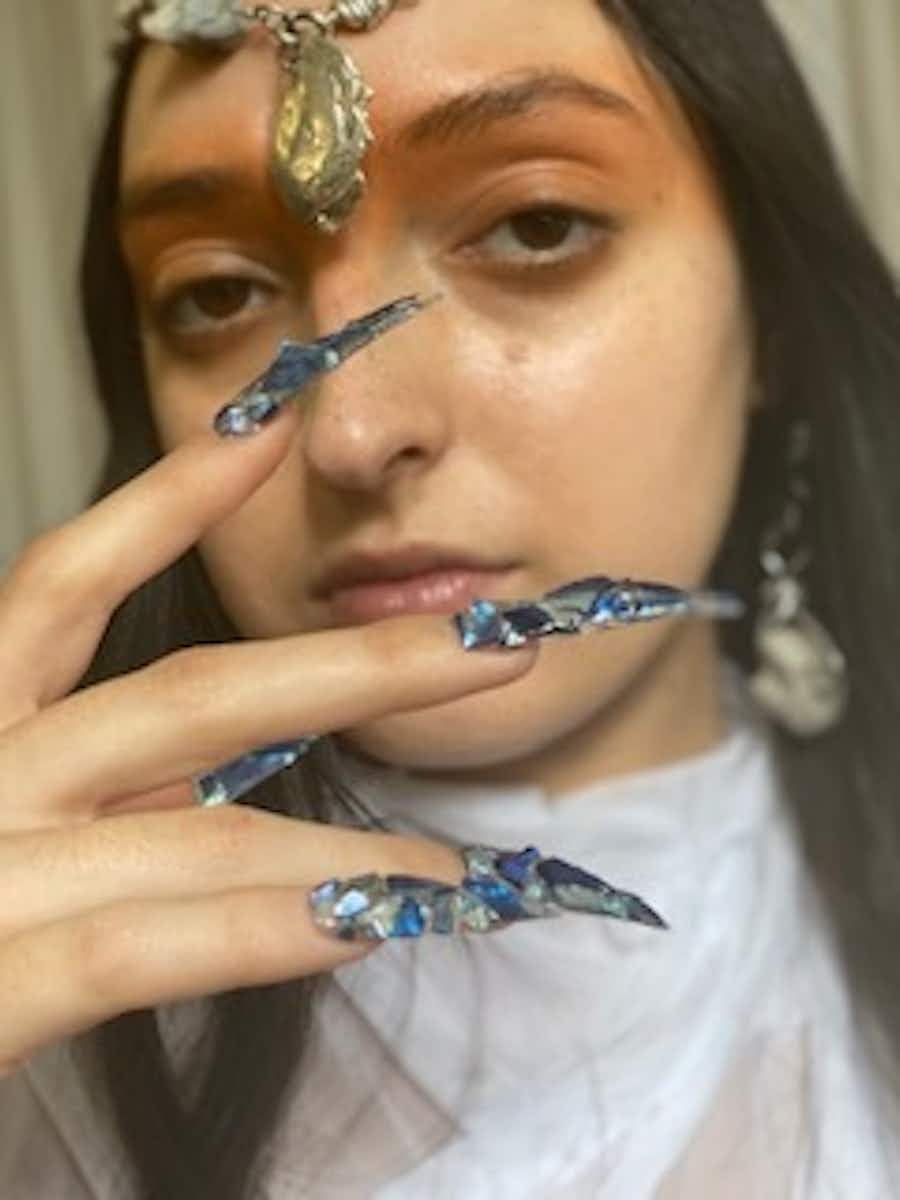 The team came together organically with both old and new collaborators. ​"The nail artist Sylvie Macmillan is someone whose work I admire a lot and in this video, each woman had a character design and specific movements, so it was personal to each one of them." Gold leaf finger tips courtesy of Macmillan were matched with a raw take on makeup from artist Georgina Graham who told me a lot of time went into ​"facial massage and skincare with an emphasis on the ​'care' – wanting the women to feel comfortable". Graham used oils from Taima Blends ​"that are reiki-infused and contain cannabis and also S.C.D oil" before applying ​"splashes of colour in a ritualistic way – a smear of a vegan biodegradable glitter here, a cruelty free paint dabbed there and pressed flowers crushed into the hair. I also discovered Palm of Feronia, a brand making products that have been crystal-charged." She adds that it was important to her to use ​"small Independent female-owned businesses that are natural and healing" for this project.

"I admired Ami's work for a while," explains Petsa. ​"So I was very excited to be able to work together on this project. Also, the performers and models involved are unique people that inspire me a lot. The nail artist Sylvie Macmillan is someone whose work I admire and each person on the team from the stylist, to the makeup artist, and the filmmaker did an amazing job." Ask Di Petsa how she defines beauty, and she'll tell you it's a visual language. ​"But it's also what you don't see. Strength in vulnerability, connection, unashamed self-indulgence, empathy. Love that comes out of you like sweat evaporating on your skin making you shine."


More like this