Fanatics rejoice: Phoebe Philo's latest era is here
After the designer debuted her much-anticipated label yesterday, we take a look at the collection and trace the moments that made her.
Philophiles can all breathe a collective sigh of relief: the two year wait for Phoebe Philo's namesake debut is finally over. On 30th October, circa 3pm GMT, the label landed online, with some titillating visuals and a brand proposal that has been described as a ​"seasonless, continuous body of work".
Ever the enigma, Philo has declined to comment on her new venture. But here's what we know so far: two collections are set to be produced per year. The first is named A1, which will be delivered in three staggered drops of 150 pieces in total, while A2 is set to be delivered in spring 2024, following the same model. As it stands, it seems Philo's content with keeping things online, with no hints of a physical show.
The brand's accompanying notes emphasise ​"permanence". As expected, Philo's latest designs aren't riffing off the endless cycle of trends; these are clothes to last a good, long time (and thank god, given the prices – but more on that later).

​"The Phoebe Philo business model is designed to create a responsible balance between production and demand," the press release states, hinting at a limited number of items produced per piece – most of which are sold out already. ​"For us, this means producing notably less than anticipated want."

Destined for fashion: David Bowie, Madonna, and a sewing machine

Phoebe Philo was destined to have an illustrious creative career. Born in Paris in 1973 and raised in Harrow-on-the-Hill in North West London, she told THE FACE in 2002, ​"I've always wanted to be doing what I'm doing – from a young age I wanted to be running my own show."
Her father Richard was an engineer and surveyor, while her mother Celia was an art dealer and artist. Alongside photographer Brian Duffy and make-up artist Pierre Larouche, she was part of the team who created one of the most enduring images of the musician, the Aladdin Sane album cover, which sees Bowie's face painted with a lightning bolt.

When Philo was 14, her parents gifted her a sewing machine. She had previously shown an early interest in fashion after customising a school leotard to mimic a piece worn by Madonna. Growing up in London, Philo would frequently go to clubs such as Dingwalls in Camden for hip-hop nights. ​"I used to go up there in a pair of silver hot pants," she told THE FACE.
Later on, Philo enrolled onto Central Saint Martins' fashion MA course under the late Professor Louise Wilson (who also taught Alexander McQueen and John Galliano). Of her time there, she would go on to say, ​"I just wanted to make a pair of trousers that would make my arse look good."

During her years as a student, she wrote a dissertation on the controversial work of YBAs Jake and Dinos Chapman and befriended fellow student Stella McCartney. The pair would graduate together in 1997 and move to Paris, with McCartney becoming creative director at Chloé, bringing Philo along as her assistant, before taking the position of creative director herself four years later.

Chloé: a confident debut and the Paddington bag
It was clear from the moment Philo began her work at Chloé that she knew exactly who she was as a designer. Her seemingly innate understanding of the cultural zeitgeist meant that the designer effortlessly merged the history of the french fashion house (which included 1960s and ​'70s references from founder Gaby Aghion and previous creative director Karl Lagerfeld) with her own youthful, confident perspective. Chloé's SS04 collection in particular, was where Philo really came into her own, with pieces such as off-the-shoulder tops and swimsuits with a kitschy banana print, ultra high-waisted jeans and braided leather belts designed to be slung nonchalantly around the hips.

Philo would go on to shape the mood of the early-'00s, where boho and indie sleaze reigned supreme. Her IT bag, the Paddington, came complete with a weighty padlock and key detail, and was carried on the arms of every fashion fanatic the world over. In 2005, Philo became the first high-profile female designer to skip a season for maternity leave. After giving birth to her daughter, she resigned from Chloé to spend time with her family, demonstrating that she wouldn't bow to the pressures of the industry when it came to her personal life.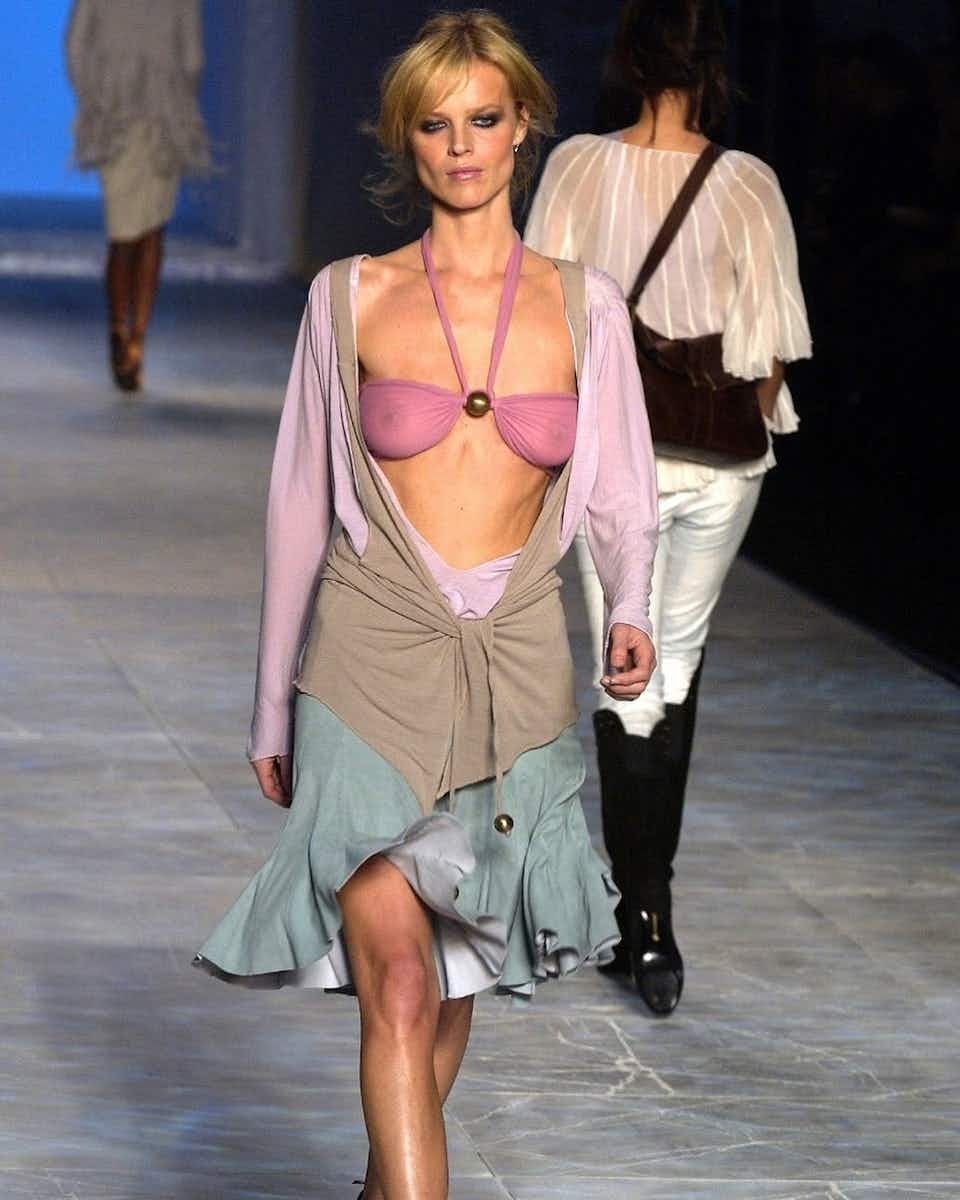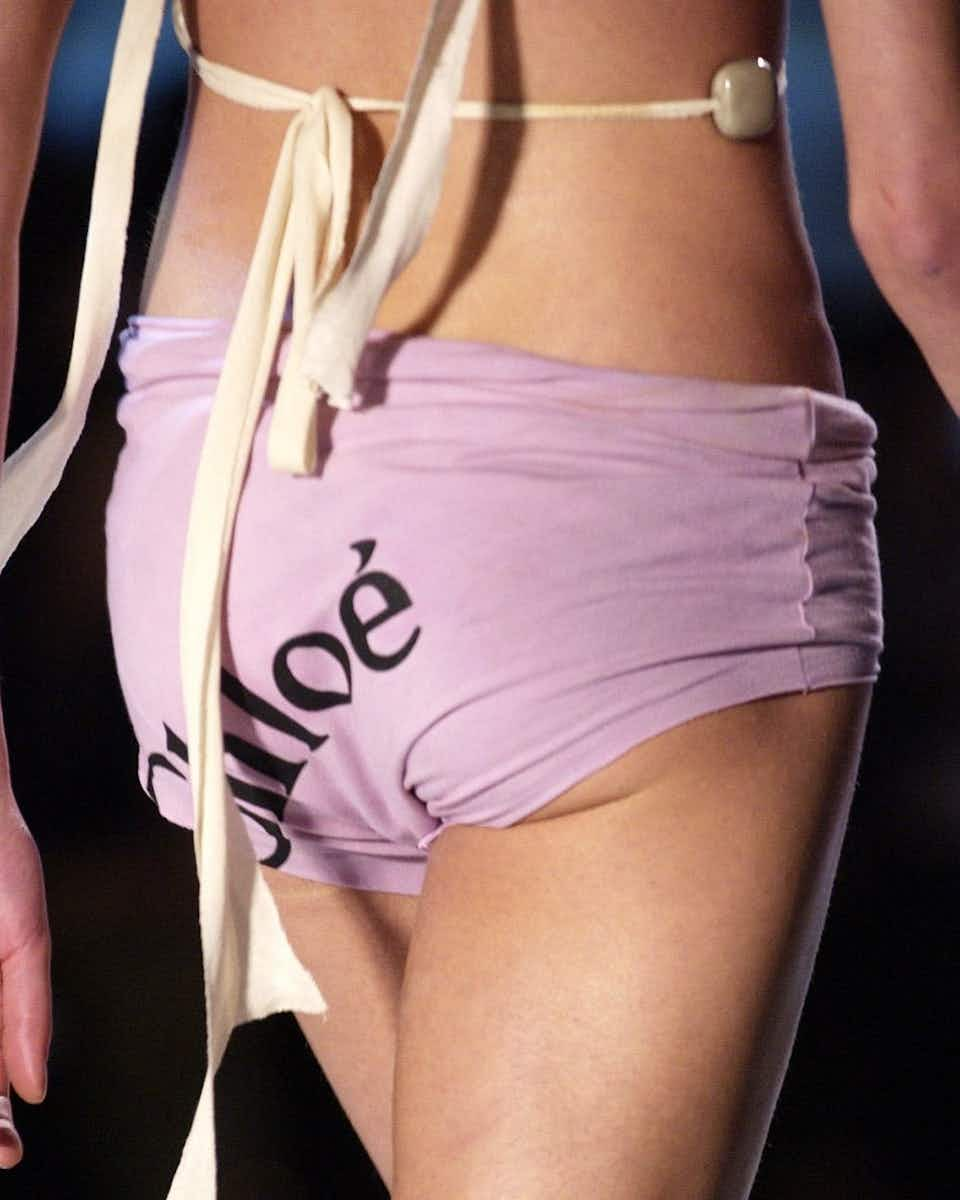 Celine: a new era in womenswear
Two years after stepping down at Chloé, it was announced that Phoebe Philo was back. This time, she'd be taking on the role of creative director at Celine, formerly Céline, another French fashion house founded in the mid-20th century.

Since Michael Kors departed the LVMH-owned label in 2004, the brand was in desperate need of a shake up. And the luxury conglomerate knew that Philo would be more than up to the task: ​"By giving her Celine, we're giving her a platform to express her vision," said Pierre-Yves Roussel, then chairman and chief executive officer of LVMH Fashion Group, at the time. ​"For Celine, which is a bit more grown-up as a brand, the fit is very good in terms of her style, her personality and where she is in terms of her own development."
Whether he could have predicted exactly what she would go on to achieve is unlikely, with Philo's 10 year reign at Celine changing the way that women dressed. A 2010 interview with The Gentlewoman, who featured the designer on its first cover, stated simply: ​"She designs the clothes women actually want to wear."

Blending a potent mix of functional minimalism with subversive flourishes, the trickle-down effect of Philo-mania saw Birkenstocks and Stan Smith trainers (the designer's footwear of choice) fly off the shelves, while the high street couldn't copy her work fast enough. Quiet luxury was the name of the game: impeccable cashmere coats and knitwear in hues of camel and navy, crisp shirting that was ​"borrowed from the boys". There were oversized tote bags for the practical side of the Celine woman, and sculptural jewellery that indulged her playful side, too. Camilla Nickerson's intelligent styling was the cherry on top. Collaborations with photographer Juergen Teller and Daria Werbowy created enduring fashion imagery, with literary giant Joan Didion even starring in Celine's memorable SS15 campaign.
Despite retiring from the brand in 2017, her influence is still palpable. Daniel Lee, a Philo protégé, similarly transformed Bottega Veneta with codes that he developed as director of ready-to-wear design at Celine. It's doubtful we'd have the likes of the now iconic puddle boot or pouch bag, without Lee's experience working alongside her.

The post-Celine years: where is Phoebe Philo?
After departing Celine in 2017, there were rumours that Philo was to take over at Alaïa after Azzedine Alaïa's passing. But the job went to Raf Simons' right-hand man Pieter Mulier, and Philo almost completely disappeared. Reports and rumours would fly around the industry about where she was and what she was doing. In taking a well-deserved rest out of the public eye, the designer mythologised herself even further.

But a few years ago, there were frantic whispers that finally, she was due to return. Was it to take over another fashion house? Would she start her own label? The latter turned out to be true. And in June 2021, it was officially announced that the first Phoebe Philo collection would debut in late 2023.

Phoebe Philo is a timeless, infinitely wearable capsule wardrobe. The often conceptual frills of her work at Celine are mostly gone, besides a rogue ​"MUM" necklace and bracelet set, in gold and silver iterations, and a Big Bird-esque pair of frilly trousers, with hand-combed feather embroidery on the front.
We've got perfectly androgynous double breasted coats, high-neck jumpers in merino and yak wool with a cut that would layer over a poplin shirt and pair of cigarette trousers just so. Shoes are sexy yet streamlined, with square toe patent pumps and platform boots with spiked heels. There are even youthful hints of Chloé in there, seen in hardware and panelled cargo pants.
Many, however, won't be able to afford a slice of the freshly baked Philo pie: a ribbed crew neck jumper in cashmere is £1600, a ​"small" calf leather bag is £3200, and a huge, shaggy cream coat is shudderingly listed as ​"price on request".

Still, while we won't be turning up in the £13,000 sequin stucco dress anytime soon, Phoebe Philo's return is a palette cleanser, cutting through the noise of trend-led contemporary fashion with a decisive point of view. With a limited run of each item, Philo's less is more approach feels in-keeping with the times. Welcome back.



More like this