Carhartt WIP takes it back to ​

'

90s New York

Fashion news of the week: Plus, a Heaven-ly collab with Dr. Martens, a Peak at McQueen's latest bag, Jorja Smith's first foot into design for Clarks, Kylie Minogue for Jimmy Choo and Jean Paul Gaultier, the latest Choose Love shop and Wasted Collective's first drop.
Now that summer is well and truly over (but who can say?), Carhartt WIP has dropped its new season campaign, which pays homage to the city that never sleeps. Shot by photographer Daniel Derro Regan in the neon glow of late-night New York, the snaps could be taken from gritty ​'90s film stills, moving from subway to grubby couch to all-night diner. The collection itself is inspired by loose shapes and casual fabrics from the decade, too, and makes us feel almost excited for those chilly winter nights in the city.
Flip off the cold in Carhartt at carhartt​-wip​.com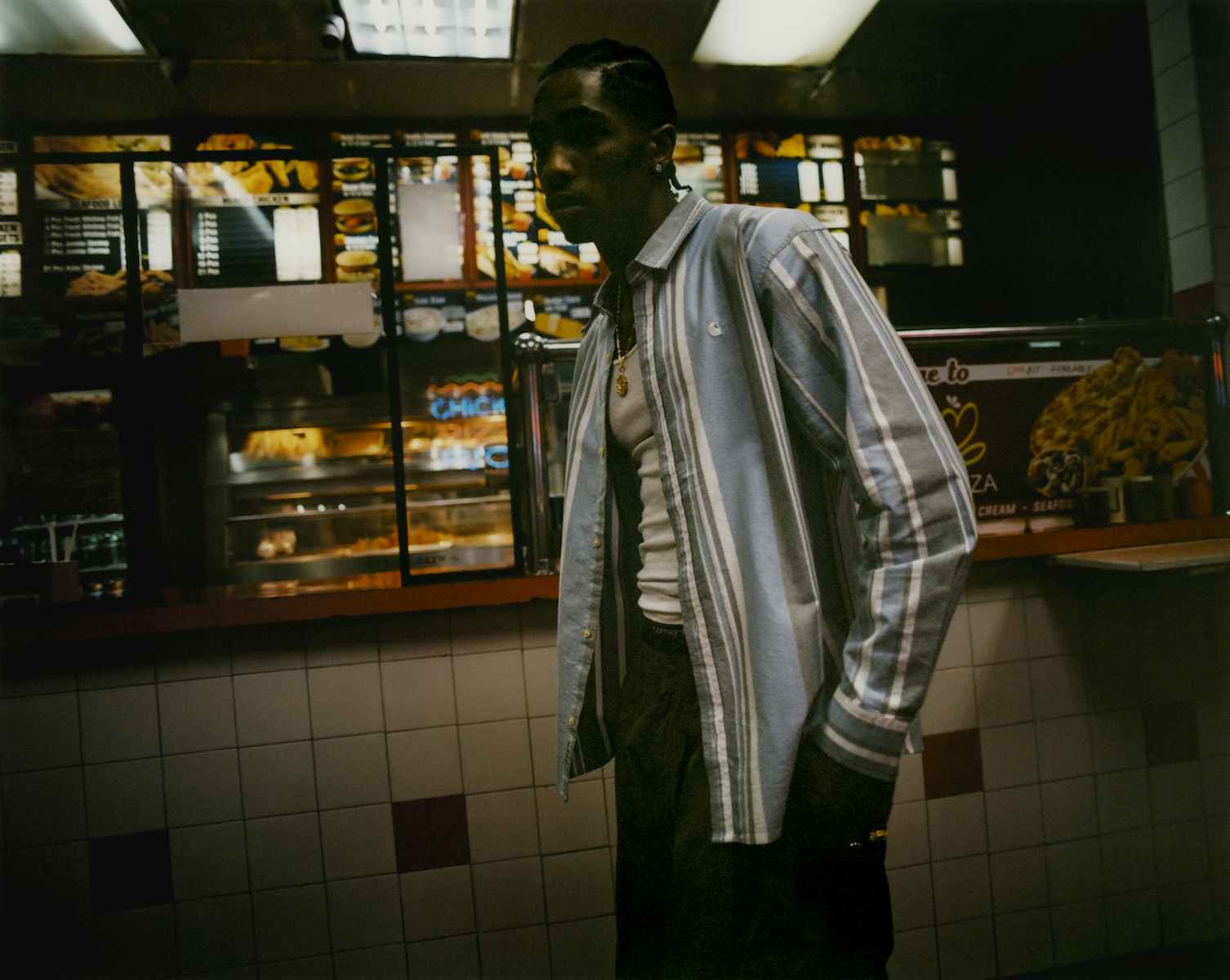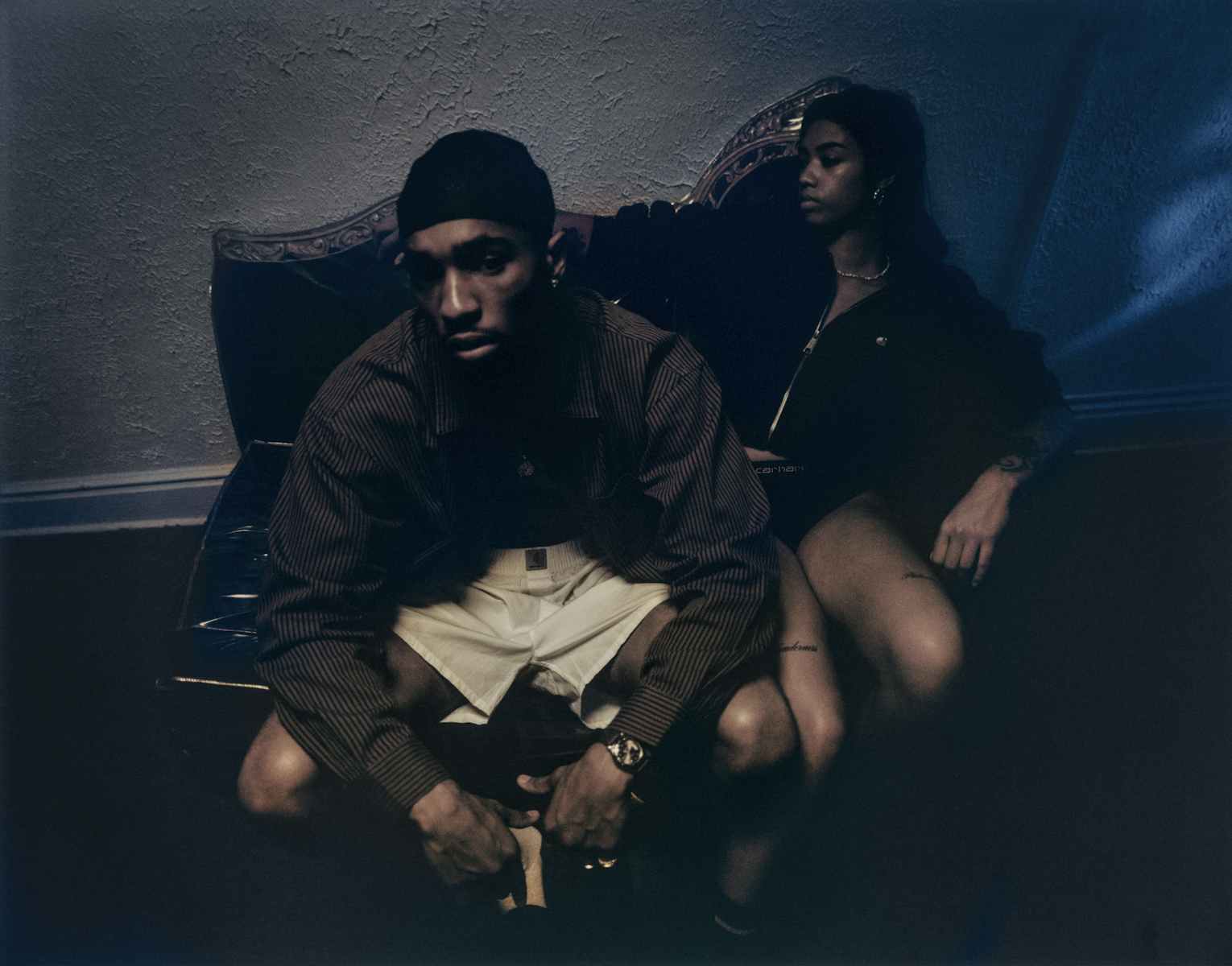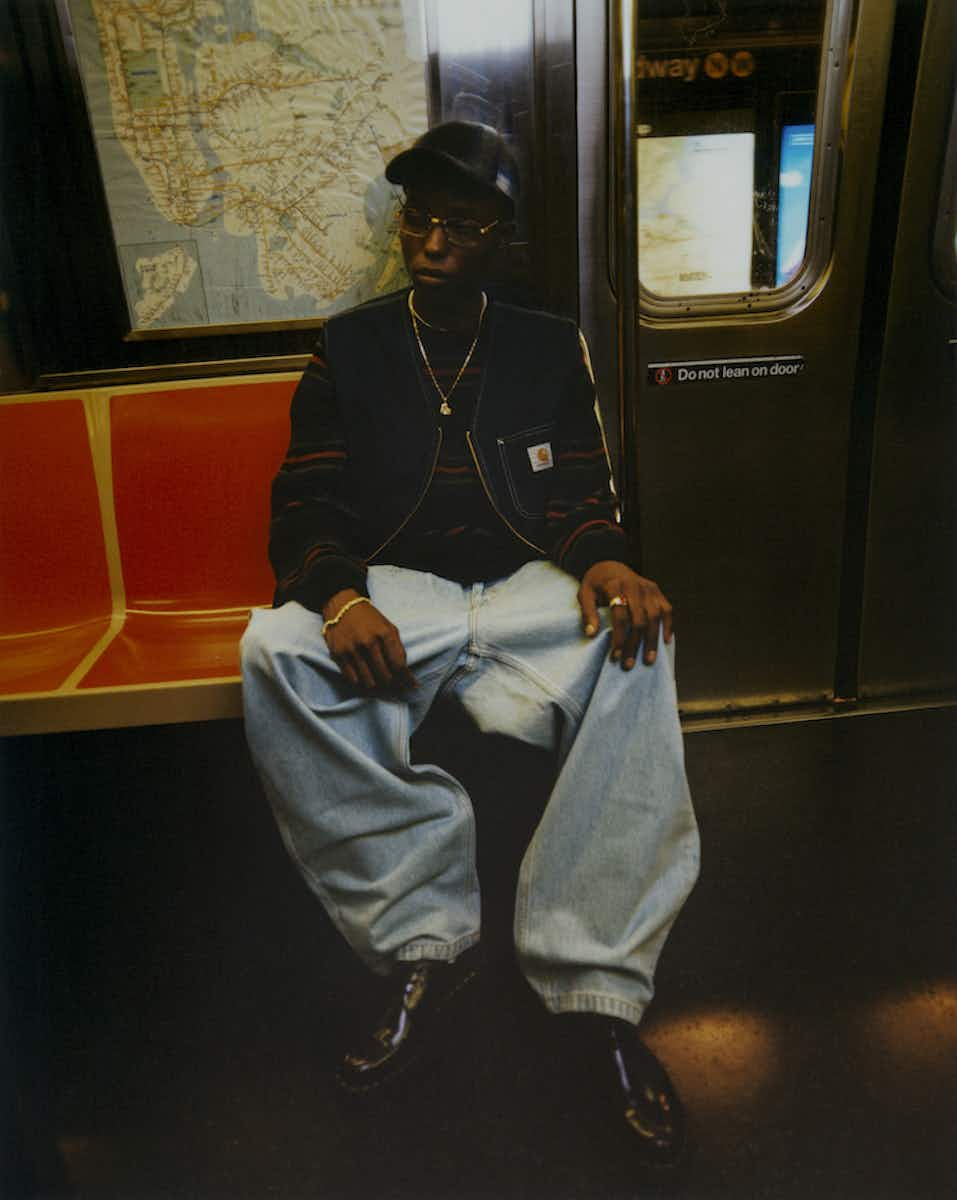 It Girl mary janes from Dr. Martens and Heaven
Anyone else got I‑T-G-I-R‑L in their head? TikTok fav and purveyor of catchy music, Aaliyah, is fronting the campaign for Dr. Martens and Heaven, whose latest collab is a velvety spin on the Mary Jane, modelled by fashion muse Aaliyah. You can nab the shoes in red or black, both complete with signature yellow Dr. Martens stitching and chunky sole, plus Heaven's token charm-inspired bear motif on the buckle. If you want to fully complete the Aaliyahcore look, make sure to add some knee high socks, a single leg of fishnets, a garter, and, obviously, ear muffs.
The new Dr. Martens x Heaven by Marc Jacobs collaboration is available now at drmartens​.com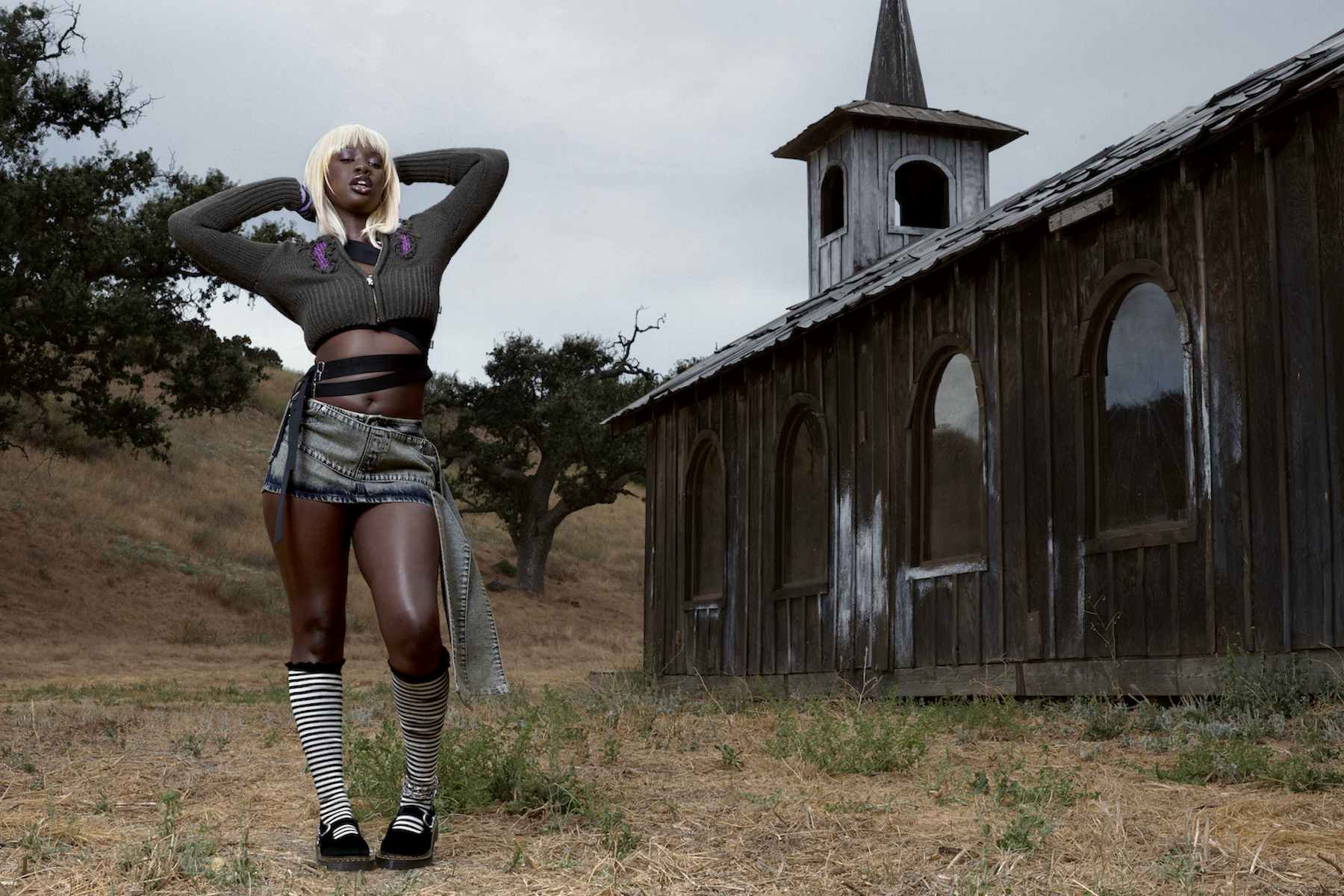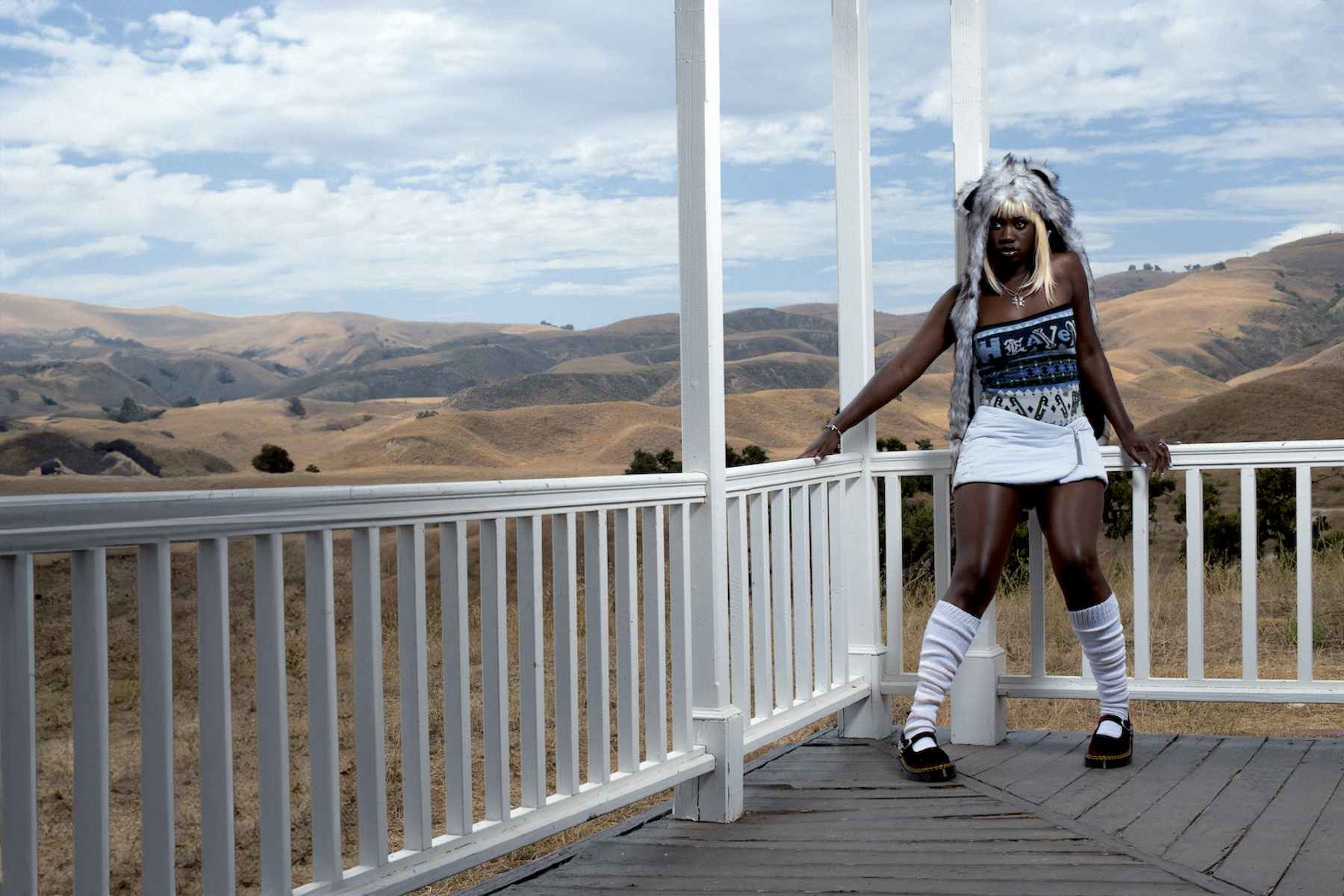 Take a Peak at Elle Fanning in McQueen
Alexander McQueen has launched its latest accessory, The Peak Bag, which features four knuckle duster-inspired holes at the clasp, a chain strap, and magnetic frame that nods to McQueen's iconic exaggerated shoulder silhouettes. And could double as a stylish weapon, too. The campaign is fronted by Hollywood starlet Elle Fanning and shot by David Sims in classic moody McQueen style.
The Peak Bag is available at alexan​derm​c​queen​.com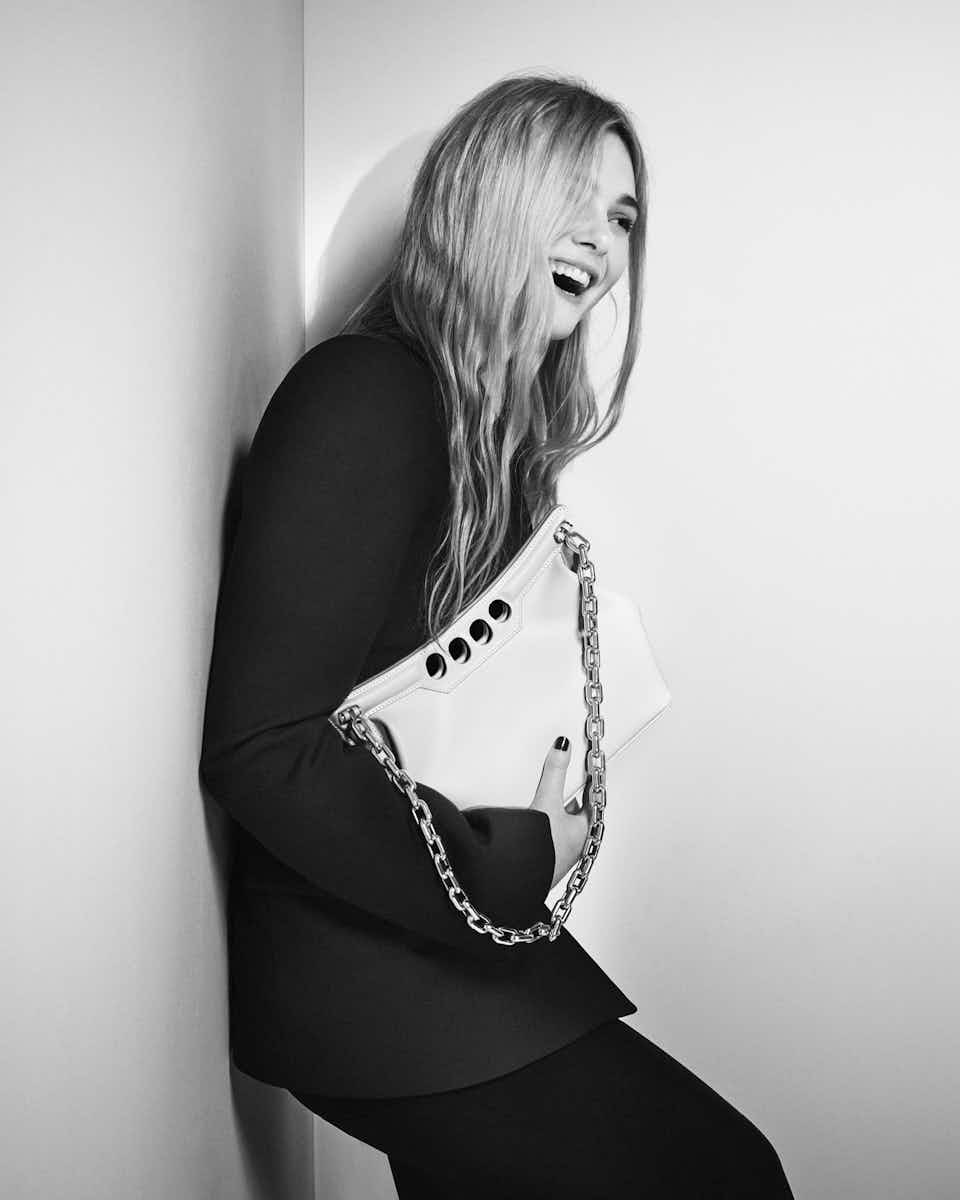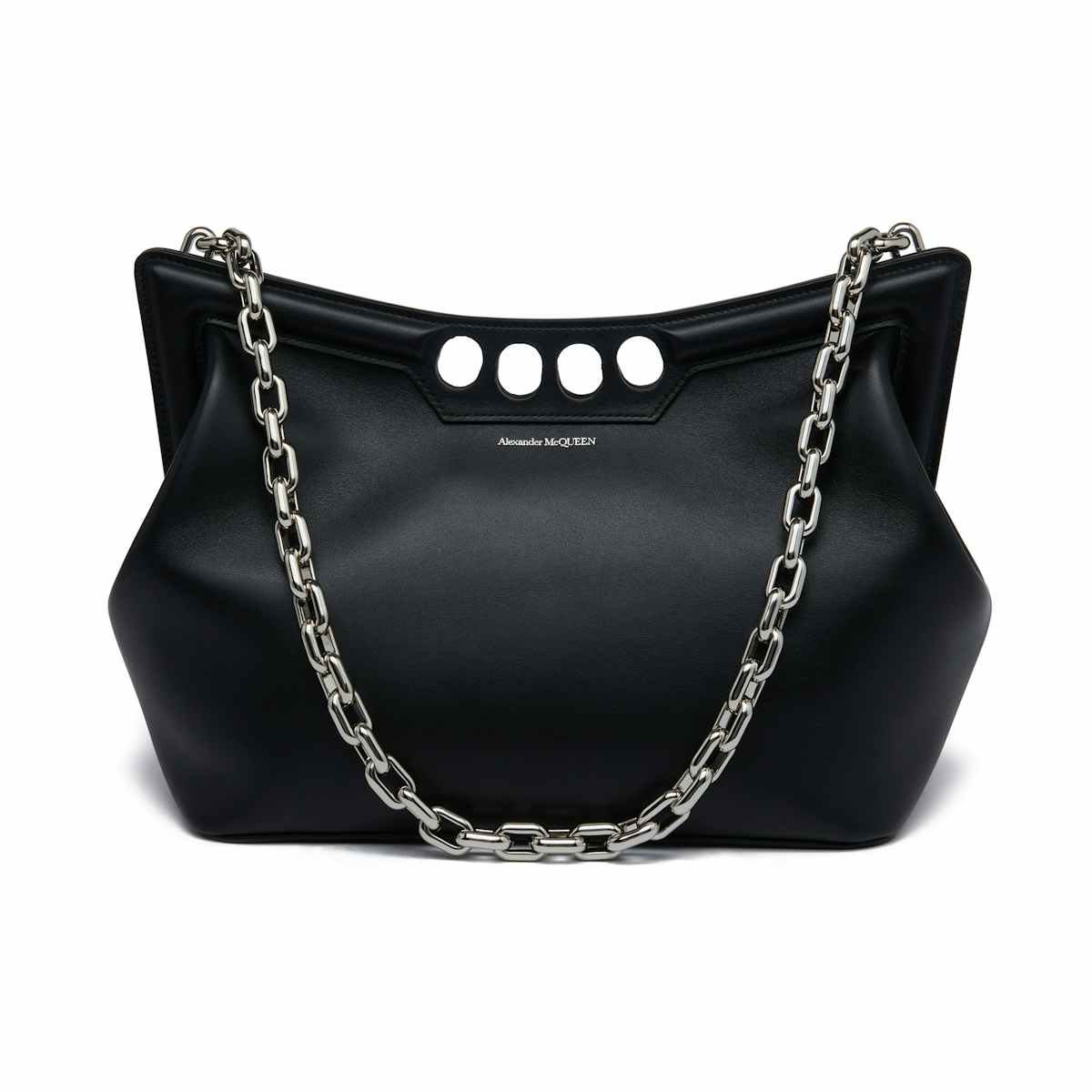 Jorja Smith designs for Clarks Originals
In a first, Jorja Smith has dipped her toe into footwear by designing a shoe for Clarks Originals: ​"Clarks means so much to so many different groups of people," the Walsall-born singer said. ​"I'm excited to have the opportunity to add to that legacy". Keeping it casual, Jorja's design is a black slip-on wallaby-clog hybrid, featuring a super sustainable faux suede upper, rubber sole and classic contrast stitching.
Grab a pair of Jorja x Clarks at clarks​.com


Kylie can't get Choo out of her head
You might remember us mentioning the new Jimmy Choo and Jean Paul Gaultier collab a few of weeks back. What we didn't know is that Kylie Minogue is fronting the campaign, styled in archival Gaultier by her longtime friend and collaborator Katie Grand. The pop legend is a huge fan of both brands, having performed in numerous made-to-measure Gaultier looks and Choo's in her time. They say Kylie embodies the pop-relevance, female empowerment and a rebellious je ne sais quoi of both brands. Can't argue with that.

Get your hands on Jimmy Choo /​Jean Paul Gaultier at jean​paul​gaulti​er​.com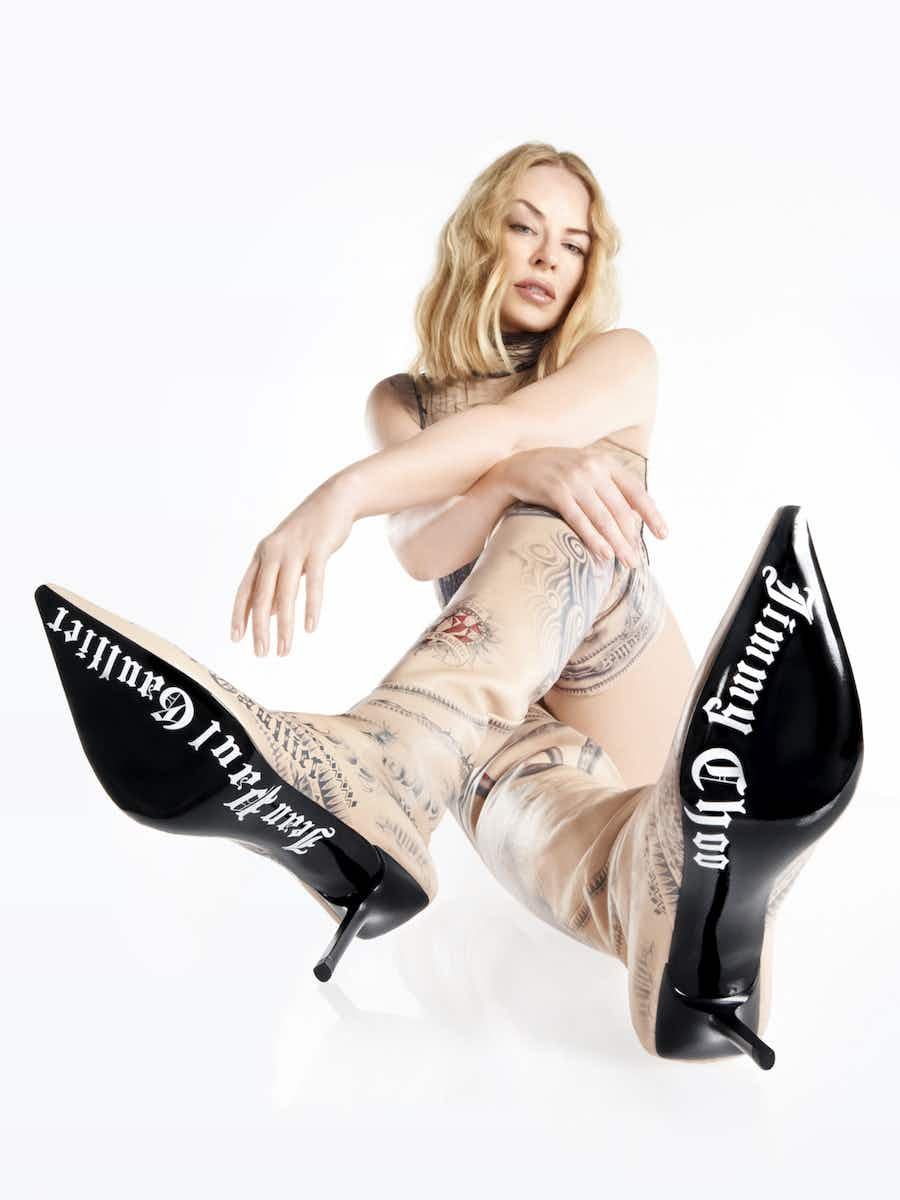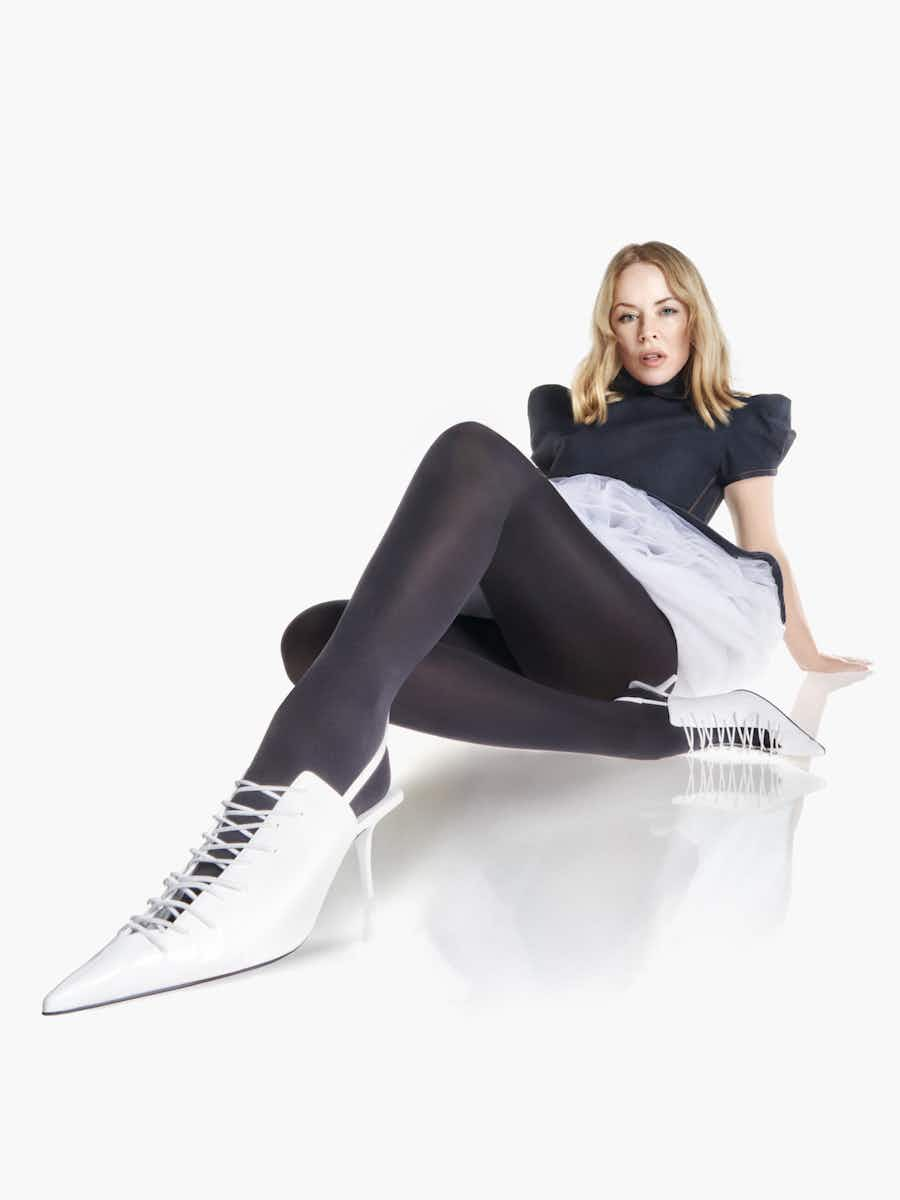 The Choose Love shop is back
The one-of-a-kind Choose Love shop, which raised over £1.2 million last year, opens back up for its seventh year on 22nd November. The shop stocks essential supplies and life-saving interventions for refugees, from sleeping bags and shoes to fuel and hot food. You can shop to your heart's content, knowing everything you choose will make it to those that need it most.
This year, for the first time, Choose Love will also be launching a boutique in the shop space on 2nd November before the main shop opens, selling items donated from celebs and brands (including a piece from Liam Gallagher), with all proceeds going to Choose Love. Make sure to keep an eye out for special events from Pioneer, Resident Advisor and It's Nice That, too.
Head down to Carnaby Street from 2nd November to share your pennies

Wasted Collective releases its first (Earth-friendly) shoe
Life's a beach and a party at Potato Head, the mega holiday resort in Bali that's hosted the likes of big-name DJs Peggy Gou, Moxie and Honey Dijon since opening in 2010, plus special apparel collaborations with Stüssy and Dover Street Market.

Much-loved for its good-time policy, Potato Head is highly regarded for its approach to sustainability, too: single-use plastic is banned, the food on offer is served in banana leaves, while water is refilled in complimentary aluminium and bamboo bottles.
Adding to its do-gooding, Potato Head founder Ronald Akili has now set up a ​"sister brand", Wasted Collective, earlier this year, that uses waste from shoe production to make recycled garments.

"[Wasted Collective and Potato Head] share the same dad, Ron, aka Ronald Akili, so we obviously also share a big part of the same DNA," says creative director Isaac Larose. ​"While being separate projects, they do help each other and collaborate together."
As part of its mission to clean up Bali's waste, Wasted Collective has been rolling-up its sleeves with its regular ​"neighbourhood clean-ups"; global events that bring local DJs and community radio stations along for the party, and a lesson on cleaning up our act.
"We have been doing weekly clean-ups in Bali, but not only beach ones, also neighbourhood clean-ups," says Larose. ​"This is what I consider the most interesting part.
"We've recently done one in Bali to kickstart the Boiler Room weekend with Dita mixing, one in London cleaning up around [record shop] All My Friends with Rahel and Casnova mixing, one in Japan close to Tokyo and one in Singapore."
Setting up shop earlier this year, Wasted Collective has been teasing prototypes of what is now its first-ever shoe, the Earth Shoe 01, that pulls no punches. As well as doing your bit for the world (remember, it's made from waste), there's also the bonus benefits of all-day comfort thanks to a super soft sole, arch support and a mesh upper with airflow technology.

Step into the Earth Shoe 01 at the​wast​ed​co​.com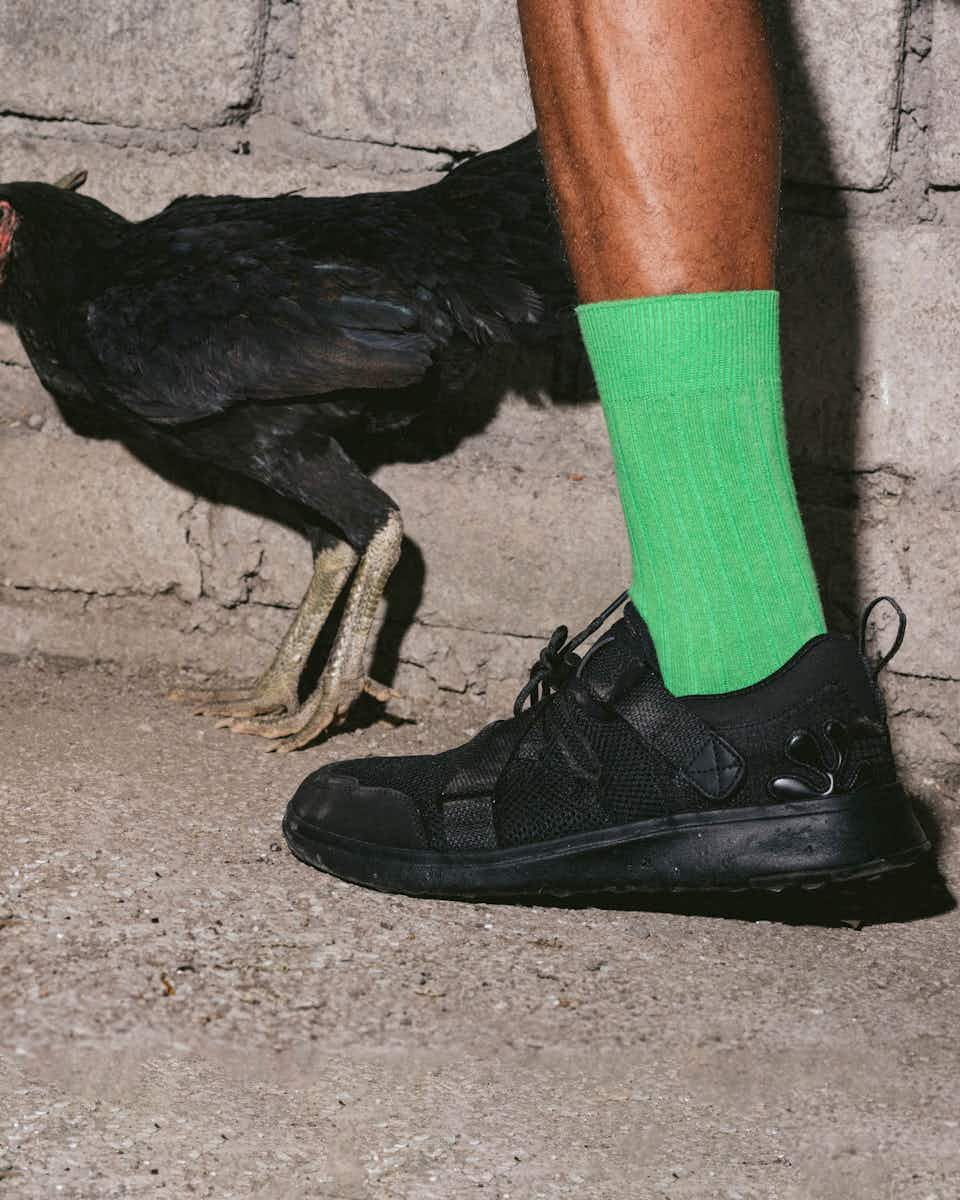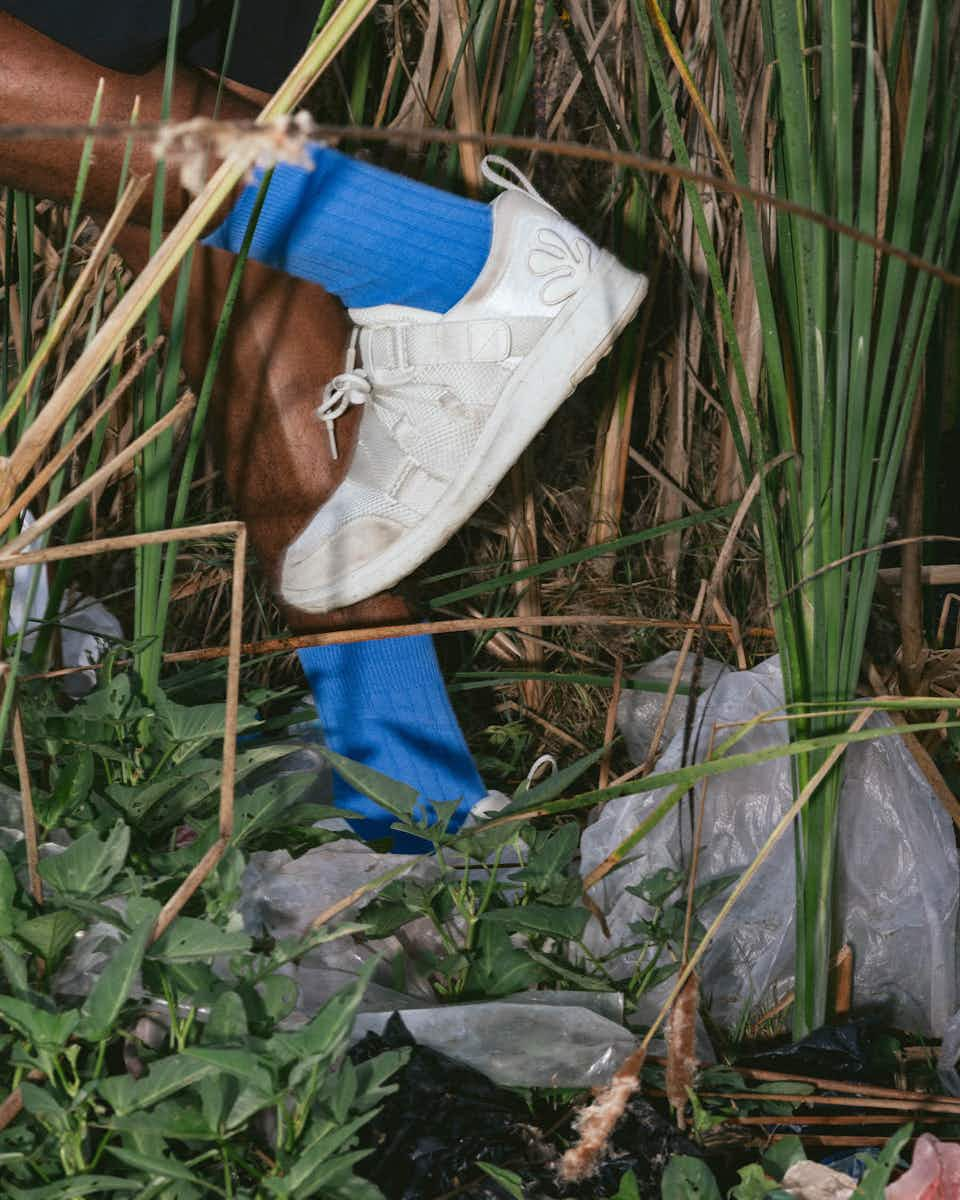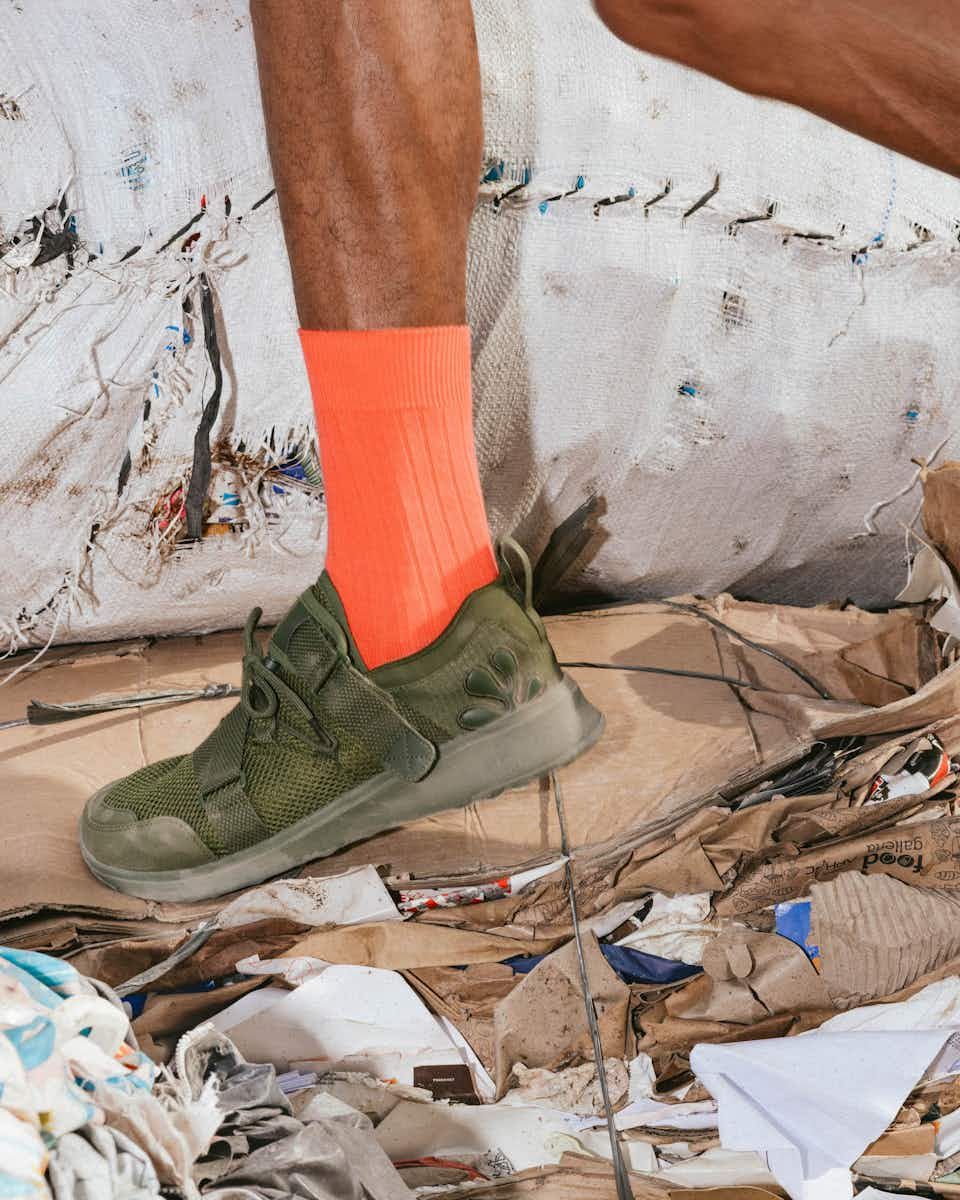 More like this