Supersonic youth: who said subcultures were dead?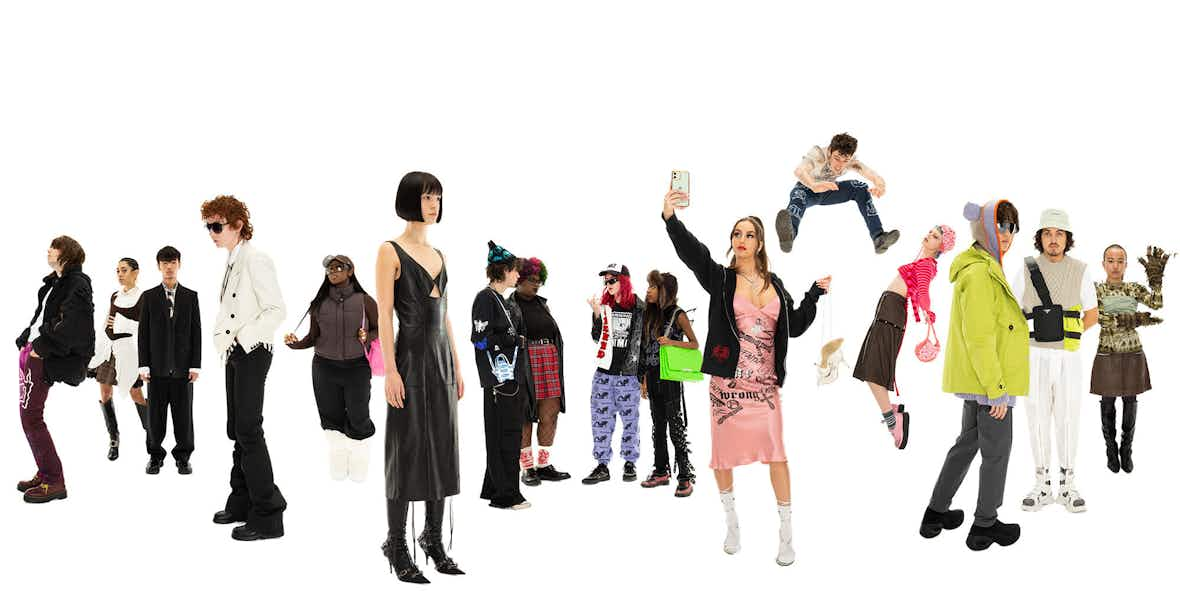 We've trawled the depths of TikTok, the nichest corners of the internet, London's sweatiest clubs and local shopping centres to find out what all the cool kids are wearing. From mall rats and happy campers to medieval mystics and Depop drama queens, here's where the youth are now pledging their sartorial allegiances...

Taken from the new print issue of THE FACE. Order your copy here.

Subcultures are dead. Or so the over-35s want you to believe. ​"It's not how it was in my day, mate," yadda yadda yadda. ​"Acid house? Wicked!" ​"Punks? Camden!" ​"Indie? You had to be there."
Whatever, we get it. But rumours of the demise of subcultures are wangingly exaggerated. They're everywhere, and you don't even have to look that hard – or get off your arse – to find them. They're in your very pocket, posting Stories on Instagram, selling stuff on Depop, shaking up the TikTok algorithms. And out in the real world, today's youth are occupying spaces of their very own, dressed like they belong to something you wouldn't understand.
Boys who dress like they're going camping are generally found perched by a pool table at a pub – a proper pub with carpet if possible, not the trendy IPA kind. Depop drama queens are out and about on a high street near you, swinging their second-hand Dior saddle bags and chewing on a Wrigley's between glossy lips. Even indie's been revived. In fact, if anything, certainly in London, it's even more pretentious this time around, with Goldsmiths students hosting dinner parties in Camberwell and talking about the failures of contemporary music (yes, it's ​"new" indie, but the music isn't).
Punk, too, is nü. Less hostile and by no means a cheesy salute to the past, boys and girls have found their own footing in a re-emergence of hardcore bands, like Chubby and the Gang touring in Leeds, Bristol, Glasgow and London, wearing holey T‑shirts and filthy denim. Broken nose optional.

And with the recent reboot of The Matrix has come a newfound allegiance to Gen Z aesthetics: Depop is chock-full of leather trenches, vinyl trousers and heavy black boots. Balenciaga's Demna Gvasalia saw it a mile off, trading bug-eye sunglasses for teeny-tiny versions, morphsuits and ice-cold glares. Find this lot traipsing around a concept store in another realm.
Youth are once again pledging their allegiances. Perhaps it's swipe culture, or the ease of finding your @people, or the torrential shitstorm of British politics in the past few years that have all left our youth craving a sense of meaning. Whatever the case, the digisphere – love it or loathe it – has newly defined youth tribes in the 2020s, sharpening cultural division and providing an online spot behind the bike sheds for the cool kids to congregate.
The history of the UK's tribal culture is long-winded, so we won't get into it too much. But the hippies, mods, punks, new wavers, ravers, goths, New Romantics, new lads, ladettes, garage girls, indie cindies and shufflers have one thing in common: they were young and responding, in various ways, to the prevailing politics. To anger, frustration, shaking the system and changing attitudes – and they reacted through style.
What started off as the Roaring Twenties has broadly folded into the Boring Twenties, returning to our no-drama pre-pandemic lives. But throw youth and emerging subcultures into the mix and 2022 becomes a hotbed of new fashion, music and art. It doesn't have to be as shouty as the days when punks ruled the King's Road – modern life is far too complex for that now, anyway. When image is everything, and merely a click away, you can be whoever you want to be.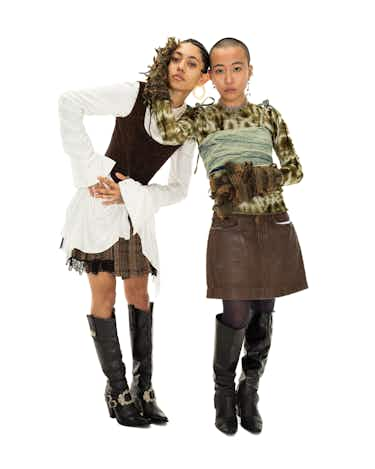 MECCA: Mordor. FOOD: From the ground. MUSIC: Mark Leckey's NTS radio show, FKA twigs, PJ Harvey's third album. FAVOURITE COLOUR: Earth tones. FAVOURITE FILM: The Wicker Man (1973 original, duh). LIKES: Summer solstice, the spore-bearing inner mass of certain fungi. DISLIKES: Insiders. CATCHPHRASE: ​"We are the weirdos, mister." GET THE LOOK: Jonty K Mellmann, layered knits, camouflage but not camo, the occasional twig, big boots, a placard.

CLOTHING CREDITS

Storm (left) wears corset and necklace ARCHIVE VIVIENNE WESTWOOD @HYSTERIC.FASHION, shirt ARCHIVE JEAN PAUL GAULTIER, skirt ARCHIVE DOLCE & GABBANA @ZEROCOOLCOUTURE, shoes and earrings talent's own. Lili (right) wears bra top ARCHIVE ASHLEY WILLIAMS, top (worn underneath) RALPH LAUREN, gloves ARCHIVE DOLCE & GABBANA @HYSTERIC.FASHION, skirt DIESEL, jewellery and shoes talent's own.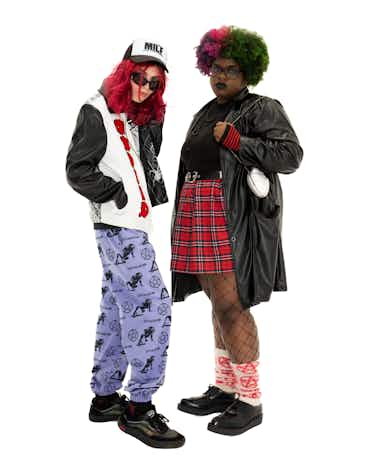 MECCA: Local shopping centres. MUSIC: Nirvana, Pearl Jam, L7, Nine Inch Nails, Hole. LIKES: Car parks, backs of buses, steps. DISLIKES: Questions, security, closing times, babies on buses. FOOD: Subway. FAVOURITE FILMS: The Doom Generation, True Romance, Ghost World. GET THE LOOK: Etnies, Vans, baggy jeans, vacant stares, Marlboro Touch.

CLOTHING CREDITS

Sam (left) wears top ARCHIVE @ HYSTERIC FASHION, sunglasses BALENCIAGA, Trousers ARCHIVE ASHLEY WILLIAMS, Jacket, hat and shoes talent's own. Quinn (right) wears all clothes, jewellery and shoes talent's own, bag GUCCI, legwarmers ASHLEY WILLIAMS, belt UNDERGROUND ENGLAND.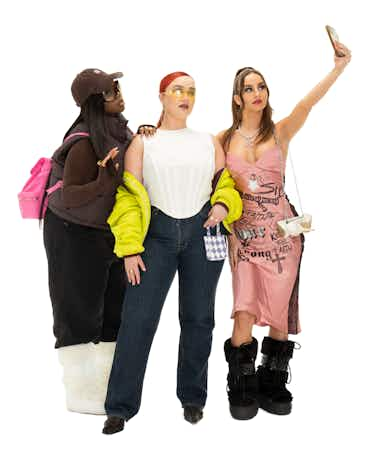 MECCA: A rooftop. LIKES: Good times, follow backs, @depopdrama, June-August. DISLIKES: Ghosting, Instagram updates, the 9 – 5. MUSIC: Dua Lipa. CATCHPHRASE: ​"You got guestlist? x" GET THE LOOK: Charlotte Knowles, Miu Miu, Lois Saunders, small bags, tinted sunglasses, front of the queue.

CLOTHING CREDITS

Olawasoore (far left) wears jacket, trousers, hat and sunglasses talent's own, bag GUESS, rings DIOR and talent's own, shoes MOON BOOT. Amelia (middle) wears jacket, sunglasses and jewellery talent's own, top DION LEE, bag ARCHIVE ASHLEY WILLIAMS, jeans LEVI'S, shoes CHARLOTTE KNOWLES. Far right, tiara ARCHIVE @ HYSTERICFASHION, jewellery talent's own, bag SOUP ARCHIVE, dress ARCHIVE MISS SIXTY @HYSTERICFASHION and shoes MOON BOOT.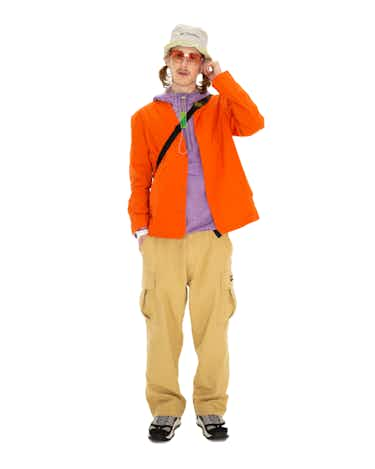 MUSIC: Anything off an aux cable at 4am. MECCA: Venue MOT, Bermondsey. PET PEEVES: Foul play. LIKES: Tinder, Bret Easton Ellis, talking about Bret Easton Ellis on Tinder. PET: Dog. GET THE LOOK: Palace, Arc'teryx, The North Face, Salomon shoes, Columbia Road Market, nursing a pint ​'til the next round.

CLOTHING CREDITS

Solomon wears hat COLUMBIA, hoodie LEVI'S, jacket JIMMY HOWE, trousers CARHARTT WIP X TOO GOOD, shoes, glasses and watch talent's own.




LIKES: The old days. DISLIKES: Sam Fender. MUSIC: Prefers the early stuff. DRINKS: Campo Viejo Rioja. MECCA: Goldsmiths. FURTHER READING: The Creation Records Story: My Magpie Eyes are Hungry for the Prize by David Cavanagh. CATCHPHRASE: ​"Did you know the bass player from The Housemartins actually went on to be Fatboy Slim?" GET THE LOOK: Saint Laurent, Celine, a mullet, vintage stuff, dark sunglasses, the stench of fags, looking aloof.

CLOTHING CREDITS
Tabitha wears jacket, shirt, trousers SAINT LAURENT BY ANTHONY VACCARELLO, shoes talent's own.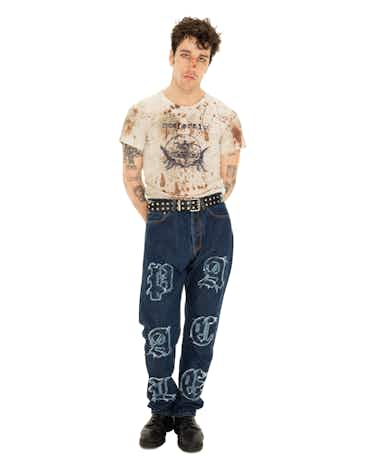 DRINK: Stella, canned. MUSIC: Chubby and the Gang, Ho9909, Sniffany & the Nits. MECCA: Static Shock Fest, the New Cross Inn. LIKES: Heritage metal, falling, crowds, crackin' skulls, like-minded associates. DISLIKES: The Man. FOOD: Crisps. CATCHPHRASE: Oi! TATTOOS: A‑plenty. GET THE LOOK: Second-hand, found stuff, Nancy Shit, Dickies, a trucker cap, a chain, blood-soaked anything.

CLOTHING CREDITS
Billy wears top, jewellery and shoes talent's own, belt UNDERGROUND ENGLAND and jeans PALACE SKATEBOARDS.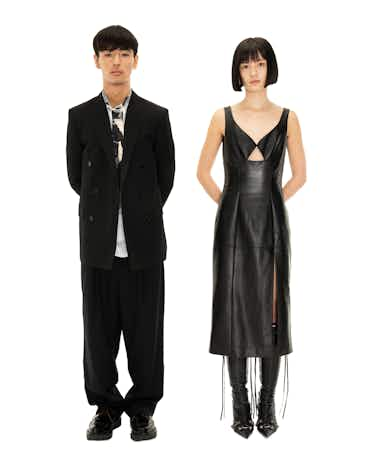 FOOD: A bite. DRINK: Clear. MECCA: Dover Street Market. LIKES: The red pill. DISLIKES: The blue pill. CATCHPHRASE: ​"Everything that has a beginning has an end." MUSIC: Ambient sounds. GET THE LOOK: Balenciaga, Prada, Nensi Dojaka, archive Comme des Garçons, leather, boots, straight hair, walking in straight lines.

CLOTHING CREDITS

Ken (left) wears jacket, shirt and trousers CELINE BY HEDI SLIMANE, tie ARCHIVE @EORYEN and shoes GEORGE COX. Molly (right) wears dress MICHAEL KORS and shoes BALENCIAGA.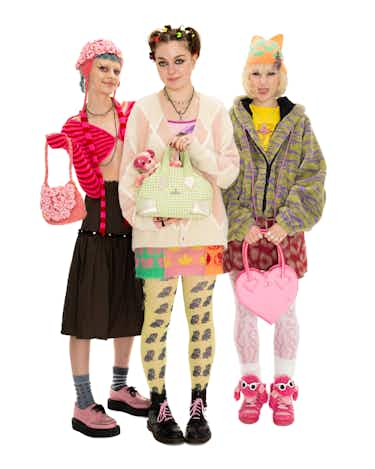 MUSIC: PinkPantheress, Beabadoobee. HERITAGE ACT: Lily Allen. PET: Tamagotchi. MECCA: Depop. LIKES: Irony, Daria, stripes, cereal. DISLIKES: Boomers, dishonesty. WHERE TO FIND: TikTok. GET THE LOOK: Ashley Williams, Heaven by Marc Jacobs, Dr. Martens, comic bags, ironic slogans, Argyle all sorts.

CLOTHING CREDITS
Marie (far left) wears top URTE KAT, hat and bag ARCHIVE OZONE COMMUNITY @HYSTERIC.FASHION, skirt, jewellery and socks talent's own and shoes GEORGE COX. Daisy (middle) wears top IKEDA MOODY GOLDING, jewellery talent's own, cardigan LEVI'S, skirt and tights ARCHIVE ASHLEY WILLIAMS, bag and teddy VIVIENNE WESTWOOD and shoes Dr. Martens. Meg (far right) wears jacket, hat, hair clips, tights and bag ARCHIVE ASHLEY WILLIAMS, top ARCHIVE SUPER LOVERS @HYSTERIC.FASHION, necklace ARCHIVE VIVIENNE WESTWOOD @ZEROCOOLCOUTURE, Skirt ARCHIVE VIVIENNE WESTWOOD @HYSTERIC.FASHION, Shoes ARCHIVE ADIDAS X JEREMY SCOTT @HYSTERIC.FASHION and legwarmers talent's own.

INSTAGRAM ARCHIVE @HYSTERIC.FASHION. HAIR Roxane Attard. MAKE-UP Porsche Poon. CASTING Sarah Small at Good Catch. TALENT Aldo, Storm, Ken, Tabitha, Olawasoore, Molly, Sam, Quinn, Lili, Amelia, Kaiya, Solomon, Billy, Marie, Daisy and Meg. PRODUCER Katherine Bampton. PHOTOGRAPHER'S ASSISTANTS Harry Mitchell and Luke Farley. STYLIST'S ASSISTANTS Hollie Williamson and Oliwia Jancerowicz. HAIR ASSISTANT Mayuko Nakae. MAKE-UP ASSISTANTS Mari Kuno and Eddy Liu

More like this