Fashion East SS20 was the rave we all needed

Robyn Lynch, Saul Nash and Mowalola each brought the party in their own distinct ways.

WHO WAS SHOWING?
Robyn Lynch and Mowalola returned as part of the Fashion East line up, while newcomer Saul Nash joined for the first time.

WHAT WERE THE HIGHLIGHTS?
Stand-out moments included Robyn Lynch's collection ending with Sandstorm by Darude, team Mowalola proudly cheering on their friends walking down the runway – including Hélène Selam Kleih and Max Davis, while Adesuwa closed the show, as well as Saul Nash's army of dancers patiently waiting in the centre of the runway for guests to be seated, before exploding into electric choreography, setting the mood for what was to come.
WHAT DID THE INVITE LOOK LIKE?
The invite was sent in physical form and featured an image taken by Abdourahman Njie.

TELL US ABOUT SAUL NASH…
The London-born designer opened the show and his dance background (and BA in Performance Design) was evident from the beginning. His models grouped together in the middle of the runway exchanging fluid motions between them as if speaking a secret language perhaps only they knew.
WHAT ABOUT THE CLOTHES?
Nash's clothes were visibly designed for the functionality of movement while giving the impression of the wearer being ​"lighter-than-air" as the models took fluid strides and moved in perfect harmony to a pulsating beat.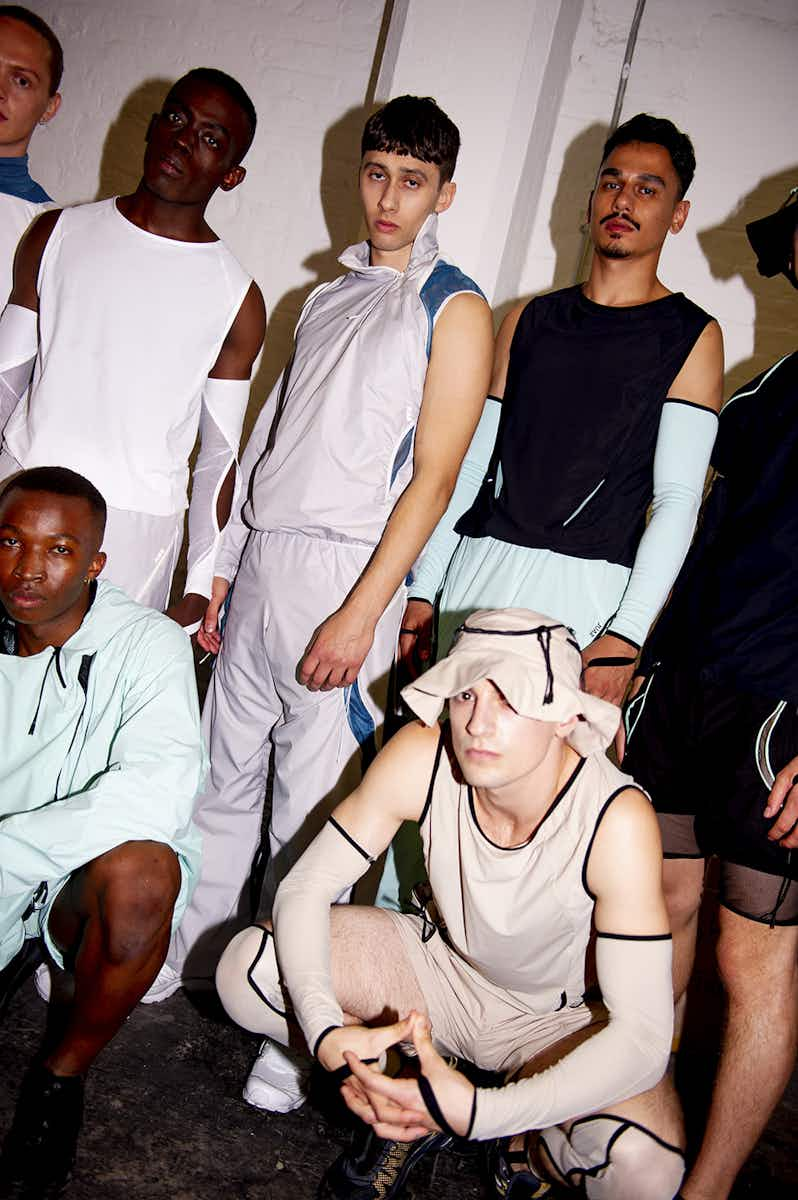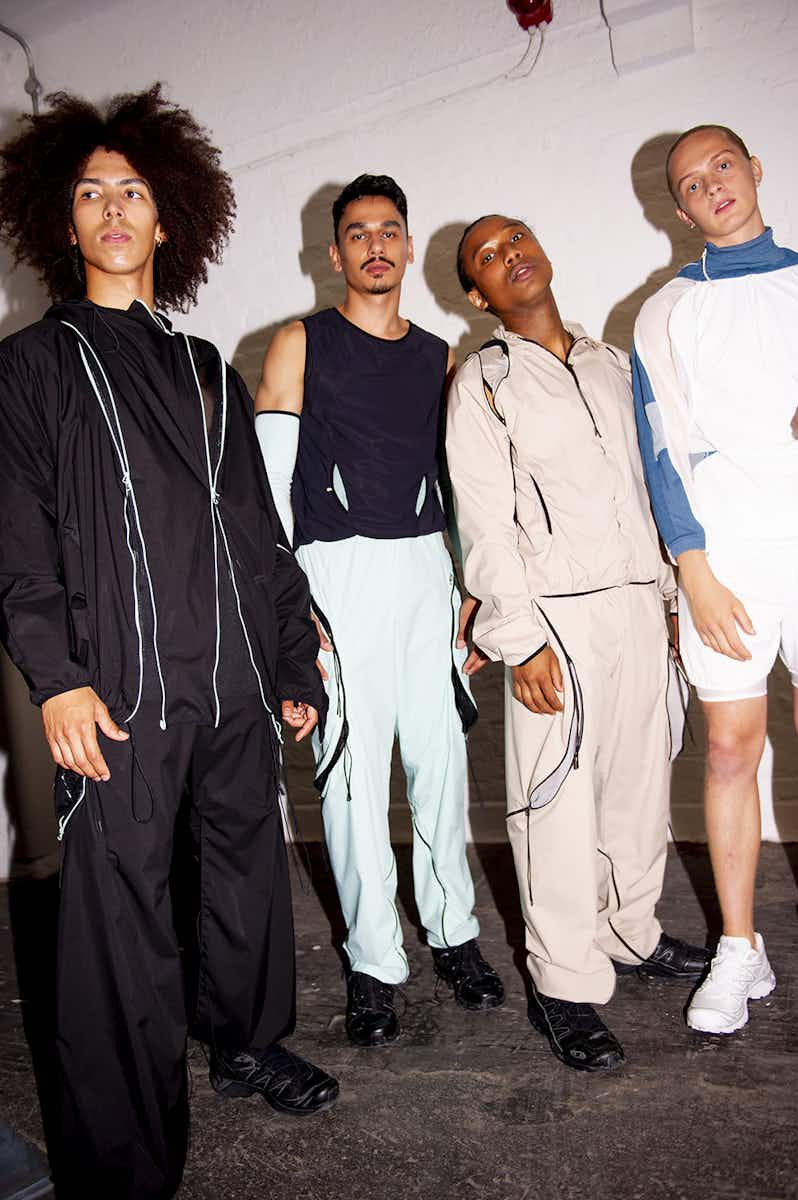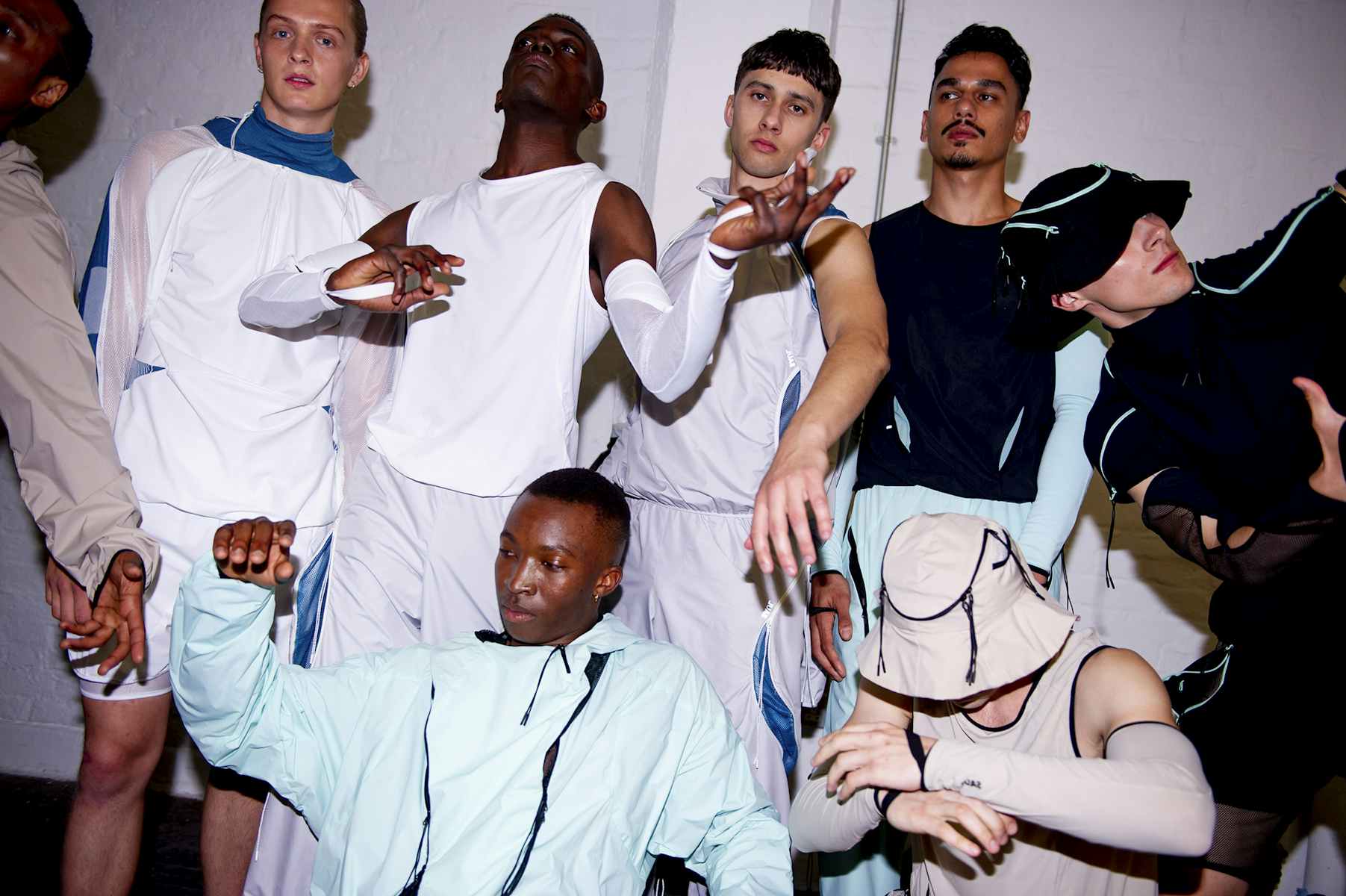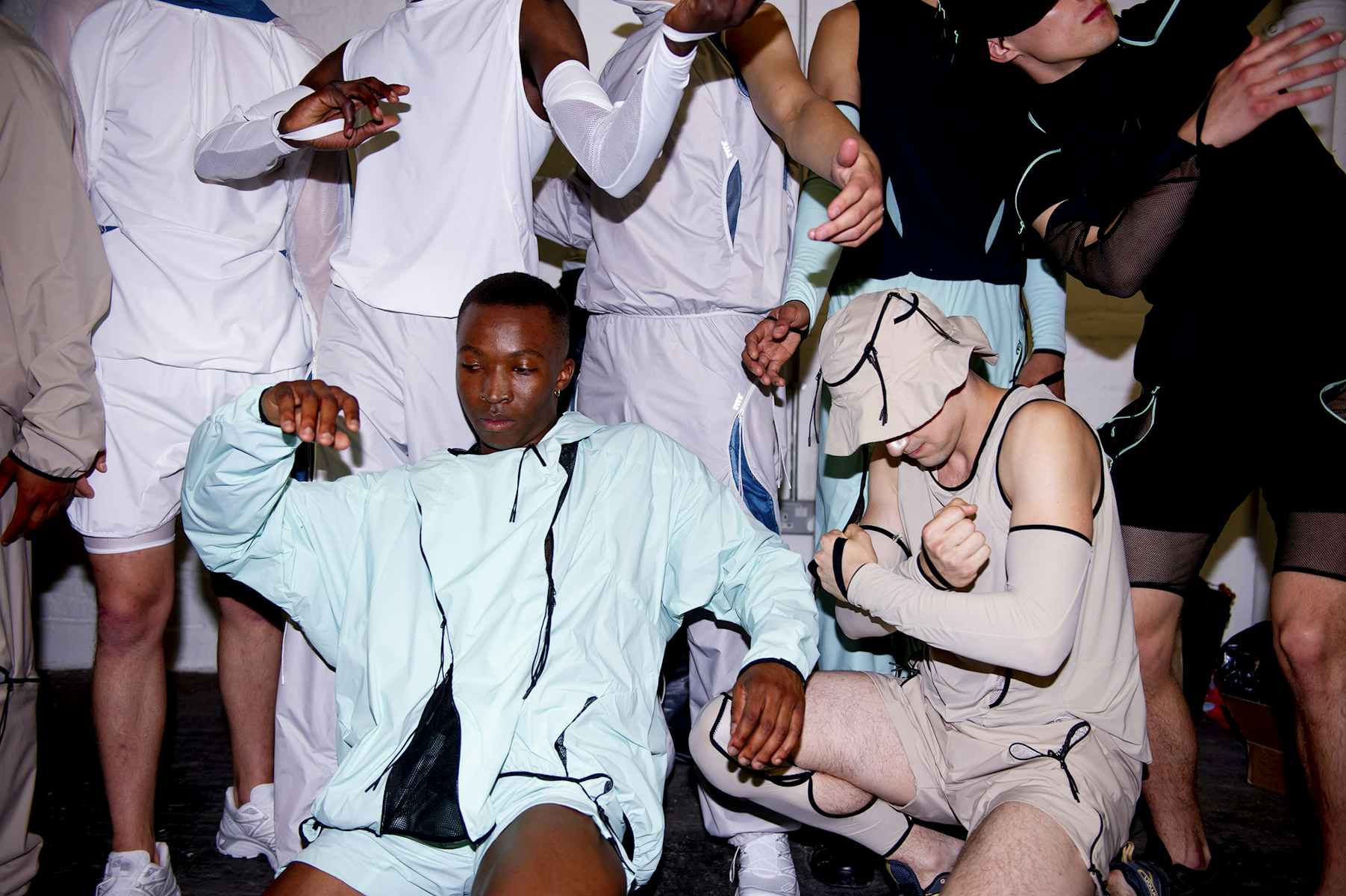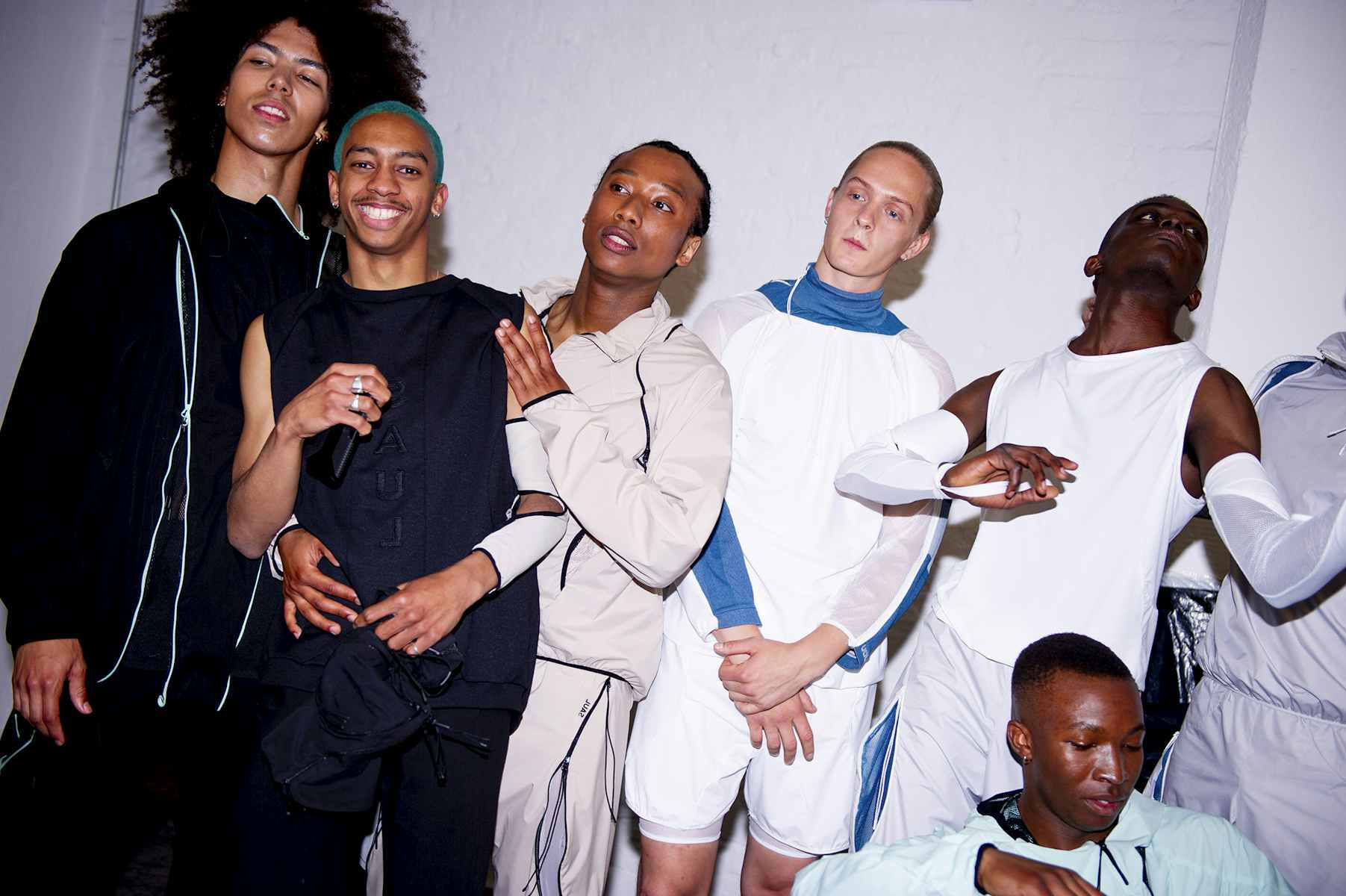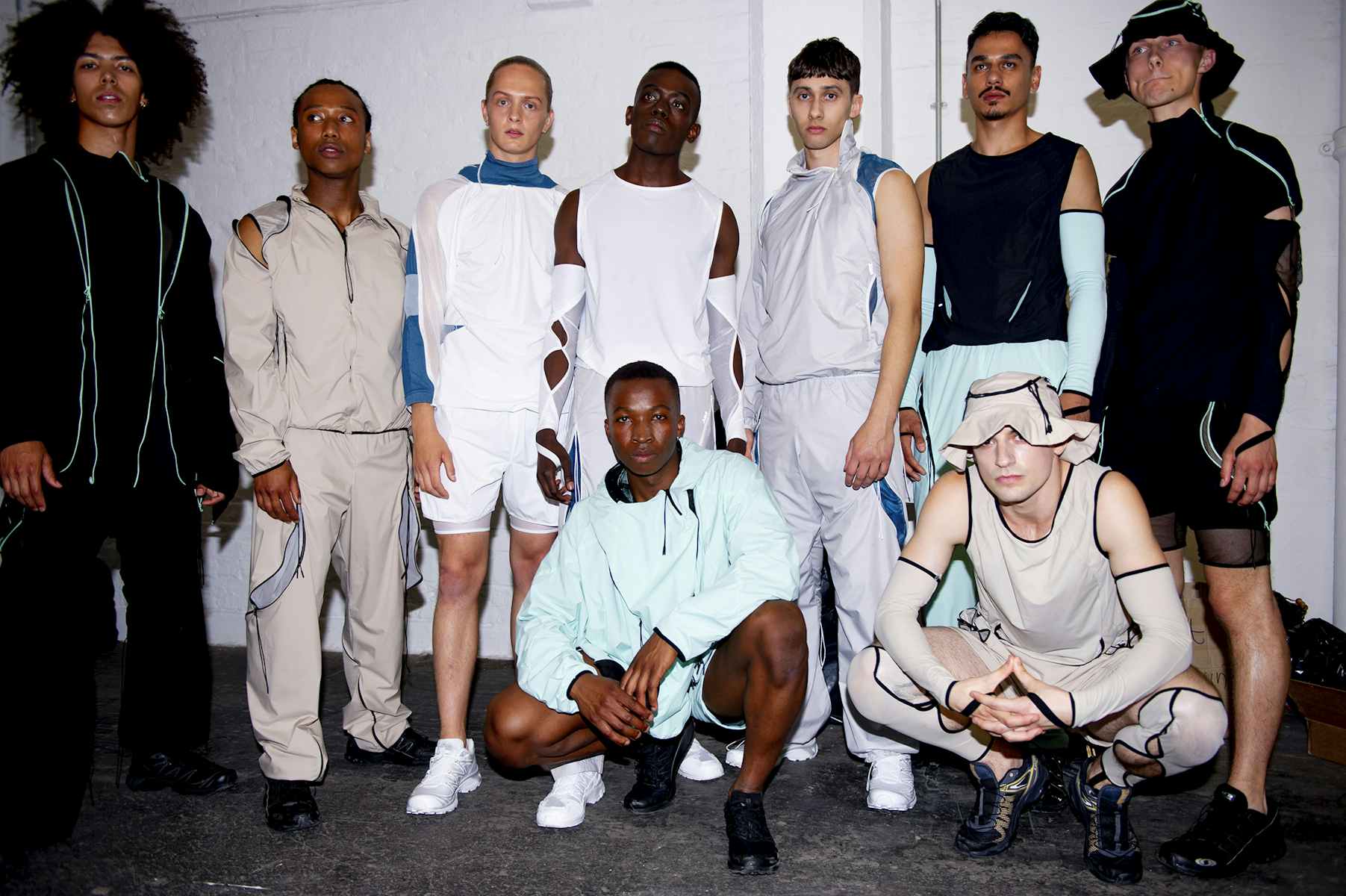 TELL US ABOUT ROBYN LYNCH…

Dublin-born, London-based designer Robyn Lynch was snapped up by Lulu Kennedy after graduating from the Menswear MA at The University of Westminster in 2018. Her last collection paid tribute to youth, playfulness and placed silhouettes at the top of her design agenda, winning her an army of supporters excited about what the designer would bring next.
WHAT ABOUT THE CLOTHES?
Striding to a soundtrack of club-ready tracks, this was sexy sportswear intended to turn heads. Sticking to her chromatic theme which caught attention last season, SS20 was a mix of mint-green, tomato-red, toffee-brown and lavender velour two-piece ensembles. Paying homage to her roots, traditional Irish cable knits featured, while playful briefcases with ​'Robyn' written across them featured throughout. Socks were pulled high and worn with heavy Dr Martens sandals, forcing the models to take confident steps to a thumping bassline, while futuristic goggle-style sunglasses were worn with lenses matching the colour of the garments.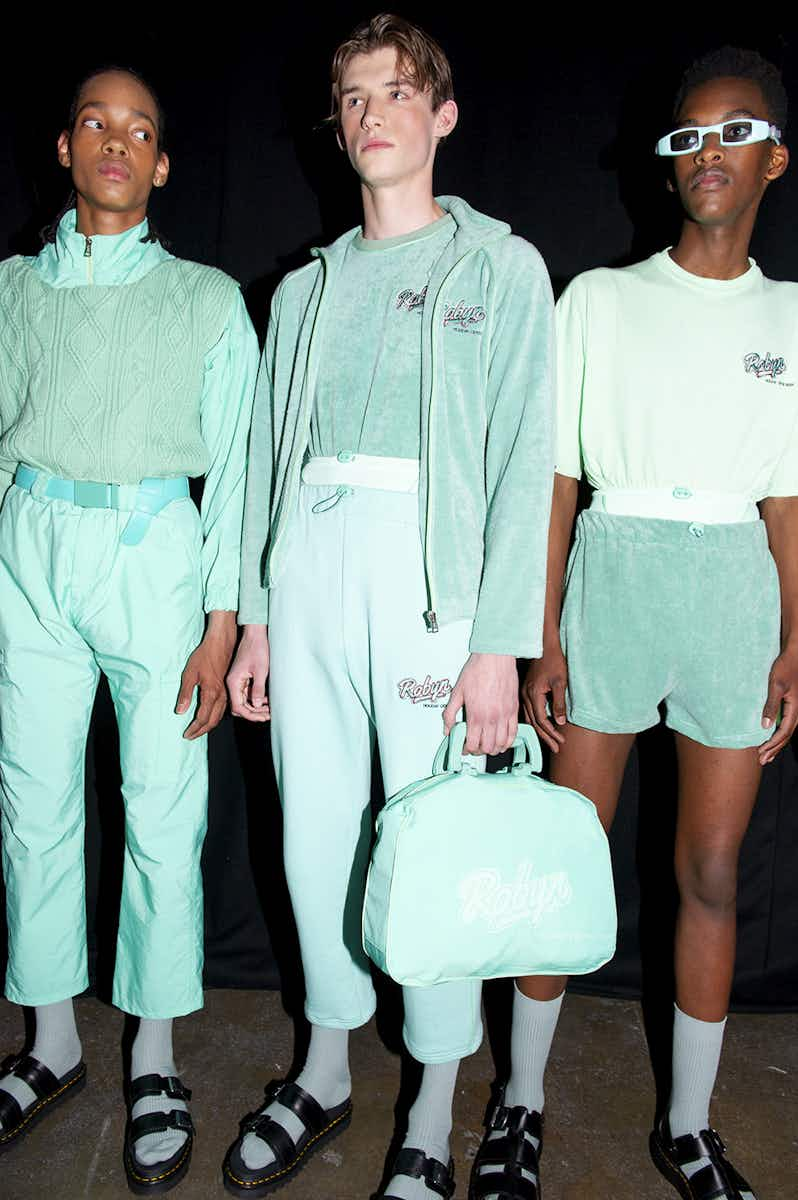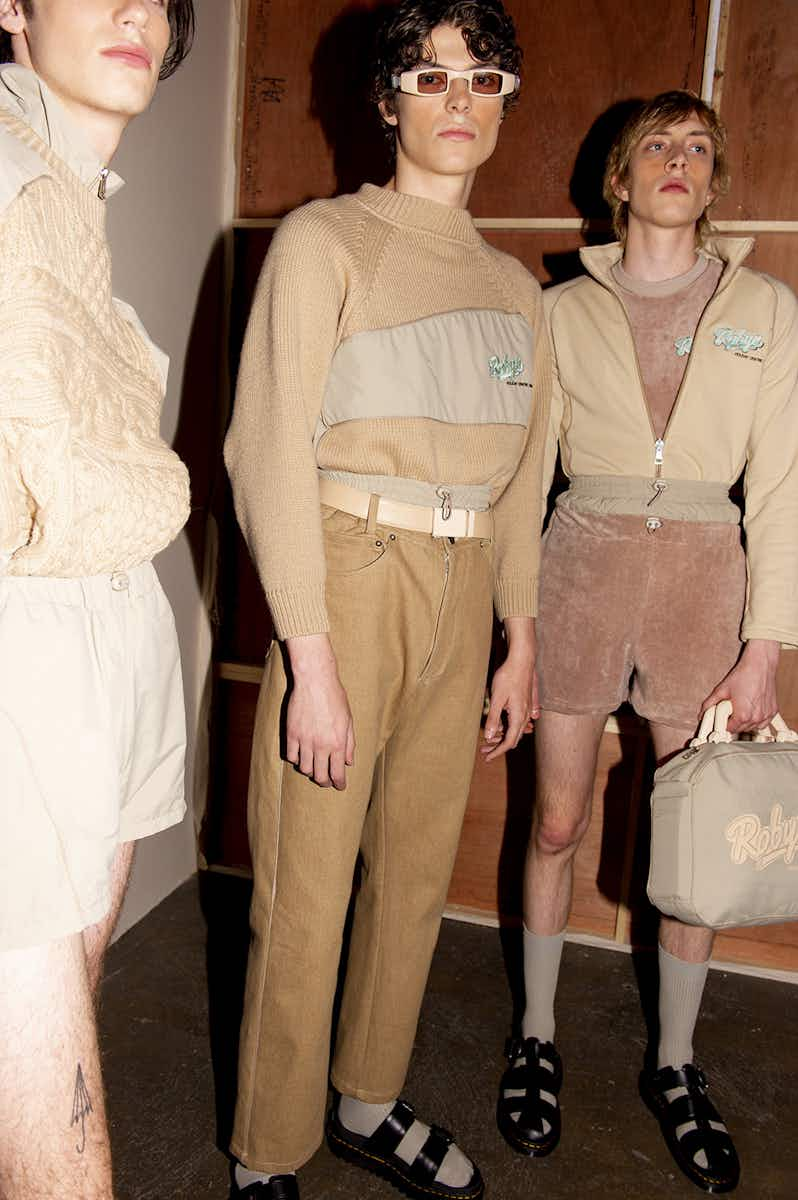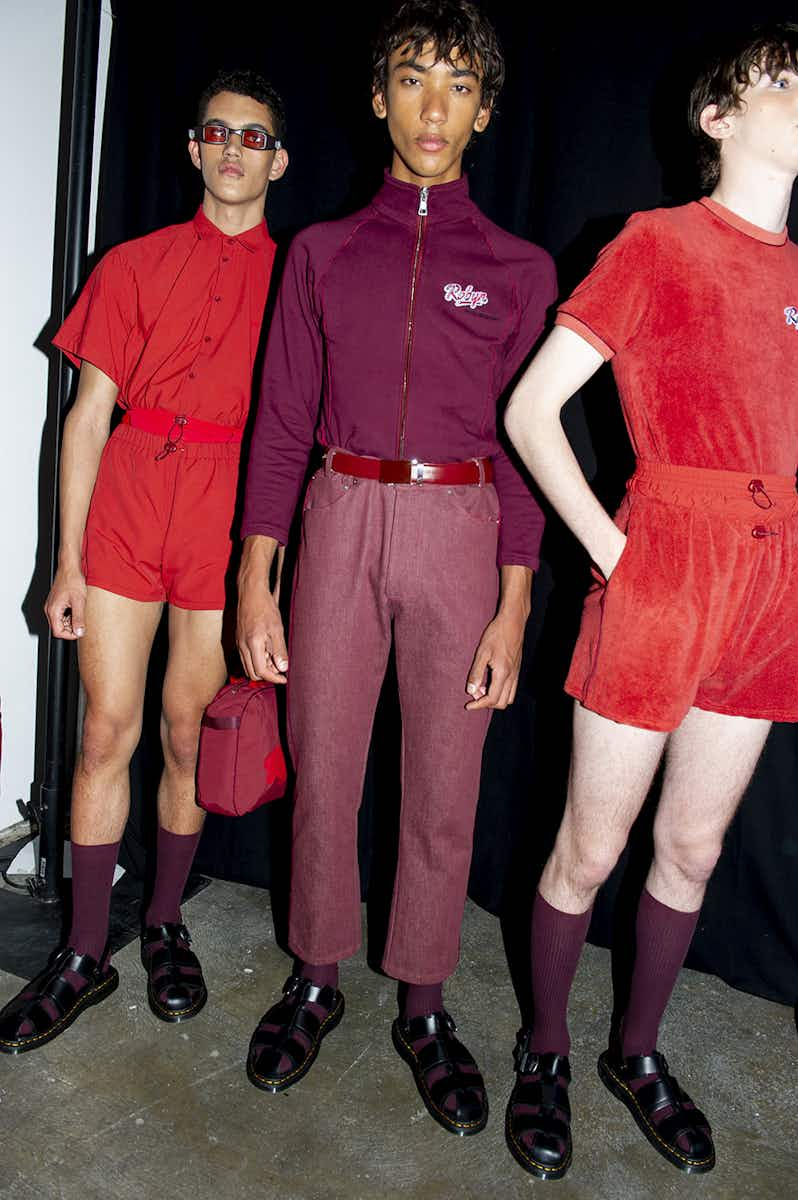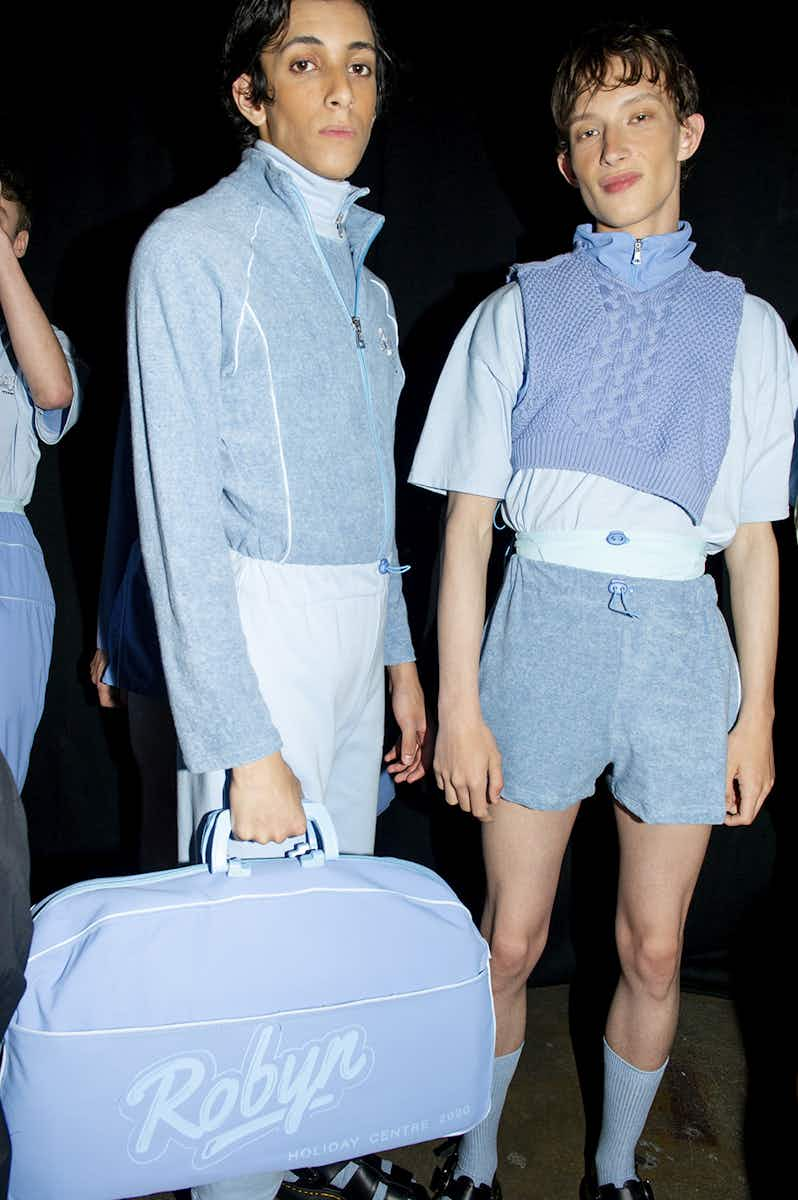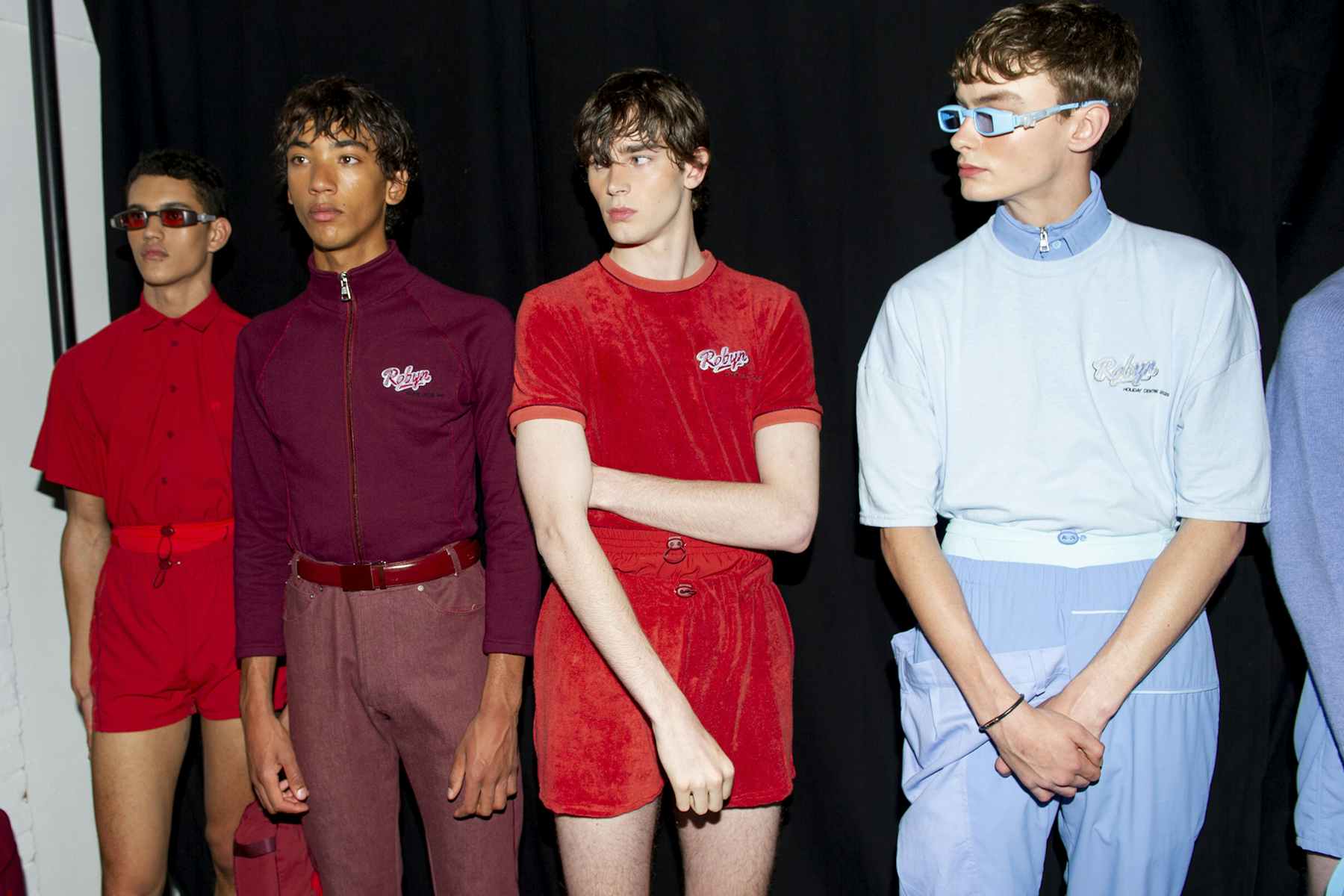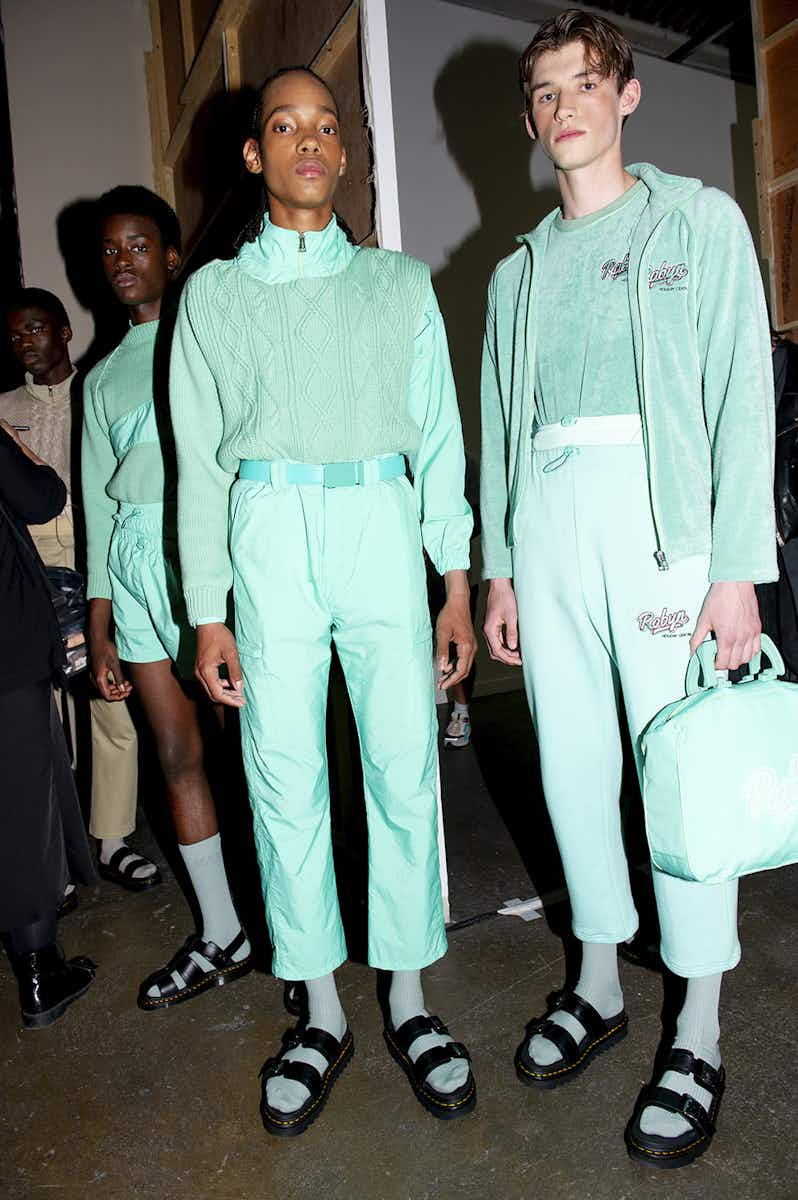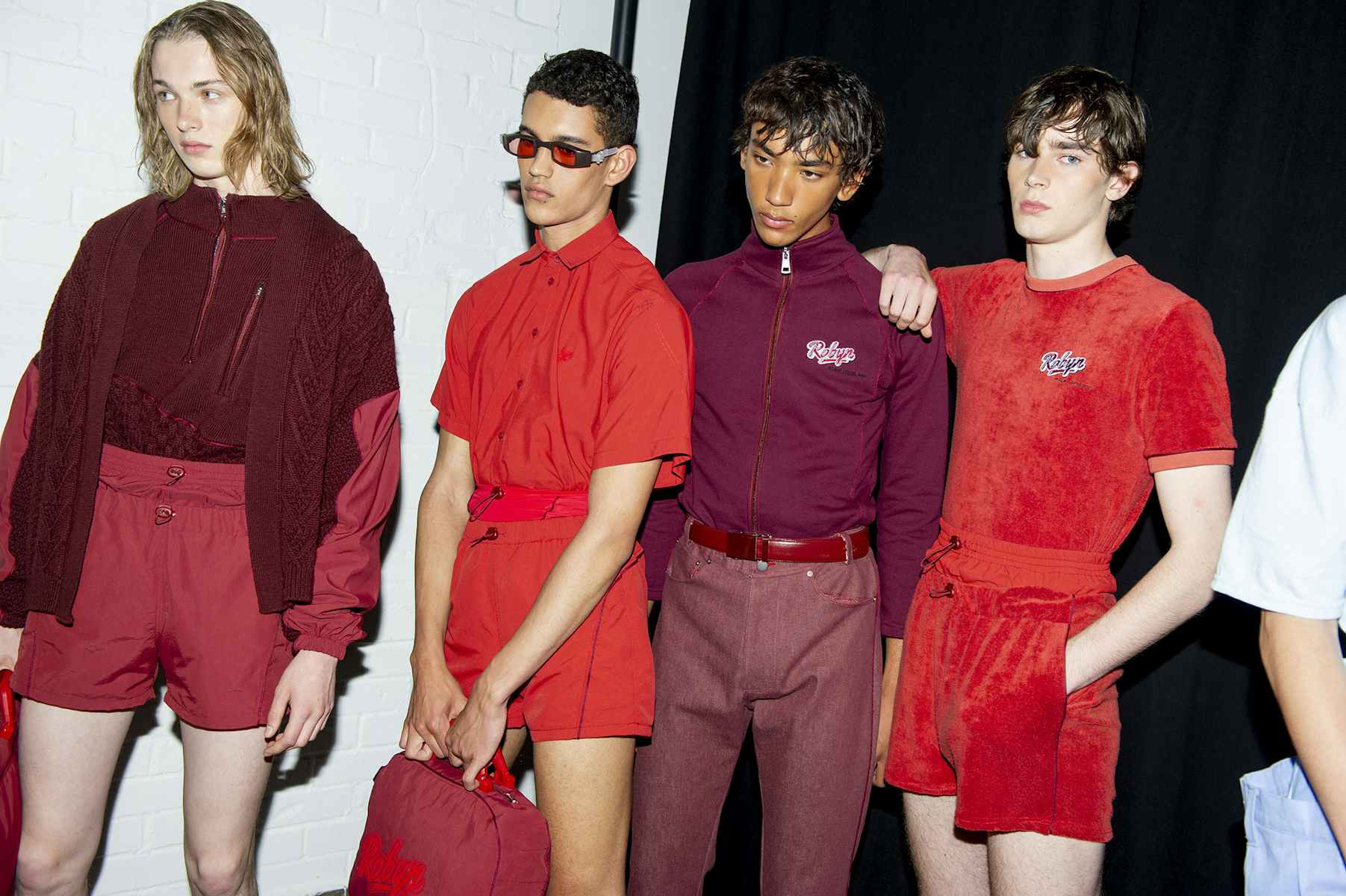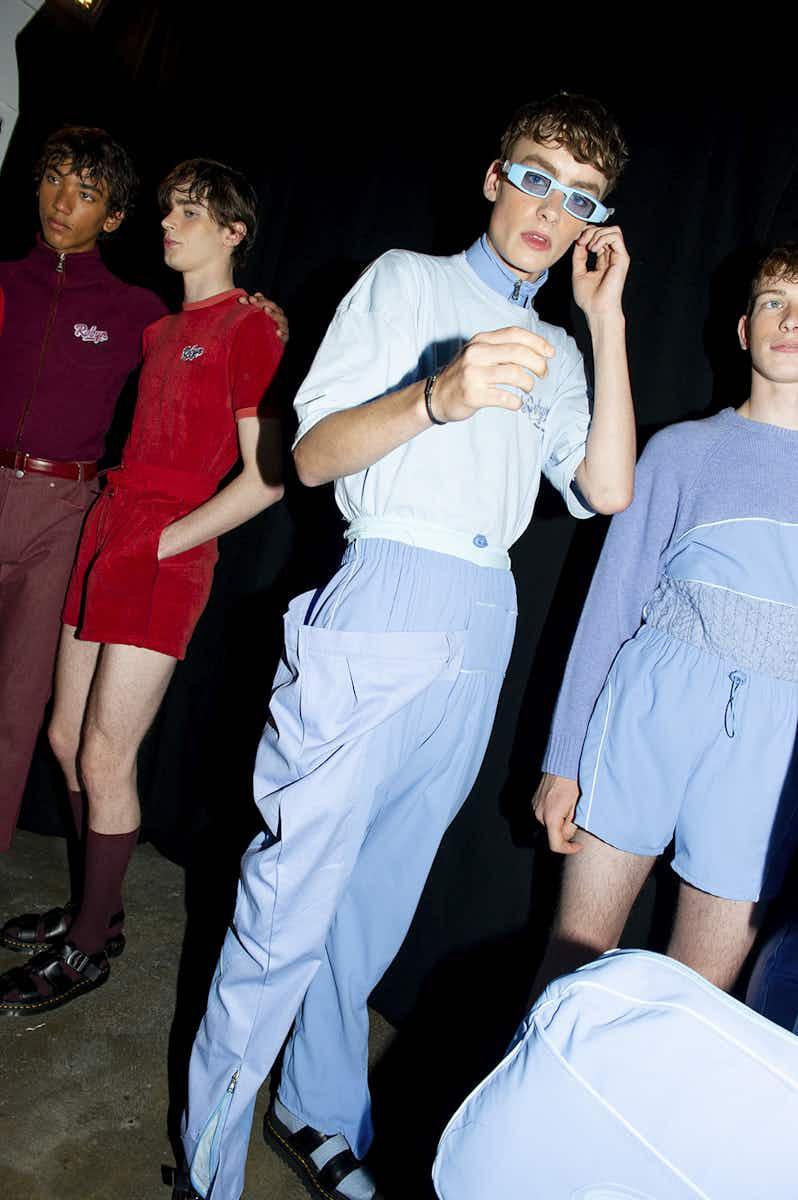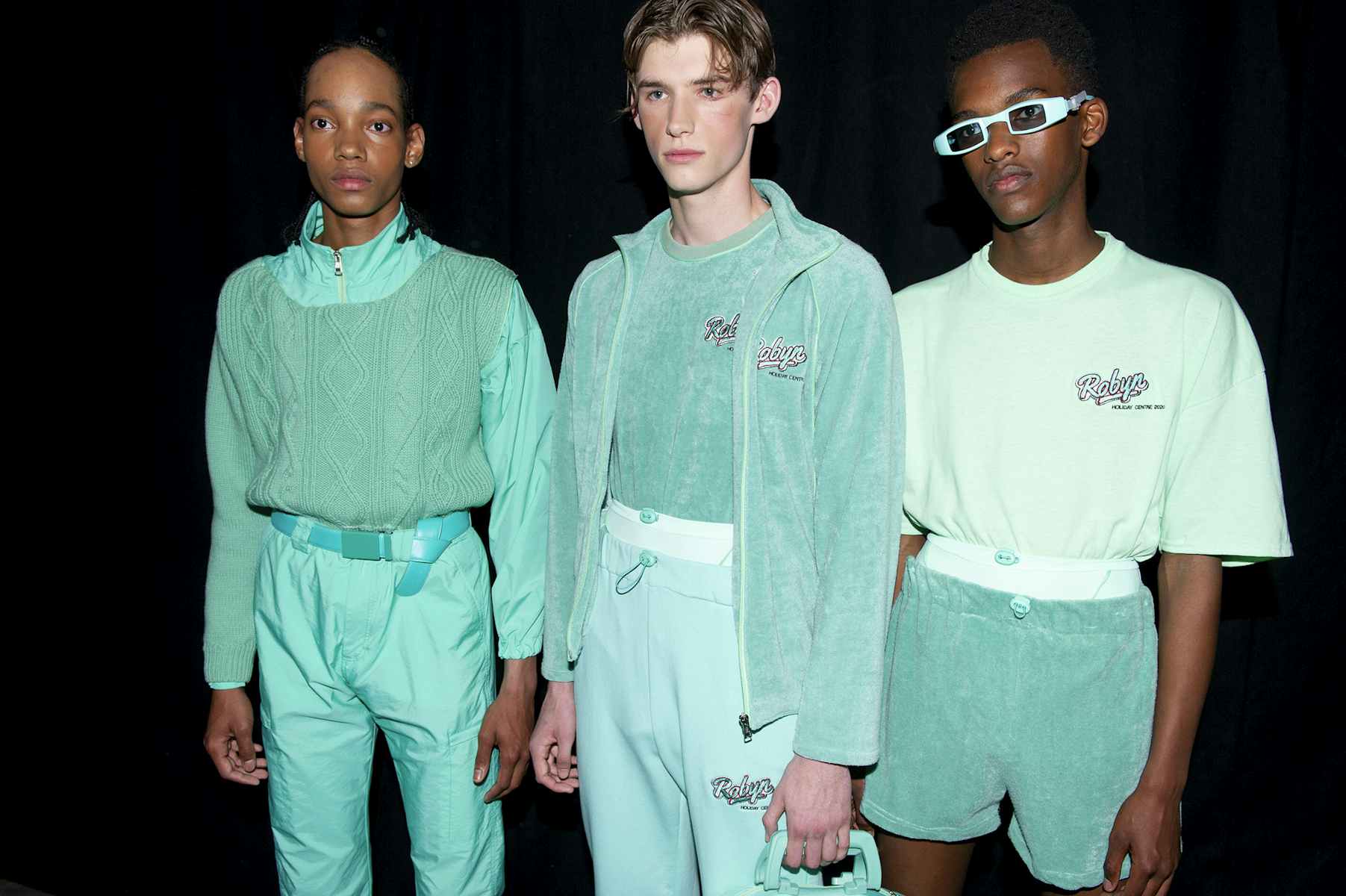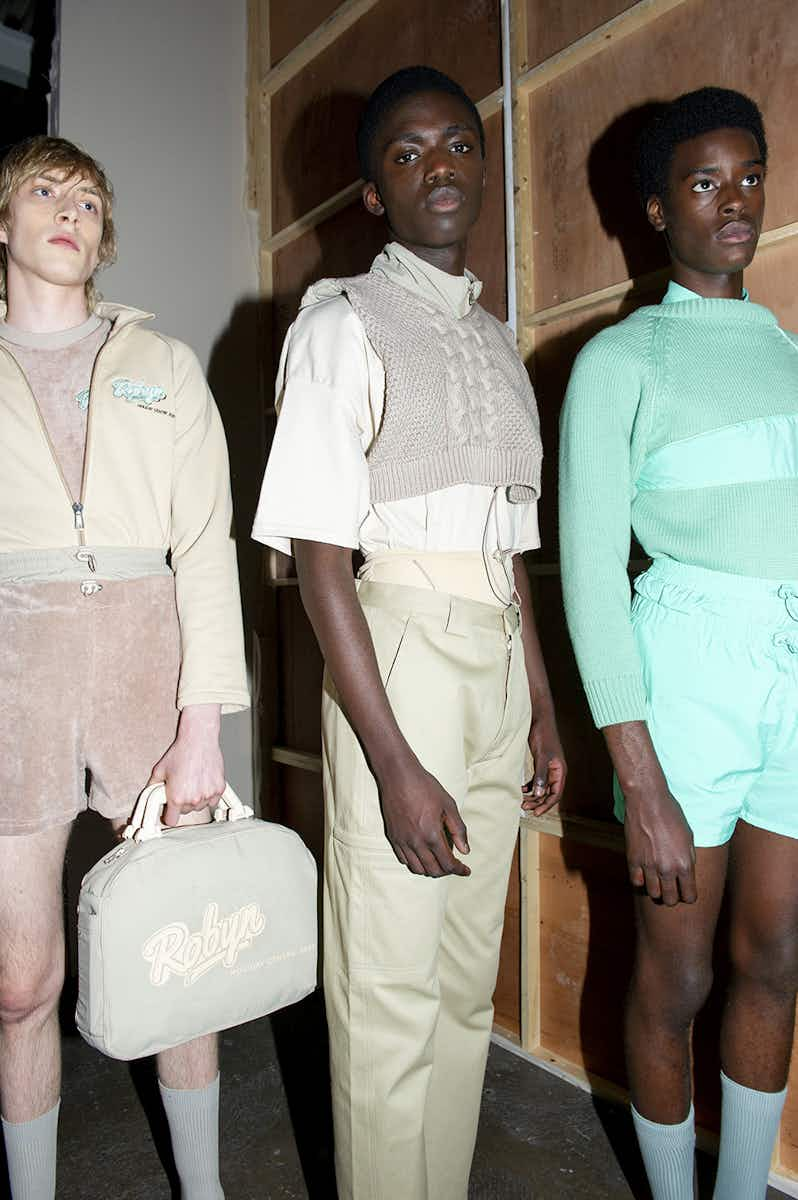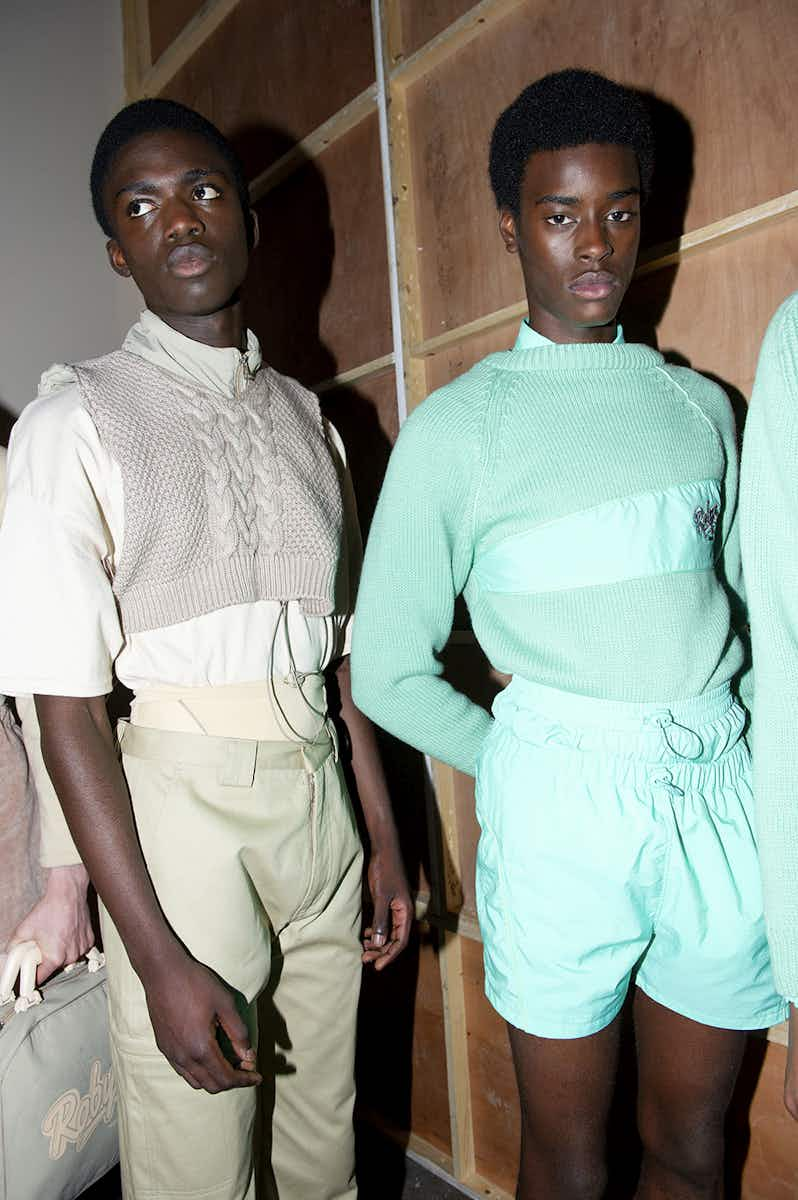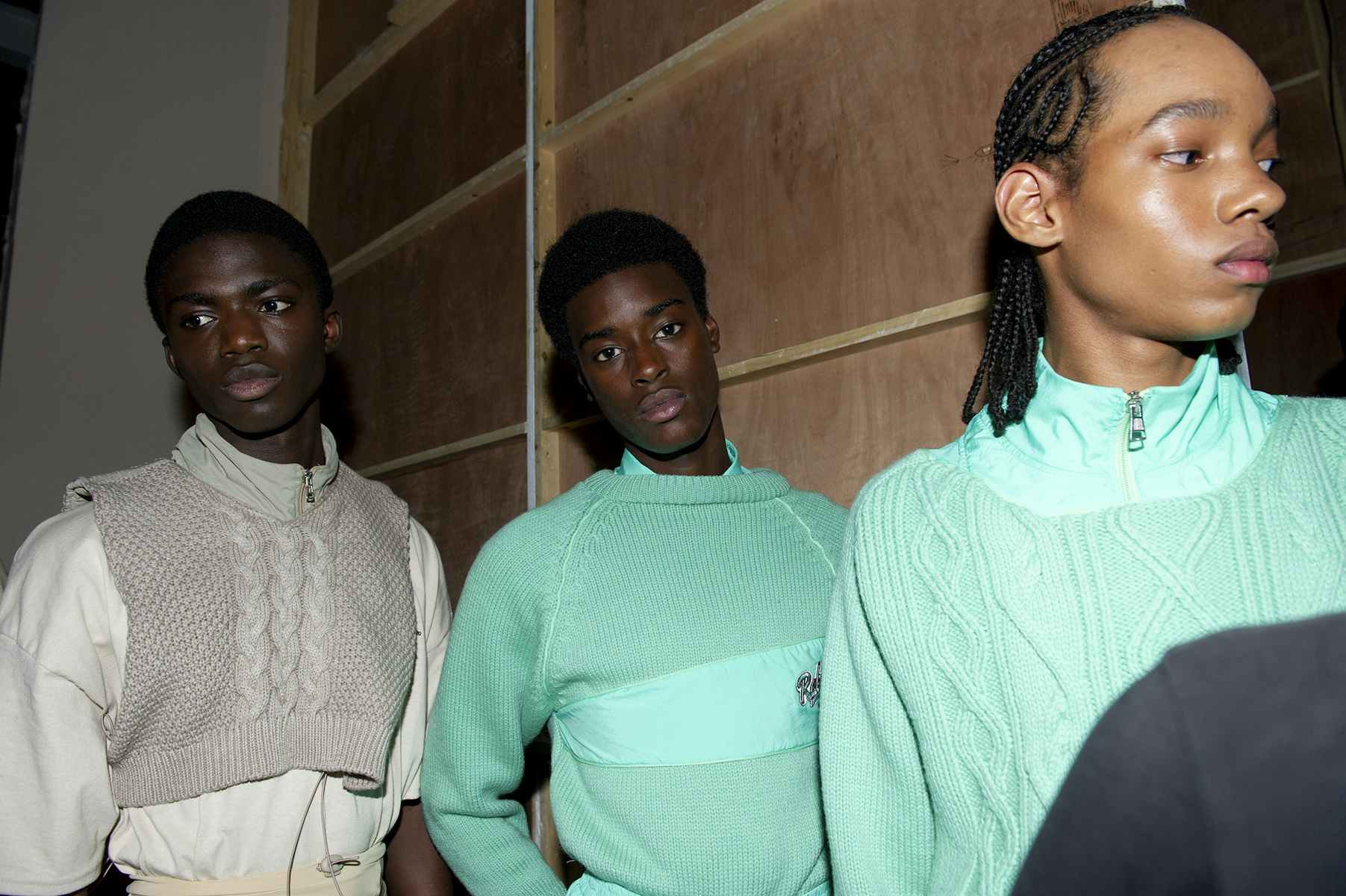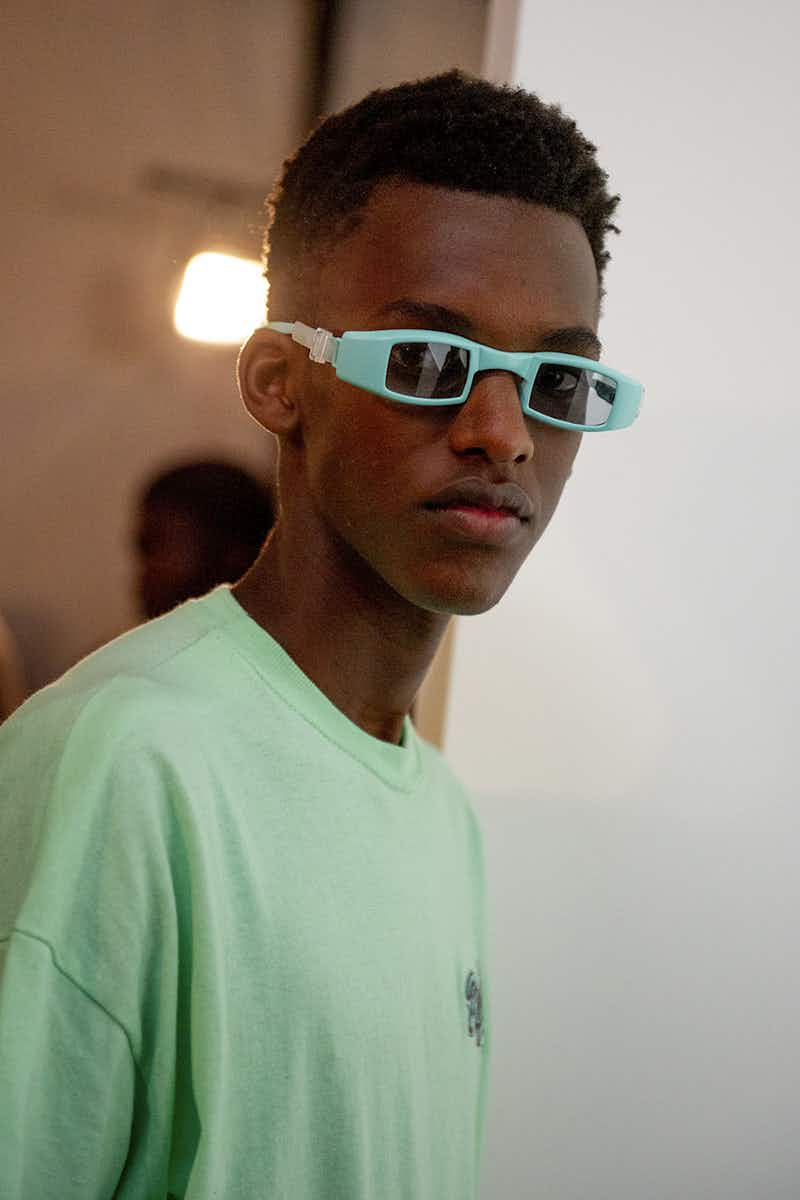 TELL US ABOUT MOWALOLA…
Last season, Mowalola's collection was every bit of sex and seduction as it was bold and brave. This time, the Nigerian-born, London-based designer is in love – it's less about sex and more about romance done the Mowalola way. The morning of the show, Mowalola teased us on Instagram with a post simply captioned ​'SS 20 ​'COMING FOR BLOOD' Tonight at 7pm' – and it truly was a bloody affair…

WHAT ABOUT THE CLOTHES?
Screams could be heard over the soundtrack of heavy metal (FYI, did you know the designer plays the drums?) and club mixes while the models stared straight ahead – ​'if looks could kill' has never been so appropriate. Having fallen in love, Mowalola's SS20 collection harnessed rollercoaster emotions and highly-charged sexual feelings. But, after all, this is Mowalola – and her idea of love won't be pretty florals and dainty pastels anytime soon, will it? Instead, there were lime-green cowhide, cowboy belts with the Virgin Mary arched on one and ​'BIG FAT BASTARD' on another, white Scarface-style suits splattered with blood, and high-neck evening dresses. Christian Louboutin supplied the footwear again – think knee-high hot pink boots worn with sculptural cutout dresses – an homage to Lil Kim and Mary J. Blige.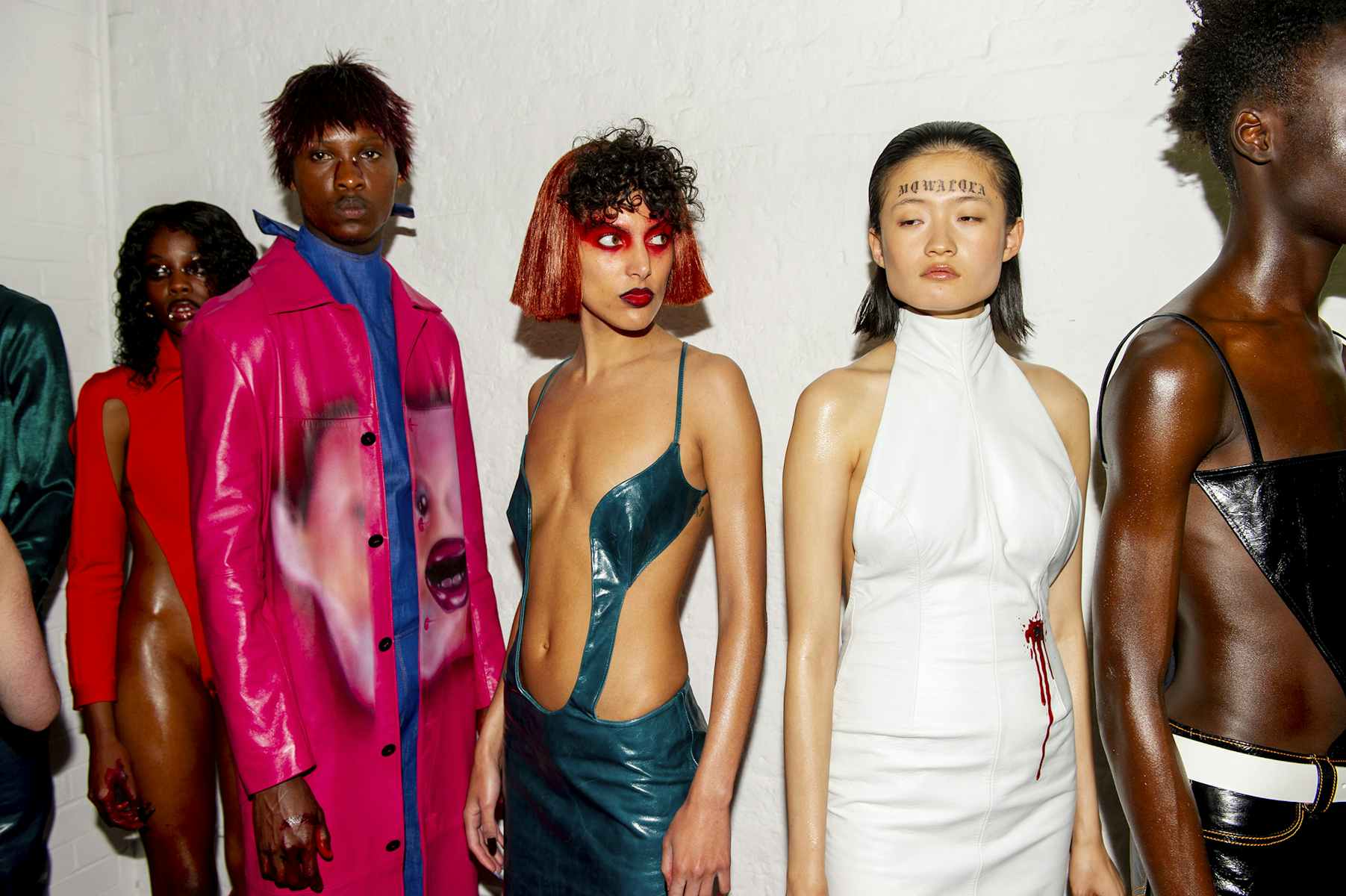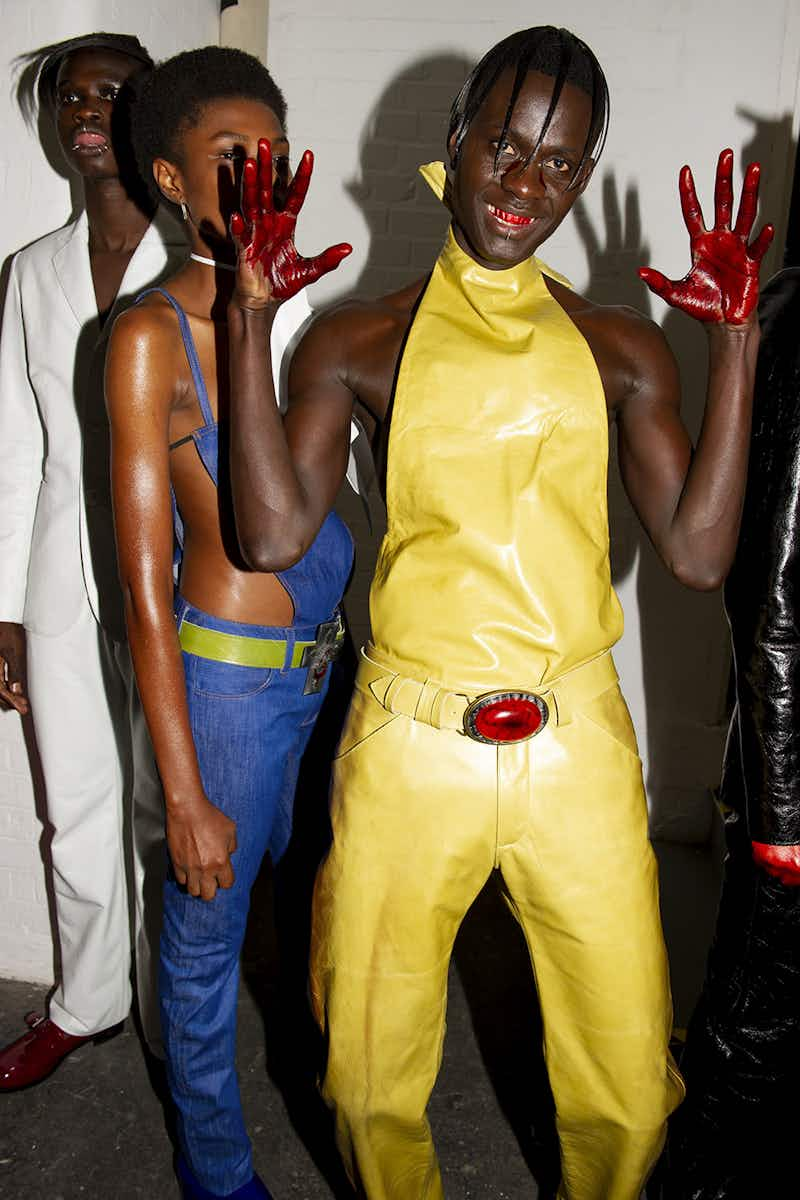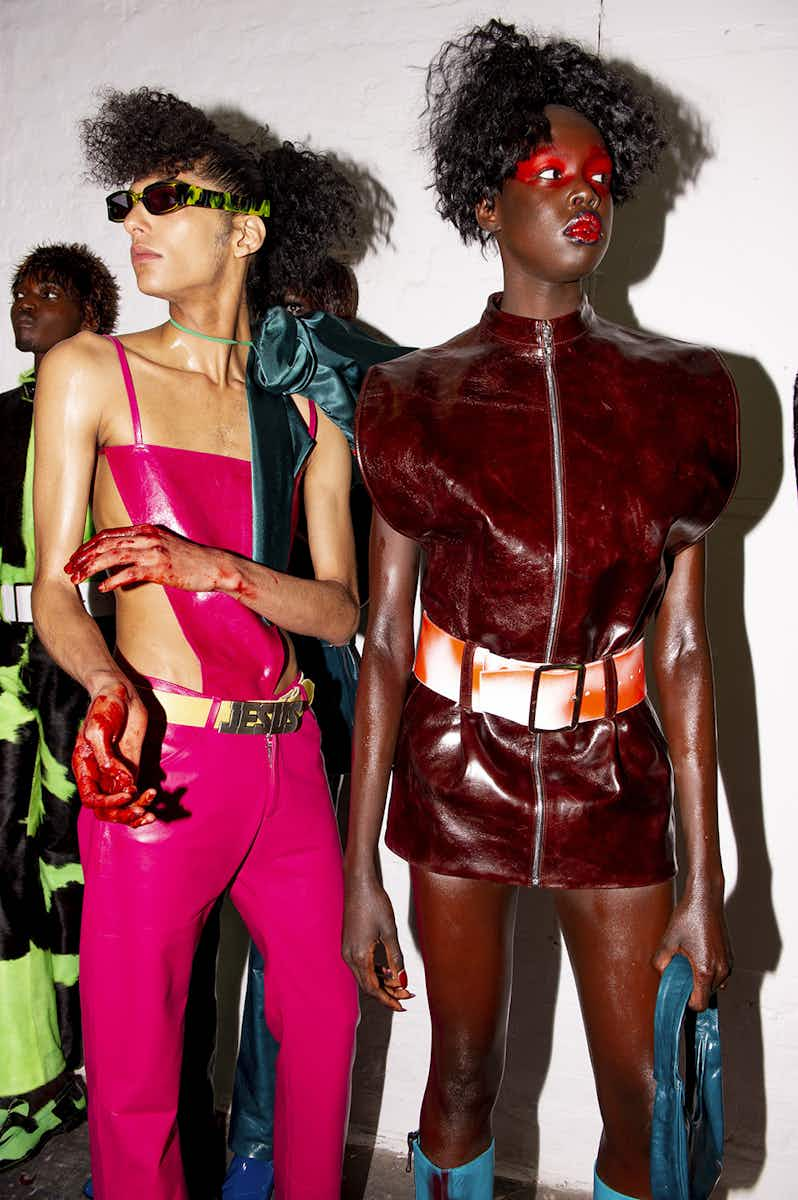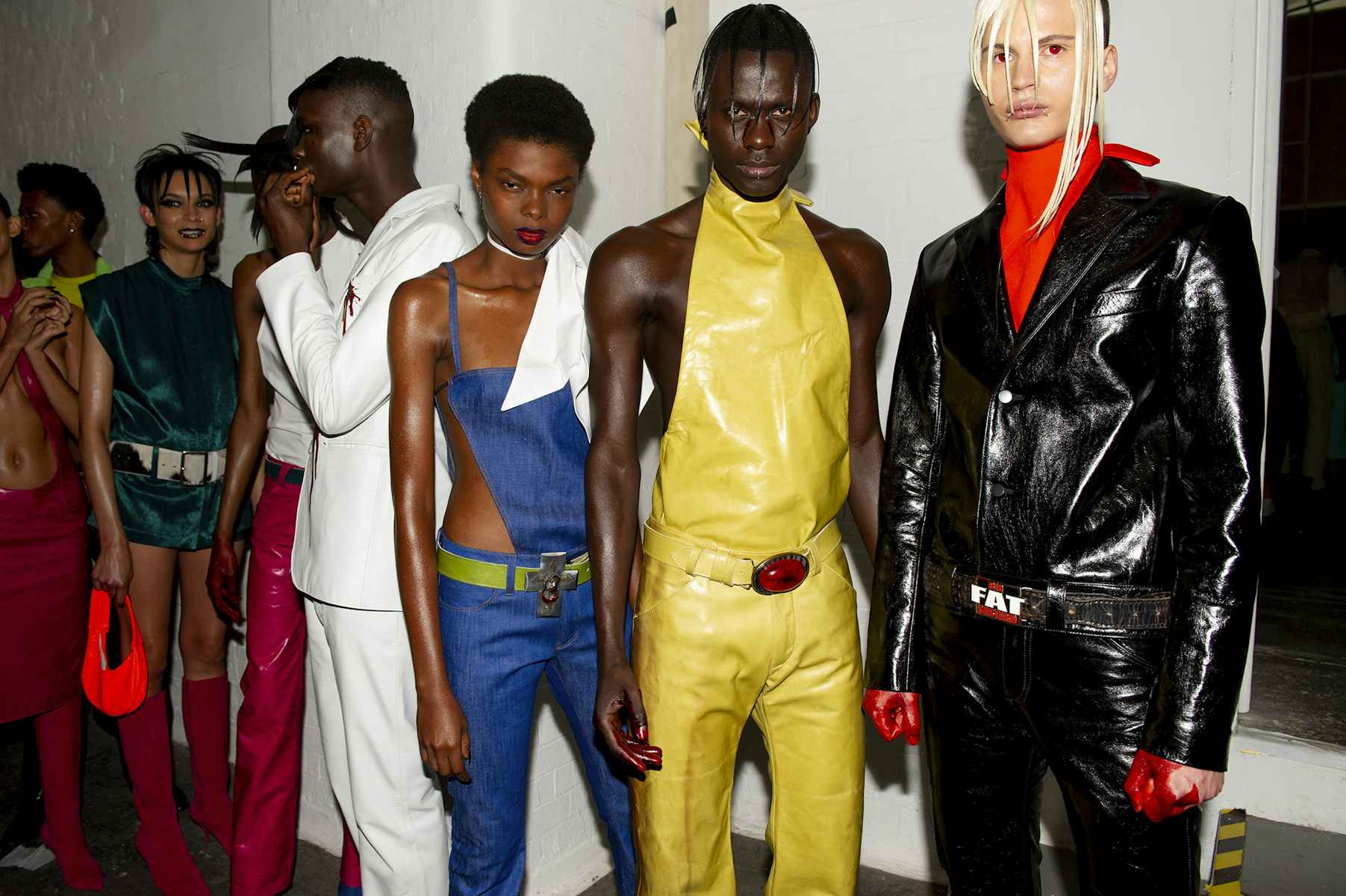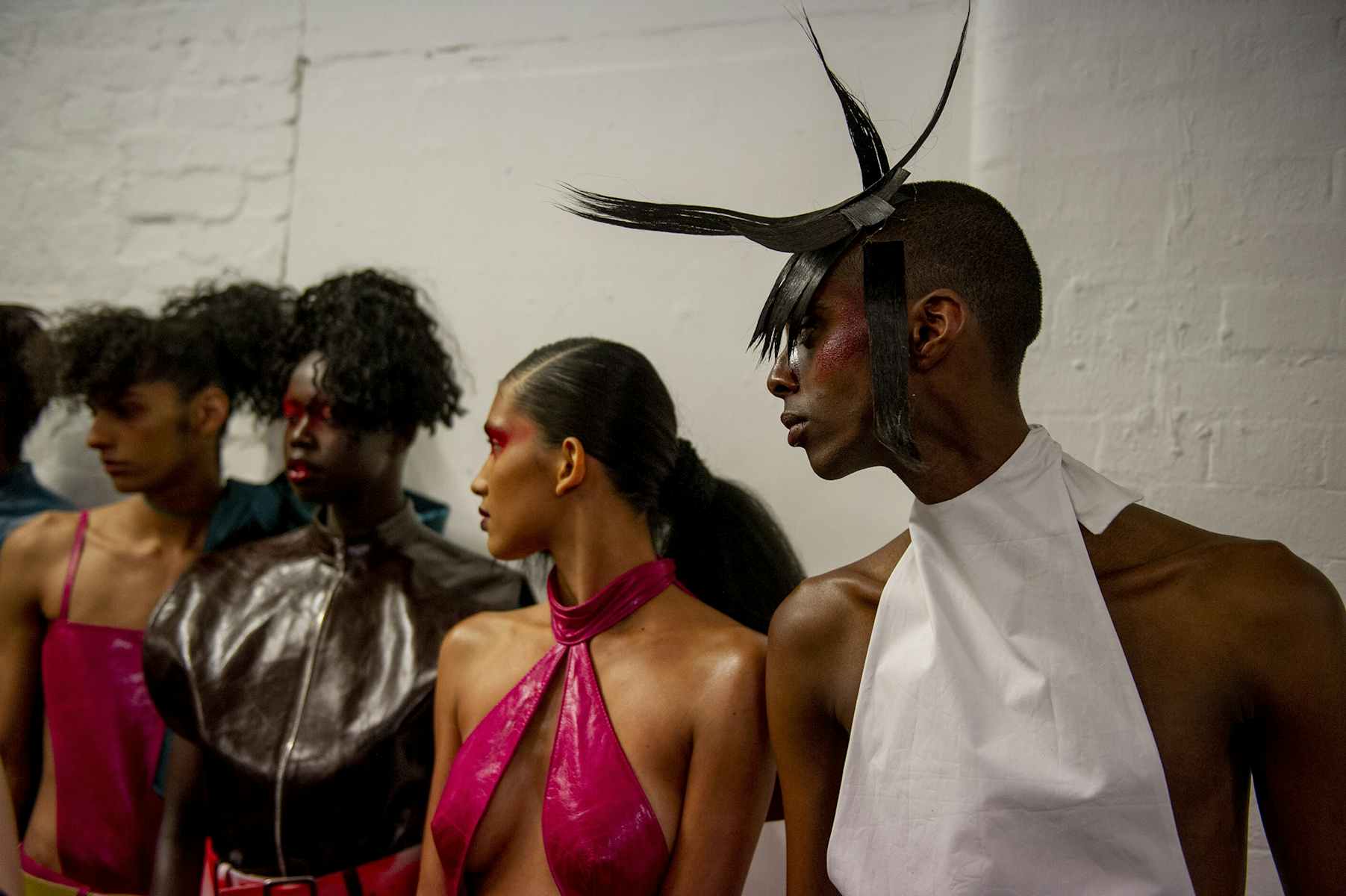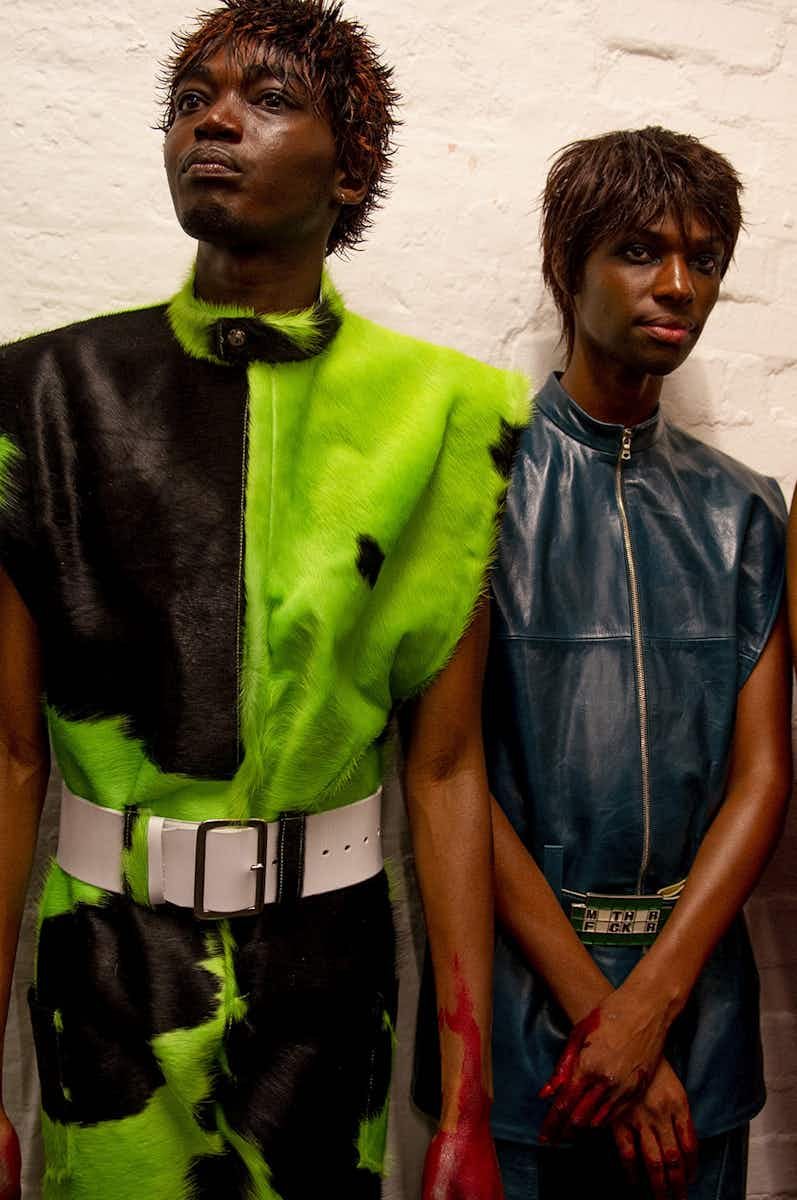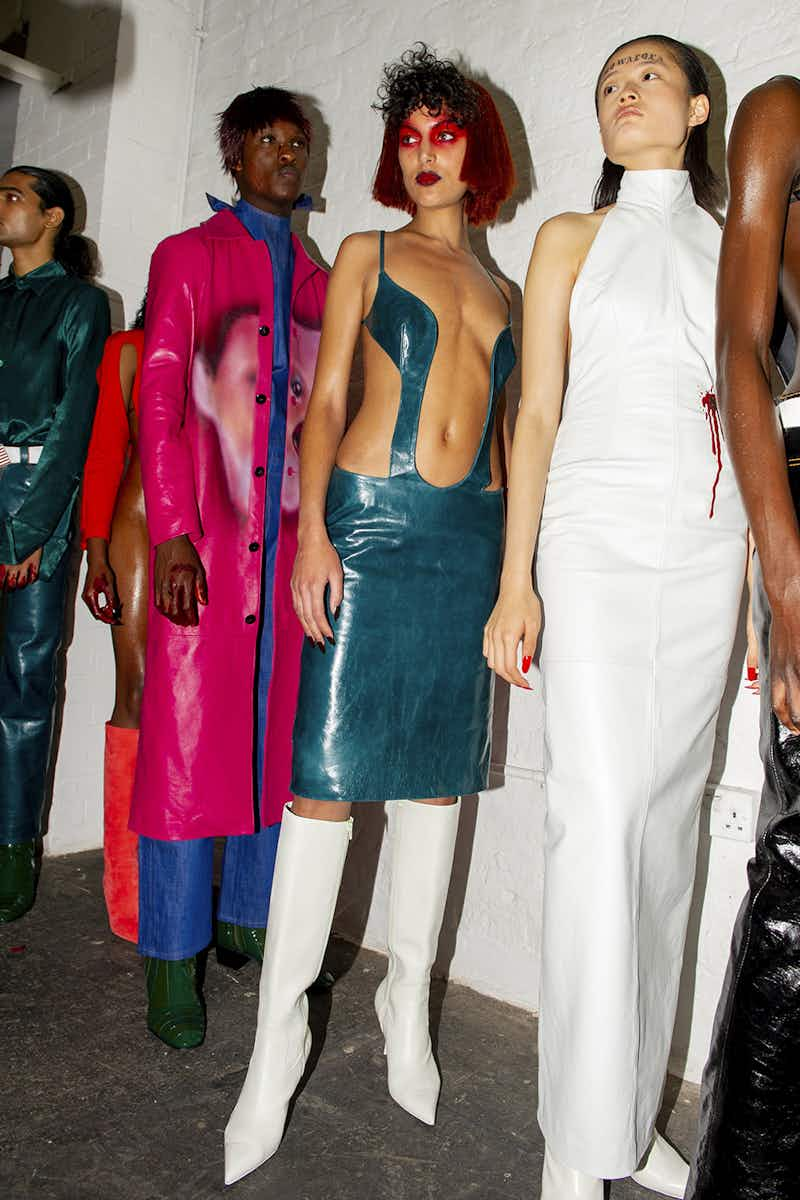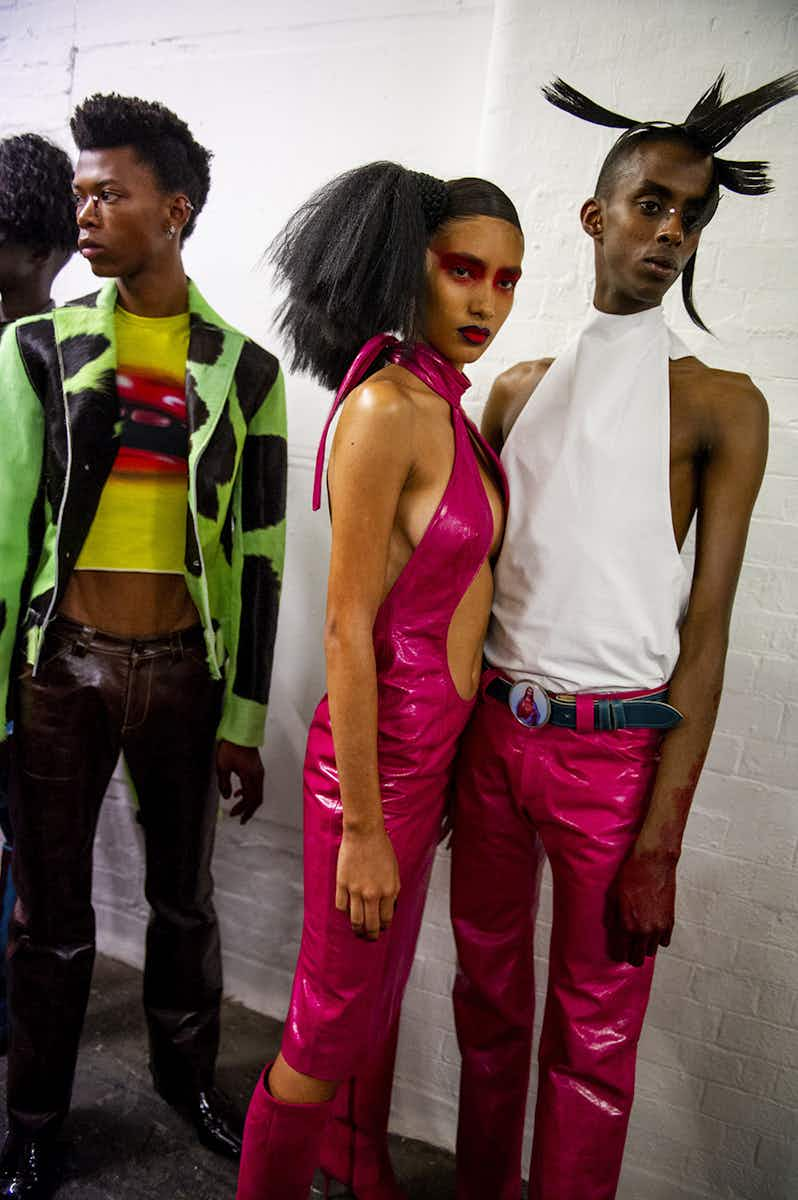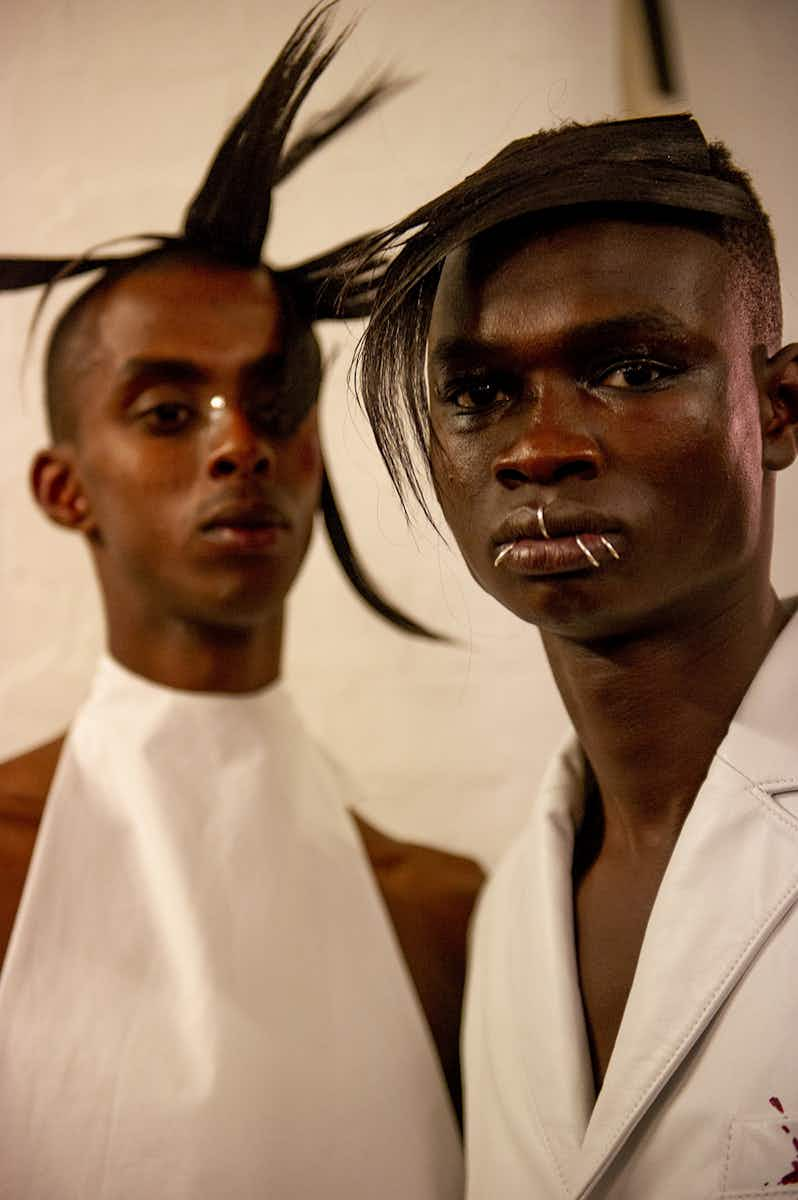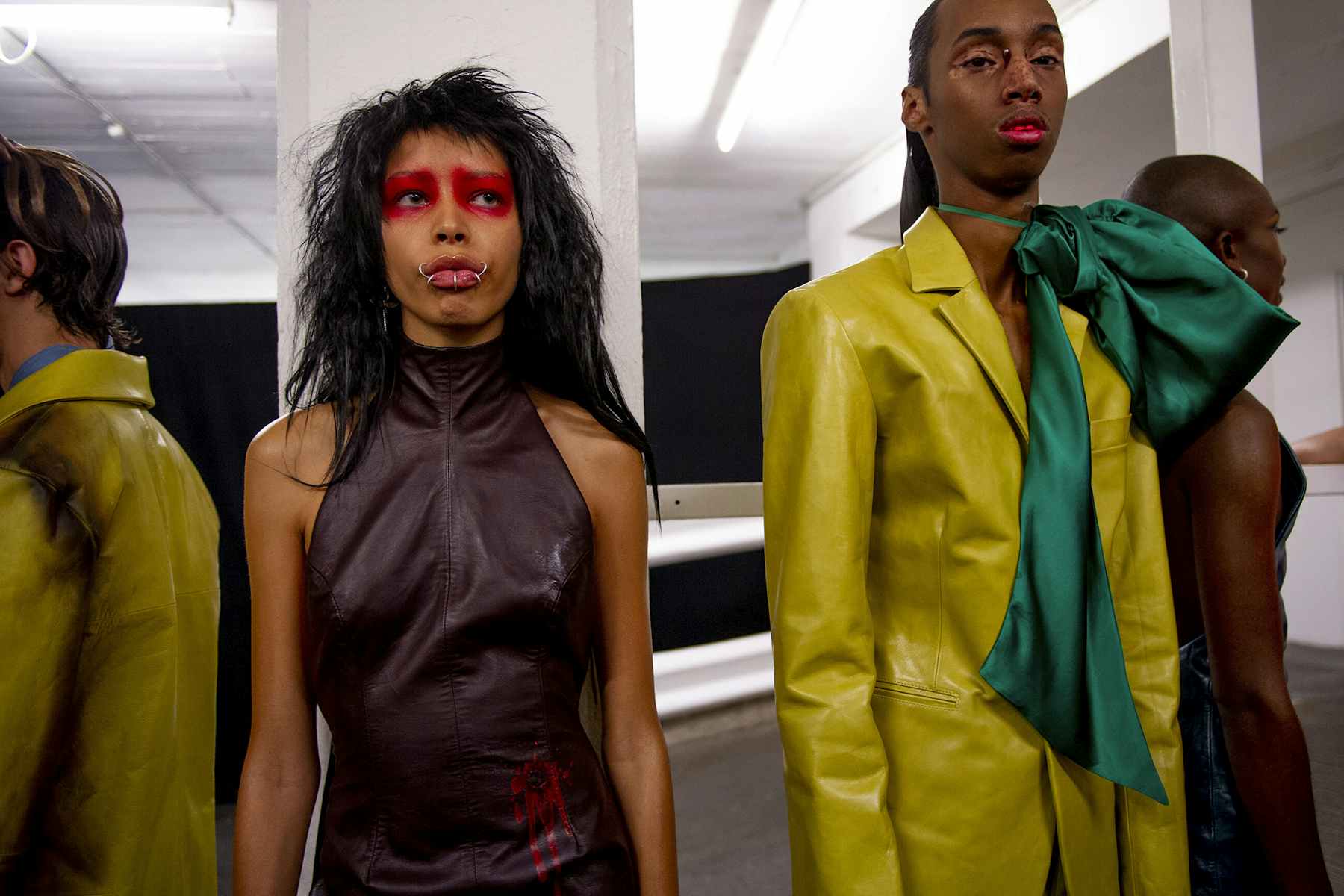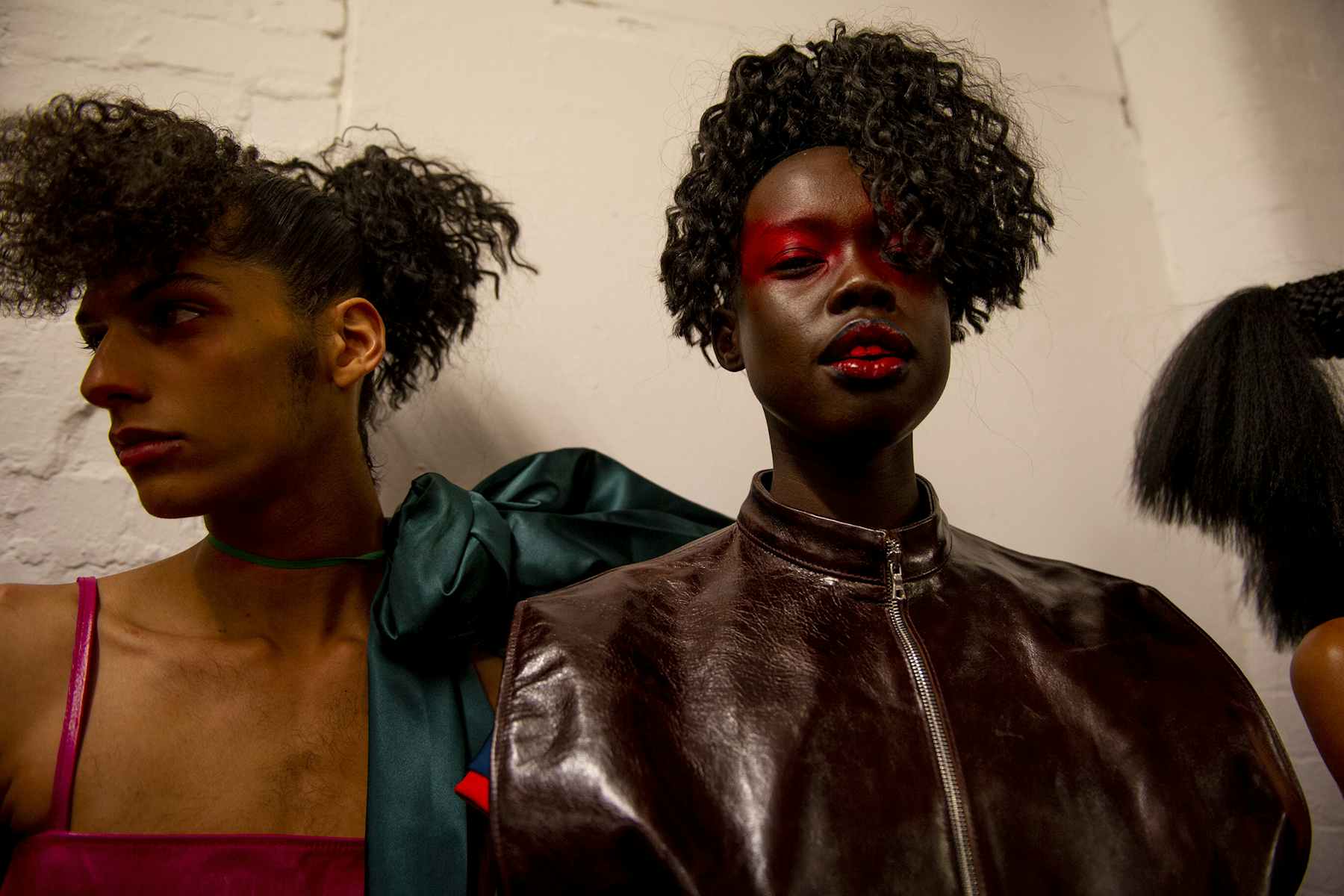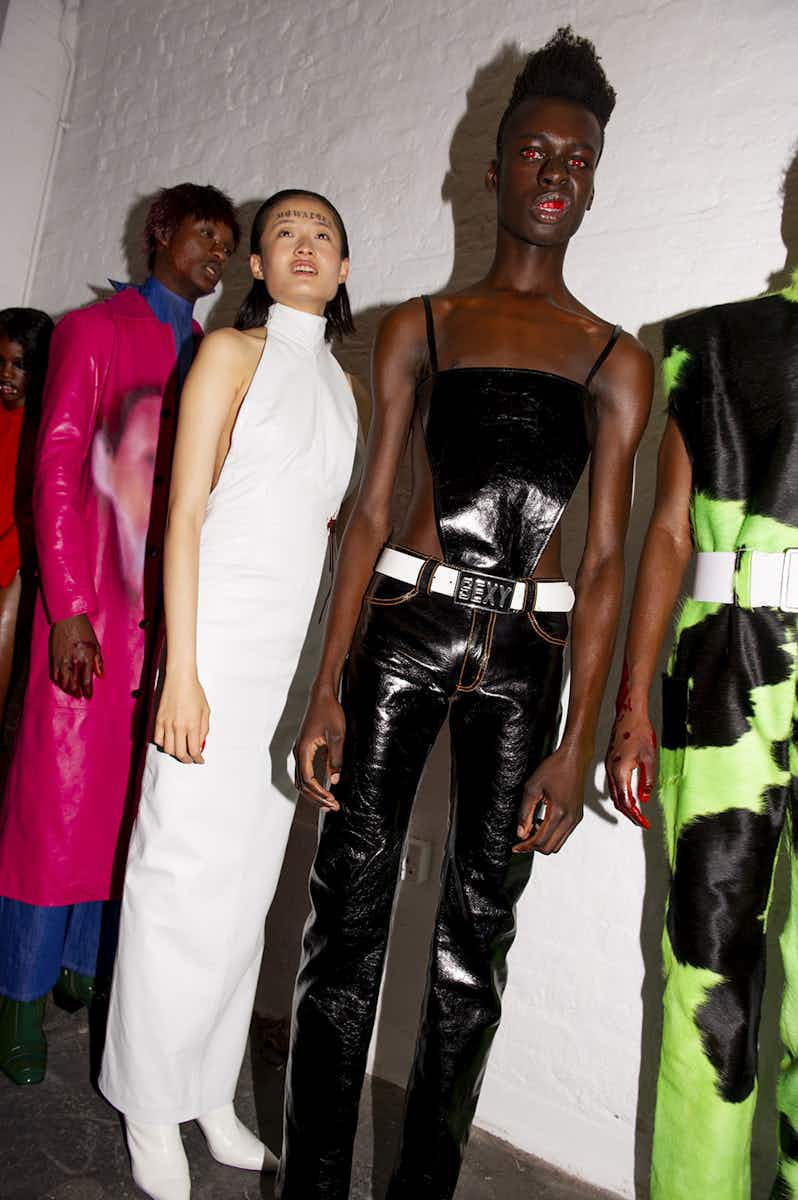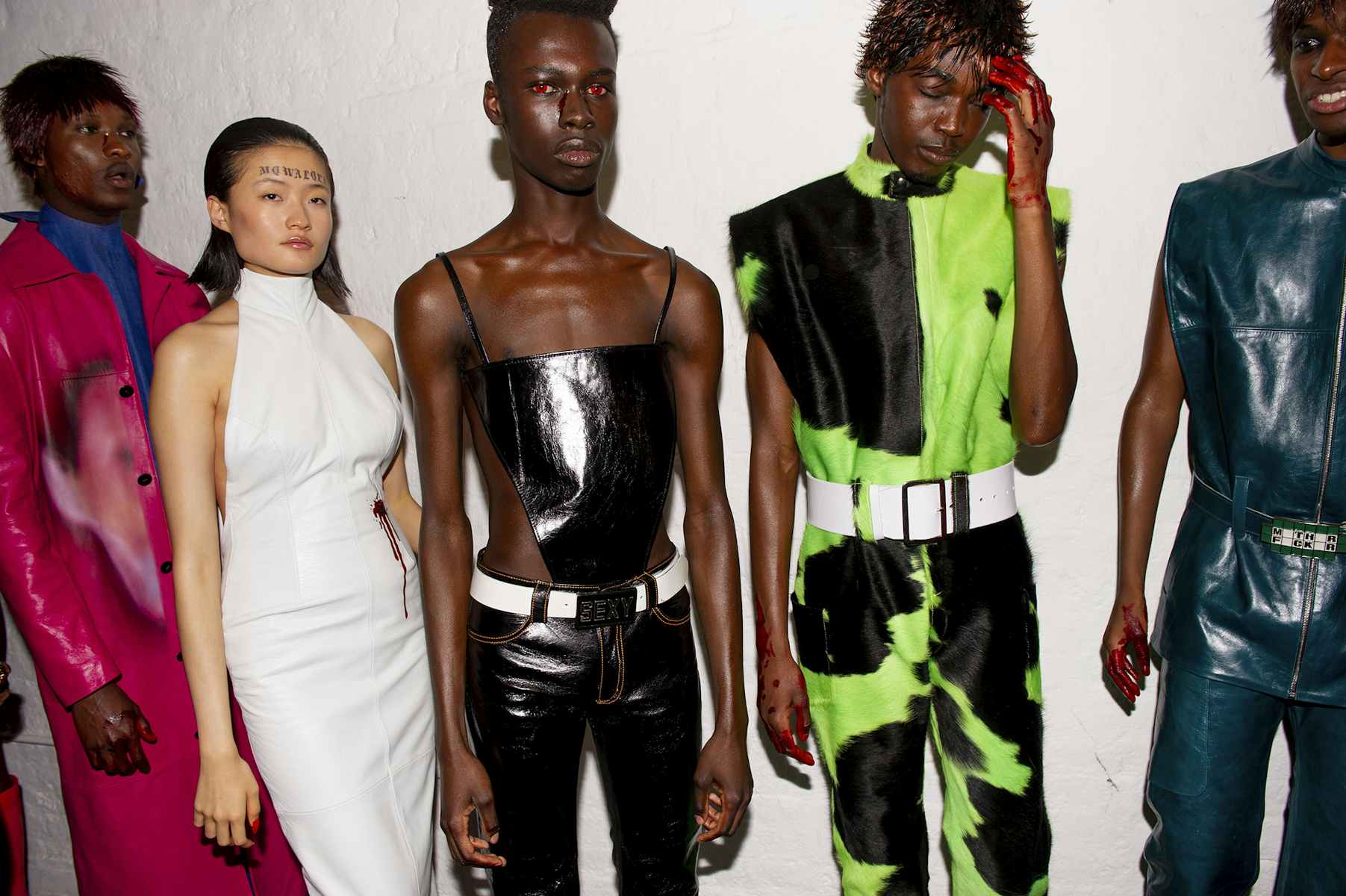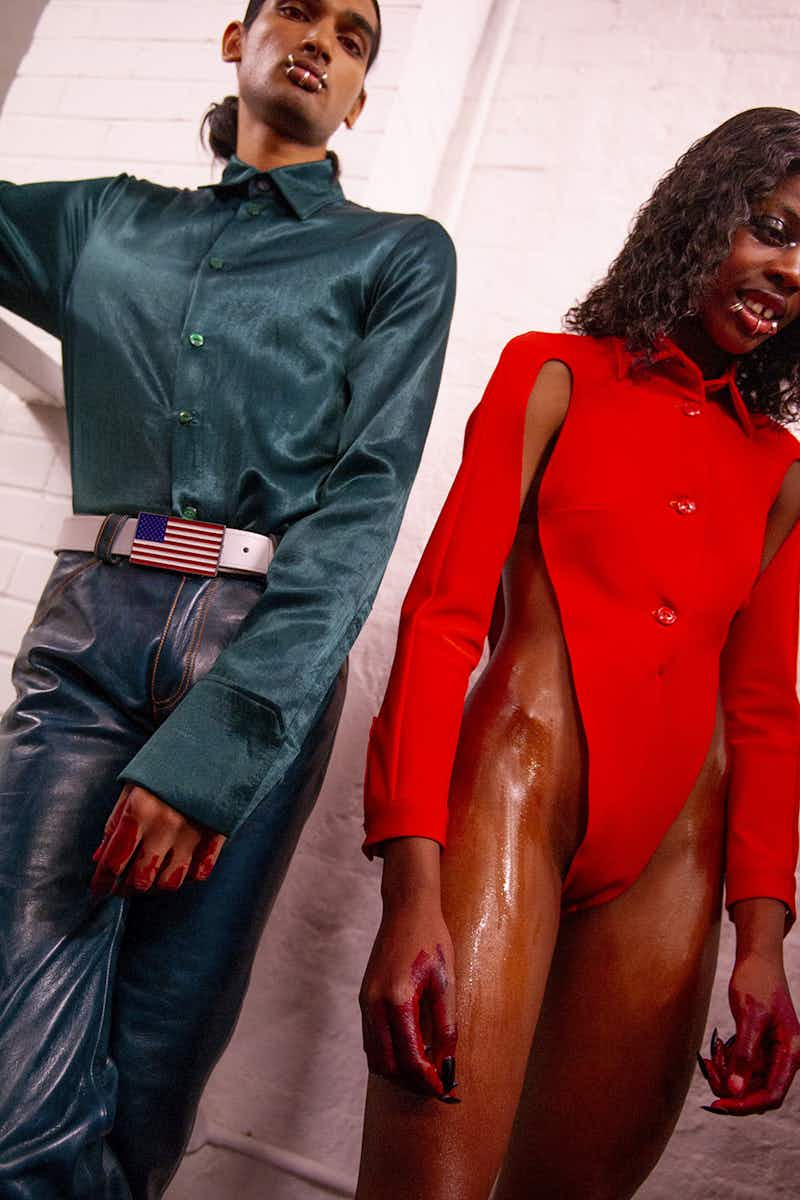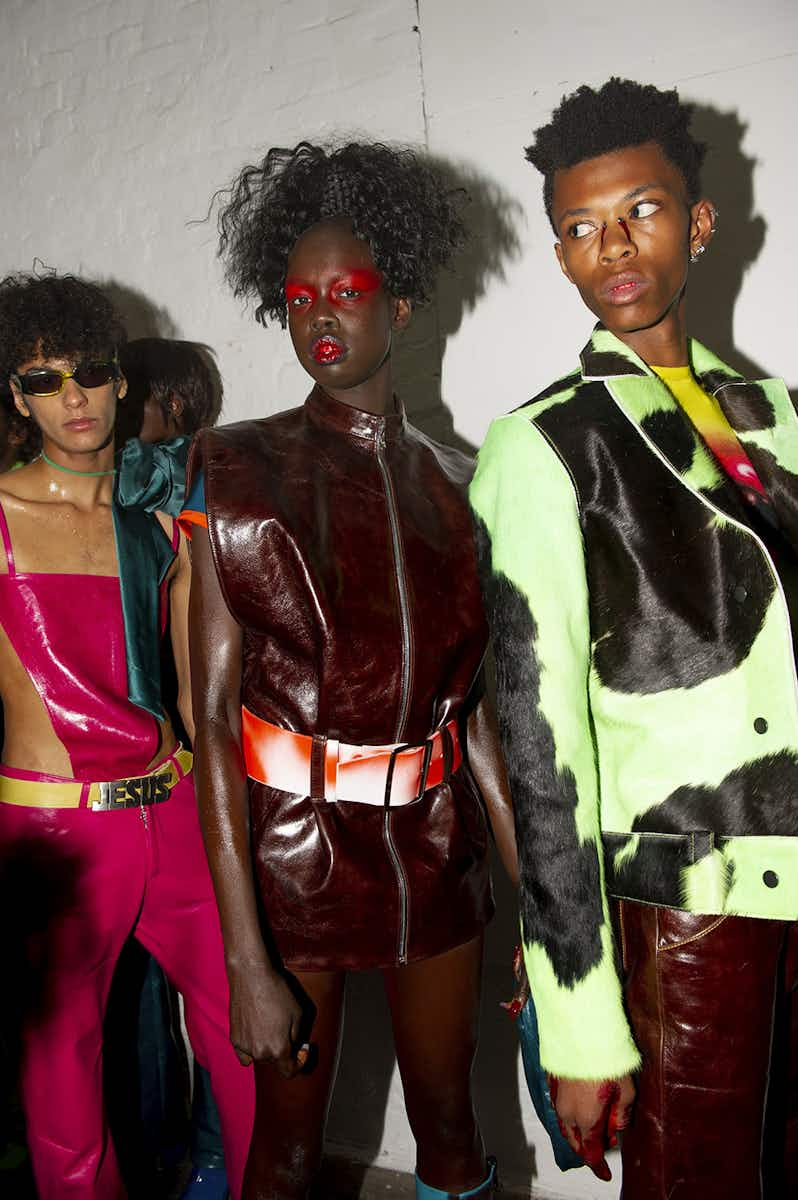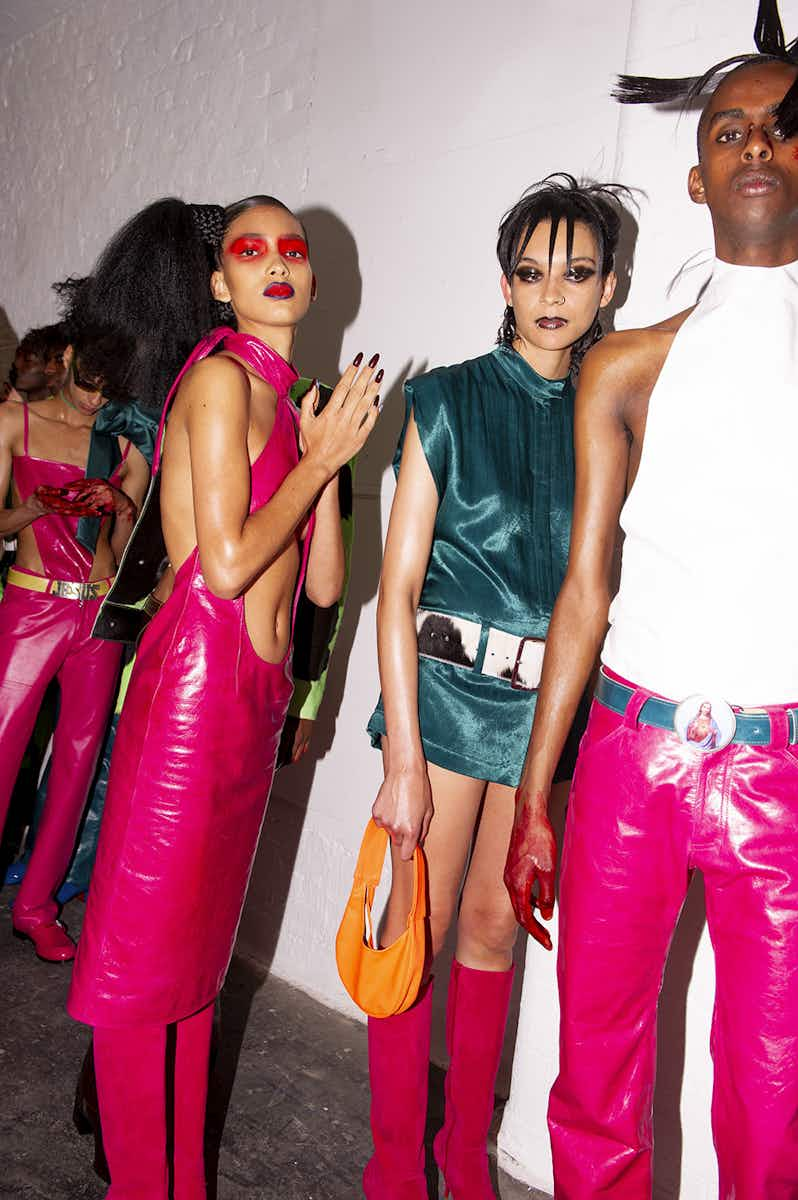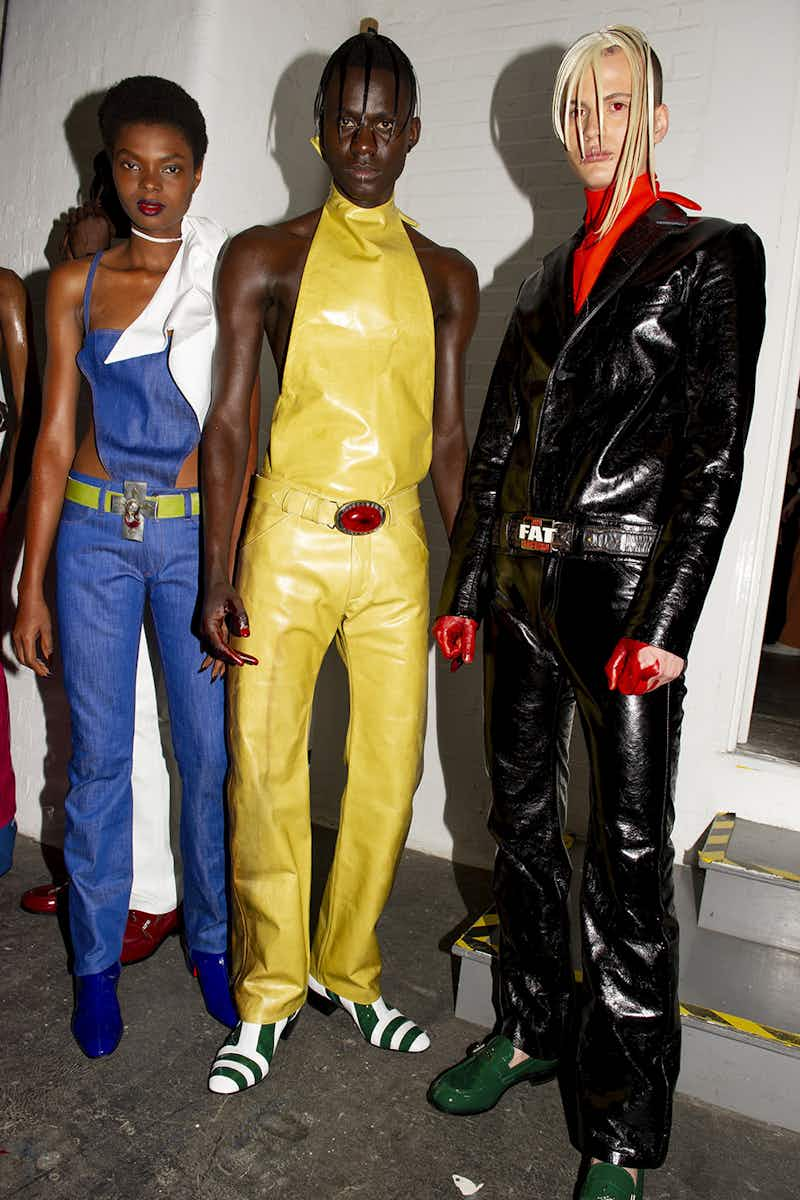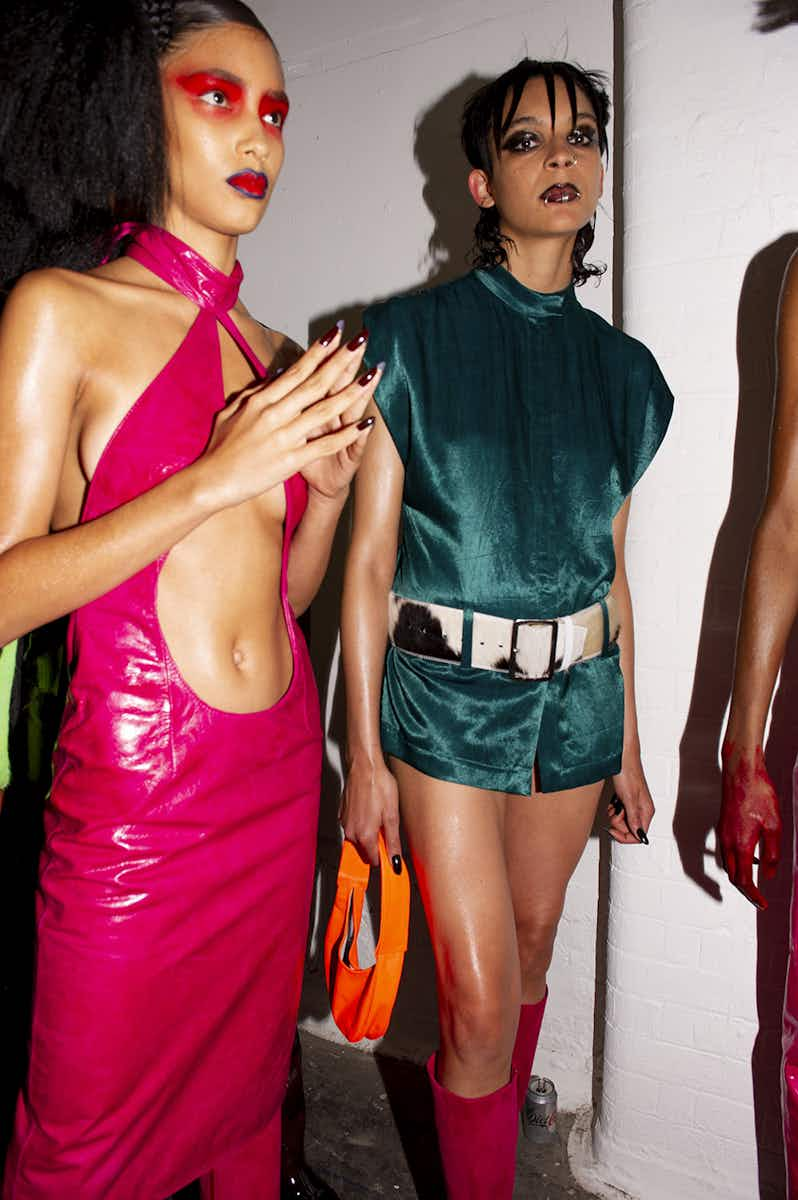 AND THE BEAUTY?
With Daniel Sallstrom creating the beauty looks, it was old-school horror with red contact lenses, hands dipped in fake blood and intense red eyeshadow smeared to the browbone which completed the gore-fest of Mowalola's interpretation of being in love. Heavy black lipliner was accompanied with bright red lipstick, reminiscent of the trashy Y2k references the designer started off with; Marilyn Manson, Carmen Electra, Dennis Rodman. As for the hair, Virginie Pinto Moreira sculpted hair to smear across the face, while sharp red bobs and punk fringes made an appearance, too.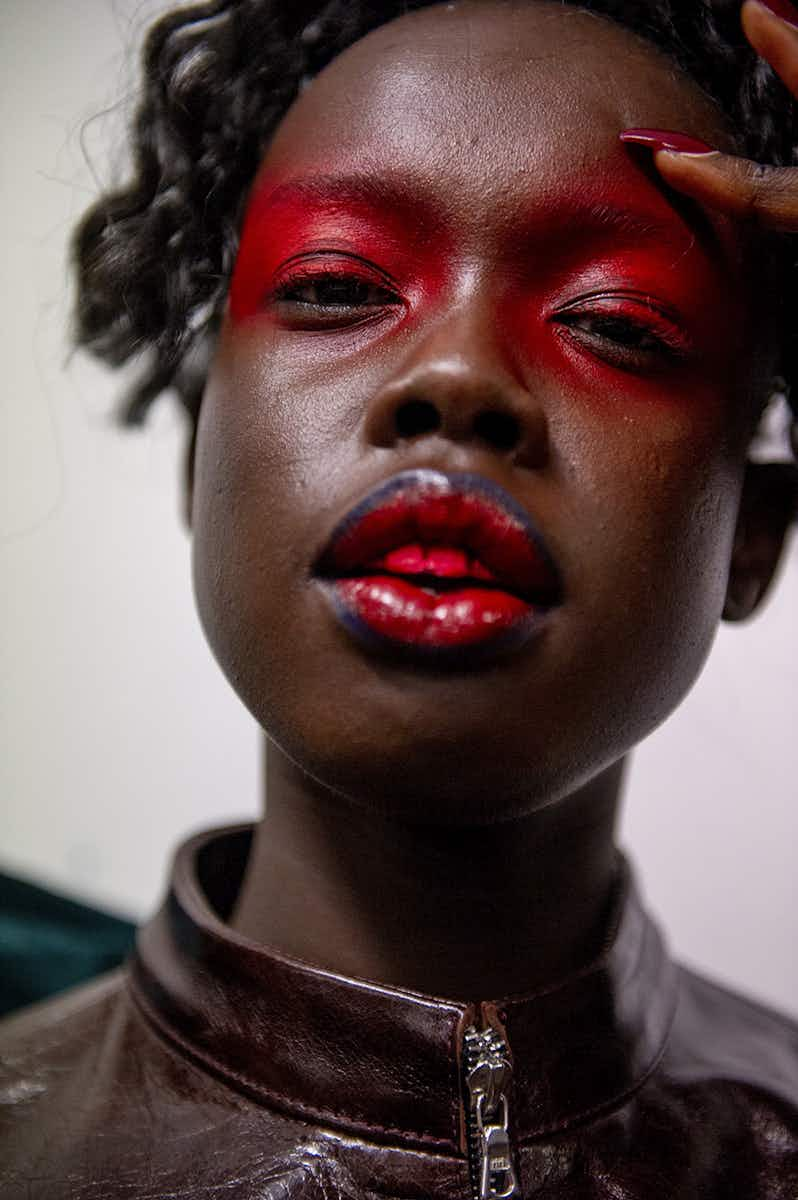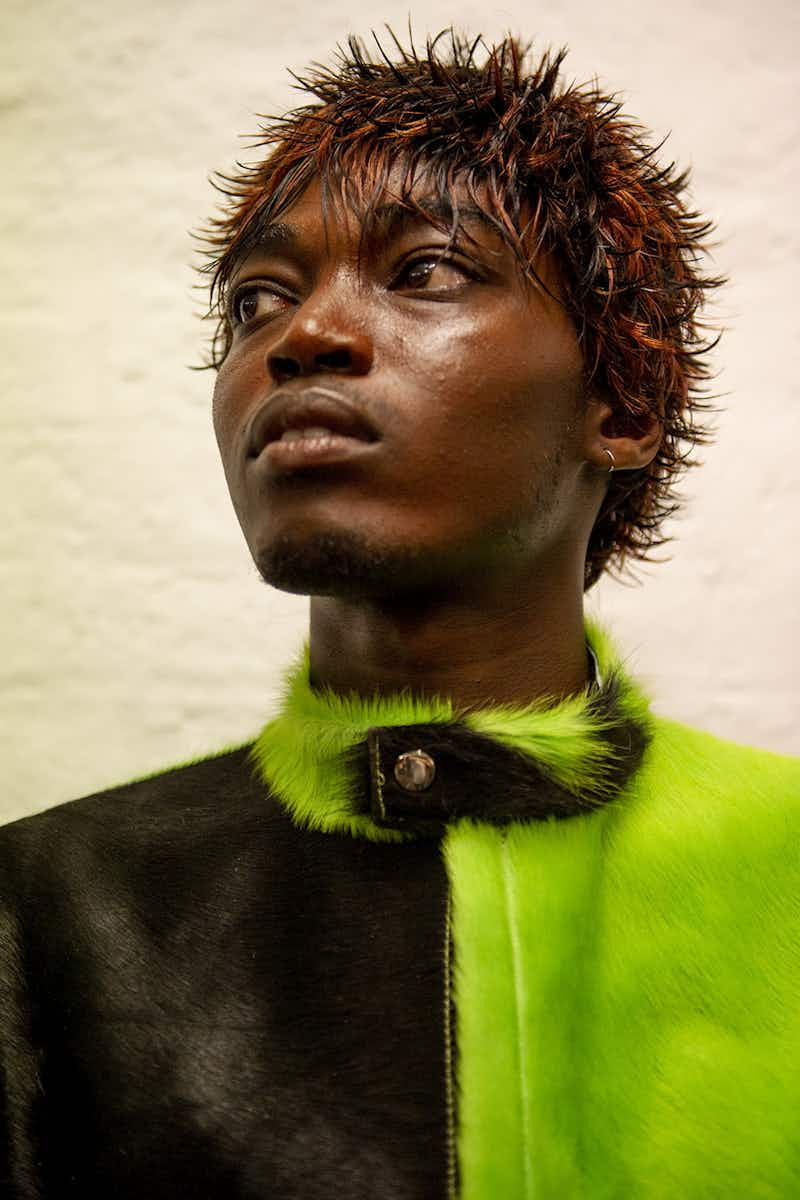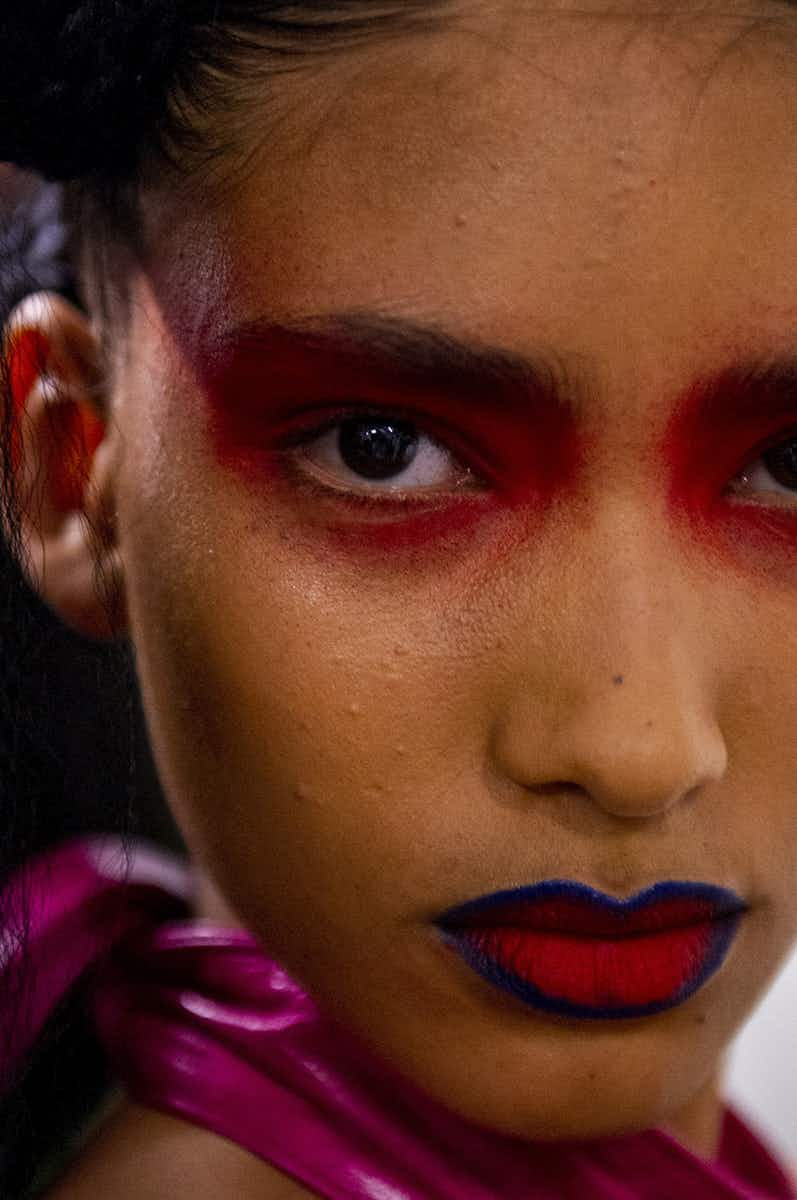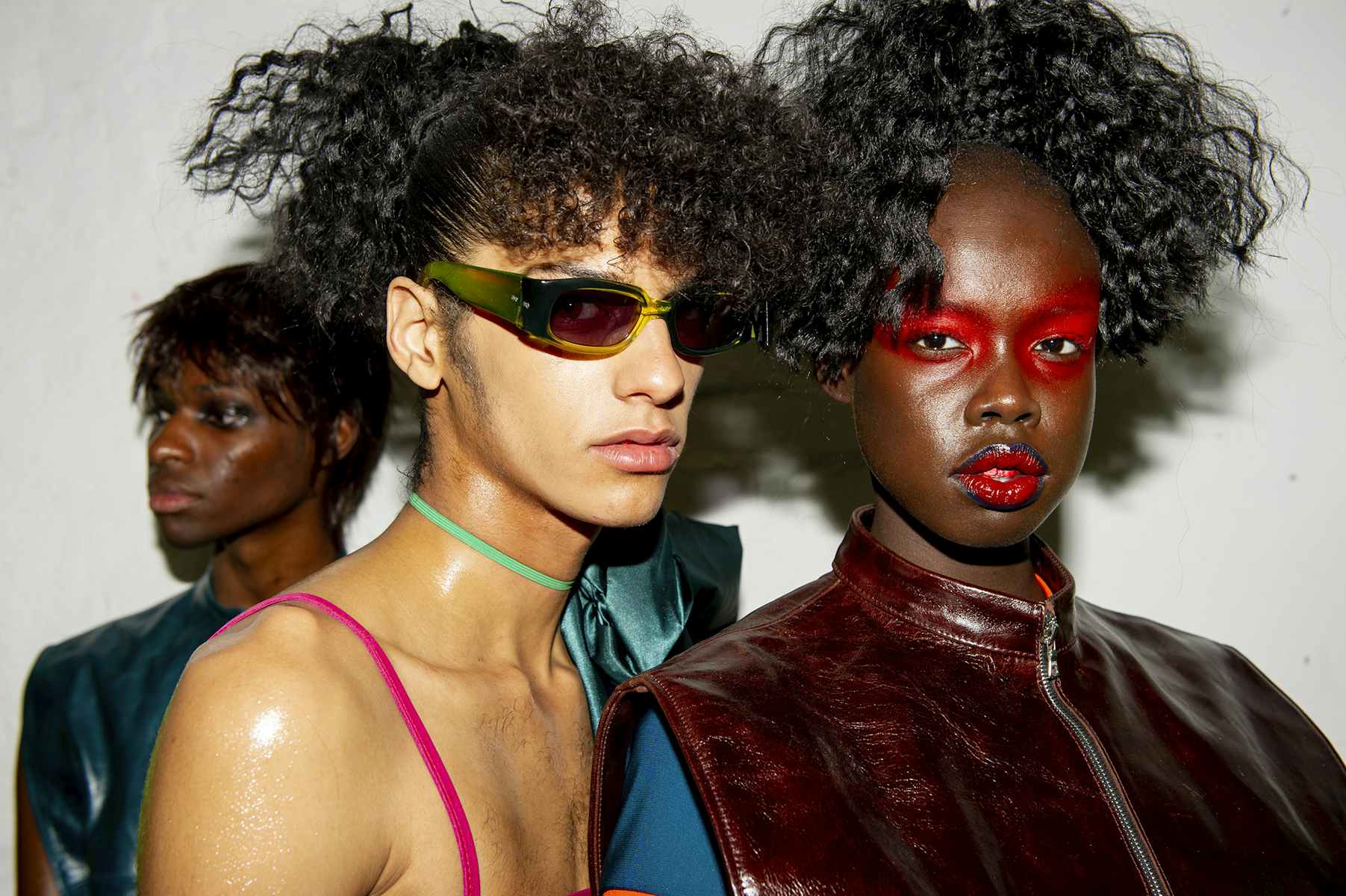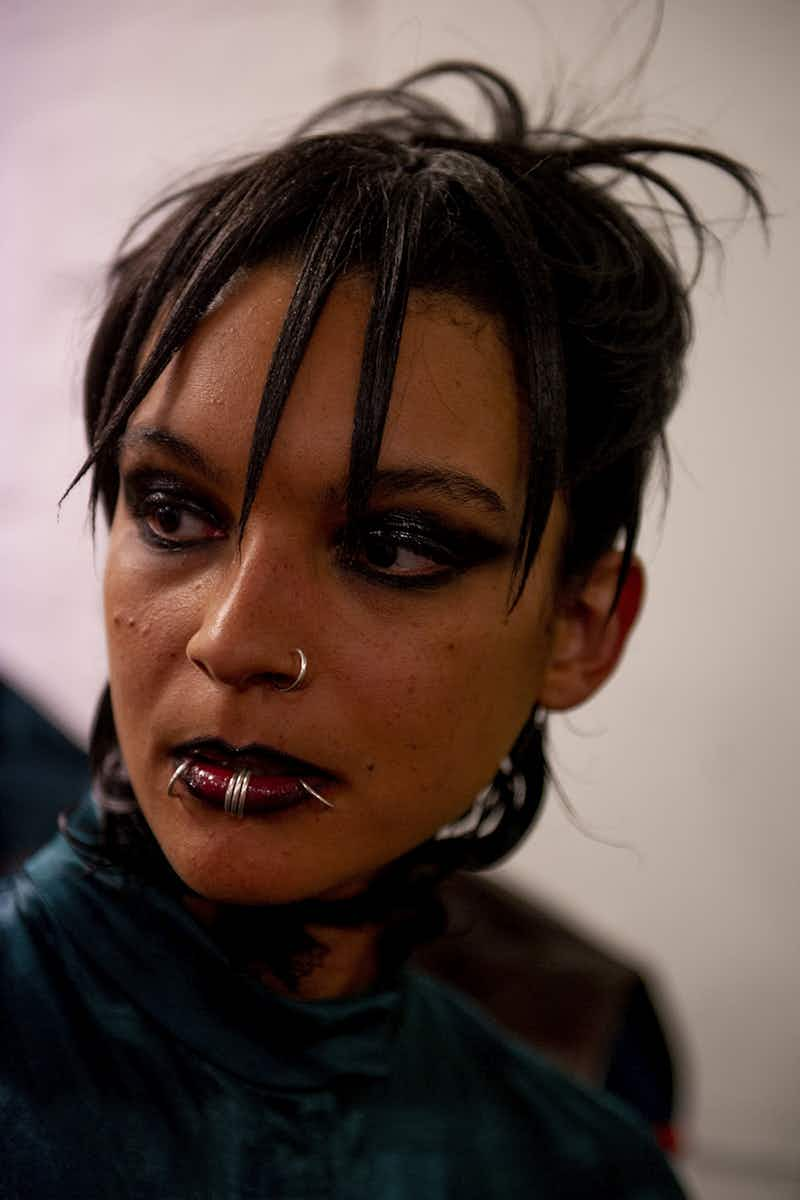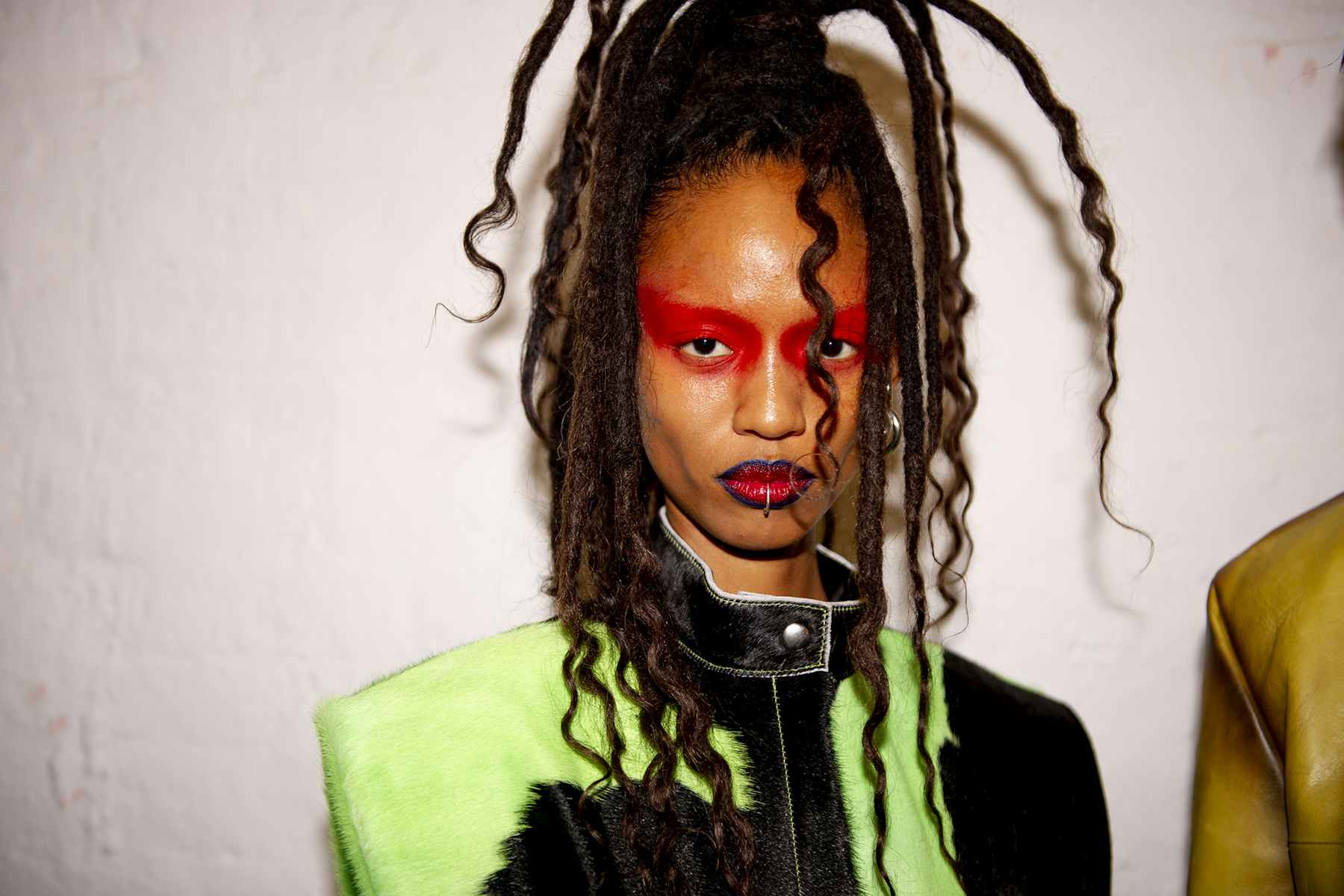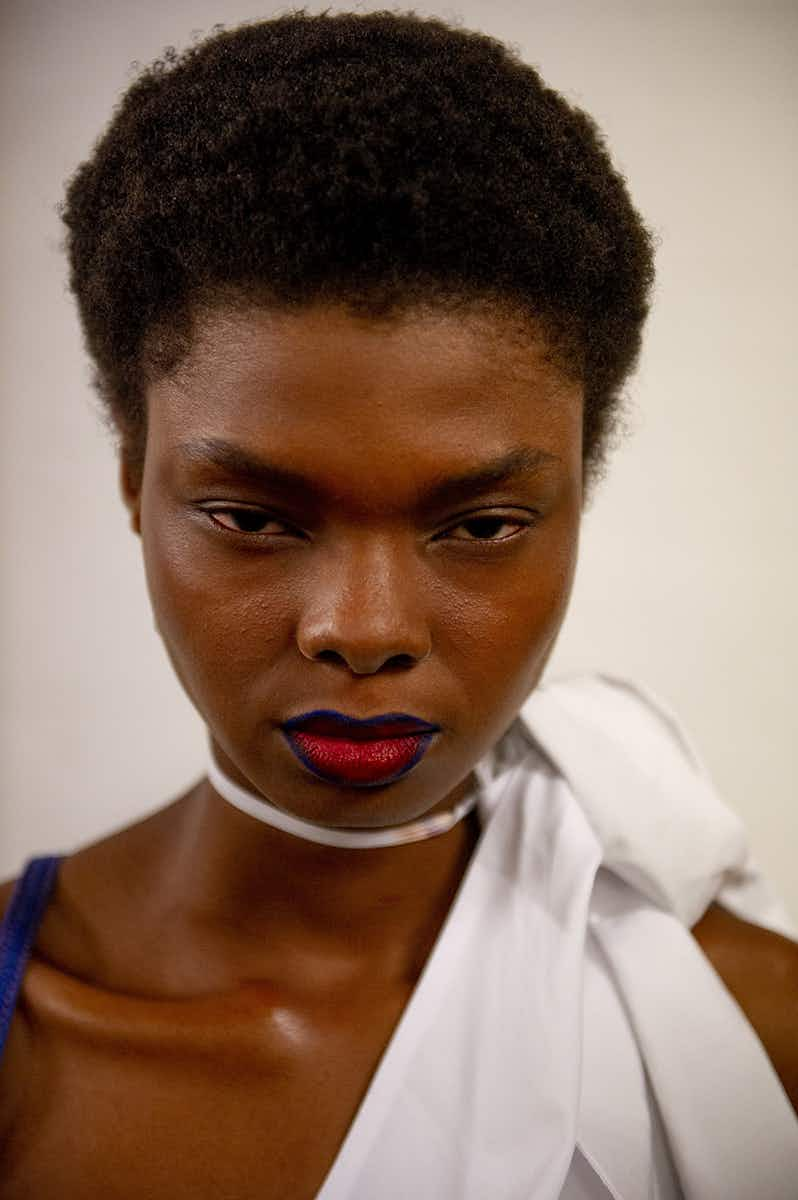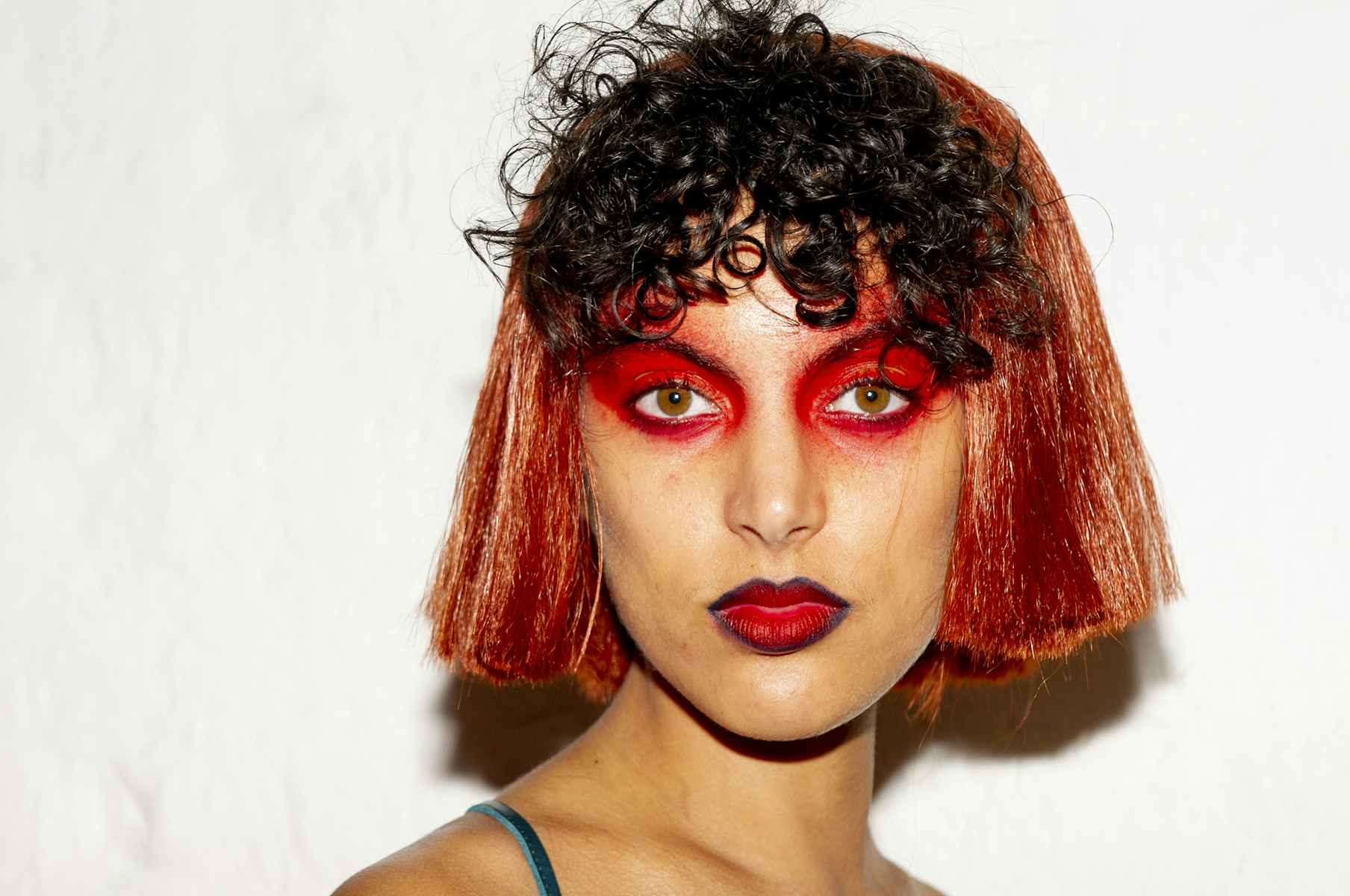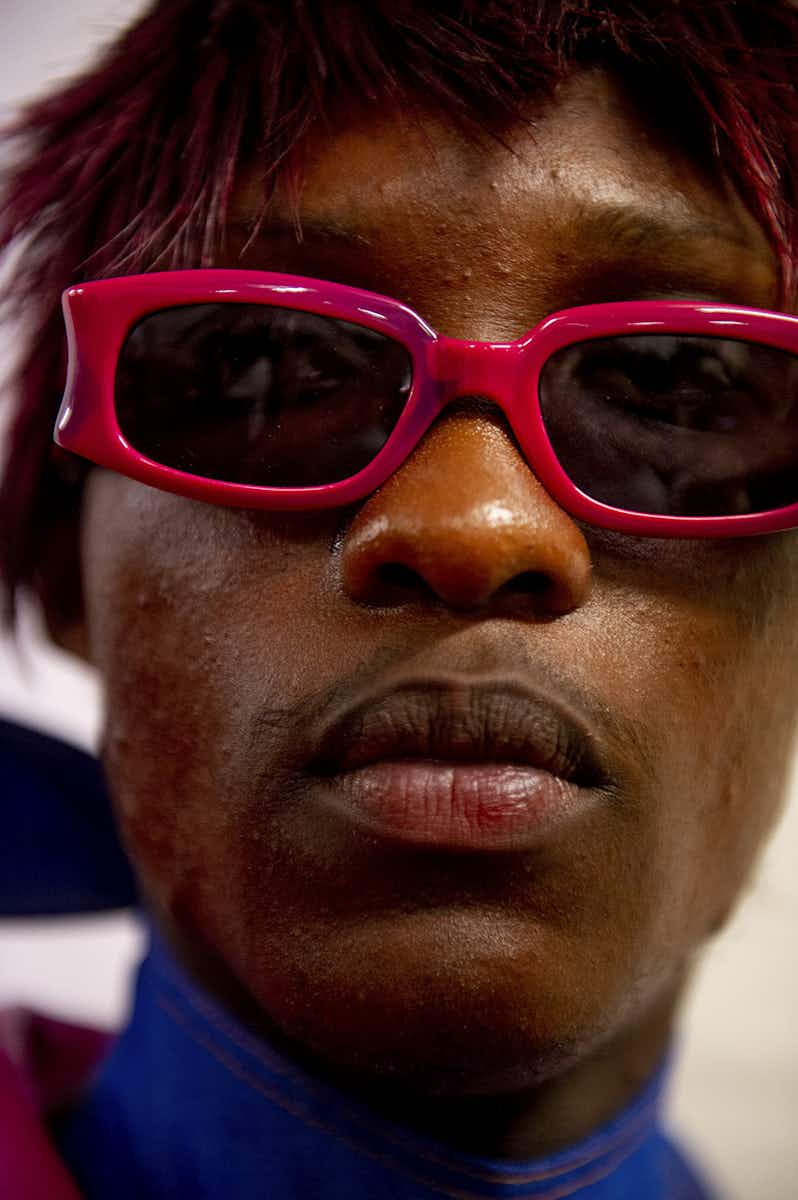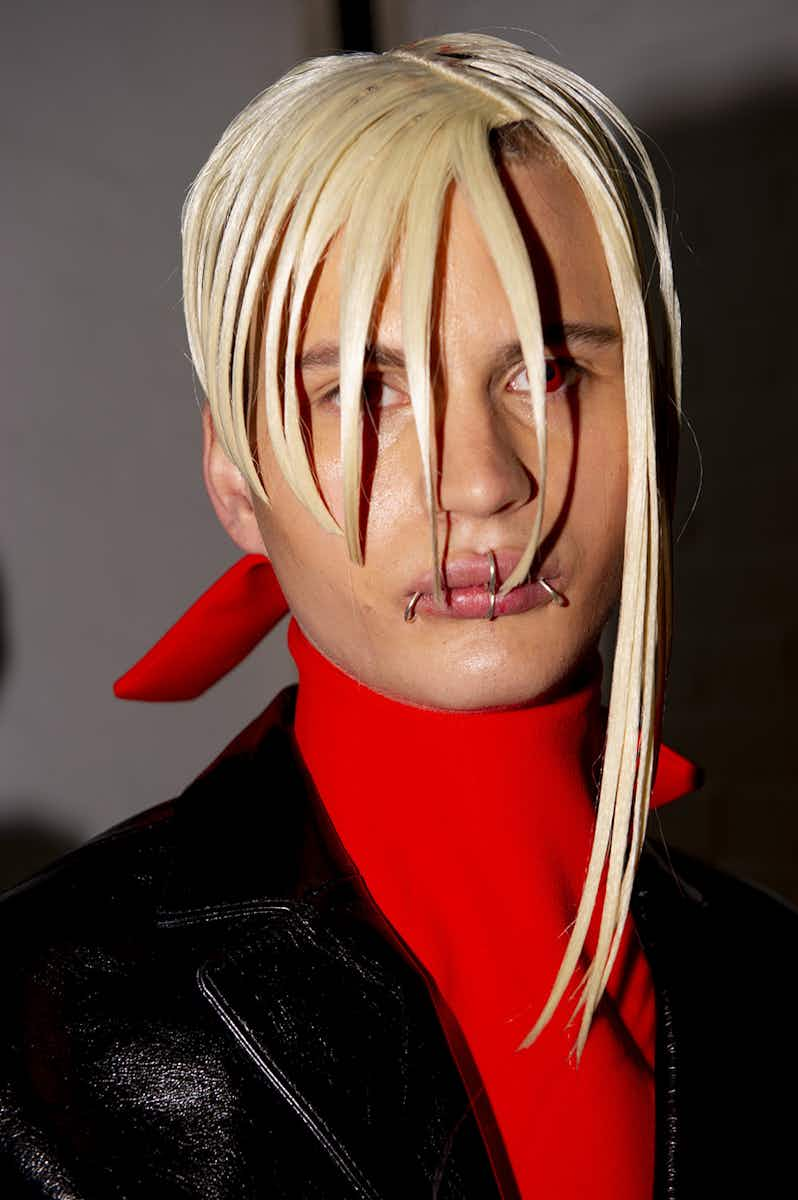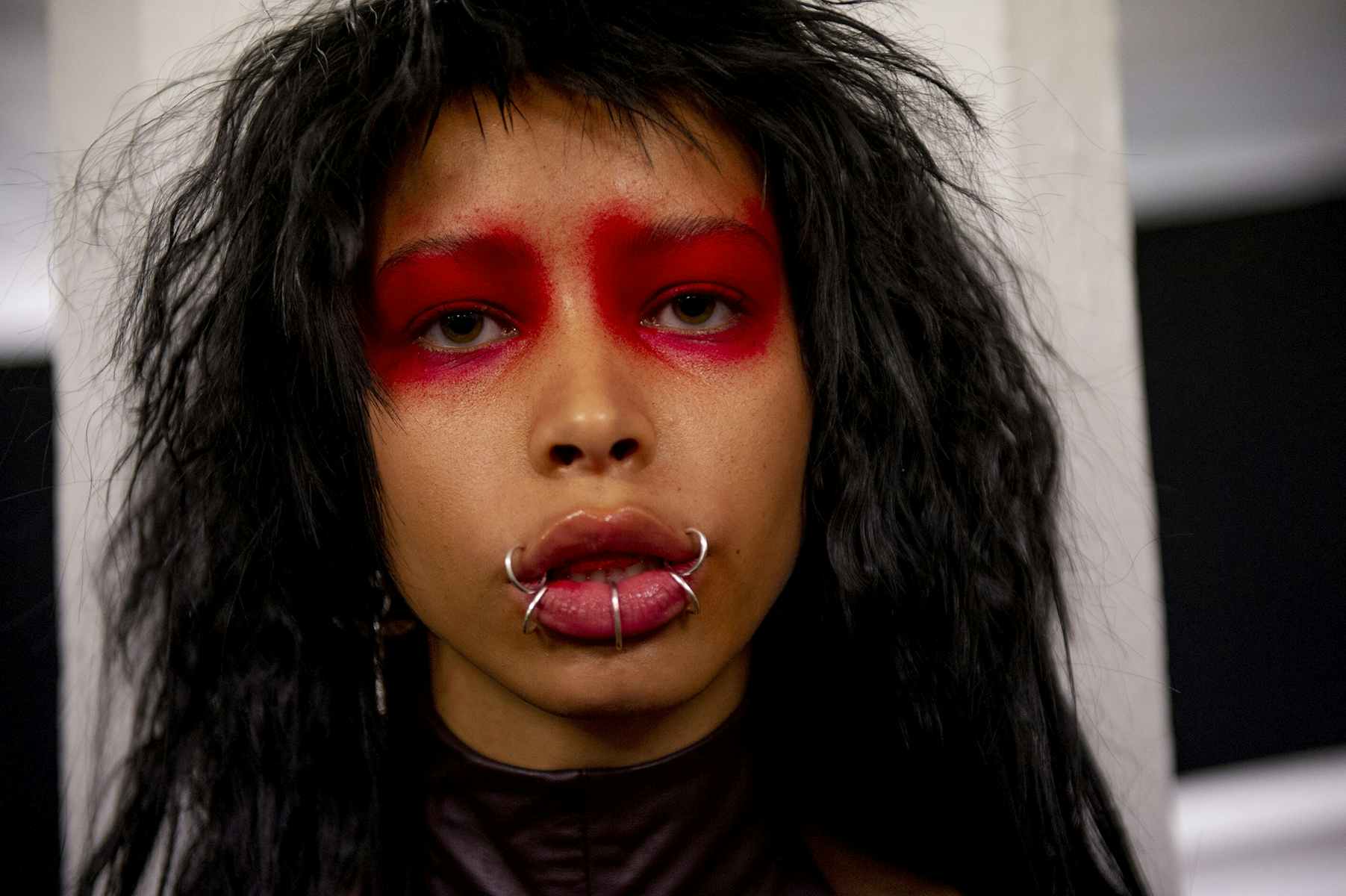 WHAT DID IT SOUND LIKE?
The collection revolved around a soundtrack by Joey LaBeija, who mixed screams and panting with a deep bassline and heavy metal, remixed into Blu Cantrell and Sean Paul's Breathe, Gimme Some More by Busta Rhymes, before ending with Crystal Castles' Crimewave.
Listen to the show's soundtrack below.

Listen now:

Mix by Joey LaBeija

More like this