Films with the best slogan T‑shirts
You say it best when you say nothing at all. Here are the rudest, sleaziest tees from films featuring put-downs, bold questions, diplomatic power and sheer '90s nihilism.

If you've got something to say, slap it across your chest. Slogan T‑shirts are all the rage – Instagram accounts like @shirtsthatgohard and @goodshirts have been documenting the best dirty, filthy tees for a while now (top picks: ​"I would piss my pants, if I were wearing any" or ​"I heart bush, the pussy not the president"), while Supreme's ​"Don't fuck around" number gets the message across loud and clear. Stella McCartney went a little more political(ish) for her recent SS23 collection with ​"Change the history" sprawled across a knit, while Balenciaga offered wearable help in the name of ​"Free styling tips".
That's all well and good, but sometimes the best tees you'll ever see are in films. Amongst profound meaning, (sometimes) all-star casts, laughs and jump scares are slogan T‑shirts, worn by our favourite characters. So to get you horny for slogan mania, here are our favourite on-screen tees.

Fuck you, you fucking fuck
In The Girl with the Dragon Tattoo (2011), Rooney Mara plays Lisbeth Salander, a paranoid, sociopathic hacker. But above all, she's a badass. With a load of piercings, bleached eyebrows and a 20-a-day habit, her cold, enigmatic exterior was punctured by one of the punchiest sartorial put-downs: ​"Fuck you, you fucking fuck." Word.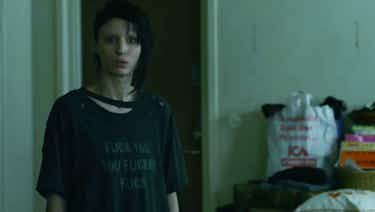 Napoleon Dynamite fully grasped the power of a slogan, proudly bearing ​"Vote for Pedro" across his chest, which had a hand in snatching his mate, Pedro, the class presidency. Slogans have always had diplomatic power, after all. Over the years, we've seen political messaging on a load of tees, like ​"Team Jolie" and ​"Team Aniston" worn by Paris and Nicky Hilton, for example.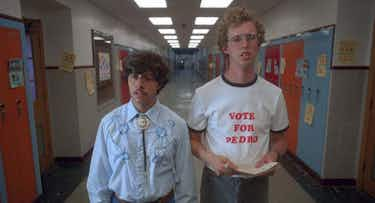 If ever there's a film that exemplifies the filthy irony of Y2K style, it's Mean Girls. The Plastics dabbled in all things pink, loud and proud, wearing Juicy Couture tracksuits, frilly mini skirts and stilettos down the school corridor. In one scene, Karen brashly wears a ​"Bling Bling" T‑shirt like she owns the sodding place. But that's the point. Duh.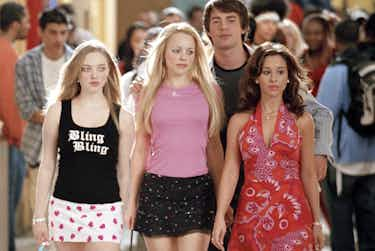 Gregg Araki's 1993 drama Totally Fucked Up is often considered a seminal entry in the New Queer Cinema genre. It follows the totally fucked up lives of four young gay men and two lesbian women who form a chosen family. But family's nothing without a few struggles thrown in, eh? Rows, tensions and friction amount, while the ​"I blame society" T‑shirt really embodies the nihilism of Gen X in the ​'90s.

What are you looking at dicknose?
Ever get the feeling someone's staring at you? Maybe it's because you have a bit of toothpaste on your chin. Or maybe you're in the presence of a serial weirdo. Whatever the case, no one likes a starer. Take a brief from Teen Wolf (1985) and tell them to piss off with your chest. What are you look at dicknose?


More like this