Slither into some latex like FKA twigs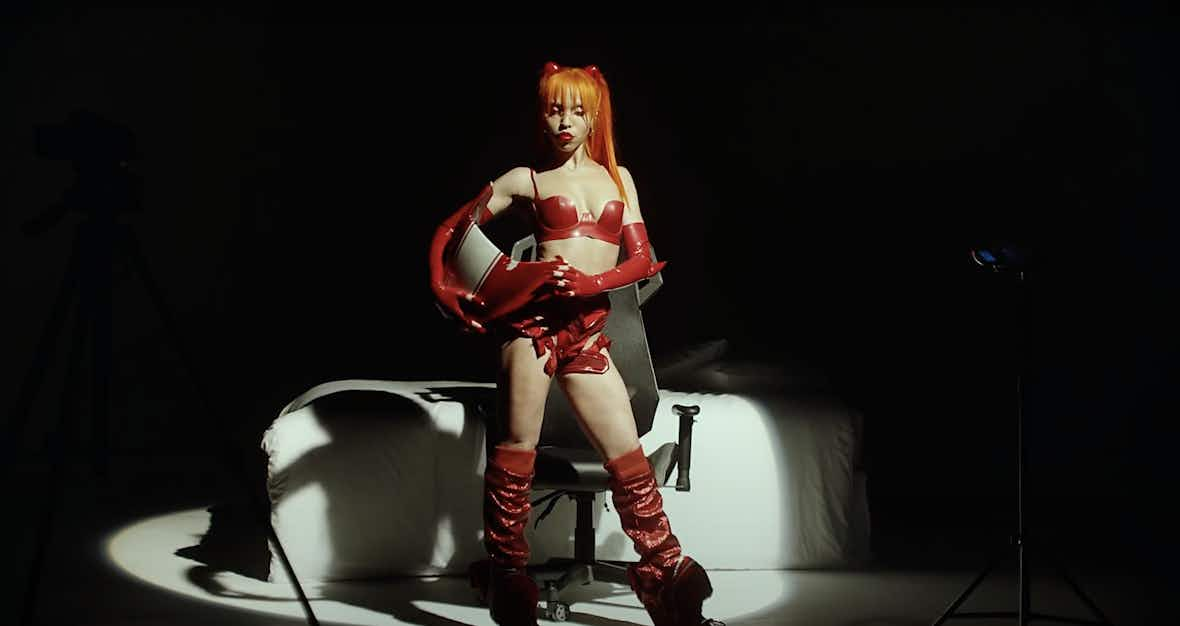 Want to dress like twigs? The artist's stylist and creative director Matthew Josephs, breaks down the palpitation-inducing looks that appear in the video for 645AR feat. FKA twigs Sum Bout U.
Yesterday alt-pop artist FKA twigs announced an initiative on Instagram to support sex workers affected by the pandemic. In the post, the Mercury Prize-nominated musician divulged that she learned ​"a back hook spin from a stripper" while working ​"as a hostess in a gentleman's club" when she was 19, and wants to ​"step forward, pay respect, and shine a light on the challenges facing sex workers, especially during these uncertain times".
FKA twigs' respect for adult performers is heavily woven into her work. Whether that be the ethereal, heaven-ascending pole dancing routine seen in the video for Cellophane, or her short film We Are The Womxn, in collaboration with WeTransfer, that followed the Londoner to Blue Flame, Atlanta's first Black strip club.
Her latest feature on Atlanta-rapper 645AR's track Sum Bout U is no different. In the Aidan Zamiri-directed video, twigs stars as a cam girl in OnlyFans spin off ​"onlycamzzz", contorting and twisting her body, wearing five off-the-wall outfits that may, or may not, break the bank.
Throw in fiery red cybergoth makeup courtesy of Daniel Sallstrom and a slicked back ​'do thanks to Rio Sreedharan, and it's no wonder 645AR falls down a rabbit hole of premium upgrades that swiftly clear out his bank account.

We asked twigs' stylist and creative director Matthew Josephs to talk us through the video's five standout looks, from a Little Bo Peep bonnet paired with a ruffled blue bikini (courtesy of Central Saint Martins womenswear designer Slid Needham), a latex magenta corset with Evangelion cosplay hair clips and a snakeskin, wrap-around cossie from CSM grad Conner Ives…
"This is a BTS shot of twigs on the socially distanced set for 645AR Sum Bout You vid. twigs is giving an Asuka Langley Soryu (Neon Genesis Evangelion) look consisting of custom Atsuko Kudo gloves, Atsuko Kudo bra, bikini bottoms from… I actually can't remember. Boots by Christian Stone and Evangelion cosplay hair clips [that] I've had for probably 10 years now.
The Nasir Mazhar custom harness was repurposed from another video we shot with Rocky. The ​"corset" was found on the road outside my house from a motorcycle crash (no one was hurt). Stunning makeup by Daniel Sallstrom, accurate hair by Rio Sreedharan and sickening nails by Sylvie Macmillan, styled by me."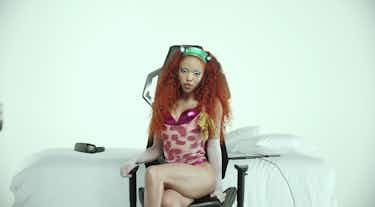 "The second look is a bikini from this brand that kept coming up on my sponsored posts, that was actually really good. I thought it was like some kind of superhero goes to Kinky Gerlinky shape. I usually don't do fast fashion but it was kind of perfect – we were limited as to what we could get because of lockdown. I think this video was shot literally the day everything was eased.
The corset on top is a vintage Vivienne Westwood that is twigs' own archive, piece but I forget the season, the light up horns are also Westwood from her own archive from 1992. The shoes and gloves are just something I have in my kit for when twigs needs shoes for pole dancing or a bit of camp drama [laughs]."
"The reflective grey look is from a super new designer called Slid. I saw their stuff at Nasir Mazhar's shop, Fantastic Toiles. I saw Slid wearing the piece twigs is wearing on their Instagram and asked if they could make another one for twigs. I love the kind of cyber crusty element which went with the zombie Claire Barrow cuddly toy she's holding."
"The snakeskin bikini look is from CSM graduate Conner Ives. This was the most obviously sexy look. I love the big coat that looks like it's made out of a cheap fleece blanket – but it's really luxurious. Because this look was so obviously sexy we wanted to make it more surreal by adding the foam bunny head by Nasir Mazhar. It was also a reference to Marilyn Manson's video for Tainted Love."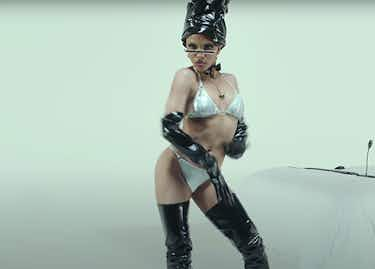 "The last look was another bikini I think from ASOS (sorry – I was grabbing them from all online places!). These boots were from another Instagram sponsored post brand called Rombaut – they're so good, I spent so much time on Instagram during lockdown [ha.
The gloves and tiny bow tie are from Gucci. The glasses are Gentle Monster which twigs loves to wear, they provided sunglasses for her tour. The pvc turban we already had in archive as it was made by Nasir Mazhar for a project – which unfortunately got canned – but came in useful for this look, which was low-key inspired by Erykah Badu."

More like this