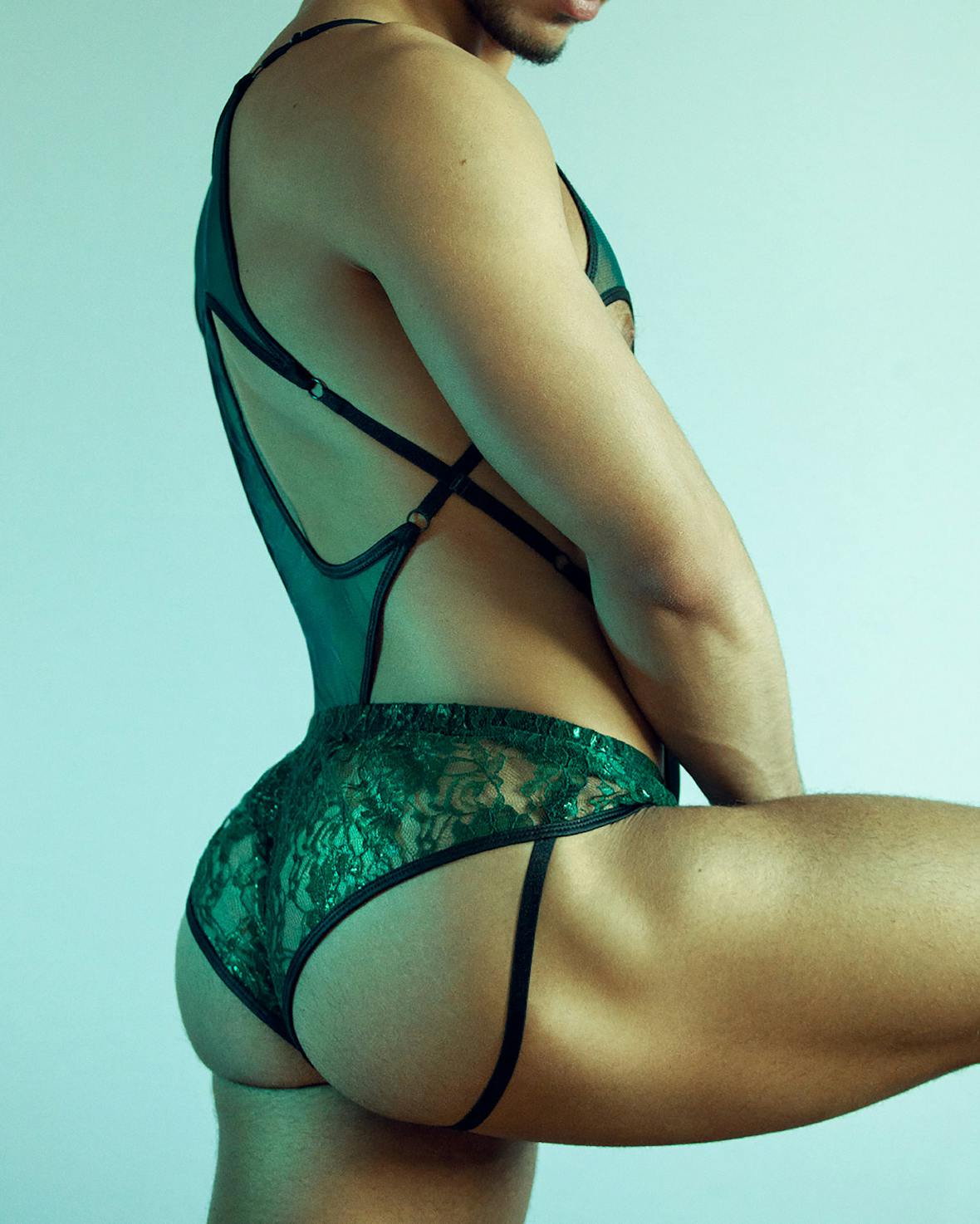 Get­ting to the bot­tom: gay men lov­ing lingerie
As tra­di­tions go, men wear under­wear and women wear lin­gerie, but as old gen­der-norms are slow­ly, thank­ful­ly, chang­ing, there is now a mul­ti­tude of Insta­gram accounts ded­i­cat­ed to men in lin­gerie – bril­liant! Spar­tan-like greasy gay men wear­ing tiny knick­ers while sprawled across a bed. Isn't that what the gays are dying to see? Seduc­tive lace and silk pressed against the skin of a tanned mus­cle-god? Sure. There's no kink-sham­ing going on here.
The idea of men wear­ing lin­gerie has tra­di­tion­al­ly been used as a tool to deflate the straight male ego. The school gos­sip fod­der of ​"is it true you wear women's under­wear?" has been the ulti­mate rumour-mill in play­grounds around the world, while it's had its fair share of moments in the media used as humor­ous exploits. In Com­e­dy Cen­tral re-run-favourite John Tuck­er Must Die, the epony­mous char­ac­ter is tricked into wear­ing lin­gerie as a form of humil­i­a­tion. In an episode of Friends, Chan­dler Bing is made to wear lin­gerie as some years-long revenge dat­ing back to school – by Julia Roberts, no less. With men in lin­gerie being the go-to for sham­ing men and mak­ing them feel small, what about the gay men feel­ing alive in lacy, racy garters?

"In fash­ion and design gay men tend to be about 10 – 20 years ahead of straight men – gay men just get it"
Insta's cur­rent­ly crawl­ing with men ditch­ing the gay community's go-to uni­form of jock­straps and leather har­ness­es for the del­i­cate plea­sures of thongs and sus­penders. Gay porn actor Fran­cois Sagat is ful­ly onboard, wear­ing lace bod­ies by EX-SL (a lin­gerie-for-men online shop), mesh moments by Andrew Chris­t­ian and out­landish cut-out cos­tumes by RECK­LESS by Ron. ​"I don't think it was pop­u­lar in the main­stream gay com­mu­ni­ty until the last five years – it was still an under­ground trend," he explains. ​"I love lace lin­gerie, I love how lace mar­ries the skin and the shape of mus­cles. Also, the sus­pender on a thigh is so erot­ic. It has so much impact visu­al­ly. White lin­gerie is amaz­ing – sheer, trans­par­ent, see-through!".
Ins­ta pin-up Antonin_​the2nd is all about the lin­gerie move­ment, too. Why? ​"Because it fits my body well, they're more com­fort­able and I love explor­ing my fem­i­nine side. Lin­gerie is a way to get there." Take a look at his Insta­gram account and you'll prob­a­bly start ques­tion­ing why you too aren't wear­ing Ann Sum­mers' finest when going about your day-to-day. As well as Antonin, Jean­Paul Paula is a fan of the trend, reg­u­lar­ly sport­ing a thong or biki­ni bot­toms. The pair make it look effort­less, free and far less like the image you have in your head of a 55-year-old Canary Wharf coke-addict­ed CEO wear­ing a La Sen­za two-piece under his suit.






All images cour­tesy of @exterface

The trend is gain­ing steam amongst gay men the world over – head over to gay club night like Ado­nis or Papa Loco on a Sat­ur­day night and you'll find a mul­ti­tude of cheeks on show. While there's a dis­tinct cor­re­la­tion between gay men wear­ing lin­gerie, the trend, unsur­pris­ing­ly, isn't gain­ing track in the het­ero male world. Male lin­gerie brand MENAGERIE sup­ports this idea, sug­gest­ing ​"In fash­ion and design gay men tend to be about 10 – 20 years ahead of straight men – gay men just get it. They under­stand the con­cept of lin­gerie being a lux­u­ry item, some­thing spe­cial, and not your every­day under­wear." And while Vogue​'s arti­cle, Why So Many Male Celebs Are Embrac­ing the Pret­ty Lace Top sug­gests the sul­tri­er side to menswear might be about to hit the main­stream, it's lim­it­ed to lacy shirts and not much else. EX-SL isn't so keen for it to go big, any­way. ​"We feel like lin­gerie for men not being main­stream adds some­thing to the fan­ta­sy. It doesn't have to be main­stream to ful­ly exist. It can be enjoyed pri­vate­ly, or pub­licly – there are no rules!" Isn't every­thing more tit­il­lat­ing when it's a secret?
---