The underground world of erotic male massage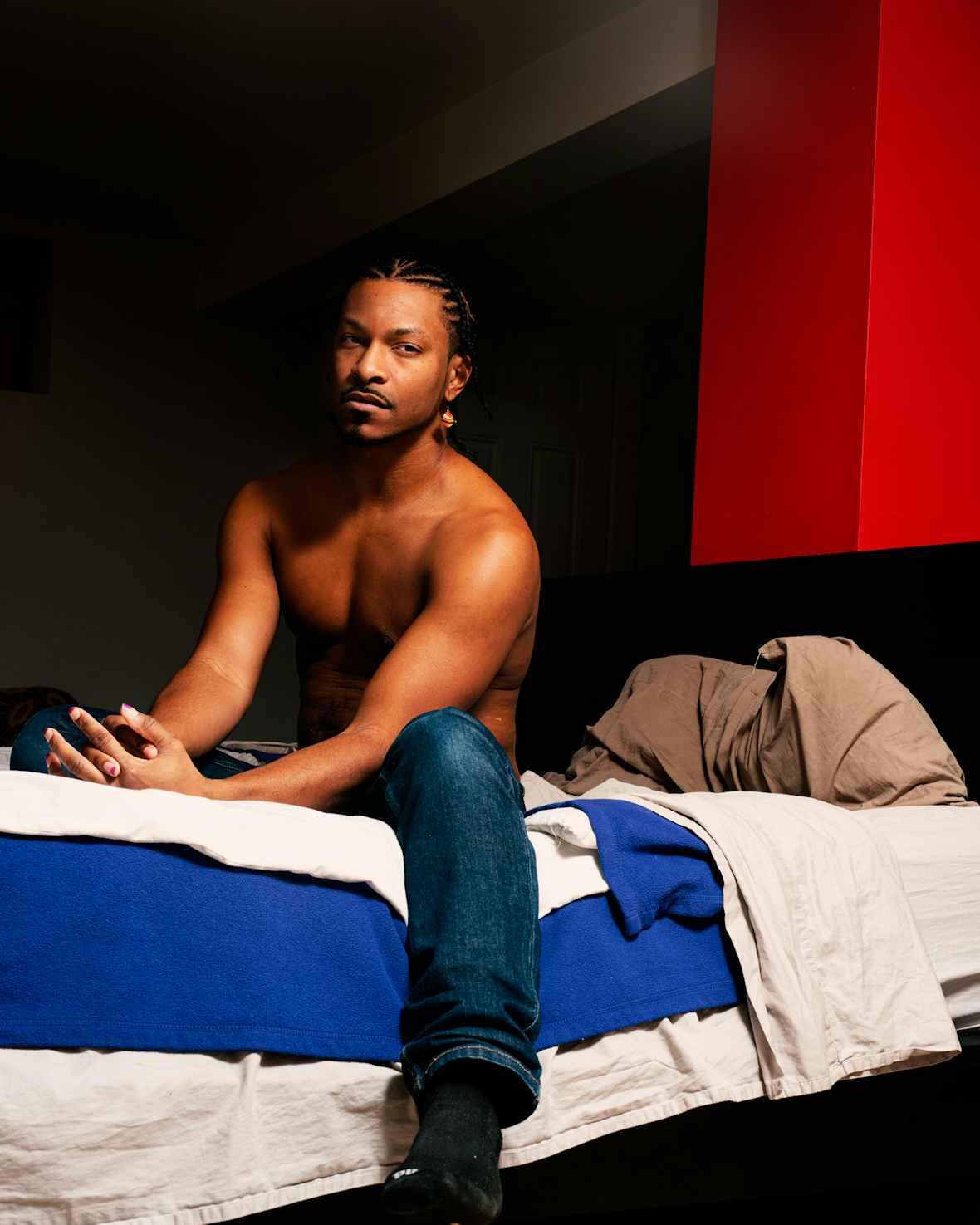 These three masseurs are experts in the art of intimacy. The Face spoke to them about their unique line of work and whether or not SESTA/FOSTA has affected them.
Erotic masseurs specialise not only in the field of flirtation, like their escort counterparts, but also in the art of massage. Many work in the nude, or in underwear, and allow varying degrees of touch from the client, bringing an erotic element to their practice. As opposed to a traditional massage, which involves laying dead still for the duration, erotic body work often involves an interplay between client and masseur, usually culminating in sexual release. Whereas a traditional massage focuses on physical relief, erotic massage can offer additional psychological release, fulfilling the oft-neglected need for touch and intimacy.
Folks like New York resident Sam, 30, pride themselves on being able to provide a professional grade, Swedish-style massage with an additional element of sensuality. With fingers dancing along the spine, thigh, back and neck, and palms penetrating deep into the muscle tissue, this body work is guided by both physiology and psychology to provide relaxing experience and a damn good time.
Like many of the men I spoke with, Sam first learned he was good at massage by giving his mother neck rubs when he was younger, which helped him discover that he had a knack for reading the body. As he grew older and moved to NYC, he, like so many gay men before him in this town, needed to make some extra cash; the path of least resistance was erotic massage. Vacillating between massage, teaching yoga, and other forms of body work, Sam developed a vast repertoire of techniques and clients, and has been working in the field ever since.
Masseurs source clients through word of mouth, but also rely on websites to advertise their services. Prospective clients can use one of three major websites to browse profiles, look at photos, read reviews, and check rates. Once they find someone they like, the next step is usually a phone call or text exchange, wherein the masseur has a chance to get a read on the prospective client and decide whether or not to meet in person. There are, of course, anxieties around this process, as its legality is questionable at best, so both clients and masseurs tend to exercise caution when exchanging information or discussing specifics.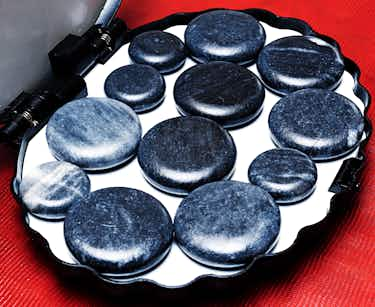 Additionally, the twin bills SESTA/​FOSTA, passed in 2018, are chipping away at online platforms where sex workers can conduct business safely. The laws, which on the surface aim to curb sex trafficking, hold responsible any website that is found to ​"promote prostitution", which resulted in the closure of the beloved Craigslist personals section, as well as online resources that sex workers used to compare notes on potentially dangerous or abusive clients. The bills have also led to a general sanitisation of the internet, and are arguably responsible for the increased censorship of NSFW content on sites like Tumblr and Instagram.
Most consequentially, the passing of SESTA/​FOSTA means that many sex workers who were once able to independently operate a business online are being forced back onto the streets, effectively increasing potential harm. Many who work in and alongside the industry are feeling the direct effects of these bills. How are erotic masseurs weathering the increased censorship and regulation? In a saturated marketplace, how do these young men stand out from the crowd? As human beings with their own emotions, needs, and desires, where does this line of work fit into their daily lives? We talk to three to find out.
There's a lot of masseurs in New York. How do you stand out and get those clients when all the girls are clamouring for the coin?
In New York I've found that because it's so competitive – I think it's probably one of the most competitive markets in the whole country – the only way to get seen is to really do top-tier advertising. A lot of times I end up spending $1,000 just on advertising each month. It's less now because I got kicked off of [masseur website].
Why'd you get kicked off?
That's a good question. When one of the big sites got shut down, a lot of changes started being made to other sites and [masseur website] got crazy militant about everything. I haven't been able to get back on, which sucks because that's where I got the most of my business from and it hit me really hard, which is why I ended up making a personal website.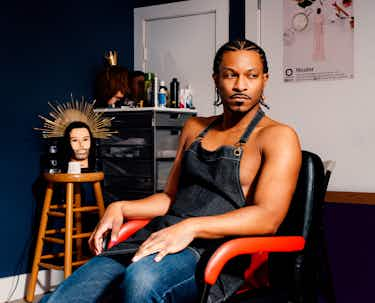 What about best practices? Safety and all that stuff?
Absolutely. I take deposits so nobody comes to my apartment unless they have sent half of my rate, because in the past I've given people my address and then they flake, and it just feels weird knowing that somebody who you don't even know has your address. My website has an online booking system so it has all of my up-to-date availability and then when they book they have to put a credit card and it takes a deposit. Then once they send that deposit, it sends them a confirmation email with my address on it.
Do you have a favourite kinky or extra fun story, a client anecdote?
I had one client who told me that he was a piggy, and I just thought that meant he was kinky, into leather. He was like, ​"Do you like piggy guys?" I was like, ​"Sure," and then I got there and we start hooking up and he starts actually oinking. It was so fucking weird. He would sniff my armpits and then be like, ​"Oink, oink, oink."
Very down… That's incredible. We spoke during our shoot about some of the headaches around pricing and infrastructure. Can you talk a little more about that?
Yeah, so there used to be a really big website that got shut down and on that site basically guys could put how much their services cost per hour.
That site was not geared towards massage?
Right, that was geared towards escorting. If you were new to sex work or to a particular city, you could just take a scroll through and see what everybody was charging and base your rates on that. Ever since they got shut down, other sites have prevailed, I guess. But they don't put rates up, and I feel like because people don't know what everybody else is charging, they charge less. I don't know, there needs to be a fucking union or something so we can all be like, ​"Nobody set your price below this, period." I think my website helps because it's just online booking and it looks professional. I haven't lowered my rates. My rates are what they are, they're non negotiable and that's it. I think we need to talk about it more, just like you see Hollywood actresses and stuff, talking about how much they're getting paid and stuff. What we're charging should not be a secret. We should have it out in the open, and we should all be getting our coin.
Read next: Getting to the bottom: gay men loving lingerie Men: do you know your babydolls from your basques? Your G‑strings from your garters? Your bustiers from your bras? Why? Because you could be wearing lingerie soon.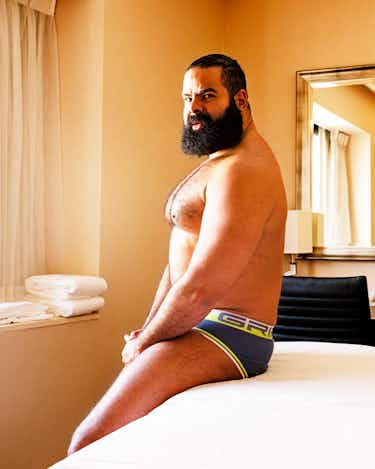 How did you get into massage?
I started massage when I was 12 years old. I followed my mother everywhere, and she had a massage therapist. I watched the massage therapist and how she worked on her. I told my mom, ​"Mom, I can do that." And she told me, ​"Why don't you give me a massage then?" As soon as I touched her, she was like, ​"Oh my God. You're good!" So I started doing massages for her. Then I went to school for massage in my country. I'm from Venezuela, but also I'm a finance guy. When I moved to the United States nine years ago, I was doing a little bit of massage, but not much. Then, in 2018, I lost my accounting job. And [my husband] told me, ​"Why don't you do massages?" Because I was trying to do Uber. I didn't think it was a viable option for a career in the beginning, but it really exploded once I began. I really see this as a career, and yeah, I definitely will be doing it for a long time.
Do you mostly work when travelling or at home?
Yeah, both. I'm very busy all the time. Especially in Houston where I live, I get many repeat customers. Now, I'm traveling more and focusing more on branding. If you have a bad vibe, the client totally absorbs that. And they're going to feel uncomfortable. So I always try to bring a really good energy to the table. My massage is the perfect combination of a legit massage and a naughty massage. I always advise my customers, this is not just a rub down. If you come for a massage, I'm going to give you a proper massage.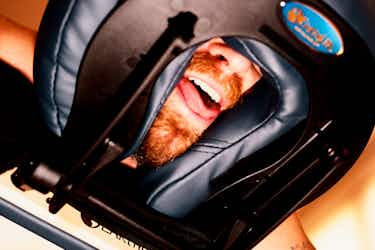 What sort of clients tend to hire you?
So the thing is that my clients, 80 per cent are straight. Males with girlfriends, wives… so they are very nervous at first. But then, they kind of ease up. What happens with this is that straight males are very deprived of touch by another male. People say, ​"No, they are gay." No, they are not. They are not because they don't text me afterwards trying to meet-up. Never. Gay guys? Yeah, of course. But these straight guys, they just need the touch. Often I introduce what is kind of called the prostatic massage. So when you are working by the glutes, you can introduce the finger a little bit, so you stimulate the prostate while you're working the back. They love it.

Can you tell me about a session that sticks out to you?
So, I must tell you that I have a foot fetish. One guy, he was very attractive, and he had beautiful feet. I say to him, ​"You have nice feet. I'm going to suck that." Nobody has rejected that, nobody so far. So I start sucking his feet. I note that he was like… He was panting. So I finish sucking, and I flip him over. Normally, when I know they are close to coming, I flip them over and then I start the happy part. But he was like, ​"No, no. We don't have to do that. I don't want to come" It was a bit strange for me. But he pays me and leaves. Then three months later, he texts me. He said, ​"Hey, how are you? You remember me?" And I was like, ​"Yeah, I remember you." ​"Are you coming back to Denver again?" Because he saw I was working in Denver again. And I said, ​"Yes." ​"Oh, yeah. Because you know what? You made me come when you sucked my feet." And I was like, ​"Oh, that's fantastic!" I didn't know this at the time. But he came when I sucked his feet. But he didn't know that he had a foot fetish before then, he discovered it with me, and I think that is very beautiful.
From my own experience in massage, it feels like with a lot of people, what they're really after is touch and intimacy. Would you say that's accurate?

Yeah, I mean I'm not an athletic massage therapist, and the people that see me aren't athletes. Just as my therapist tells me that the main thing that she hears from her patients is that they're lonely and they feel isolated, I think that the same can be said about people seeking physical therapy or restorative touch. The majority of us are lacking contact intimacy.
But they seek you out instead of going to a storefront massage parlour down the block. Why do you think that is?
Are we establishing that what I do is erotic massage therapy? If so, then a lot of it has to do with the way that I look. You know, a lot of people want to be touched by someone who they find attractive, or be touched by someone who shares in some of their same life experiences, or someone that they feel will be attracted to them, you know?

Has this ever felt dangerous for you?
I never really had an issue with safety, which is lucky for me because there's enough infrastructure to sort of keep me safe as a white cis guy doing this work.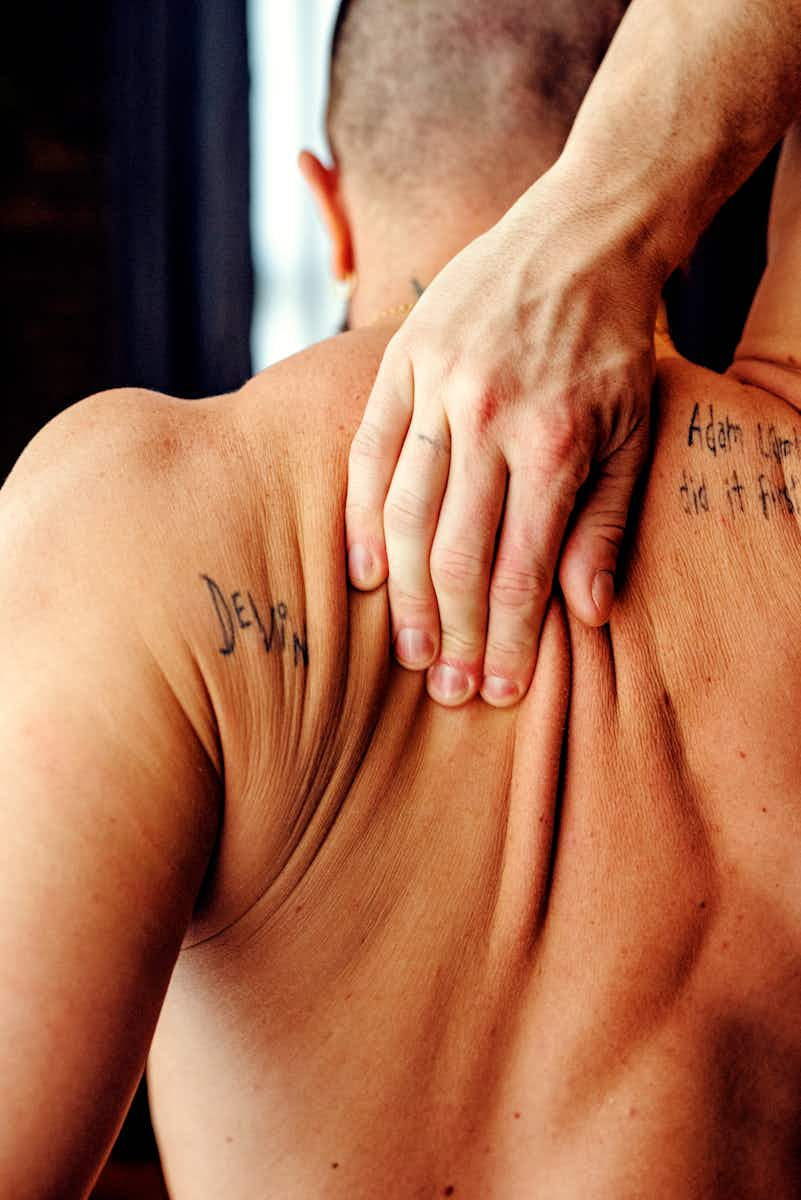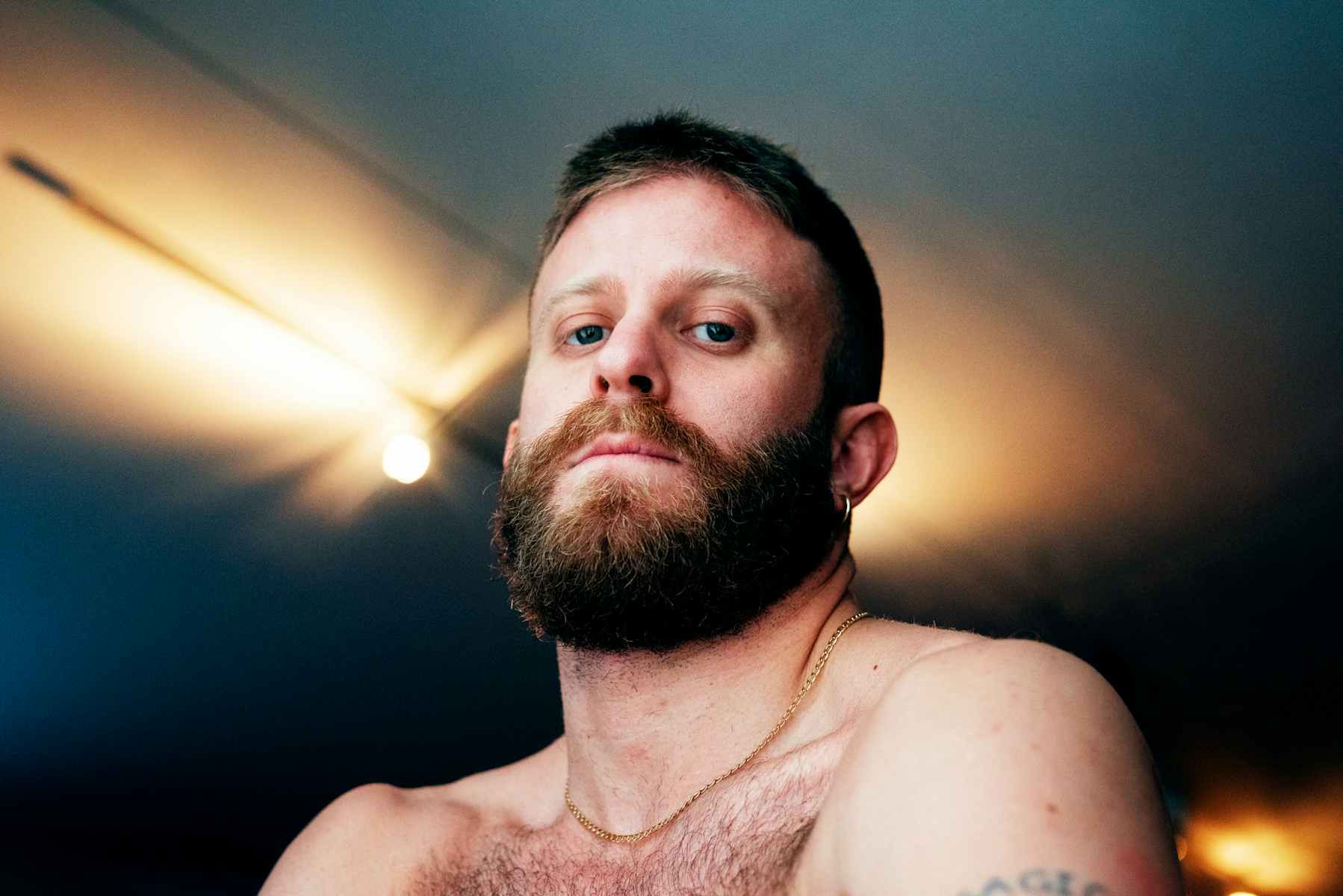 When SESTA/​FOSTA came around do you feel like that affected your business? Did that affect your mental state in relation to this whole thing? Did it change anything?
No, not for me, luckily enough. But it did for a lot of people that I do know.
Any words of advice for someone thinking about getting into erotic massage?
Don't, the market is saturated already.
Okay.
No, no. If you feel a calling or a responsibility or something, if you feel drawn to putting your hands on people and you enjoy providing relief to people, then start with touching the people in your life and being comfortable with physical contact with people that you feel close to, before you go and make it your job.

More like this