GmbH: ​

"

We're not in this to sell clothes"

The Berlin brand is removing business growth as a motivating factor, focusing instead on its ever-expanding community.
Whilst many fashion brands are barely getting their heads around the need to pivot into broader roles as educators, activists and collectives, Berlin-based GmbH is already there, continuing the conversations around race, accepted beauty and the struggles of marginalised communities that they started when they launched back in 2016.
In the absence of fashion shows in Paris this men's season, Founders Serhat Isik and Benjamin Alexander Huseby have launched their three-part Rituals of Resistance project, which aims to show fashion as a progressive force. After A Guest on Earth, their collaborative film with director Francisco Sendino (which focused on everyday dreaming in their multicultural neighbourhood in Berlin), GmbH are now showing Lars Laumann's video art piece, A Season Of Migration to The North, a moving and mesmerising reflection on gay Sudanese activist and architect Eddie Esmail, which also shows the staging of a local fashion show.
As scratchy VHS footage of a super-spotlit catwalk in a Khartoum banquet hall shows kohl-eyed men walking out in looks ranging from silver suits to Diesel shorts and flip flops, Esmail's diary entry voiceover recounts his experiences as a gay man in Sudan (the country he was forced to leave due to his LGBT activism) and as a black man in Norway (where he's regularly on the receiving end of racism). A Season Of Migration To The North builds up a picture of a sweet-natured, but fiercely resilient man who, through all of his trials and tribulations, manages to live by the advice he picks up along the way: ​"Do not conform to society – let society conform around you."
The third part is, of course, the clothes, which according to Isik, ​"have grown out of having lost time, making up for lost time, out of pragmatism." We caught up with them in advance of their SS21 collection.
GmbH have always had a strong sense of community and all these projects emphasise that even more.
Serhat: We really wanted to refocus, with everything happening, why we founded the brand in the first place. That's kind of where we directed our energy — into the film and the theme of migration. It was a message we really wanted to put out there.
I love the sincerity of the fashion show in Lars Laumann's film. Quite often in the fashion industry when things are put out there, they're judged much more harshly. These feel more accepting and human.
Benjamin: Originally we loved the film and why it so relates to GmbH. Obviously it's a fashion show and it talks about the struggles of minorities, whether they're migrants or LGBTQ communities across the world. It's so important and everything that GmbH is about in such a beautiful and empathetic kind of way. For us it was perfect. Since we're not doing a fashion show, why not show this as our show? That's kind of how we conceptualised it.
S: It was conceptually so powerful. It shows that someone who's so passionate about fashion… and not just fashion. I think part of the reason they did this show in Sudan was because they wanted to be seen. A fashion show being so public can be political. That's what GmbH is all about, basically. We're using the skills, tools and the platform we have for exactly that as well.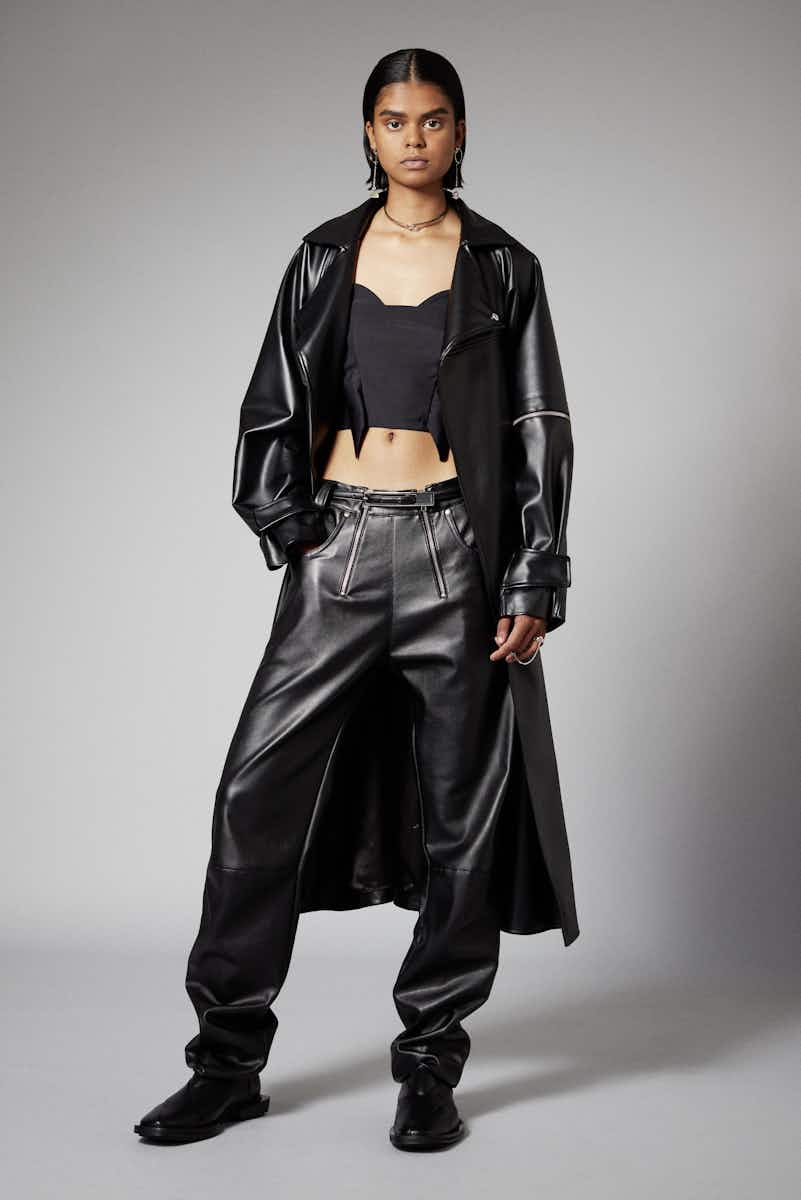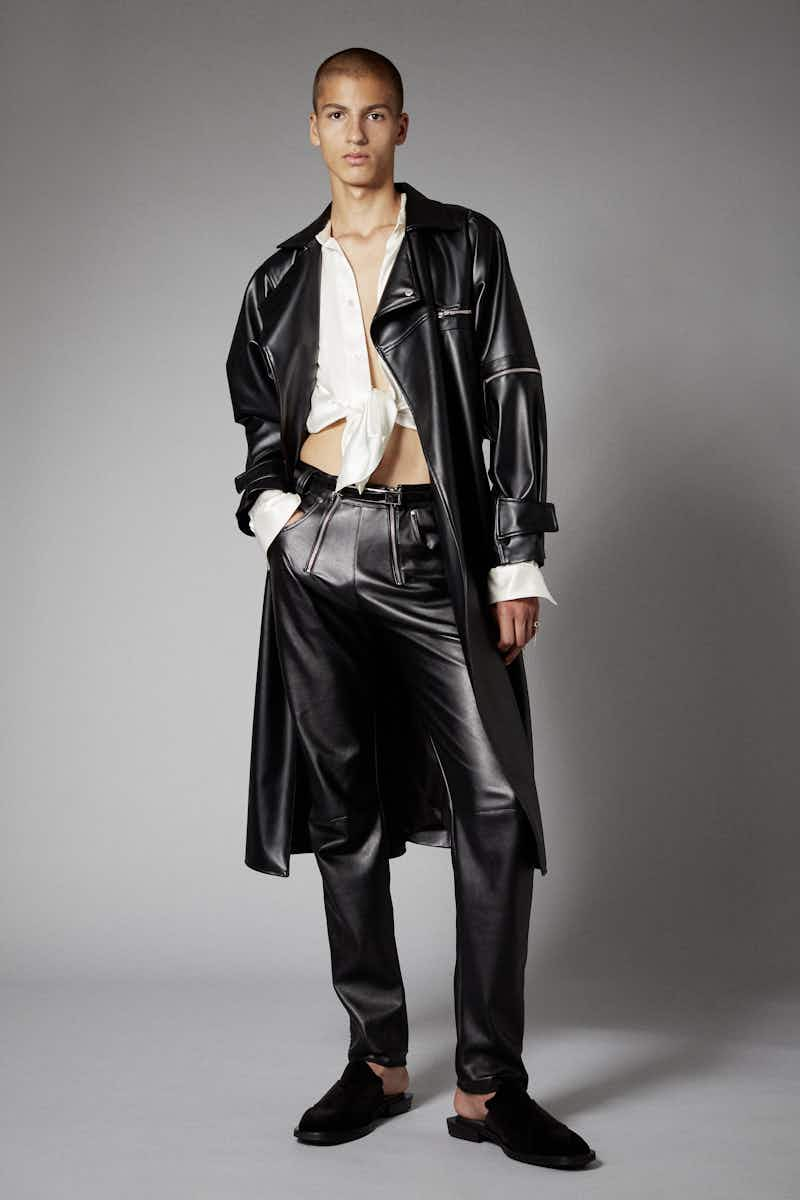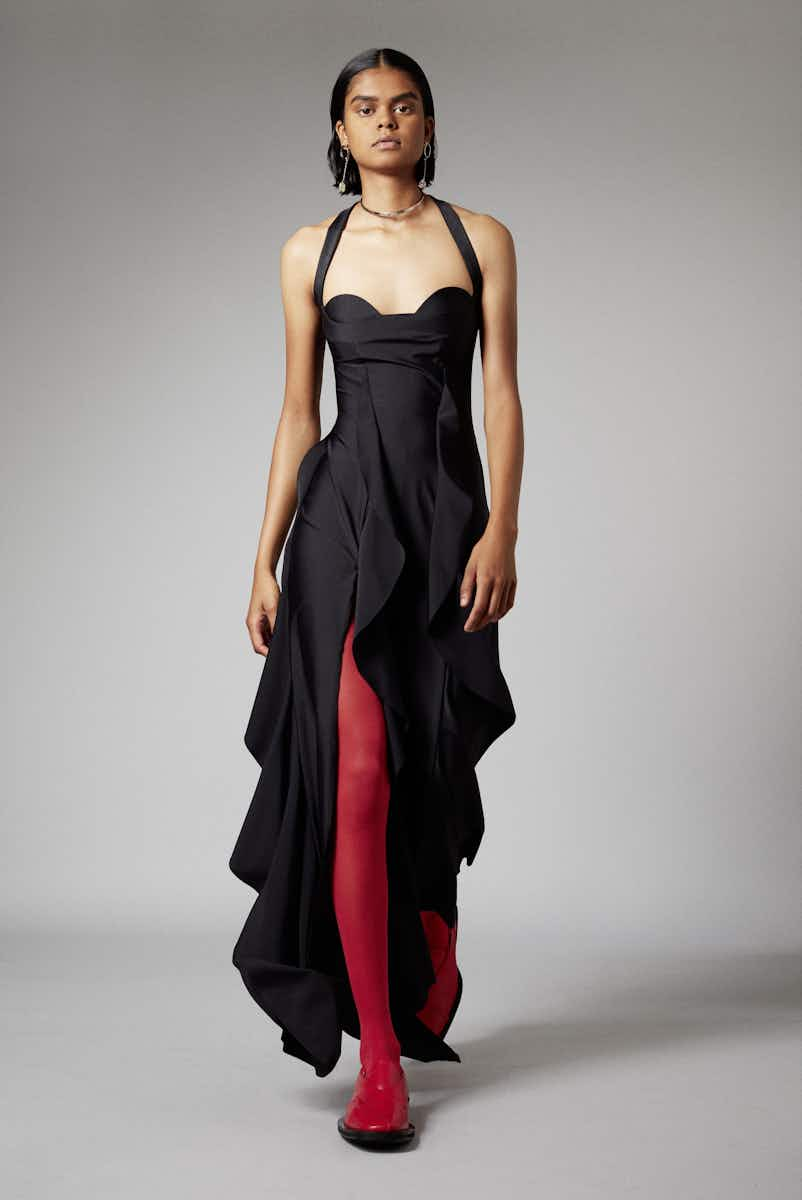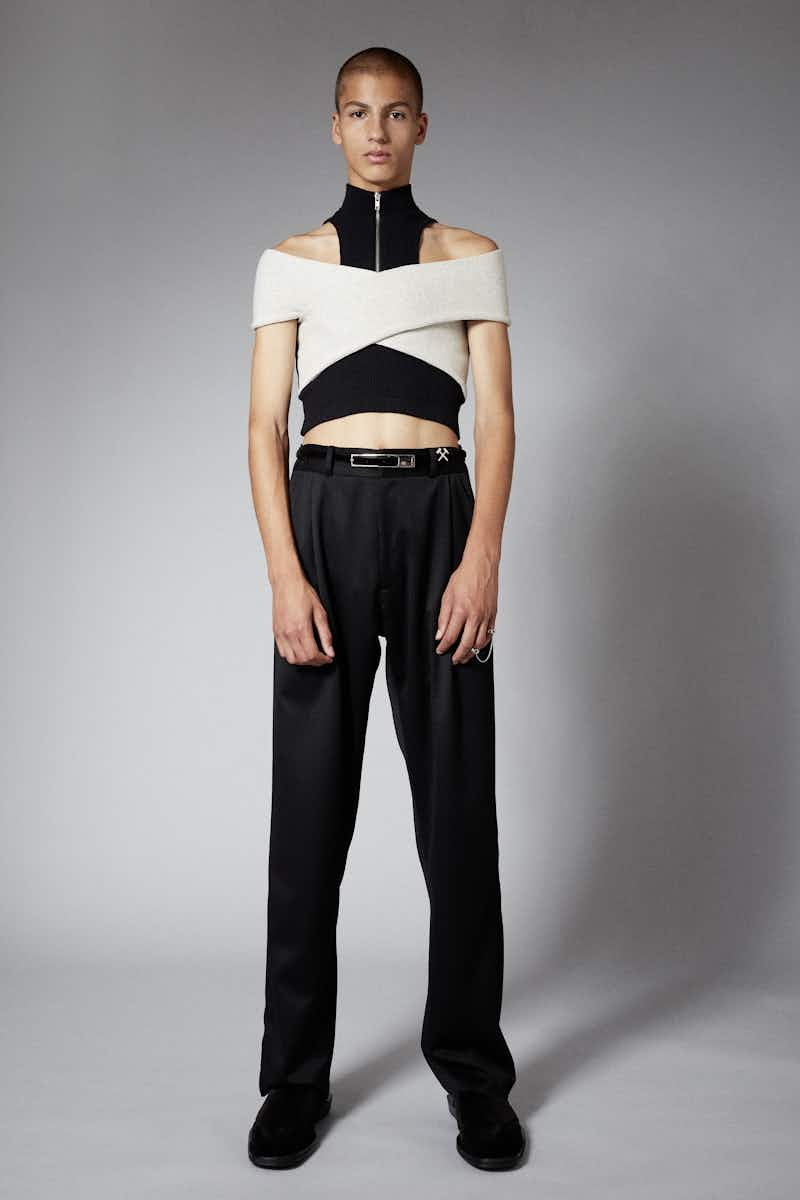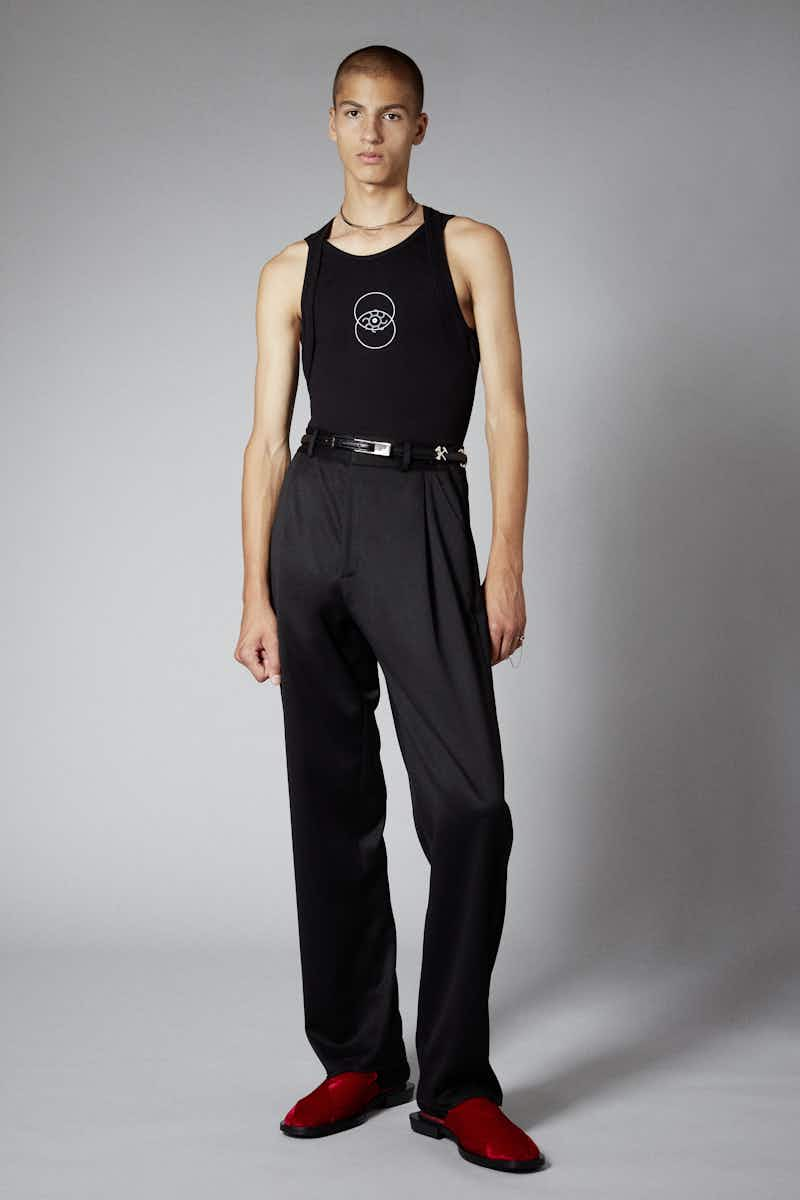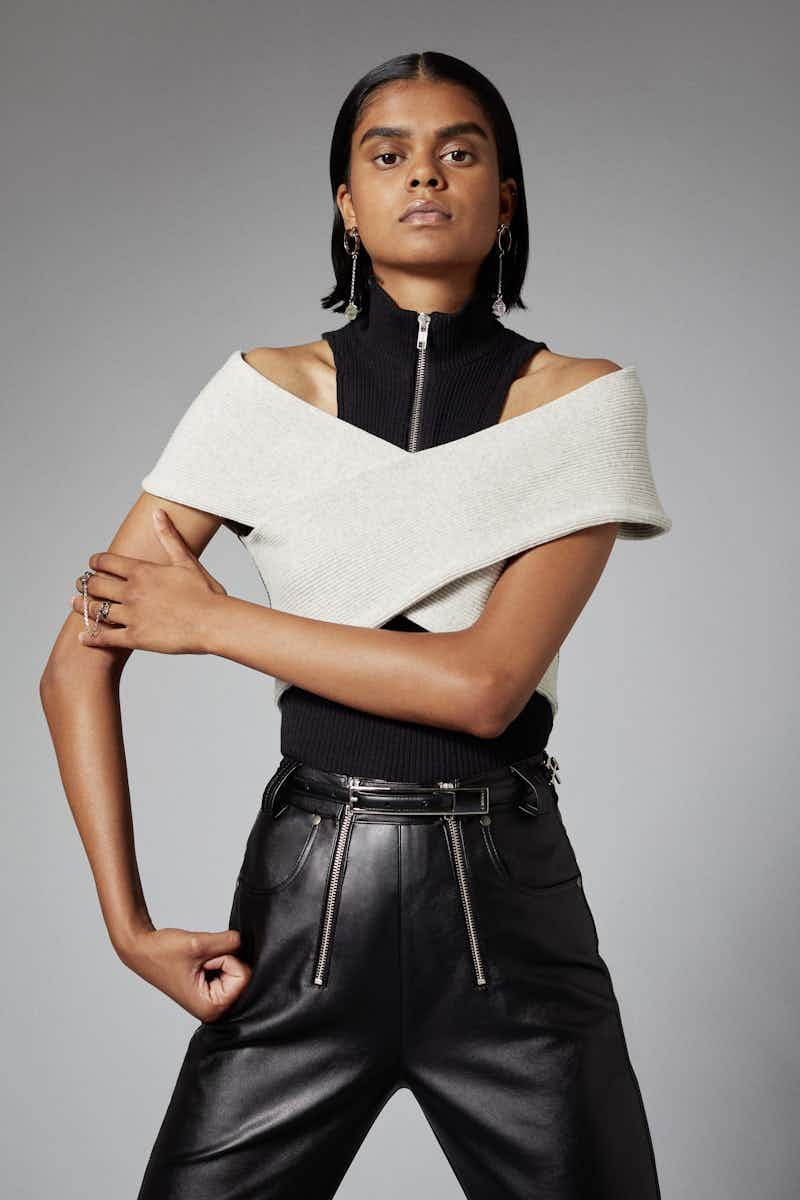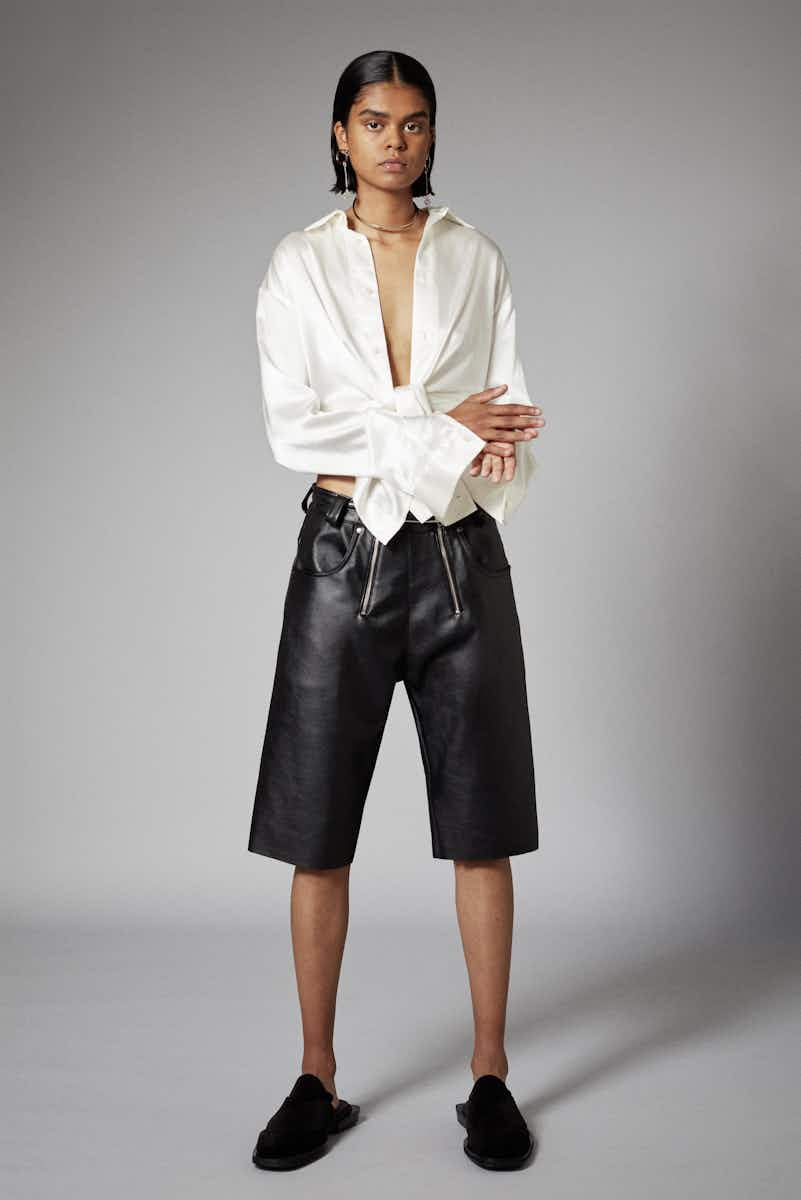 You didn't really put your clothes in your film A Guest On Earth. How come?
B: We see it more as a statement. MJ, who plays the angel character in the film, is the only one dressed in the new collection. It doesn't necessarily look like a fashion statement — it was just worn by the right character, to give him a sense of formality. The film is more about what GmbH is about: it's about the people we pass on the street everyday that inspire us, obviously in these times you wonder, ​"What are they thinking?" People have had a lot of isolation and disconnection, everything is sort of digital. A premise for the film was really to find a way, through these platforms that we're working on, to get a sense of connection and human touch. That's not through some CGI over-production, it was really about trying to find poetry with real people and their words, and with music by a friend of ours, Lyra Pramuk. It's a community project, even though a lot of the people in the film aren't necessarily people we knew. When we were editing the film we realised how connected it is with our lives in so many ways. It became very emotional for us.
Which neighbourhood is that in Berlin?

B: It's two neighbourhoods: Neukölln and Kreuzberg. We started to focus the film around Sonnenallee, which is just around the corner from my house and goes to our studio almost. We both live in Neukölln and our studio is in Kreuzberg, but these areas are almost one. It's two streets that we limited ourselves to. It's a very diverse community. It has the biggest Turkish and Arab communities in Germany.
I heard there was some kind of neo-Nazi attack there the same week you were filming?

S: Yeah. These things happen here, frequently almost. A mass shooting a couple of months ago in Hanau, the Nazi attacks on local brown businesses with SS graffiti sprayed all over the store. The store was lit on fire. It happens every now and then here. Obviously Germany has a huge problem with racism when it comes to brown, Arab and Turkish communities. It happened the same week we filmed, actually.
B: It just made the statement of the film even more important.
In London, the knock-on effect of what's been happening in America has been felt. There's been lots of discussion about the systemic things that need to change, statues being pulled down, the curriculum being rethought. Do you think that's having the same impact in Germany?

B: Yes, but to a different extent. Germany already has no statues of people, either of Nazis or Communists because those regimes are over. So Germany already kind of purged themselves out of that idealising of people that way, because of its troubled history. It's still a city where history is so present, whether there are bullet holes still left in a building or the structure of the city. I think the discourse here is that obviously in Germany there is very little knowledge about its colonial past, even less than the UK probably. It's not something that's really taught. There have been a couple of exhibitions about it but it's not something that's widely known. There's a Black female politician who's been quite outspoken. Voices are getting to be heard. The Black Lives Matter protest in Berlin was phenomenal. I think people are feeling that this is a topic here and that conversations are happening here, even though the history is a little bit different.
On a different note, a lot of your work has revolved around clubs and the club scene. How's it been for you guys not having that as part of your lives?
S: Nobody has! Raves are still happening. You can't stop Berliners from clubbing, I suppose. But it's a bit problematic I guess, one of the raves was literally in front of a hospital.
Yeah, The Face covered the rave scene so much back in the day, and some people have been saying this is like rave back in the day, but it's not really because this actually jeopardising people's lives. It's a different spirit which feels selfish and weird, not positive and boundary-breaking.
B: Yeah, there's a park close to where we live, just between where both of us live, and on any sunny day there'll be a rave going on with hundreds if not thousands of people partying together. My immediate reaction was that I got quite aggressive when I saw it.
S: We both had corona, we were sick for a couple of weeks. The first day we went out it was sunny and we went to the park, saw all these people in the park… Even though we were theoretically ​'immune', whatever that meant, it was shocking.
Have you had any transformative experiences during this lockdown period?
S: We've actually been drowning in work. We haven't had much downtime, which we're very much looking forward to. We lost one month of work because of corona and because we were sick. We had to high-speed make up for that, and we're actually going on holiday after all of this is over, for two weeks.
B: The transformative element that we maybe felt in this period is that we've really shifted our focus, crystallising what GmbH really is about, who we are, what we want to do and how we want to use this platform. We love fashion, we love making clothes and creating fashion imagery and shows. Essentially we're not in this to sell clothes. It sounds paradoxical but that's not the end game for us. It's the stories and the community — that's really what we want to be about. So the conclusion — after having had coronavirus and going through the struggles of streamlining the company so we can be a bit more resilient, making cuts and shrinking operations a little bit — the conclusion really is that it was actually quite a profound experience. We want to make GmbH not about growth in the economic sense. For us that was a bit of an eye-opener.

How do you control your growth as a business?
B: You have a certain level of control. You can say no to orders and so on. Some organic growth is obviously fine and we probably will grow a little bit. What I mean is we will take growth out as a motivating factor in how we structure our company. As soon as you take that out of the equation then it's so much easier to be sustainable. You don't cut corners on sustainability, it isn't an object that you have to produce more to make more money, grow more, be bigger, which is normally how success is rated and refined in any kind of business. We don't care about that. That isn't important, we want to be successful in another way. We want to define ourselves.
You might not have moved into making films had it not been for this period either, so I suppose this has pushed you in a new direction.
B: Yeah. It doesn't mean we don't love shows, but there's also something much more democratic about doing video that can be shown to a lot of people instead of a fashion show that you can only see when you're there.
When I look at the brand, I always have a sense that it's a community. Do you know who that community is?

S: Individuals in the music and art scenes I would say, especially. That's sort of our community I guess.
Are there certain countries that you feel you're particularly resonating in?
B: I think particularly after covid, we realised we had such a big German fanbase that I don't think we really noticed so much before. This is probably a shift that we'll notice more and more, we're just going to have to be more local. It's not about travelling and being everywhere in the world and being so global. We have to have a more local supply chain.
S: Which is also very unusual — growing up here, Germans don't invest in German design. It was just never a thing. There was no such thing. Germany wouldn't normally go to a young designer to support that, as opposed to Scandinavian countries where it's completely different and young designers get a lot of support from their surroundings and population.
It's cool to see it moving beyond Berlin and to other cities.
We also have a good customer base in the UK, France and Japan and Korea, too.
I saw that you've been taking on the people who are ripping off your designs.
B: Inspiring someone is something else, but being blatantly copied! The person that actually copied us admitted that they just sent our stuff to the factory and just copied it.
They agreed to take down the product and they agreed to donate anything they earnt to a Black trans charity, which we requested and they will recycle the leftover product. So it actually went quite well.
S: I think it's great that there's no normalising of this behaviour any more and that people are being held accountable because brown and black people have had their intellectual property stolen, exploited for long enough. Of course it's happening all the time on all scales, but there's the context as well.

More like this