Gucci's Love Parade: a Hollywood tale of big dreams

Staged on Hollywood Boulevard, Alessandro Michele's latest collection was rooted in his yearning for something bigger and better while growing up in a squat on the outskirts of Rome.

Alessandro Michele has long characterised his version of Gucci as a phantasmagorical land of make-believe, a never-ending soap opera caught somewhere between the dancefloor hedonism of the early 1970s and the excessive extravagance of the ​'80s. And at a time of uncertainty, Michele's optimism has never felt more relevant. That he can cast a glittery net over the dreariest of landscapes and turn it into something a little OTT is wholly welcome.
In the latest iteration of Michele's seasonless melodrama, the creative director et al. travelled from Milan to Los Angeles to present the Italian house's latest collection. But a simple affair wouldn't cut it. This was a full-blown sequinned spectacle: a chunk of Hollywood Boulevard was shut down for the night, models got ready in the Grauman's Chinese Theatre and celebrities swooned from all angles for a seat on the director's chair. No, really – guests sat on director's seats, including Miley Cyrus, Billie Eilish, Gwyneth Paltrow (wearing a new iteration of the red AW96 Tom Ford-era Gucci suit she wore to the MTV VMAs in ​'96) and Hollywood royalty, Anjelica Huston.
Why Hollywood? For the collection, Michele looked to his mum who once worked in the film industry as an assistant at a production company. As a kid, she'd tell him all sorts of elaborate stories about the goings-on inside the so-called ​"dream factory": the soft paleness of Marilyn Monroe, Rita Hayworth's black satin gloves, Veronica Lake's velvet hair, and the bewitching allure of Rock Hudson and Kim Novak's on-screen star-power. These stories, Michele writes in the press notes, ​"felt like a fairytale". At the time, they were living in a squat on the outskirts of Rome. ​"Those subversive tales helped me in piercing the greyness," he says. ​"That was my escape, my desertion." Sort of makes sense that Michele is hell-bent on creating dreamscapes show after show, then, doesn't it?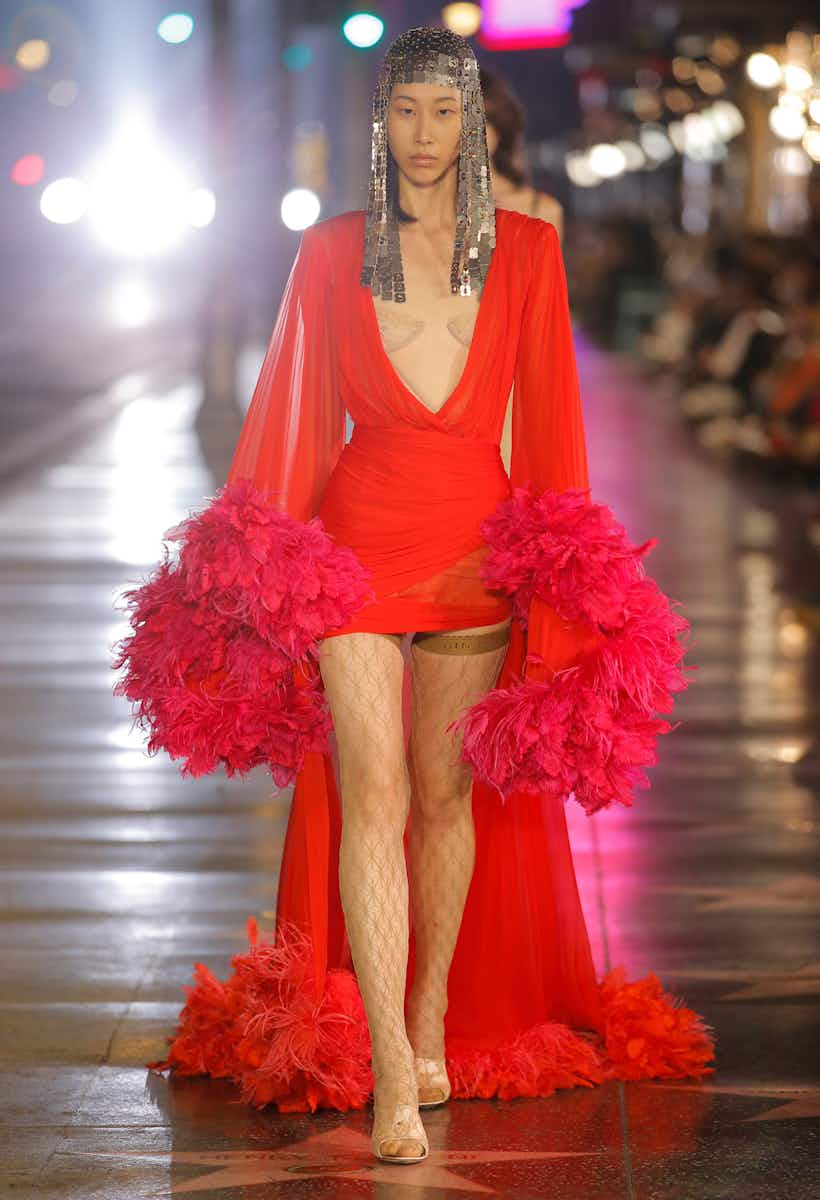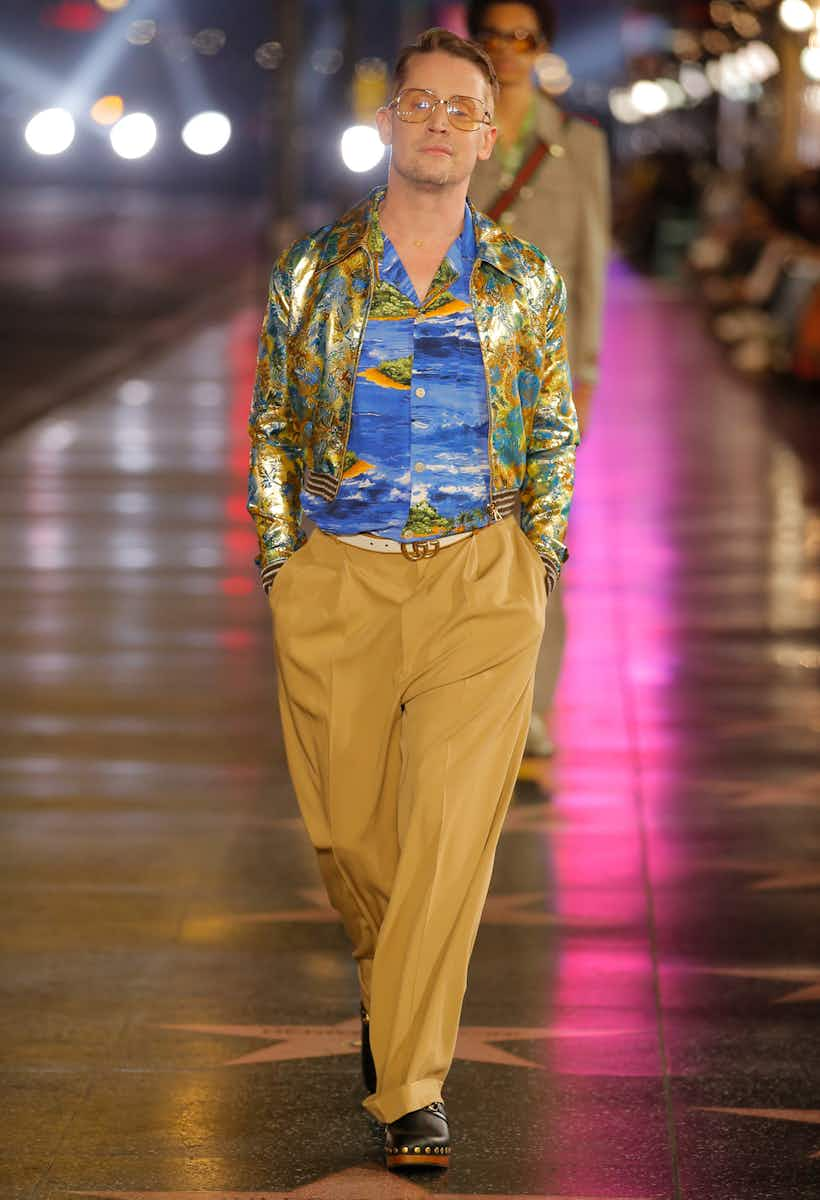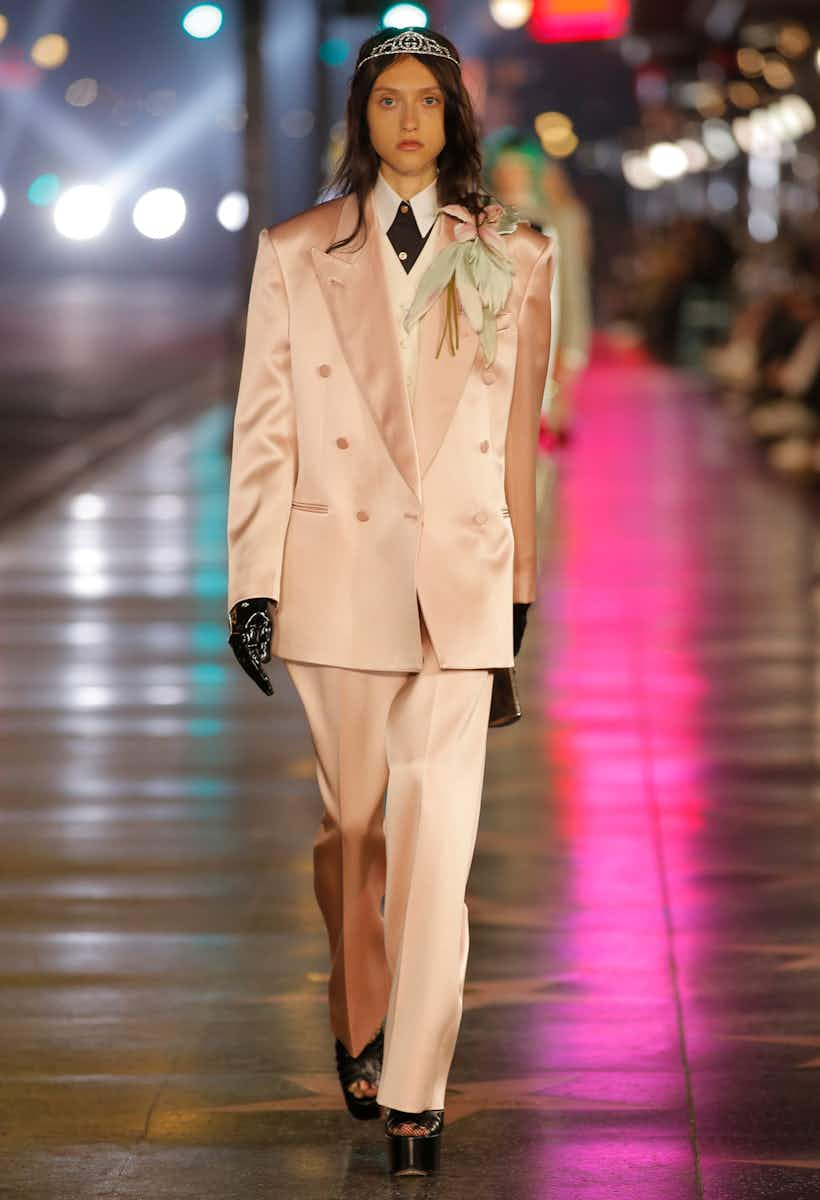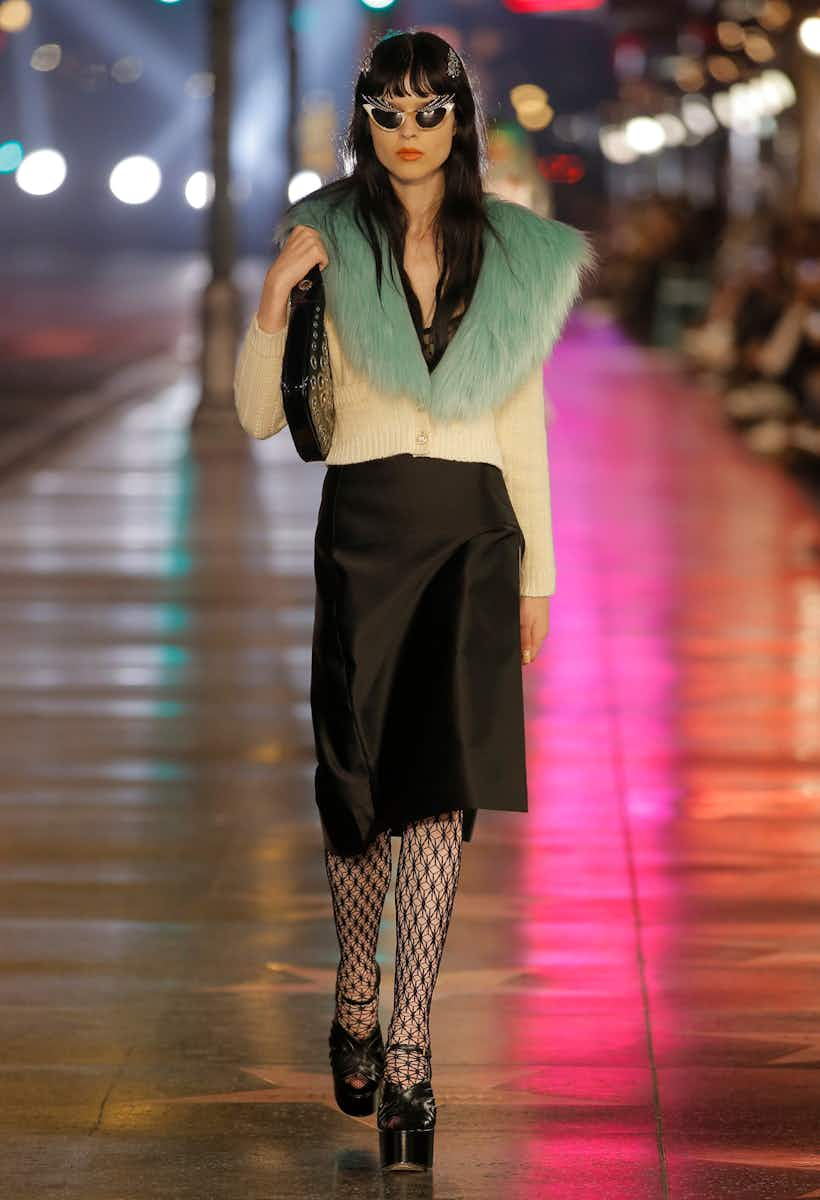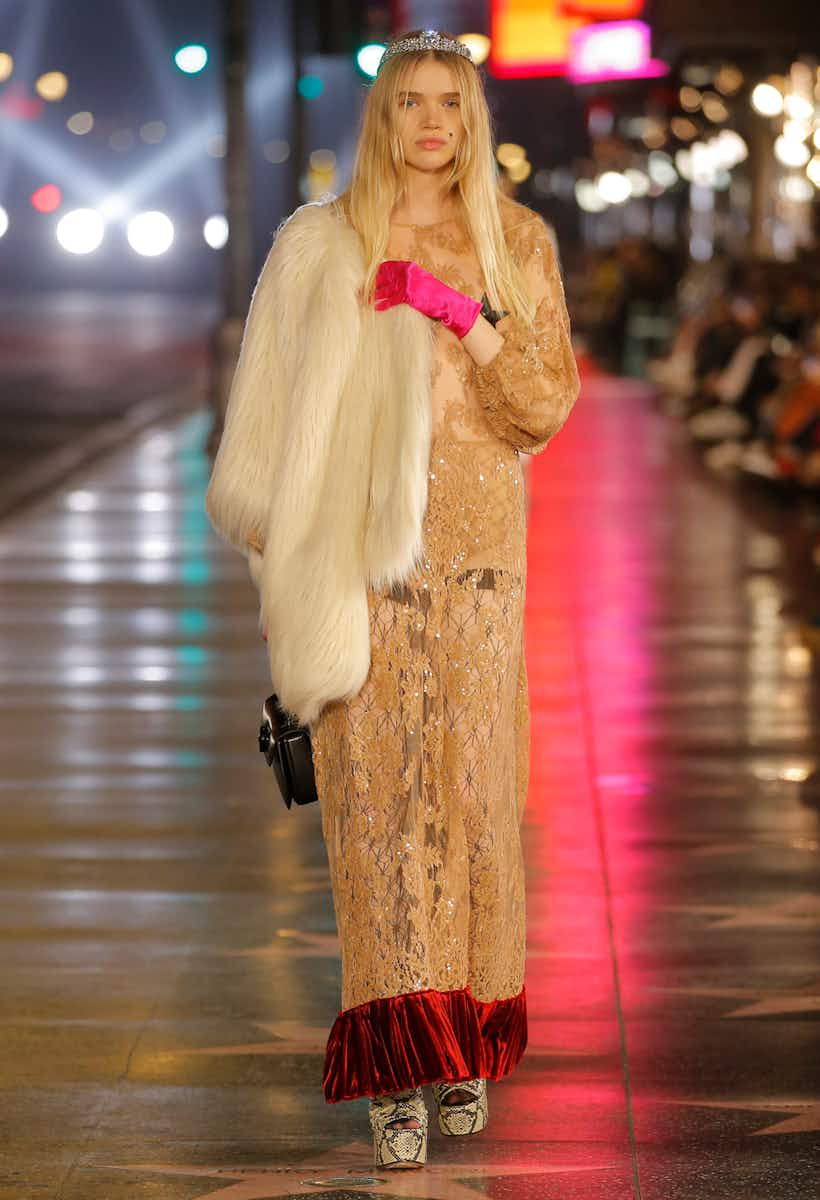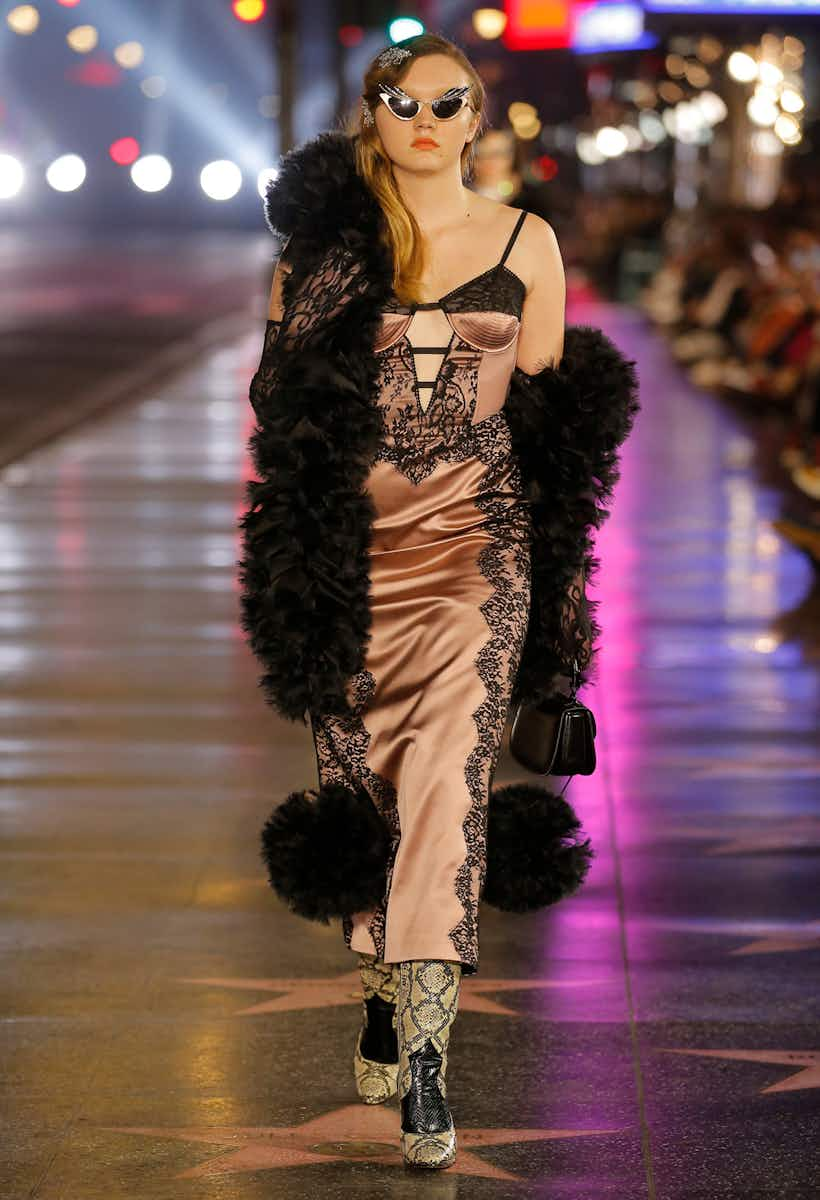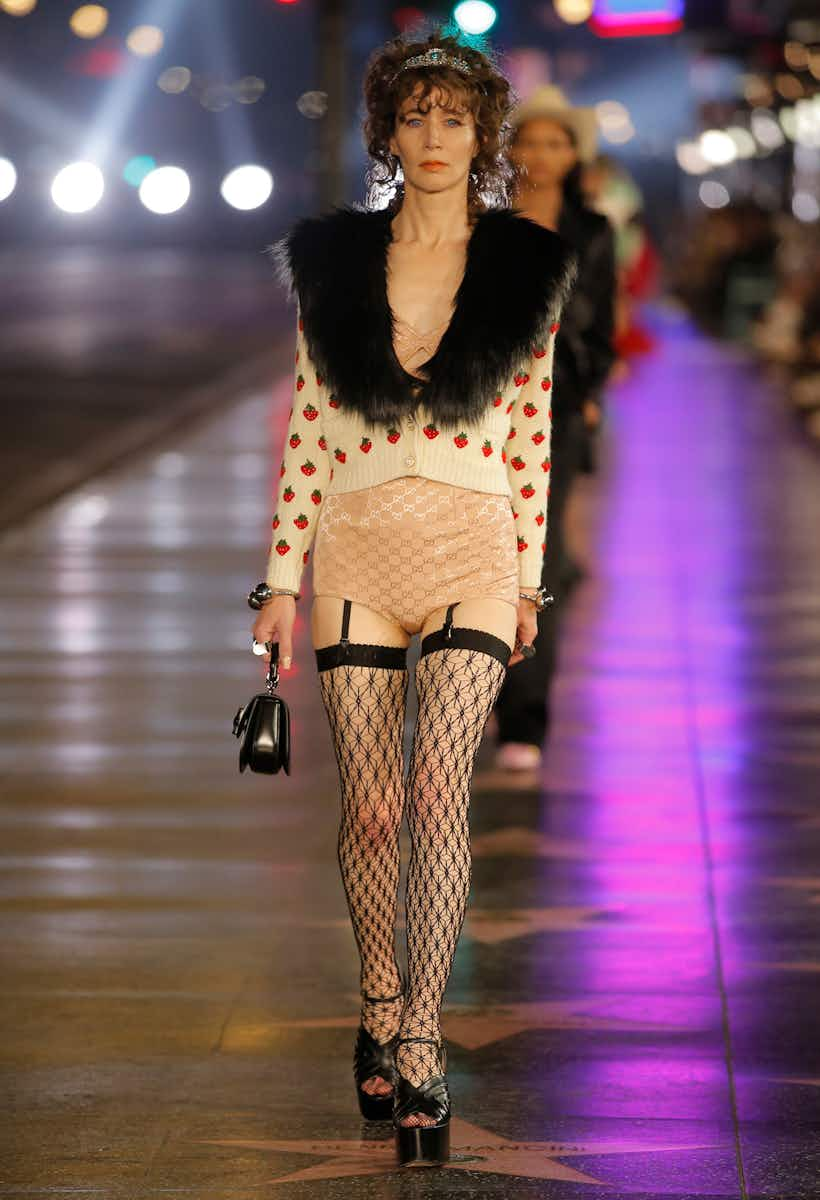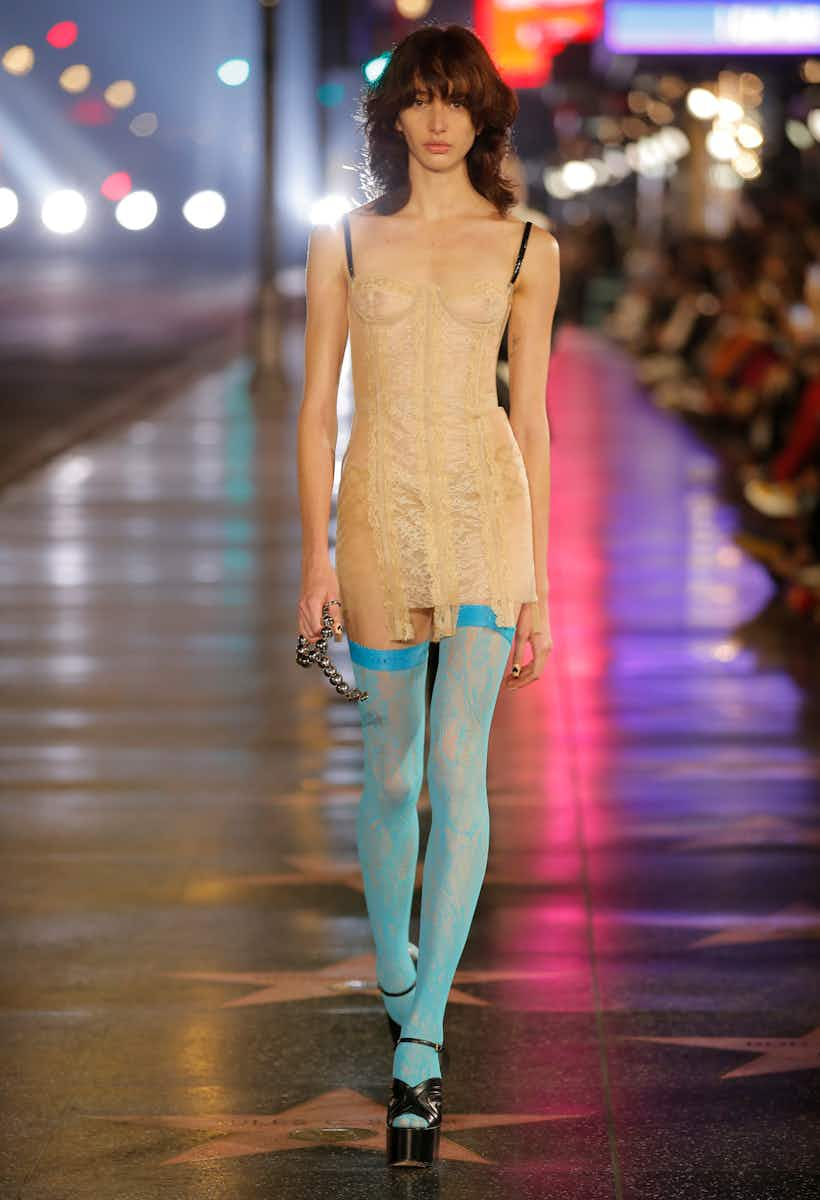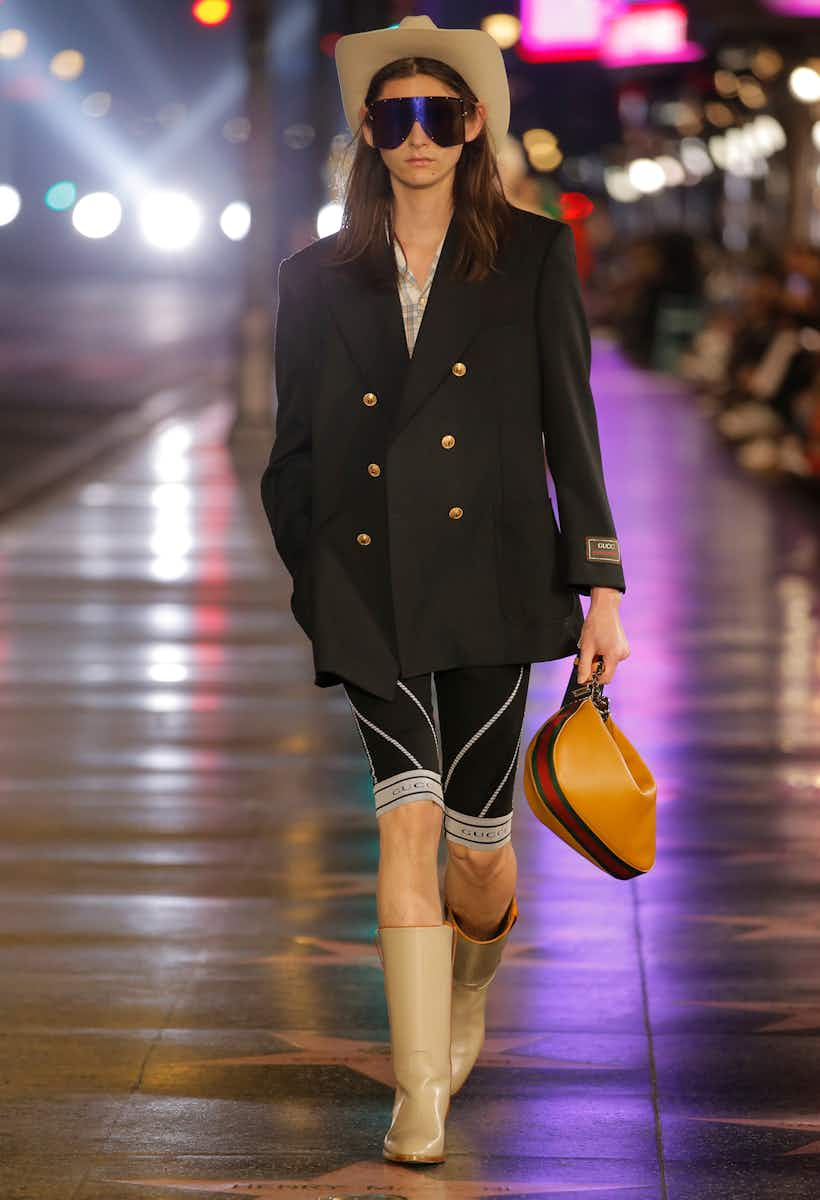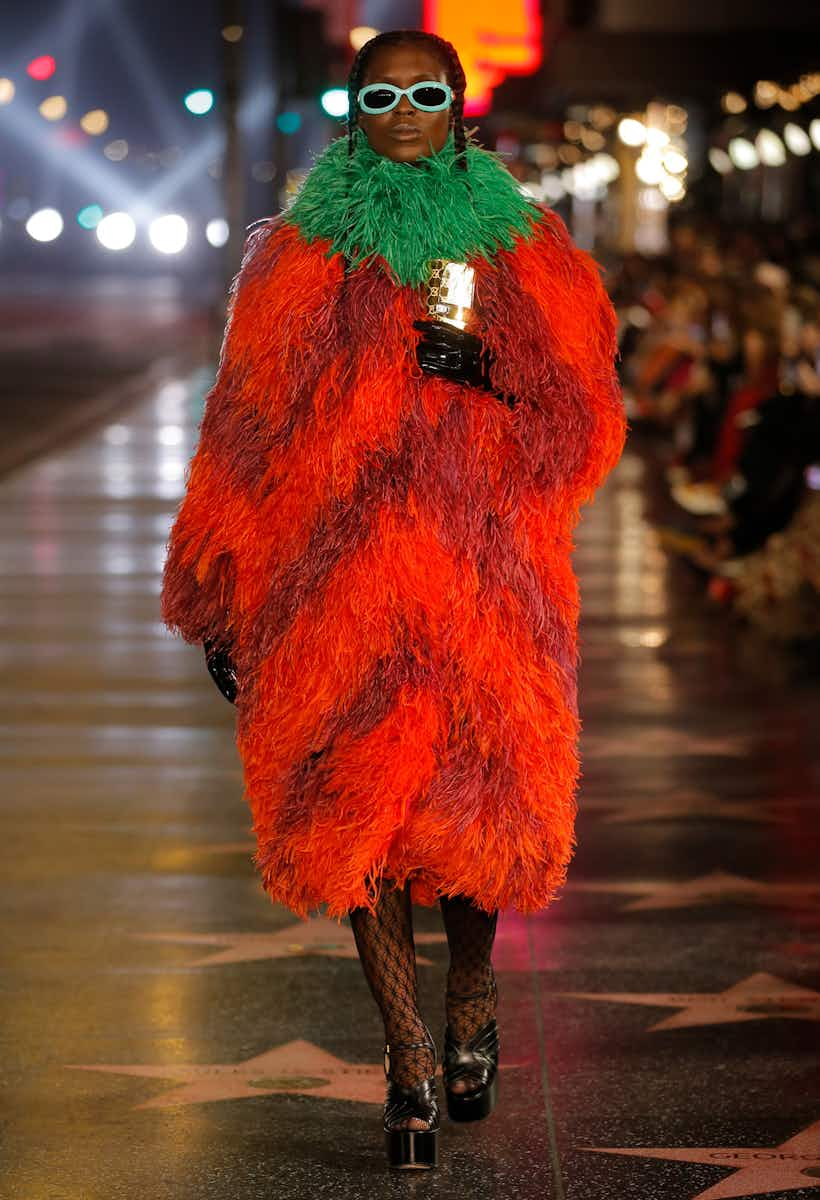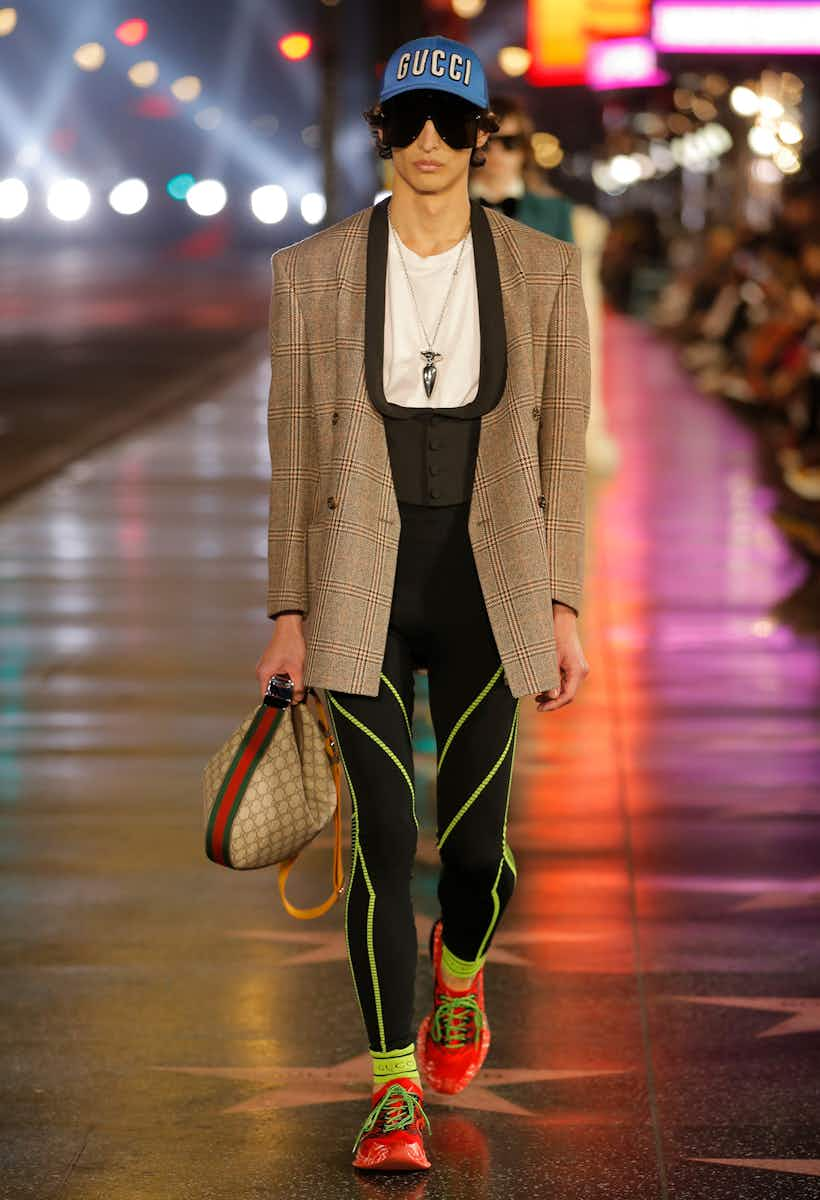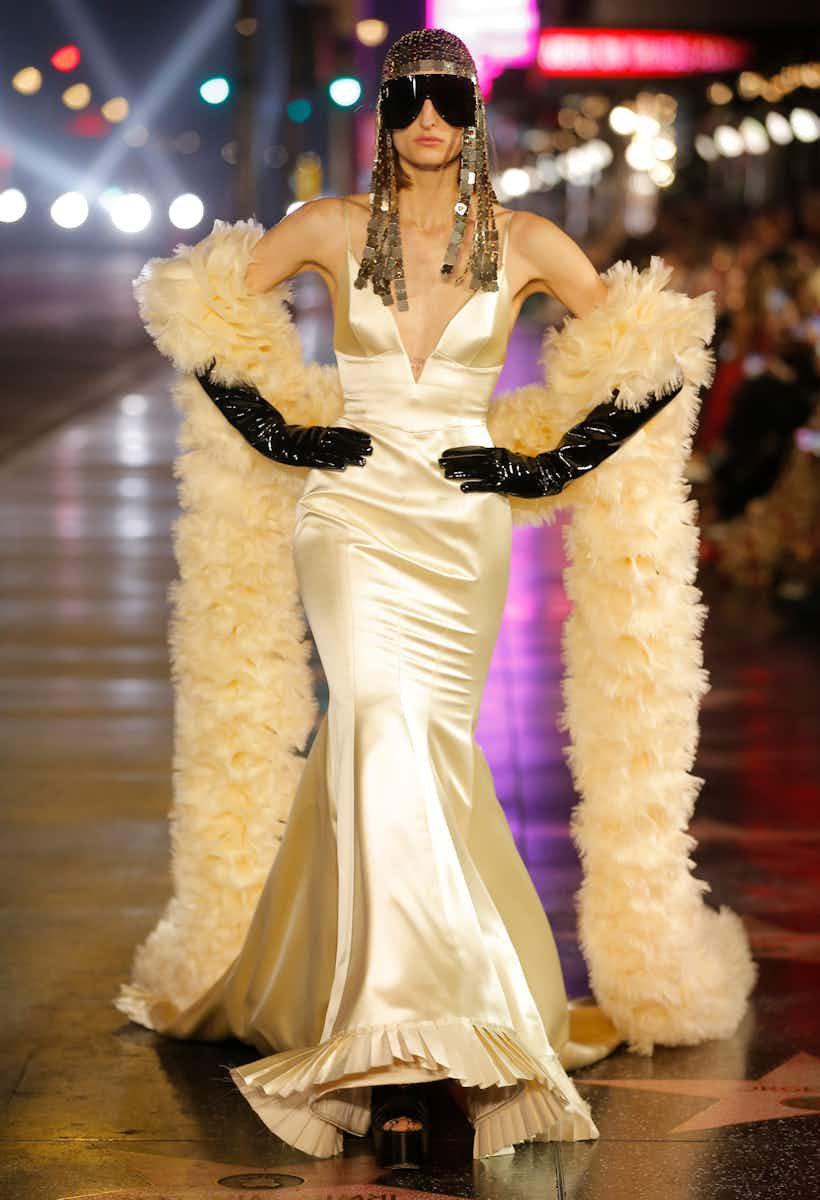 For young Michele – and countless actors, musicians and artists – Hollywood was the final destination, a bright and shiny star that seemed world's away. Until last night, when Gucci Love Parade emerged like a Tinseltown tornado. Big names? Check. Lights? Check. Cameras? Many. Action!
Michele opted to steer away from the plastic superficiality of Hollywood, though, instead commemorating actors and actresses as heroes of a Greek myth. ​"Hybrid creatures with the power to hold divine transcendence and mortal existence at the same time, both the imaginary and the real," he says. Michele employed his usual actor-slash-Gucci-models, Jared Leto and Jodie Turner-Smith, but this time, they were also joined by musician Phoebe Bridgers and elusive child actor-turned-Party Monster Macaulay Culkin.
As Björk's Bacholerette (1997) blended into All is Full of Love (1997), the theme of romance, first hinted at in the title, set the tone. And quicker than the bulb flash of a paparazzo, the looks came red-carpet-ready: indulgent, extravagant and theatrical. Another running theme was prom night, with sparkling tiaras perched on heads, bubblegum pink satin prom suits with floral corsages pinned to the chest, minty green fur stoles and heavily embroidered, floor-sweeping gowns.

And there were sexy moments, too, with criss-cross leather BDSM-esque gloves, underwear as outerwear in a lace slip dress and stockings worn with nude bodices. A plunging red mini dress came with a shimmering Cleopatra-style headdress and drama followed with shoulders of Dynasty proportions.
Gucci cycling shorts added a little subversiveness, again paired with a boxy blazer, neon detailing on a pair of leggings for men and sunglasses quite literally shielding the entire face – good for hungover morning coffee runs and protection from an ongoing pandemic. And shirting took cues from the fantastical world of Baz Lurhmann's Romeo + Juliet, with Culkin wearing a Hawaiian shirt, yellow-tinted frames and sunset gold trousers.
With extreme feathers, sequins and painstaking embroidery, Gucci carried forward its dream-like state, with models whimsically parading down the Boulevard in the dramatic finale. But this time, Michele took his viewers further into his frothy dimension. It's equal parts reality and total make-believe, like both his childhood and the divine transcendence he was so enamoured by this season.


More like this