HRH on AW22, Power Rangers and red-hot sex appeal

Our favourite sportswear designer is back with a brand-new collection and an exclusive preview for THE FACE. On your marks…

WHO: HRH
SEASON: AW22
DESCRIPTION: From the pool to the party.
BEST BITS: Brown frilly leggings, chlorine-safe lycra and crushed velvet hoodies.
THE MUSE? Winners. Think: ​'80s athletes like sprinter Flo-Jo and ​'90s figure skater Sorya Bonalay. Not to mention Jane Fonda in those workout videos. Squeeeeze those buttocks!
HOW WILL I LOOK? Hot. Very, very hot.
HRH SAYS: ​"I feel like I was weirdly, subconsciously inspired by Power Rangers. The collection feels like a hyper femme, pin-up version of a Power Ranger, right?"
THE FACE SAYS: Hell yeah.


On your marks, get set…
Sportswear designer HRH is back with a brand-new collection worthy of the first-place podium. Often looking back to her sporty past (did you know she was a gymnast in a past life?), HRH AW22 is for the gold-medal winners. Fine, and the losers.
Starting with an accessories line launched through Fashion East in February last year, HRH has now found a steady footing with ready-to-wear, launching clothing to sit alongside fan-favourites like the brand's oversized scrunchies, teeny-tiny bags and puffer scarves.
"I'm quite intuitively doing a bit of ready-to-wear, but it really does feel more like an extension of the swimwear," she says, referencing SS22's ultra-sexy, super-slick cut-out bikinis using chlorine-safe lycra and, as an added HRH wink, Swarovski crystals. ​"I love the idea of having a full look, but you're actually wearing your swimsuit!" With the addition of cutesy cover-up hoodies and mini skirts, HRH calls her take on swimwear ​"quite frivolous, but practical, too."

But these AW22 garments are anything but frivolous. The triangular cut-outs, ruched leg warmers and shell-like coating on a bronze leotard look as tough as armour, with HRH's girls going to battle this season. It's all quite reminiscent of the team sports she referenced in her collection last year. ​"I feel like I was weirdly, subconsciously inspired by Power Rangers," HRH says. ​"The collection feels like a hyper femme, pin-up version of a Power Ranger, right?"
In her day-to-day life, HRH picked up on the women she sees walking around London in a bikini top and a pair of shorts during summer, finding confidence in that. ​"I love when women feel confident and go out wearing something quite flimsy. That is really fun to me," she says. ​"And I do think there's an interesting space between those two categories that I love."
As ever, the experience of the HRH wearer takes top priority. ​"I want them to feel really sexy, but protected and contained, too," she says. ​"That's why I sometimes love having [long-sleeve] arms – it's an added layer of protection." This season, she even offers swimwear… for UGGs.
"It wasn't a collaboration, but UGG gave them to me to customise," HRH says. ​"I made these little swimsuits for the UGGs, and in a lot of the pictures you can see them in mini swimsuits, it's so funny. At one point, I was in my studio at 10 o'clock at night making a swimsuit for a pair of UGGs." Just another day in the life of HRH, eh?
Accompanying the collection is a lookbook shot by Lukas Wassman and styled by Victoria Sekrier over in Switzerland. But it wasn't all plain sailing. While on the lookout for a bit of snow to set the scene of the shoot, HRH found herself knee-deep in, er, global warming. ​"There actually wasn't that much snow, so we did a little 180 and found this farm as our location," she says. ​"It turned into a sexy farmhouse-slash-snow-bunny story. Global warming is real, what can I say?"
HRH is well aware that some of her pieces aren't for the fainthearted, but she's getting into the groove of catering to all through other bits on offer in her collection. ​"I find lots of women who buy the brand love the overall aesthetic of it, but they aren't super flamboyant," she says, ​"so they'll buy a scrunchie or a bag. And some people are like, ​'Oh my God, give me the whole bikini, I want to wear it to a party!' I really like people to be able to go in at any level and find something that they enjoy and find pleasurable.
"I want everyone to be able to have a little something." All hail HRH.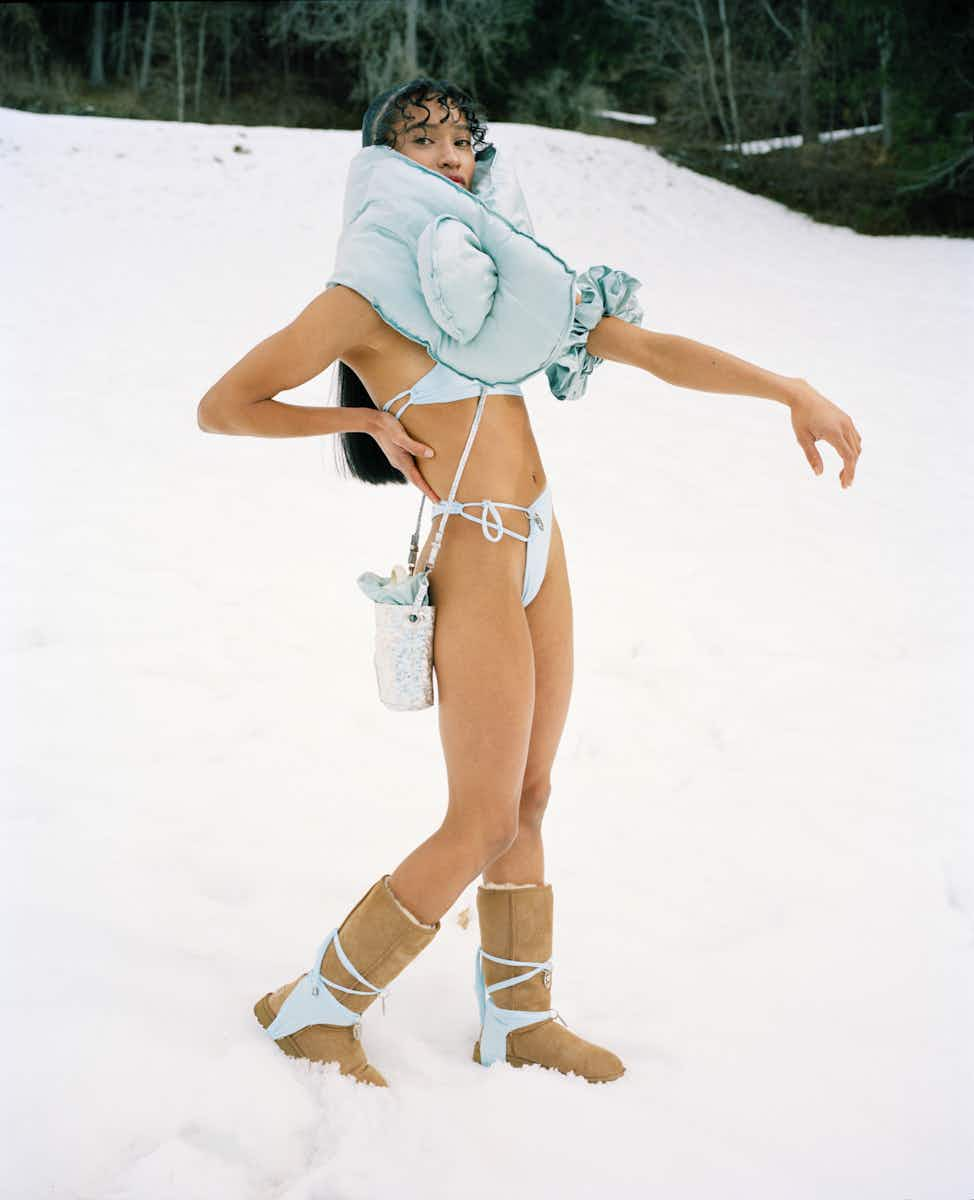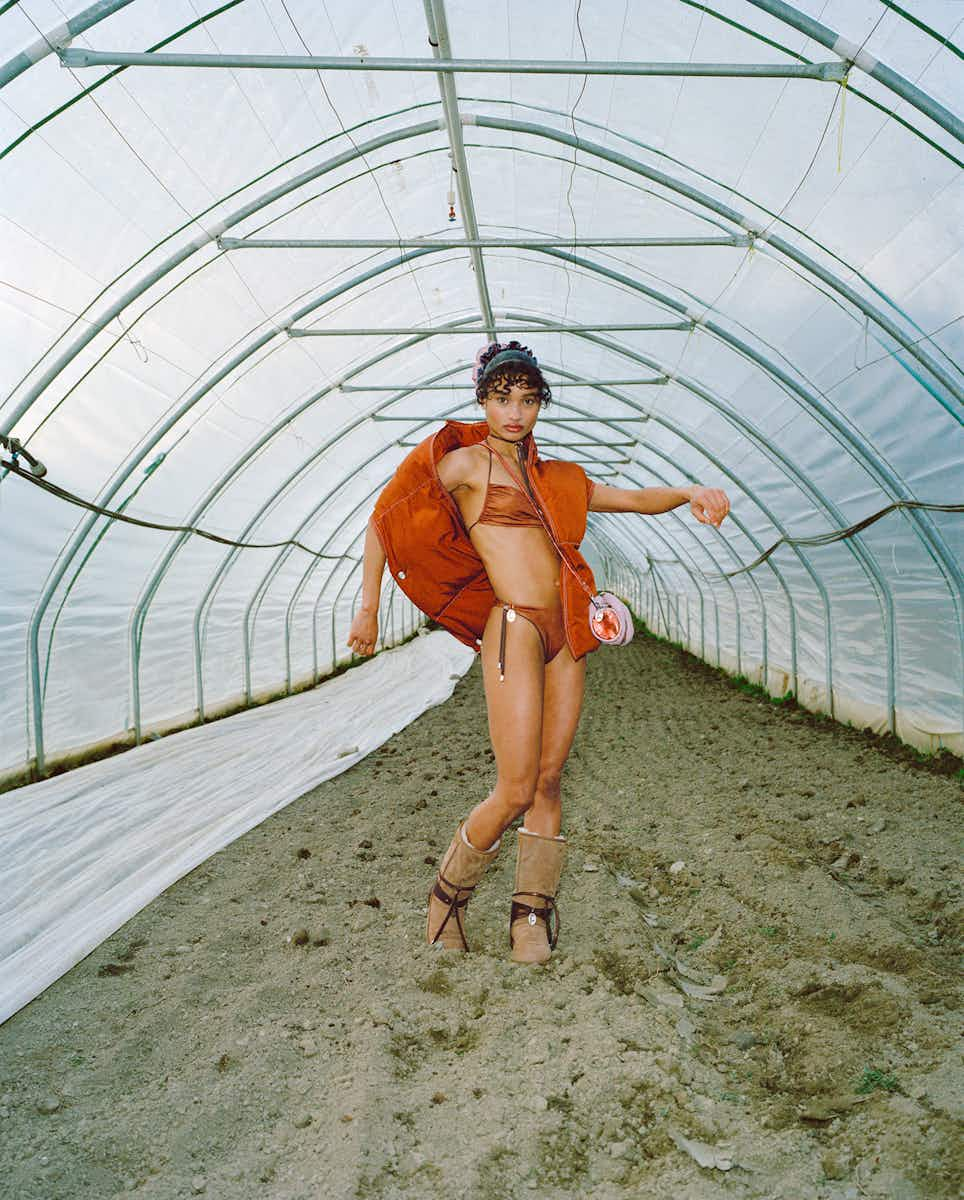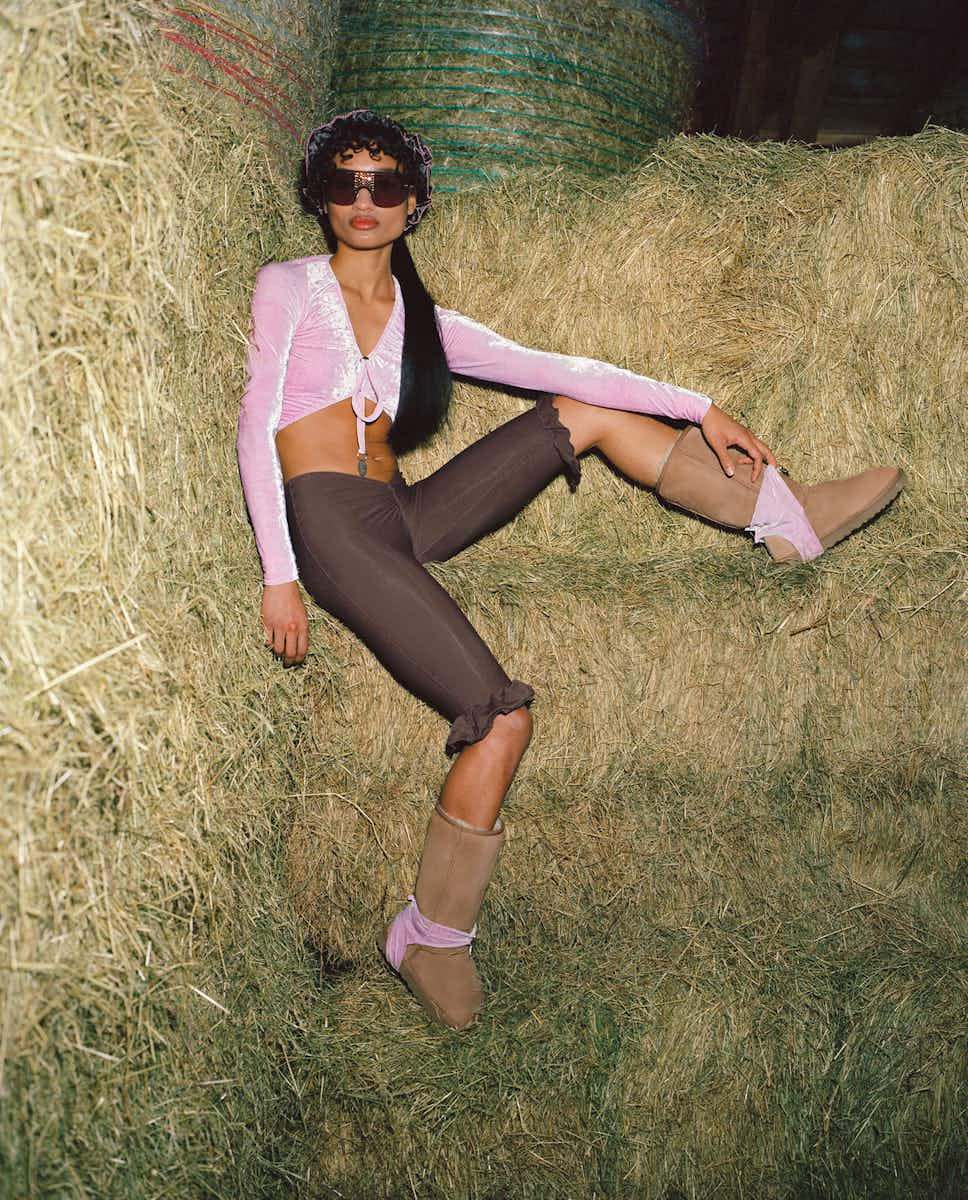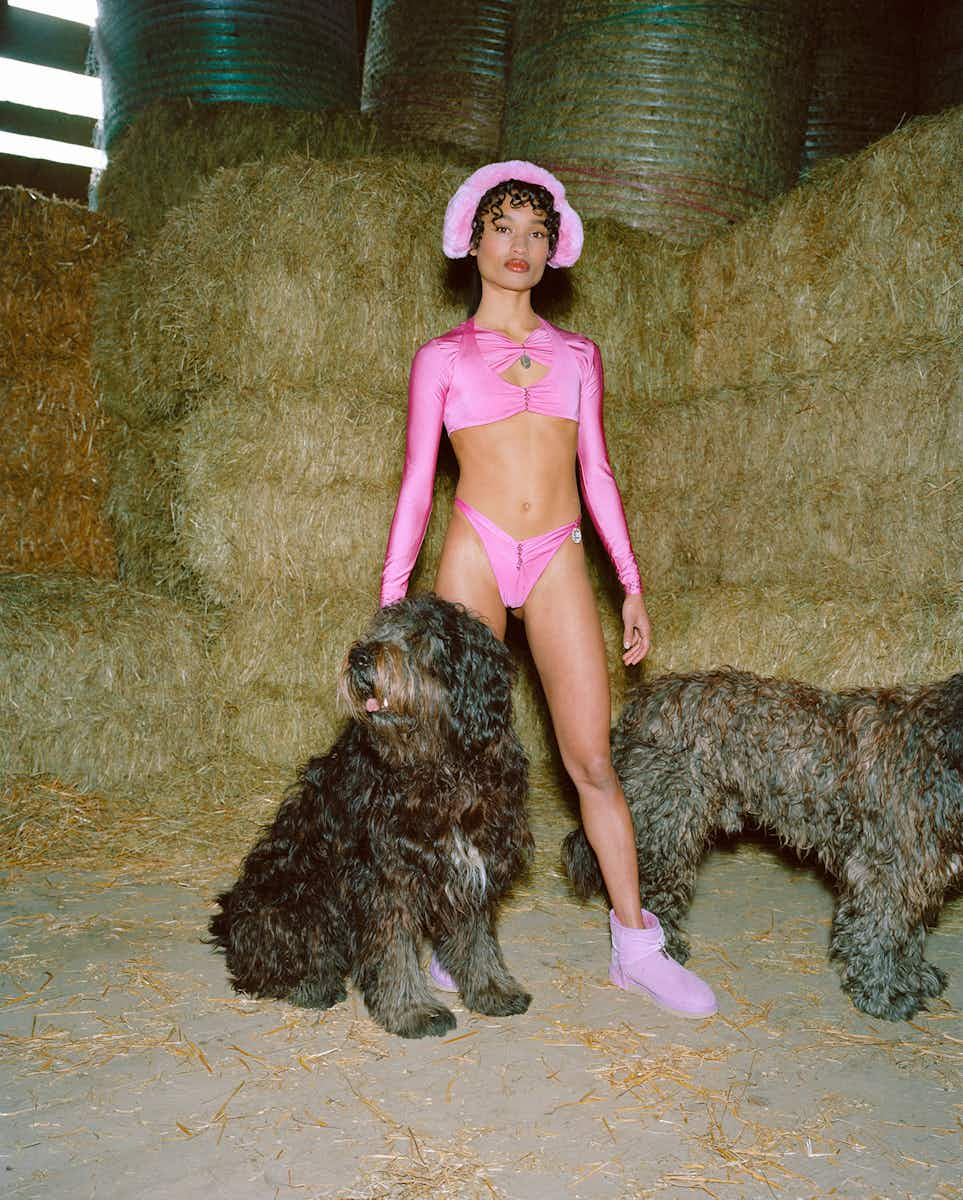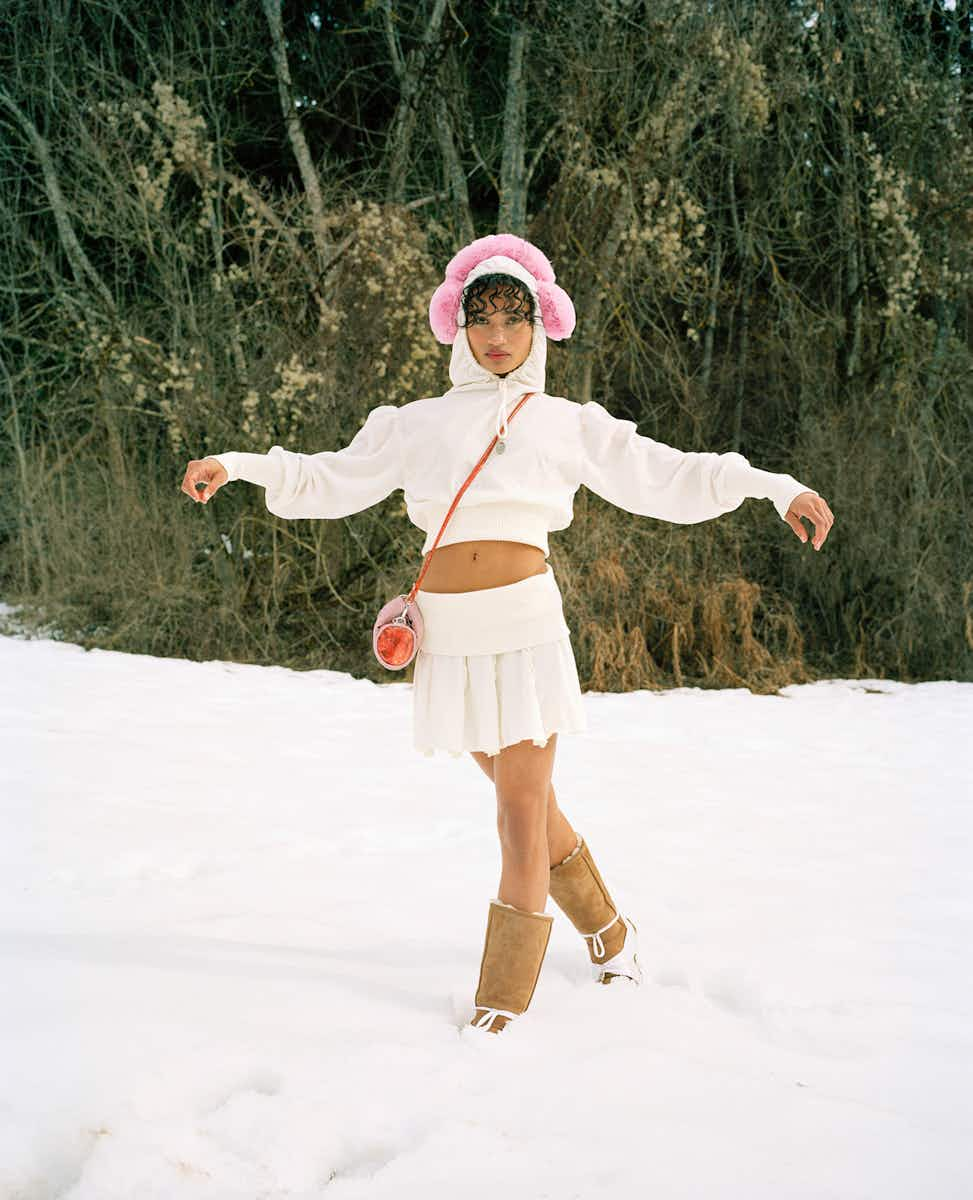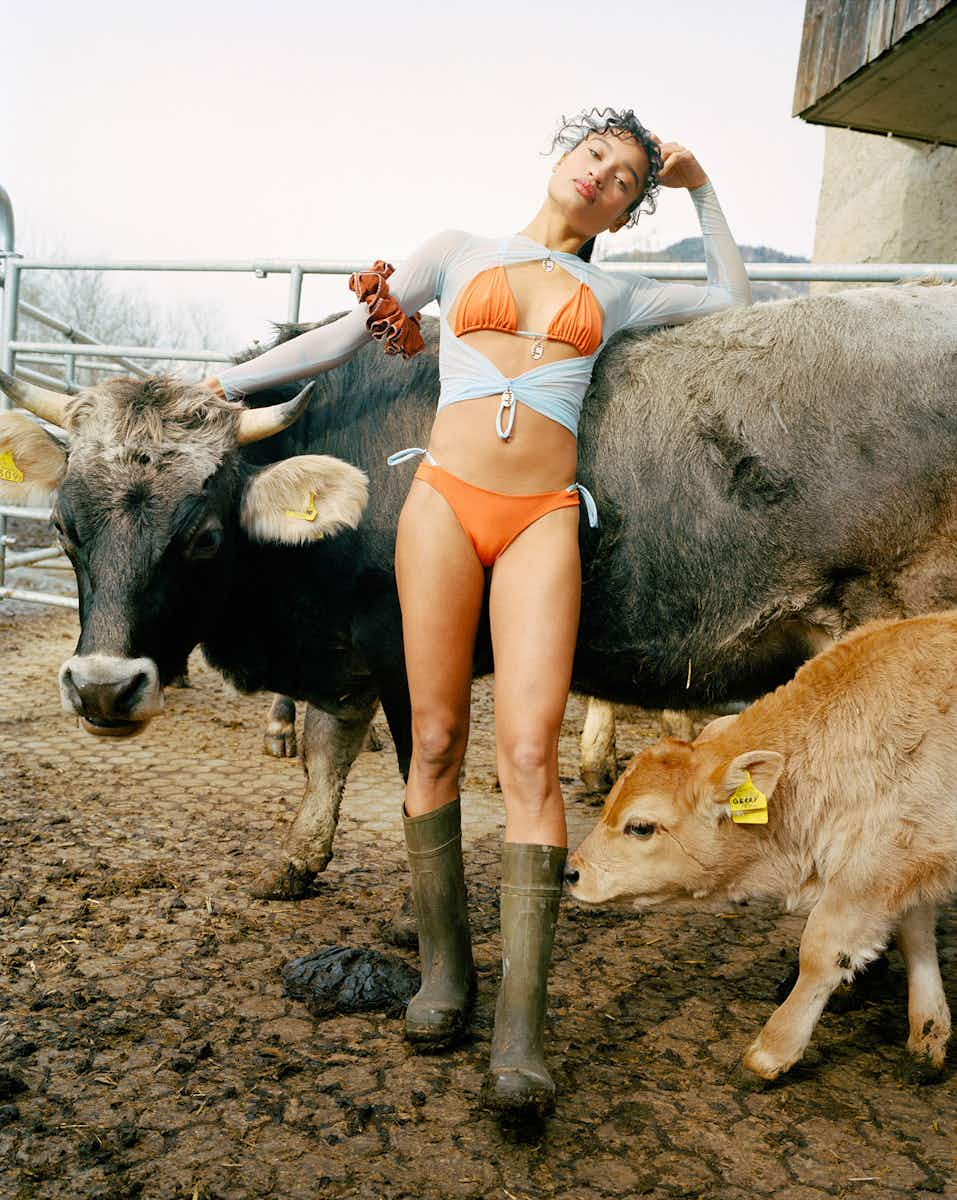 Photographer: Lukas Wassmann | @lukas_wassmann
Stylist: Victoria Sekrier | @victoriasekrier
Hair stylist: Kalle Eklund | @kalle_eklund
Makeup artist: Zakiya-Jordan Singleton
Casting director: Roxane Dia
Production: CEBE Studio | @cebestudio

More like this