Iggy: pop goes skater style

Jack Greer is the artist and designer whose New York brand is elevating street-fashion, one crazy/glorious/delightful collage at a time.
Jack Greer would probably never think of himself as, well, cool. Yet he sits at the centre of New York's skate scene and has come to epitomise all the best things about it via his clothing brand, Iggy. It's named after his Alaskan Klee Kai, a compact Husky who's followed Greer everywhere for the last 10 years and is so super-cute he's always mistaken for a puppy.
And how cool is all that?
Founded in 2016, Iggy's line is fairly simple: screen-printed T‑shirts, embroidered hoodies and cord trousers, sometimes boasting graffiti-style slogans or scrappy, wonky drawings of imaginary shapes and real-life people. One of his knits had a moment in the spotlight when Euphoria​'s Hunter Schafer wore it in the show's Halloween episode.
That HBO-endorsed garm was a hot pink and purple number with checks running along the arms, depicting an embrace between two kids named Rat and Tiny. The graphic was a still from 1984 documentary Streetwise, which explored widespread homelessness in Seattle.
This kind of low-key reference is emblematic of Greer's approach to making clothes: for himself and his community above all, but always as a way to process the goings on inside his mind.

Born in Los Angeles, the 33-year-old moved to New York 15 years ago to study art at the Pratt Institute. He carved out a career as a multidisciplinary artist until 2015 before shifting his full attention to Iggy – although, he says, ​"I've been making clothes my whole life.
"My art career allowed me to save up some money and properly start the brand. Iggy serves as a platform for me to be like: ​'Hey, why don't you take a moment to observe the exceptional people around you?'"

Using those around him to communicate the brand's DNA is what Greer is best at. Uninterested in the self-promotion that comes with traditional marketing and lookbooks, he prefers to show off his wares via elaborate patchwork collages of his friends or people he's met on the street.
Those collages are a breath of fresh air, an electrifying mixture of mediums and colours that offer a window onto life in NYC, all strewn together to create a narrative about the people and microcosms that exist within it. They make banal activities look exciting: Greer's mate Eric picking out some records in his bedroom before shoving turntables onto a skateboard and making his way out; his other friend Bruno shooting some hoops on a basketball court in Fort Greene, Brooklyn.
"I think in patches," Greer explains. ​"I use tape, thread and images to compose collages and tell a story through photographs which happen to be showcasing a piece of clothing I've made."

THE FACE caught up with Greer to talk all things Iggy, the benefits of working slower and why collage can sometimes be the best way to tell a person's story.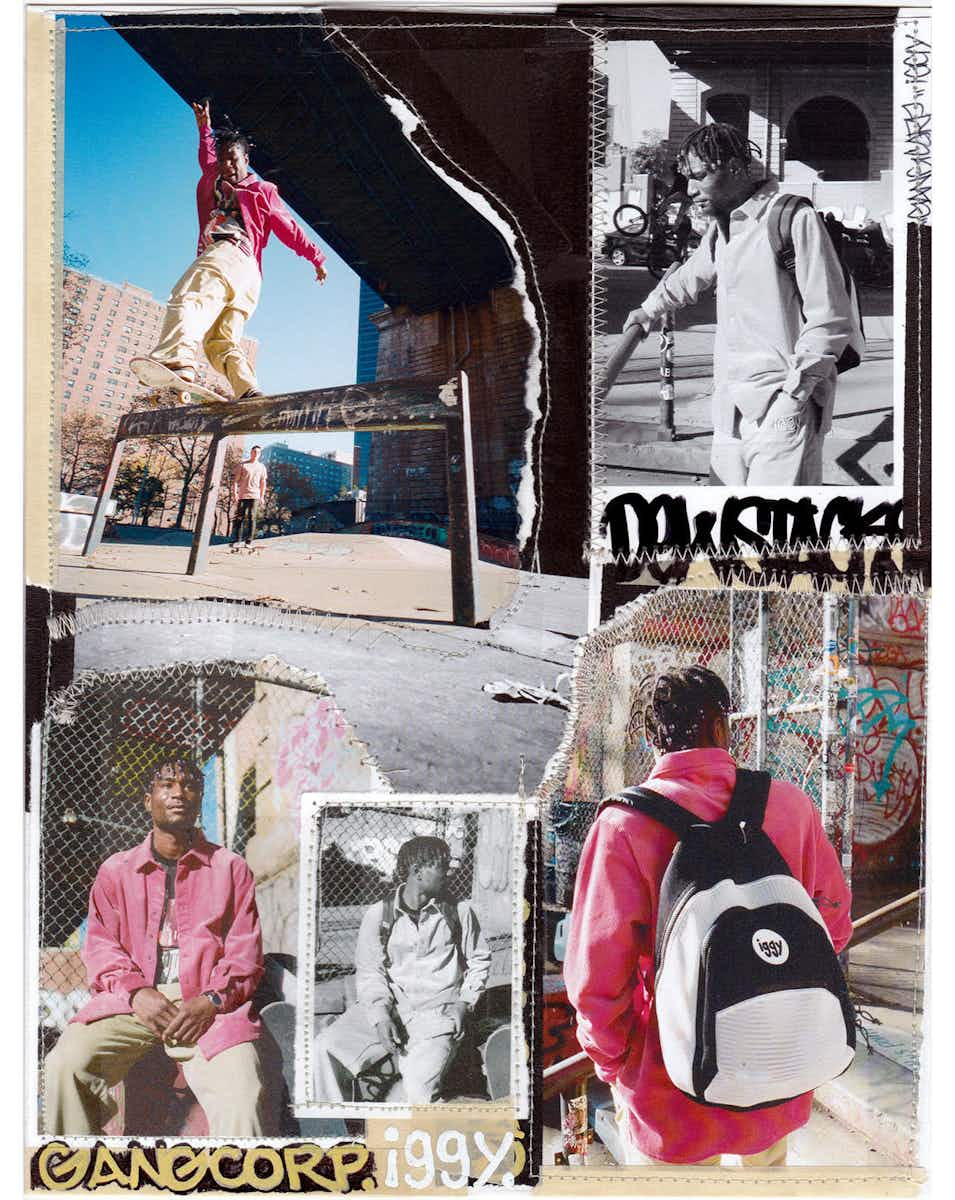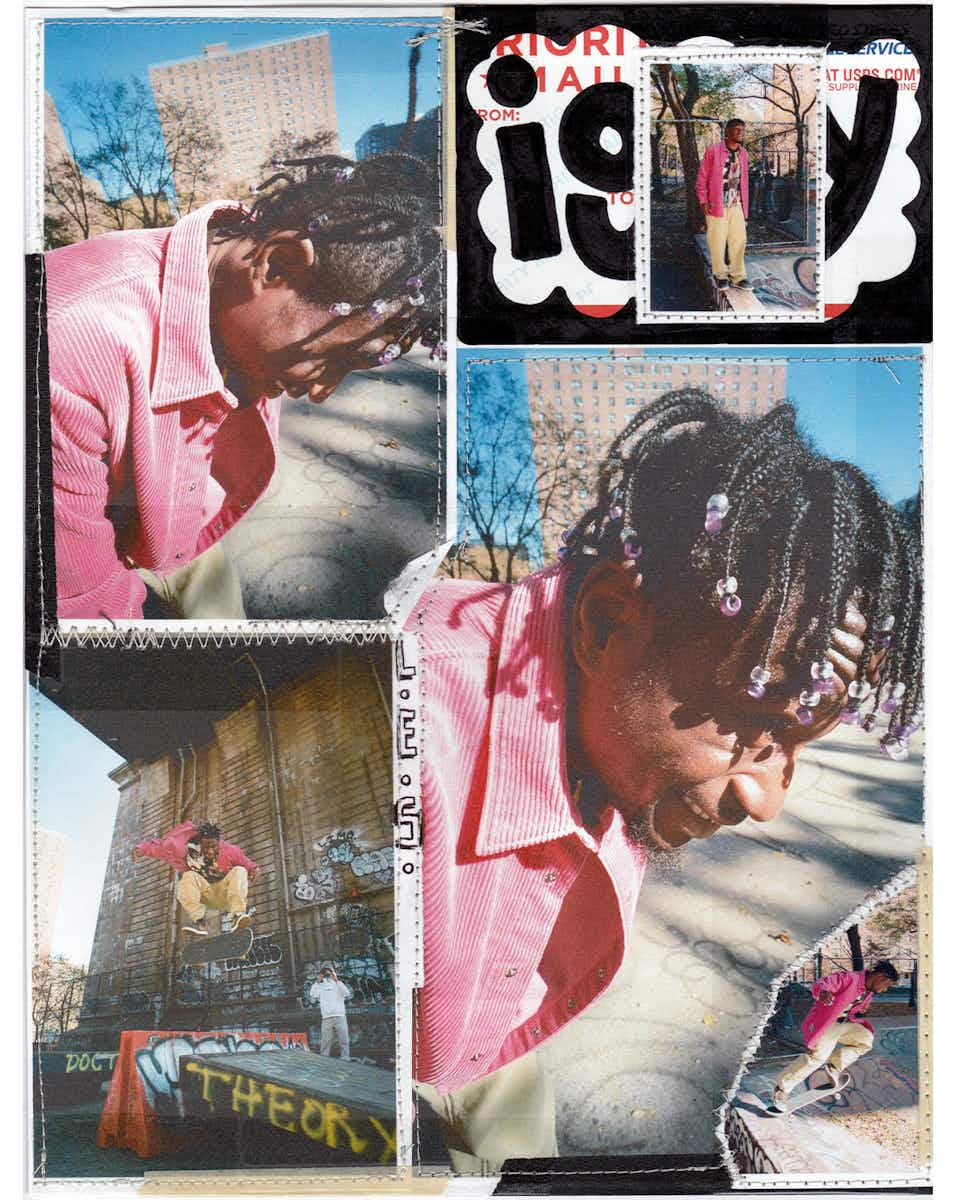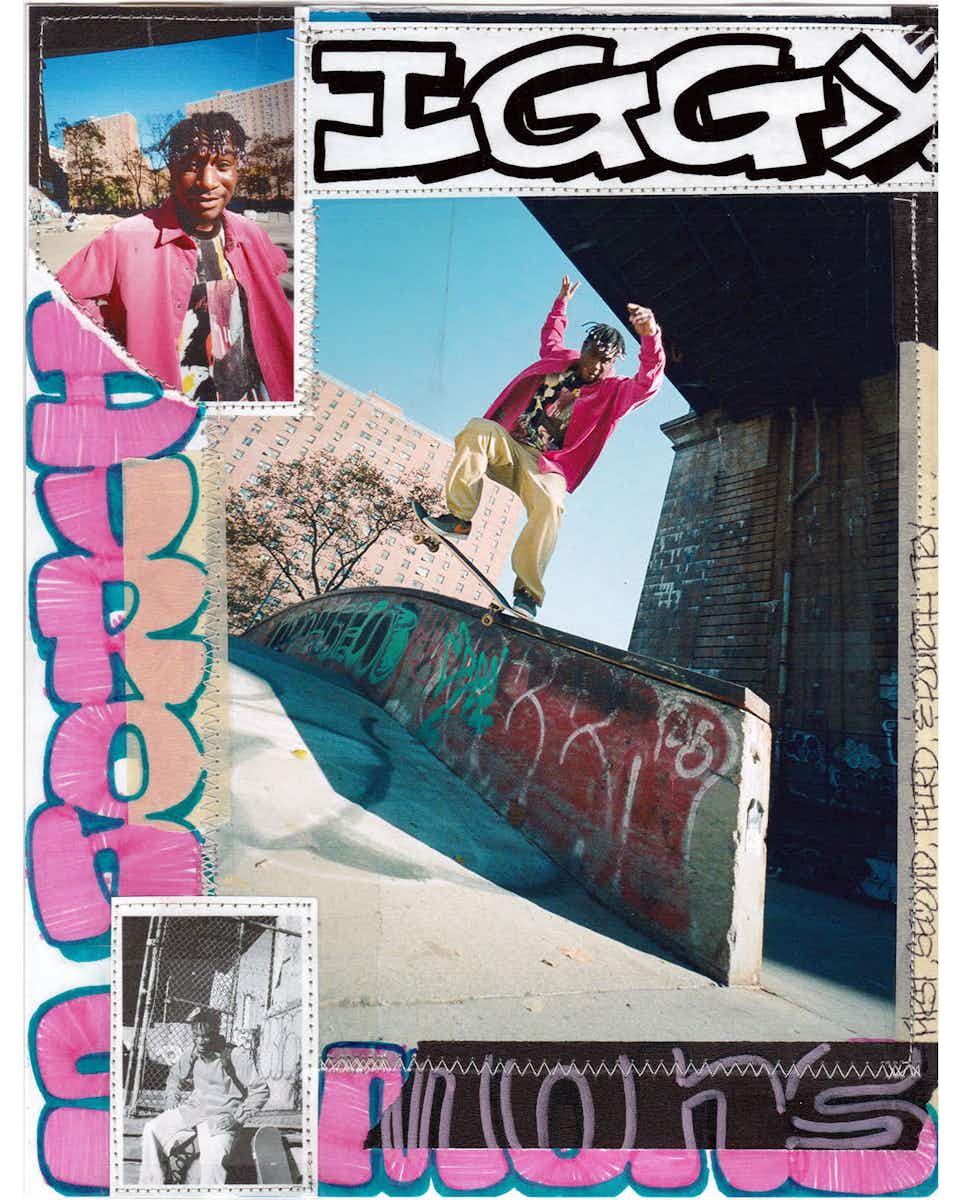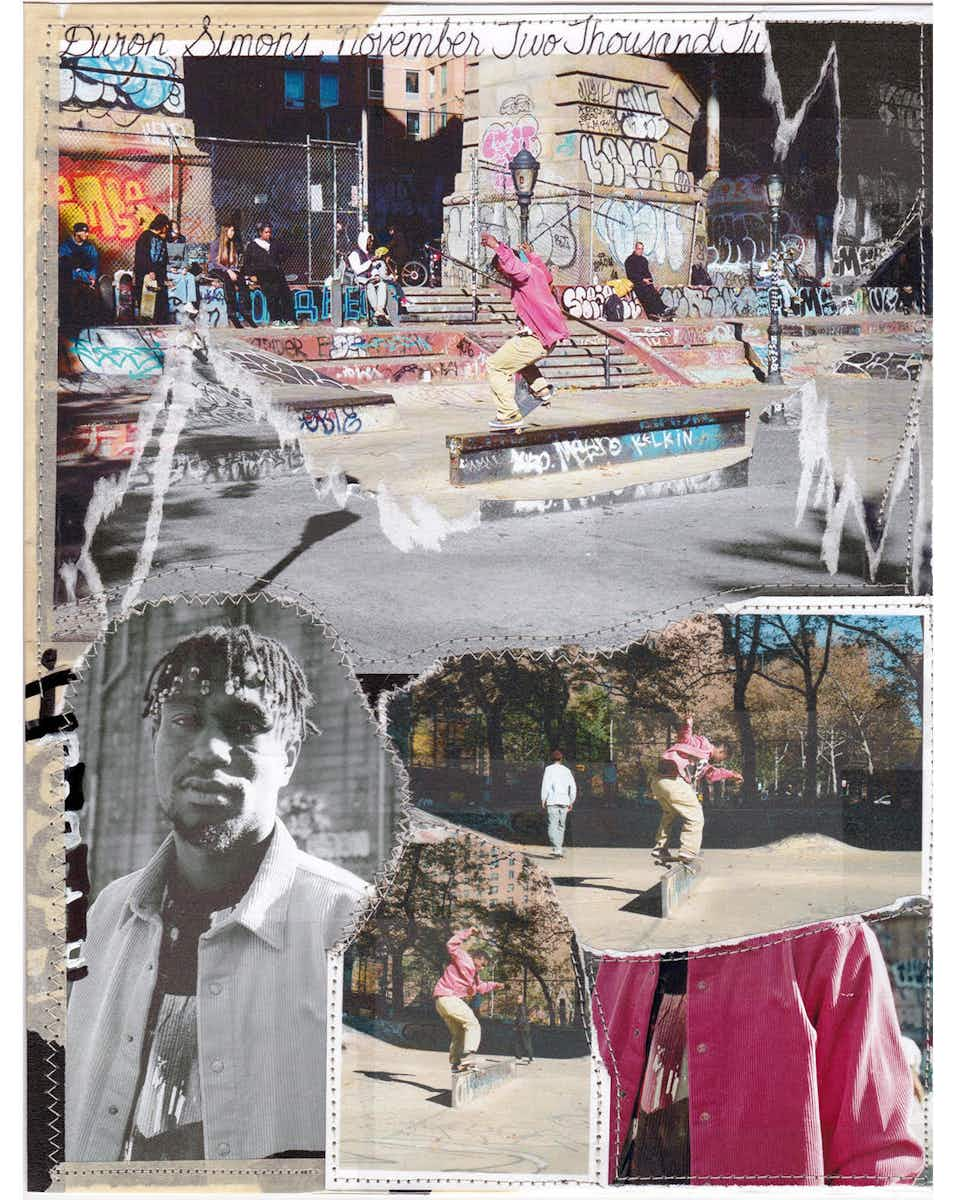 What does a day in your life look like right now?

To be honest, it's pretty boring. In the morning I'll have a coffee, take Iggy for a walk and ride my bike. Sometimes I'll work on collages all day long, sewing, scanning, photographing. I operate the entire company on my own, which is pretty ridiculous but it's exciting that I get to do all the activities that entails, which are different each day. Sometimes I go out and interact with people, socialise with them and photograph them. Other days I get to be completely alone.
What have you been channeling your creative energy into over the last few months?
I've been enjoying the free time. In the past, I would have used it to be super productive and work more, more, more. But for once I let it go. I've been having fun, moving slower and allowing myself to do so. I've always found it hard to justify deserving time off for long periods of time, but I've come to realise that happiness is worth more than work.
Is there anyone you'd love to see wearing Iggy?

No one apart from my friends, because they're assholes who aren't easily satisfied and are the hardest to impress! I know I've made something good if they want it. The main thing for me is for people within my community to wear my clothes.
Why does collage feel like the right way to express what they're all about?
Without ever fully understanding why, I've always made work that was like a patchwork of information. And I guess collage is an extension of my mind. It builds a narrative in a way that a singular image wouldn't – a photograph on its own doesn't necessarily describe a whole story. Or maybe I'm not a good photographer, and the way I run away from that is by holding you away from looking at just one image. Collage helps me tell the story of an individual and their life.
What's your next collection looking like? You've posted a few teasers on Instagram…
More of the same – the [brand's] tagline is Do Whatever You Want. So it's gonna reflect the mood of the world and act as a response to what's going on inside my own head.

More like this