JordanLuca showcase their vulnerability for AW21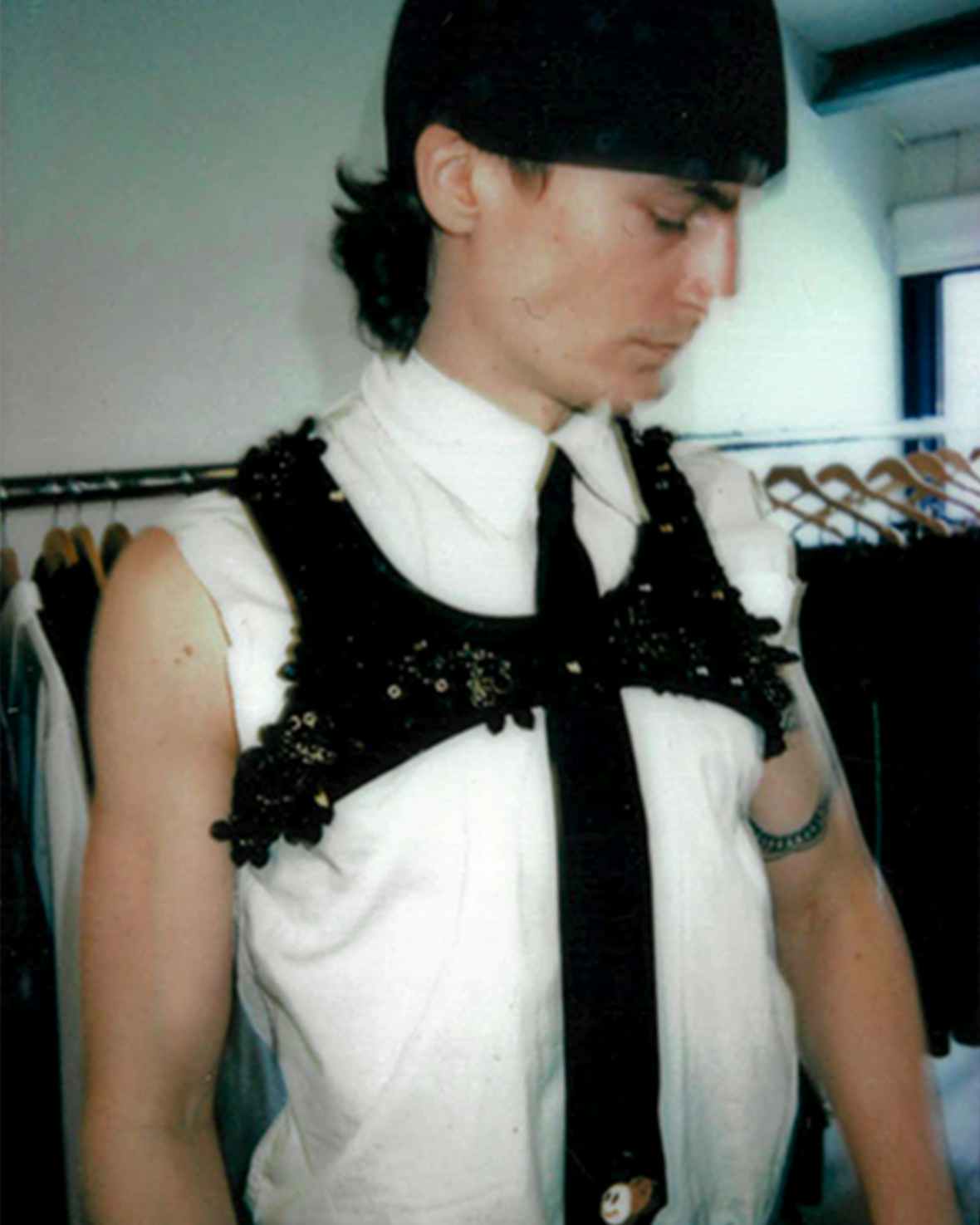 Jordan Bowen and Luca Marchetto have drawn inspiration from their experiences in recovery from addiction, putting together a sombre collection that refutes our collective obsession with the future.

Since Jordan Bowen and Luca Marchetto launched their namesake brand, JordanLuca, in 2018, they've made it their mission to marry a strong Italian heritage with the rawness of London's dancefloors. Ever since, the result has been a reimagined take on masculinity: strong, vulnerable, irreverent, and always sexy.
Presenting at London Fashion Week yesterday, the duo's AW21 collection felt like a significant departure from their previous work, which featured playful floral patterns and was decisively poetic, future-facing and joyful. But this time around, you could count the flashes of colour on one hand, and a solemn mood was palpable.

​"We didn't feel any desire to use bright colours," the duo say of the collection's shift in mood. ​"This wasn't our moment to shine through the clothes but for them to serve us – we found a different kind of expression through black and muted colours, our floral prints faded as we went back to our passion, the construction of a garment."
This season's sombre colour palette speaks to JordanLuca's desire to create garments that are utilitarian in style and purpose – serving a specific need for the here and now while focusing on the details of a piece beyond surface decoration.
The co-ed collection's title, YOU ARE HERE, is a reflection of Bowen and Marchetto's unfiltered anger at the state of the world and engages their instinct to push the boundaries of their shared creativity, stating a fact that many have perhaps had trouble reconciling with over the last year: how to sit with your thoughts and make sense of the present rather than yearning for the past or anticipating the future.

"We decided to create our own heritage, the kind of stuff that builds you as a person. Seeing as we're not able to access that right now, we decided to replicate it ourselves, write our own history, open up," Bowen says.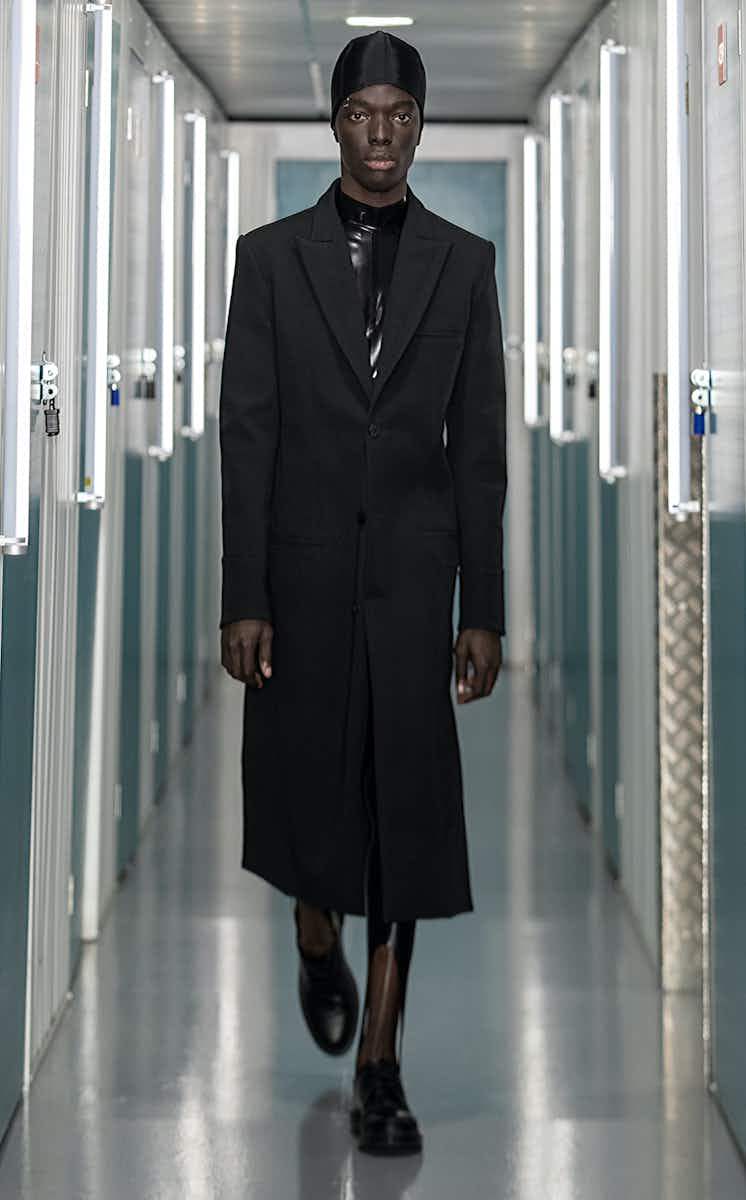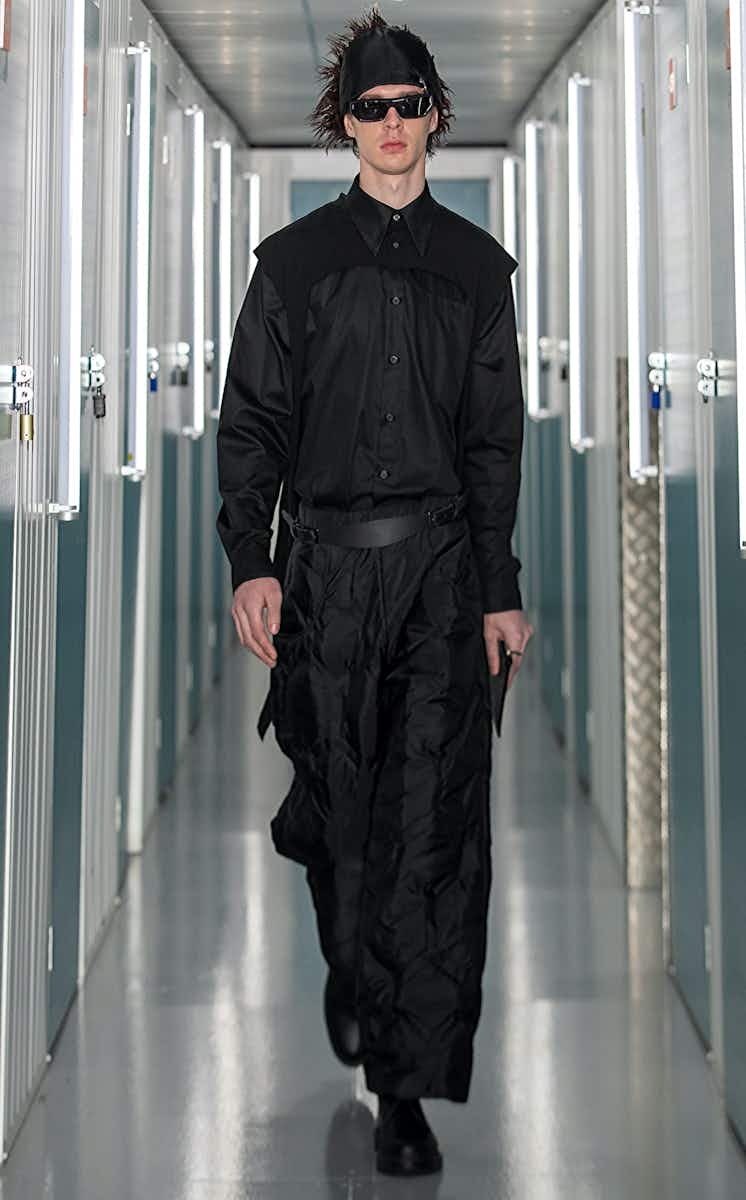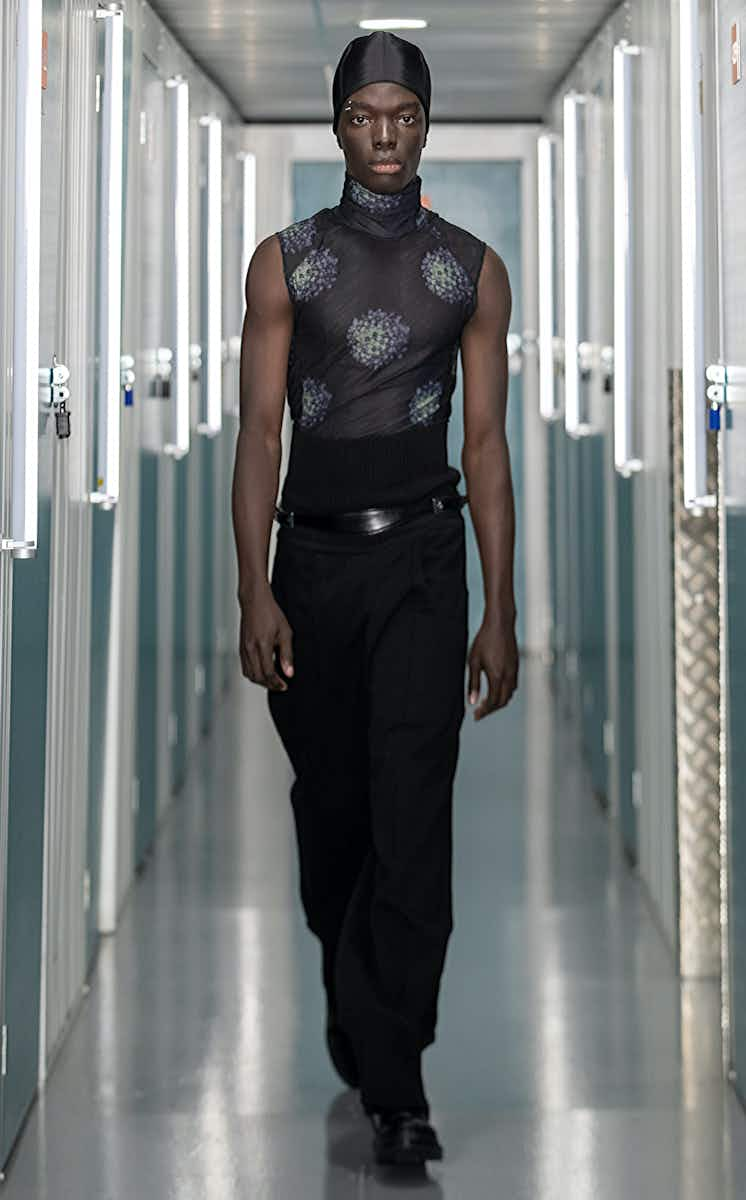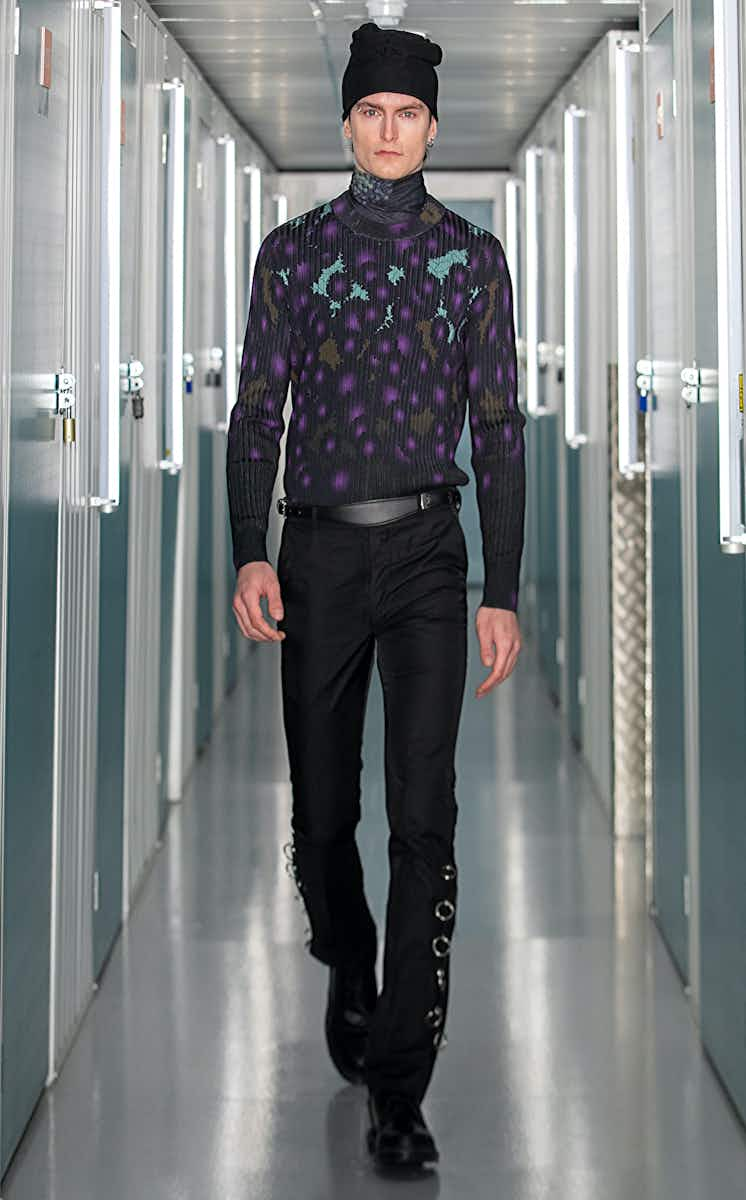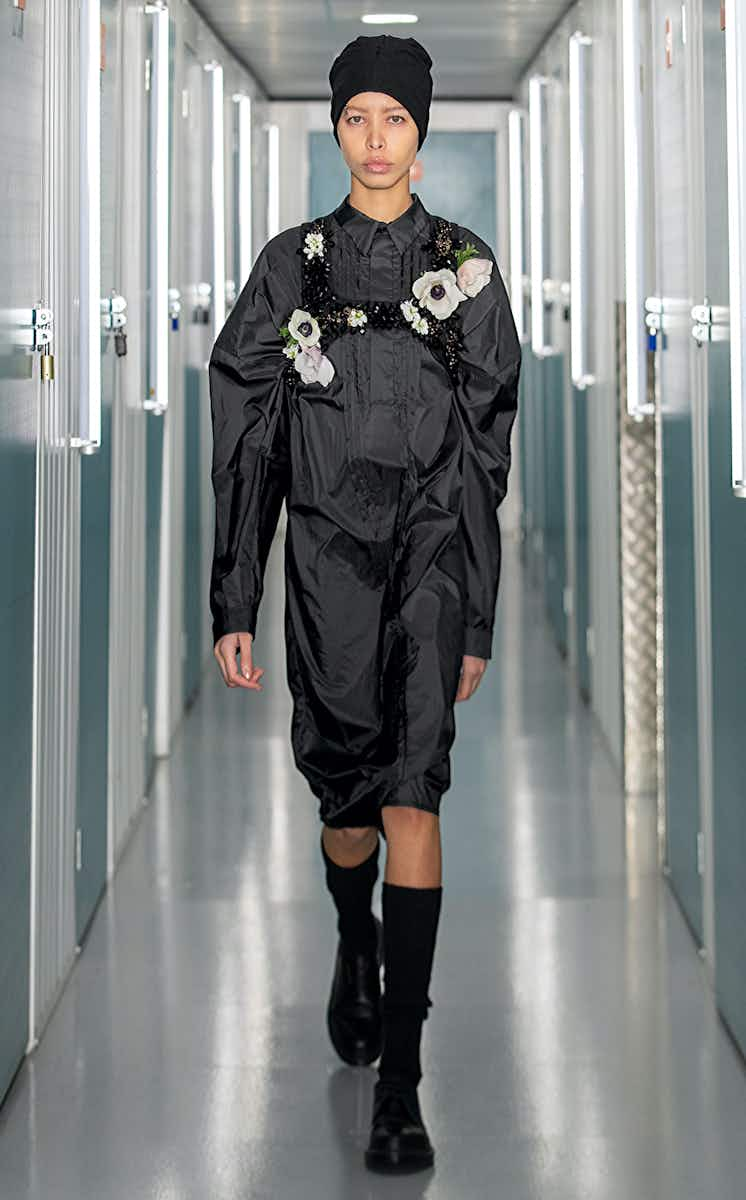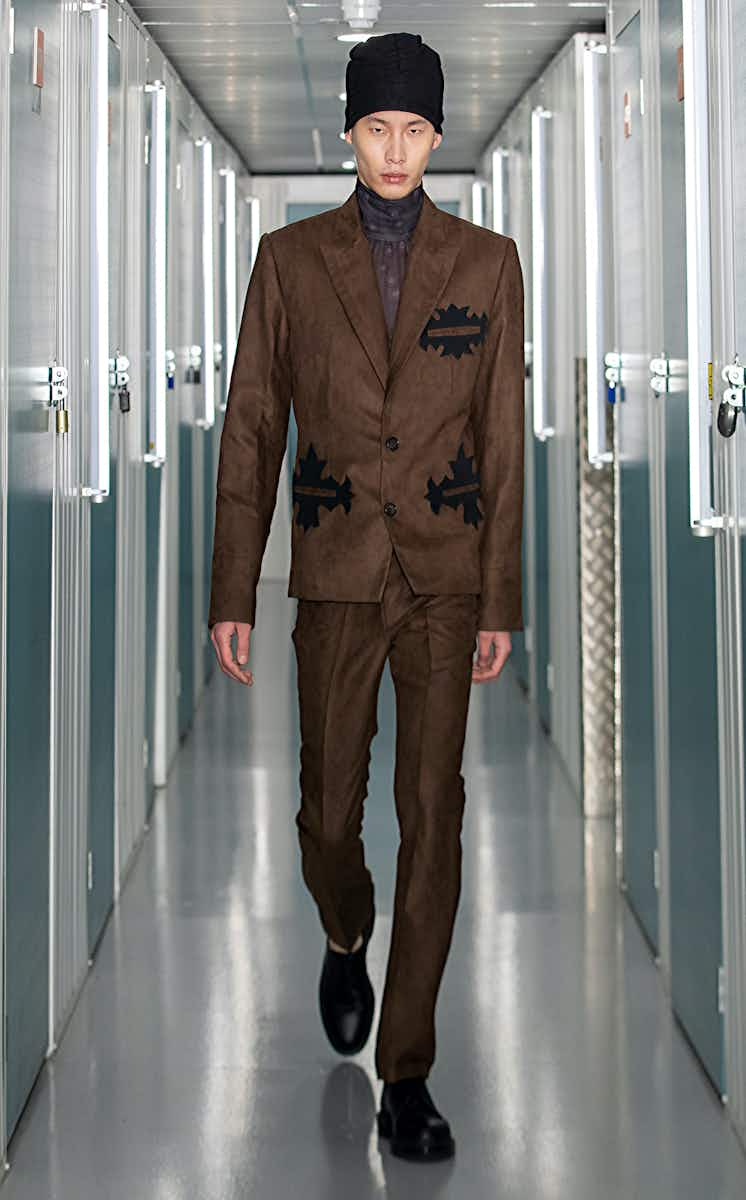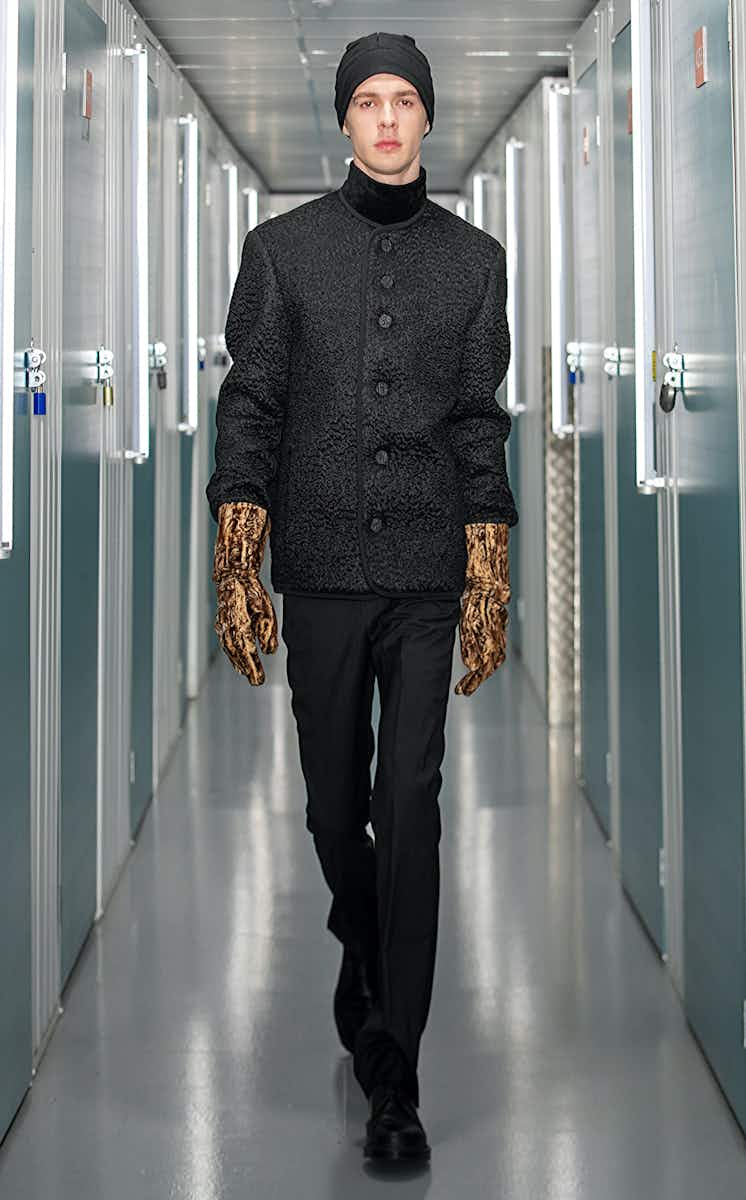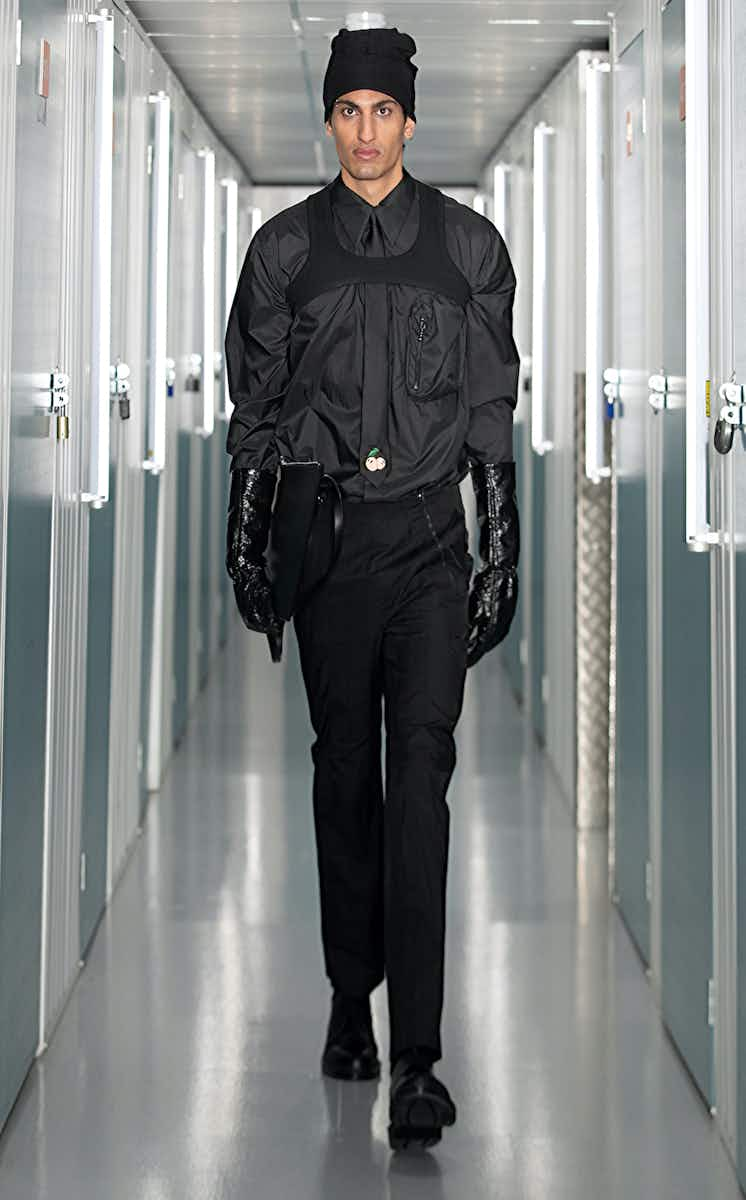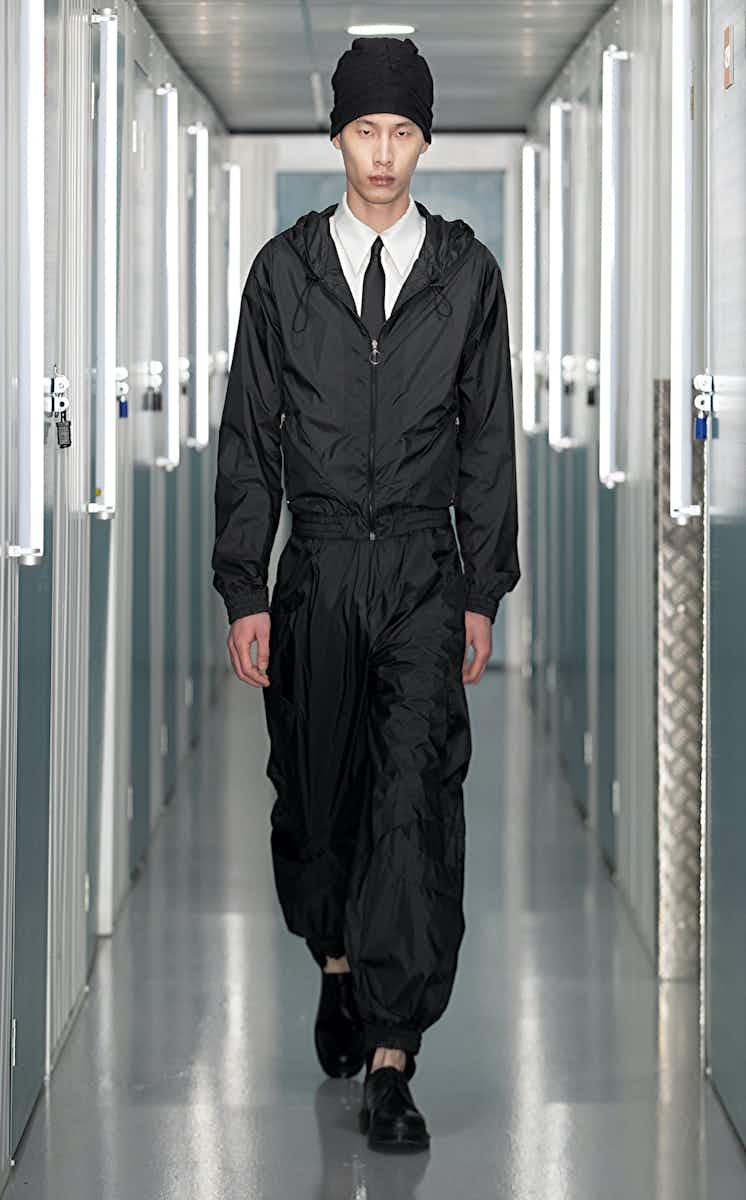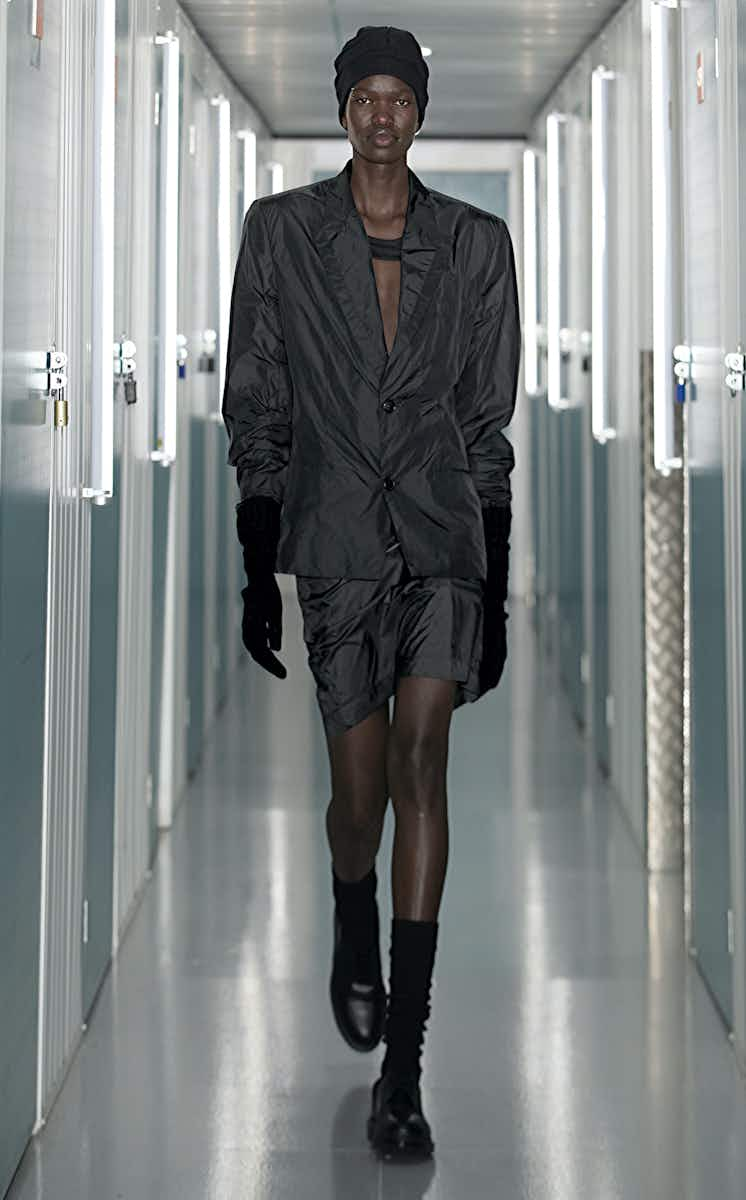 Speaking to the ​"unquantifiable space" between past and present and the ​"ephemera that slips through them", the process of putting this collection together has most importantly allowed for healing to take place, a catharsis which emerged from the duo's years spent in recovery from addiction and battles with mental health.
Silhouettes have been diminished to reveal only the most necessary base elements: suiting made from breathable materials merge elegance and practicality, as lightweight, loose-fitting cargos are paired with a matching waterproof jacket, worn with a crisp white shirt and black tie.
"The shrunken silhouettes reflect how we feel right now," Marchetto explains. ​"We want to keep everything close to the body to convey this feeling of protection. While working on this collection, even our house became more minimal and clean. For the clothes to look like that as well felt very natural."
Black slim-fitting trousers and leggings nod to a rock and roll sensibility, while a sharp shouldered, checked overcoat and nylon suit with matching velour gloves indulge the collection's dark tone. ​"We decided to take decisive control of the colour palette," Bowen adds. ​"We wanted something pure. Usually, fashion is a product of the time and also a telegraph for the future.
"But this past year's anxiety and obsession around what the future will look like, what London will be like after Brexit, what will happen after Covid, whether the fashion industry will remain as democratised as it is now… This collection is a demonstration of how these things have taken up so much of our energy."
Bowen and Marchetto's meditation on the present led them to design intuitively, a mood which was compounded by references to the duo's personal experiences with addiction, forming the foundations of the collection.

"Jordan and I suffer from [mental health challenges] and we have been in recovery for many years," Marchetto says. ​"When you're in recovery, you learn to live with your past. The first rule, in fact, is to take things one day at a time. That's how we felt about this collection, it's about love and loss, with a bit of hope."
There are daring, sexy moments and bursts of colour, too. Trim and tan leather jackets are weaved throughout, along with plum knits and sheer chocolate coloured shirting matched with corduroy and cropped suits in cooling lightweight wool. A floral harness is worn over a cut-off bodysuit, or accessorises a nylon shirt with flashes of warped purple and turquoise knitwear inbetween.
Marchetto made references to his hometown of Tyrol, Italy, by using cut out details on jacket pockets inspired by his dad's best traditional Sunday suit. Previously, using this as a reference for his designs never came naturally to him, but this time leaning into his heritage meant reconnecting with home – a place Marchetto hasn't been able to visit since the pandemic broke out early last year.
"This was about focusing on ourselves, our needs, what we wanted to express and what we didn't. The silhouette is slimmed down and tactile, which feels very self-referential," Bowen says.
The extra time that the pandemic afforded Bowen and Marchetto also gave way to material experimentation. They explored recycled yarn techniques, quilted nylon, recycled cashmere and cotton, heat techniques with zero emissions, and even fur spun from a yarn made out of corn extract.
Both Bowen and Marcheto have taken a moment to breathe and harness their creativity to create dialogue about mental health through a narrative personal to them. ​"We have thrived in the chaos and the trauma," Bowen concludes. ​"There's an aphrodisiac in that, especially as former addicts. There's a drive for innovation amongst the chaos."


More like this