Kim Jones: ​

"

I look back, but not in a nostalgic way"
The designer and artistic director of Fendi and Dior Men's talks us through the sights, scenes and subcultures that inform his latest Nike and Converse collaboration, one that centres around a silhouette synonymous with his younger years.

Kim Jones is beaming in from his West London home. I'm admiring his library stacked floor-to-ceiling with colour-coded art and fashion books, literary works (Virginia Woolf's first editions and Jack Kerouac's personal collection) and archive publications (the complete back catalogue of Japanese fashion magazine STREET, and more). ​"It's good, isn't it?" he smiles. ​"It goes on and on. That's about a quarter."
His immaculate, post-modernist home (designed by Gianni Botsford Architects, and built in 2006) has been widely covered by sneaker titles and interior design sites and, despite the fact that the entire 800sqm space is made from concrete, it's anything but cold. Rather, it's a collectors paradise, filled to the brim with rare and unusual artefacts whether that's a geometric rug made by Francis Bacon in 1930 (before the artist turned to paintings), a self-portrait by Frank Sinatra, the KAWS sculpture that appeared in Dior's SS19 menswear show, or his ever-growing series of natural and geological objects.
Today, we're catching up on Jones' forthcoming Nike and Converse collaboration, dropping 19th March (Nike) and early April (Converse), that centres around a remixed iteration of the classic Air Max 95, a silhouette synonymous with Jones' early life in London. The collection references the sportswear giant's archive as much as it does Jones' lived experiences and personal obsessions. It's fitting, then, that the visuals by Juergen Teller were shot inside Jones' home – his gym and lobby – worn by both Jones himself and his friend and muse Adwoa Aboah.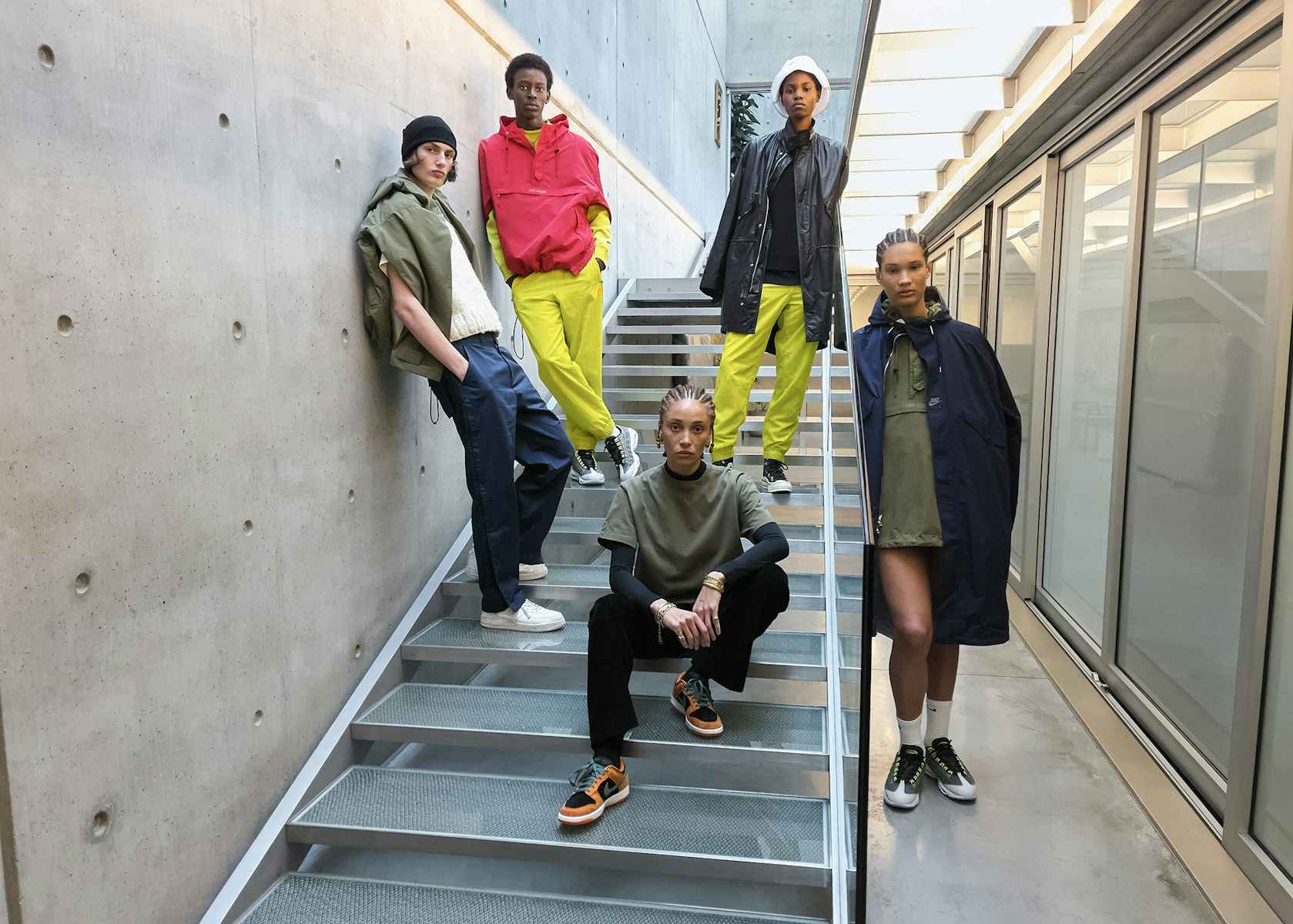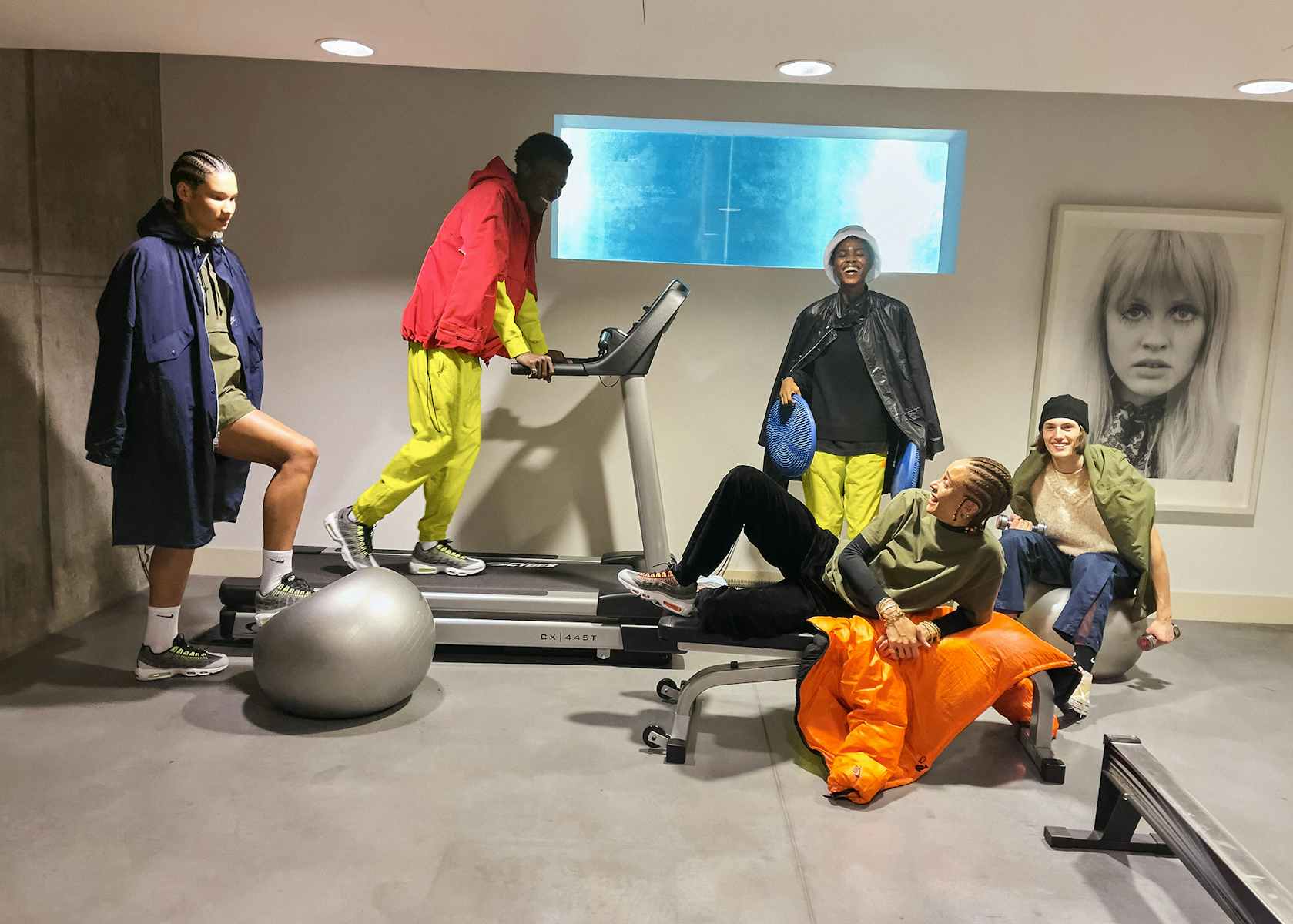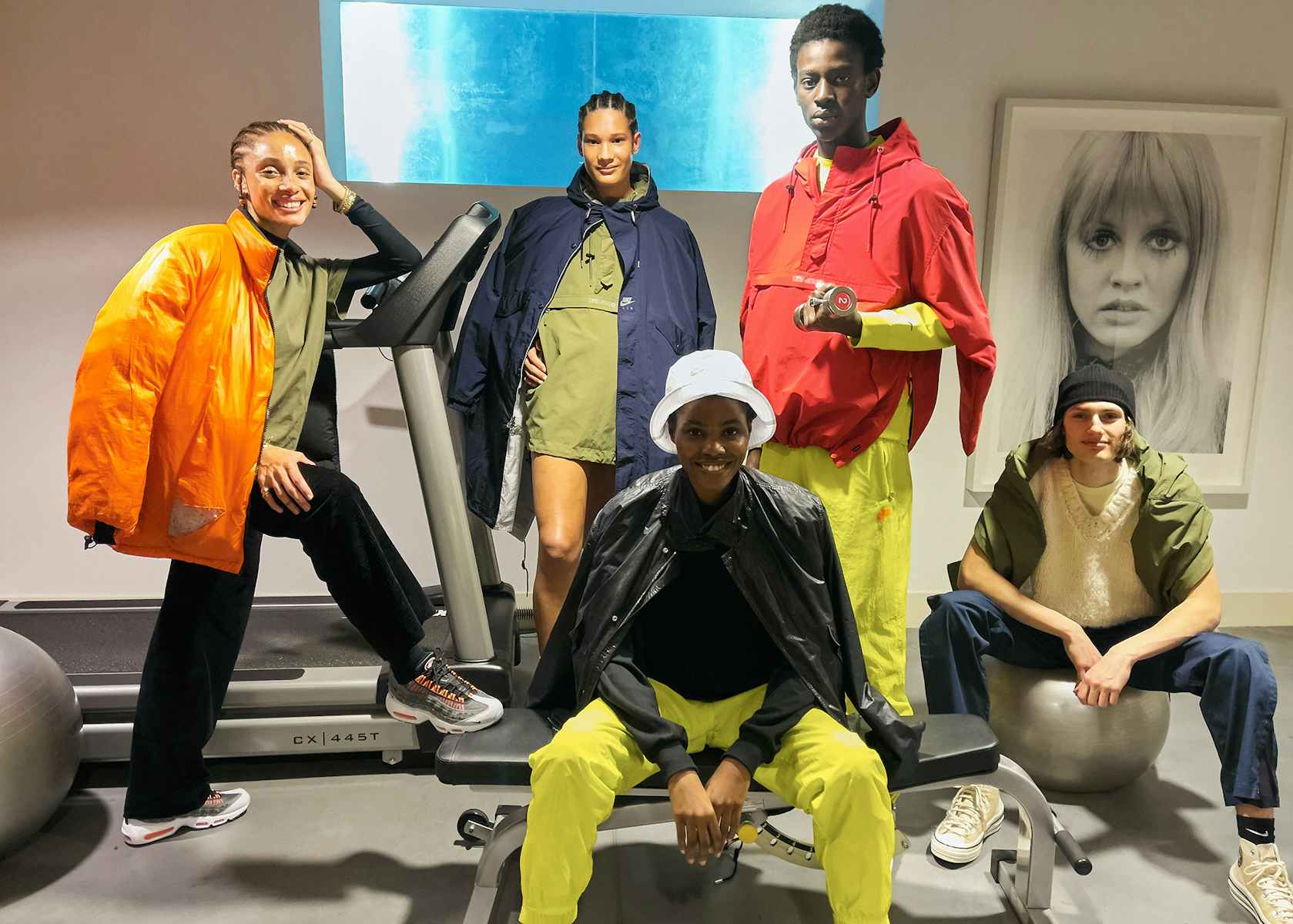 Jones first encountered the iconic Air Max style as a teenager. ​"I remember seeing them and thinking they were really expensive and how much I wanted them, but I couldn't afford them," he recalls. He and his friend saved up their hard-earned pocket money (from ​"paper rounds, washing cars, stuff like that – anything we could do to get money!") before taking a trip to Footlocker to purchase their first pair together, ​"the blue and white ones because the yellow and grey ones had sold out already." His uniform at the time? ​"Levi's jeans and a Champion sweatshirt," he confirms. ​"But it would vary, you know. It was a lot of vintage bits and pieces, things from charity shops, stuff that we'd look for and find at markets."
It's that same behaviour – and the idea of teenagers thrifting through their parents' wardrobes to unearth vintage gems that their mates won't have – that has inspired the collection. ​"It's interesting seeing how people are pulling things out to mix in with what they're wearing now," he explains, ​"bringing out something that their dad had, a cool outerwear piece and mixing it with something from Palace or Supreme and creating their own style from the old and the new."

Similarly, having designed the majority of this collection during stop-start lockdowns, Jones found inspiration right beneath his nose at home: his original Air Max 95 collection, the pieces he picked up in the West Coast when travelling in his early twenties, and the silhouettes on the pages of STREET magazine that he identified with as a late teen.

"I was going through my old Japanese magazines and thinking about my perspective about what both the brands meant for me, and what these two shoes, in particular, meant to me," he explains. ​"The Converse, for me, is a cultural shoe. You think of actors wearing it in films, you think about how it's a timeless classic. The Air Max 95 is a futuristic shoe from a time where it could have been in this day and age – what we've done is not changed the silhouette, but the technical aspect of it. It's one of my favourite shoes I've designed."
Jones cites his time spent working for Michael Kopelman and his London clothing distributor Gimme5 in his early twenties as a formative experience.
"It introduced me to that world of Japanese designers that you would not know of if you hadn't worked with Michael," he explains. ​"Undercover, Hiroshi Fujiwara, Nigo, Hysteric Glamour, all these brilliant brands that had such attention for detail and an eye for it, which does transfer over to these collections that I've done."

"It really made me look at branding in a way that fashion designers like Margiela and Helmut Lang were very not. They were almost anti-branding, and these [designers] were about branding-branding in a way that I thought was very powerful and interesting. It's two different ways of looking at design, and I thought that Japanese design was kind of hyper-American. You'd see Levi's with the rivet, then you'd see A Bathing Ape with the face on or the zip, and I was just like: this is really cool. Today, that's taken for granted, but at that time those things weren't around that much. They were very expensive for people to make. As someone that designs clothes, I thought that was very interesting to see and look at."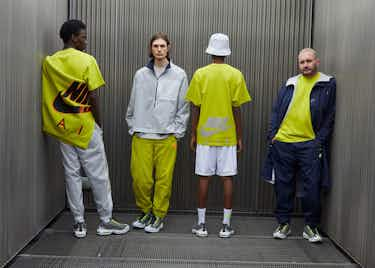 Take a closer look at Jones' Air Max 95 and you'll spot a precision-placed mini-Swoosh on the top cap and ​"Kim Jones" branding on the heel. The shoe's perforated upper is inspired by the Air Max 360 and its eyestays are made from Nexkin, a translucent, stretch-woven material. The nostalgia-inducing Total Orange scheme nods to the iconic OG colourways and their impact on Kim's early life in London. ​"I was thinking very much about London for the Air Max 95 and I was thinking a bit of a Seattle vibe for the Converse in a way – I don't know why that part of America came up. I was just looking at references like Take Ivy, that Ivy League goes grunge look."
The past and the luminaries who've come before him are a red thread that runs through Jones' work, whether he's referencing Judy Blame in his Dior Men's collections or the work of American artist Kenny Scharf. ​"I look back, but not in a nostalgic way. I look back to bring things forward," he explains, ​"I think that's the way I like to see things, to really evaluate how things are." He describes it as ​"celebrating your heroes. I think that's what I do. With Judy and Shawn [Stüssy] in particular, they're two people that both came from completely different parts of the creative realm of fashion, but both had huge impacts on me. They were both lovely, talented people – I mean Shawn's still alive, but Judy isn't, sadly. I'm in touch with him constantly. I think it's nice to be able to celebrate those things and educate people. Because people do things online now, they miss lots of stuff. The hardcore insiders aren't so documented online. So I think it's nice to talk about someone like Judy Blame."

I'm curious to know how Jones – someone widely renowned for his love of travel, who masterminds collections heavily influenced by the trips he takes – has survived a year at home. ​"The first lockdown, I enjoyed having a bit of a rest and getting my house in order, a bit of time for myself. The second one I dealt with fine because I was quite busy, I'd started Fendi and I was in the midst of that and Dior. The third one I was like: I'm bored of my own company now. I like my own company but I don't need this much of it! But you have to respect what's going on in the world and think about the people that have really suffered. You have to abide by the rules," he considers.
"I'd love to go and see what people are doing around the world, that's what I'm missing, it really helps. But luckily I have seen enough, and I have enough visuals and references in my house to have managed to do eight collections in lockdown, and we're not onto number nine. You just have to keep going, don't you?" And that's exactly what he did.

More like this