Dive into Lacoste's sporty SS22 collection

Louise Trotter's latest outing for the heritage label offers a rousing call-to-arms, expressed through lively silhouettes and innovative use of fabrics.
The rich sporting heritage of Lacoste has proved a fruitful source of inspiration for creative director Louise Trotter since she joined the French label in 2018. From the Suzanne Lenglen-influenced silhouettes of her debut AW19 collection to showing SS20 on a court at Roland-Garros, every season Trotter pays homage to the long history of the label and the cast of characters that populate it. At the same time, she is always looking forward, carrying the label into the modern era with collections of ultra-sophisticated sportswear that provide contemporary updates to the classic tennis uniform.
Founder René Lacoste's legacy and the jeu de paume beginnings of the brand were front and centre at Tuesday's Spring/​Summer 2022 show – quite literally. A long tennis net and umpire's chair featured at the centre of the show space on Palais de Tokyo's esplanade, a favoured hangout of Parisian skateboarders. Meanwhile, marks on the nylon floor accurately mimicked those of a tennis court.
These signature tennis elements combined to create the perfect stage on which to show a collection which drew not only from the racket sport but from almost every other activity you could think of – an eclectic mélange of cycling, diving, basketball, skateboarding, mountain climbing, and rugby. A new uniform for sporting enthusiasts, the collection was full of lively, energetic silhouettes and functional fabrics.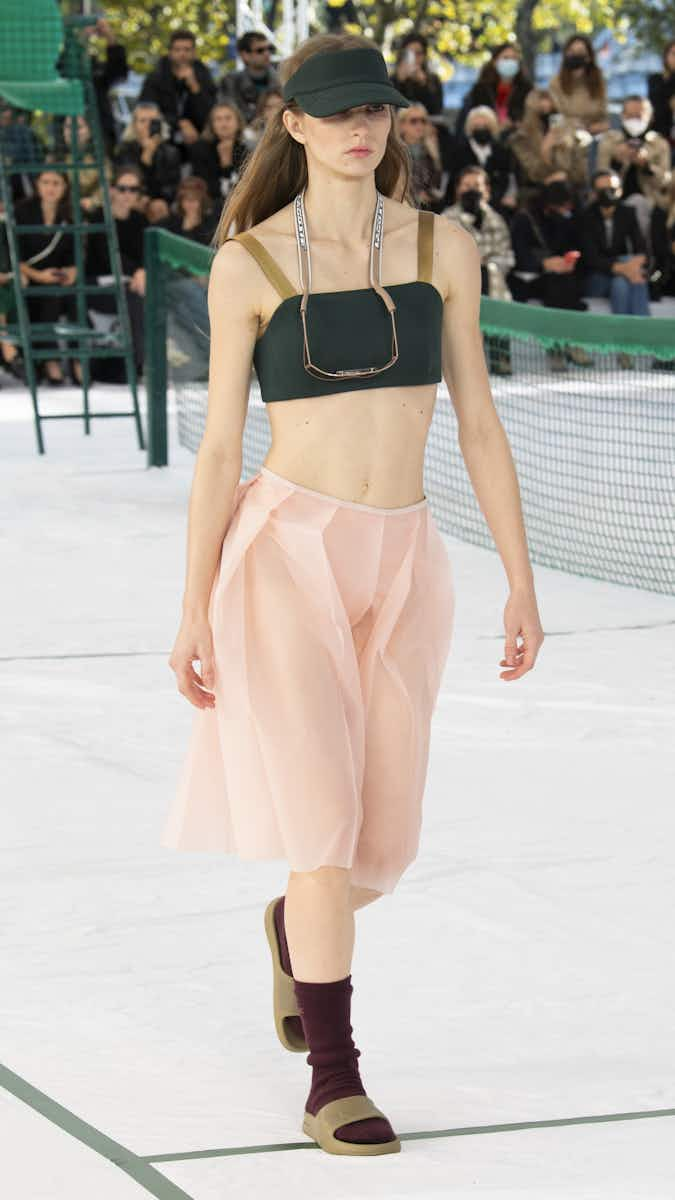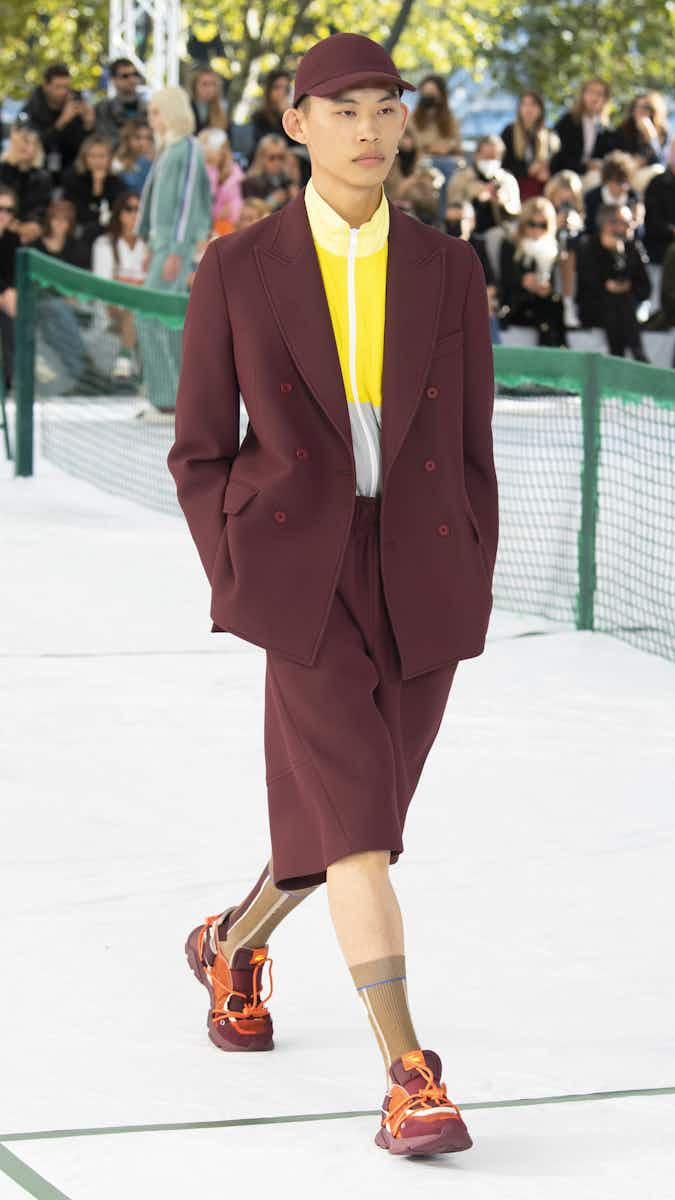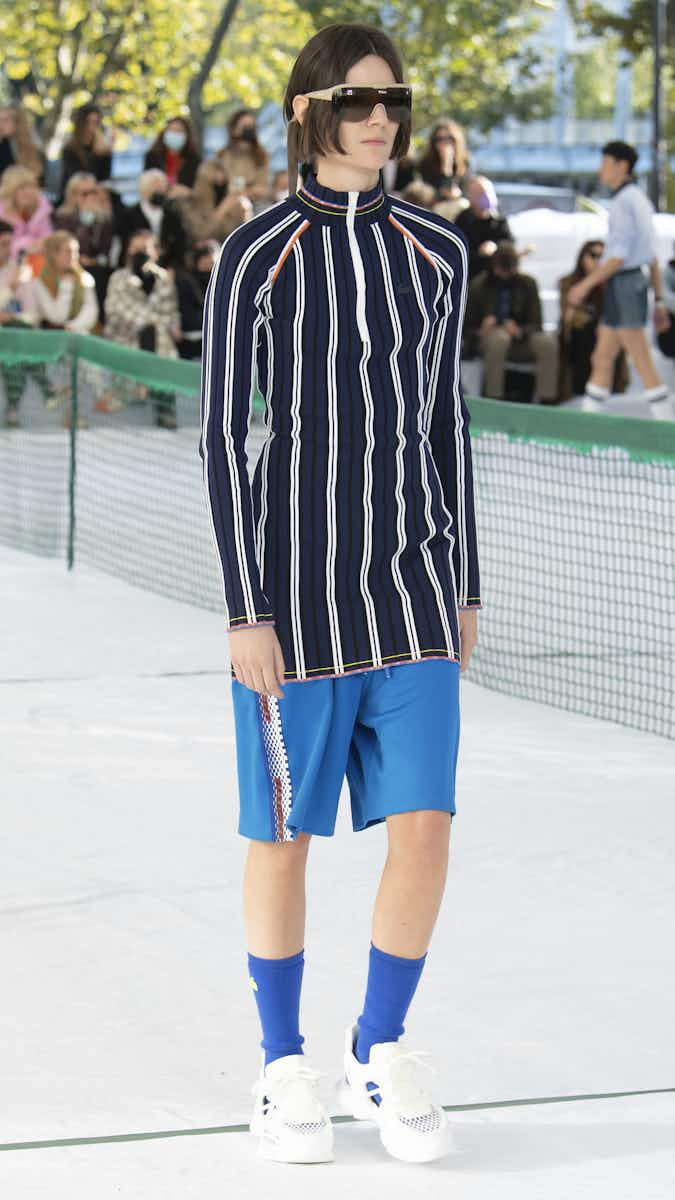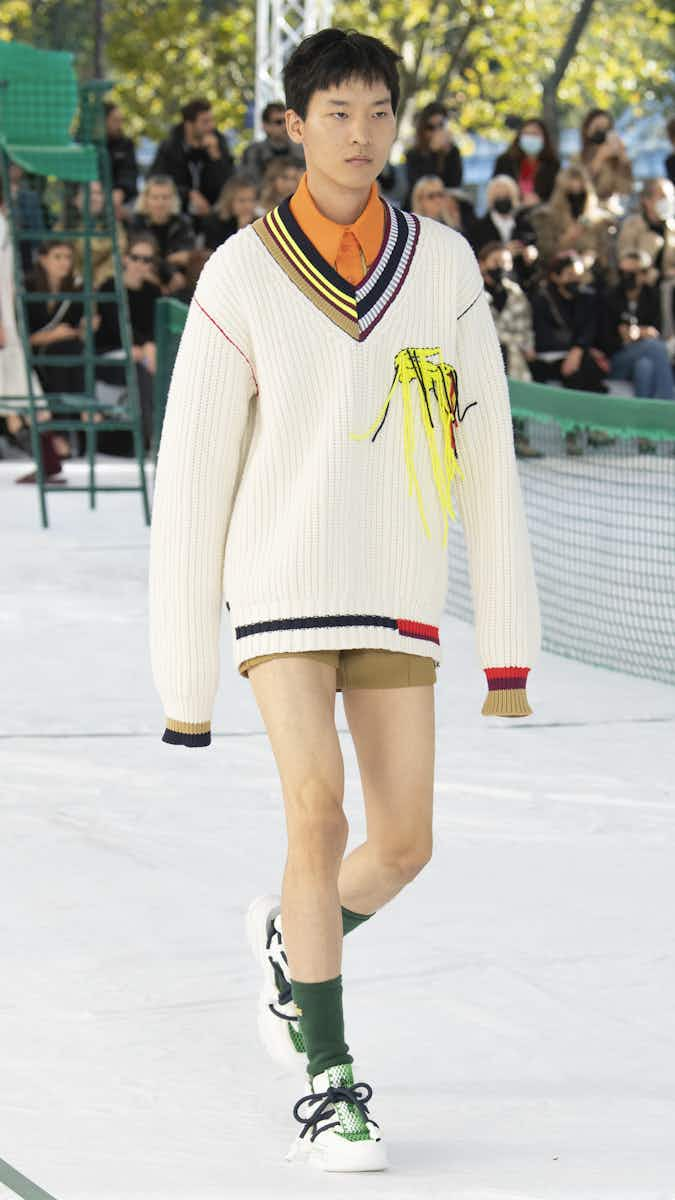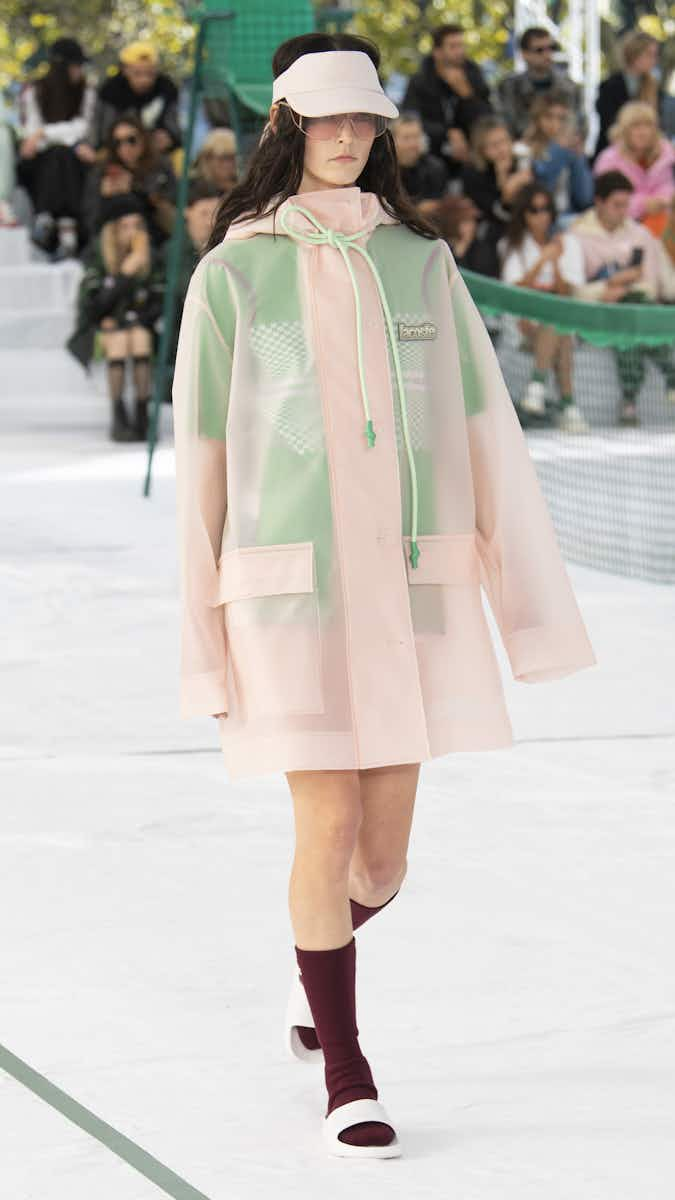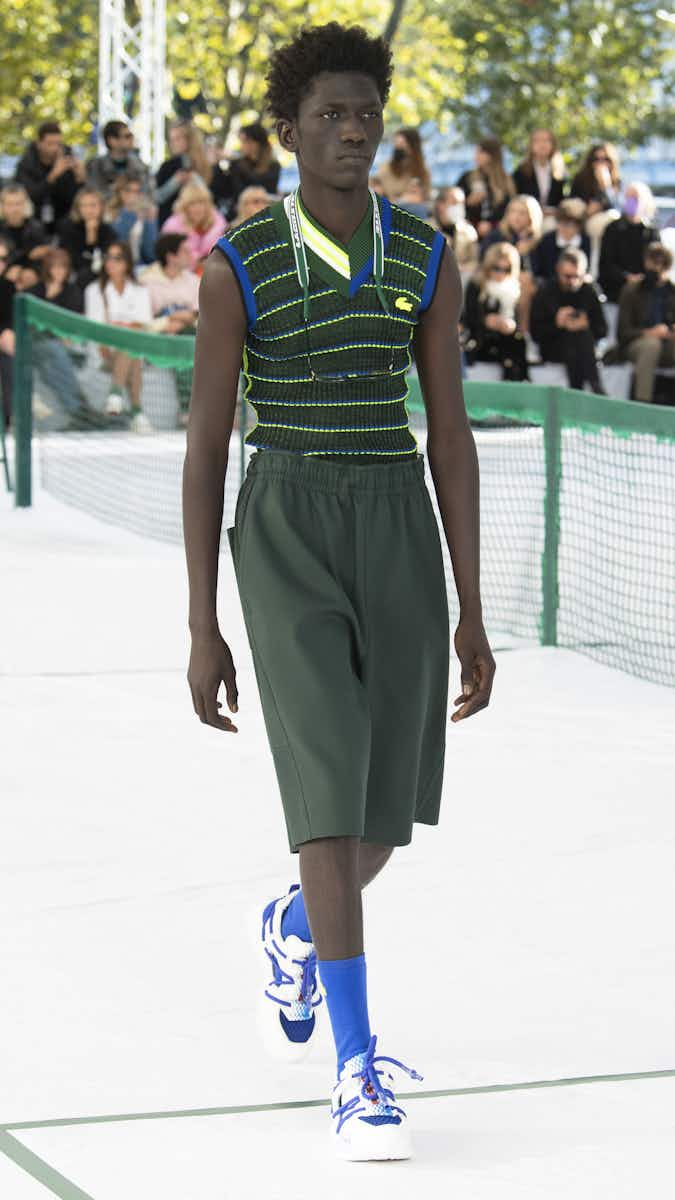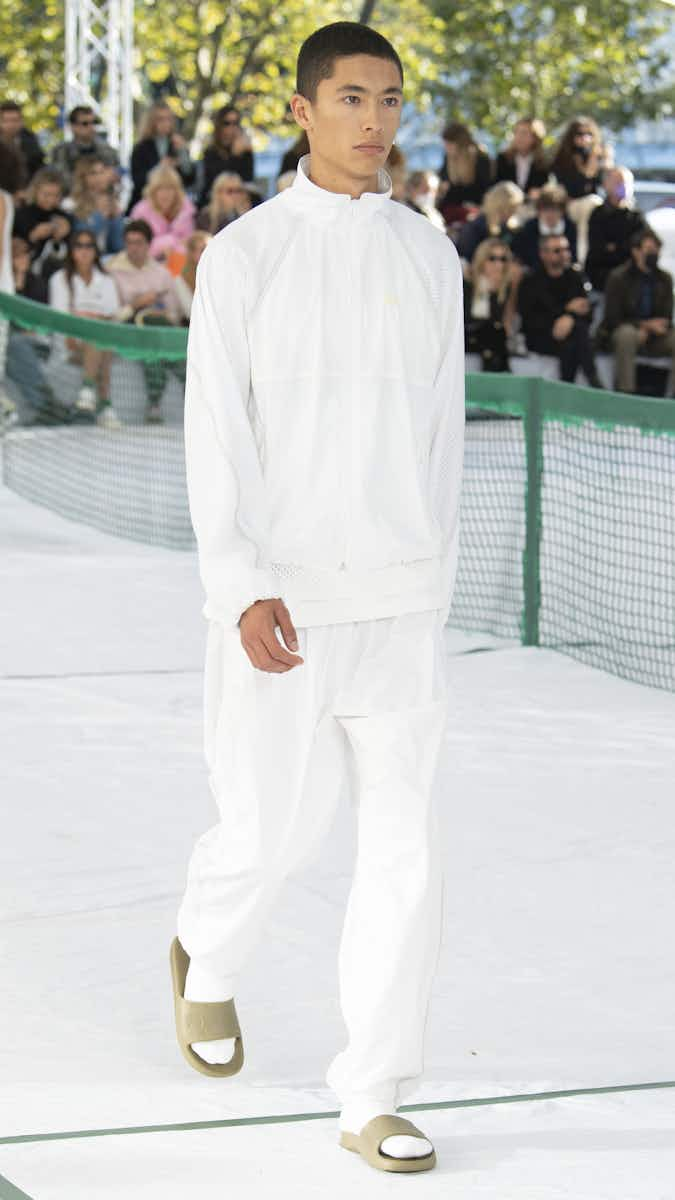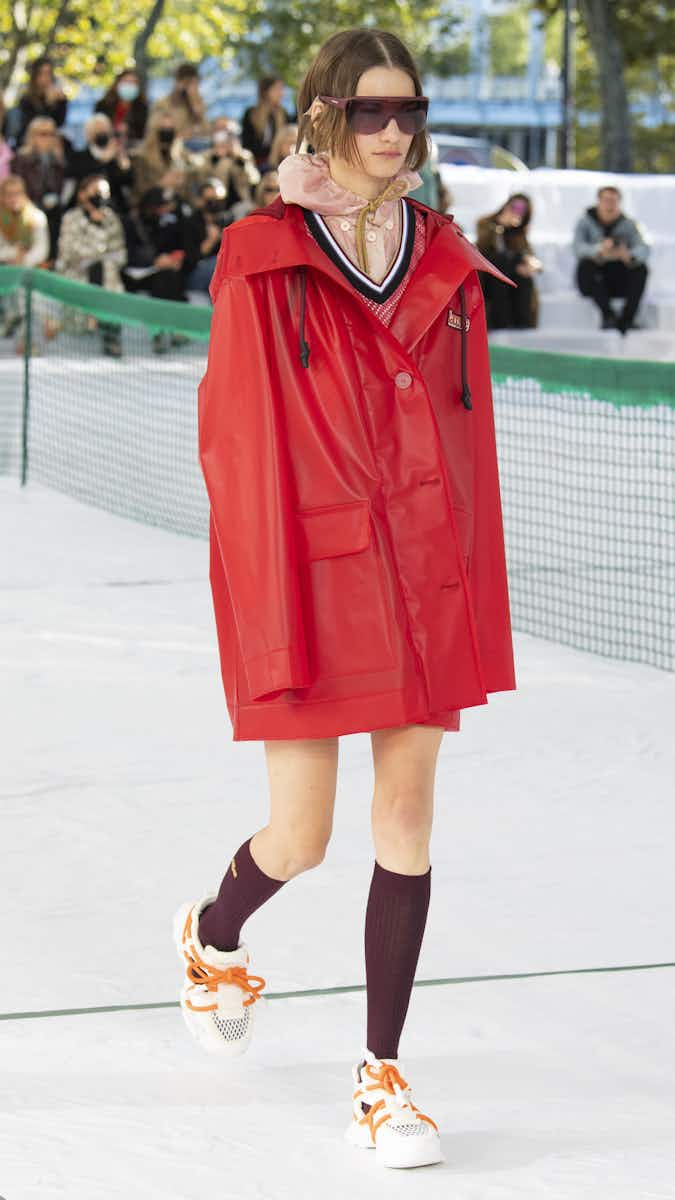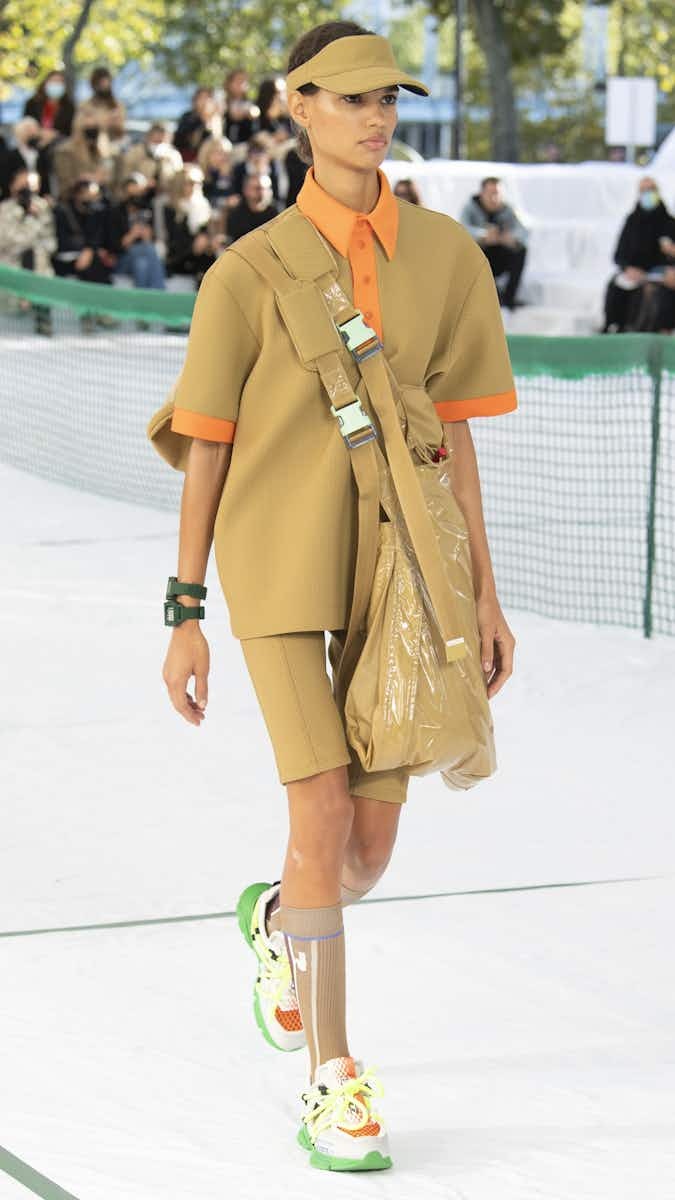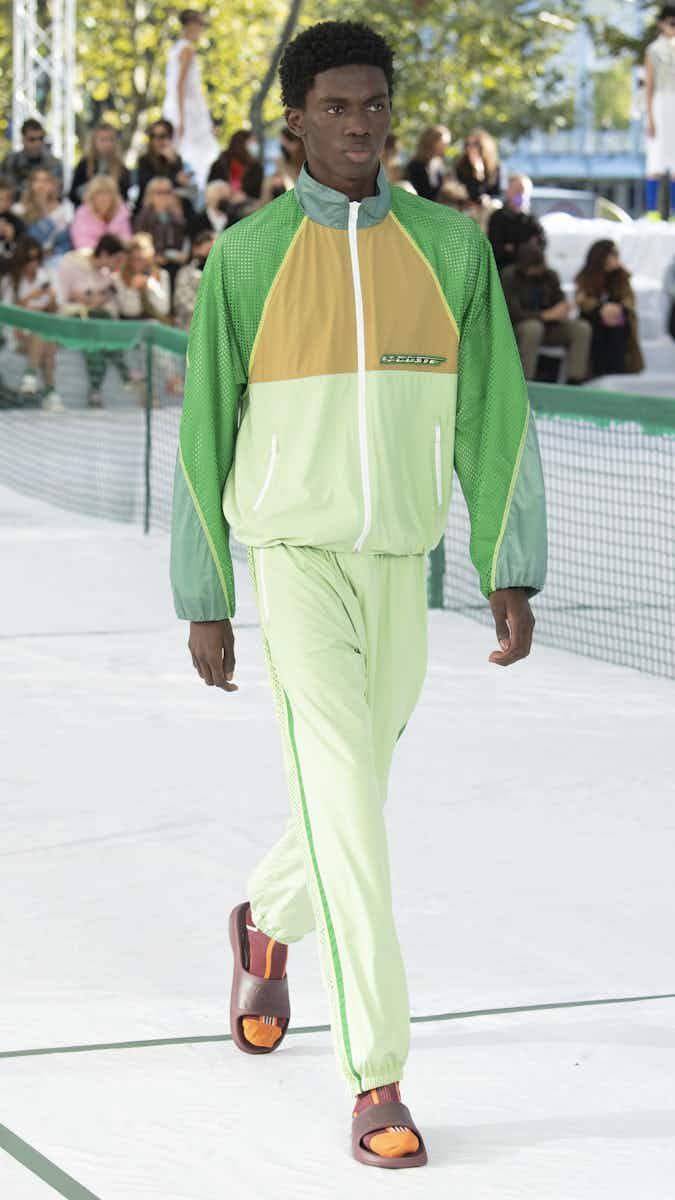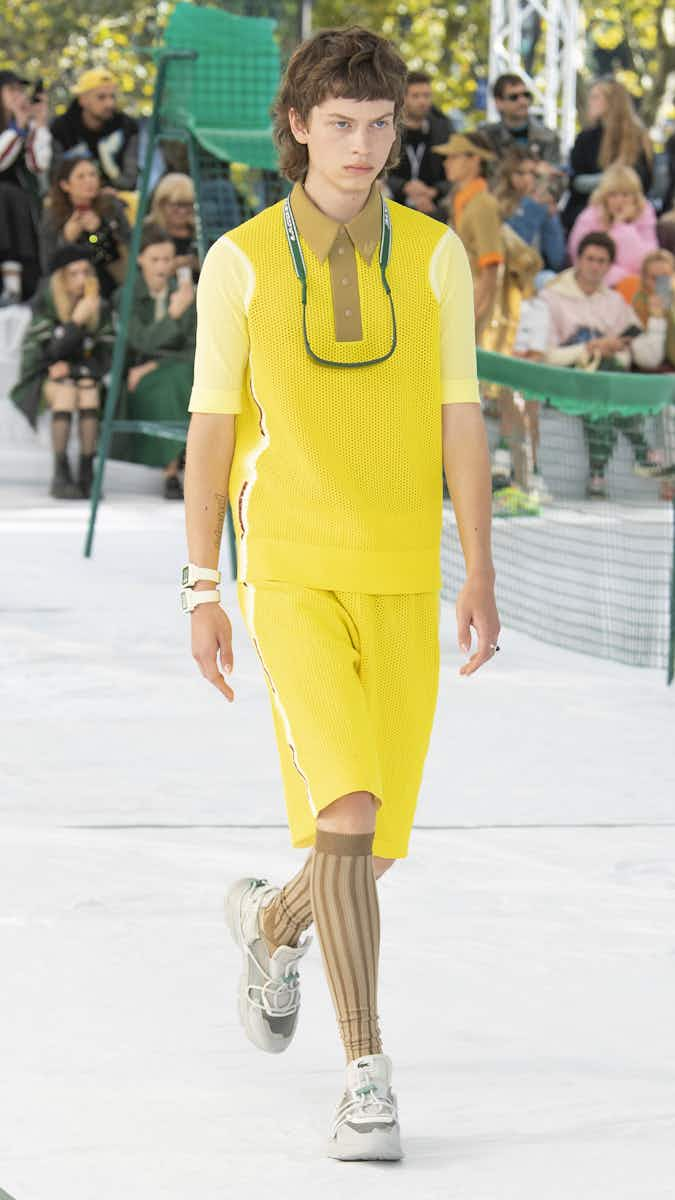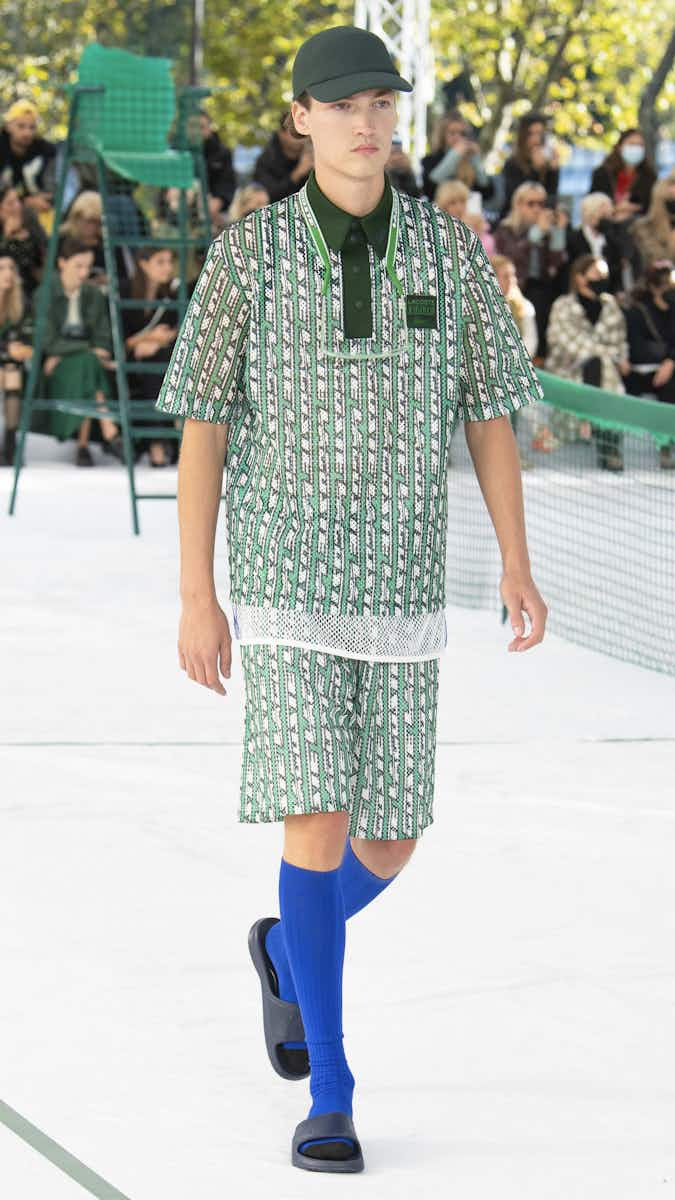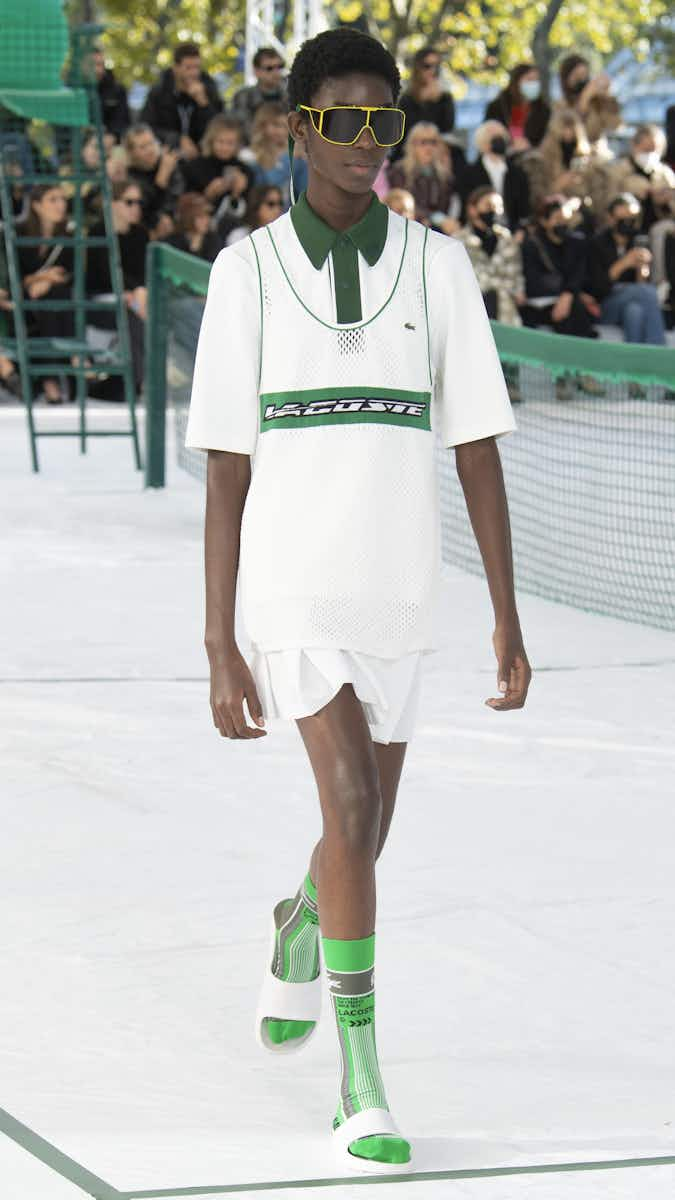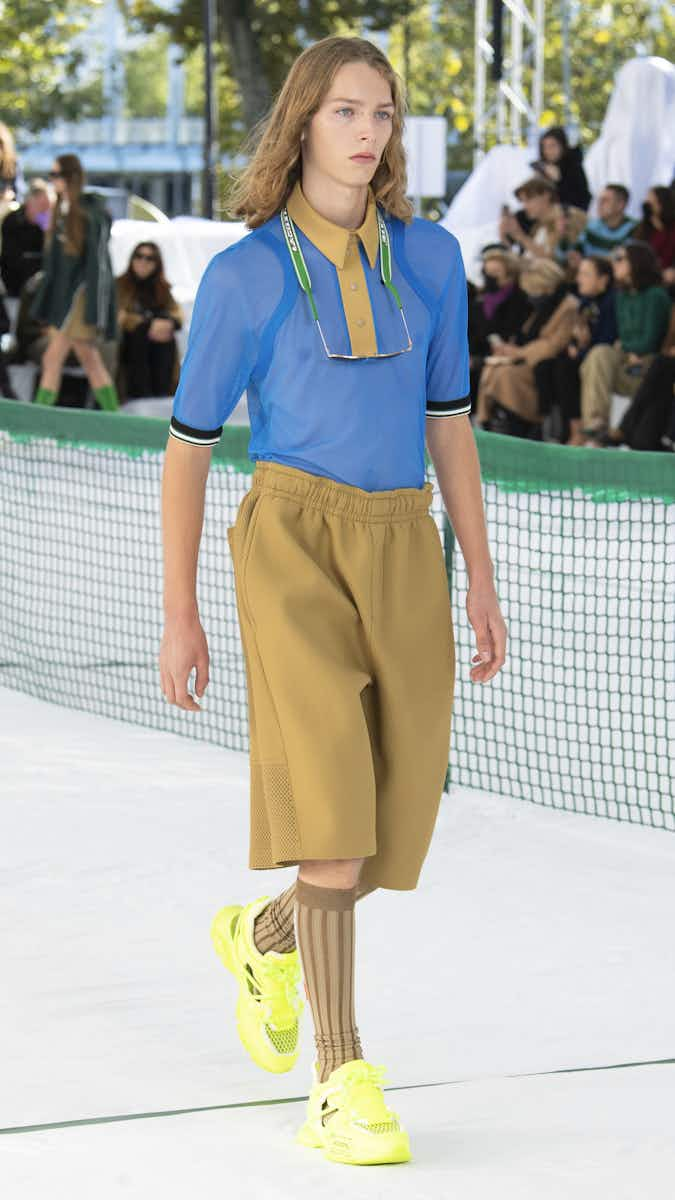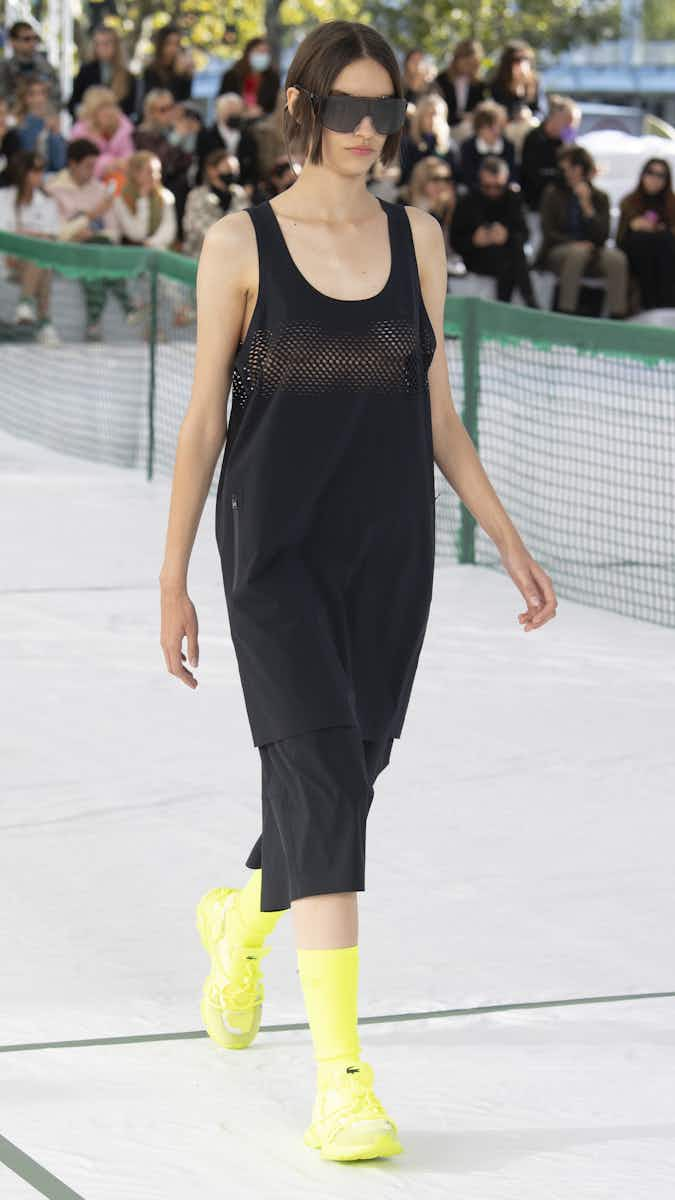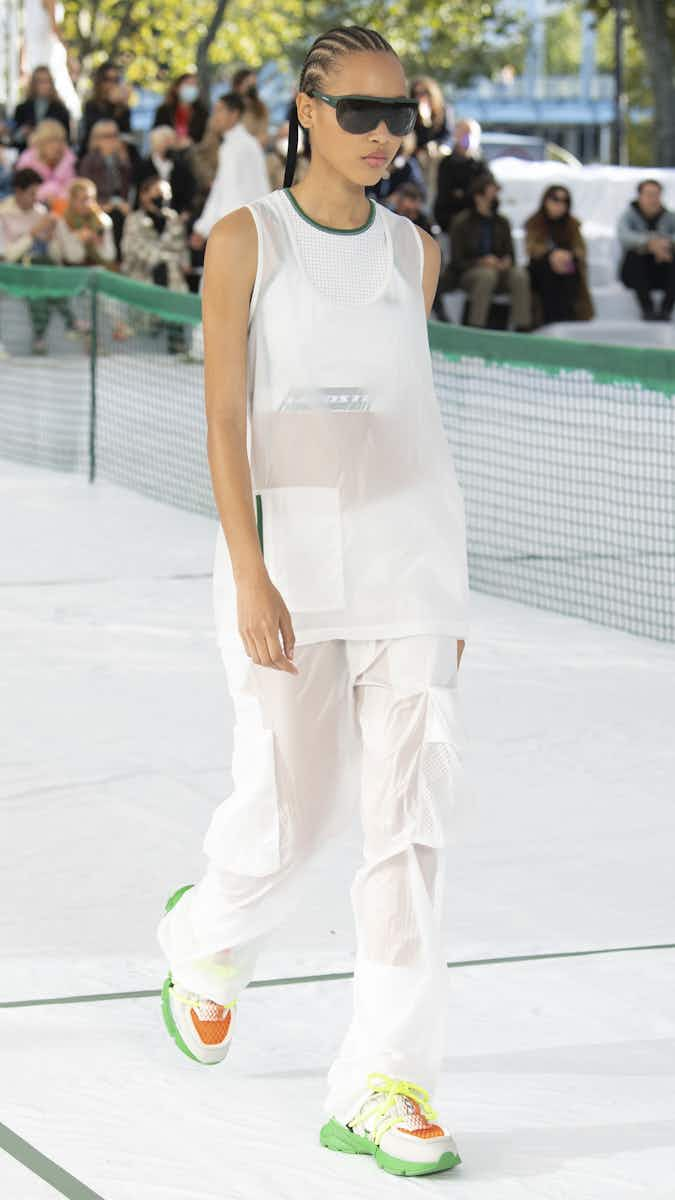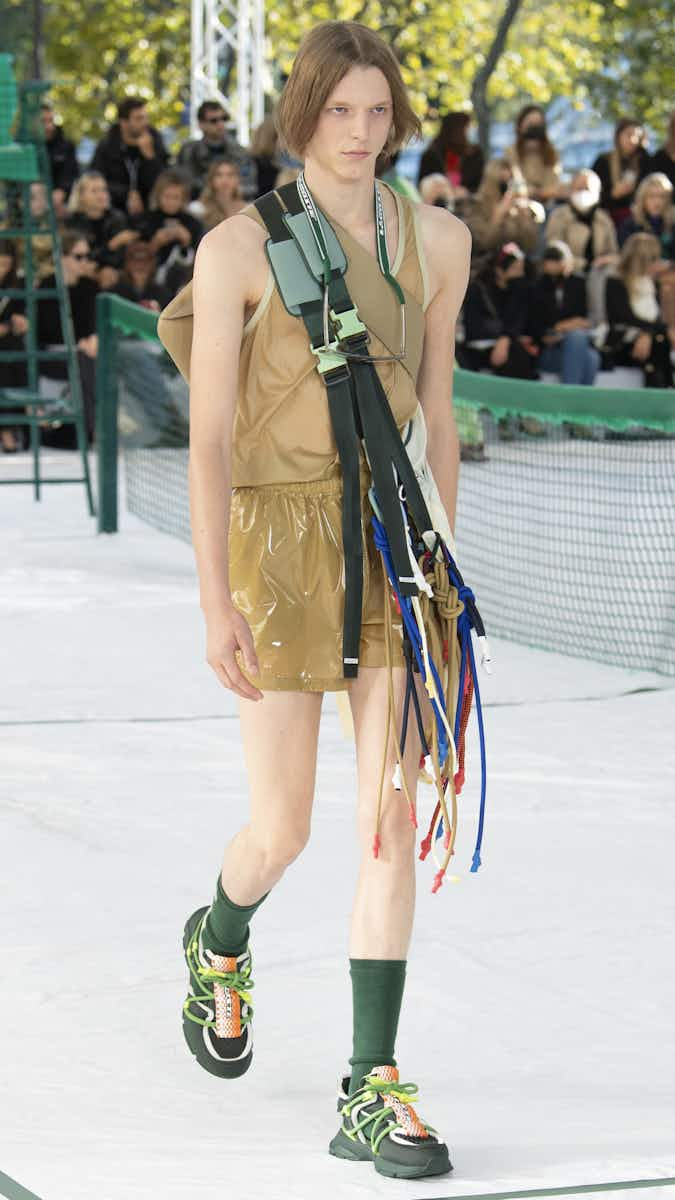 There were pleated tennis skirts reimagined in frosted pastel rubber, shorts suits, bandeaus and varsity jackets cut from neoprene piqué jersey, and classic Lacoste polos remade in printed mesh. Mesh logo panelling could also be found across cycling vests, track shorts and basketball tanks which were accessorised with cushioned visors, athletic socks and pool slides. Meanwhile, trainers with bungee cord lacing, pastel carabiner keyrings, and climbing ropes dangling from shoulder bags all bolstered the collection's commitment to its athletic theme. The result was a hybrid collection of disparate athleisure tropes from across all sporting subcultures.
In keeping with tradition, doubles partners René and Suzanne once again provided key inspiration, as seen in the loose flowing skirts and new iterations of the brand's signature patchwork tennis sweater. Also represented were photographers Peter Sutherland and Philippe Bialobos, whose documentation of bike couriers in the 2000s informed accessories like the tinted shield sunglasses on neoprene straps and buckled crossbody messenger bags. When it came to one ingenious design – a trench coat that rolls up into a messenger bag – however, the inspiration was all Trotter's own, resulting directly from her experiences of cycling into work during lockdown.
Overall, the collection signalled Lacoste and Trotter's ambitions to expand outwards from its tennis roots to become a brand that will serve every sport and provide chic, yet always functional, staples for the athletic community. These are clothes that will inspire you to get active, that reflect our renewed energy and collective urge to move our bodies in the fresh air. After months of endless lockdown, what could be a more welcome sentiment?

More like this