Everything going down at London Fashion Week AW20
Yuhan Wang, Ashley Williams, Richard Malone, Charlotte Knowles, Matty Bovan, Fashion East, Marques'Almeida, Molly Goddard, Mimi Wade, Richard Quinn, MM6 Margiela and JW Anderson.
JW ANDERSON AW20
The unlikely inspiration for JW Anderson's AW20 dresses? A pint of the black stuff. ​"Not to be clichéd and Irish, but there was something nice about the typography of Guinness," says Anderson backstage. ​"It's gold, it's black and it has a touch of silver." He referenced the roaring 1920s too: ​"This moment where everything resurged again, everything rebounded."
Taking the codes of a bygone era and reinventing them in a thoroughly modern way, Anderson's future facing collection was one hundred per cent optimistic at a time when we need it the most. Think: supersized trapeze coats, trophy dresses with bubbled hemlines, double-breasted dress coats with puffed sleeves and shimmering cheerleader pom-pom-style capes that appeared over embellished dresses and ribbed knitwear alike – Anderson referred to the eye-catching fabric as ​"antique celluloid" after the show.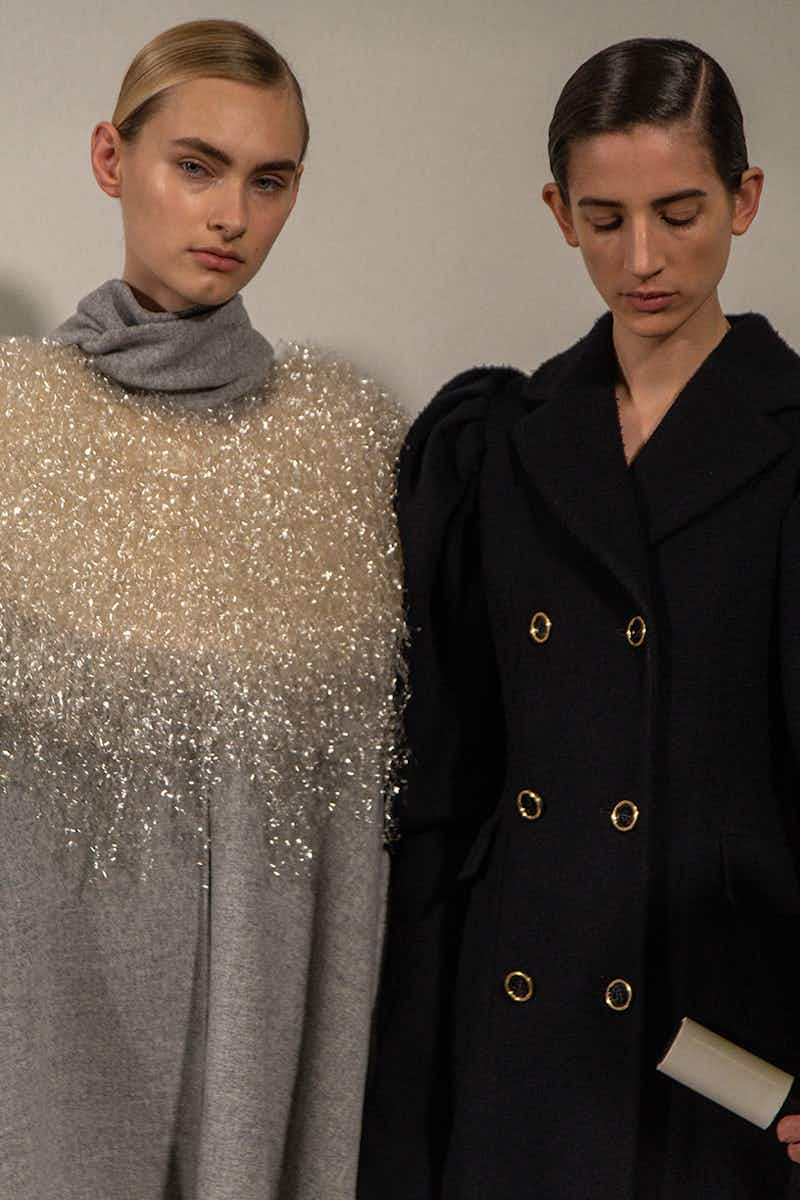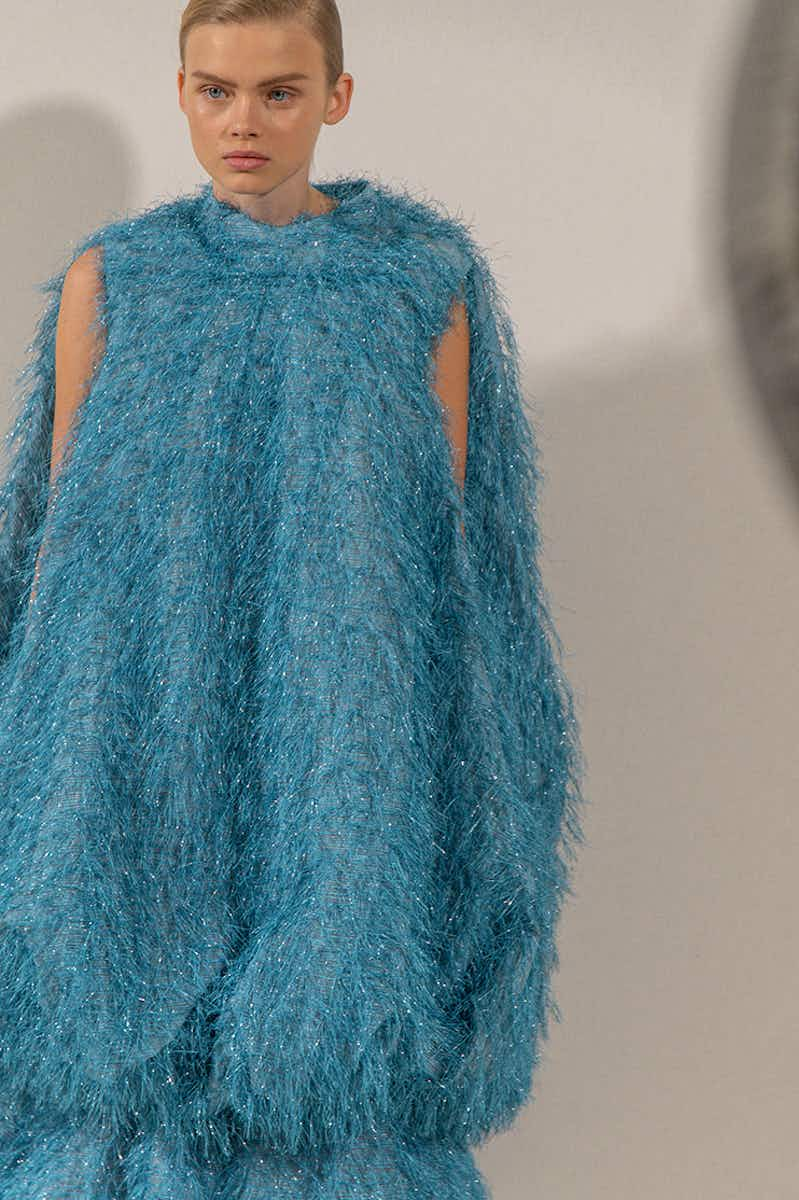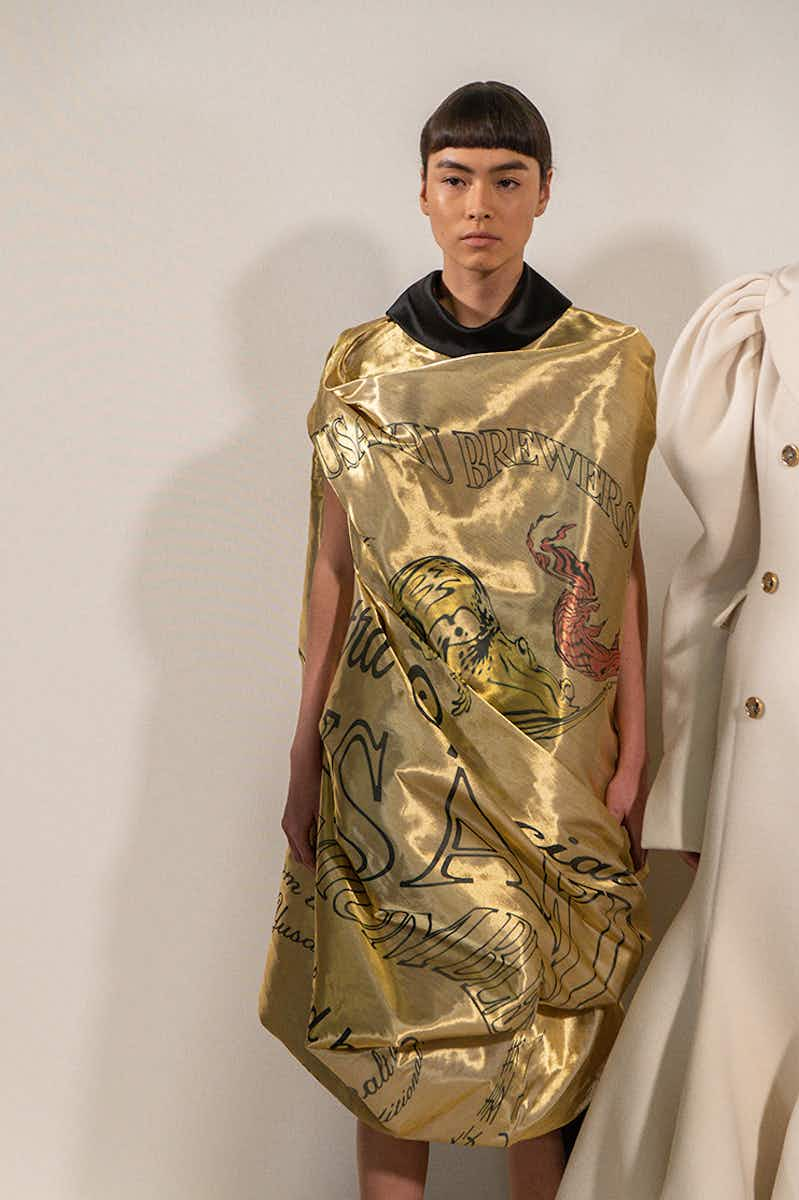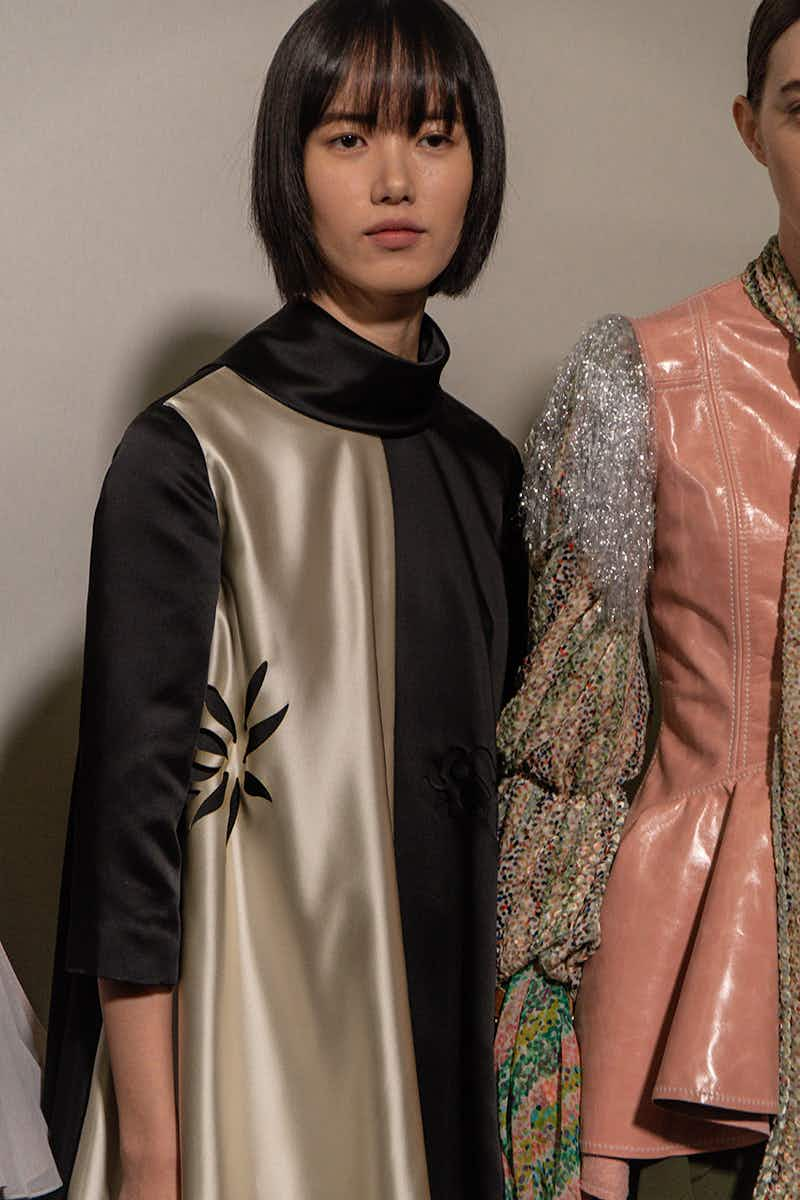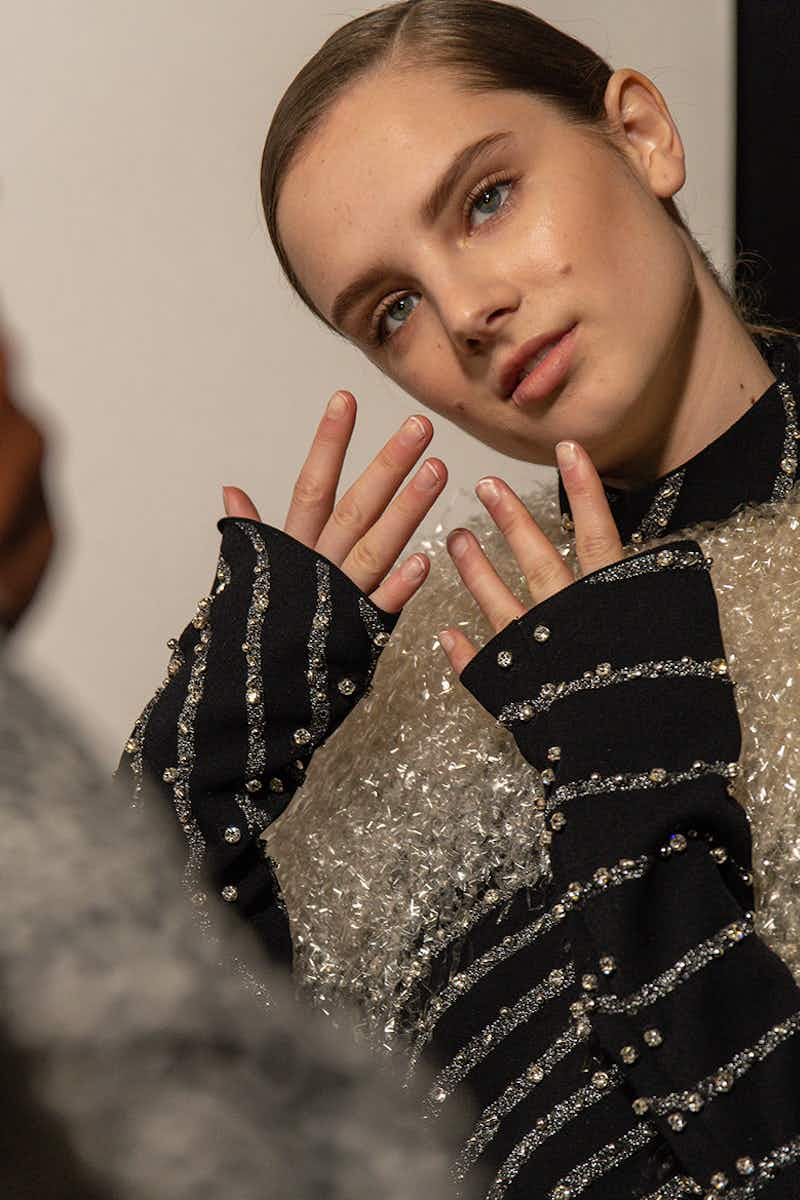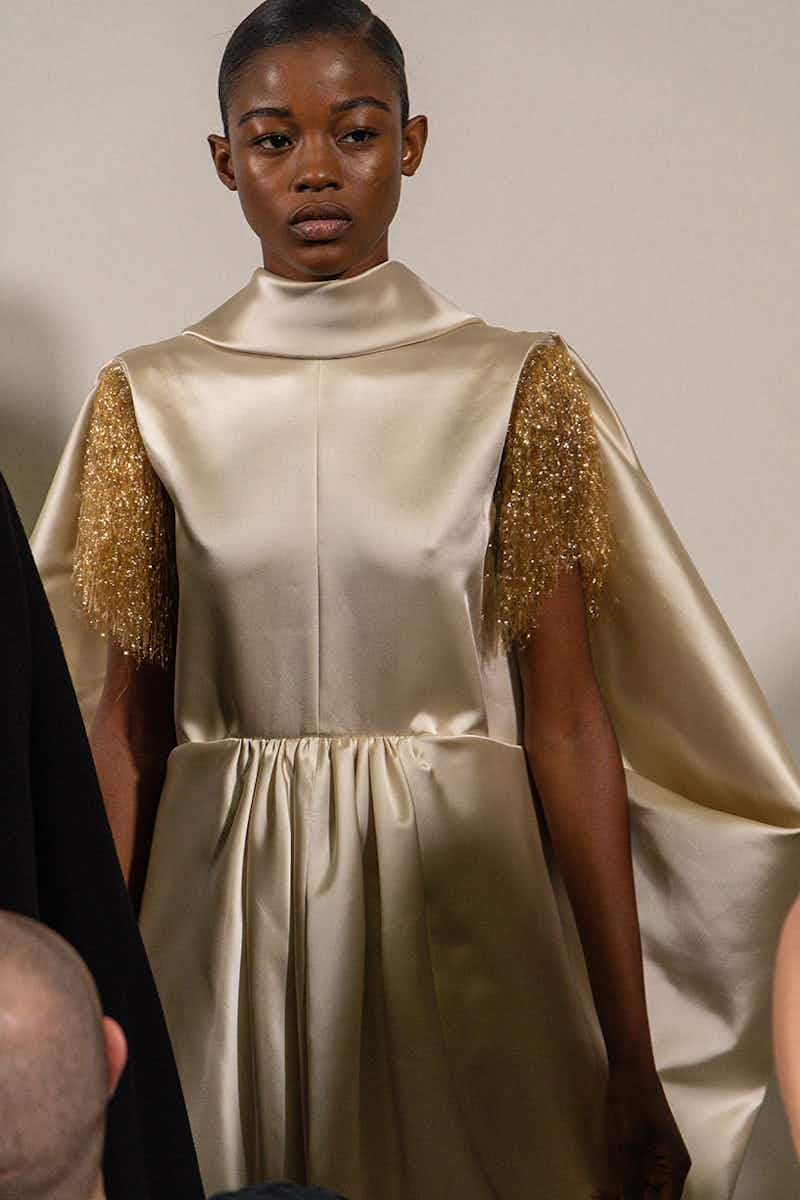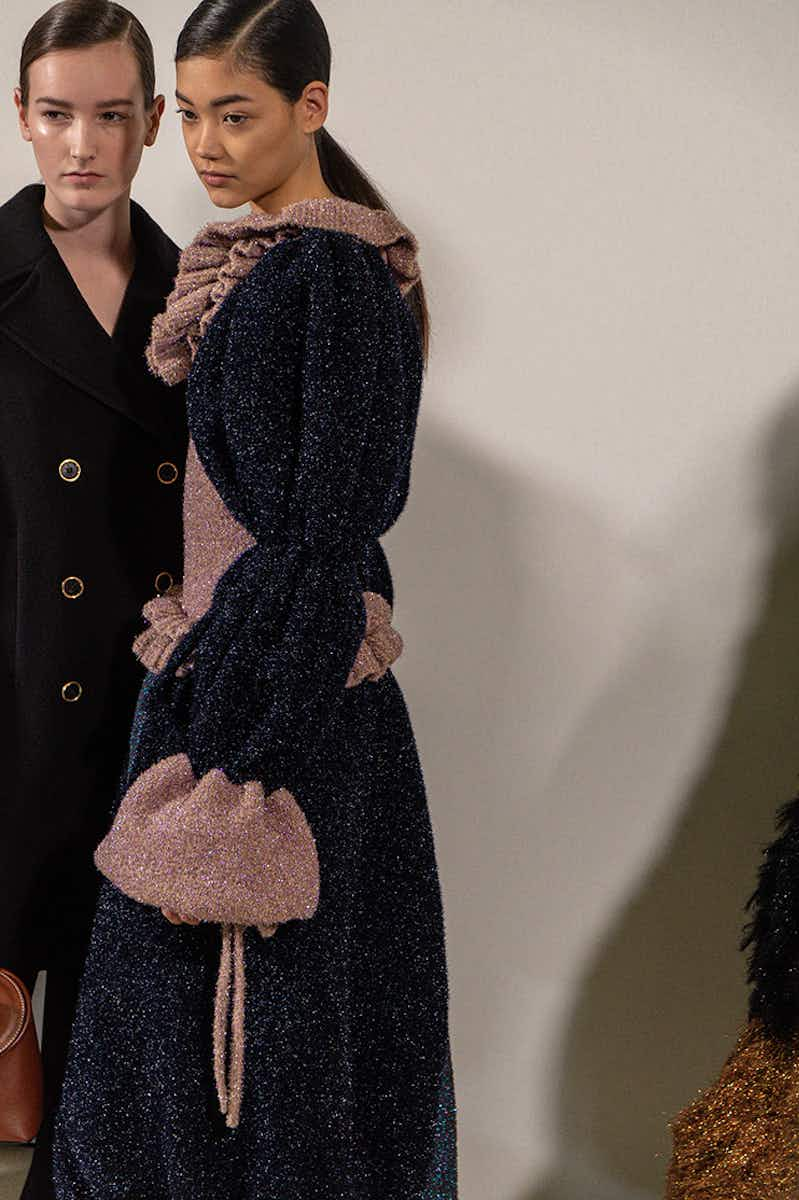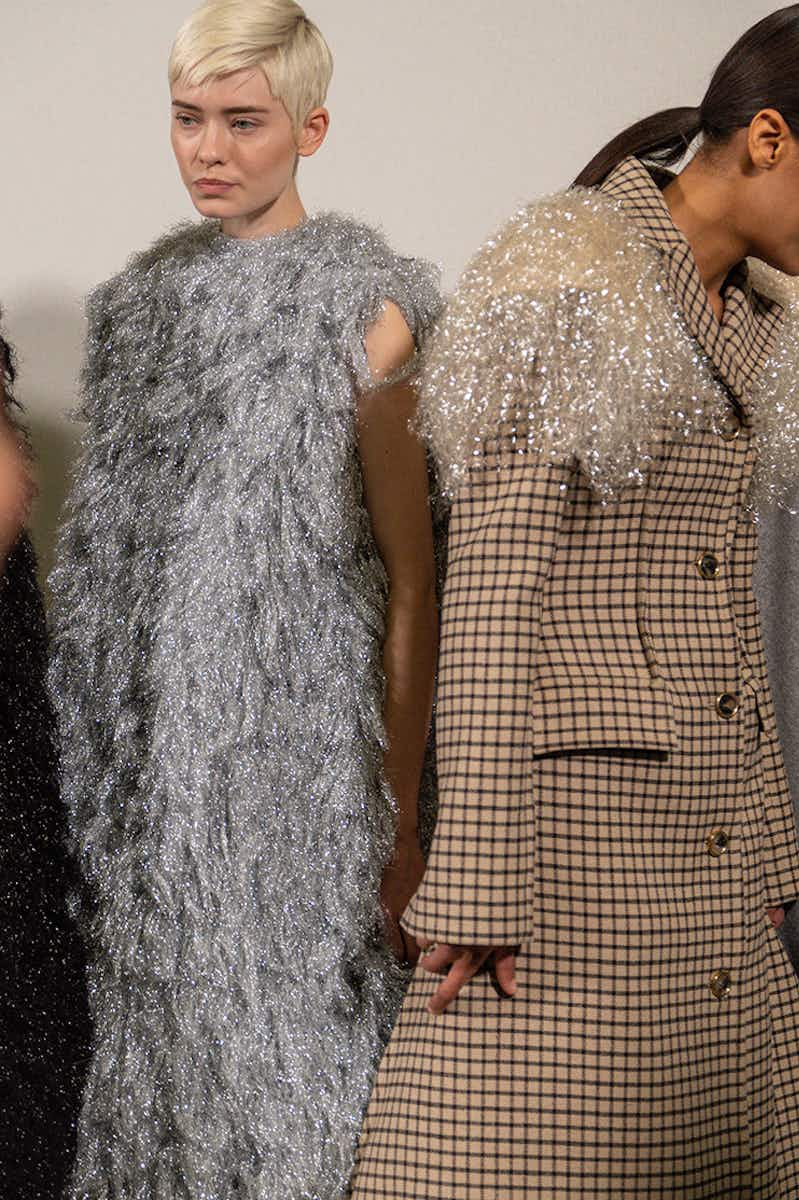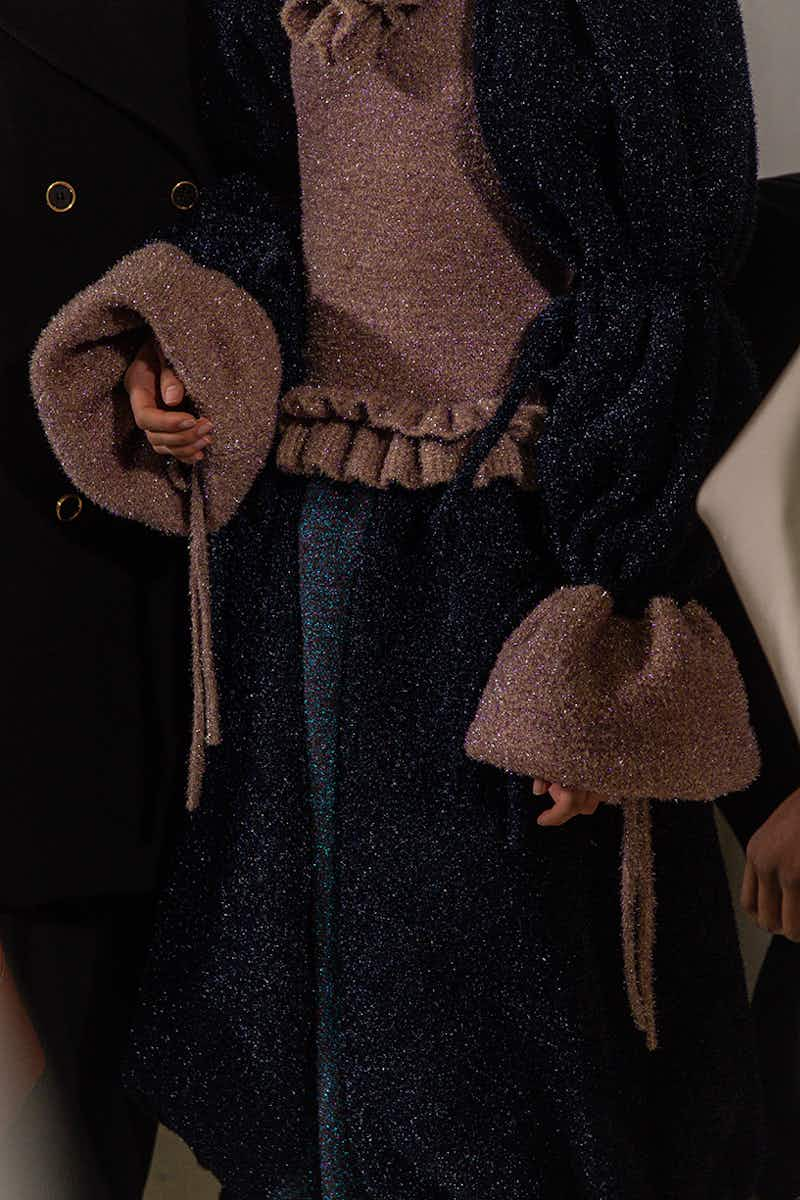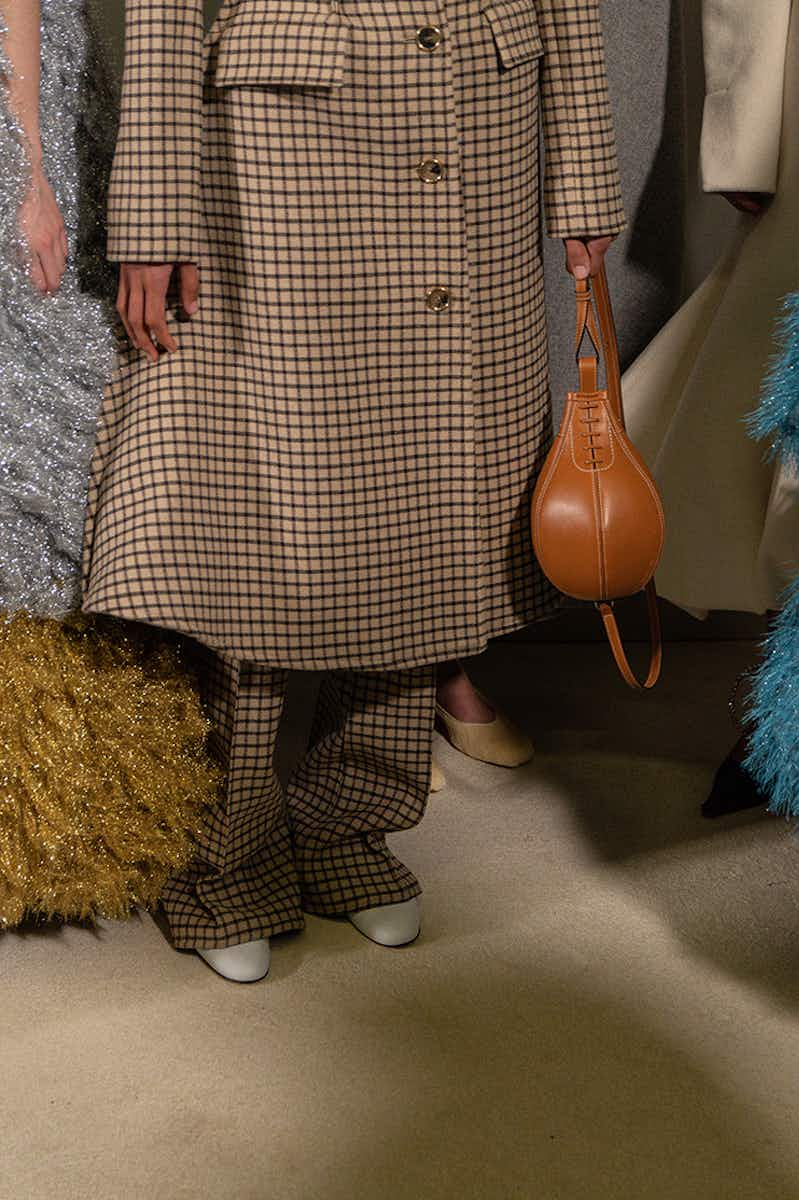 Of note:
A pair of the pointed toe mules decorated with a crystal ring.
The black leather bag adorned with an oversized gold chain.
A coat of gargantuan proportions. (There were three to choose from.)
The black flared trousers and high neck top co-ord, swirling with silver embellishments.
The slick black, elongated suit jacket with the exaggerated sailor collar.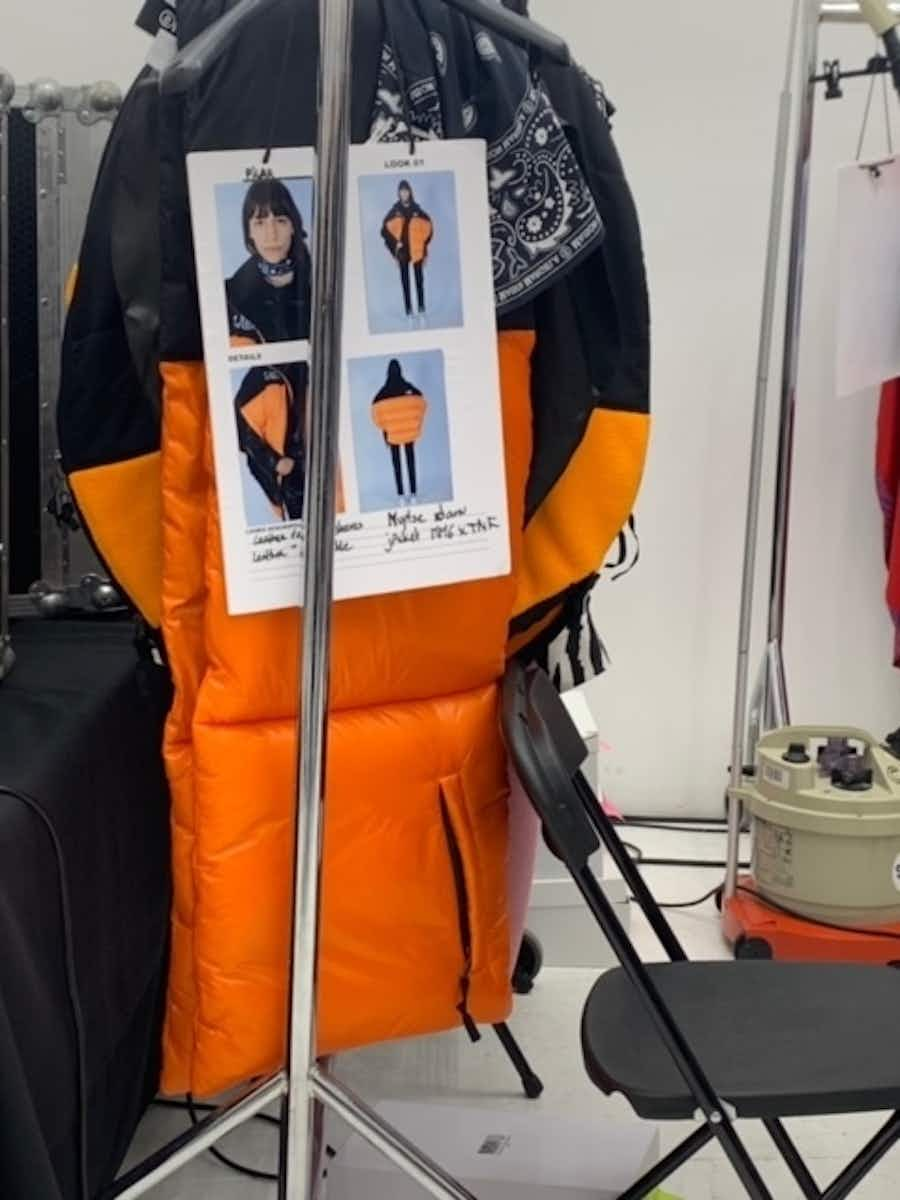 Today's MM6 show ushered in a new collaboration: MM6 X The North Face. The outerwear experts' iconic styles – the hooded Himalayan Coat, the cape-style Mountain Kaban, and the Nuptse puffer – were reimagined, deconstructed and remixed in typical Margiela style. The standout piece? A safety-orange and black Nuptese detailed with Margiela's numbers device. Elsewhere in the collection club kid references inspired oversized leather outerwear, ribbed-lurex block colouring and a spliced satin zebra-print dress worn with tabby gloves.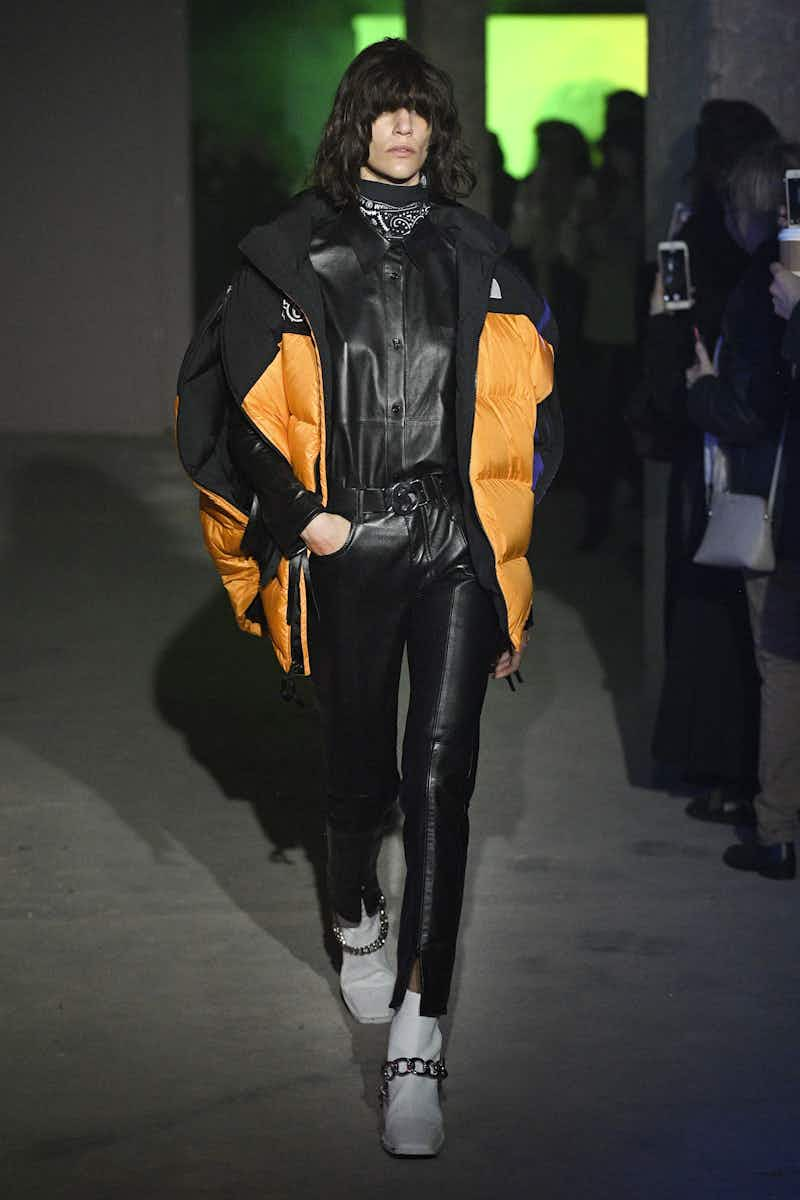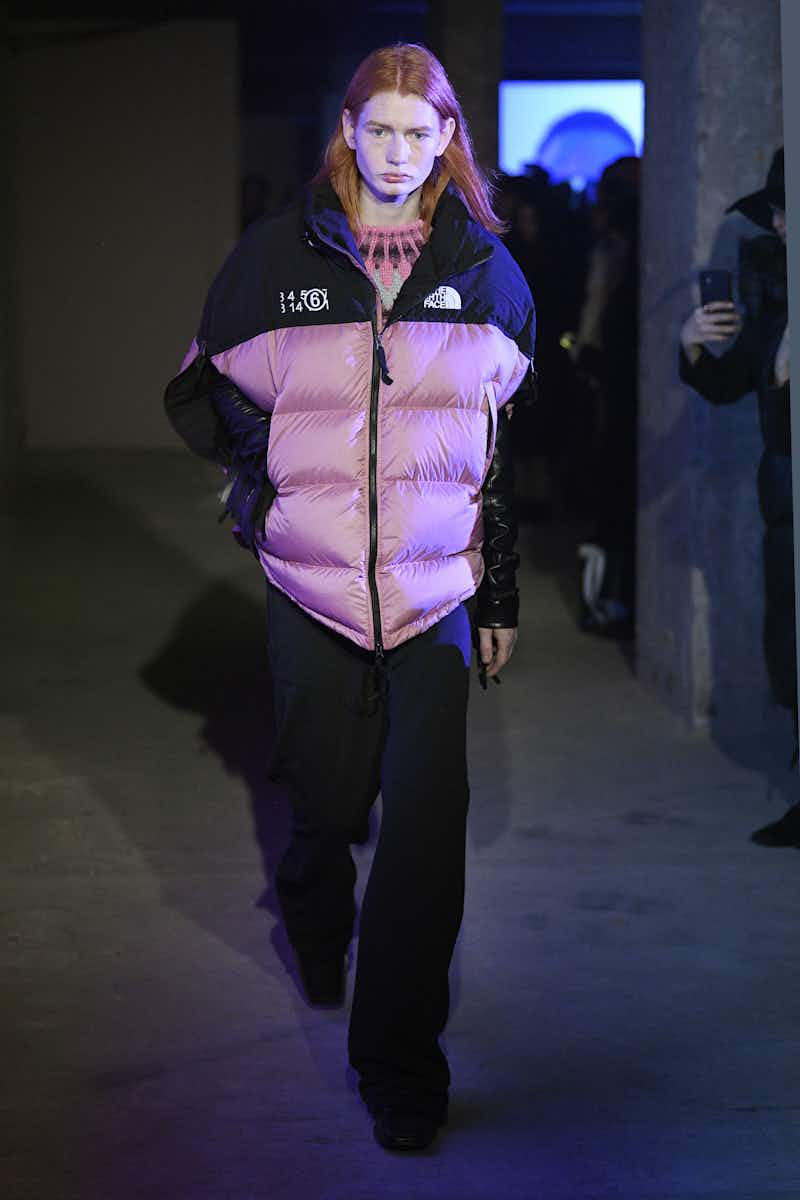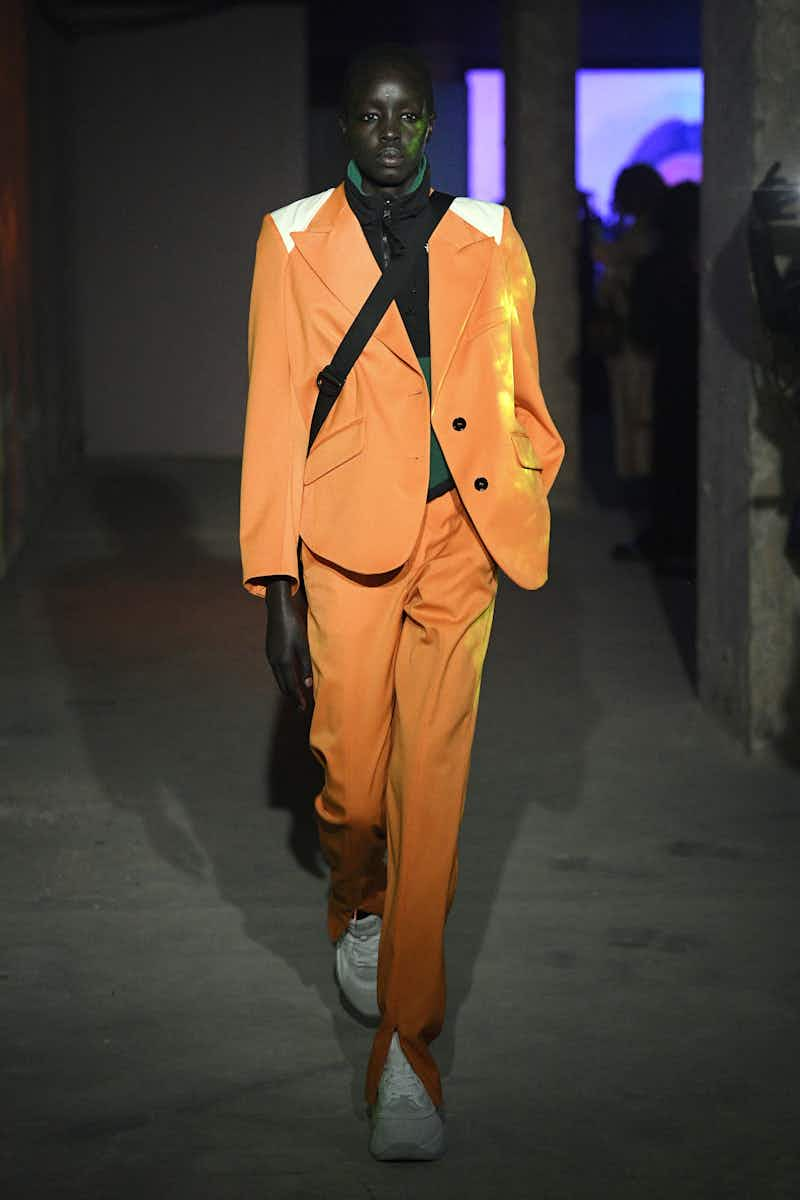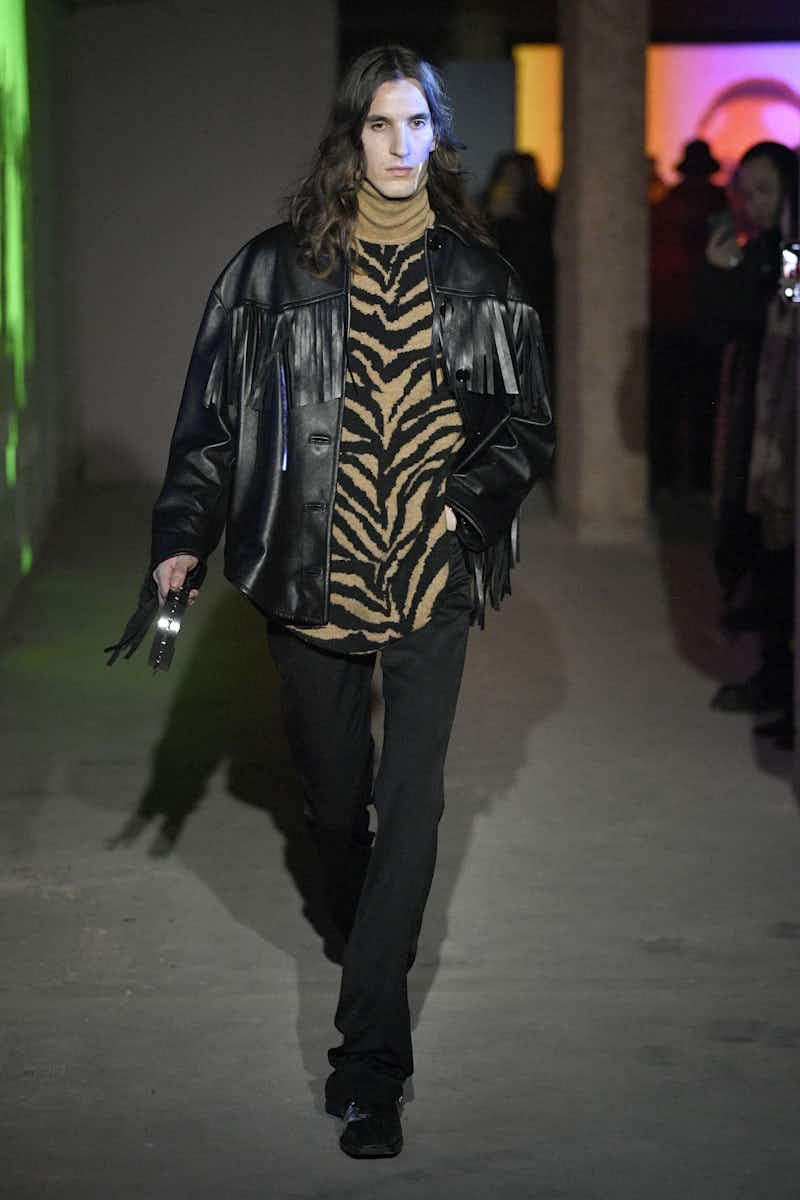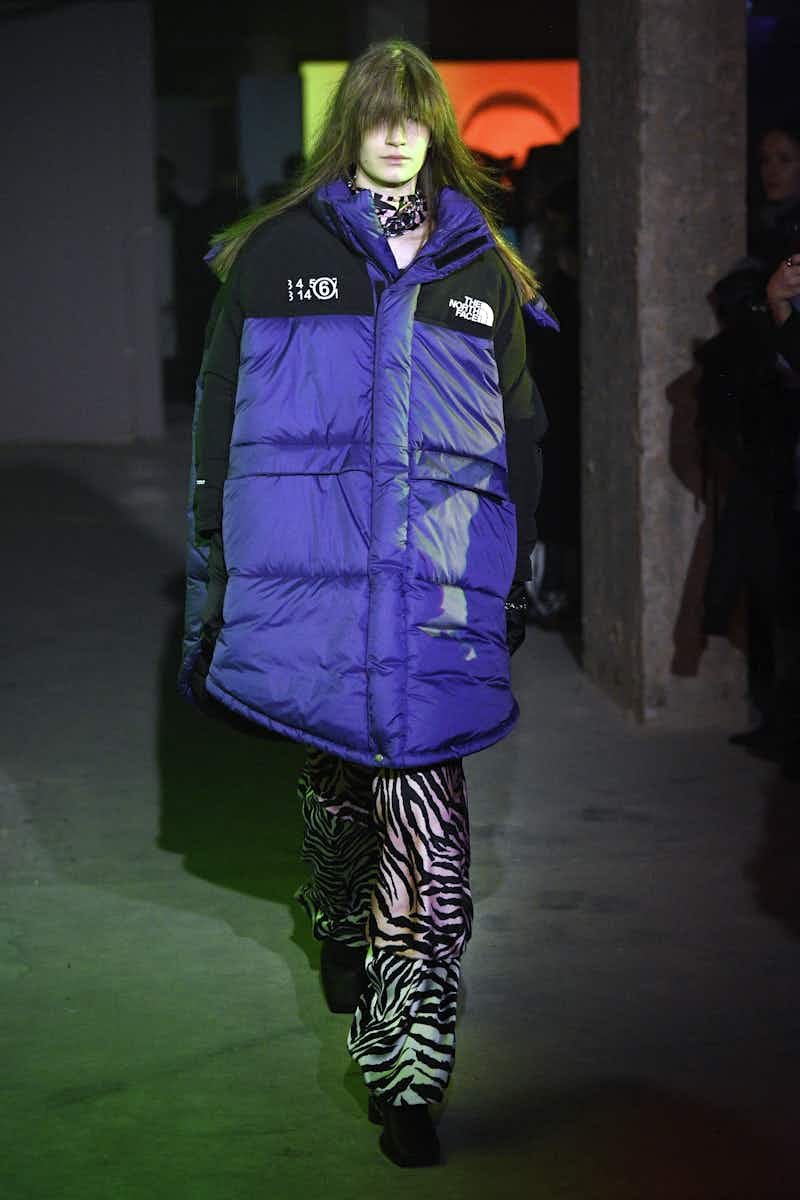 RICHARD QUINN AW20
London fashion week's strangest hook up? Richard Quinn's Colgate sponsorship – but let's not let that distract us from the South East London-born and bred designer's stellar show that took place at The Royal Horticultural Halls.
What about the clothes?

Quinn gave us a lesson in high fashion fantasy. Head-to-toe pearly kings and queens were gleaming with crystals that spelt ​"GOD SAVE THE QUINN", voluminous ball gowns were layered over signature super-tight PVC skins, a floral-print, velvet party dress was paired with a gimp mask and a trophy black leather trench coat with multiple zips was worn with a metal spiked mask. The collection was about the juxtaposition of the ​"harshness and dark sexy side of S&M" and ​"the real beauty and elevated pieces" says Quinn backstage.

Of note:

Today's show ushered in a new chapter for the label: menswear – a subversive salute to Savile Row. The mood was opulent: elaborate beaded and embroidered structured tops teamed with slick tailored pants and super-flared trousers – off-set by cinched-in waists. ​"We were waiting until the clothes for men would make sense with the womens," says Quinn. ​"I find it really masculine and sexy, but then the textiles are traditionally quite feminine."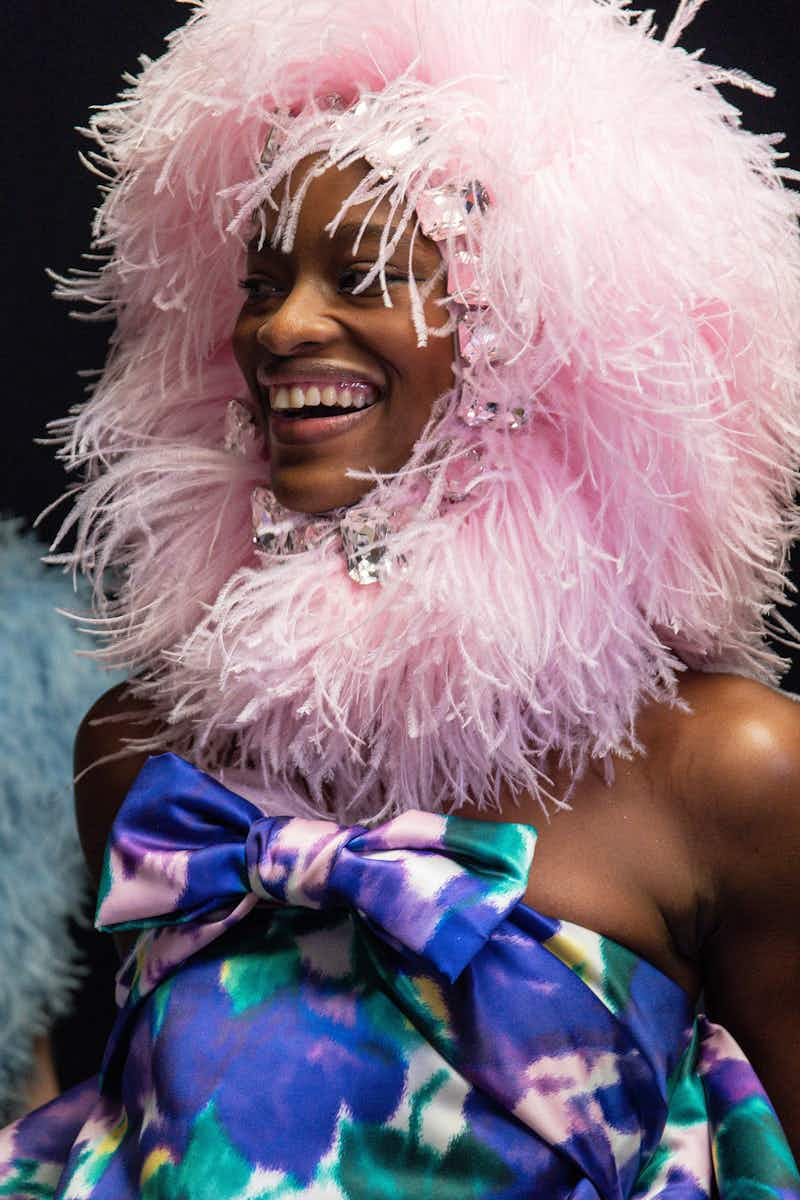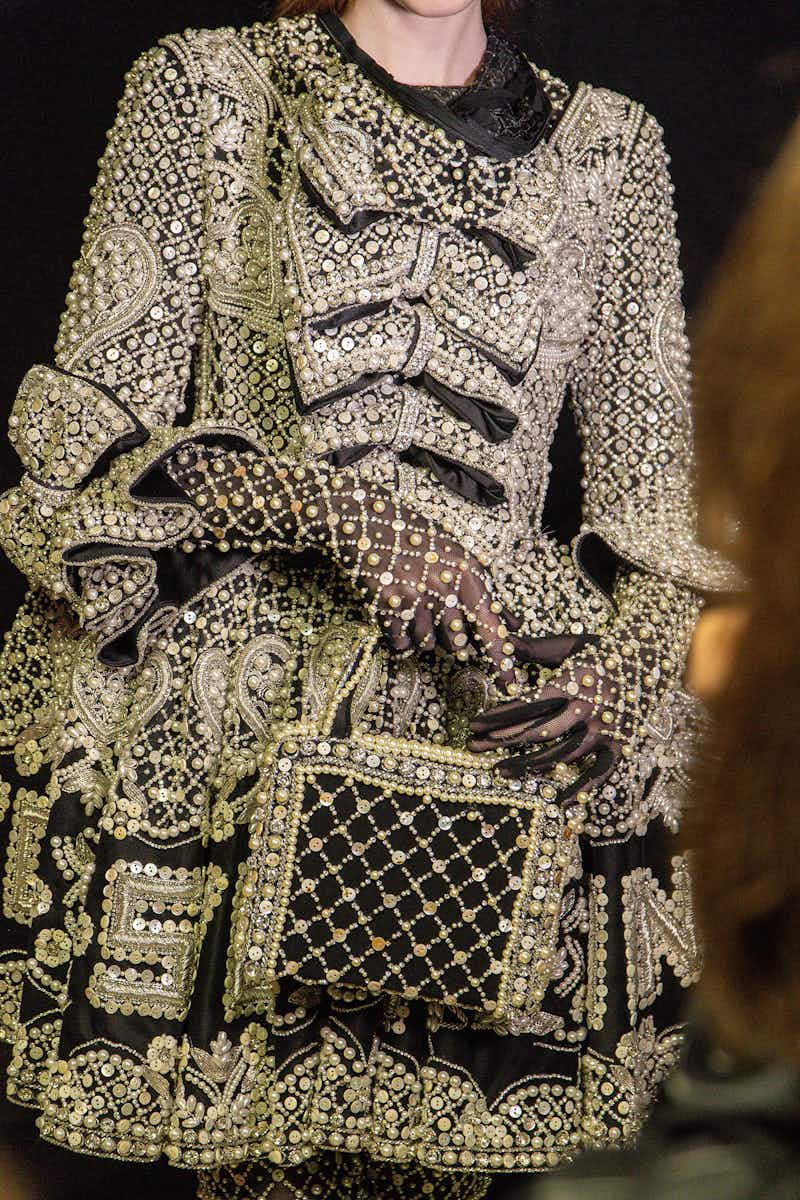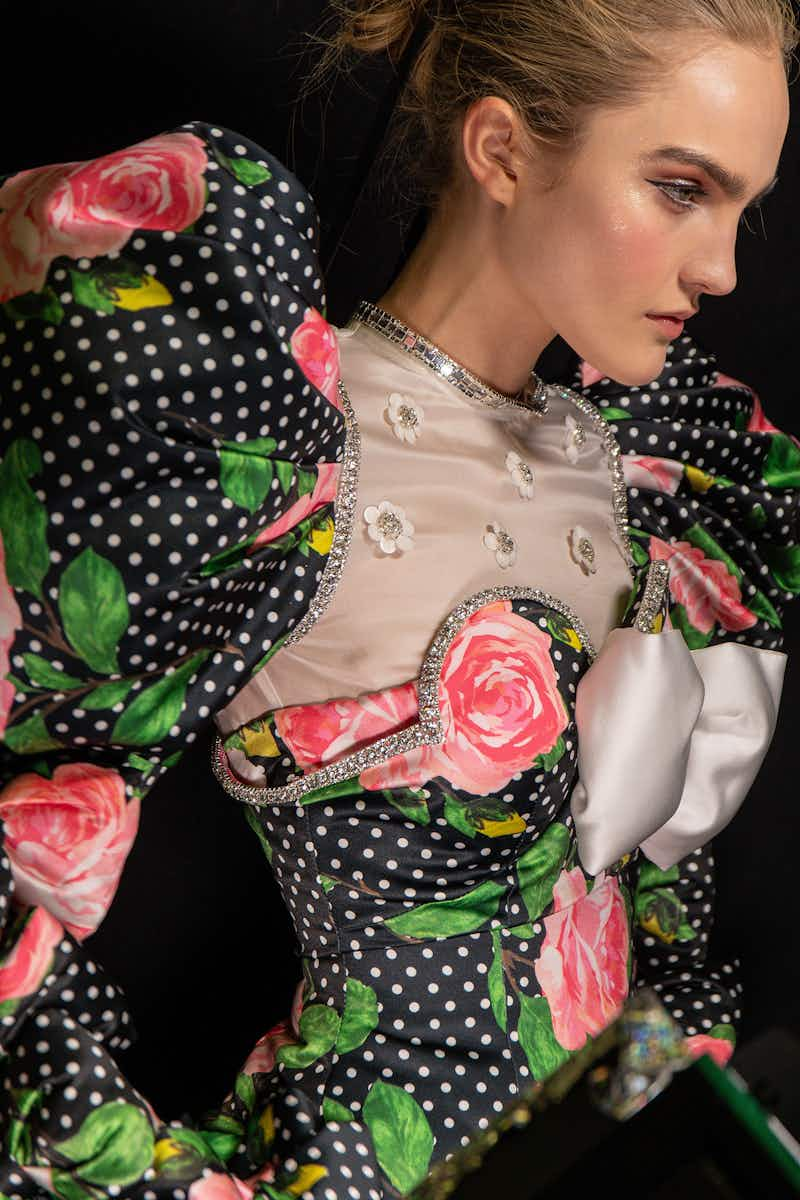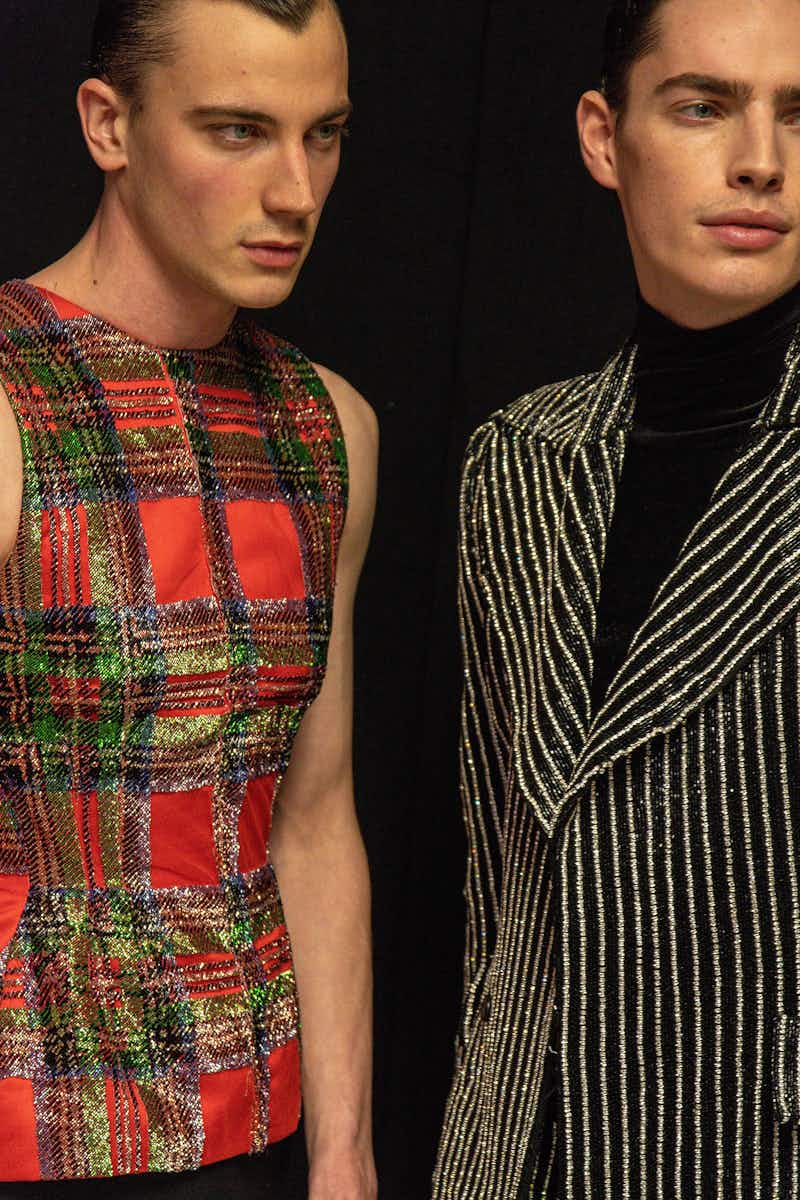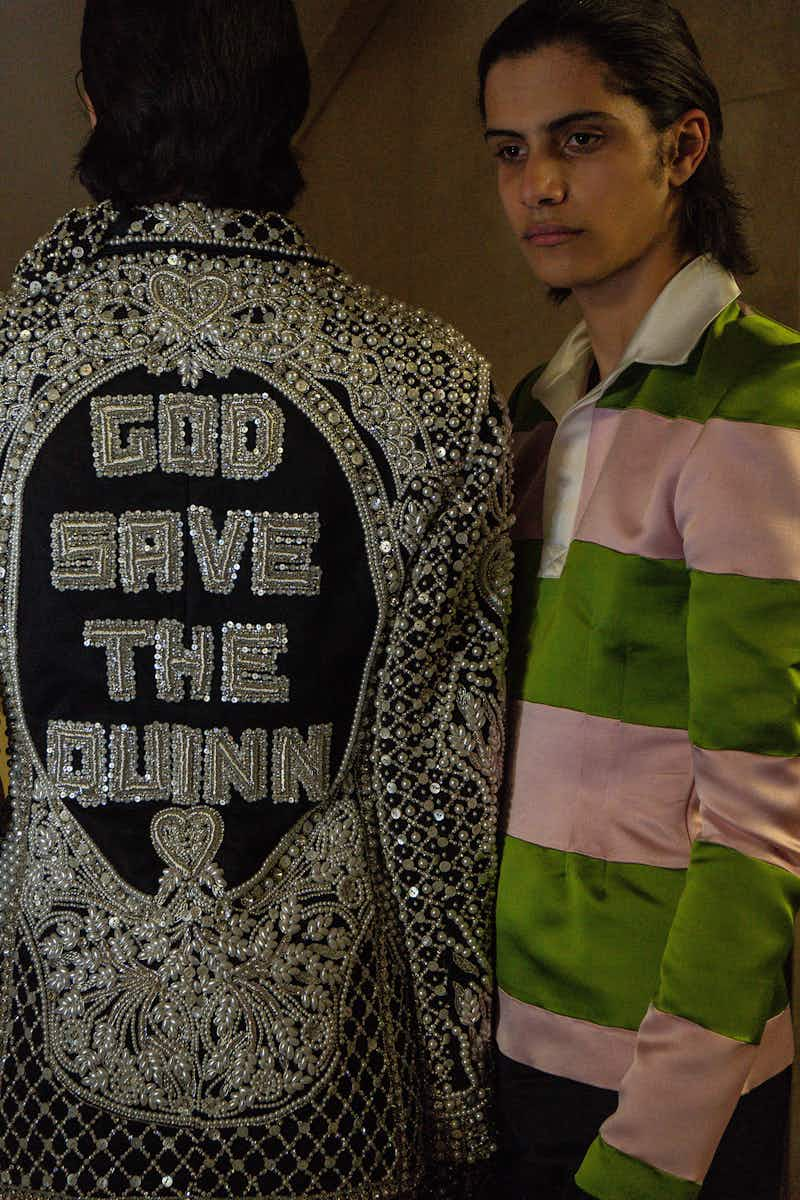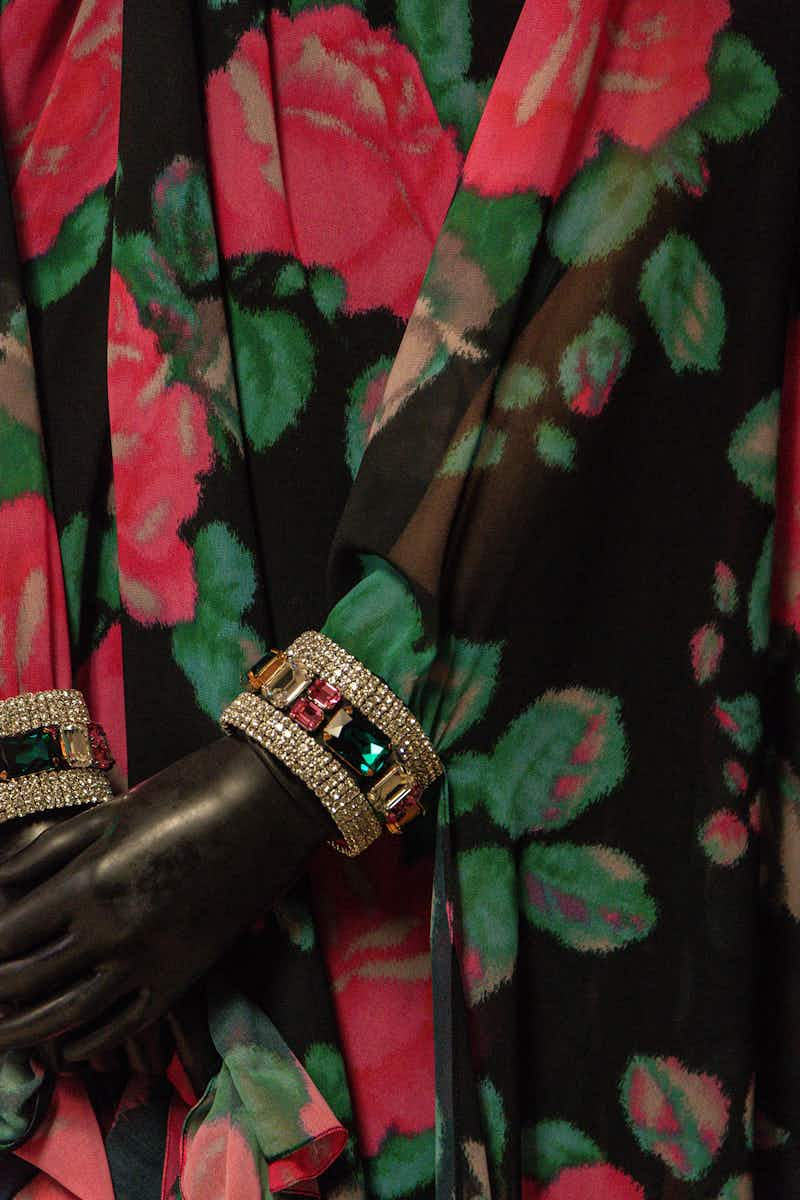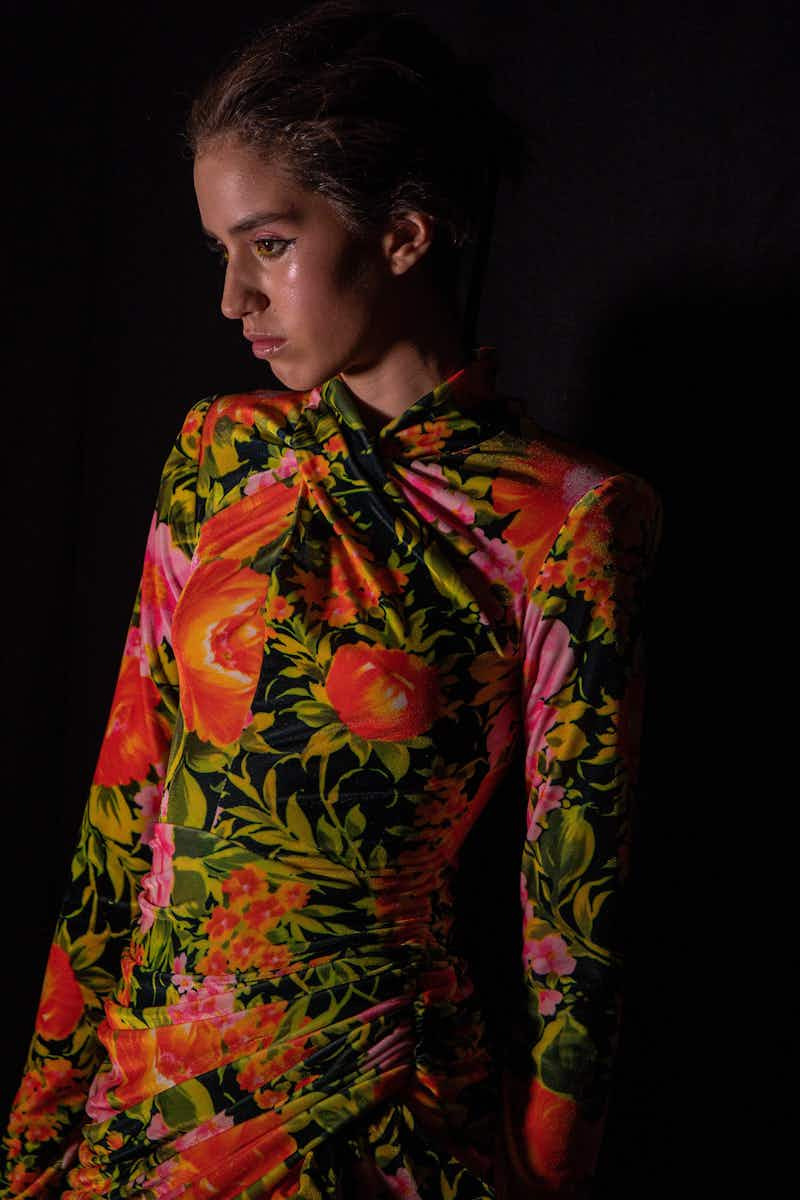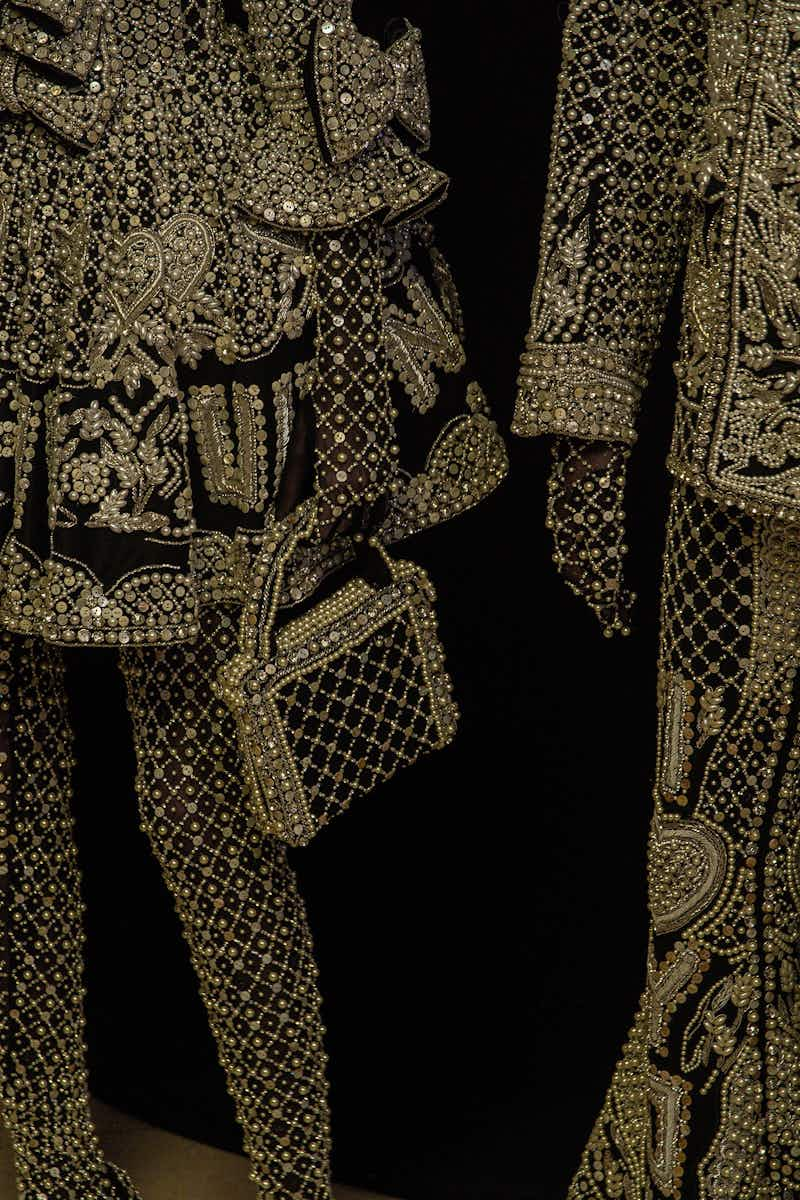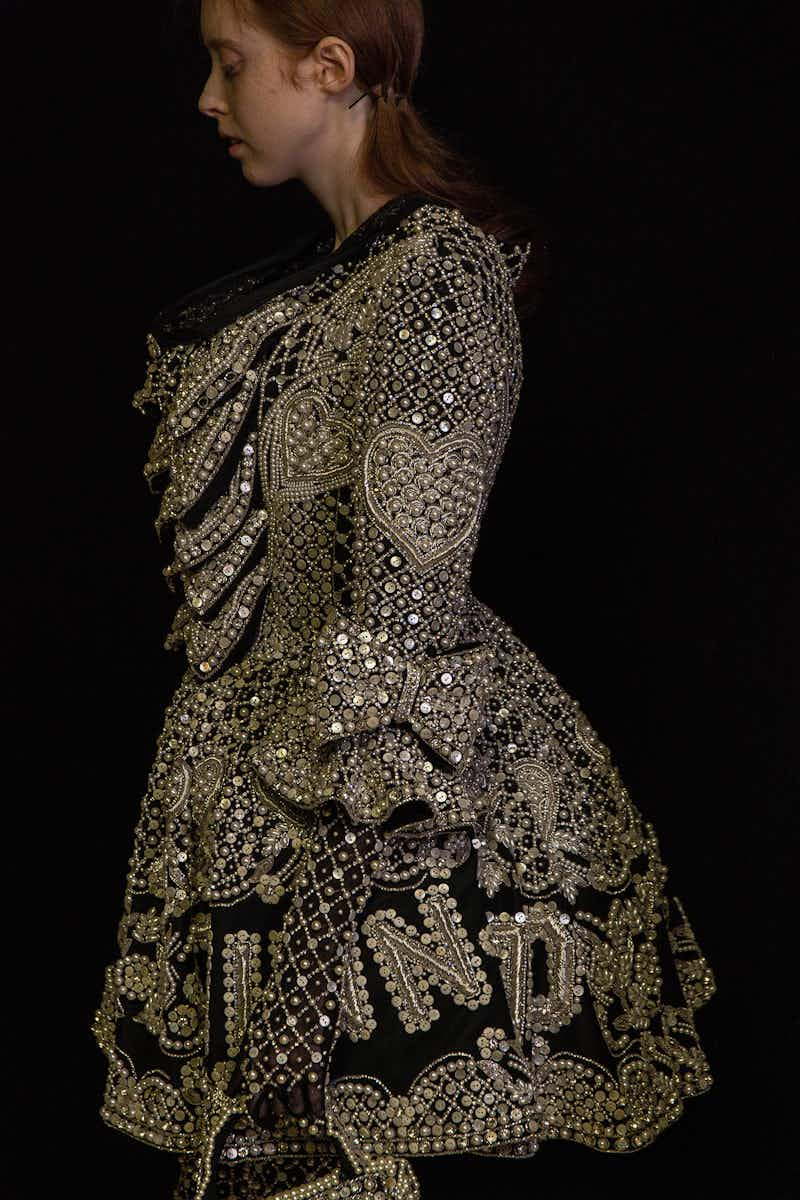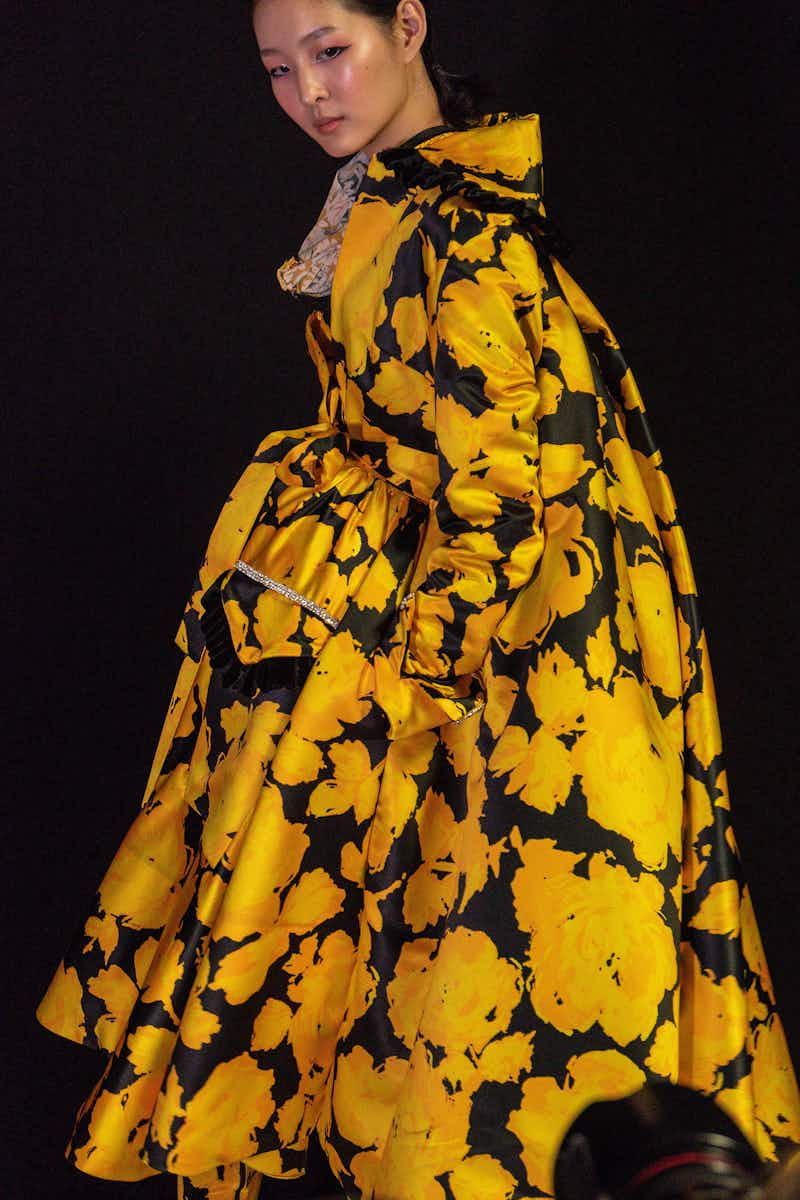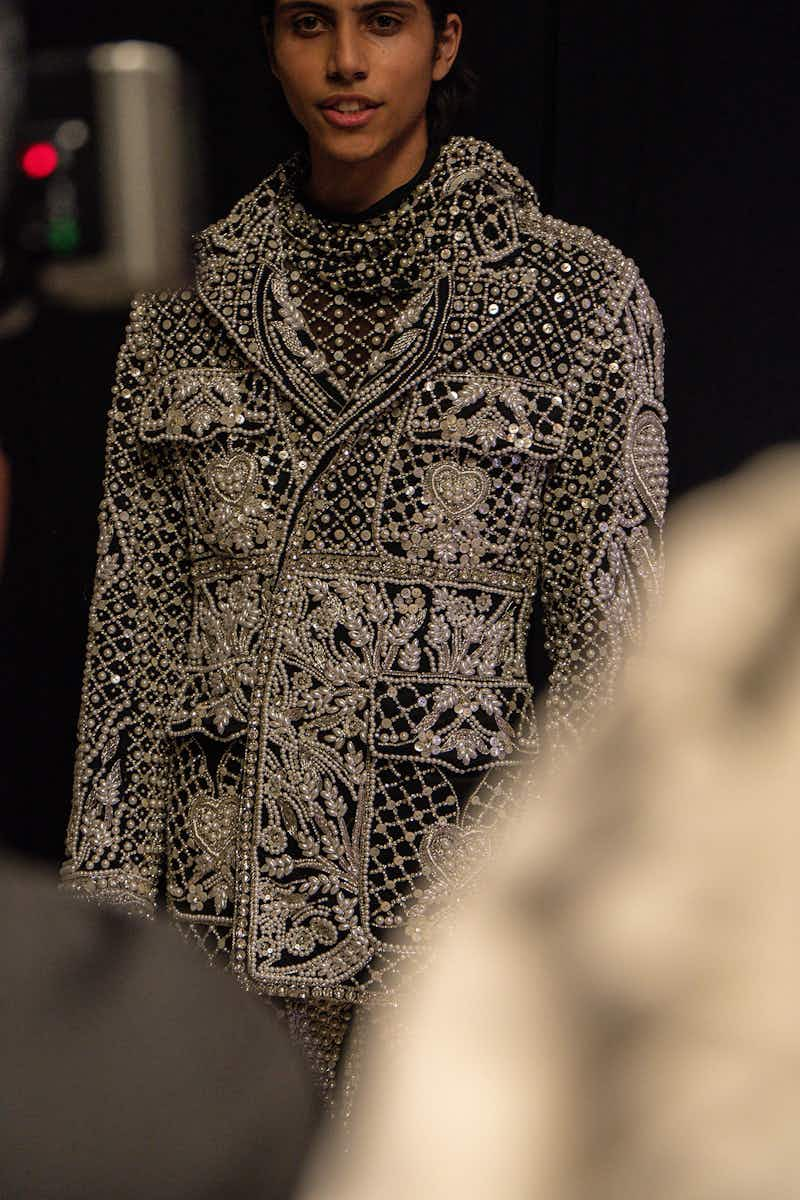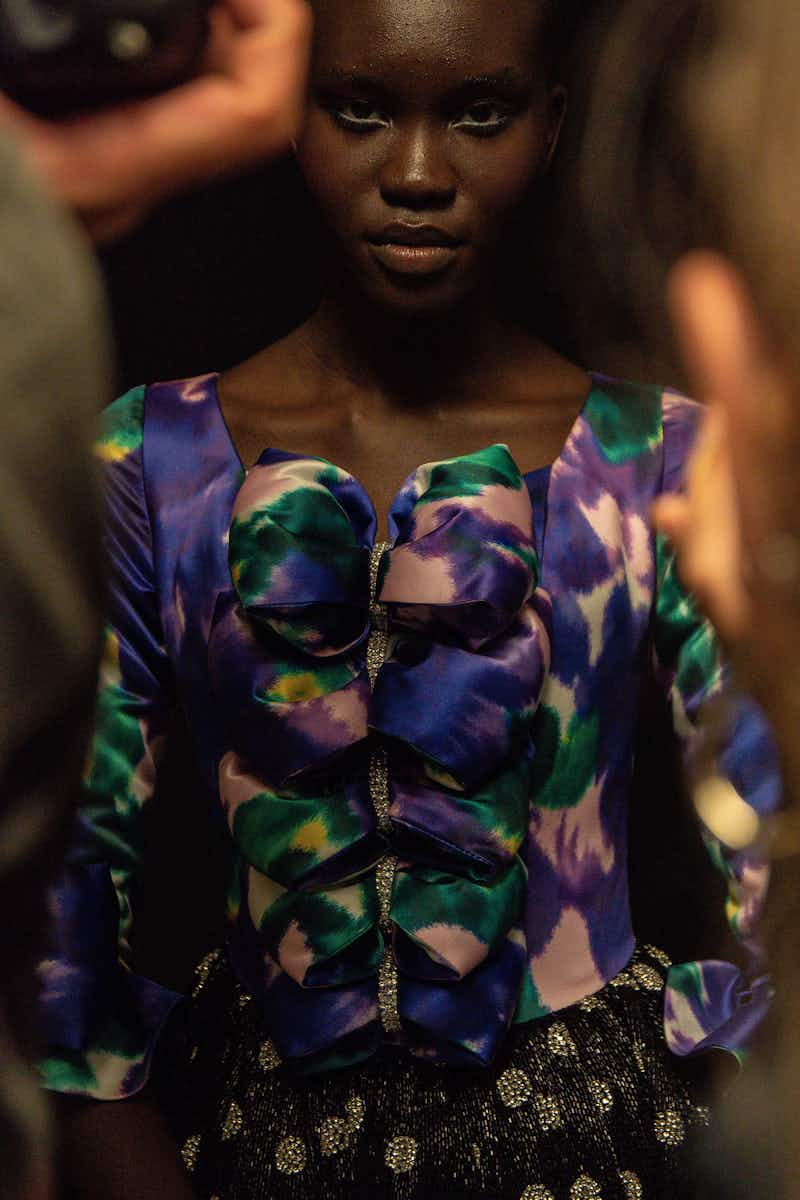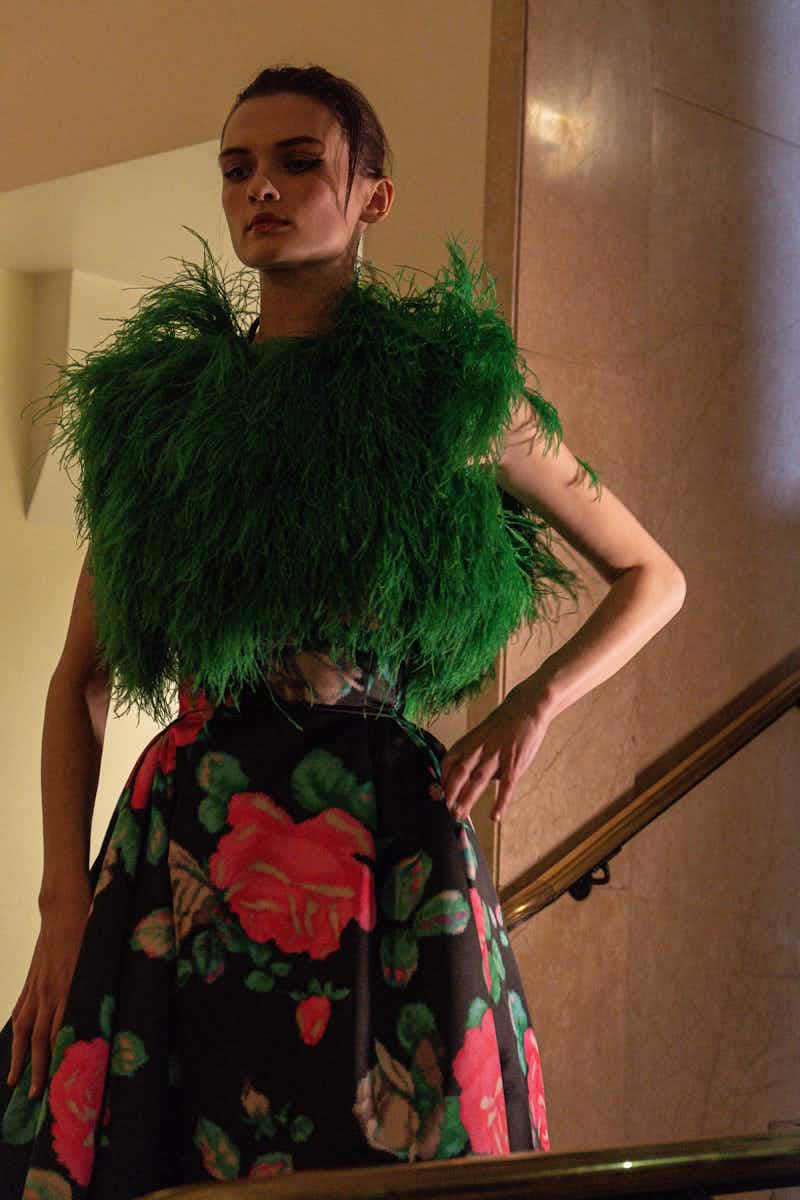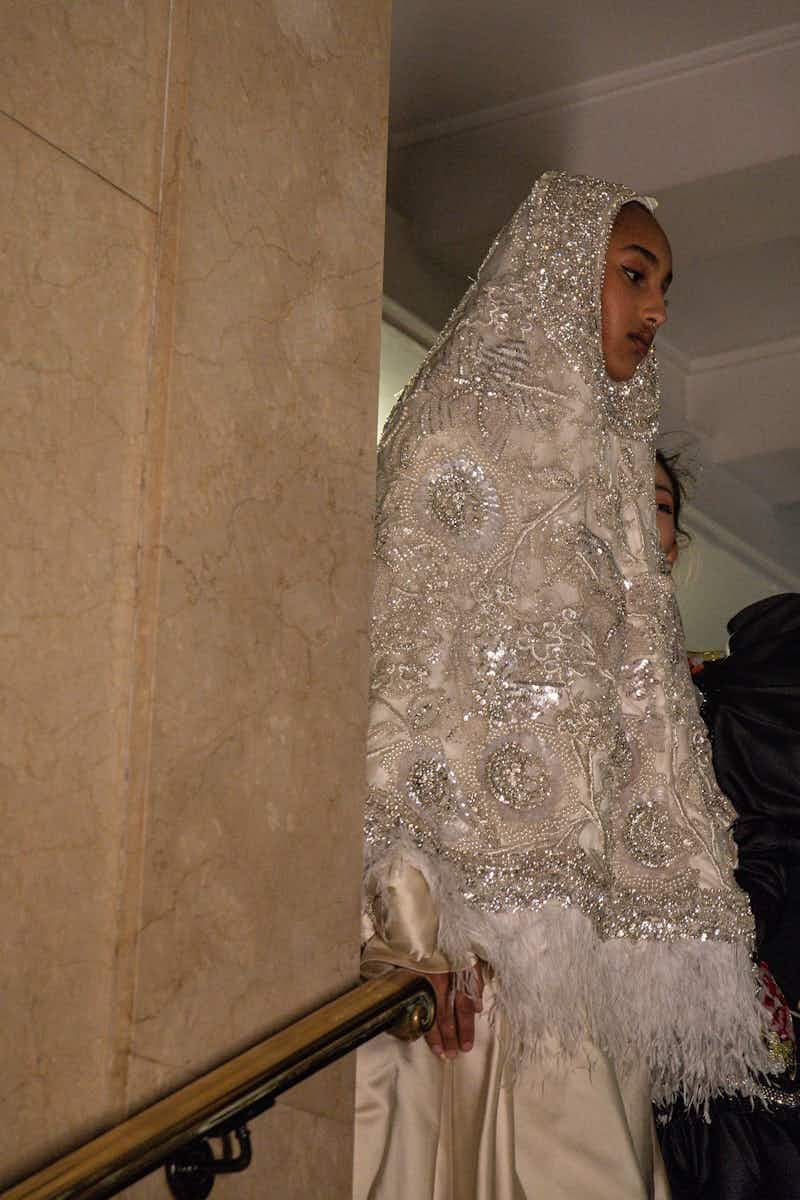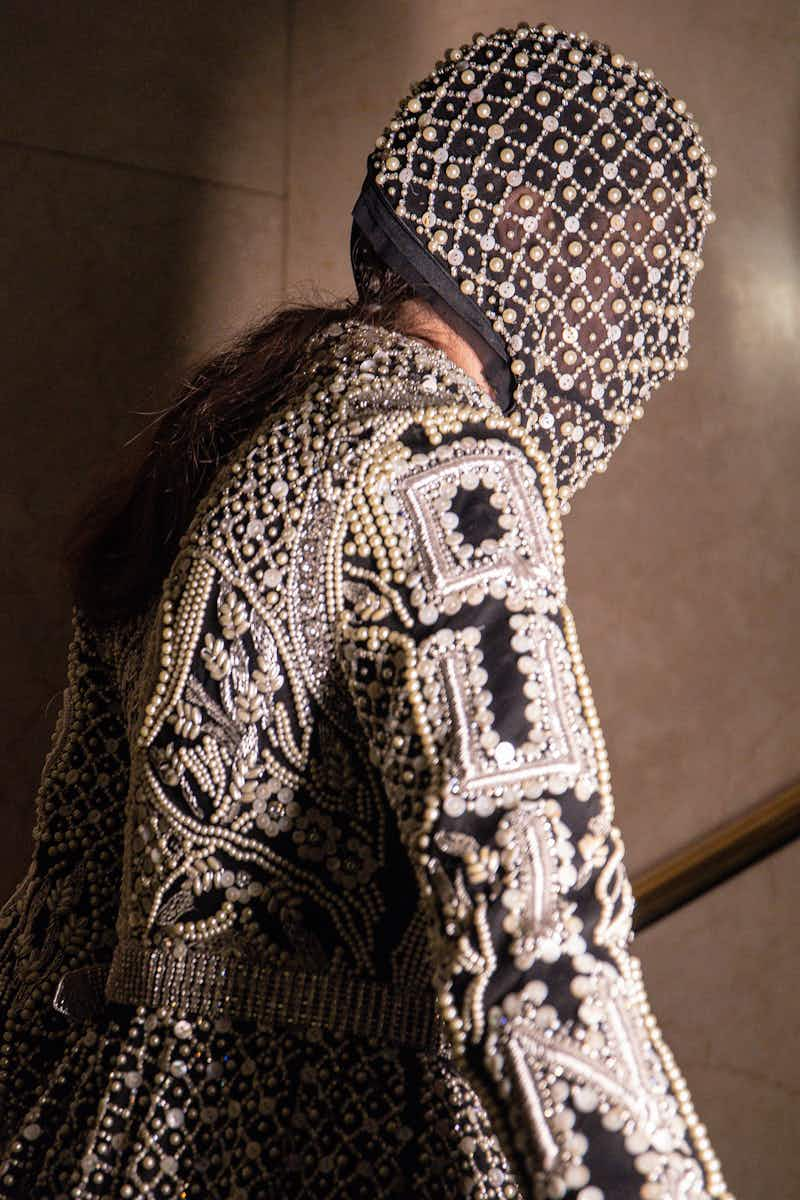 What did it sound like?

A pounding beat swiftly transitioned into the sweet and soulful voice of Welsh singer-songwriter Hannah Grace, allowing for a serene, reflective moment. (Check Lady Gaga's Twitter for a YouTube video of Hannah singing that she captioned ​"superstar".) Hannah closed the show with a cover of ABBA's Dancing Queen. BM.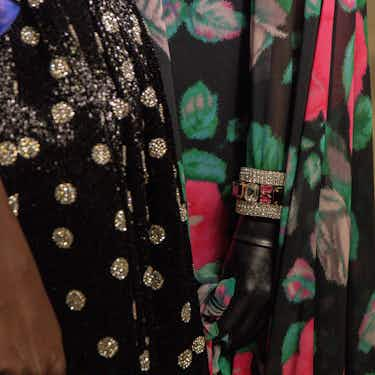 Listen now:

The sound of Richard Quinn AW20
MIMI WADE AW20
"I wanted [to create] this slutty, empowered Americana thing," says Mimi Wade of her AW20 collection backstage. The Prodigy's Firestarter cued Wade's signature babydoll dresses and Hollywood prints, but Wade's most ambitious collection to date sees waist cinching skirt suits in iridescent royal blue, a bold lipstick red evening dress with a super-super high slit and a Studio 54 denim jumpsuit take centre stage too. The designer's first point of reference was the latest DC release, Harley Quinn: Birds of Prey, starring Margot Robbie and Quinn's influence came through in pom-pom bags, argyle pattern dresses, mini skirts and tough, white thigh high boots. To close the show, models walked to Rui Da Silva's dance classic Touch Me, as it welcomed the optimistic next chapter for the designer, diamanté details and visible thongs included. TS.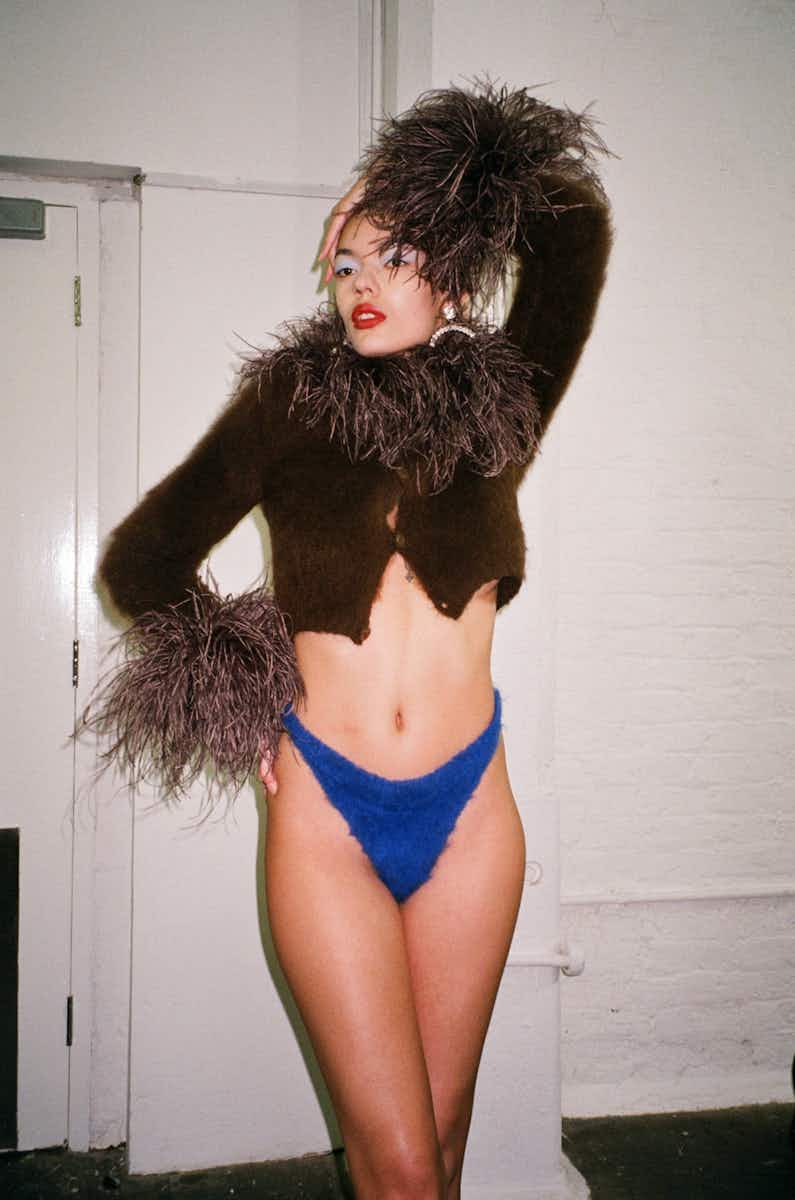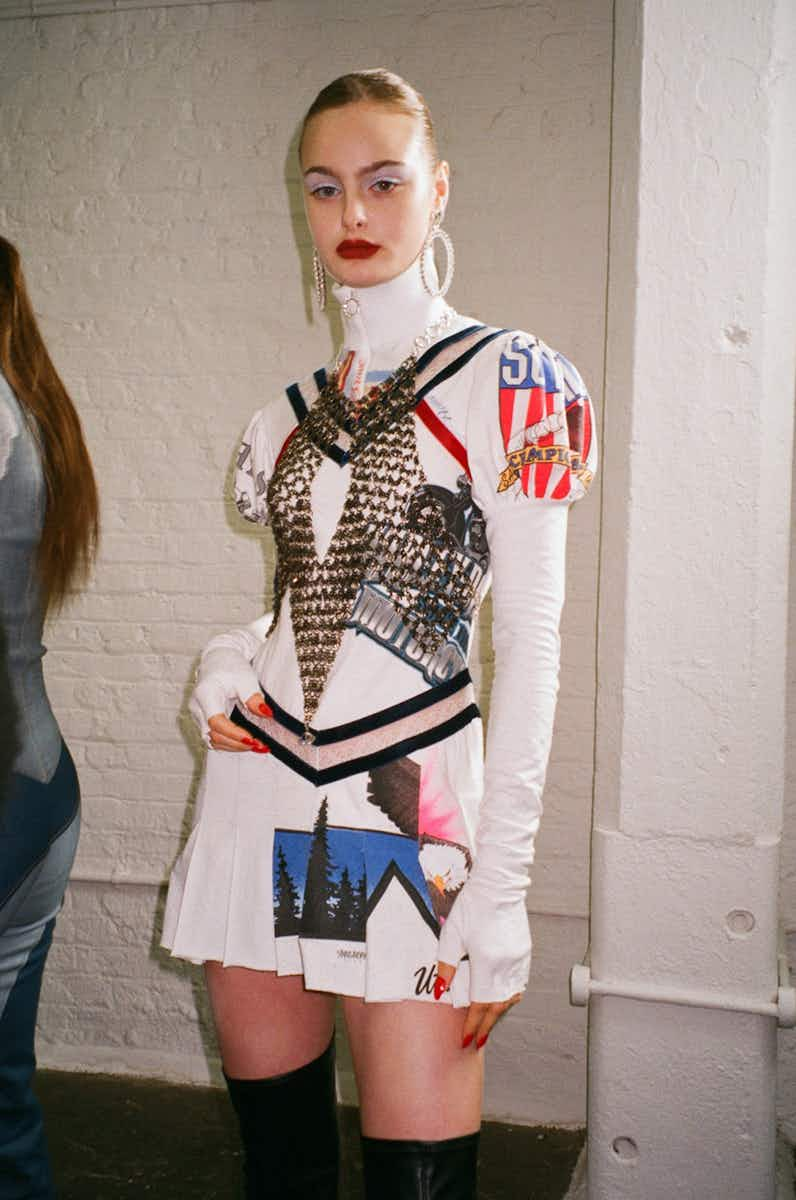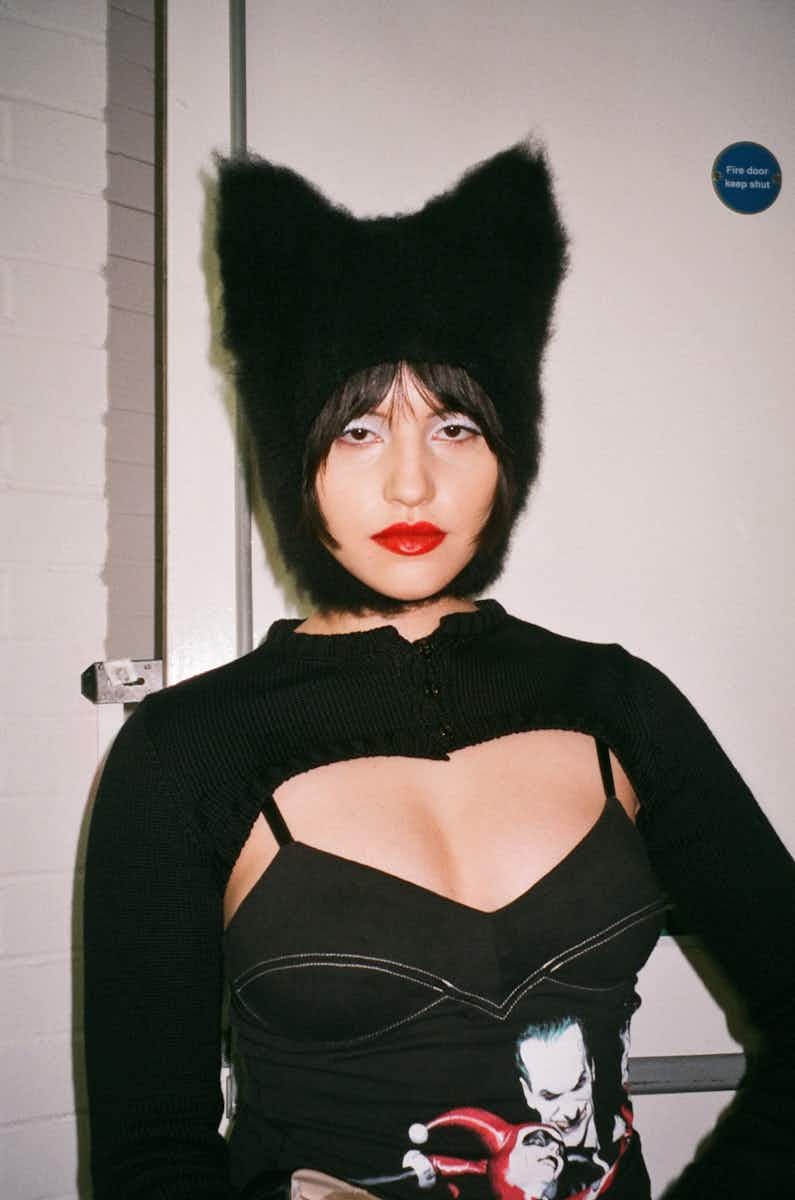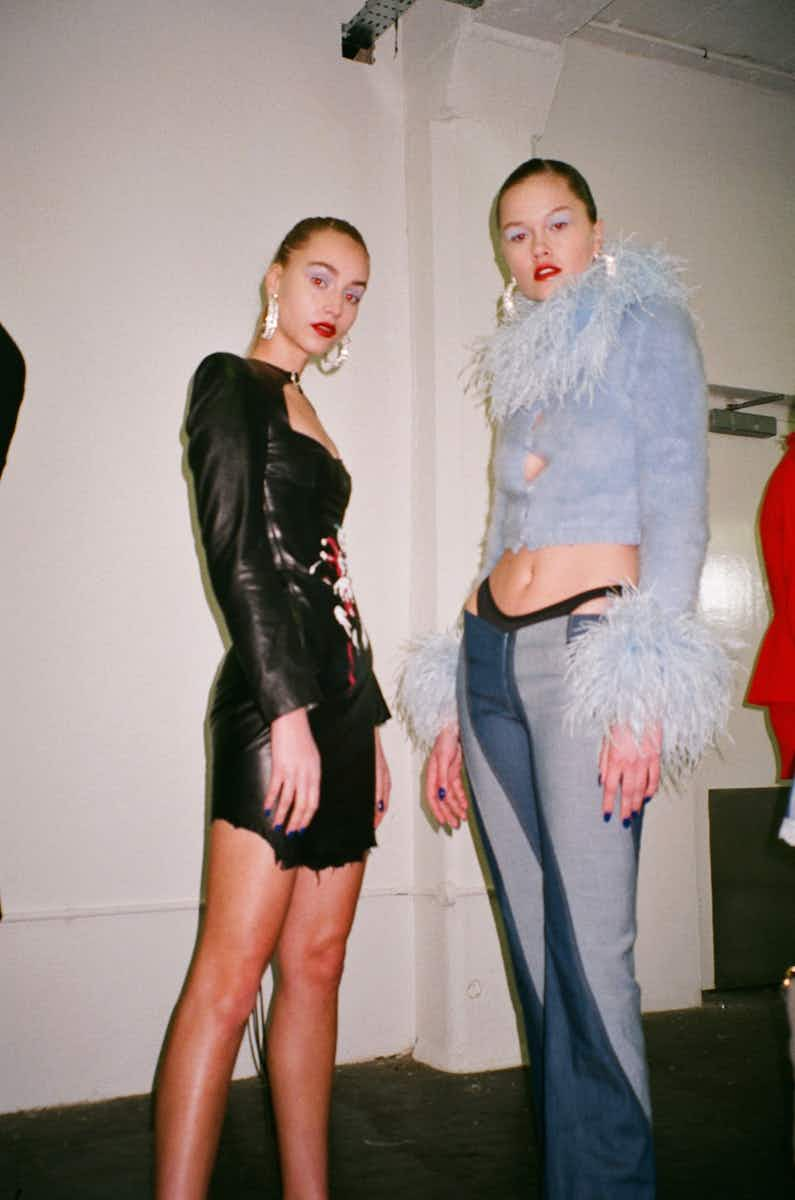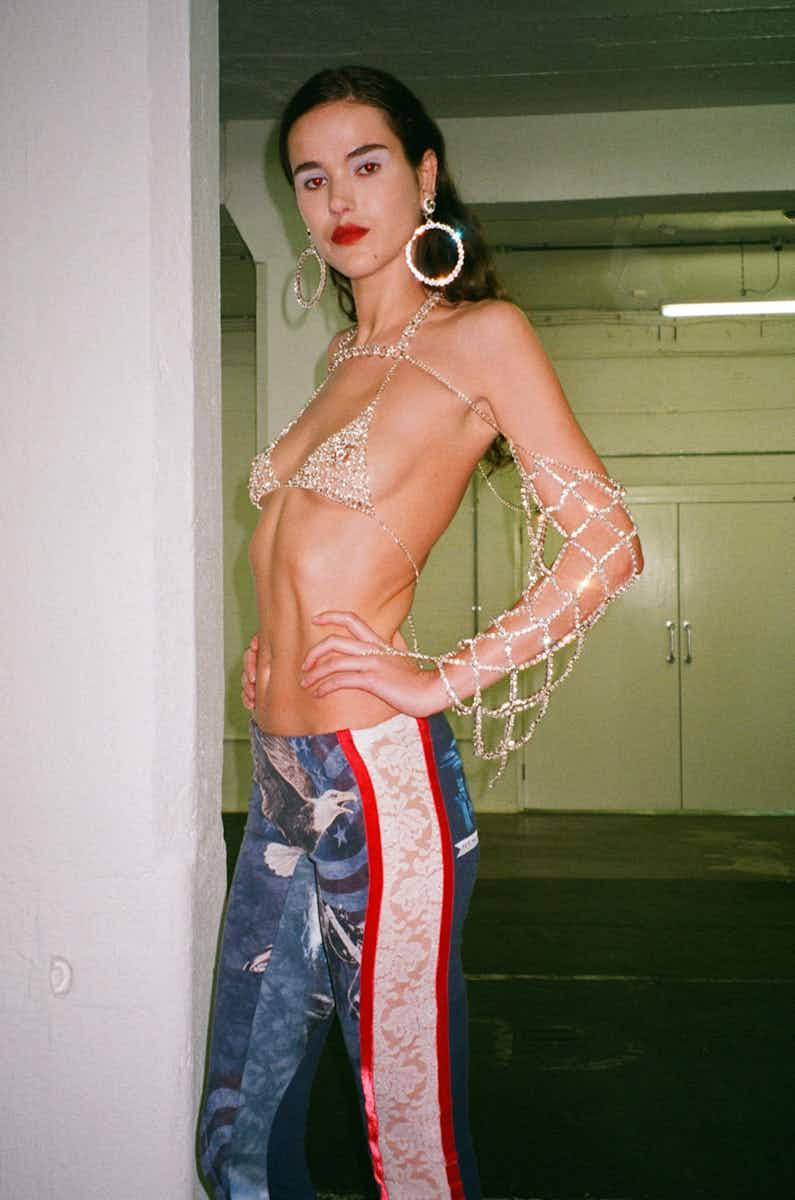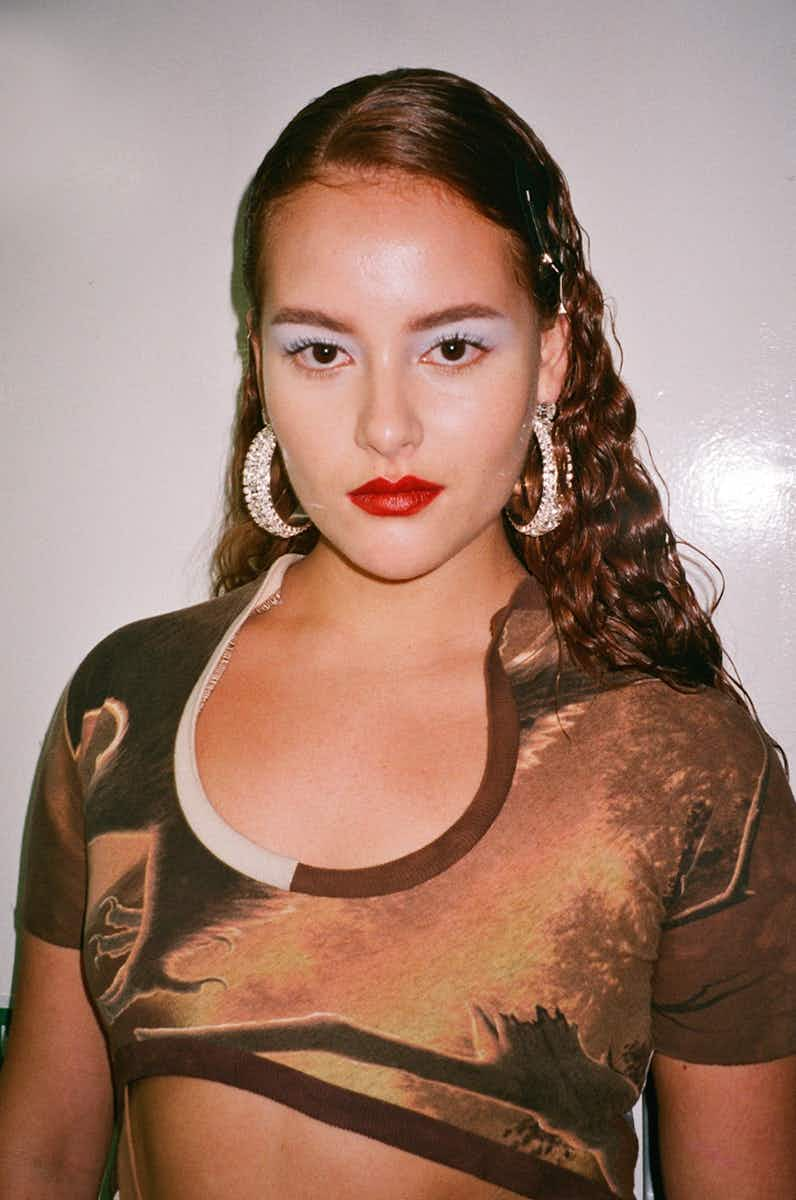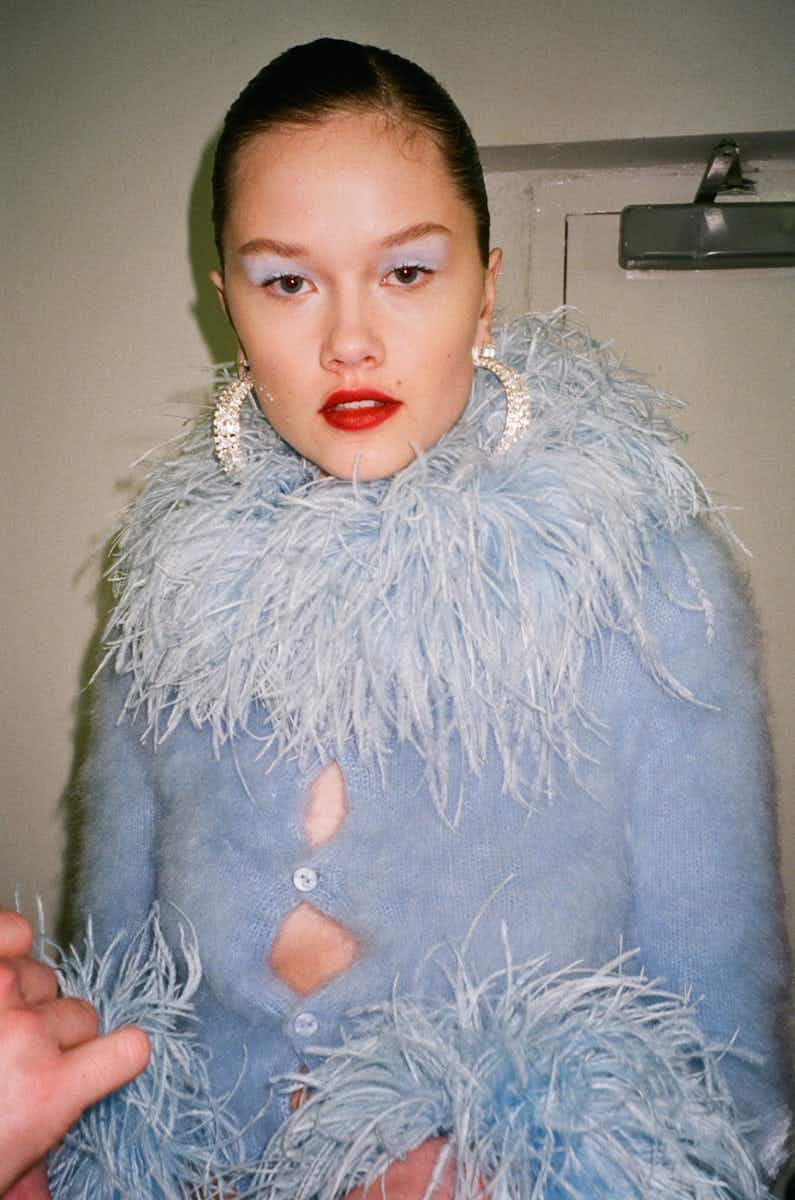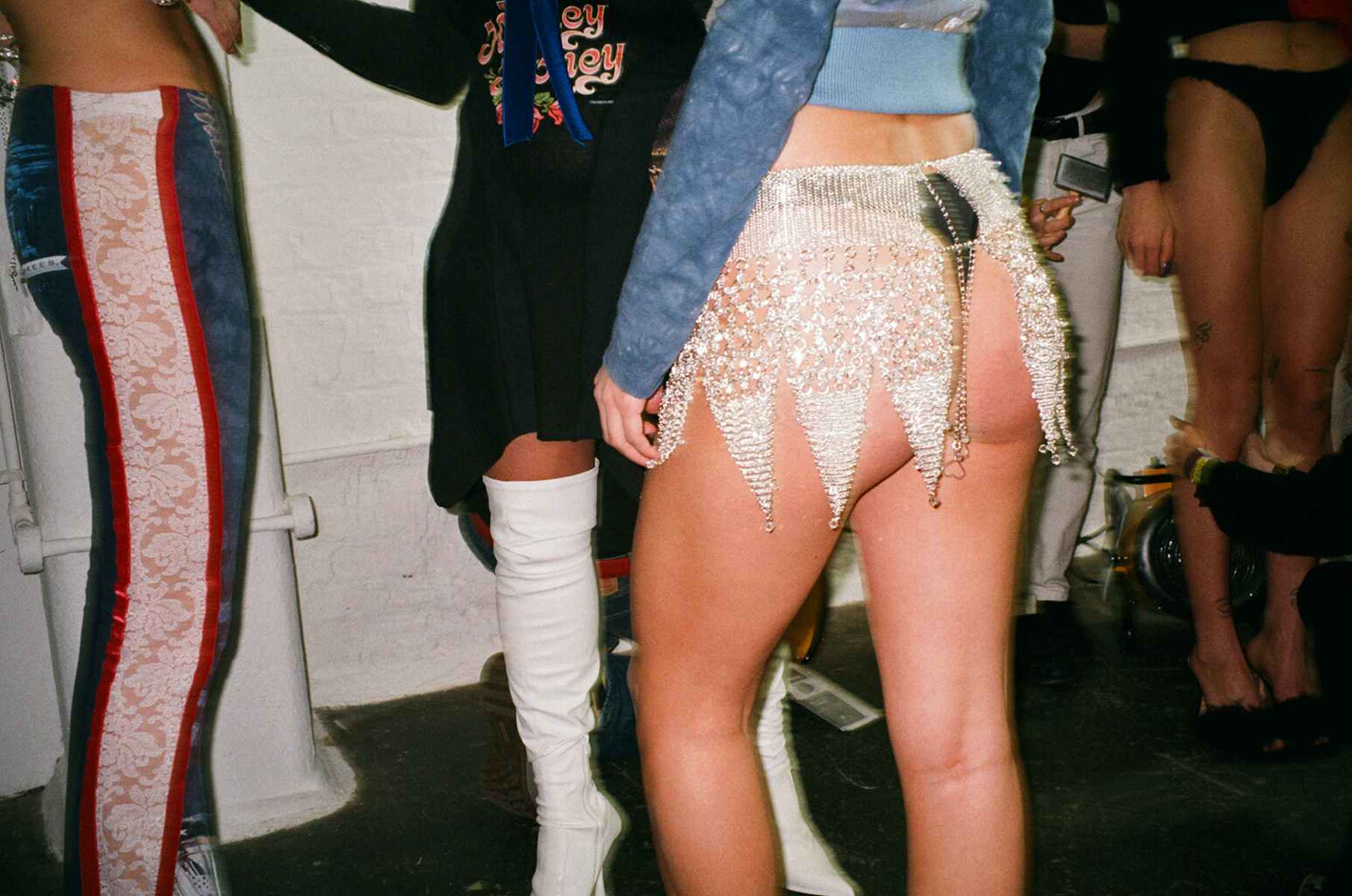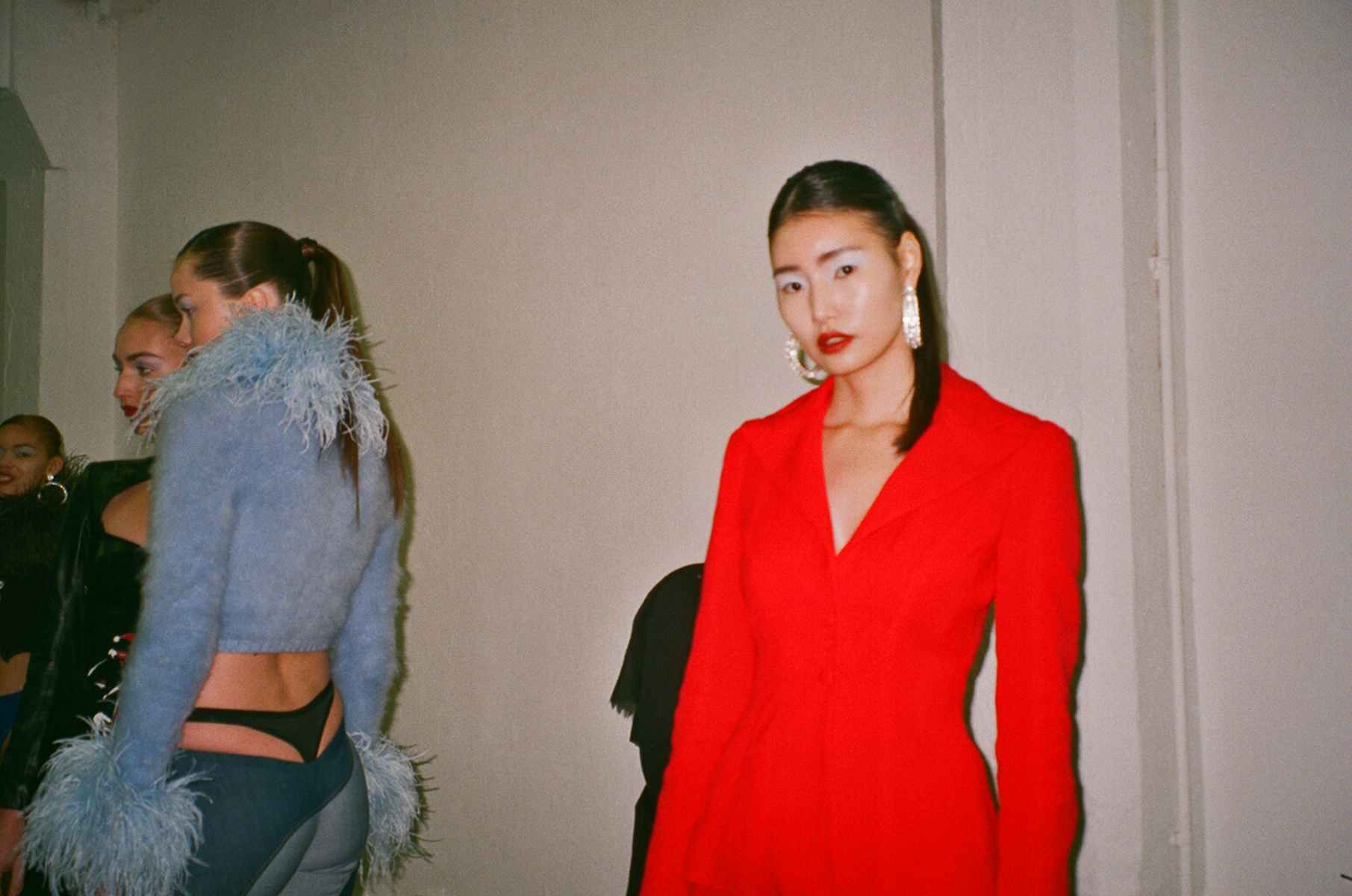 MOLLY GODDARD AW20
Molly Goddard knows how to look after her guests. Taking place at Central Hall, Westminster, showgoers were seated at intimate dining tables laid out with bread and butter, sparking water and wine – a welcome treat for those who skipped lunch in the name of fashion. This season, it was all about layering: signature voluminous dresses in cobalt-blue, peach and blood-orange were layered over knitted-by-nana jumpers in equally-as-vibrant, contrasting hues. Others were worn over plaid trousers, topped off with a knitted beanie hat complete with a stiff bow.

Of note:
Menswear! Goddard's AW20 collection included four menswear looks — inspired by her boyfriend, Tom, who's often asked her to design clothes for him — from dusty-pink and kiwi-green checkered suits to a shrunken spinach-green crafty cardigan. BM.

MARQUES'ALMEIDA AW20
Rue from Euphoria acted as inspiration for Marques'Almeida's AW20 collection. The show notes started with a quote from the character played by Zendaya: ​"I didn't build this system, nor did I fuck it up." So what does that mean? With the help of their go-to gang of girls, Marta and Paulo's AW20 collection set out to explore what it means to be young and inquisitive today.
What about the clothes?
A turquoise, raspberry, orange and ink-blue watercolour print appeared throughout the collection, toughened up with black boots, while softer looks came in the shape of a dusty-pink two piece look with frills cascading down the front and a sheer organza desert-print dress. Knitted co-ords were peppered with feathers and silk frills, while denim came bleached and dyed lilac and lime-green.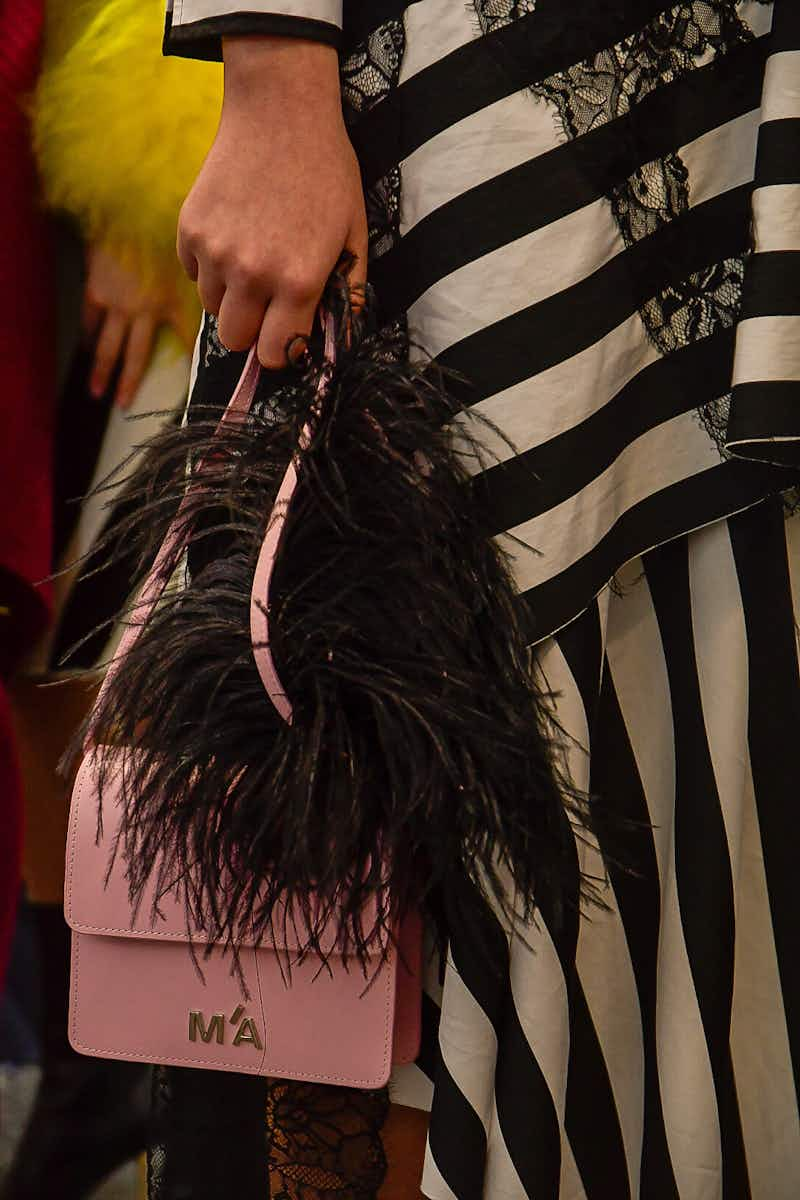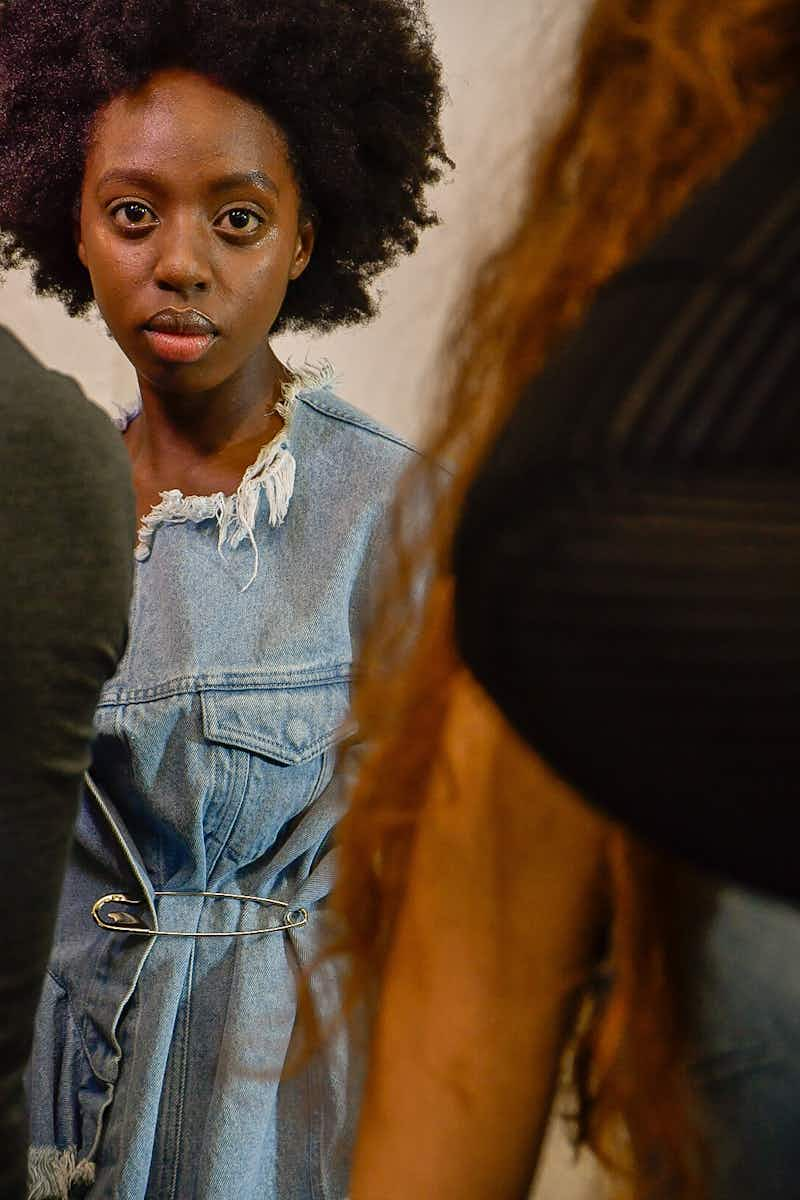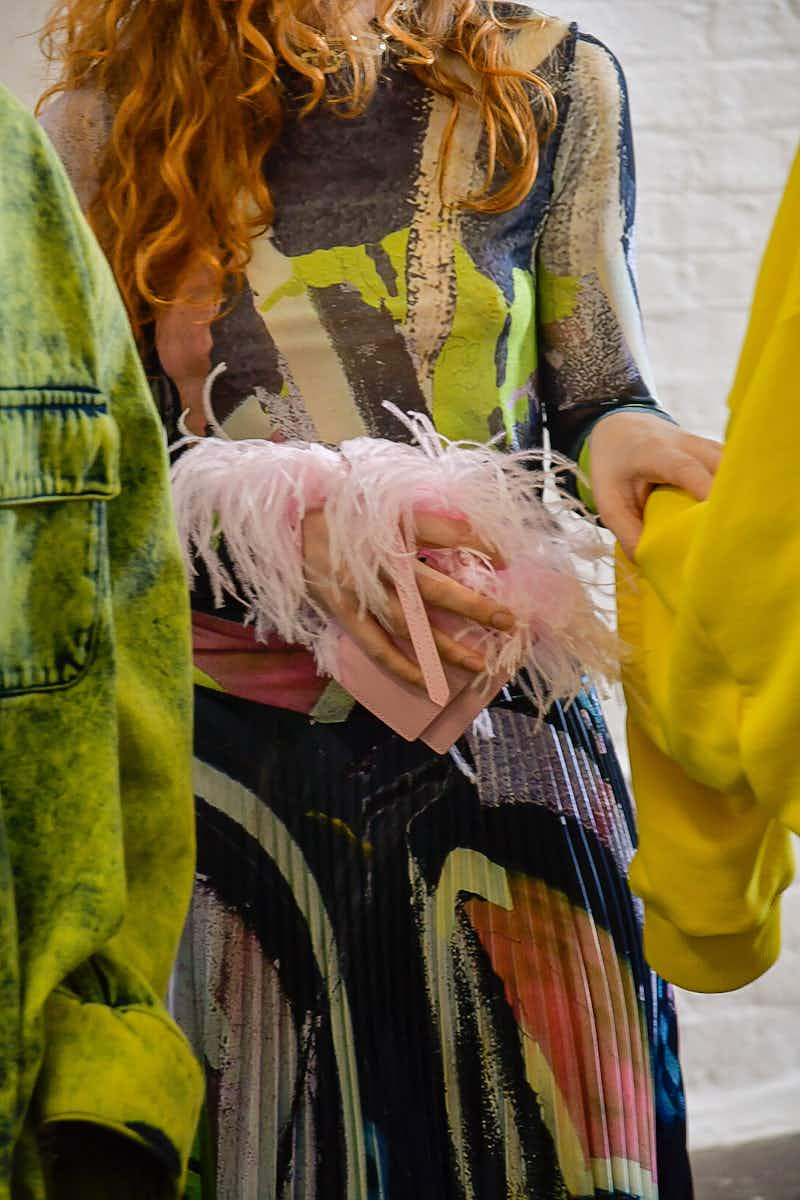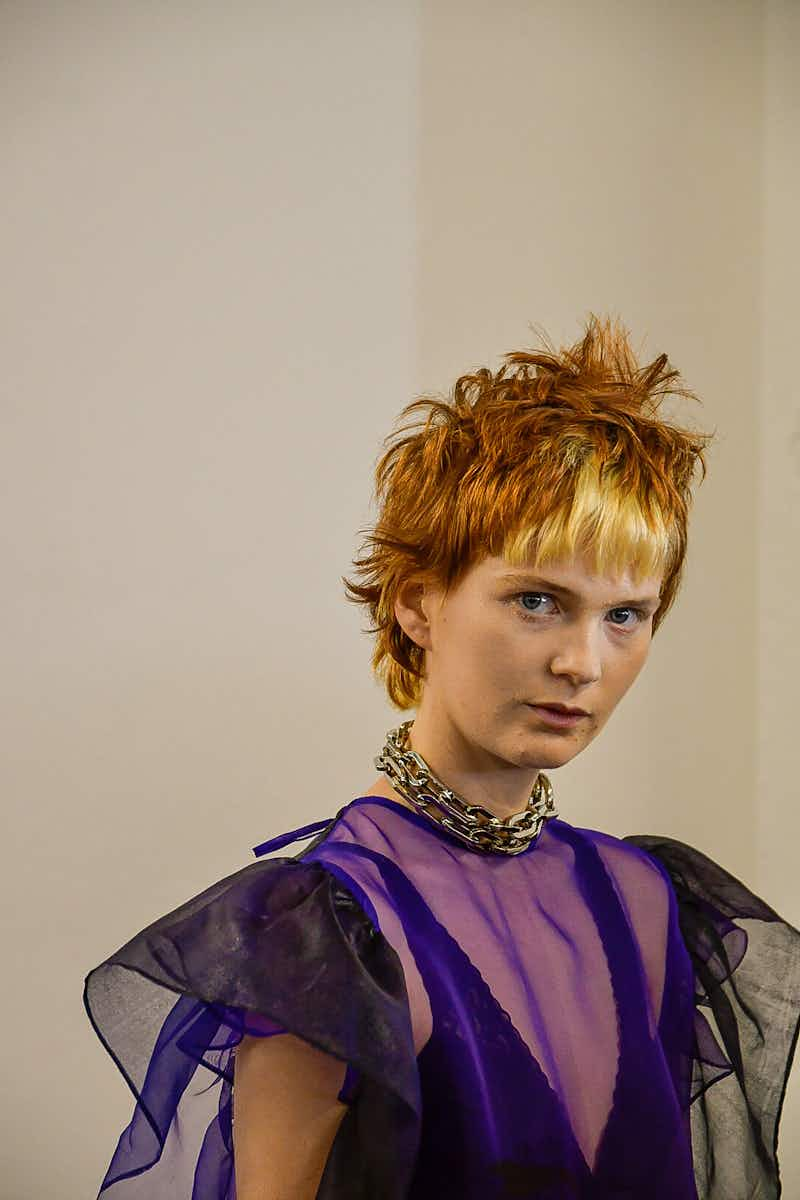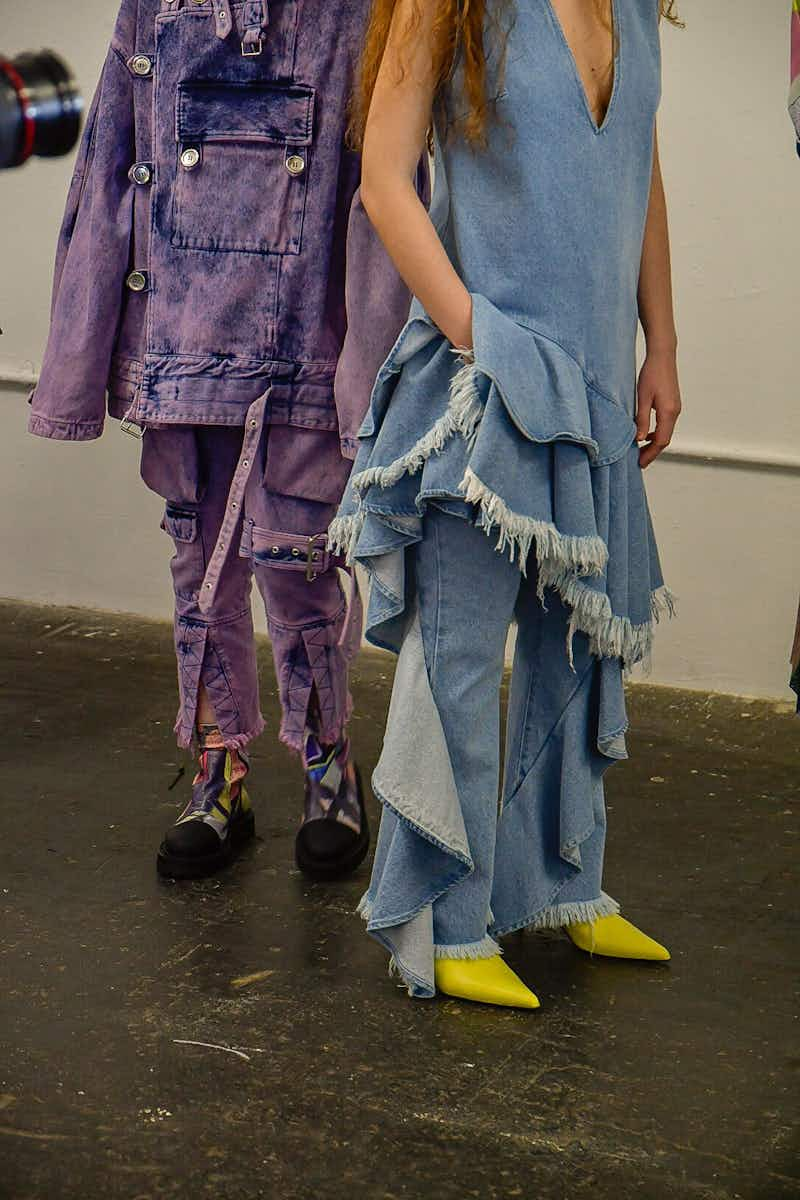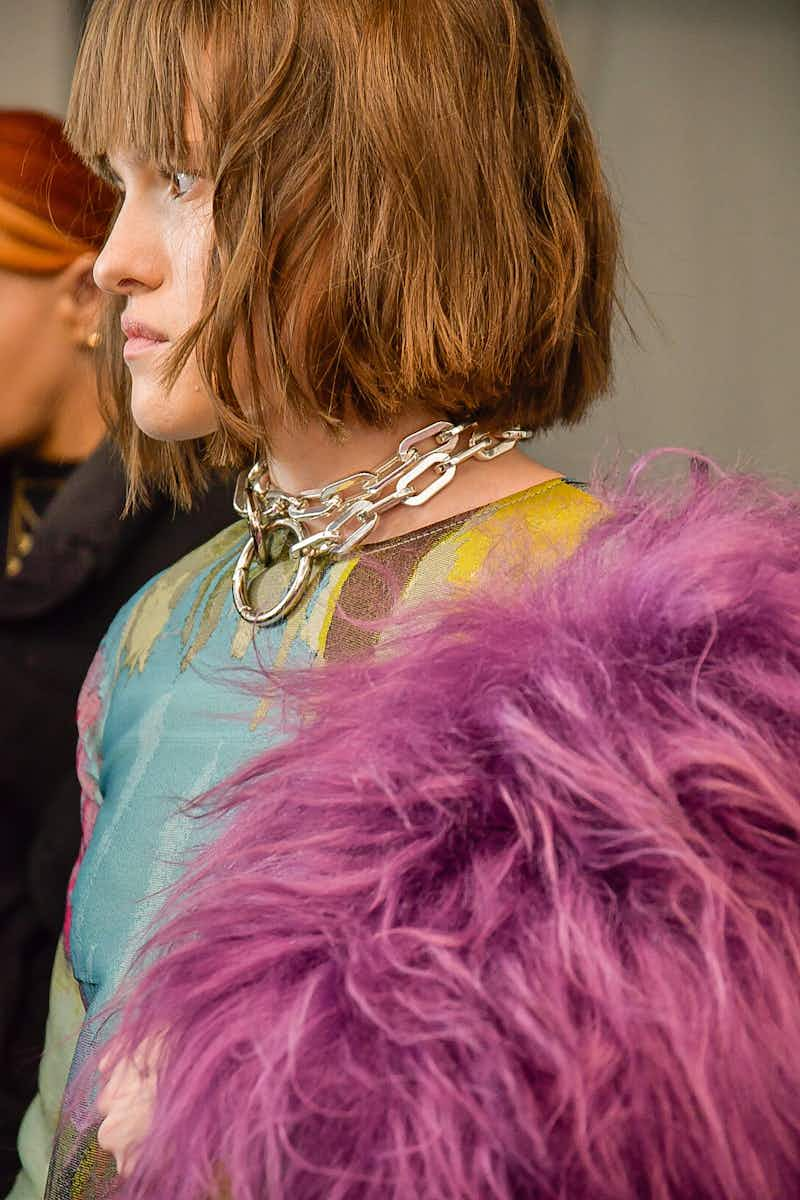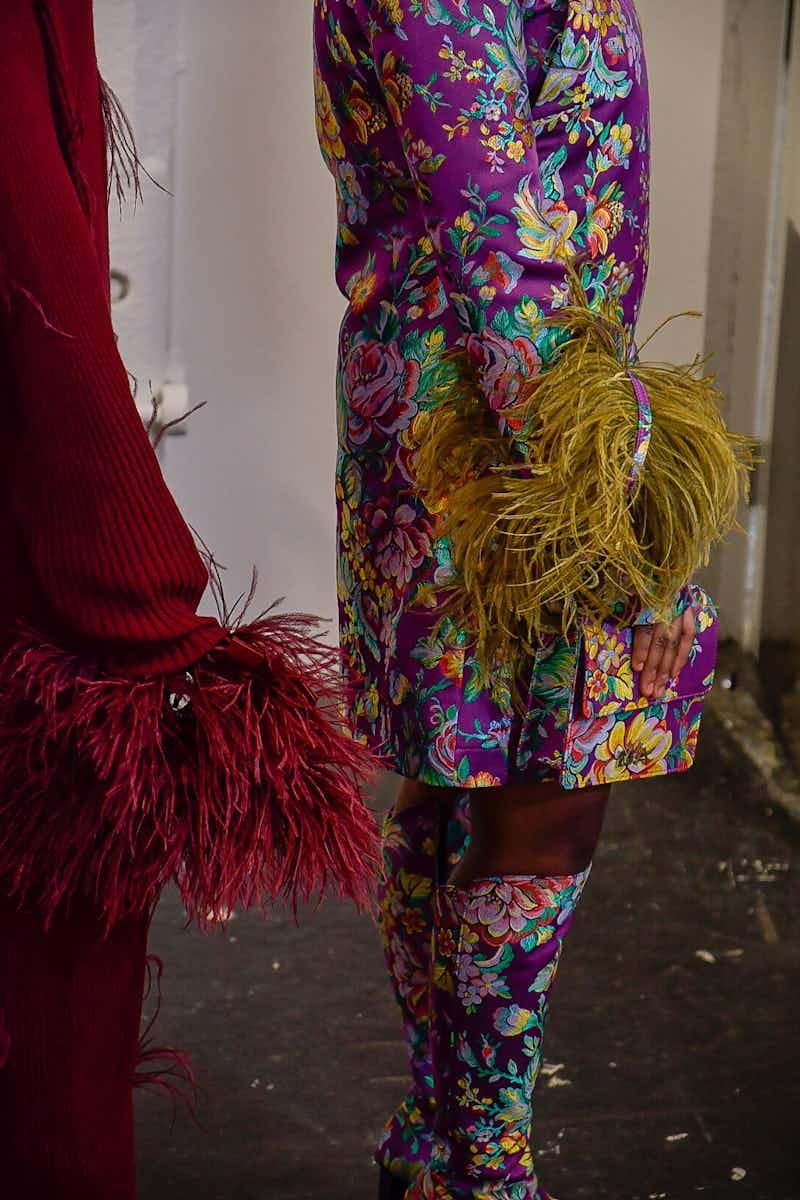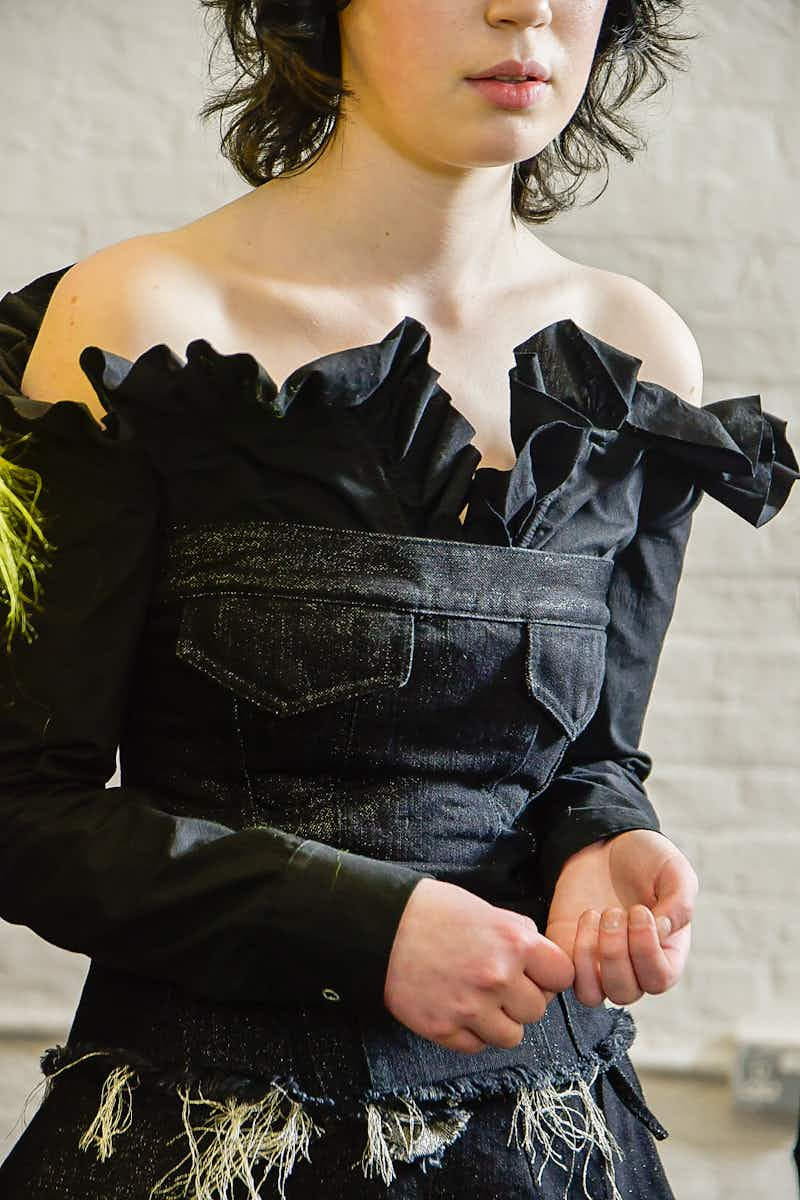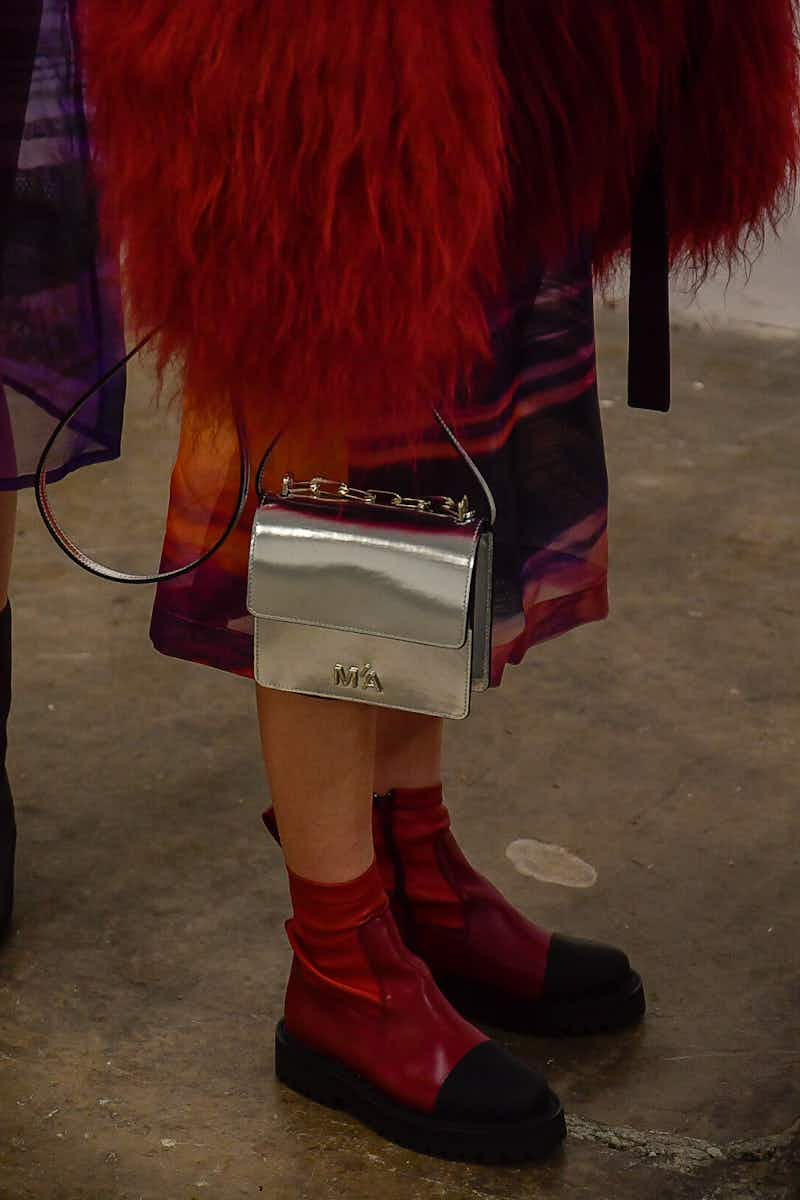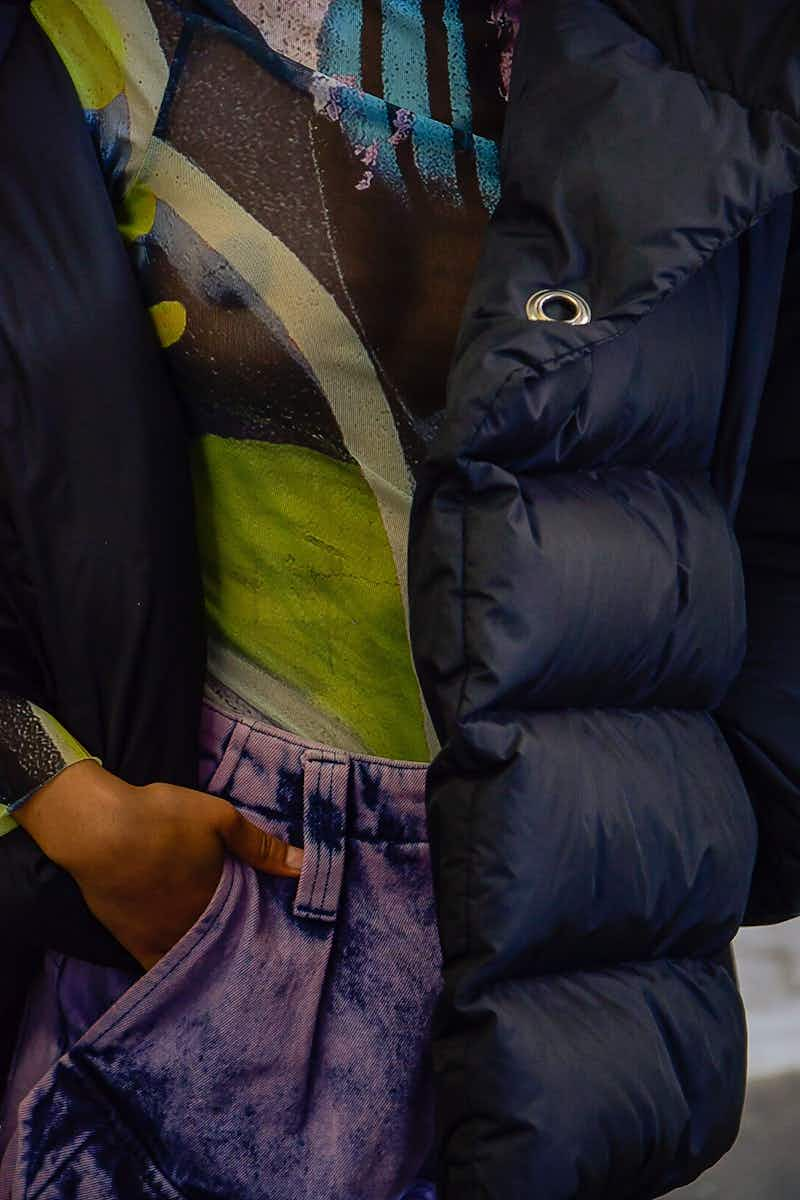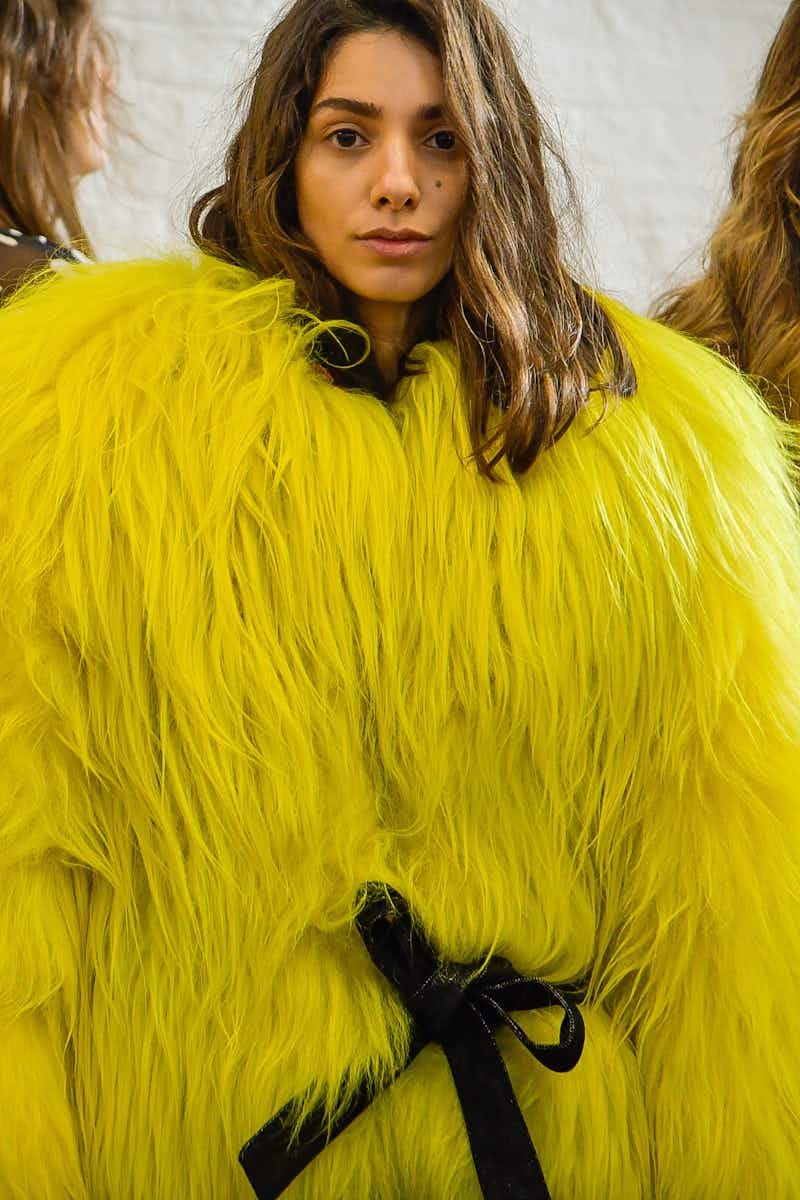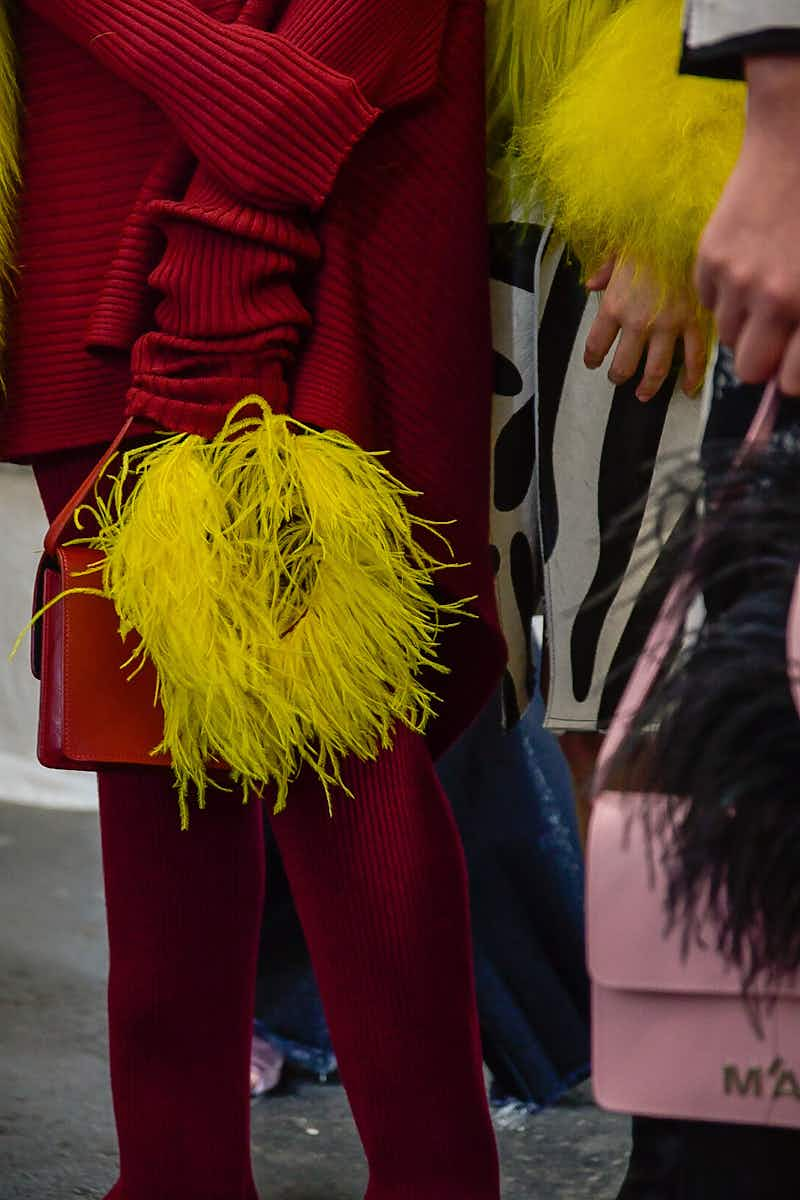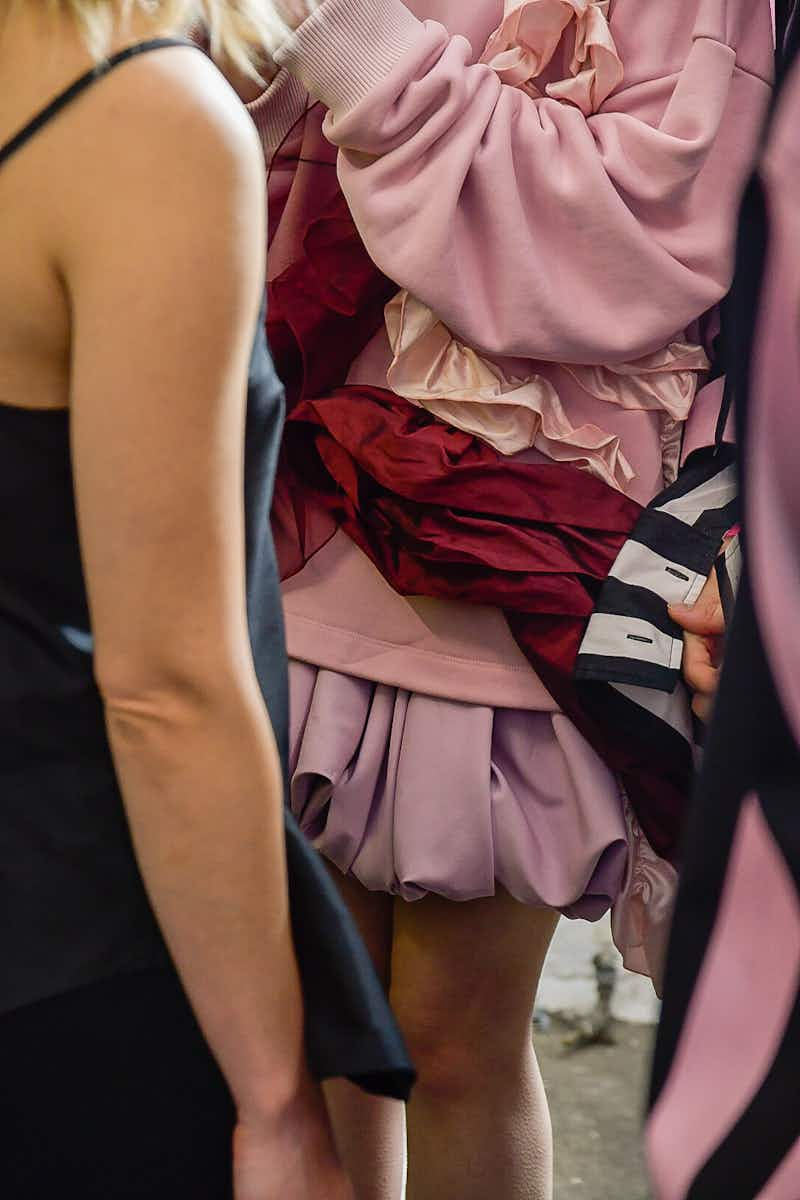 Of note:
The outerwear – as ever. A shimmering black denim trench coat complete with an oversized fur collar, a bold black and white striped jacket with an acid-bright yellow fur collar, a purple pony skin-style coat with matching knee high boots and a Big Bird-esque fur creation. BM.
FASHION EAST AW20
This season's Fashion East line-up: Goomheo, Nensi Dojaka, Saul Nash, Gareth Wrighton and Ancuta Sarca.

GOOMHEO
Goomheo is the latest Central Saint Martins' MA alumni to join Fashion East's roster, presenting a romantic menswear collection. Slick black pedal pushers, lycra cycling shorts and thigh-high mohair socks were paired with revealing mesh tops, while the designer's live of geometry came to life through sharp embroidered crystals placed on denim. It was a psychedelic trip through the highs and lows of true romance, with intense pleating and reptilian-esque fabrics contrasting with softer, sultrier touches of chiffon shown in fuchsia, punchy yellow and cobalt blue. This collection wasn't for the faint hearted. But to be in love is never an easy ride, is it?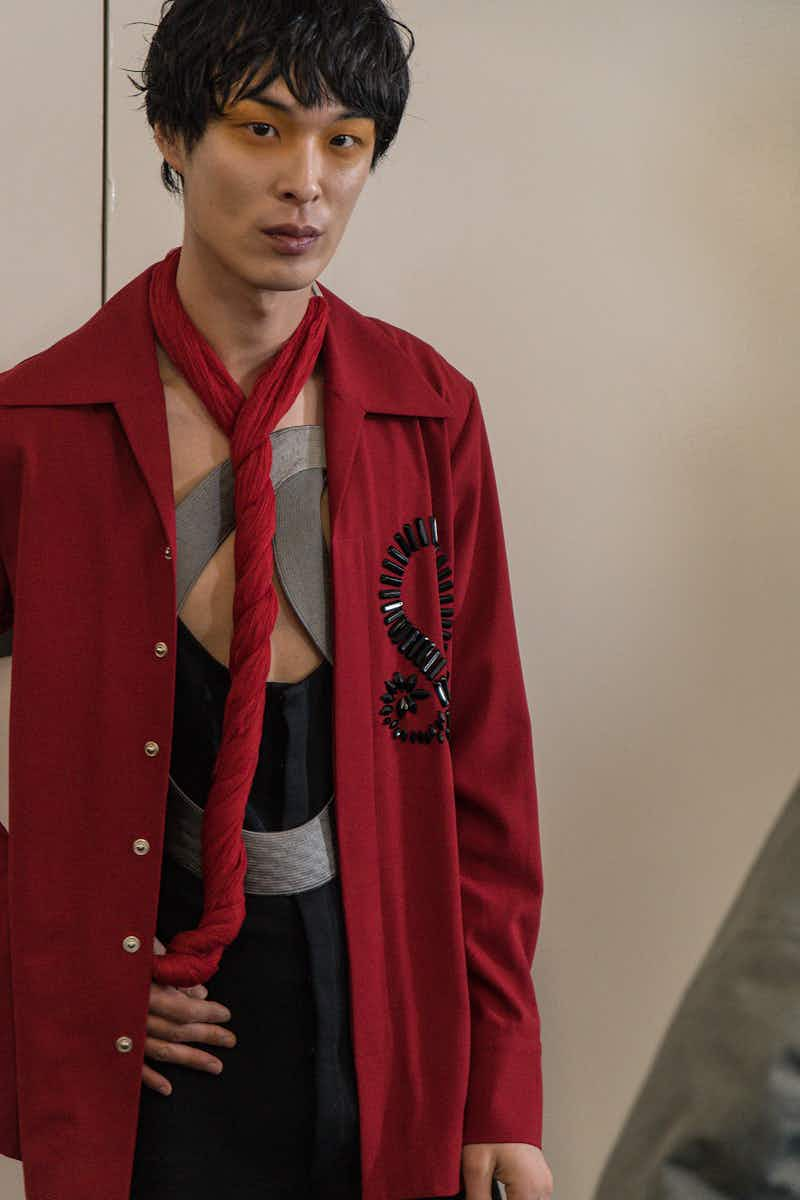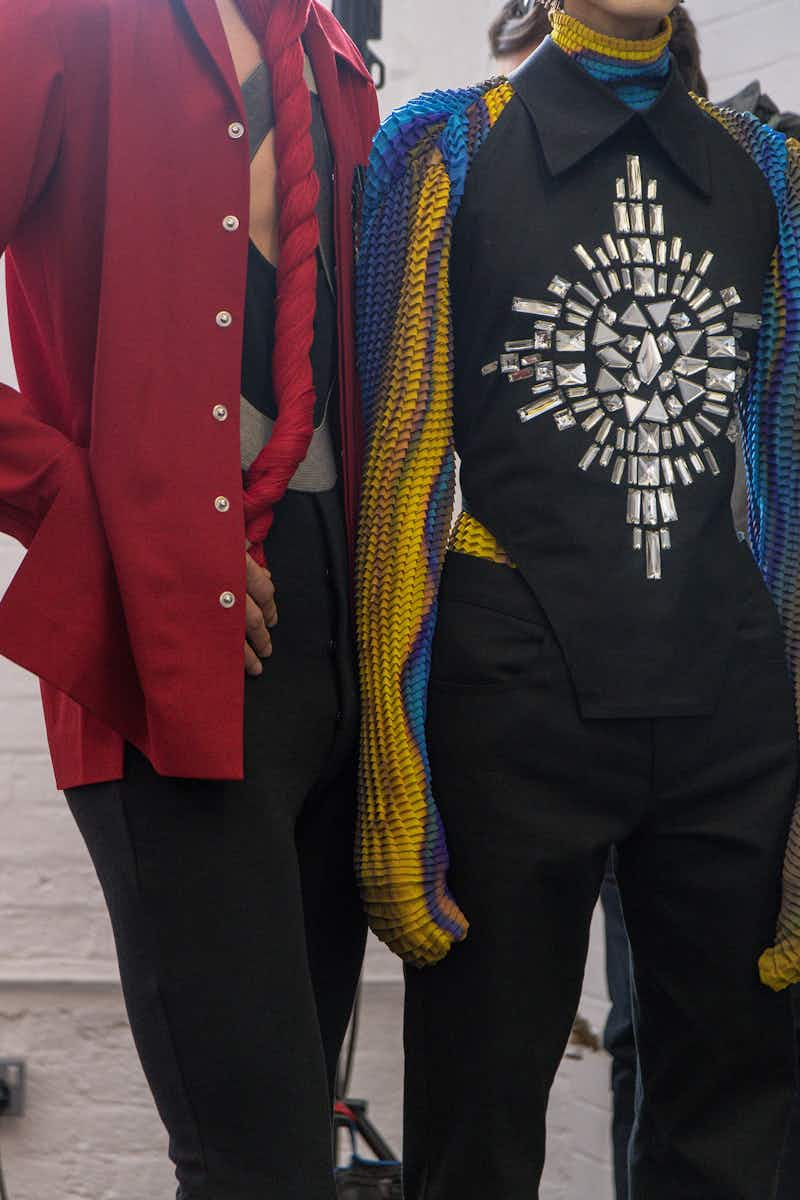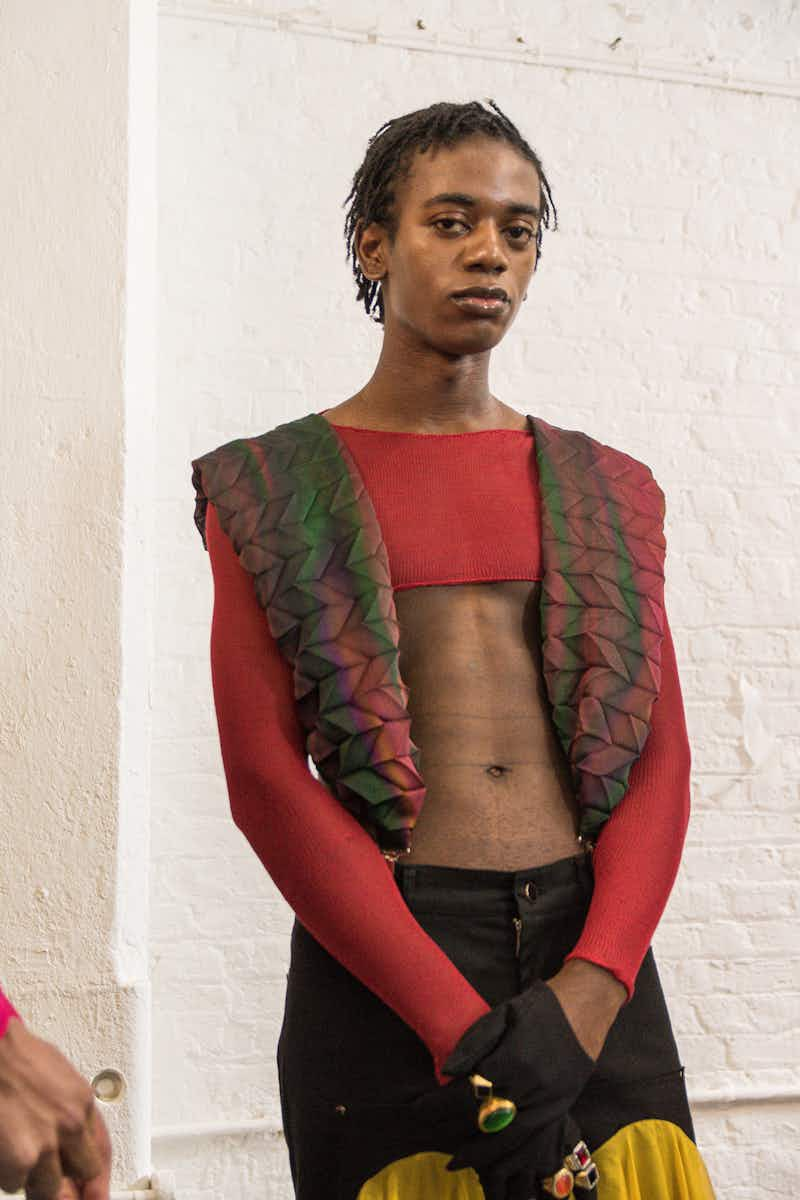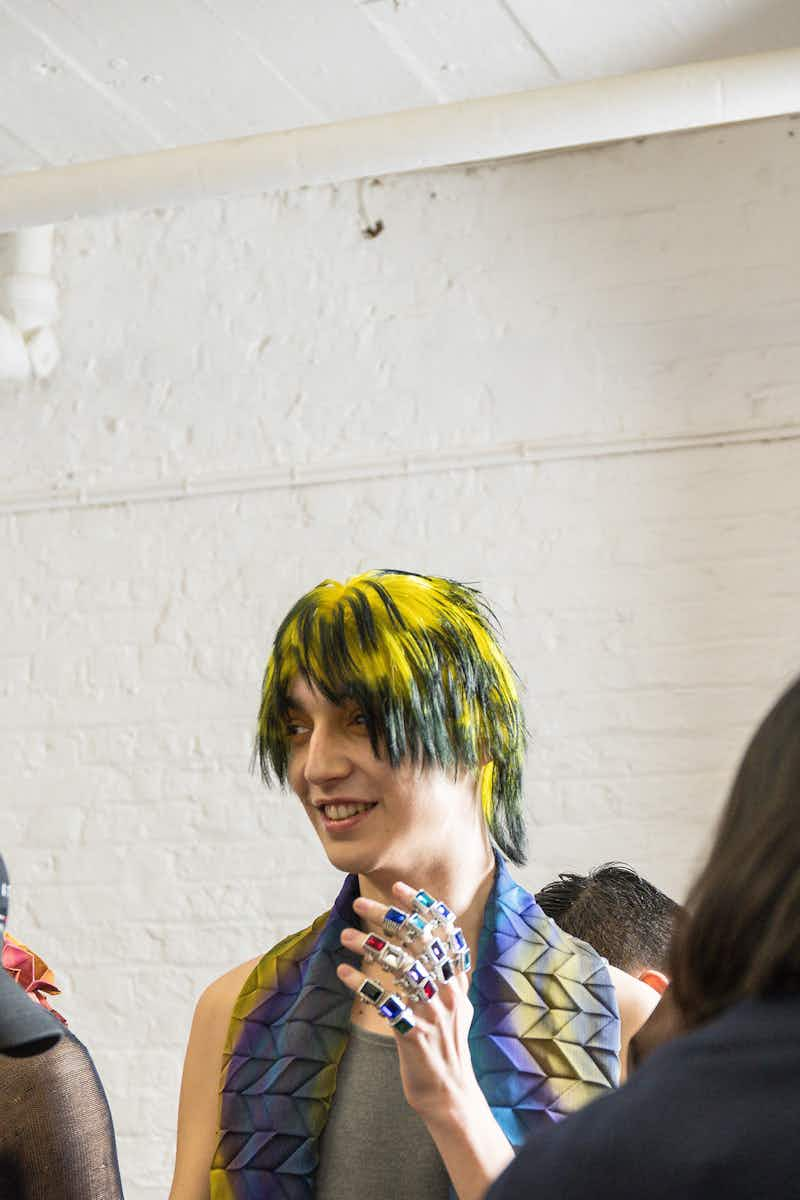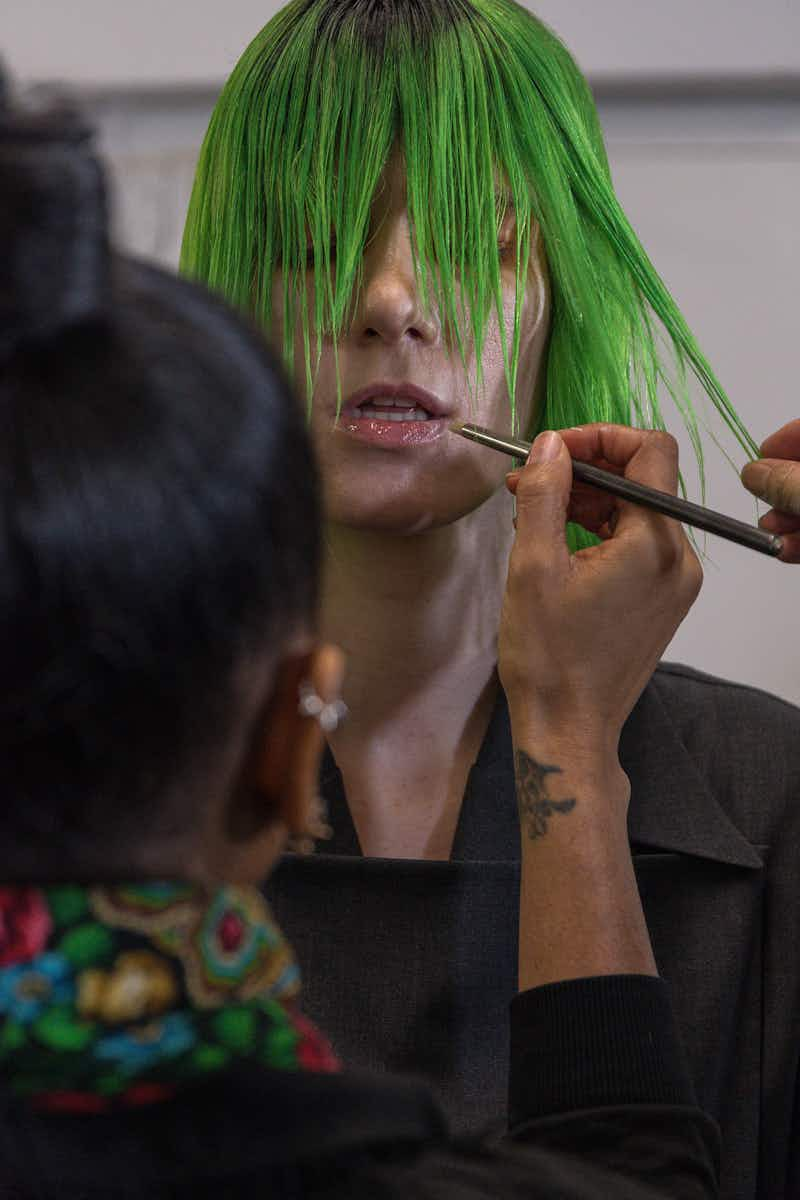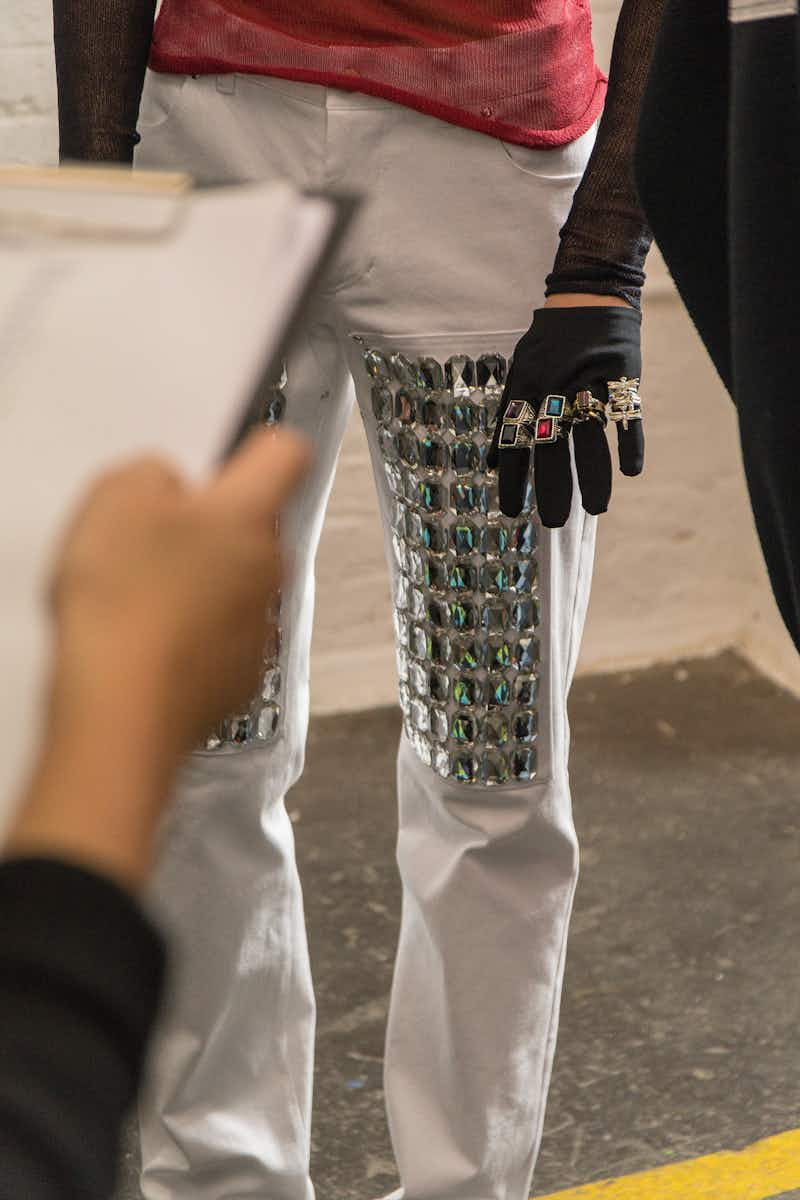 NENSI DOJAKA
Spaghetti straps, ruching, kitten heels, skin! Nensi Dojaka's collection was a steamy yet romantically feminine journey from the bedroom to the catwalk, born through her fascination with lingerie during her time studying fashion at London College of Fashion. Working with stretch georgette, crepe de chine, silk and wool, the delicate collection came in a flirty, grown-up palette of black, olive and brown. While Dojaka's alternative draping was used to deconstruct cuts — the result saw delicate frames latching onto the body giving the garments a supple, sexy feel throughout.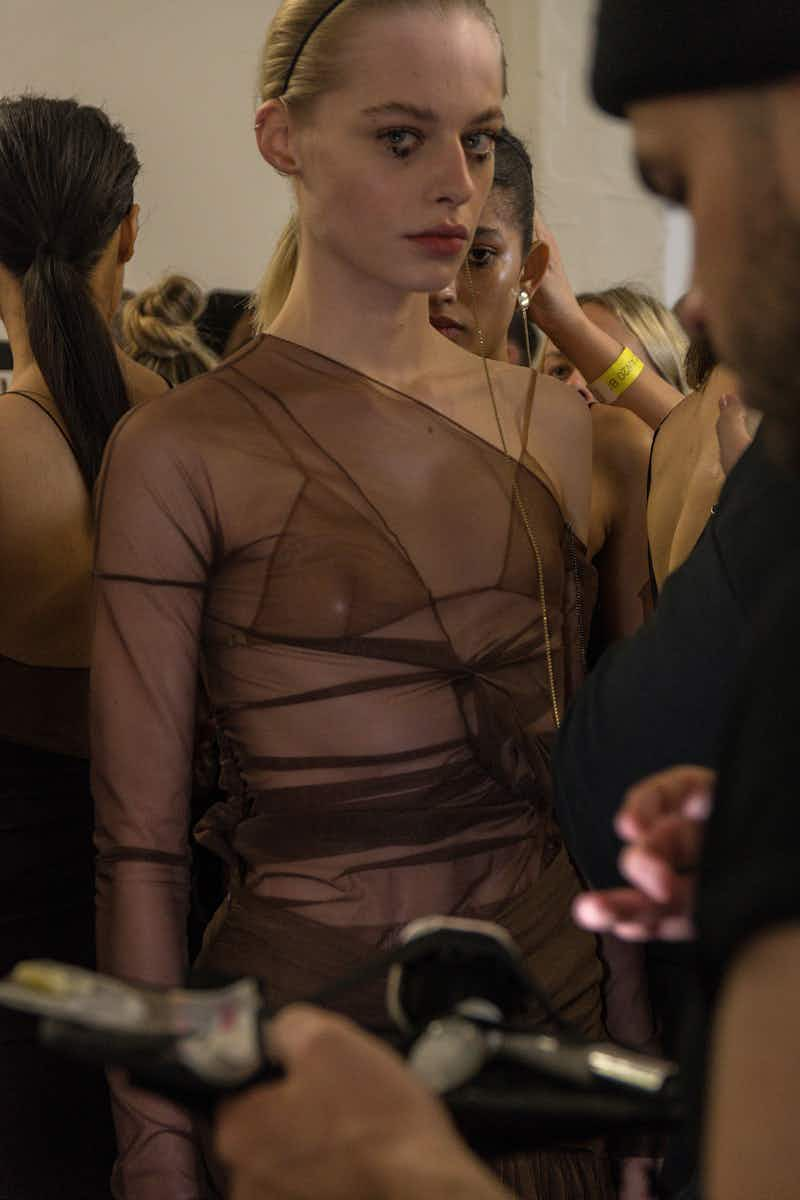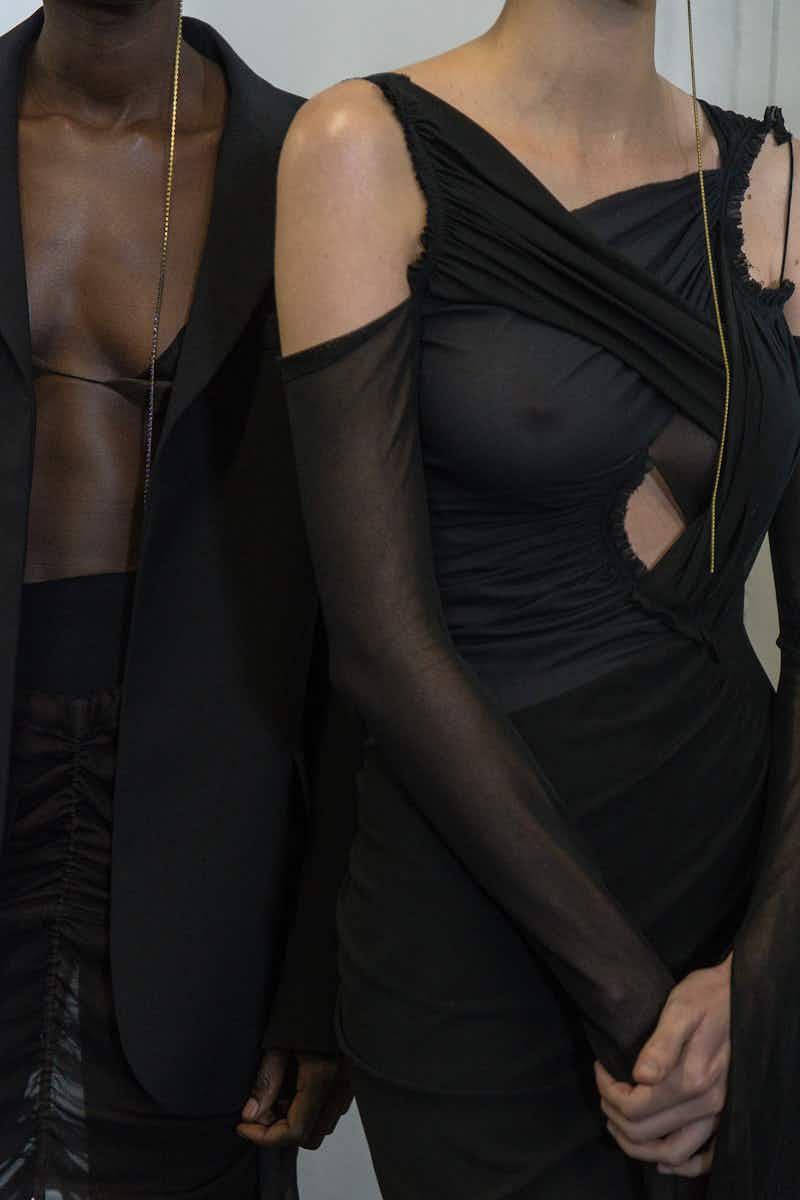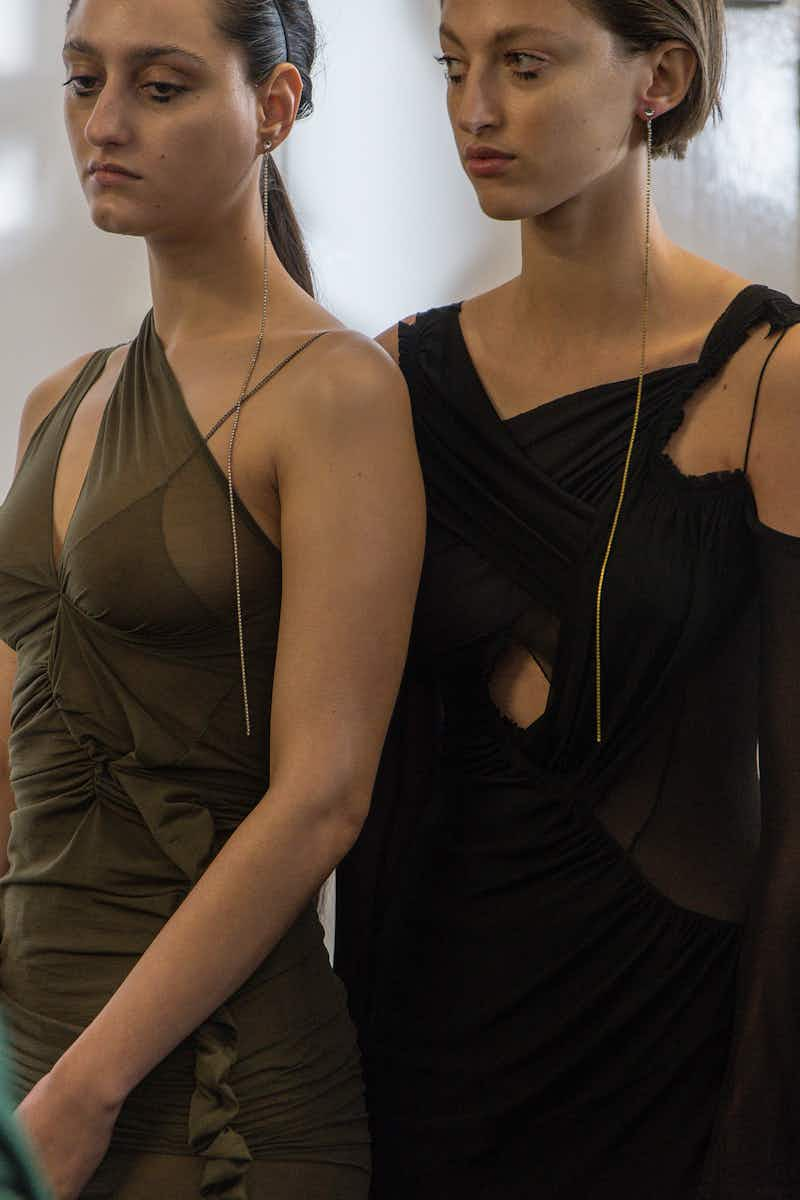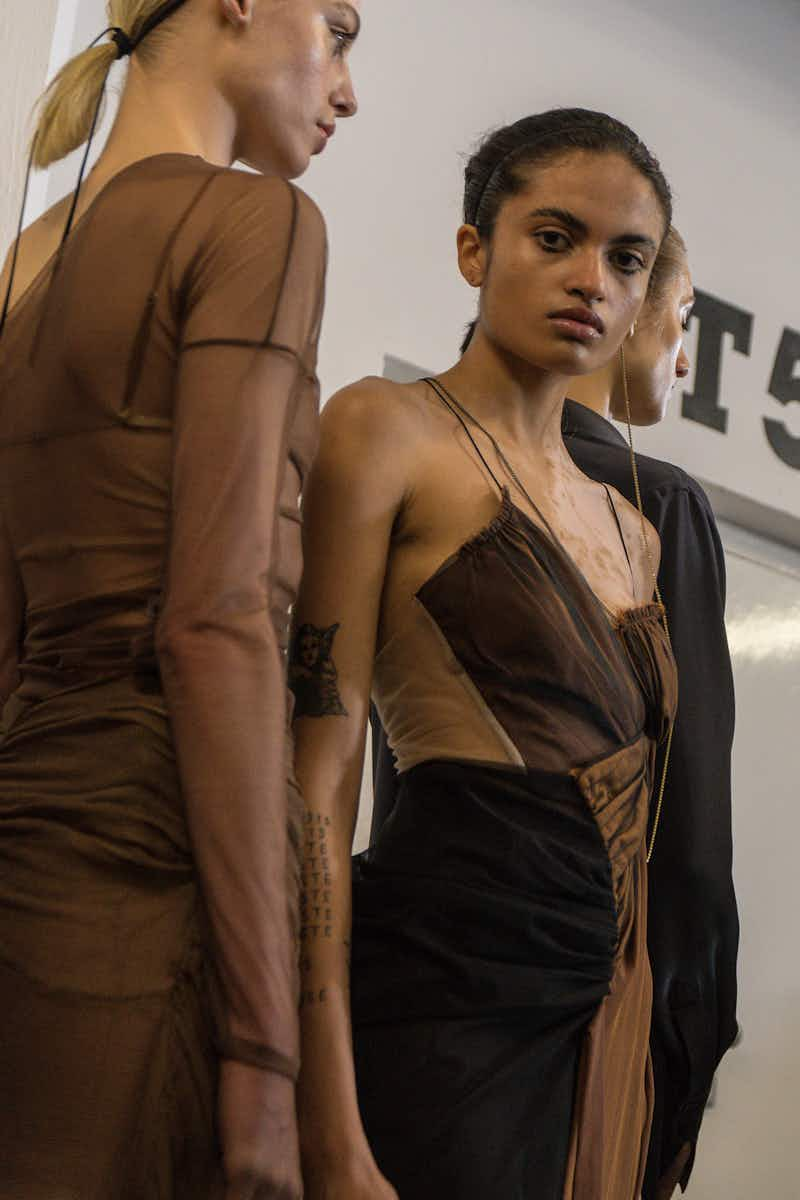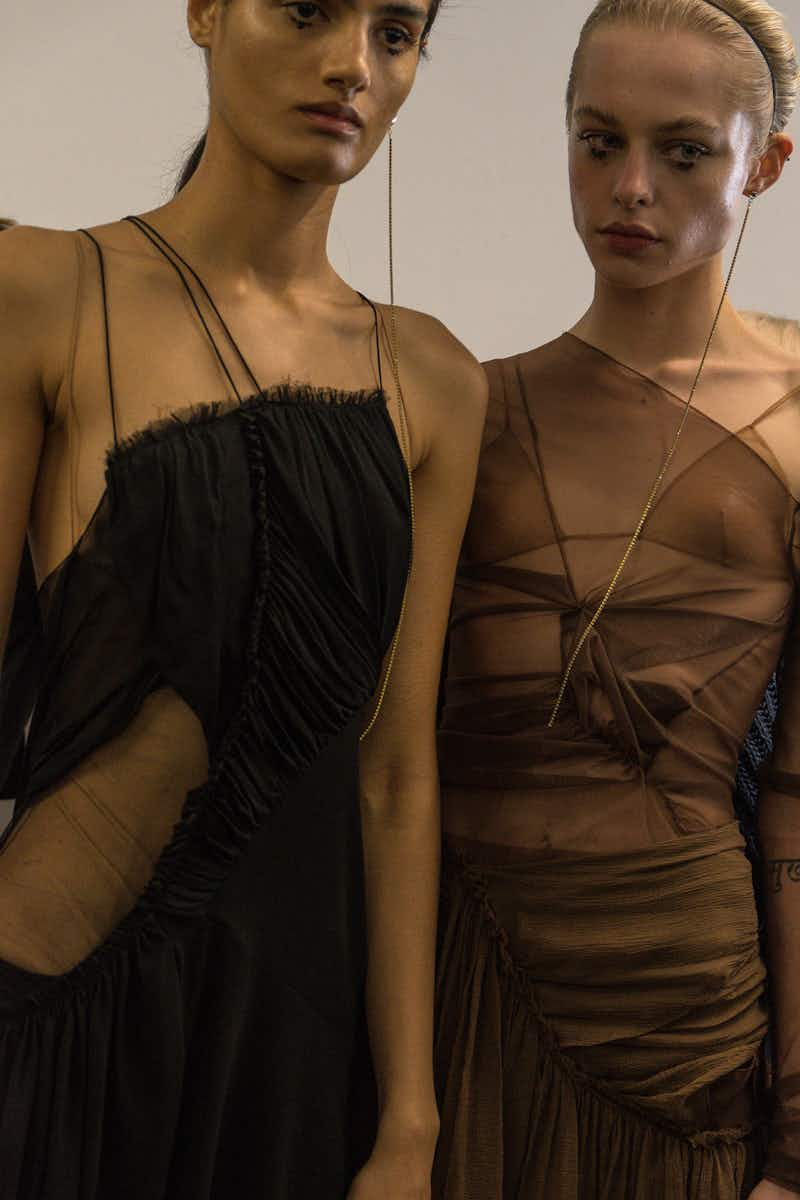 SAUL NASH
Saul Nash takes the conventional catwalk show and body-pops it on its head. As both a designer and dancer, movement, fluidity and liberation are the themes that permeate his collections. Presented in delicate, breathable fabrics, artfully placed zips on jackets open from the torso to behind the shoulder allowing for fuller expression, while shifting the silhouette from mundane to original in a flash. With the collection presented as a performance dance piece, it only accelerated the designer's mission for fluid movement, freedom, self-sufficiency and a killer confidence.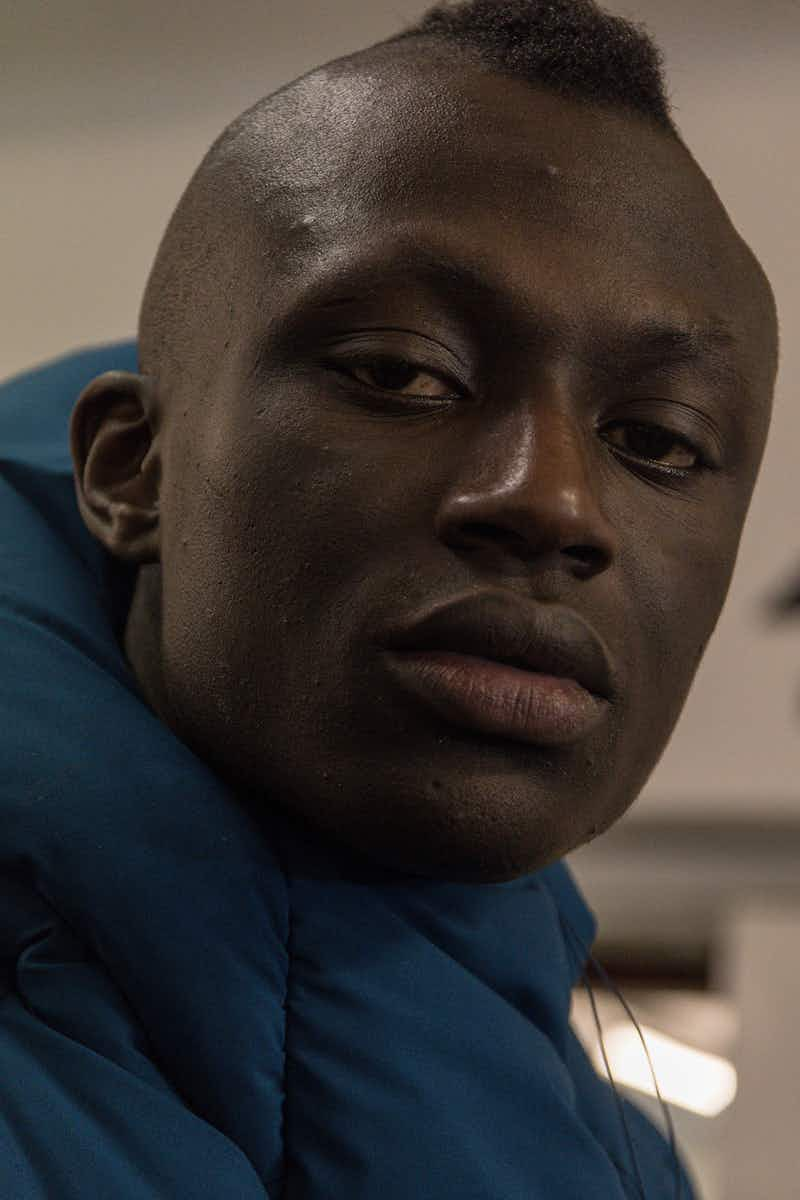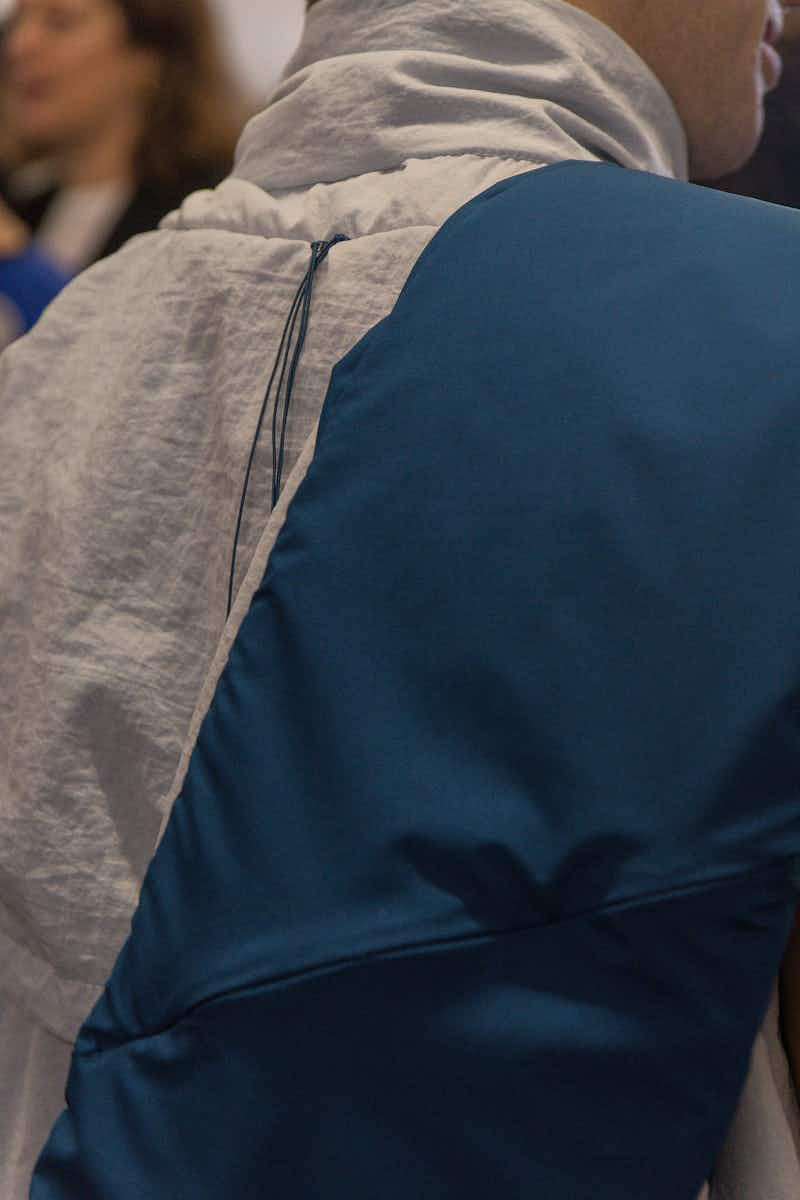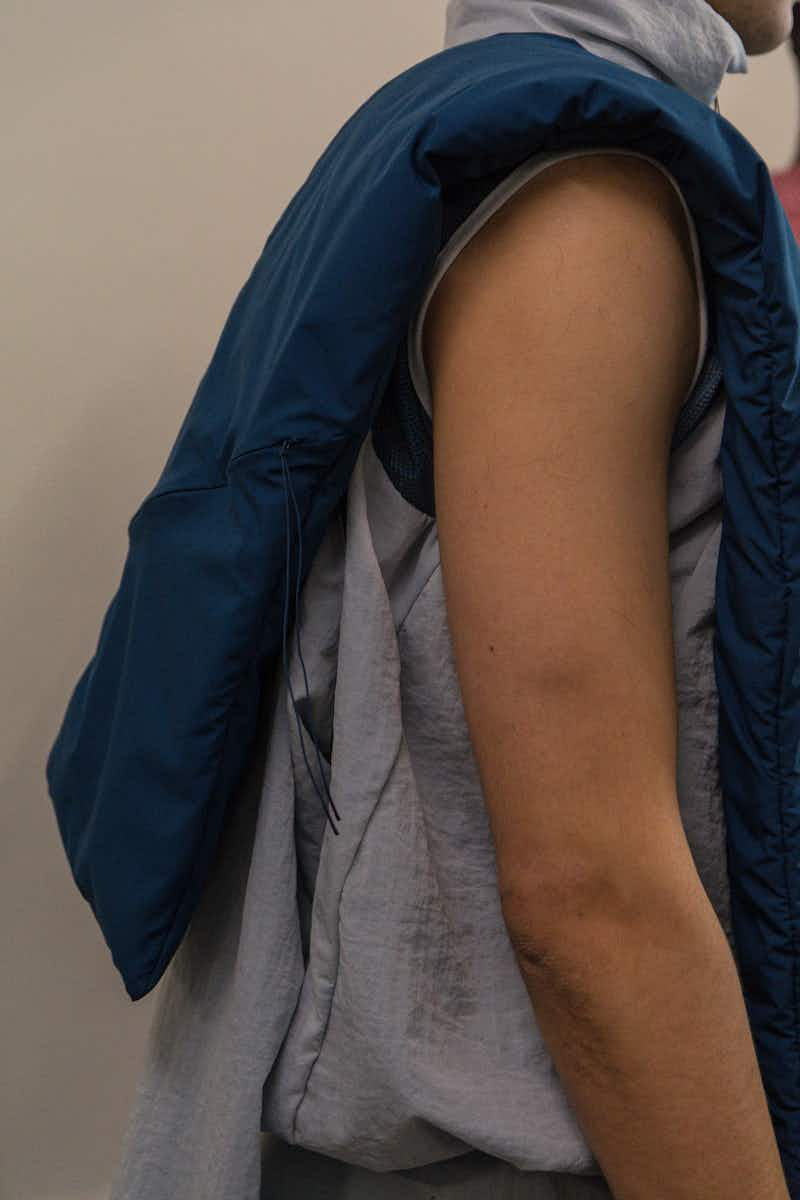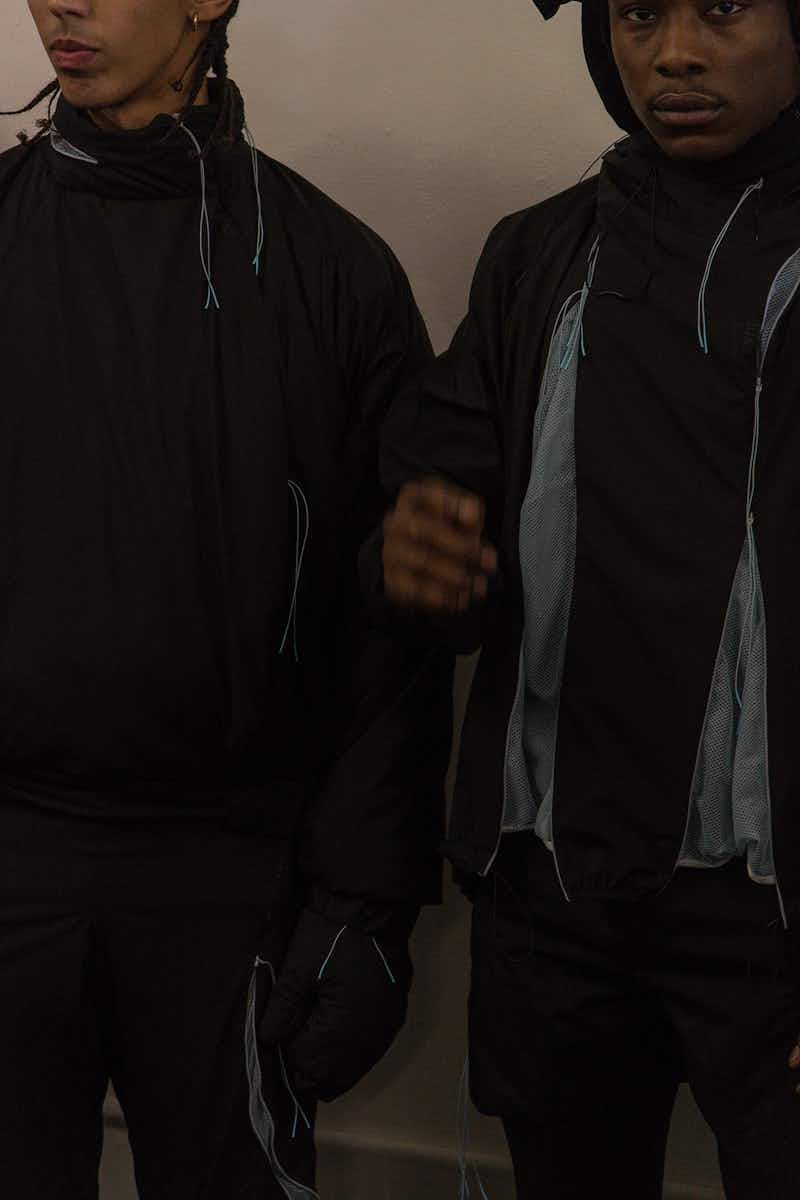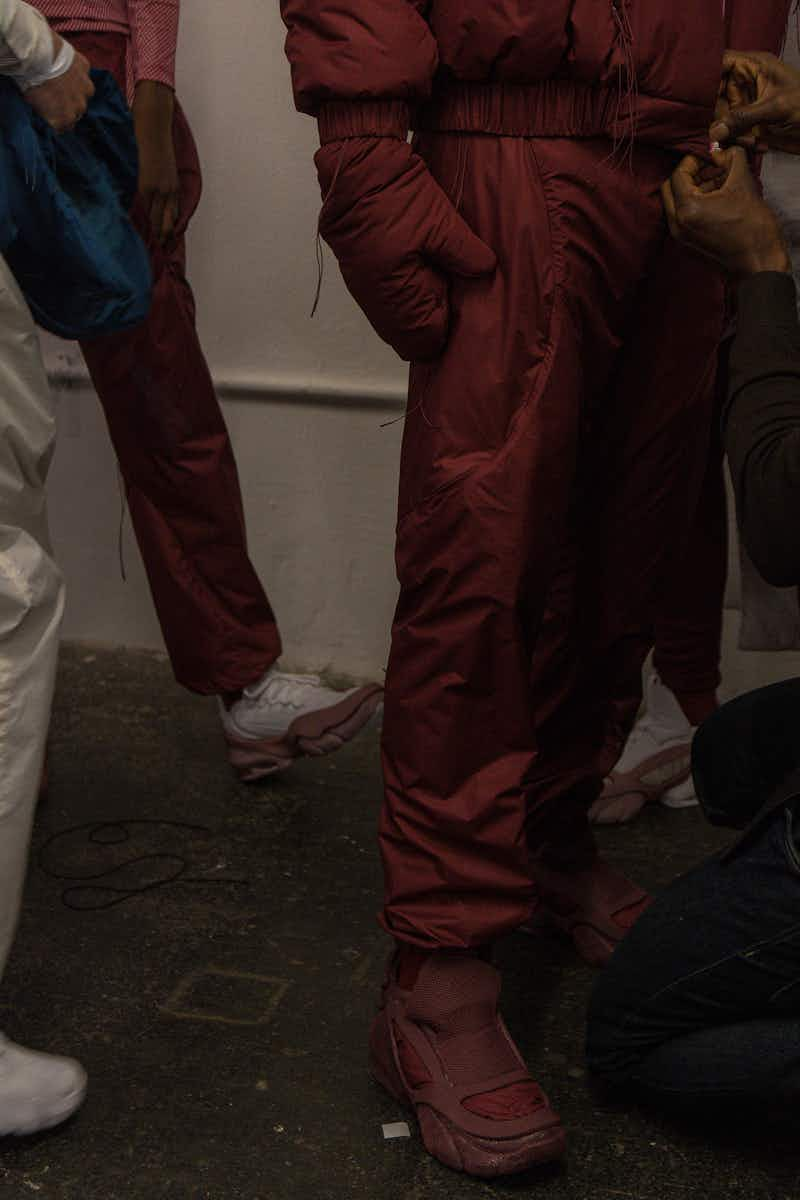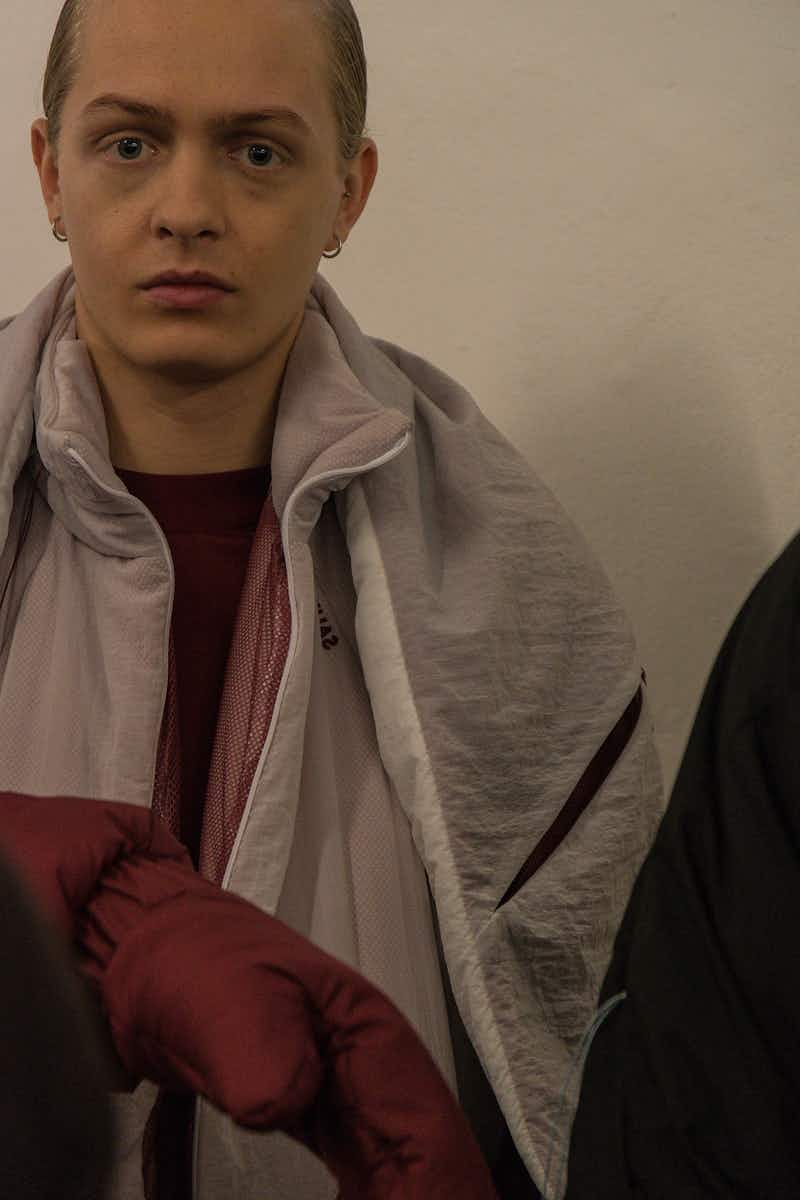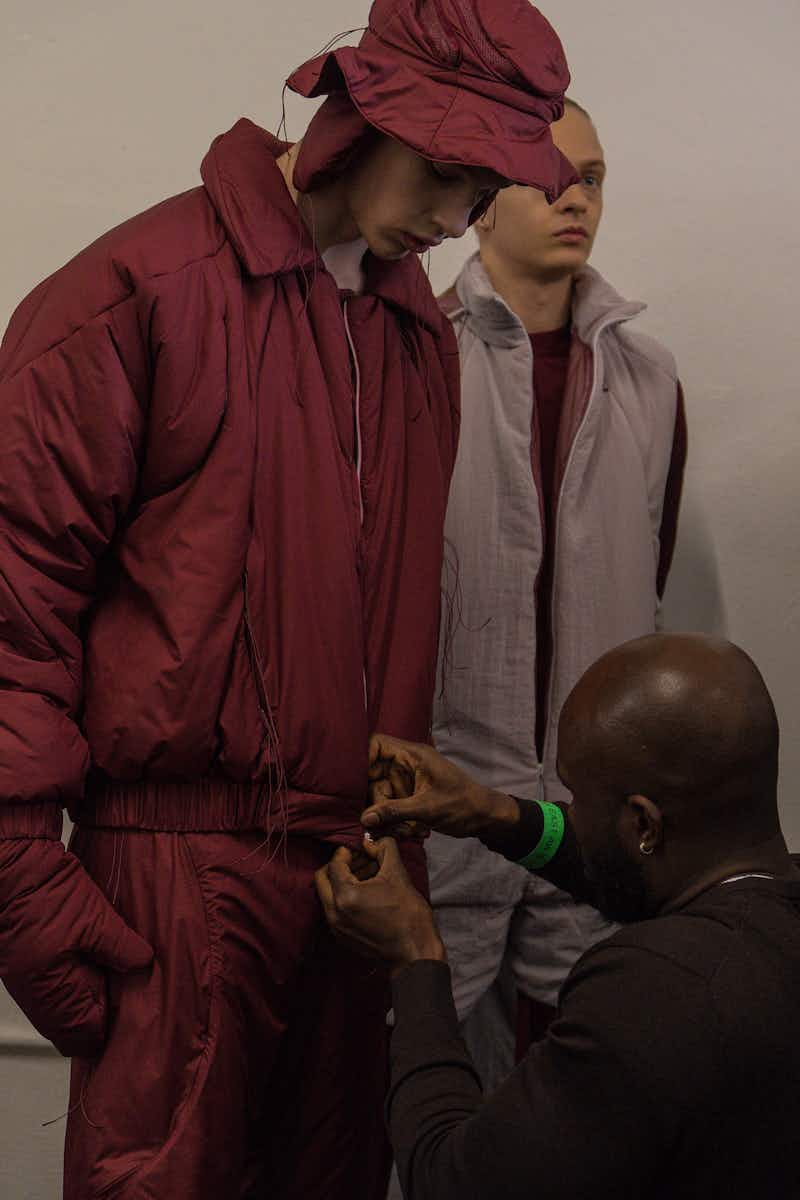 GARETH WRIGHTON
Take a bow, Gareth Wrighton. The designer showed his final Fashion East collection with A Day At The Maul. Laced with the familiar Wrighton-Americana references like Despicable Me-printed shorts or an Otto from The Simpsons helmet, the surreal tale was a commentary on greed and consumerism – the designer even bootlegged his own designs (see: an upcycled pair of AW19 trousers or the cherry print taken from SS20).
In the same spirit as the vest Wrighton once knitted from his own hair during his Central Saint Martins days, a lace sailor dress had a familiar, albeit strange, minty scent – it included a dental floss composition referencing the grotesque, dark themes he's carried throughout his time at Fashion East. Whether a devil horn balaclava or a baby turned into a bowling pin, Wrighton's imagination is young, wild and fucking loopy – and we love it.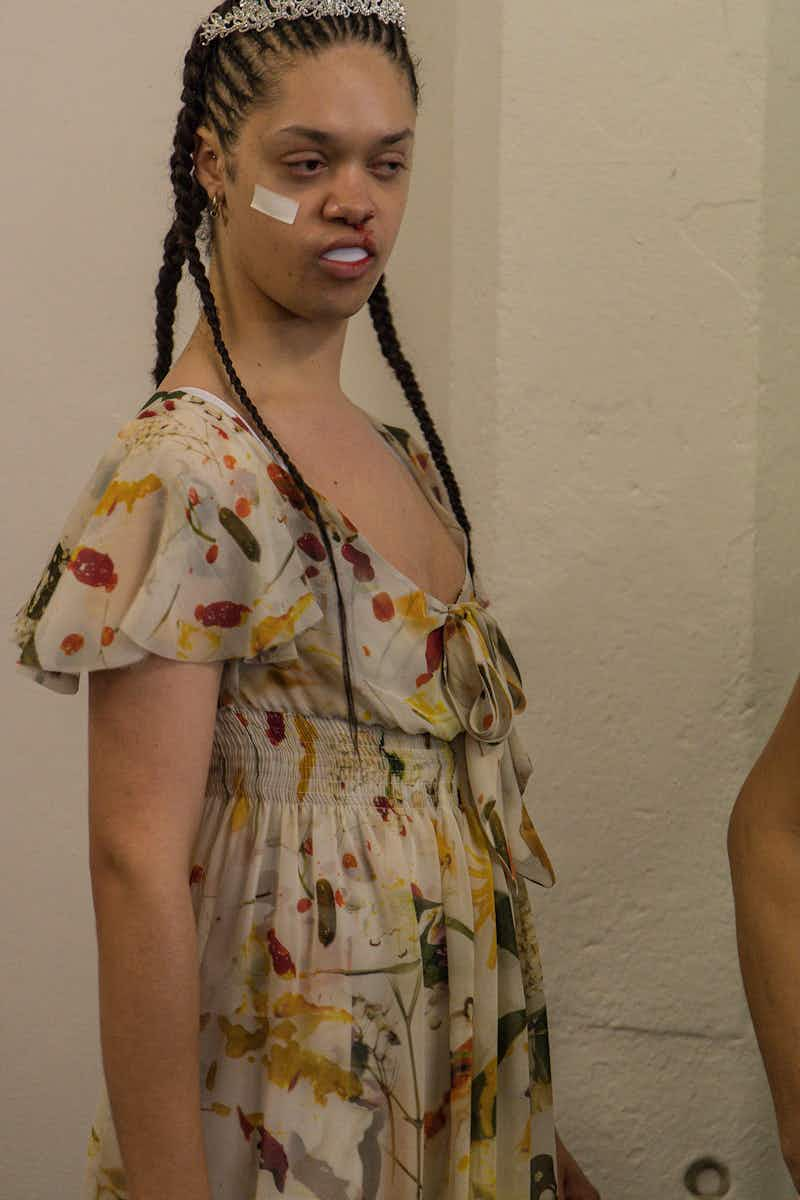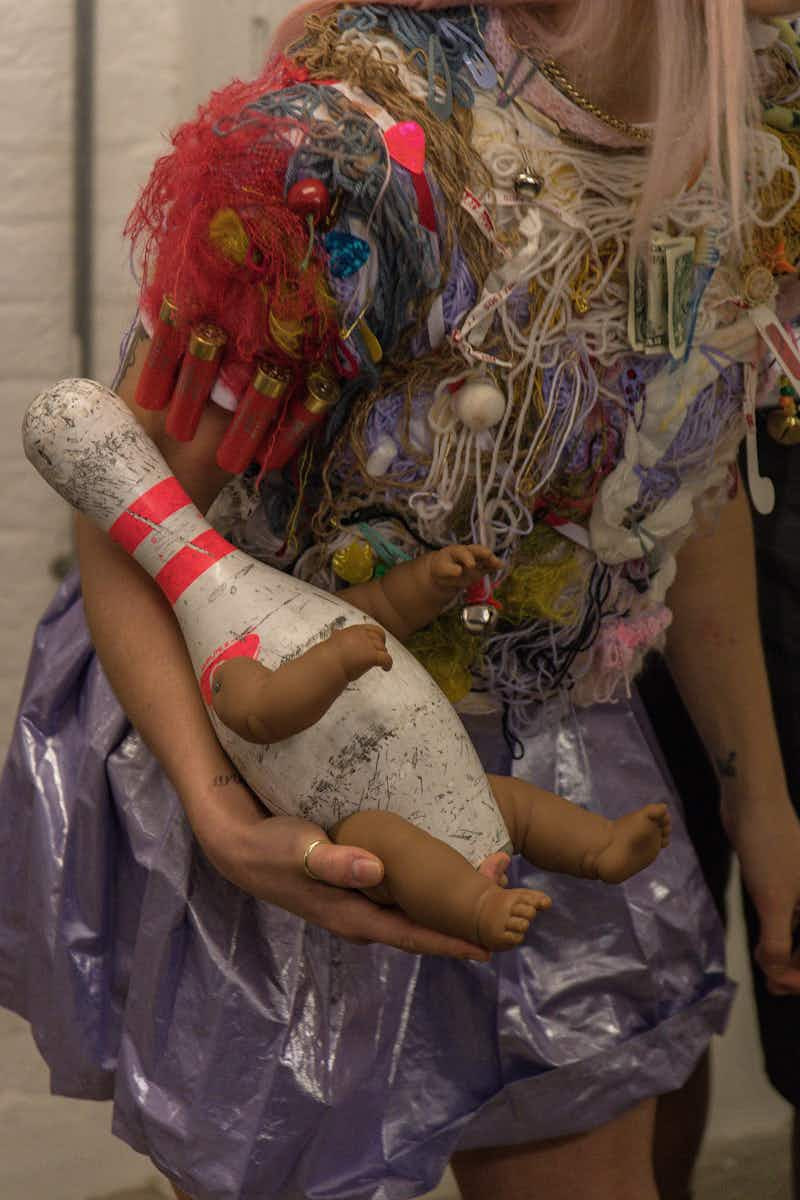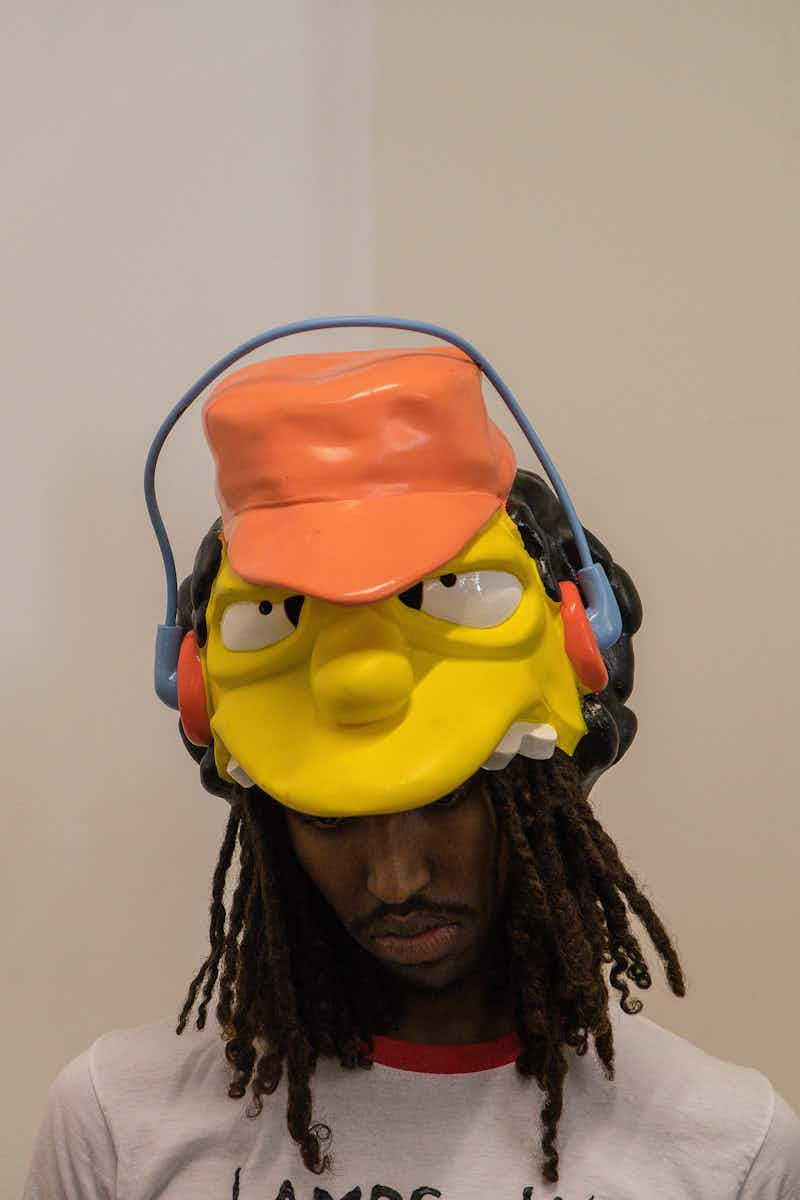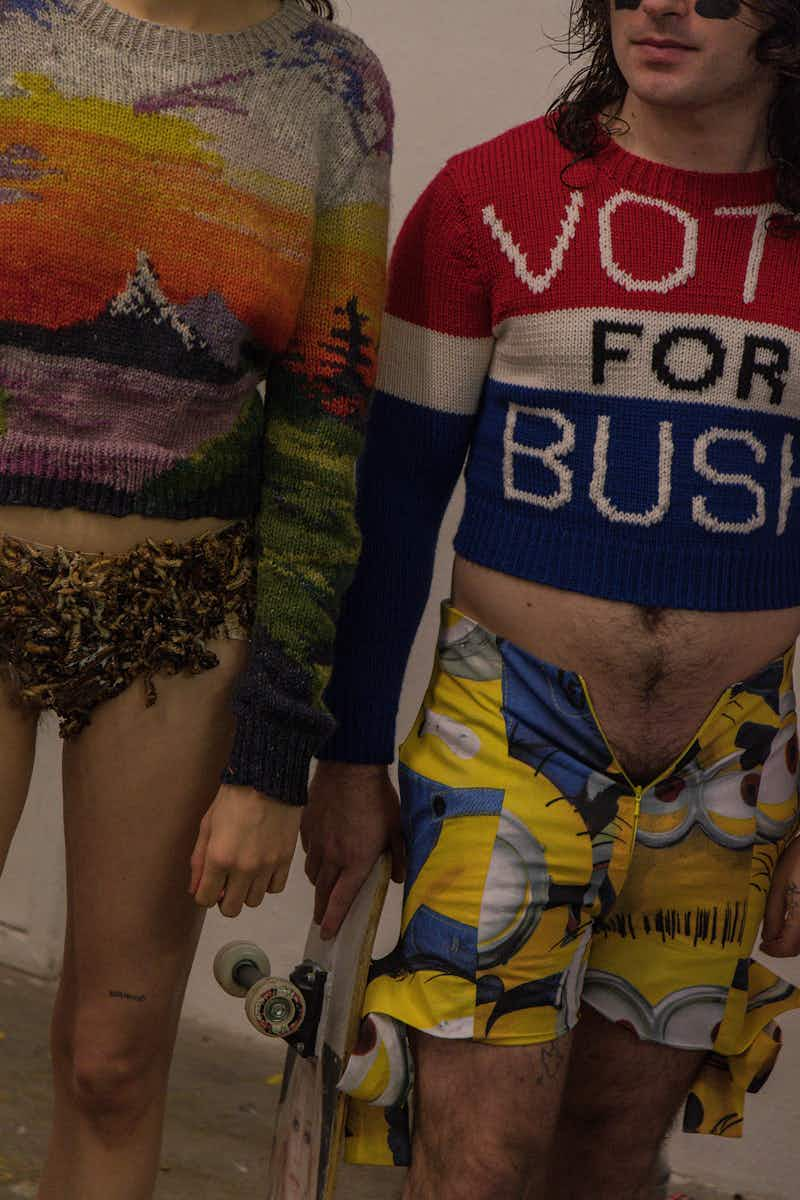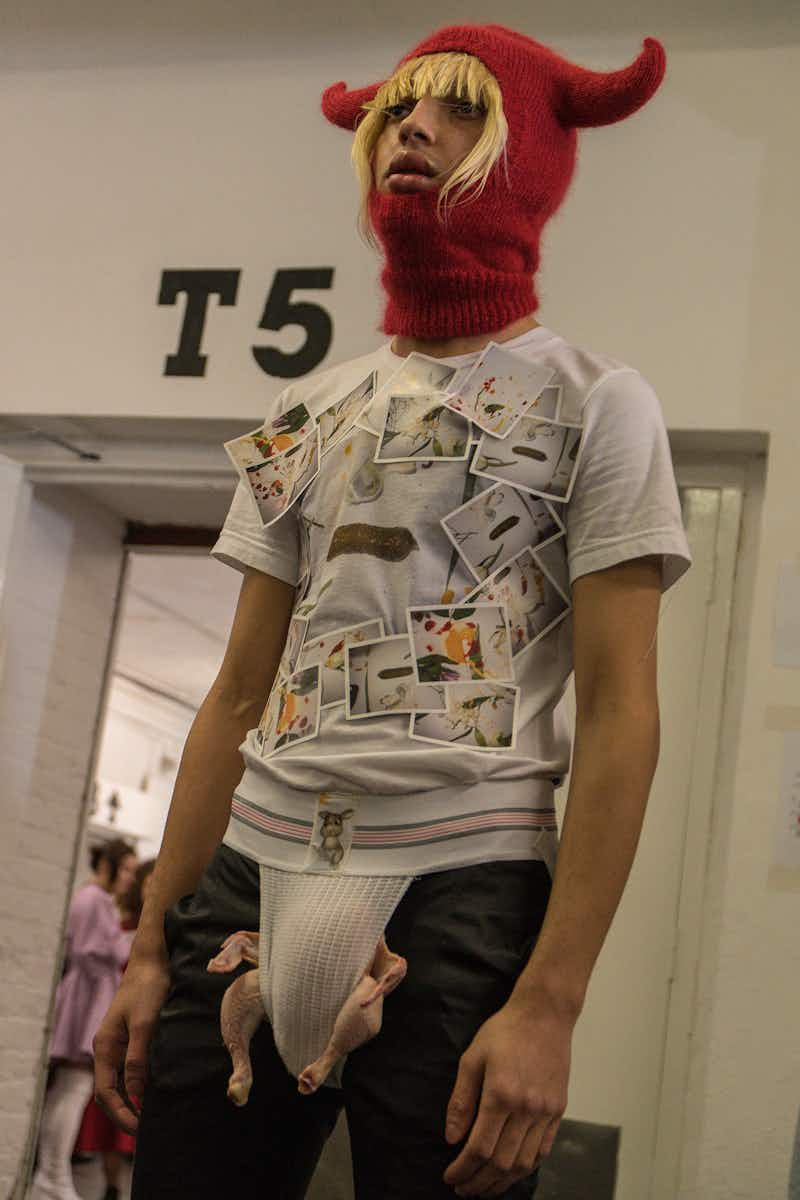 ANCUTA SARCA

Take note: this could be the future of eco-friendly footwear. Romanian-born designer Ancuta Sarca presented her AW20 collection in a vibrant installation continuing her mission to create sustainable footwear from repurposed shoes. Nike's distinctive Swoosh featured on futuristic silver sling-back kitten heels, a killer pair of bright red and black knee-high boots, and a pair of narrow-toed velvet mules. Meanwhile, a smart pair of white oxford shoes were given the Sarca treatment, remixed with a sneaker inner and held in place with a buckle. The designer's commentary on sustainability indicates that ​"new" shouldn't have to mean waste, and that sustainable definitely doesn't have to mean boring. TS.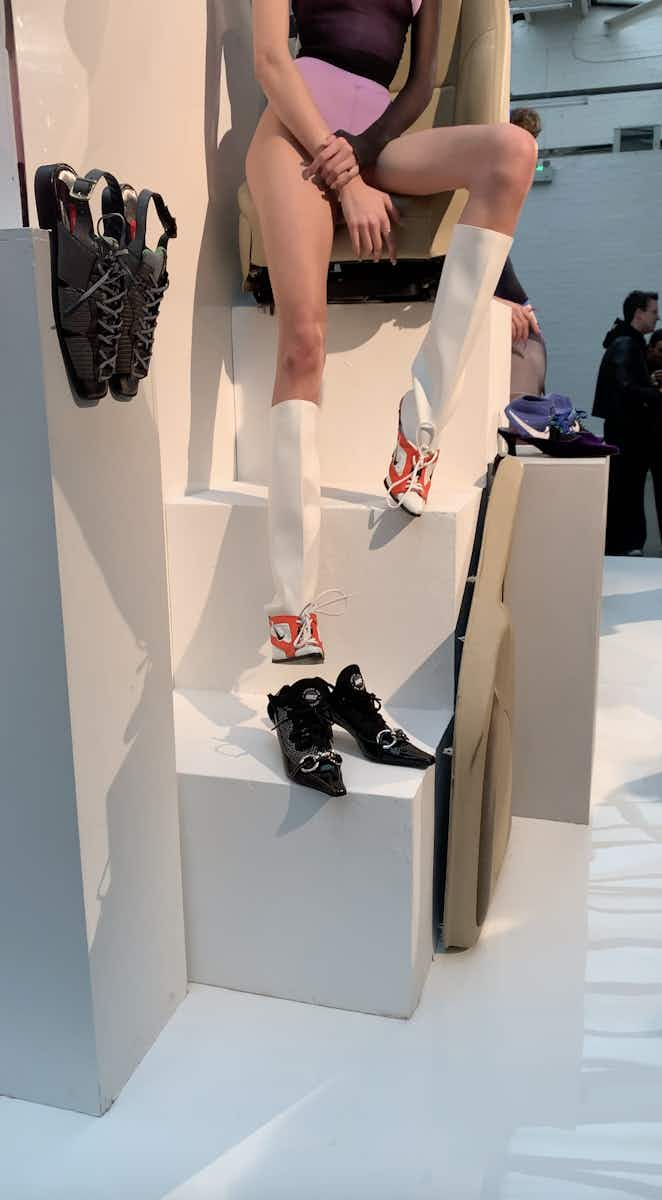 MATTY BOVAN AW20
And we're off. Off-world. Off-body. Off-taste. ​"I think it's part of my job to push people's barriers and what they find acceptable," said the always-good-value for money Matty Bovan. And he did so with a collection that found fun in exaggerated wigs, silhouettes, and knitwear that stretched out from the torso on curtain poles, transforming jumpers into flags in the process. The theme continued with the Union Jacks that peppered the collection, as well as the word ​"exit" which appeared throughout.
"I think we can guess where that came from," said Matty. ​"Everyone's discussing this seismic shift and what does it actually mean to leave something. You can help but think about it.
"[But] this is a much more joyous idea of leaving and going out into the world, and becoming this joyous, global figure, It's not a naive twee thing, it's very celebratory. A celebration of people."
This was looking outside of yourself in more ways than one, with a collection that reached for something more through diameter and meaning.
Some things are bigger than just you. Even jumpers. MW.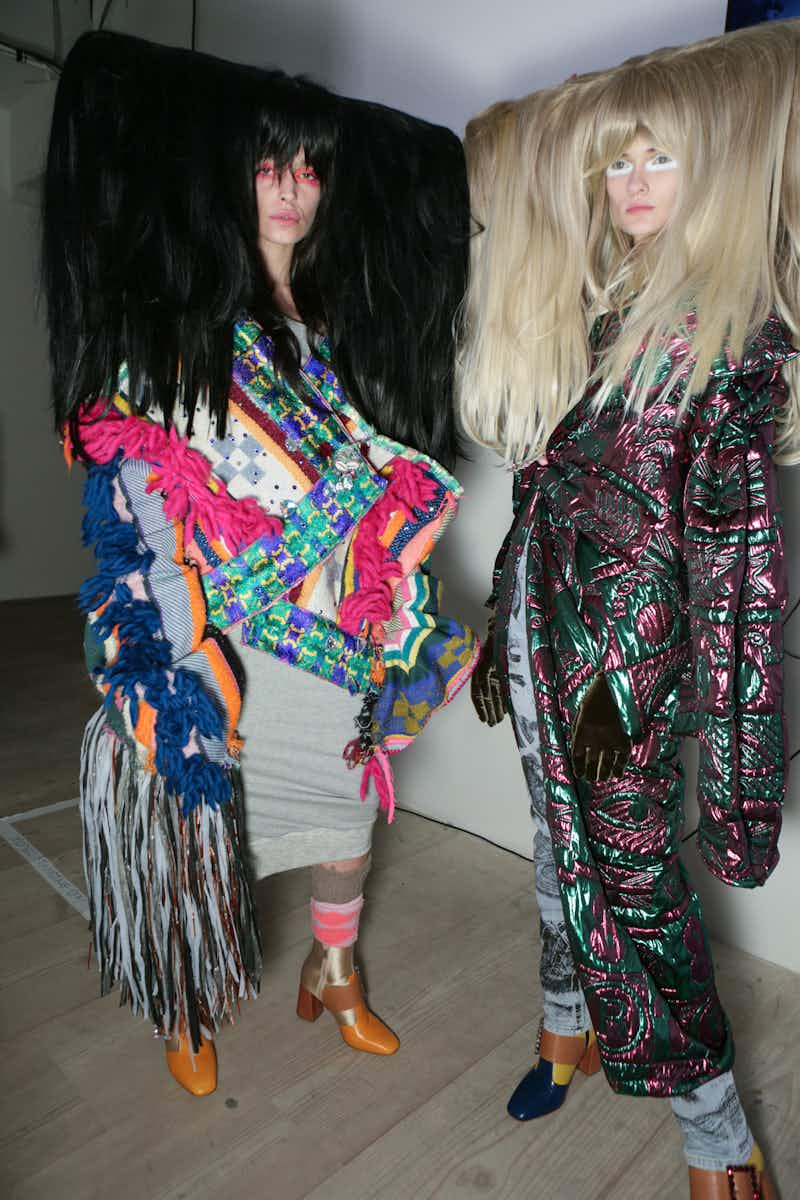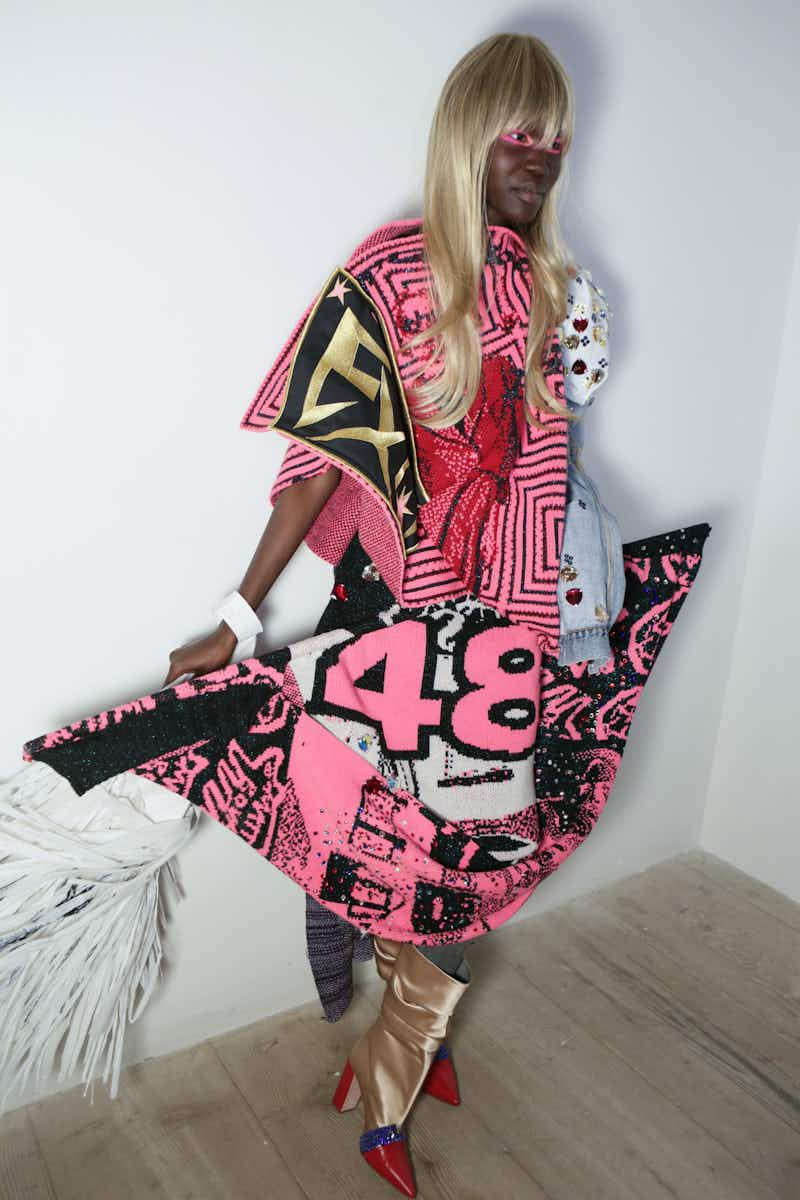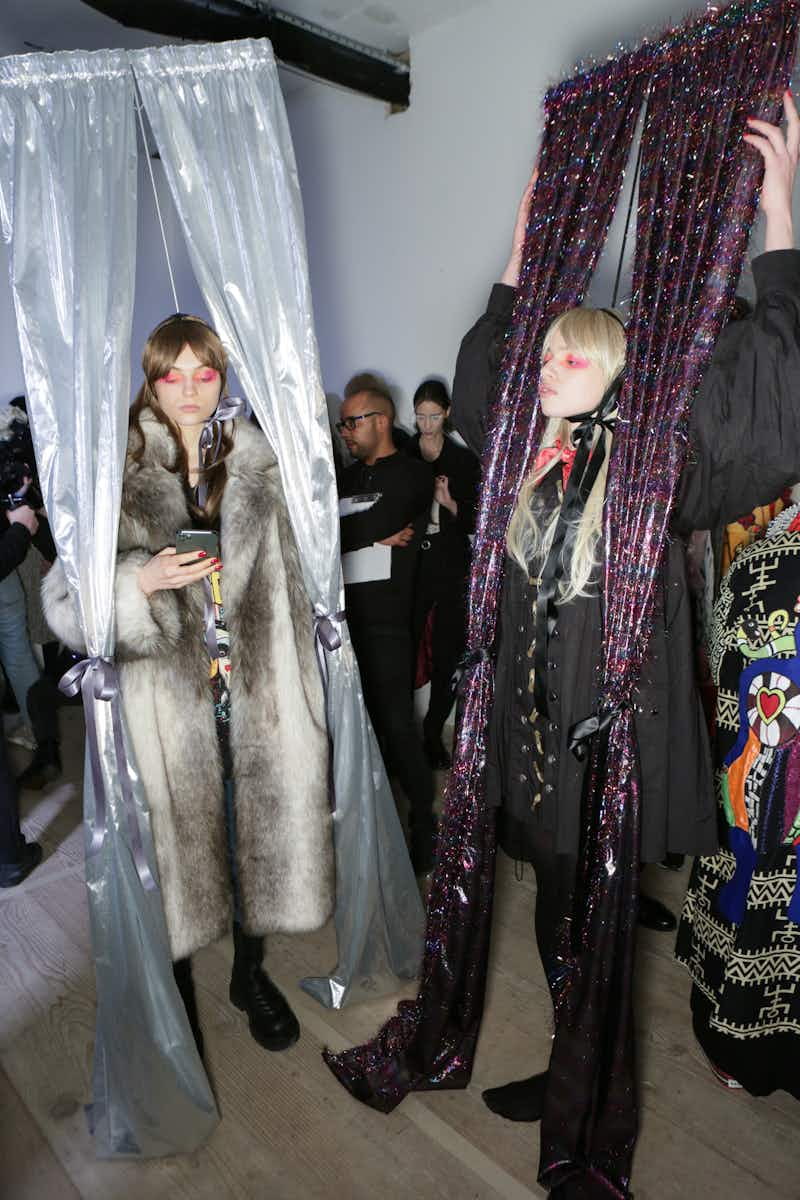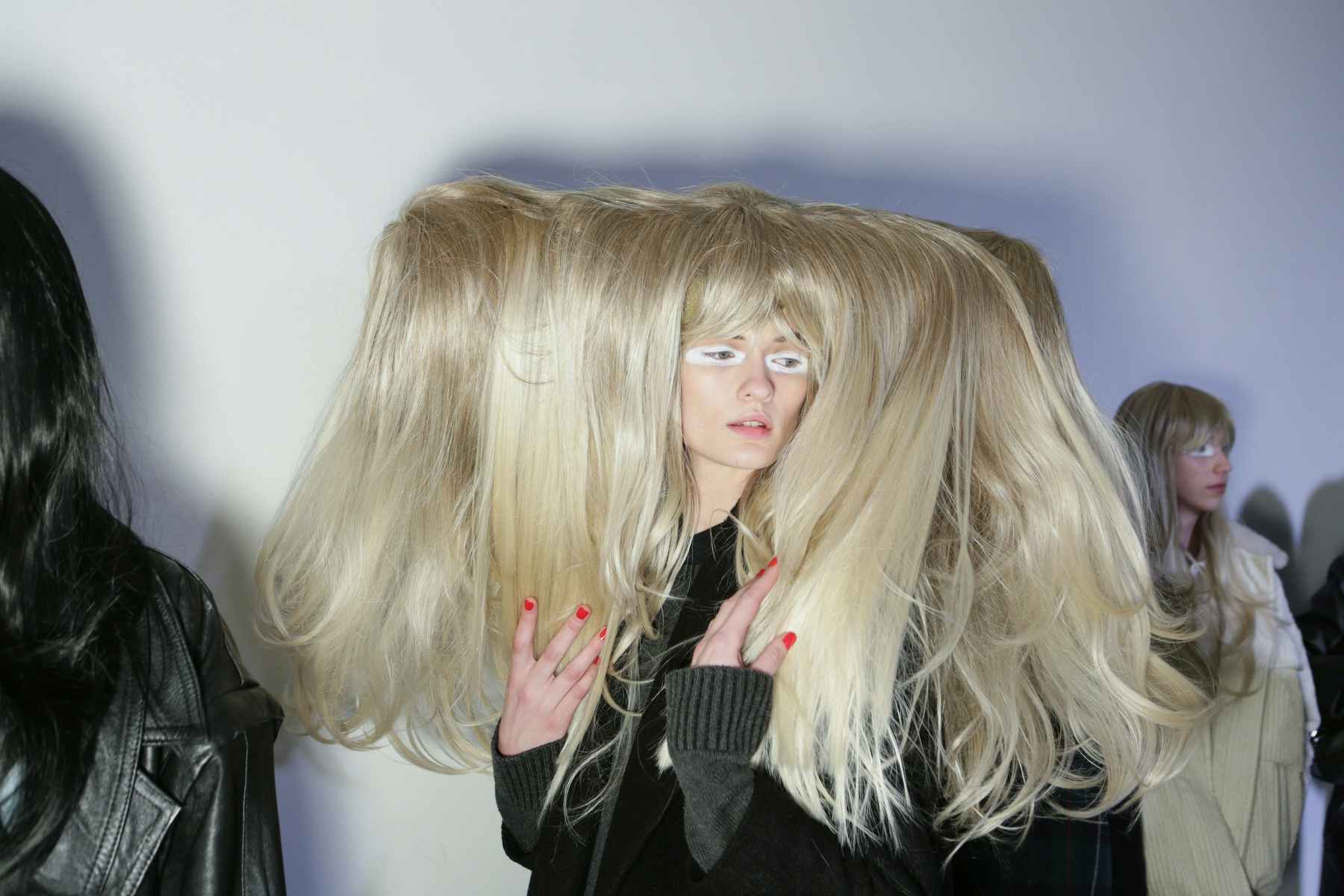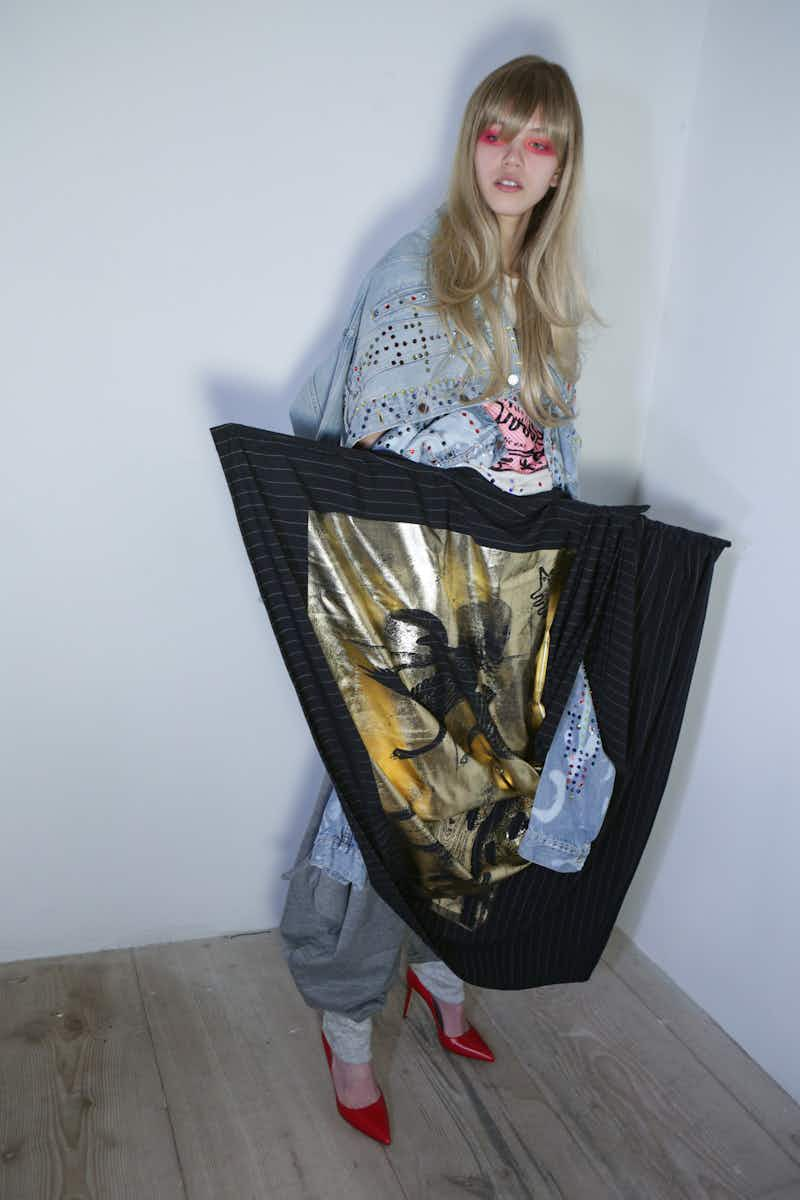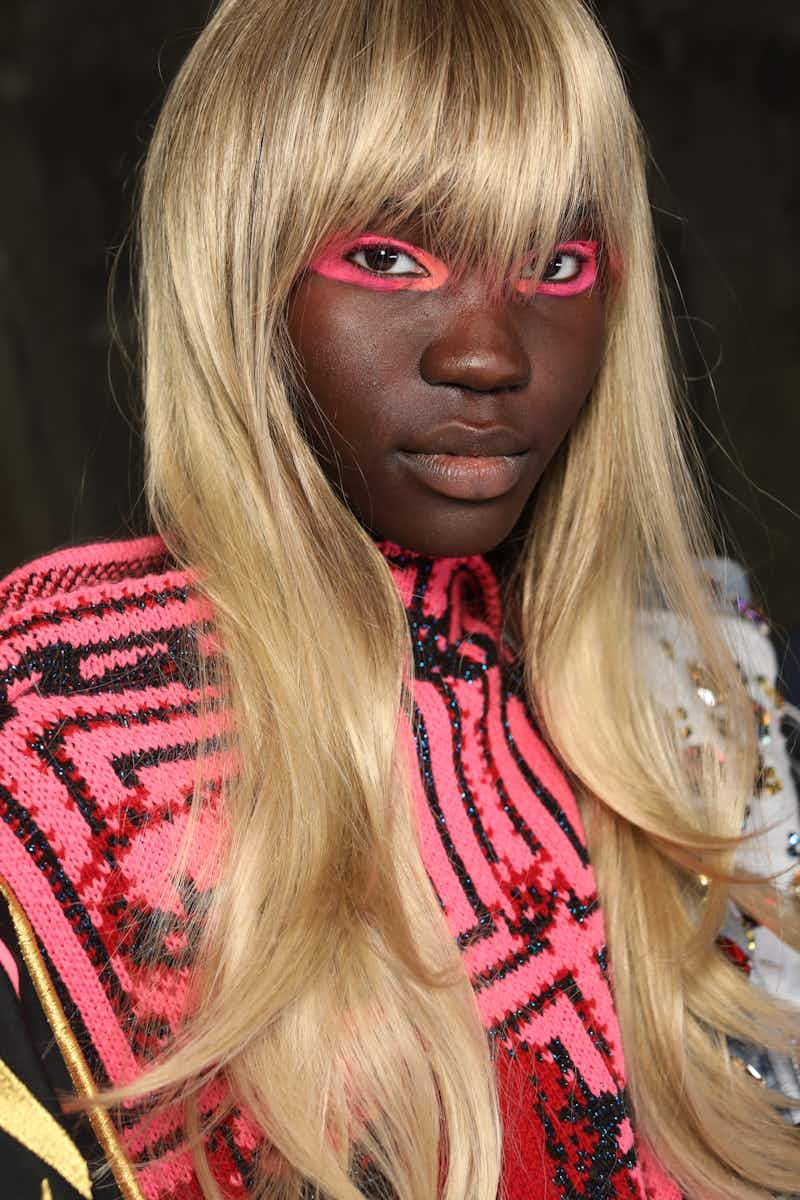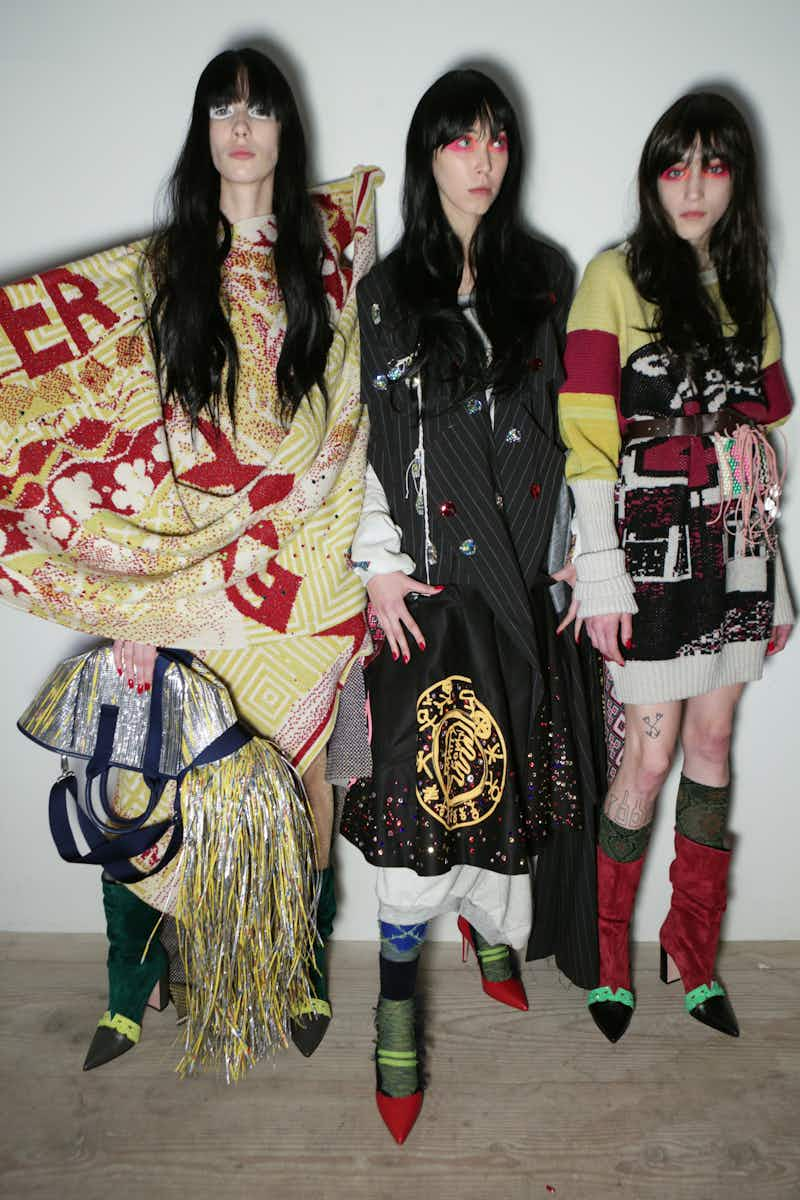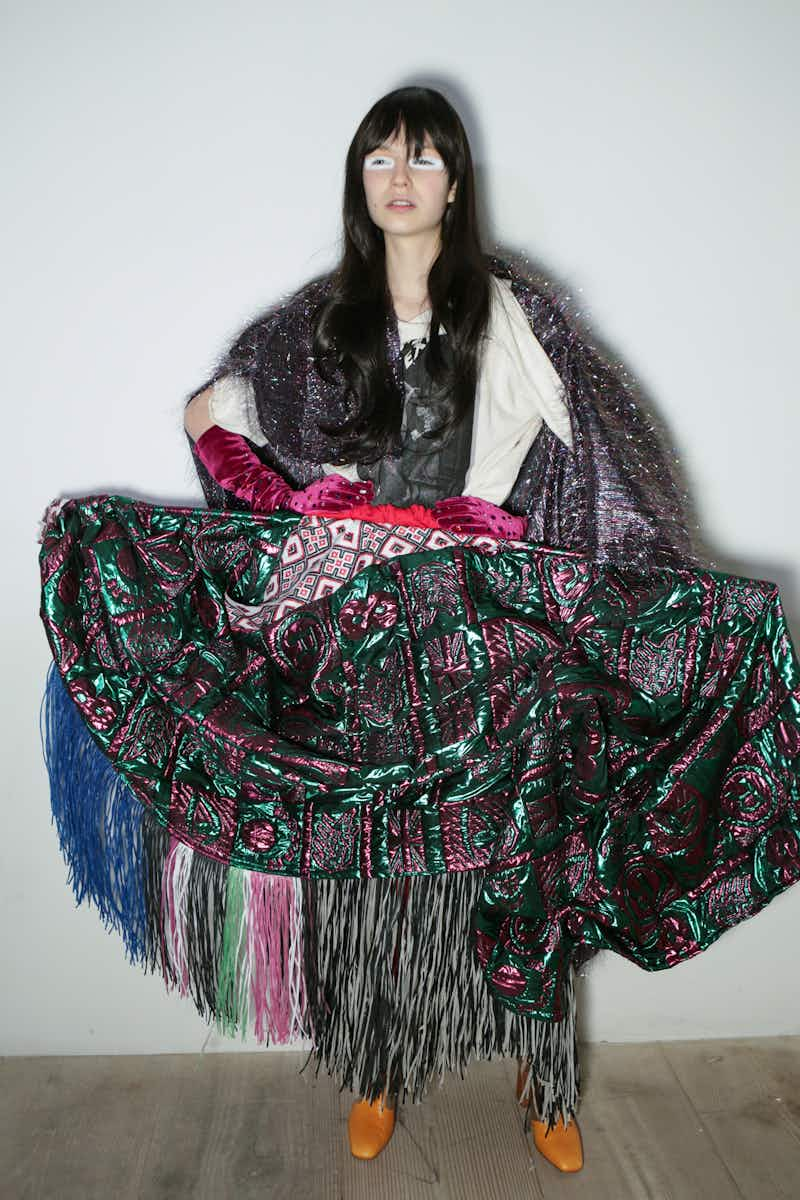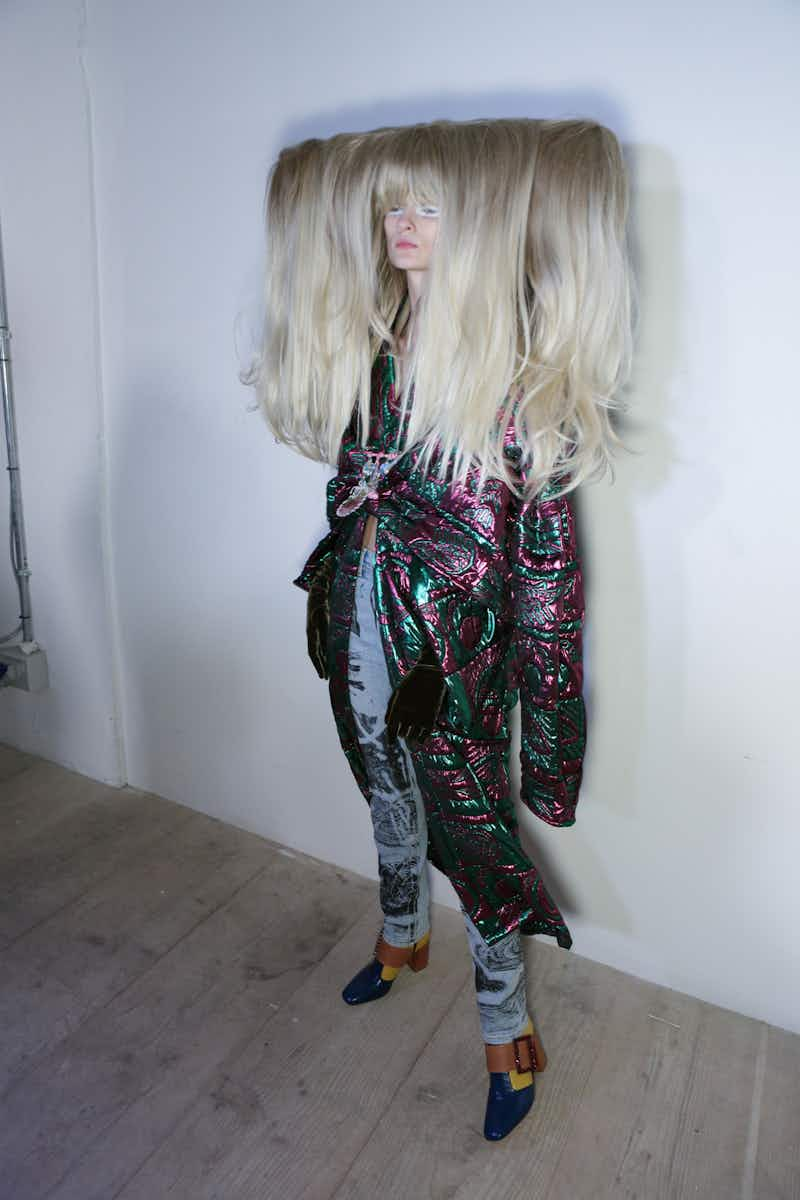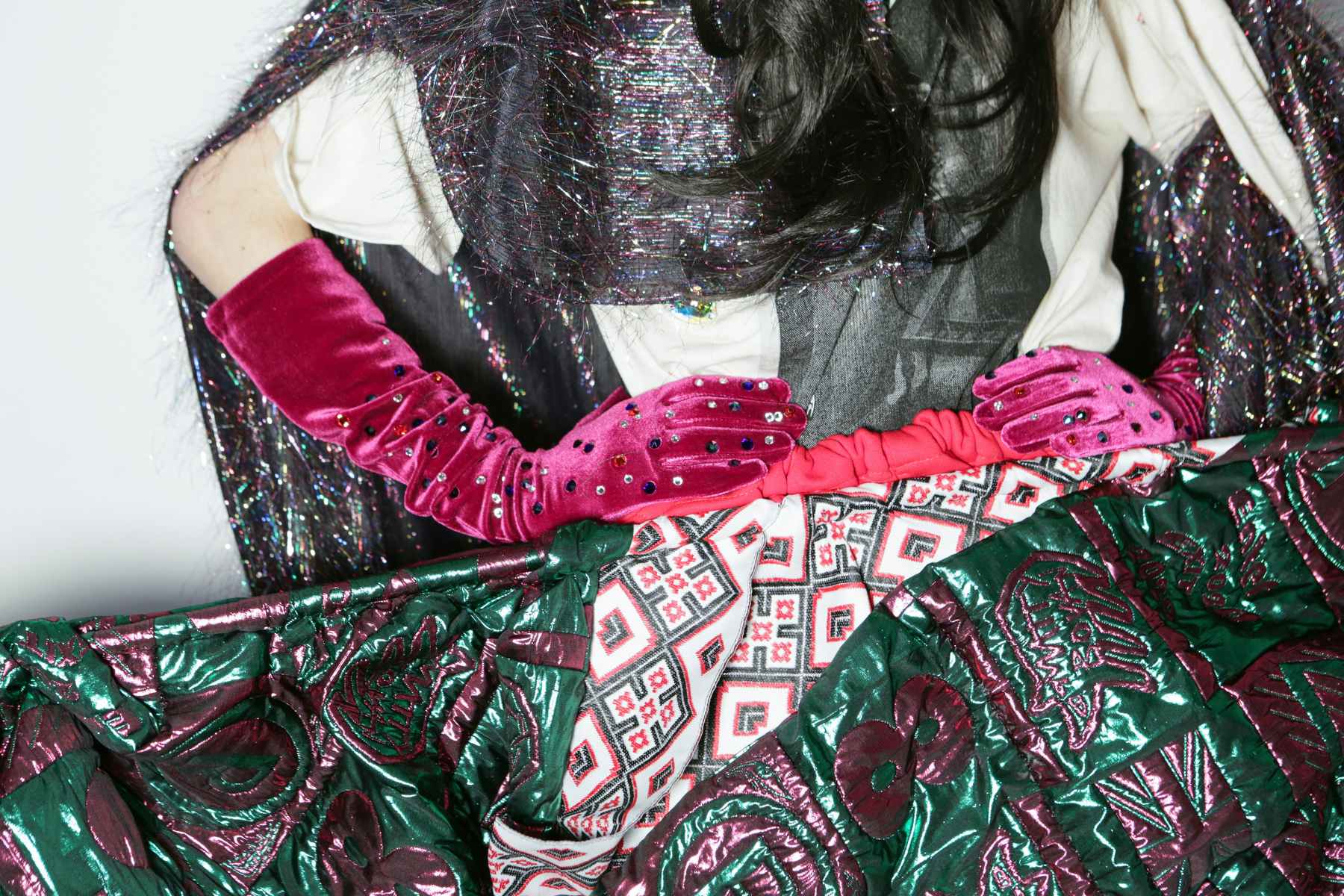 Charlotte Knowles and Alexandre Arsenault's futuristic vision of femininity was just as powerful for AW20. Think: new mint-green paisley prints, holster-strap shirts, lime green leather and more shapewear-style cycling shorts, this time with a distinctly Western edge. Her signature underwear-as-outerwear aesthetic reigned supreme in the shape of printed mesh bra and trouser co-ords, ​"militarised corset" criss cross harness tops, a balcony bra with the cups folded down and a pair of toffee-brown trousers that peeped the hips. In contrast, a peplum jacket paired with trousers that flare from the knee down looked every bit business, providing a change of pace. While diverse casting ushered in new inclusive sizing for the label – under-layers as outer-layers for all.
What did it look like?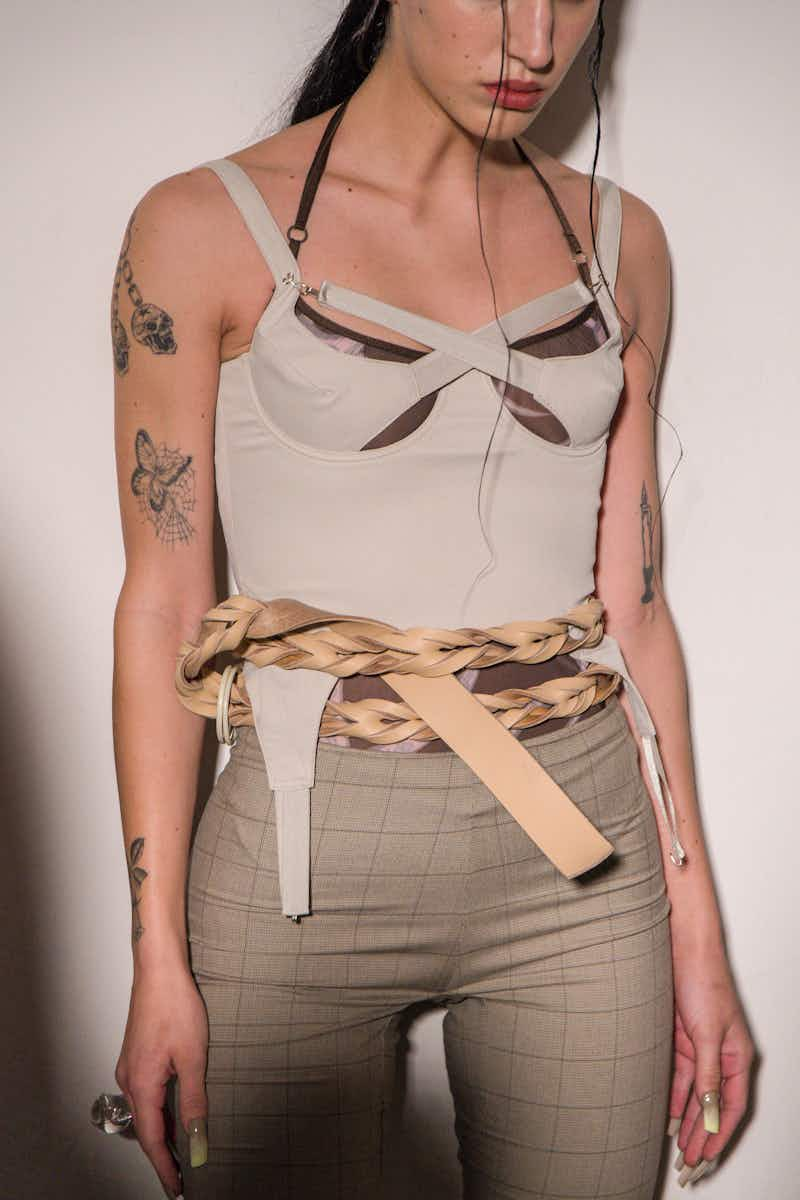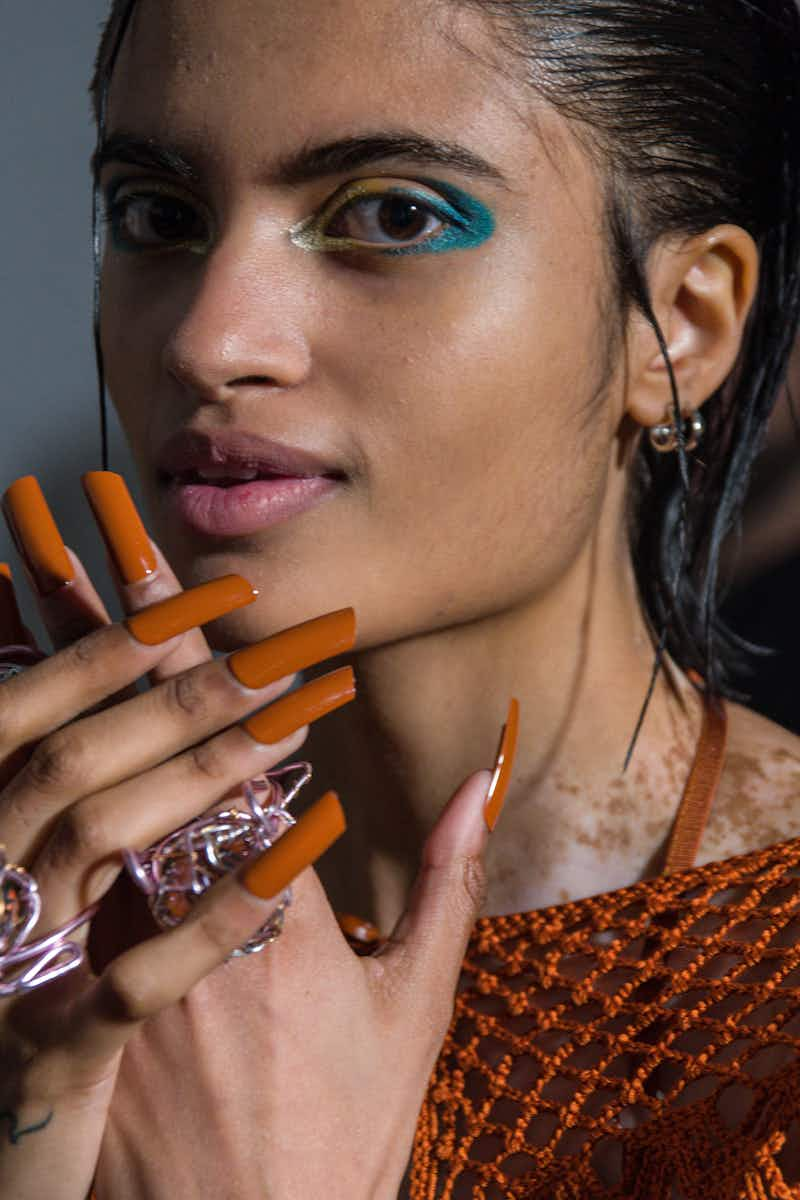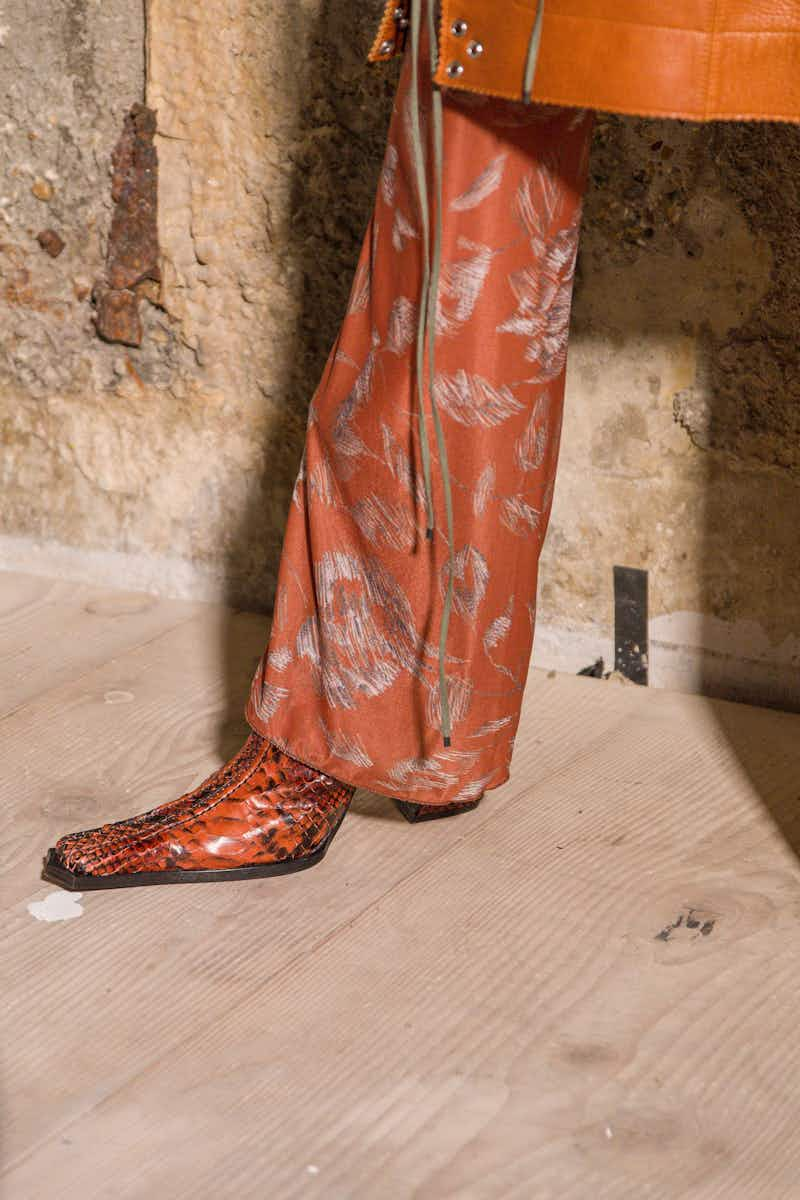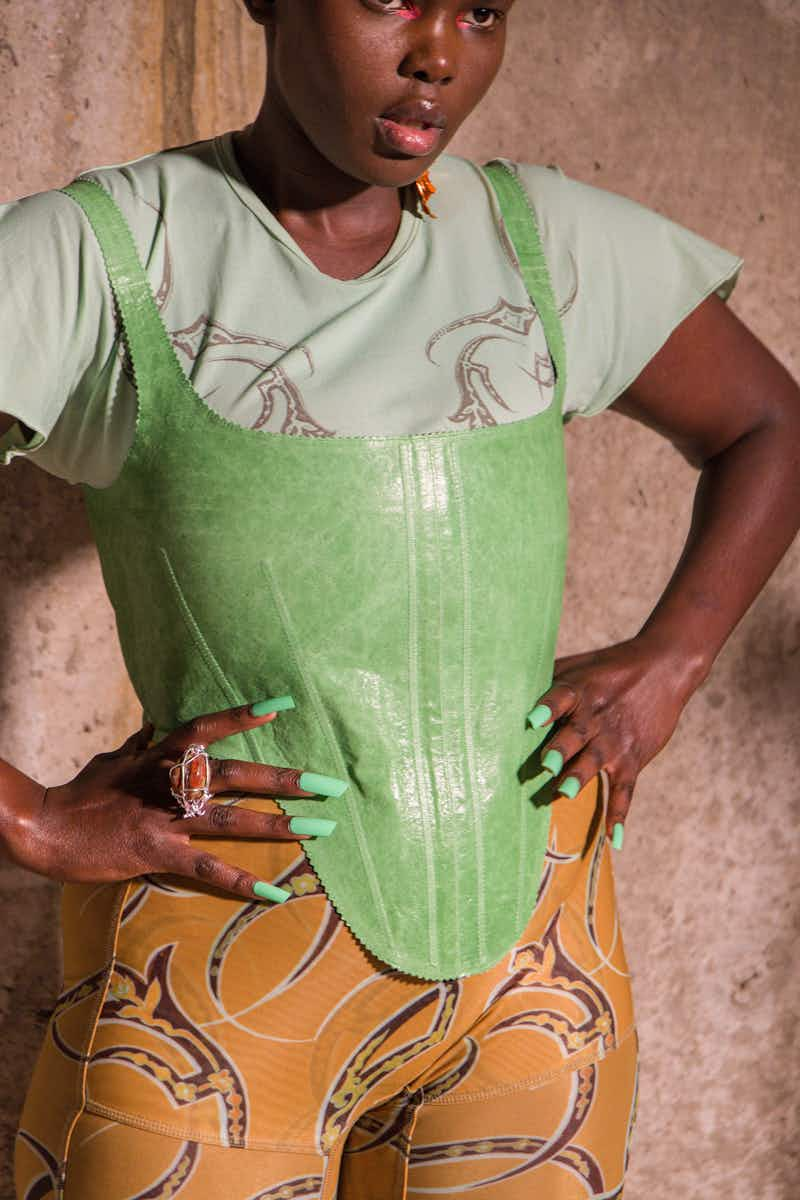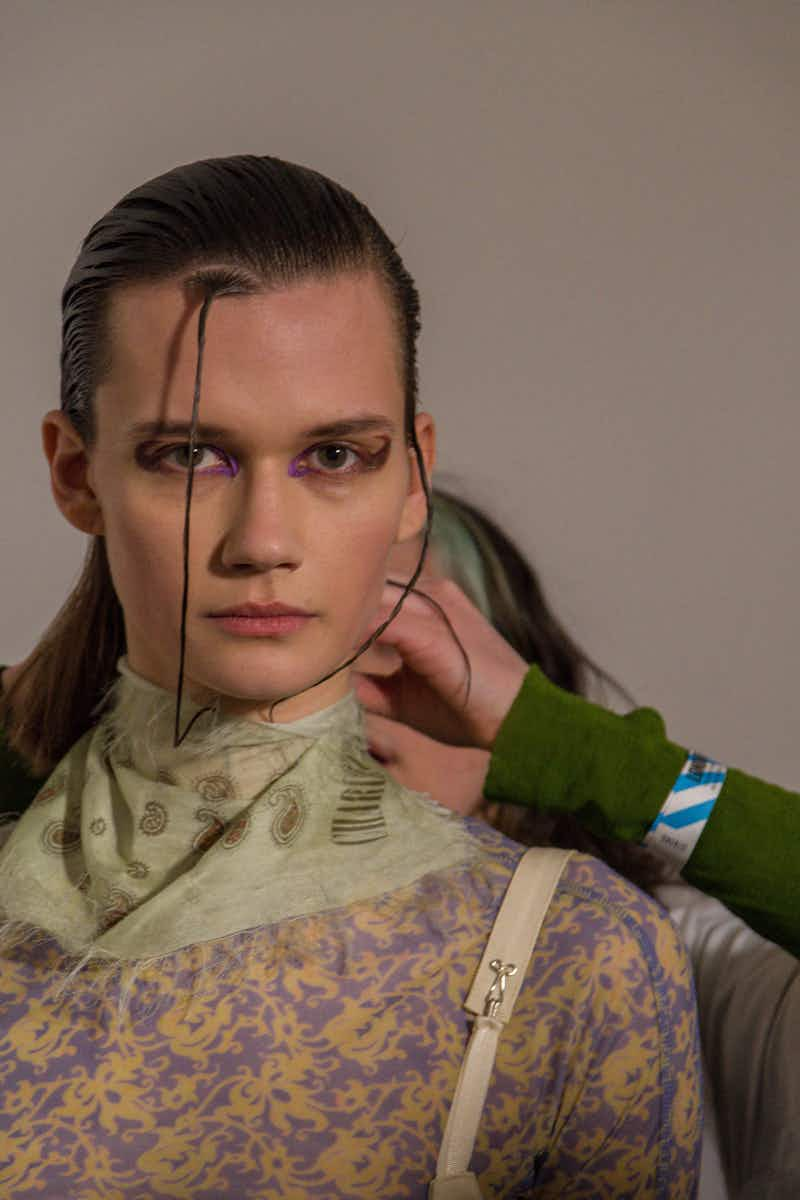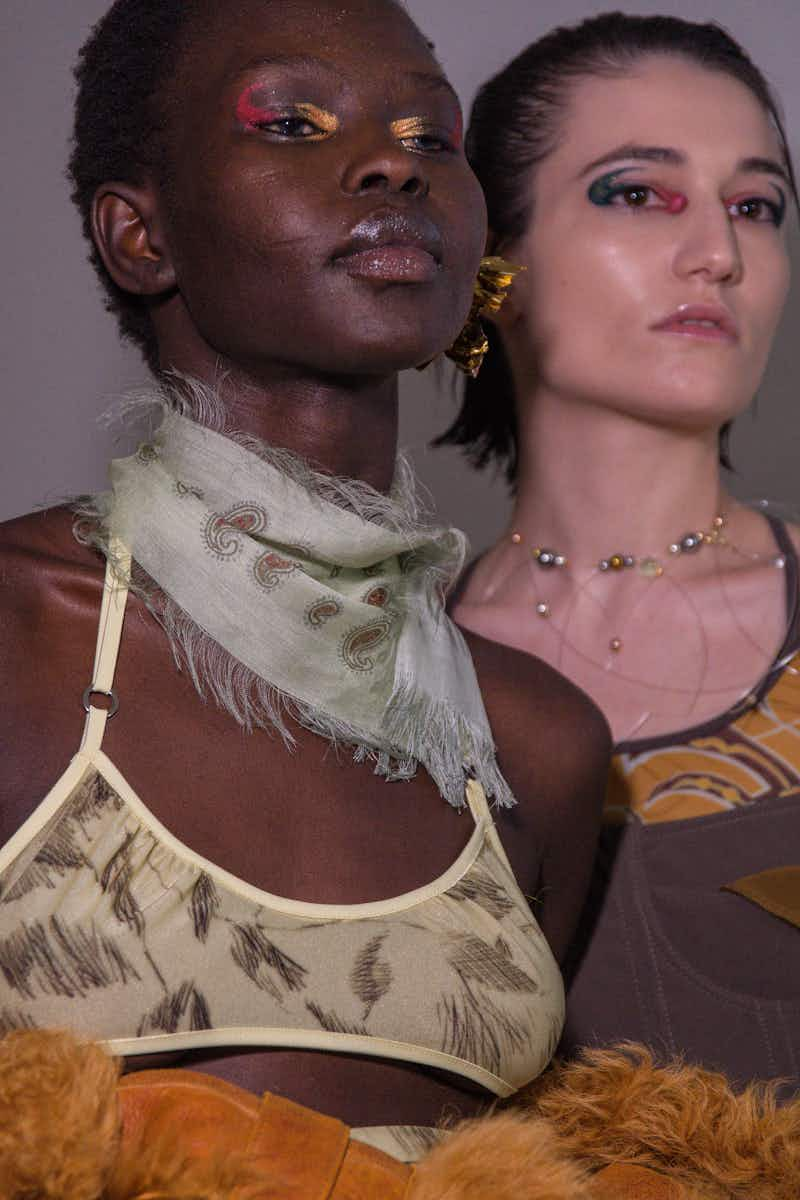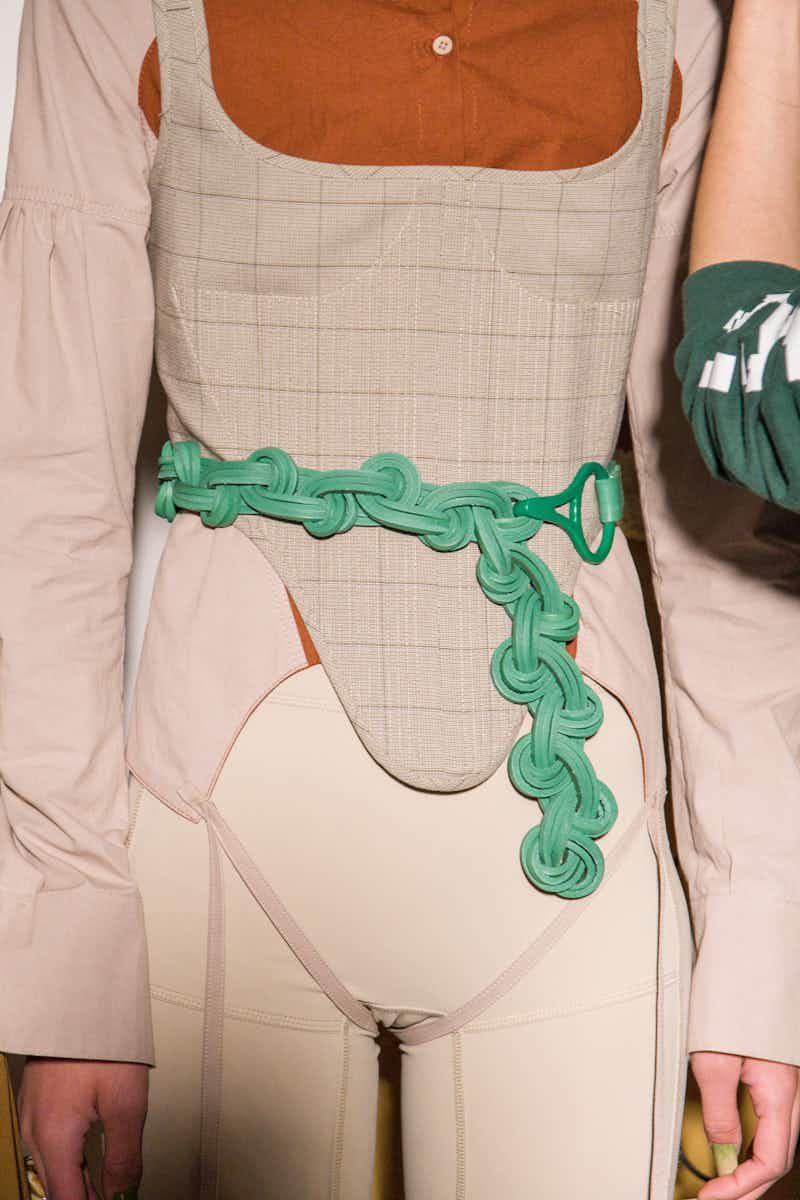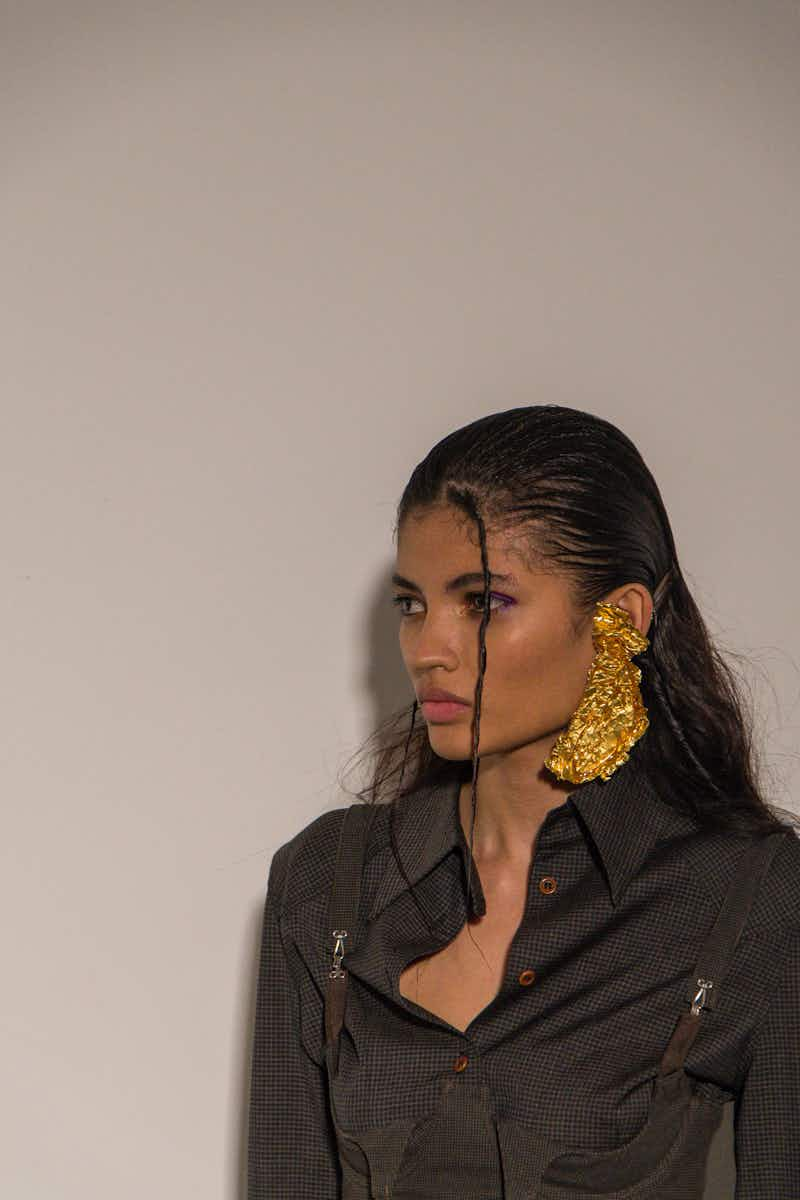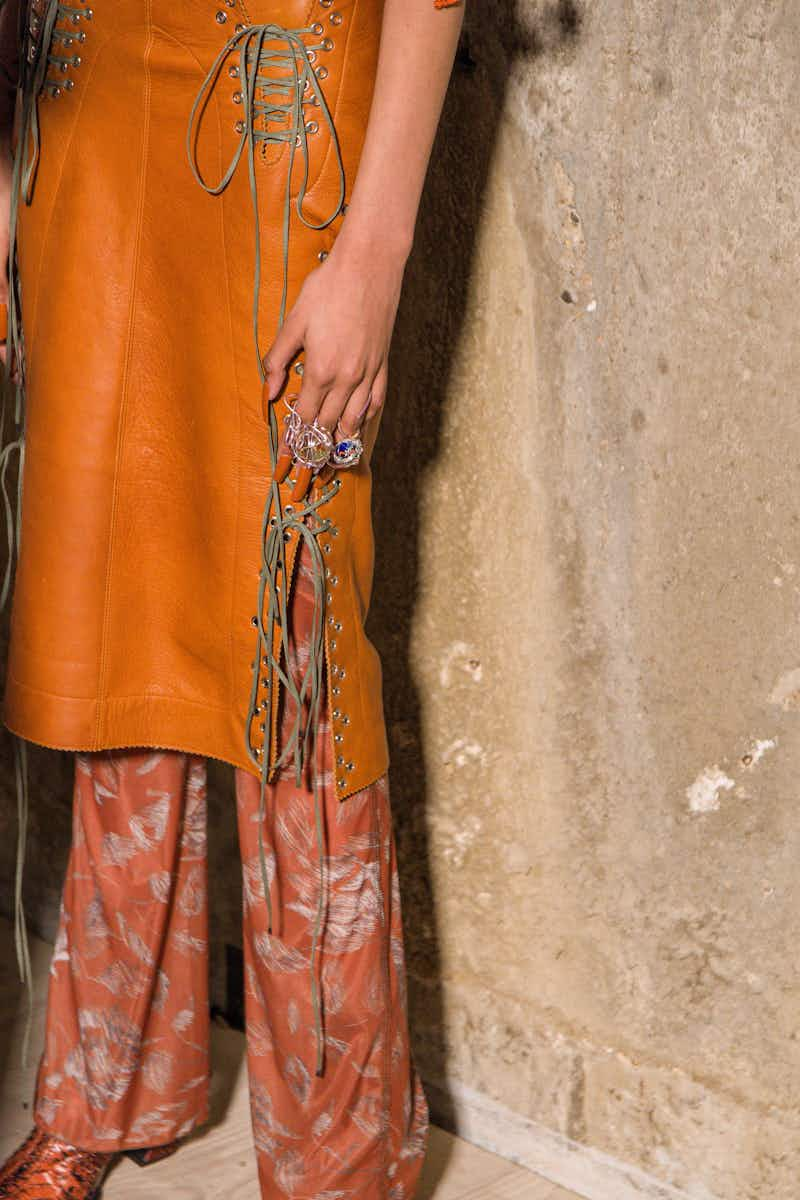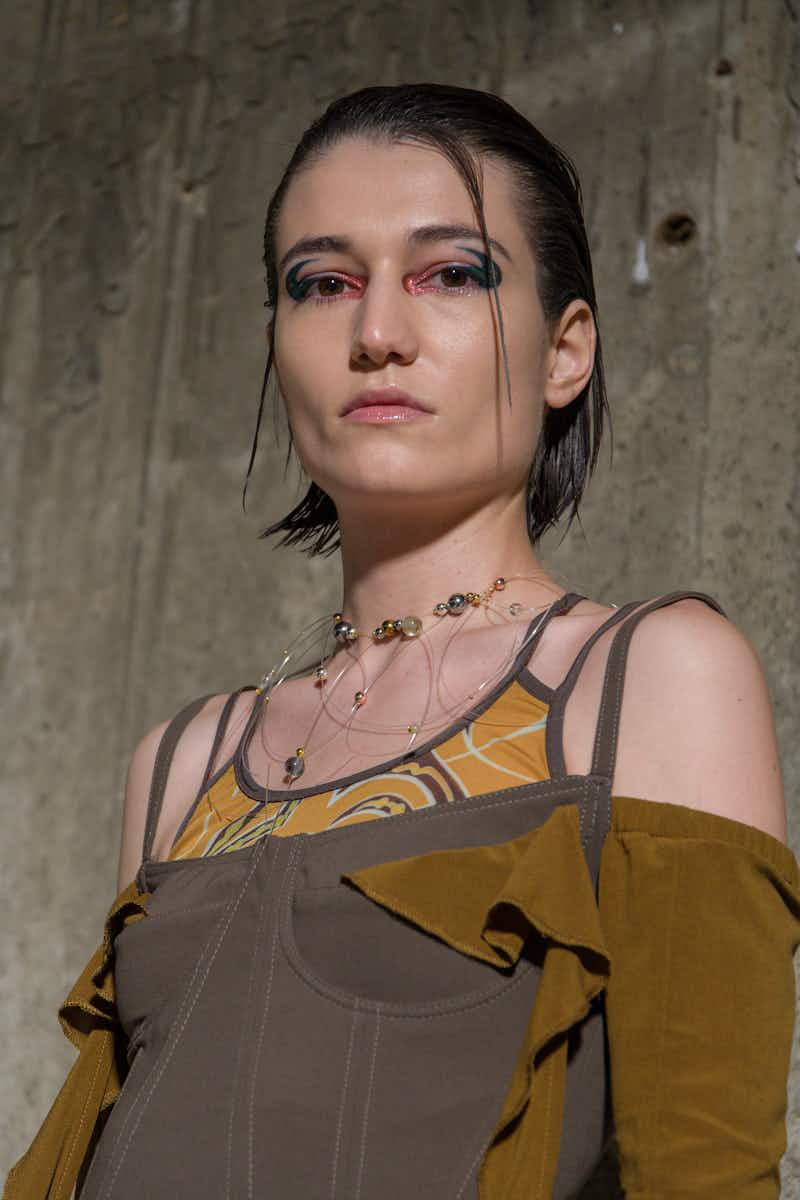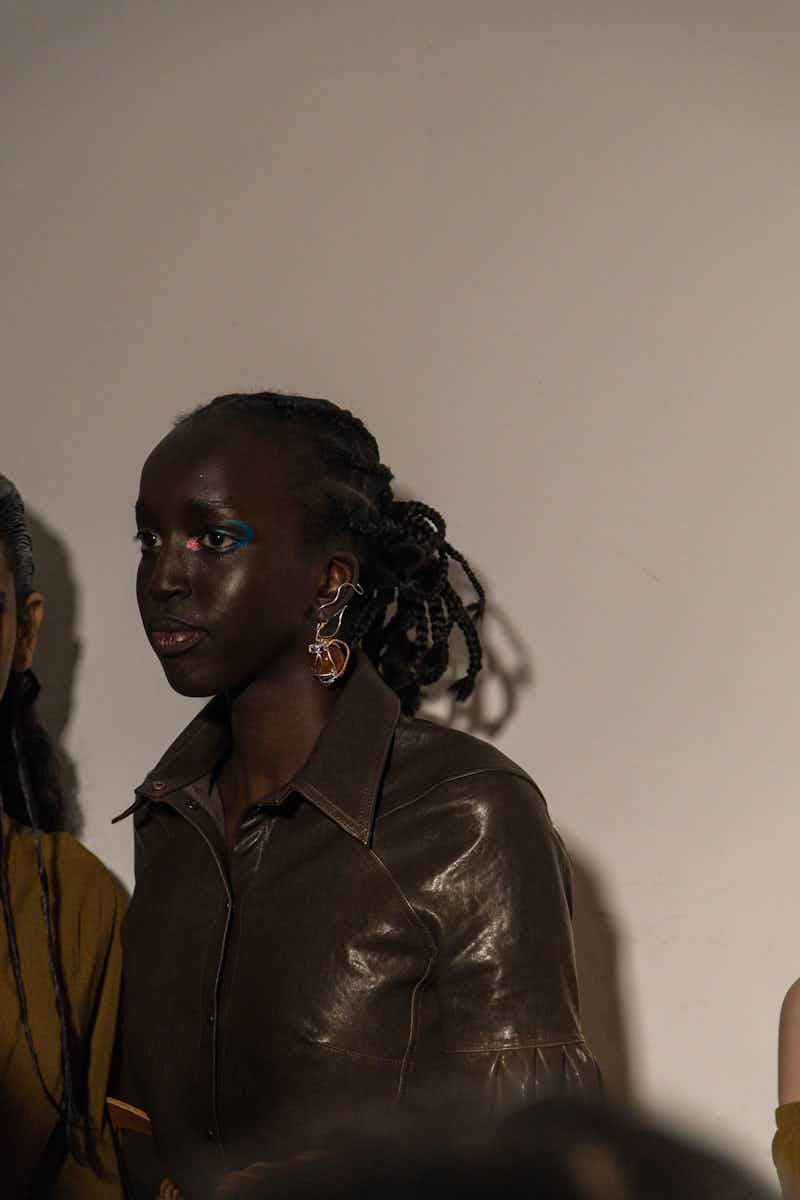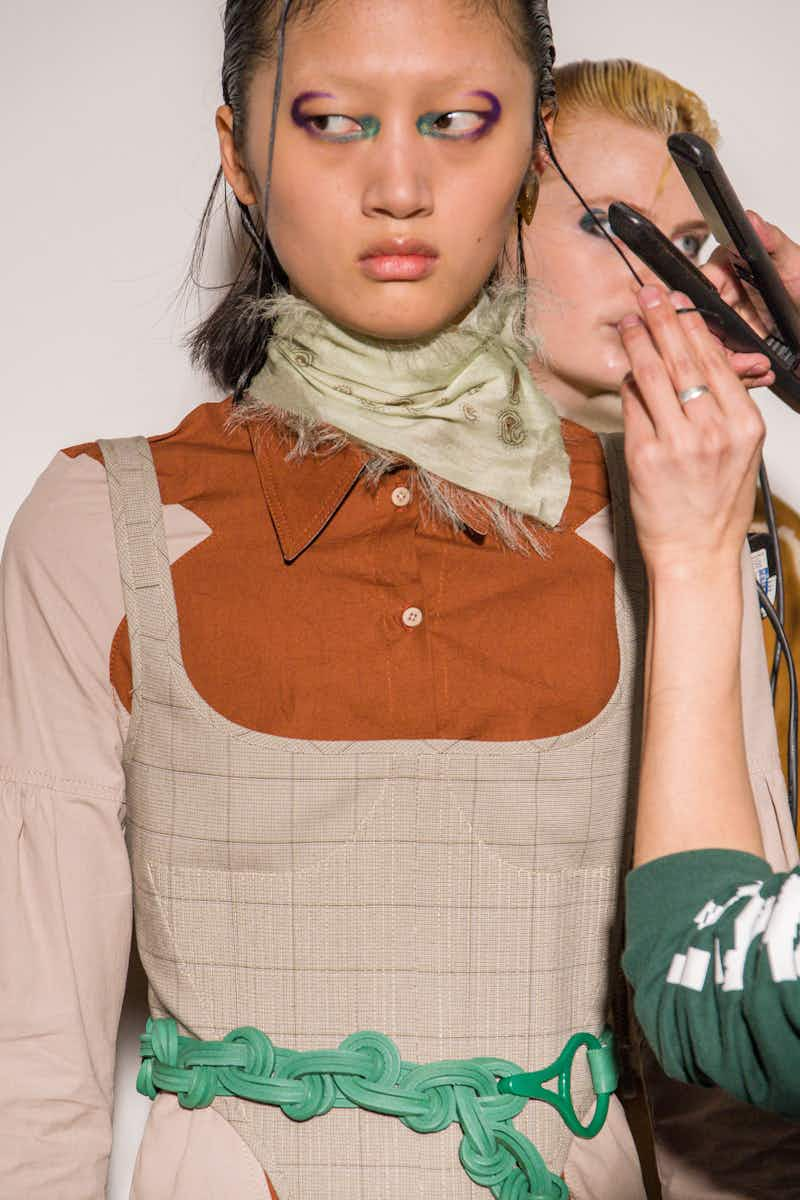 Any stand out pieces?
The misshapen, pointed-toe, snake-print boots – served in a multitude of colours – really got us going.

What did it sound like?
Driving industrial techno – the way we like it. BM.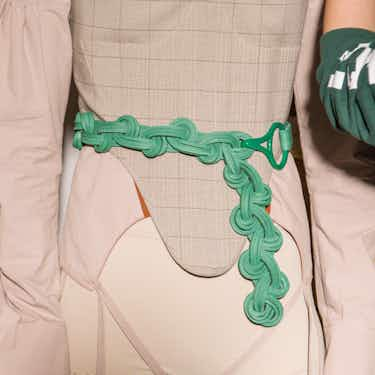 Listen now:

The sound of Charlotte Knowles AW20
VIVIENNE WESTWOOD AW20

As always, the radical designer used her comeback onto the London Fashion Week schedule to say something more. ​"My job as an activist is to demolish the narrative," says Westwood in her show notes, before stating her AW20 collection's manifesto: ​"to defend human rights and free speech.
The resulting presentation-come-protest, hosted at the Serpentine Gallery, called for Julian Assange's freedom. The founder of WikiLeaks is currently in Belmarsh awaiting trial for publishing American war crimes. If he is charged, Vivienne believes this is the end of ​"responsible journalism as we know it."
Cue an expressive wardrobe teaming with colourful tartans, structured silhouettes and irreverent slogan cloth placards of Margaret Thatcher with the words, ​"this woman was once a punk" slapped across them.
Join the action. The punk artist is also hosting a ​"Don't Extradite Assange " public demonstration this Saturday (22nd) outside Australia House (71 Aldwych WC2B 4HN) at 11:30am.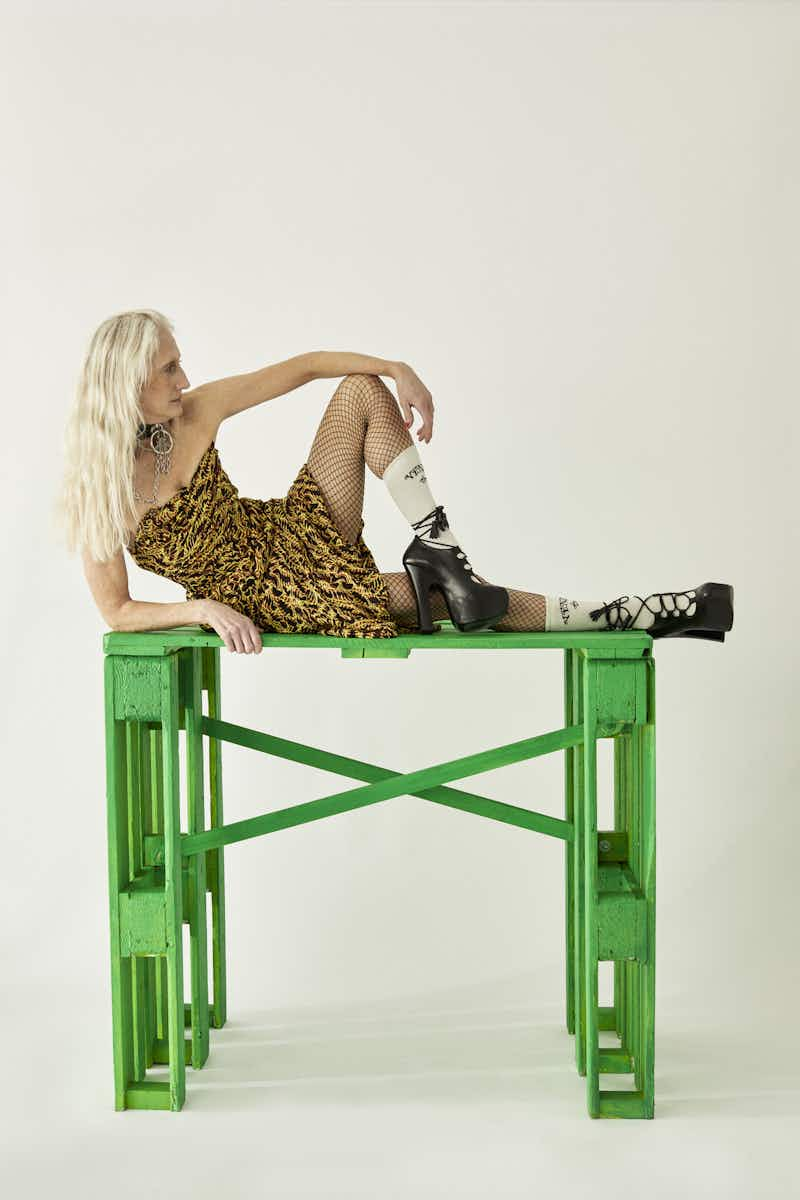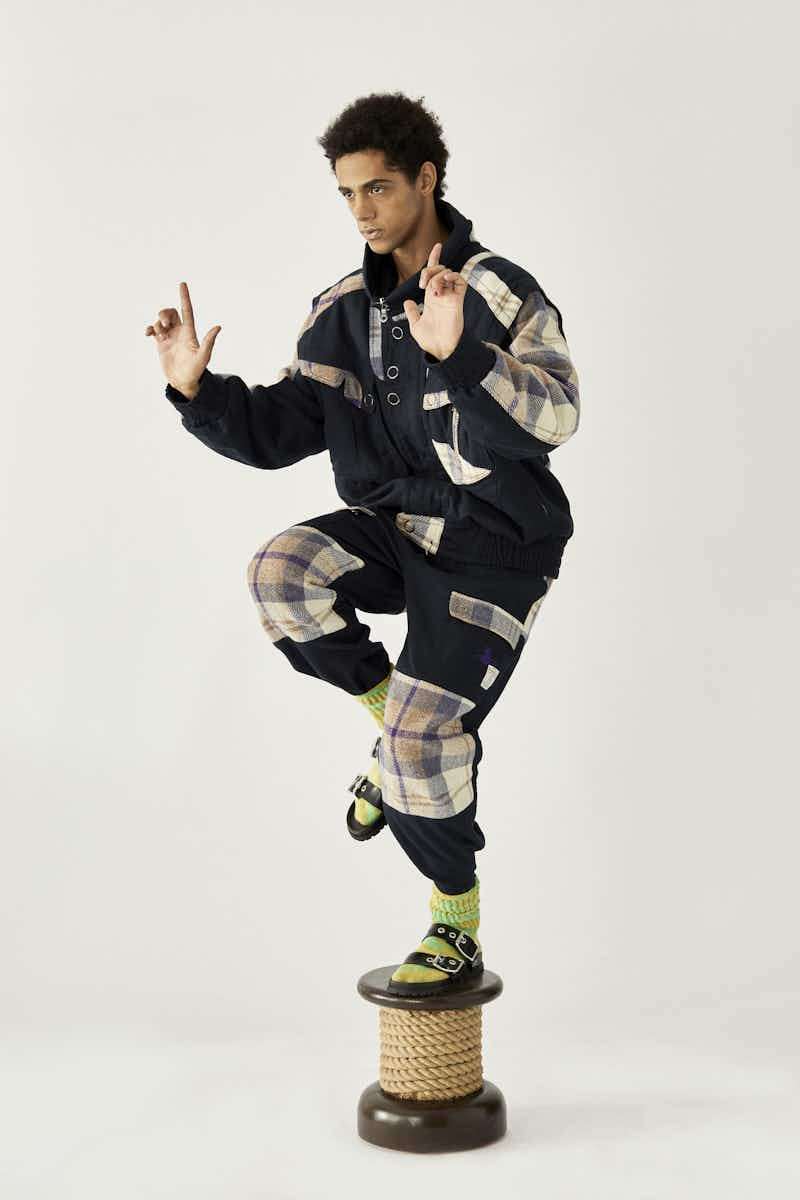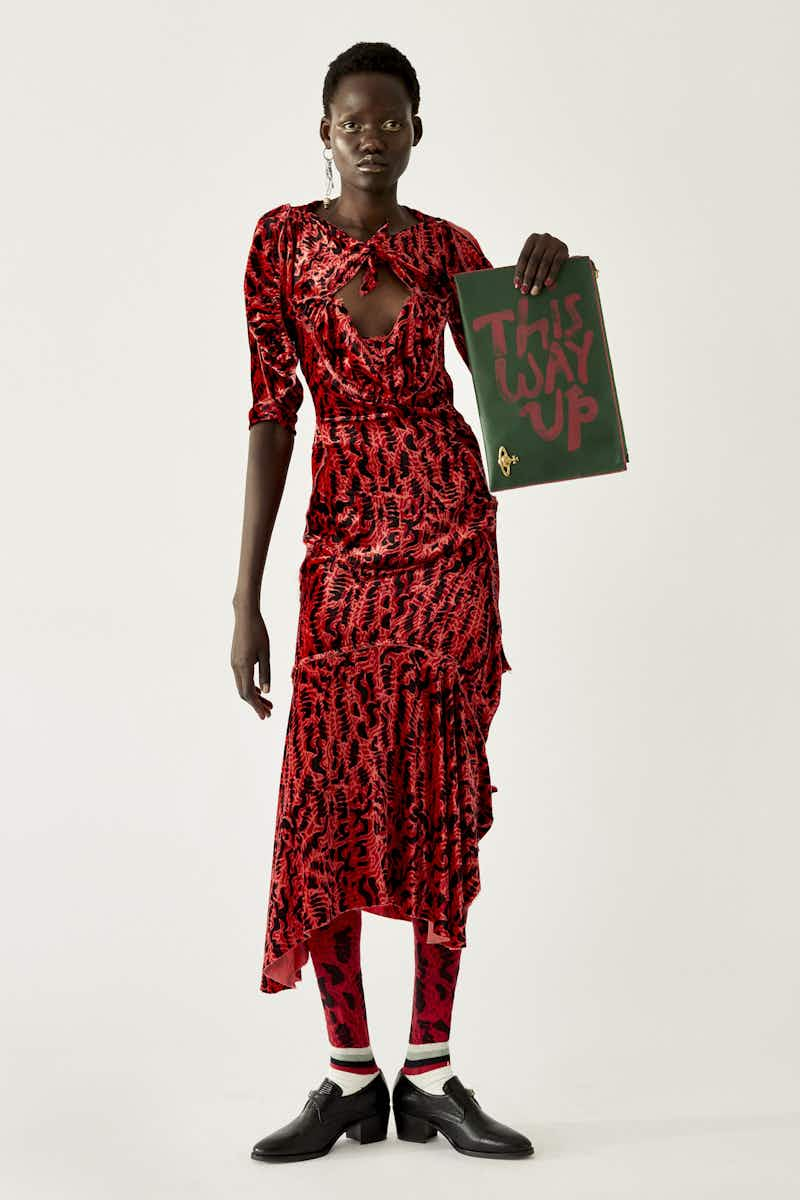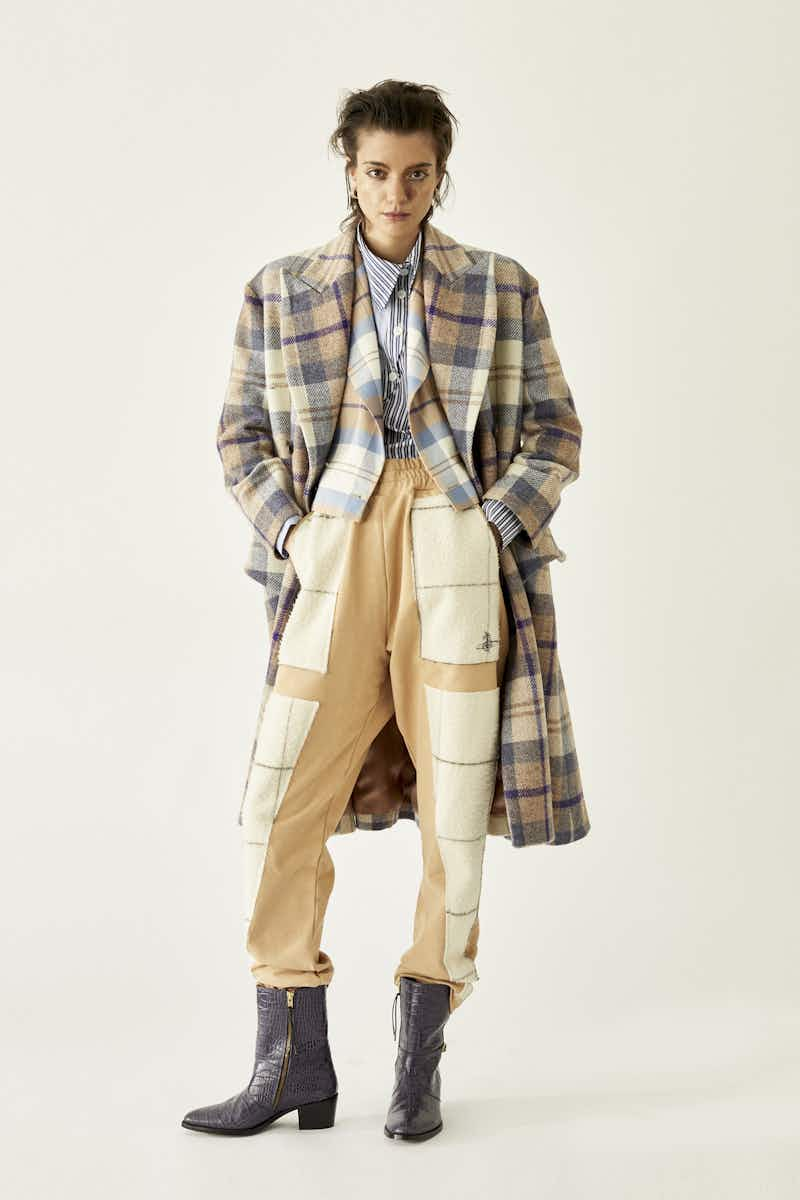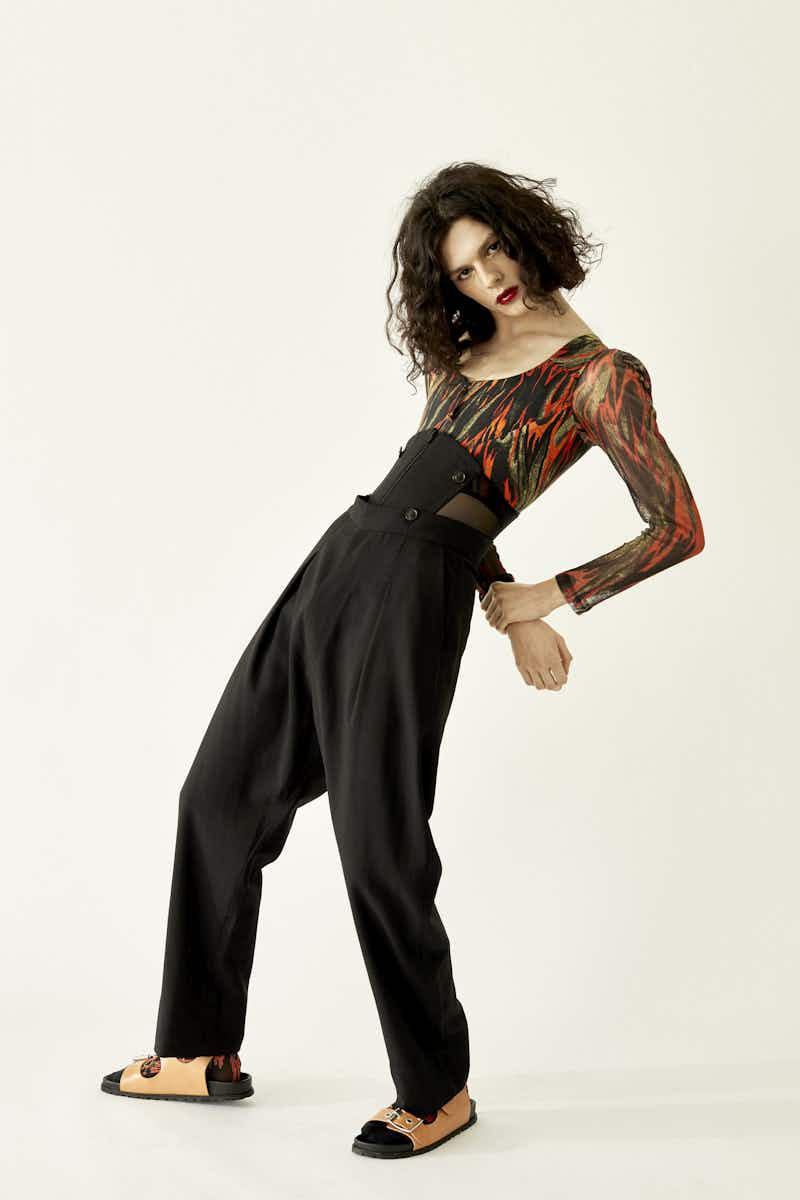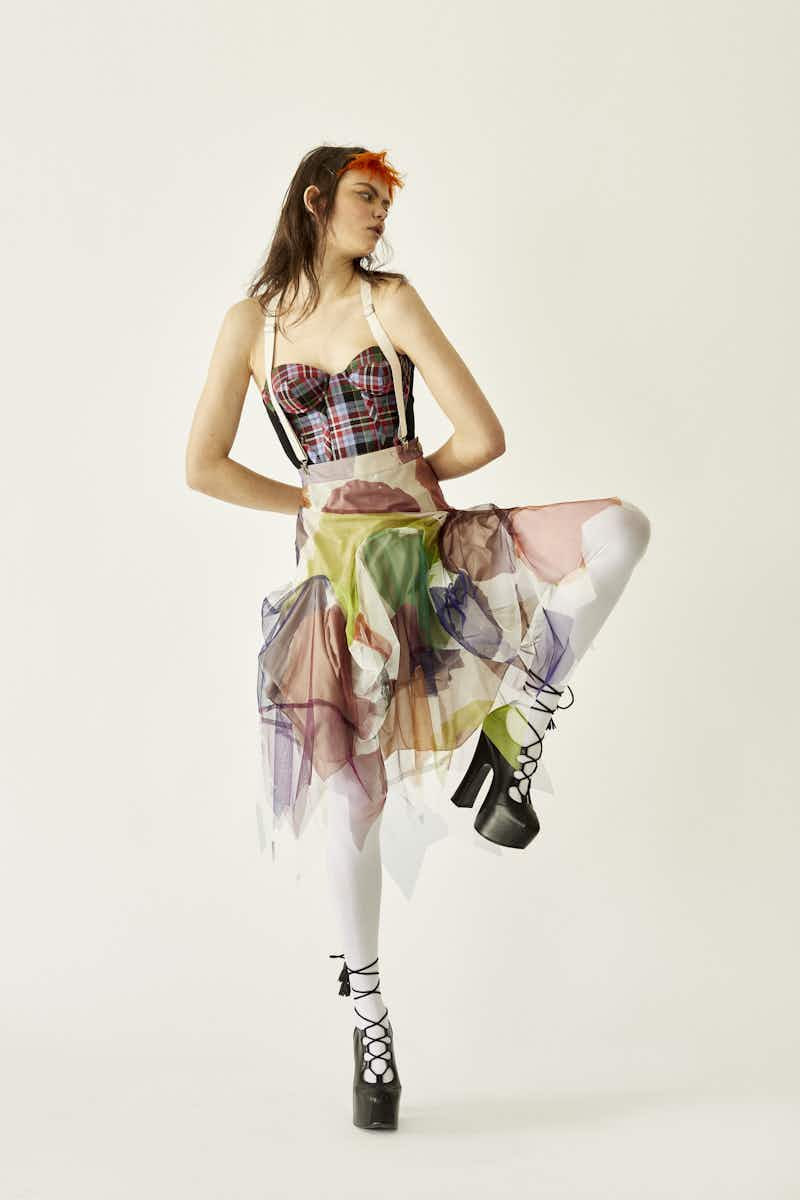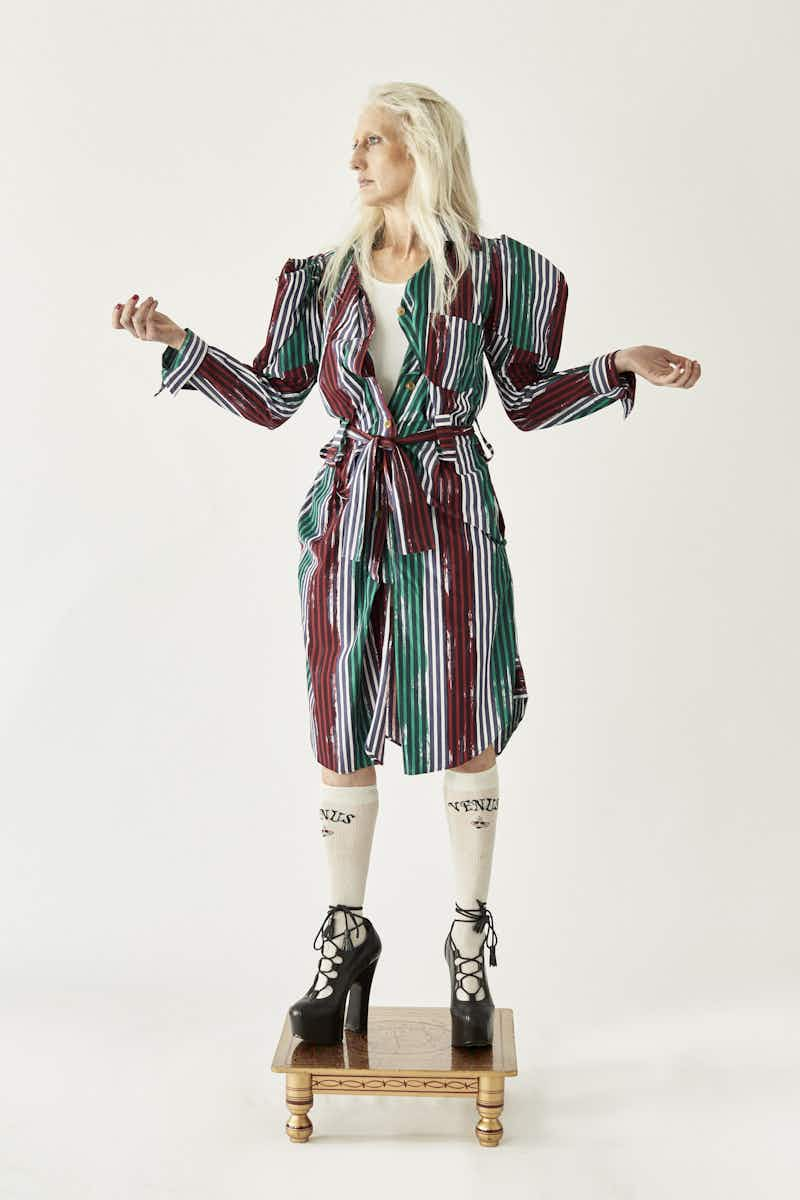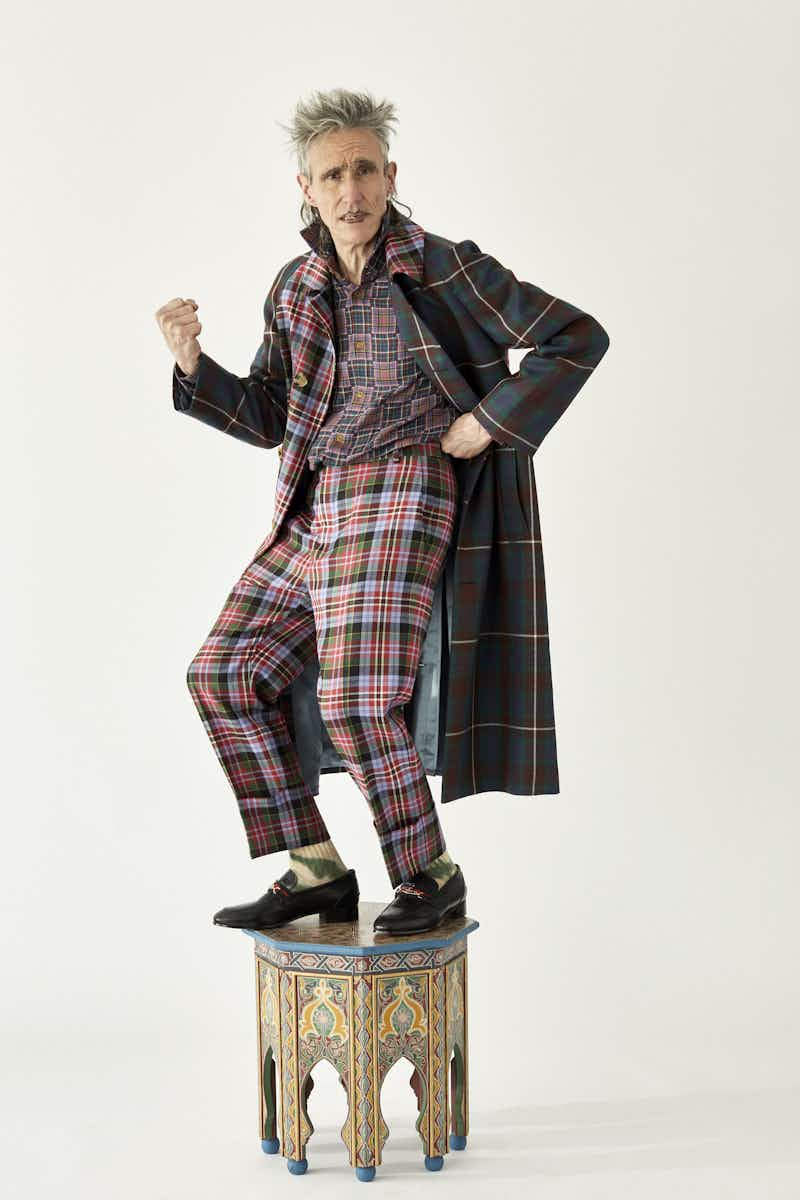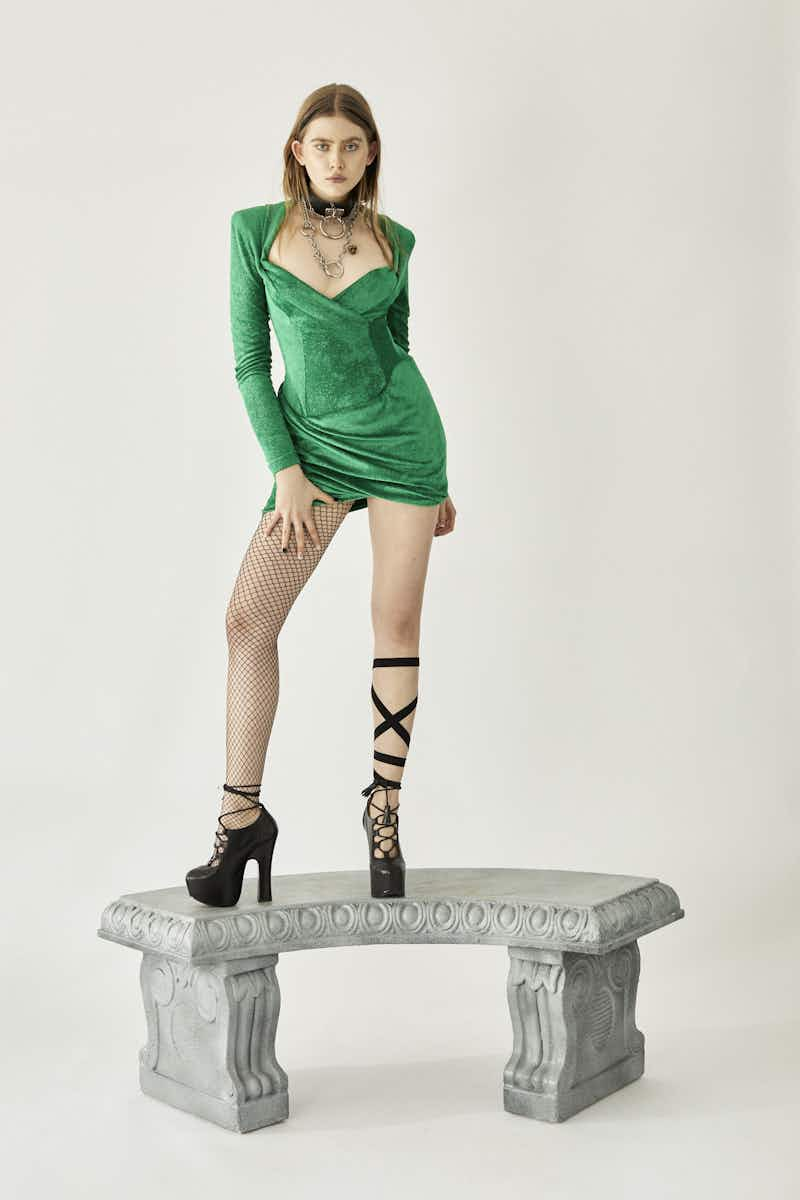 RICHARD MALONE AW20
Dress for the job you want: Irish designer Richard Malone's AW20 collection – titled ​"Innovation Pillars" – was every bit power-dressing as it was a commentary on craft, collaboration and sustainability. The lights went up to reveal a team of models with cinched-in waists, a plum purple two-piece suit and kick-flare trousers, followed by strappy BDSM harnesses layered over ruched, tits-on-show evening dresses.

Malone continued his mission to recycle, giving excess yarn a new life, while championing econyl – a regenerative nylon composition which can be both reused and repurposed. Sculpted, deconstructed dresses ushered in the finale, where Patti Smith's Horses cued the end of a refined collection. TS.

ASHLEY WILLIAMS AW20
Having skipped the LFW schedule last season – and shown as a guest at Seoul Fashion Week instead – today, Ashley Williams was back and giving us one hundred per cent energy.
The first look set the tone: an ivory puffball dress printed with pink dollar bills that epitomised both the designer's tongue-in-cheek aesthetic and the protagonist of this collection: a happy-go-lucky party girl. The stars of the silver screen were pinned on Williams' mood board this season: Lula Pace Fortune (see: her take on the hot pink dress, worn by Kasper Kapica), Dionne Davenport (see: the checkered skirt suit paired with fuzzy green pumps) and Frances Baby Houseman (who would look dead cute in the mohair granny cardi and knickers set). Williams' distinctive sense of irony was, of course, present in the shape of fresh new slogans (to which we can all relate): ​"In Dog Years You're Dead" and ​"Life Is Pain".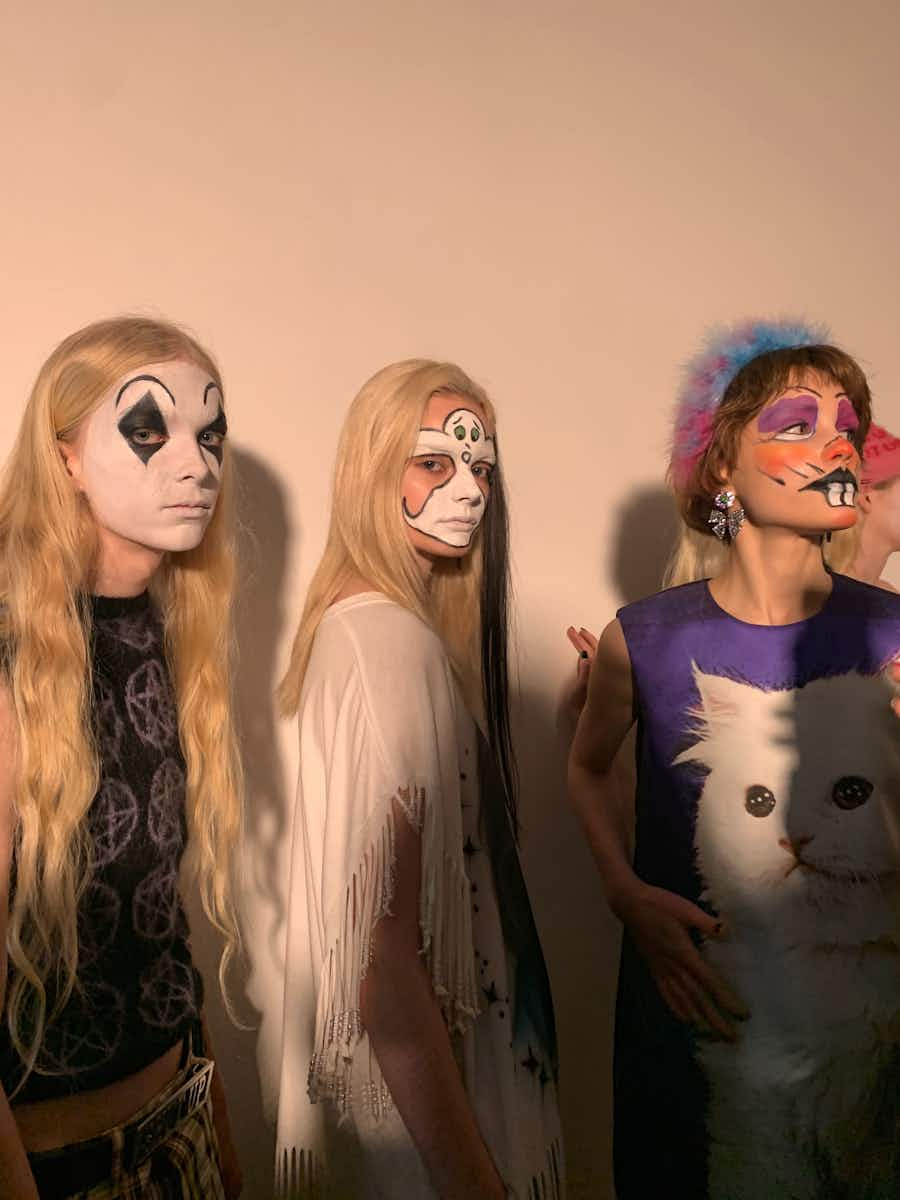 What about the dresses?
Williams' party-dressing skills have reached their peak for AW20. Oversized tulle gowns, an embellished dress with balloon sleeves (worn by Nasty Cherry's Gabriette), full-feather slips and photographic-print frocks (feat. dogs, cats, shoes and tattoos) delivered a dressing up box of dreams, while an upcycled ball gown closed the show. Williams' pièce de résistance was the result of time spent trawling through old samples and was created in collaboration with her friend, artist and designer Claire Barrow. As Ben Reardon perfectly put it in the show notes: ​"They dismantled their past and put it back together in a beautifully wrong way."
Of note:
A collaboration with Samsung to commemorate the launch of their oh-so-90s Galaxy Z Flip phone, for which Williams designed her first ever micro bag — said mobile fits perfectly inside.
What did it sound like?
The show closed to the sound of Andrew Lloyd Webber's Memory from the original Cats. BM.

YUHAN WANG AW20
Having graduated from Fashion East this season, Yuhan Wang's first solo collection saw her build upon her trademark oriental detailing on delicate Victorian silhouettes. Inspired by the rituals of mourning, elegant Sunday best coats with exaggerated lapels and mid calf fishtail shirts with frayed edge floral tapestry prints dominated the catwalk, while accessories included pearl necklaces, black veiled headwear and tiny, circular sunnies. As usual, ruched and draped satin and layers of lace spanned the collection – emulating a ​"beautiful spirit of melancholy", something Wang believes is ​"invaluable for cherishing life in the now."

Taking place at the BFC space at The Strand, the show was soundtracked by the beautiful piano beats of Kiran Kai. Makeup was minimal and hair was pulled back into neat plait bunches, with a handful of models rocking intricate harness-like hair structures. AF.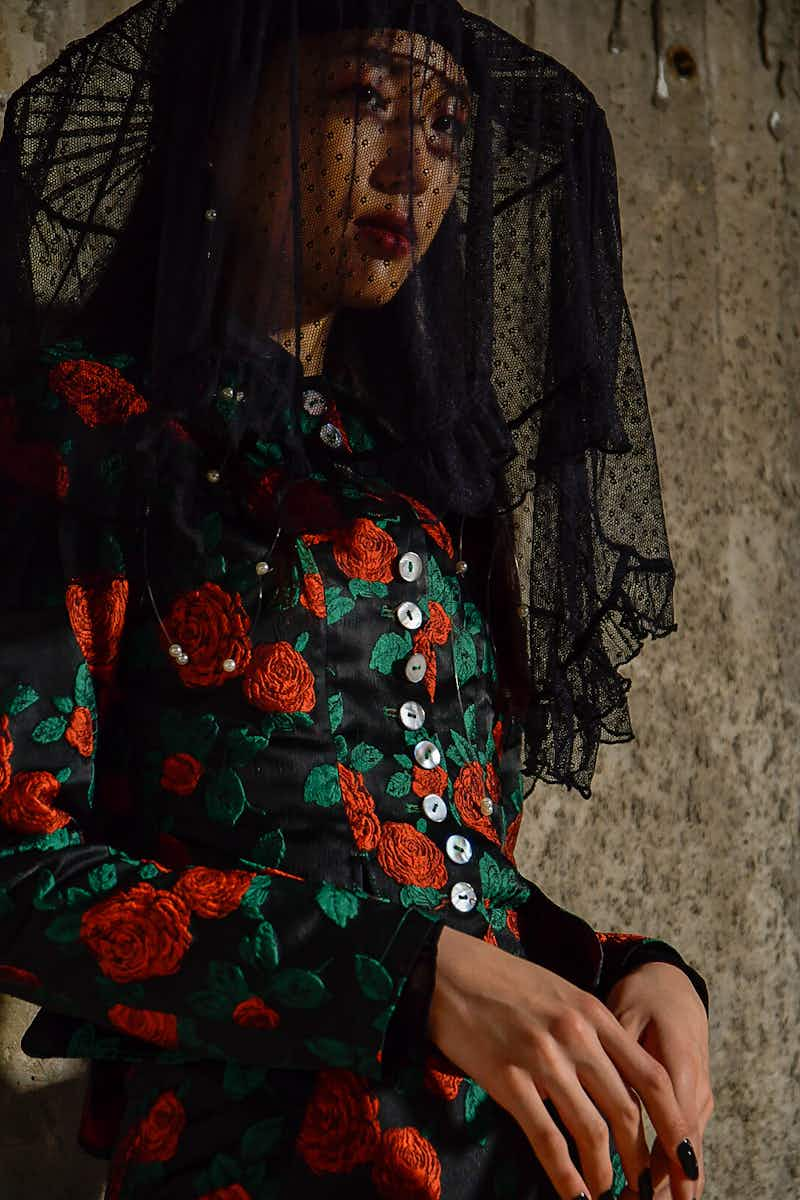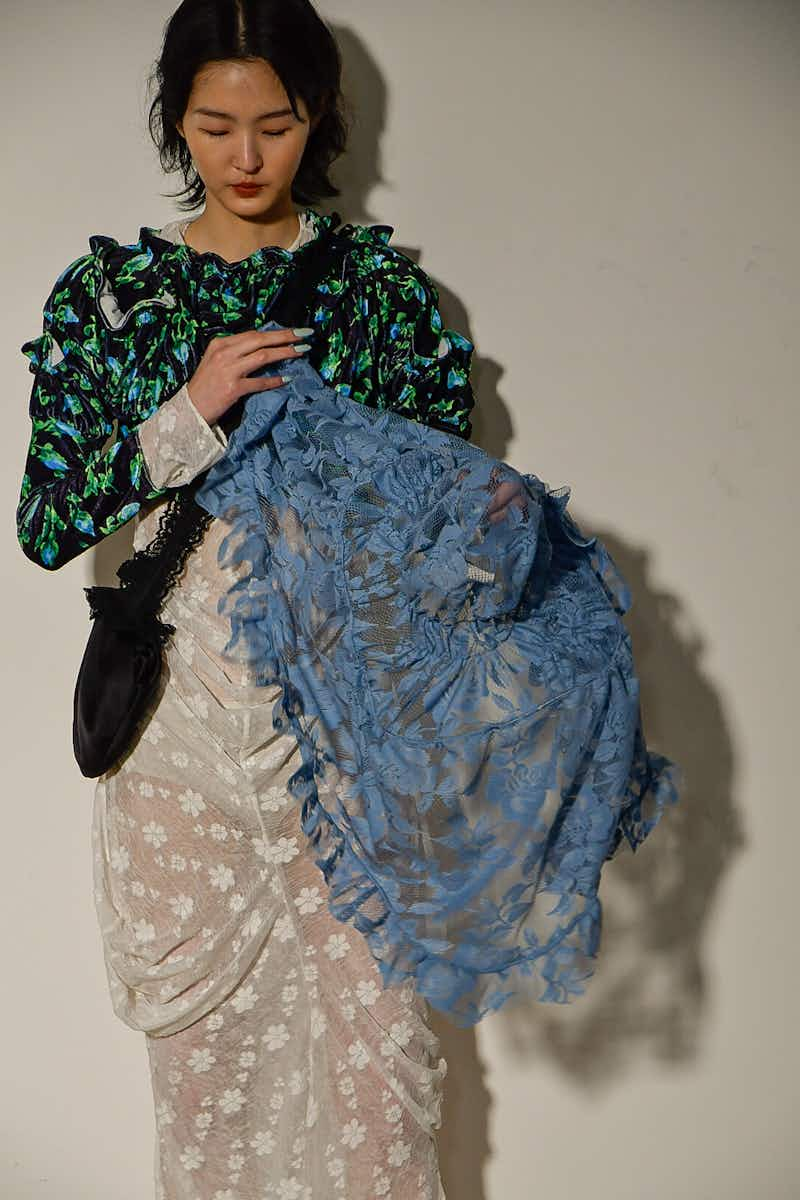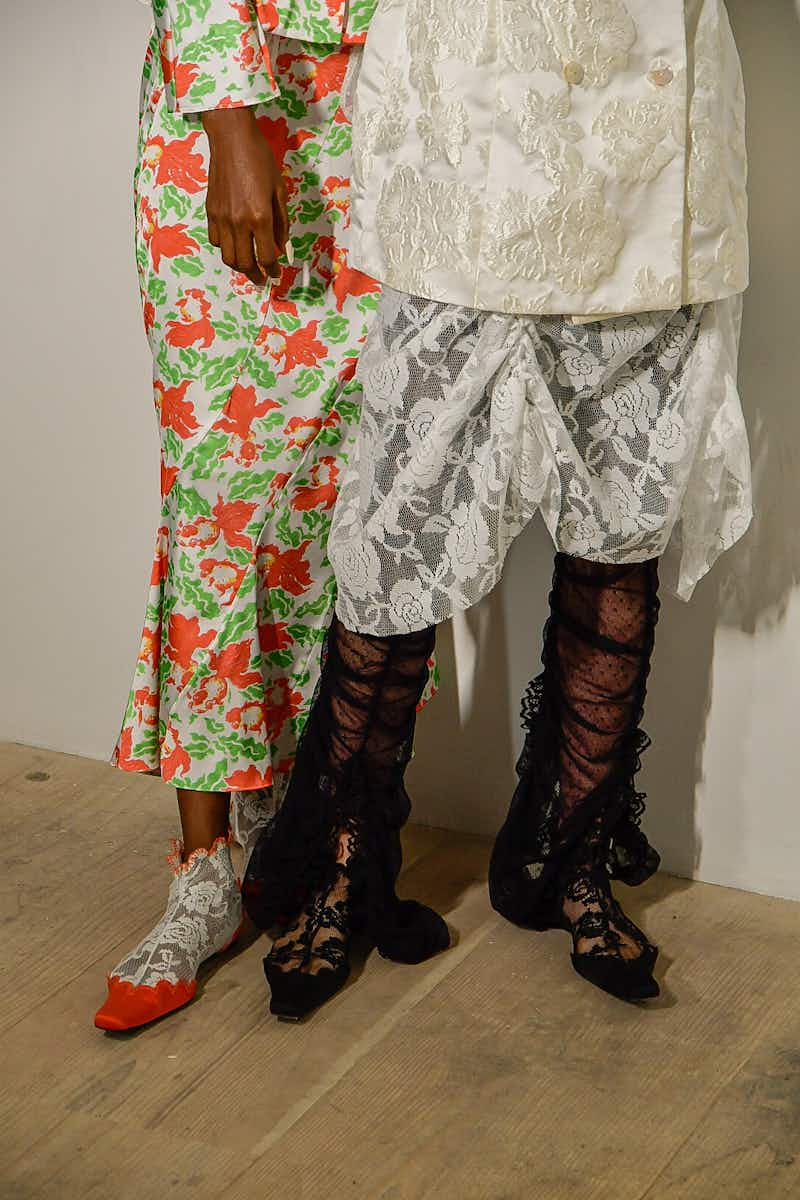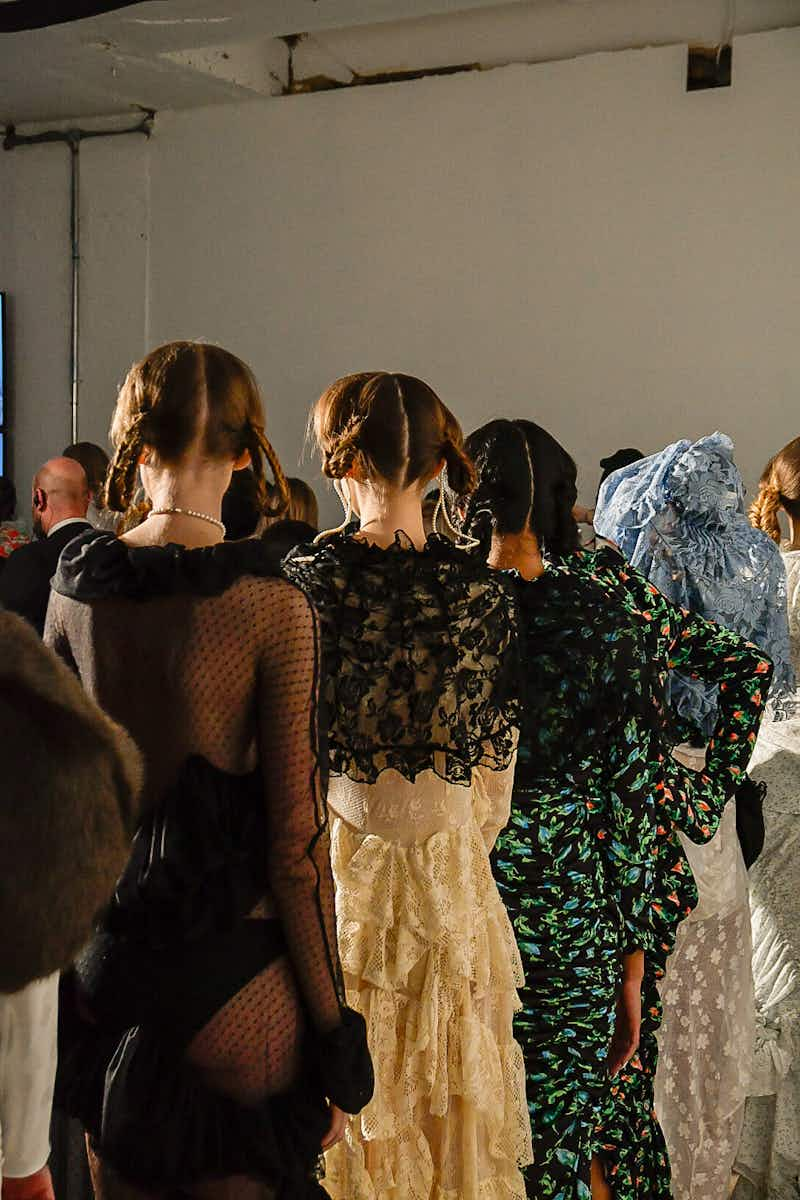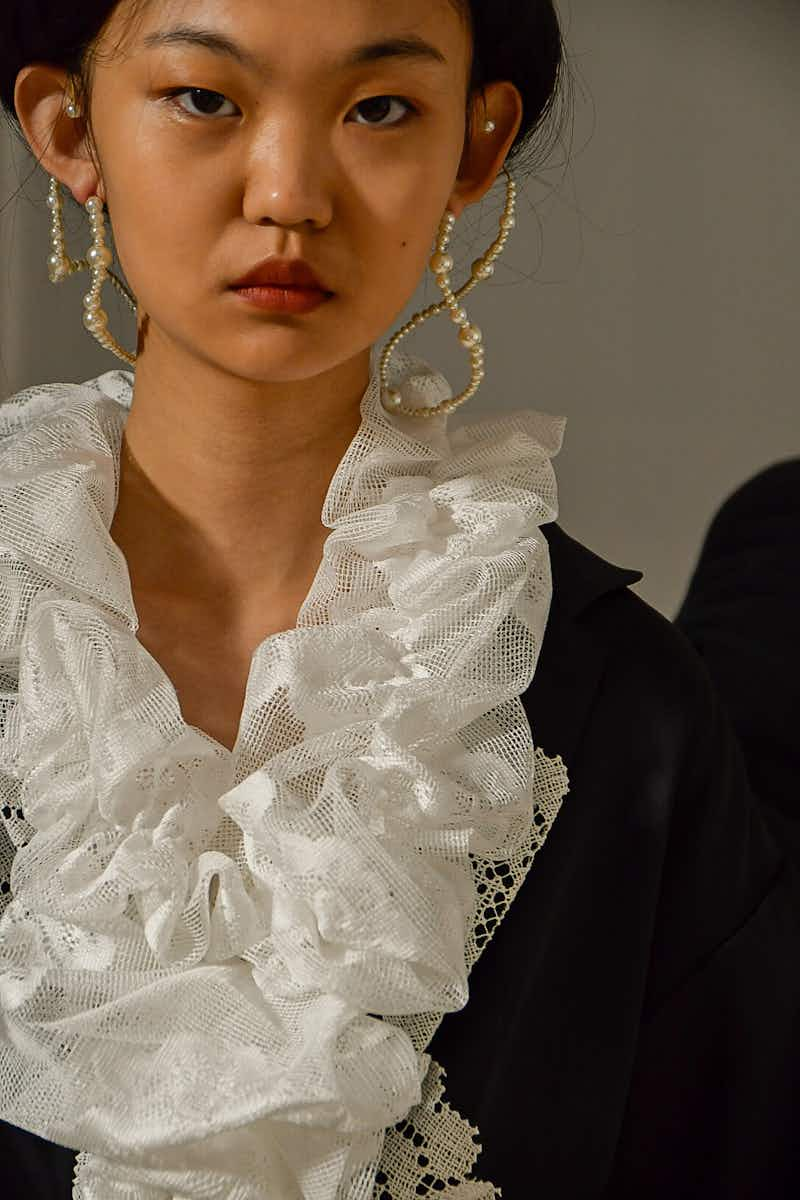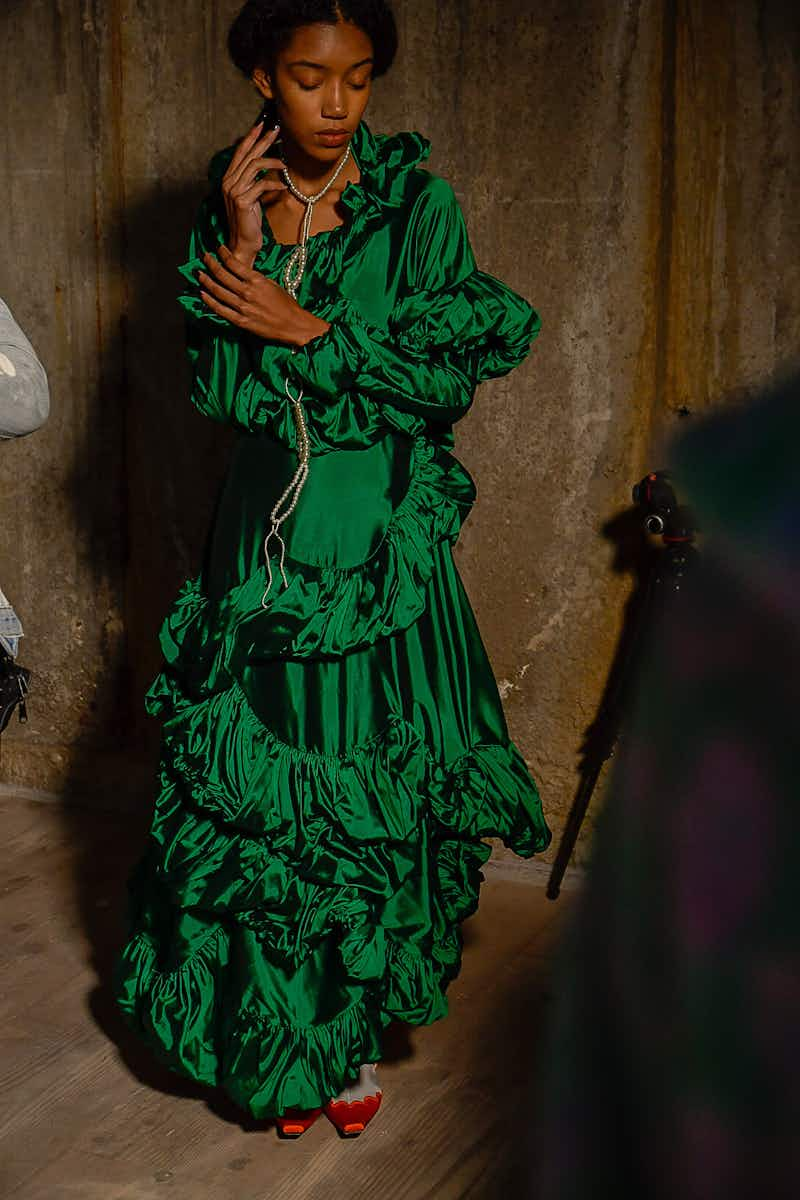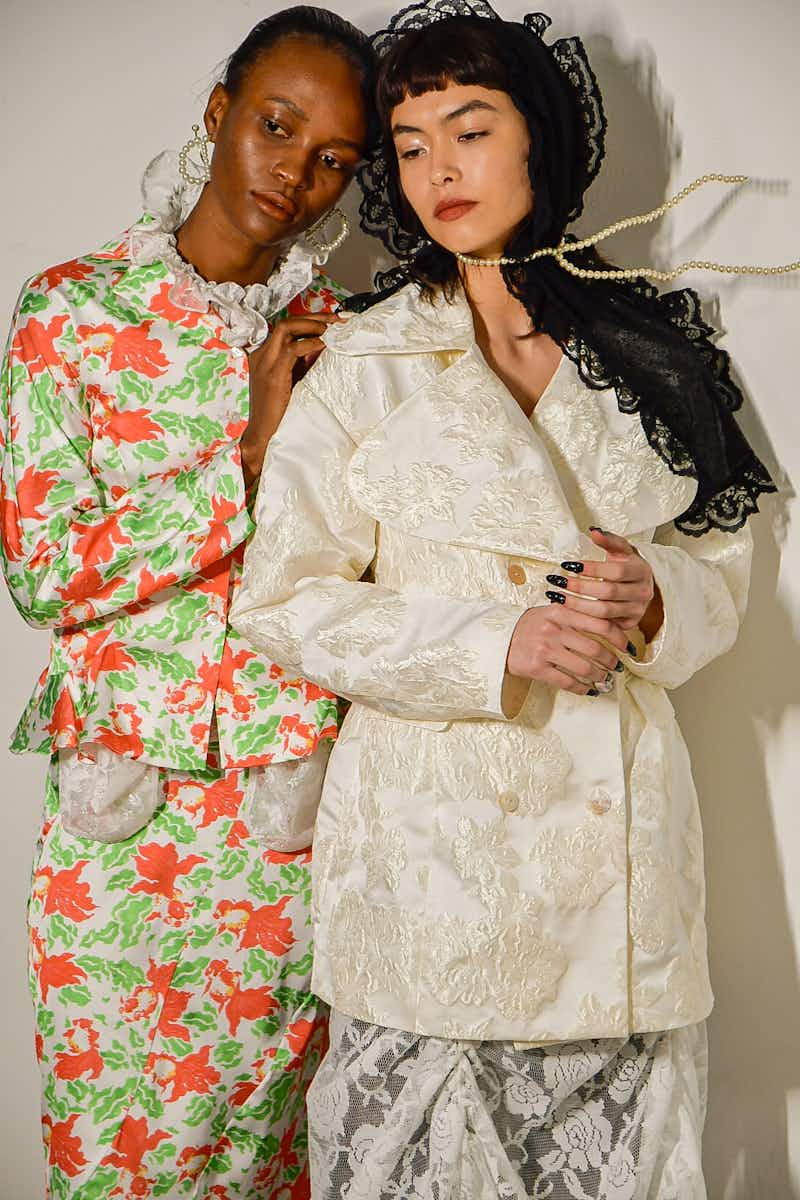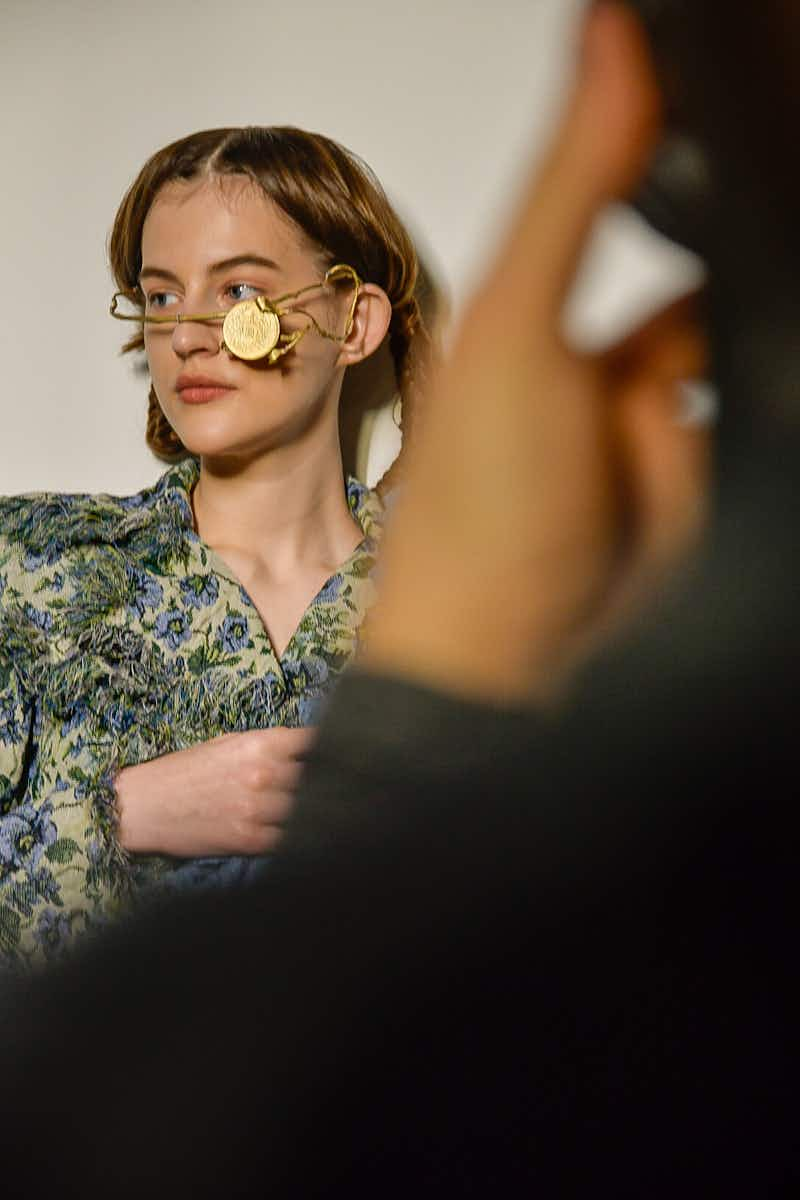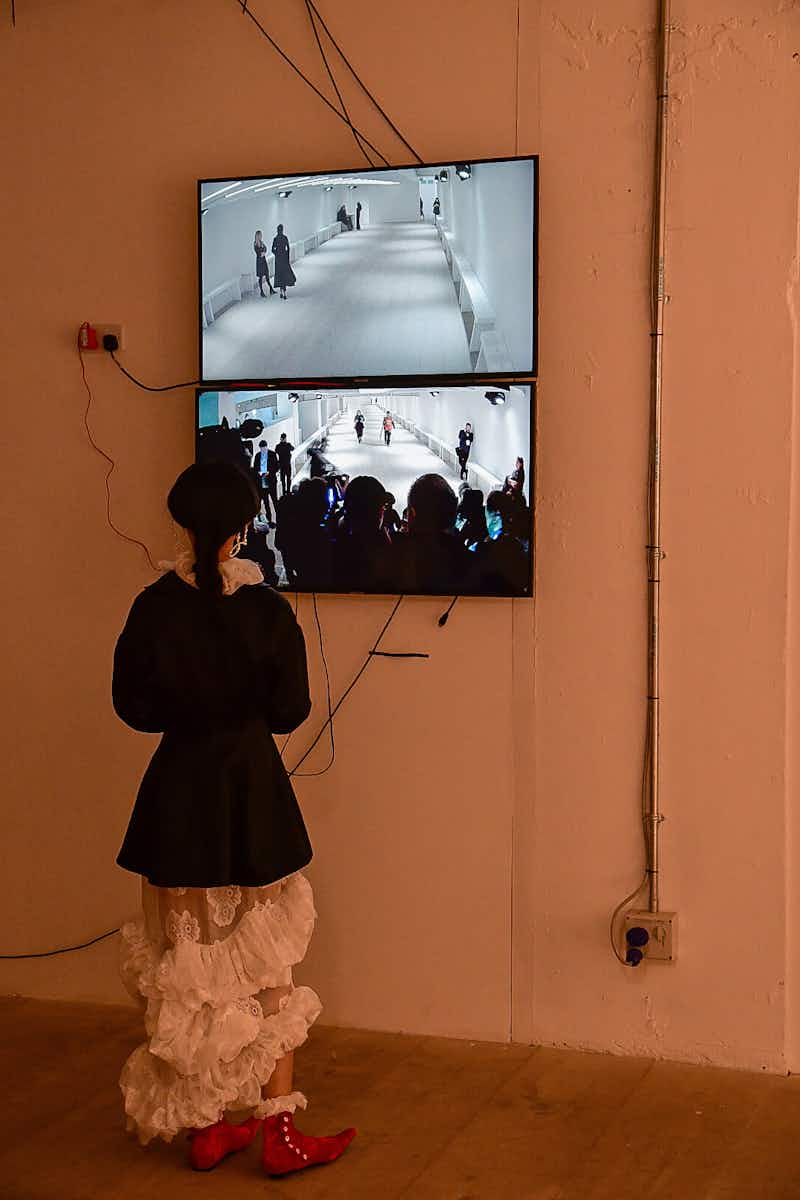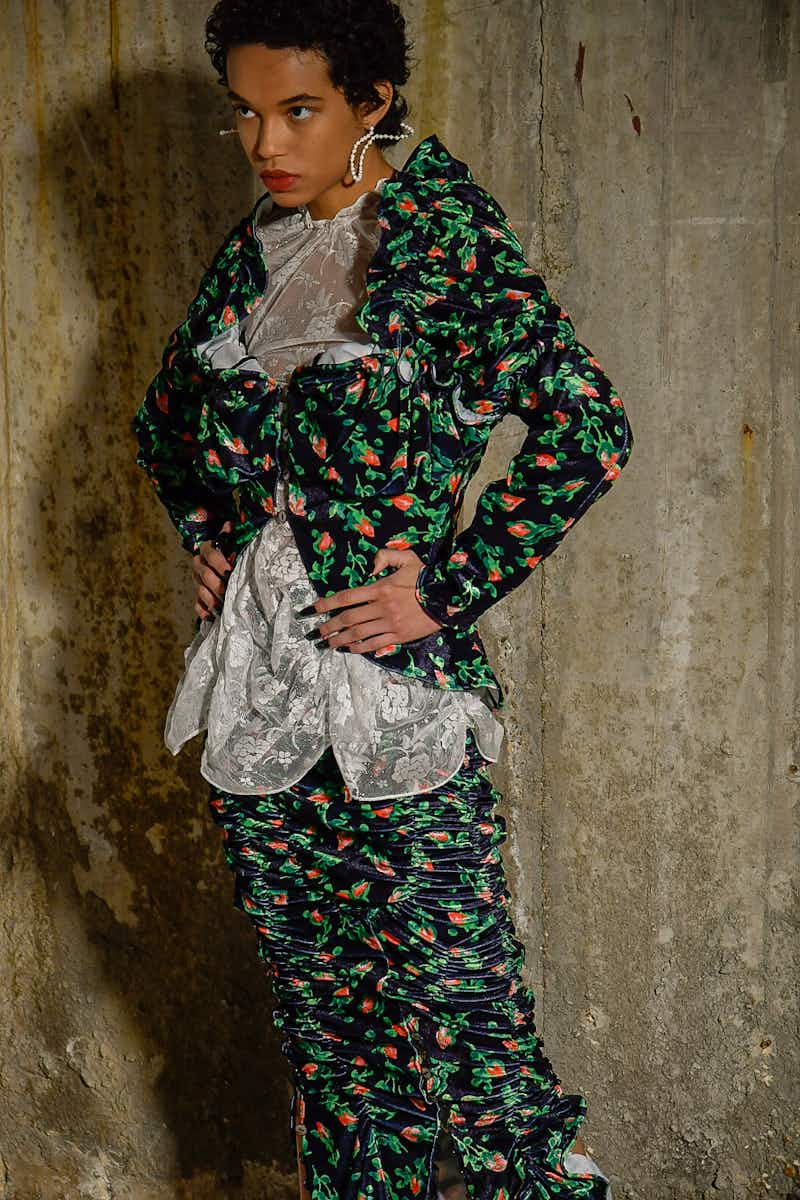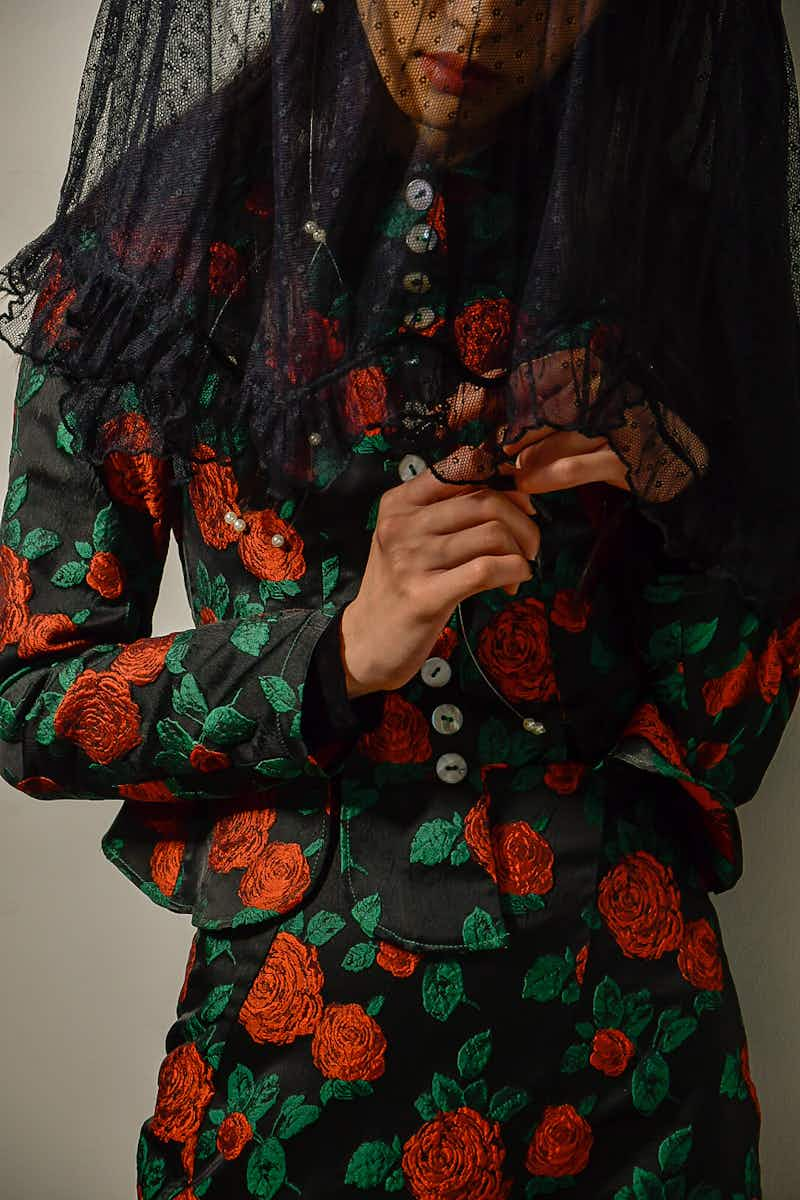 More like this