Everything going down at London Fashion Week SS20

Fashion East, Matty Bovan, Marta Jackubowski, Marques Almeida, Molly Goddard, Simone Rocha, Ashish, Supriya Lele...
RICHARD QUINN SS20
Richard Quinn certainly put on a show for weary London Fashion Week attendees, turning a leisure centre in Bethnal Green into a royal court via chandeliers, pink carpeting, blossomed branches, a full orchestra and choir. Quinn's exuberant florals were twinned with gigantic puff ball silhouettes – shoulders, hemlines, peplums and kick flare skirts.
Earlier looks showcased Tudor-esque details like columns of velvet bows, diamanté diamond quilting and lady-in-waiting sleeves. As the show progressed, the Quinn woman seemed to evolve. Puffballs gave way to more elegant, refined silhouettes: skirt suits, qipao cuts and neck-to-toe flowing robes (as worn by a silver-haired Erin O'Connor). A suite of wedding white looks swept the floor for the show finale: a troupe of feather-clad children paraded in front of the photographers' pit while a curtain fell to reveal a garden party tableau of models dressed in glittering column dresses.

Where was the show?
York Hall, on Old Ford Road in Bethnal Green.

What did it sound like?
The Philharmonia orchestra, with a choir — singing Moonlight from Cats, and God Save The King from Zadok the Priest by Handel.
Who was there?
Erin O'Connor and Jade Parfitt walked. Billy Porter and Anna Dello Russa were sat front row.

What did it look like?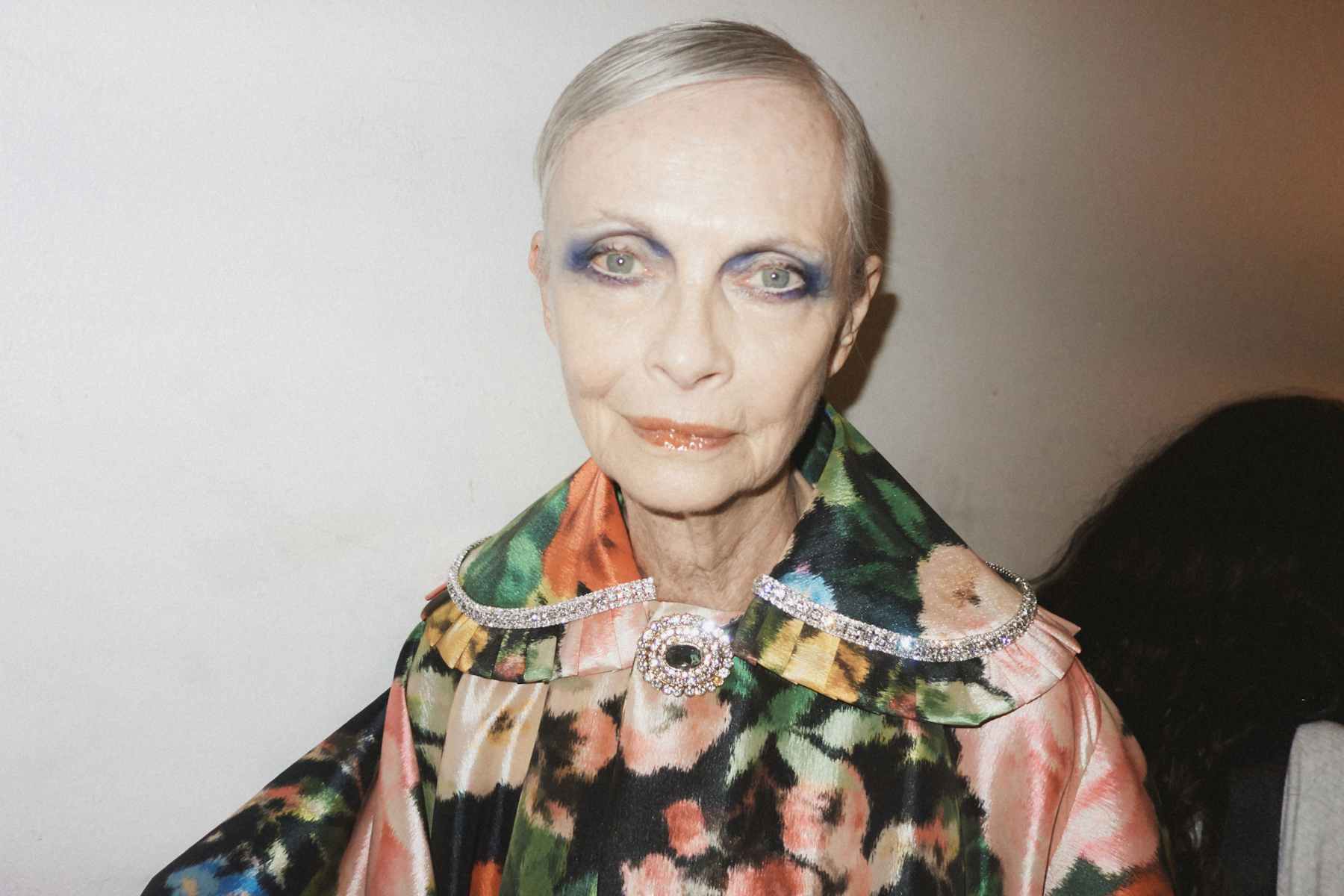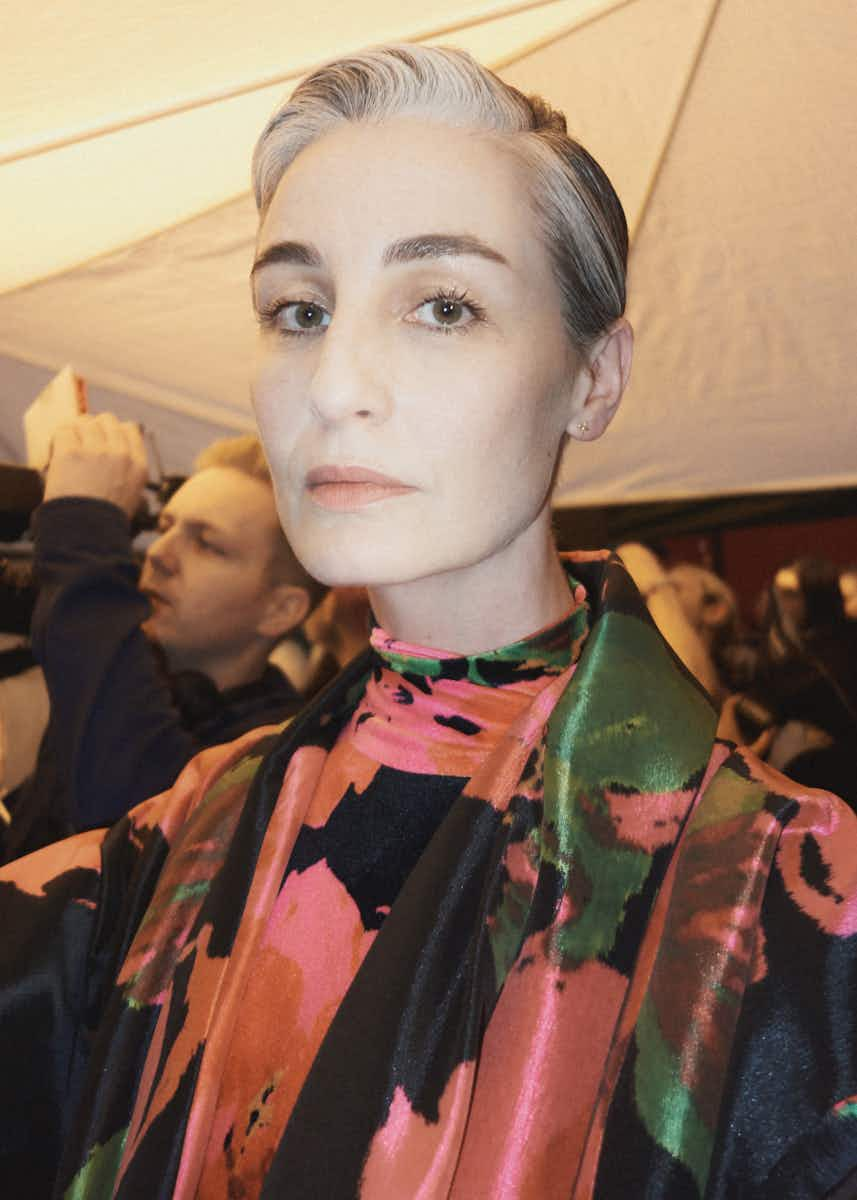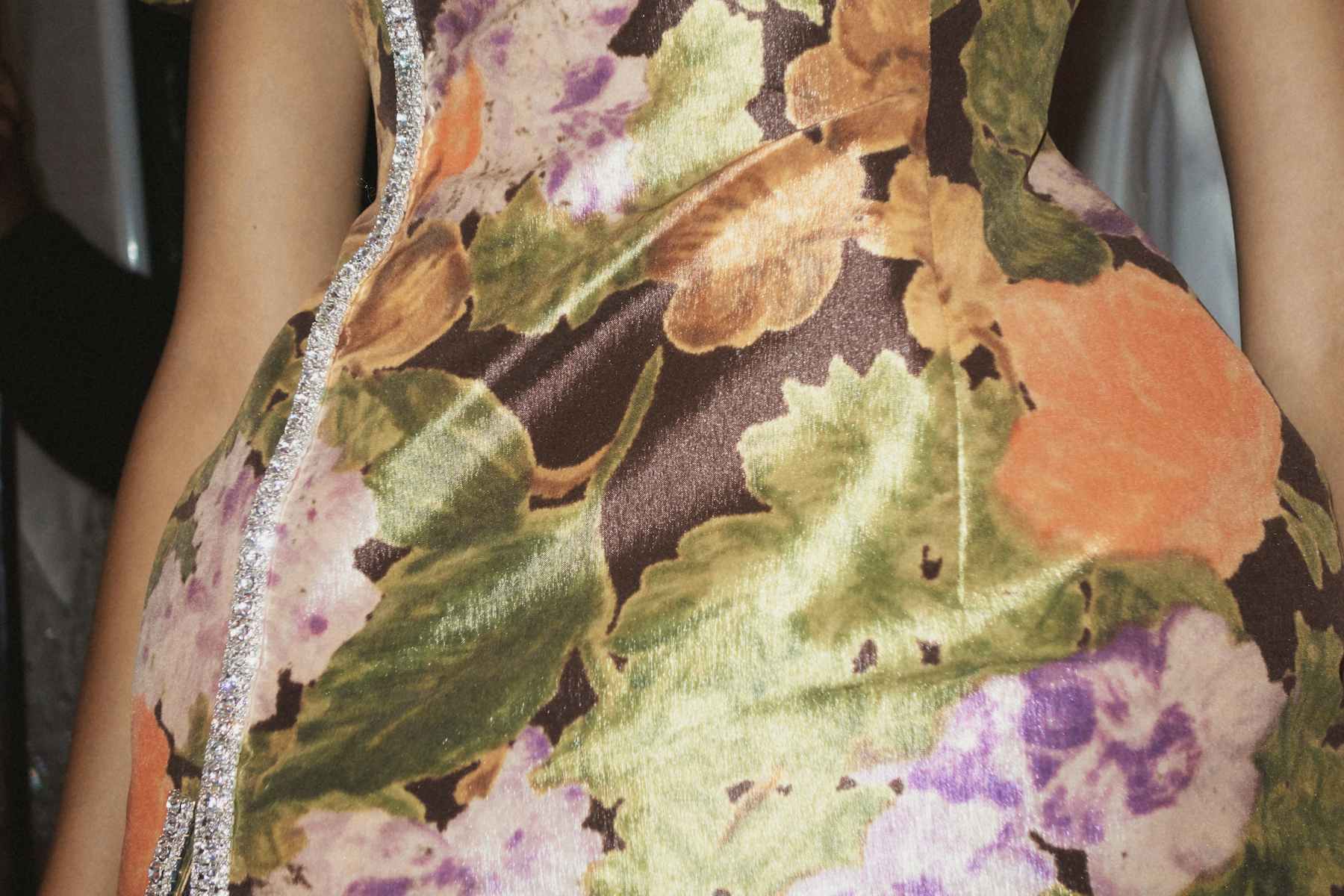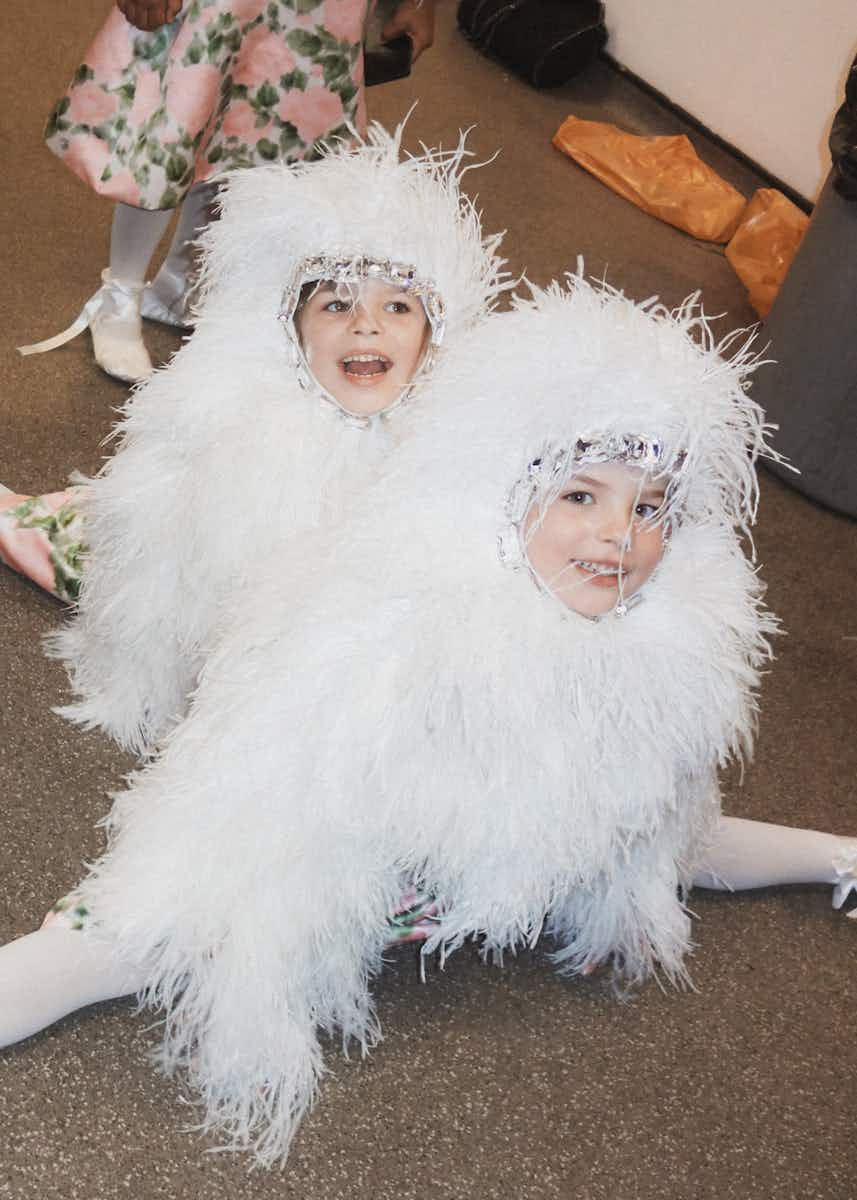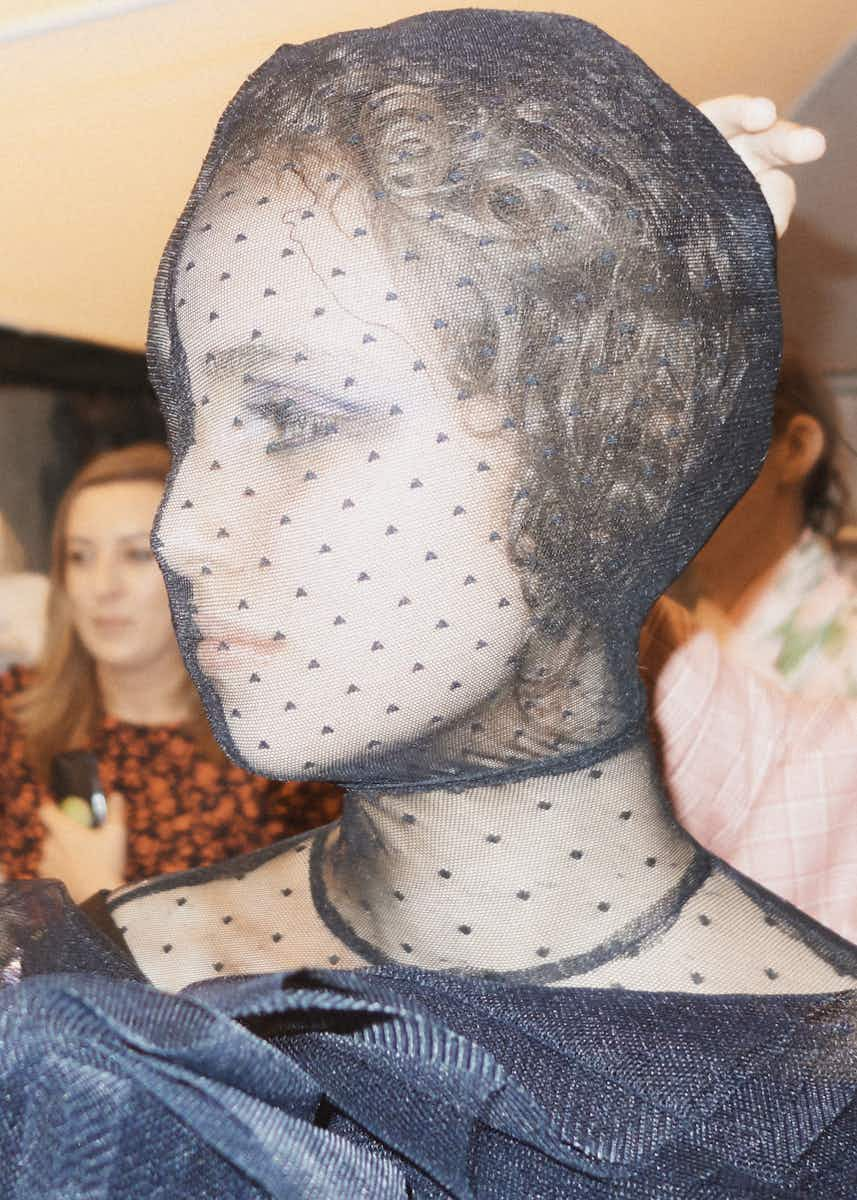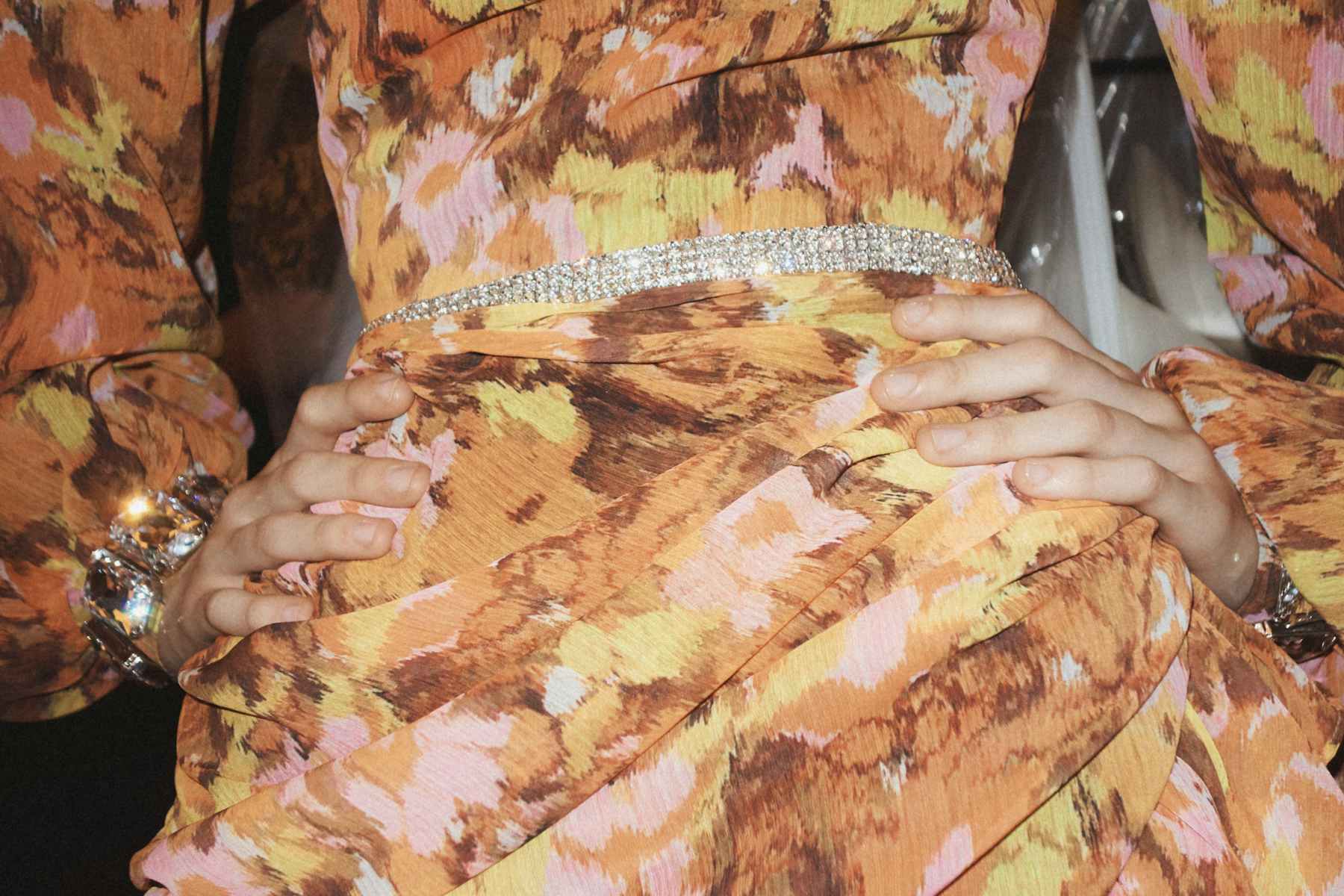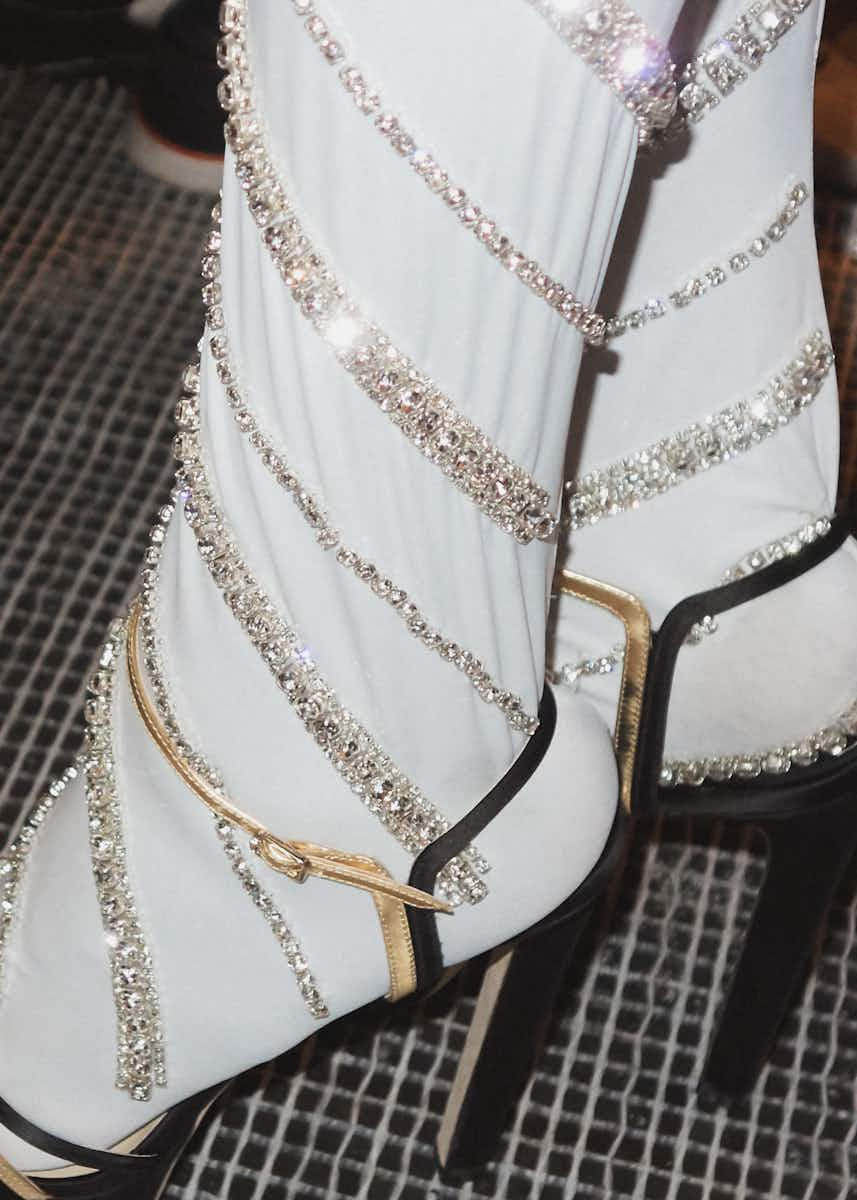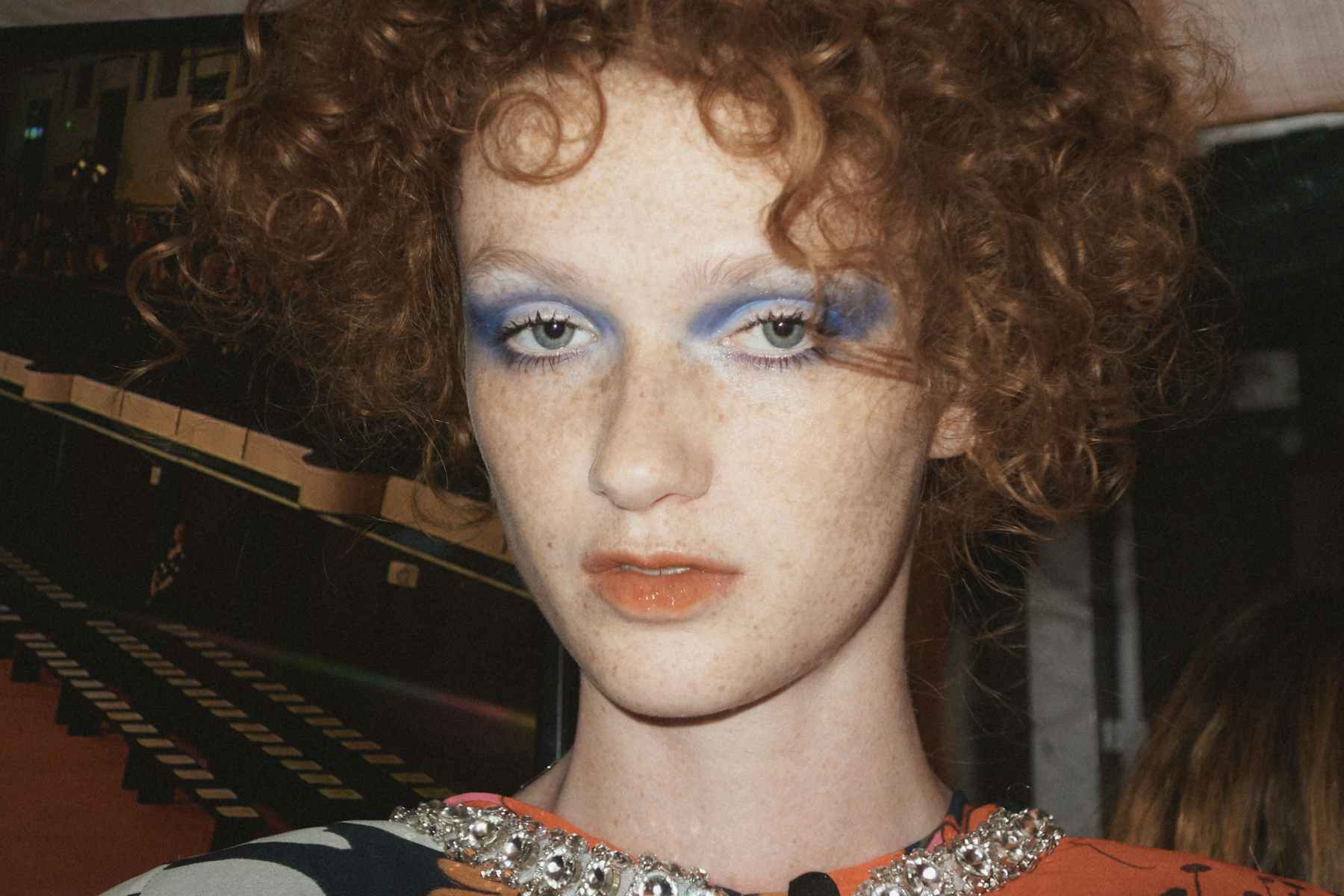 What about the beauty?
Cherubic short curly wigs. Shirley Temple-style curls. BG.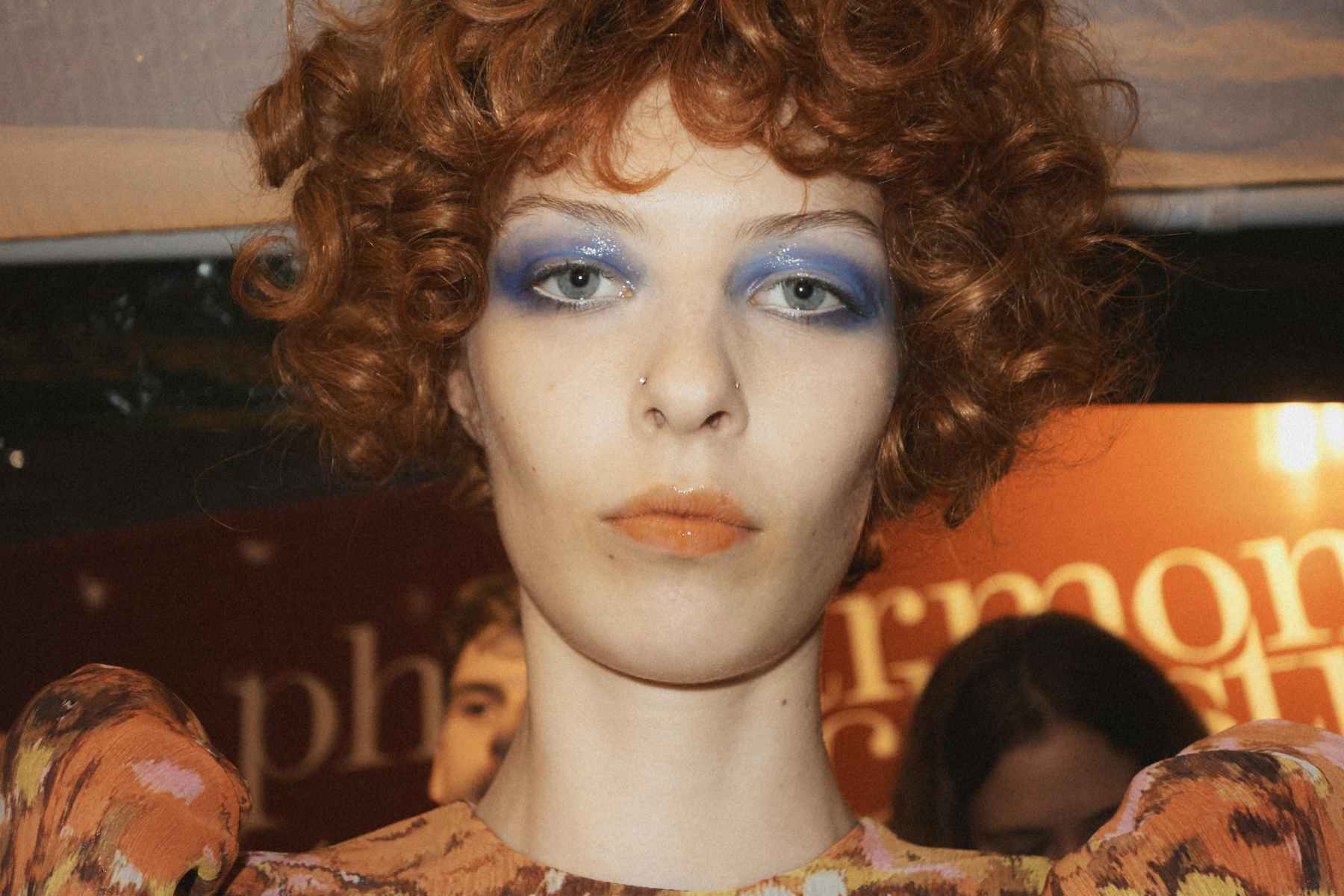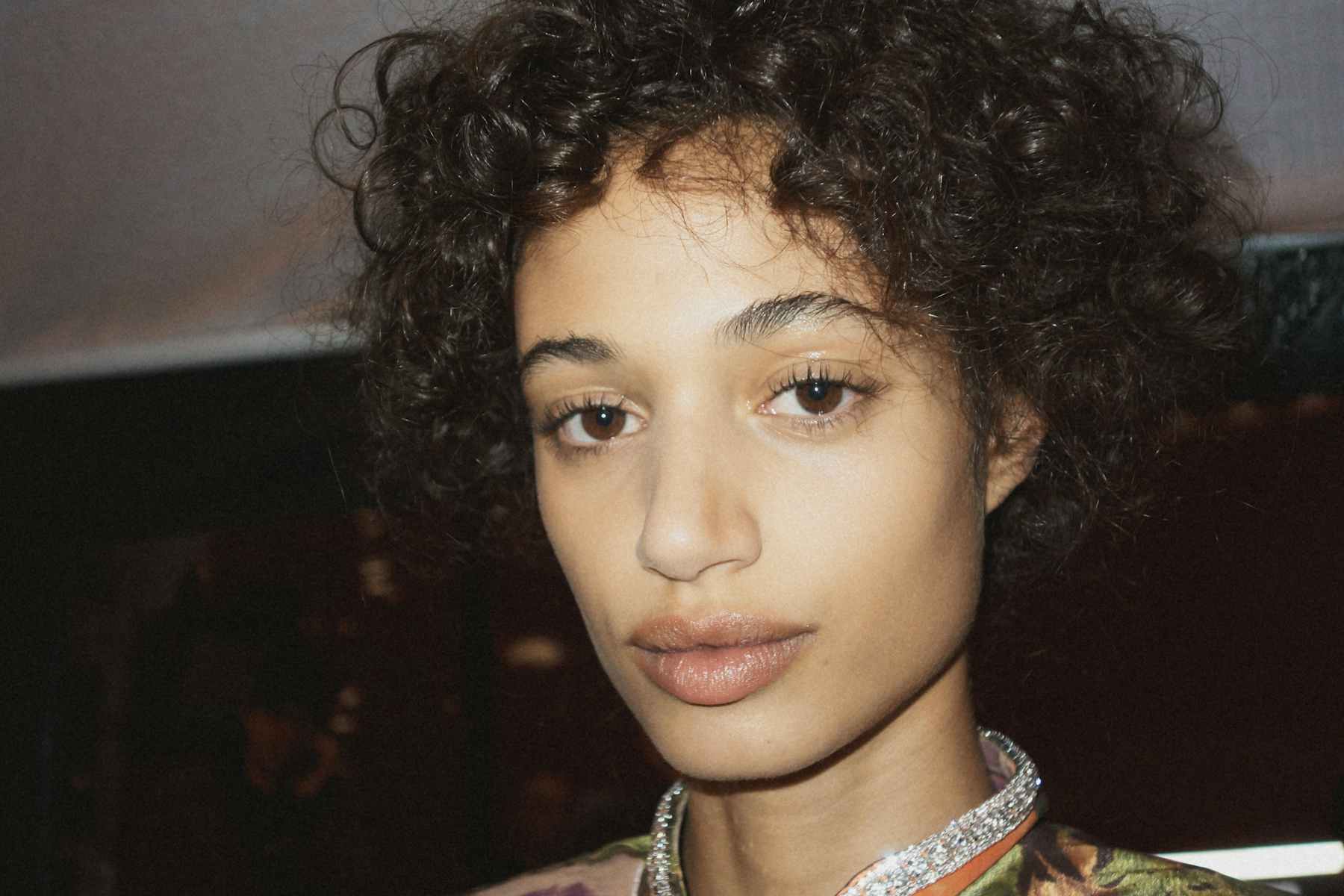 CHRISTOPHER KANE SS20
Titled ​"Eco-Sexual", Christopher Kane's SS20 collection was a joyful walk through London Fields – equal parts nature and erotica. Four recurring prints featured throughout: a vibrant photographic print of the Kanes' local green space (London Fields), a cloud print (that appeared on a dress overlaid with the slogan ​"Make Love With The Wind"), a galaxy print and various interpretations of planet Earth. Of course, Christopher Kane and his sister, Tammy, are no strangers to nature; nor erotica for that matter. Both themes date back to their SS14 collection inspired by both the anatomy of flowers, and – the lack of – sex education in schools. Both themes have infiltrated Christopher Kane's collections since. Today, the female anatomy morphed with that of flowers again – via a deconstructed black dress with a panelled petal hem and a number of ornate carnation-like style dresses that hung from delicate shoestring straps.

WHAT DID IT LOOK LIKE?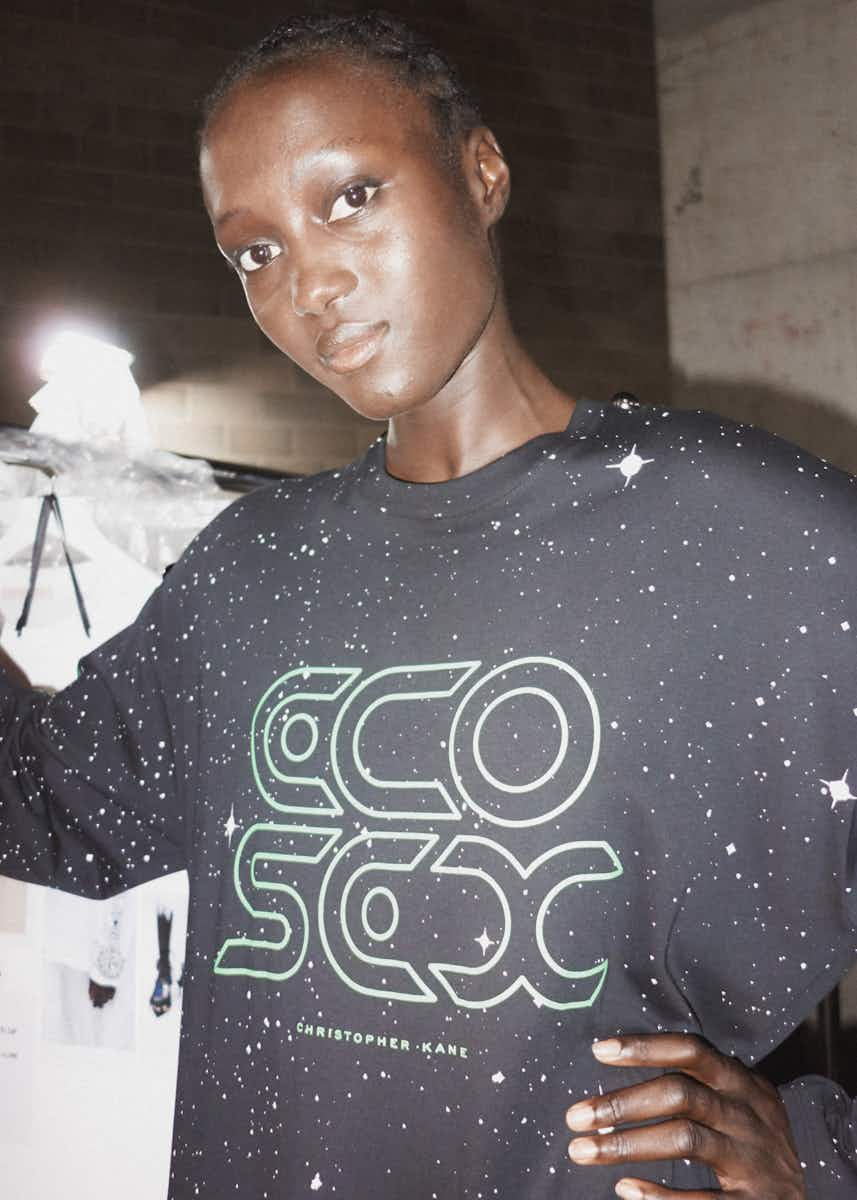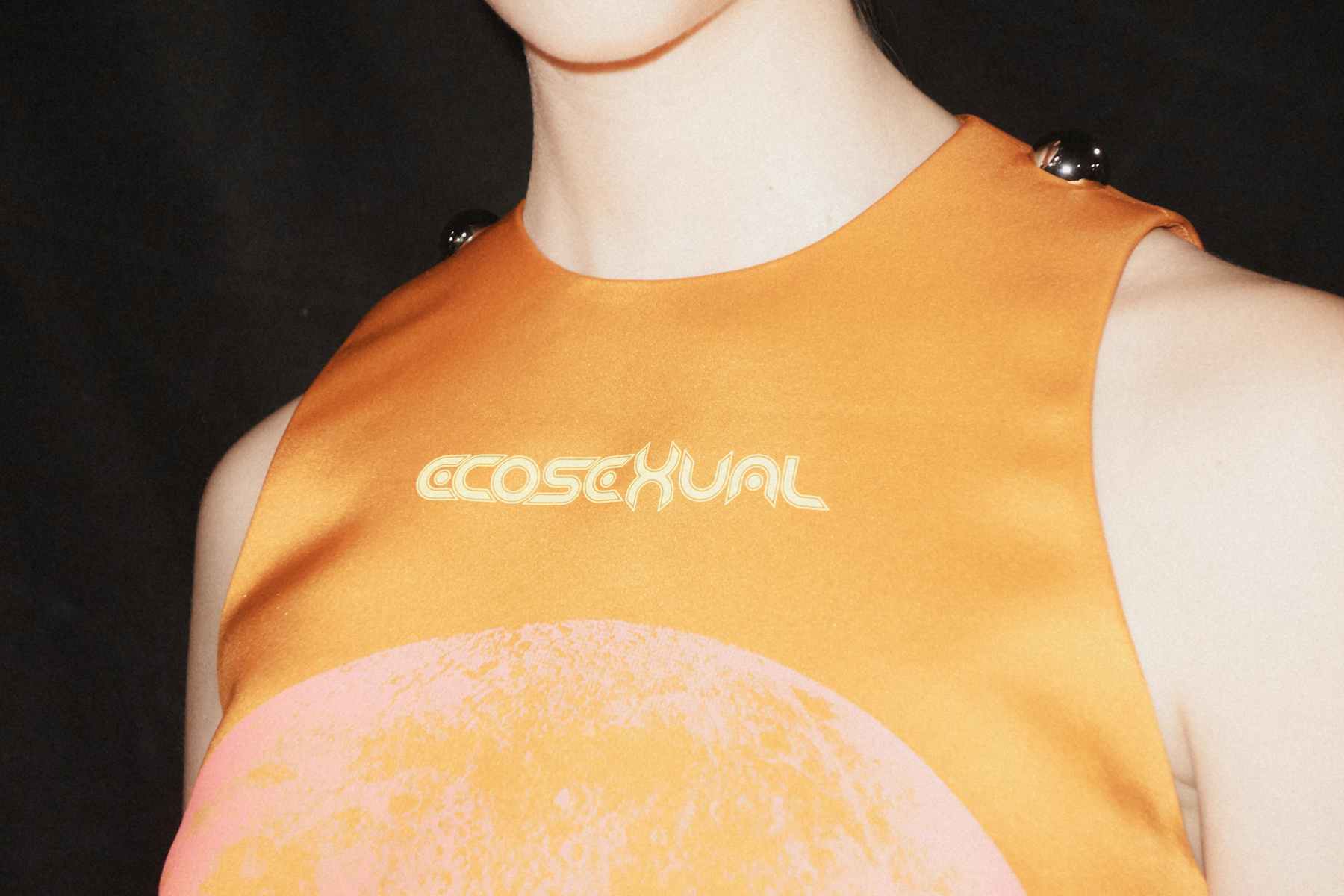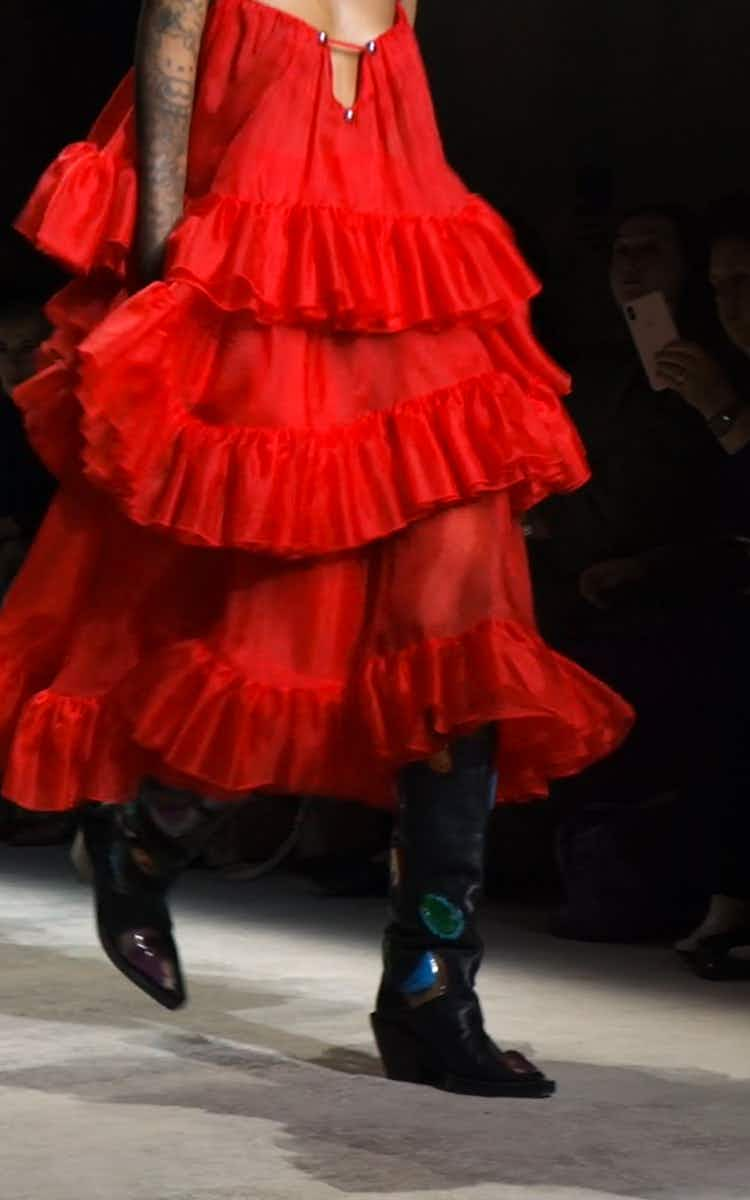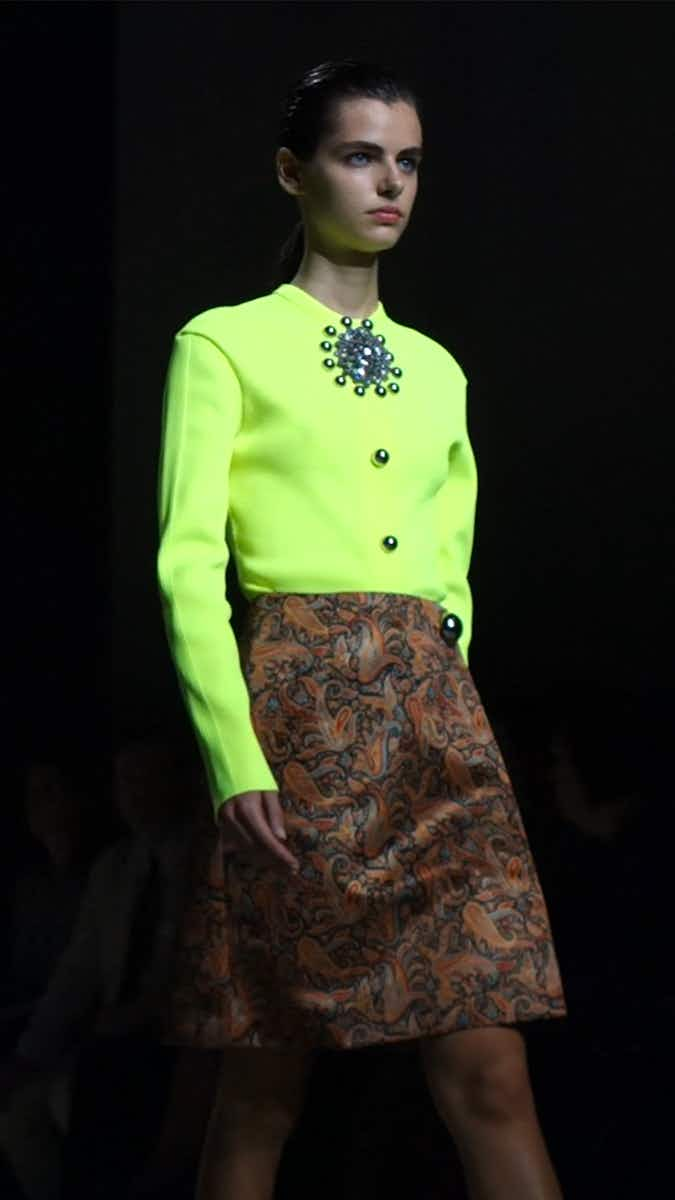 WHAT ABOUT THE ACCESSORIES?
Think: lava lamps. Think: glitter filled water wigglers. Think: those funny shaped pearls you popped in the bath in the ​'90s. Christopher Kane's SS20 collection was peppered with statement clutch bags and earrings that conjured a galactic trip back to the ​'90s. We're on board.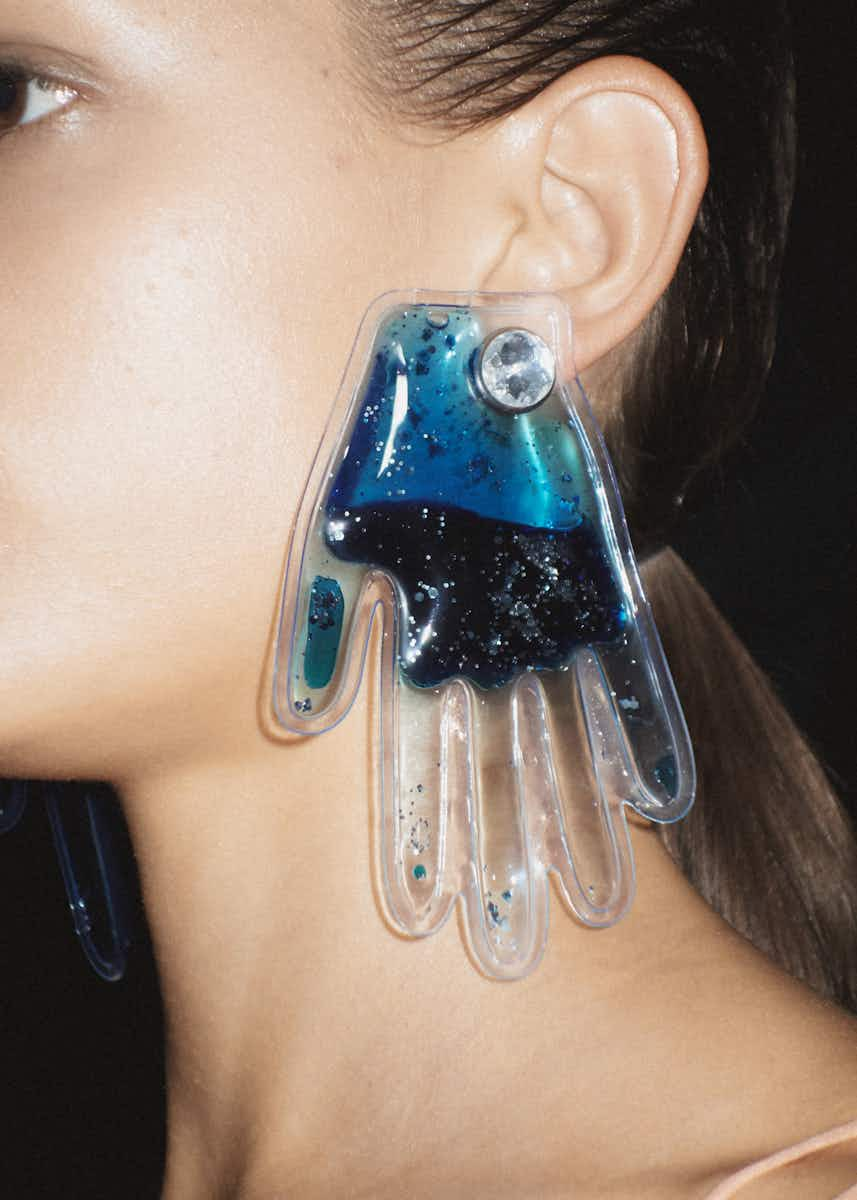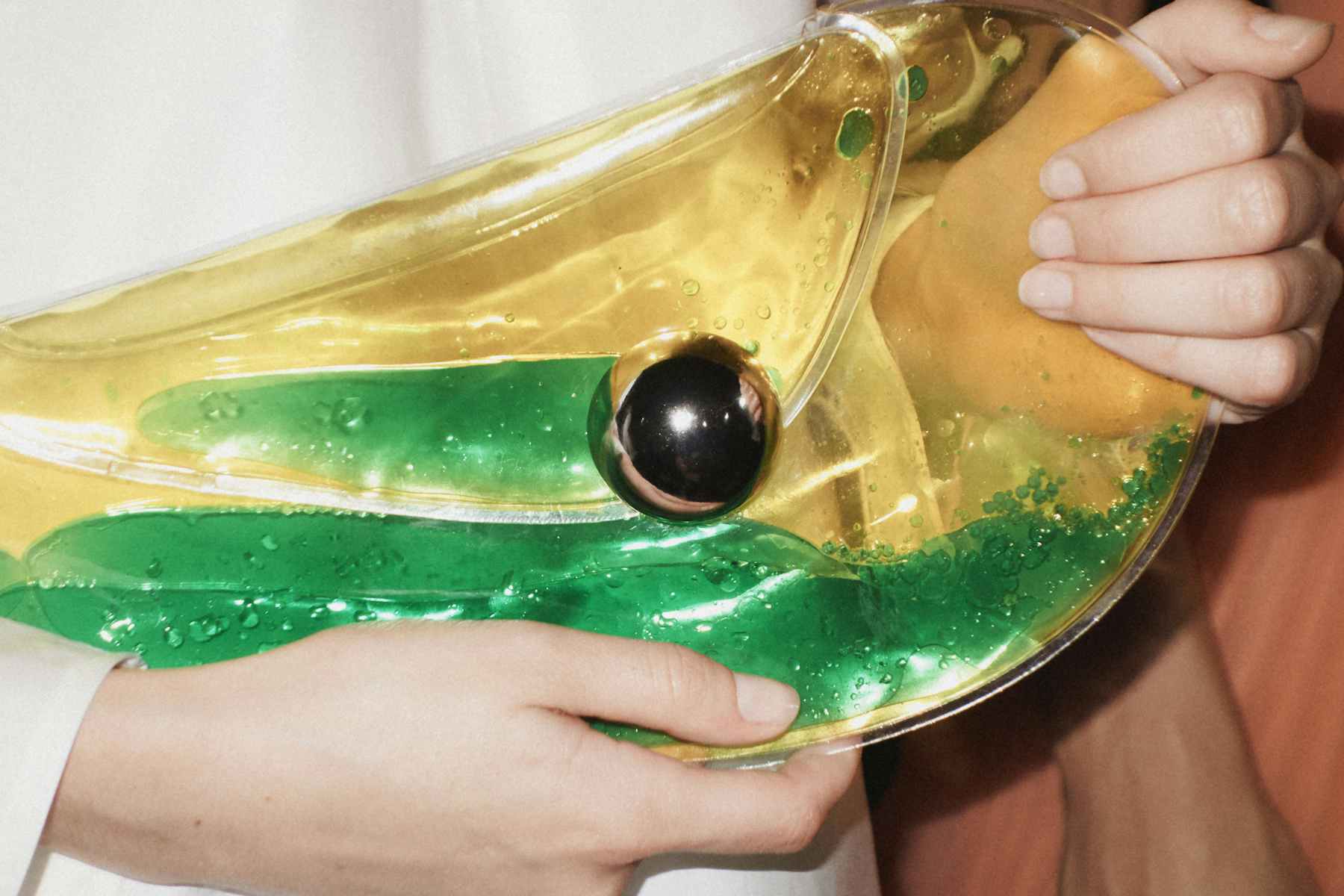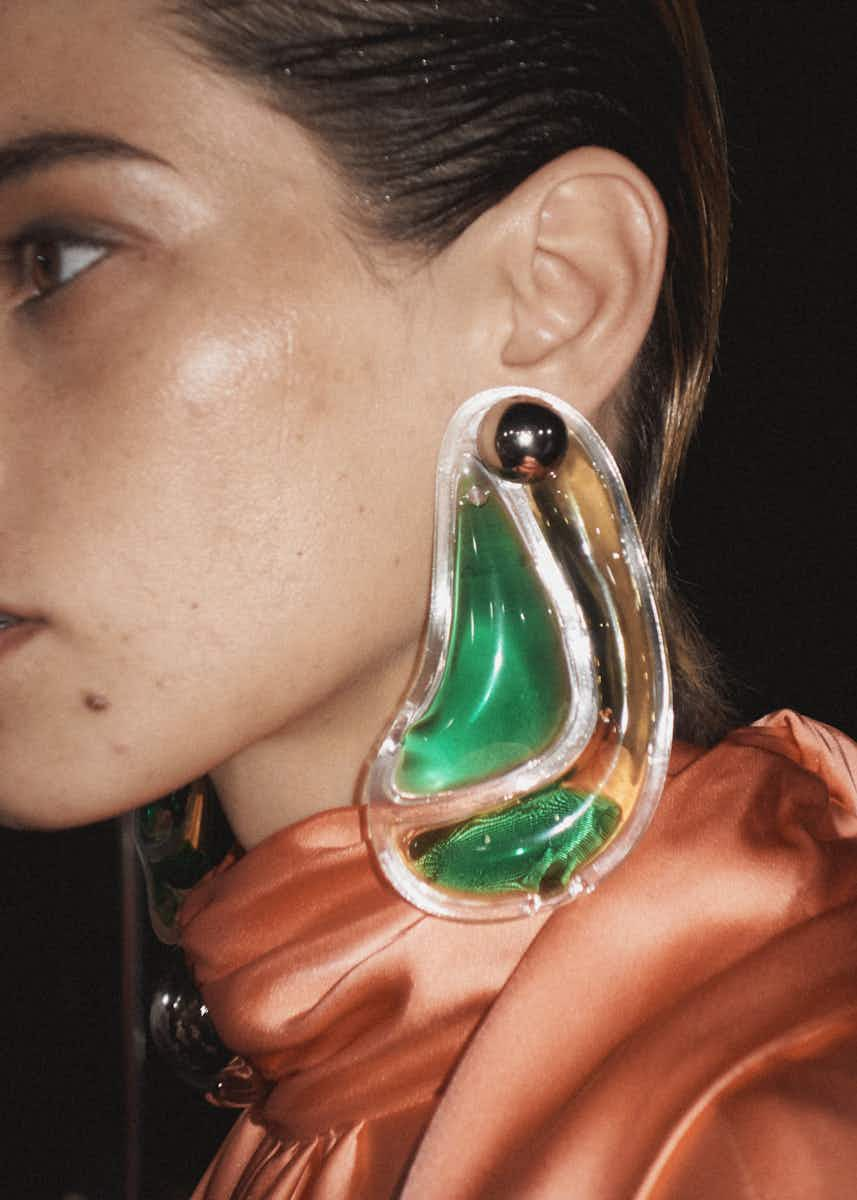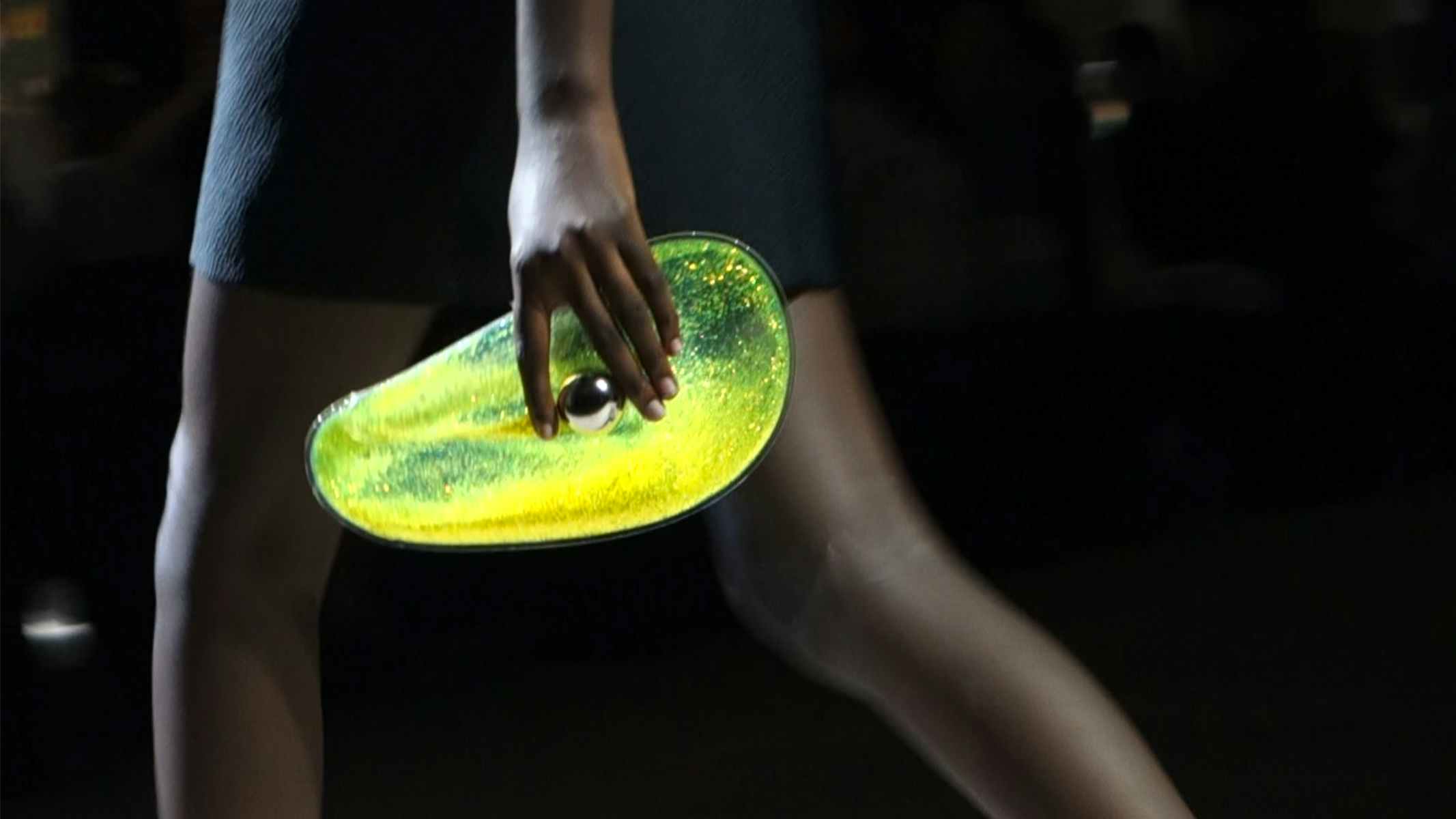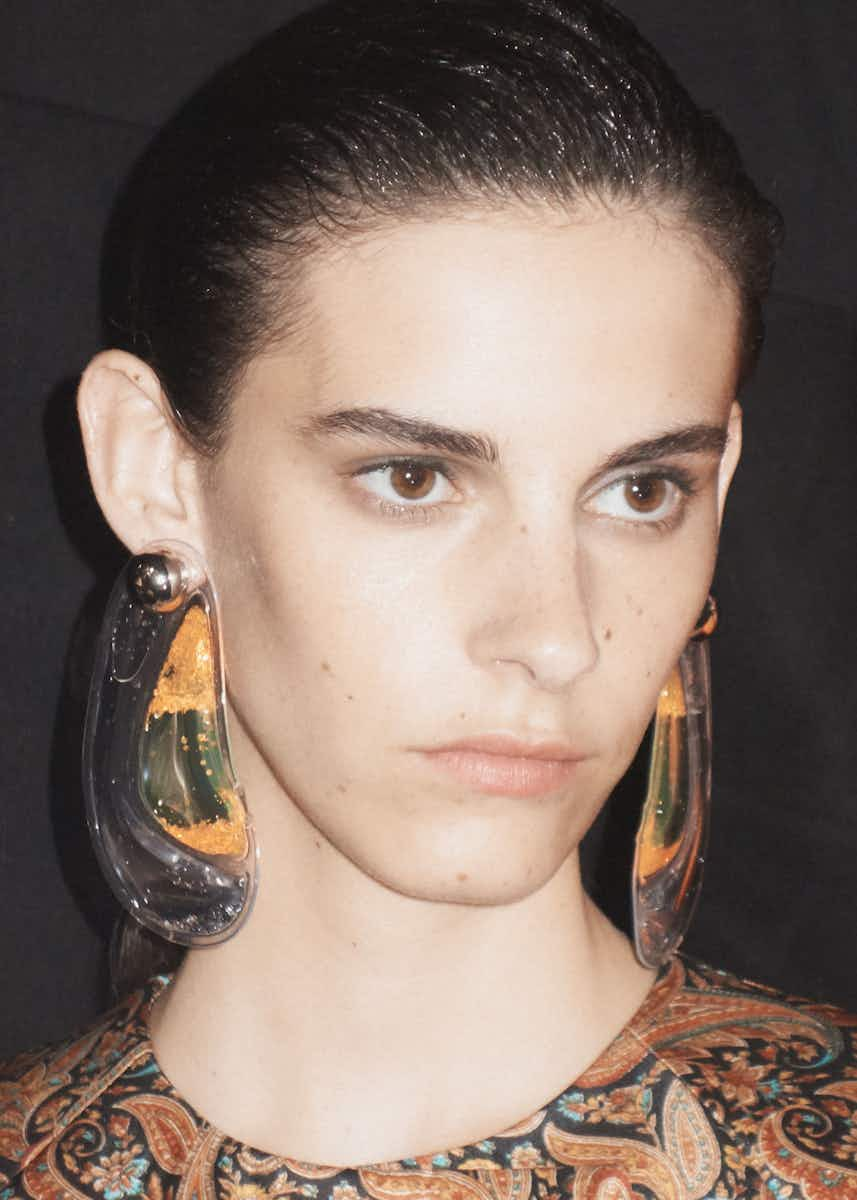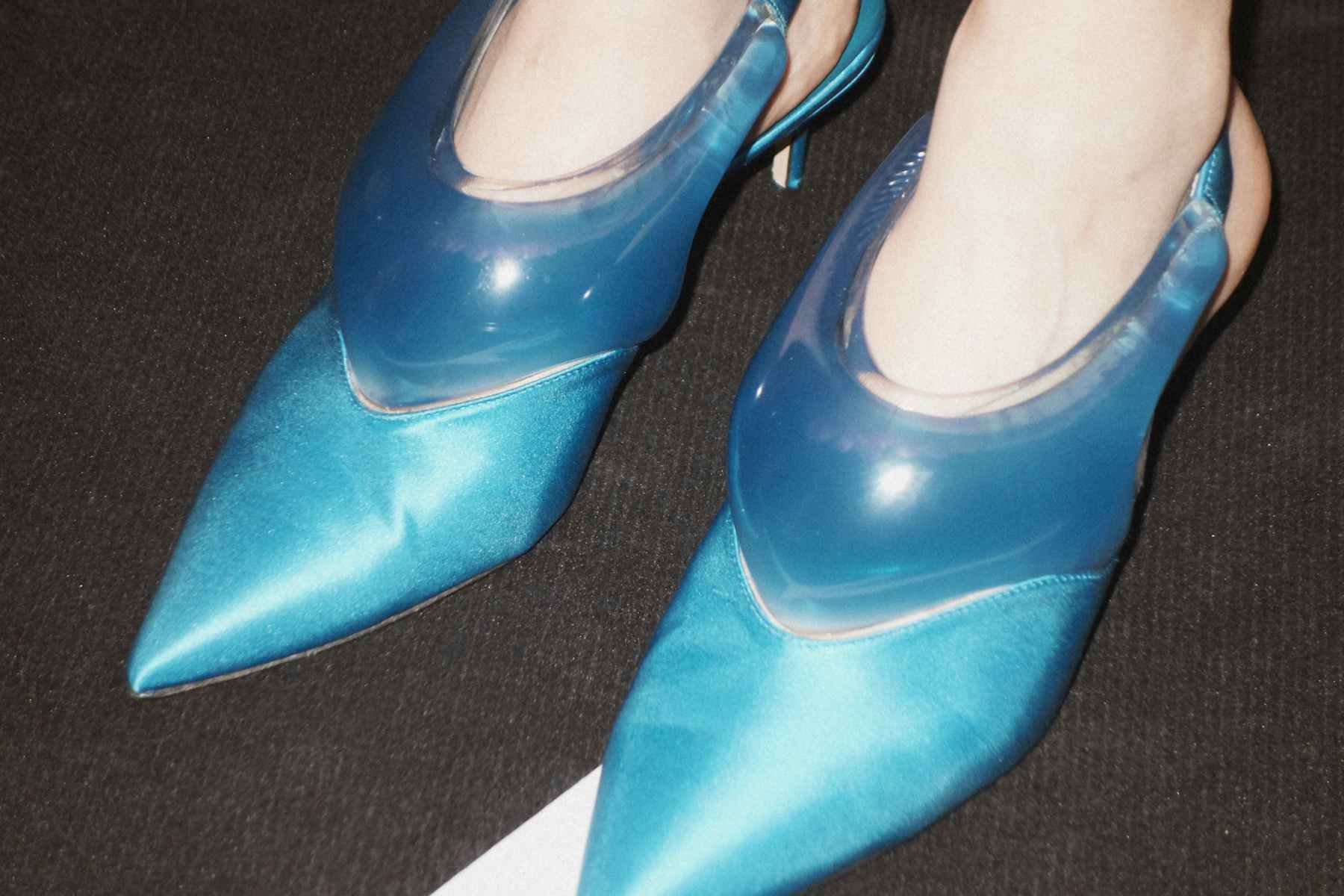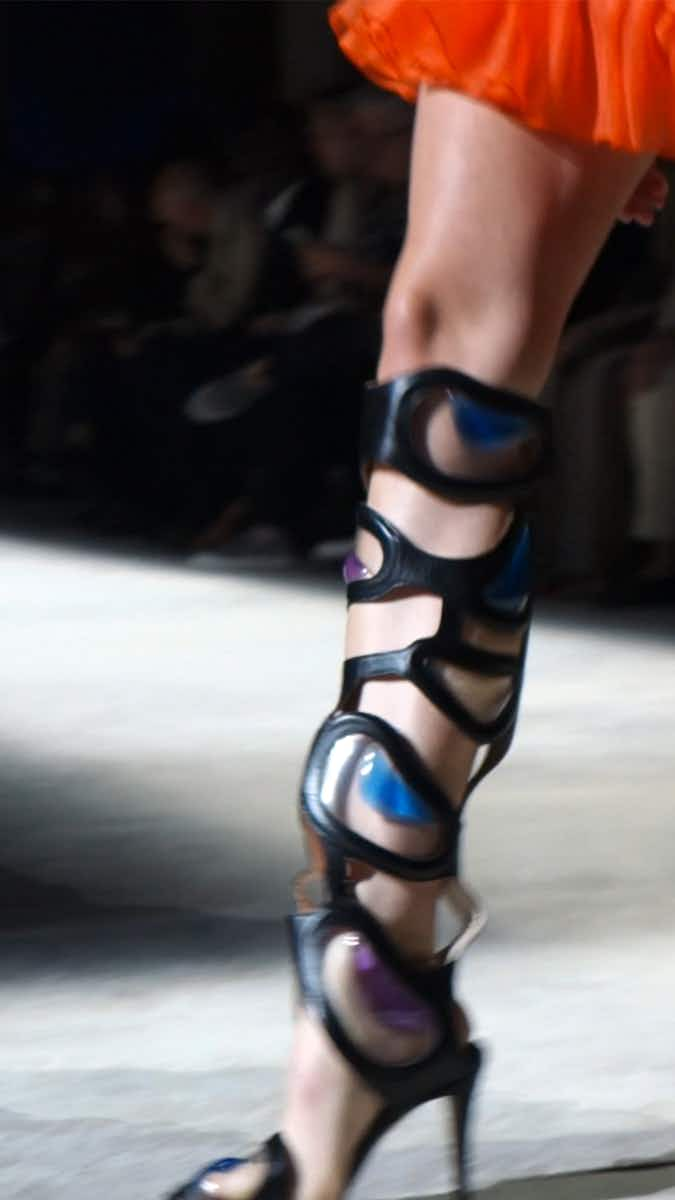 WHO WAS THERE?
Christina Aguilera, Age of Aquaria (carrying a Christopher Kane ​"Sex" clutch), Bel Powley and Jorja Smith. BM.
SUPRIYA LELE SS20
Turns out teen goths still do summer holidays — if they did, they might be wearing Supriya Lele SS20. While spring collections are usually pastel in hue and reminiscent of flowers in bloom, Lele brought in what she's calling ​"Summer black", with dark-toned transparent mesh casting a shadow over sunny green and orange Madras checks. Lele's very own beaten up leather coat — that she wore while listening to Black Sabbath and Slayer as a teen — was transformed into a rubberised trench, for that ultimate commitment to teen angst even if it's warm out.
Lele brought a serene melancholy to summer with gossamer-light layers fluttering as the models walked and skirts slung low on the hips — a little Marissa Cooper telling Seth Cohen she listens to the Cramps, Stiff Little Fingers, the Clash and the Sex Pistols because she's ​"angry". Special mention to @everyoutfitonsatc who'll be pleased to note the appearance of skinny belts worn round bare waists à la Carrie Bradshaw going wedding dress shopping.

What did it sound like?

Gentle bird song replaced by a pounding club beat.

Listen now:

Supriyana SS20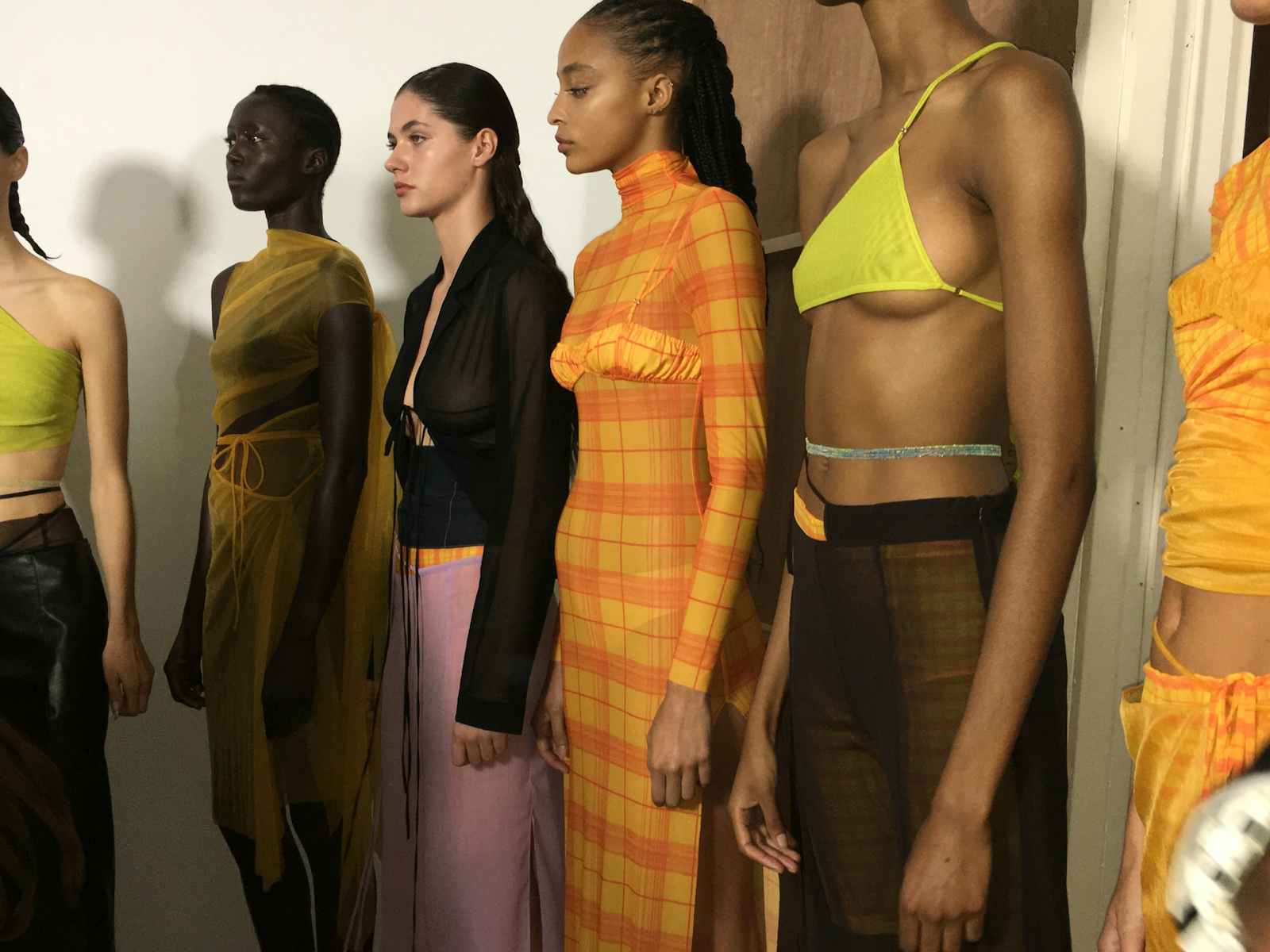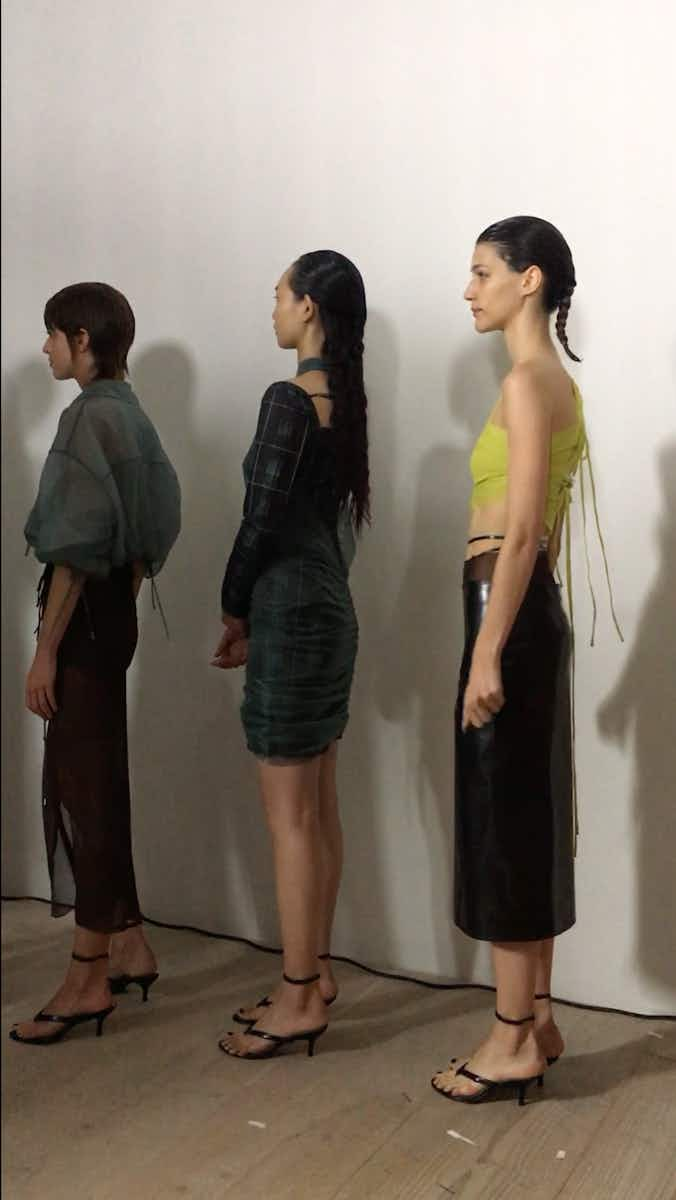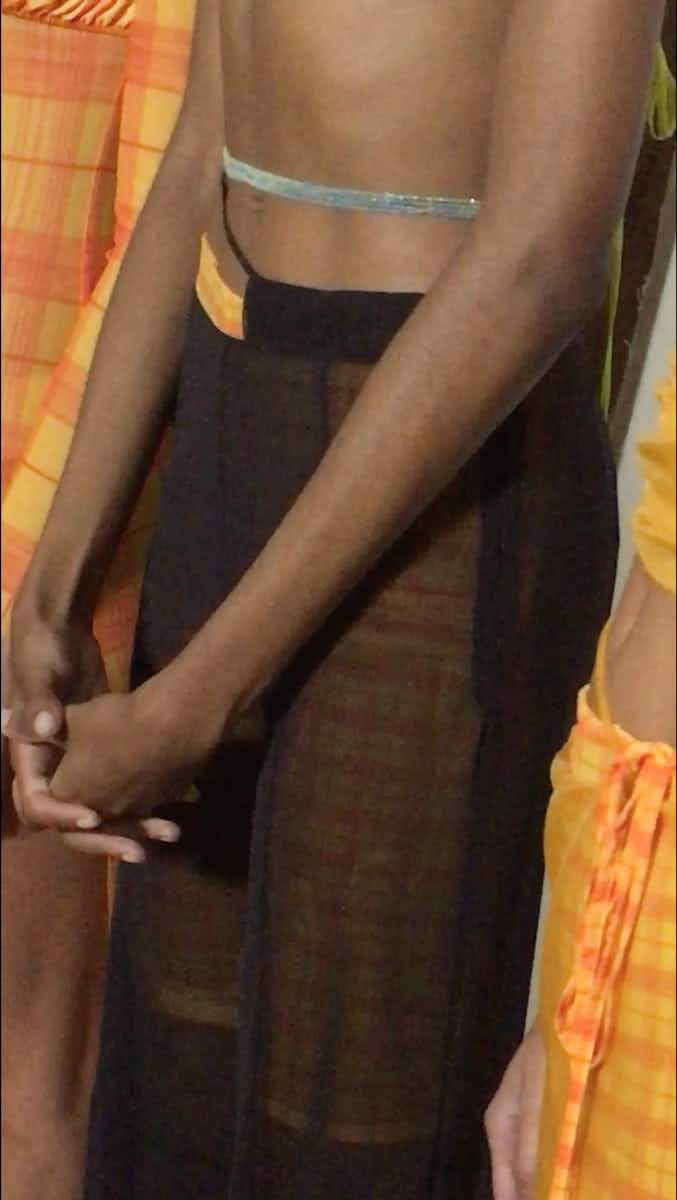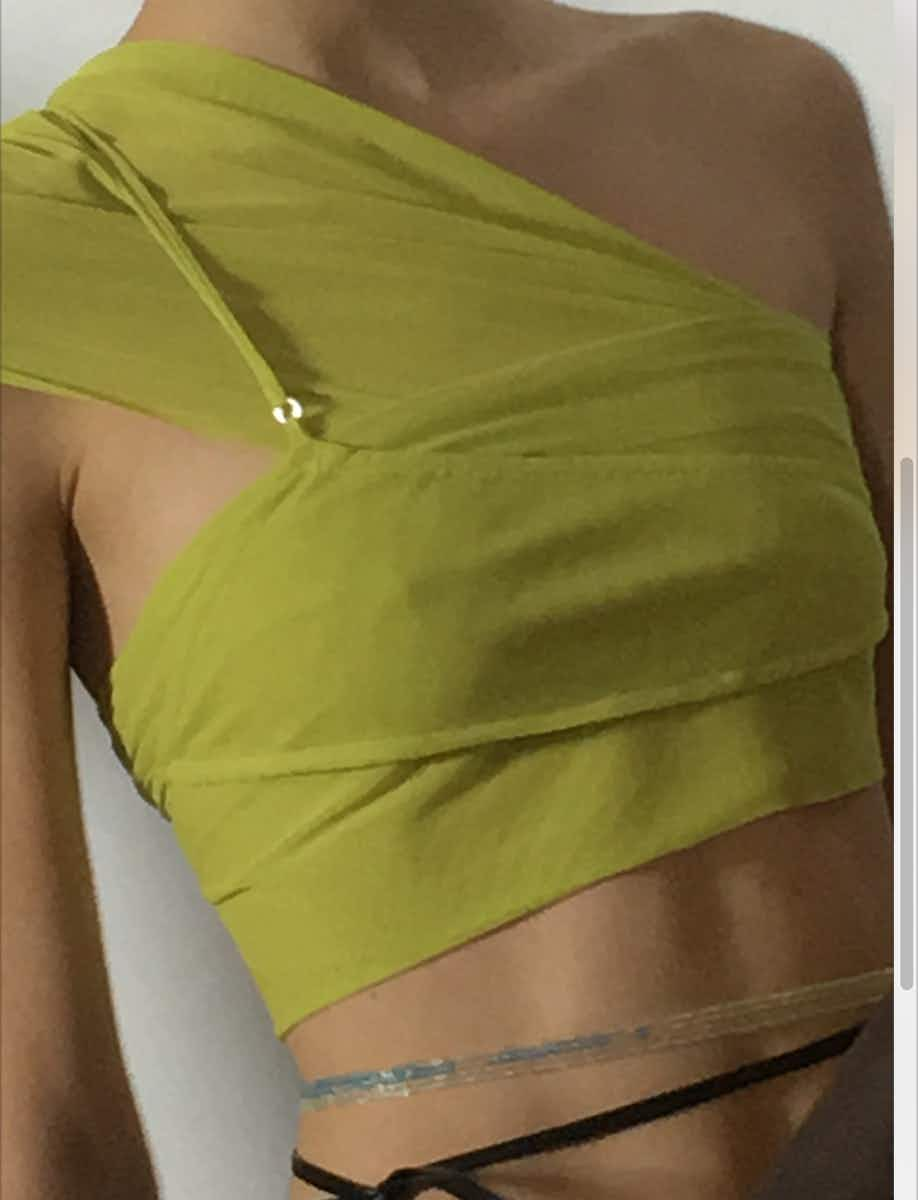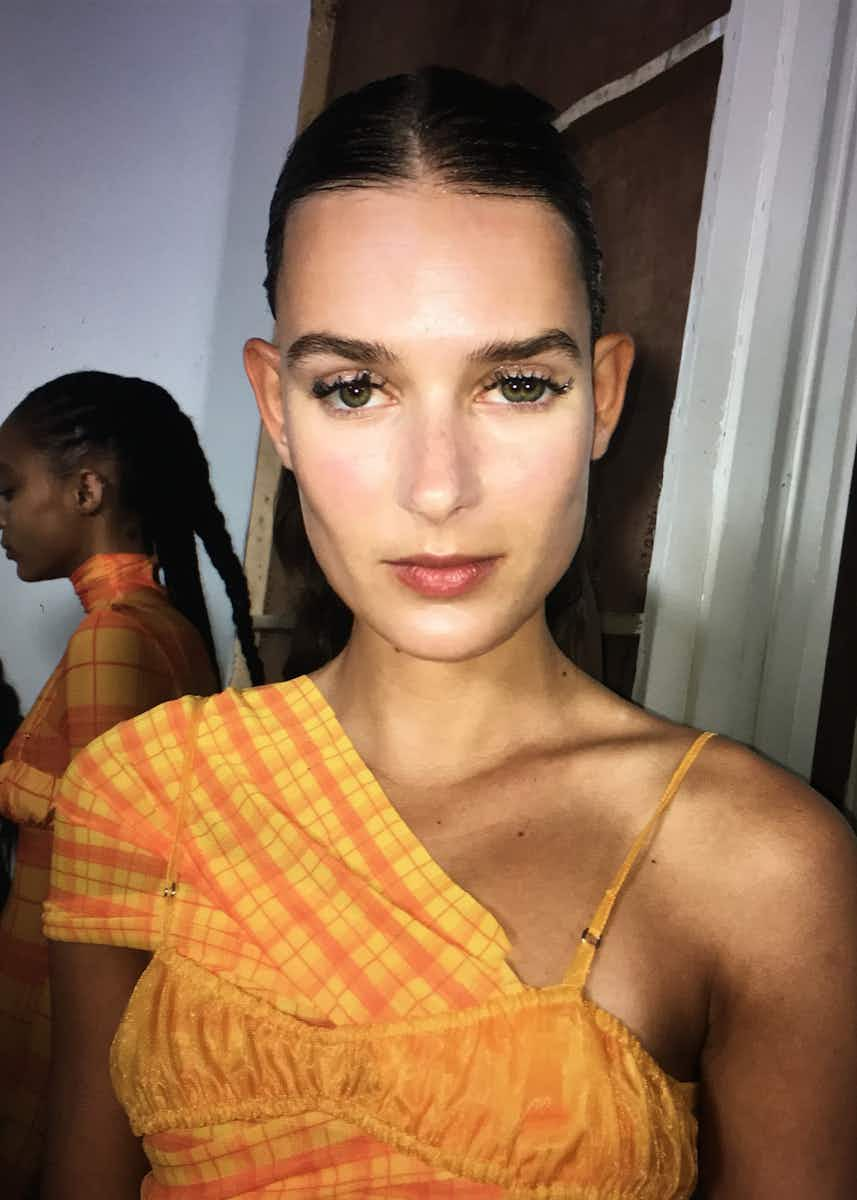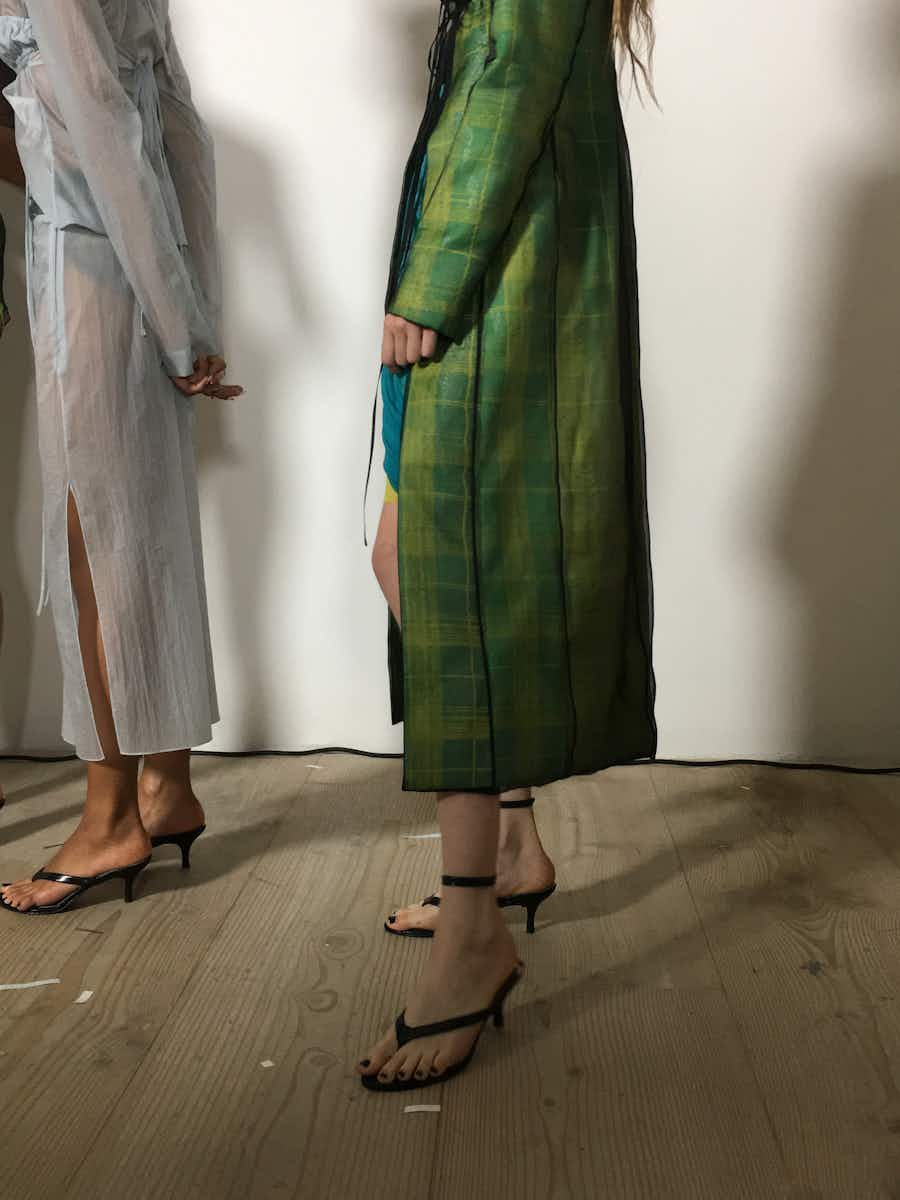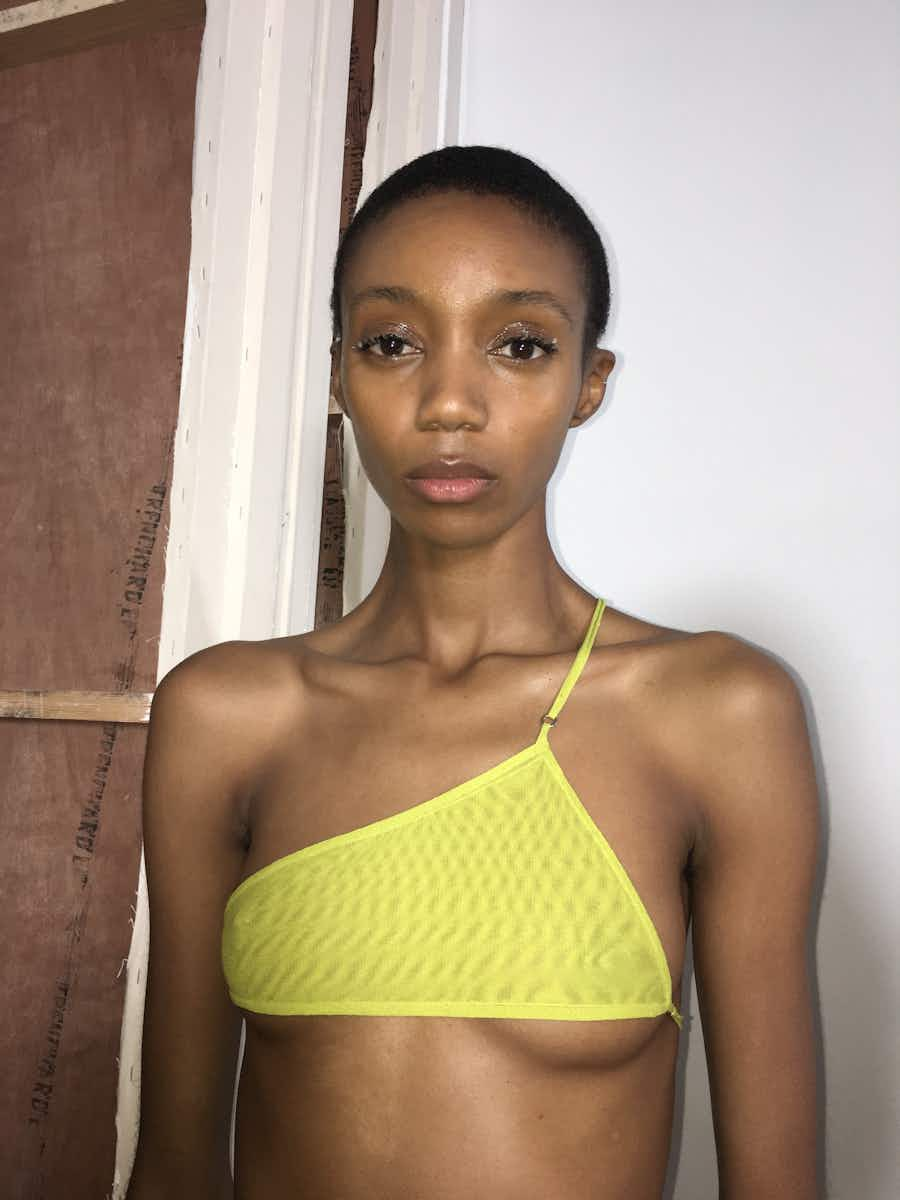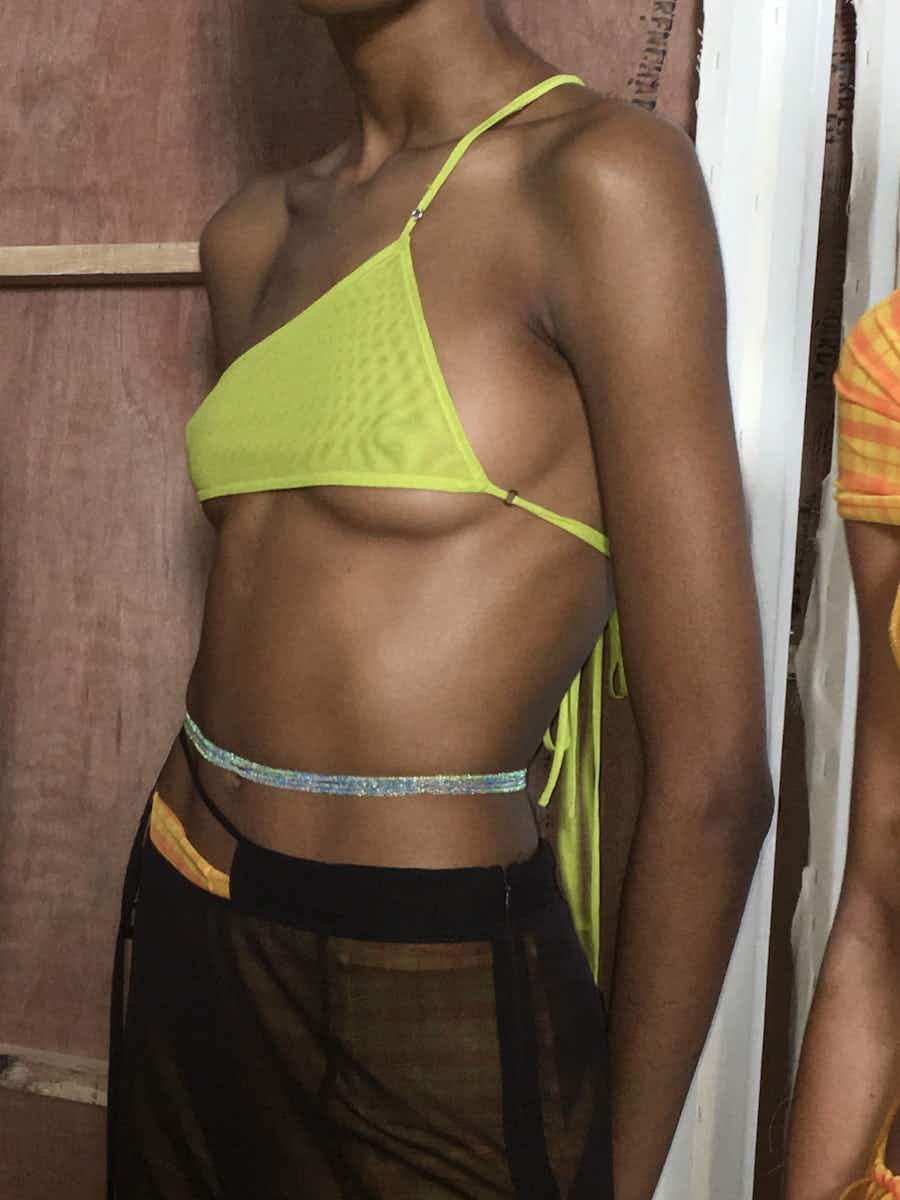 What about the beauty?

We're talking half-up, half-down hair, the top half slicked back into a braid, the bottom half crimped for volume. The make-up standout? Pearlescent drops on models' eyelashes, like dew drops or tears. BG.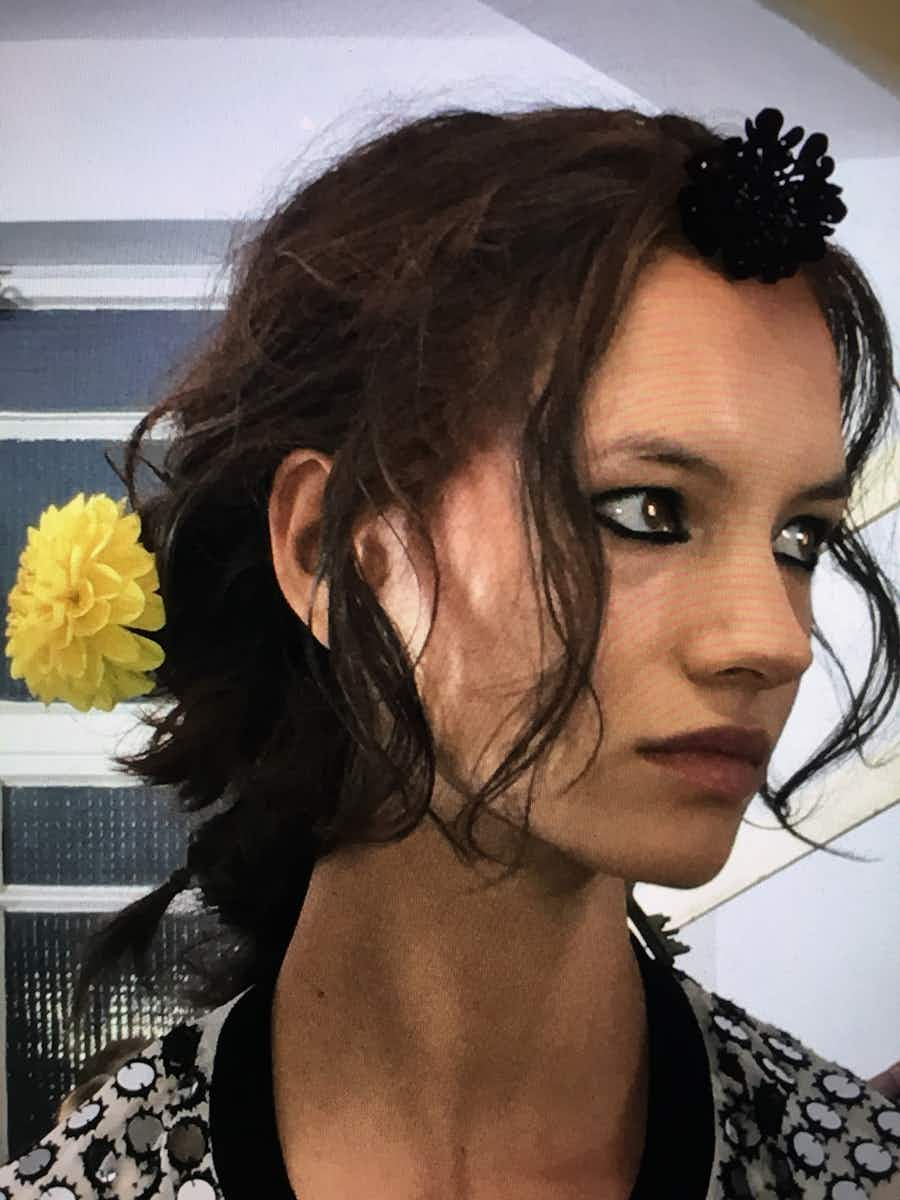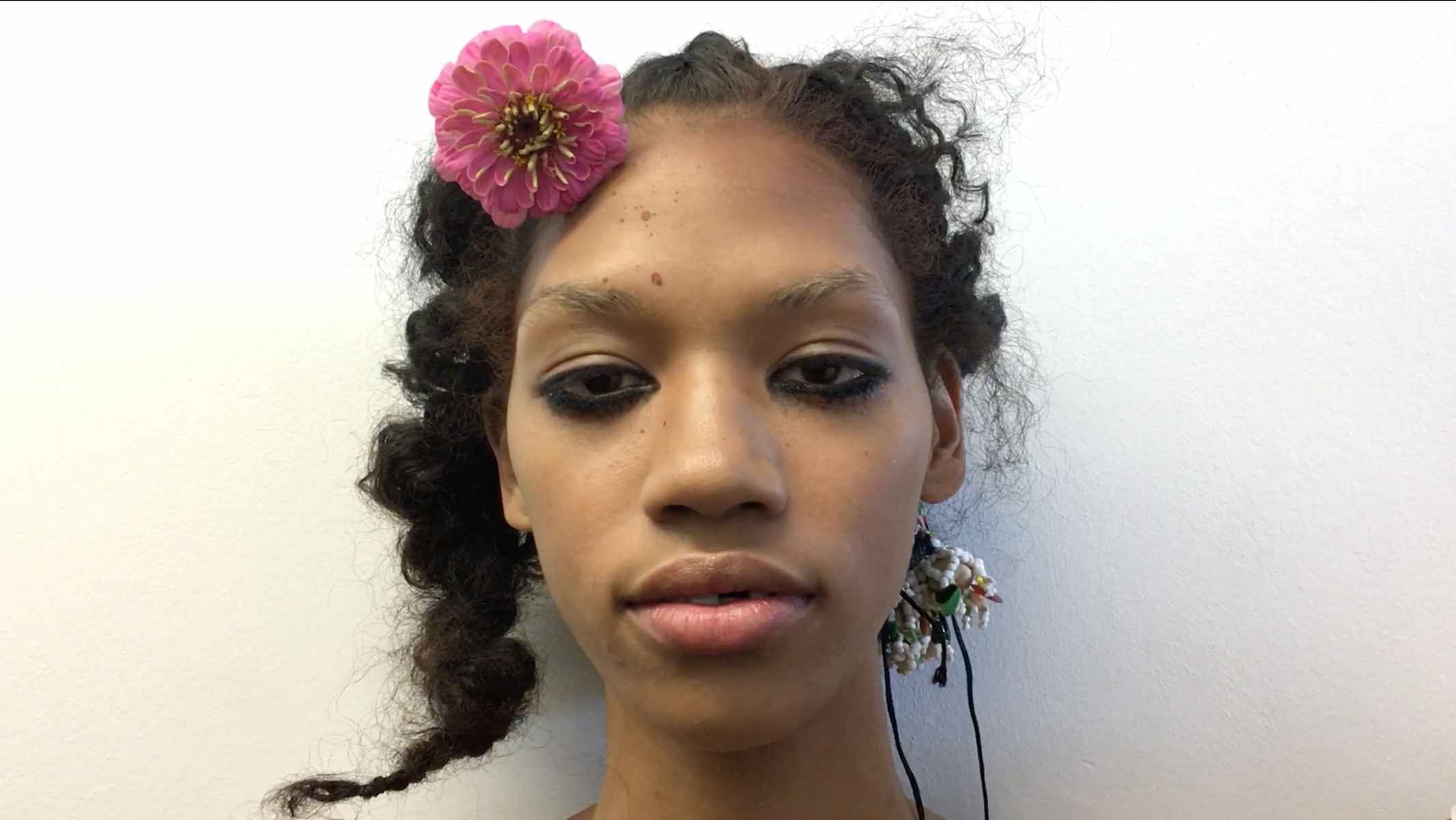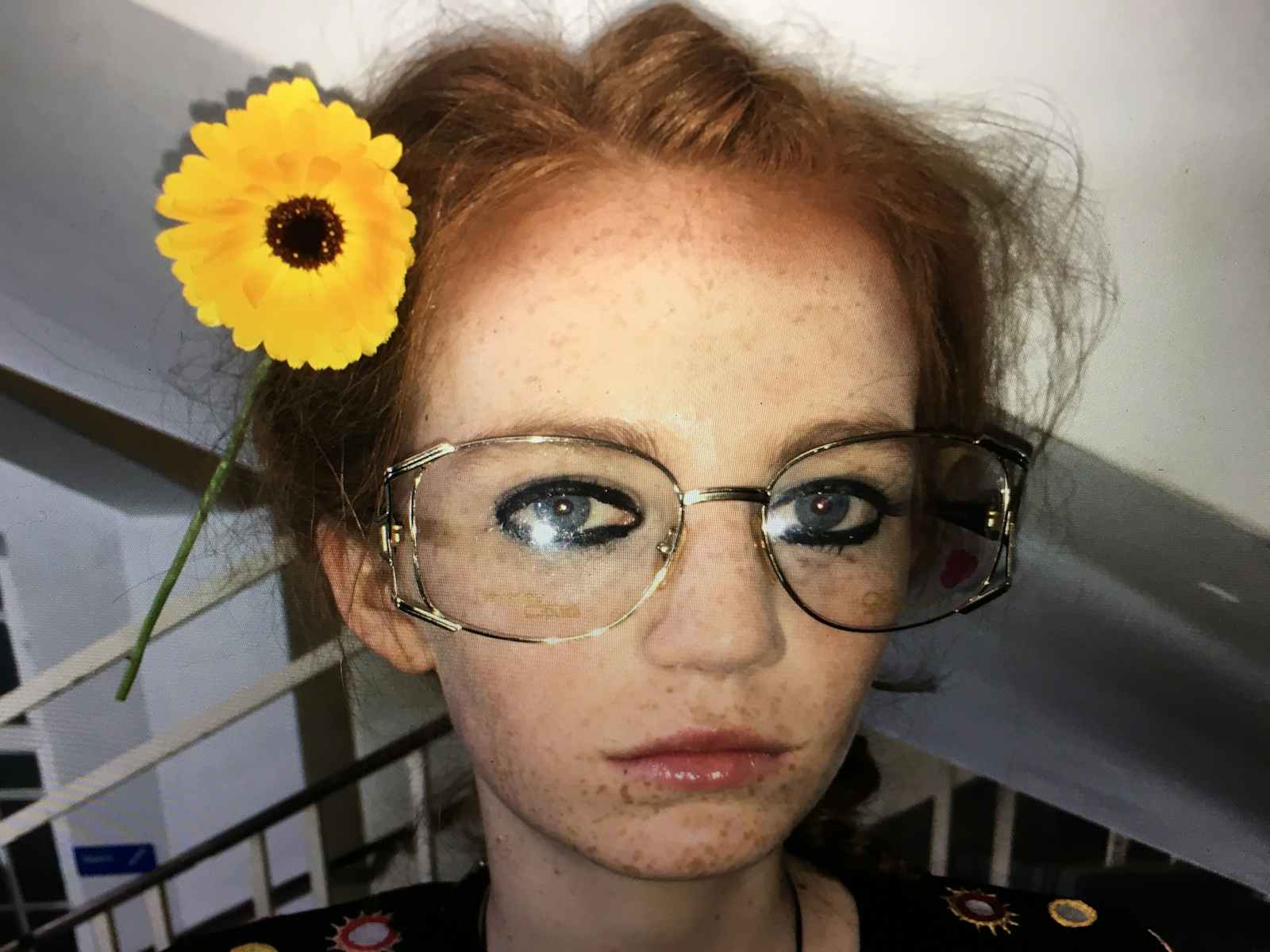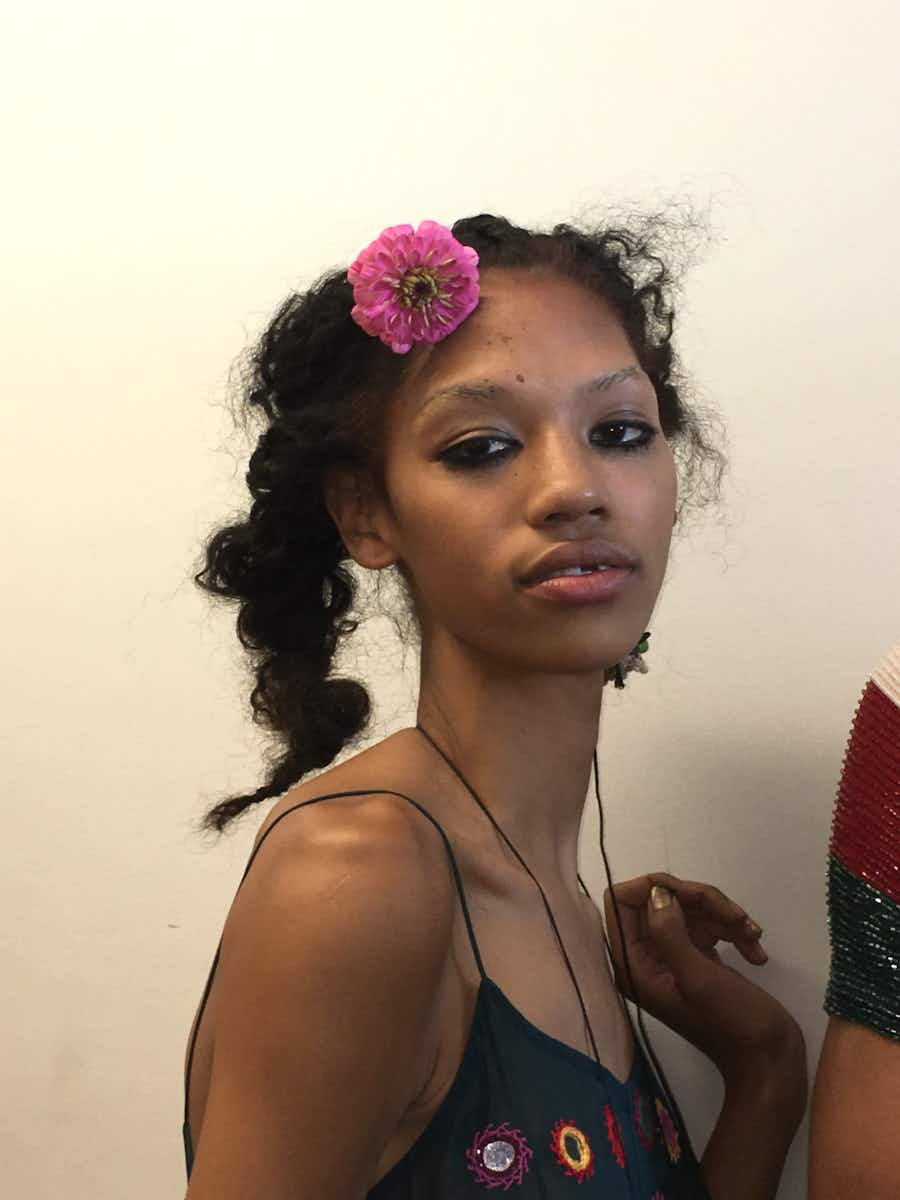 SIMONE ROCHA SS20
Simone Rocha took a trip west this season, but only as far as Ireland. Taking The Emerald Isle as her starting point — and the Irish Wren Boys who traditionally would hunt the Wren on St Stephen's day — the designer looked to the faded wallpaper prints, ornate picture frames and blue painted crockery found inside Ireland's once-grand residencies; those that the boys would knock upon while running through the streets on St Stephen's day.
The show took place at Alexandra Palace — inside a Victorian theatre originally opened in 1875 and recently reopened and restored to its original splendour — and the collection was modelled by a cast of Irish characters from theatre actress Olwen Fouéré to Jessie Buckley and Simone Kirby.
As ever, the collection was a lesson in exaggerated shapes and portions executed in fabrics that ranged from printed silk taffeta to organza patchwork and heavily embroidered tulle. Think extravagant dressed paired with heavily lipped pearl-studded brogues, cloth camel trench decorated with ruffles and pleats, and tailored two piece suits (with tulle trimmed trousers).
What did it look like?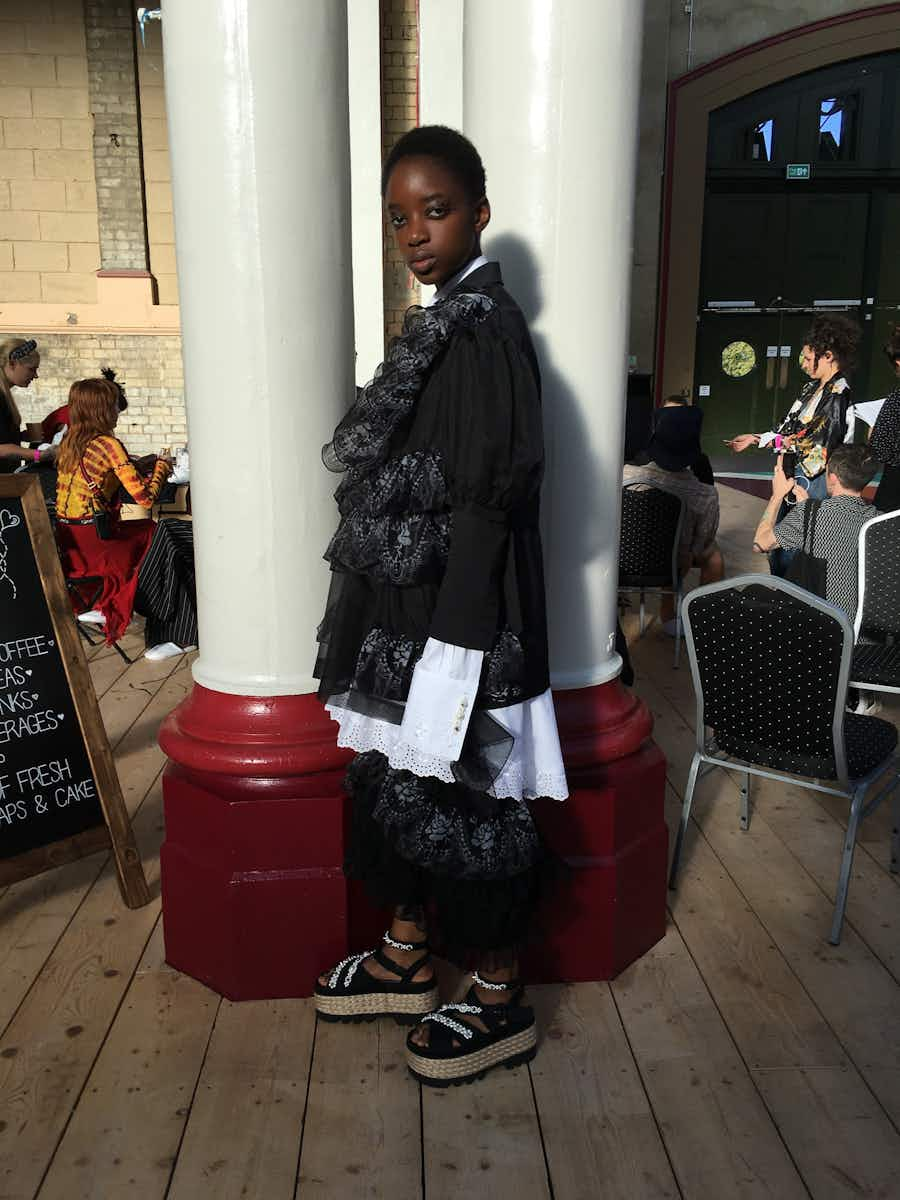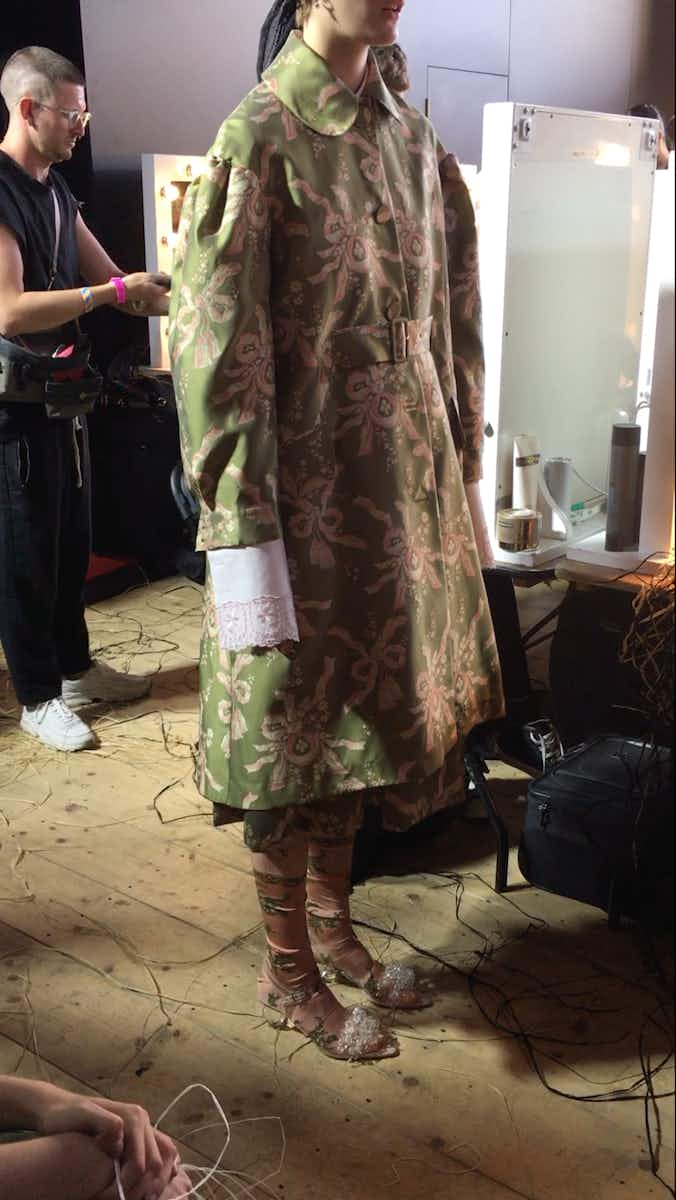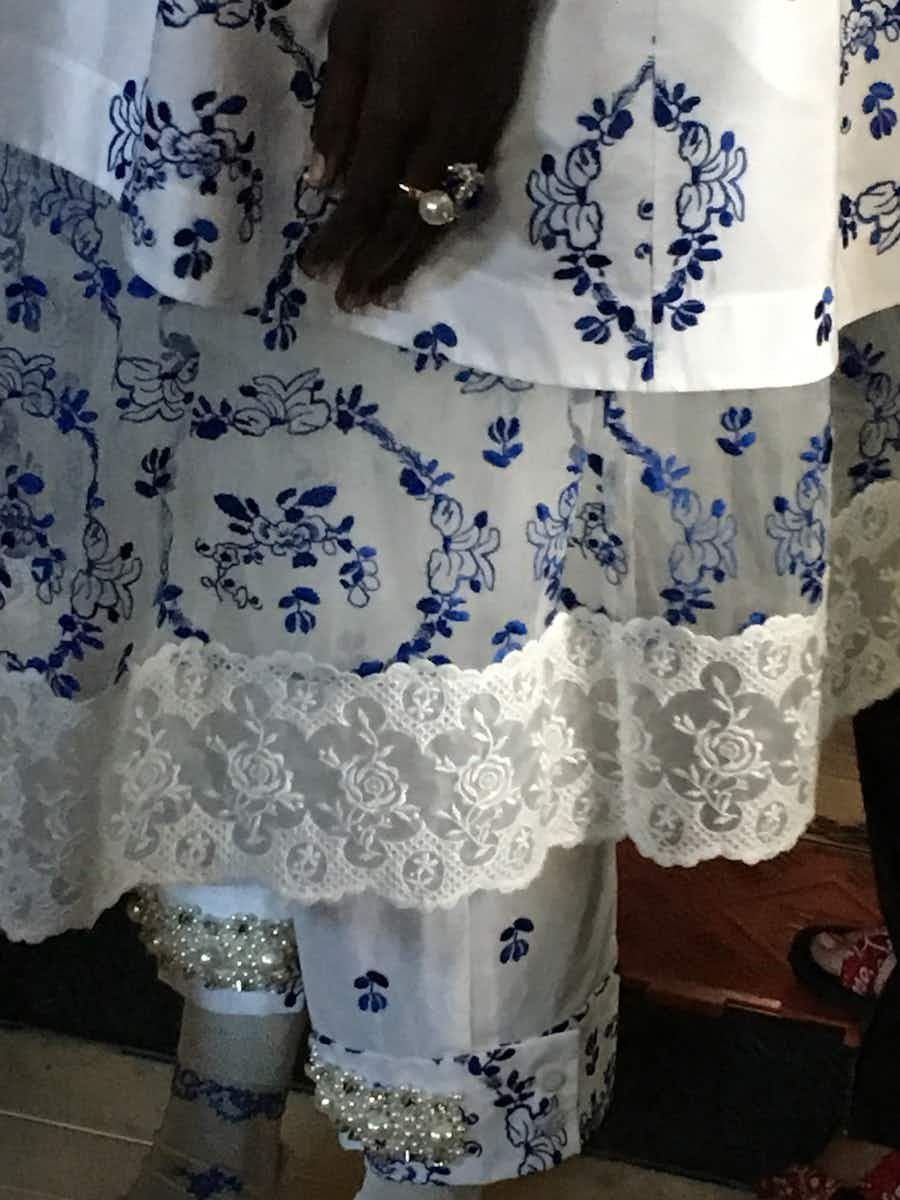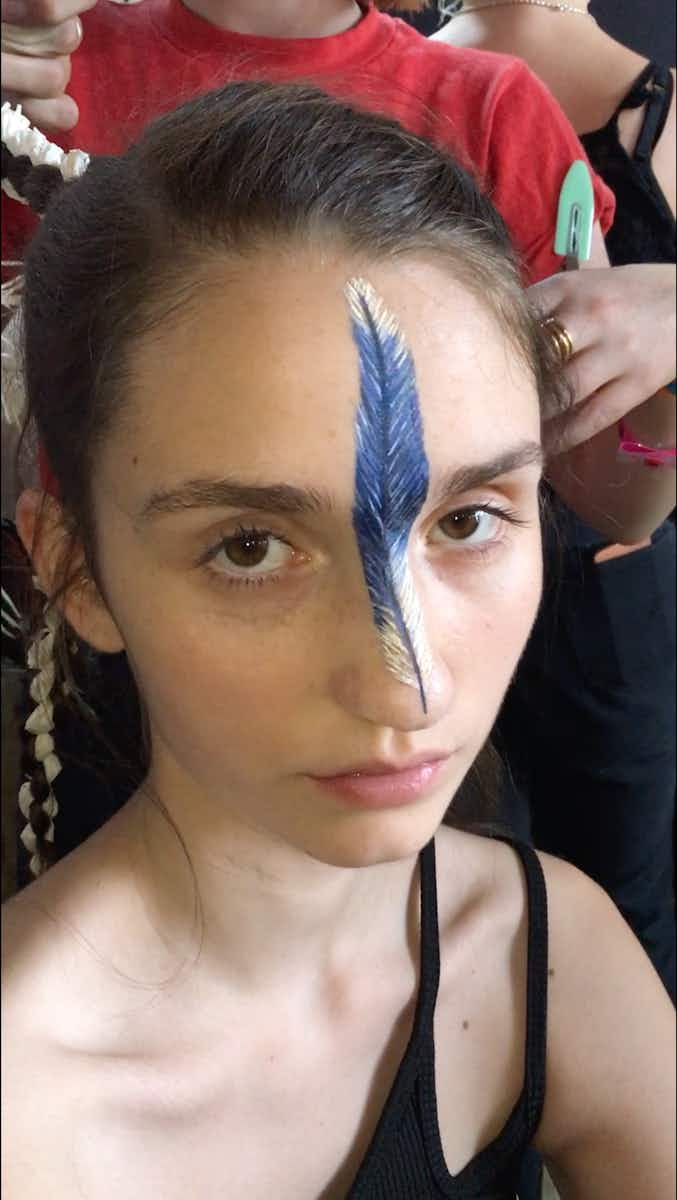 What about the beauty?
Hair was woven into multiple plaits that mirrored the intricate hand-macramé harness-like structures seen wrapped around many of the models bodies worn over dresses, trench coats and two-piece suits. Meanwhile, some models has delicate feathers painted on their faces, while others donned a dramatically lined black eye.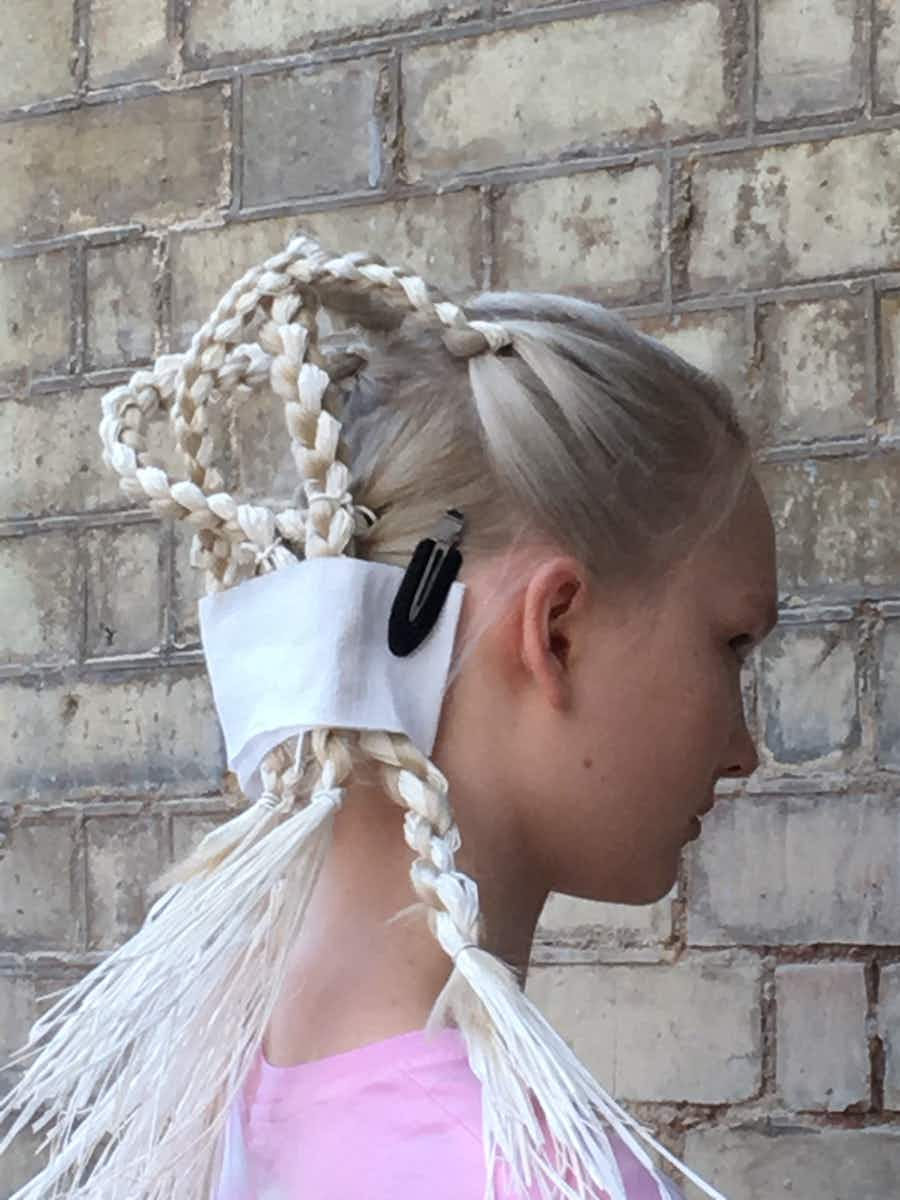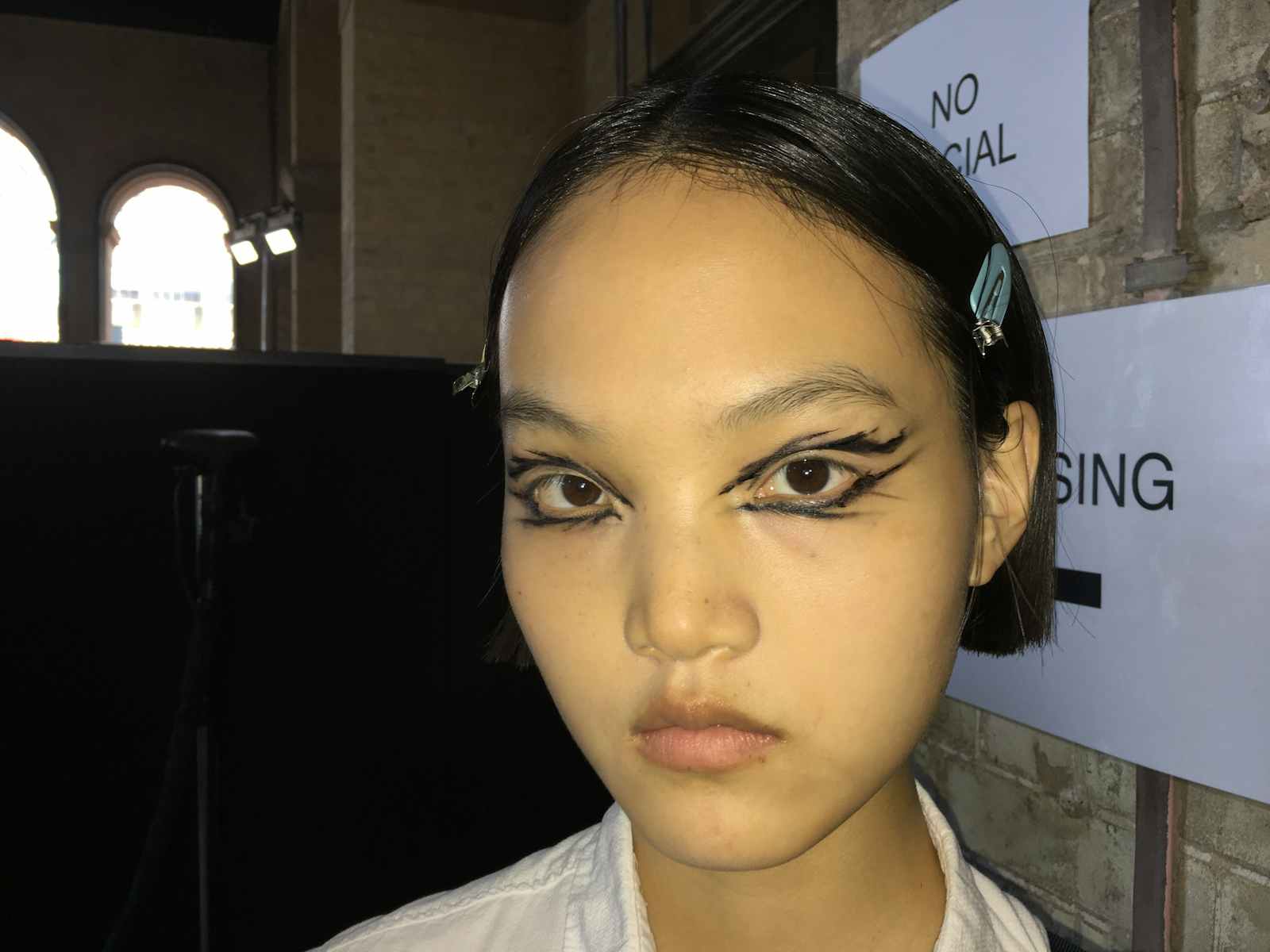 Take an action heroine chased out of a swanky event by villains, hoiking up her skirt to run through the back streets and dodge through laundry lines, and you've got the mood for Marta Jakubowski SS20. The Polish designer brought silver screen inspiration to her signature softly-slashed tailoring, citing Marlene Dietrich and Lola in Run Lola Run on her show notes, despite the clothes being anything but sepia-toned, moving through lilac to Cadbury purple, and beyond to beiges into jade greens and deep turquoise hues. Deconstruction was the name of the game, with apron-like layers worn over trousers with panniers, and skinny ribbed under layers suspended from models' waists at the back. If you too were enthralled by Mary-Kate Olsen's recent cardigan-as-a-skirt thing: Jakubowski's making it a huge mood for spring. Wearing sleeves on your arms is for losers. The Jakubowski mode of power dressing is to push geometry to almost ludicrous extremes, extending the shoulder lines on one purple dress beyond the body via curved wires and powder pastel boxy biker jackets almost pentagonal in shape (the head being the top point). Having said that there was plenty of softness too: flowing silk threaded through tailored lapels and even a simple black suit came with sashed draping, like a stage curtain or the way chairs are ​"dressed" for weddings. A prime example of Marta Jakubowski's power woman? The model Winona Odell who triumphantly took her vertiginous heels off and walked the finale barefooted.

What did it look like?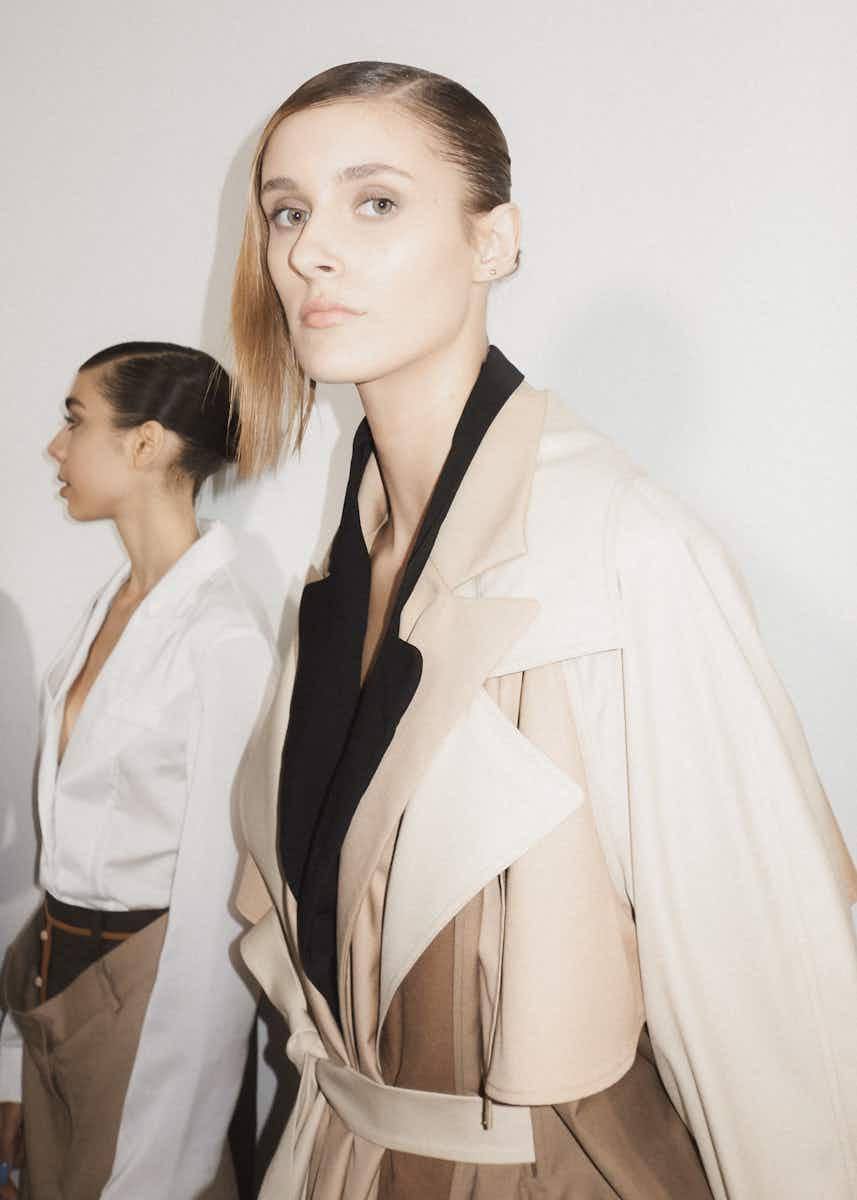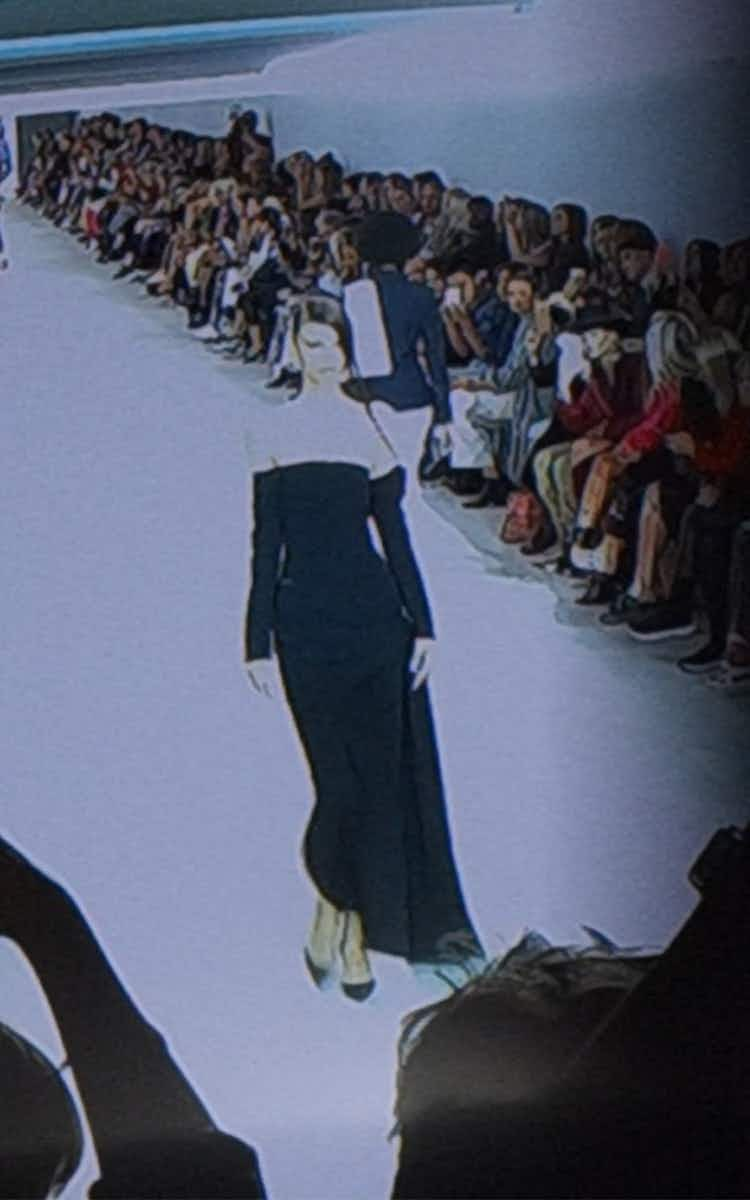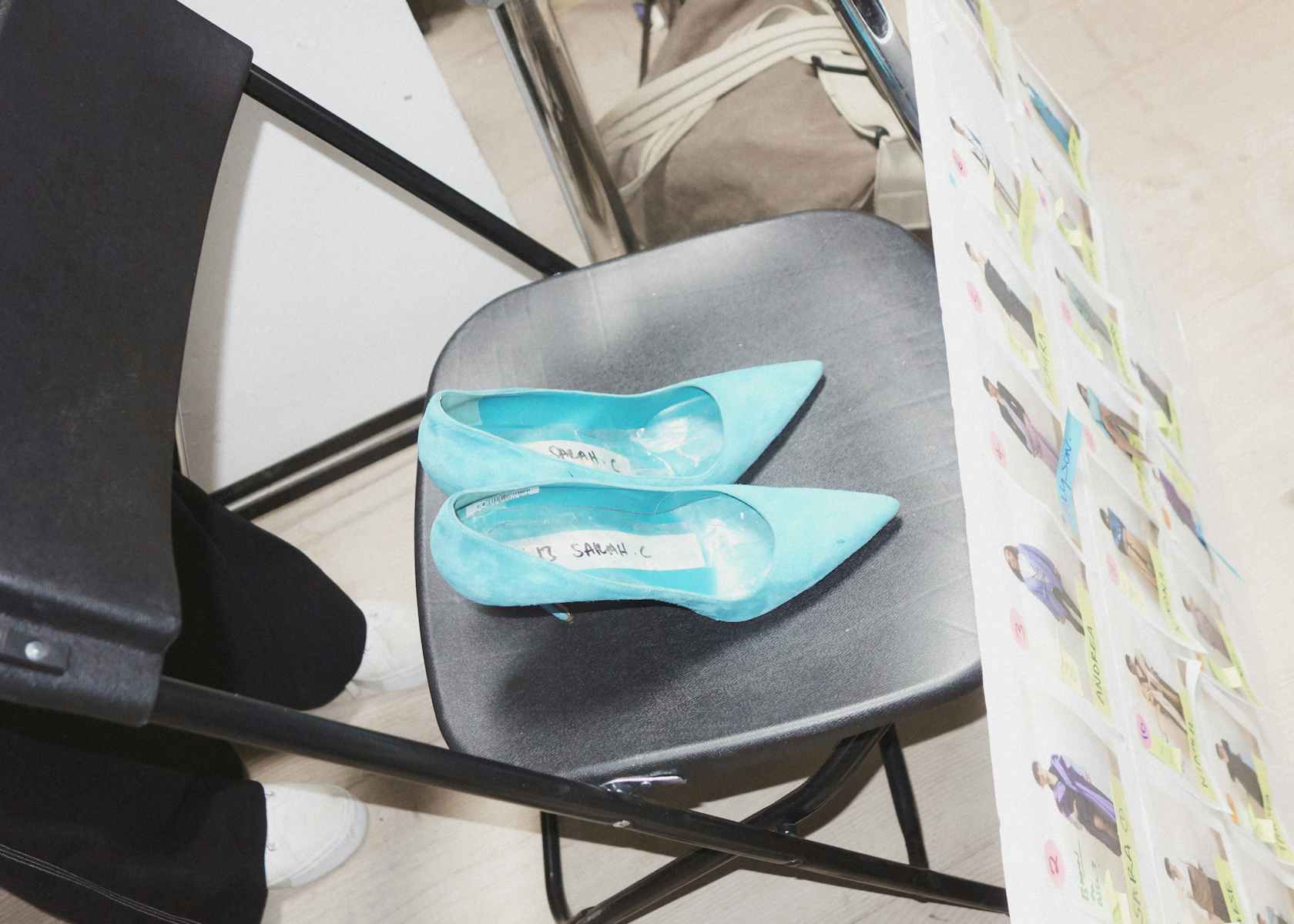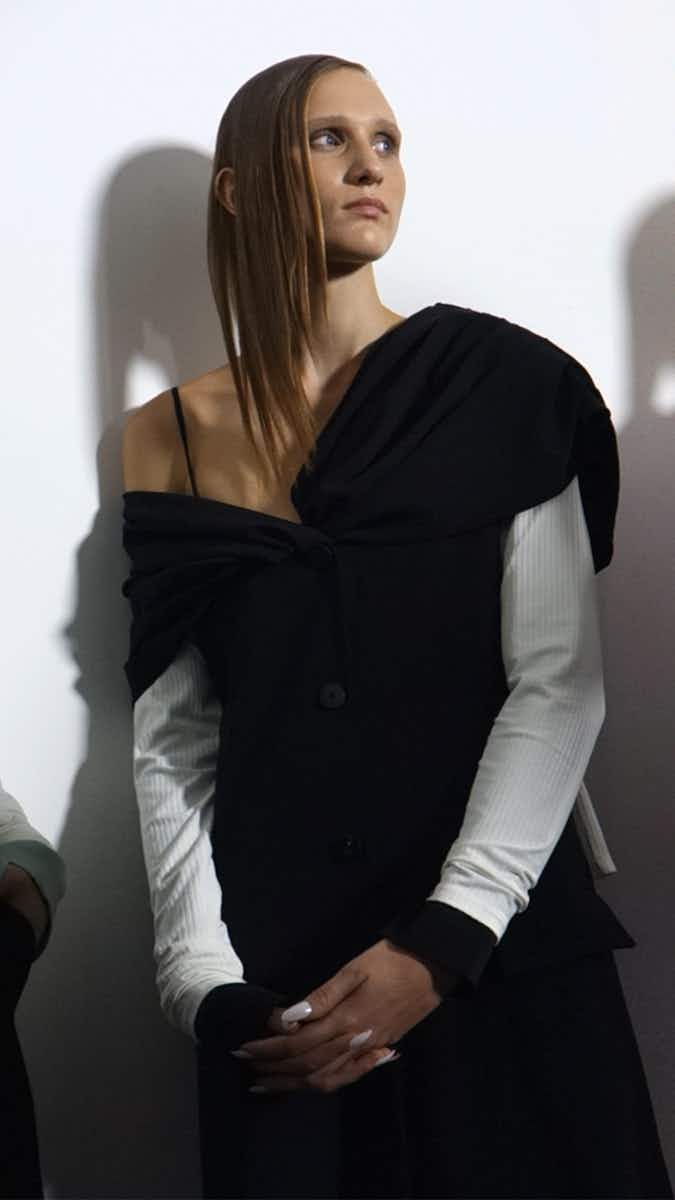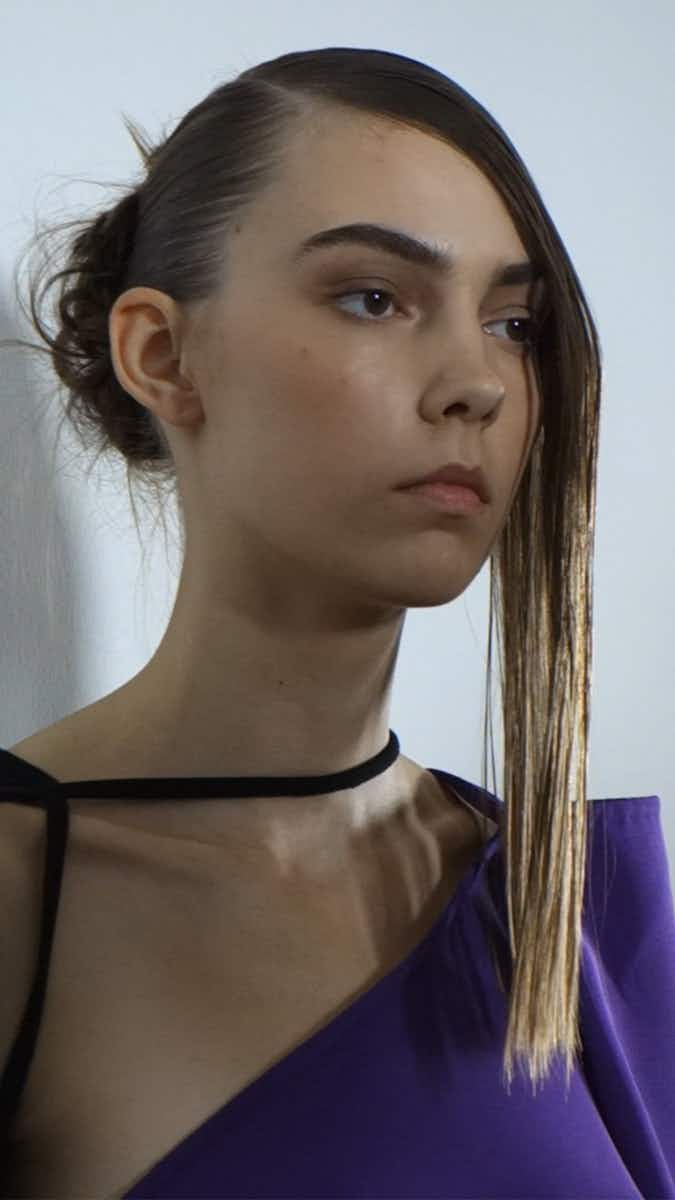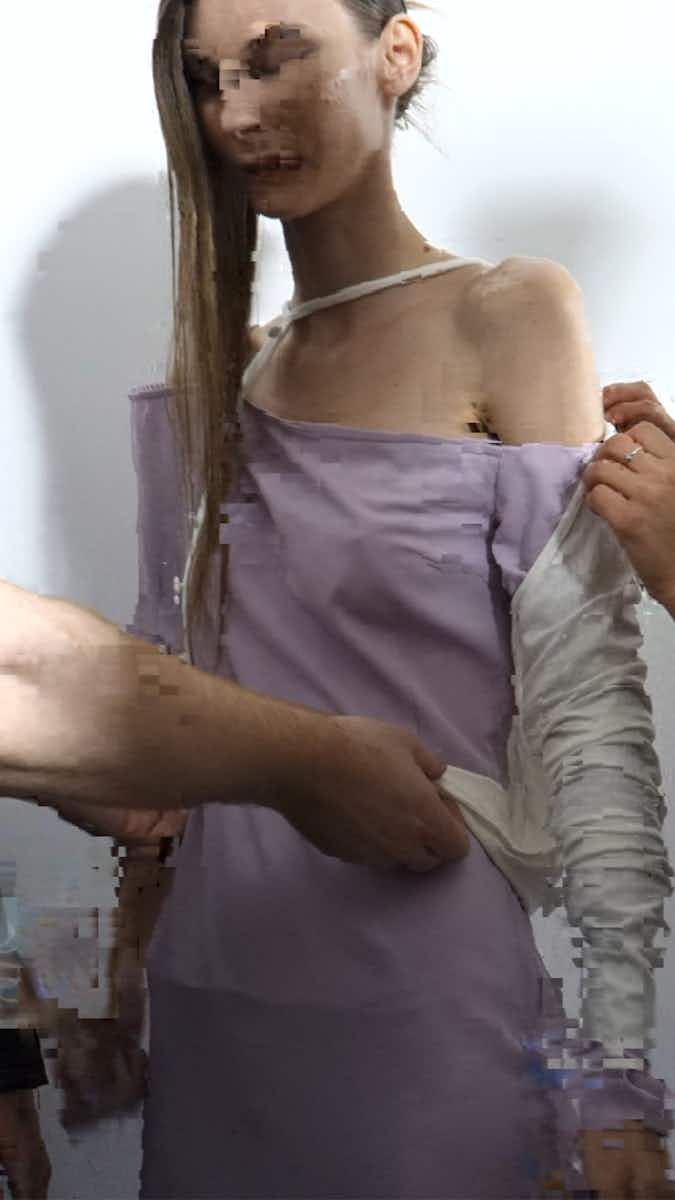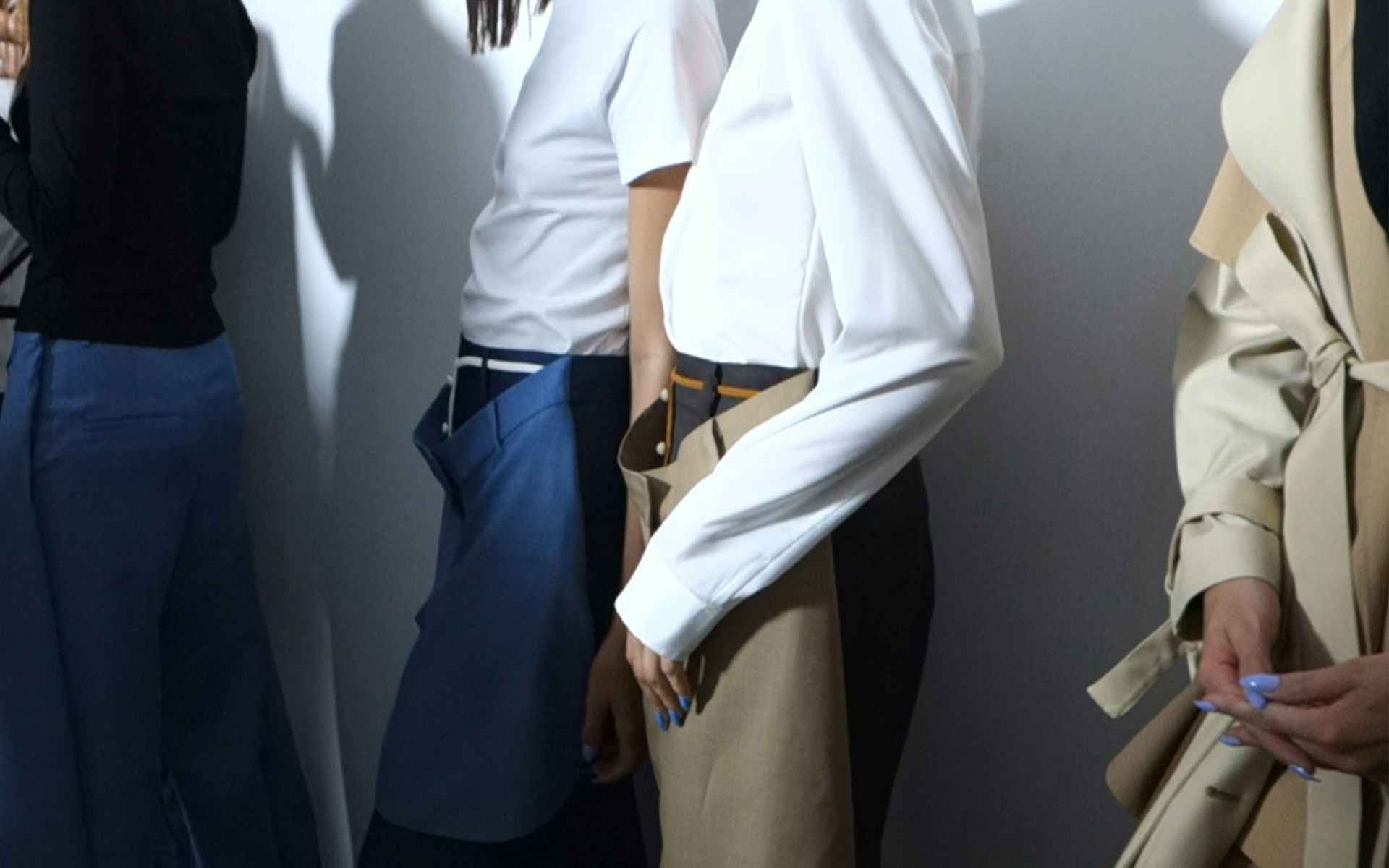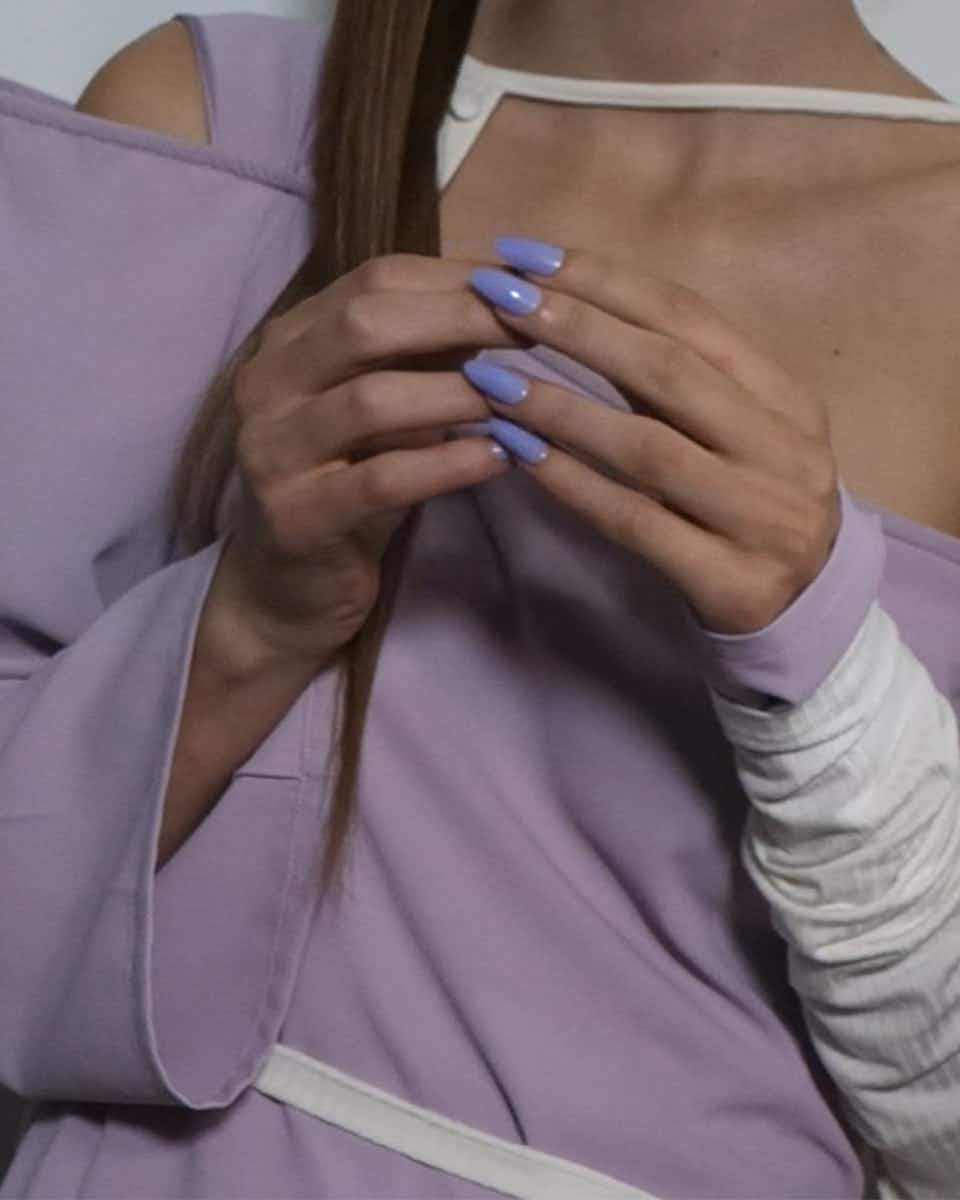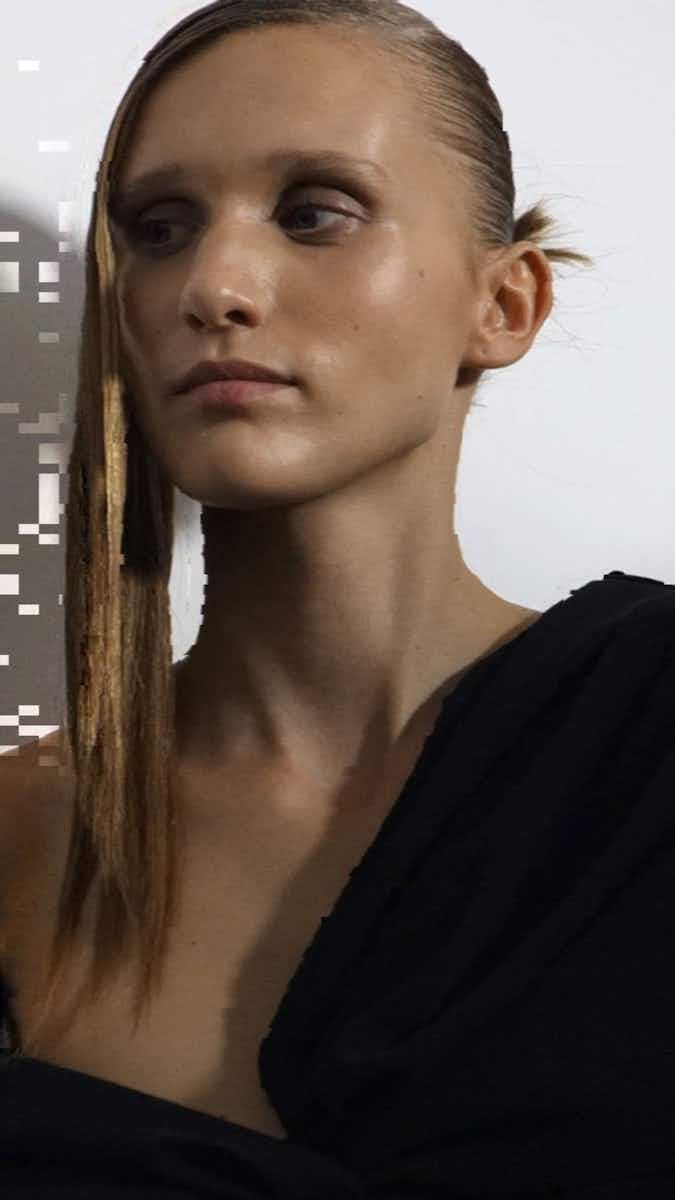 What did it sound like?
The show opened to Franka Potente's Believe, from the Run Lola Run soundtrack, whose lyrics were printed on the show notes. The soundtrack moved onto Marlene Dietrich singing Sag Mir Wo Die Blumen Sind and then finished with Ghost Town by Kanye West.
What about the beauty?
We're talking extreme slicked side partings: half 1930s Berlin cabaret glamour, half teenage Myspace profile pic from 2007.

What were people saying about it?
Musician Kenzie adored the trench-on-trench-on-trench look. ​"I think I need it," she said, showing us a video she'd taken on her phone. BG.
MATTY BOVAN SS20
Matty Bovan's guests were awoken from their seated slumber by a flash of red light and a cacophony of discordances sounds. The first model out – Lily Mcmenamy – was masked by a face visor that magnified the features of her face. Proportions were exaggerated elsewhere too – sleeves, shoulders and skirts. Patterns were purposefully mismatched and a series of extravagant hybrid dresses — inspired by workers uniforms — took on exaggerated forms. Think dresses featuring a lace-up construction (inspired by the pressure suits worn by high-altitude pilots) and Victorian-esque puff-sleeved jackets reimagined in the neons associated with the uniforms worn by construction workers.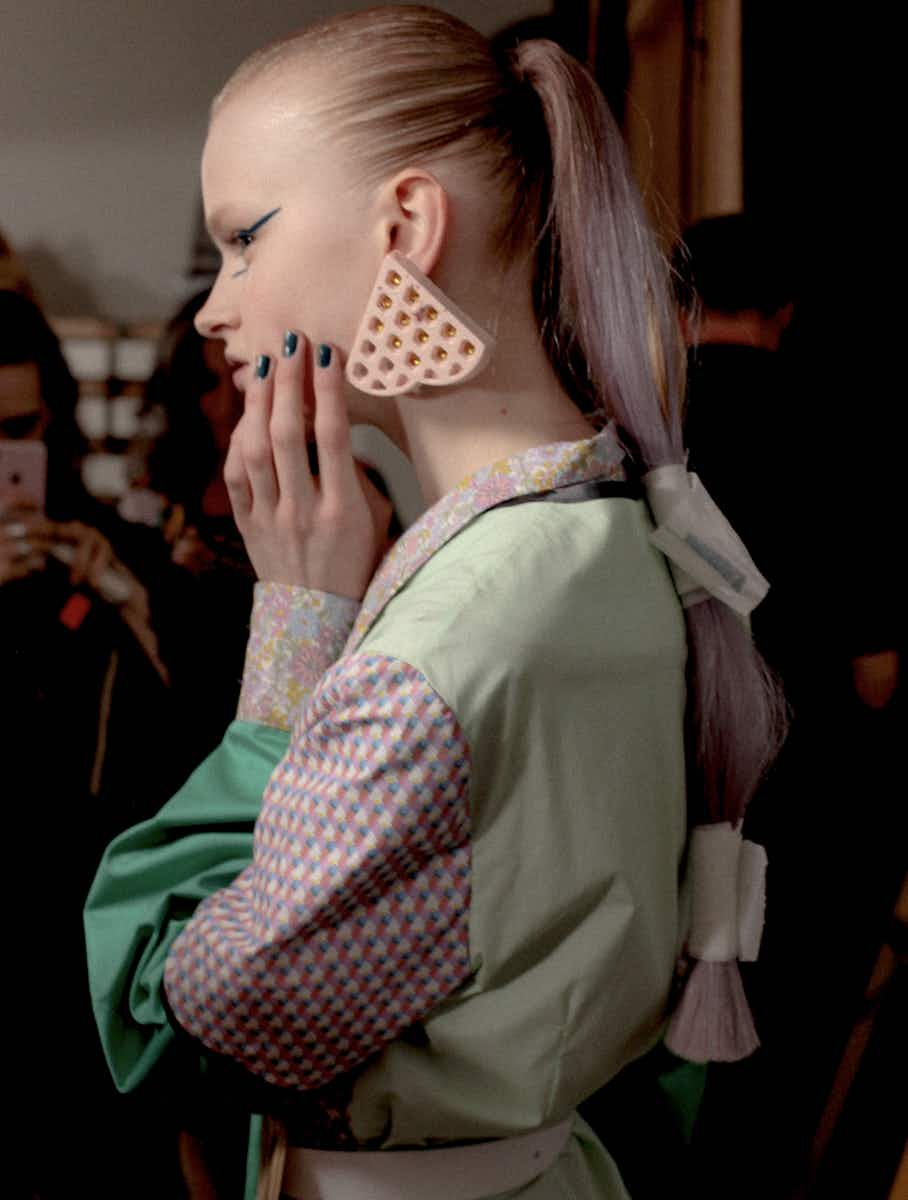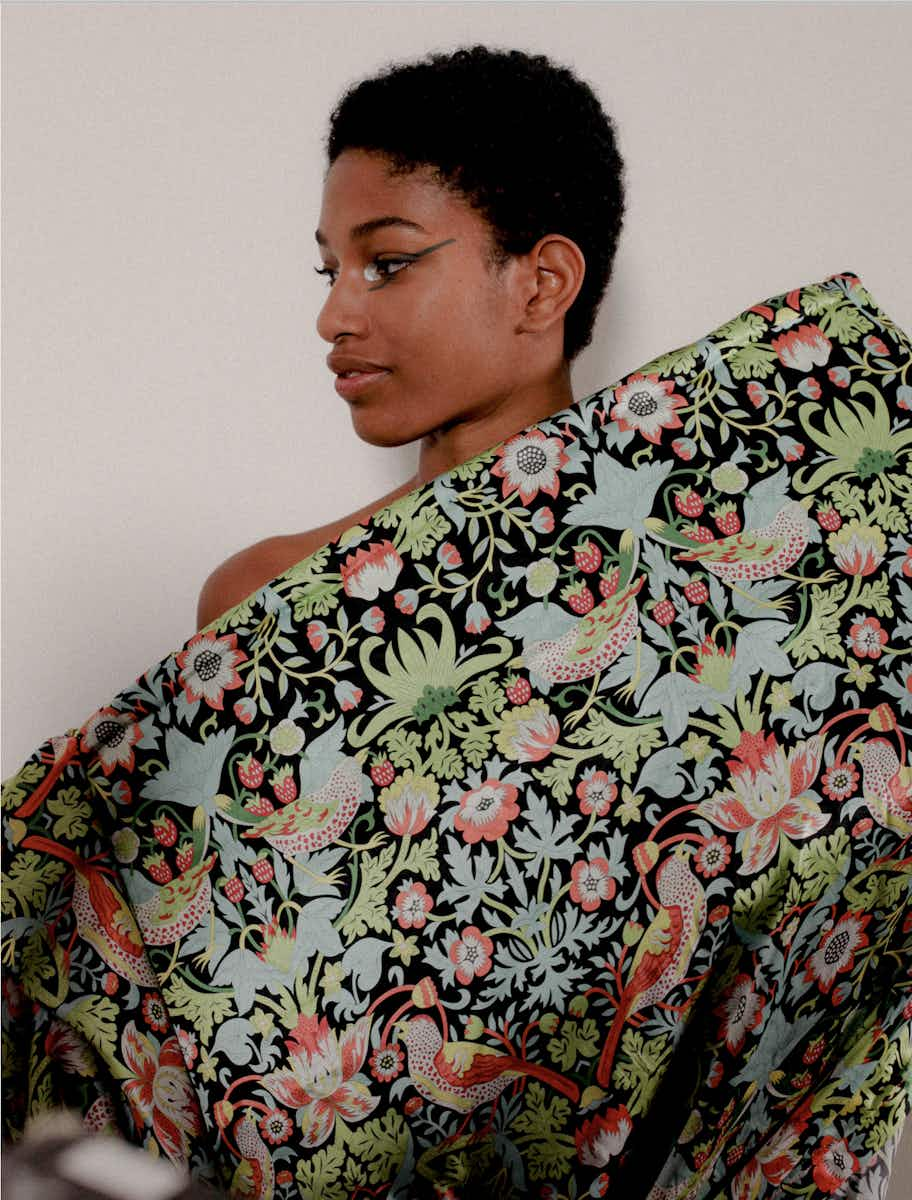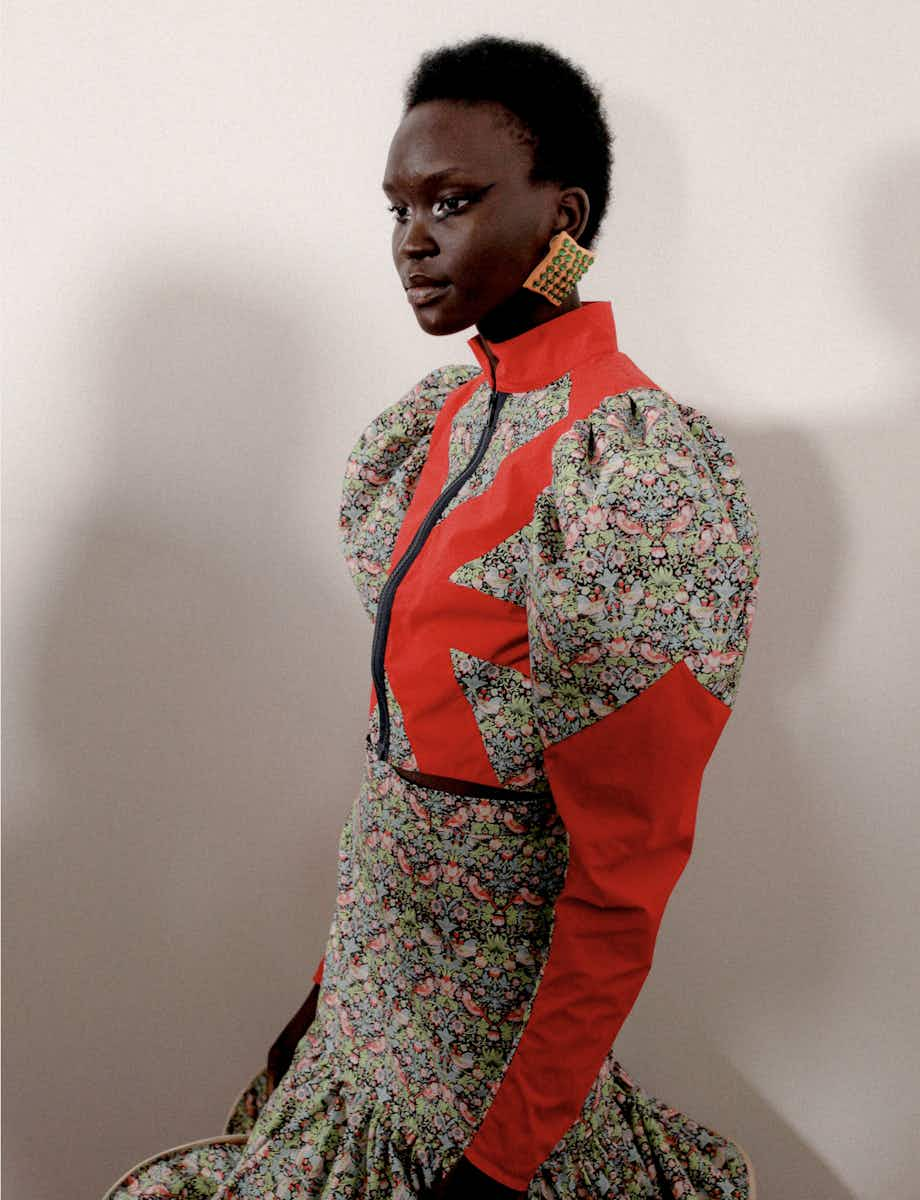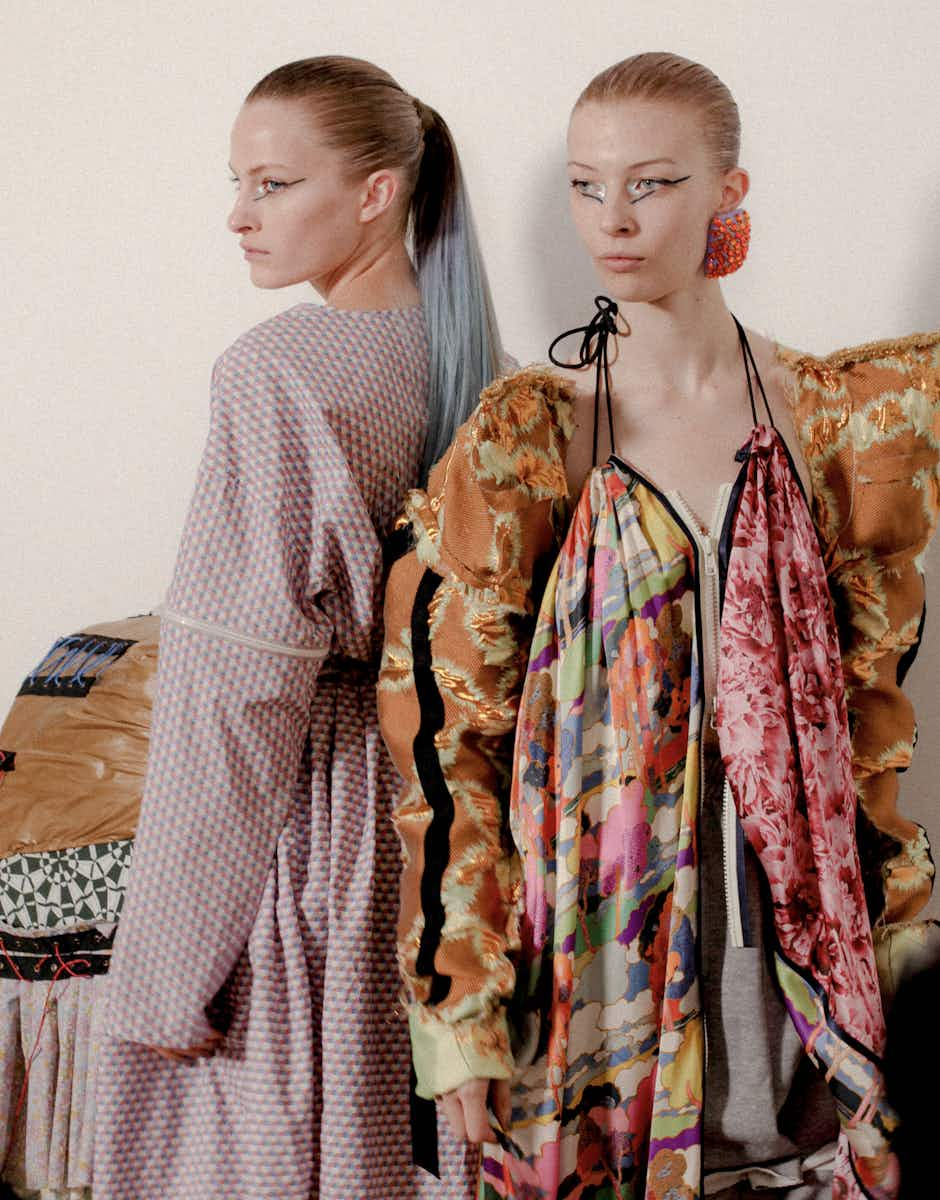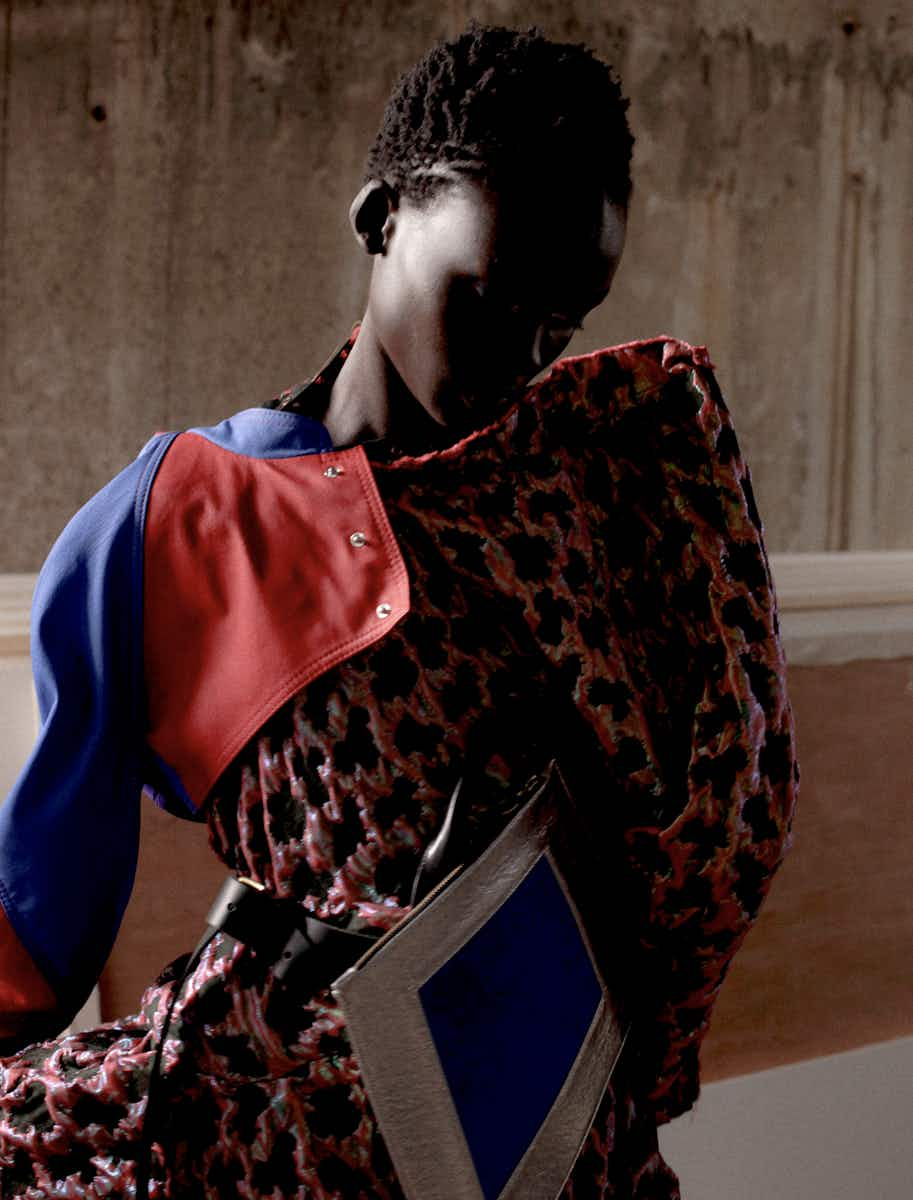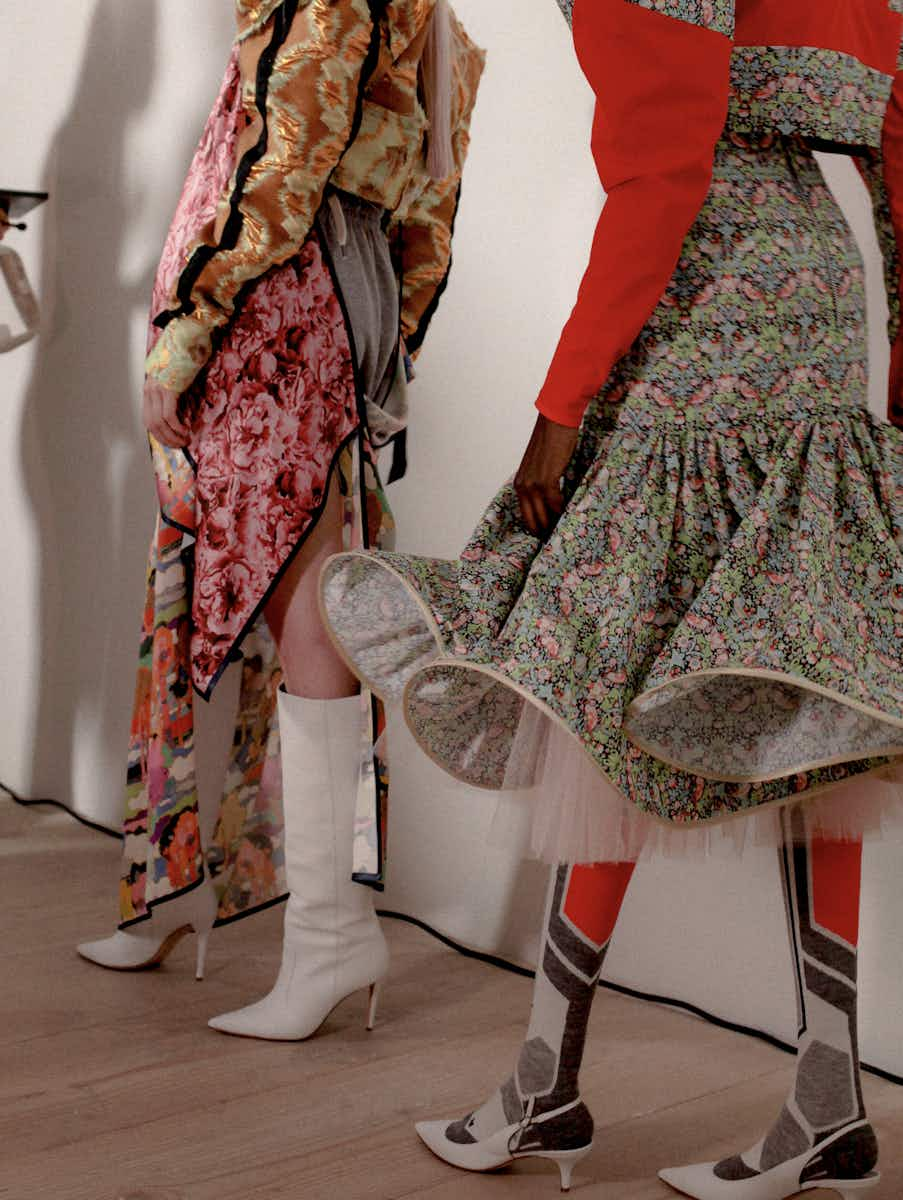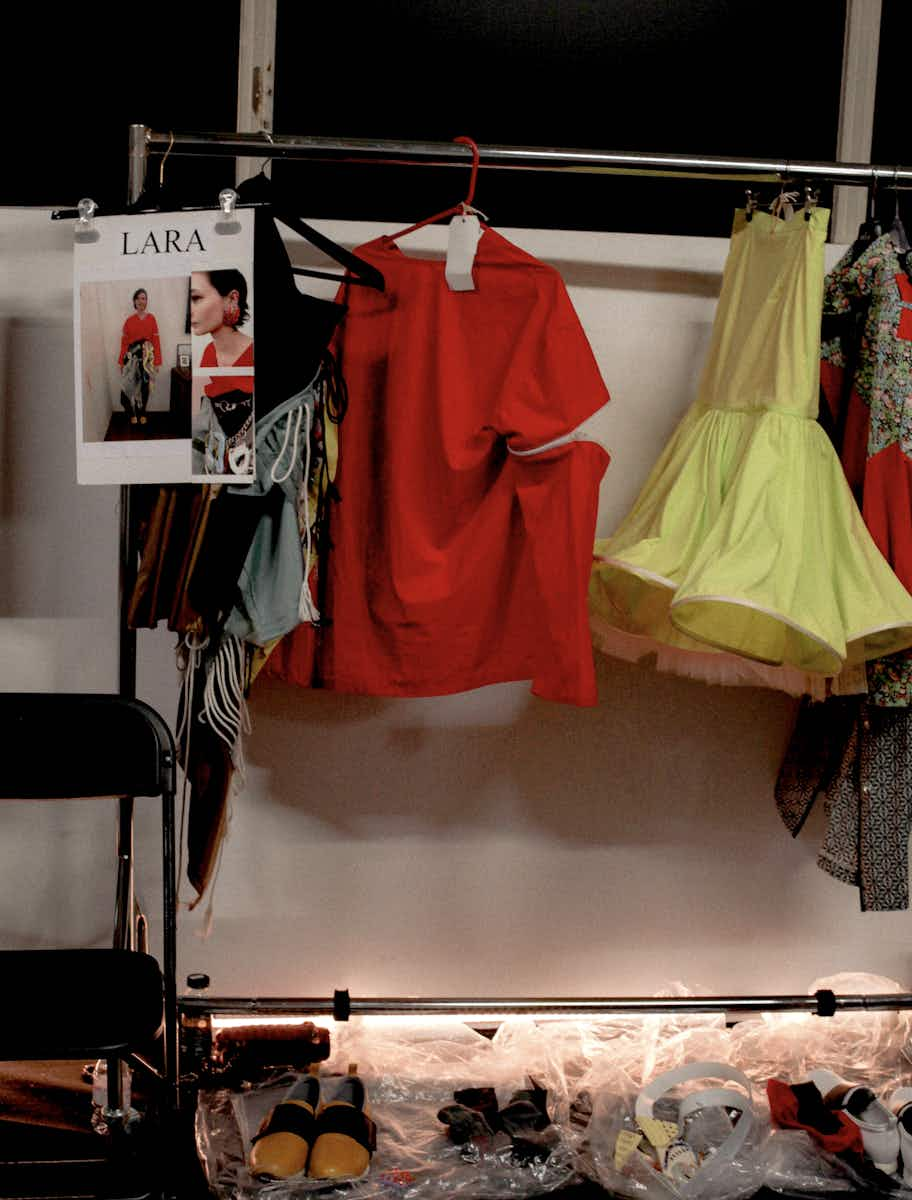 What about the hair?
The majority was slicked back into a tight ponytail, with the ends dip dyed electric-blue, broad bean-green and dusty-pink using a clay like substance. BM.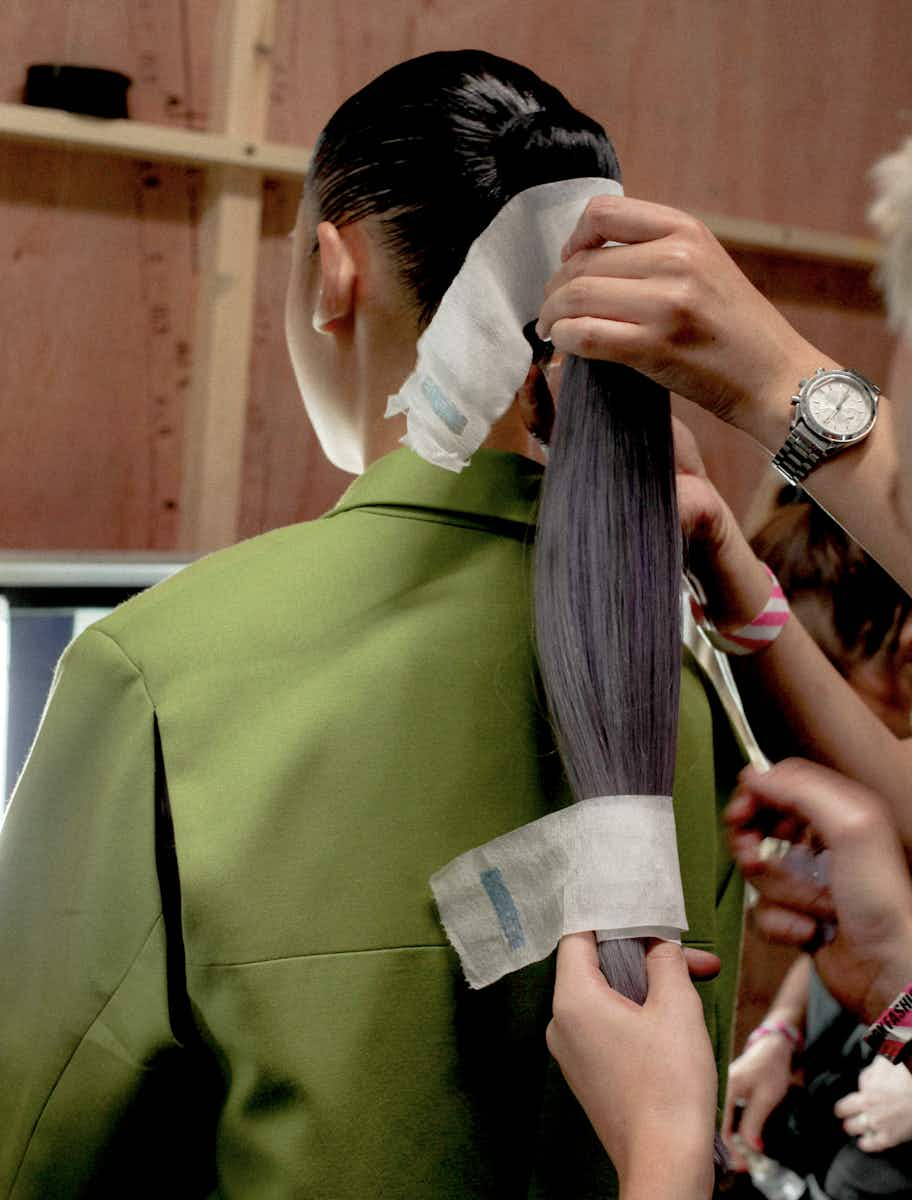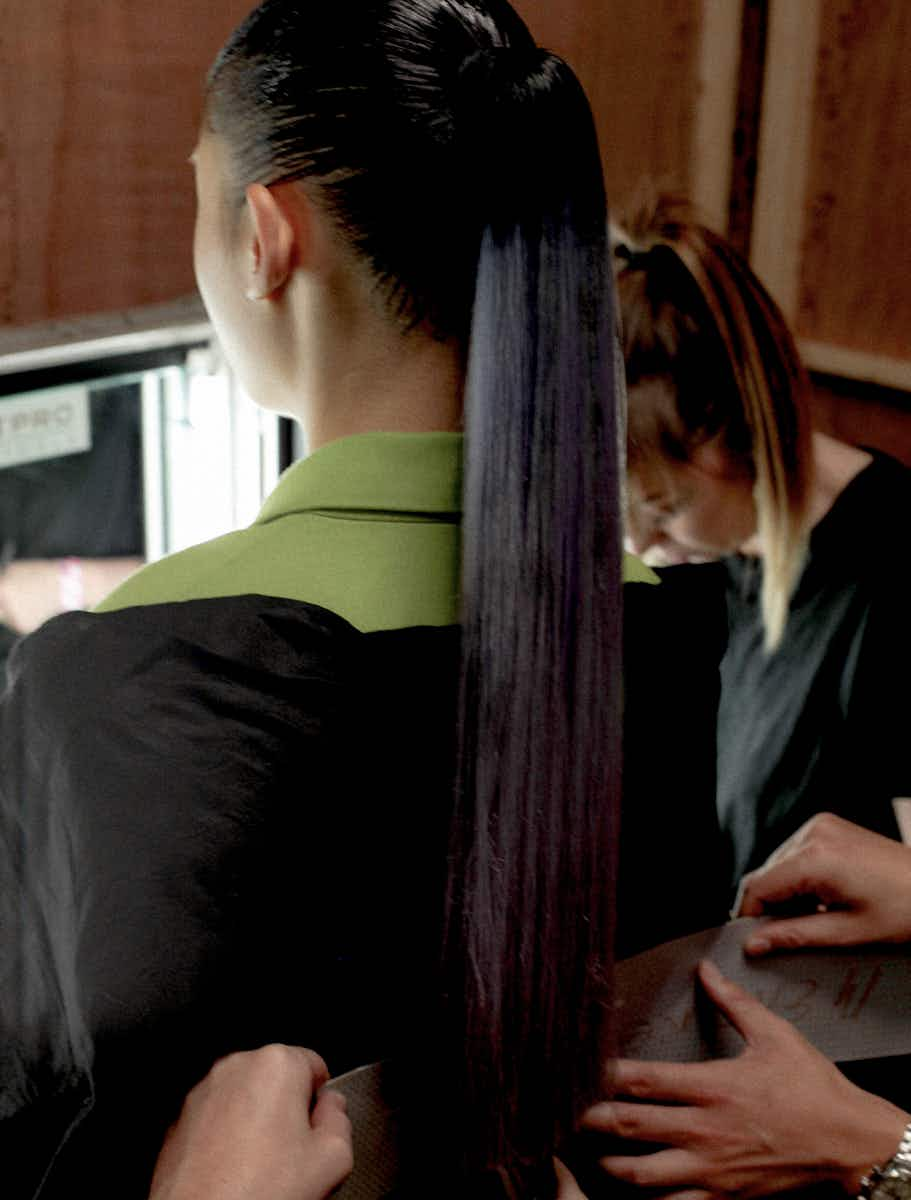 MOLLY GODDARD SS20
Molly Goddard has always enjoyed putting on a show: from her earliest presentations that saw her friends dressed up and participating in life drawing classes, to last year's market-inspired runway that saw models carrying the season's most unlikely accessory — a cabbage. (It helps, of course, that her mother Sarah Edwards happens to be a gifted set designer.) This time around, she chose a suitably grandiose setting — the cavernous central hall of Marylebone's Seymour Leisure Centre — but with fewer bells and whistles than we're used to when it came to the runway itself, which was all but bare. Instead, it seems that Goddard was happy to let the clothes do all the talking.
What did it look like?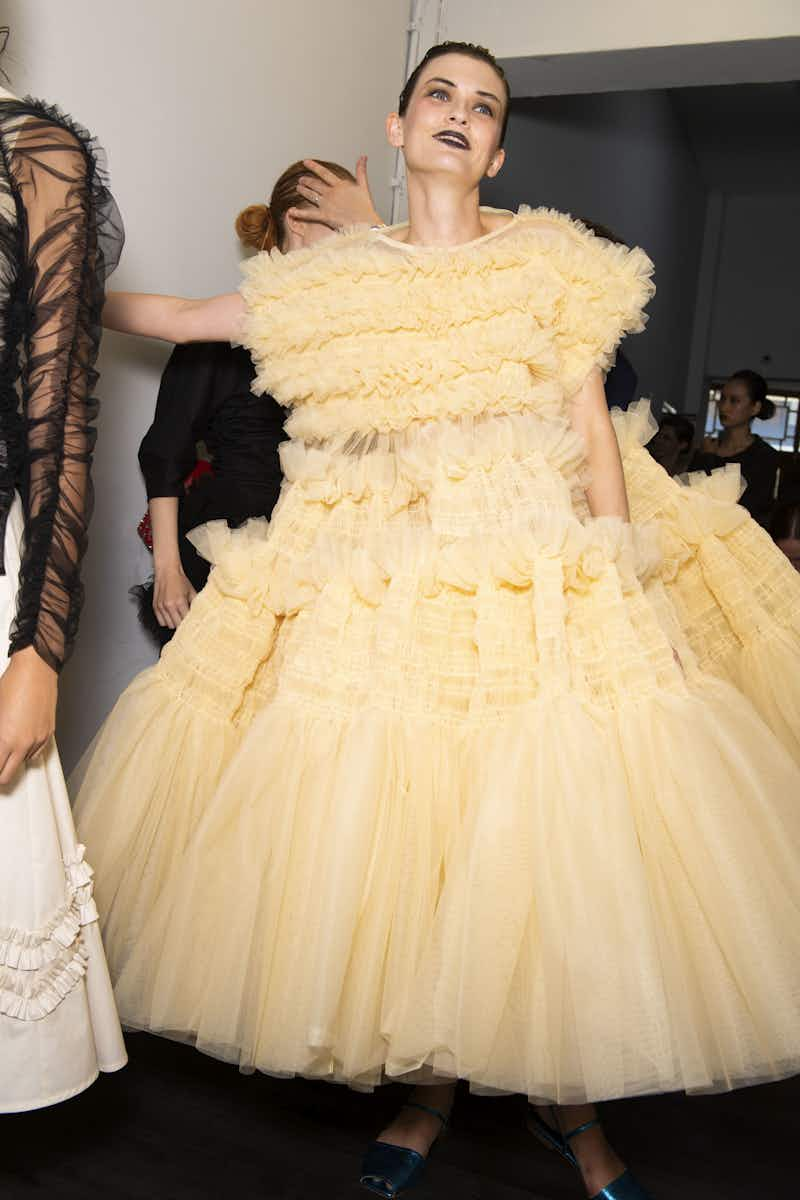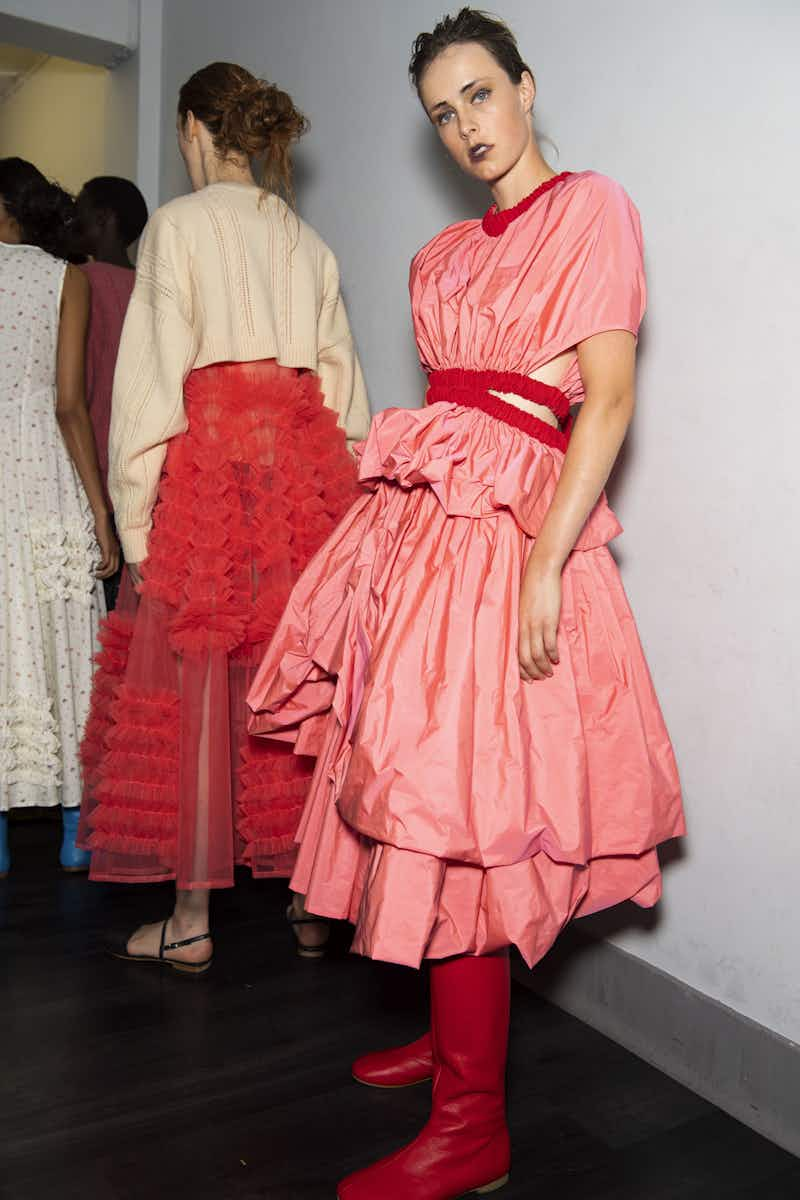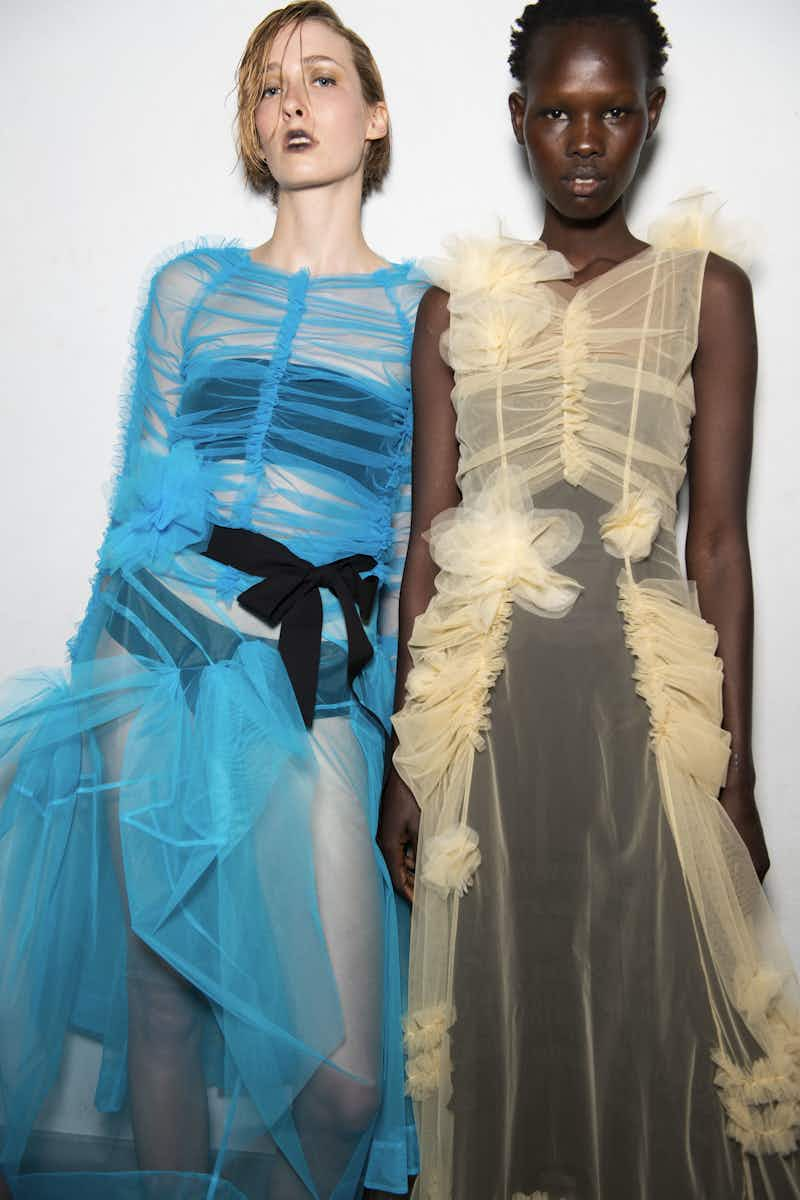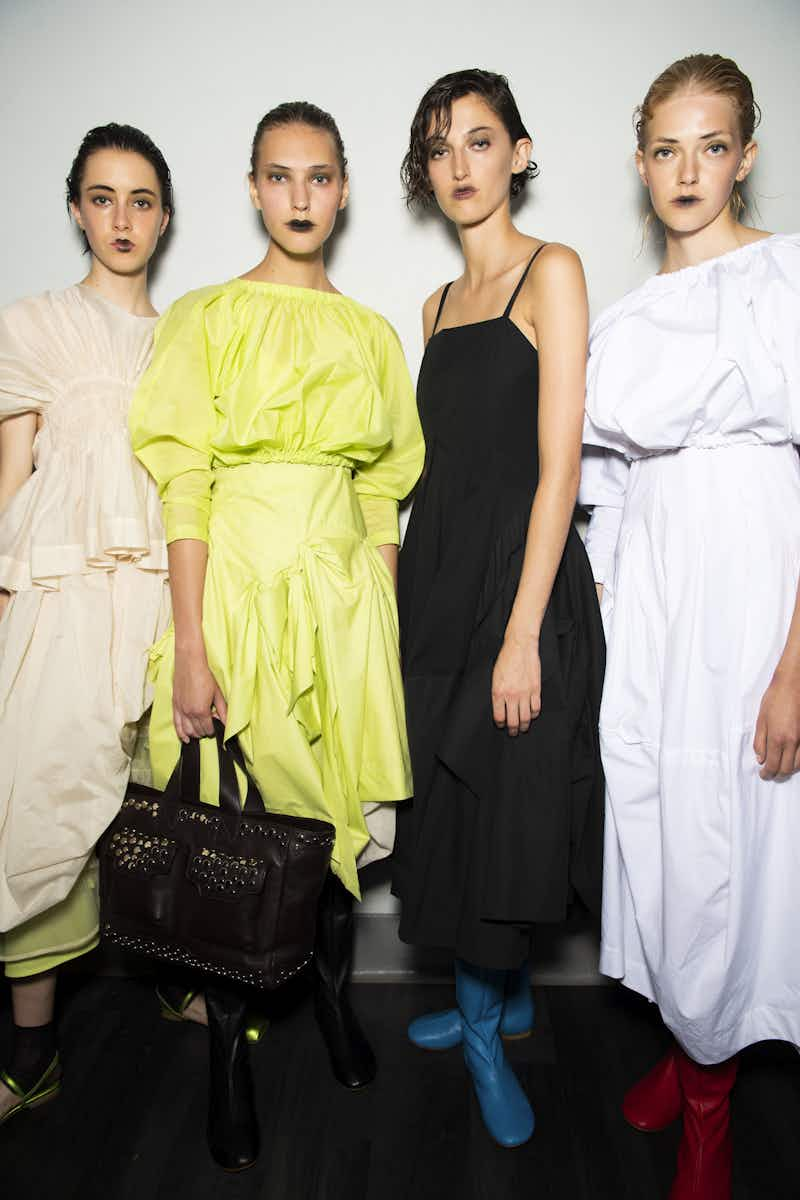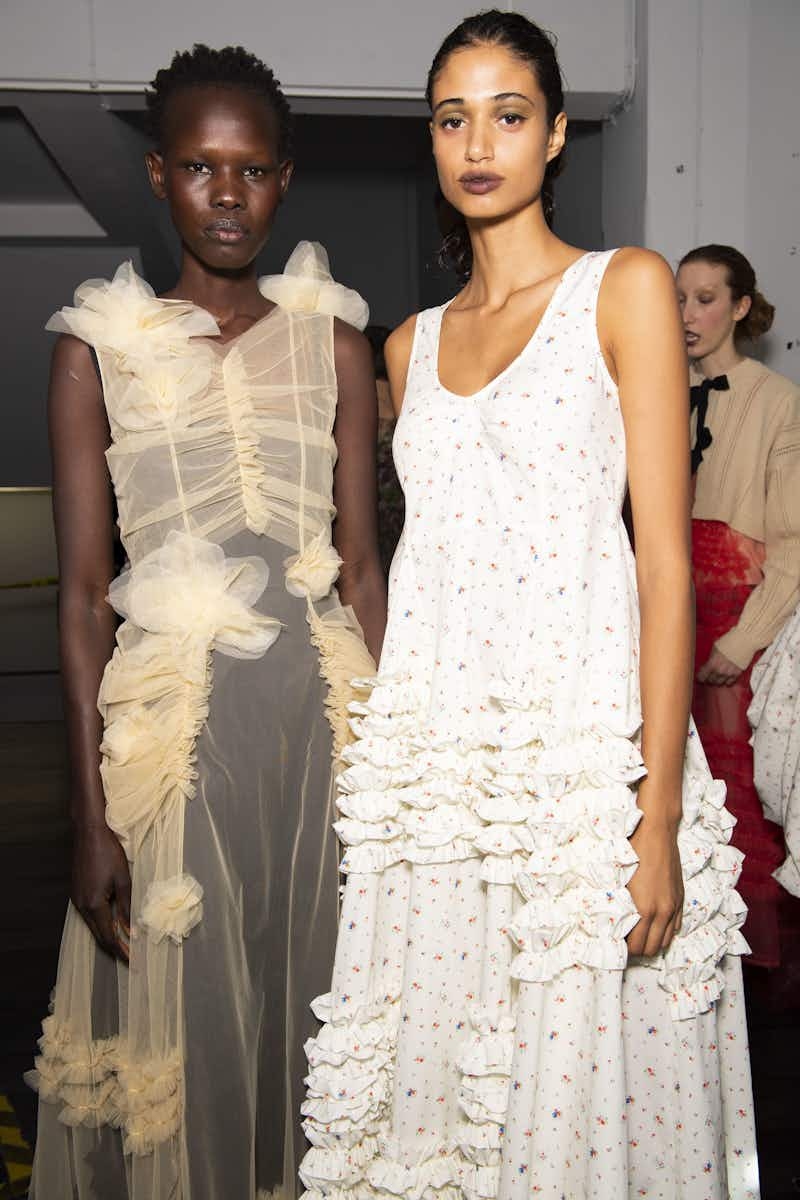 The collection was, according to Goddard, inspired by a trawl through her own archives: more about pressing pause and reflecting than anything too heavily themed. Of course, there were plenty of frothy tulle confections to please her long term fans; one sherbet-hued gown was so large it brushed the knees of showgoers, who were intentionally seated in narrow aisles to make sure they got up close and personal with the garments. But there were plenty of subtler looks, too: a series of knits tied at the shoulders with grosgrain ribbons held plenty of appeal for those too afraid to go full ballgown, as were jackets and gypsy tops cut from dark-wash denim. What really kept it from feeling too light and frilly, however, were the knee-high leather boots, seamed up the centre and arriving in a variety of eye-popping colours, from electric blue to bright red. Not a bad styling tip for those wanting to give a maximalist Goddard gown an edgier spin.

What about the beauty?
Goddard's biggest departure was, surprisingly, in her goth-inspired beauty looks: models wore their hair pulled back or in choppy bobs, while a slick of black lipstick gave every look a darker and more dangerous feel. Even if Goddard made sure the clothes continued her signature tradition of girlish charm, the styling suggested there was also something a little moodier going on behind the scenes this season. LH.

This season, Marques'Almeida clearly made a conscious decision to go back to their roots: not just with their return to the London schedule after two seasons in Paris, but also in their choice of venue. While hosting a day rave earlier this summer within the sprawling Victorian complex of Shoreditch's Old Truman Brewery, Marta Marques and Paulo Almeida made a point of emphasising the sentimental value of the building for them, as the place they got their first big break as fashion graduates joining Fashion East. With their first London show in nearly two years, today they were ready to channel that young up-start energy all over again.
What was the vibe?
The cavernous hall was hung with giant screens onto which the brand's muses were projected; many of them former interns who regularly walk their shows in lieu of runway models, the gang are collectively nicknamed the M'A girls. While showgoers filed in, the lo-fi, DIY-style interviews saw them talking activism and female empowerment, before industrial music boomed across the speakers and the screens lit up with fast motion car rides through nighttime cityscapes: an appropriately energetic backdrop for a punky, youth-inspired collection. Oh, and they even invited some M'A boys to the party this time, too.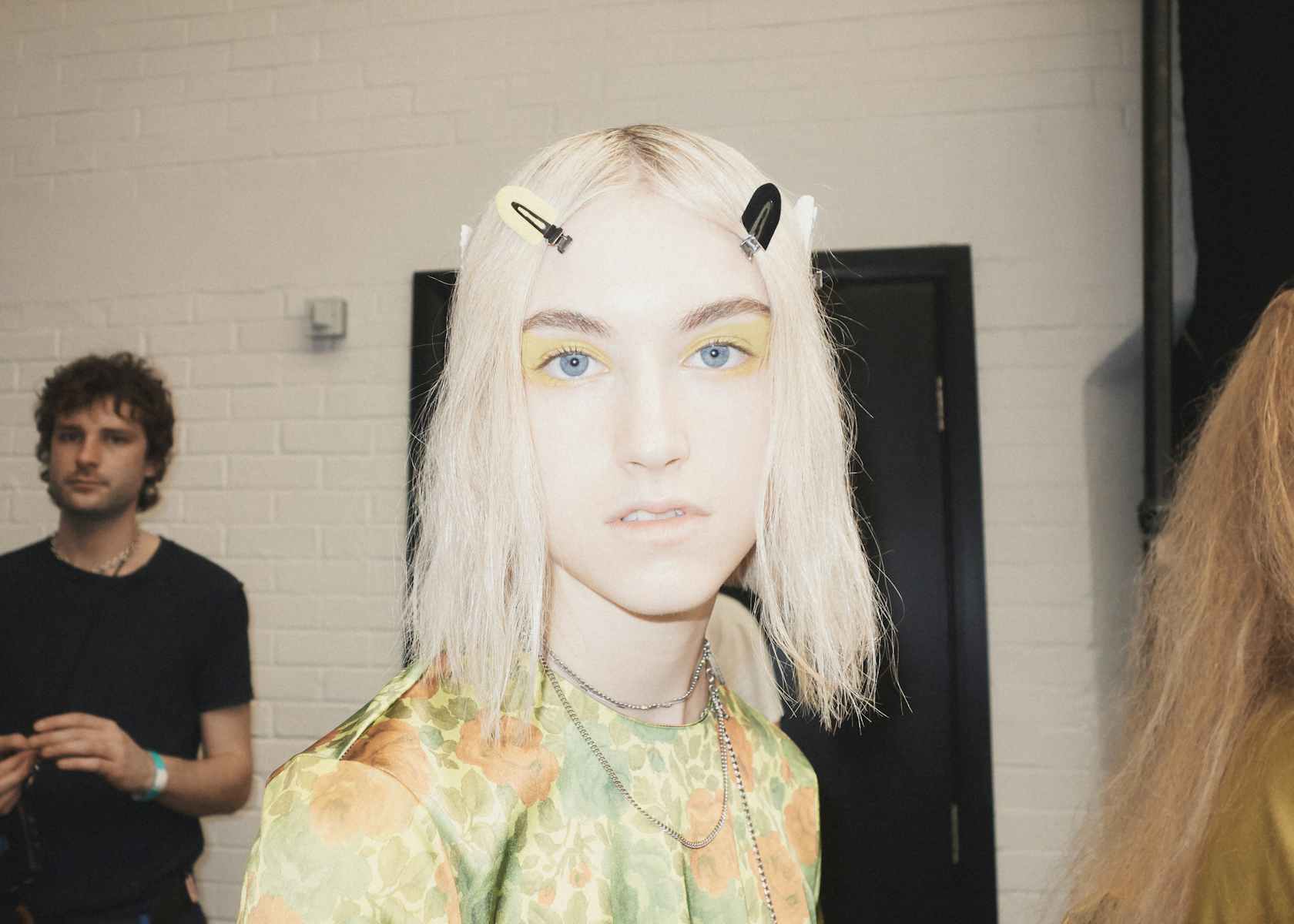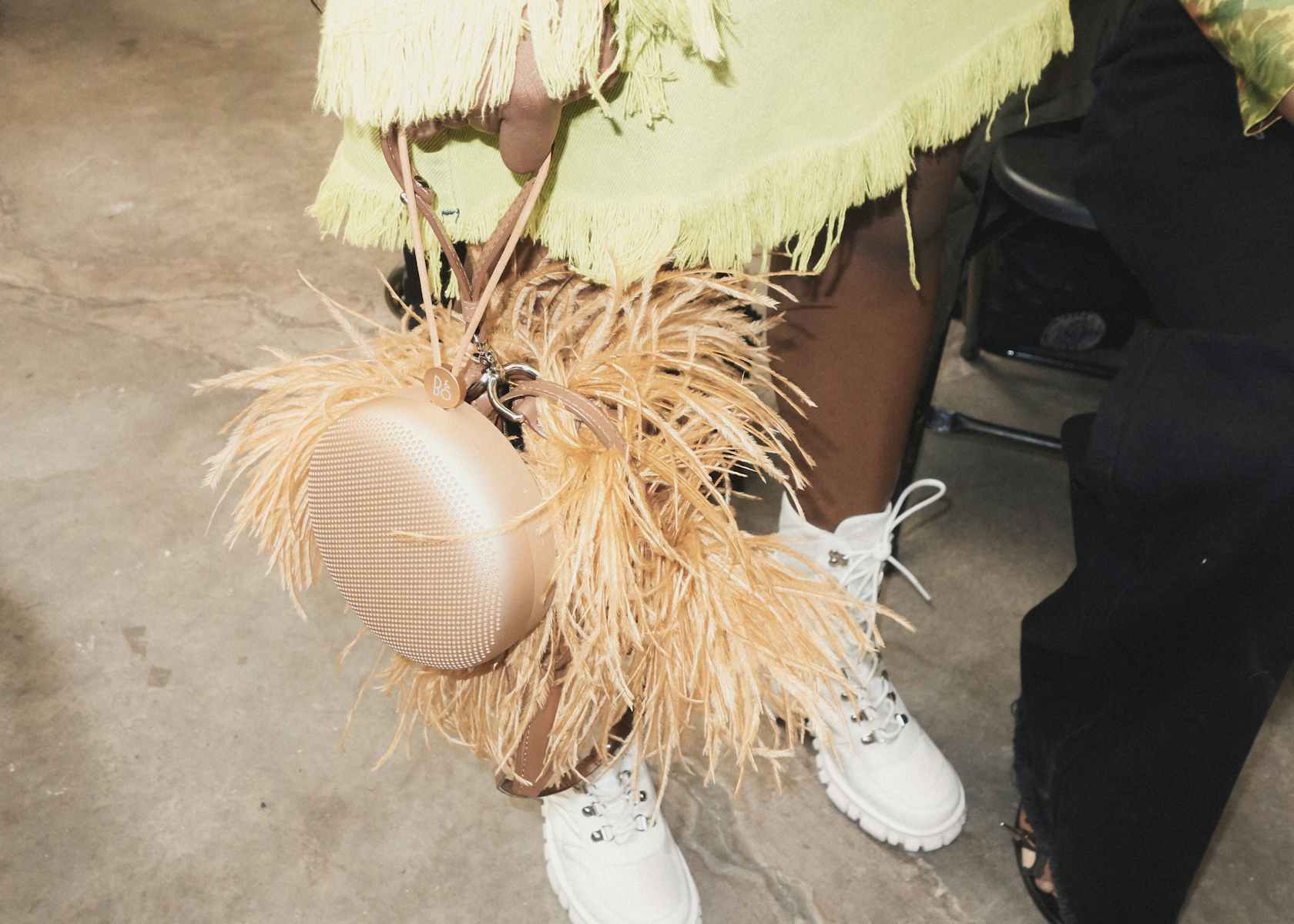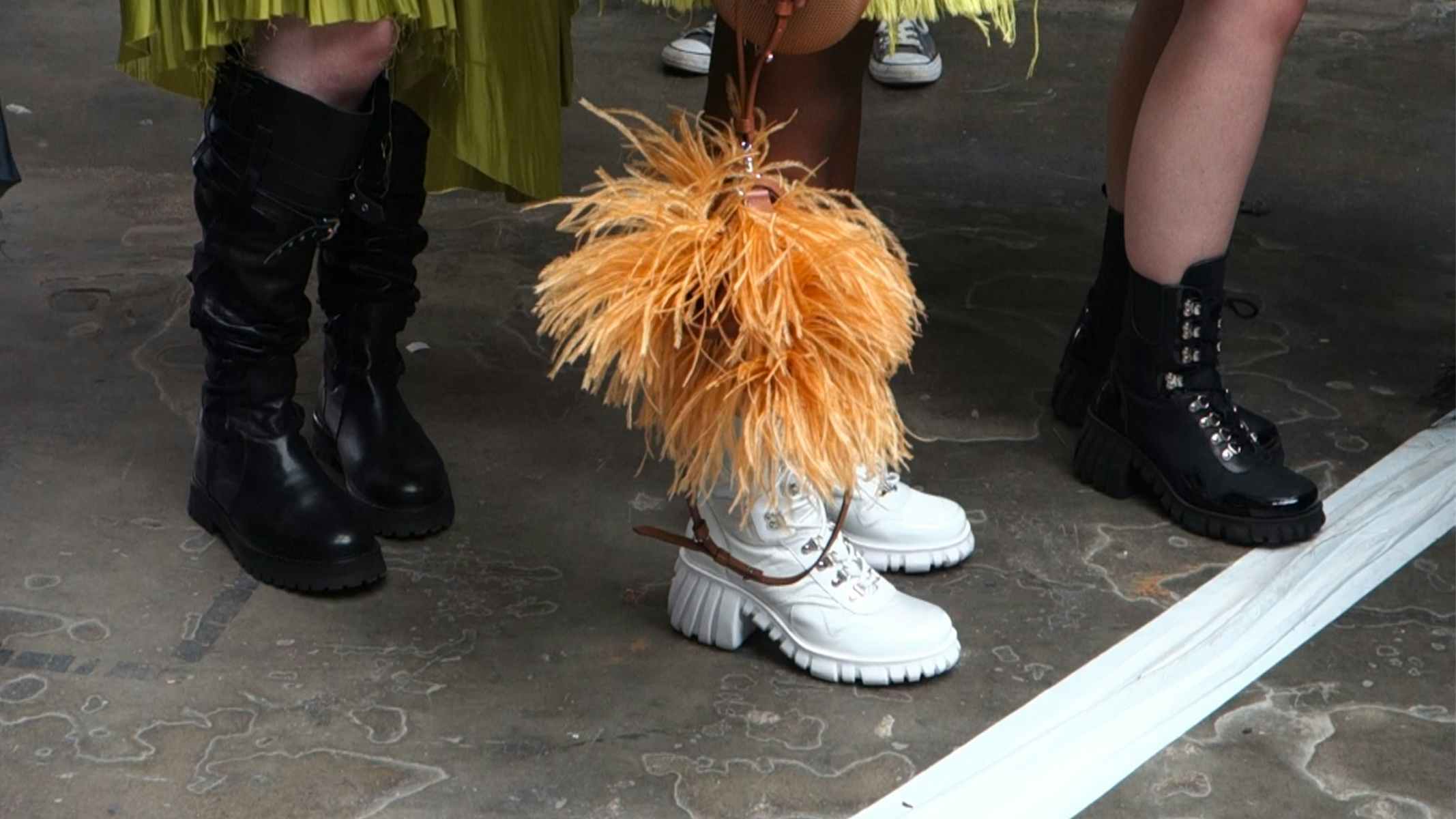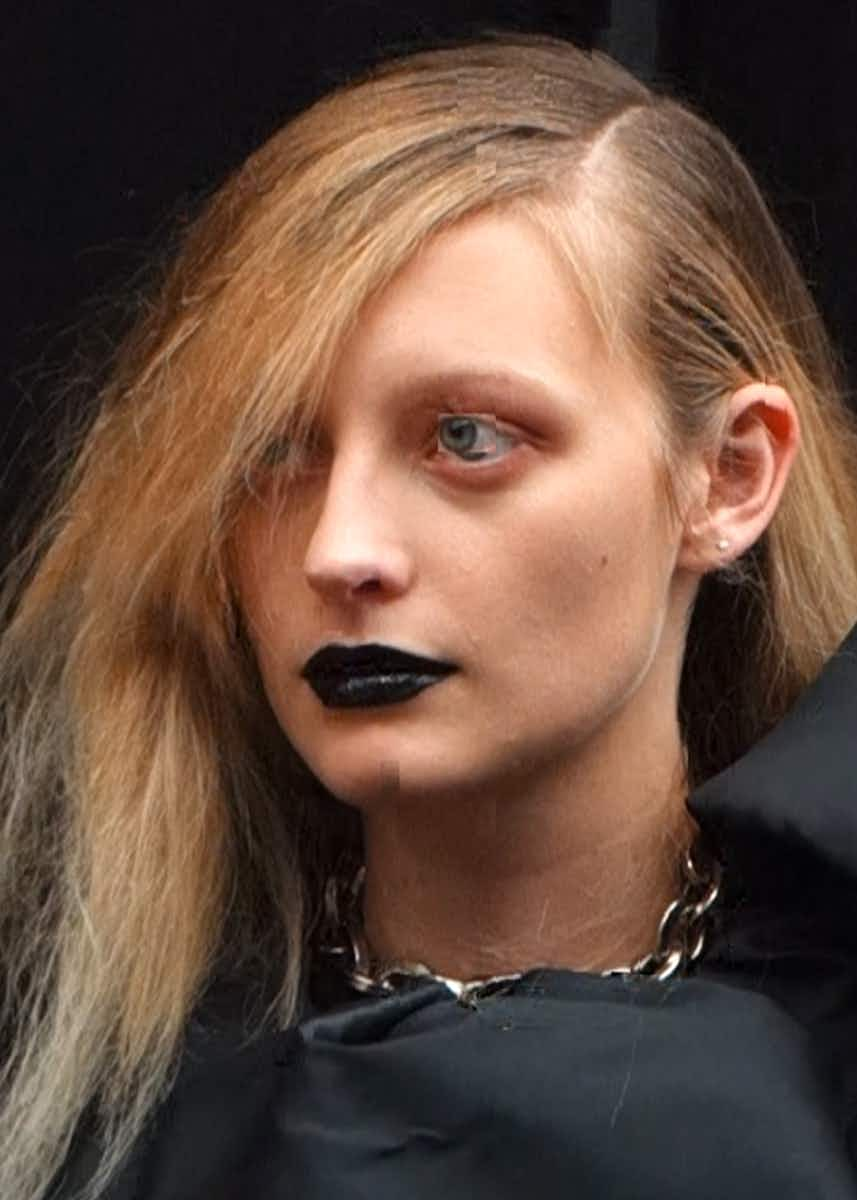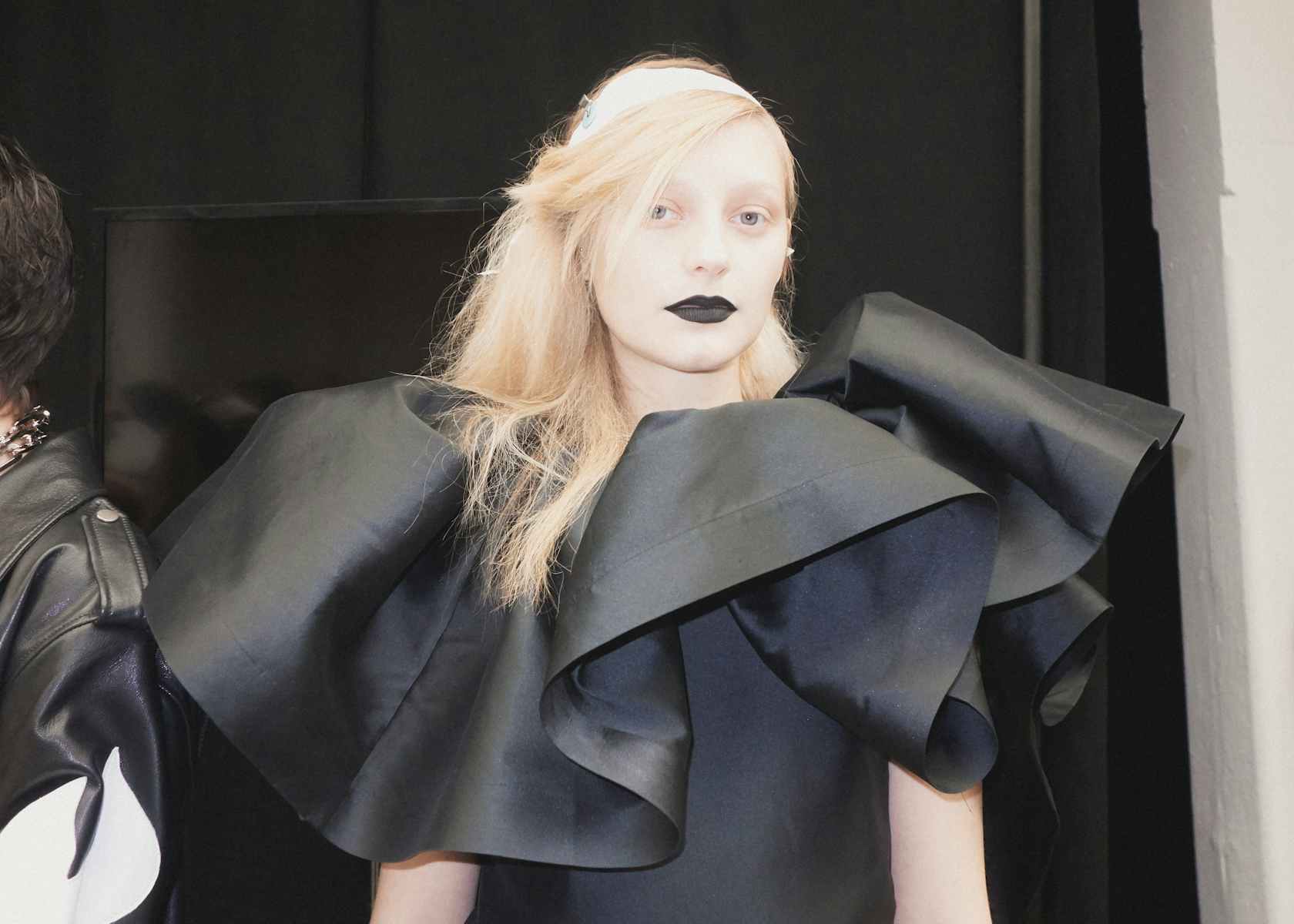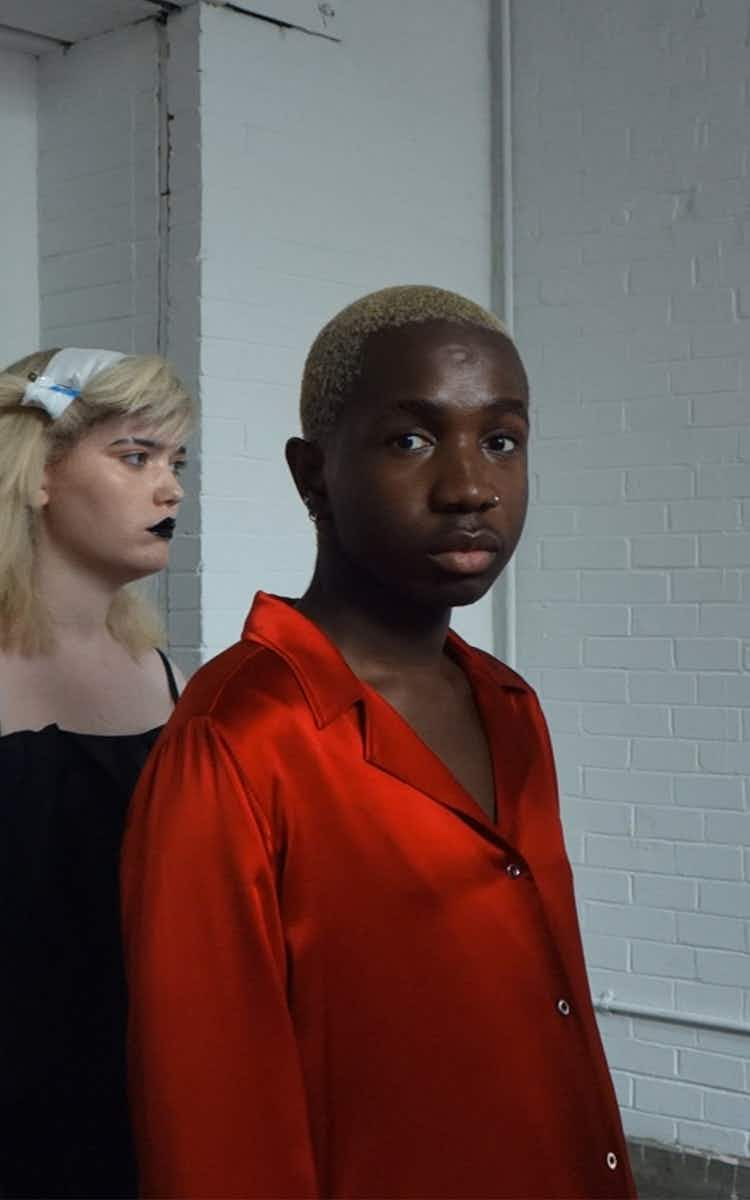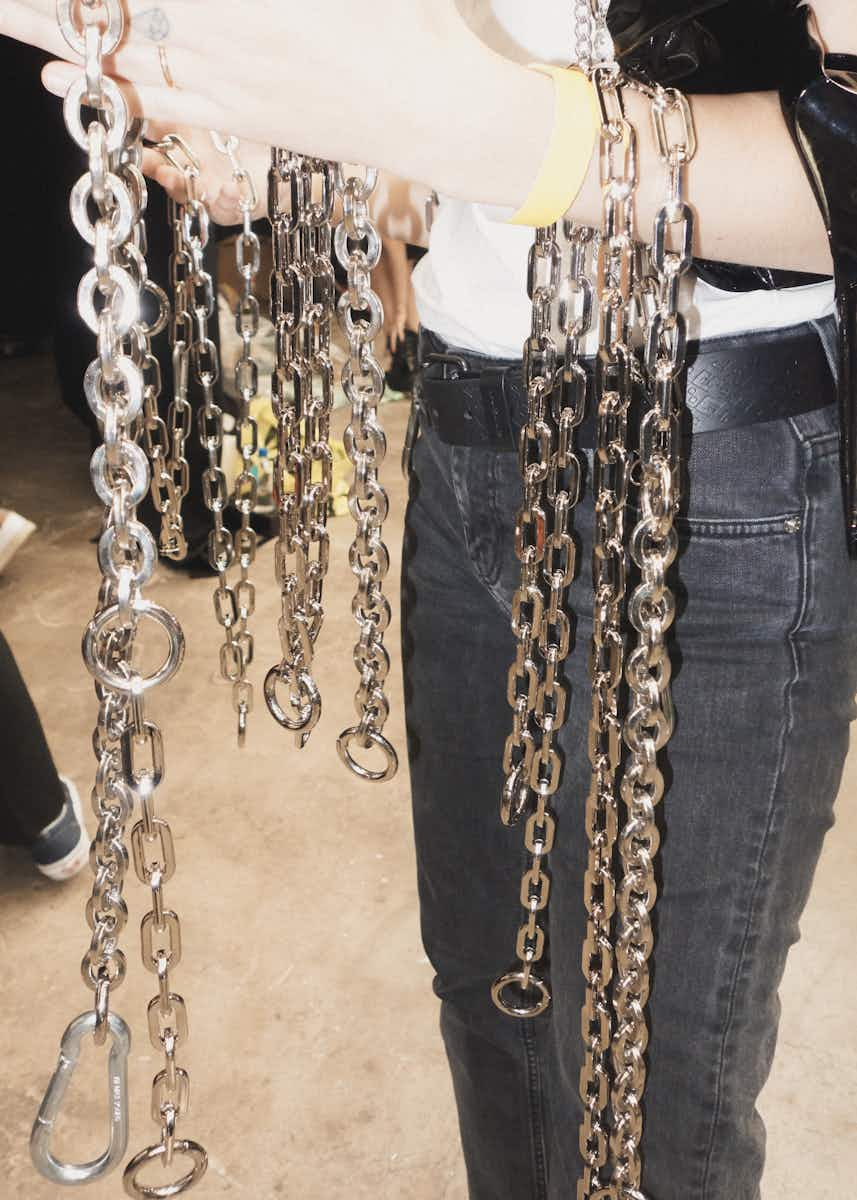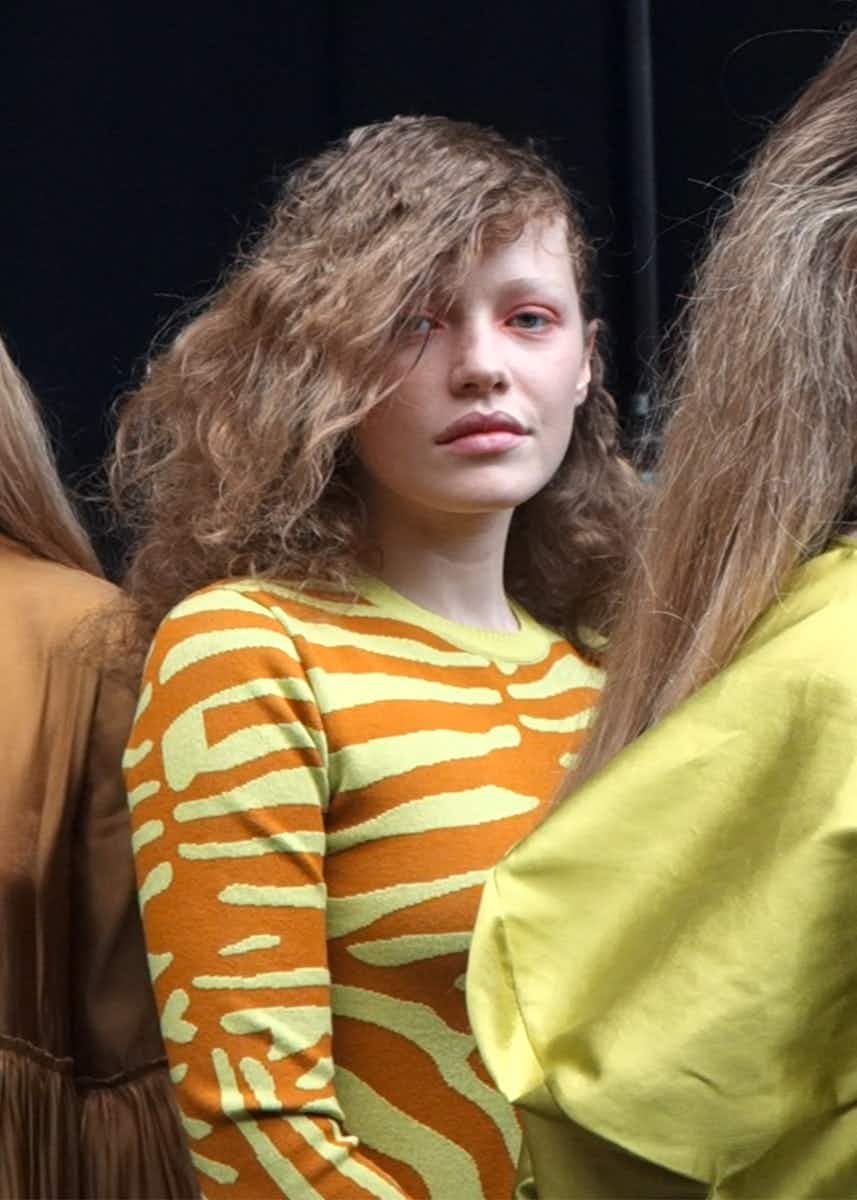 What were the stand out looks?
As always with Marques'Almeida, the eclectic line-up of looks made sure there was something for everyone. There was plenty of their signature frayed denim, paired most appealingly with pink mules that exploded into a frothy mass of feathers; structured silk dresses and opera coats that struck a neat (and very M'A) balance between playfulness and refinement; and some on-point accessories, including chunky necklaces joined by carabiners and giant headphones slung around models' hips. Airpods are so 2018, clearly.

Listen now:

Marques Almeida SS20
What was the main takeaway?
The brand's diverse casting, which embraced the full spectrum of race, size and gender identity well before it became part of the mainstream industry conversation, has never been about box-ticking. Instead, it opens up a two-way conversation with the women who want to wear these clothes every day: something that was in full evidence at today's show, as the girls stomped across the hall with fierce confidence. A riotous series of final looks were covered in shimmering, graffiti-inspired prints: just discernable was a slogan referencing riot grrrl culture. With their scowls, side-swept hair, black lipstick, this time the M'A girls felt more grown-up — and a little more dangerous, too. Perhaps they should change their nickname to M'A grrrls? LH.
FASHION EAST SS20
This season's Fashion East showcase included catwalk collections from Gareth Wrighton and Yuhan Wang and a footwear presentation from Ancuta Sarca. While Wrighton held a cracked mirror up to cyberspace, designing a collection inspired by viral child YouTuber Jessi Slaughter as part of a ​"tribute to lives spent online", Yuhan drew inspiration from an epic 22-hour long stage play, The Peony Pavilion - think draped floral dresses decorated with a peach print and silk skirts teamed with lace layers. Meanwhile, Ancuta Sarca showed her upcycled trainer-heel hybrids — a circular method of design born as a solution for reinvigorating unwanted footwear.
What did Gareth Wrighton's collection look like?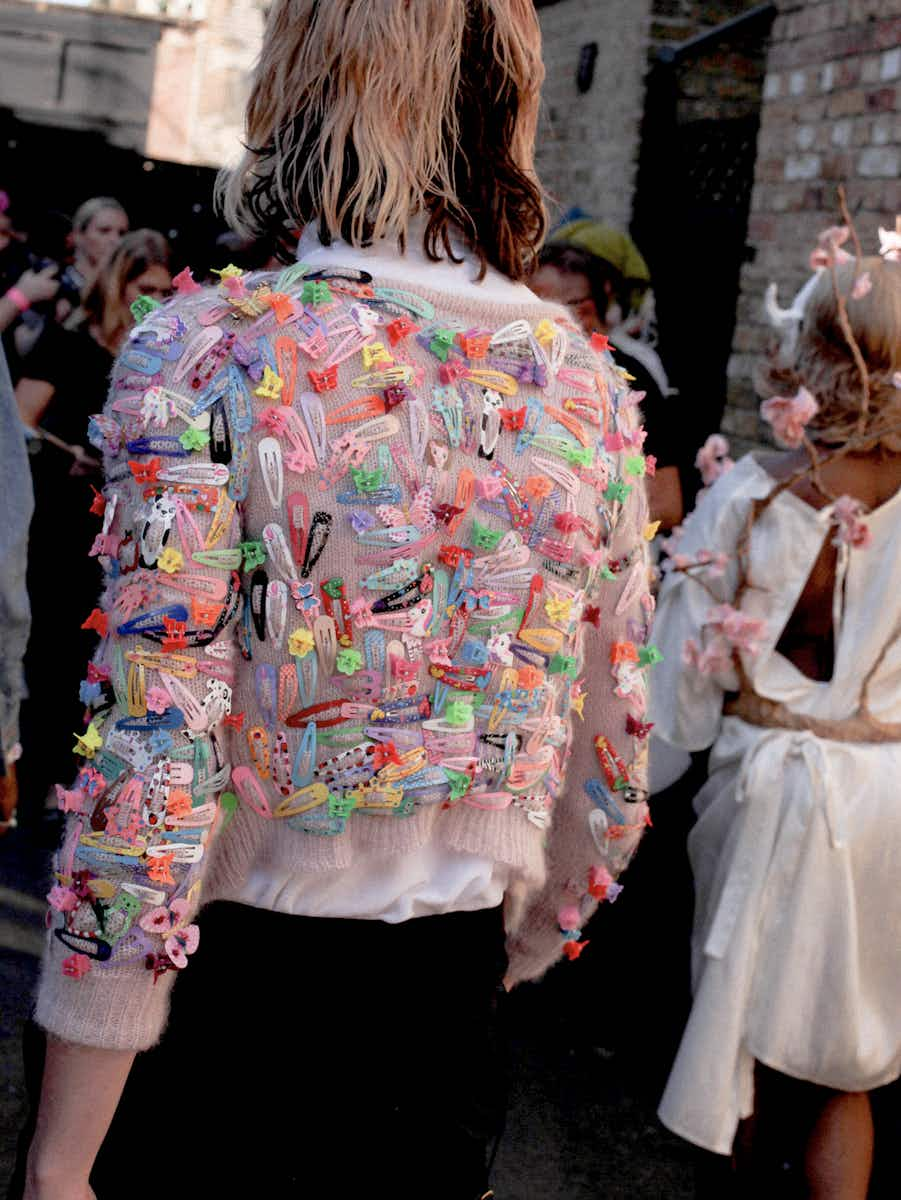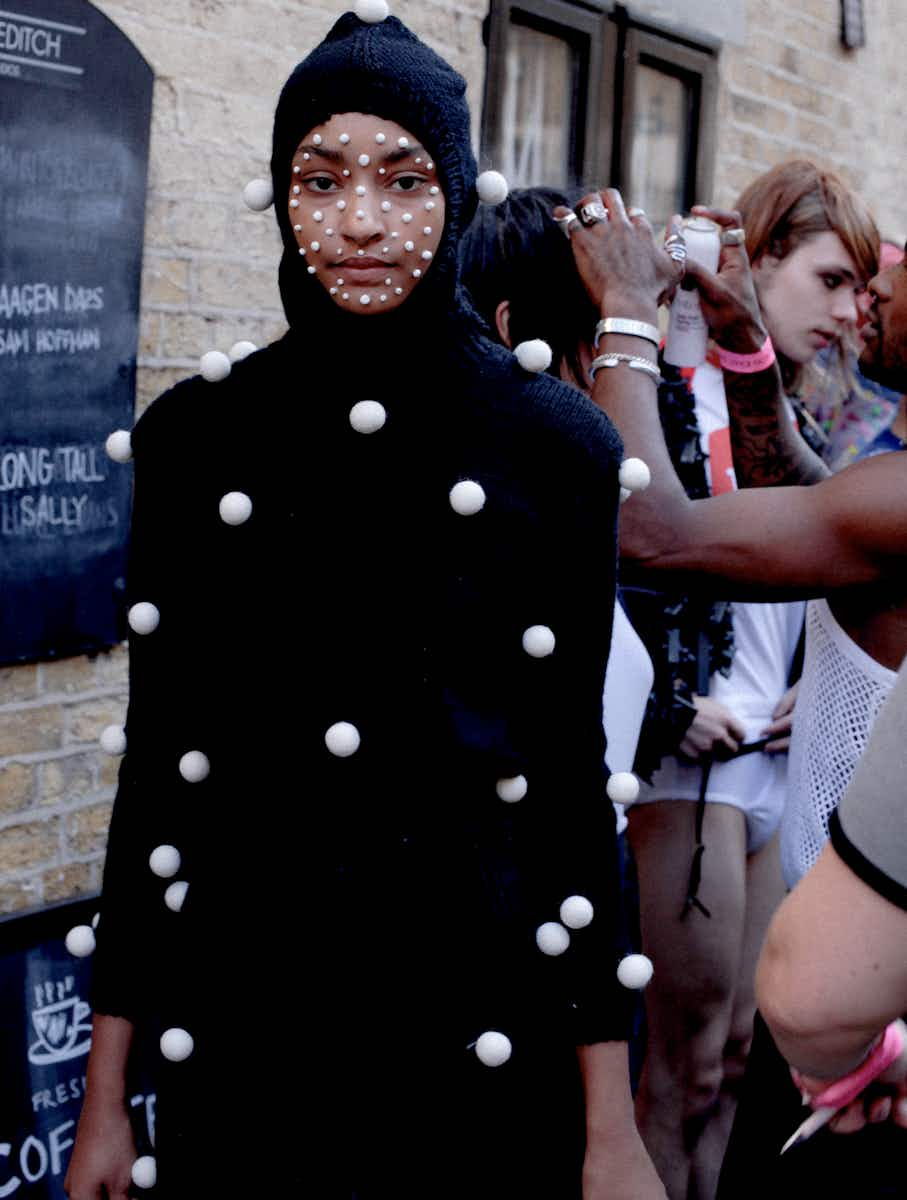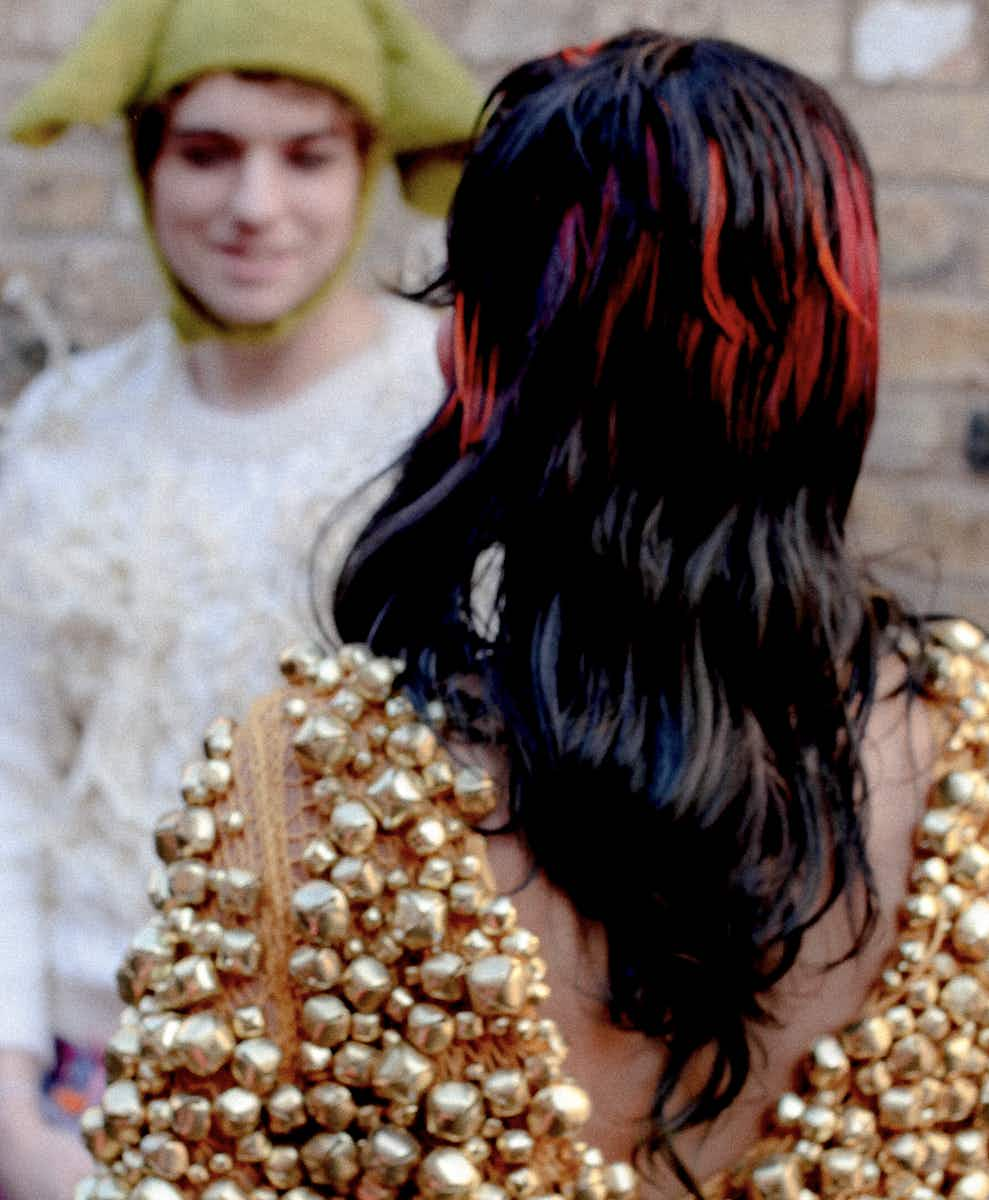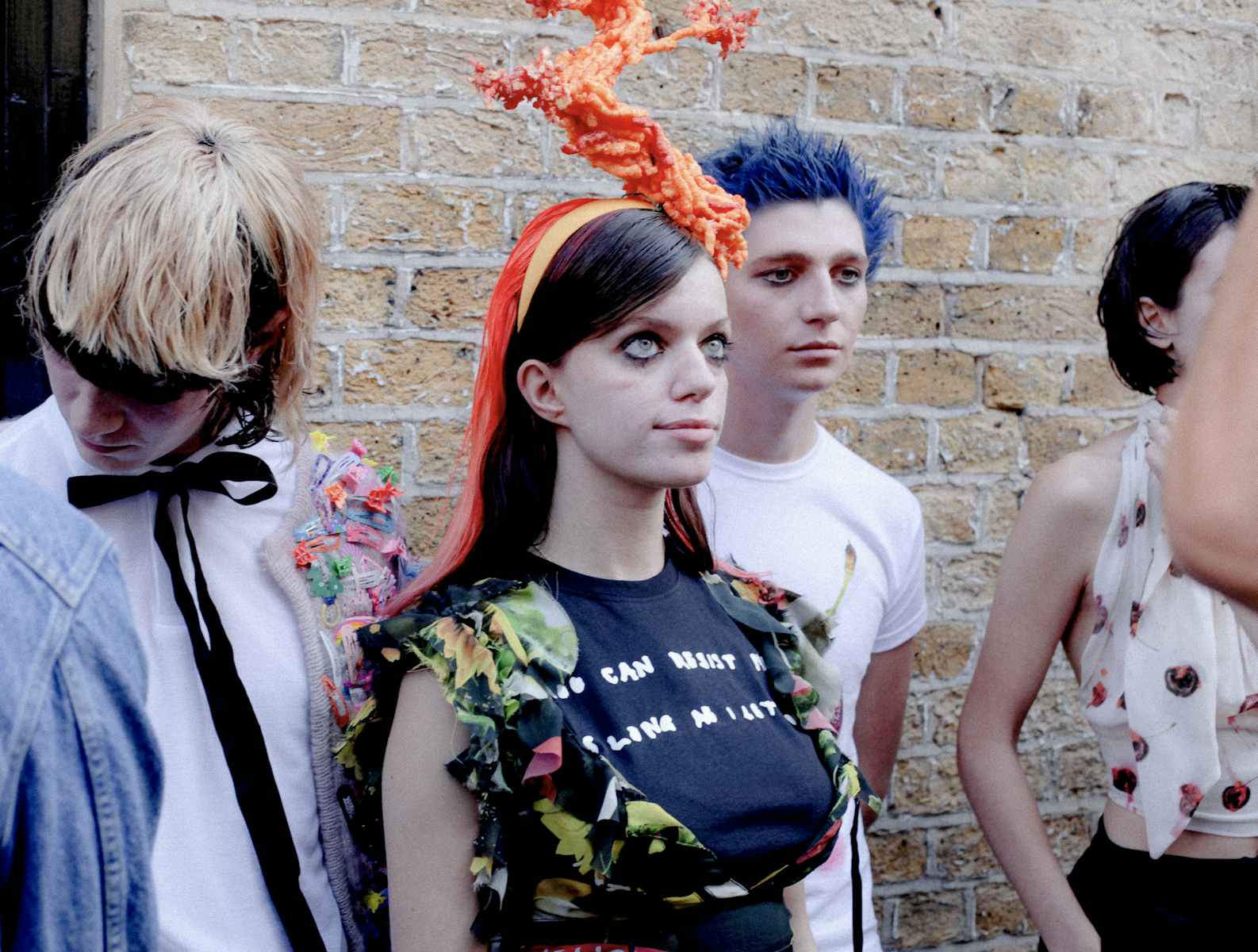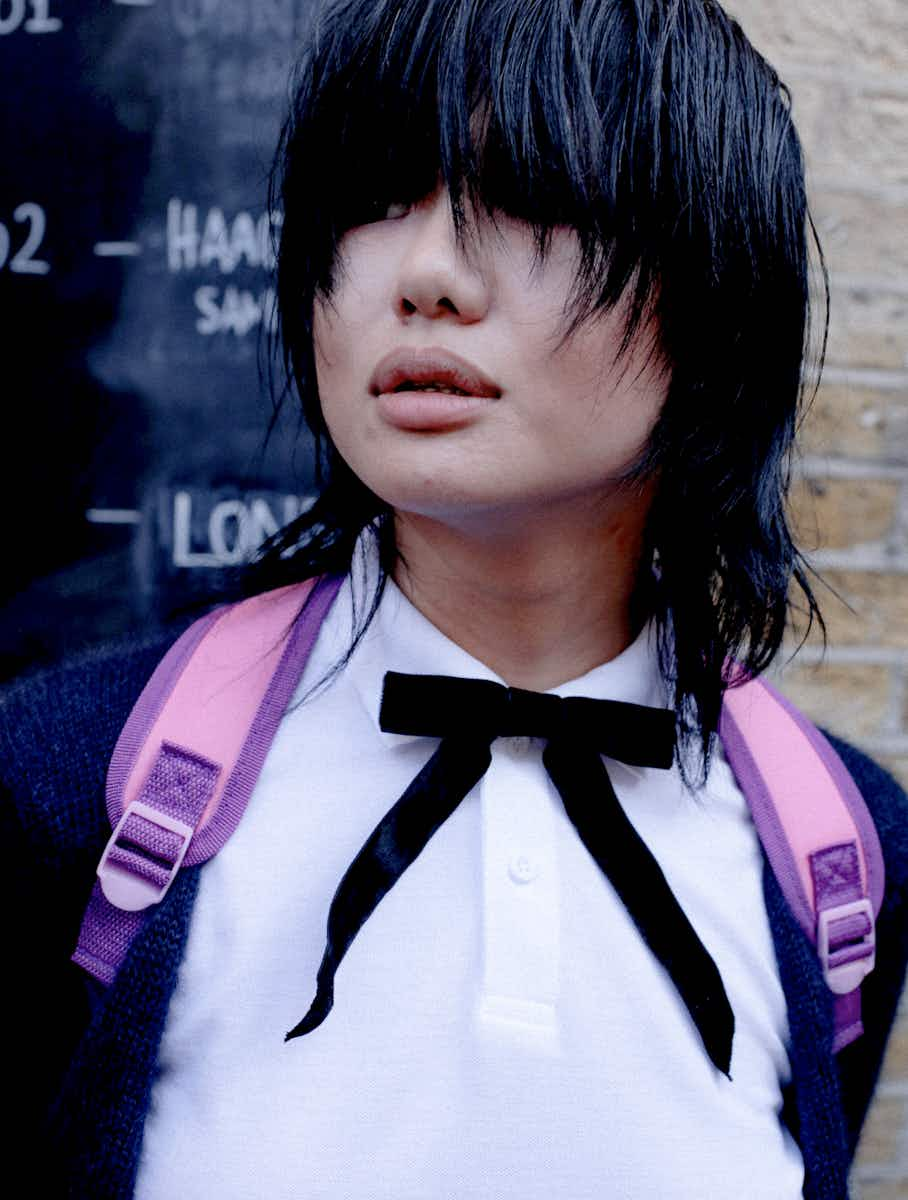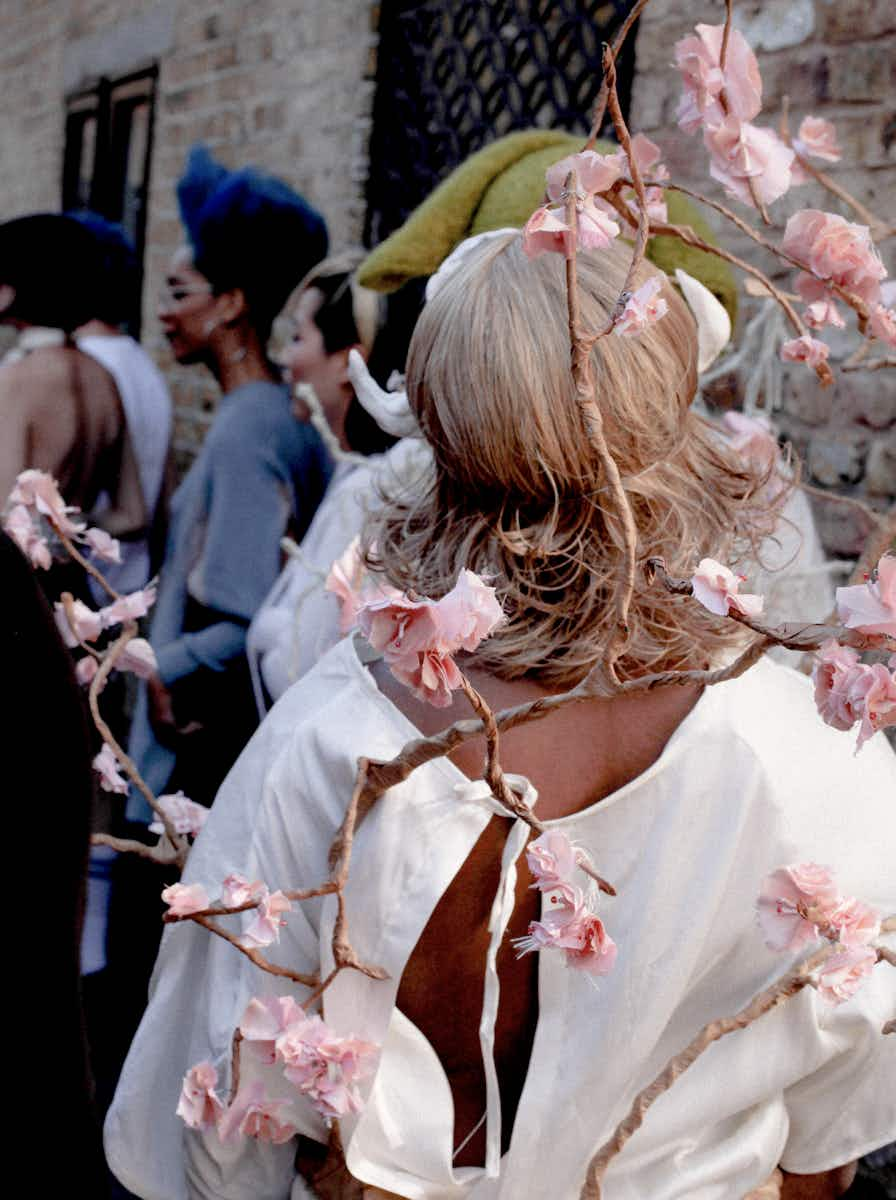 Listen now:

Gareth Wrighton SS20
What did Yuhan Wang's collection look like?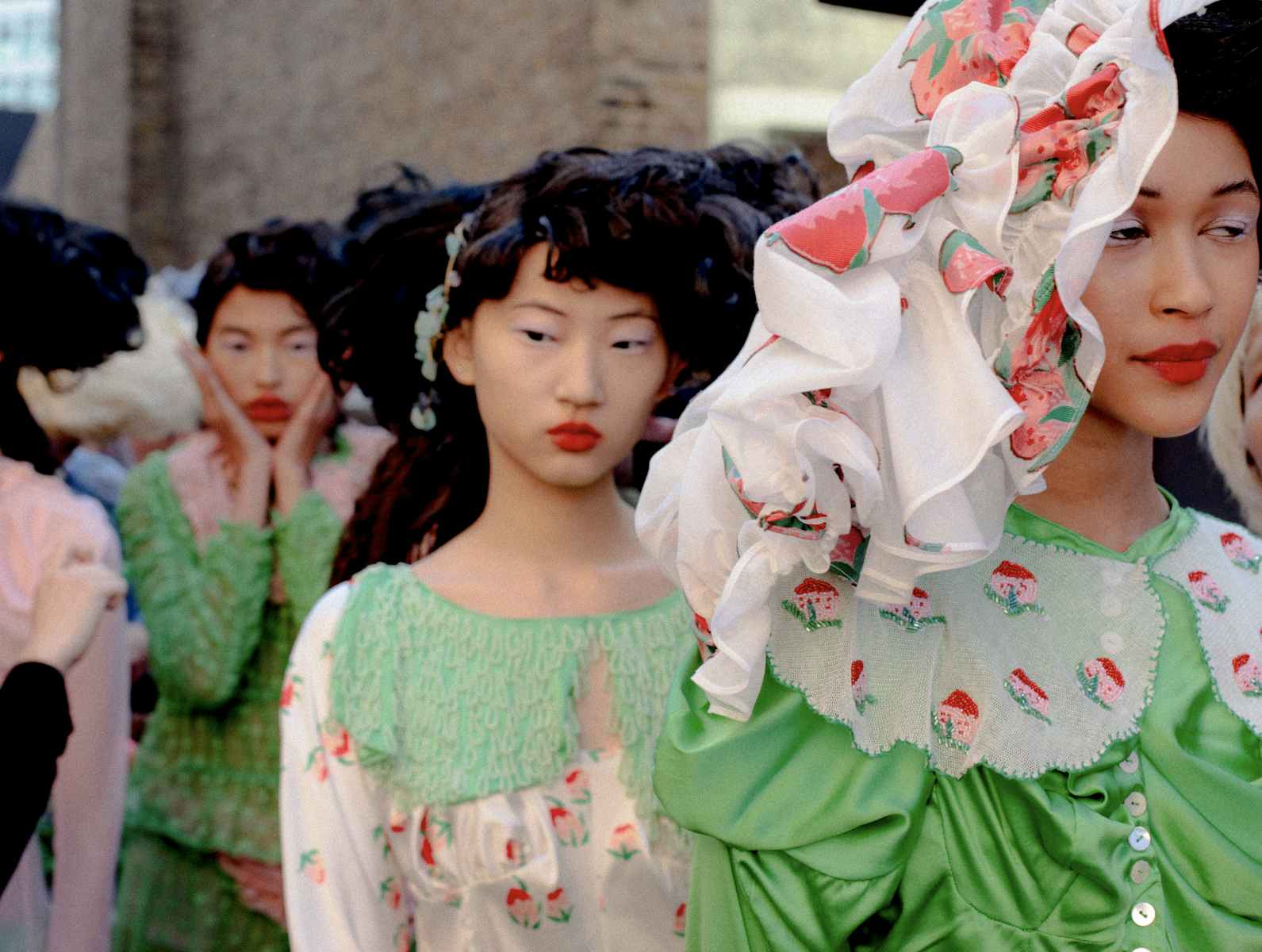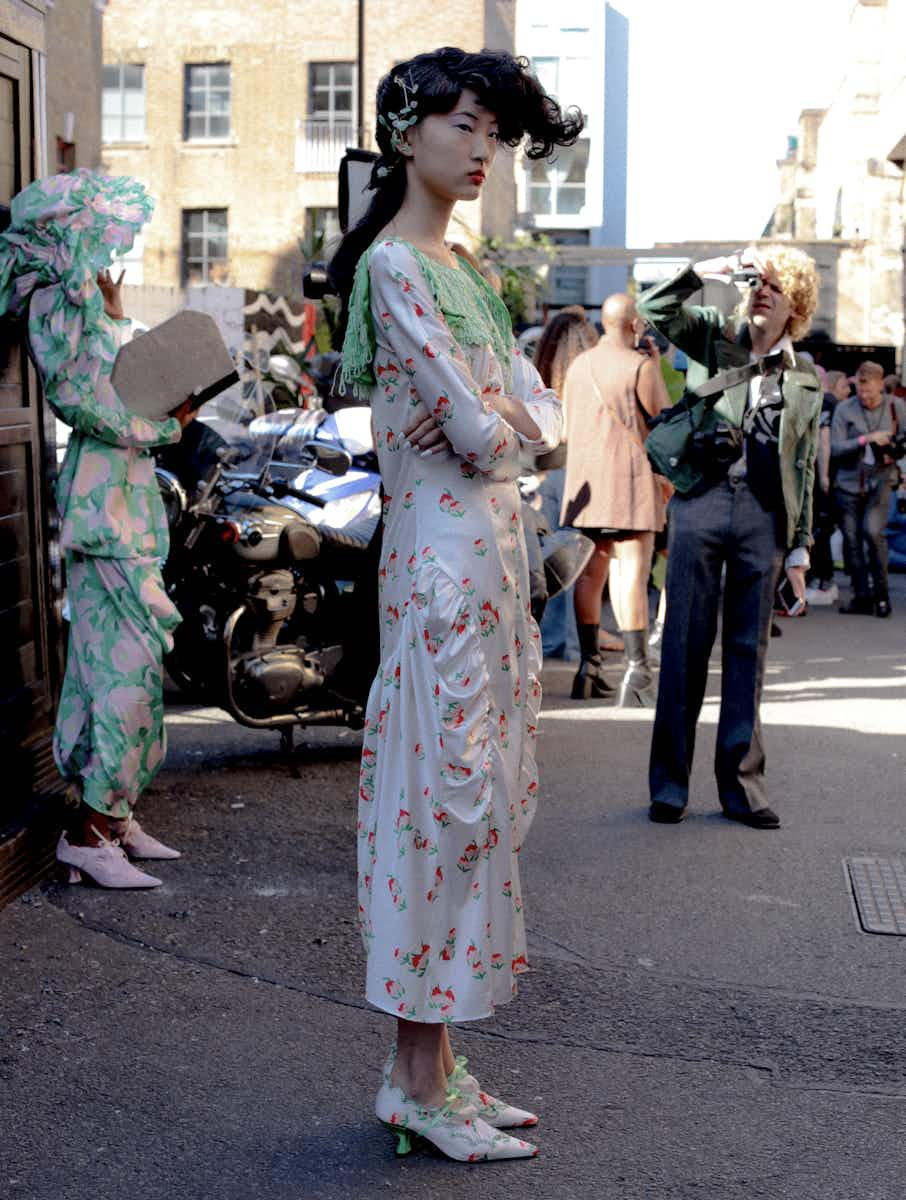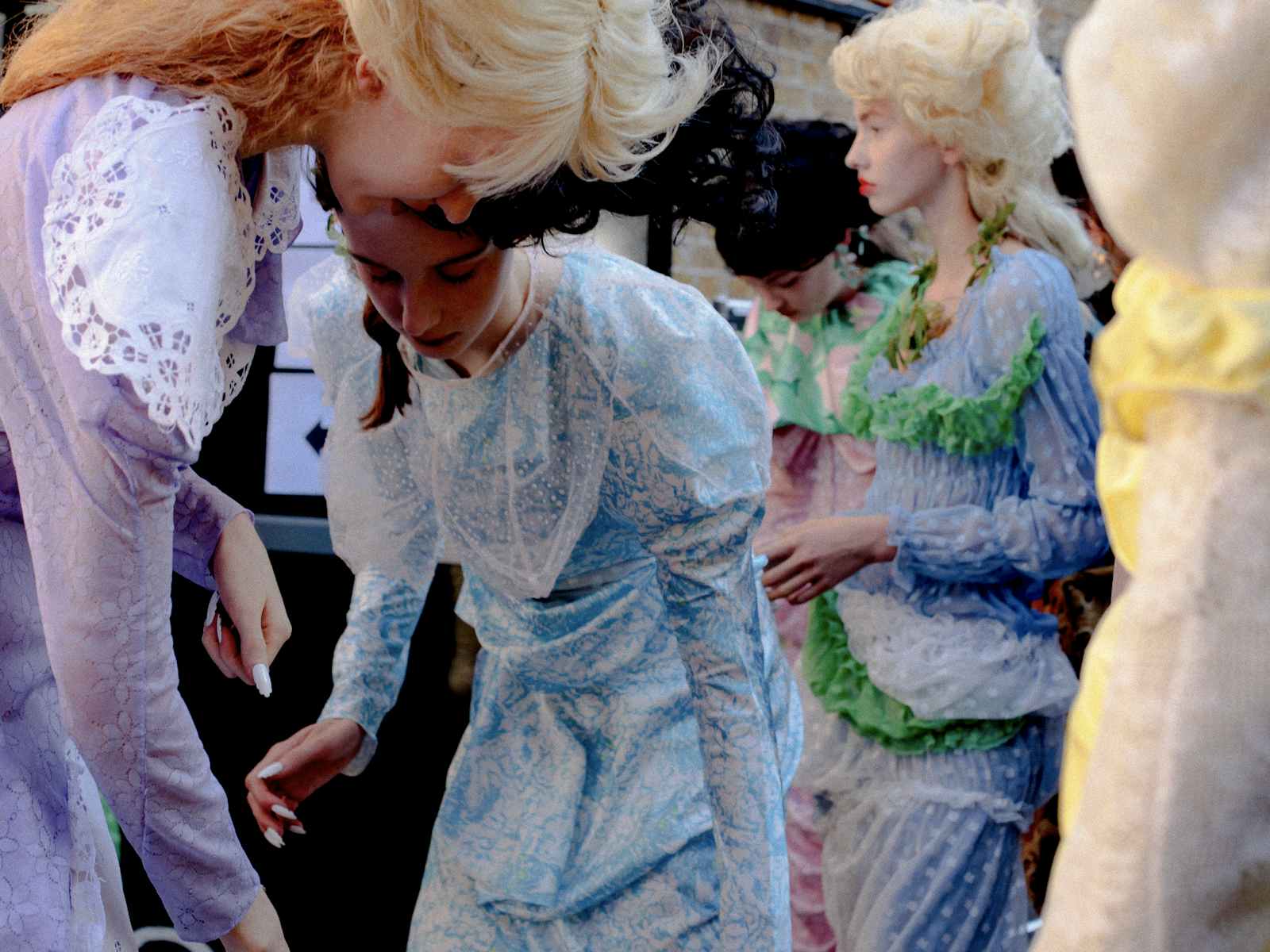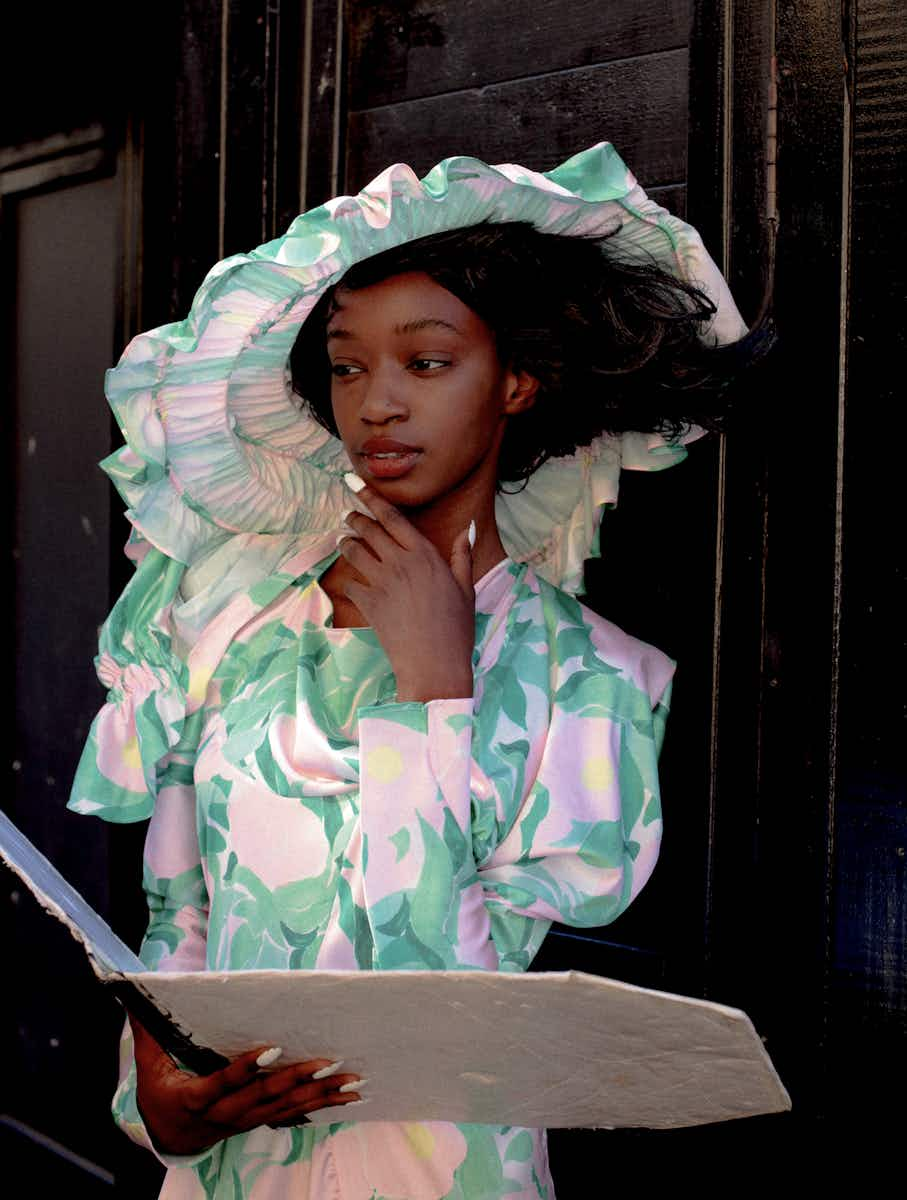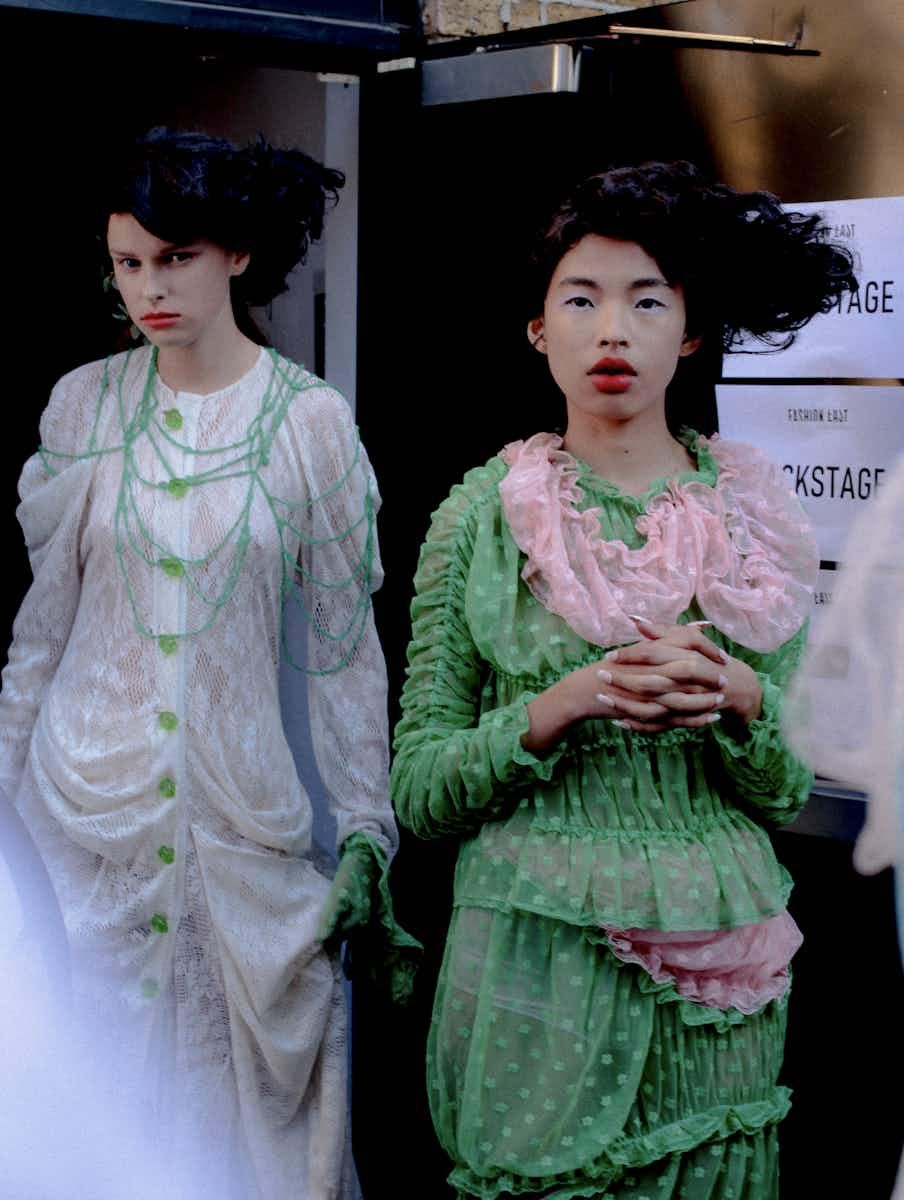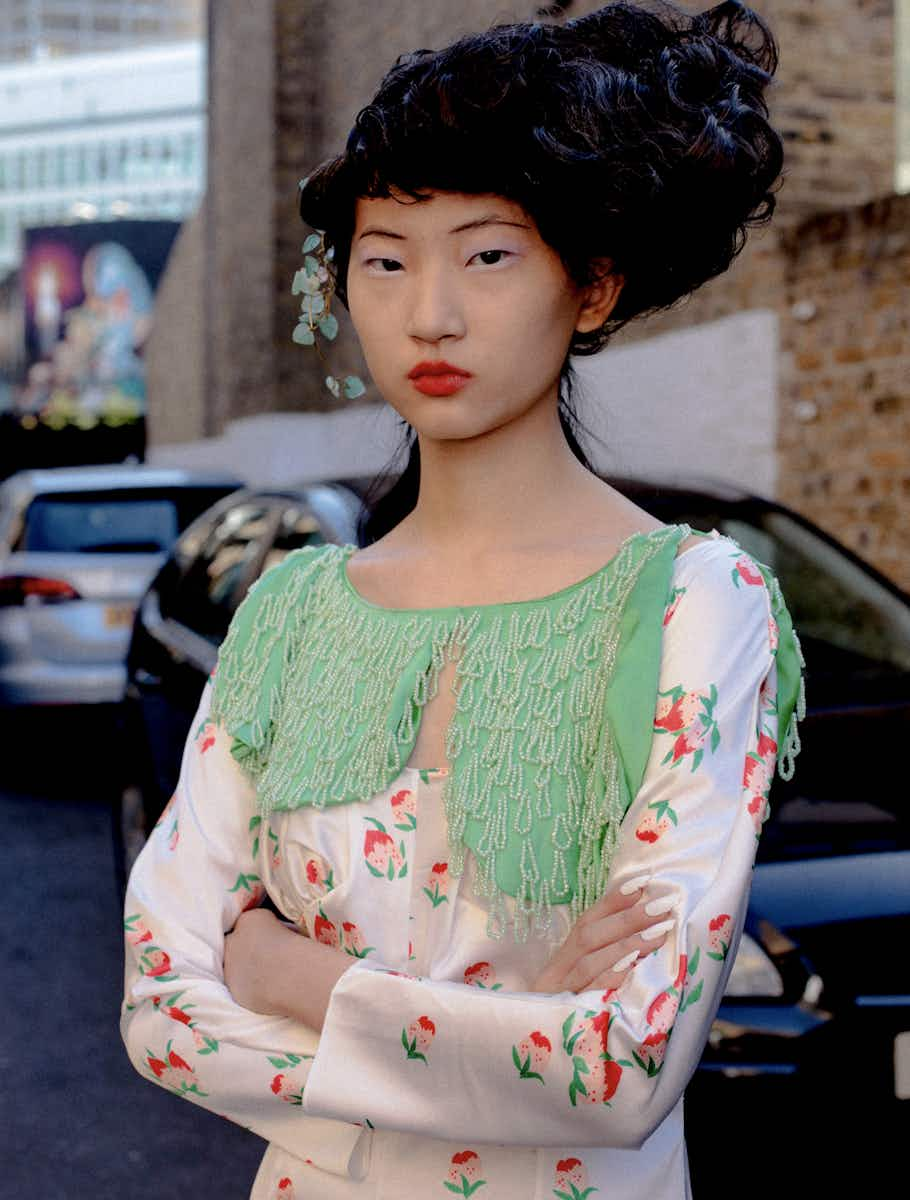 More like this