Virgil Abloh goes all-out superhero for Louis Vuitton SS22
In his most confident collection yet, the creative director goes for a sickly-sweet power punch of hyper-colours, bold shapes and a dream-like short film.

For Virgil Abloh, each season at Louis Vuitton has been a ceremony. Since he took the helm of the menswear line in 2018, the creative director has meandered his way through politics, sartorial codes, race and gender, bringing cross-generational talents into his world to playful effect.
This season, he presented Amen Break, a short film with a rolling list of friends involved: GZA, Goldie, Lupe Fiasco and Kandis Williams, to name a few. The 16-minute short film, directed by Mahfuz Sultan, tells a story about a father and son united by an unnamed loss, ​"crossing a dream world to deliver a message to the other side," the show notes add.

But along the way, in a dreamscape sequence, the child finds himself conspired against by unknown forces. But like all good fairy tales, superheroes pop up every so often to lead him along the path to his father. Its concept looks at life's supporting figures: fighters, boundary breakers, protestors and – a theme running through his last collection – those re-thinking archetypes.

Conceptually, the idea was informed by Amen Break, a scarcely-known drum break that became an imperative part of hip-hop and jungle beats, sampled in a myriad of tracks. ​"The film reflects on a historic moment in Black art and culture when electronic music and hip-hop emerged like twins from the same egg and trickled into every part of the globe," the press notes explain.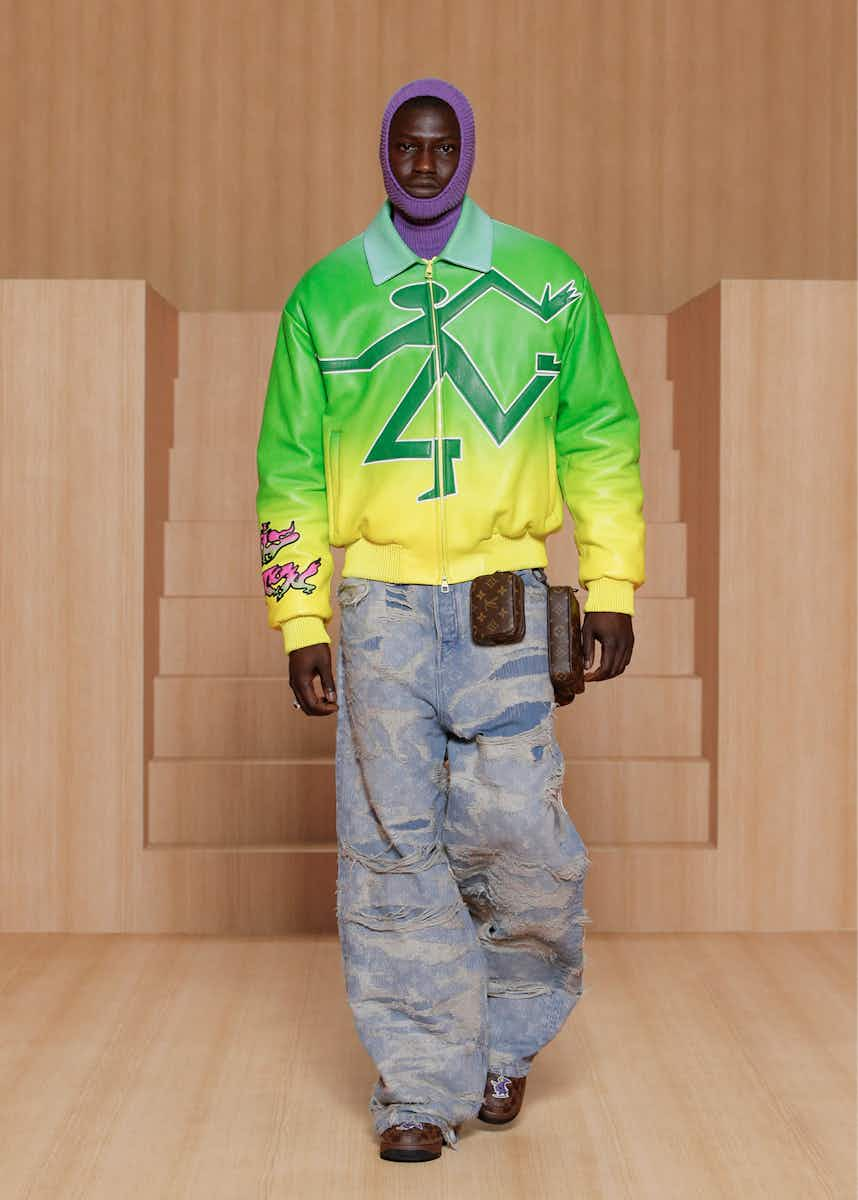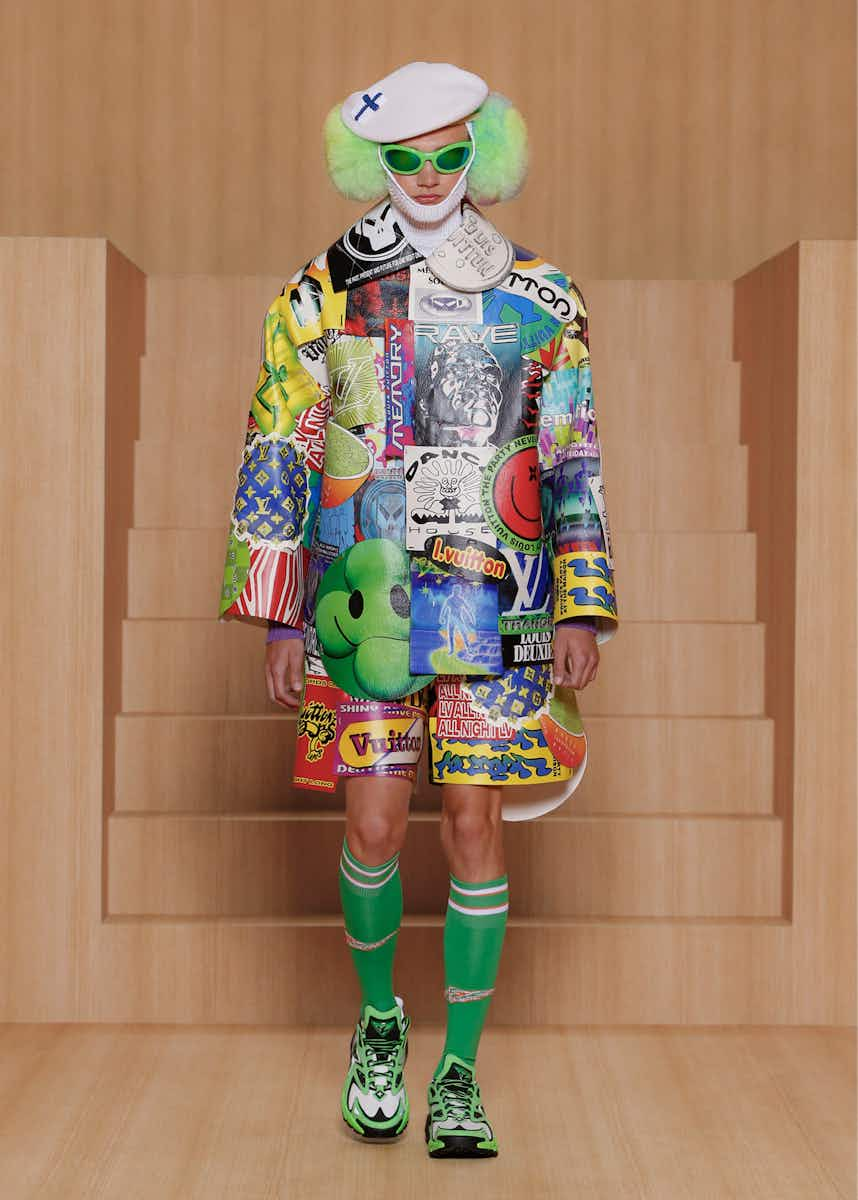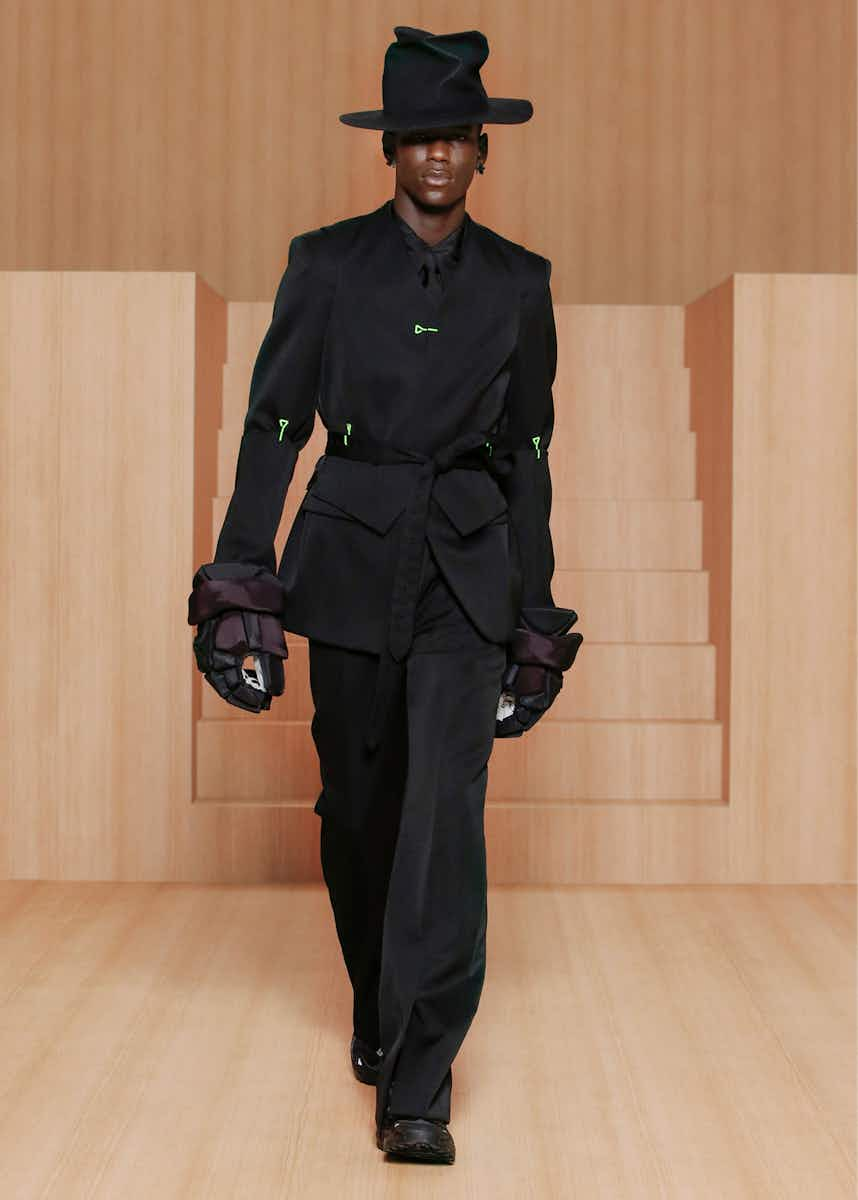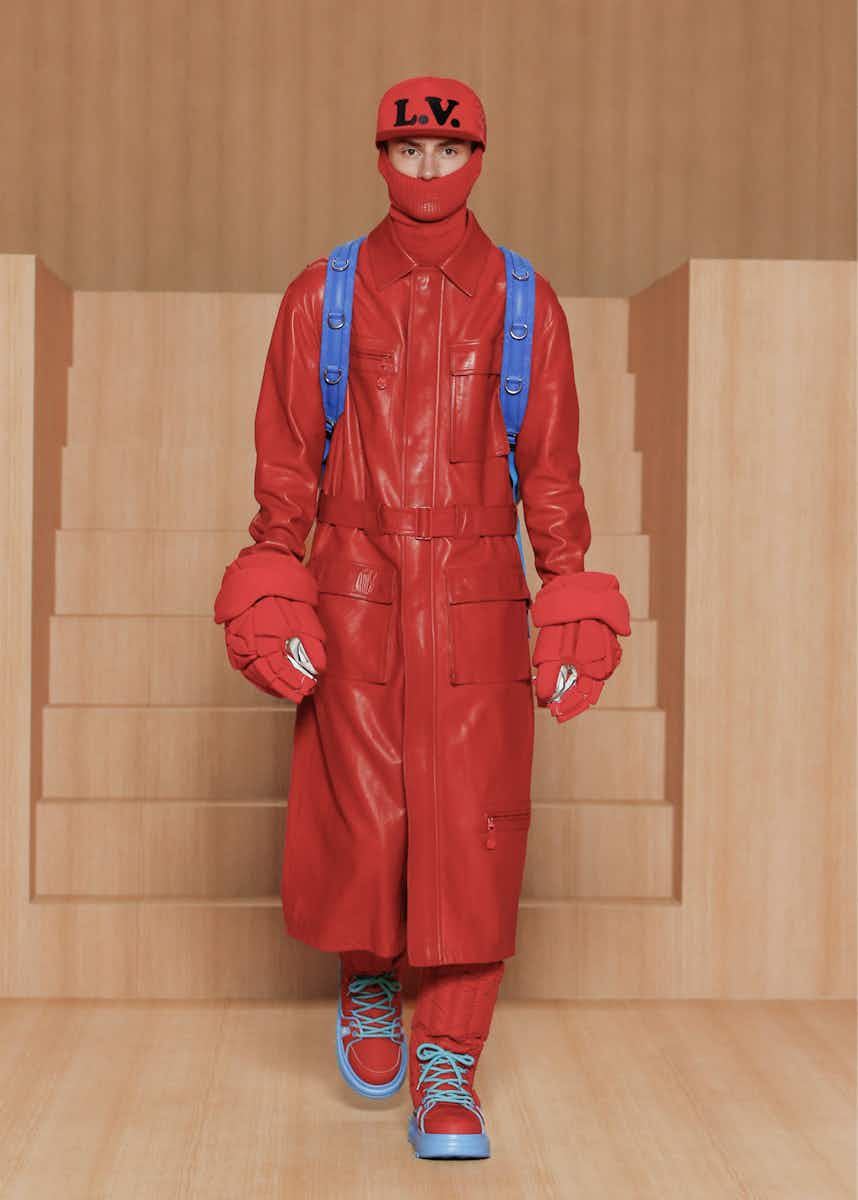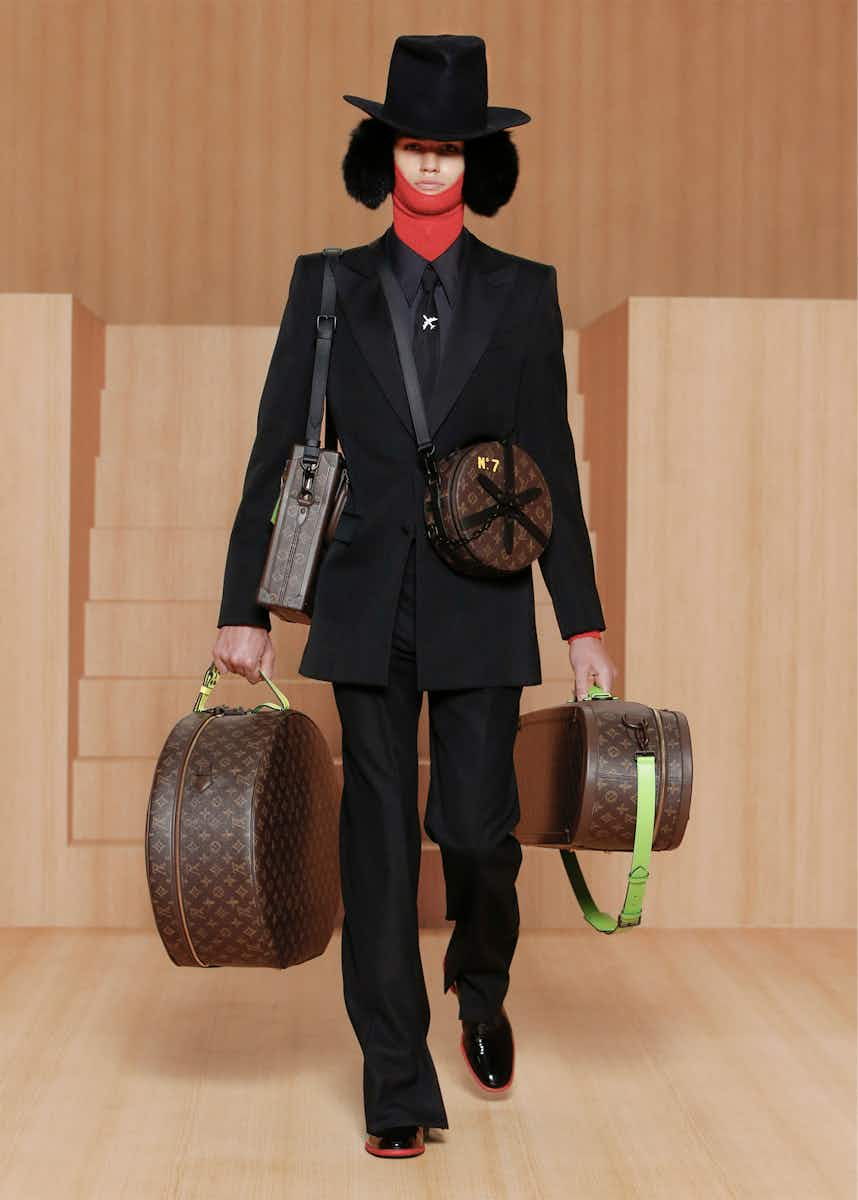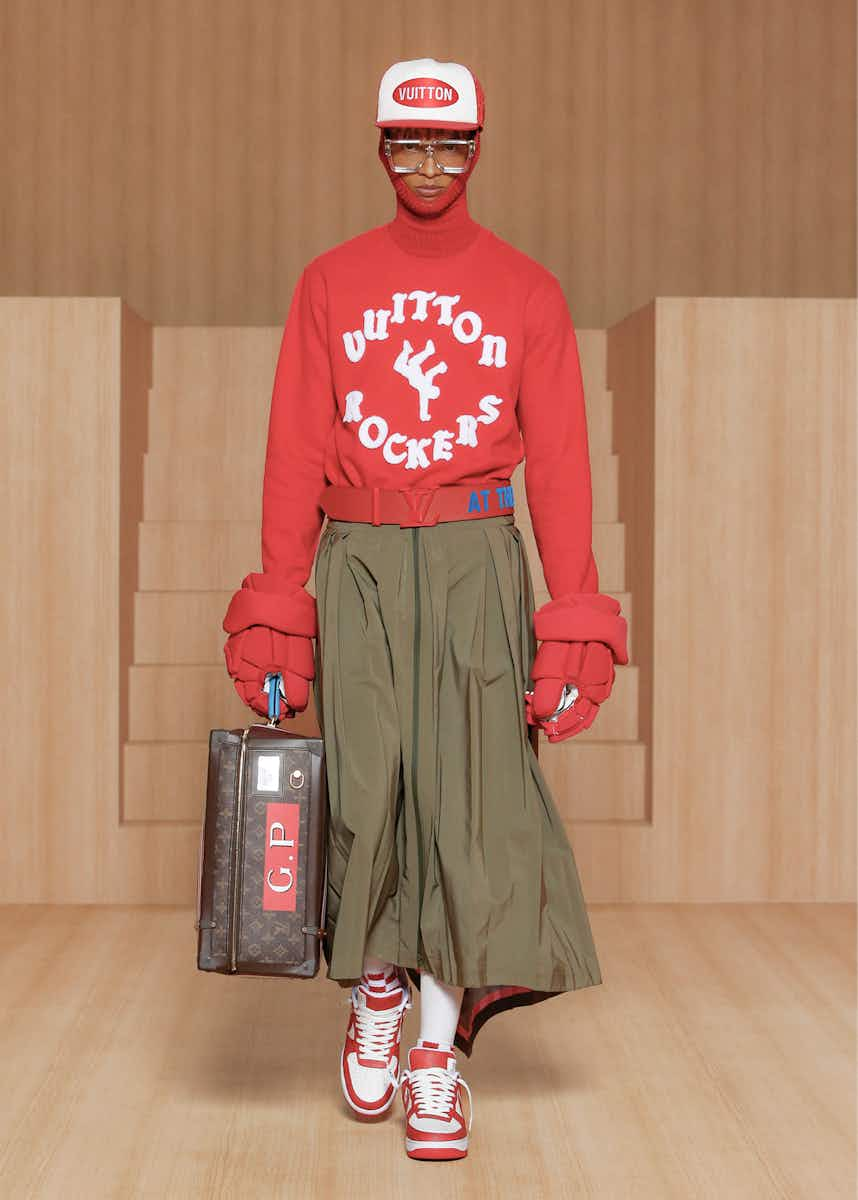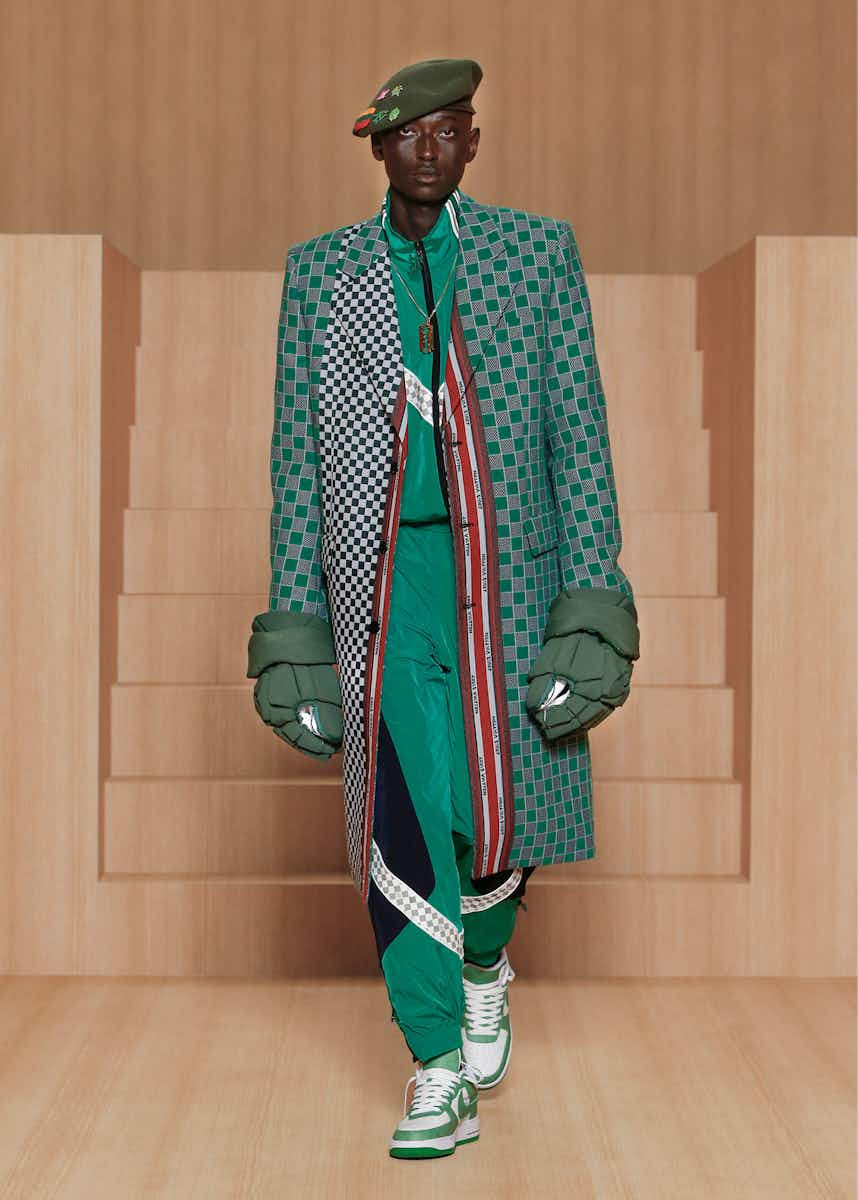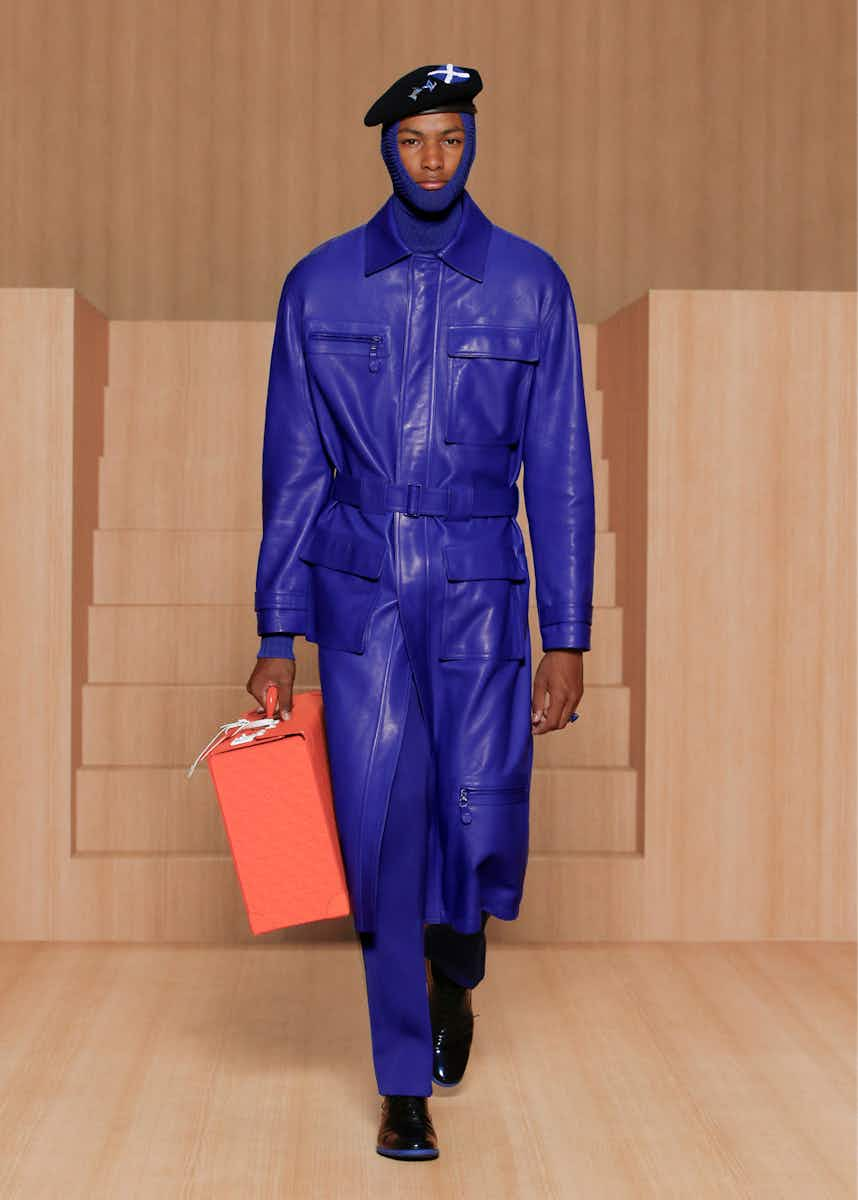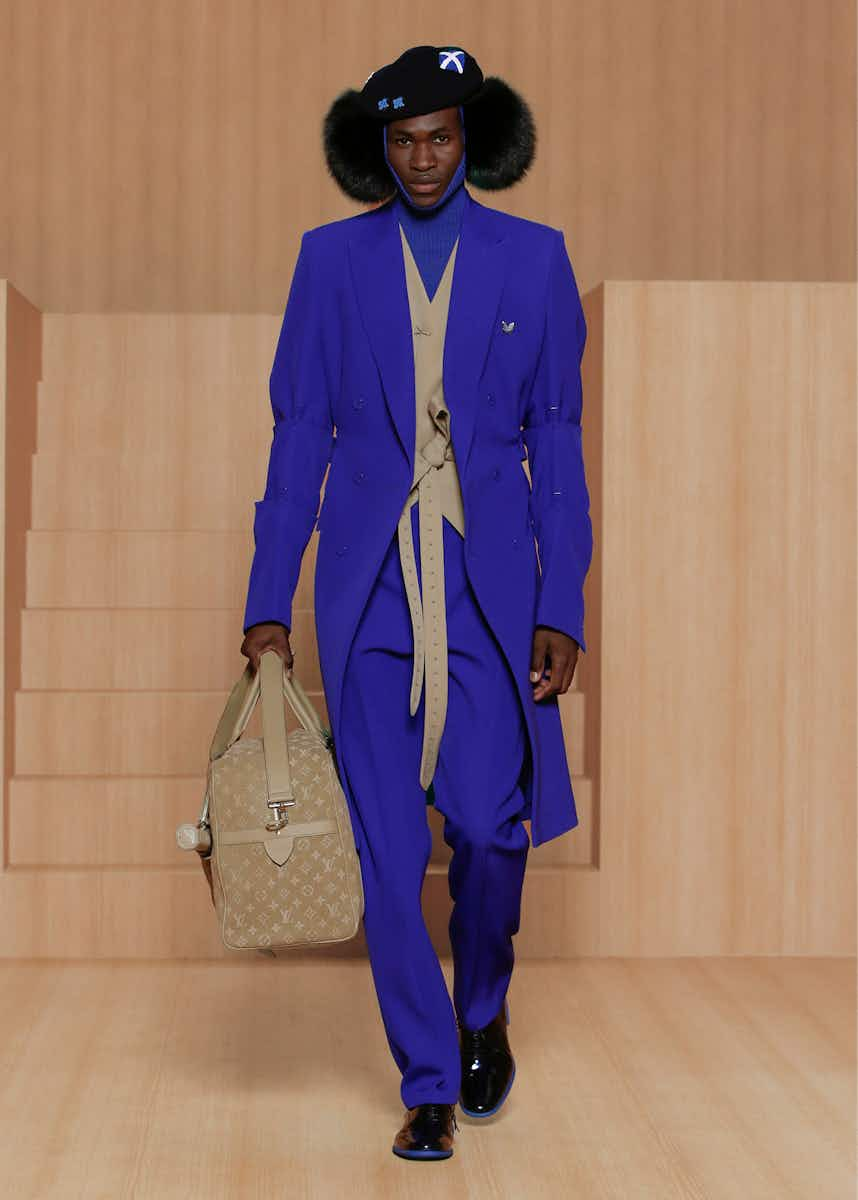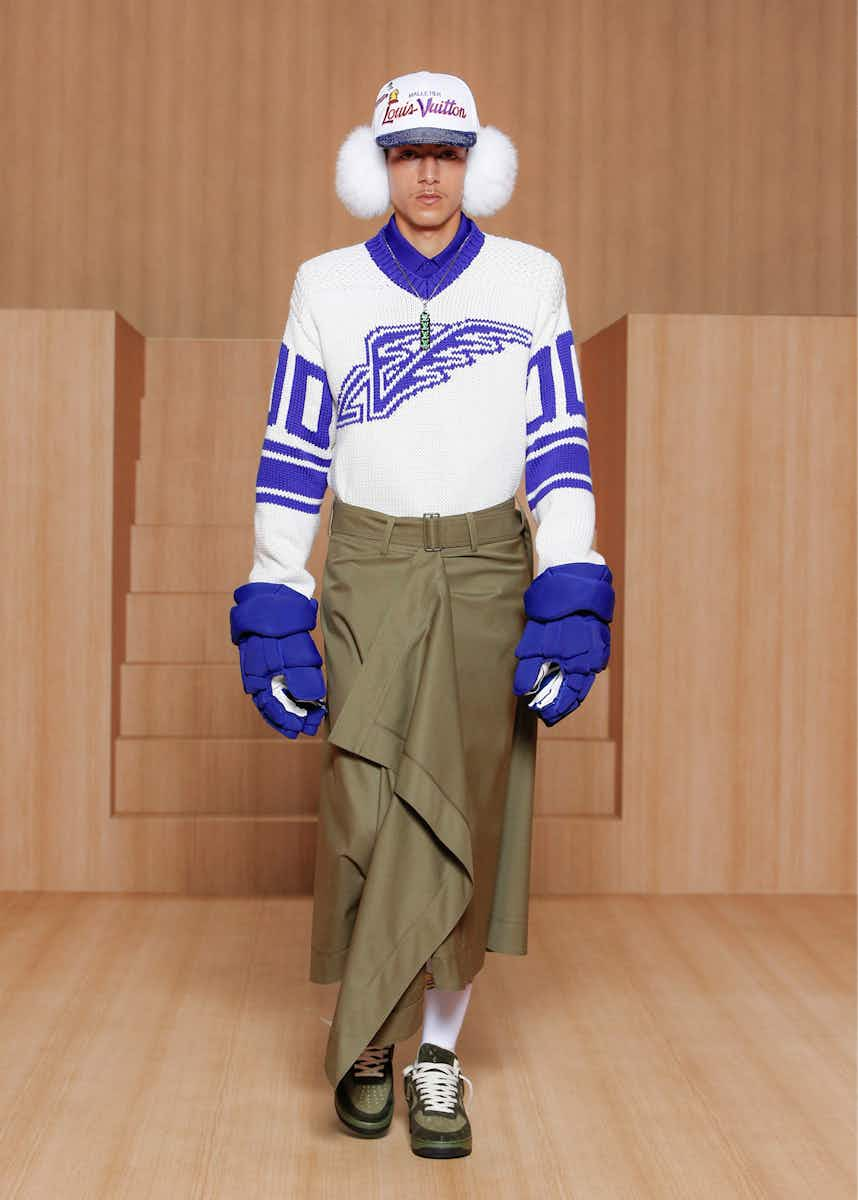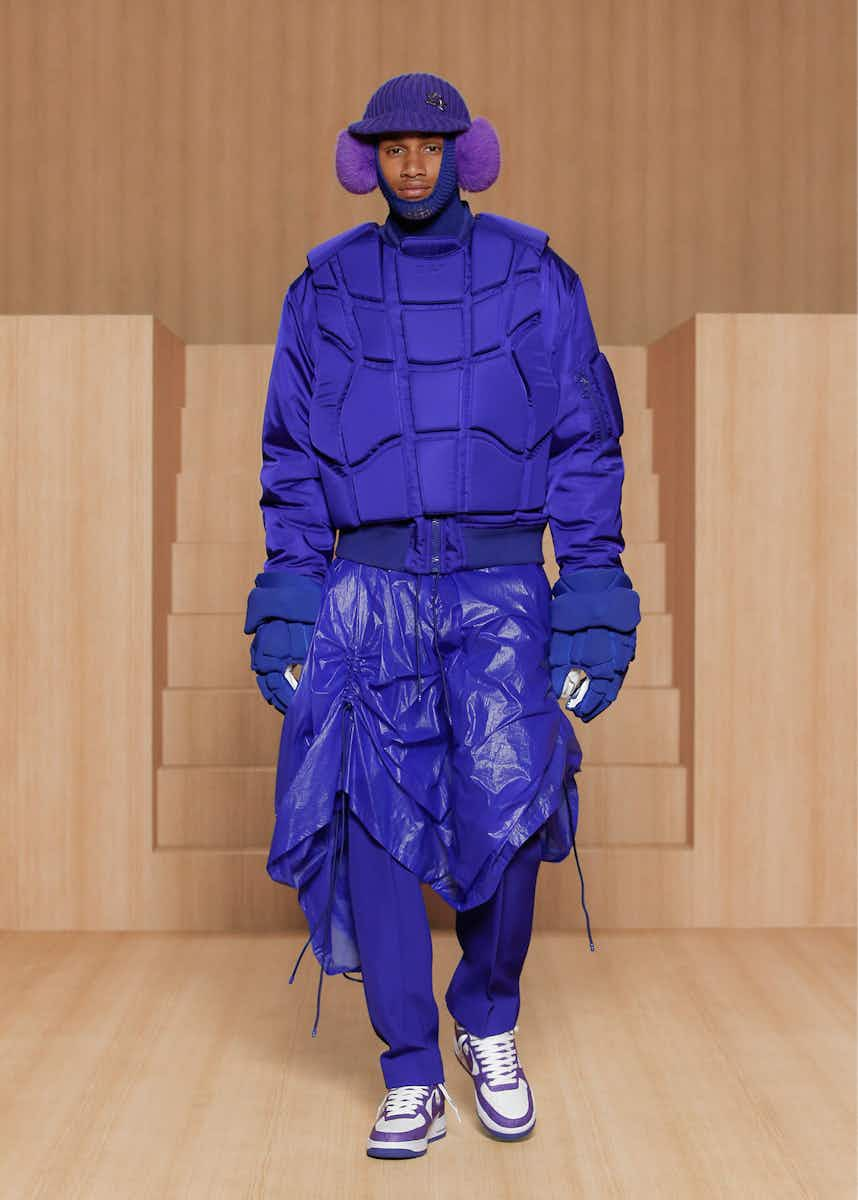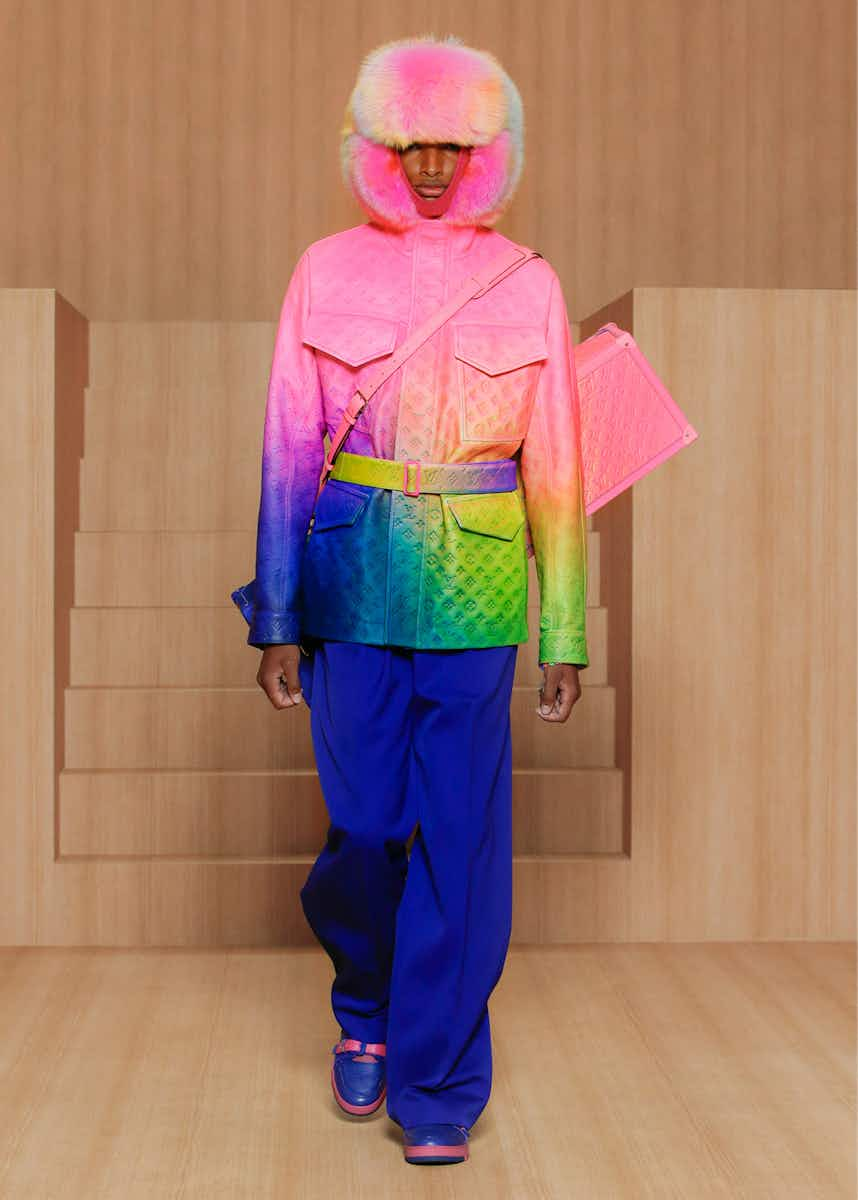 The film's narrative is inspired by the life of Lupe Fiasco, one of the film's characters. The Grammy-nominated fine artist and rapper grew up on the Southside of Chicago during a turbulent time of gang warfare in the 1970s and ​'80s, but he was determined to find different ways for young people to escape the area.

And so Fiasco's father, an African drummer and member of the Black Panther Party, organised martial arts lessons as an alternative path. ​"By employing the philosophical values of martial arts as a solution to the problem, Fiasco impacted a generation of kids with ideas of peace, understanding and empowerment," read the press notes.
Following on from last season, Abloh's sartorial vision is elegance in its extremities. Suiting leads the way, with blazers tied at the waist and shoulders sharp and narrow. The moulded top hat makes a reappearance once again, becoming something of a signature of Abloh's Vuitton tenure.
Once the suiting arrives, shapes become distorted and contorted to dramatic effect. On an electric blue, padded jumper, protective shapes resemble a superhuman costume. Prints take over entire outfits, like a two-piece suit and short combo bleached with blue and white tie-dye. The most striking of all, though, is a patchworked coat plastered with rave flyers. Optimistic for the near-future are we, Virgil?
This seems to be Abloh's most confident and experimental collection to date. An all-out feast of Day-Glo greens, yellows and acid pinks, LV monogram-printed denim and playful fuzzy headwear, it's a keen reminder that the designer's stamp on Louis Vuitton is pure giddy power.


More like this