Louis Vuitton x NBA: Virgil Abloh takes us back to the Nineties

The French fashion house's Men's Artistic Director pens a love letter to the glory days of basketball through the medium of his Pre-Fall Men's collection.
For legions of basketball fans, the Nineties are widely considered to be a golden – nay, diamond-encrusted – age. It was when the game became a truly global phenomenon, with larger-than-life players like Michael Jordan, Dennis Rodman and Shaquille O'Neal breaking through smash-mouth defence to score gravity-defying three-pointers and becoming cultural icons in the process.
Virgil Abloh, who witnessed the epic games and off-court hysteria as a teenager, has continued an ongoing love letter to these glory days through the medium of his Pre-Fall Men's collection for Louis Vuitton. The French luxury house's collaboration with the NBA may have caused a few double-takes when it was announced alongside the first collection last year, but Abloh has a knack for drawing upon diverse references and making unexpected combinations make sense. His notes for this second collaboration cite ​"transversality" as a means of intersecting ​"the histories, legacies and memories of two or more aesthetic entities".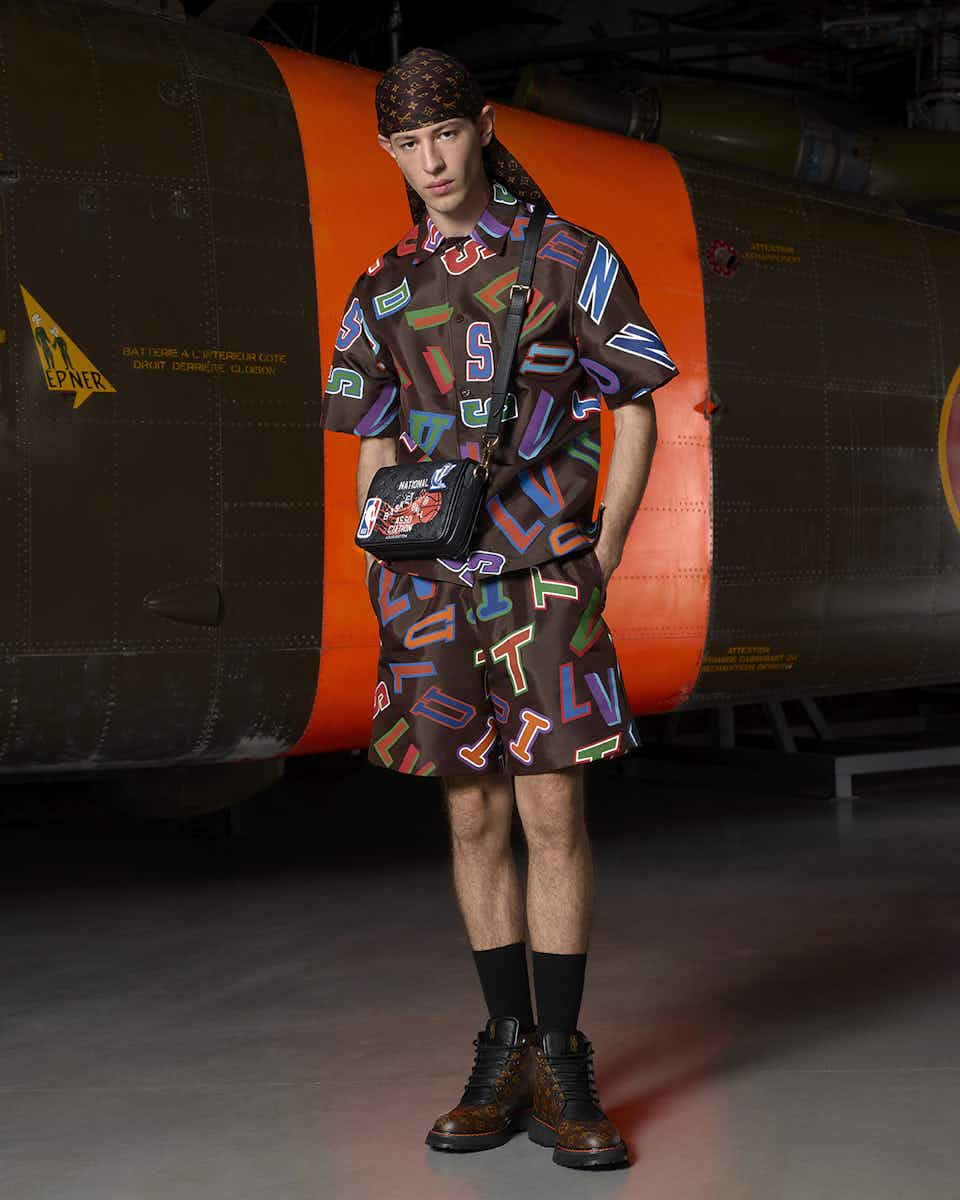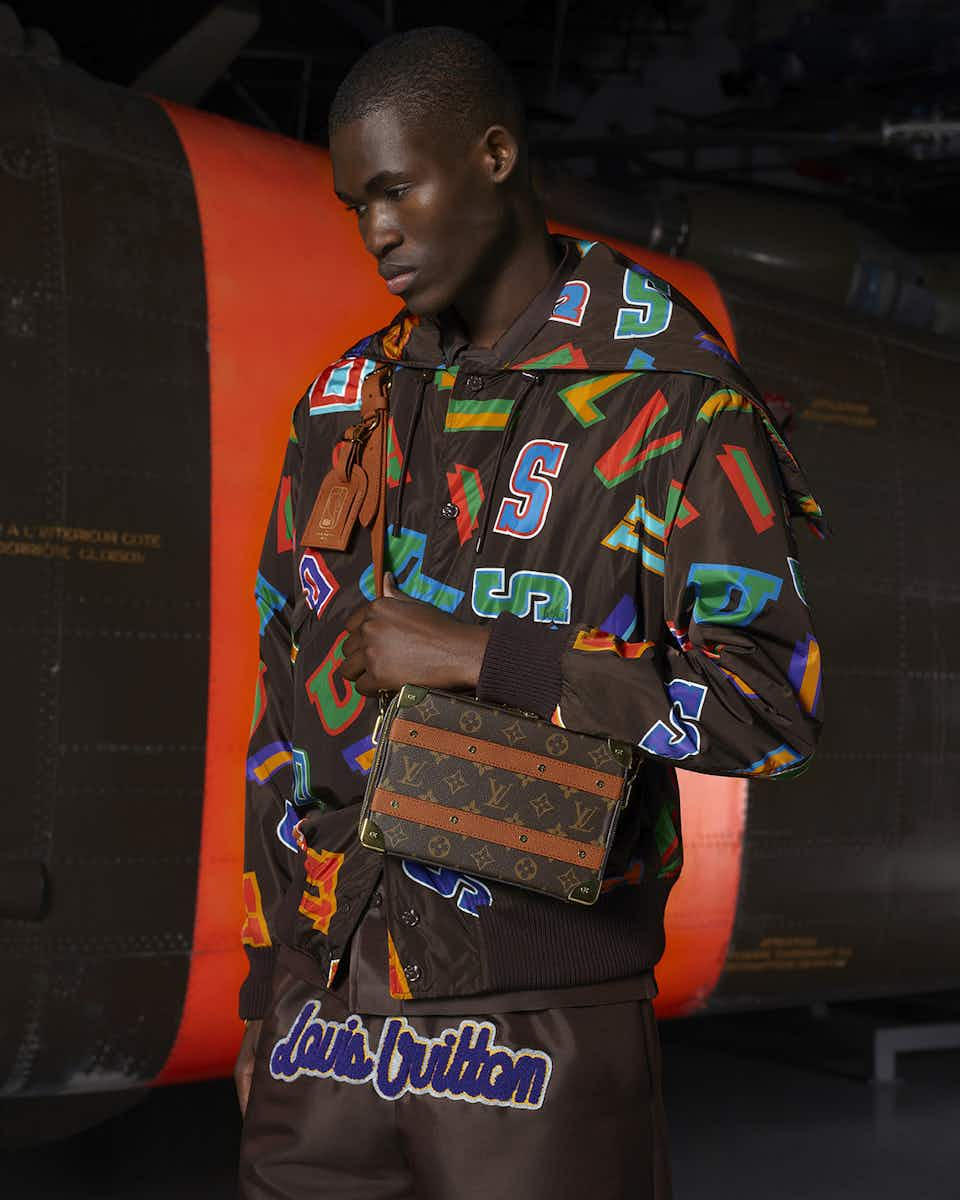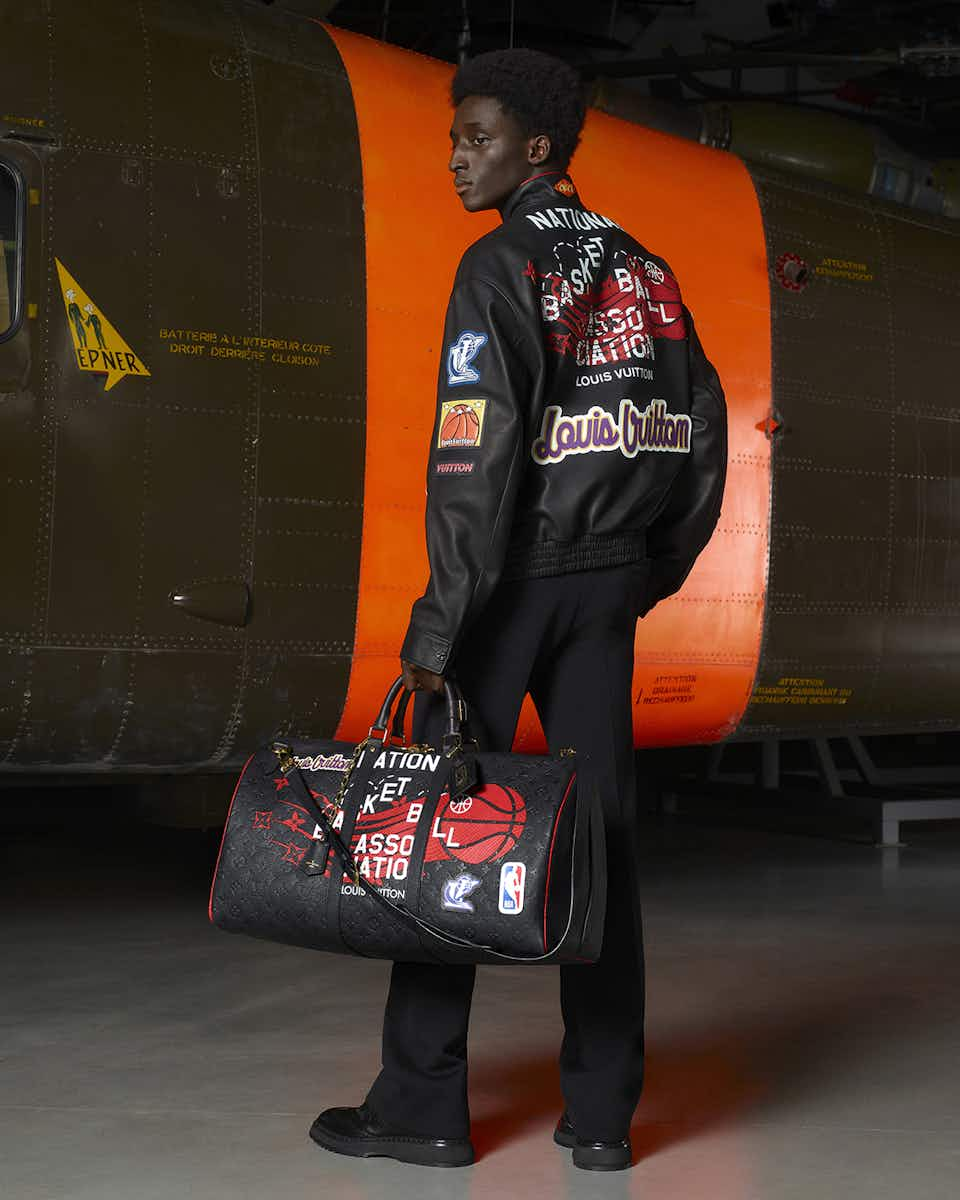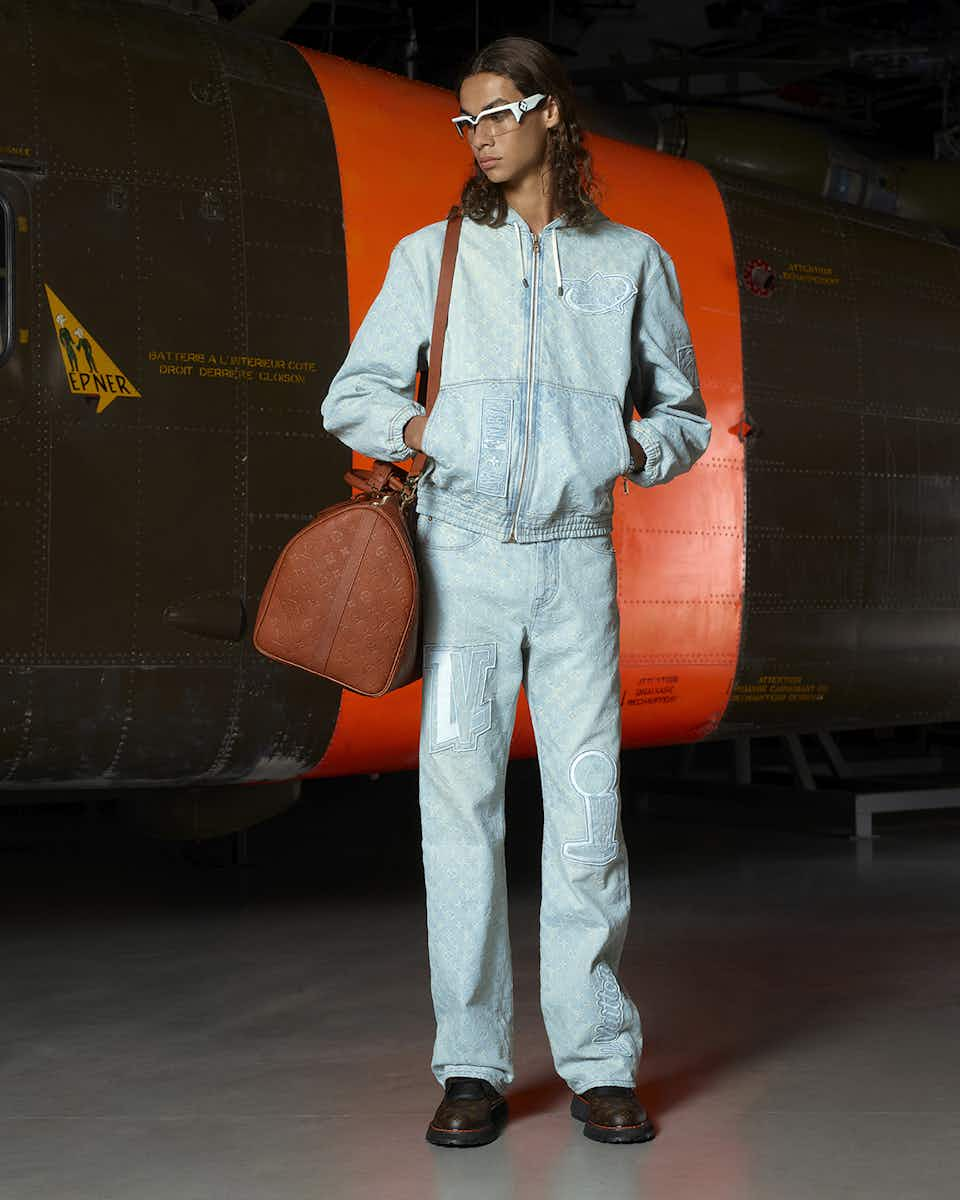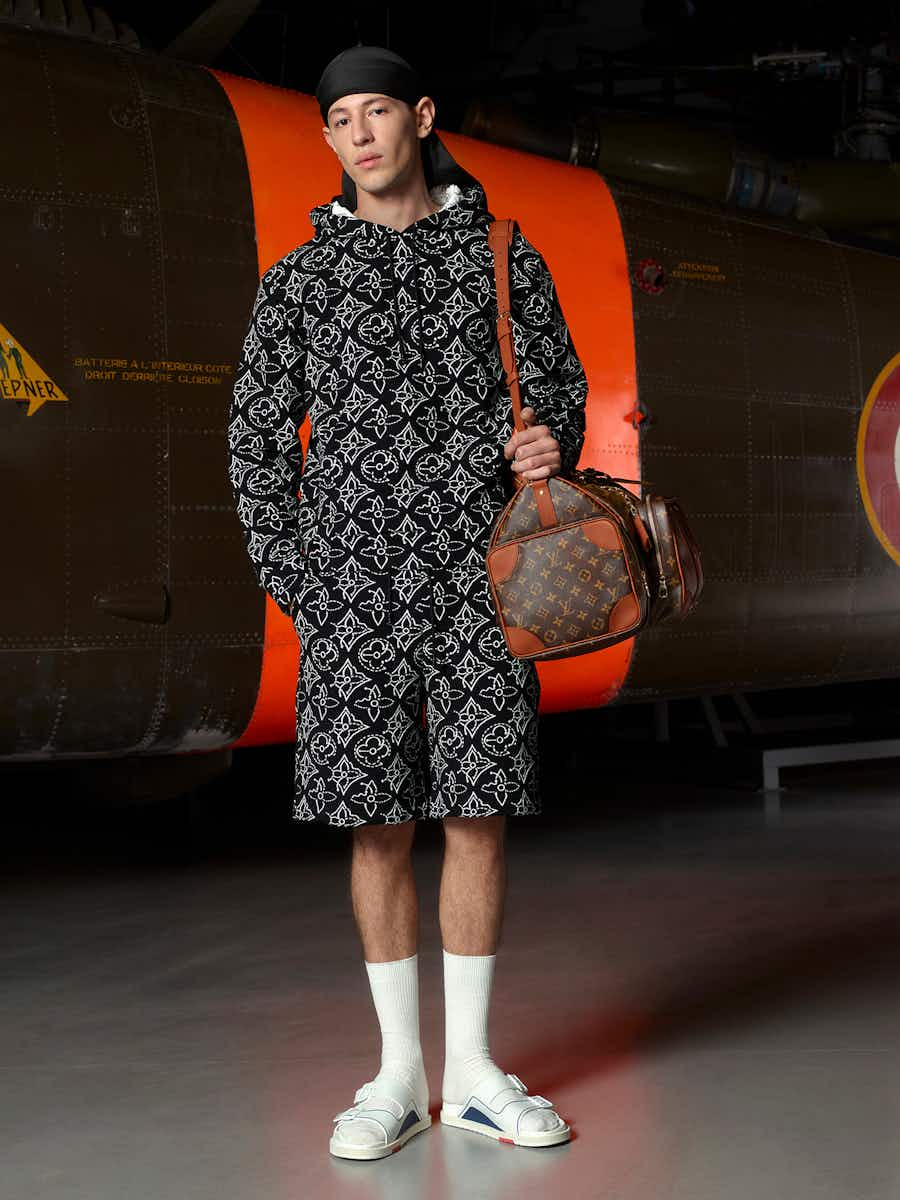 Of course, the realms of professional sport and luxury fashion aren't so distant from one another. Basketball in particular has inflected the sartorial lexicon considerably since the 2000s, with team jerseys remaining a staple of the most stylish wardrobes in hip-hop. Abloh's latest offering focuses specifically on outfits worn by players at three recurring events in their game season diaries: travel, press conferences and the games themselves. Essentially, Abloh is travelling back in time to provide his dream team with a complete wardrobe, one brought to life using the finest fabrics, expert craftsmanship and cult flair that regularly have his own loyal fans queuing around the block. For select pieces, he enlisted the sharp eye of Chicago streetwear designer Don Crawley and together the pair set about creating garments adorned with the iconography of the game.

Informal blousons are central to many of the looks, they come reimagined in various iterations of Vuitton motifs. A version quilted in the house's famous floral pattern is worn with a matching pair of tracksuit bottoms; perfect for high-flying MVPs. There are numerous references to the aesthetic and graphic codes of the NBA, with cashmere knits, oversized shirts and shorts all emblazoned with letters referencing the typefaces found on famous team jerseys. The NBA's own recognisable red and blue logo is also found throughout, including dyed into the back of a plush fur trucker jacket. As expected from any Vuitton collection, there are bags a‑plenty, with some incorporating the distinctive white netting of the hoops and others designed playfully in the shape of basketballs themselves. Statement gold jewellery provides eye-catching punctuation, bringing to mind the gem-studded championship rings sported by top-flight NBA players (Jordan had six!).
There is a nostalgic pulse running through this collection – a striking accent when merged with the distinctive future-facing approach that characterises much of Abloh's work. It also falls into step with his ongoing mission to inscribe Black cultural history into the salons and storefronts of high fashion. Let's just hope they make it Shaq-sized!