Paris Fashion Week: inside Maisie Wilen

An en suite tour of the Kanye-approved label's new collection.
Meteoric, adj: relating to atmospheric debris lighting up the night sky. Or: the hyper-velocity of artists streaking ahead of the pack. And for fashion designer Maisie Schloss, there's no better word to describe her rise.
It's less than a year since the former Yeezy designer – a graduate of New York's Parsons School of Design – launched her label Maisie Wilen, but she's already staked out a name for herself. Chosen as the recipient of Kanye West's fashion incubator grant last year, the Los Angeles-based Chicago native subsequently unveiled a debut collection that went full technicolor fantasy with a shock of patterns and outfitted a list of LA celebrity clientele. Everyone from the Kardashian clan to Winnie Harlow and Megan Rapinoe has waltzed around in her kaleidoscopic dresses in the last six months.
Little wonder, then, that on the Tuesday of this month's Paris Fashion Week her suite in the ritzy Hotel Le Meurice is fit to burst with a fashionably dressed cluster of streetwear kids, desperate to see what's on offer this season. Inside, models lounge in her latest offerings, mingle with guests, pose for the swarm of photographers and, on occasion, sip very carefully from champagne flutes. It's at once both intimate and celebratory. As Schloss notes approvingly once we find a quiet corner: ​"It feels like a party."
While she took a break from her own circuit of mingling, hosting and toasting, we talked with the designer to talk about the inspiration for Pre-Fall 2020, her latest internet obsession and what she'd say to her haters.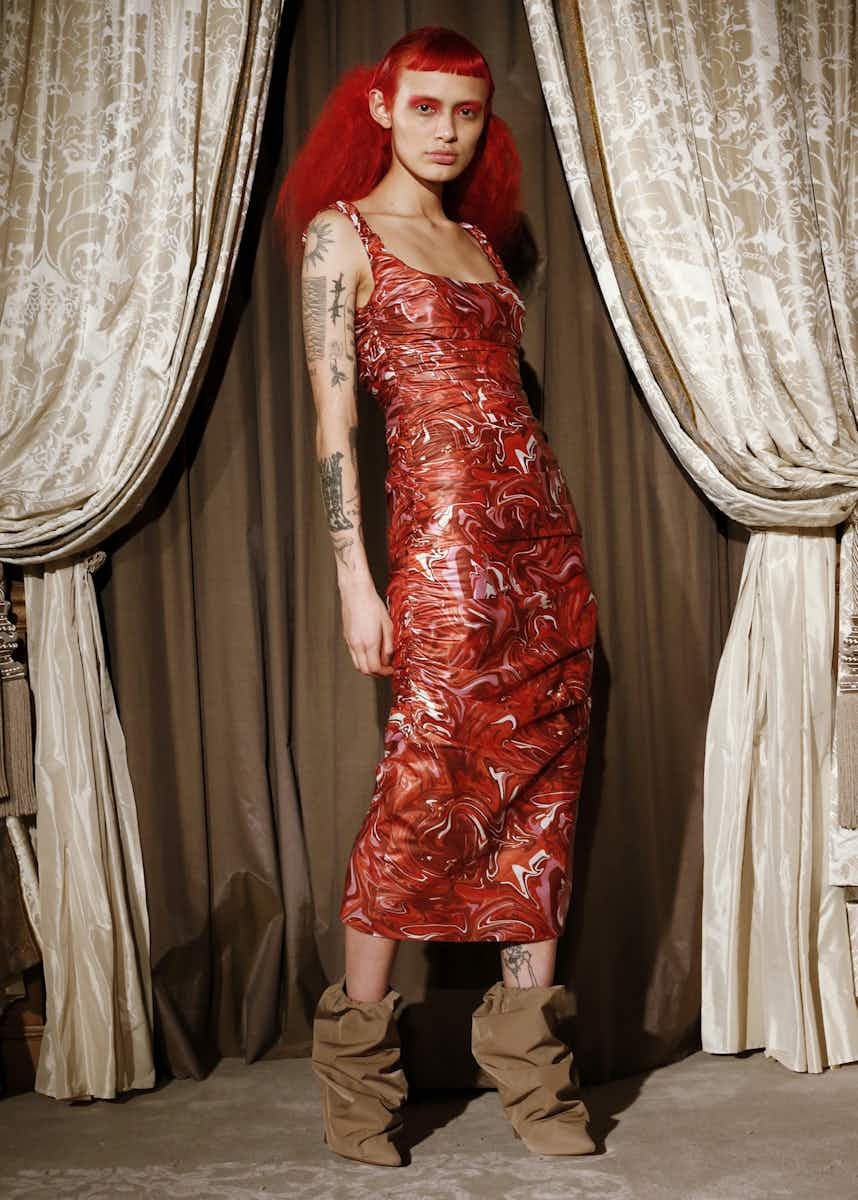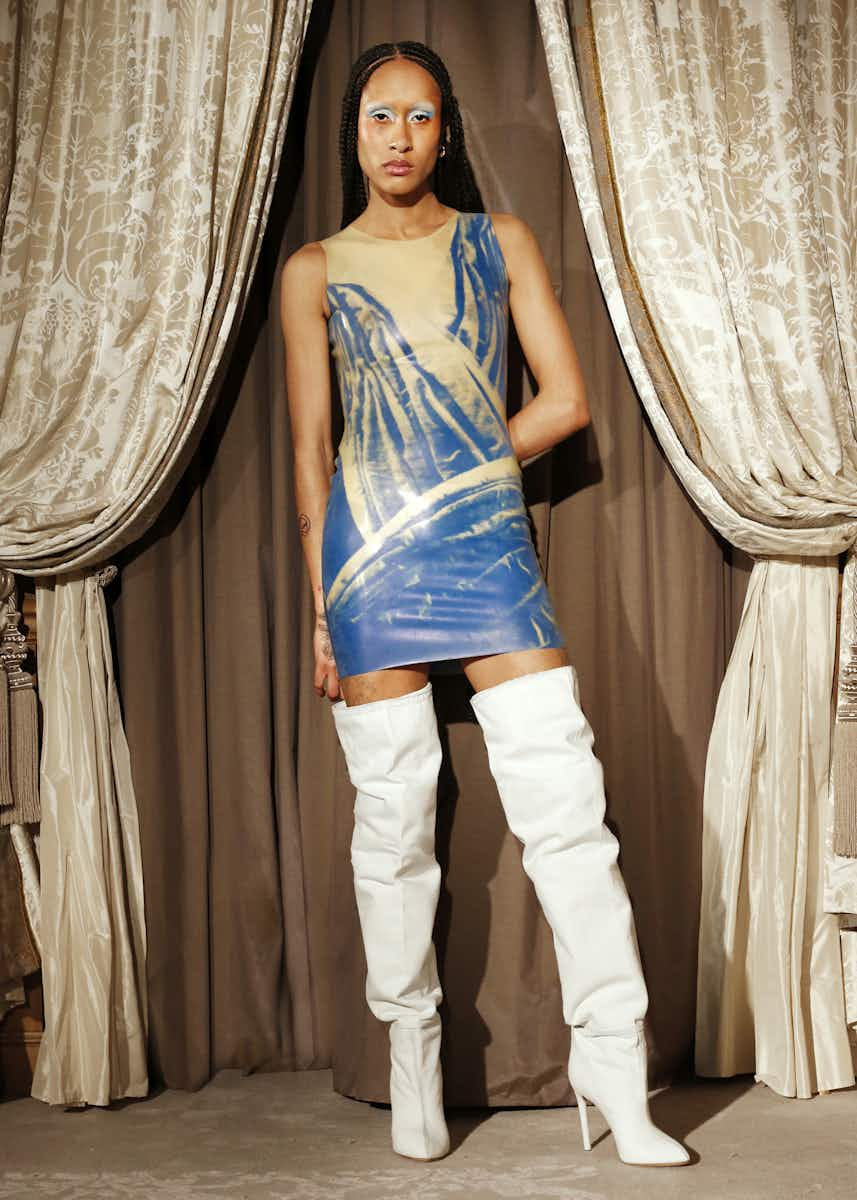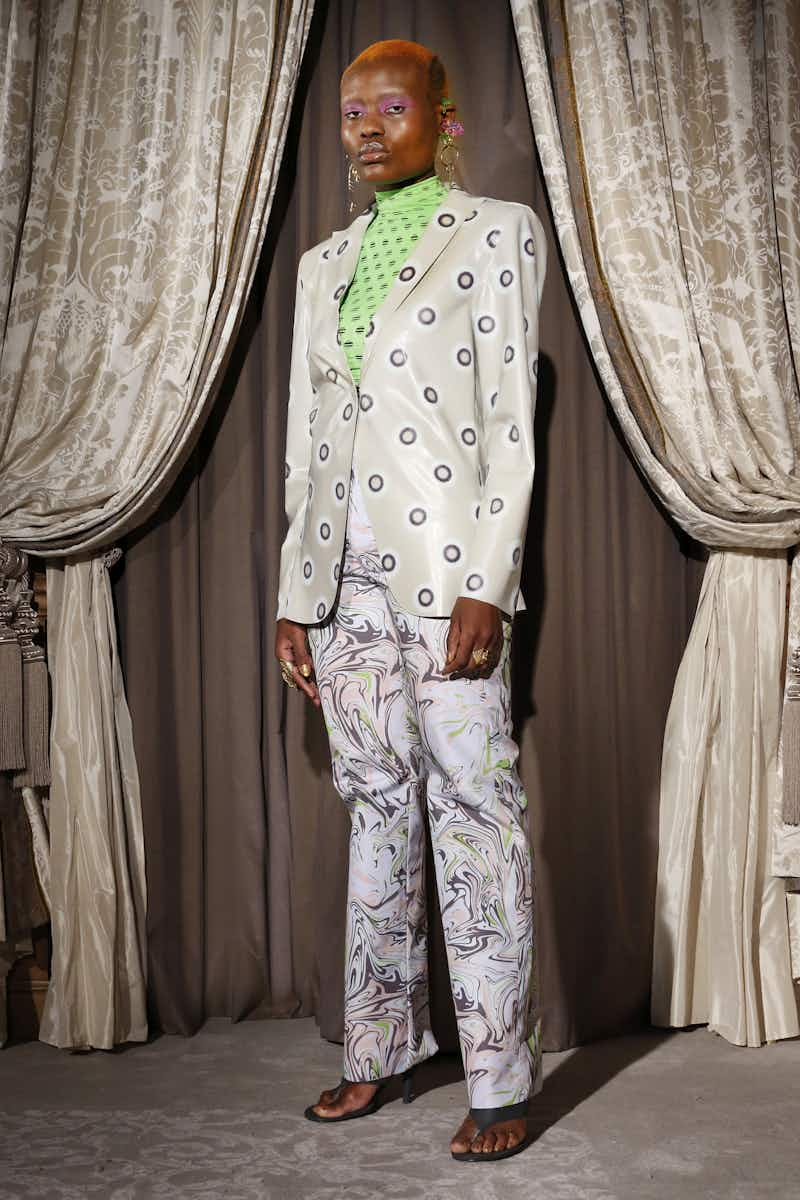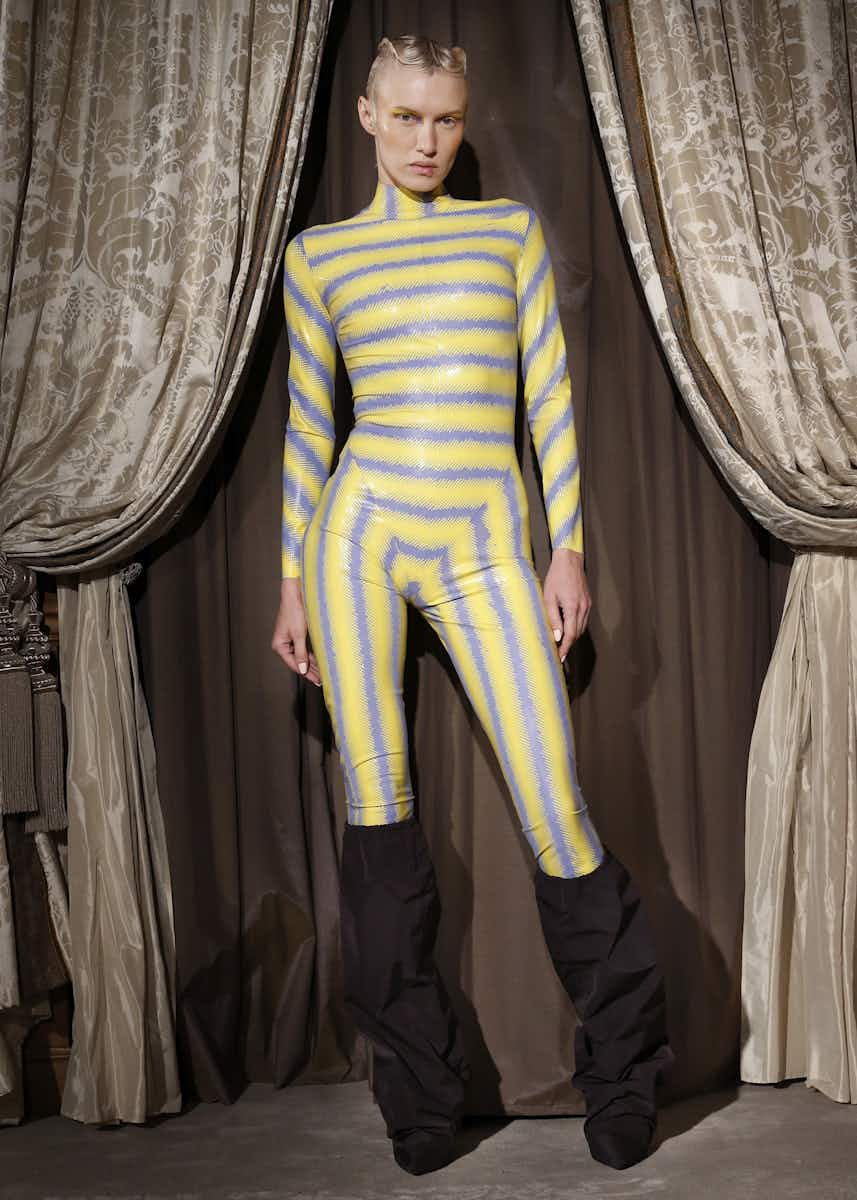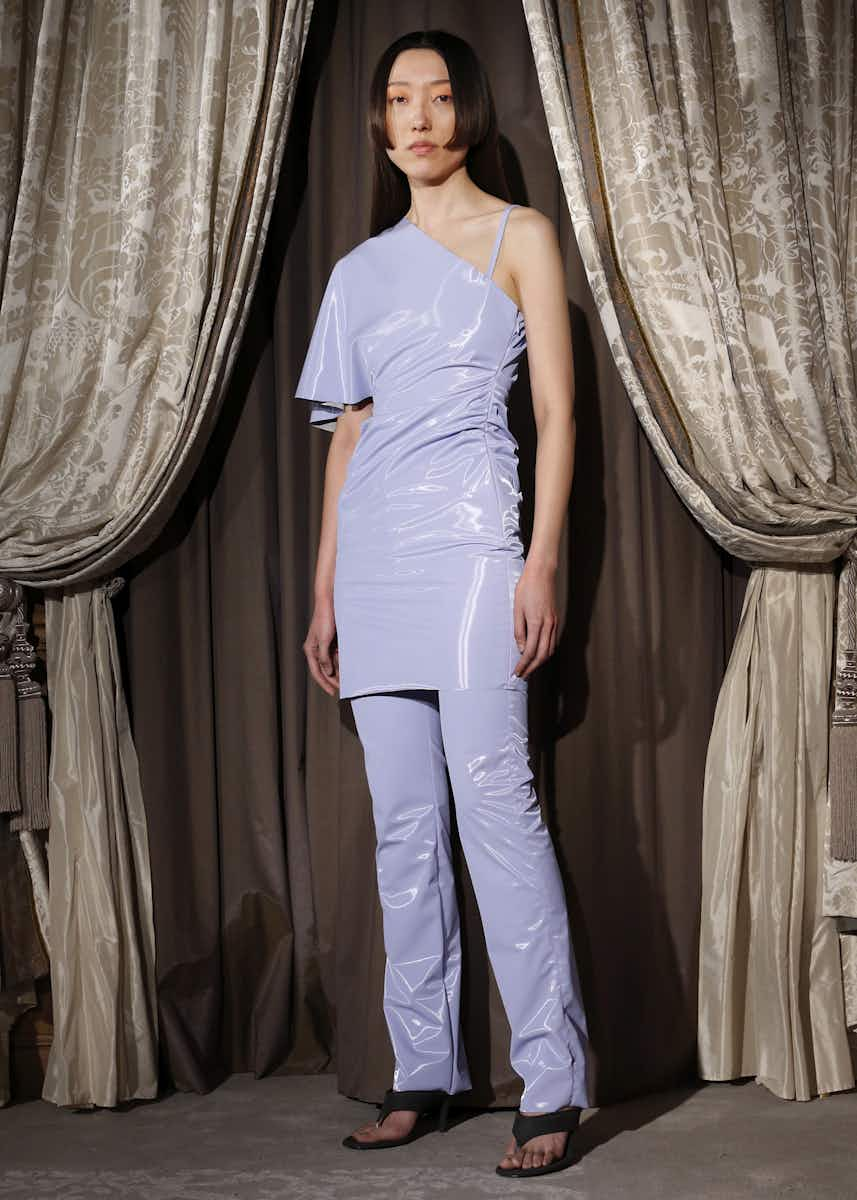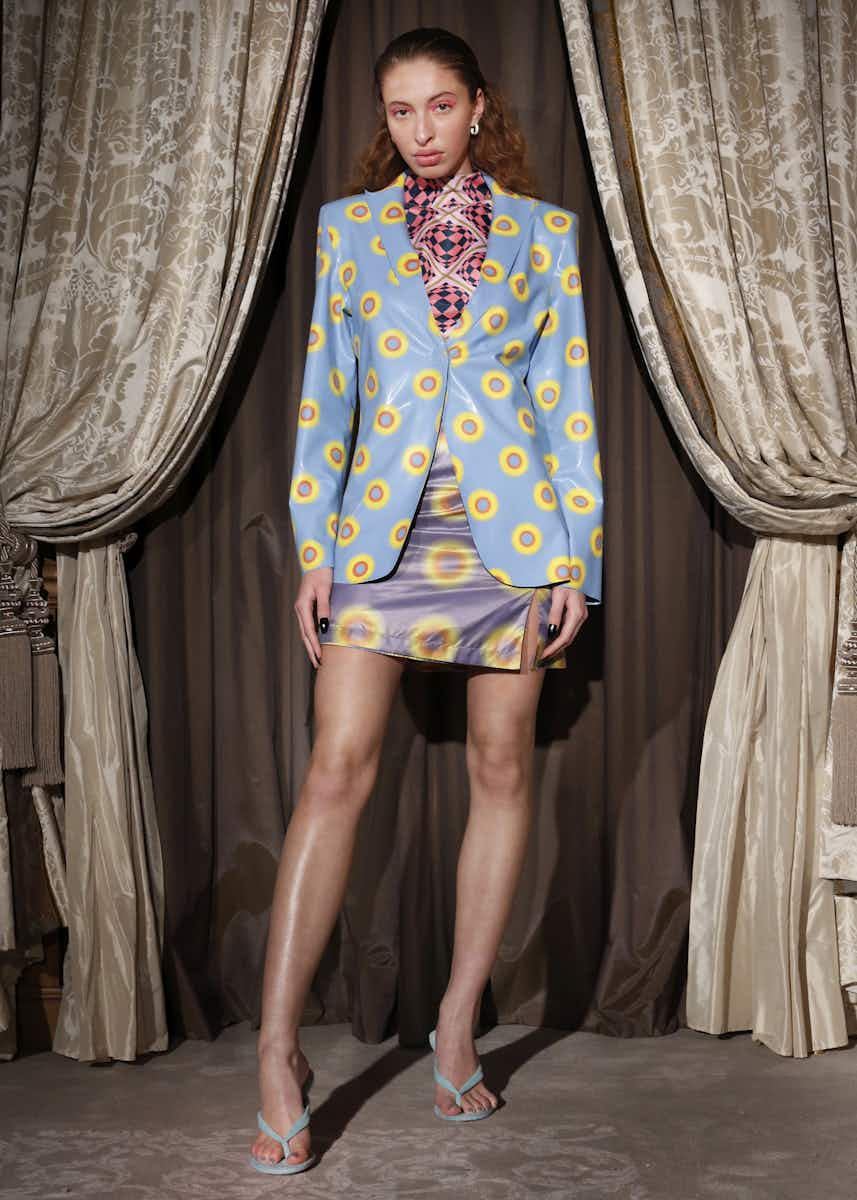 Last season was about robotics and rhythmic gymnastics. What's the theme here?
This season was just my study in print and being driven by my process of making prints on my computer – [and] letting the prints inform the silhouette.
What's your process like as you create your collection?
I work for hours and hours on each print. It's just morphing and adding and doing different colour combos for hours and hours until I get a final product.
What kind of girl do you want this collection to attract?
I've always imagined that she's somebody in touch with fashion and what's going on – but at the same time, takes a lot of her own liberties. She definitely has her personal style.
Coming off of last year – where, frankly, you blew up – what are your big plans for 2020?
I definitely want to continue expanding our offerings. This season I've added in a few bags [and] some headbands. A very little step into the world of accessories and then just continuing to go in that direction.

Do you have a favourite piece that you worked on? Or are they all your babies?
They're all my babies. I mean, it changes constantly. I am really into these bags, though. They're such a nice, simple but graphic shape.
I heard that you're really into Jell‑O mould videos. What's your latest weird internet obsession?
One thing that I really love is that there are some artists who have been rendering my clothes online. They do these very exaggerated illustrations. I love it because it's so not the sort of imagery I imagine with my clothes.
You've been funded by Kanye West and your clothes are worn by the Kardashians and other celebrities. What would you say to haters who might try to cut down the work you've done?
It's true, it has been a lot of luck. I definitely feel… it was some good fortune of the right place at the right time. But that said, I was sure to hustle at all times. I started at Yeezy as an assistant and was able to rise to this from the bottom. I involved myself as much as I could across the board. Working there is so special because we worked on such an eclectic range of projects. I really took advantage of that.
How do you pick the materials for your collections?
Honestly, I like looking for materials that aren't typically sourced for fashion – more technical things. A lot of asking: ​"Have you done a garment in this? Will it work?" Sometimes it works and sometimes it doesn't.
When you were growing up, did you want to work in fashion?
Yes! I know this is going to sound corny but always!
Which designers inspired you back then?
My first favourite designer when I was 11-years-old was Betsey Johnson. I still have such a love for her. You can see that I found her playfulness. She's iconic.

More like this