Future Wear: Marine Serre
By the light of the crescent-moon: how the French designer's logo is a mark of upcycling innovation and style for the 24-hour generation.
Over the last three years Marine Serre has stamped her own brand of individuality on the fashion scene, and the French designer's clothes speak for themselves. Having founded her eponymous label while working at Balenciaga (after stints at Maison Margiela, Alexander McQueen and Dior), she's been the name on everyone's lips. This is all the more impressive given that she's done all this since winning the 2017 LVMH Prize for Young Fashion Designers (solely based on the merits of a graduate collection from Brussels' august visual arts college La Cambre).
And what is everyone so heated about? Lycra underlayers, hybrid dresses, sports-tech fabrics, stand-out jackets and the crescent-moon logo that acts as Serre's key – and highly sought-after – print. Some might say it's about contrasts: soft with rough, restriction with flexibility, mini with length. Look at her dresses, too. Serre has taken the best bits of evening wear – statement print, figure-hugging form – and re-invented them for the 24-hour generation. Wear with trainers en route to the gym; pair with hiking boots by day; add a chunky platform after-dark; let the dress do the talking when barefoot dancing back at someone's house at dawn.
Or, take her body suit, like a cross between skiwear and clubwear – Serre's logo-print, lycra all-in-one is the answer to all your fashion dilemmas. Shimmy it up your legs and slip both arms in; wear it under your most-loved T‑shirt and throw a skirt on top. Perfect for a night out at your local disco-cum-sauna.
Of all the brands out there, it could be argued that the 28-year-old's collections – referred to as ​"future wear" by her team – are the most tuned in to the way people want to dress in 2020. And it's her intuitive social observations that explain her meteoric rise.

These days Serre works from a building belonging to the Régie Immobilière de la Ville de Paris (RIVP), a public housing agency, in Paris's 19th arrondissement, and has just hit the 60 employees mark. But in 2017 Serre hosted her first showroom appointment in the bedroom of her 180-square-feet apartment in the 18th arrondissement. Adrian Joffe, president of Comme des Garçons and co-founder of Dover Street Market, was scheduled to come in to view Serre's designs. She cleared out every single one of her personal garments and filled the flat with her collection instead. The effort and upheaval, it transpired, was worth it.
"He bought the whole lot," says a smiling Serre as she sits next to Pepijn van Eeden, her boyfriend and the general manager of her label, at Rose Bakery on the 3rd floor of Dover Street Market's London store.
The 28-year-old's black pixie crop is gelled back, her eyelids slicked with electric blue liner. She's wearing a simple black T‑shirt with a tiny crescent-moon logo front and centre, a scarf ​"recycled from my first collection" and a well worn, faded-black bomber jacket. She admits she never used to wear her own designs.
"If I'm super honest with you, when I started the brand, I was thinking: ​'Why don't I wear my own garments?' But I thought it was a bit much, you know? But that's when I realised it was so important to have daily wear."
And that's how the tiers of her brand were born: White Line, ​"for daily wear"; Gold Line, ​"upcycled and recycled, more special"; and Red Line, ​"the couture bits – more crazy and really unique". Serre most enjoys designing Red and loves nothing more than seeing people wearing it. ​"That's the best moment," she says with obvious passion – although, for her, first-hand experience of anyone enjoying any of her designs is a thrill. ​"Like, this morning, I saw a woman picking up one of the Gold Line dresses and I was so happy!"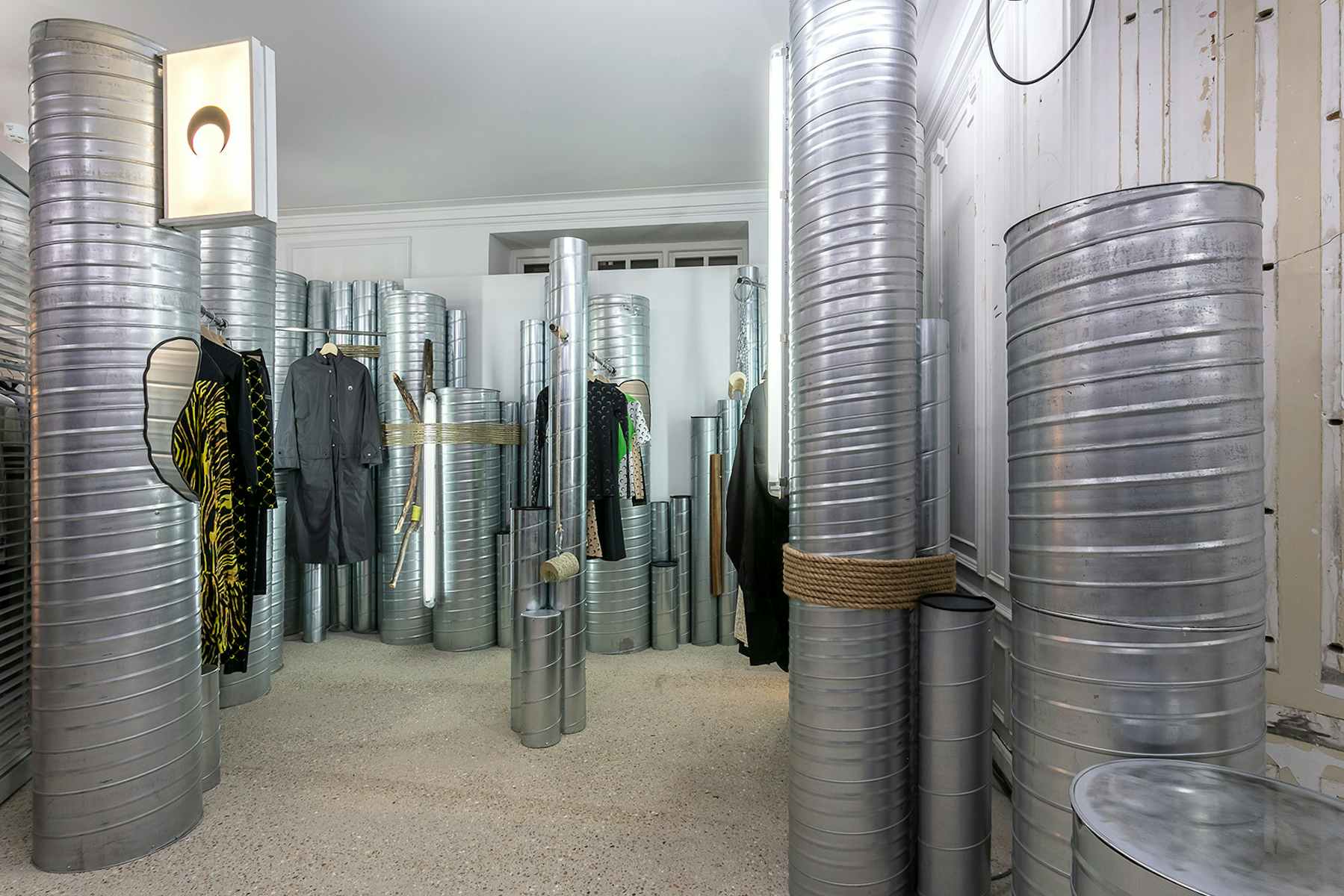 That customer interaction happened downstairs, in her new, dedicated space on the 2nd floor of Dover Street Market. Serre and van Eeden are in town to oversee the finishing touches on an innovative installation created from upcycled materials – specifically, the tube seats the fashion industry sat on to watch her SS20 show titled Marée Noire. The title translates ("in French, not on Google Translate," she says with typical attention to detail) to ​"black wave" or ​"black tide", and seems to refer, at least in part, to the socio-economic and political climates in which she's been creating Marine Serre.
"There aren't a lot of retailers that let you express yourself like this," notes Serre approvingly. ​"I make my installations the same way that I make my garments: it's good for the planet and it really makes me think further. You transform an object once by putting it in the show, then you transform it again." It's really challenging but, for her, wholly worth it.

Serre's commitment to sustainability is top to bottom, whether it's finding the right fabrics or making them available at a price point that's accessible for her fans. Denim has proved to be particularly tricky. ​"Jeans were so, so expensive to make," says Serre, clearly still frustrated. Her first upcycled pair retailed at almost €2000 euros – she insists it was impossible to come in any cheaper. Why?
"It's a whole process. After the challenge of finding the material and deciding what to do with it, there's cleaning, checking, cutting, sending to the factory, explaining how the factory has to work with it… With upcycling, it's a different way to pattern and sometimes there's no pattern, it's just the process."
Every detail is considered, even down to the biodegradable thread. But when it comes to her upcycled pieces, Serre is arguably even more militant on quality control. The fact that this might be the second – or even third – life of a fabric should never show. (Her skirt currently for sale at DSM is testament to this. You'd have to apply forensic knowledge to know it was made from bed sheets.)

Serre is keen to share these learnings and experiences with others in the industry. ​"Everything has to be rethought from zero and all together. One person won't change the world. We have to share information to go further into the unknown. I think it's really important because we have to adapt to what is happening."
As soon as she returns to Paris Serre will be putting the finishing touches to her AW20 collection. It's too early for her to reveal too much, but she's feeling contemplative about the future of the brand. ​"Sometimes I think, what does the show [mean to] me? It's like Netflix, you know? It's never ending. Each show introduces the next one. It's not like I do a show based on – I don't know – the Seine. It's a reflection of what's already there. It's what fabric I've found in the warehouse, what's happening in the brand, what's going on in the world. That becomes the show."

And that's why Marine Serre's brand identity and business model is so strong. Rather than thinking of the show as a singular event, this designer/​businesswoman adopts a circular process. Each show is a chapter of her story, a reflection of the world and a collection that reflects what people actually want are desperate to wear.


More like this