In-your-face, maximalist jewellery is having a moment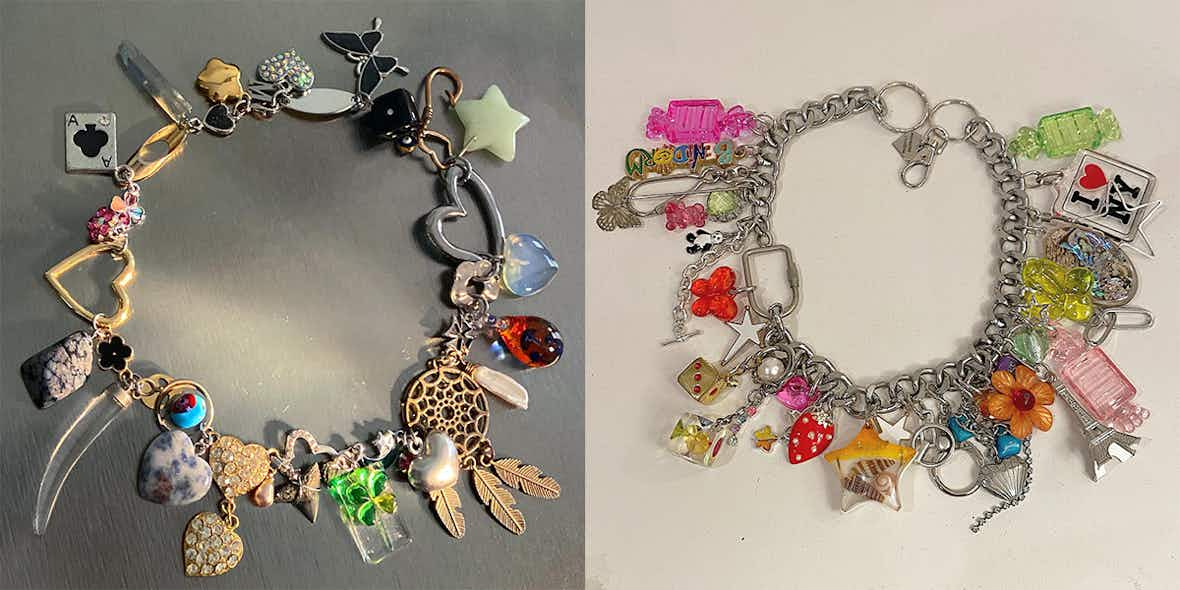 Designers like Brogan Smith, Shulian Nell, Melted Potato and Marland Backus are at the forefront of a movement which embraces sensuality, loudness and excess in all its glory.

Out with super-thin hoop earrings and elegant, dainty gold chains à la Connell from Normal People. In with massive jewellery that weighs as much as a weekly Tesco shop and necklaces that have more charms hanging off them than Pandora have in their entire repertoire.
In keeping with a seemingly unshakeable Y2K fashion revival (see: bejewelled trucker hats, garish Juicy Couture tracksuits and archive Instagram accounts charting Paris Hilton et al's best ​'fits), in 2022, sartorial maximalism has bled into accessories, as designers eschew clean, minimalist jewellery in favour of massive, kitschy, brash pieces.
Last year, plastic fantastic rings were all the rage, as brands like La Manso, Blobb and Bea Bongiasca made their way onto our fingers in all their resin, lucite and sculptural glory. But things have ramped up a fair bit since then. Now, the answer to injecting a bit of fantasy into your get-up lies in wearing jewellery that embraces industrial clutter, excess and, well, loudness. The best way to wear it? All at once, obviously.
With that in mind, behold: THE FACE's list of next-gen designers leading the charge against basic, no-frills jewellery, providing some much-needed escapism from our bleak reality. Expect statement jewels, stand-out bling and plenty of attitude. Go big and bold, or go home…

Jewellery, footwear and accessories designer Brogan Smith is a master upcycler. All of her pieces are made from sustainably sourced waste or deadstock materials, largely inspired by cyberpunk and sexy archive images. The Londoner is renowned for her larger-than-life necklaces. Impossibly kitsch and gloriously garish in equal measure, they feature found keyrings, gold and silver carabiners, pearls and precious stones. Take the Dubai necklace, for example, a particularly avant-garde number featuring golden fish charms, ​"I <3 Dubai" trinkets and cutesy mini-handbags – classic holiday collectables, worn around your neck. Slide into Smith's DMs for a custom-made keepsake.

Artist and photographer Shulian Nell launched her Brooklyn-based jewellery brand just last year. Since then, she's established herself as one of New York's most exciting independent designers, hand-drawing New York MetroCards, baseball caps and Radiohead album covers (essentials, basically) before setting them in resin and delicately linking them together to make a necklace. There are also teeth charms and a cacophony of smiley faces, bugs and, hell, even heat vision silhouettes hanging off Nell's carefully crafted pieces, each one more playful than the next. Her crown jewel? The stacked teddy bear charm necklaces, hand-made from resin pill charms and glass beads.

Amber Yang is the experimental mind behind Taipei-based Melted Potato, the jewellery label she started in 2018. Inspired by the process of objects melting and transforming, Yang's irreverent pieces run the gamut, from fluffy, glistening ear cuffs to versatile jewels designed to adorn, well, everything: your hair, feet, clothes, even your car. Stand-out pieces include a supersized, distorted silver heart attached to a velour choker and chain-linked butterflies winding around the body. Yang also has a knack for repurposing everyday items into wild, beautiful bits of jewellery. Who would have thought you could reimagine a shower scrubber printed with cute pictures of cats into the ultimate statement earring?

After graduating from Brooklyn's Pratt Institute of Technology in 2015 and a brief modelling stint, Marland Backus is now based in Tokyo, where she designs exuberant, industrial jewellery worn by the likes of Hunter Schafer's Jules in Euphoria. Her speciality? Super-stacked charm necklaces that take the summer camp trend to whole new heights. There's heavy set quartz, broken heart best friend charms, resin cherries, mushrooms, dice and eight-balls – you name it, it's probably hanging off a Marland Backus necklace somewhere.


More like this