Metaverse Fashion Week was a weird dystopian fever dream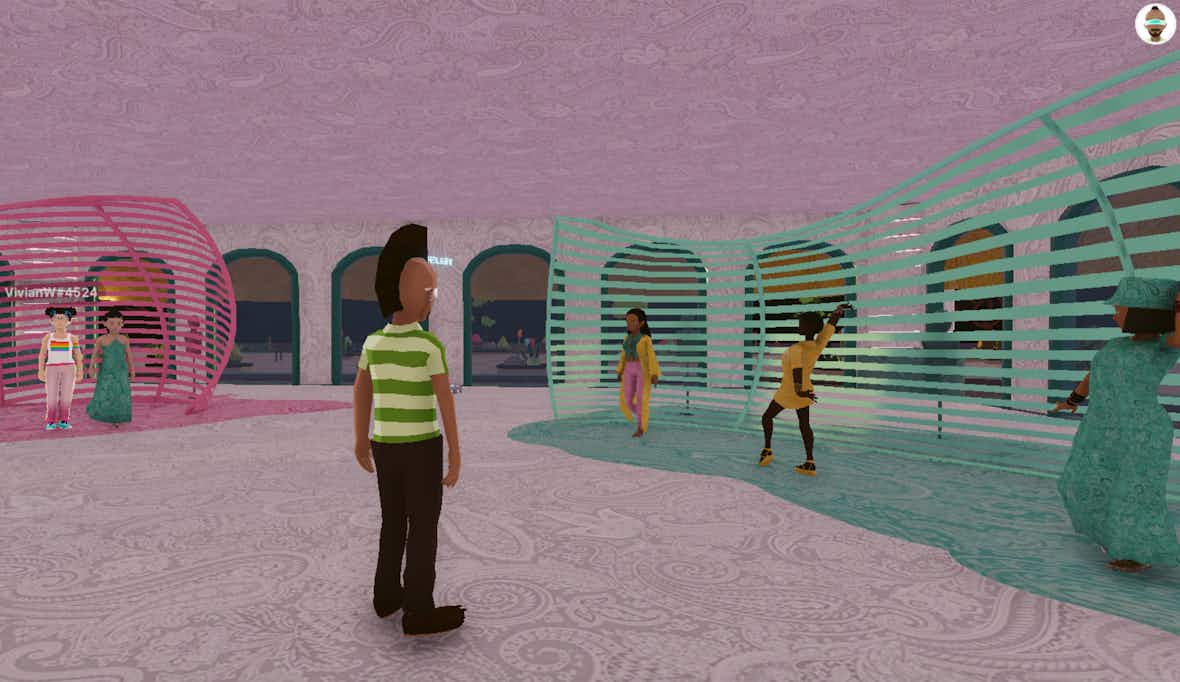 It's the event nobody needed. Our advice? Choose life, choose a hobby, choose friends. Choose The Real World. You'll have way more fun.

It was only a matter of time before the metaverse expanded to create a fashion week, dragging editors to a pixelated FROW practically kicking and screaming. The event came out of nowhere, mere weeks after the actual fashion week in February ended, which was arguably the most ​"normal" it's been since the pandemic kicked off two years ago. In stark contrast, Metaverse Fashion Week is anything but normal.
In quick terms, the metaverse is a geeky virtual world made up of virtual events, virtual people and virtual conversations. It's not really a game, but rather a surreal meeting place that doesn't require leaving the house. It's free to use and a load of brands and pop stars have already hopped on board over the past year, staging NFT events and even concerts – yes, concerts – where crowds of avatars bop their heads to the sounds of Ariana Grande. And at the start of this year, bloody metaverse raves even became a thing, which are, to no one's surprise, even worse than they sound. Nothing says ch-ch-cheers like a crowd of stand-still avatars, eh?
Getting started on the metaverse isn't too soul-destroying, you know. Within the metaverse, there are different platforms and worlds, which you can hop between in the same way you'd switch from Instagram to Twitter when scrolling. MVFW was hosted on Decentraland, so after a fumbling on a few websites, and a less than eager press of the enter button, I found myself at the front door of the metaverse. Creating an avatar to get you on Decentraland is free, but from that point on, it all gets a little puerile.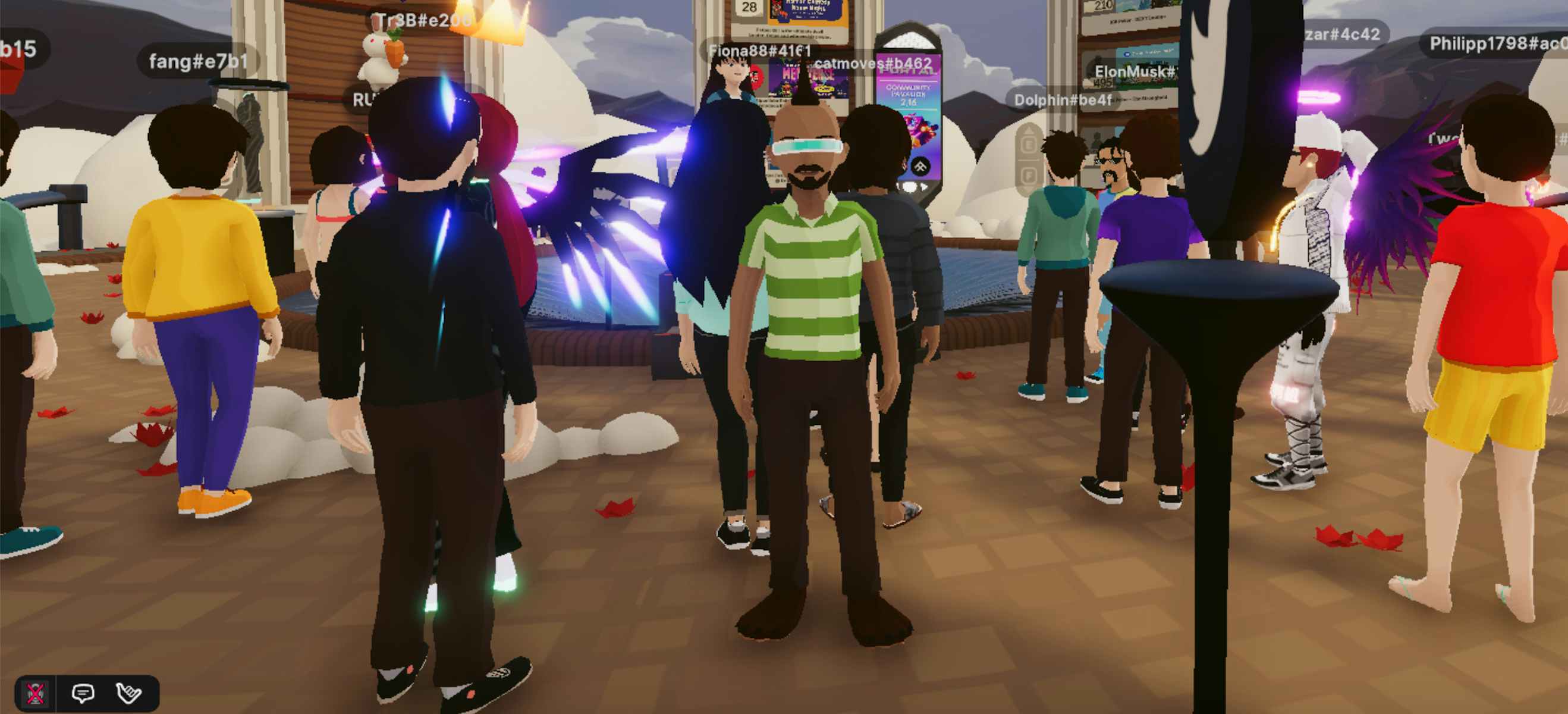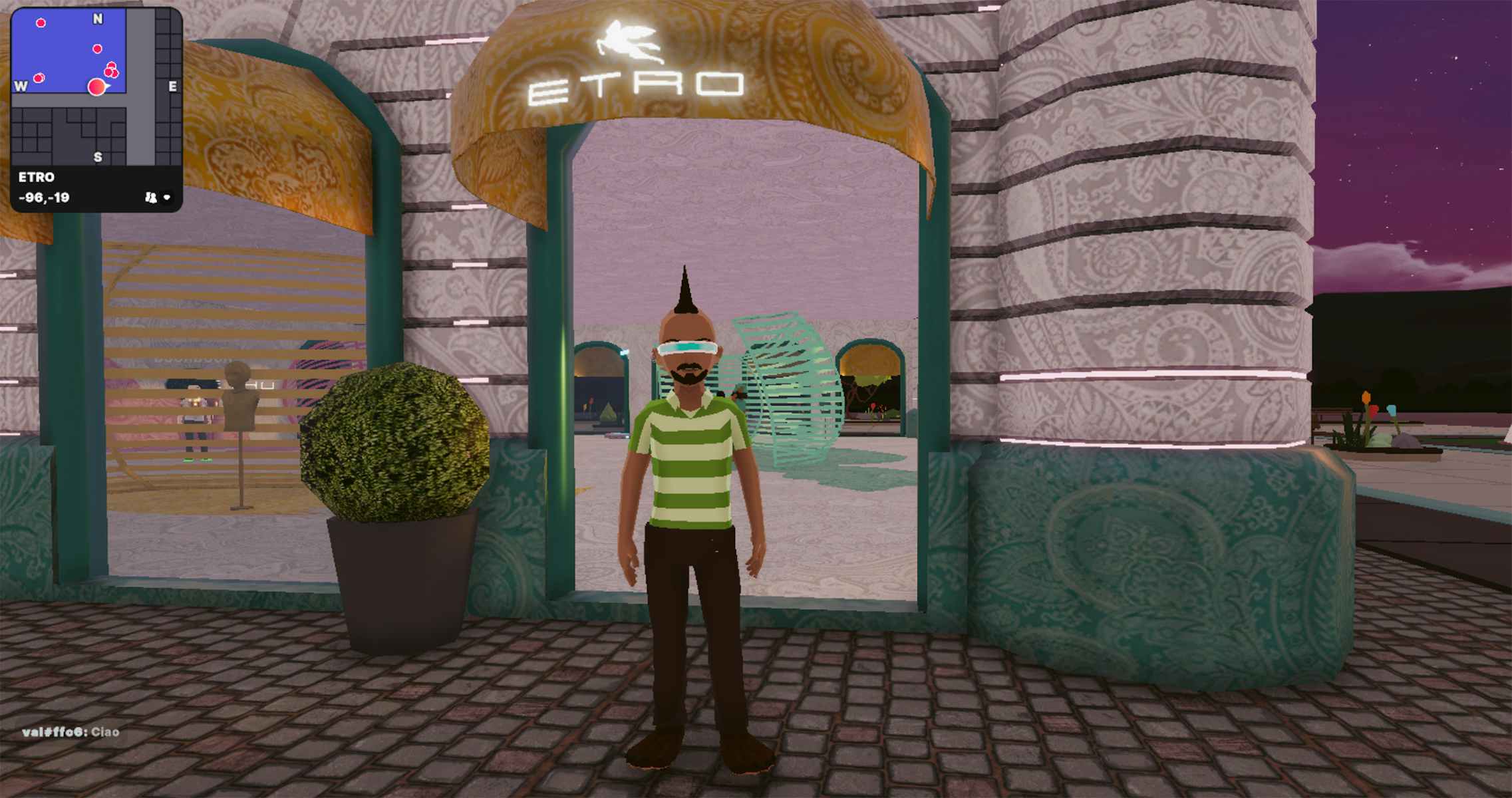 There's something pretty whimsical about making an avatar all of your own – when you're a kid. But cut to the real world in your mid-twenties and you're left feeling dirty, as if you're watching hardcore porn at work. After checking behind my shoulders every few minutes, eyes darting from left to right, choosing a mohican, stripey top and some stupid glasses, my avatar was made and I was in the metaverse proper.
Unlike IRL fashion weeks, the usual guest lists and ​"will-I-won't‑I get in" worries are replaced by a simple click of the finger on Decentraland. ​"Enter MVFW". Boom, you're in – and pretty much anyone with a decent WiFi connection is invited. Fashion Week has been associated with the who's who of the industry since the dawn of time, and bagging a ticket has largely relied on your job, paparazzi power, parents or Instagram following.
But now, those who are into fashion and just want to see a bit of decent clobber can get involved (makes sense, since Decentraland is itself a play on ​"decentralise", meaning it in theory takes power away from institutions and gives it back to the people). That's quite nice, isn't it?
Except there weren't actually any clothes on show. And herein lies the weird veneer of the metaverse.

If the premise of the metaverse is to create a home away from home, then it's not there yet. At all. The fashion village, while extensively designed, looked like snippets from Animal Crossing. There's nothing remotely real about it. It feels eerie and disconnected, with other avatars walking around and ​"looking" at the clothes on show.
In the fashion village, you could buy pieces by brands like Etro, Tommy Hilfiger and Elle Saab using cryptocurrency. Decentraland ​"wearables" (digital clothes for your avatar) have become a booming economy since they first launched in 2020, amassing over $1 million in sales last year alone, some of which were sold at the Selfridges flagship (remember, in the metaverse) that bears resemblance to the futuristic Birmingham store.
Paco Rabanne was one of them, who recreated pieces from the Spanish house's shiny archive. Items like a sleeveless apron dress from SS70 and a couture gown made up of geometric reflective discs from SS88 were all on display and up for grabs. And at £2k-100k a pop, you'd better be alright with your mates at the pub never seeing it.

And over in the Boson portal, Tommy Hilfiger had its SS22 collection up for grabs as NFTs. Now if, like me, you're still unsure of what an NFT is (besides countless refreshers at the sesh), take a read of this. In what looked like a stadium in a faraway galaxy, the preppy US brand's take on MVFW probably felt the most convincing. The tech was snazzy, the campaigns were actually real images you'd see on the Tube. Even the NFT clothes looked wearable. Except, mwahaha, they were not.
Taking it one step further in the luxury fashion portal was Dolce & Gabbana, who presented an actual catwalk show on furry feline, er, models. Or avatars. No, models. Let's settle on avatar models. Weirdly, a lot of the metaverse ​"event" spaces look like giant stadiums. I don't want to say it looks like Squid Game, but it does look like Squid Game. As you swiped your mousepad and looked at the audience watching from the sidelines, it was a stark reminder that the metaverse is here – and people are taking it seriously, their avatars watching on as a yellow dress swished past with D&G logos printed all over.
It's all a bit dystopian, picking out pseudo-clothes for your pseudo-self. But that, I suppose, is the whole point of MVFW – to exist through the digital world. Pretty grim. After dawdling around the metaverse for a total of an hour, trying to work out where to, er, go next, the prospect of a metaverse future cast a dark cloud above an otherwise alright day.
Is there even a future in it? Mark Zuckerberg reckons so. But what the hell does he know? Has he seen his own advert for Facebook's re-up, Meta? It made him a laughing stock for an entire week. And sure, there are some early adopters – namely rich people and rich businesses. Already, there are people spending $300k on virtual metaverse houses instead of real ones. Man City's in talks to become the first Premier League team to join the metaverse. And there's even been instances of ​"crimes" being committed in the metaverse.
But the thing is, after two years of stop-start lockdowns and their consequential impact on everyone's mental health, the last thing anybody needs is a world that exists on a screen in the confines of our homes. We're on our last legs if the future is an evening spent looking at clothes you can't touch, feel, wear. There is nothing fun in it. So on that note:
Choose life, choose a hobby, choose going out, choose friends, choose pubs, choose high fives, choose middle fingers, choose shagging, choose restaurants, choose sleeping, choose waking up.
Choose The Real World.


More like this