Your go-to guide to SS23 at Milan Fashion Week Men's
This season's urgent fashion from Versace, Fendi, DSquared2, JordanLuca, 1017 Alyx 9SM, JW Anderson, Moschino, Prada and many, many more...
MILAN

MILAN

MILAN

MILAN

MILAN

MILAN

MILAN

MILAN

MILAN

MILAN

MILAN

MILAN

MILAN

MILAN

MILAN

MILAN

MILAN

MILAN

MILAN

MILAN
According to Miucca Prada, this collection was about ​"simplicity as a concept as a choice." The aim, she said, ​"was to create clothes people could really wear, but with an impact." So far, so Prada. This latest chapter in the fruitful collaboration between Mrs Prada and Raf Simons saw the duo turning their attention to the bones that make up a good wardrobe – the ​"classics" or ​"archetypes," as Simons put it. The results varied from the predictable (skinny suits, denim) to the slightly more left-field (little leather shorts). A succession of gingham coats walked that perfect Prada line between cool and saccharine, while bright, knitted tops had the feel of a ​'70s summer holiday. Front row, an enthusiastic Jeff Goldblum stole the show, fervently proclaiming his love of the brand to all who would listen.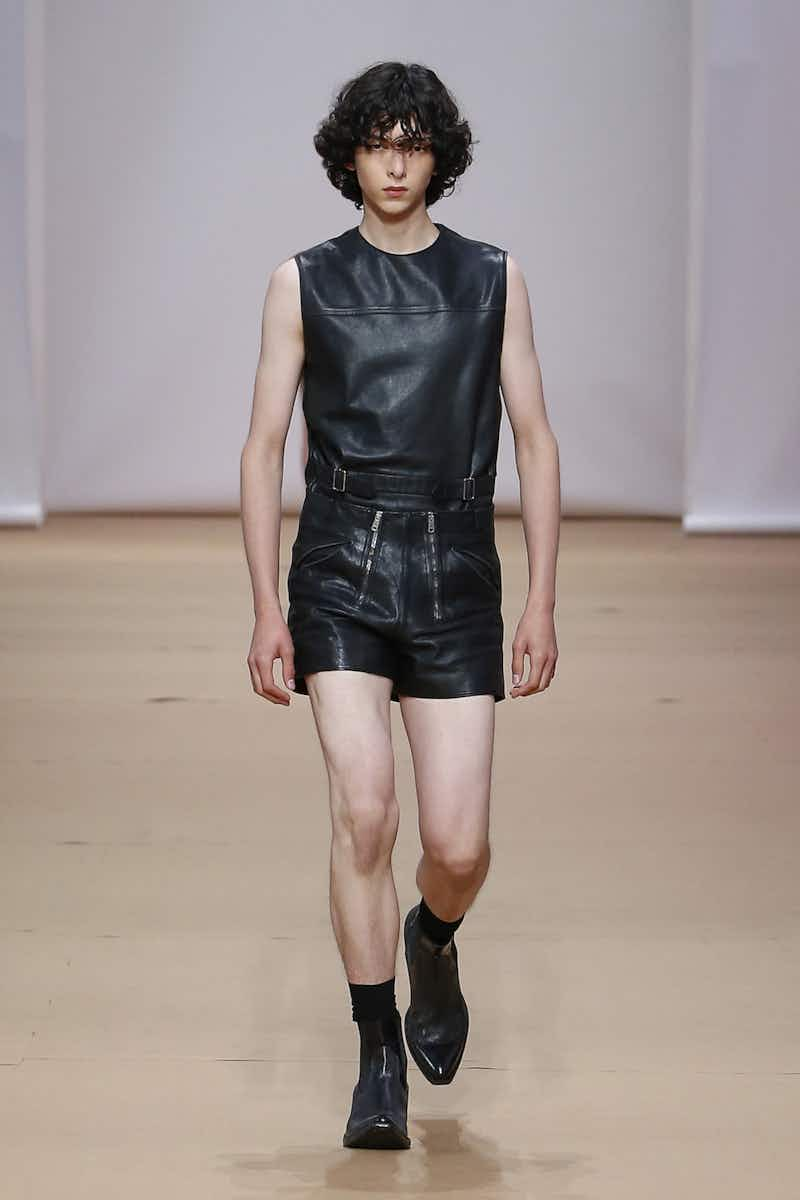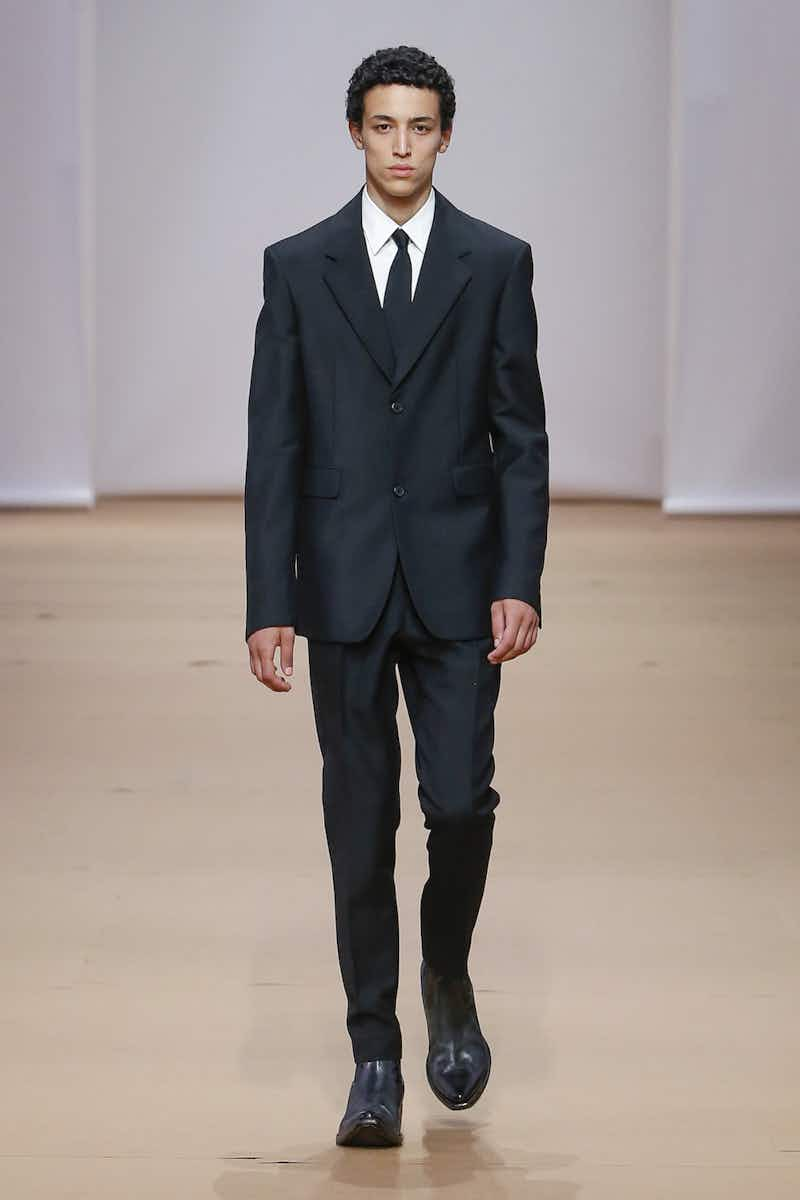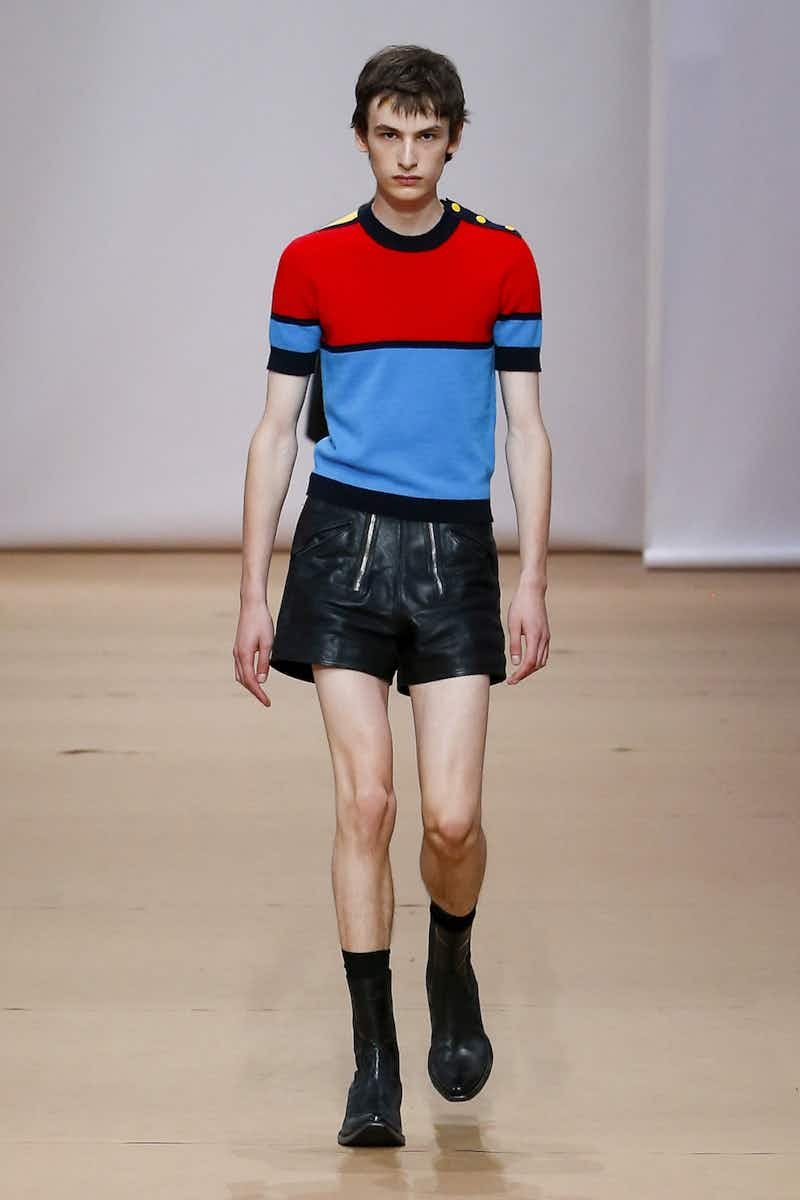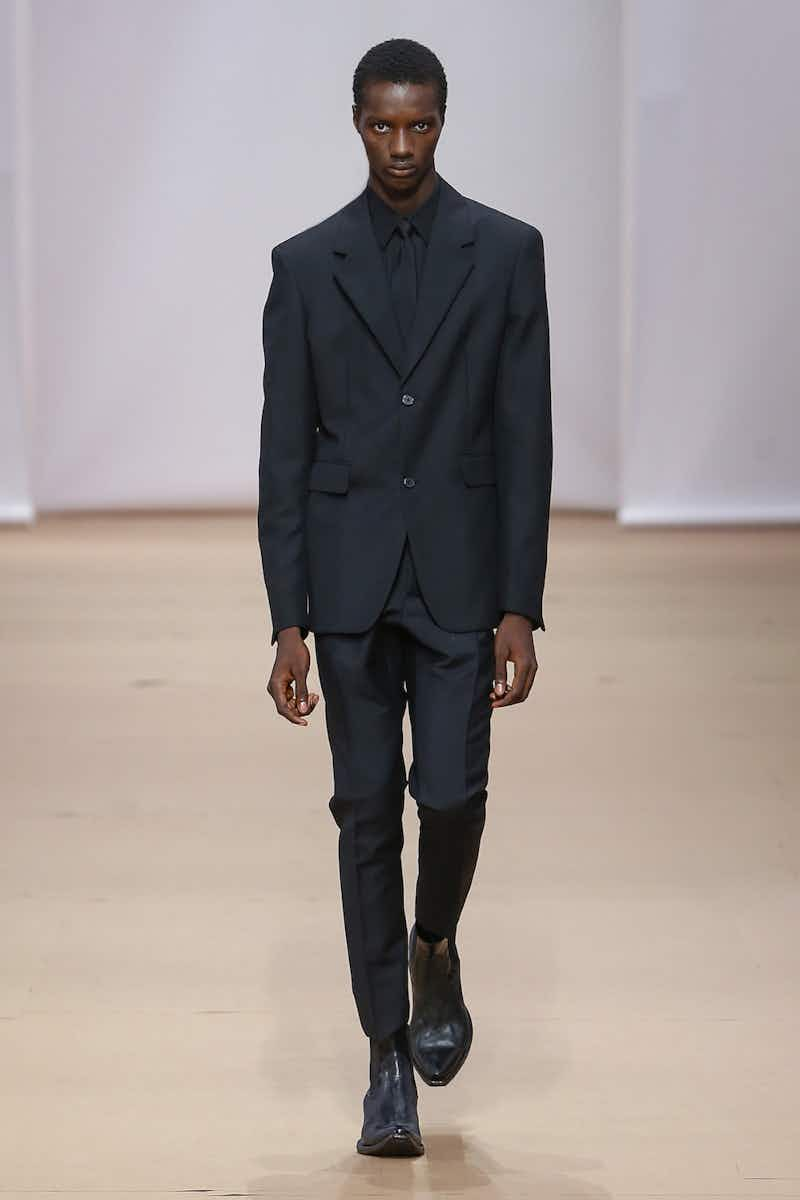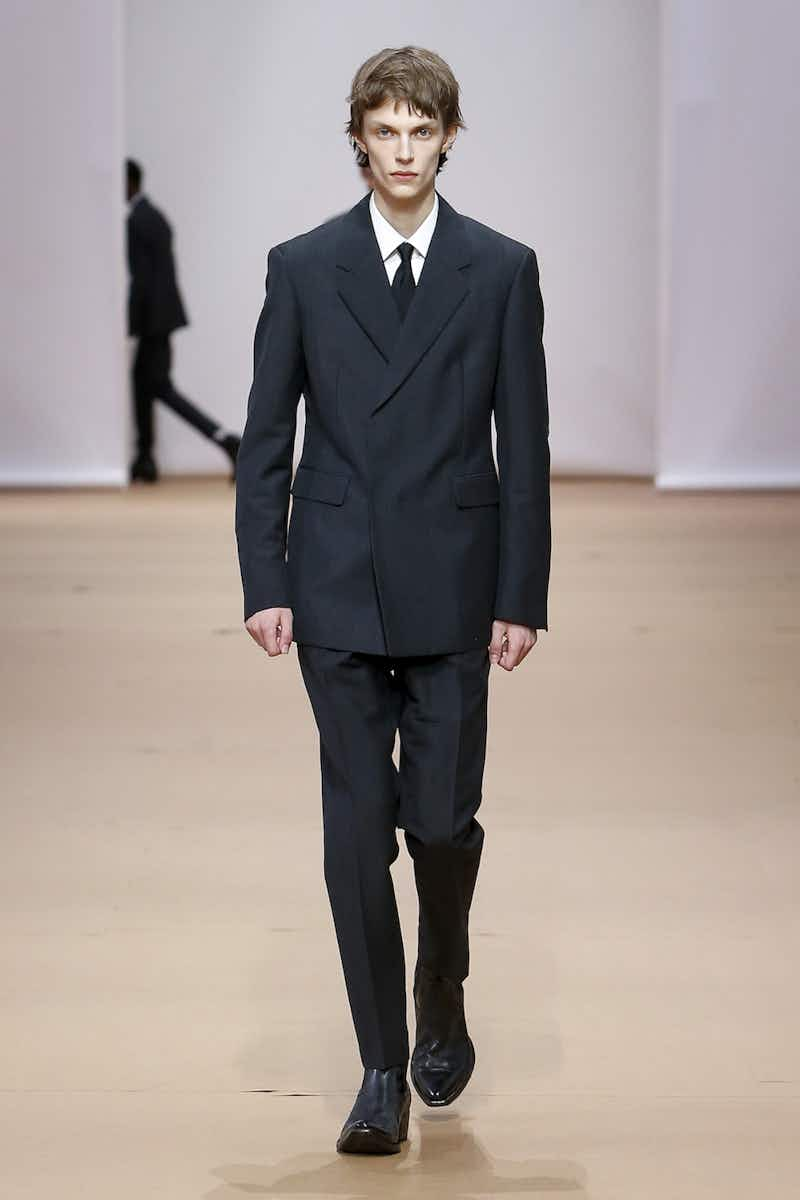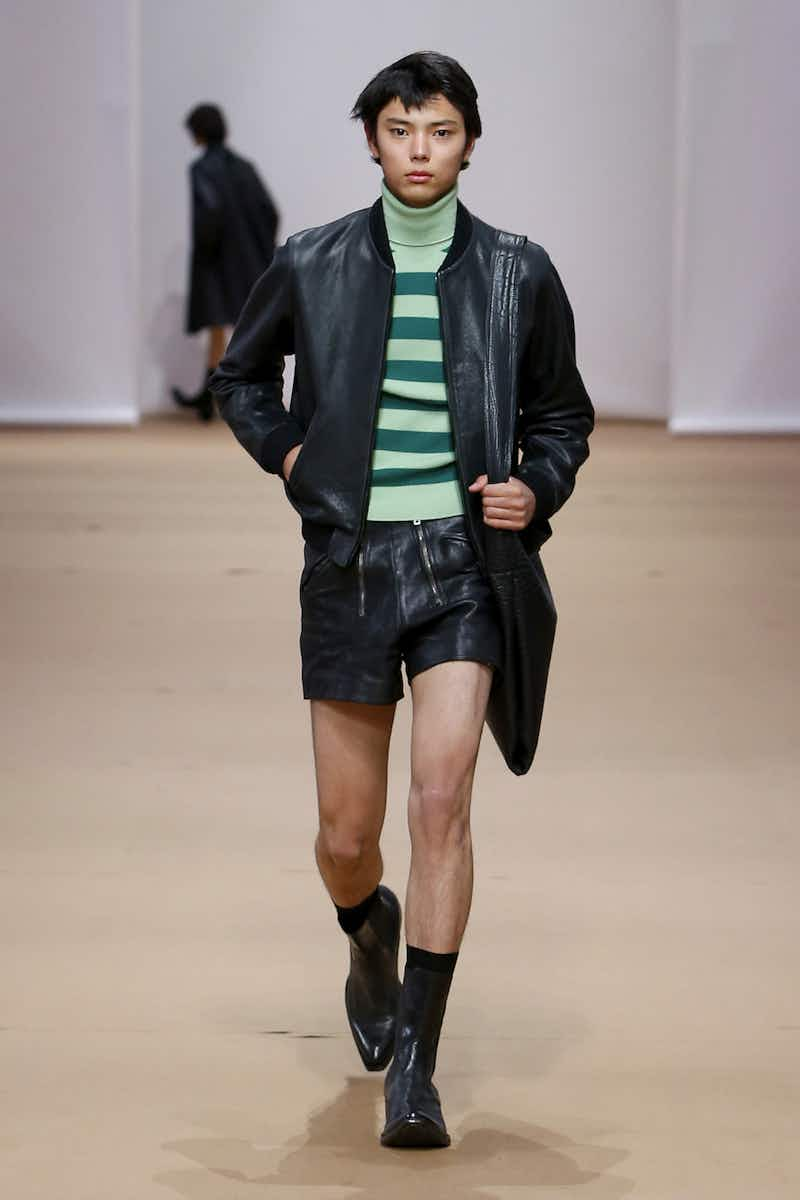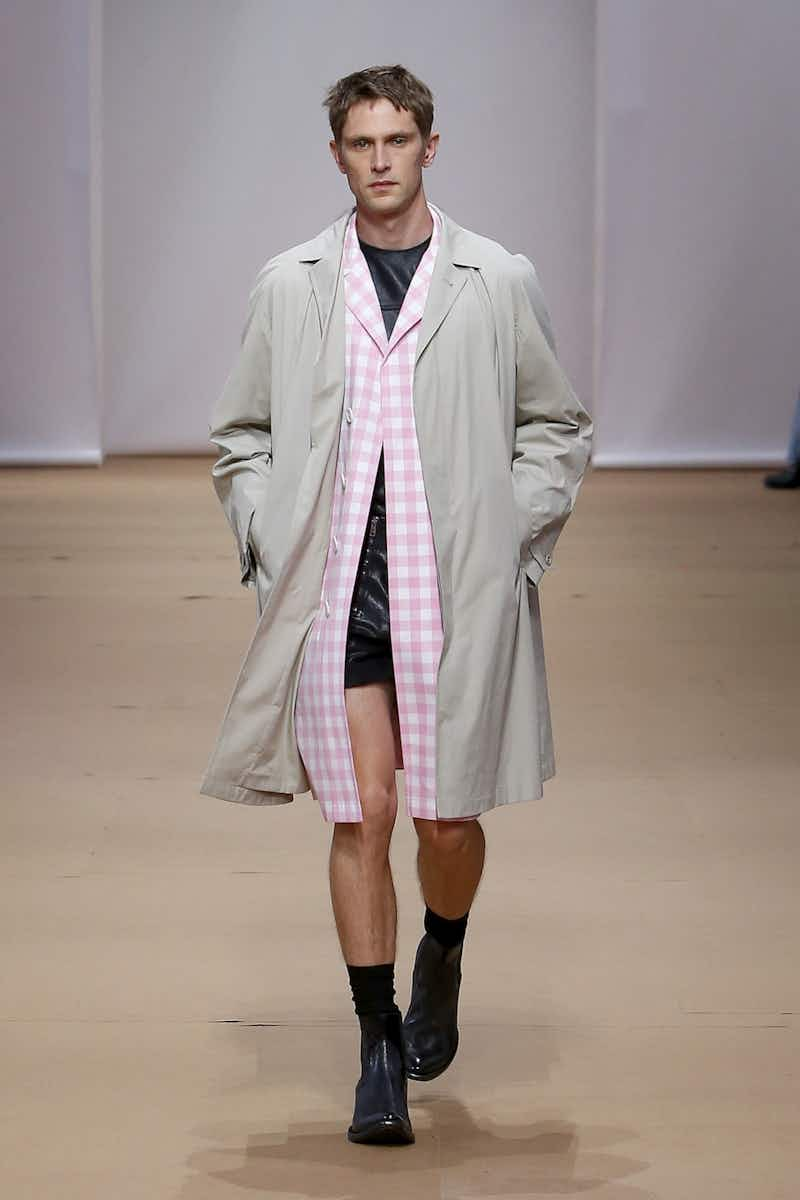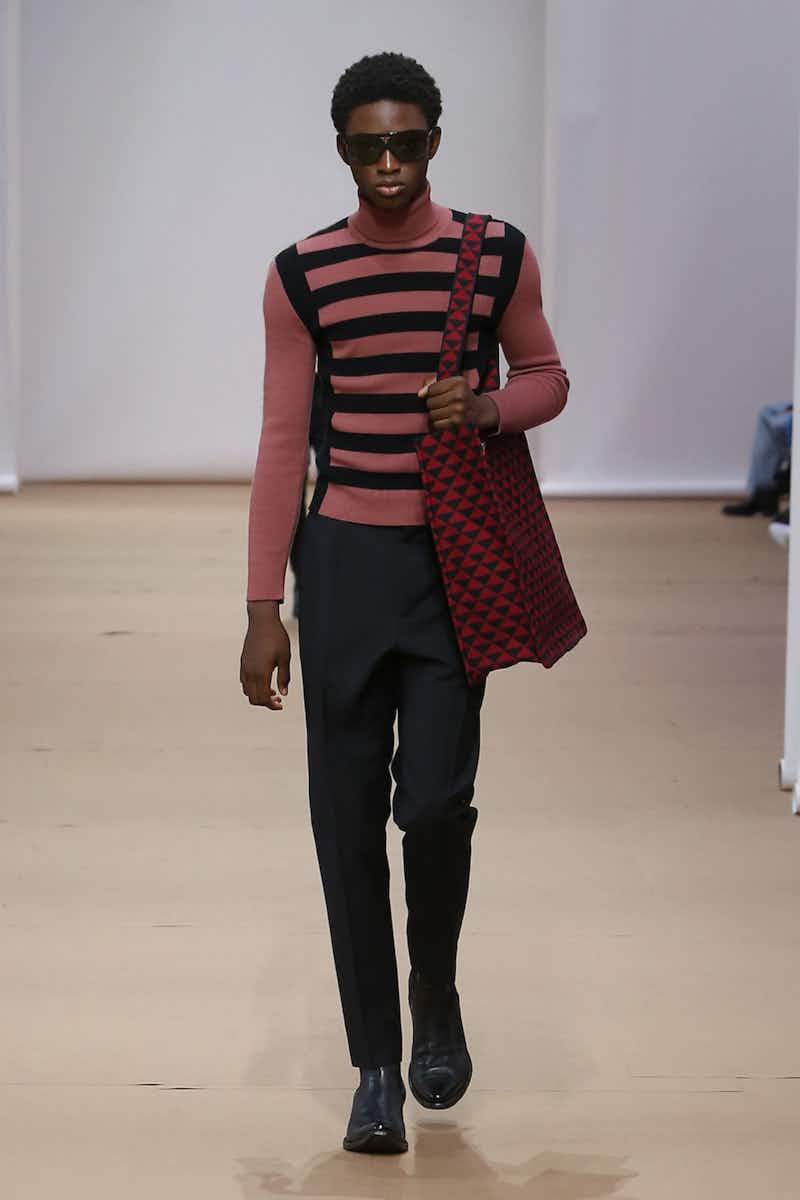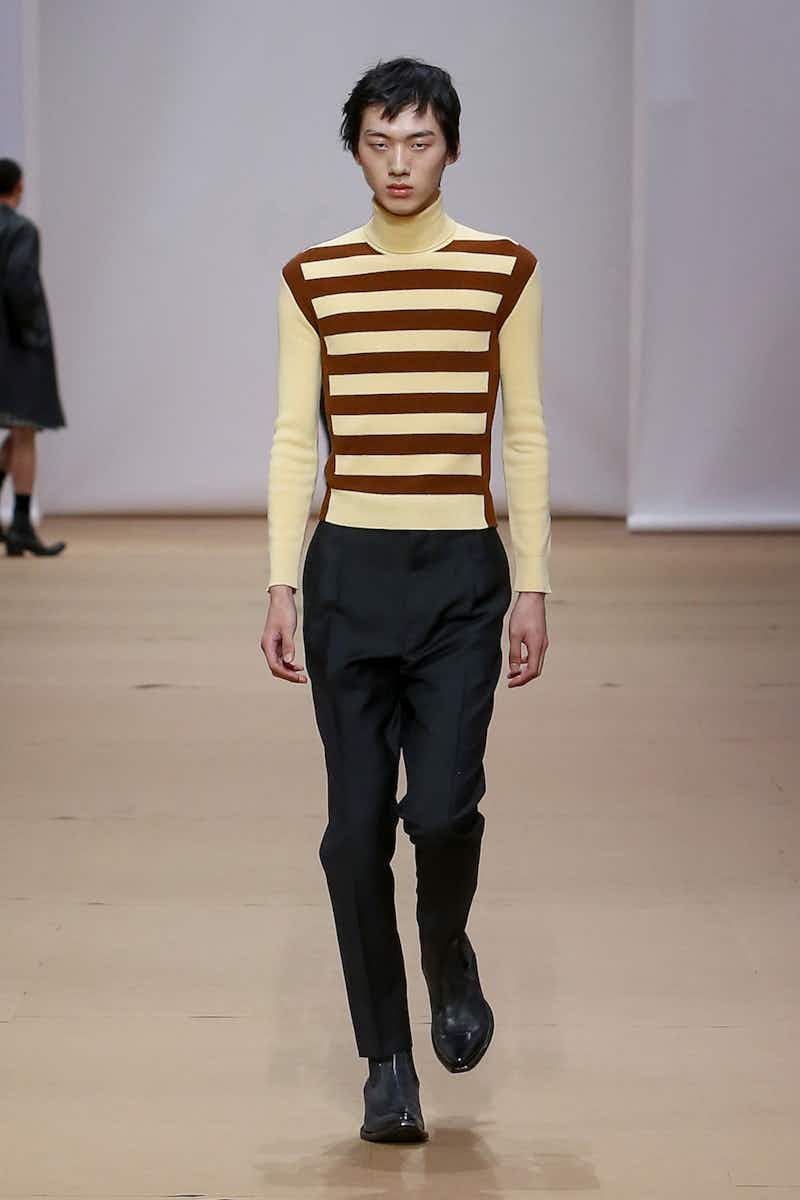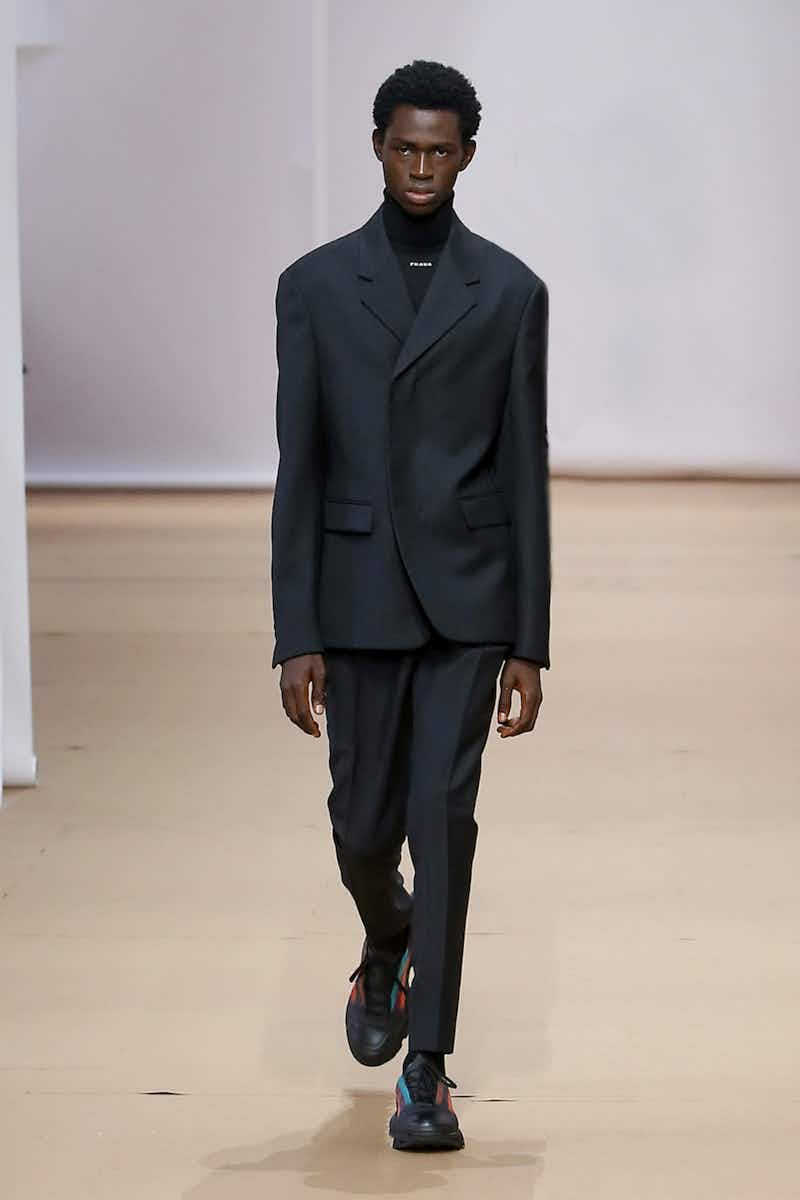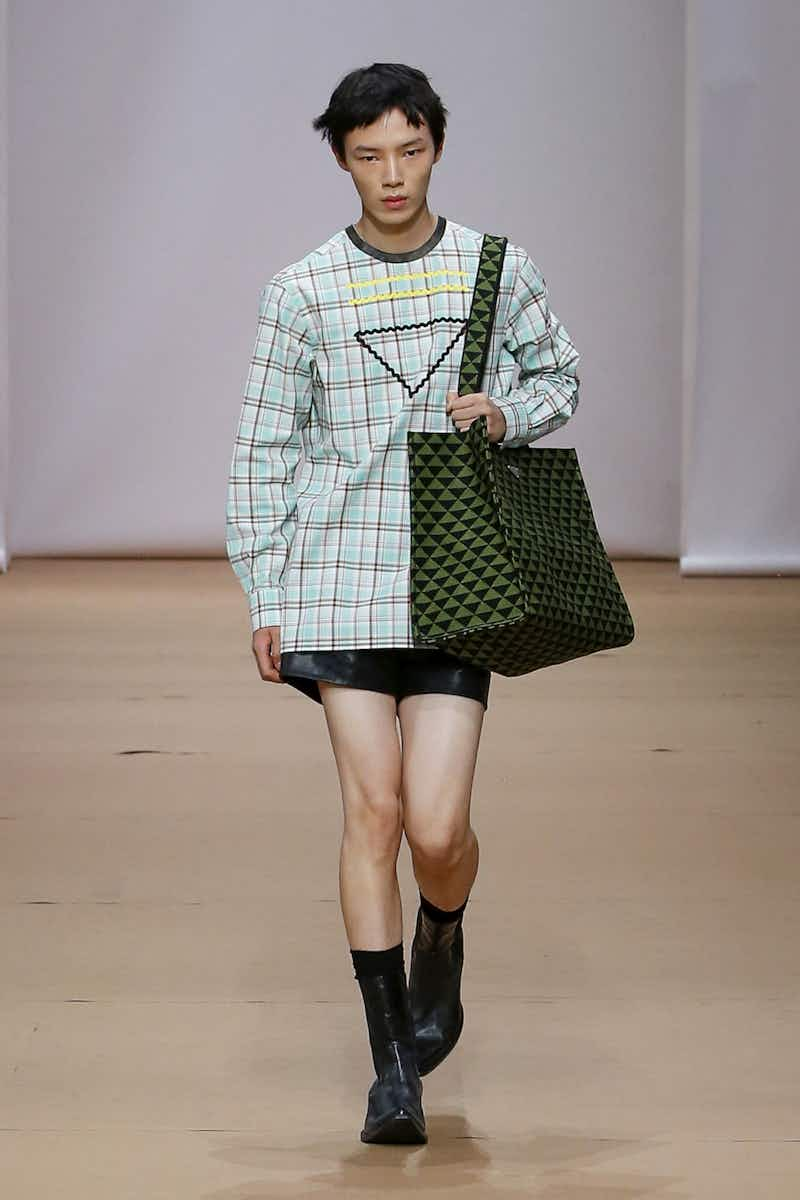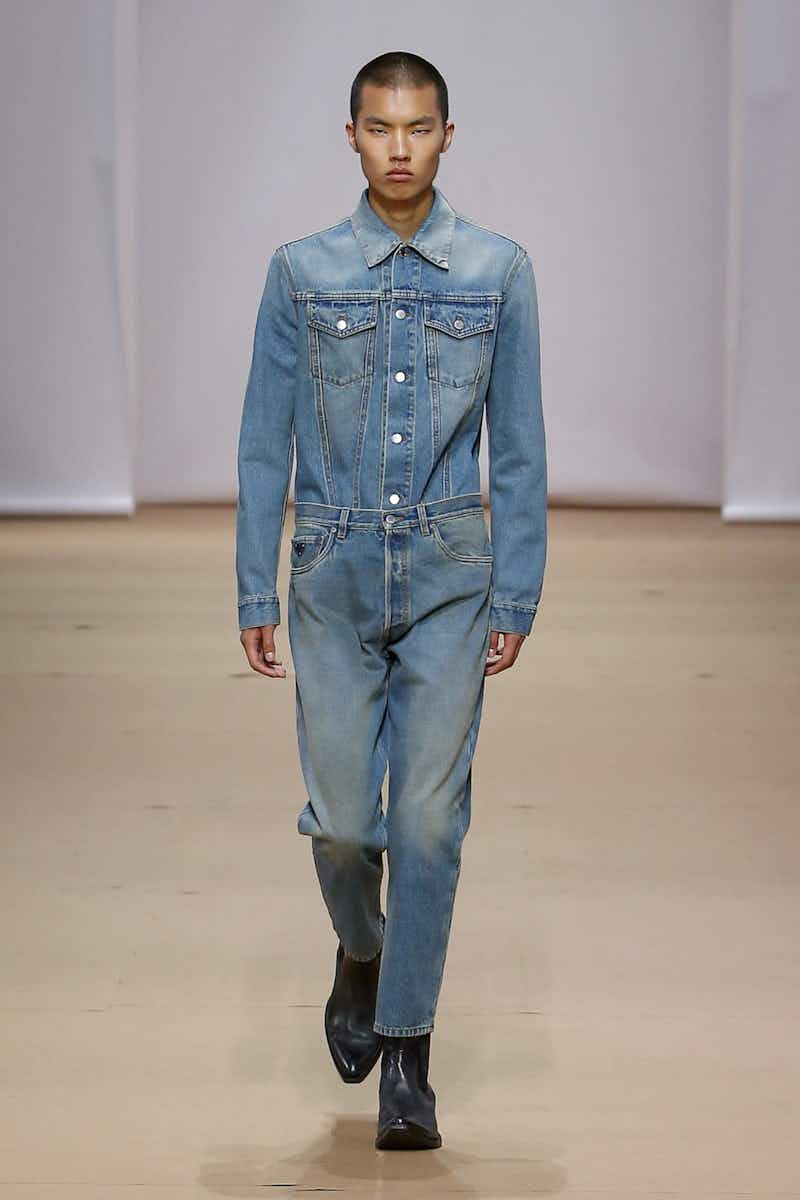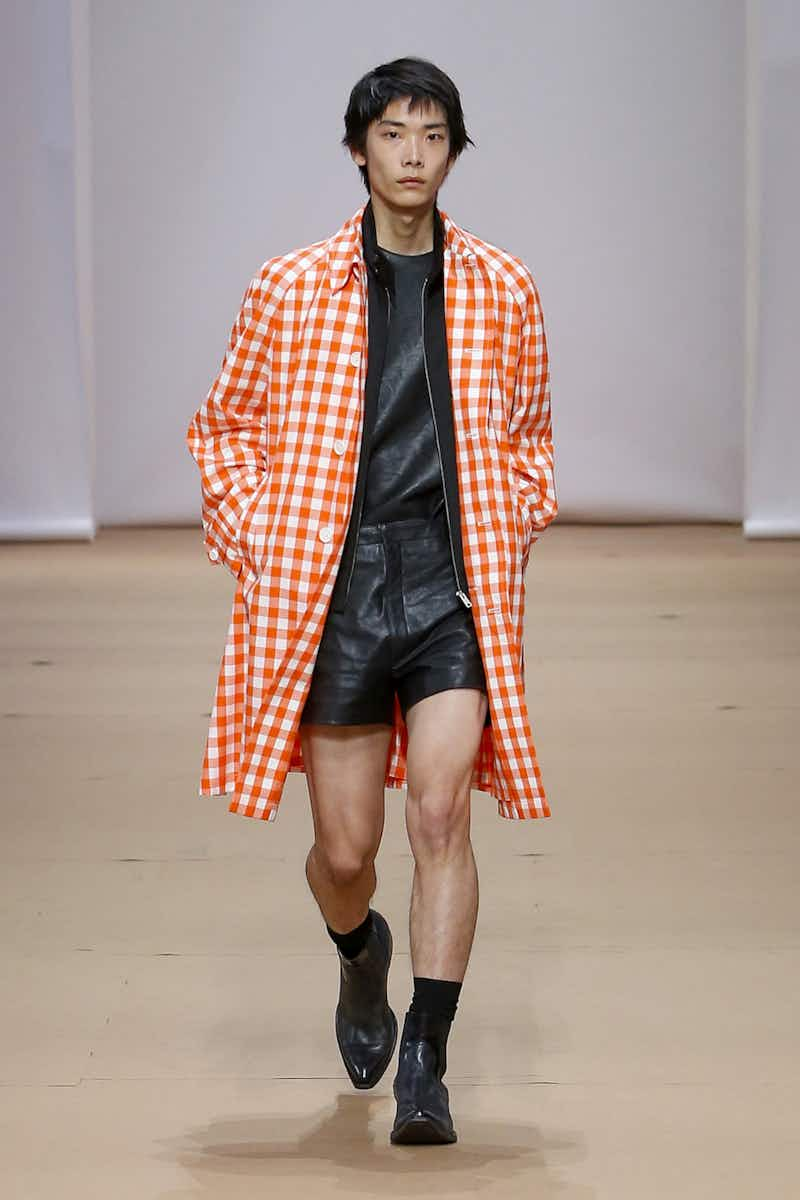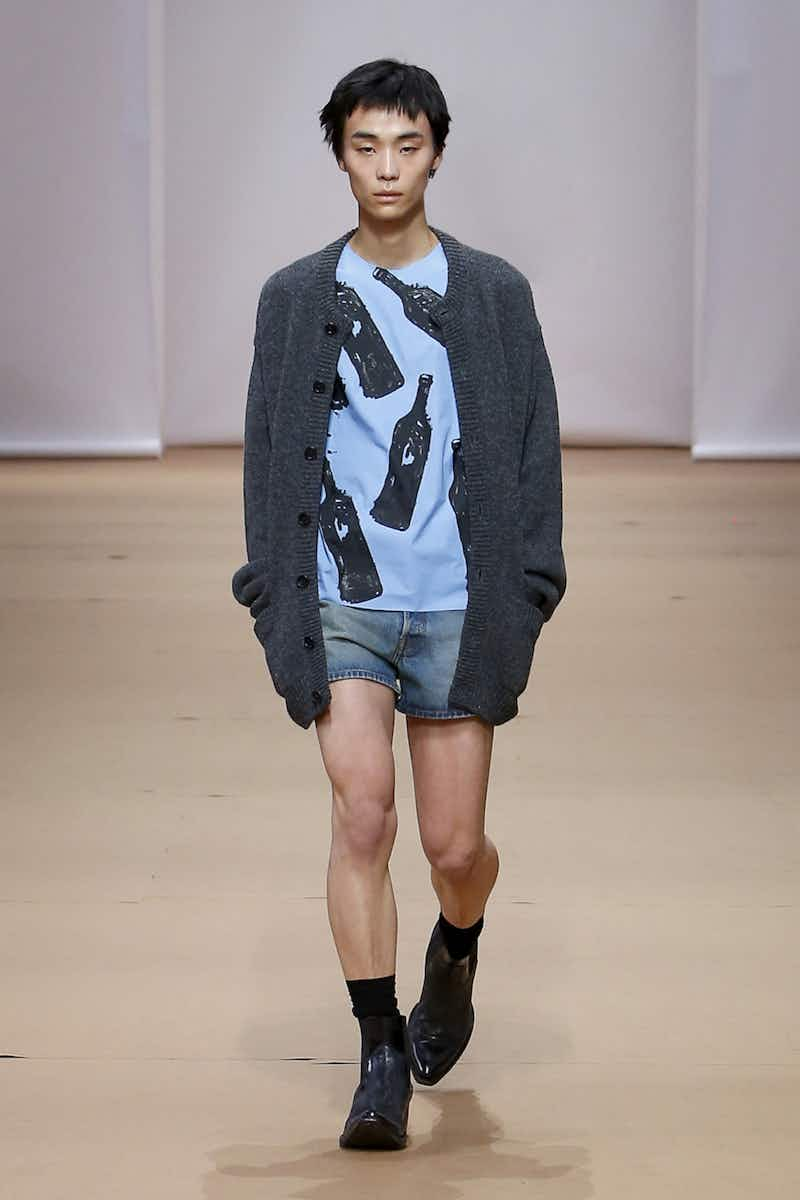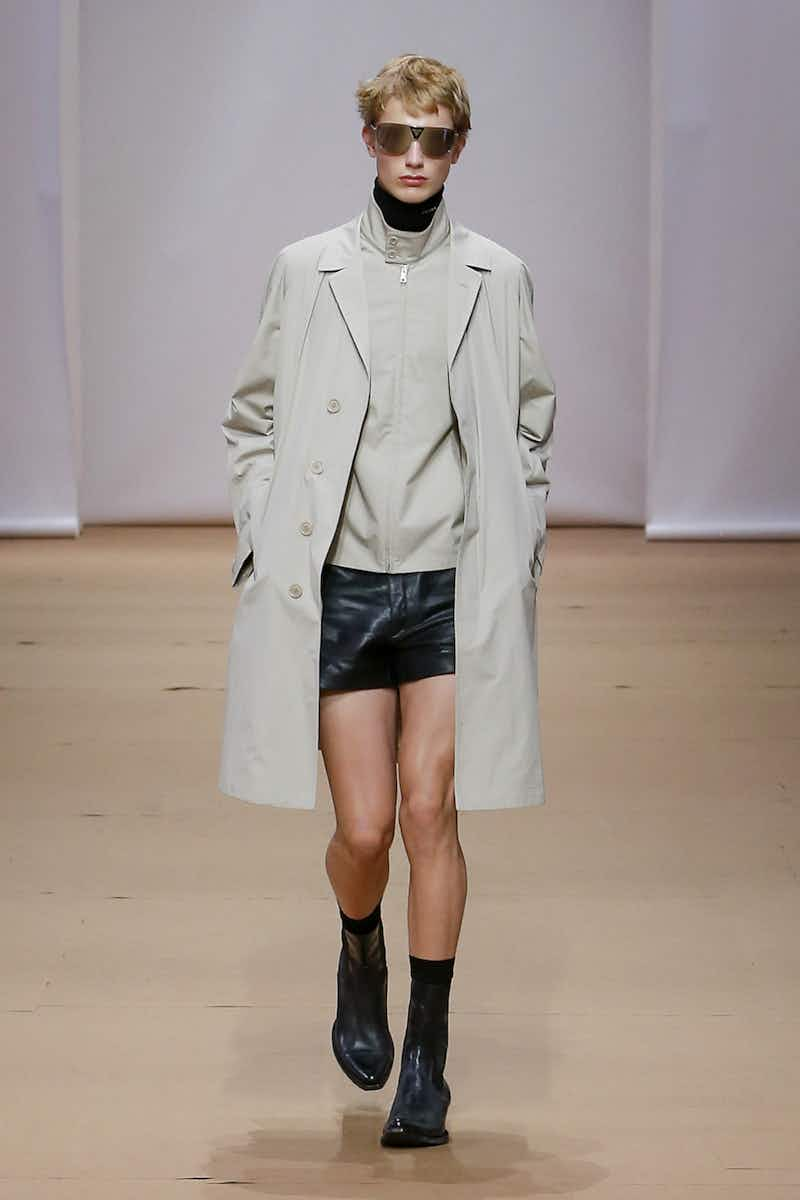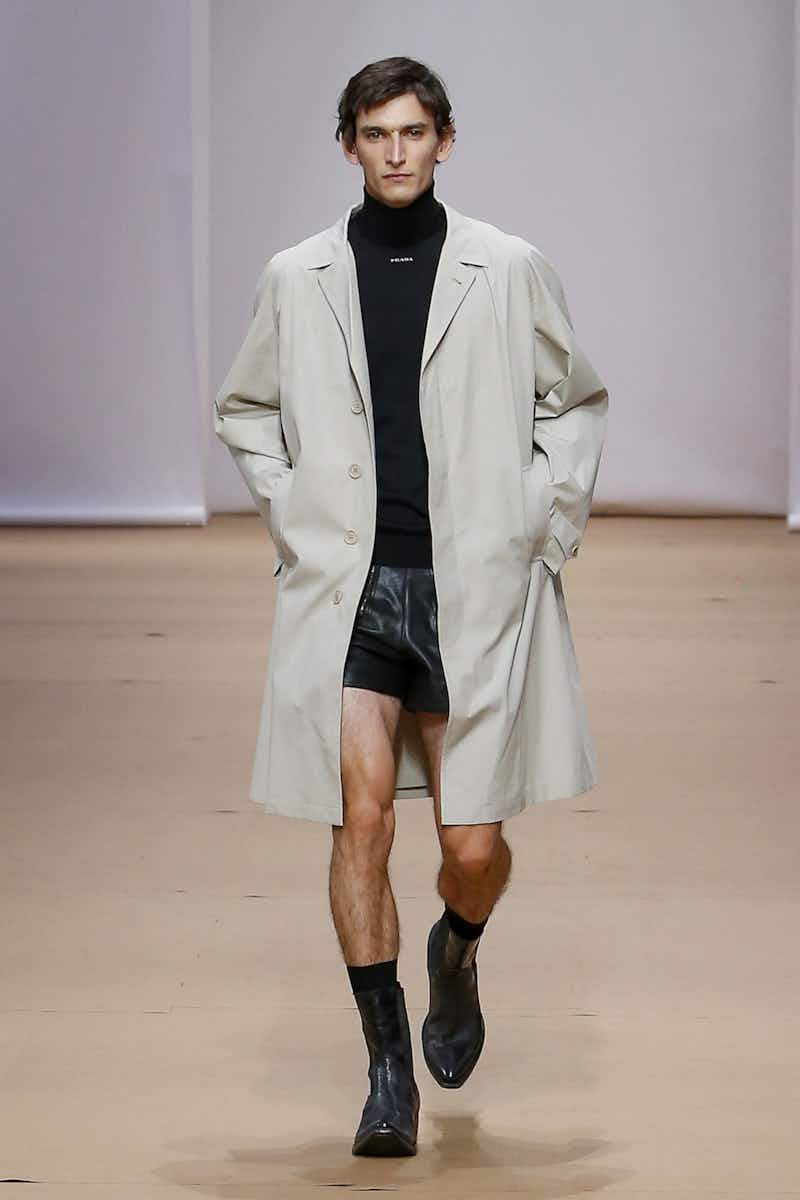 Alessandro Michele chooses his stable of celebrities carefully. From the Renaissance beauty of Florence Welch to Dakota Johnson's Hollywood glamour, each ambassador offers their own embodiment of the Italian brand. Harry Styles has been another long standing representative, with his natty, Mick Jagger-esque wardrobe perfectly complemented by Michele's love of fuss, frills and pieces worn with panache. During his press conference in Milan, Michele announced a 25-piece collaboration between the brand and Styles. Titled Ha Ha Ha (their combined initials, and also the verbal translation of the laughing emoji, which… sure), it goes on sale in October. The collection goes heavy on ​'70s glam rock – think check suits and patchworked leather jackets, with flares brushing the tops of pristine white boots with hearts on the side. Other childlike motifs come into play, too, as various pieces are adorned with cherries and lambs, like an enterprising tailor made use of his old nursery curtains. It's a clever creative cross-pollination, and if anyone could make the baker boy hat popular again, it's got to be Styles.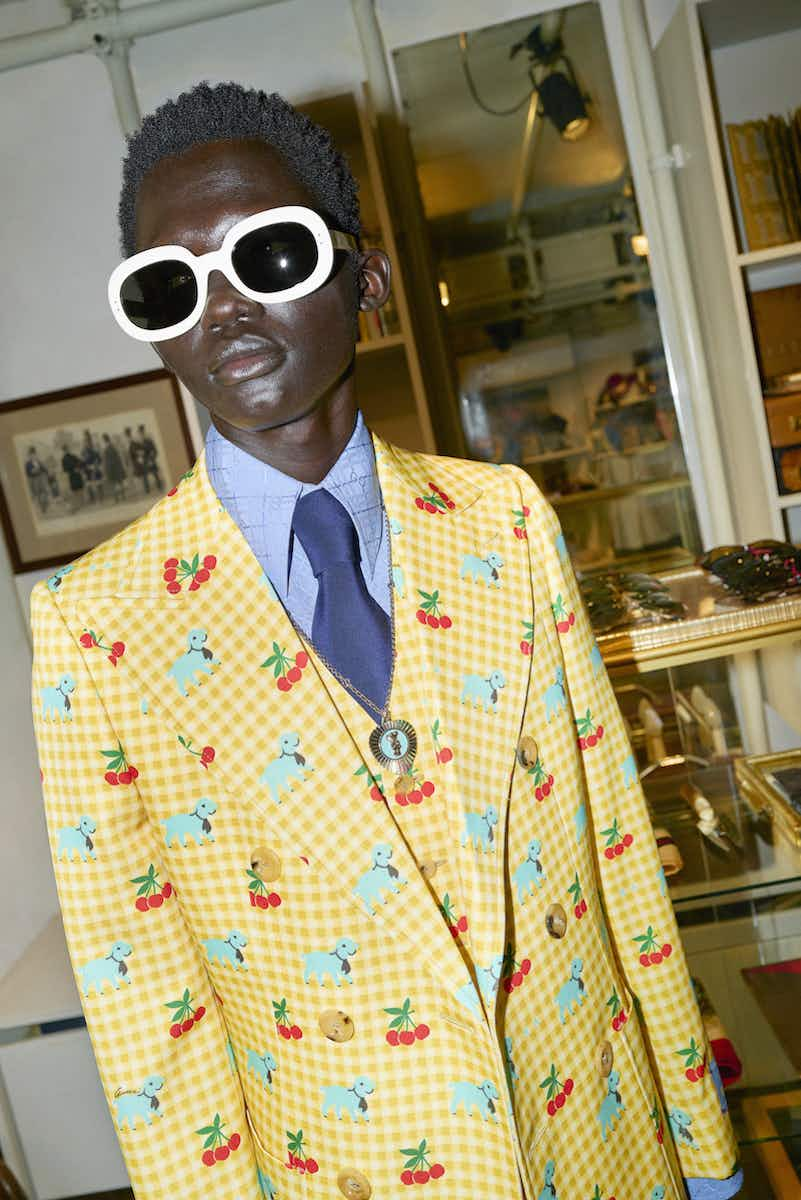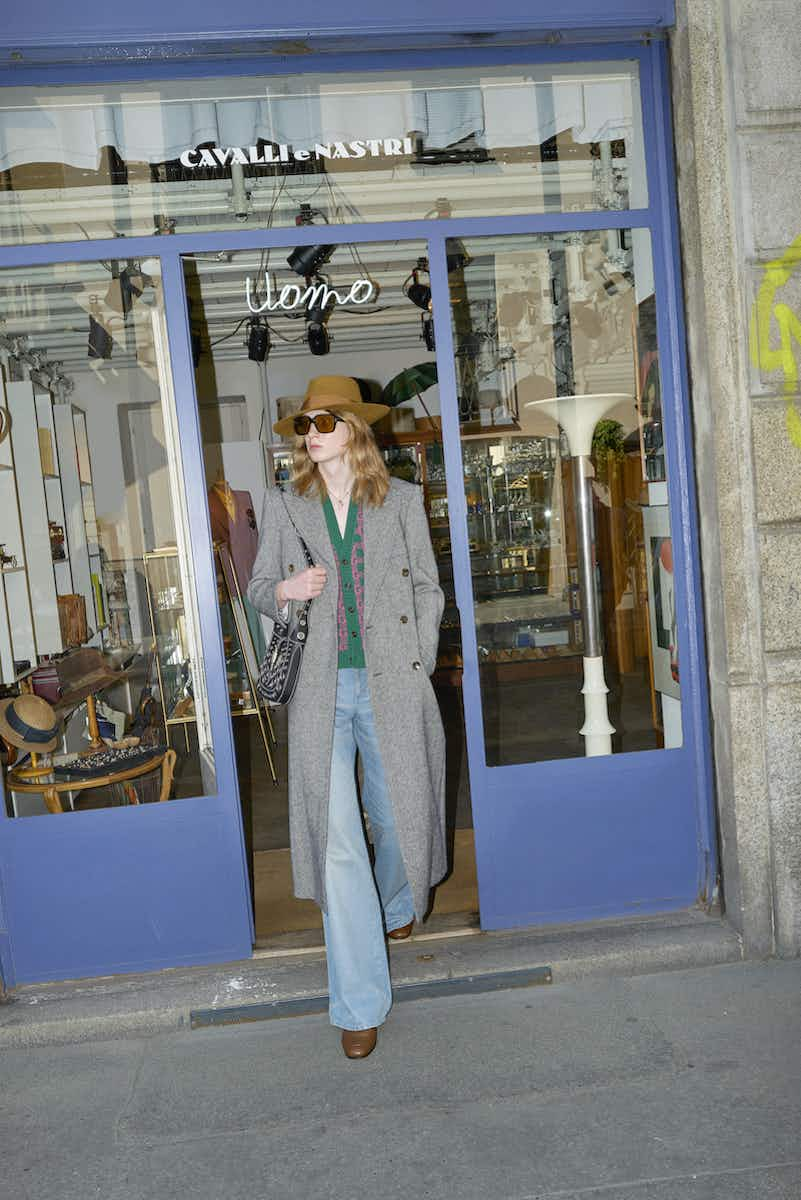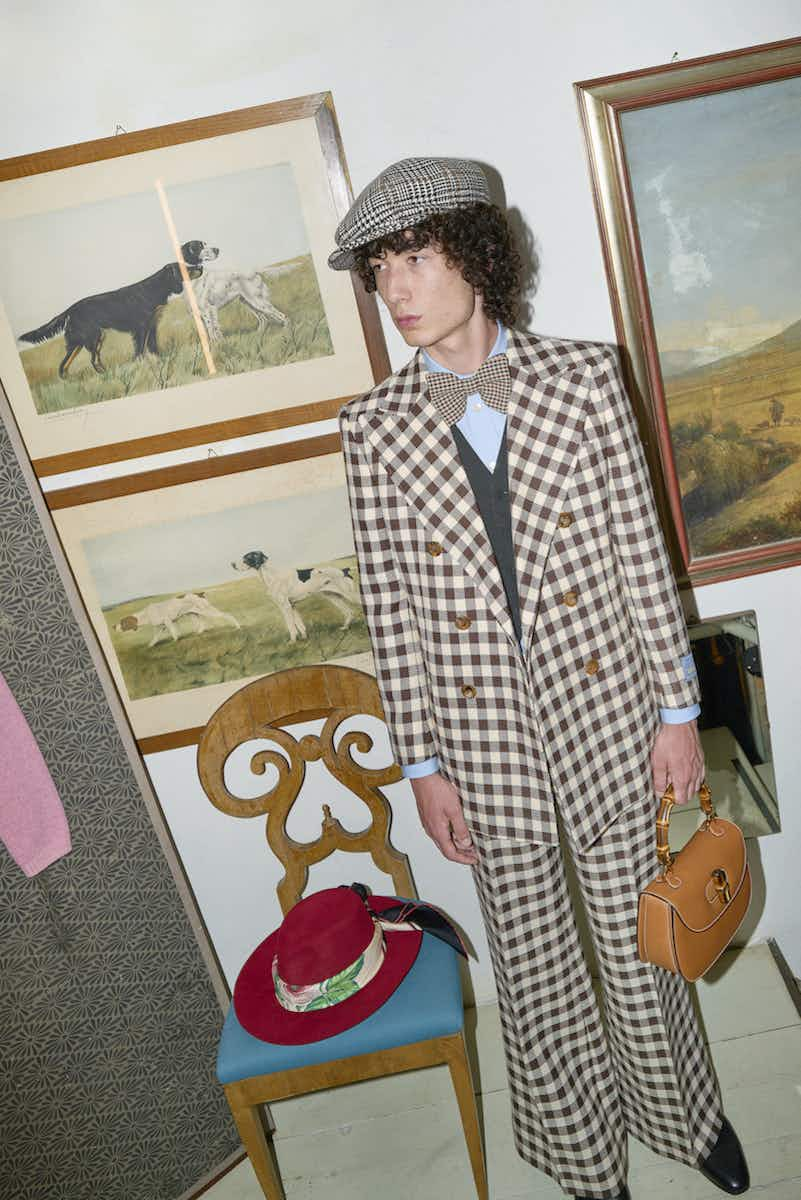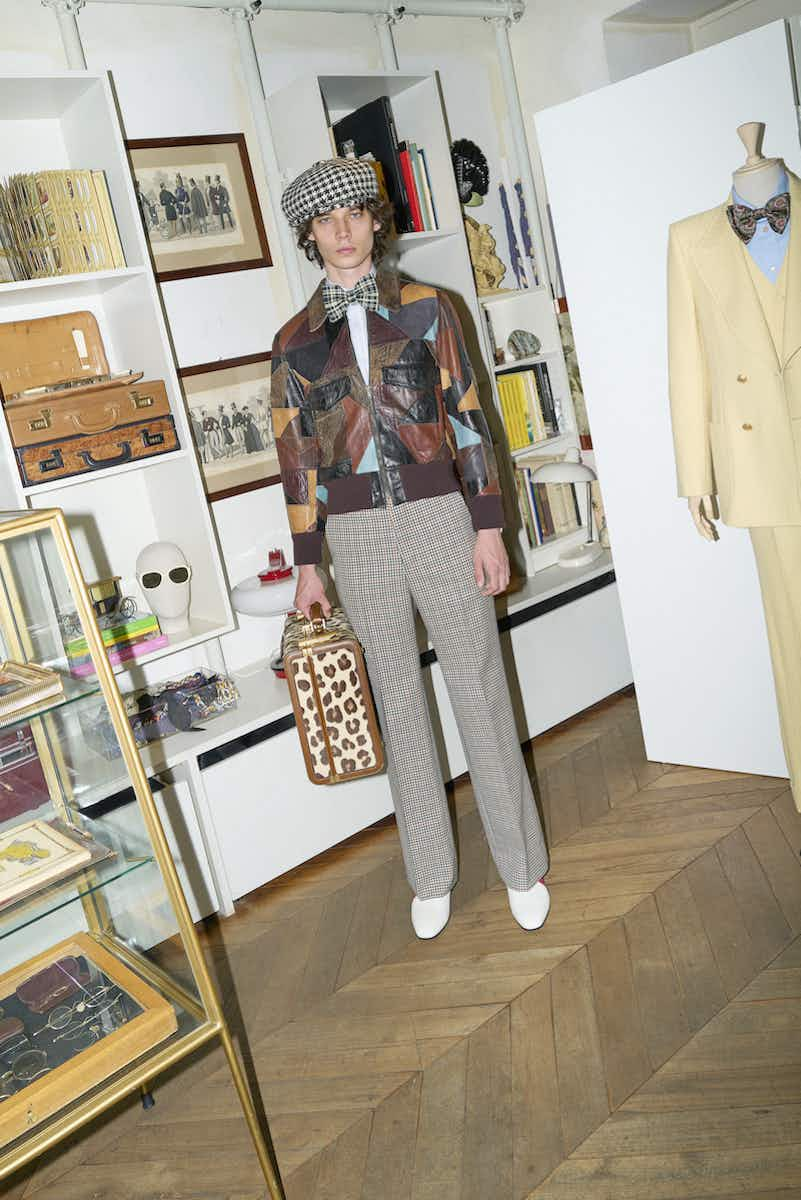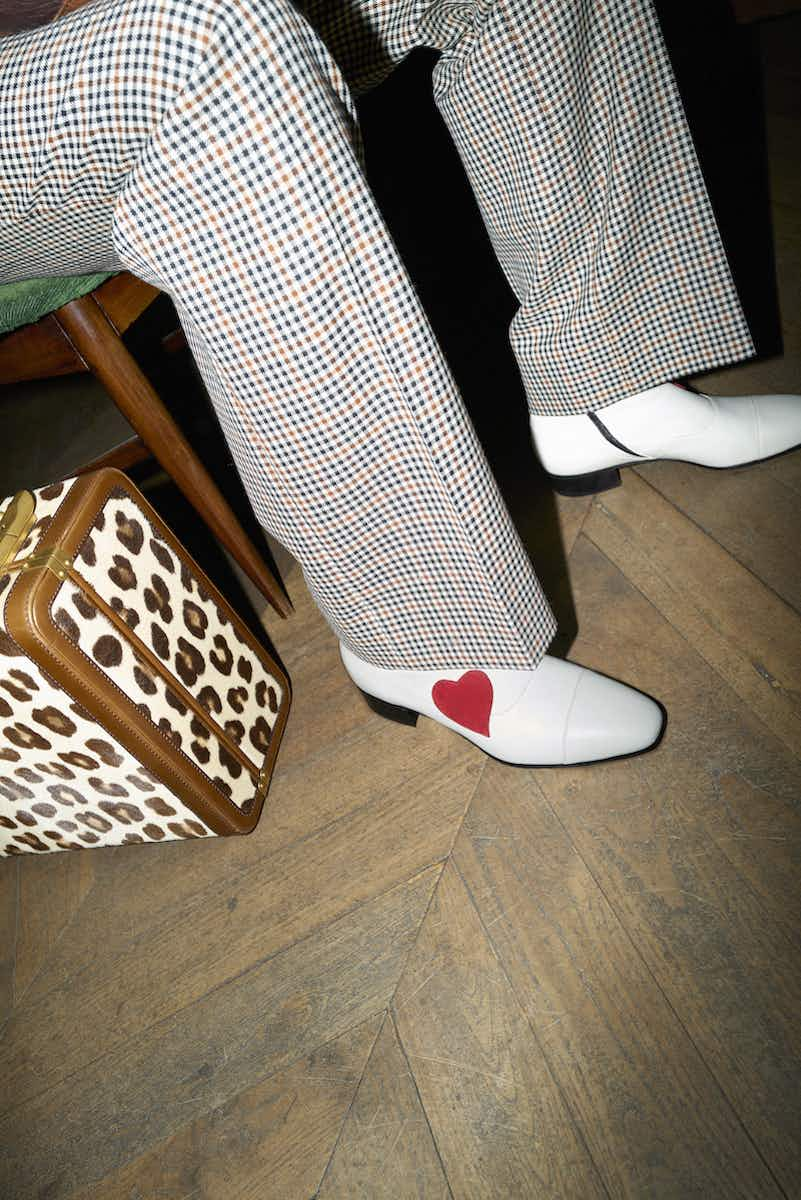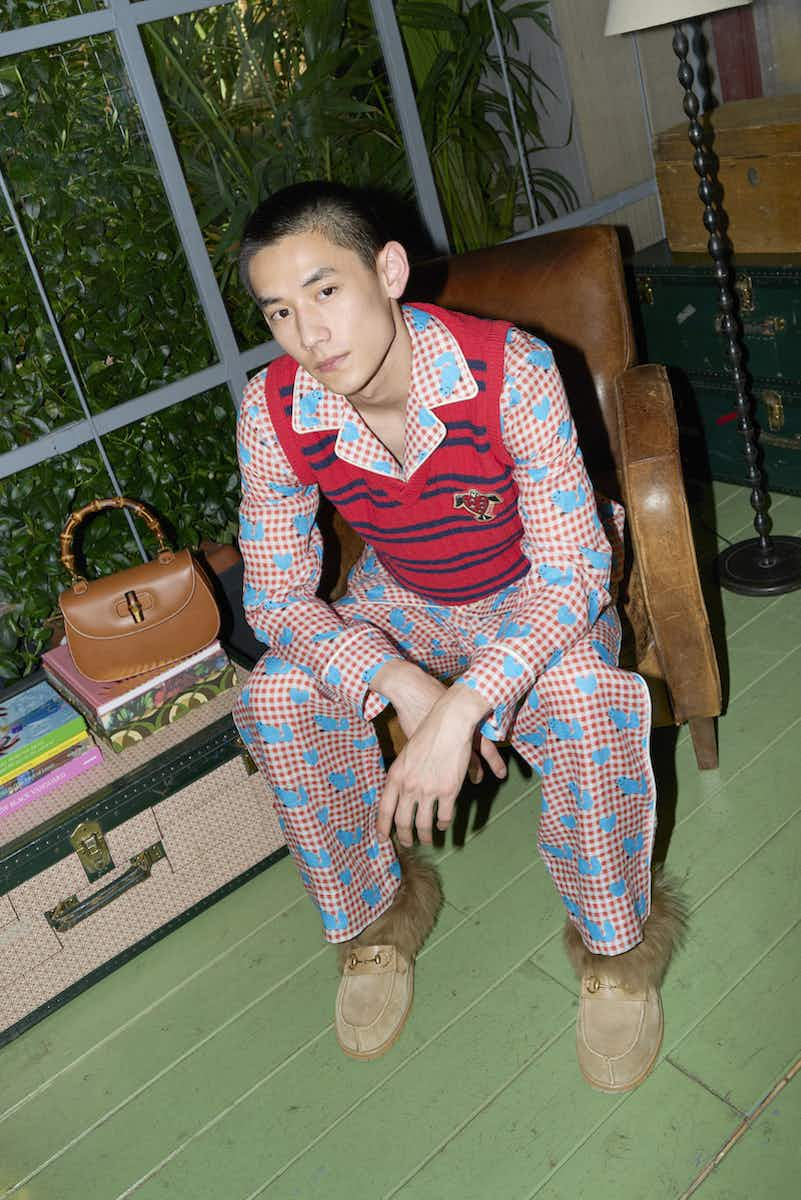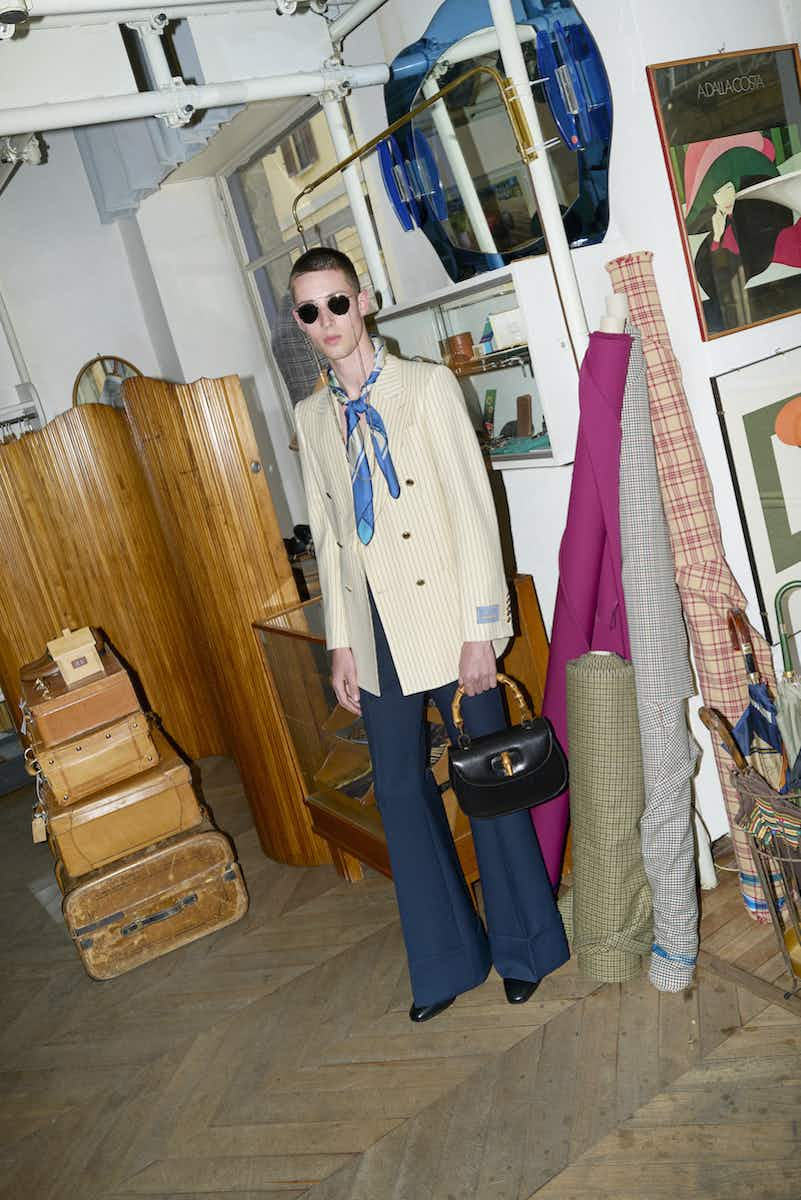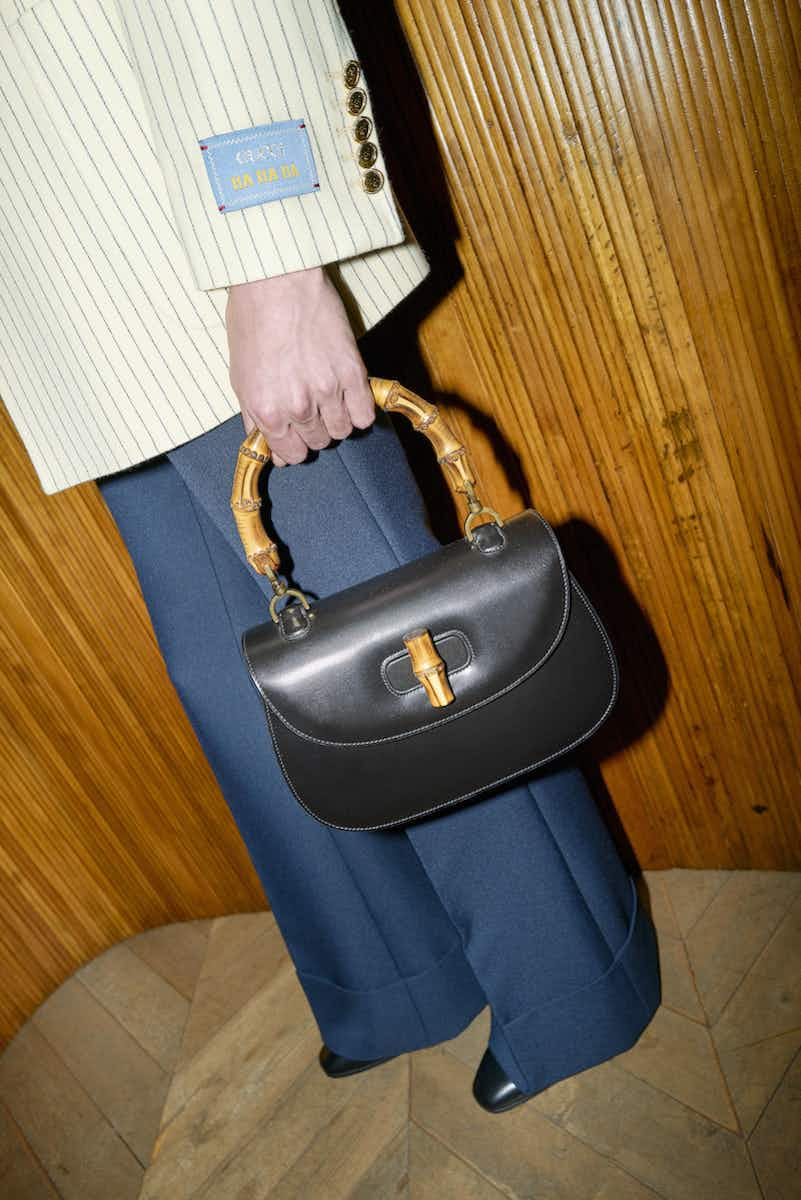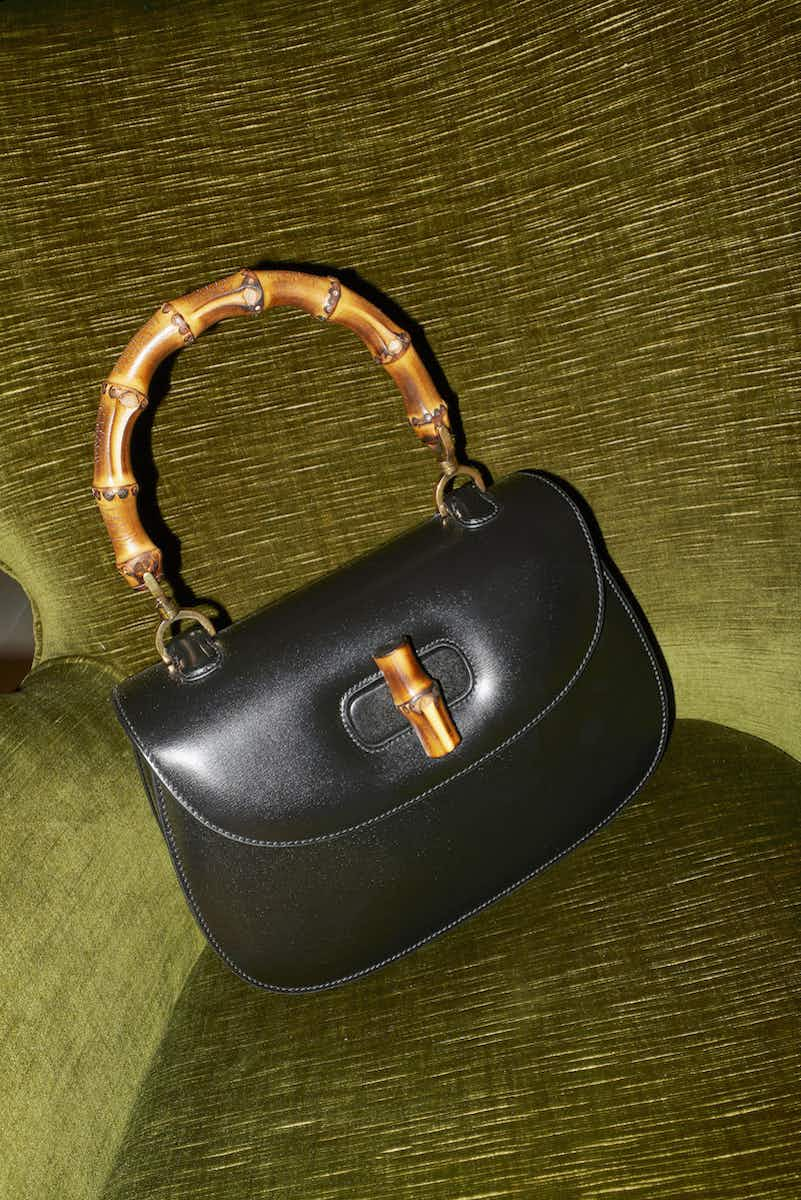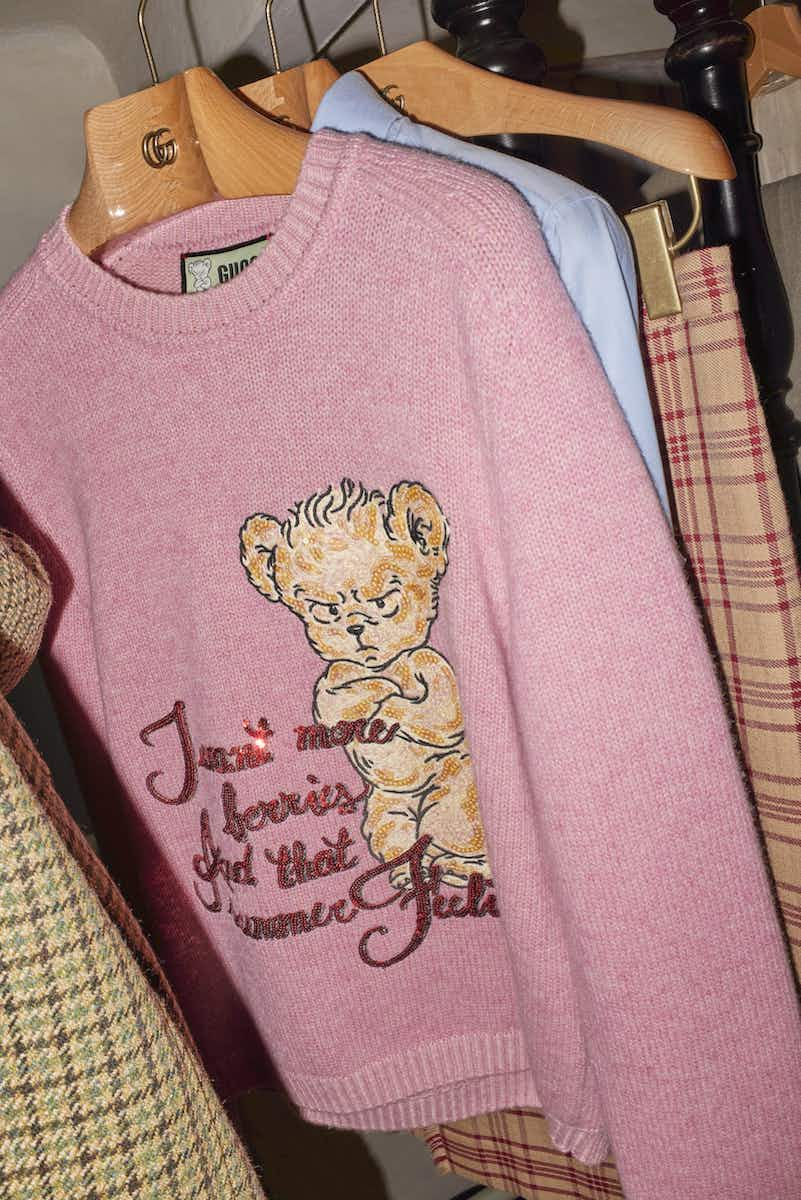 Zegna's clean, minimalist tailoring has been a hit of late. To bring Milan to a close, Alessandro Sartori brought everyone out of the city. The location? Trivero, a wool mill originally opened by Ermenegildo Zegna 122 years ago. A ninety minute drive out of Milan, the surrounding area is known as Oasi Zegna: a sweeping, mountainous area of Piedmont where rhododendrons grow and cattle graze, reforested over time by the Zegna family. Taking place at sunset, the clothes on show revealed the artful blend between tradition and modernity that Zegna has been carefully distilling. Dusky pinks, creamy whites, rust oranges, daffodil yellows: the colours were as tasty as the silhouettes. There's almost something of The Row in the shapes here. This is tailoring not just as polish or put-togethered-ness, but comfort too. Some of them might even be suitable for suitable for a local hike.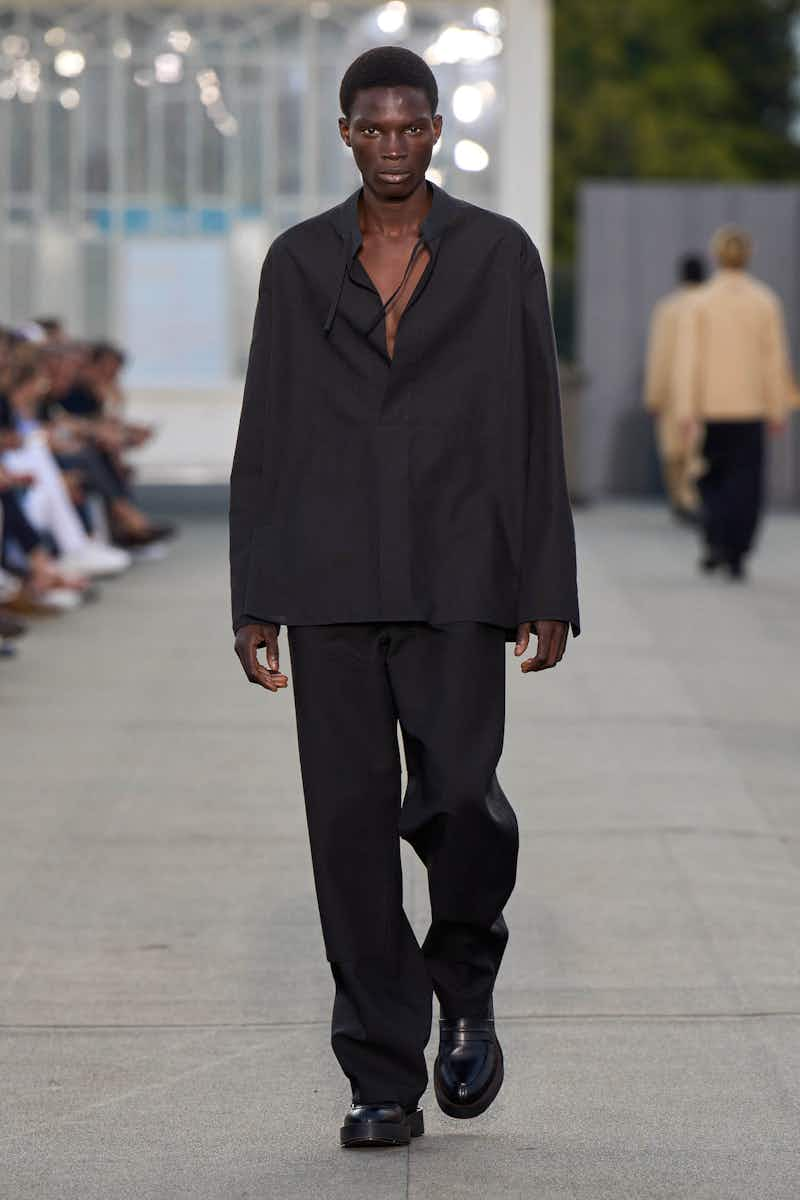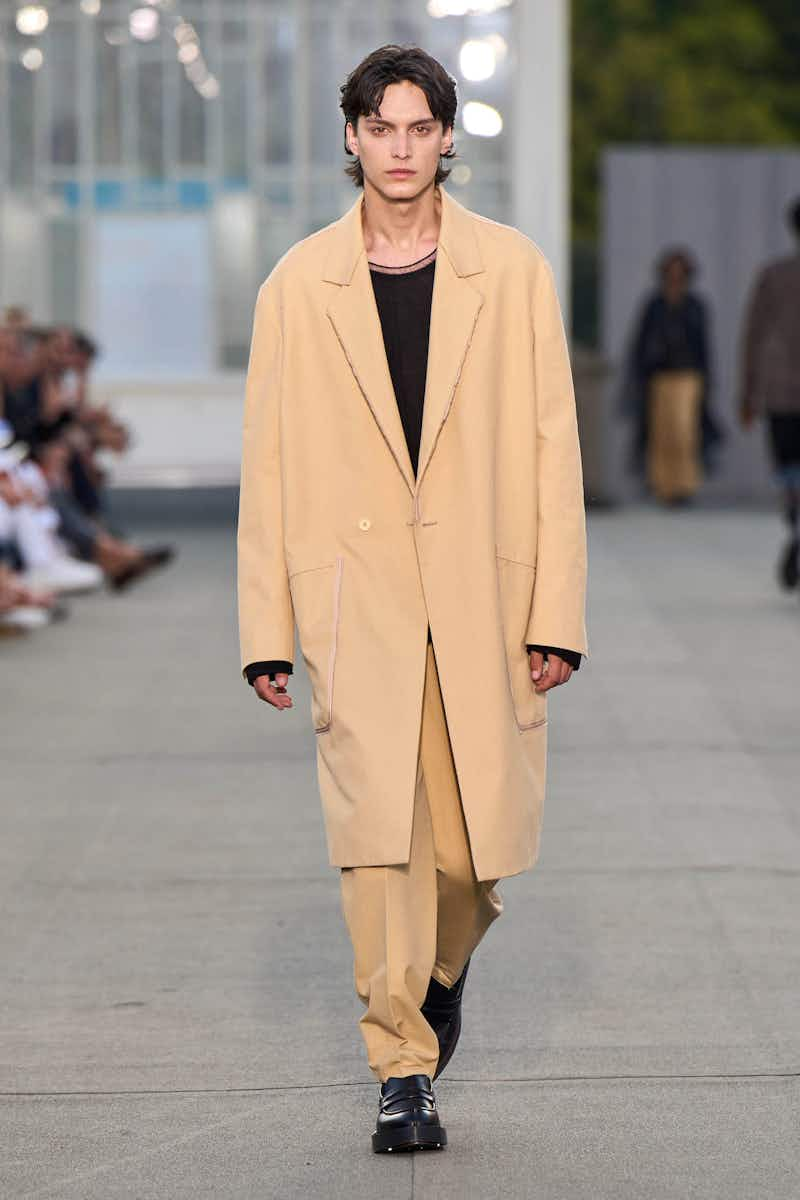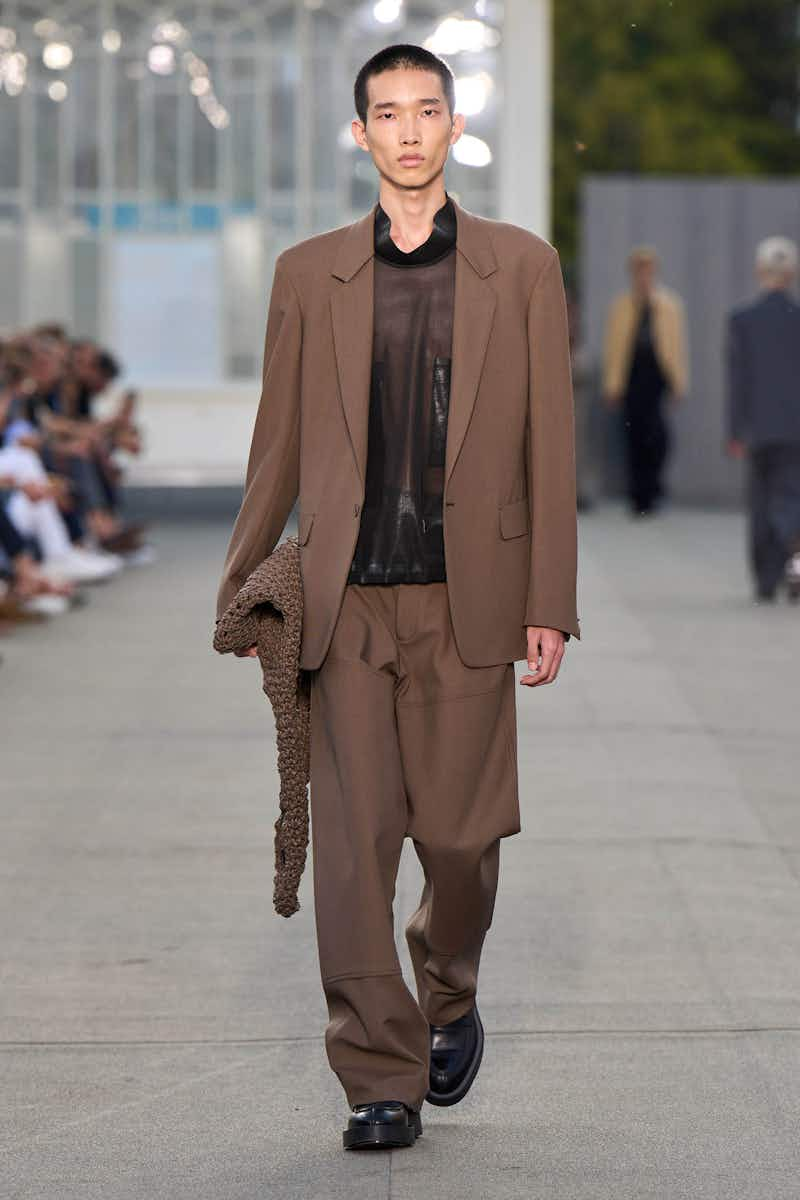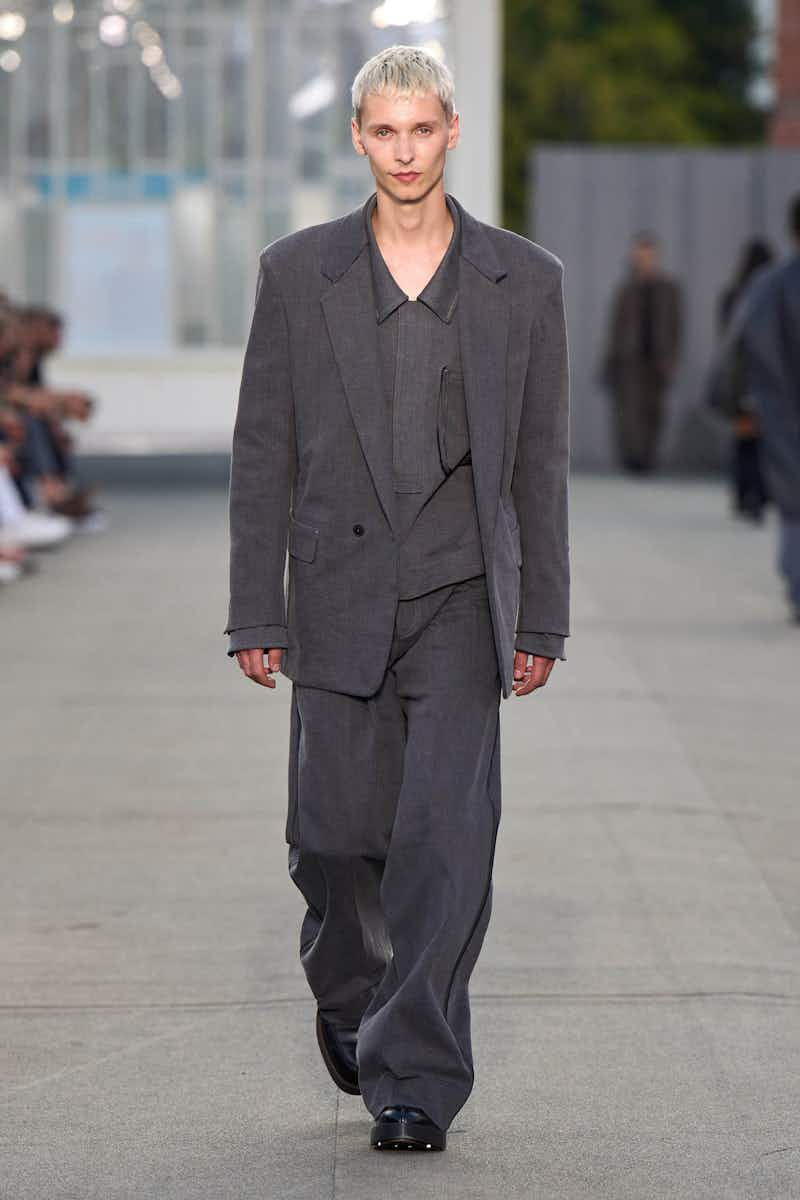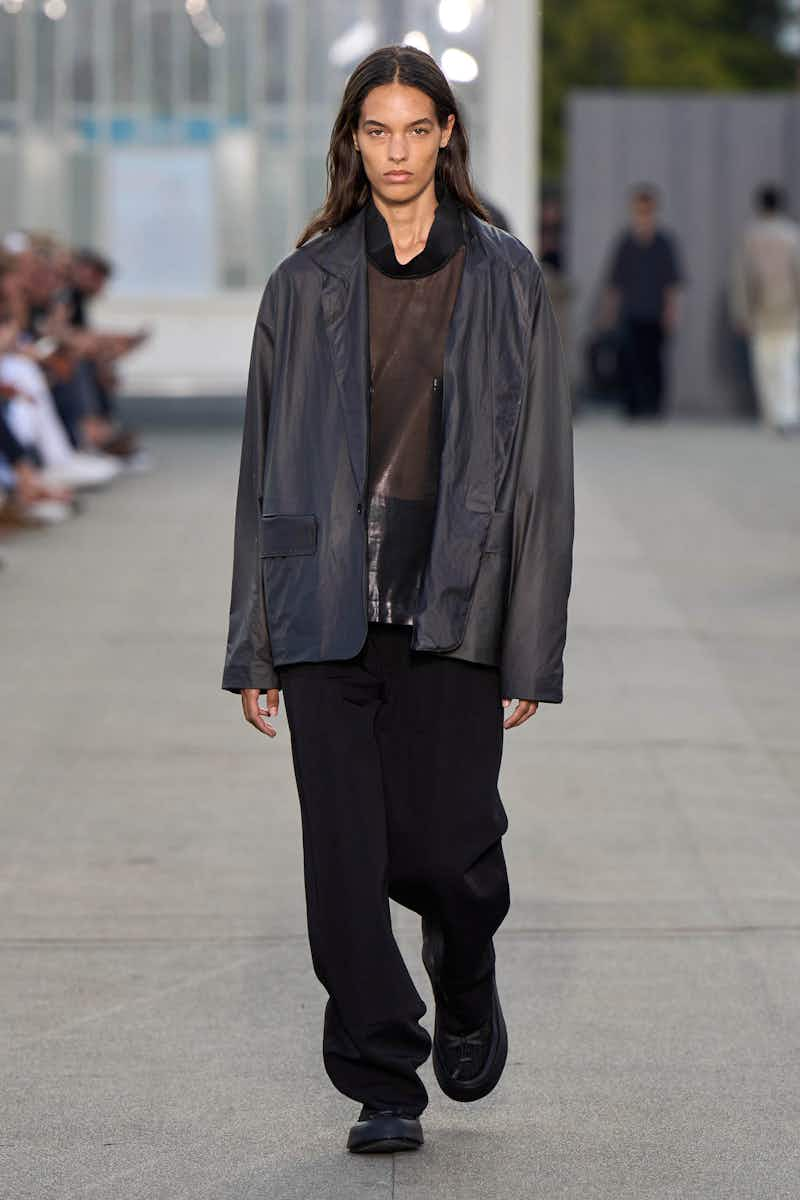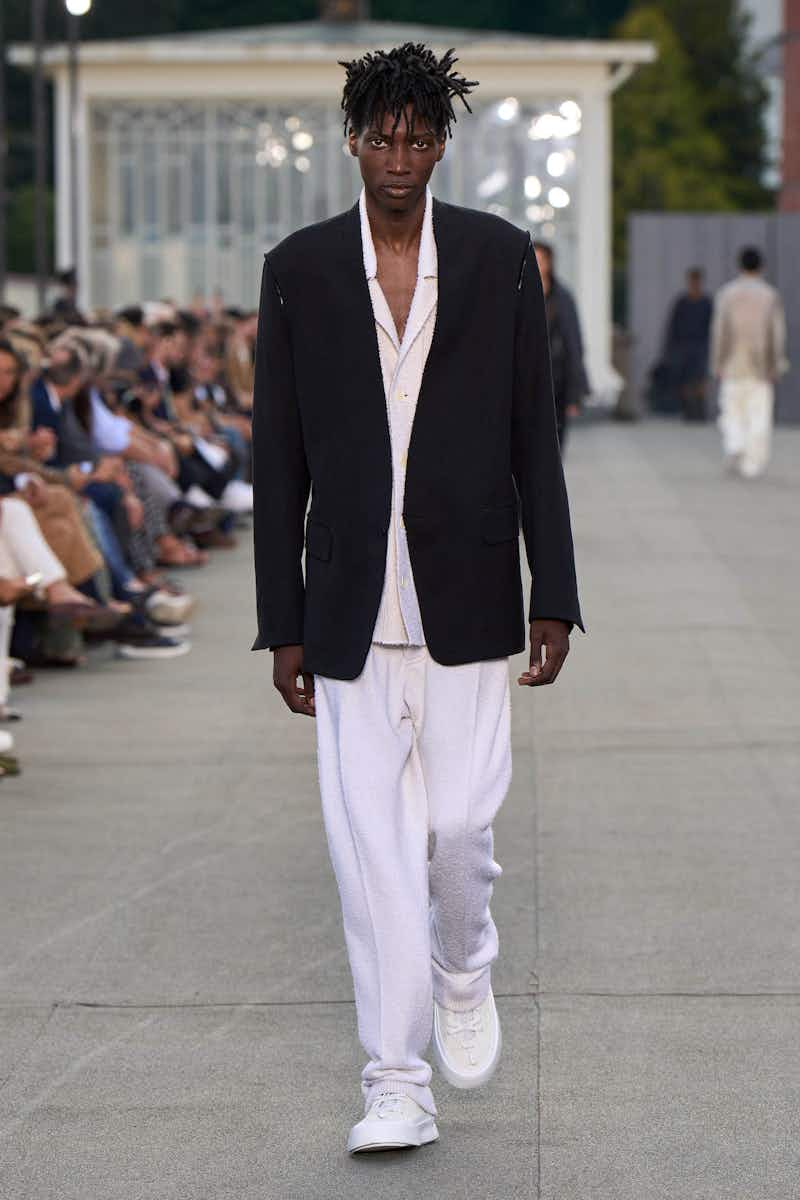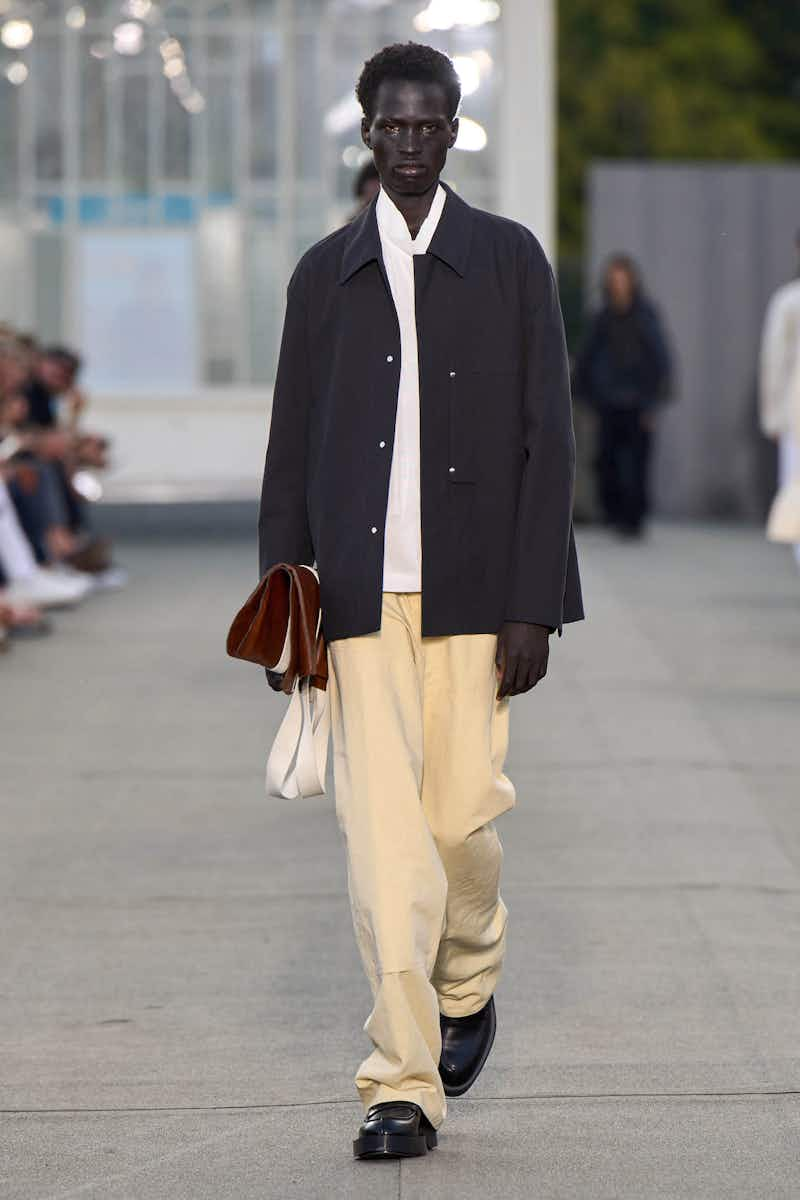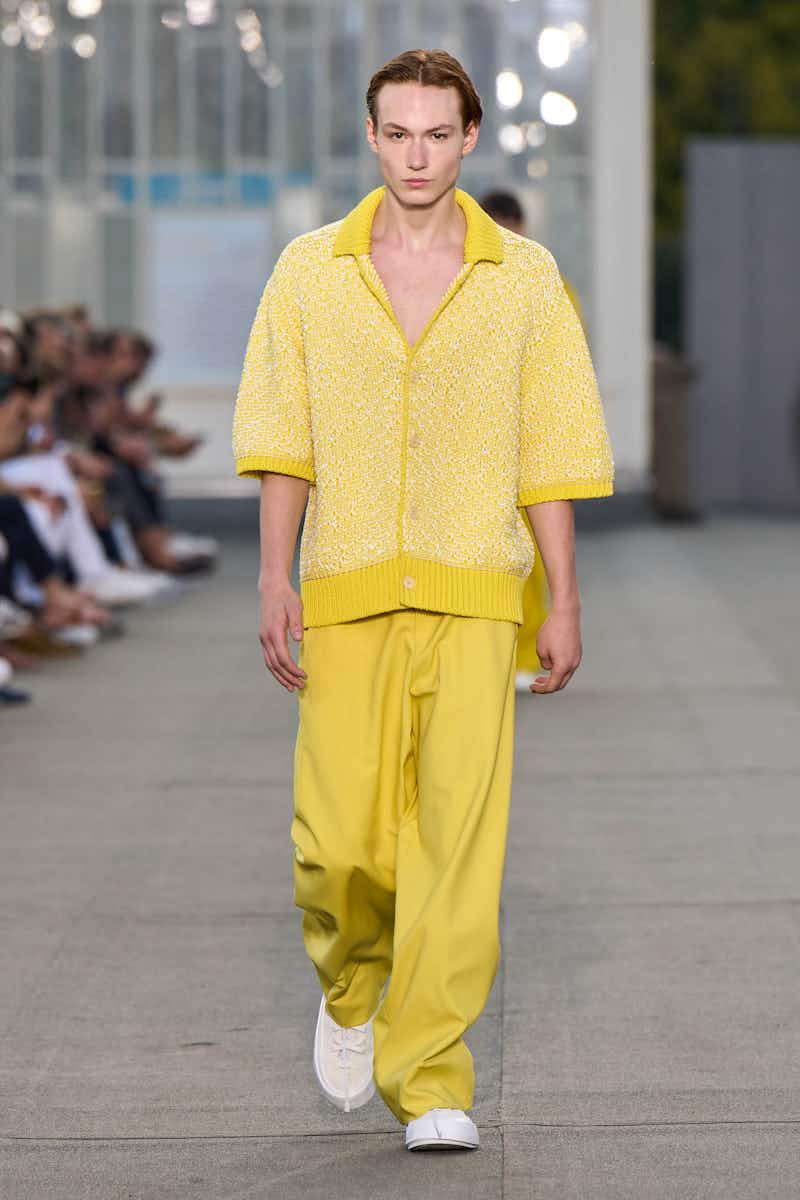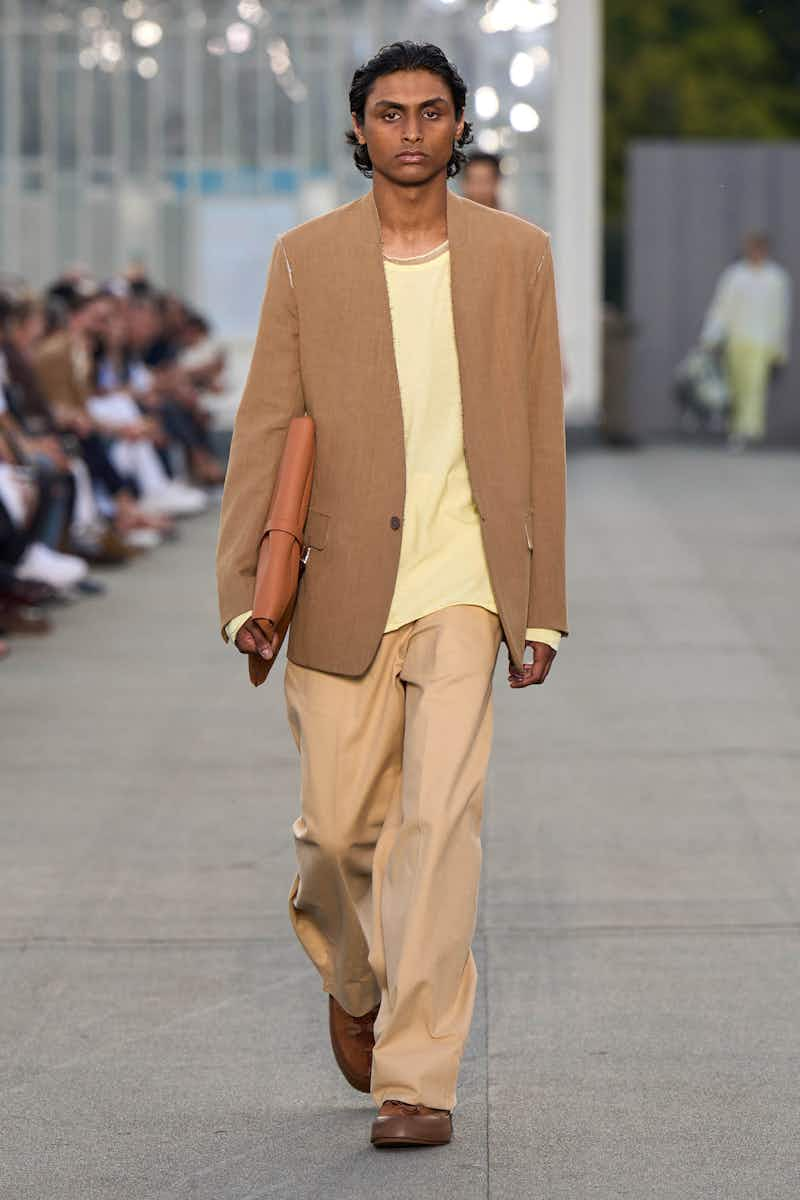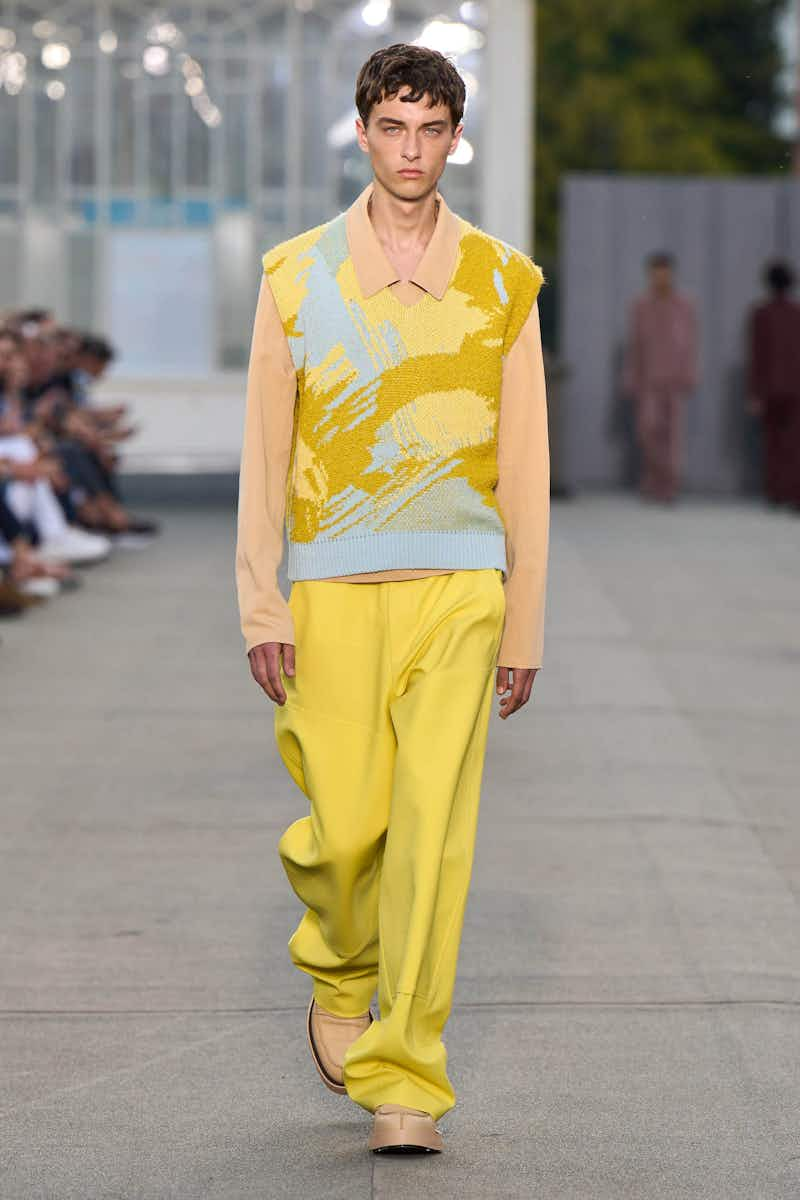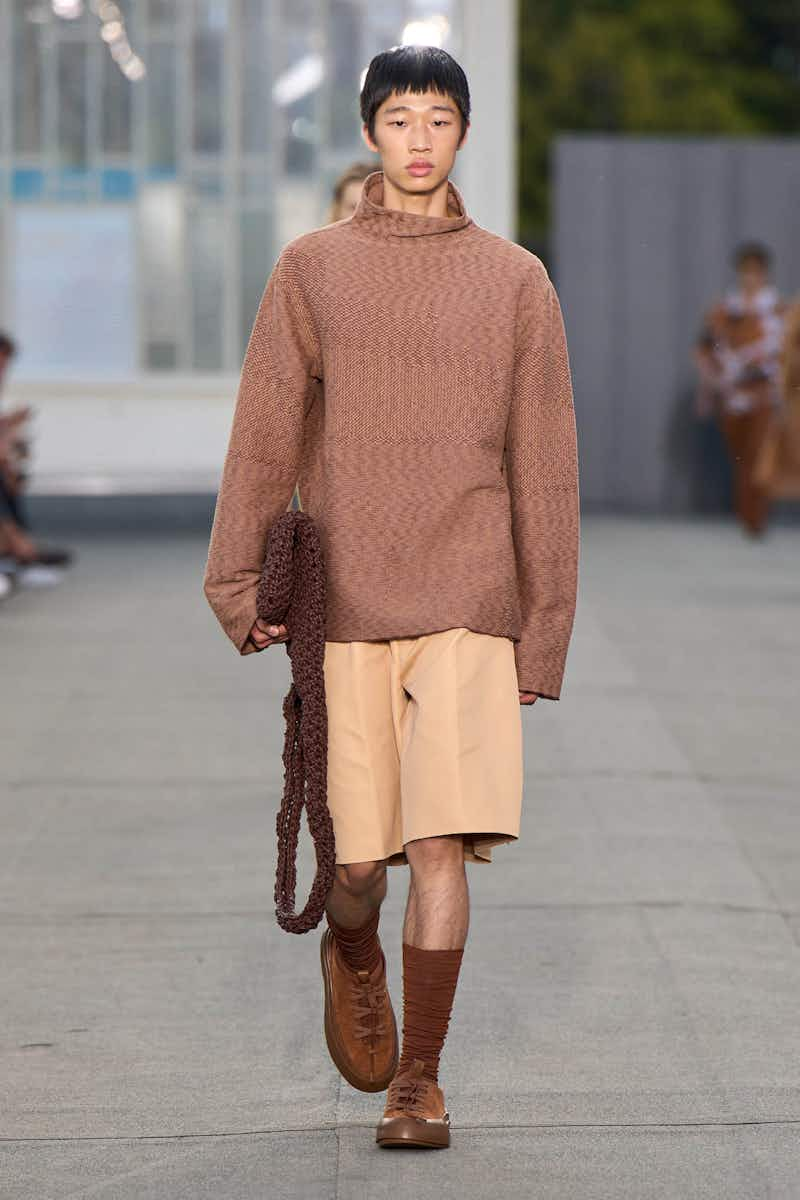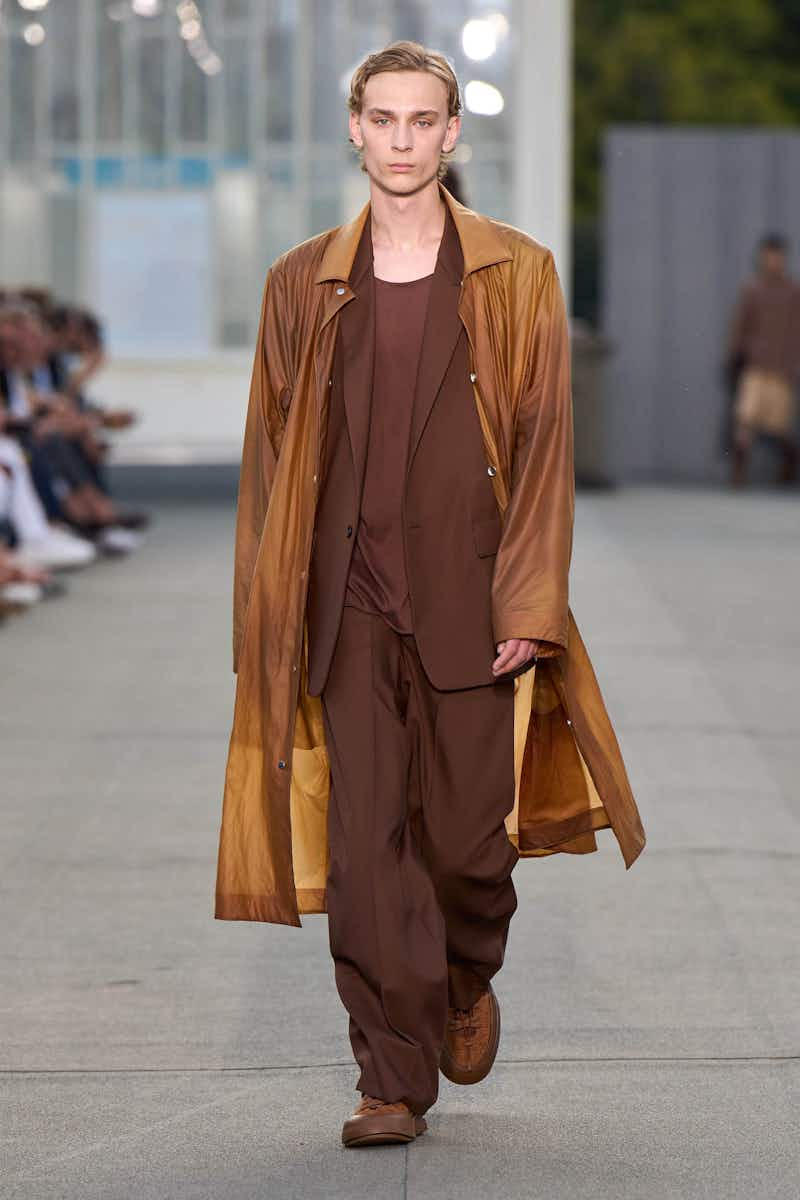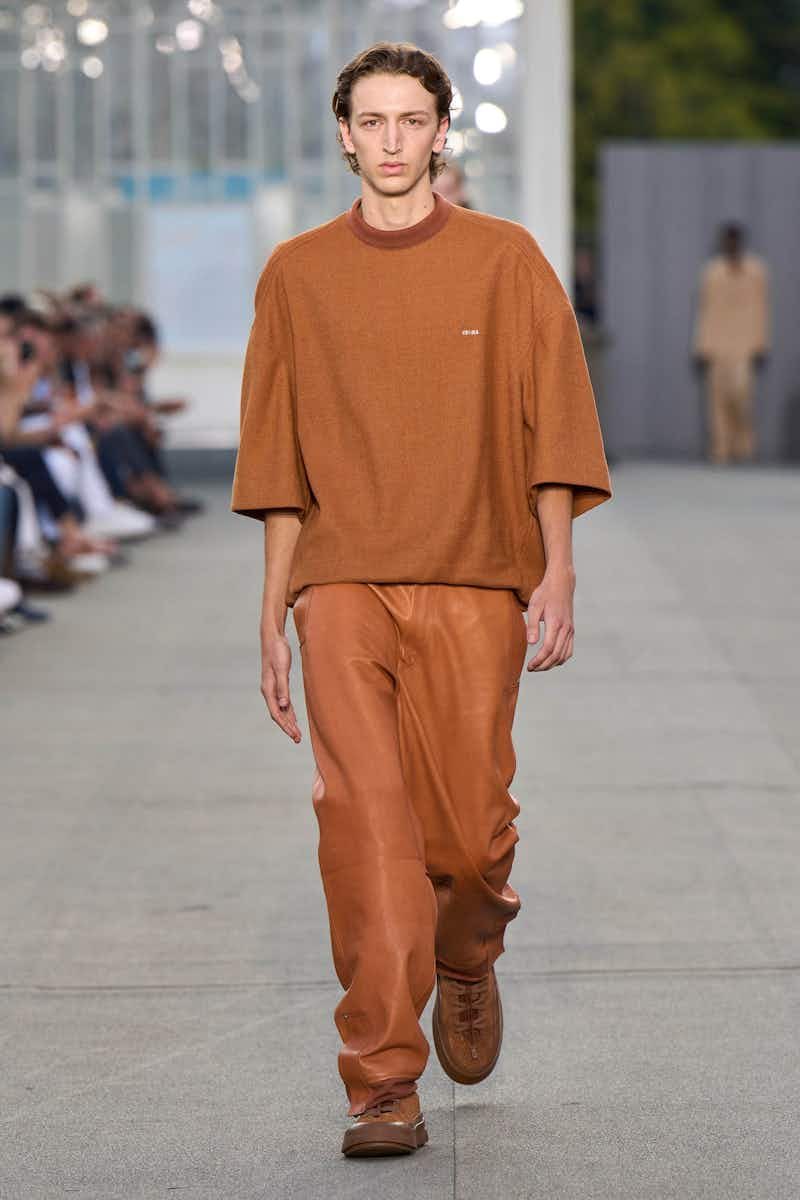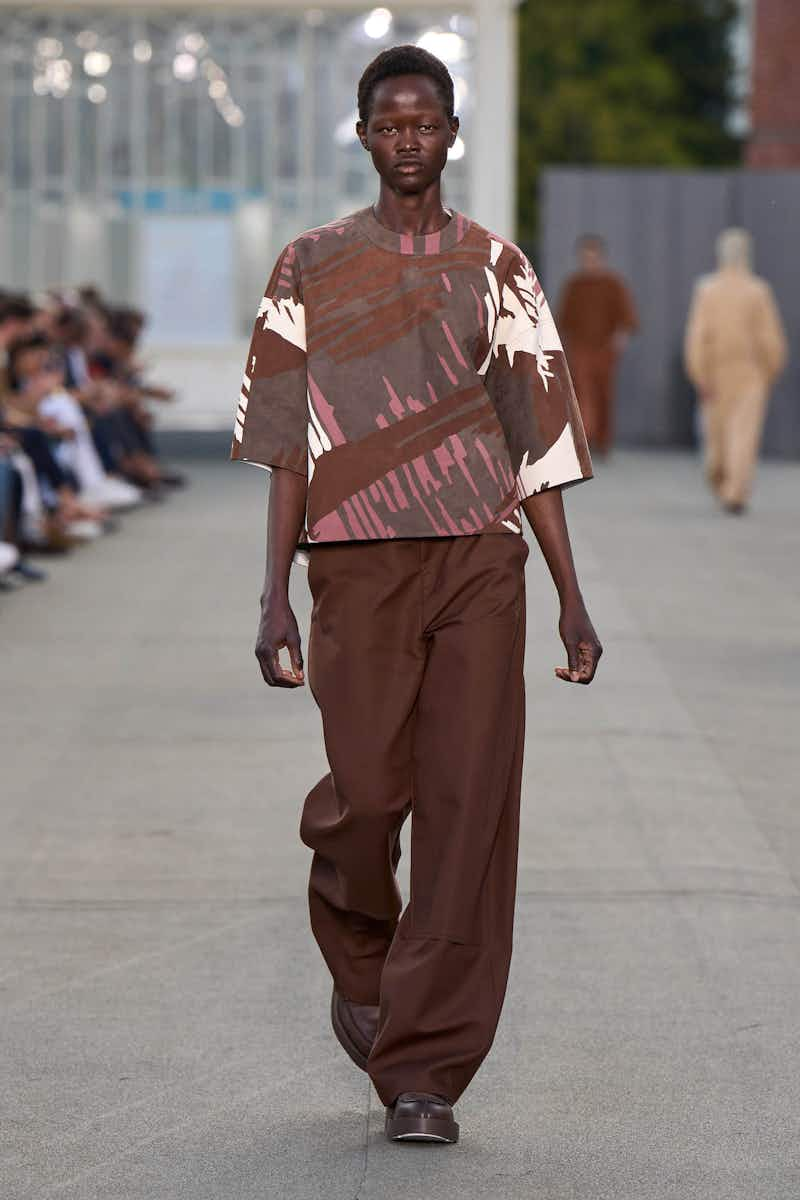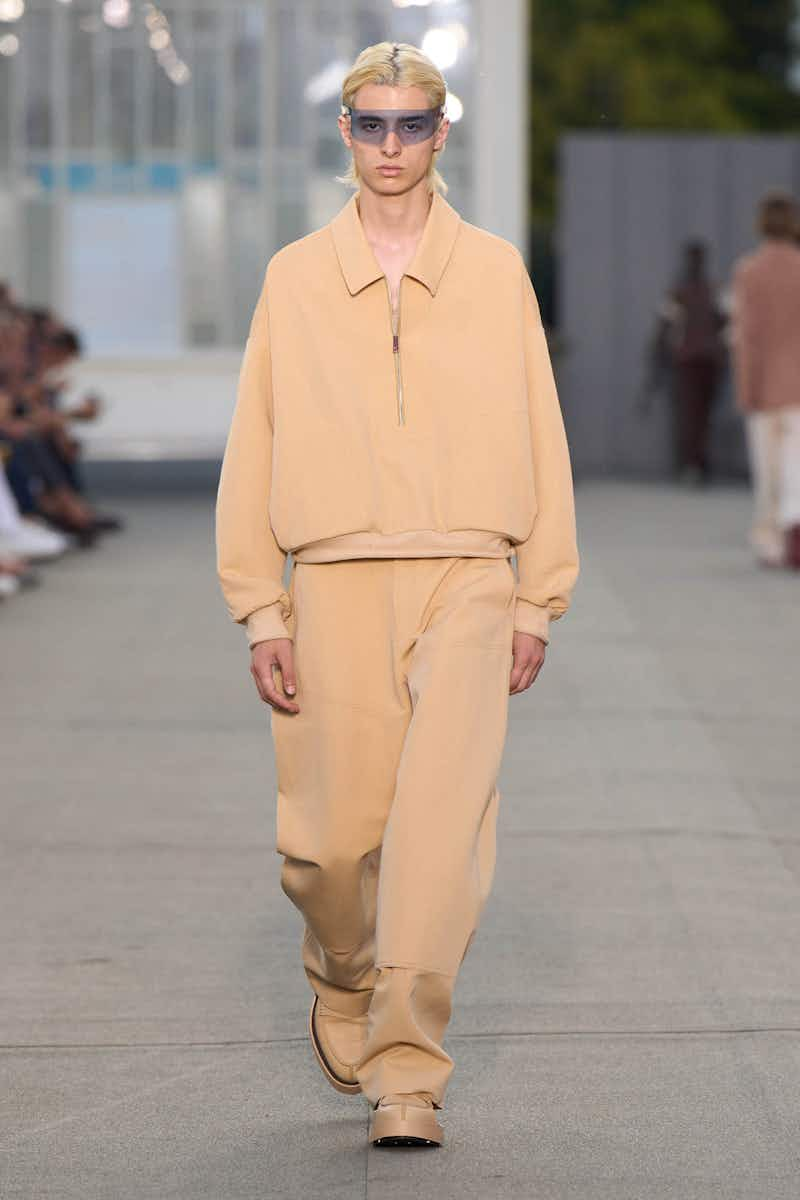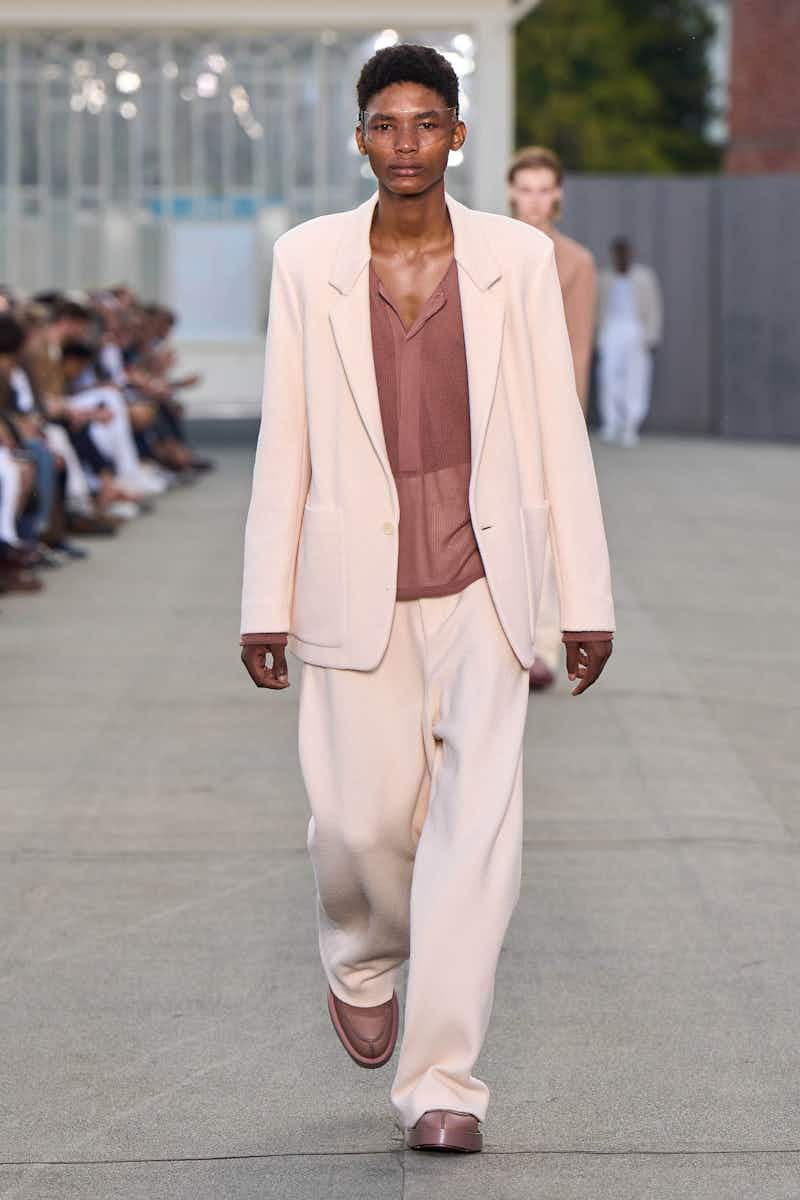 The opening look at Jeremy Scott's Moschino menswear show had a note of Elsa Schiaparelli about it – namely the nods to surrealism and the sketched face. Schiap probably would have loved Scott's sense of humour. Like her, he enjoys a trompe l'oeil detail, not to mention an incongruous object made into an accessory. Thank god for the creative directors who want to have fun, eh? Building on previous seasons of scribble prints, here slick suits, hoodies, hats and biker leathers all got the magic marker treatment. This penmanship was in part an homage to Tony Viramontes – the fashion illustrator whose energetic lines caught high octane ​'80s excess at its finest. Those faces scattered across blazers were the direct result of a collaboration with the artist's estate, with the accompanying show notes highlighting, among other things, Viramontes' work with THE FACE in the 1980s.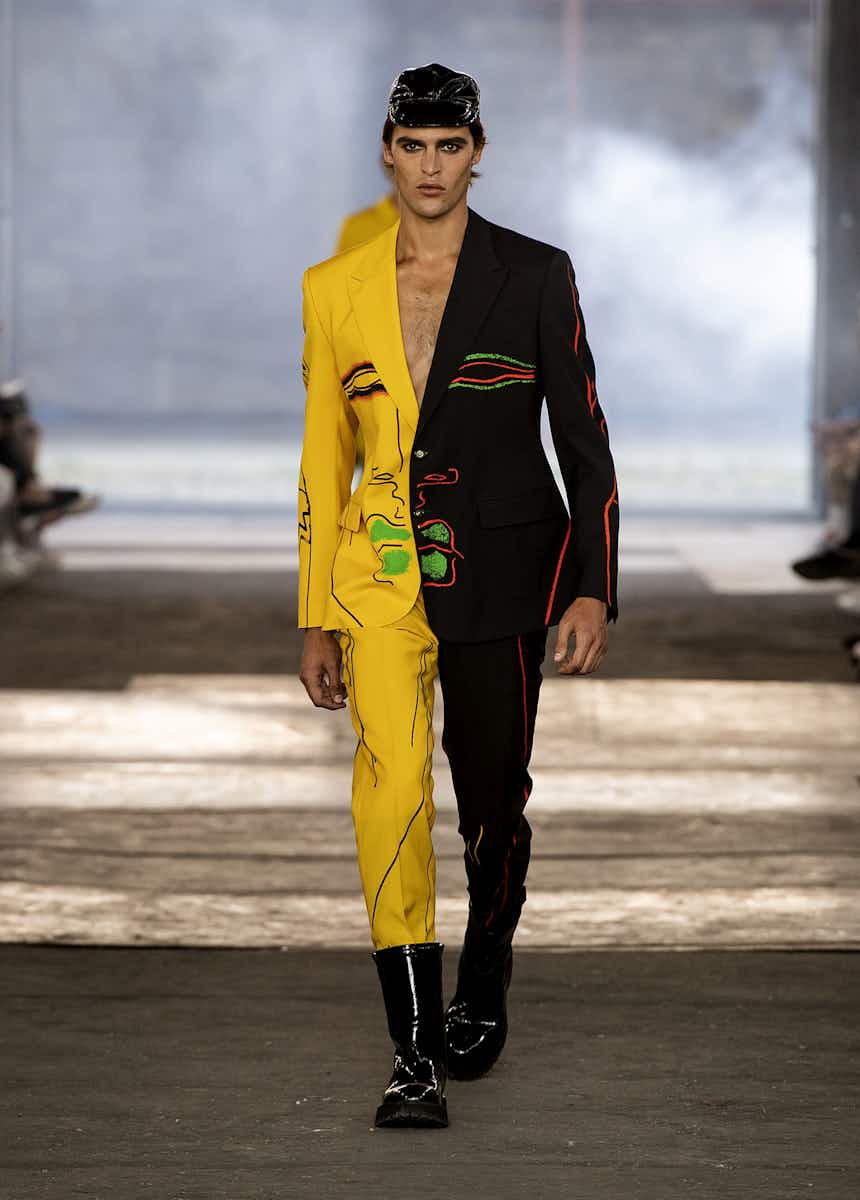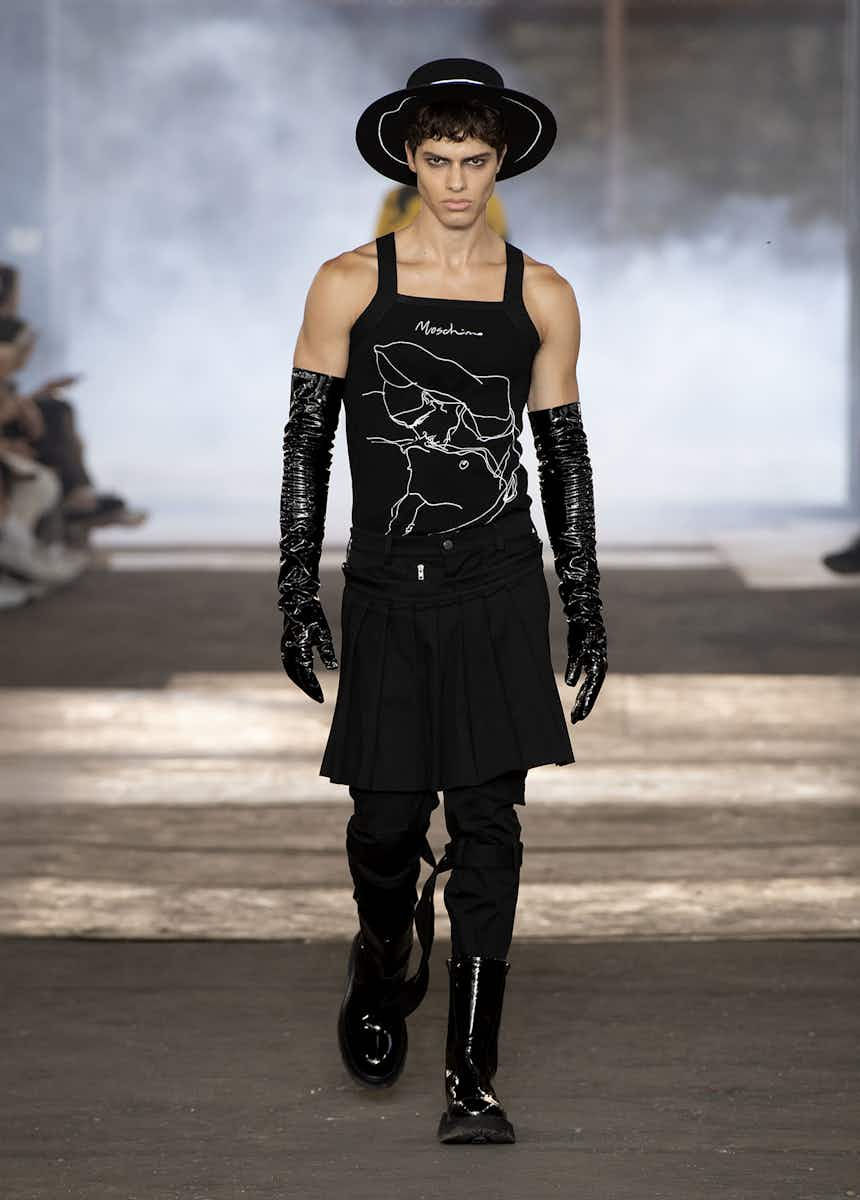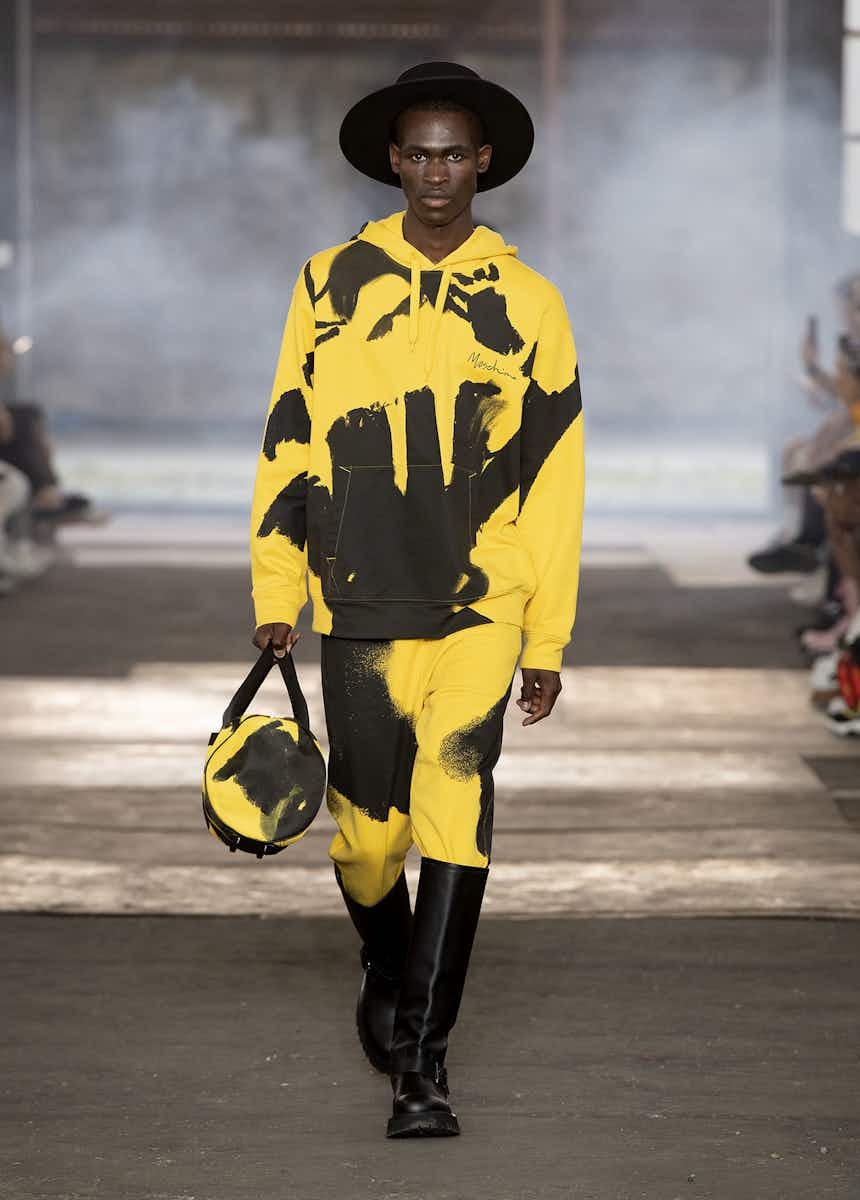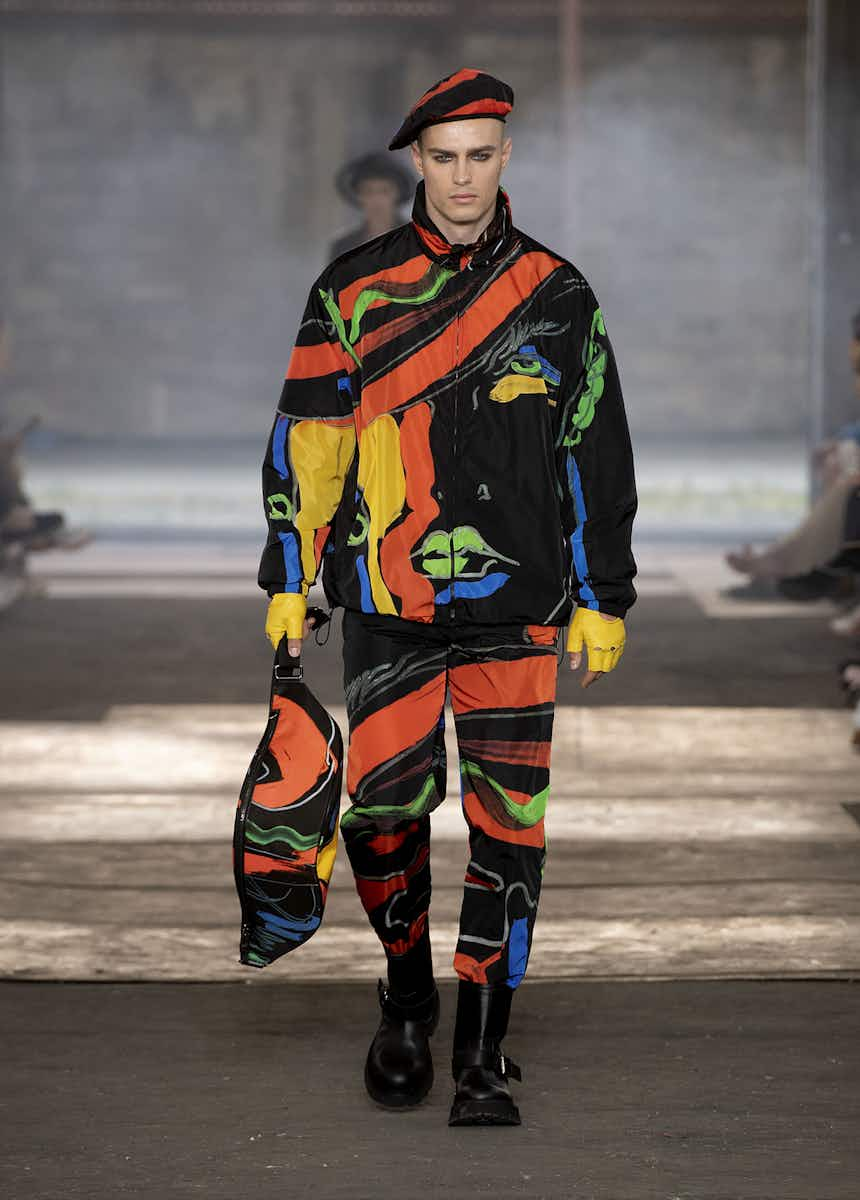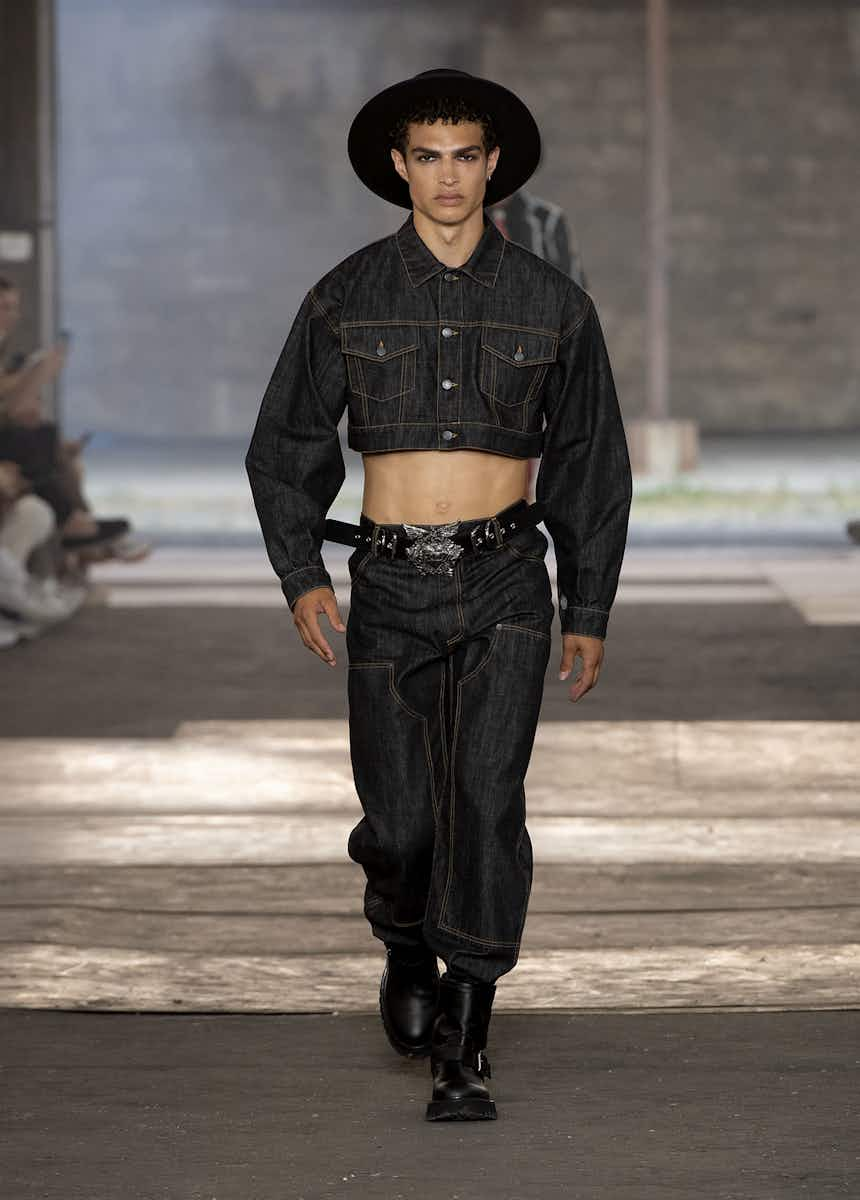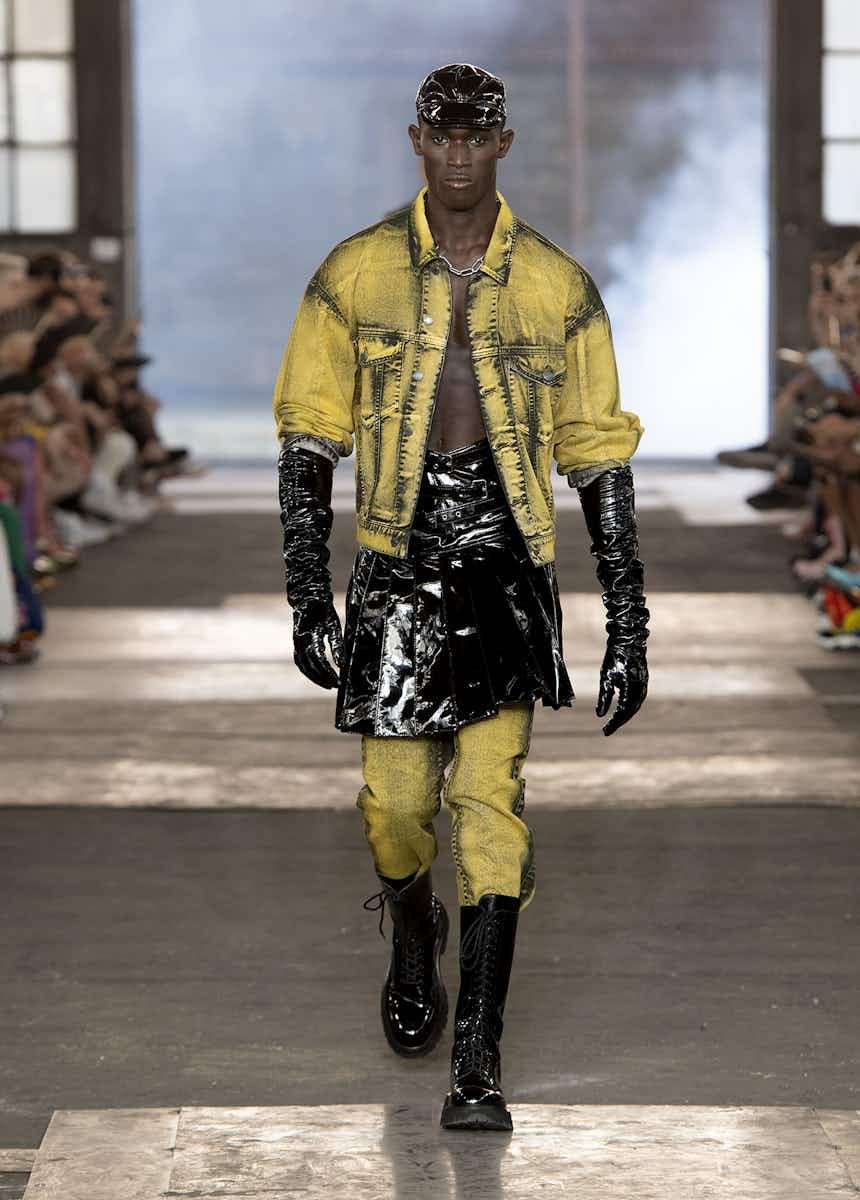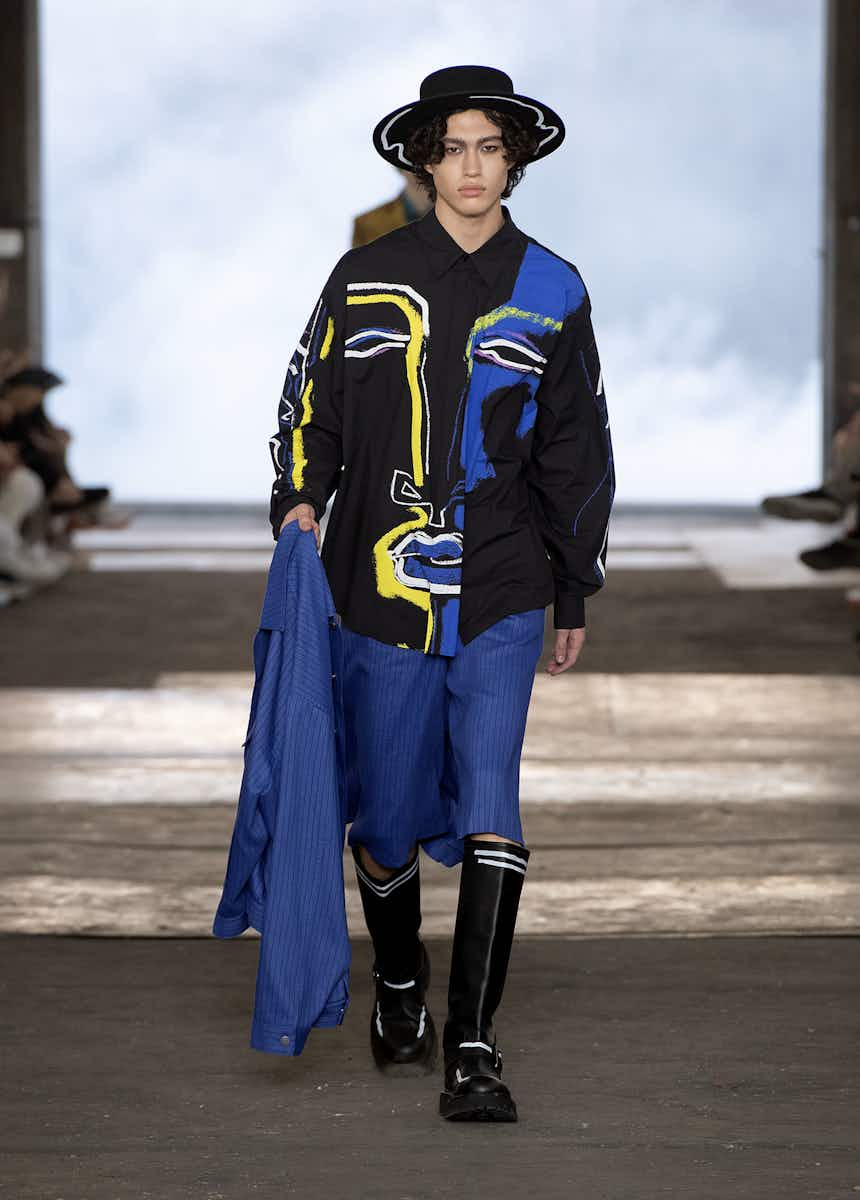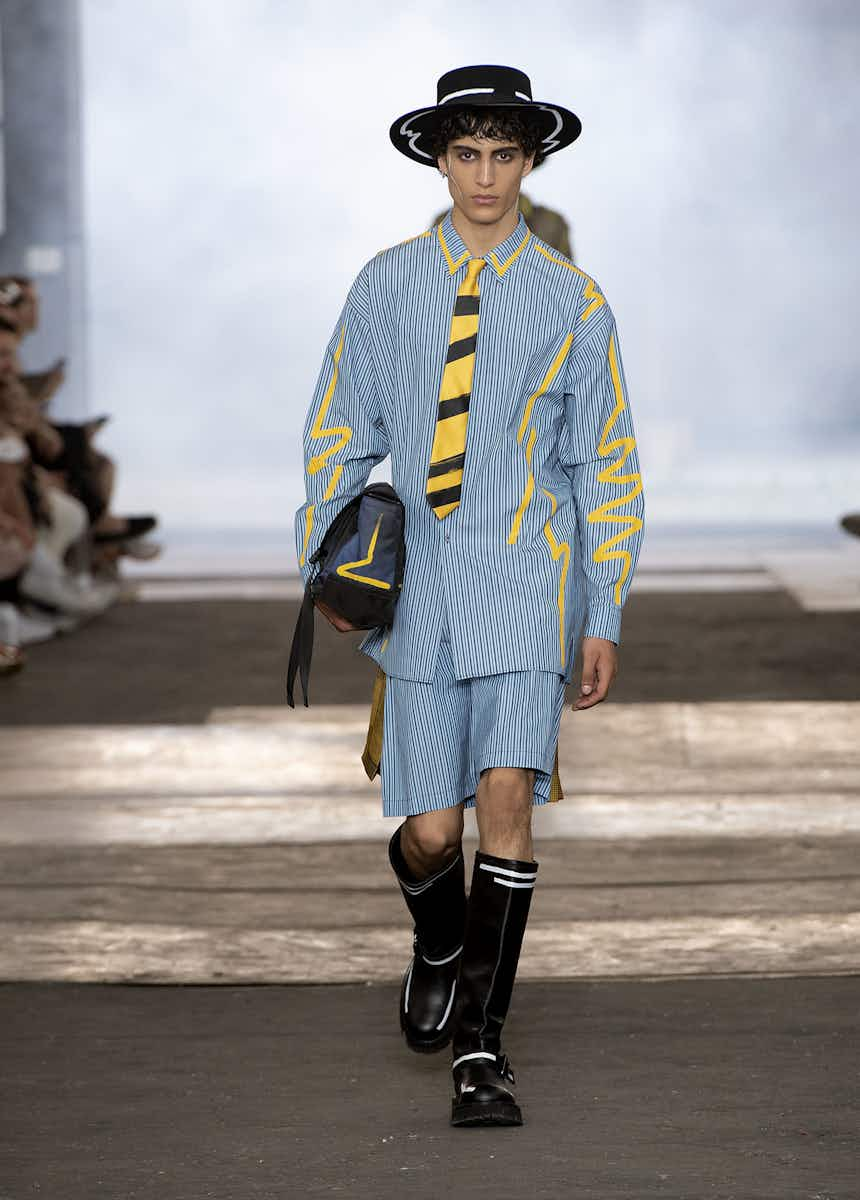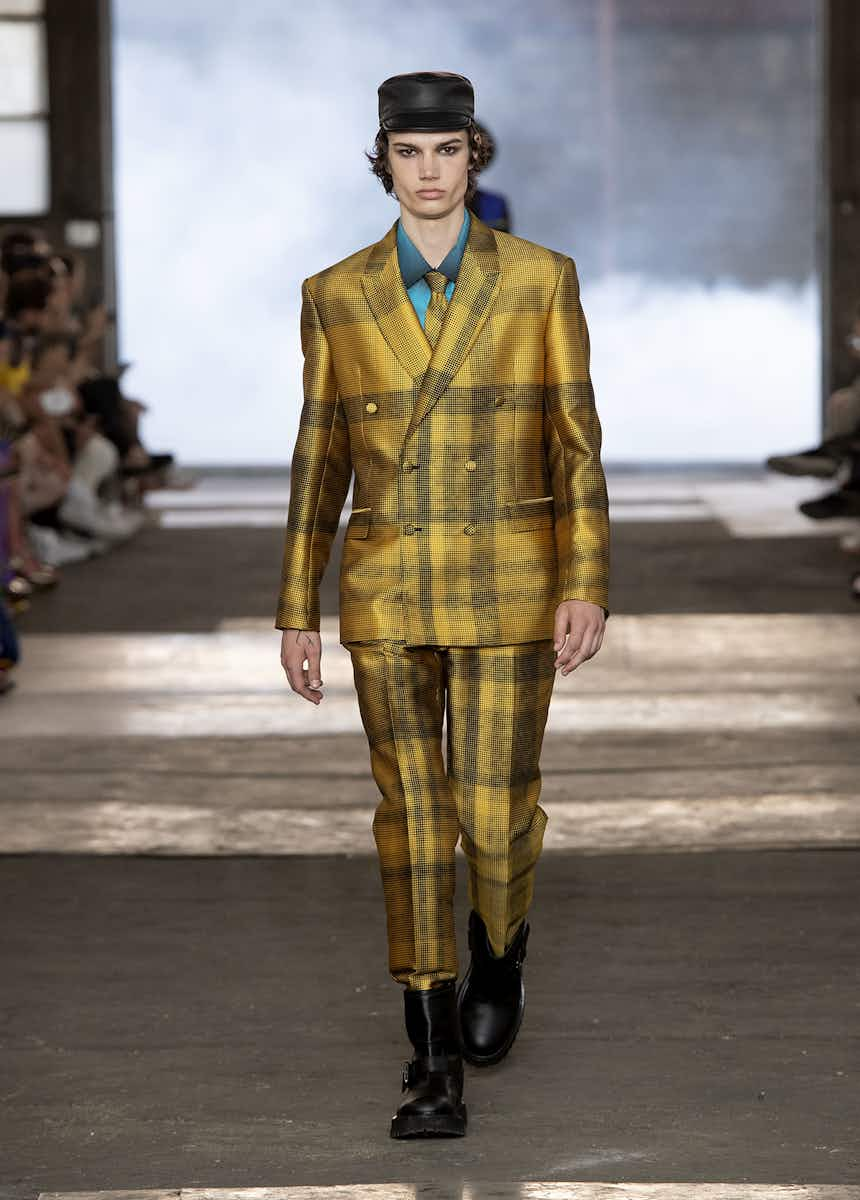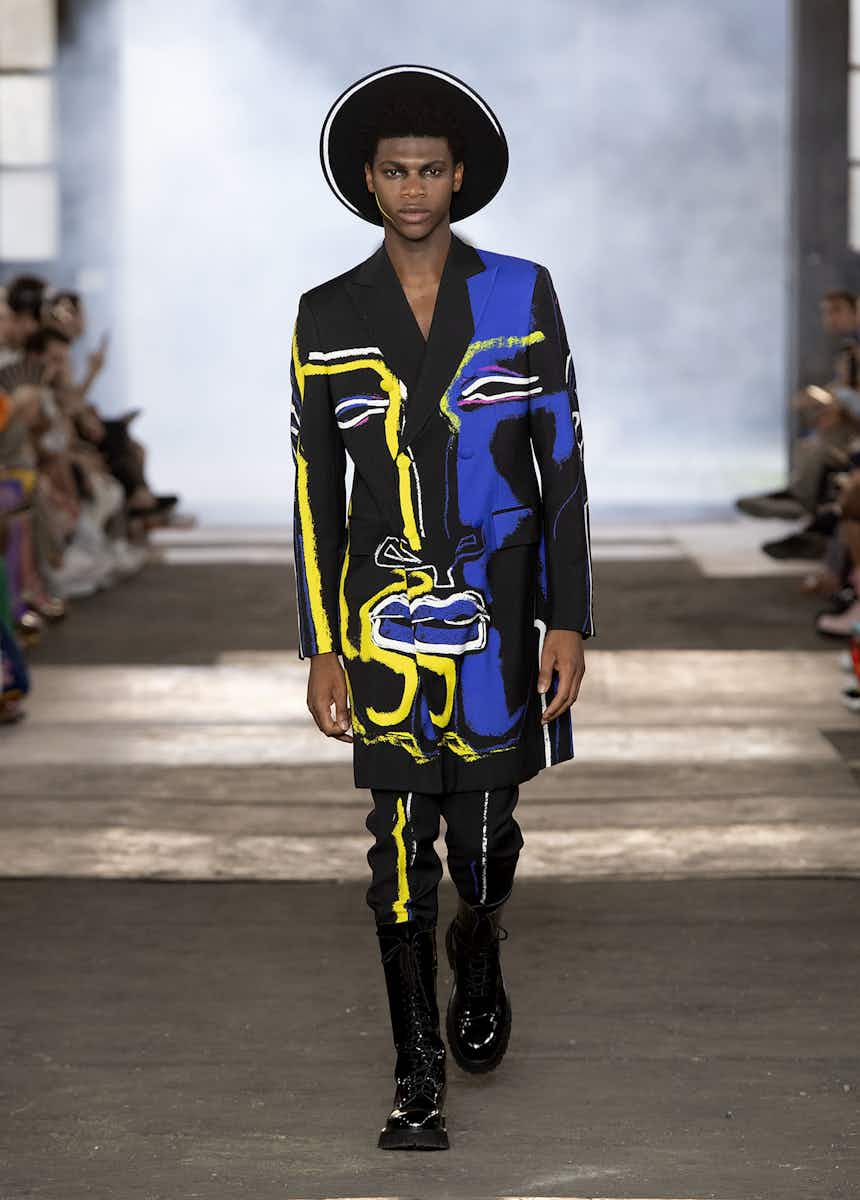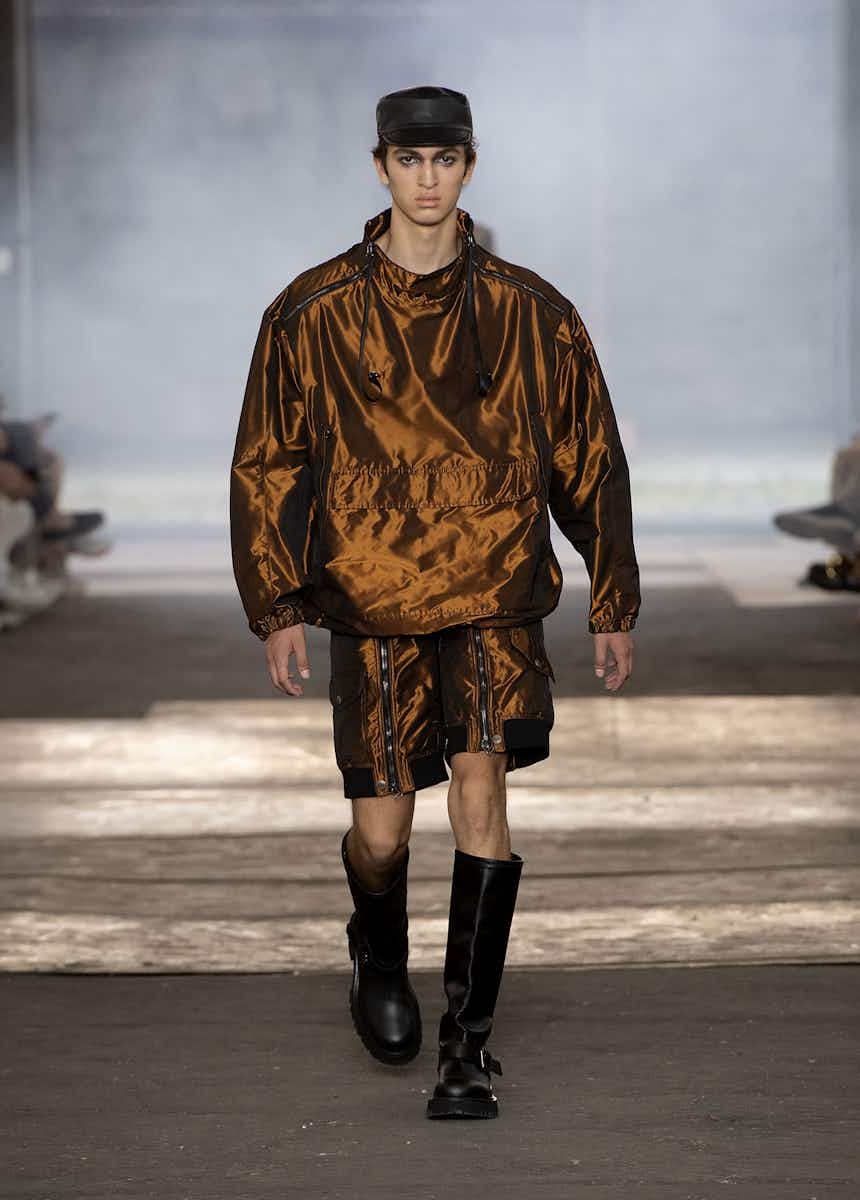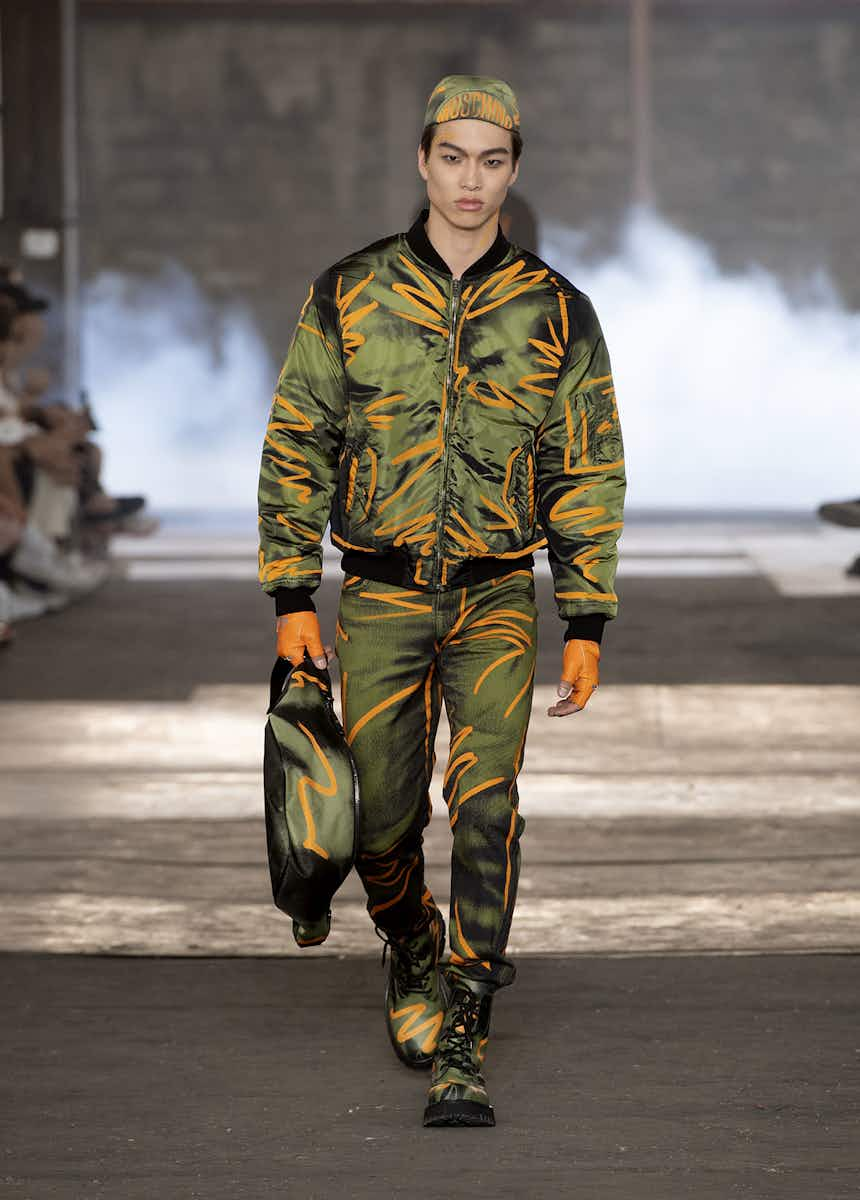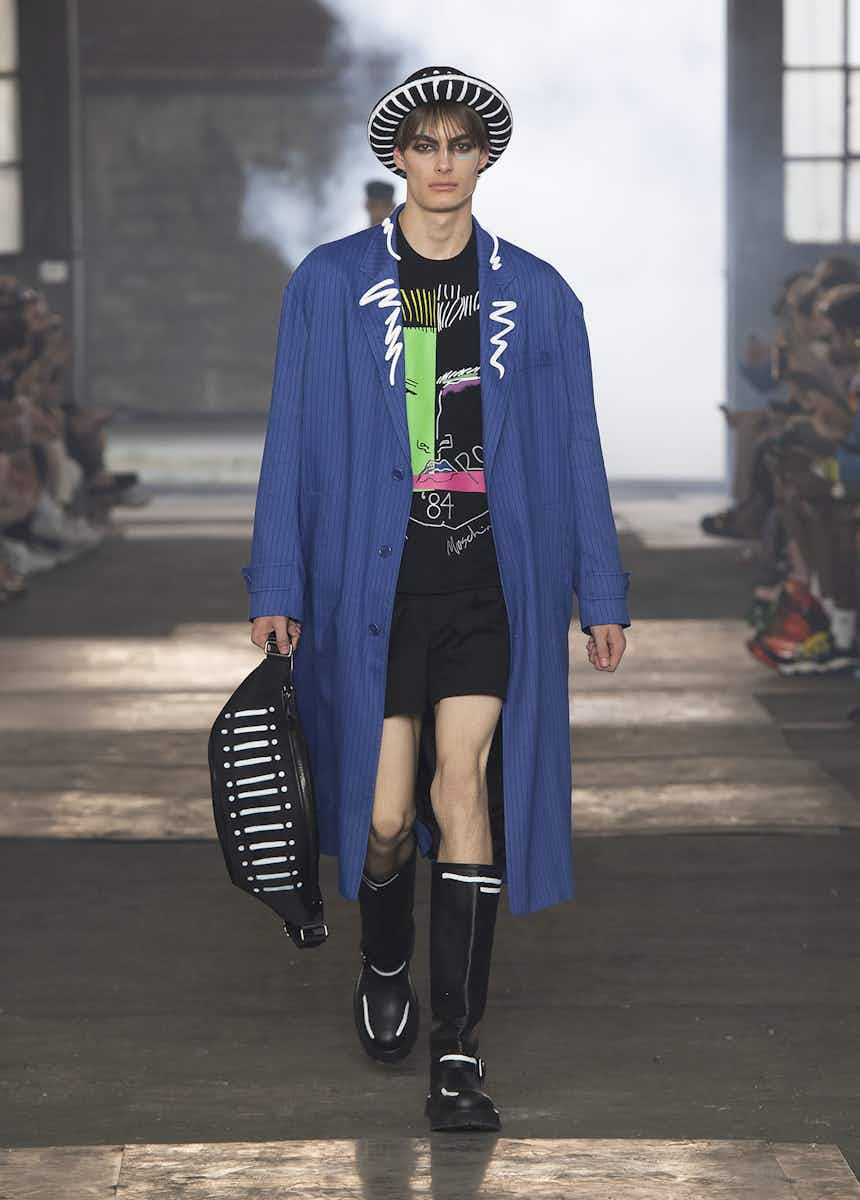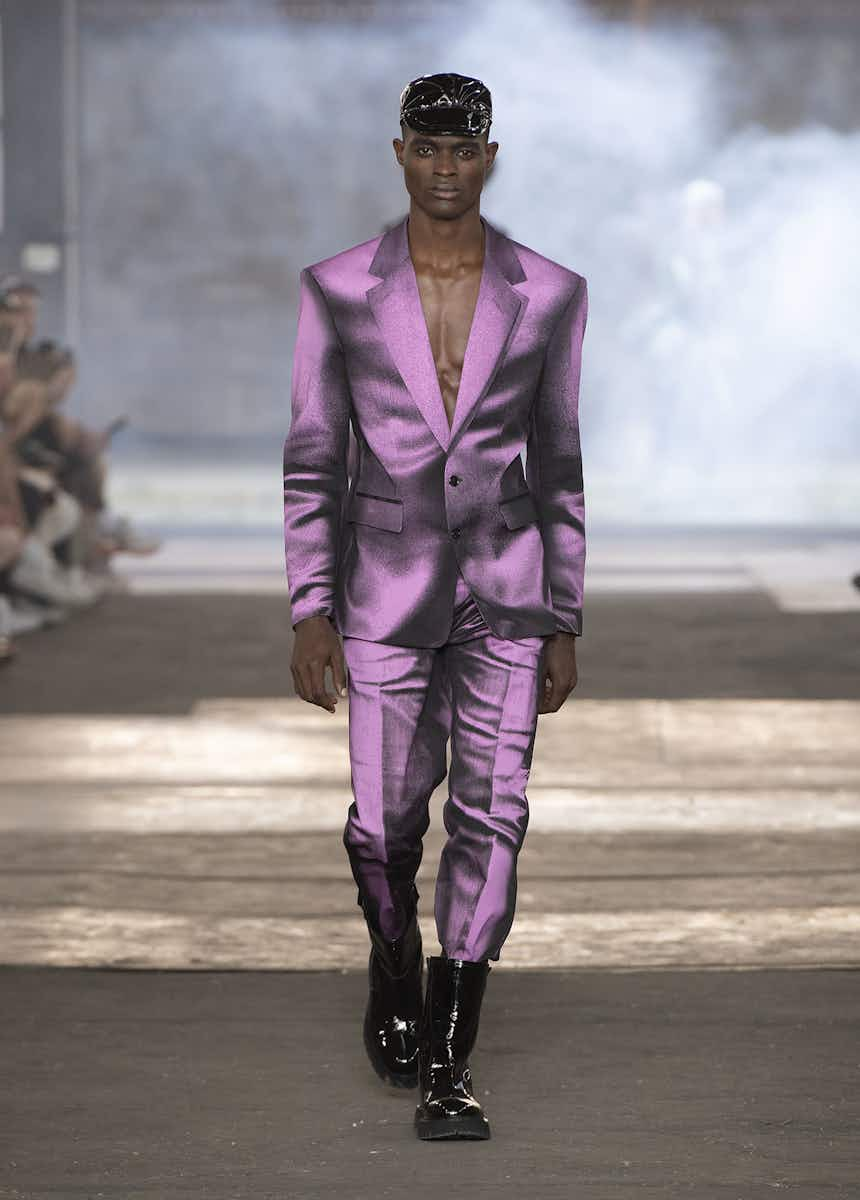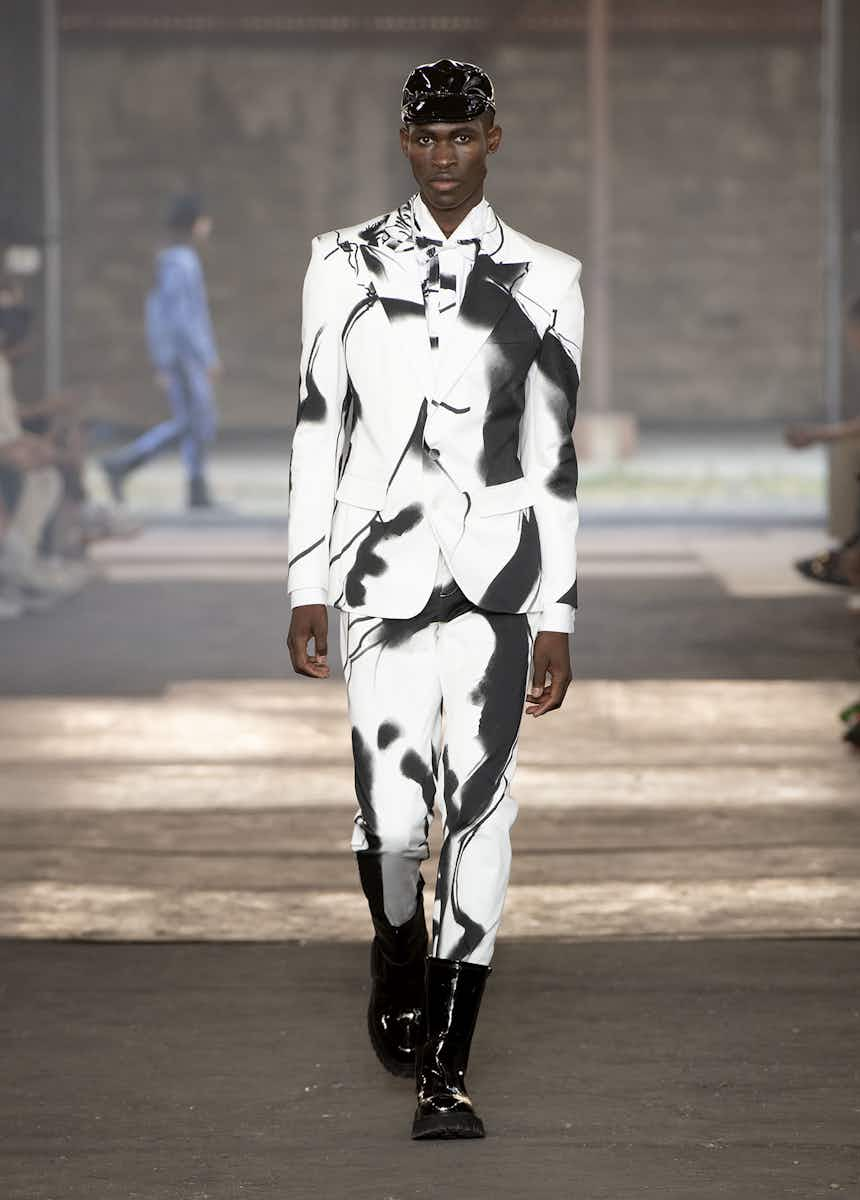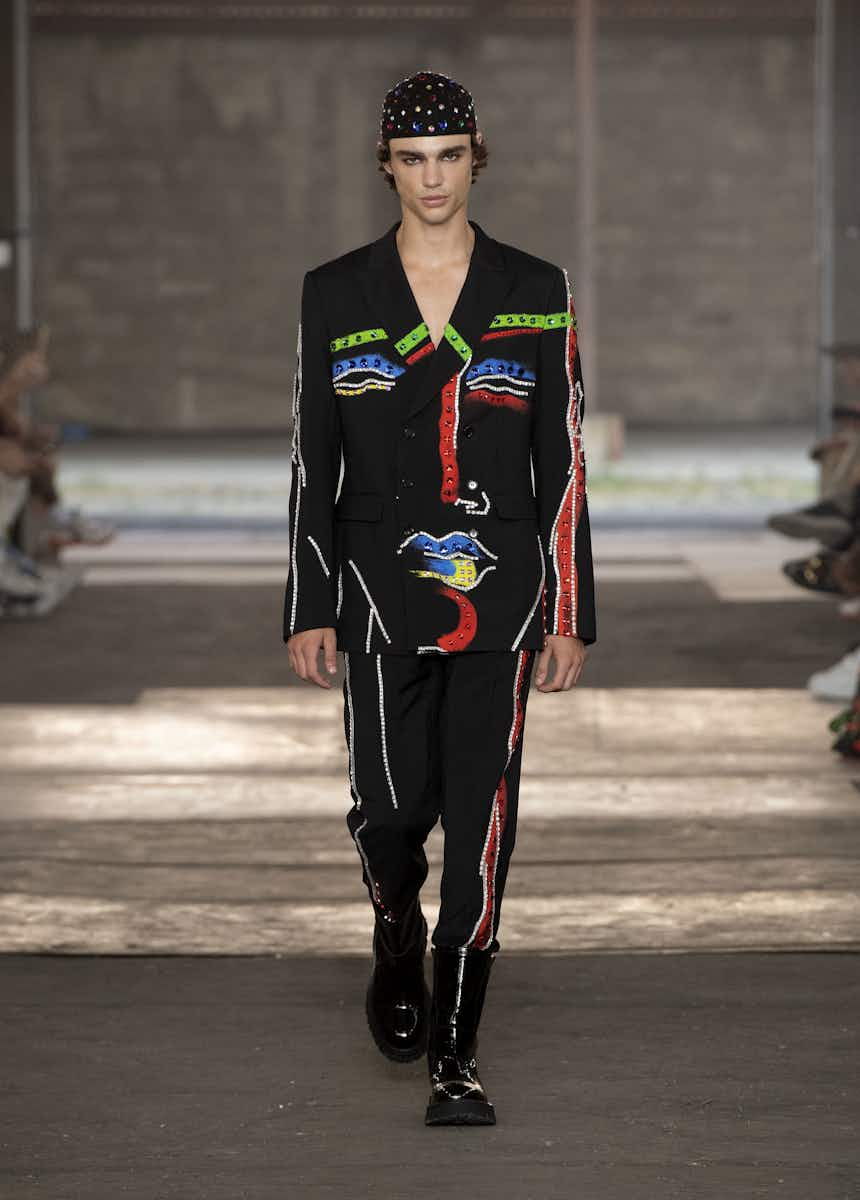 Vroom vroom. Thierry Mugler once sent a woman dressed as a motorbike down the catwalk. Jonathan Anderson went for the slightly more prosaic option by loading up his models with BMX handlebars, while others sported broken skateboards. Typical of Anderson, his first live men's show in Milan came with carefully considered reference material: all of it riffing on the idea of modernity and, by consequence, the once cutting-edge objects that quickly become defunct (just look at those hoodies emblazoned with shining CDs). Philip Ridley's provocative 1991 play The Pitchfork Disney provided inspiration, as did Rembrandt's Self-Portrait in a Cap, Wide-Eyed and Open-Mouthed (1630). The latter found its way onto baggy knits, Rembrandt's expression becoming somehow coyer when placed against backgrounds of lemon yellow and sugar mouse pink. Perhaps an extrapolation too far, but aside from the general interest in the desire to shock, Ridley's play might also be read in the clothes themselves. Ripped, layered and oddly proportioned, with gloves hanging uselessly from wrists, many of these pieces invoked a sense of childhood imagination and nightmare.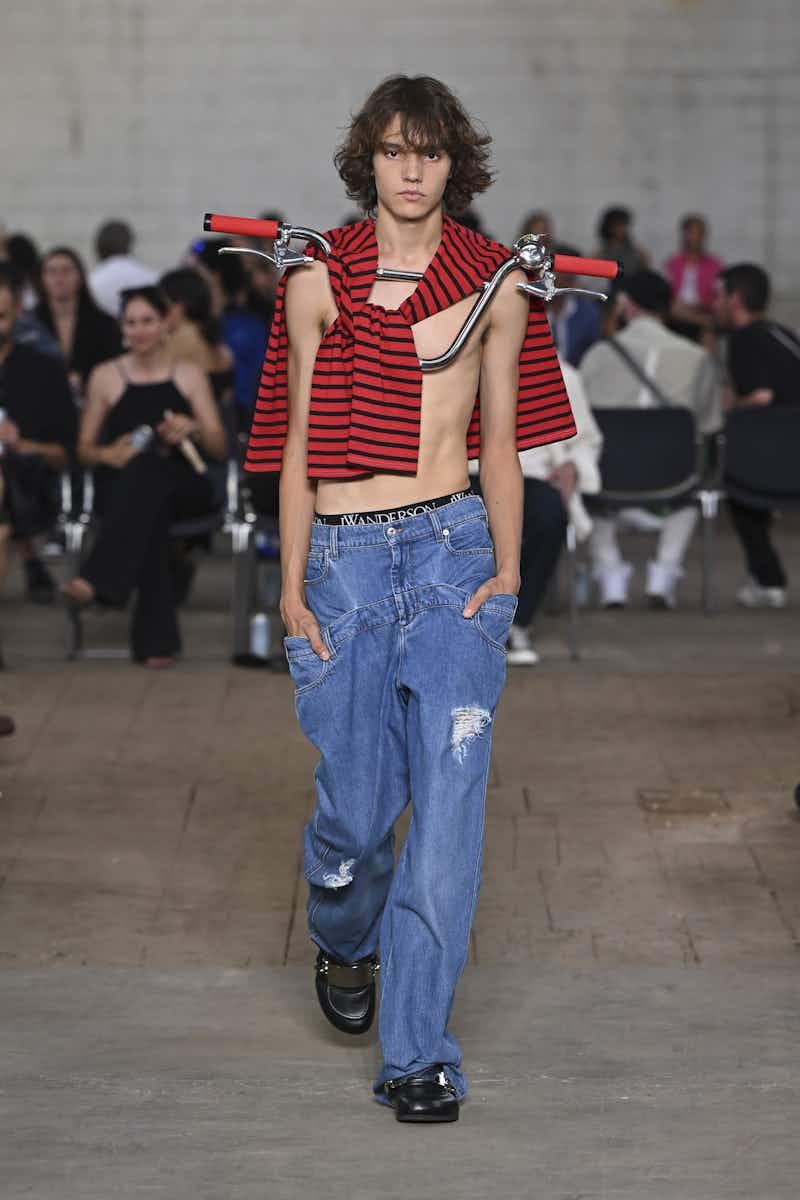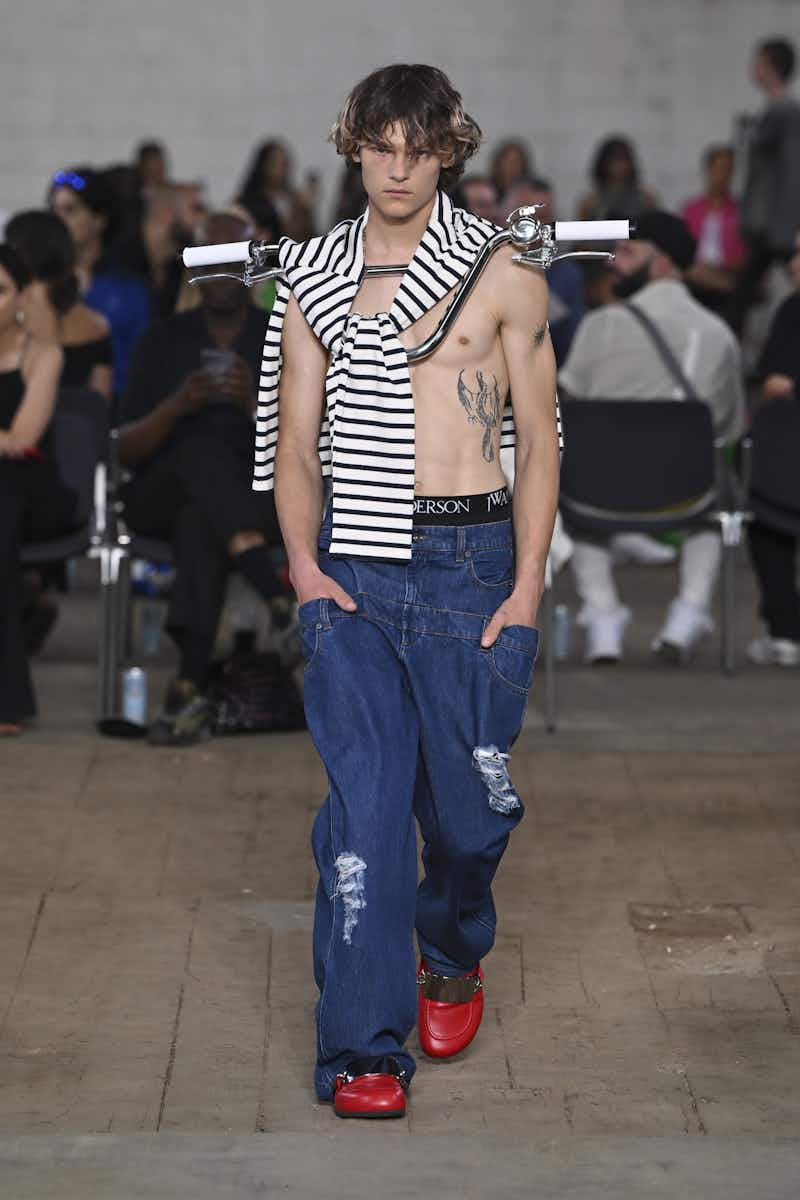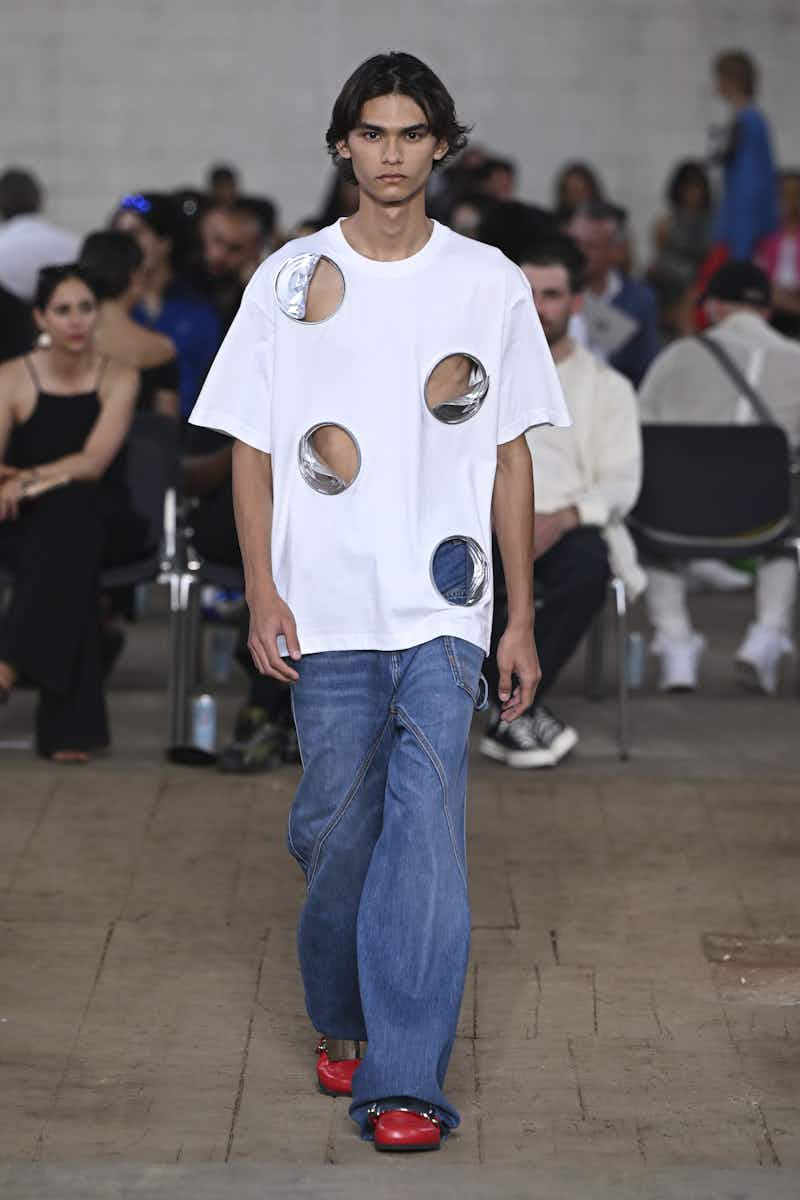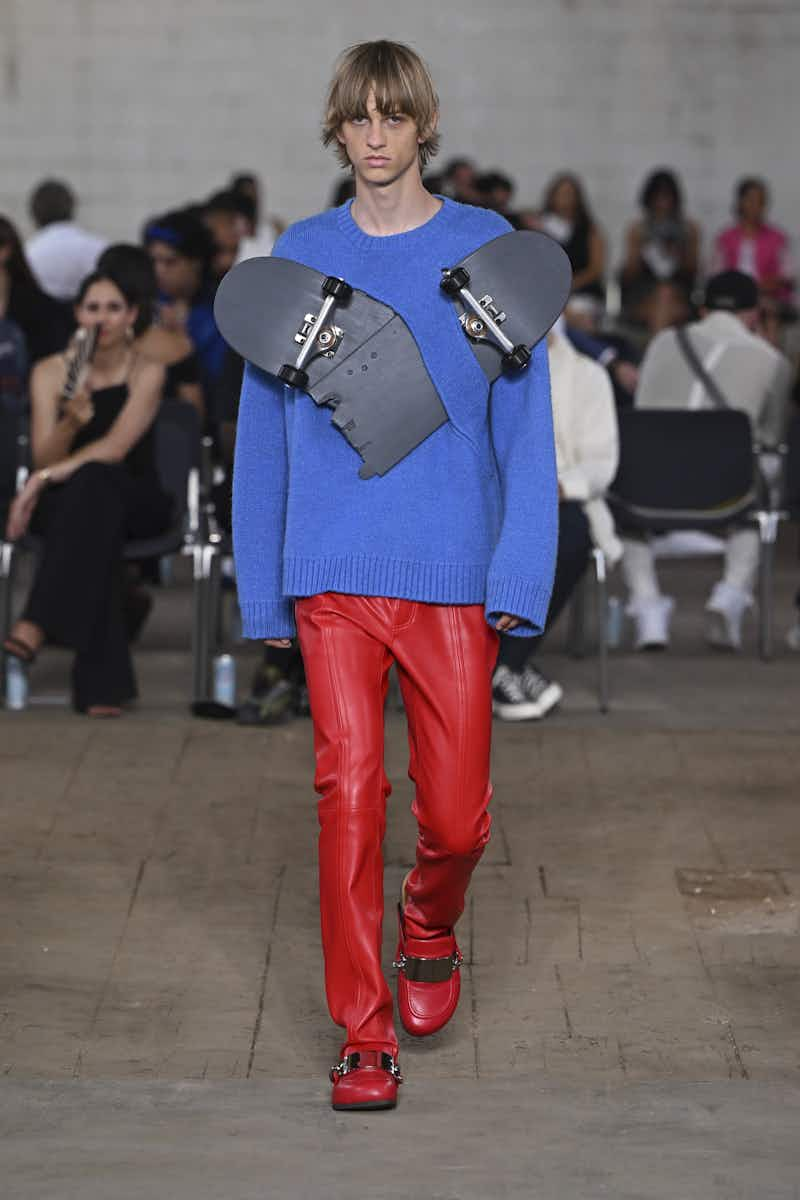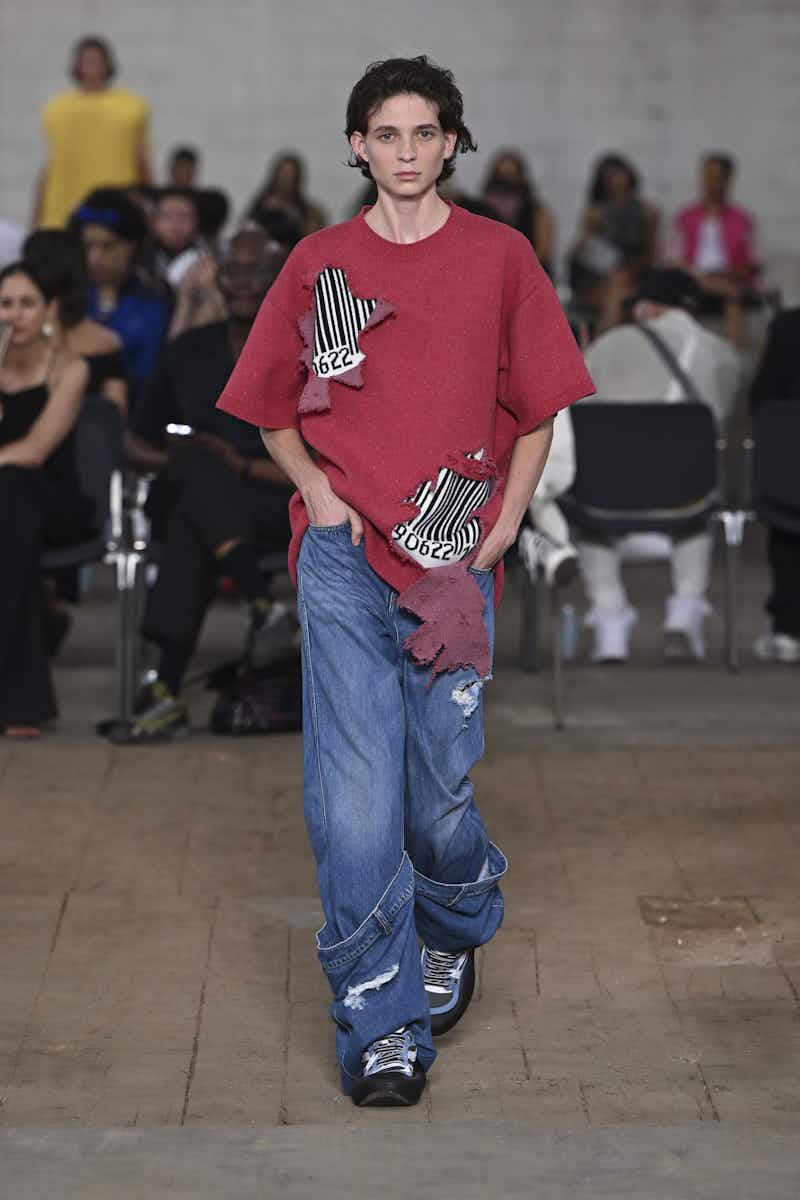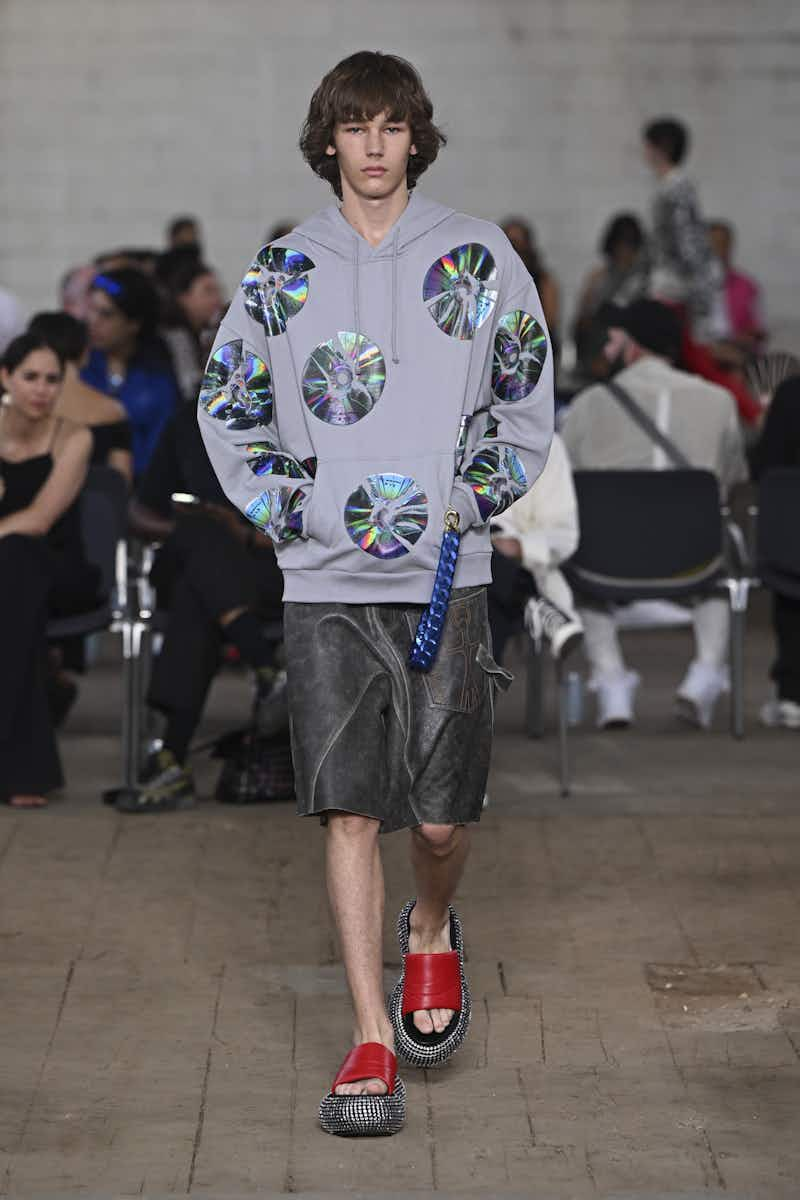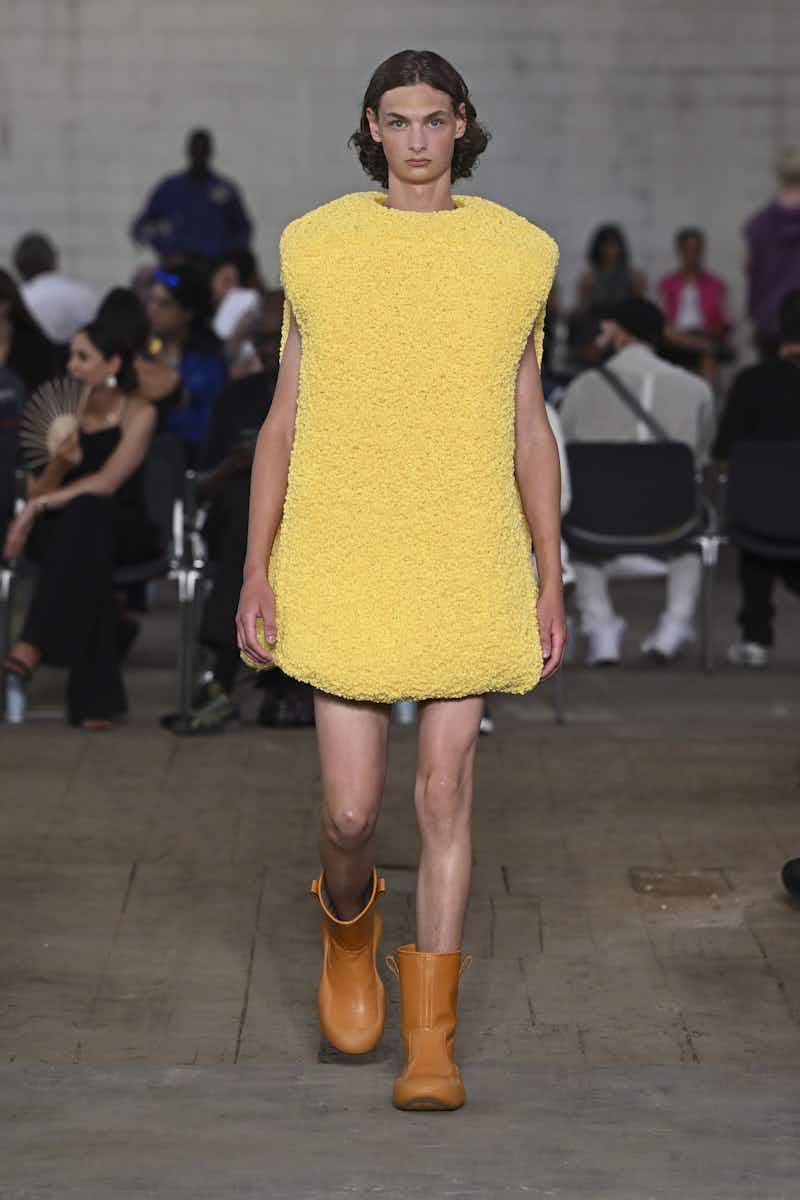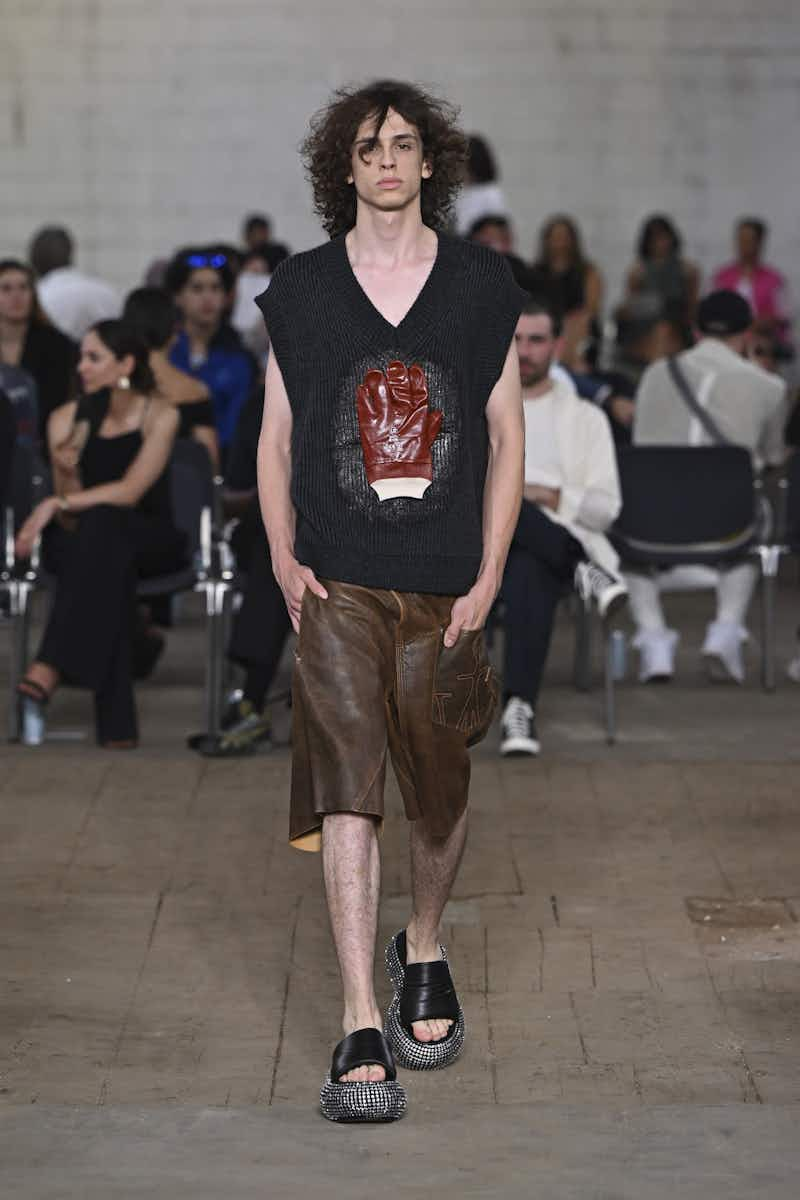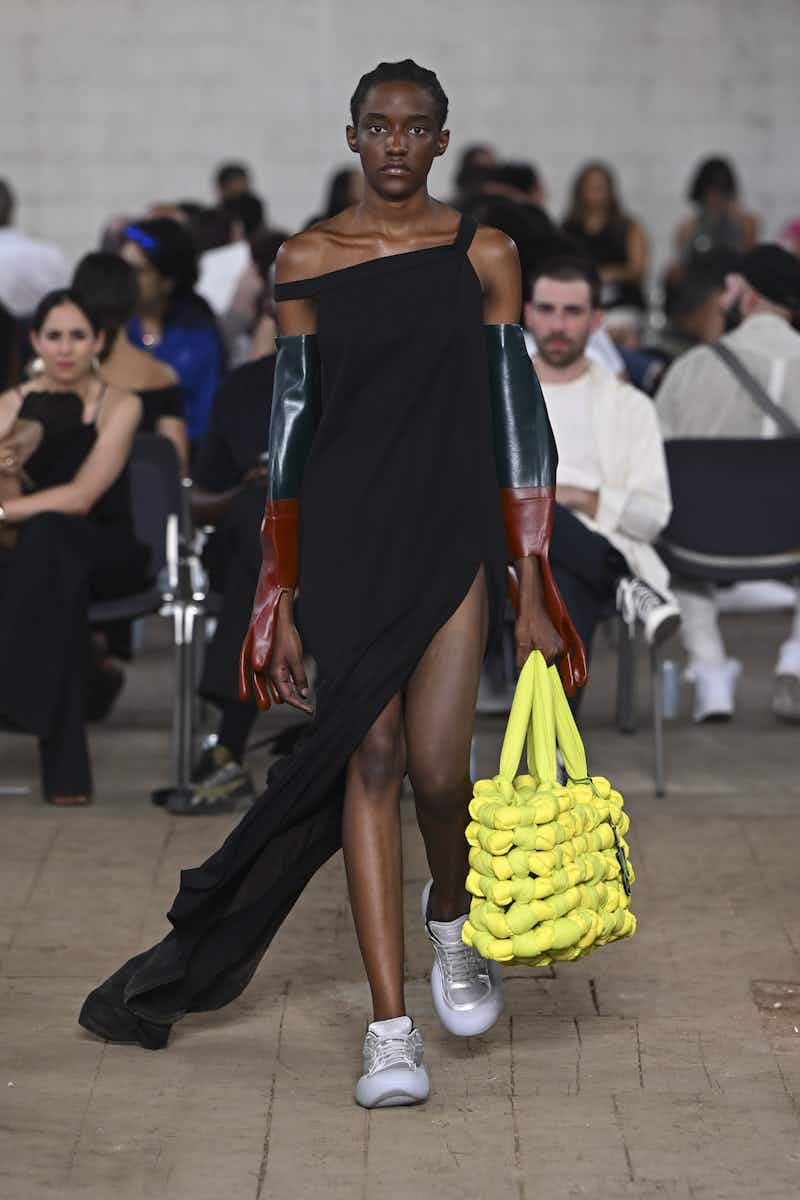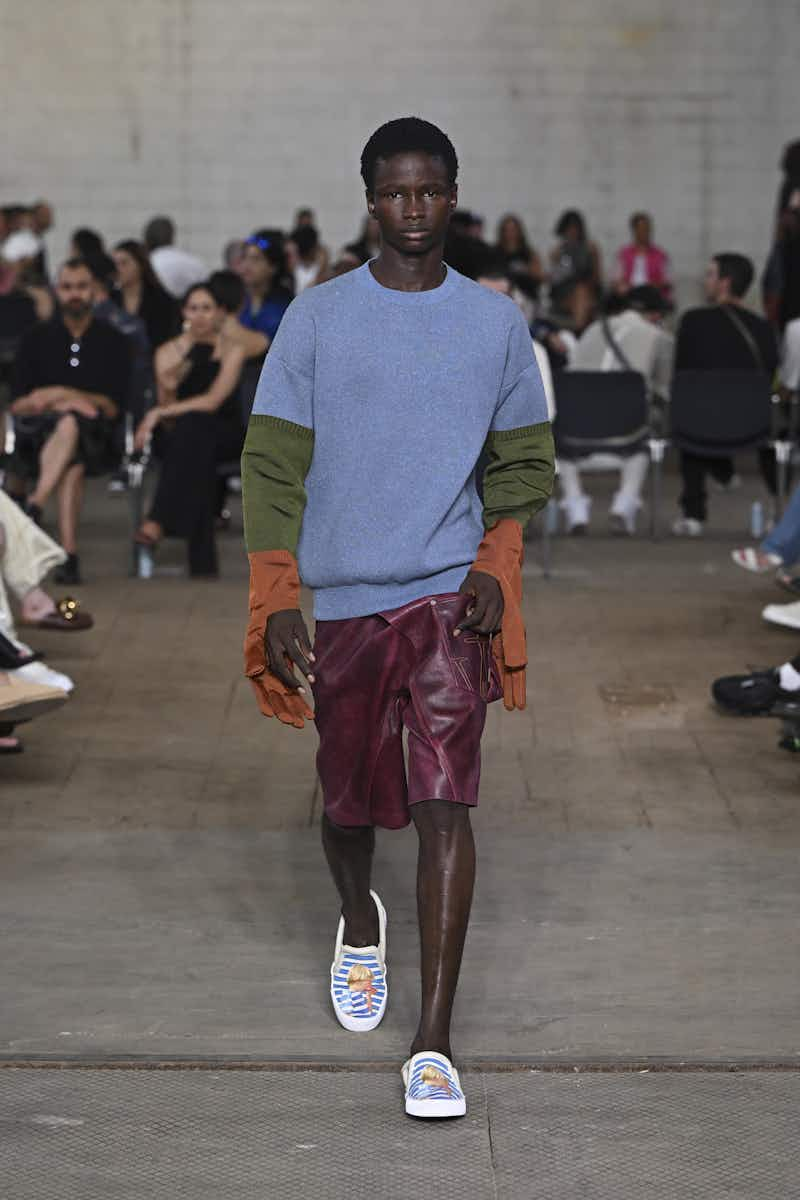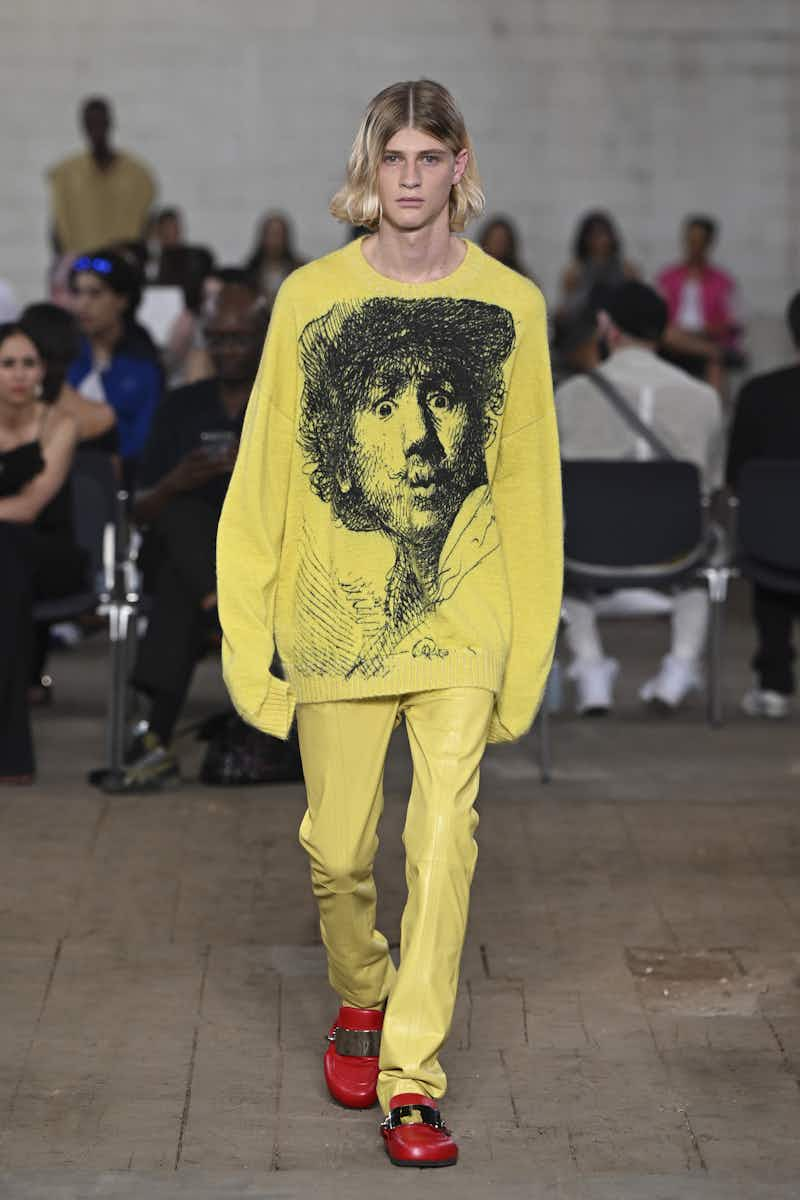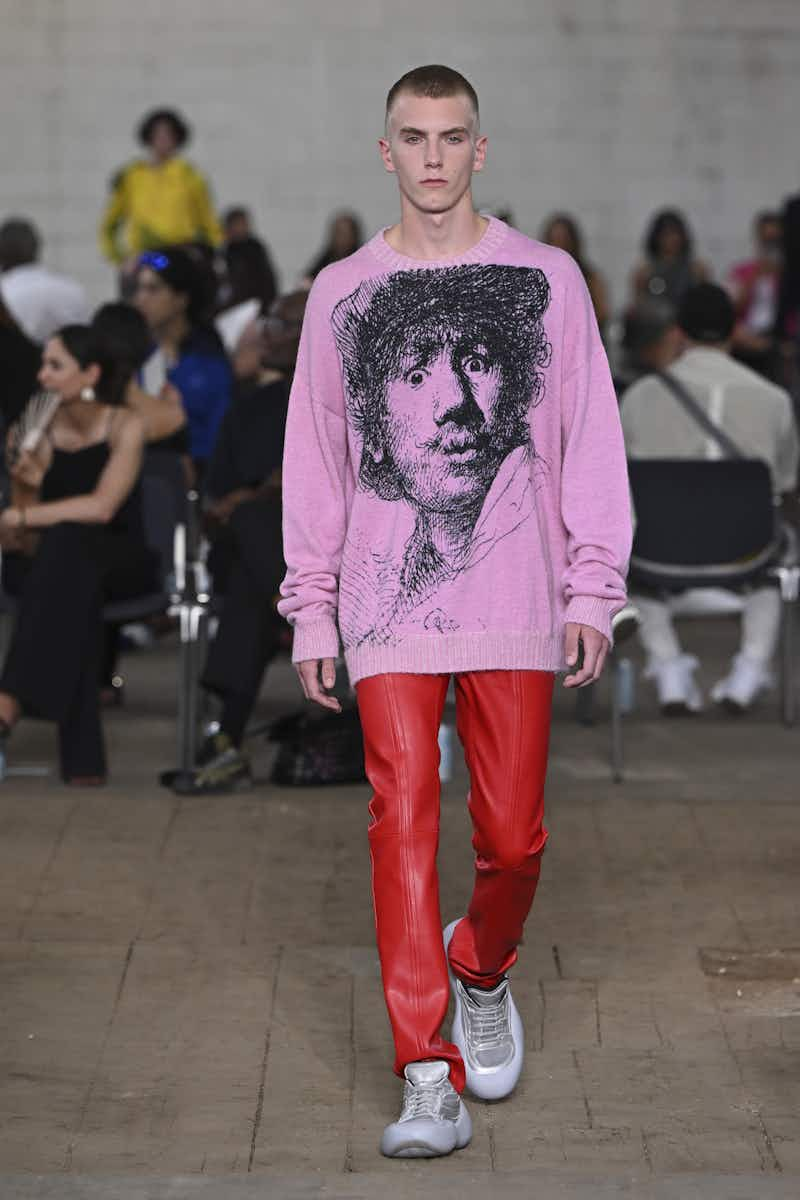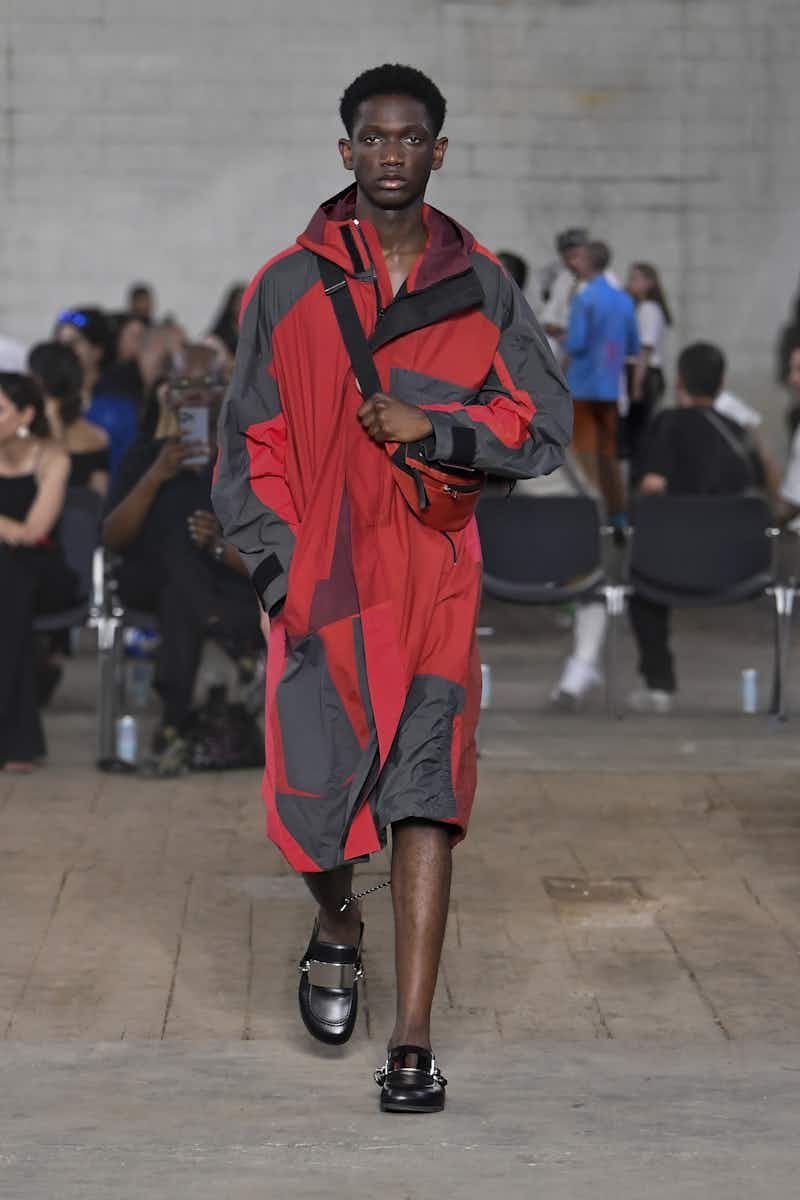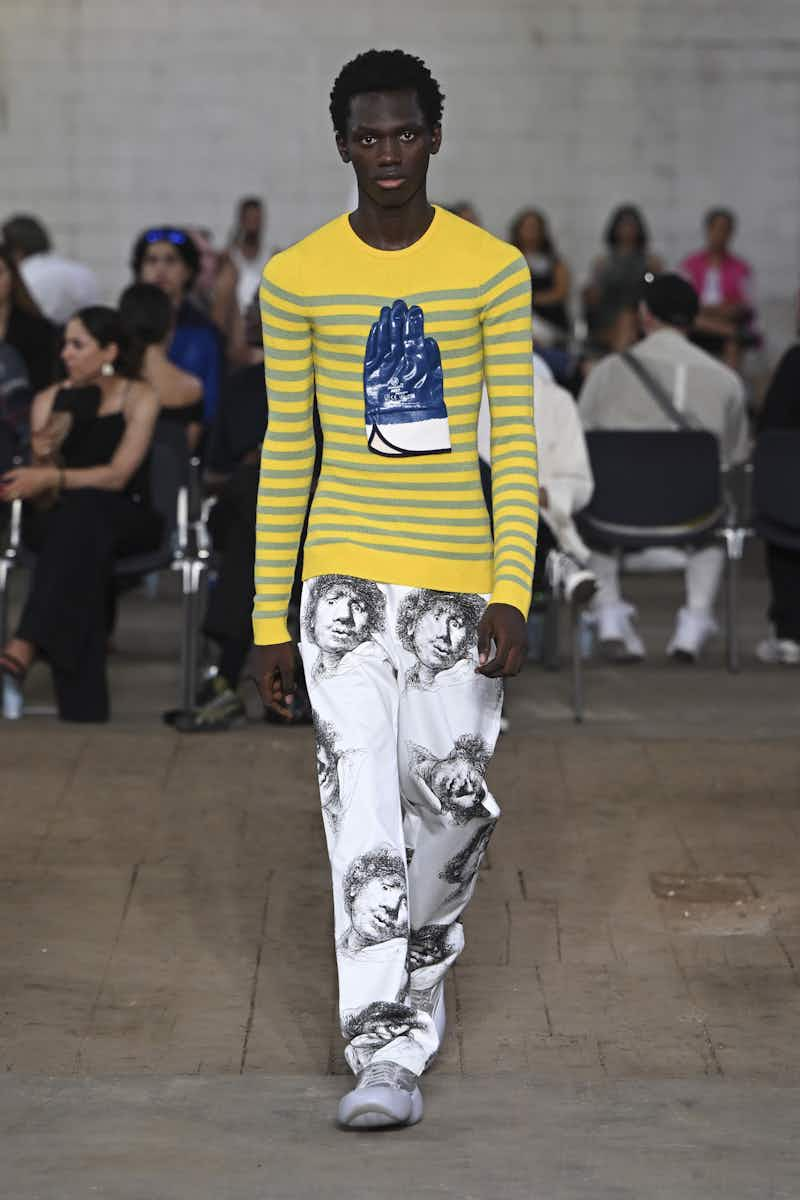 "From the centre of a spiral, going around and being back, like there's no end and no beginning," Marcelo Burlon's press notes reveal. The brand's 10th anniversary show was all about circularity: a Janus-headed glance backwards and forwards. A decade ago, he began his namesake brand with a T‑shirt line and a swift surge in word-of-mouth popularity. But Burlon's work doesn't begin or end with design. A DJ, creative director, events organiser and general fashion jack-of-all-trades, Burlon's influence extends in many directions. The clothes here were similarly sprawling: summer of love-style patchwork, tie-dye, paisley and psychedelic knits (not to mention those peace sign T‑shirts) met militaristic cuts and khaki fabrics. Burlon himself walked in the show, celebrating this moment of success by placing himself at the centre of the action.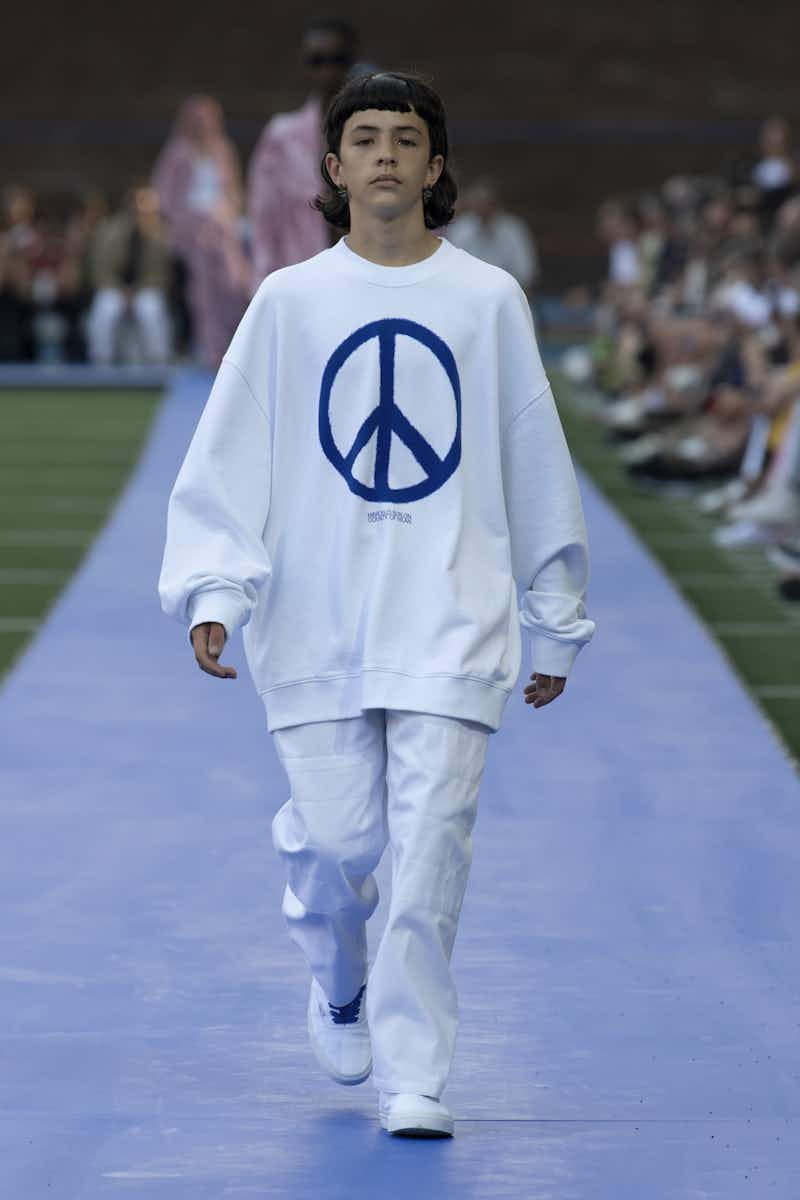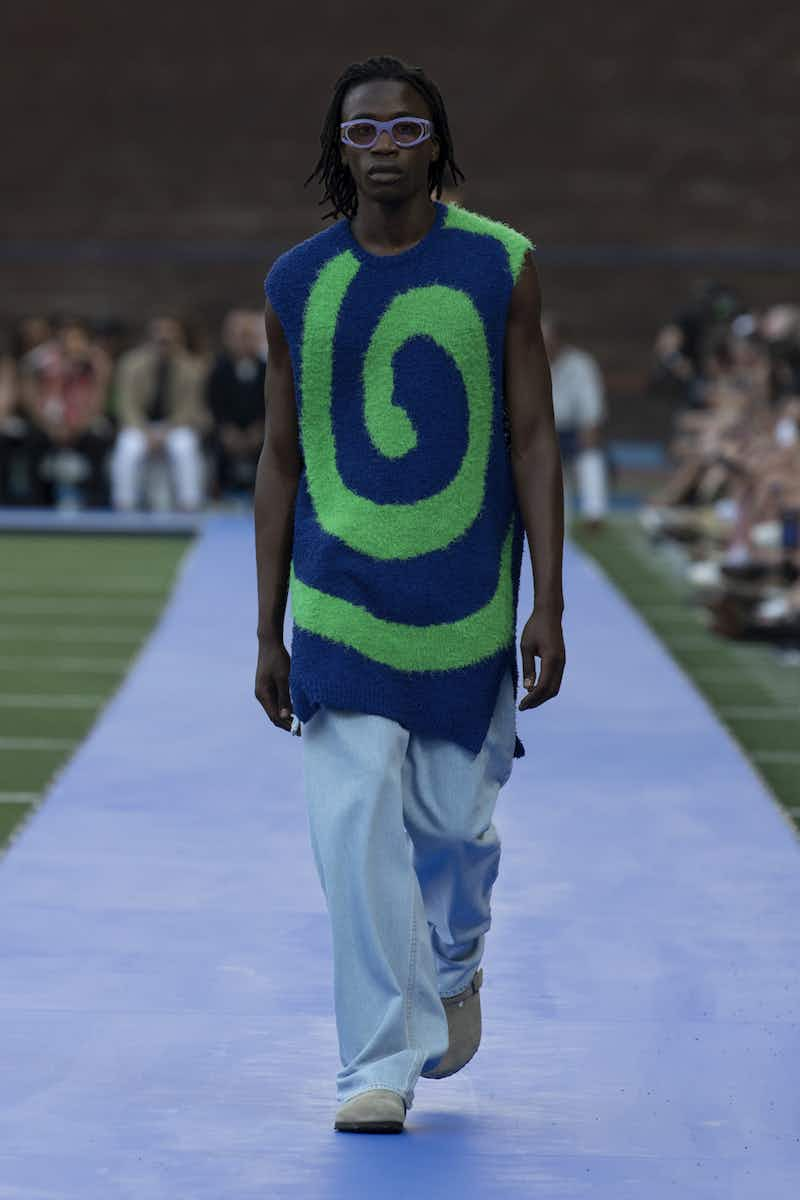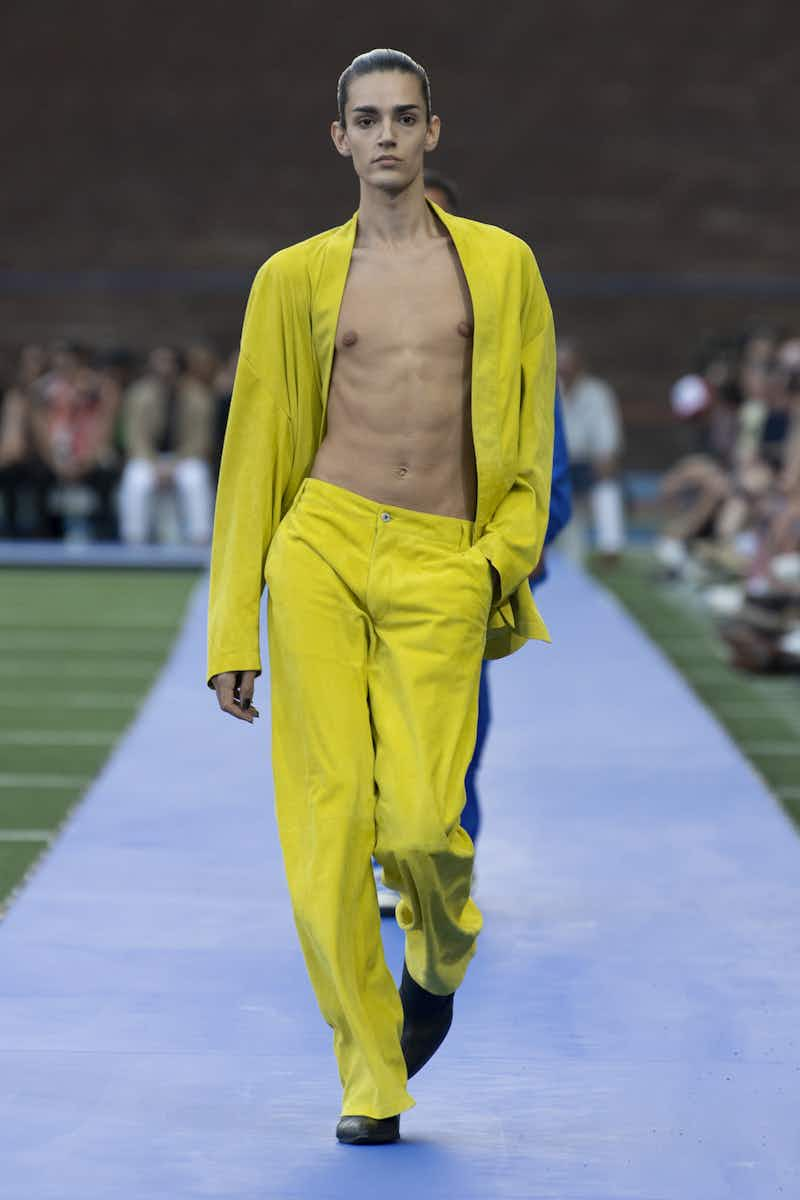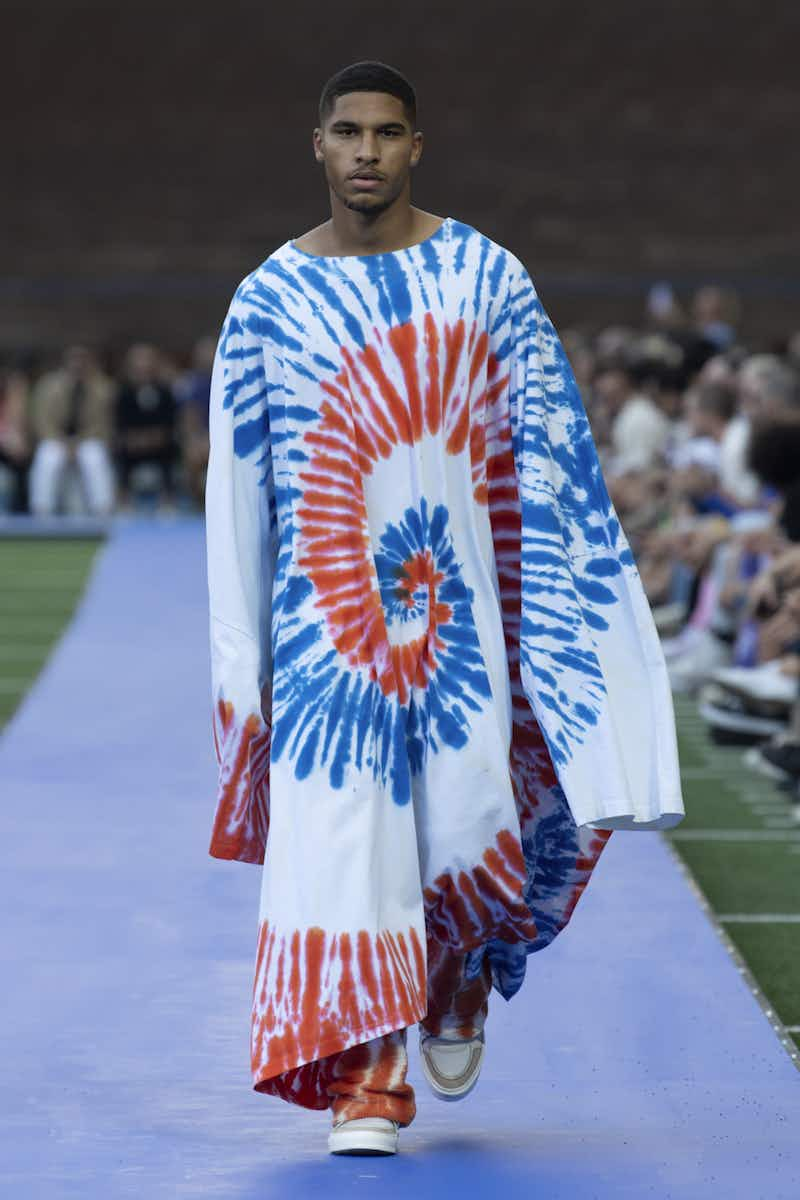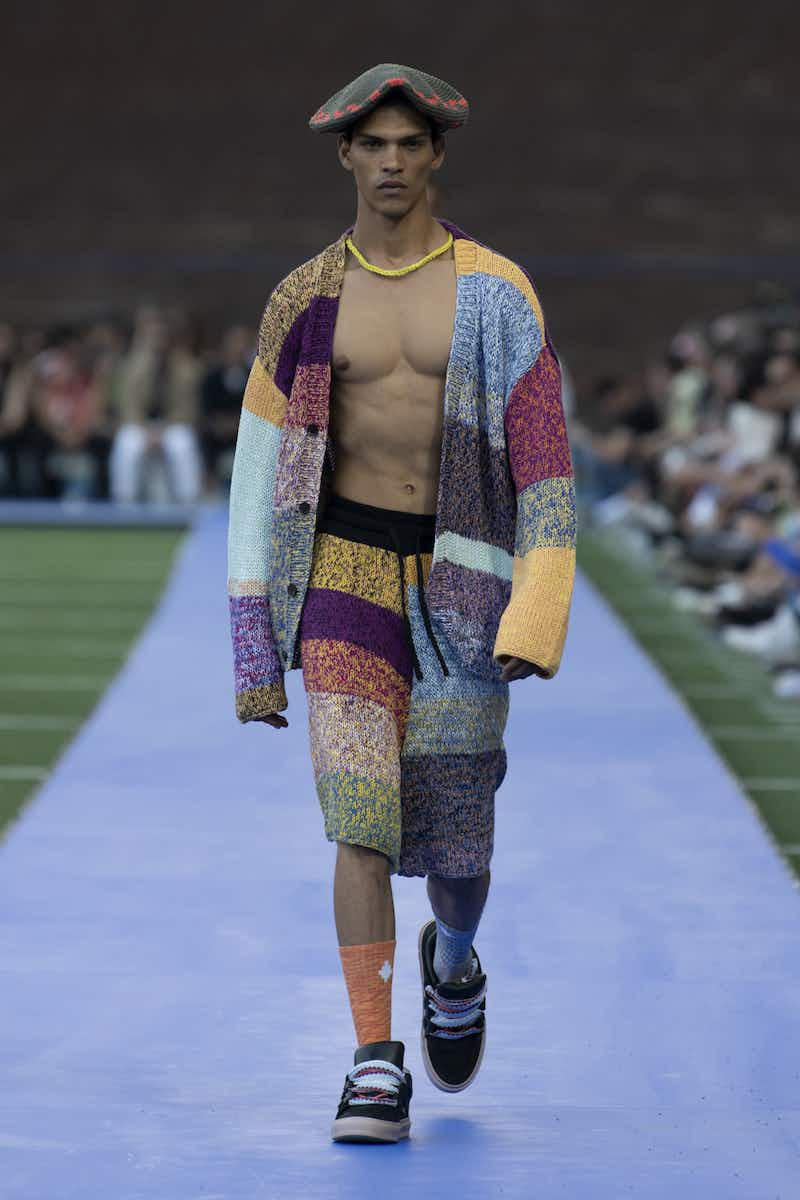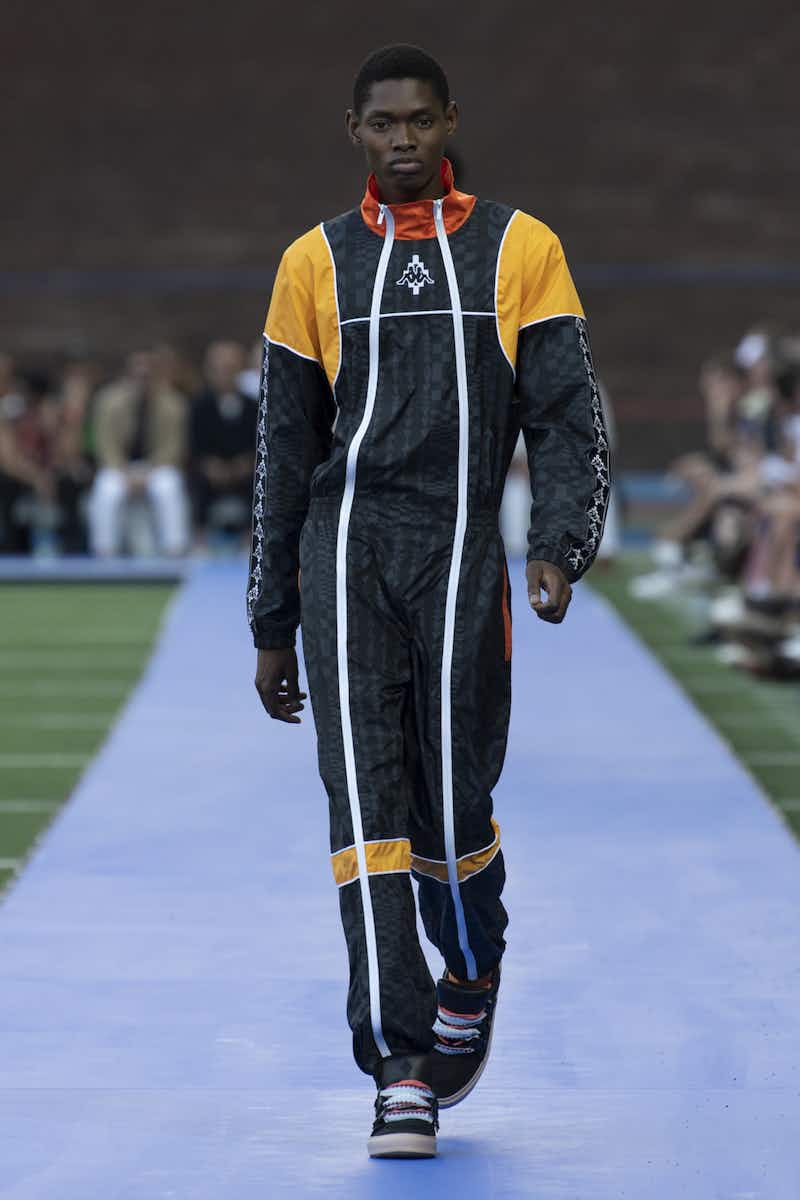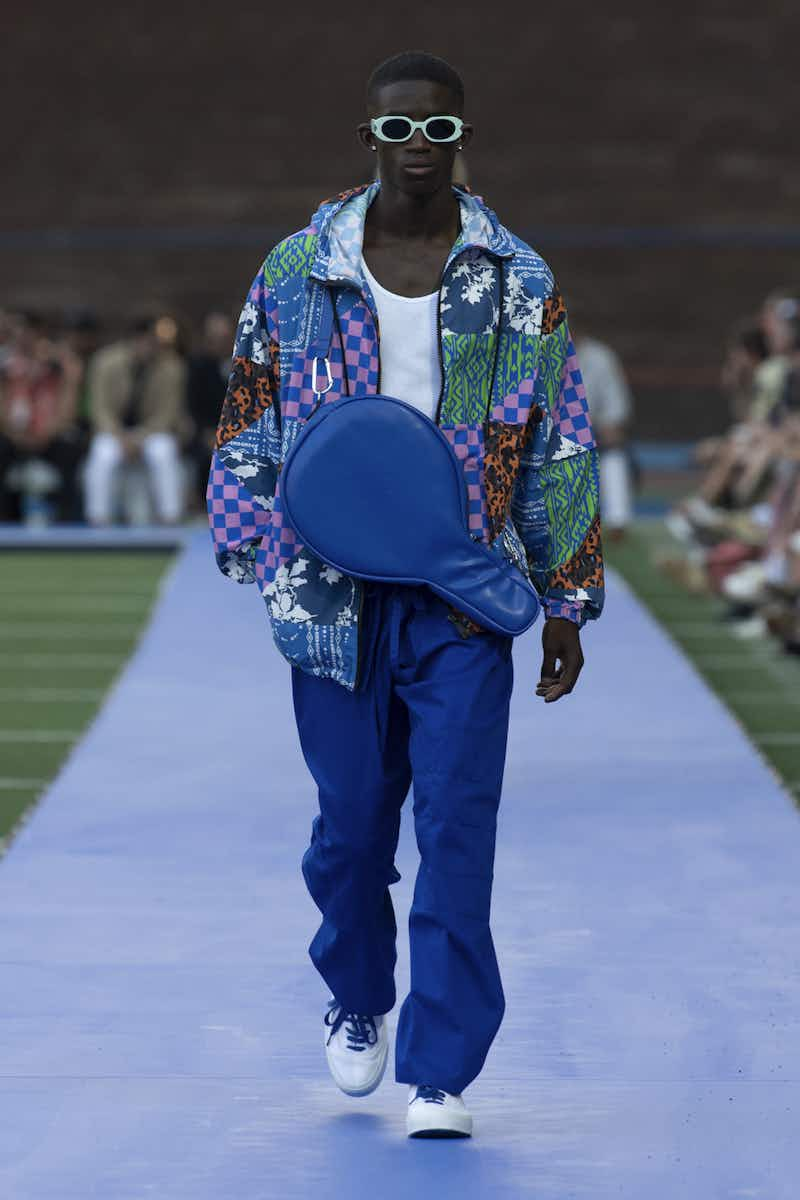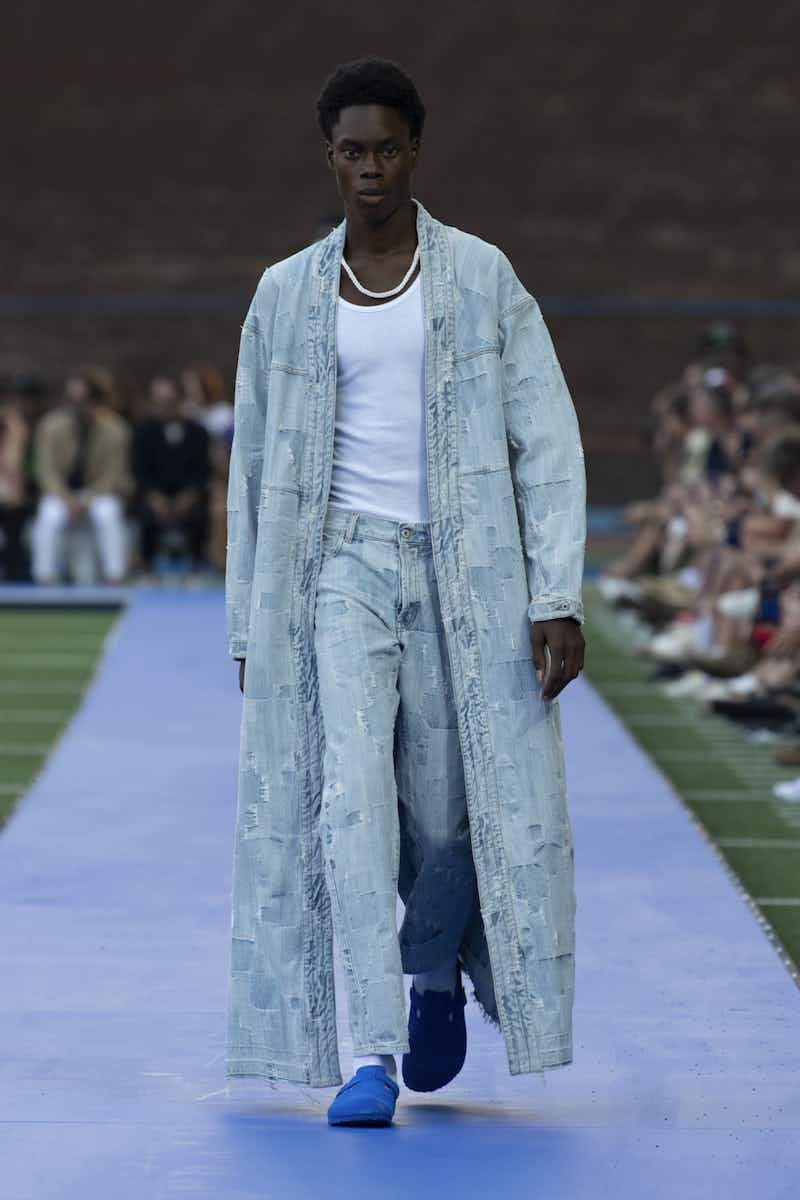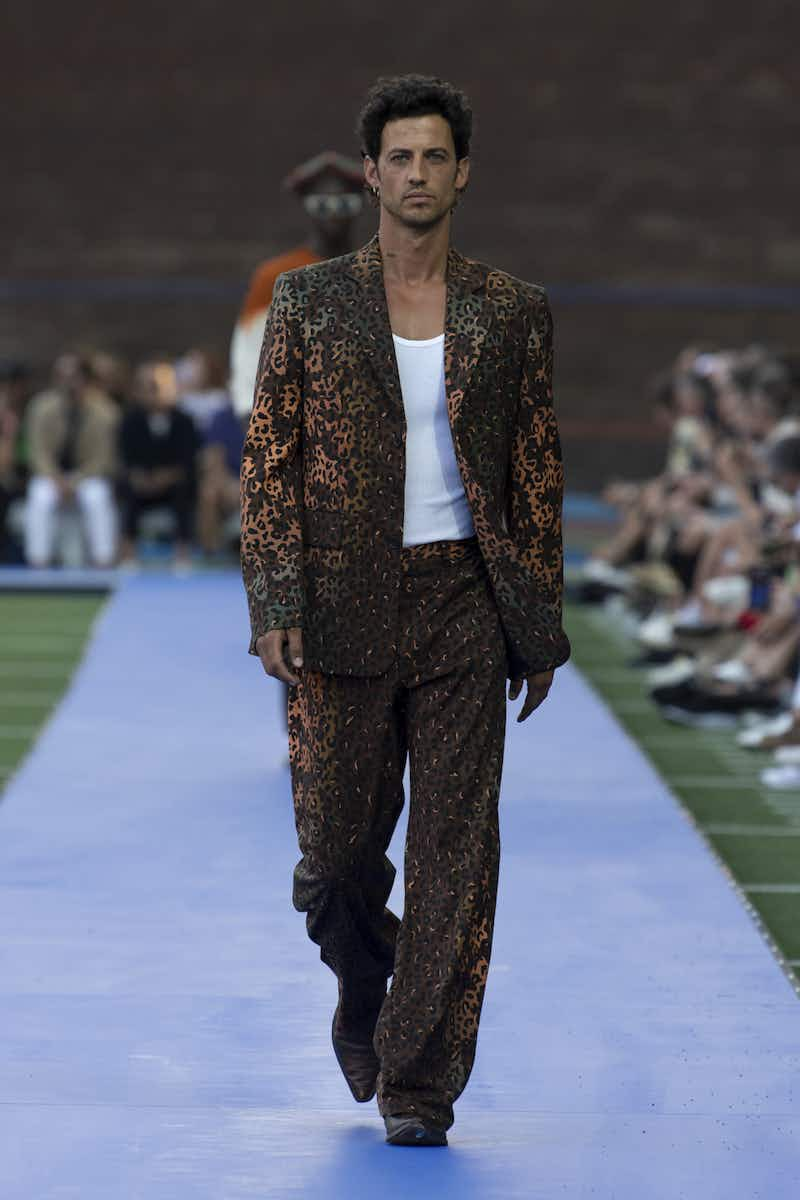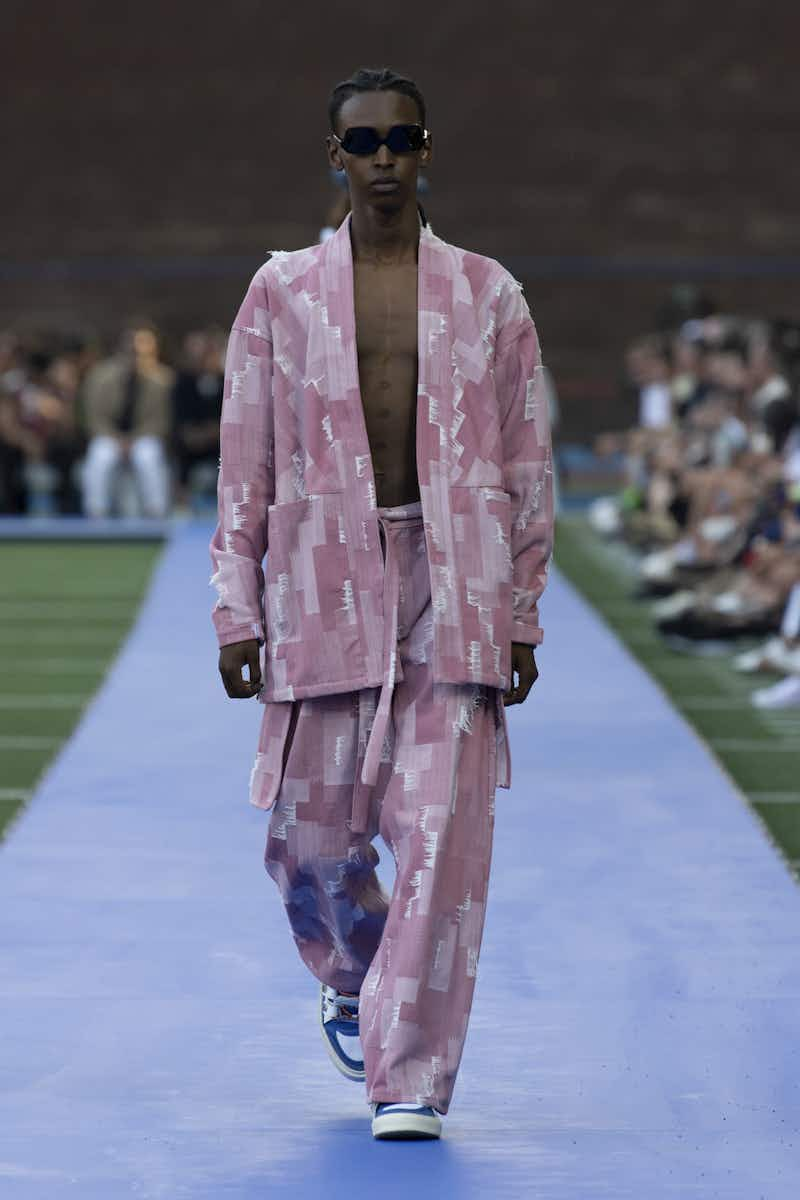 A hankering for relaxation pervaded Silvia Venturini Fendi​'s collection this season. Inspired, she said, by ​"an ageless sense of freedom to play, as we rediscover the luxury of free time," she presented a laidback collection full of tones mirroring earth, sky and water. Texture came from shearling, as well as plenty of fringing and frayed edges. Patterns expanded from cow hide out into more abstract splodges, like ink dropped in water. The silhouette was loose, a series of crisp shirts and light jackets sitting low on the hips. Fendi prides itself on its refined craftsmanship, and the sweet-spot was in the fabric: soft chambrays, breathable cotton twills, boxy poplins, super light wools, faded denims. This was a show that understood that luxury – whether we're talking time or clothing – doesn't have to be showy. Delfina Delettrez Fendi's jewellery invoked a note of nostalgia, too, with gold ​"nugget" souvenirs inspired by Fendi family holidays, ready to be worn even when summer fades into cooler months.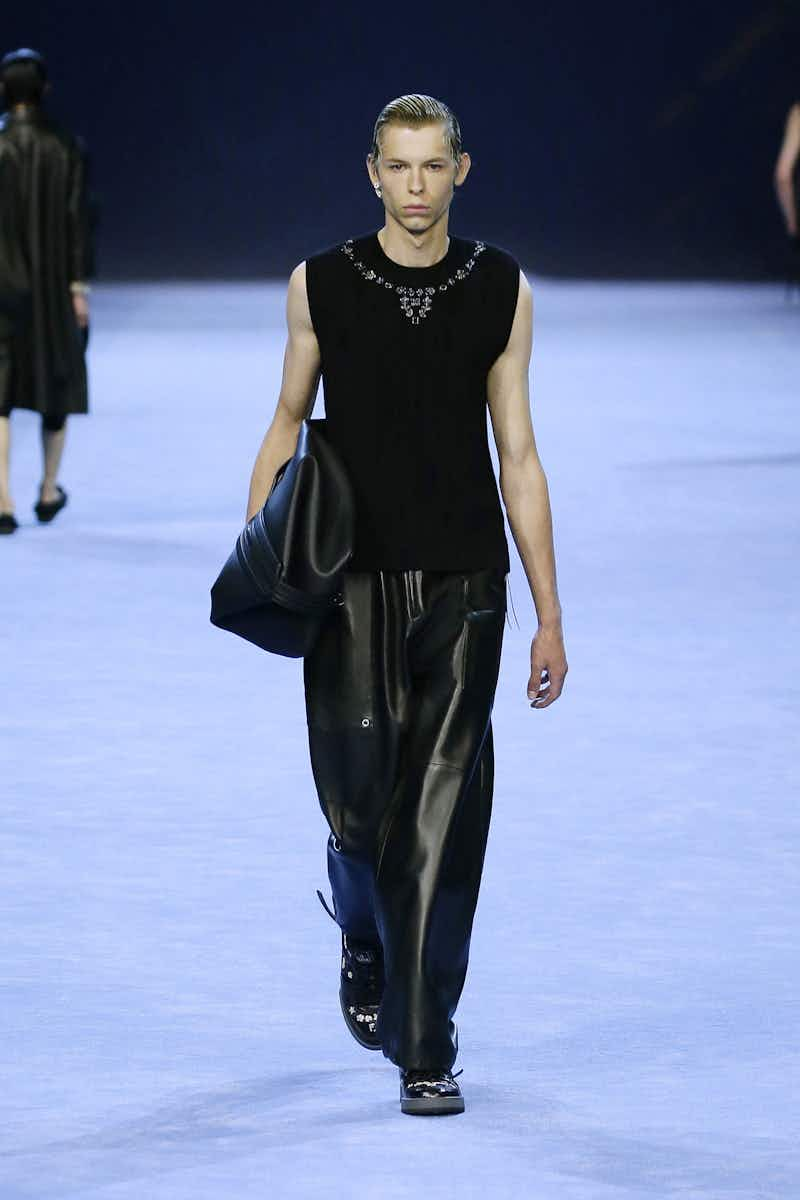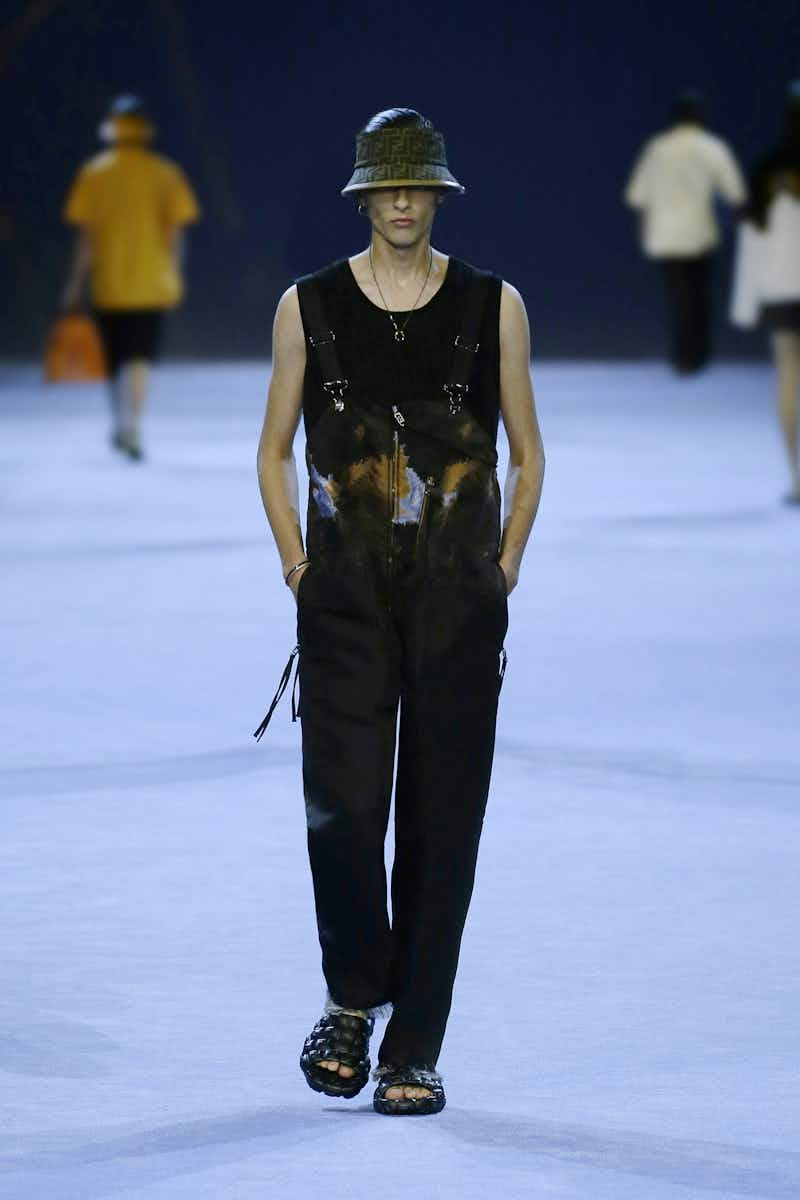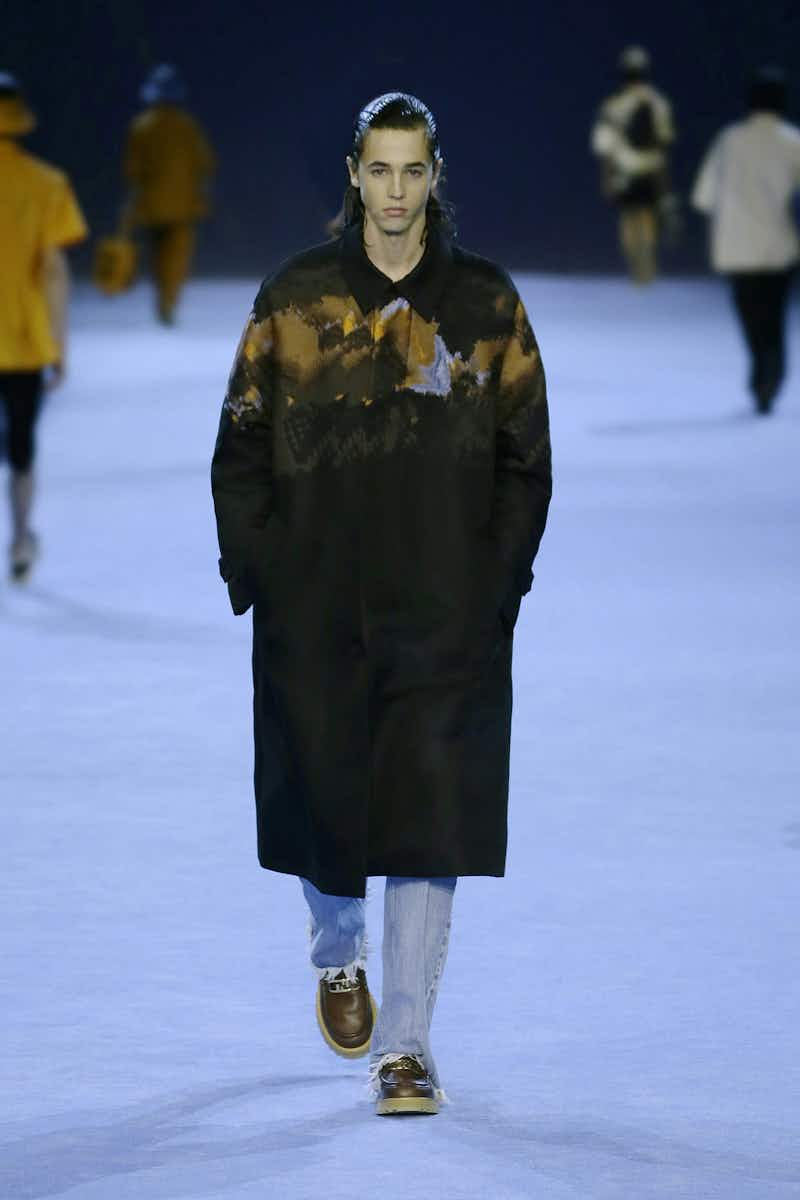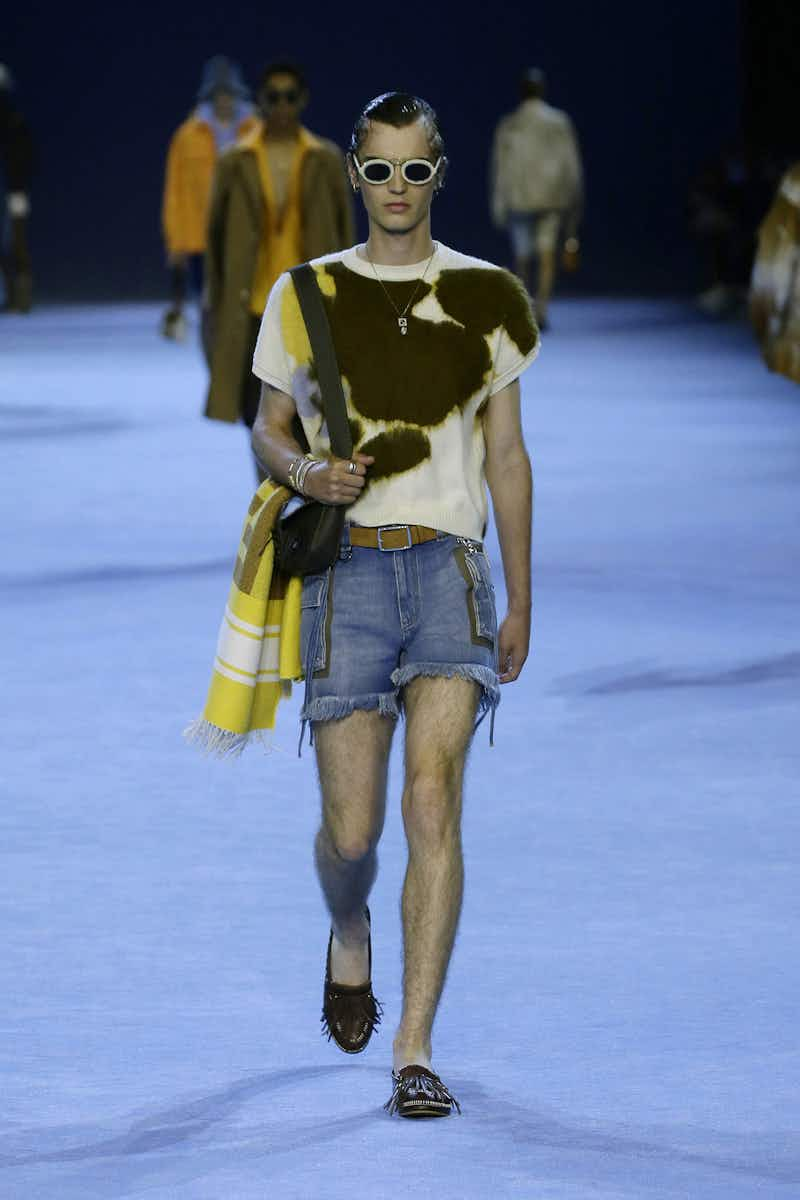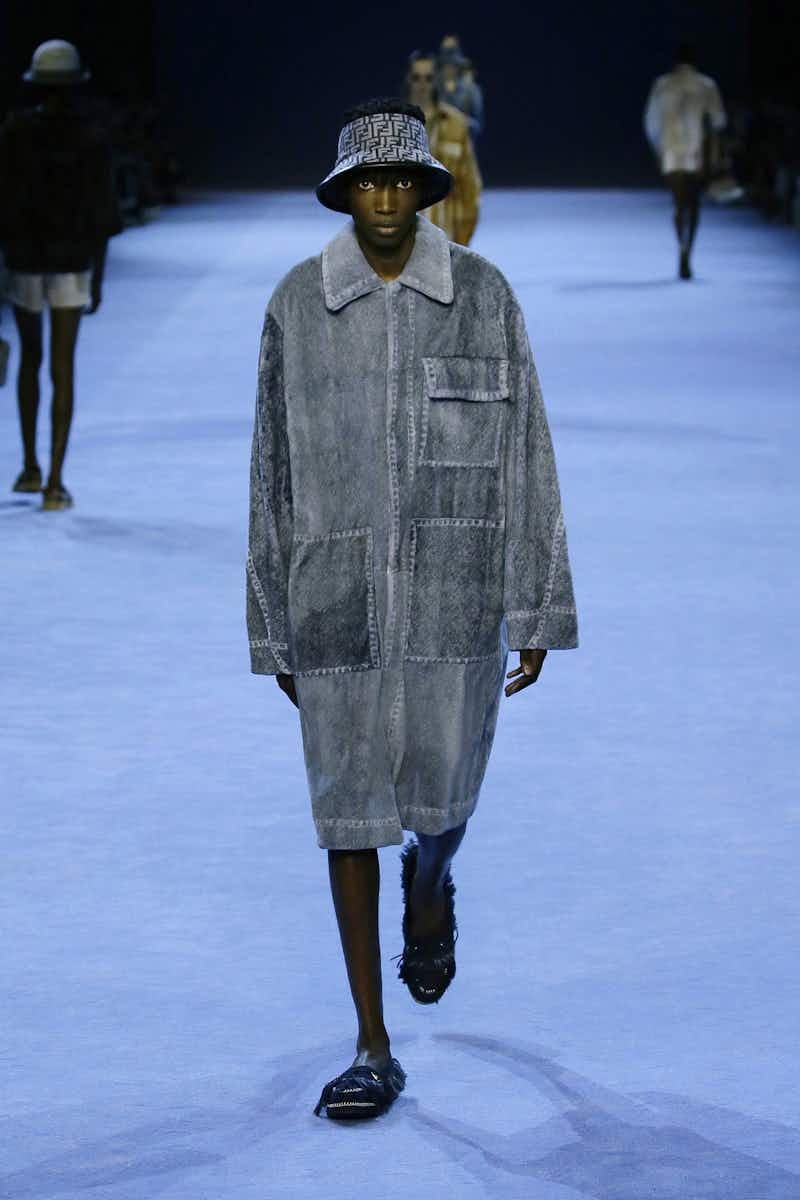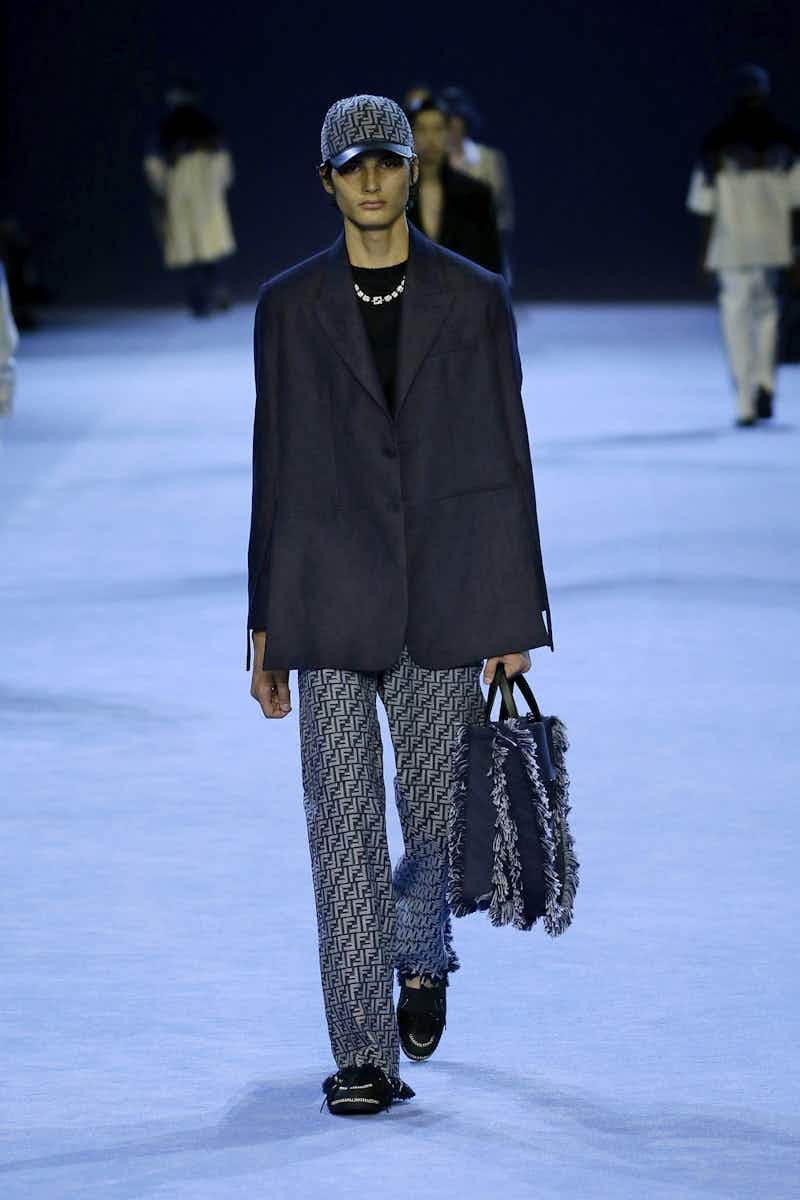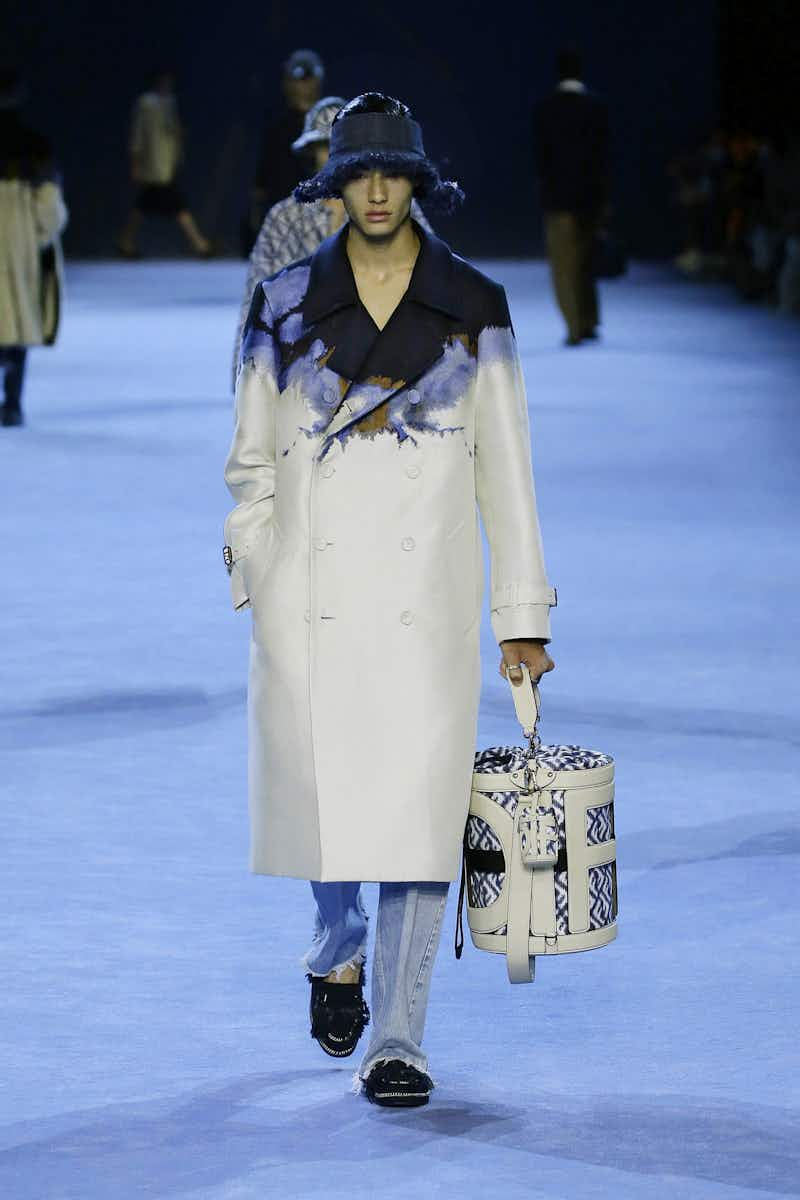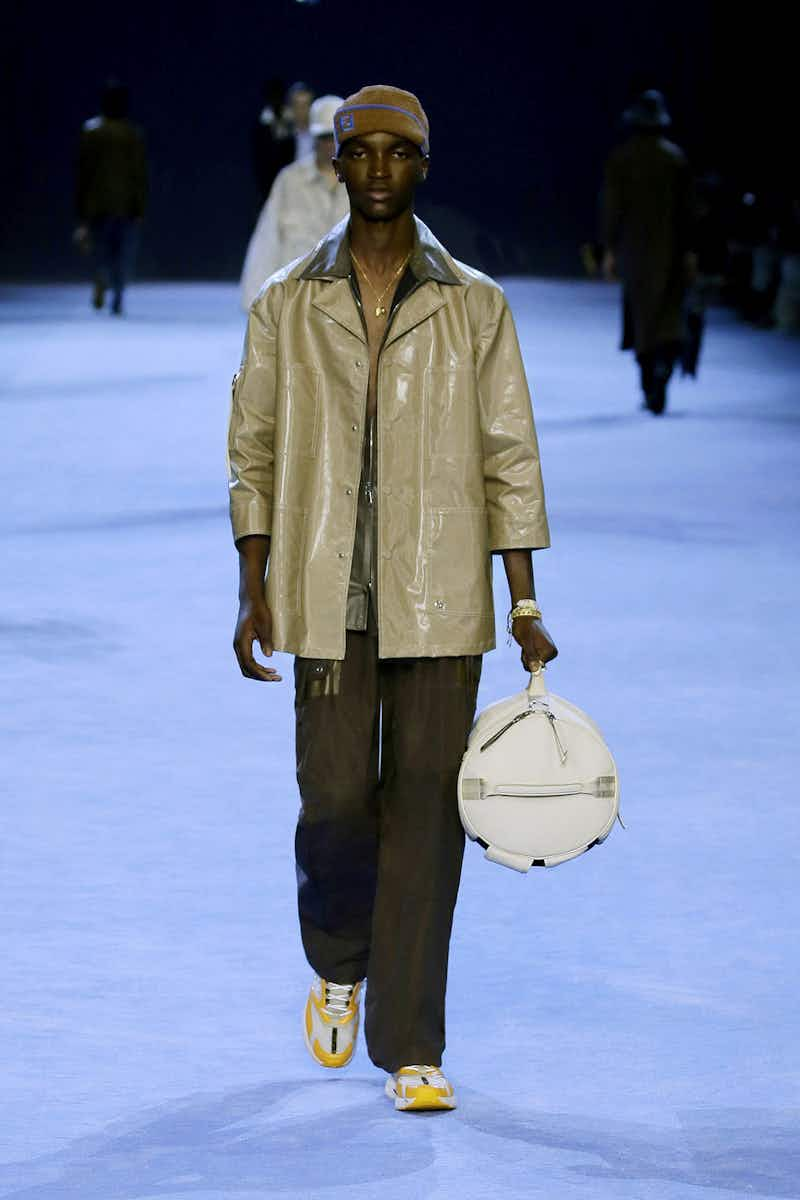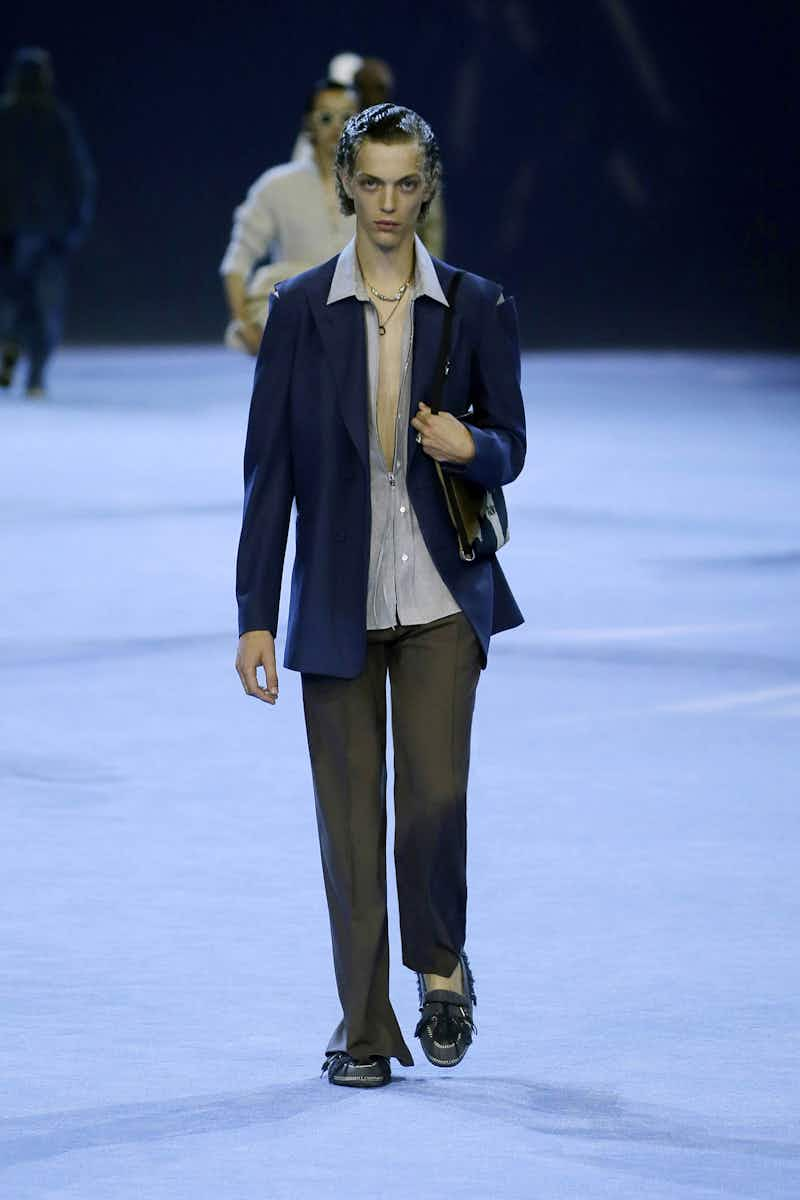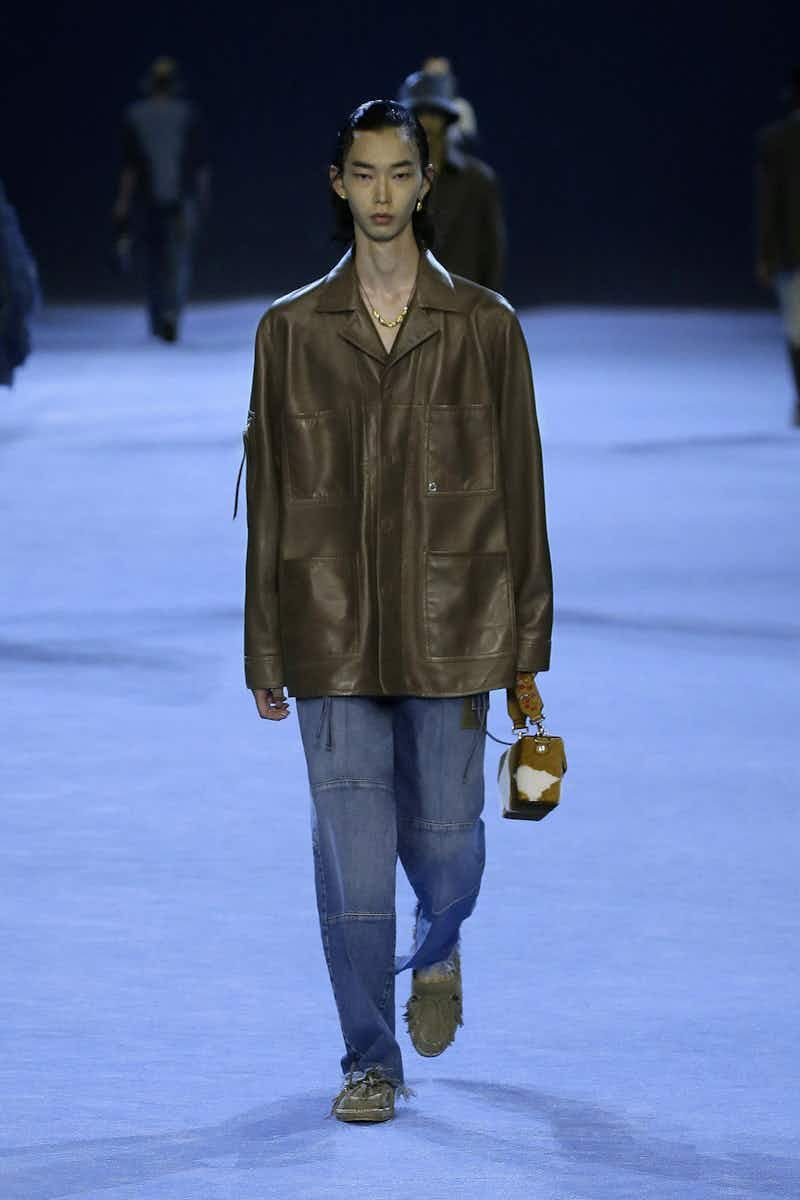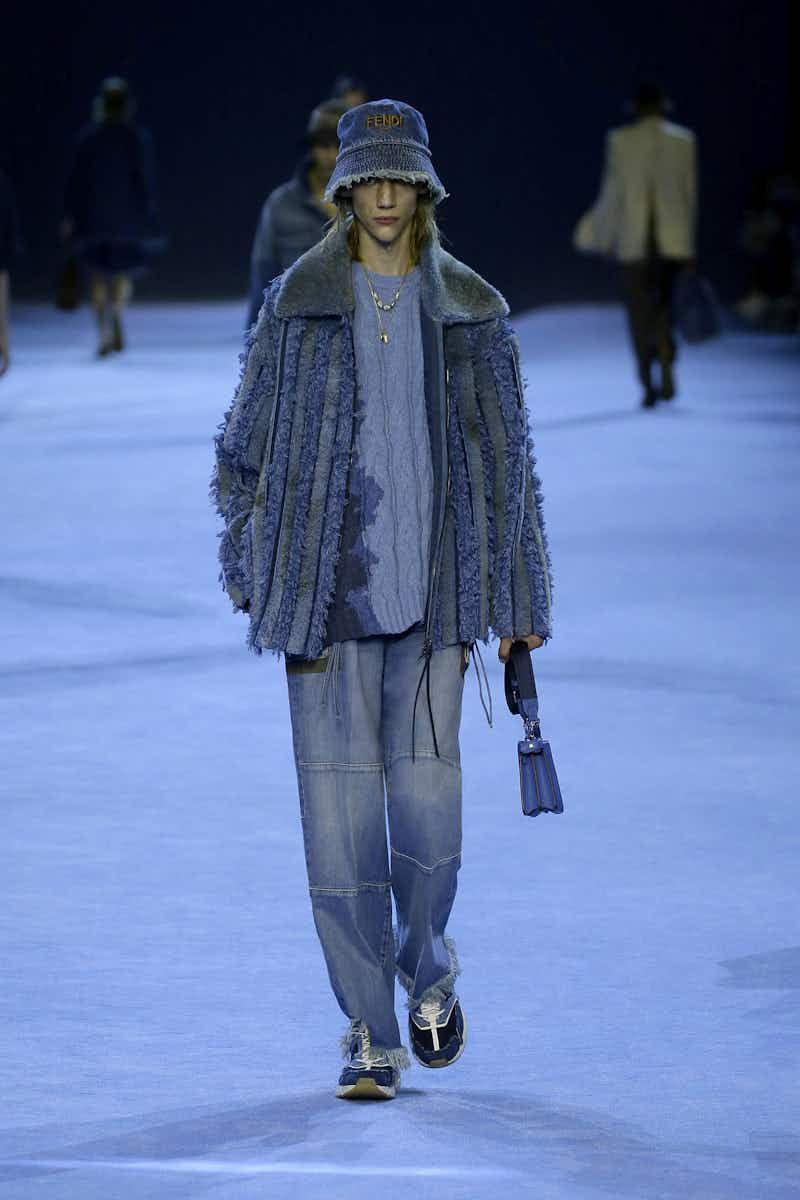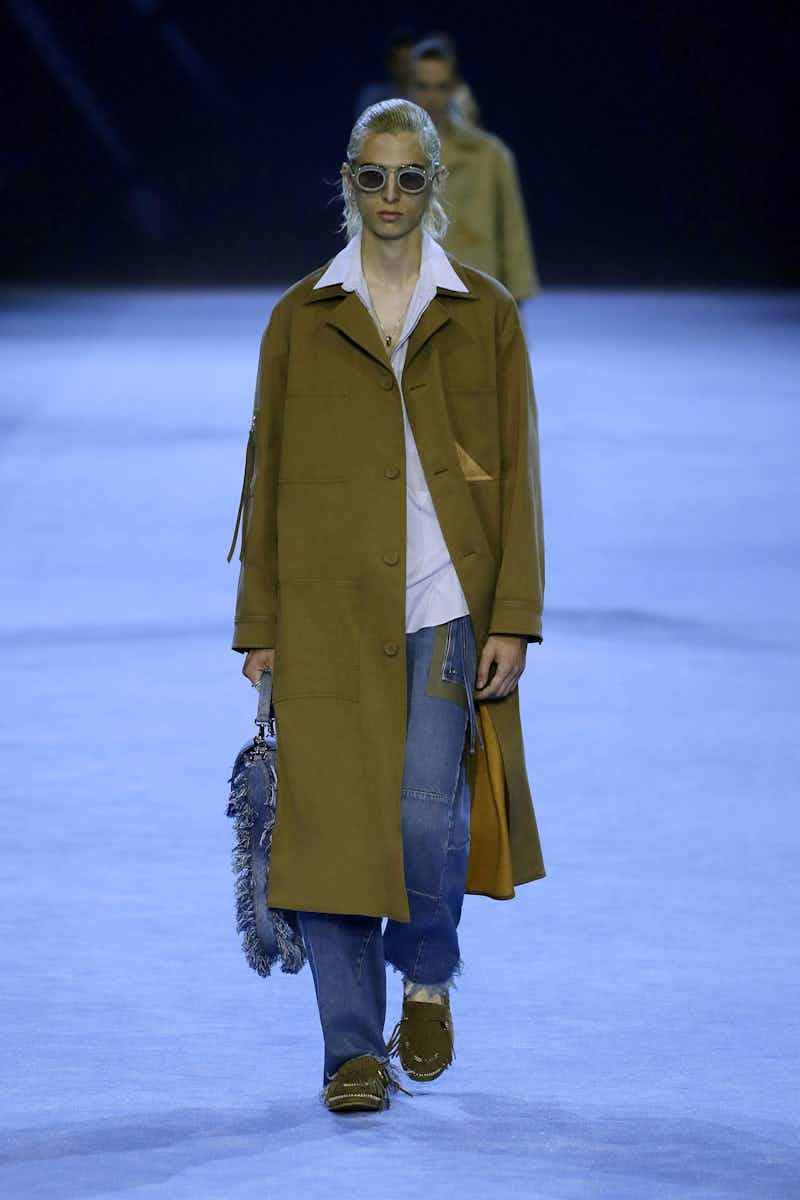 In contrast to the generally sunny mood in Milan, Jordan Bowen and Luca Marchetto​'s collection was moody – a welcome shadow, perhaps, in the heat of the day. Self-sabotage, annihilation and grizzly, premature death was given context through dramatic shoulders and hazardously long trousers – and the barbed wire motifs were a decidedly spiky addition. In case that all sounds a bit too goth for you, there were some welcome ​'70s-style wavy patterns and colourful jumpers to break up the melancholy drama. The lace-up gator style boots were unexpectedly fun, too, suggesting something somewhere between a medieval troubadour and a groovy fisherman.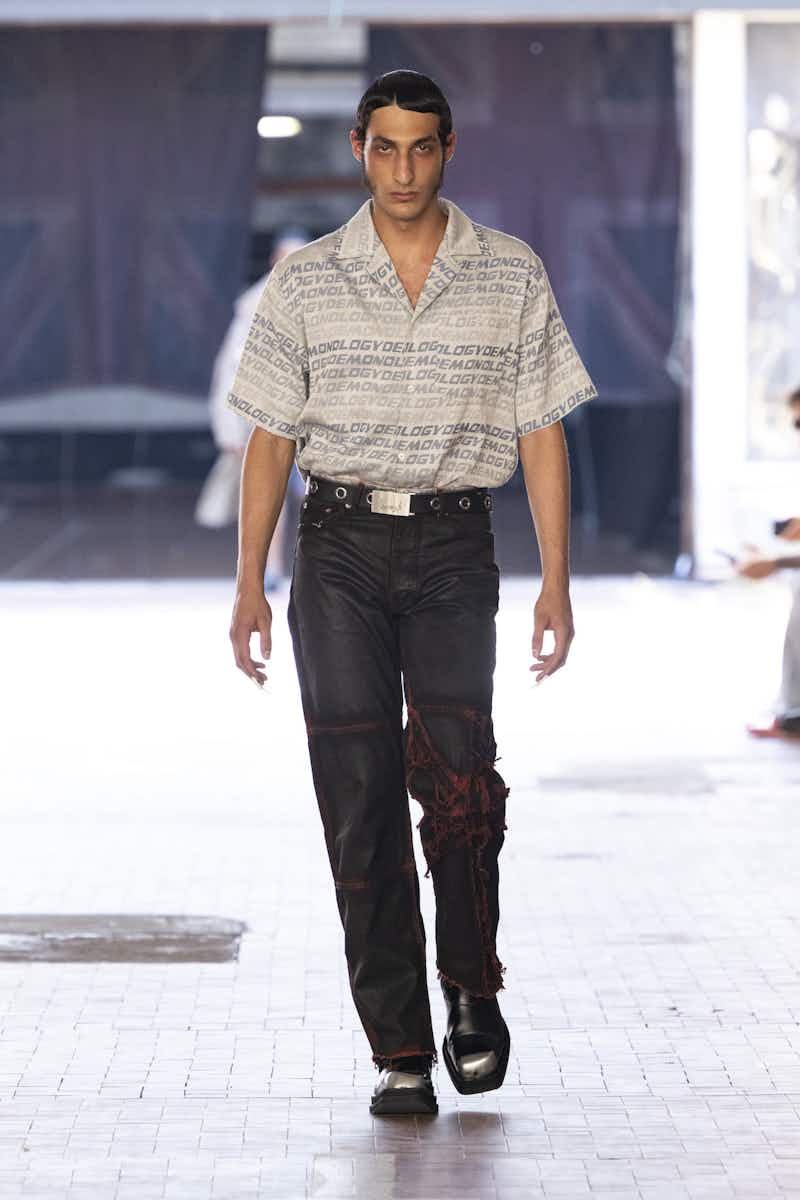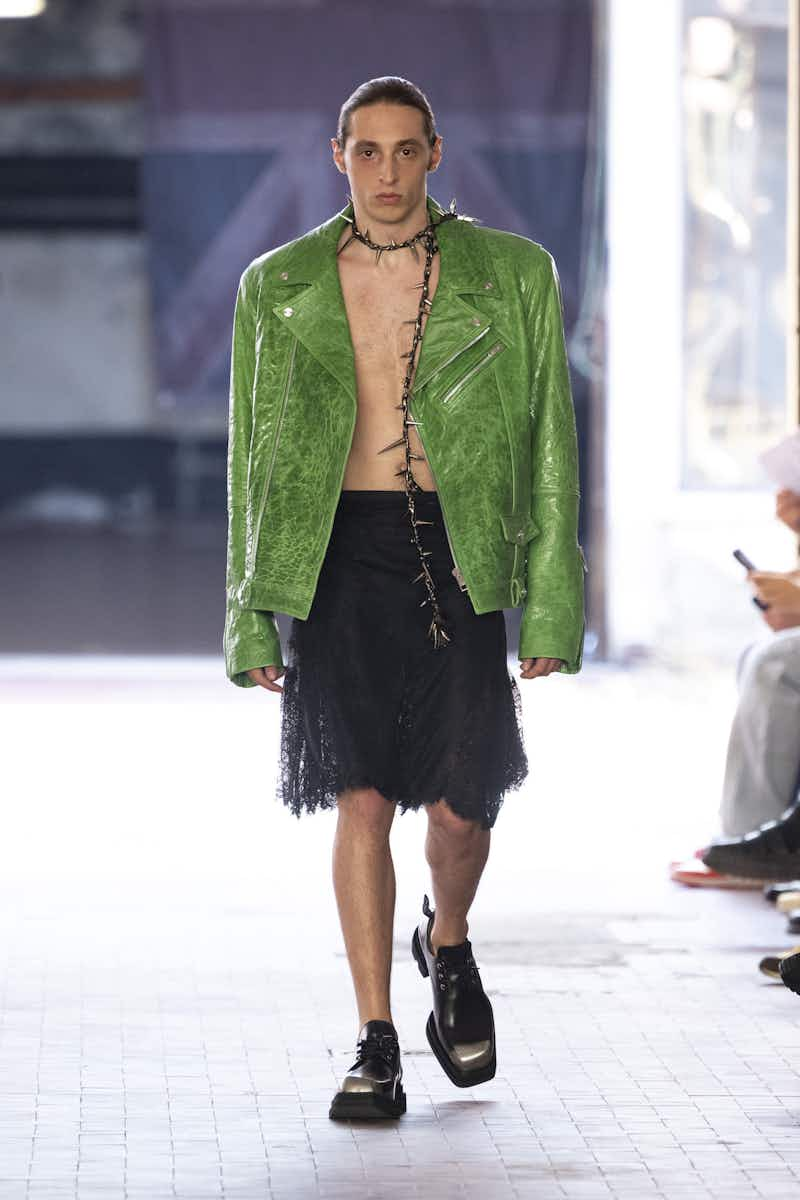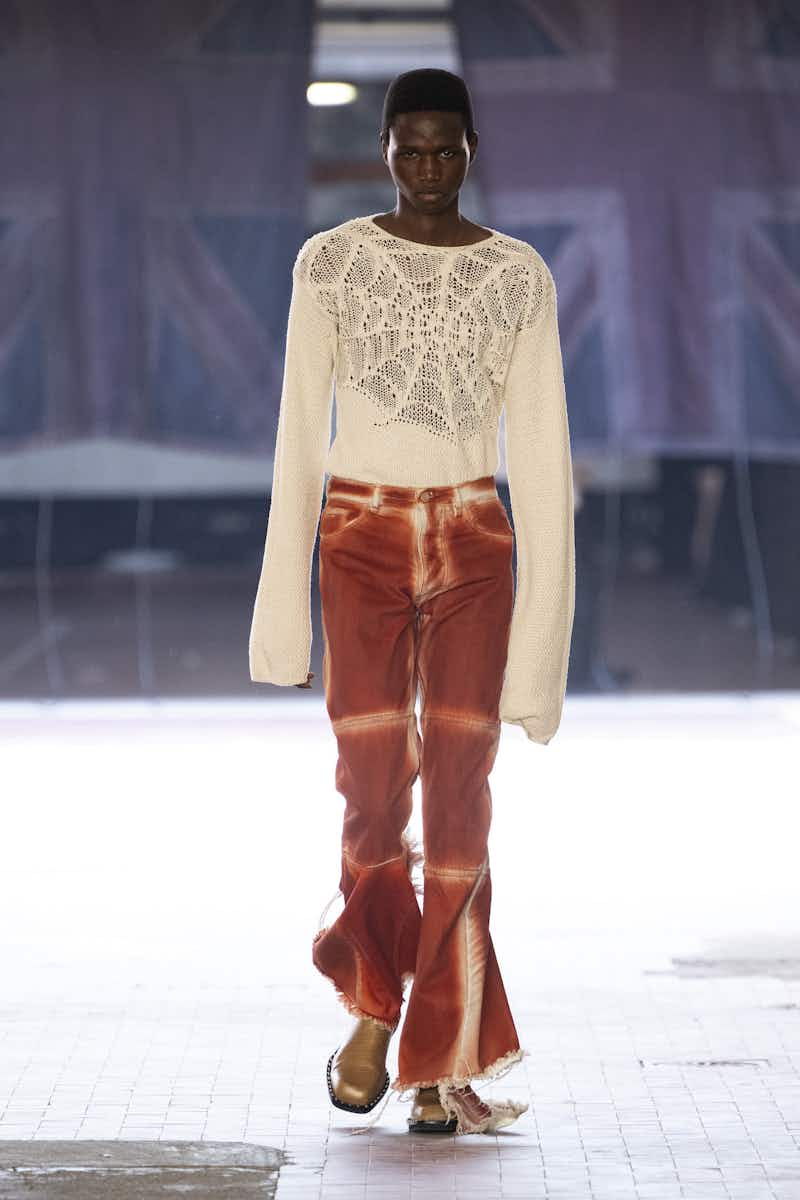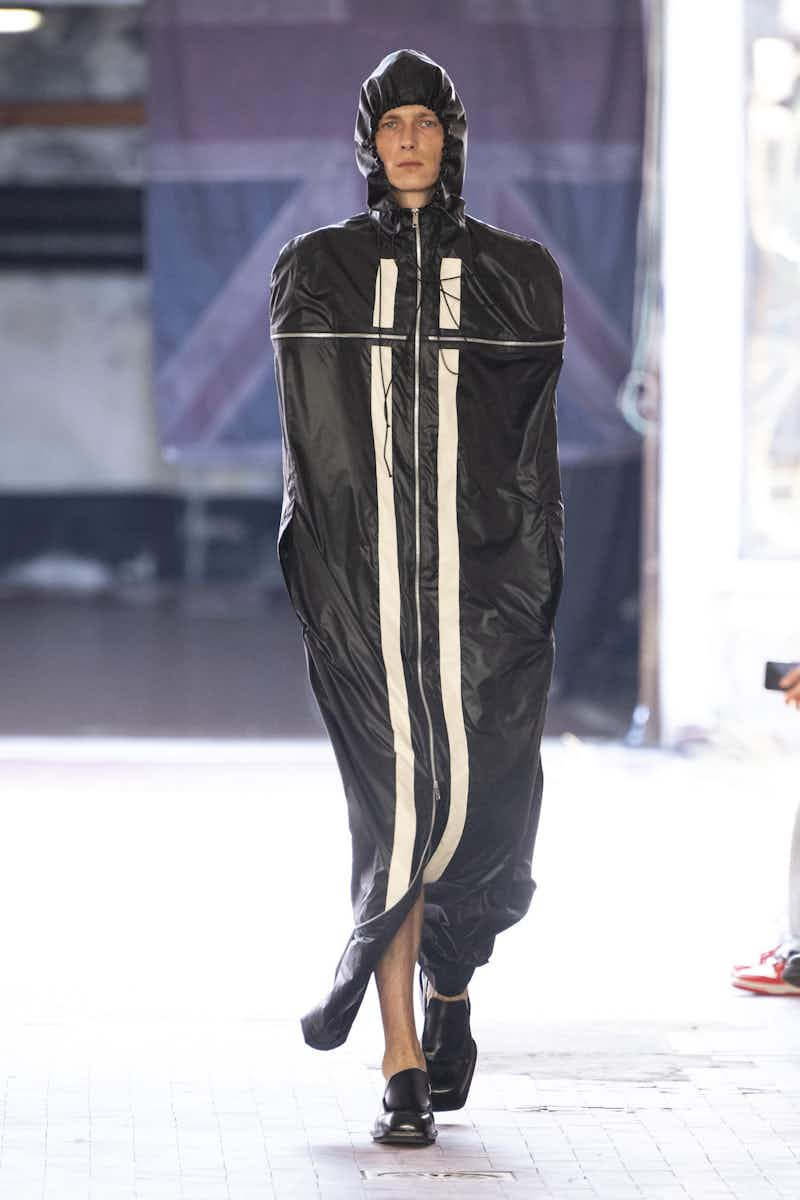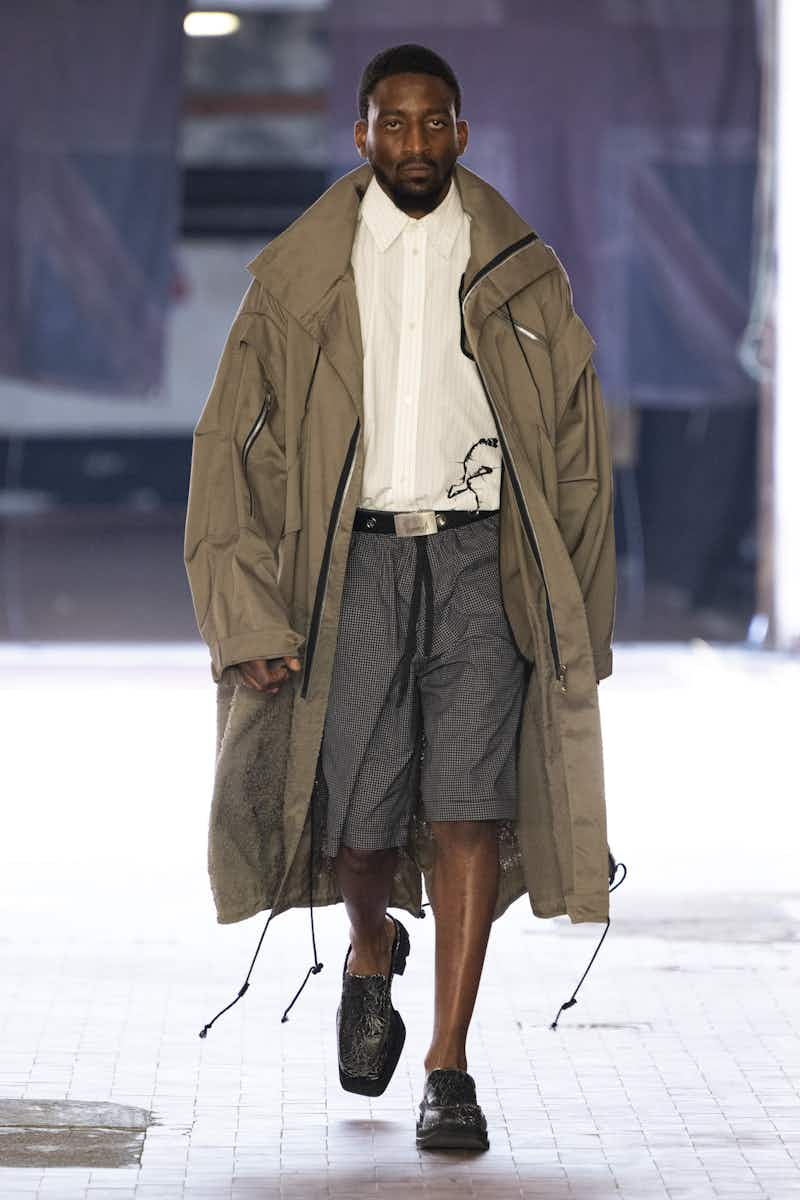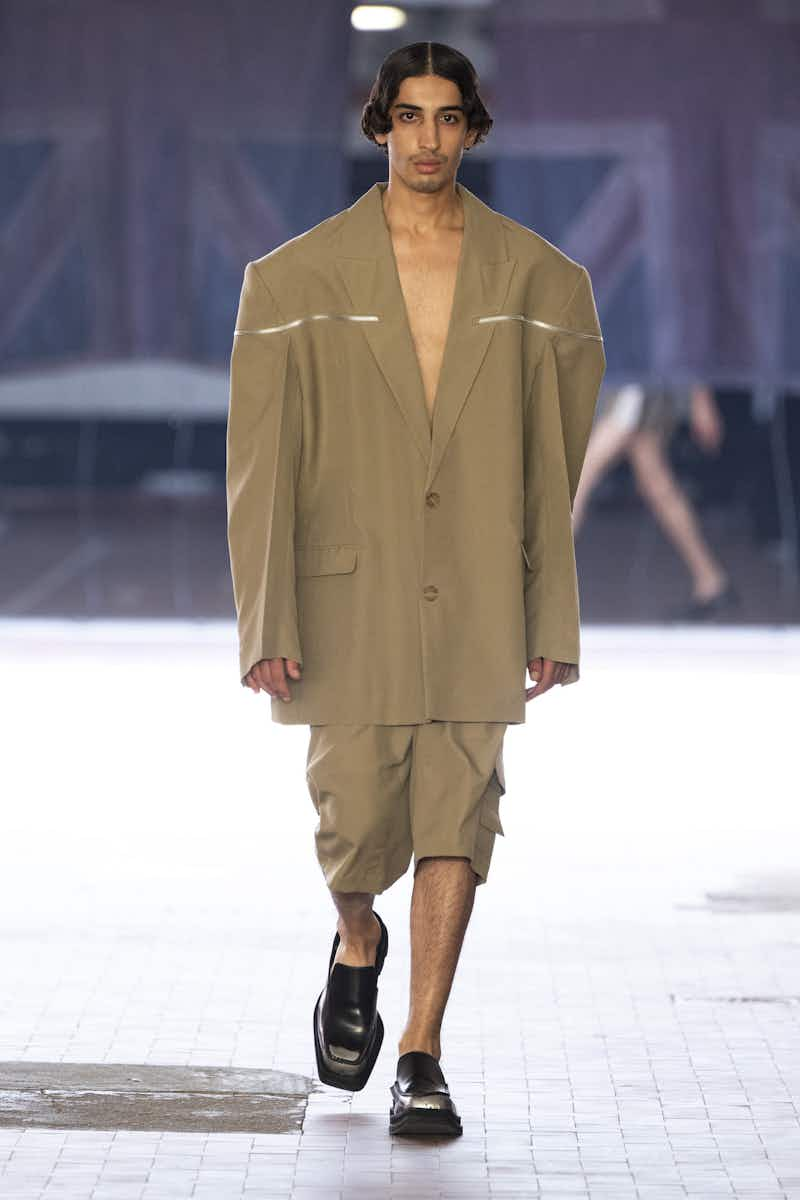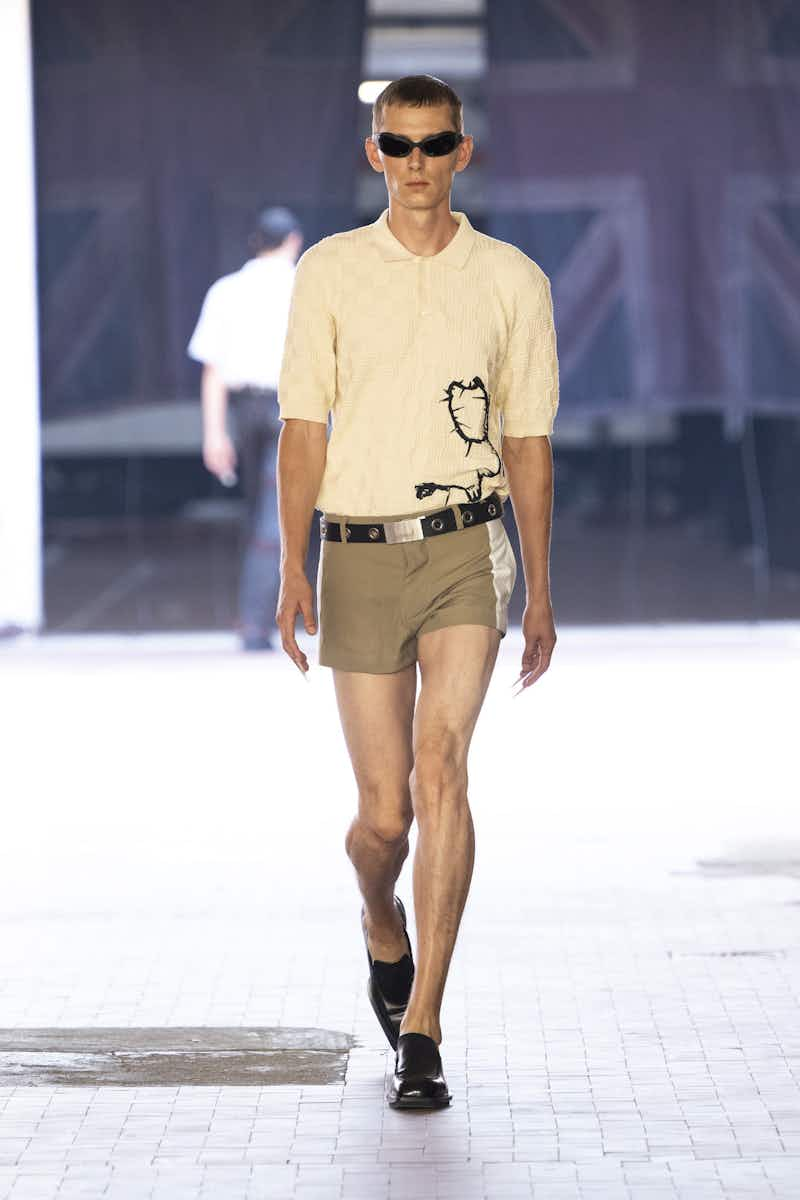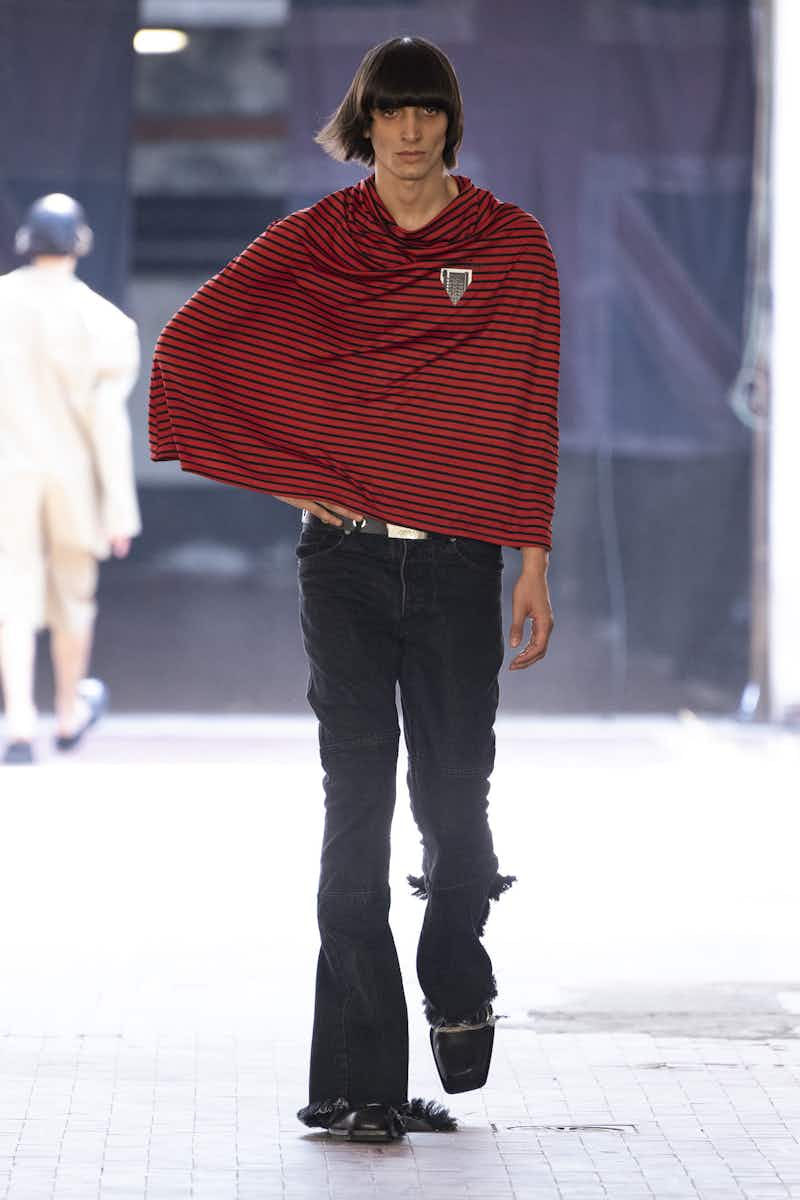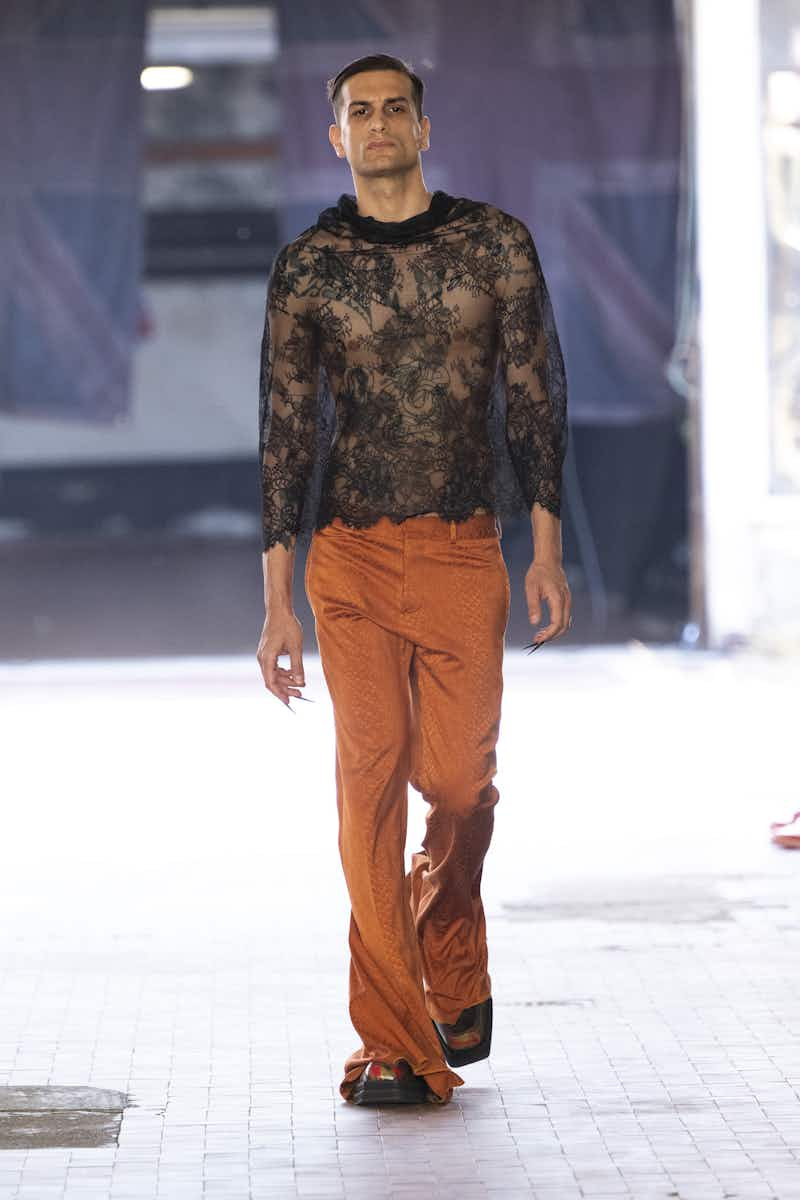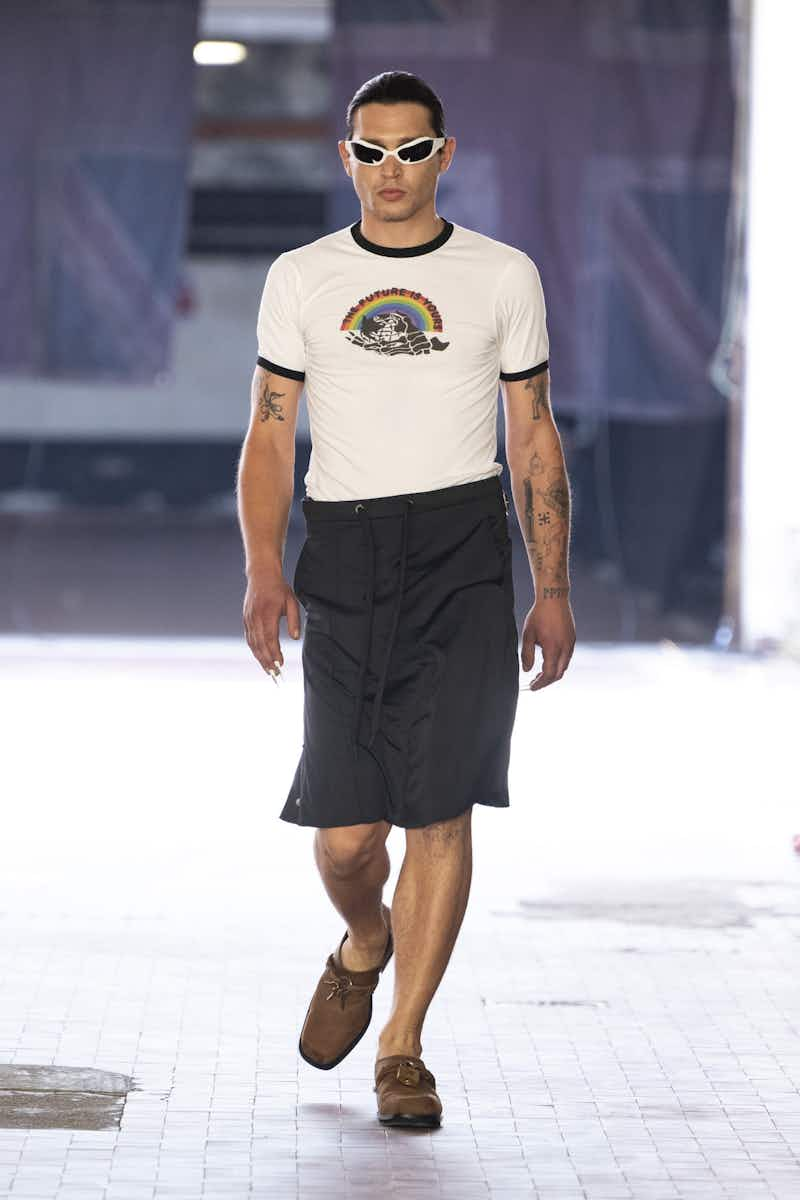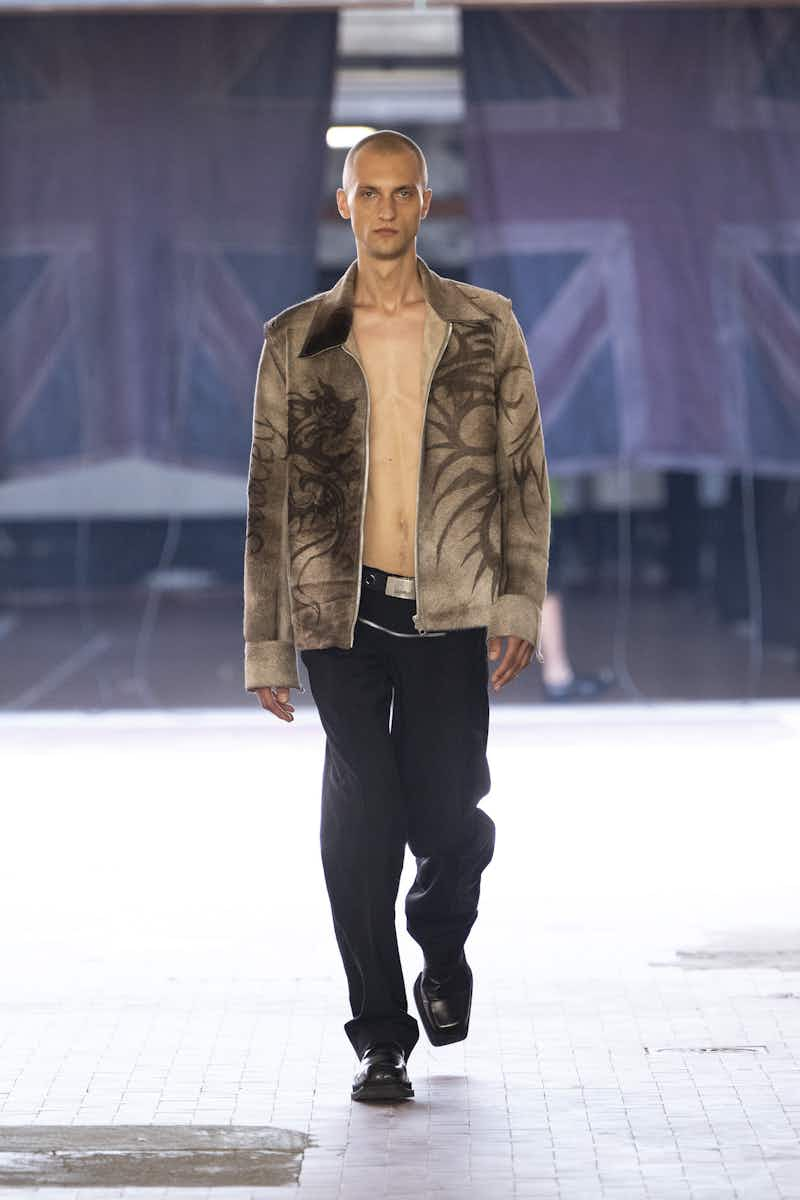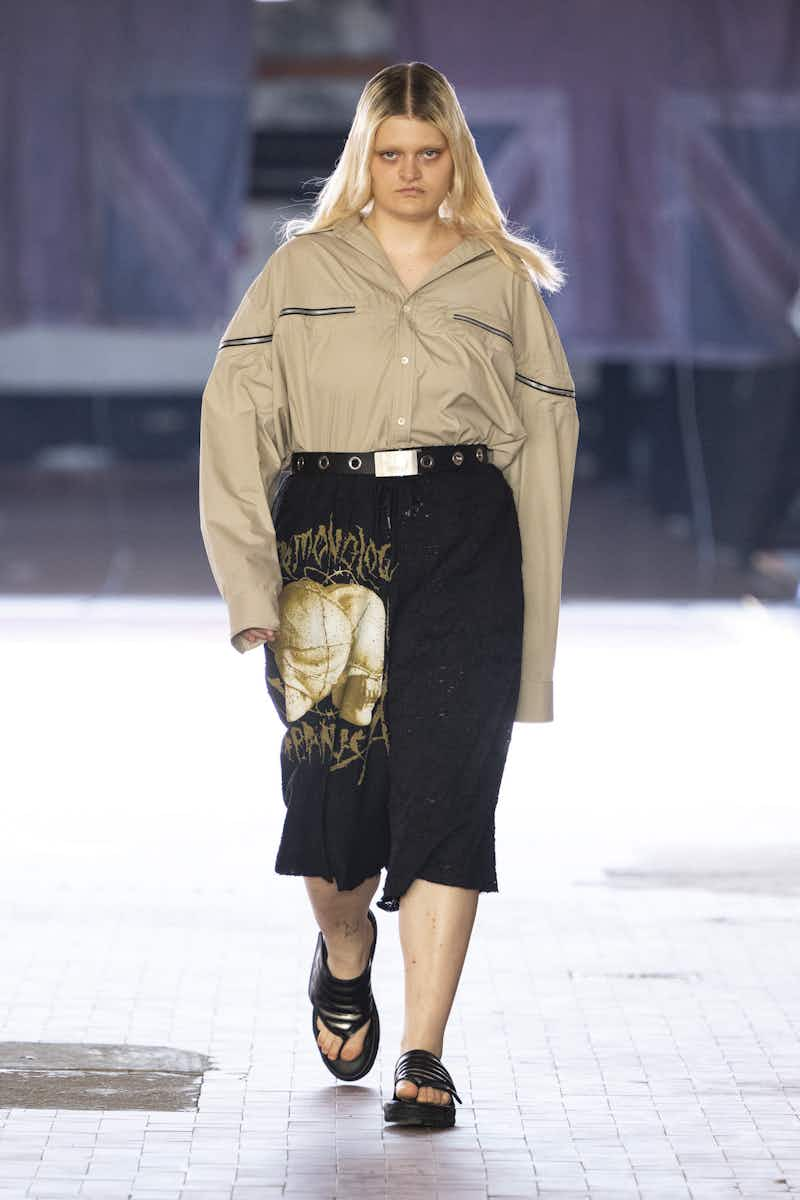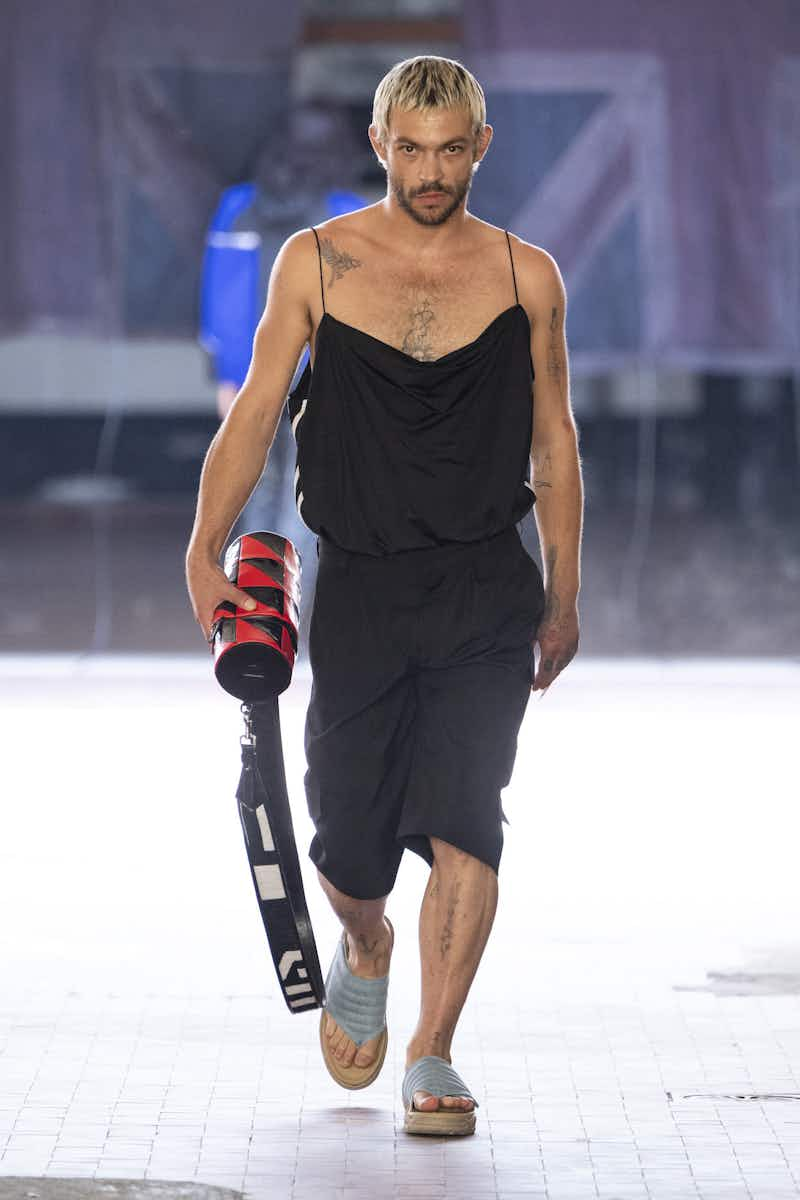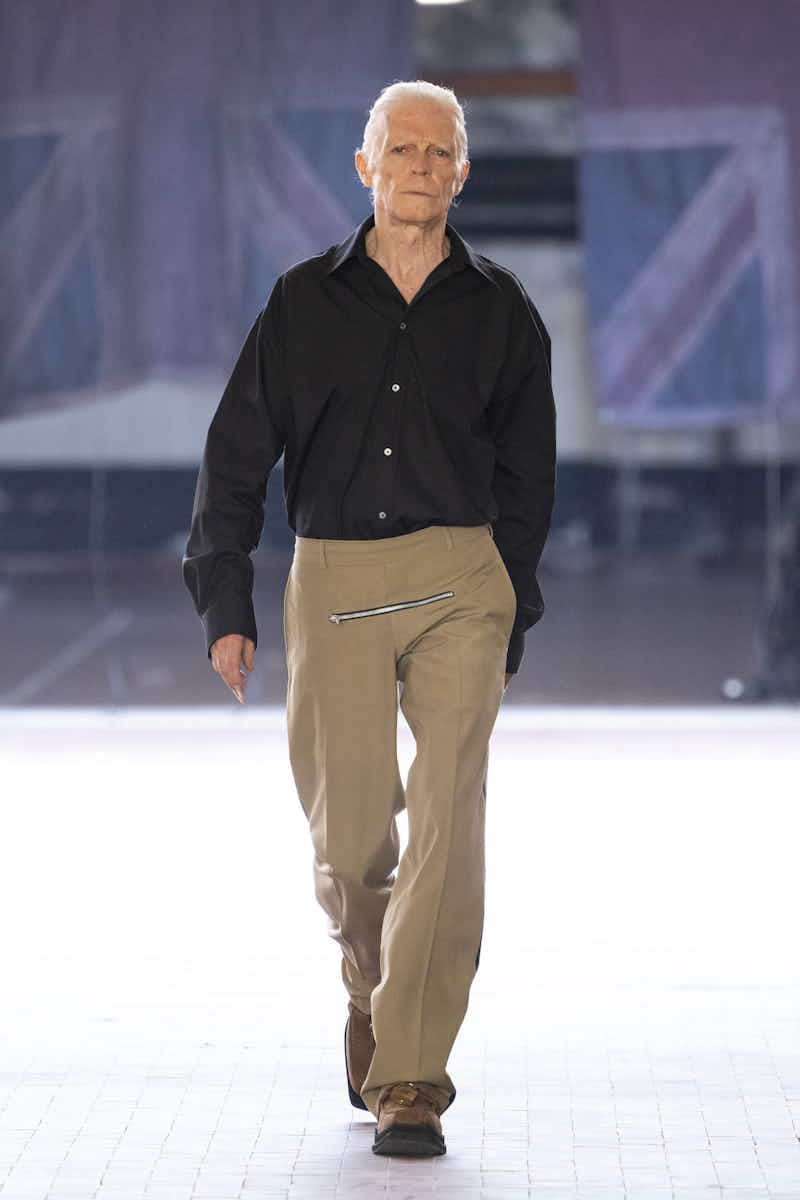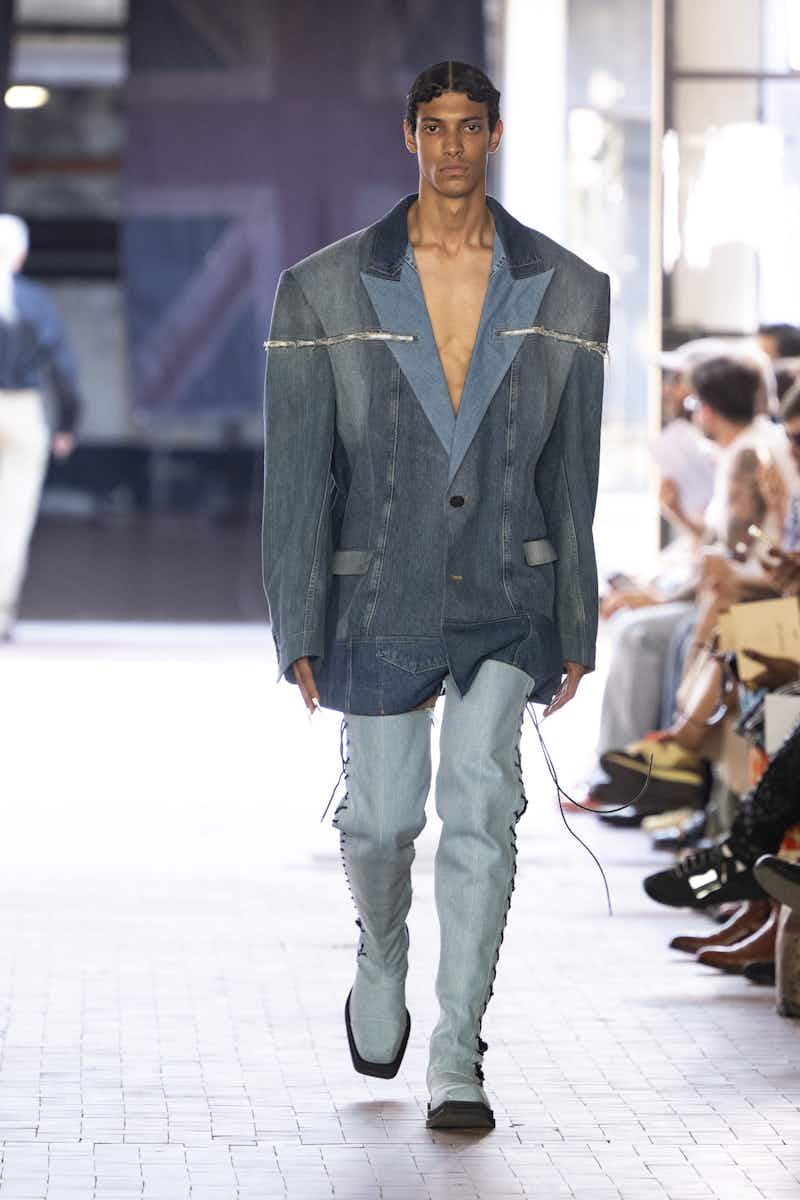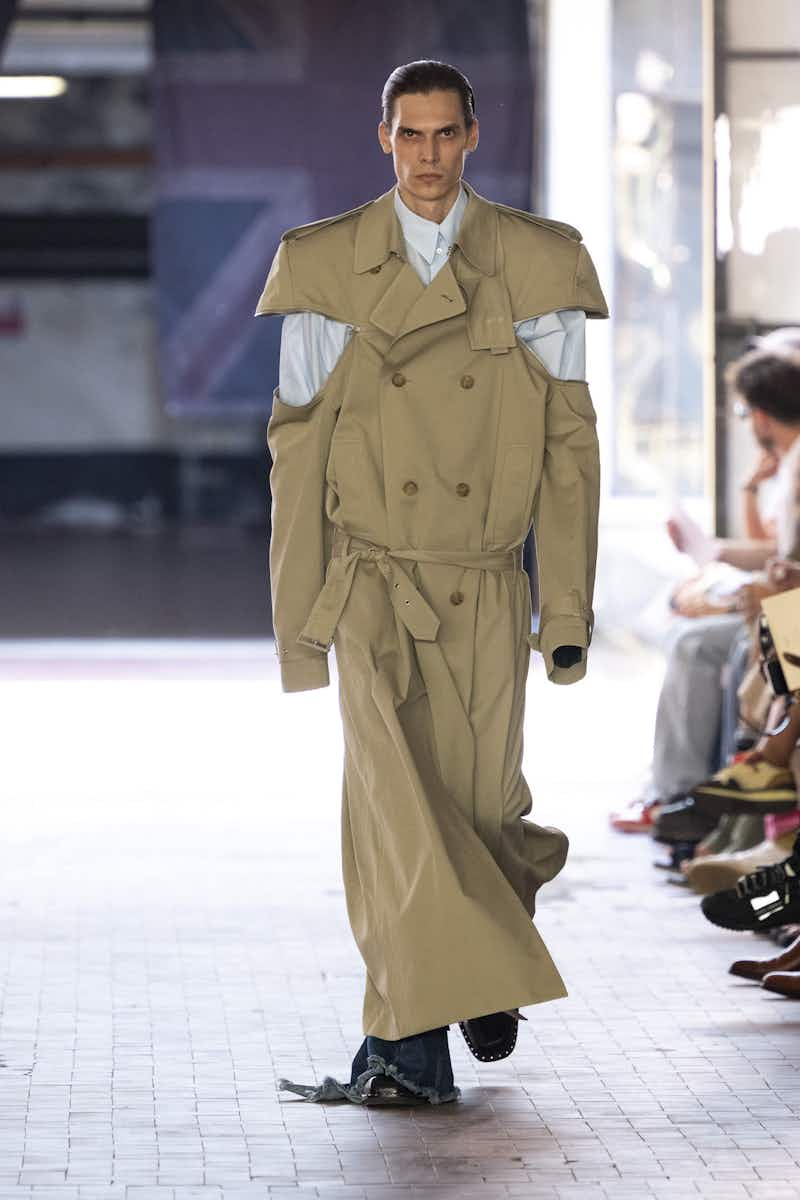 Is there anything more Versace than a neon python print? Donatella Versace's return to menswear was poppy, punchy and, predictably, ​"more is more". Salmon pinks and neon yellows complimented those opening python pieces, as well as a delicious number of stripes. This maximalist vision combined other classic Versace motifs (cut-outs, startled-looking busts tumbling across shirts) with the slack, vaguely louche lines seen everywhere this season already. It seems next summer's pose du jour will be the hands-in-pockets slouch, with a camp sense of reimagined antiquity infusing the props, too. Alongside the usual array of shoulder bags and shoppers, a couple of models carried vases and urns designed, of course, by Versace.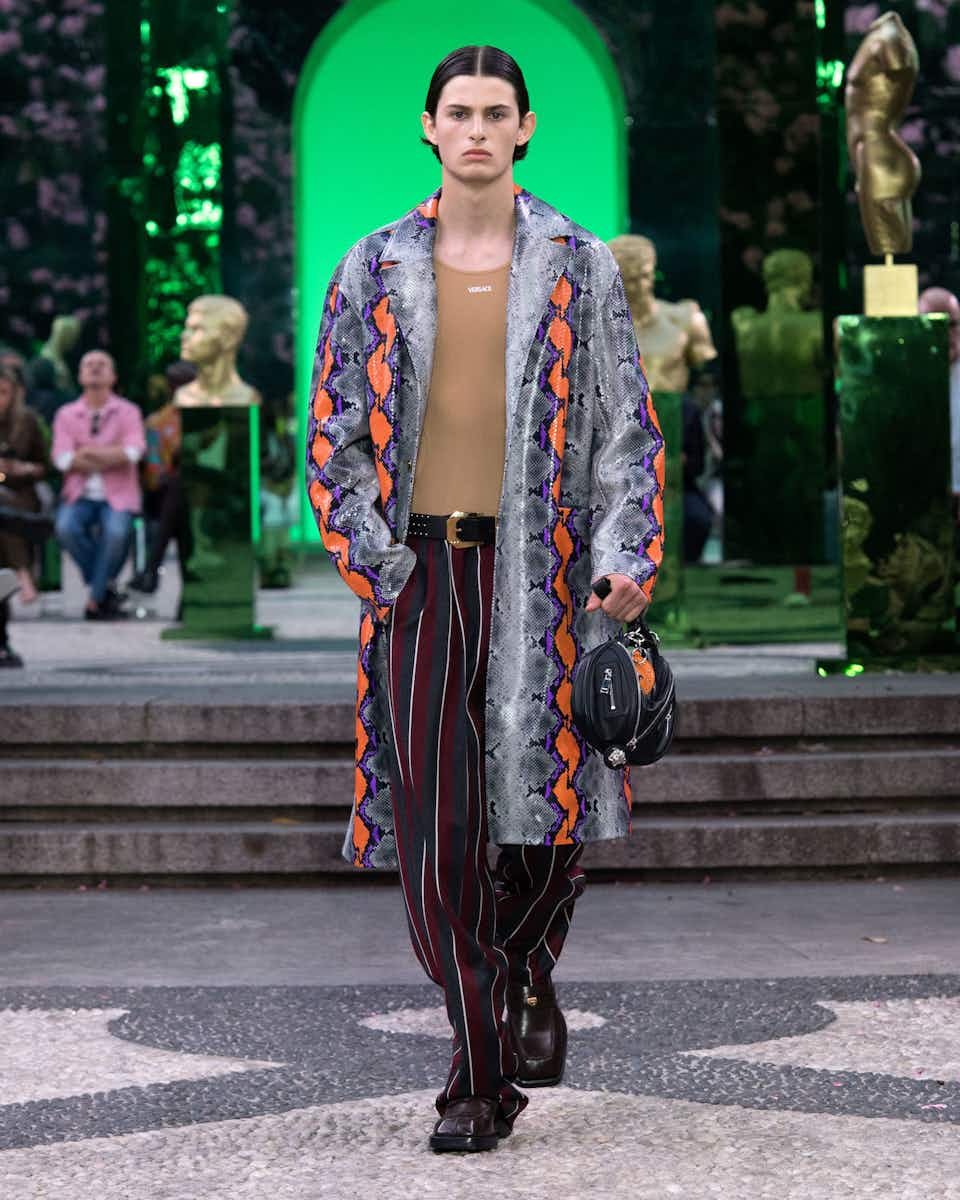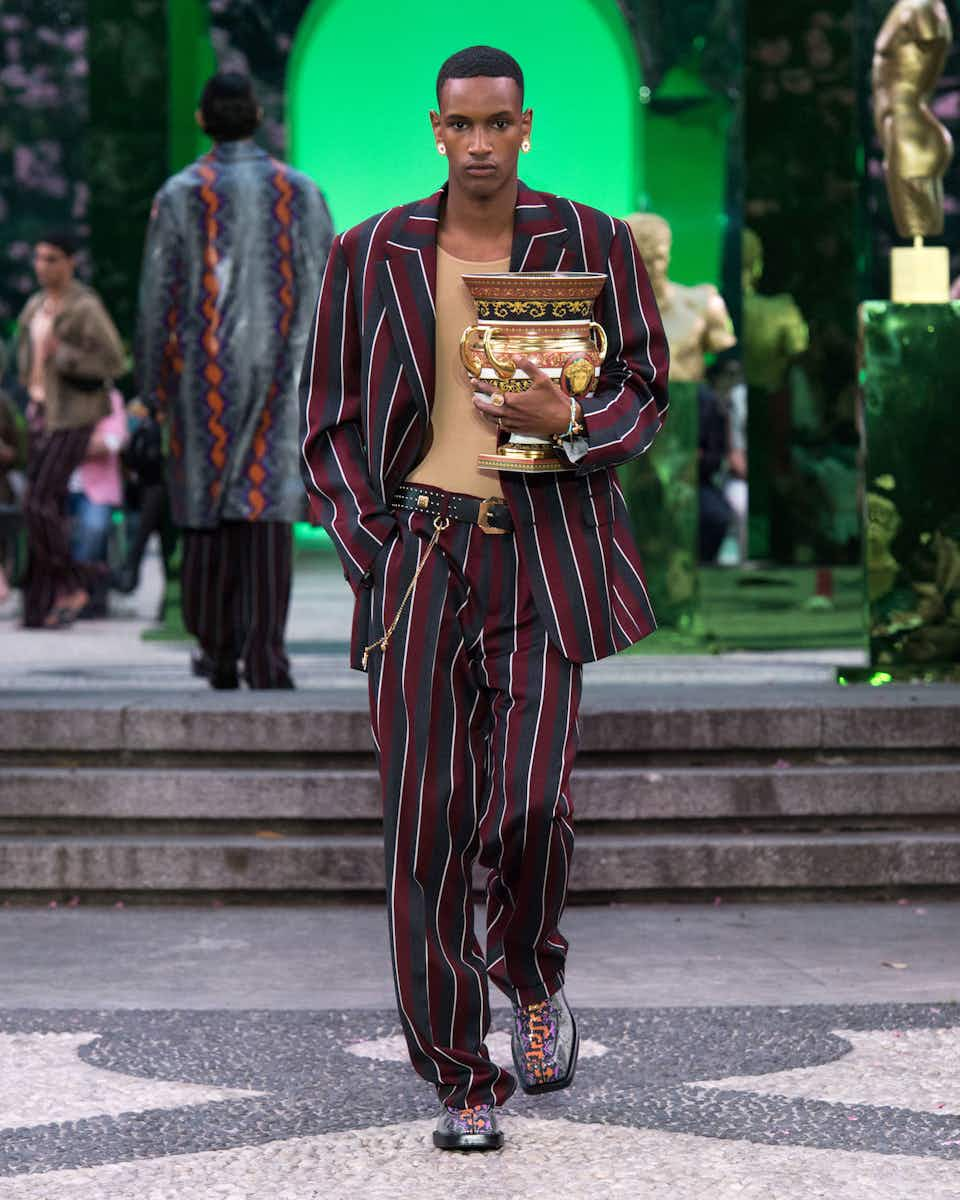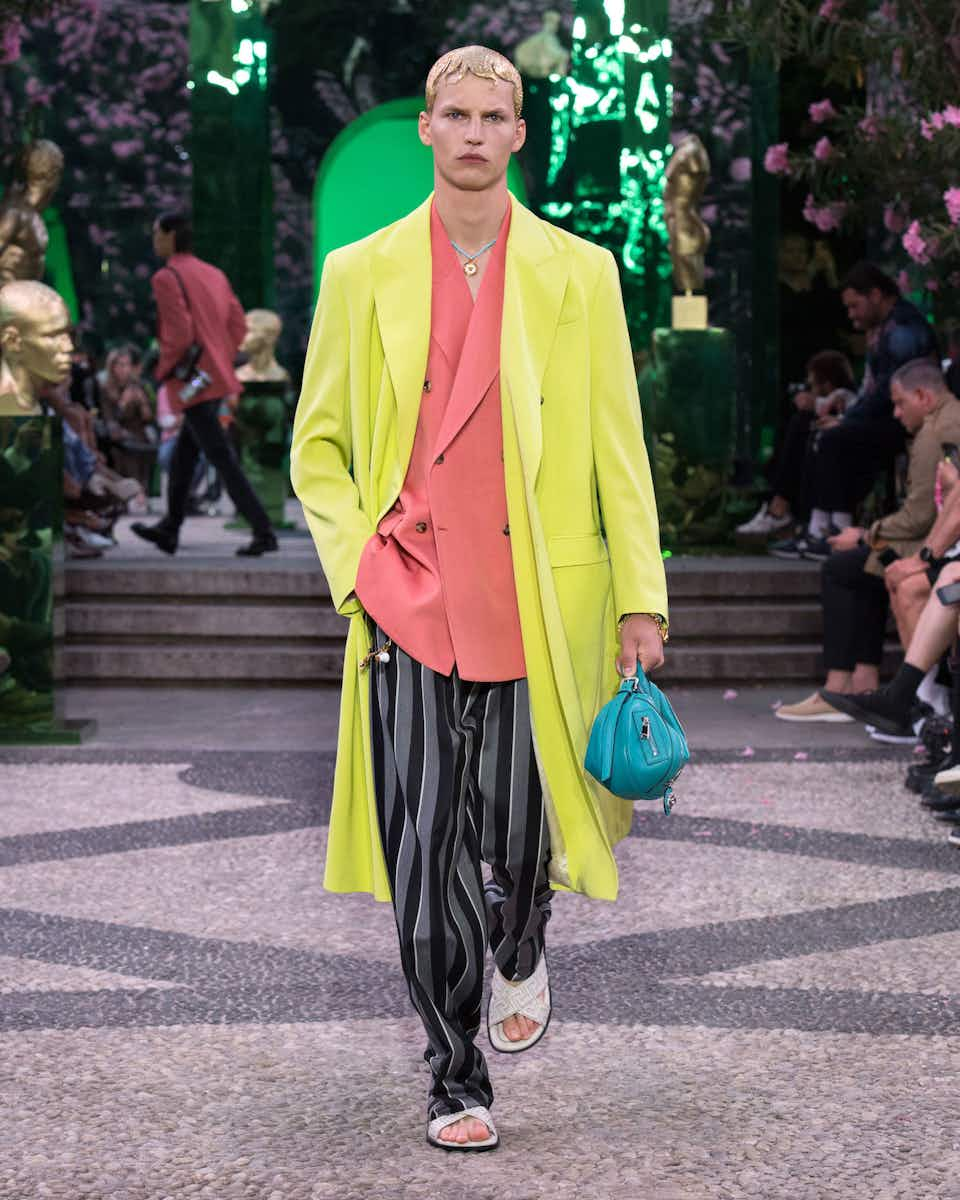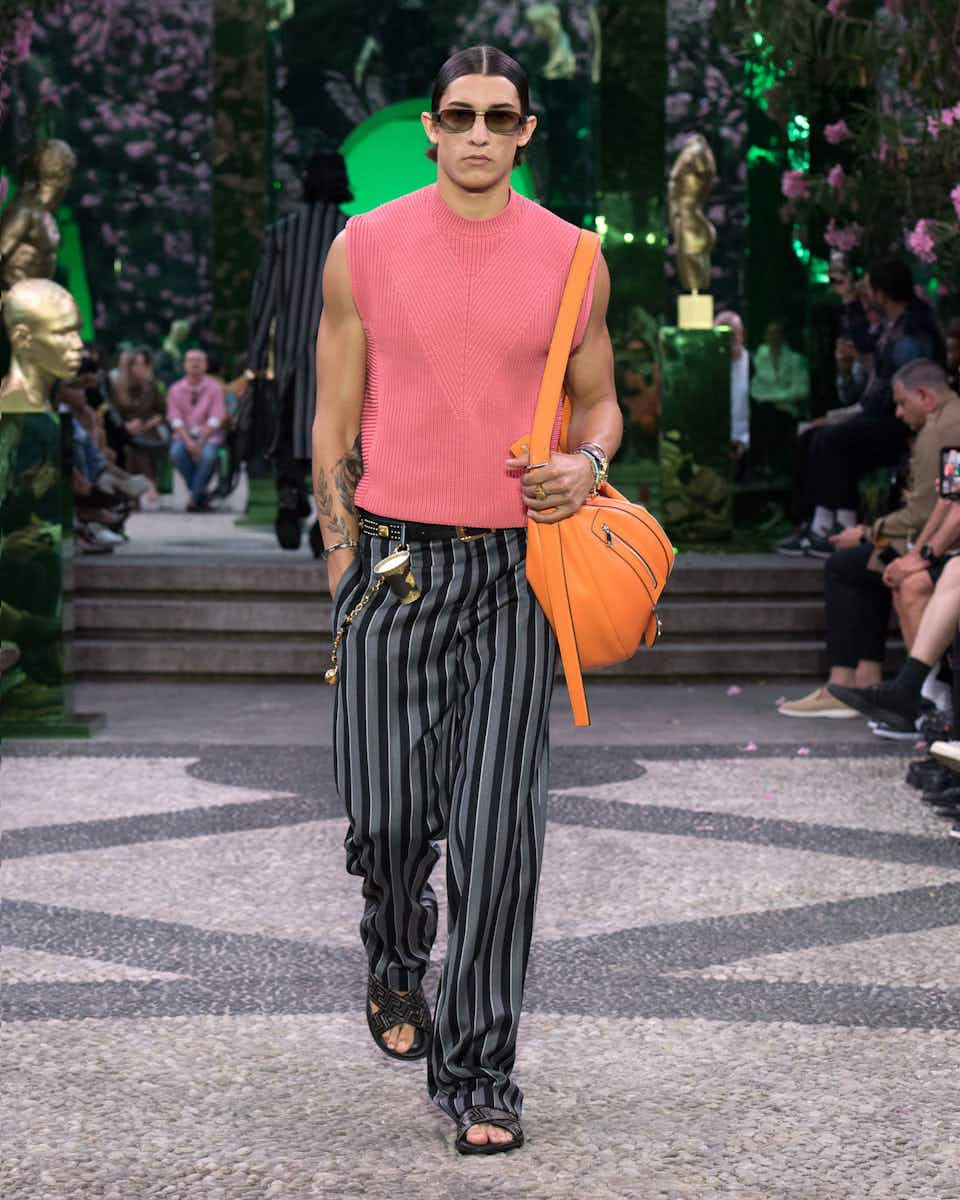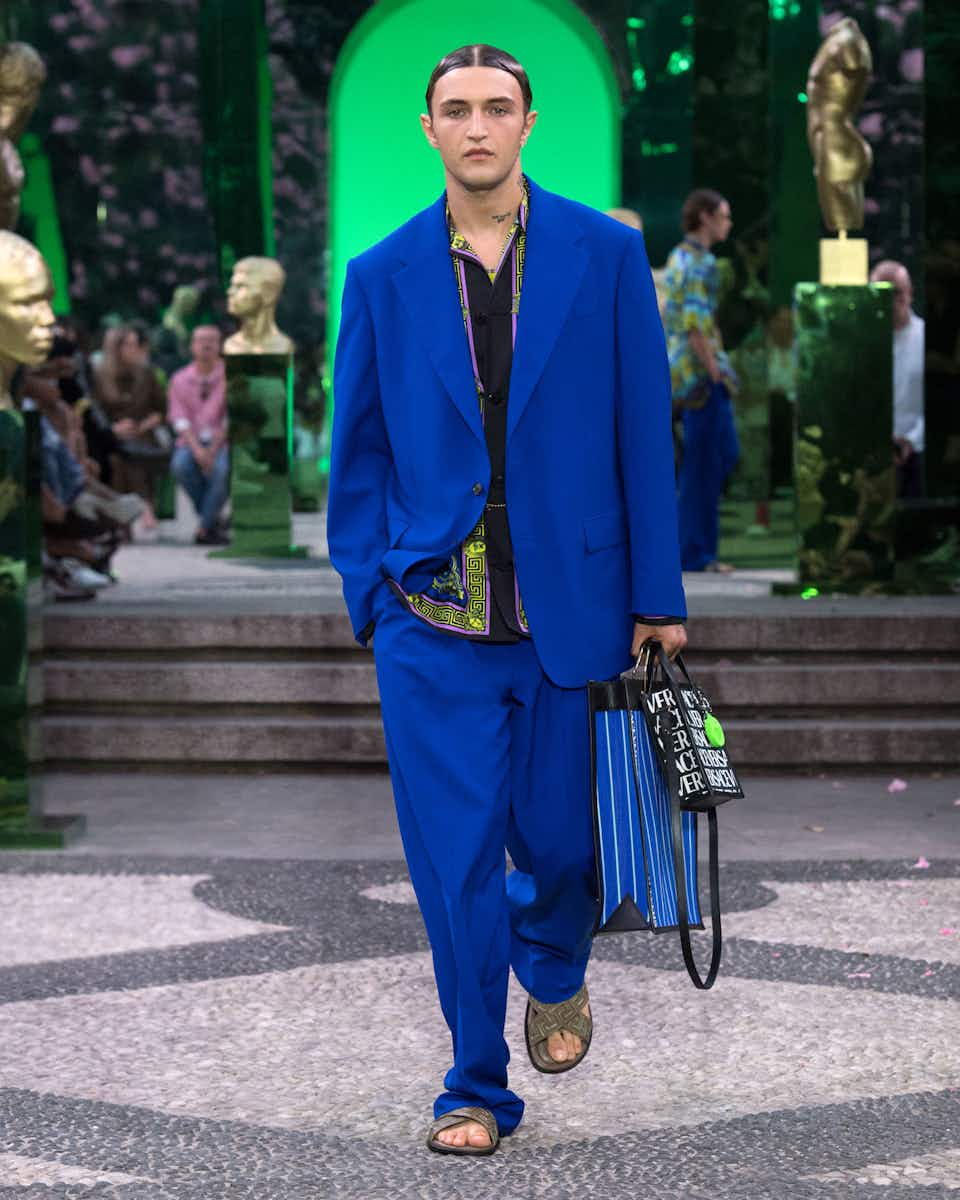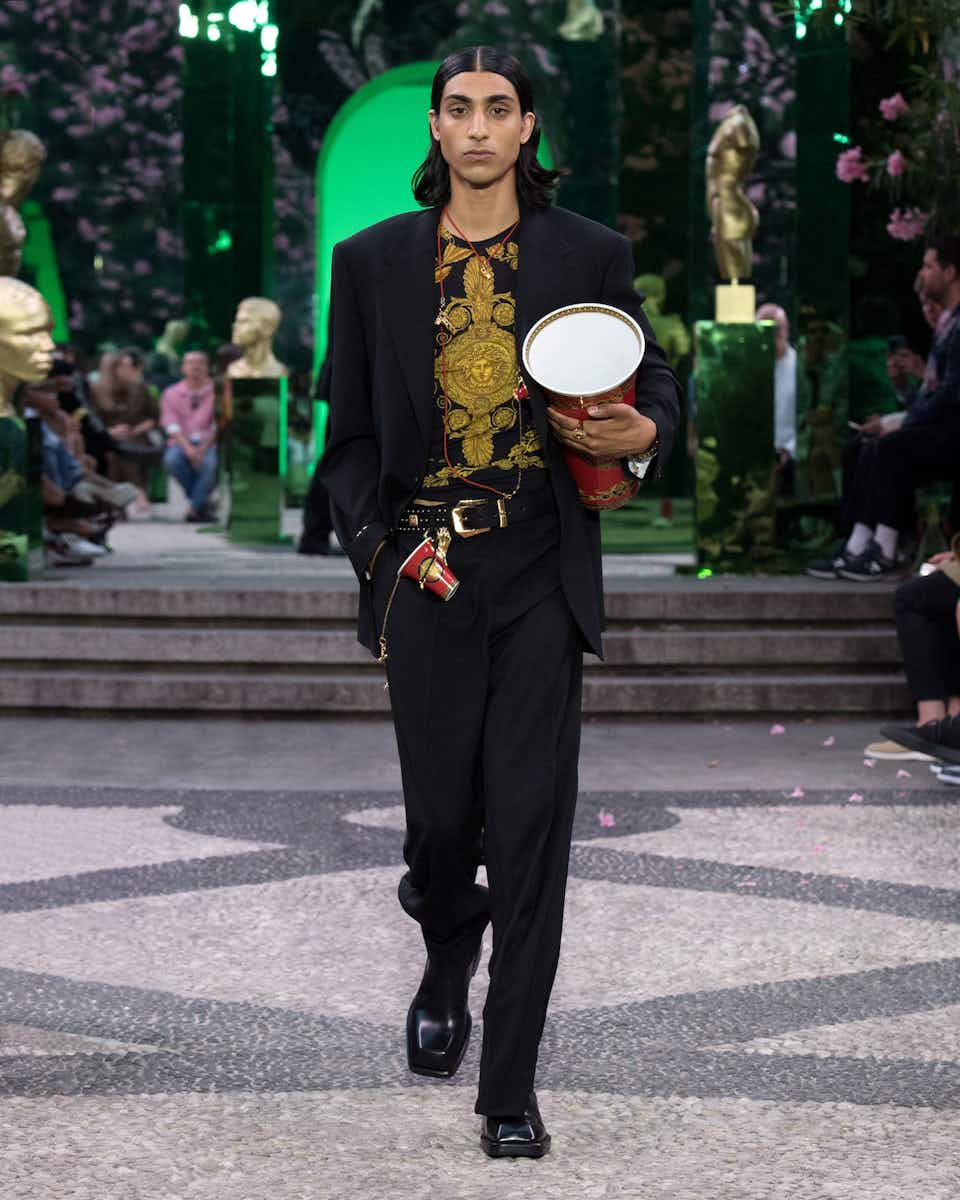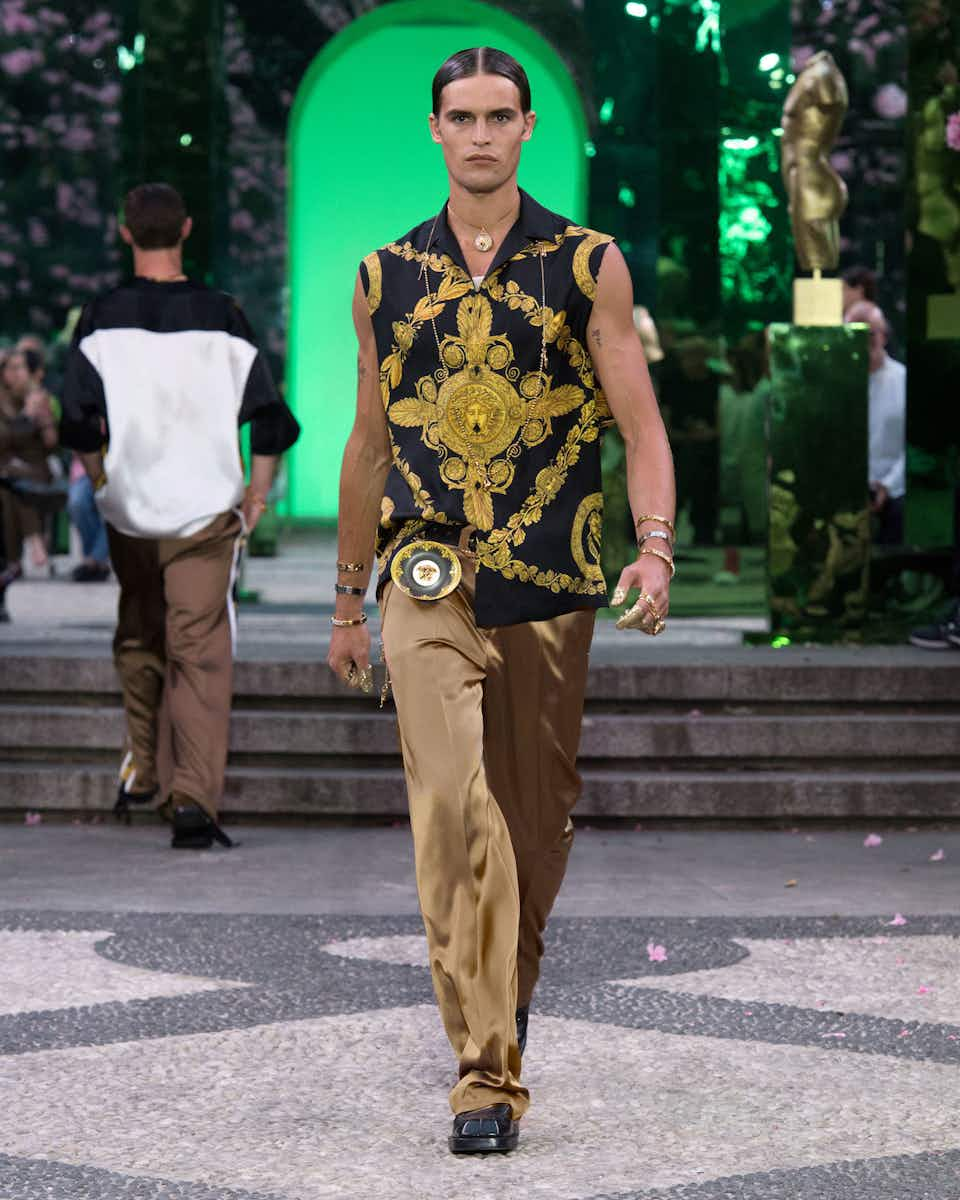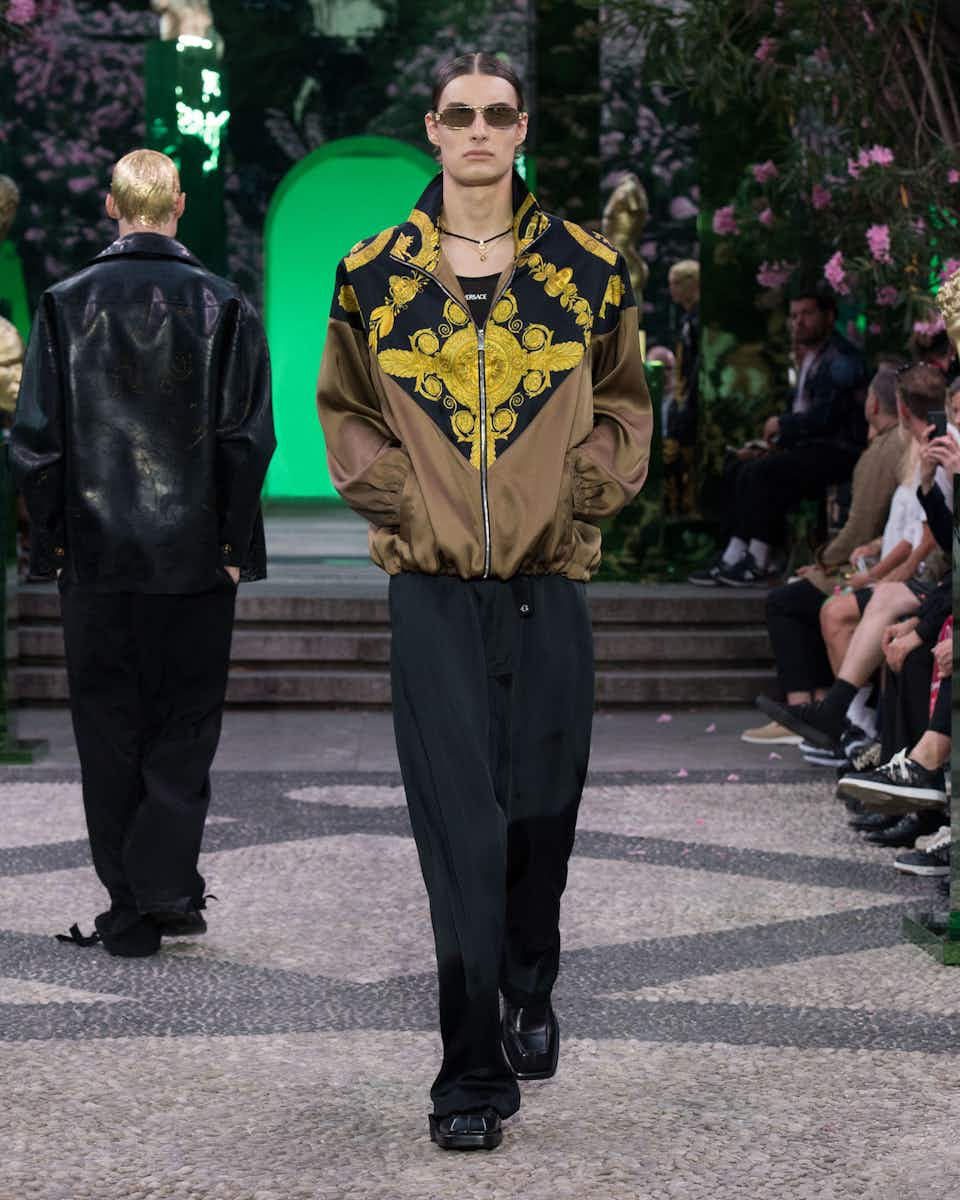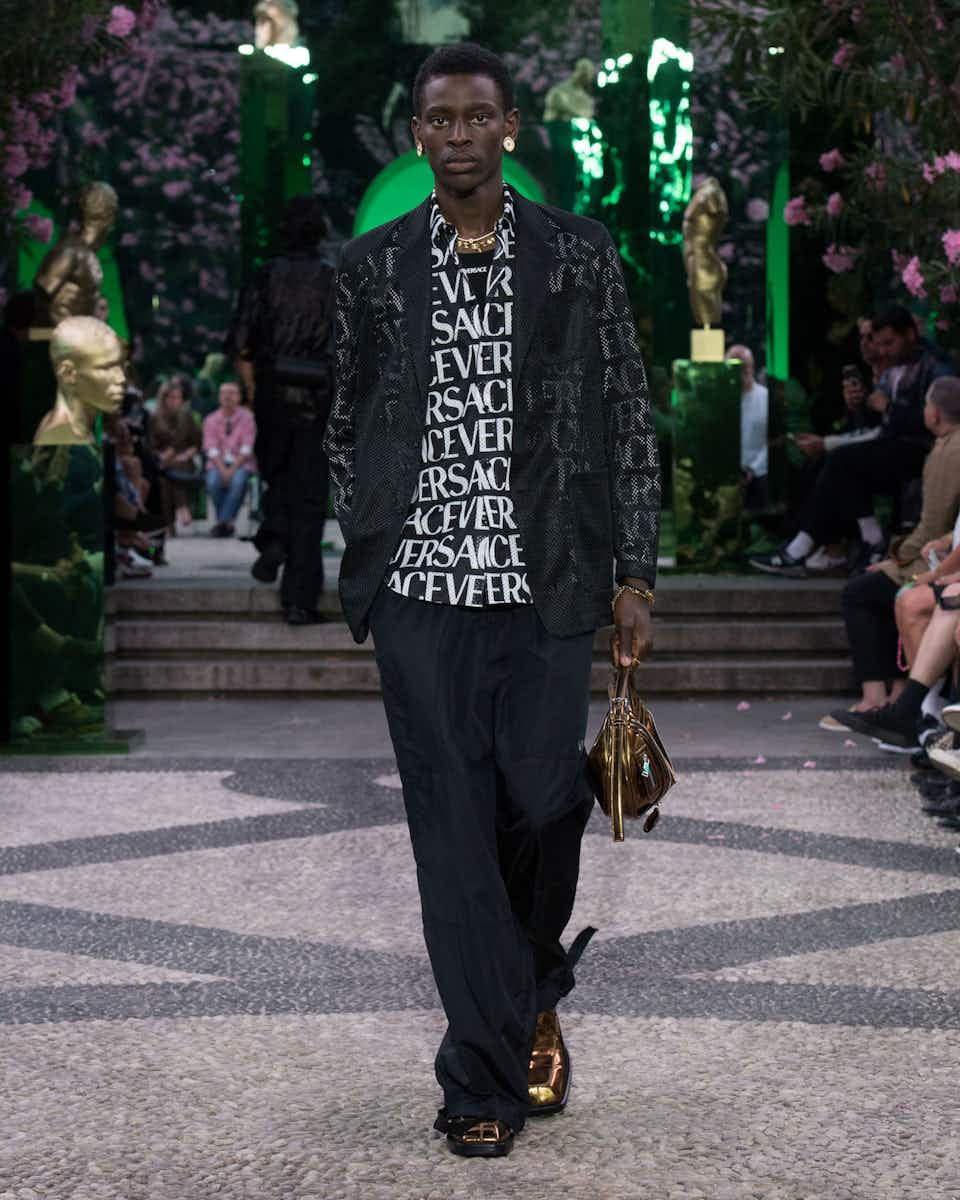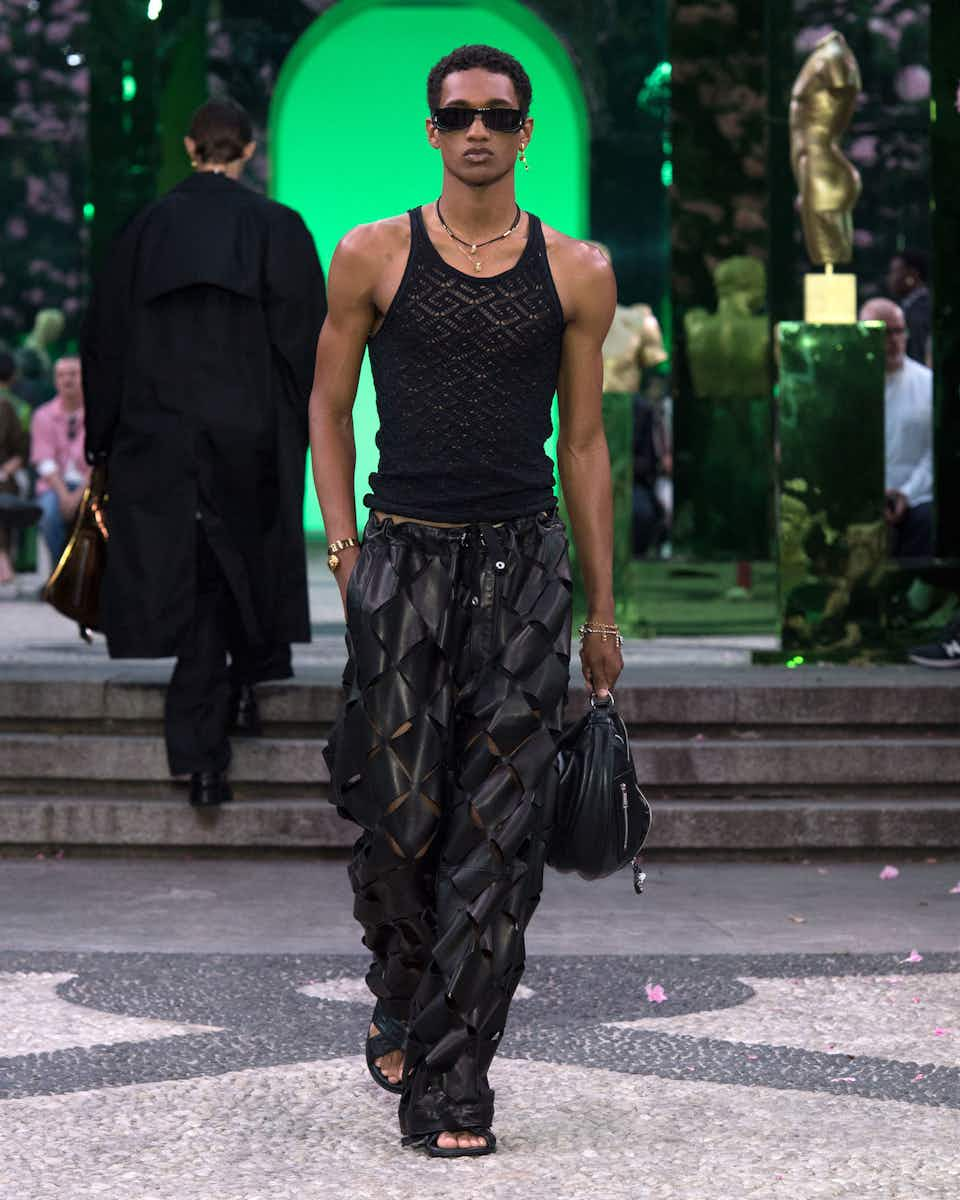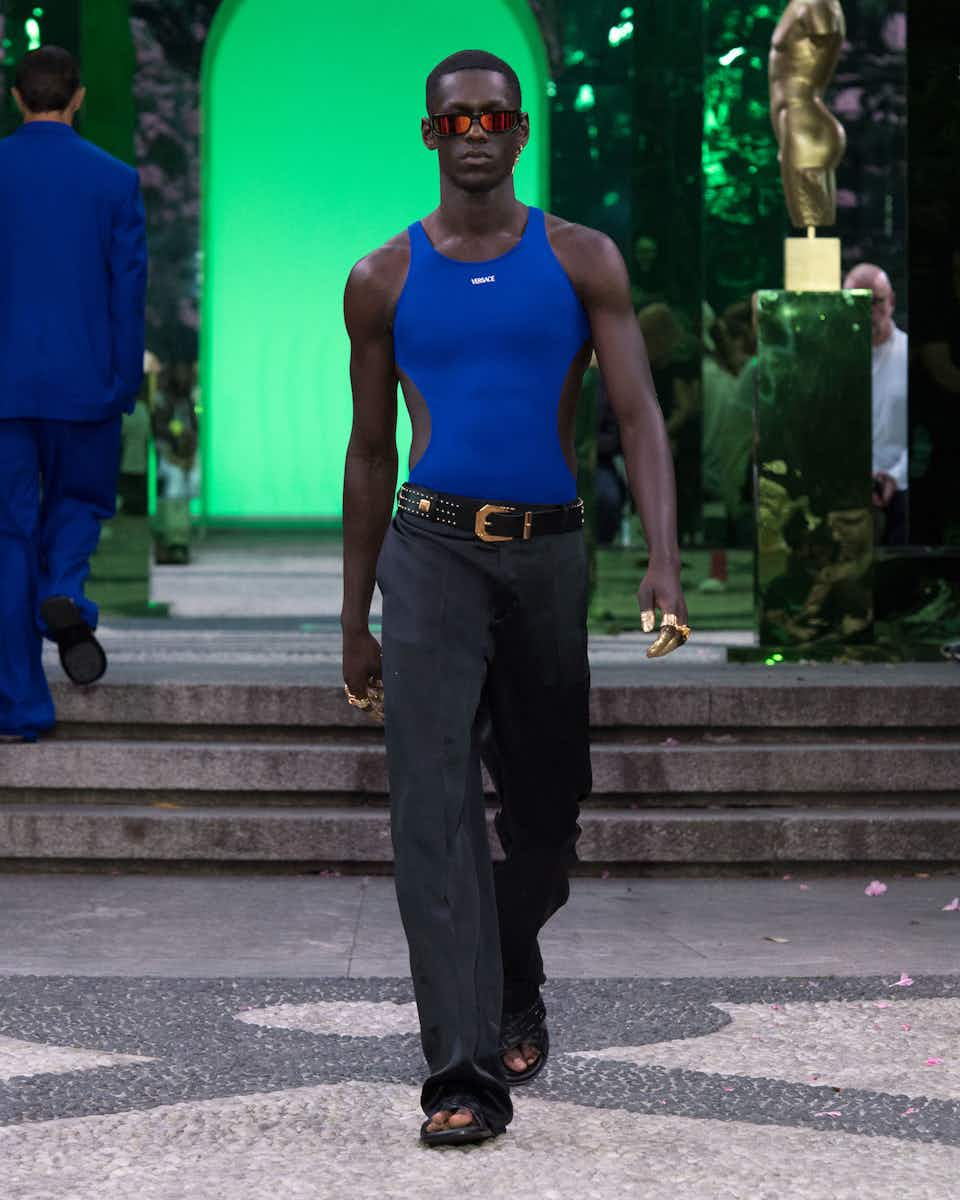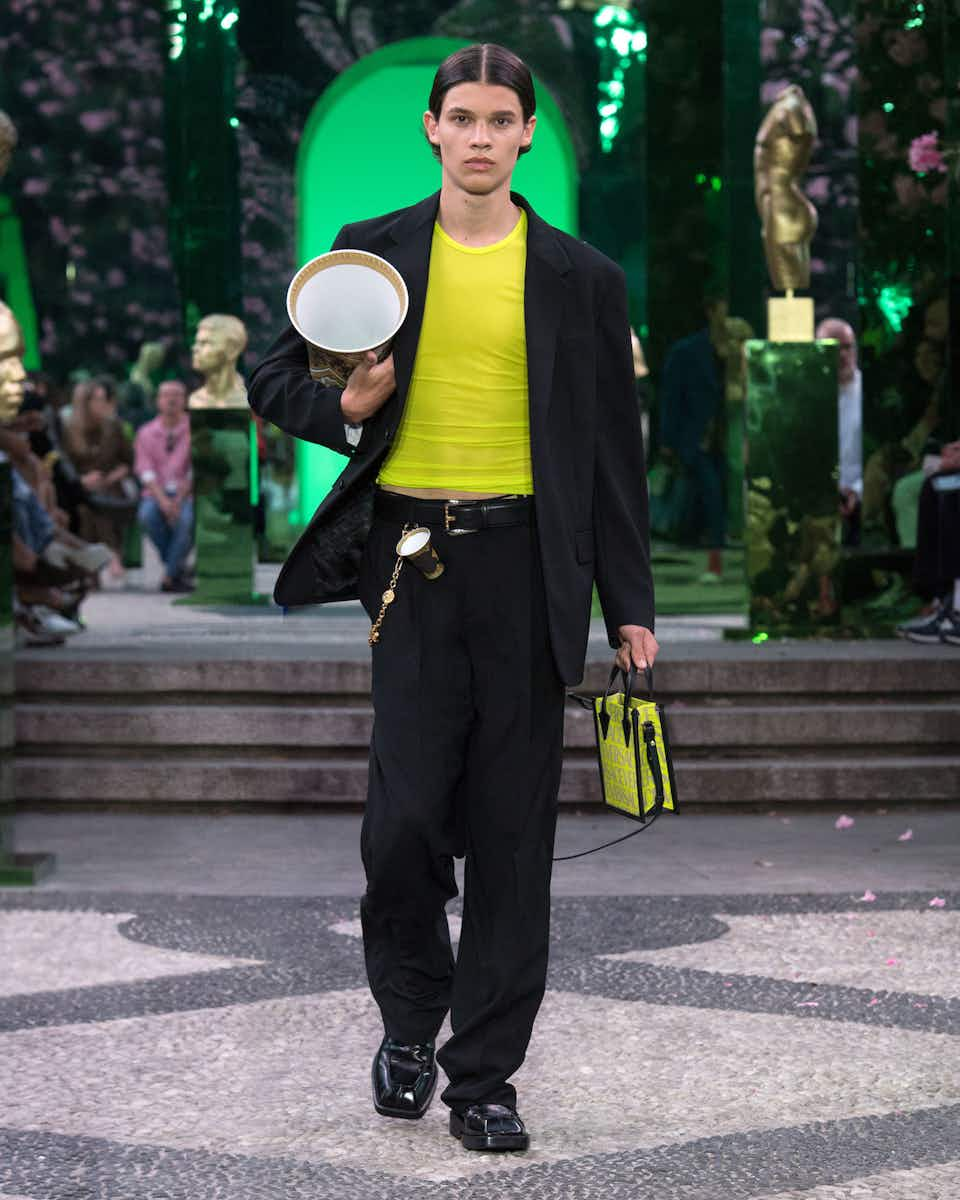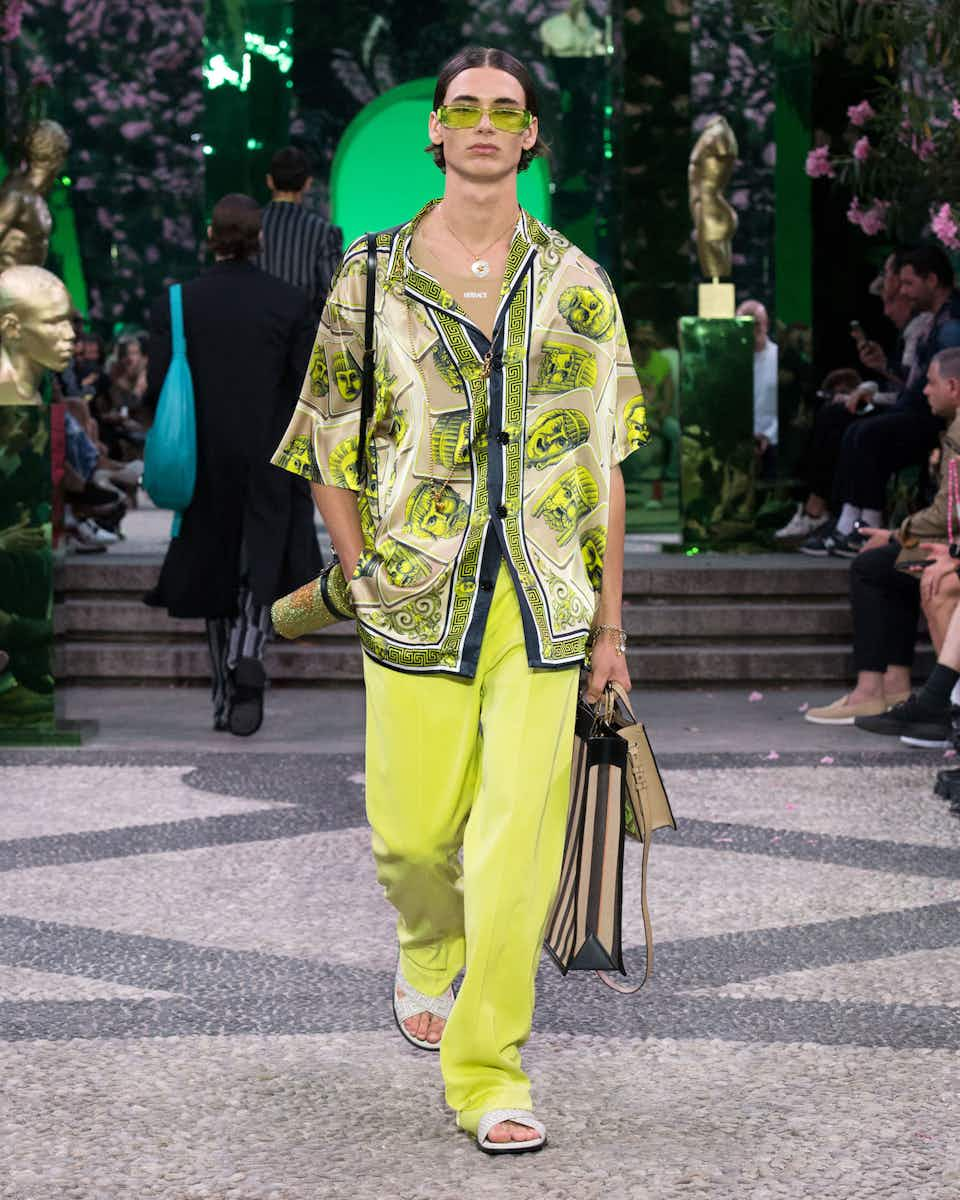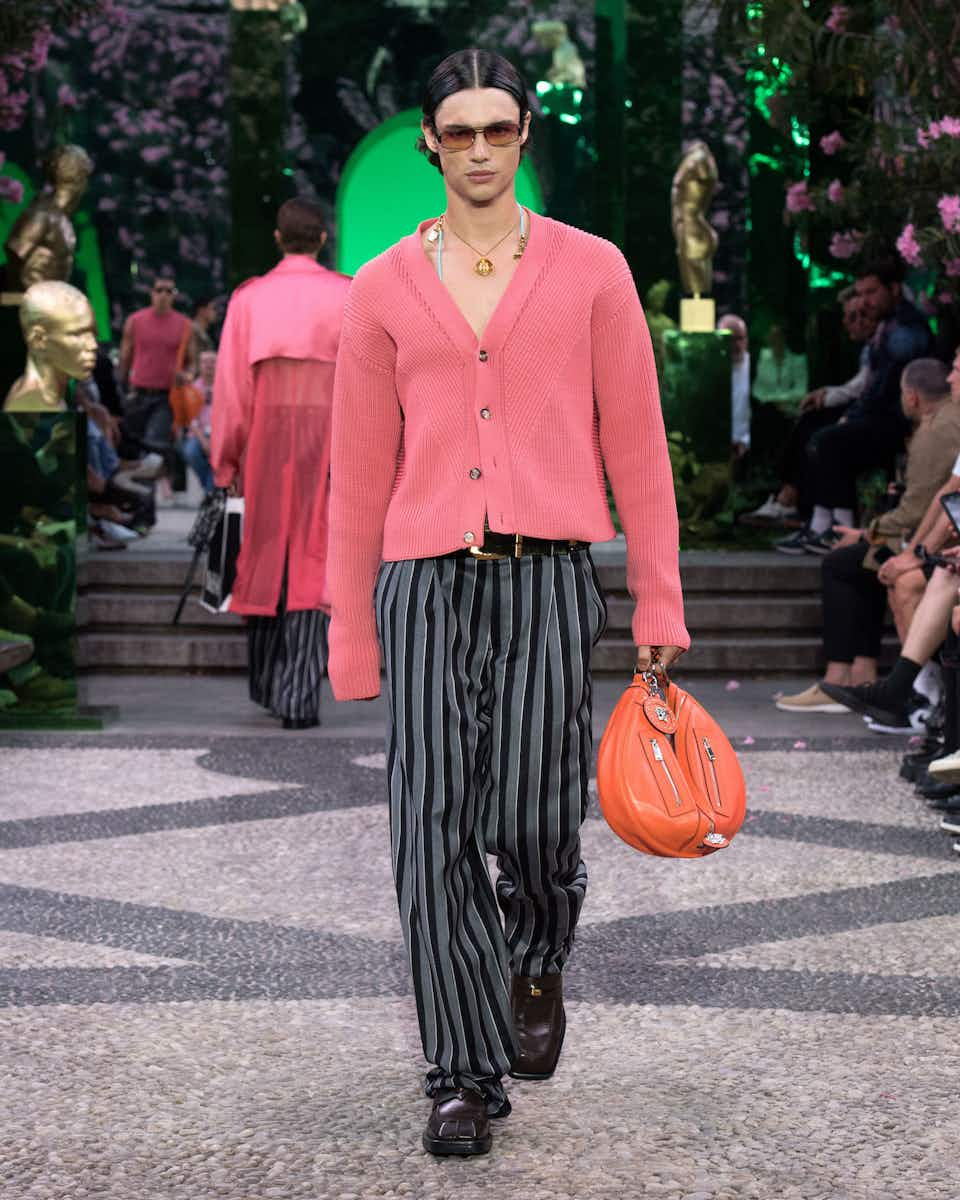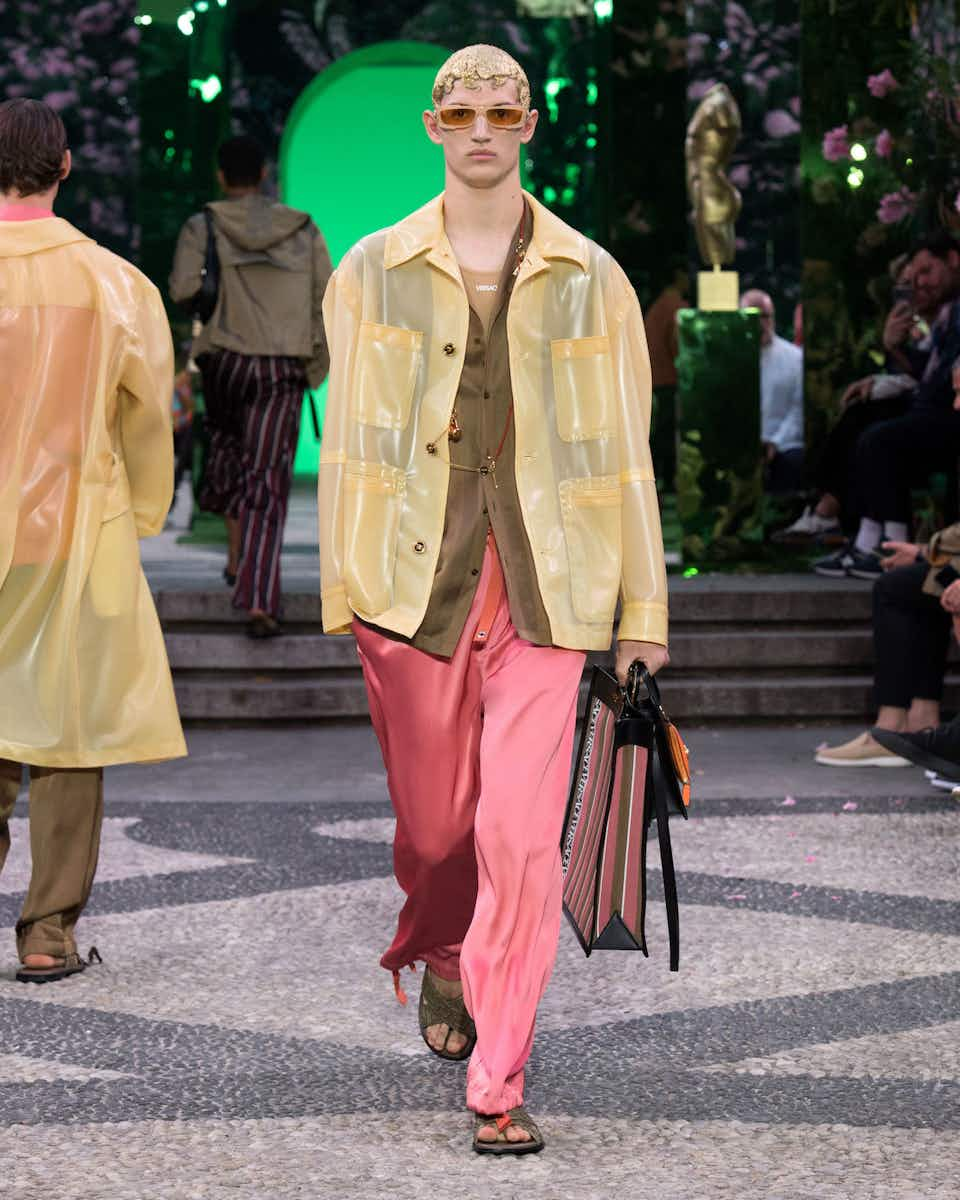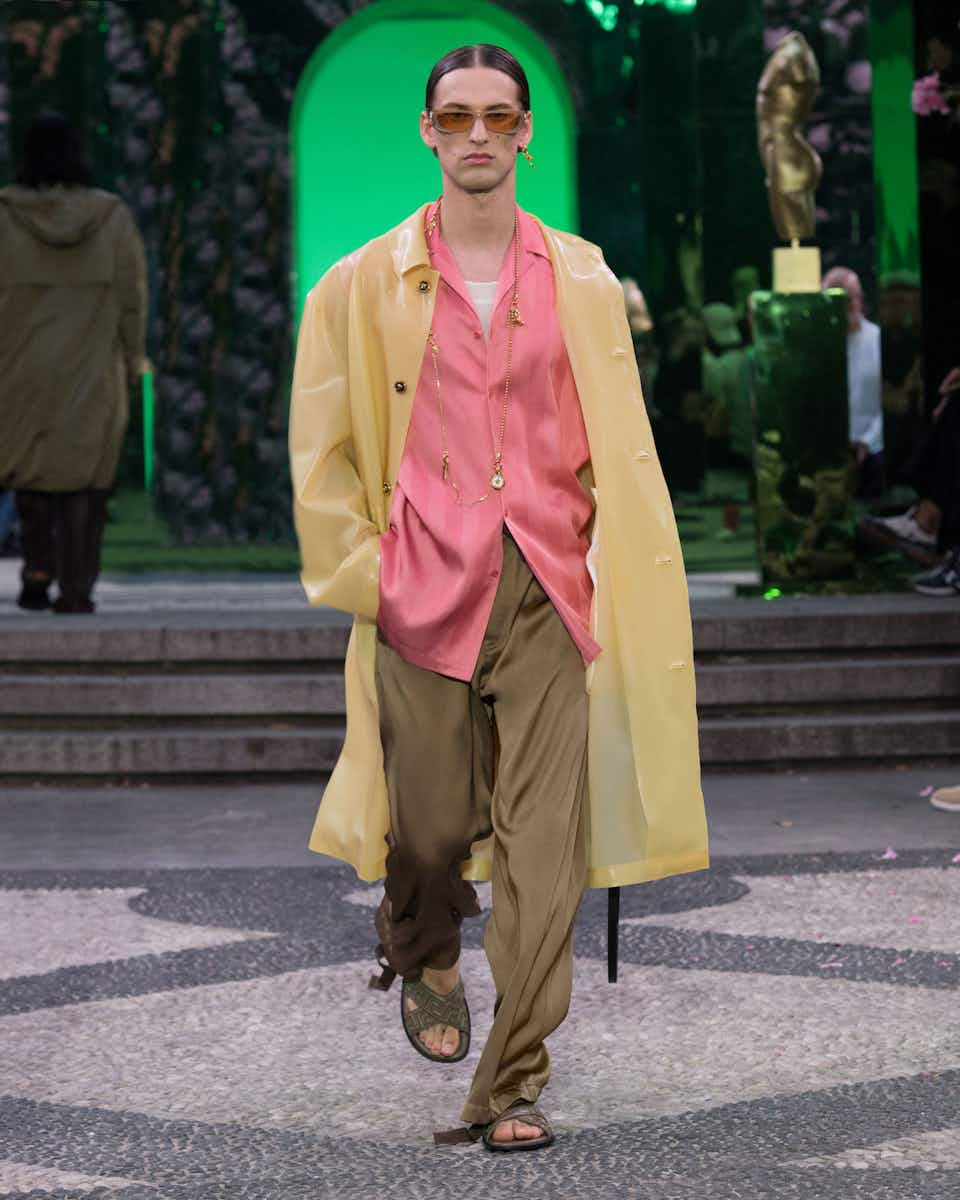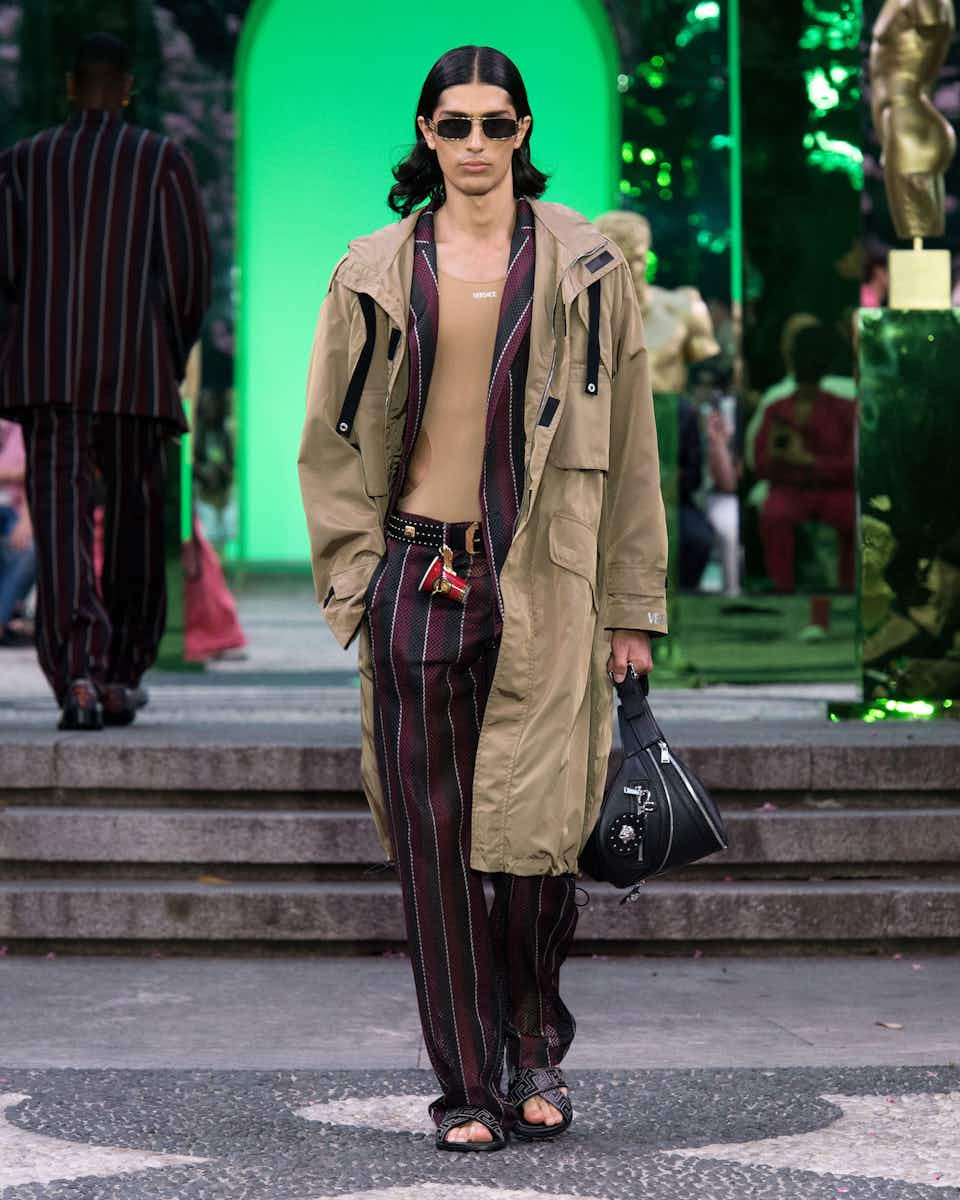 At Emporio Armani, the projected background was a gigantic basket weave. The message was less Wickerman, more crafted details and just-so chambray suiting perfect for the salt-tousled debonair. This was a collection made for strolling down big, sunny boulevards, ideally with waves crashing somewhere nearby and a moored boat waiting at the end of the marina. The trousers were wide, the neckties jaunty, and the stripes perfect for a style-conscious mariniere. The show featured a number of separate chapters: those opening chambray pieces, a middle bridge of durable EA7 sportswear, a succession of breezy blues and whites, and some bright yellows and greens invoking a more tropical destination. The basket weave showed up in the form of rubber shoes (already a consistent – hopefully not too sweaty – theme this season) and beautiful suit carriers: a must for anyone hoping to set sail with their tailoring intact.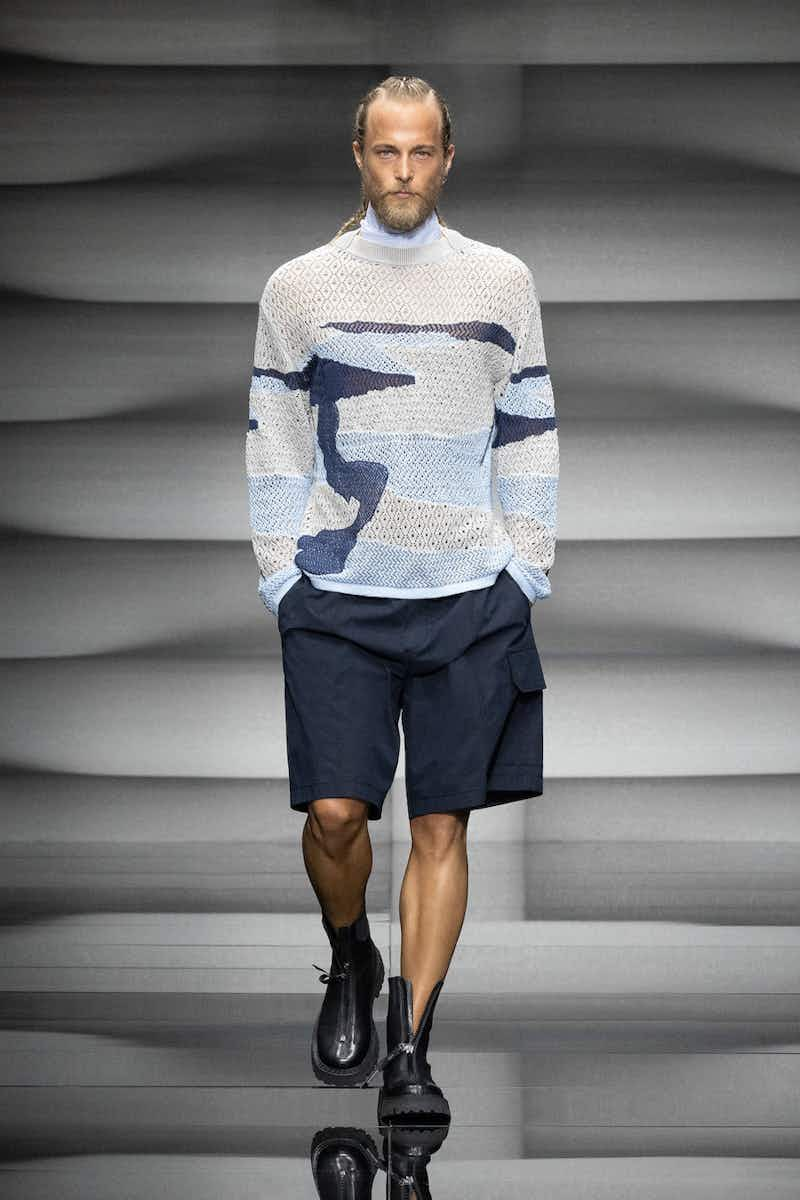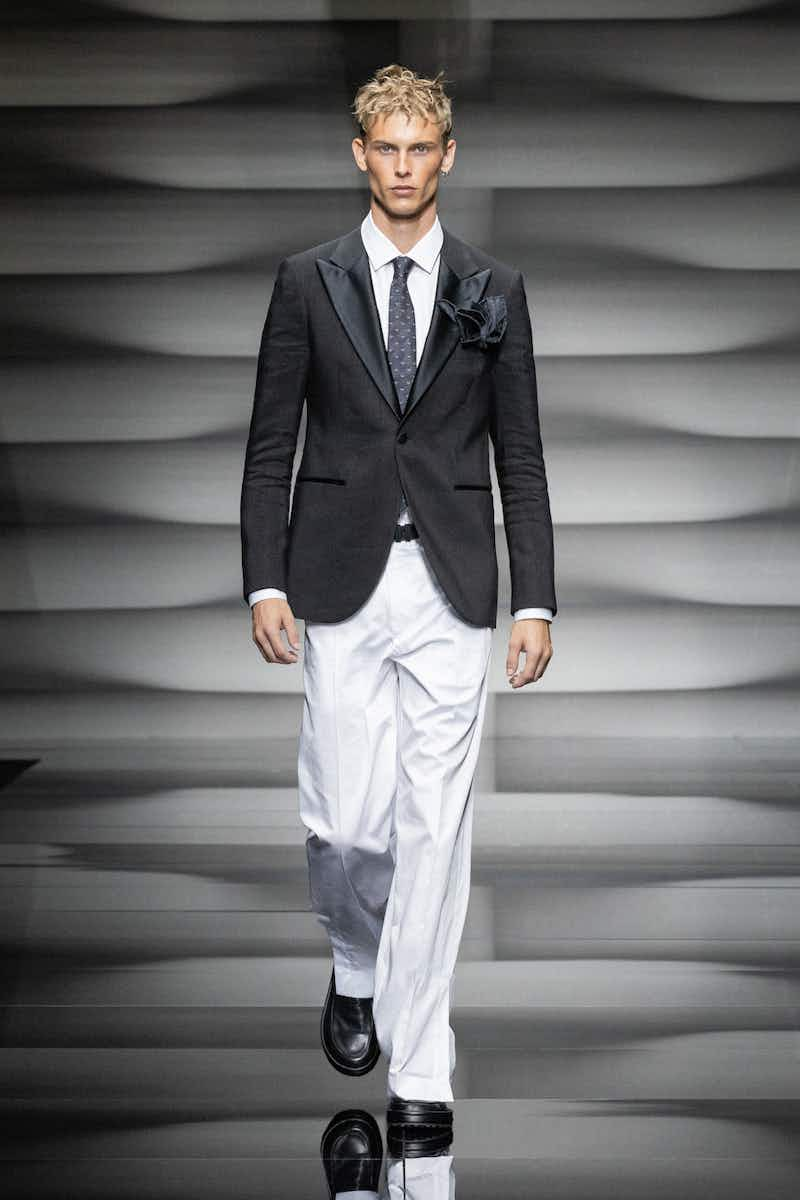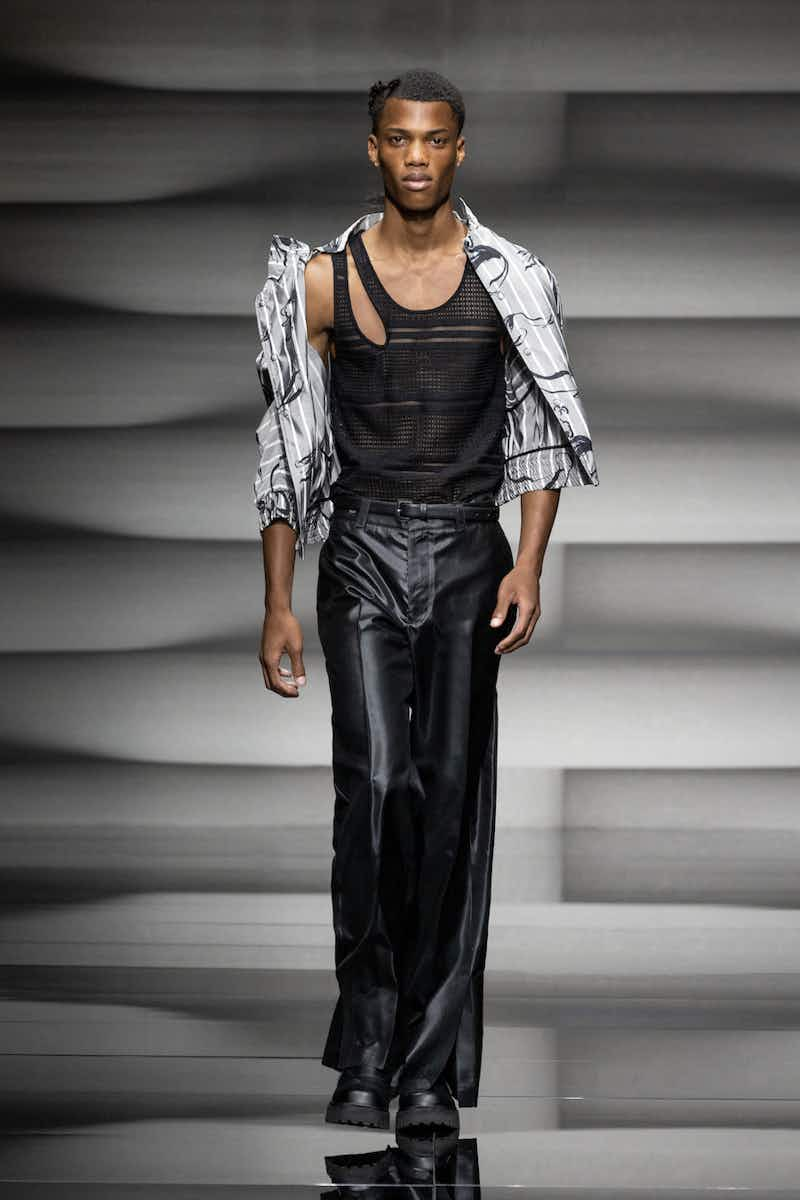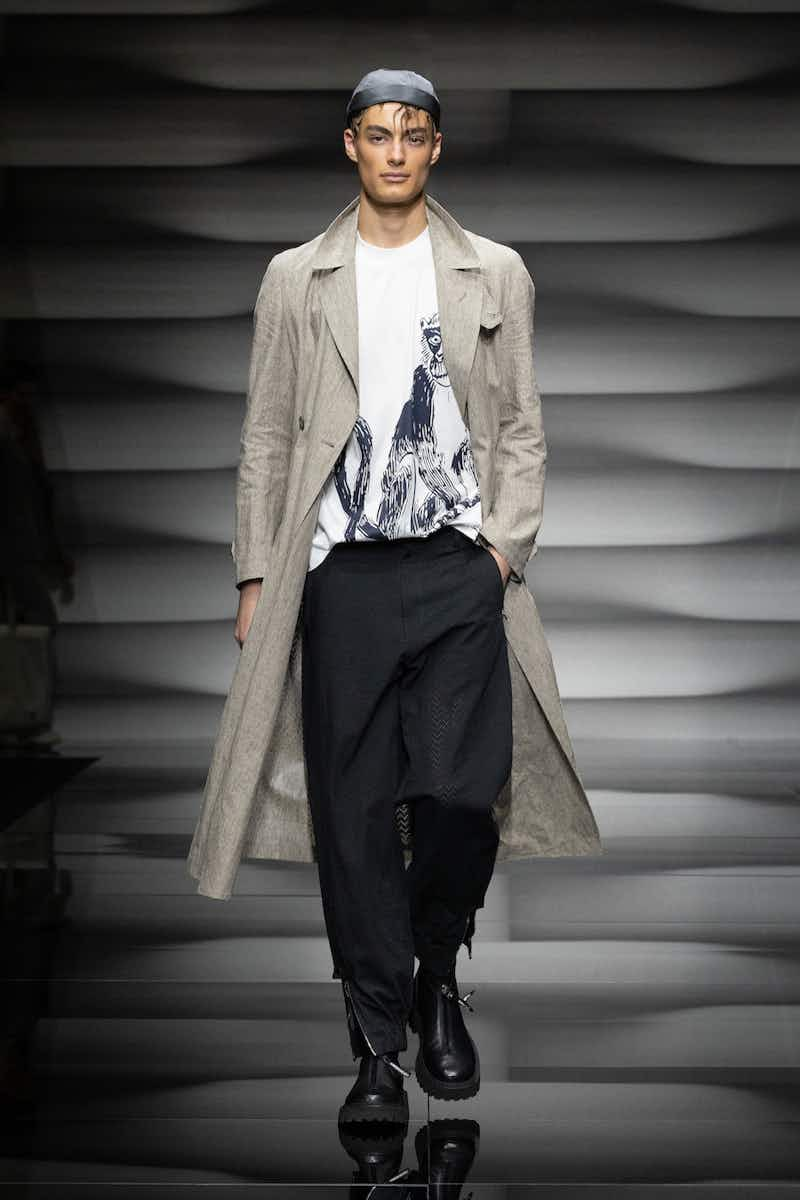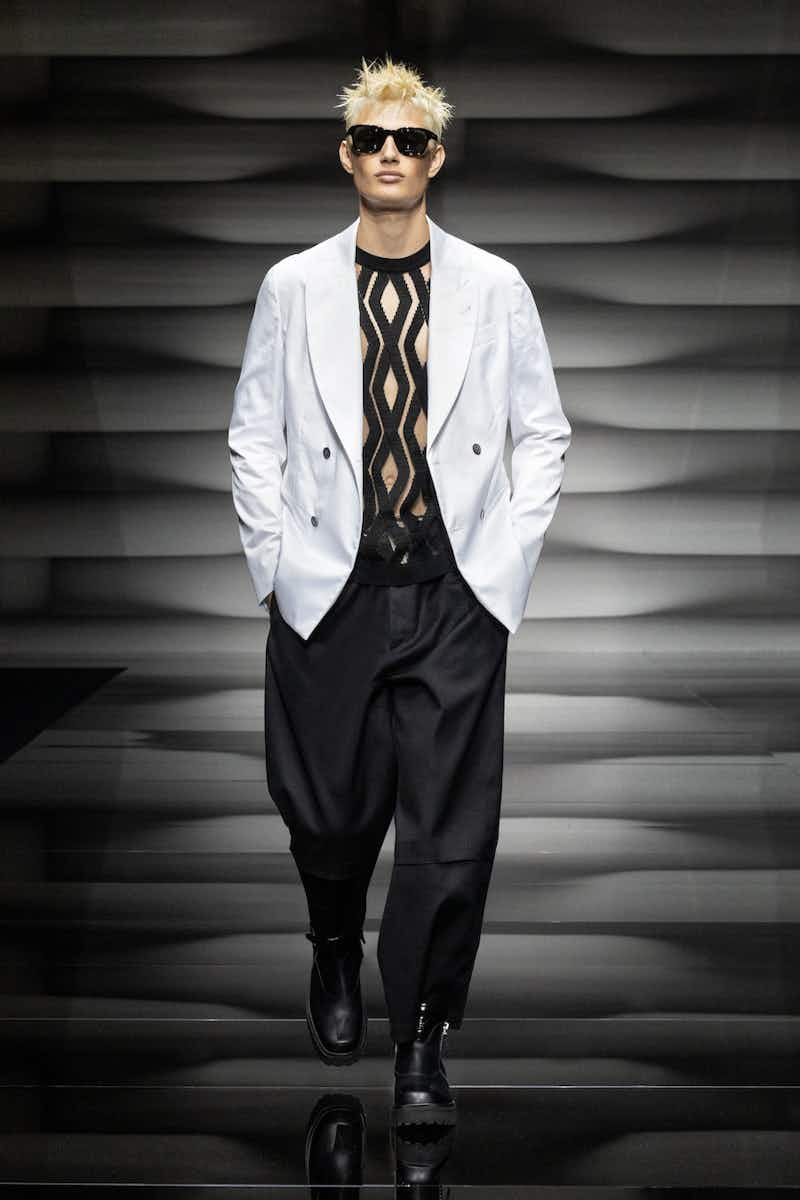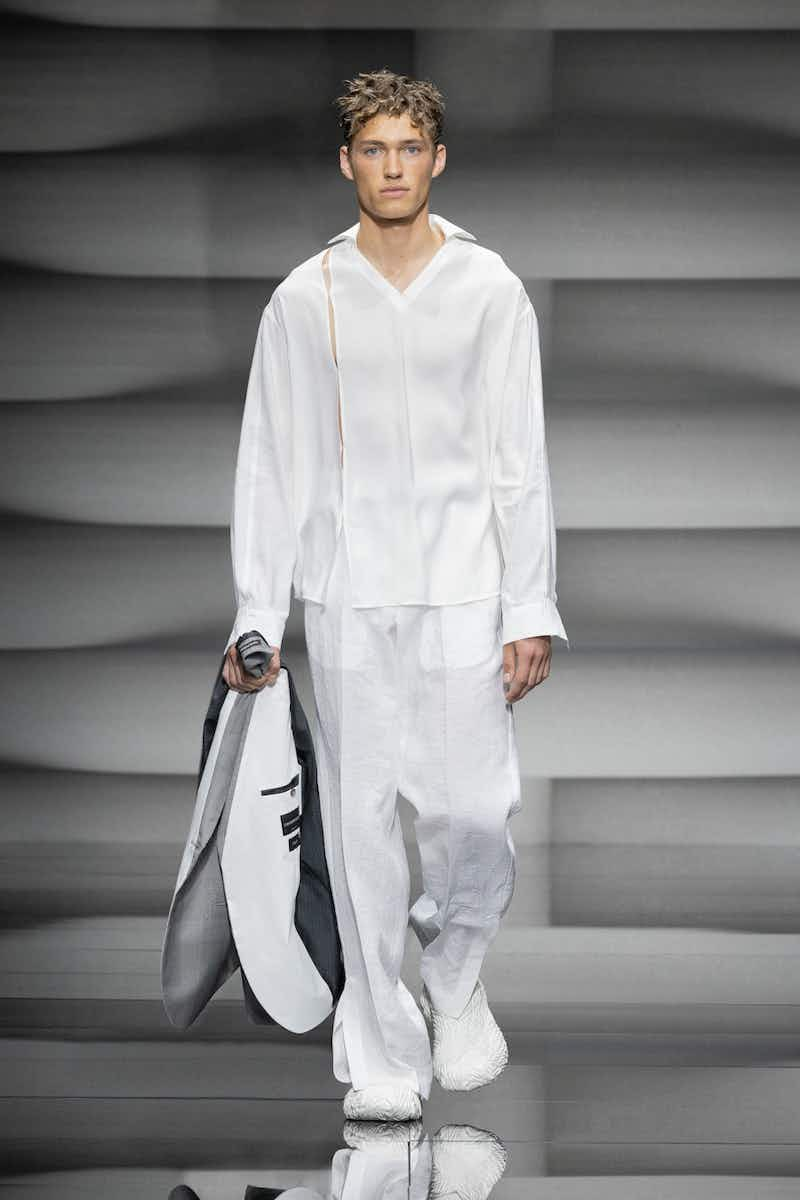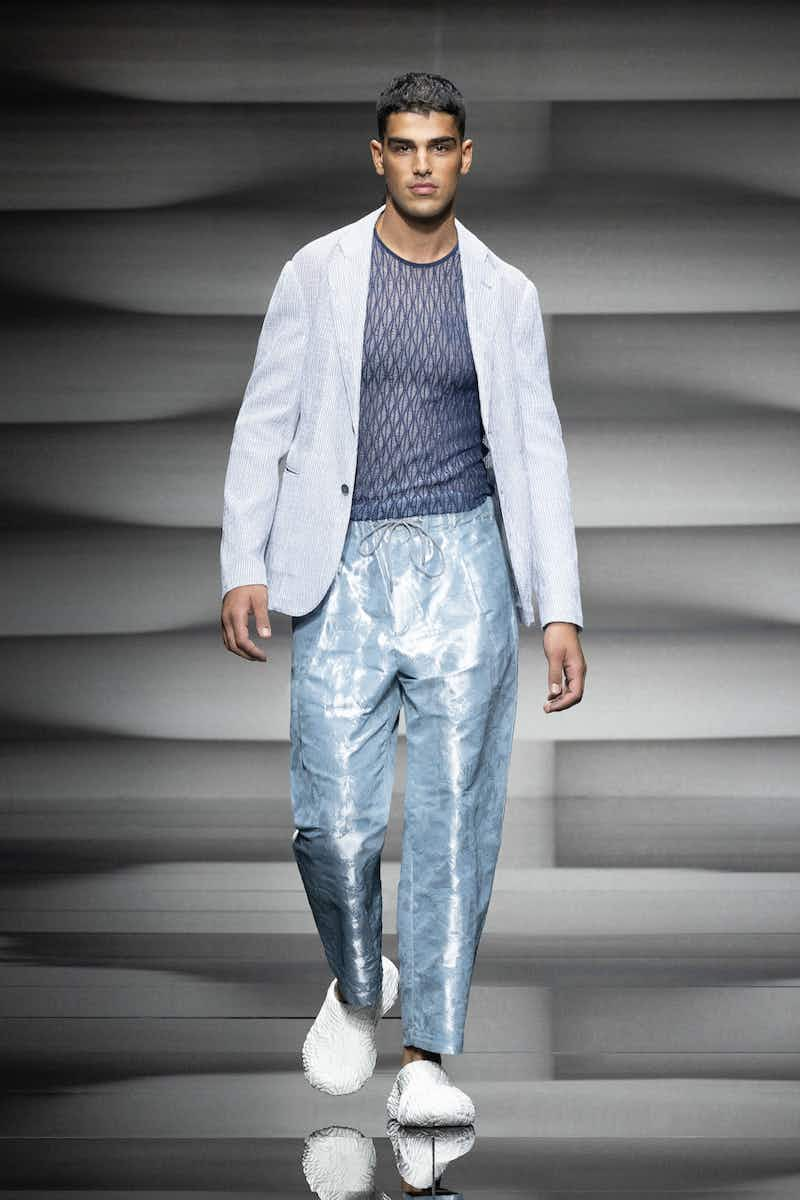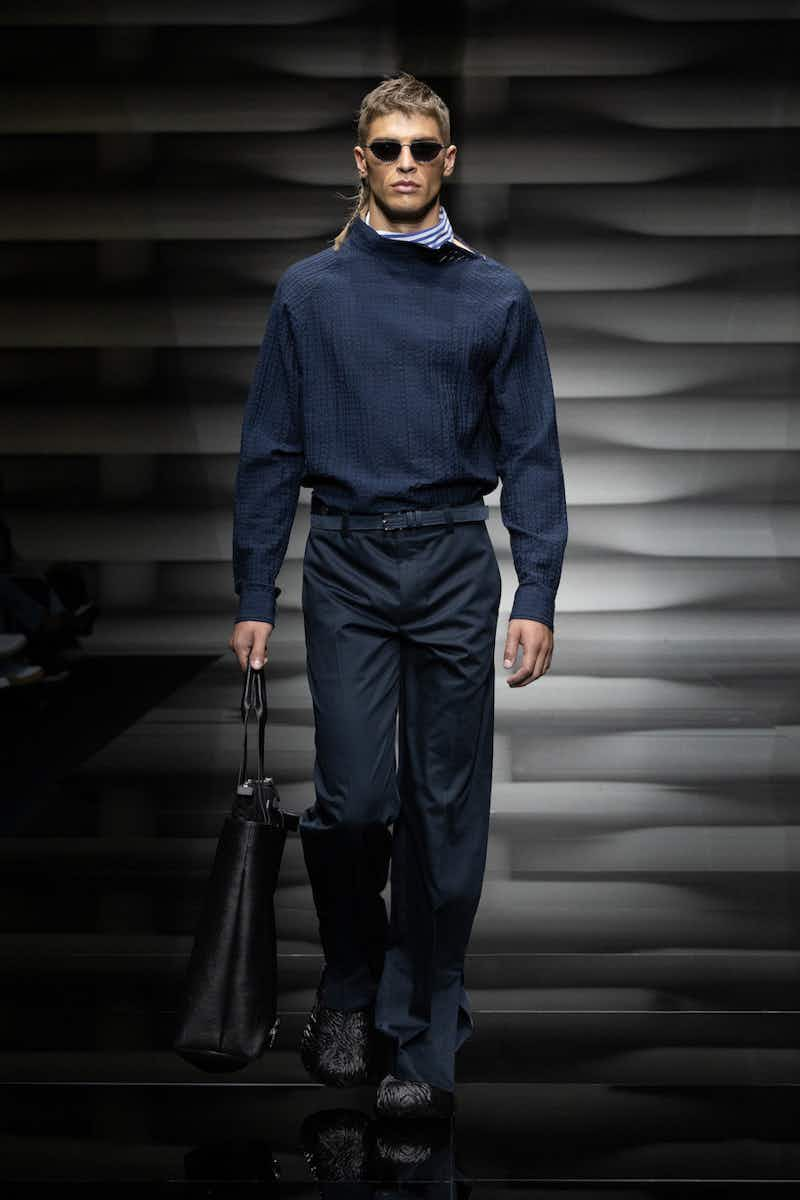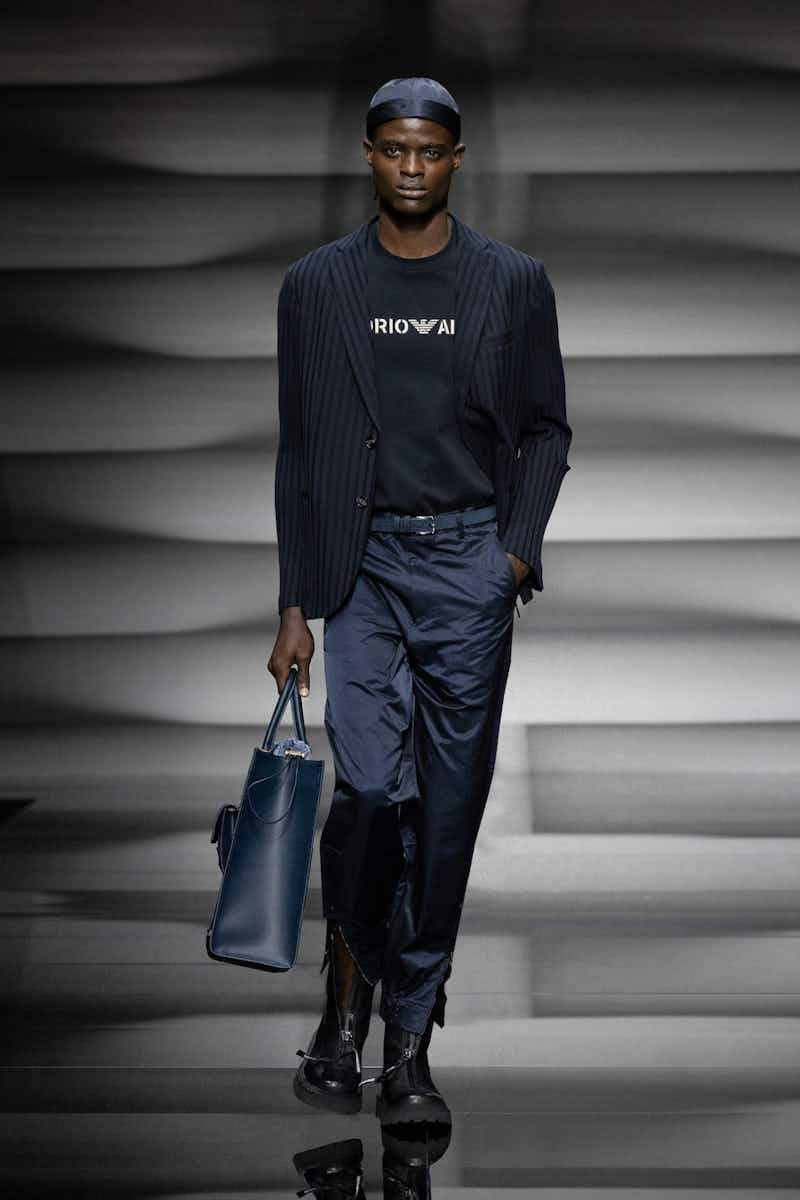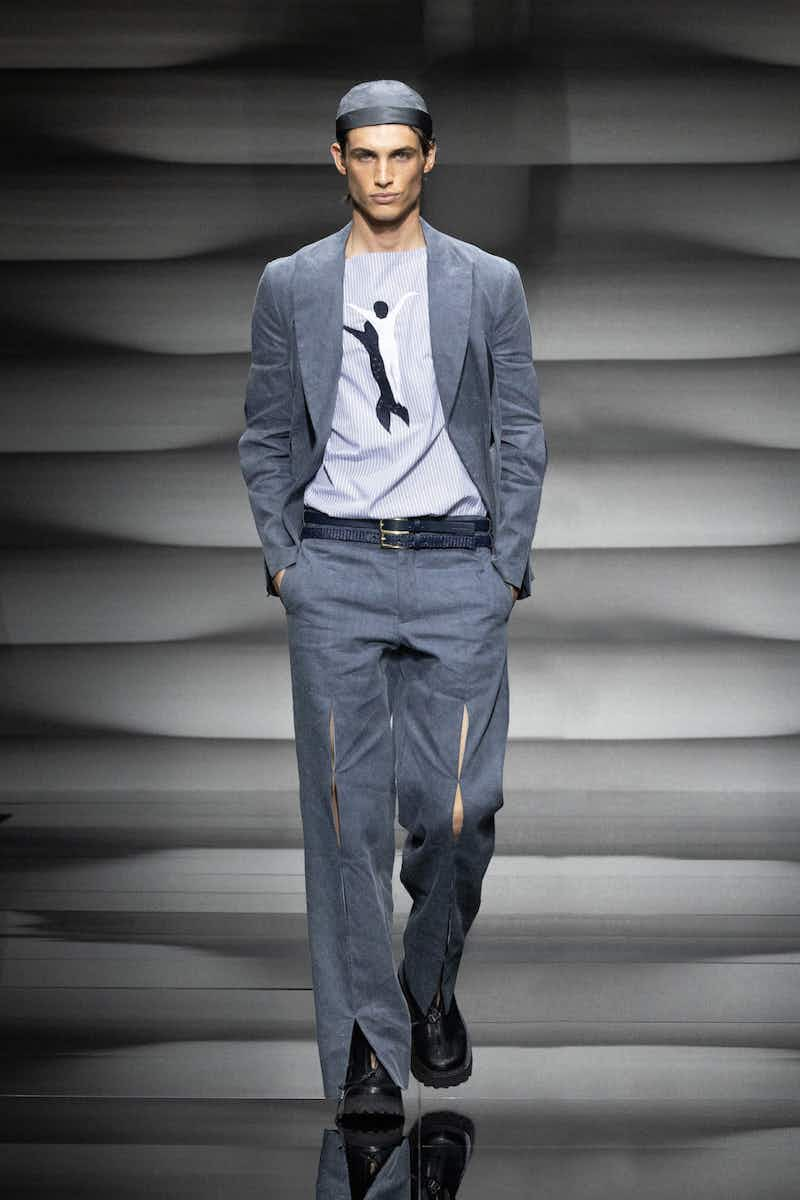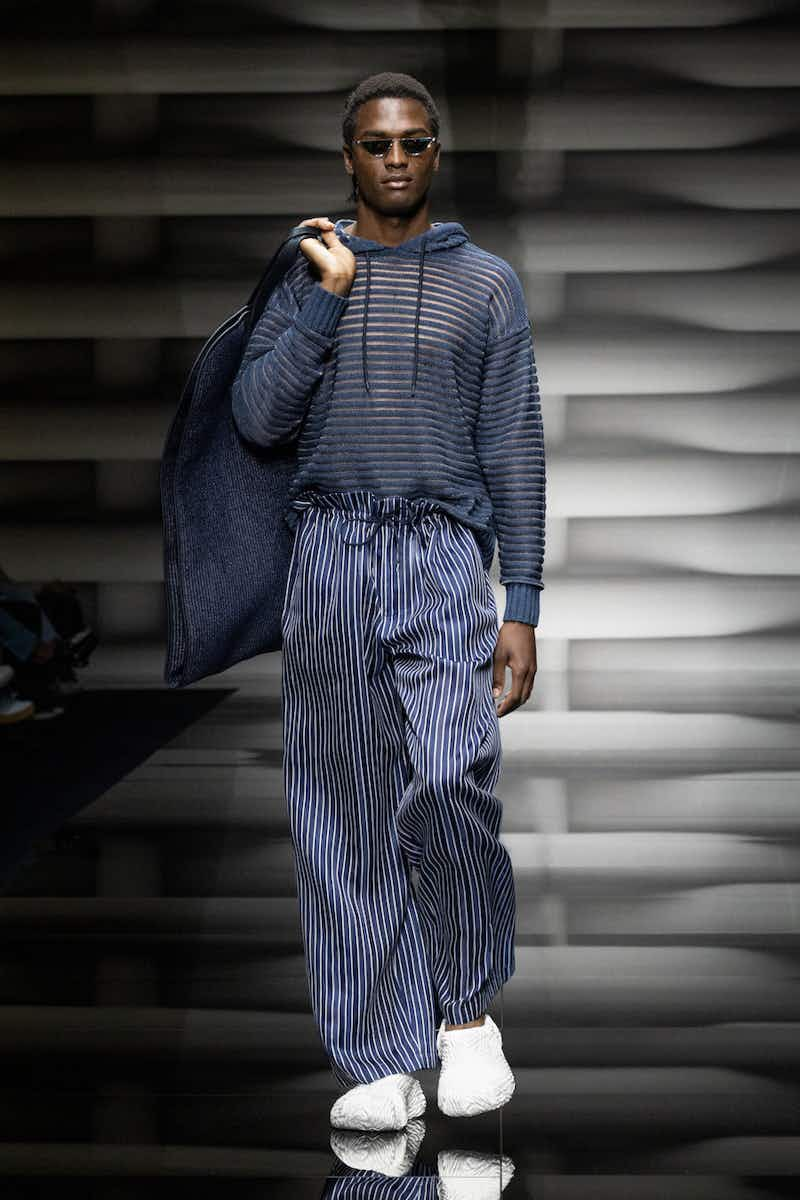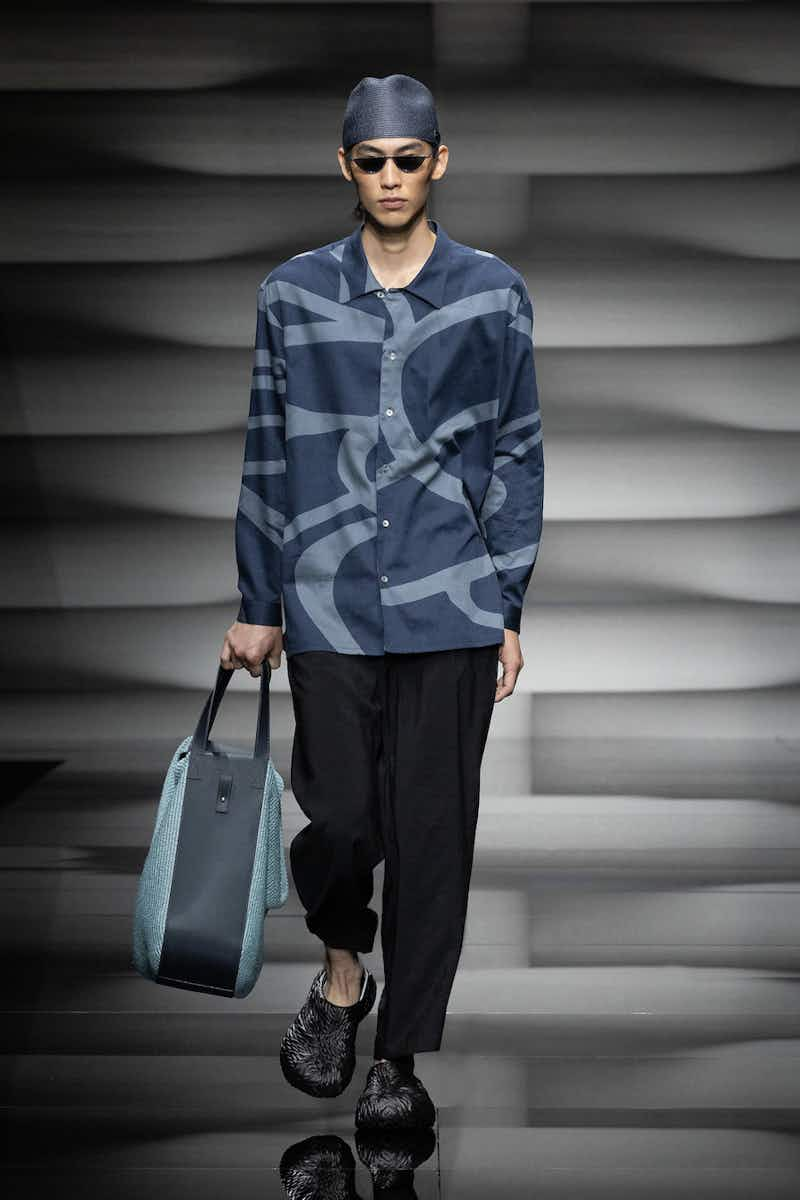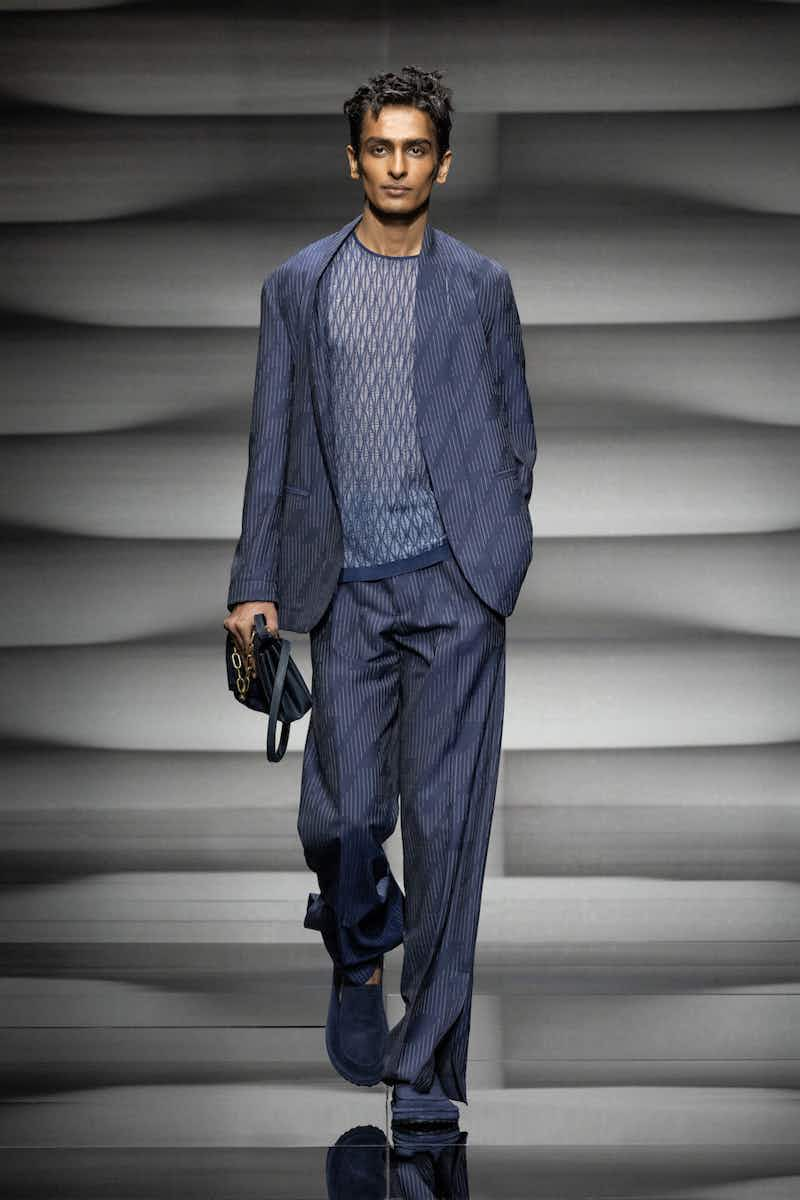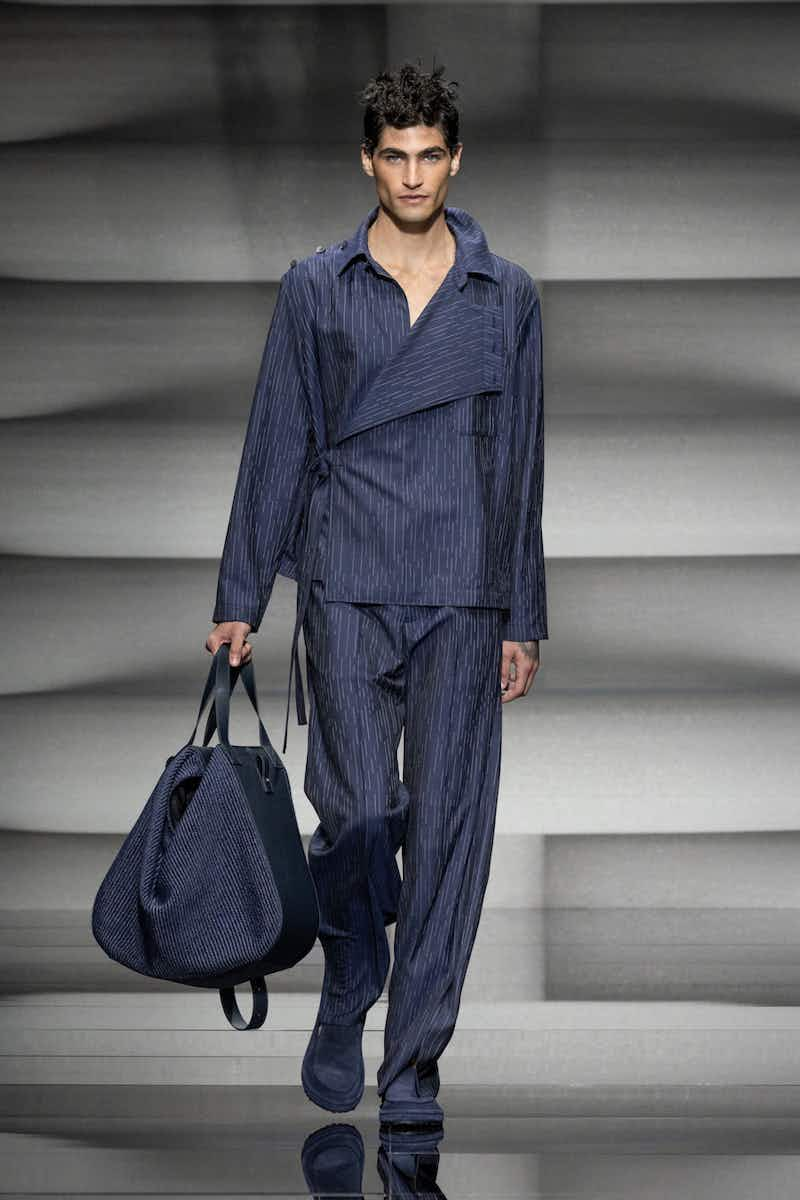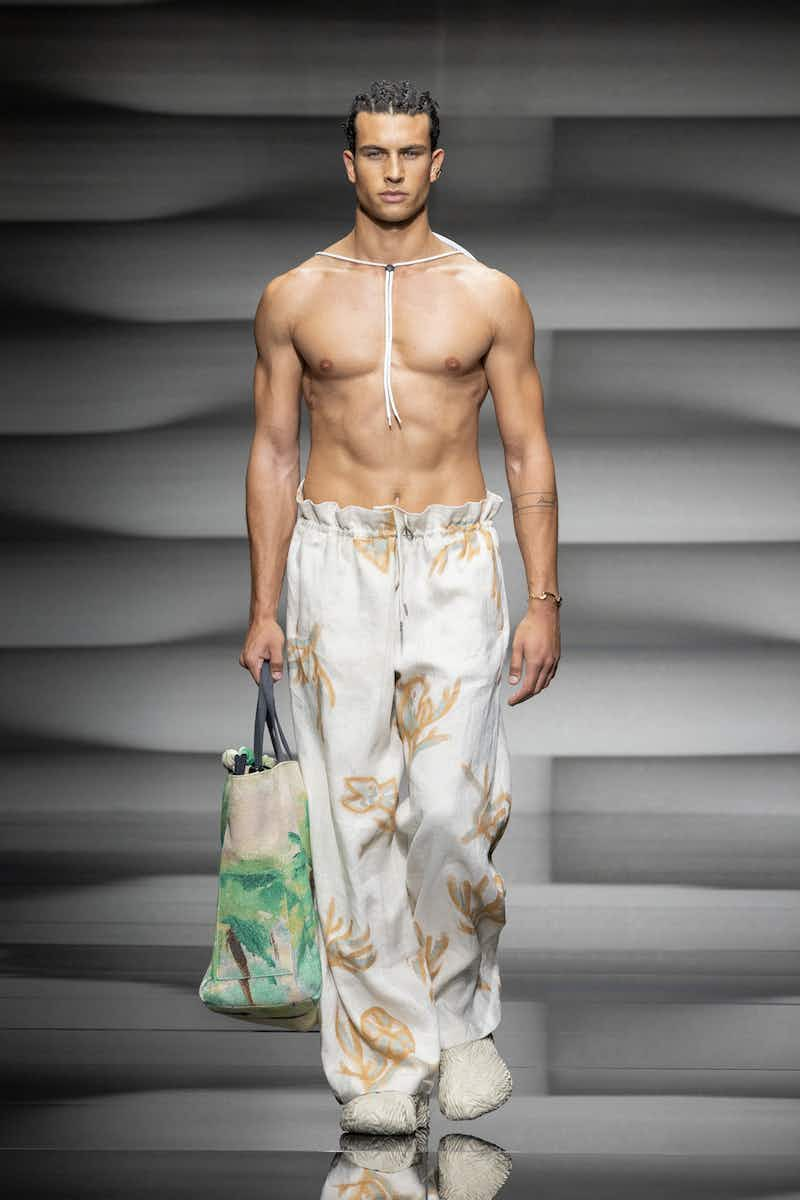 This season, Mathew Williams' Alyx outing caused a splash – the show taking place around the edges of the abandoned Franco Scarioni swimming pool. Given the day's 34 degree heat, one wonders if any of the models and showgoers were looking longingly at the pool for a head-first dive. There's a clear dialogue now between Williams' work at Givenchy and that of his own label. Like Givenchy's AW22 show, the mood here was crisp and monochrome with the odd shot of colour. But where Givenchy leaned into a modern iteration of Hepburn-esque elegance, the mood here was more one of sexy, modernist minimalism. Ruched mini-dresses in acidic pinks and yellows and chic swimsuits were sprinkled through the leather jackets and coolly constructed sleeveless blazers. Another collaboration with Nike also yielded the MMW Zoom 5: a perforated rubber slip-on nightmare for anyone with trypophobia, and a dream for those who always thought Crocs could be more aerodynamic.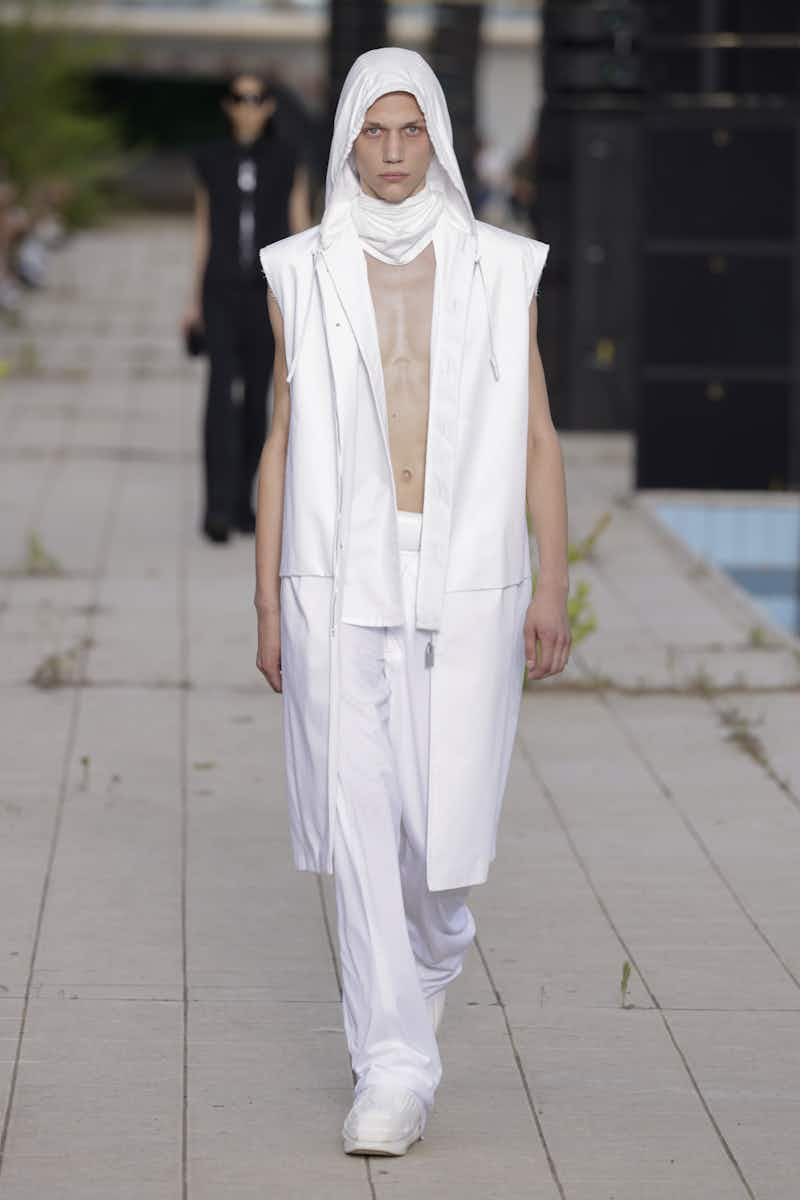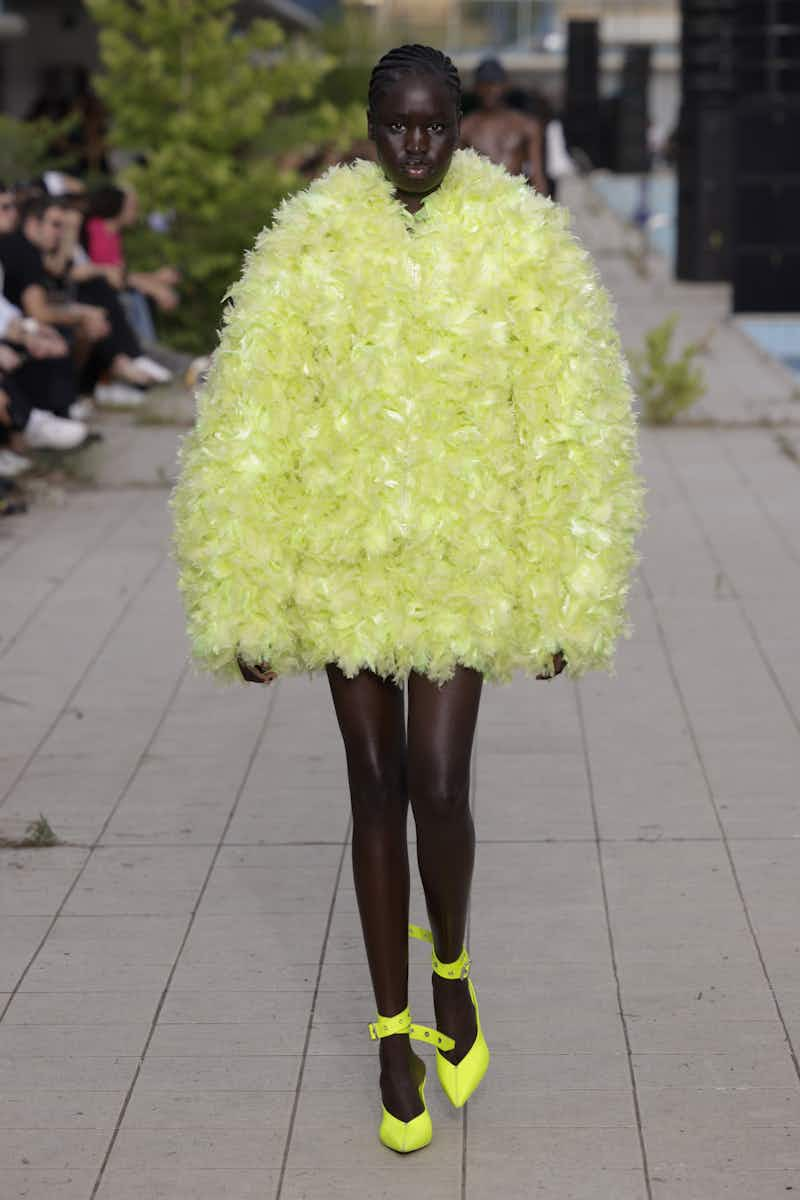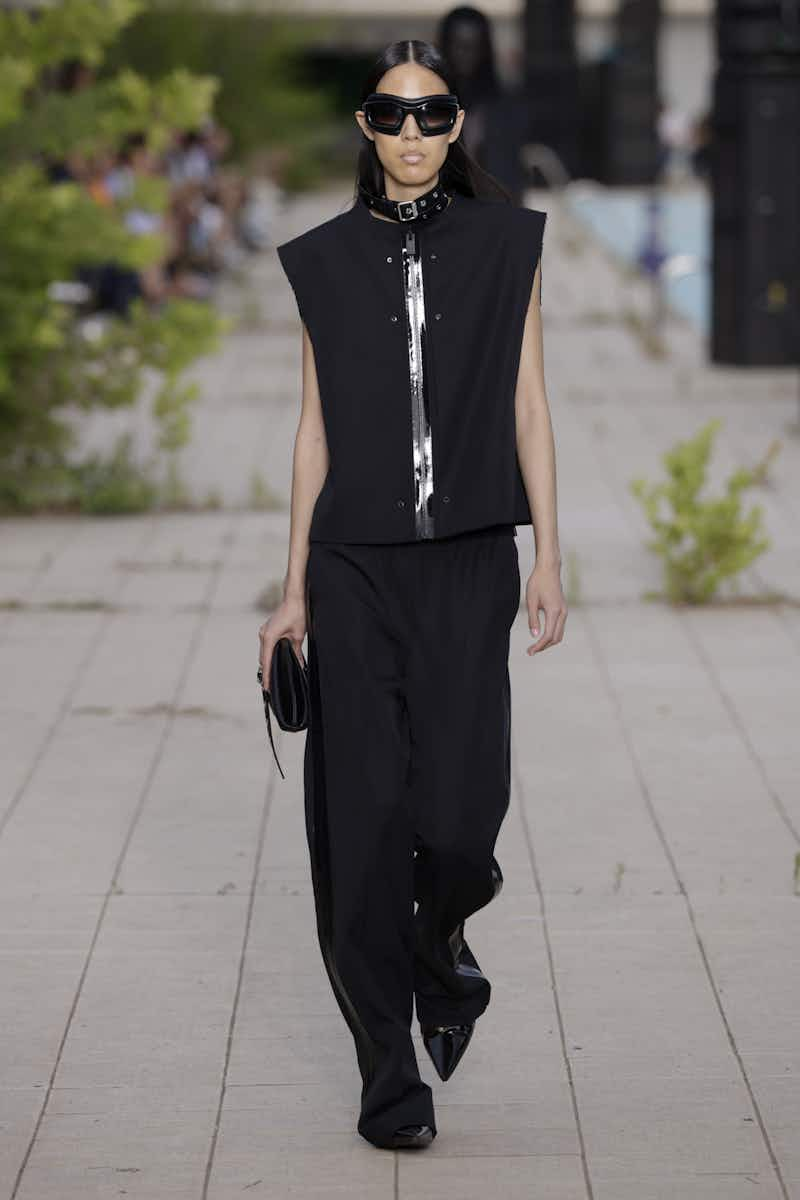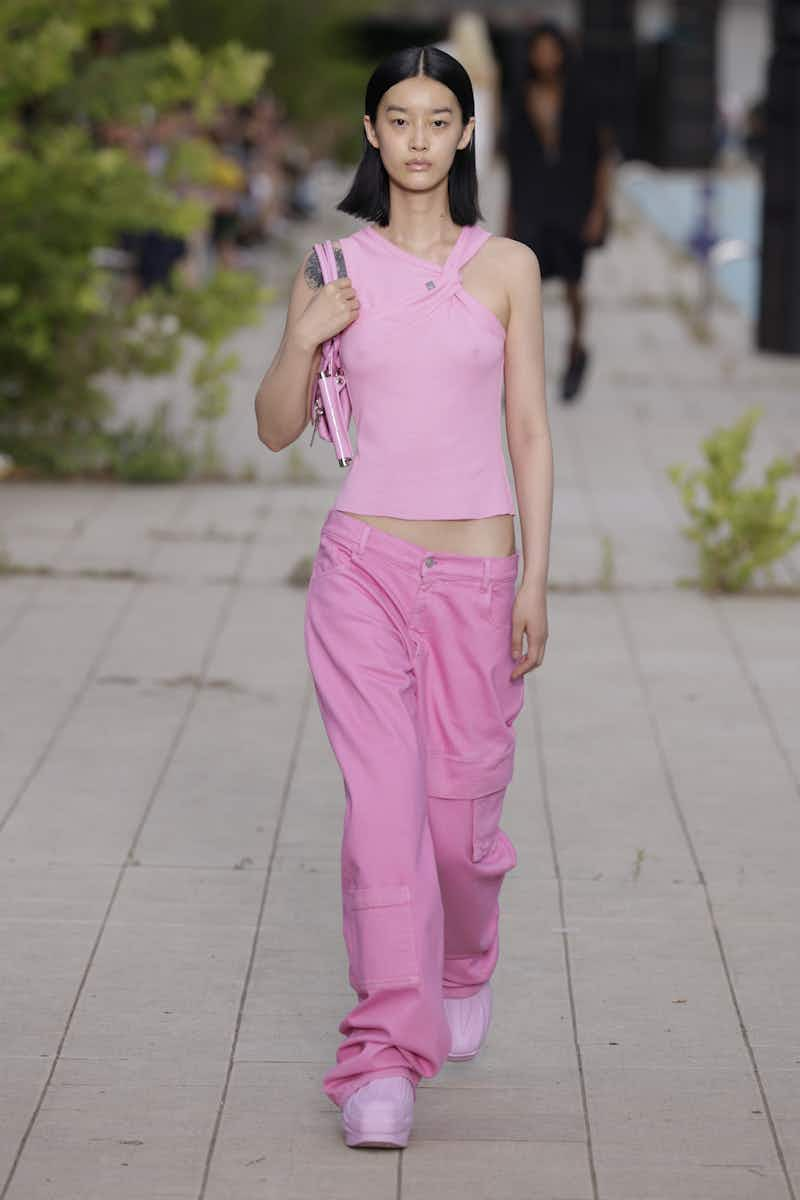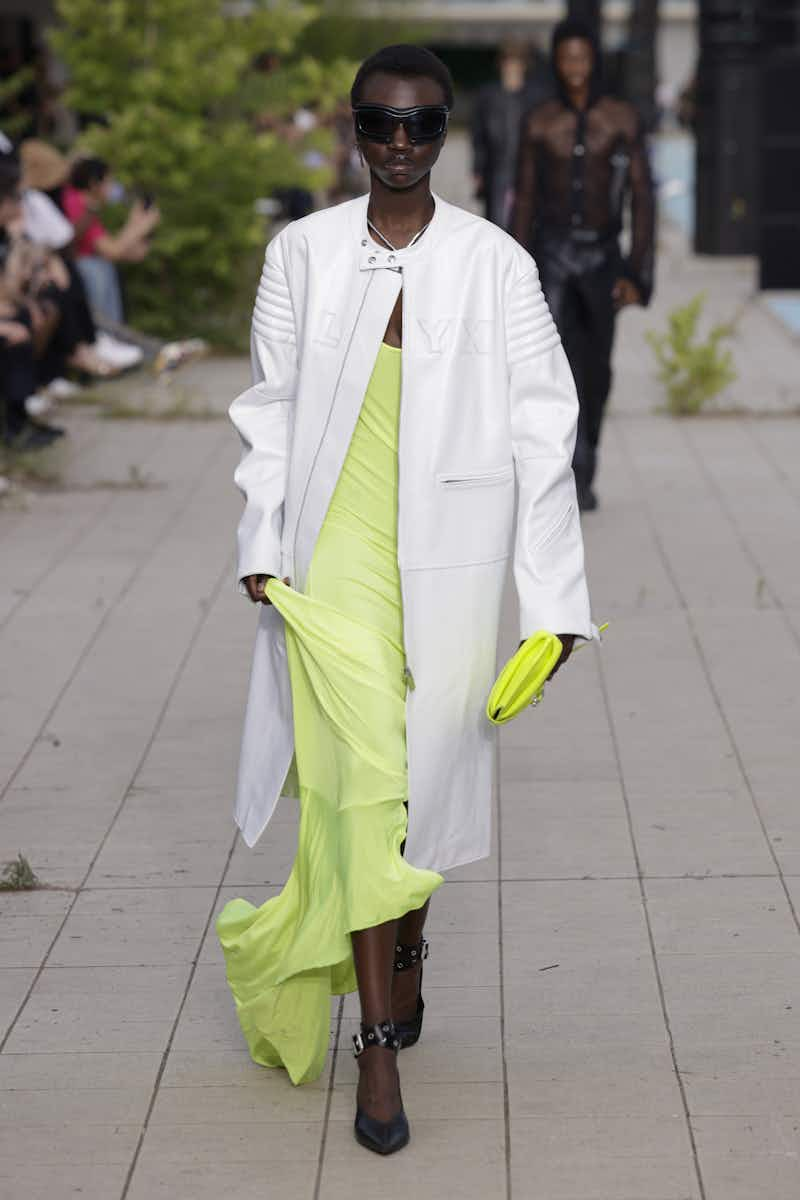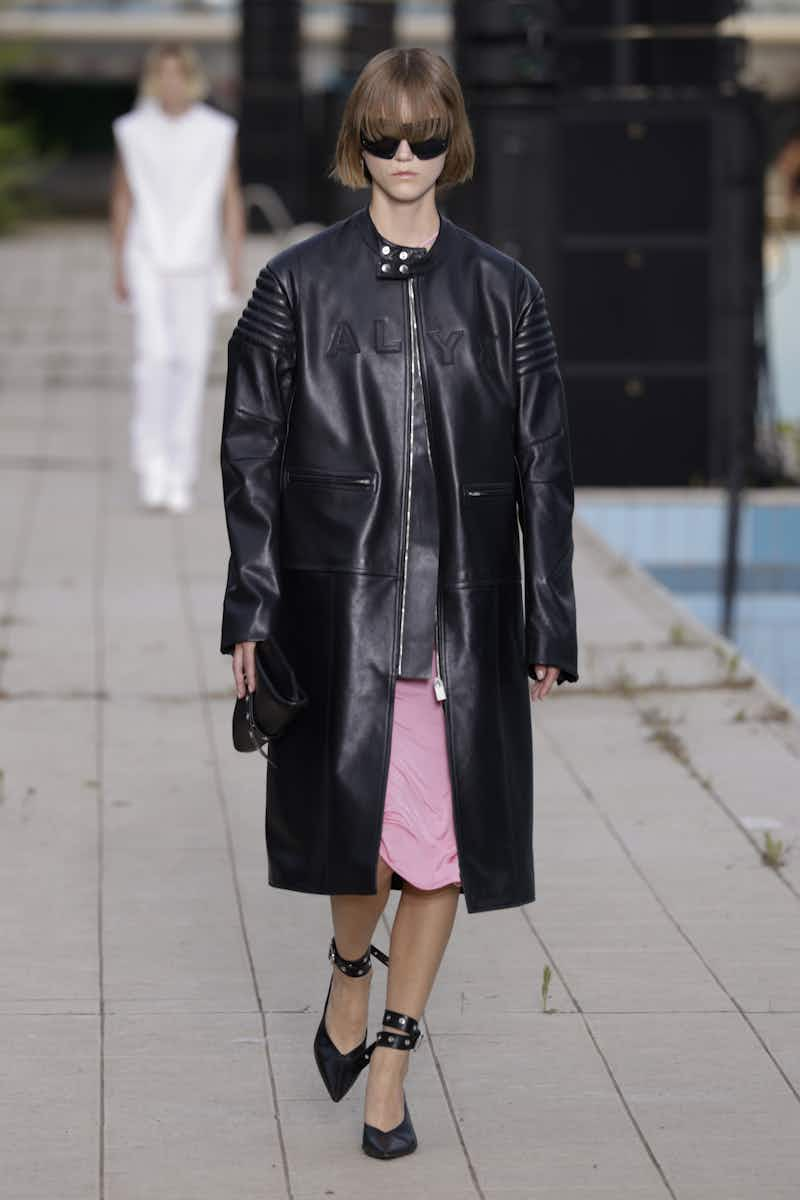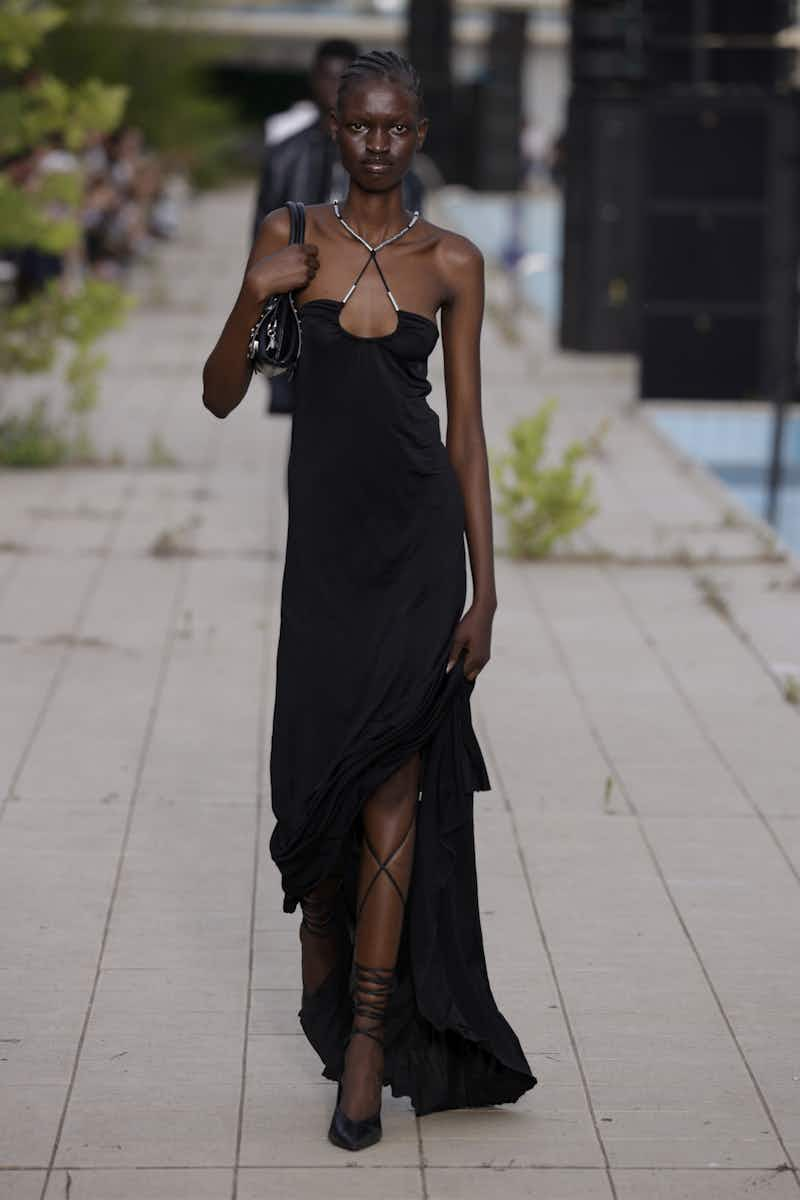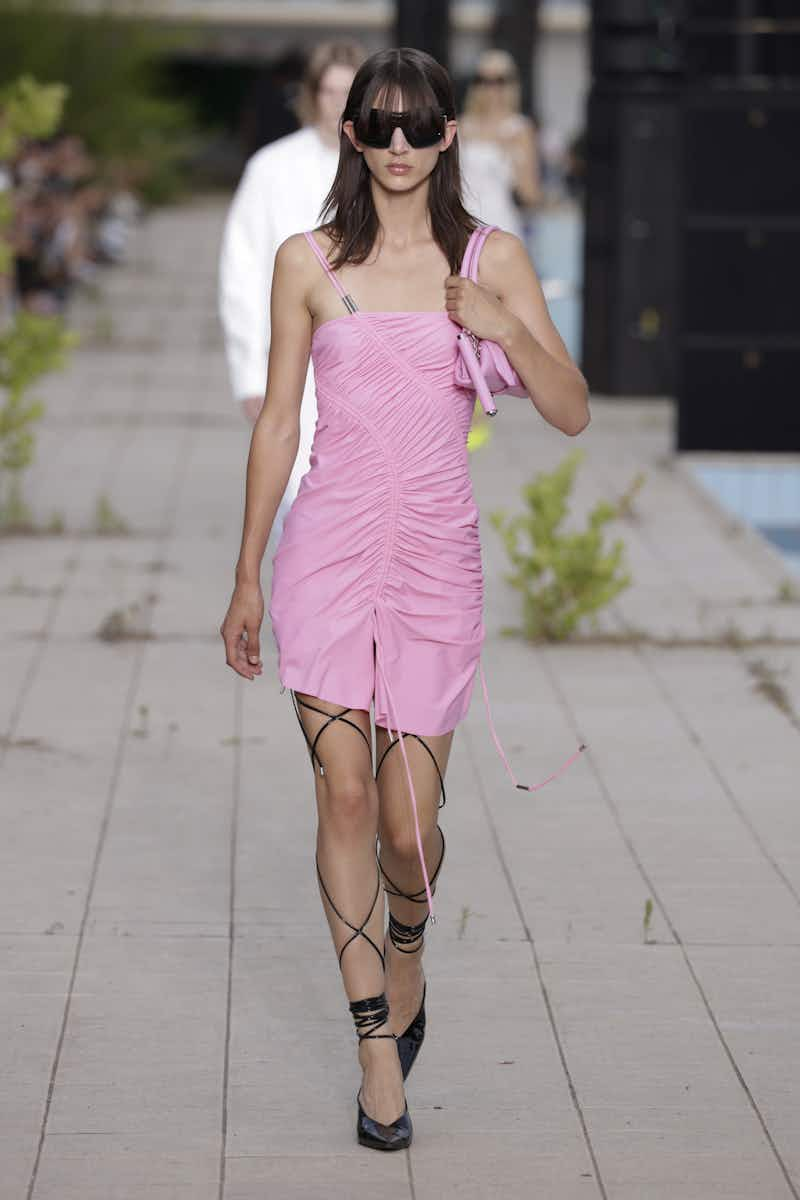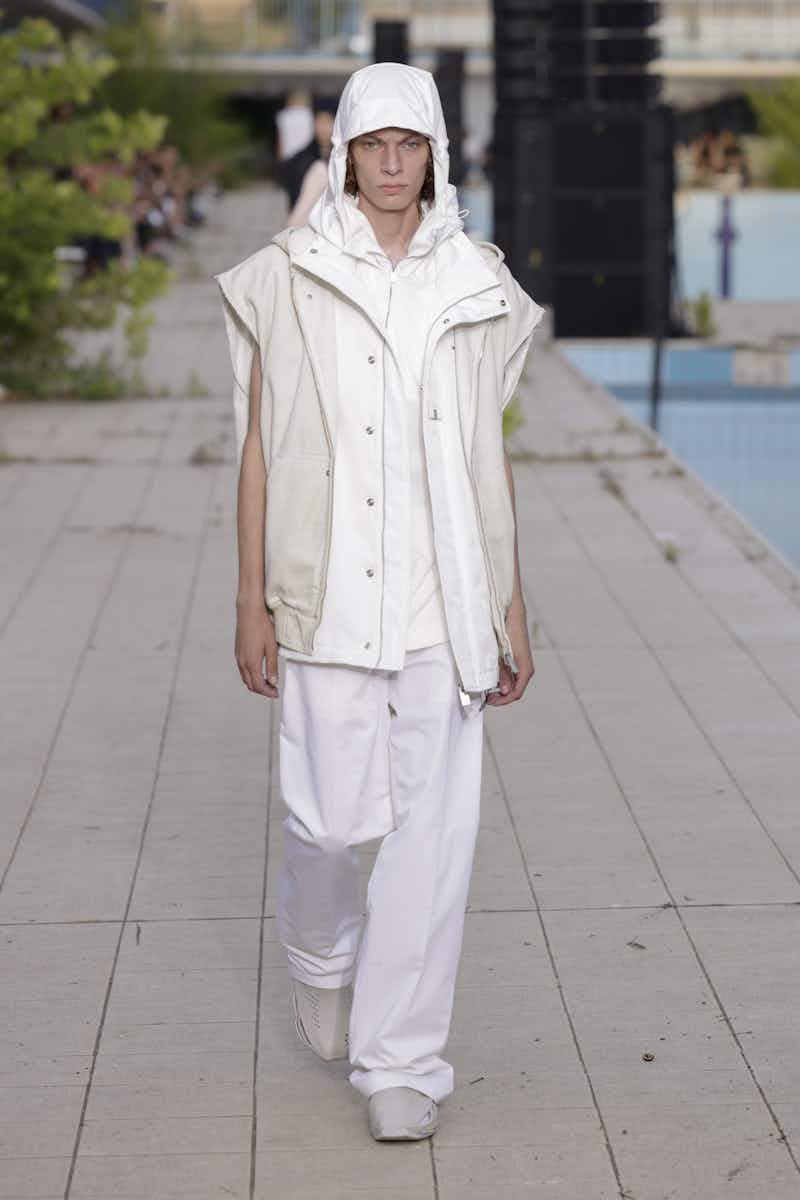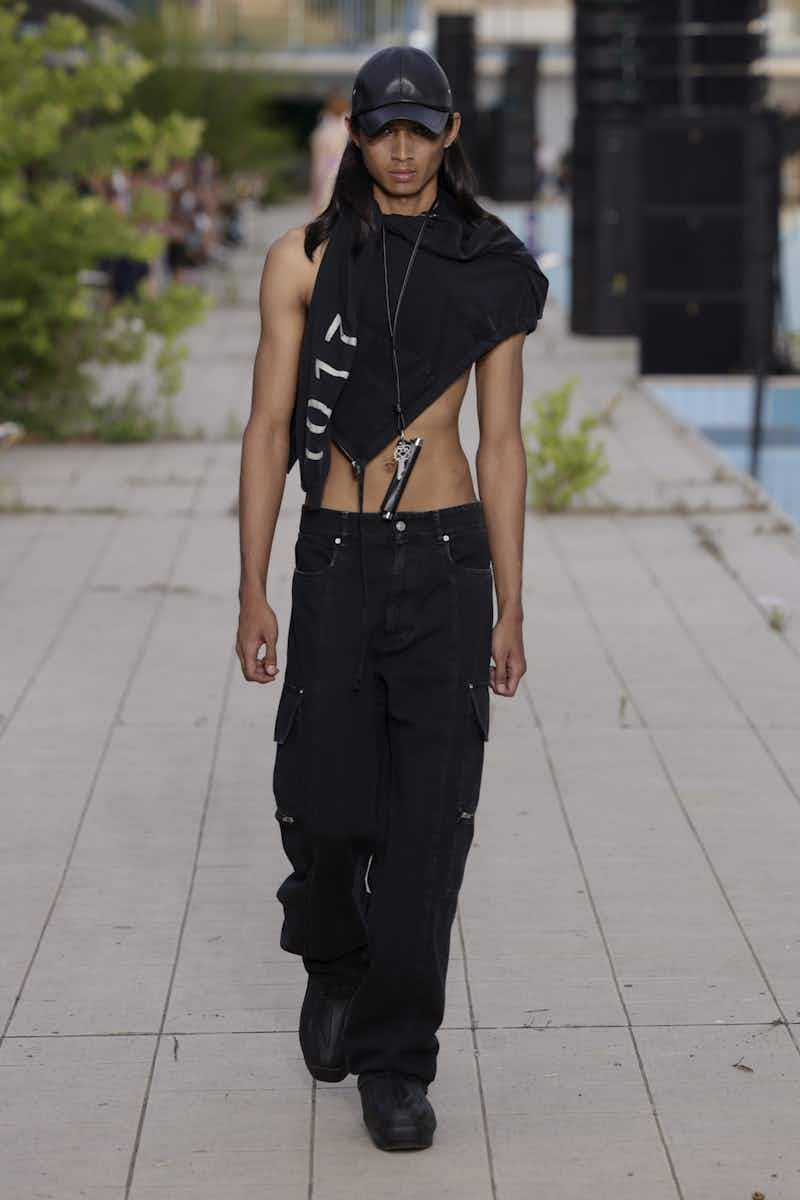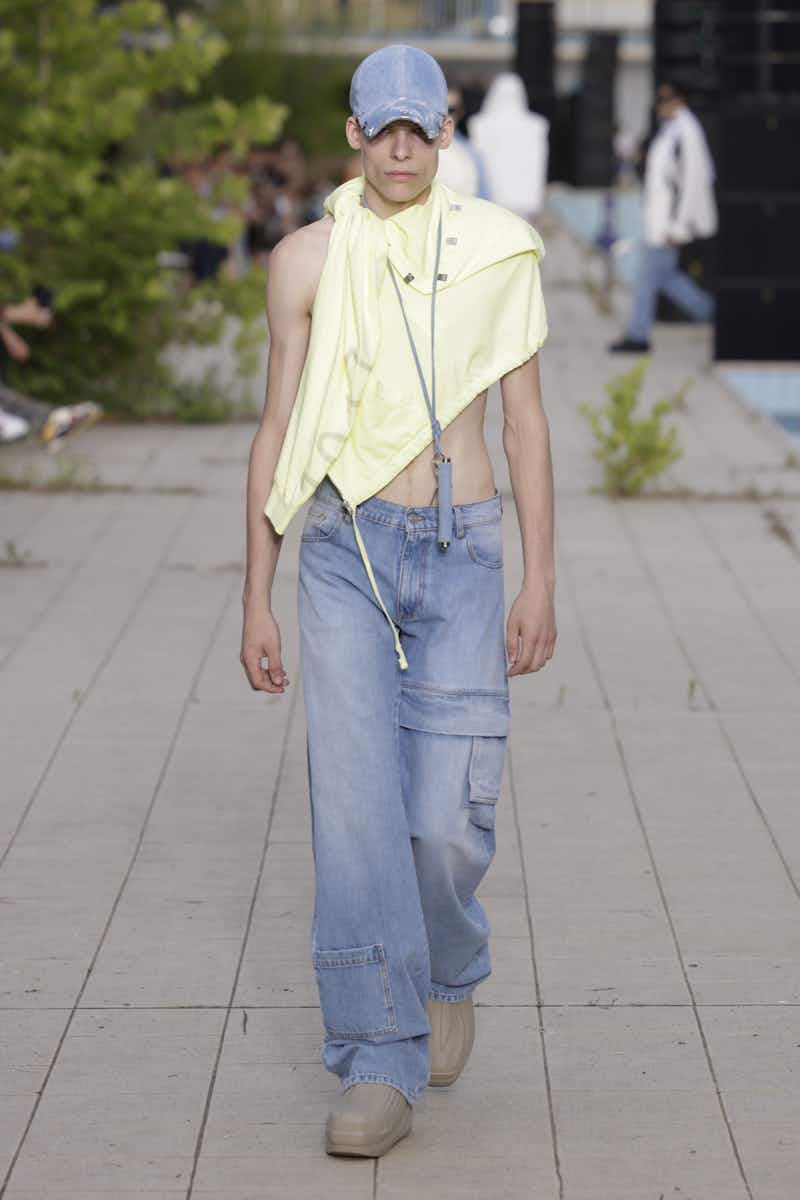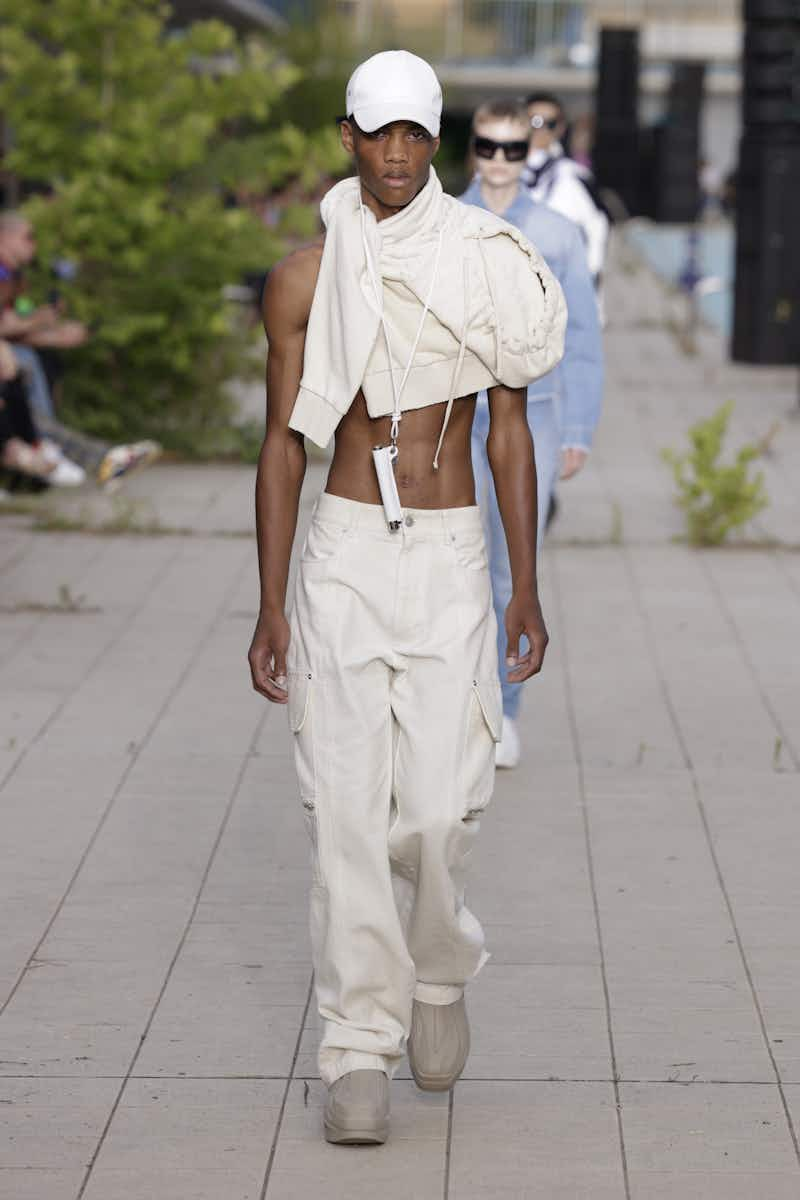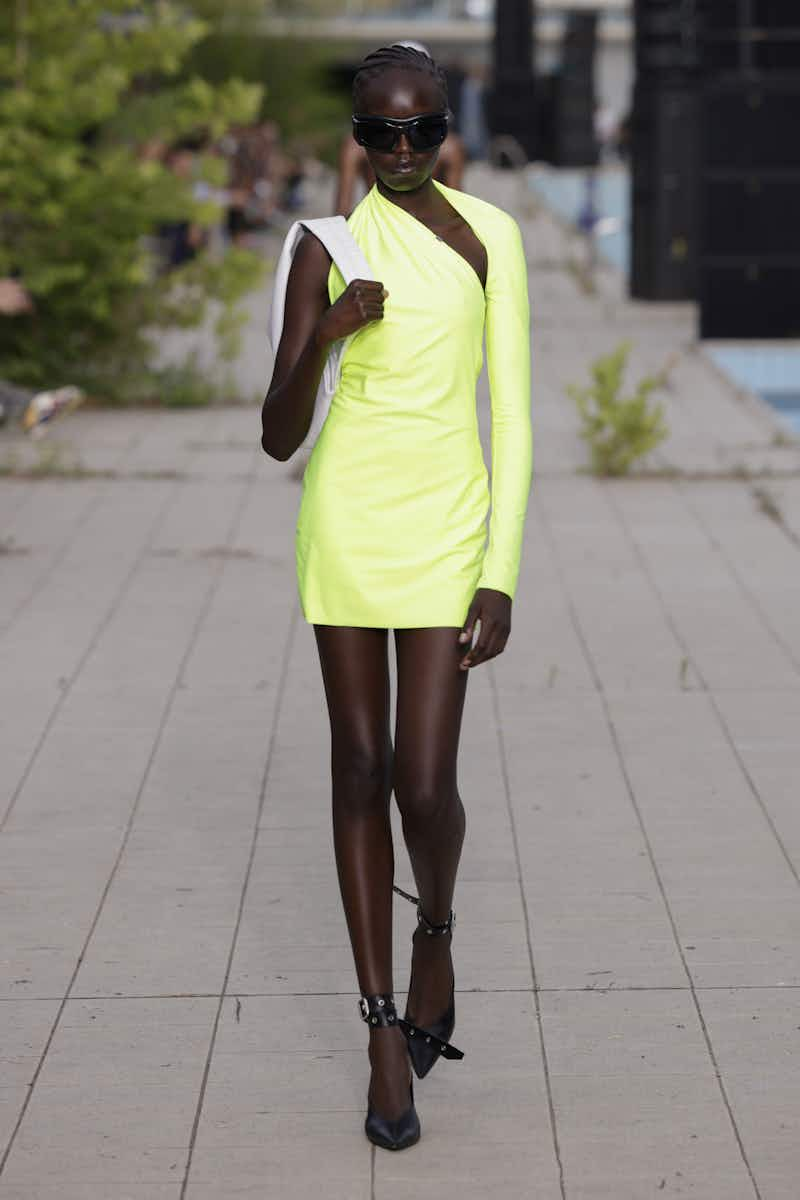 In recent years, the fashion world has shaken hands with countless estates and foundations of a number of artists. From the immediately recognisable, like the Basquiat Estate or Warhol Foundation, to the more obscure such as Jonathan Anderson's working with the Joe Brainard Estate at Loewe to bring the cult New York writer and artist's pansy prints back to life, the collaborations show no signs of slowing down. This season, DSquared2's Dean and Dan Caten turned their sights towards sun-soaked Jamaica, via the Bob Marley Estate. The free-spirited layering of previous seasons found new forms here in a collection inspired by surfer culture (see: lots of flip flops), with more overt references to Marley in the ​'70s interspersed with sarongs, loose knits, tie-dye shirts, and patchworked denim. A secondary collaboration with Honda also yielded bright biker jackets and T‑shirts. Where black leather might suggest machismo and swagger, these pieces had a lightness to them – suggesting that the best place to be is the beach. And given this weekend's heatwaves, we'd have to agree.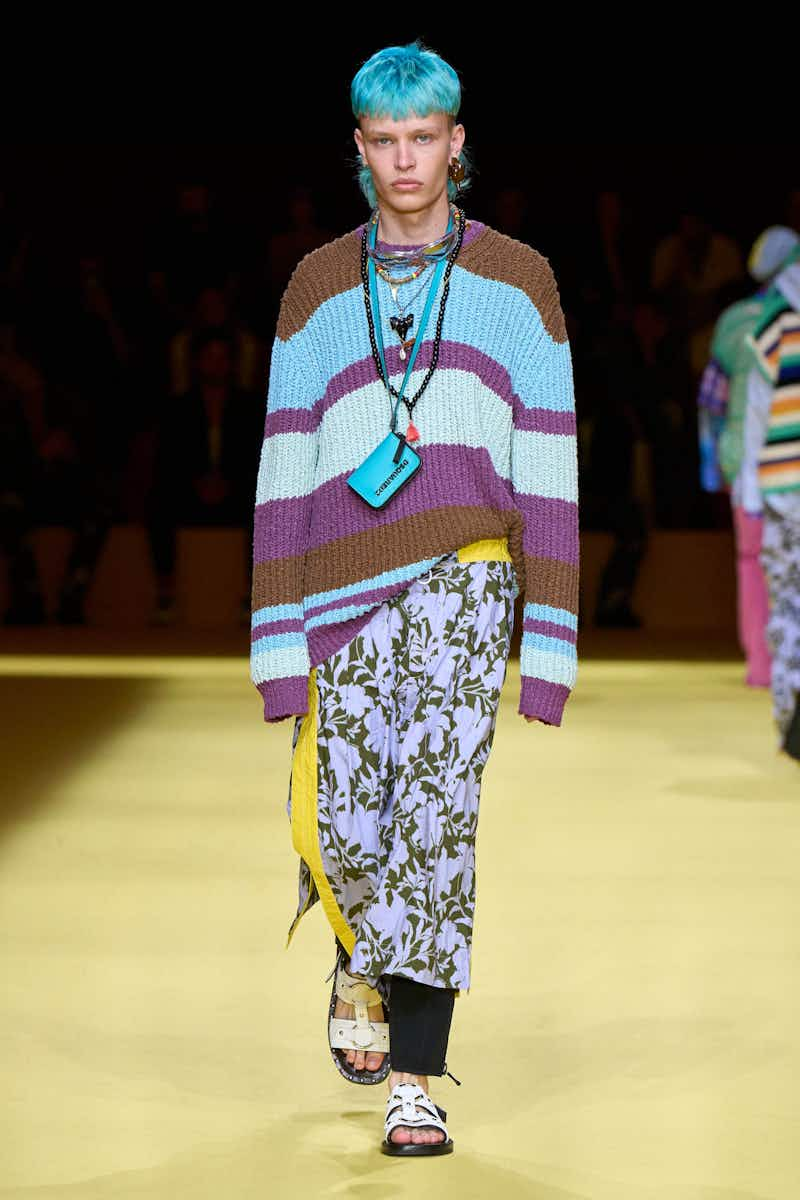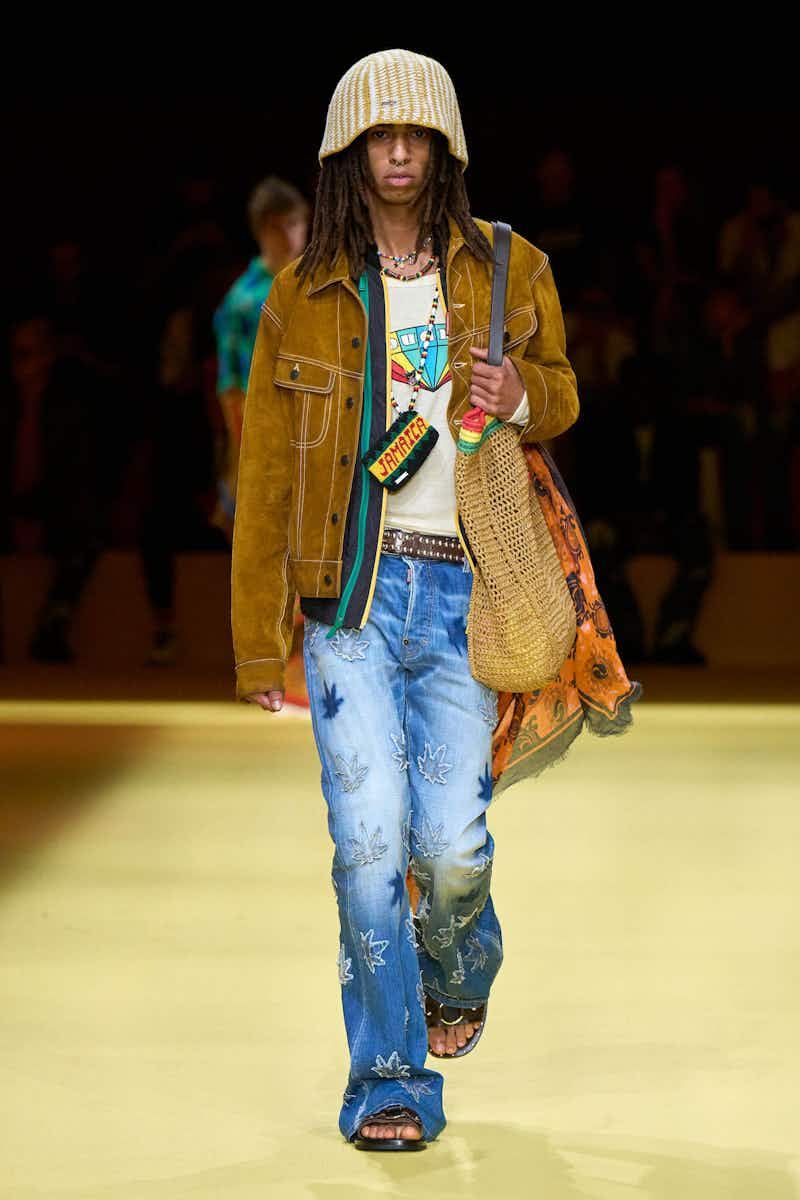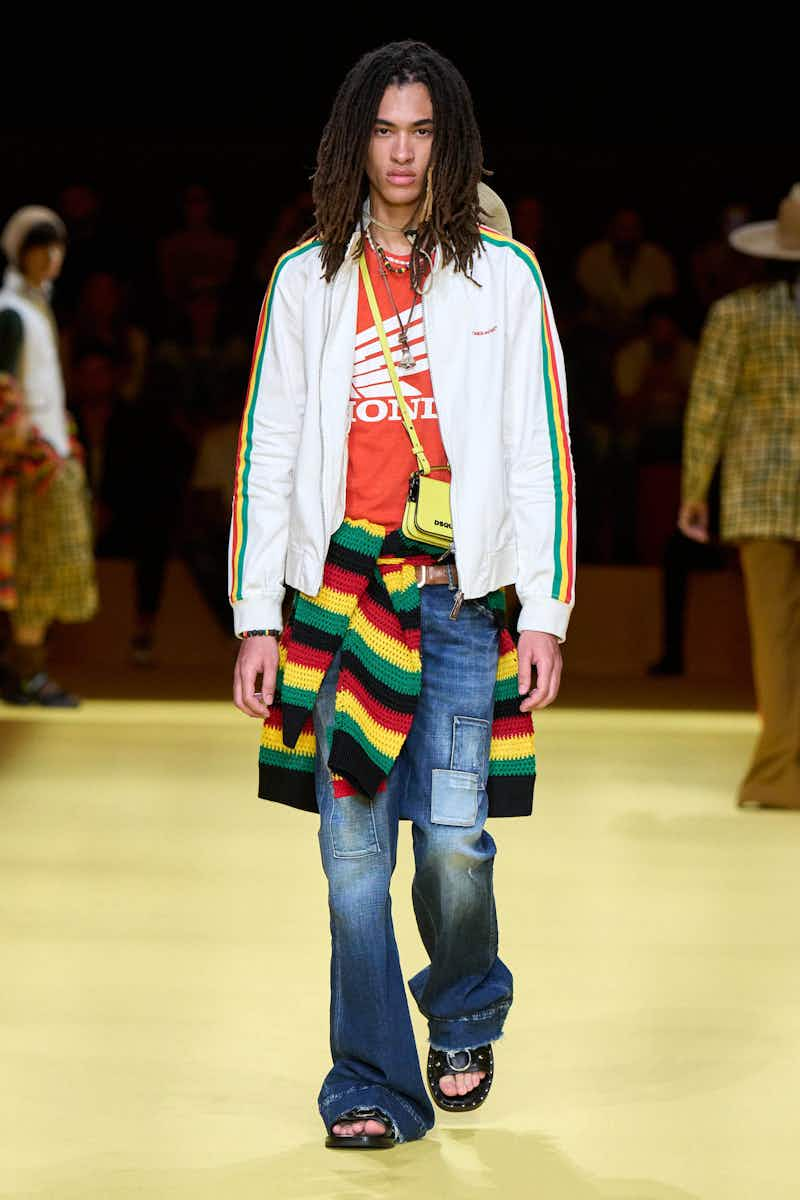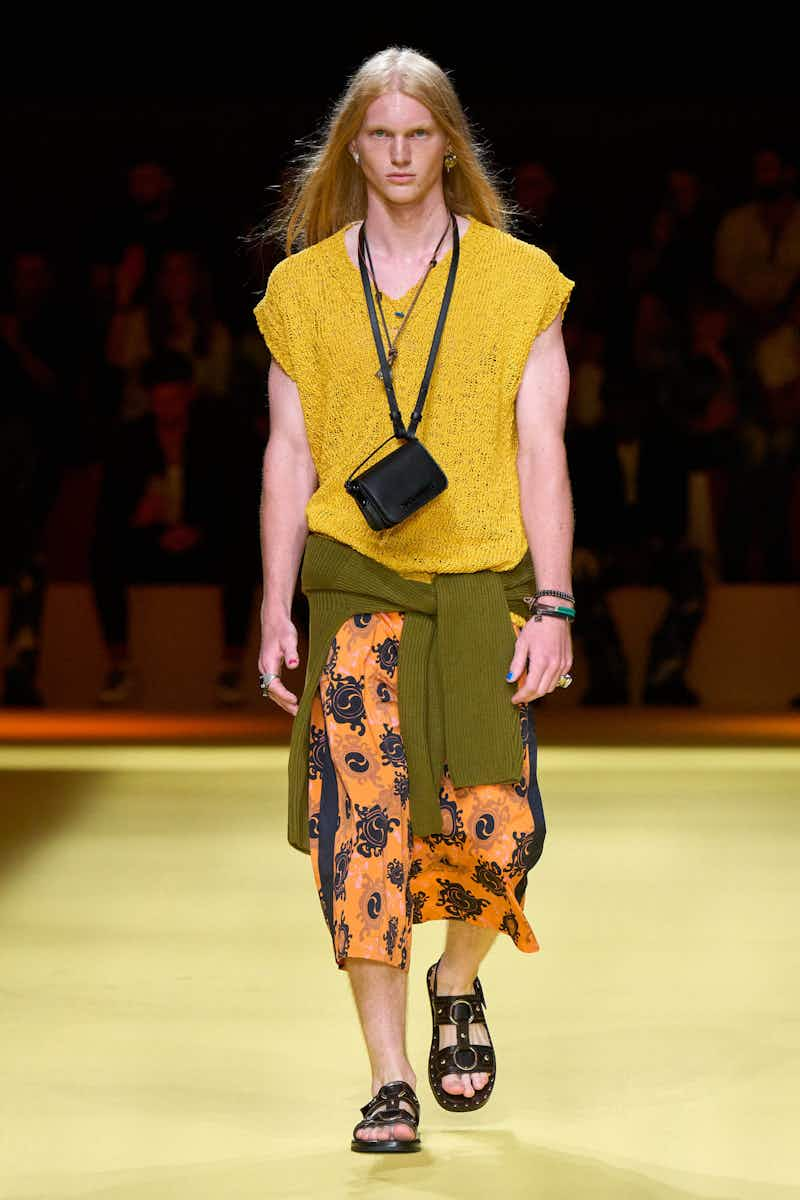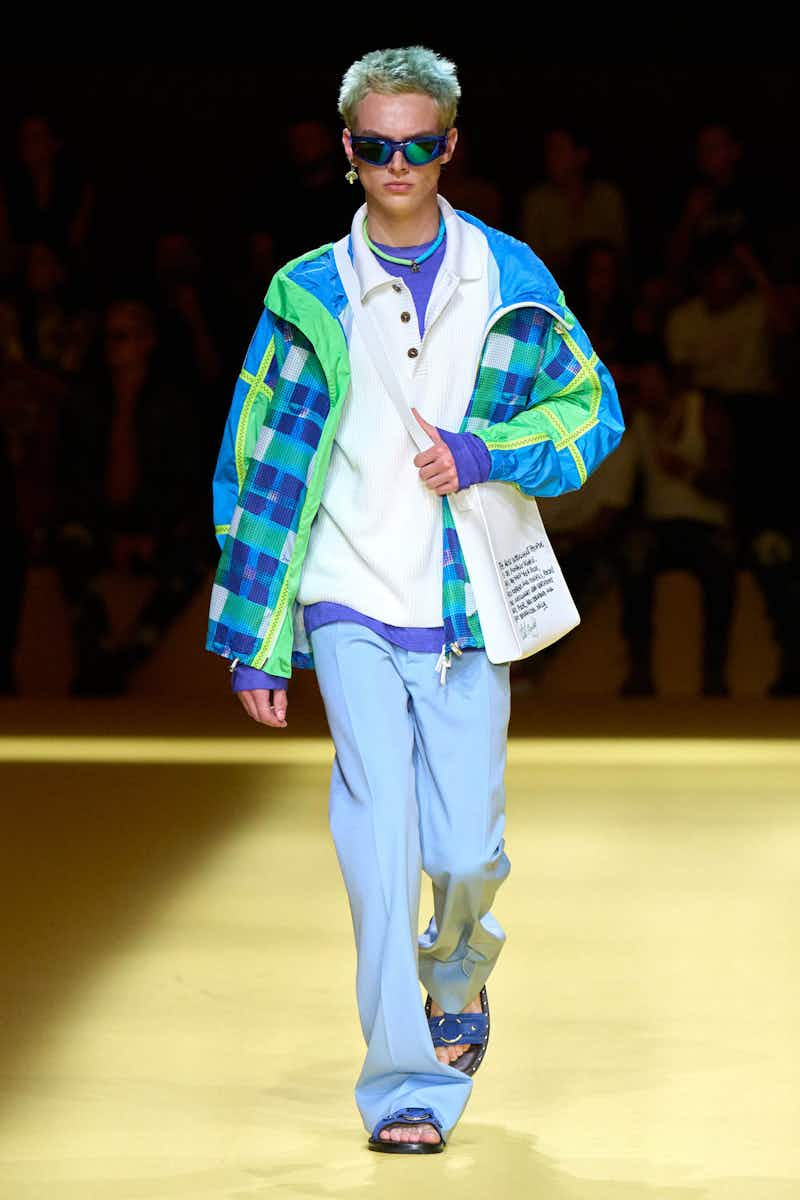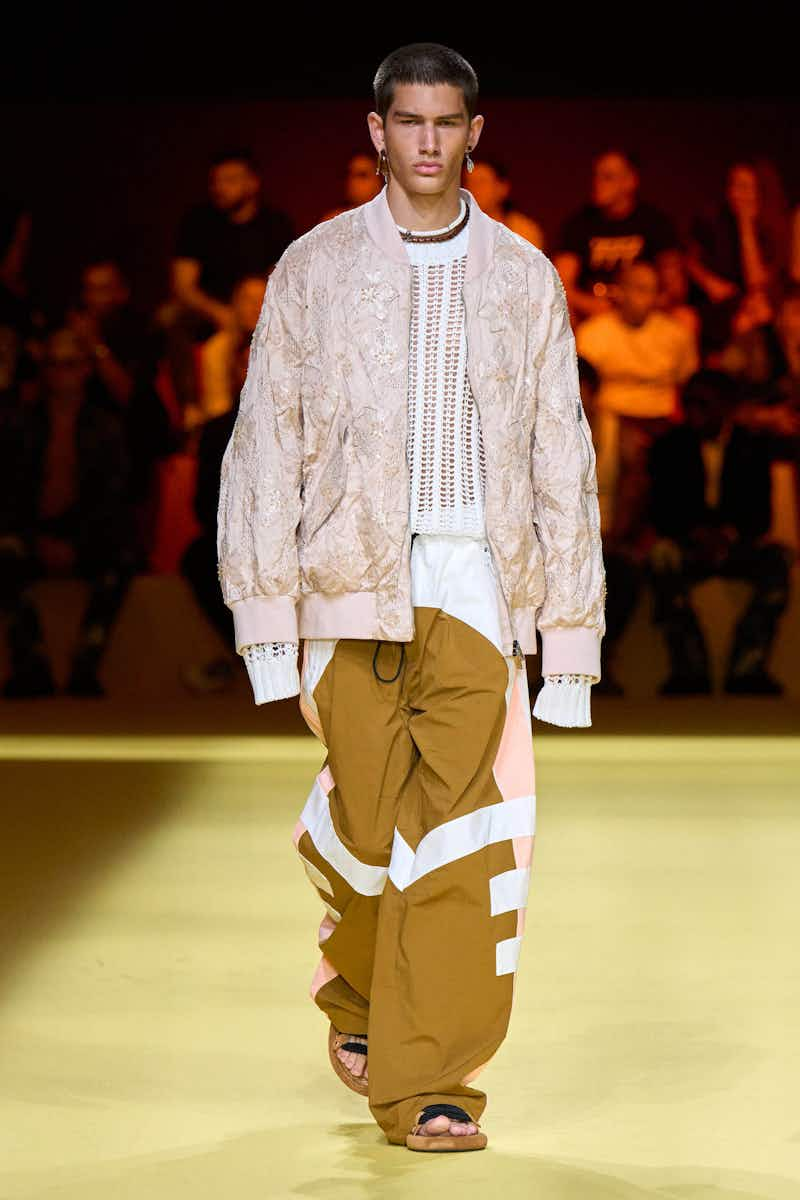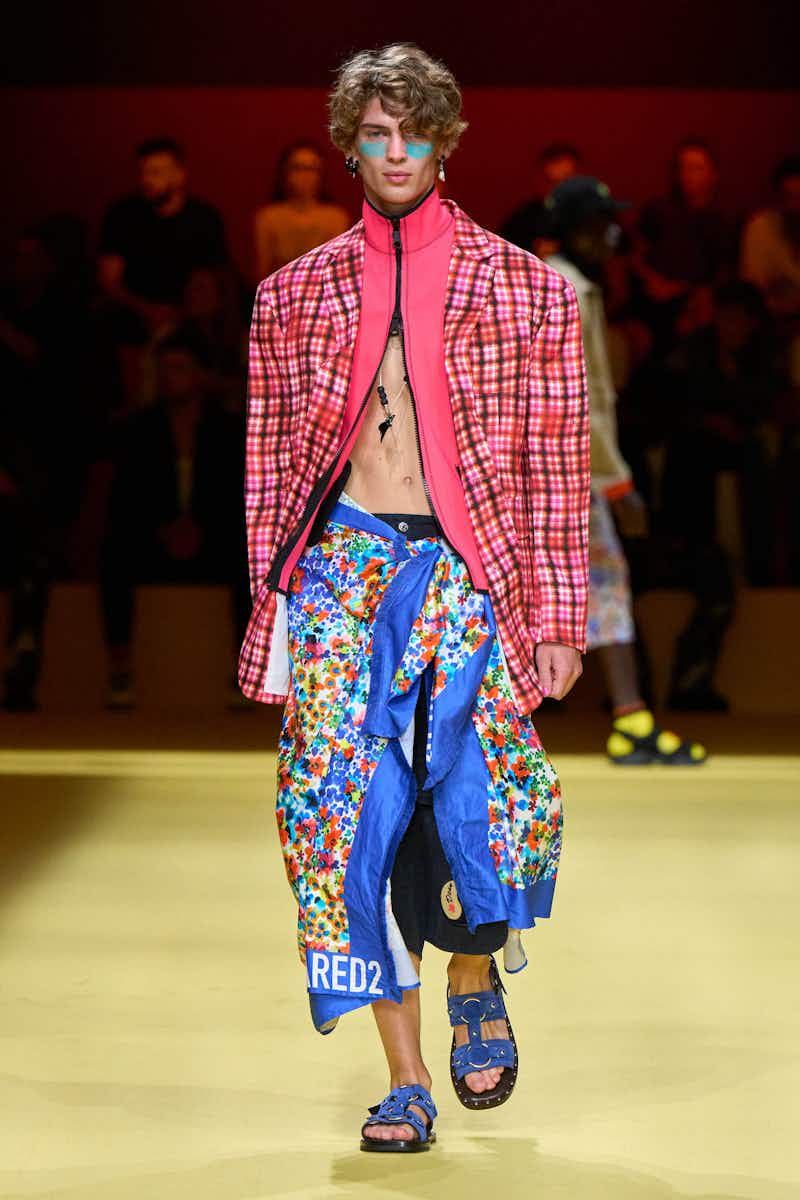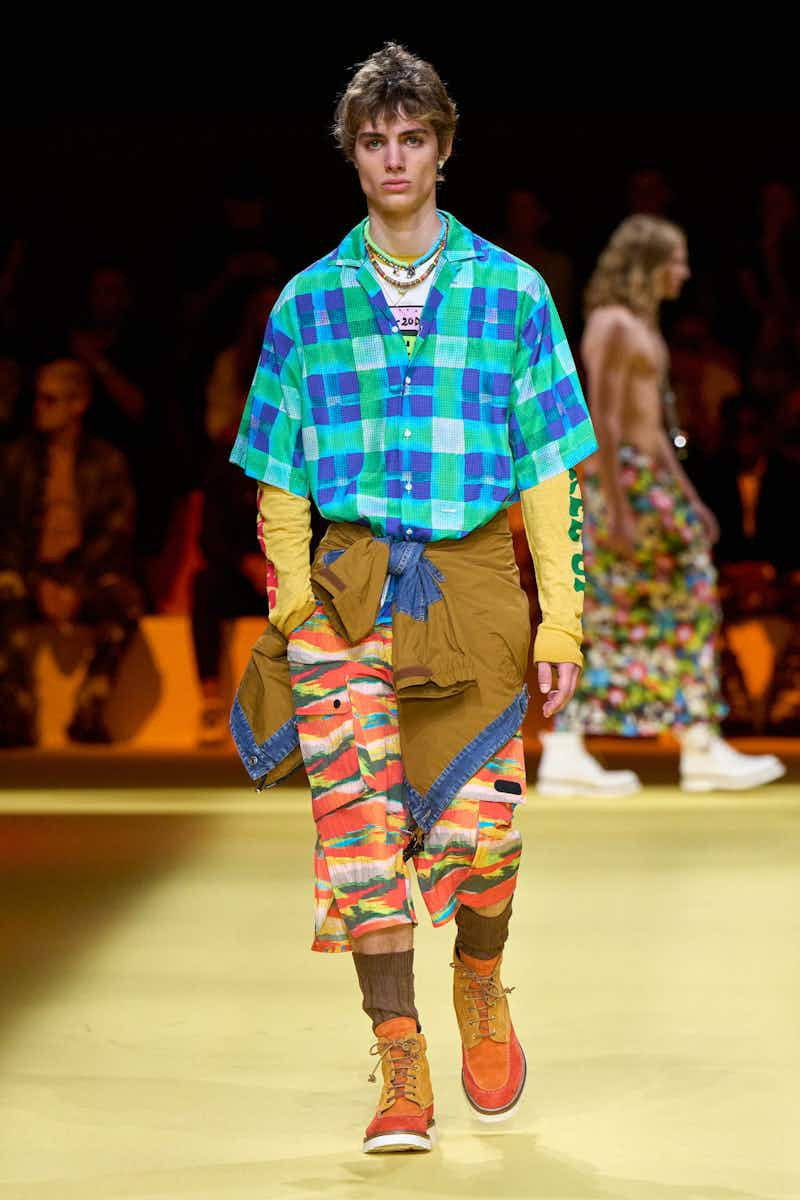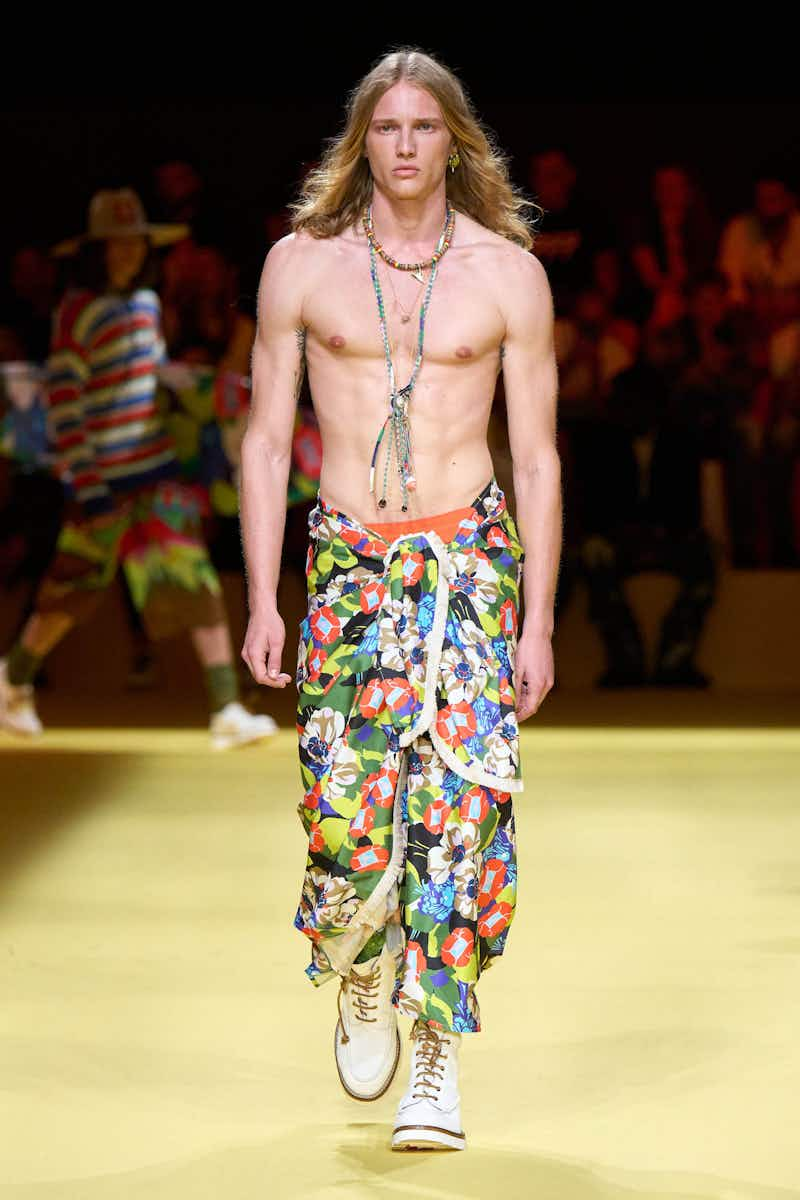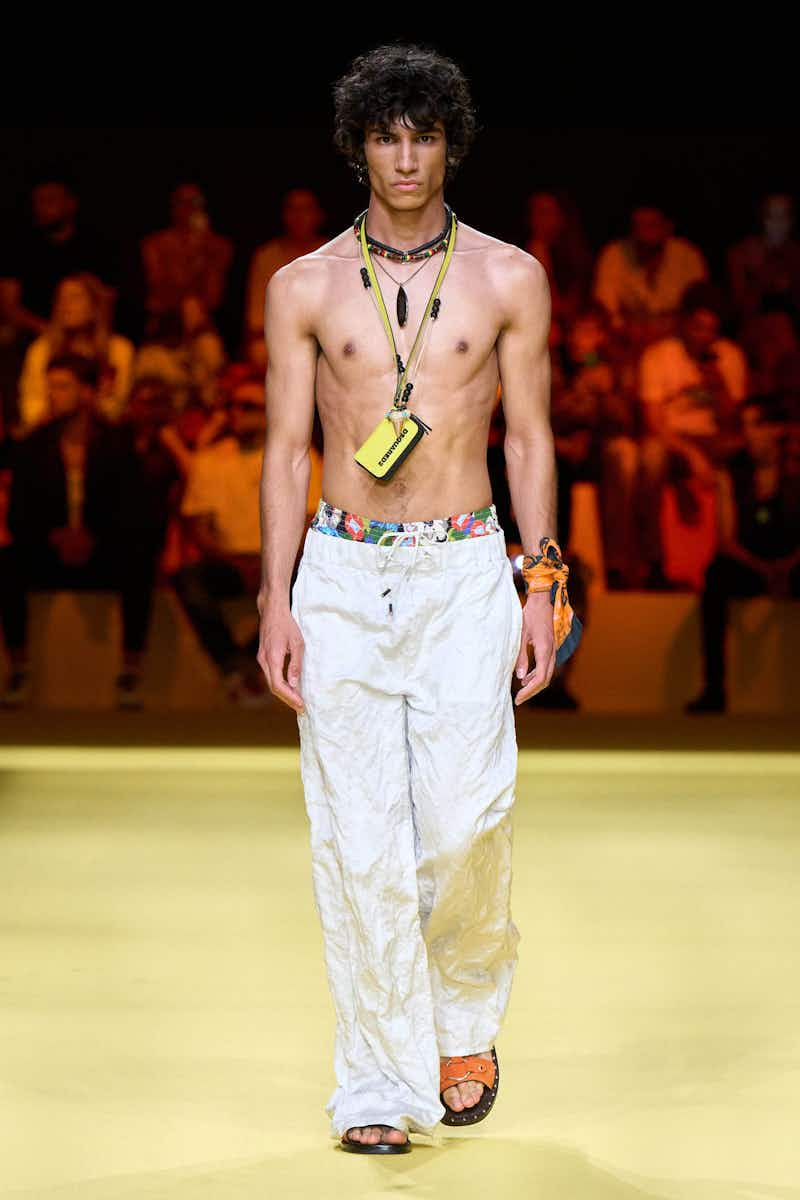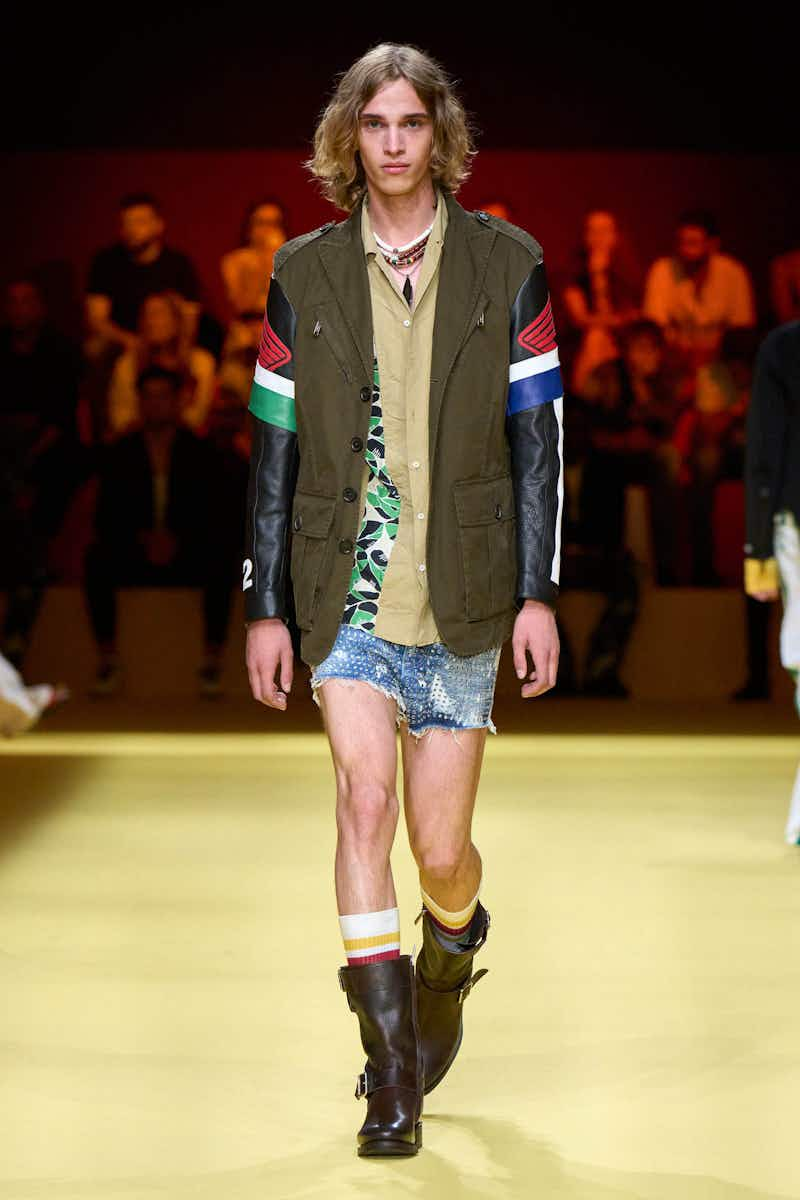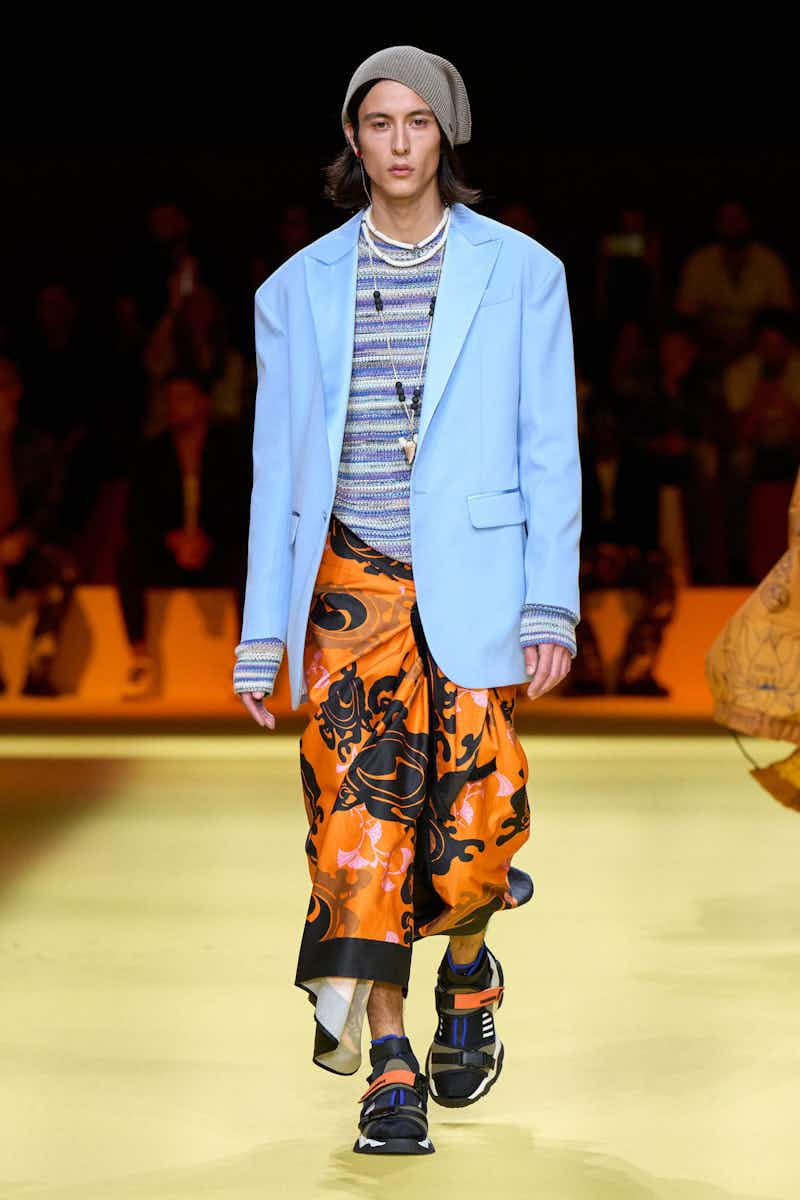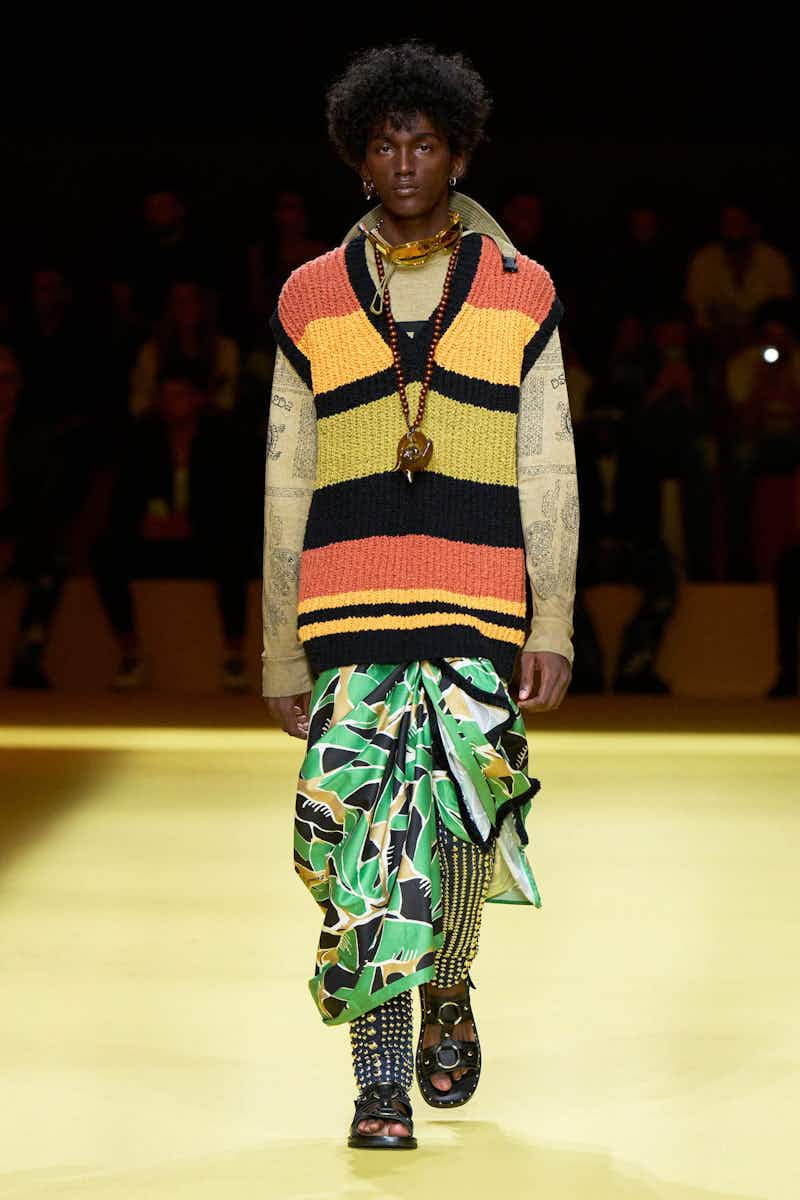 More like this