Miu Miu SS22 takes it back to (brilliantly bonkers) basics

Miuccia Prada's SS22 collection cut, slashed and tore up beige fabric in its masses. Low-rise trousers, V-neck jumpers and a flash of skin… welcome to the School of Miu Miu.

A few things came (or went) back recently. Kids are back at school. Some of us have returned to offices. The morning commute, back to back meetings, the stale meal deals – all that boring stuff has returned to replace the other boring stuff we did during lockdowns.
It almost feels as though we're entering another realm, like the past 24 months have been a nightmare scenario that we're about to escape – just. As the sun worms its way back in and the days get shorter, there's an odd feeling of cosy familiarity in the air. A far cry from the anticipated post-pandemic Roaring Twenties 2.0 (remember that one?), normal life has also returned.
Last week, Miuccia Prada and Raf Simons presented their SS22 collection for Prada. Practical power dressing, we called it; ​"utility as we almost return back to normality." The collection was sublime. Sexy, pop-coloured and, above all, a real-time response to our adapting world. Amongst the mini-skirts was a clear return to workwear, via slick suited two-pieces, nylon skirts, boxy dresses and mid-length heels.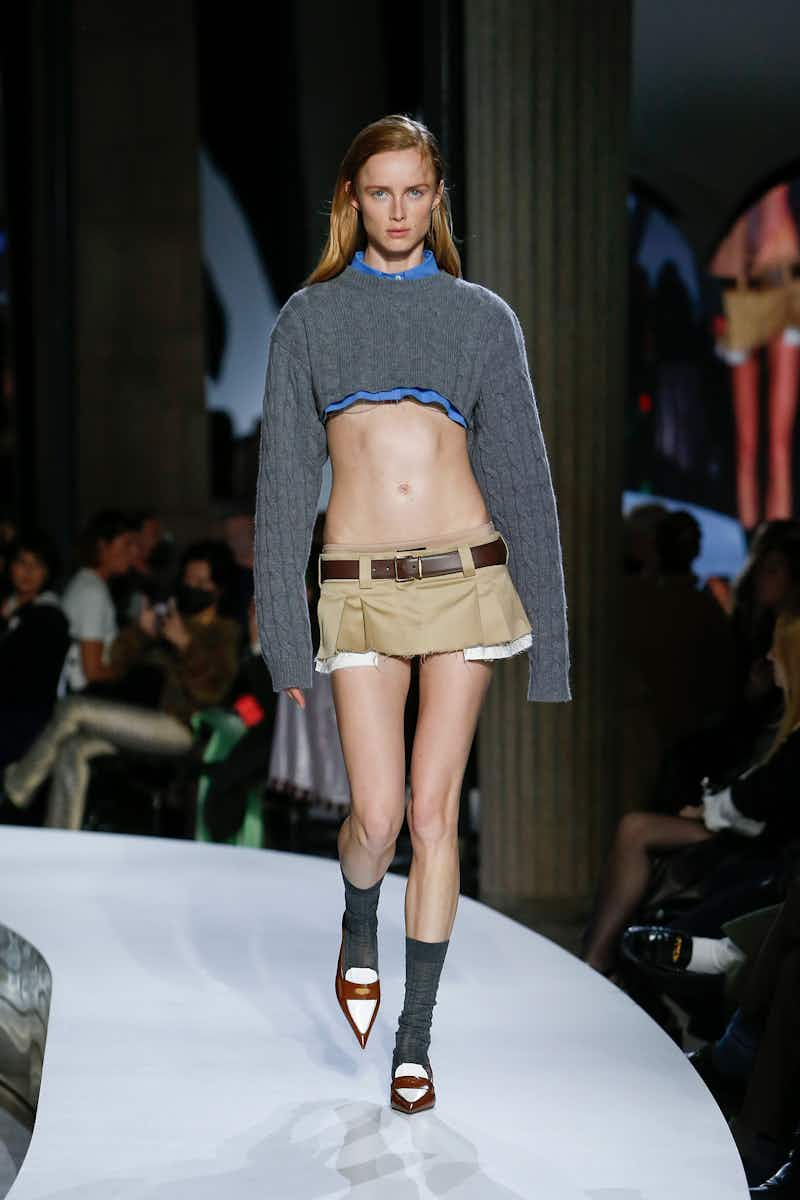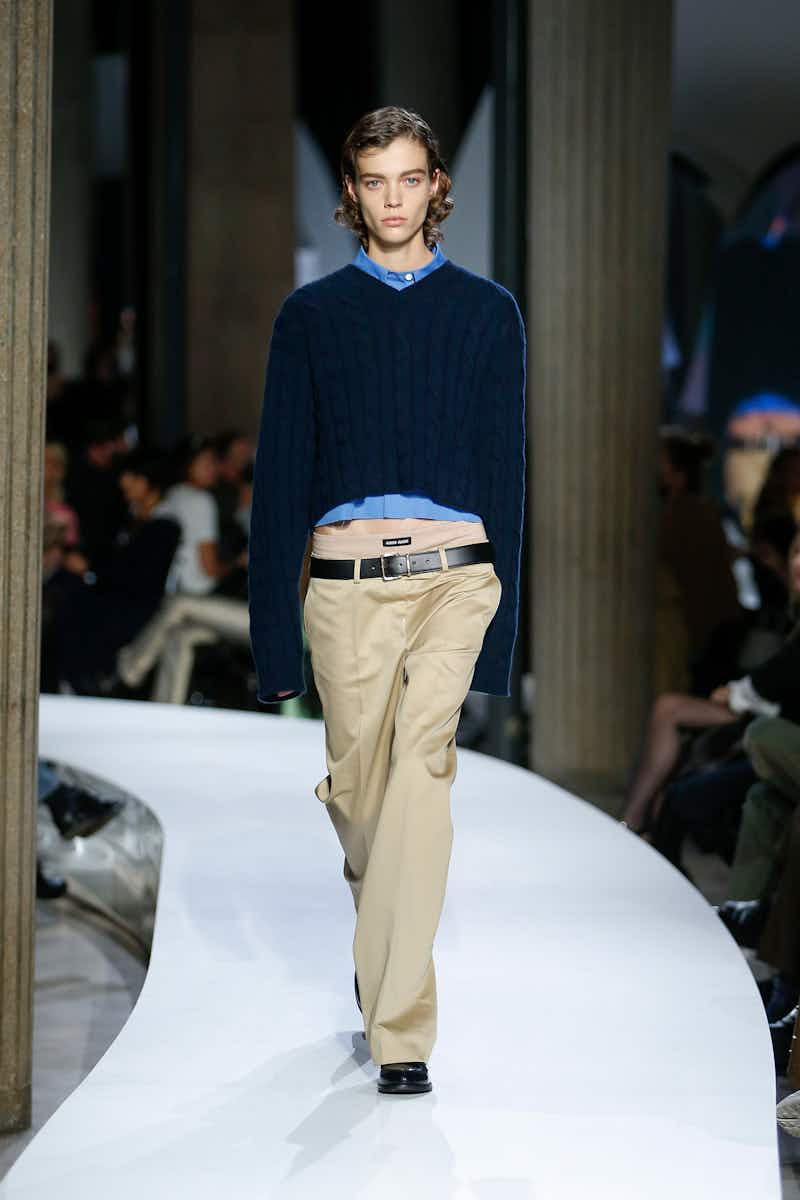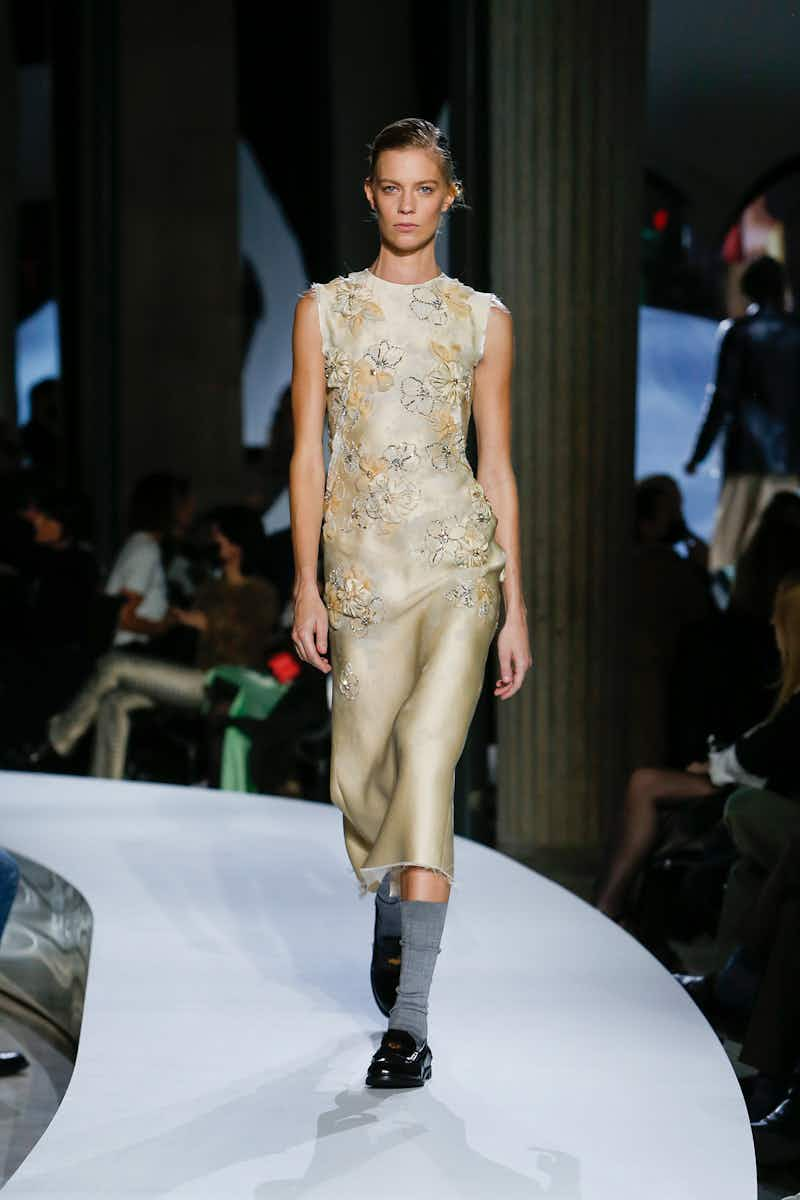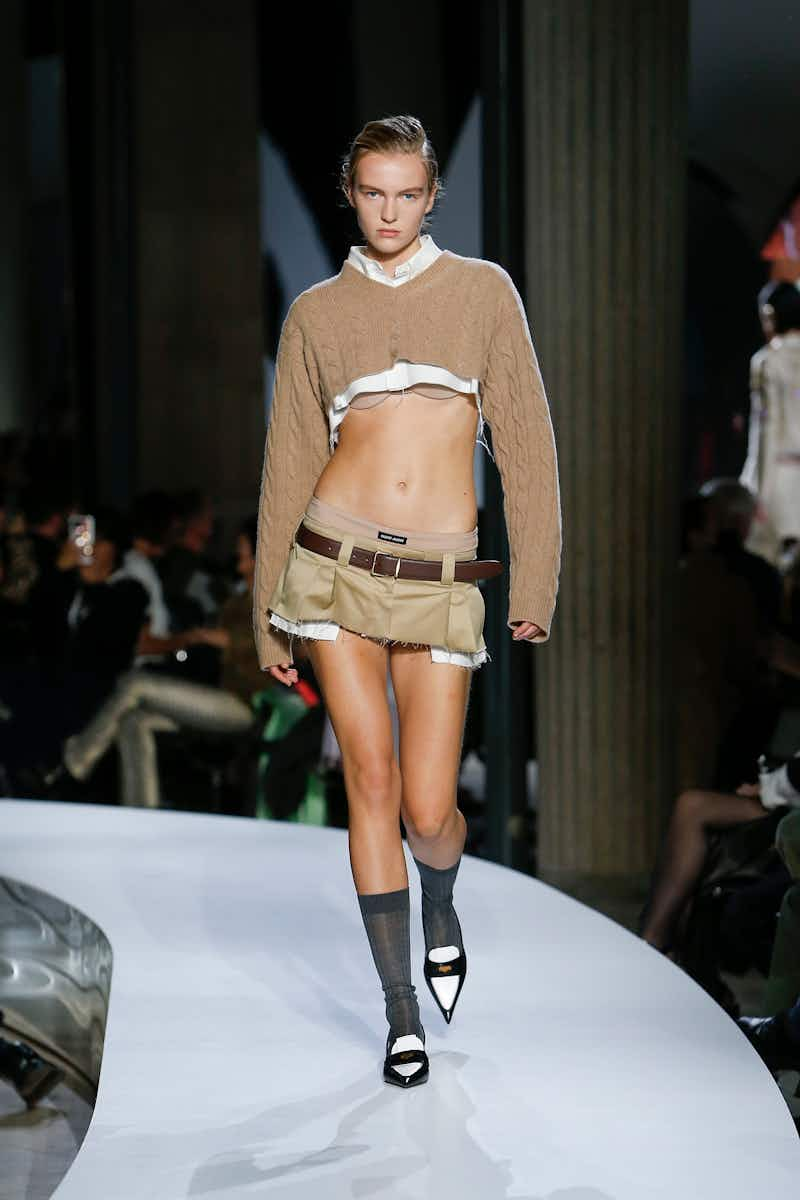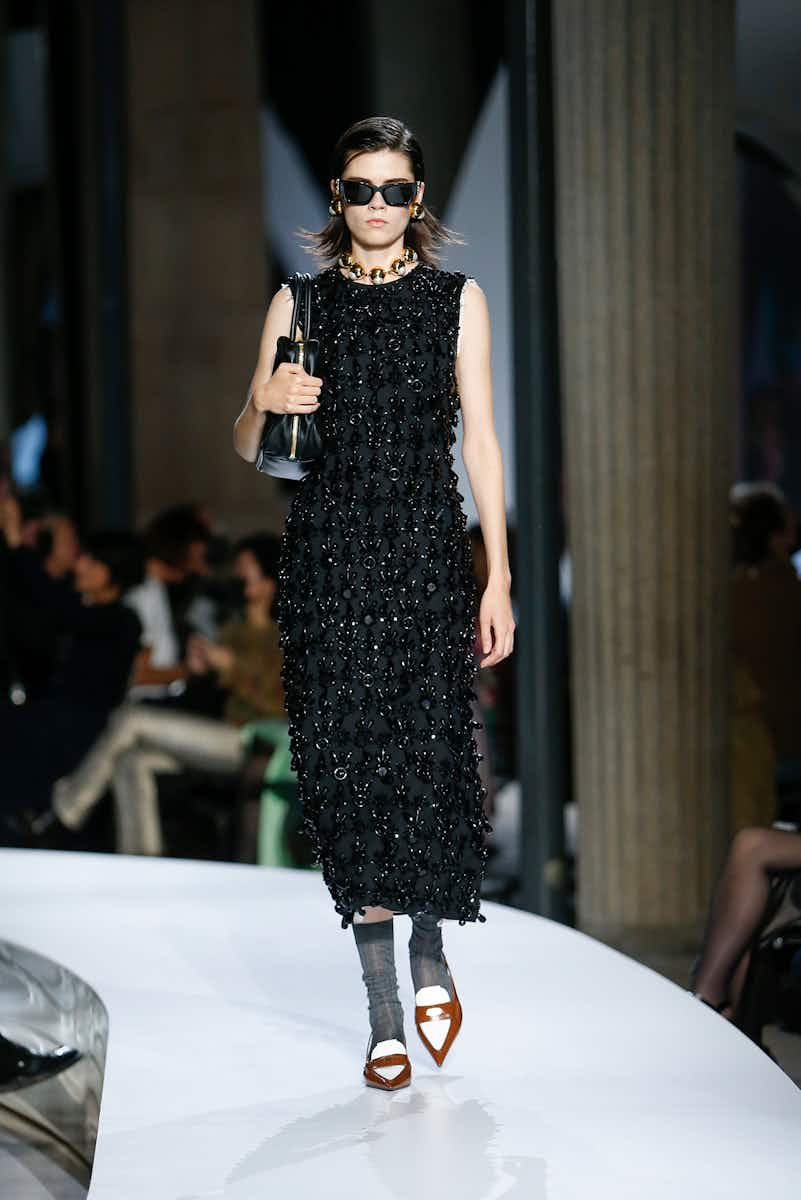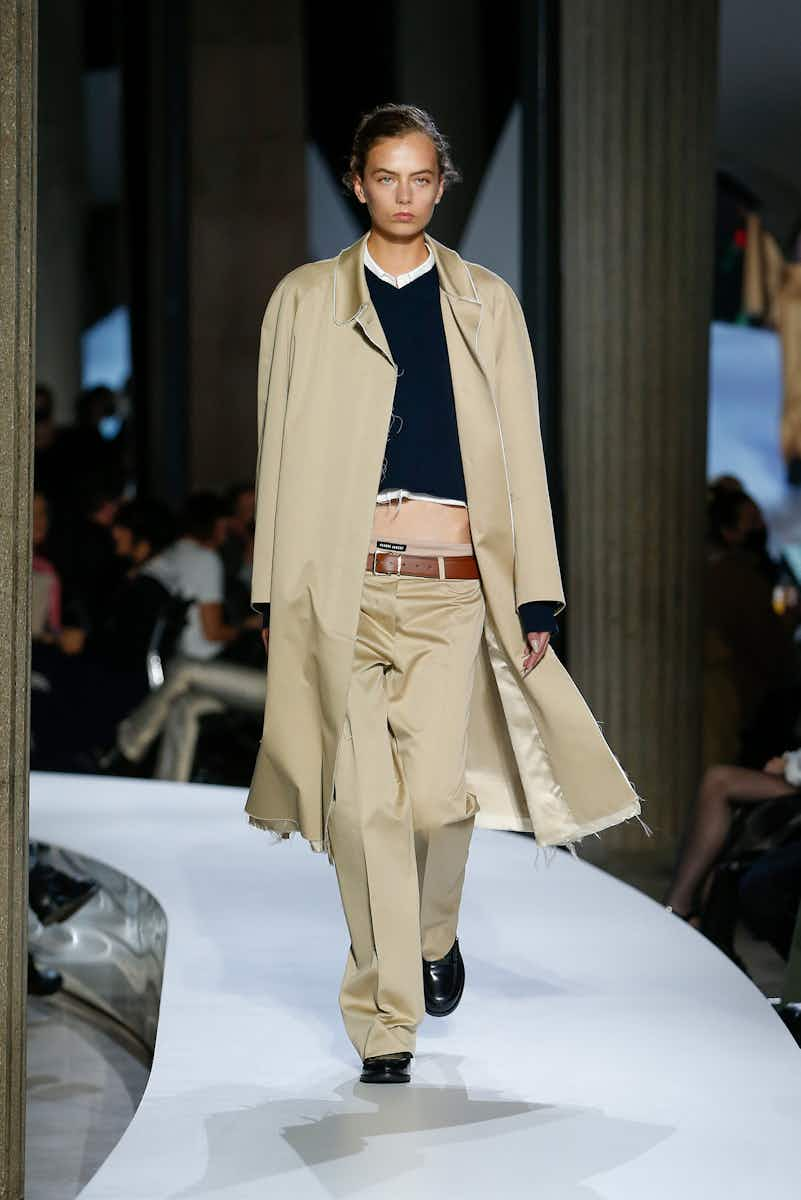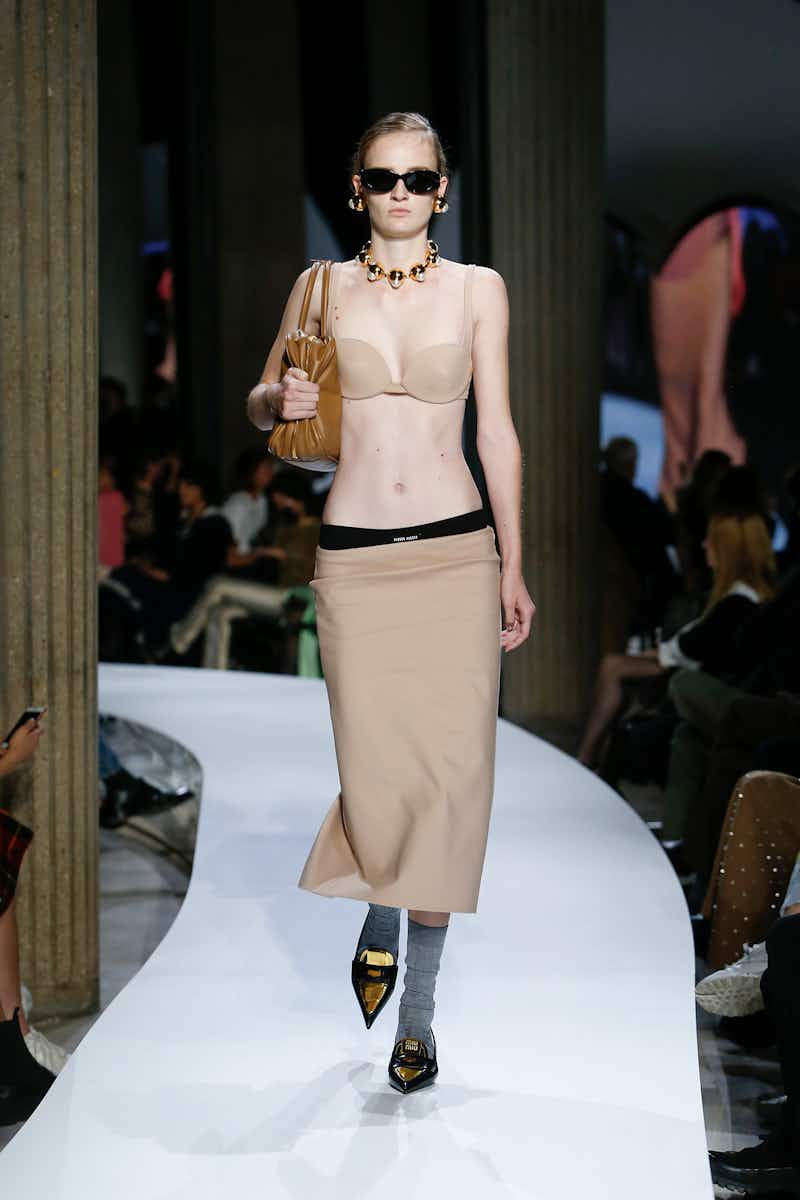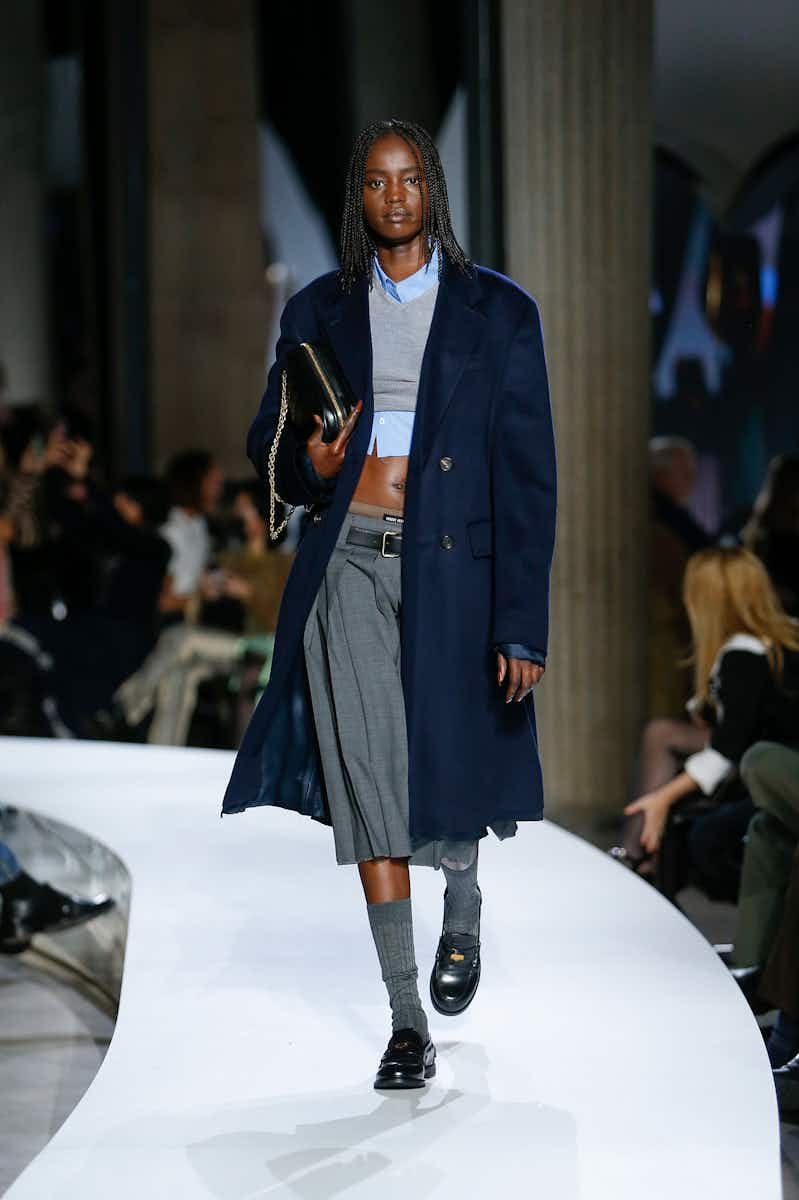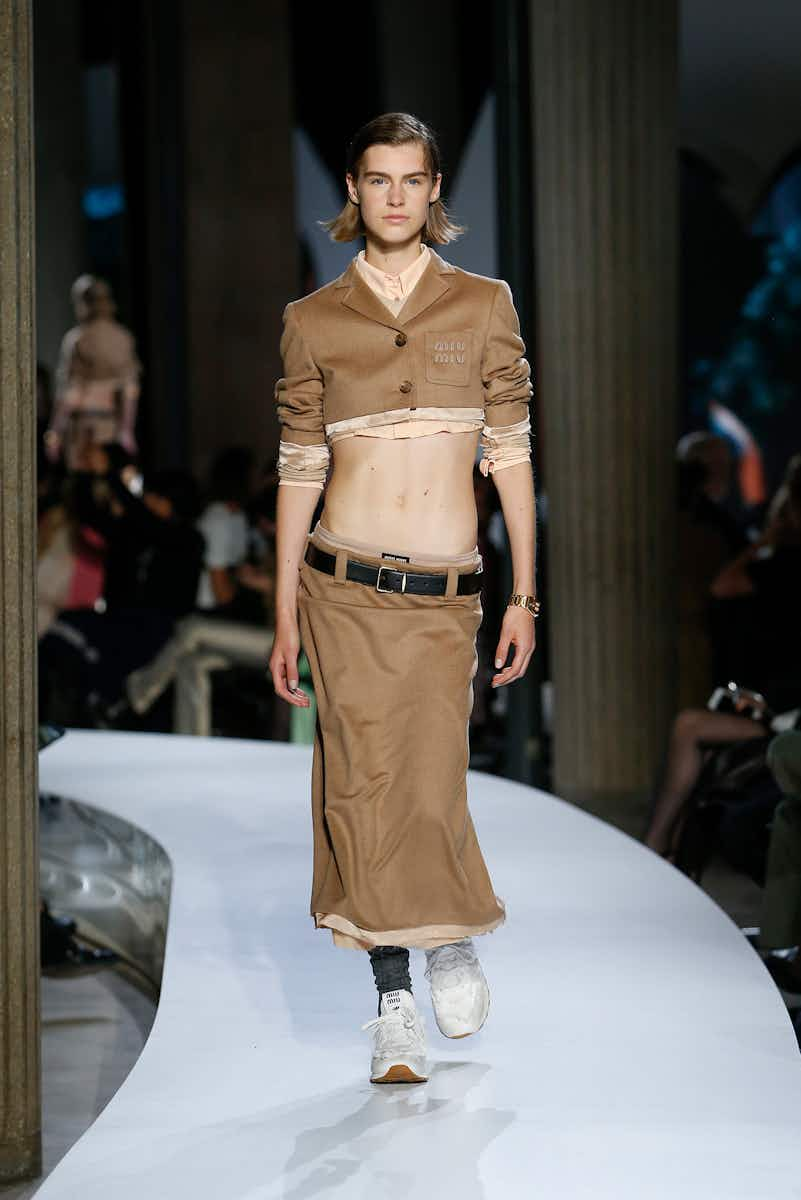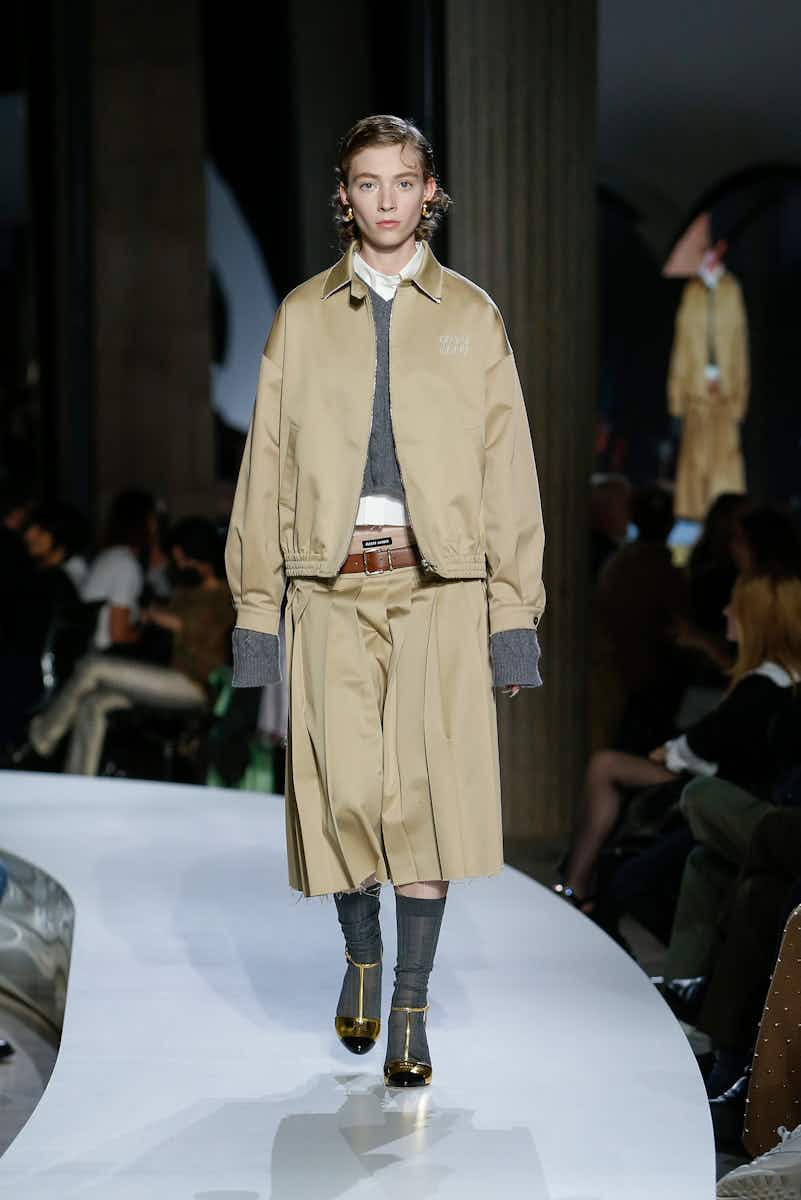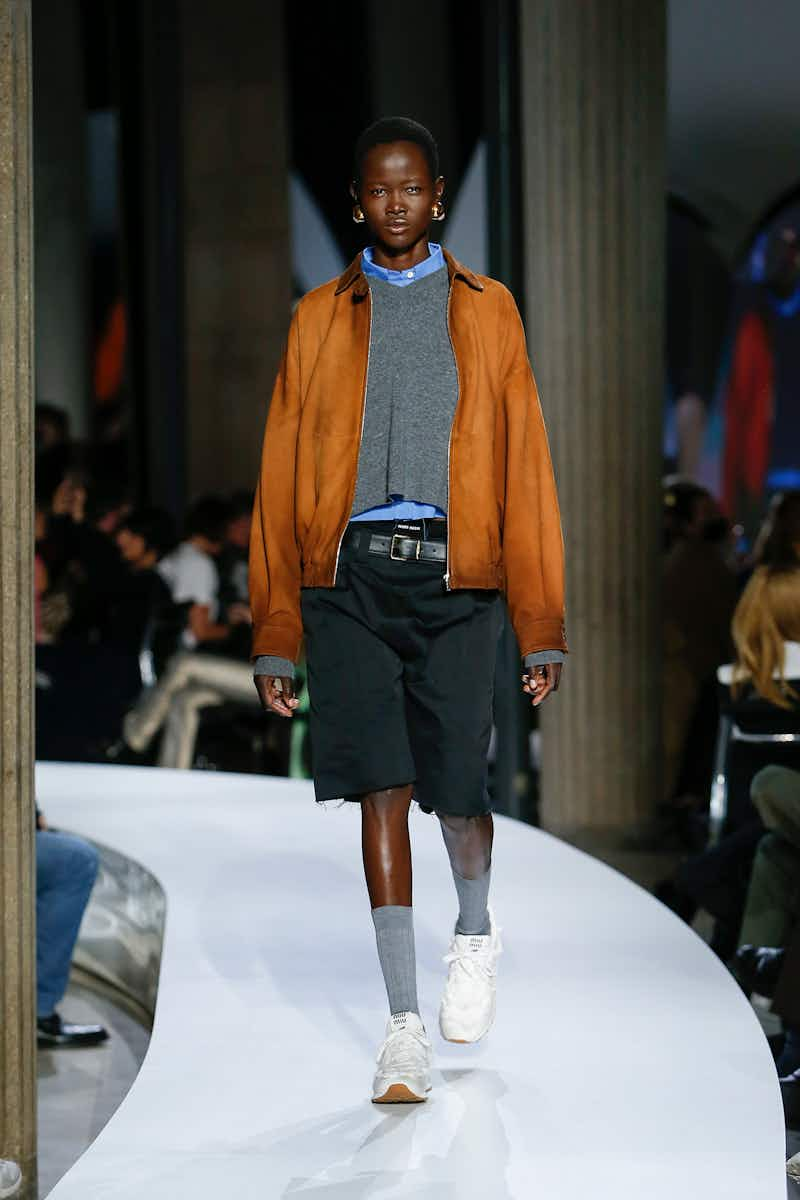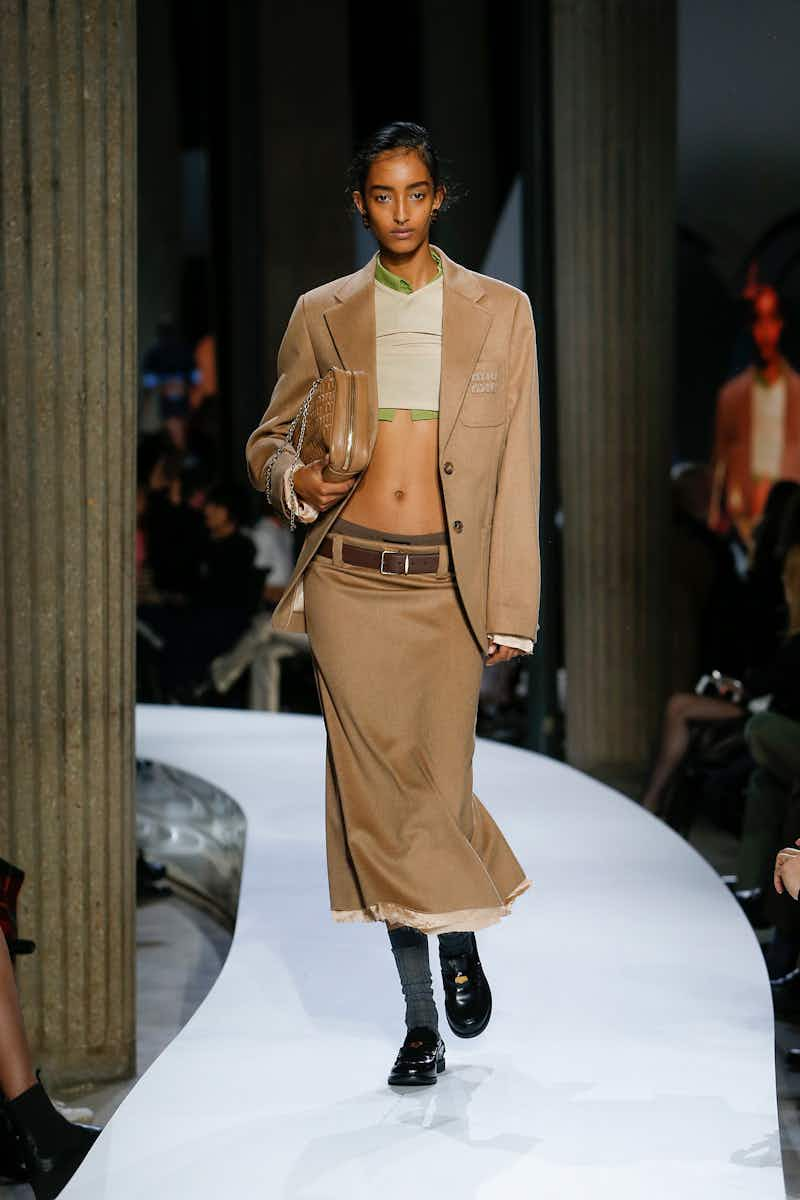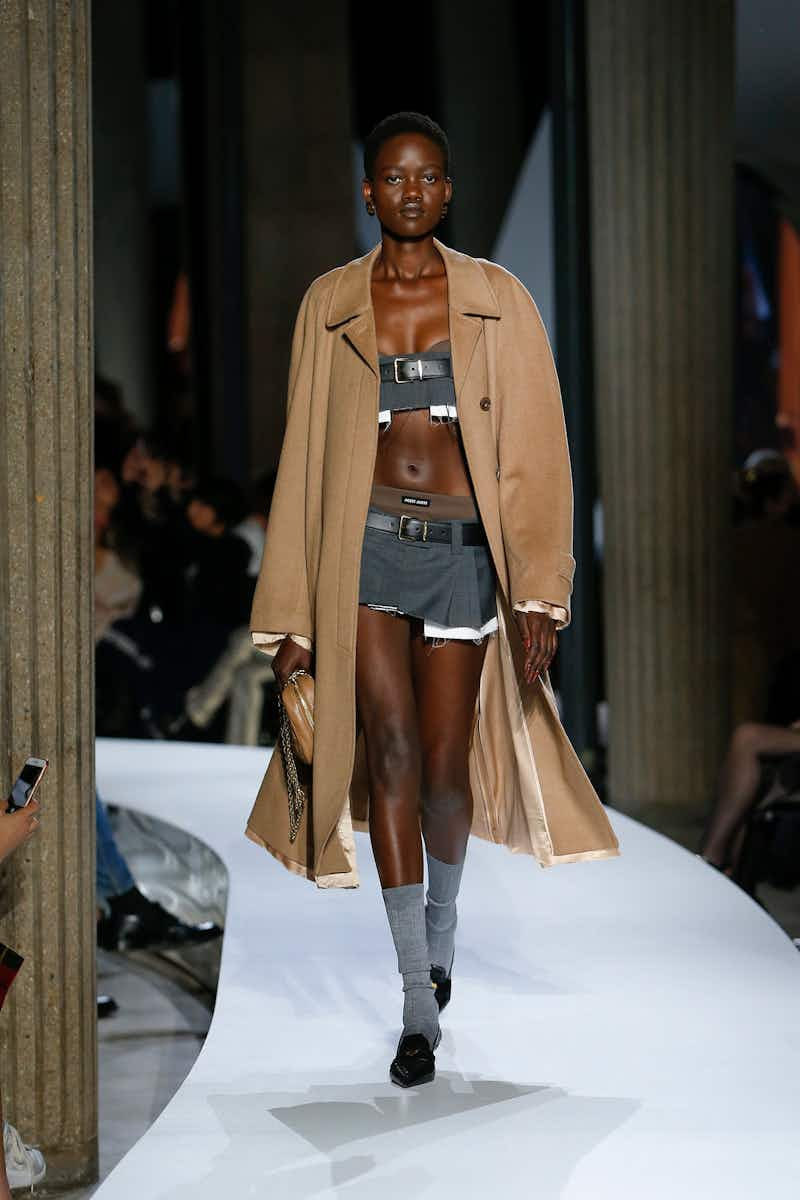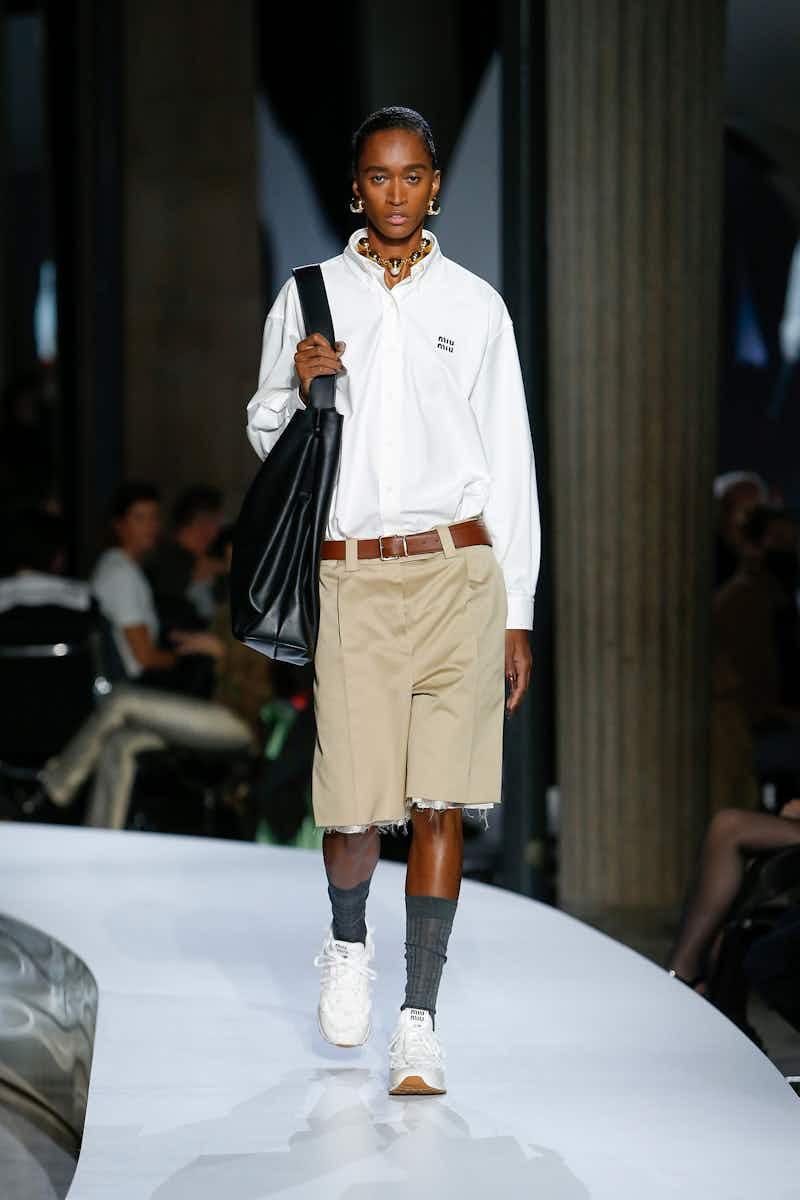 On Tuesday, Miuccia Prada presented Basic Instincts, Miu Miu's SS22 collection, and Frankenstein's monster of last week's Prada show. Two things are for sure: beige is back and so is, apparently, school – for adults.

The first look set the fast-paced tone of the show, as a model strode in looking like the cool kid who sat in the back of the classroom chewing gum. Belted low-rise beige trousers, a navy V‑neck jumper worn with a collared shirt underneath and flashing a bit of underwear was accessorised with an expressionless face and boxy, pointy leather loafers. This season, welcome the well-read library hottie with a penchant for Sonic Youth and Marlboro Lights. So, so very cool.

Interspersed throughout the show were action clips of the ​"audience". Actors mimicked the gawping tropes of fashion's biggest fans, eyes boggling and mouths widening as looks passed the runway. A big piss-take? Let's hope so. Either way, it was funny.
The humour reached the clothes, too. Not in a point and laugh way, but there was whimsy in the cut and snip technique of Mrs Prada this season. While the Prada show heralded the comeback of the mini skirt, Miu Miu took hems a few inches higher – and no garment was left untouched. Blazers were cut to crop-top proportions, and actual crop tops just about covered the chest, utilising the same beige material shown on pleated knee-length skirts and cargo shorts.
While some looks had full bras on show, oversized knitwear and low-rise beige trousers gave way to a future uniform. The new rules? The sleazier, sexier and brasher the better. If it shows a little midriff, that's only a bonus in the School of Miu Miu.

More like this