Moschino SS22: it was all but a dream… or was it?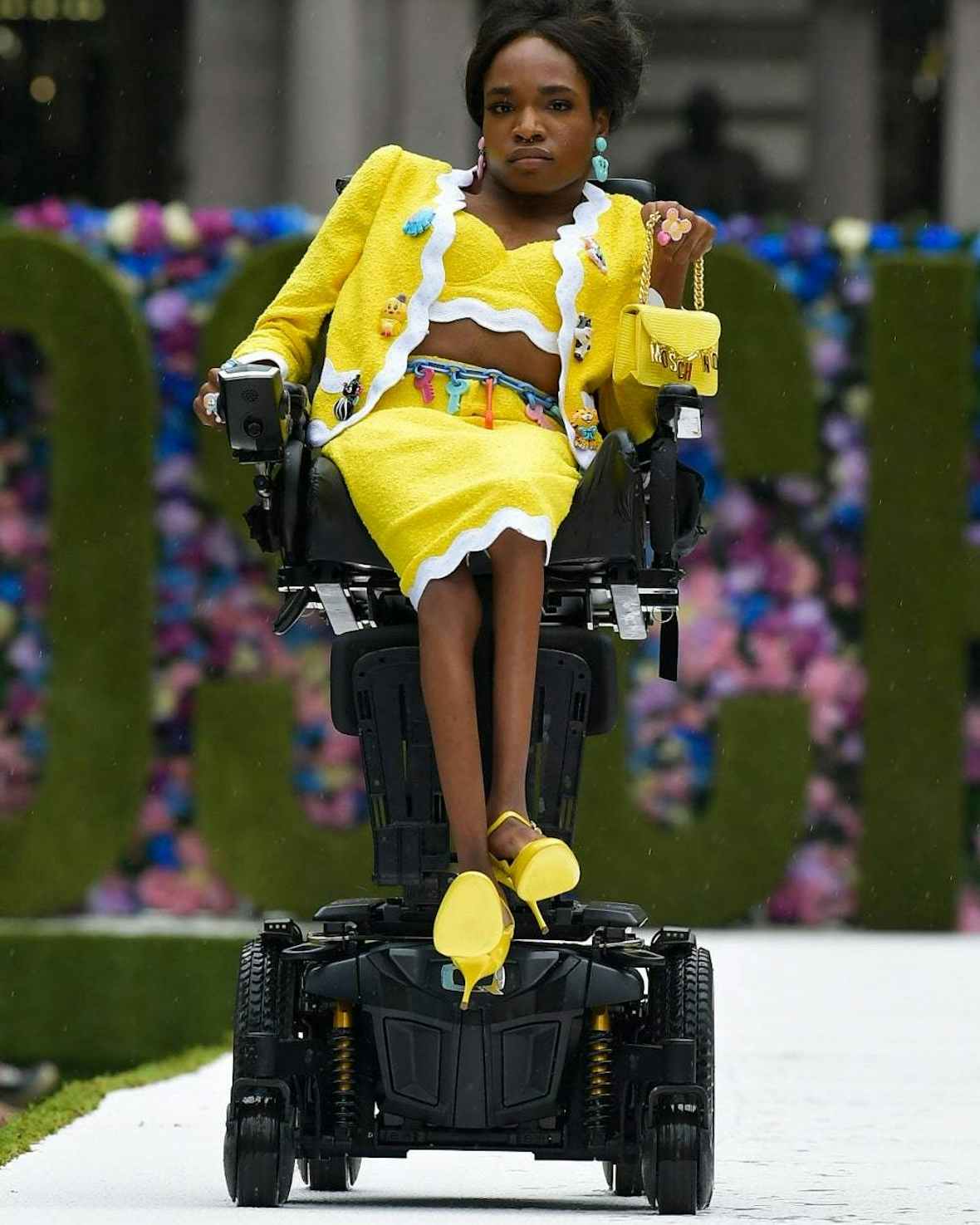 Returning to physical shows, Jeremy Scott concocts a pastel-hued nursery rhyme for his latest collection, complete with farm-yard animals and scallop edge a-plenty.

Back in February, in the midst of ongoing pandemic lockdowns, Jeremy Scott told THE FACE that we ​"need escapism now more than ever". And it was true. Clubs were closed, galleries shuttered and, obviously, fashion week, Scott's playground for over 20 years, was a myth. The designer has long attributed his runway playfulness, simply, to his want to make people feel good, to smile in the darkest times, to dream in an impossibly fluffy world of make-believe and fantastical characters.
In a welcome return to the (in real life) New York Fashion Week schedule, Scott creates a dreamscape for Moschino SS22 akin to his irreverent beginnings. He's long played with characters and, now, he turns to the softly-softly nursery book charm of kite-flying bears, poodles wearing flower crowns, happy seals and giraffes pushing trolleys full of blossom. Like the cushion of a soft pillow, Scott seeks comfort in fantasy. And Moschino's usual suspects return, gladly: models Gigi Hadid, Winnie Harlow, Precious Lee and, for the first time, Aaron Rose Phillip, wearing a scallop-edge yellow three-piece suit.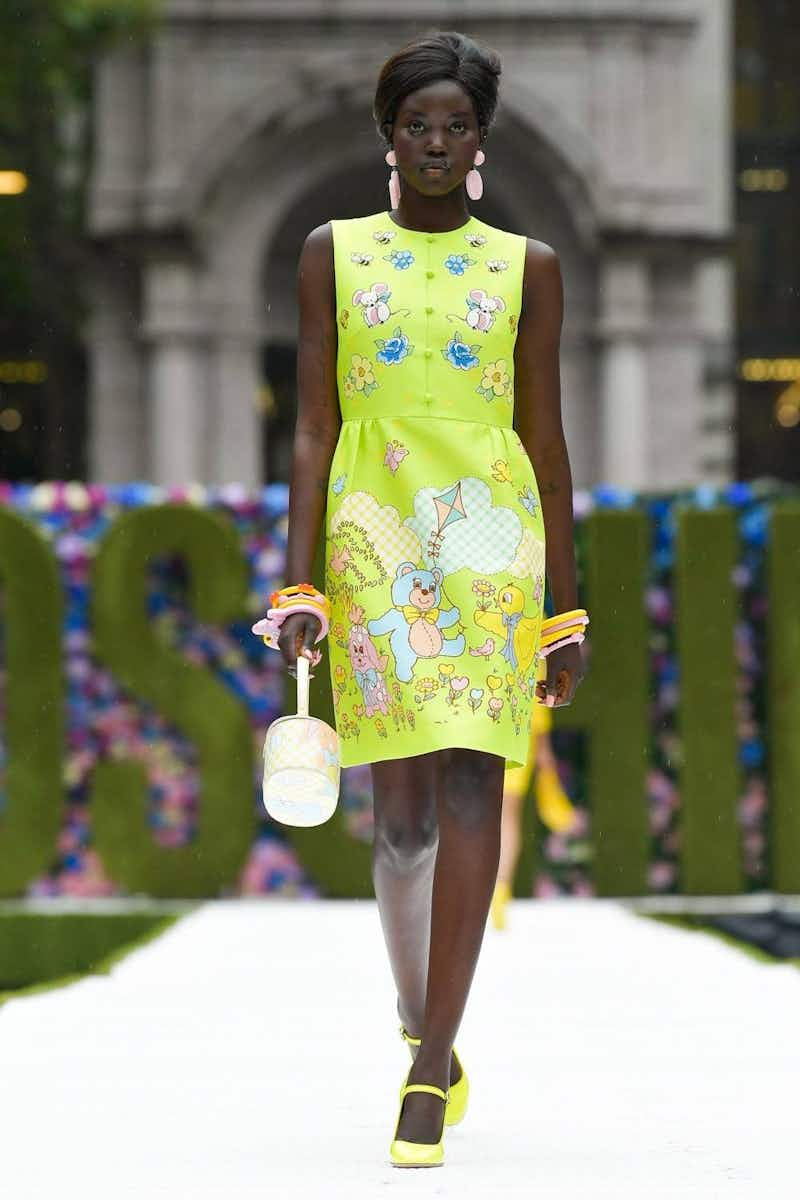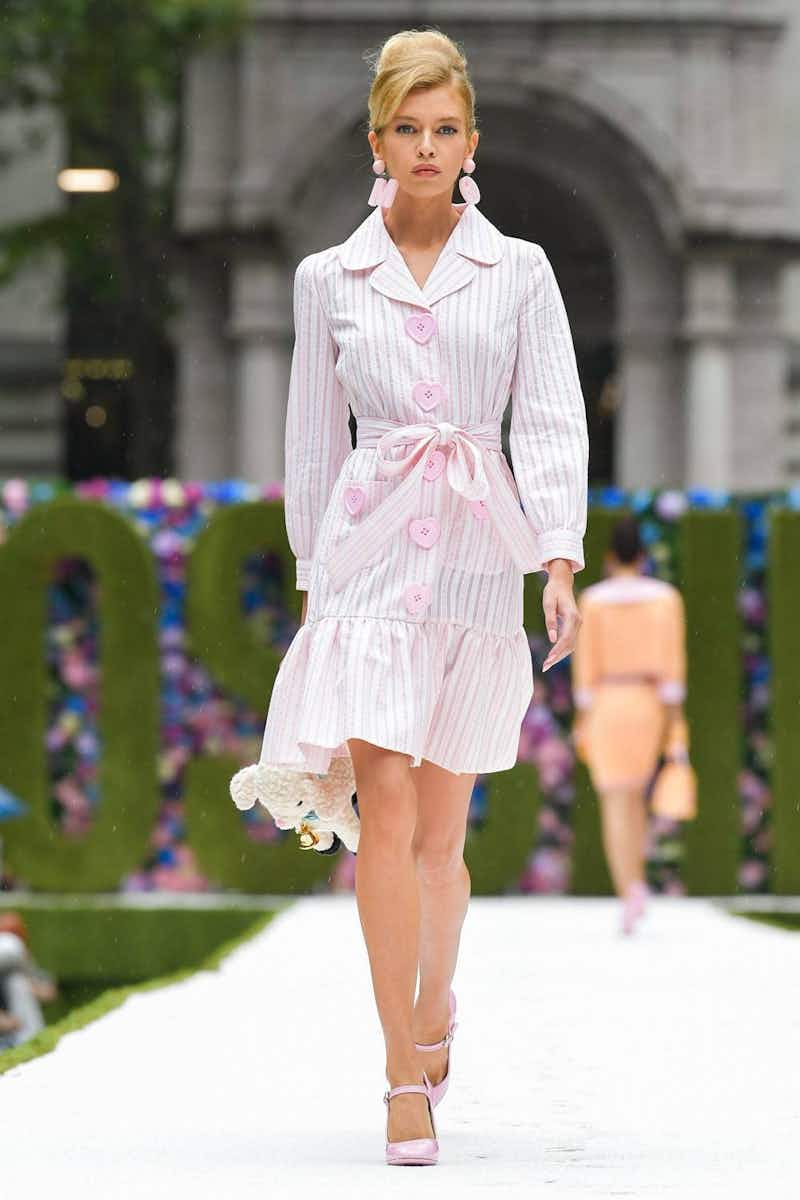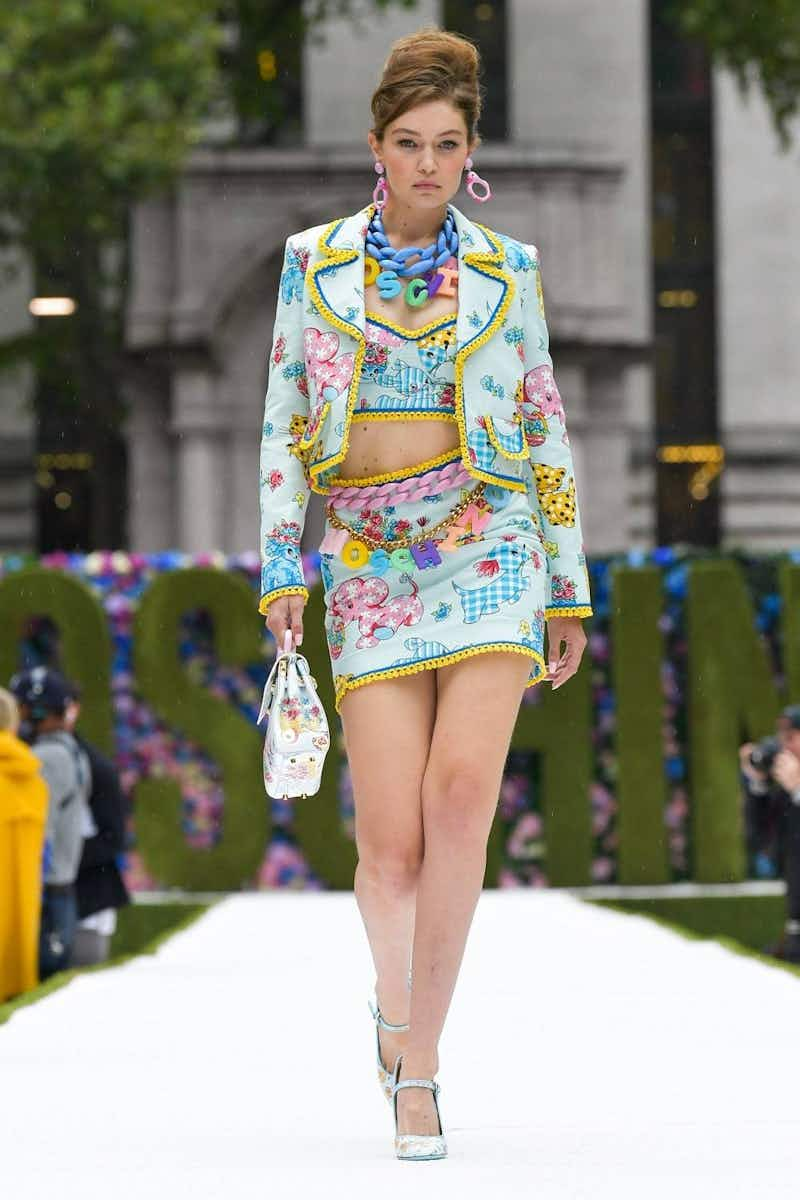 Silhouettes are unfussy. Rather, Scott takes clean, classic shapes like scallop edges, bustier bralettes, babydoll coats and knitted dresses as the canvas for neon green, DayGlo yellow, pastel blues and soft pinks, with animal prints appearing on knee-length dresses, scoop necks and skirt suits.
In his show notes, Scott refers to the coquettish styling of 1990s-era Fran Drescher in TV sitcom The Nanny. She played the nasal-voiced Francine Fine (comedy gold). But it was her upbeat style of checkerboard mini skirts, midriff-bearing lime two-pieces, leopard print dresses and dizzying multicoloured prints that have inspired Scott's subversive SS22 daydream.
Scott goes all out for the collection's conclusion, depicting an embroidered, hyper-coloured farm. A quilted pony is three-dimensional with a pink marabou mane leaping from the shoulder, while a giraffe, with a baby monkey clinging onto its neck, finds its way on a decollete. Suggestively, bunny ears cover the bust, and a soon-to-be Moschino classic, a bag in the shape of a lamb, is plush.
As Scott puts it, ​"Sweet dreams are indeed made of these."


More like this