How can I dress like Pamela Anderson?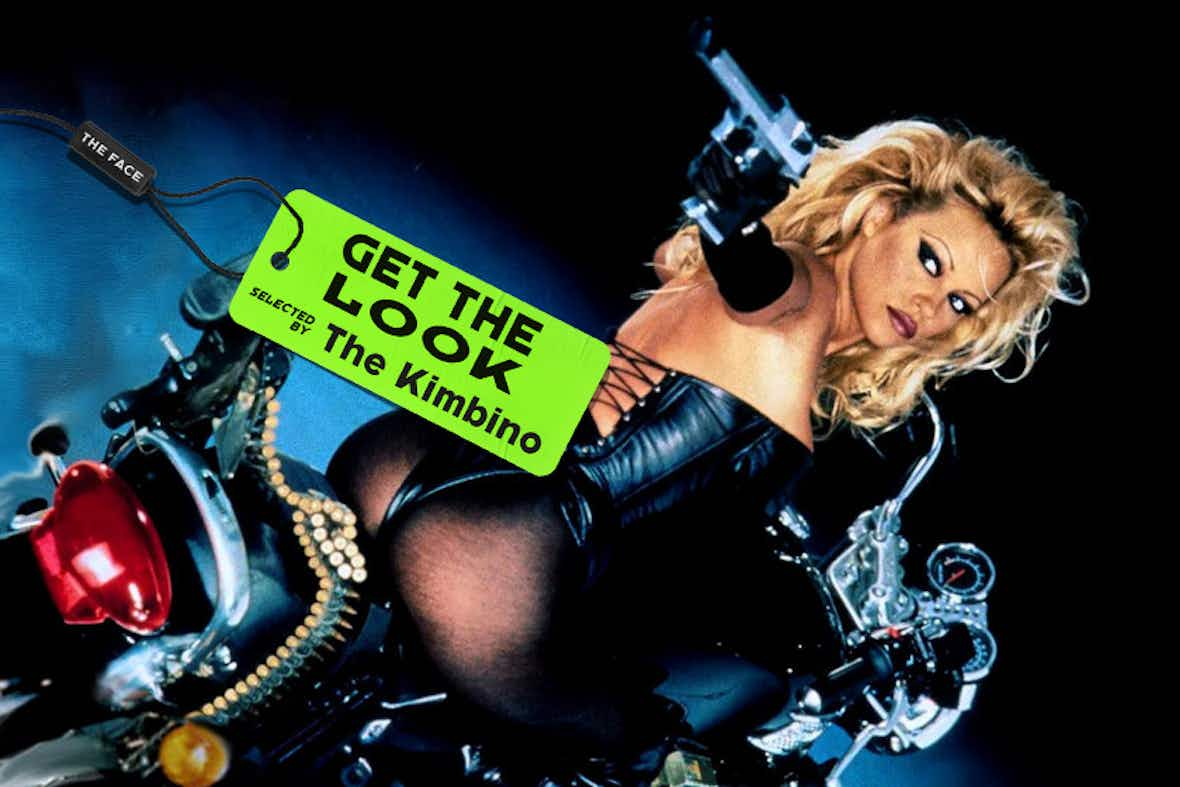 Get the look: This week, The Kimbino salutes the greatest blonde to ever grace our screens (sorry, Marilyn), retracing her best looks from the '90s and finding contemporary versions in Marine Serre, Balenciaga, Miaou and more.

In this brand spanking new column, Instagram's favourite fashion historian Kim Russell, AKA The Kimbino, will be taking characters as seen on screens and turning them into super cool looks for you. She'll be scouring the deep depths of Depop, plucking out the hottest of new finds and saluting the Big Names week after week, while dissecting the sartorial styles of TV and film's most-loved characters like a lab frog. Better start saving those pennies…
It's 3am and I'm scrolling through Twitter, with eyes like sandpaper, when I happen to stumble upon one of the most significant pop culture and fashion moments of all time – yes, all time. It's a moment that will spawn Halloween recreations and cosplays for many years to come, even when all of us are long gone.
I'm talking about the outfit Pamela Anderson wore to the 1999 VMAs, which Twitter user Fendi Faguette ID'd. I know the image of those sparkling, embellished Dolce & Gabbana AW99 pants are running through your mind as you read this, rightfully so.
It made me think about all of Pam's outfits that I hadn't taken the time to really look at, because, truthfully, I'd never thought of the Baywatch beauty as a fashion gworl. That's how we got to this week's column – that and Anderson's return to news cycle after the release of Pam & Tommy. I ate my words and found Pammy looks that shaped her huge impact on fashion, then went the extra mile by rebuilding those moments for you, the readers.

One of my favourite looks was one of Pammy's costumes in Barb Wire, which she recreated for a photo-op in 1995 while promoting the film at the Cannes Film Festival. While the uber camp bounty hunter film scored low reviews and bombed in theatres, the looks remain at the forefront of our pop culture-hungry minds.
To recreate the dominatrix-by-day look, I ran straight to my favourite brand right now, Miaou ("Meow" in French), which just dropped its latest collection. I started with the corset top in a faux snake print, which comes with a matching skirt and trousers. For this outfit, I chose the trousers. For accessories, I've been drooling over a pair of Balenciaga sunglasses that'll surely make me look like a bug, but I still need. They're currently out of stock, so be sure to turn on your notifications for when they come back! The shoe I've picked out is a pair of chunky mules from Versace, and the bag is an extra small black Balenciaga Le Cagole bag with matching black hardware. Now you're Barb Wire ready, you have my permission to take down one bad guy at a time.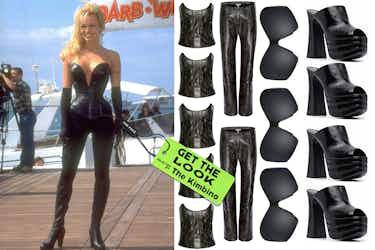 PAMMY DOING SATURDAY NIGHT LIVE
I love going back through the archives of SNL guest stars – there's always an unexpected runway piece or high fashion look that our faves managed to secure for their big night in New York City. For Pamela's debut on SNL, she wore a pink mini fur coat and sparkling boots that made their way right up to the sky. Although I'm the queen of identification, there's not a single piece of this outfit I can pick out and instantly know what label I'm seeing – and I kind of love that about it.
Your version of this look starts with a Blumarine top, as well as a Rui tank because I love giving the girls options. I've paired the two with a baby pink Blumarine faux fur mini skirt and added a lilac cardigan with faux feather trimmings. The boots are essential to this look and need to be seen from space, so stick on some diamanté embellished thigh highs from ASOS. (Hey, I'm not always trying to break your bank.)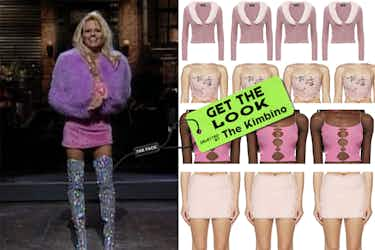 PAMMY AT A MOVIE PREMIERE
Movie premiere outfits give celebrities the chance to show some personality in their style. One of my favourite premiere looks from Pammy is when she wore a huge fluffy black hat with a one-of-a-kind sheer black and red printed dress, while her then-husband Tommy Lee stood by her side in an even camper outfit.
I've recreated the magic for you with a Marine Serre printed dress and some chunky mules (an obsession, I know) by Philosophy. I've tacked down a furry black hat from Boohoo that won't leave you penniless if you never wear it again. Now, I admit it's going to take a lot courage to wear something like this. The most important element of this look is attitude and a shit tonne of confidence, but that's half the fun of dressing up.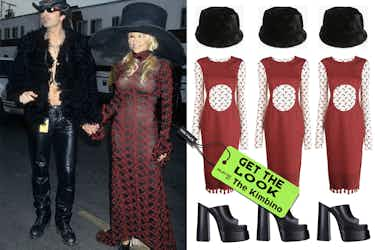 More like this