Everything going down at Paris Fashion Week AW20

Dior, Saint Laurent, Kenzo, Lanvin, Mugler, Maison Margiela, Rick Owens, Off-White, Loewe, Balmain, Celine, Vivienne Westwood, Comme Des Garçons, Balenciaga, Valentino, Givenchy, Sacai, Y/Project, Louis Vuitton, Miu Miu and Alexander McQueen.
LOUIS VUITTON AW20

Nicolas Ghesquière closed proceedings at Paris Fashion Week with a show at the Louvre attended by Alicia Vikander, Léa Seydoux, Lupita Nyong'o, Florence Pugh and more. It was hard to pay attention to the clothes though, as the curtain rose to a gobsmacking choir of 200 historical characters (from the 15th Century to 1950) stacked high in a grandstand, swaying mesmerisingly as they sang in glorious harmony. But once you did tear your eyes away, you realised the relevance of all these figures: the show was all about the collisions of time. ​"What if all of the innumerable eras that nourish fashion could come together in the here and now?" the notes asked.
That meant mixing up ski jackets and ra-ra skirts, motorcross biker moments and baby doll aesthetics, strict tailoring and indulgent ruching (the latter seen a lot this PFW). Shoes moved from pointy stilettos to exaggerated snow boots and rocker ankle boots to space age sneakers. Bags were everything from hardware mini trunks to supple leather classics.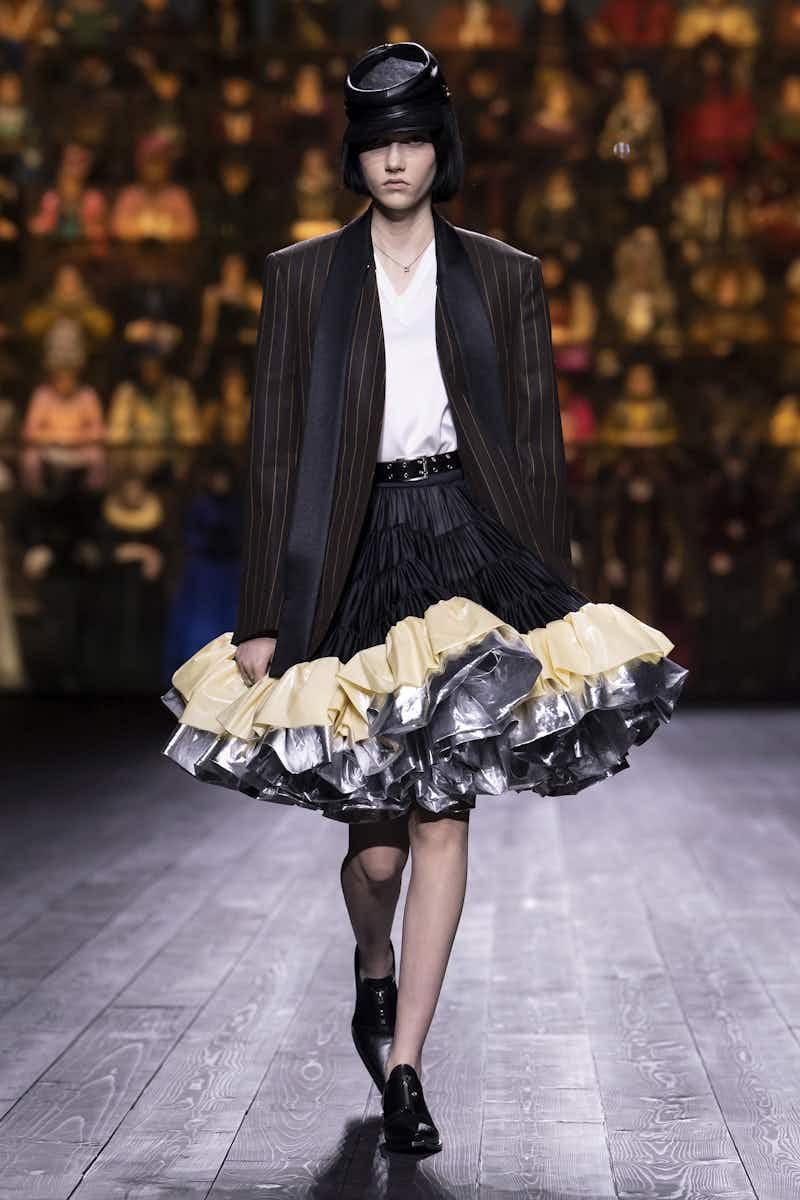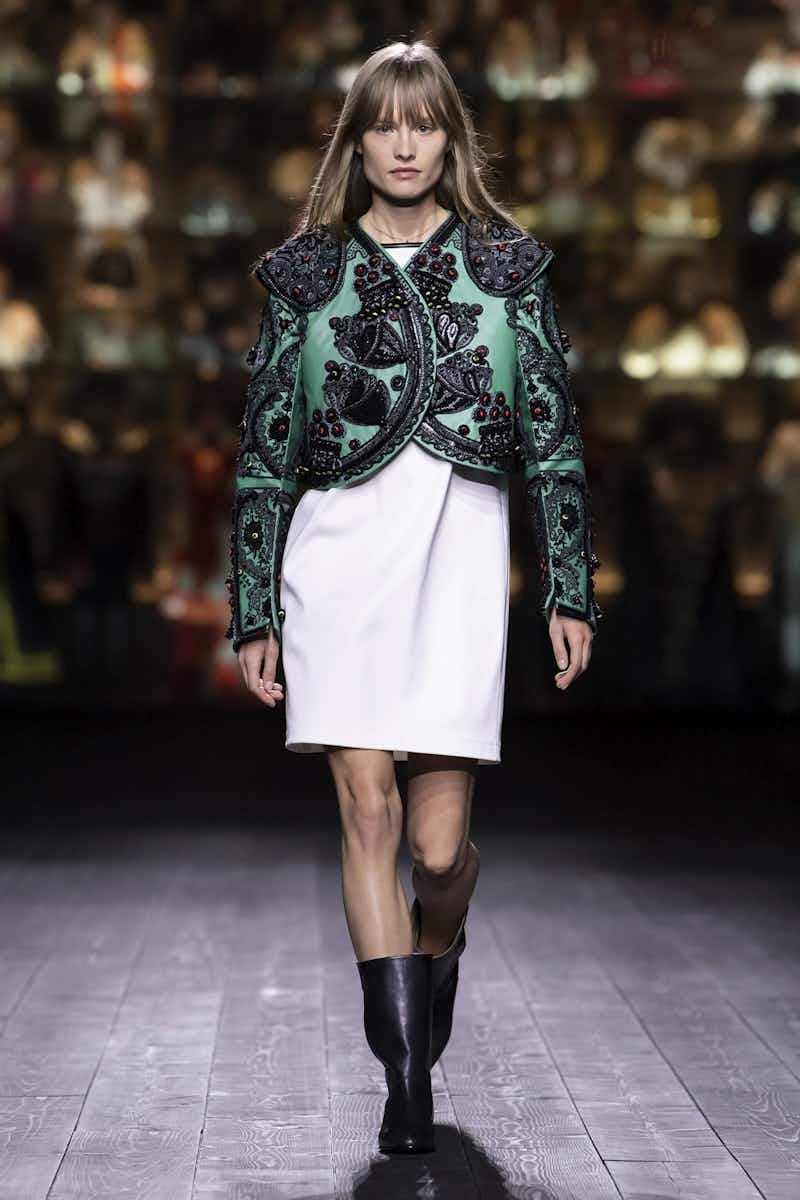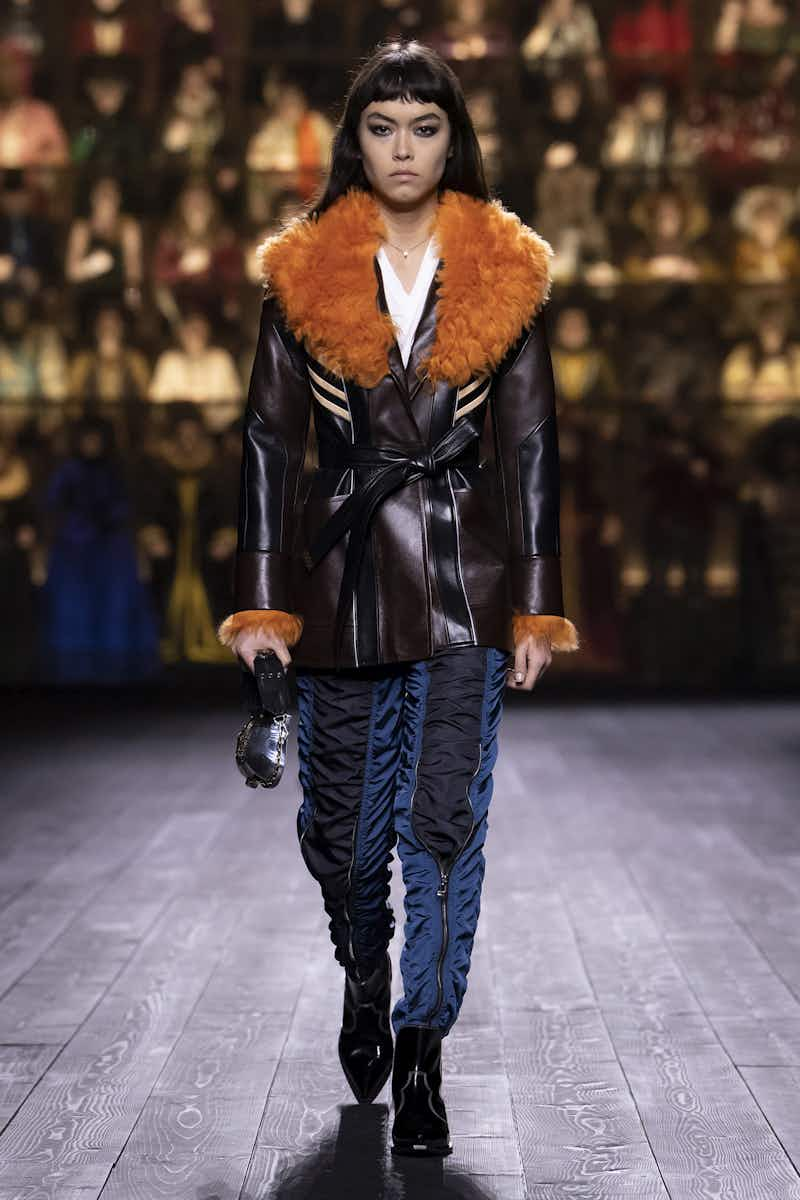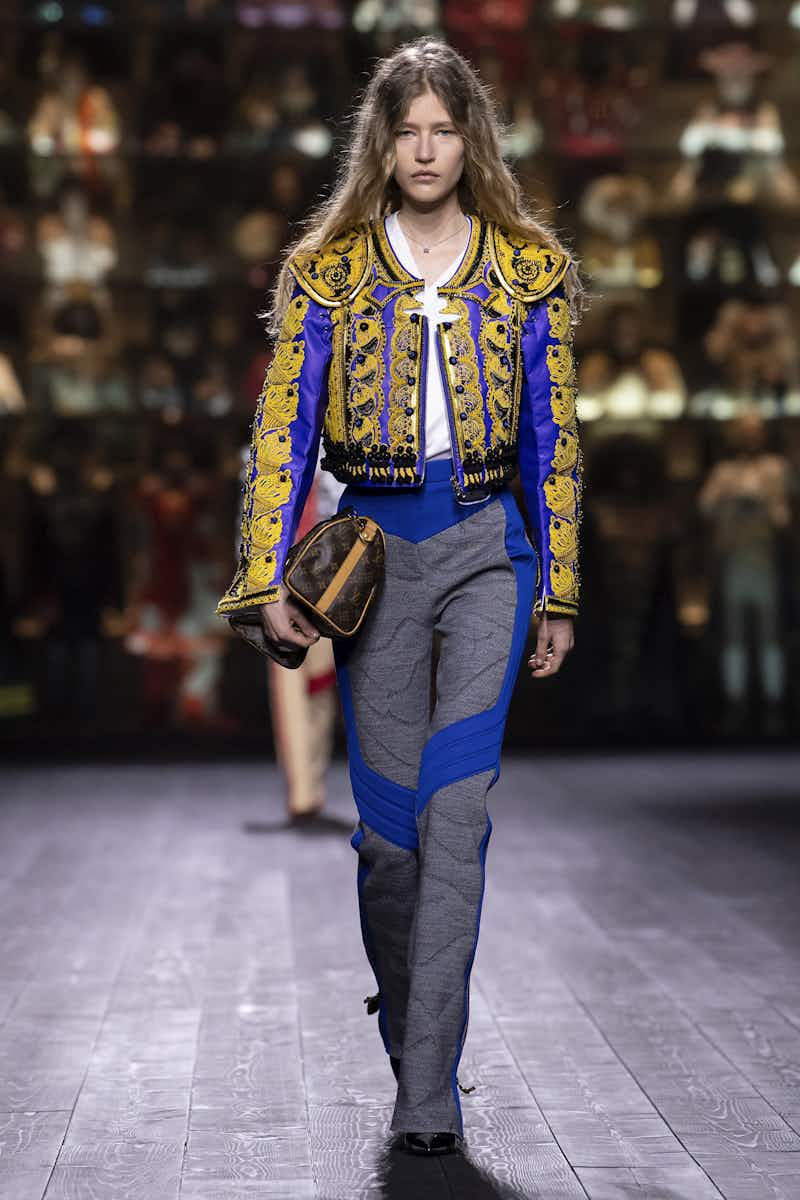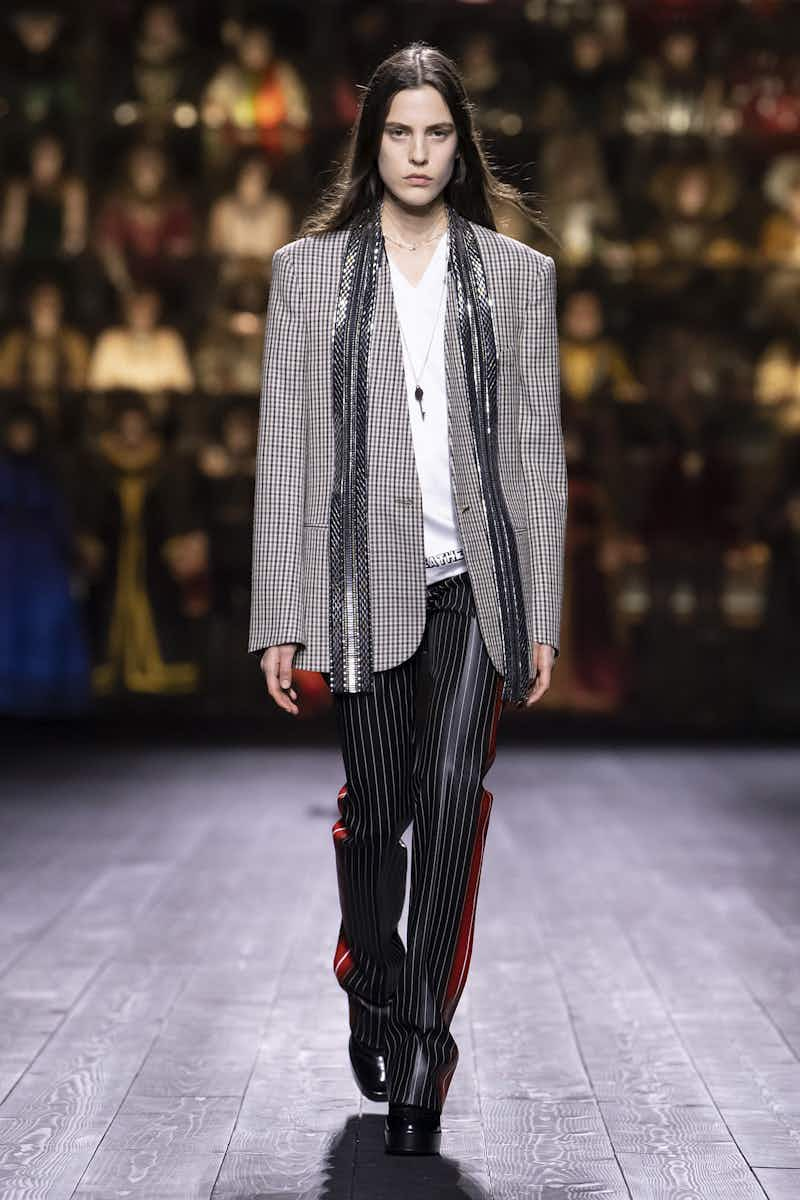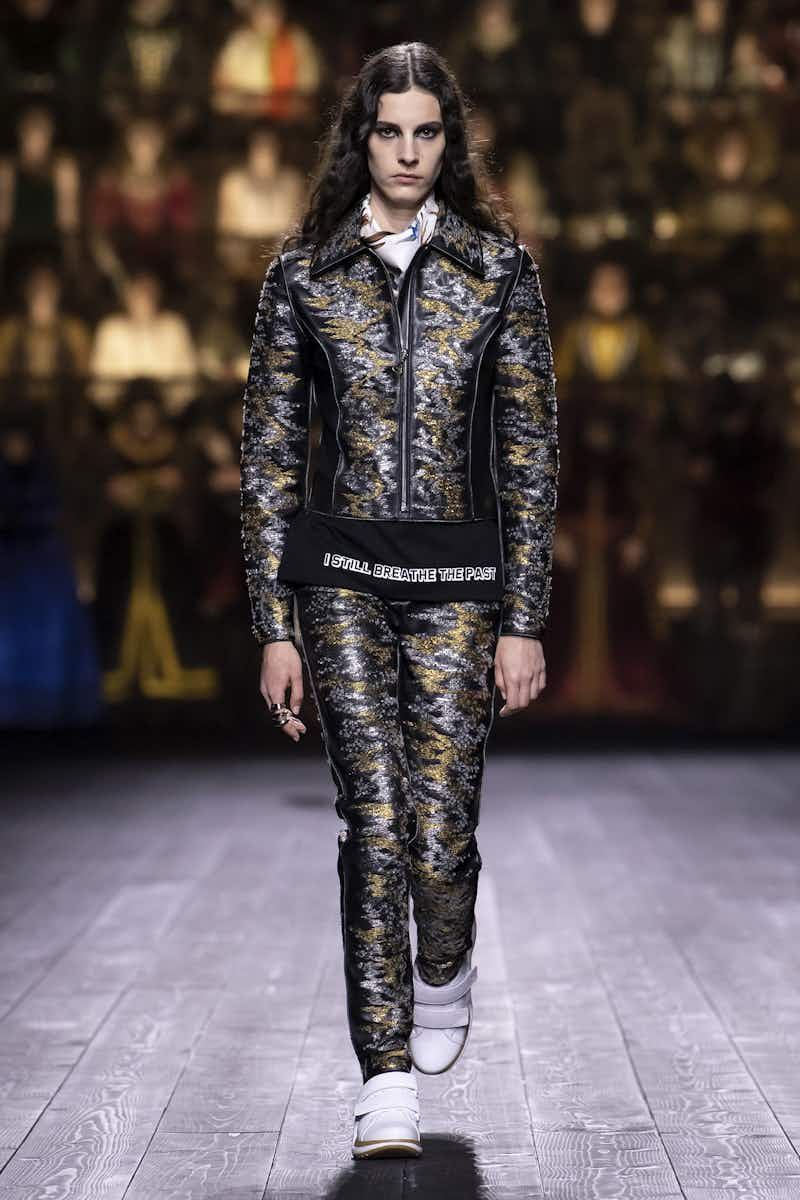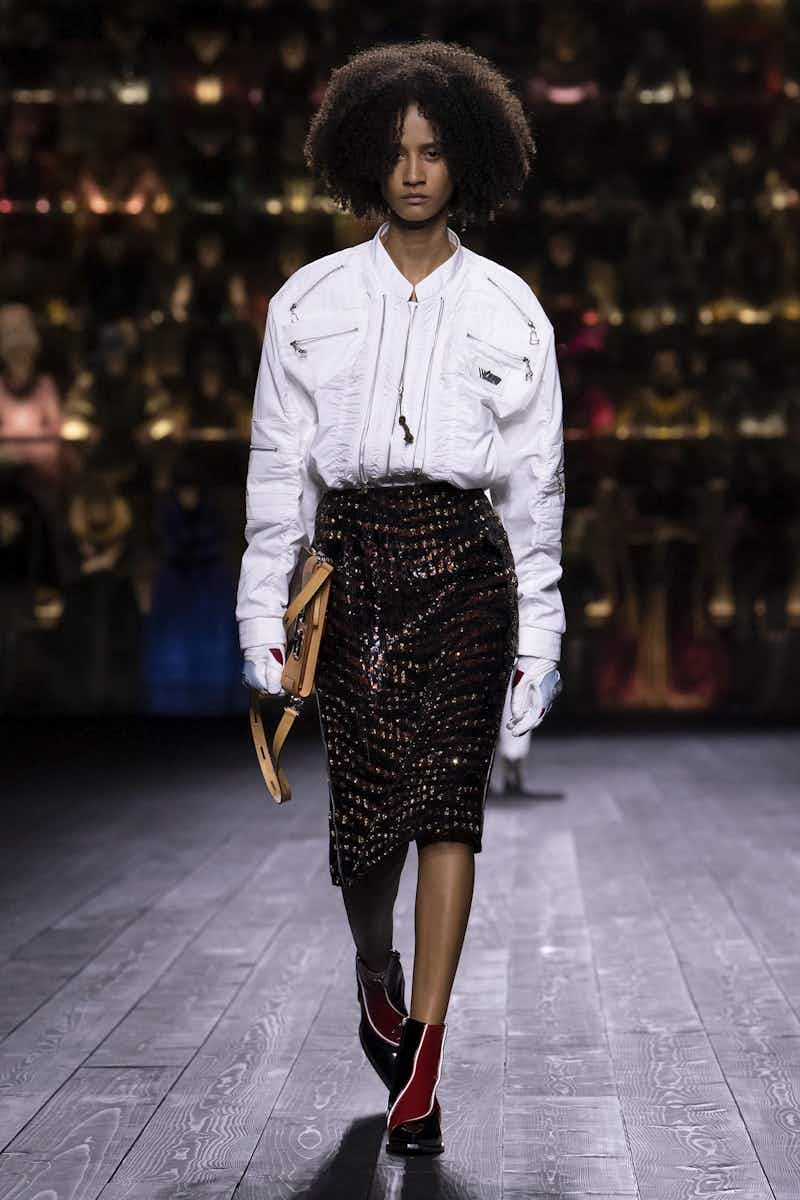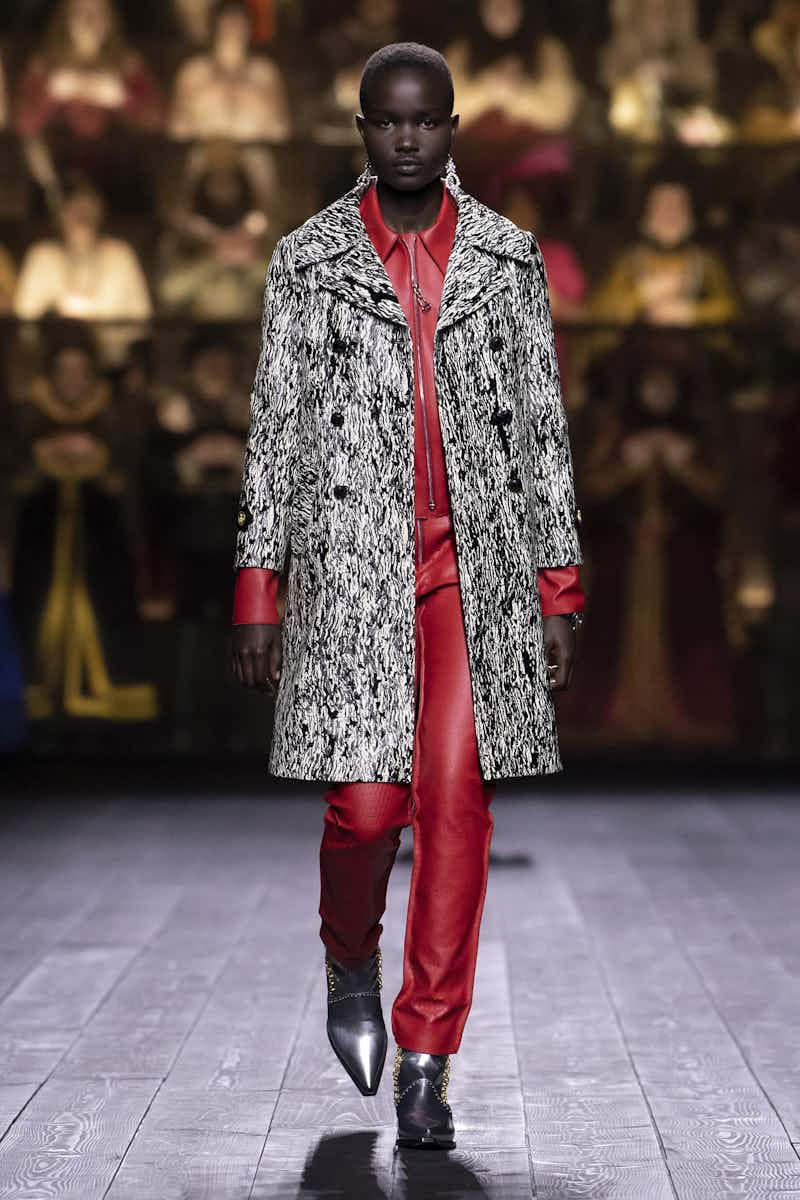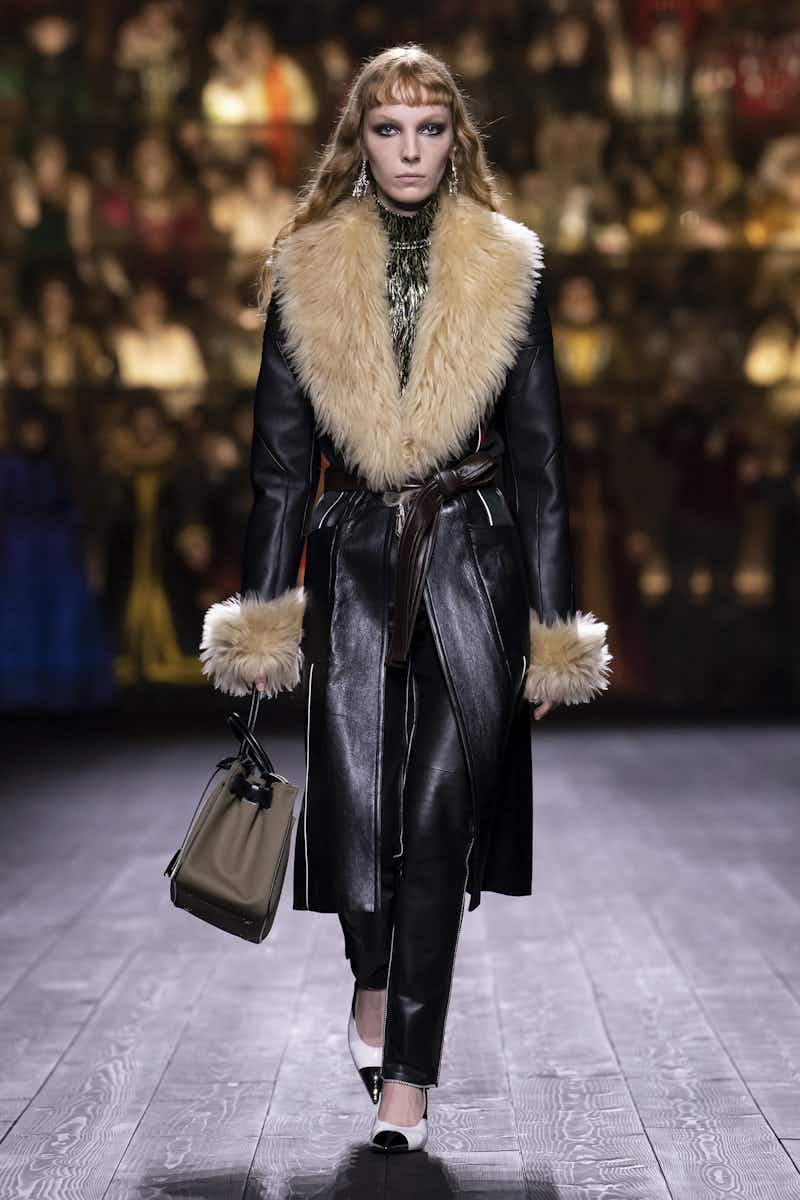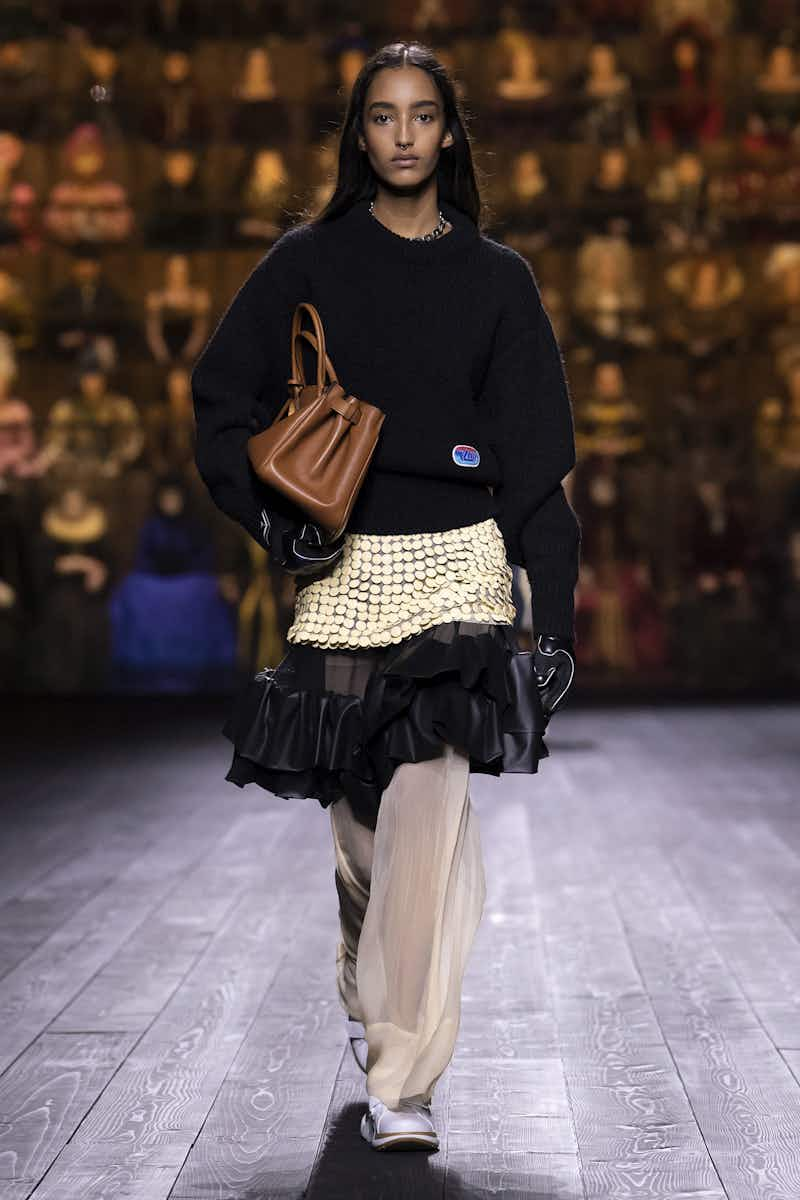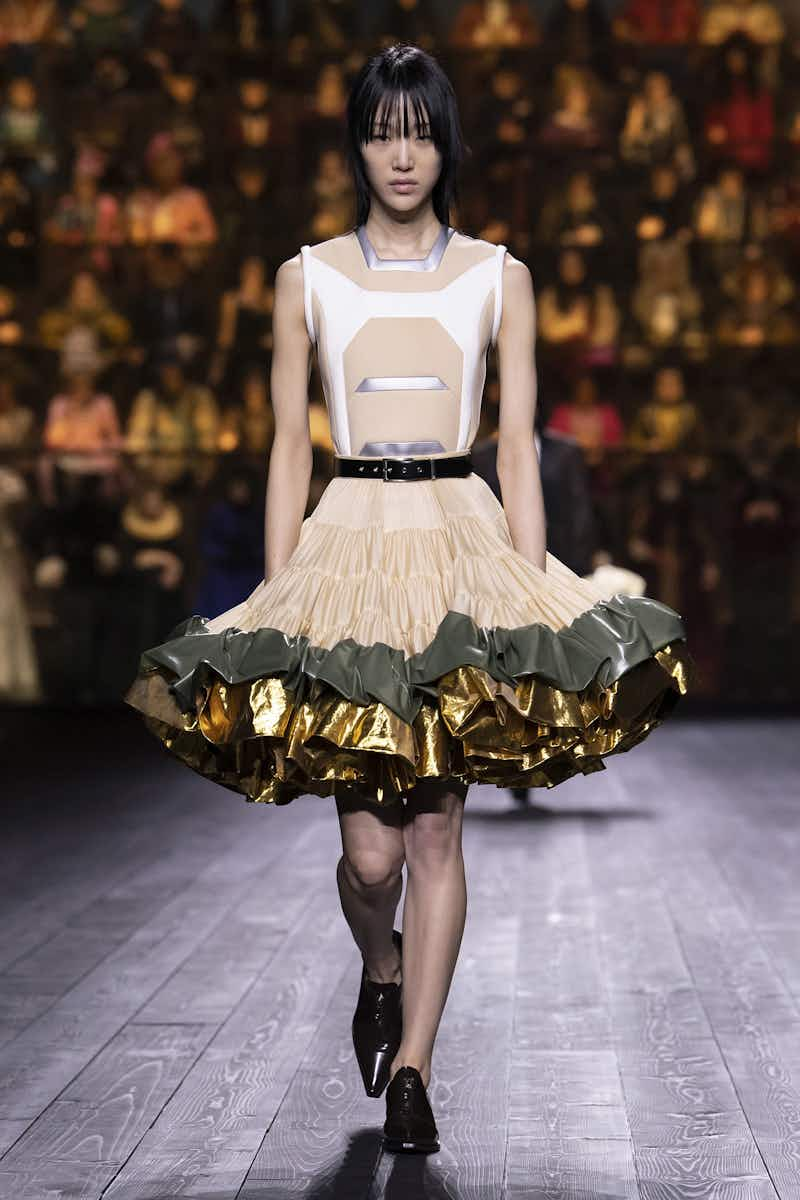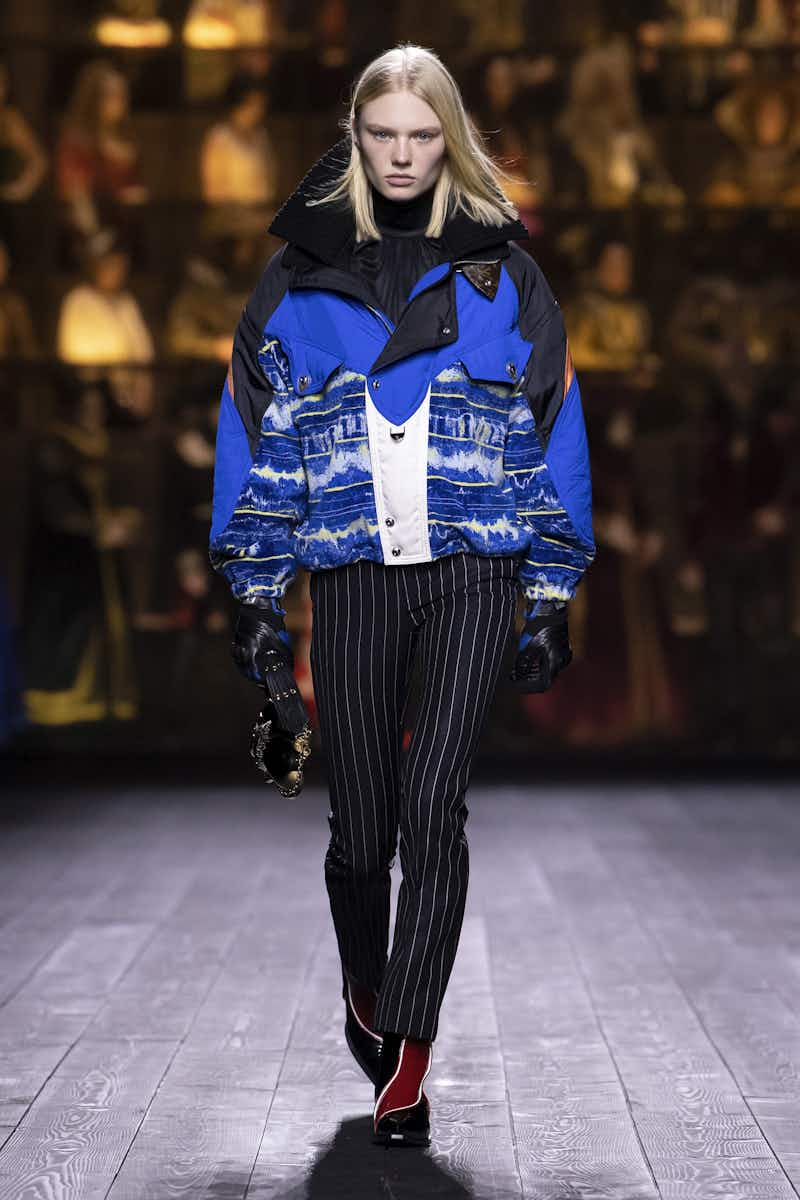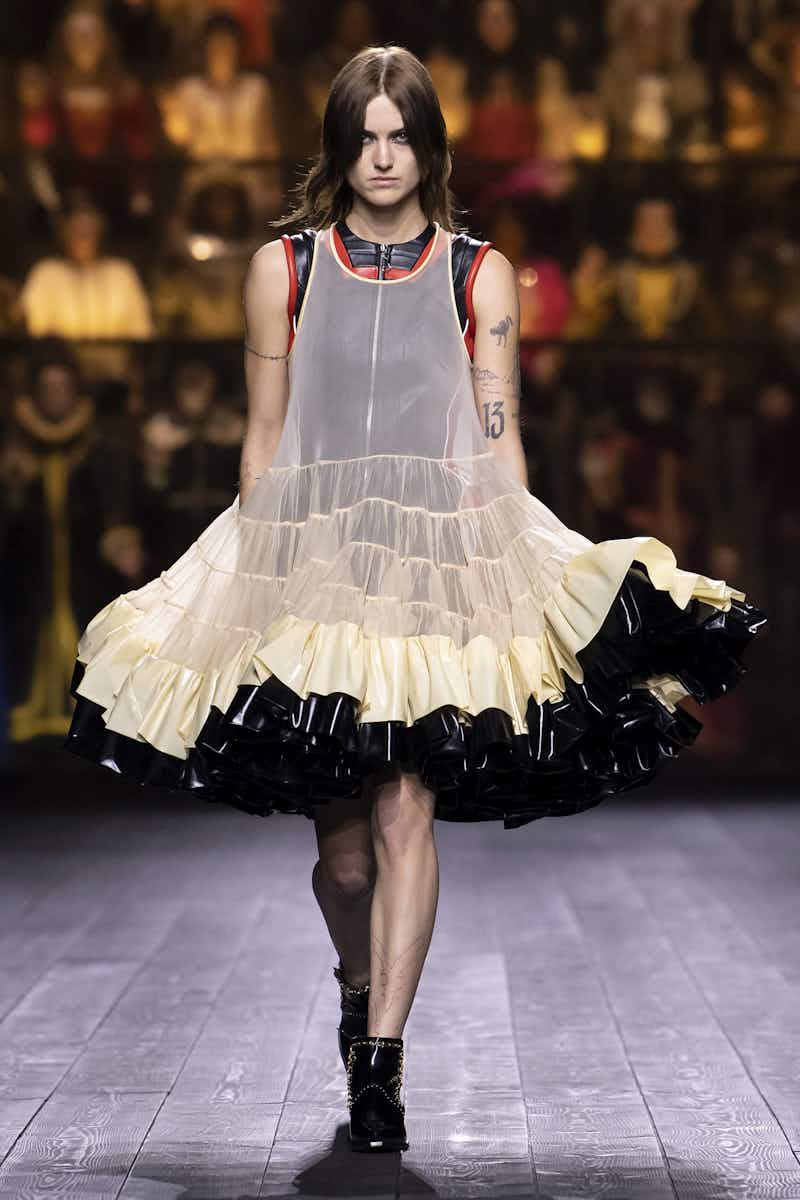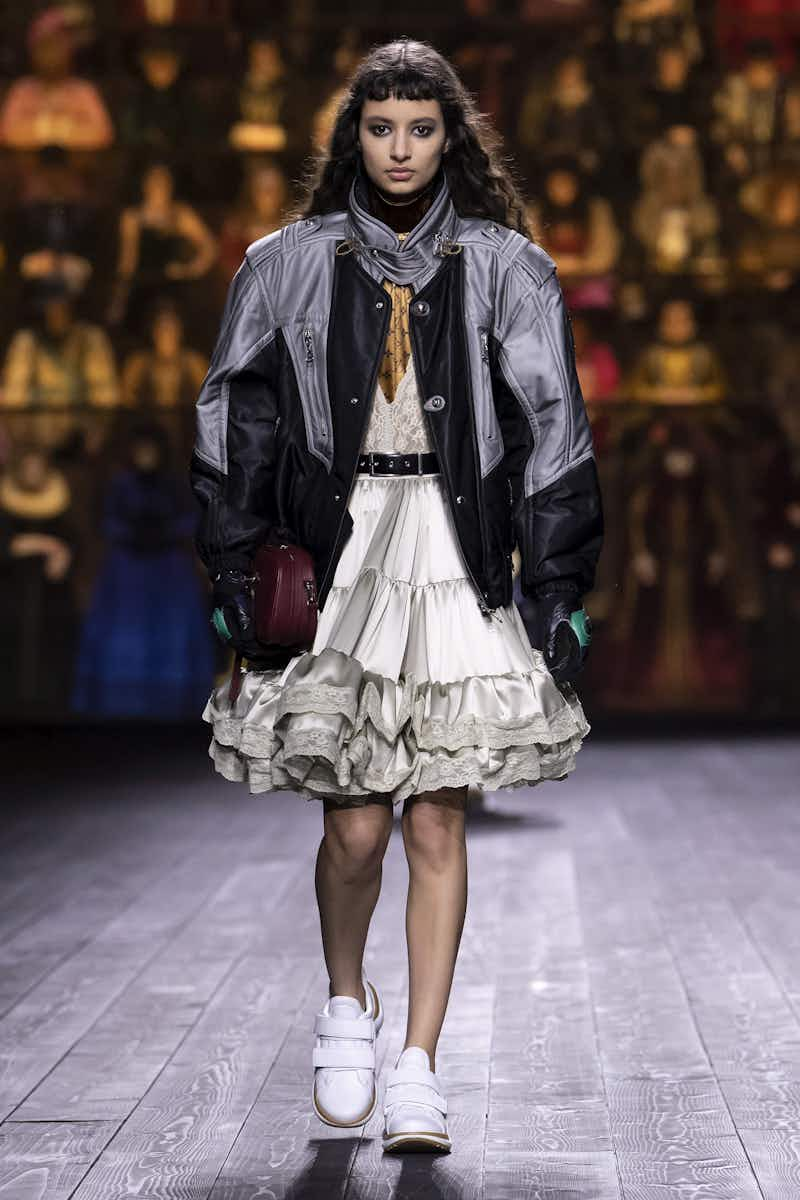 What did it sound like?
The music, composed by Woodkid and Bryce Dessner, resurrected Nicolas de Grigny, a contemporary of Bach who never quite reached those levels of fame.


Listen now:

The sound of Louis Vuitton AW20
Who did the set?
It was the work of Milena Canonero, Stanley Kubrick's Designer of Costumes, who worked on A Clockwork Orange, Barry Lyndon and The Shining.
LACOSTE AW20
It was a sporting switch-up surprise at Lacoste — we assembled at the Tennis Club de Paris for the brand everyone associates with tennis, only to be hit (fore!) with a range of golfing references. How come? Well, the show was inspired by René Lacoste's golf champion wife, Simone Thion de la Chaume, that's why. For the clothes, that meant argyll V‑necks, sports blazers and mid-calf pleated skirts. For the accessories, it meant mini golf club bags, velcro-fasten leather gloves and kiltie brogues (the fringeing also cleverly adapted for lanyards).

The key to the show was the dazzling array of colours and their endlessly clever combinations. Lacoste green and navy, clay court brown, spearmint, sky blue, candy pink, orange, lemon and tan were all tastily desirable and worked in blocks, checks and stripes. And there was something for all-comers, whether they want double-breasted suits or trackie bottoms, trench coats or sporty dresses, fitted or louche.
Memorable moments included the long, sharp collars, drop-waisted skirts, pleat-fronted trousers, brushed pullovers, exploded prints, tonal top-bottom combos and seeing the normally darker, sexier Bella Hadid come out in a becoming, buttoned-up, bottle green look, a fantasy vision of country club golfing greatness.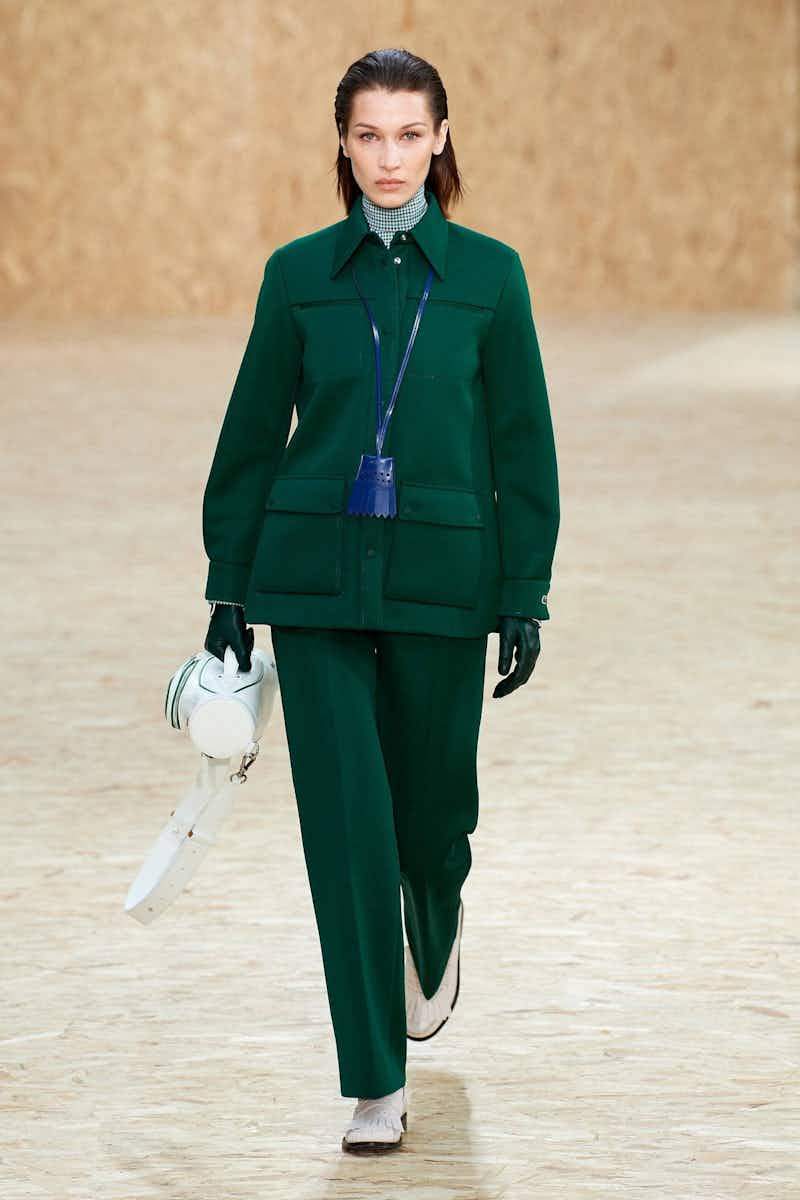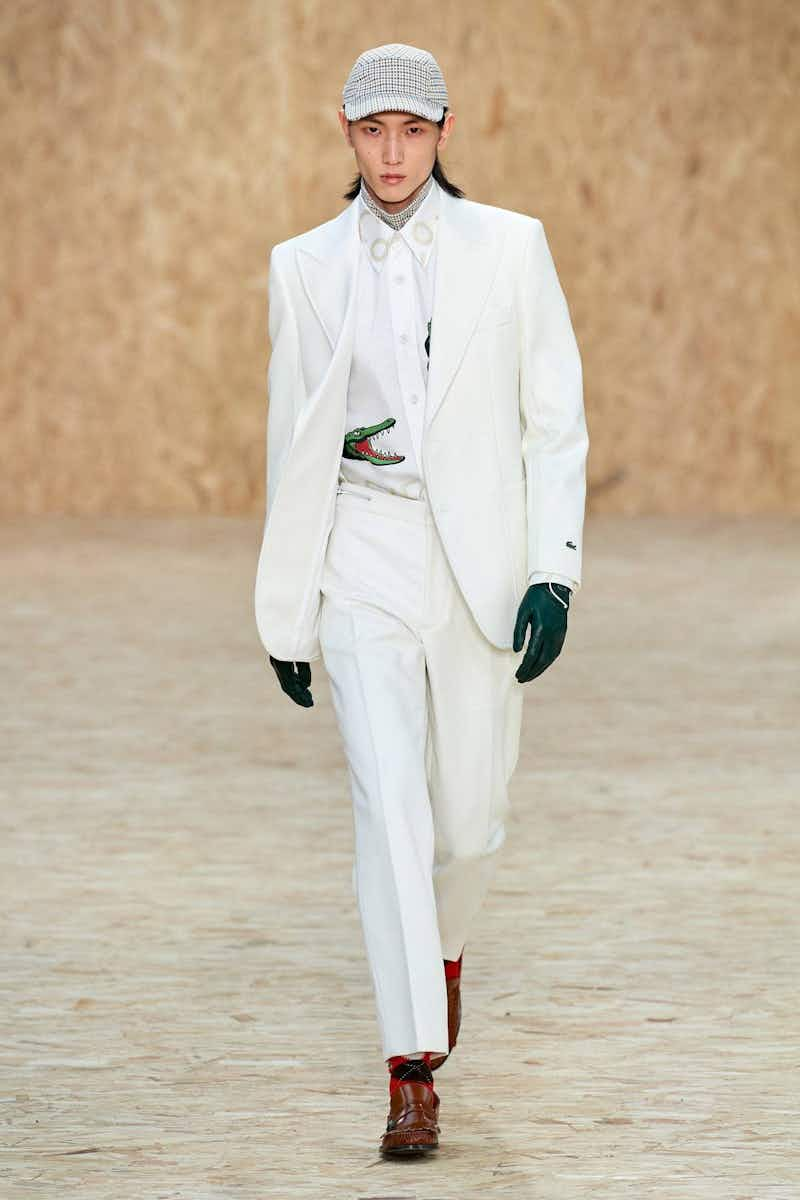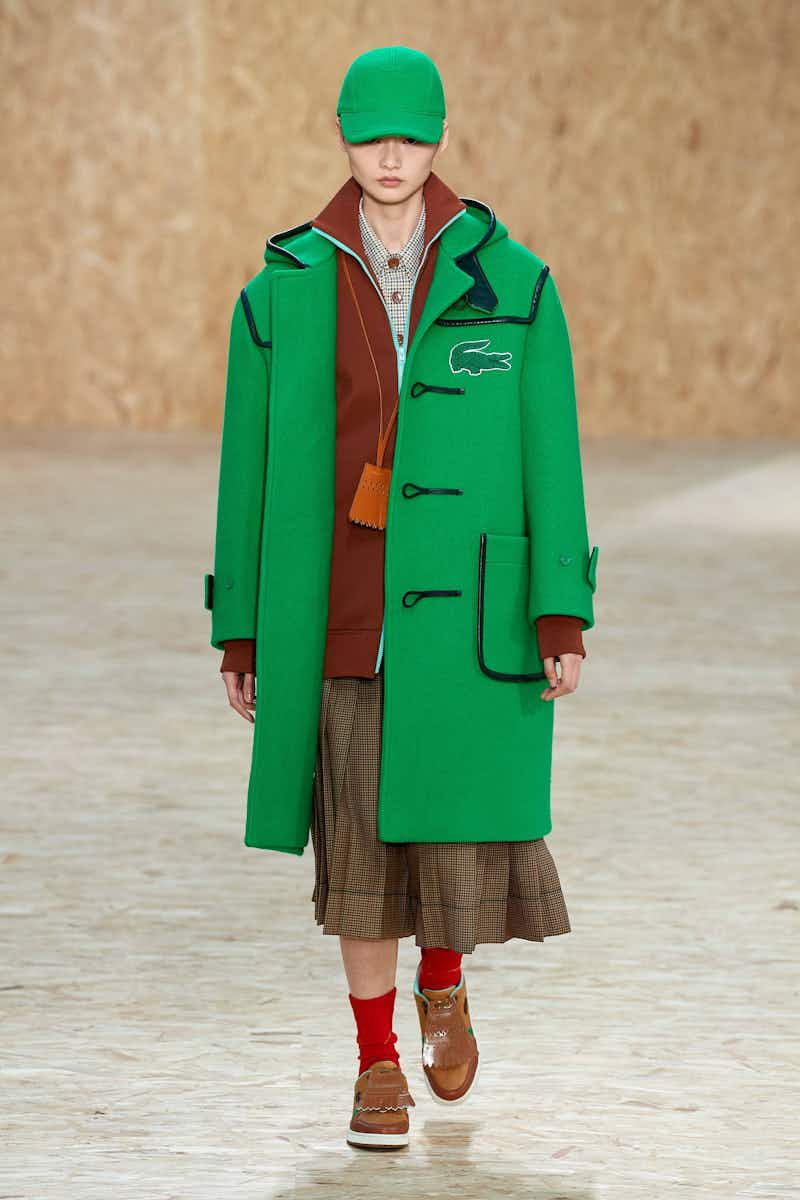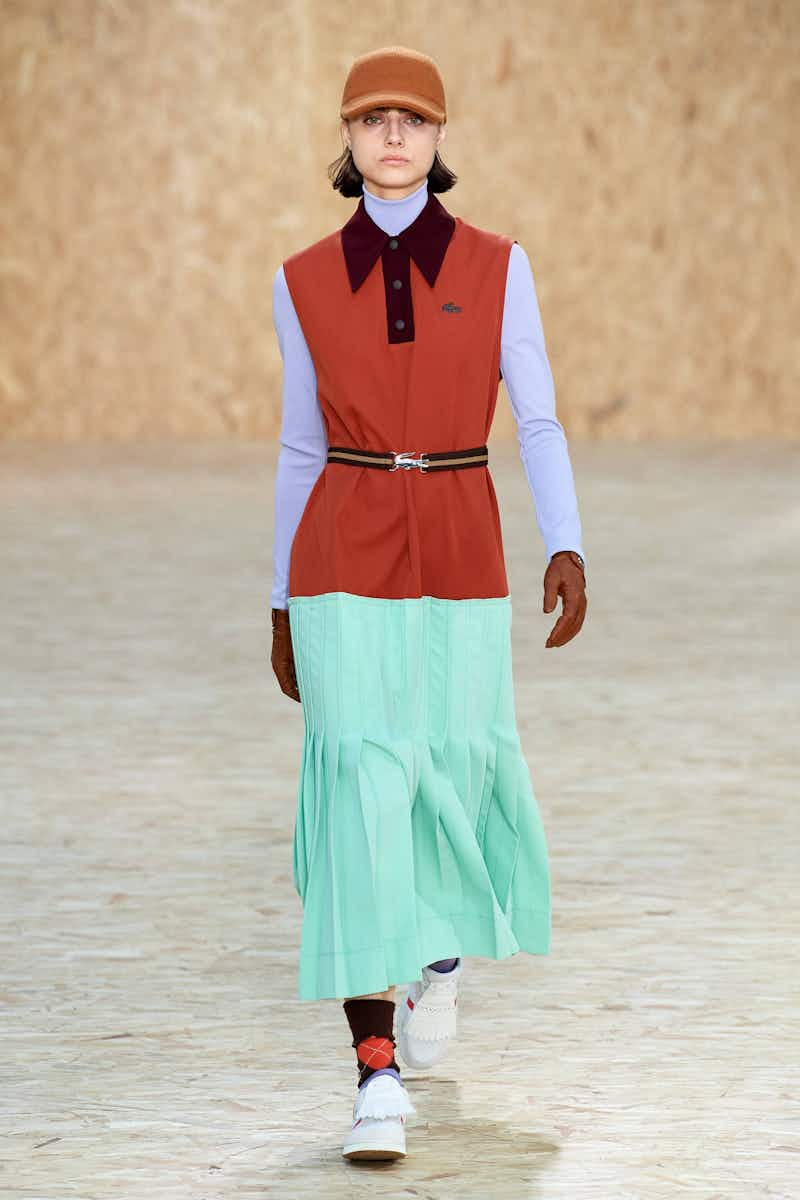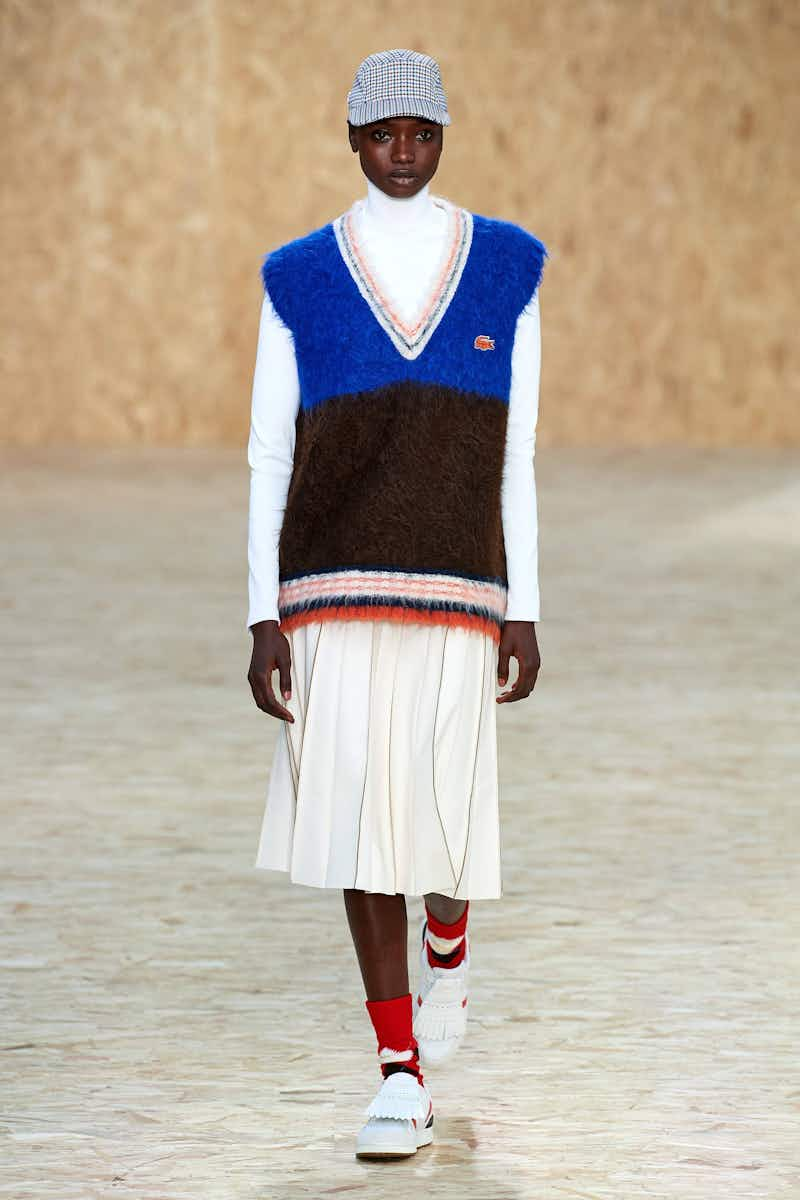 MIU MIU AW20

Miu Miu won the week's Instagram competition as all the models congregated for a big team photo on the wildly carpeted stairs of the Palais d'Iena after the finale and the fash pack hordes elbowed each other for the shot (The Face got there first). As for the show that preceded it, it was Miuccia Prada's first presentation since massive fashion news bomb that Raf Simons would be joining her as co-creative director of Prada, and it was a belter.
Euphoria​'s Storm Reid (Rita Ora also made a surprise appearance) opened in a burnt orange crinkled sheath dress (perfect for packing and never having to bother ironing) with a sensible coat and glam diamante heels. As with most things Miu Miu, there was something perversely appealing about the silky looking dress combining with the scratchy looking wool coats. Long-skirt brown suits were sexed up with tourniquet tight waist belts and thigh-high slits. The coat collection offered everything from pragamatic pea coats to puffa tailoring and from Bette Lynch leopard to big shaggy show stoppers.
Purposefully frumpy debutante dresses were given edge through frontal transparency, preppy sailor details were scarified with murderous black leather and sheer skirts and tops were poshed-up with gleaming, rattling gems.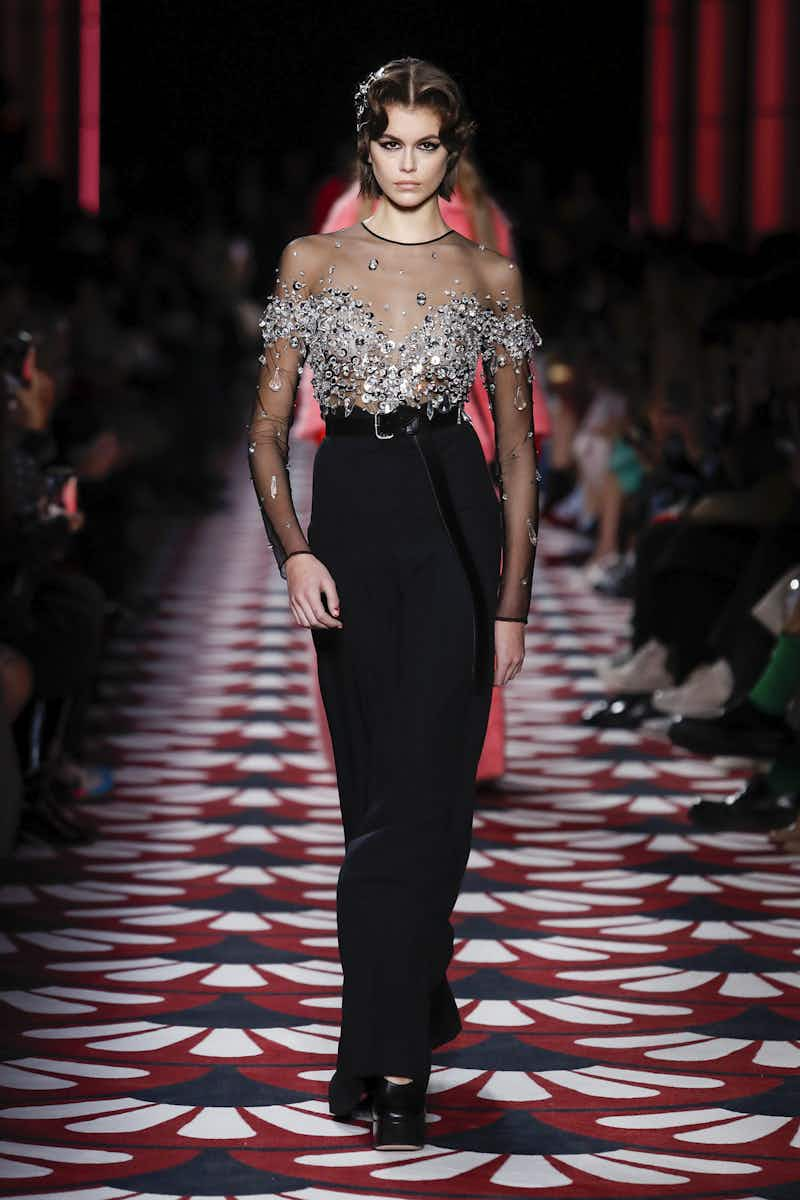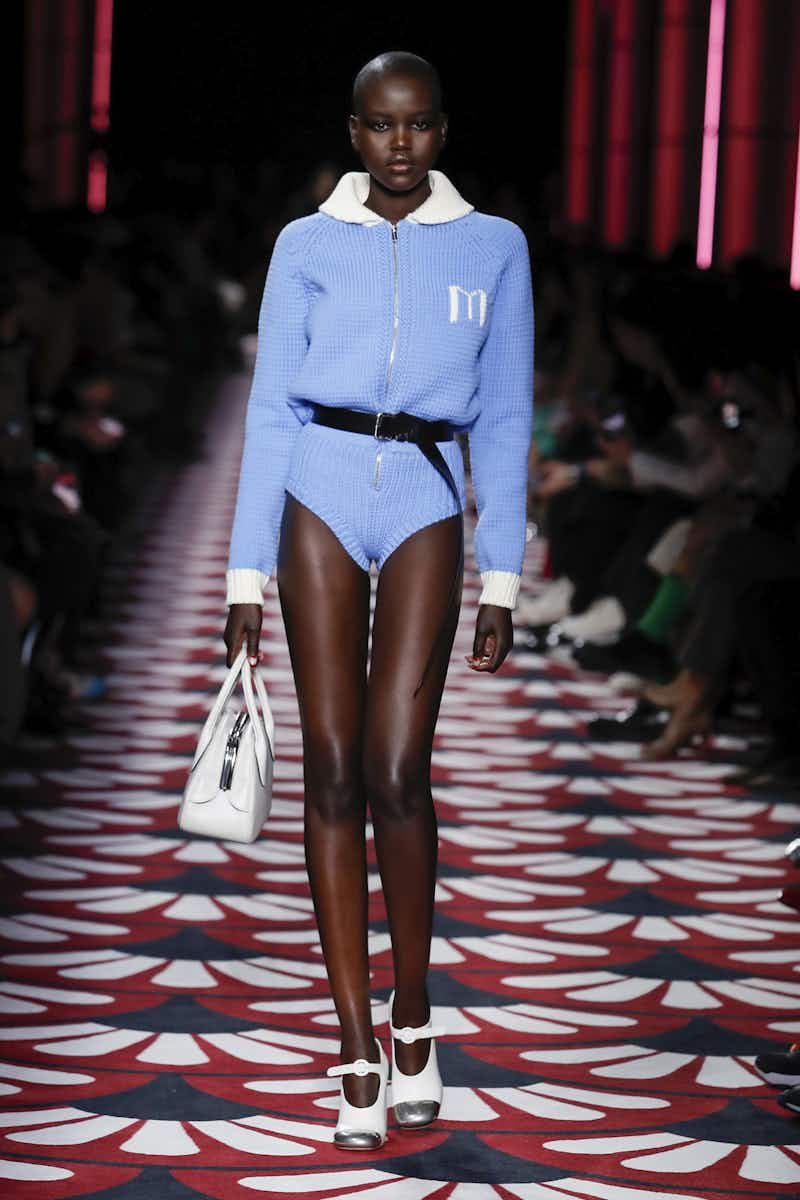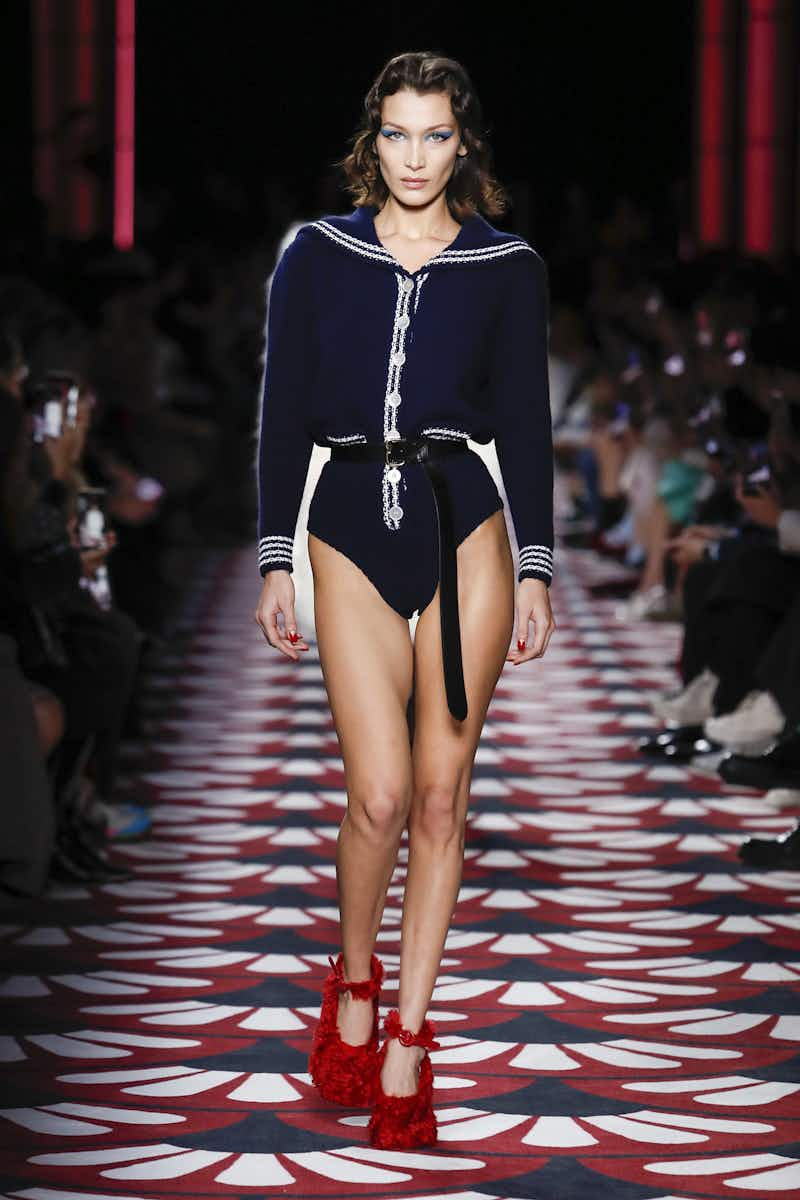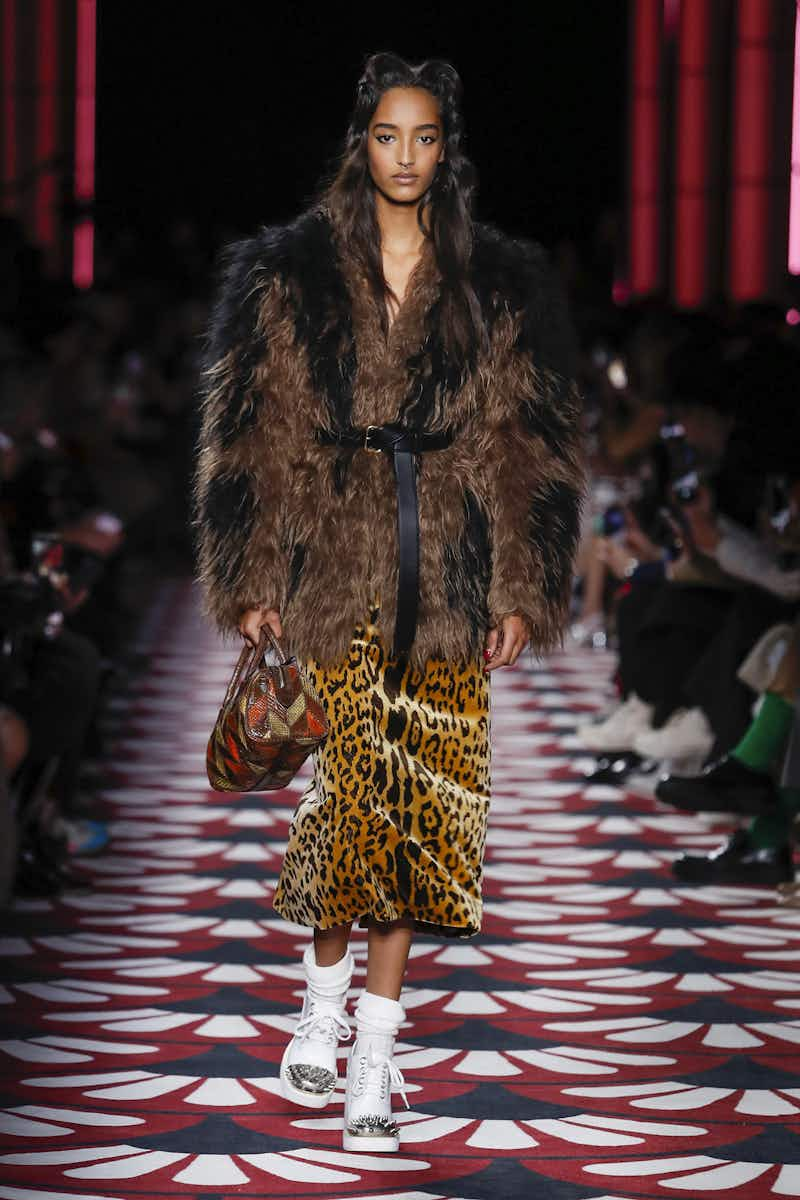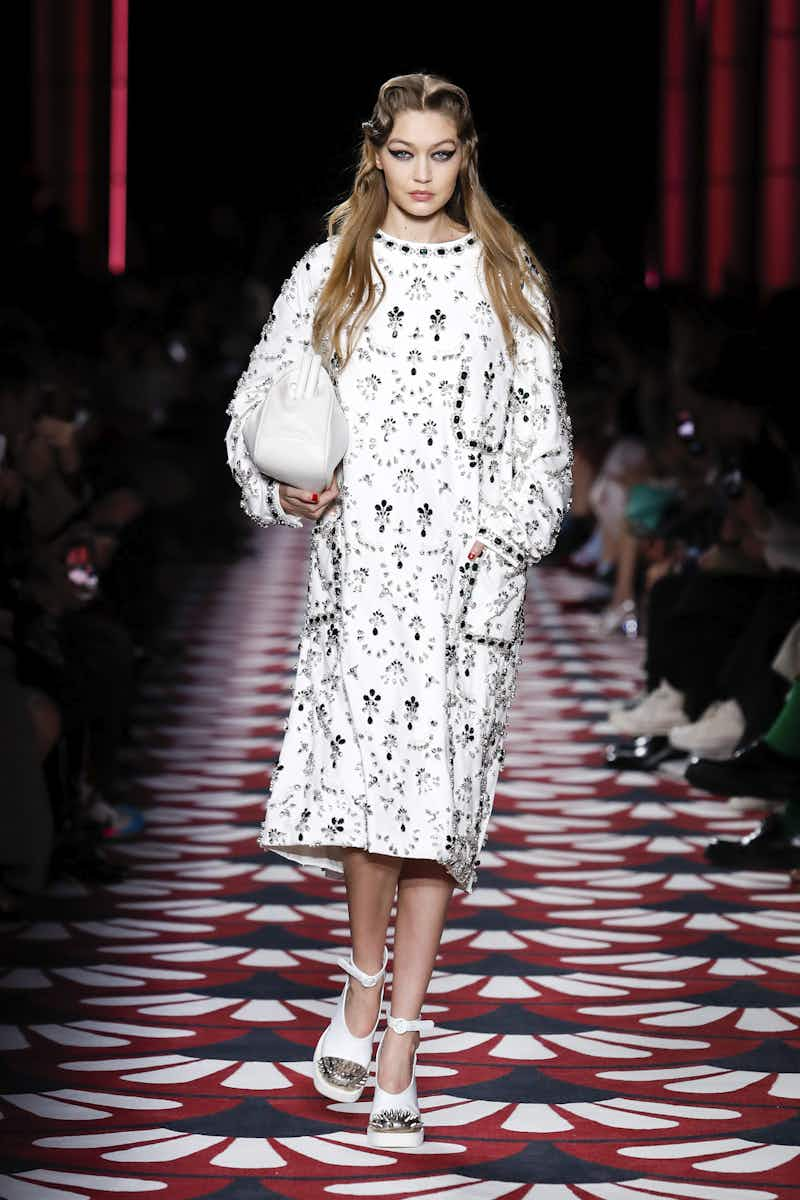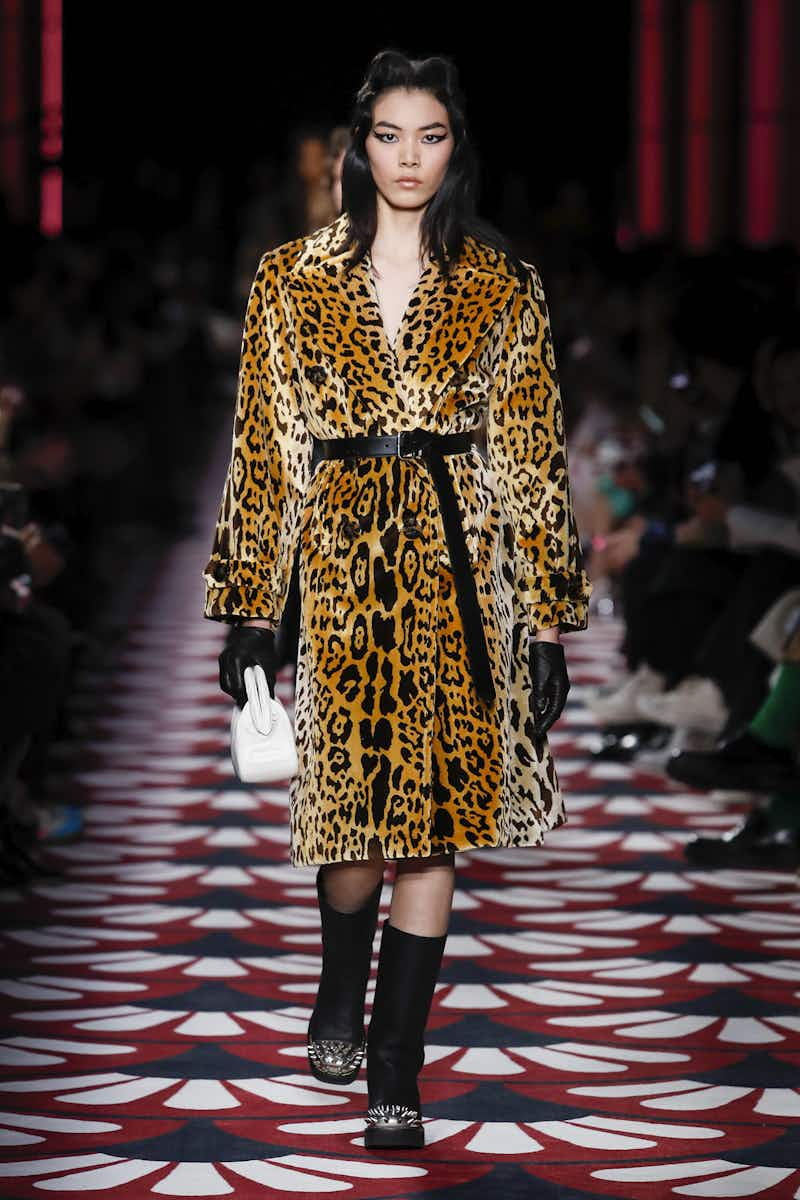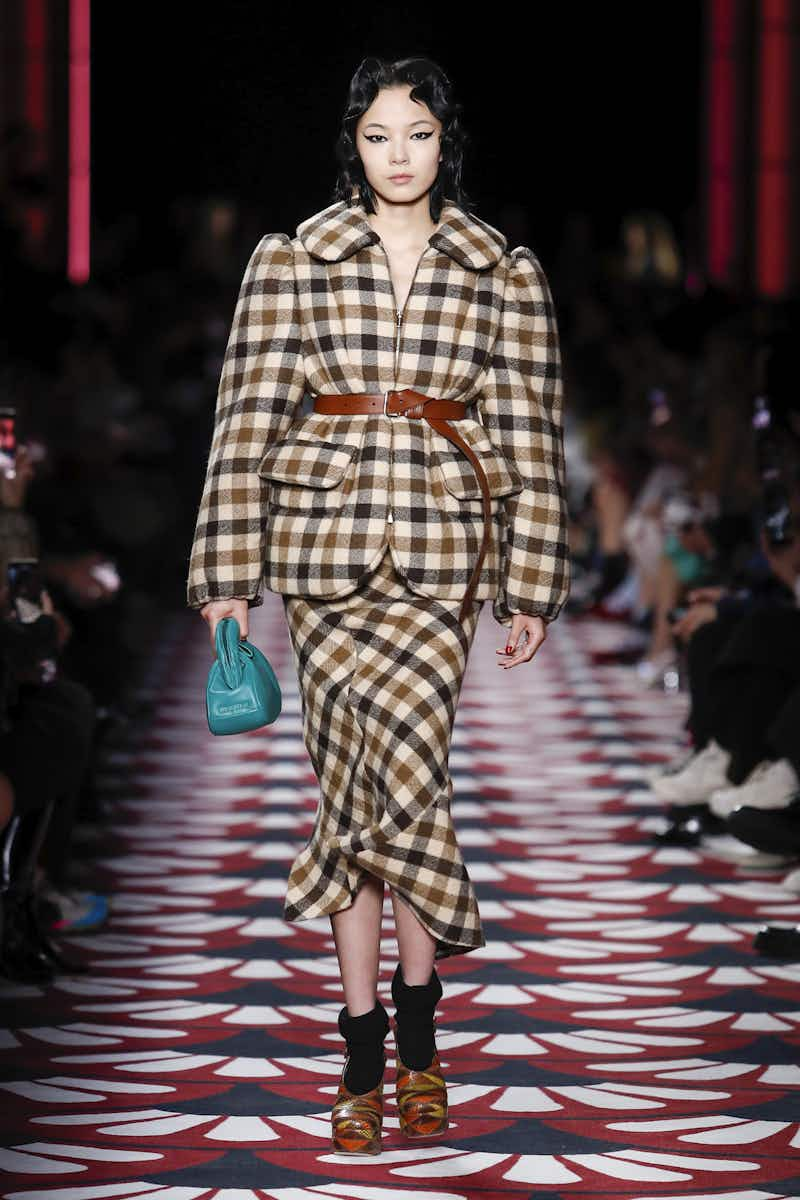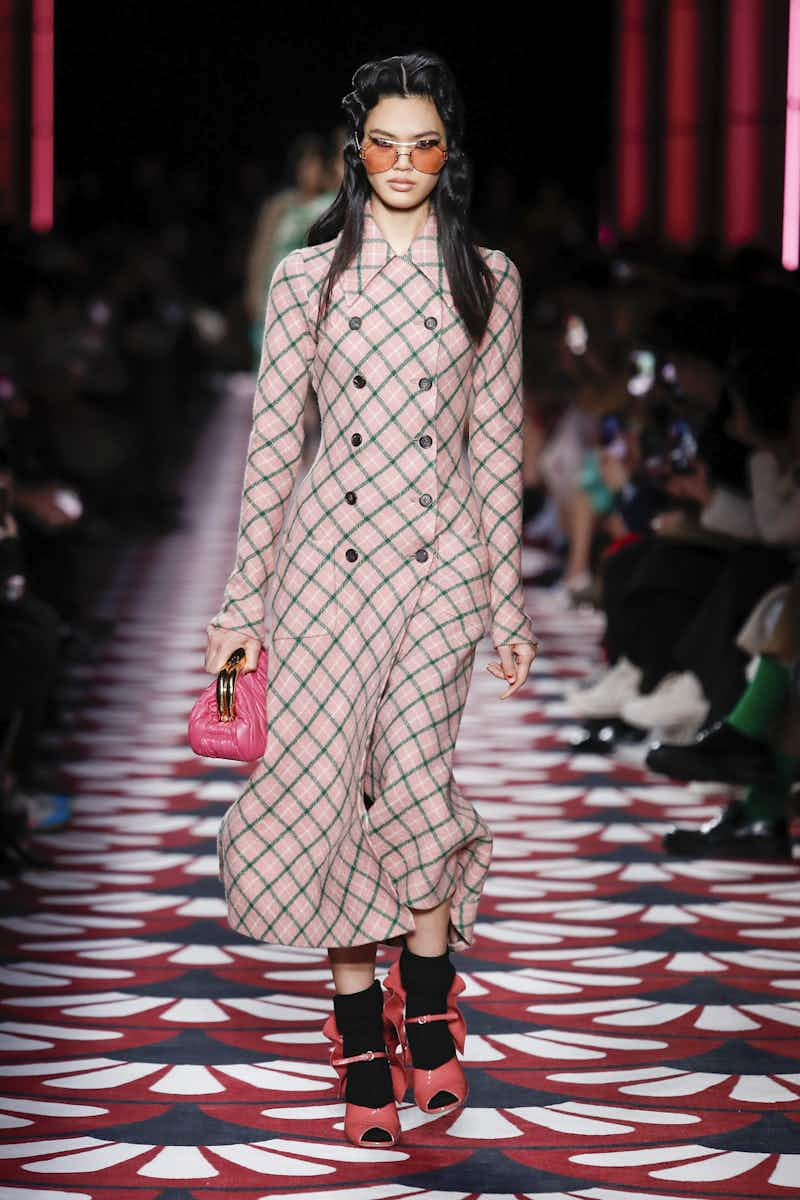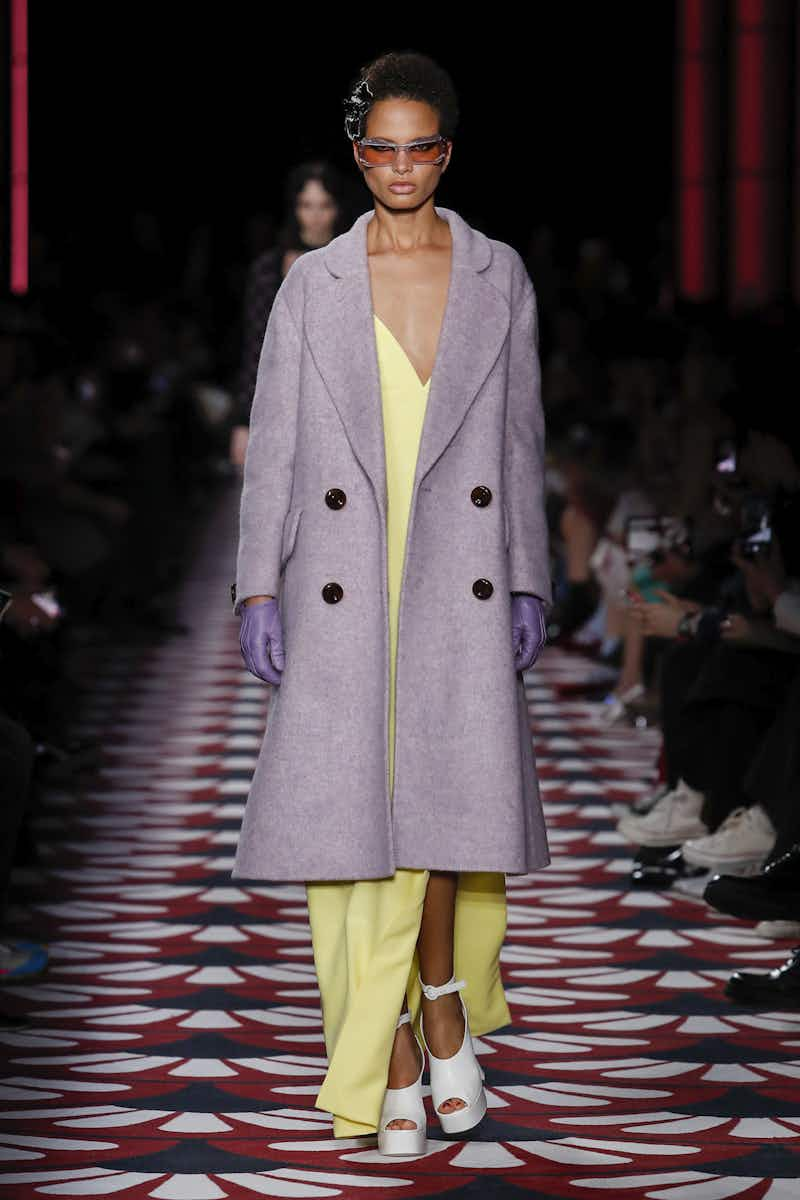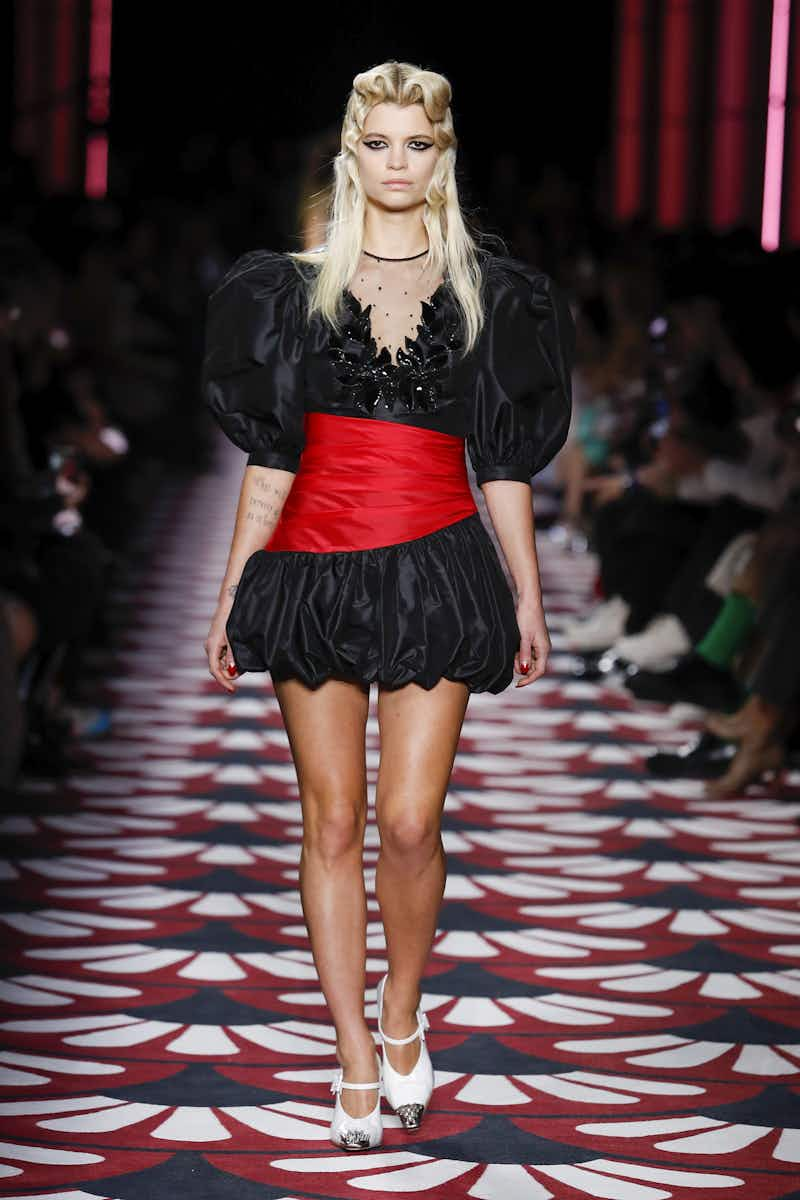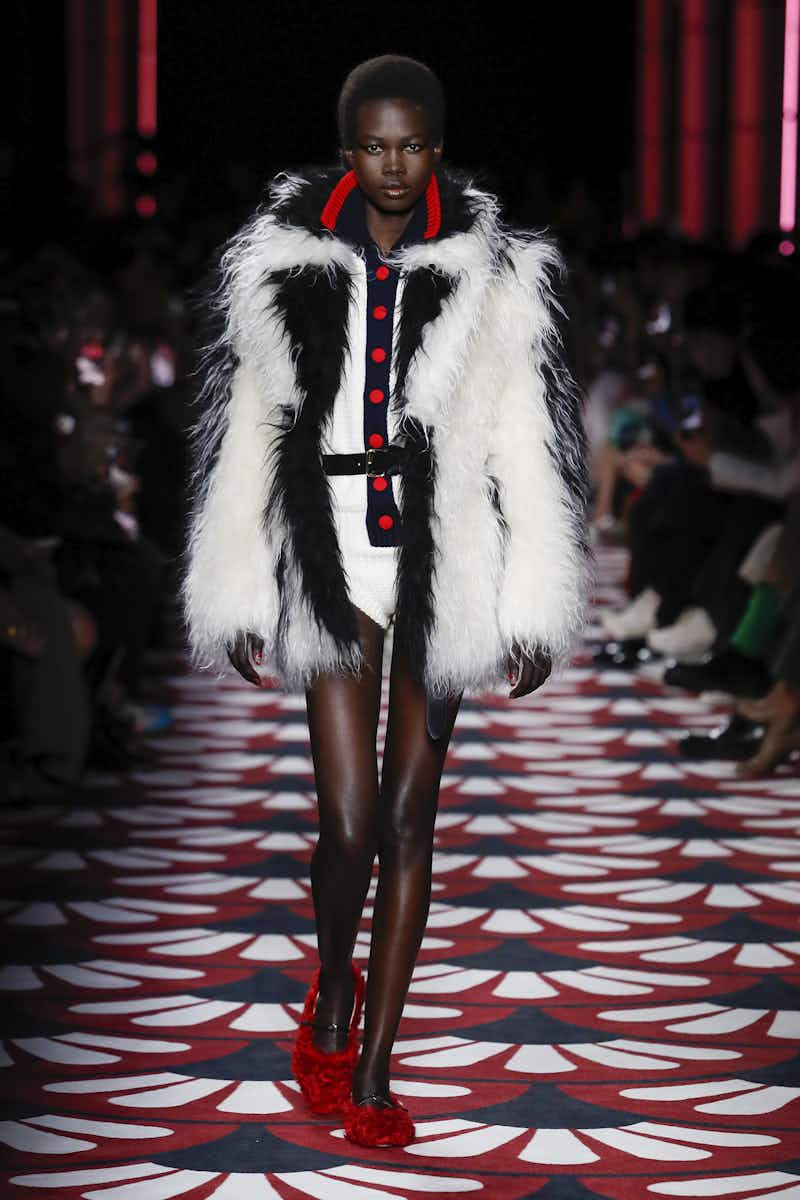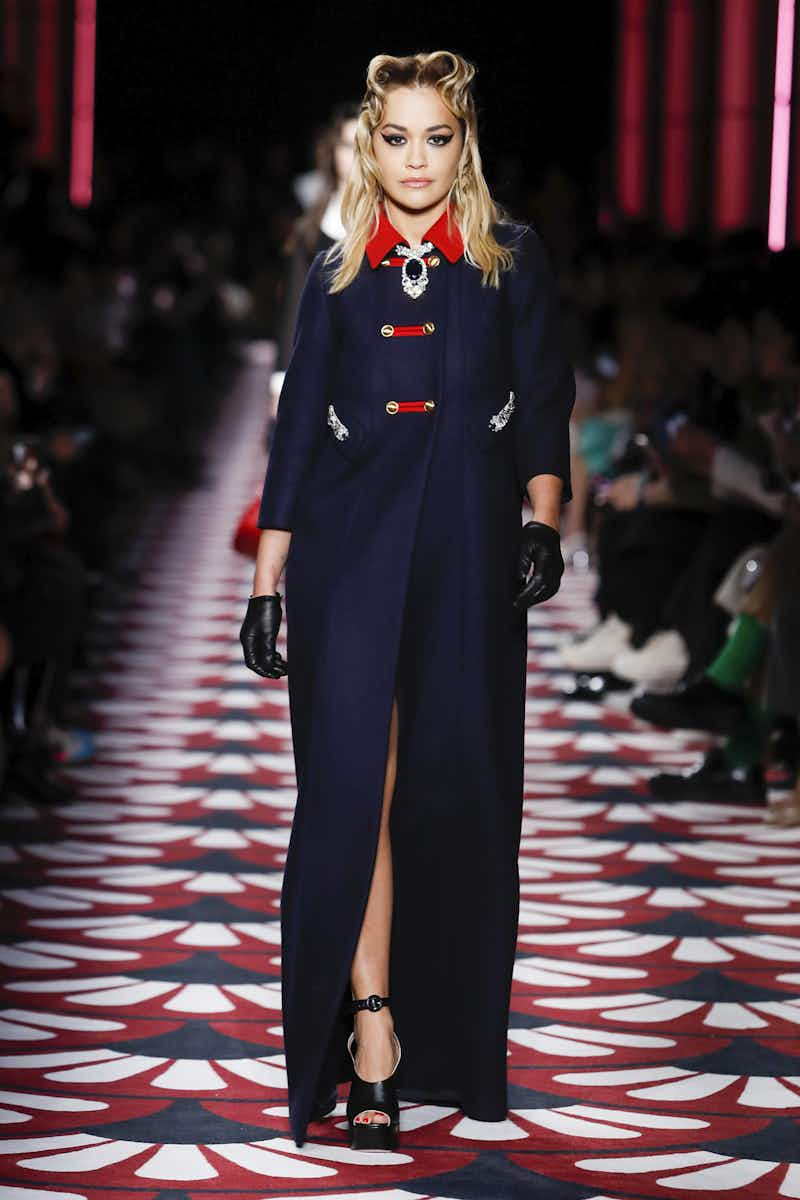 How were the accessories?
Platform Mary Janes, spike toe-capped boots, furry slippers, block-heeled slingbacks, bow details, killer cropped leather gloves, pastel Perspex shades, poufy clutch bags and firm-handled handbags that look like they could contain a bowling ball and be used to whack someone across the head.
What did it sound like?
Everything from Liza Minelli's Mein Herr to David Bowie's Time.

Listen now:

The sound of Miu Miu AW20
CHANEL AW20
adidas-style side poppered pants came in velvet, leather and bouclé. Short shorts and mini skirts were worn over tights with flap-over boots. Jewellery was ​'80s excessive, with chains piled upon chains piled upon chains and big jewelled crosses. There were bubblegum pink quilted Airpod holders, mini cross body bags and gemstone chain belts. Girls came out in little groups, arms linked, chatting sweetly, with Gigi and friends closing the show.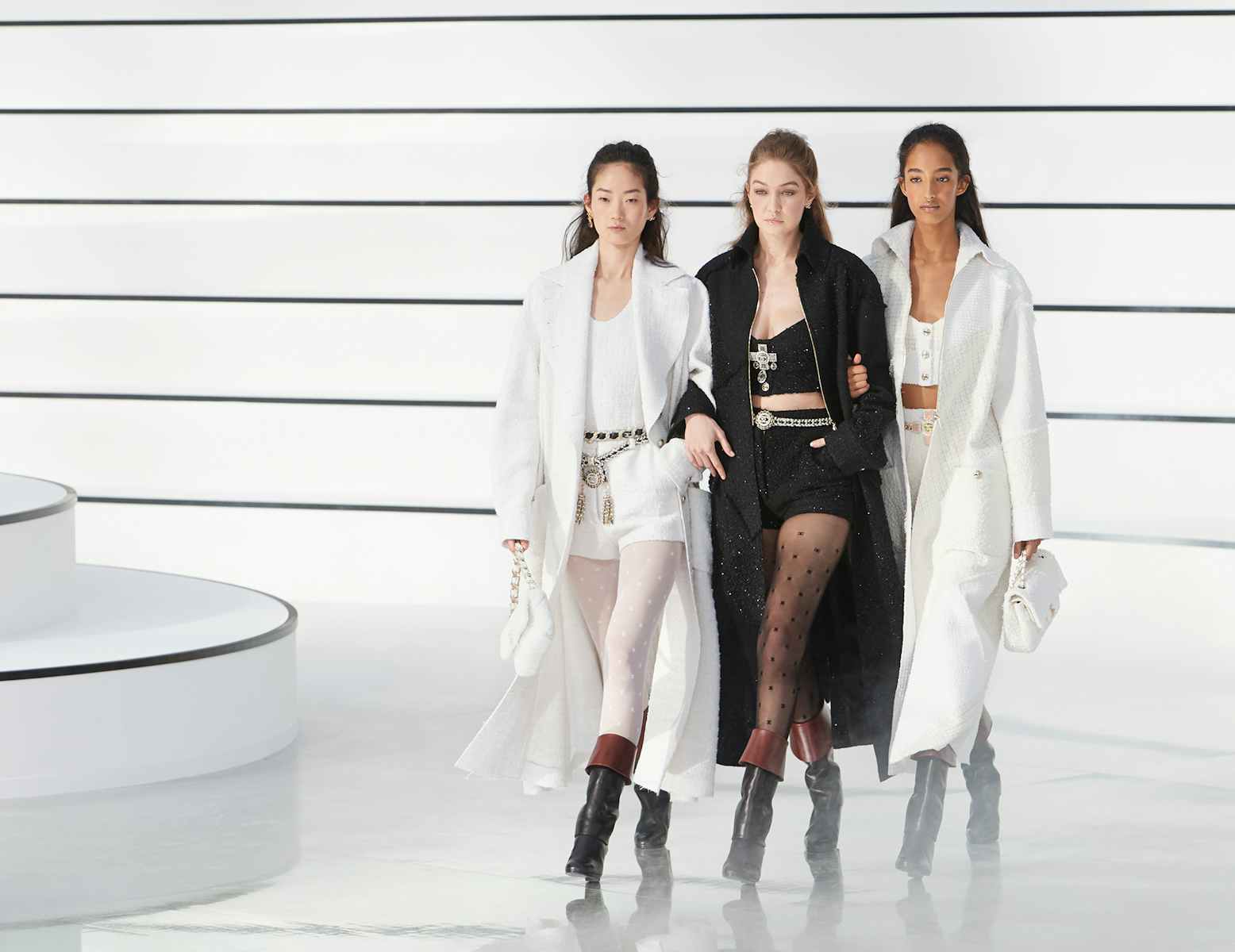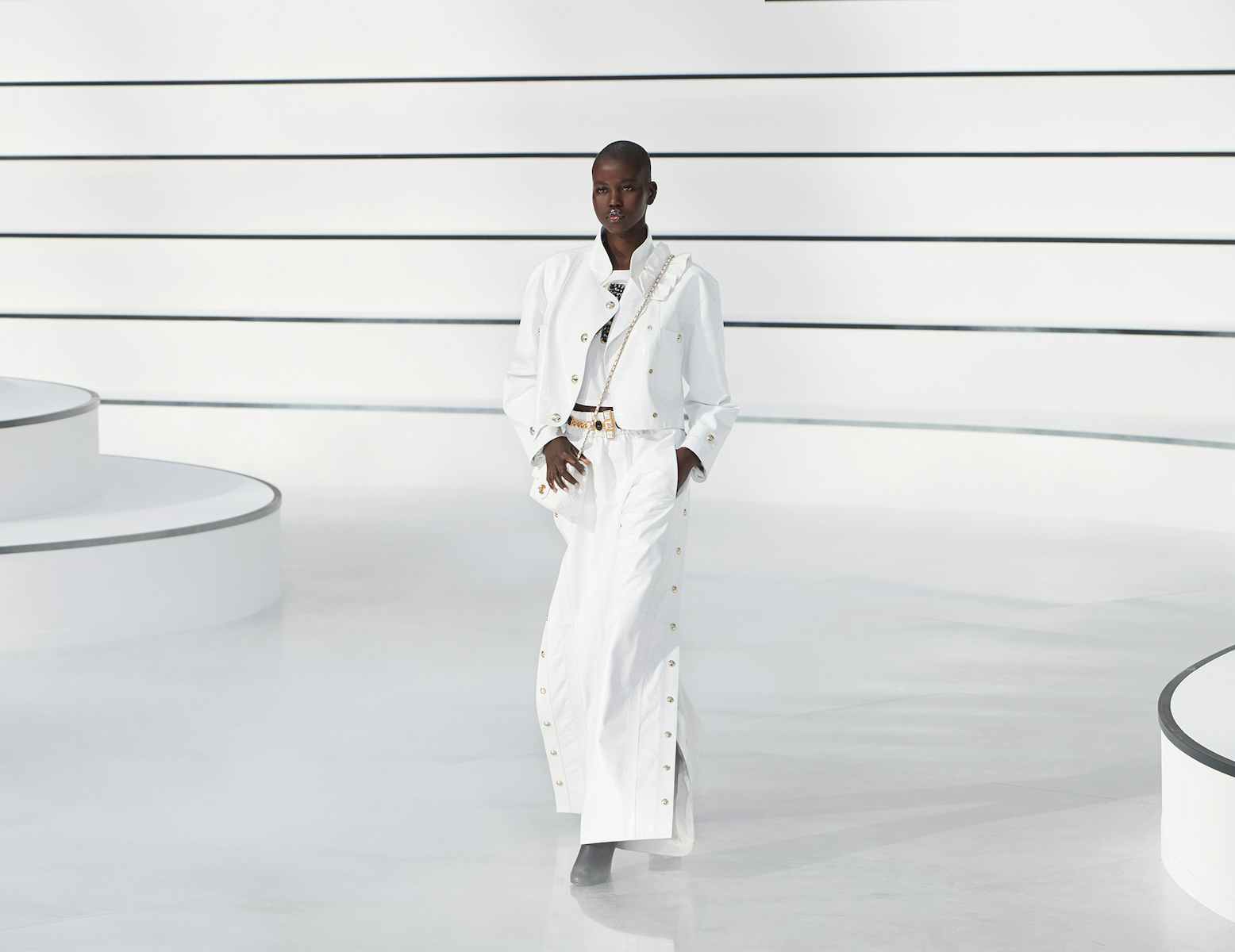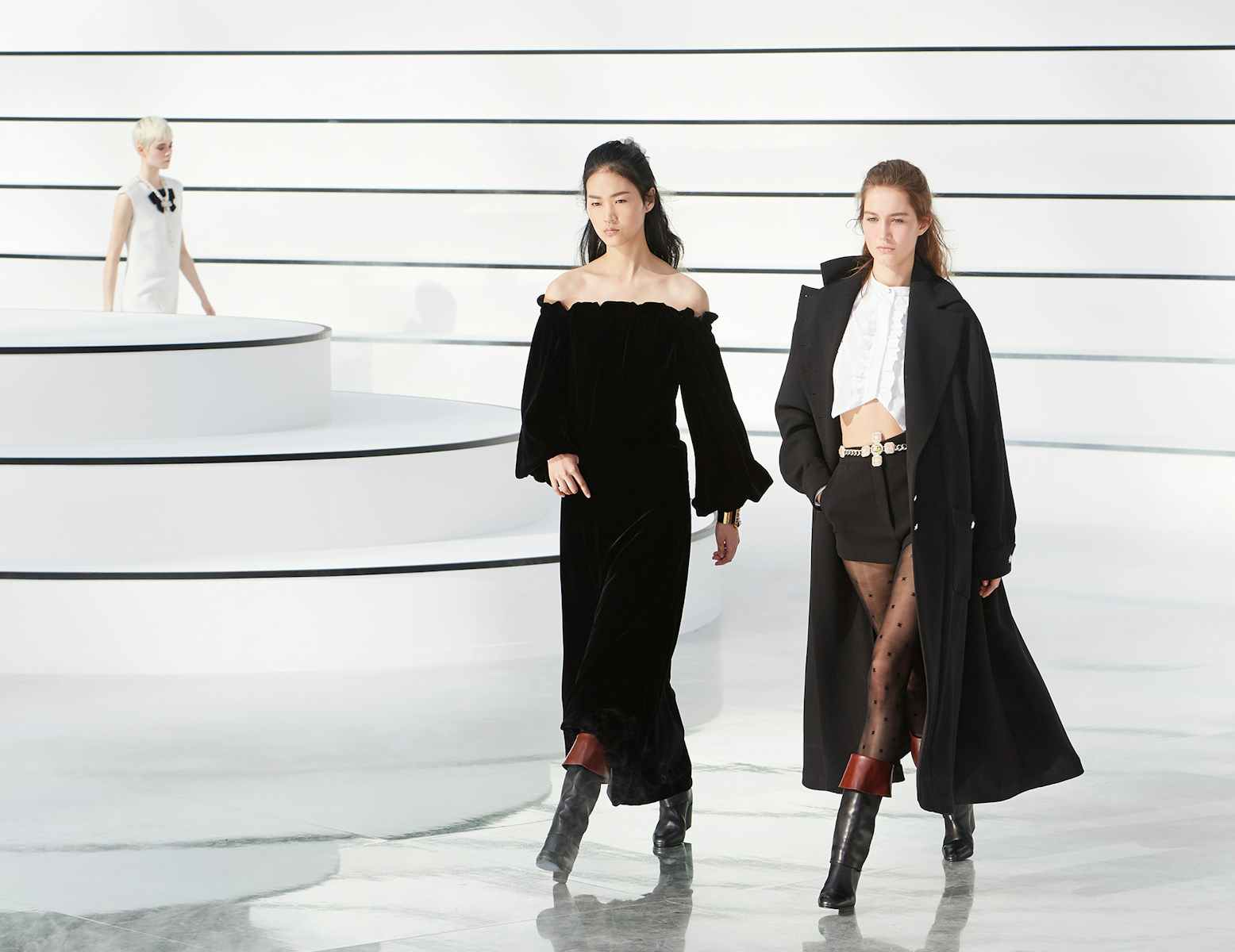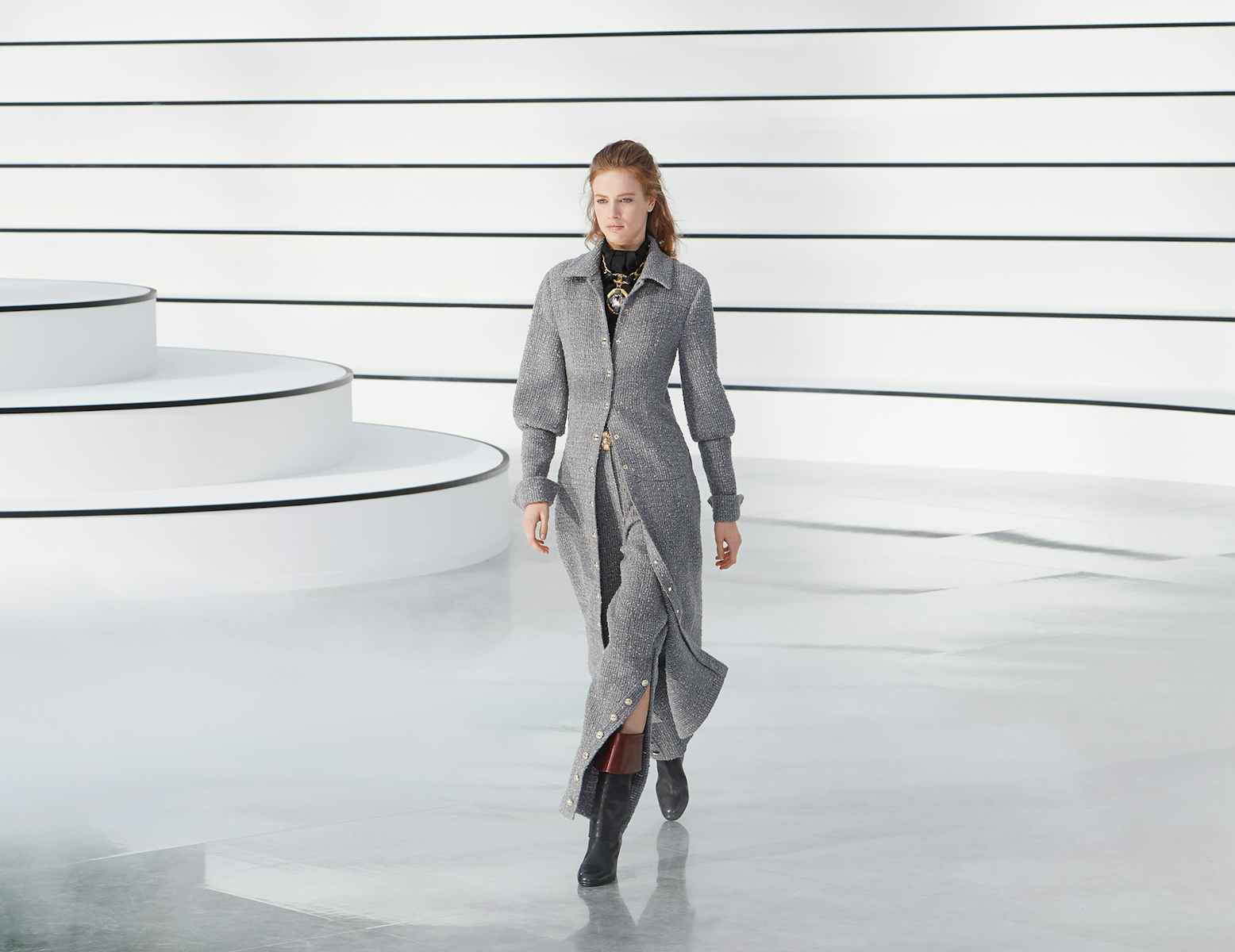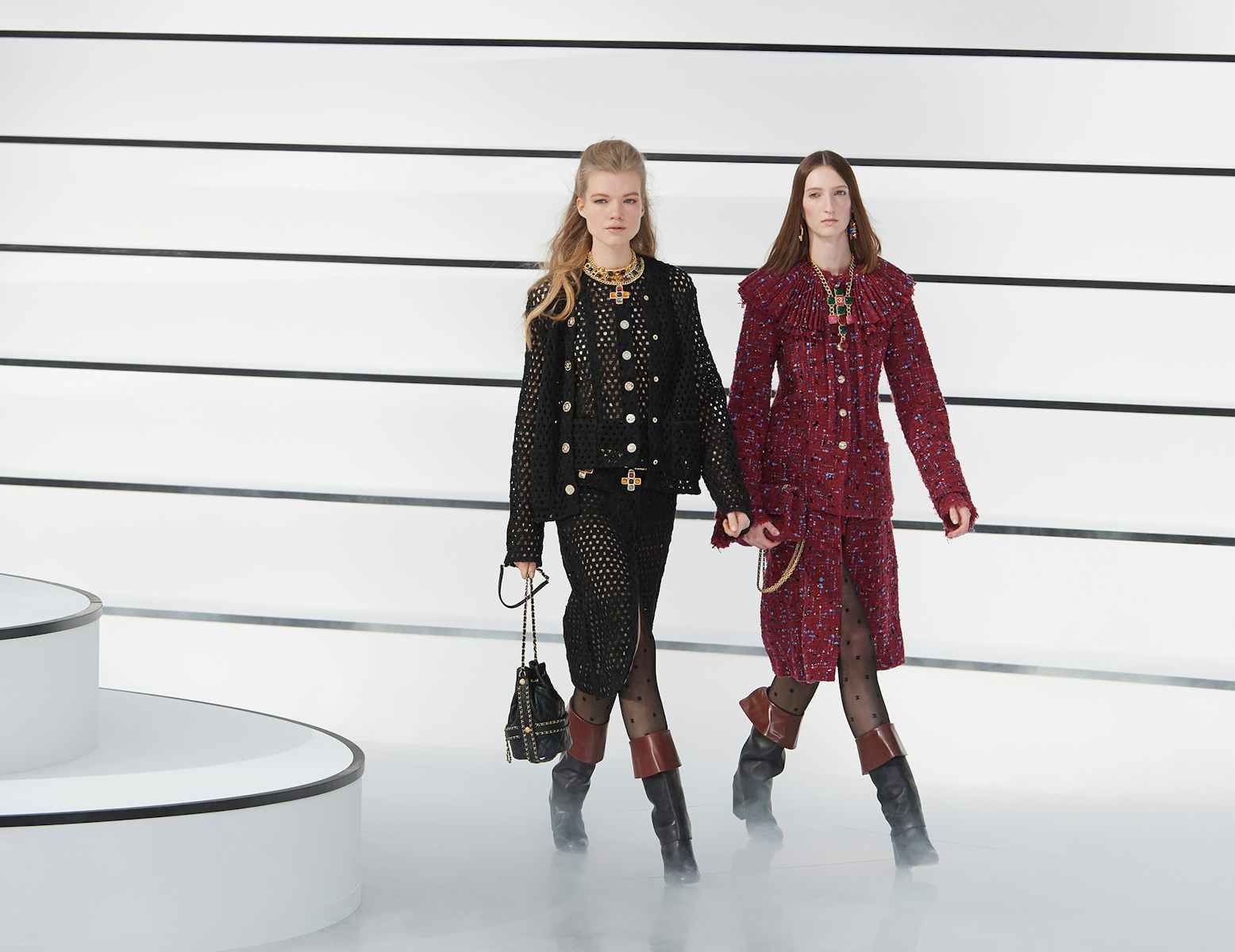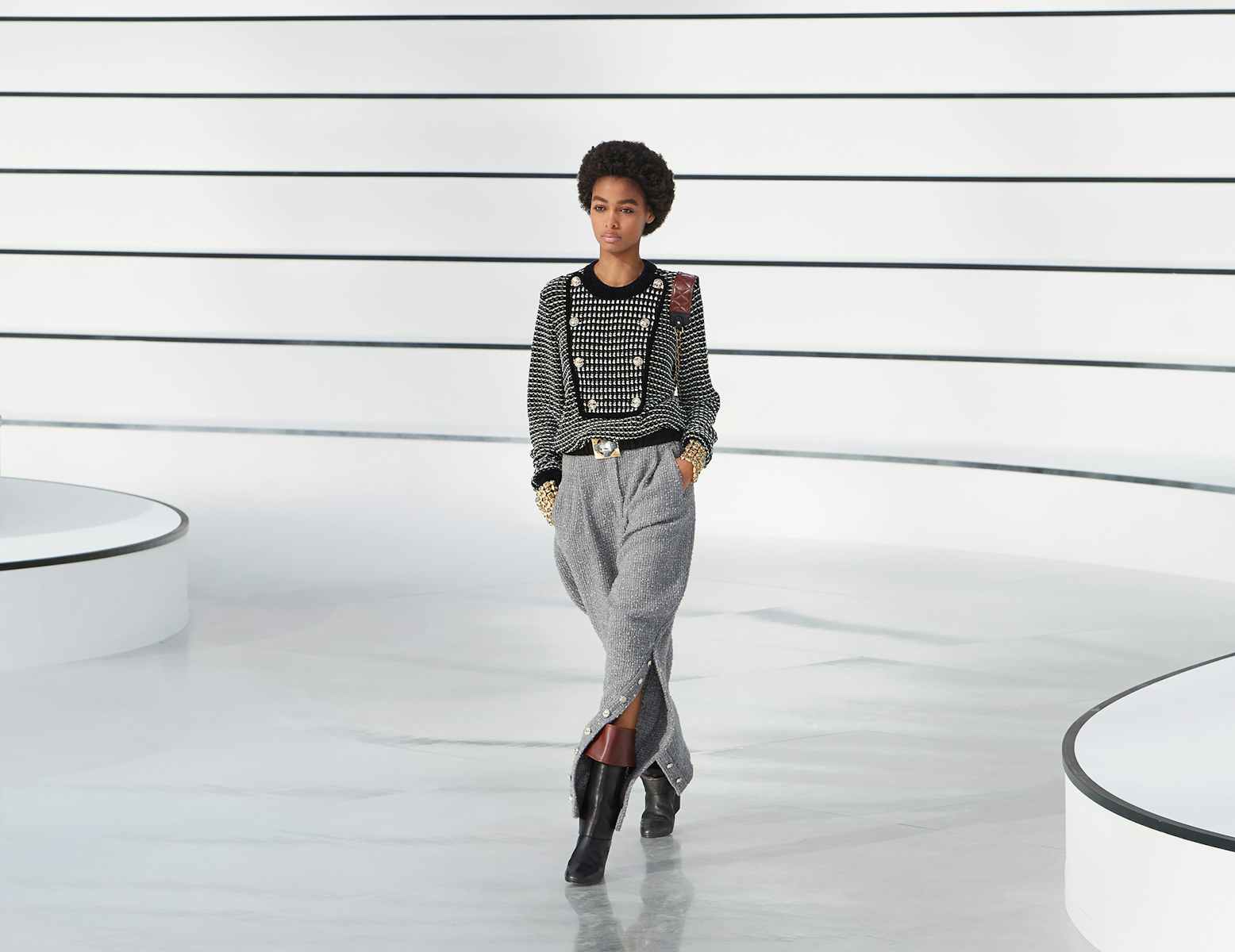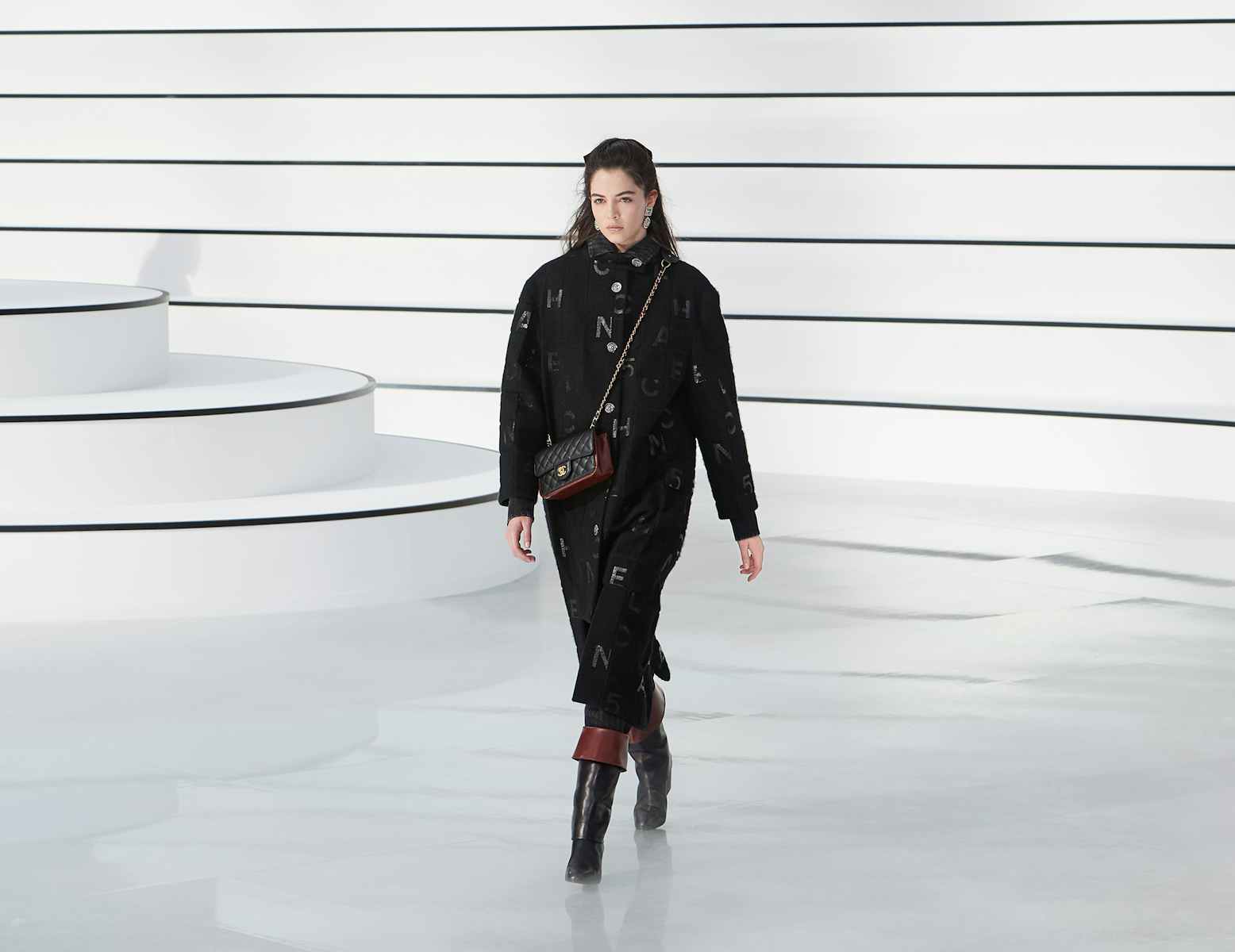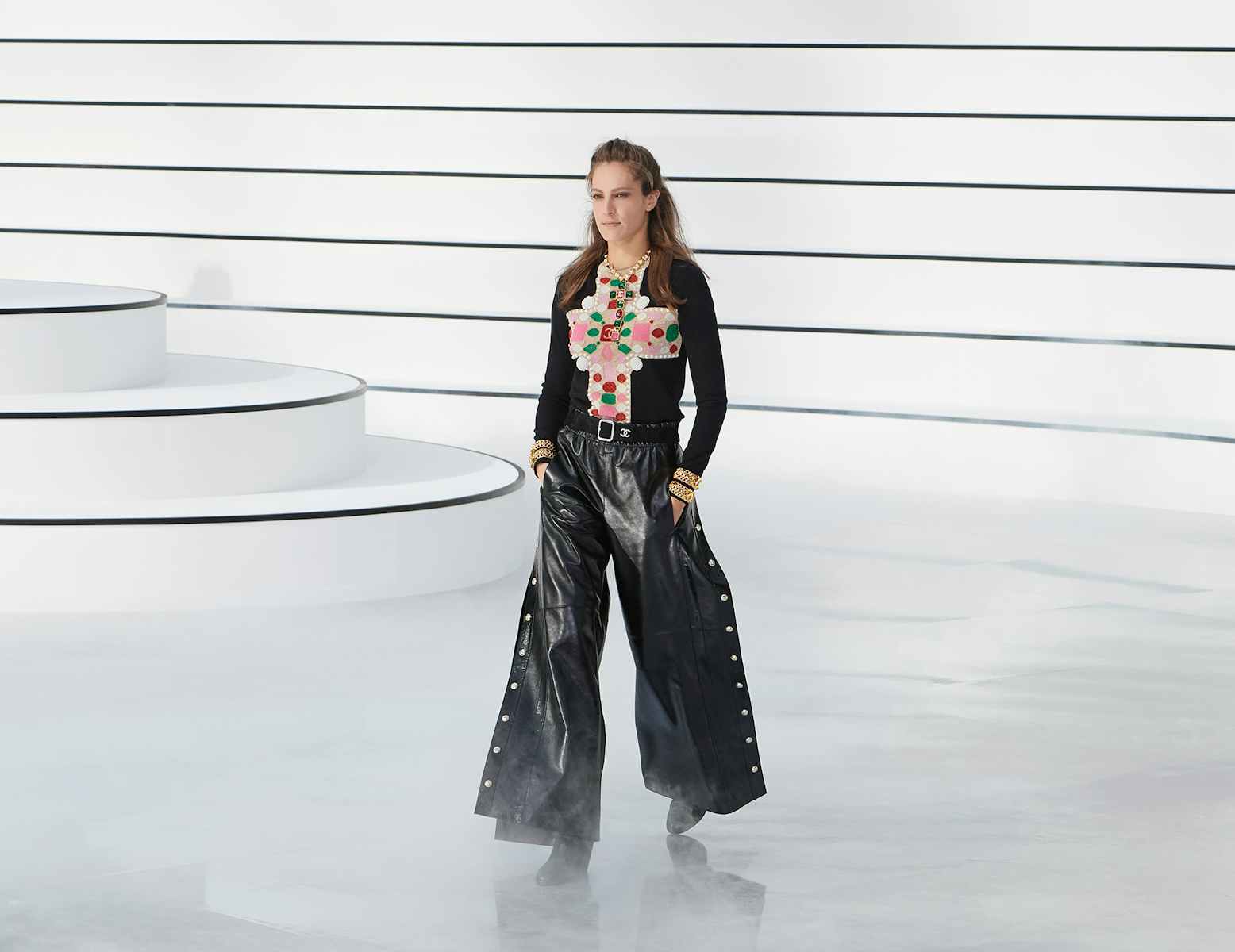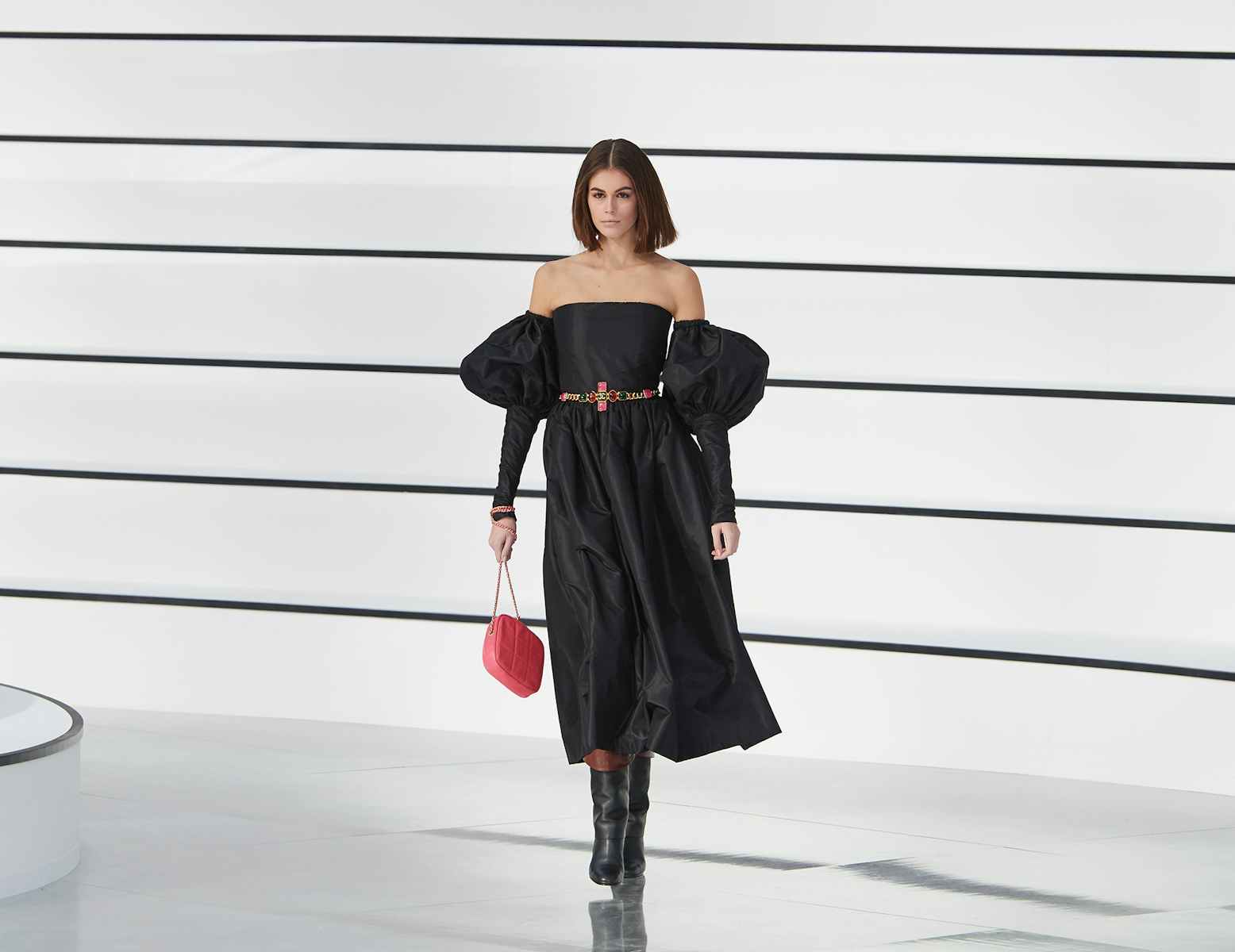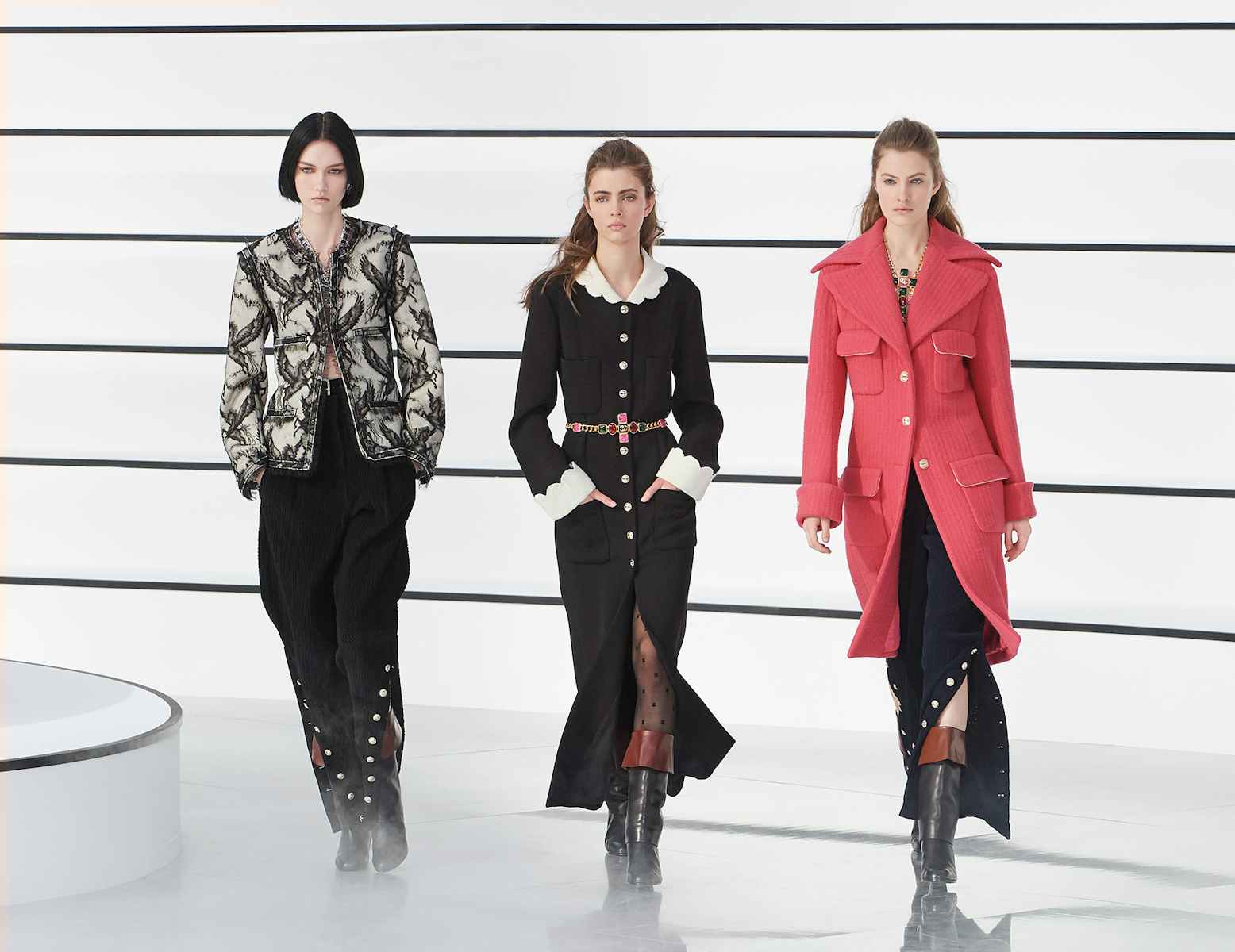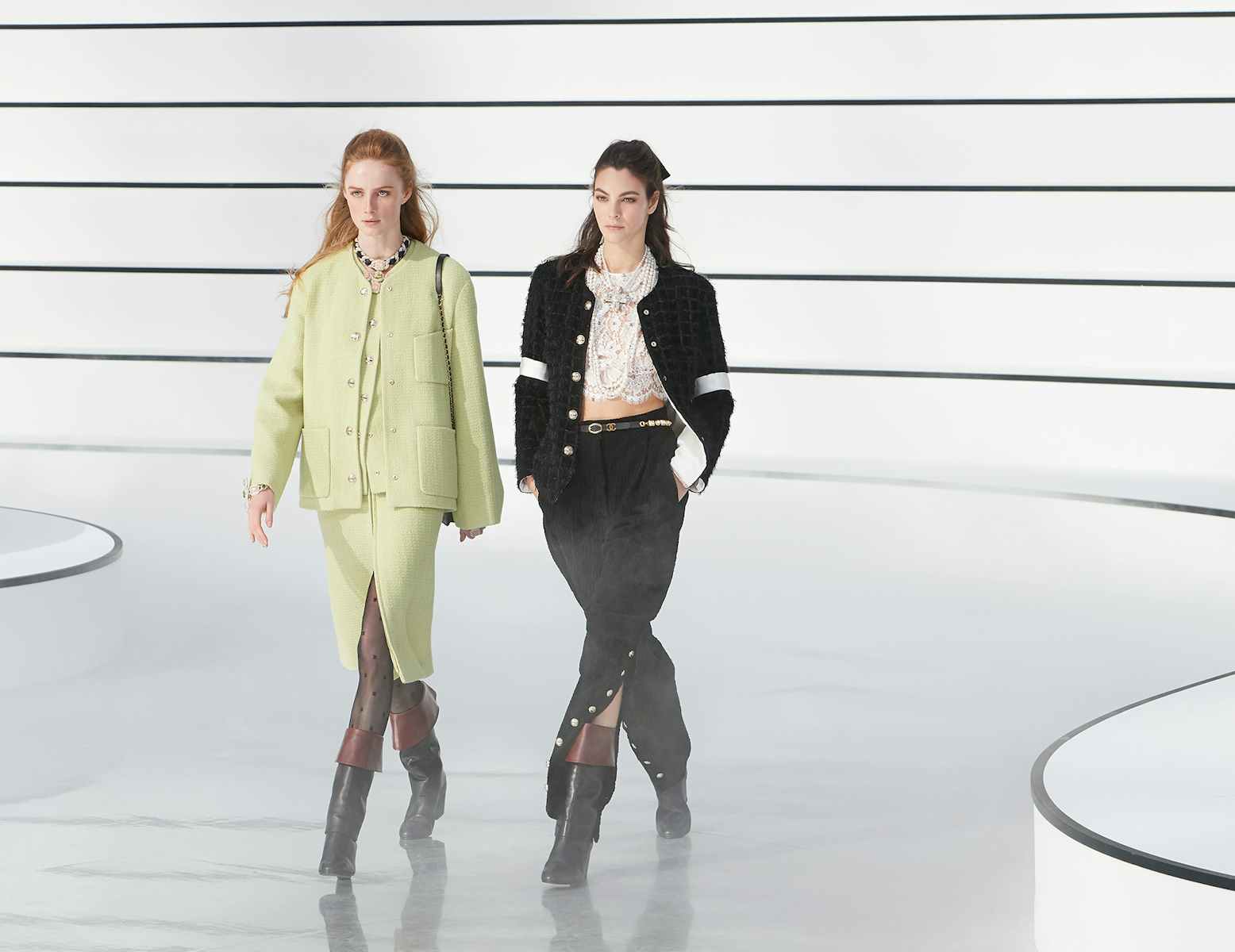 ALEXANDER MCQUEEN AW20
Tough tailoring and cosy quilting, super slim suiting and exploded dresses all starred in the McQueen show in Le Carreau du Temple tonight. Creative Director Sarah Burton mined the crafts, folklore and fabrics of Wales: ​"We were inspired by the warmth of its artistic and poetic heritage, by its folklore and the soul of its craft," she says. ​"The woman is courageous, grounded, bold: heroic. There is a sense of protection in the clothes, of safety and comfort, evoked through quilting and blankets. The hearts are a symbol of togetherness, of being there for others."
Softness crept into the collection in the shape of lilac and white poet-sleeved shirt dresses (inspired by Welsh poet Dylan Thomas's muse), the love heart lacing and the bucolic embroidery inspired by flora and fauna featured in medieval Welsh tales. Toughness came in leather harnesses, sharp shoulders and thigh high fetish boots.
Red – the national colour of Wales – was the dominant colour, most notably in the whipped, slicked hair that added defiant spirit to everything, including the prettier of the looks.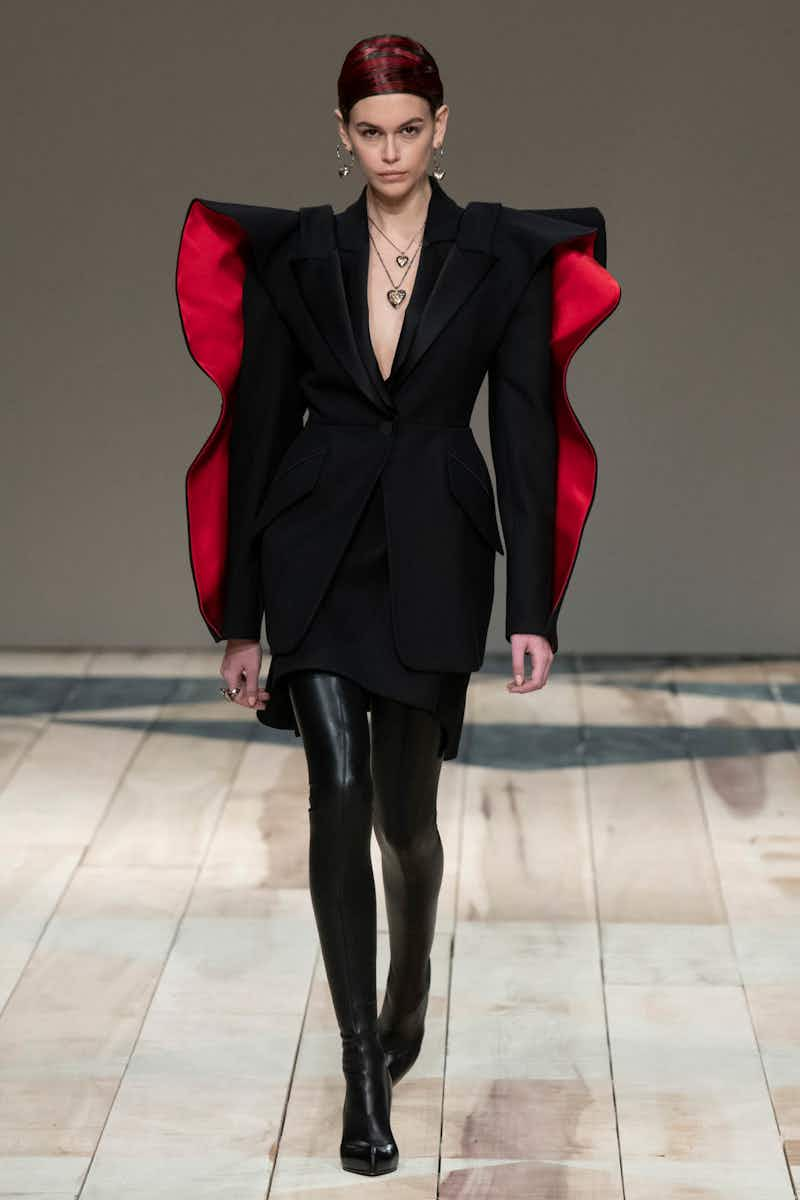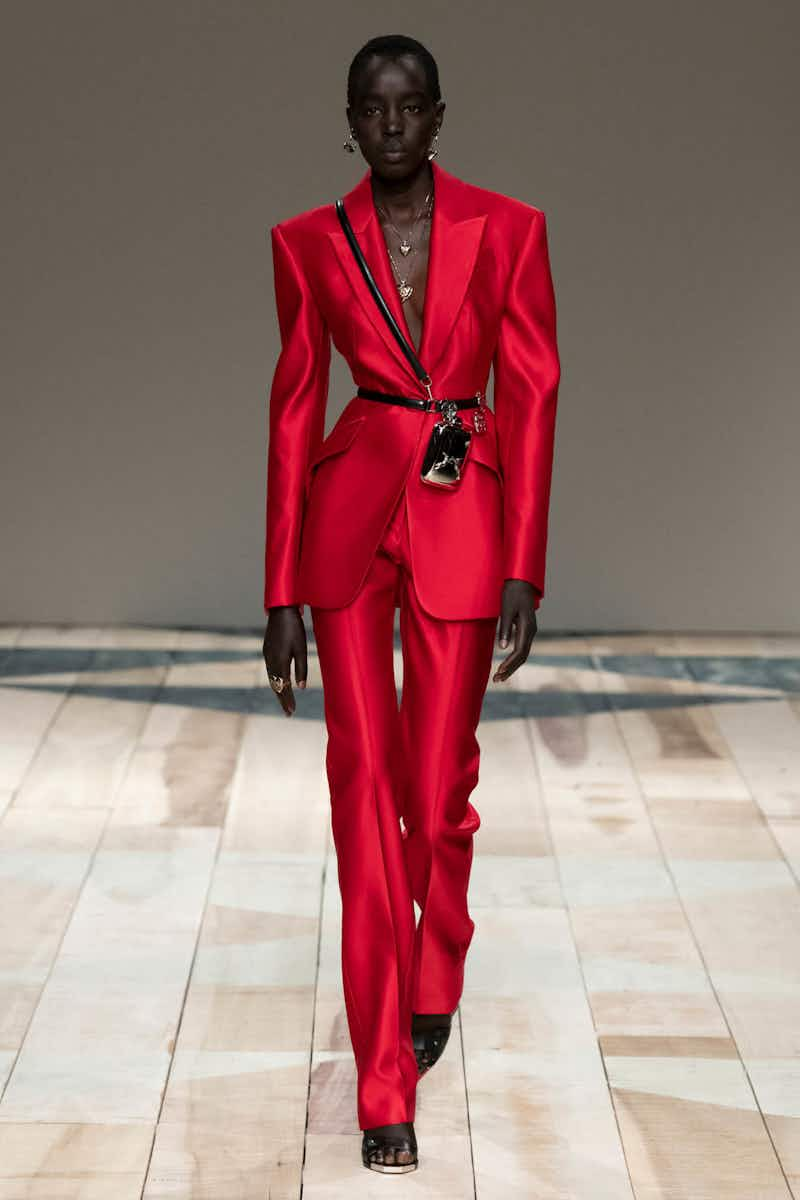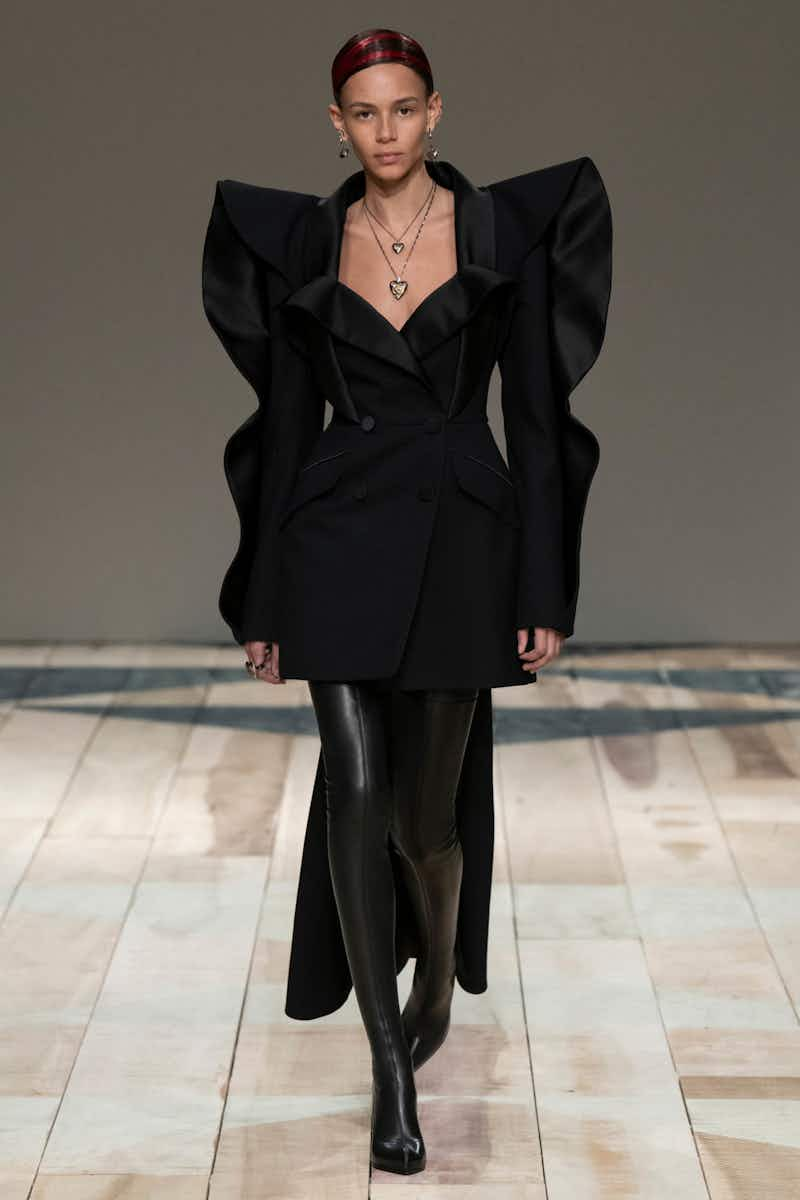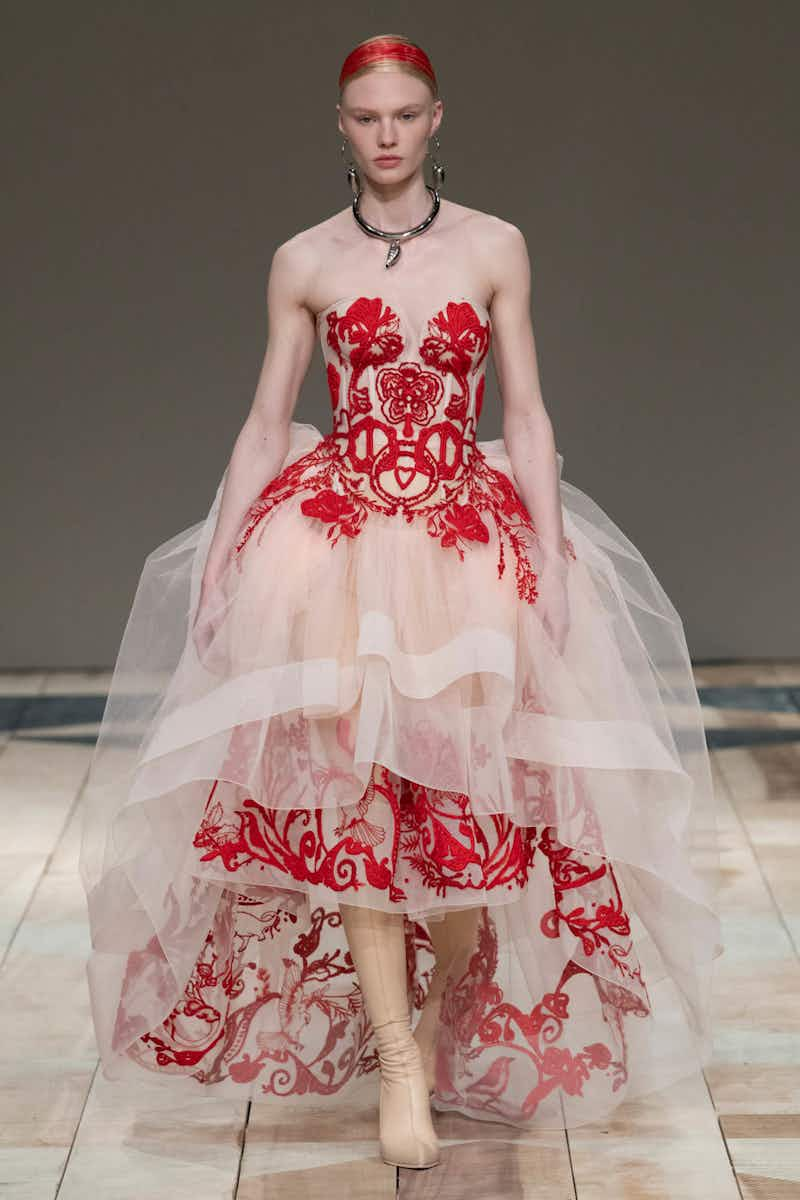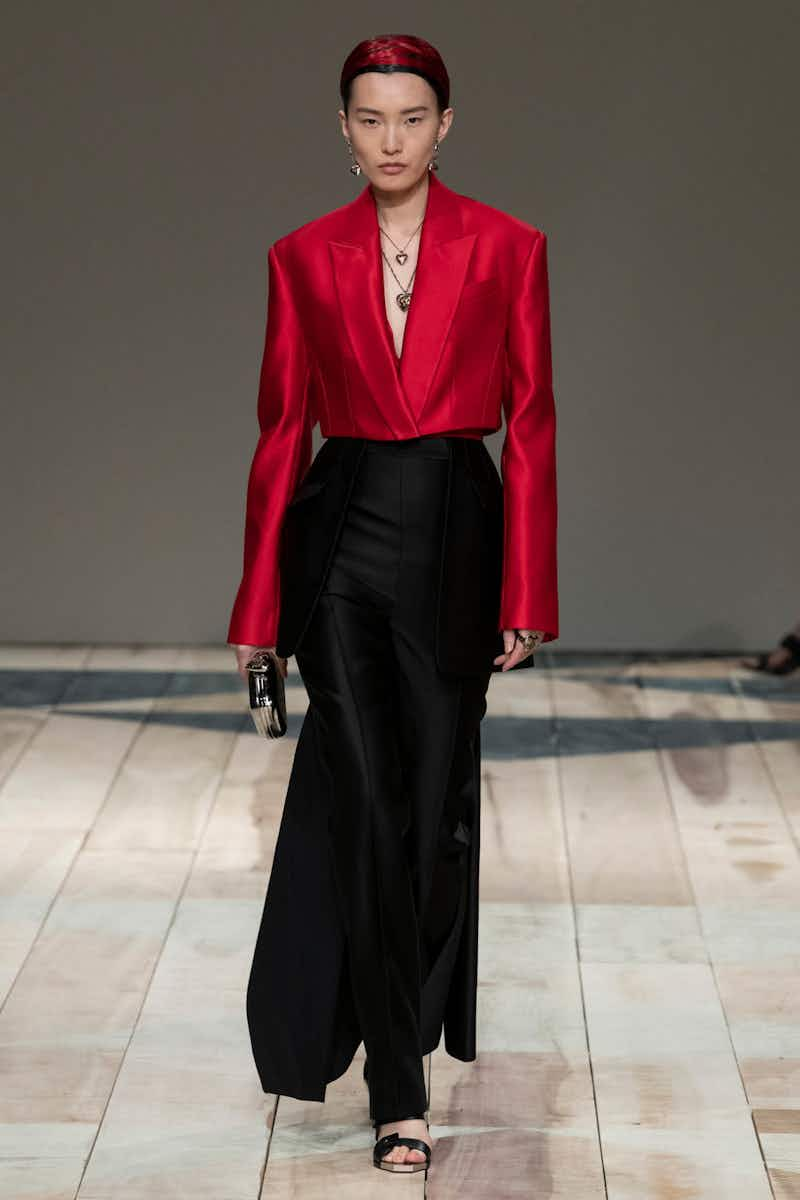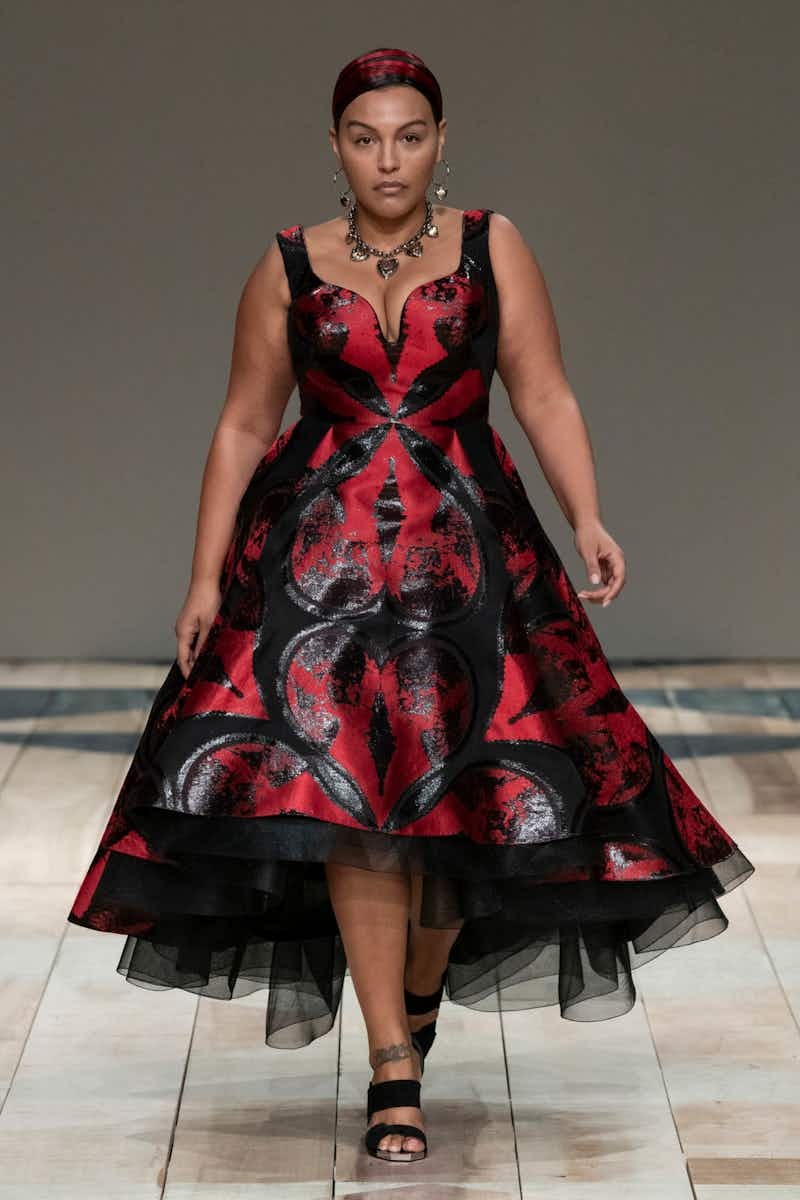 What was the best accessory?
Full marks to whichever woman buys the leather-strapped hip flask, which was up there with Westood's wedding day dagger as the strong woman's accessory of the season.
What about the jewellery?
It was all about high-shine chokers, cuffs, multi-rings and punk ear hooks. Charms included hares, foxes, birds, horseshoes, pocket-watches, perfume bottles, books and match-boxes.
What did it sound like?


Listen now:

The sound of Alexander McQueen AW20
Y/​PROJECT AW20
Glenn Martens continues to own the high-cut, sexy crotch through chaps, bodies and visual tricks. Few brands are pushing such innovative shapes, colours and washes in denim – the best today being the integral bikini bottoms in a pair of fading black jeans. The brand's twisting, pooling, ruching and gathering is becoming a more familiar and firmly cemented aesthetic each season. Shout-out too to the sliced-to-the-knee tights with stirrups.

SACAI AW20
It was deconstruction to the maximum at Sacai. Bomber jackets were spliced with tuxedos, coats came with trompe l'oeil dresses and pleated skirts emerged from the backs of shirts (flowing beautifully). There was bronze, rust and burnt orange, graphic black and white, and solar system prints. Hardwear came in the form of prominent zips, gold links, pearls and buckles.

GIVENCHY AW20
It was a tight, 47-look collection at Givenchy, which was full of the big ​'80s proportions also seen at Saint Laurent and Balmain. Blazers, coats and dresses gave off the air of executive realness. Where other brands have gone for aggro-clunky footwear, here there were dainty, strappy wedges. Bags on the other hand came oversized, with macro clutches and giant totes. Graphic prints and punchy reds rubbed up against classic Givenchy black and white. Feathers, tassels and fringeing brought the fantasy.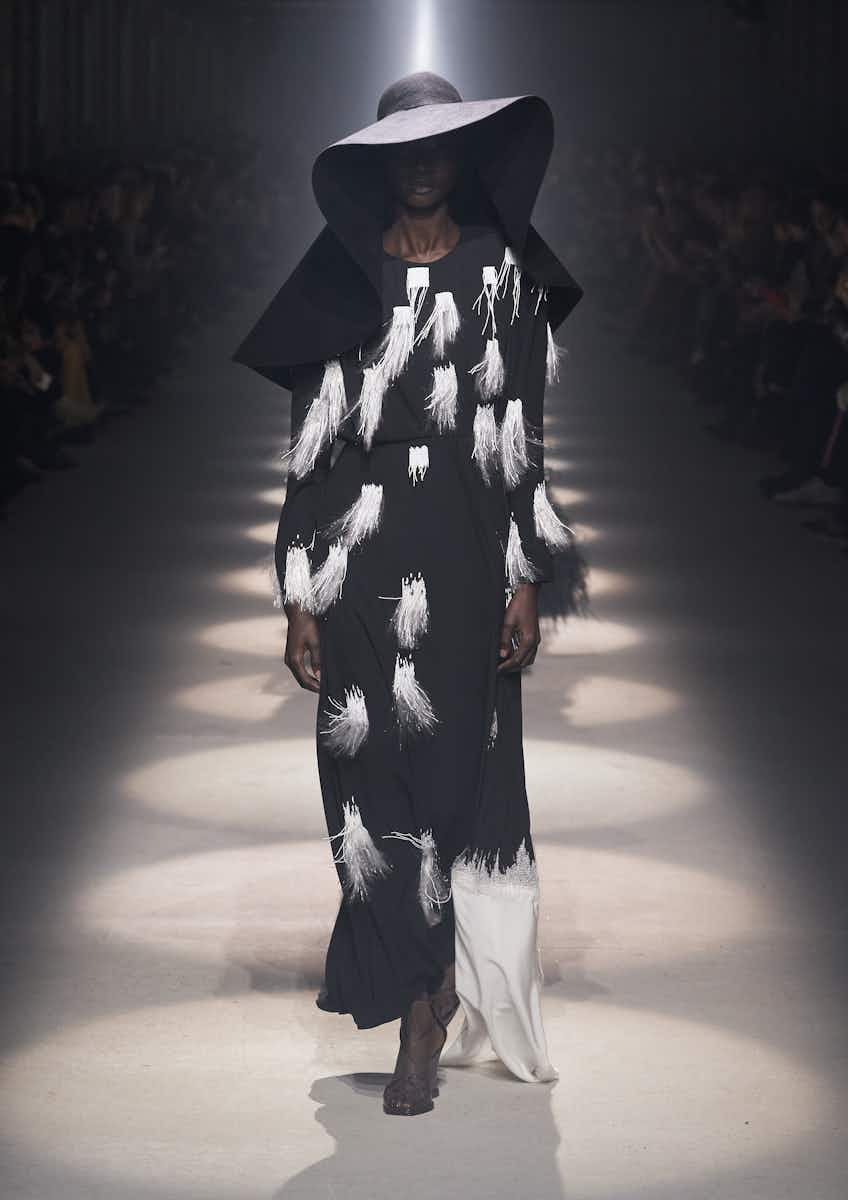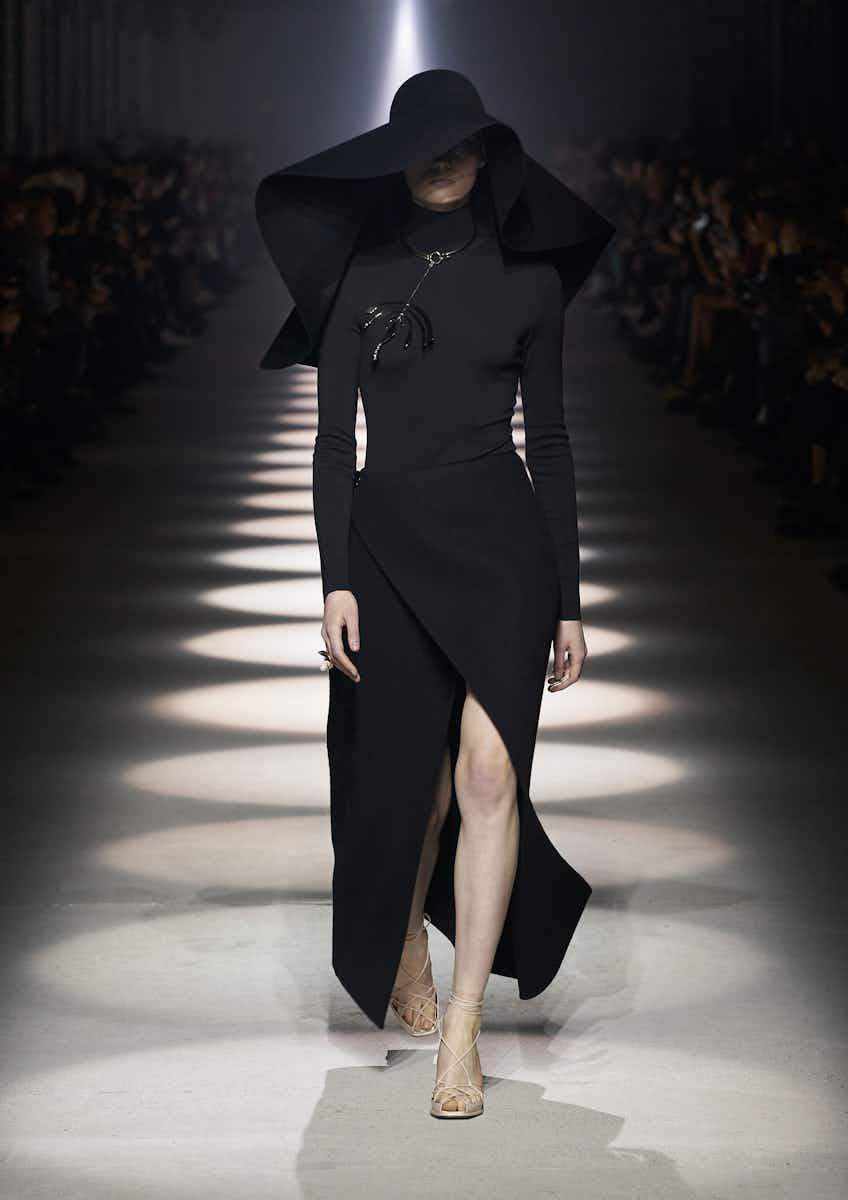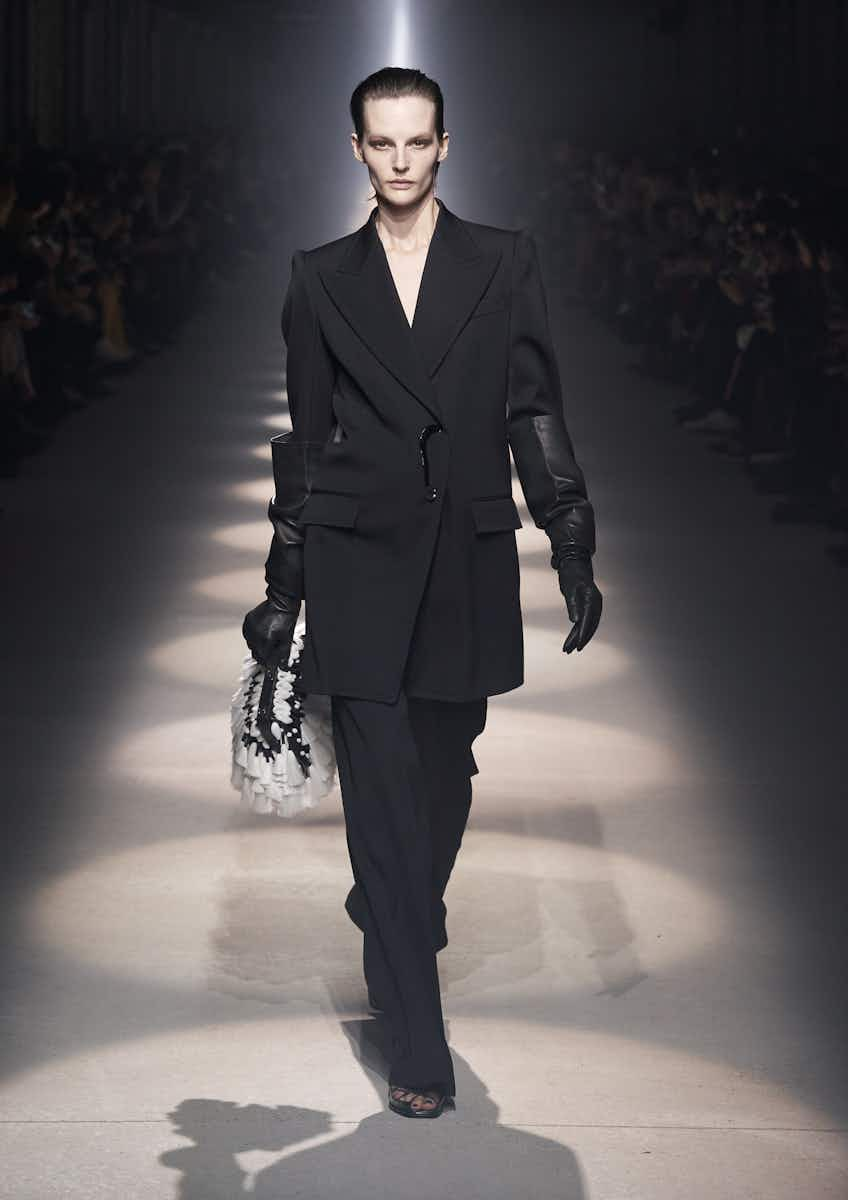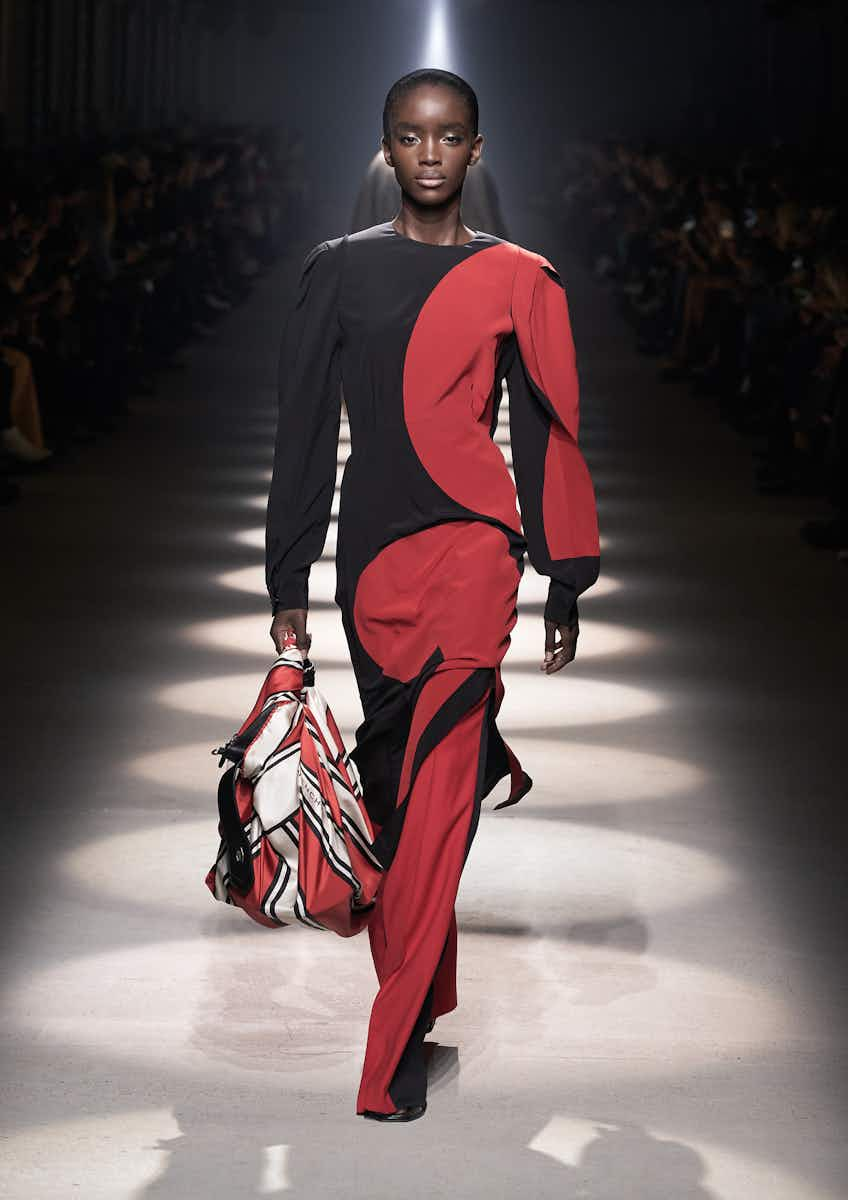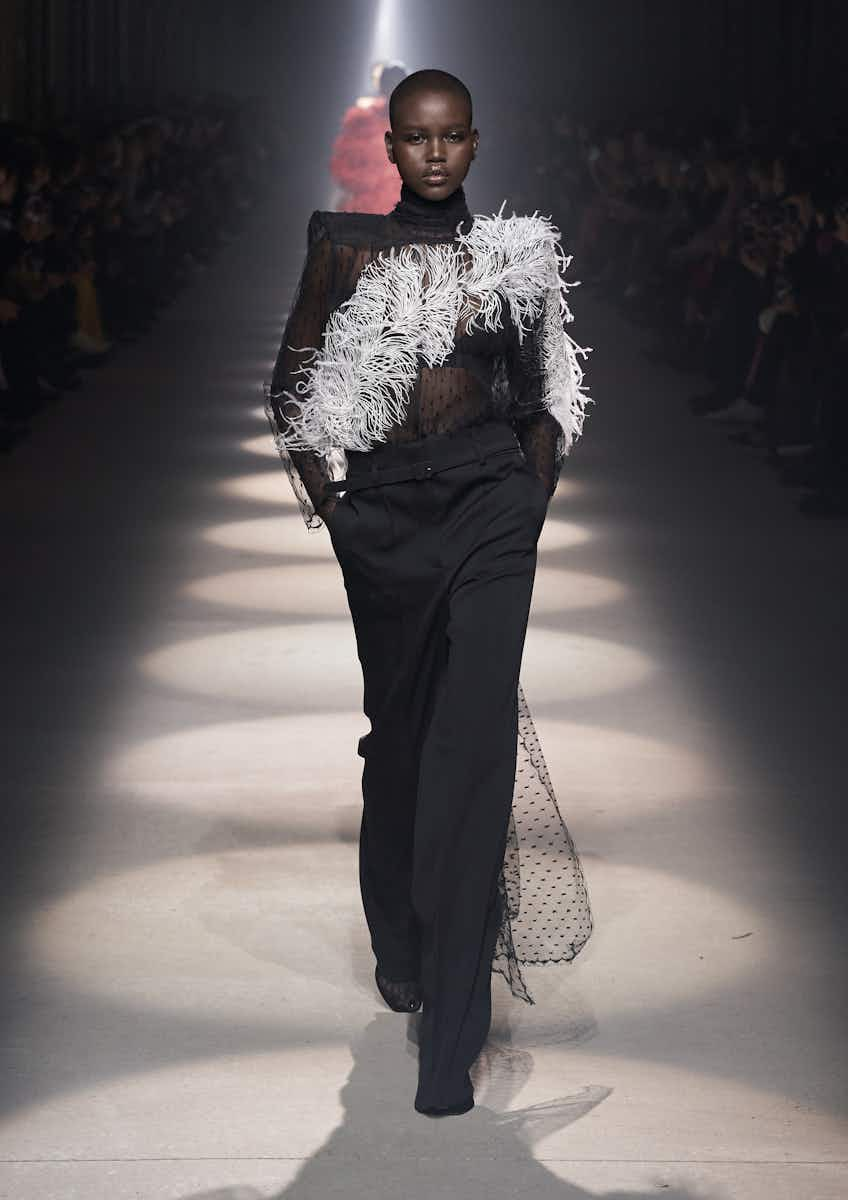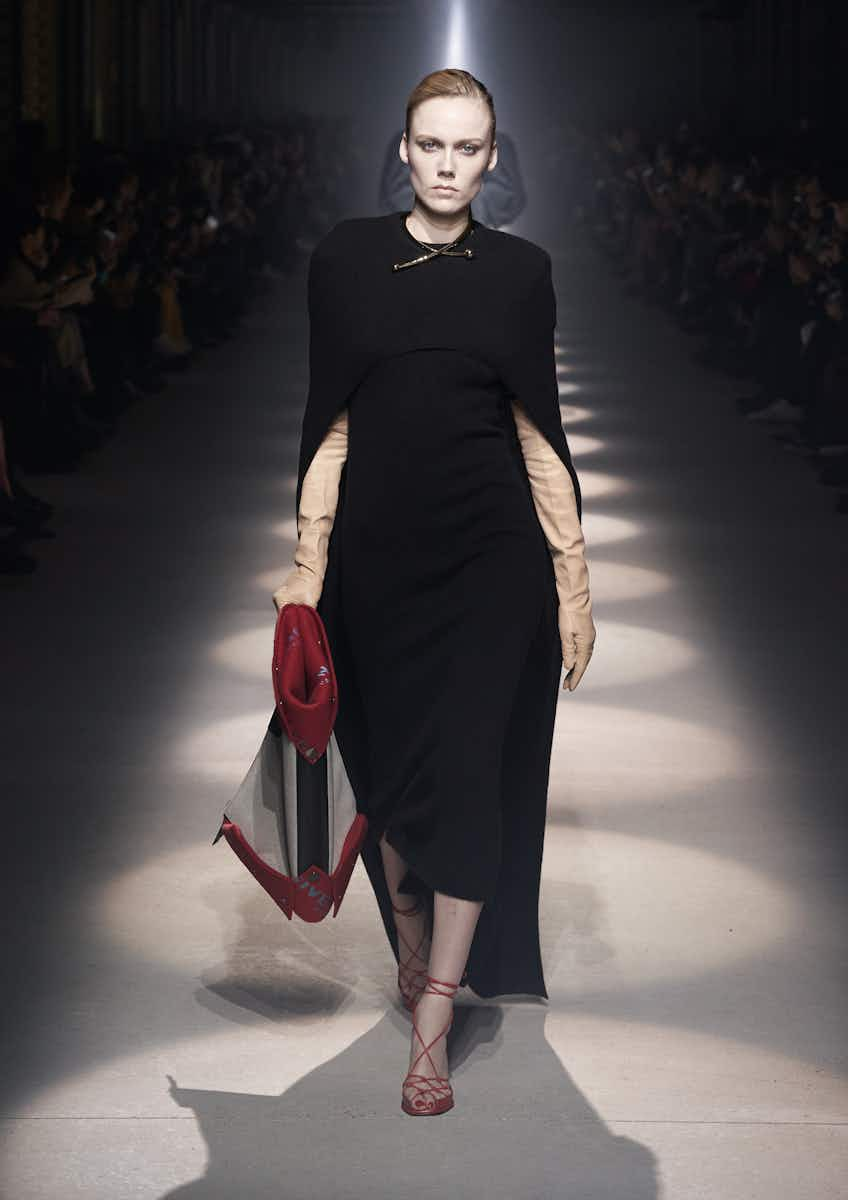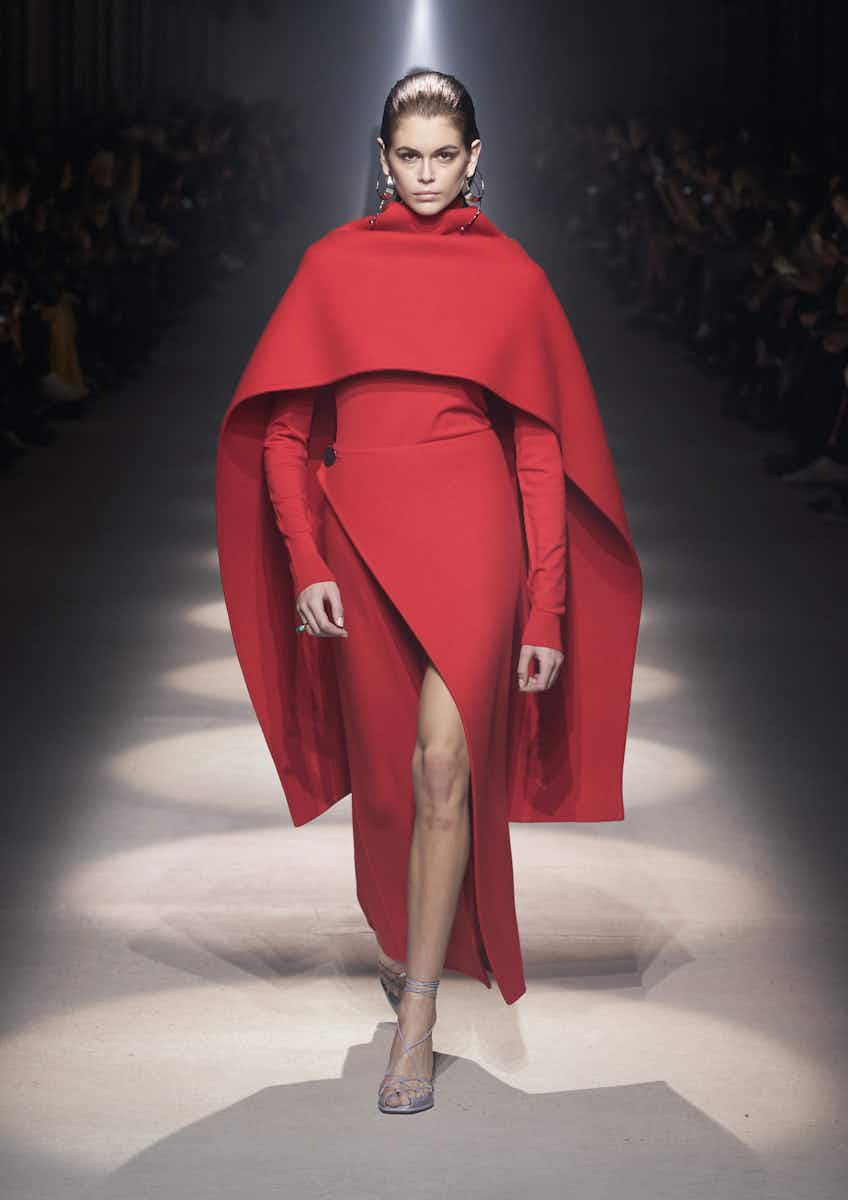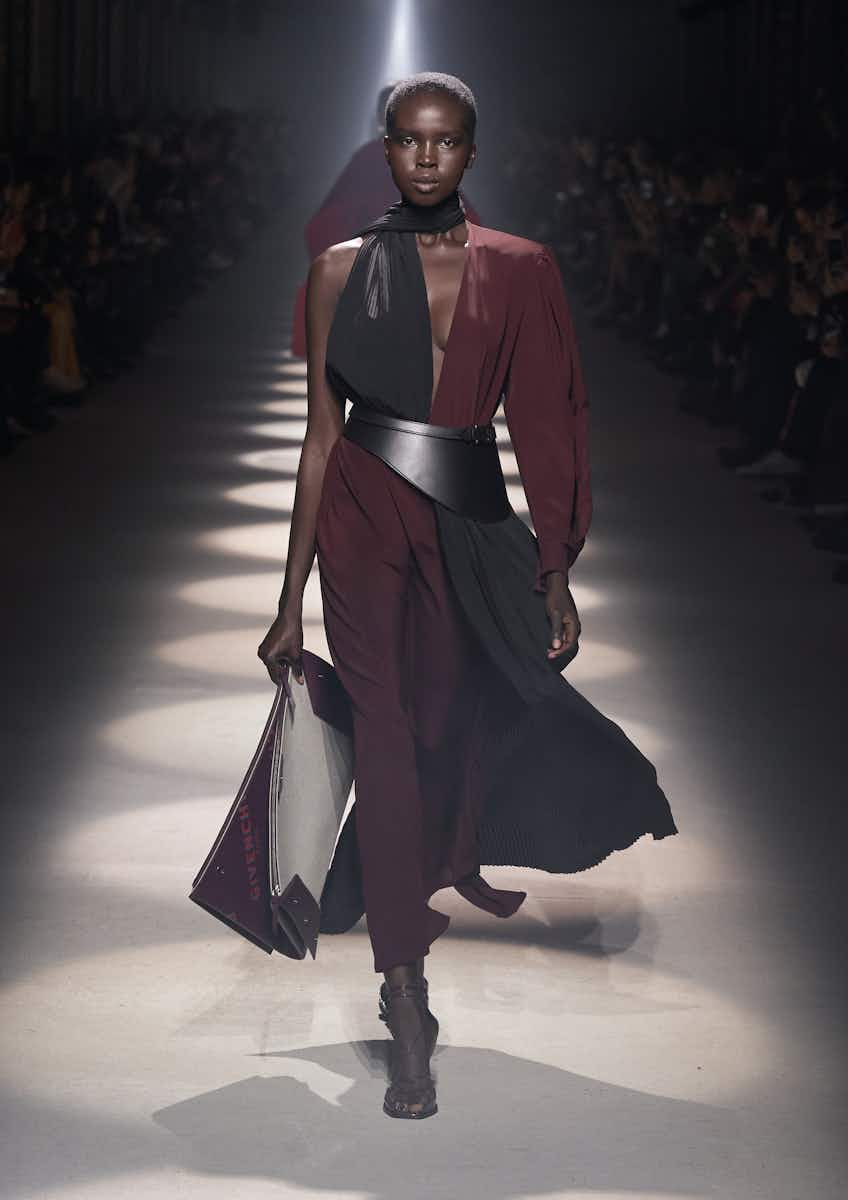 Here's what it sounded like…

Listen now:

The sound of Givenchy AW20
VALENTINO AW20
With an orchestra playing Billie Eilish tracks inside, the first models walked out in head-to-toe black, the perfect palette to match the apocalyptic rains drenching Paris outside. Pierpaolo Piccioli said he wanted to ​"promote equality" through the collection. ​"Uniforms are usually perceived as items that erase individuality. On a closer insight, however, uniforms bring the individual to the fore," he said in the show notes. Because whilst black was the connecting factor for the first quarter of the show, expression was found in the variety of styles, from baggy trousers and leather corsets to long wool dresses and glamour sequins, all worn with powerful and purposeful big boots. Much as it all appeared tough at first, the delicacy came through with sheer long-sleeved tops, blouses and gowns and also through the highly decorative, semi-goth jewellery. Valentino red started to make an appearance and colourful flowers began to creep across dresses and coats. Worn with the hardcore platform boots, they had a grunge edge – not a direction you'd expect from previous Valentino shows.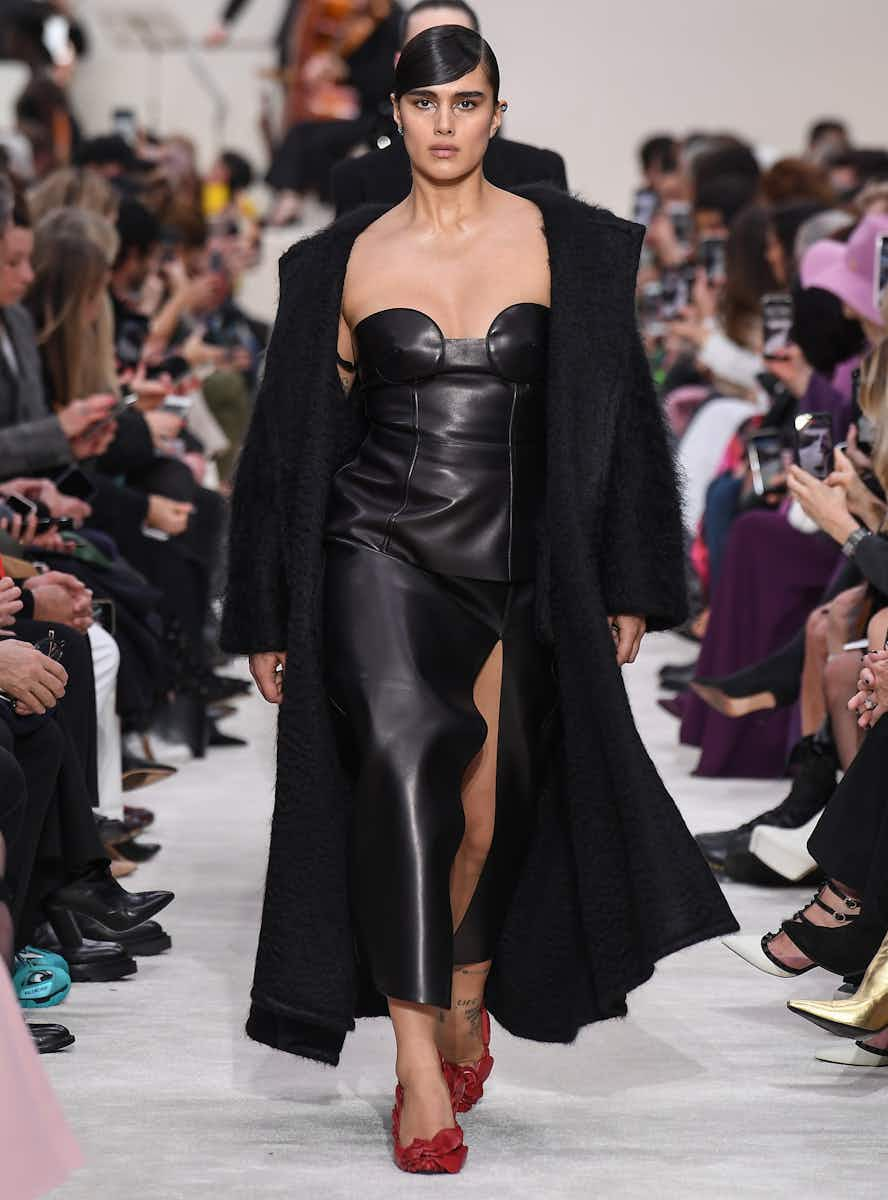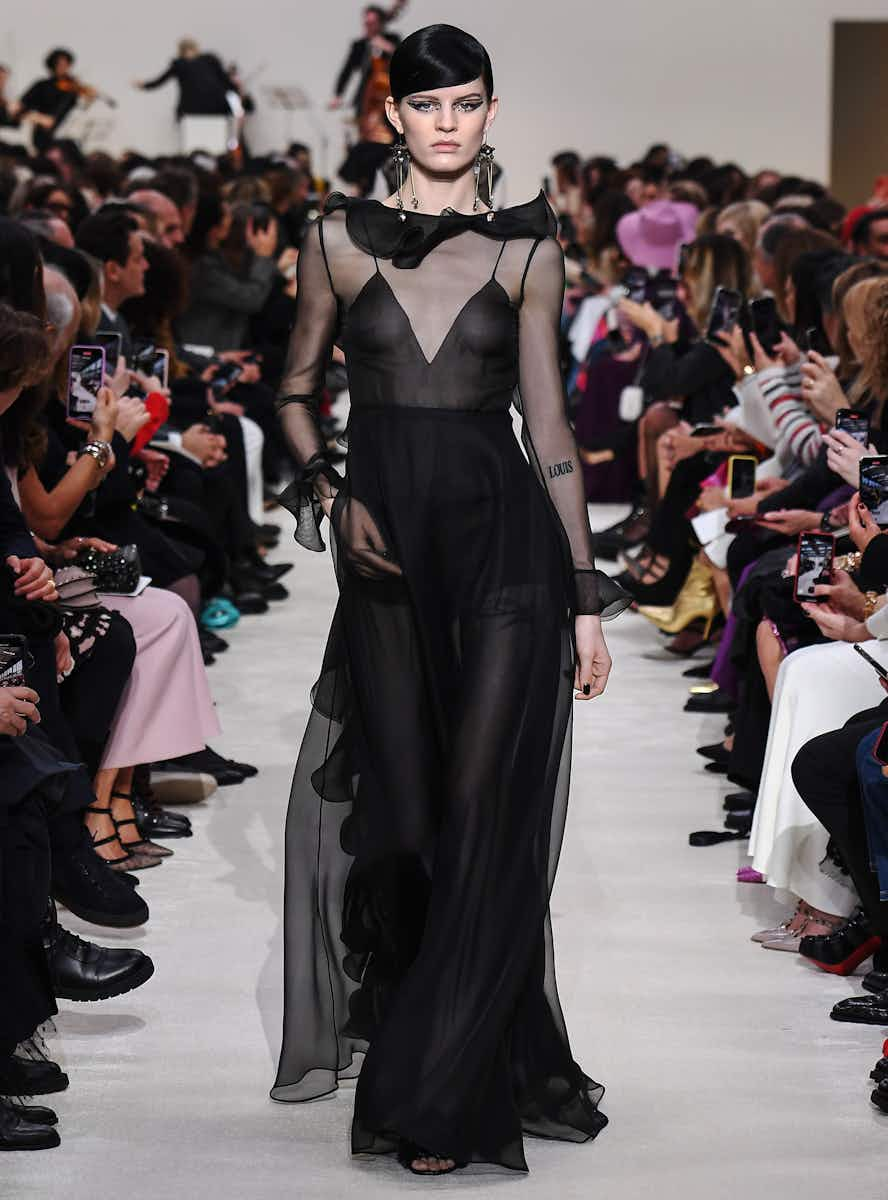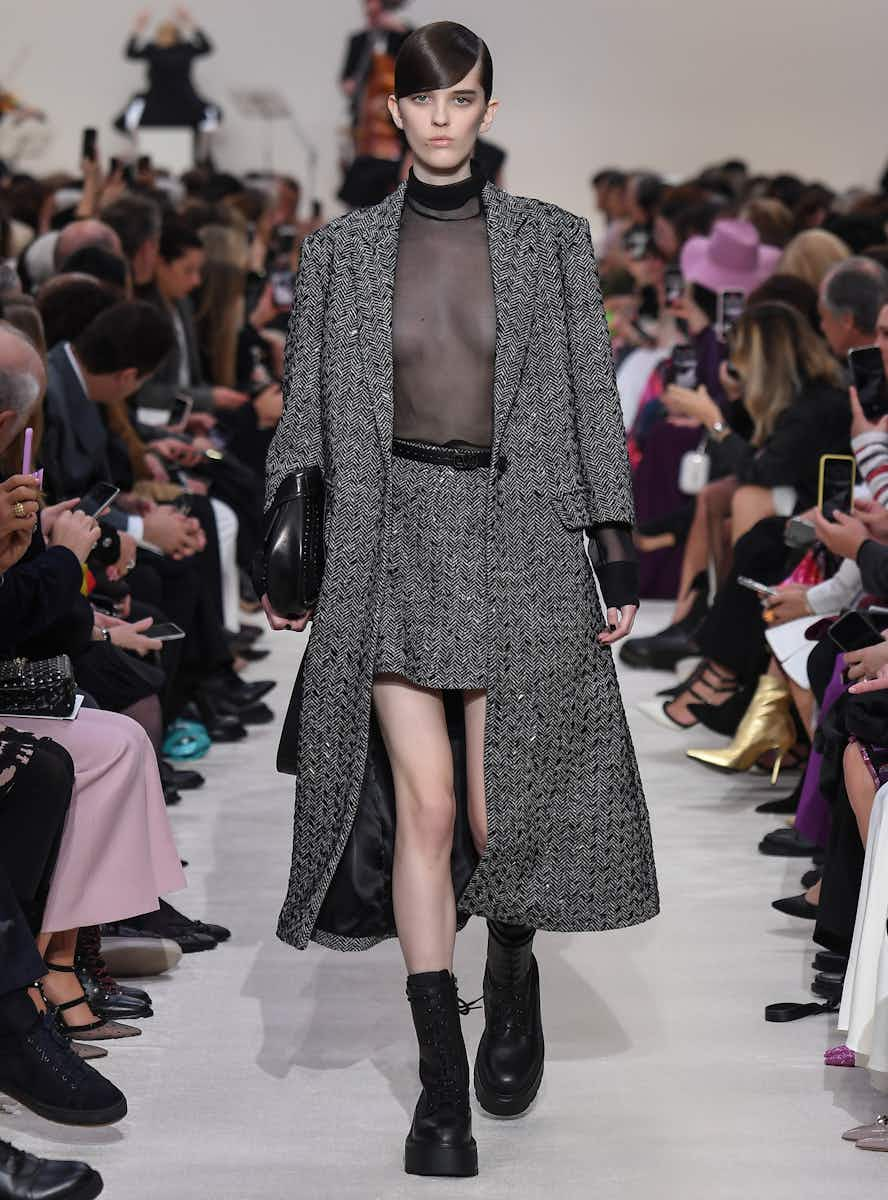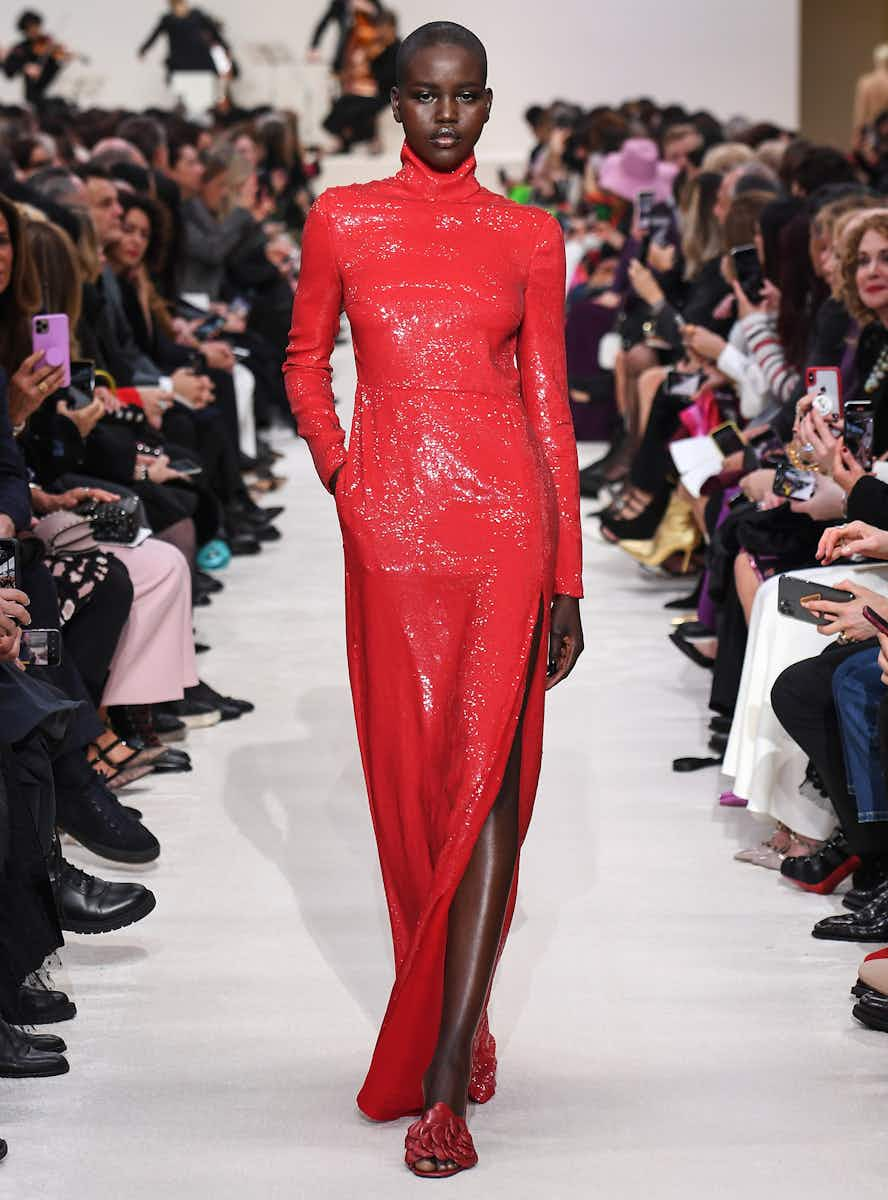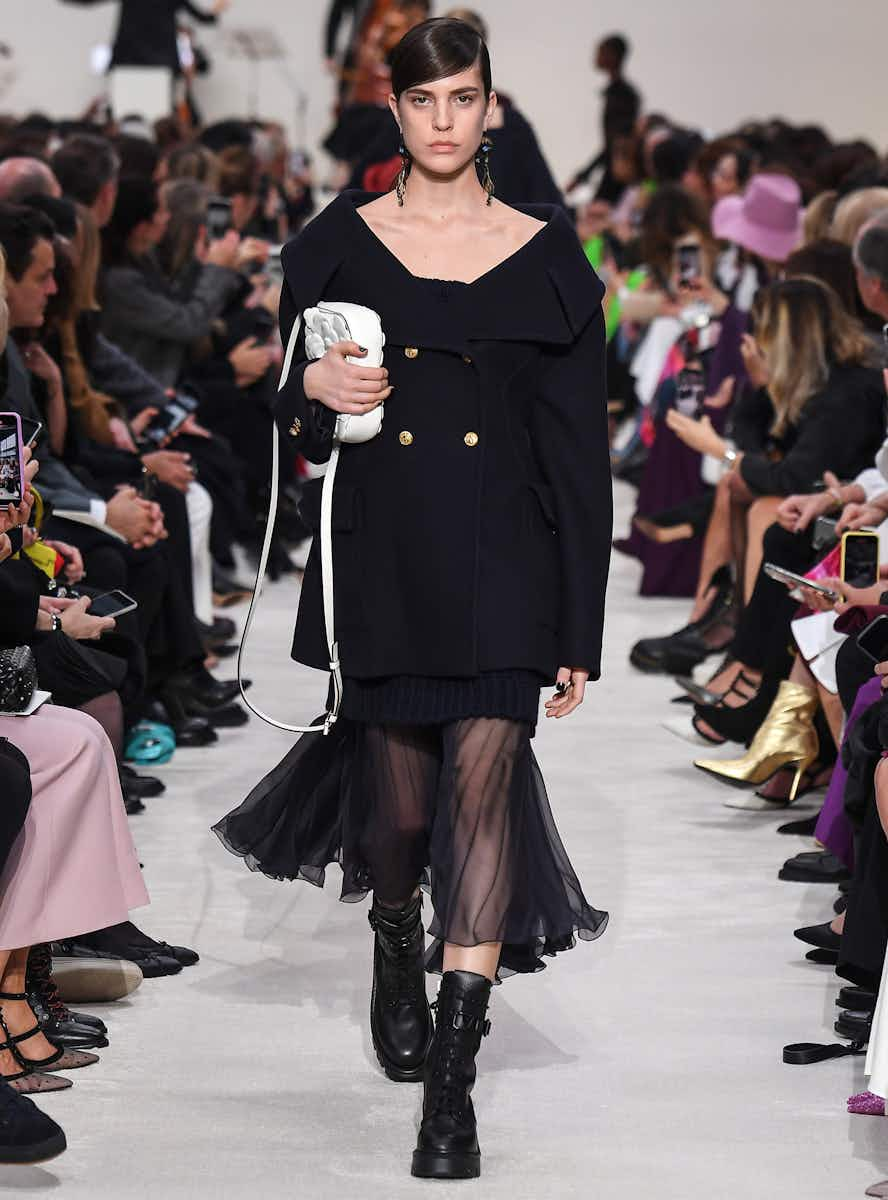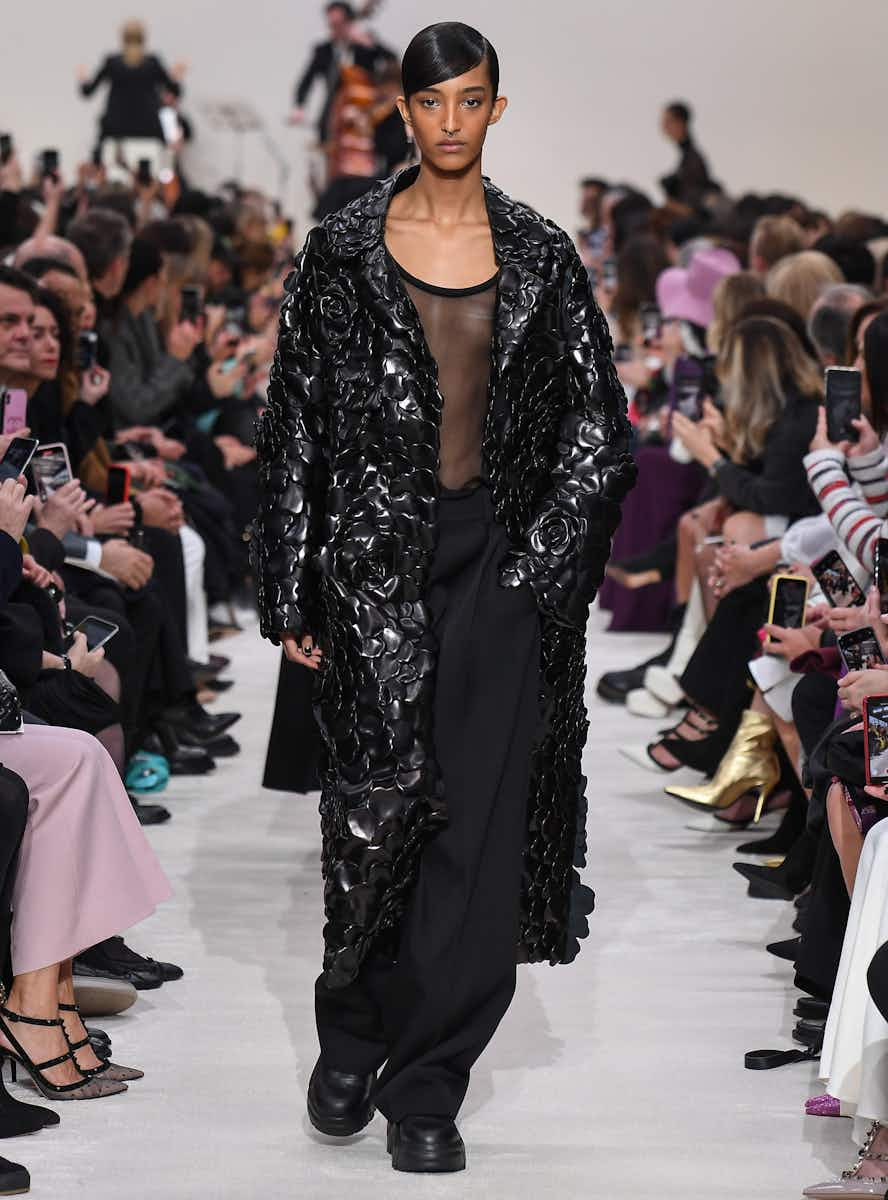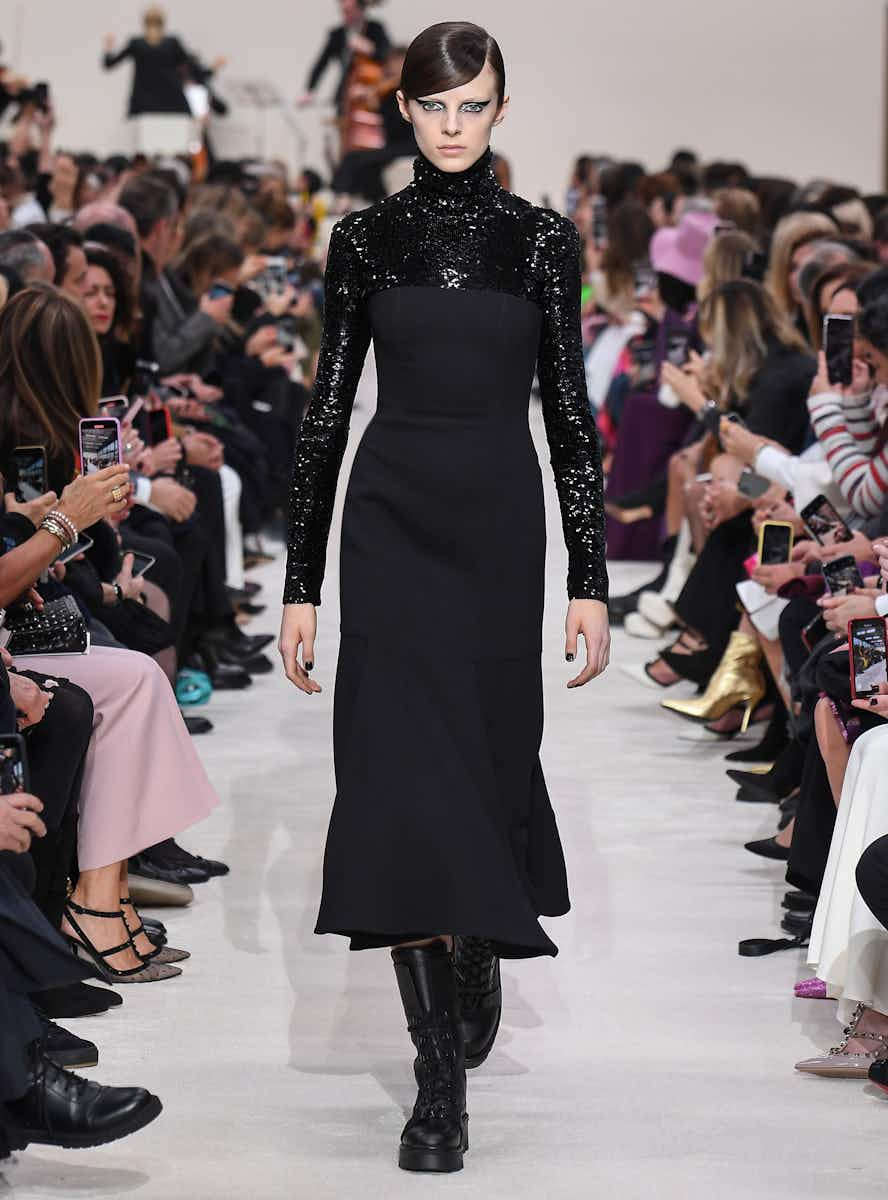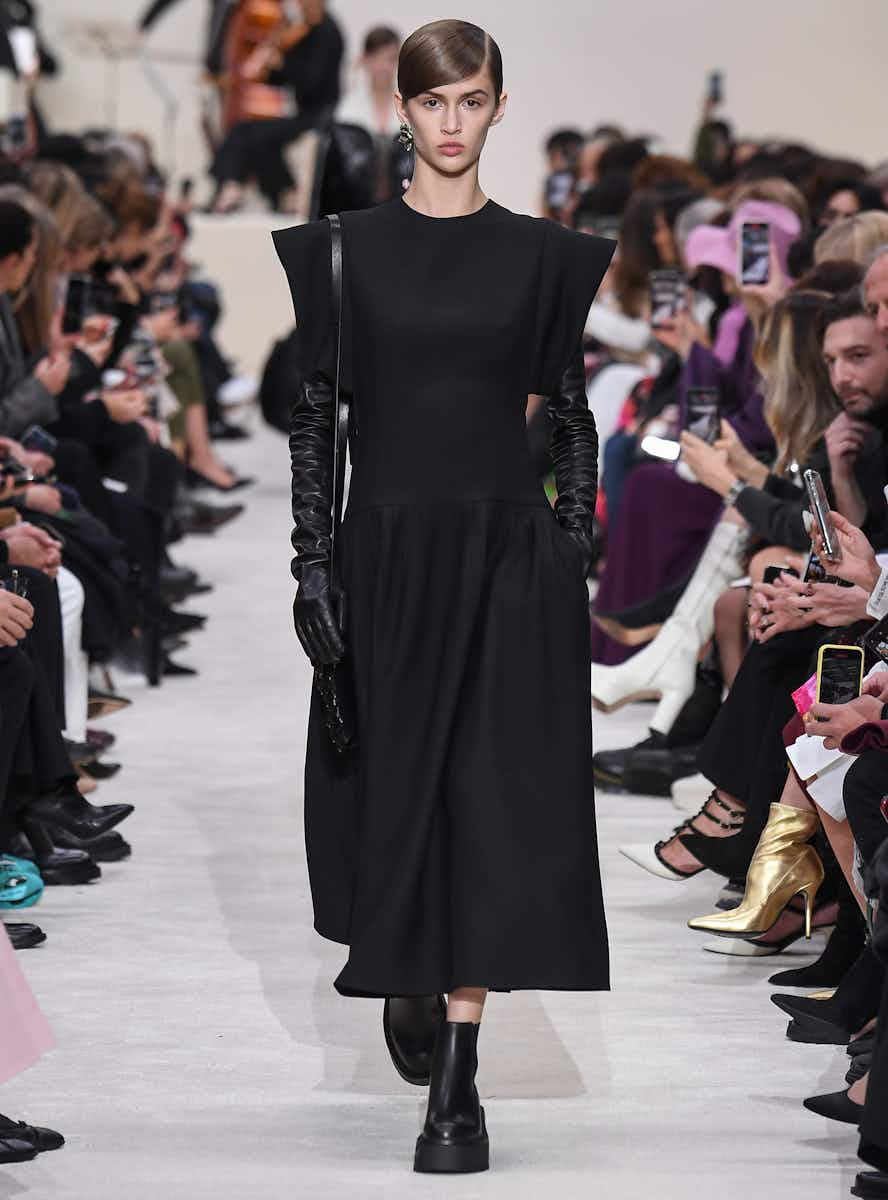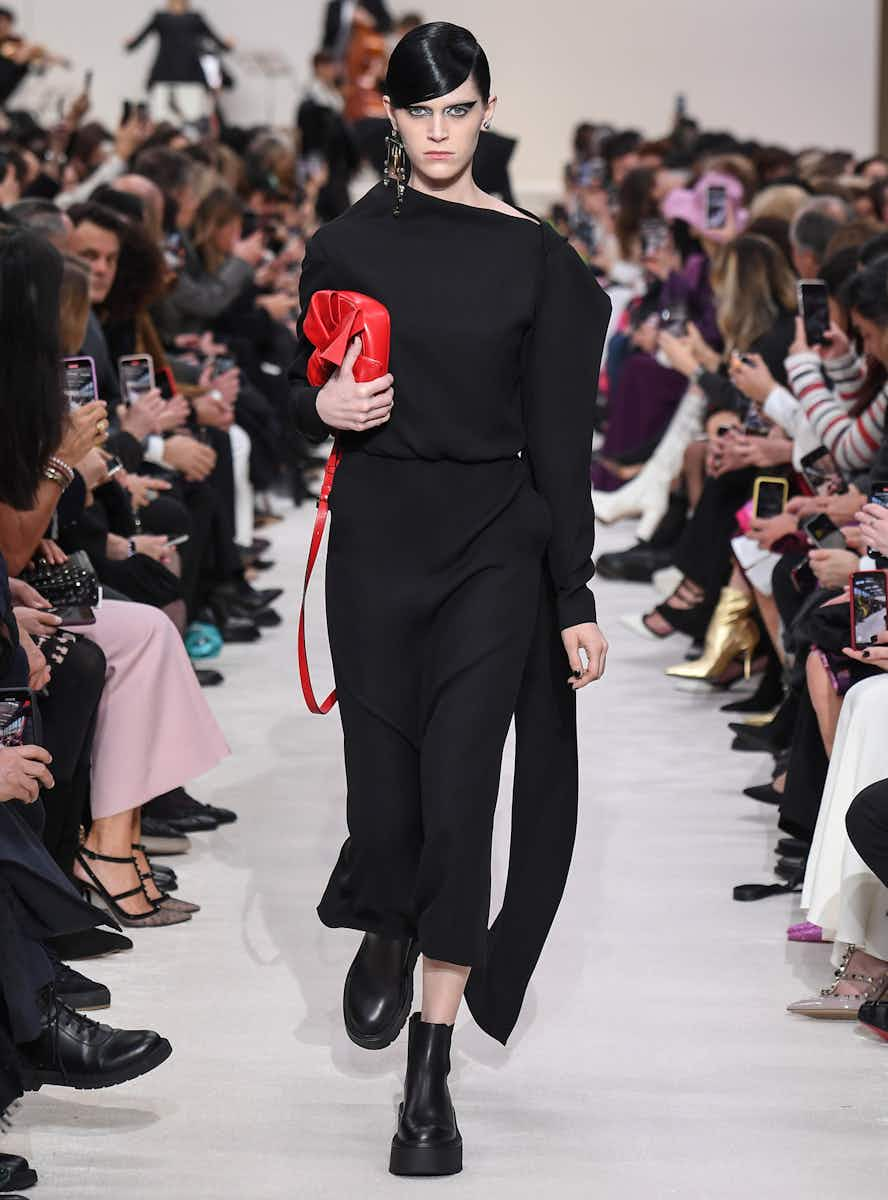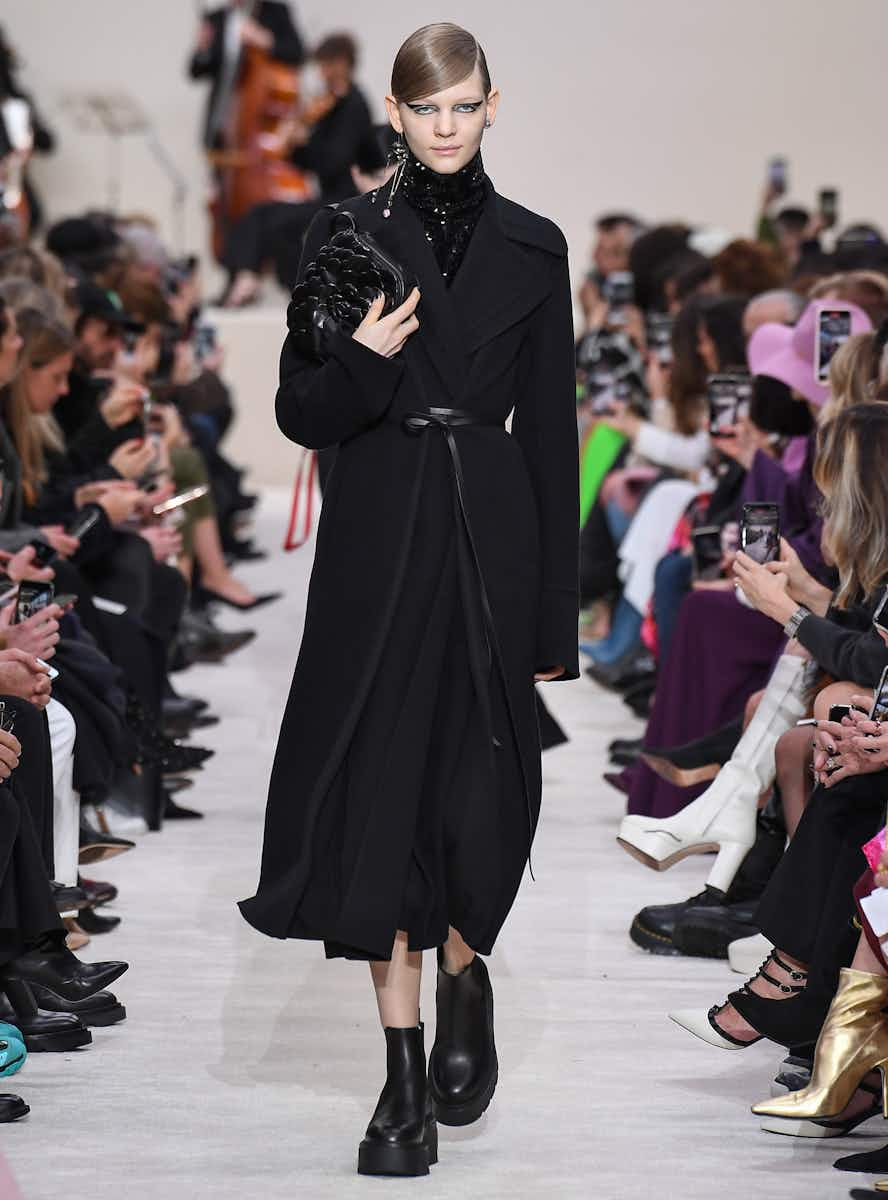 What was the wow moment?
The floor-length black leather flower coat was the perfect mix of pretty and tough.
Who closed the show?
The Fashion Award's Model of the Year and PP's muse, Adut, covered in Valentino red sequins.
Here's what it sounded like…

Listen now:

The sound of Valentino AW20
BALENCIAGA AW20
With the front row seats submerged in water and the runway quite literally swimming, Balenciaga's AW20 show ushered in the apocalypse. The day has finally come. A video was projected above the runway, in the flooded film studio in Saint-Denis, that switched between swirling deep blue clouds, a swarm of crows, a fiery eclipsed sun and lava and flames – a mesmerising inferno that gave the impression guests were submerged in the depths of hell, all to the sounds of eerie strings met by a pummelling techno beat. It was a stark contrast to Kanye's Sunday Service that was scheduled just before it that provided us with momentary relief from worrying about the Coronavirus. If this is the apocalypse, Demna Gvasalia's collection was designed for post-apocalyptic times (or times in which the omnipresent threat of climate change equates to extreme and unpredictable weather). Think: Matrix-style leather coats, a patent Little Red Riding Hood rain cape, jumpers with bulbous, protective shoulders, draped evening dresses that cocooned the body and a football kit – a nod to Gvasalia's personal taste. Classic Cristóbal Balenciaga-isms were signalled in the use of plush black velvet, super sharp suiting and powerful cloak-esque coats.

Of note:
Alarming red contact lenses, a lunchbox bag, ​"no wifi connection" T‑shirts, Apple USB cord hair ties and the models' slick black nails filed into sharp, weapon-like points.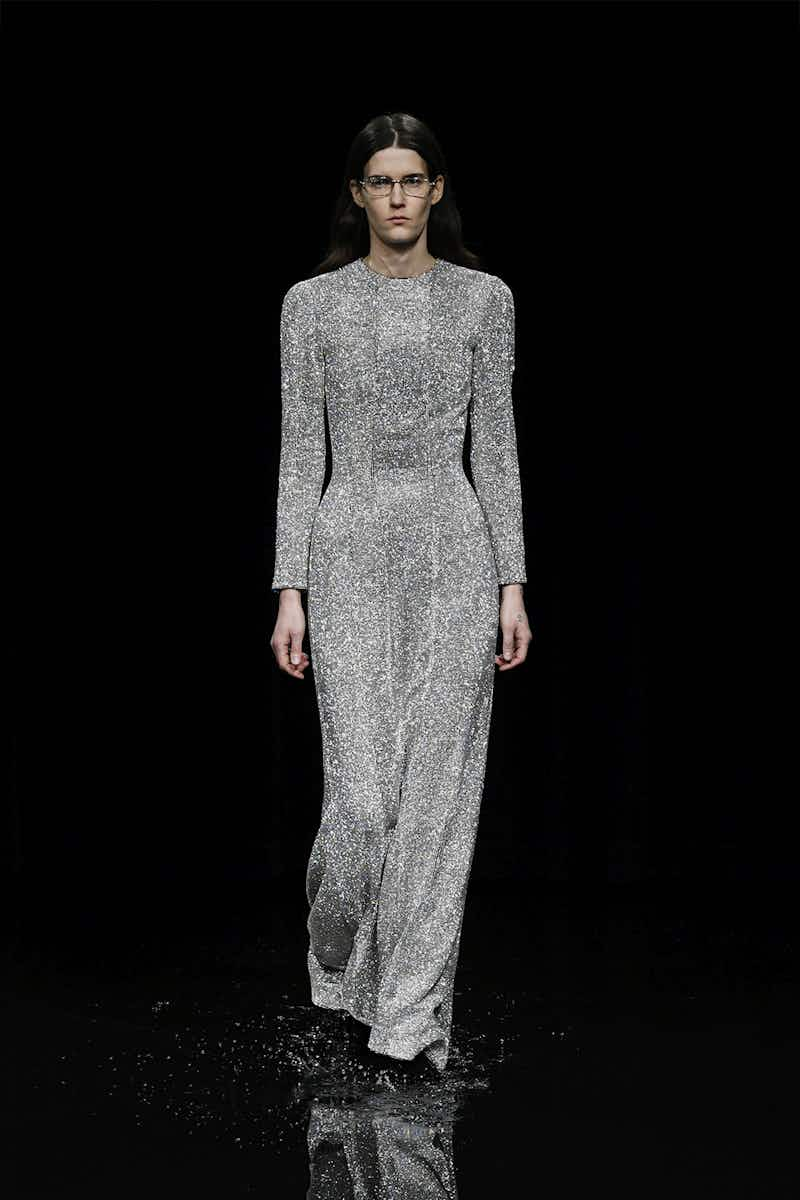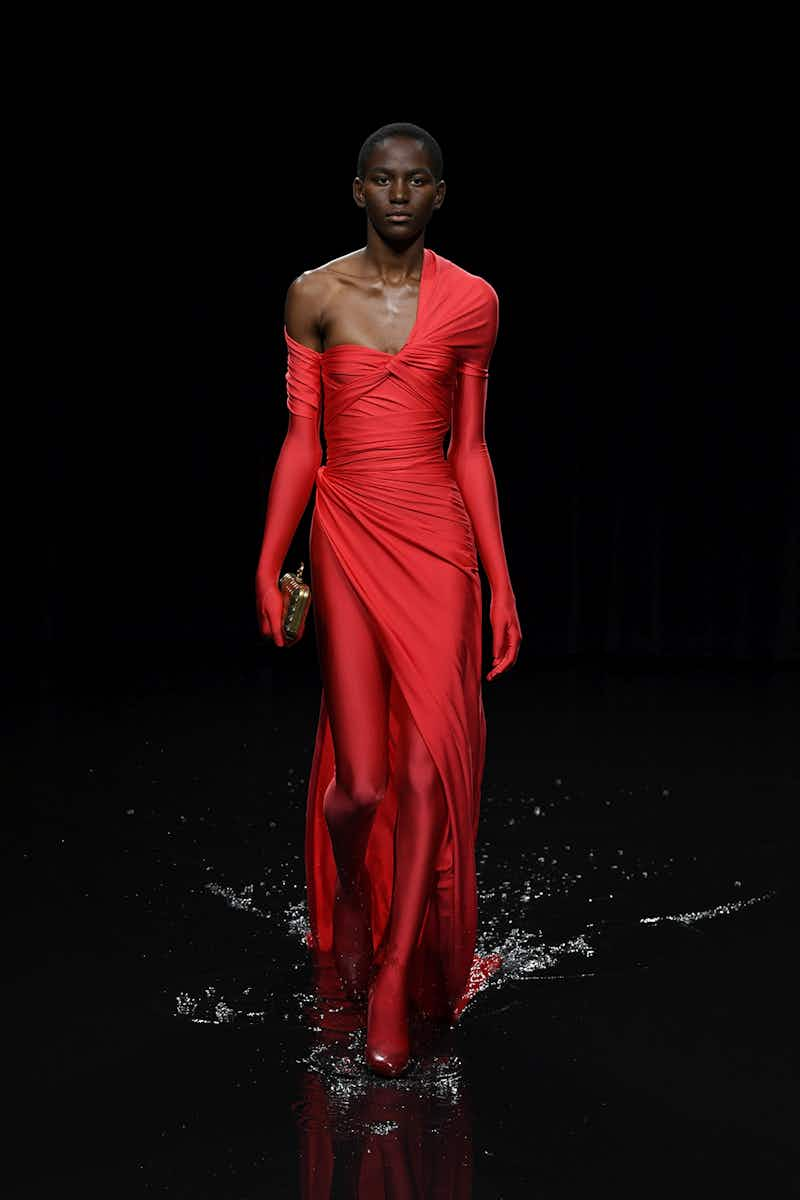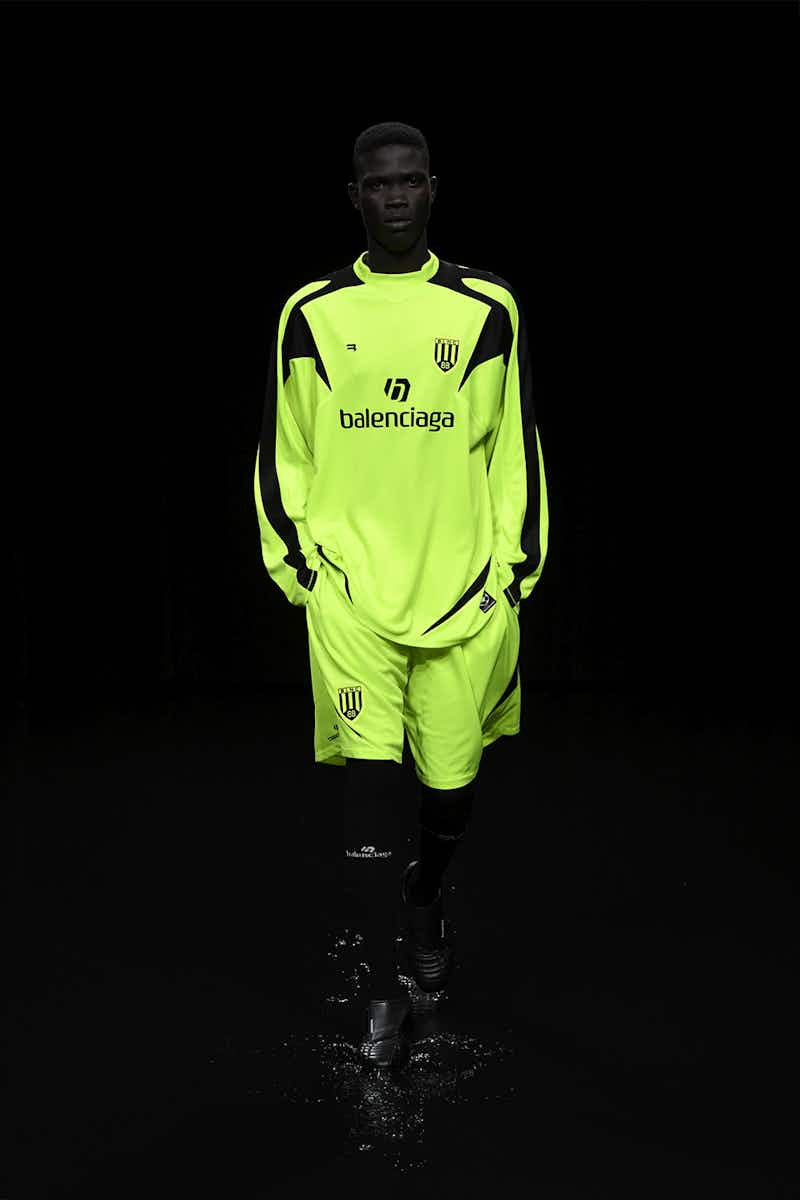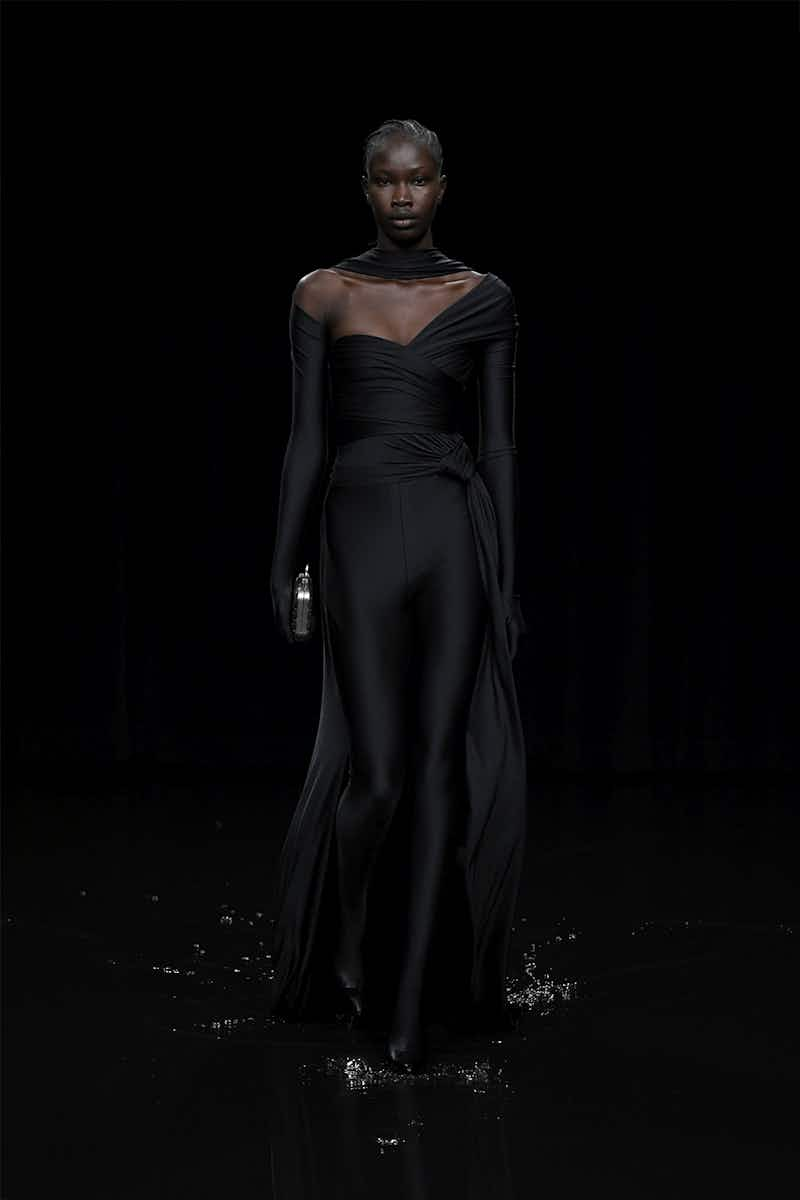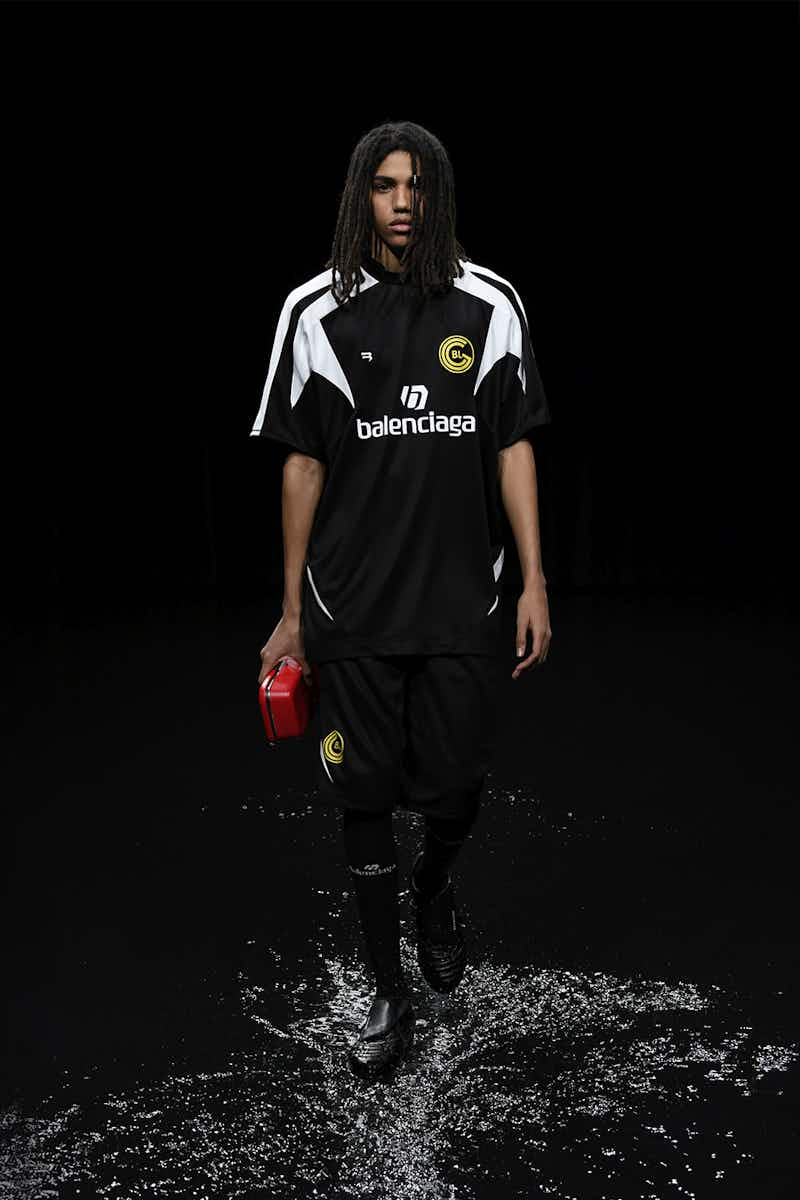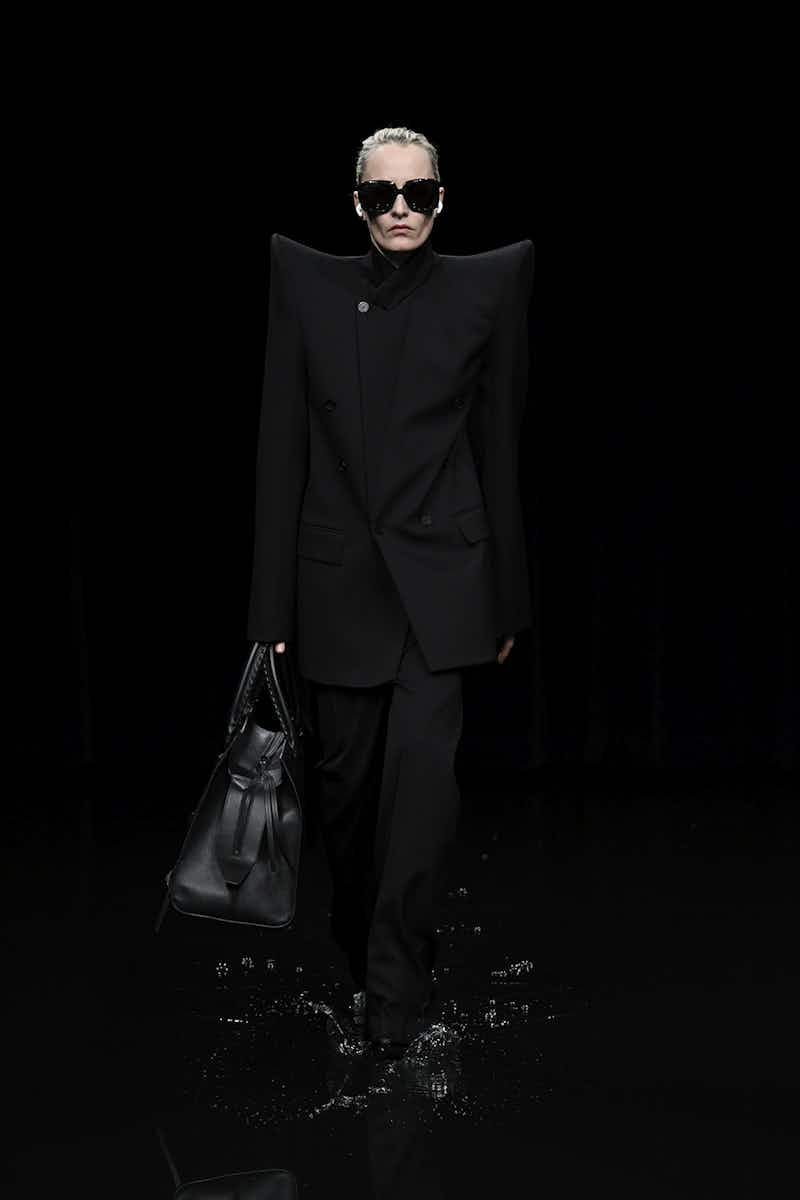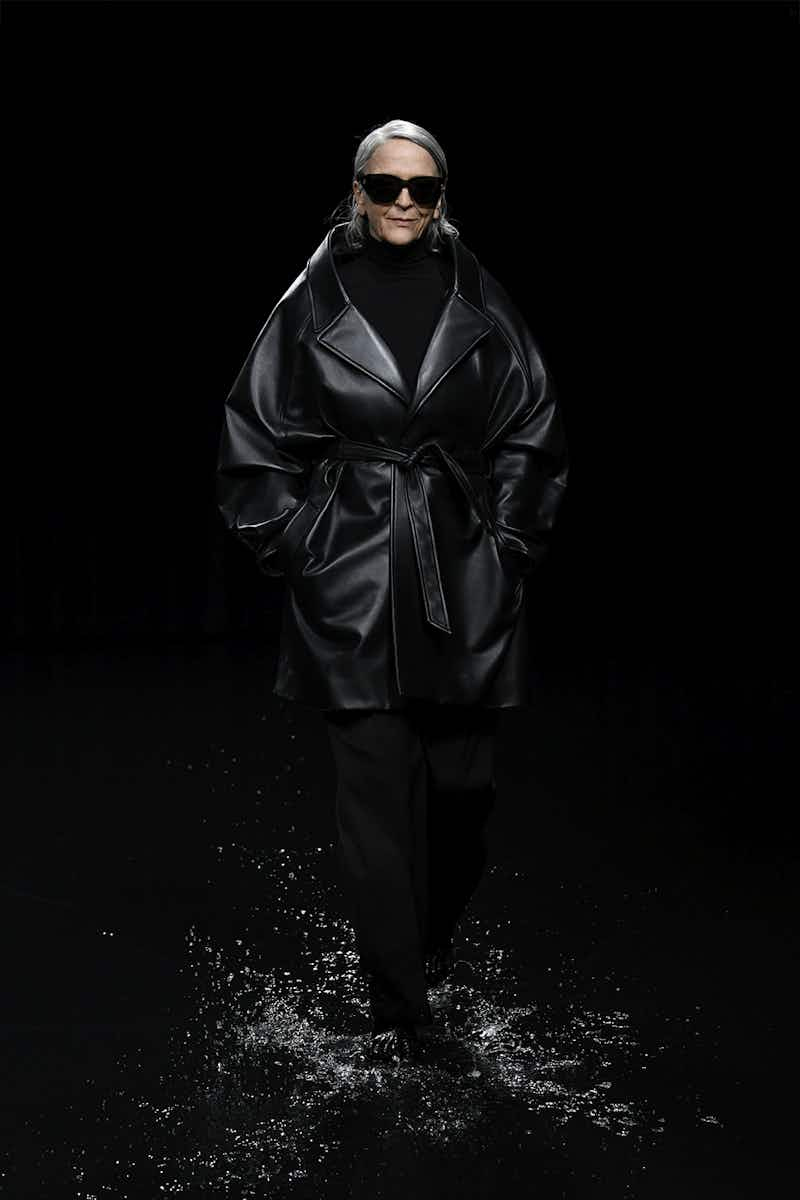 COMME DES GARCONS AW20
"Continuing my work as a perpetual futurist, I worked from within the Comme Des Garçons world," said Rei Kawakubo about her 20-look self-referencing collection of vast veils, amorphous, bulbous shapes and glorious colours (scarlet and pepto bismol pink recurred and dominated, but of course there was some Comme black too). Looks shifted between bridal and funereal, but with the Comme volume turned up to full blast. Amongst the other-planetary dresses, there were more wearable pieces bits too: Comme logo socks, thick-strap block heels and white hi-tops will be perfect for those who can't pull off Kawakubo's wildest creations.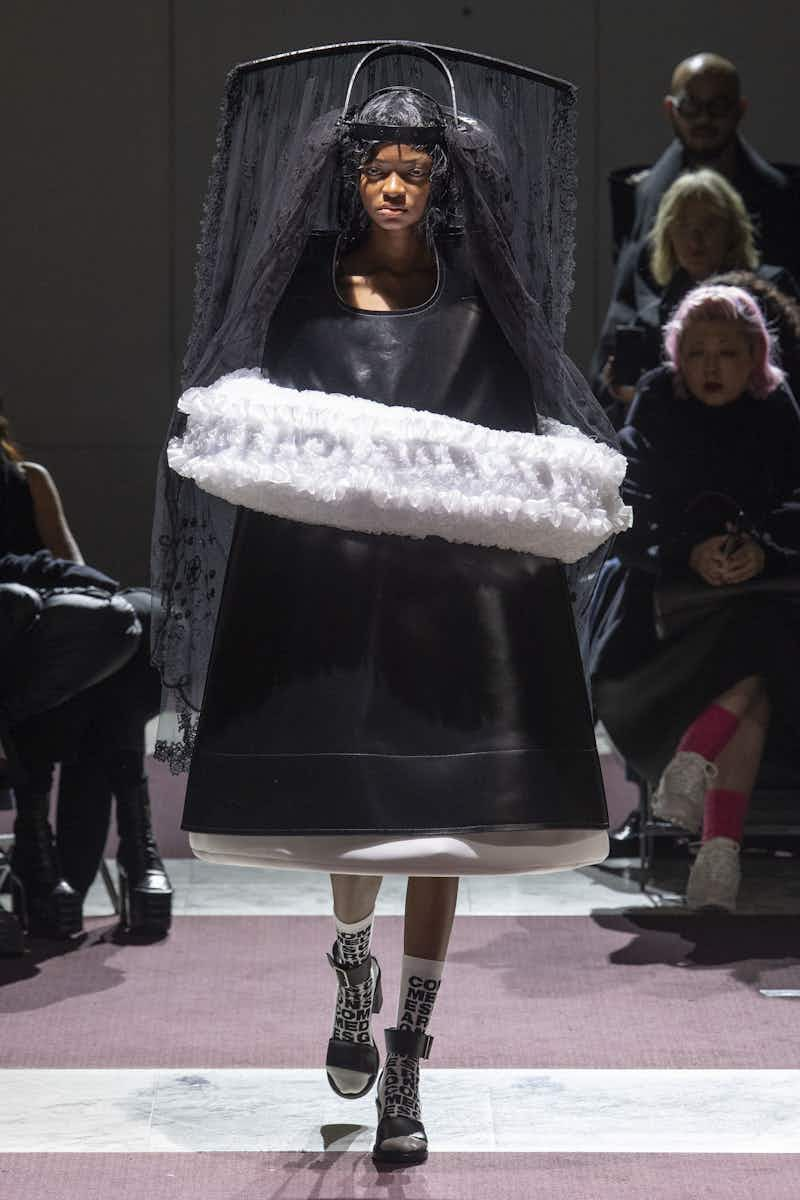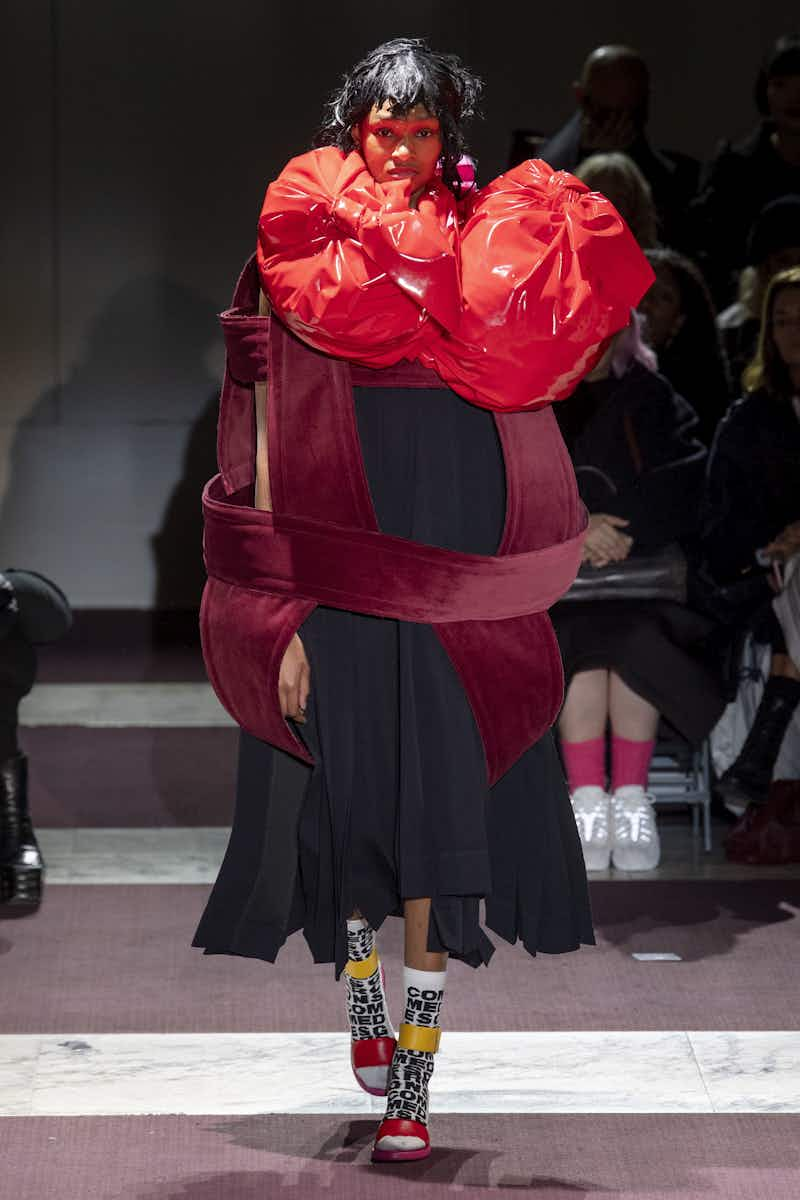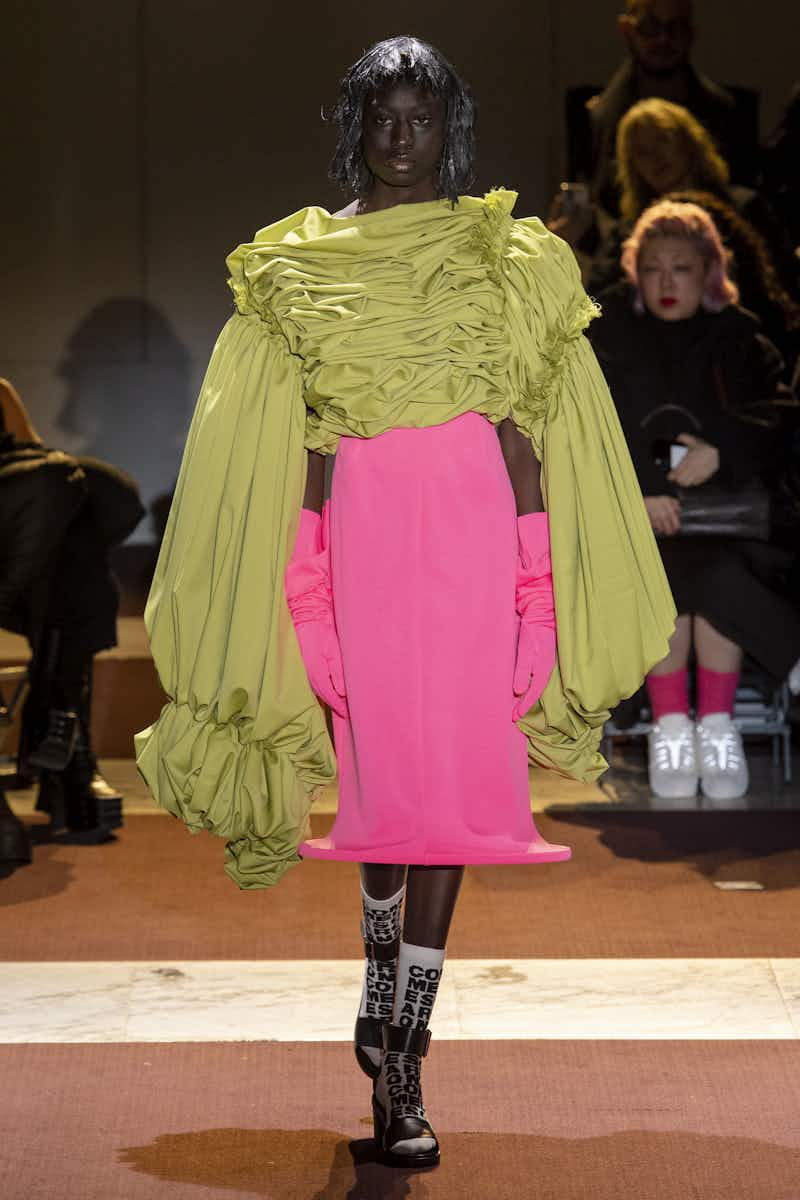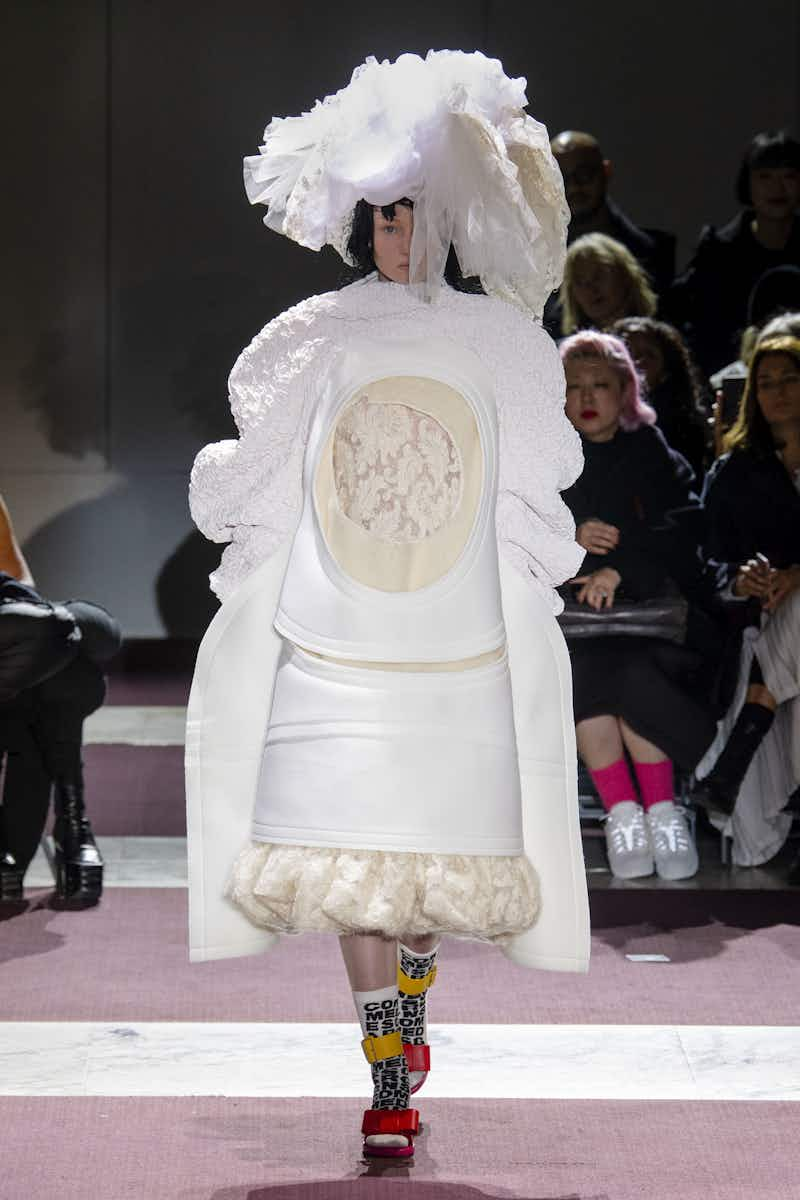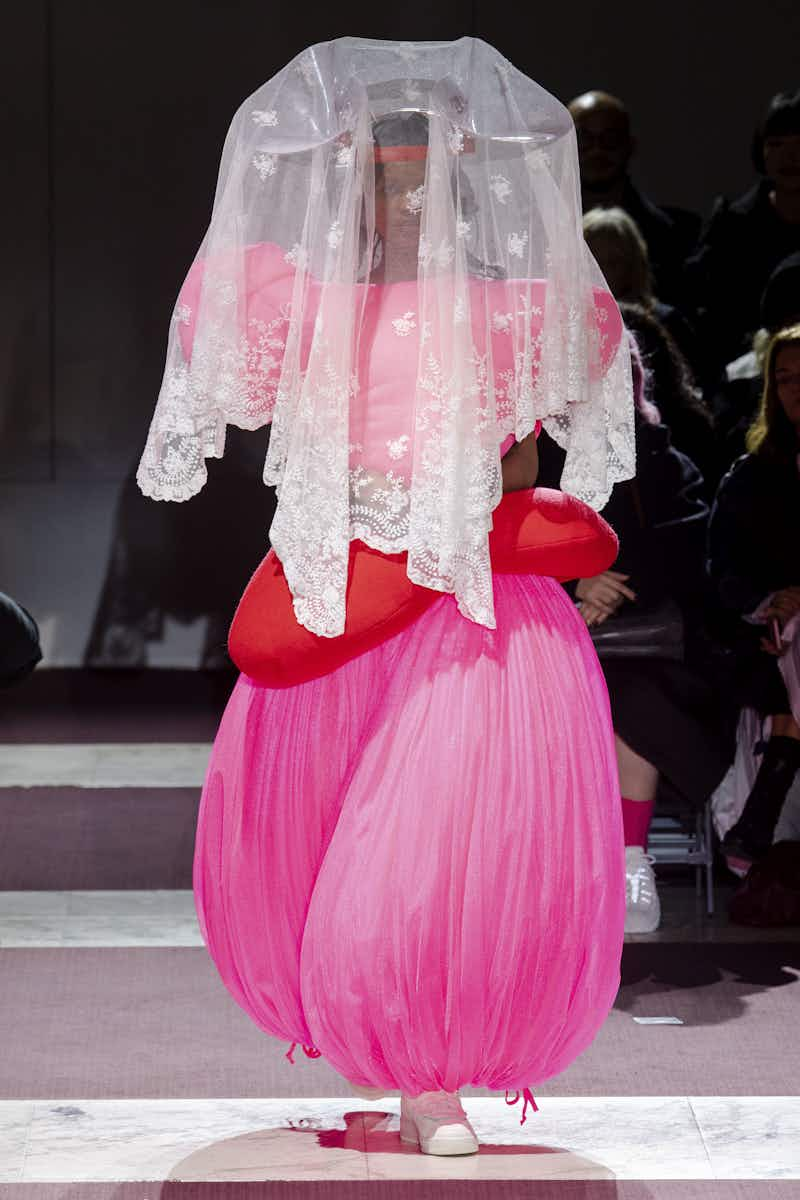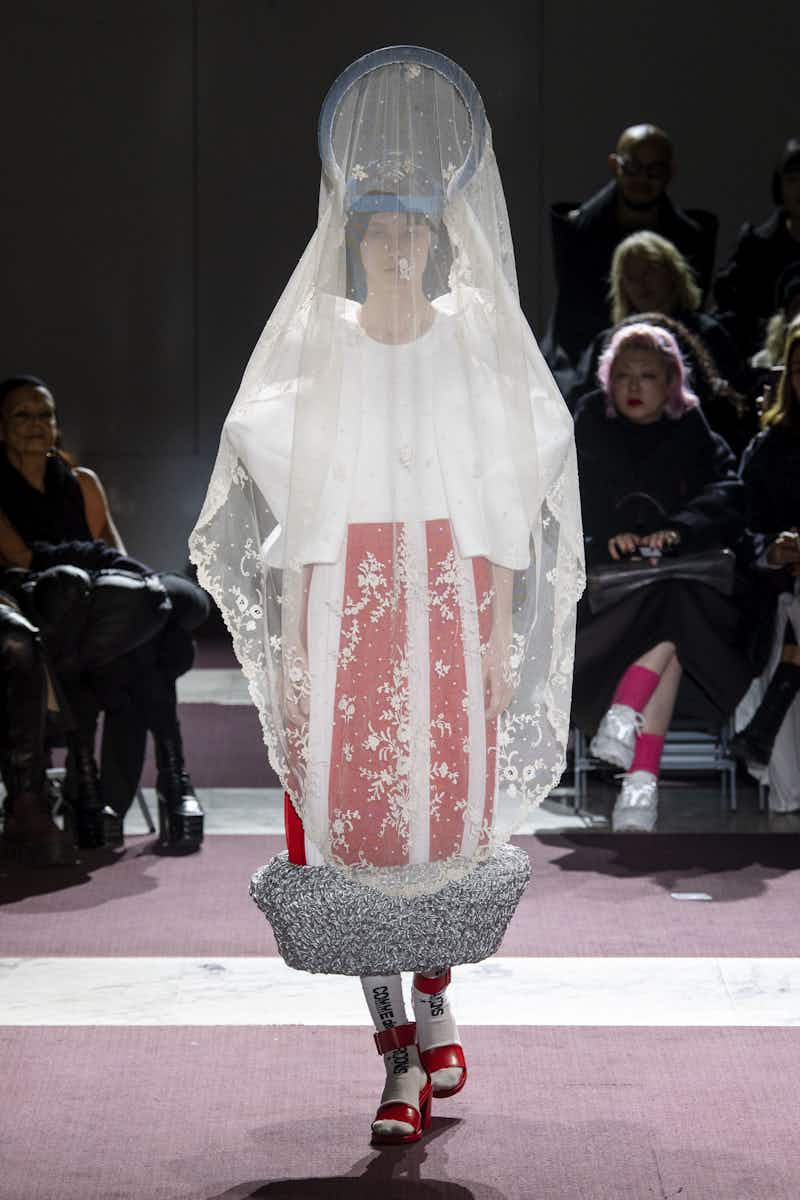 VIVIENNE WESTWOOD AW20
With Vivienne Westwood sat front row, Andreas Kronthaler sent out a collection that had her smiling with proud teacher appreciation. The brand's signature bust-enhancing dresses and corsets were working to full effect, the regal richness of them toned down by lightening strike t‑shirts, sporty socks and fireman boots (there were also strappy sandals and Swarovski-encrusted boots – the footwear was a collaboration with both Gina and Buffalo). There were the usual beautiful excessive, spilling, ballooning yards of satin, wool and silk, all somehow making perfect sense despite the madness. Feathers, streamers, mystic bandanas and maypole ribbons adorned heads. Daggers, brutal chains and garlands of garlic prepared the women for fights with pirates, zombies and vampires – just another day for the Westwood woman. Guests included Janelle Monáe, Jourdan Dunn and Blondey McCoy. Kisses and flowers were lavished on Bella Hadid who closed the show.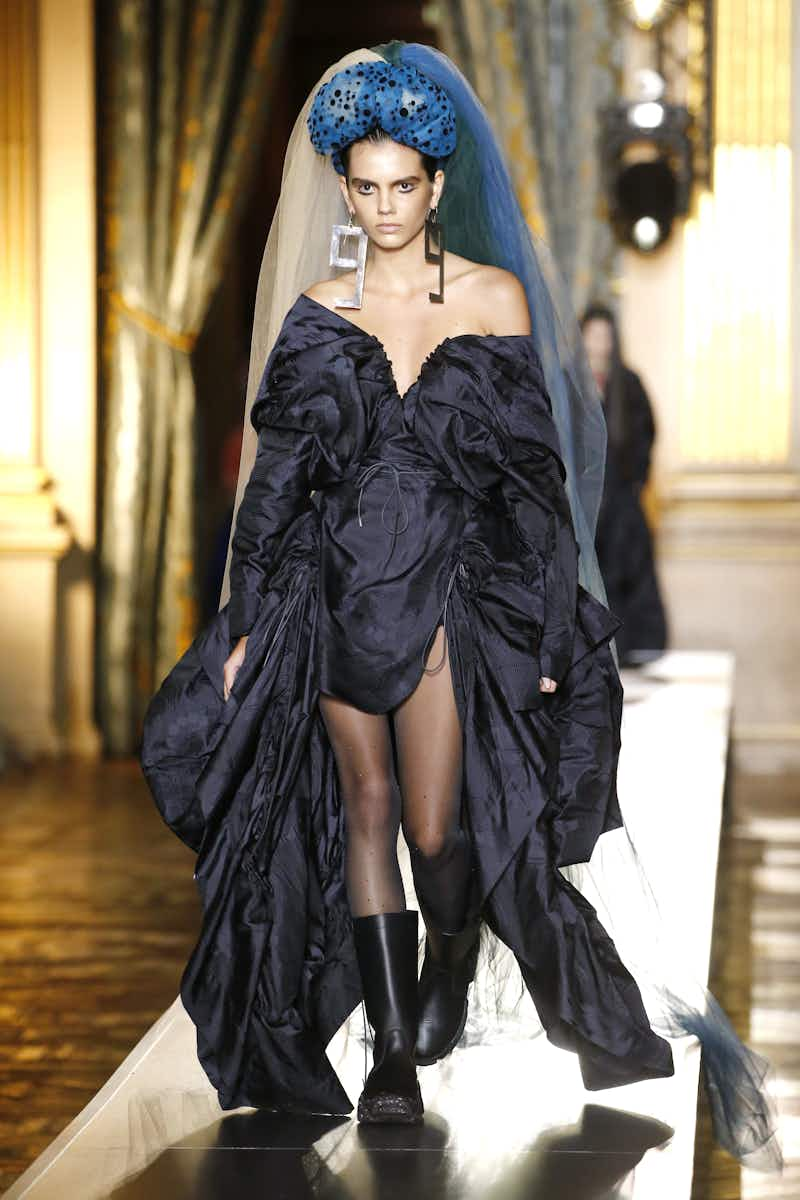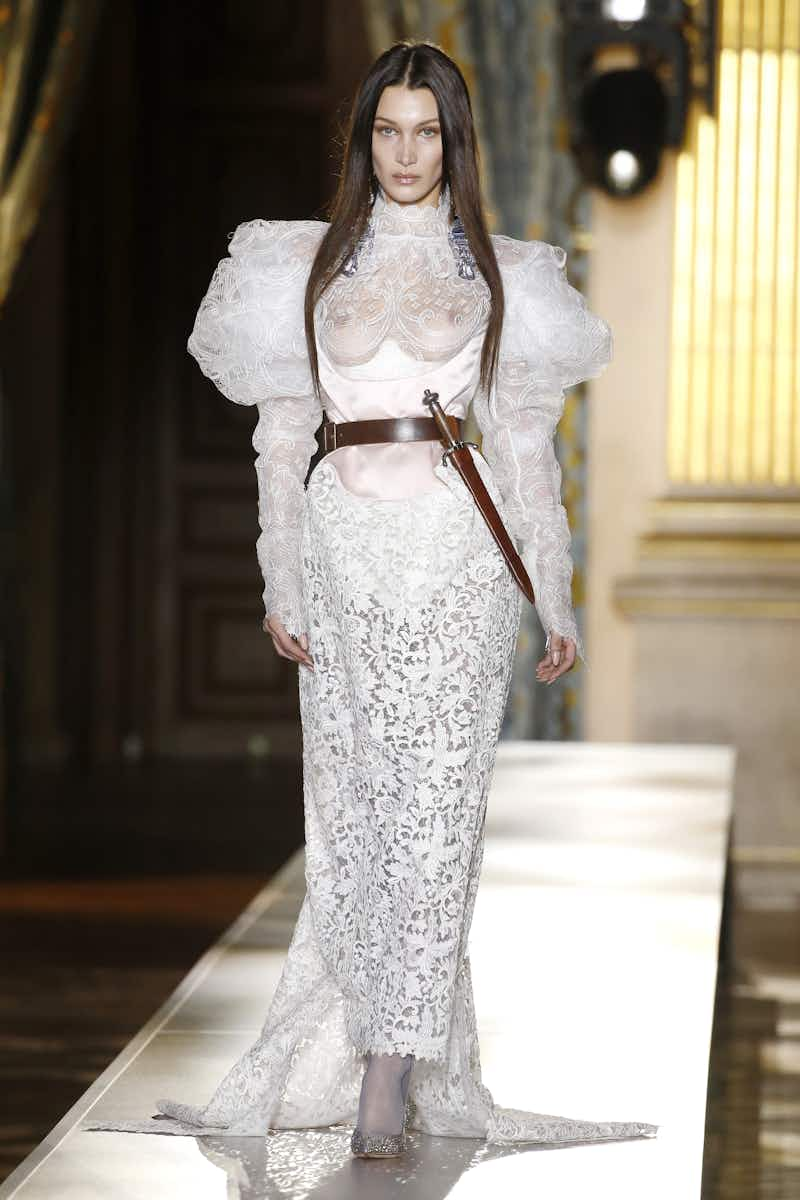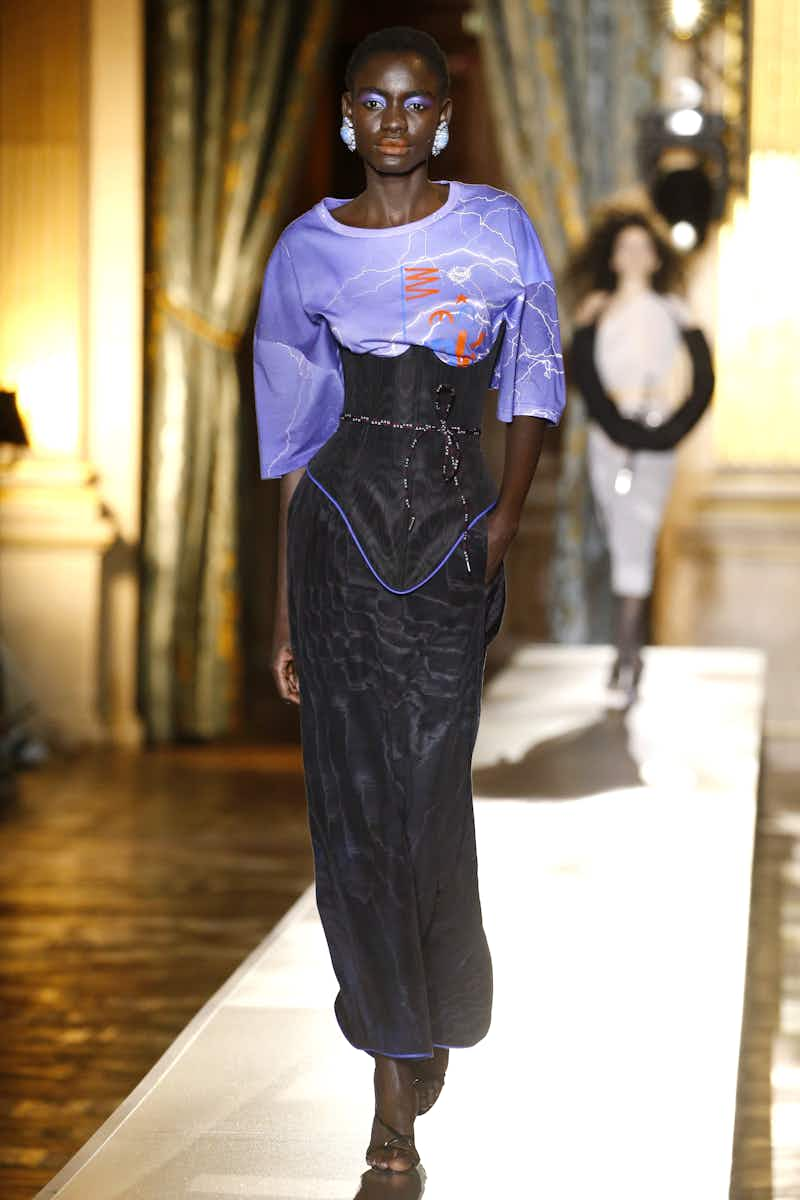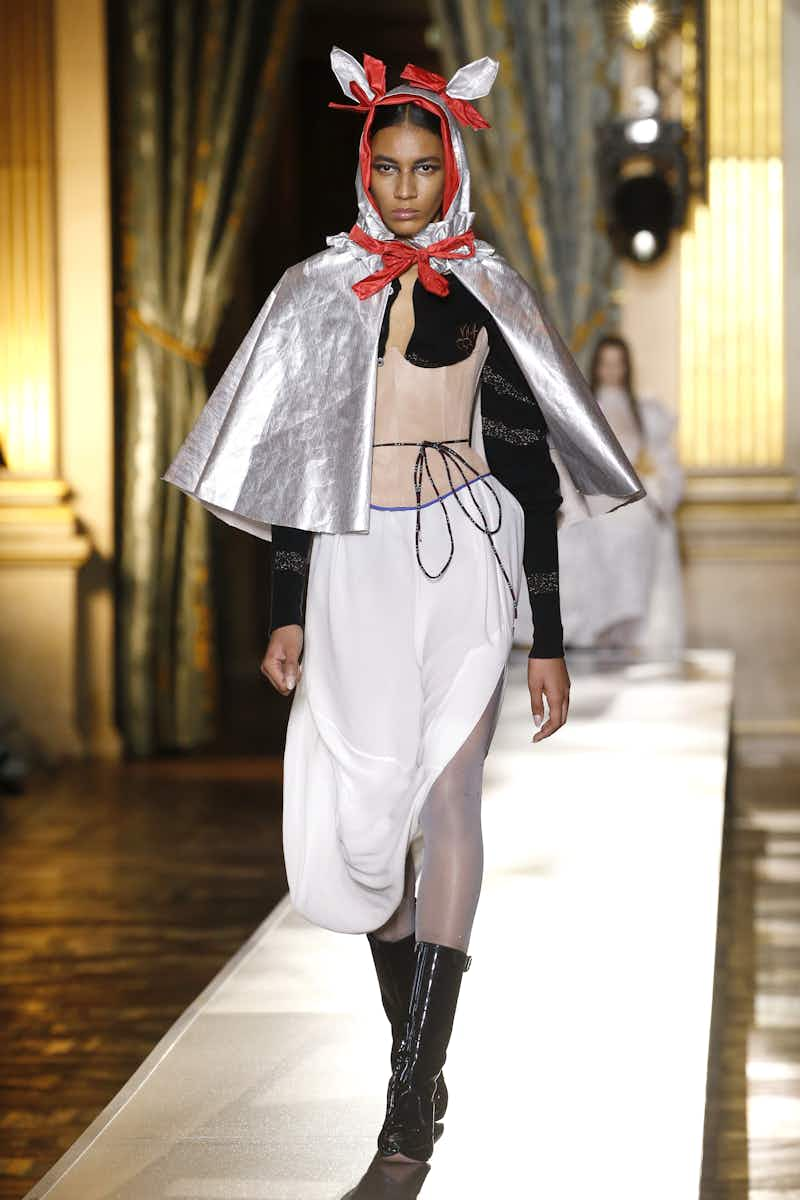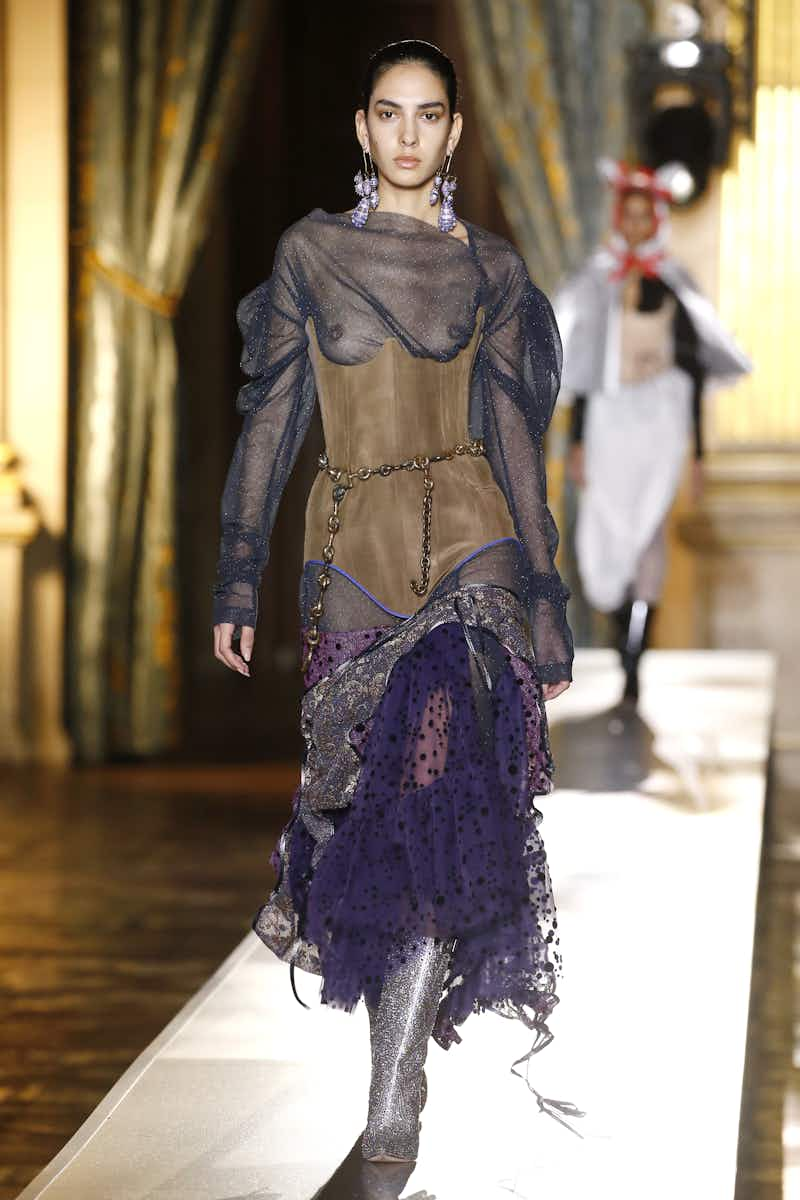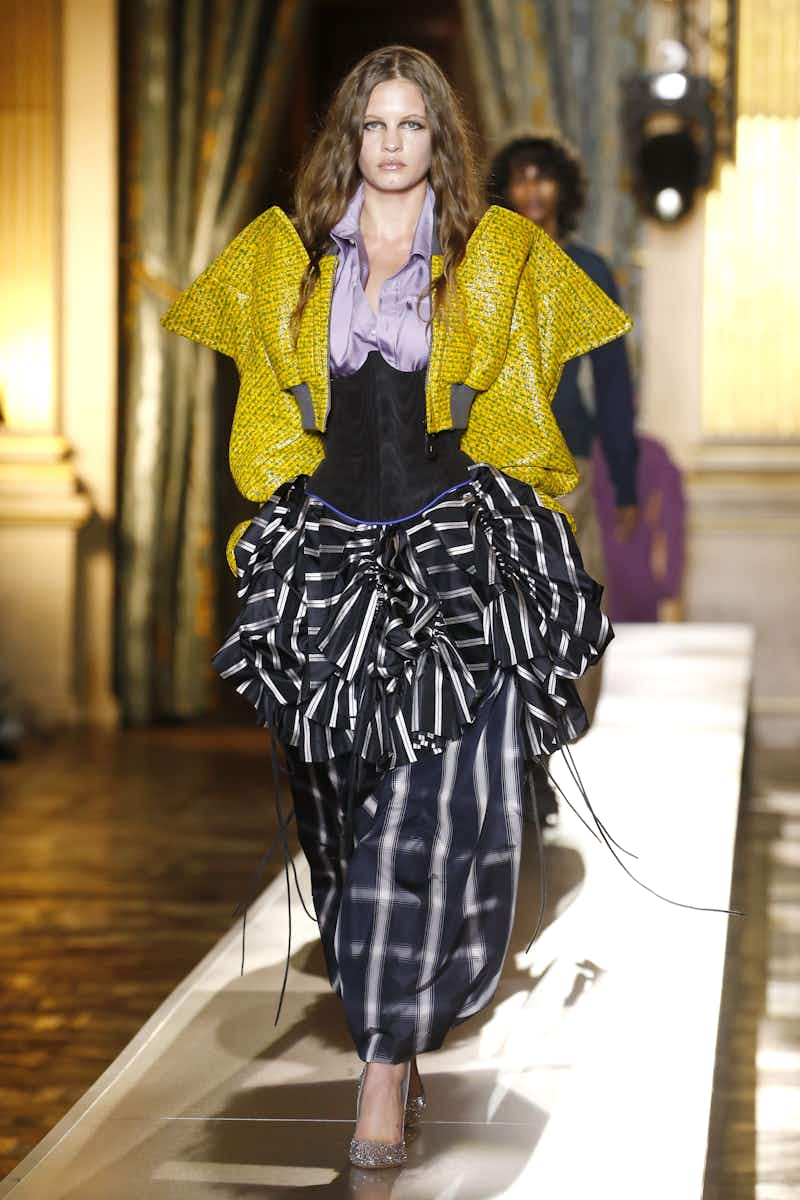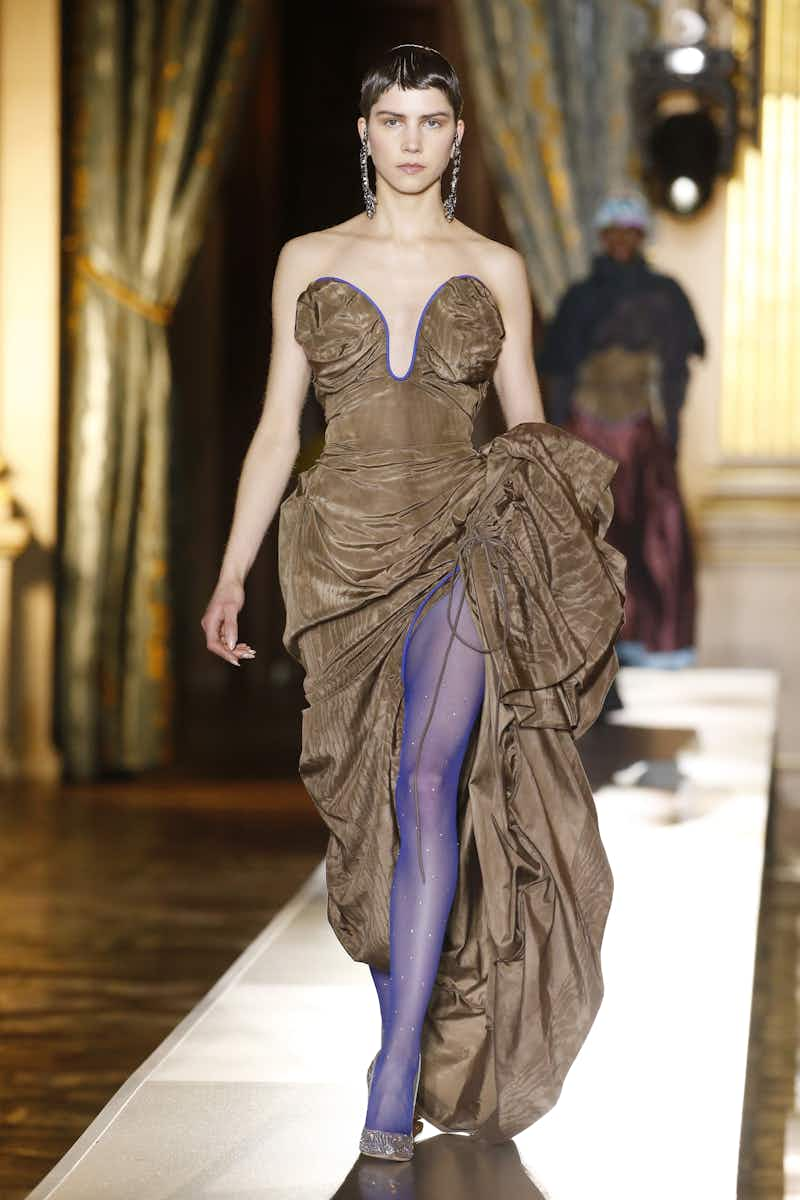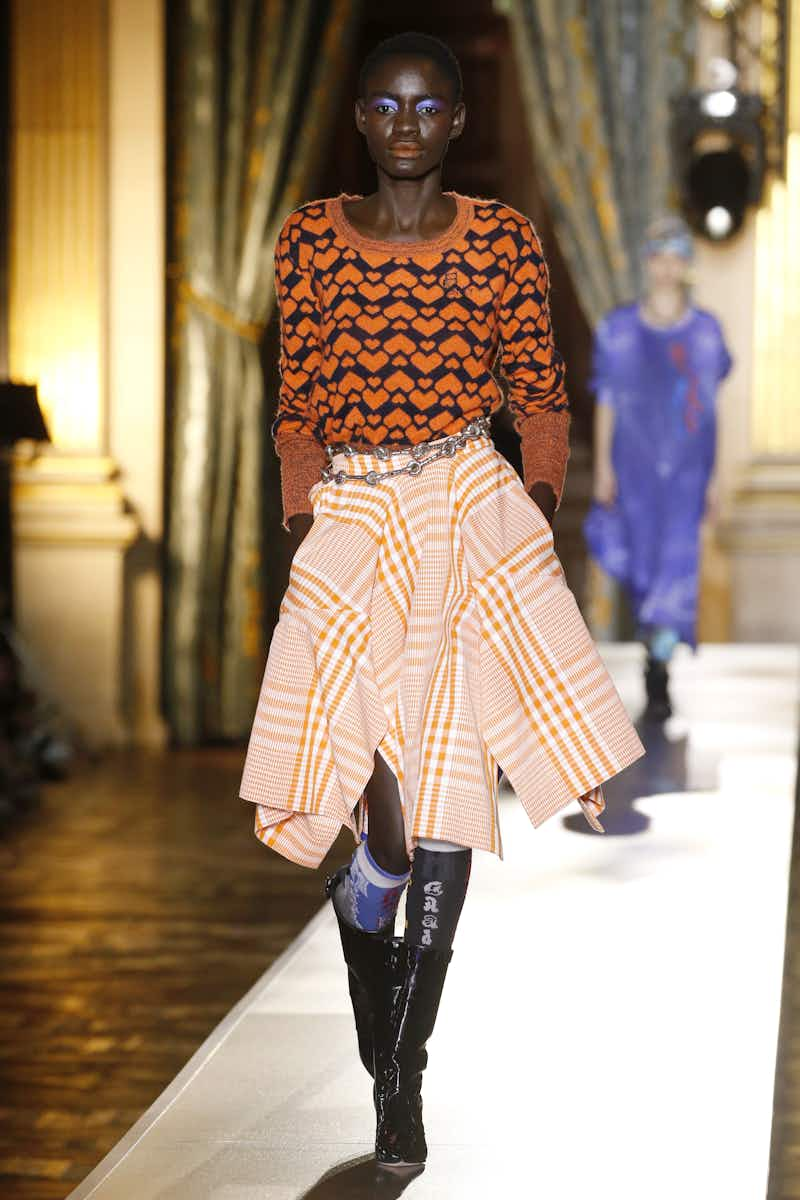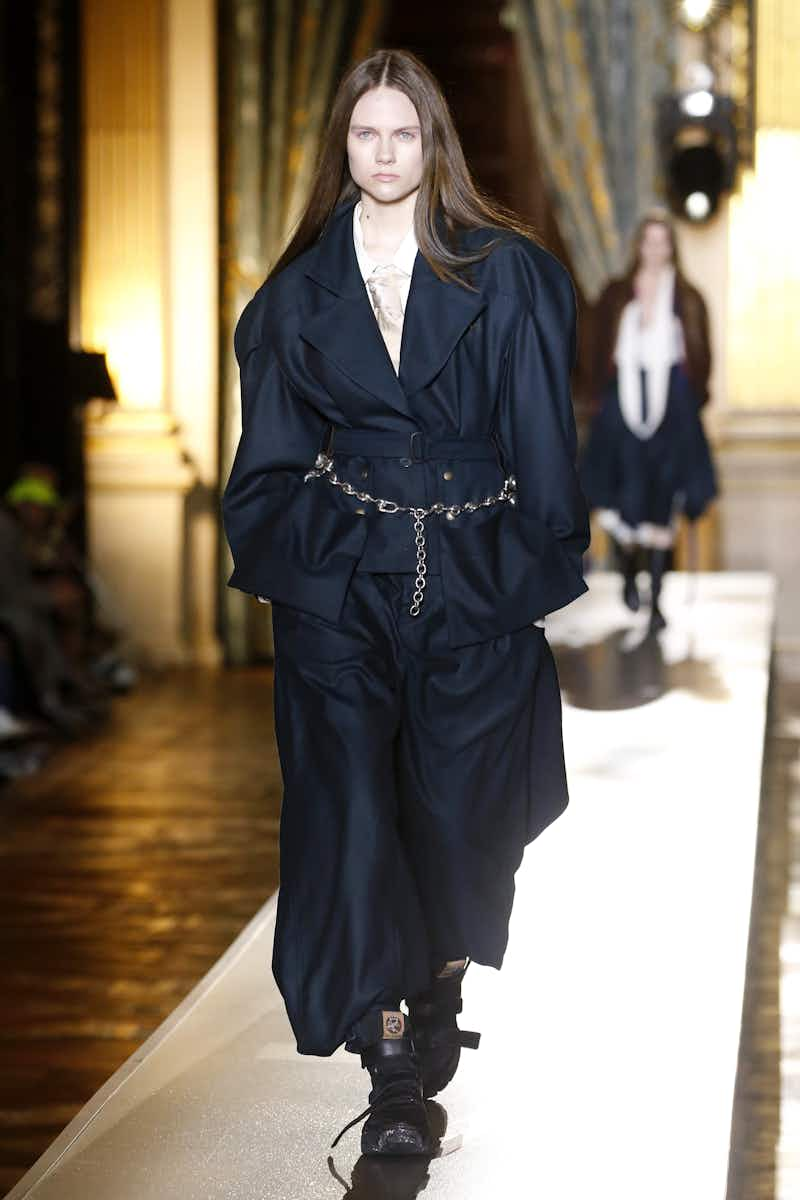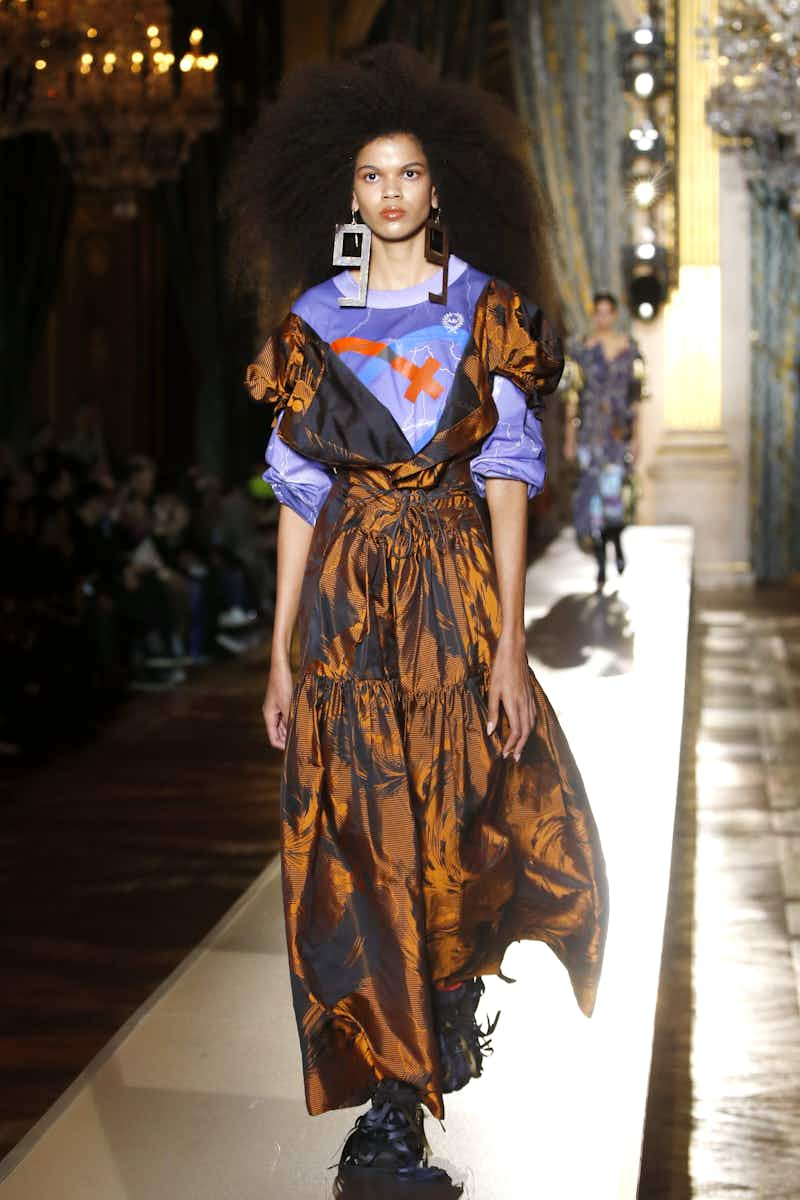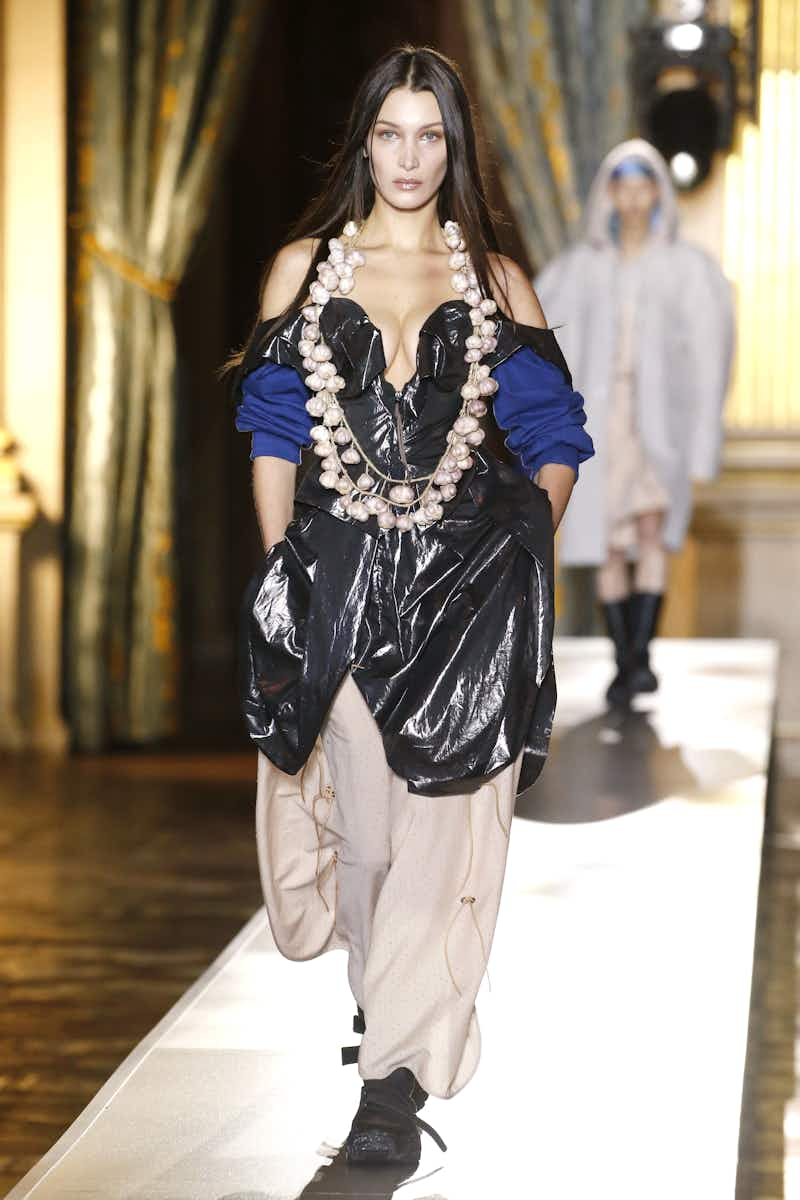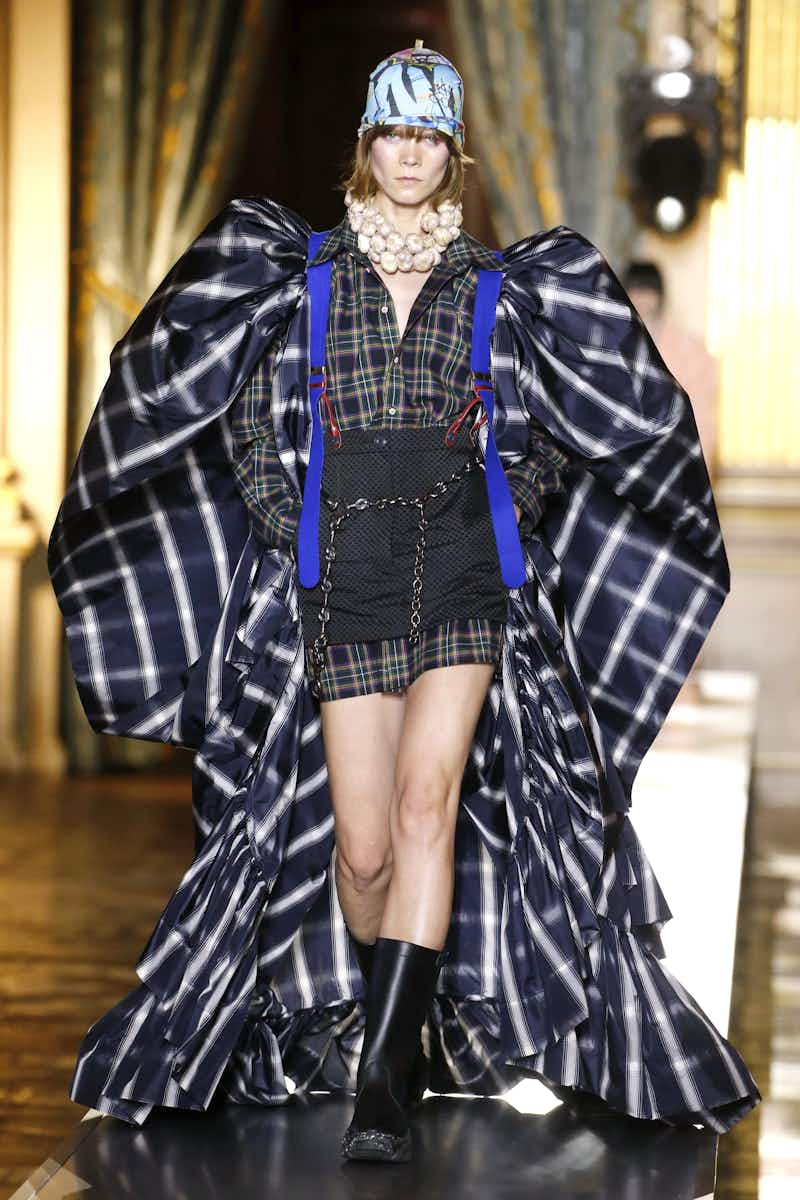 CELINE AW20
The unisex Celine show was a lesson in how to put your hands in your pockets. In a world where we're increasingly peace sign‑y and hand gestural for socials, here was a return to the cool signaling of aggressively stuffing two fists in a cropped leather jacket, of louchely dropping your hands into roomy culottes, of stuffing your fingers into tight trousers (but leaving your thumbs erect and poking out). It took us back to another time – the ​'70s. That was the decade where Hedi Slimane's collection spiritually lived, as it has done for some time.
The show was the perfect mix of prim and subversive. Elements were neat and bourgeois (velvet pea coats, tartan culottes, sensible leather boots), whilst others strayed into rock and rebellion (snakeskin shirts, early-biker studded jackets, manhood-hugging leather trousers).
The men and women walking the show could easily be lovers gradually morphing into one, swapping clothes in a drug, drink and smoke haze – ruffled shirts, skinny scarves, floppy bow ties, heels, hats and handbags were all eminently interchangeable. Both sexes could enjoy a blazer with a jean, a black tuxedo, a casual cape, a staple mac.
As well as the day-to-day wearability of the items, there were mega-watt glamour moments, with leopard-print kaftans, whopping shearling coats, black sequin gown and, most of all, a floor-length black velvet dress with medieval gold neck and cuffs and an equally ground-grazing gold-encrusted dress.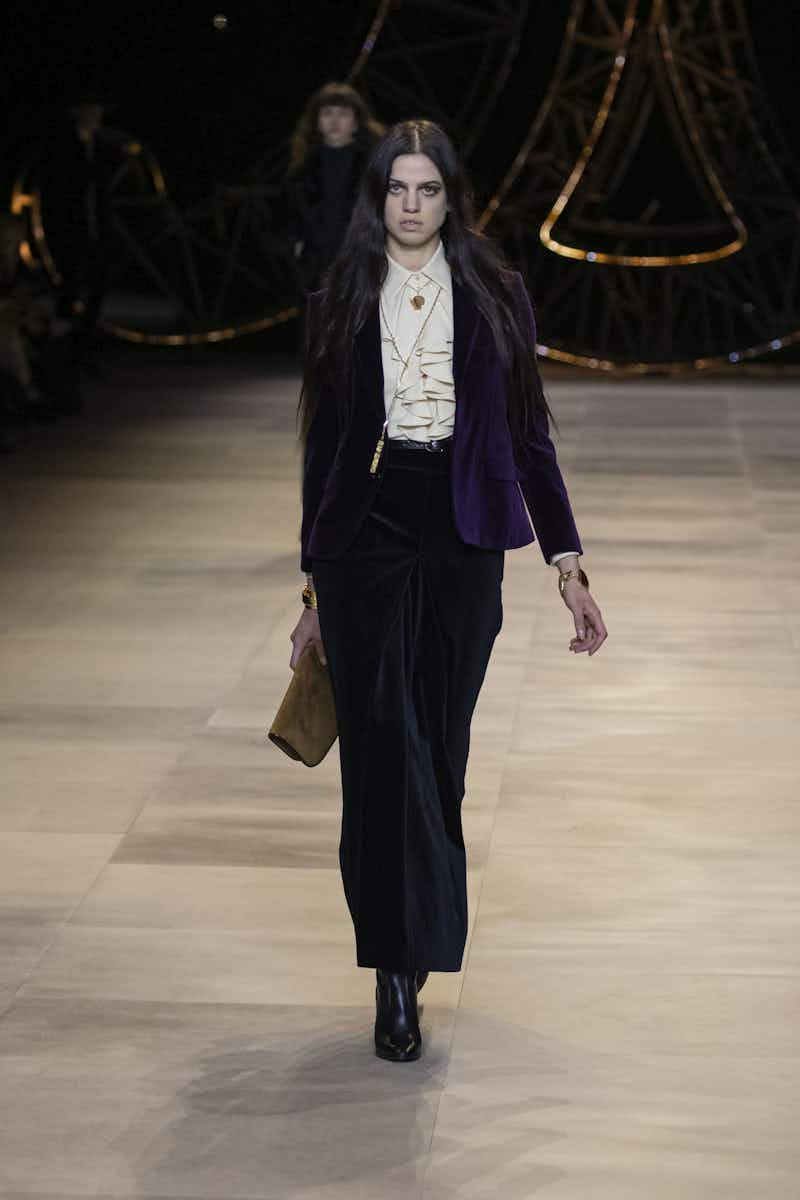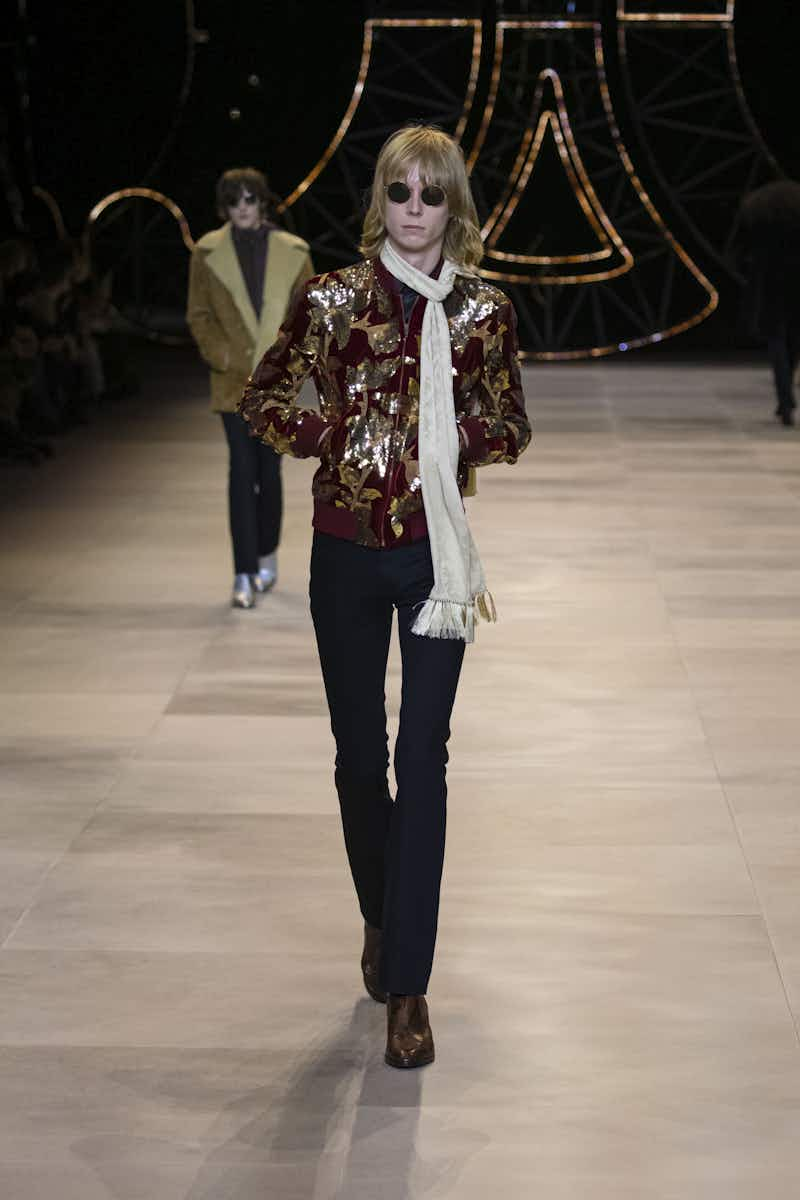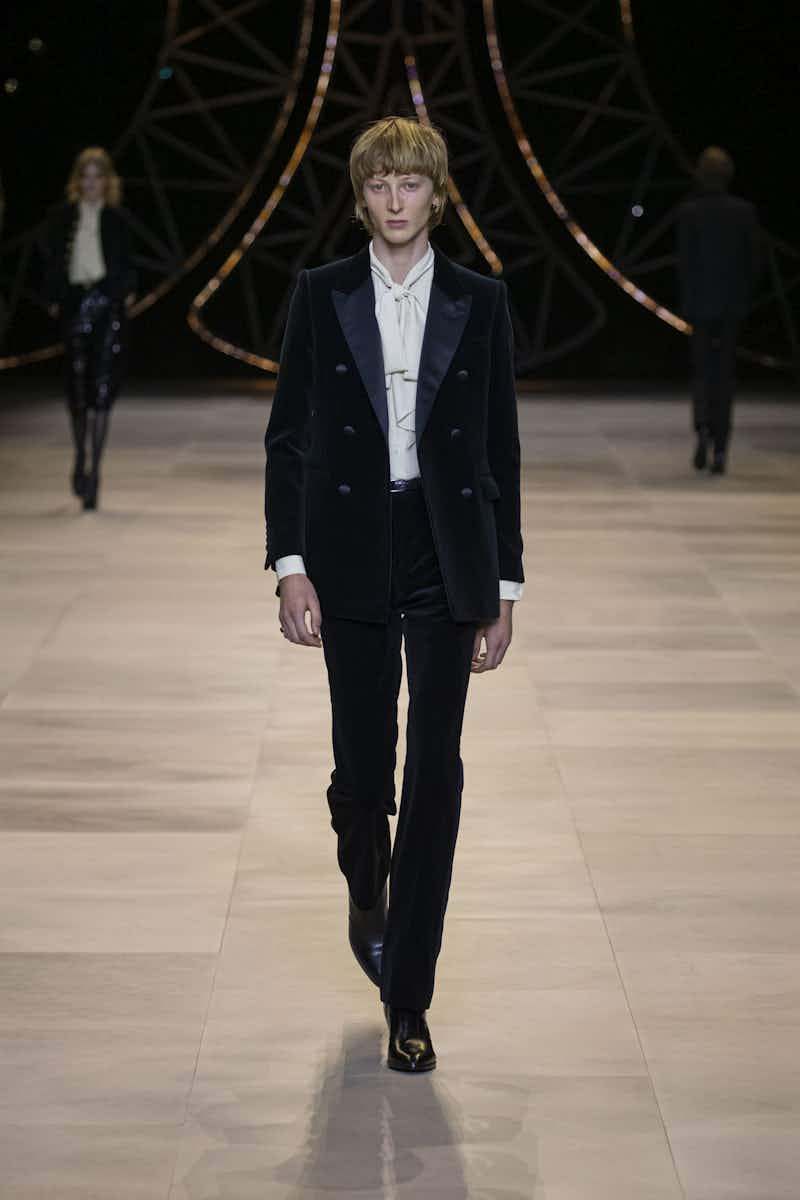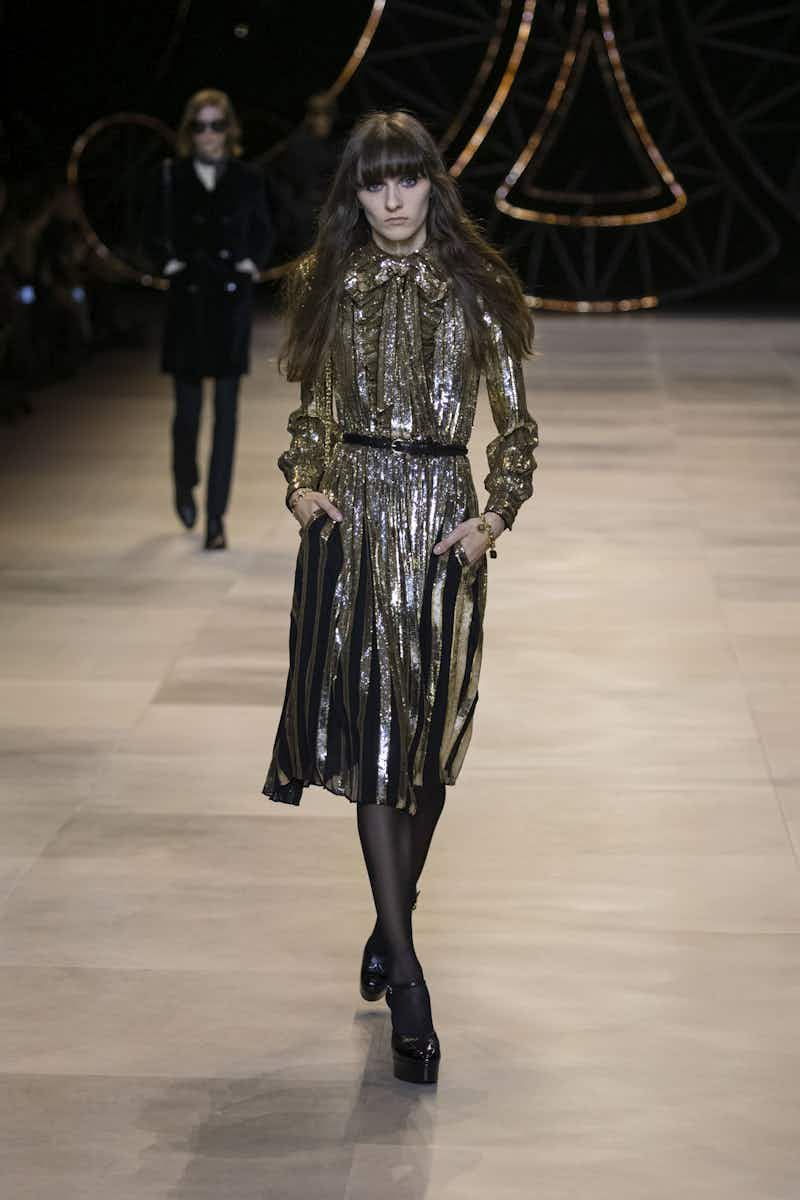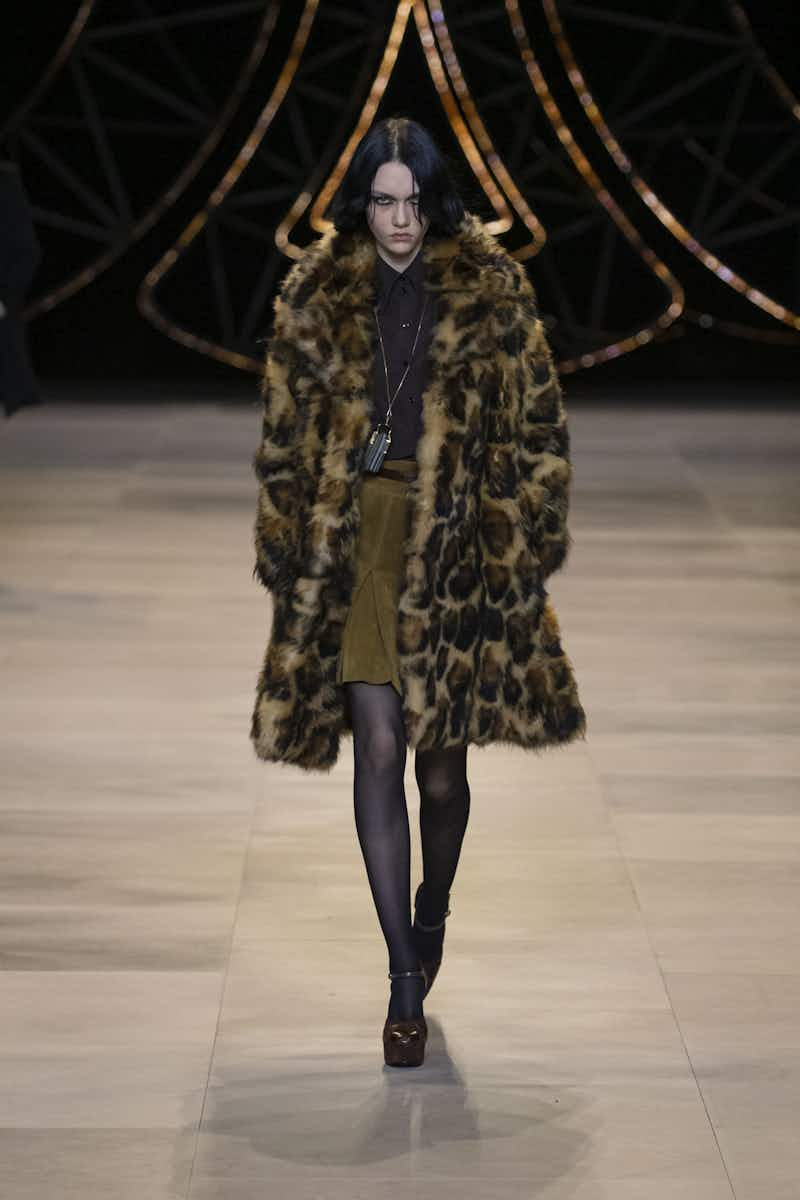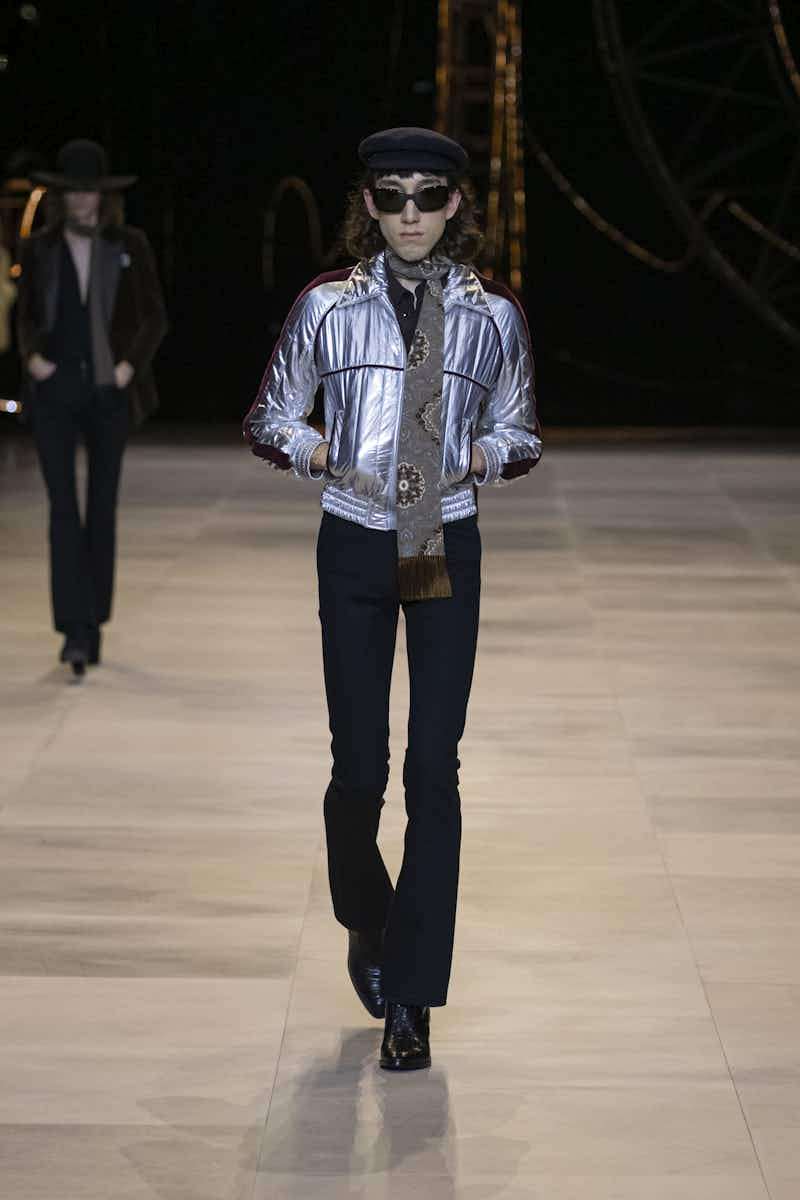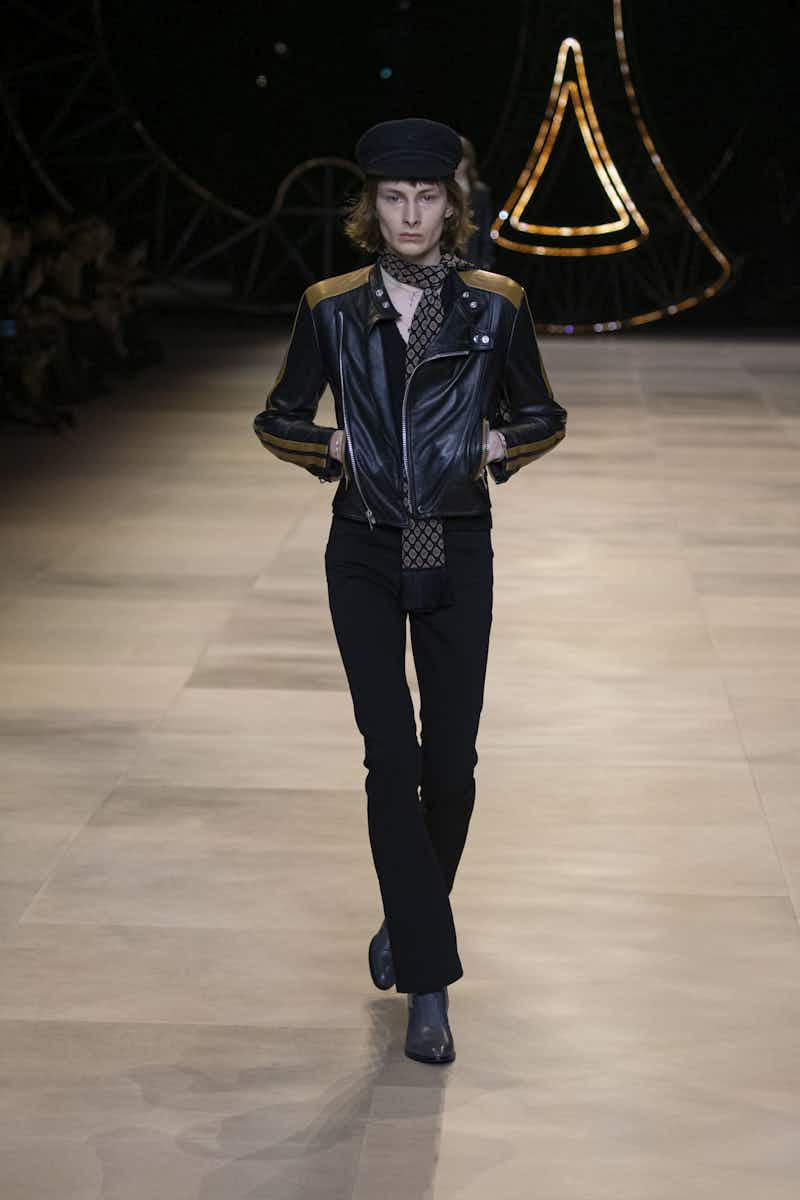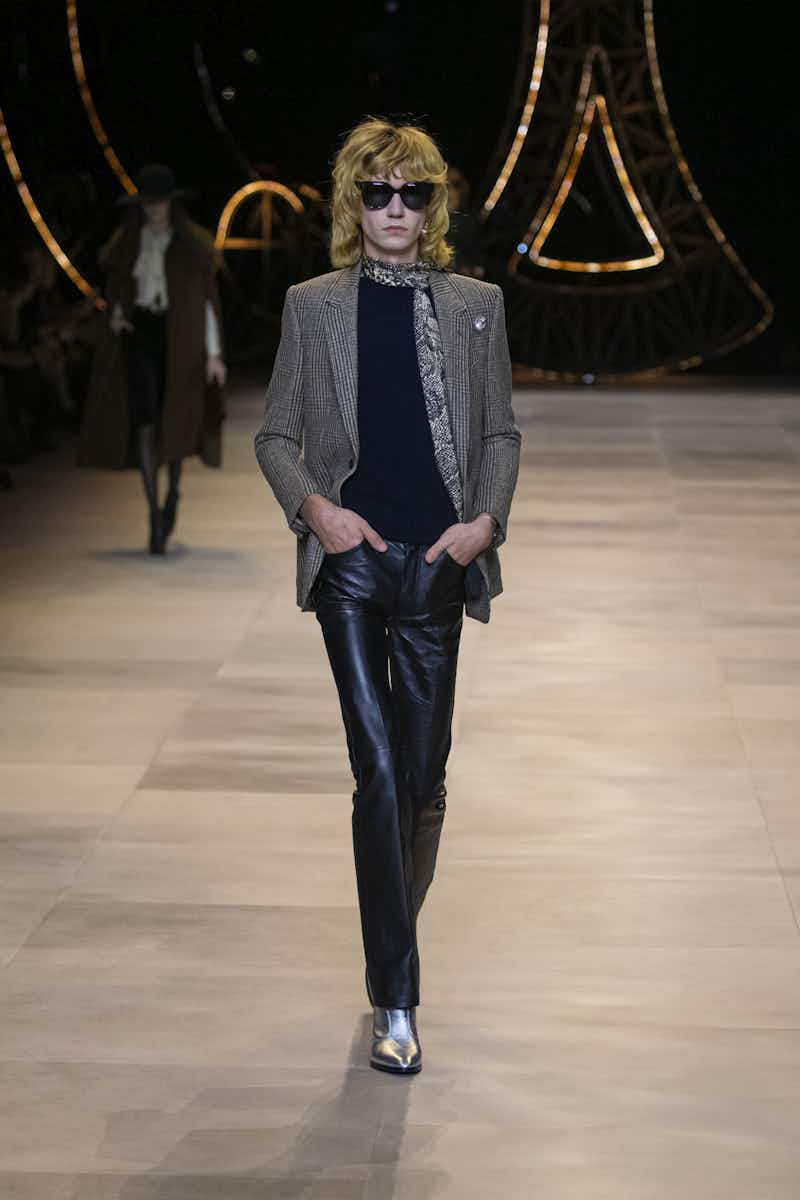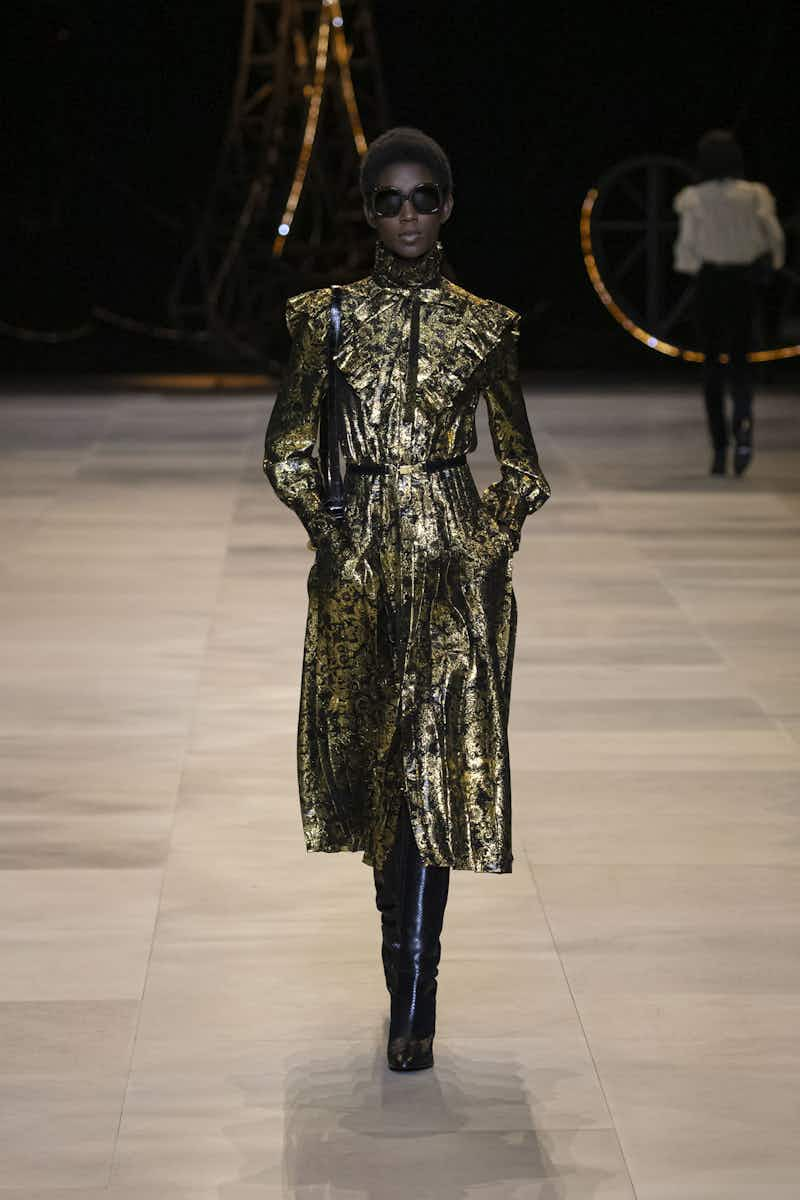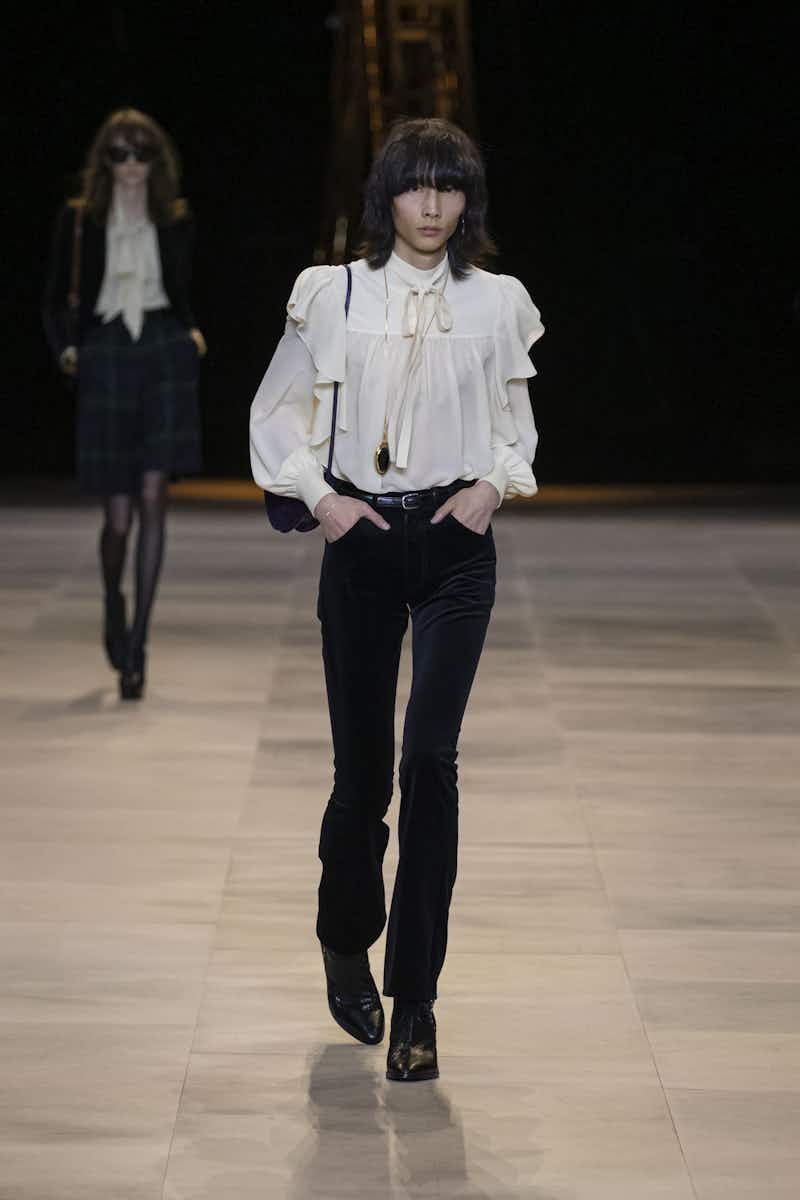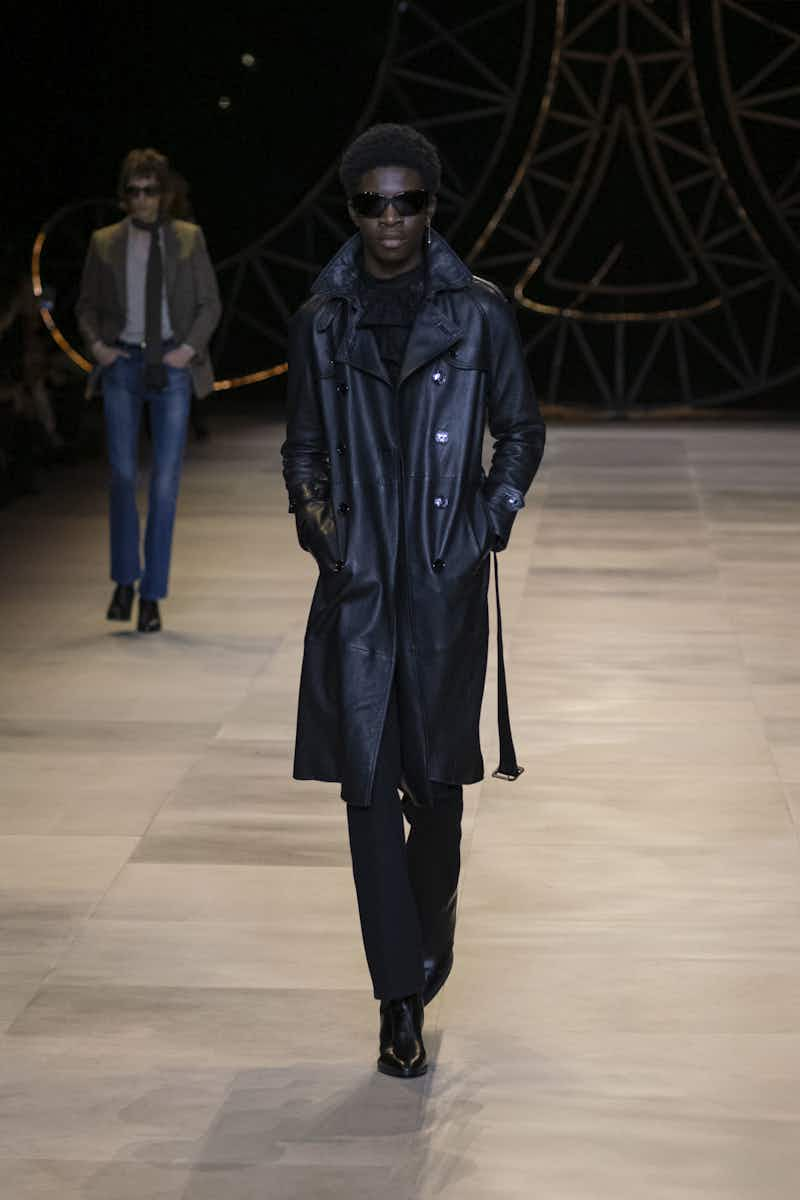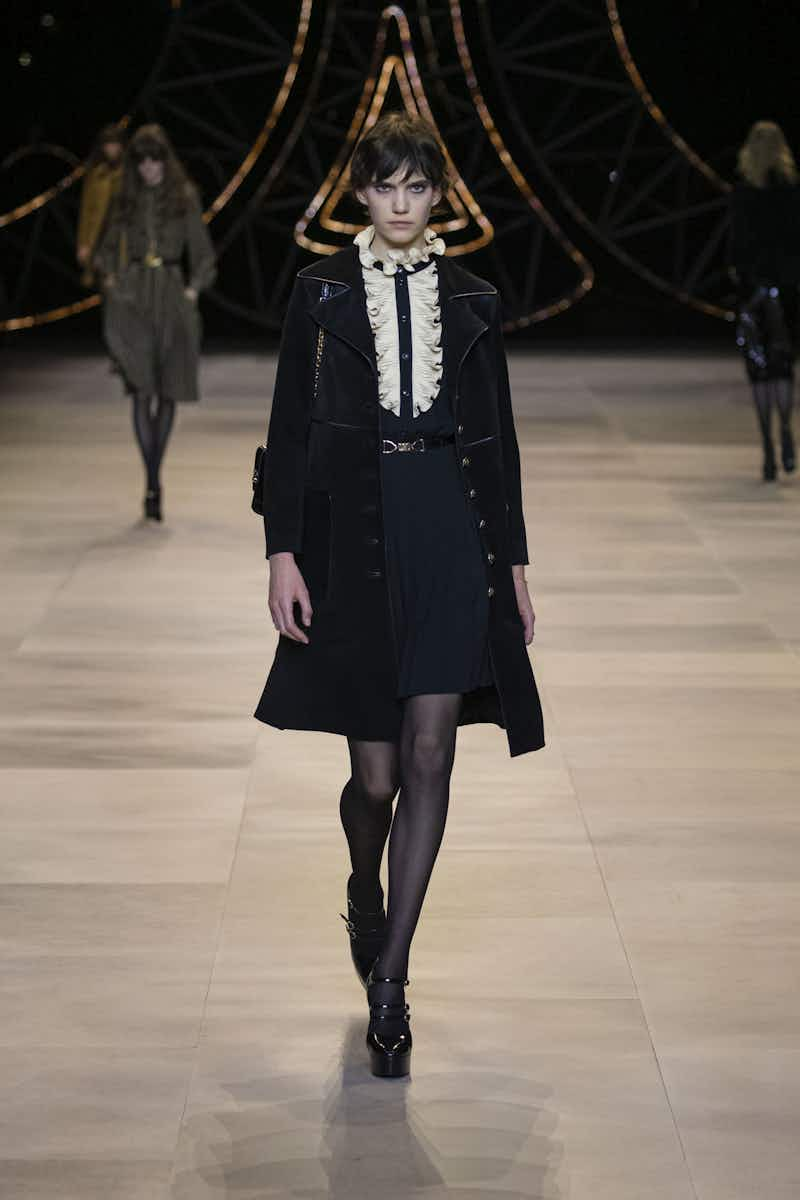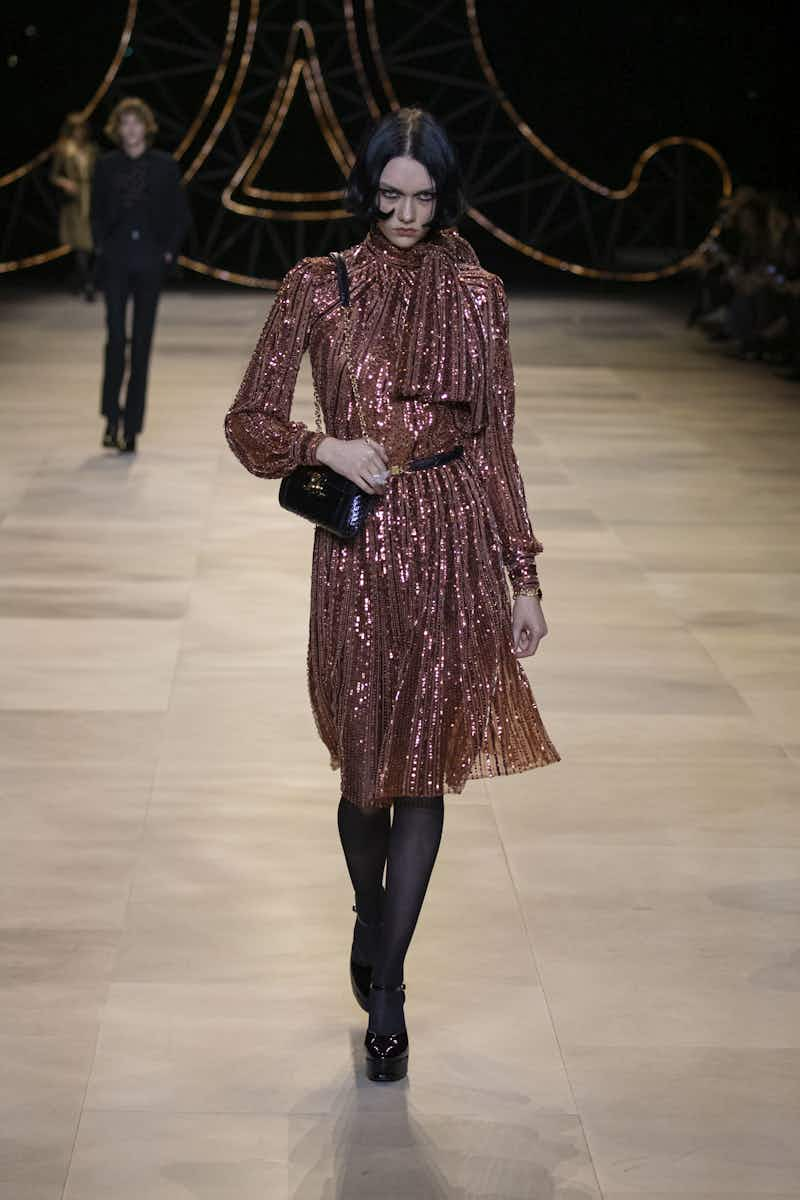 Who was there?
Model, singer and former French President's wife Carla Bruni caused the biggest commotion, bouncing in looking like a billion bucks. Also, Isabelle Huppert, Jane Birkin, Carl Carat and Miles Kane.
What did it sound like?
Get Out Of My Head by Sofia Bolt.

Listen now:

The sound of Celine AW20
BALMAIN AW20

It was all-out ​'80s at Balmain with big-shouldered blazers, harem pants, bejewelled knitwear, ruched boots and fuck-off shades. Caped crusaders looked like fashion extras from Star Wars in a palette of chocolate, caramel and bronze. Helena Christian, Liya Kibede and Esther Canadas represented for the super set.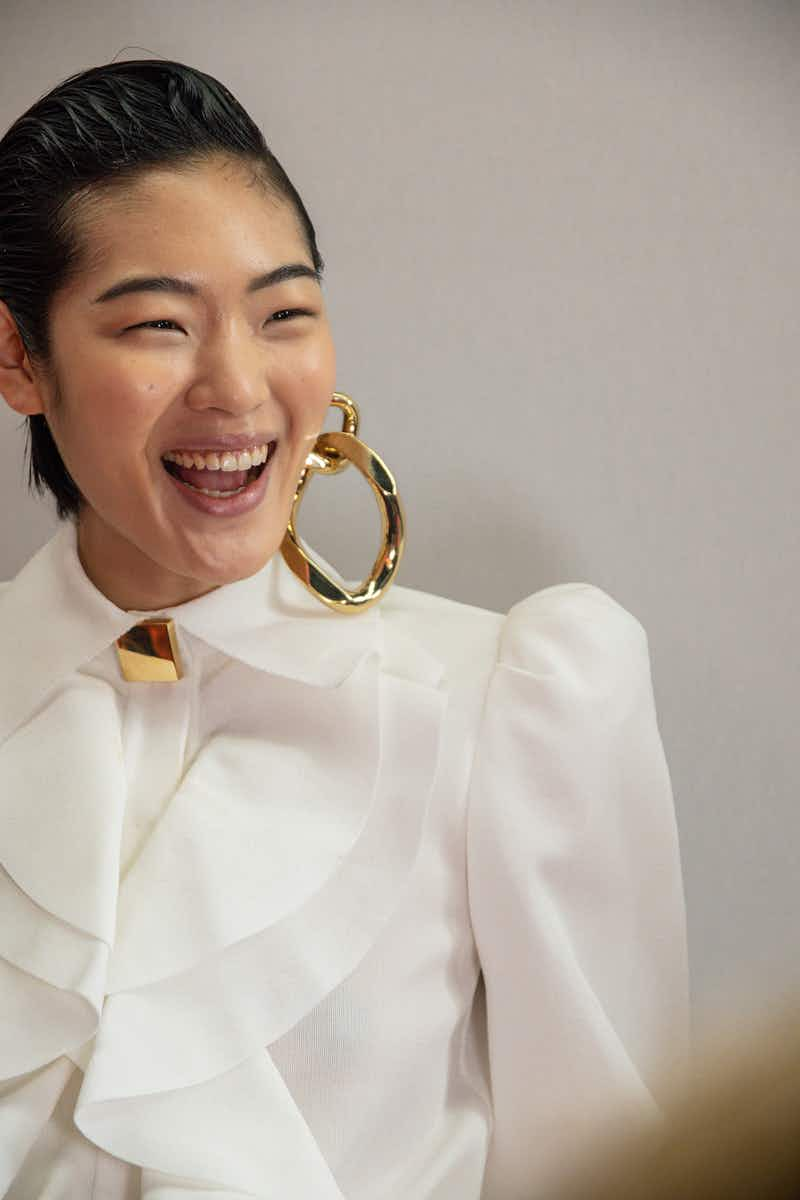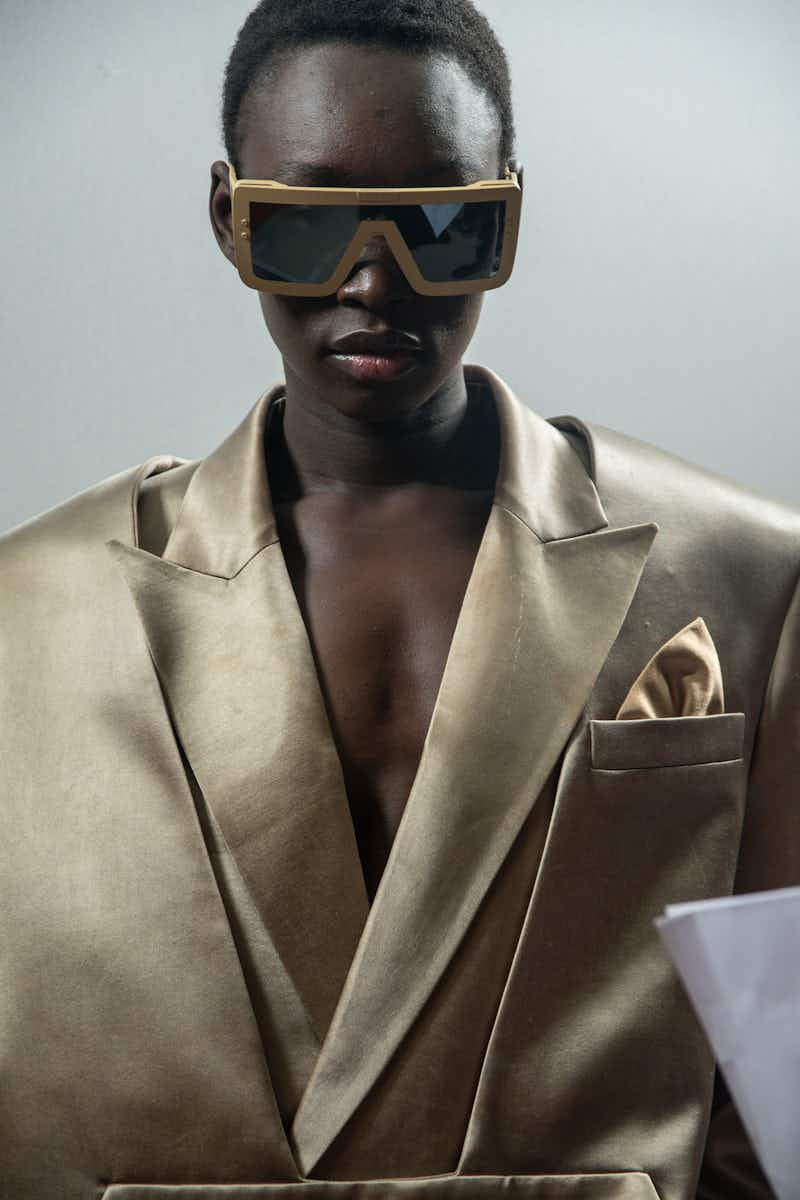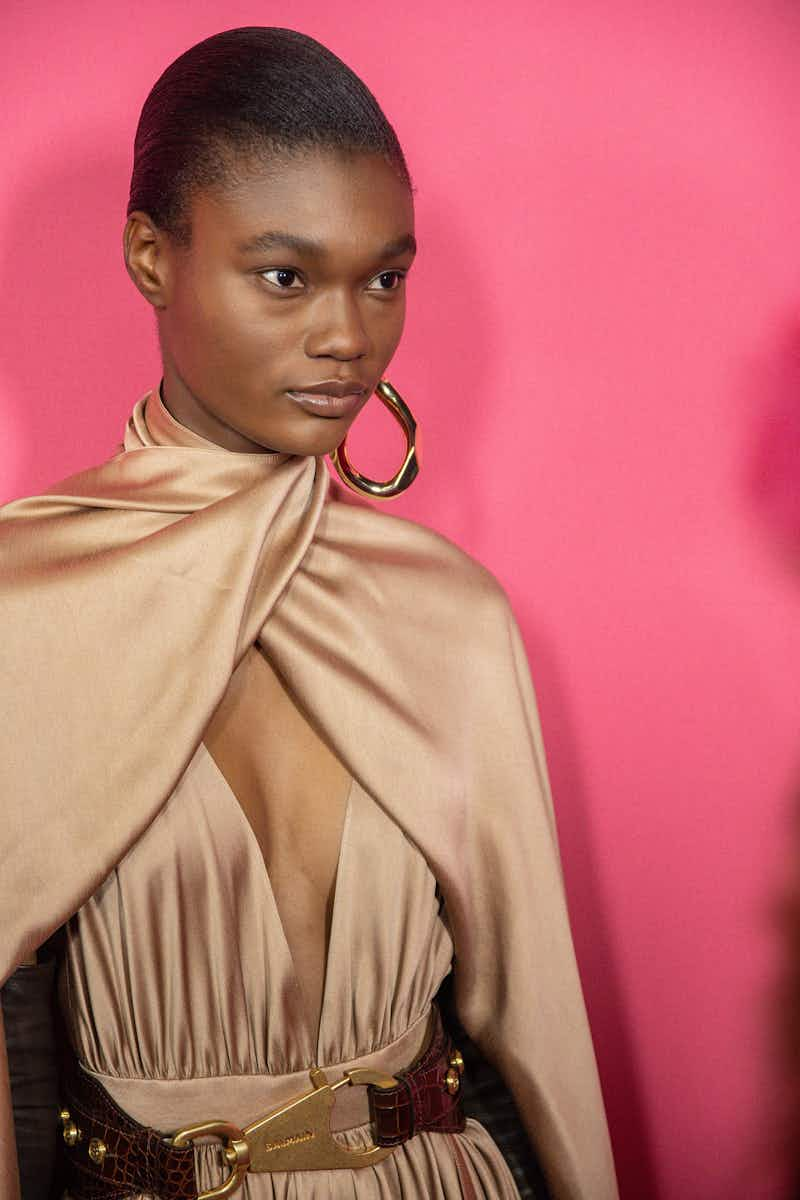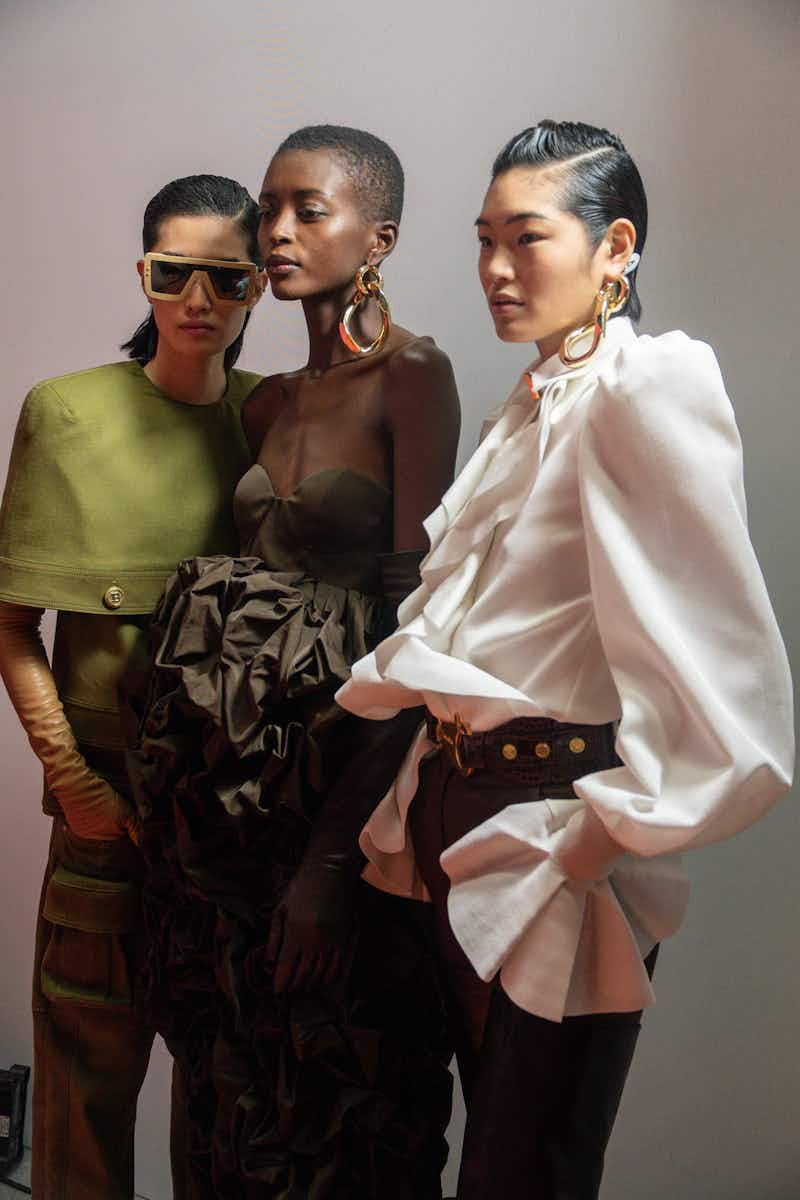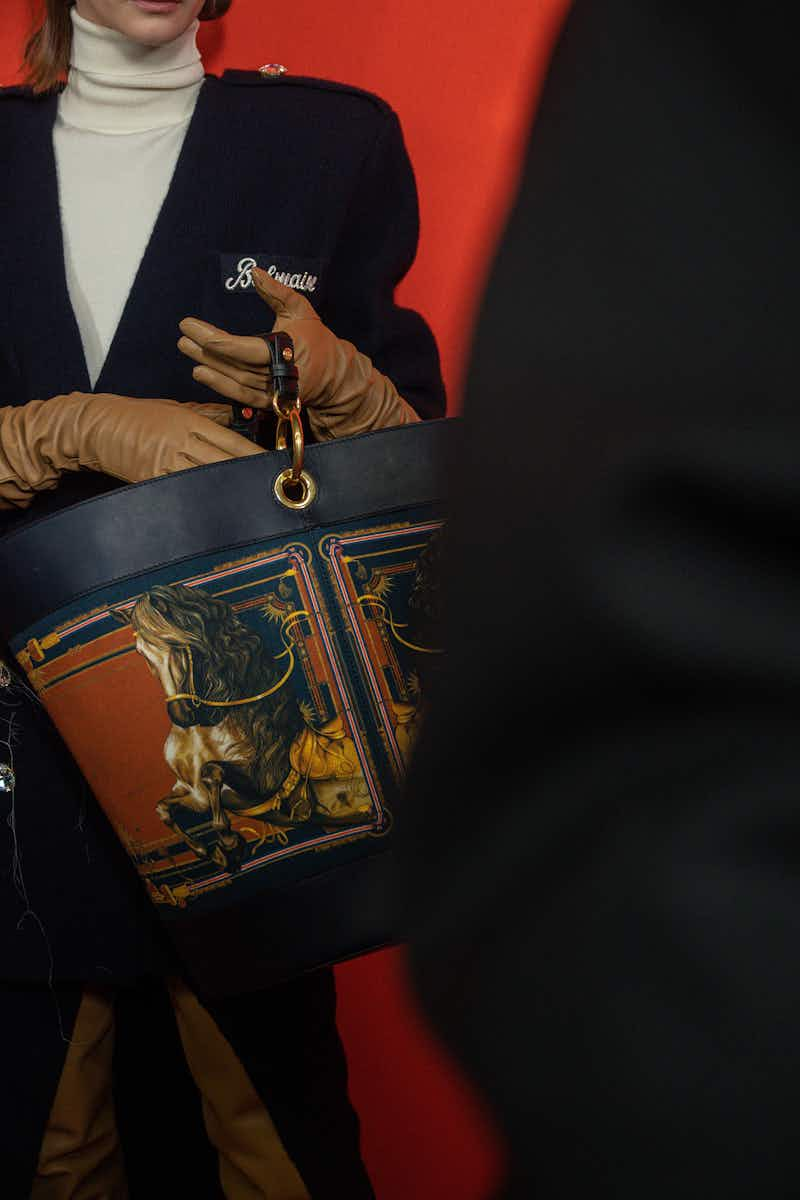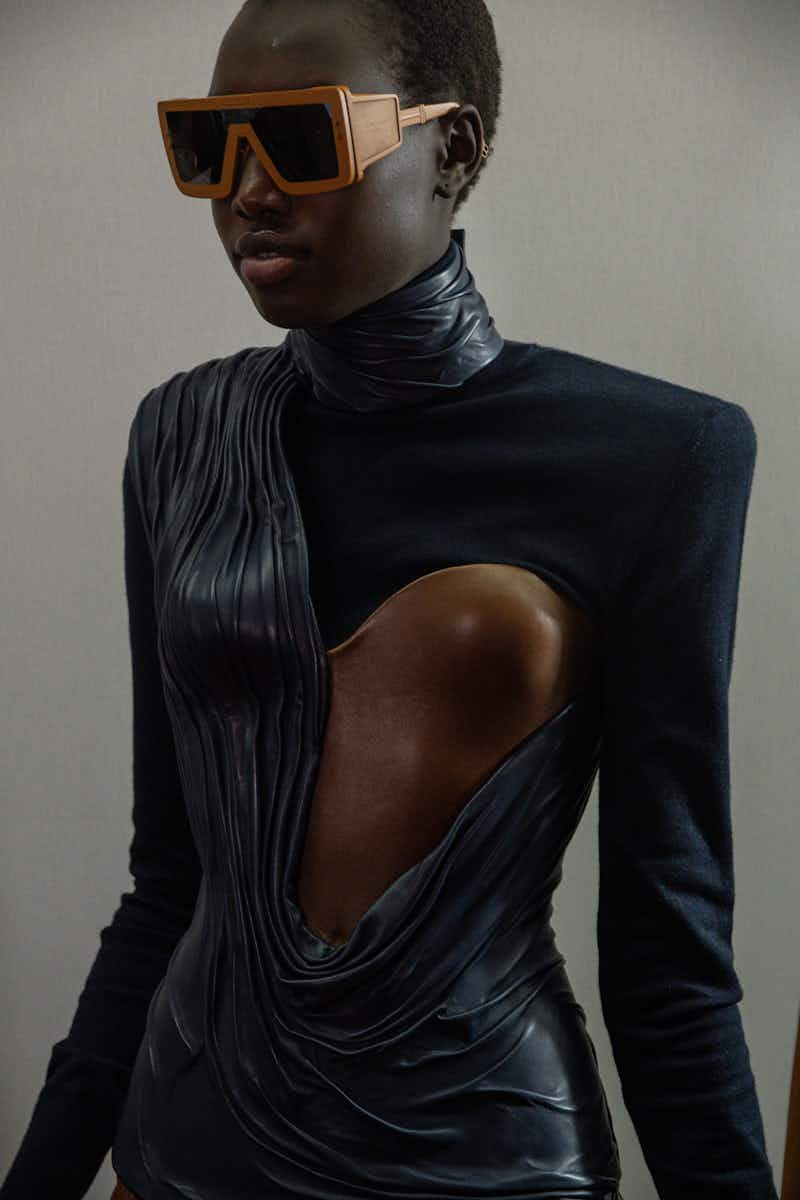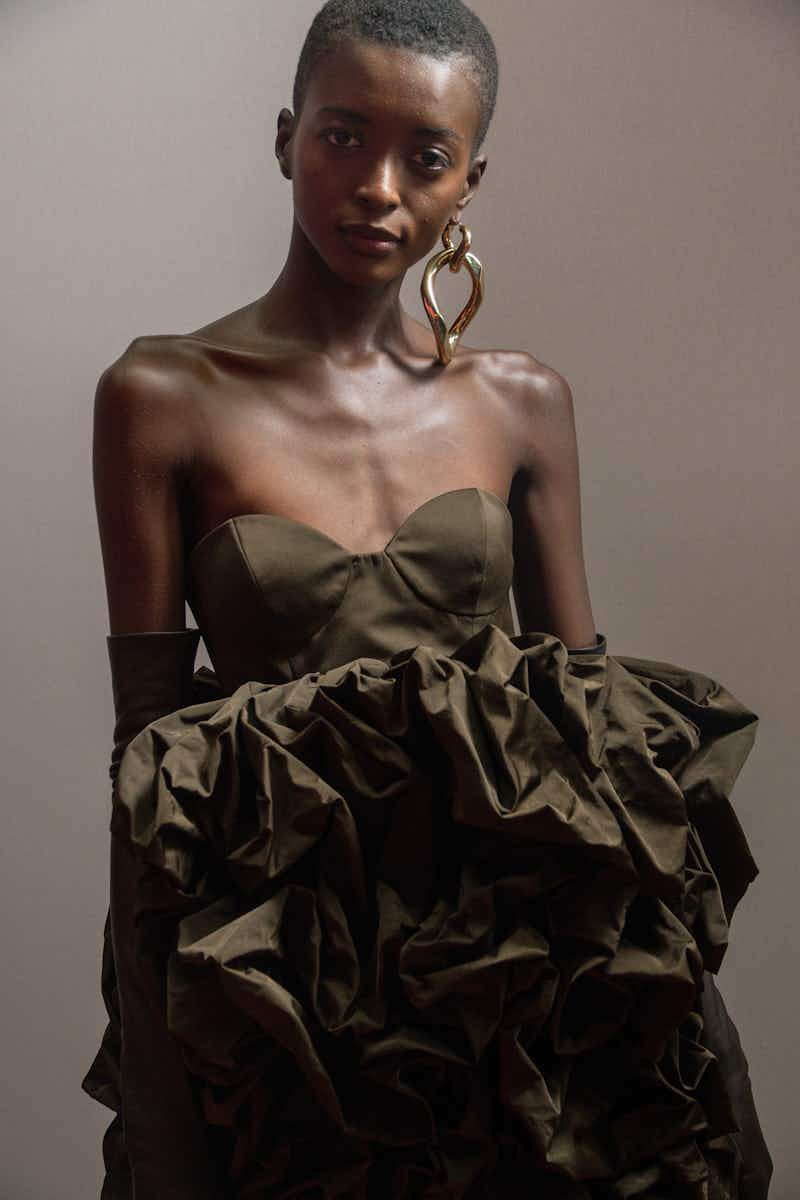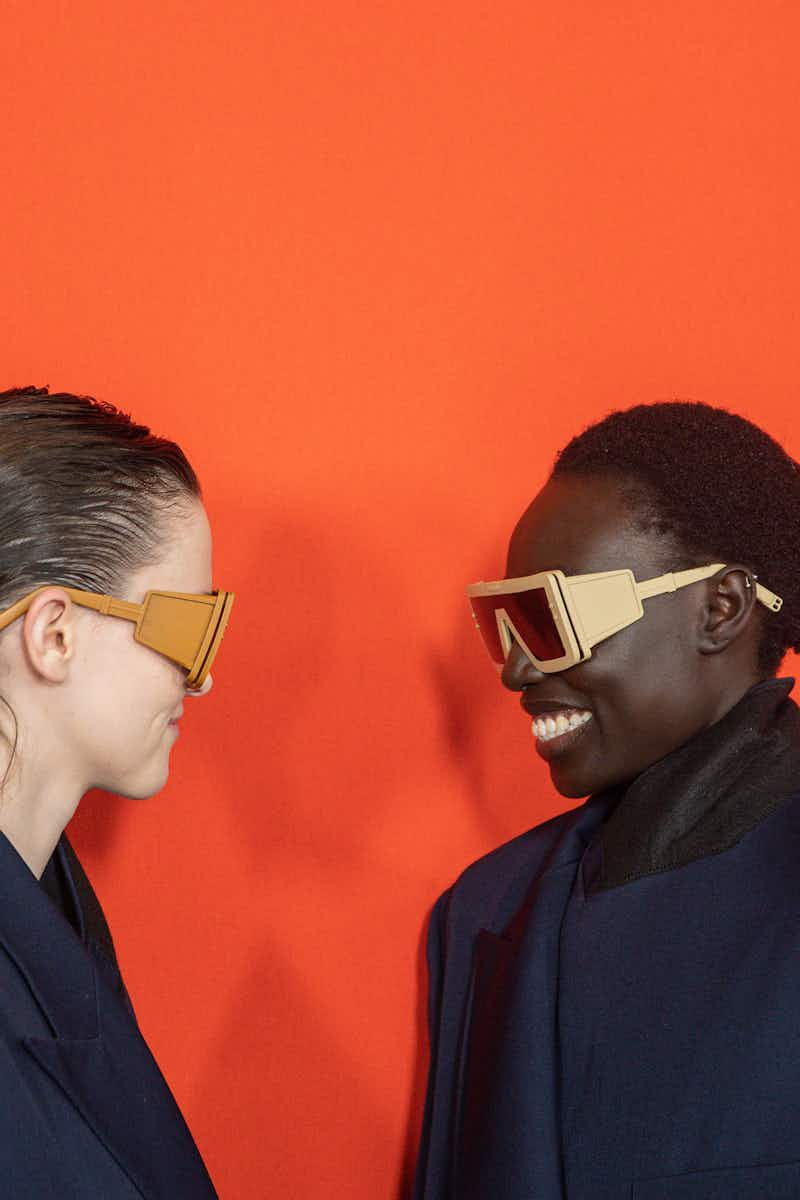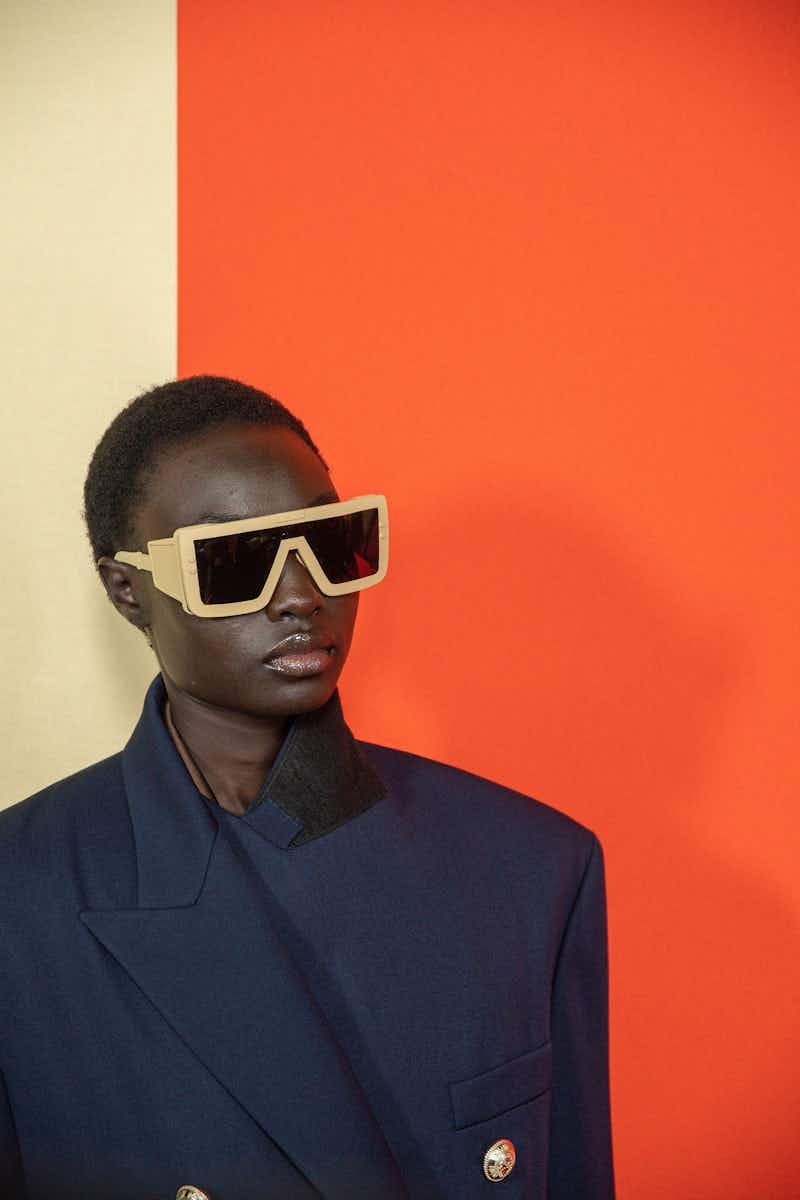 LOEWE AW20
Loewe brought nautical vibes to the UNESCO building in Paris. Shoes came with starfish buckles, shellfish prints adorned clothes and admiral plumes were turned into full-head hats. Coral crept up sleeves and down necks and barnacles cling to bags. Divine draping and old world fabrics abound.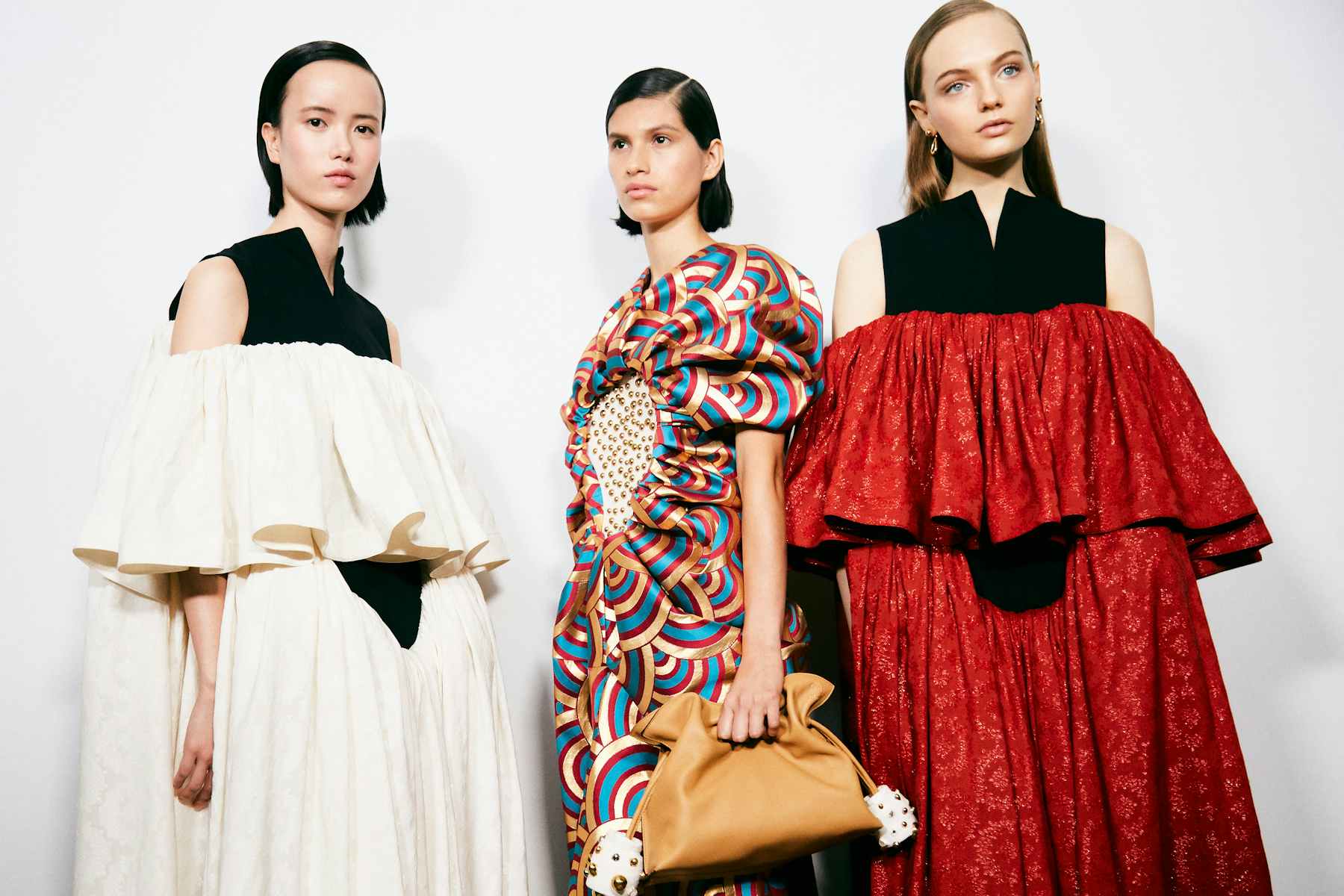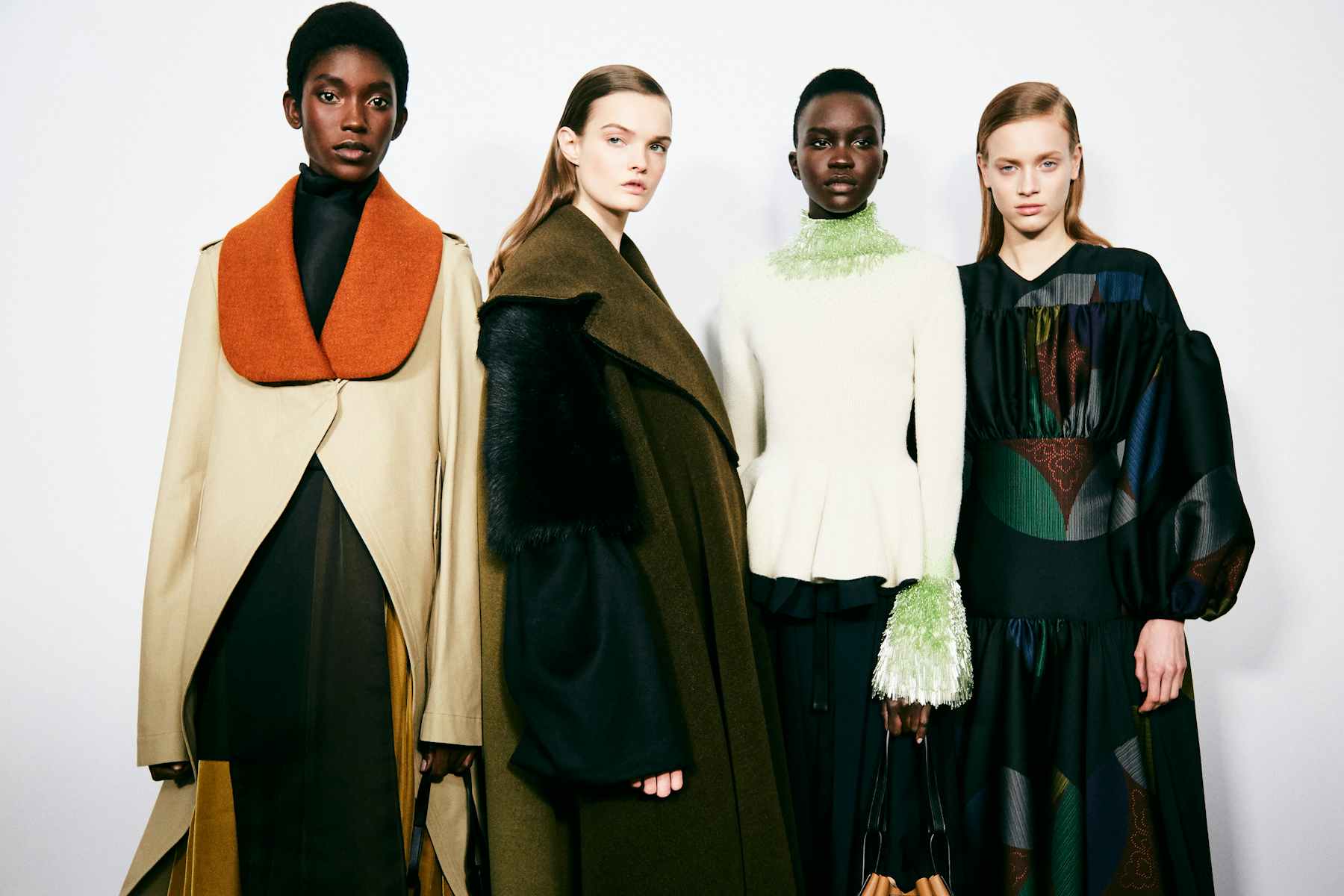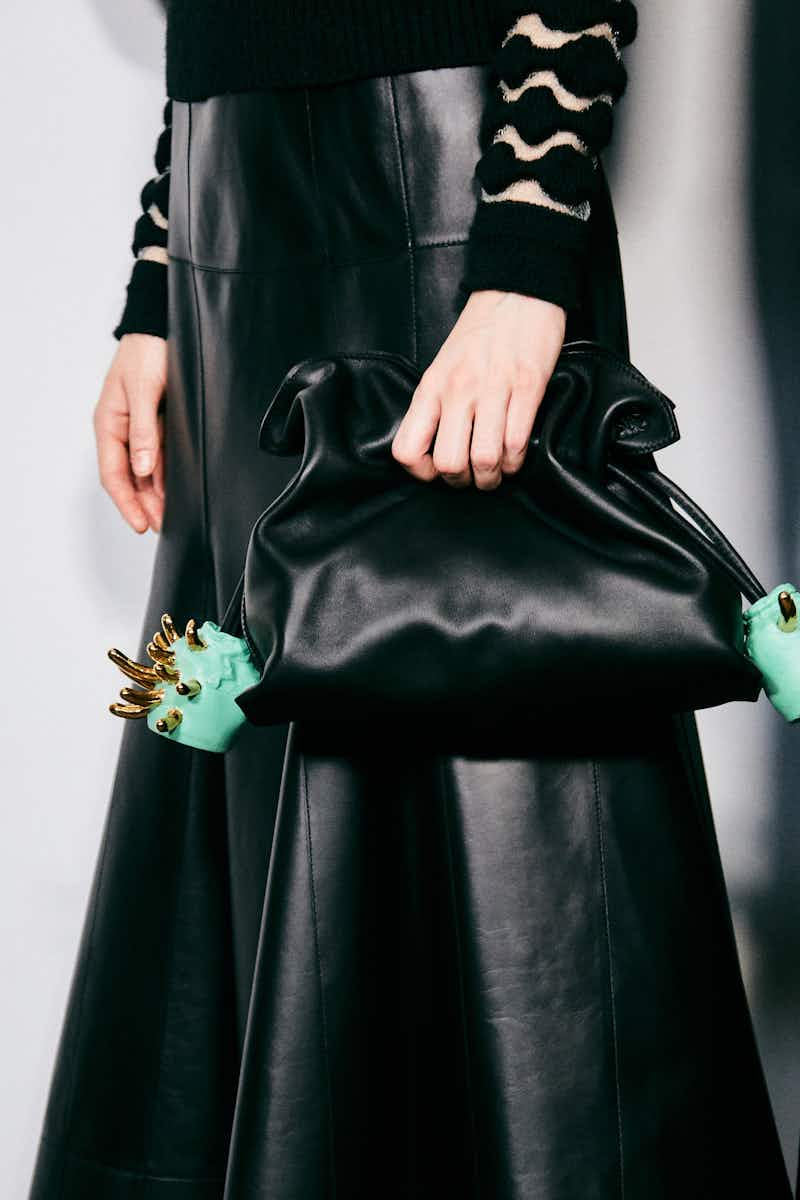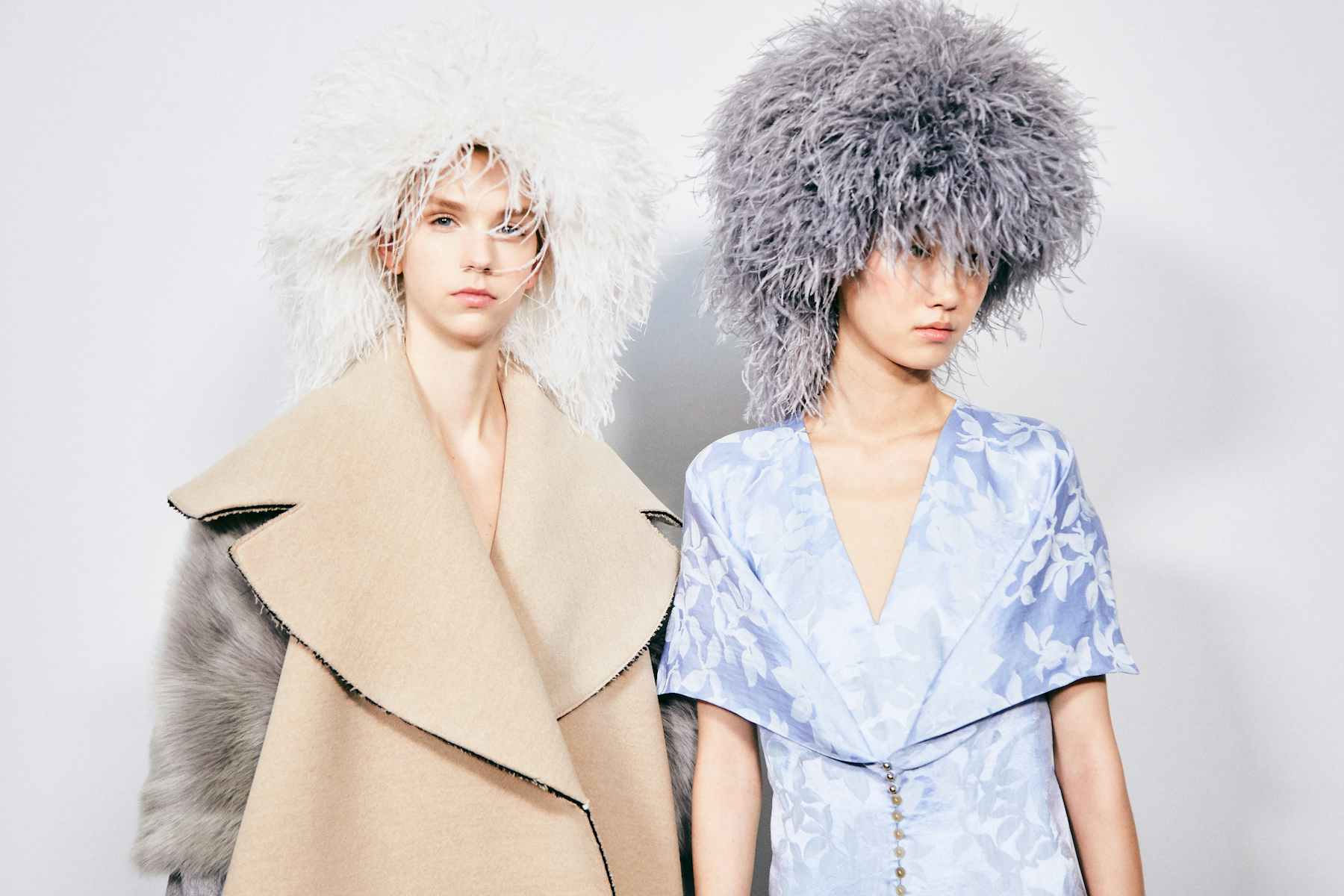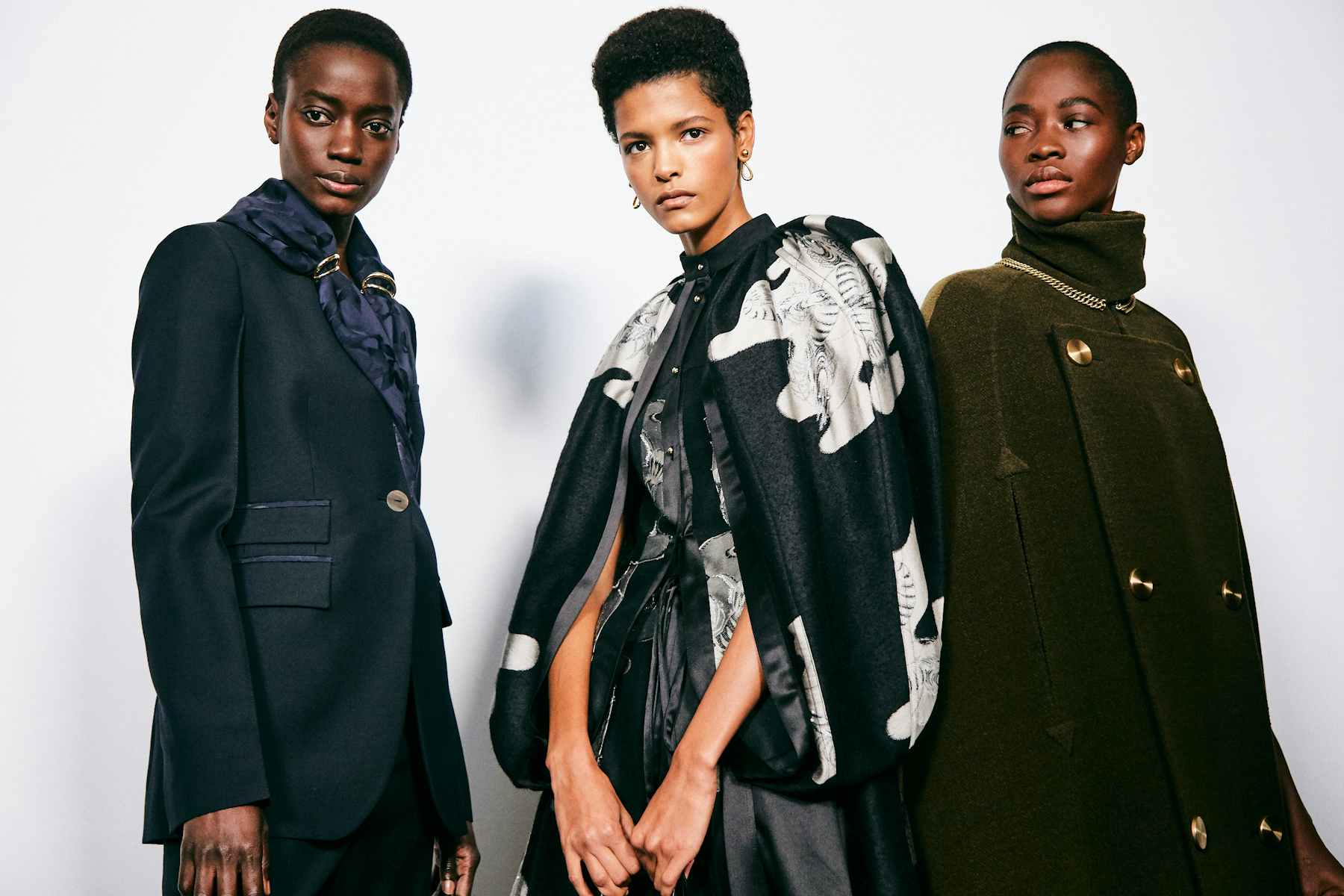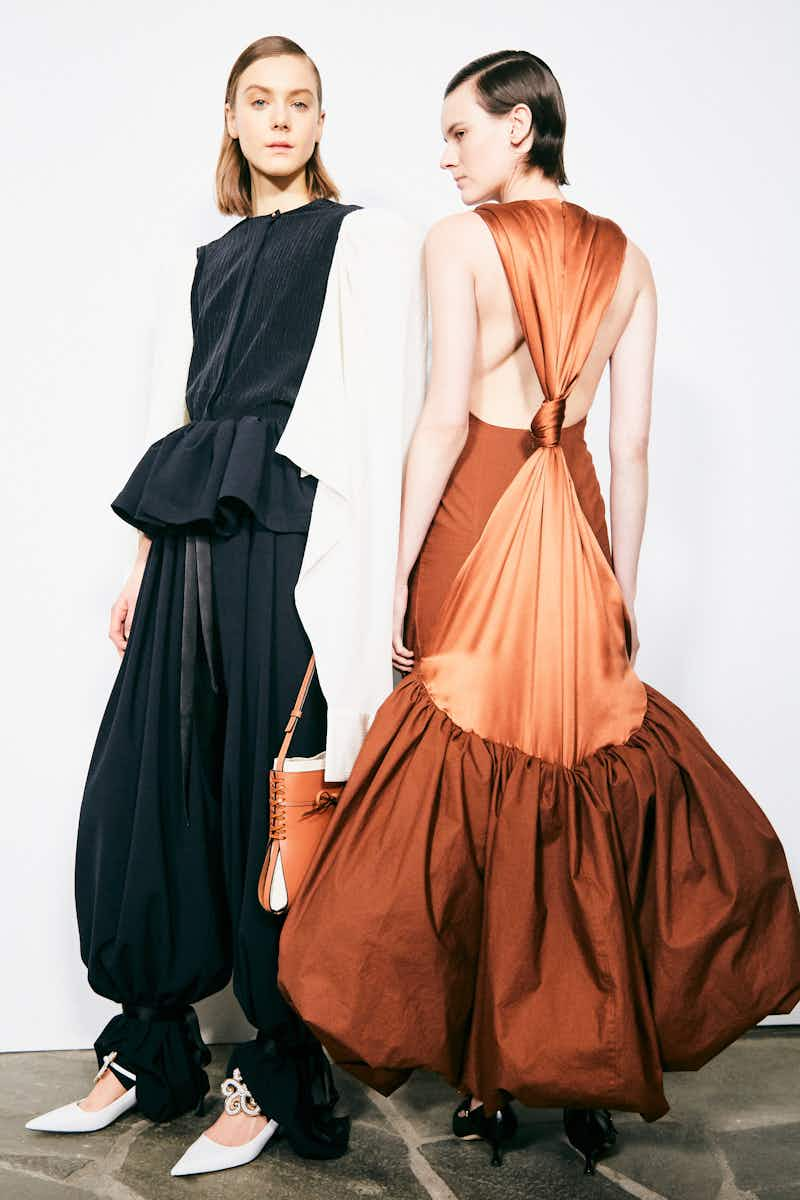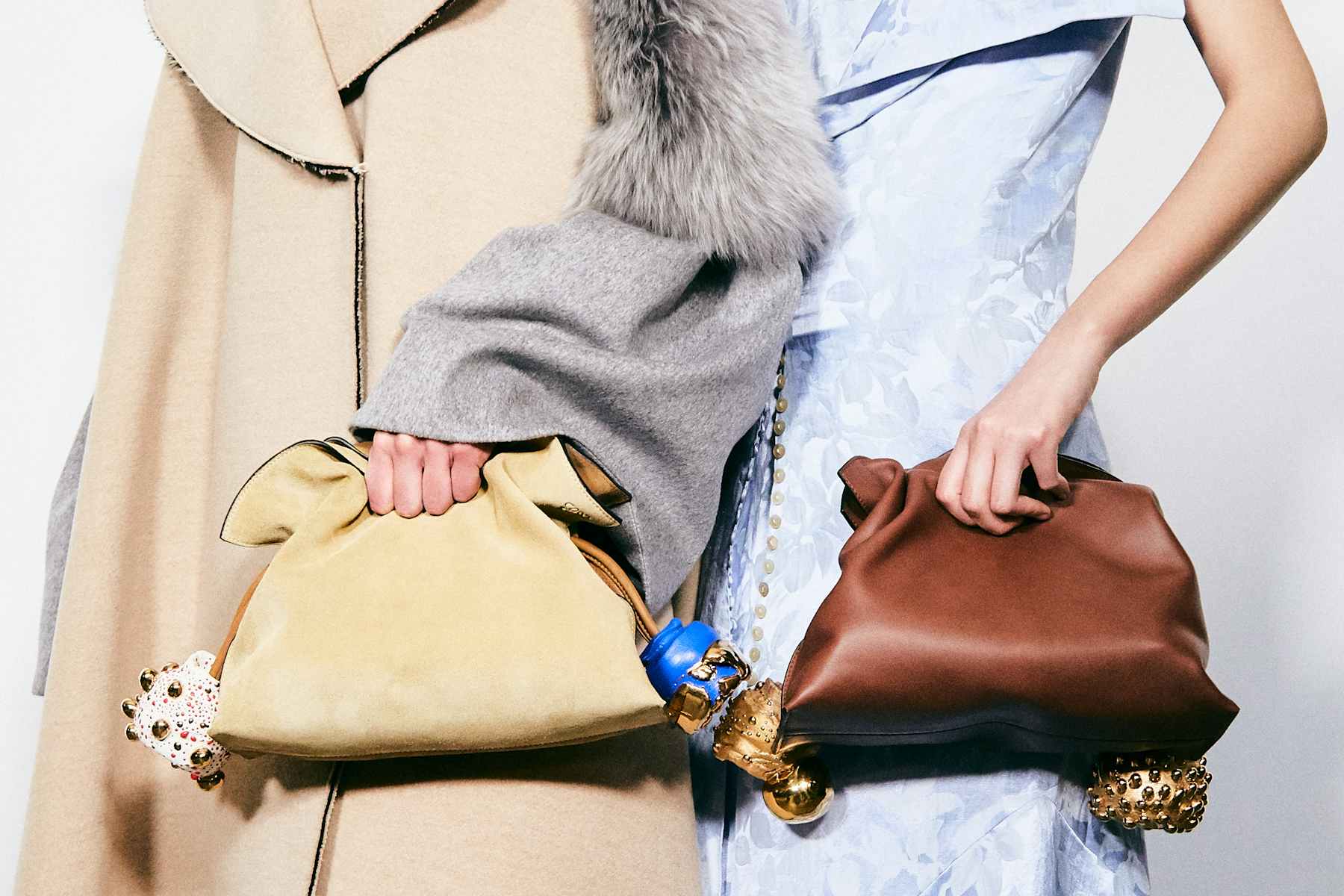 OFF-WHITE AW20
Bella and Gigi Hadid might have opened the Off-White, but for fans of reality TV matriarchs, it was their mum Yolanda who stole the show, blowing kisses to the cameras as she strode out in an ​"Acid" spray-painted pant-suit. Walking amongst bisected, up-turned cars, models showed off cow prints, foam green and purple colourways and hedge-trimmed asymmetric tulle gowns. Bags were whoppingly oversized or like hard portable speakers. Shoes were strappy, clacky heels or the Off-White trainers that sell by the shedload. There was also an Arc'teryx collab in there for lovers of the skiwear brand.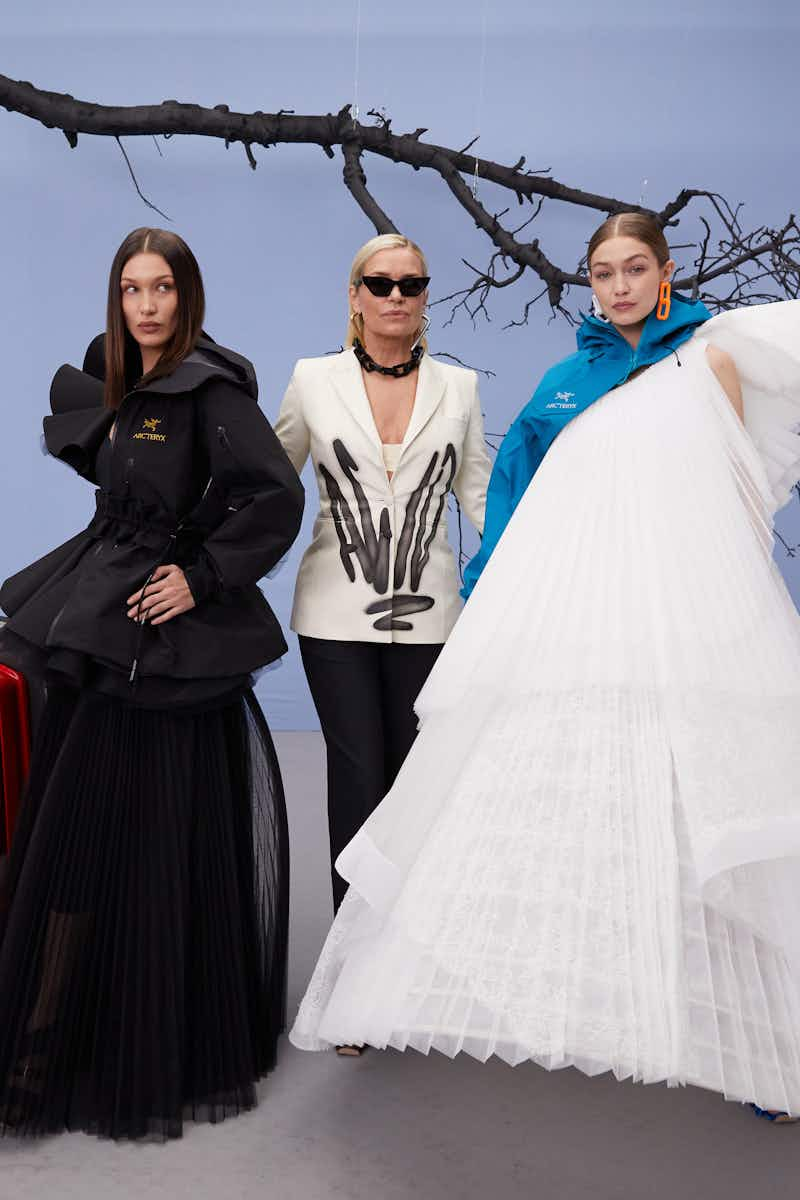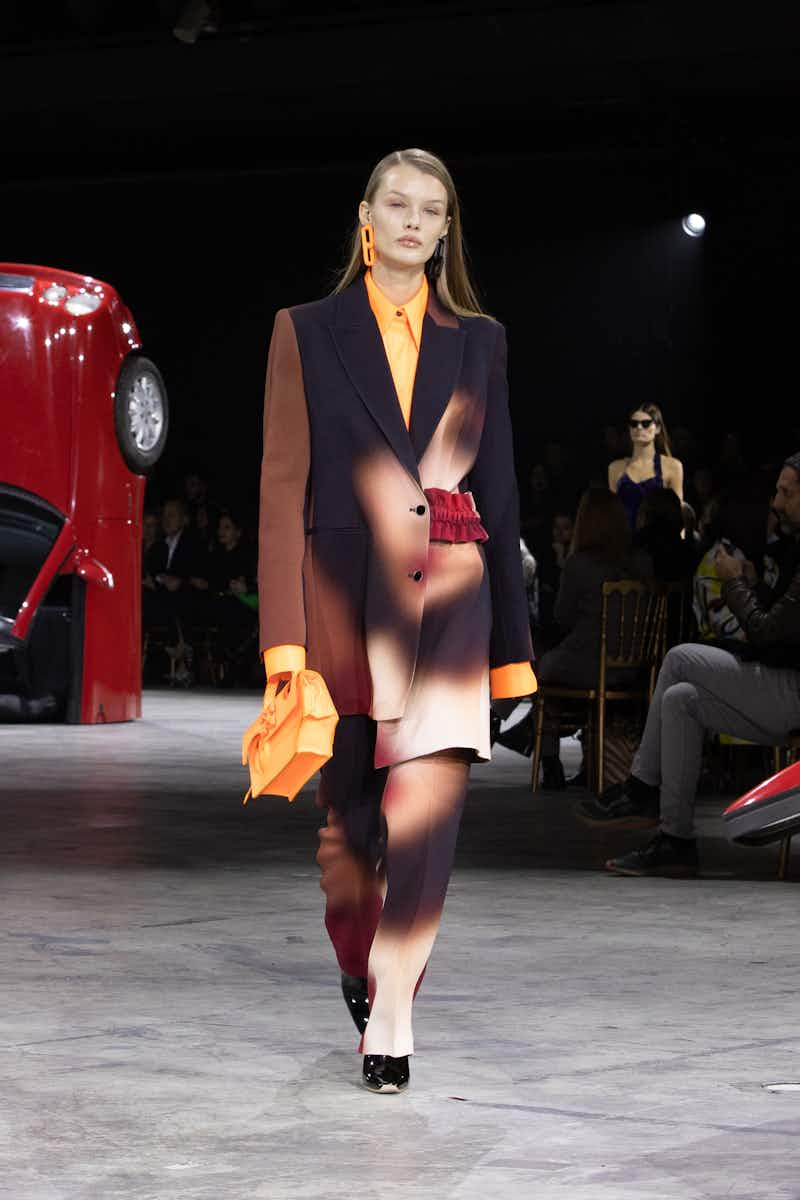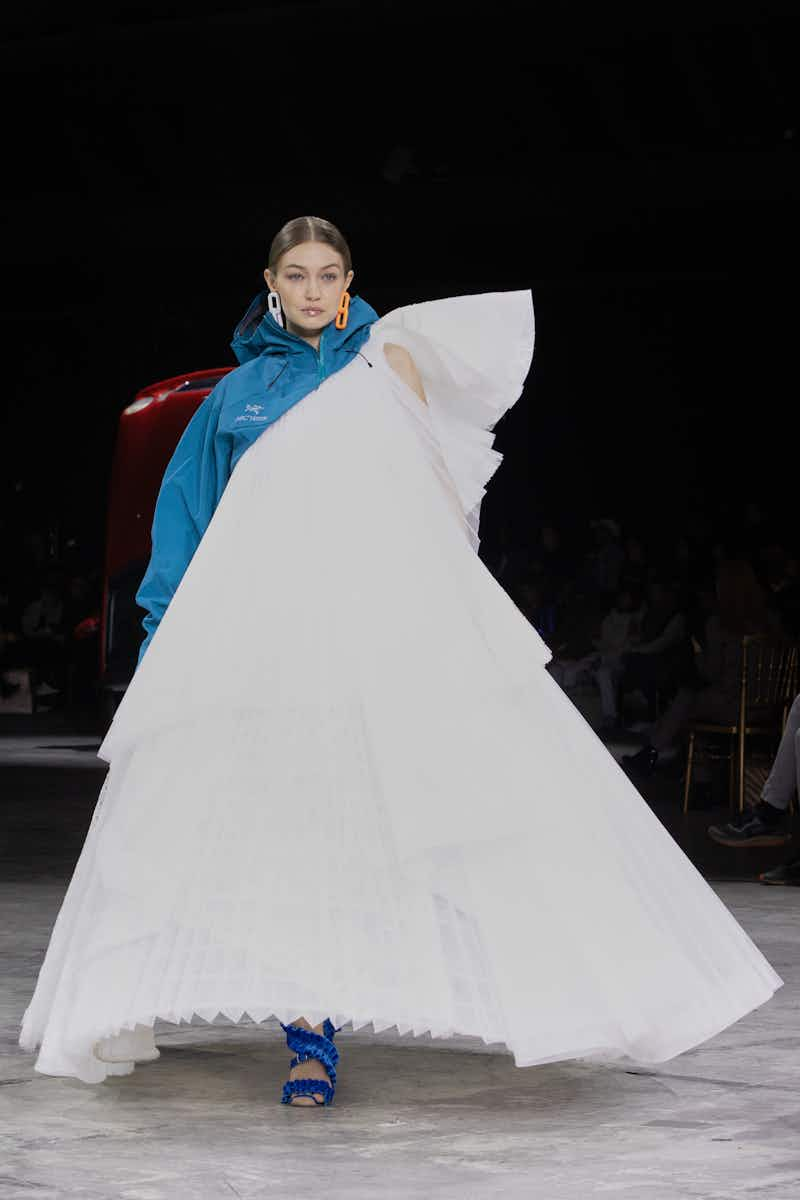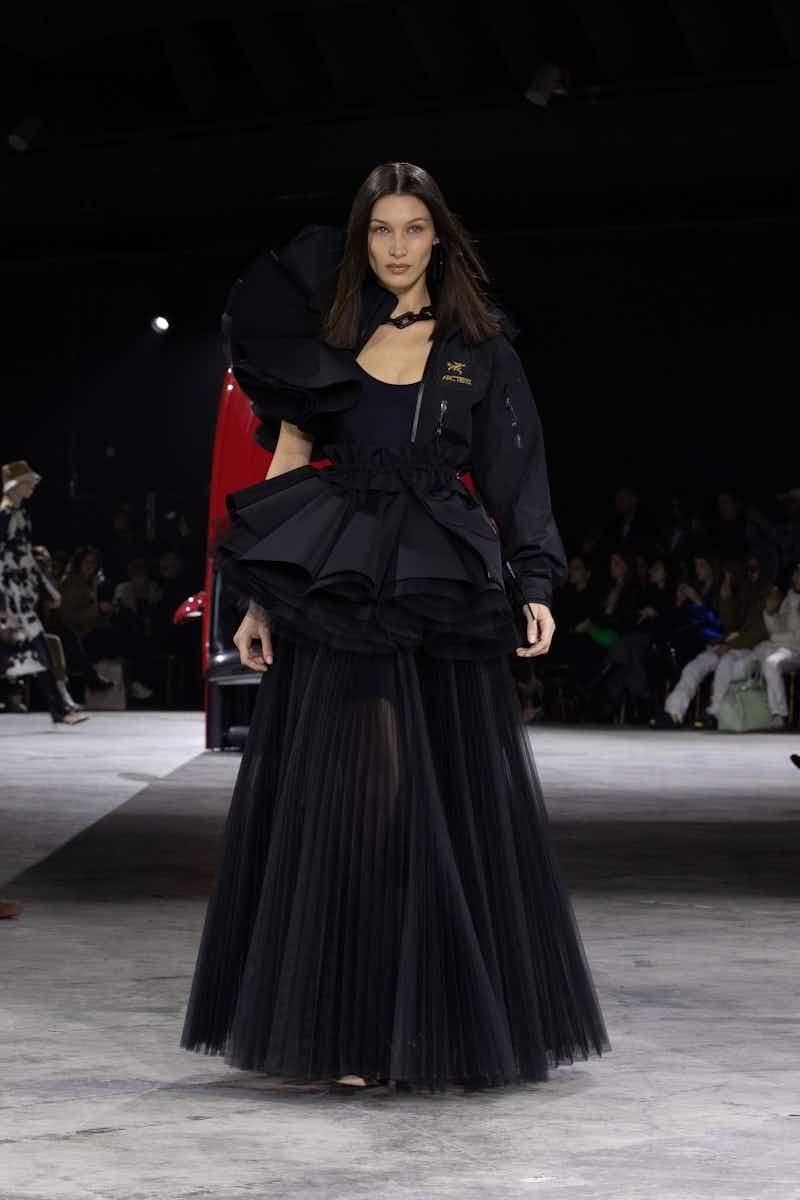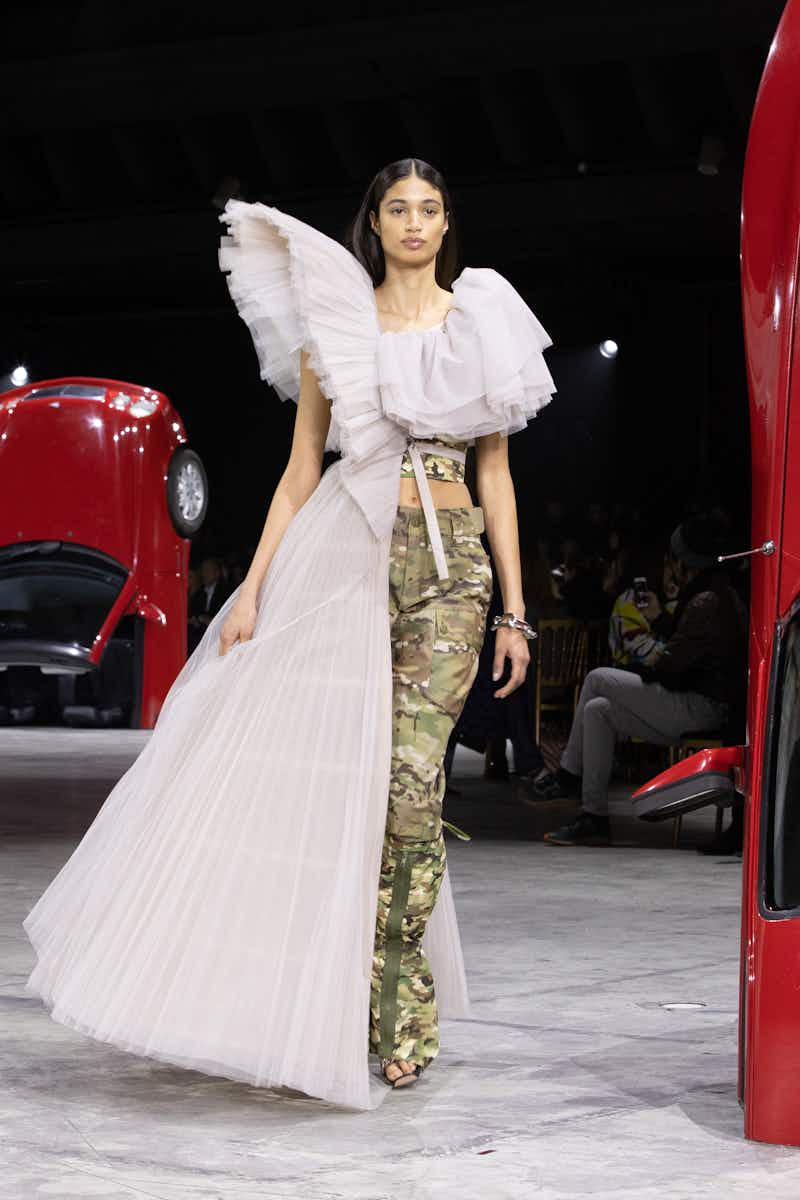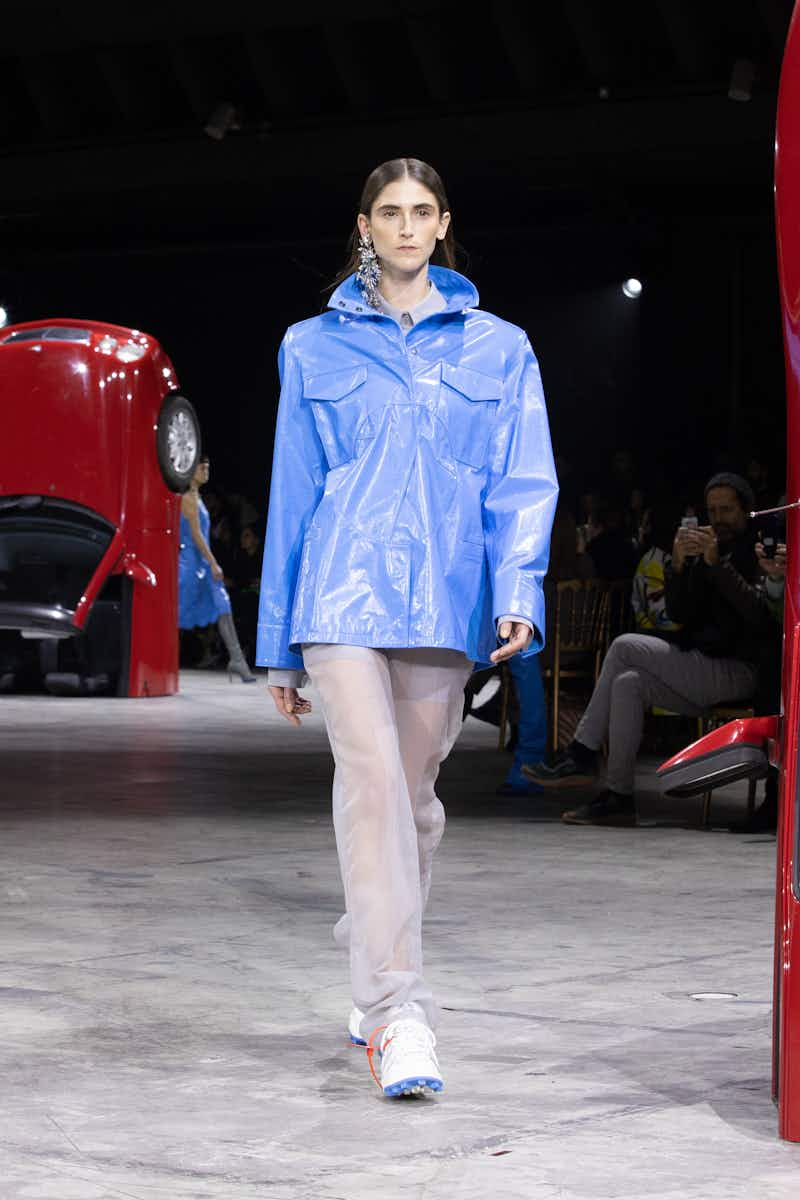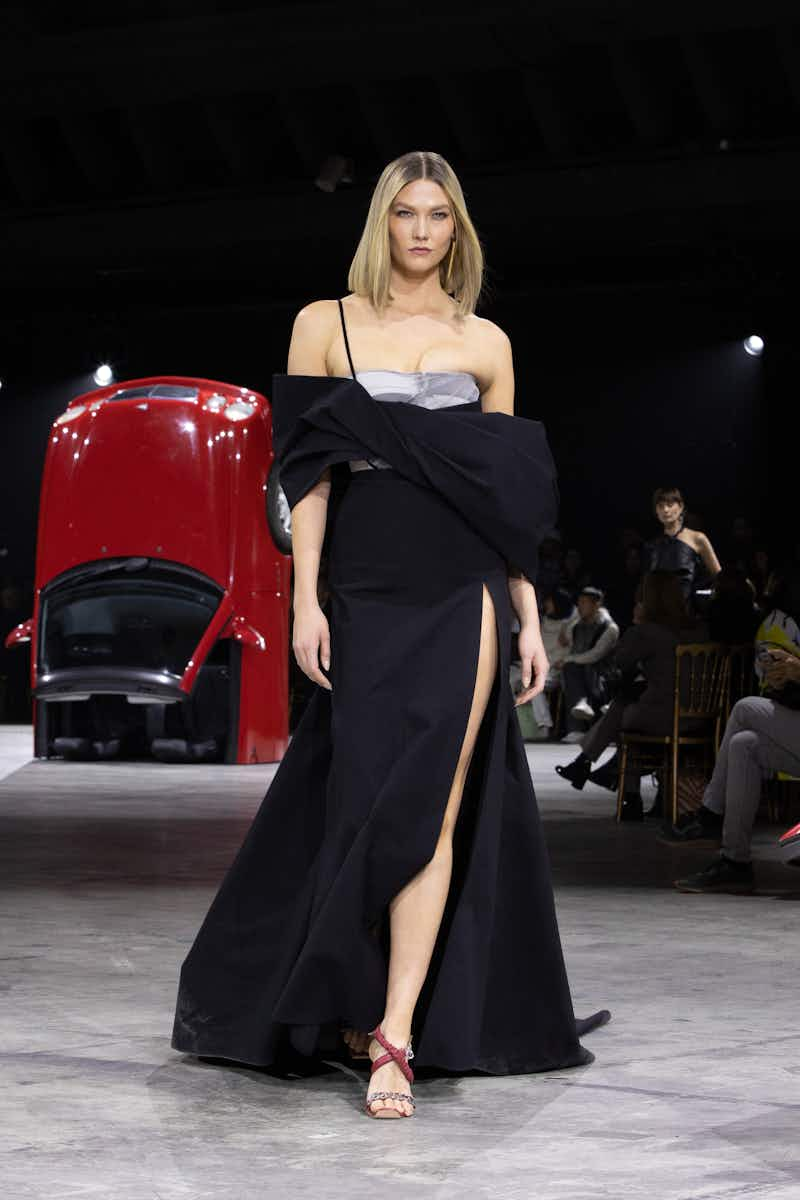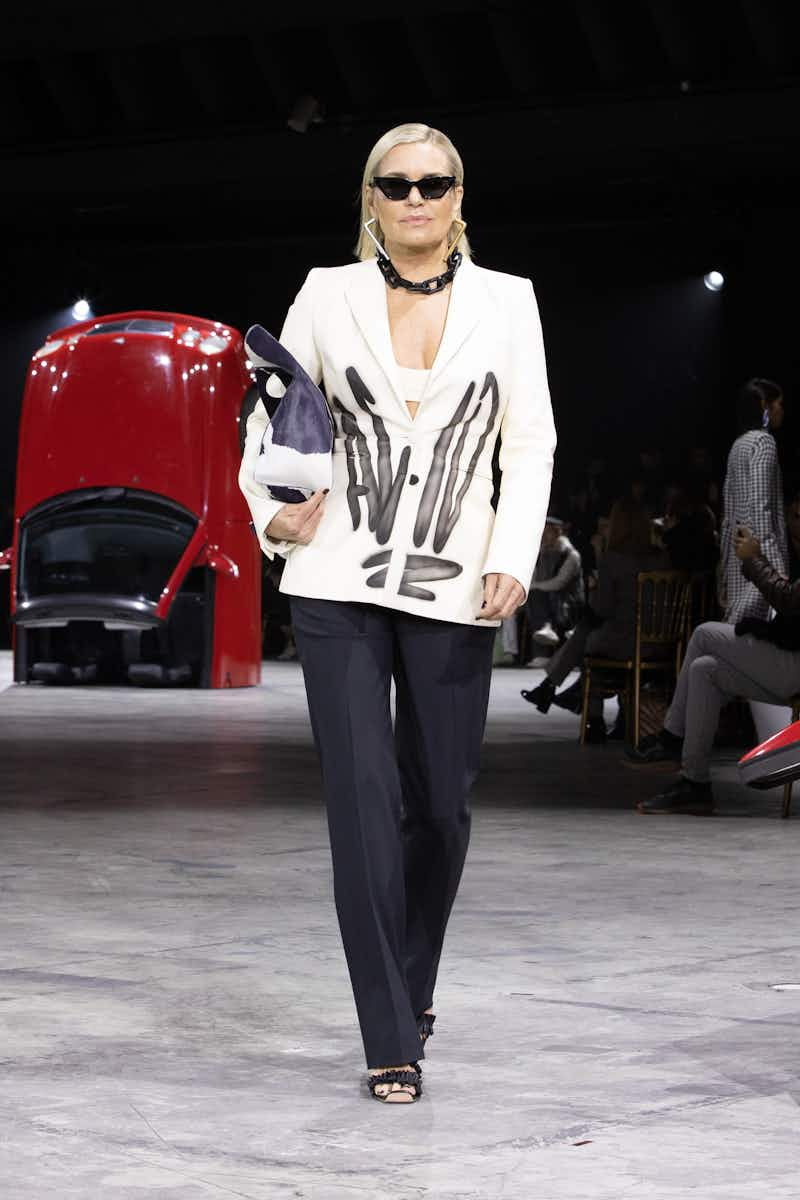 RICK OWENS AW20
The dedication of Rick Owens' cult following is rivalled by only one heavily jewelled chain-smoker: Michèle Lamy. So dedicated she wore her husband's head to his AW20 show – a collection reviving the exposed leg (see: dresses slashed to dizzying heights). Models powered through smoke machines just about exposing their killer clear-heeled, steel-toed platforms, the green-tinged leopard print on the show's invite appeared on a pair of knee-high platforms, angular shoulders were moulded onto dramatic knits and figure-hugging dresses and a full-zip jacket extended knitted sleeves flowing way over the hands, slightly preserving the flamboyant glam rock influences of his last AW20 Men's show. This is the future according to Owens: androgynous, dystopian, post-apocalyptic, sexy. And somehow, he's even got us looking forward to the next sub-zero plunge. Ice blue padded capes, anyone?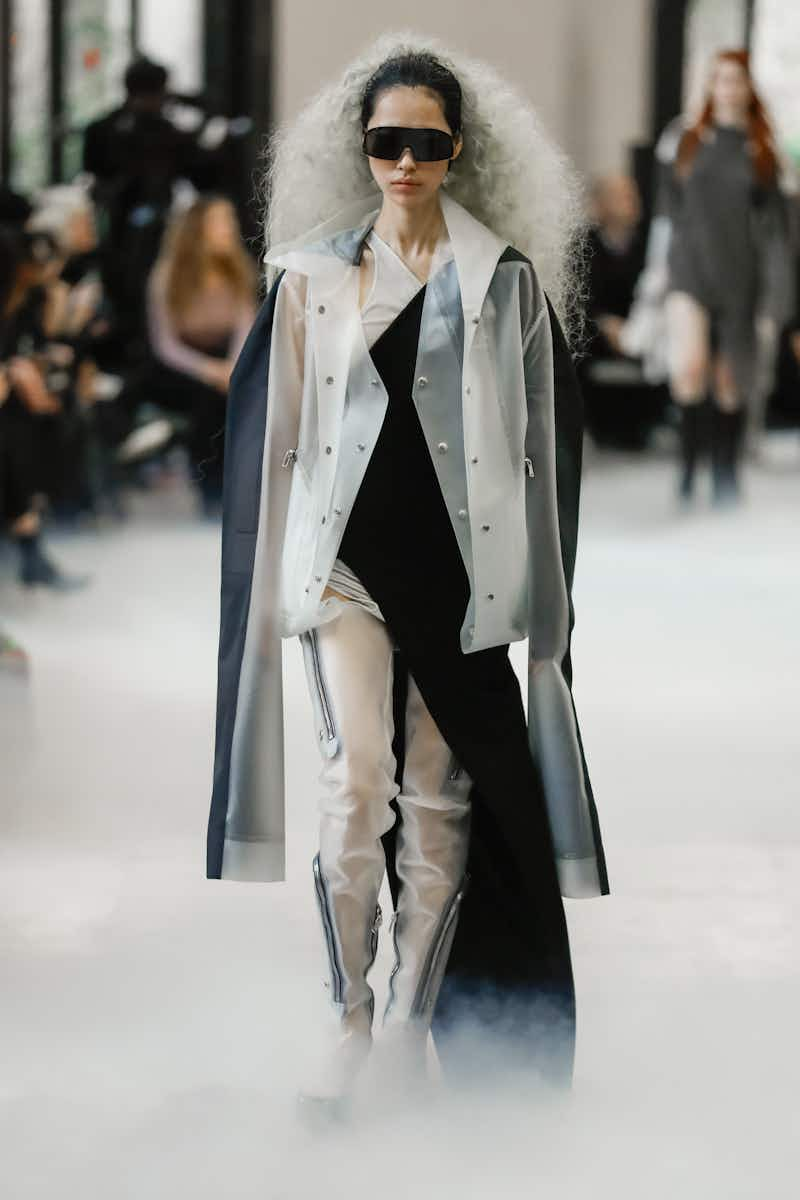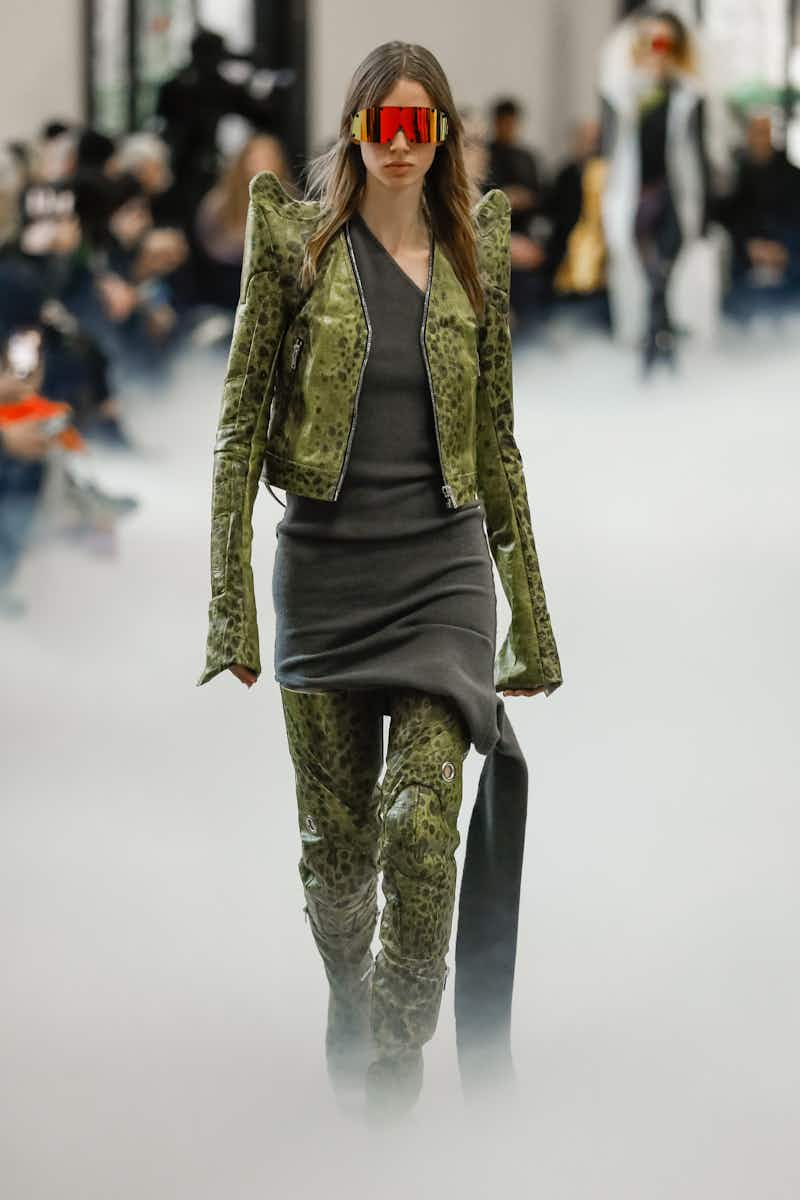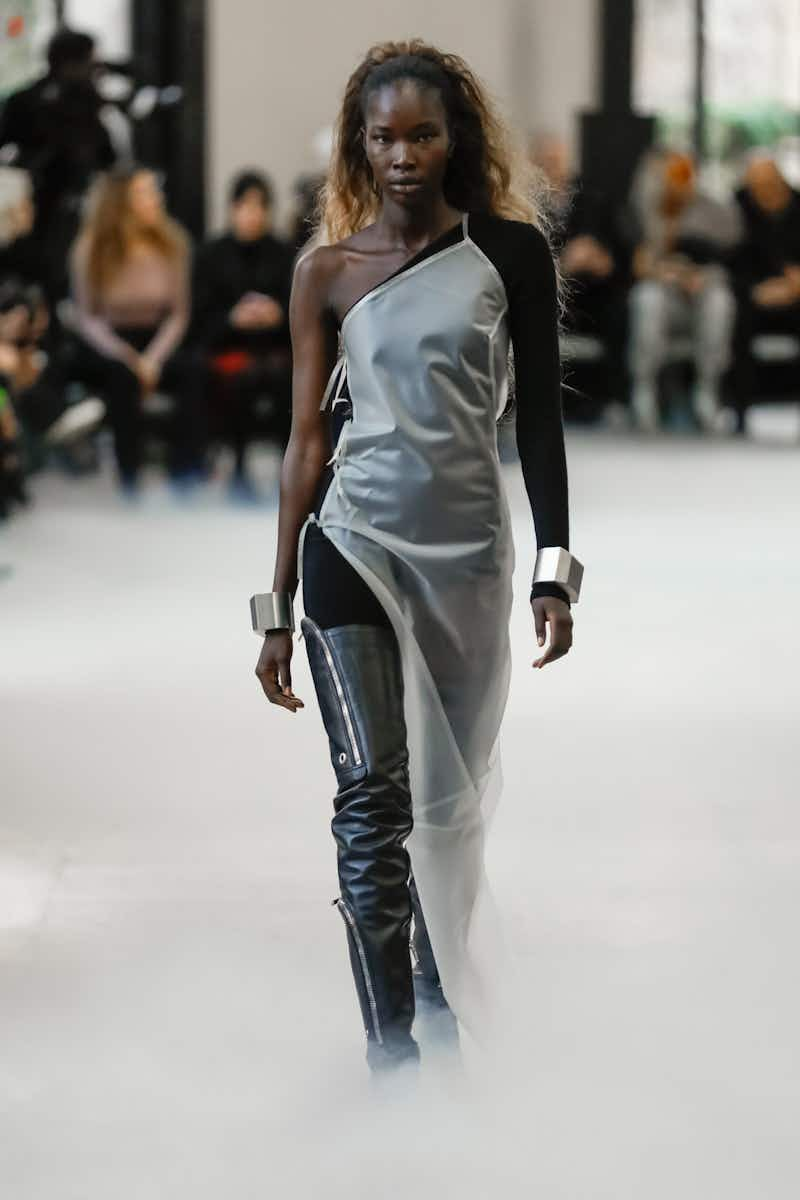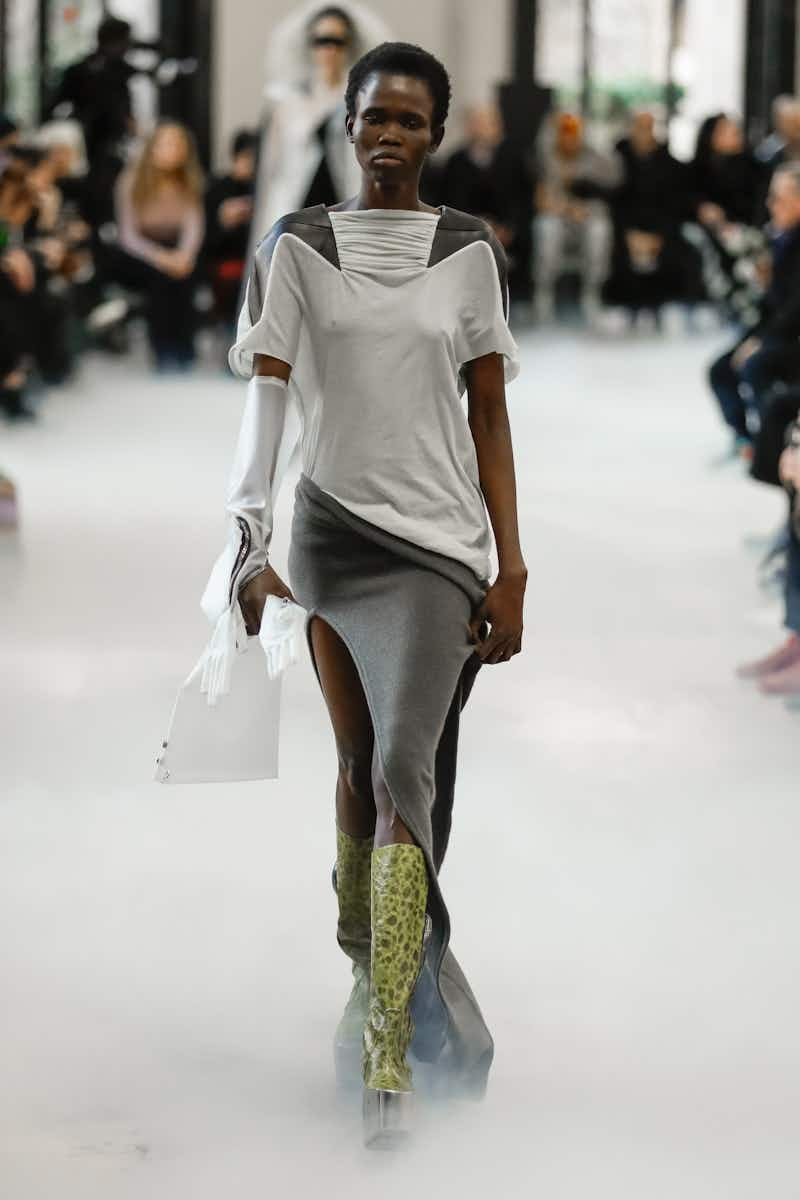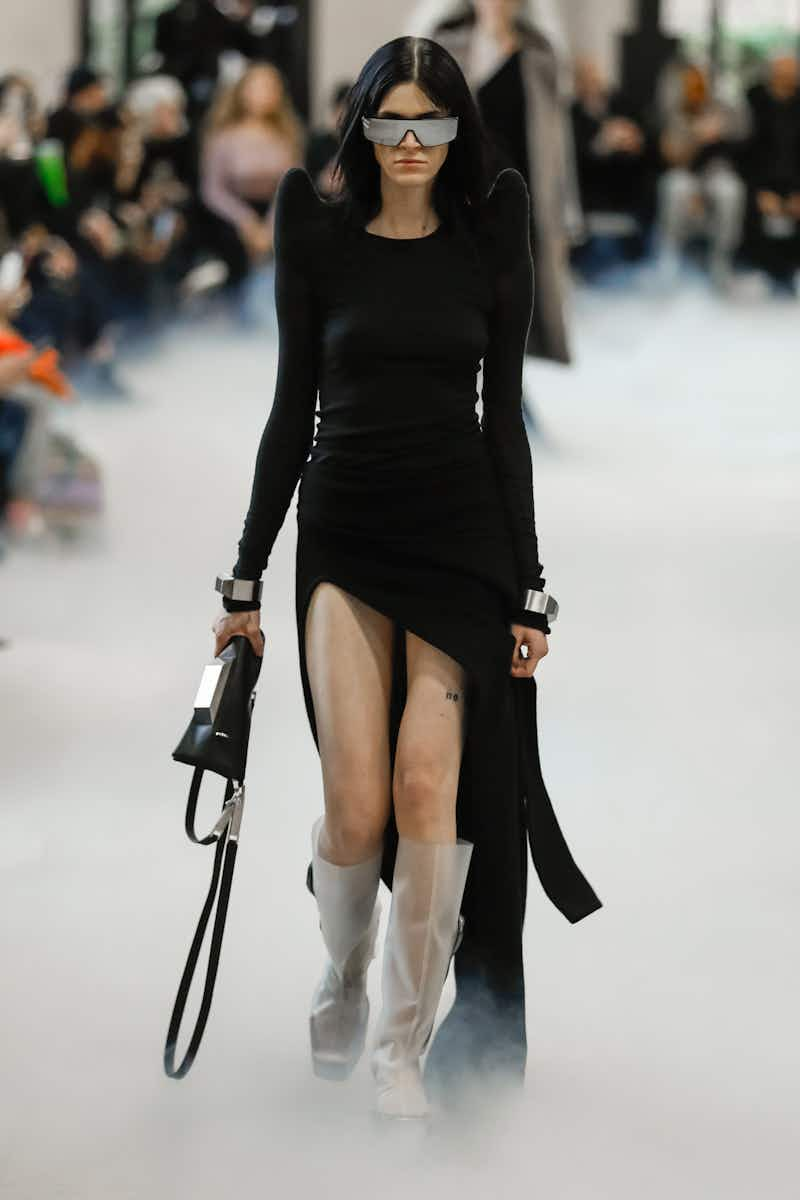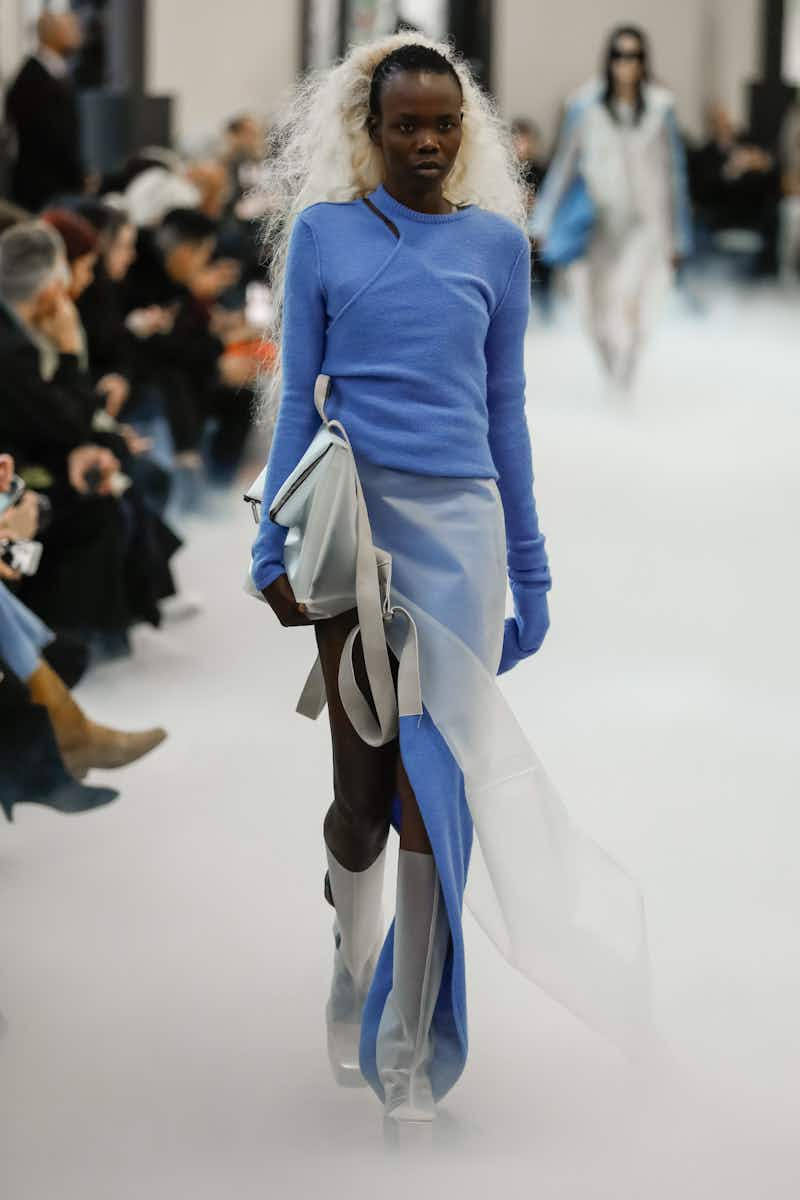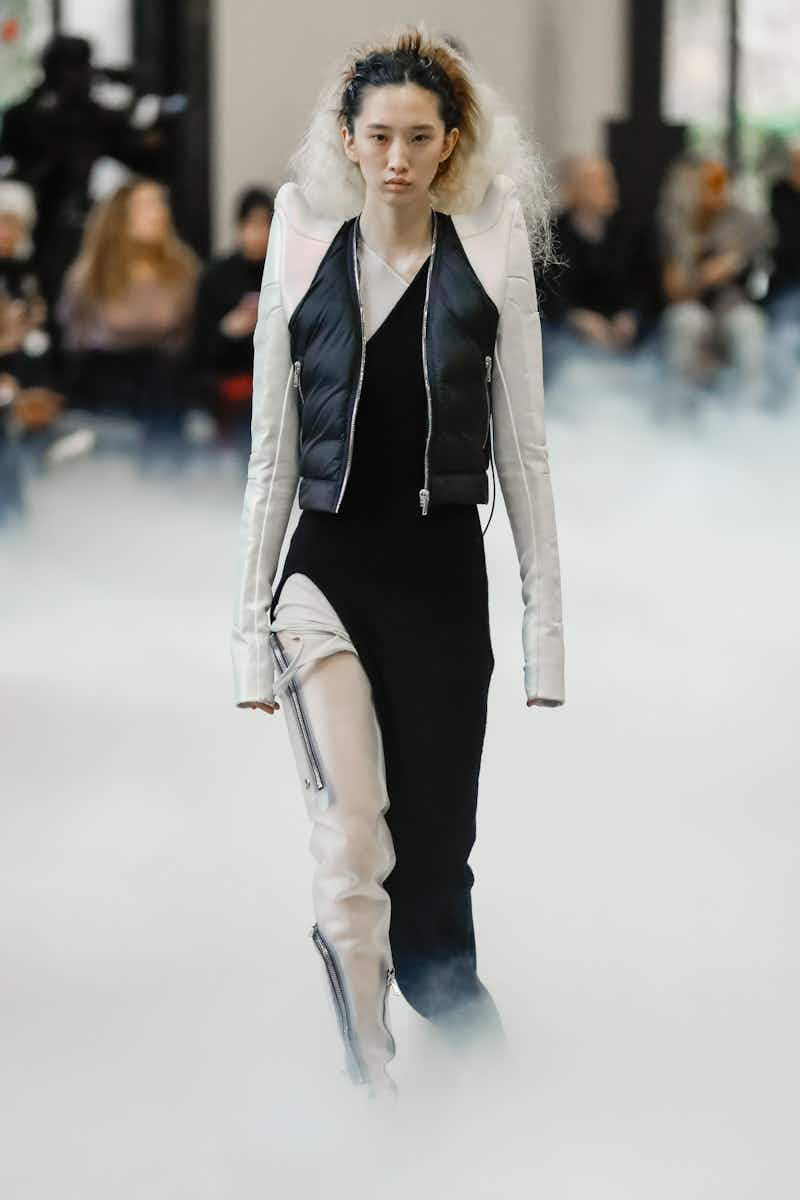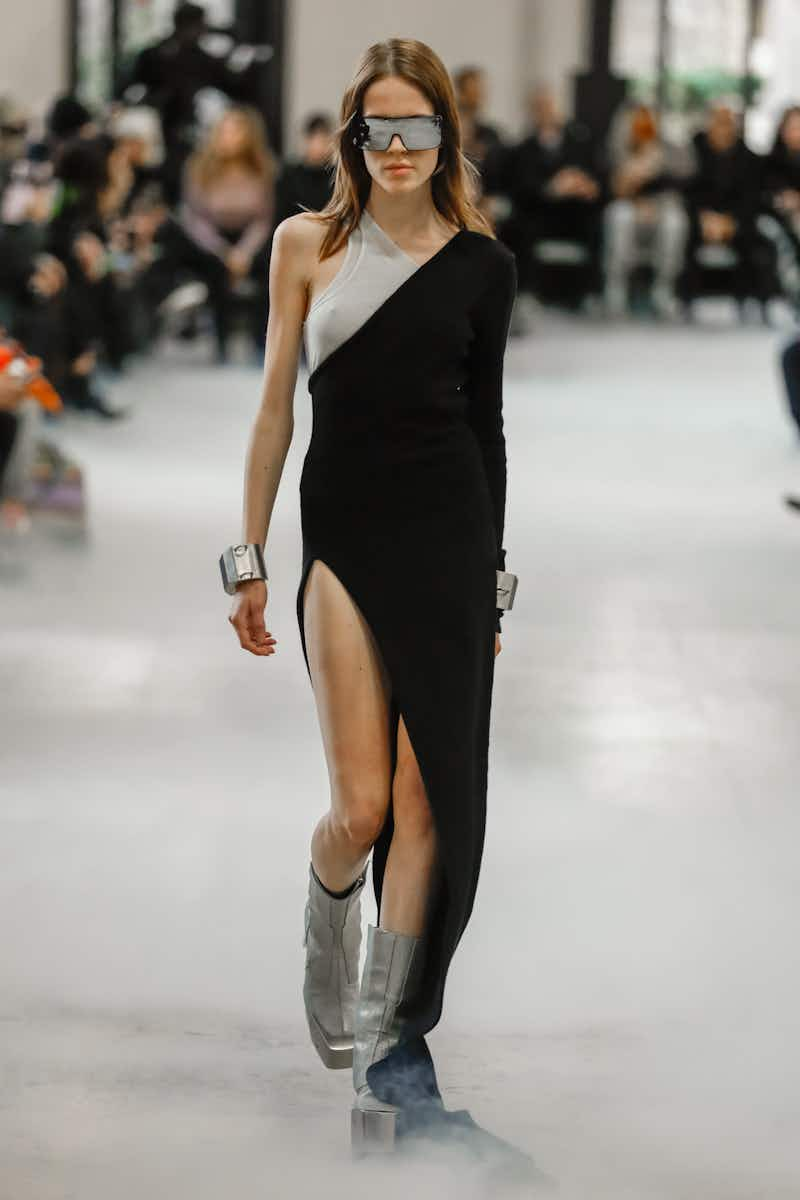 MAISON MARGIELA AW20
Maison Margiela's show didn't have the drama of a weird walk this season, but it continued to surprise with its unexpected mix of looks that went from high glamour hole-punched black dresses through to Austrian Alpine lederhosen and from Tabi brogues through to block-heeled Reebok Insatpumps. At times you imagined the clothes being worn as a dramatic boob-baring Met Gala gown, at others they transported you to children's tales like Pinocchio, Paddington Bear and The Elves and the Shoemaker. Hats suggested beekeepers, fishermen, goat herders and park rangers. All made more heightened by Kate Bush's Babooshka and Philip Glass's Einstein On The Beach, Knee Play 5.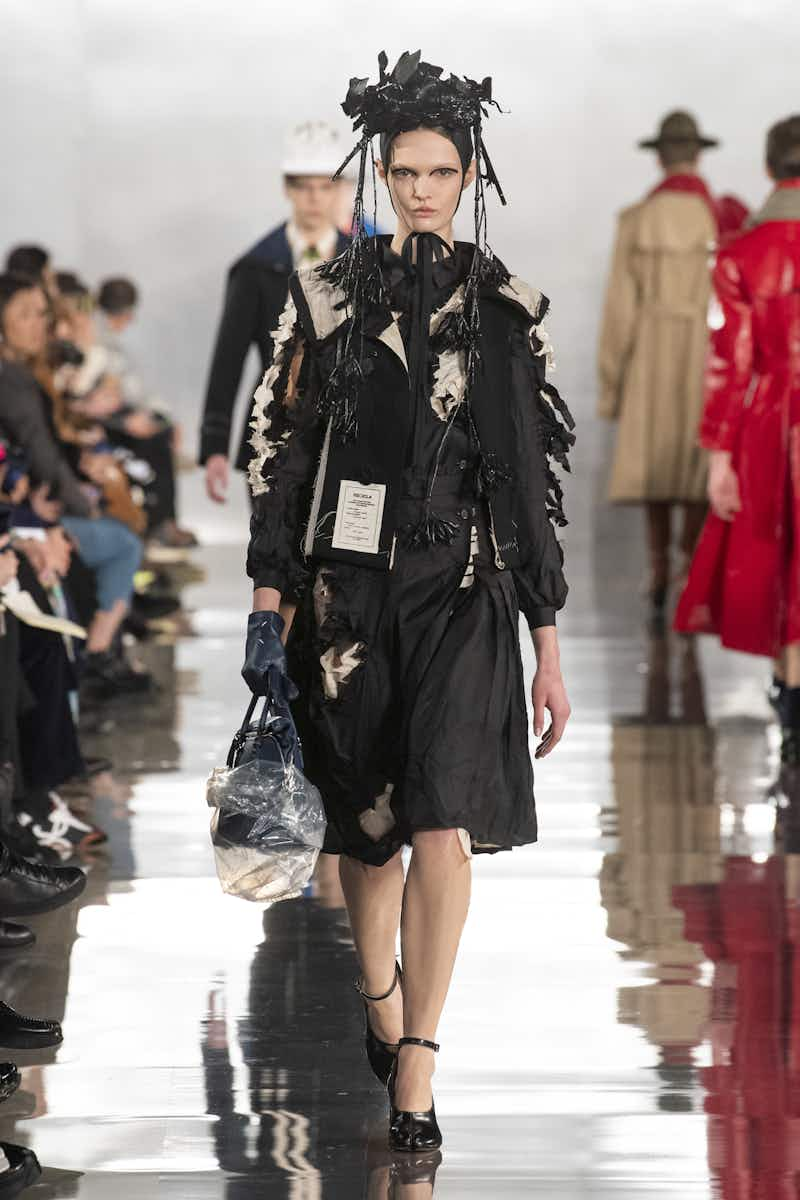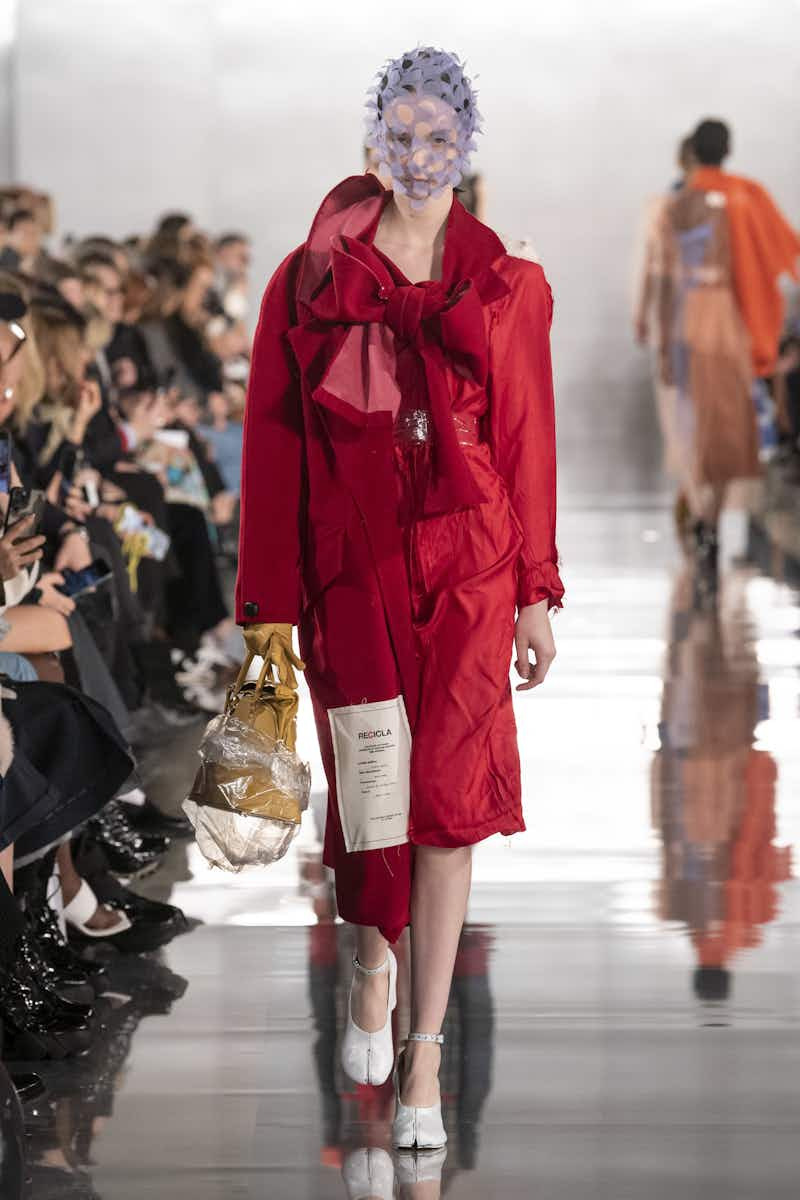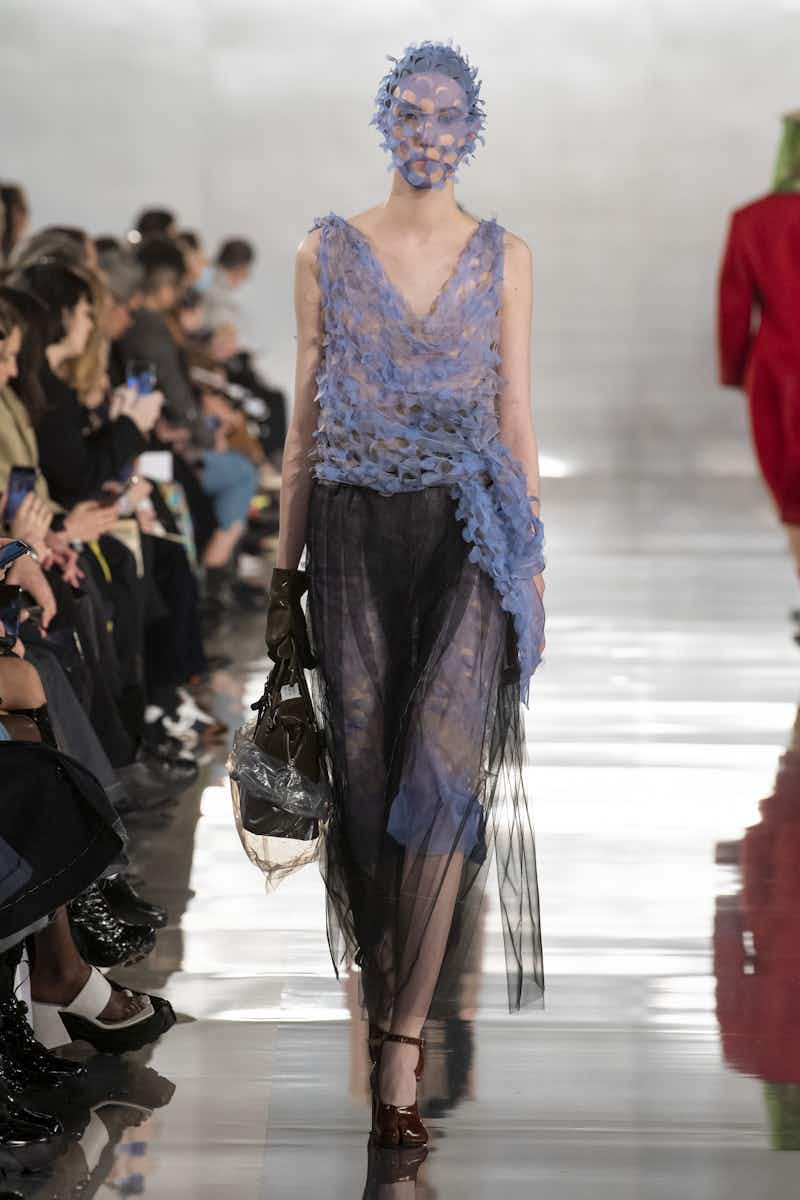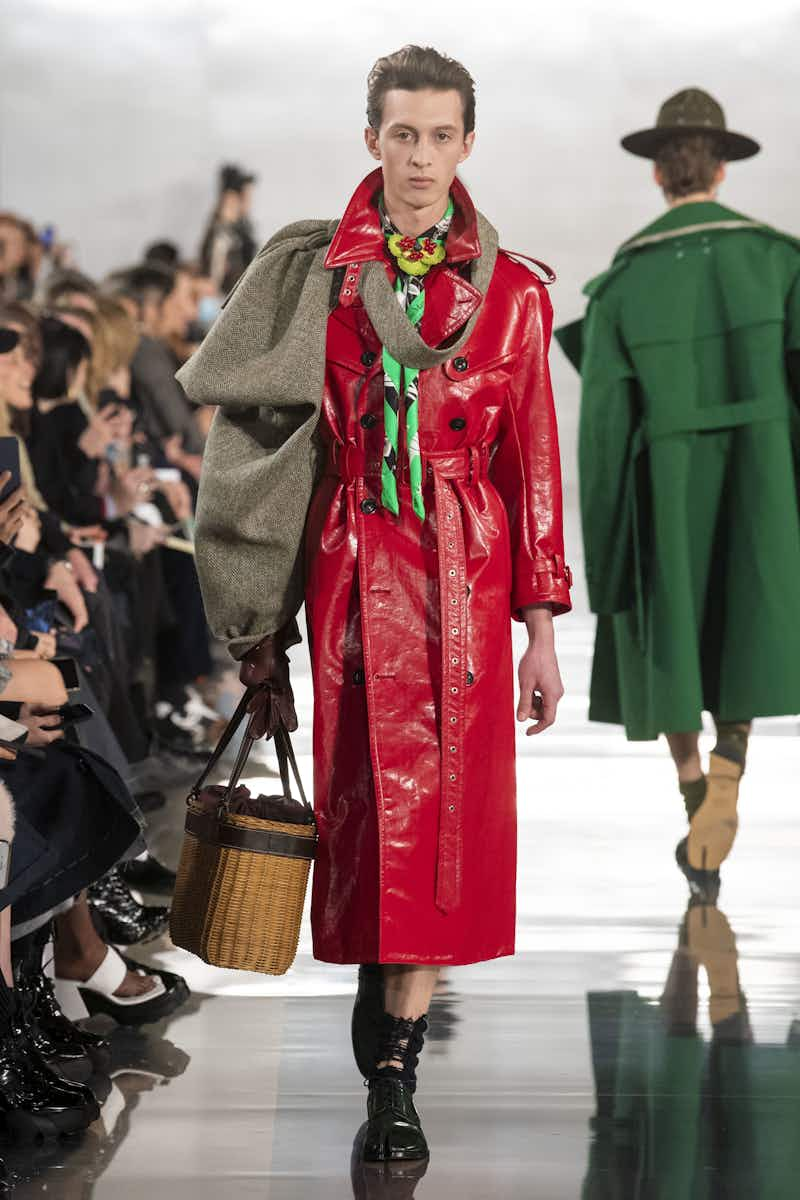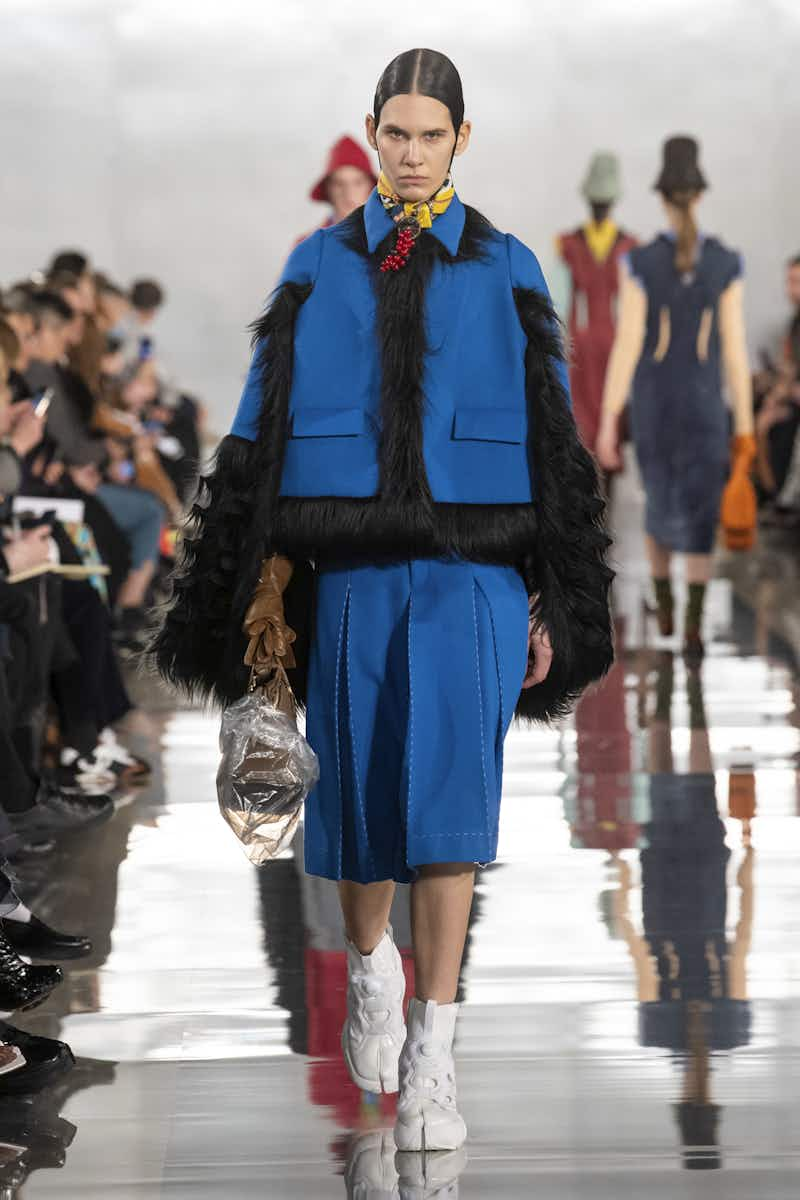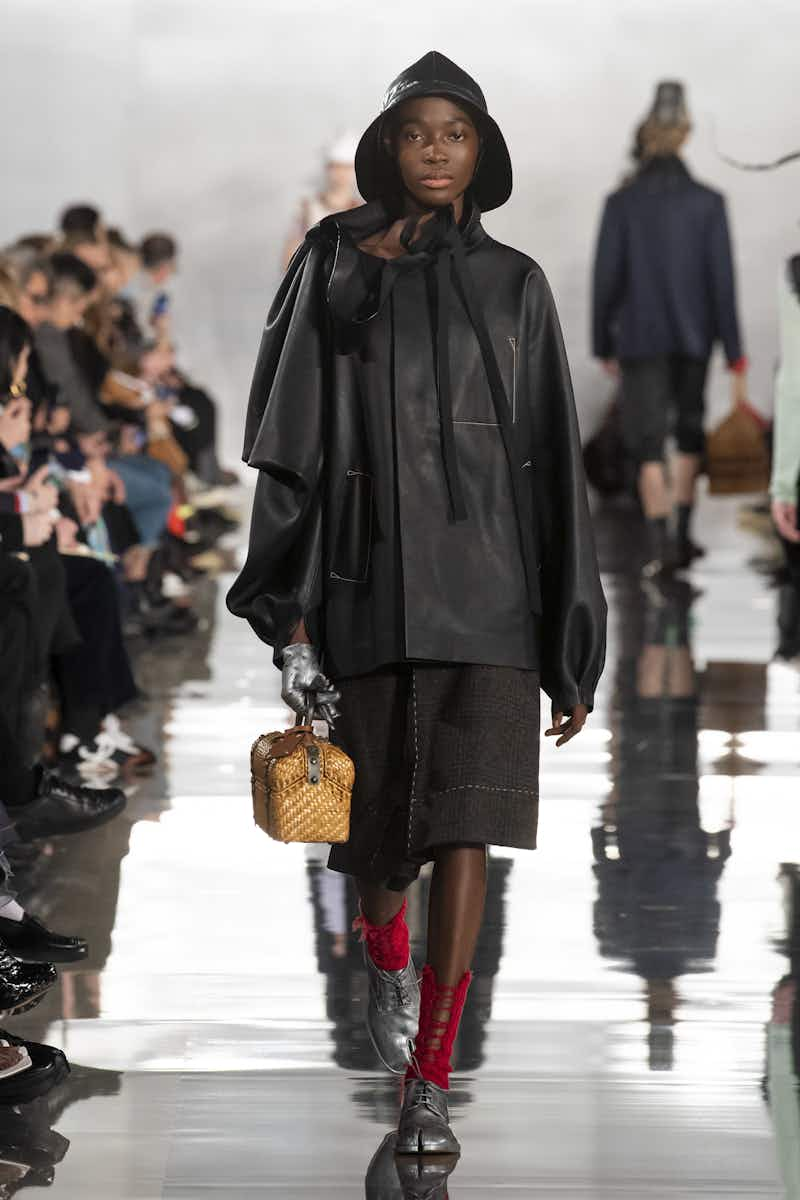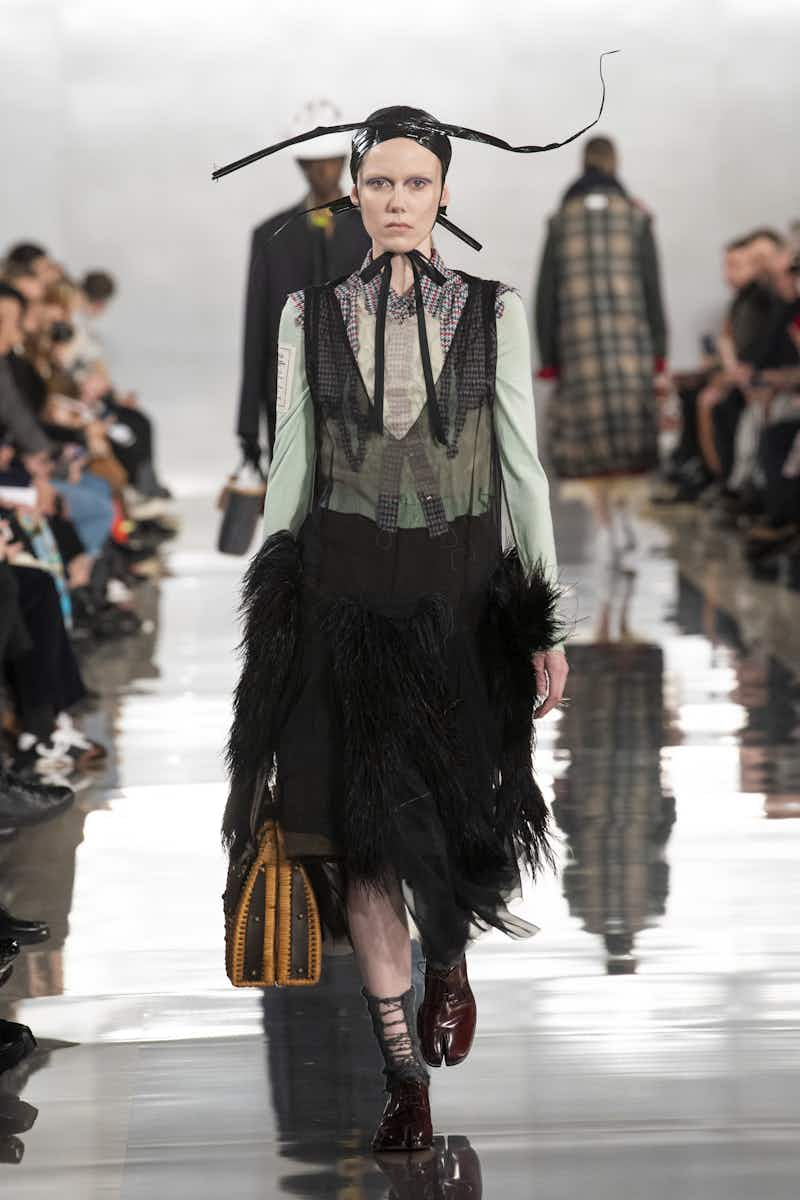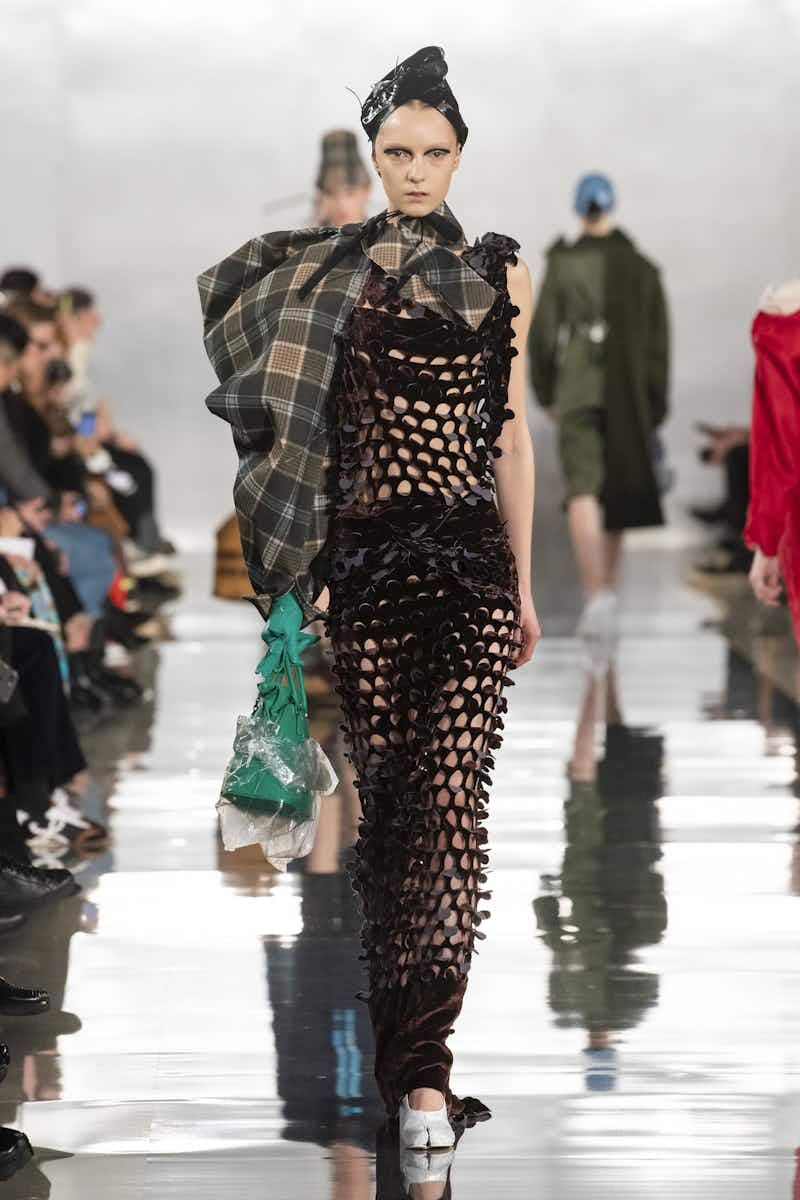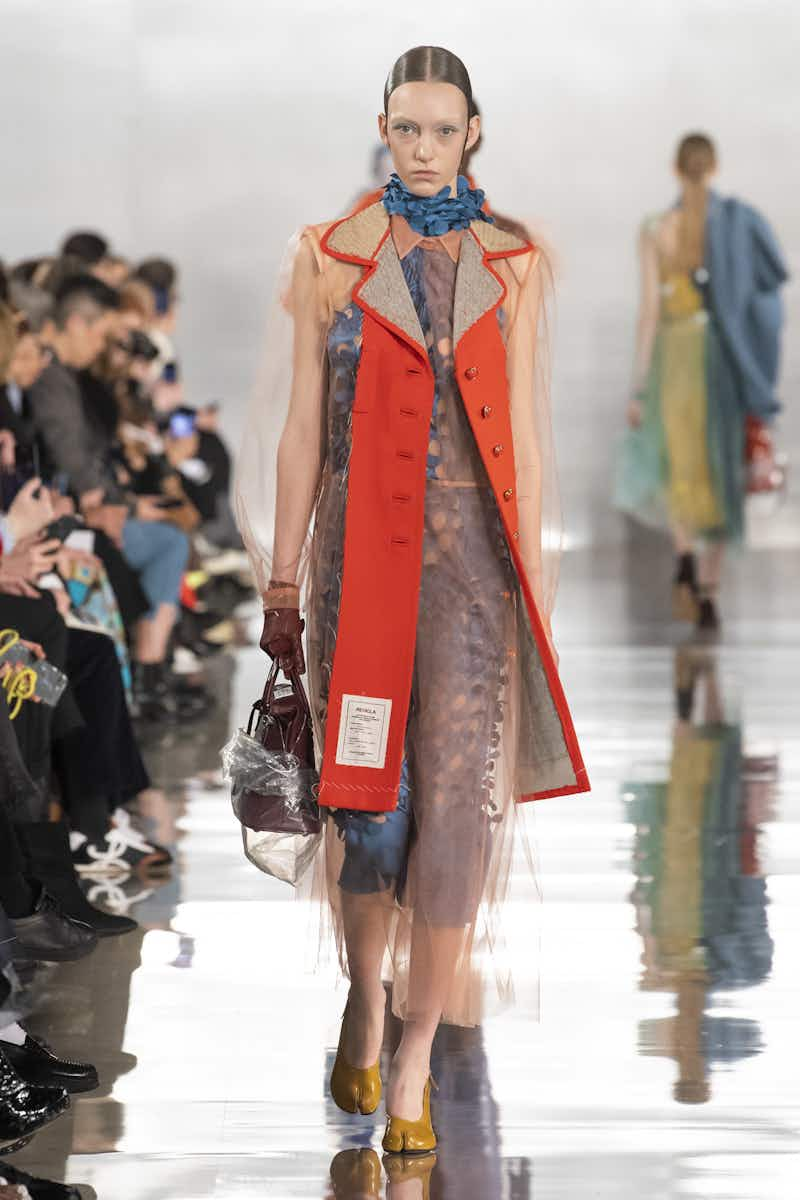 Listen now:

The sound of Maison Margiela AW20
KENZO AW20
Felipe Oliviera Baptista's debut collection for Kenzo was a smock-packed affair, with examples running from monkishly simple to animal-printed wild. The show was more pared-back than his predecessors Humberto Leon and Carol Lim, full of floppy hats, greige overcoats, all-weather protection caps, black biker leathers and a gorgeous grey-lined cobalt blue padded combo. Mr Kenzo sure seemed happy with the new direction as he embraced Baptista at the end.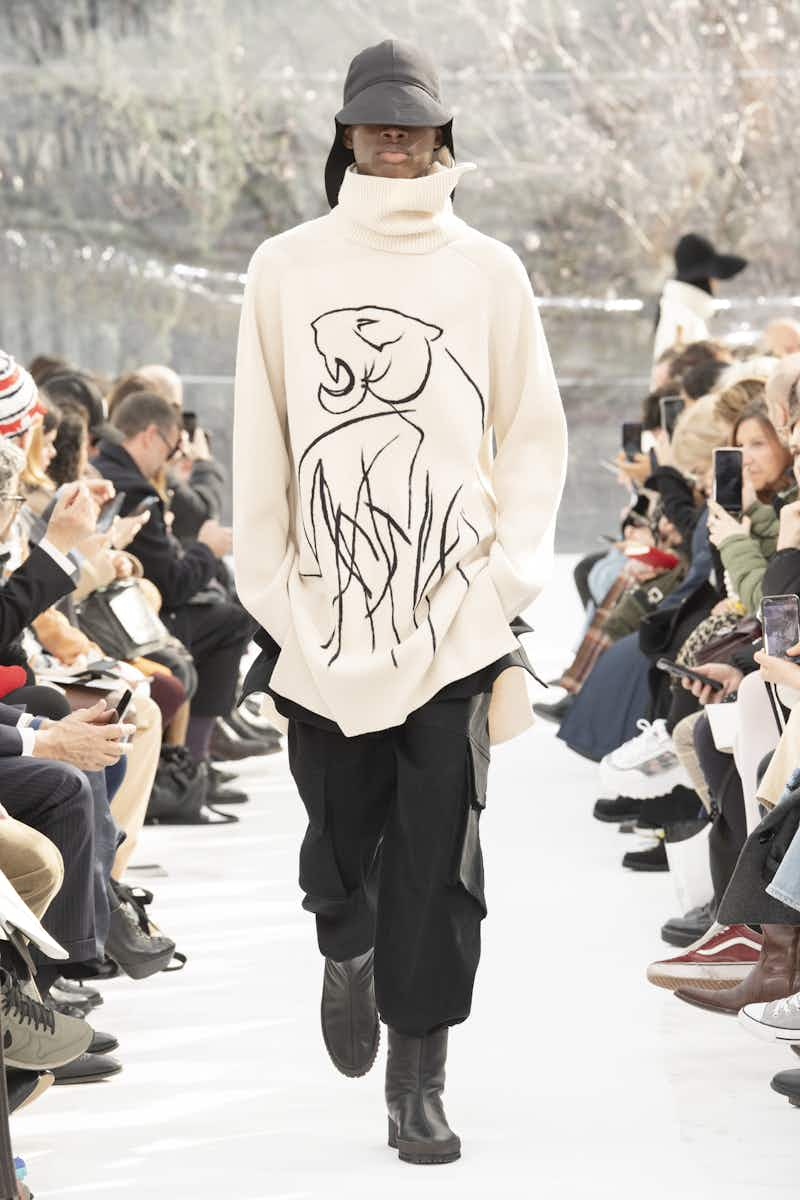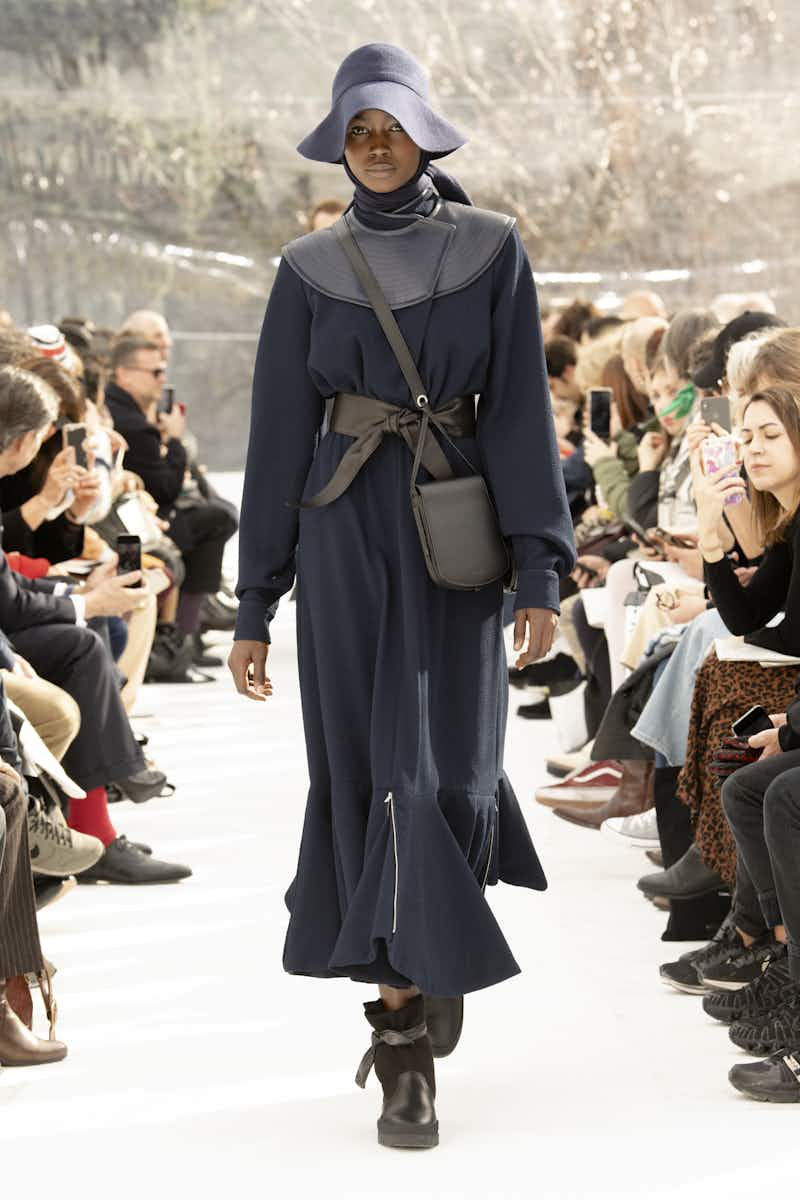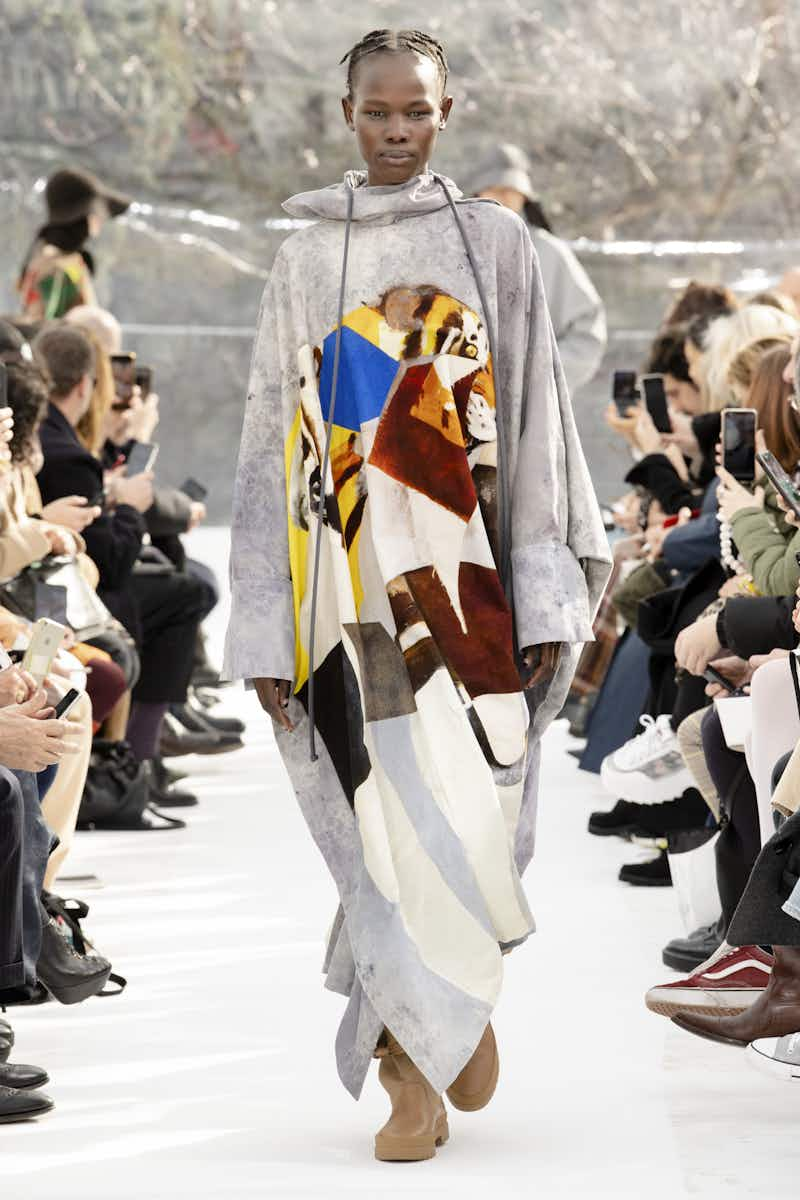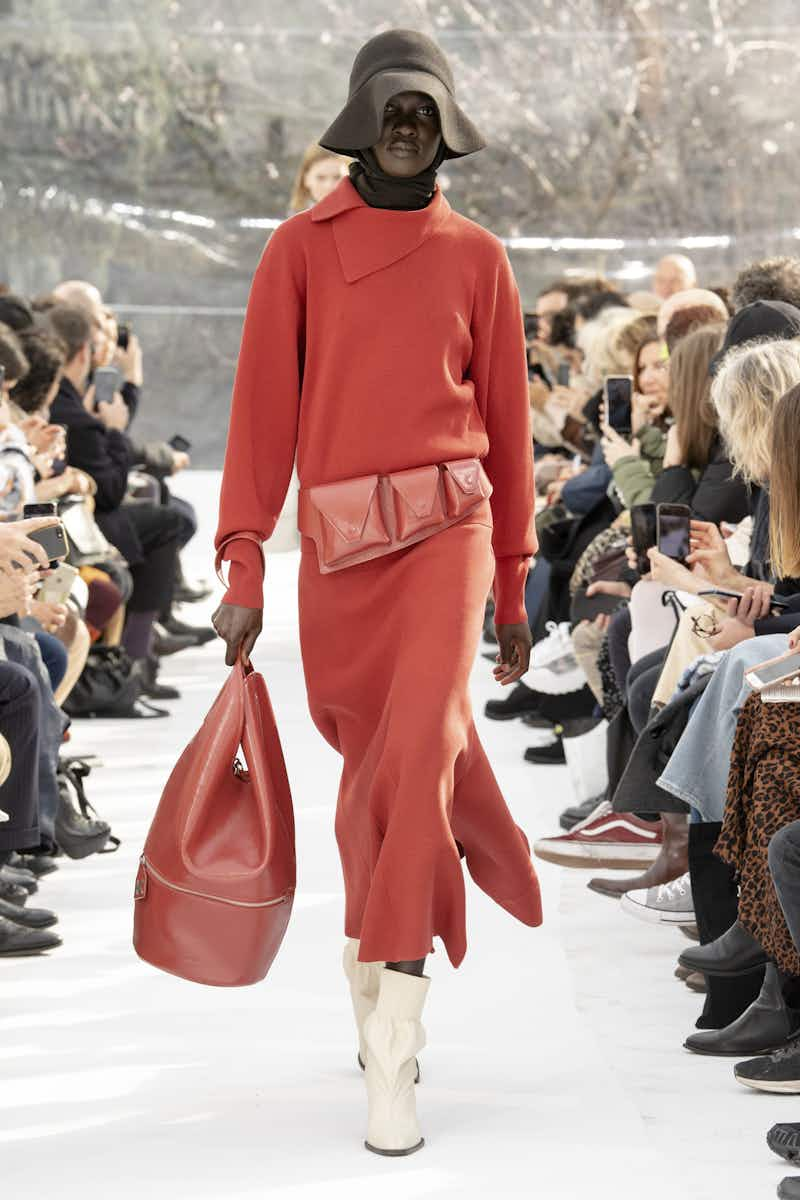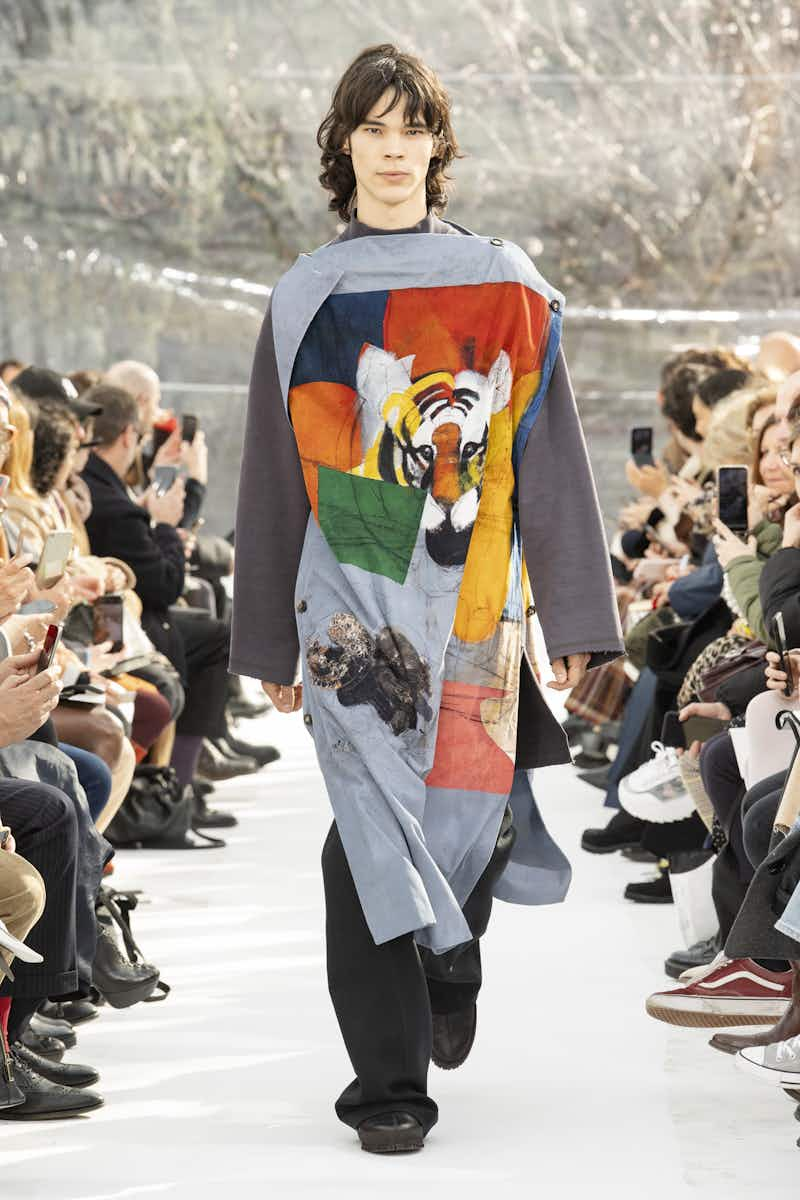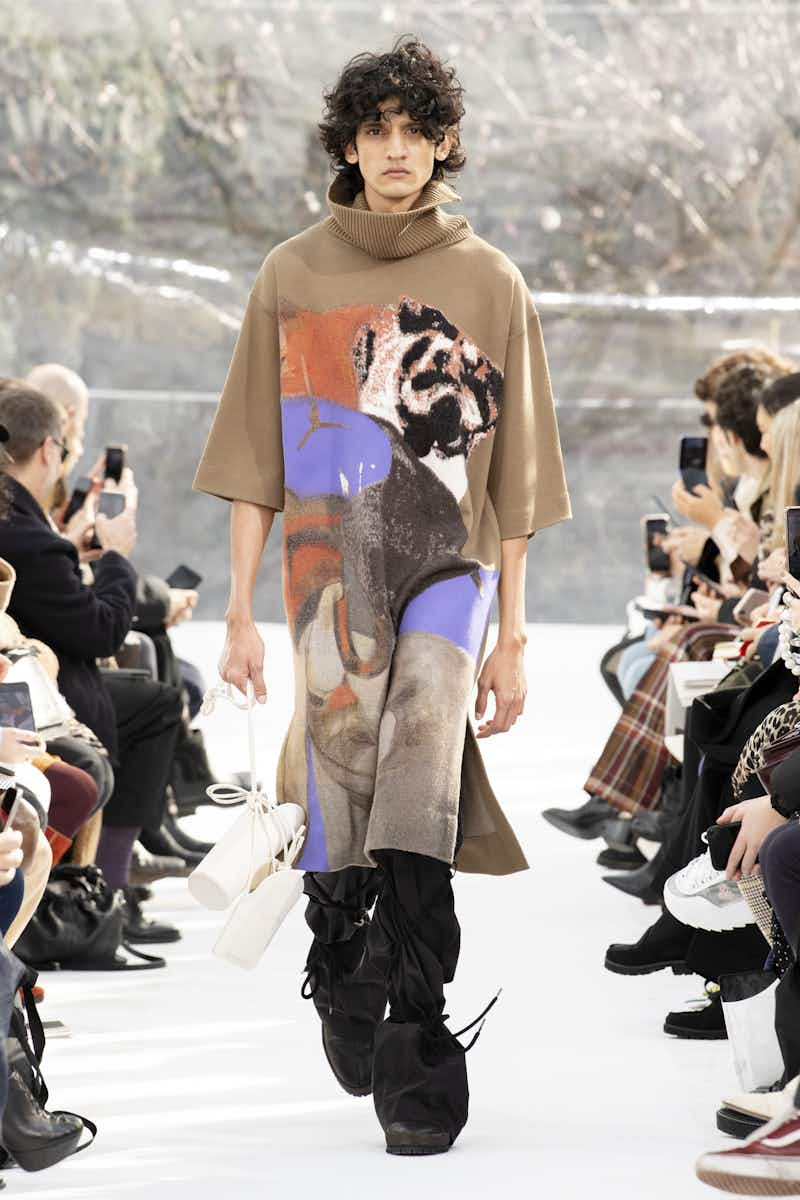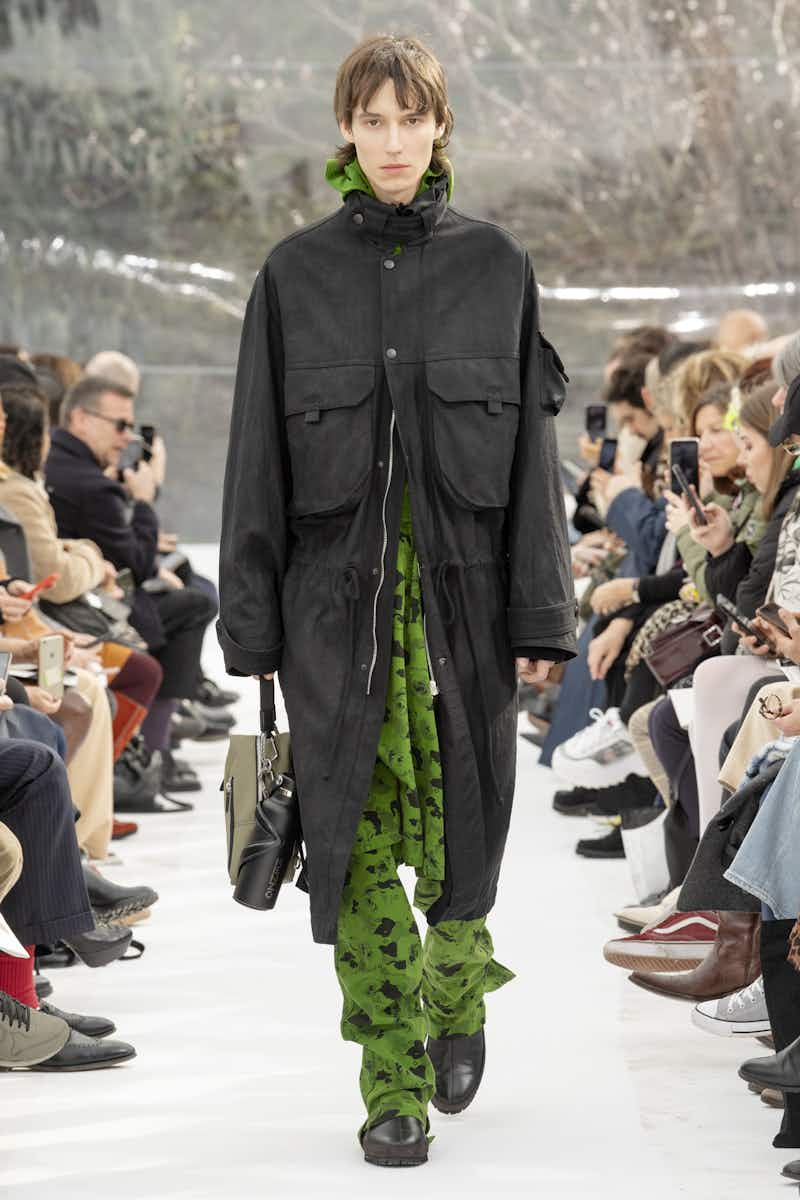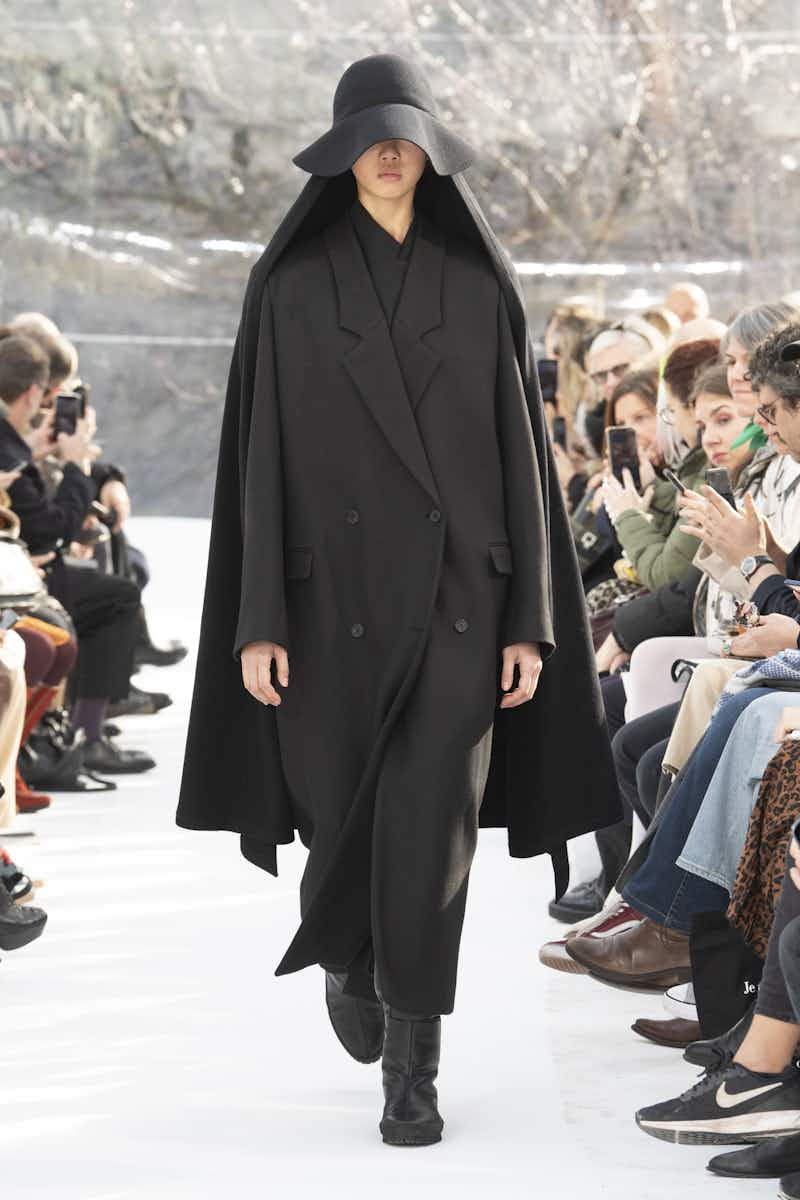 LANVIN AW20
Lavin's latest collection certainly got Teyana Taylor's seal of approval – the Kanye co-signed singer was yelping out yes's and sounds of satisfaction as the clothes and accessories flowed by the FROW (the biggest being saved for the in-curving heeled boots). Peacoats, capes and tulip sleeves were of the highest quality and cut. There were flouncy dresses (matched with equally flouncy hair), slick leather scrum caps (adding a ​'60s-future feel) and jewel-encrusted dress straps (amping up the glamour). Long boots, long coats, leather gloves and high necked collars made wearers look perfectly ready to battle next autumn/winter's elements. Posh, louche and lovely.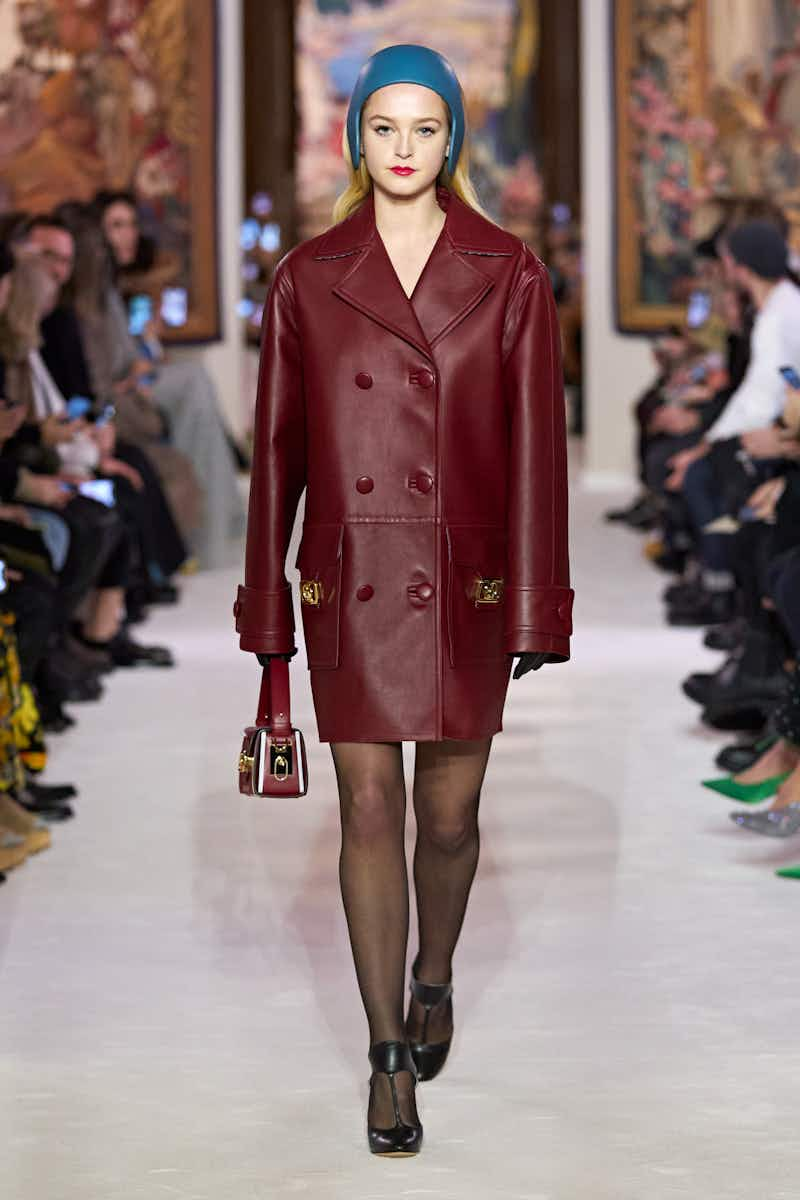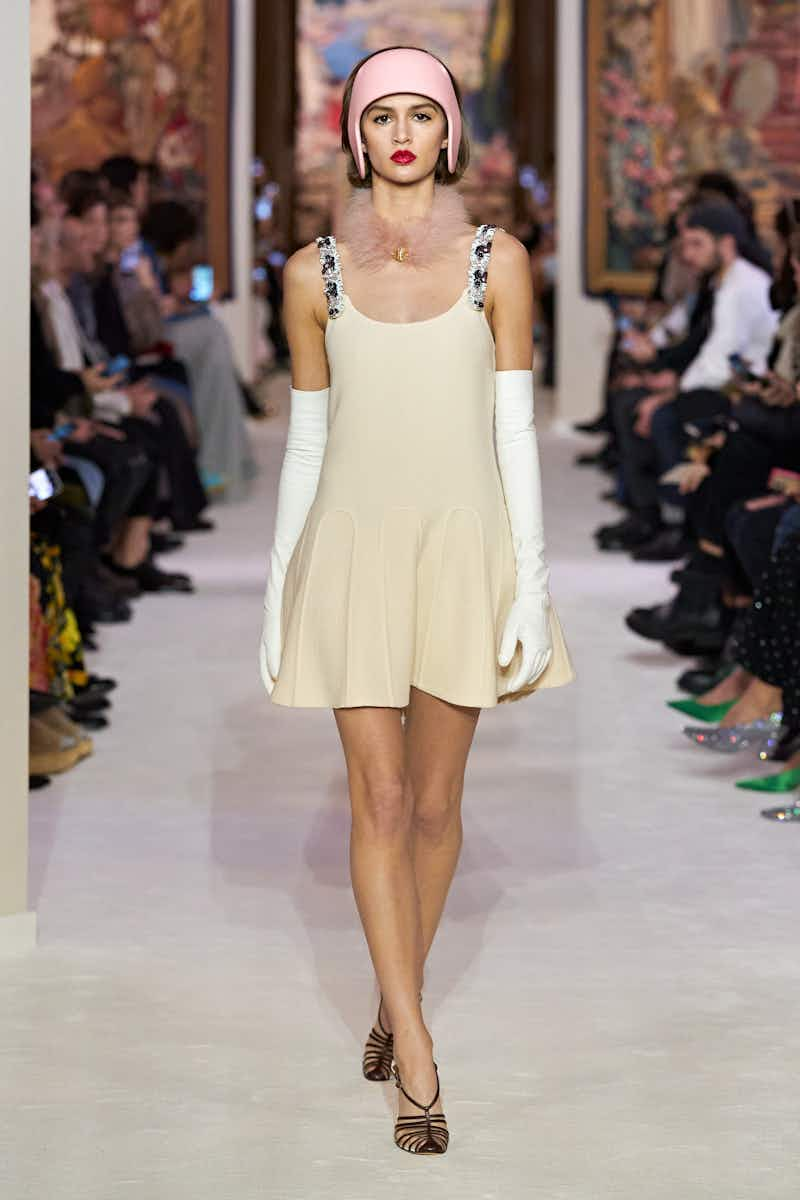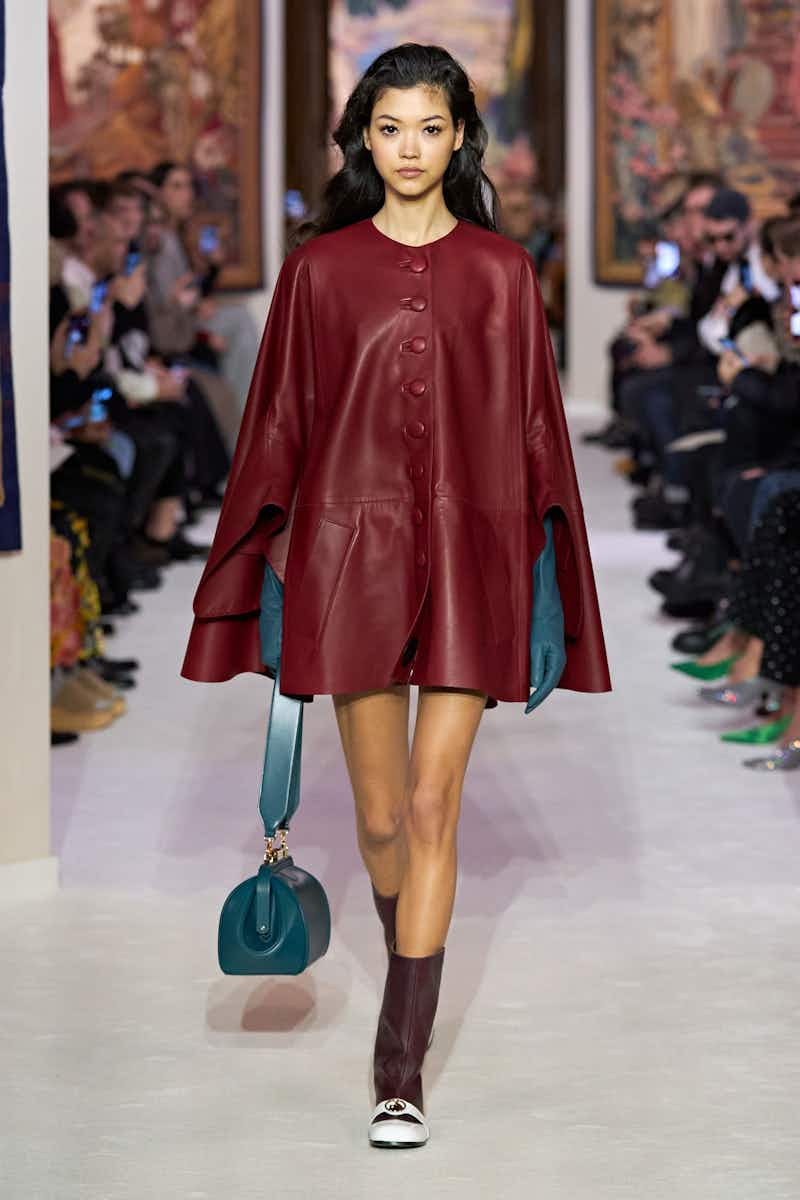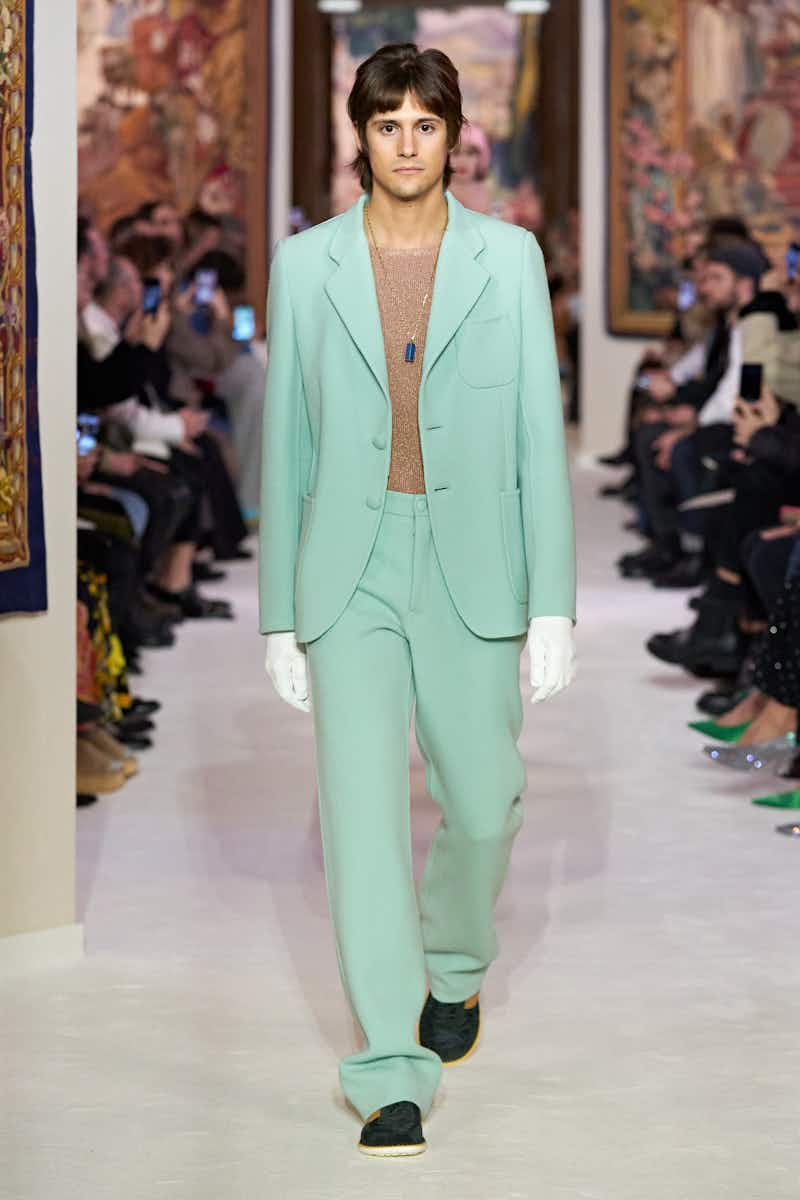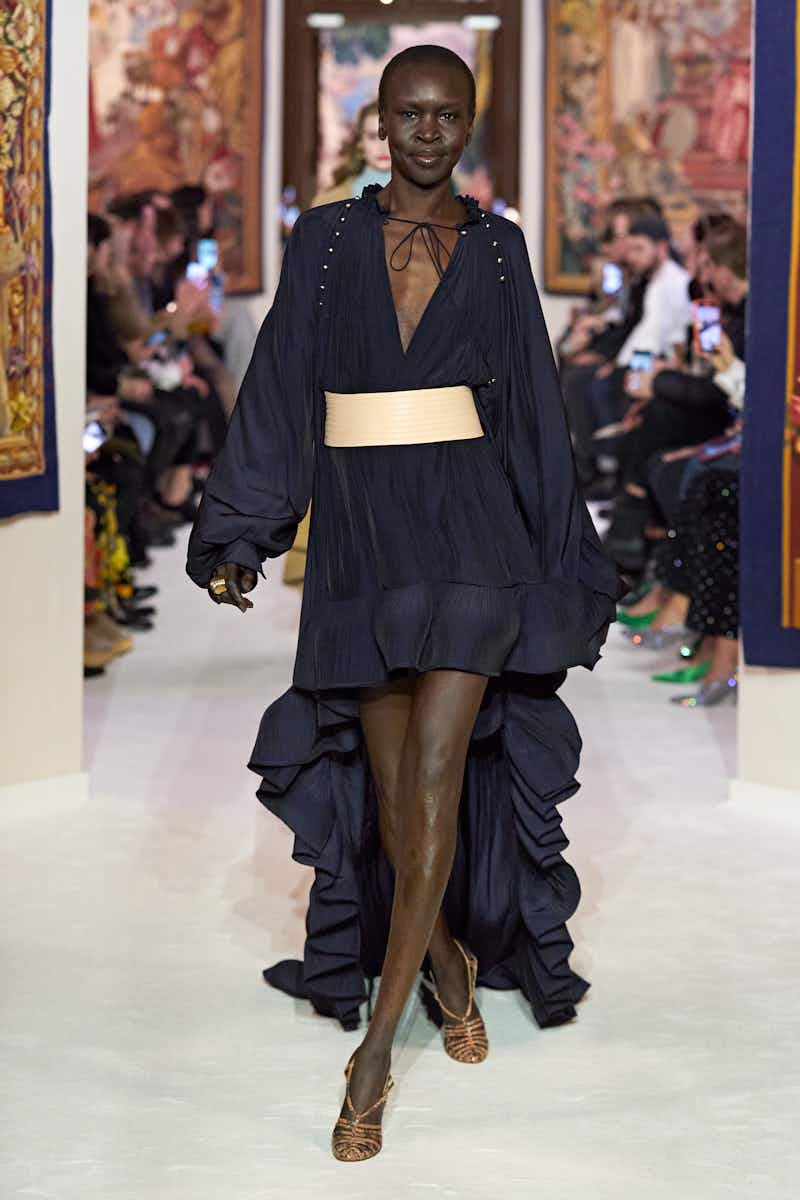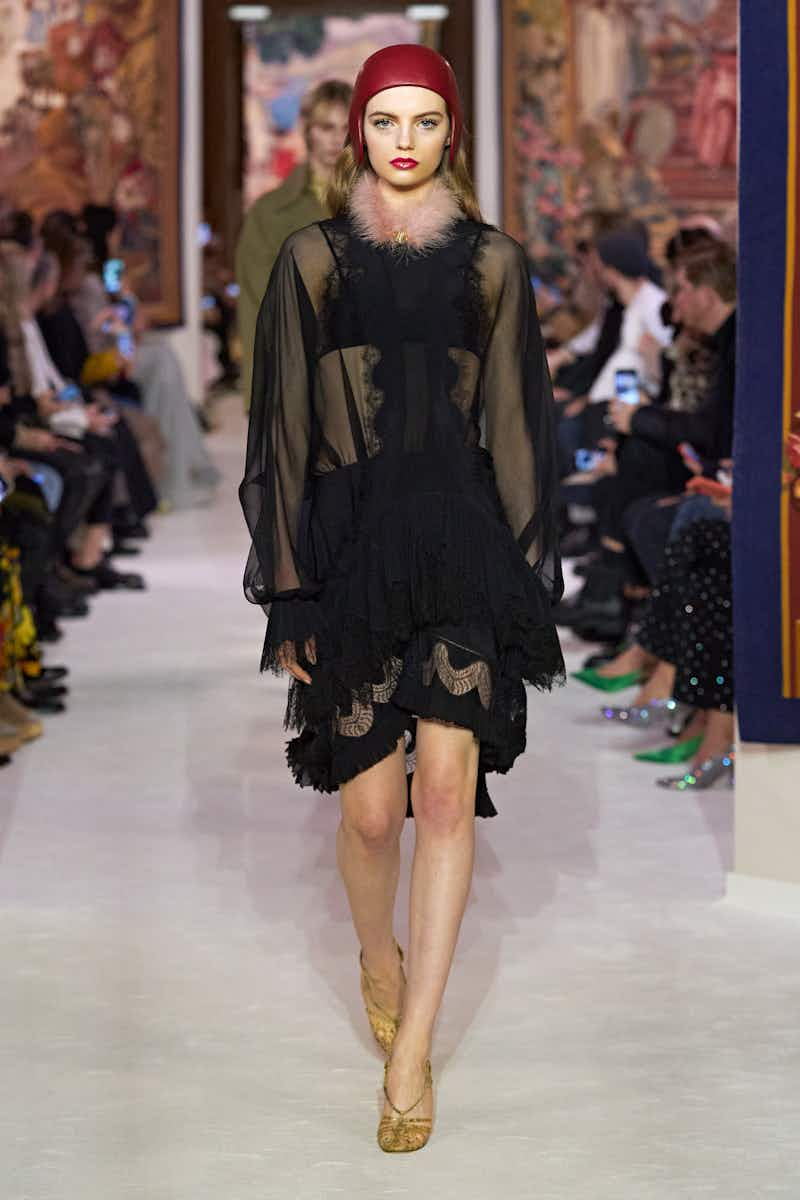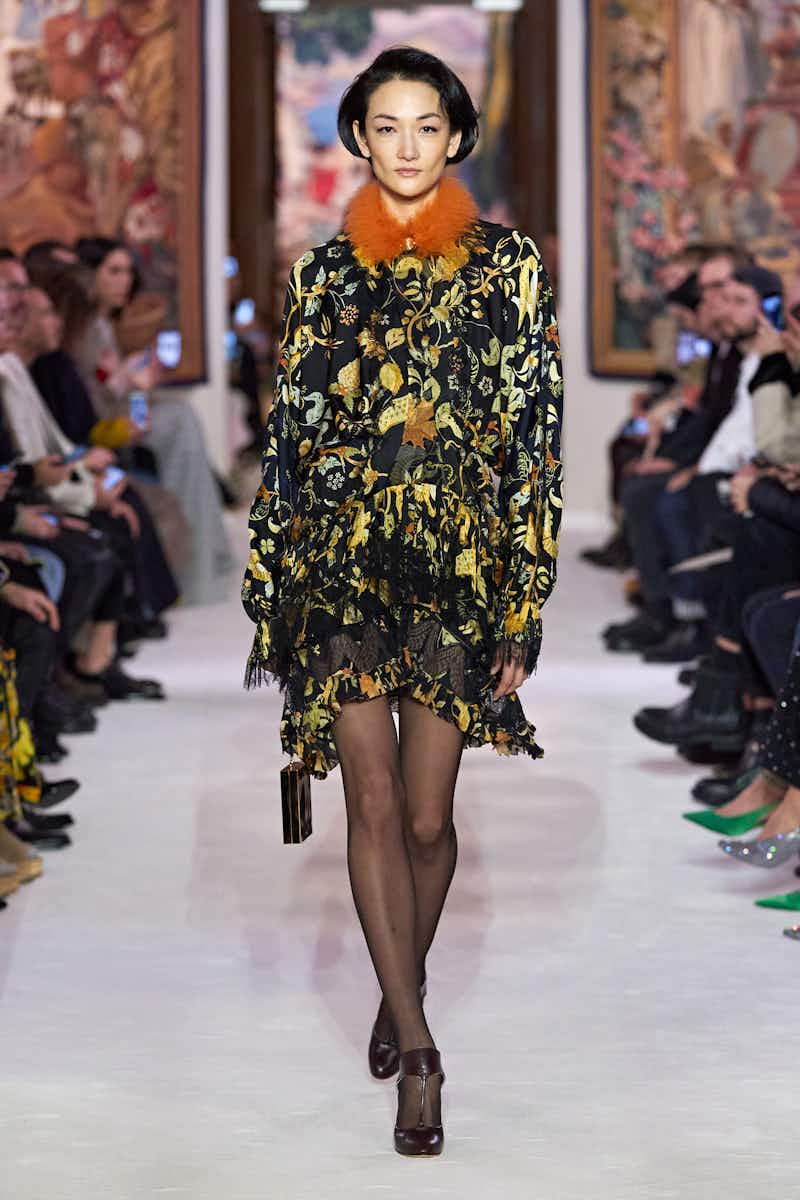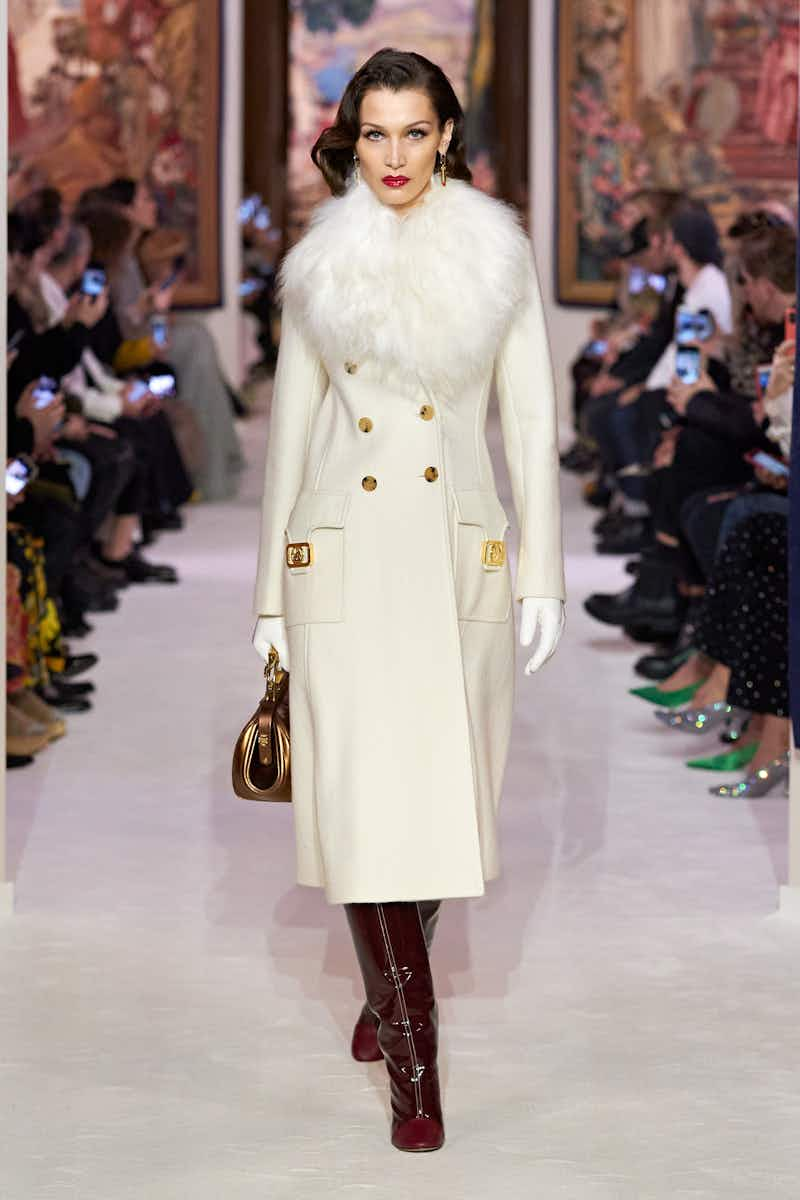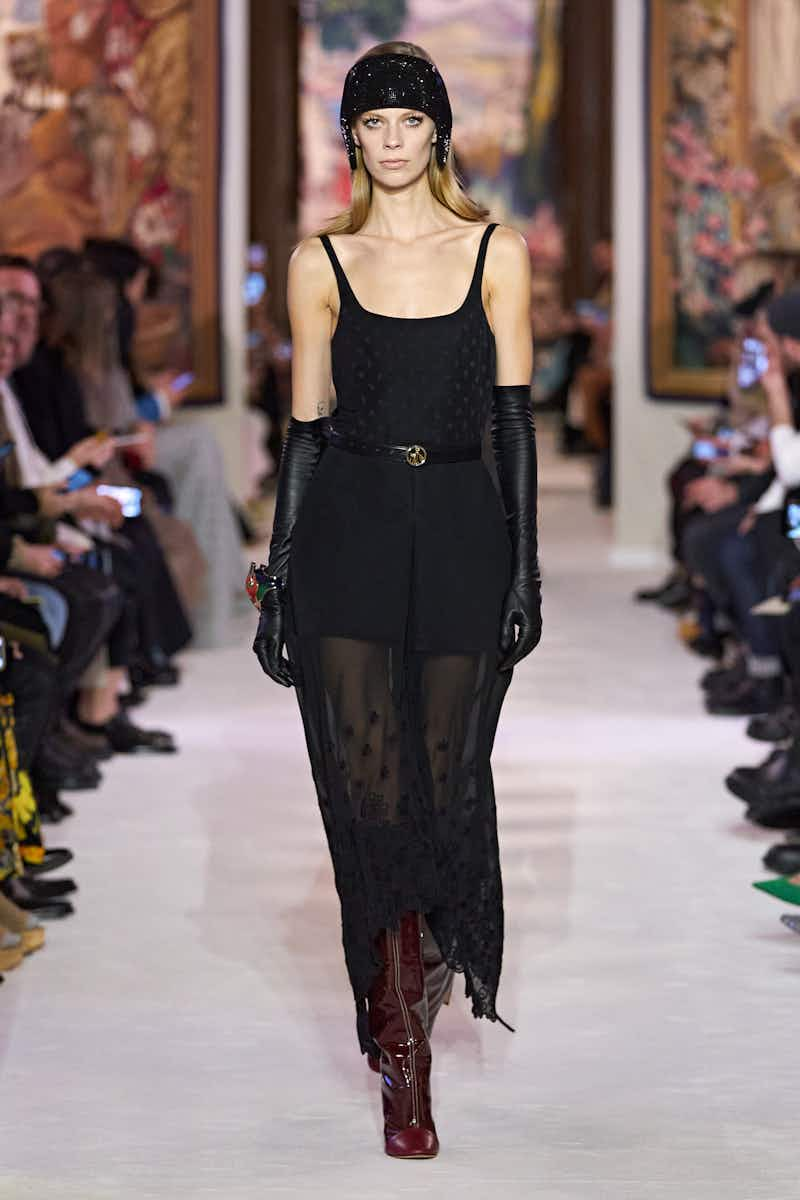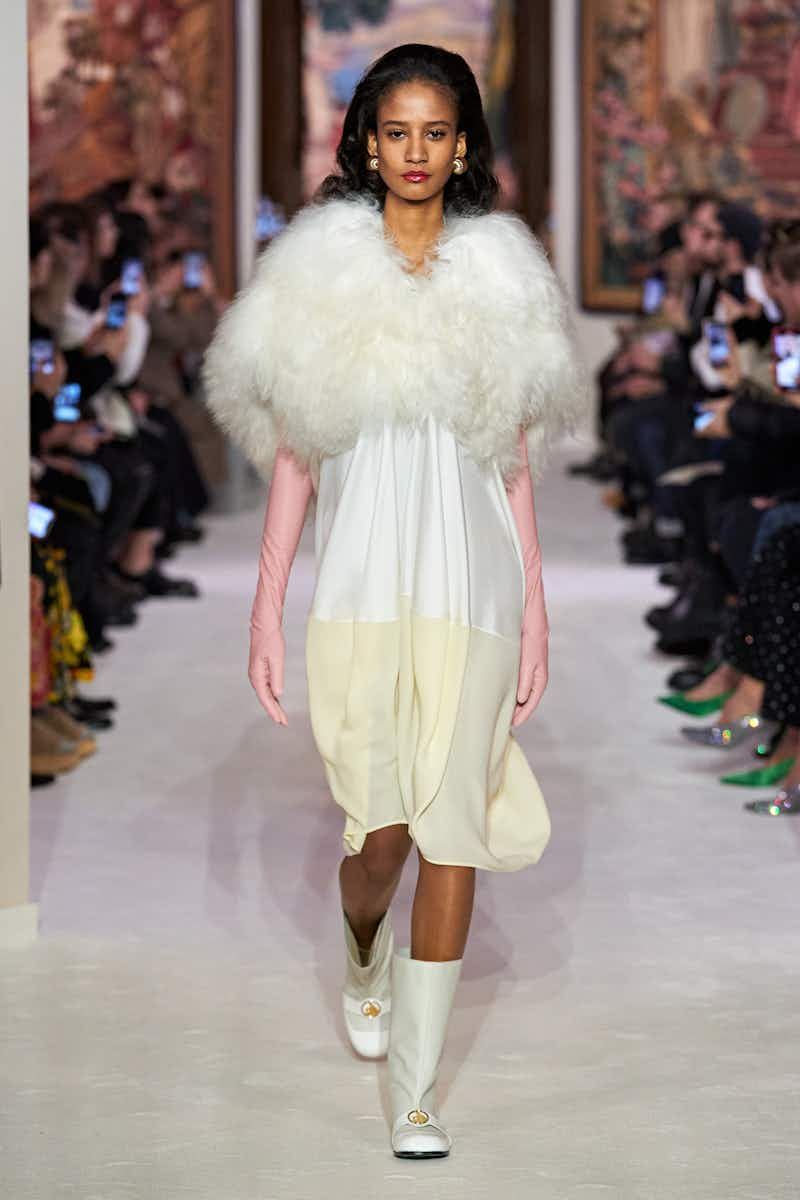 SAINT LAURENT AW20
Sex, sex, more sex. That was the score at Saint Laurent, despite the gloomy downpour outside in the shadow of the Eiffel Tower. Glossy, oil-slick black PVC ran throughout every look, sometimes fully freaky in head-to-toe dresses, leggings and mid-height heel shoes, but mostly deliciously downplayed with conservative velvet-lapelled blazers and administerial pussy-bow blouses.

The whole thing reeked of peak ​'80s Yves Saint Laurent, with its slicked-back hair, cheekbone-enhancing make-up and slashes of red lips. It played into dated, but highly evocative fantasies of sexy secretaries, kinky businesswomen and Dallas-era bitches. The key to the show's success was the restraint that accompanied all that raunch. Along the big, luxurious wall-climbing cream carpet walked women in immaculate houndstooth tailoring, velvet bow accessories and colours including mustard, chocolate and grape.
The whole show was form-fitting, shimmering and unashamedly sexy.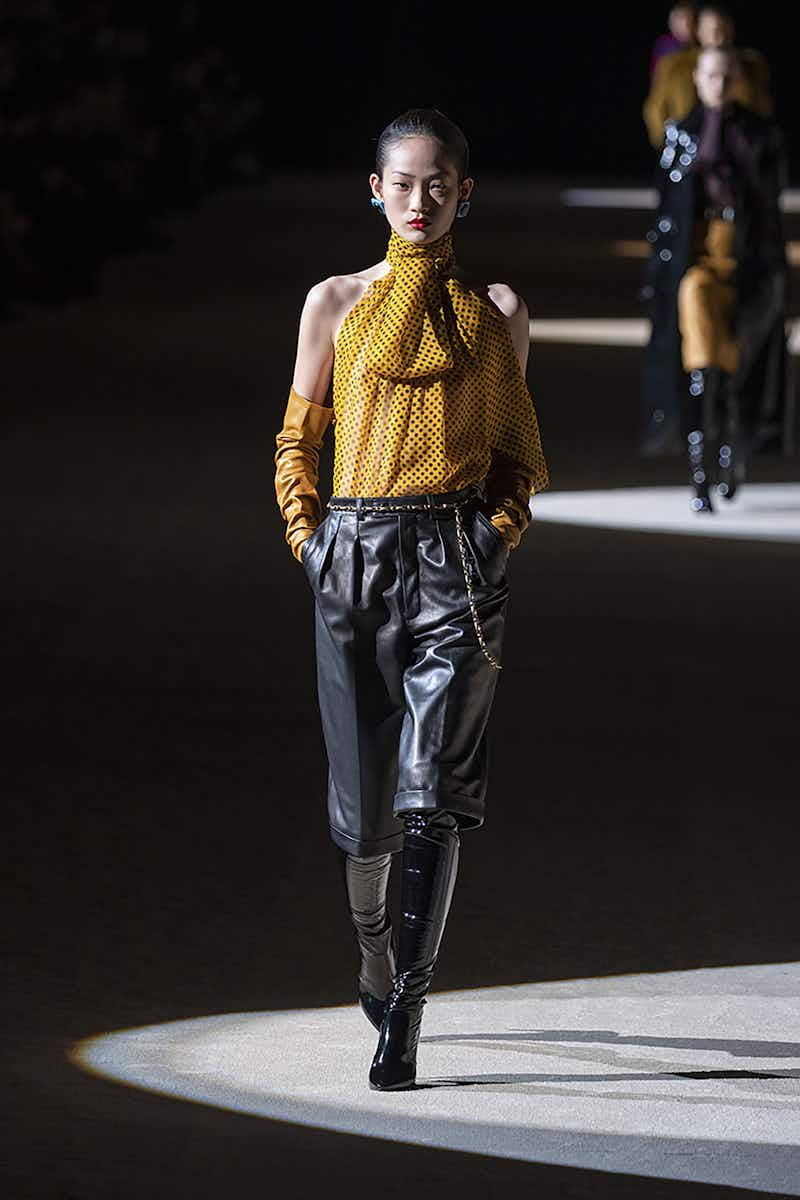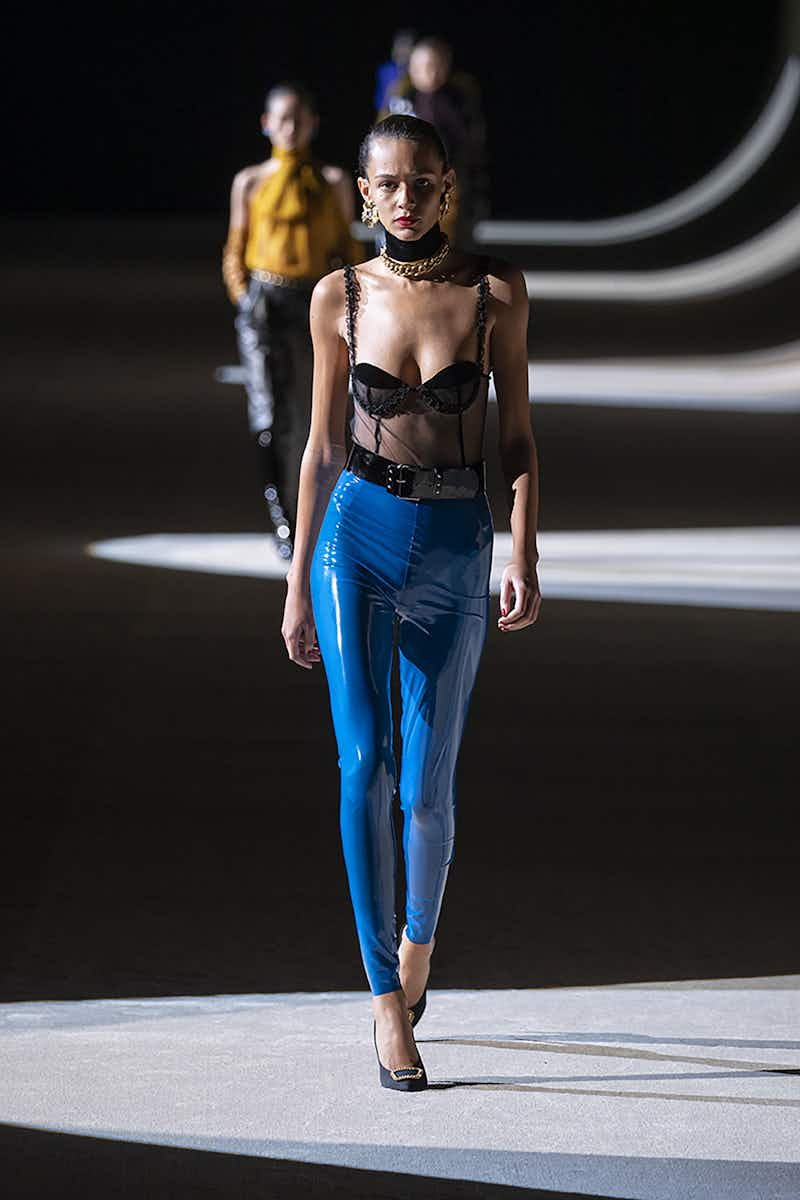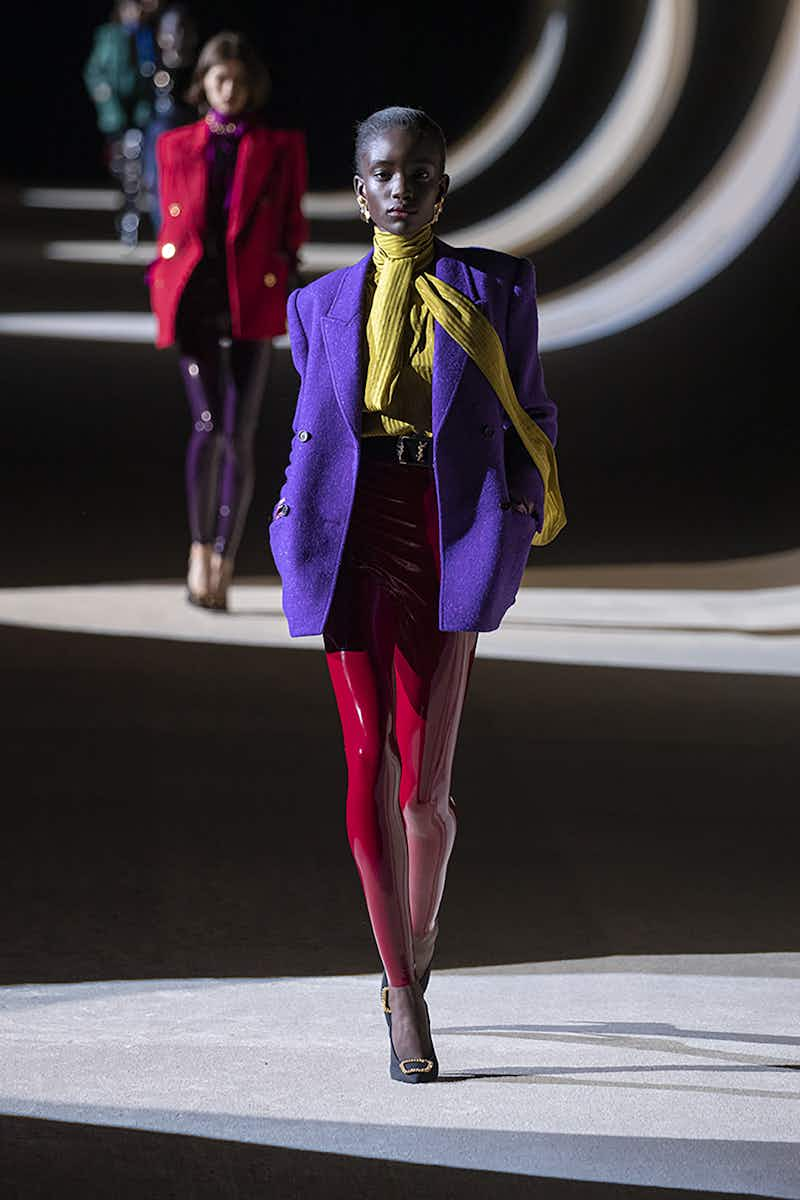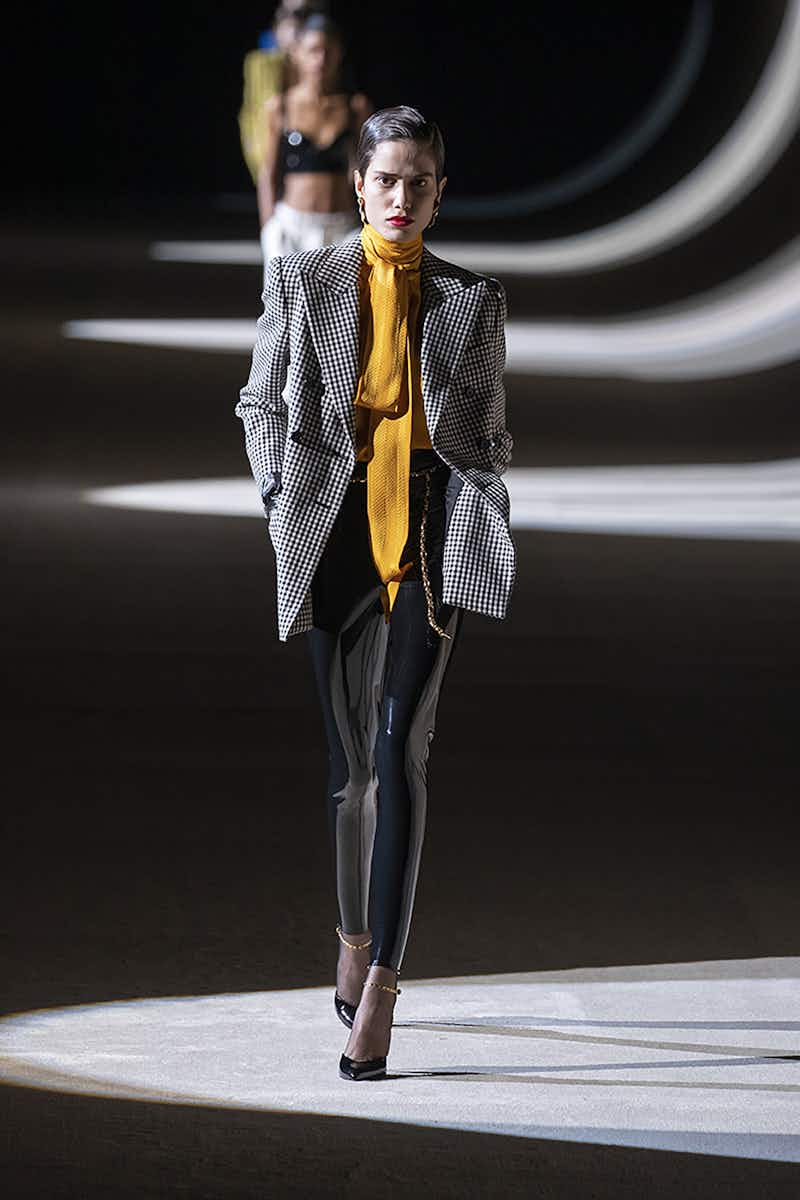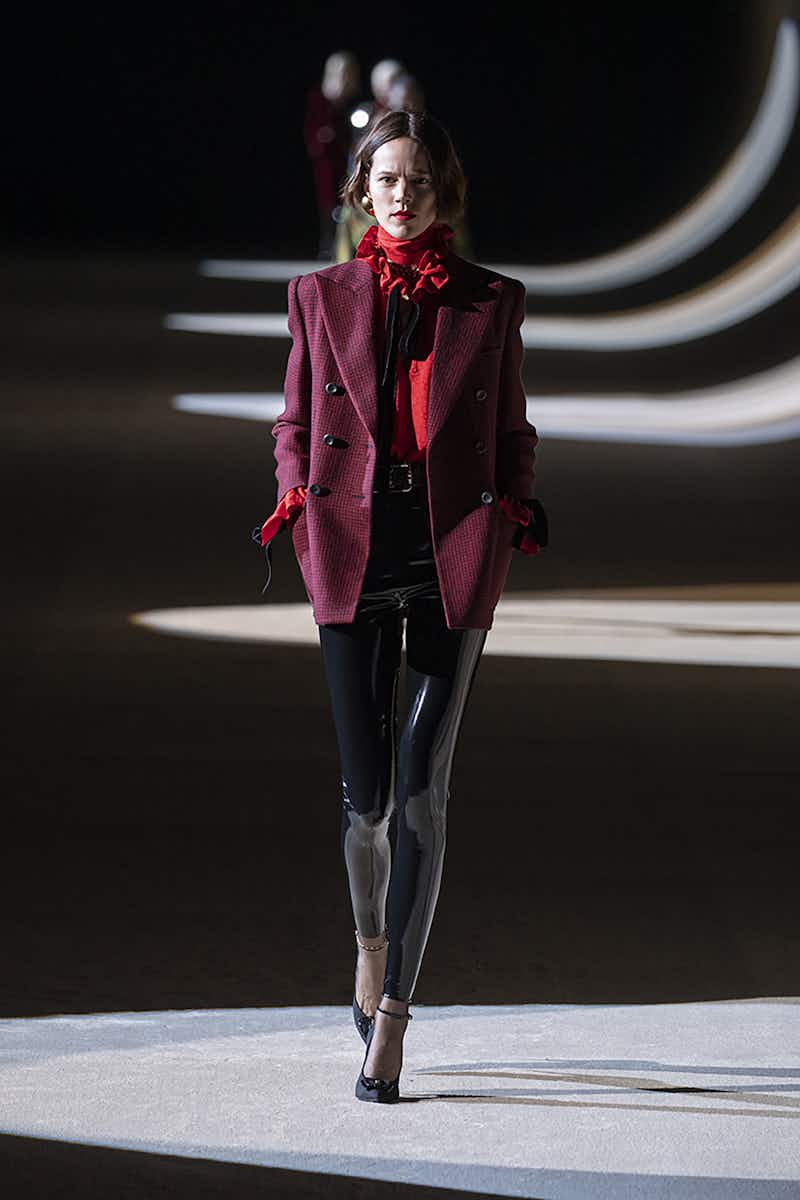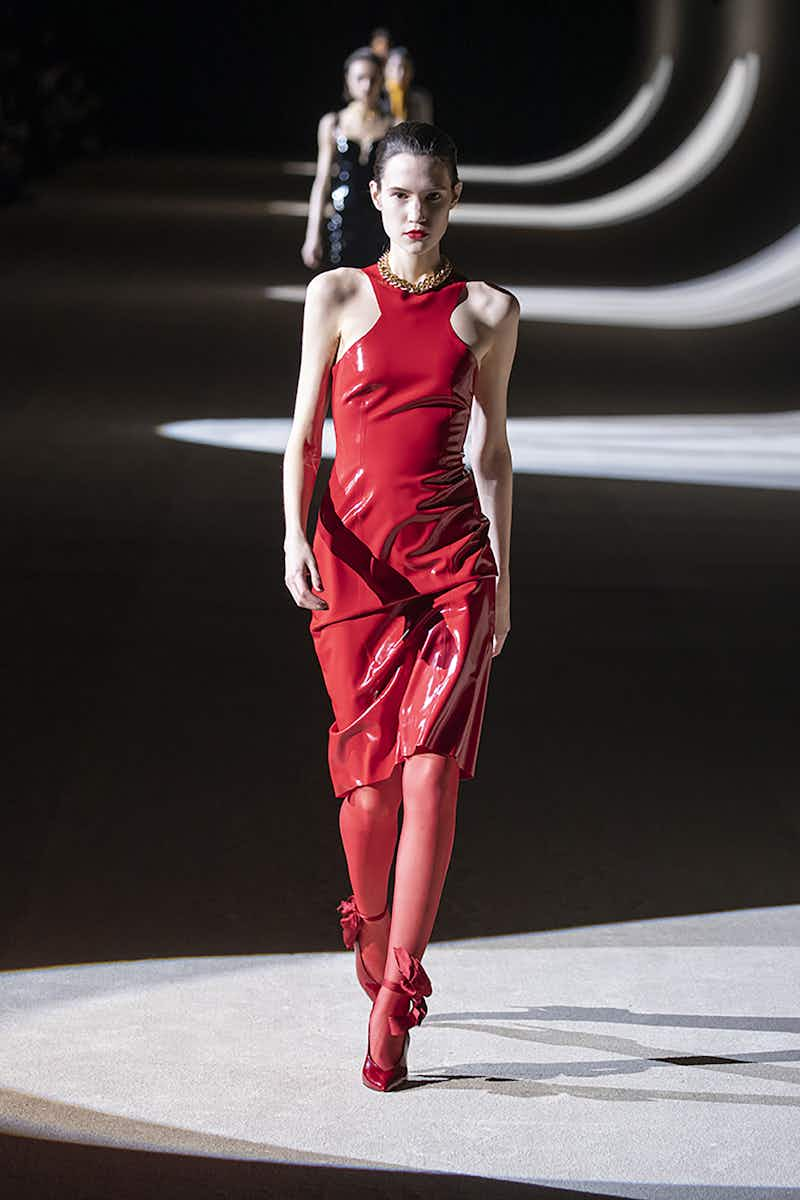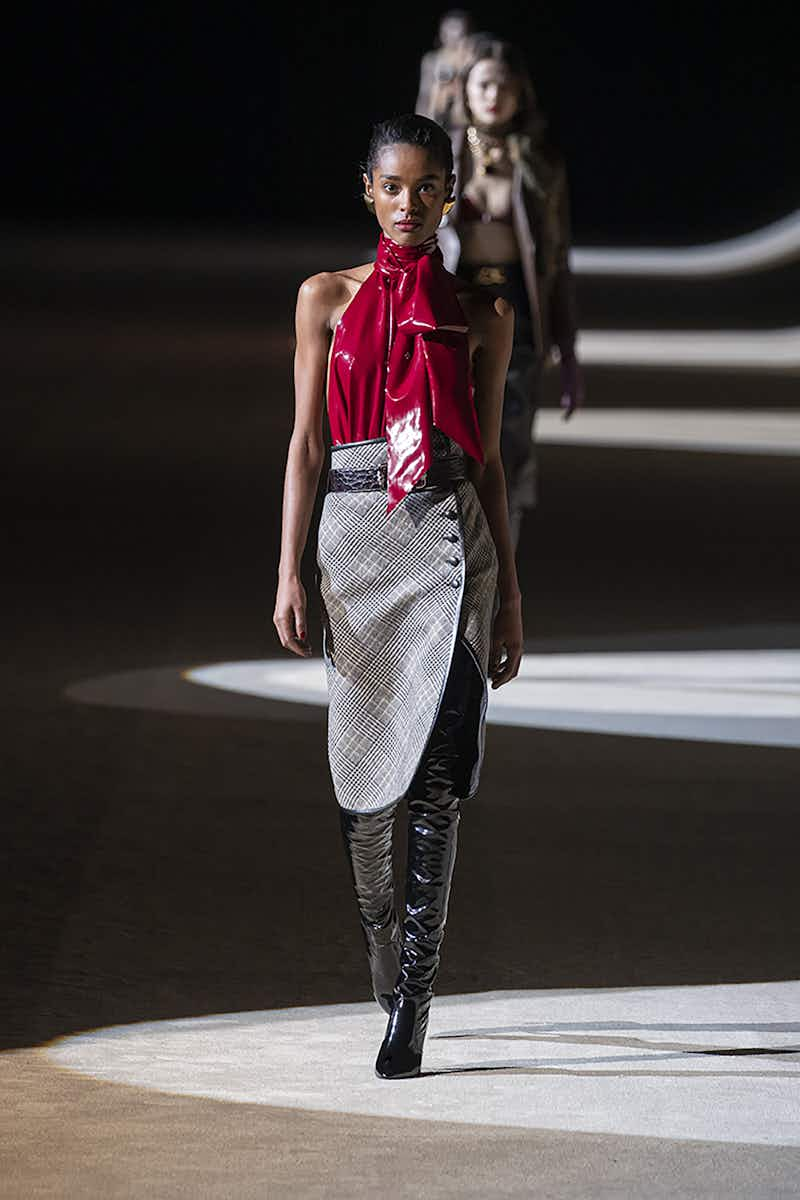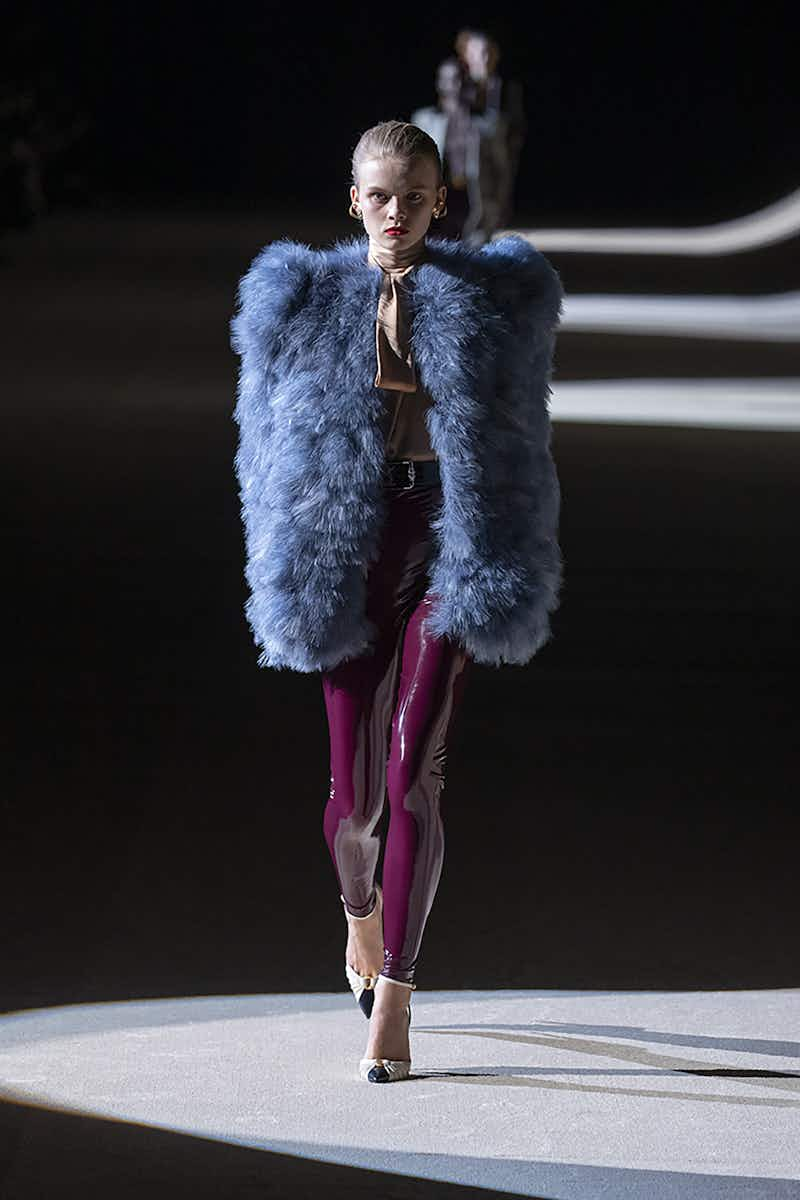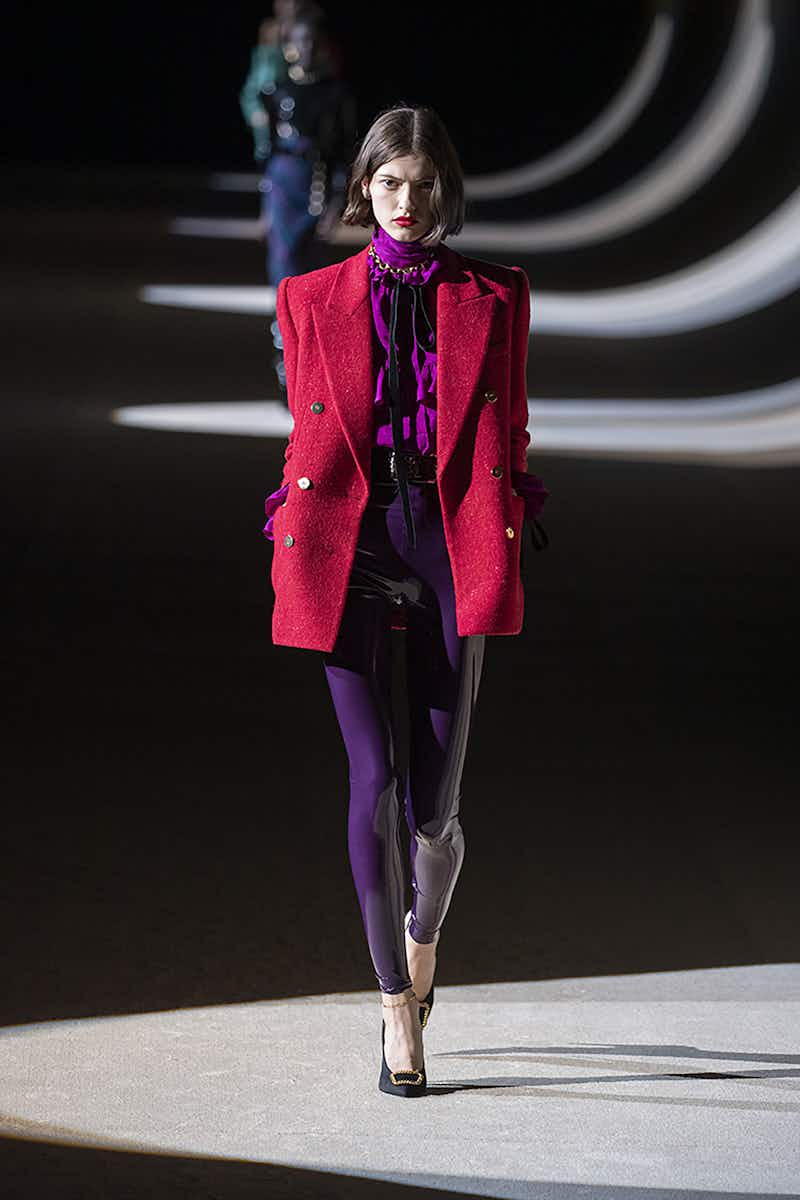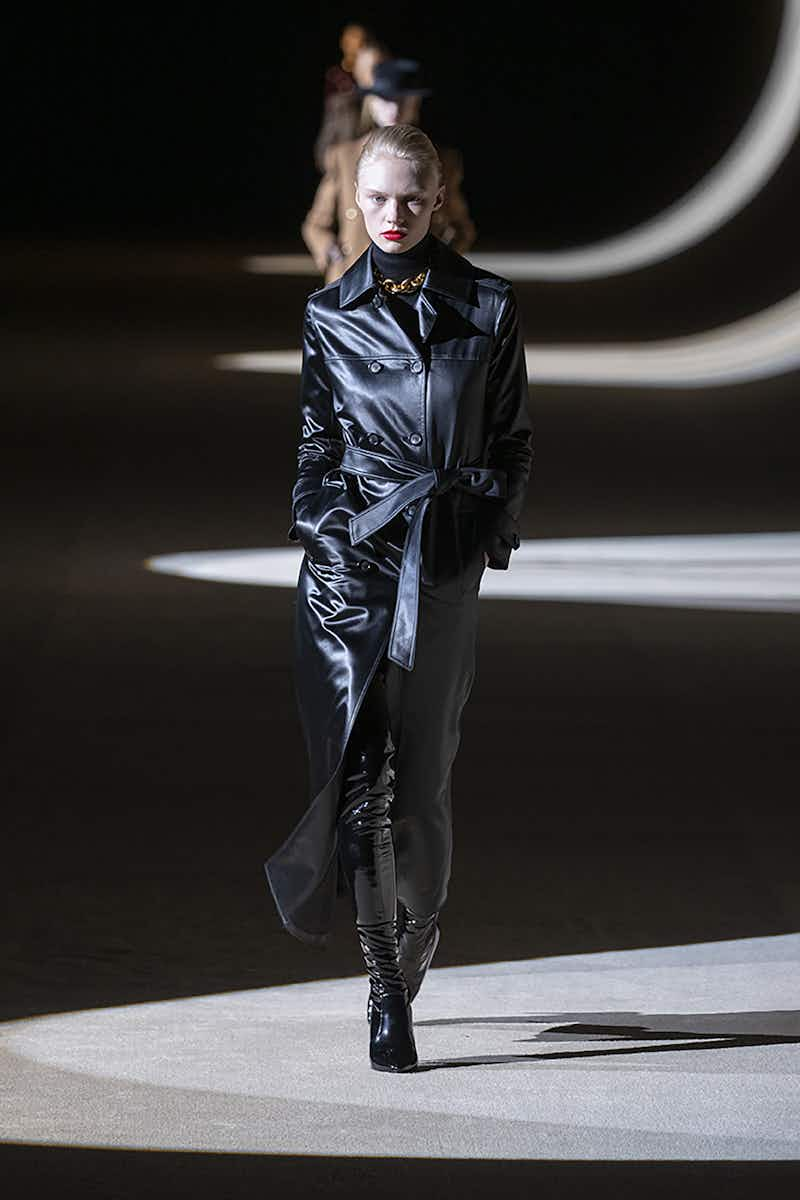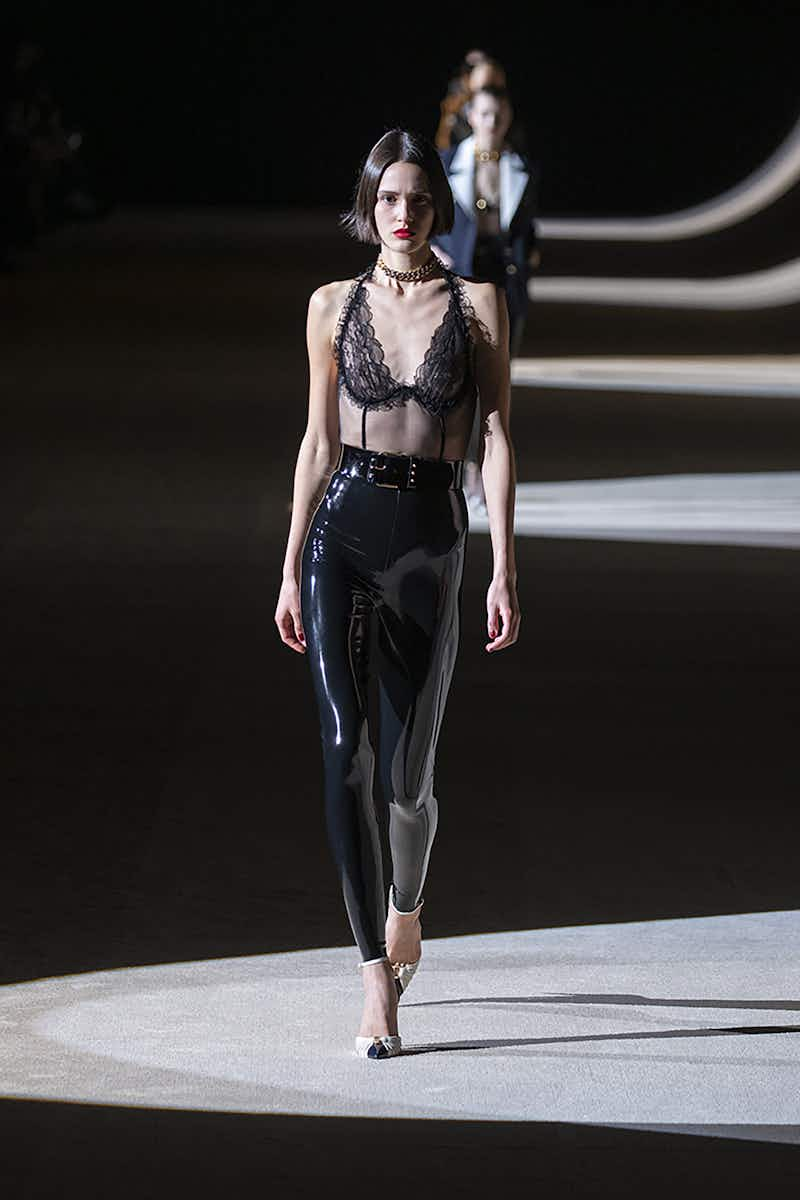 Who was there?
Adut, Kaia Gerber and Freja Beha walked as Hailey Bieber, Brooklyn Beckham, John Waters, Zoe Kravitz and Anthony Vaccerello's eternal muse Anja Rubik watched on.
What did it sound like?

Listen now:

The sound of Saint Laurent AW20
DIOR AW20
Maria Grazia Churi, creative director of womenswear at Dior, often opens her show with a feminist slogan t‑shirt. We've had ​"We Should All Be Feminists" (Nigerian novelist Chimamanda Ngozi Adichie) and ​"Why Have There Been No Great Women Artists" (American art historian Linda Nochlin).
But this time the slogans weren't just for the t‑shirts – they were bigger, bolder and even more immediate: as Karlie Kloss, Demi Moore and Sigourney Weaver walked into the show space at the Tuileries Gardens, flashing signs screamed PATRIARCHY = CLIMATE EMERGENCY, WOMEN'S LOVE IS UNPAID LABOUR, WHEN WOMEN STRIKE THE WORLD STOPS, FEMININE BEAUTY IS A READY-MADE, WOMEN RAISE THE UPRISING. Perhaps the most effective though, coming just a day after Harvey Weinstein's conviction for rape, was CONSENT, which flashed on and off to represent how it can be given, but also taken away.
The show was inspired by the manifesto of Carla Lonzi, an art critic who was co-founder of the Rivolta Femmininile (Feminine Revolt) in Italy in the 1970s. The giant capitalised signs were designed in collaboration with artist Claire Fontaine, known for putting bold statements in public places ​"to underscore the contradictions in our society"). It was telling that the first look to come out was a sobre, buttoned-up trouser suit worn by a short-haired model Ruth Bell – masculinity and femininity immediately toyed with.
Things then ran the gender gamut, moving from sensible waistcoats through to super-sheer floor-length dresses. There was a general sense of no-nonsense practicality, in the footwear, the cross-body satchels, the parkas, the check and the discreet brown and green palette. But then there was sexiness too, with transparency, swinging fringeing and mini, body-con dresses.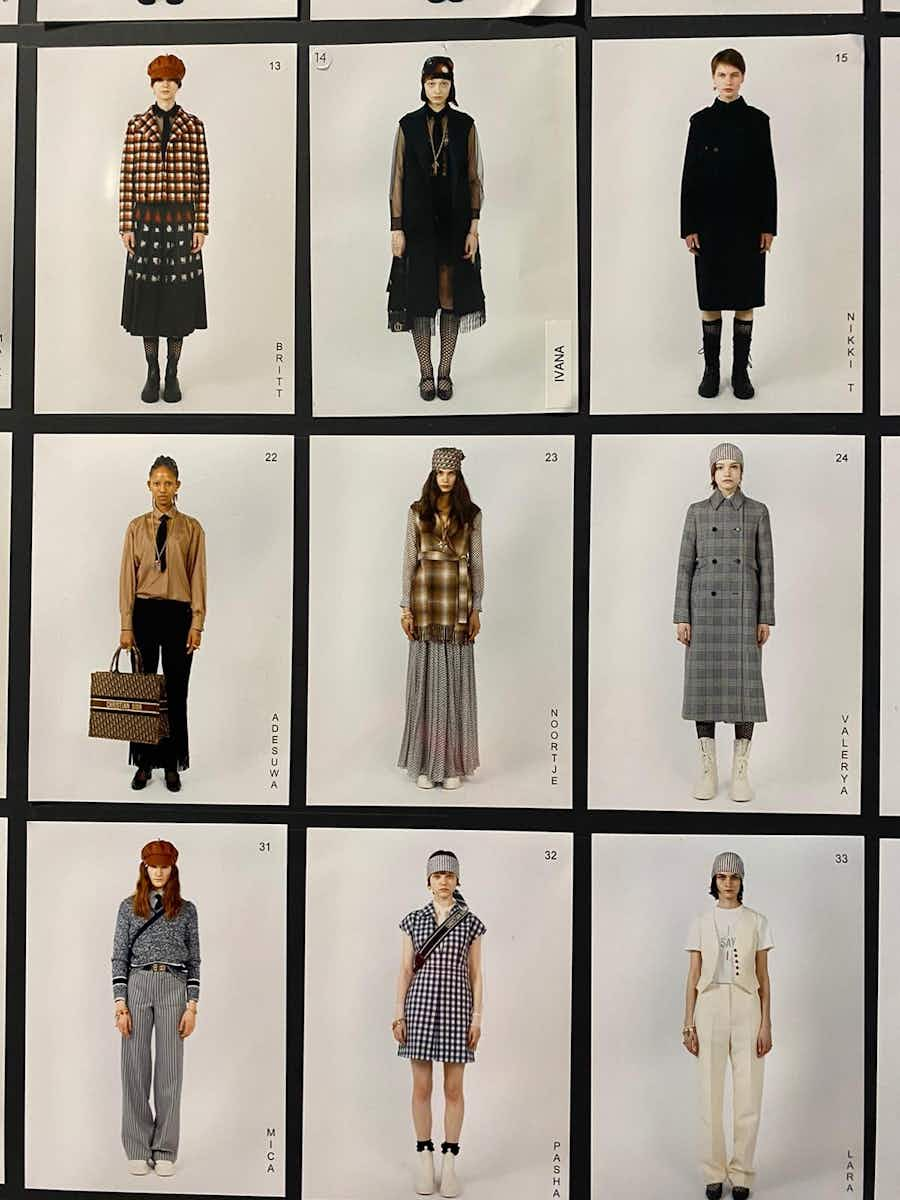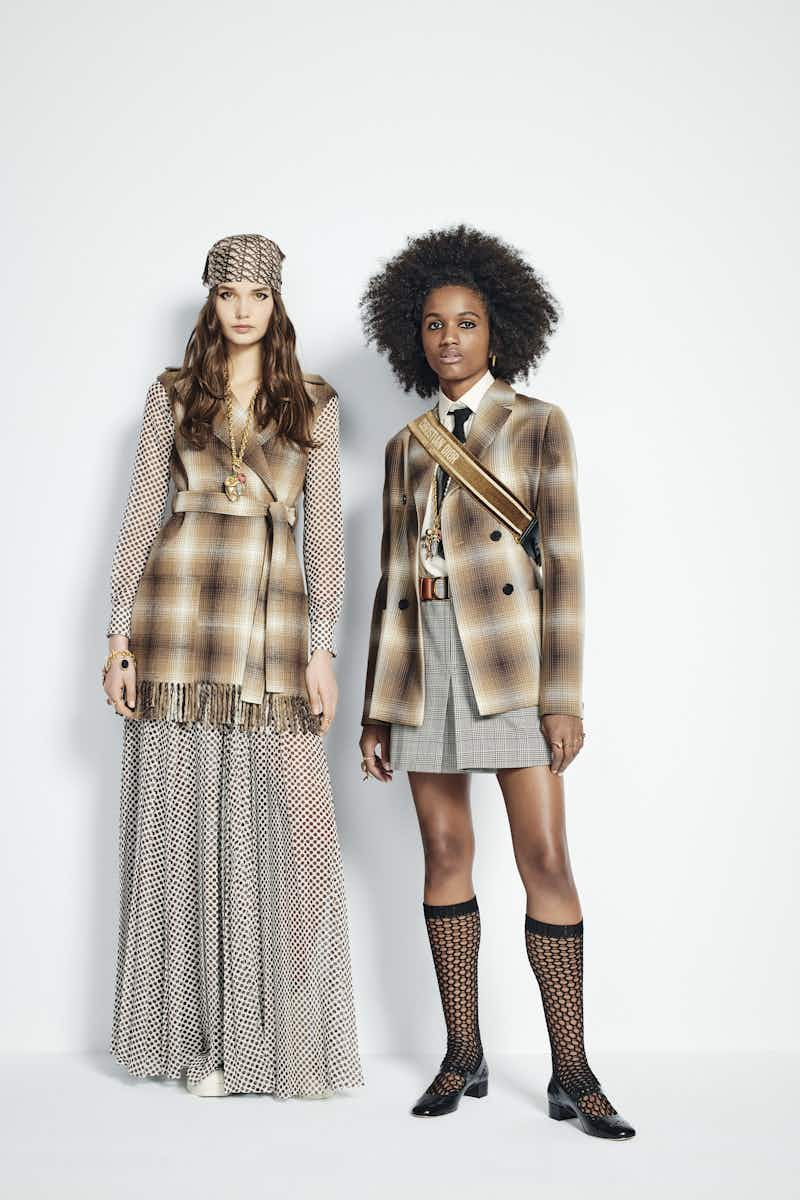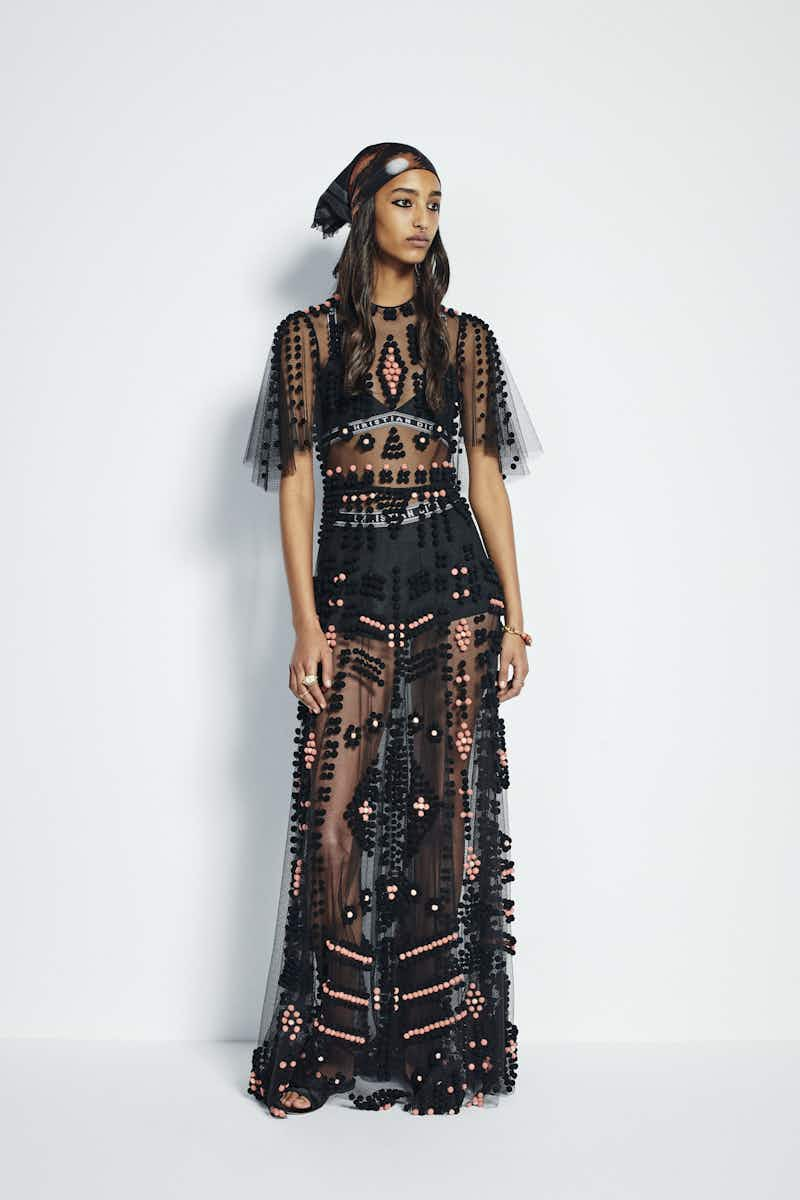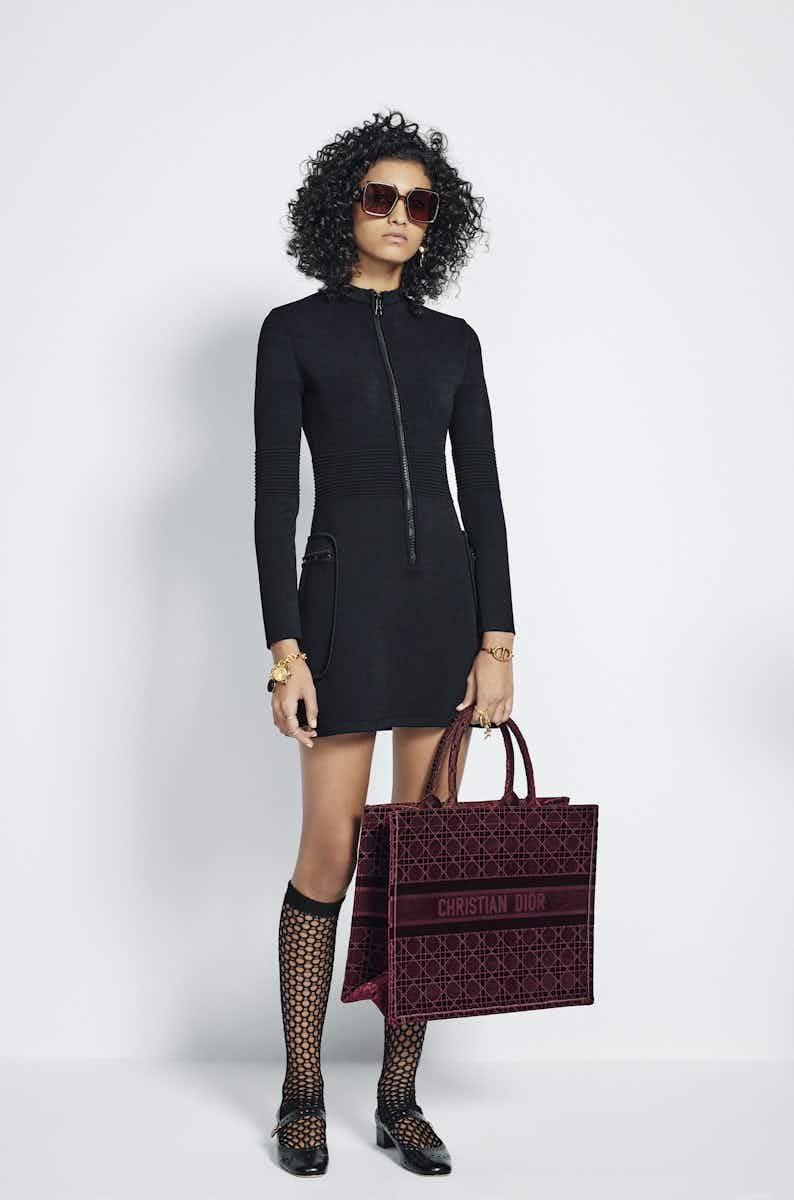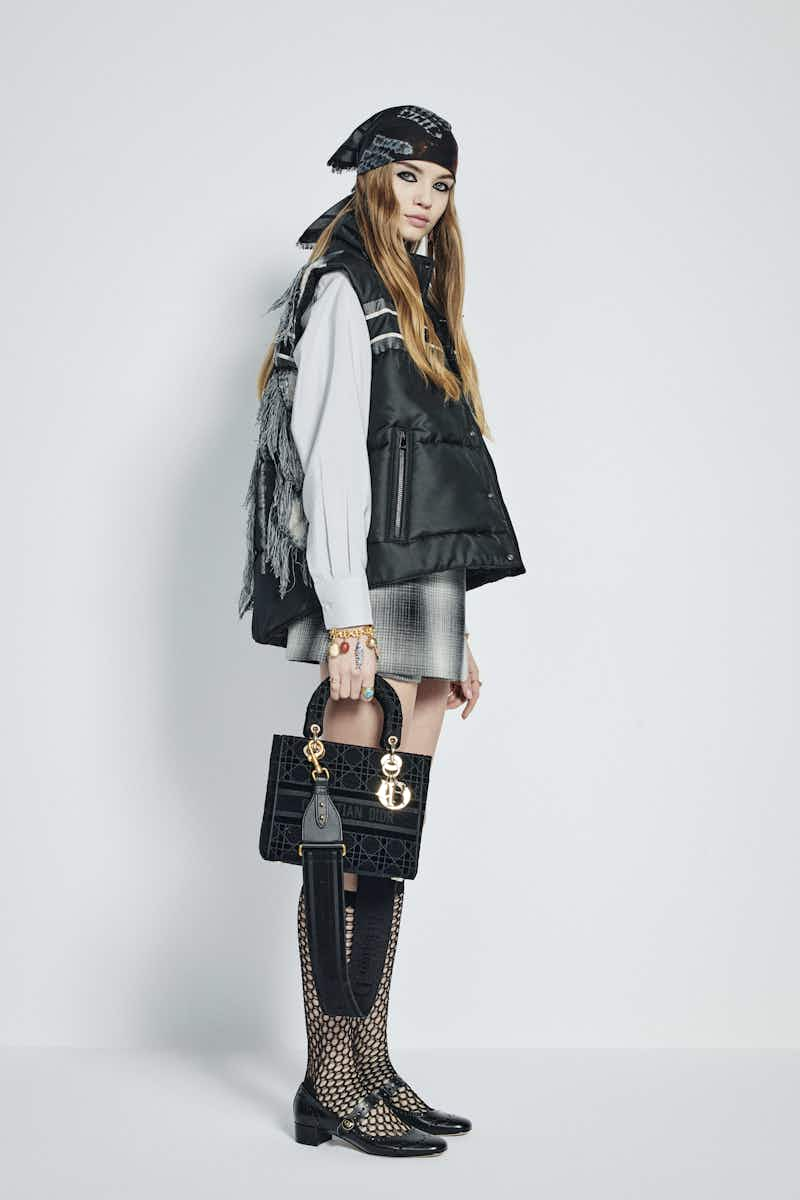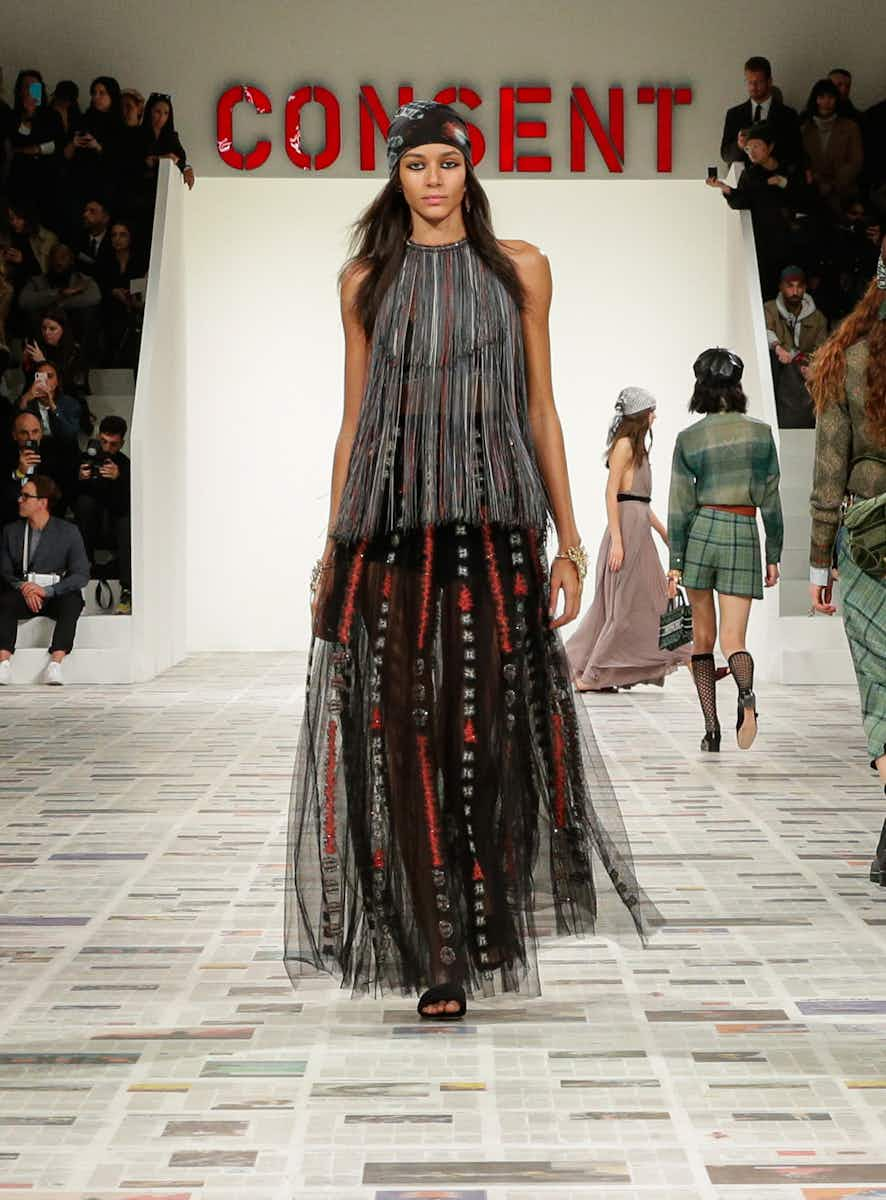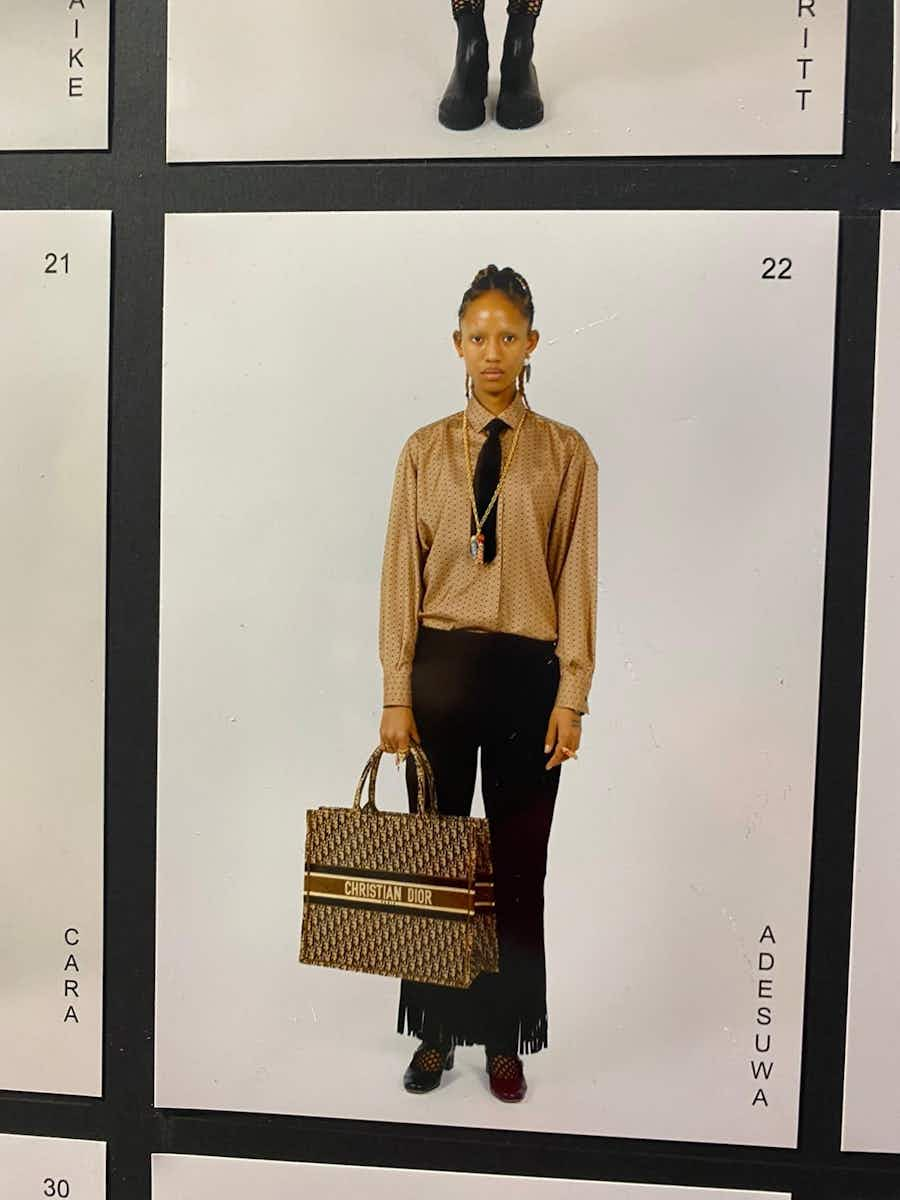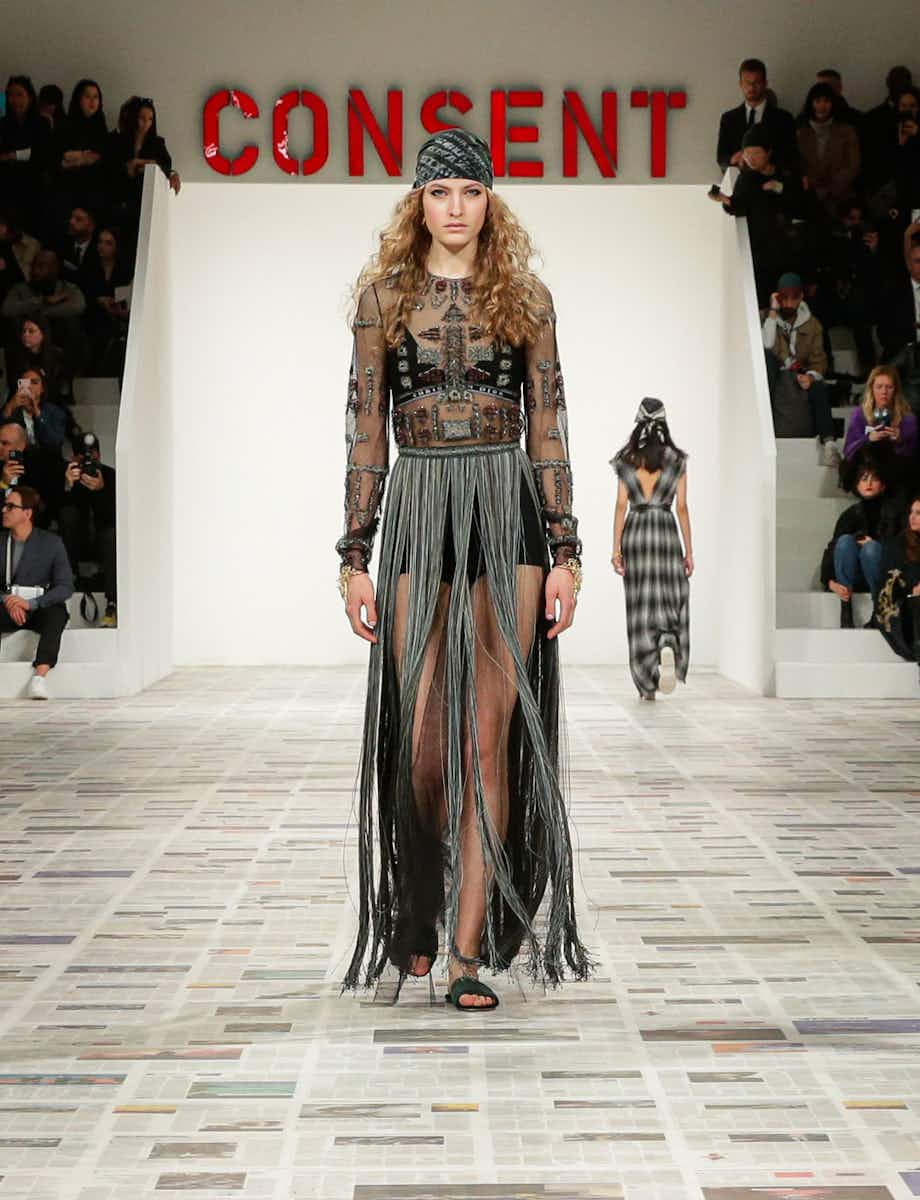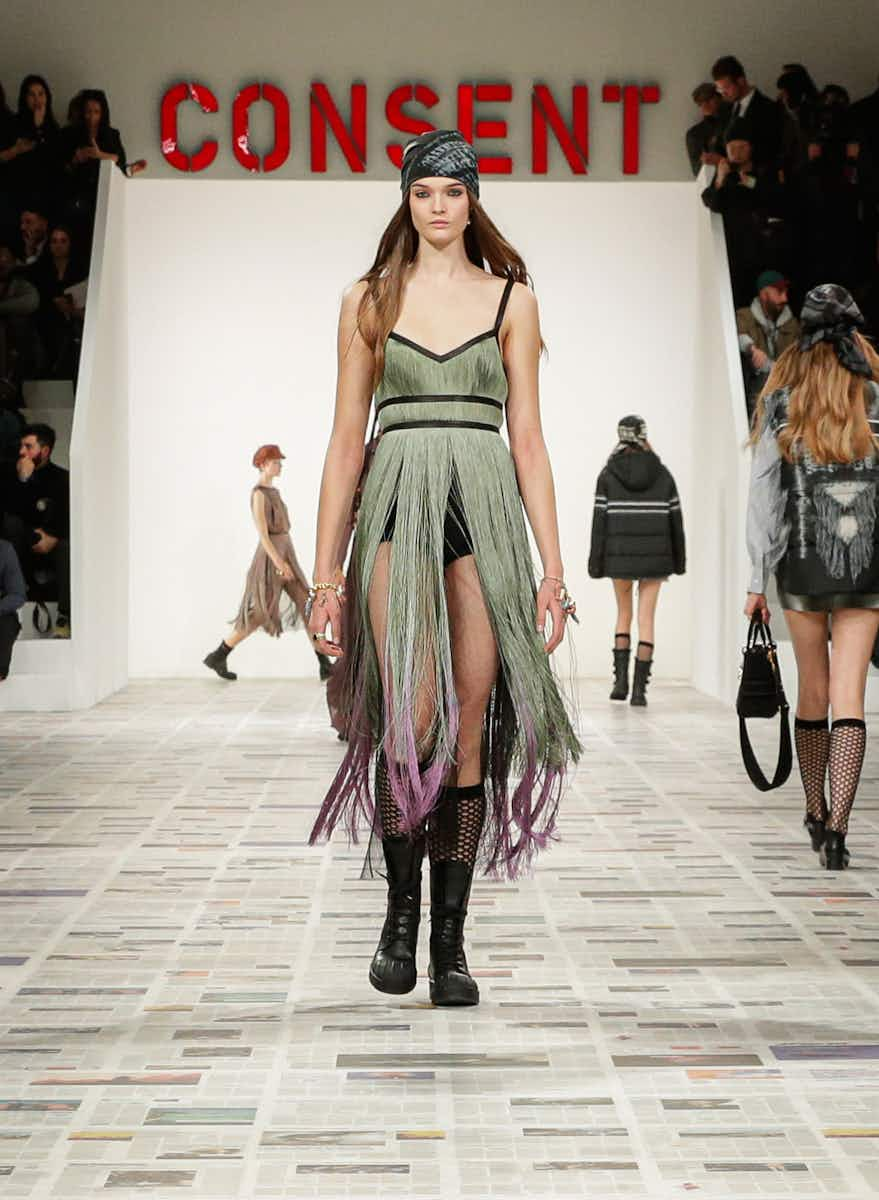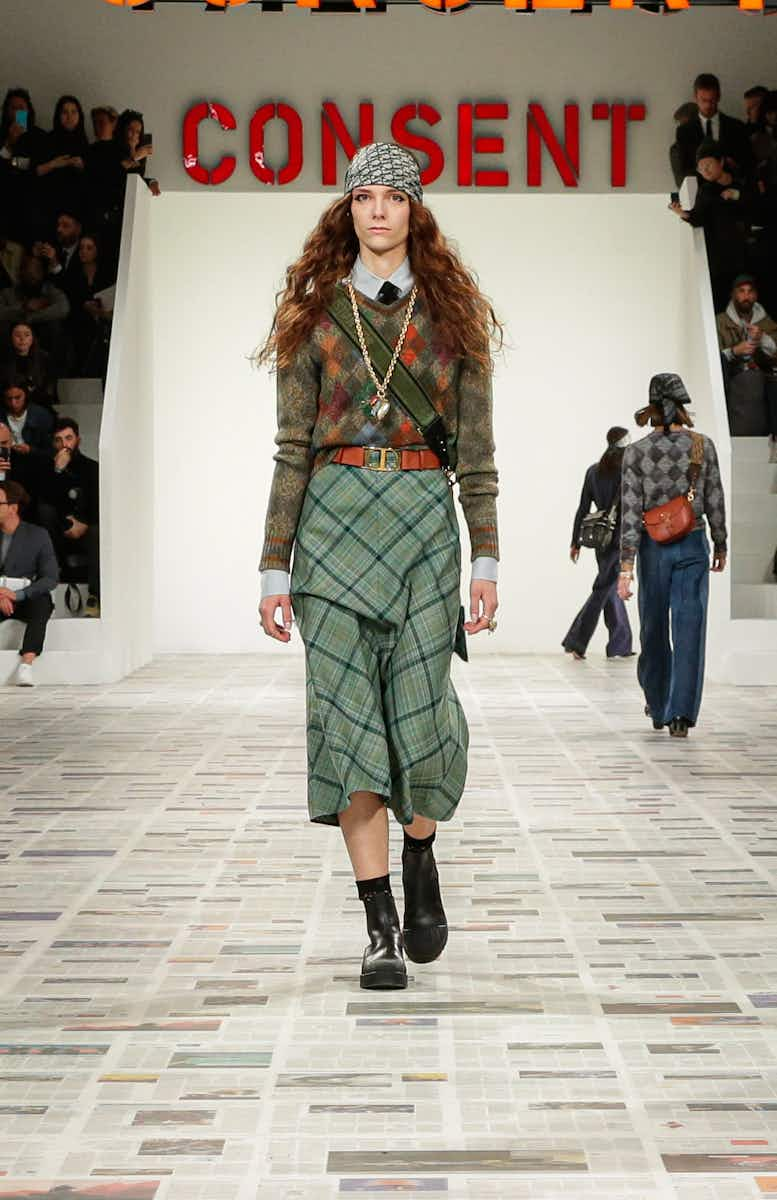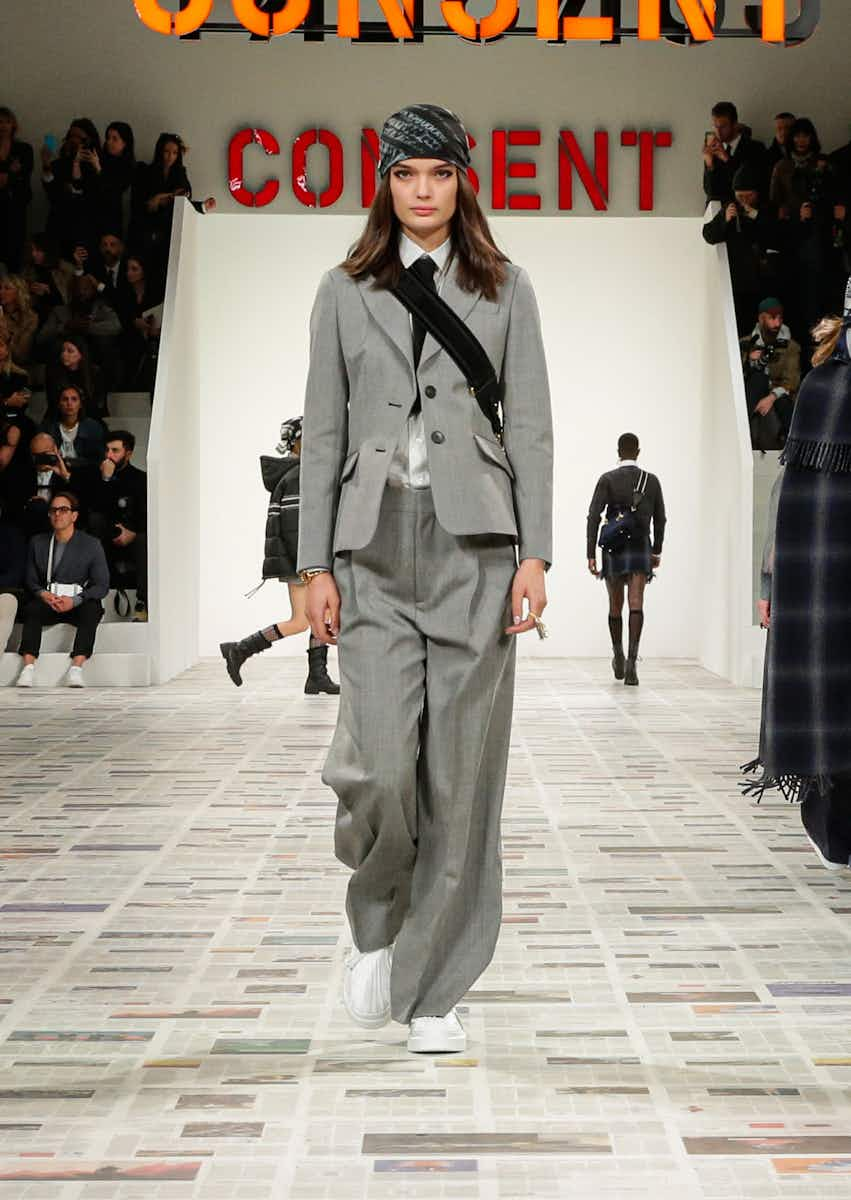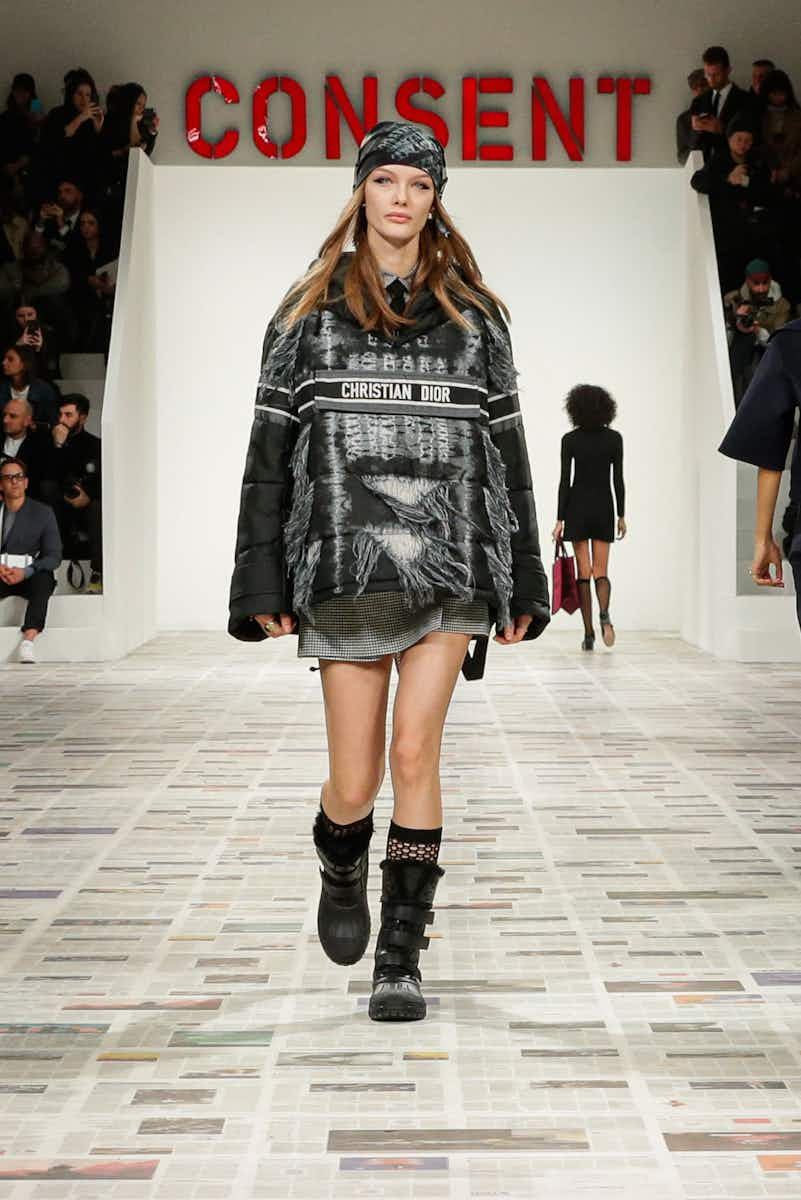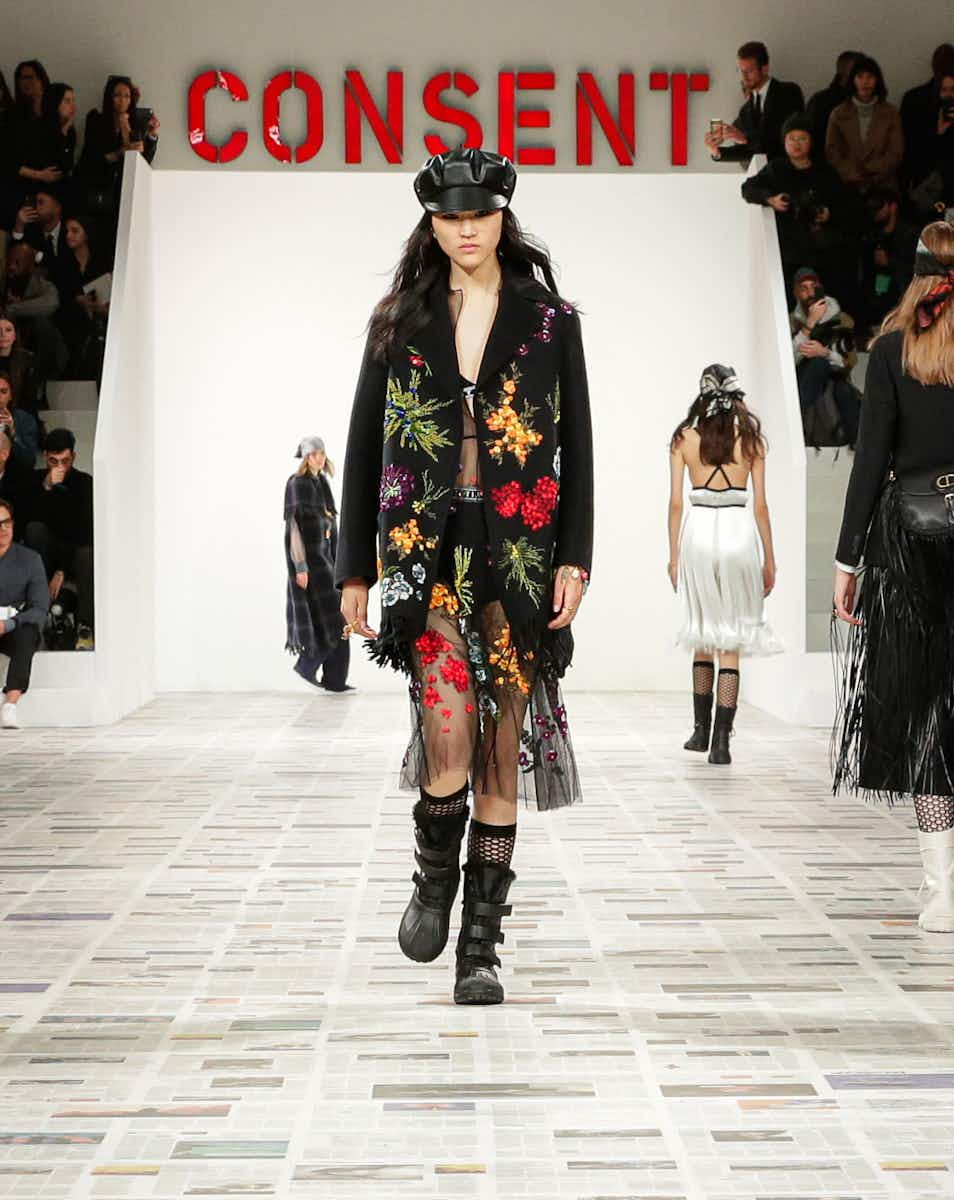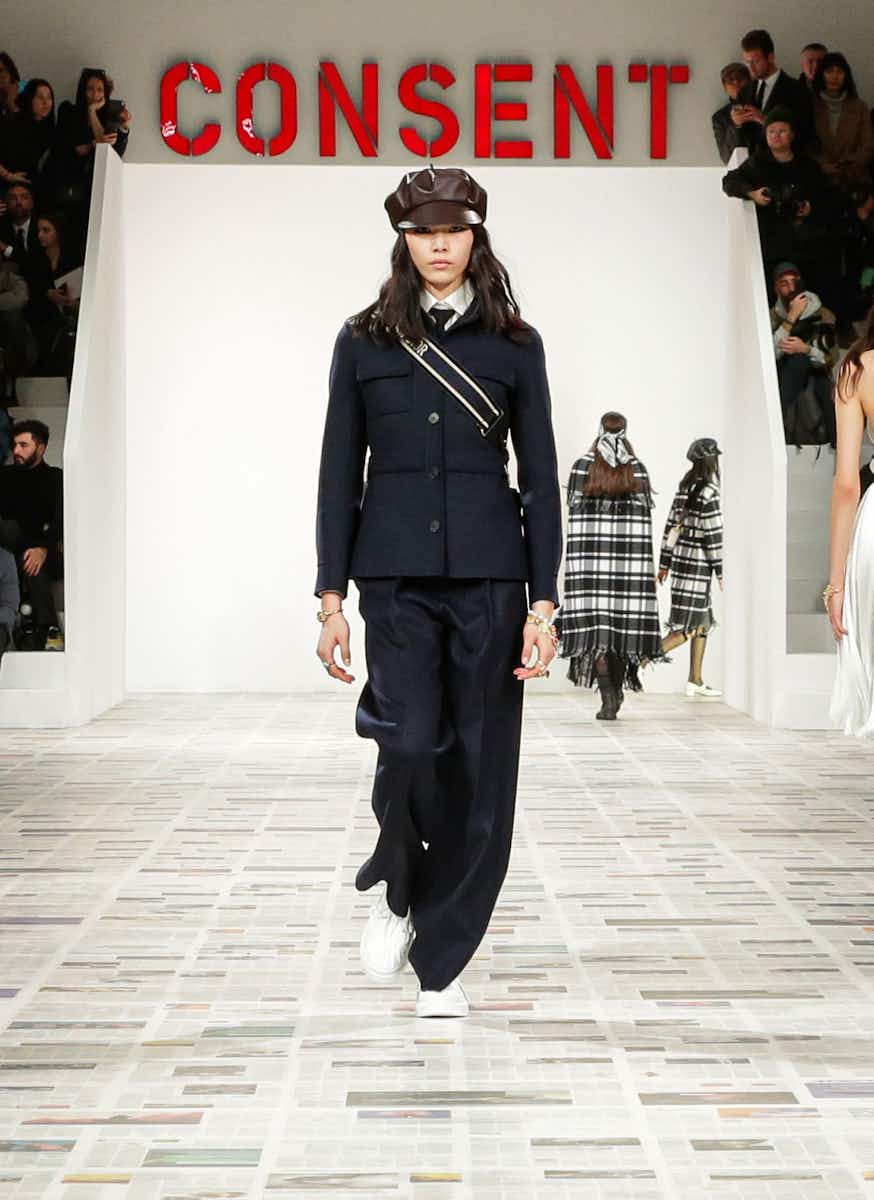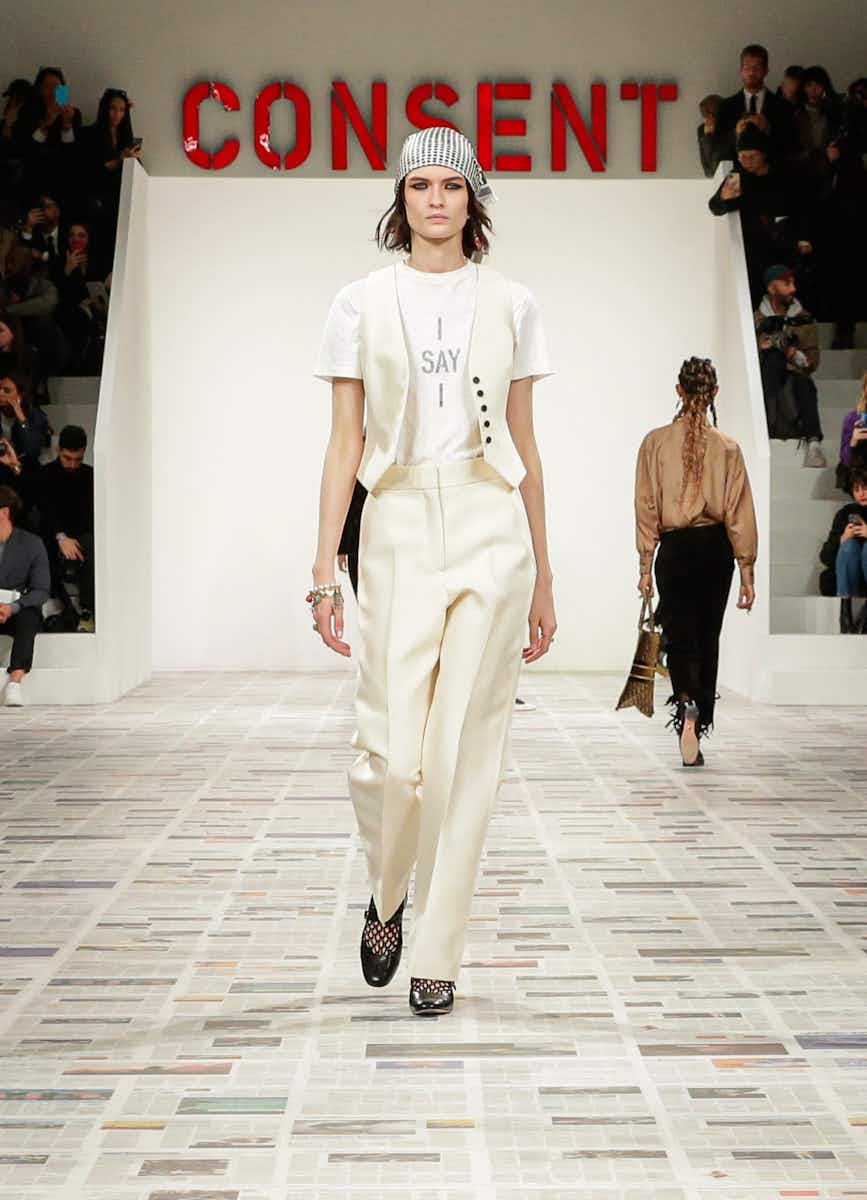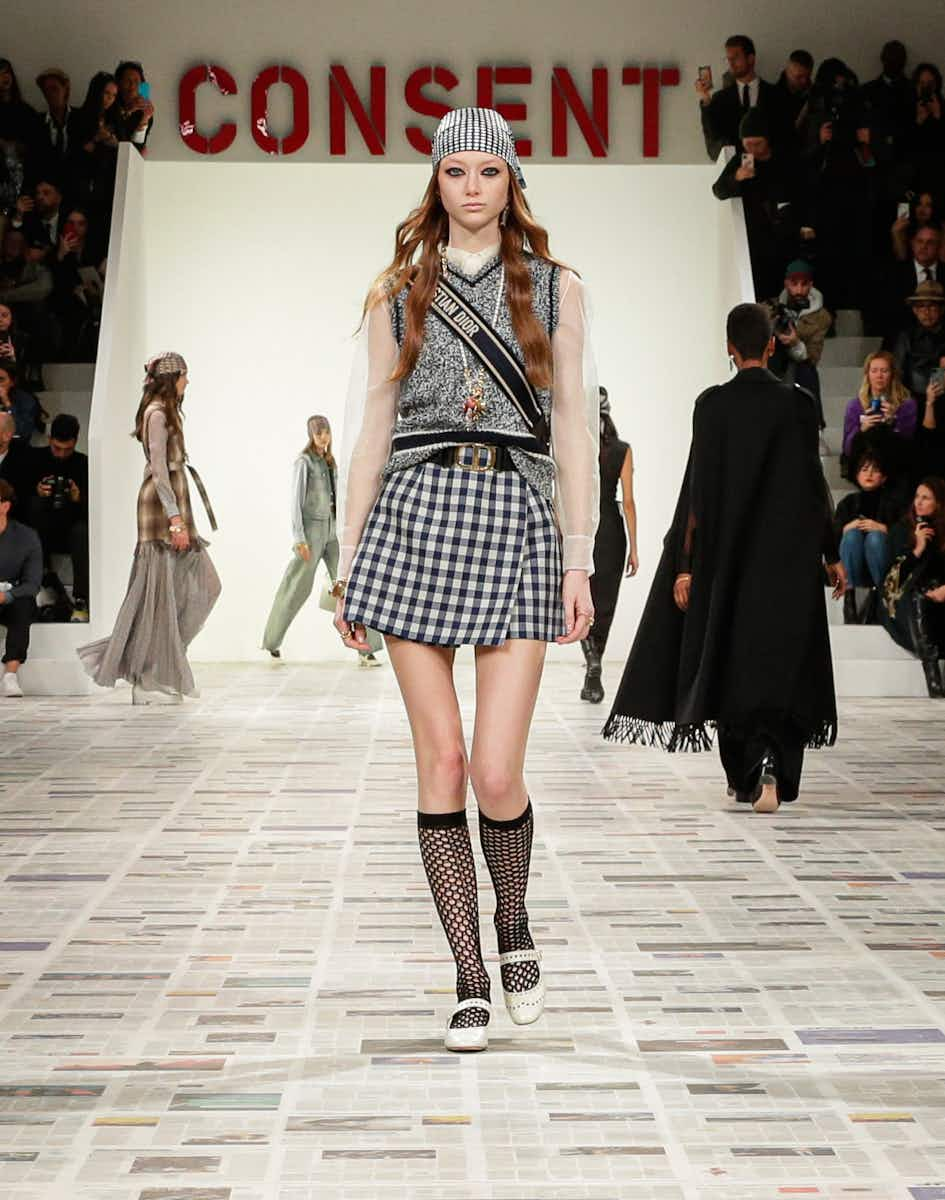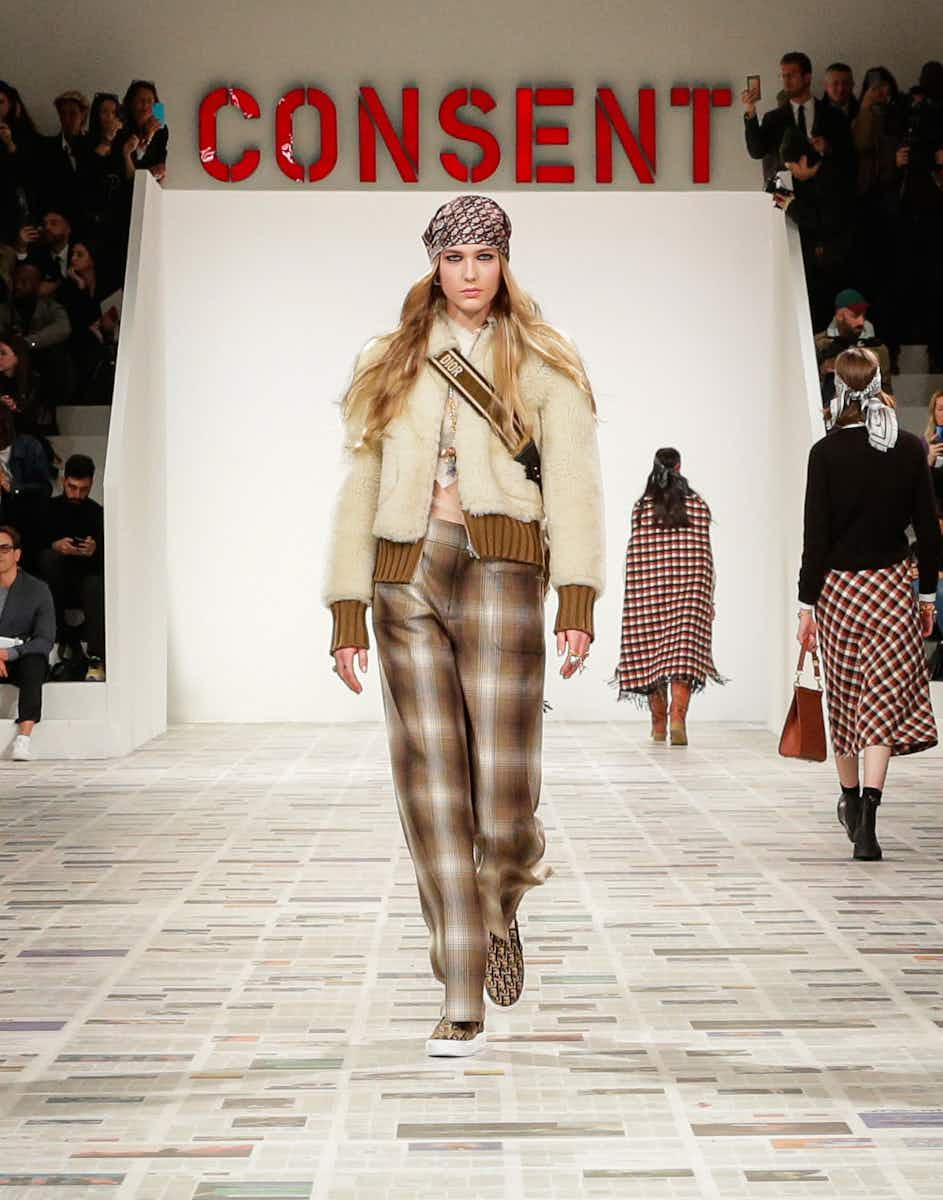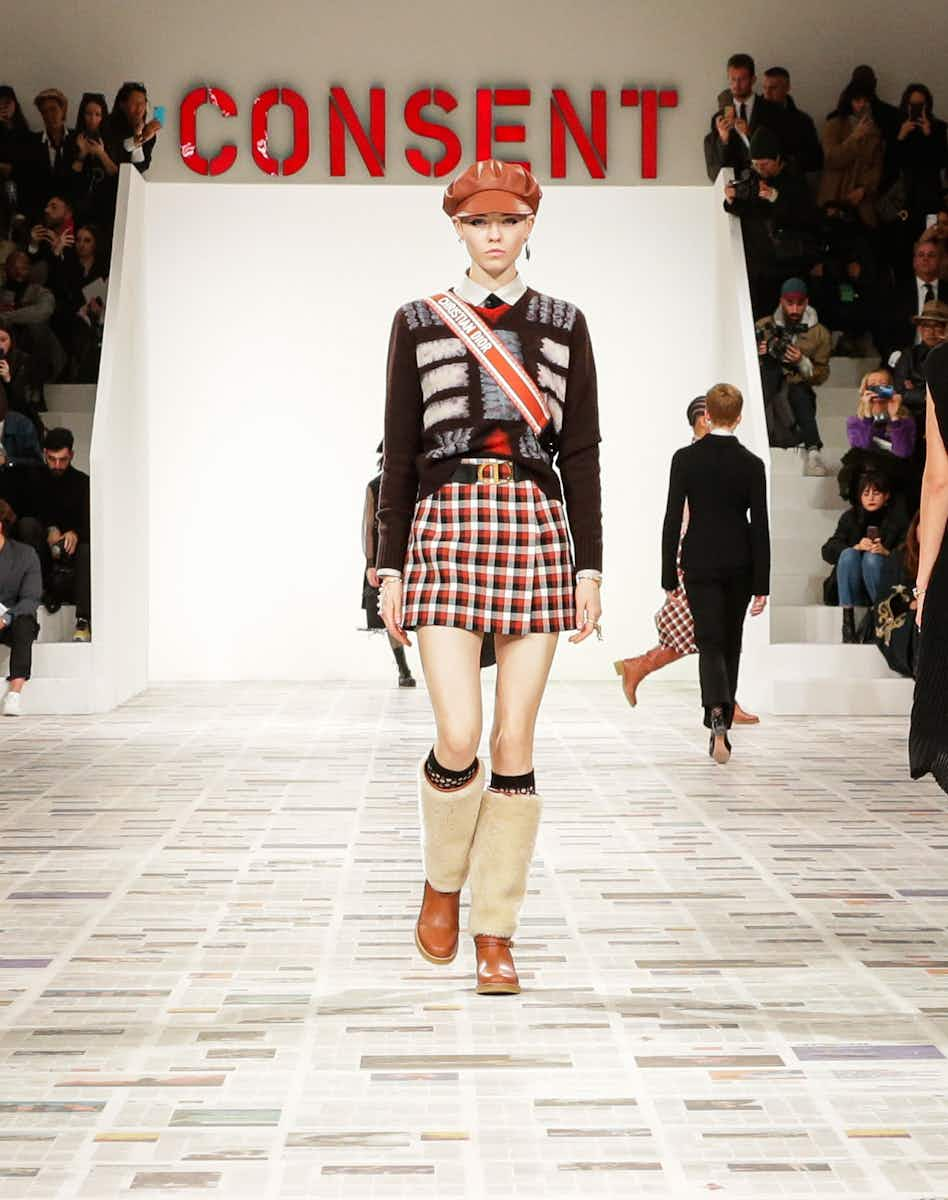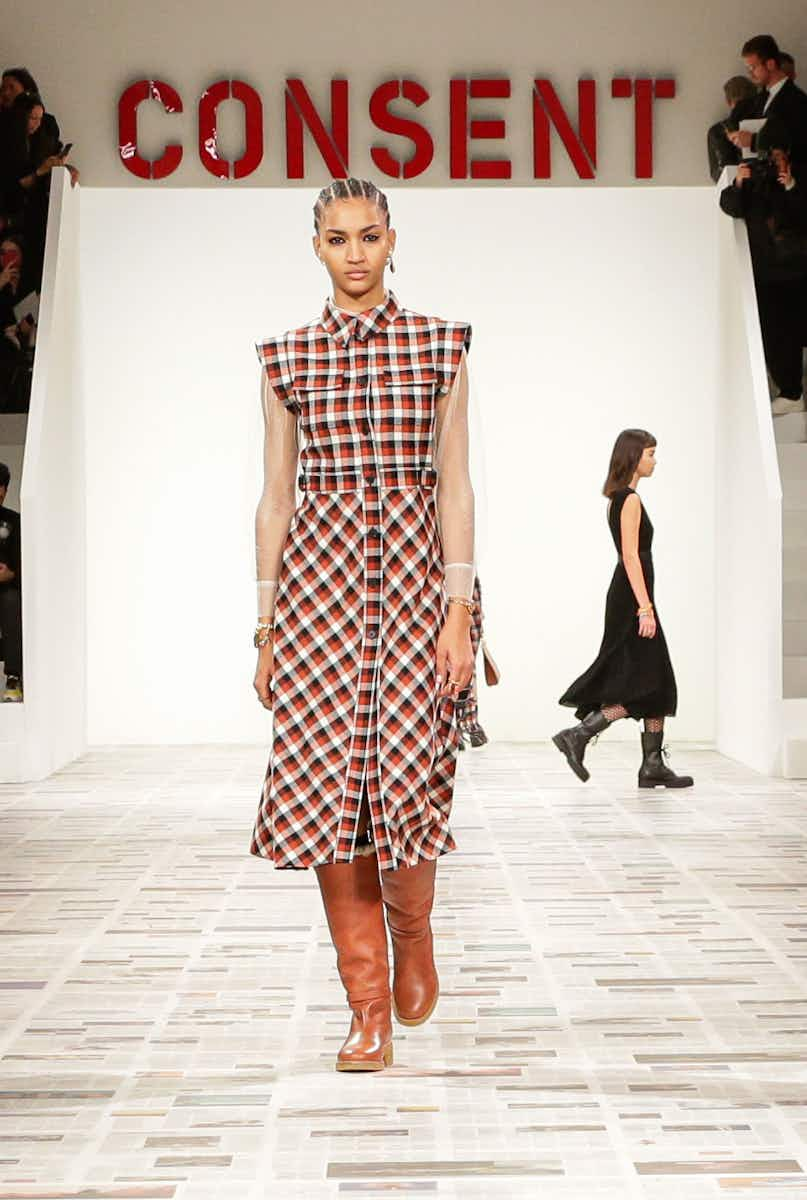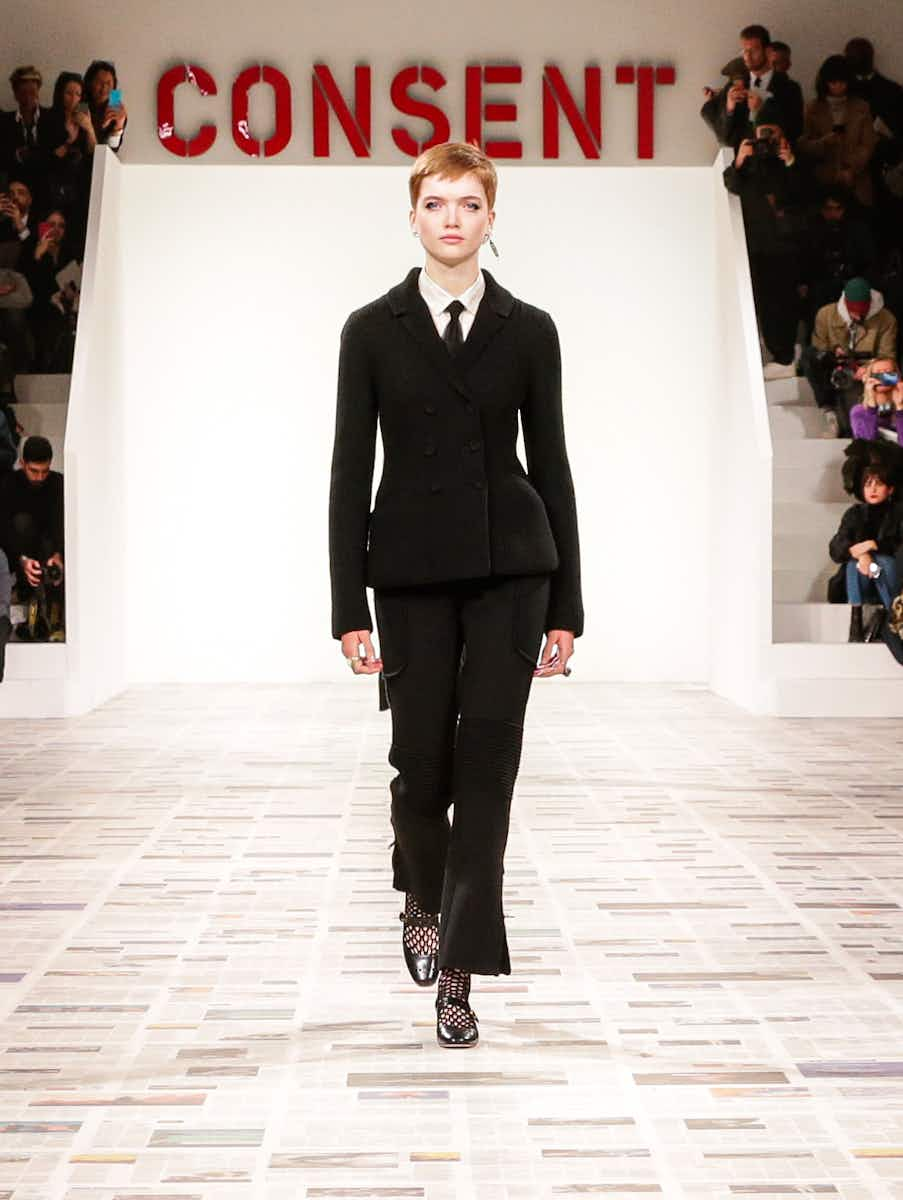 What were the memorable moments?
Fishnet socks, banadanas (part peasant, part biker dude) and the underwear with elasticated Christian Dior-branded bands.
What was the soundtrack?
Roisin Murphy's rousing cover of the Italian song Ancora Tu by Mina. The perfect singer to give a sense of female strength and sensuality.

Listen now:

The sound of Dior AW20

More like this