Everything you need to know about Paris Fashion Week AW22
After the glitz and glam of Milan, it's time for a final pit-stop in Paree. First up: Vaquera, Ottolinger, Saint Laurent, Off-White, Acne, Balmain, Celine Homme, Isabel Marant, Rick Owens, AKVW, Marine Serre, VTMNTS, Hermès, Miu Miu and loads more...
PARIS!

PARIS!

PARIS!

PARIS!

PARIS!

PARIS!

PARIS!

PARIS!

PARIS!

PARIS!

PARIS!

PARIS!

PARIS!

PARIS!

PARIS!

PARIS!

PARIS!

PARIS!

PARIS!

PARIS!
These days, it takes a lot for a single garment to dominate the fashion press. But in the past few months, Miu Miu's itsy-bitsy-teeny-weeny micro skirt and cropped jumper has had stylists and fashion editors in a chokehold, and subsequently on the bodies of cover stars like Nicole Kidman and Paloma Elsesser – to name a very few. It's a look that's garnered love and hate in equal measure for its Britney-esque schoolgirl fantasy stylings (and its tendency – some notable exceptions aside – to be worn in order to show off an adolescently flat stomach). Given the hype, it's unsurprising to see the Miu Miu mini mark two on the AW22 catwalk: now in the form of a white, pleated tennis skirt in various lengths from bum-skimming to demure. Like before, it's slung low enough on the hips to reveal the ruched tops of satin pants beneath (truly, there is nothing from the early 2000s that is going to be allowed to rest in peace, including visible underwear). But this time, there are also options for the boys in the form of cropped running shorts – though one hopes that, a la Vincent Ho, some of them might give the skirts a twirl, too.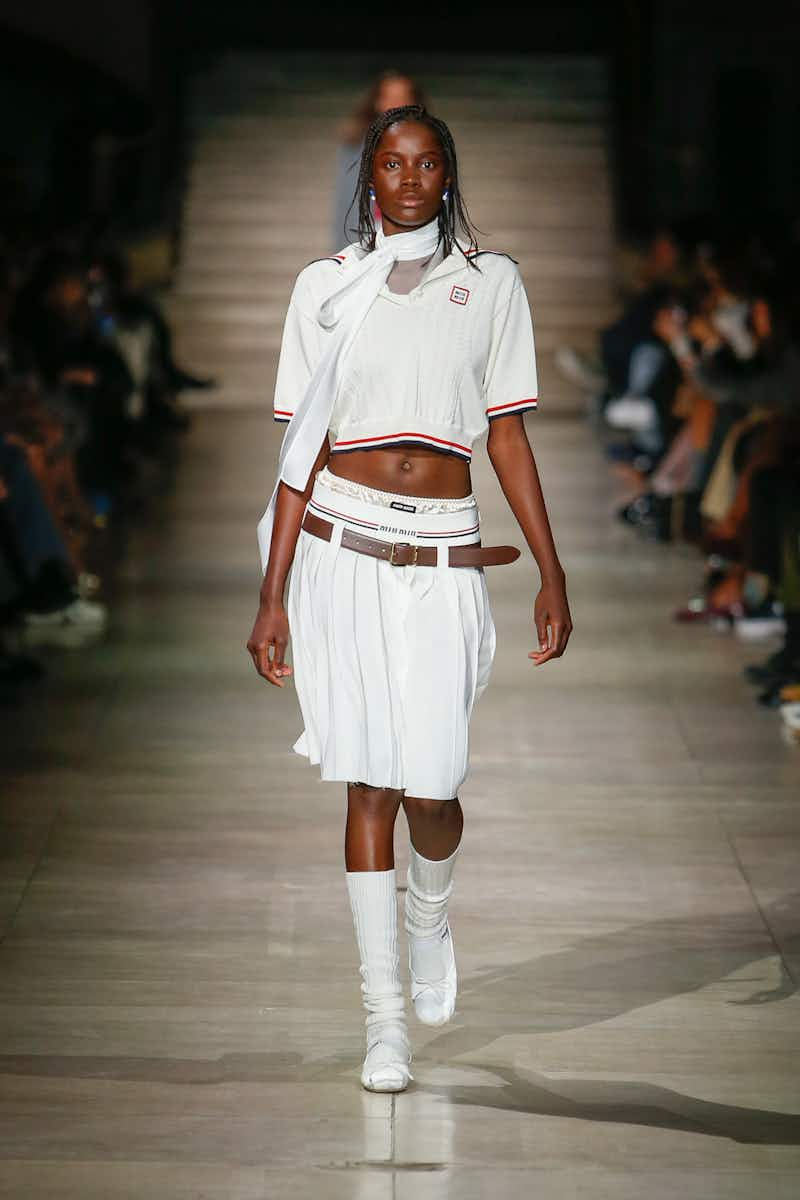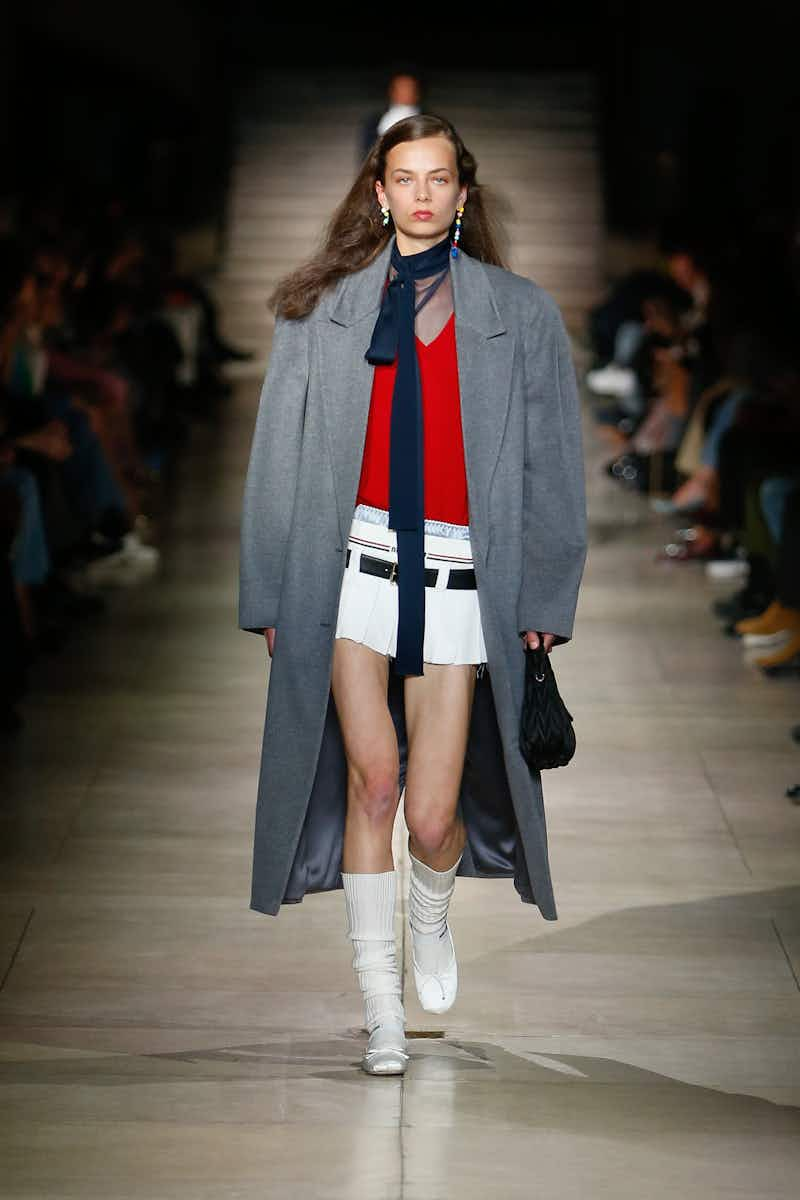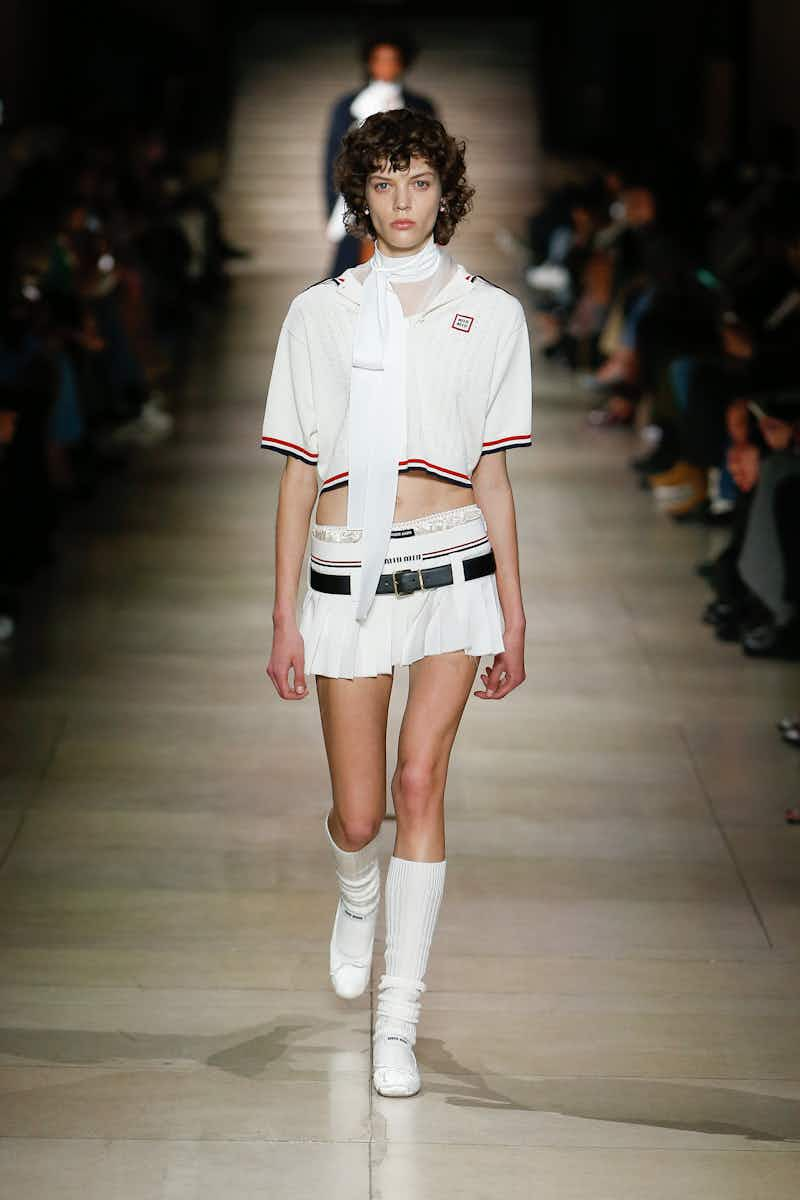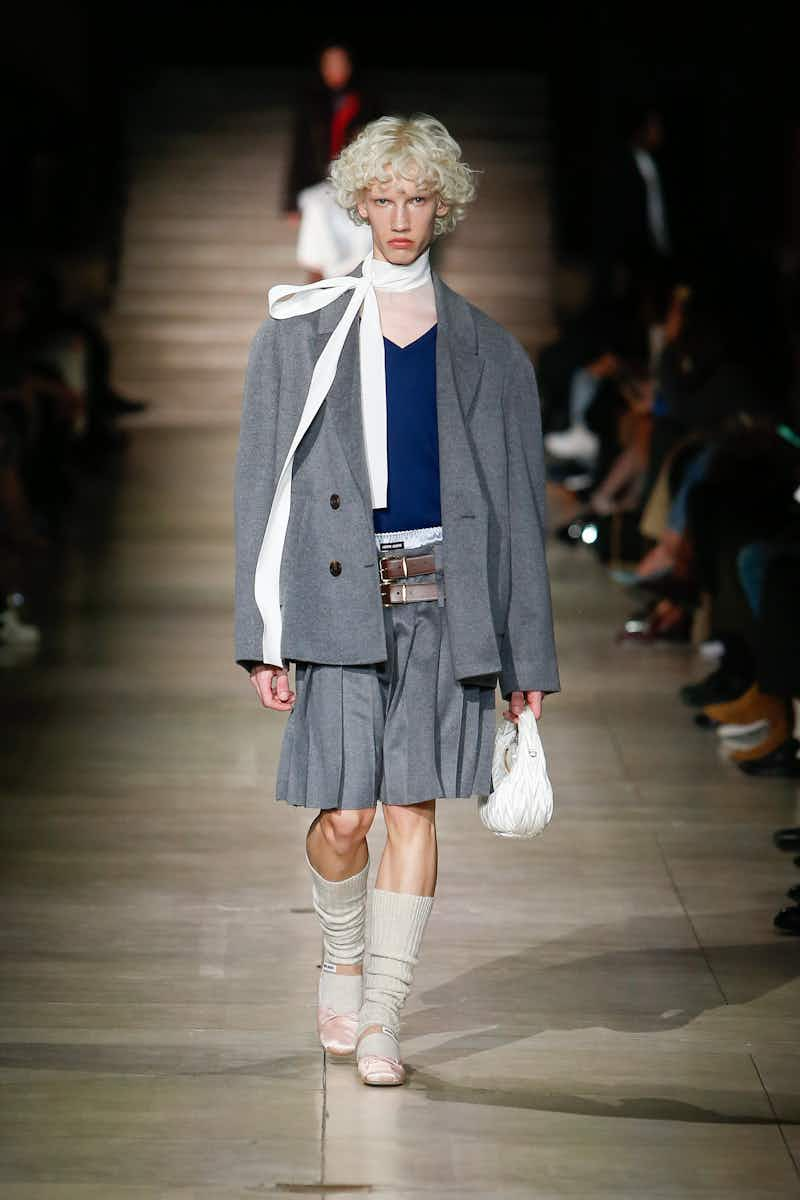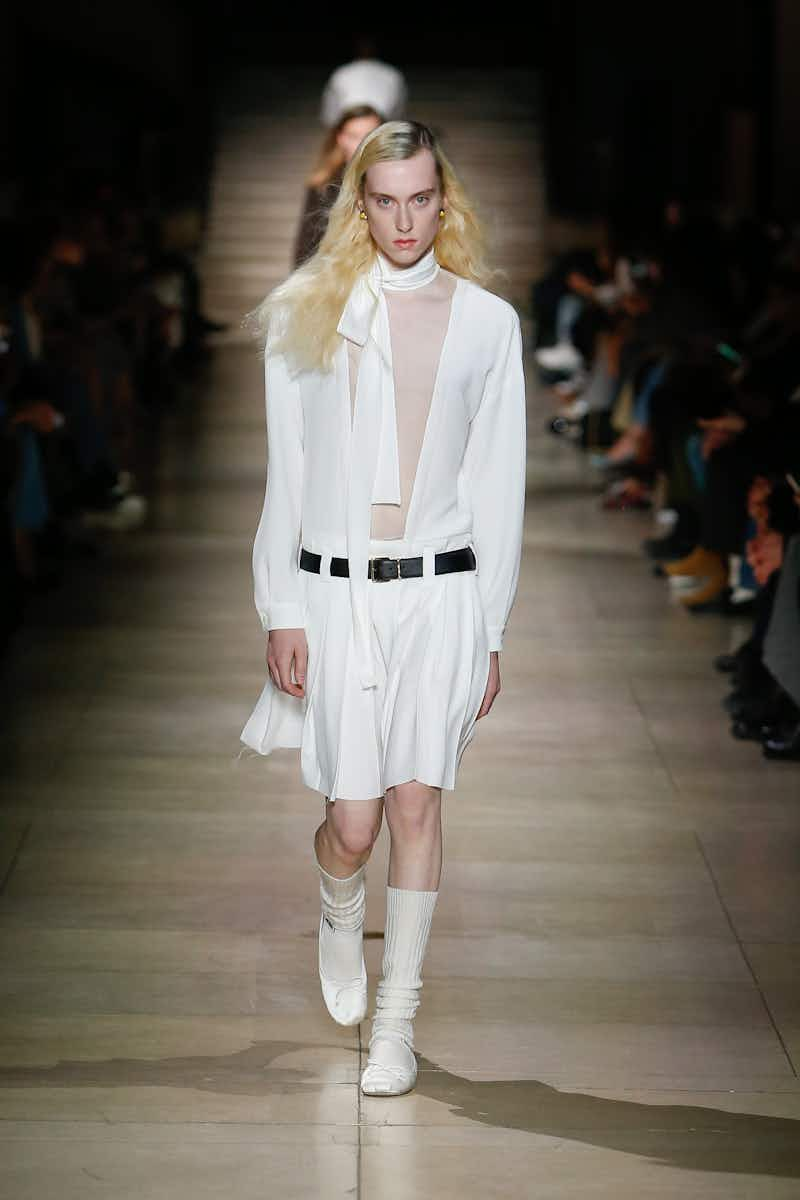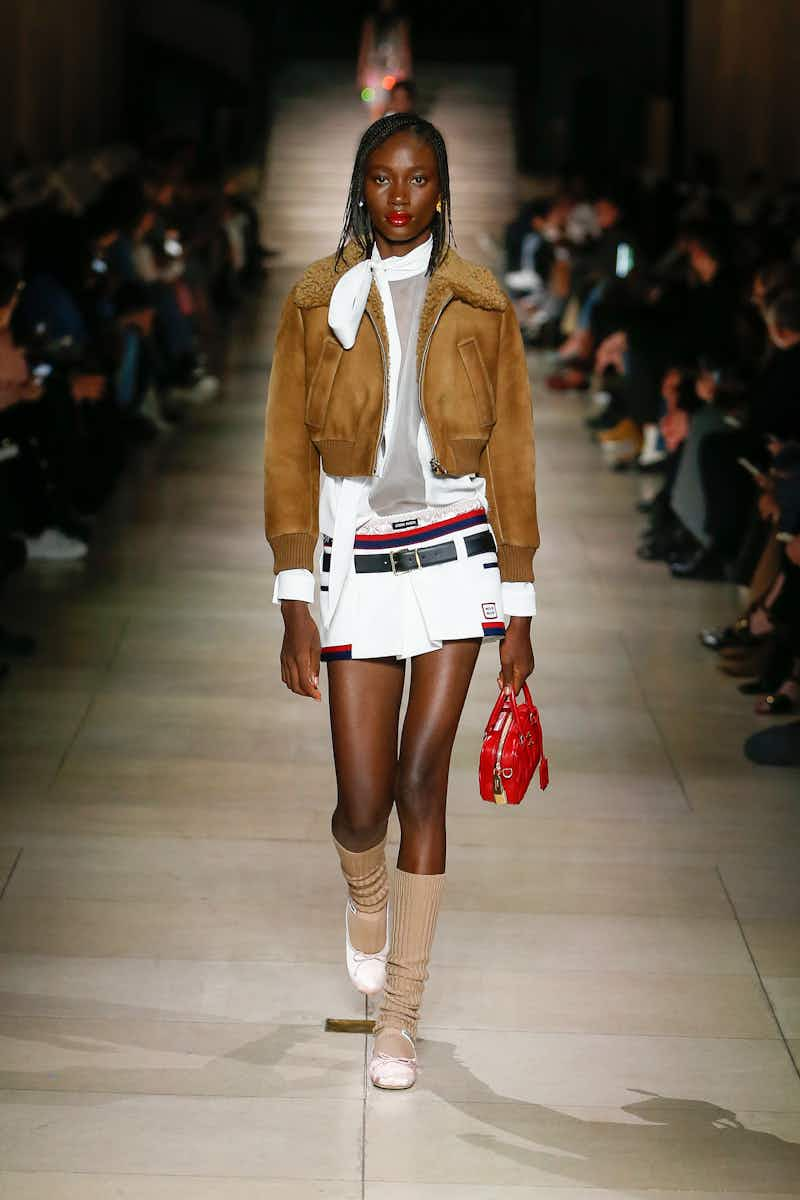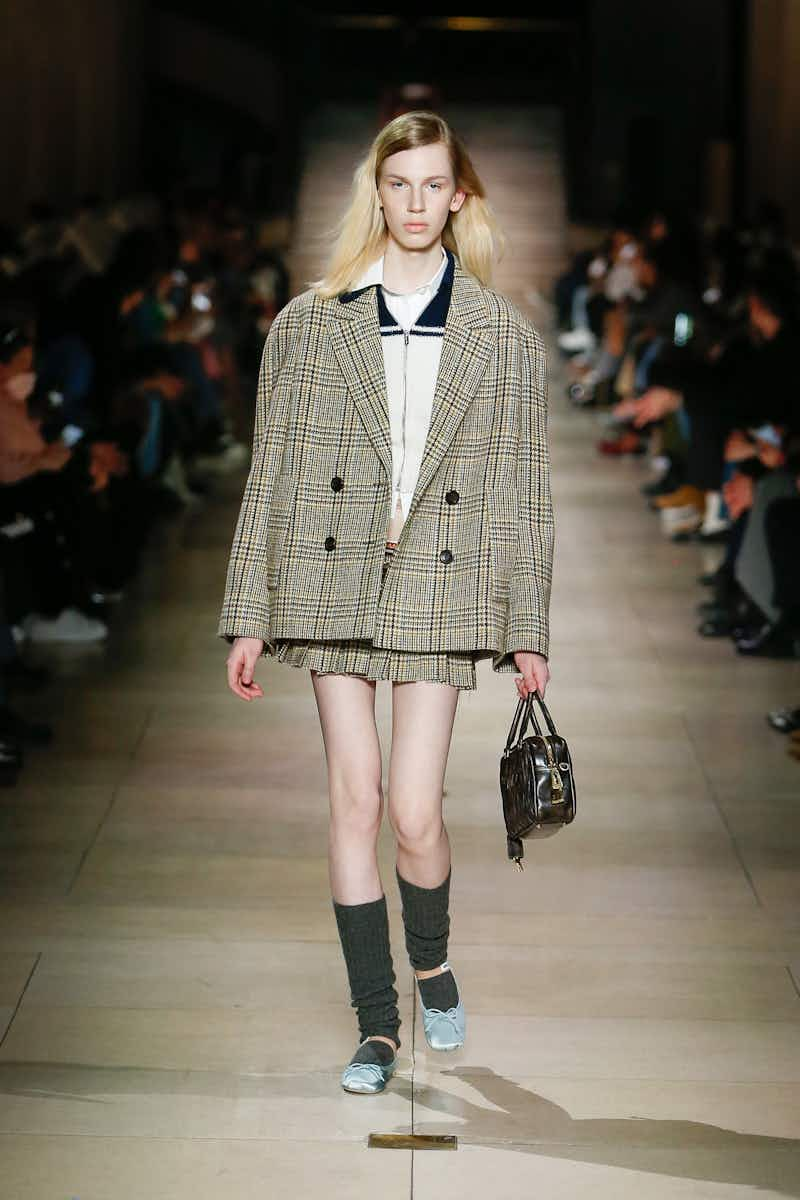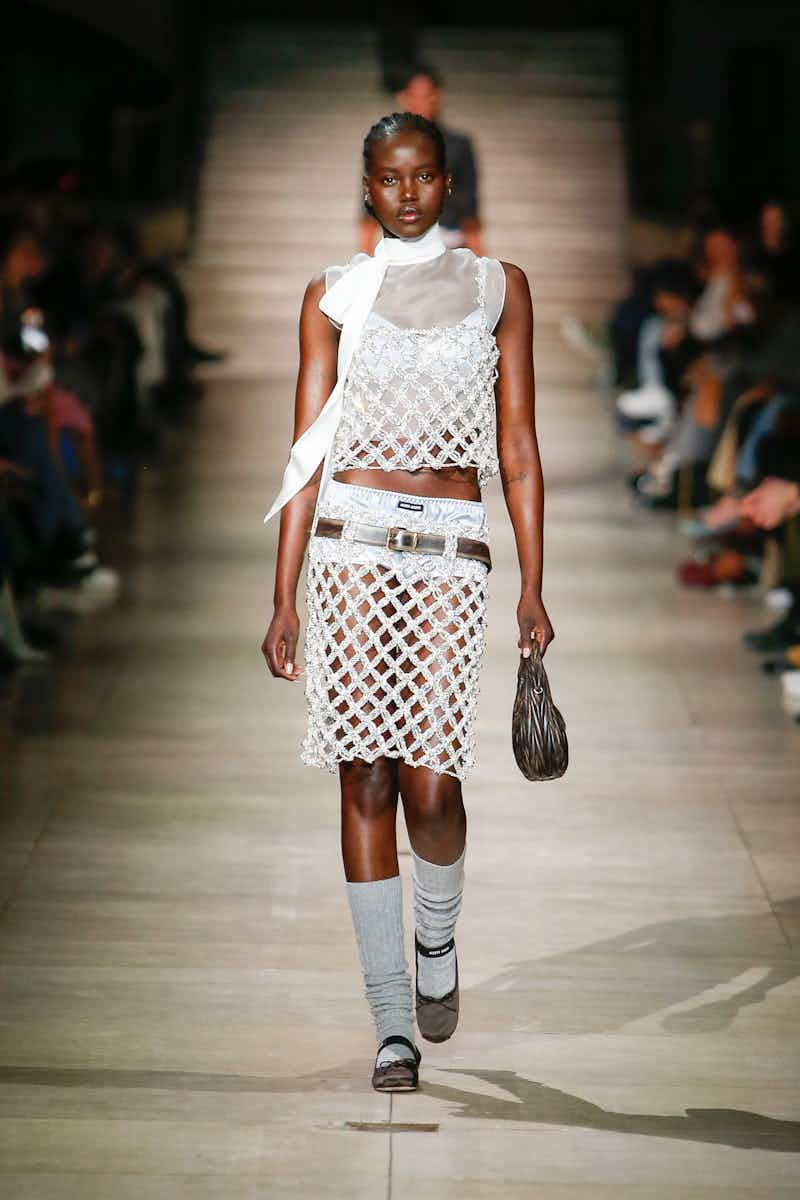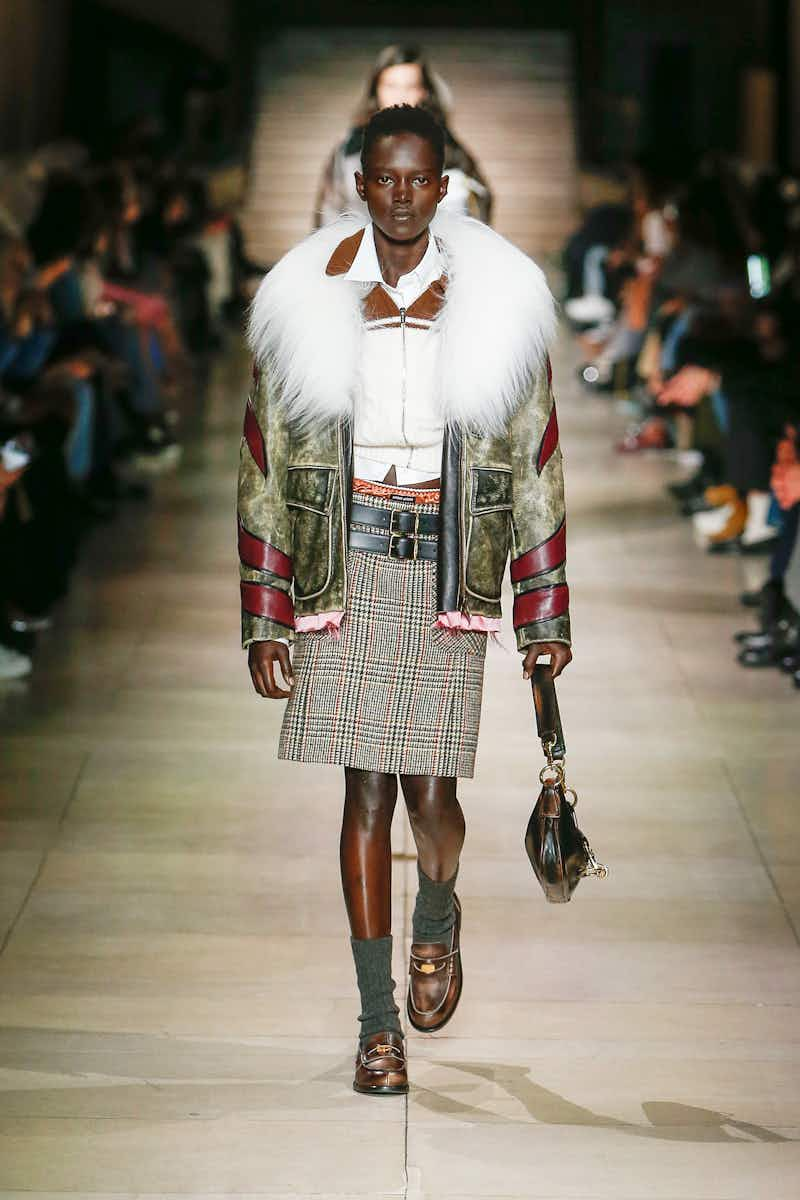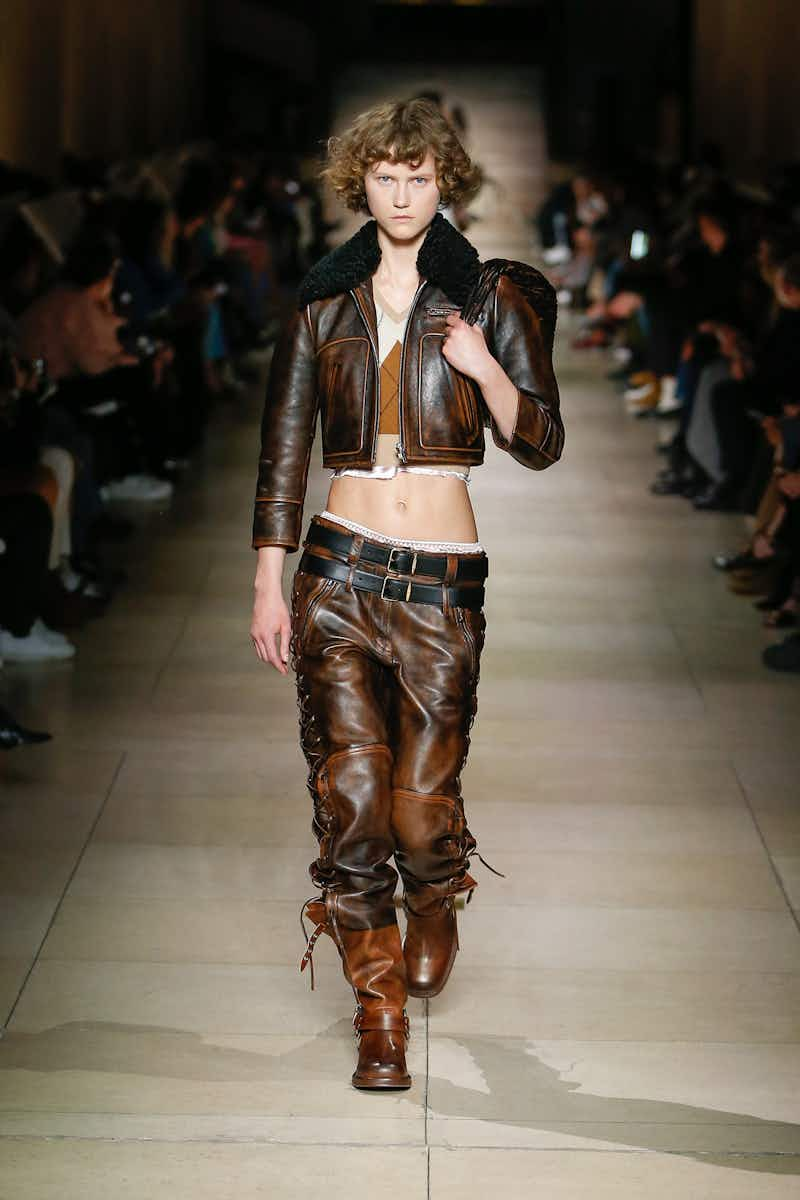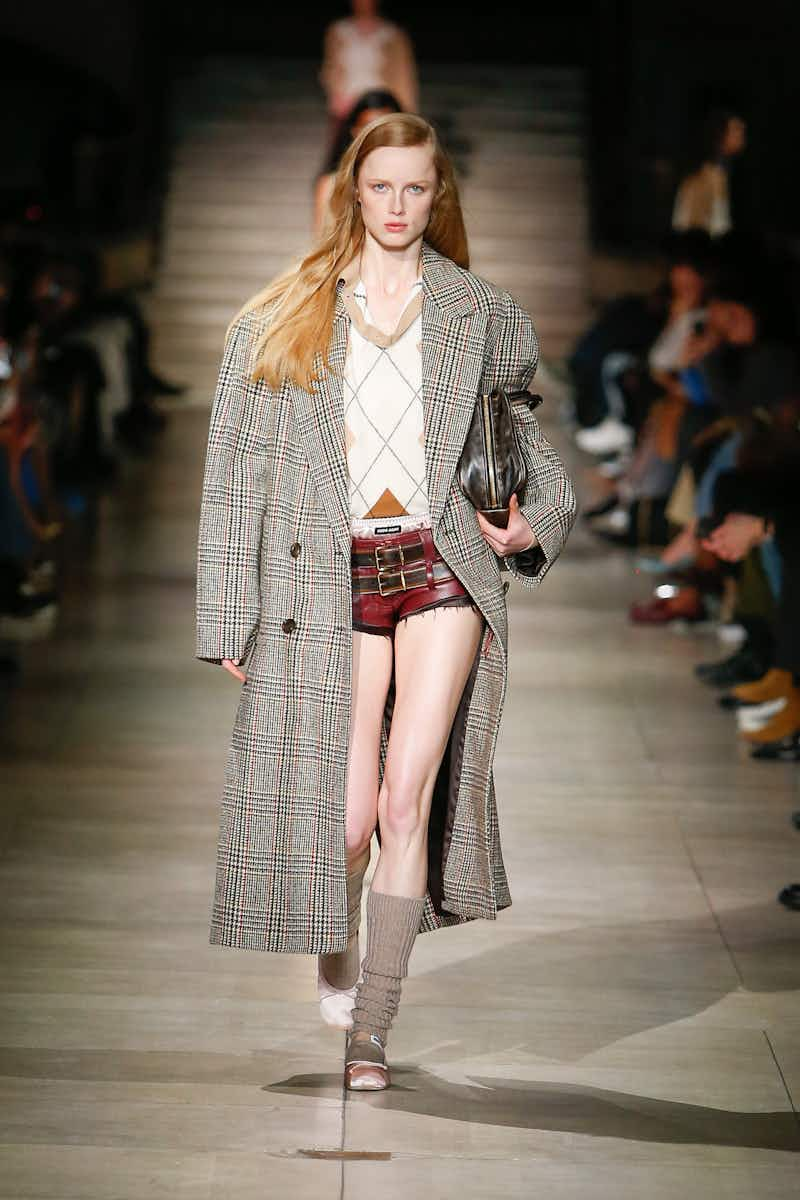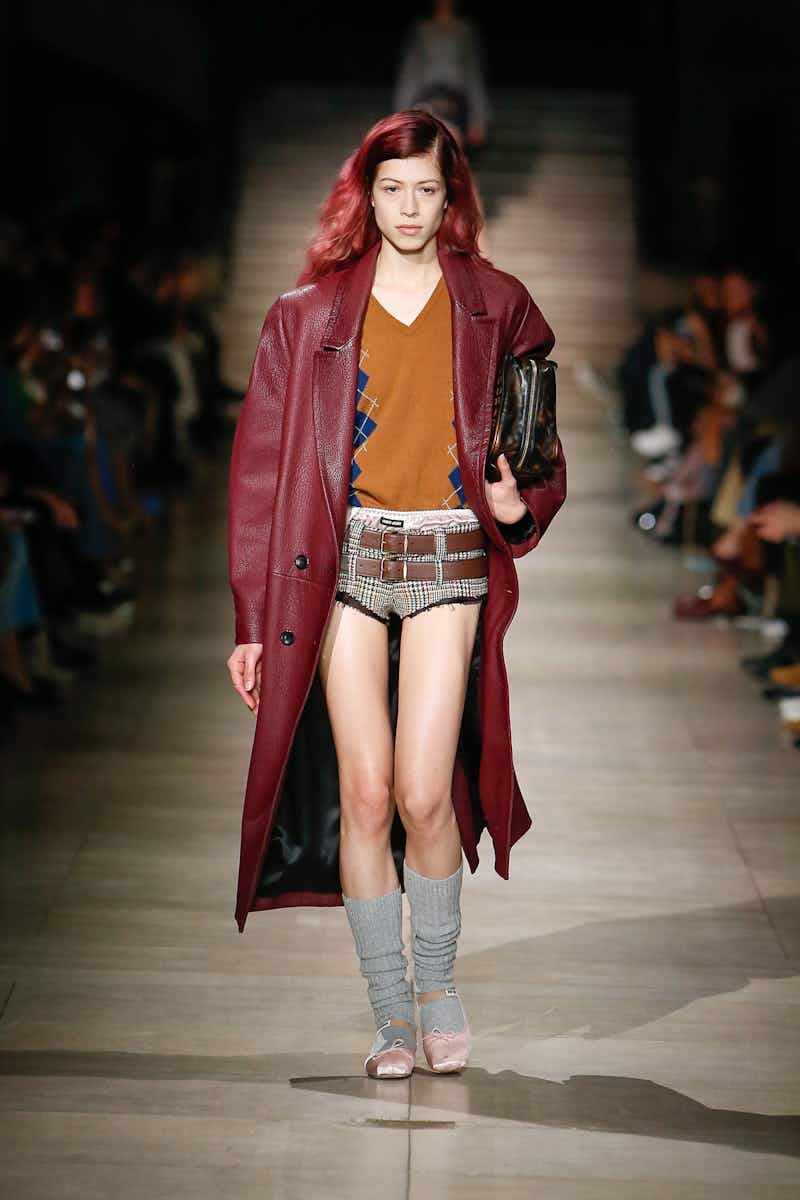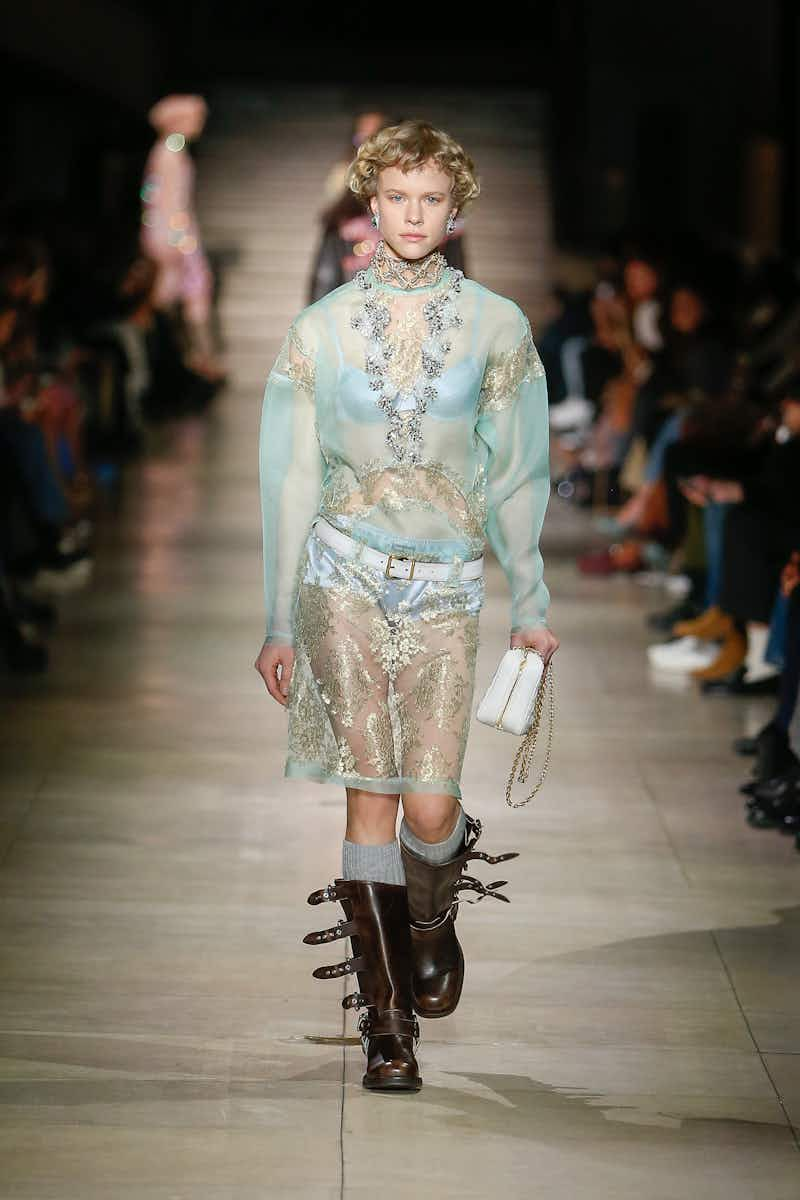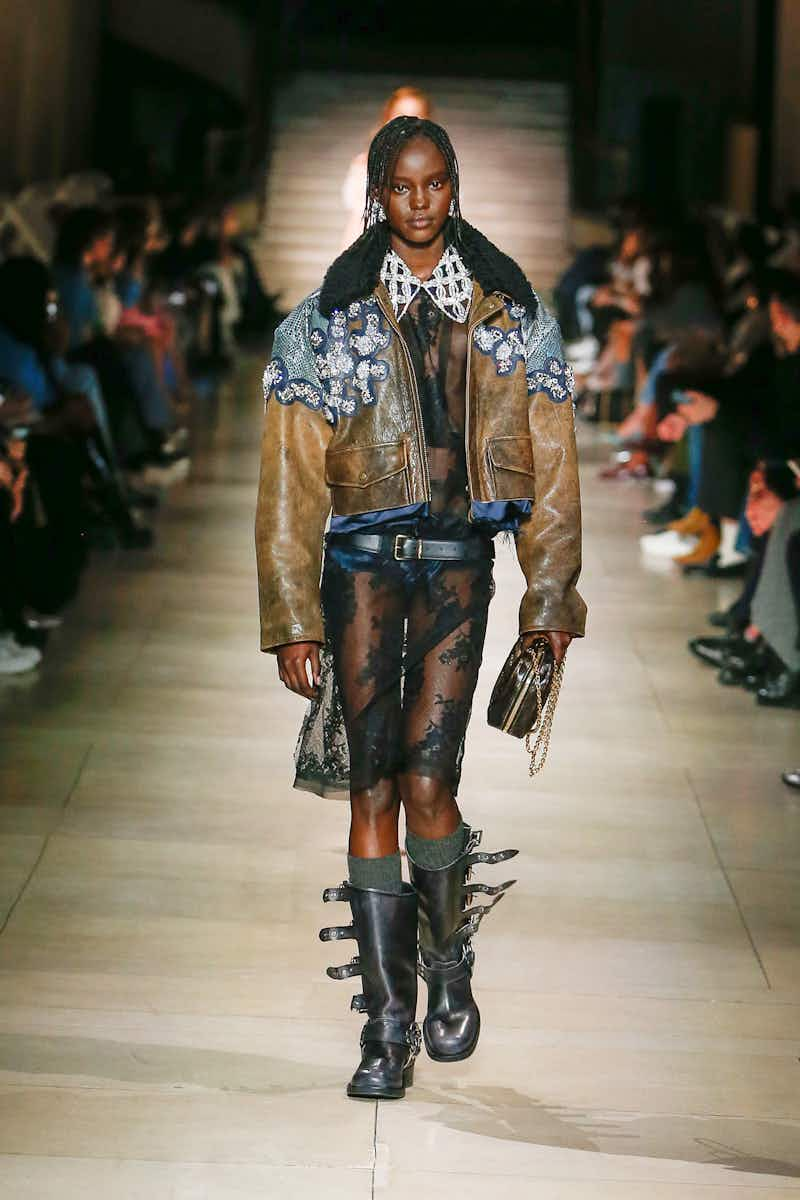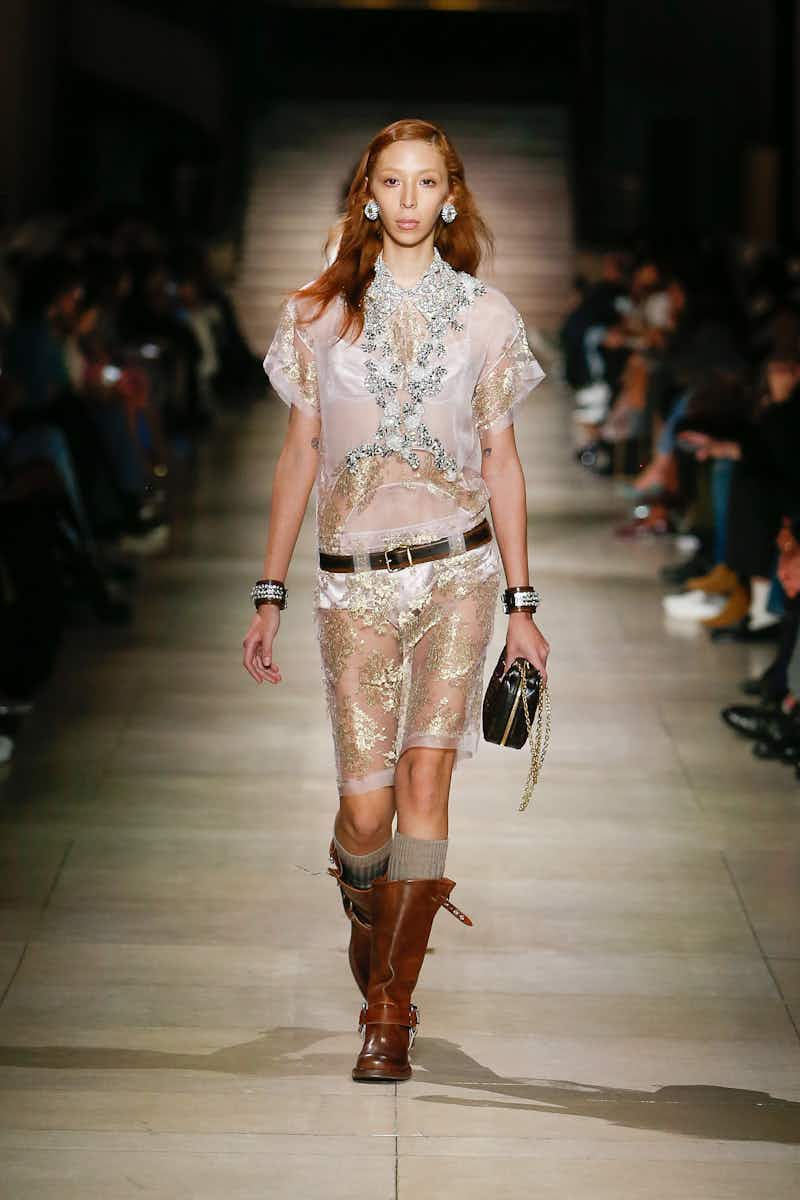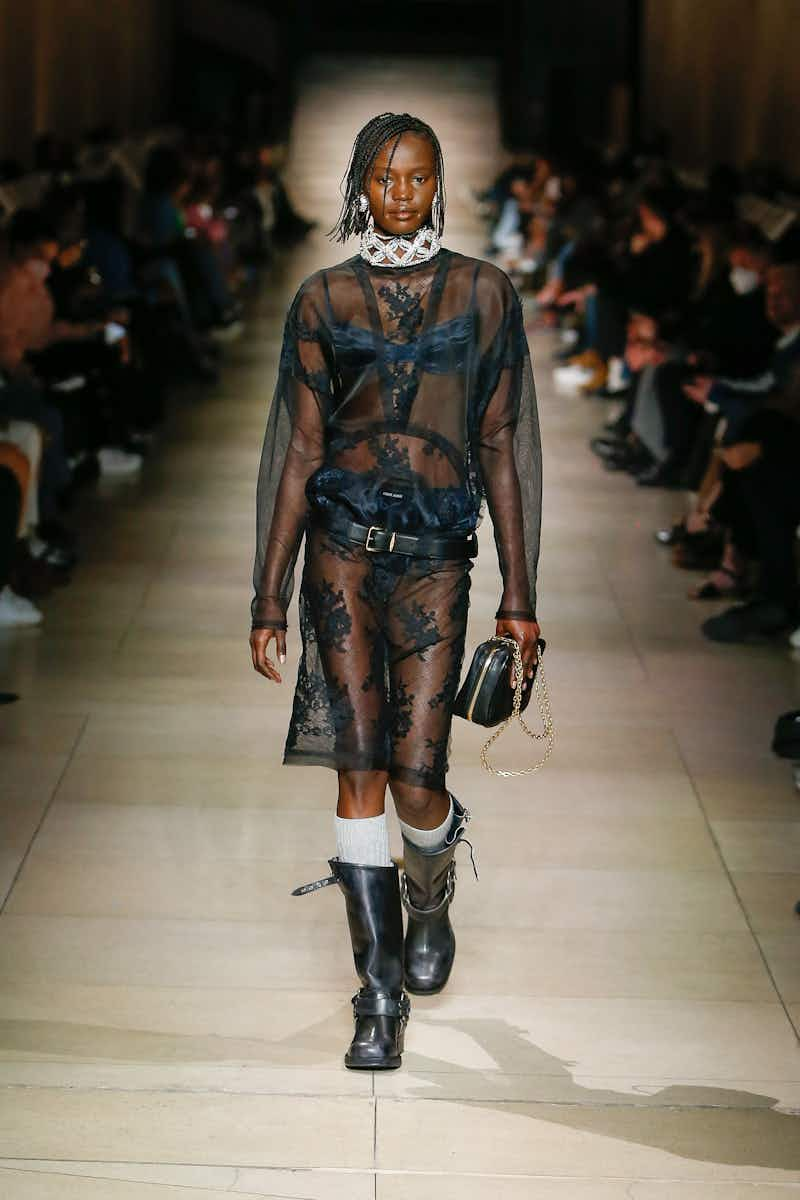 The fashion world has been rather enamoured by artist collaborations and homages of late, from the frequent dips into Basquiat's archives (courtesy of his estate's rather… liberal approach to licensing) to Jonathan Anderson's collections and special edition publications for Loewe focusing on Joe Brainard, Florian Krewer and David Wojnarowicz, among others. This season, Stella McCartney approached American abstract painter Frank Stella (from one Stella to another and all that), yielding several dresses that featured direct reproductions of his lithographs as well as more diffuse nods to the artist's geometric work in the form of angular patterns and delicious colour combinations. In between the more eye-catching pieces, there were a couple of especially robust-looking jumpsuits perfect for long days spent in the studio. As one might expect from McCartney, there were some enjoyable textile innovations, too – this time in the form of faux leather created from grape skins. We'll happily drink to that.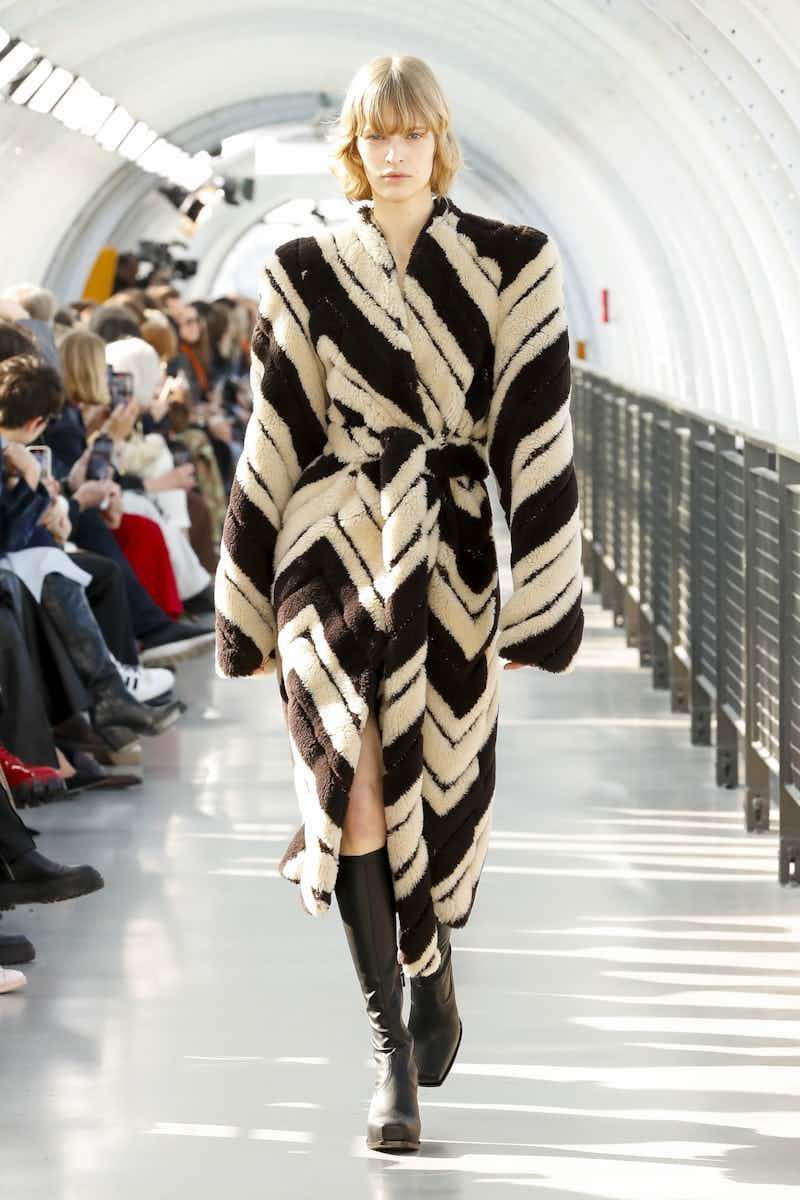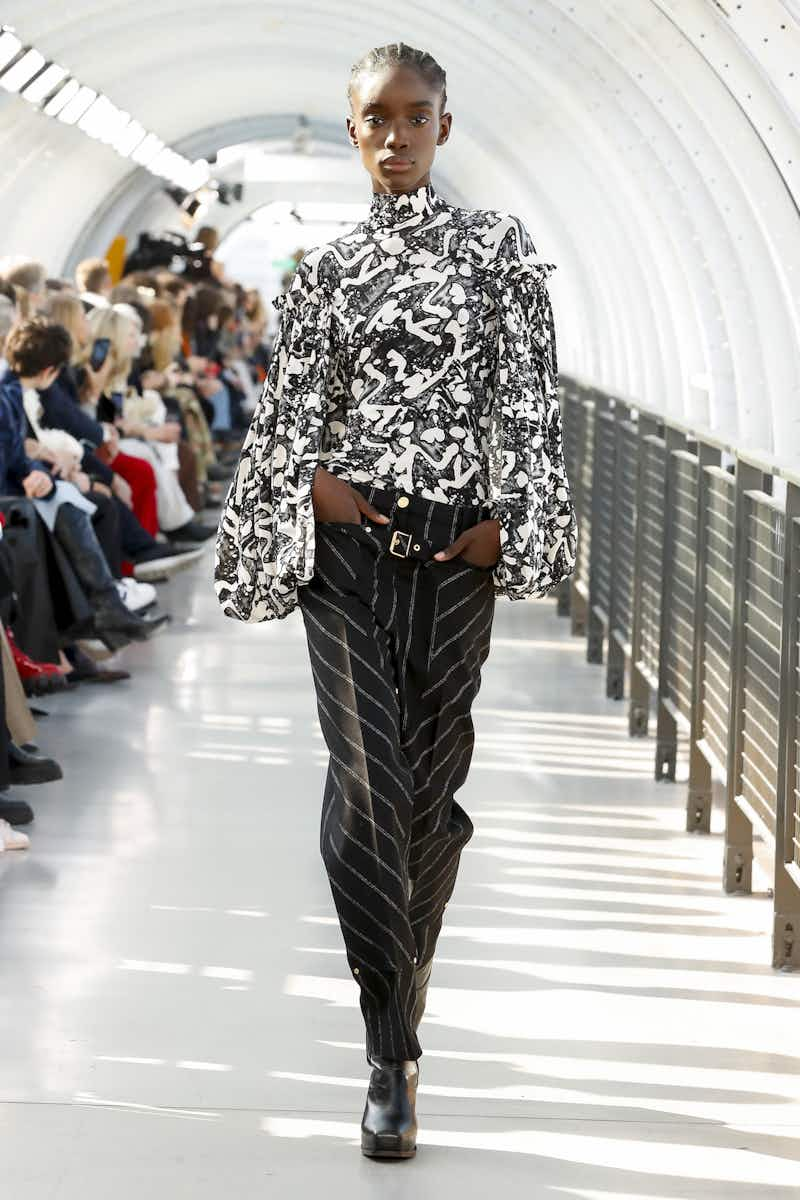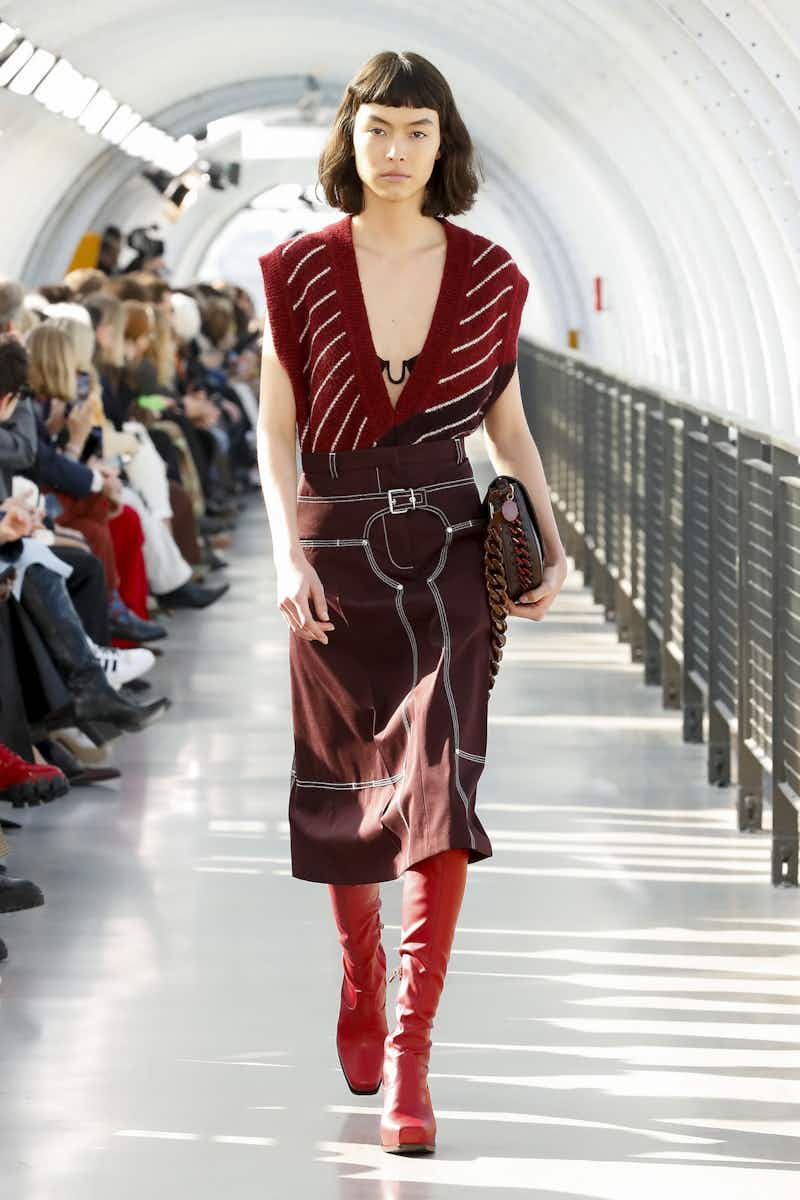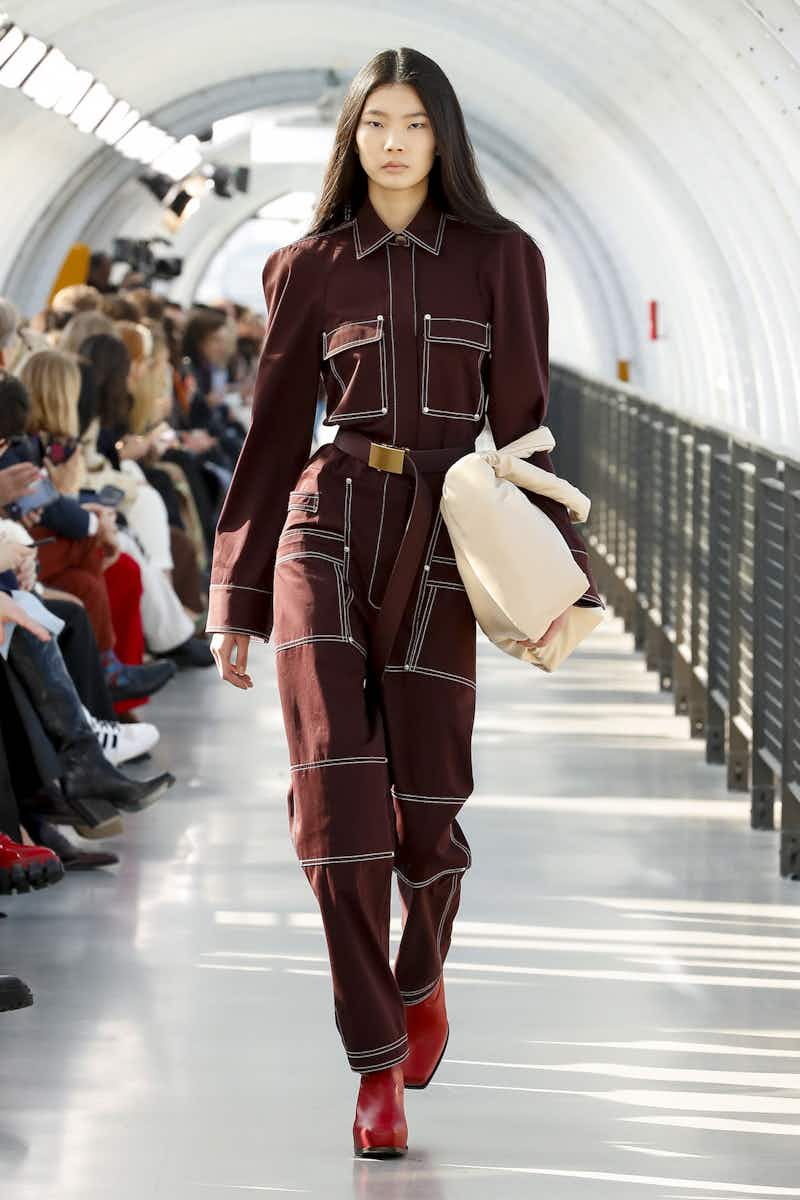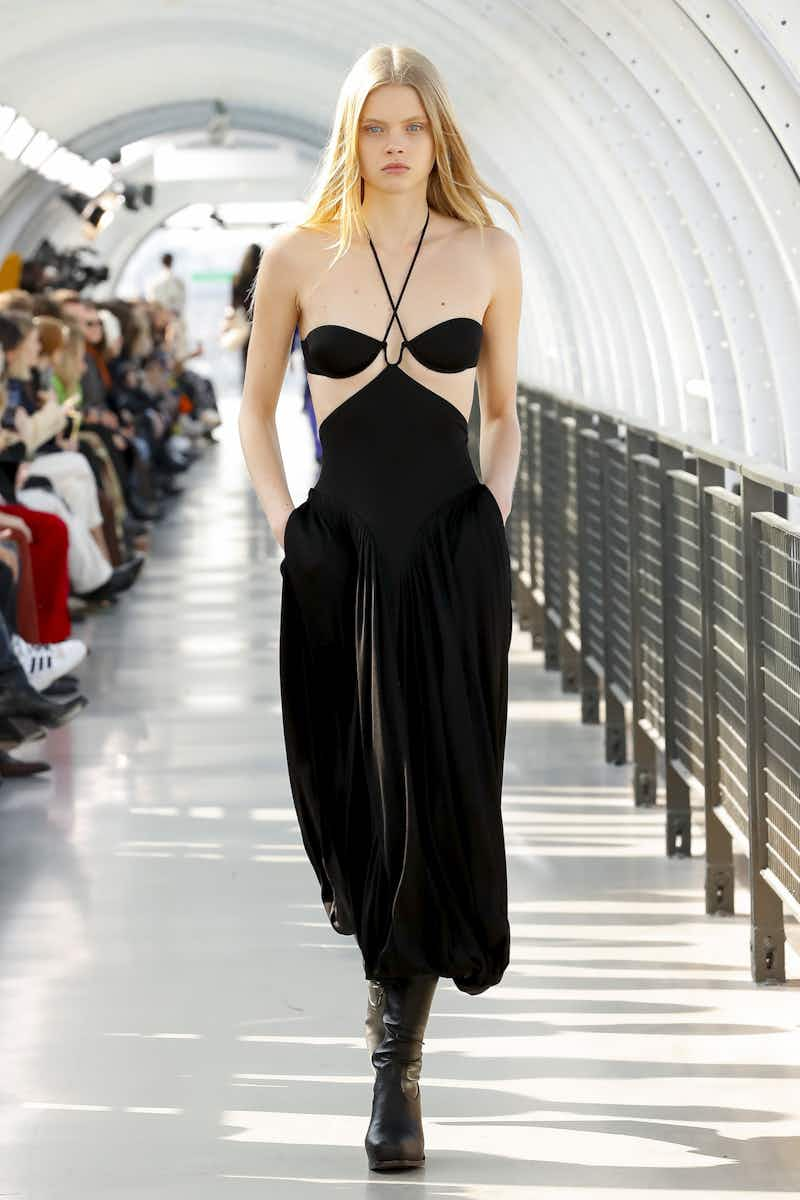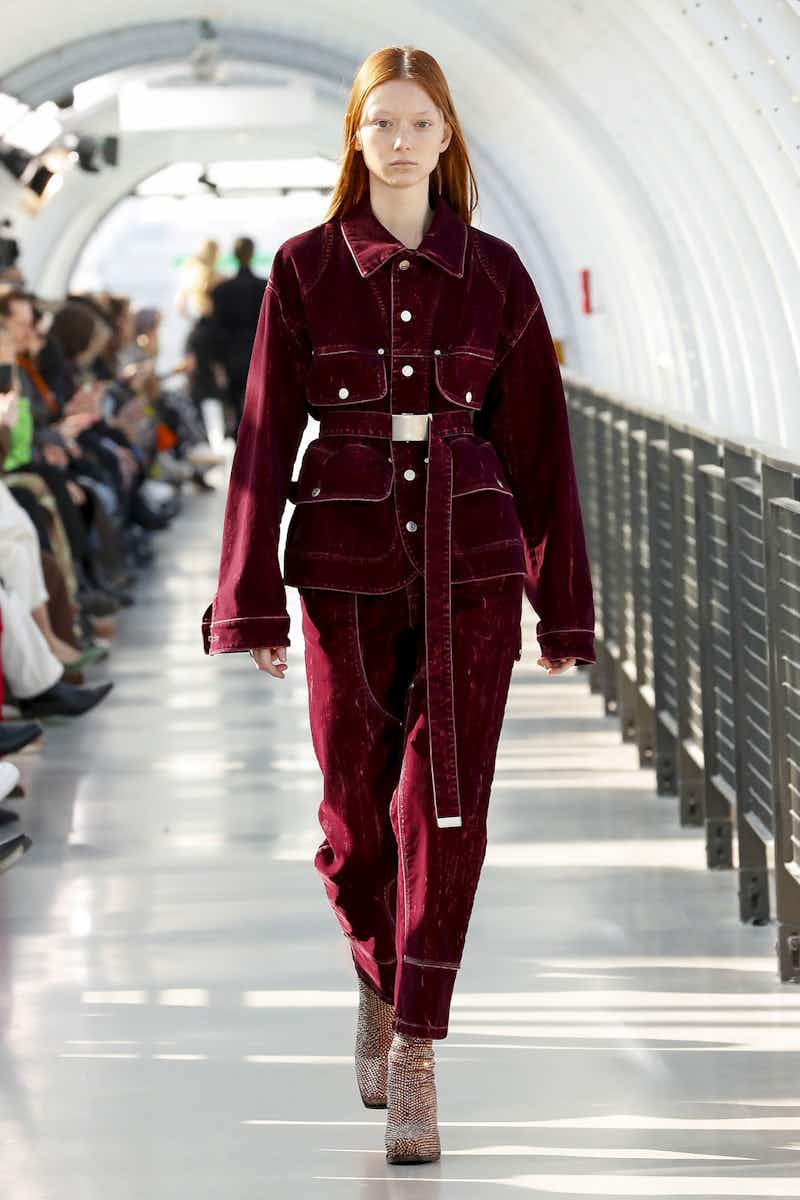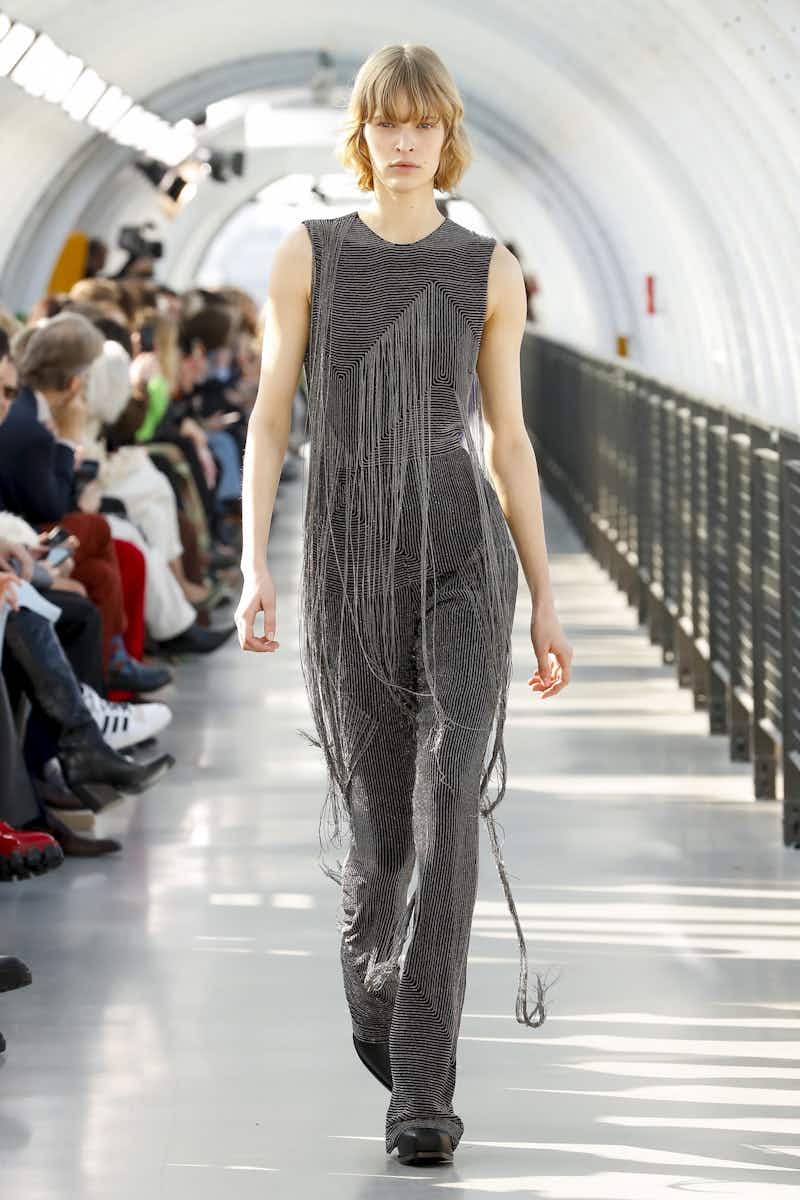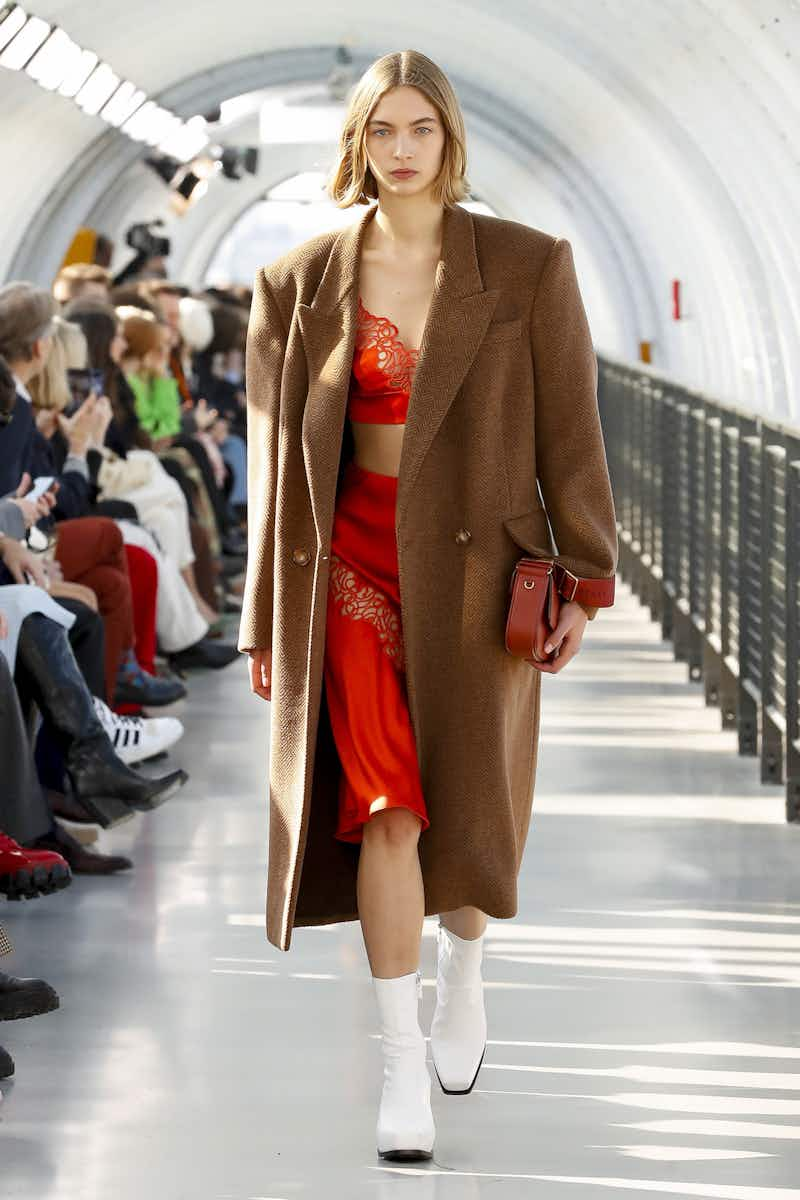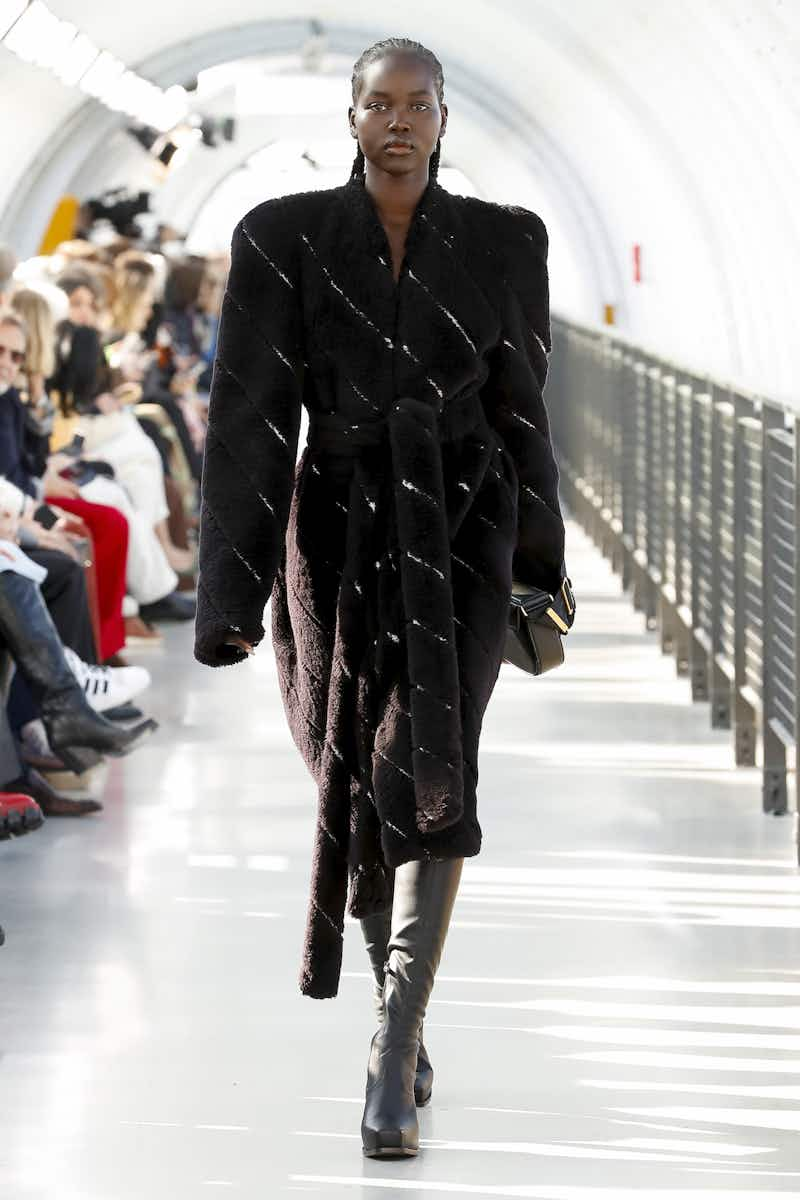 Will the reign of the Big Coat ever end? Judging by Sacai, it's showing no signs of slowing down – though in Chitose Abe's inventive hands it was always going to be a much more dramatic affair, rendered here in a tent-like swing of bright red satin. Elsewhere, inventive touches came in split skirts and a recurring empire line silhouette that saw trench coats, knits and blazers curve and cascade in relaxed form from just beneath the bust. The dominant palette of black, scarlet and beige got some light relief in the form of leopard print, while luxe-looking shearling rubbed shoulders with diaphanous white vests. This was a sophisticated vision of Sacai: distilled and streamlined, emphatic in its lines and elegant in its message.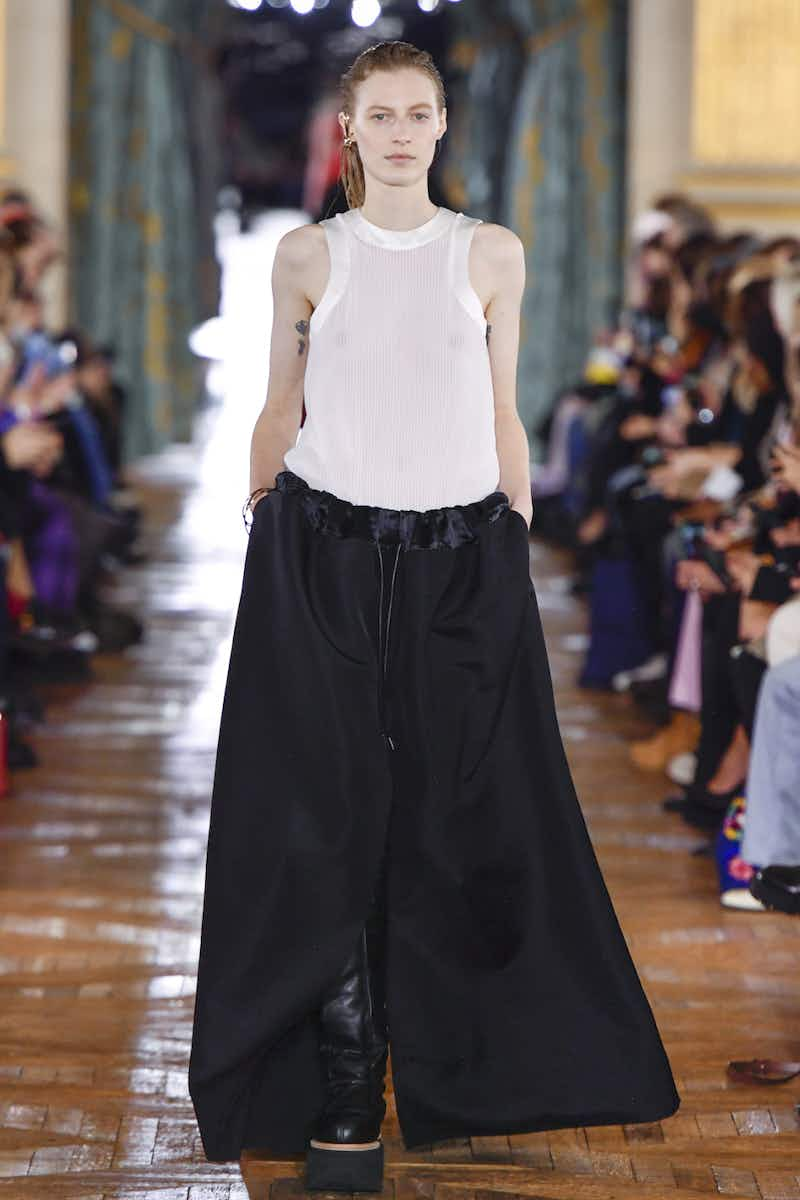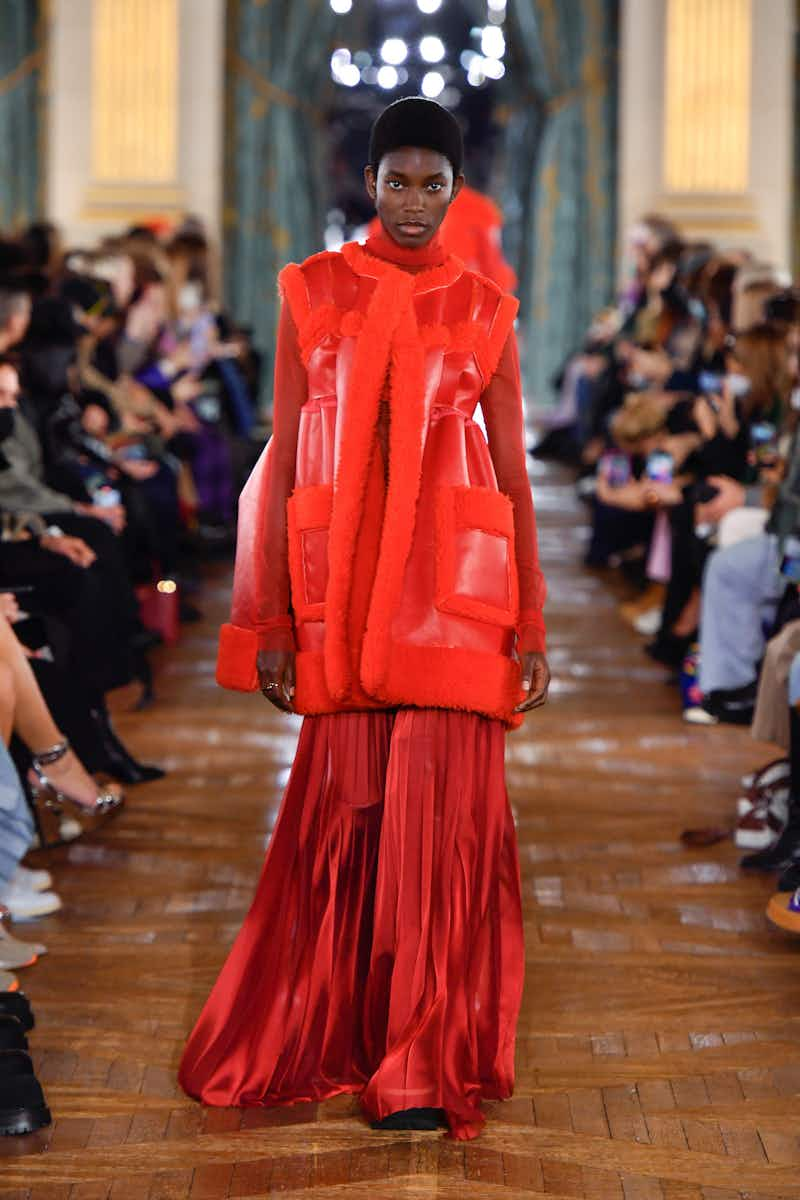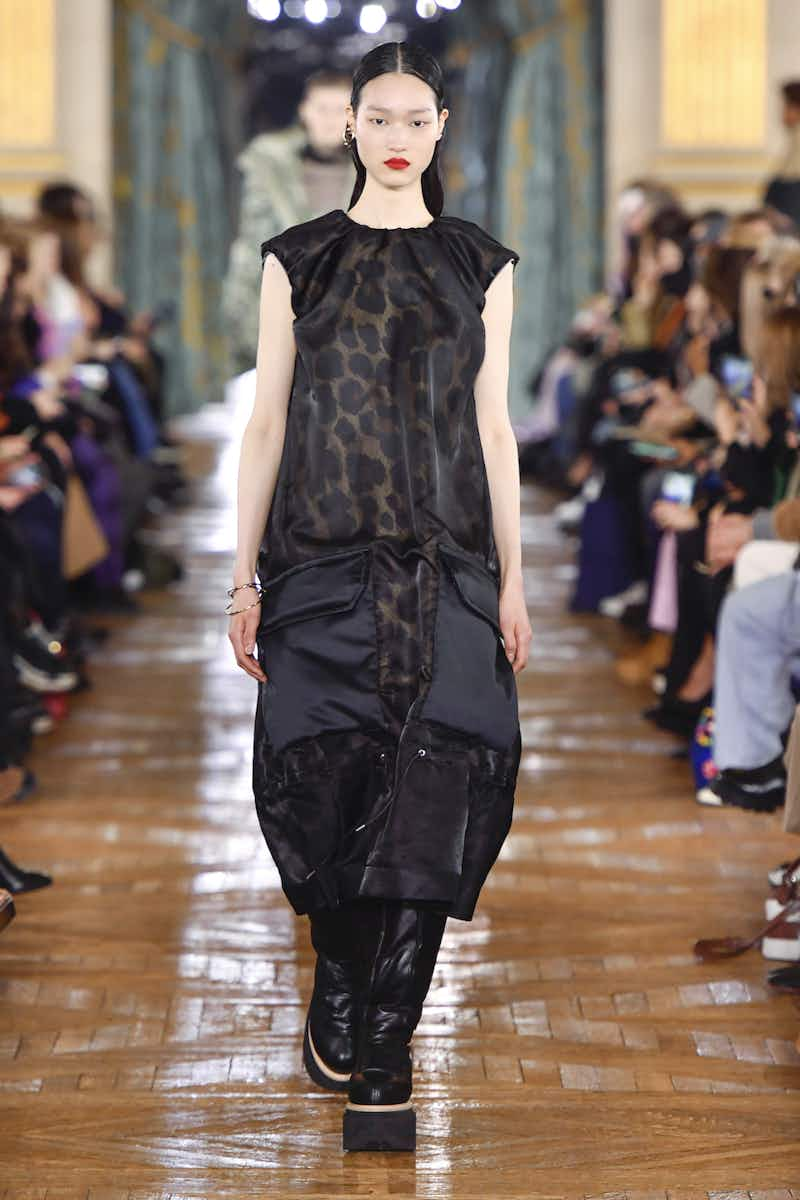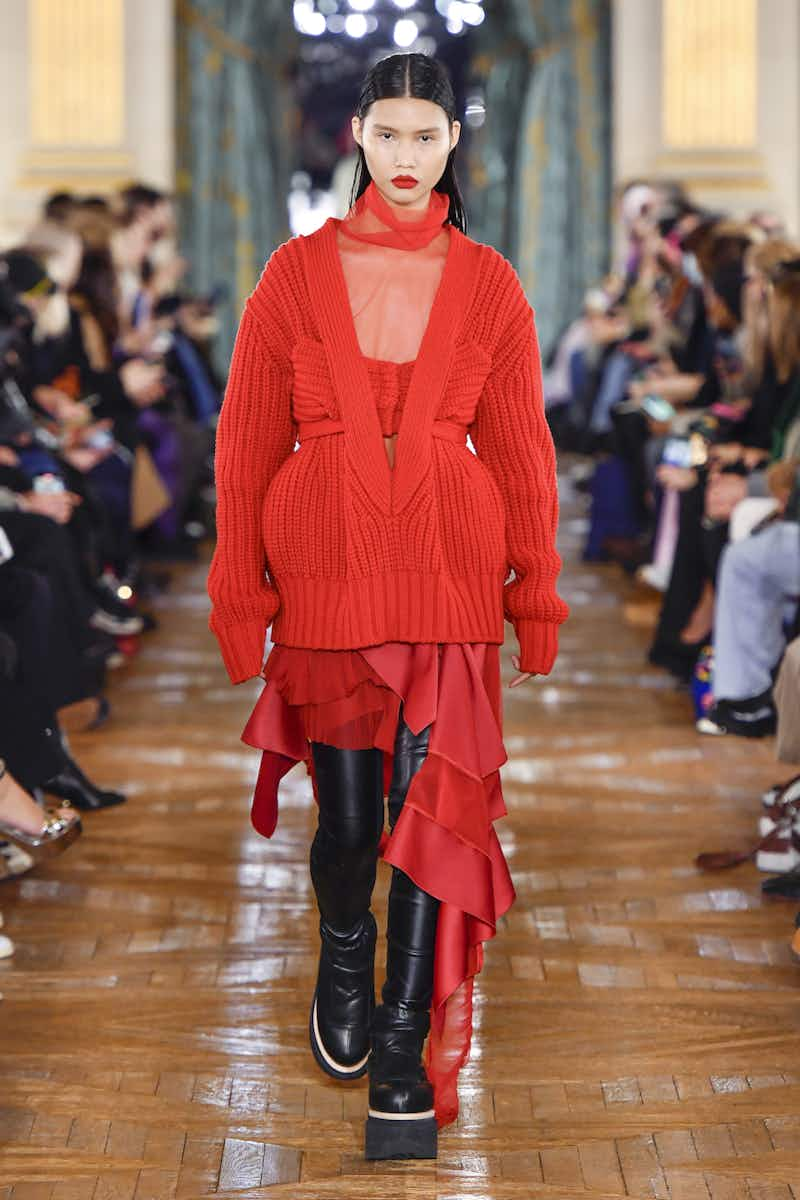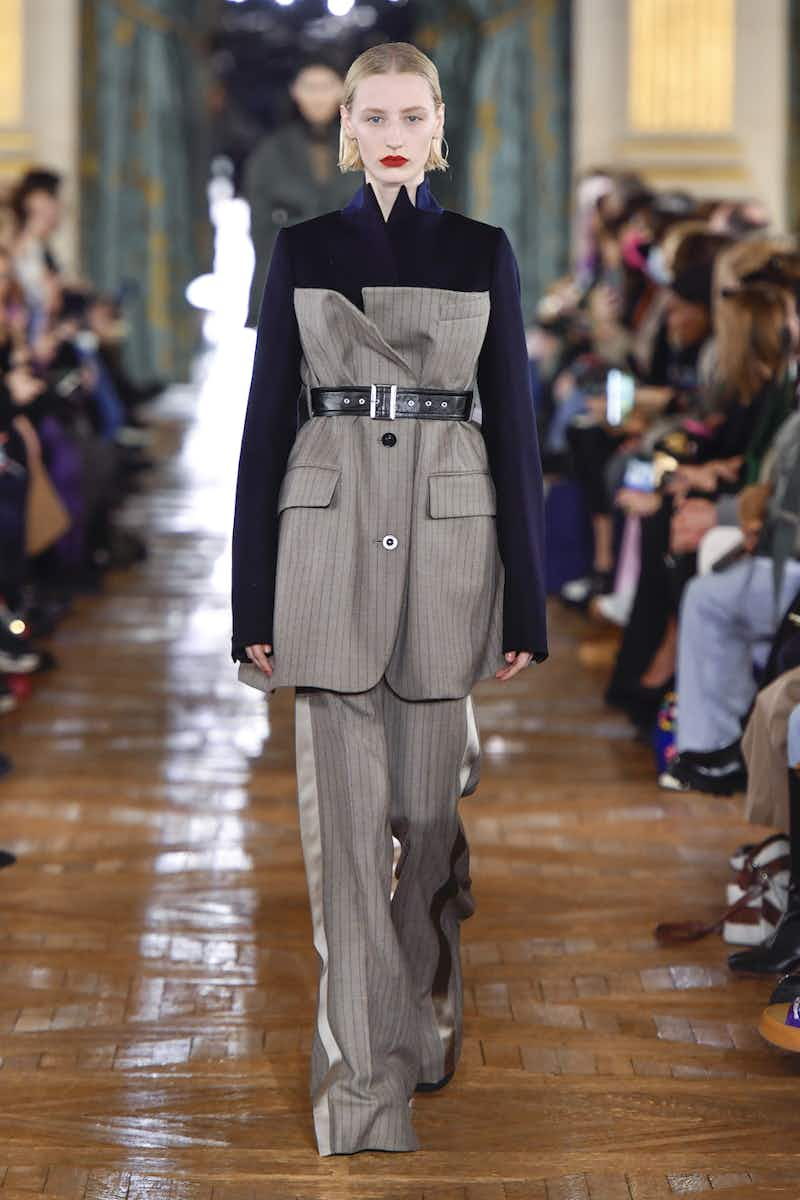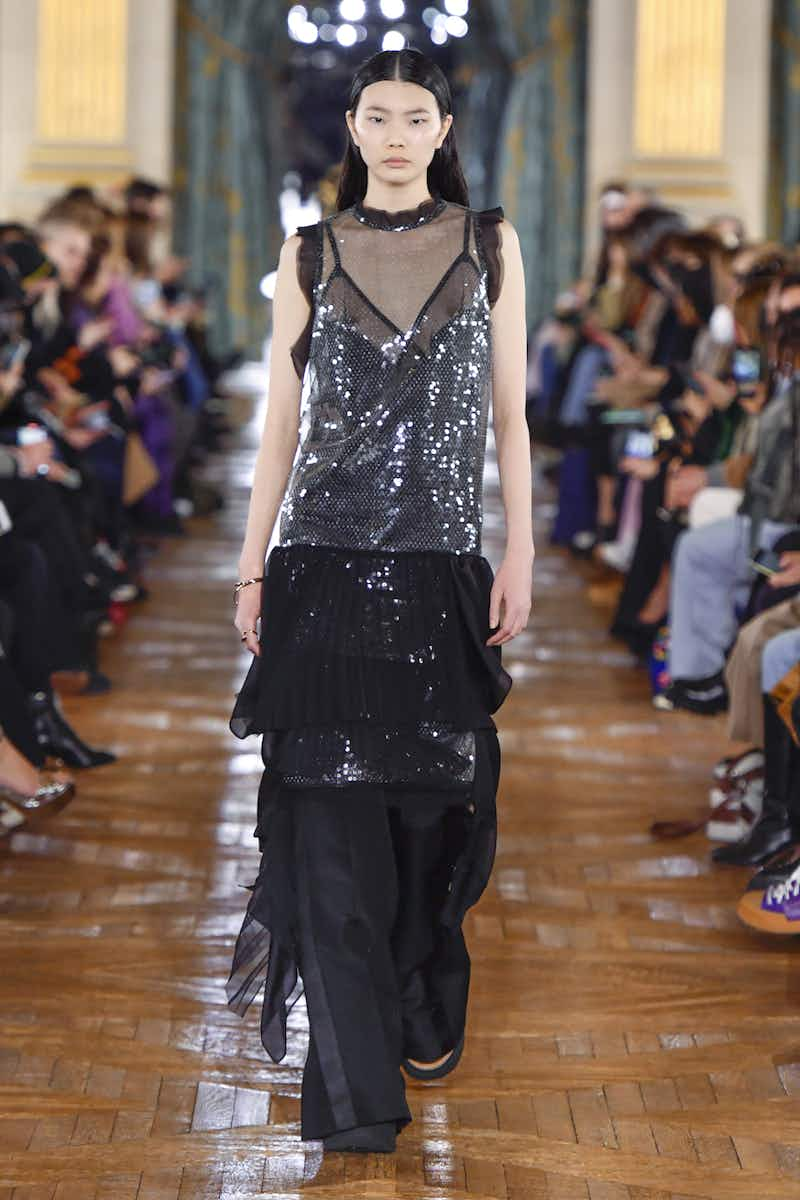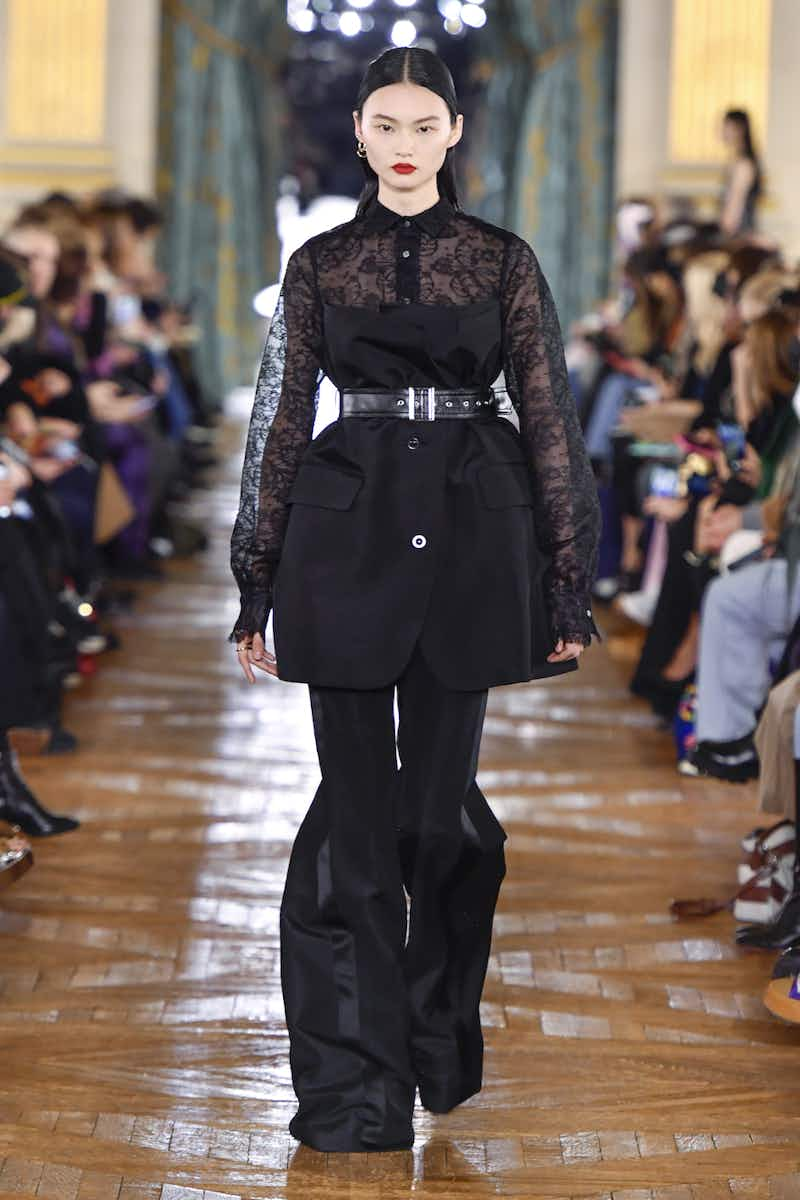 Nostalgia is one hell of a drug, especially right now. It makes sense, doesn't it? Faced with a particularly bleak last few years, there's an all too attractive safety in retreating to the (comparatively) optimistic shores of the 1990s. Couple that yearning for pre-current world events, pre-pandemic, pre-financial crash, mostly pre-digital, pre‑9/​11 era with the forever thrall of teenage freedom, and what do you get? Louis Vuitton's AW22 collection, complete with prints of fresh-faced ​'90s kids by photographer David Sims and a statement from Nicolas Ghesquière about the ​"stylistic idea of adolescence." Admittedly, this is a pretty sophisticated take on teen dress, stylistic or not, with its artfully baggy trousers, neon-bright slip dresses and semi-peplum tops. The rugby shirts over floaty dresses did conjure an evocative image of the kind of outfit a rural girl might end up in when her prom gown got too cold, while the ginormous blazers (here they are again) and floral ties seemed like something an enterprising 16-year-old might have nicked from her dad. It was an electric ode to the fleeting moments of teenhood and one that, in all its freedom, felt worlds apart from the darkness of reality.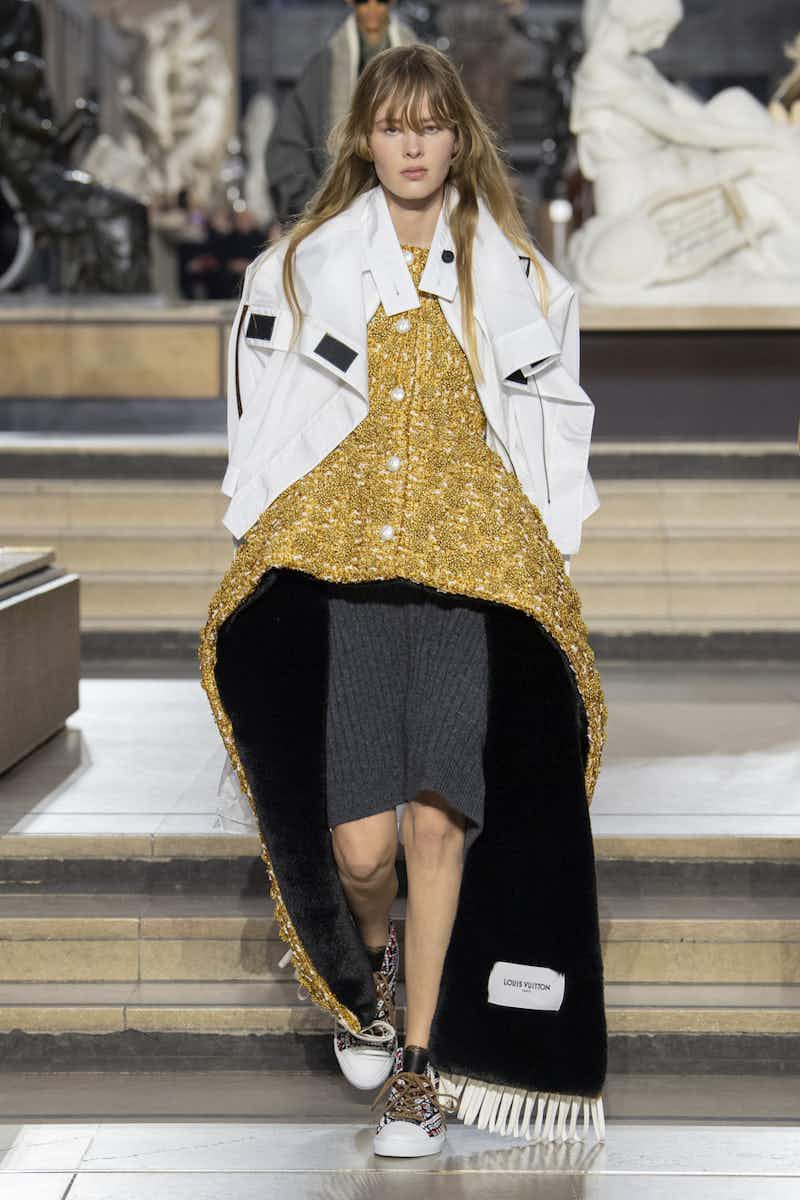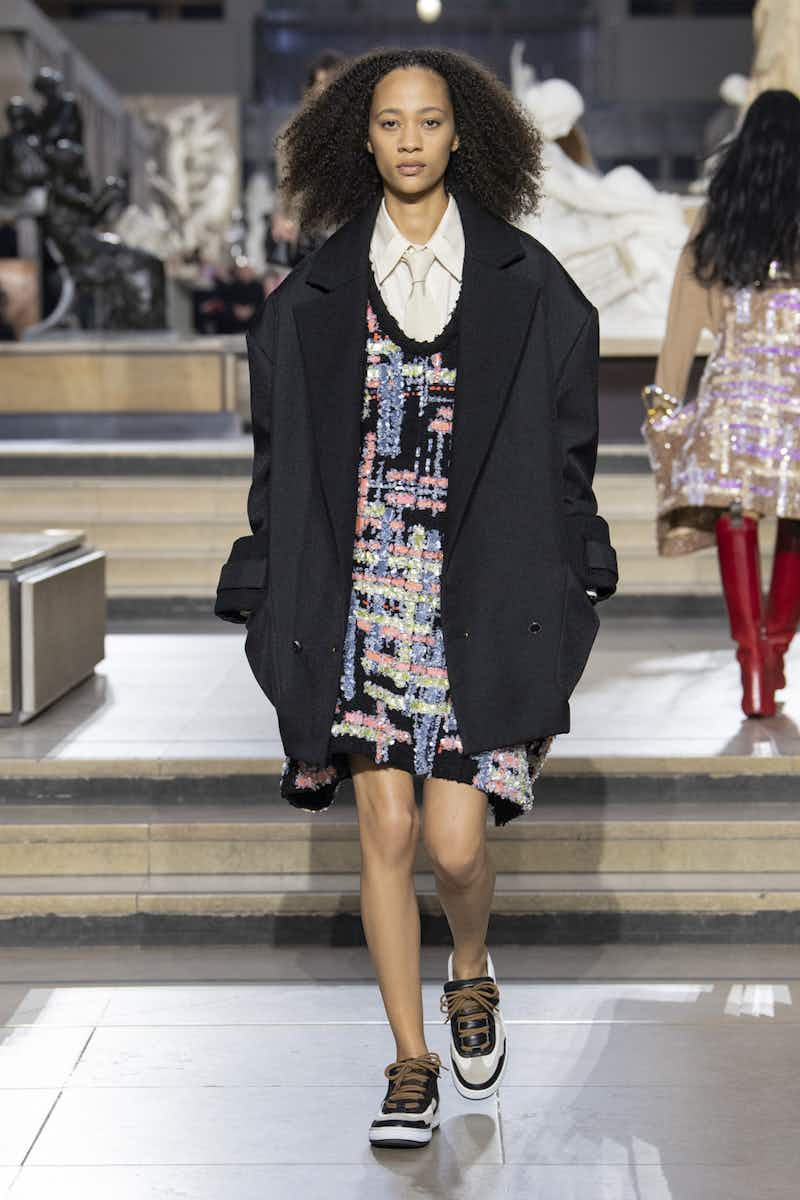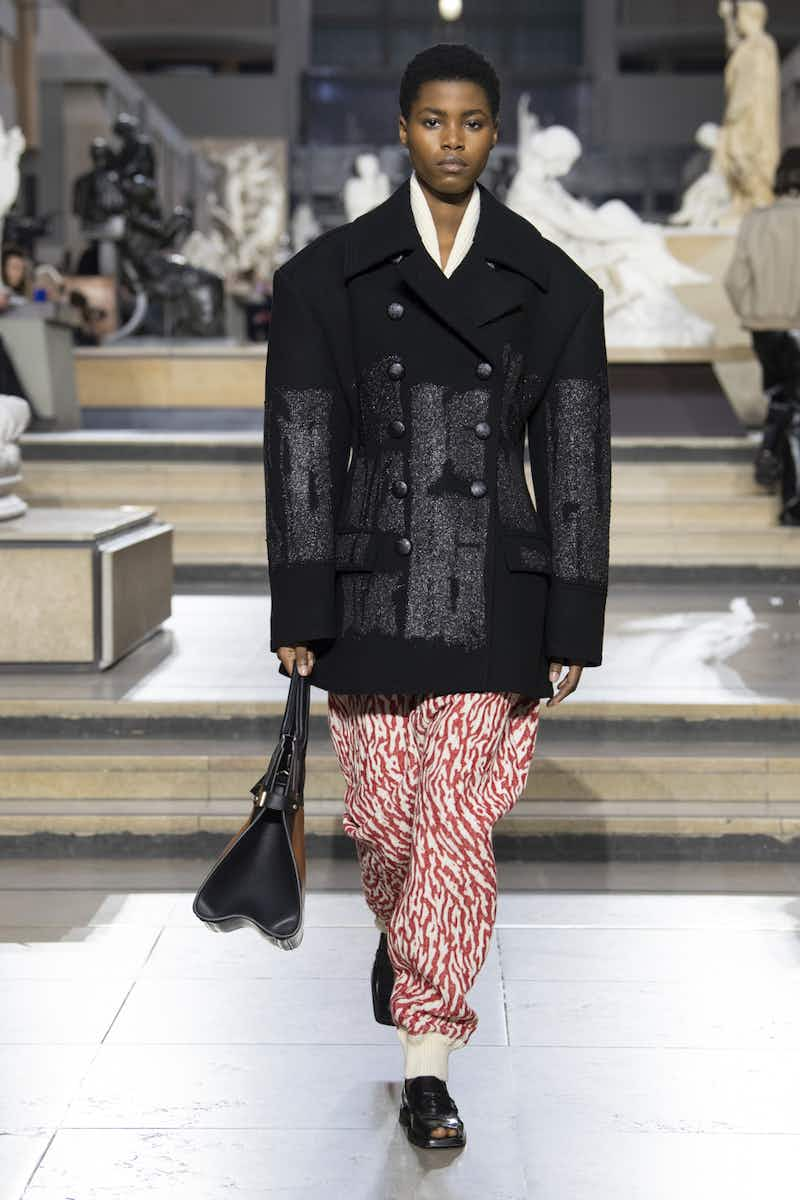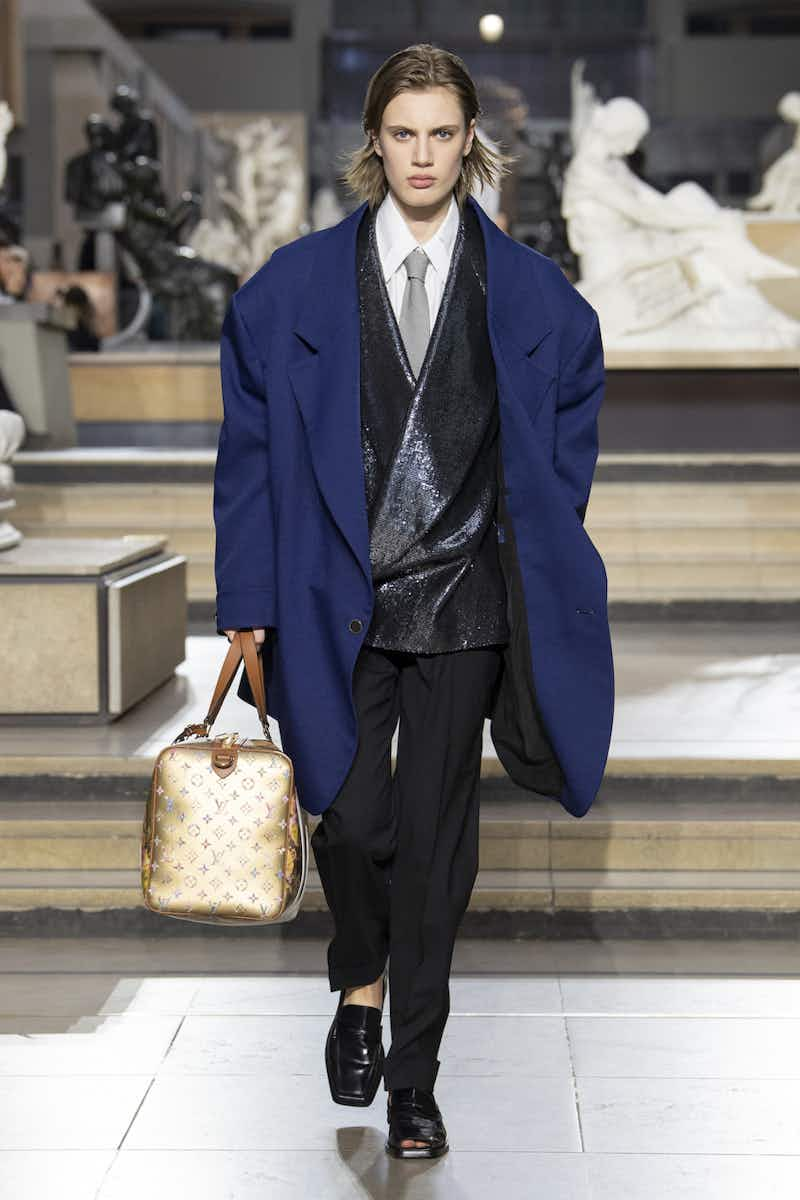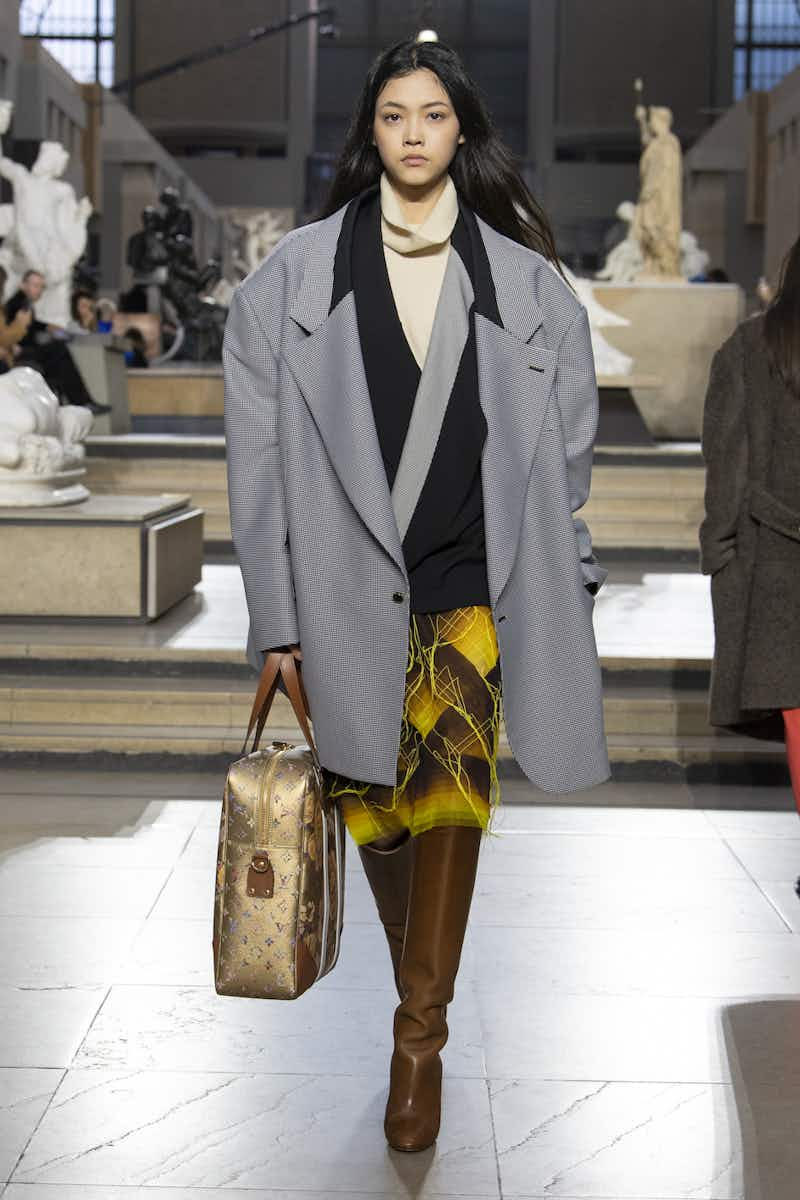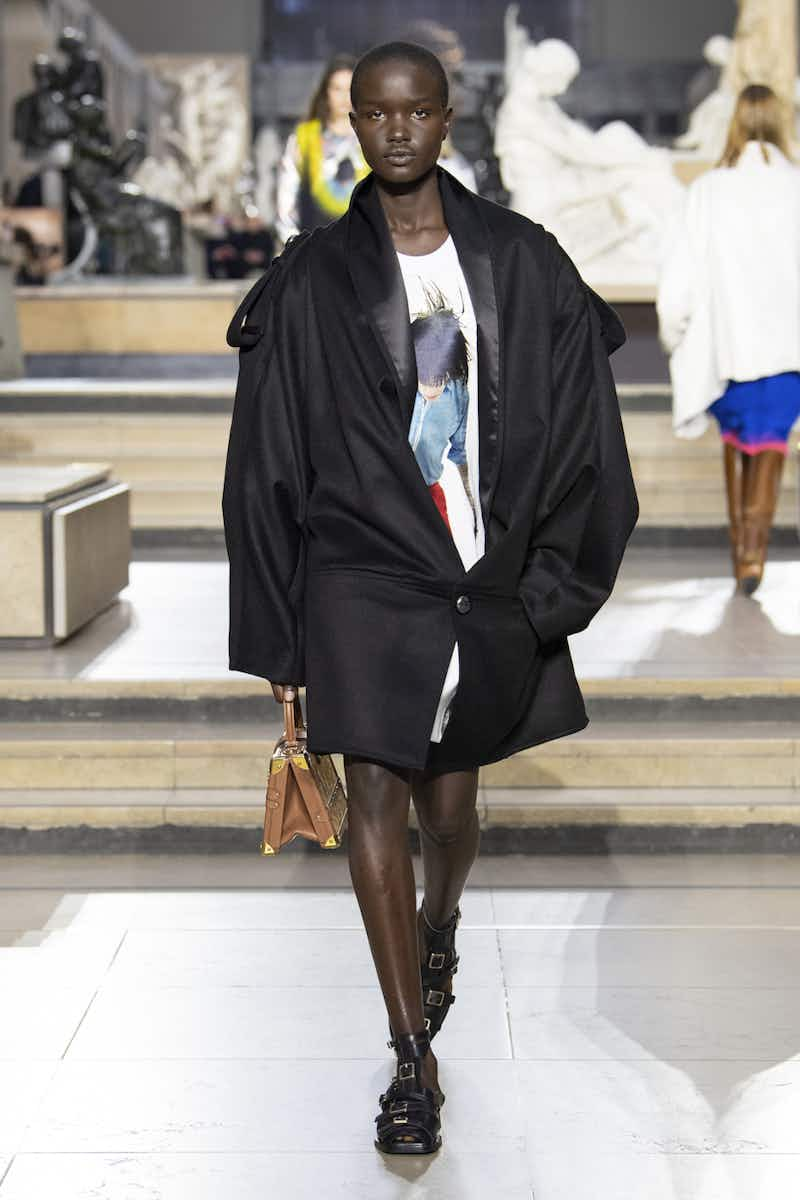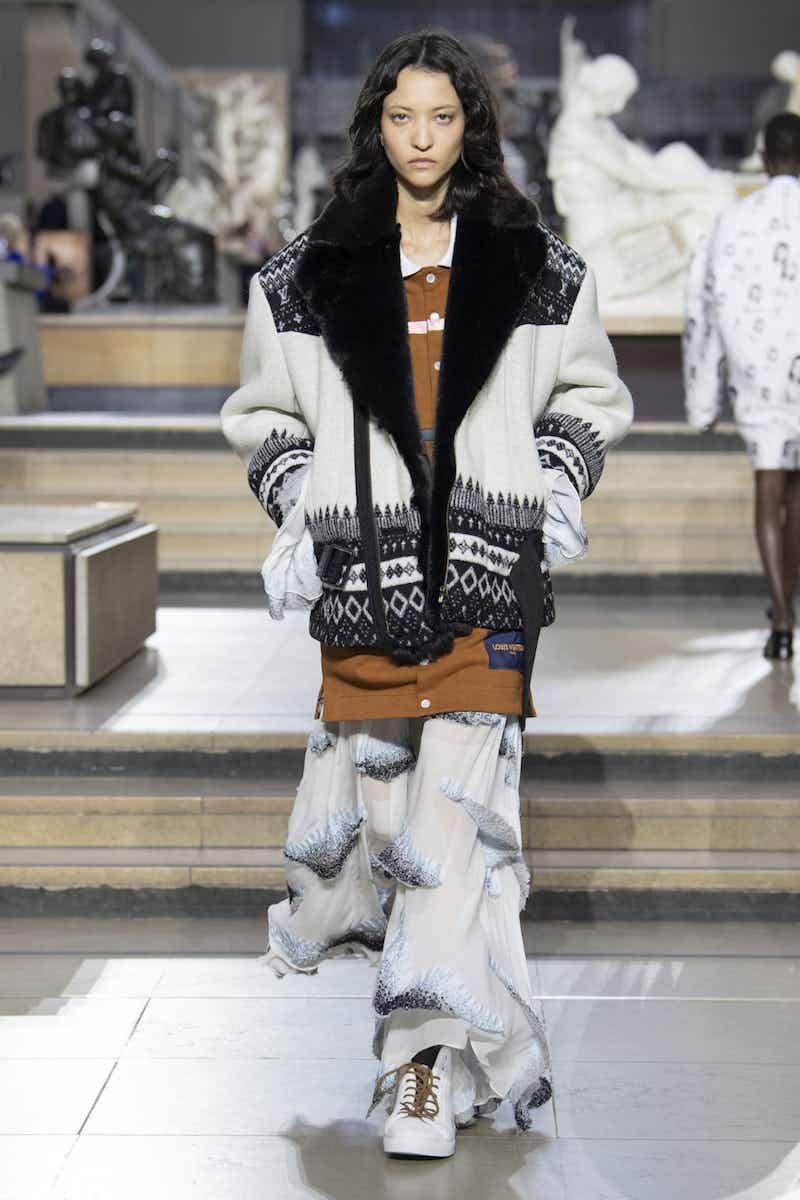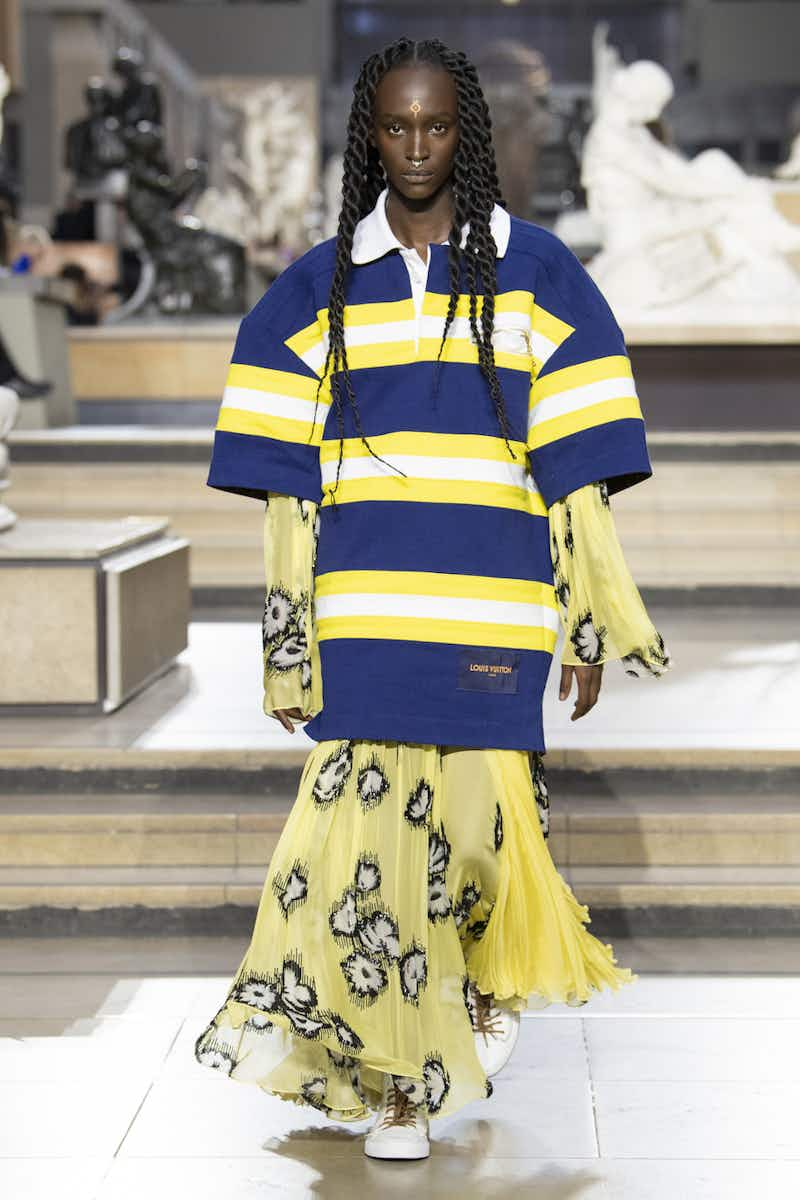 At Kiko Kostadinov, the palette was soft, channelled by the overtly sweet excesses of youth only to be contrasted by a sharp whiplash of punchy dark glamour. Think muted shades of blue and orange, big brown coats ribboned with pink, gathered black dresses with little peepholes and strappy sneaker boots with metallic buckles designed to emulate a laced-up ballet slipper. For sisters Deanna and Laura Fanning, the inspiration this season glanced back nearly a decade to the 1930s – though the art deco references were subtle, more rippling details and contrasting textures than full-on, angular opulence. A series of knee-high black boots added a touch of pragmatism to the proceedings, while the continuingly popular opera glove came in a fuzz of glitter.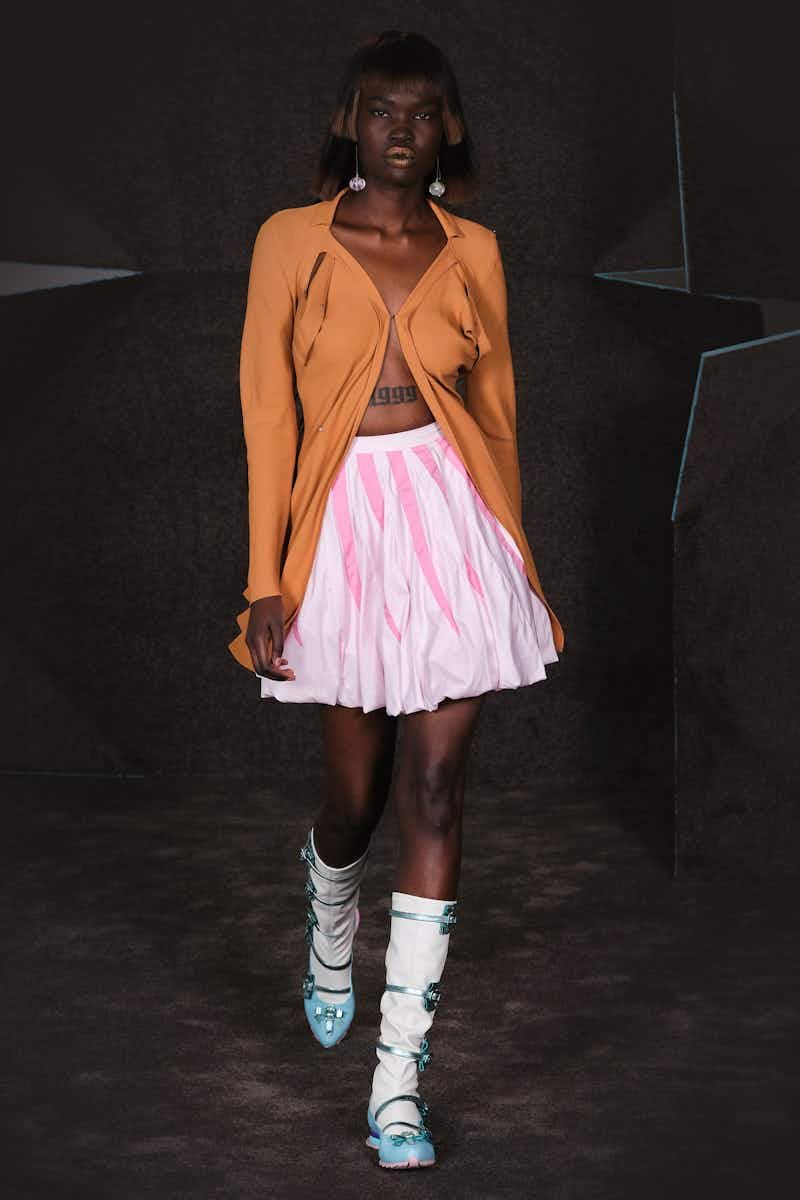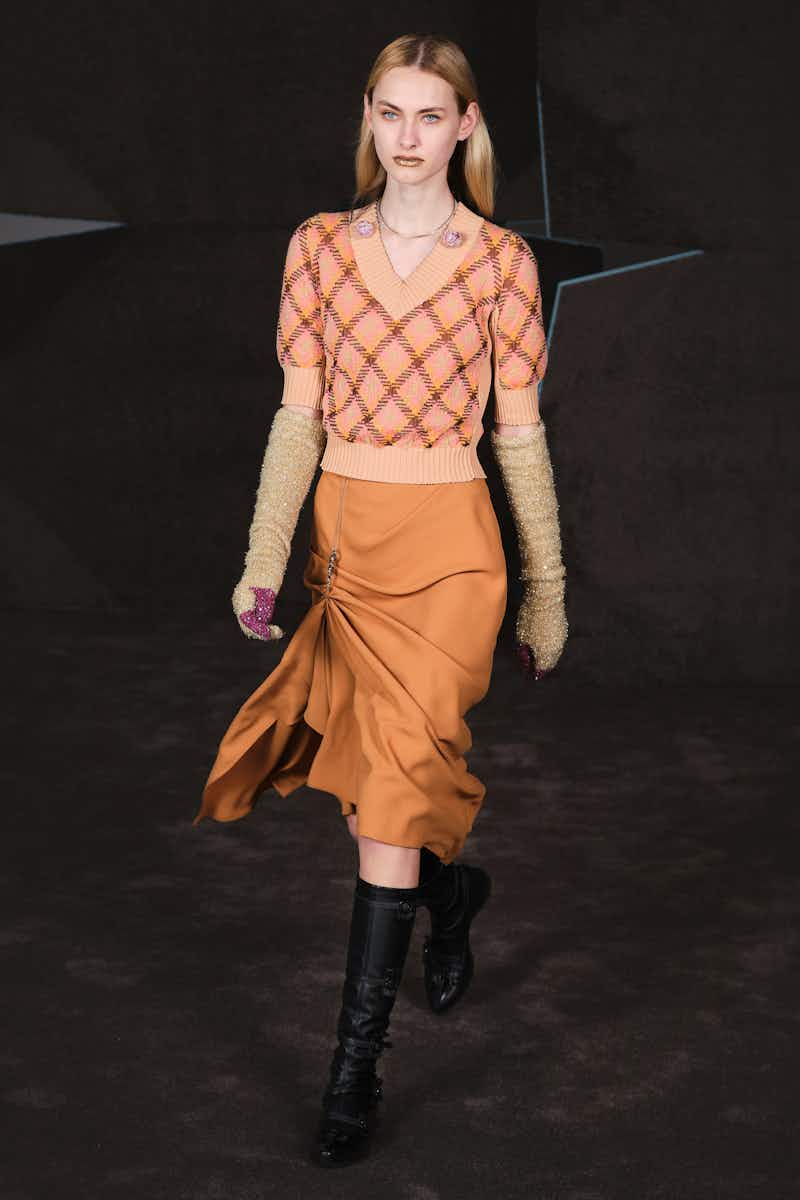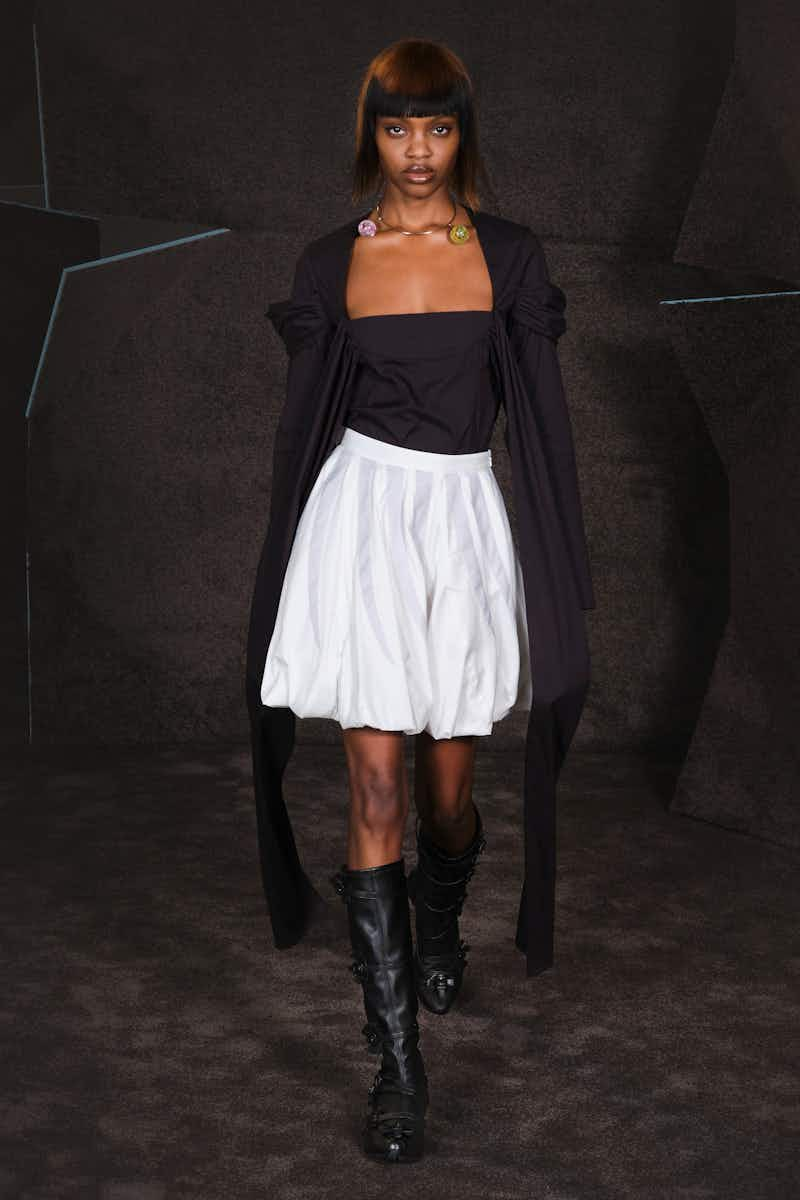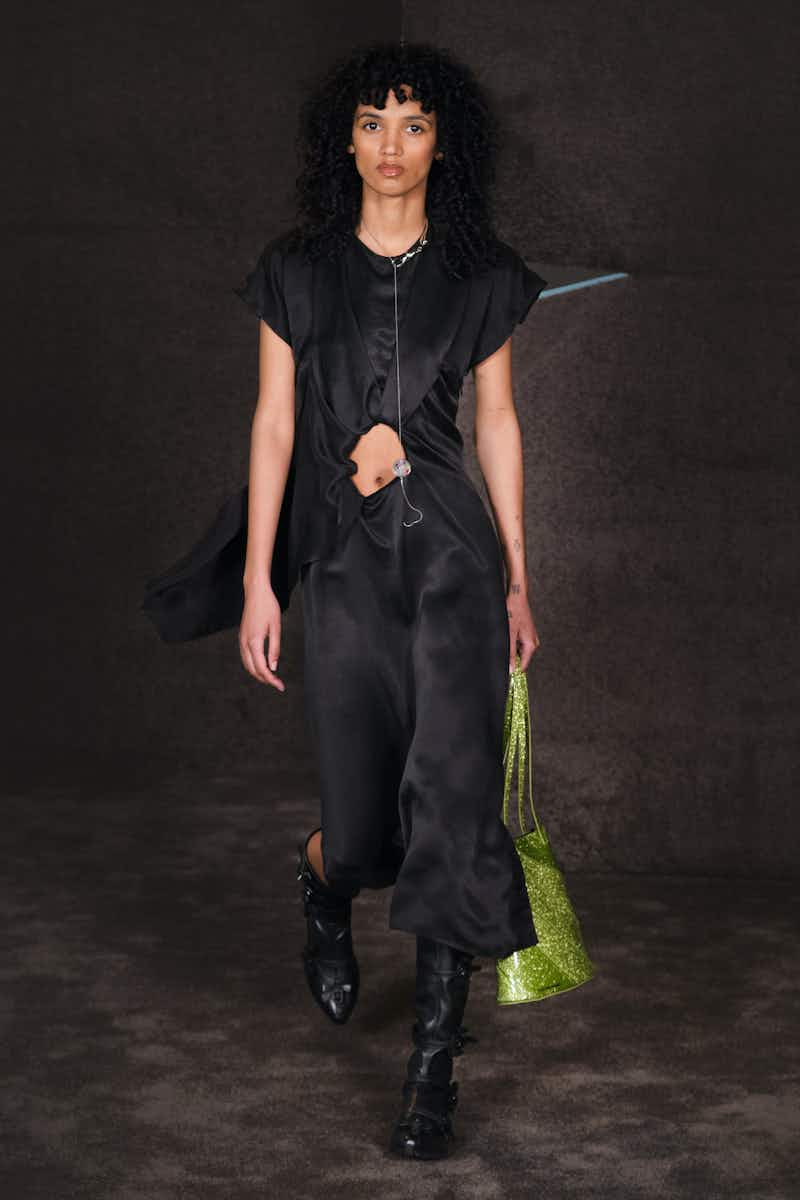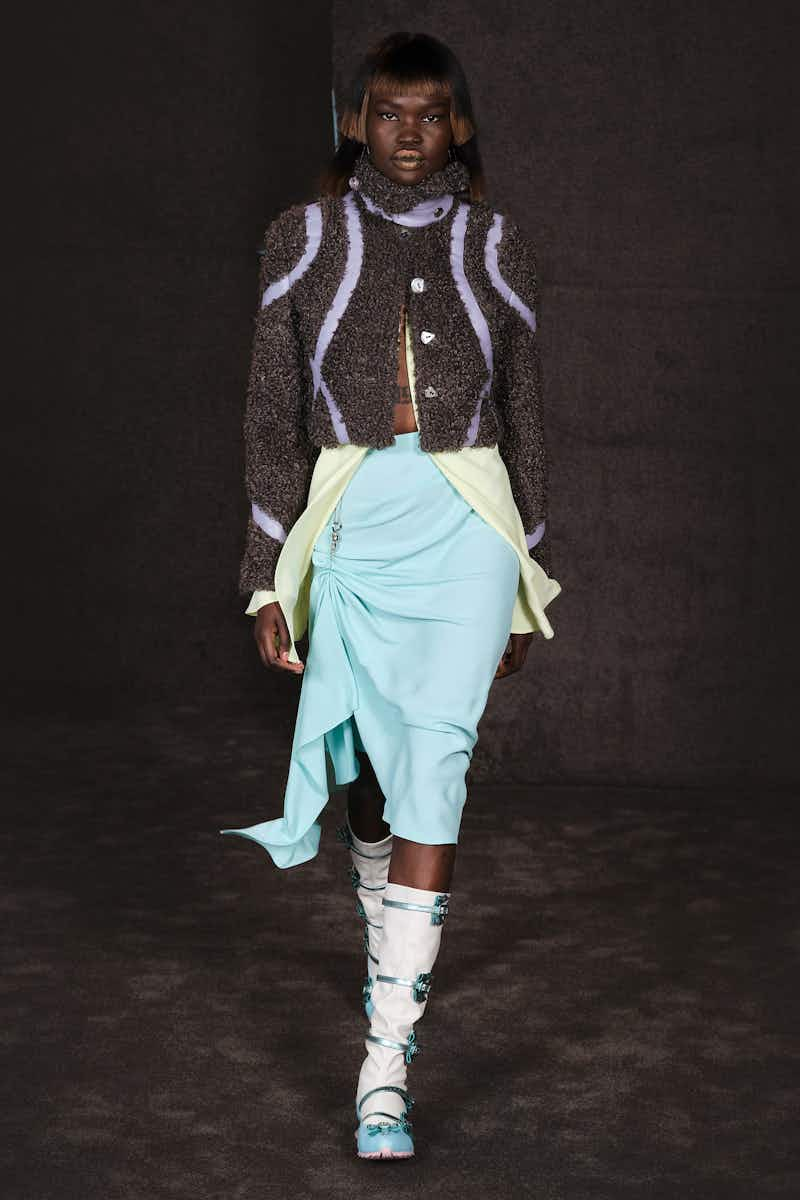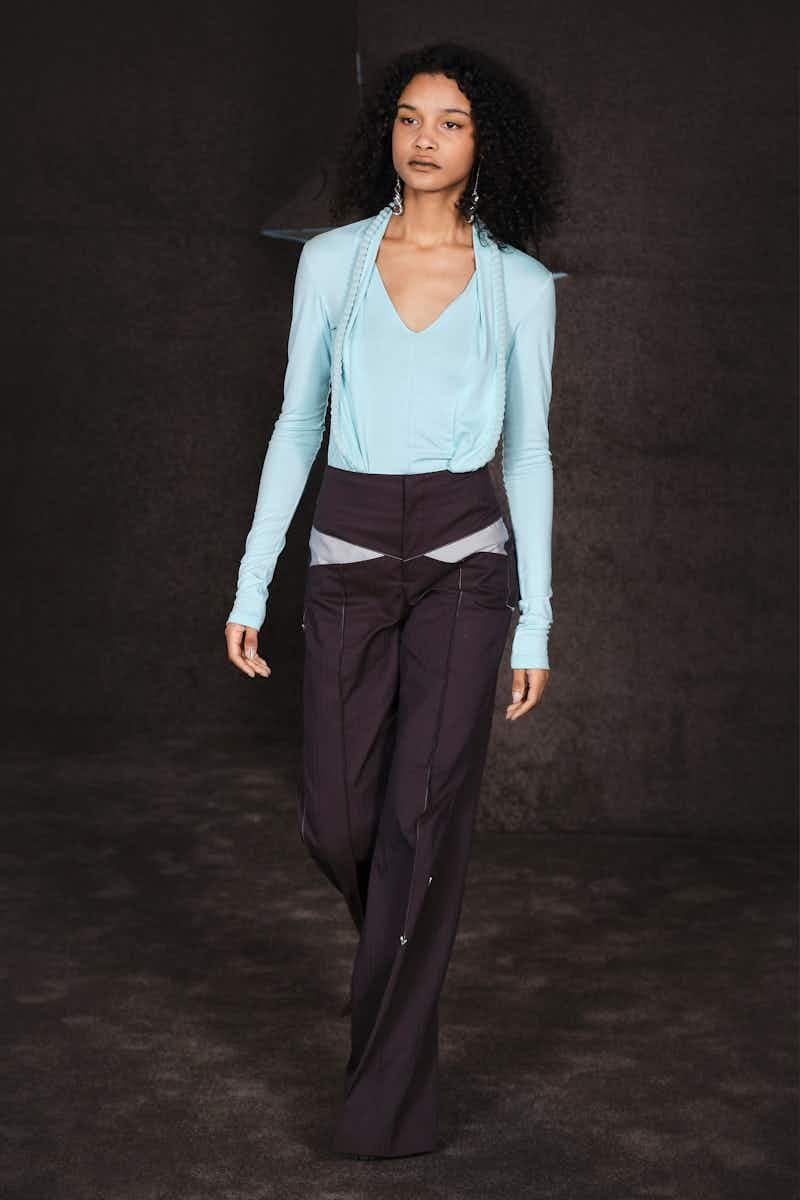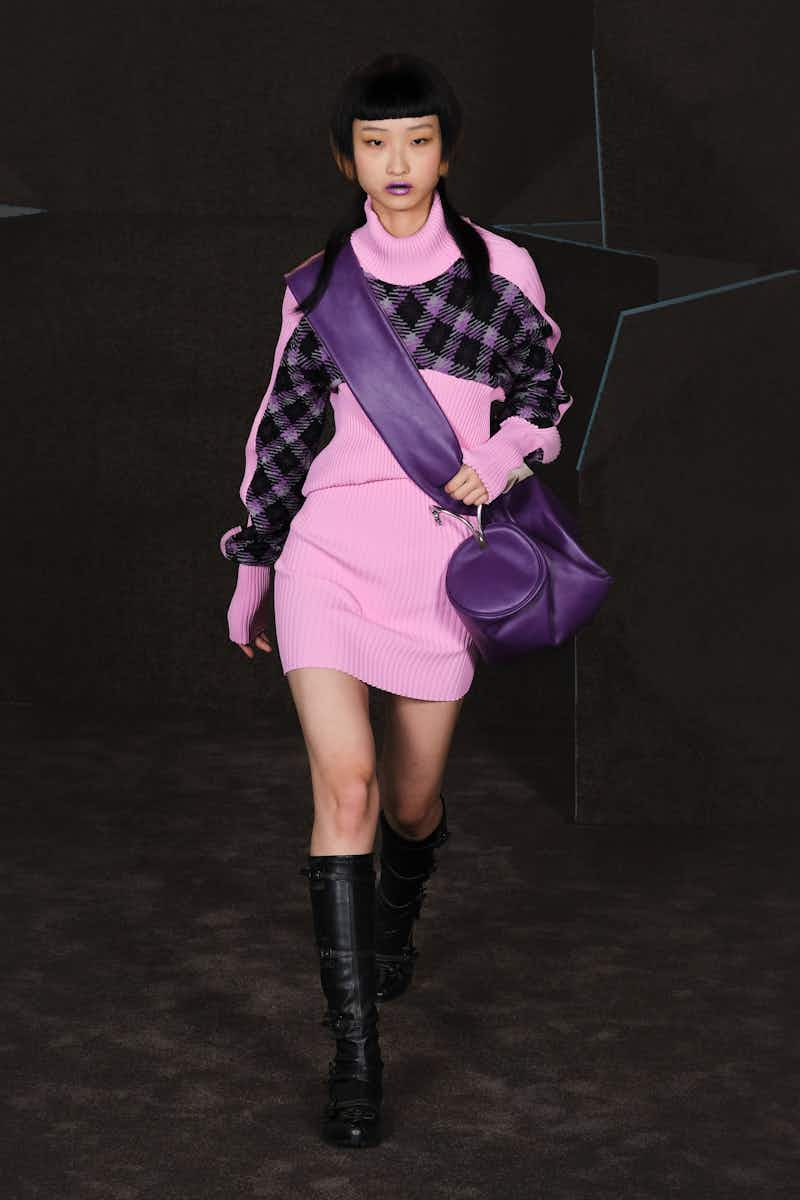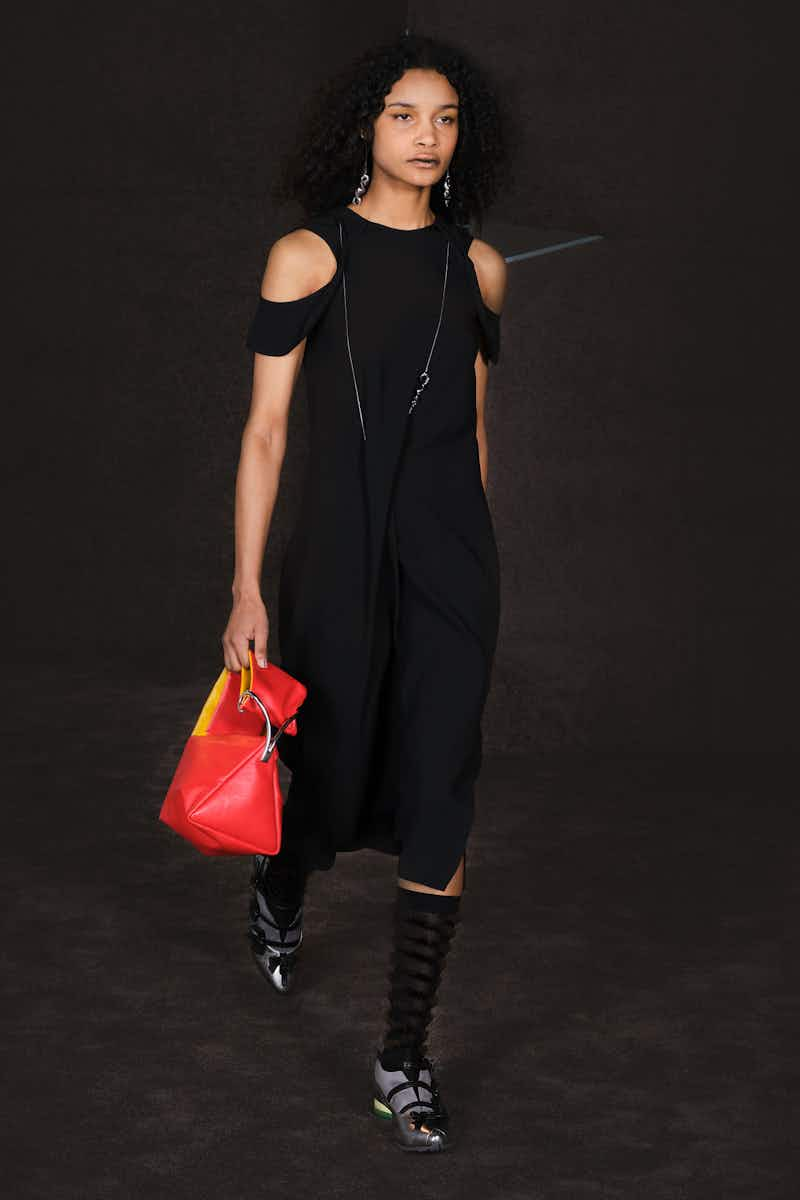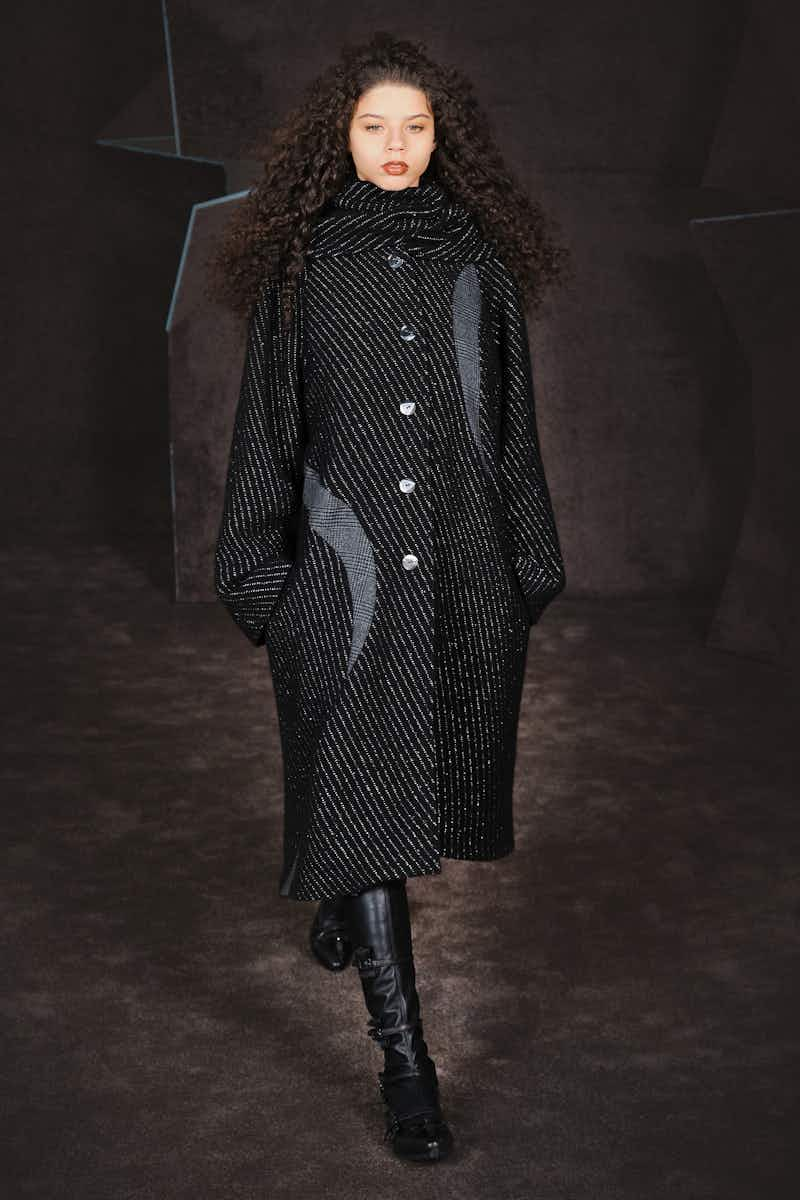 Looking at Valentino's AW22 offering, it's impossible not to imagine Kay Thompson as Diana Vreeland-esque fashion editor Maggie Prescott in Funny Face (1957) issuing proclamations about the hottest new shade to wear: ​"Now, I wouldn't presume to tell a woman/​What a woman oughtta think,/ But tell her if she's gotta think, think pink!" In the Funny Face world, the chosen shade of pink is bright and vaguely medicinal – a kind of Pepto Bismol pink. In Pierpaolo Piccioli's hands, it's an even richer take, somewhere between fuchsia and hot pink and impossible to take one's eyes off. It's a bold decision to run nearly an entire show in one colour (there were a run of pieces in black as a mid-way palate cleanser), but here it worked brilliantly. By focusing on something so singular, Piccioli said he intended to "[maximise] expressive possibilities in the apparent lack of possibilities." The results mixed camp glamour with fluid construction, a bevy of bows, feather coats and metallic floral minis interspersed with sinuous coats and baggy tailored trousers. On the front row, Zendaya wore a suit in the same vibrant shade, proving once again Ms Prescott's promise: ​"that's got pizzazz!"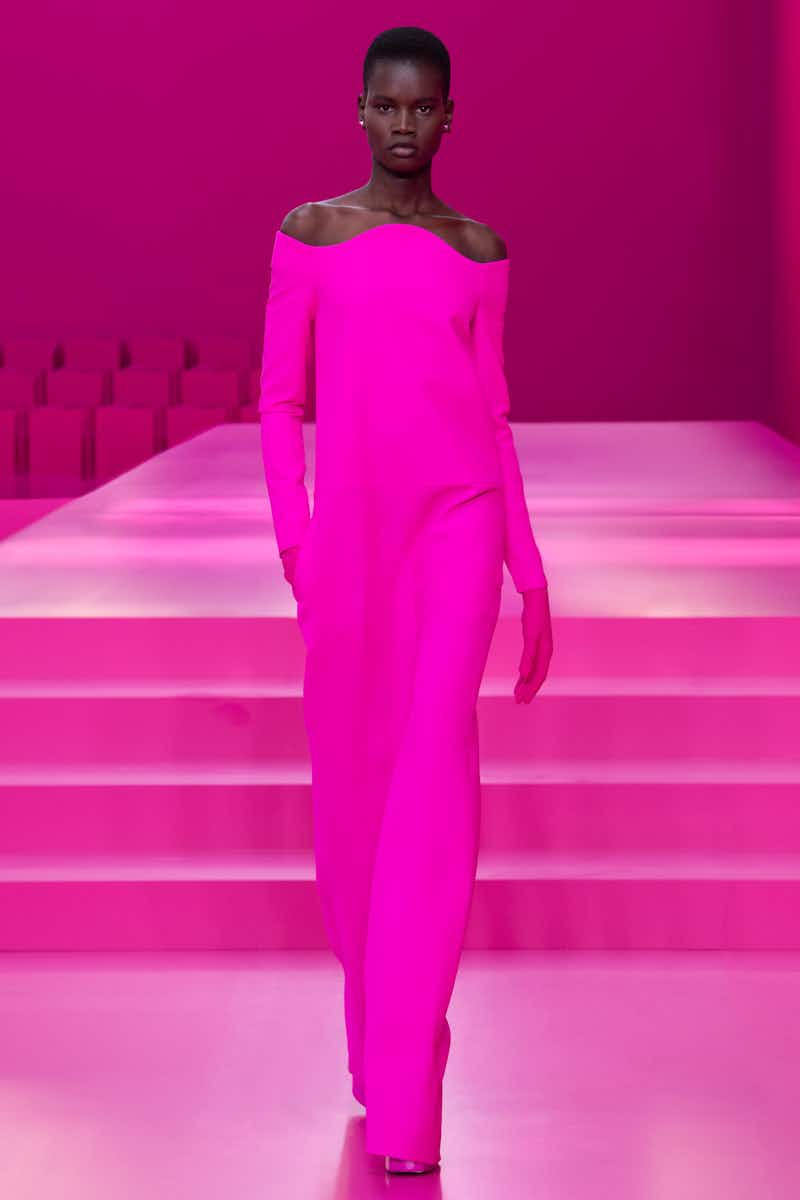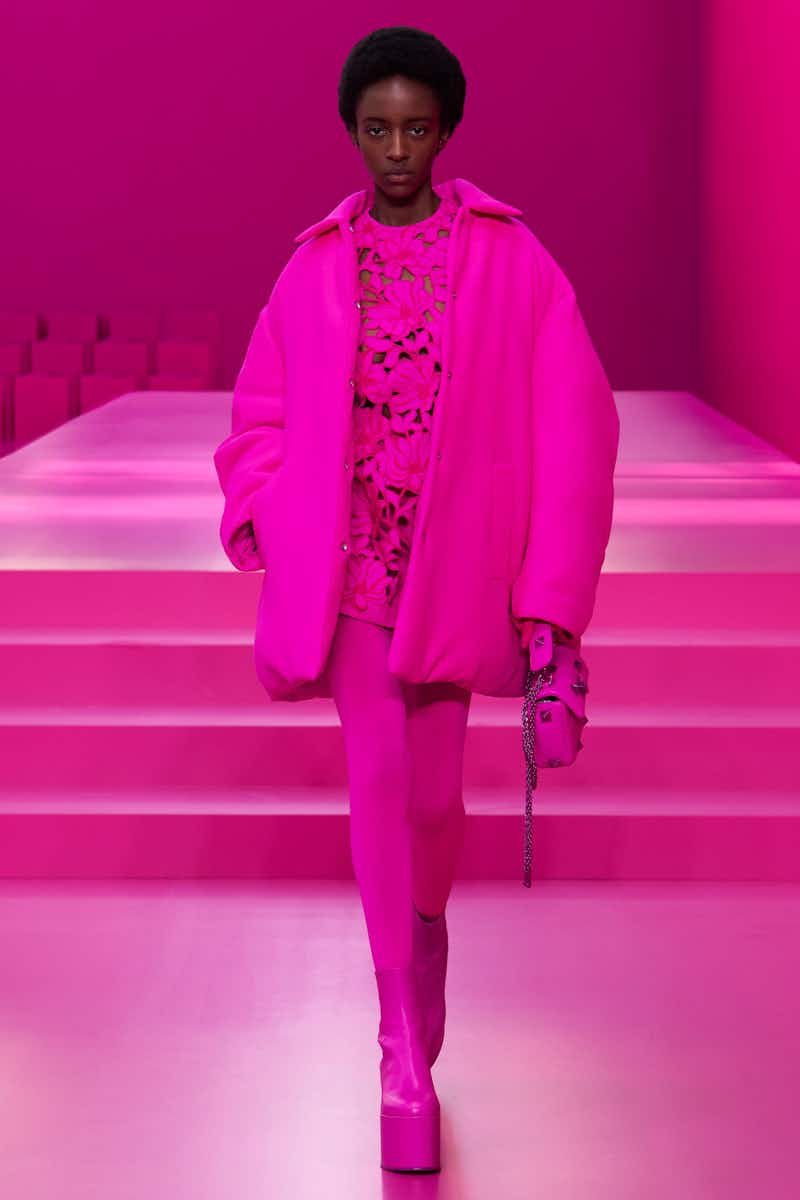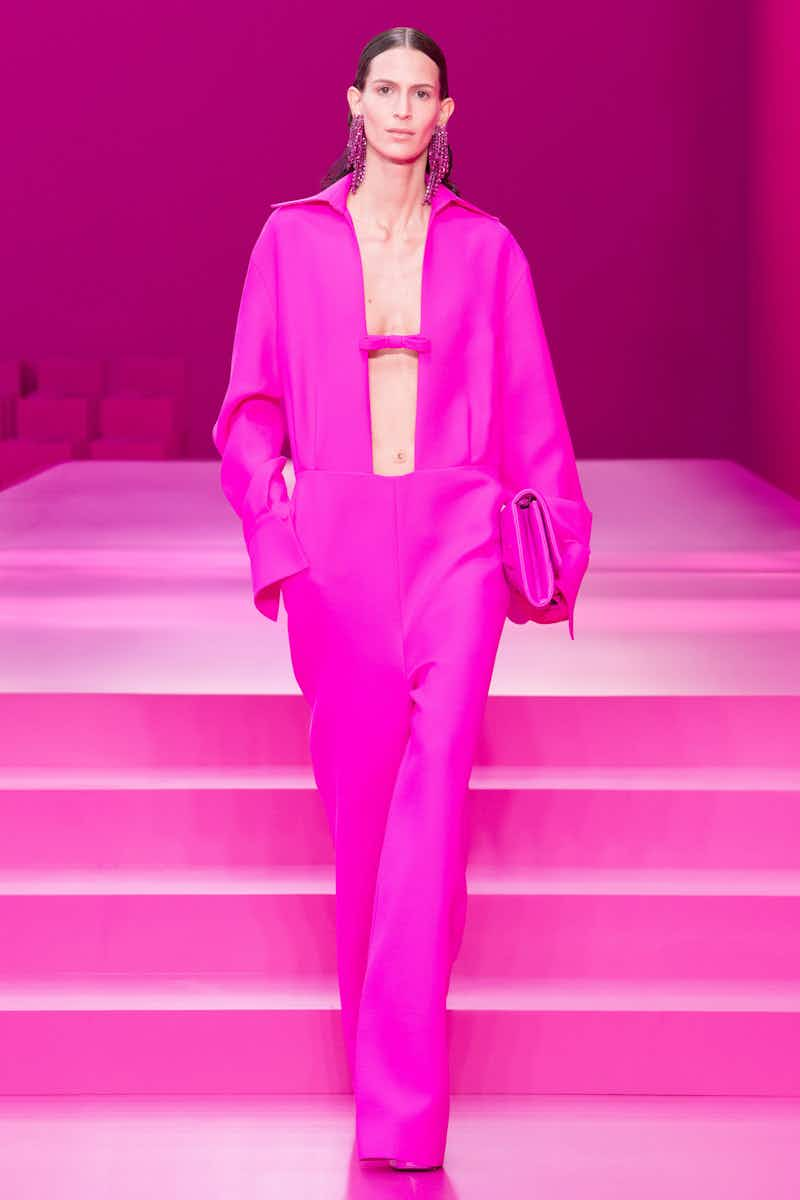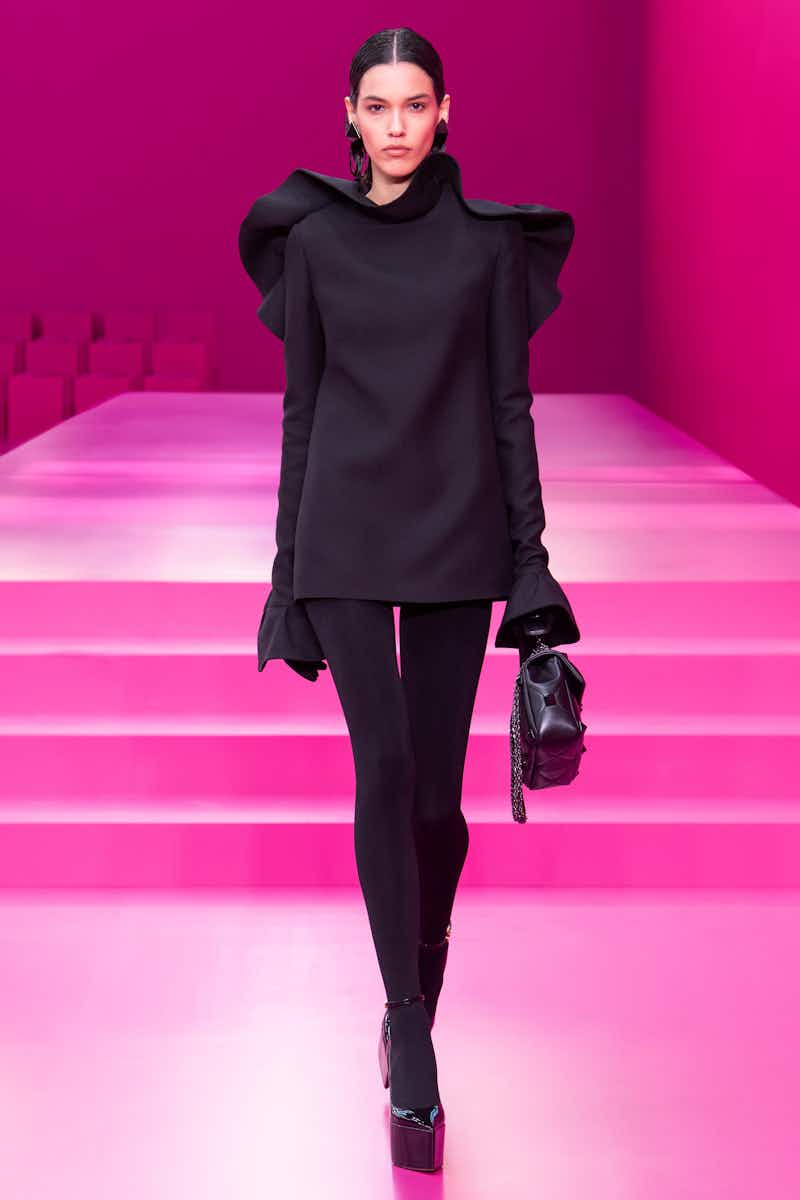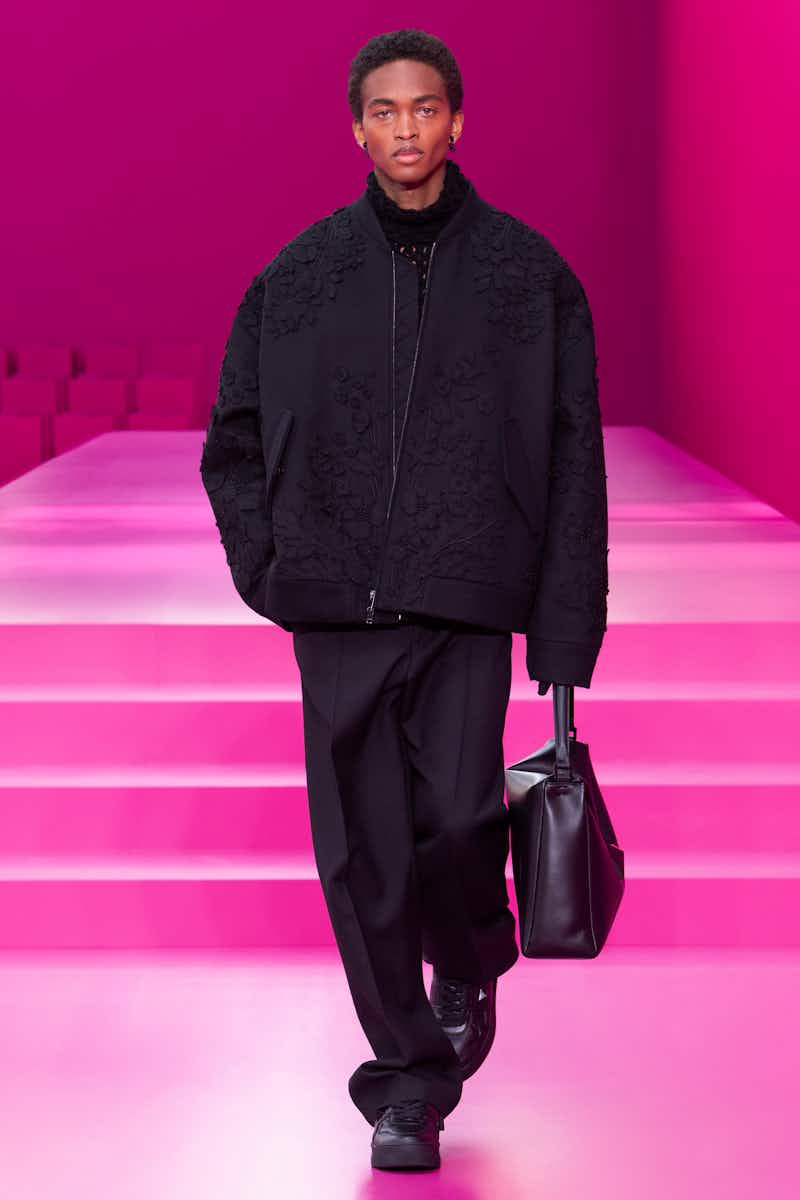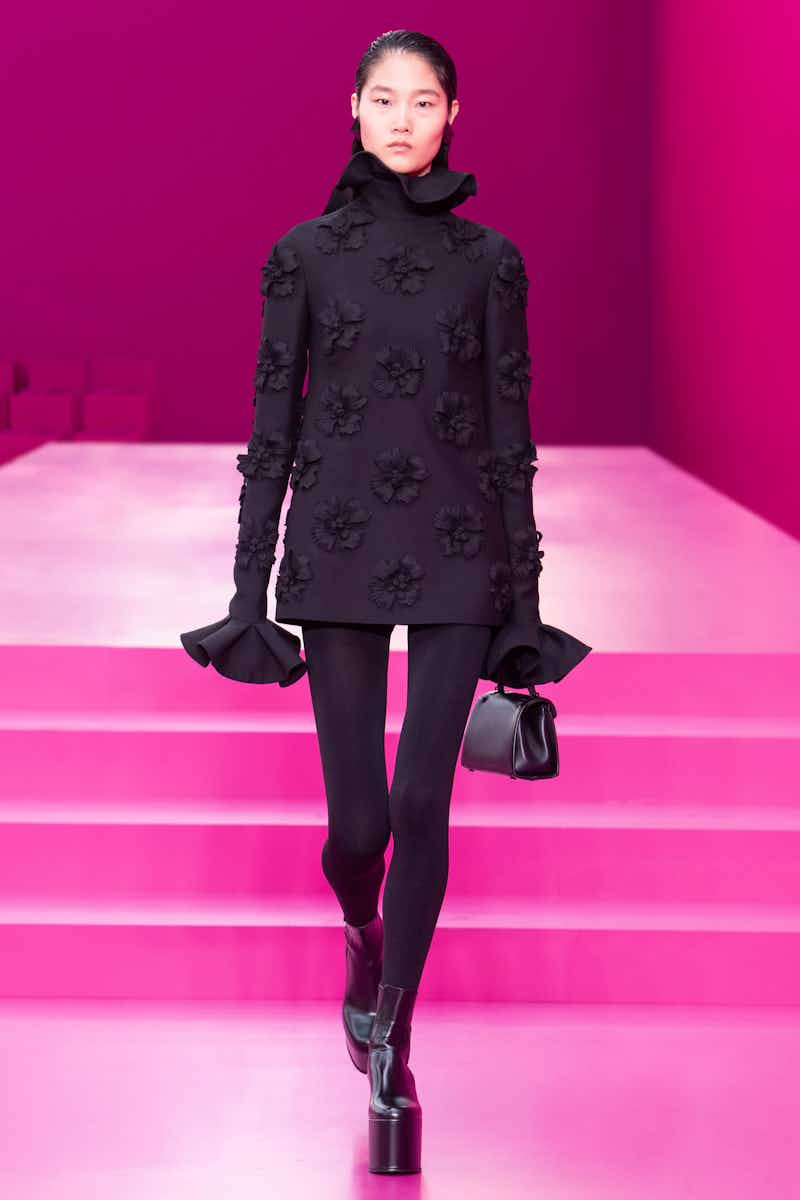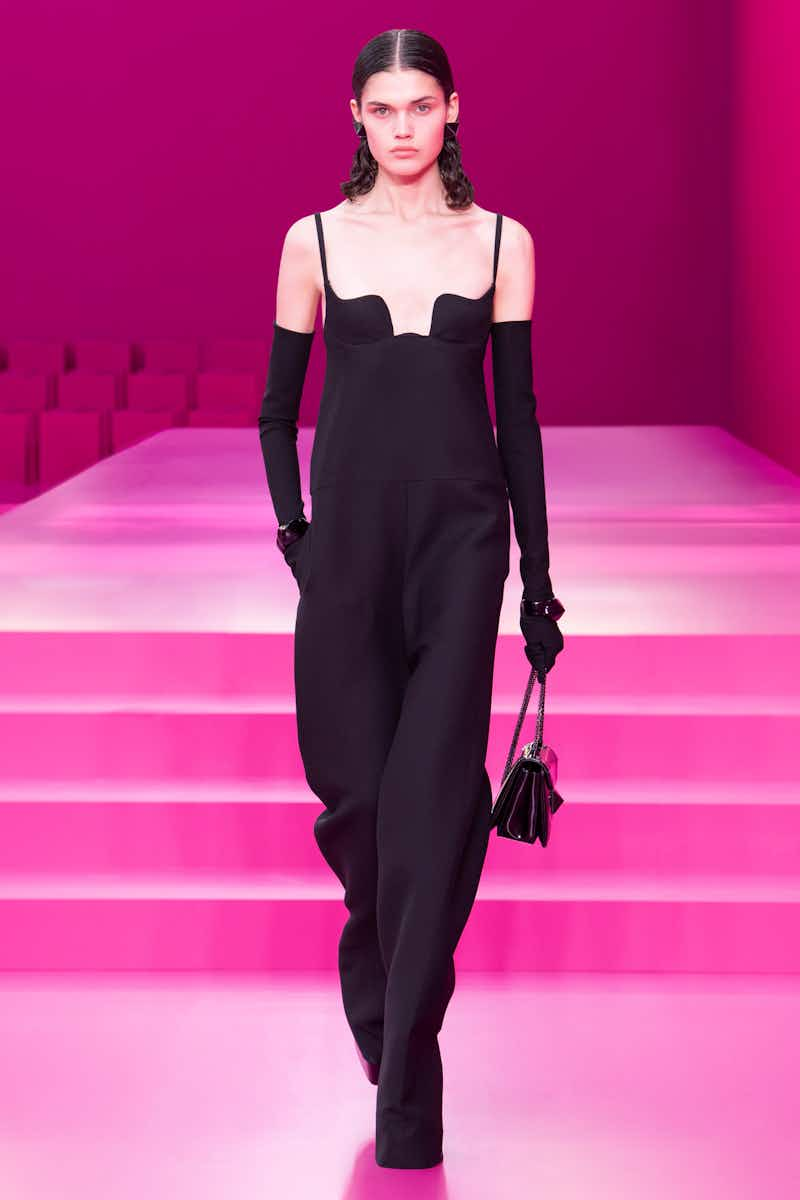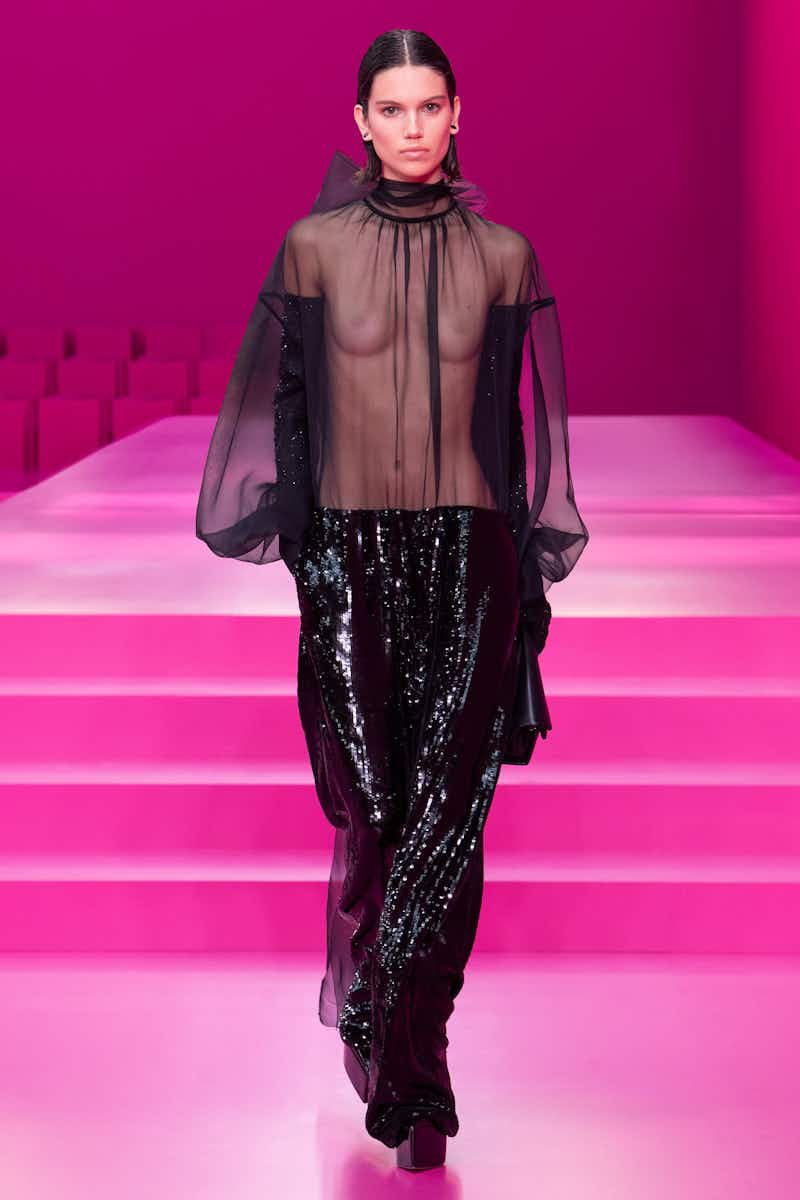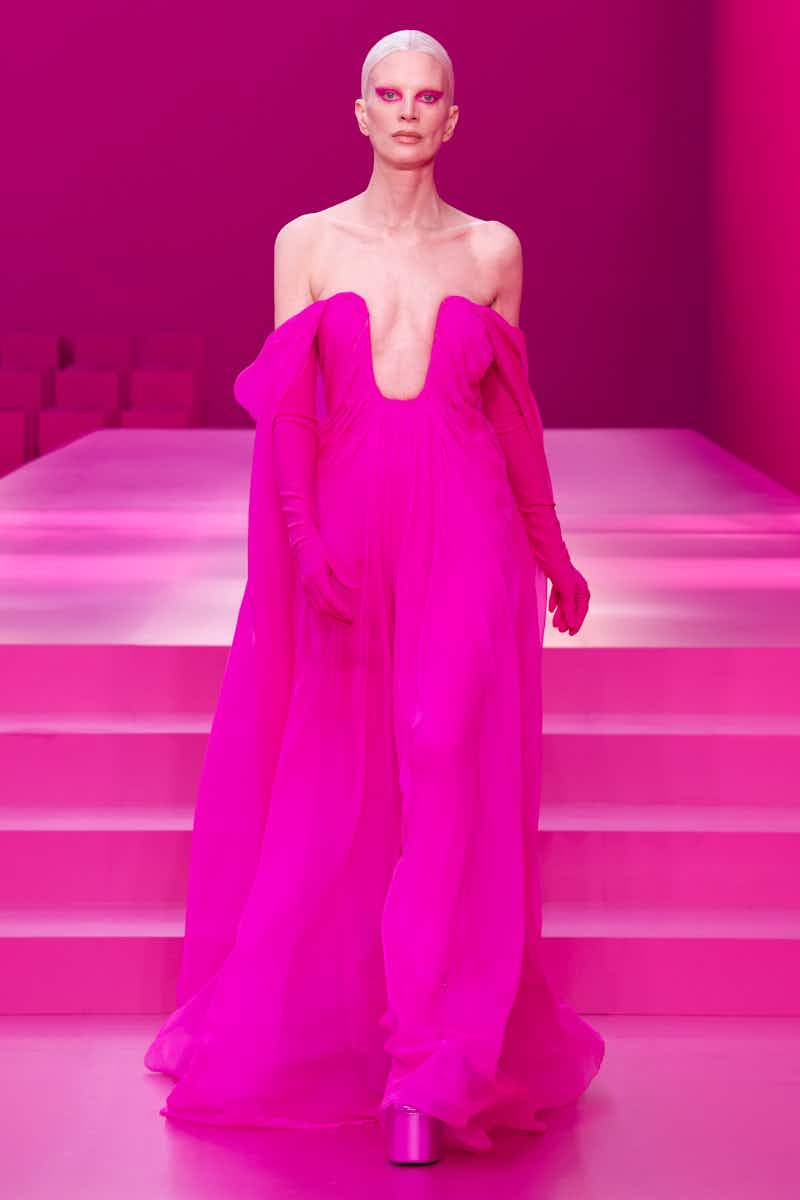 When we think of Elsa Schiaparelli now, we tend to think of her more outré experimentations, many achieved in collaboration with fellow Surrealist artists: gloves with shiny black nails placed on the tips, shoes worn as hats, giant fly brooches, gowns designed to mimic skeletons and torn paper. Daniel Roseberry has whole-heartedly embraced this world of body parts and upended normality, leaning on new signature details like gold nipples and measuring tape motifs. For this collection, though, he wanted to do something a little simpler – noting that Elsa was also responsible for some very wearable, desirable pieces including her famous trompe l'oeil sweaters. The mood, then, was a little more practical, albeit with a firm Schiaparelli twist. Denim separates came with ​'80s-style illustrations of eyes and spirals, pinstripe suits were vamped up with curlicued lapels and conical bras strayed into Gaultier territory – and there was a distinct kinky undertone to all the spiked and corseted leather. In Roseberry's words, ​"it's tender; it's savage." It's pretty gorgeous, too.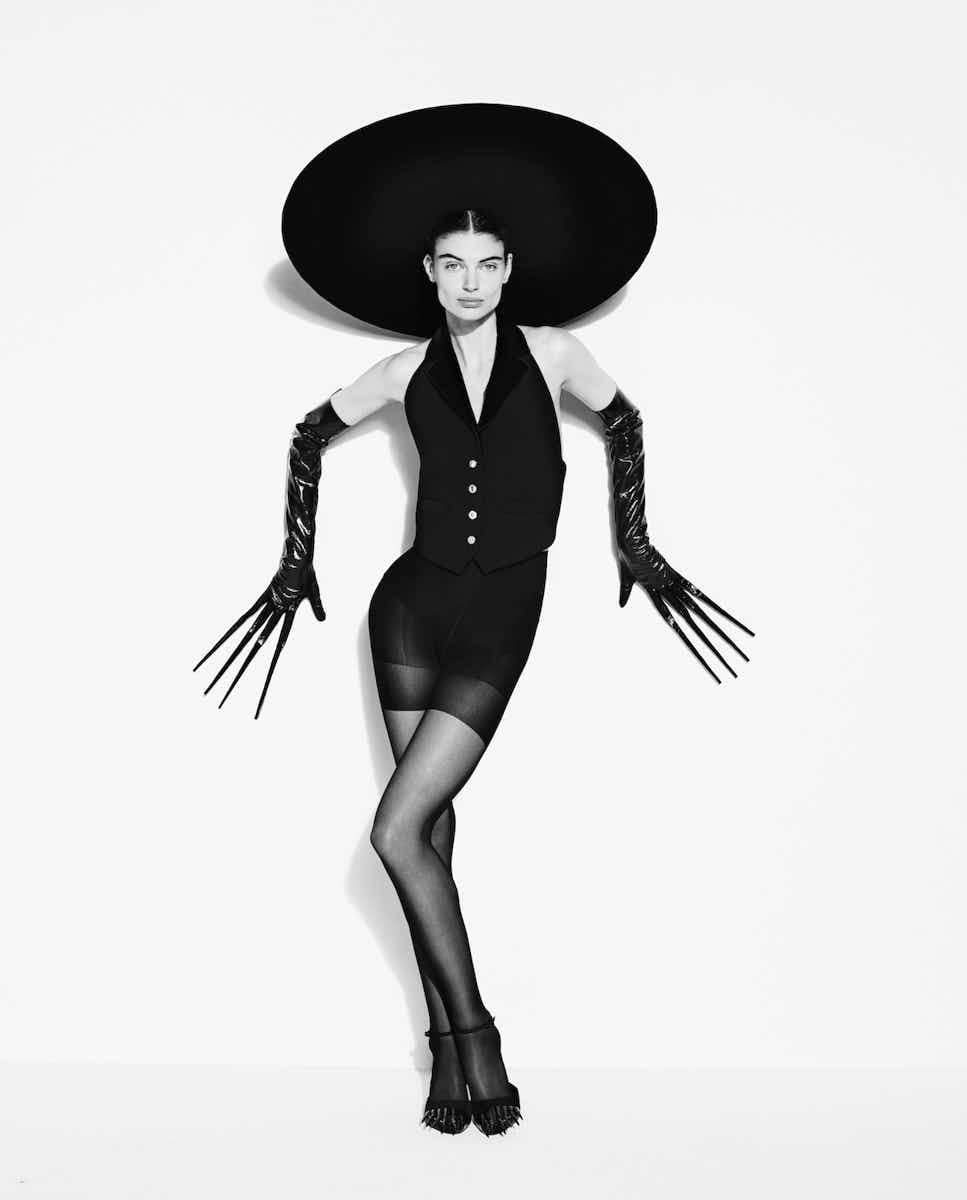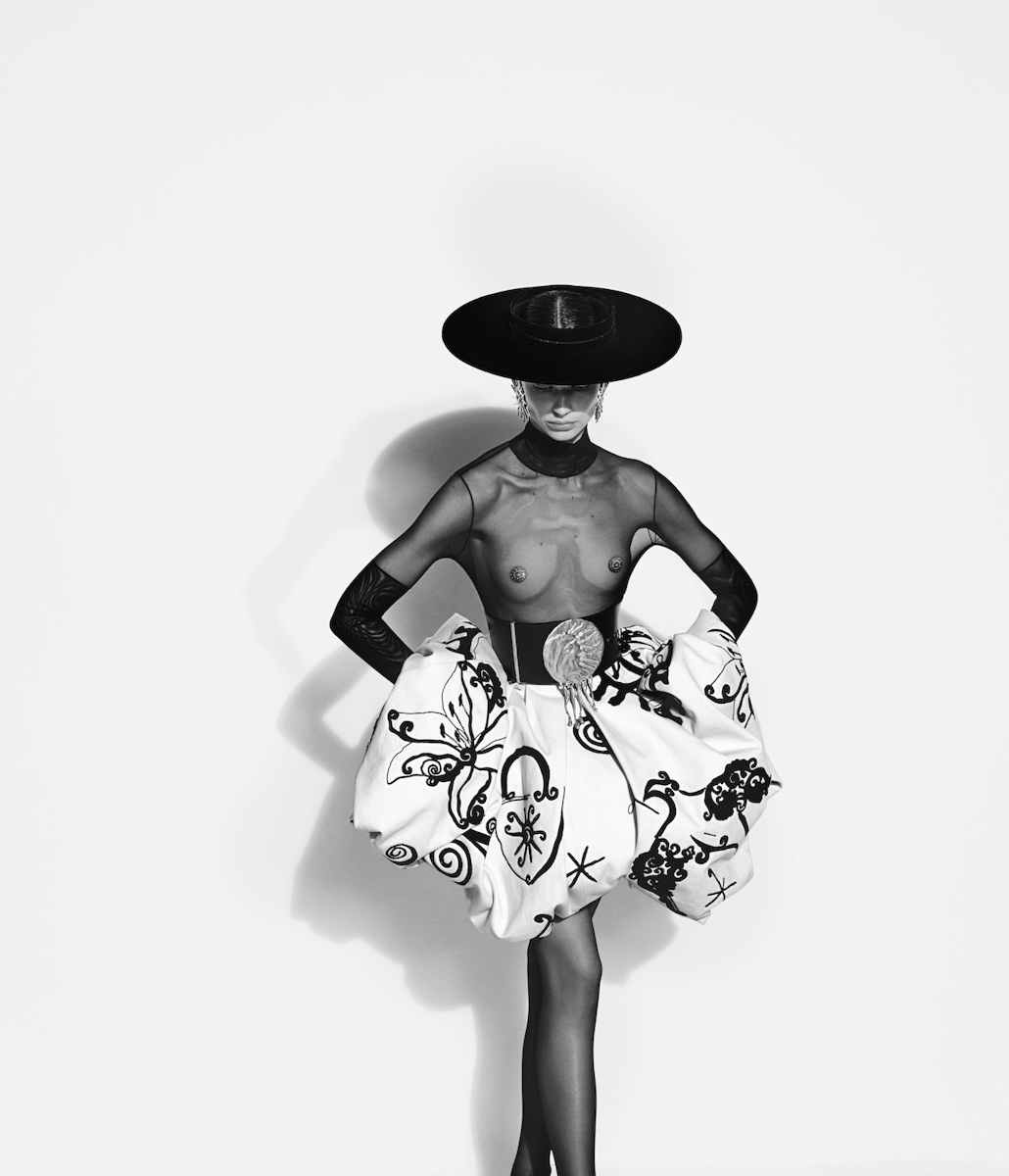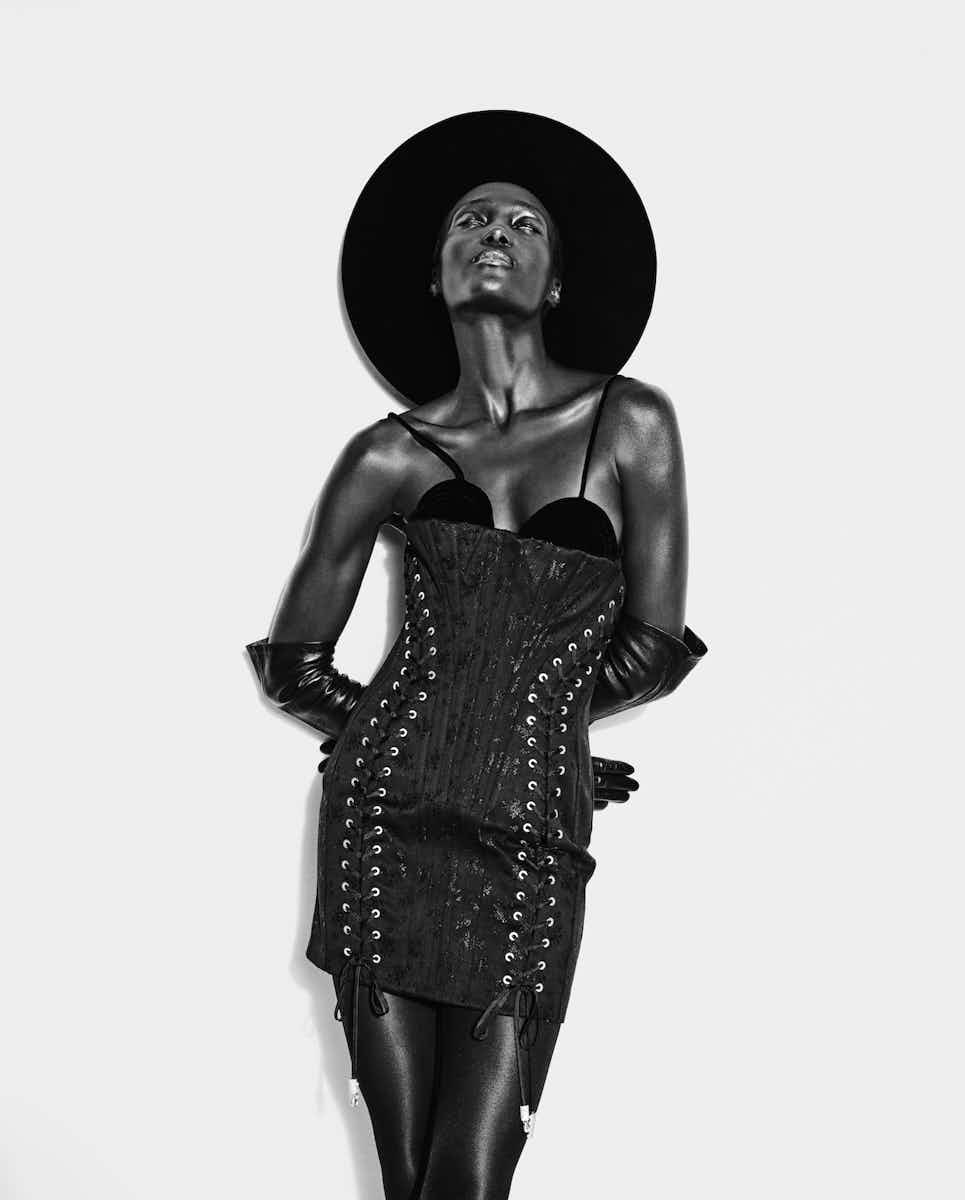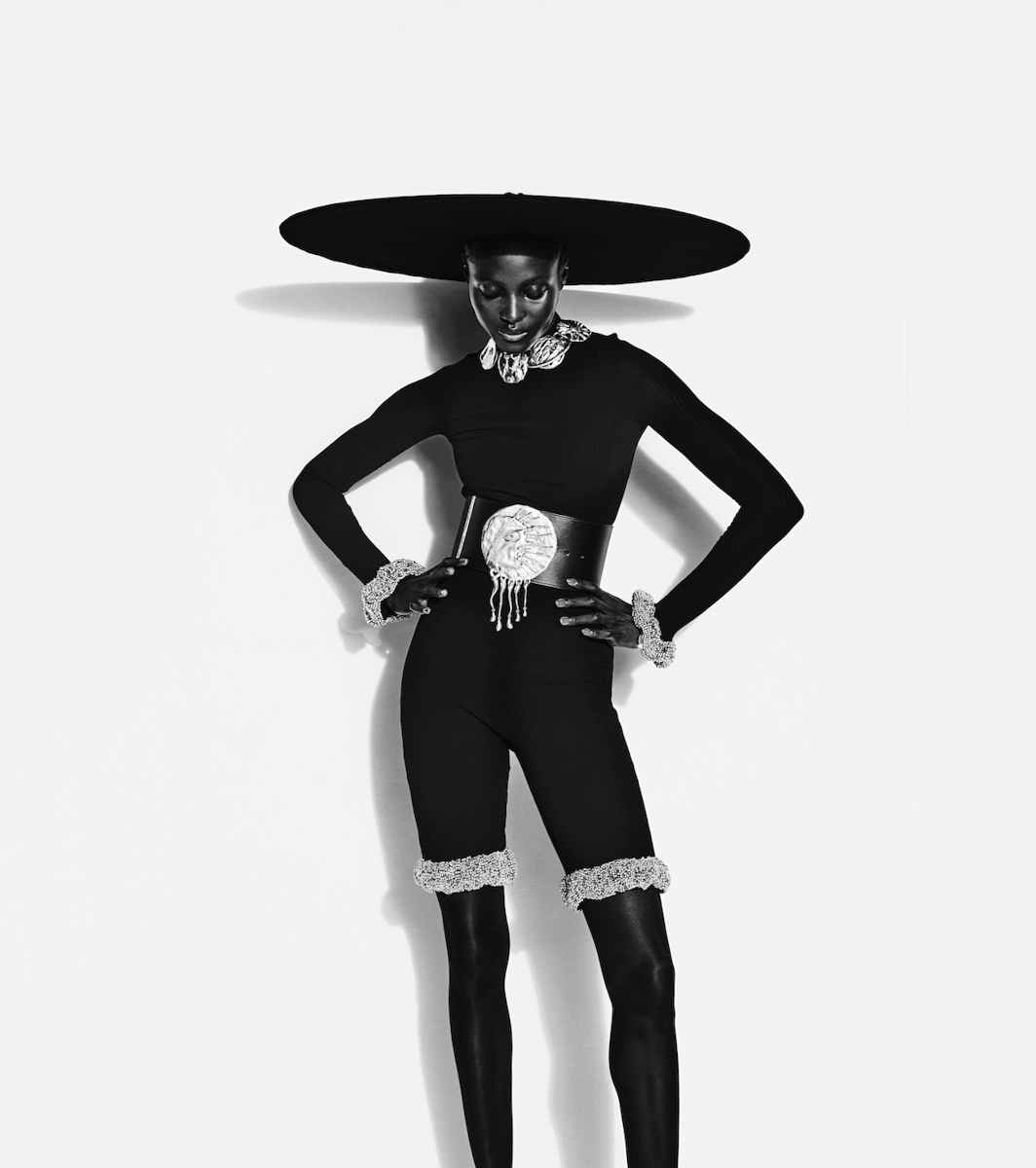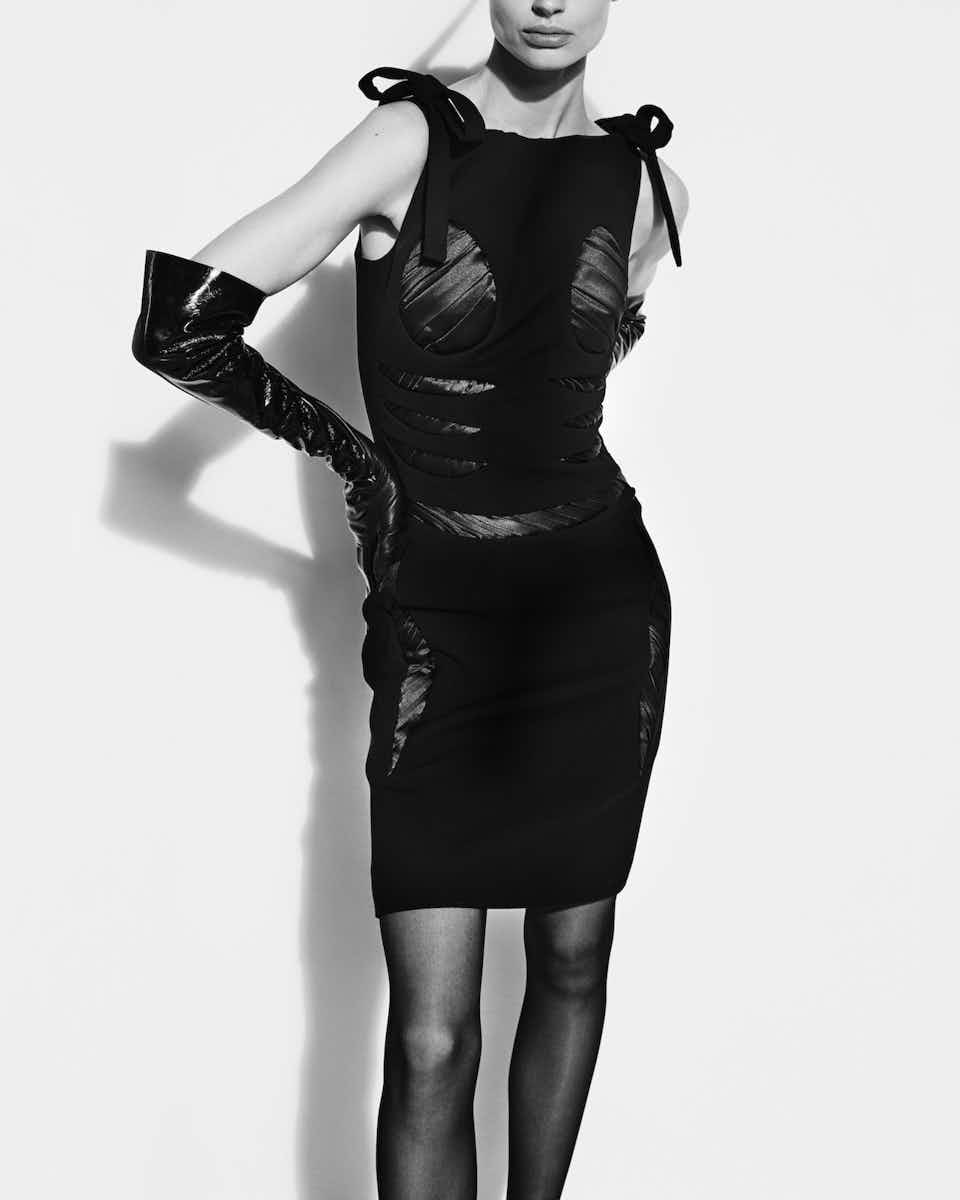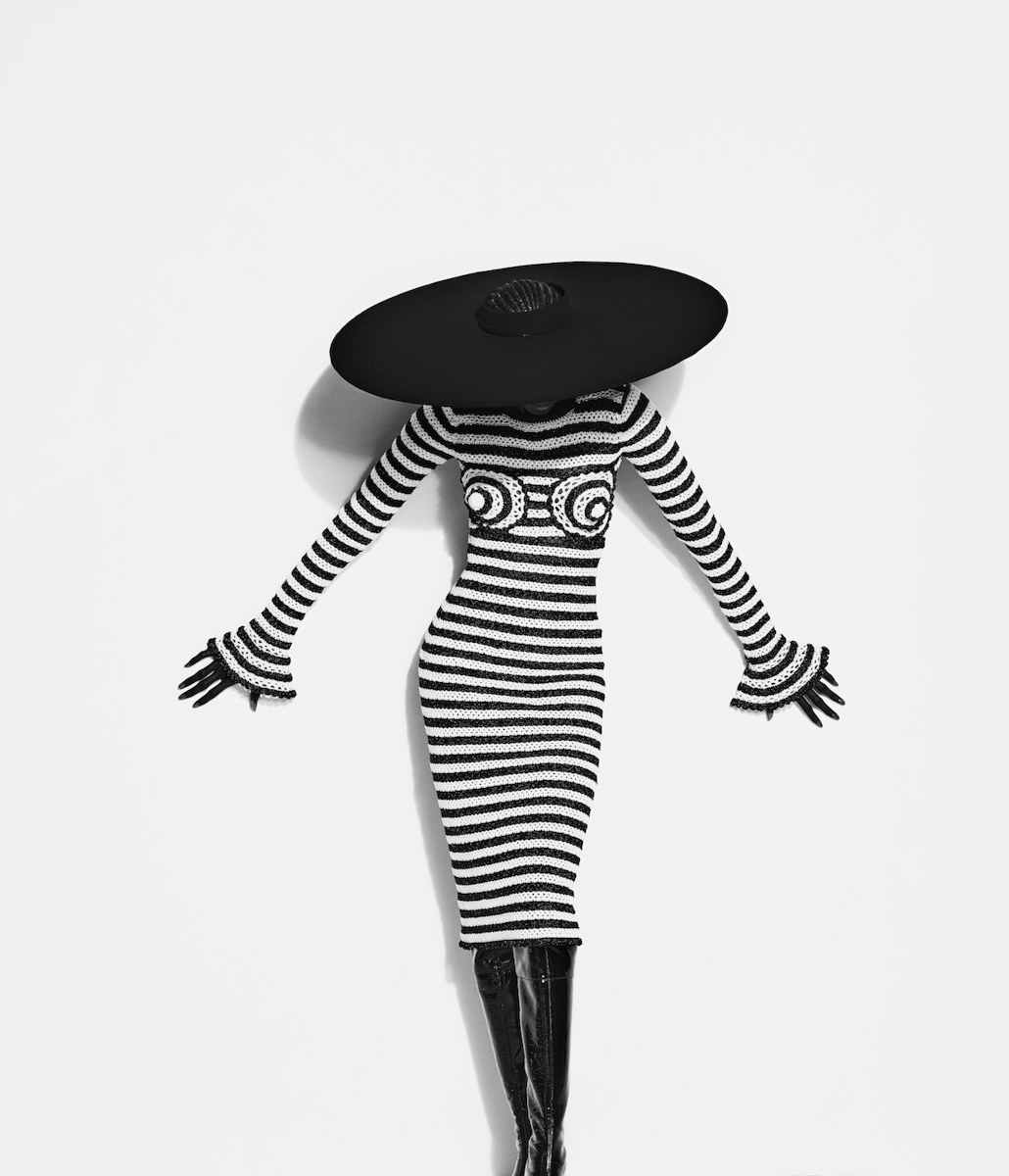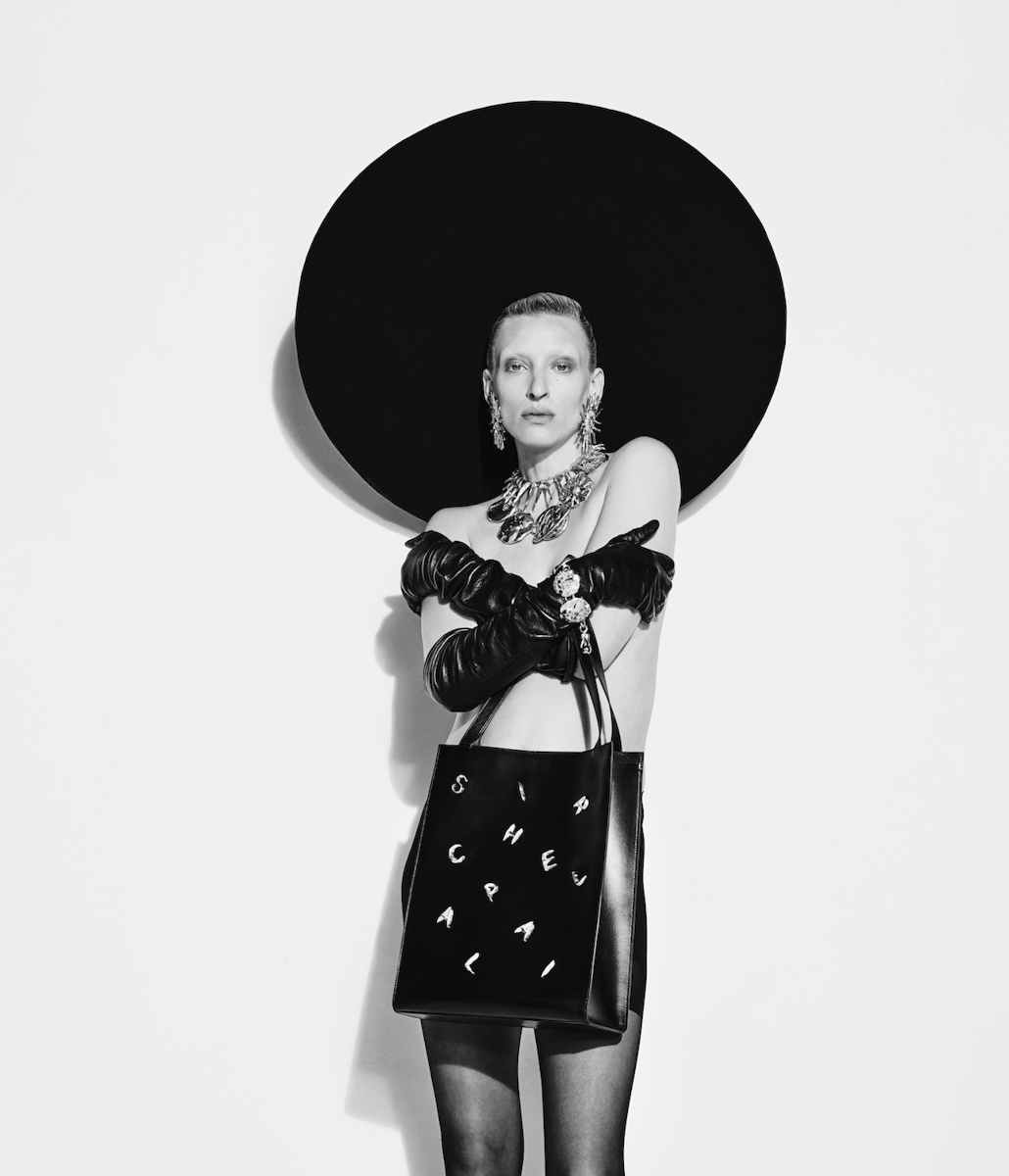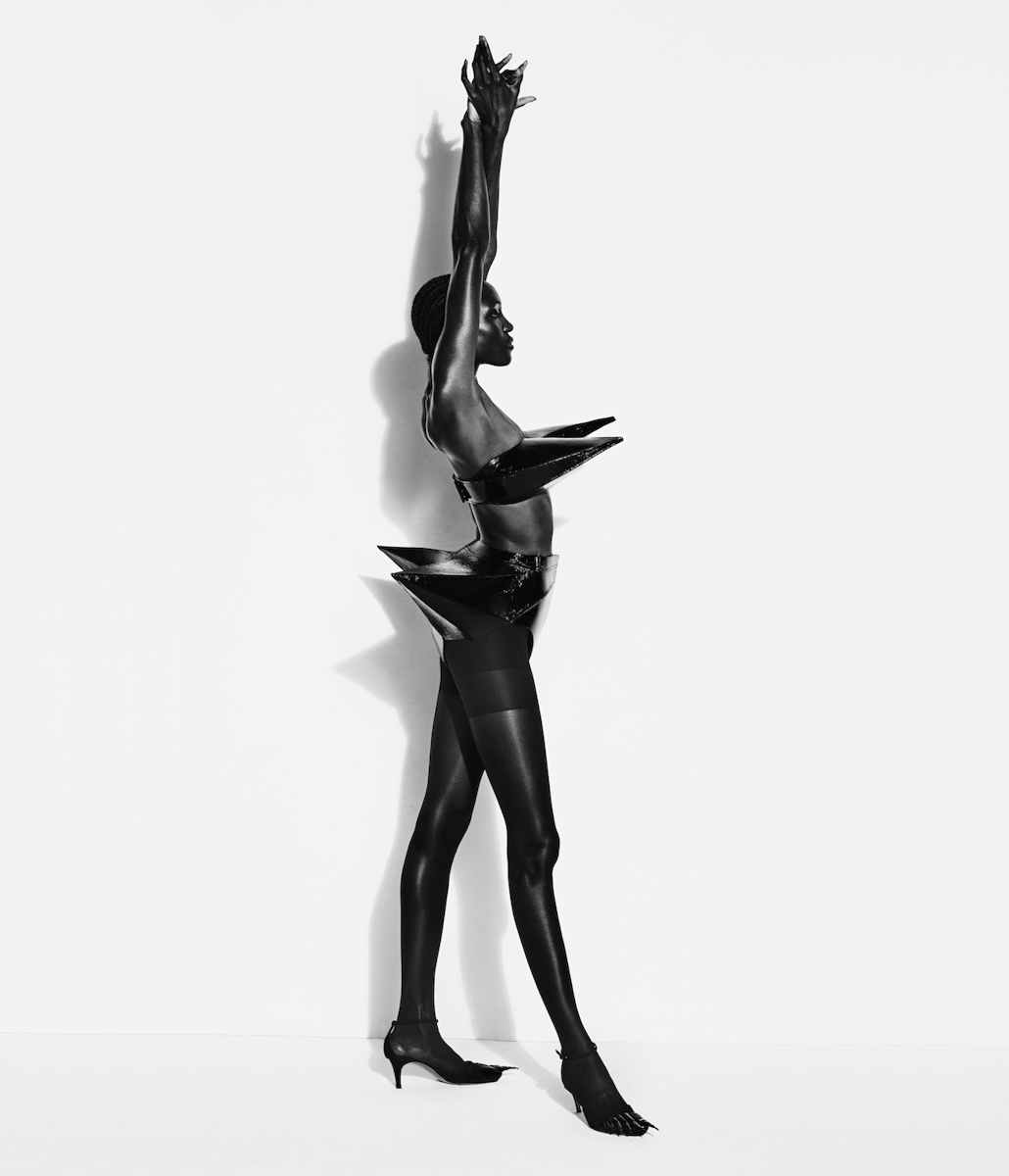 If Audrey Hepburn, once Hubert de Givenchy's ultimate muse, were around today, would there be anything in the AW22 collection that would catch her eye? In her later years, she did have a penchant for practical knits, jeans and sneakers, so some of Matthew M. Williams' more understated pieces this season might have taken her fancy. She could have rocked a couple of the floor length coats and sleeker frocks on offer, too. This might seem like an absurd thought exercise, but during a show where Williams has gone digging through Hubert de Givenchy's archives, combining more classic couture shapes with the expected amount of streetwear utility, it's one worth indulging in. The most obvious Hepburn nod came in the pearls, blown up to gargantuan proportion. They worked better as necklaces (Williams described them as ​"hardware", but really they had a pleasing touch of early 2010s twee about them) than they did embellishing dresses. Still, it was a show that knowingly veered between elegance and attitude, with some leather knee high boots – practically mandatory this season – thrown in, too.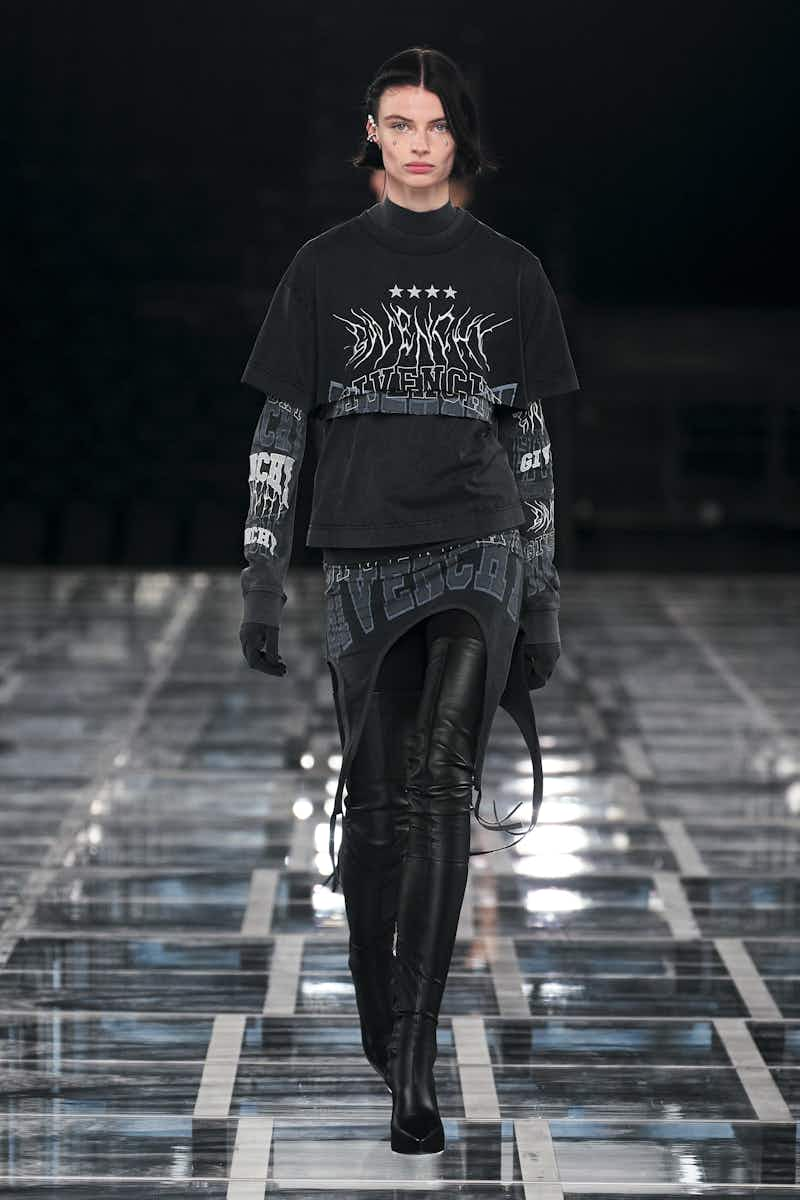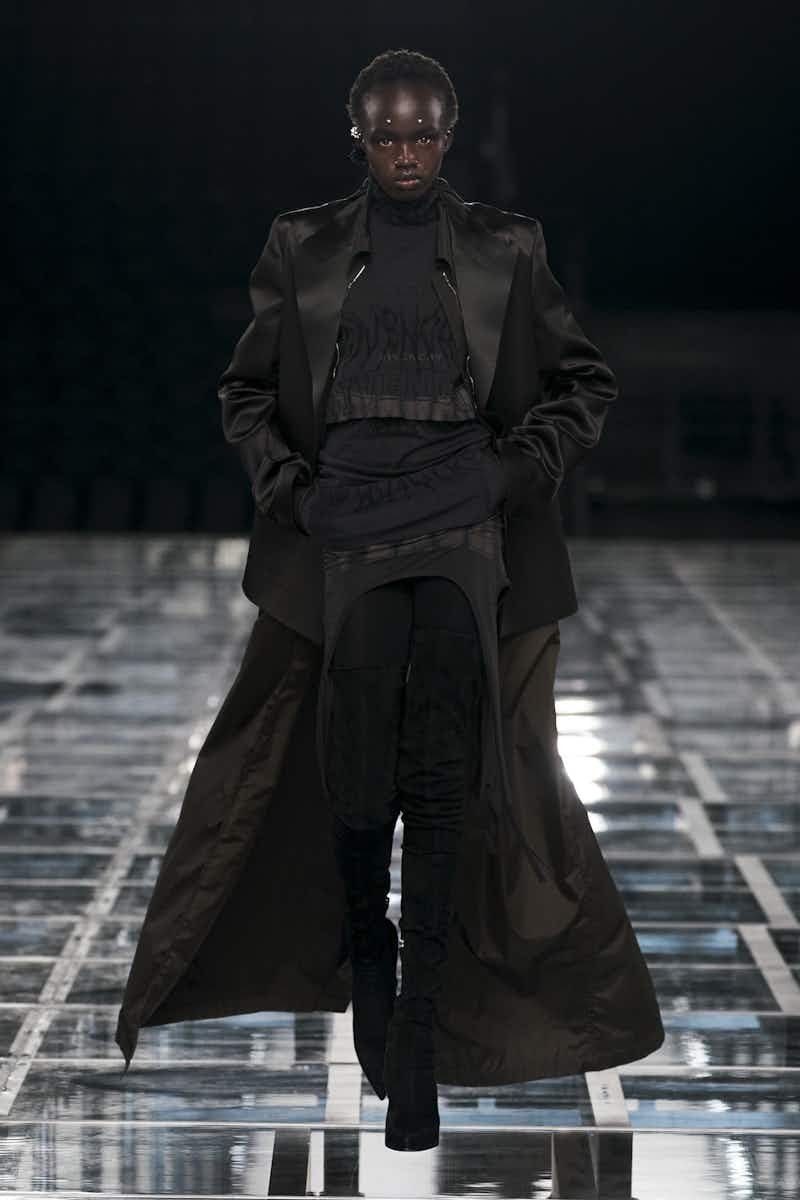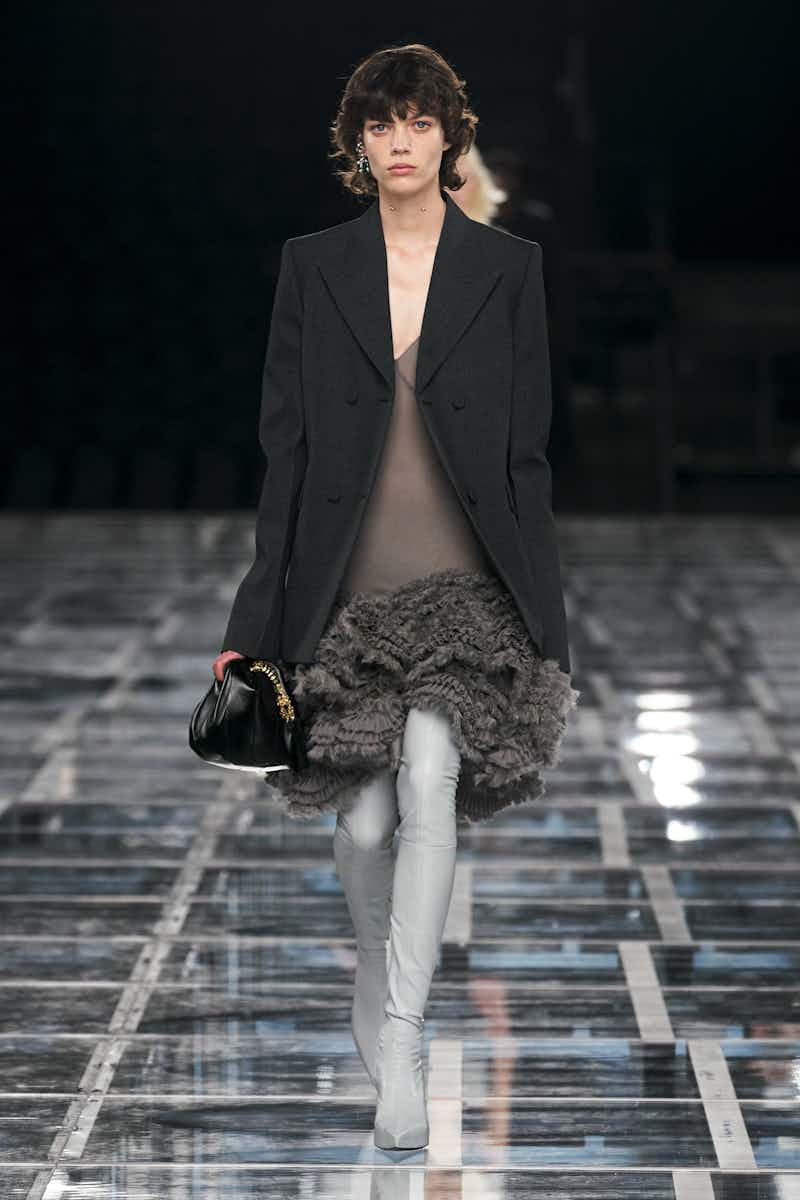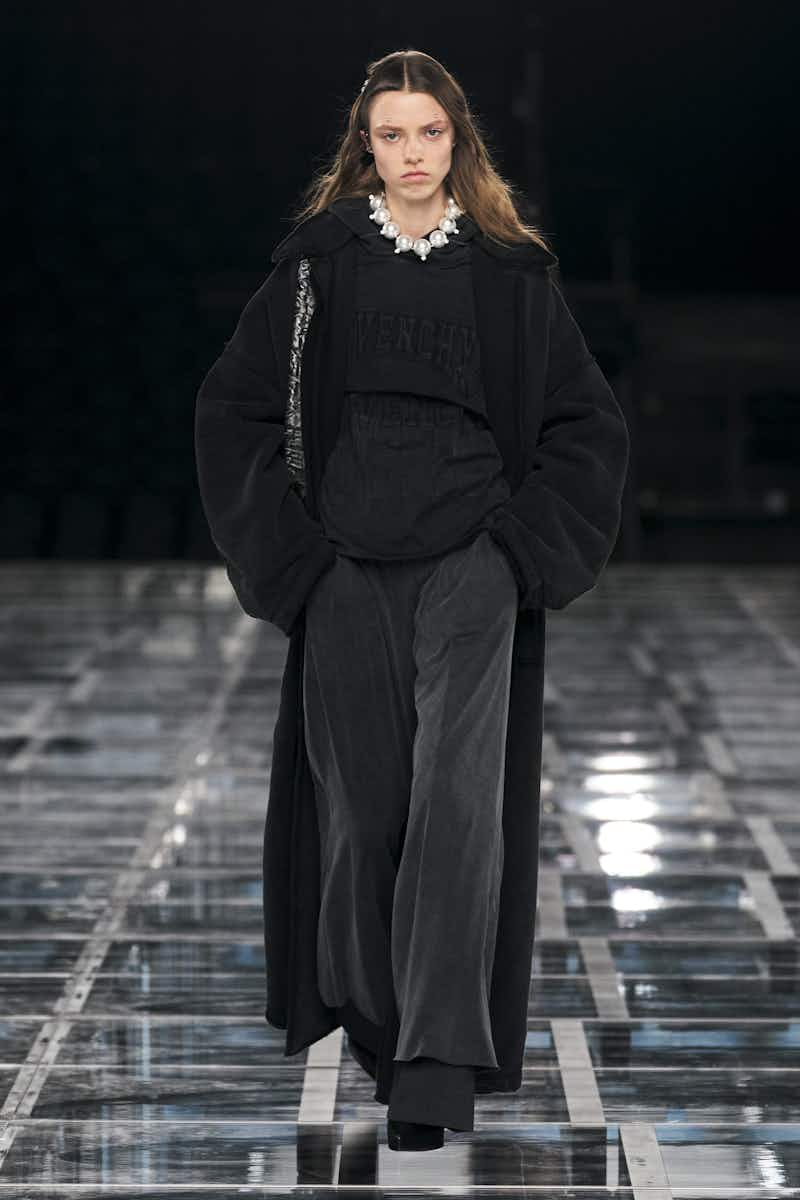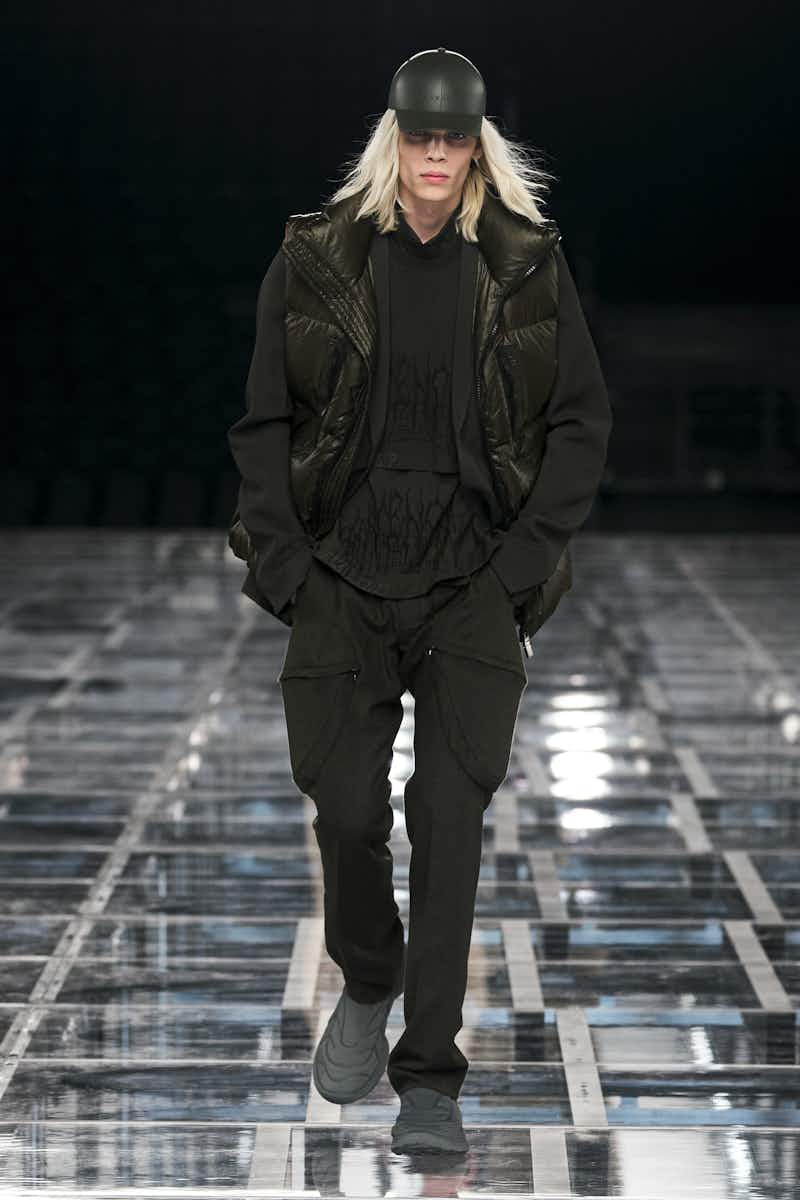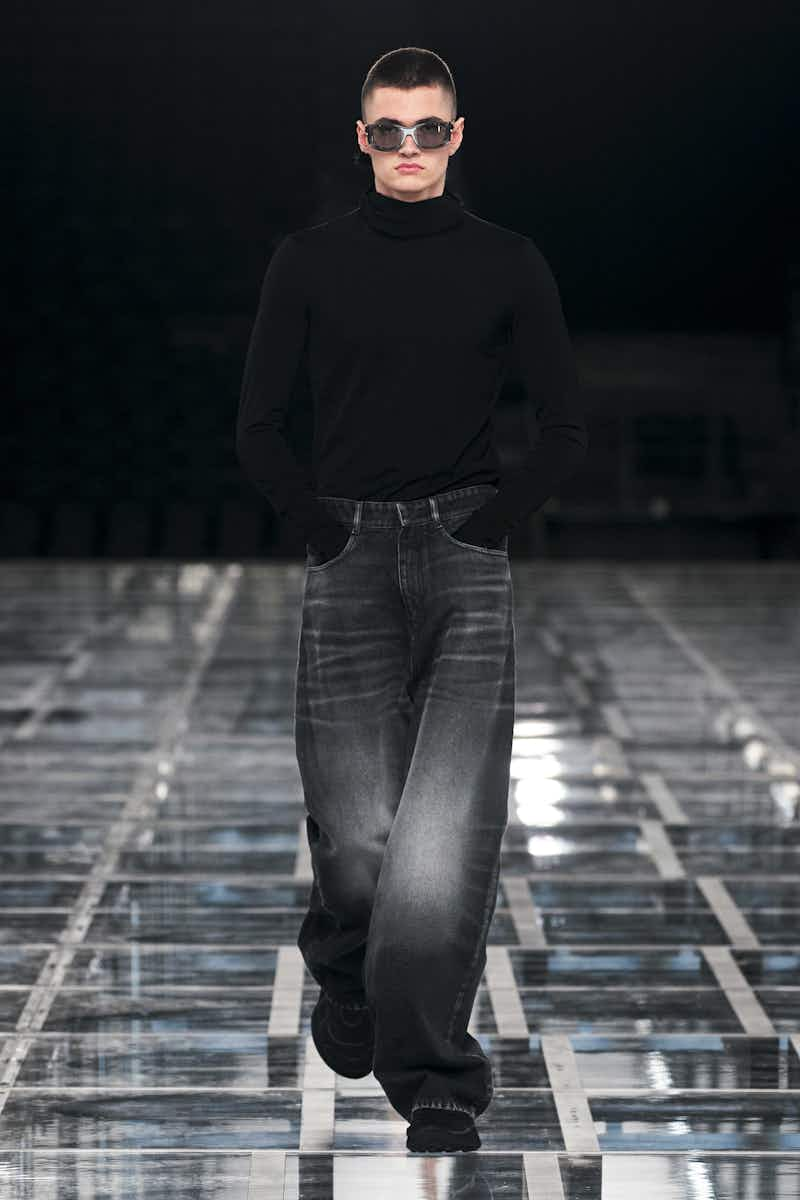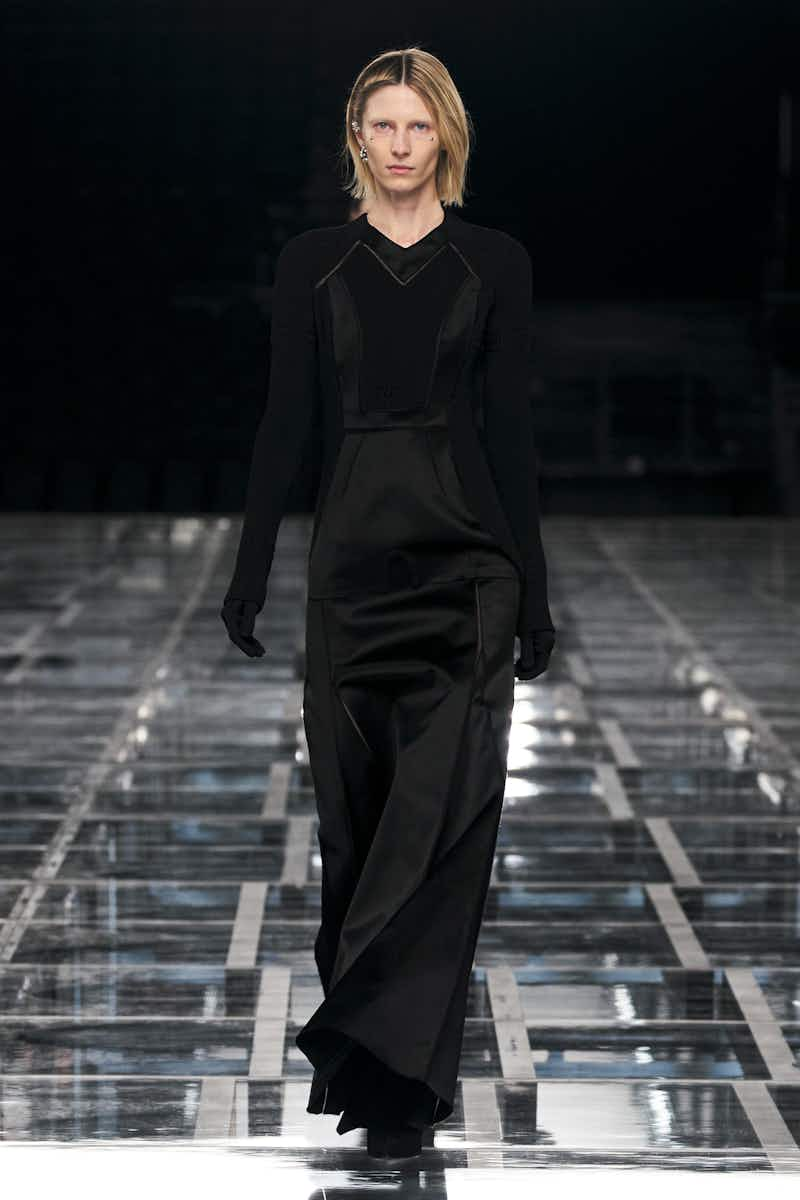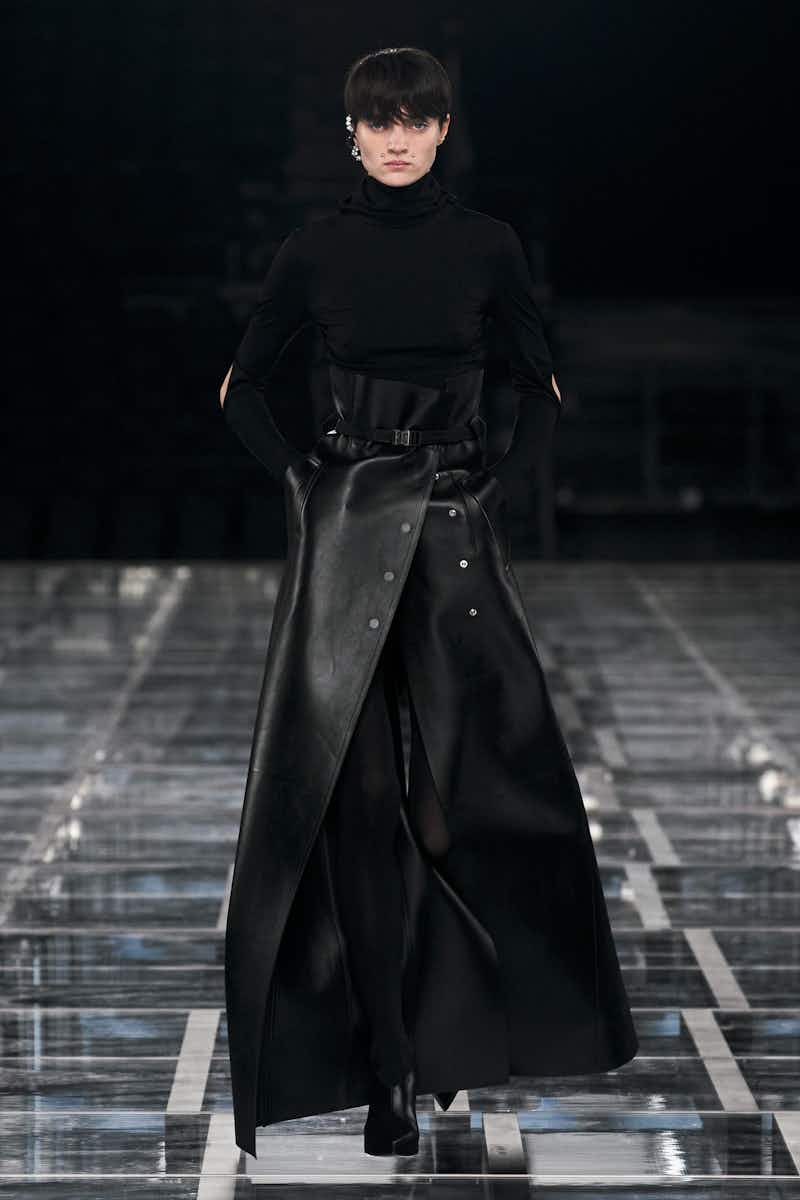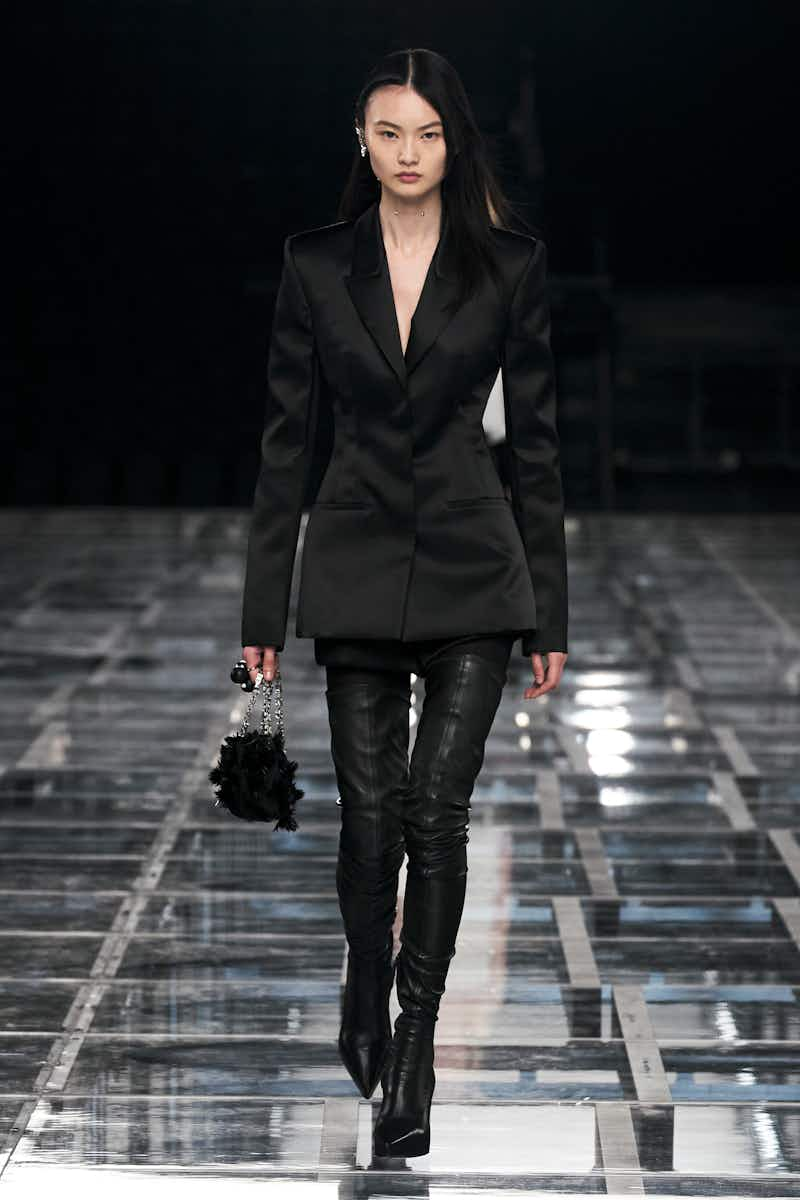 Balenciaga's show opened on a sombre note. The seats were decorated with T‑shirts emblazoned with Ukrainian flags, while Demna Gvasalia's show notes began: ​"The war in Ukraine has triggered a past trauma I have carried in me since 1993, when the same thing happened in my own country and I became a forever refugee." After his family fled Georgia during the civil war, Gvasalia lived in various places including Odessa and, later, Düsseldorf.
The fashion industry is still grappling with how best to address and respond to the ongoing crisis, but this was a notable enough moment of solidarity for the Kyiv Independent to post about it. This message and the setting – an icy wasteland viewed through glass, wind whipping up the models' hair and hems as they traversed the fake snow carefully in their heels – somewhat overshadowed the clothes themselves, which were the usual mix of form-hugging silhouettes and oversized outerwear. The setting had originally been conceived as a comment on climate change, but in light of what is now the fastest growing refugee crisis in Europe since WW2, it took on a new and sinister meaning.
It's hard to assess a show under these circumstances. It was highly autobiographical, with Gvasalia also talking about his father's own journey on foot through the Caucasus Mountains to secure safe passage for his family. But there is still something vaguely uneasy about watching models clutching luxury bin bags as they hunch their fur clad shoulders and Balenciaga-branded warning tape clad arms against an imagined chill. Still, it's always going to be easier to level that critique at a brand that has chosen to acknowledge what's currently happening – and so highlighting the sense of disconnect – than one who has chosen to stay silent.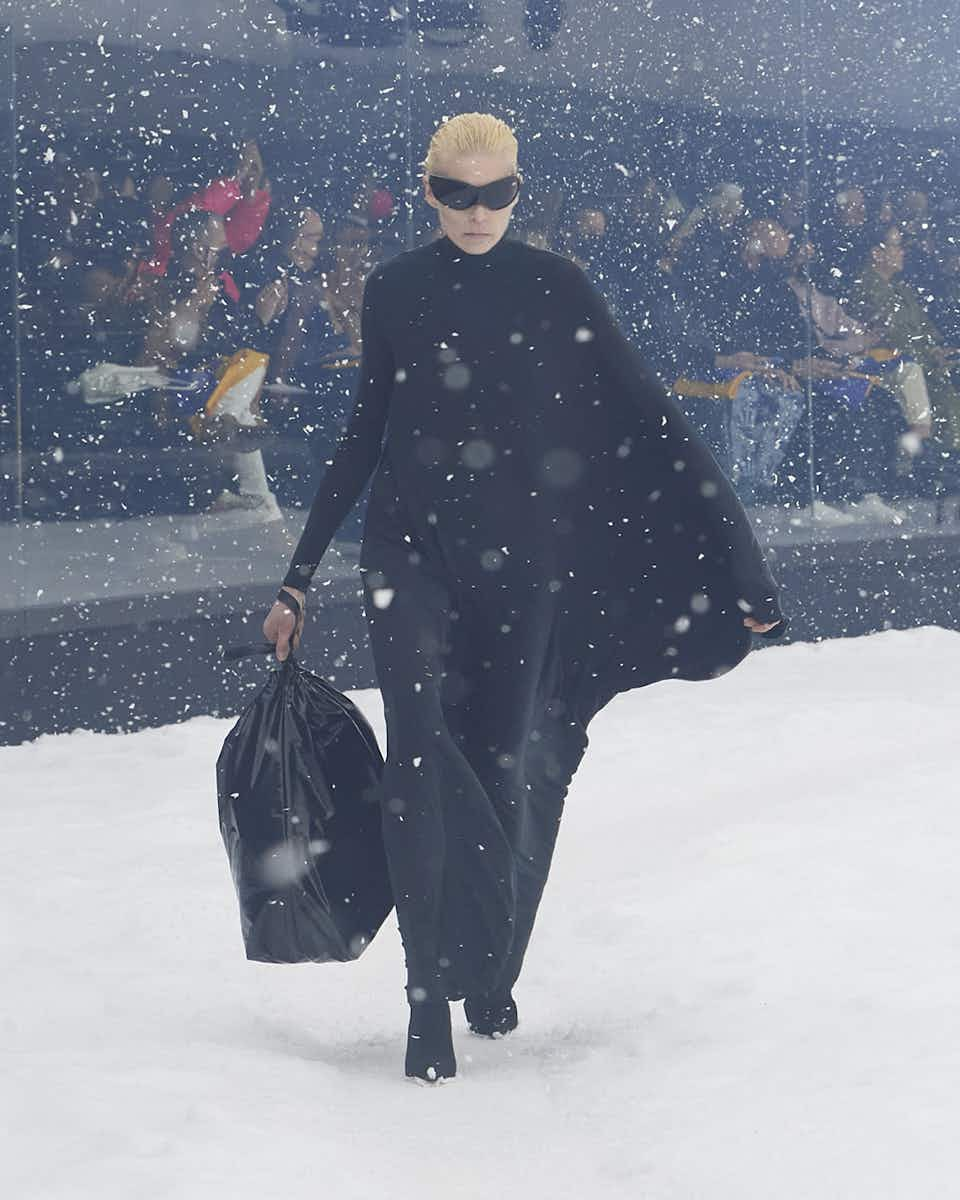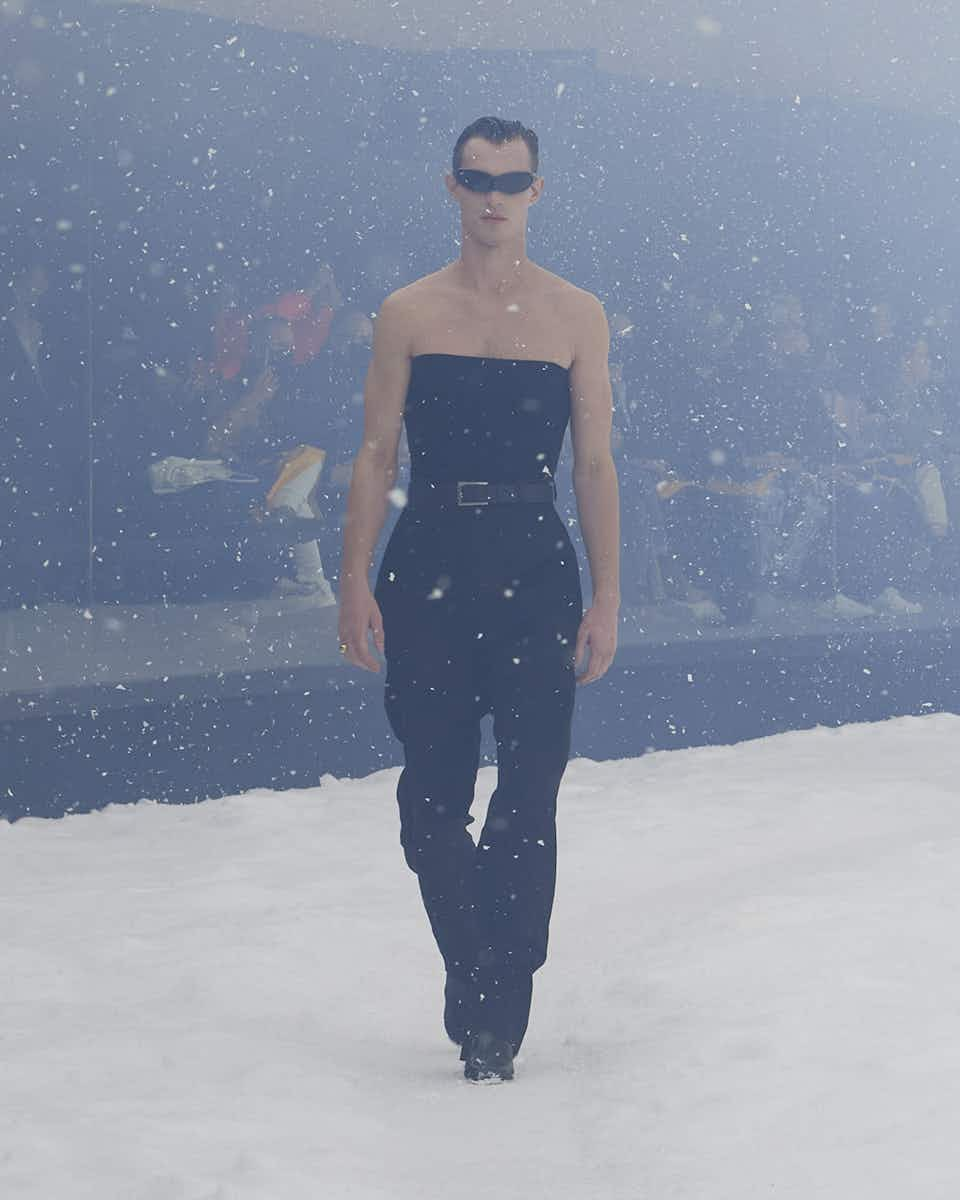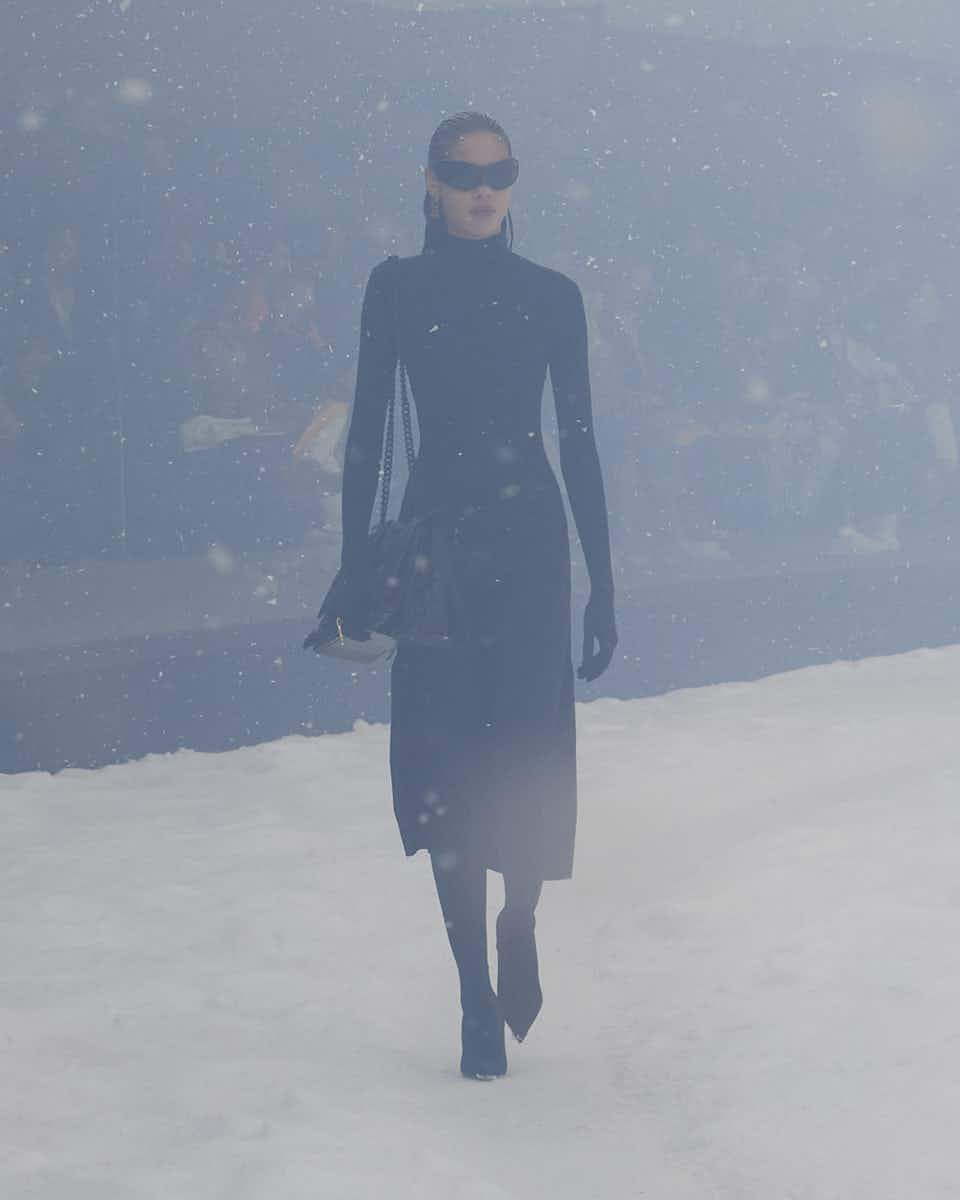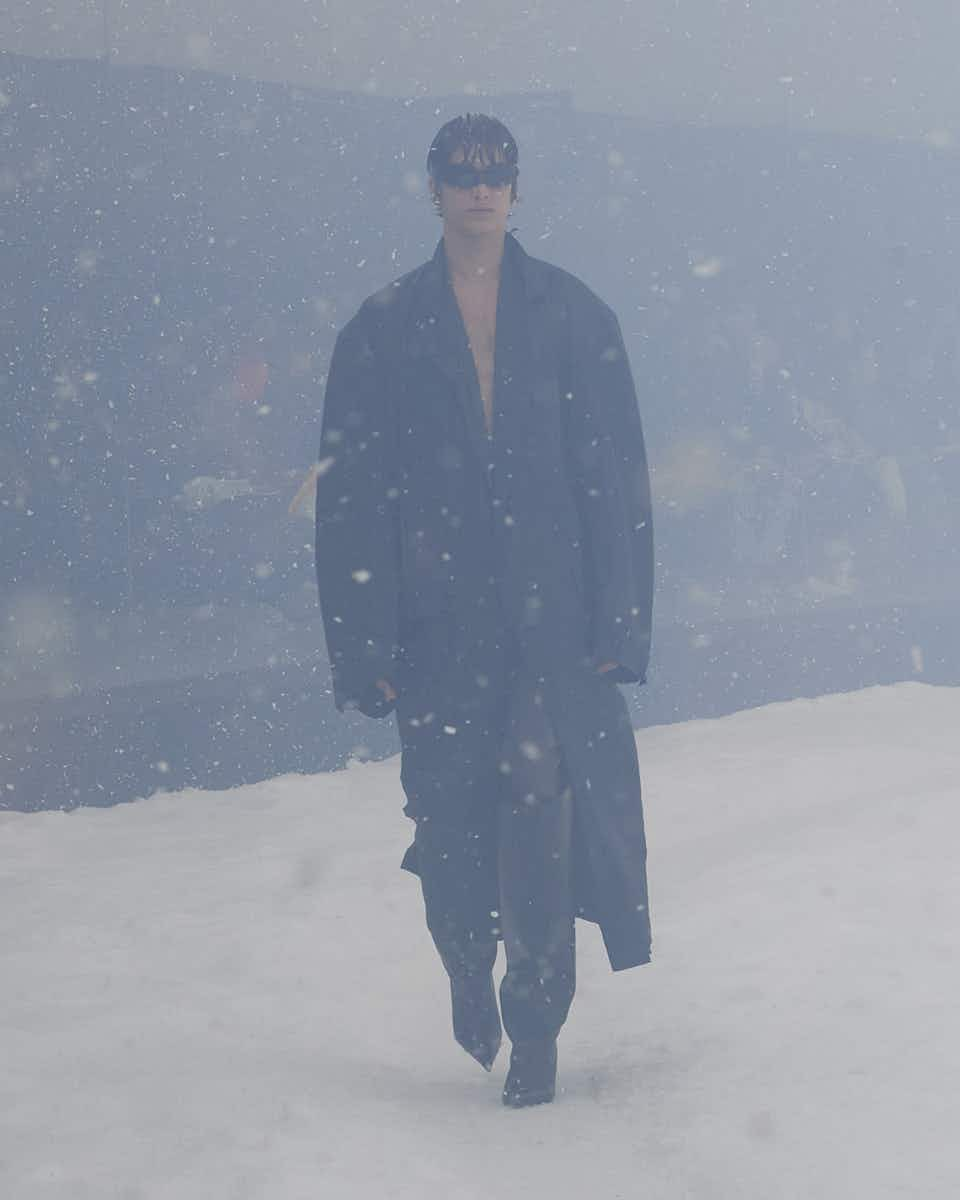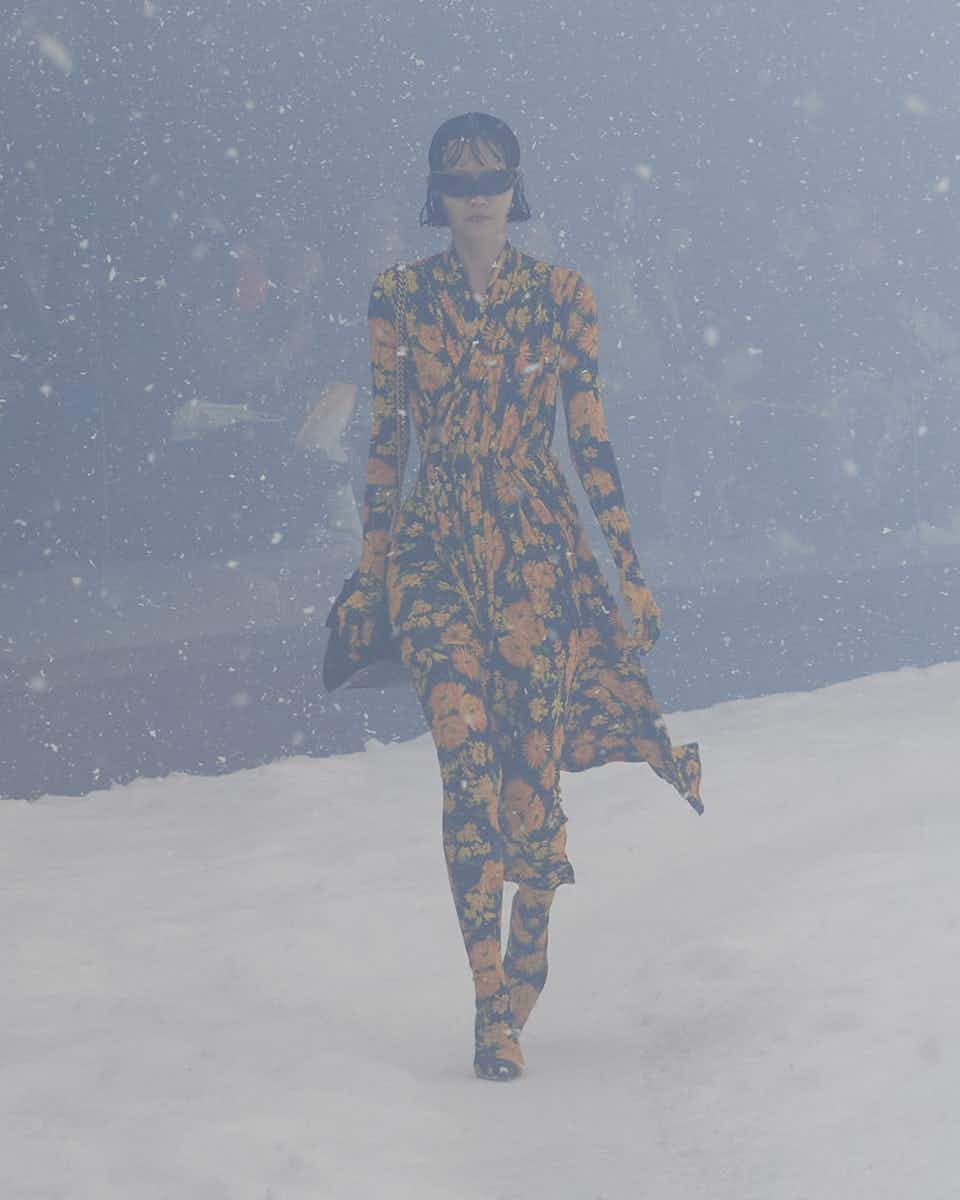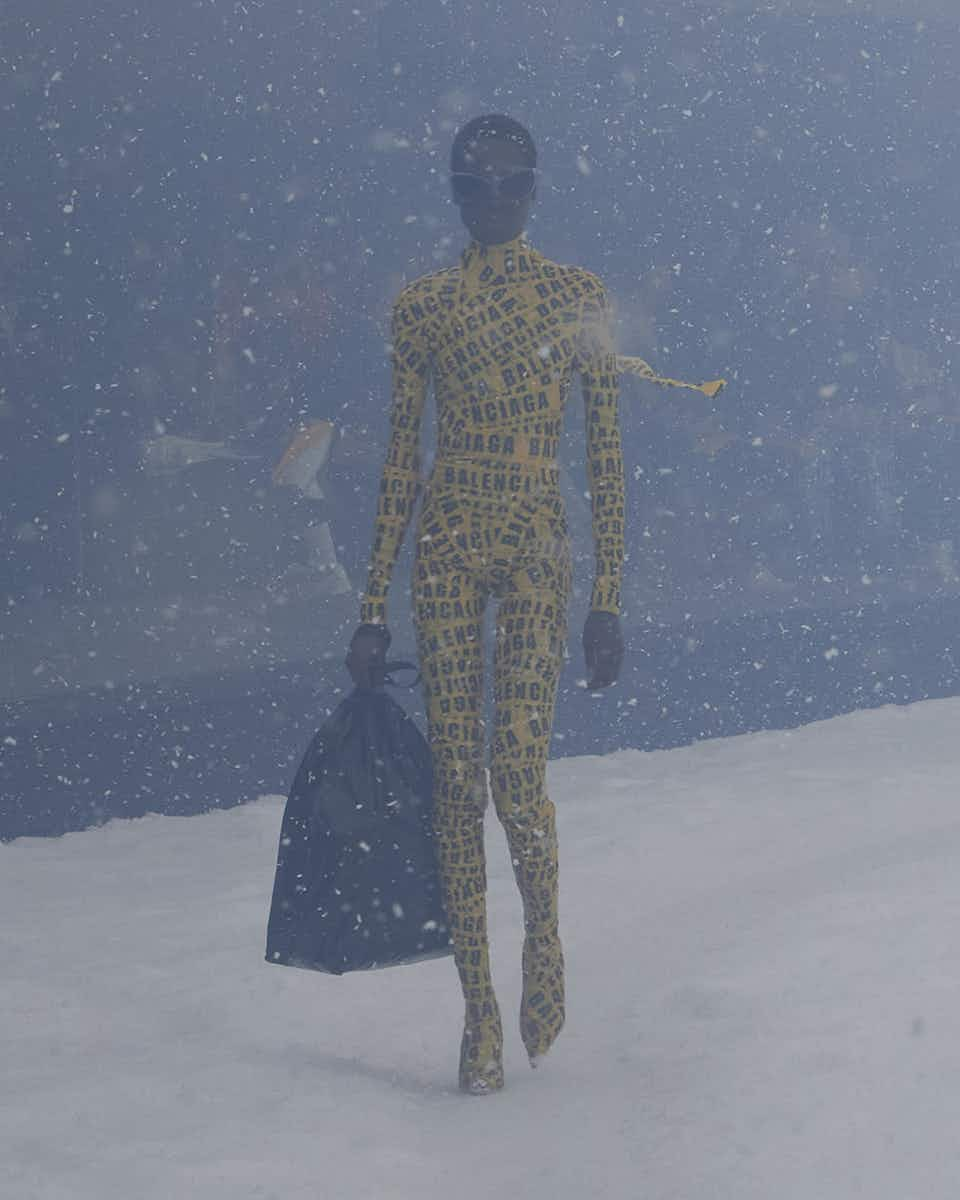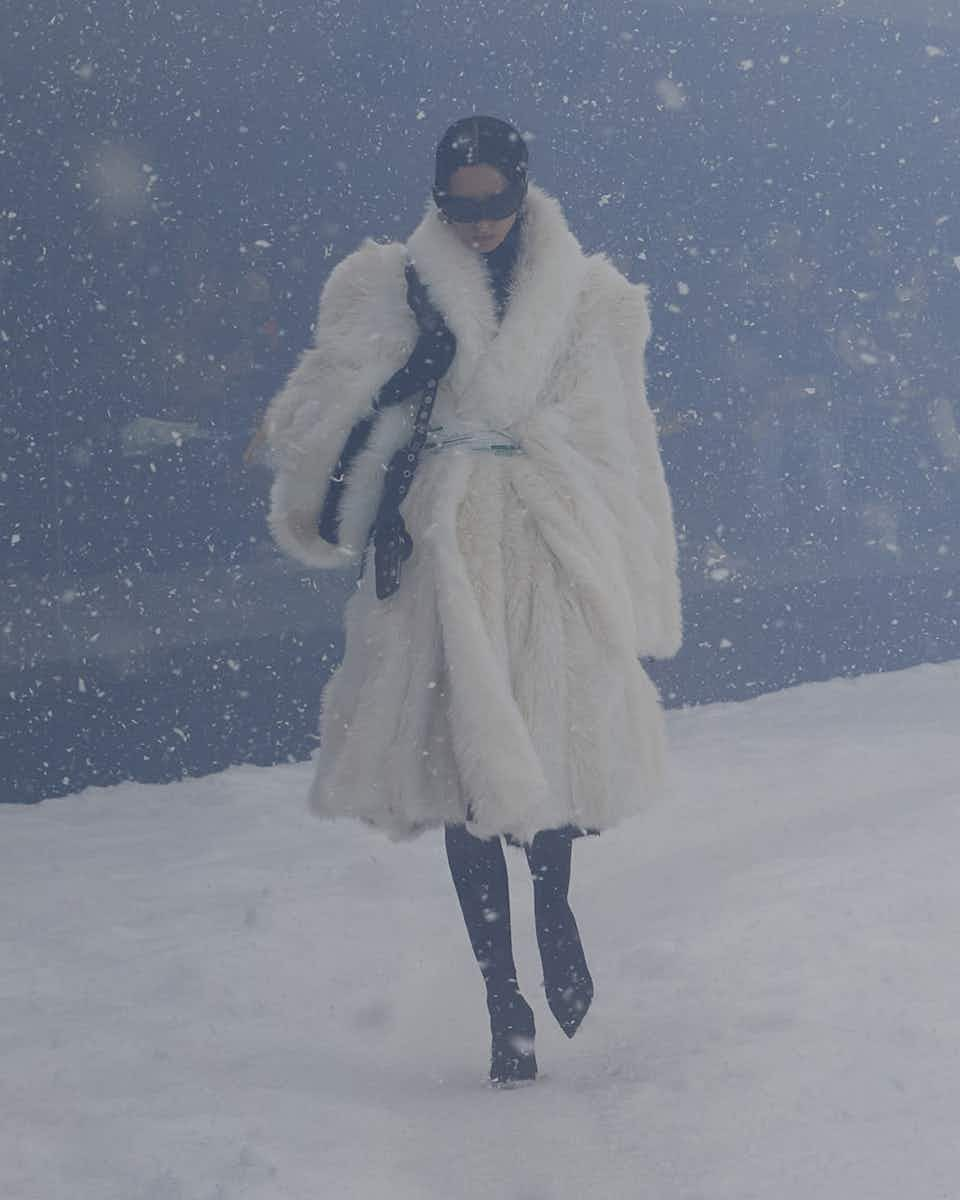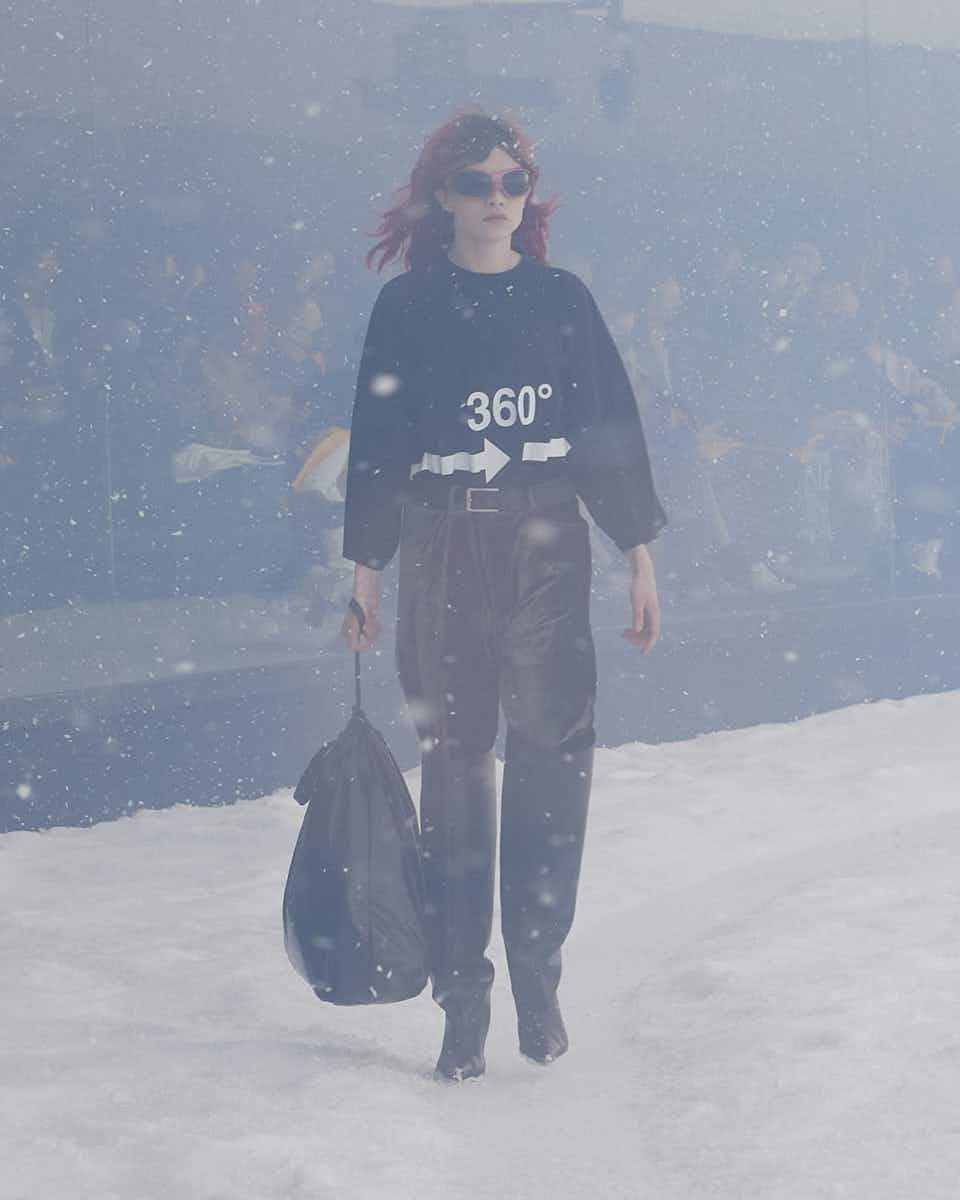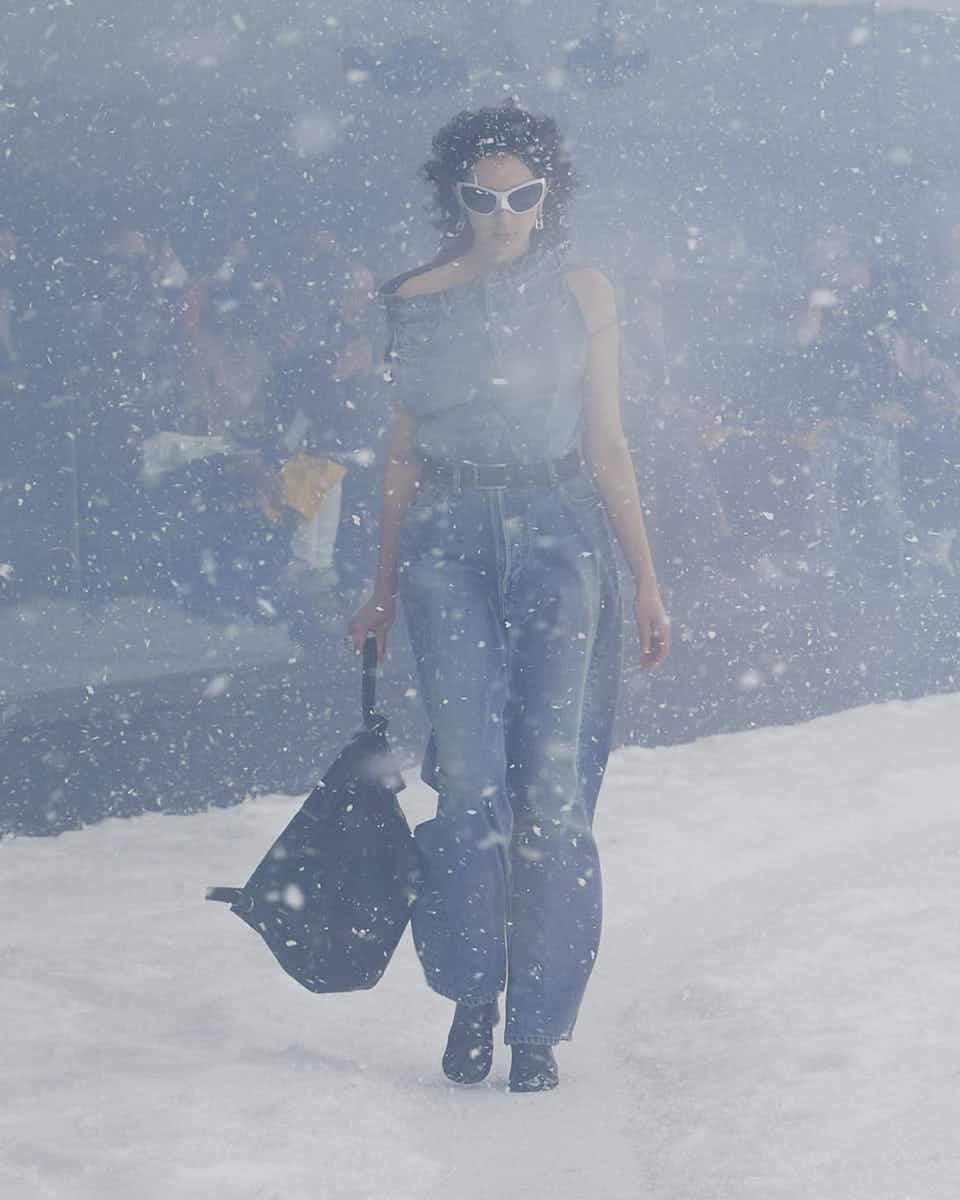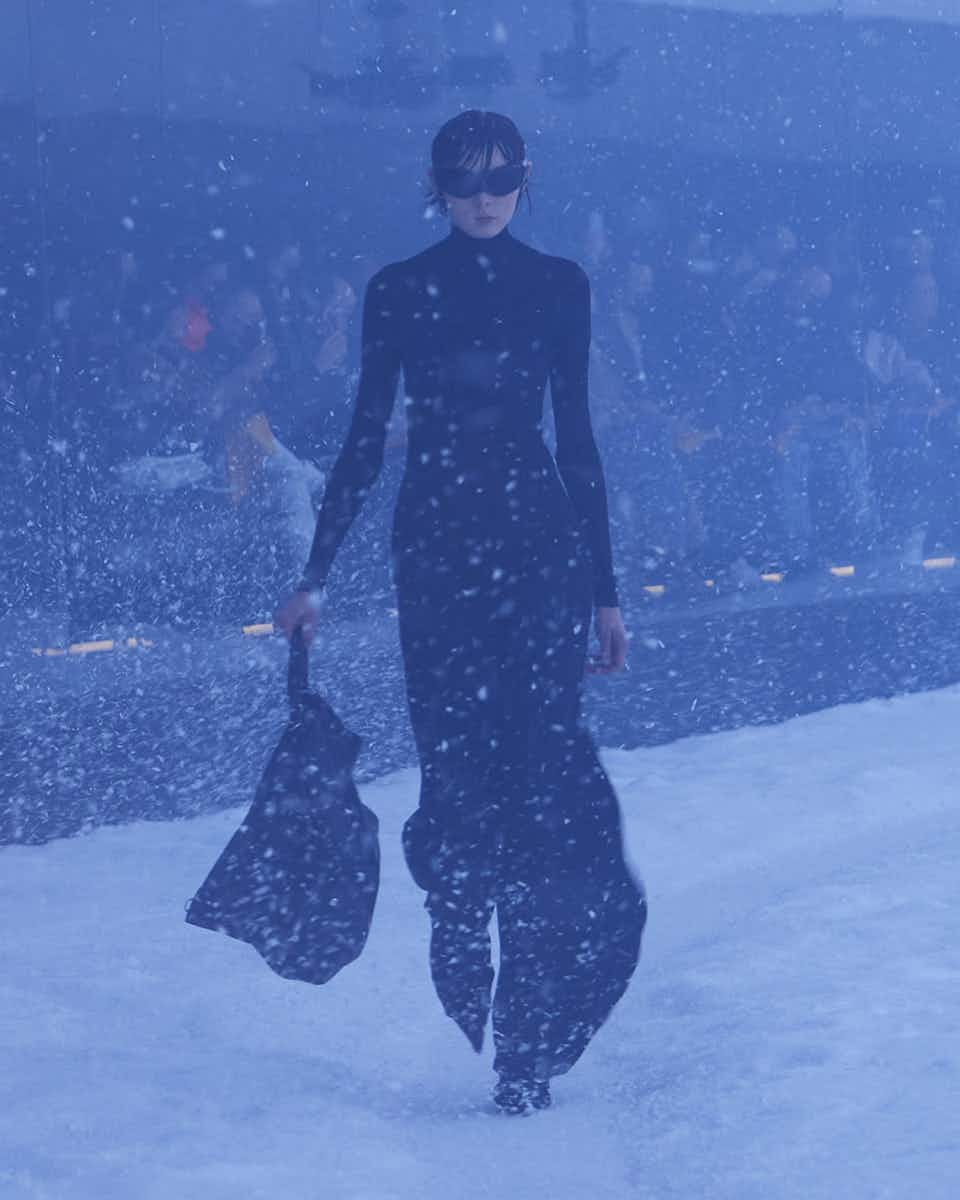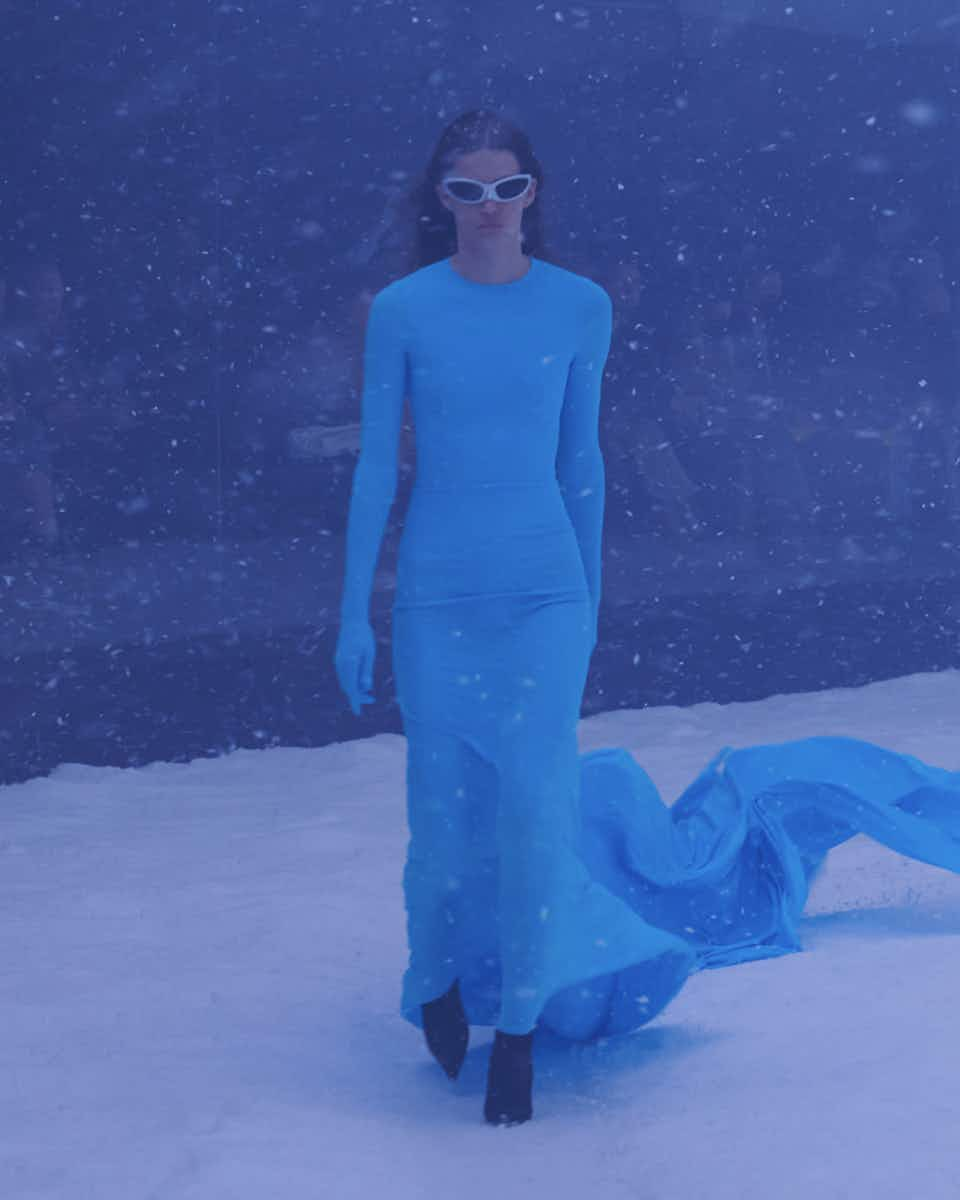 Surrealism is one of those art movements that the fashion world loves to flirt with. Often, it appears in more sanitised form: genteel prints of lips and eyes, the odd nod to a lobster or clock. There are exceptions. Daniel Roseberry has done a commendable job recently reviving Elsa's disembodied limbs at Schiaparelli, while stalwarts like Jean-Paul Gaultier, Margiela, Hussein Chalayan, and Viktor & Rolf have always been willing to dip into surrealism's stranger waters. Now it's time to pucker up and buckle in because Jonathan Anderson has officially made it weird again. Against a backdrop of drooping pumpkins by Anthea Hamilton (Anderson collaborated with the artist on the costumes for her 2018 Tate Britain performance piece The Squash), models appeared in an array of fabulously far-out designs.
At points it felt like an upended art history lesson, Anderson having genuine fun with his sources. The furs slung around waists and dangling from mini-dresses, deliberately odd and animalistic? Pure Meret Oppenheim. The lumpen dresses that from afar recalled Comme des Garçons? A respectful nod to Ms Schiaparelli up close, high heels trapped beneath the fabric like spiked protuberances. The dresses that doubled as cars? Reminiscent with Marinetti's Futurism – with more emphasis on the ​"beauty of speed" and less on the ​"scorn for women". There were moments of breath-taking beauty, too. The dresses covered in lithe limbs seemed almost alive in motion. Fluid silk facing off rigid resin. ​"Fashion that entices a reaction,"was the opening manifesto for this season – and entice it certainly did.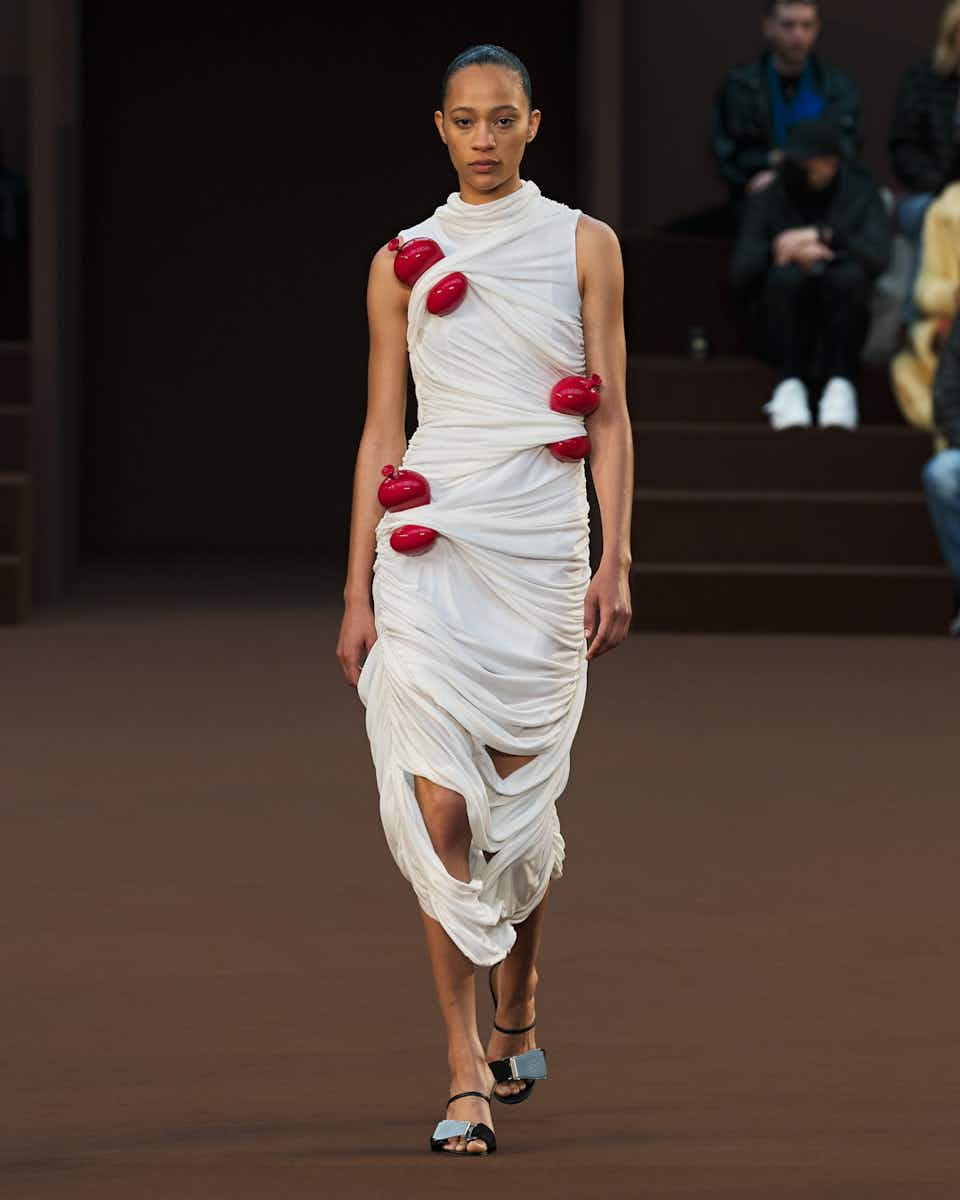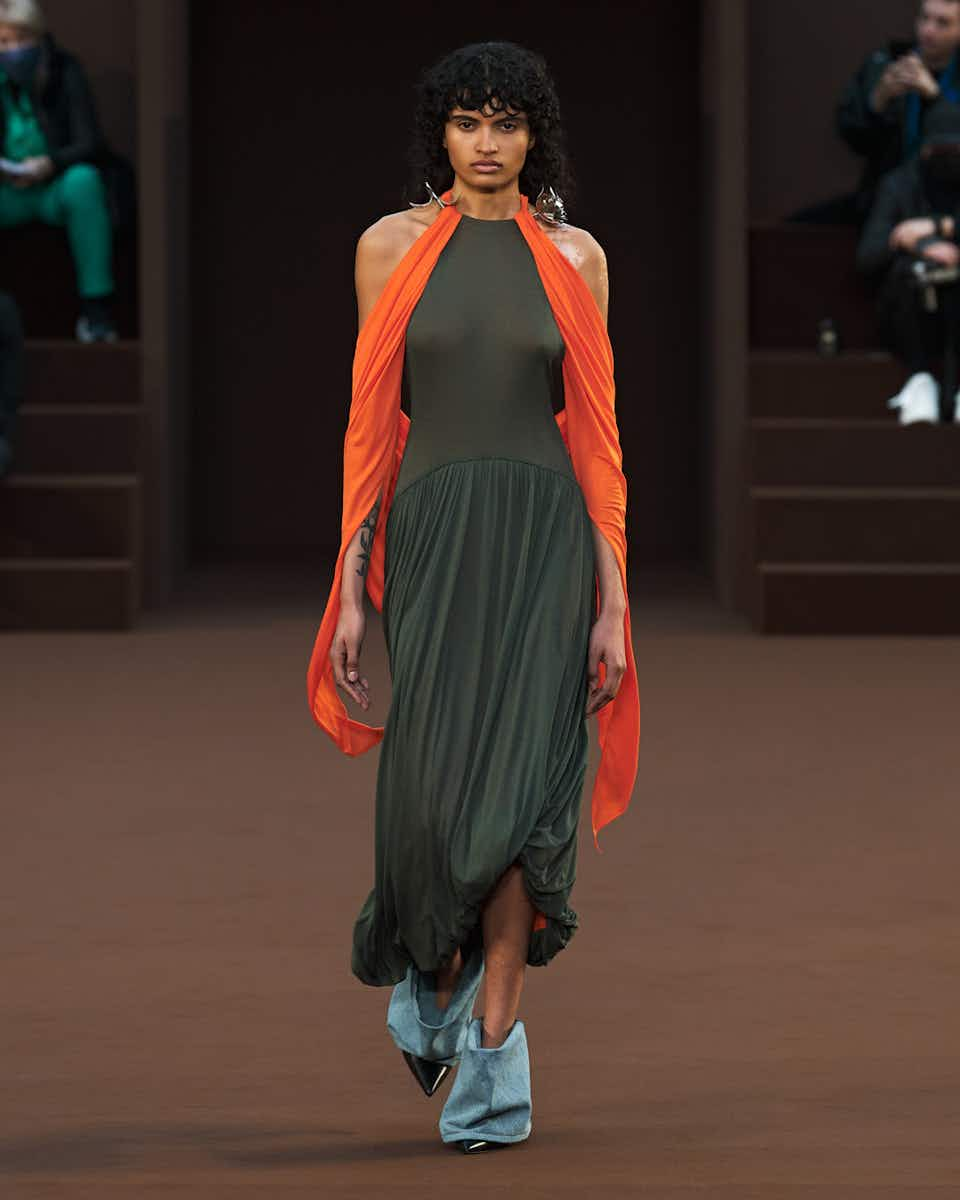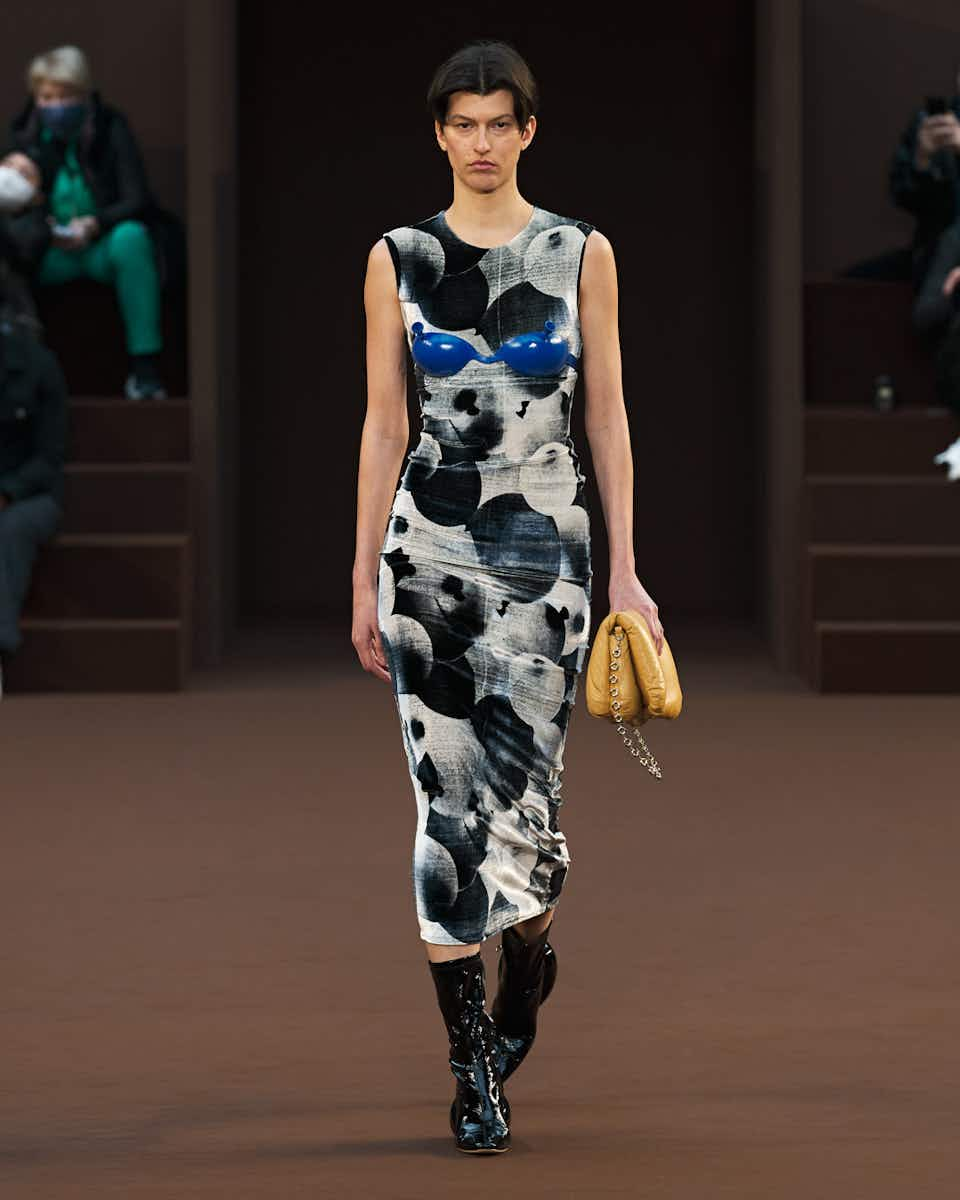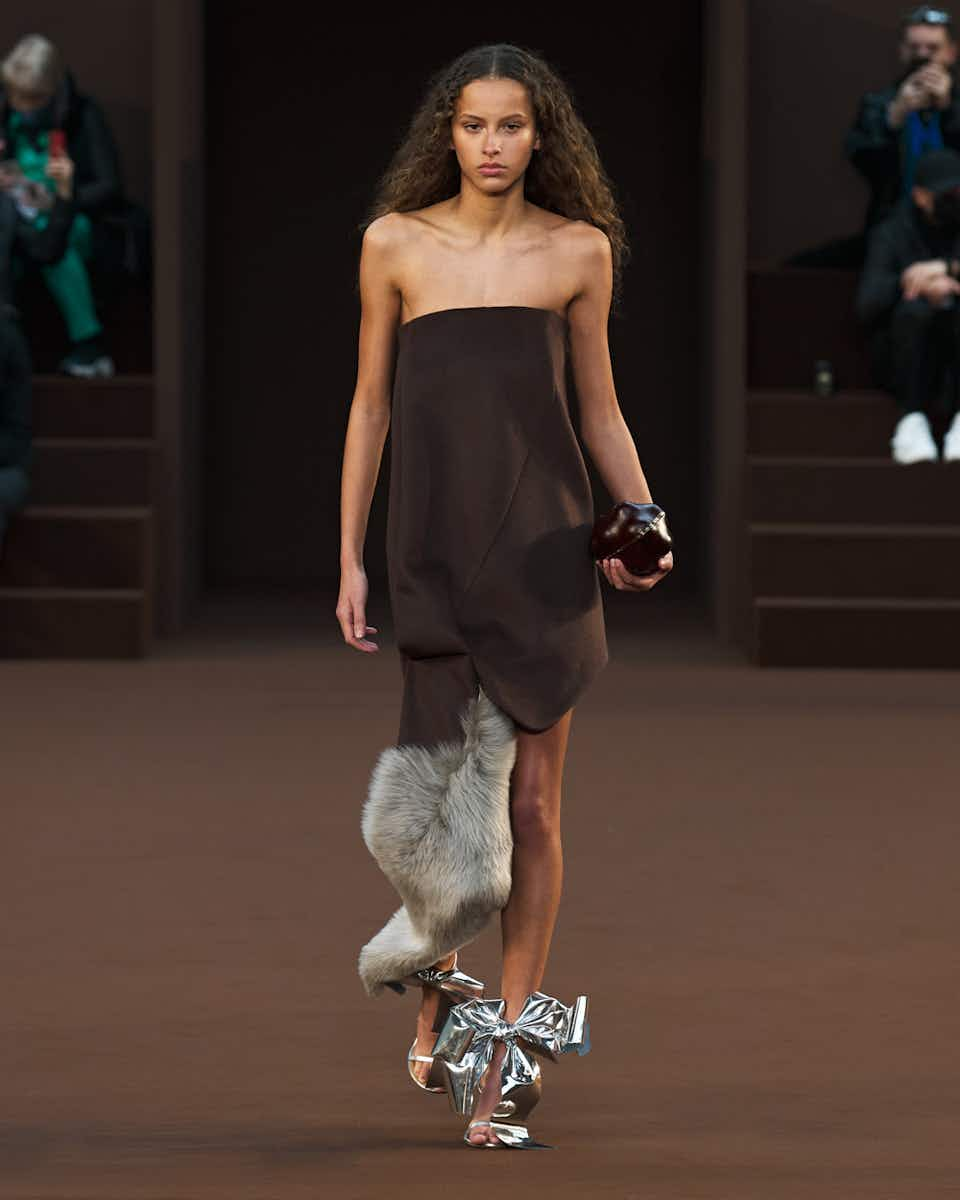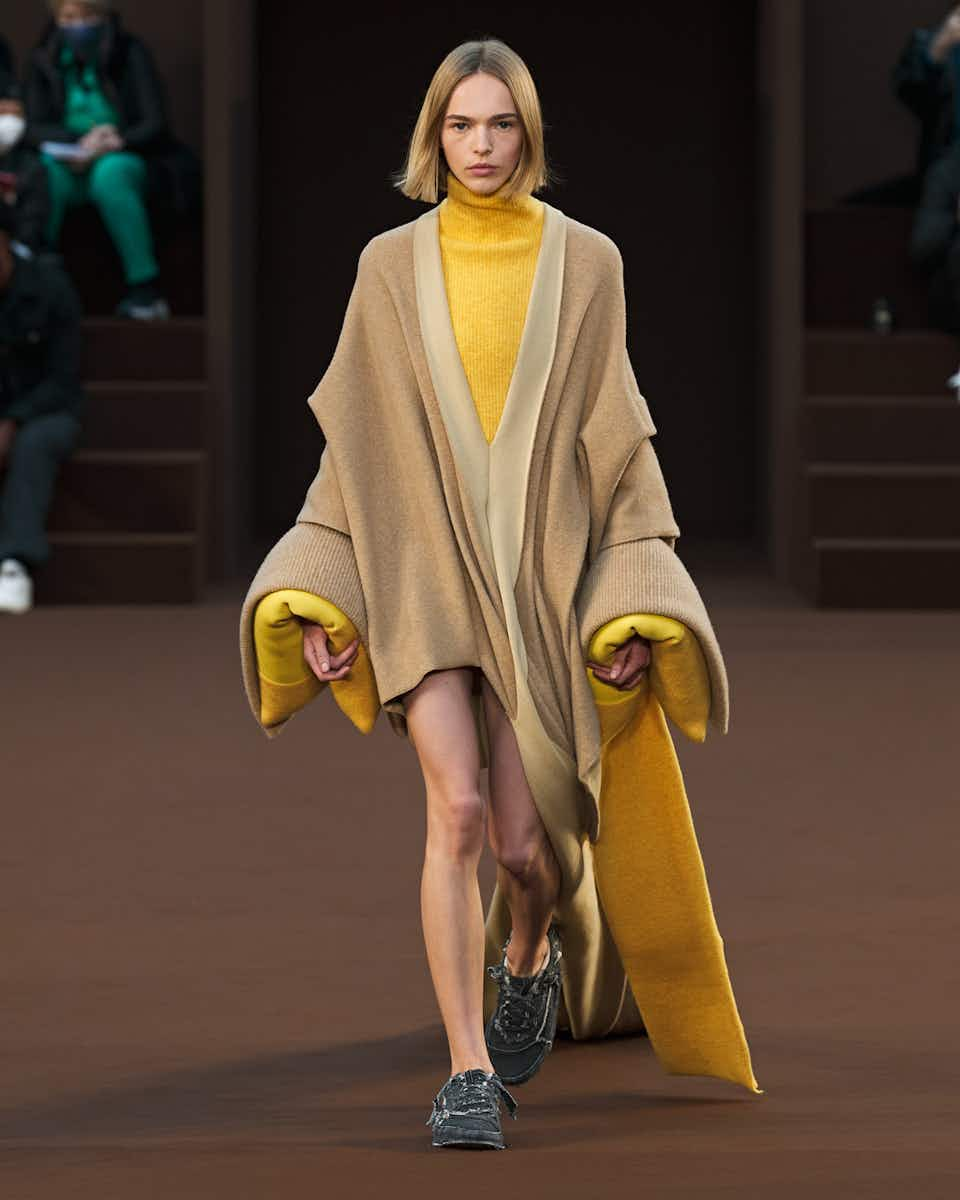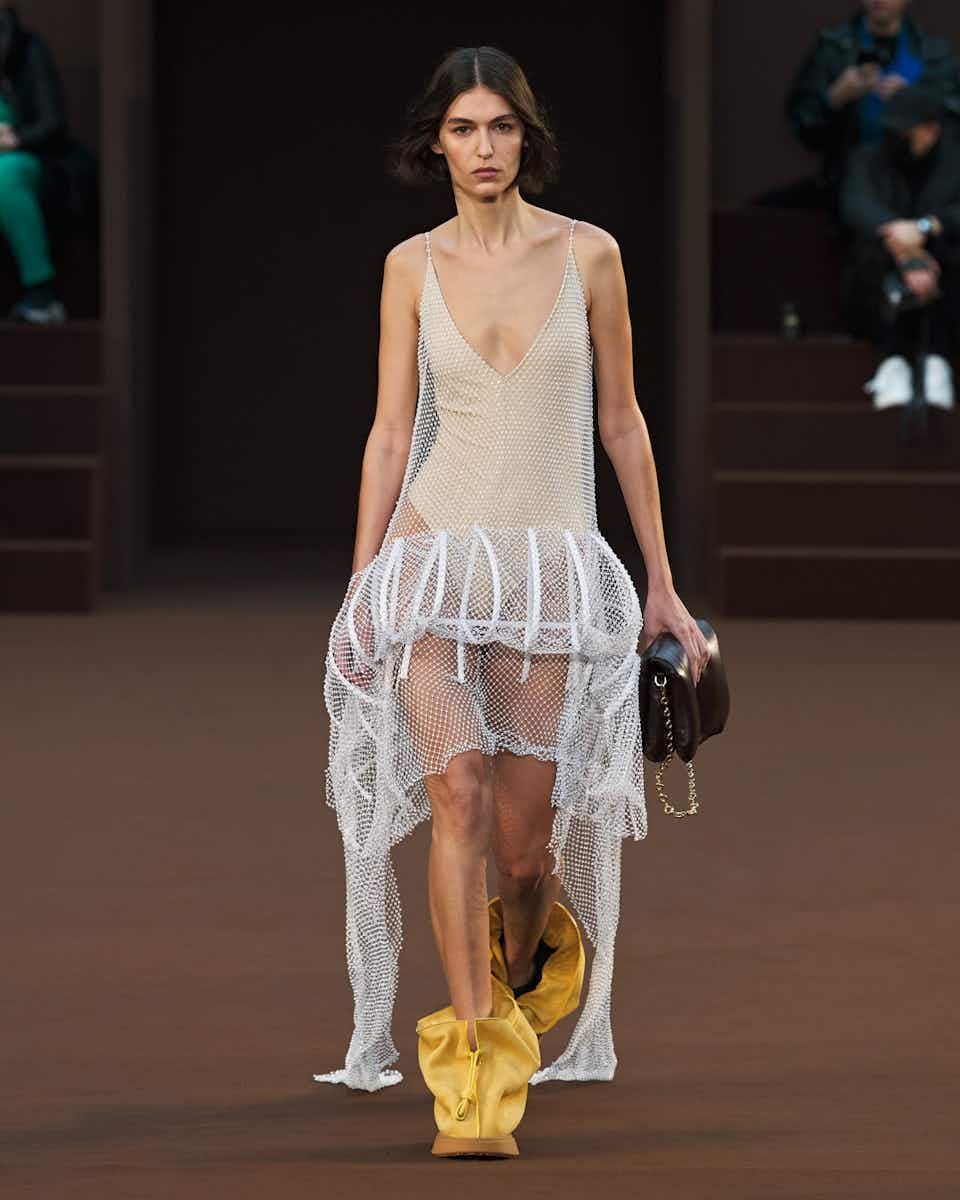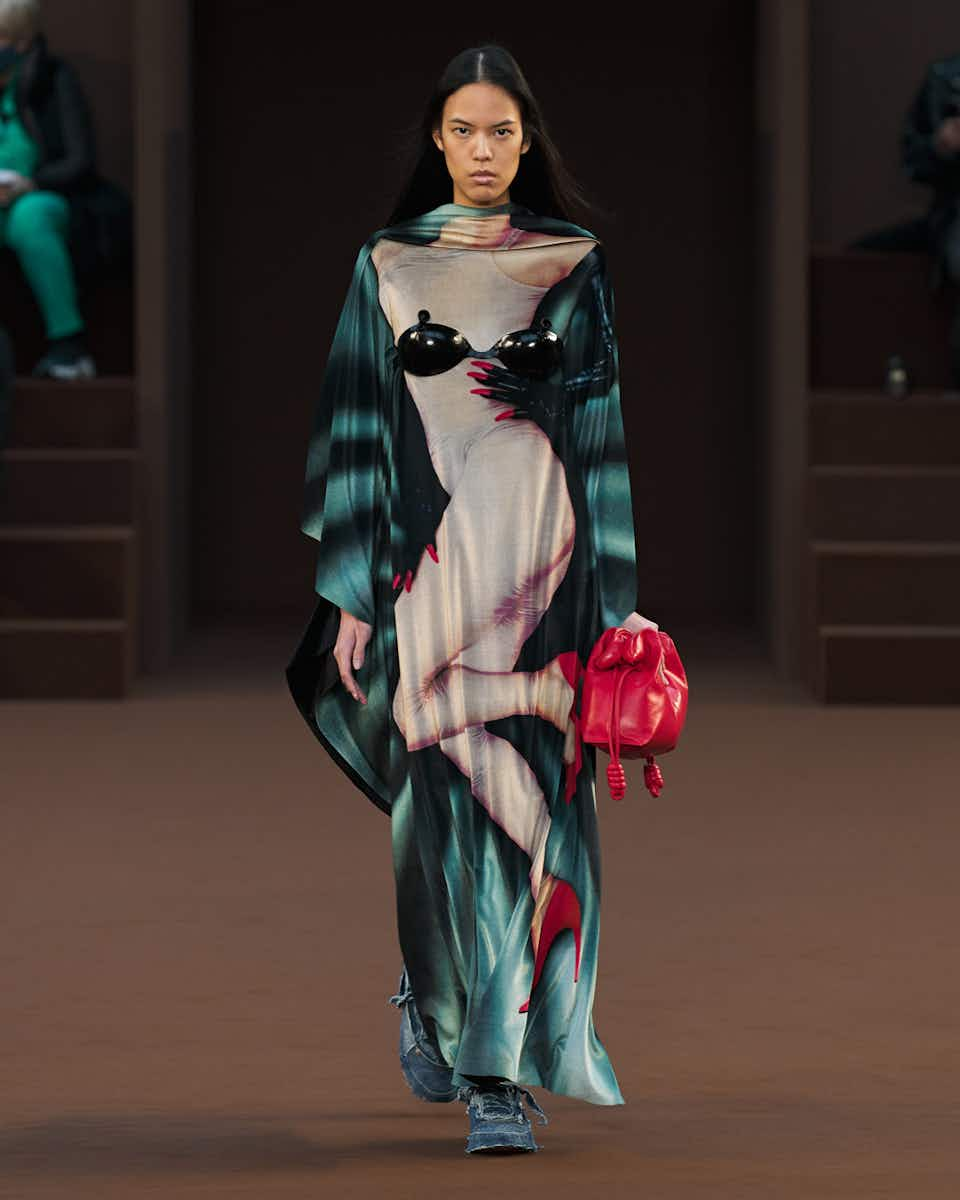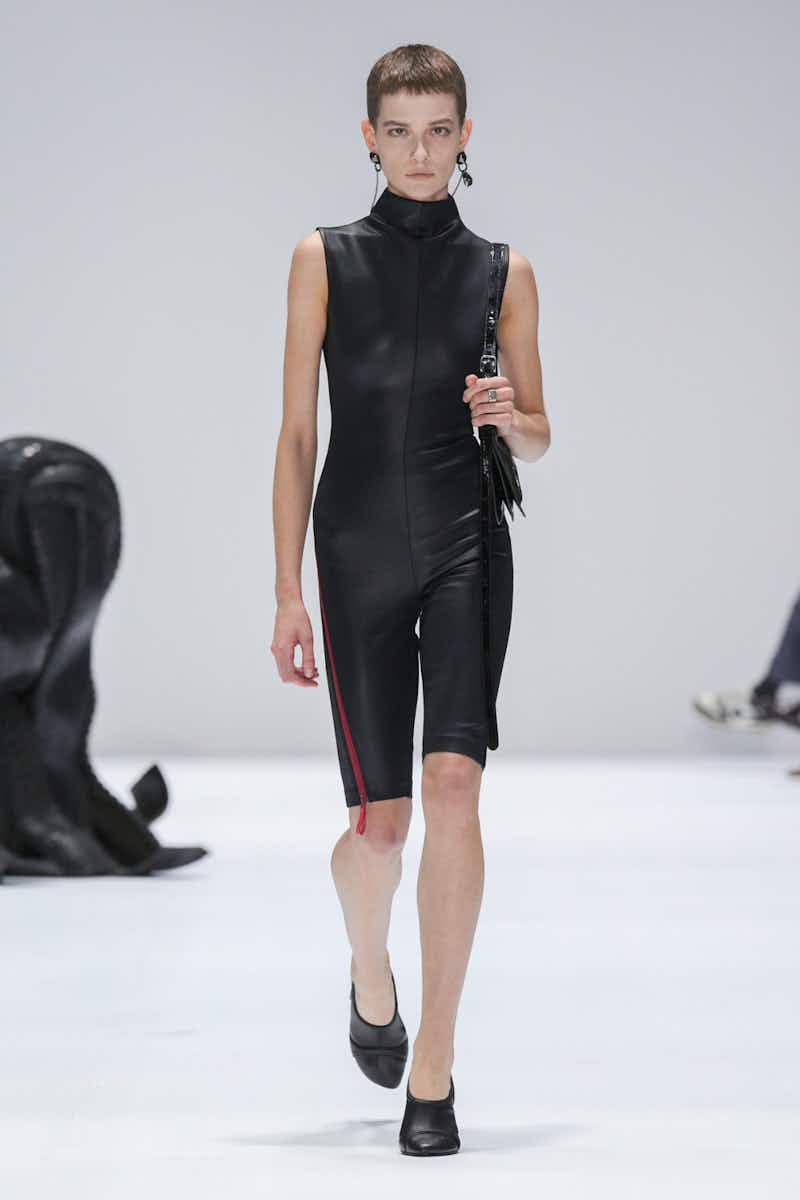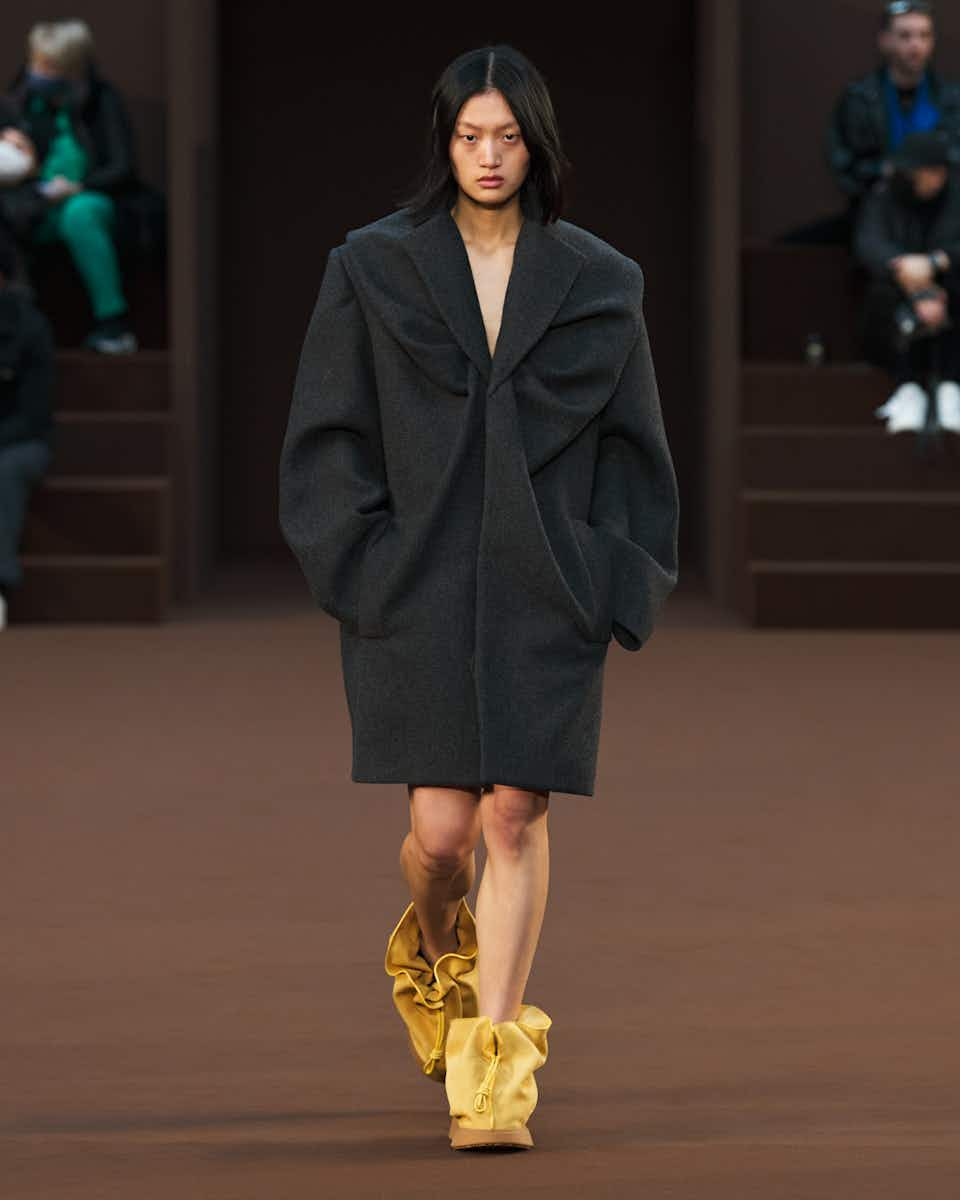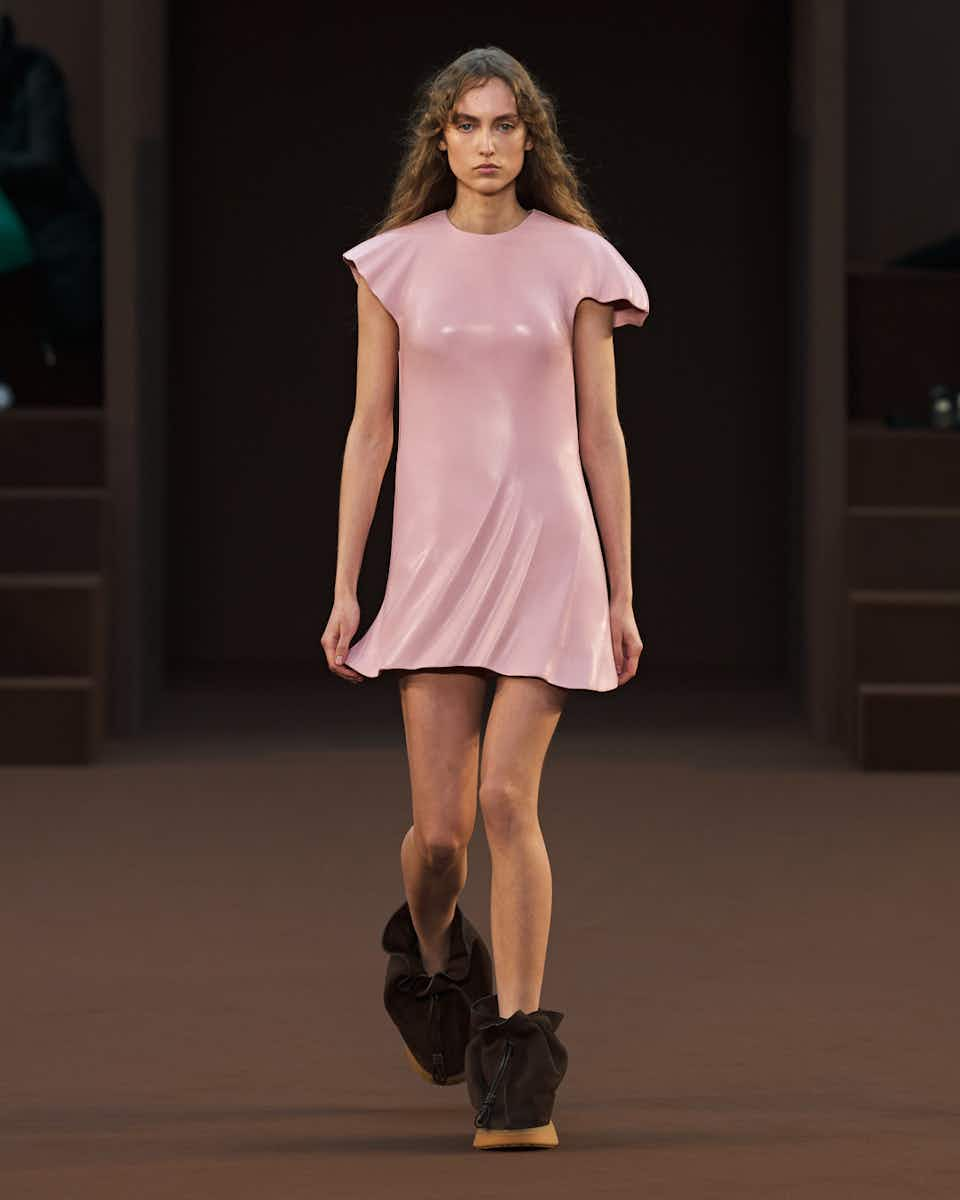 ANDREAS KRONTHALER FOR VIVIENNE WESTWOOD
Vivienne Westwood's label is no stranger to drama, so it's unsurprising to see Andreas Kronthaler placing it front and centre at AKVW this season. ​"I want to make an elegant tribute to the world of theatre," he said in his show notes. ​"It's where everything is possible." There are plenty of reasons to invoke theatre. It's a place of make-believe, where anything can be achieved with the right costumes and actors. It's a space of anticipation and voyeurism, the audience waiting hushed in the dark for the curtains to go up. For Kronthaler it's also ​"a space where people express themselves freely without censorship". This is pure Westwood sentiment – a rallying cry for liberation and self-determination, anchored here in the usual array of influences (Watteau paintings, holy iconography, a cinematic rendition of The Golden Coach). The clothes, too, contained classic Westwood house codes: drapery, unexpected layers, historically inflected silhouettes, gothic brides. It was a compelling, if uneven, collection – some looks deeply considered and constructed, while others thrown together in a carefree manner.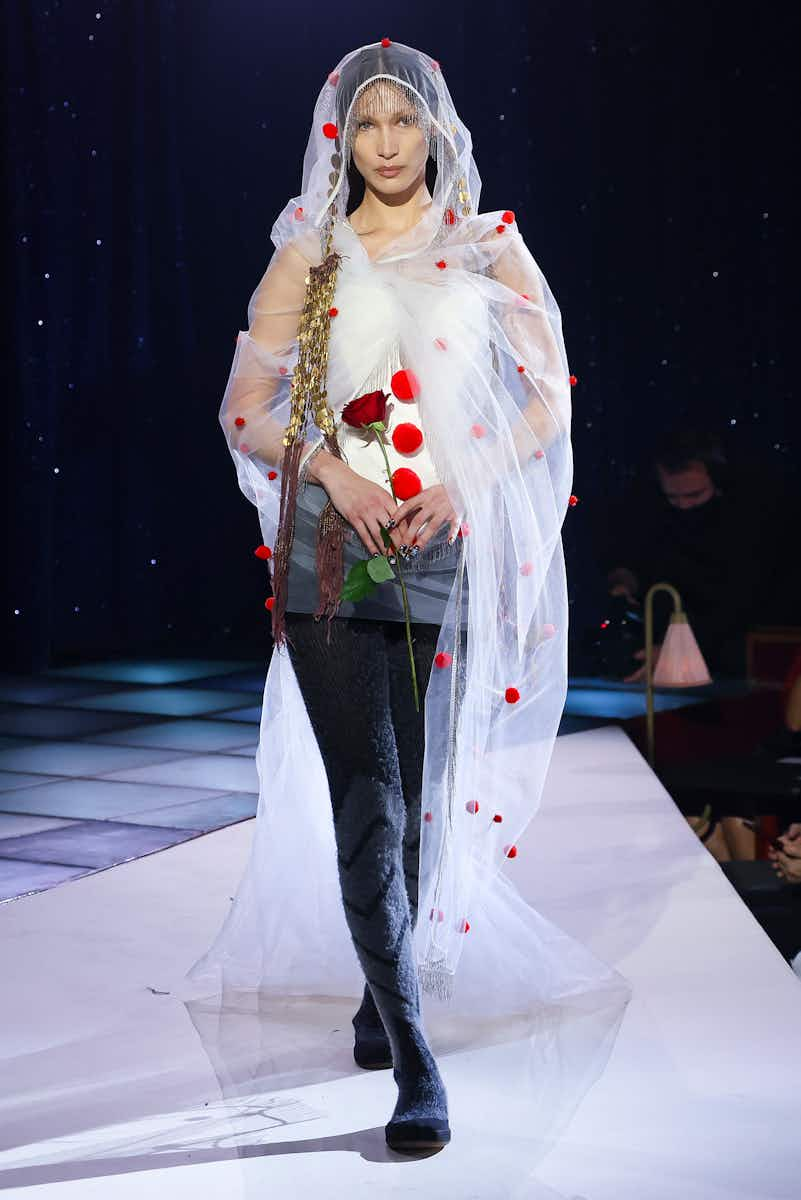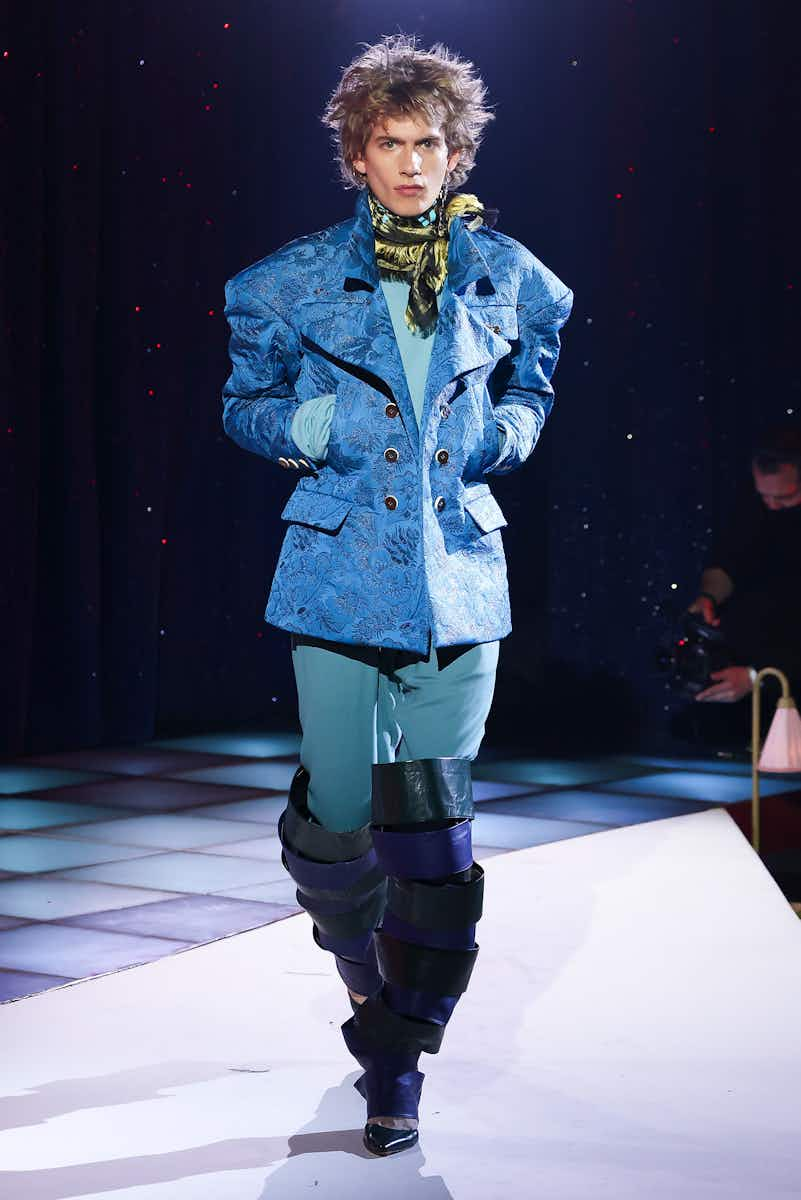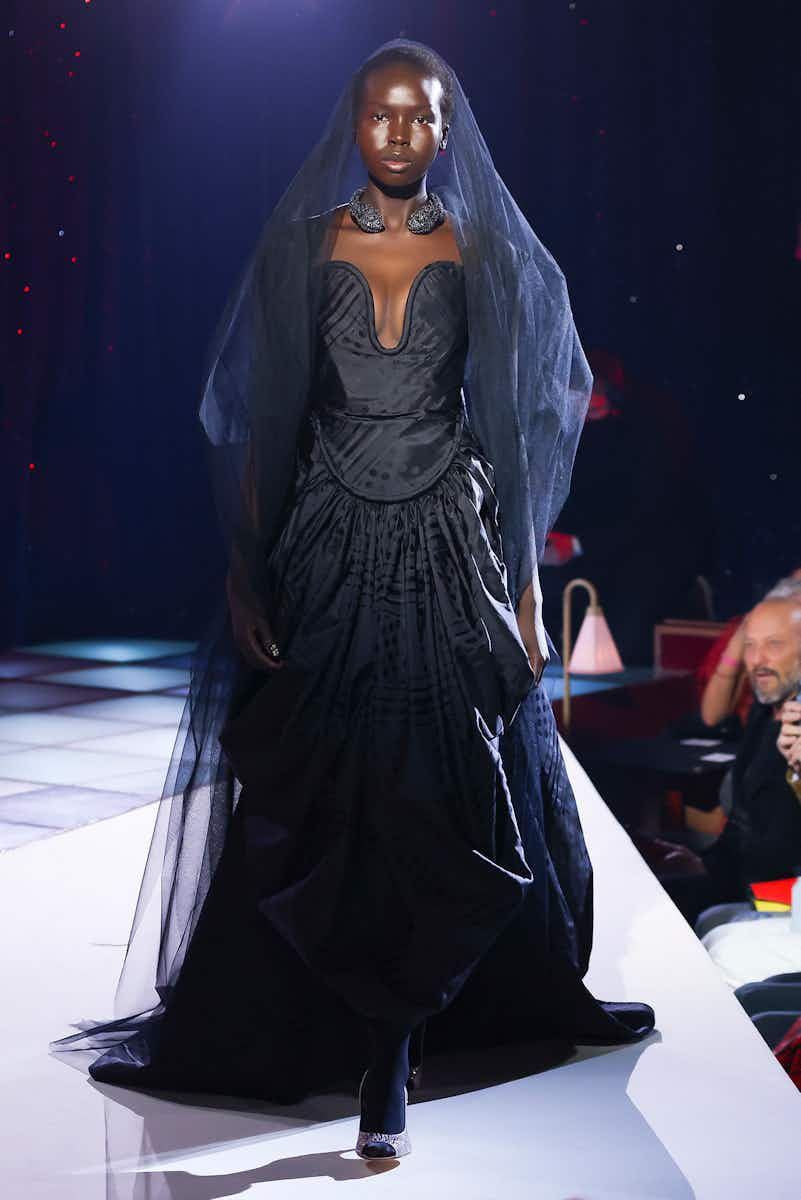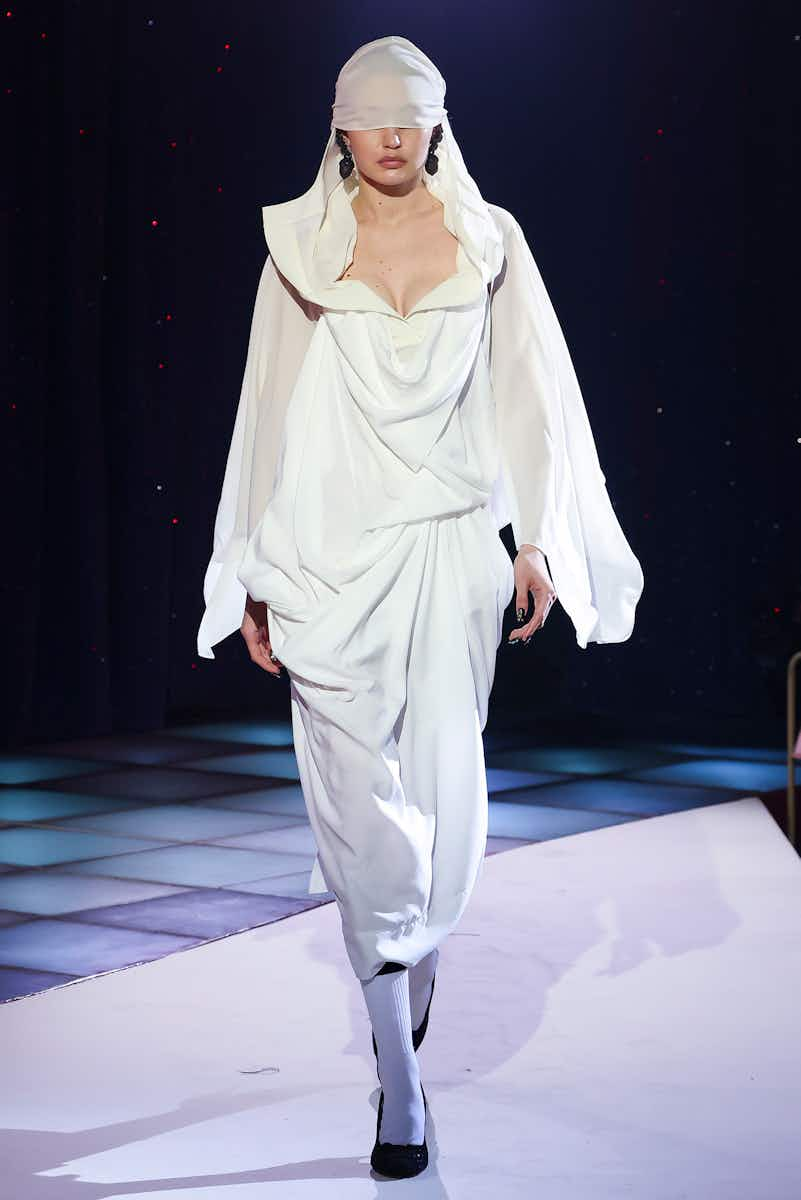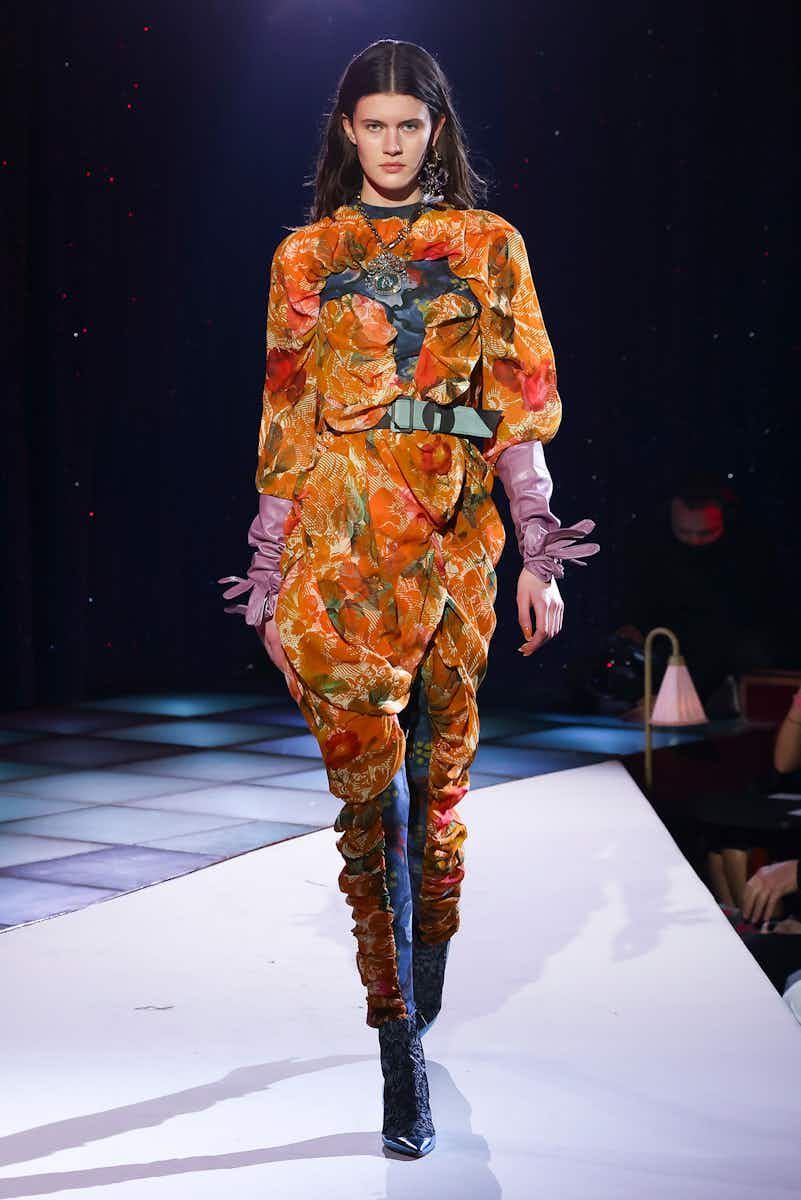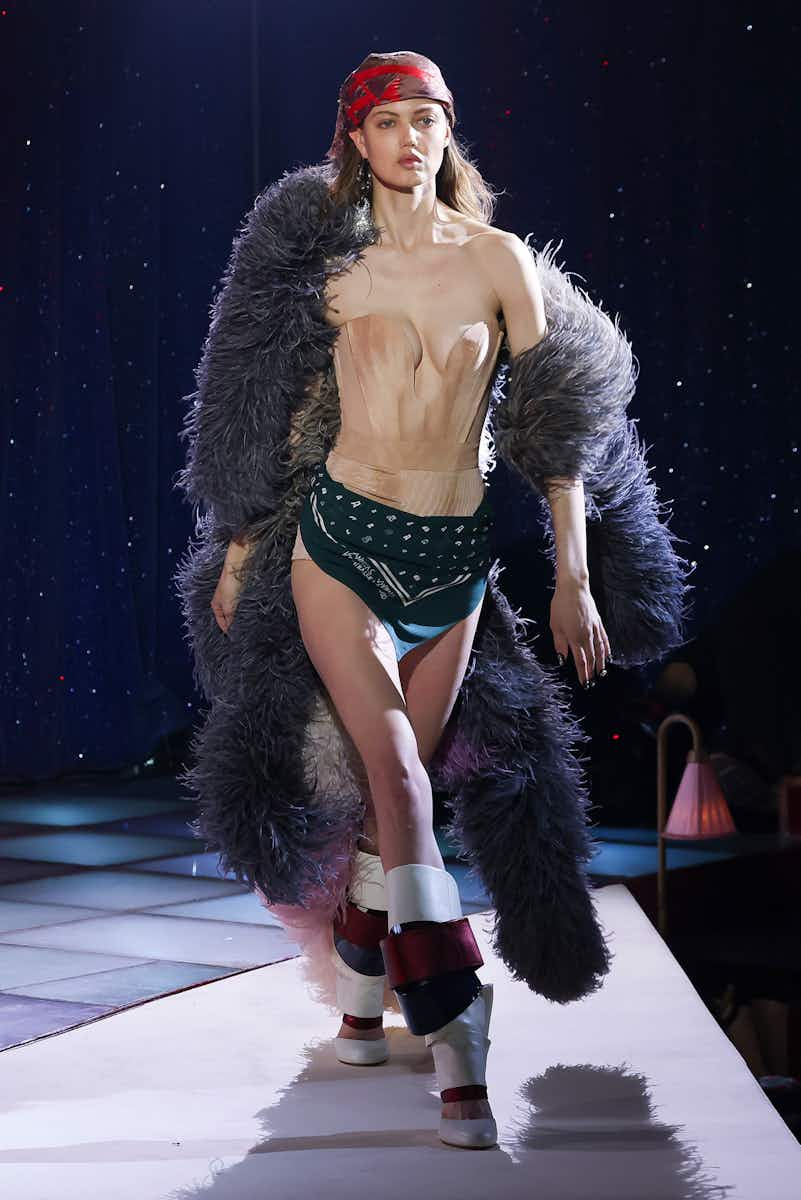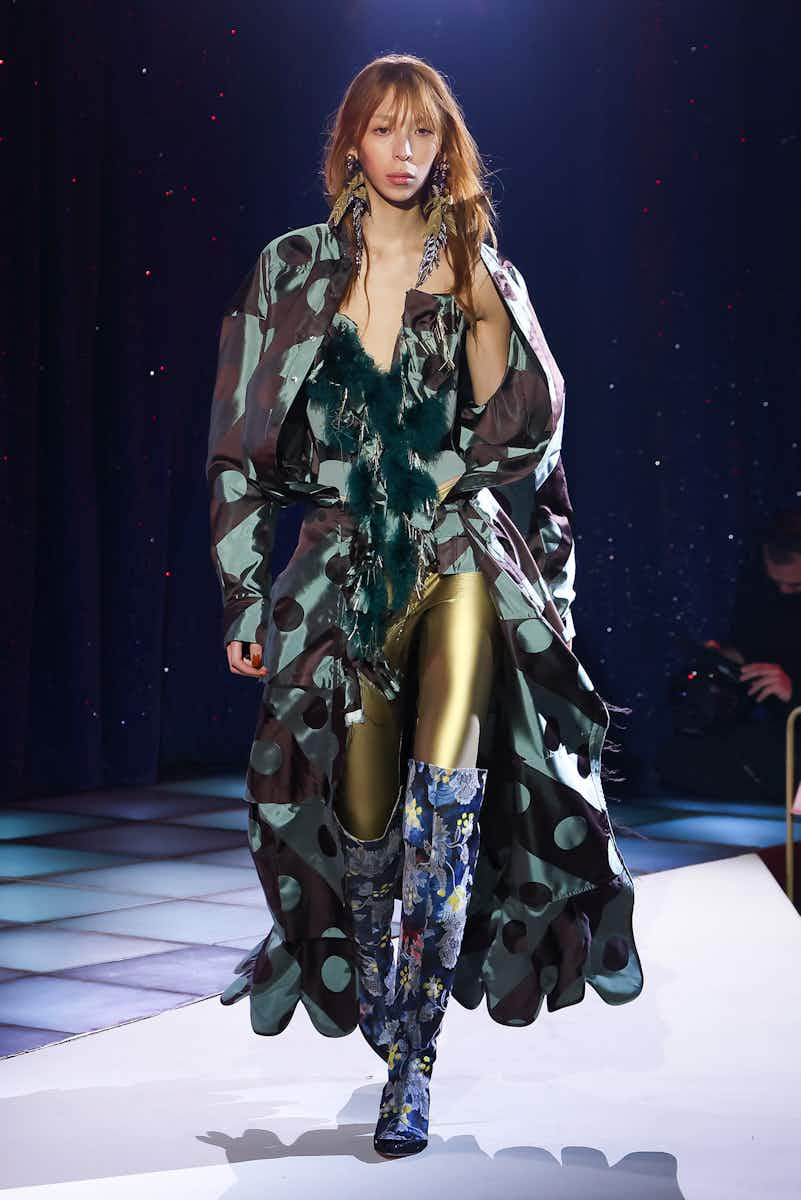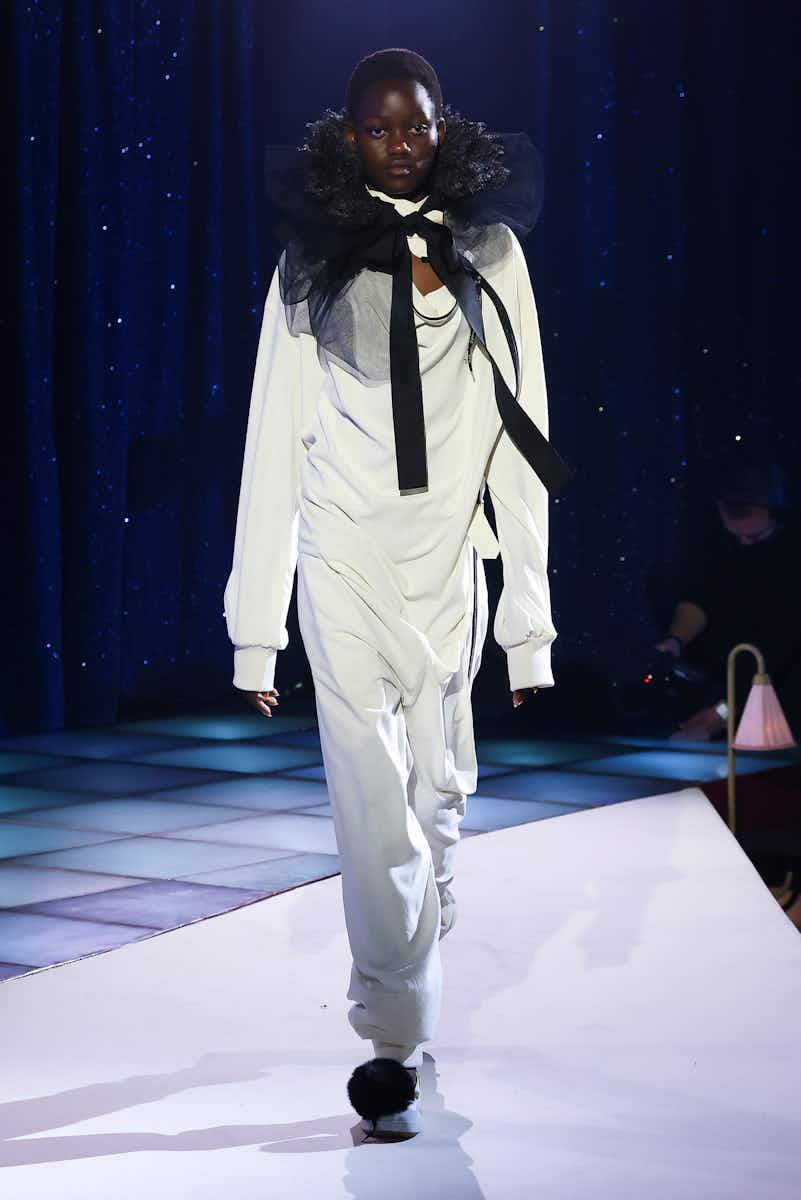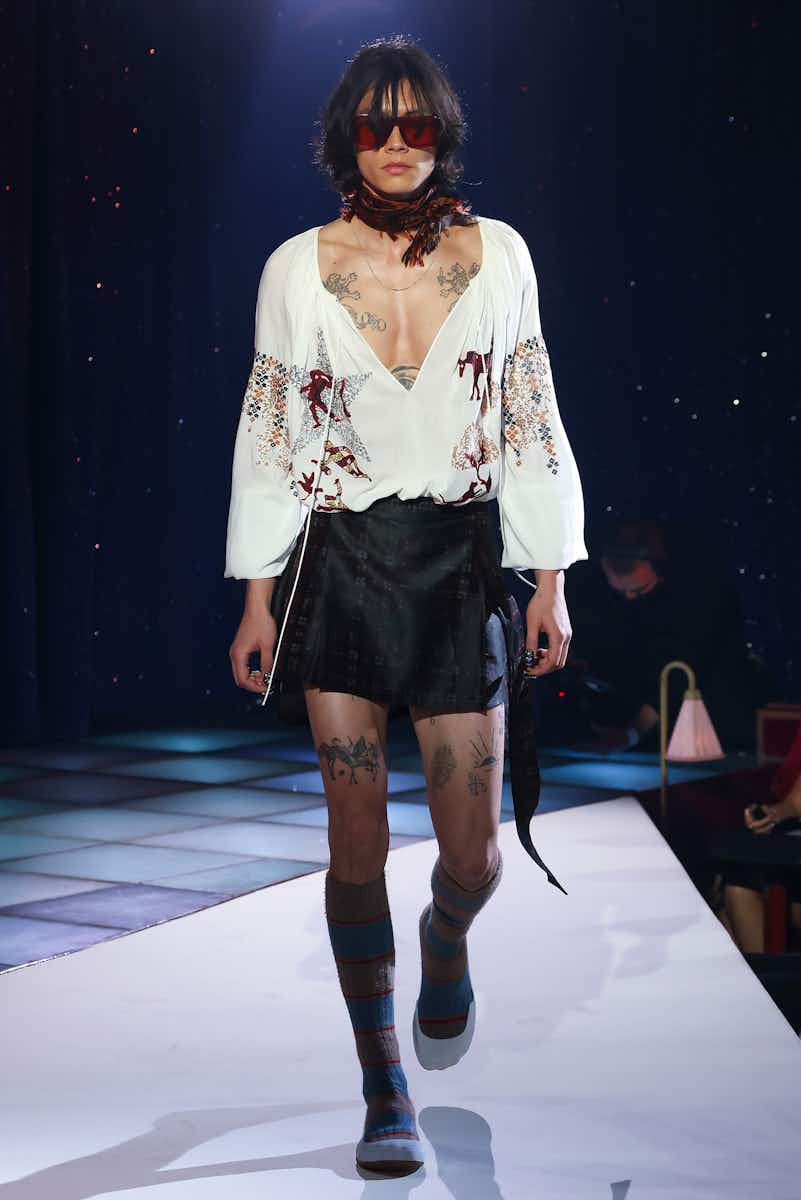 Some brands are all about escapism: offering a fantasy that lifts the viewer (and the wearer) into another, more pleasant dimension. Marine Serre is not one of them. One might assume that her vaguely apocalyptic aesthetic speaks to a bleak future – less space age, more survivalism – but Serre would probably say that her sights are firmly set on the here and now. After all, her new collection Hard Drive intends to ​"reinvent the art of living on a damaged planet". At the Lafayette Anticipations space, Serre invited visitors into a 360-degree view of her world. On one floor sewing machines were set up, allowing a look behind the curtain into the processes of upcycling, restoring, and reworking that are so crucial to Serre's brand. On another, a pop-up store gave those in attendance the chance to stamp their own garments with the brand's distinctive crescent moon logo. The show itself was classic Serre fare: gorgeous patchworked tartans, intricate knits, a clash between punk rough-and-readiness and a more refined silhouette in leather and orange burnout velvet. It's an understanding of clothes at once mechanistic – a hard drive, after all, is designed to store and protect essential information – and wholly organic, raw material always transforming and mutating.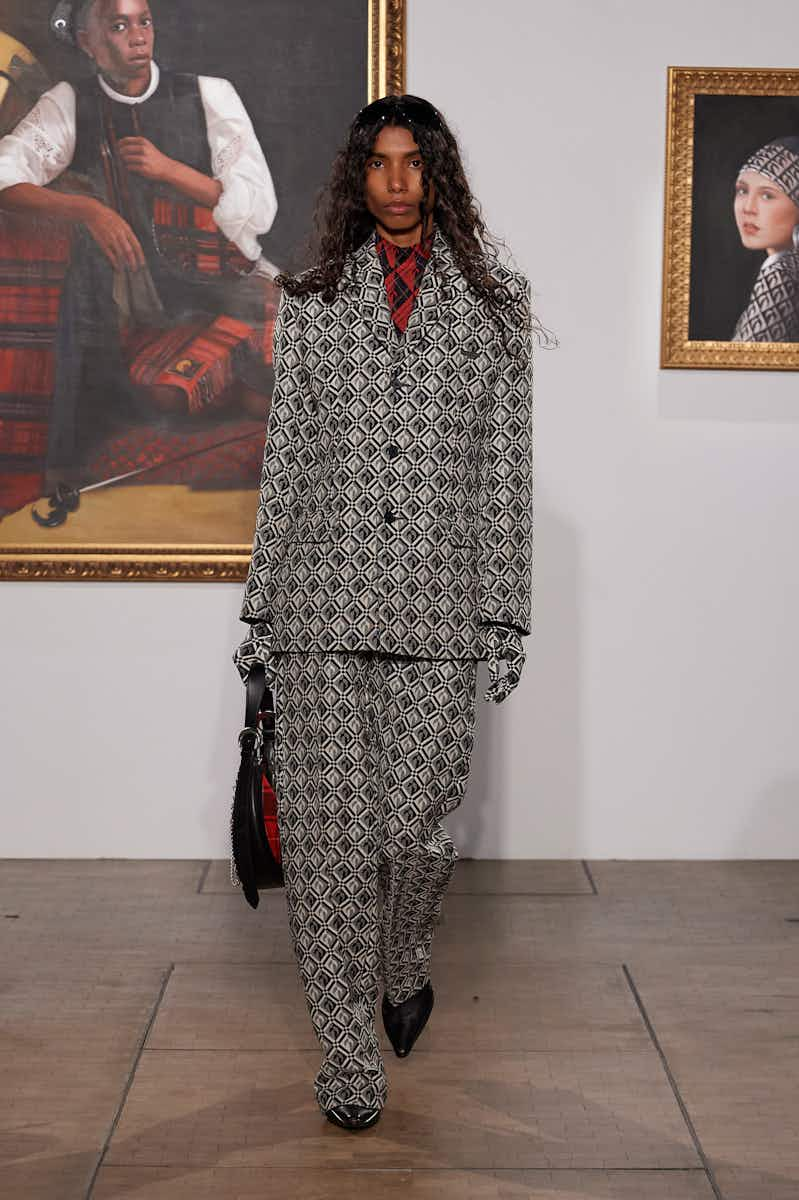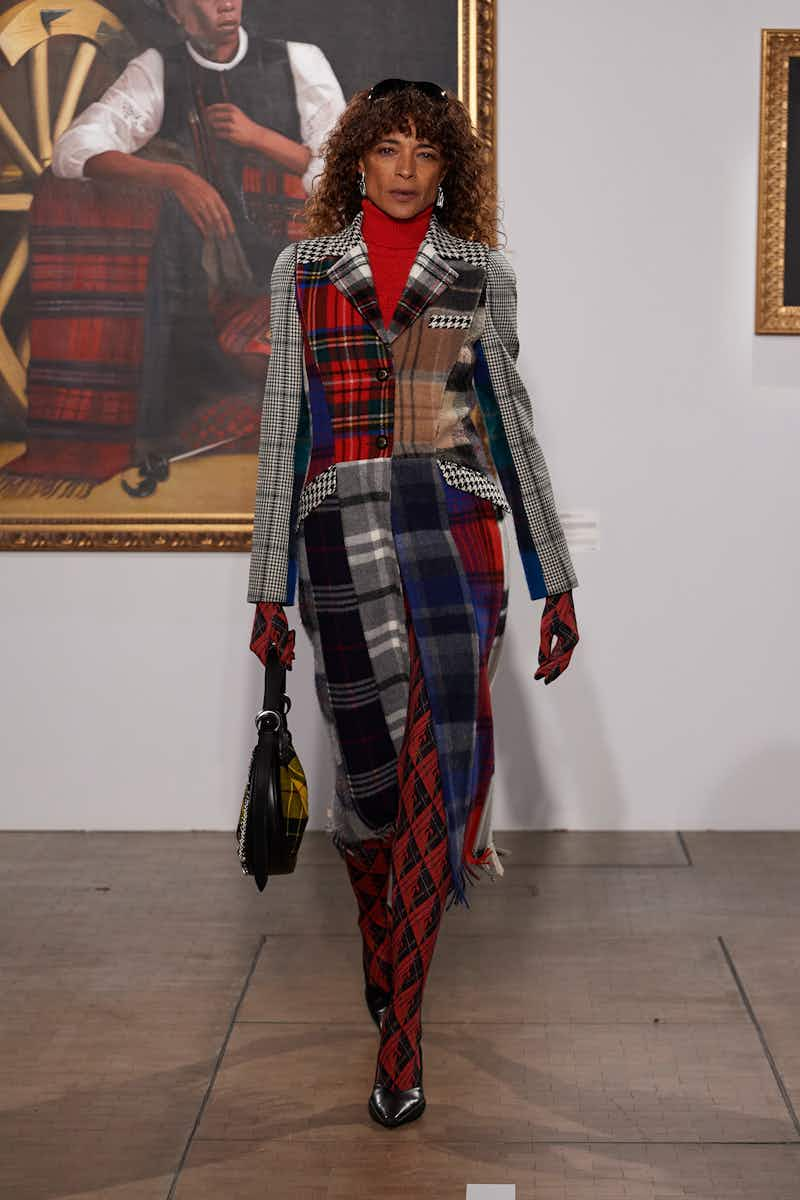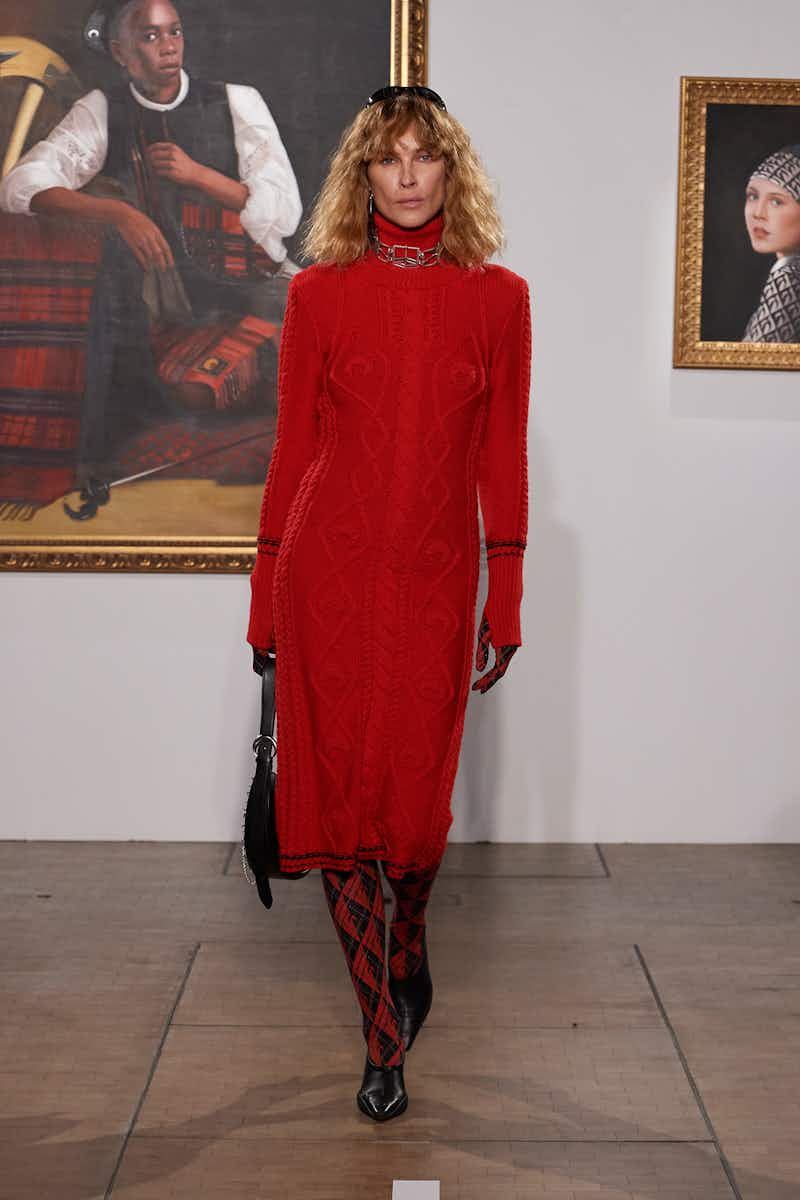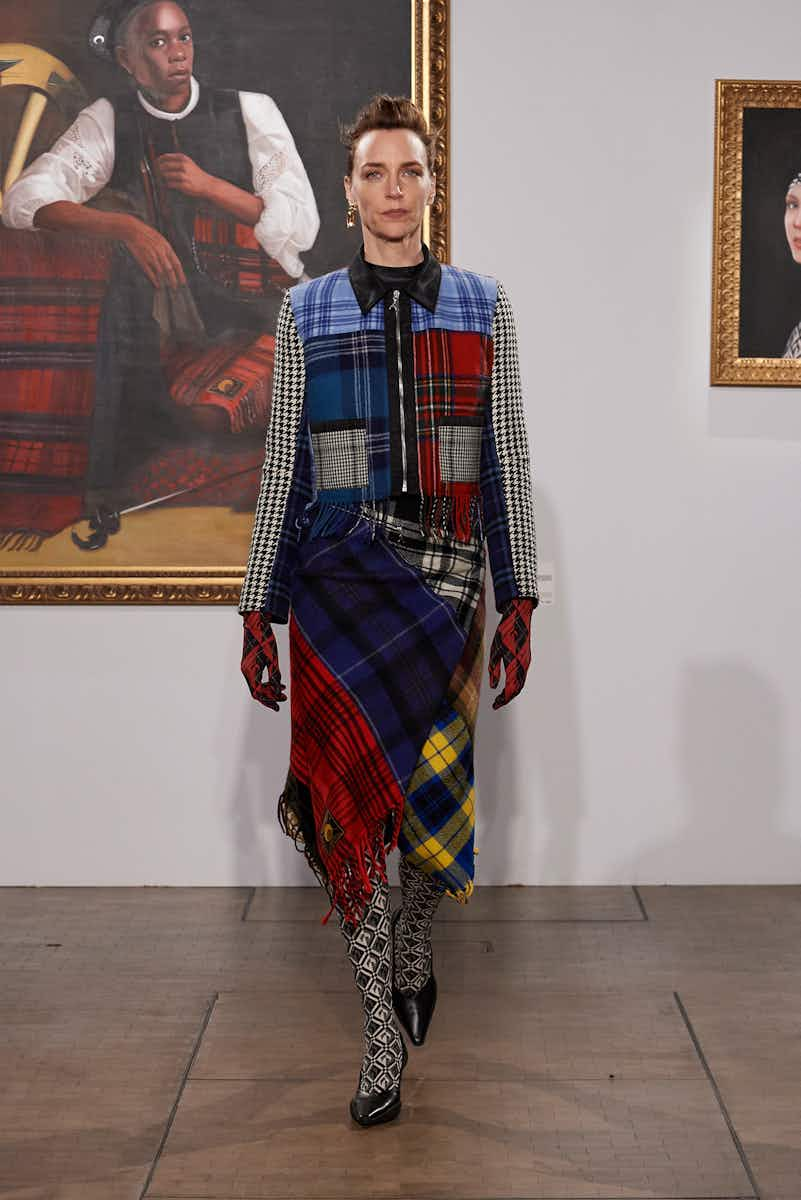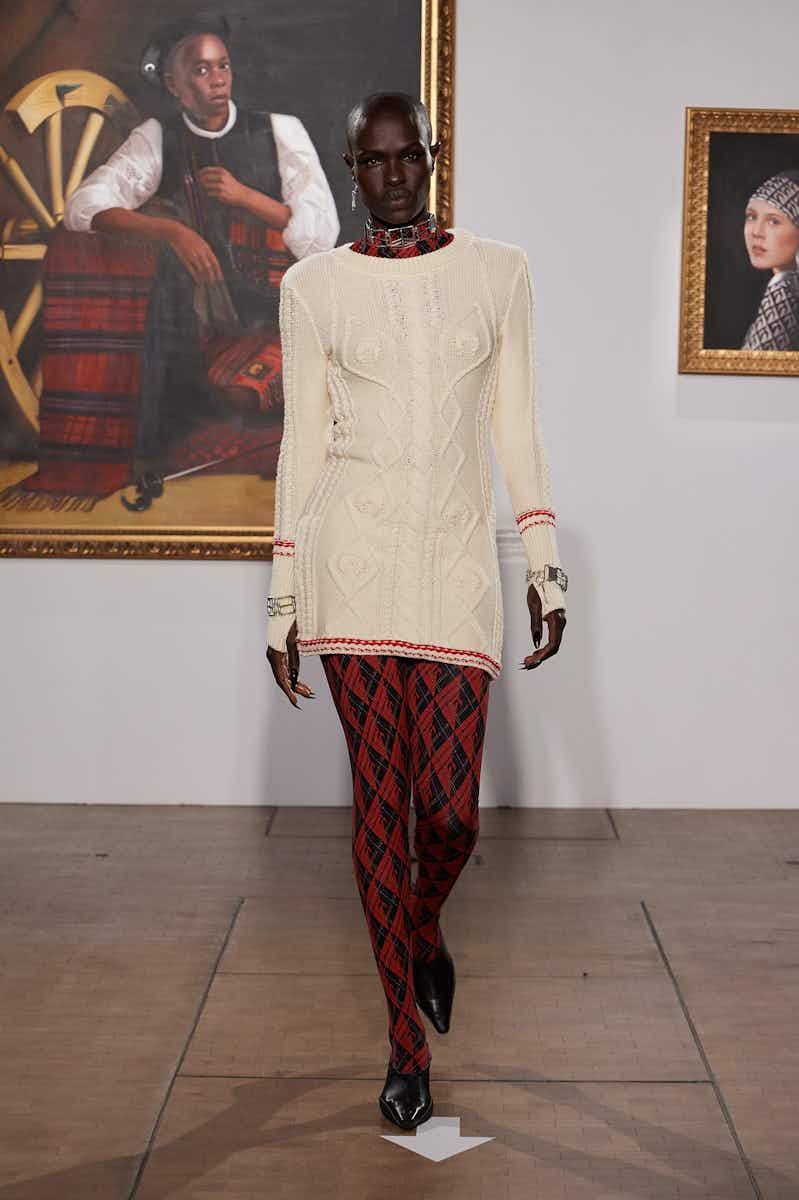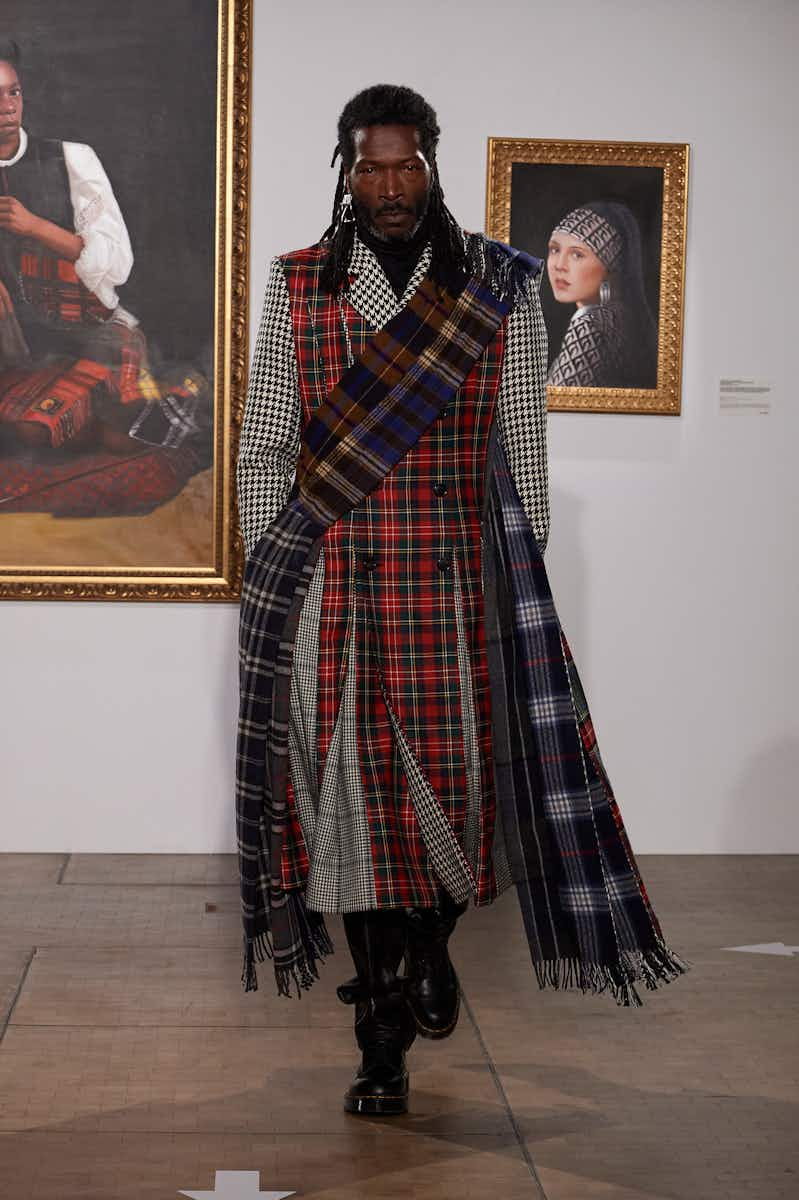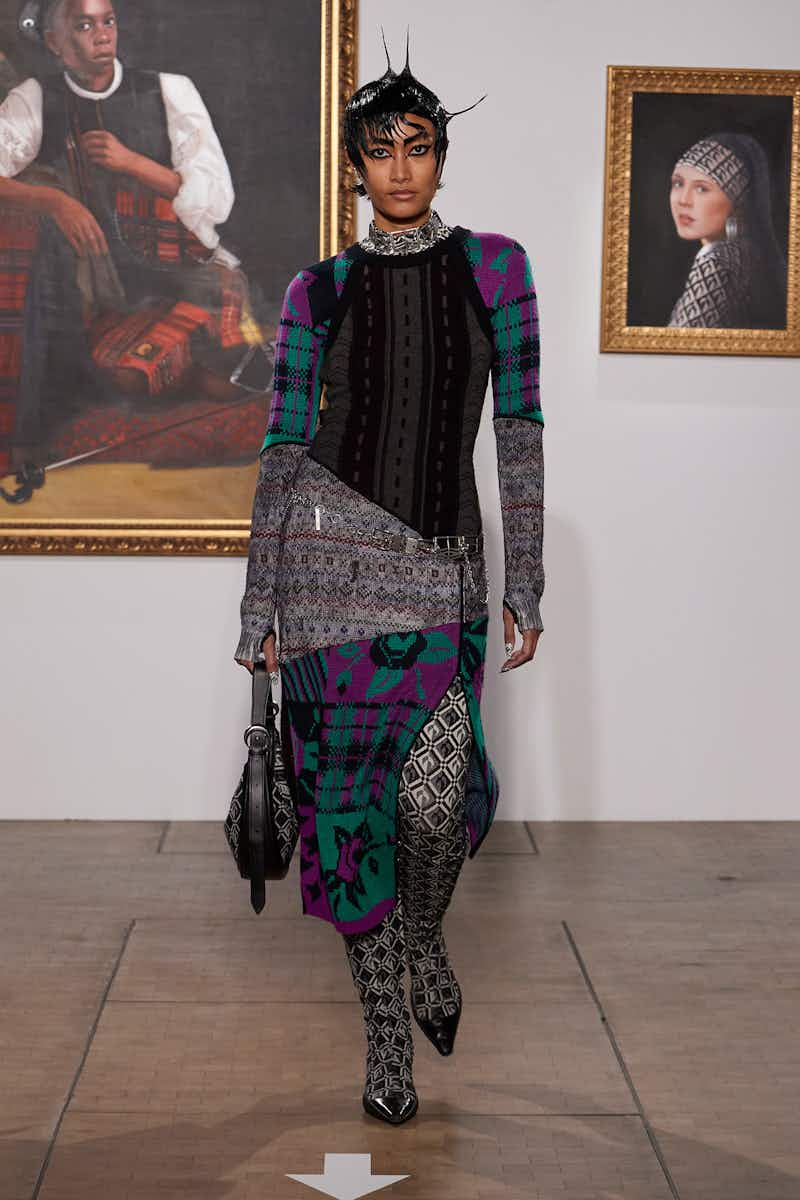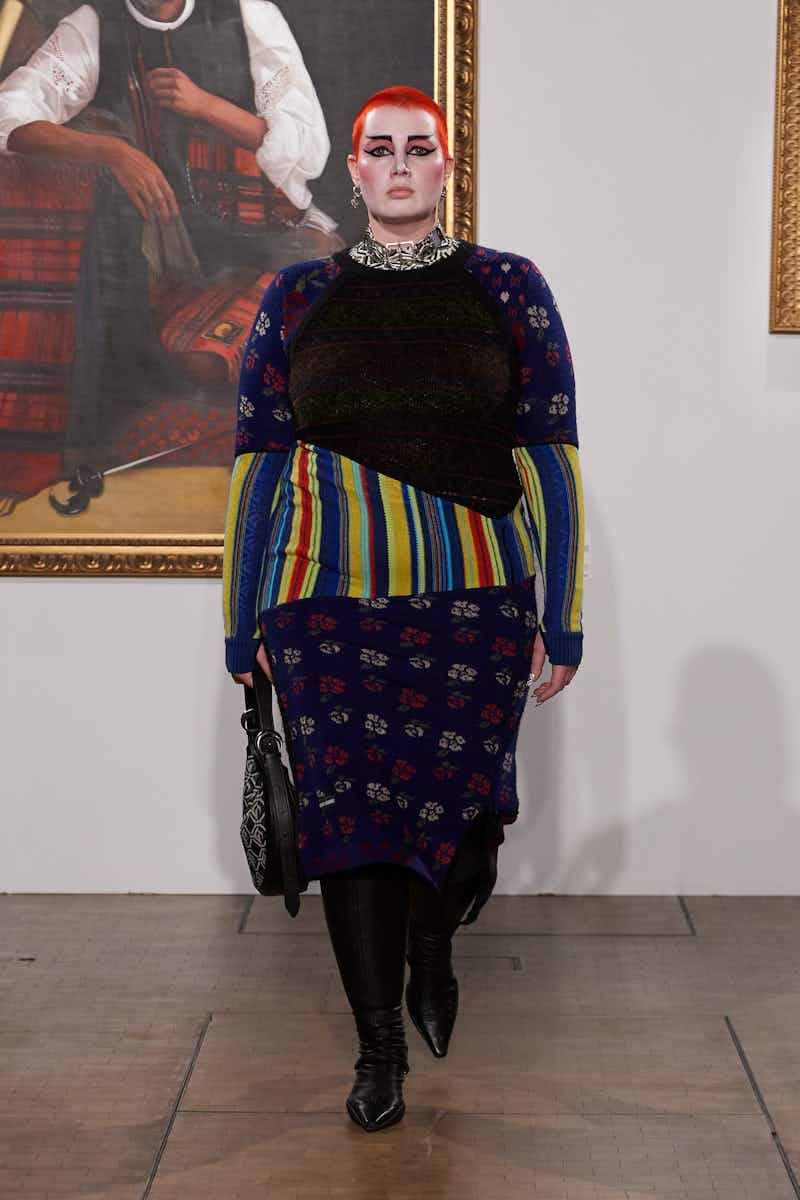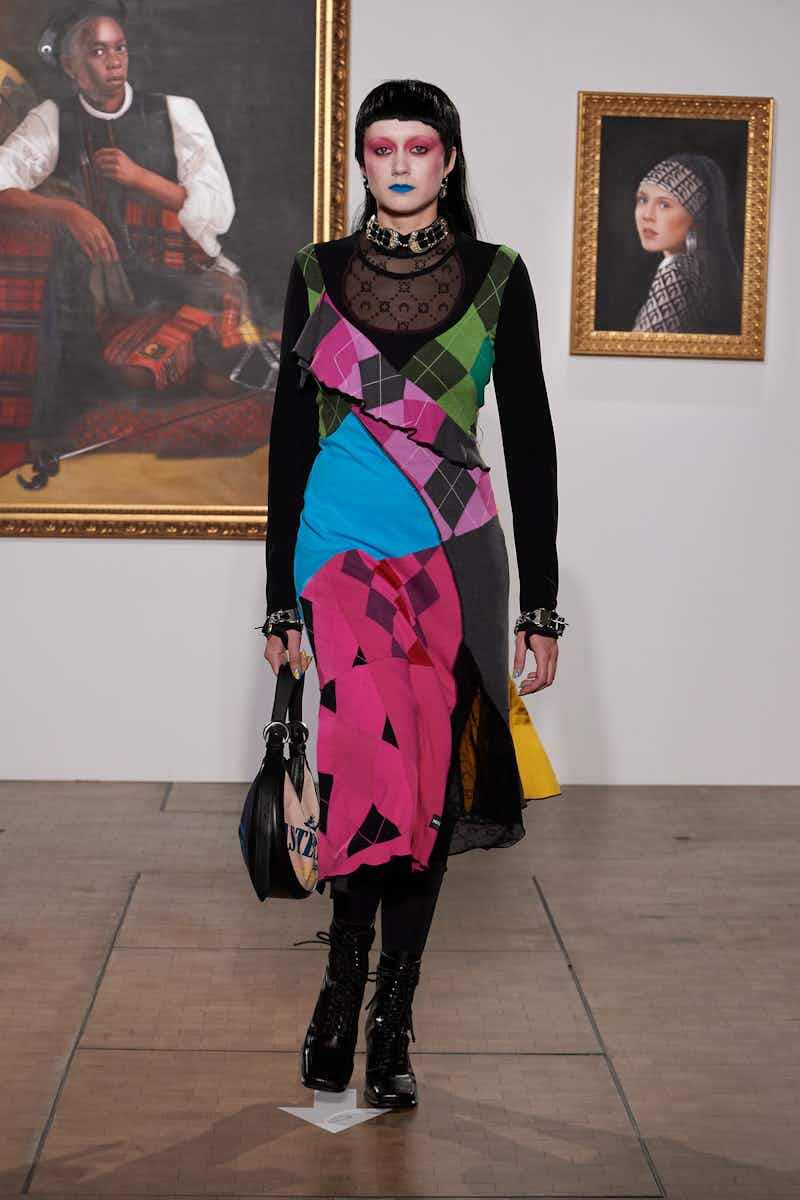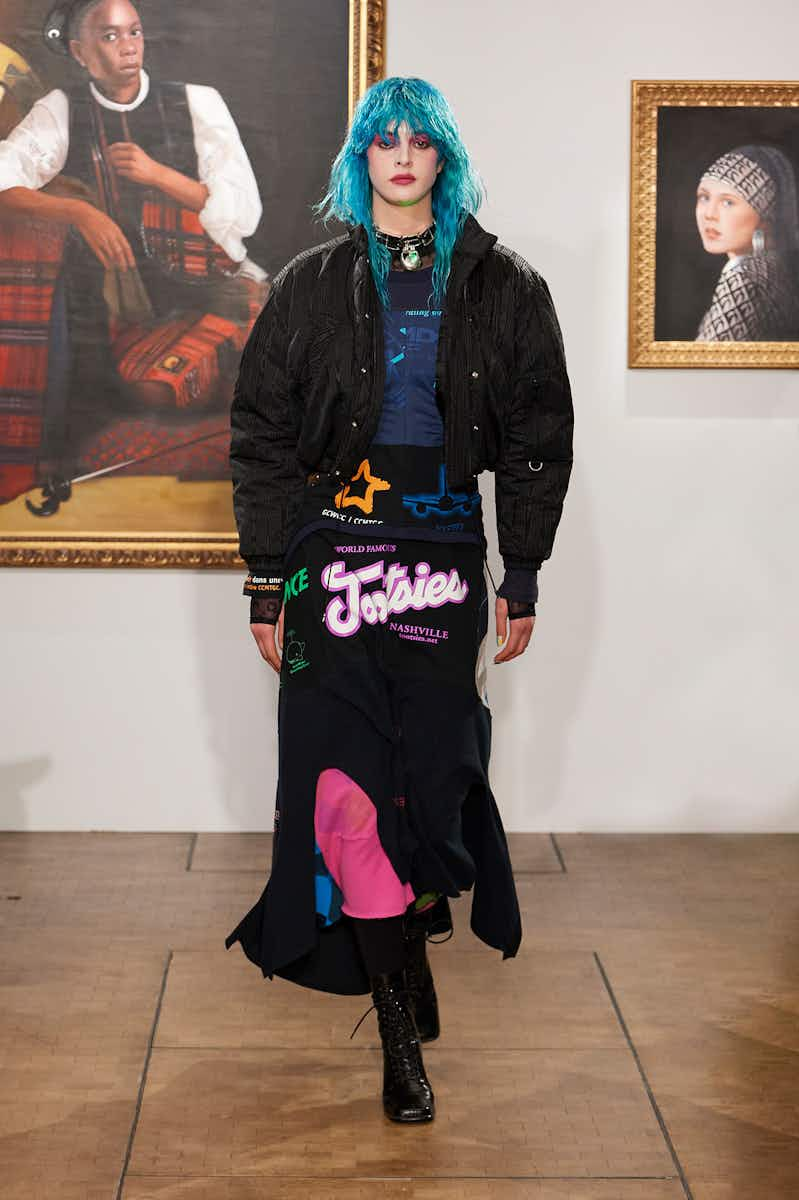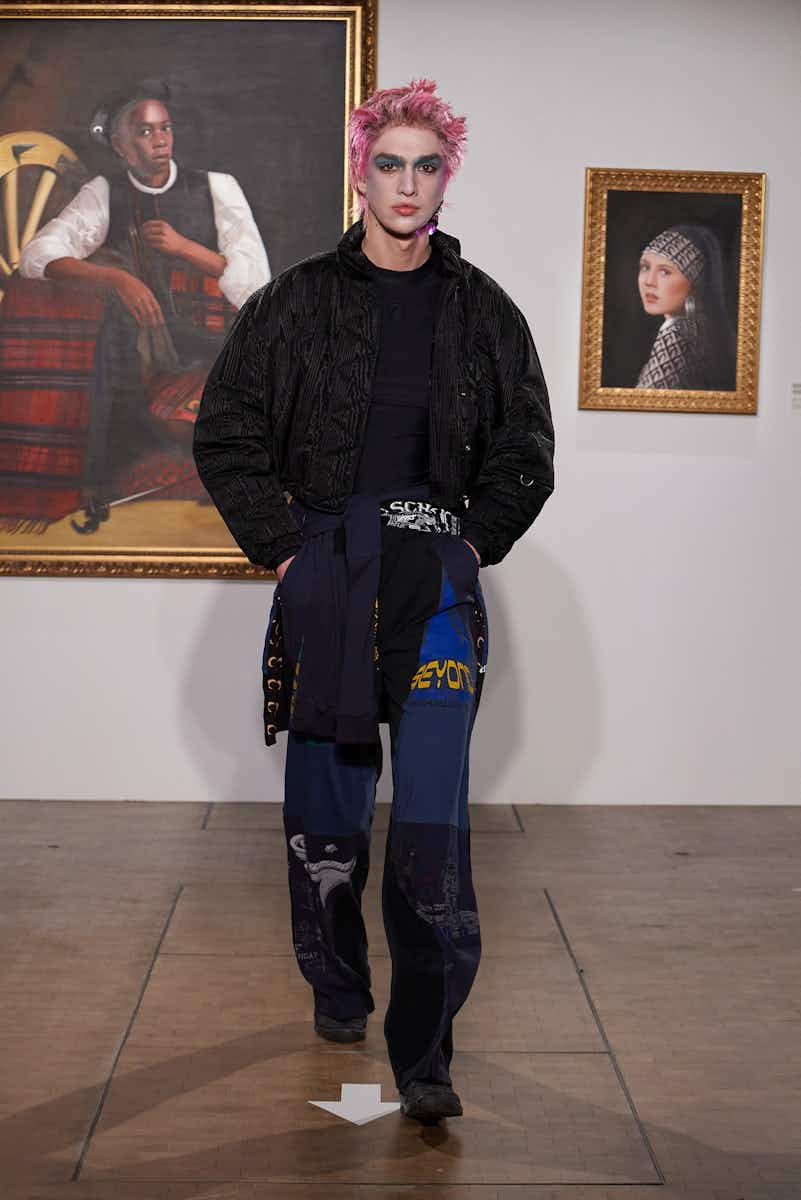 At VTMNTS, a new sibling brand to Vetements headed up by Guram Gvasalia, the mood was fast and furious. Literally. The models, many shaven-headed and moody-looking, paced down the runway at breakneck speed. Is there a new kind of impatience to these shows where the models run rather than walk? See, too, Sunnei in Milan, where the jogging was fast enough to catch only the merest glimpse of the clothes. Here though, everything about the show was big. Big shoulders. Big boots (all the better to stomp with). Big attitude. The trousers sagged low enough on the hips to reveal boxers. Unexpectedly playful elements – tiny, cropped leather jackets and puffas, Magritte style cloud prints – played off against tailoring that, for all of its sharp edges, offered a relatively classic form of luxury. This was a collection that deliberately ralied against the idea of any separation between menswear and womenswear. A number of the models were trans or non-binary. These were clothes designed not for a particular body, but a particular mood: swaggering, confident, clean-lined and ready for action.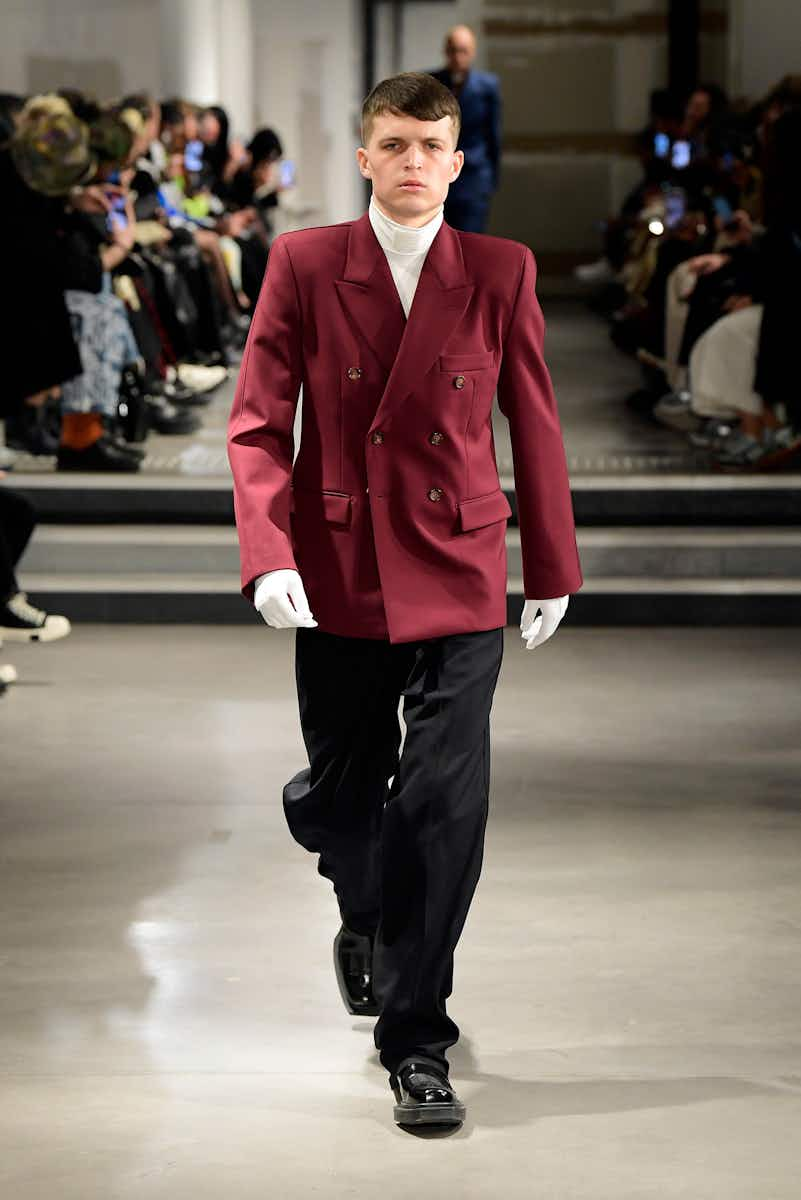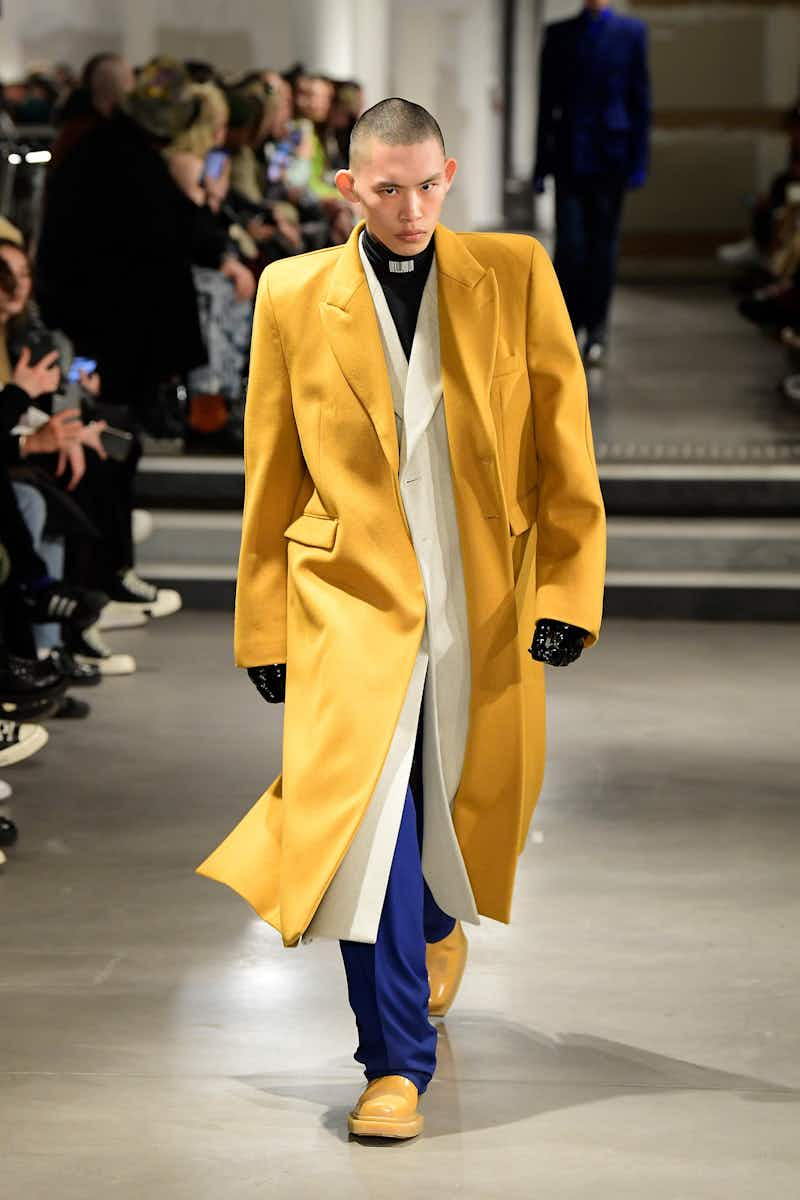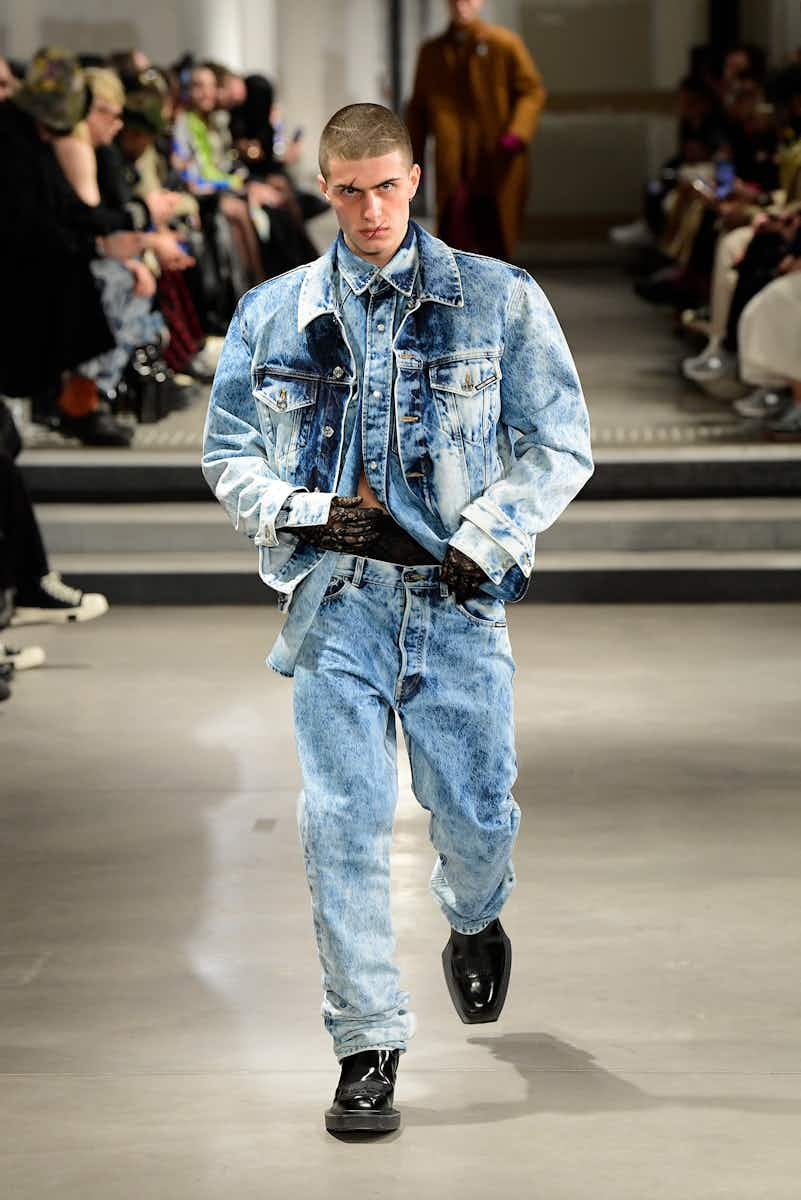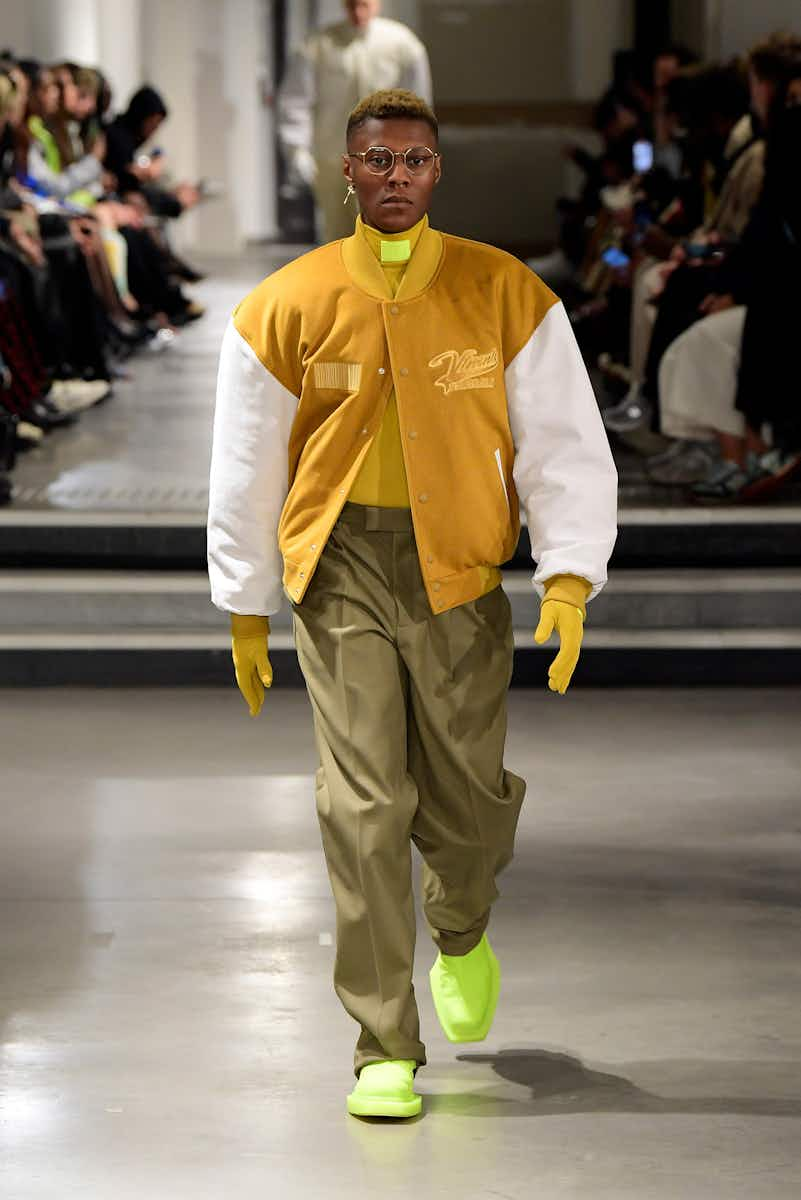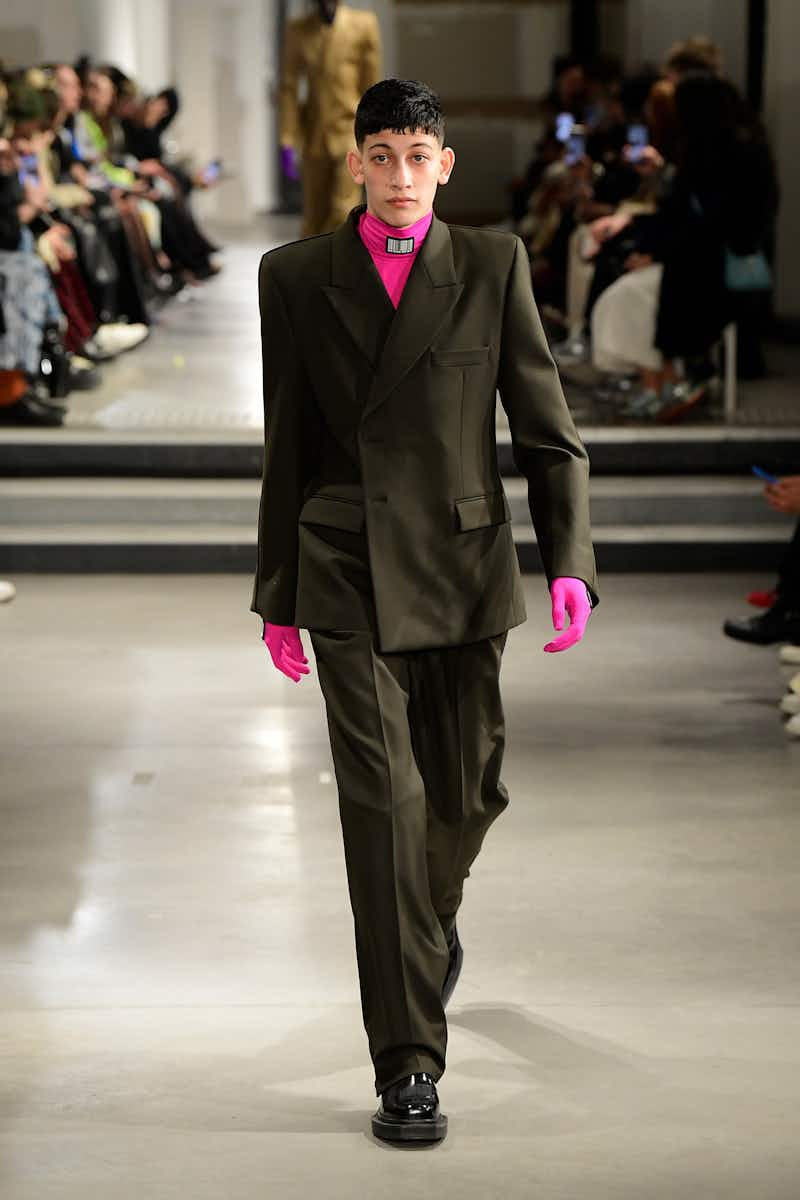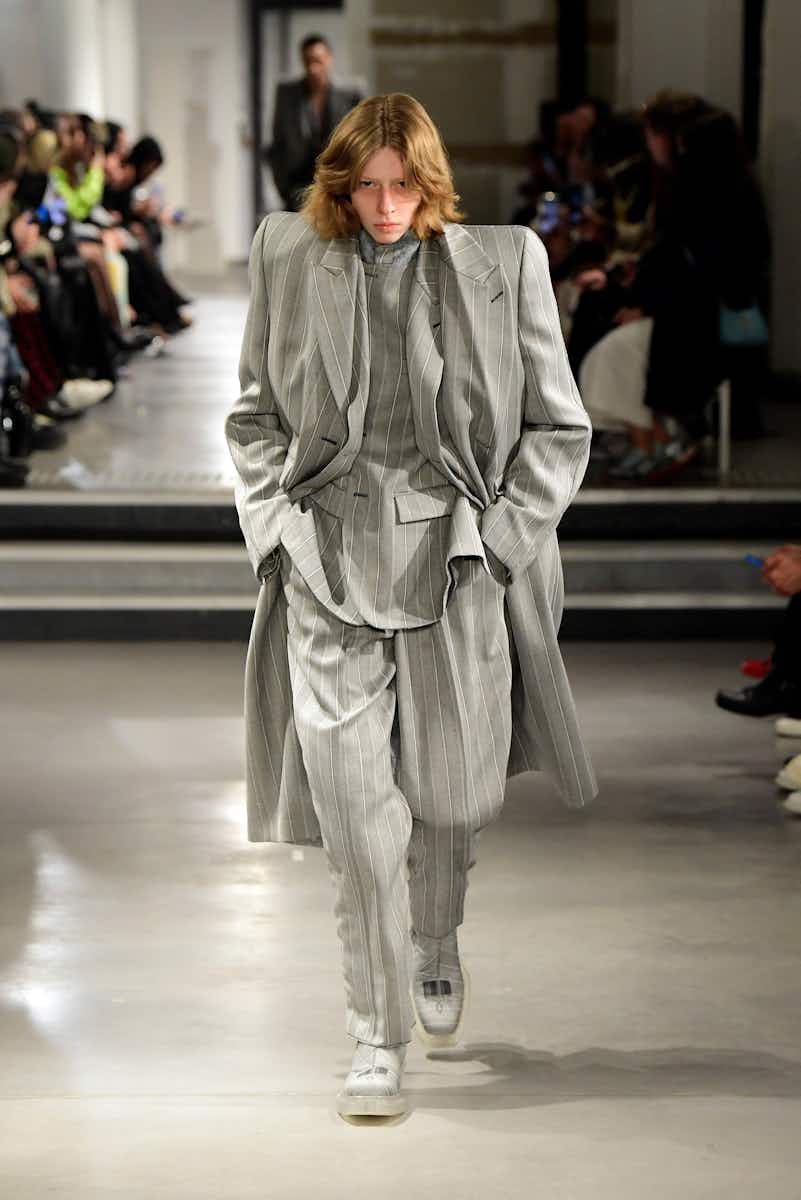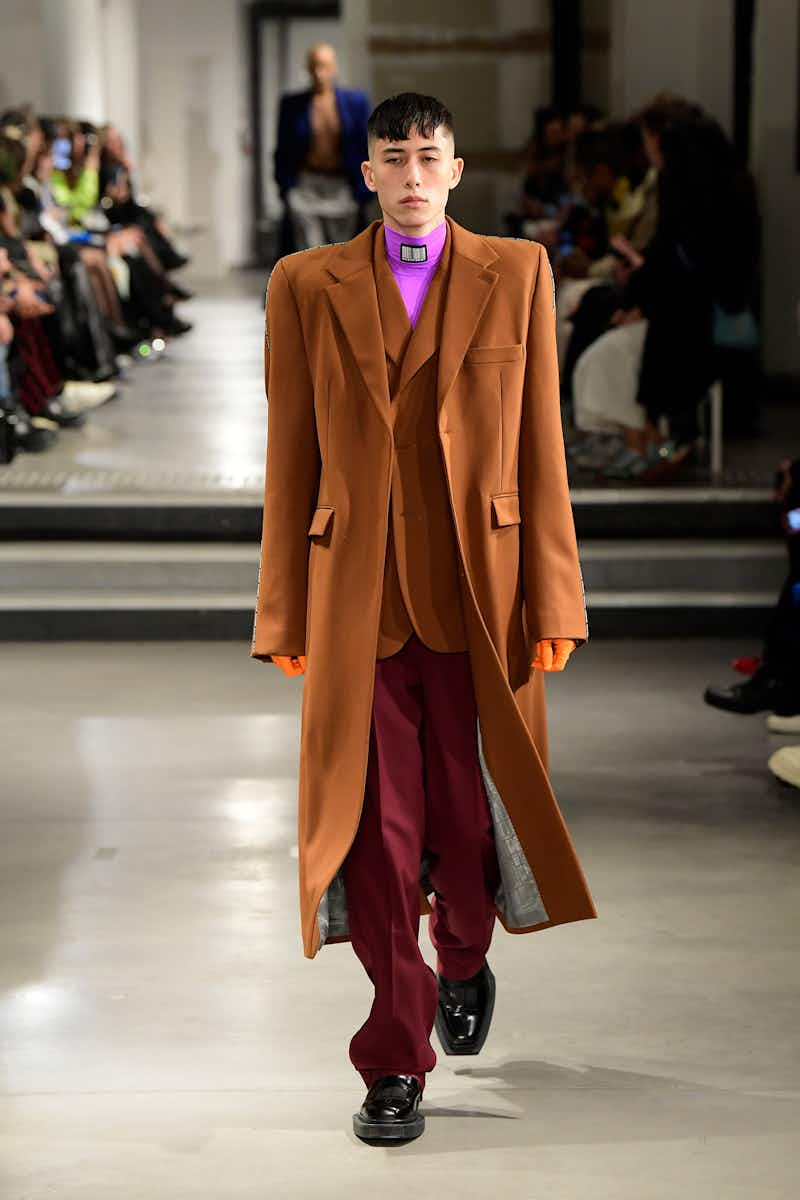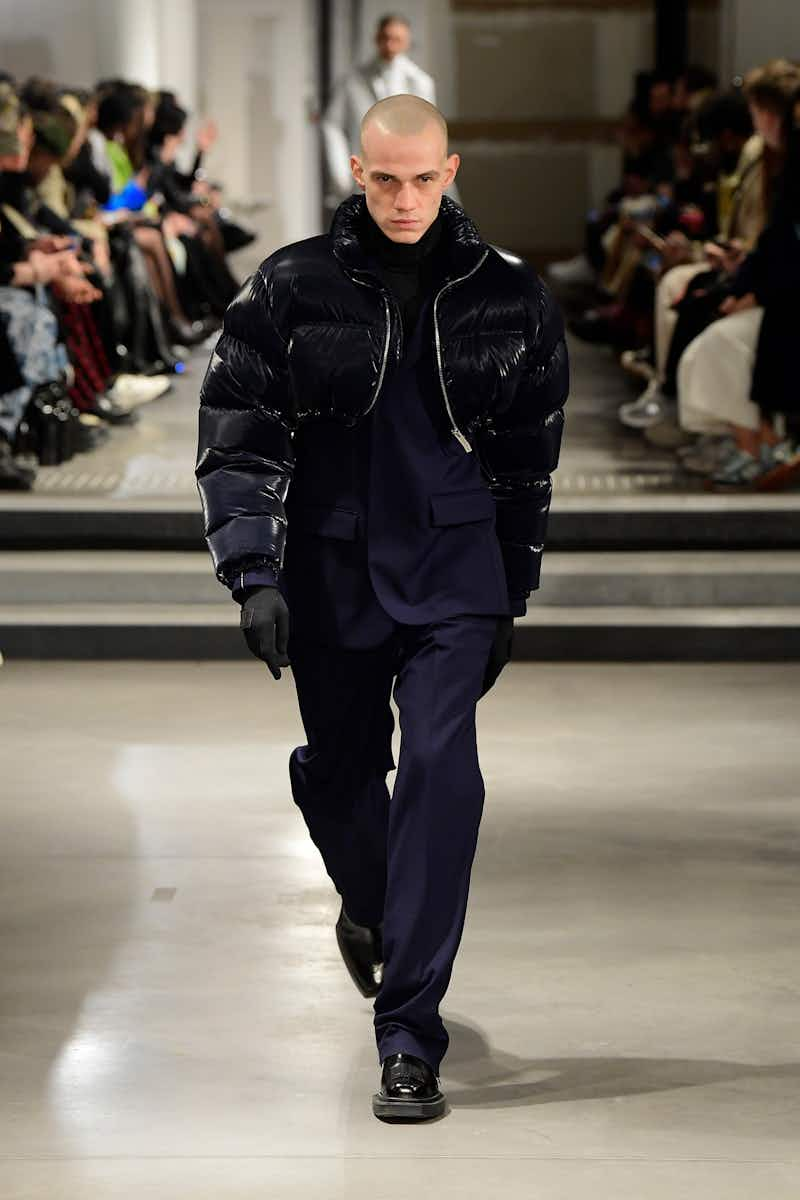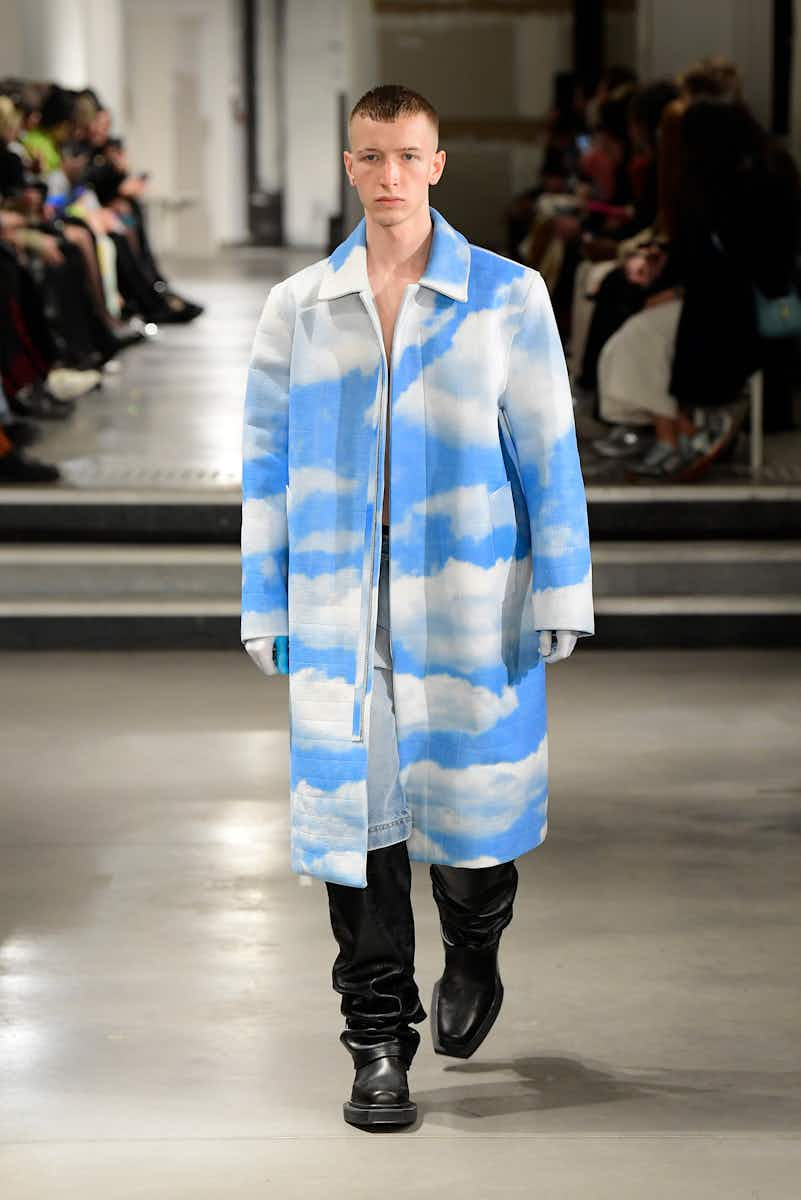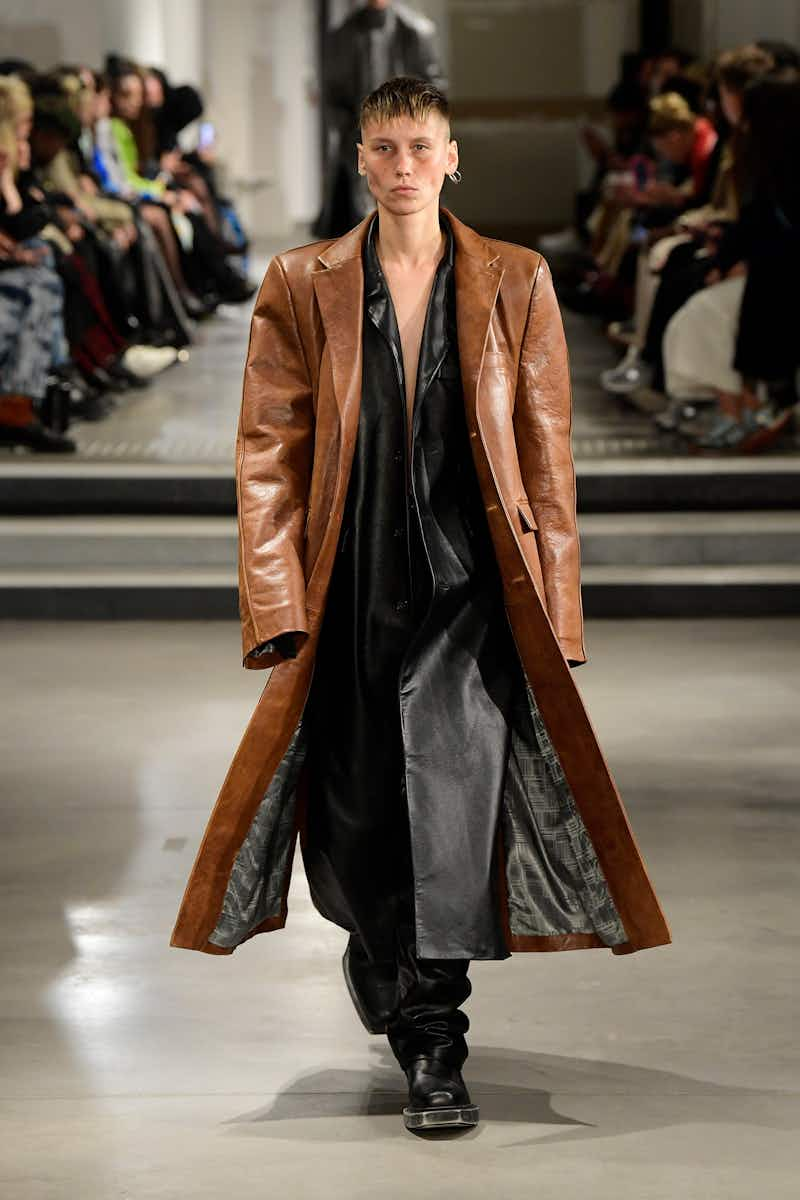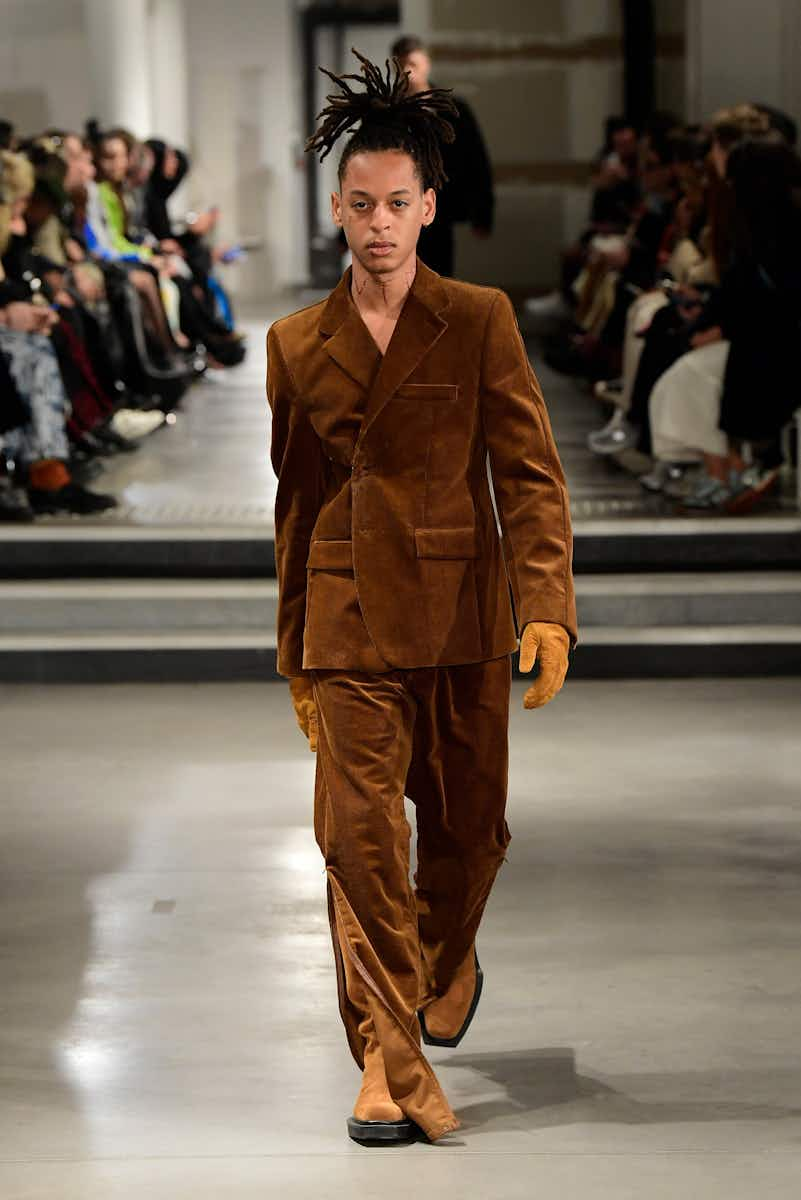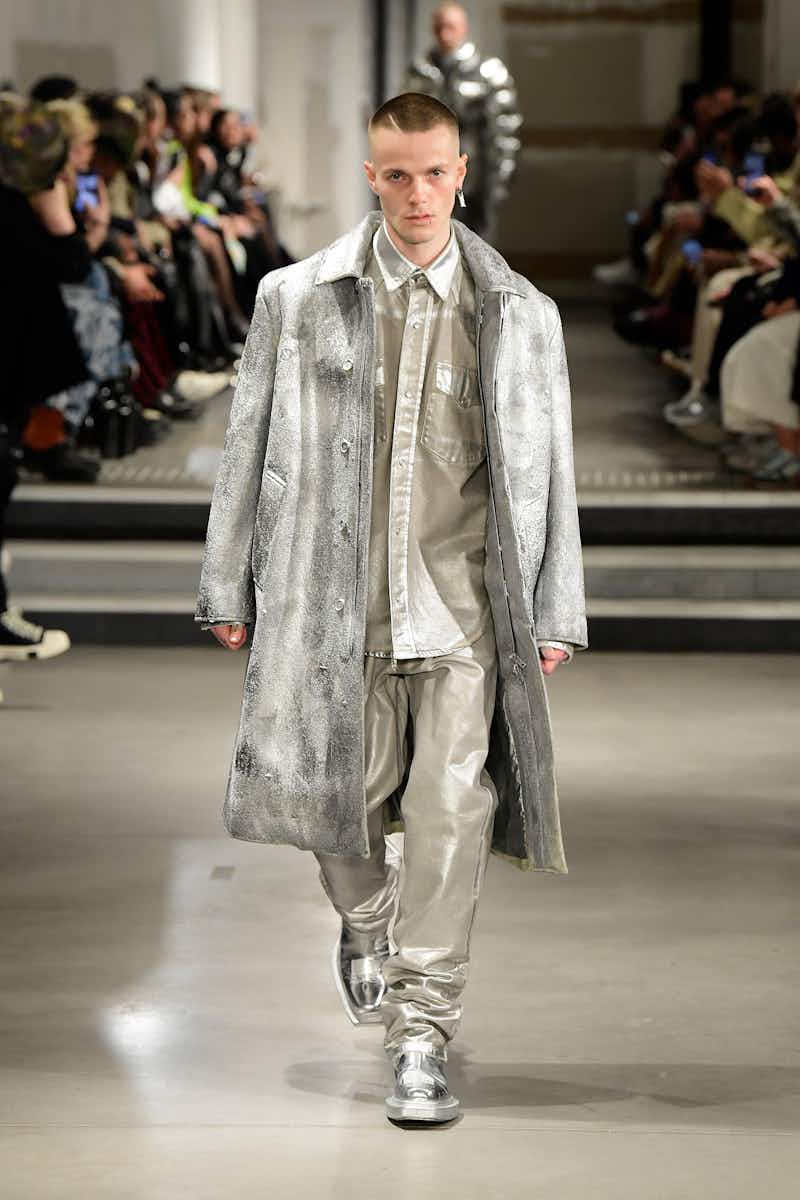 It's easy to make equestrian-wear sexy. Horse crops, riding boots and incredibly tight jodhpurs are the stuff that Jilly Cooper bonkbusters are built from. Nadège Vanhee-Cybulski's version of sex appeal at Hermès is somewhat subtler. There's still a lot of leather: leather blazers, leather skirts, leather shorts (shorts are the kind of garment that seem particularly prone to falling in and out of high fashion favour). Suggestive flashes of thigh too, knee-high boots elongated with the help of soft-looking knitted stockings. This is the kind of sexiness that holds and swathes the body, all tactile fabrics and tasteful shades of khaki, beige, and powder blue. There's been a shift in recent days, with luxury brands finally acknowledging and responding to Russia's waging of war in Ukraine. Hermès was among the first to temporarily close their stores in Russia. Others including Chanel and conglomerates LVMH and Kering have similarly followed suit.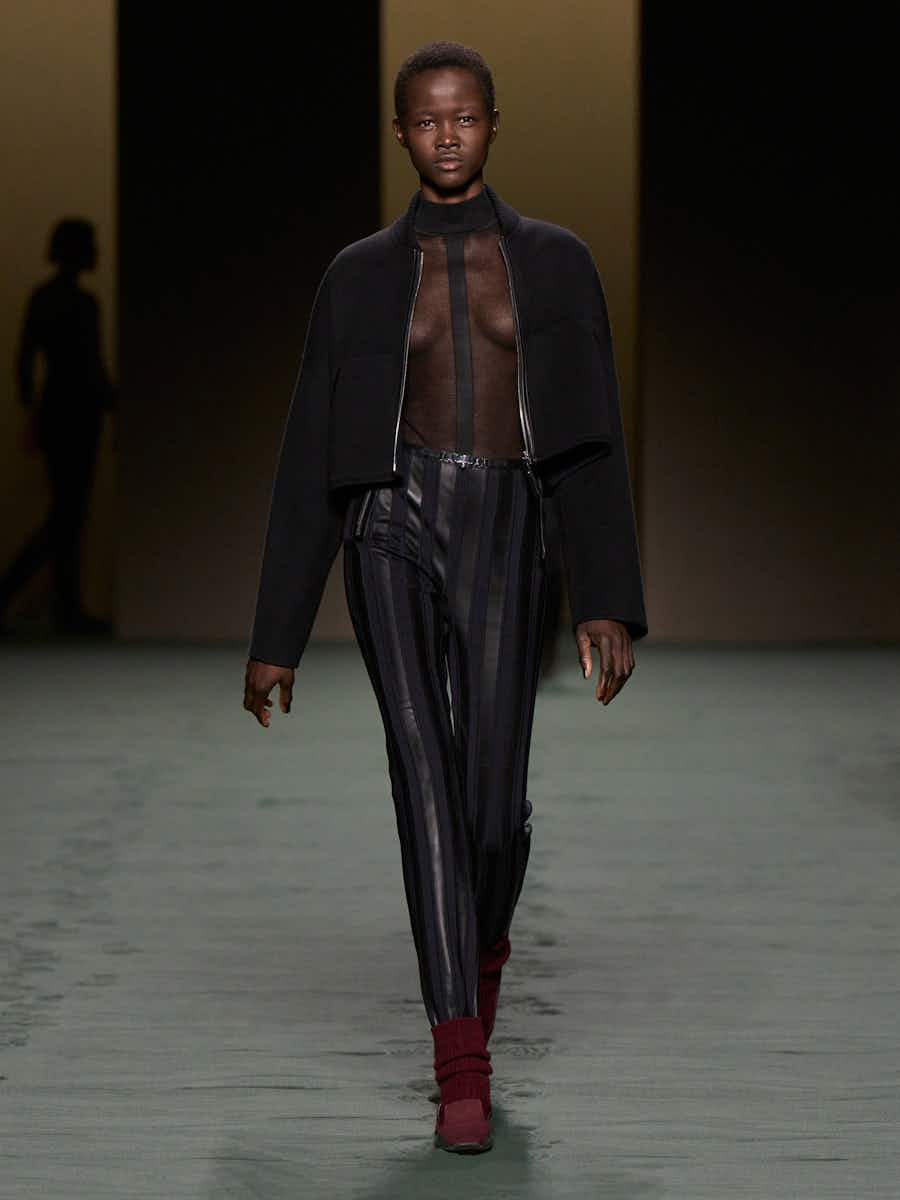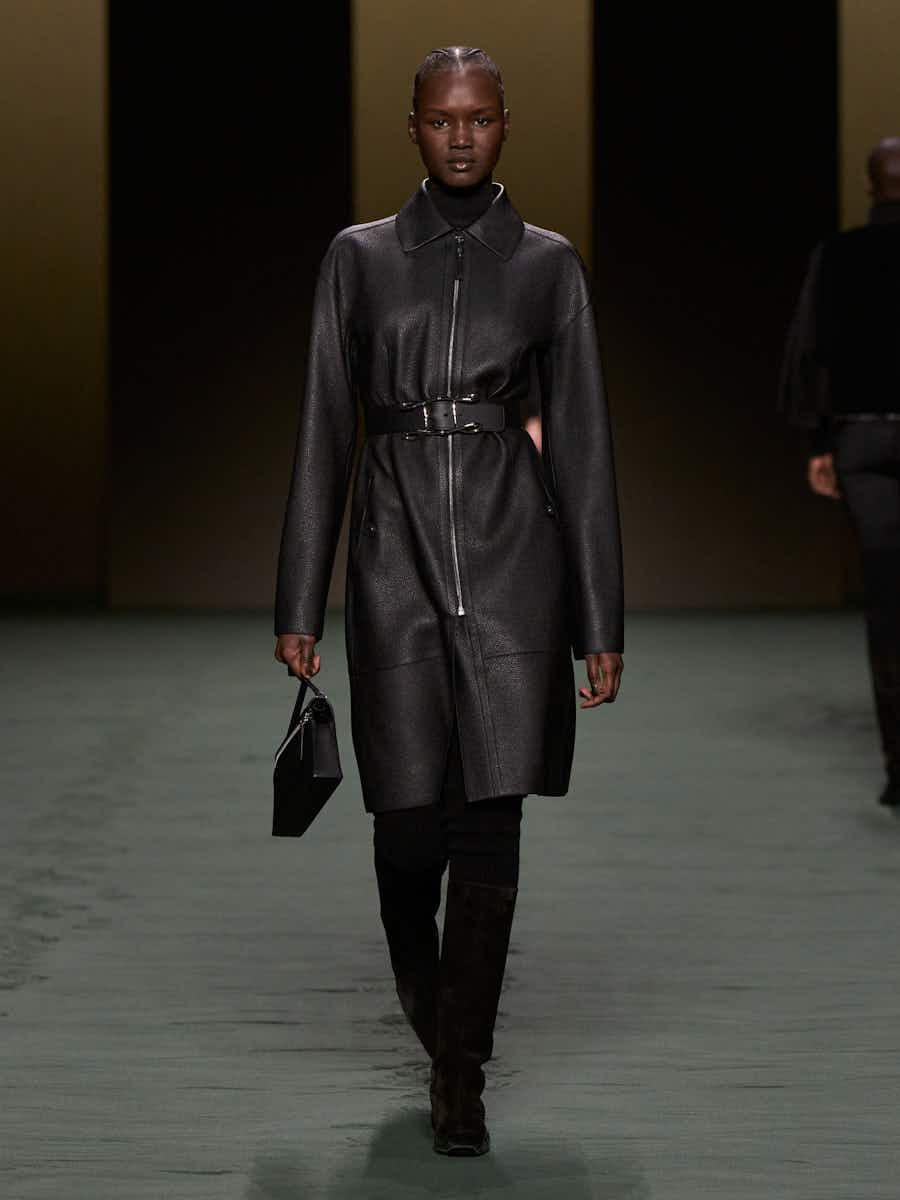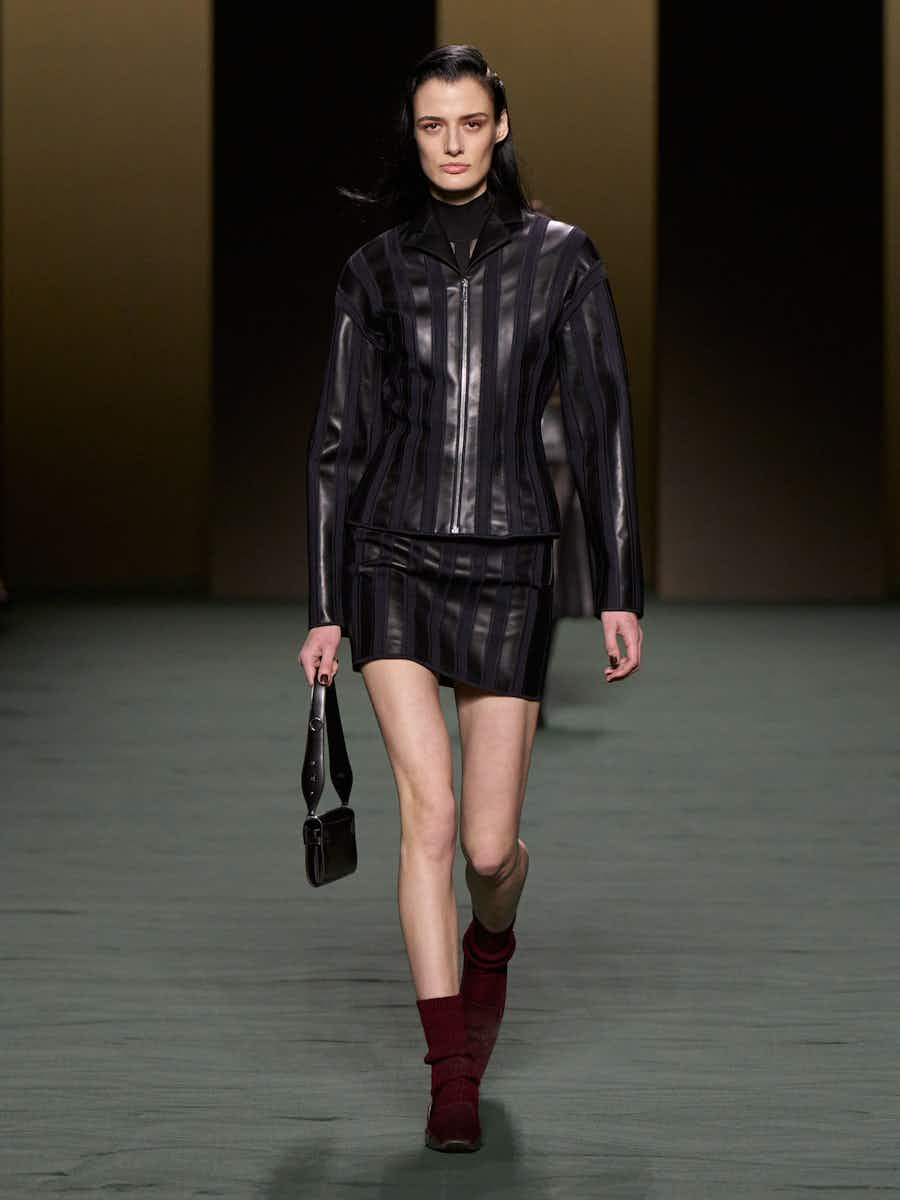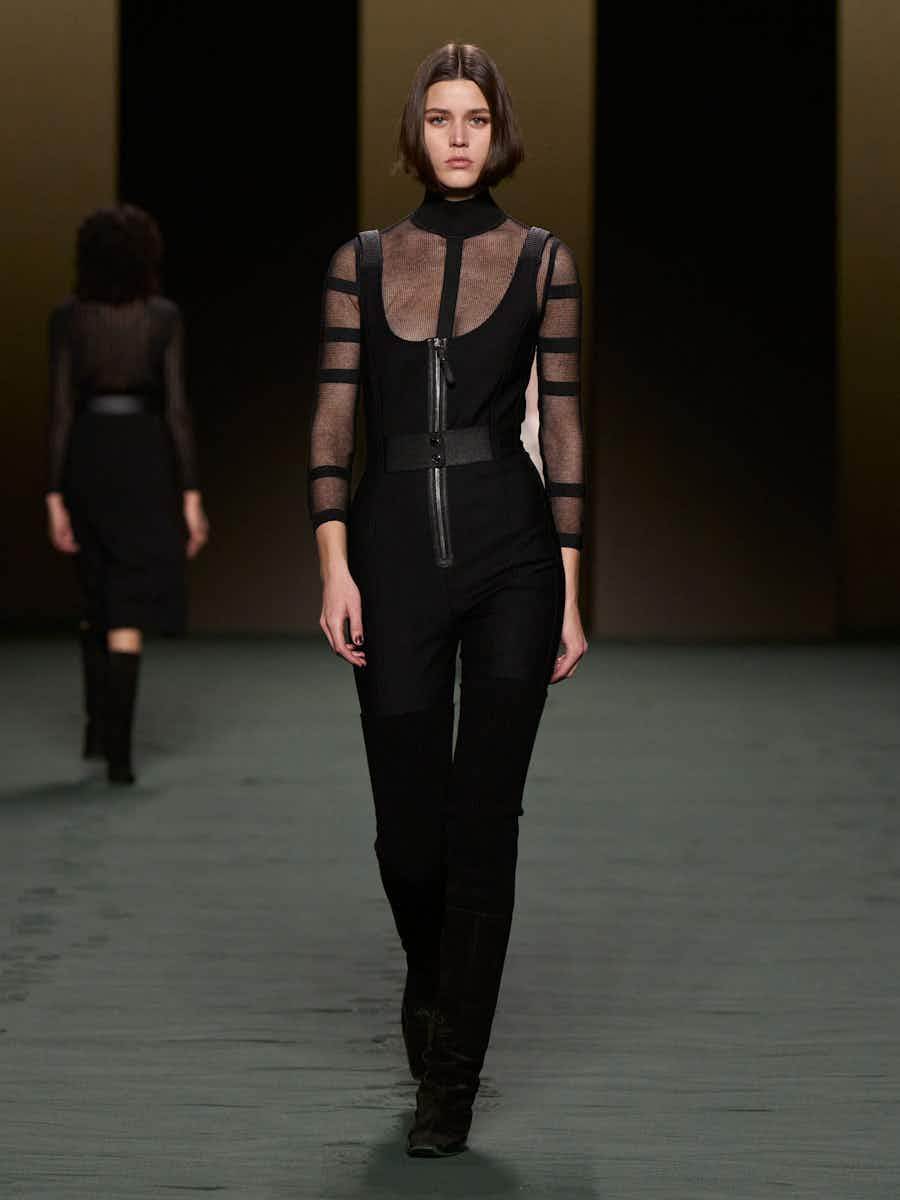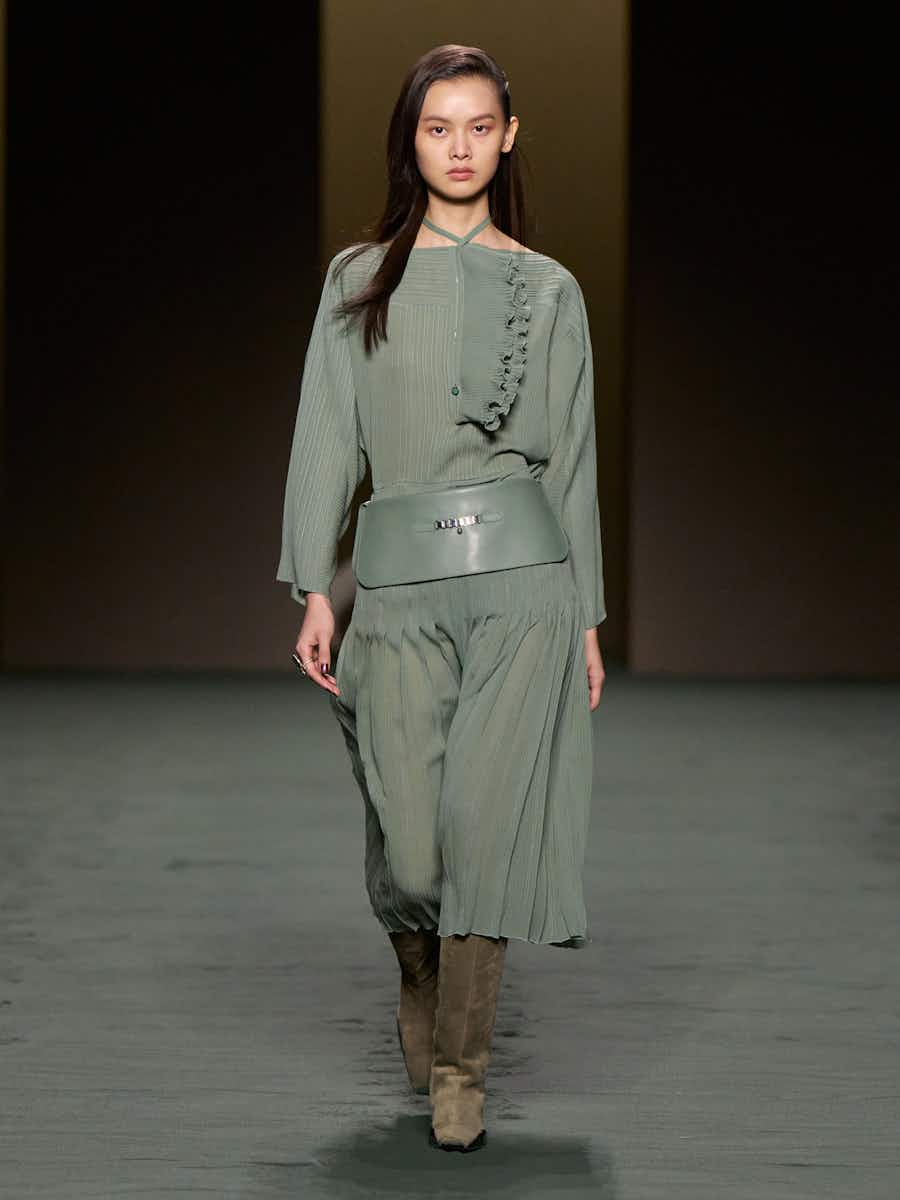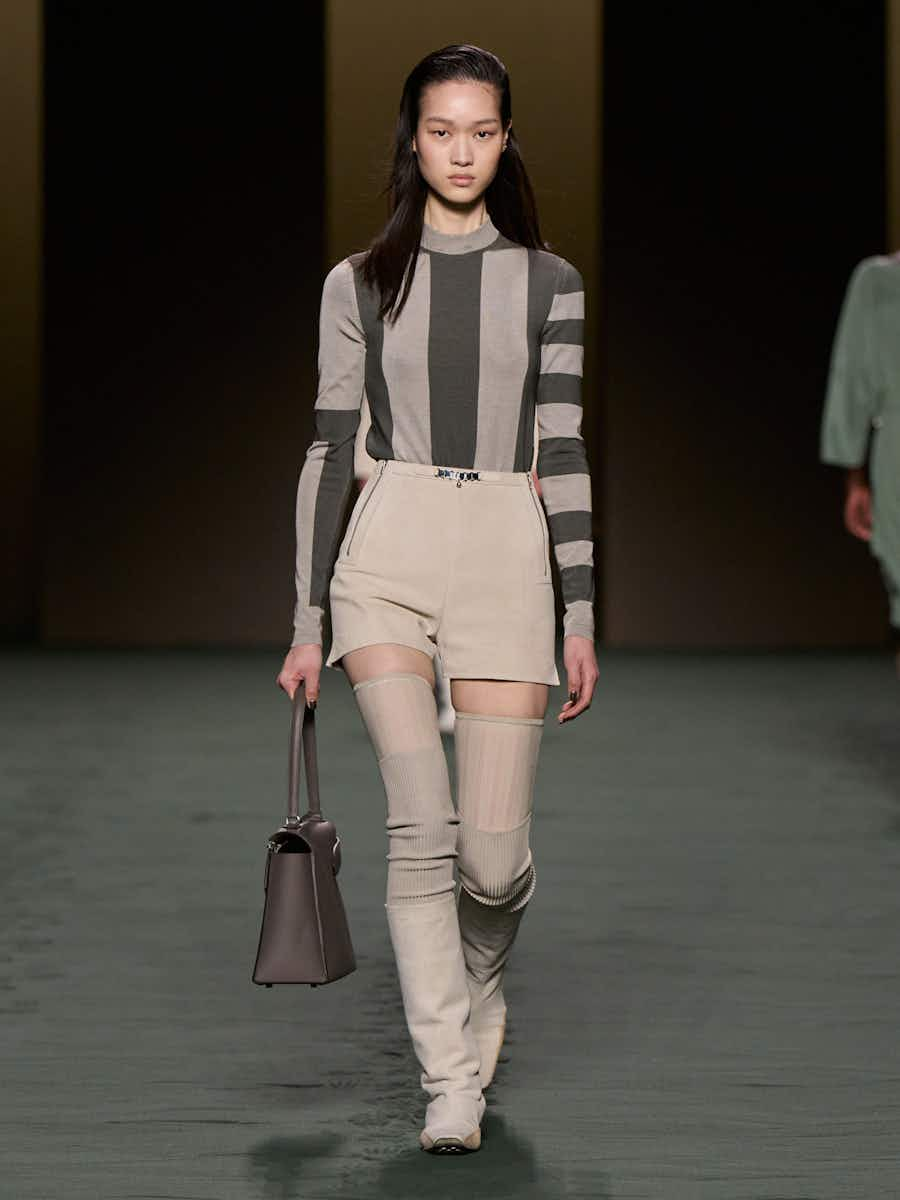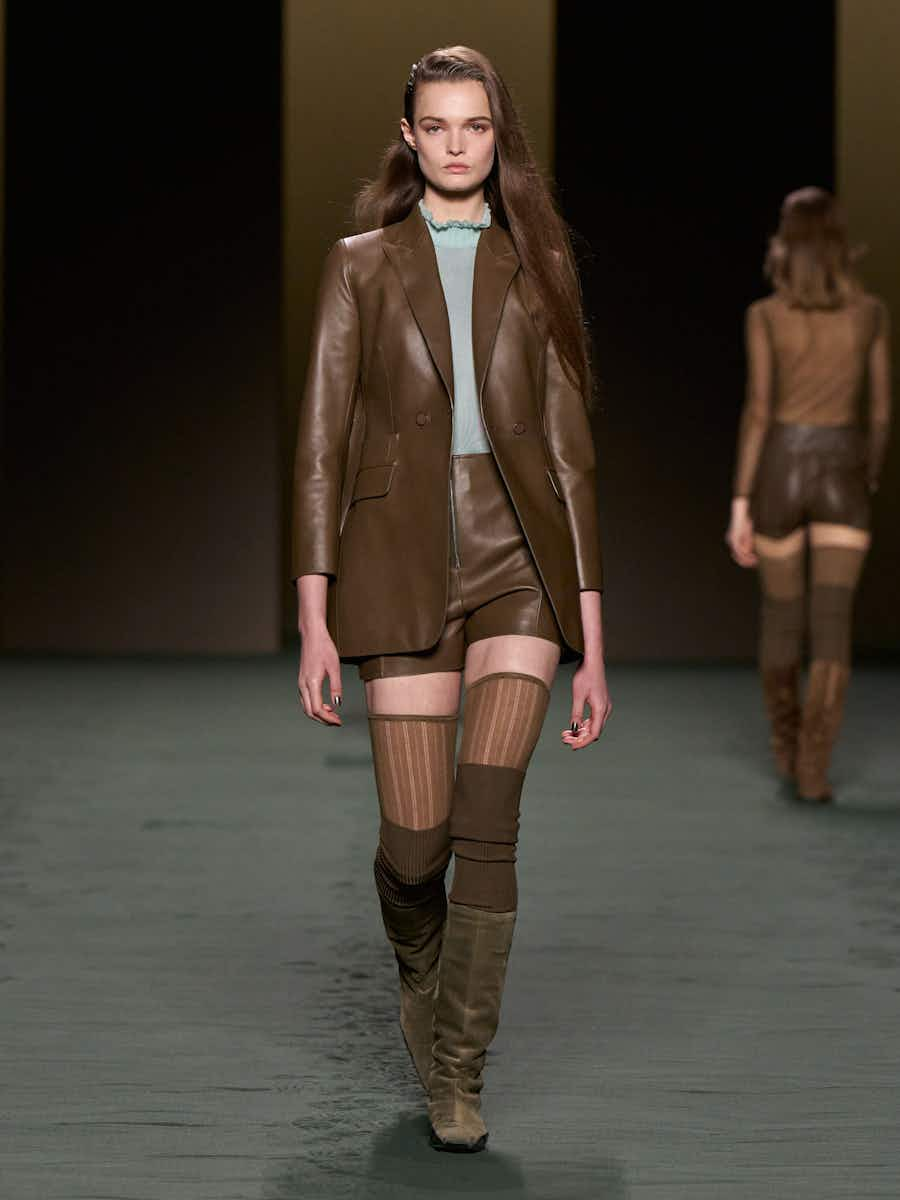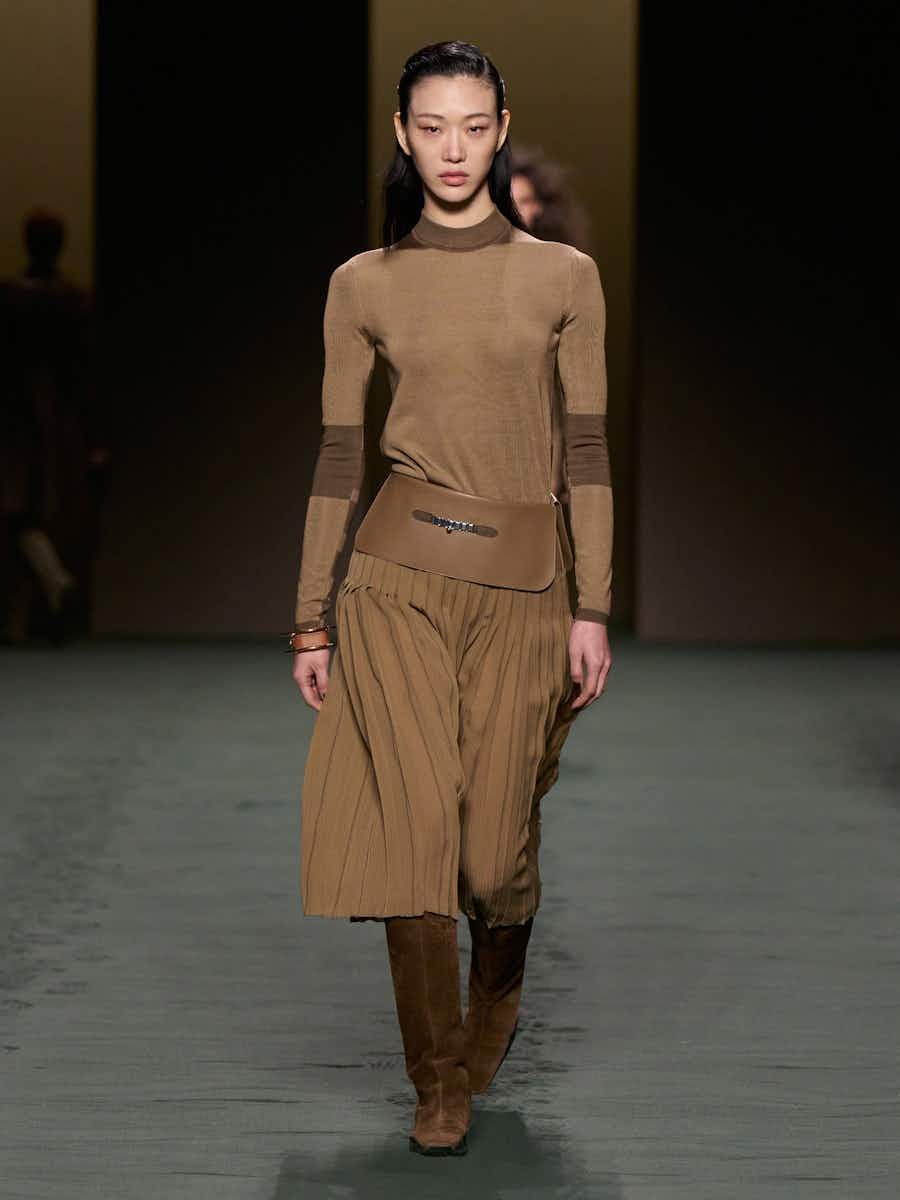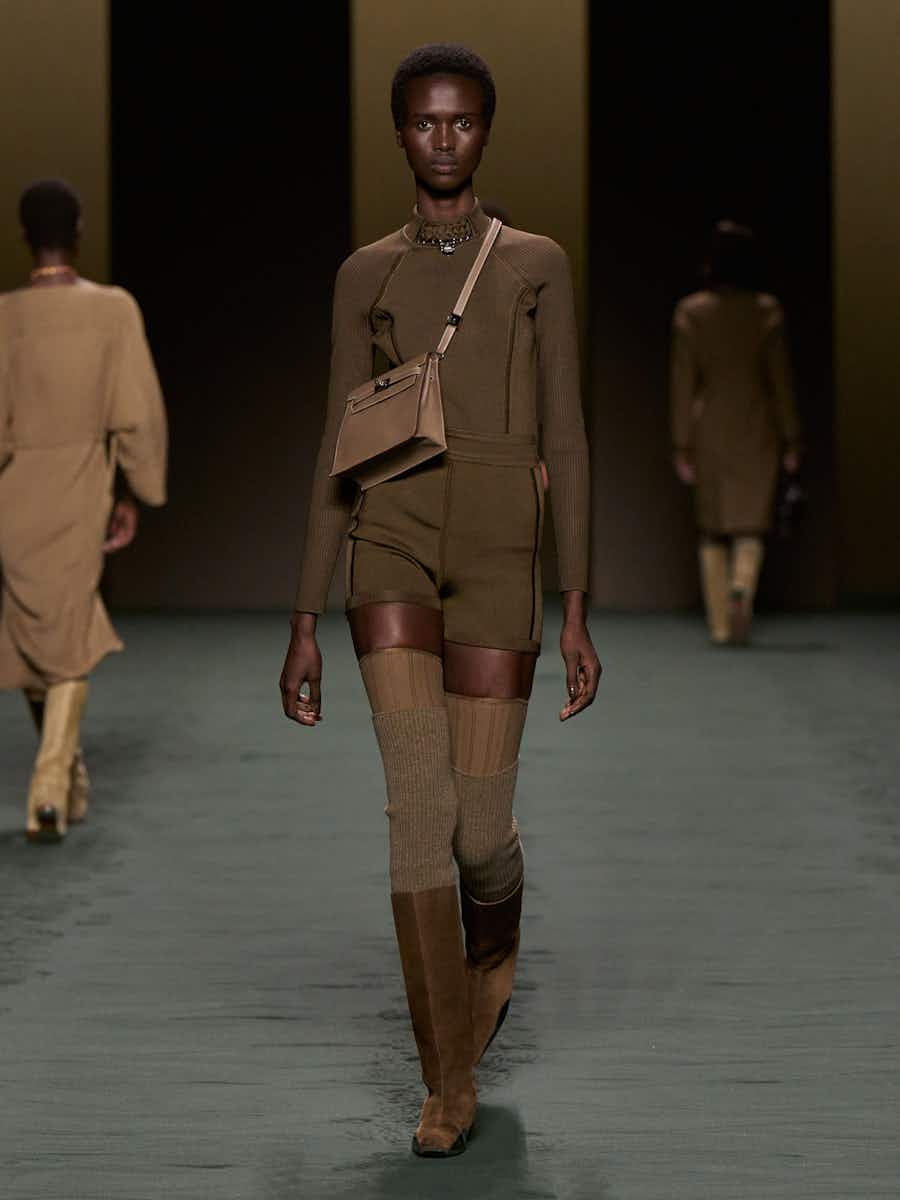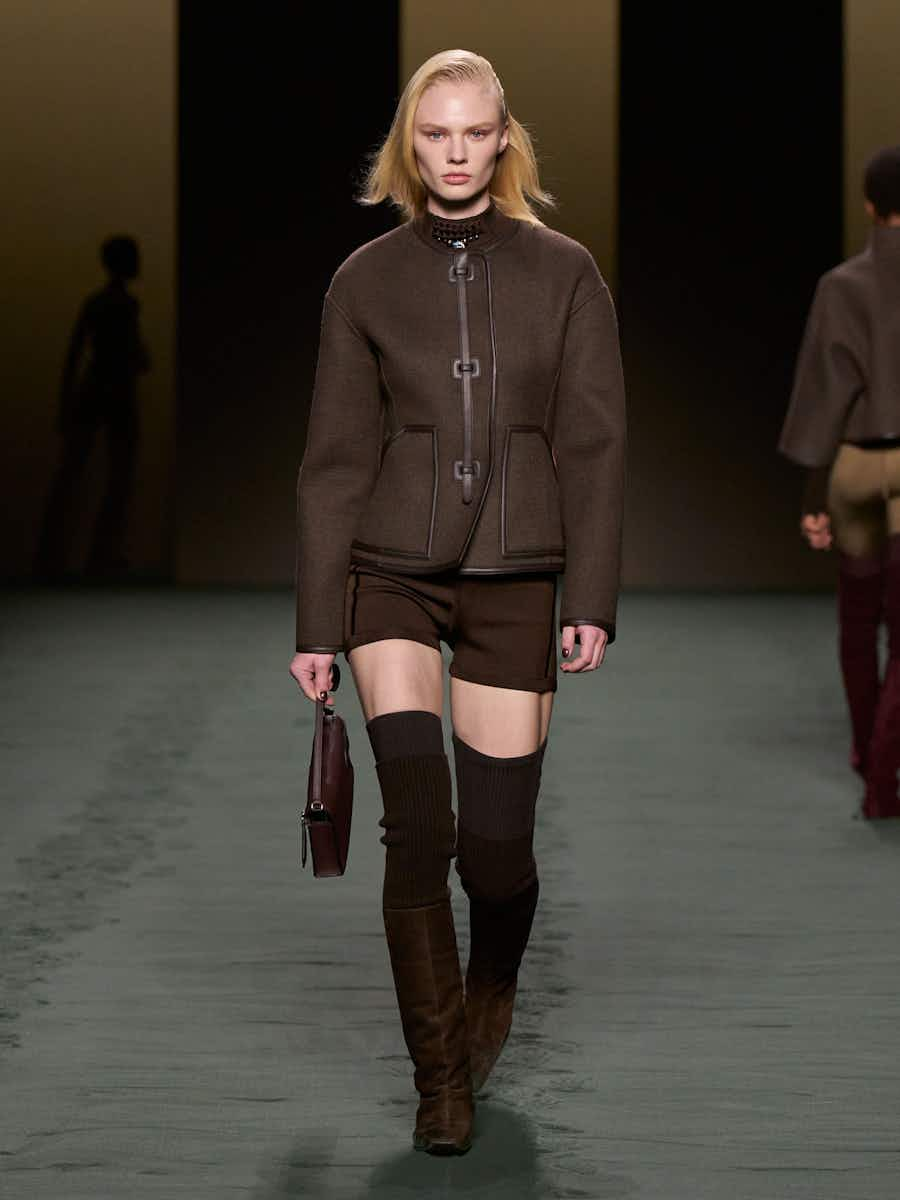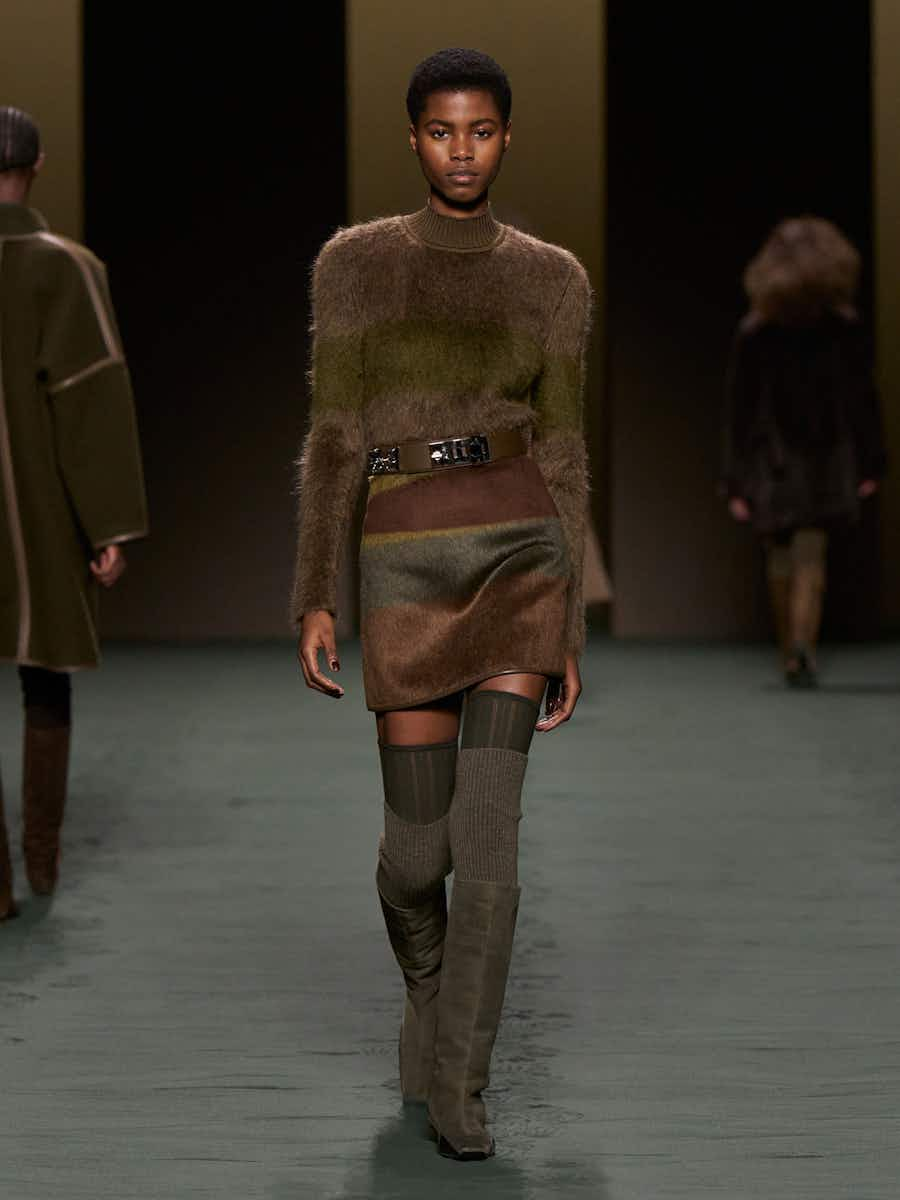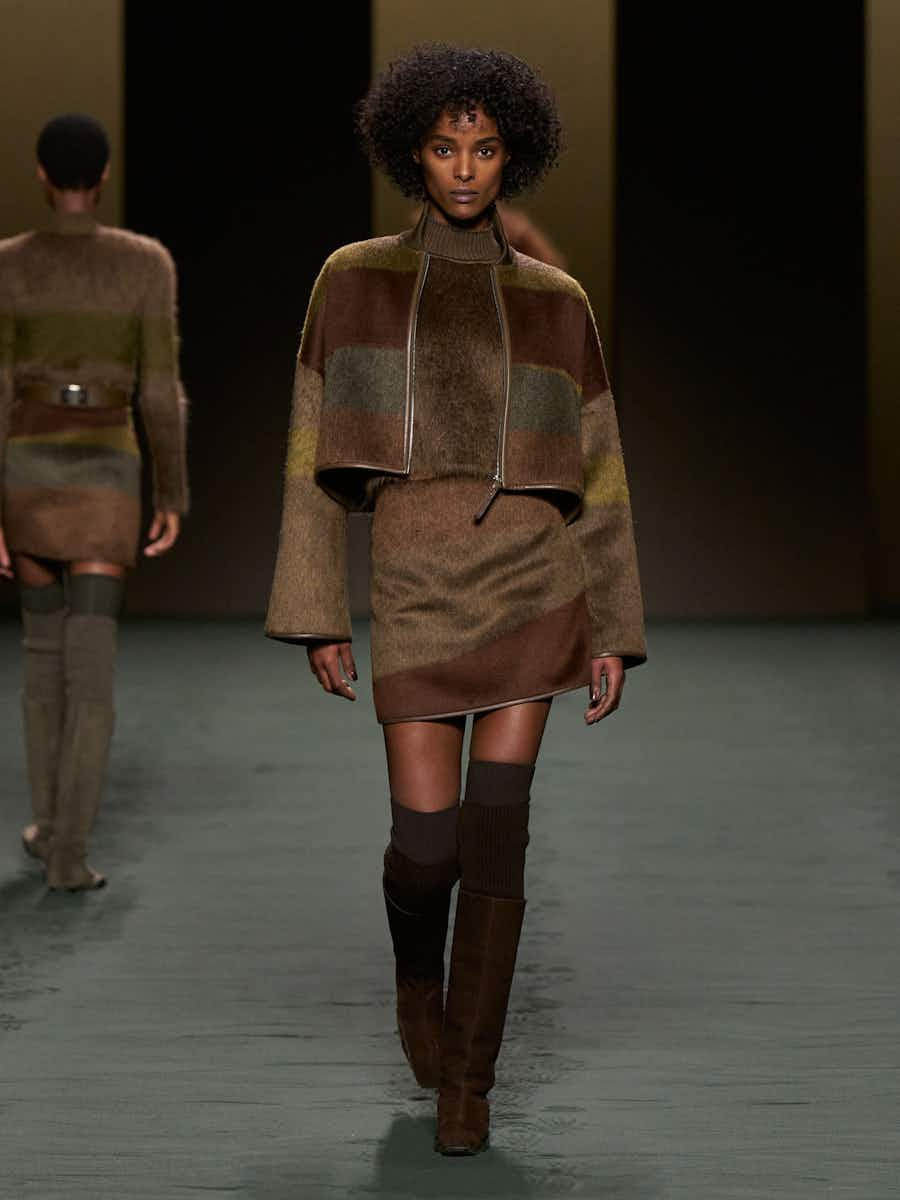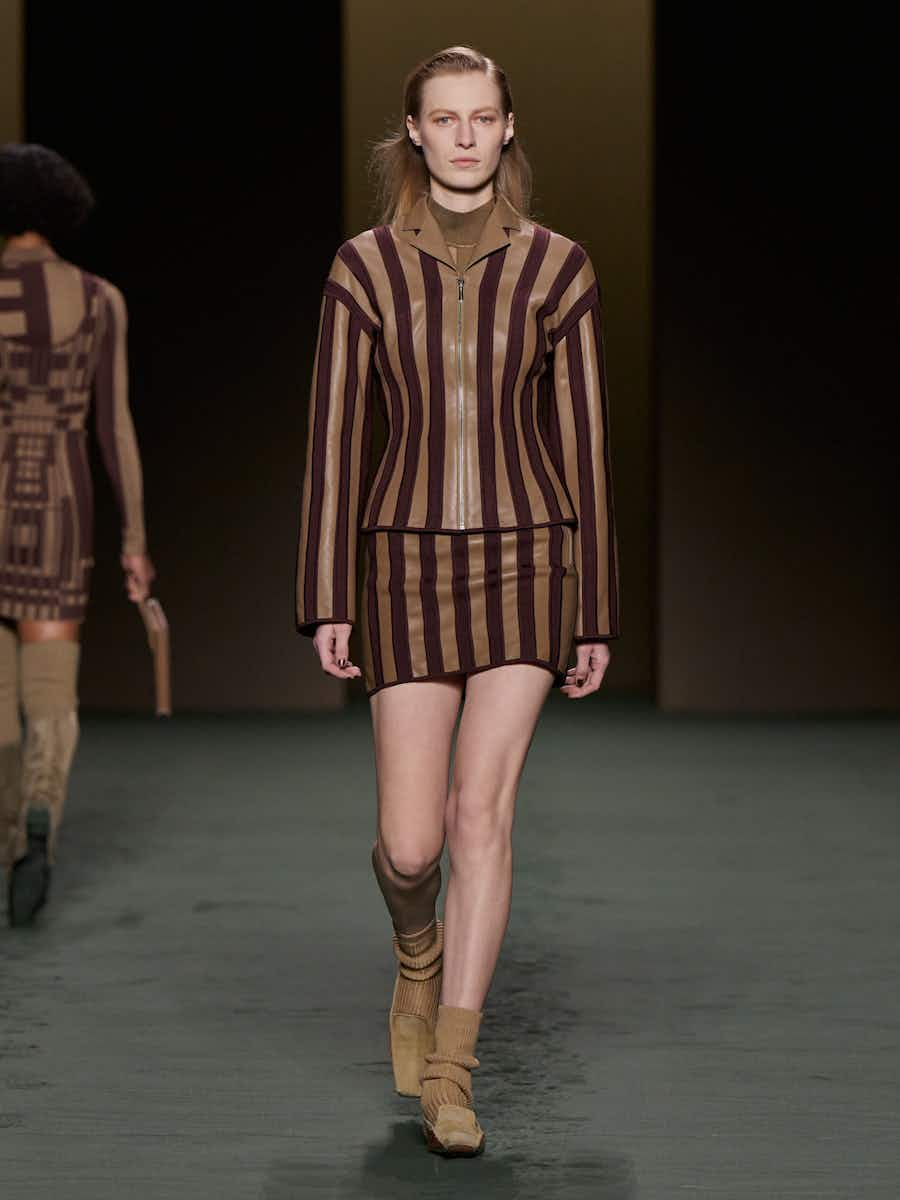 There's plenty to be done with a shoulder. You can expose it: relying on straps, halters and cut outs for emphasis. You can pad it, gently – or grossly – exaggerating its natural lines. At Rick Owens, they reared up like little, nubby wings, at once metamorphic and reminiscent of someone so tense their shoulders are always raised to their ears. Elsewhere they were cushioned by puffer boleros like airbags, or hidden beneath precise, almost papery sequin folds and smooth cashmere cloaks. That's very Rick though – the body's proportions sent a little off-kilter. In a couple of looks, the sleeves also stretched far over the hands to dangle somewhere around the thighs. Call it minimalist medieval, or maybe, in this case, chic high Catholicism. After all, some of the models were tasked with carrying contemporary versions of incense thuribles, releasing foggy clouds of Owens' new perfume collaboration with Aesop across the runway. It was a show that possessed a dark beauty, serene in its vision of old glamour for a new world.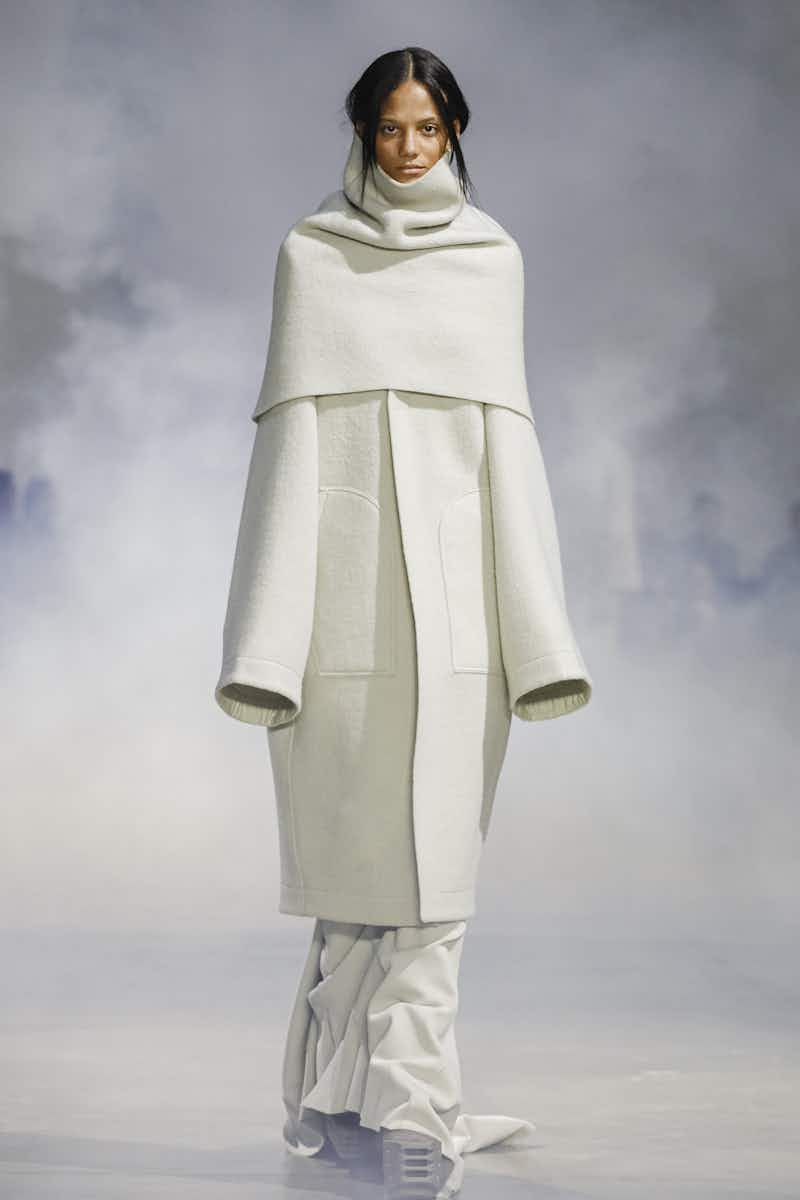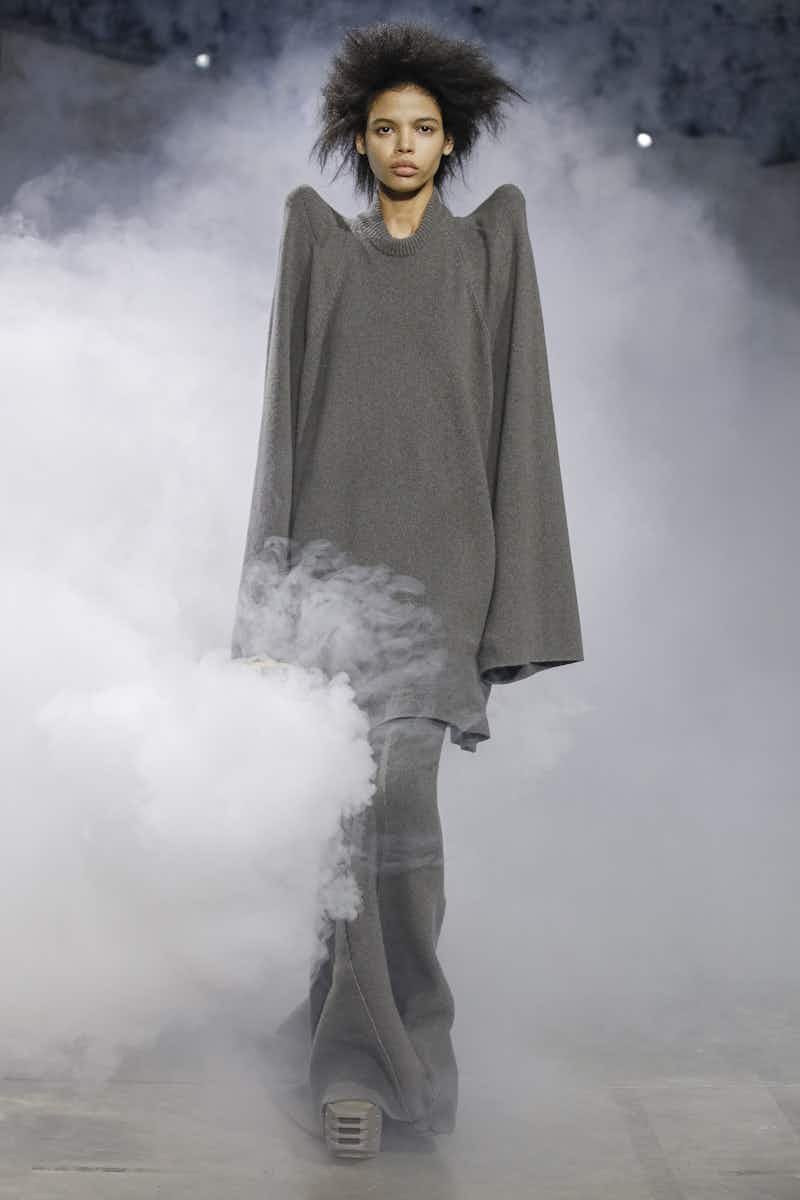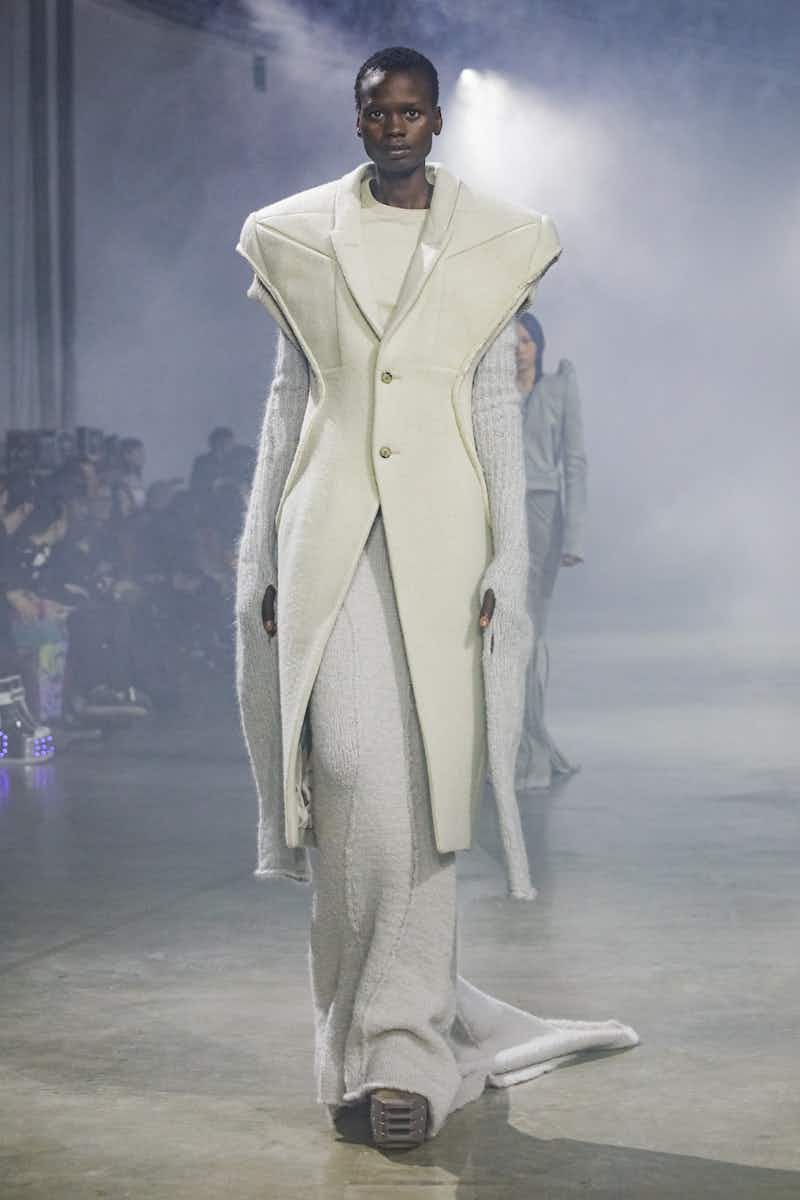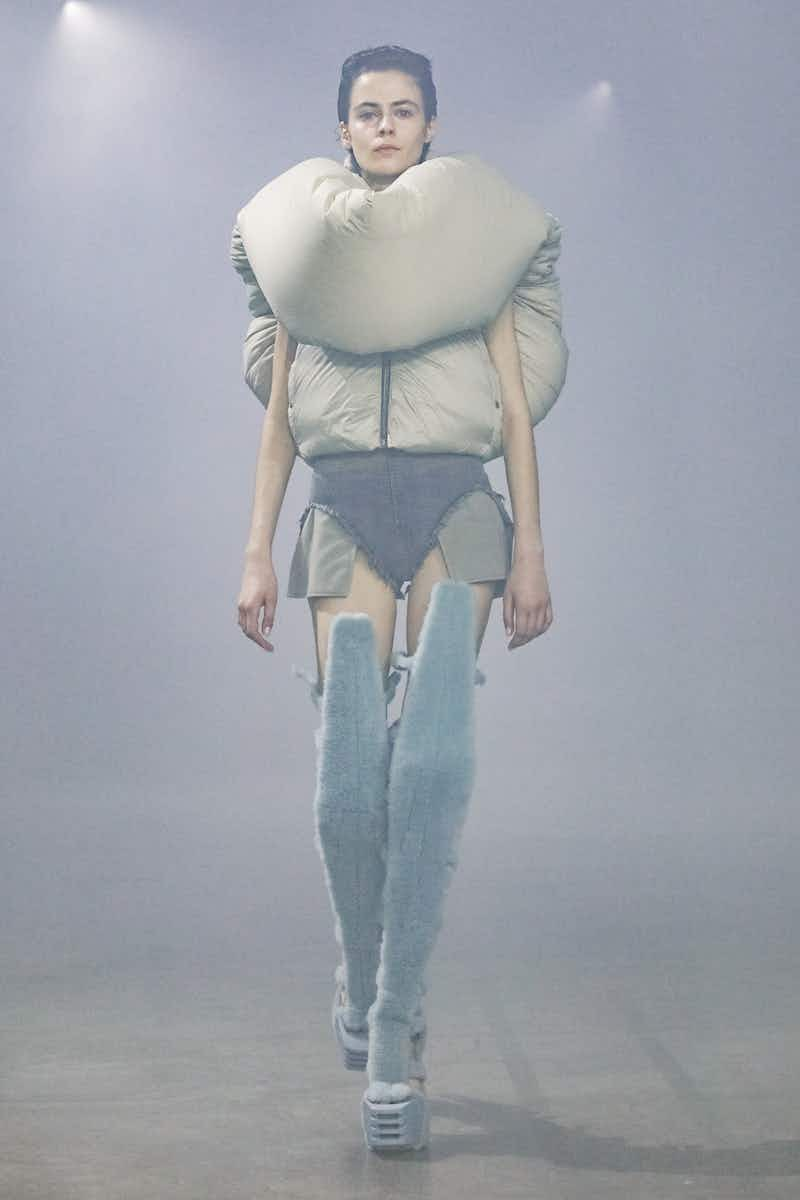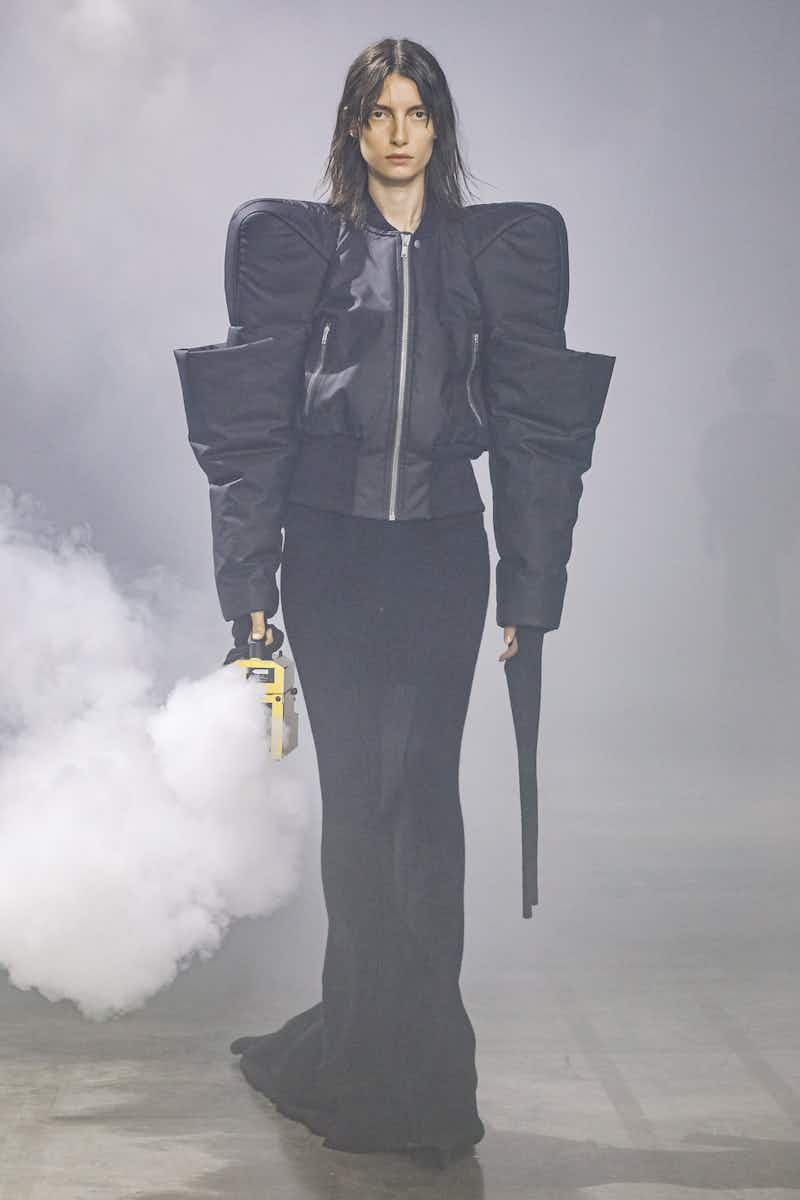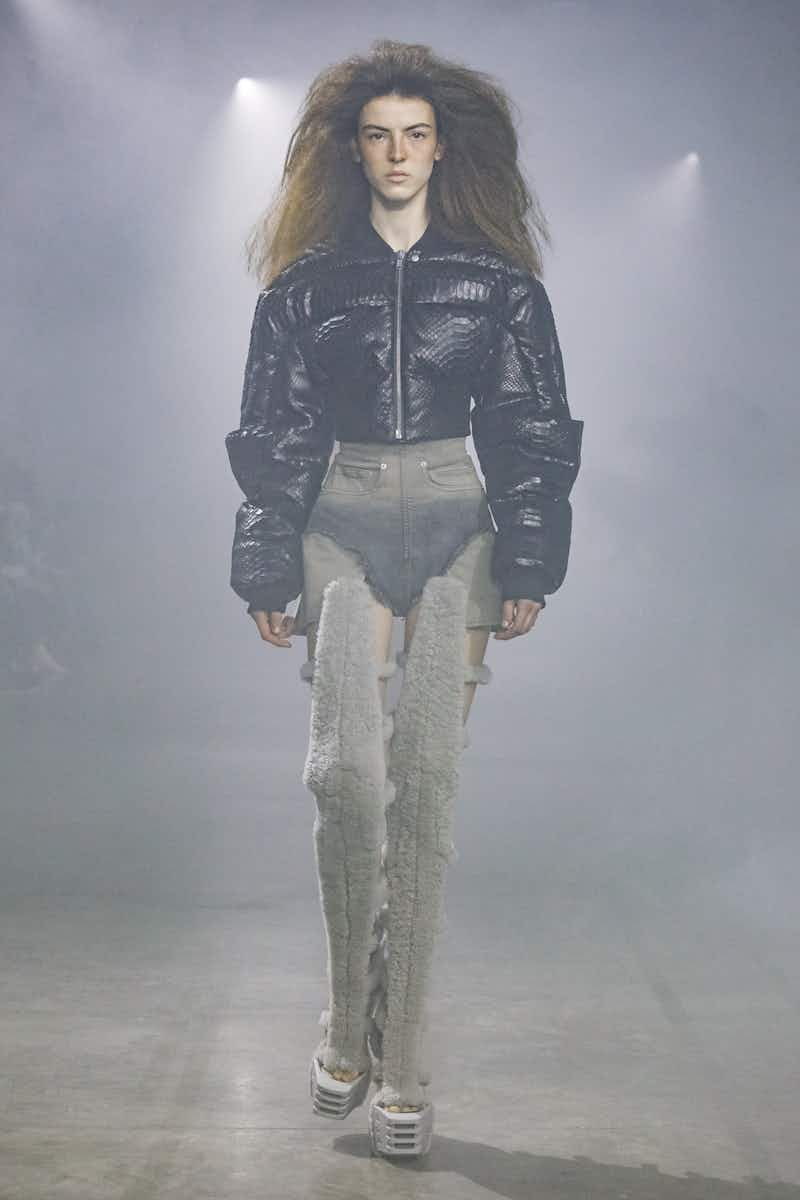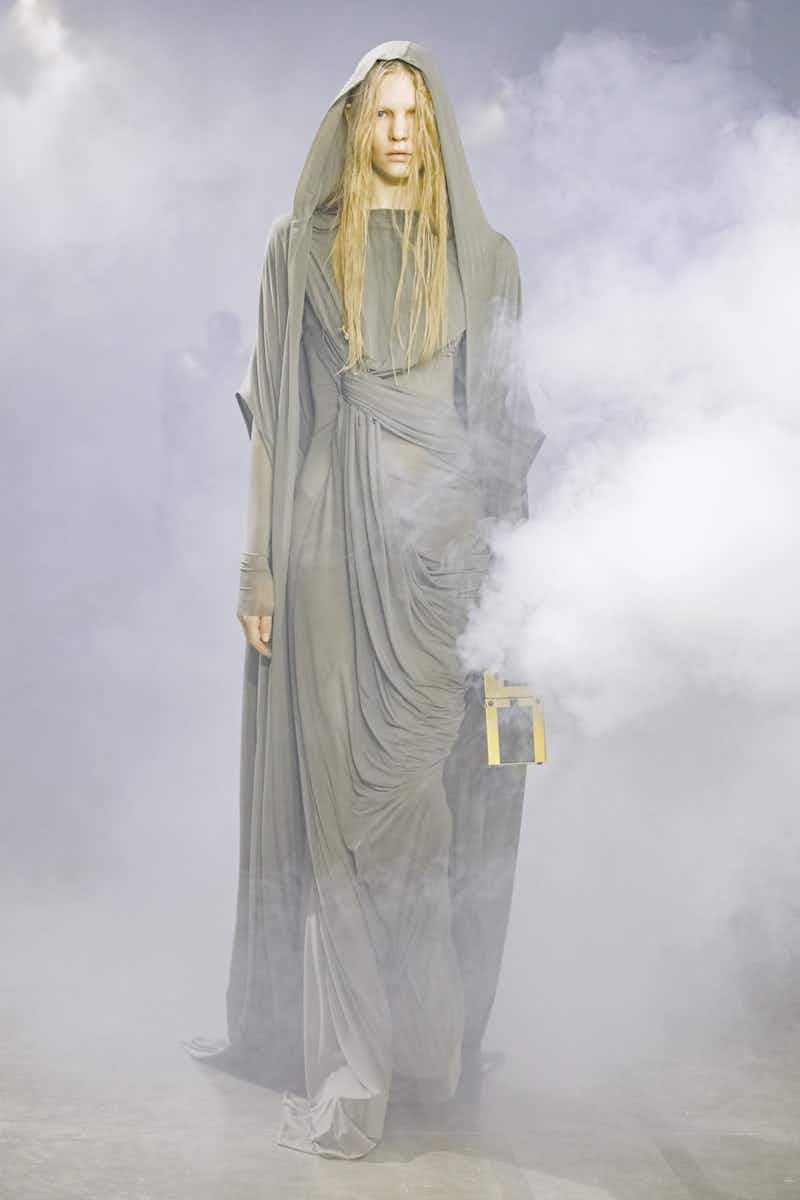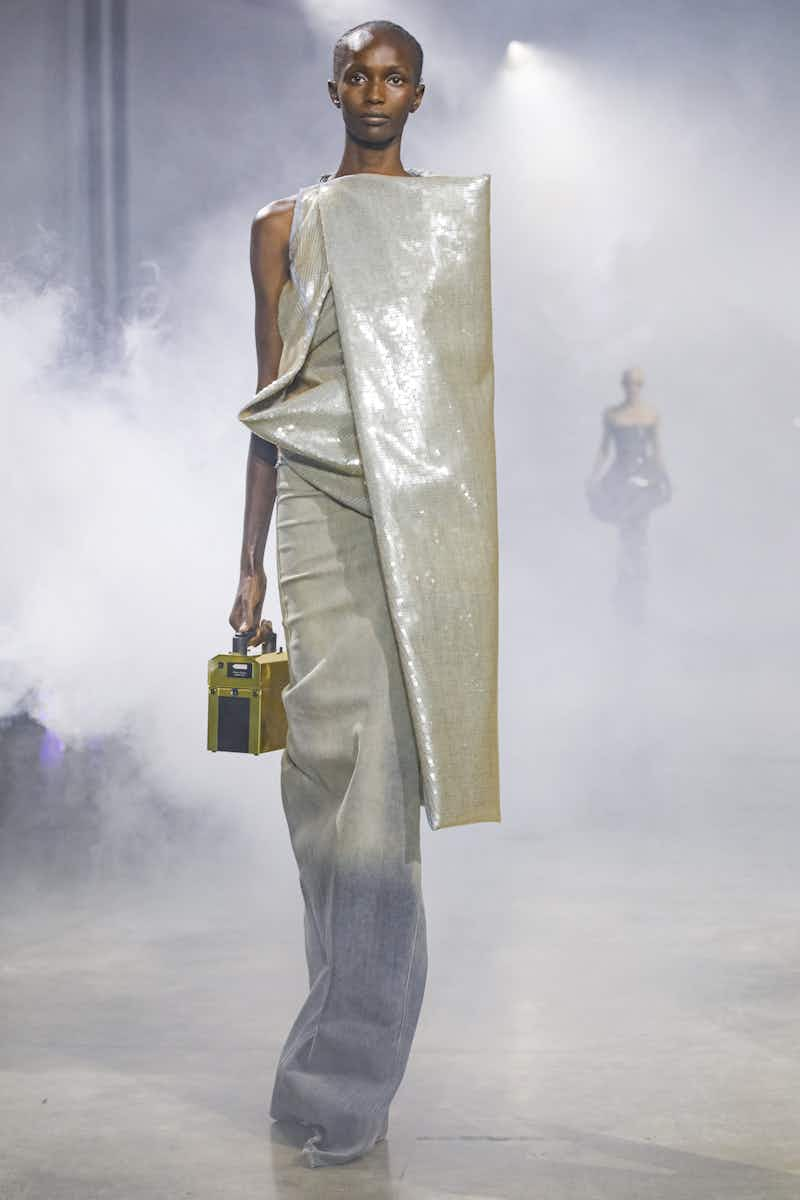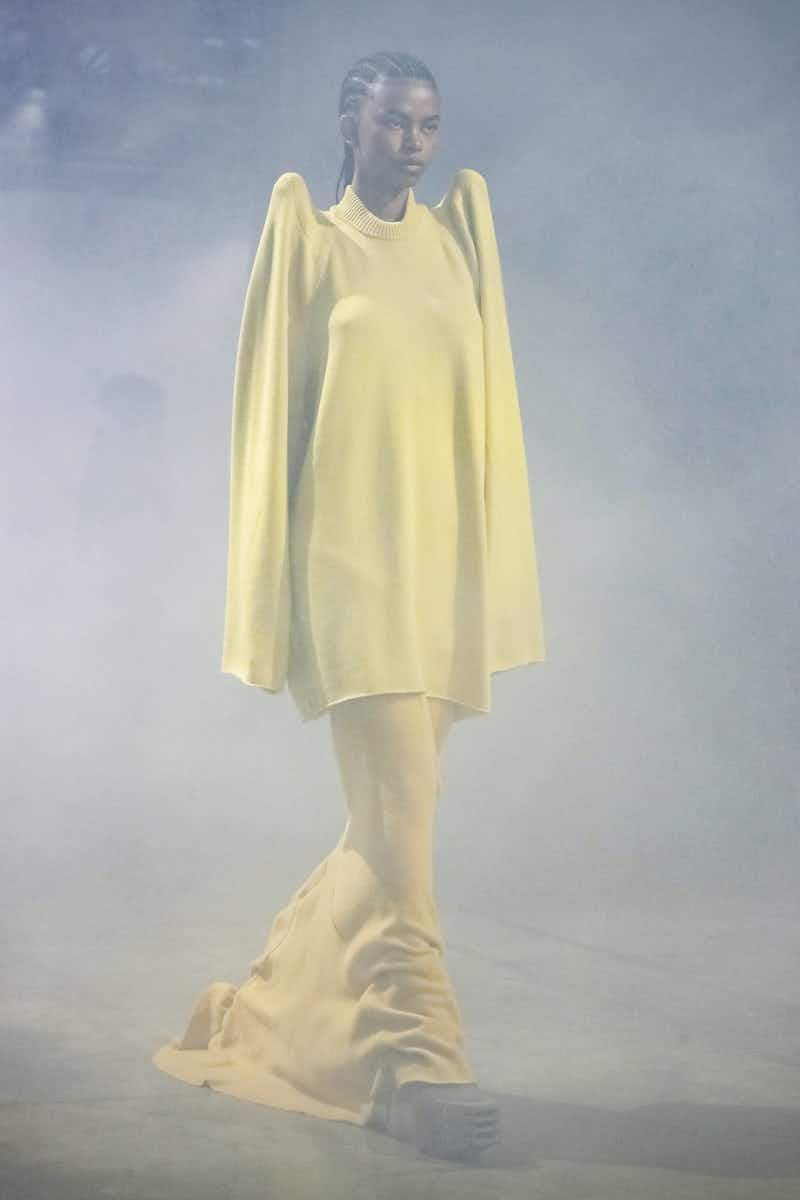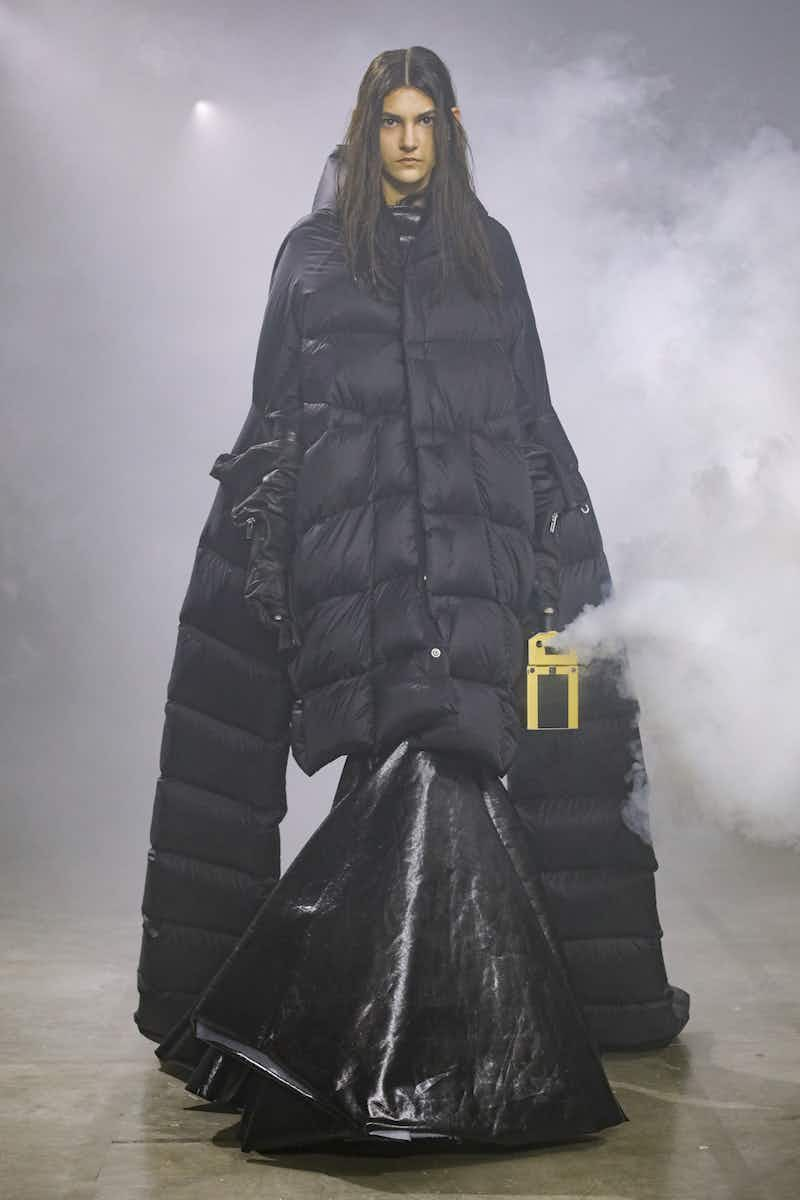 The thigh high boot is having a moment. This is unsurprising, given its affiliation with other popular form-fitting garments like bodysuits and opera gloves. Fashion is always a second skin. The tighter the item, the more apparent this fact. At Isabel Marant though, the boots were more like gaiters: wide around the thigh, perfect for any would-be fisherwomen who fancied wading out into the water to reel in a prize catch in high heels and a mini. Très chic. Of course, the woman Marant always has in mind is much more cosmopolitan. This season, inspired by Blonde Redhead singer Kazu Makino, she wears ruched party frocks, luxe cargo pants, and sequins. Her chosen second skin is soft, tactile, frequently understated, always a little sexy. She leaves her thighs and her décolleté bare, then swathes the rest in velvet and shearling. It's a seductive look: easy on the eye, and it's probably pretty comfortable to wear, too.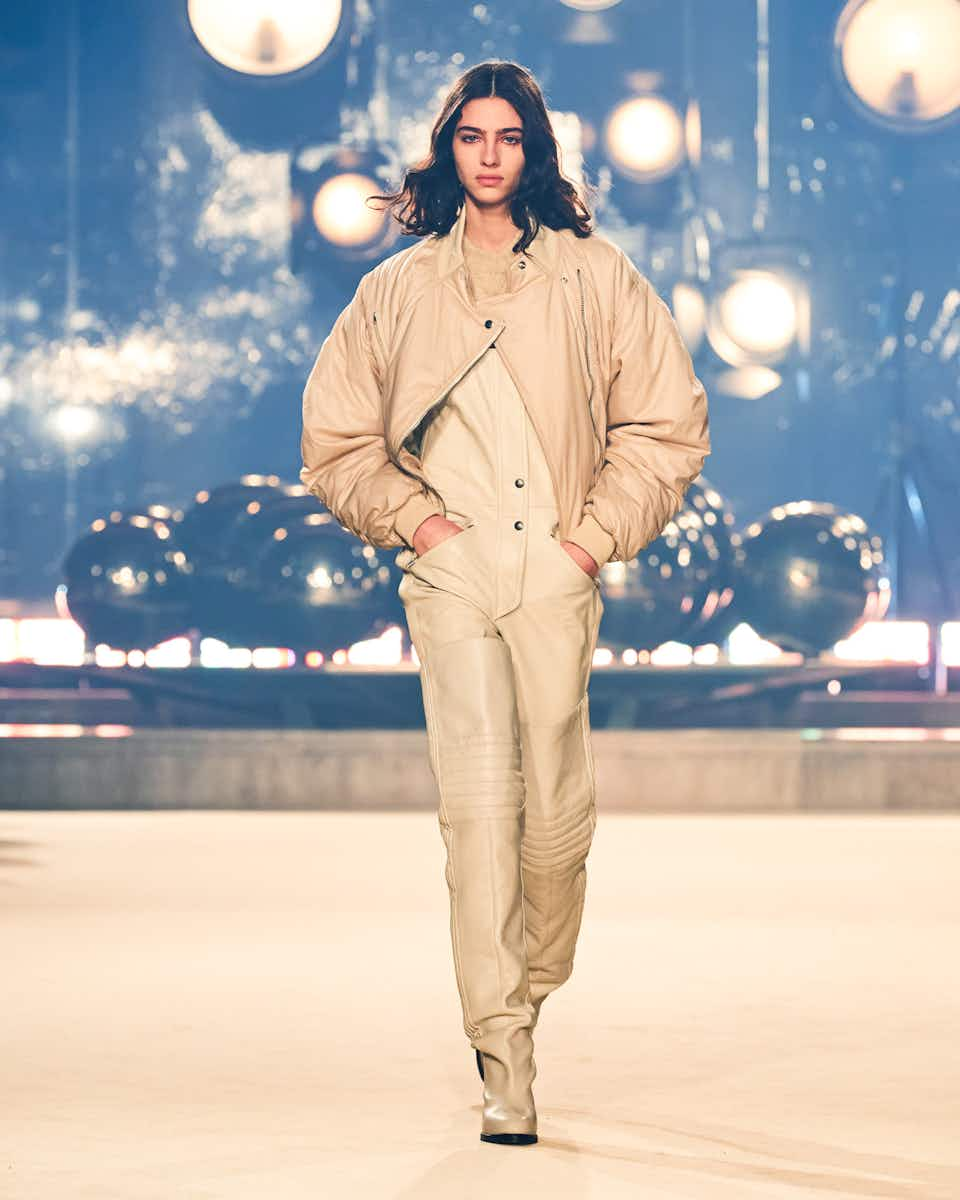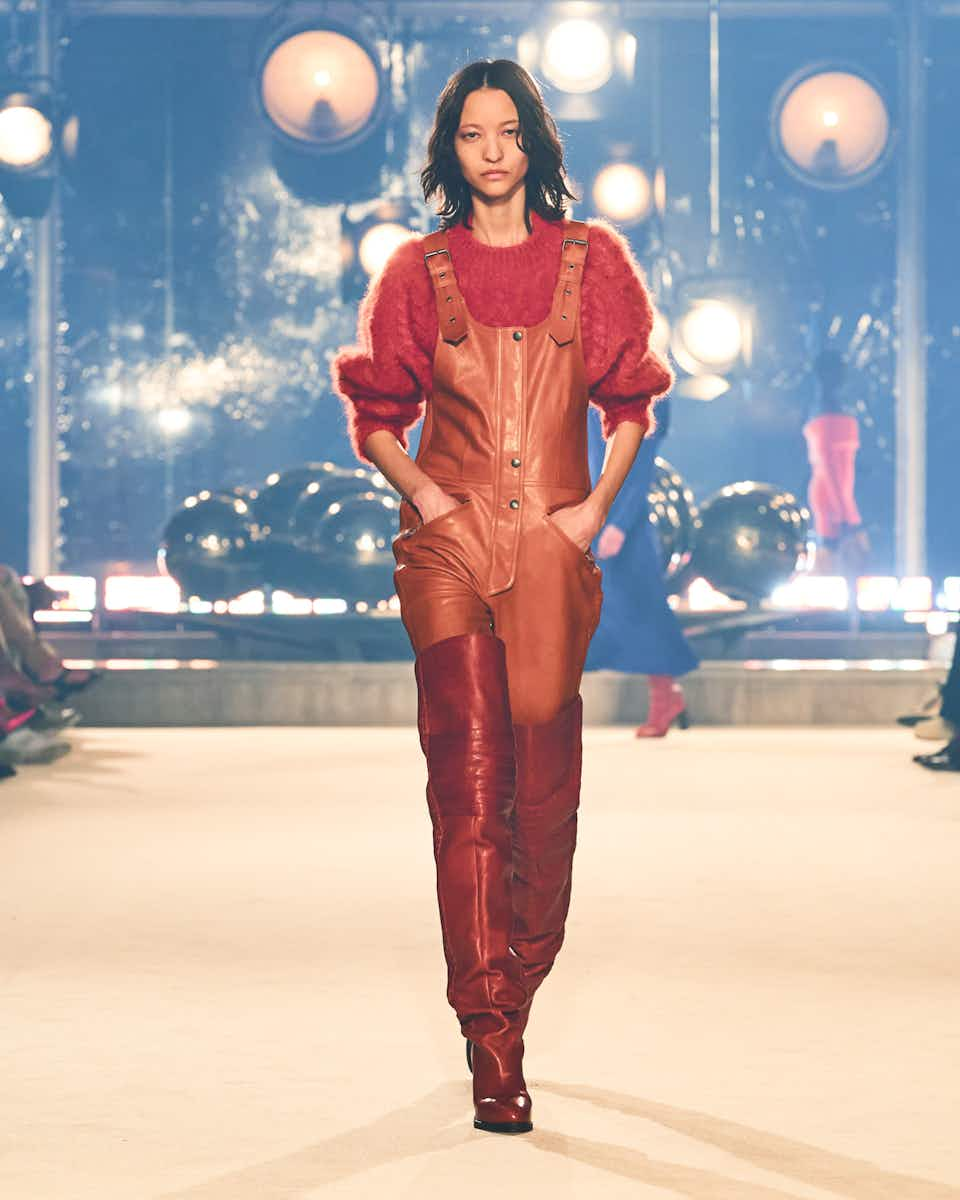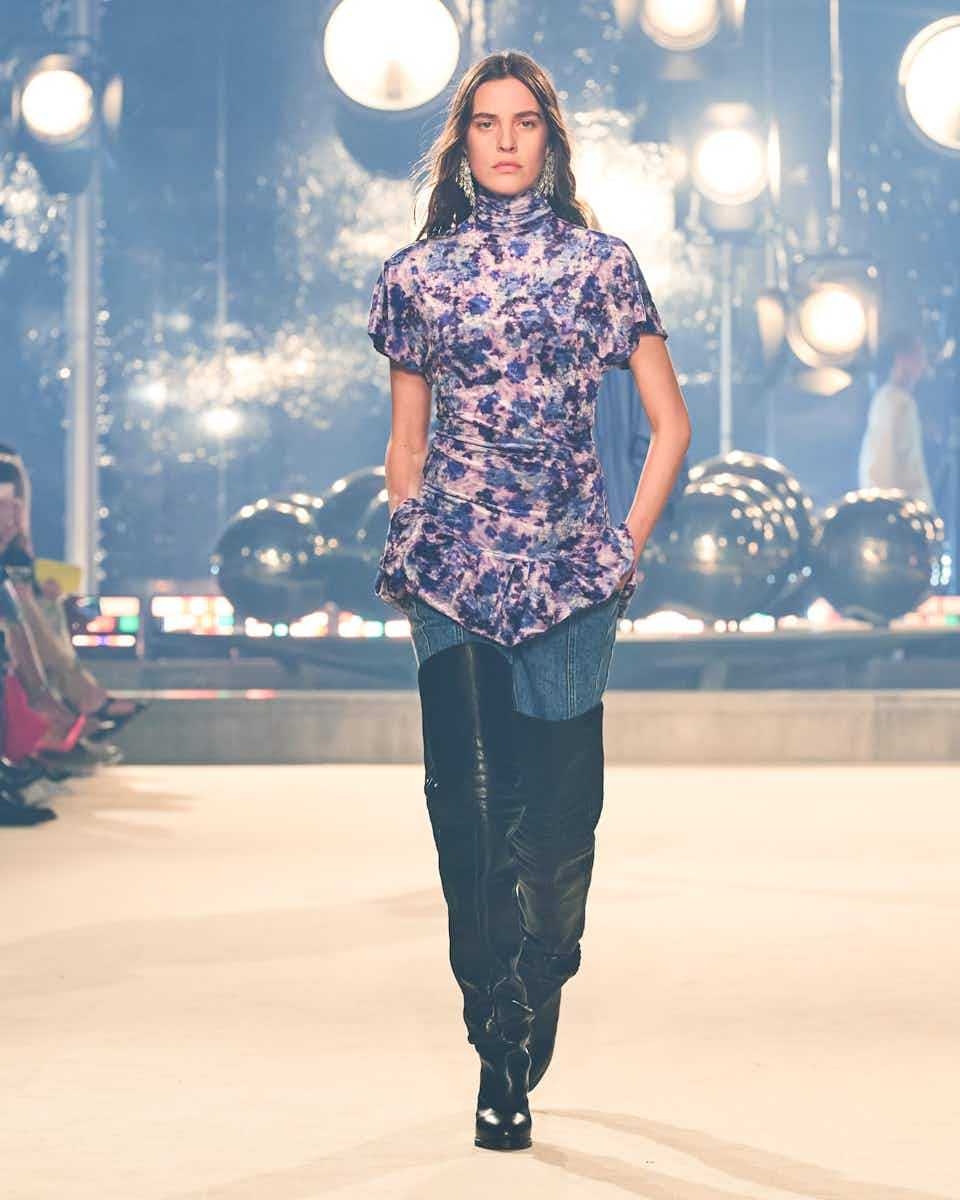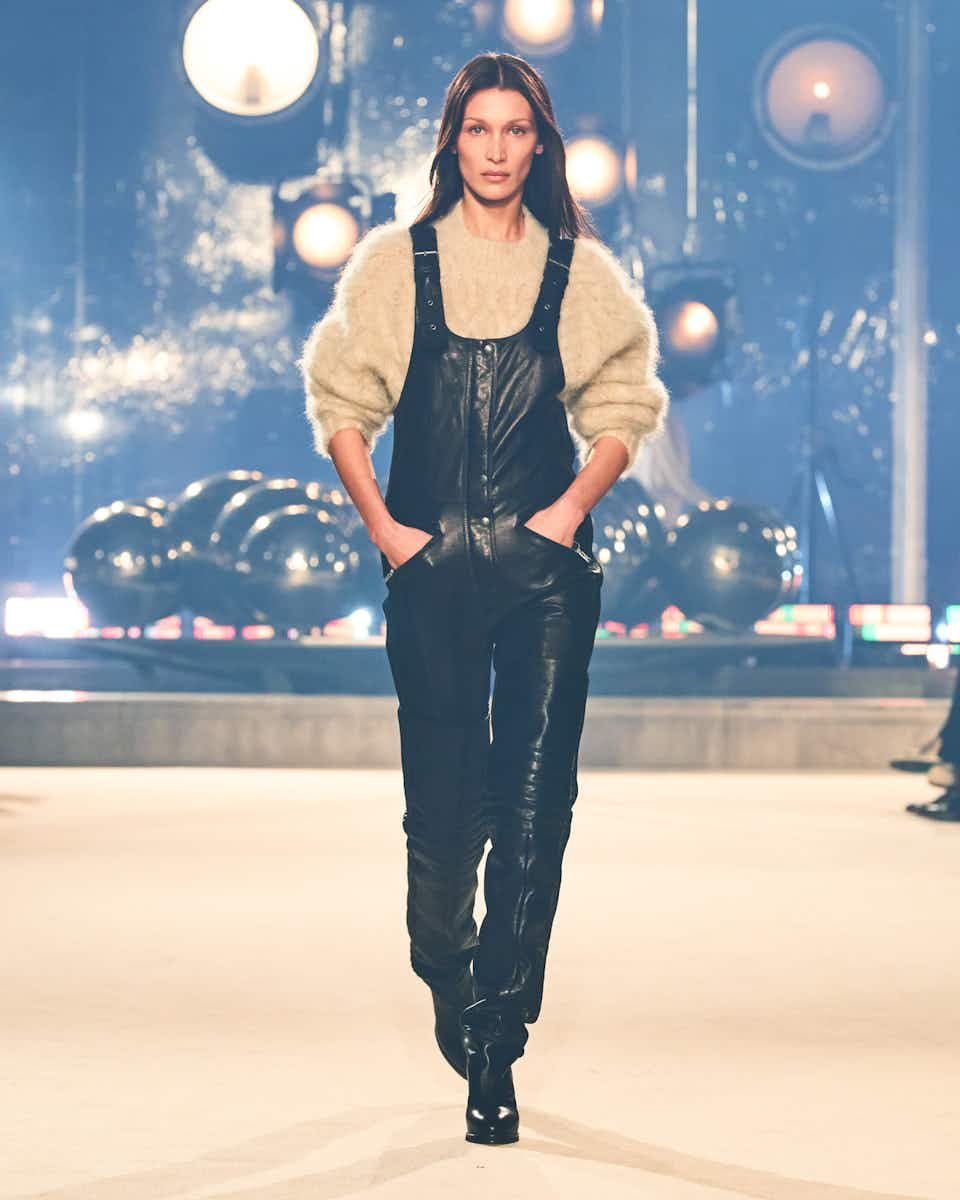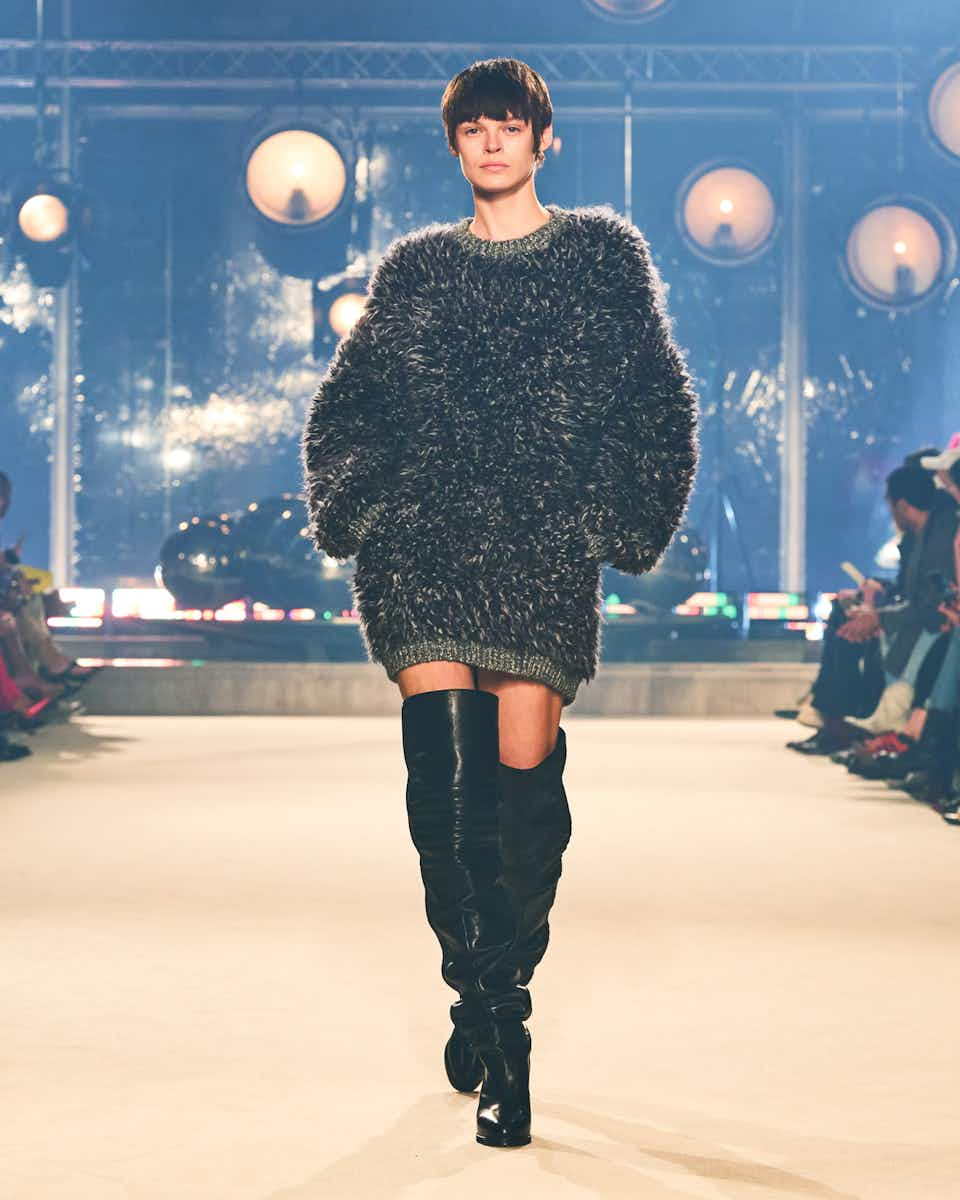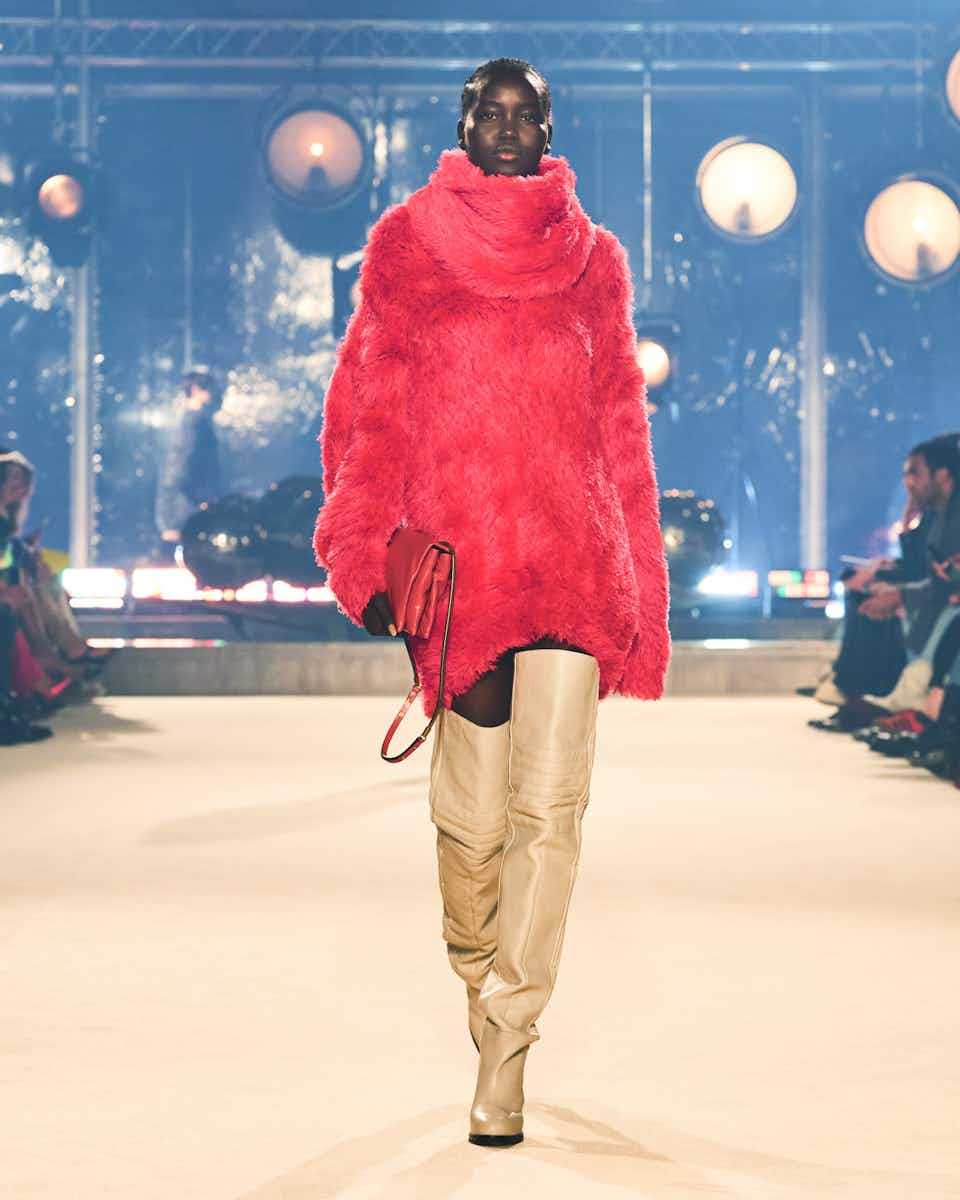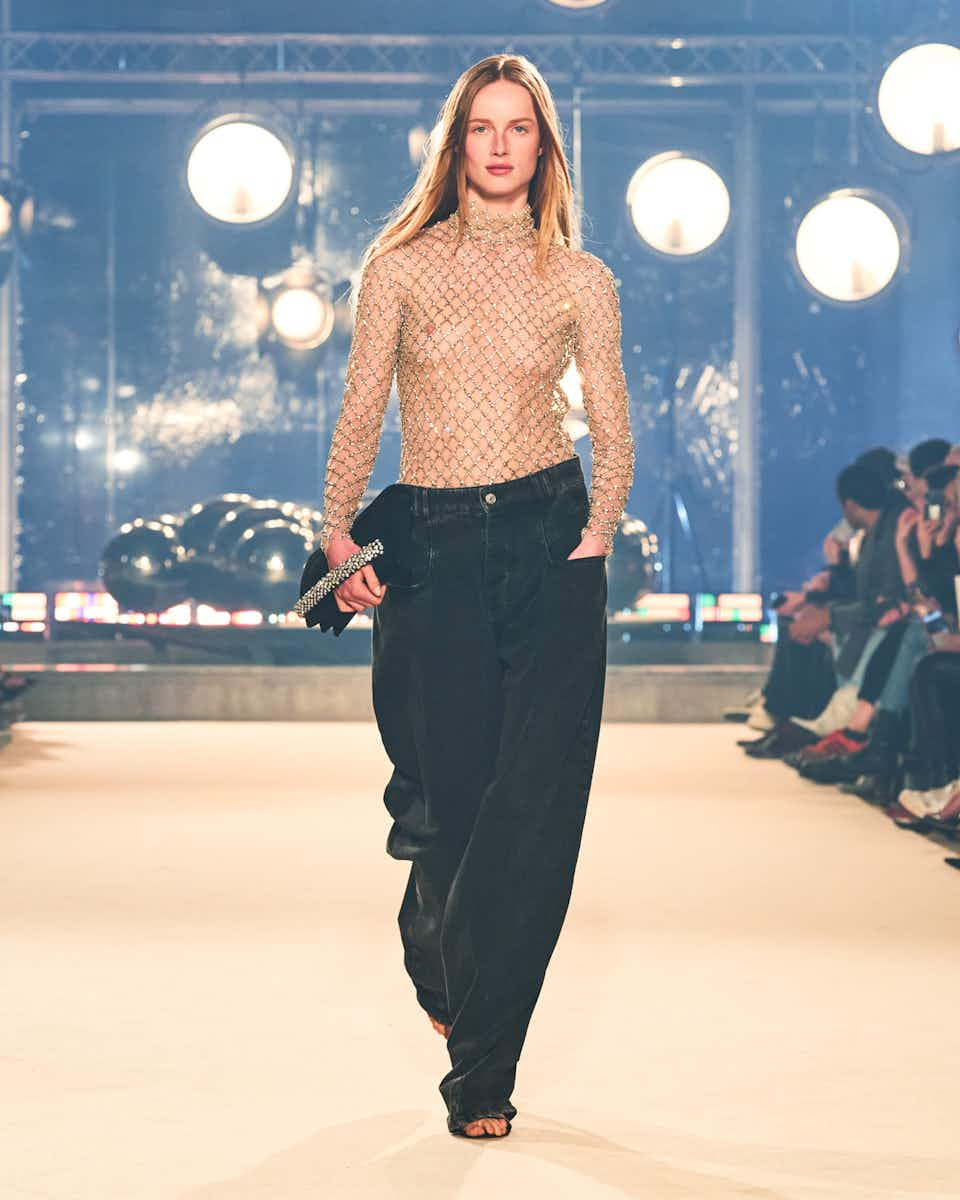 At Celine Homme, sparkly legs are back. For now, they're less American Apparel shiny leggings, and more glam rock Joan of Arc armour – with glittering cowboy fringing and gold boots thrown in for good measure. Hedi Slimane's digital presentation this season was titled ​"Boy Doll": an intriguing proposition that suggested a number of youthful archetypes, the opulent braggadocio of a Mick Jagger or David Bowie played off against ​'50s teenage tearaways swaggering around in denim and leather. The presentation took place in L'Olympia, the oldest musical hall in Paris, and was soundtracked by Swedish punk musician ShitKid. Amongst the glitz and super sharp tailoring, a number of artist collaborations featured – including with Banks Violette, who provided illustrations of horses and flags on the backs of some of those slick leather looks. All the boys wore Celine Moon sunglasses, impenetrable and elegant as they paced the stage.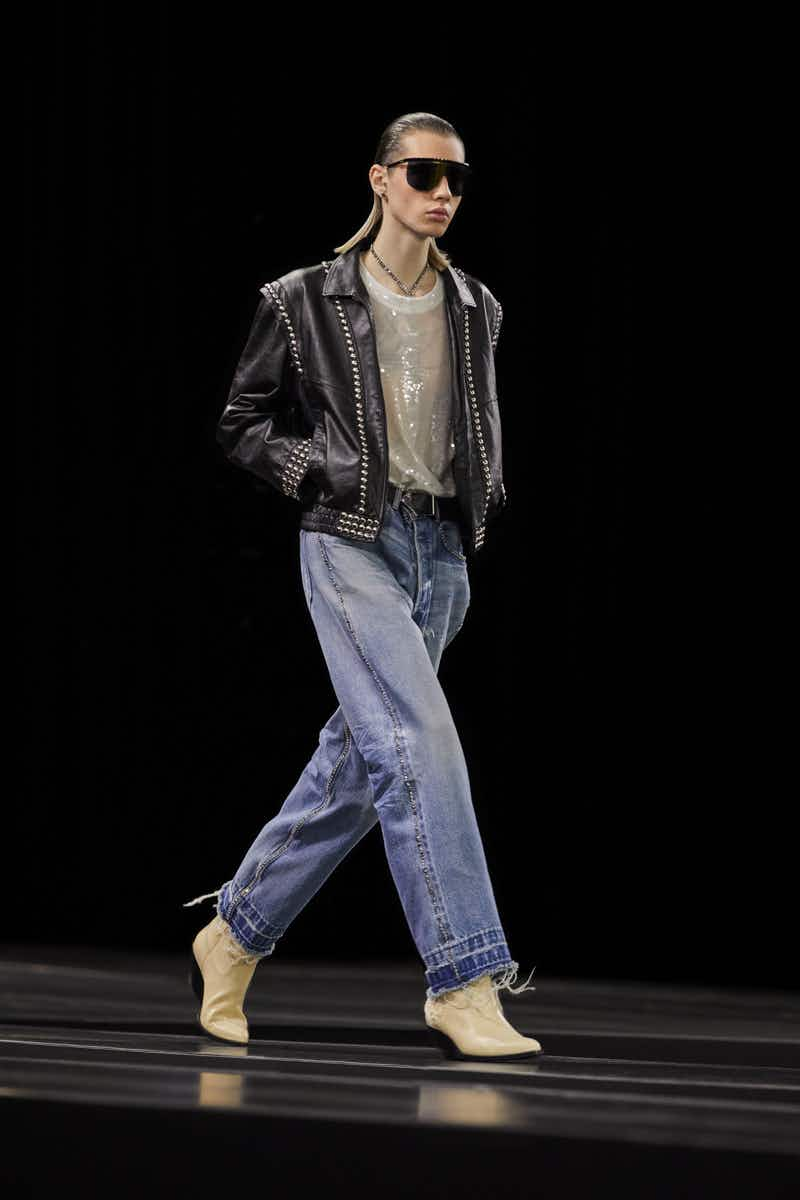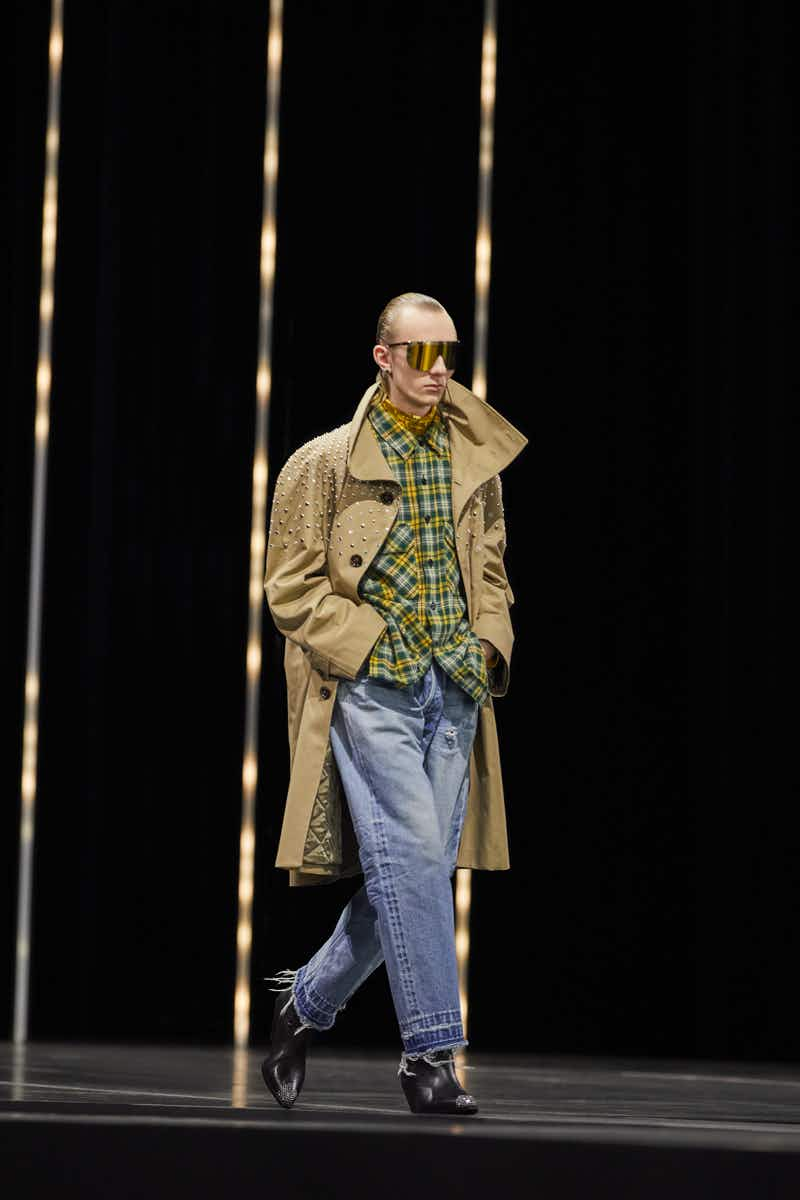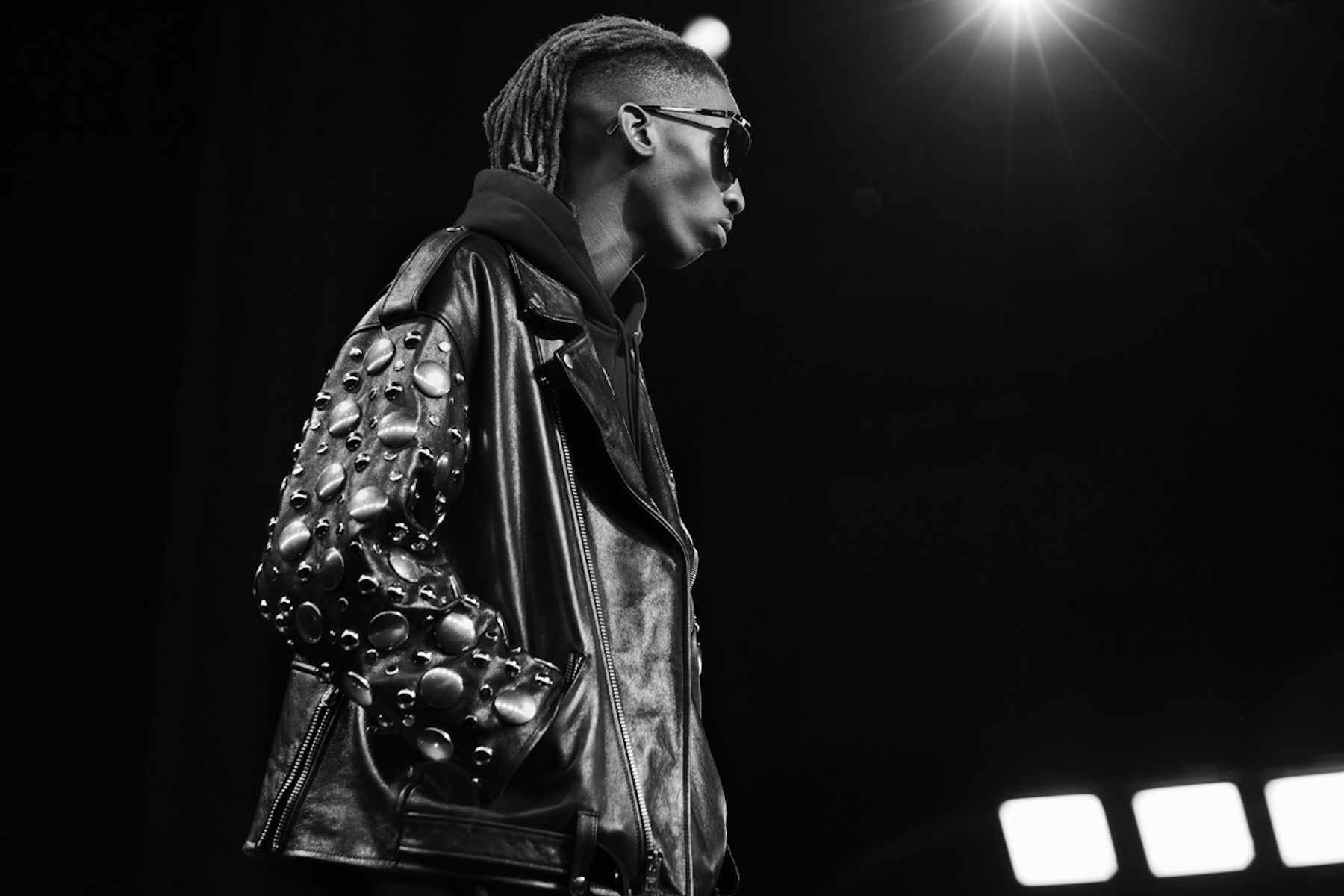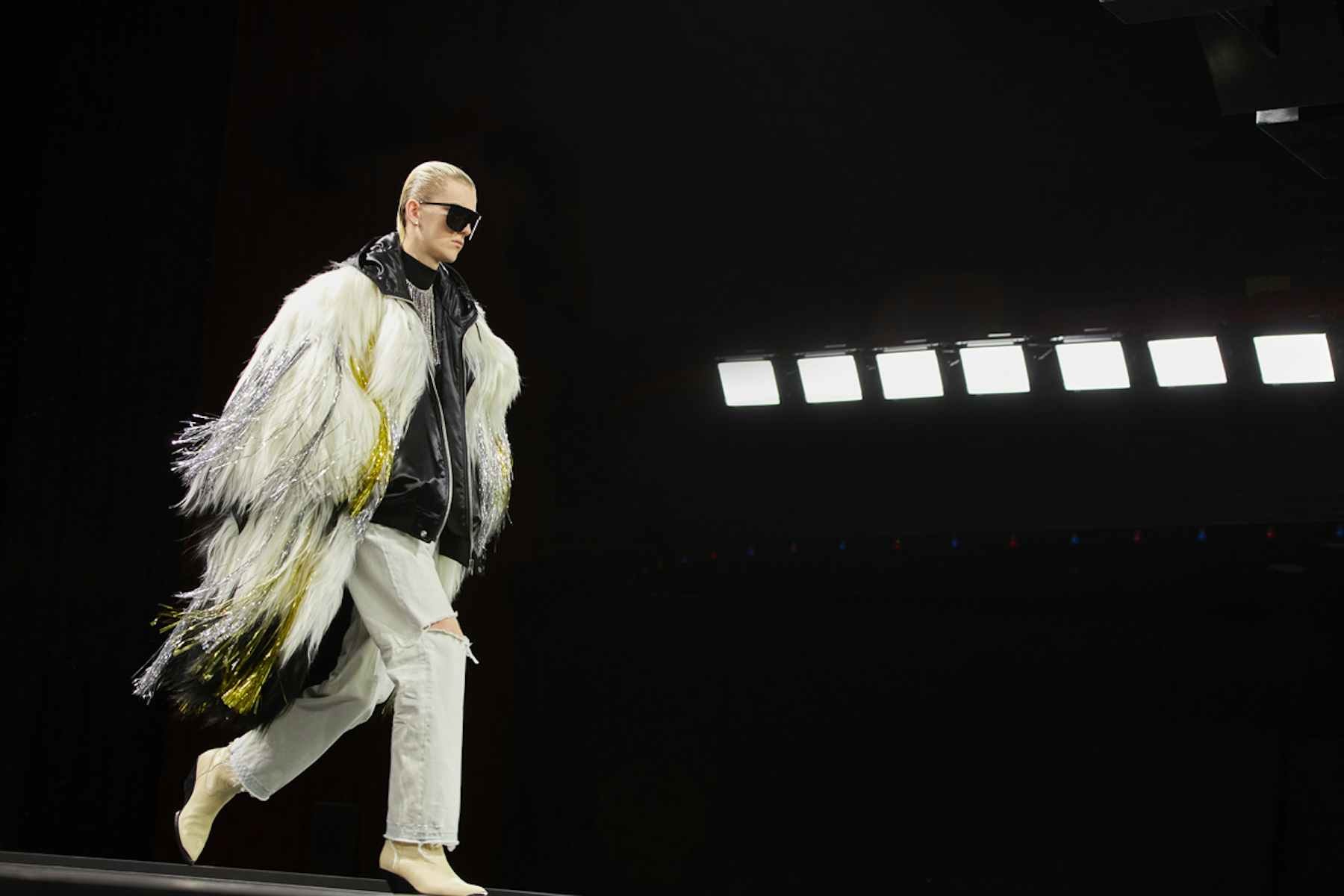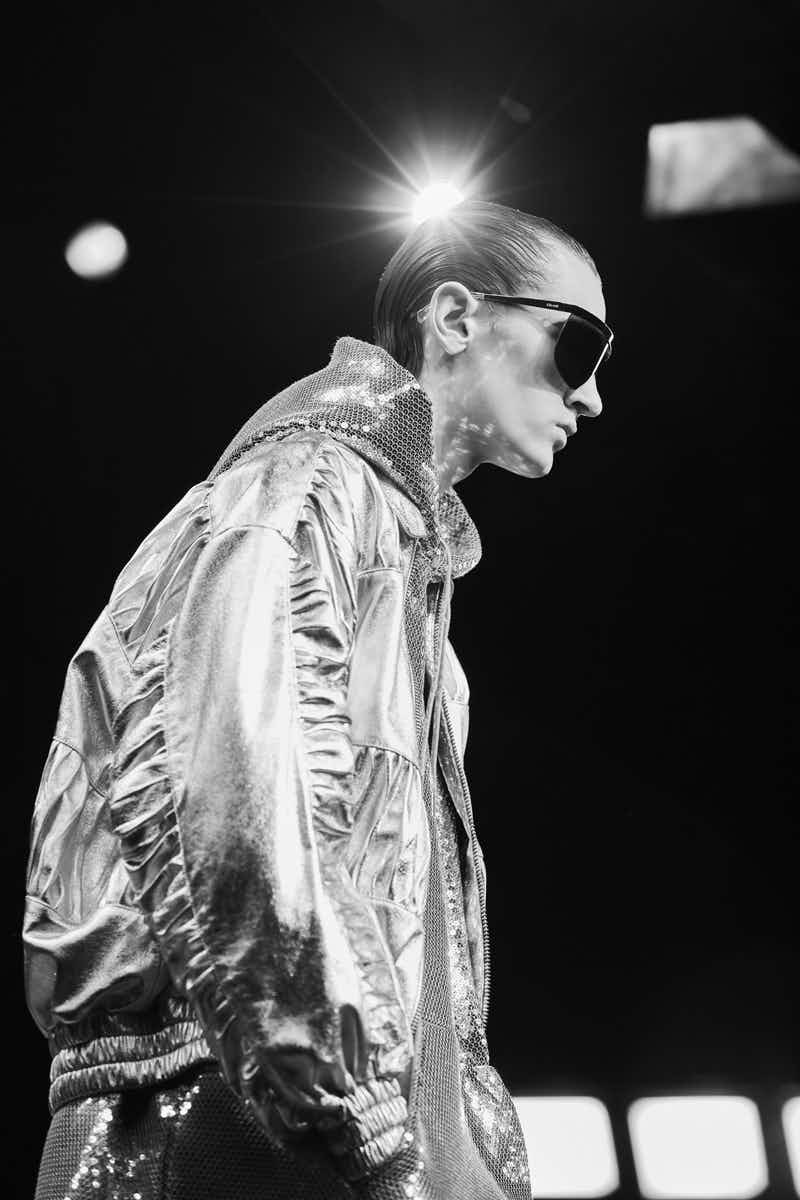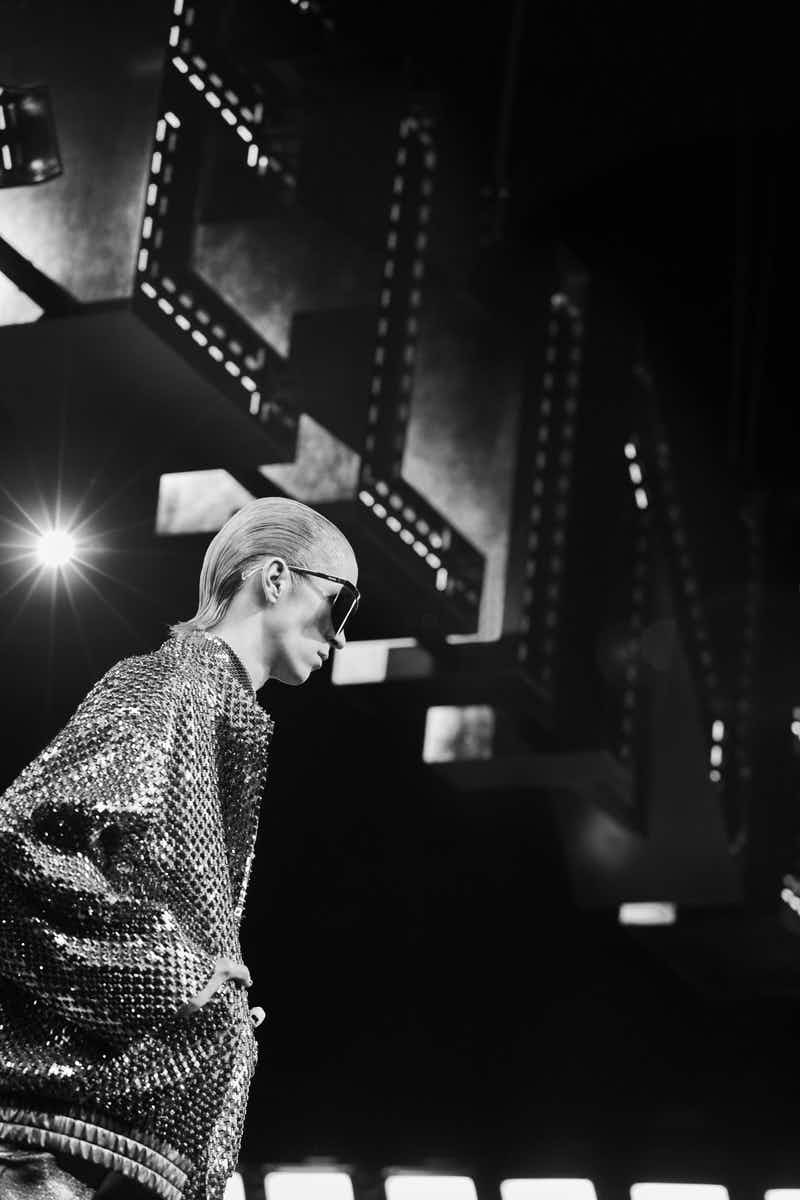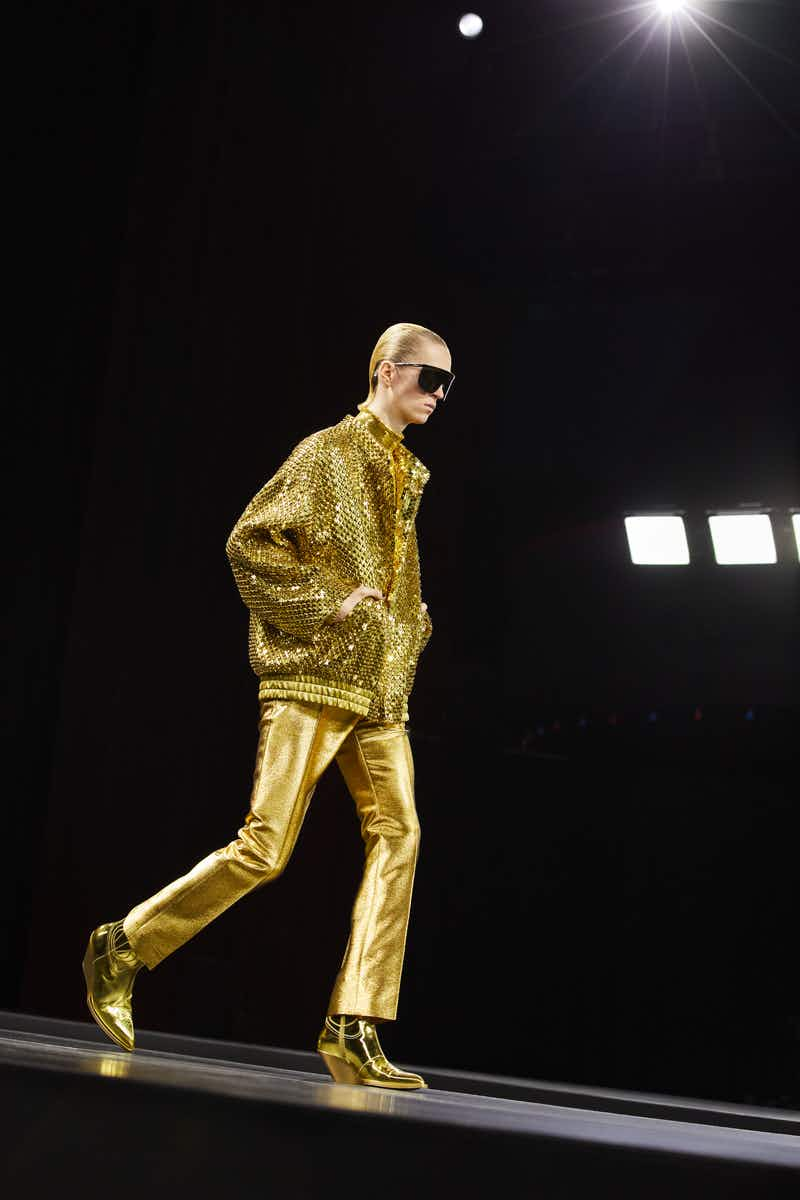 In Milan, the question of how to best acknowledge Russia's invasion of Ukraine was a heavy one. Fashion can be surreal at the best of times – an enclosed, often elevated sphere – and becomes even more so during a time where pictures of models in vertiginous heels are interspersed on social media with harrowing videos of bombed buildings, neonatal units in basements, and a million refugees fleeing to neighbouring countries. Fashion is not separate from the world though. It is both big business and soft power, part of an intricate global network of commerce. But how many luxury labels are willing to deplete revenue by cutting ties with wealthy Russian clientele?
In Paris, the need for explicit acknowledgement has solidified. The week opened with a statement from the Fédération de la Haute Couture et de la Mode calling for solemn reflection, and individual designers beyond Giorgio Armani (who held his catwalk in silence in Milan) have begun to speak up. At Balmain creative director Olivier Rousteing touched on shared values of hope, truth, and progress in his show notes, while on Instagram he wrote ​"it's hard to feel right about focusing on runways and clothes, as we listen with heavy hearts to the news" before encouraging his followers to donate to the UNHCR's emergency Ukraine fund. In face of the unspeakable, every gesture runs the risk of feeling flimsy – but such shows of solidarity are still preferable to continuing with business as usual.
The main narrative thread at Balmain was one of armour. It was a strange point of congruence, springing from Rousteing's personal meditation in the preceding months on the hostility of social media. Mixing medical and military themes, dresses and suits were transformed into garments that were part protective, part restorative. This is what fashion so often does. It borrows not just from other arenas of life, but other areas where what we wear has actual use: to shield, to keep warm, to form a barrier between the skin and everything that lies beyond it. It turns the practical into the symbolic. One wonders what other symbols might be swiftly added in this week in Paris.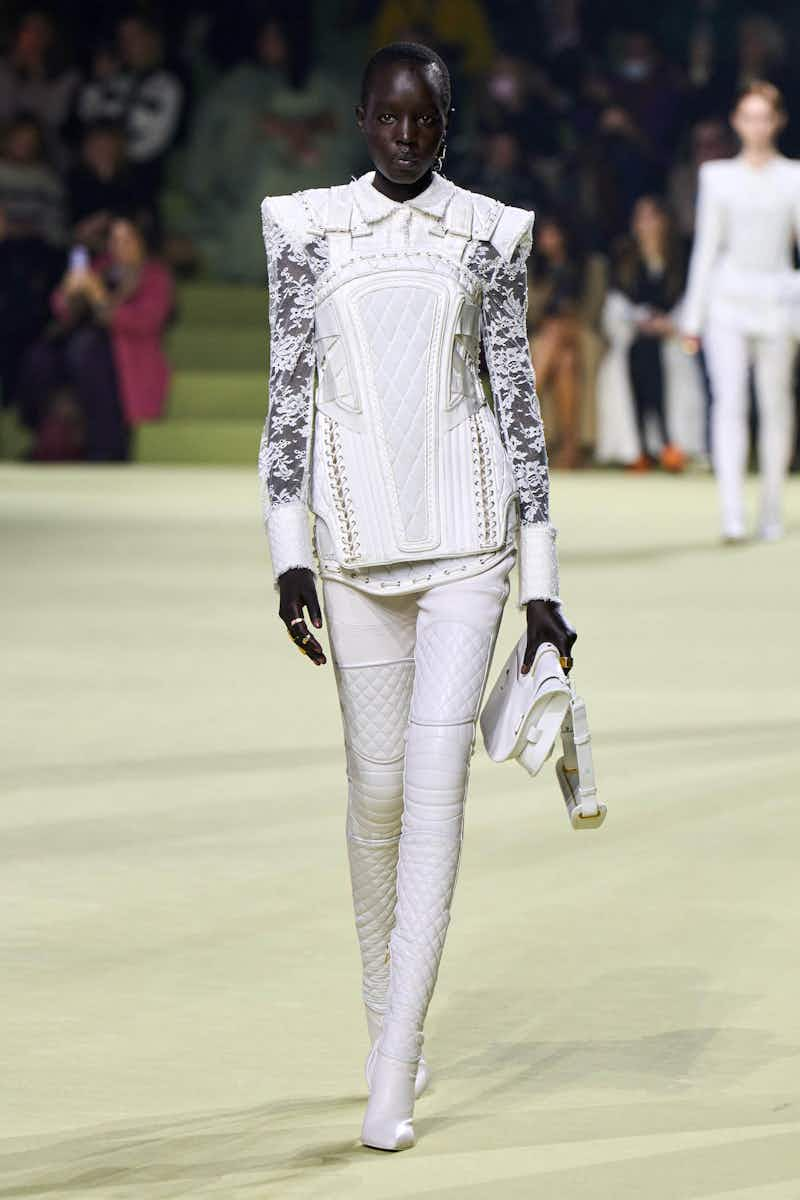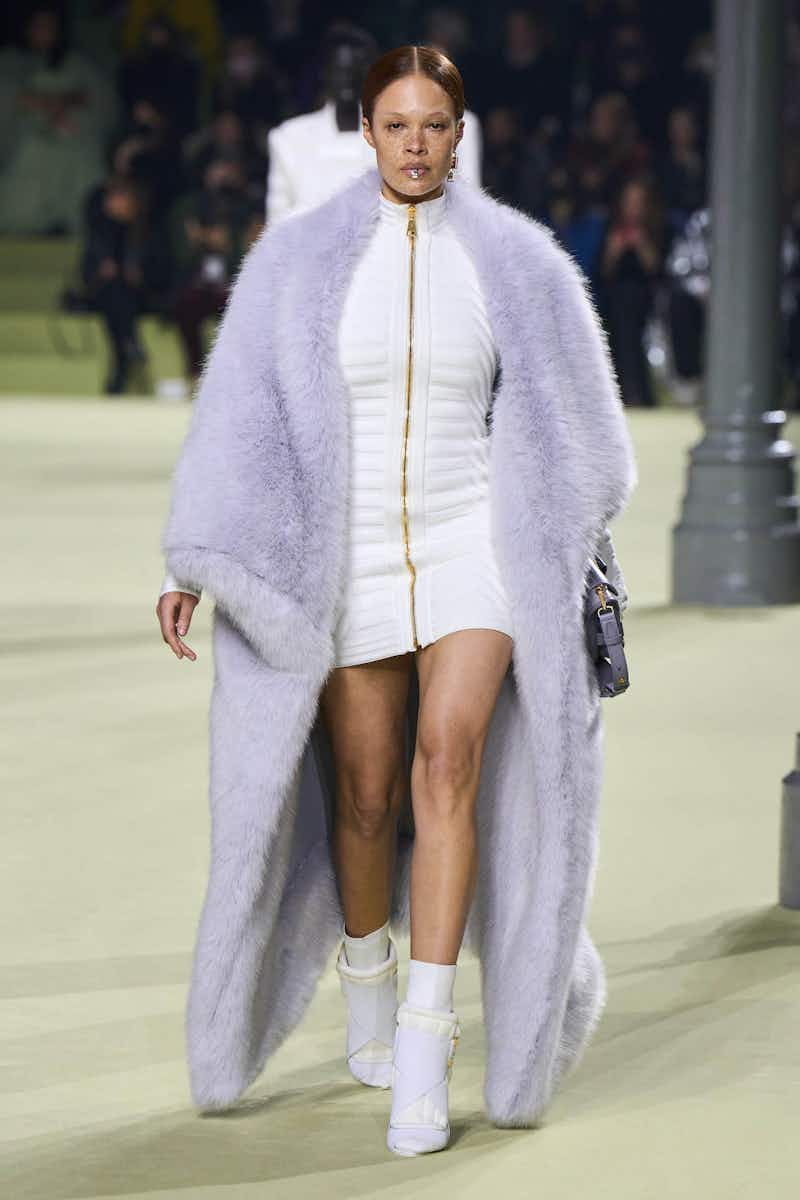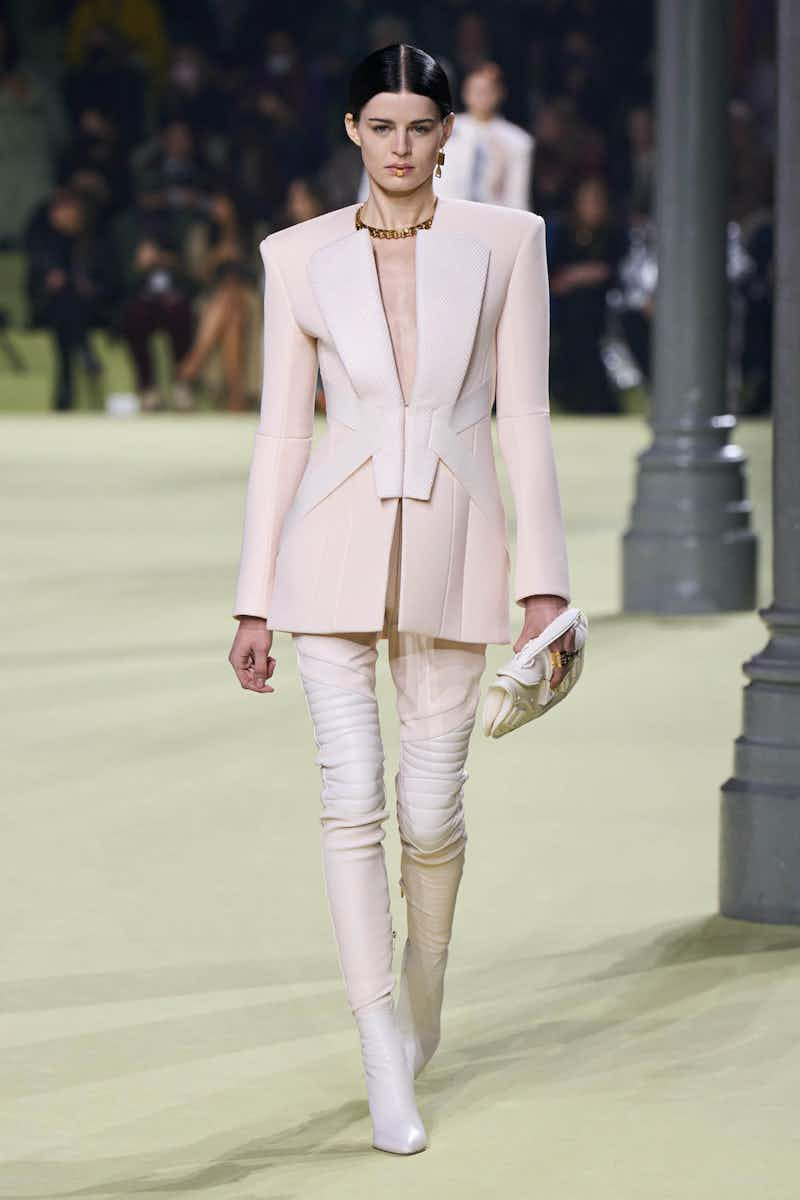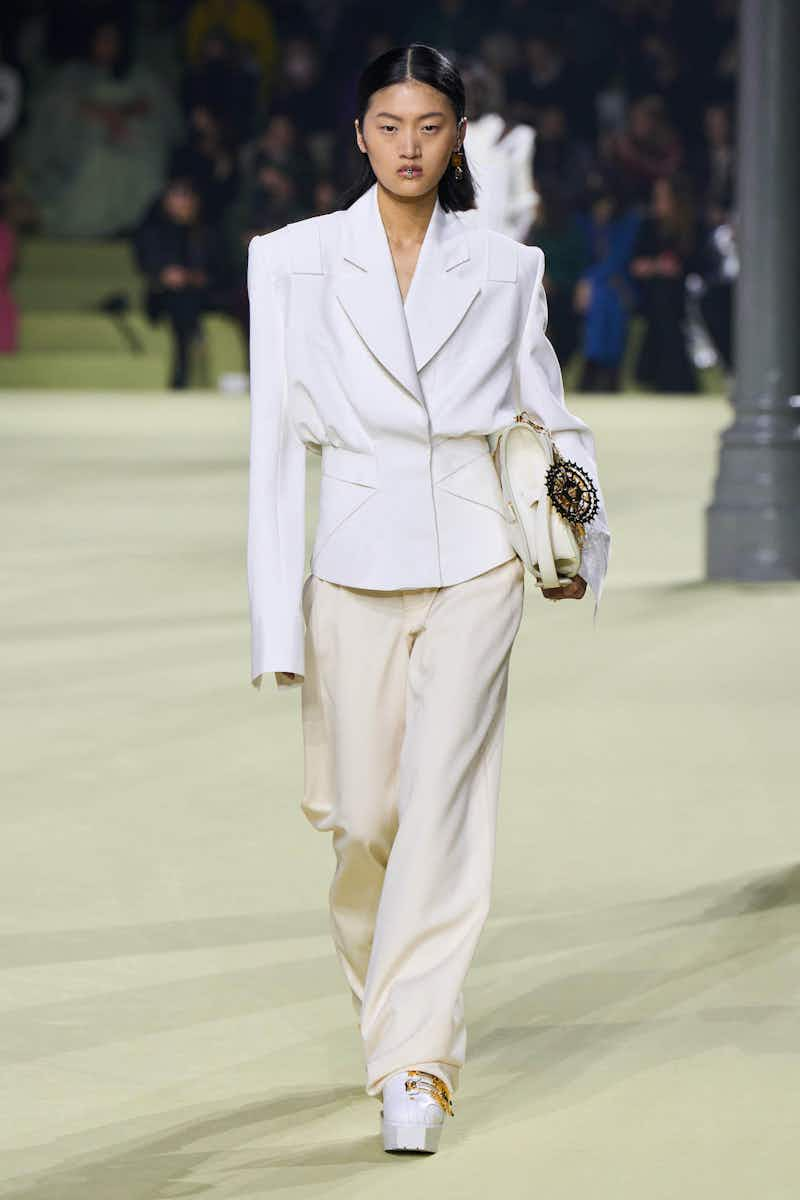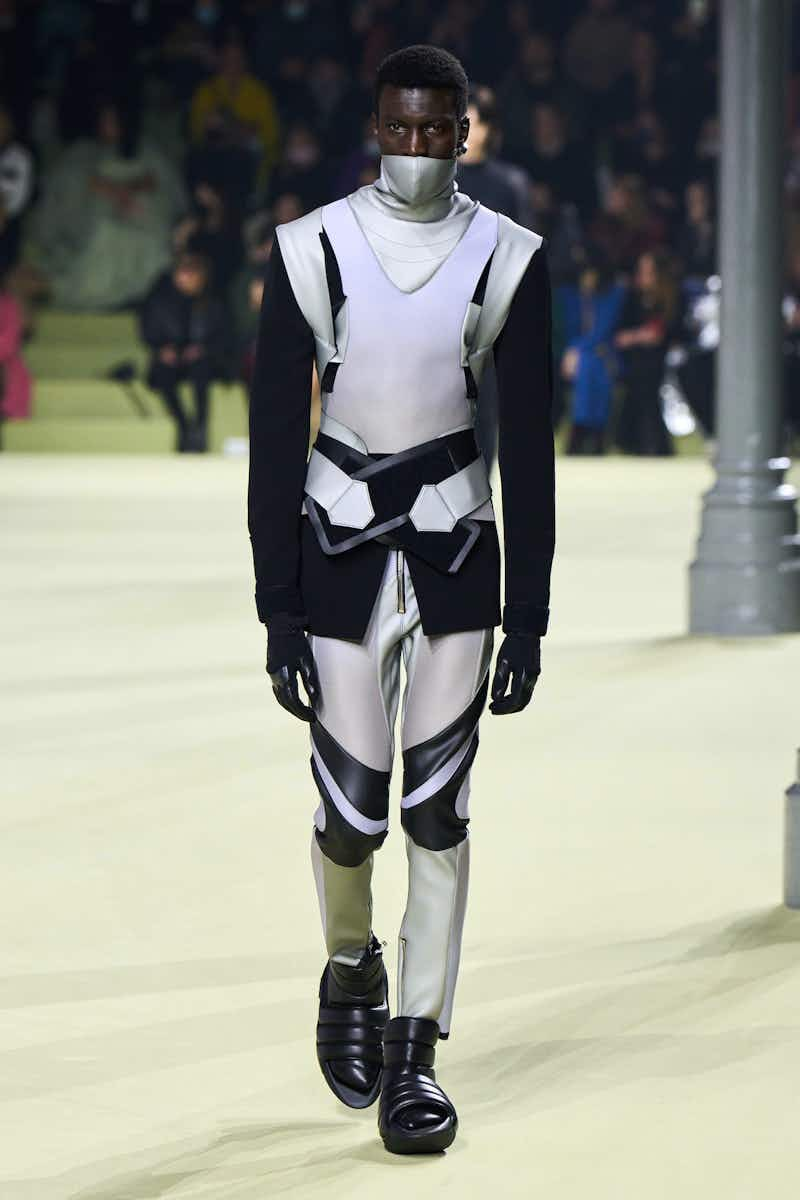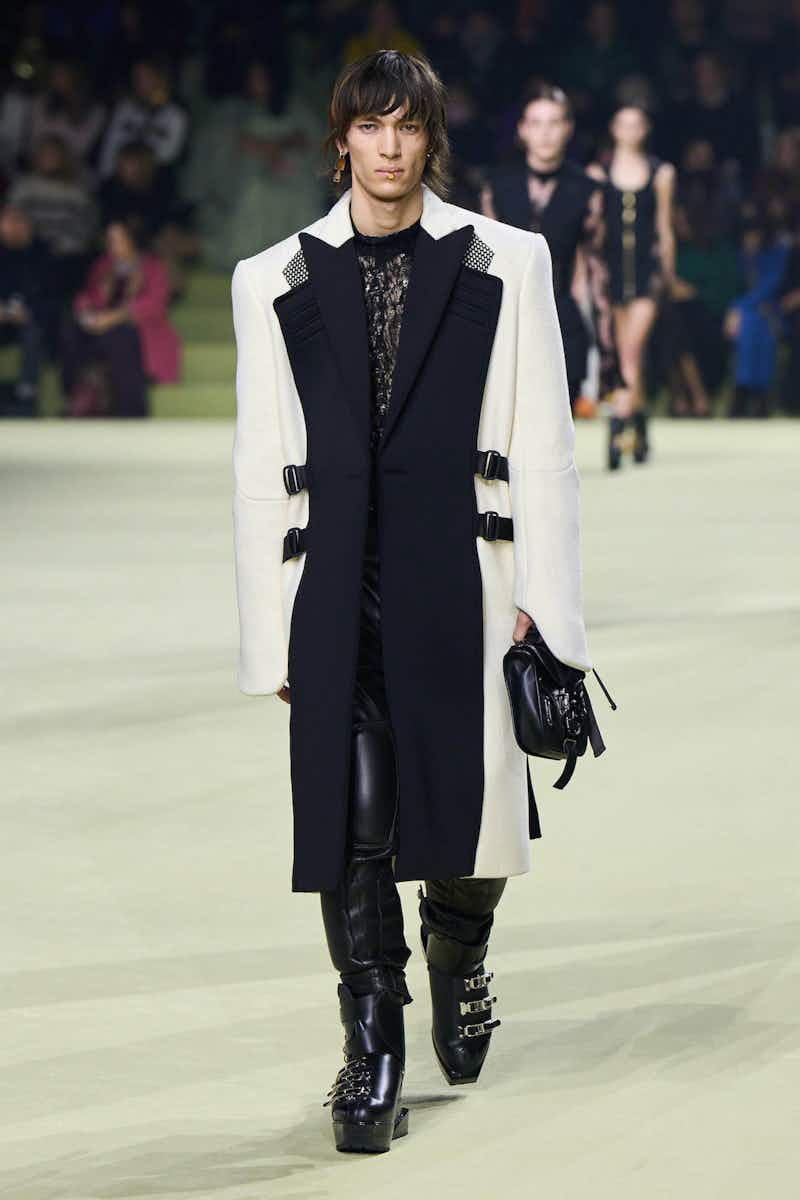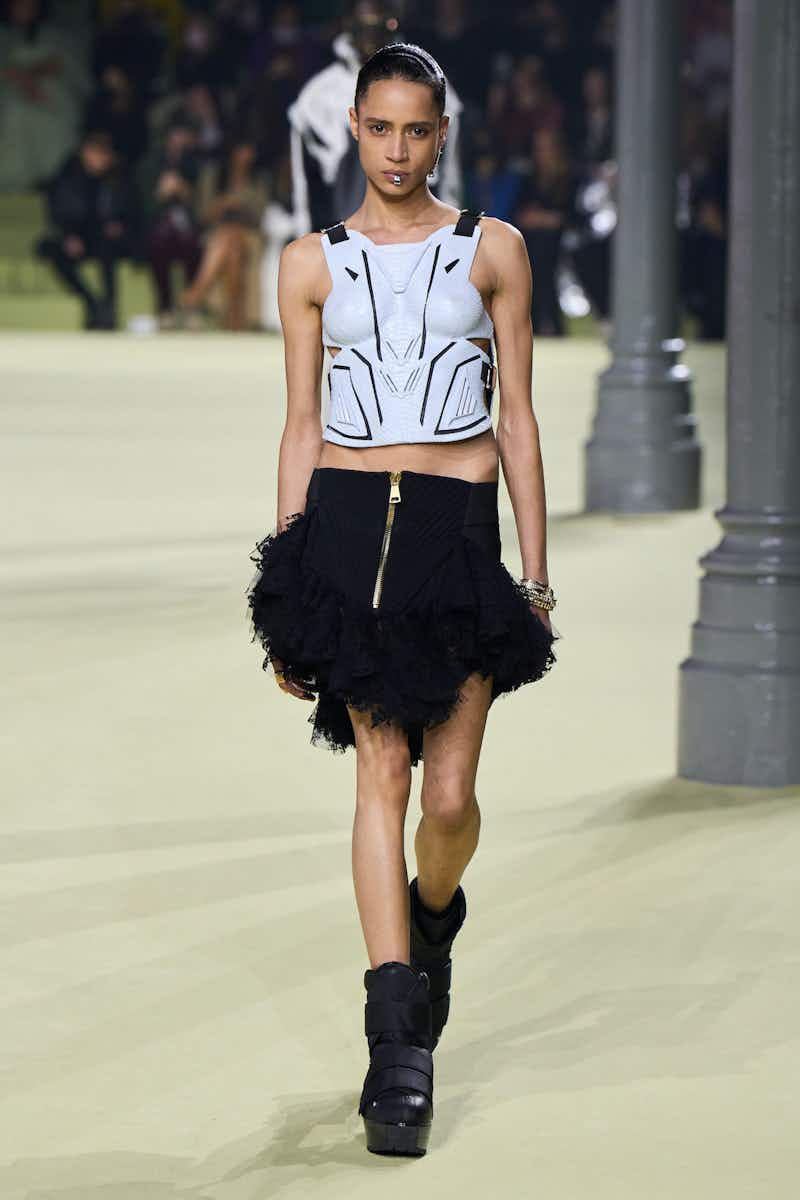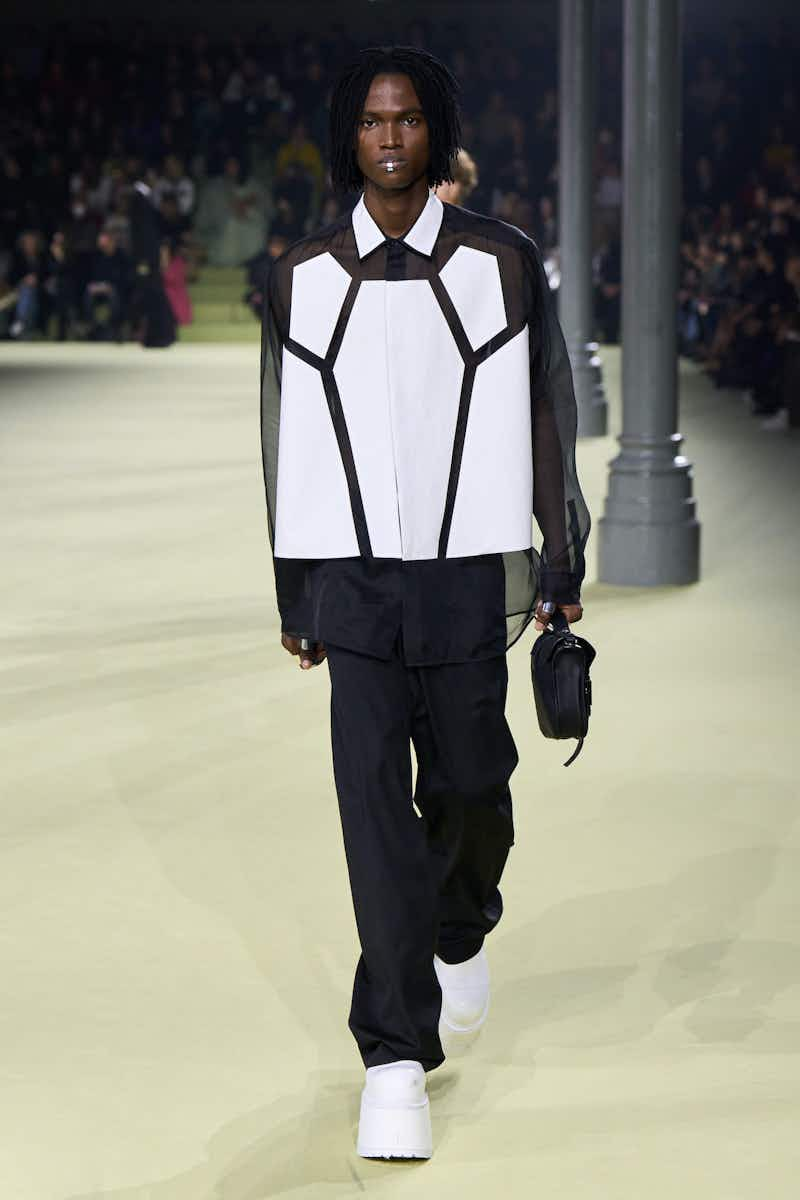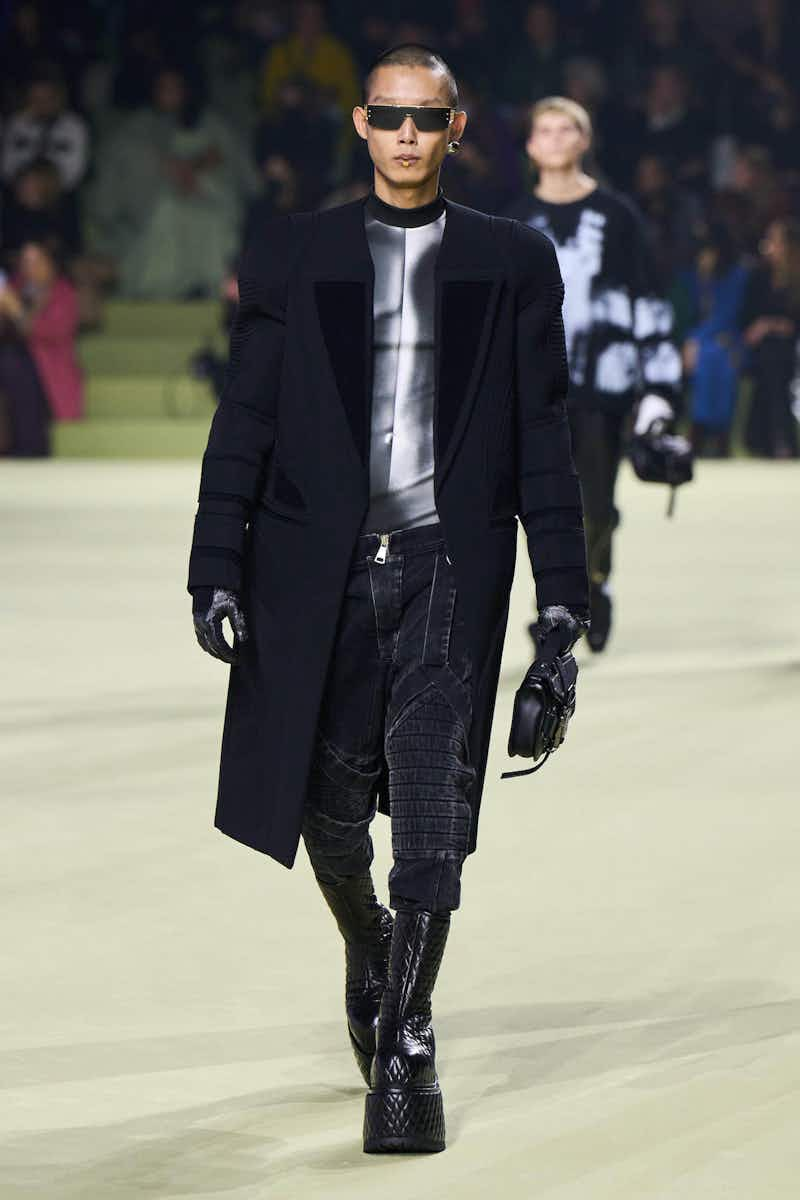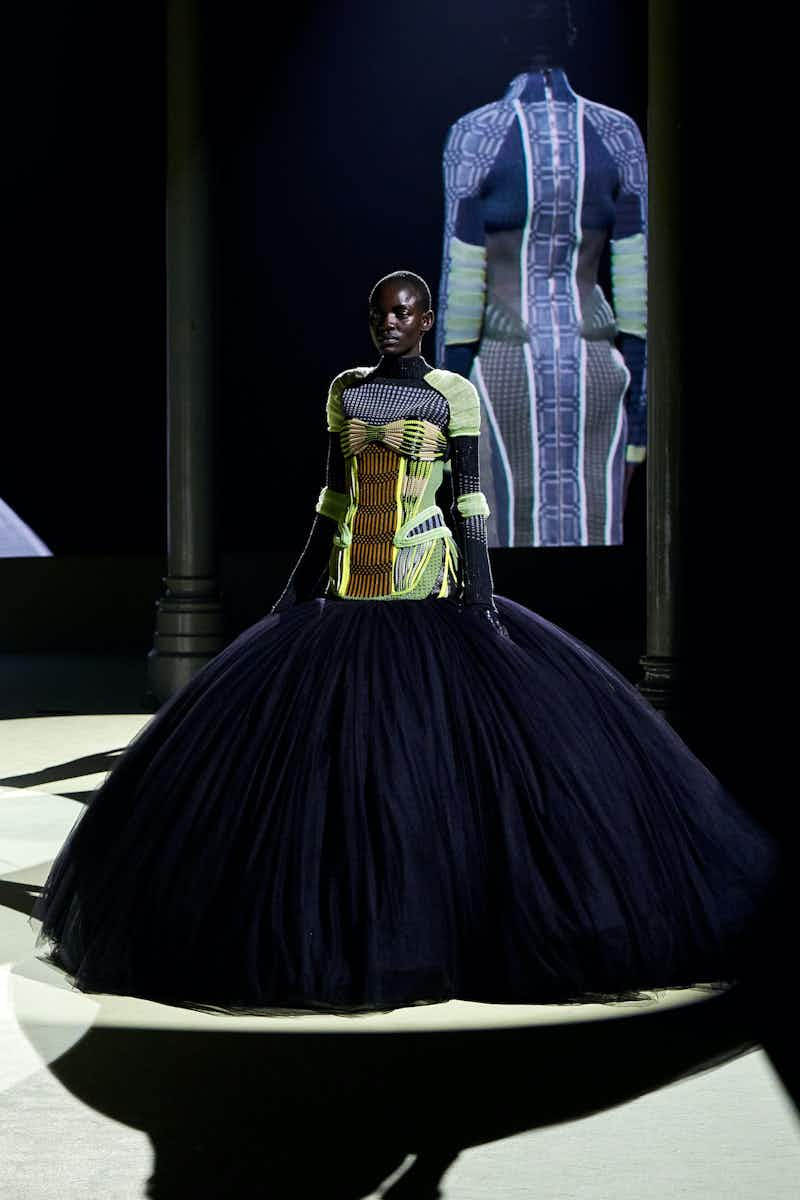 "When I was a kid, my journey into fashion started when I started cutting things up and putting them back together. This collection is about creating from what is around us, making something new from something familiar." Thus spoke Jonny Johansson, creative director and co-founder of Acne. Patchworking is one of those techniques that has taken on great meaning in recent years. It suggests the tangible (pandemic-provoked craftiness), the historic (a form of craft often overlooked for being allied with domestic female labour), and the allusive (with its disparate, stitched together parts, it's an instant metaphor for memory and repair). Now it has sustainable credentials too, offering a viable route into upcycling and using deadstock fabric. At Acne there were a couple of looks that adhered more to the more conventional idea of granny's quilt – albeit if the quilt were made from old pairs of jeans – while other pieces utilised fringing, raw seams, upholstery jacquards and artfully distressed knitwear like an especially hungry moth had done to town.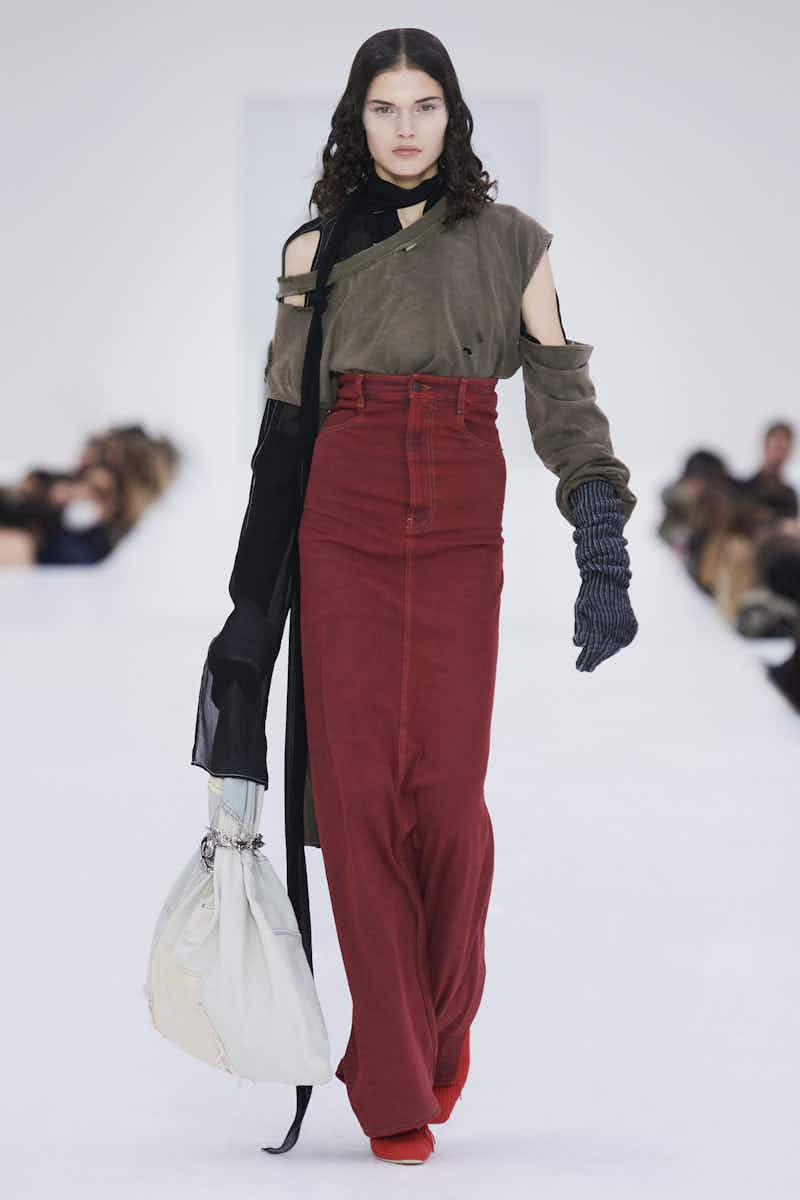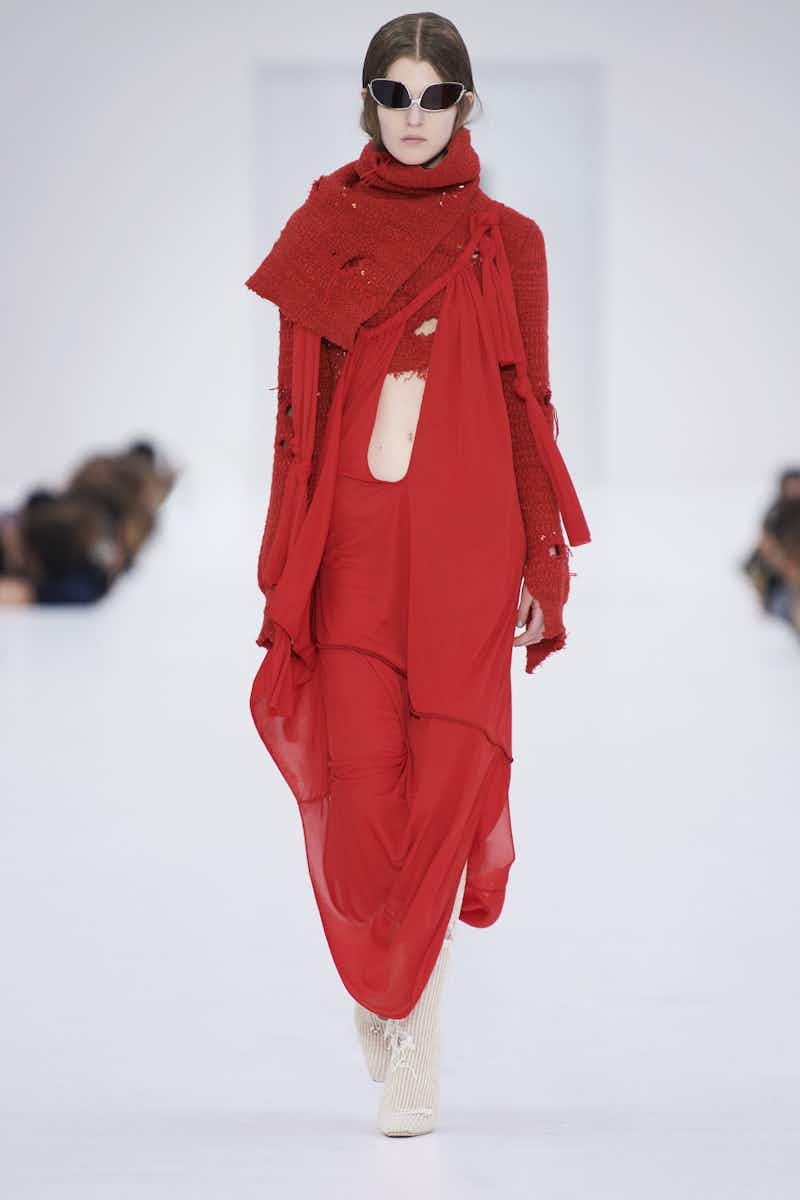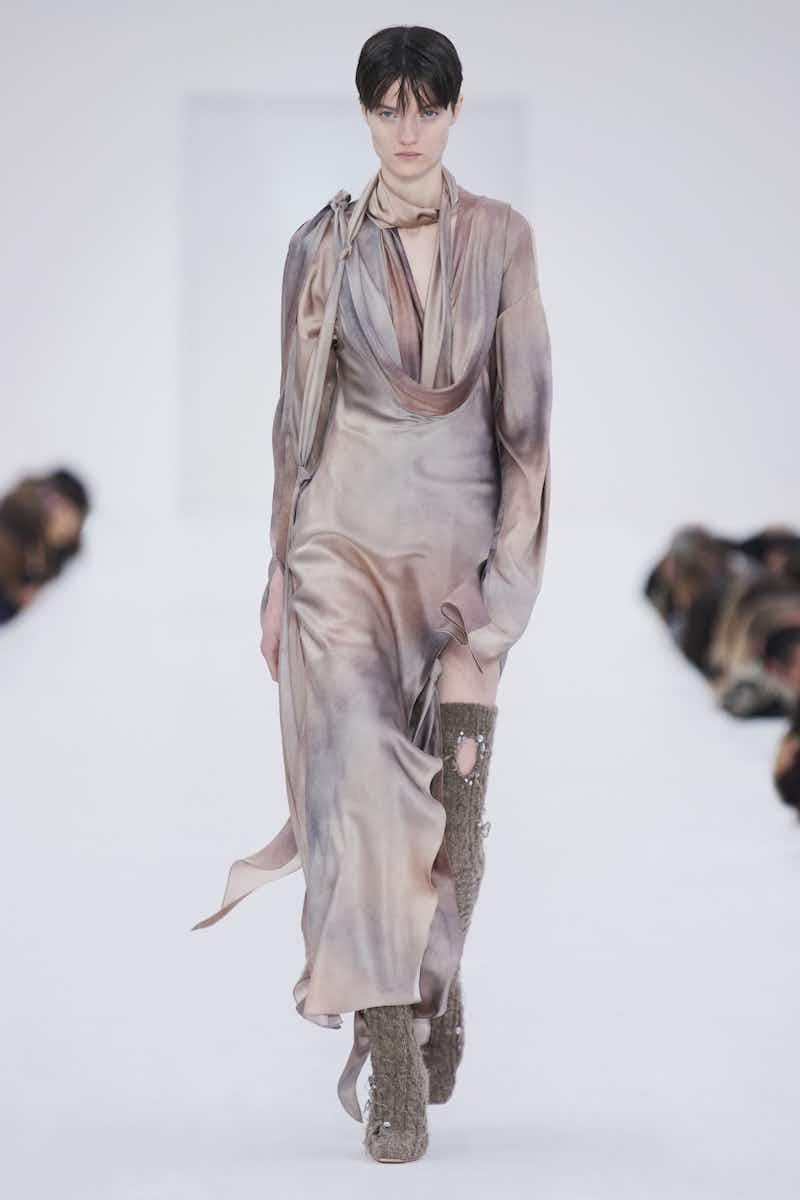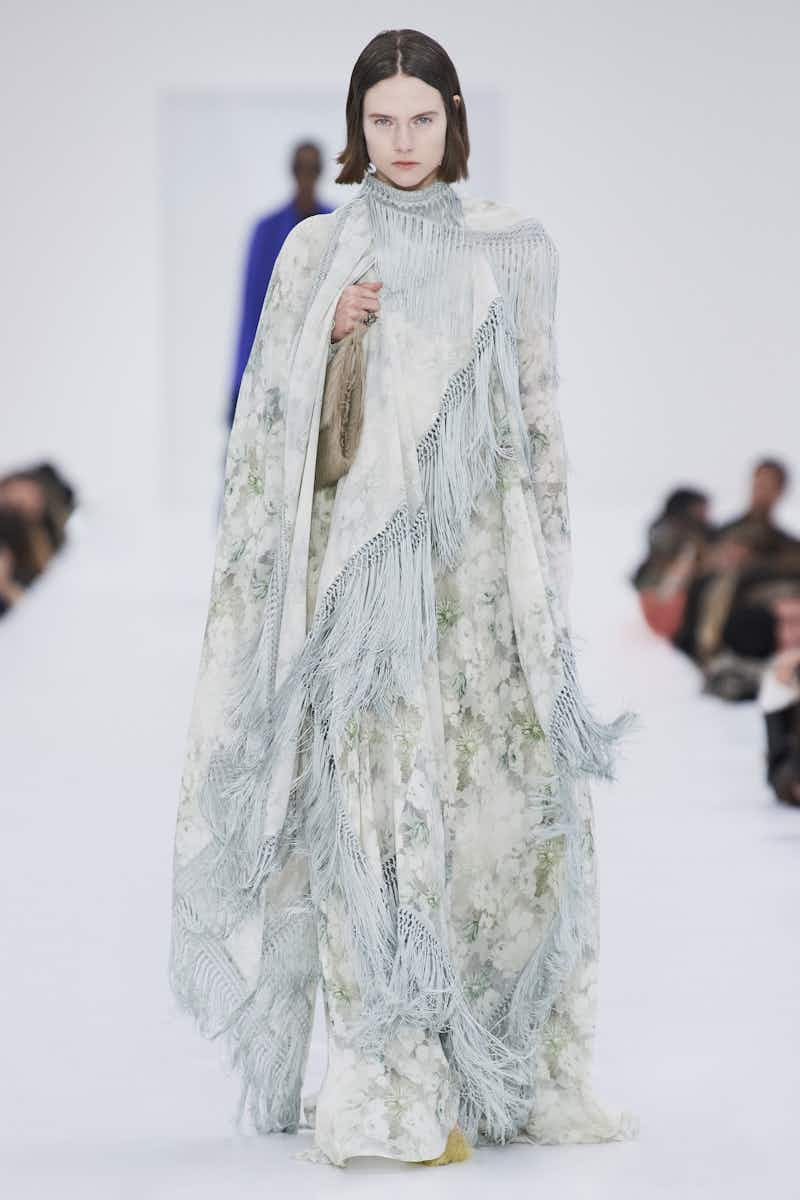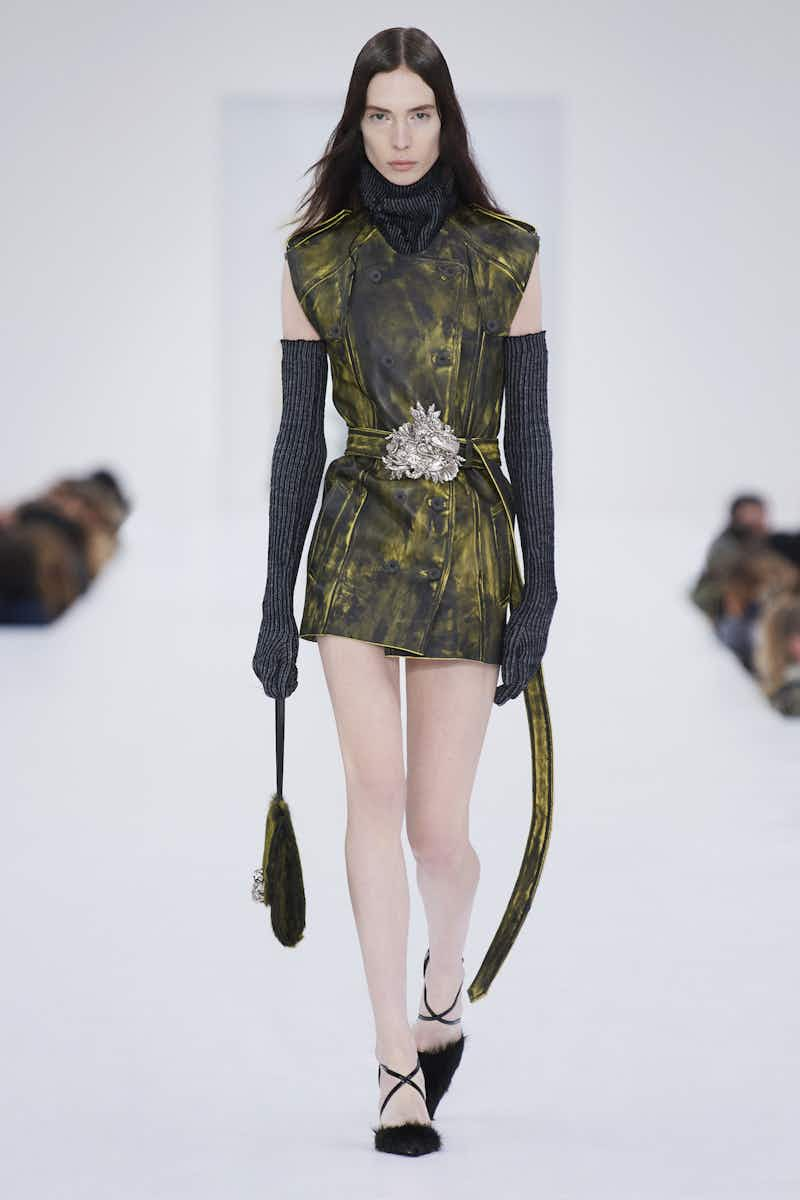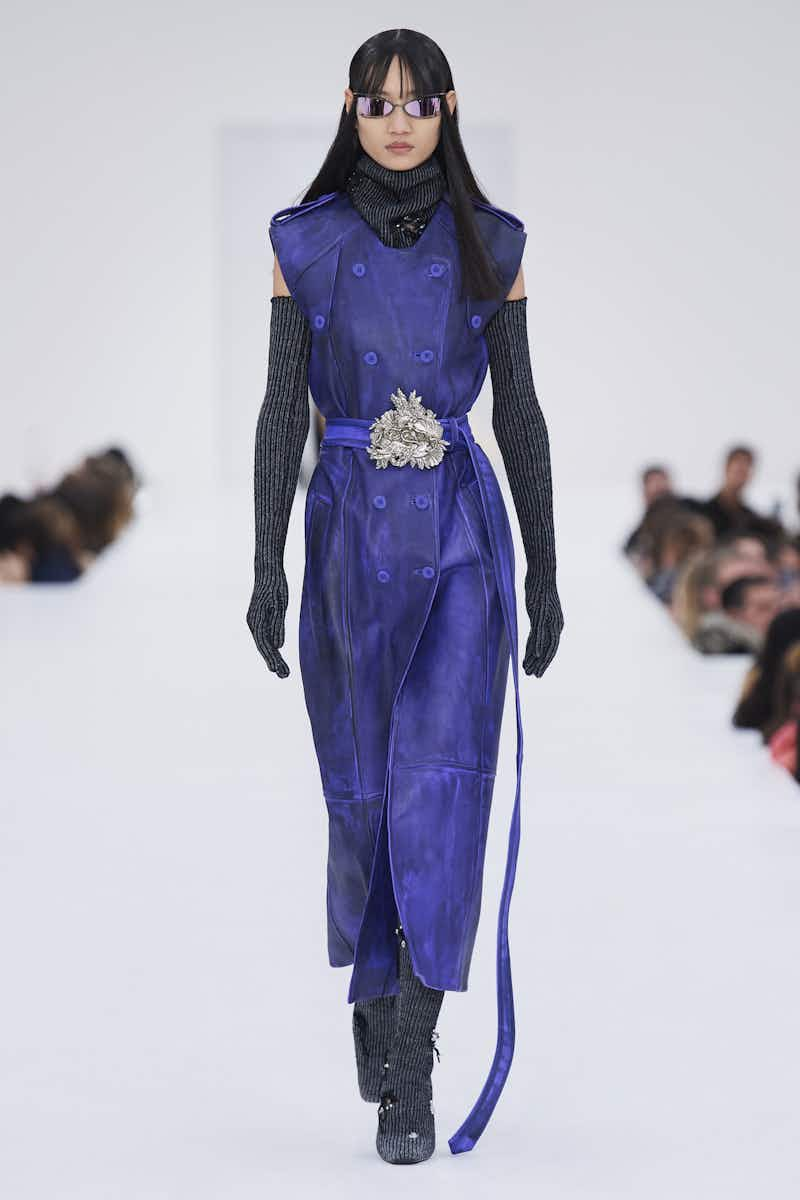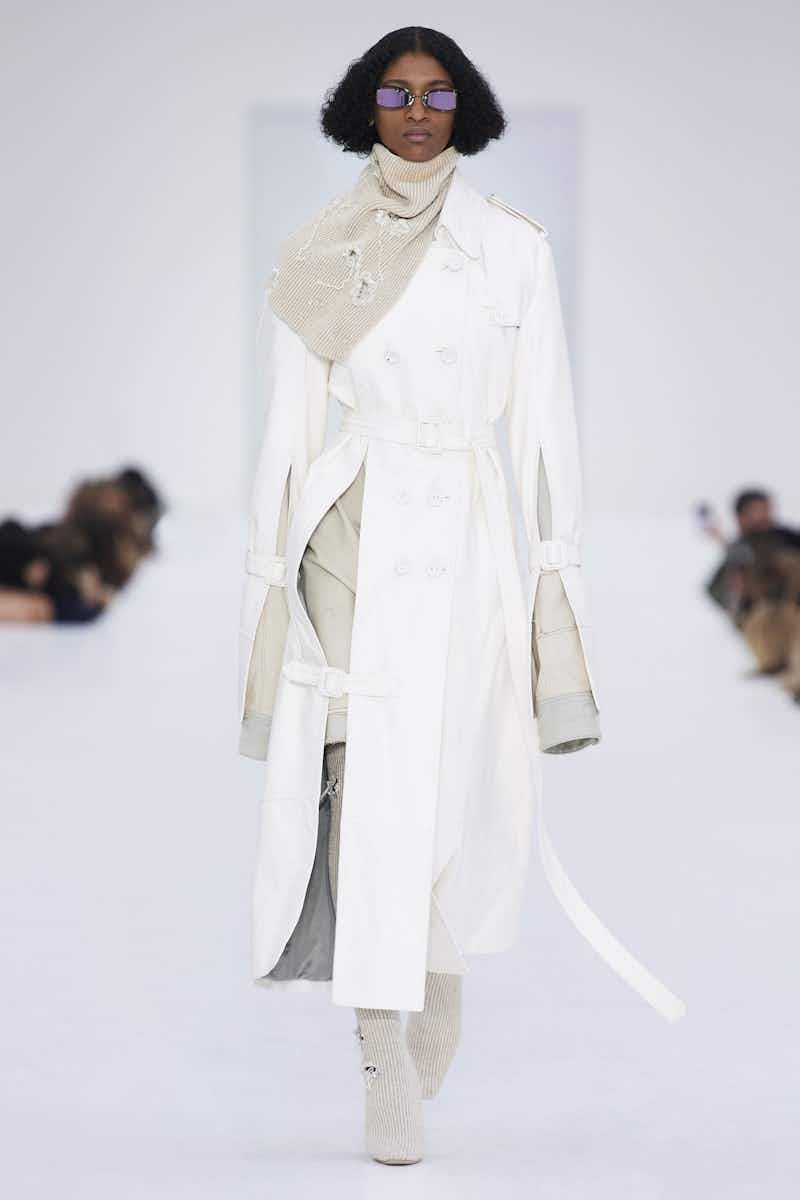 It's perhaps too crude a distinction to draw, but right now it feels like some designers are making clothes for girls while others are creating them for women. This season Anthony Vaccarello planted himself firmly in the latter camp with a show heavy on refined sensuality and the kind of pleasing, tactile contrasts that come from a perfectly proportioned leather jacket slung over a silk bias cut dress. Picking up some of those classic Yves Saint Laurent pieces (the big, sexy fur coats and updated ​"Le smoking" silhouettes were glam in the extreme) and invoking writer, political activist, and prodigious bangle wearer Nancy Cunard in several slinky dresses accessorised with stacks of bracelets, this was a stellar season from Vaccarello. The pose of the models was notable too: if their wrists weren't laden down with jewellery, they had their hands tucked casually into the pockets of their coats, creating a casual, business-like gesture of a woman with places to be, head bent down as she slunk through the cold.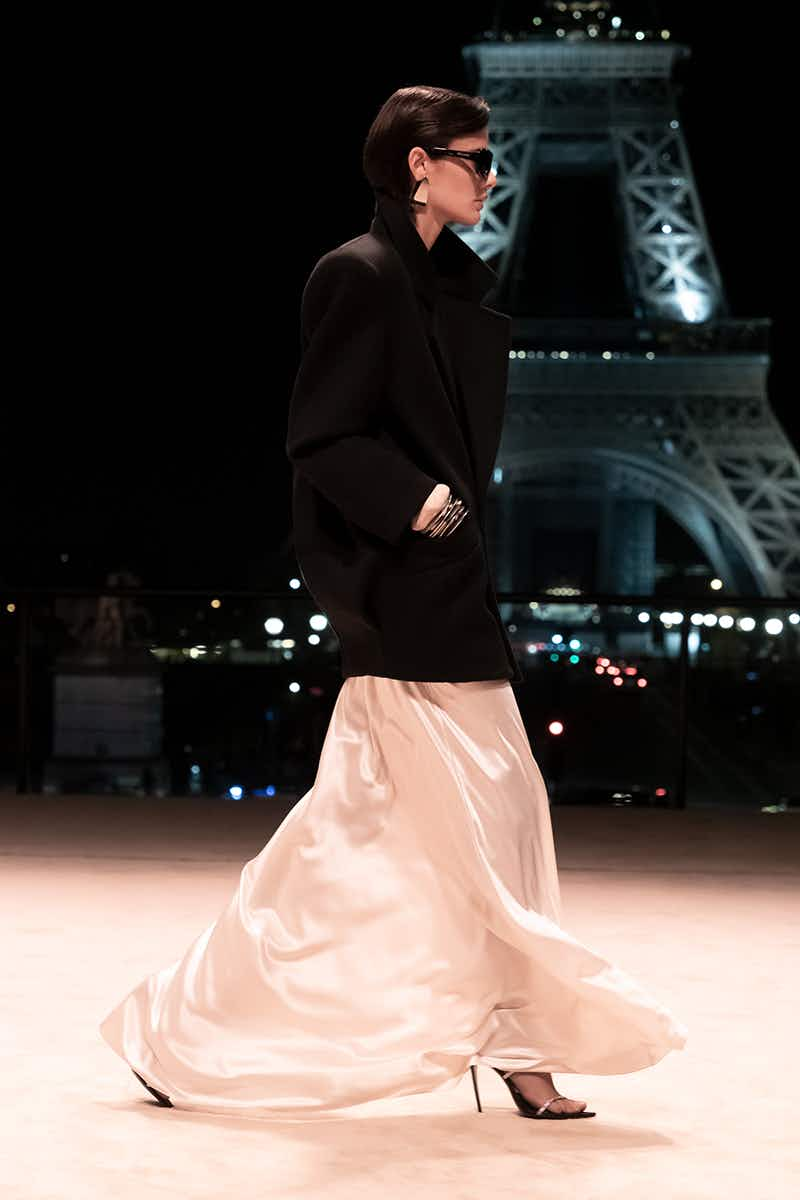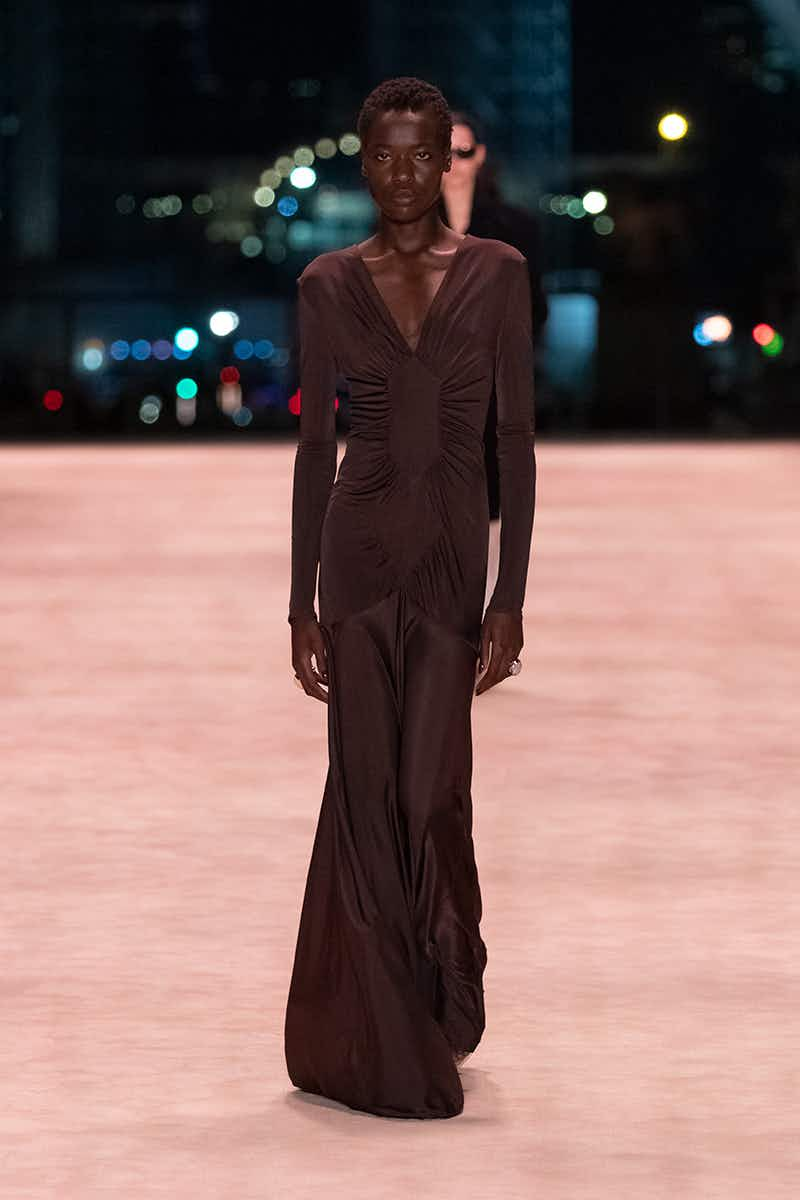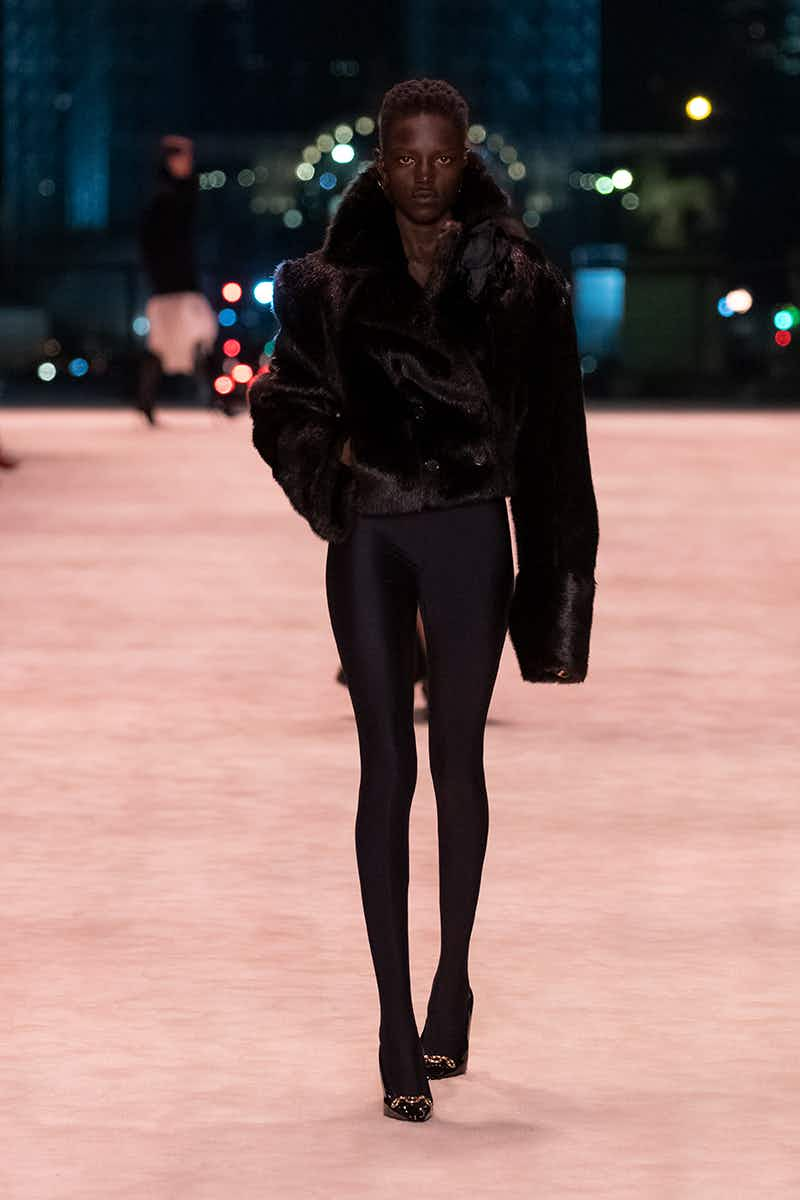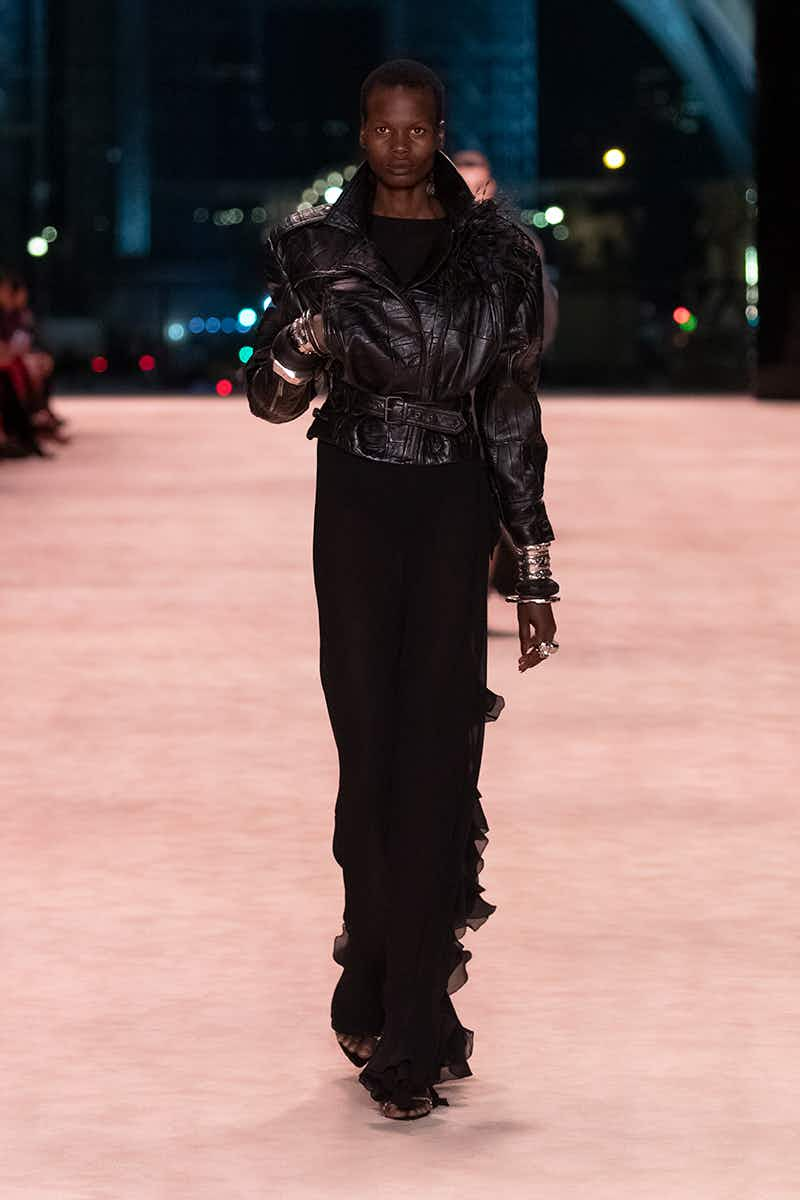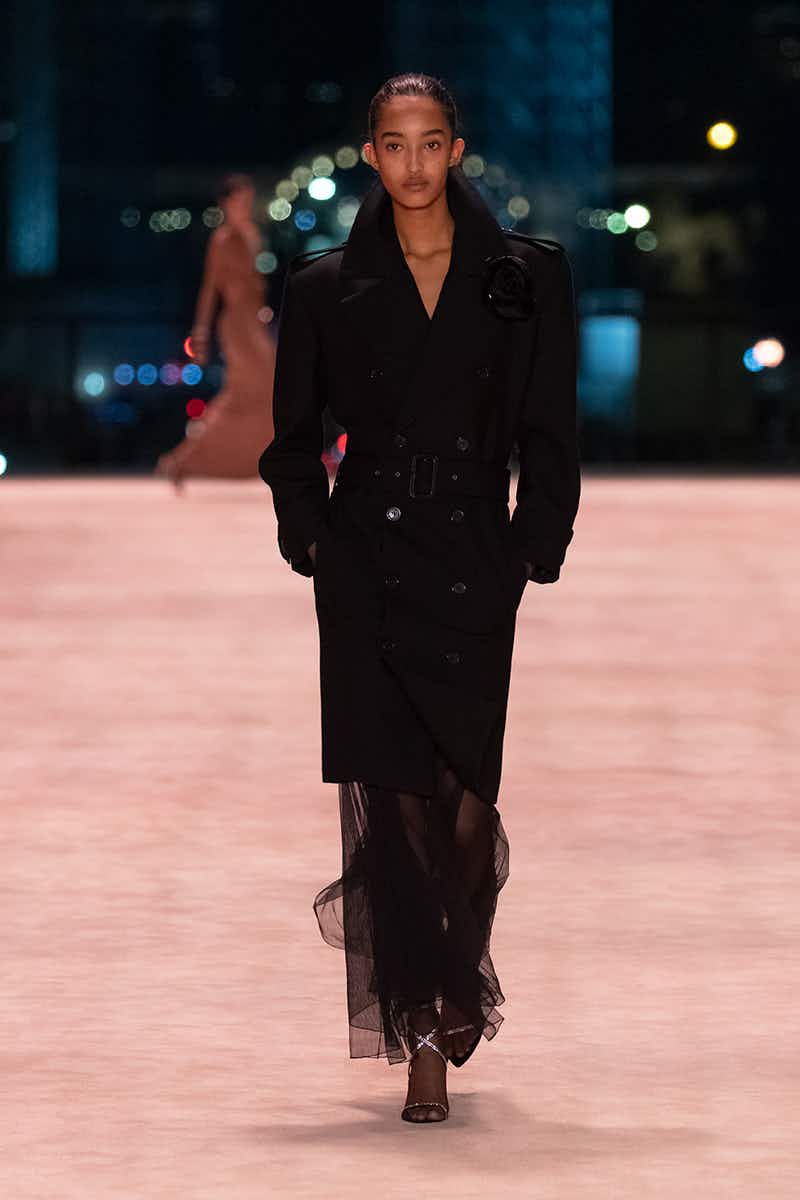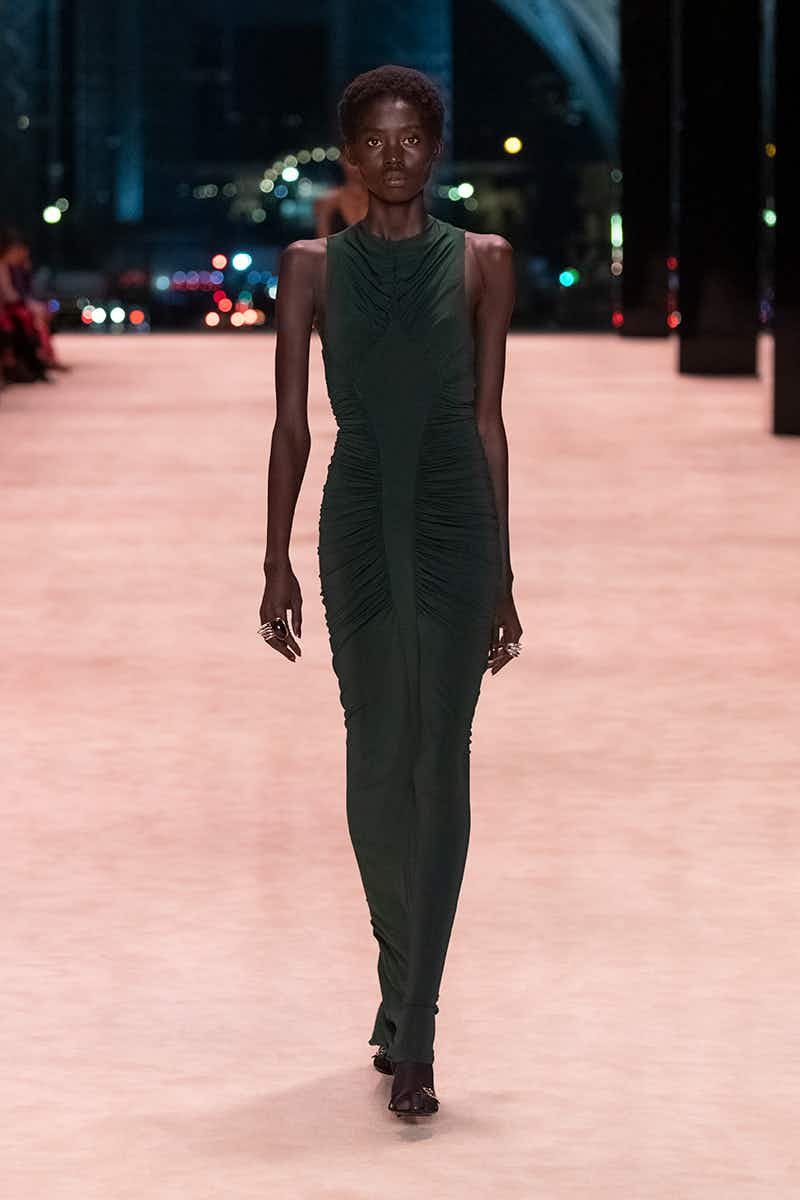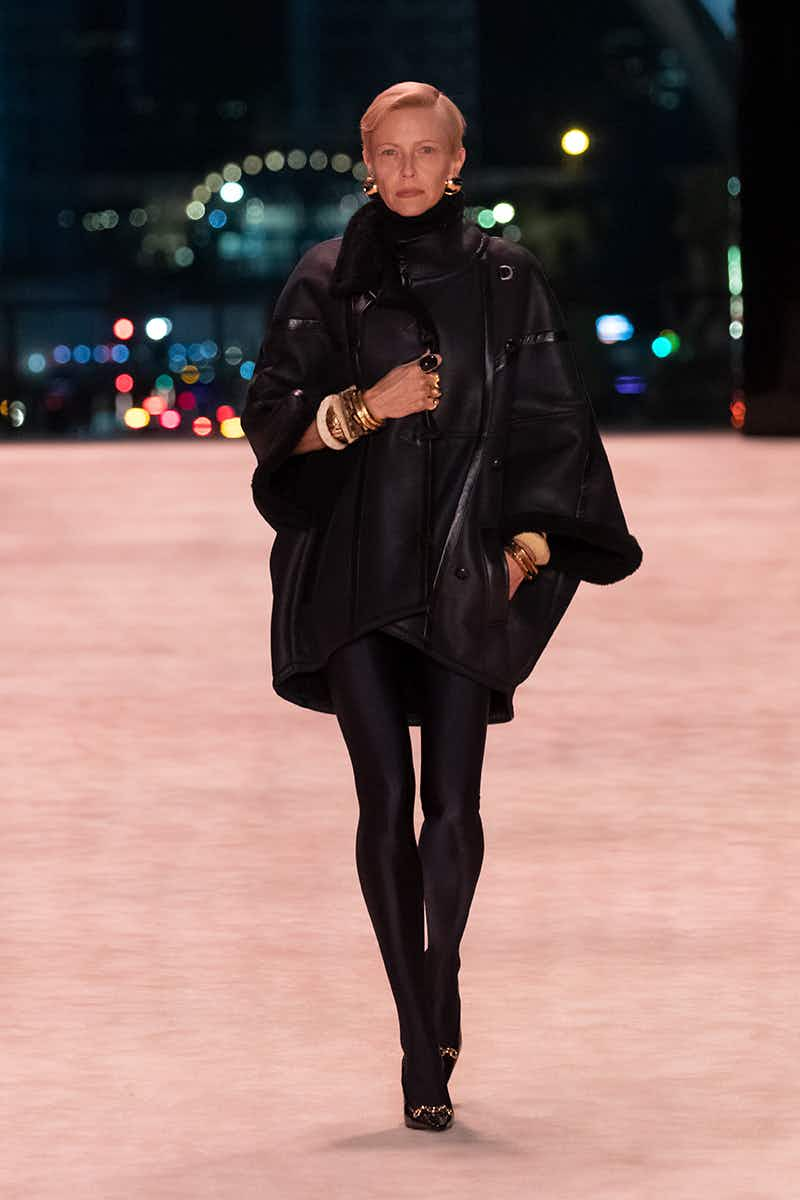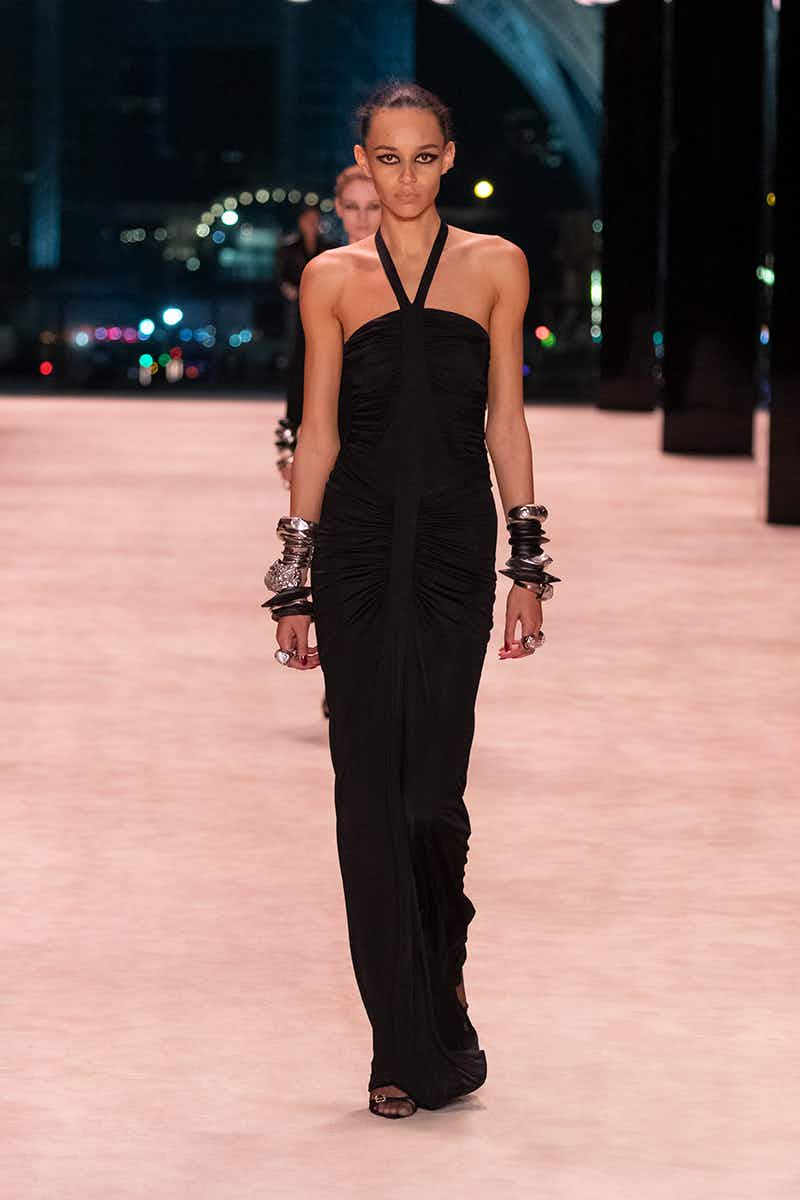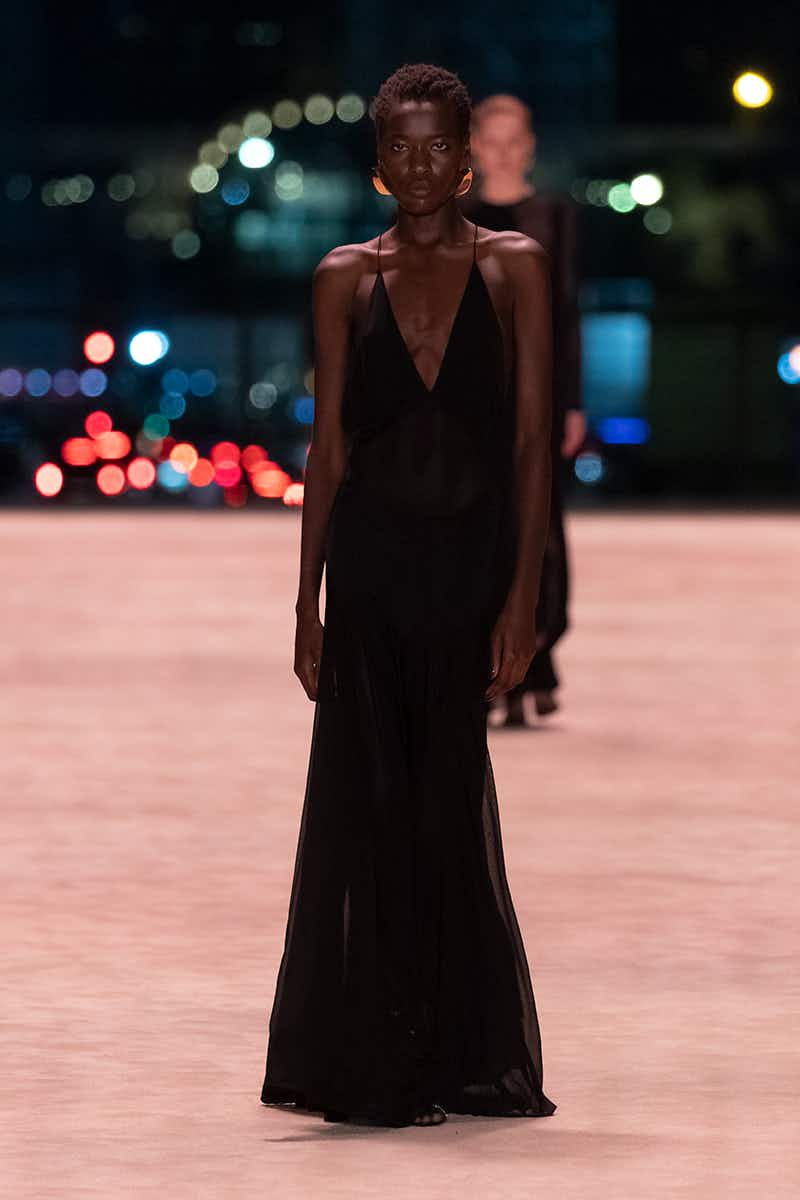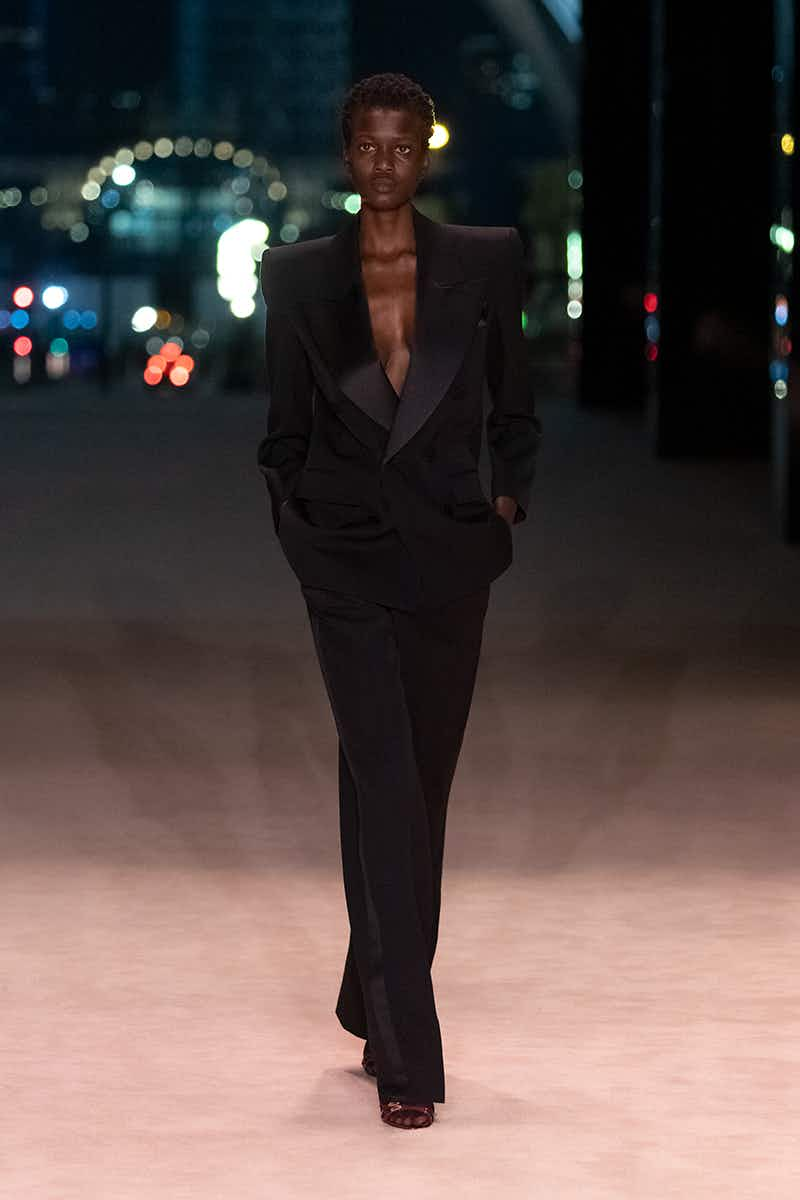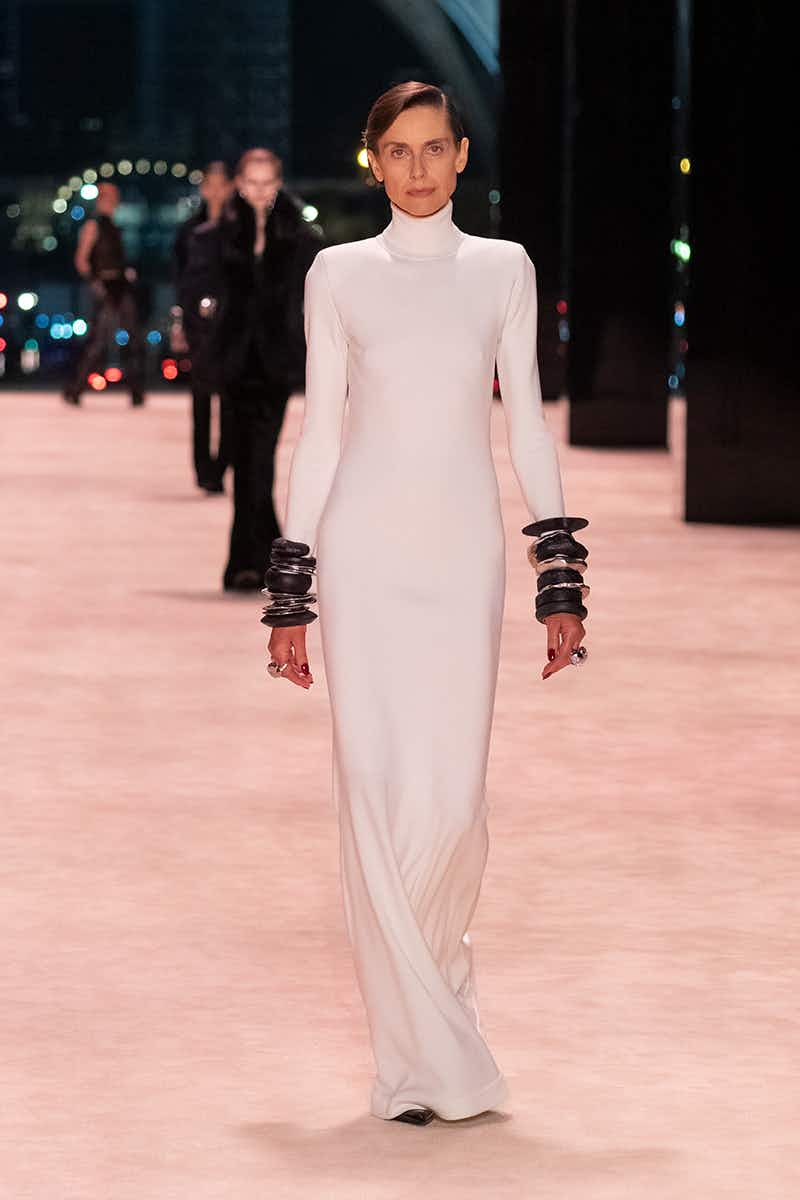 Look 22 at Off-White: a young man dressed head to toe in white, with touches of green at the wrist and neck. Over one shoulder he balanced a flag bearing Virgil Abloh's instantly recognisable mantra ​"question everything". A flag always has something to say – a statement of ideals, an assertion of collective identity. For a designer who saw his brand less as a clothing label than an expression of lifestyle, community, and porous creative possibility, it was a fitting tribute. This is the third posthumous collection from the inimitable Abloh, following on from two Louis Vuitton shows in Miami and Paris. Each has yielded yet further evidence of the late creative director's expansive approach to the symbolic potential and concrete possibilities of clothing.
This was not a single show, but rather a series of chapters. First there came the ready to wear. Party girls and tailored gents faced off tie dye skiers: a blend of elevated polish (including a collaboration with Church's shoes) and subcultural homage. Then there came the brides and babes. For the finale, a bevy of supermodels and friends including Naomi Campbell, Honey Dijon and Mariacarla Boscono appeared in a 28-piece collection that – naturally! – aimed to disrupt the rarefied world of couture. Think Cristóbal Balenciaga style silhouettes layered over grey hoodies, an autumnal forest of glittering red leaves, and big, crashing waves of tulle with trainers peeping out beneath. Of course, there were the requisite ironic details and thoughtful nods to Abloh's upbringing thrown in too. These were clothes produced with the highest technical precision that also offered commentary on the hierarchies and unspoken rules of the fashion world. It was a beautiful send off, springing from Abloh's ever-fertile, ever-roving imagination and brought out into the world by the team he'd carefully gathered around him in a space packed with family and friends.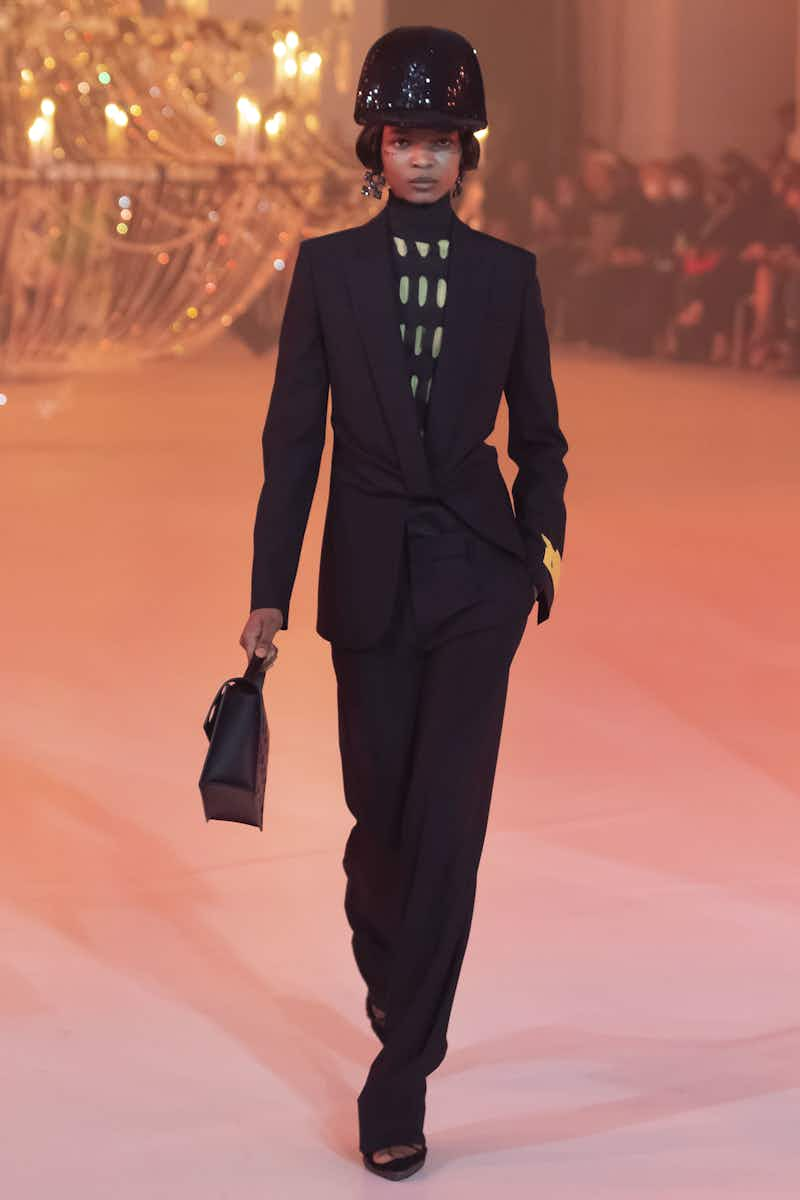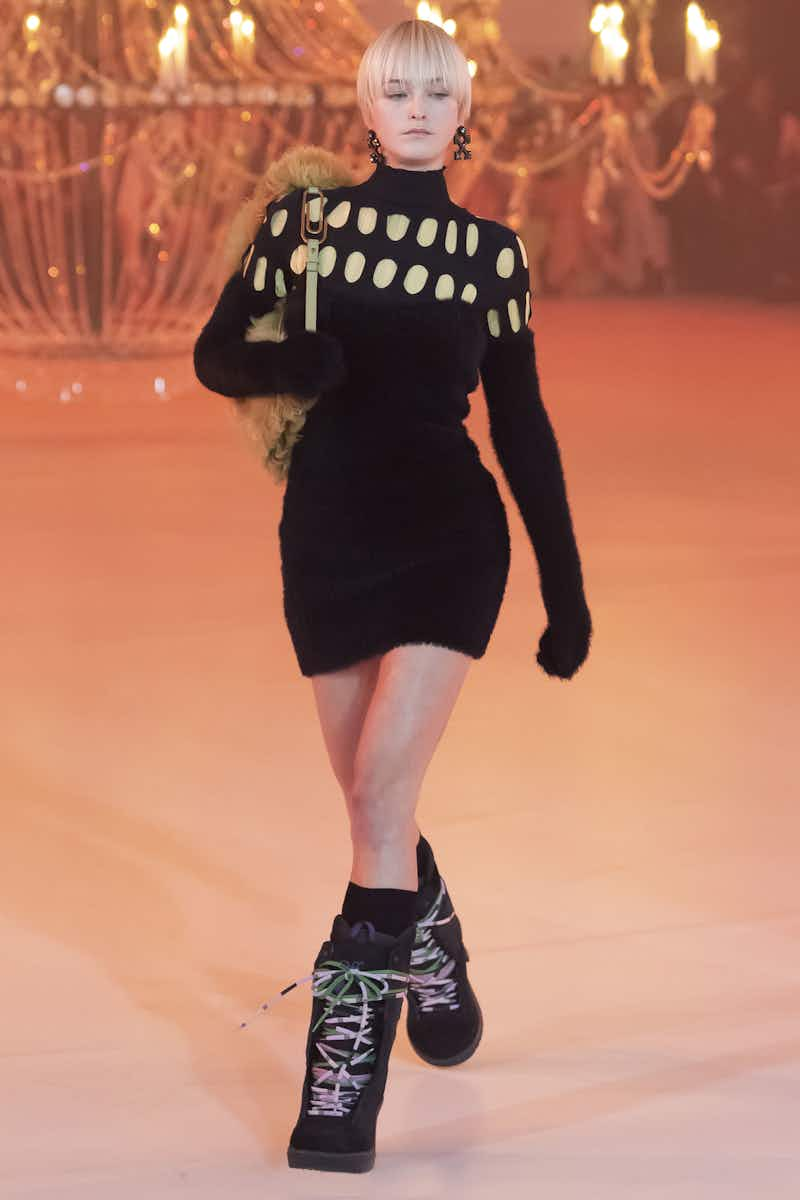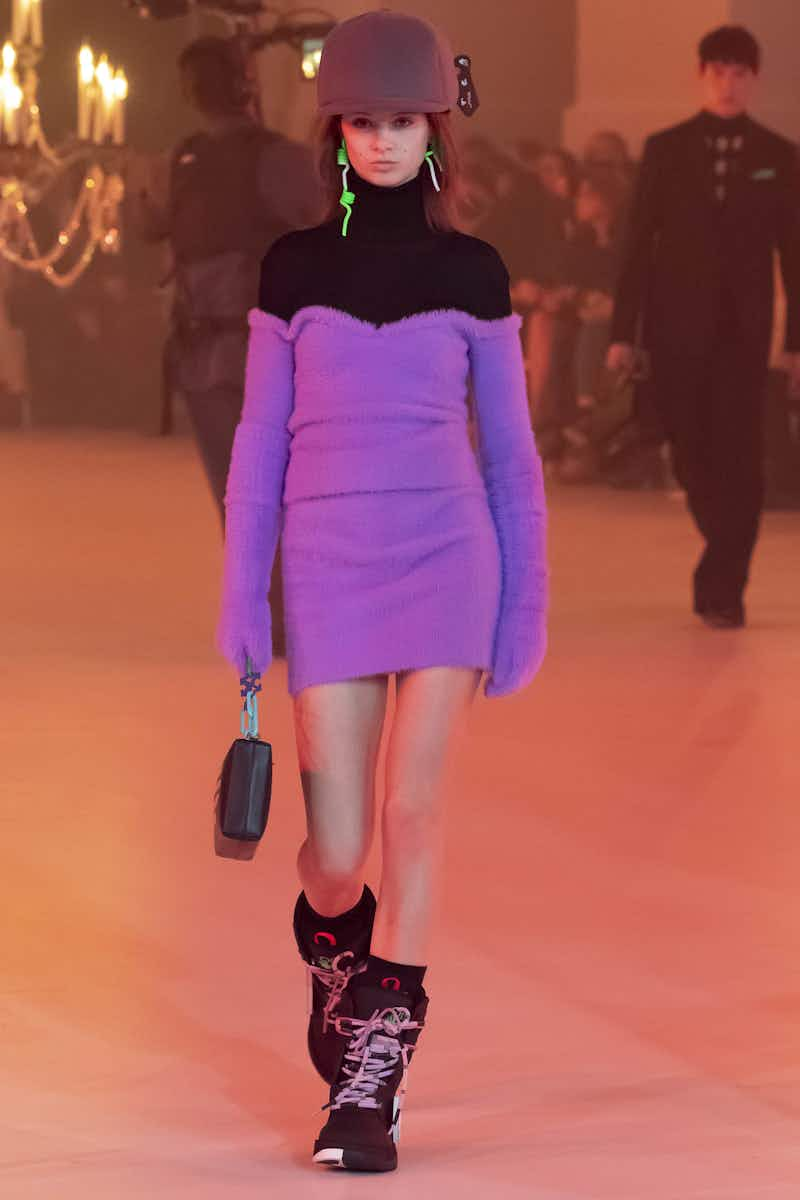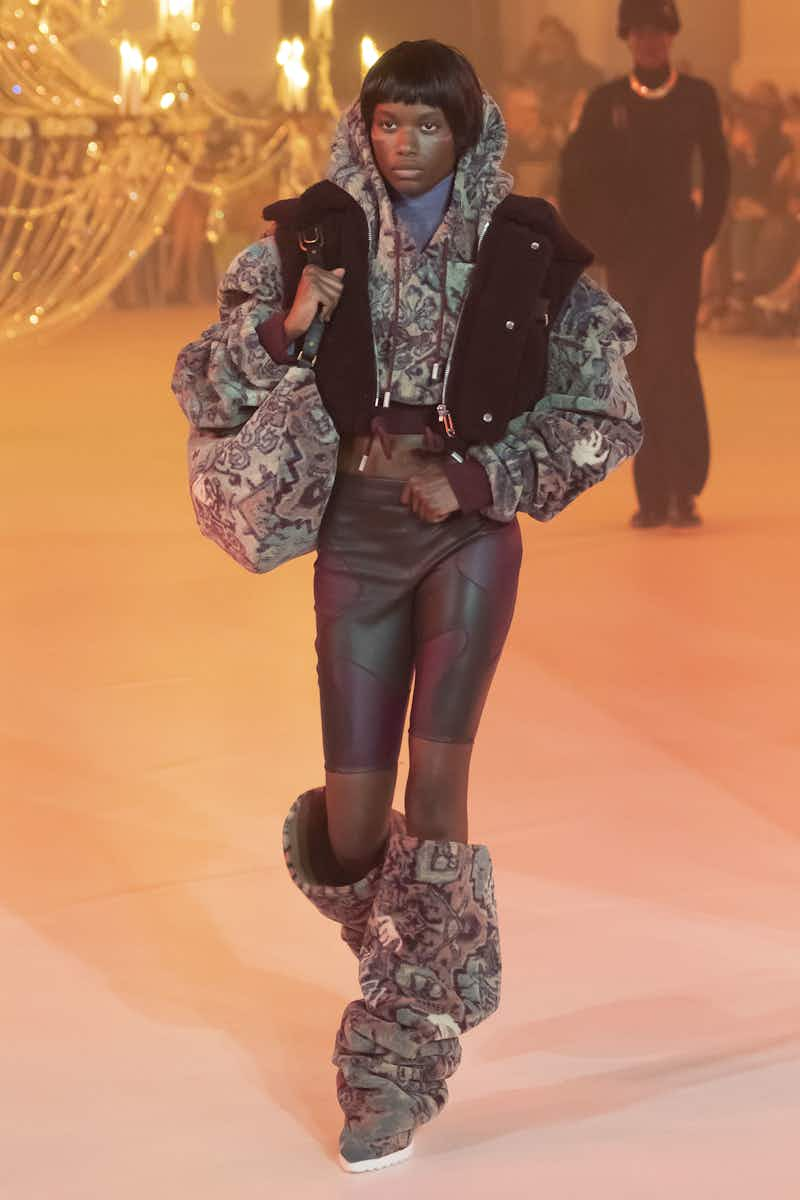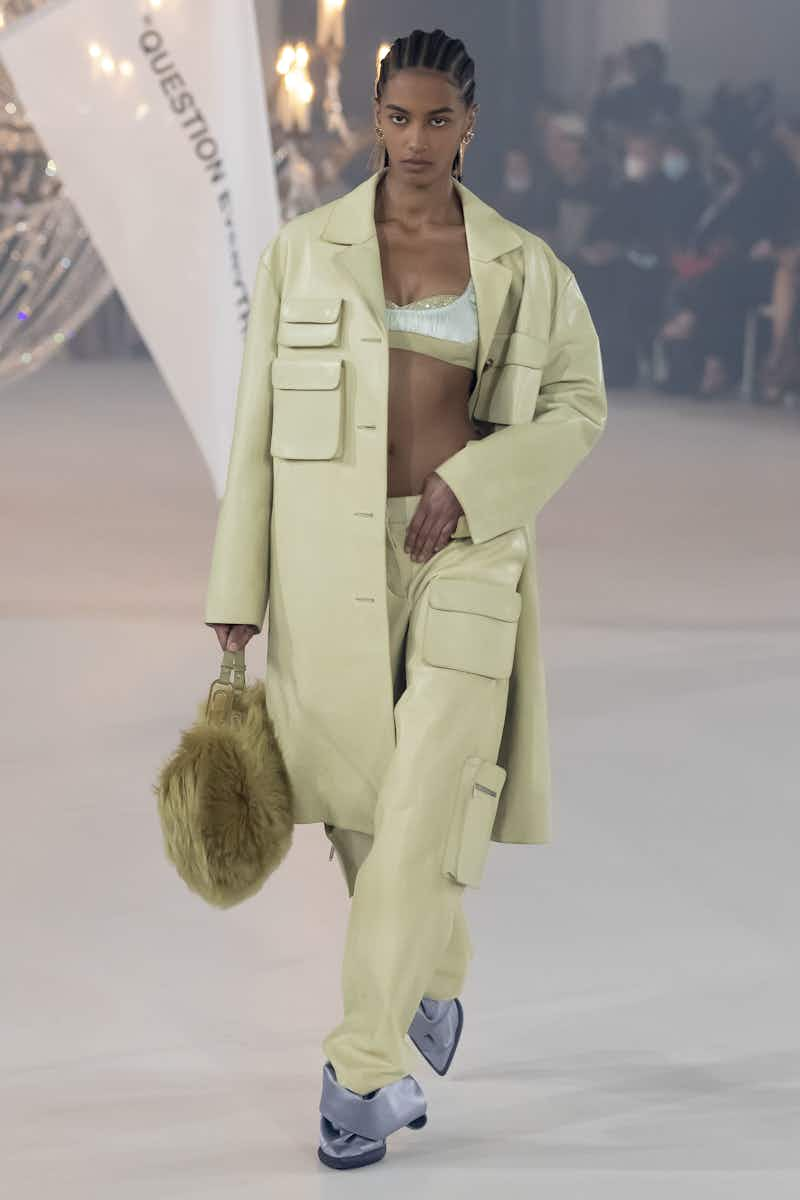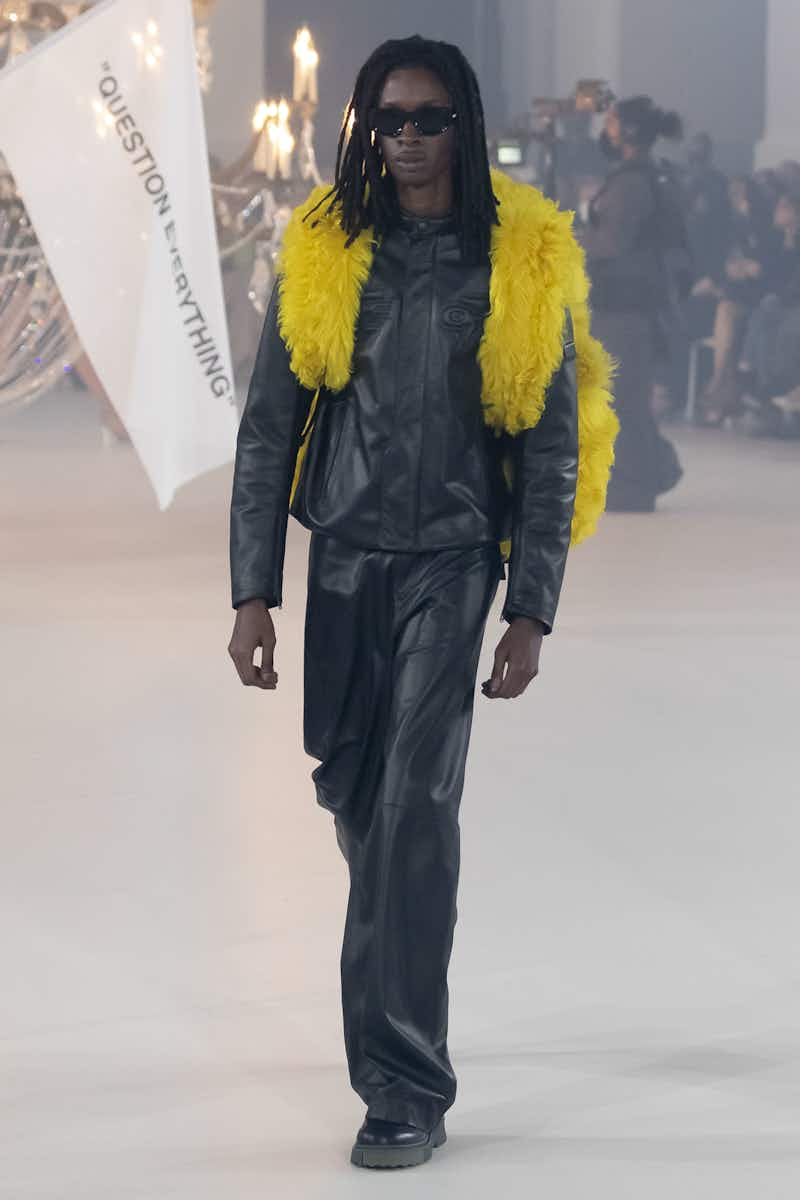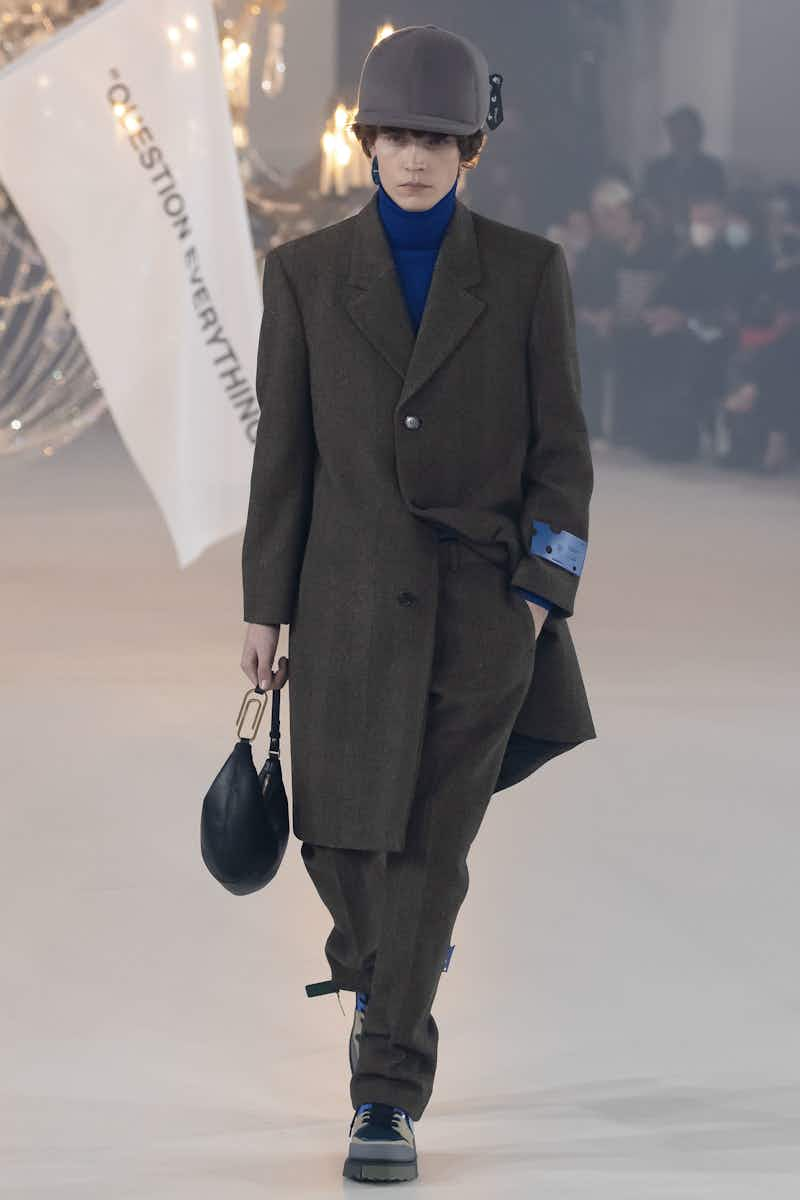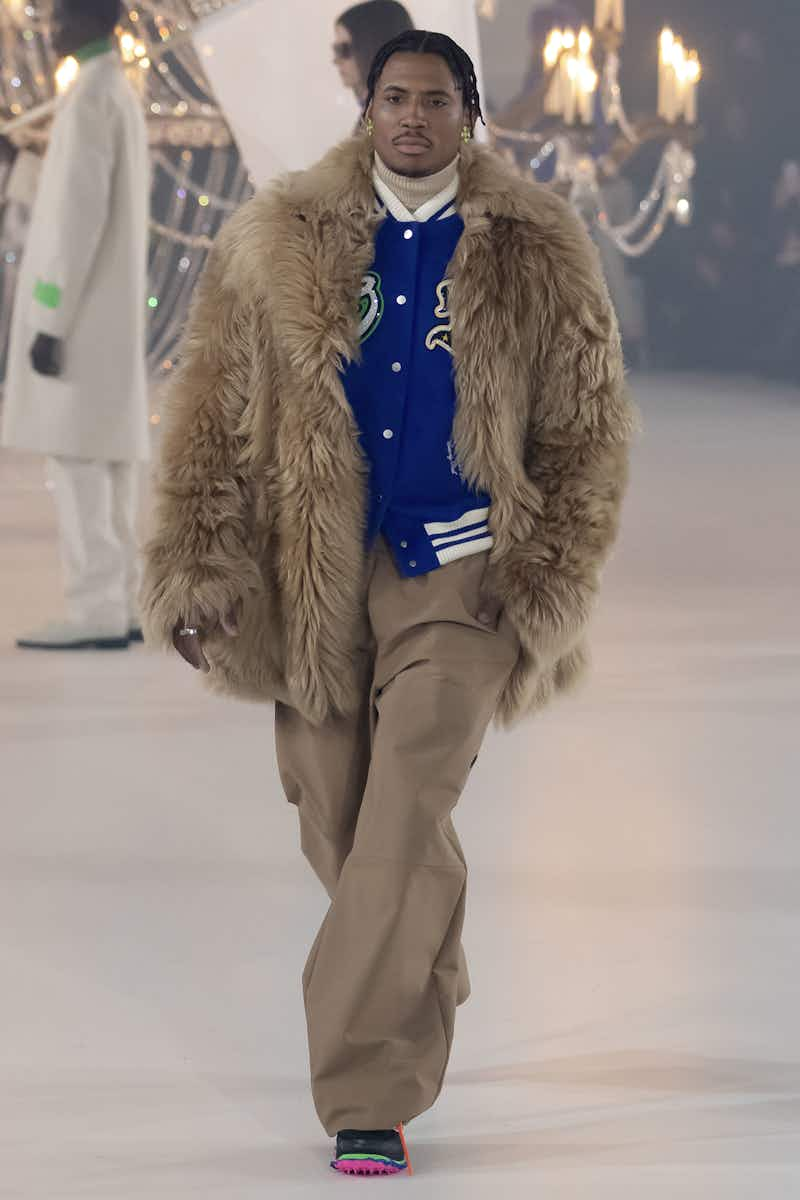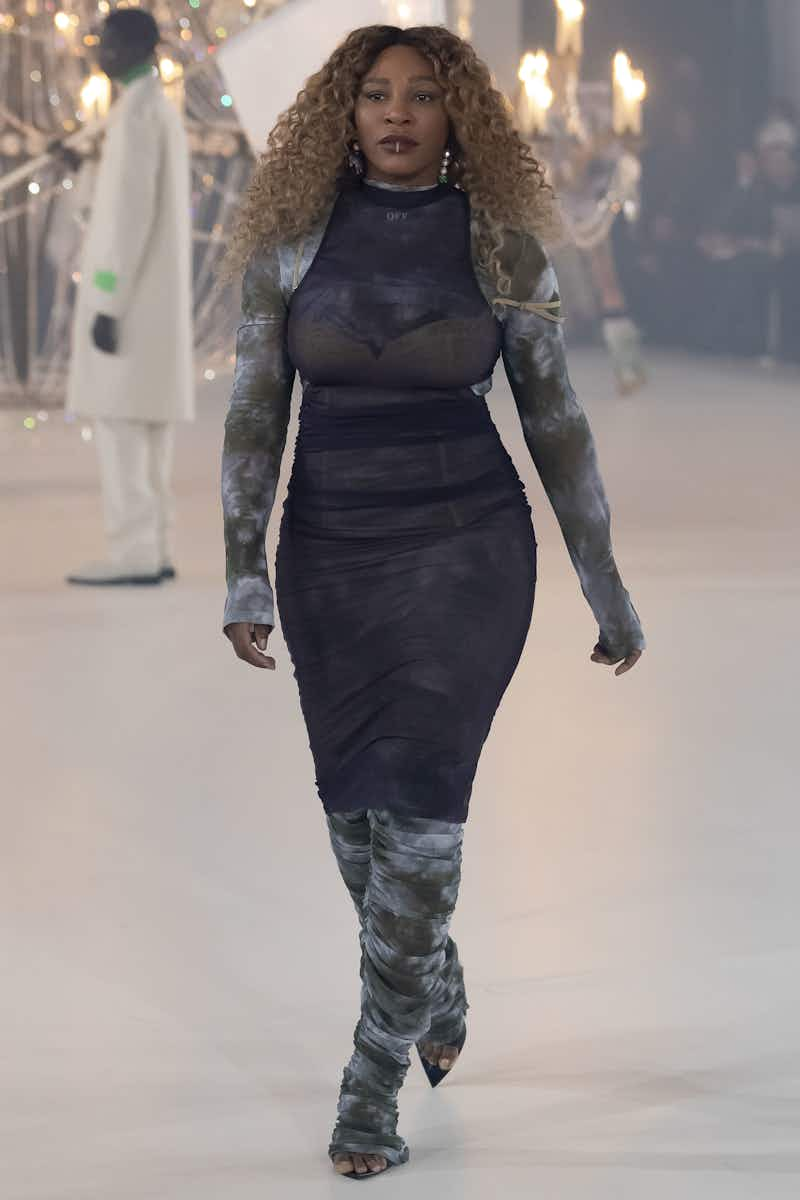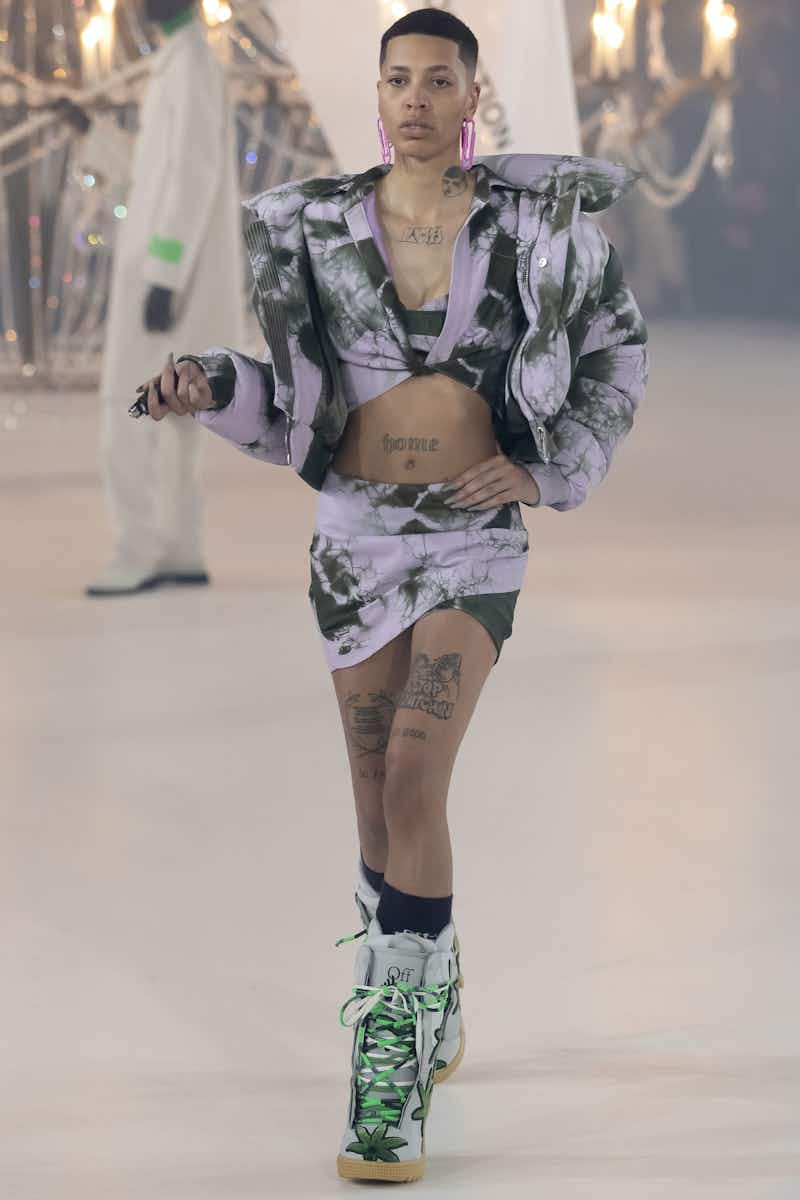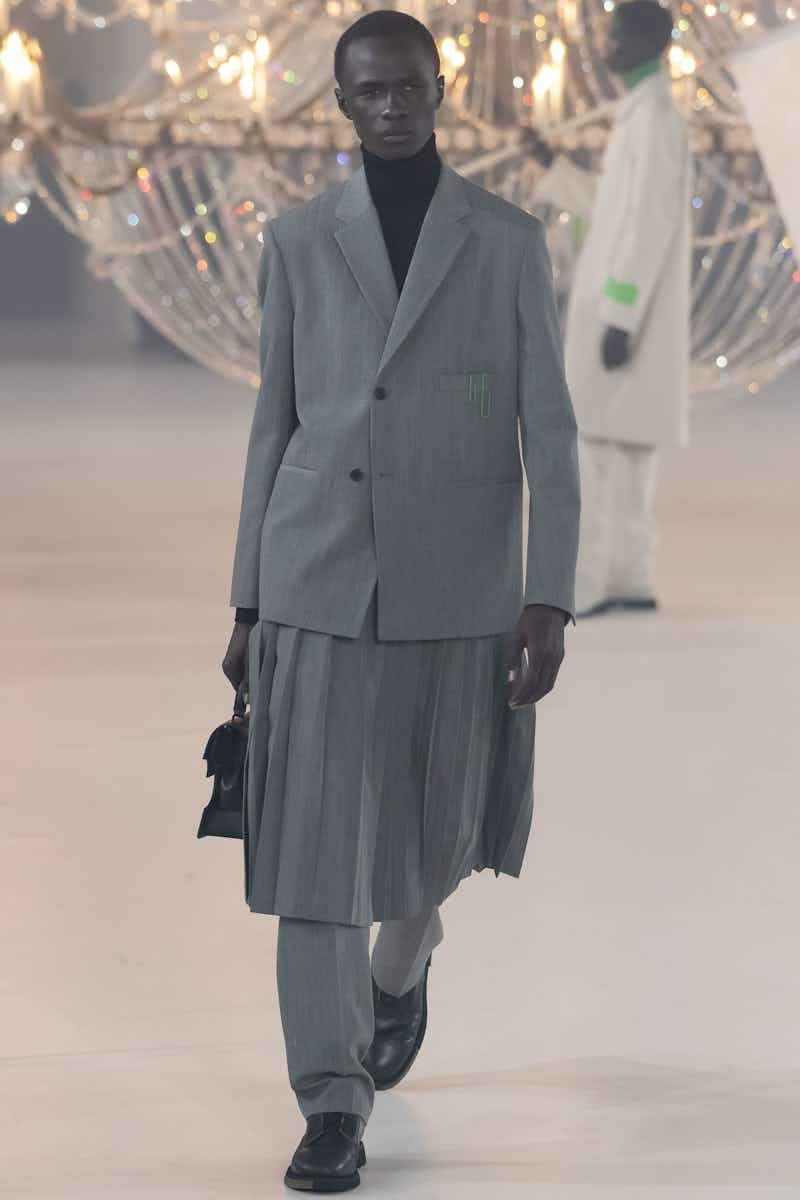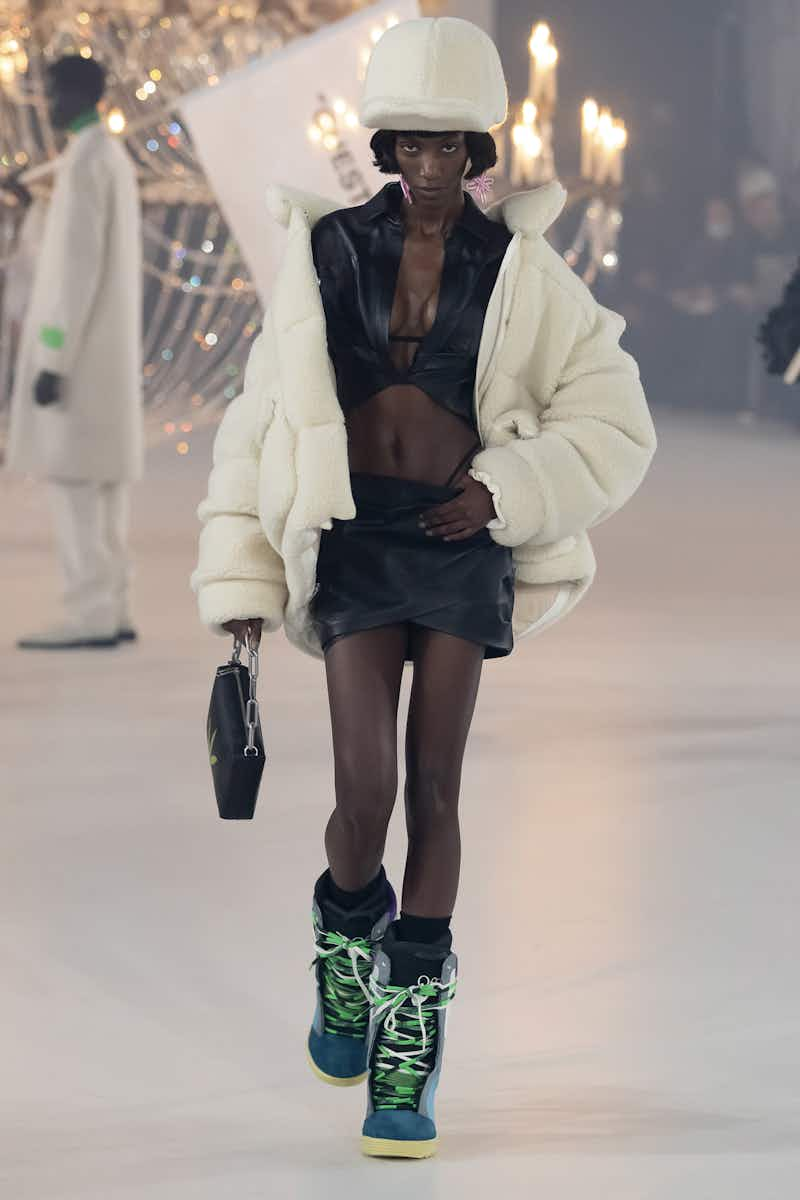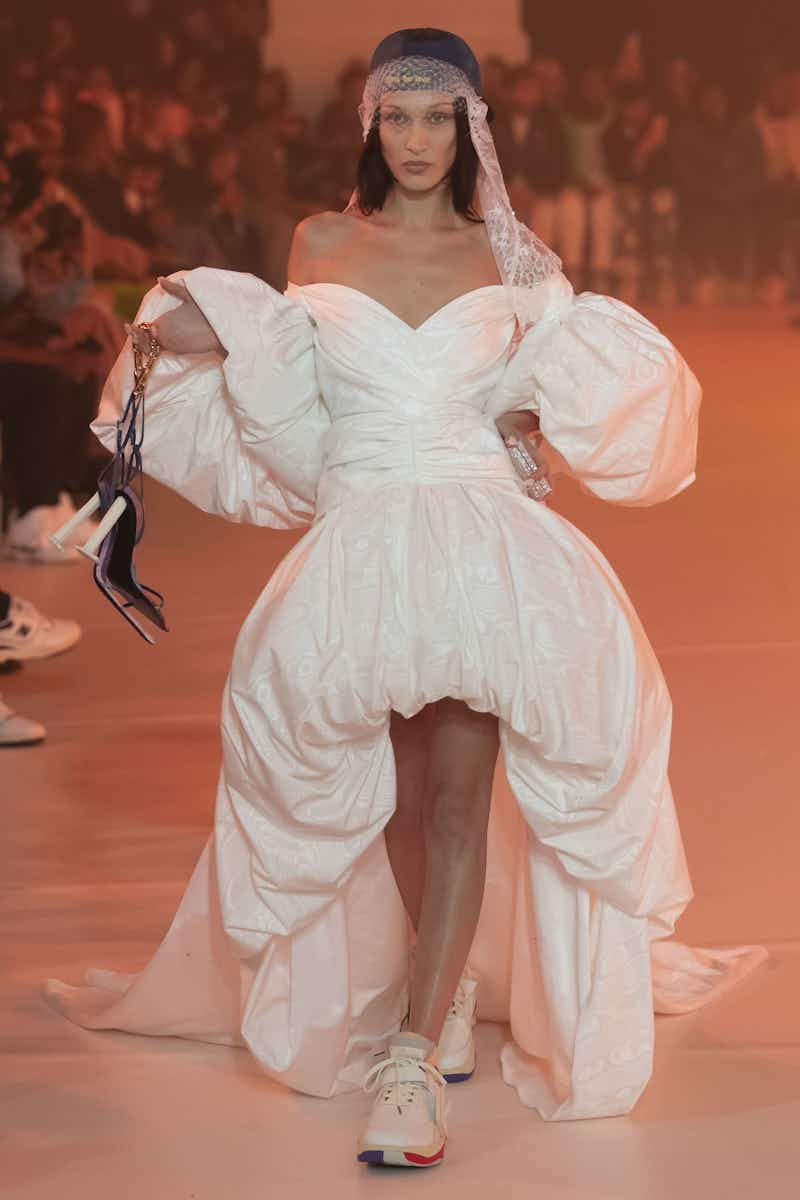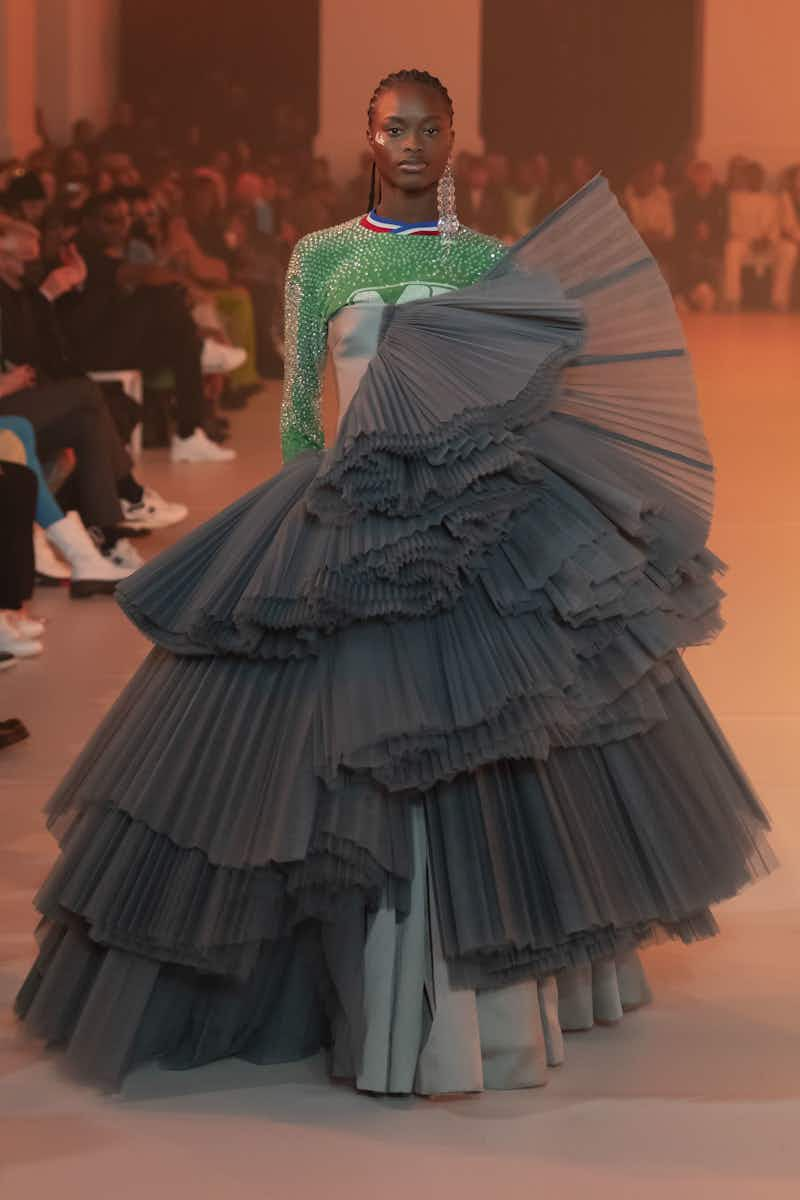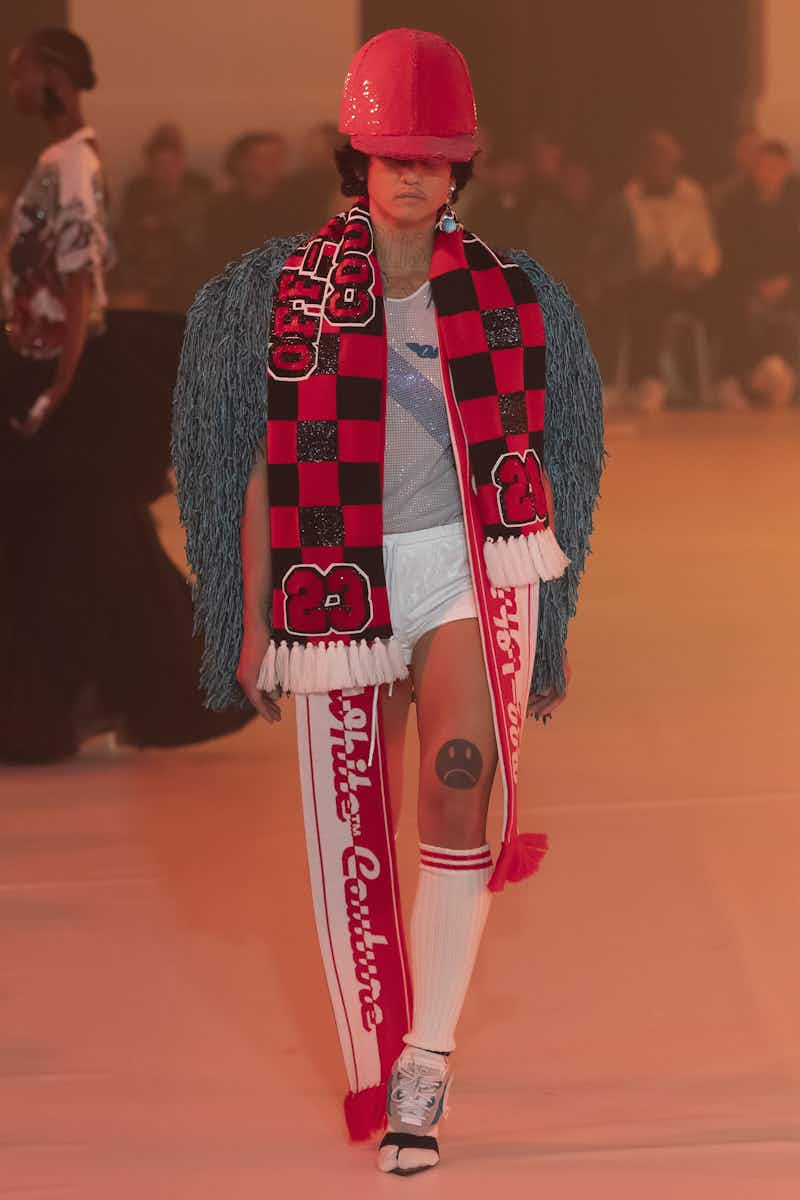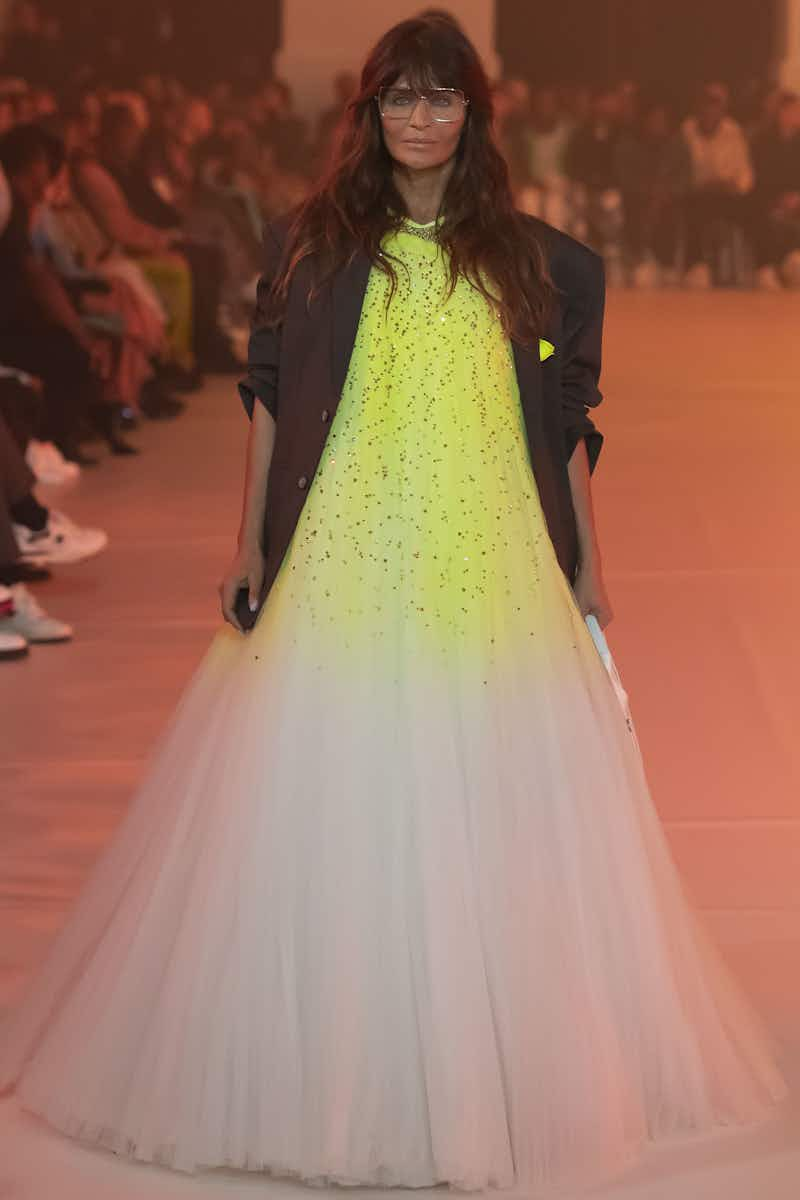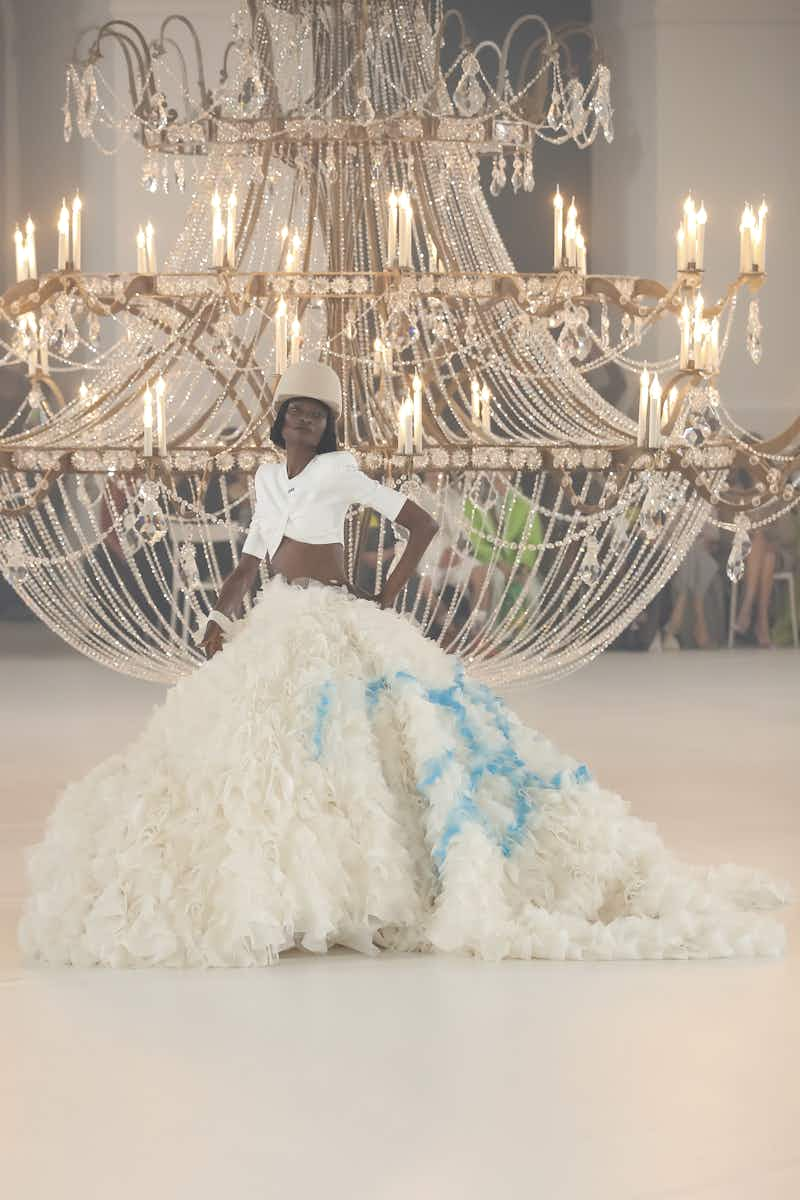 Among the films that tend to stir the fashion world's imagination, In the Mood for Love is oft cited for its star Maggie Cheung's exquisite line-up of cheongsams. At Vaquera it was another Cheung role that set creative directors Patric DiCaprio and Bryn Taubensee's thoughts whirring: her star turn in Irma Vep (1996), stalking the streets of Paris in cat burglar perfect black latex, inspiring a meditation on the transformative capacities of love and clothing. ​"Do you ever look in the mirror and find yourself changed into someone you love more than you did before?" The latex – a favourite among a whole host of designers at the moment including Richard Quinn, Versace, and Saint Laurent – appeared here beneath frilled red rose bras and denim jackets. Elsewhere, transformation was invoked in plays on proportion that saw jumpers scaled up to the size of cloaks and wedding dresses reduced to a few artfully placed bits of lace. Sometimes these transformations veered into the realm of the haphazard as the models aggressively stomped the runway, but it felt like a spirited new chapter for the New York based duo.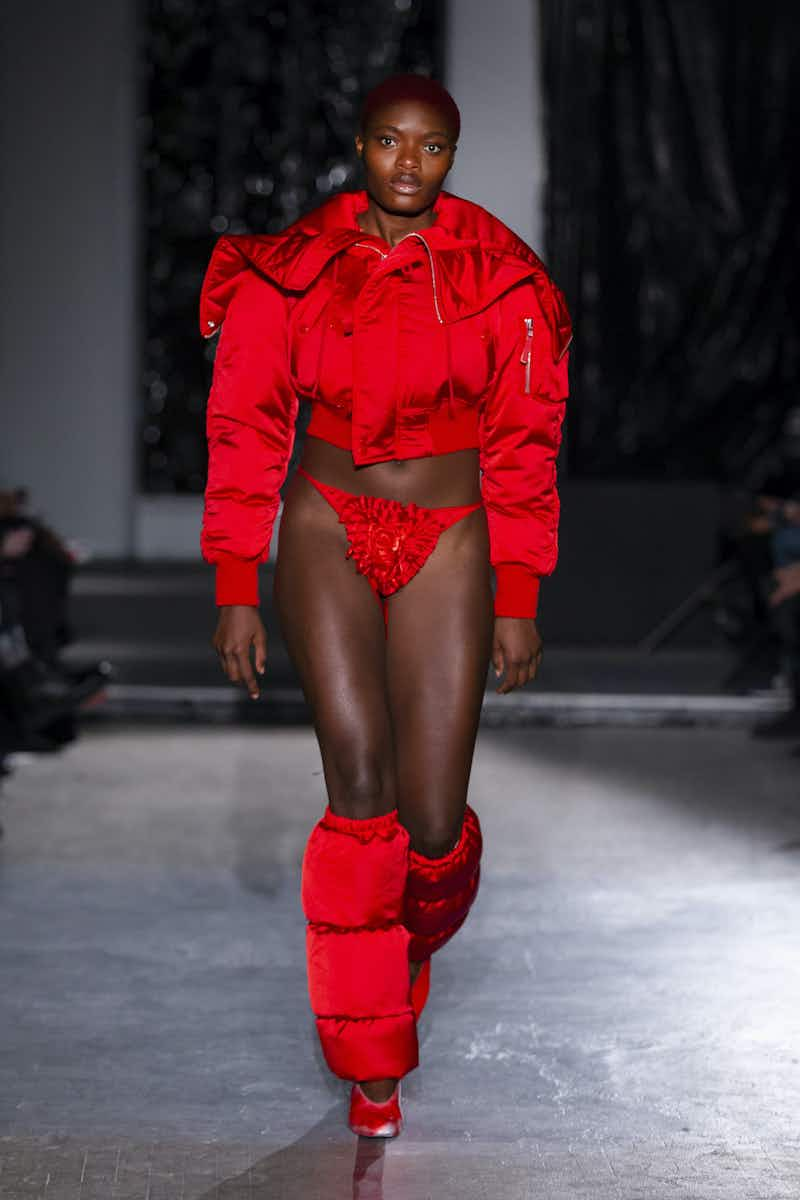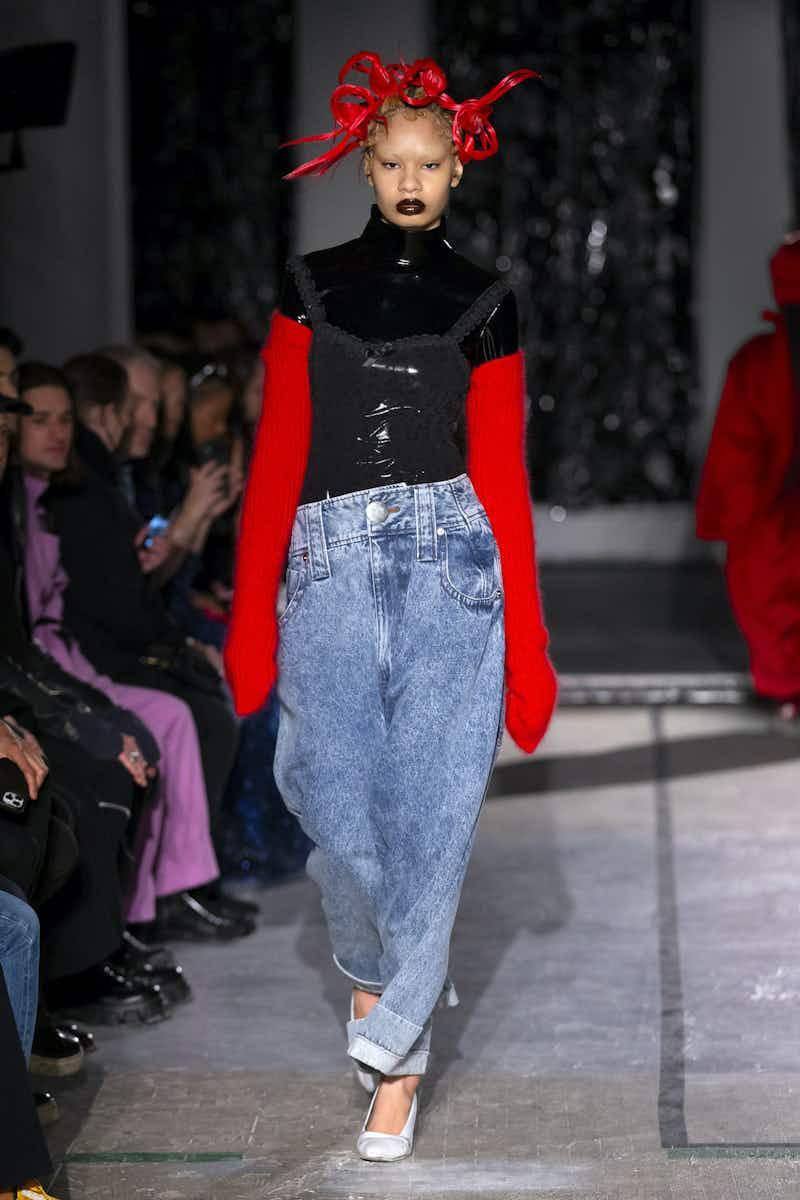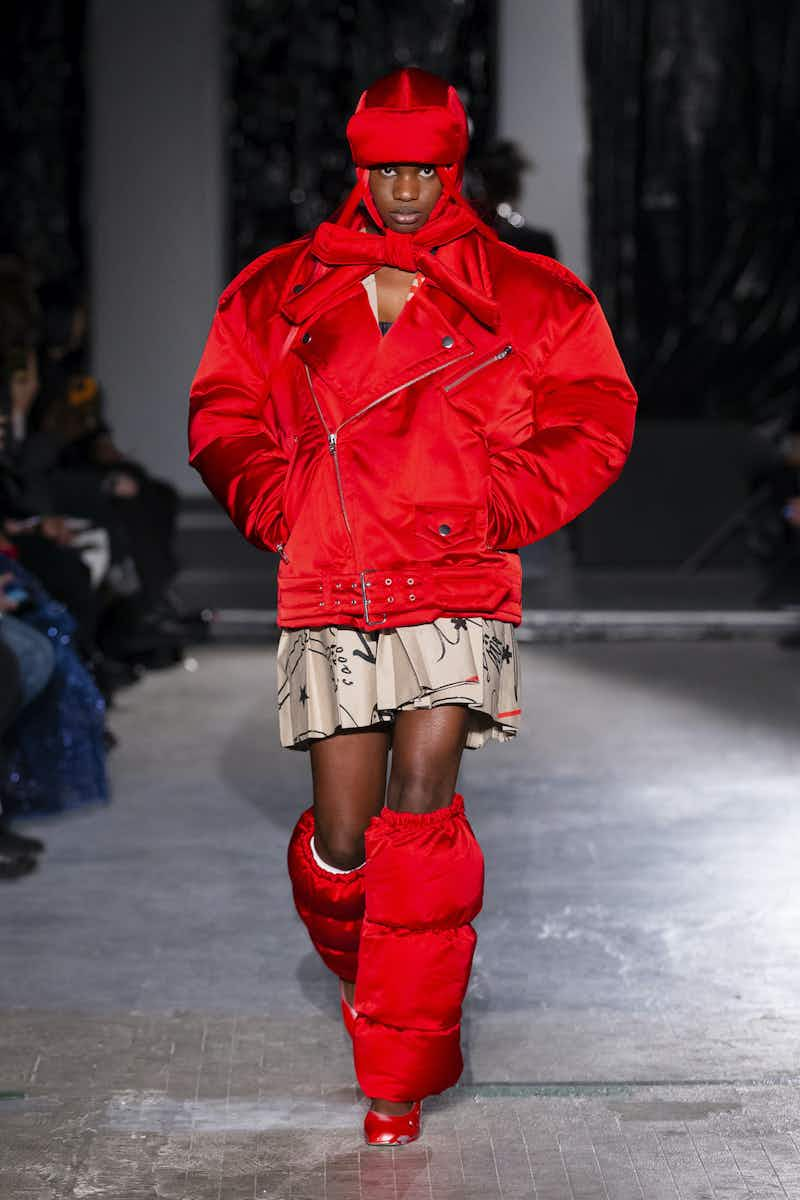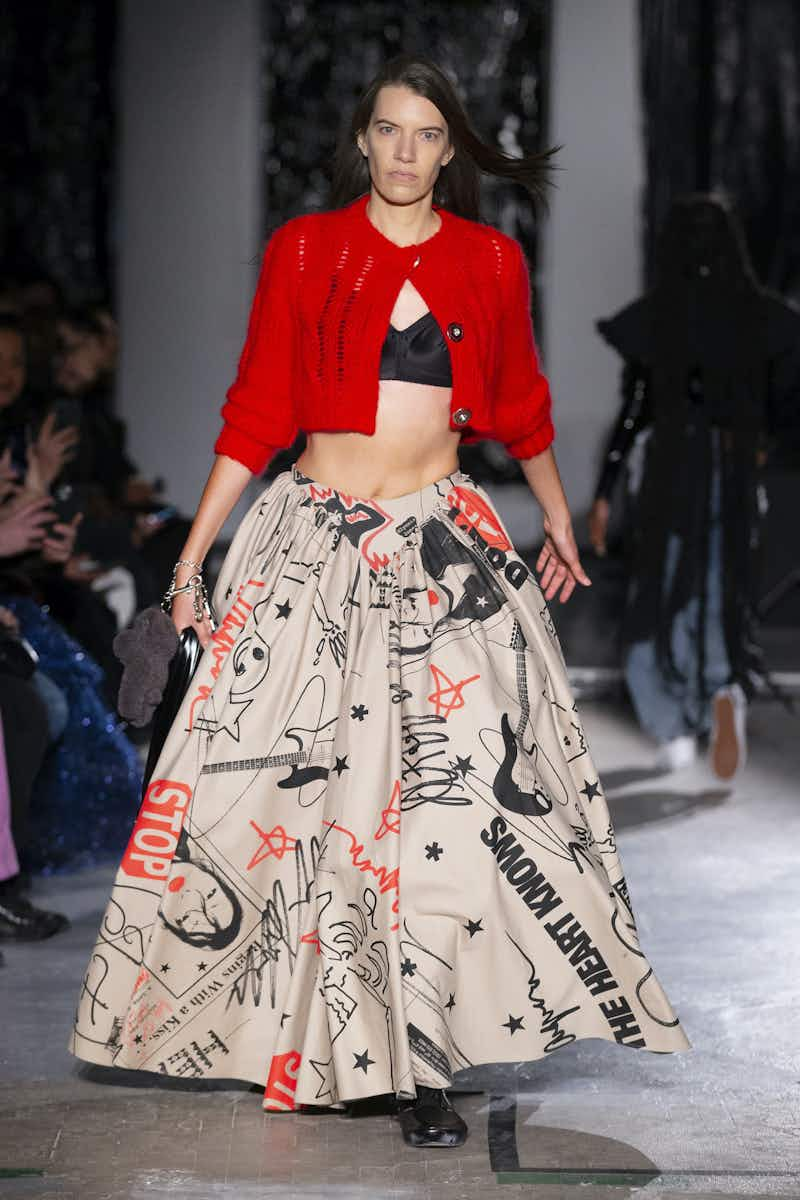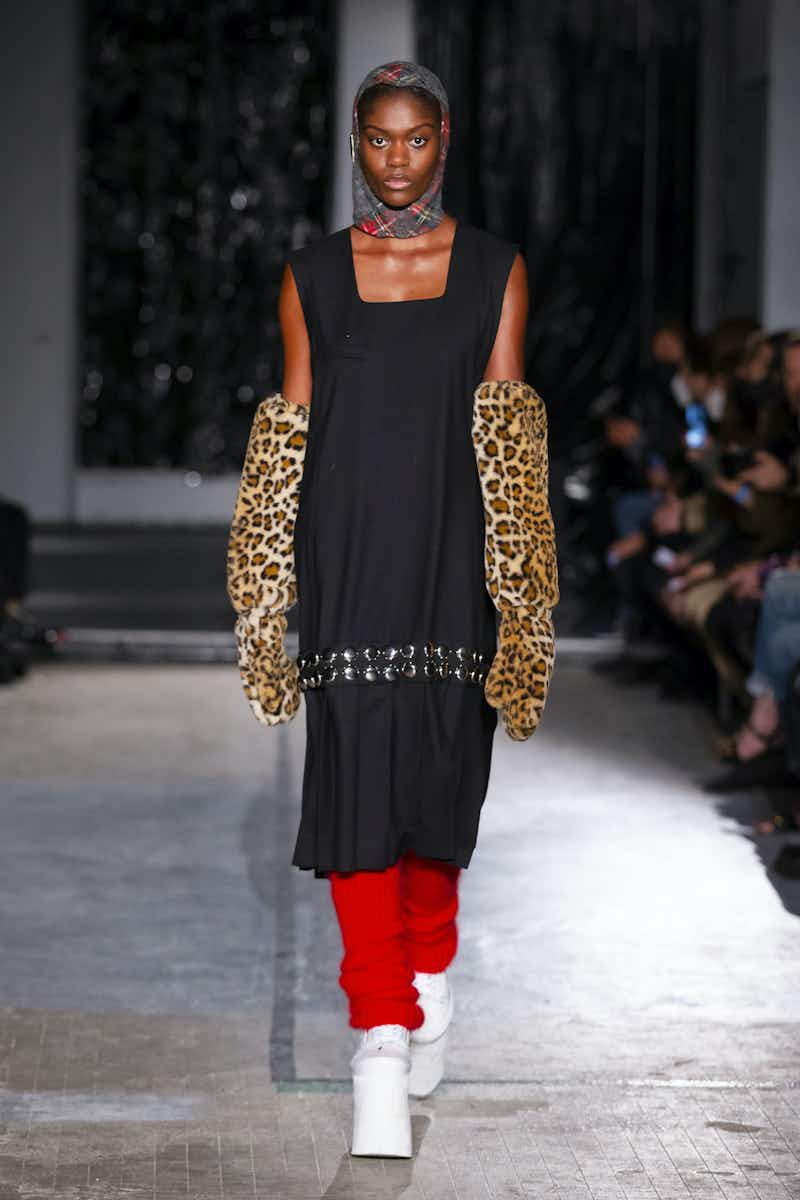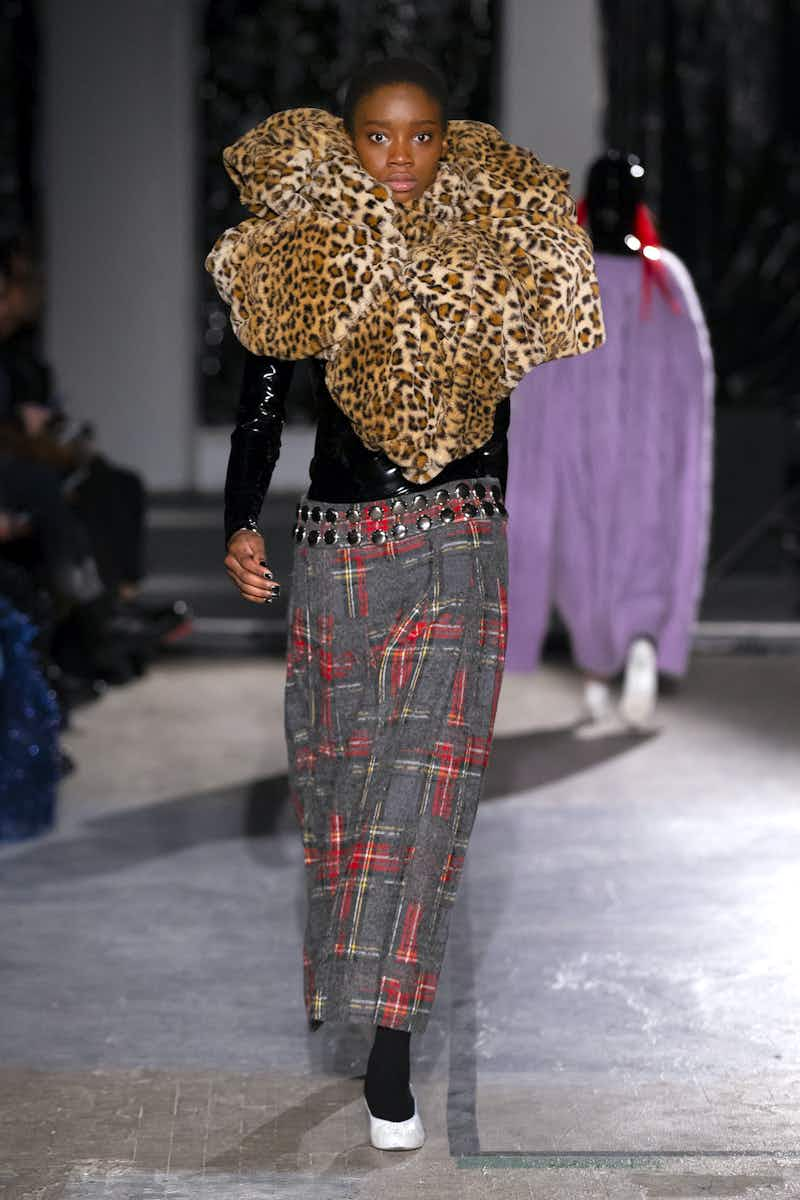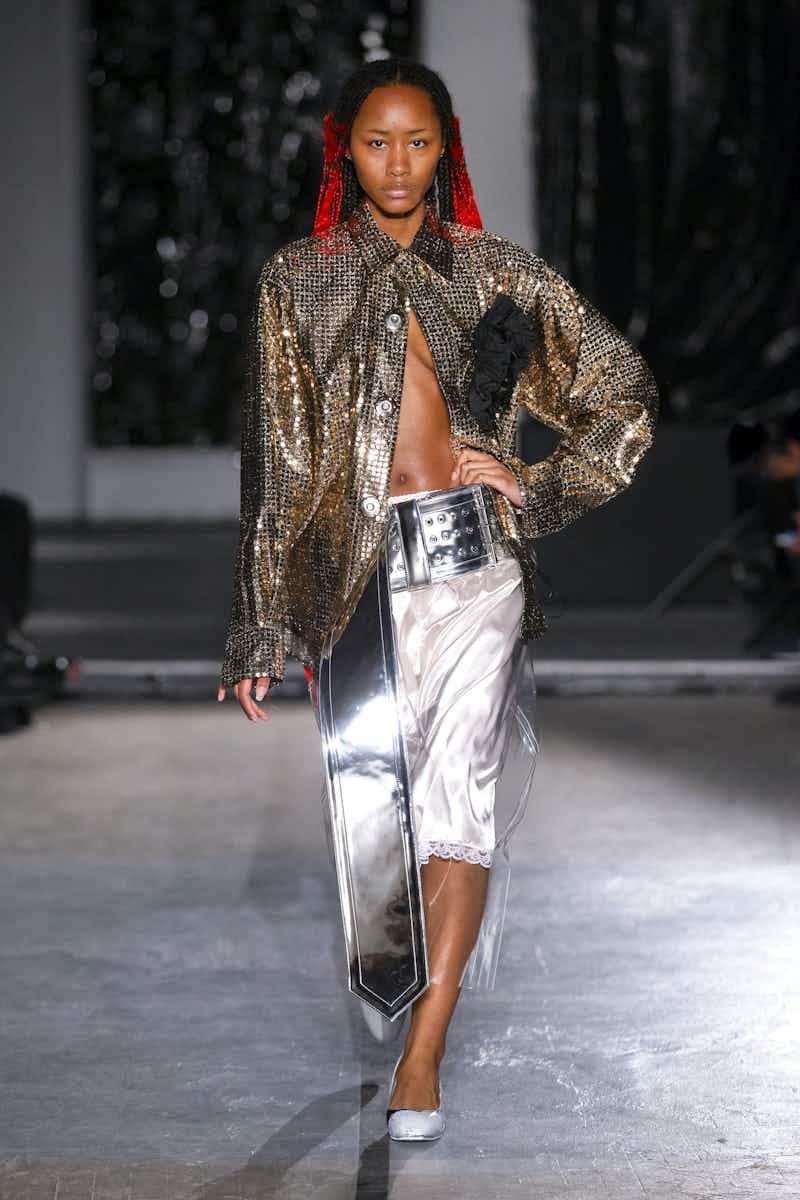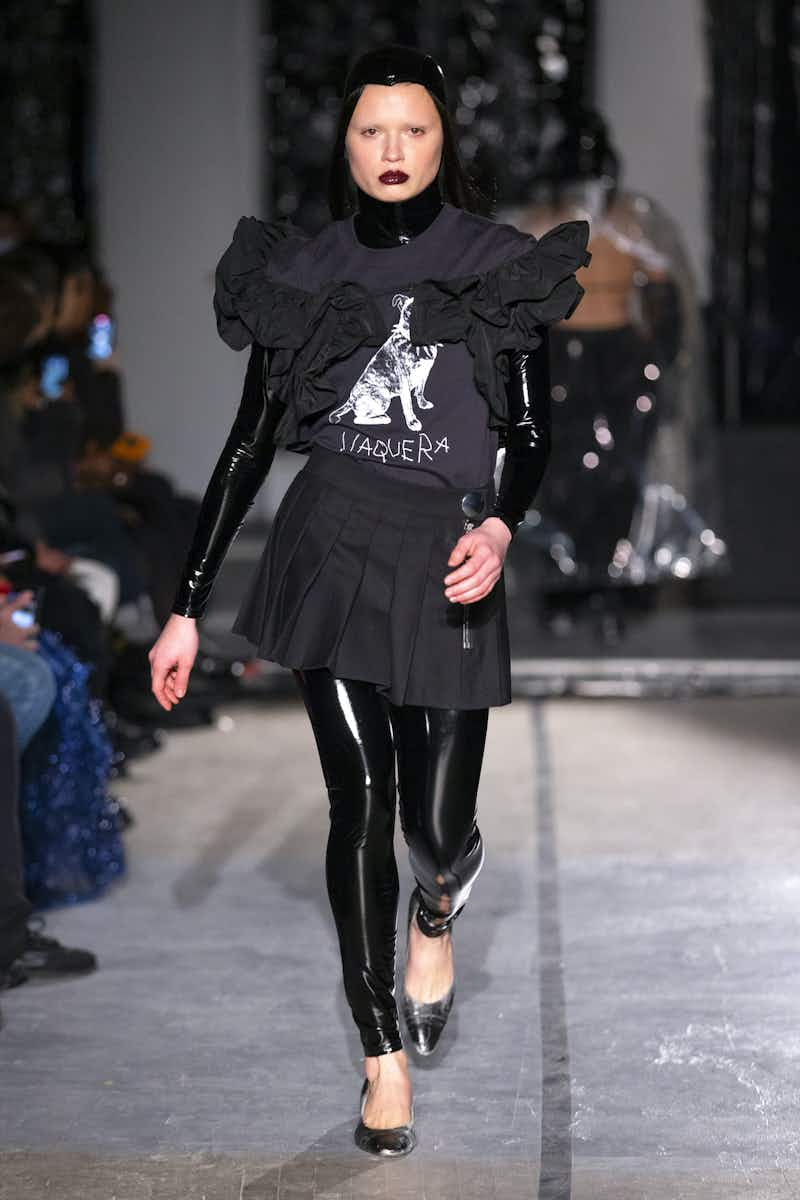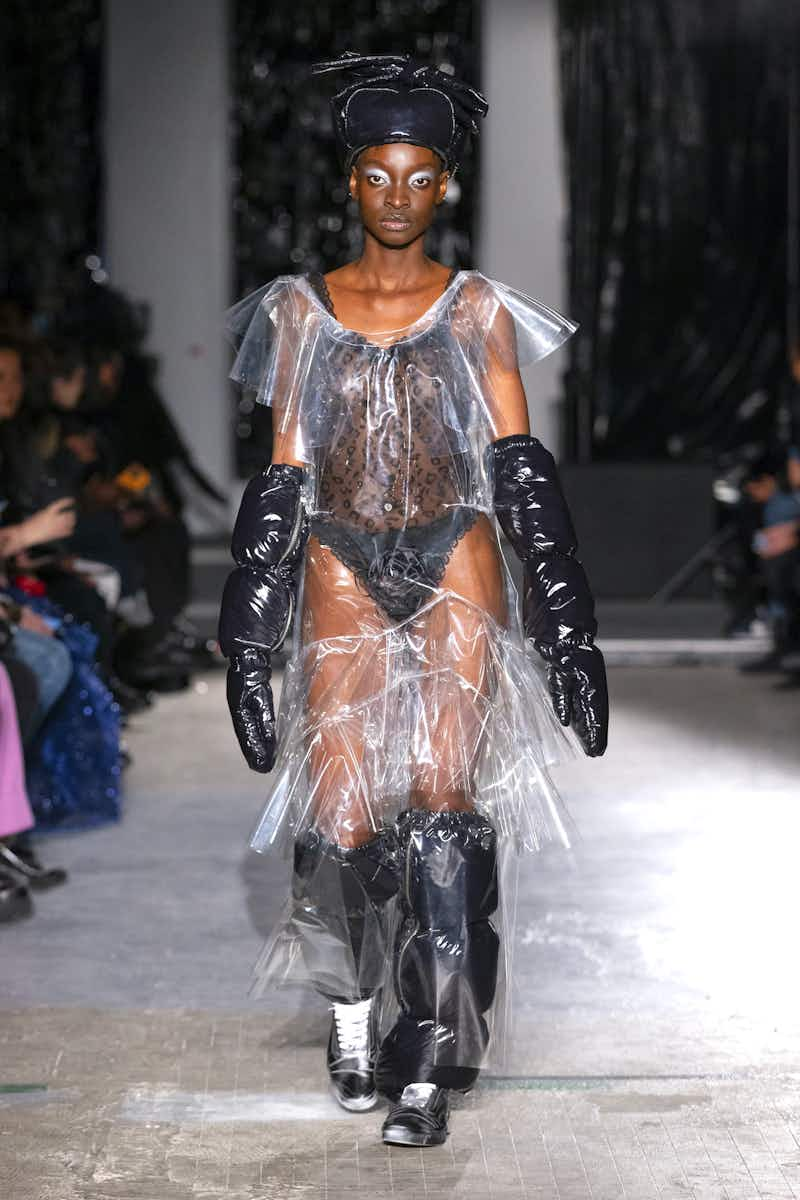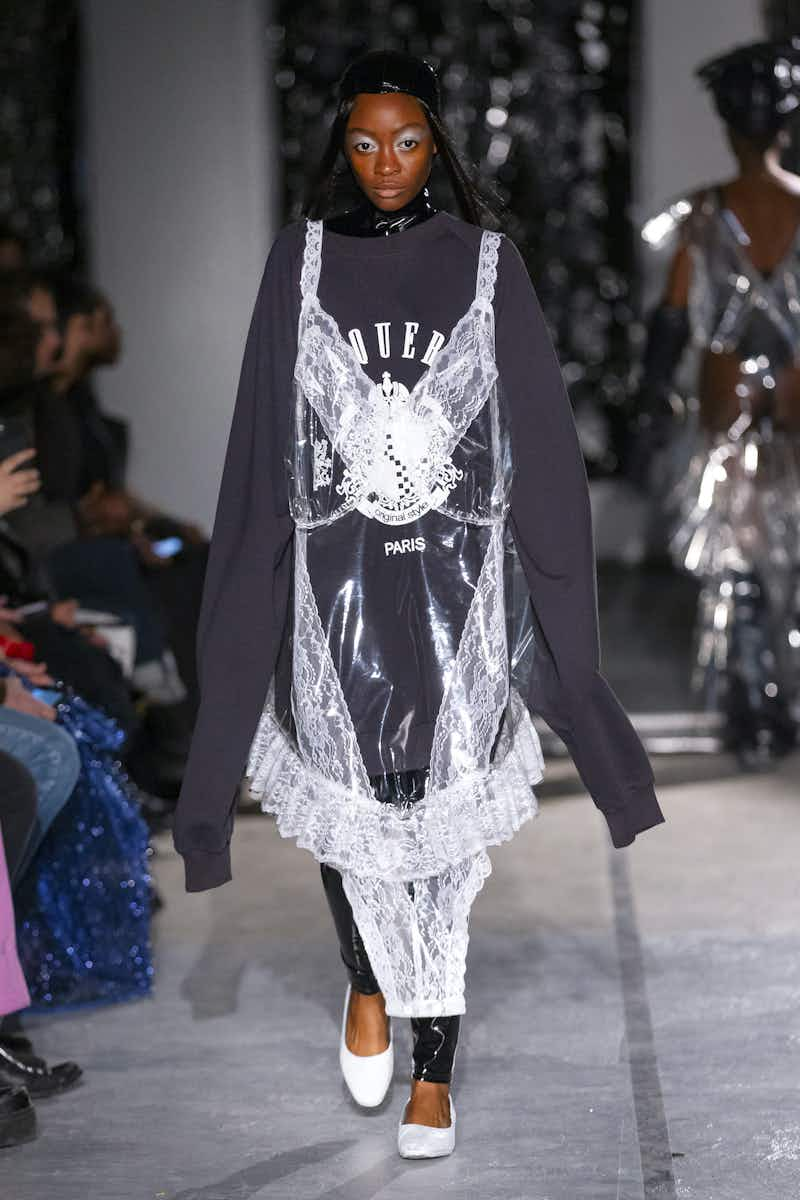 The mood at Ottolinger this season was uncompromising: the show notes promising clothes to grab attention and raise alarms; the models striding to the sound of Azealia Banks chanting ​"I'm ripping the runway, serving the runway, eating the runway". The serves on offer here included vast padded jackets and dresses (the puffer's grip over fashion right now shows no sign of dying down), zinging greens and soft baby pinks, and all sorts of knotted, tangled details that began to take on the organic appearance of roots. However, that was about as far as the natural world encroached on this fiercely sci-fi inflected collection in an esports centre in Paris on individual gaming screens with headsets, before the models walked through the neon-lit space IRL.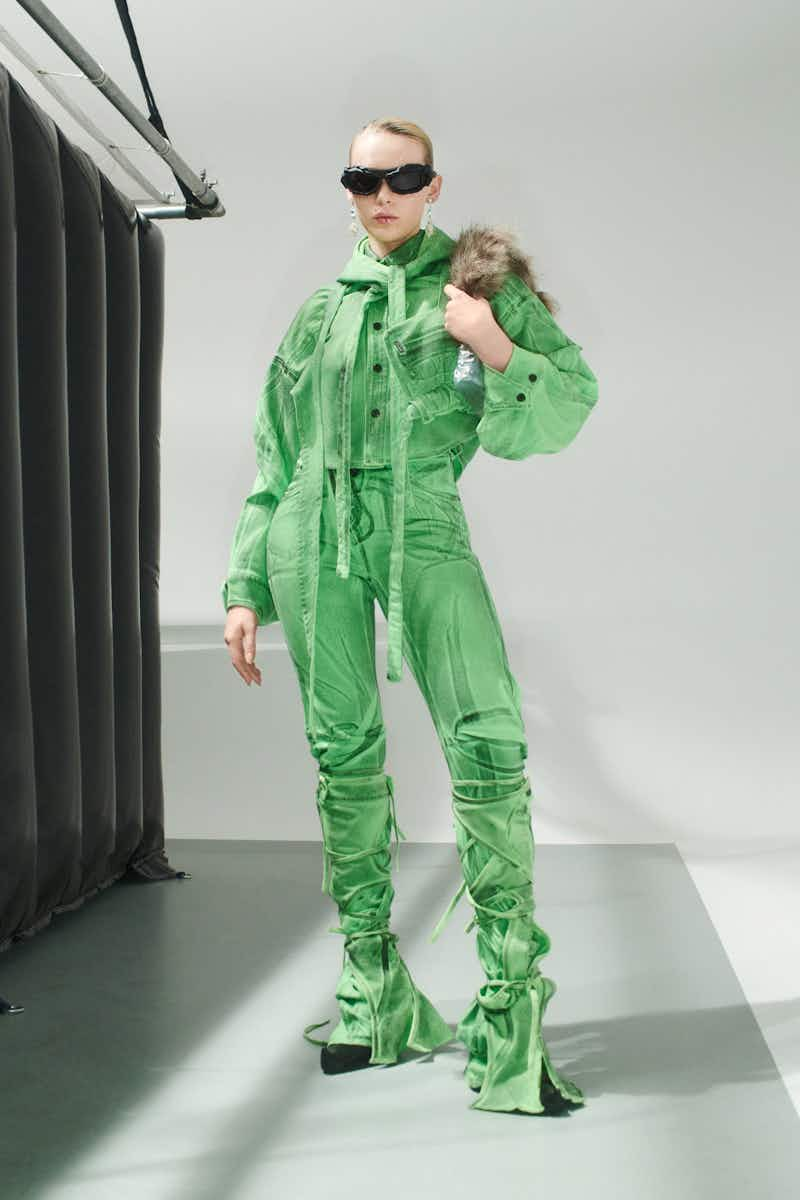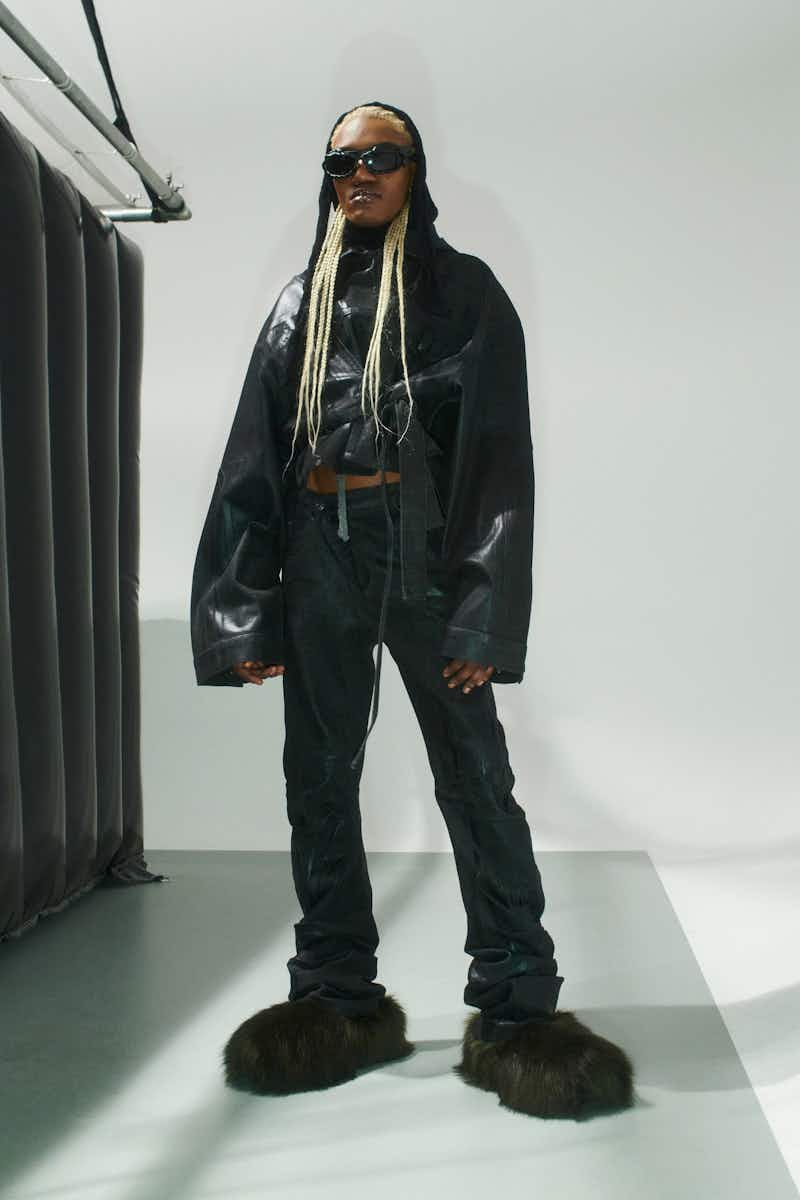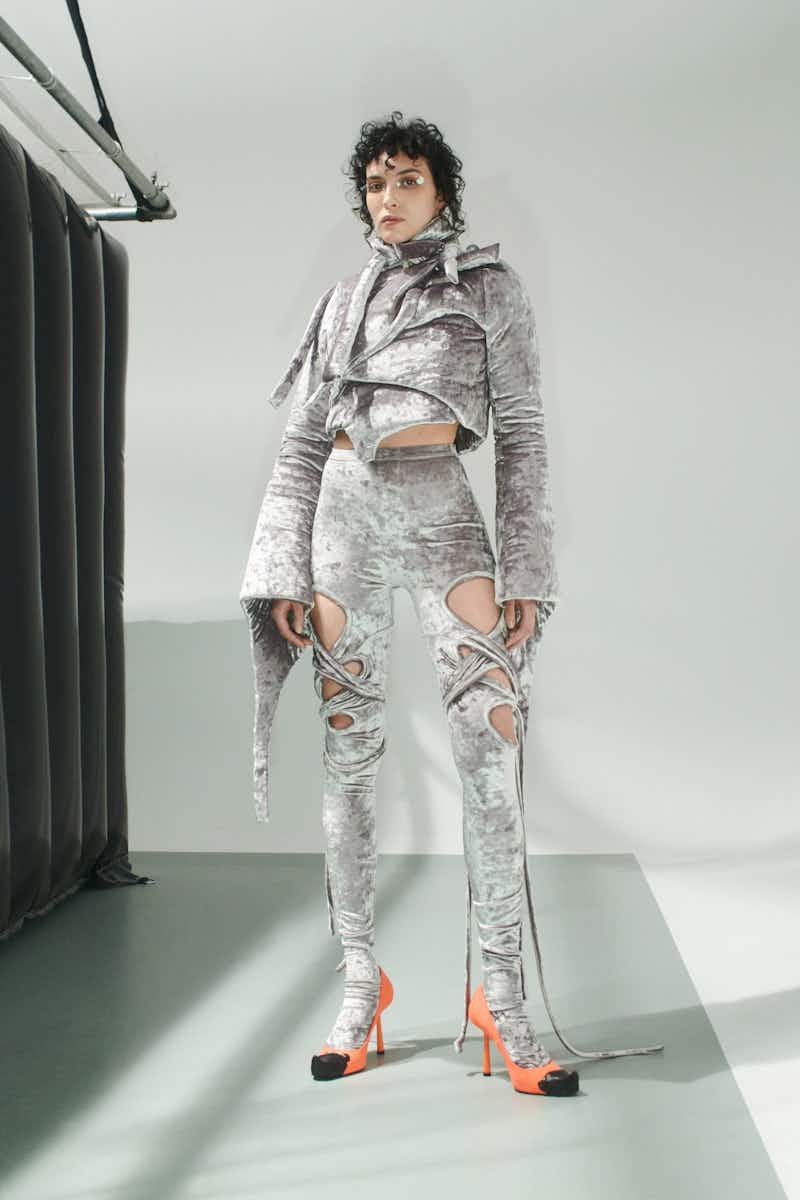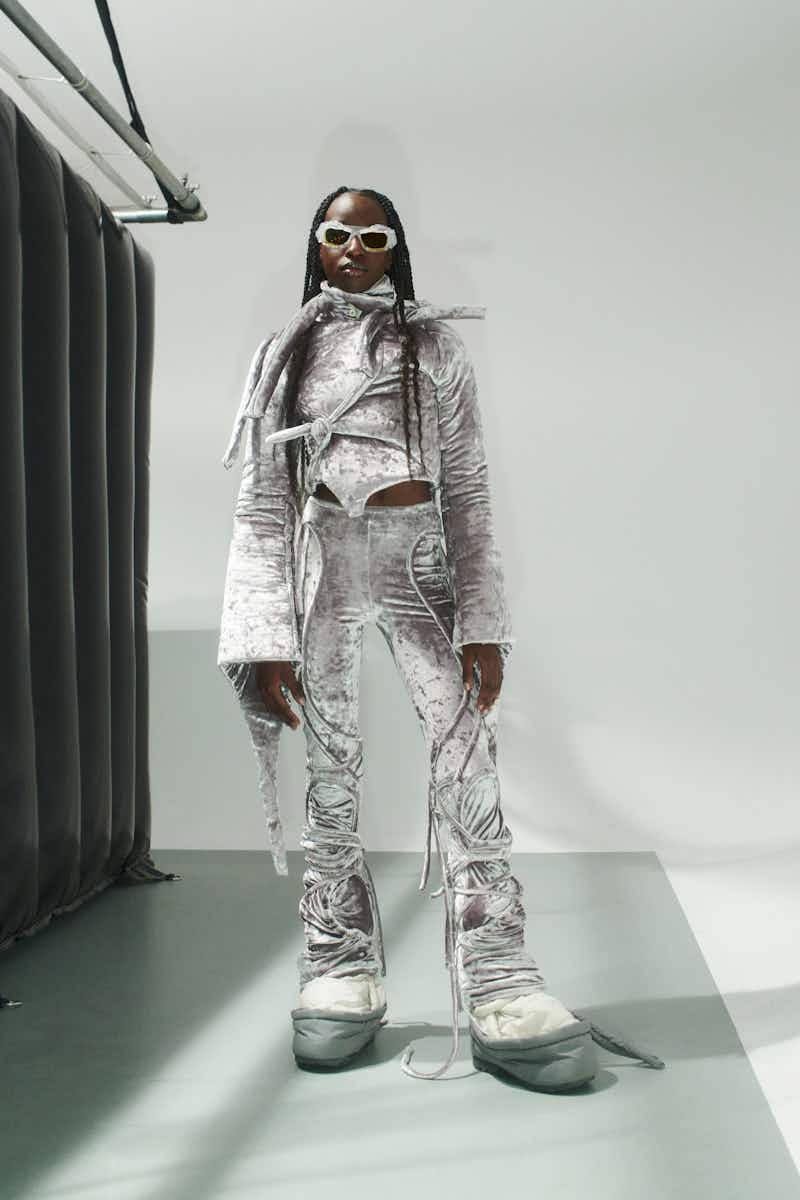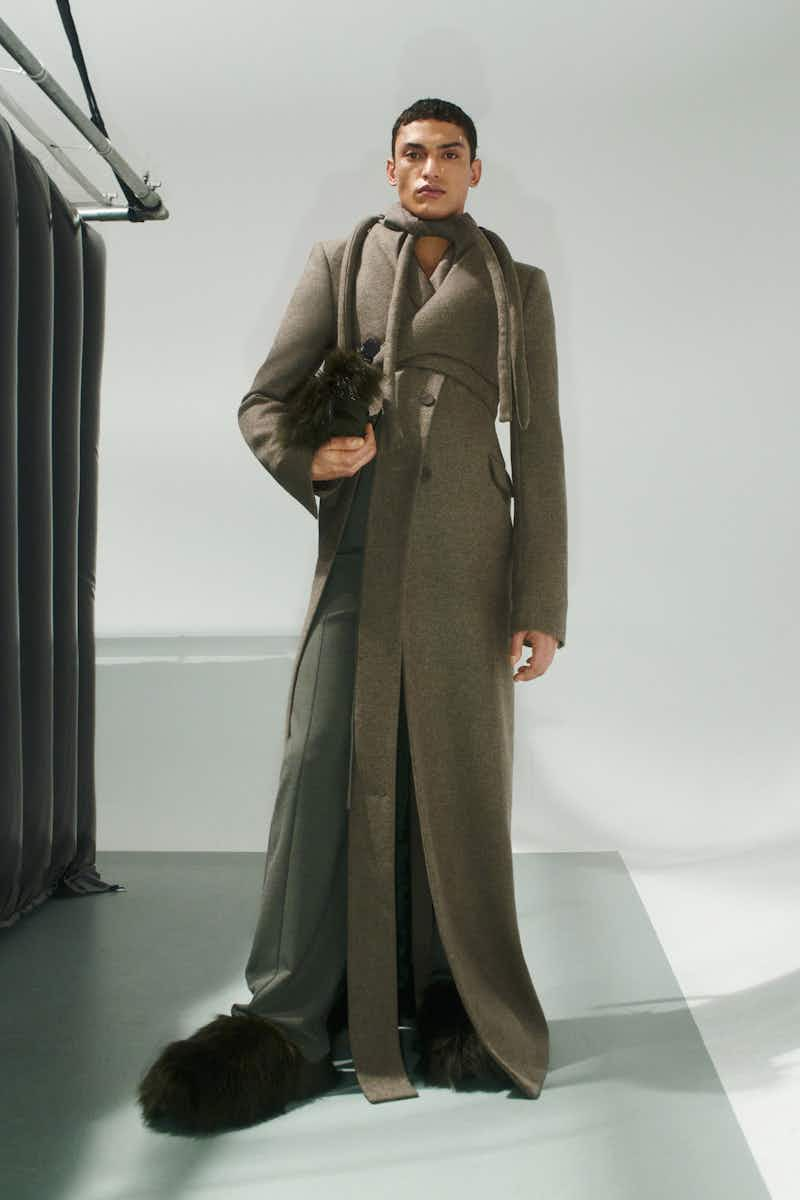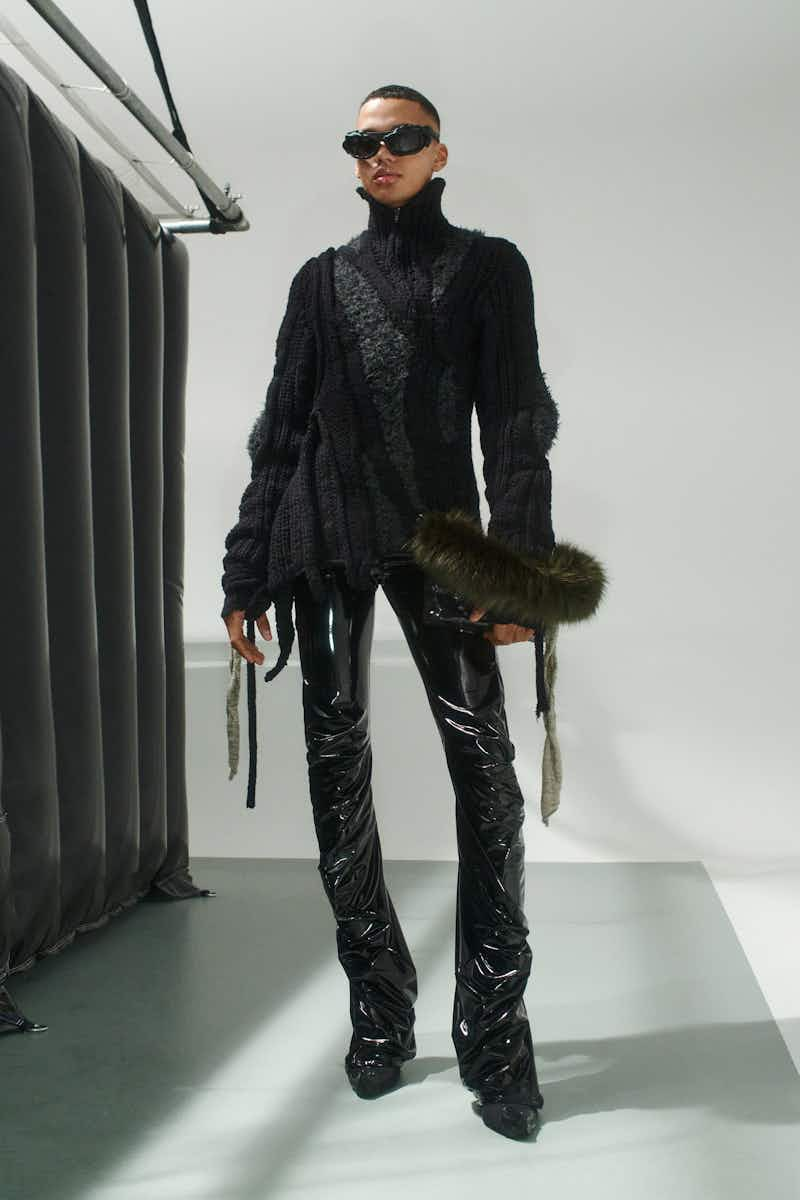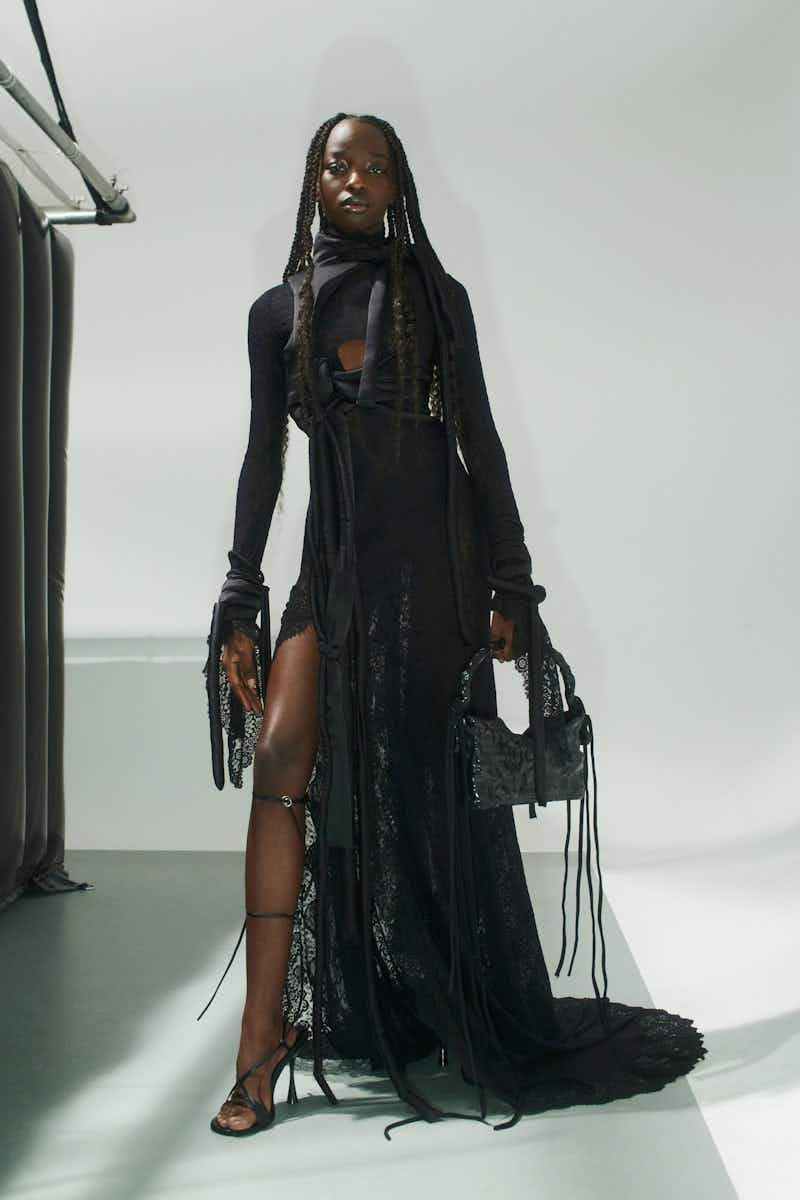 We interrupt regular service to bring you photographs from Paris' Pamela club, where Bakar celebrated his new album at a party powered by Heat and produced by E.Y.C LTD. Guests including Dominic Fike, Tremaine Emory, Iris law and Paloma Elsesser, partied to DJ sets from Jordan Vickors, Zack Bia, Skinny Macho (b2b Pedro) and Jeune Pouce (b2b Kim Turnbull). Meanwhile sources tell us that two members of THE FACE team had rather sore heads the next morning. We say ​"no comment".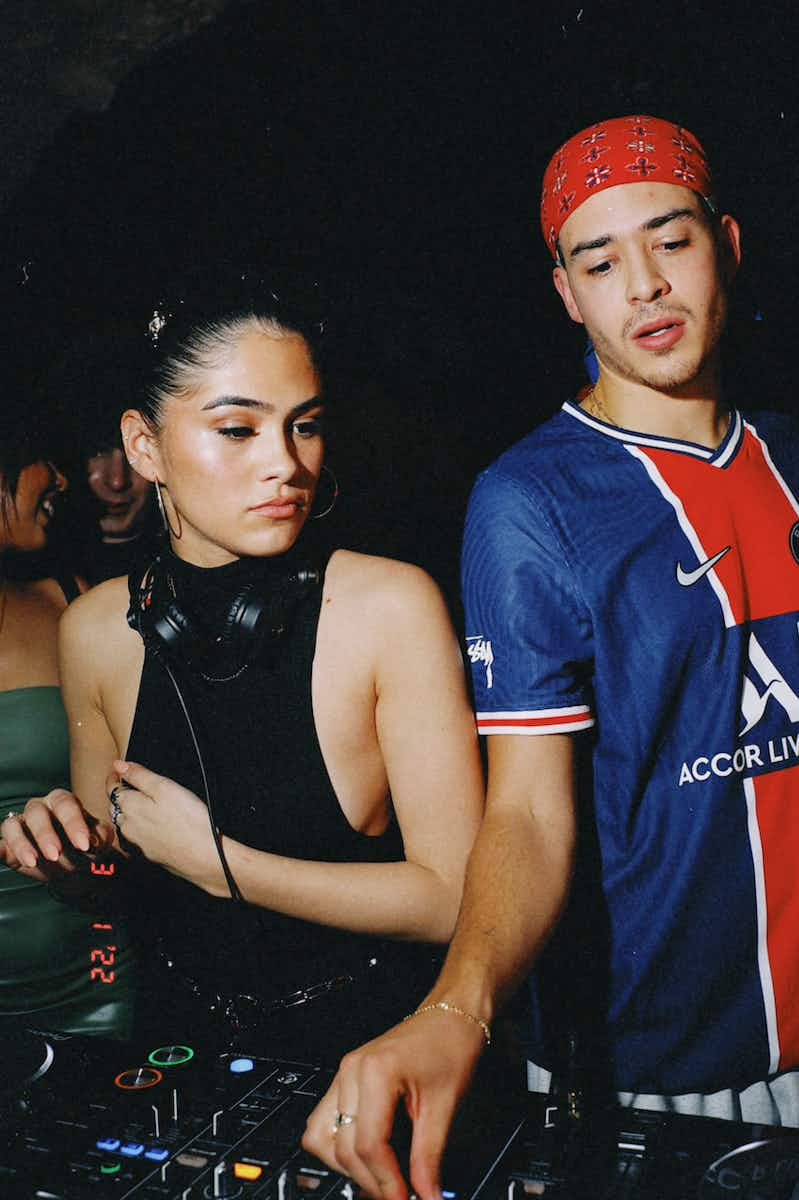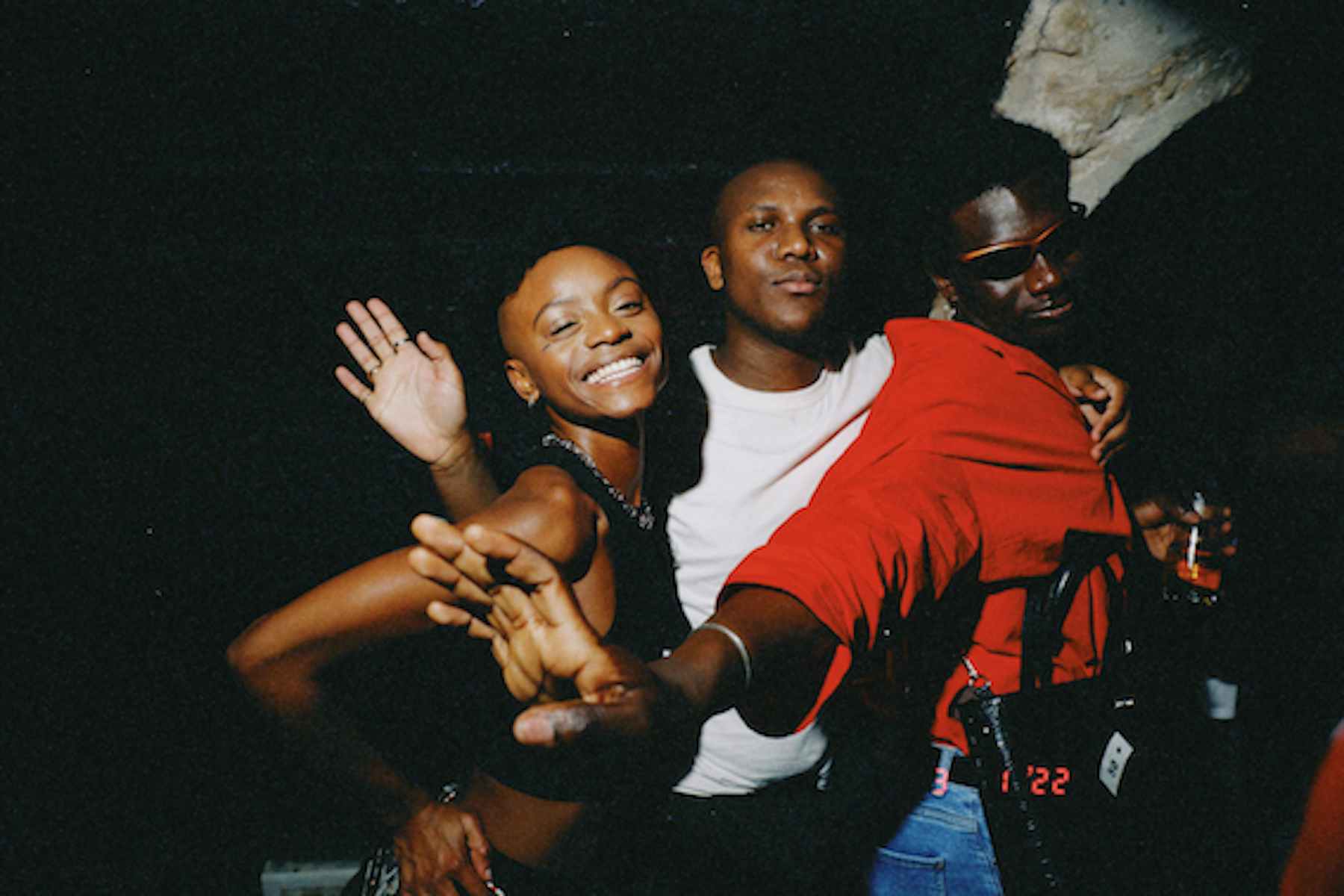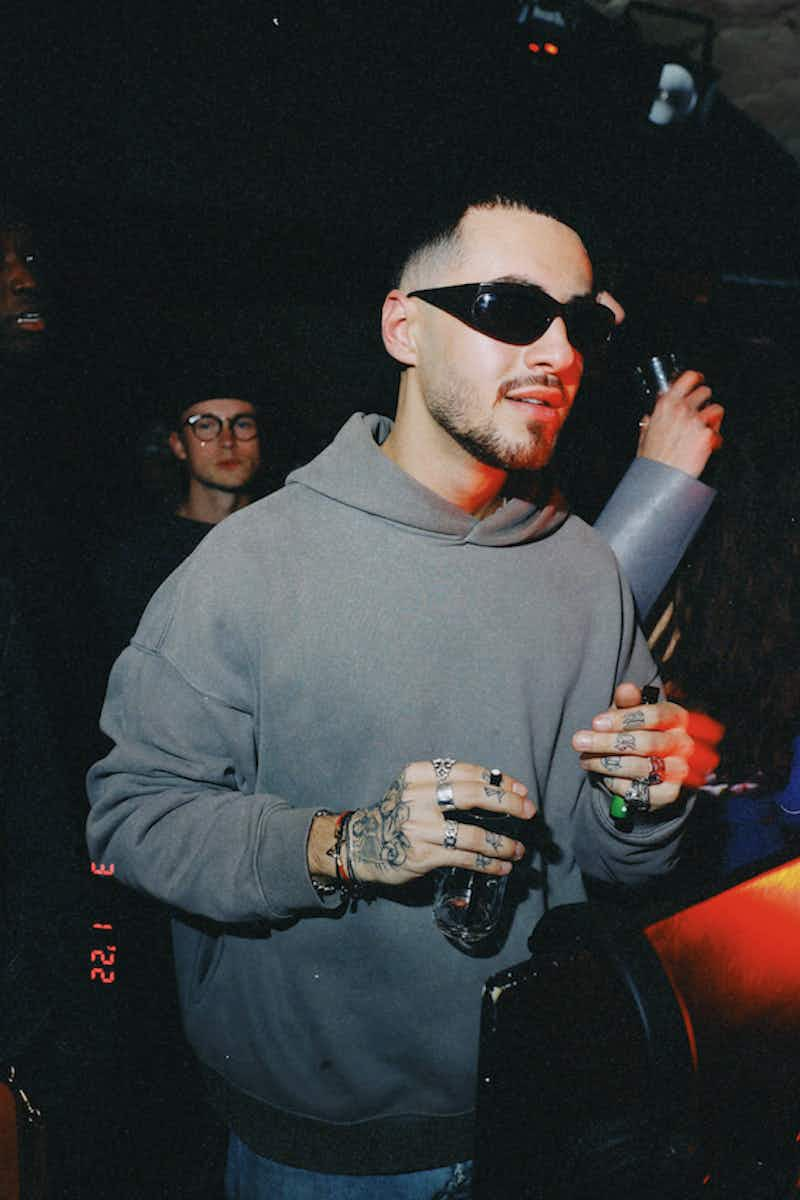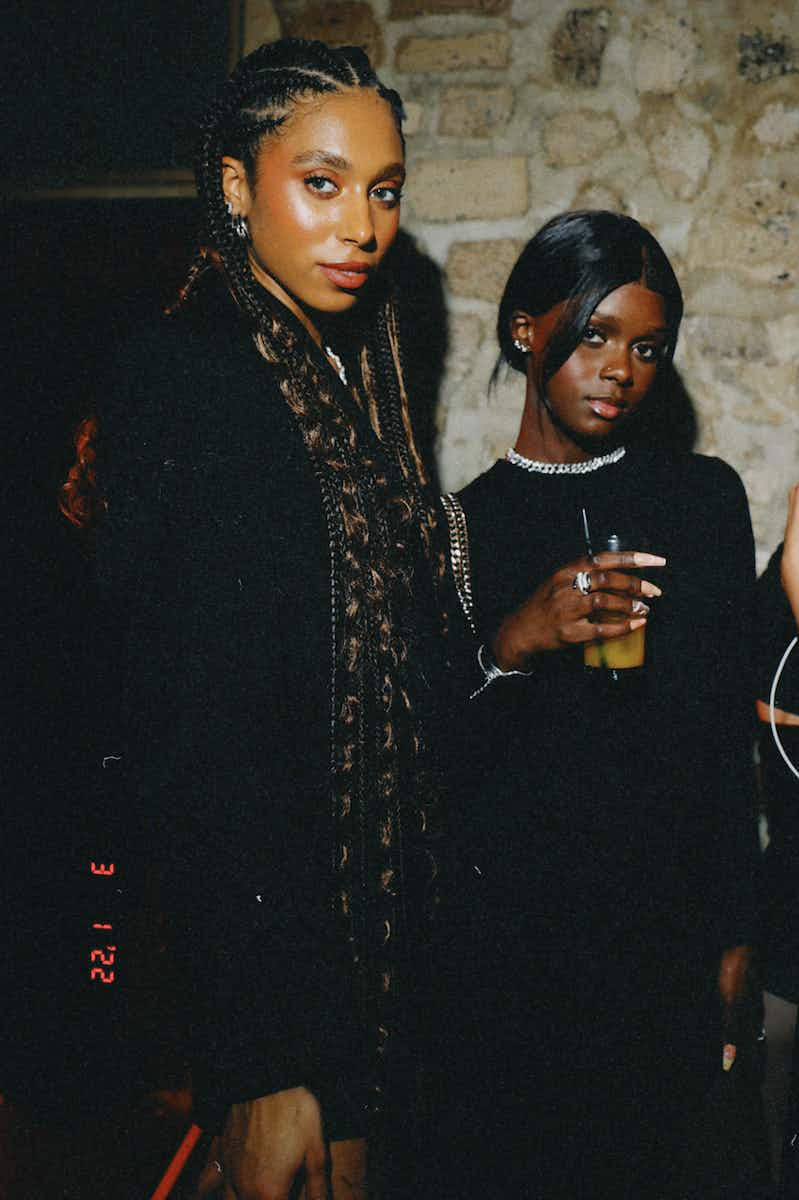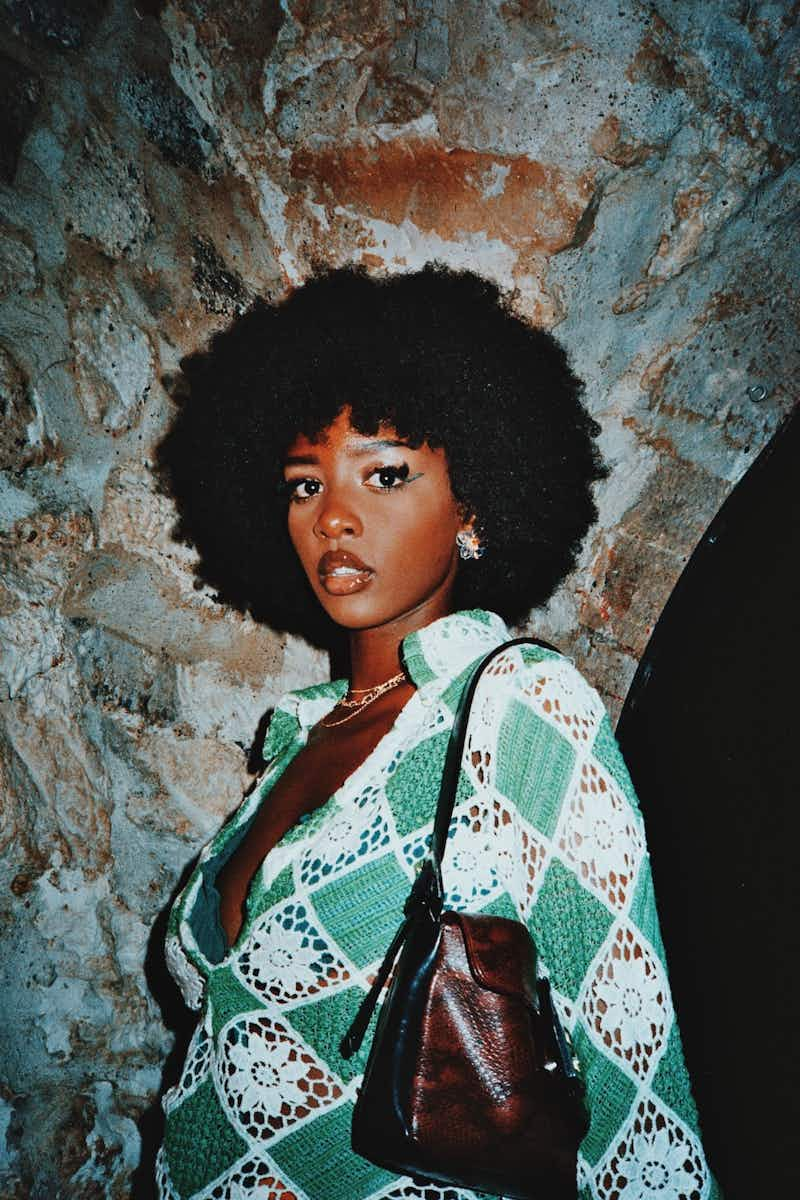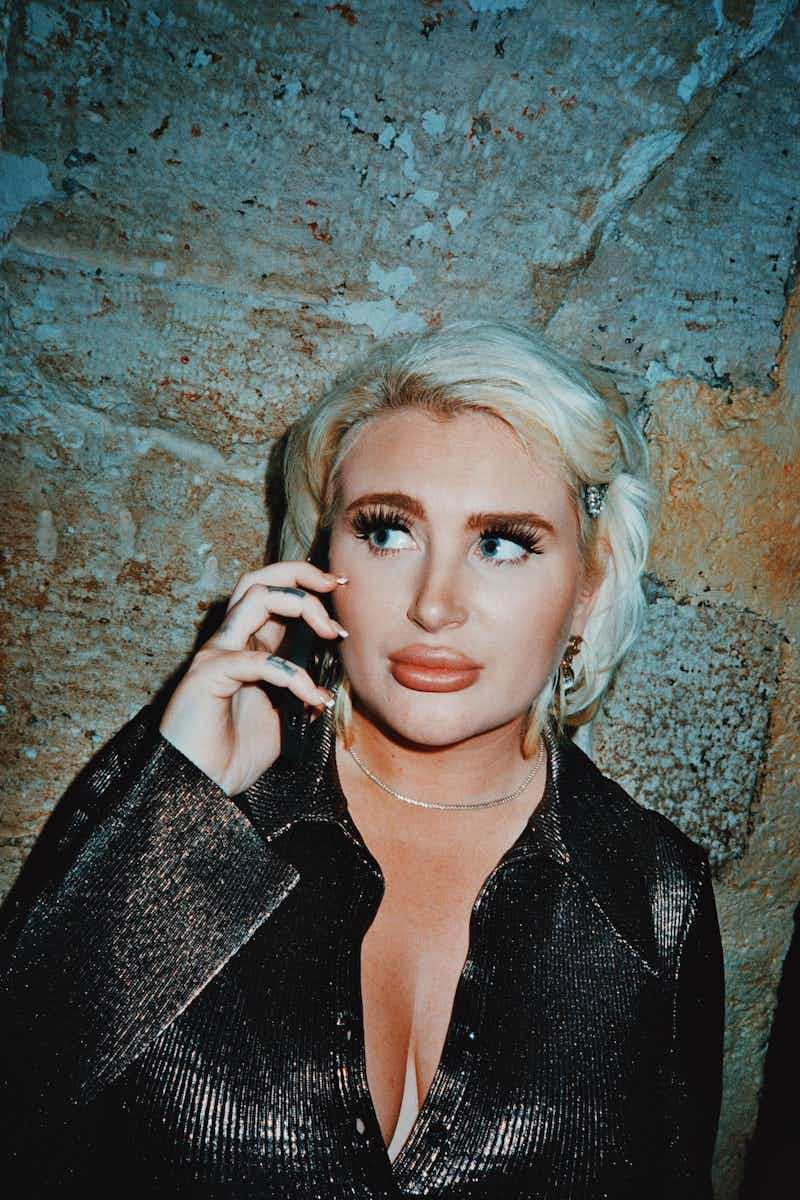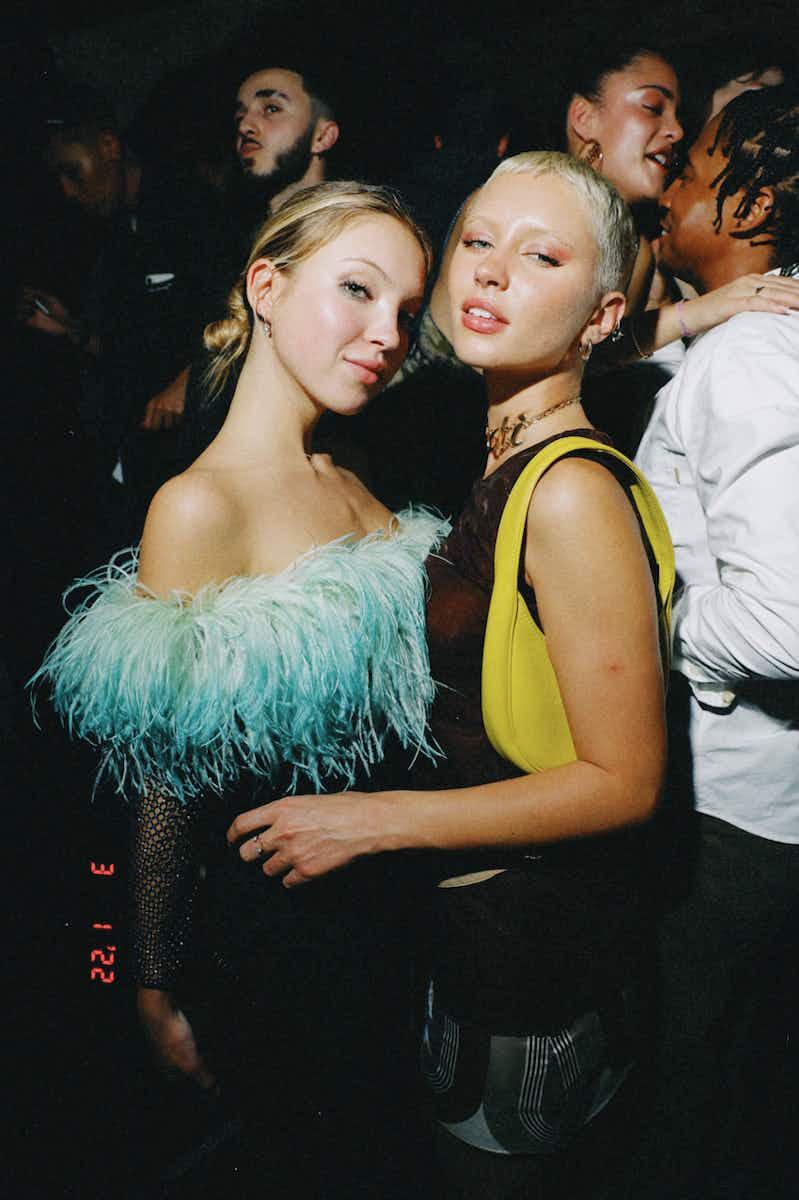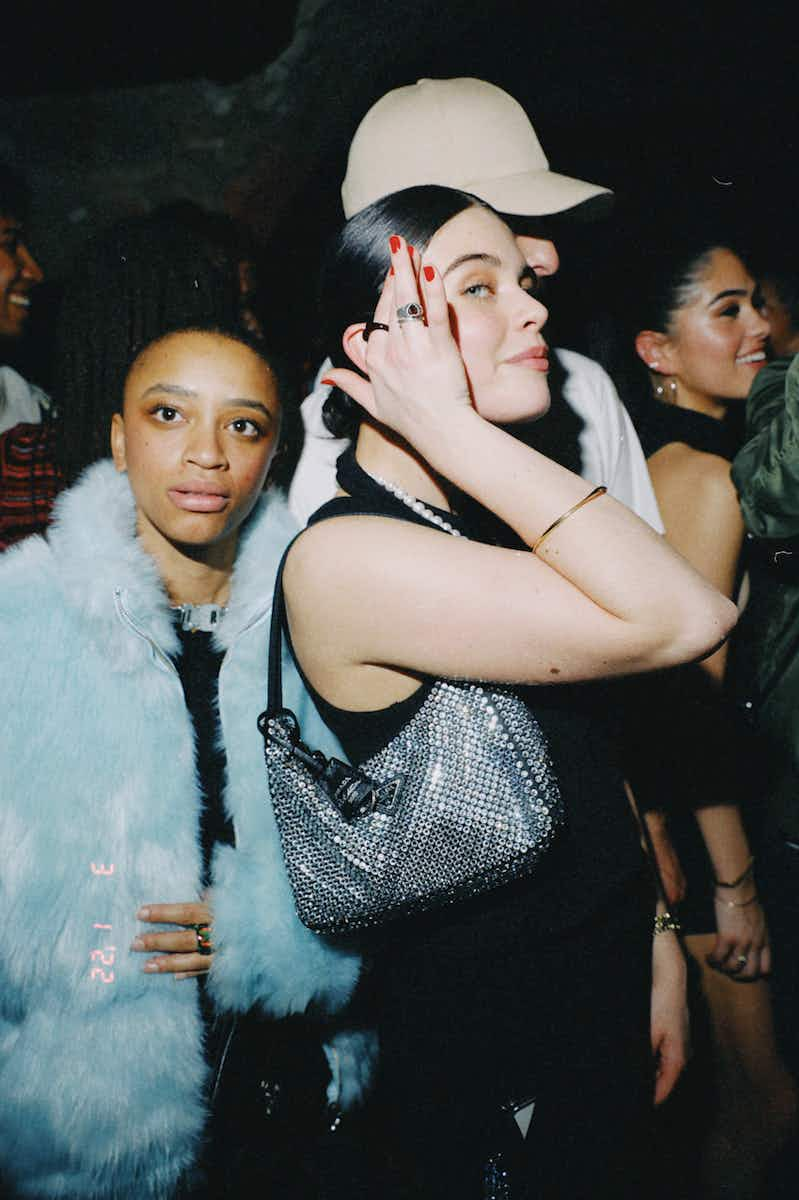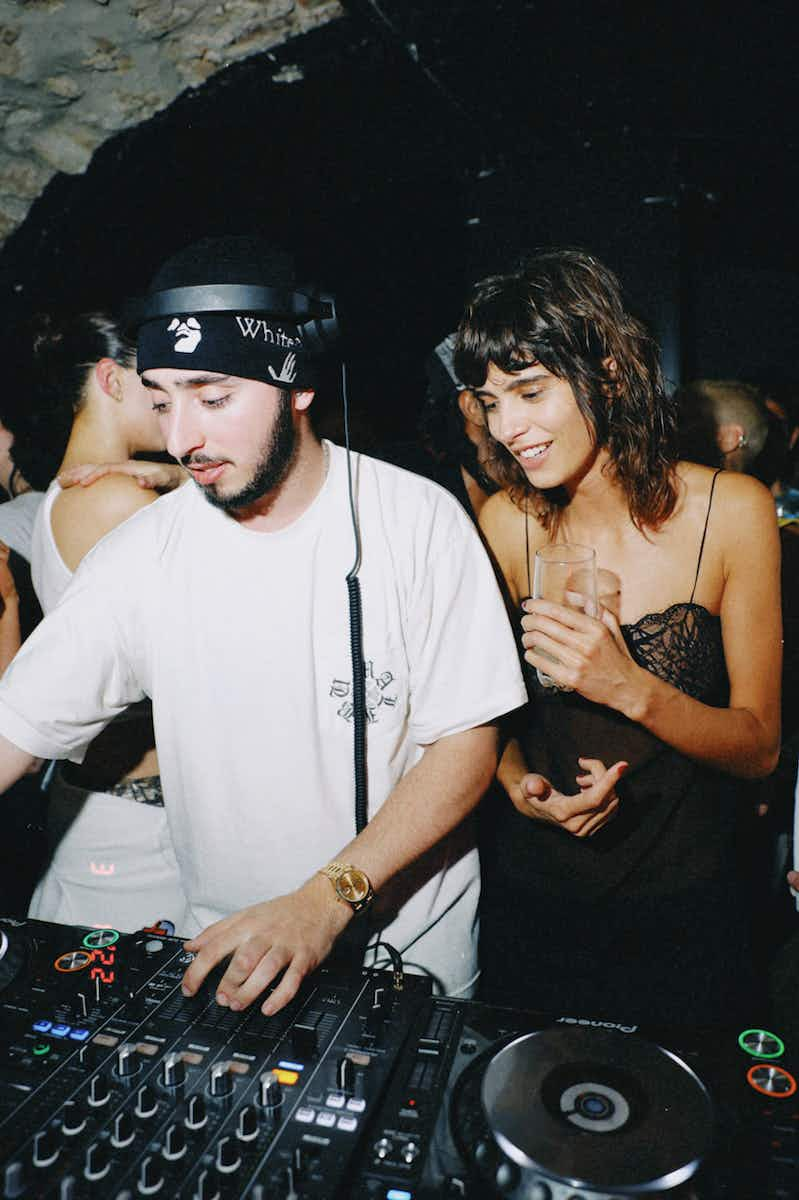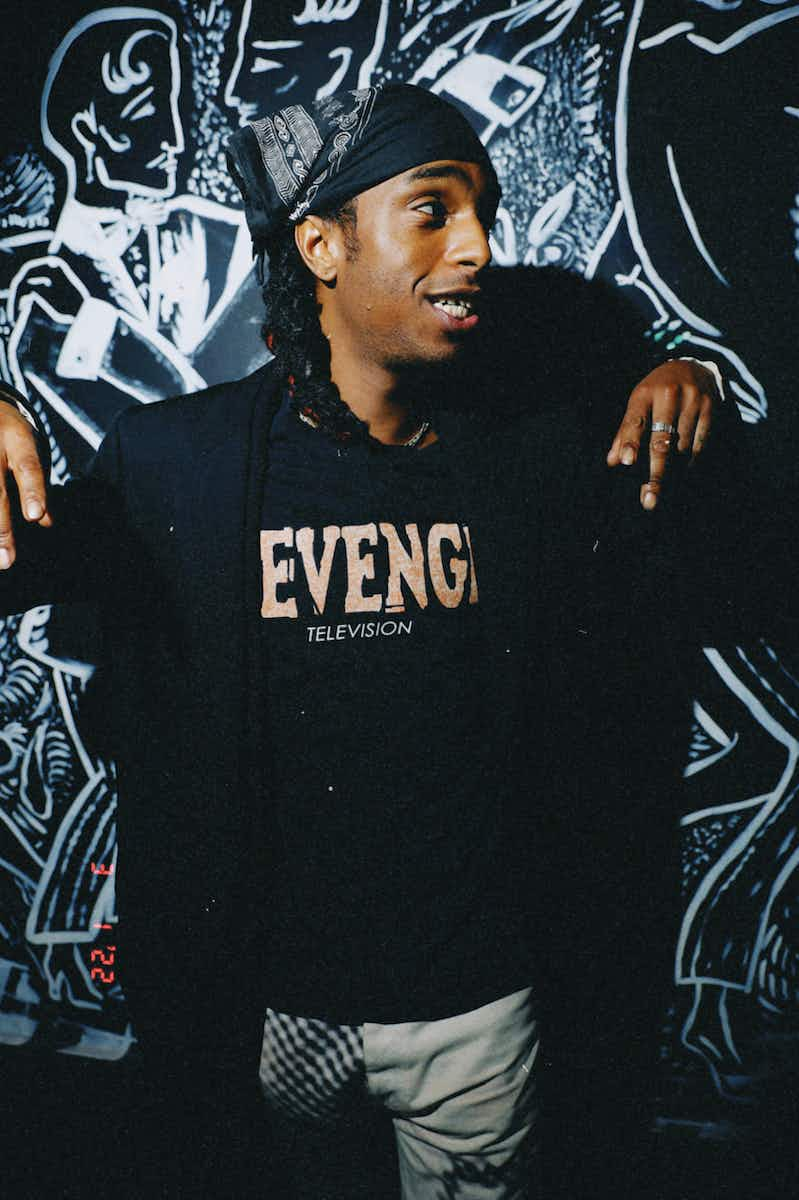 More like this