Pass the parcel: how Heat revolutionised streetwear for Gen Z

Streetwear mystery boxes are the new craze and it's down to Joe Wilkinson and Mario Maher whose Heat company has sold over 15,000 to date. Here's how.
The word ​"unboxing" entered the Oxford English Dictionary in 2015. Six years later, there are professional unboxers. Unbox Therapy – who posted a 15-minute video of himself unboxing the Apple-designed Covid mask, given to employees only – has 17.8m followers on Youtube. iJustine (a handle to regret) unboxed a fridge, watched by 3.5m people. Delayza Naylea unboxed ​"the RANDOM stuff I bought online *at 3am*" for 24 minutes and gained 359,000 viewers. Say what you like about the internet, but when it comes to foibles you never knew you had, it delivers.
There's even a corner of YouTube dedicated to unboxing streetwear mystery boxes. These contain unknown items by brands like Supreme, Palm Angels and Off-White. Despite (or because of?) the surprise element, they're hugely popular, a sort of lucky dip for hypebeasts. That's especially true when they are made by Heat.
Set up in the winter of 2019, I talk to Heat's managing director Joe Wilkinson and buying director Mario Maher a global pandemic and several lockdowns later. The period has been a catalyst for their business. Heat's initial launch in November 2019 (on Black Friday) saw them sell 1,000 boxes in 20 minutes. After gaining investment, the brand relaunched on 19th March – the day that the UK announced it was going into a first lockdown.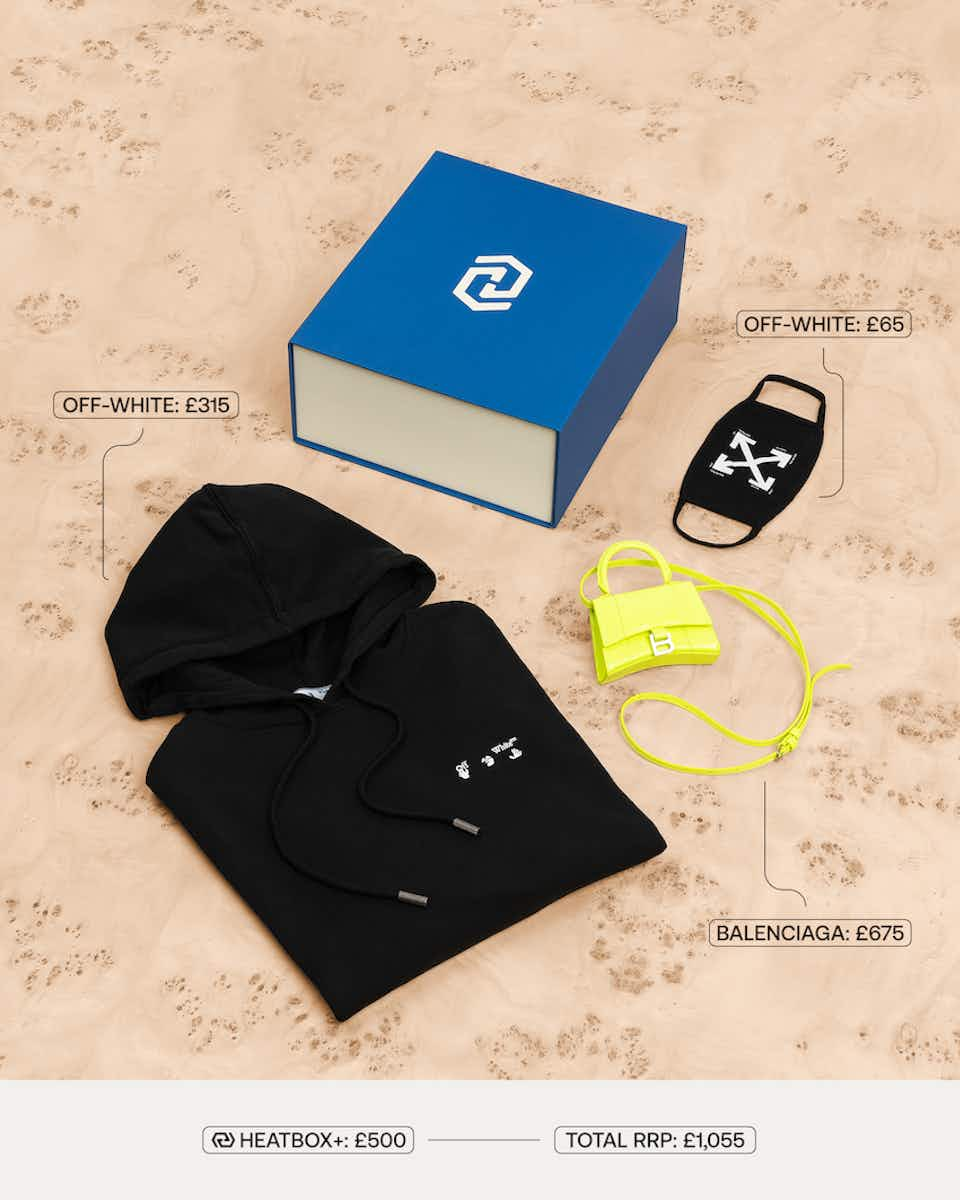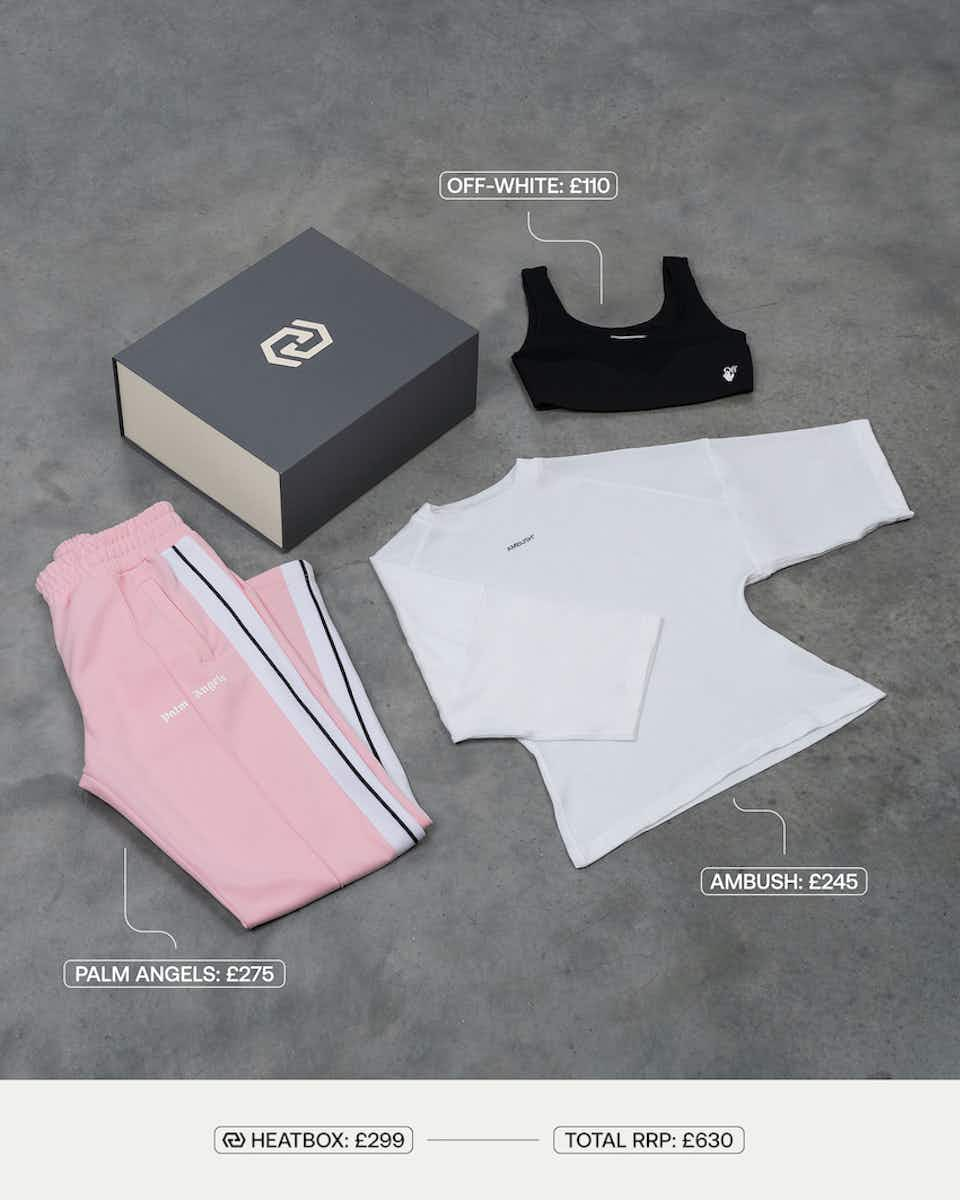 "Obviously that was the time it was all kicking off and going crazy, especially in Italy, which is where we did all the distribution in the beginning," recalls Wilkinson. ​"We moved over 2,000 pieces of clothing over to my parents' house in Sheffield. Me and Mario were sat there surrounded by boxes thinking ​'we're in trouble here'. At 5pm it got announced and at 8pm we were meant to launch… it just went crazy. Over the next six weeks, we sold more than 5,000 boxes." A Heat box is perhaps the perfect concept for streetwear fans stuck in bedrooms, rather than their beloved queues. The delivery of a *surprise!* certainly broke up the boredom. Ten thousand boxes were sold between March and November.
Heat works like this: There are eight mystery boxes to choose, from the men's streetwear box (the most popular) to the women's contemporary high ticket box at £500. Each one contains up to three items, from designers and brands ranging from Balenciaga to Palm Angels, Off White, Haider Ackermann and JW Anderson. There's a guaranteed retail value between £500 and £900. With connections forged with stores and brands – before Heat, Maher worked with stores in Italy moving excess stock on before it entered the sales – they can guarantee that these items are not fakes. The boxes sell out on each drop, usually on launch day.
It's a business model that succeeds through a win-win: Heat brings hot items to hungry hypebeasts while at the same time selling existing stock for brands. ​"Every so often something comes along where you see two things and think if you put those two things together, surely it's going to work," says Wilkinson. ​"Nine times out of 10 it doesn't but the one in 10 times it does work and it goes really well. That's what we have come across here." Evidence of that is the curious fact that Heat receives few returns. ​"It's around a third of what the industry average is for retail online, which is crazy when no-one knows what they're buying," Wilkinson points out.

Wilkinson and Maher, who are 24 and 25, respectively, know how to talk to their Gen Z audience. This can be seen in Heat's name and original fire emoji-style logo, and collabs with the FaZe Clan, the eSports organisation that includes another Heat founder, Frazier Khattri. There's also the serious attention paid to packaging: from the way the box opens to the fact that it is scented makes buying a Heat box an experience as well as a transaction.
"We were sat around the table," remembers Maher of Heat's beginnings, ​"and I said if I bought this box, I would want to keep it in my room and keep Heat items inside it, or jewellery or accessories or whatever it is." Maher's instincts proved on the money, as the boxes are now collectors' items in their own right. ​"We had some people send us a few links on Depop and eBay of people selling the box for £80," says Maher. Eau du Heat is potentially in the works.
Sustainability is also a concern for Gen Zers. According to Forbes, the majority of this demographic say they are willing to pay more for sustainable products. Heat, by selling existing stock, fits into this point of view. ​"We're almost recreating silhouettes with leftover pieces in the warehouse to create this full circle," says Maher. ​"For example, there are a few pieces JW Anderson produced in collections years ago that were massive in the rap scene; A$AP Rocky [was a brand ambassador, and] wore a certain piece, or Kanye. We took those pieces and put that sustainability twist on it, which is great."


Wilkinson says the boxes are so popular now that some people have bought more than 40, and regulars buy five or six boxes per drop. Their profile has no doubt been boosted by the high-profile celebrities who buy Heat: Premier League footballers, NBA stars and models like Jourdan Dunn included. DJ Siobhan Bell, Manchester United's Mason Greenwood and rapper Unknown T have featured on their Instagram Stories. Influencers like Benjamin Kickz and Lil Pino's favourite Mya Mills often post their goodies, with the requisite ​"this is litttt" captions.
Heat is always evolving, with newly designed boxes and new designers on the roster. They even sold their own capsule collection of Heat merch earlier this year and replaced the fire emoji logo with a slick, interlocking design. ​"We have built a strong Gen Z community who really buy into Heat as a brand and have been demanding merch since our company launched back in November 2019," says Wilkinson. ​"This is long overdue, and we look forward to finally bringing it to our audience."
At the start, Heat sold only the two men's streetwear boxes – one for £299, one for £500. They have since expanded into womenswear – the split between genders is 70% men's, 30% womenswear currently – and into contemporary brands like Wales Bonner, Casablanca and Maisie Wilen. When I ask Wilkinson and Maher if this is a response to Virgil Abloh​'s now-infamous comments that streetwear is going to die this decade, they are aware the category may have a shelf life. ​"Myself and Mario always wanted to get away from that as soon as possible to make [Heat] more widely likeable, let's just say," Wilkinson says.
He explains the shift was also partly informed by their own changing style. ​"When I first started getting into fashion I wanted every single Off-White chevron all over me," he laughs. ​"Then over time you mature a bit and you start thinking about how stuff fits and how it works with other items. I have developed more into the contemporary side of things. Mario has matured all the way down to a timeless vibe now, wearing Loro Piana everyday luxury as opposed to streetwear."
"I change so often," adds Maher. ​"I see something on Instagram and I'm like ​'you know what? I'm going to go full streetwear again' and then the next day I'm contemporary or timeless… I think that is the good thing about it. We want to give people it all. There's no limitation to what Heat can provide you."


More like this