Guys, thighs and big blue skies for Prada Men's SS22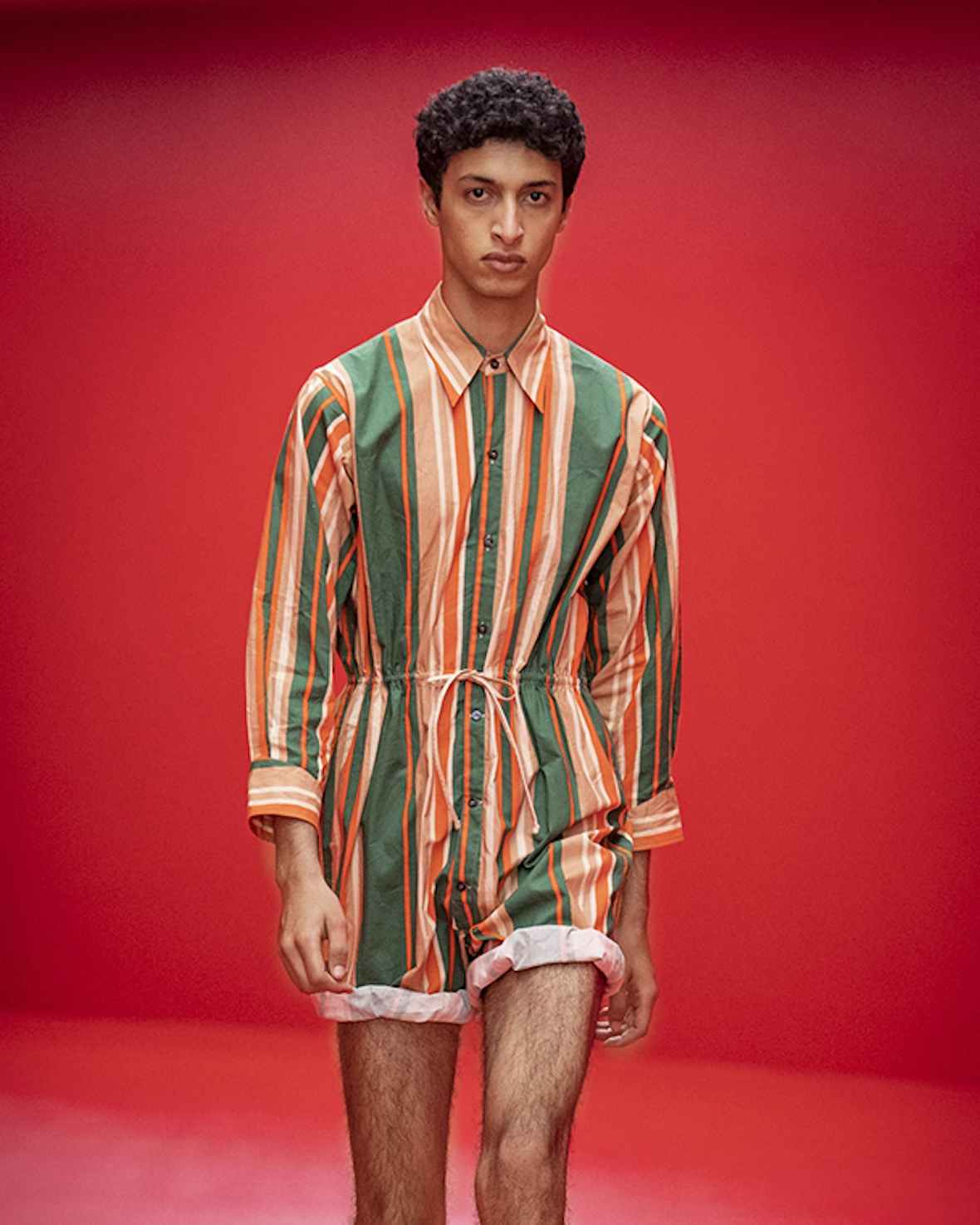 For their second joint collaboration, Miuccia Prada and Raf Simons bring us bucket hats and thigh-skimming skorts, just in time for Hot Boy Summer.

Under normal circumstances, the commentary provided by Miuccia Prada after showing her collections can feel wilfully cryptic. Not this time, though. With her ode to the summery, sun-dappled bliss of an Italian day at the beach for SS22, produced, of course, alongside her collaborator Raf Simons, her outlook was as clear as the crystal blue Sardinian waters that served as a ravishing backdrop to their latest menswear offering.
"This collection and this show is very much about capturing that, the joy of the everyday. The notion that living your life can be a euphoric experience," Ms. Prada said. ​"Much joy can come out of something so simple: when times are complicated, we are searching for simple, direct joys." Or, as the words that flashed at the beginning of the show read: a ​"utopia of normality".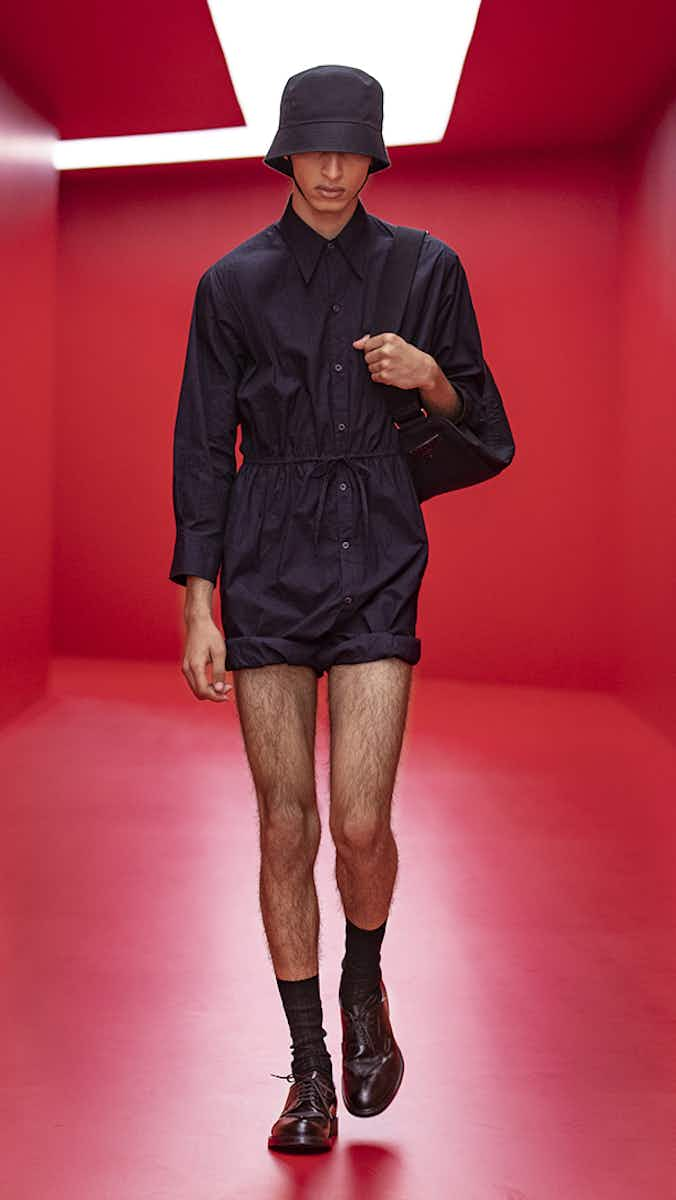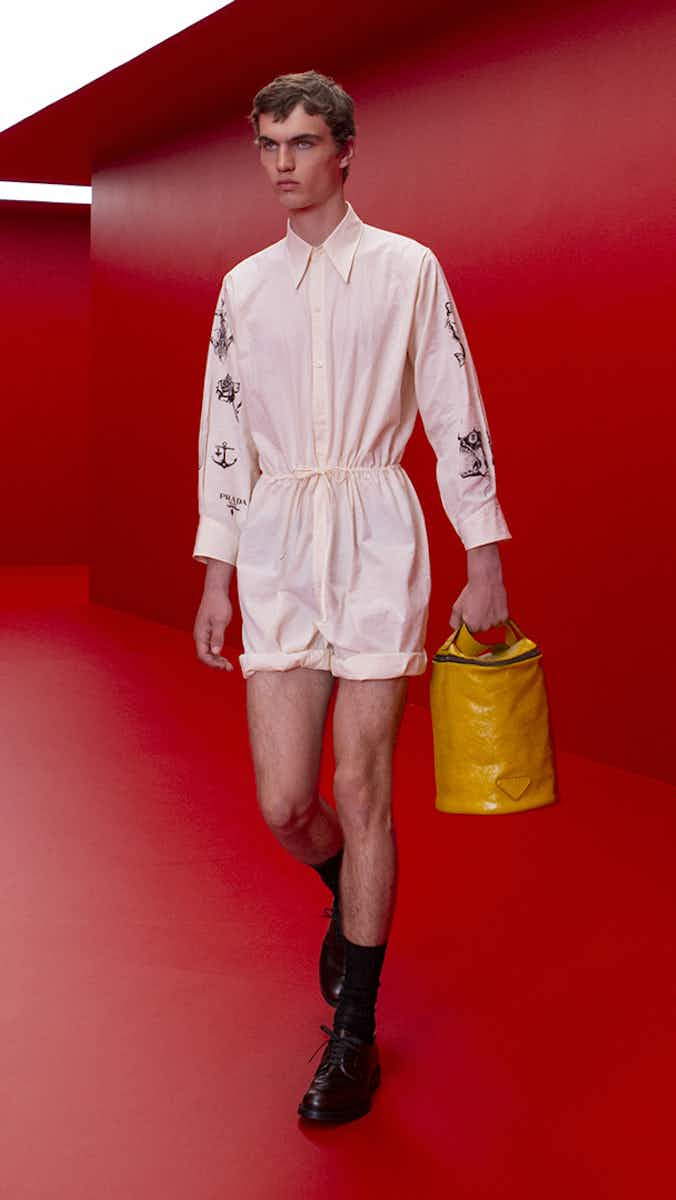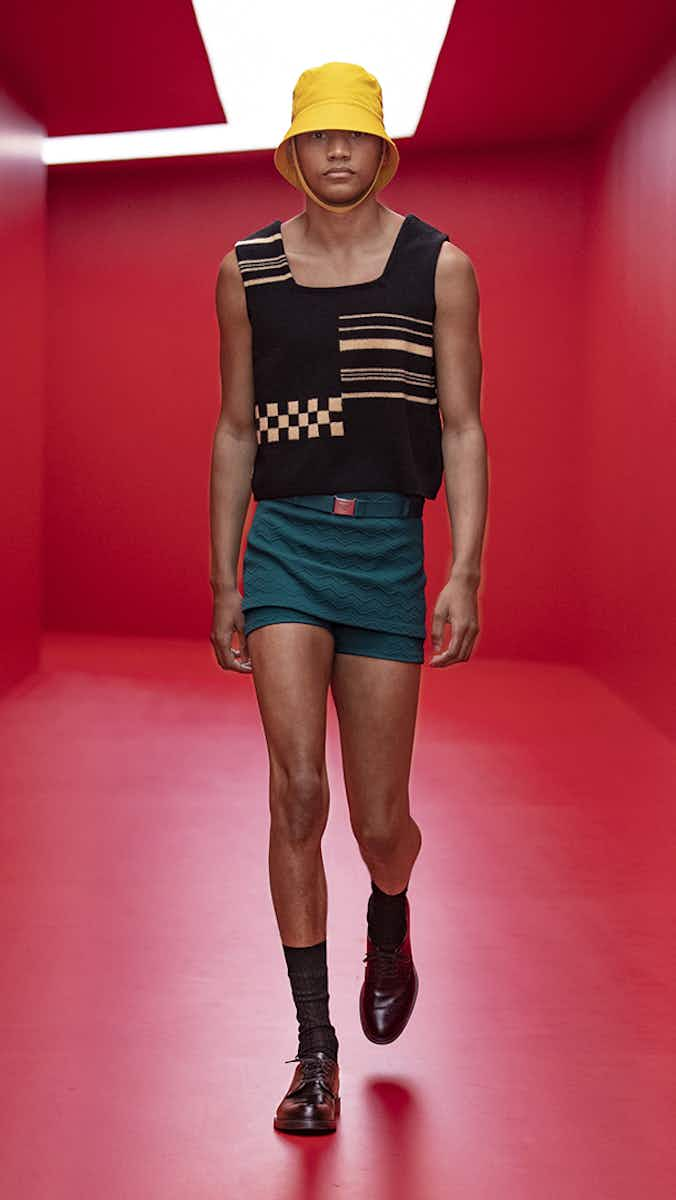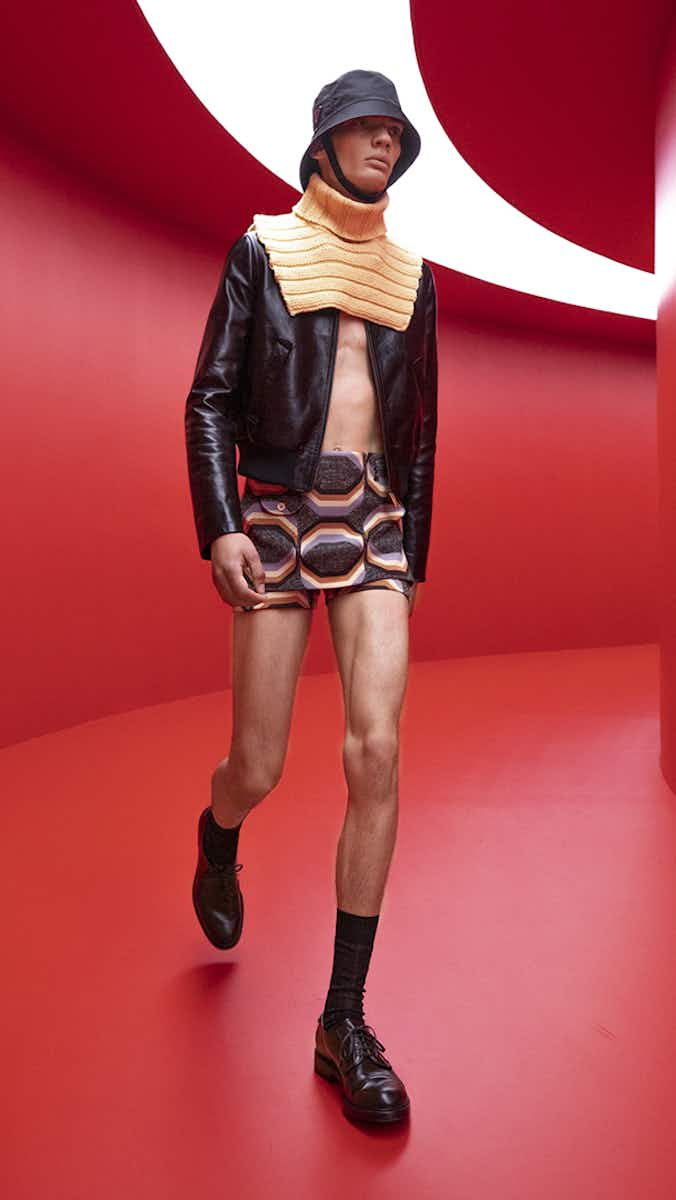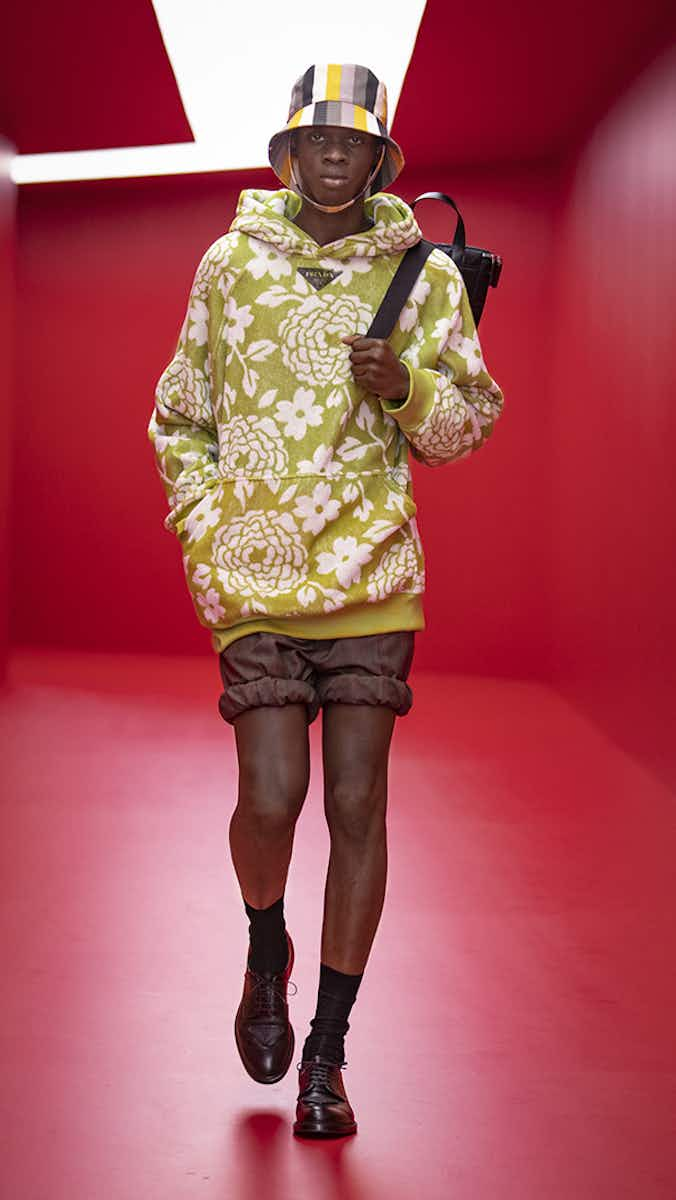 So what exactly did Prada and Simons's vision of utopia look like? Well, at first, not very utopian at all. Models began by stalking what appeared to be the anonymous corridors of a spaceship, here in an arresting blood red. But for the show's second act, their army of lithe young men emerged into the sunlight, wading into the sparkling seas or lounging on floating jetties painted the same shade of red, this time appearing not so much menacing as a joyful explosion of colour, that was echoed throughout the collection from acid greens to buttercup yellows.
As for the clothes, the Prada guy now wears short shorts in just about every variety imaginable. Seeking something crisp and classic? Look no further than the thigh-skimming pairs in rich jewel tones, featuring a chic silver belt buckle with the Prada logo. Something more casual? Multiple pairs came with chunkily rolled-up bottoms, perfect for a quick splash in the water to cool off. Something to slip on for an easy-breezy full look? Put your trust in romper suits cut from light, airy cottons and decorated with tattoo-like motifs. There has already been much talk of the impending ​"summer of skin", even as recently as the Fendi show on Saturday with its ab-baring reveals; it seems that Prada and Simons are firmly on-board with this trend, too.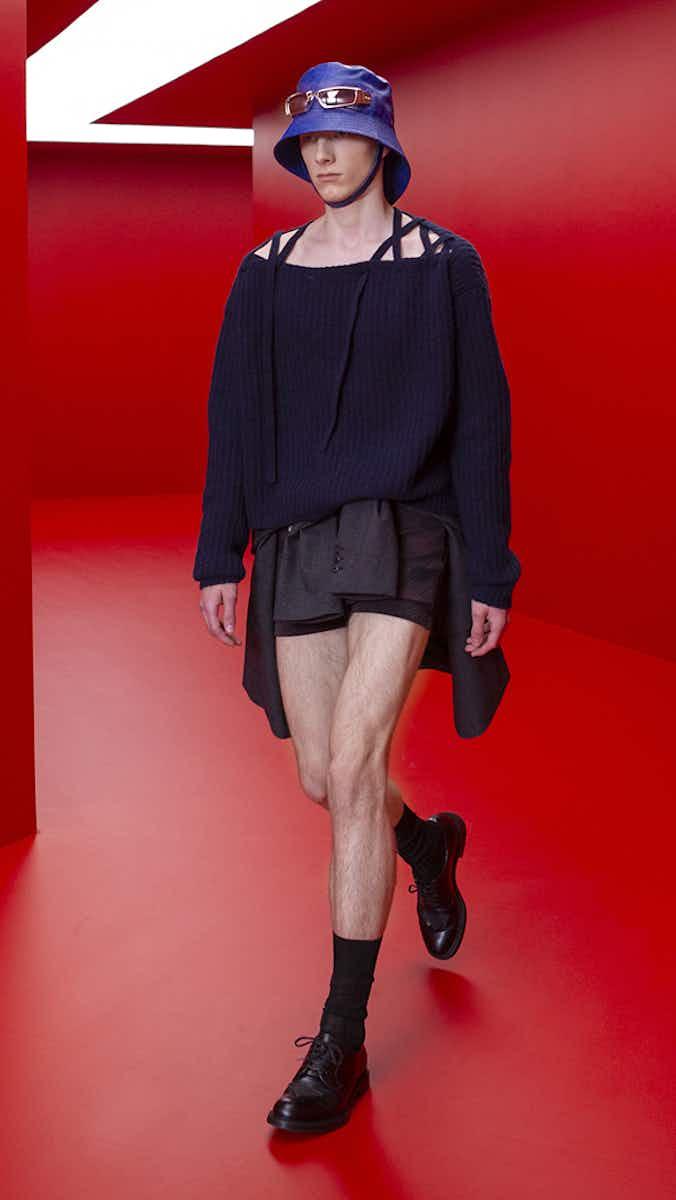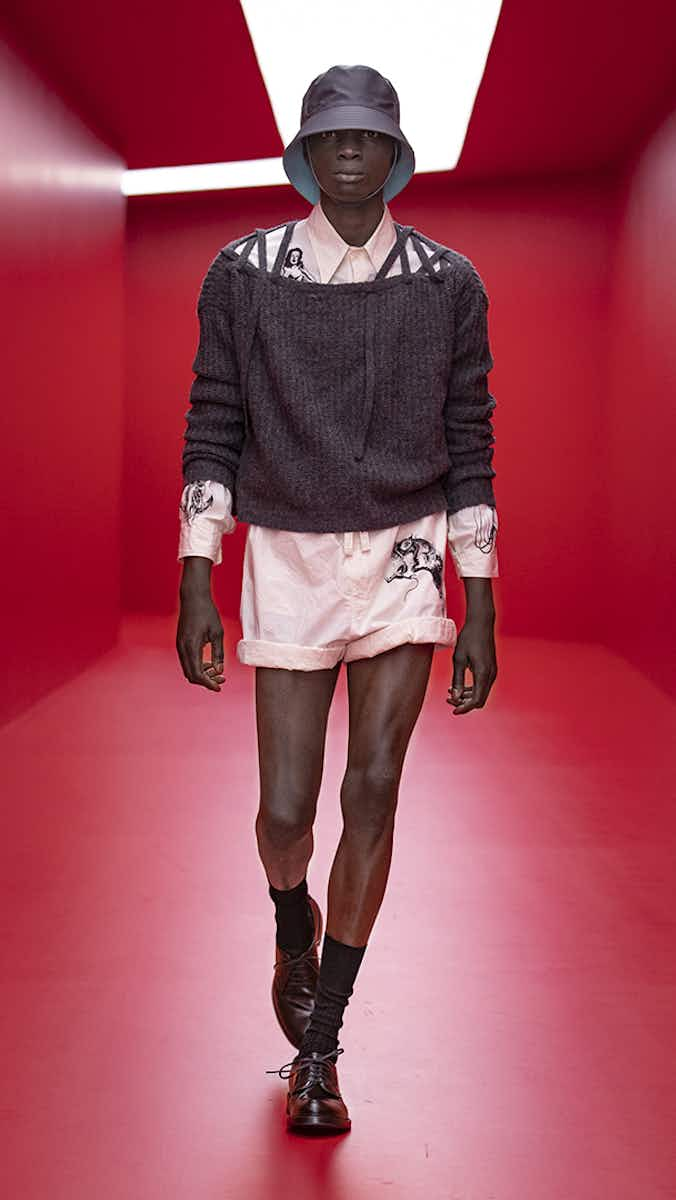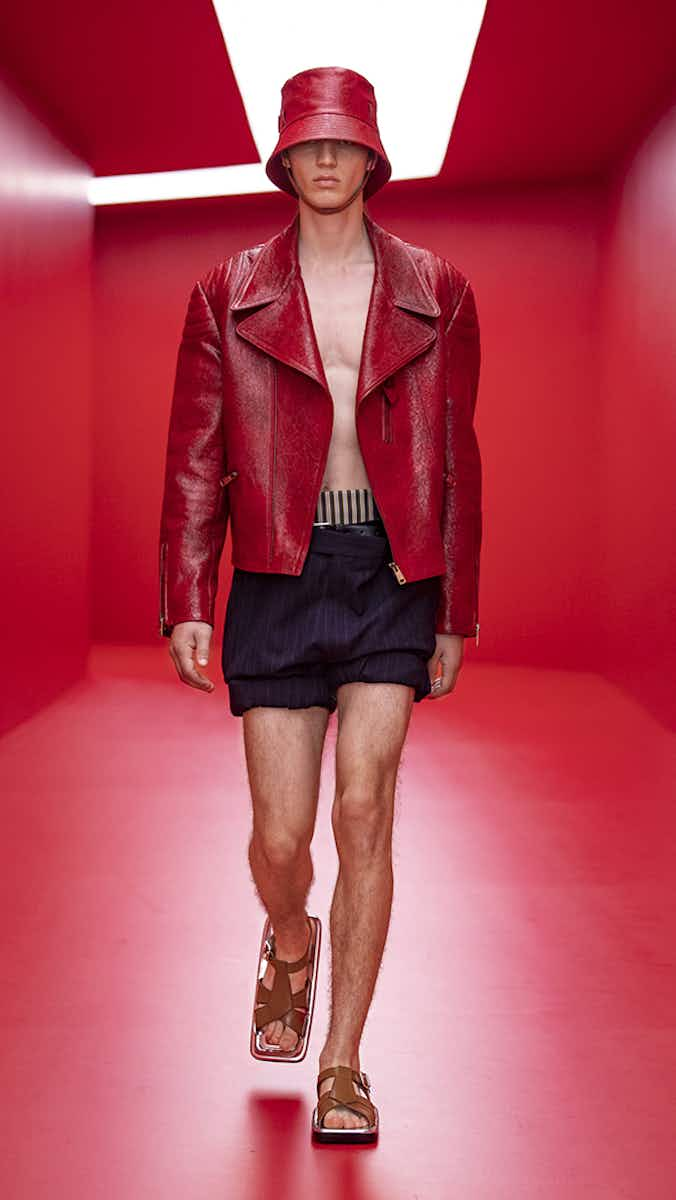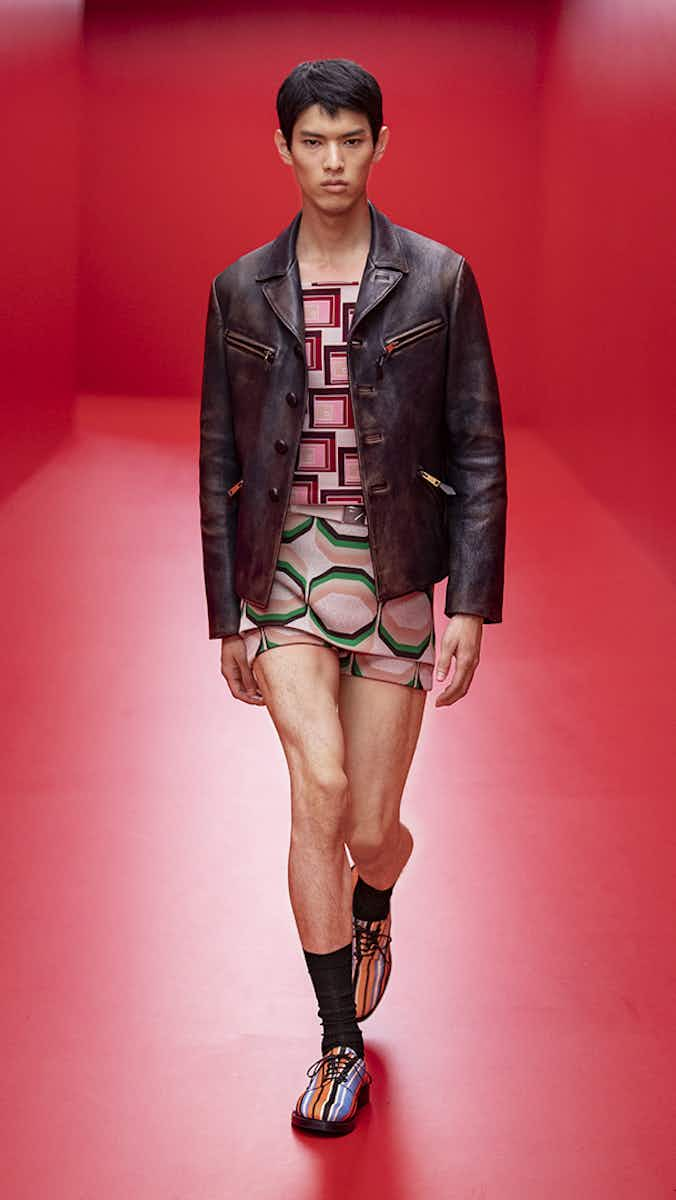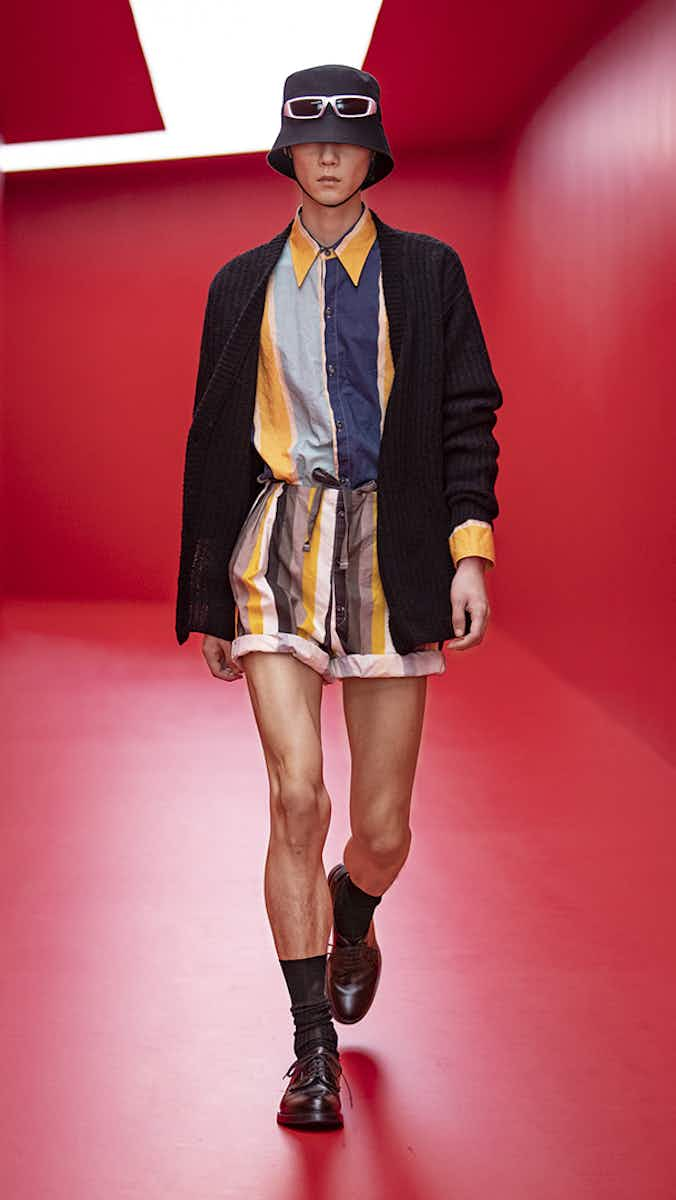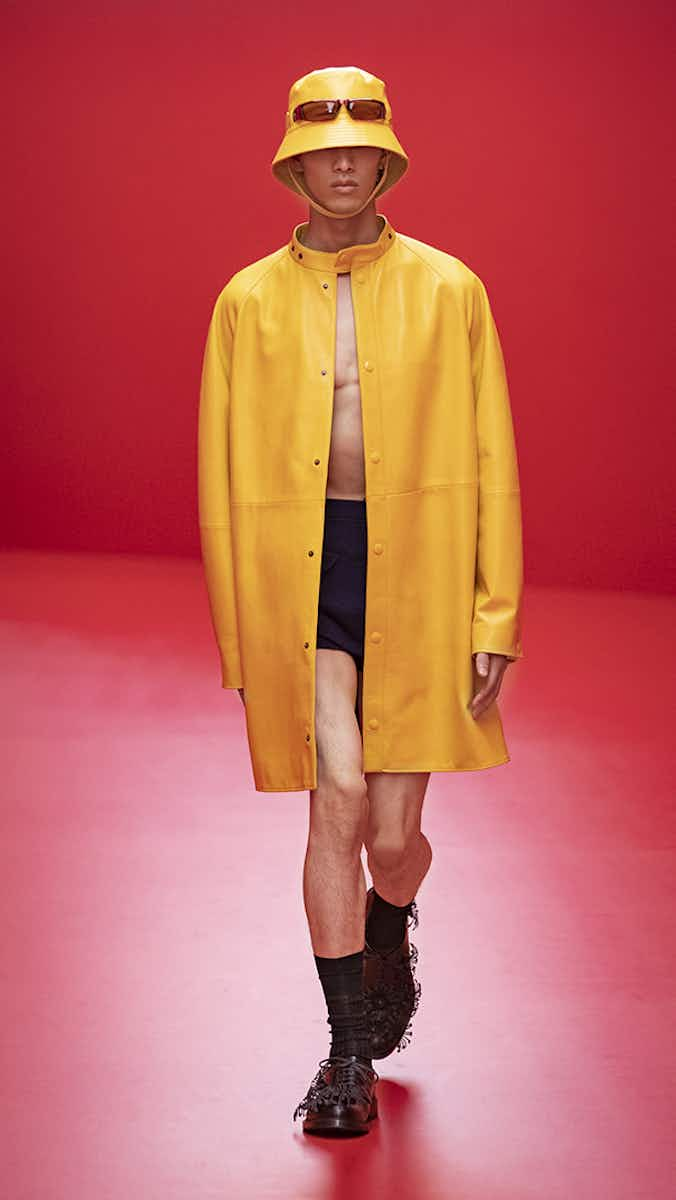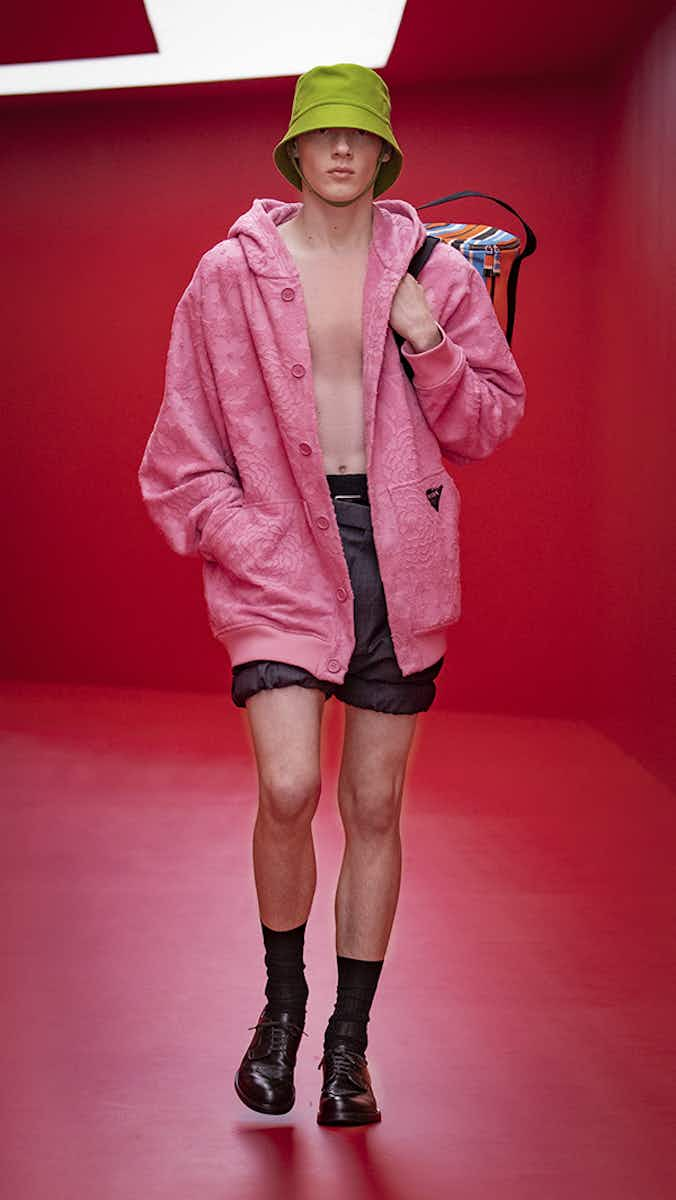 Elsewhere, instantly desirable knapsacks and bucket bags were asking to be stuffed with towels and sun lotion for a day out at the beach, while bucket hats came with the additional practical feature by way of slots to hook in the ears of your sunglasses. Terrycloth hoodies were printed with novelty floral patterns recalling beach towels. More broadly, the prints appeared to pay tribute to Prada collections of years past, as Simons has been wont to do since he joined the house last year (he's clearly enjoyed digging into the archives as much as any of us would.)

Retro, loosely ​'50s prints recalled the patterns inspired by Formica tiles from the house's SS96 collection, while the array of nautical motifs including octopi, anchors and sirens, as well as the knits which featured almost corset-like lace-up details, felt like a gentle nod to the men's and women's collections of AW16, which took its cues from an underground world of sailors and pirates.
Most charming, however, was the spirit of positivity that so clearly underpinned the collection. While each of the shows staged by Simons and Prada for the house thus far have thrilled in their own, unique way, this felt like the first time both were ready to fully let loose and have some fun together. The overall effect was something that blended the nostalgic joy of splashing at the beach with something a little more cheeky – even, dare we say it, given Prada's typically more utilitarian-buttoned-up-instincts sexy. And as the first proper summer holiday season in a year quickly approaches, there's certainly nothing wrong with that.


More like this