PZ Opassuksatit's playful ode to memory and Moon Boot

PZToday's fashion story celebrates the optimistic eccentricity and joyful nostalgia of the brilliantly outré après-ski boot brand.

The world of Bangkok-born, Paris-based artist, designer and art director PZ Opassuksatit is wonderfully weird and witty, and always strangely stylish. She spent three years as head visual designer for VETEMENTS, before starting up her own ​"experimental laboratory" PZtoday, specialising in image design, art direction, visual merchandising and more.
From a ring box conjured from a compressed T‑shirt bearing the words ​"I Do" (part of an off-kilter bridal catalogue in collaboration with IDEA books), to a concept for a wig-adorned iPhone case that matches the user's hair, Opassuksatit's imagination knows no bounds. Which is why she and Moon Boot – the brilliantly outré après-ski boot brand – are the perfect match.
Inspired by the astronaut attire sported during the Apollo 11 moon landing in 1969, the same year Moon Boot launched, Giancarlo Zanatta's iconic boots have enjoyed long-standing popularity across the decades, offering comfort, warmth and futuristic whimsy wrapped up in ultra-long laces.
For the latest issue of THE FACE, Opassuksatit dreamed up a special fashion story in collaboration with Moon Boot, putting the Italian brand's AW21 collection front and centre. Think: fresh colours, playful prints and a fabulous new reflective fabric showcased in six surreal scenes that touch upon themes of memory and time. Here we catch up with Opassuksatit to discover the story behind the effervescent shoot and the origins of her singular aesthetic.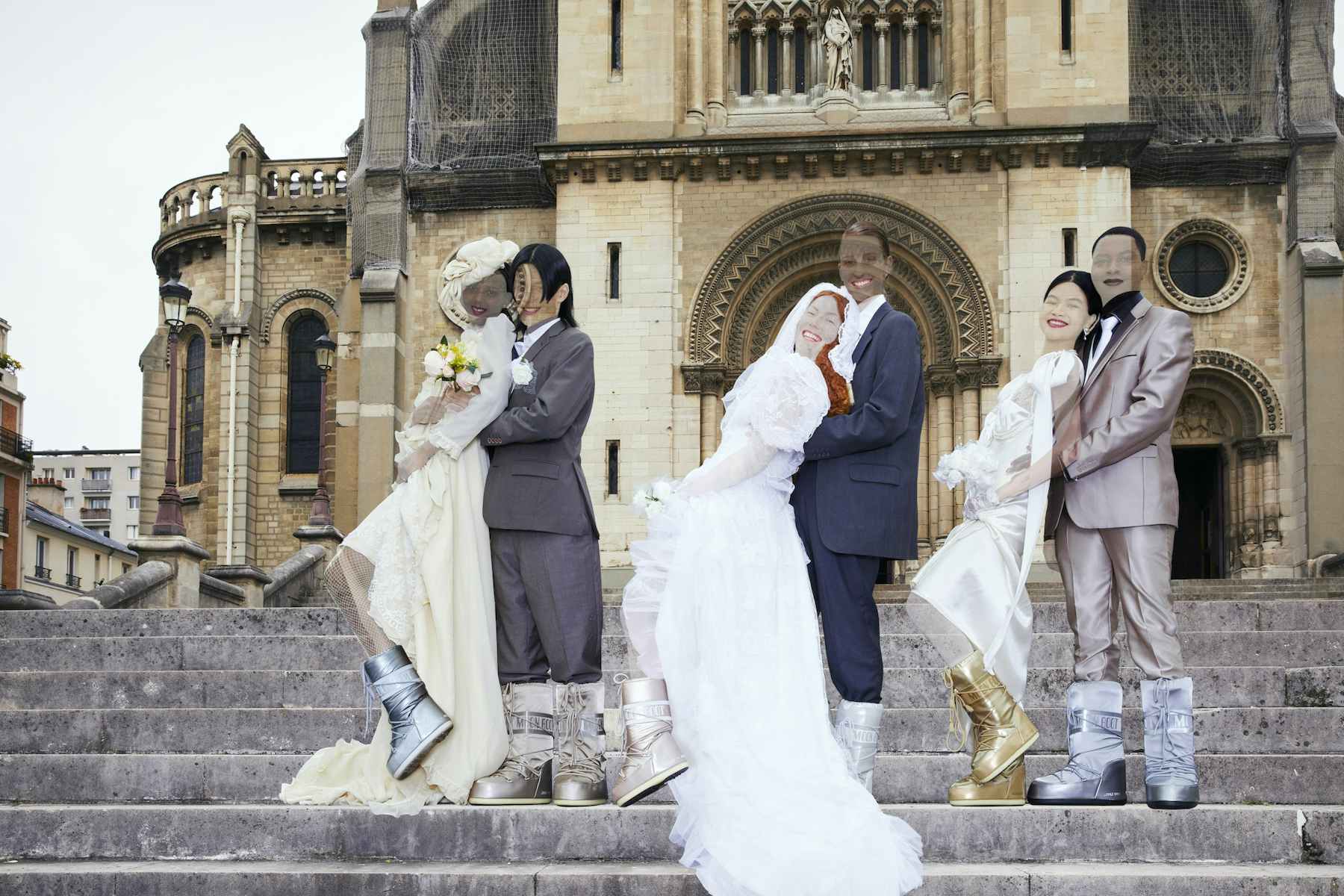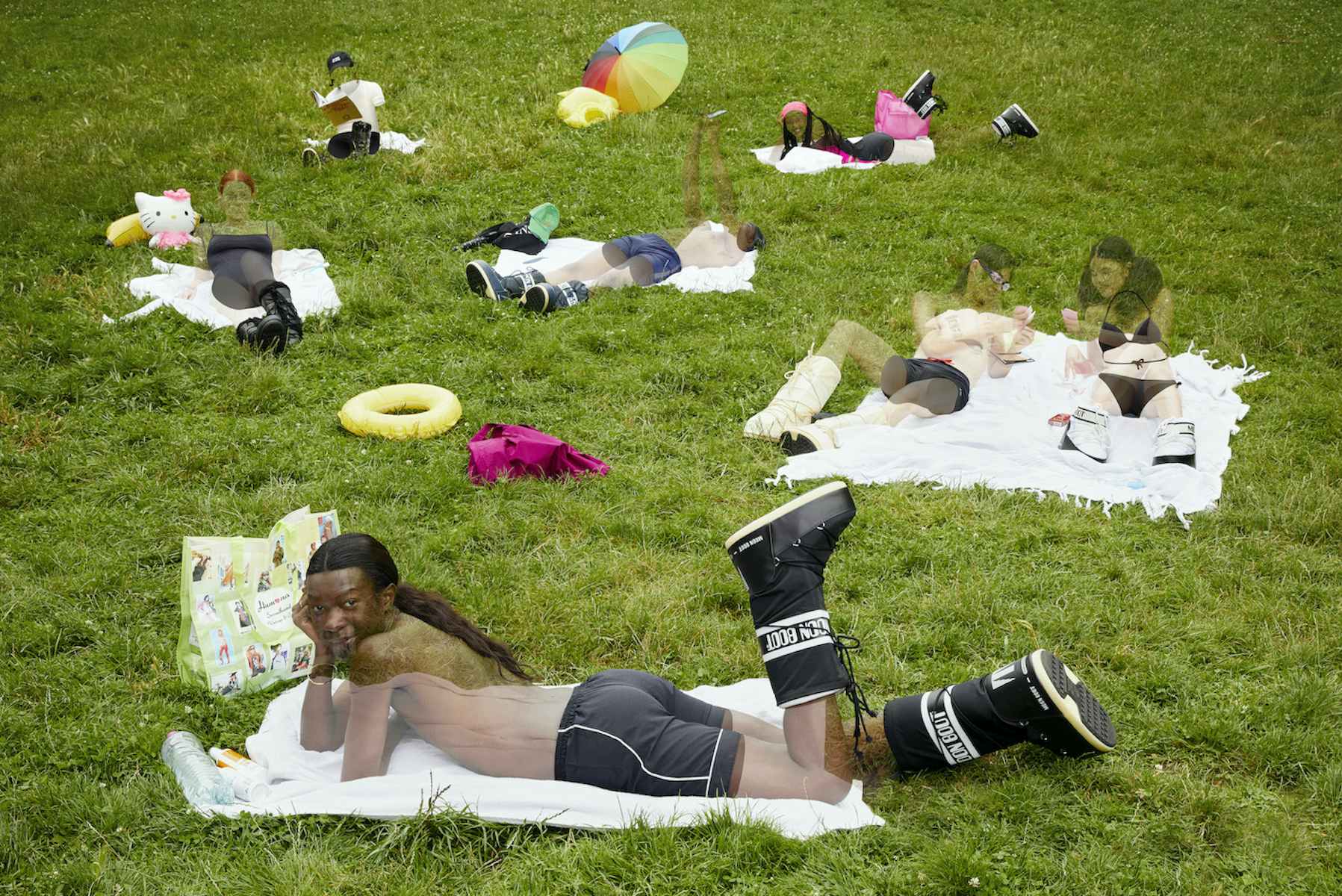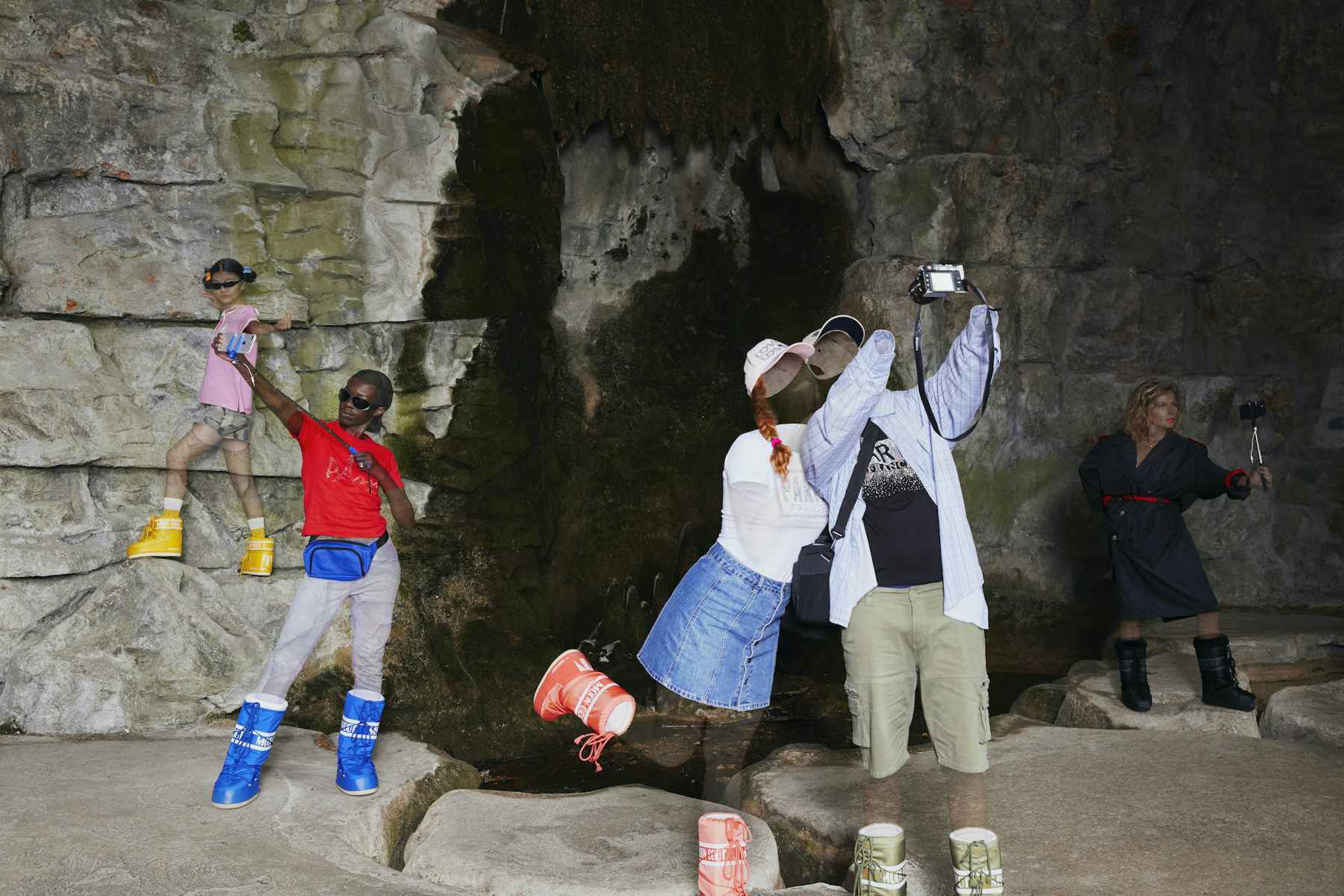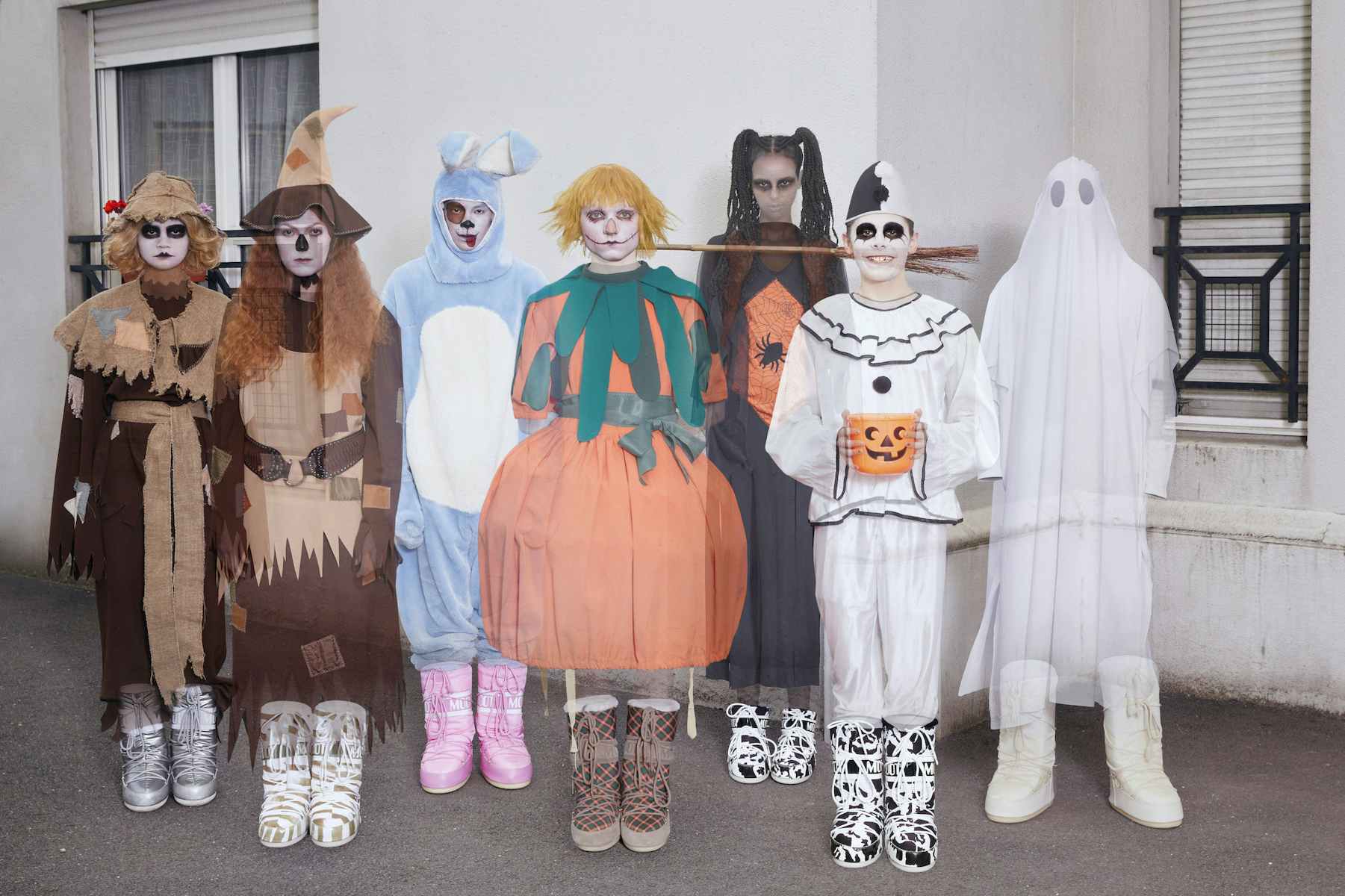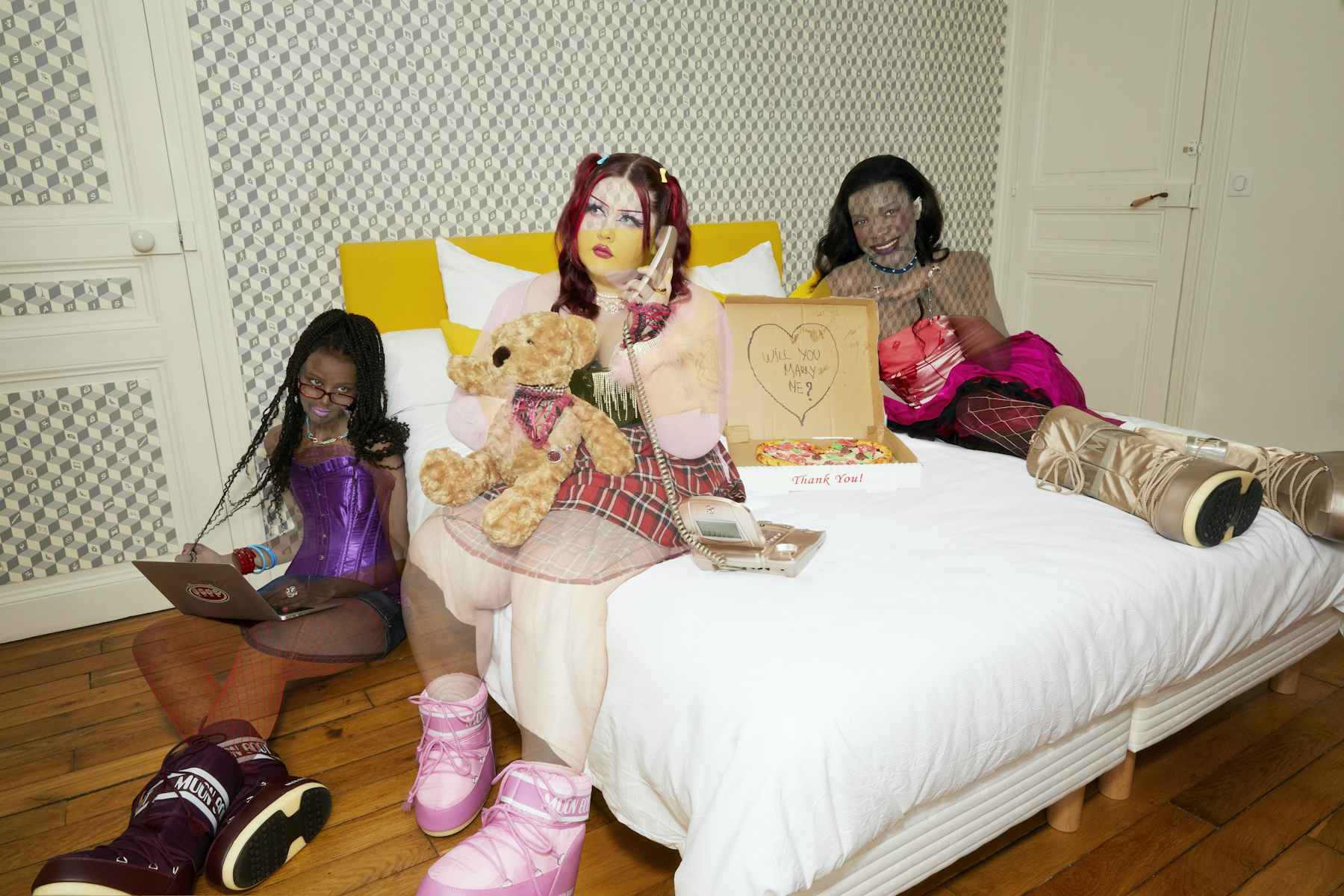 What was the idea behind the shoot?
I've been a big fan of The Face since the ​'90s – I was super excited when first I heard it was coming back – and Moon Boot are my favourite boots, and have been for a long time. So this story was bringing together two of my obsessions. Such a great fit!
Both THE FACE and Moon Boot brought back many memories for me, and I so wanted to evoke memories with this shoot; to give a sense of time passing, of people ageing. That's why the figures are all sort of fading, an idea inspired by a Photoshop competition years ago that challenged users to Photoshop things out of pictures.
What's happening in the scenes?
They're different scenarios, with different characters representing different moments – there's a school scene with a teacher, and two girls who look like (00's pop sensation) t.A.T.u. In the wedding scene, the fading couples look like they're already growing older; the effect is quite cinematic. There's a sunbathing scene in Buttes-Chaumont park and a tourist-selfie scene at a cave there. The Halloween scene was fun: Halloween's my favourite holiday and I thought the costumes would look great with the Moon Boot collection – I love the fur, the patterns, the animal print.


How would you describe your aesthetic?
I'd say my work is very nonsensical but makes sense. I love to do many things at once – book design, conceptualising, even accounting! I studied fashion design in Thailand and then Image Design at Institut Français de la Mode in Paris. The course covered so many different visual elements, from graphic design to brand identity, art direction to styling; that's when I took a different path. But in all my projects, I want to tell a clear story in a weird and eccentric way.
Where do you find inspiration?
Everywhere! People dressed unusually walking down the street; an interesting object. The most normal thing can capture my heart or imagination. I'm lucky because I get to travel a lot for work, and the more new things you see, the more you get inspired.


What do you hope readers will take away from the story?
Moon Boot is so fun and I hope that playfulness comes across. But actually this story is a bit more soft and subtle than a lot of my work and I hope when people see it – during these Covid times, especially – they might be inspired to look back, to reflect on themselves, their past, their relationships, everything that's beautiful… to look back in a beautiful way.


HAIR Natsumi Ebiko MAKE-UP Valentine Perrin Morali CASTING DIRECTOR Molly Ledoux TALENT Nimo Yussuf, Pauline Raybaud, Verene De Hutten, Lea Sisombat, Lap Mingault, Artur van Buren, Amborco Dolo, Theo Geudinand, Victor Hoffner, Flavie Delobbel and Eva Ionesco PRODUCTION Kitten PRODUCER Orna Israel POST-PRODUCTION SHERIFF RETOUCHER Lina Benouhoud CREATIVE DIRECTOR'S ASSISTANT Wilhelmina Lou PHOTOGRAPHER'S ASSISTANTS Edouard Obeniche and Anatole Rassu STYLIST'S ASSISTANT Esther Talaber HAIR ASSISTANTS Clement Billon and Hiromitsu Yafune MAKE-UP ASSISTANT Charlotte Lebalch PRODUCTION ASSISTANTS Alexandre Gallani and Arsène Bescou DIGITAL ASSISTANT Sami Albert RETOUCHER'S ASSISTANTS Moroni Nakatani and Faustino Beugnet SPECIAL THANKS to Adam Lilley