Randa Kherba on Arctic Man, microalgae and ice-cold menswear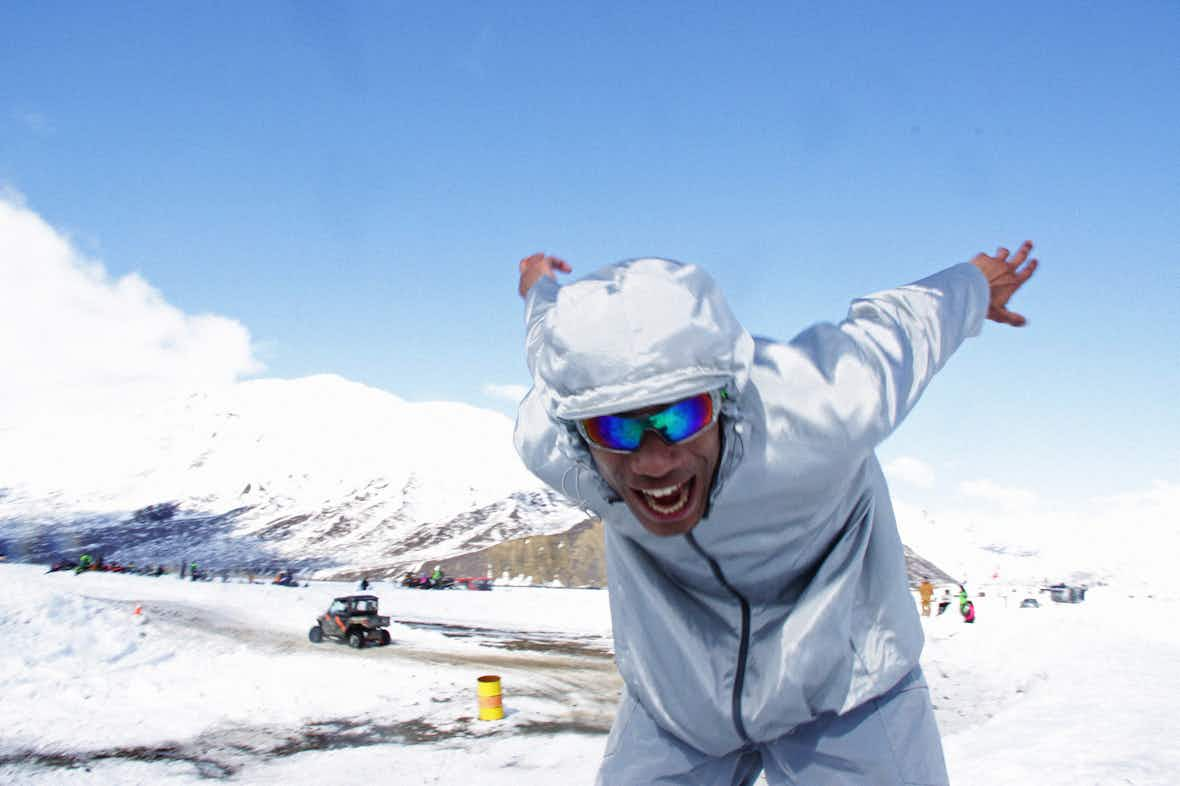 With an SSENSE collection released today, THE FACE chats to one of the most innovative and ingenious young designers out there, an adventurer often found scaling a snowy mountain. We catch up on five years of reaching her peak. Starting at base camp…

Over the past few years, you'd have more luck finding designer Randa Kherba on the peak of a snowy mountain than you would in her native Camden in North London.
Since she presented her impeccable, iced-out graduate collection in 2018, as part of her BA in Menswear at Central Saint Martins, she's been on a daredevil escapade to feed her obsession with extreme environments (think: snowy festivals in Alaska) and future-facing design. The 26-year-old has gone head-to-head with scientists, made obscenely good clothes, proposed a cleaner future for mountaineering with ALGEAR, gained an MA in Material Futures, released a brilliantly bonkers films and, er, worked with Ye in Calabasas.
All in a day's work, eh?
Before she reached her peak, though, Kherba collaborated with Stone Island during her degree, where she was tasked with researching and designing a garment. ​"That was the beginning of my obsession with extreme conditions, and where I figured out my fabrication," she says. Guess you could call it base camp.
Binge-watching shows like Ice Road Truckers late at night, Kherba found something special in the extreme conditions on the TV and, more specifically, the appeal of designing for them. After immersing herself in research, she came across Arctic Man, an annual festival in Alaska that draws 12,000 slednecks to the middle of nowhere for an ice-cold combination of beers, boarding and bonding.
Two years later, she was an attendee.
Kherba's snow-clad research (slash obsession) eventually seeped its way into her final degree collection. Using nylon metal, the collection was a tech-nerd's wet dream, with T‑shirts appearing frozen and stuck to the body, morphing from icy blue to white when heat was applied, as though they were ice cubes literally freezing in time. Outerwear and mostly hooded, knee-length jackets emulated the texture of wet flooring, or a foil blanket wrapped over bodies after skin exposure to extreme conditions. With support from Stone Island and Nike, it marked the proper beginning of Kherba's ascent.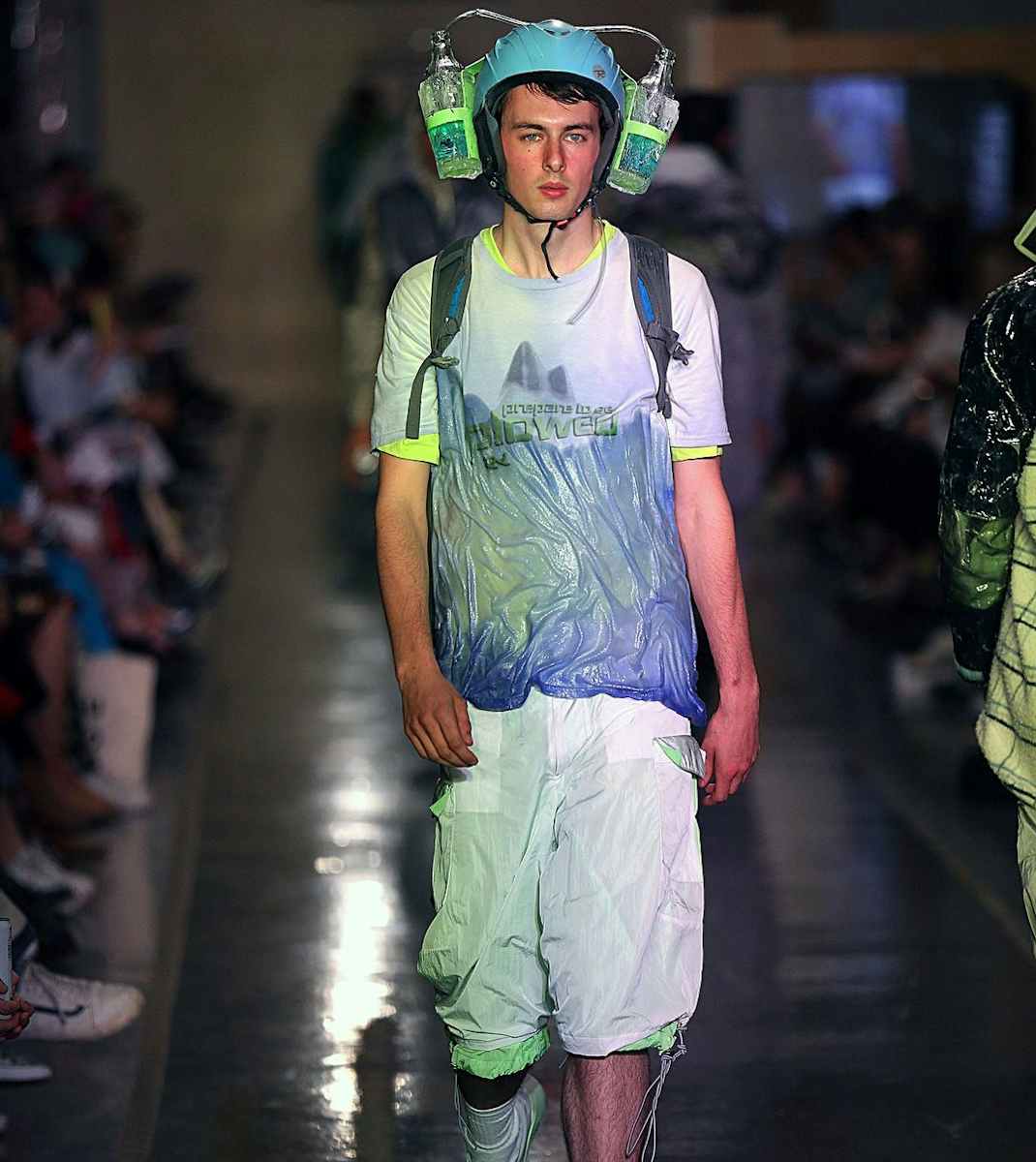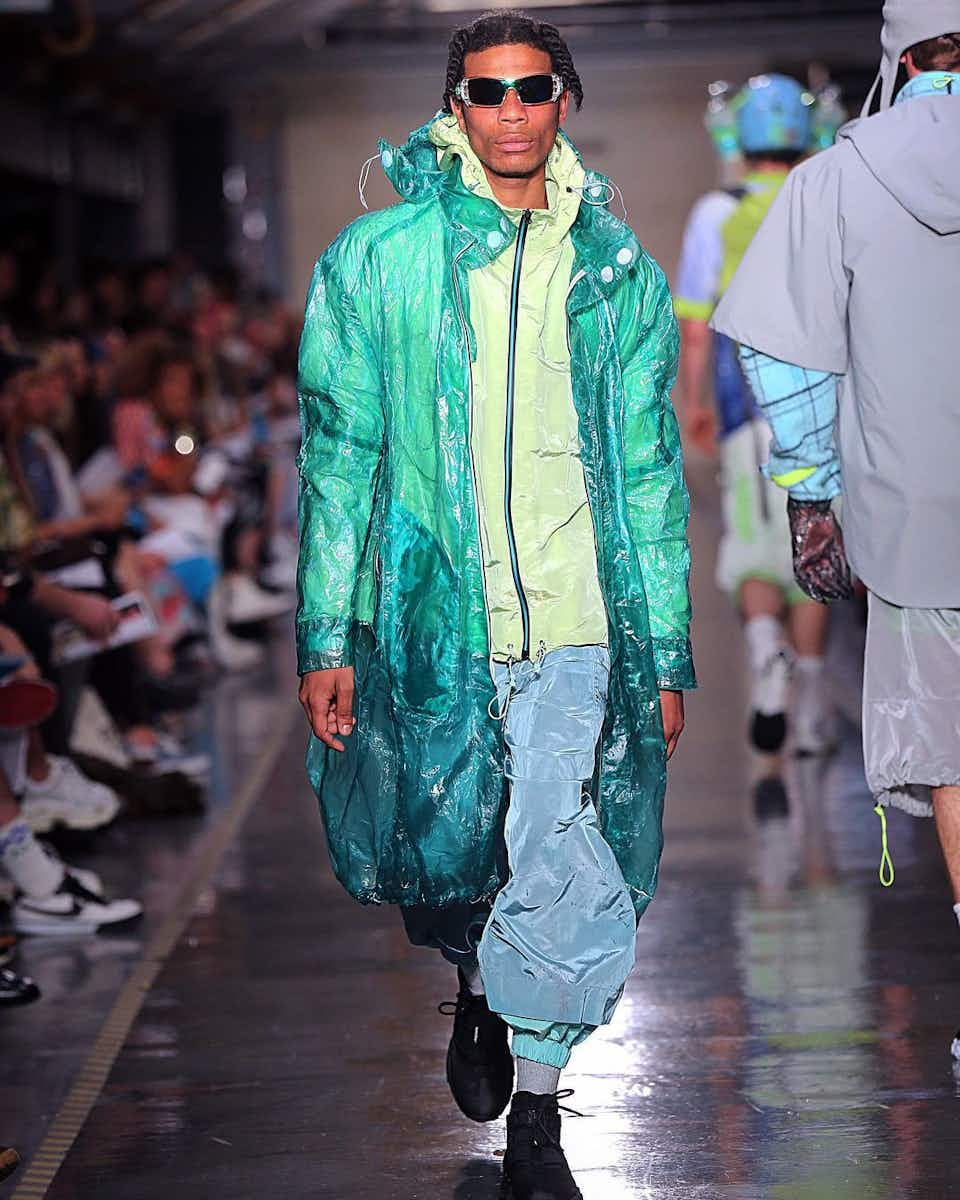 Then it all got a bit weird.
Just after the collection, in mid-2018, she received a text from someone on Ye's team. ​"Yo, Kanye's in London for a day. He wants to meet you."
Meet him she did, and the pair hit it off. Before you know it, she was being flown out to Calabasas to work with the rapper on an upcoming Yeezy collection. After spending three months there offering ideas, exploring possibilities for the brand and, yes, meeting Kim (briefly), she returned to London and got to work with the likes of Nike, MCQ and UNIQLO.
But while that might sound dead impressive – remember, she was a recent graduate – for Kherba, it left a bit of a question mark over where she wanted to head next.
"Working in the industry for a year after I graduated made me realise I still had a lot to learn," she says. ​"And that's when I decided to do the MA." For her, the reality of working for someone else wasn't sufficiently exciting. ​"What I got out of those experiences was realising I wanted to hold on to my creative freedom for a bit longer."
So she returned to Central Saint Martins in 2019 and enrolled on the MA Future Materials programme. At this point, her experience was mainly fashion design, but throughout it all, designing for a purpose was intrinsic to Kherba's vision.
"I was introduced to a whole new world of design," she says of the science-based MA. ​"I fell in love with bio design. The course explores tech and science, and your main purpose is designing solutions for the future, which is so, so important at the moment."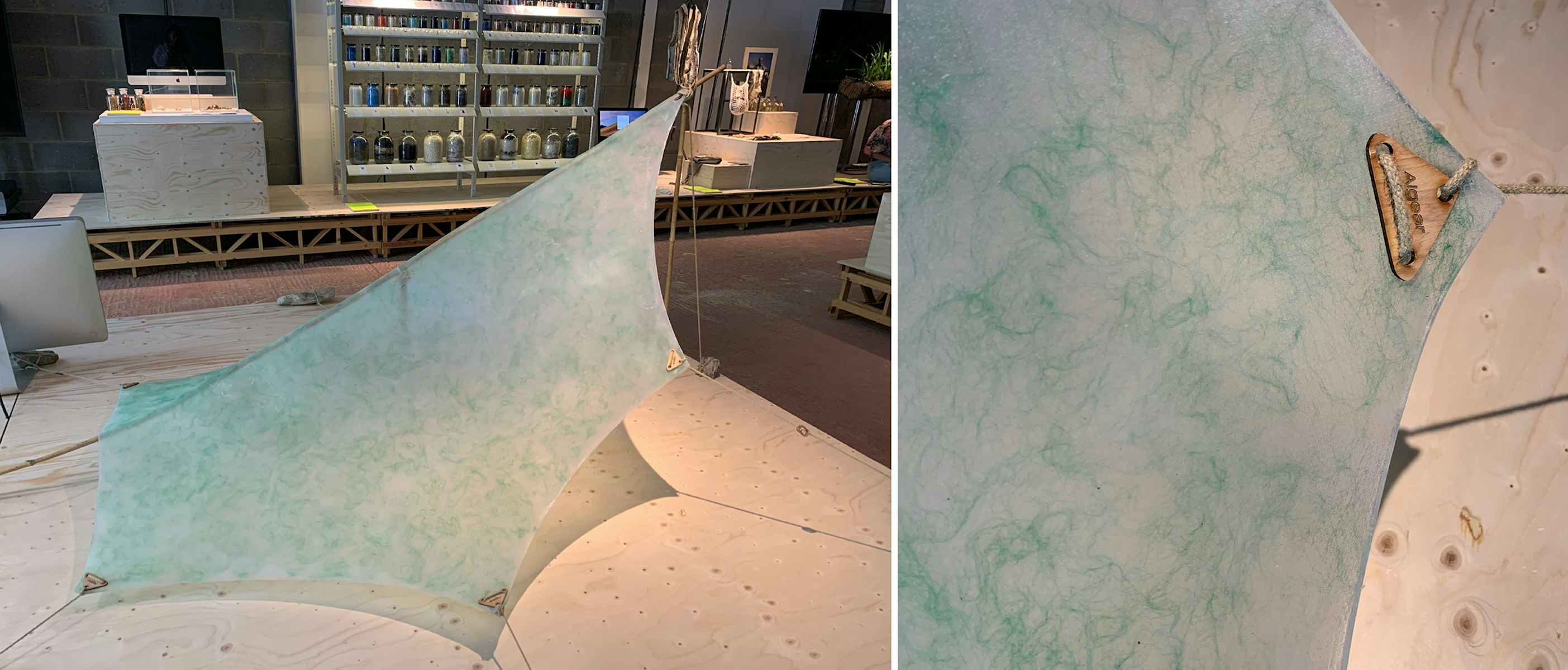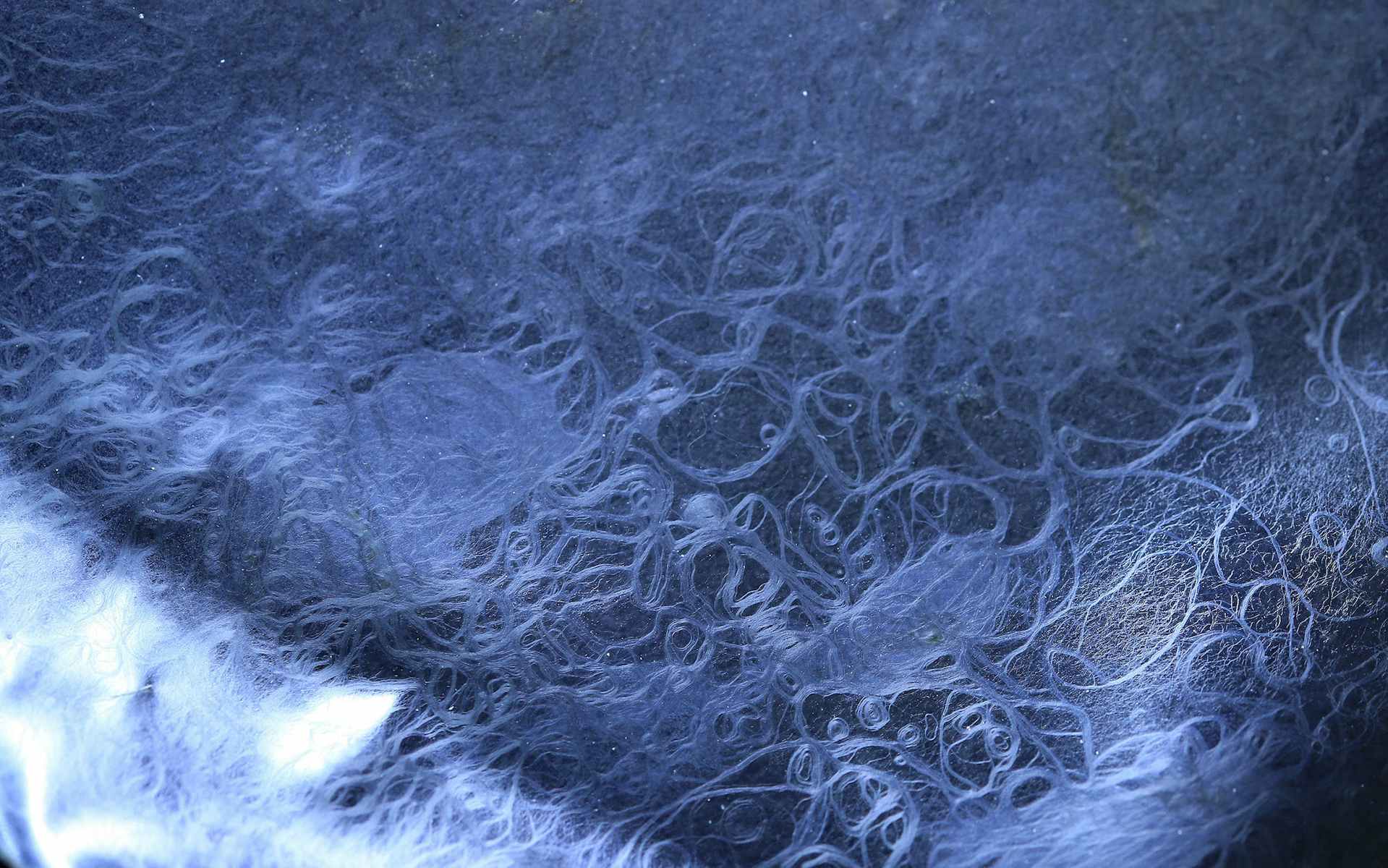 Her first project was based around climate activism. After reading about America's Head of Climate Control's proposed solution to combatting global warming, she set out making a pigeon-slash-drone that shat out white paint. No, really.
"He said that if all the roofs were painted white, it could be an alternative cooling system and the equivalent of taking cars off the road," she explains. ​"I was like: ​'Cool, I want to get up on my roof and paint it white.' But I couldn't get up there because it's restricted… So I made the pigeon!"
By the end of the MA, Kherba put forward a final project aimed at clearing up the waste left on mountain expeditions as climbers discard heavy materials on their descent, inspired by an image of Mount Everest's ​"deadliest queue" by Nepali climber Nirmal Purja, from Netflix's 14 Peaks. The project, titled ALGEAR, imagines a future where outdoor gear can protect us from the elements and be created by elements that already exist, or have been left over from the past. Tents, jackets and sleeping gear would be made from algae – algae, algear… geddit?
Contributing to the ​"leave no trace" code, the natural materials Kherba proposes we should use would be revolutionary – and she has big plans.
"In my final year, I came across this microalgae called cyanobacteria. It's a blue and green algae, which is one of the oldest known phototrophic organisms, meaning they're photosynthetic and can adapt to shifting climates and conditions.
"Essentially, it would mean growing material that naturally biodegrades and nourishes the land in the process, which ultimately allows for an ecological future through our transient adventures outdoors," she continues. ​"There's this emphasis on temporary experiences, which is something I kept talking about during my project. In high altitudes, the experience is usually a week – they're quite limited. When you only need a product for a few days, through this project, I proposed a ​'grown to order' process."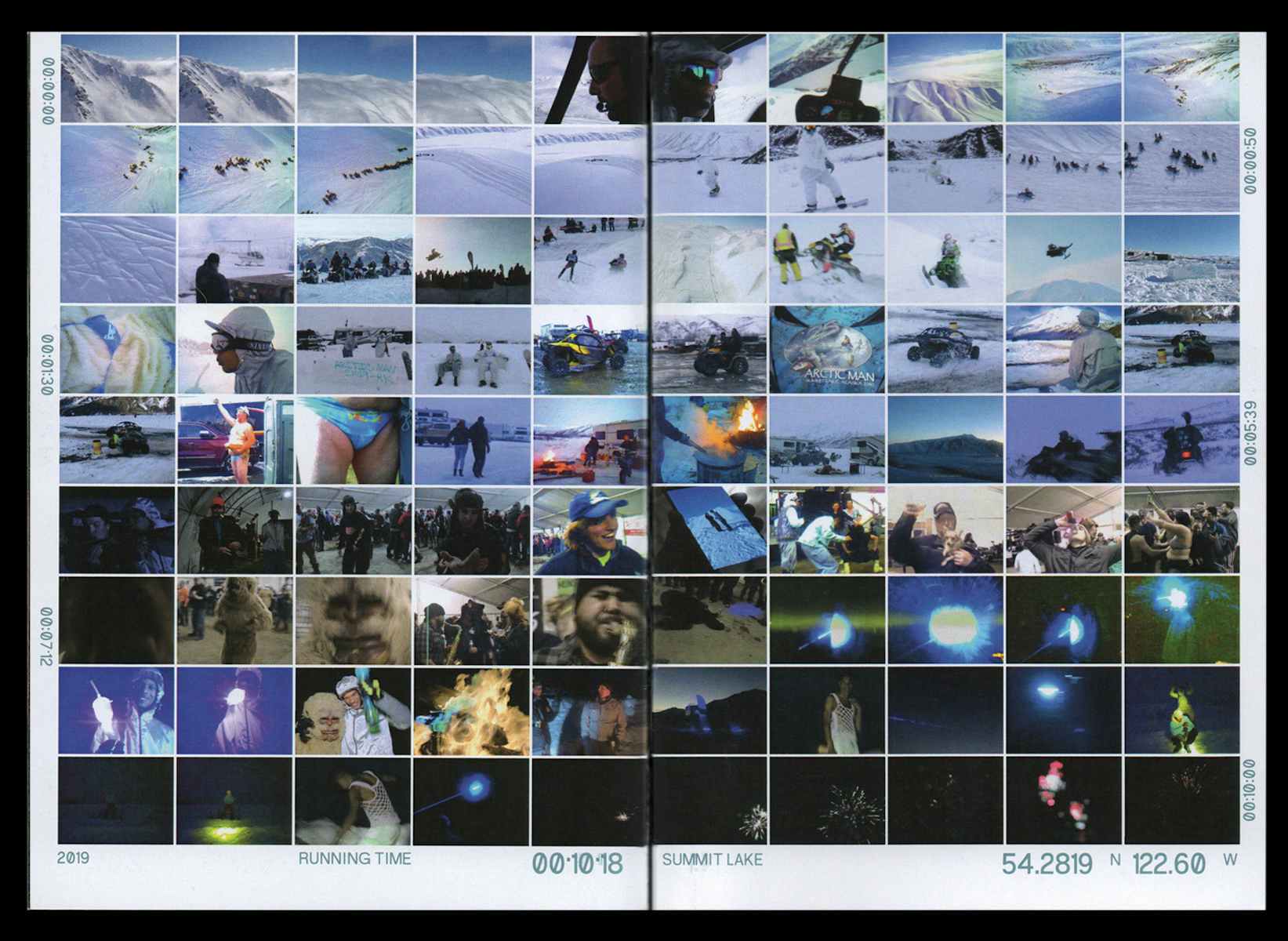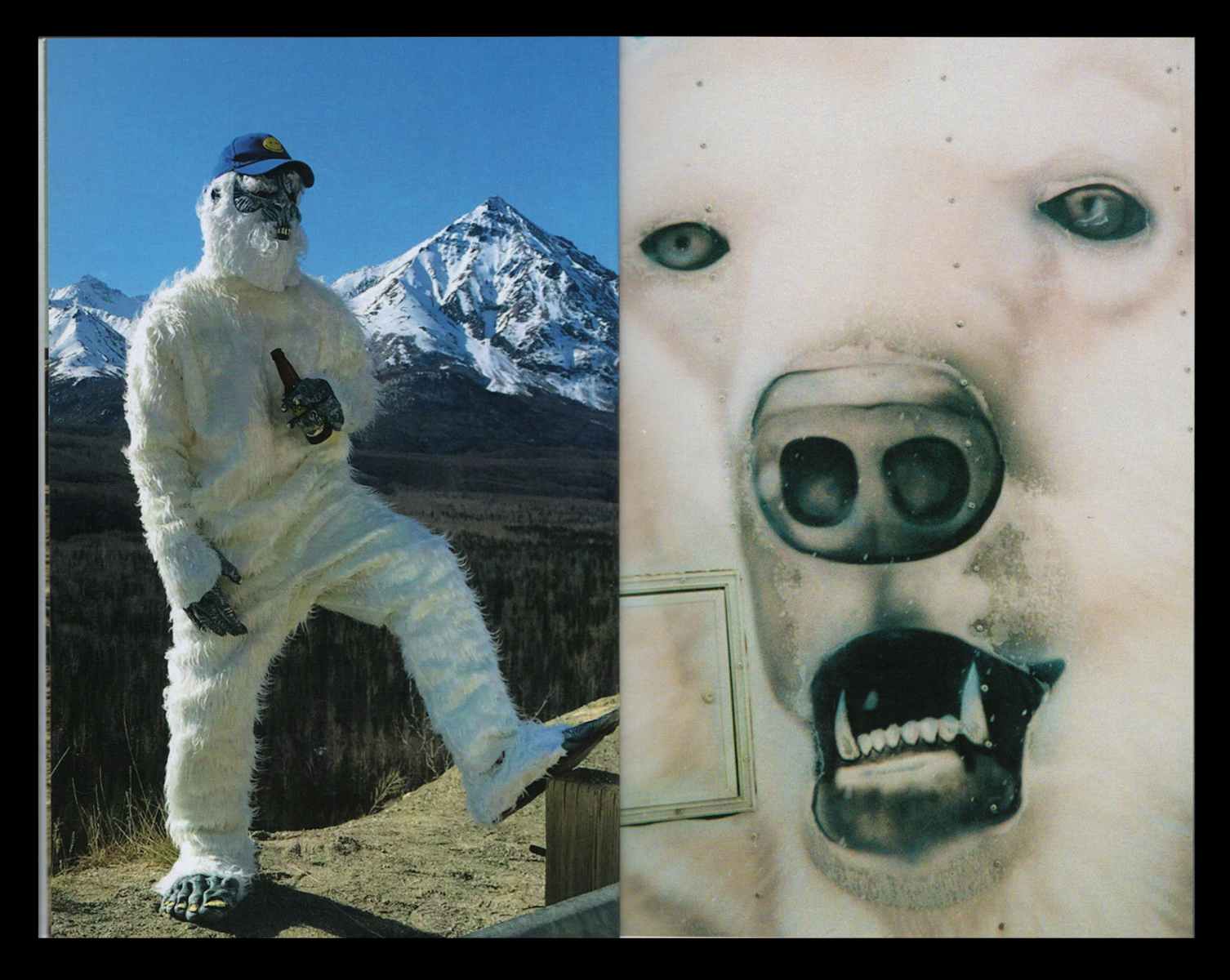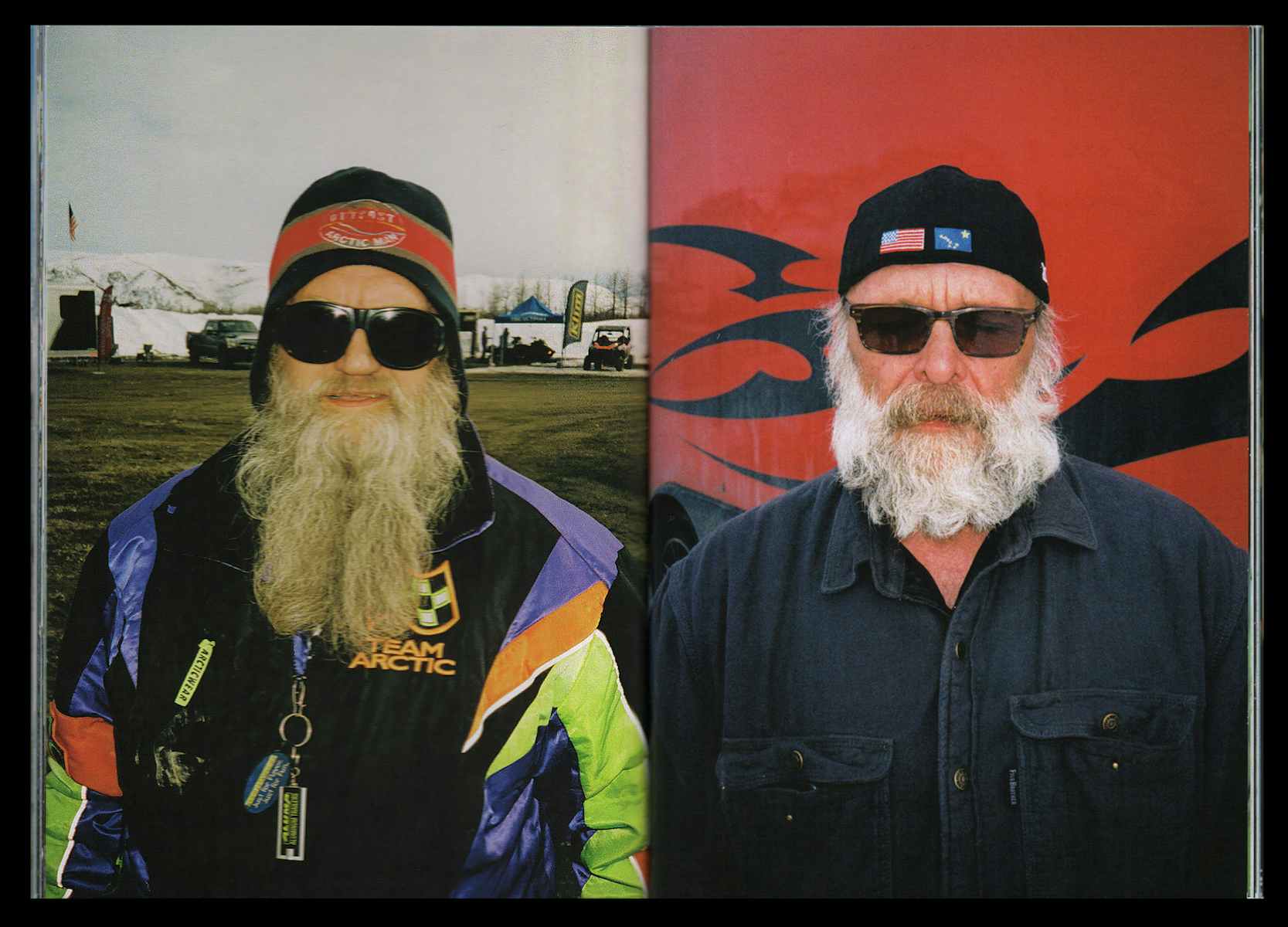 In theory, customers could come to Kherba with an order and, depending on how long they would need the product for, the designer would estimate the growth period and customise the product for how much usage they'd get from it. And to top it all off, the product could be left out in the wilderness to biodegrade.
Kherba's design process has always had a purpose. But she's well aware that the jargon and ​"sustainability" label can leave some feeling out of the loop. For her, accessibility is key and the best way to do that is through plenty of jokes.
"Humour is a strong element in everything I do, purely because there's a lot of dark stuff happening in the world. With my work, as long as it's sincere, honest and fun, it's hard not to want to engage."
Just before she graduated, the designer finally got to partake in the Arctic Man festival that started it all off. With the help of Nike and some side-job money she'd saved, she booked a flight to Alaska, rented an RV and ​"went out into the world of slednecks. Keep in mind, I grew up in London with my little Moroccan family! This was wild for me."
"It was exactly like the people that I saw in the documentaries in my research. I felt like I was in one big sketch," she adds. Without running water for a week, Kherba found herself melting snow for drinking water, and walking around the campsite meeting different groups and families – ​"especially if they had a fire going. I actually learnt how to change a wood fire [to] blue, so whenever I hear there's a campfire on a night out, I've got my sulphur in my bag."

The ​"go hard or go home" ethos of the festival (it's Arctic Man's actual tagline) and the colourful characters she met formed the basis of It's Peak, the docu-style film she premiered at Miami Art Basel last December, co-hosted by THE FACE. Made up of insane landscape shots, interviews with the punters and her favourite new friend, Eddy, in a pair of tight, blue Speedos, the film is as audacious as it is awe-inspiring.
Now, she's accompanying the release with a book of the same name, a pocket-sized photo journal with memories from all the festivals and her various Xtreme missions over the past few years.
"I touch on this idea of a full-circle moment throughout my work, but it's kind of parallel to ALGEAR – that's another version of full-circle in the way you grow material and it biodegrades back in the land, and then it goes round again," she says. ​"It's probably the end of It's Peak, but it's not the end of this journey. My obsession is going nowhere. With my work, it's a lot more focused on the process and progress – it's one long journey!"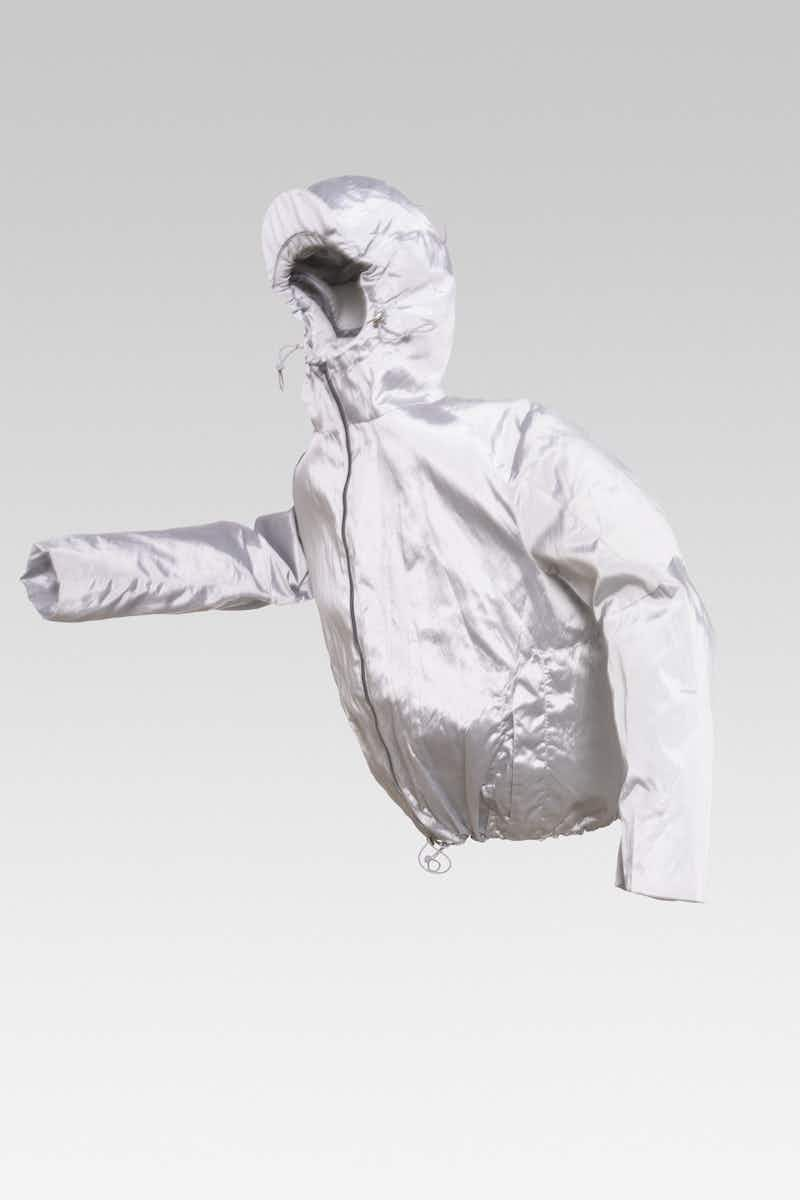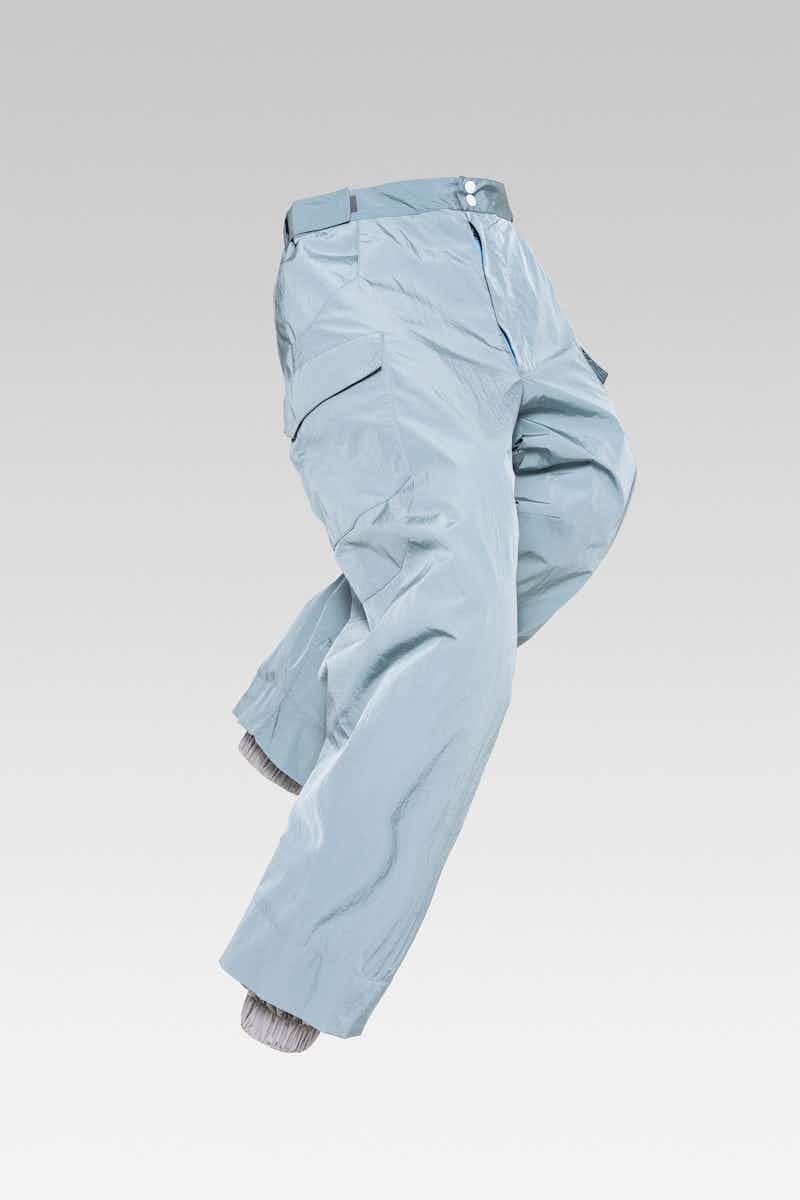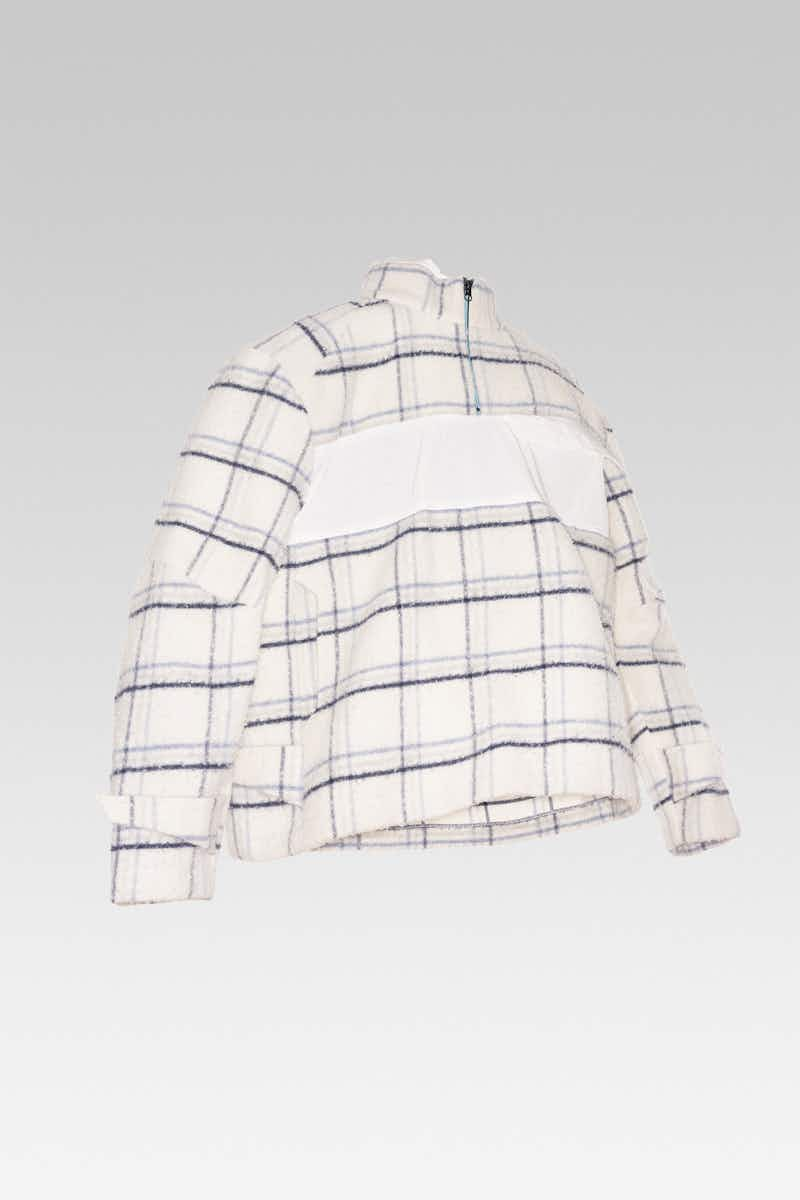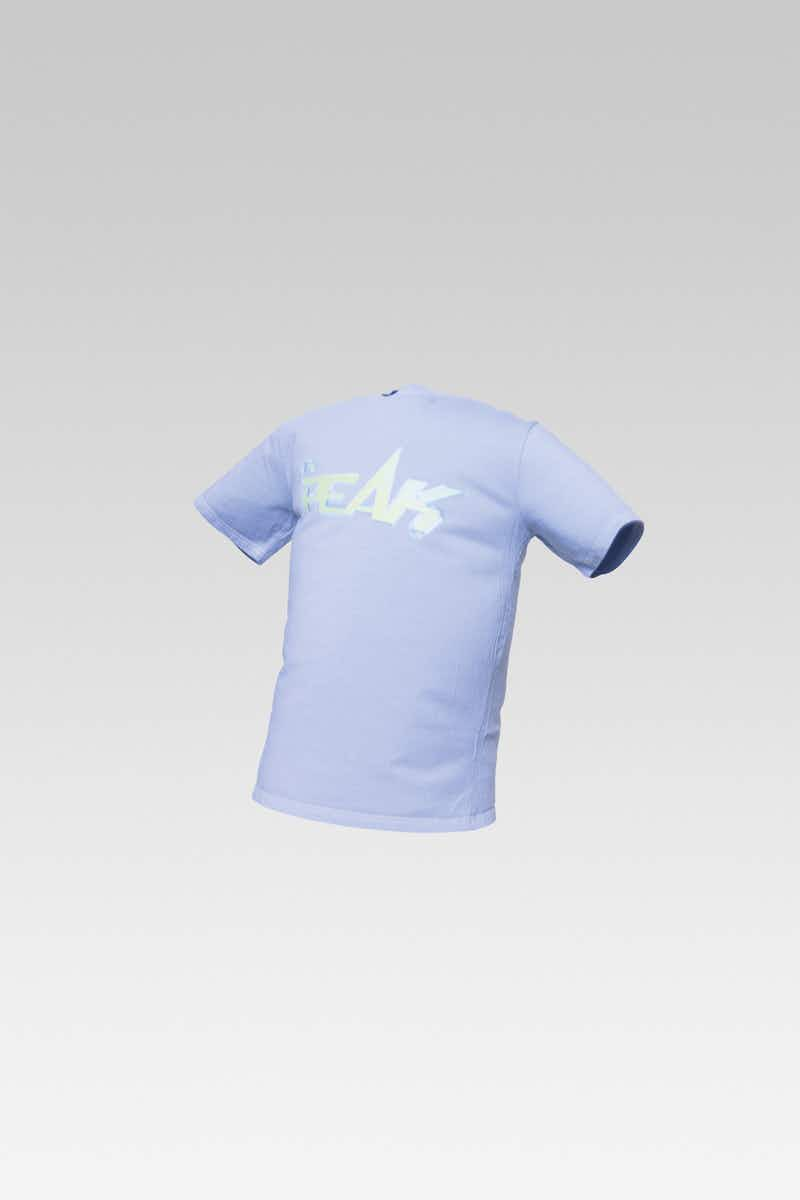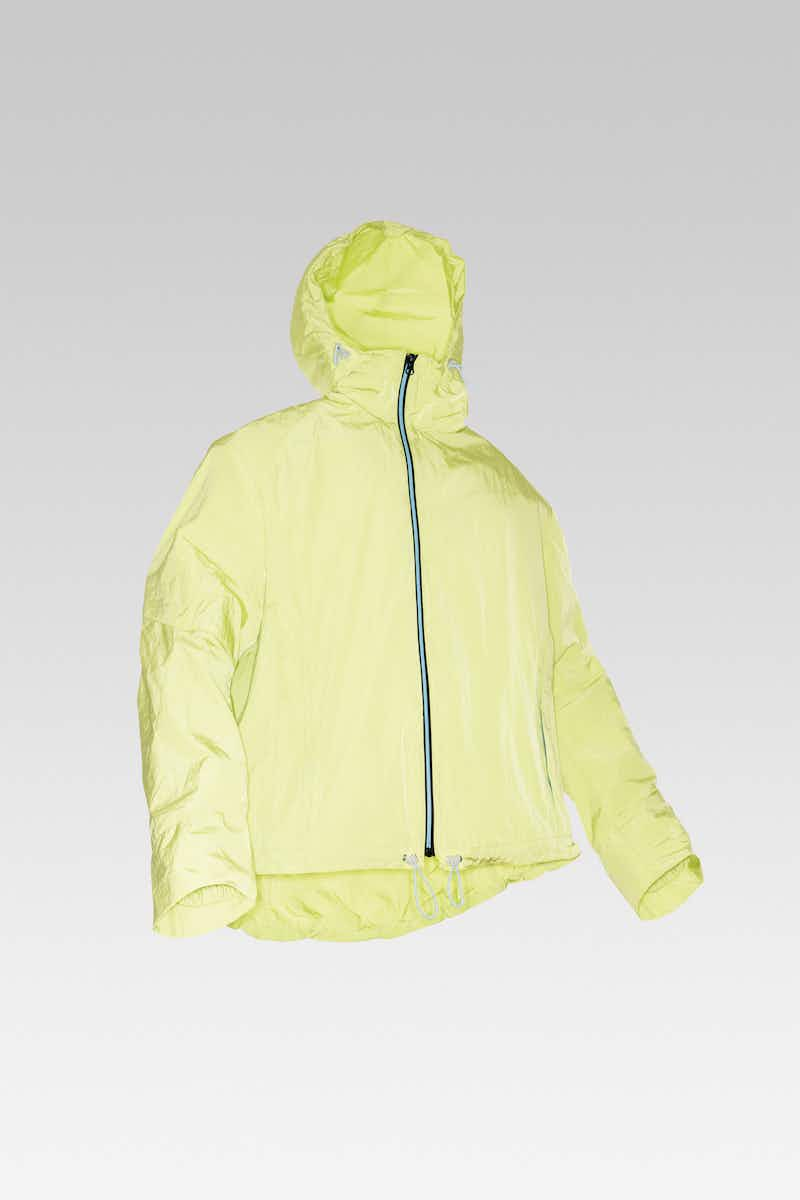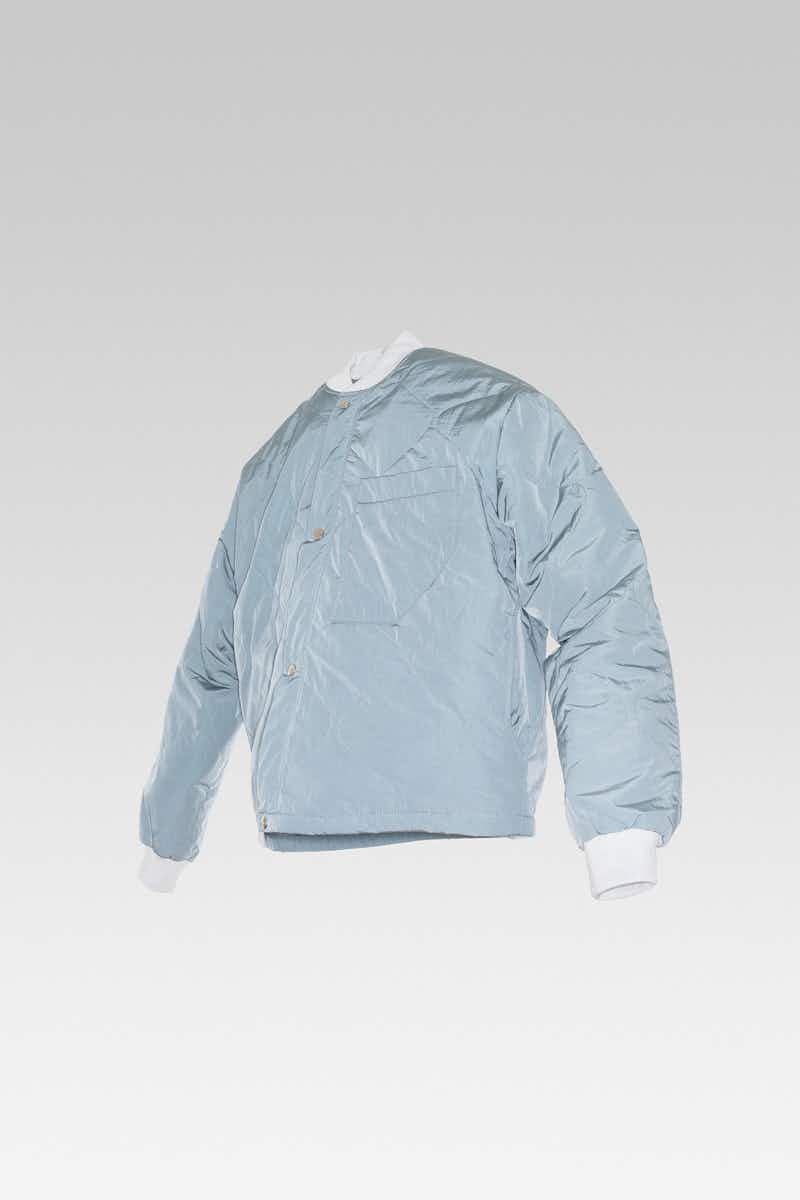 It's been a mission and a half for Kherba, but she's not finished just yet.
Today, she's releasing a full collection for her clothing brand RK with SSENSE, tying together the research and experiences she's had in the past five or so years. It's technical, functional, subversive, funny and sexy. Made up of outerwear, highly thoughtful cuts are the main event.
"You see the ergonomics of the sleeve even when it's on a hanger," she says. The trousers are subtly, humorously awkward in length, not quite stretching right down to the ankle, modelled on typical snowboarding trousers worn on the slopes. The jackets have the same quirk, barely reaching the hip, but calculated to ensure that seams are effortlessly connected to fit the body in the best way possible.
The collection is undeniably cool, owing to Kherba having her feet firmly on the ground in all corners of London, looking at what interesting people are wearing, whether on the street or dancefloor, and adapting it in a way that feels purposeful. ​"That's just how I was designing from my graduate collection. So this is really the opportunity to clean that collection up."
By no means has Randa Kherba reached her peak, though it may seem like it. At just 26, she's accomplished more than most would in a decade. And after finding herself in the middle of nowhere in Alaska, the possibilities – however cliché – seem limitless. What's she got planned next, then?
"Something icy…"
Thought so.


More like this