Ploy and re:ni talk tearjerking tracks and dancefloor saviours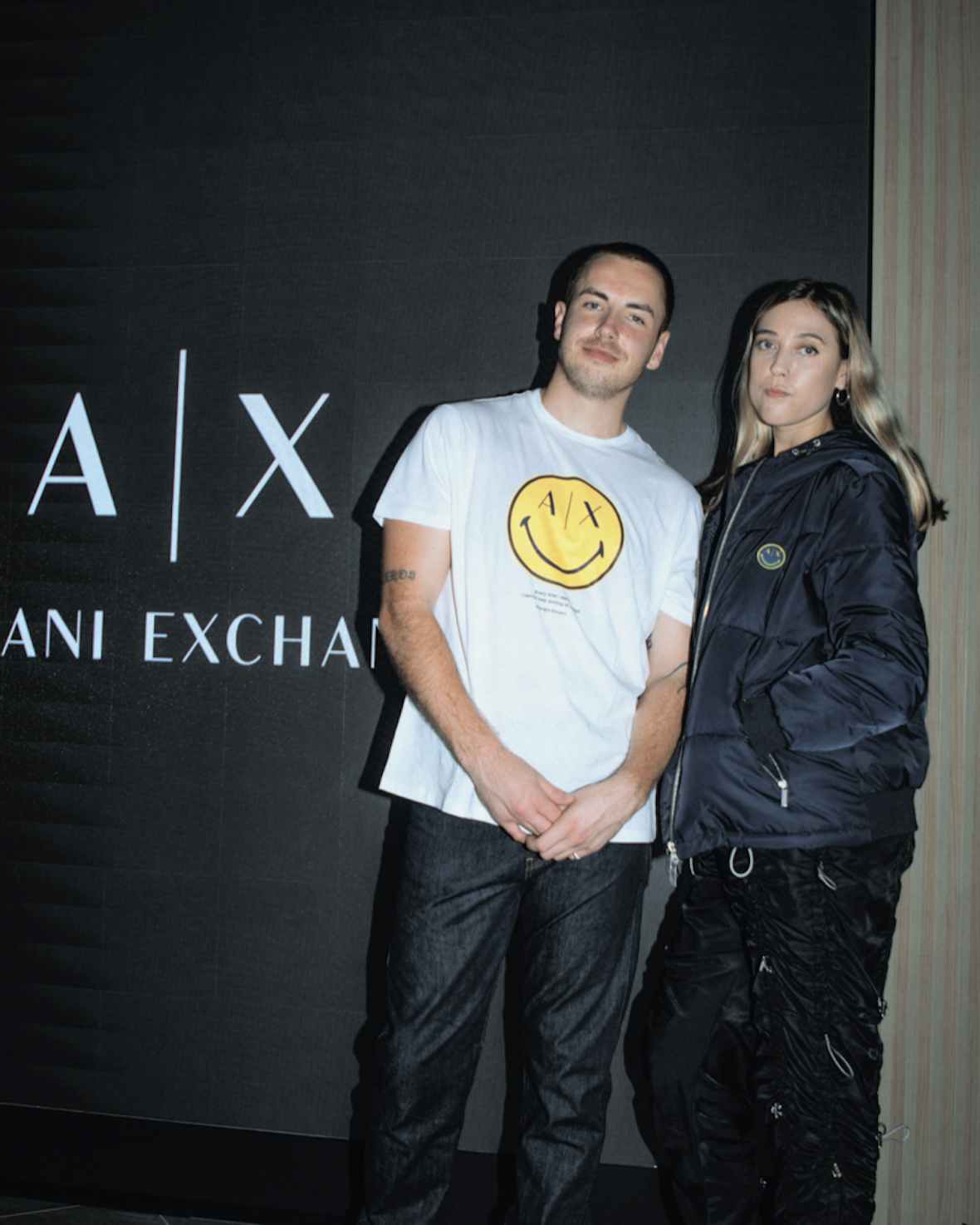 The left-field techno producers took over A|X Armani Exchange's London store to chat through their formative club cuts in celebration of the brand's new rave-inspired SmileyWorld collection.
Rave culture's been inspiring music, people and art ever since it first emerged in the late ​'80s, but it's also had a seismic influence on fashion too. To celebrate the launch of Armani's brand-new rave-inspired SmileyWorld collection, we headed to A|X Armani Exchange in central London to catch NTS resident Lupini in conversation with Ploy and re:ni (two of our favourite left-field techno producers) to talk about some of the rave tunes that have meant the most to them.
Playing some of their top cuts on a single Technics deck (before laying down a set each to a packed crowd later on in the store) we found out which records filled them with joy, made them cry, pulled them out of a tight spot in a DJ set and heard which tracks first ever got them into raving. Here's what they had to say.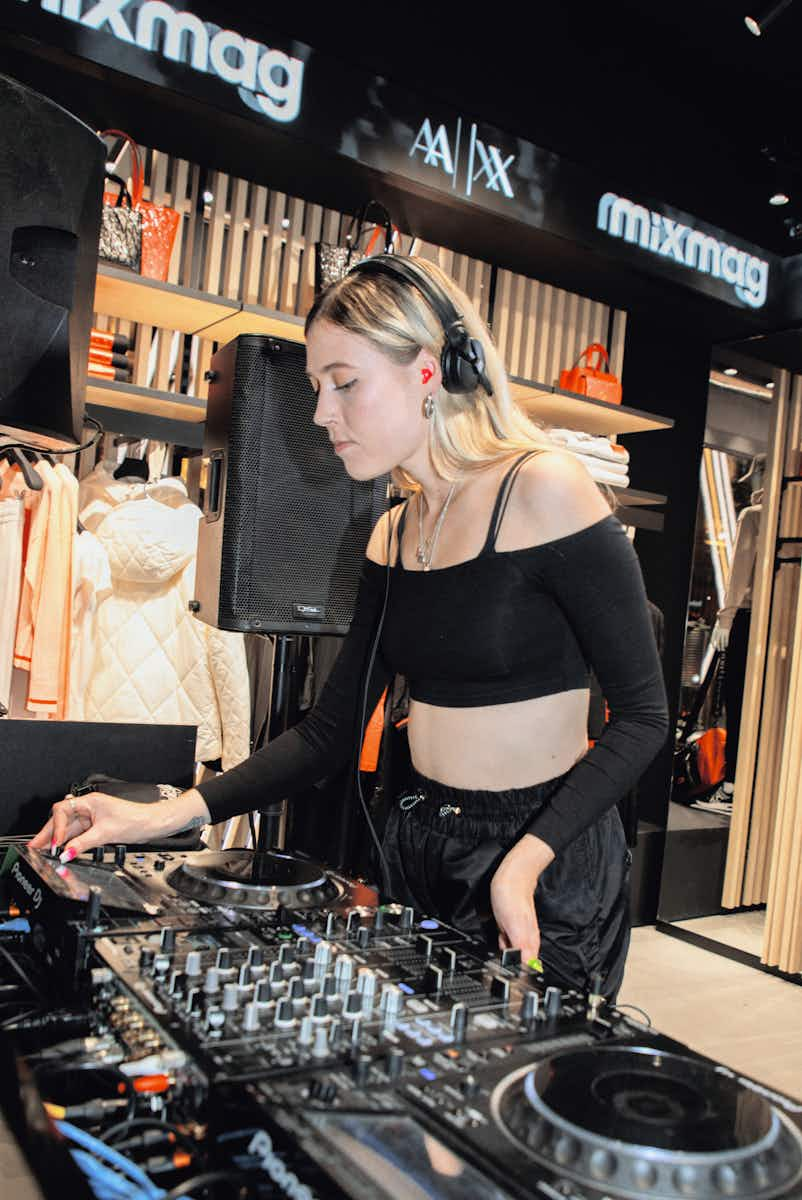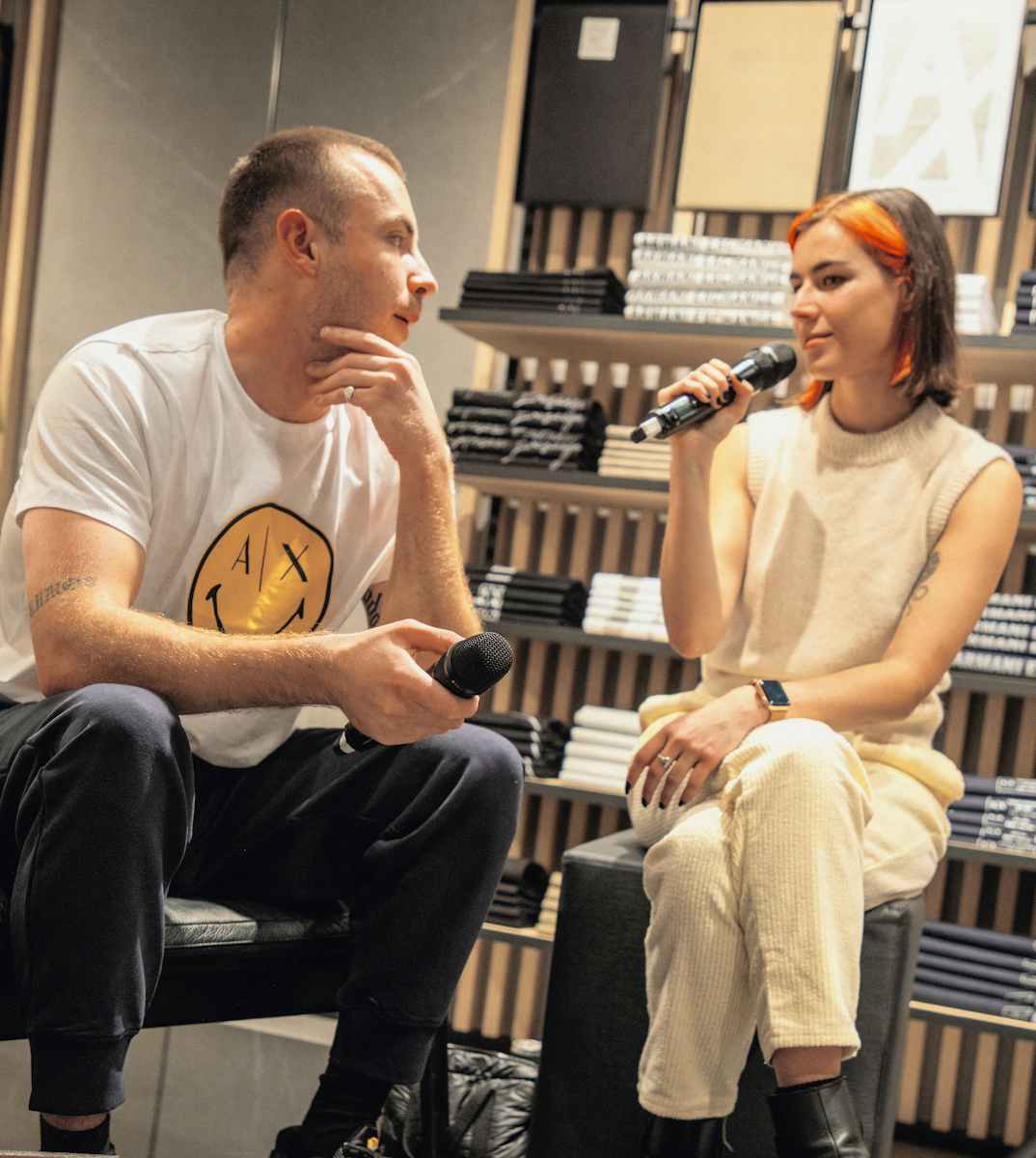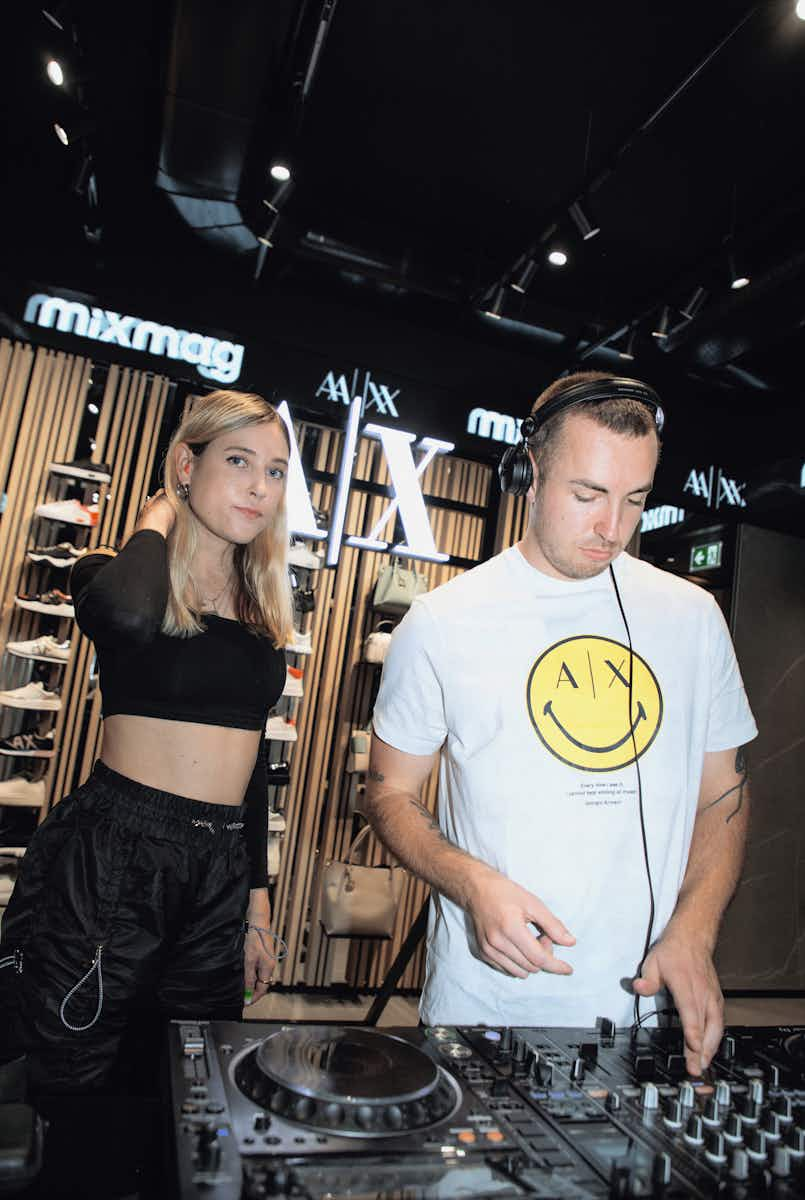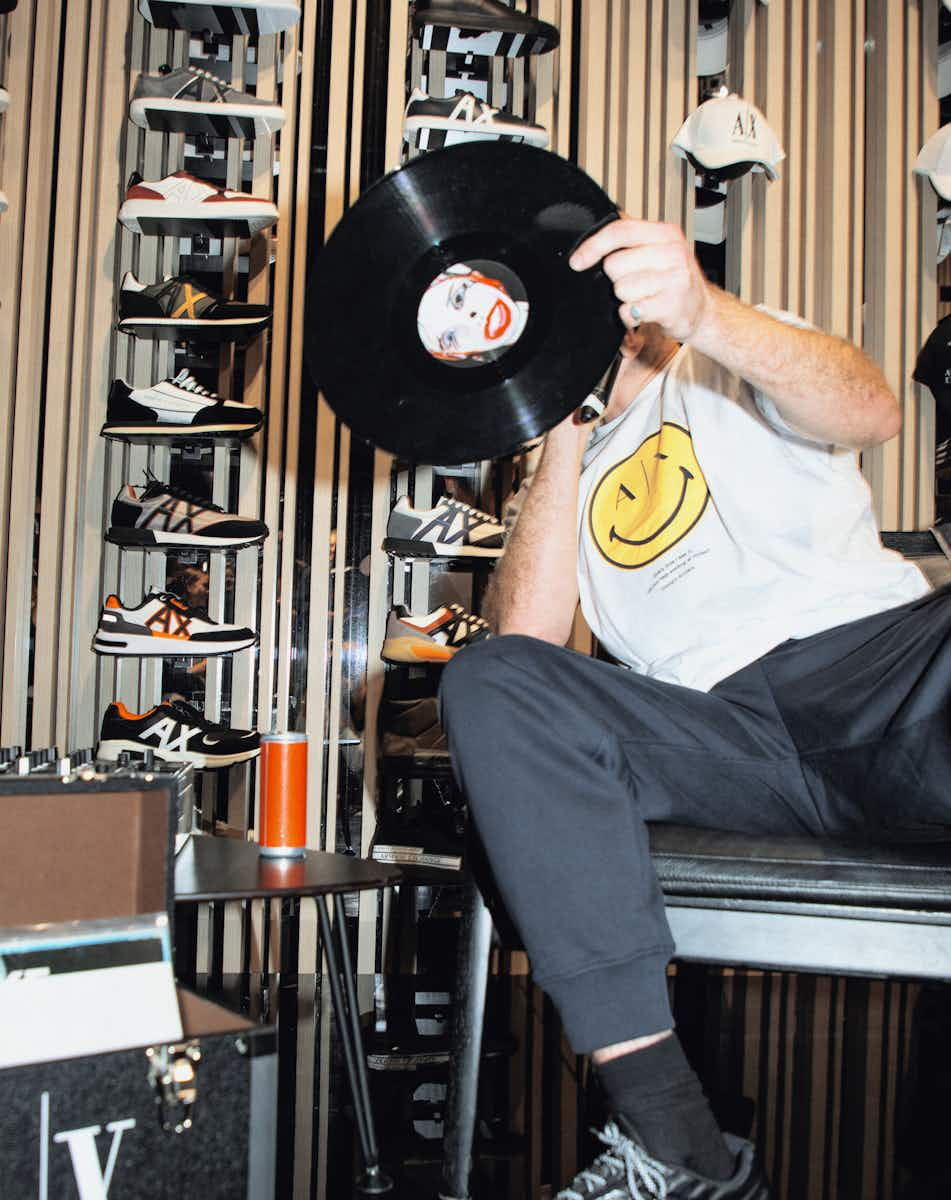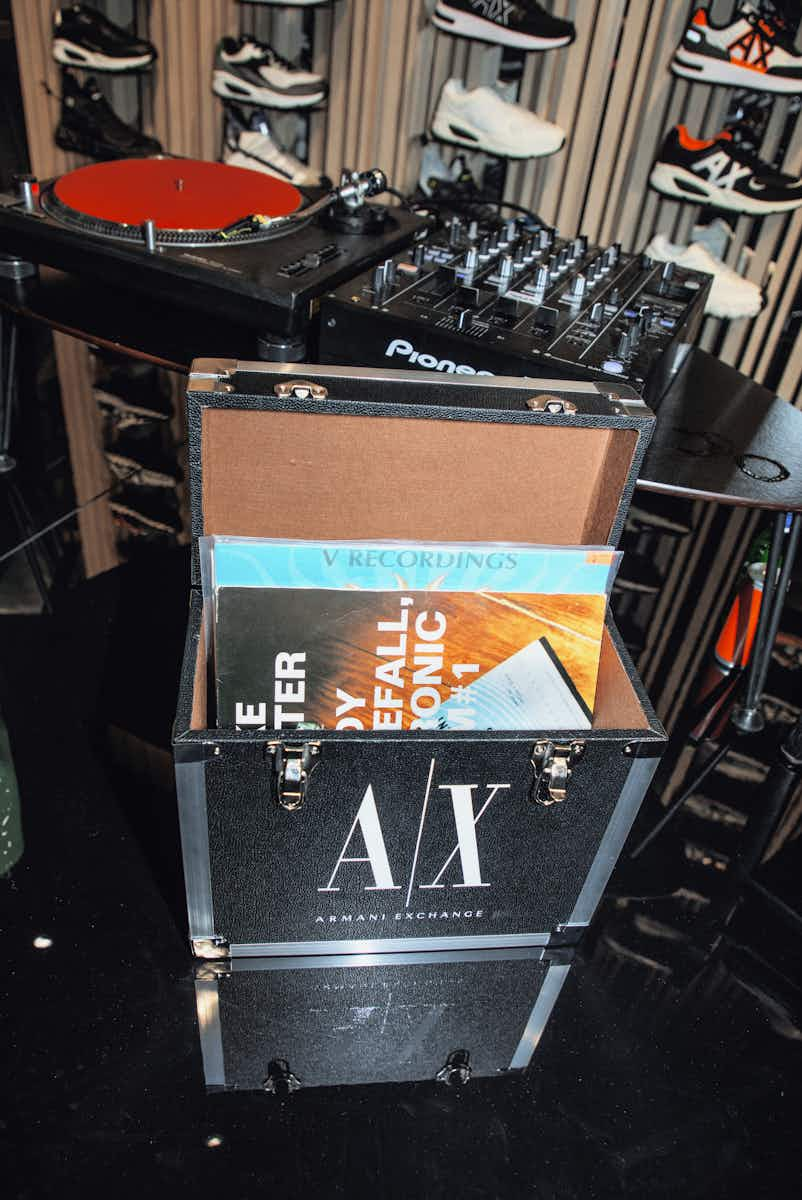 A record that got you into raving
re:ni: Chase and Status – Take Me Away. I'm not going to pretend it's some super trendy thing that got me into raving. I grew up in the countryside and I remember the first time I managed to go to a rave and this tune was playing. No one forgets their first rave so this track always stands out for me!
Ploy: Adam F – Brand New Funk. A friend's brother lent me a CD compilation when I was around 14 and this was the first track on it. It's drum ​'n' bass and I didn't really understand it at that point but I'd listen to it on the bus all the time. Eventually, it led to me going to a rave.

A record that encapsulates the joy of rave culture
re:ni: Andrea Parker – Melodius Thunk. I bought this in Rarekind Records in Brighton and whenever I get asked about influences and what inspired me to do what I do, I always bring this record up. Raving for me is about going into a different world, behind a cloud of smoke and this record sums that feeling up. It's so simple, stripped back and minimalist but the sound's so amazingly designed.
Ploy: Paul Johnson – Give Me Ecstasy. It's super sad that Paul died last year. This is an amazing track about taking ecstasy that came out on Dance Mania in the mid ​'90s. Paul is such a massive loss for the scene.

A record that makes you cry in the club
re:ni: Urban Tribe – Her. This is by DJ Stingray under his Urban Tribe guise. I was working an office job when I first heard this on my headphones and I remember reloading it instantly and thinking, ​"I can't wait to hear this in a club or play it out." It's so deep and technically sharp but has a lot of emotion.
Ploy: Oh Yoko – Seashore (DJ Sprinkles' ambient ballroom). I've never actually cried in the club but I find this record to be super emotional. It's the kind of track I'll play on a warm-up sometimes. It's absolutely beautiful.

A record you use to rescue the dancefloor
re:ni: Airgoose – Outernational Wah. This is actually a record my dad and his production partner made in the ​'90s. They wanted to make a house banger and I think they succeeded. I was playing a party in South London and someone posted this on the Facebook group for the party and one of my friends commented: ​"Oh my god, that's re:ni's dad!" Eventually, the guy who posted it, who runs the record label Seven Hills, ended up reissuing it. Nicholas Lutz played it at Houghton. There's been this weird serendipity to it.
Ploy: Luke Slater – Body Freefall, Electronic Inform #1. If you were playing a techno rave this would really pick the energy up and keep the dancefloor moving. It's just an absolutely amazing tool.

A record you love ending your set on
re:ni: Swayzak – Illegal (BiggaBush remix). This is another record my dad made. It's a remix of the Swayzak tune Illegal and has this spoken word bit by the poet Benjamin Zephaniah. Whenever I'm ending a set, I always feel it's good to really bring the tempo and the energy down and this works perfectly.
Ploy: YT – England A Me Yard. This is a track I finished on recently when I was playing in Japan. It's a UK-centric, dub reggae record and if you're abroad, it's nice to bring a flavour of where you live.