Chest is best: the impeccable cool of slogan T‑shirts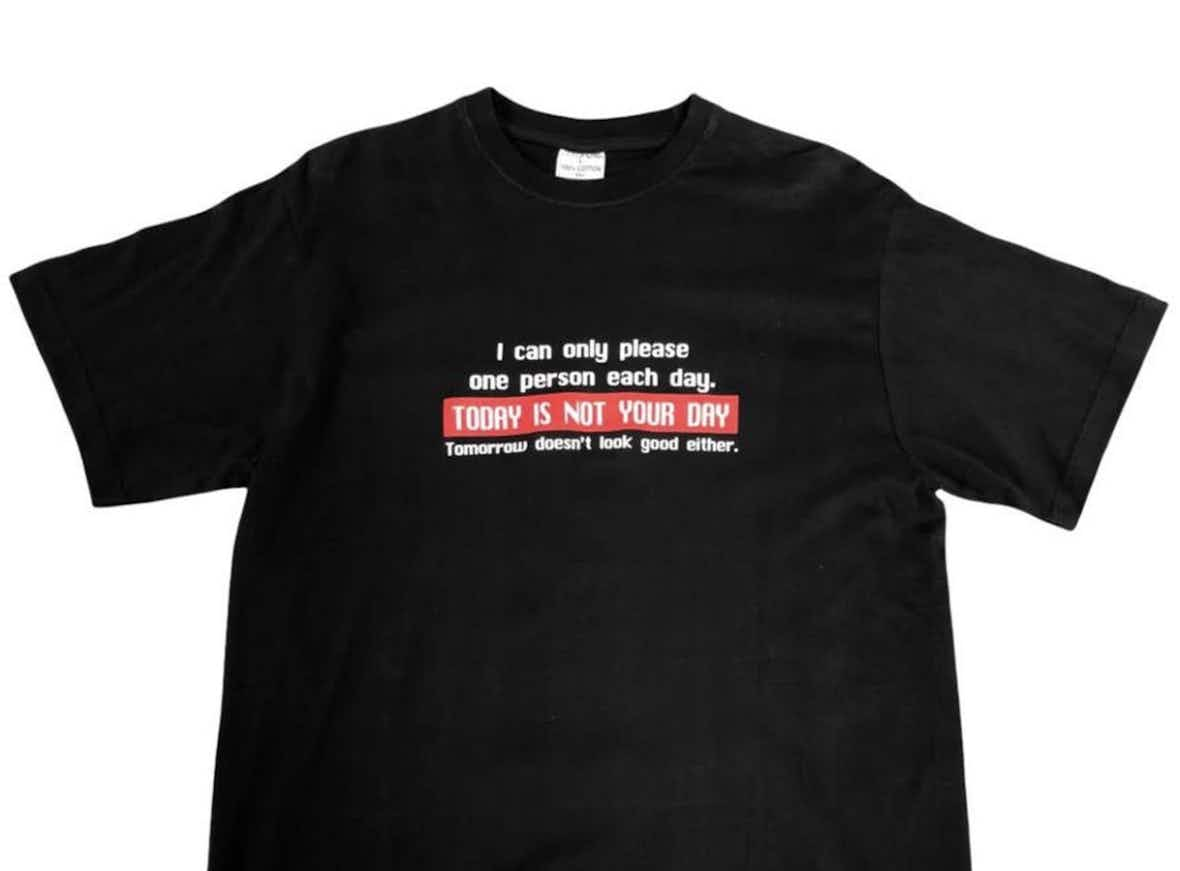 After two years of enforced masking up, slogan tees have become the best way to speak up and speak out. The ruder the better, we say.

Since their mass introduction two years ago, face masks have become the modern-day Berlin Wall, segregating the fors and againsts with hot fury.
The fors reckon they're just a bit of cloth stretched over your mouth to protect yourself and those around you from catching the ​'vid. The againsts? Blimey.
The protective face mask, they imply, shaking uncontrollably as they tap out another tweet, is a government-controlled scheme engineered by the lizards that live in the centre of the earth.
Whatever your side, we can all agree that the Rise of Face Masks has meant that mouths have taken a bit of a backseat since That Fateful Day. Smiling at the lady in the local corner shop and pursing at the knobhead who pushed in front of the queue isn't the same when the person can't see it. Our expressions have been limited to serious eye contact, glaring furiously or smizing like Tyra.
Re-enter the slogan tee: a key to sharing your inner-most thoughts stretched over your chest.
Once staple of the Y2K lot, the slogan tee was a serious staple for speaking with your mouth closed. Before that, even, at the mid-'70s height of punk, the big bad ethos of anti-authority, anti-conformity, anti-anything was given full reign on T‑shirts, with slogans ranging from the political to the seedy and salacious. Internet archives are chock full of grainy shots of punks proclaiming ​"FUCK YOU HIPPY" and ​"Beat me, bite me, whip me, fuck me like the dirty pig I am", shouting with their chests. Oooof.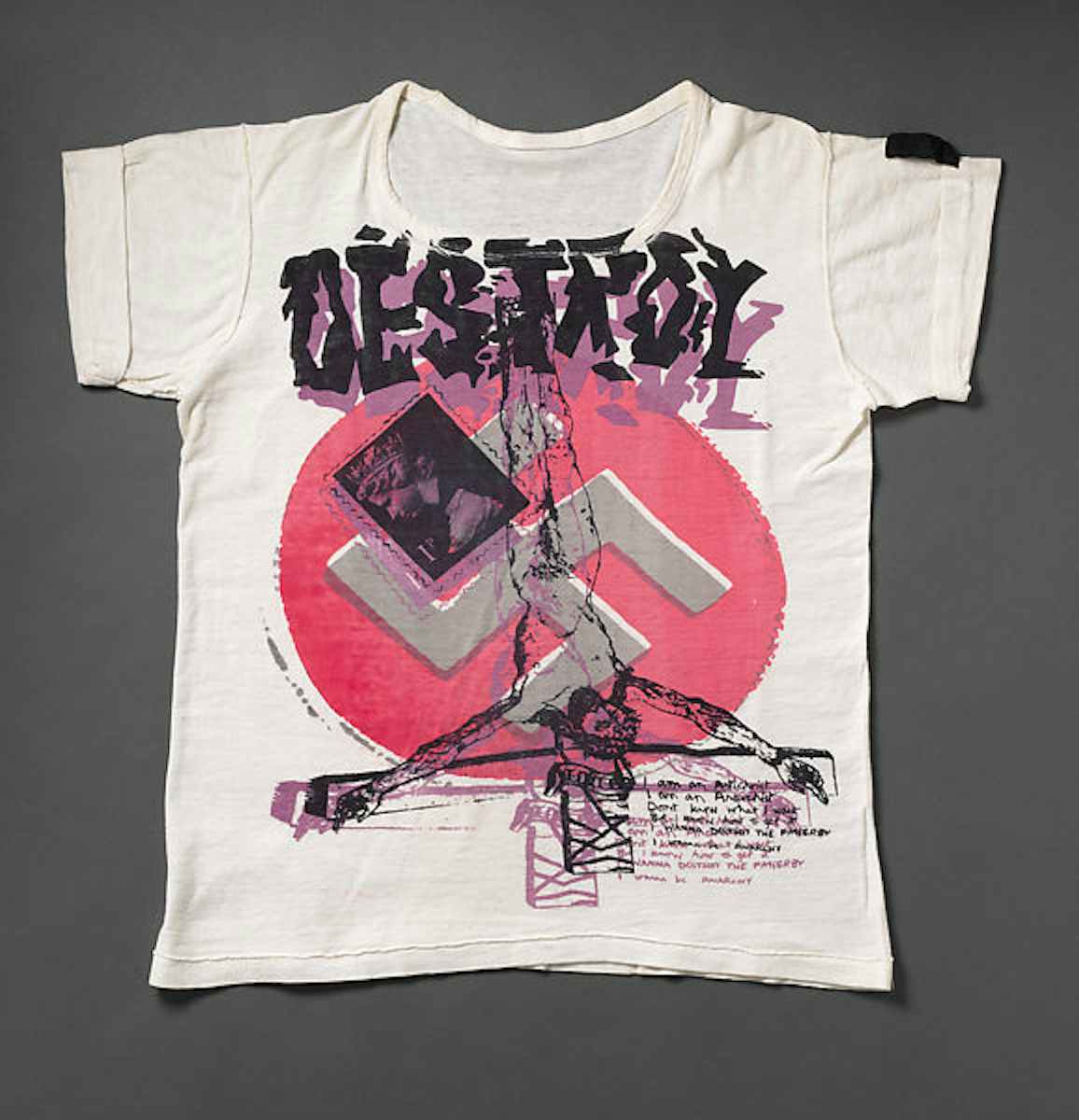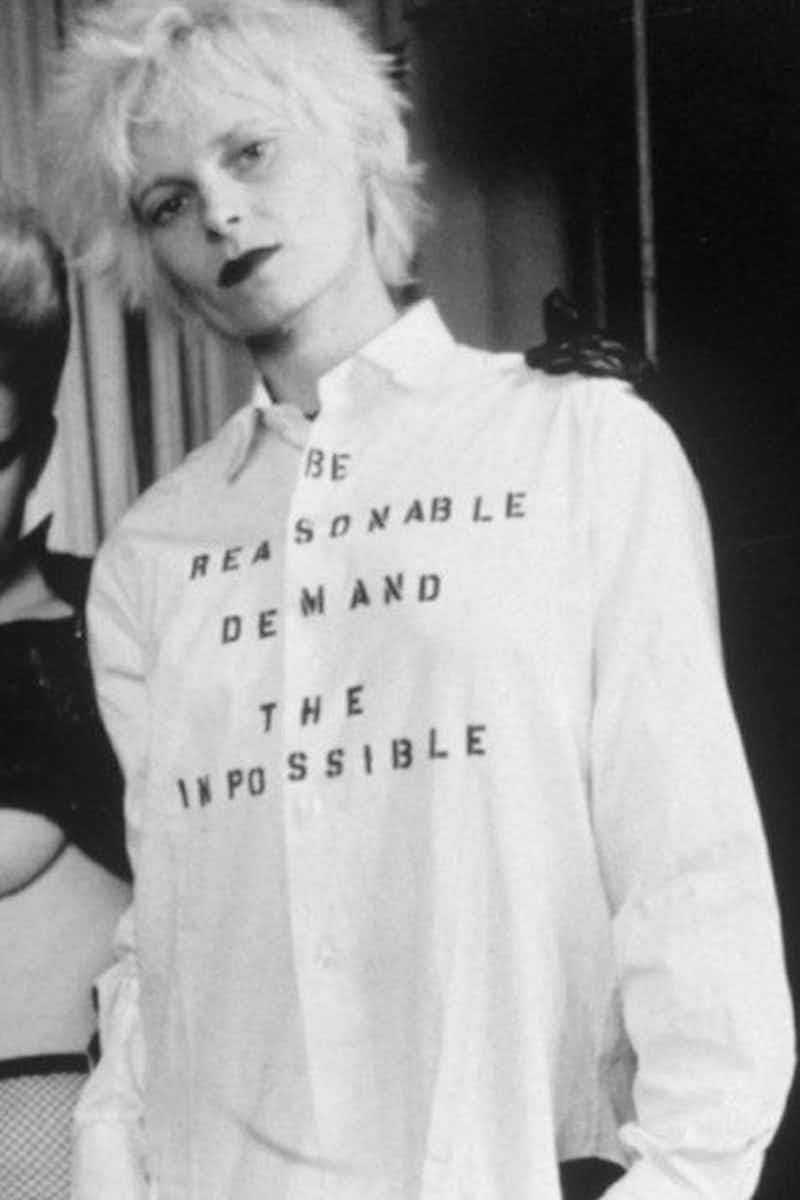 But the ​'70s slogan tees were more than just a shock tactic. Vivienne Westwood also used the medium to stick two fingers at the establishment in her punk heydays. There's a crisp white shirt she was pictured wearing sometime during the decade, peroxide blonde hair spiked, emblazoned with: ​"Be reasonable, demand the impossible". The look was smart but the message was feisty: never shut up till we get it done.
The designer's most revered (and sought-after eBay archive item), though, is the infamous ​"Destroy" cotton T‑shirt, which has the image of a swastika as its centrepiece. Designed with her then-partner Malcolm McLaren in 1977, it became an emblem of punk outrage and political socialism, symbolising the fight against the rise of Neo-Nazism in the UK.
Then, in 1984, emerging British designer Katharine Hamnett saw an opportunity to piss off Margaret Thatcher, inside the very walls of 10 Downing Street. Having graduated from Saint Martins School of Art (now CSM) the previous decade, Hamnett started making slogan shirts in ​'83, which soon blew up after Wham! wore her ​"Choose Life" motto – a campaign promoting anti-drugs and anti-suicide. Then, the following year, Thatcher invited young designers over to celebrate the newly-formed London Fashion Week.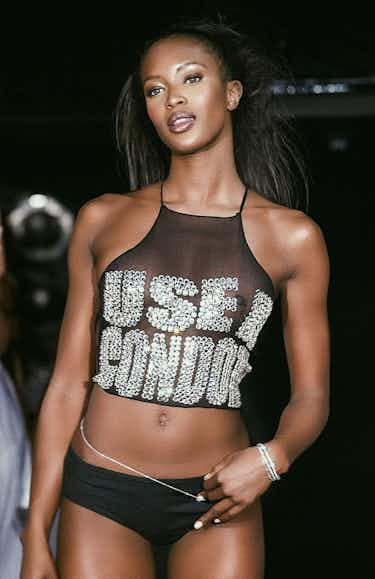 Hamnett – among the angry youth pushing back at Thatcher's stringently conservative agenda – wore an oversized T‑shirt with ​"58% Don't Want Pershing" boldly written on the front in large text. It was a blatant protest against nuclear missiles, which Thatcher was – to be frank – a proper fan of.
It made for a ballsy message as she looked Thatcher in the eye in her very own house, shaking hands with the devil while simultaneously ripping the piss out of her. Later on, Hamnett would recruit Naomi Campbell to walk in her SS04 show, wearing a suitably glam mesh vest with ​"Wear a condom" scrawled on it in diamantes, promoting safe sex and raising AIDS awareness. As if she needed to prove it anymore, Hamnett had succeeded in her decades-long statement that fashion and politics can co-exist.
Hamnett wasn't the only designer to raise AIDS awareness through the slogan tee. In 1994, as the AIDS epidemic was at its peak, Martin Margiela took a modest cotton V‑neck and scrawled a message across the collarbone: ​"there is more action to be done to fight AIDS than this T‑shirt but it's a good start". In a stroke of genius, he craftily used text that was almost illegible when the item was worn, with the purpose of prompting people to ask what it says.
The rest of the decade found irony in the slogan tee. President Nixon's war-on-drugs D.A.R.E (Drug Abuse Resistance Education) campaign T‑shirts were flipped and worn as an FU to conservatives. The image of Marxist revolutionary Che Guevara was screen-printed onto T‑shirts the world over. Never mind the politics, here's the sarcasm.

By the turn of the millenium, when fashion became optimistic, peroxide and hyper-coloured, the slogan tee fitted a new agenda: that of the infinite rise of celebrity culture and paparazzi fodder.
Glossy mags were packed with young, confident women wearing smutty slogans, from the crude (Paris and Nicky's ​"Got blow?" vests) to the painfully ironic (goth-era Kelly Osborne in a yellow ​"Young, willing and eager" T‑shirt with a less-than eager demeanour), to even the tabloid-busting, like Britney's ​"I'm a virgin (this is an old t‑shirt)" vest.
For this era of celebrity, when public image was left in the hands of weekly glossies, a slogan could debunk the roughest of rumours. Or make new headlines altogether.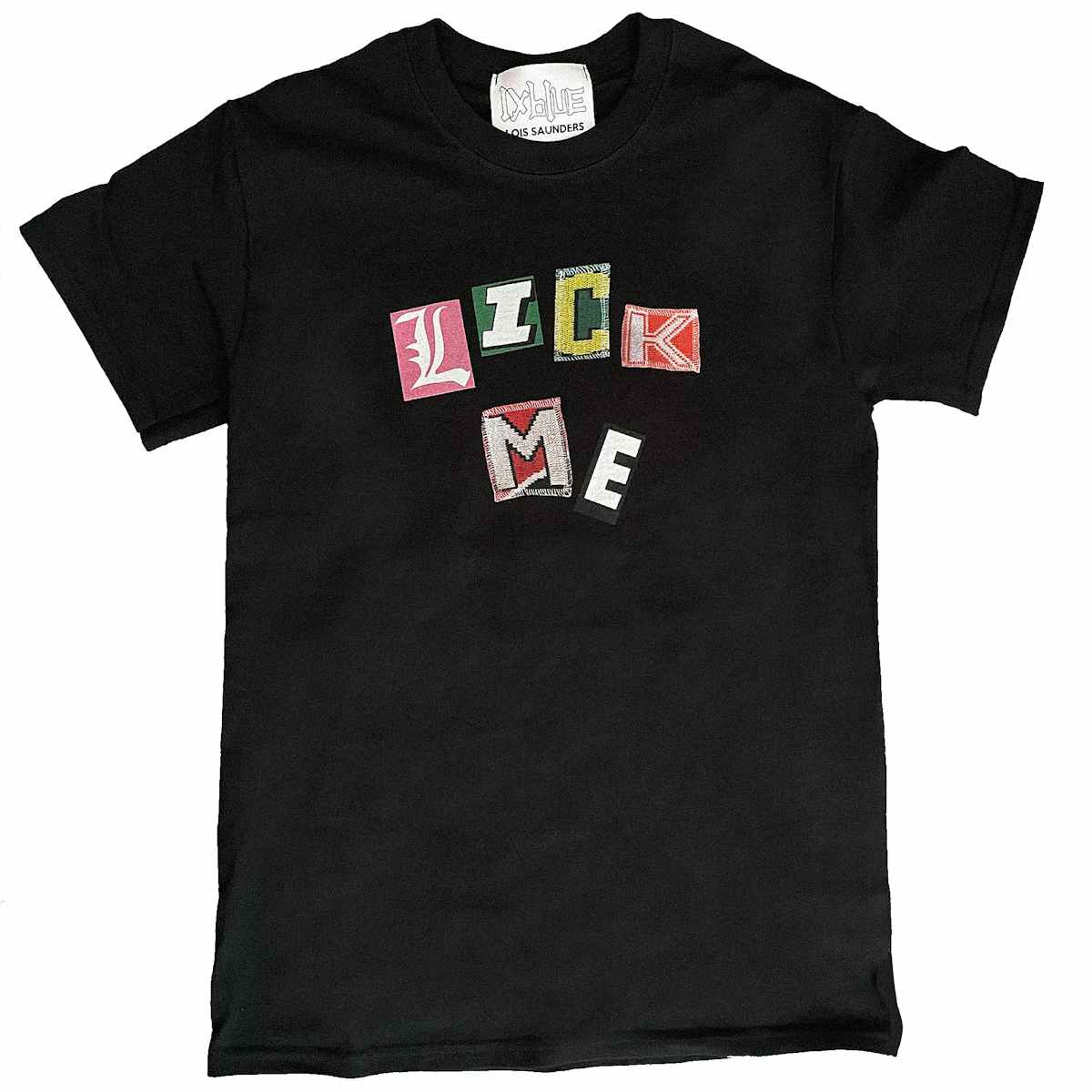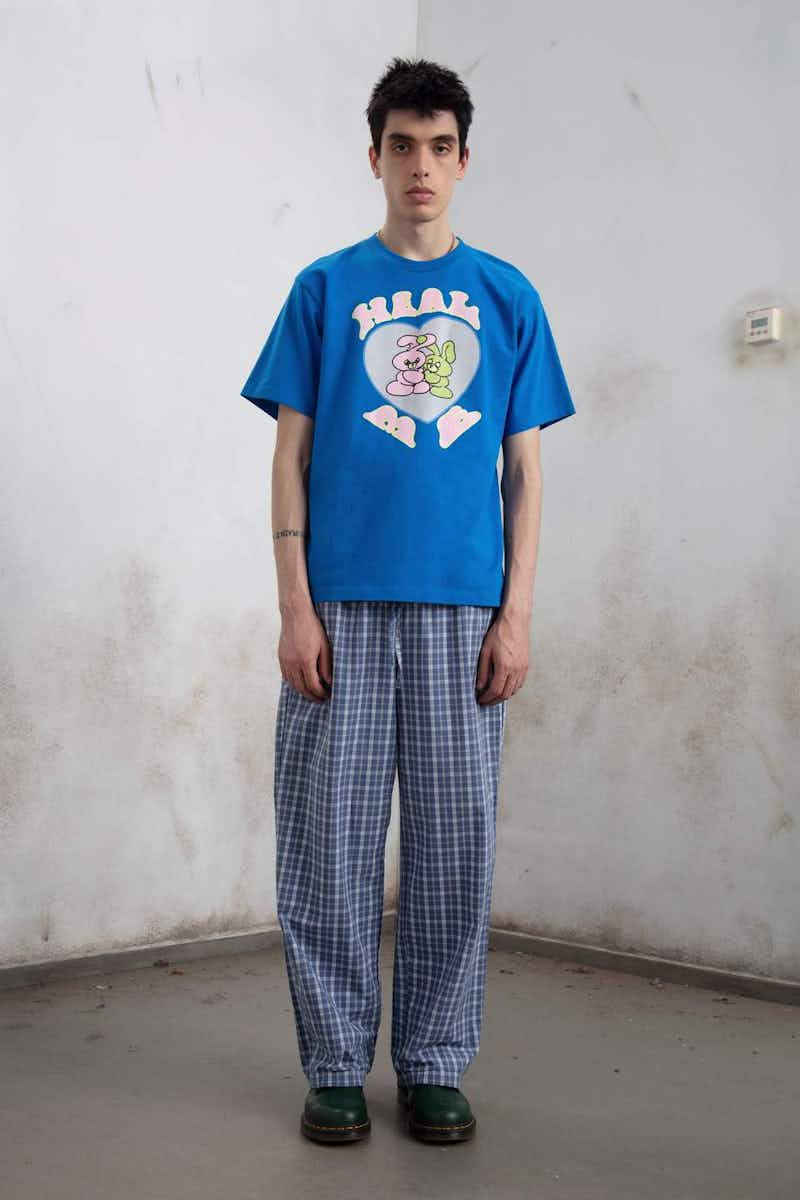 Designer Henry Holland took a wink-wink approach to slogans when he started designing T‑shirt dresses in 2006, often modelled by It-Girl of the moment Agyness Deyn. It was an inside joke with the industry and the garish neon rave palettes were an indie sleaze dream. Slogans like ​"Cause me pain Hedi Slimane", ​"Who's the boss Kate Moss" and ​"Do me daily Christopher Bailey" became instant fan favourites, worn by Day-Glo MySpace users and clubbers alike.
Political messaging didn't disappear, though.
He wasn't exactly speaking to The House of Commons but, when taking a bow for his SS06 collection, late designer Alexander McQueen wore a T‑shirt with ​"We love you Kate!" written on it. This at a time when the supermodel was dealing with accusations of cocaine use.
In 2013, the Green Party's Caroline Lucas also wore a ​"No more Page 3" T‑shirt to court when she was arguing against The Sun​'s glamour model spot. And a few years into her tenure as Dior's creative director, Maria Grazia Chiuri got up-close and personal with the rise of modern feminism, sending a model down the runway in a ​"We should all be feminists" T‑shirt… then flogging it for a couple hundred quid.
The slogan T‑shirt, then, has survived many iterations over the years. And as we approach the second, er, anniversary of the pandemic, masked up and wound up, it's a good time to get back into it.
Be as pissed as the punks, political like Hamnett or a pop provocateur like Paris. With the fairly recent resurgence of cool people dressing like angsty teens, Heaven by Marc Jacobs have cutesy slogans like ​"Heal me" and ​"Missing you". Emerging designer Lois Saunders has ​"Lick me", ​"Fuck" and ​"Eat me" on T‑shirts and bikini tops. And Depop's stacked with all sorts of messages. Right now, there's one that says: ​"I can only please one person each day, today is not your day". Tell that to your boss.
Sometimes, you say it best when you say nothing at all.


More like this