Why does streetwear love Star Wars?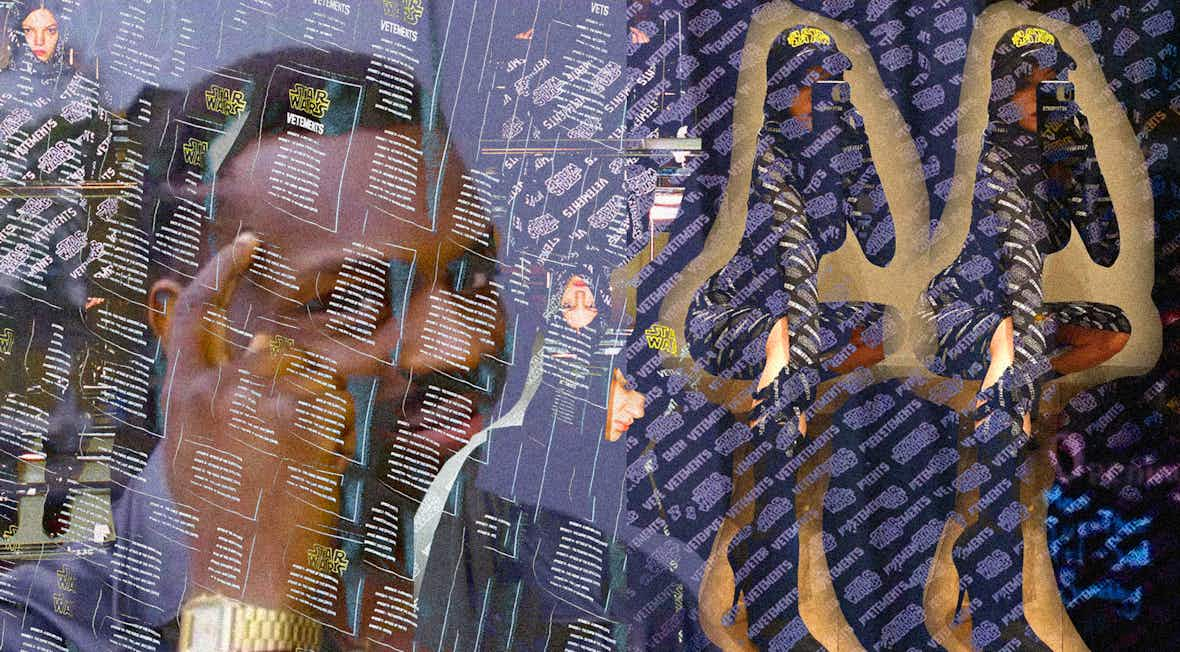 From Vetements to adidas and BAPE, fashion labels are going mad for a collab with the cult sci-fi saga.
In mid-December, just ahead of the release of Star Wars: The Rise of Skywalker, subversive streetwear label Vetements launched their 44-piece collaboration with the blockbuster franchise. And, as the final instalment in the 42-year, nine-film series prepared to blow up the world's multiplexes, the force was strong with the French brand. Flocking to a range featuring an assortment of heavily logoed hoodies, tees, evening gowns, socks, heels and bags, hypebeasts splashed out the big bucks in less than 12 parsecs. Which, as any Jedi-loving nut knows, is fast.
While Vetements is no stranger to unexpected, left-field collabs (just look to their infamous DHL tee or their show in McDonald's in Paris), the hook-up with Star Wars – an emphatically mainstream franchise whose merch is typically sold at high street retailers like Primark or Walmart – seemed particularly unexpected.
Or was it?
Streetwear-approved toy-maker Medicom dropped C‑3PO, Sith Trooper and Kylo Ren collectible BE@RBRICKS (retailing at a cool 14,300 yen – around £100) a day earlier. adidas have recently drip-fed three capsules in homage to the epic space opera, with the final iteration comprising six trainers inspired by Darth Vader, Princess Leia and the Stormtroopers landing on 1st December. Last month Levi's released a slew of Star Wars-inspired hoodies, jeans and denim jackets, and Japanese streetwear brand BAPE will release a collection of Coach Jackets, crewnecks and graphic tees featuring Baby Milo in the next couple of weeks.

Of course, one of the highest-grossing series of all time – the worldwide box office revenue to date is $9.31 billion – has a doggedly committed fanbase. Forty per cent of American consumers have seen The Force Awakens, 2015's first instalment in the JJ Abrams-shepherded final trilogy, and 36 per cent of US consumers would buy a Star Wars T‑shirt. That depth of loyalty and recognition means that the Star Wars consumer packaged goods market is worth $242 million in the US alone.
But would the typical Star Wars enthusiast spend upwards of £320 on a branded tee?

Neige did. In fact, the 26-year-old Japanese hypebeast dropped £620 on the black Star Wars x Vetements ​"Coming Soon" hoodie. ​"I like Star Wars but I love Vetements," he says. Equally, he points out the obvious breadcrumb trail that lead to this partnership. ​"I don't think the collaboration was random – just look to their SS16 collection and their Star Wars-inspired skirt."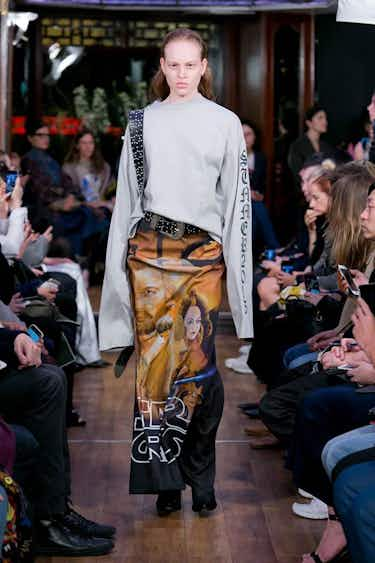 Katherine, similarly, copped the black logo sweater after ​"falling in love at first sight". Even though she's not a big fan of Star Wars, the 20-year-old knows that ​"there are many Star Wars fans all over the world and even those who have not watched it will love the collection."
"Star Wars collaborations have become increasingly popular recently due to the upcoming final film," says George Thornham, Harrods' senior brand specialist for Vetements. ​"Many brands are collaborating with Disney to capitalise on this event and get their names out into a new world. Vetements and BAPE already have a strong market behind them, but to branch out with Disney opens up so many doors. In the last two days of launching this collection, I've noticed customers buying the product who I've never imagine wearing Vetements."
Moreover, Thornham argues that these brands aren't just jumping on the hype wagon. ​"I think the blend of the two worlds is a great balance and will help both brands in the long run."
Luke Plunkett, the senior editor of Australian gaming publication Kotaku, agrees that the connection is coherent rather than exploitative. ​"A lot of sci-fi costume design tends to come across as almost theatrical. But everything in Star Wars – perhaps because so much of it is drawing from practical real-world influences, from military uniforms to guerrilla fighters to cowboys – looks like the people in that universe really wear that stuff in a functional, appropriate and everyday way."
For sure this is space-wear with streetwear flourishes. From earthy, minimalist Jedi robes that serve utilitarian realness to Kylo Ren's all-black, cyberpunk inspired buckle trousers and kilted tunic vest, Star Wars techwear-esqe, post-apocalyptic universe could easily filter into the inspiration pool of luxury fashion houses' takes on streetwear.
Indeed, when in November Disney released The Mandalorian series on their new streaming service, Baby Yoda quickly became a fan favourite, turning into a viral internet sensation whose memes out-performed politics and sent Giphy into a tizz. Equally, and you might say surreally, the infant wrinkly Jedi master's style soon became a hot talking point, too.
Dazed cleverly compared his ​"subtly deconstructed seams and unique draped silhouette" to Maison Margiela's AW99 Duvet coat, Rick Owens' AW15 draped robe and pretty much any season of Kanye West's crazed Yeezy brand.
These synchronous Star Wars collaborations aren't limited to fashion. George Lucas's sprawling mythic universe has spawned over 100 computer and video games, the most crazed being the recent Fortnite crossover in which gamers could play as their favourite Star War character and use lightsabers as weapons – a partnership one Reddit user declared the ​"best in the game's history".
Redditors also excitedly commented on the in-game skins that they could buy to elevate their avatar's look. Fortnite itself might be famously free to play, but a 2018 study found that 69 per cent of players spend money on the game's cosmetic upgrade packages, clocking an average spend of $85.
"I think we're seeing an increase in the fashion-consciousness of big gamers, most notably in stuff like Ninja's recent deal with Adidas," notes Plunkett. While gaming ​"is a pursuit so diverse that it's impossible to paint everyone with the same brush," the culture of cosplaying and the increasing streetwear crossovers is merging the two youth-heavy scenes. From last year's Drake x Travis Scott x Ninja Fortnite stream to Kappa esports gear, not to mention an Overwatch team rocking custom Nikes, it's becoming harder to separate their spheres.
Star Wars is perhaps the zenith of this phenom. If video games and streetwear were designed as a Venn diagram, the movie franchise would sit proudly in the middle. Hordes of devotees throng the intersections of these cultural pillars – a passion that facilitated a collaboration between ACRONYM founder and techwear pioneer Errolson Hugh and Death Stranding art director Yoji Shinkawa for the game's digital wardrobe.
When questioned why streetwear loves Star Wars so much, Plunket concludes that ​"obviously it's mostly down to the money". Beyond that, though, ​"there's also a few generations of artists and designers out there who grew up obsessed with and inspired by Star Wars. I'm sure getting a chance to work with the brand as a fan is something loads of them would jump at."
The first, fairly positive reviews for Star Wars: The Rise of Skywalker are now coming in, and the film is tracking for a half-a-billion dollar opening worldwide. So even if this is the end of a cinematic era – albeit one that will, as sure as Wookiees are Wookiees, spin off countless further future adventures – the streetwear-in-space love-in won't be fading any time soon.

More like this